Hello again, This will be part 1 out of the many entries Ill be doing to update the interested about my trip in Europe.
(Link – MySite)
Part 1 – Summary
Part 2 – Ferrari Loot
Part 3 – A few of my anime pics taken in Europe
Part 4 – A few tease pictures from Europe – Bratislava
Part 5 – A few more tease pictures from Europe – Tucepi
Part 6 – More tease pictures from Europe – Vienna
Part 7 – Conclusion thoughts and Videos
Even though it was the next day over I will update my blog to say I am back in Canada. For those who check this blog may (or may not) know I was in Europe in three nations for a month. When in Europe I tried to also do Anime figure shots for the anime side of my blog but only got indoor shots sadly (except for one out of place image of sitting on the ledge on the beach in Croatia, Tucepi). I also tried to look for an anime store everywhere I went in Europe but none in the places I looked, but I did find (and got) lots of Ferrari loot to share with you, but for now I will only post up a summary of my trip.
————————————————
Short summary of my Trip in Europe:

August 15, 2008 – August 16th, 2008

Ottawa -> Frankfurt Airport
– Took off to Europe taking Air Canada 838 from Ottawa to Frankfurt 2 hours late due. The 2 hours lateness was due to the stormfront which appeared out of nowhere on a very sunny day (as to mock me or something).
– Arrived in Frankfurt Airport, stayed around a bit and had a soup at a Chinese/Japanese/Asian restaurant there.
(Link – MySite)
Frankfurt Airport -> Vienna Airport
– Due to the lateness (Caused by that storm that hit Europe then Canada) we (me and a parent) got our tickets fixed to a Lufthansa one. We then took the bus to the Austrian Air, took pictures and got yelled at by some jet lagged person, landed in Vienna 1 hour later. Got our stuff and waited outside airport.
Vienna Airport -> Bratislava Airport
– Took the bus from Vienna Airport to Bratislava bus station, stayed on till we reached the Bratislava Airport (closer to where I was staying and to get picked up by relatives).
– Stayed up the extra hours to put stuff into the room, eat, meet other people, game with the met people, say happy birthday, and then finally sleep back at "home".

August 17, 2008
– Got my first batch of Ferrari gifts.
– Got hungry at Tesco and had to deal with my stupidity of not eating much
– Went to a mall near the Raca area of the city, got a nice Ferrari F1 RC as a gift from the people I was staying with.
– Got to taste my second batch of Slovakian foods and snacks.
– Went to Modra afterwords for a visit and to take pictures of the past (Basically to help spawn my thoughts from the past).
(Link – MySite)
August 18, 2008
– Visited the new met people.
– Took pictures and videos of a tram.
– Played a few more games.
– Got ready to take a trip to Croatia, Tucepi.
– Started to feel a bit sick but held out till the end.
– Got on the bus and off we all went to Tucepi (Through the Evening till the next morning)!
– Saw crazy scenery during the night and doze off.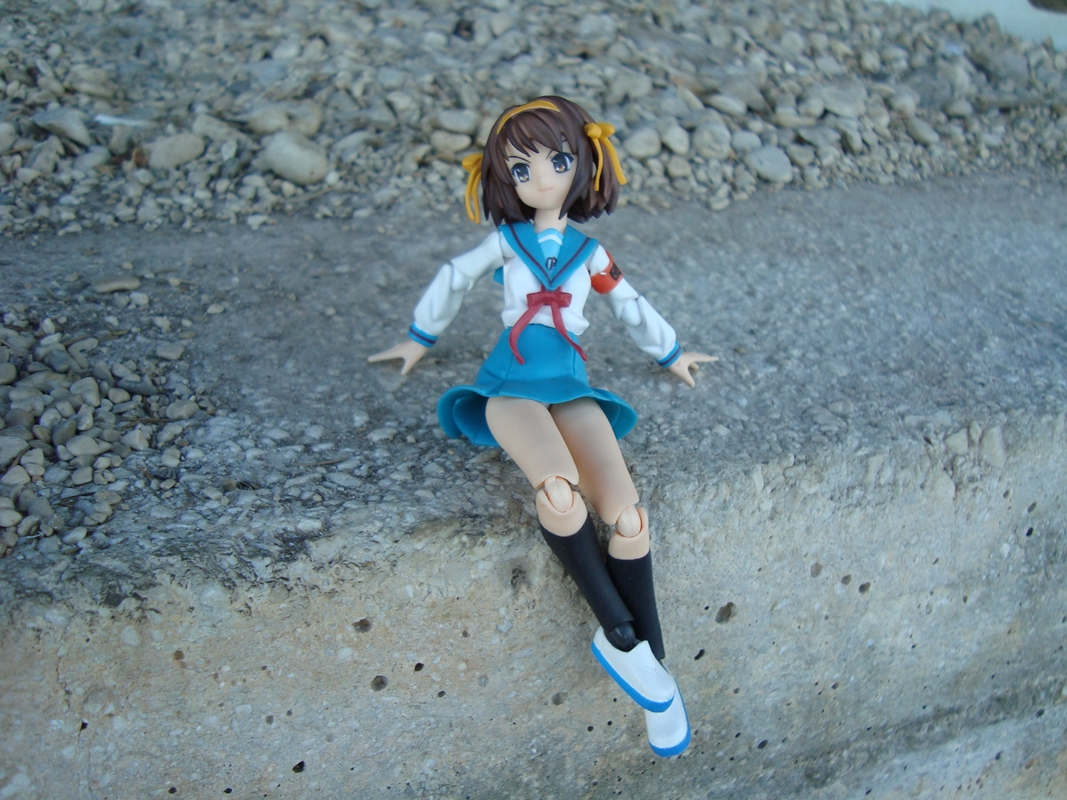 August 19, 2008
– Woke up to see a crazy steep cliff that would of made people shit their pants if they were scared of heights.
– Got off the bus in Tucepi at 6 am in the morning� to see everything empty. Took the opportunity to take pictures and videos before the area got swarmed (luckily I did). Walked around taking pictures once the stuff got put away, went to the beach and thne the corzo for a stroll to see what it contained.
– Went swimming and later on accidently dipped my (new) camera in the water by mistake blah! Luckily I had my 4.1 mp Camera I had in Ottawa to take over till the end.
– Ate some nice Tucepi foods mixed with Slovakian foods. Also saw some nice Fisherman night foods and events.
(Link – MySite)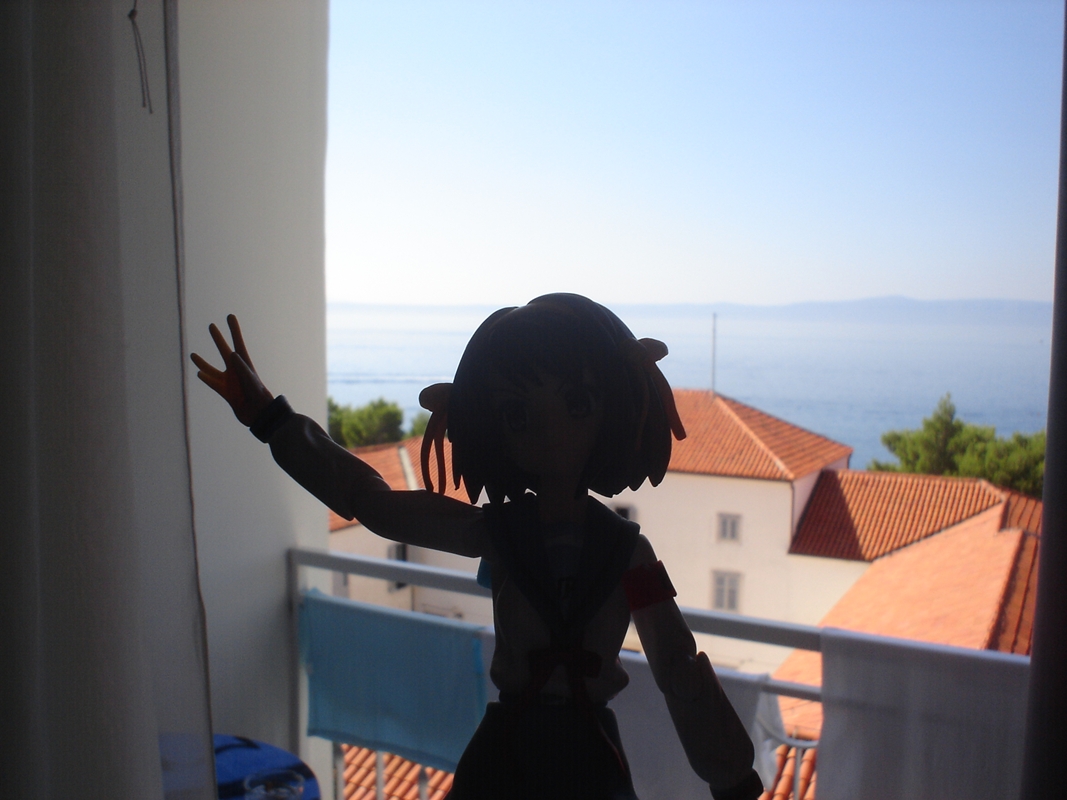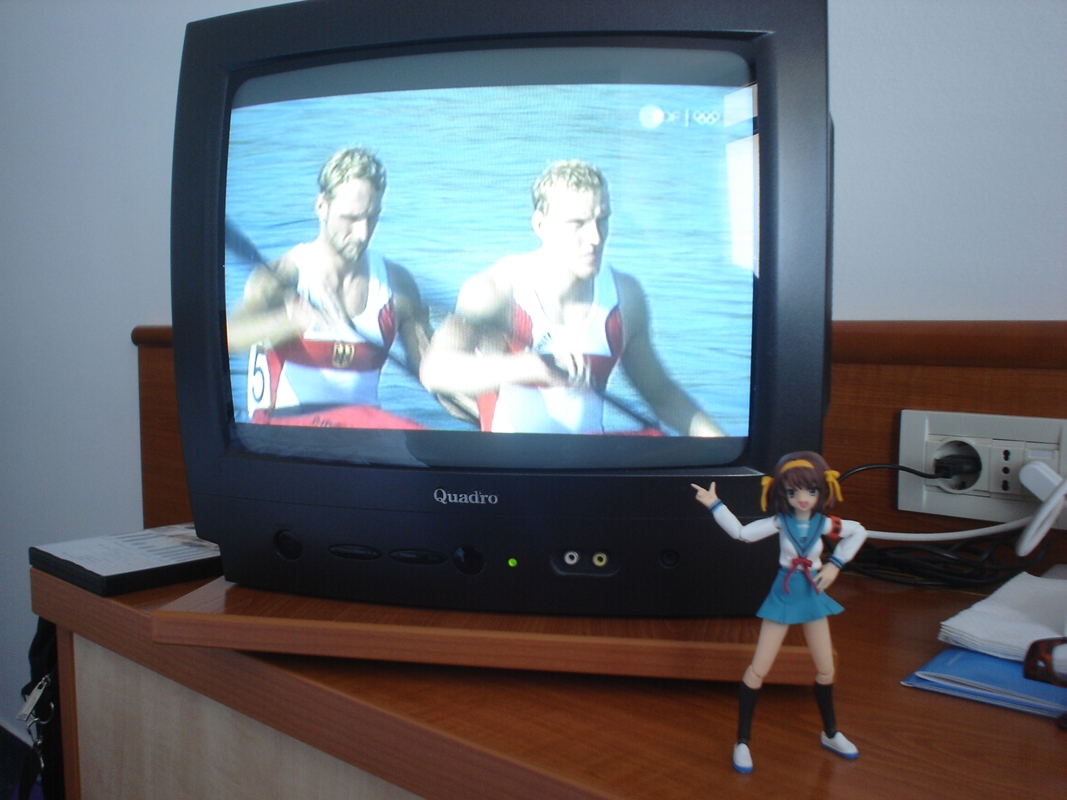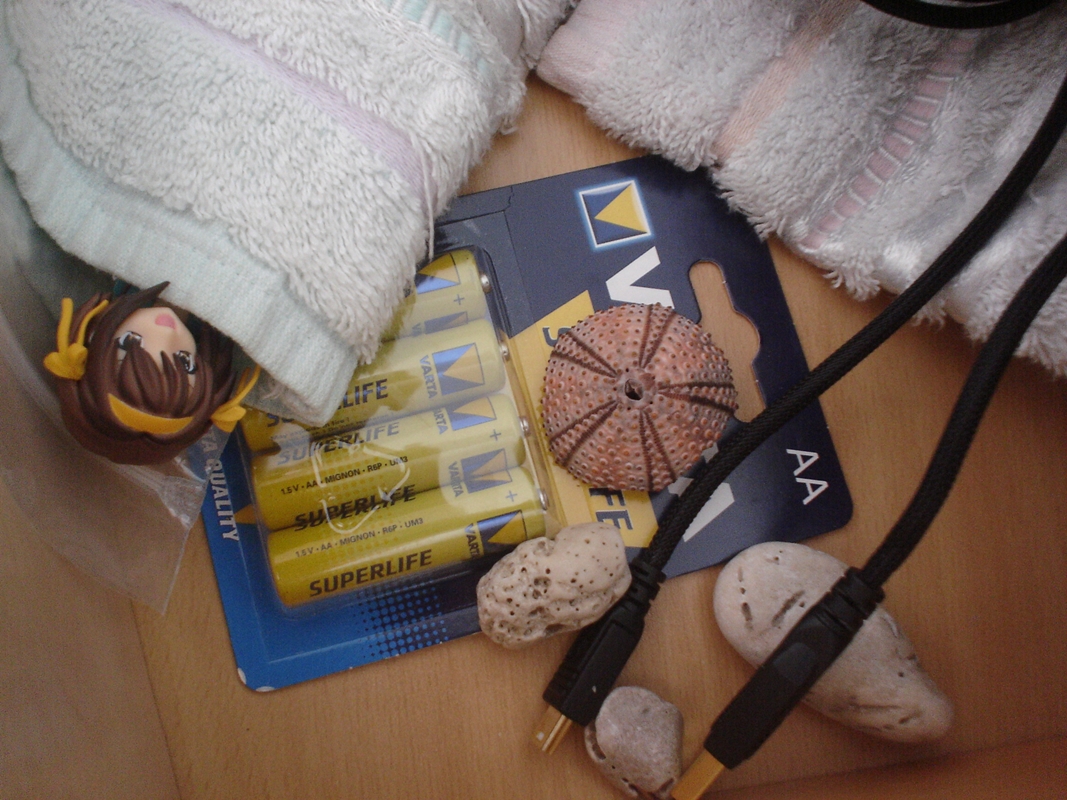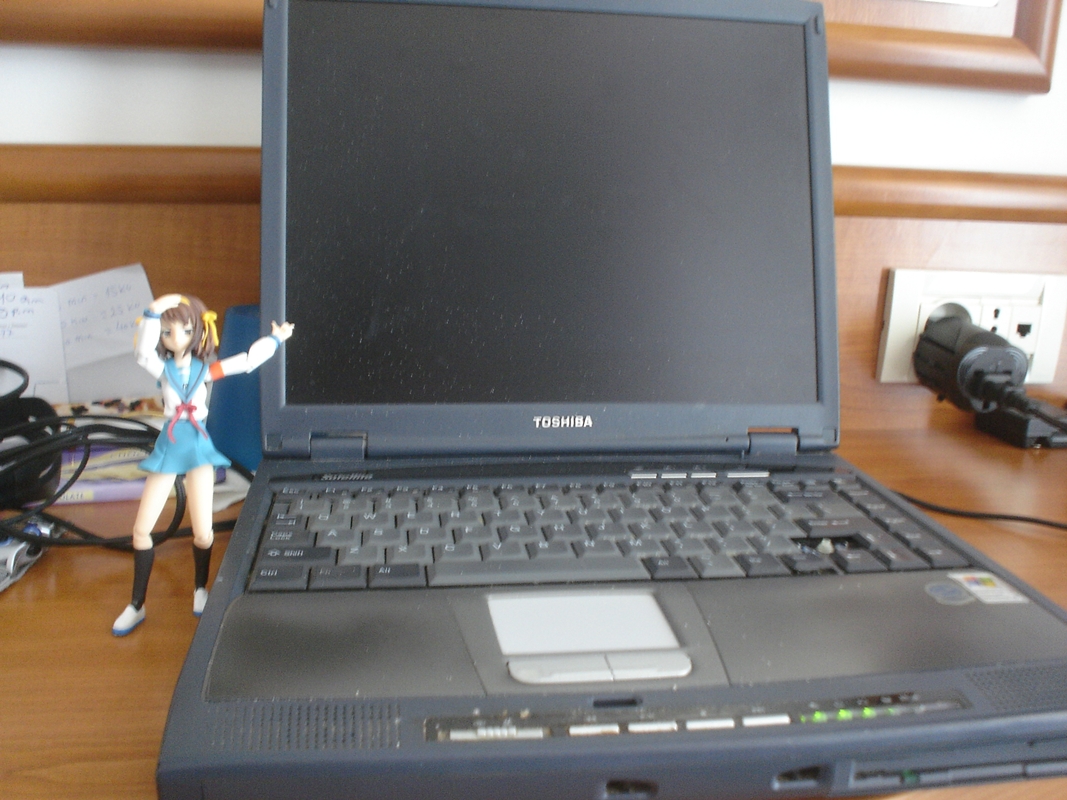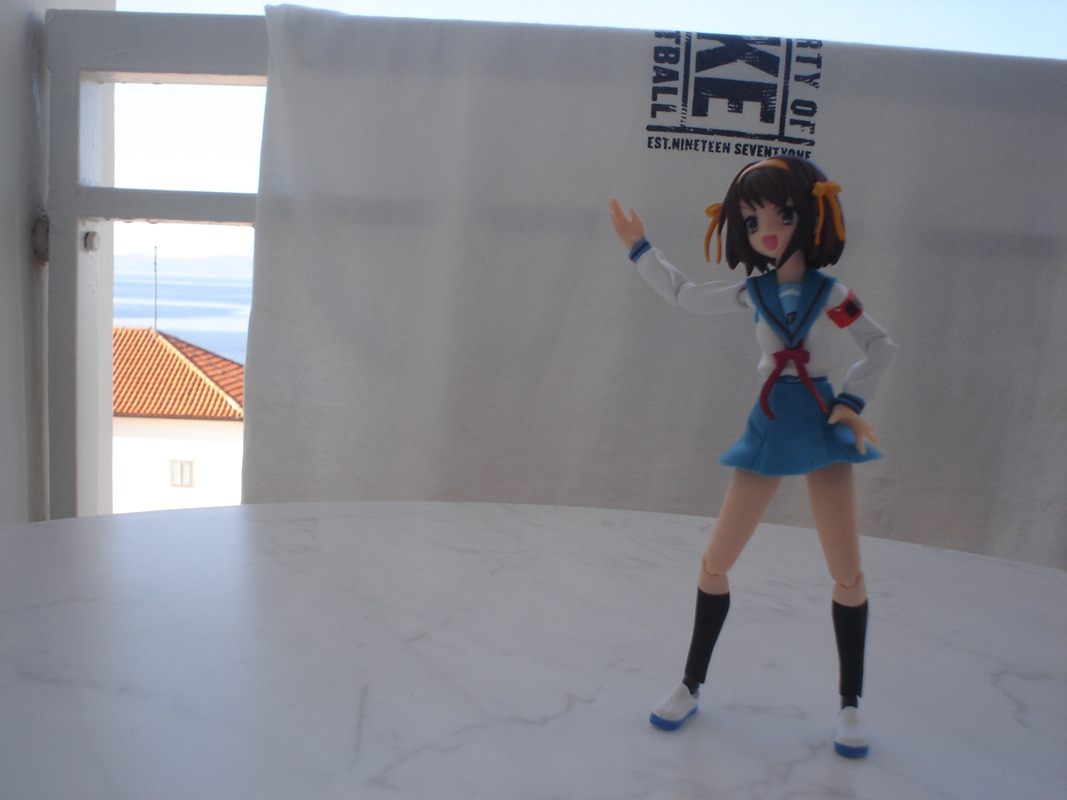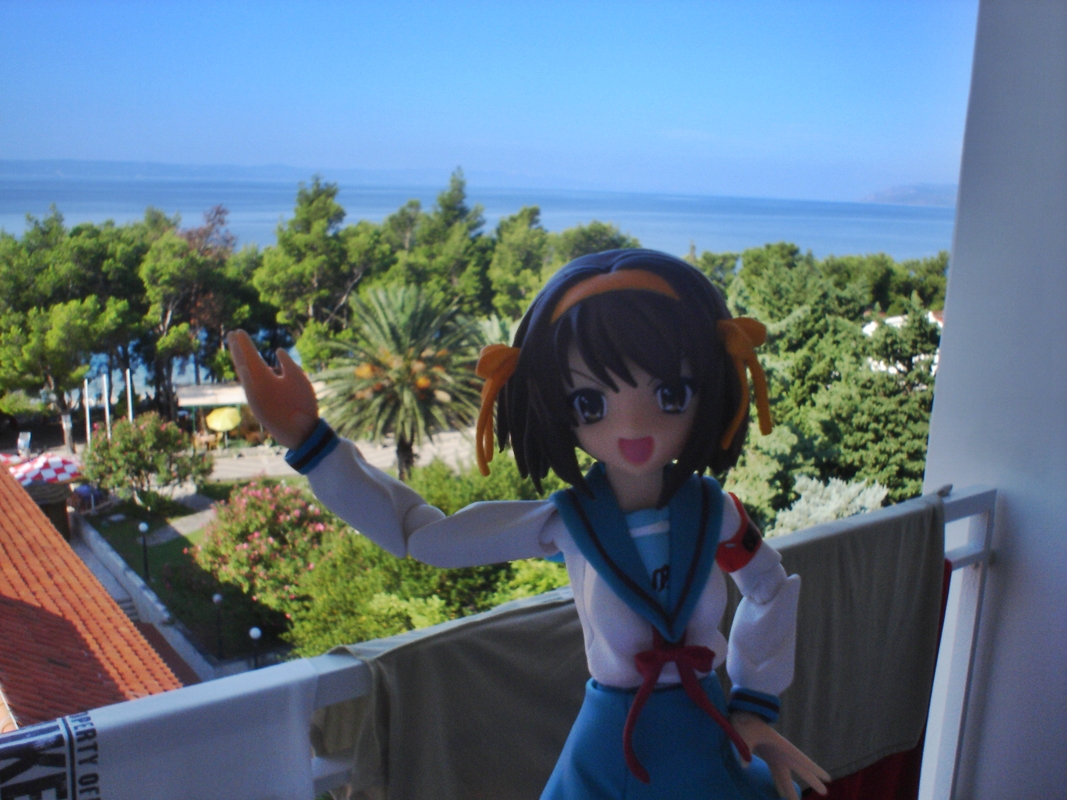 August 20, 2008 -> August 26, 2008
– Went for further swims, picture/video taking, sealife discovering, picture taking adventures with the help of the people I went with.
– For the Anime side of my blog took some pictures of Haruhi where I could but still couldnt take outdoor pictures 🙁
– Watched a few Olympic events along with the ending. Also ended up watching a bit of F1 but need to actually watch it here in Canada.
– Played Air Hockey with the people I went with.
– At night, after 7pm, Going for a stroll
– On 26th headed back to Slovakia, Bratislava on the bus with me tripping out due to the cliff and some odd tunnel experiences.
—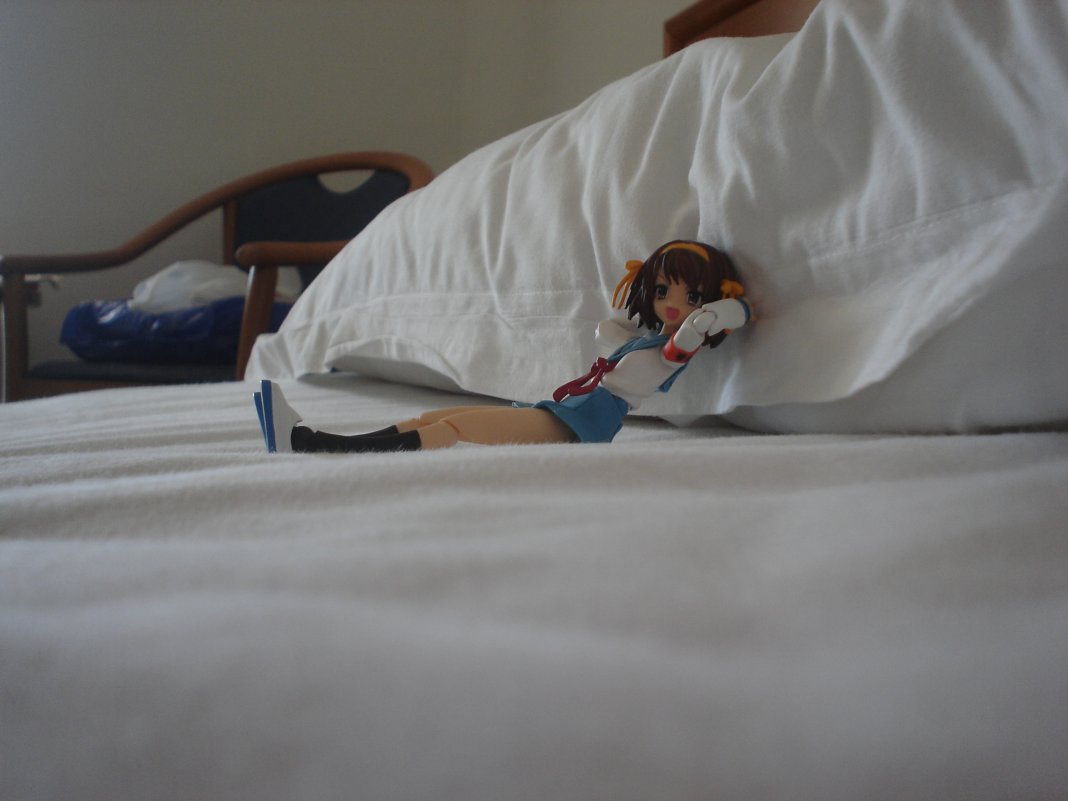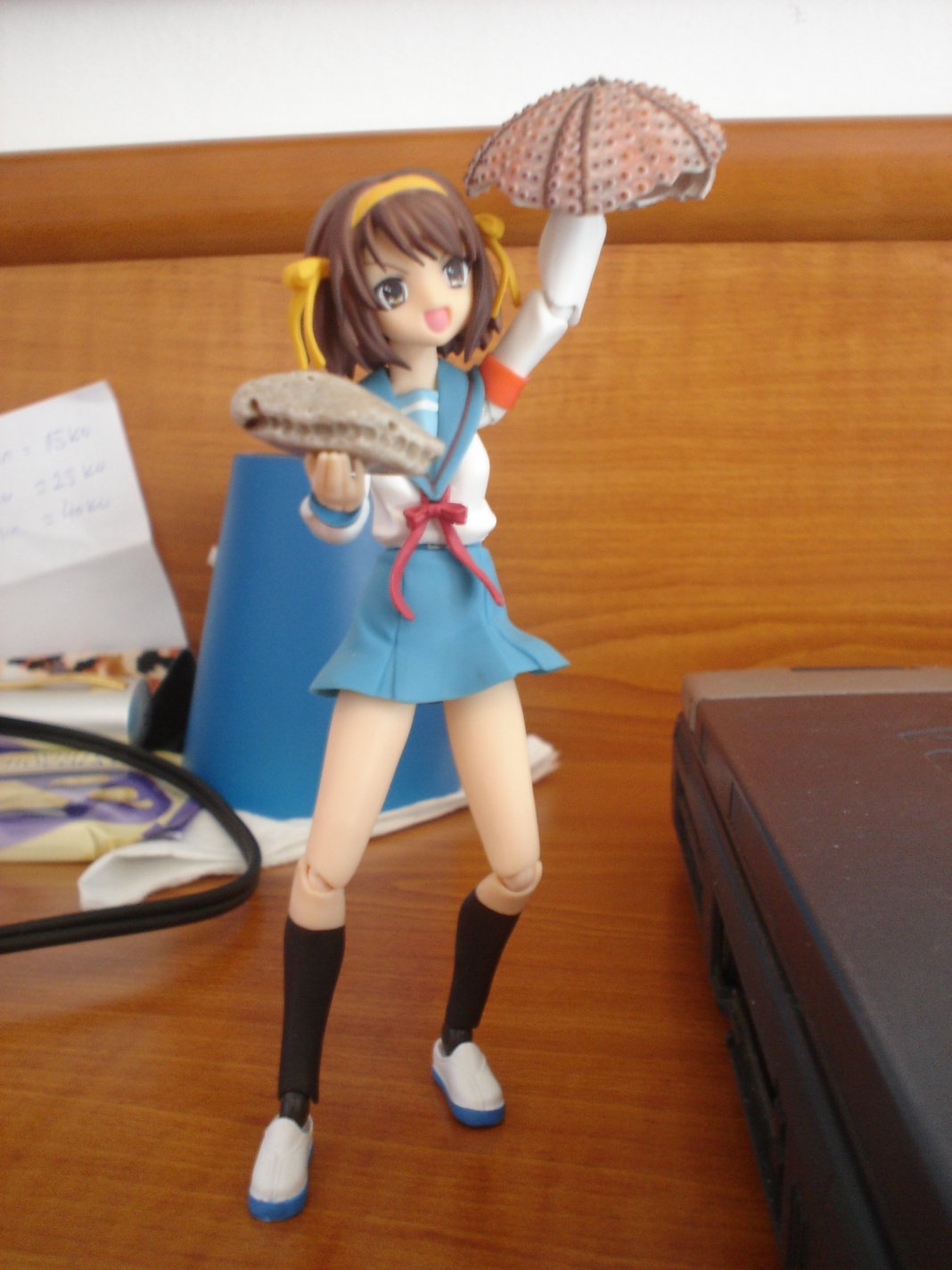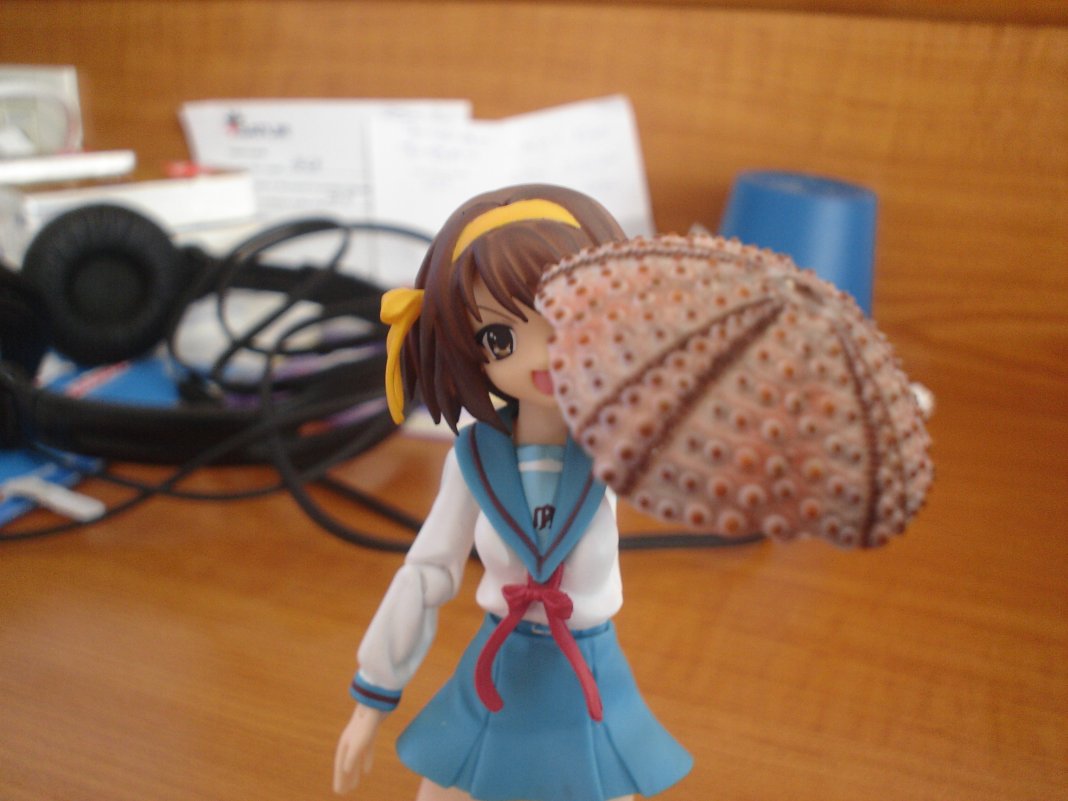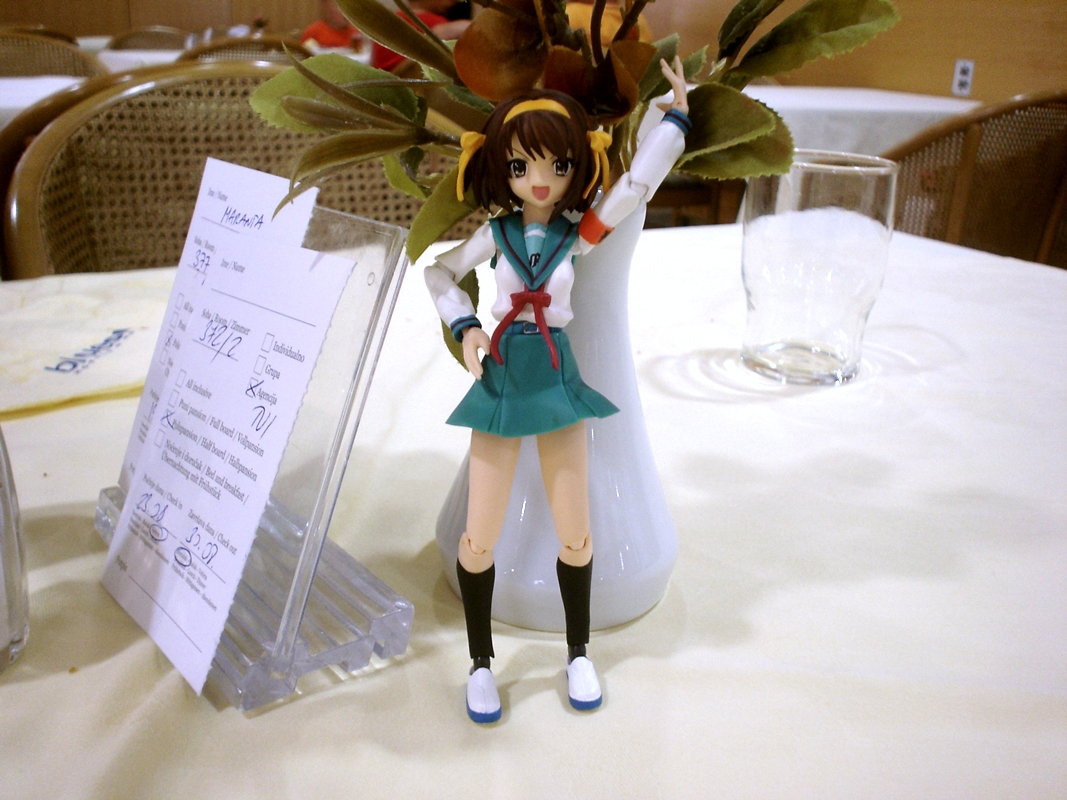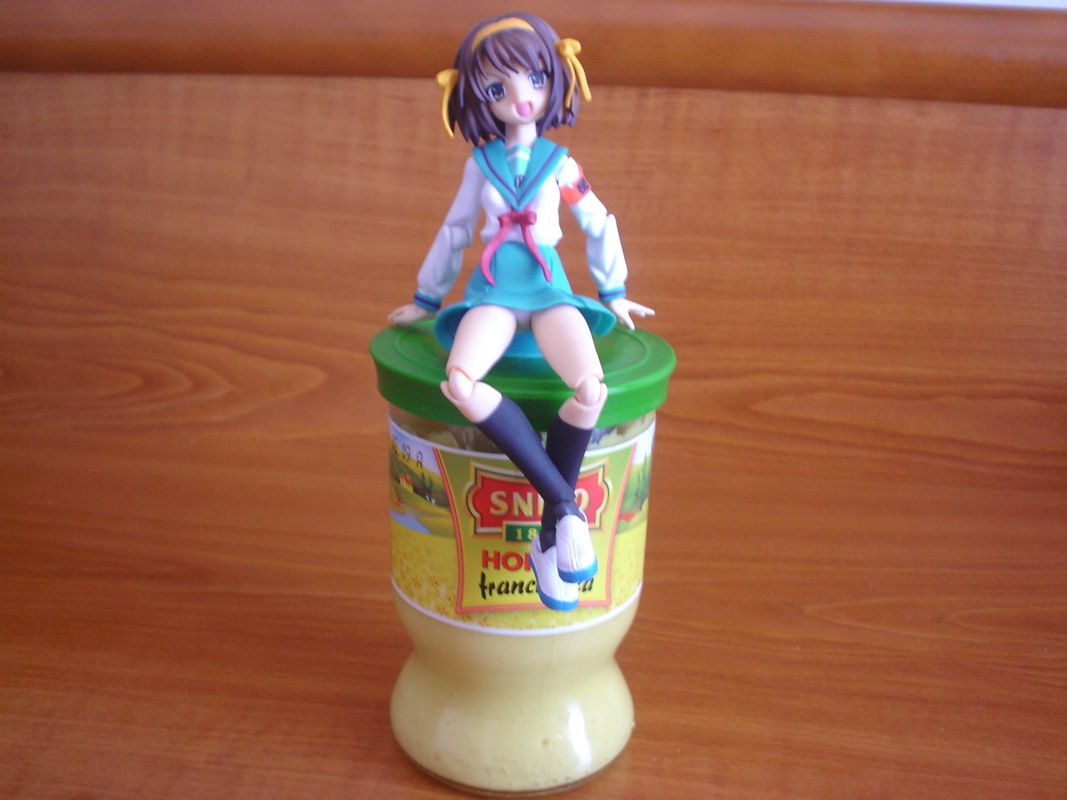 —
August 27th, 2008
– Failing to fall asleep I stayed up most of the night watching the scenery, the fog, the detailed star night (with a bit of the Milky Way showing), the Austrian scenery, the green neon glowy store, the windmills.
– Listened to ASOT from the gas station stop to outside Bratislava seeing the sun rise to hide in the clouds.
– Welcome back to Slovakia, Bratislava everybody!
– Went to Metro to find a American military plane landing (flew overhead Metro and later saw it take off over the place I stayed at) – Joked it was invading Slovakia trying to further its influence in the area.
This next bit I can summarise easily.
August 29, 2008 -> September 05, 2008
– Went around shoppin, tram hunting, video/pic taking, and eating.
– 30th – Fishing, New camera bought, and got sick overnight
– Sept1st – Still sick, playing PSP all day.
– 2nd – Going out and about but still sick taking a few pictures, and PSP playing.
– 3rd -> 5th – Went to Kamzik Tower, Went to shopping street in downtown, exploring downtown Bratislava checking out its resturants also.
September 06, 2008
– Went to Vienna on the speed boat at 7am and returned at 6 pm. Went to various places taking the metro, the Vienna Sightseeing bus (Hop on, Hop off) such as a Palace, a huge church, and the old town area.
September 07, 2008
– Went with someone to the Bratislava Castle, to Devin Castle, across downtown Bratislava (mostly Old Town) and was supposed to watch an Irish concert but that was canceled,
September 08, 2008 -> September 20, 2008
– Went downtown, went to Japanese and Chinese restaurants, went Ferrari shopping, tram/trollybus/bus hunting, computering to keep up with news, basic shopping, Bratislava exploring, Celebrity discovering,� Thermal Park dipping (went to a Thermal park on the 9th and only that day), further landmark findings.
Sept 14th
– Found a Ferrari F430 just sitting in the Downtown core of Bratislava and a F1 Ferrari model sitting in a glass box in a mall near Ikea.
– Listened to some inmall concert, went bowling, went to a "Beverly Hills" area out of Bratislava near Stupava.
– Seeing more buildings/scenery/objects from my past
– Saw the F1 race in Imola with Vettel winning and me cheering the Celebrity like Hamilton got 7th, damn spoiled brat he is.
September 20th, 2008
– Packed up in the morning.
– Went on the computer to keep up with news from Japan and the world.
– Watched a replay of Qualifying of Imola with Vettel getting first.
– Took figure shots out of boredem of being the last day and cloudy in the area.
September 21st, 2008
– Last minute packing, fish watching (in an fish tank), eating a sandwhich, and a taxi off to Vienna airport 🙁 Damn and I was recently in Canada also blah.
– Waited in a long line in Vienna airport which caused a delay to the Lufthansa flight to Vienna. The plane arrived on time in Frankfurt but just barely by giving me a headache with the pressure and a messed up landing (caused by pilot or crosswinds?).
– Rushed in Frankfurt to get bored in the Air Canada flight 839 to Ottawa. Almost went seatless but whatever I got a window seat and took some pictures and videos. Watched a few movies, shows, and some Dance music before landing� safely in Ottawa with a beautiful touchdown! I miss Europe but now Im planning to go to Japan! Damn that flight is going to piss me off.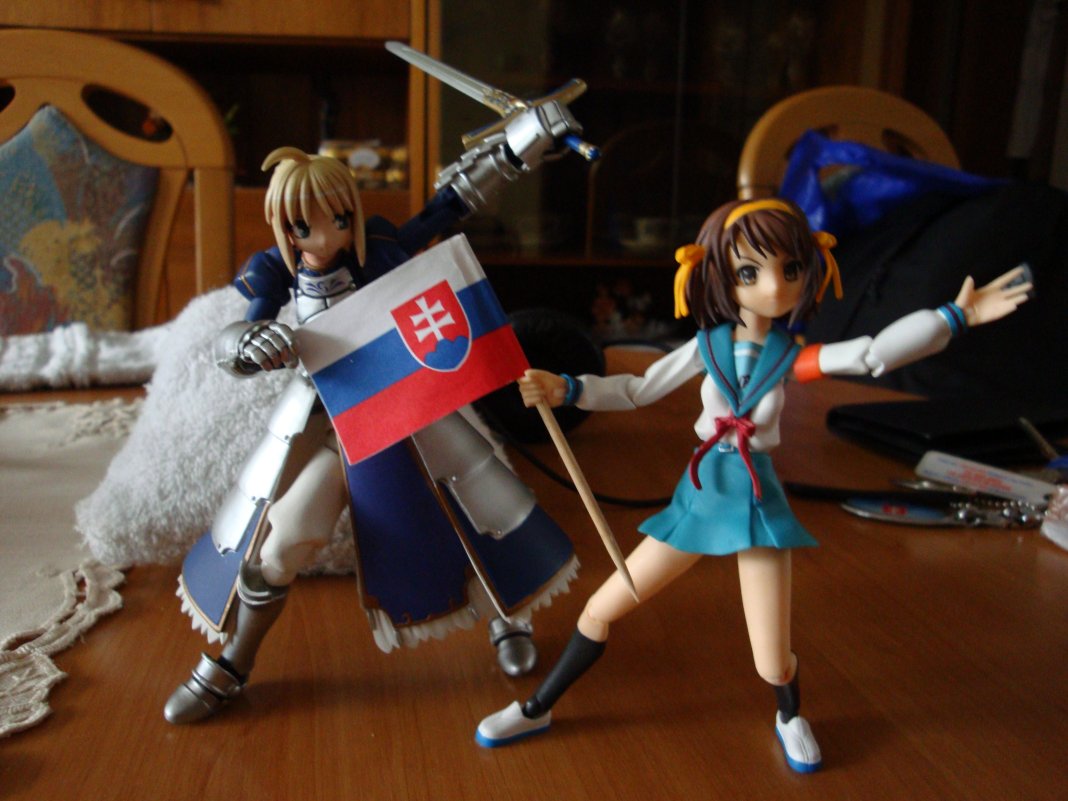 (Link – MySite)
Conclusion
Sorry if that was a half assed (and long) summary of the trip but Id thought Id let people know what i was up to. Now maybe tomorrow, or the next day, I will do a part 2 with my Ferrari loot which will replace the Anime loot since its my North America/Europe hobby. Hope you were able to understand this blog entry.
————
Edit: July 05 ,2010 – Now that I know how to work with blog images I decided to embed them in various spots in this article. Nothing was changed, just added images.