Merry Christmas everybody! If my previous article didn't give it away, we're celebrating a Merry Christmas Eve/Night/Day! I've had my fair share of fun and so did my Shinki's and Figmas. Lets see how they celebrate heh. Two articles for one thing? Ya. One was for decorations, left over photoshoot, and this one is my improvised planned photoshoot.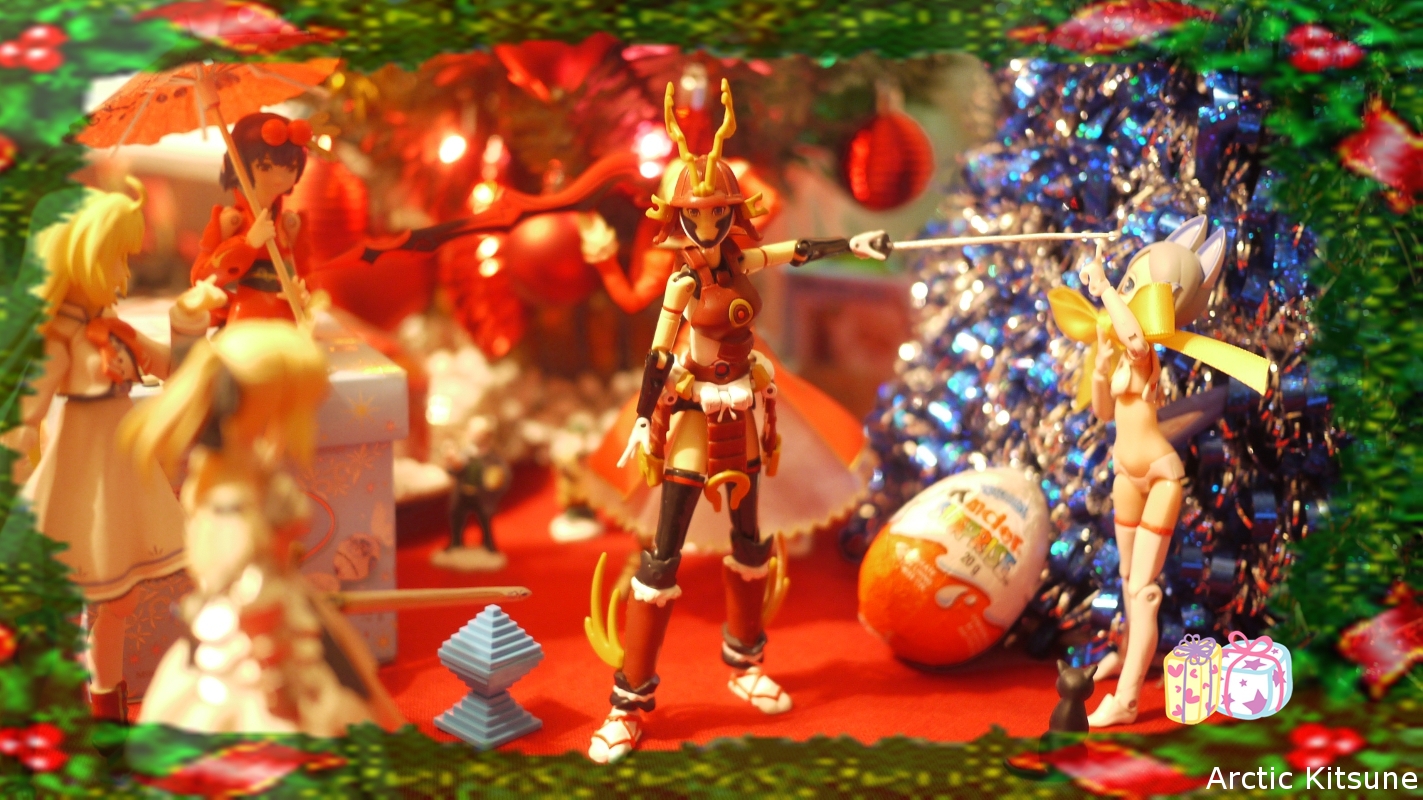 (Link – MySite)
(All images taken with a Lumix GF1 – Pancake lens.)
Don't worry, Benio isn't being hostile. Her Samurai code forbids her from rampaging or harming anyone unfairly. So what is she doing? Just showing off her honed skills as a Samurai type Shinki. Oh? And Renge is apparently being a silly little Fox spirit heh.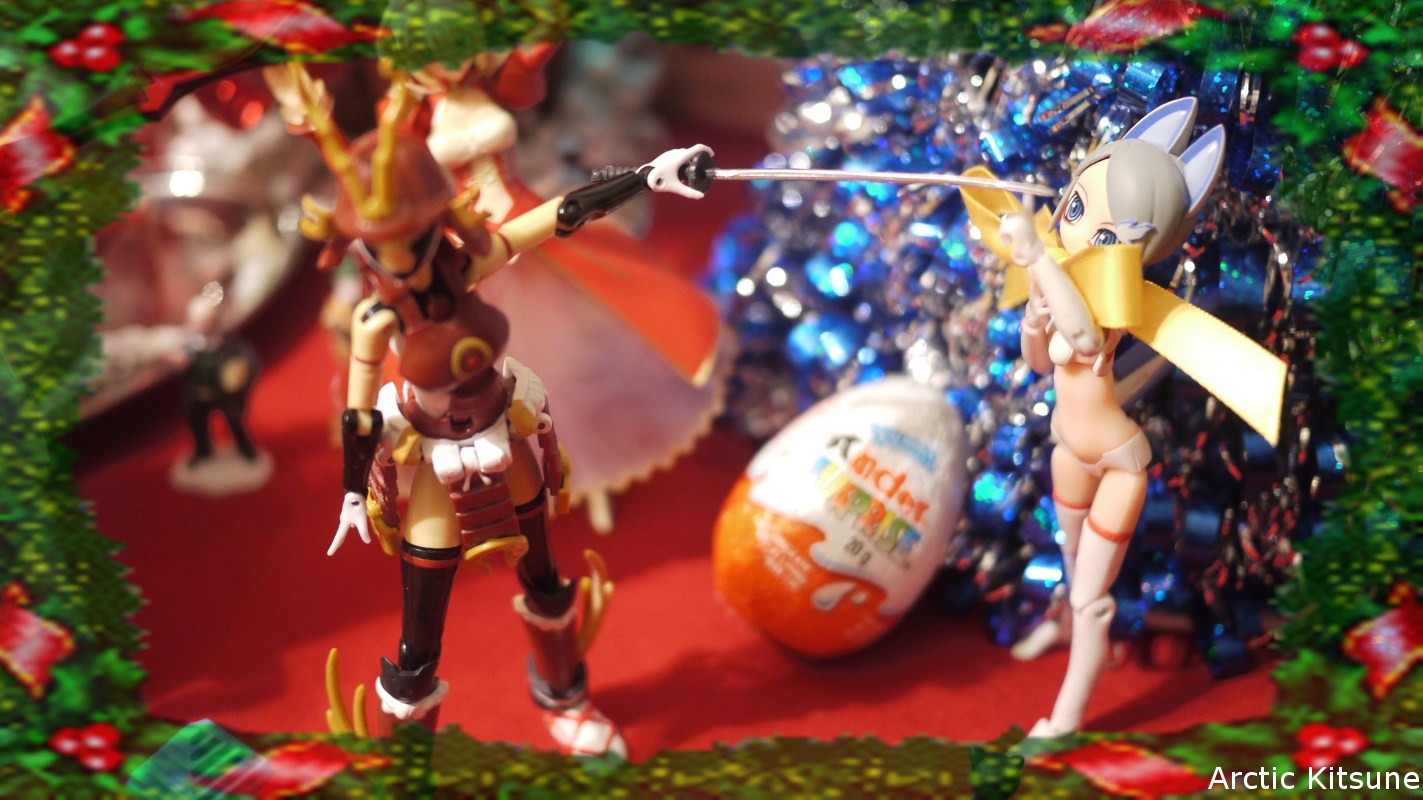 (Link – MySite)
Vocaloids and Ryomu bringing in the table and chairs for the Christmas party.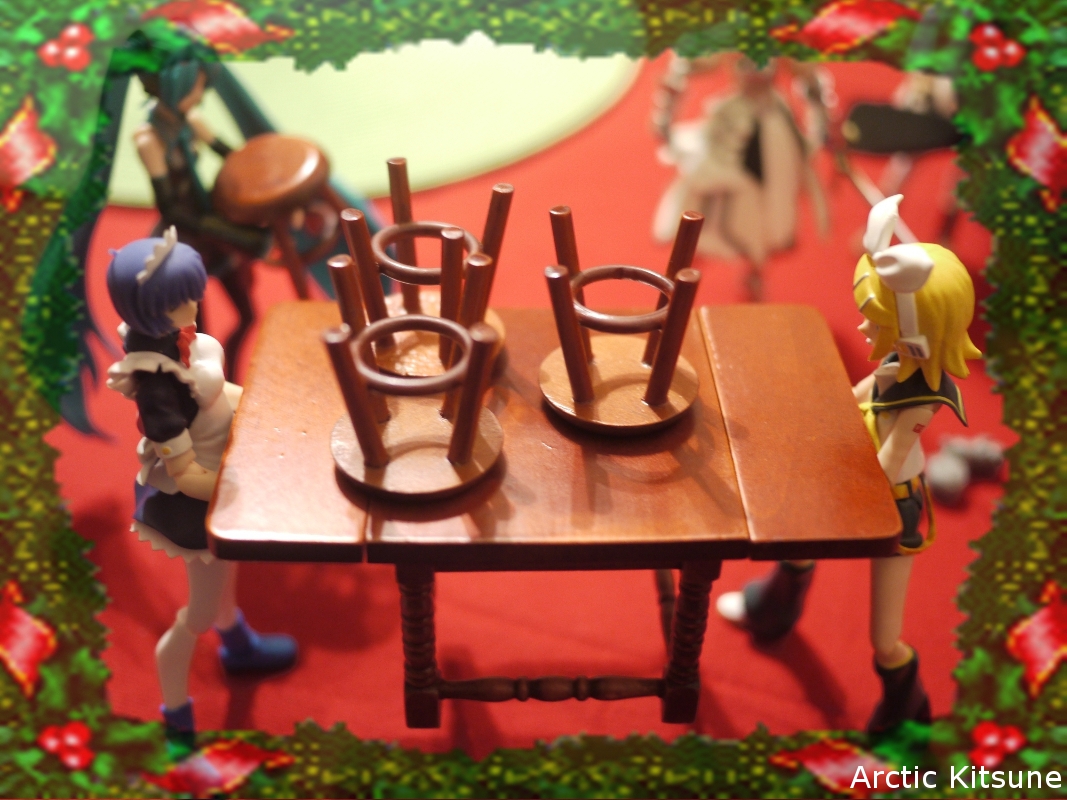 (Link – MySite)
Benio finally noticed Renge being a silly fox spirit.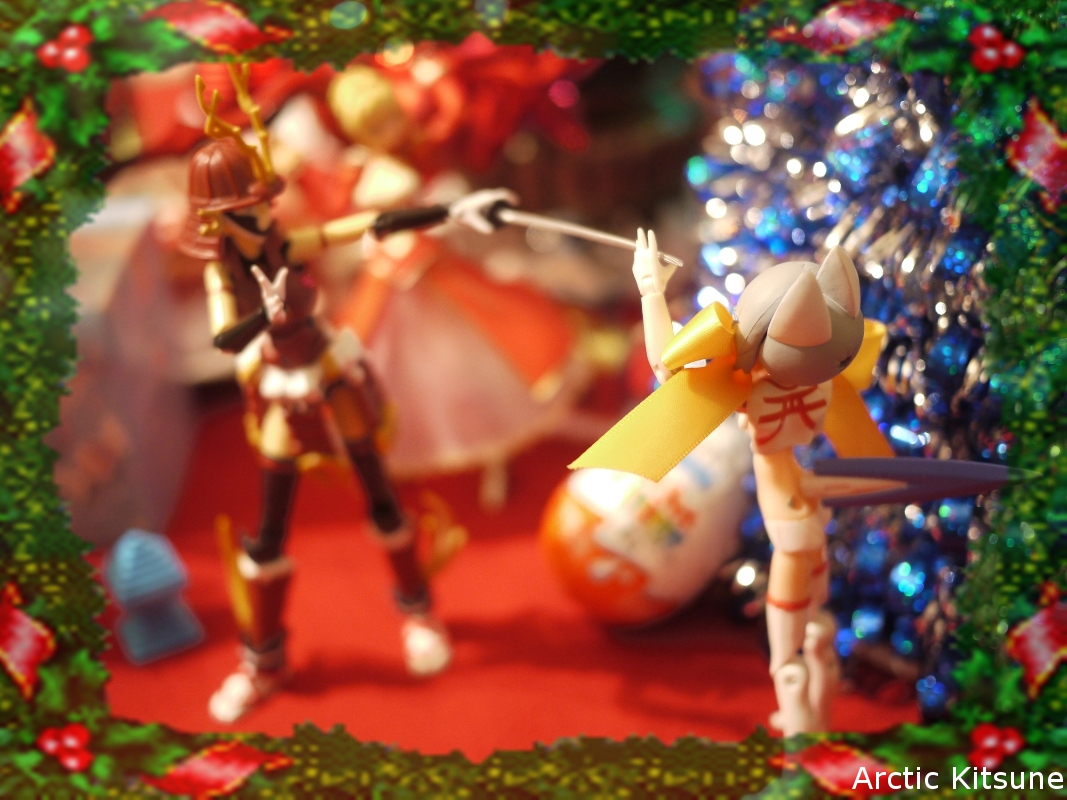 (Link – MySite)
Those present prepare for the miniature Christmas performance. Aya setting up her violin for play while local wildlife observe.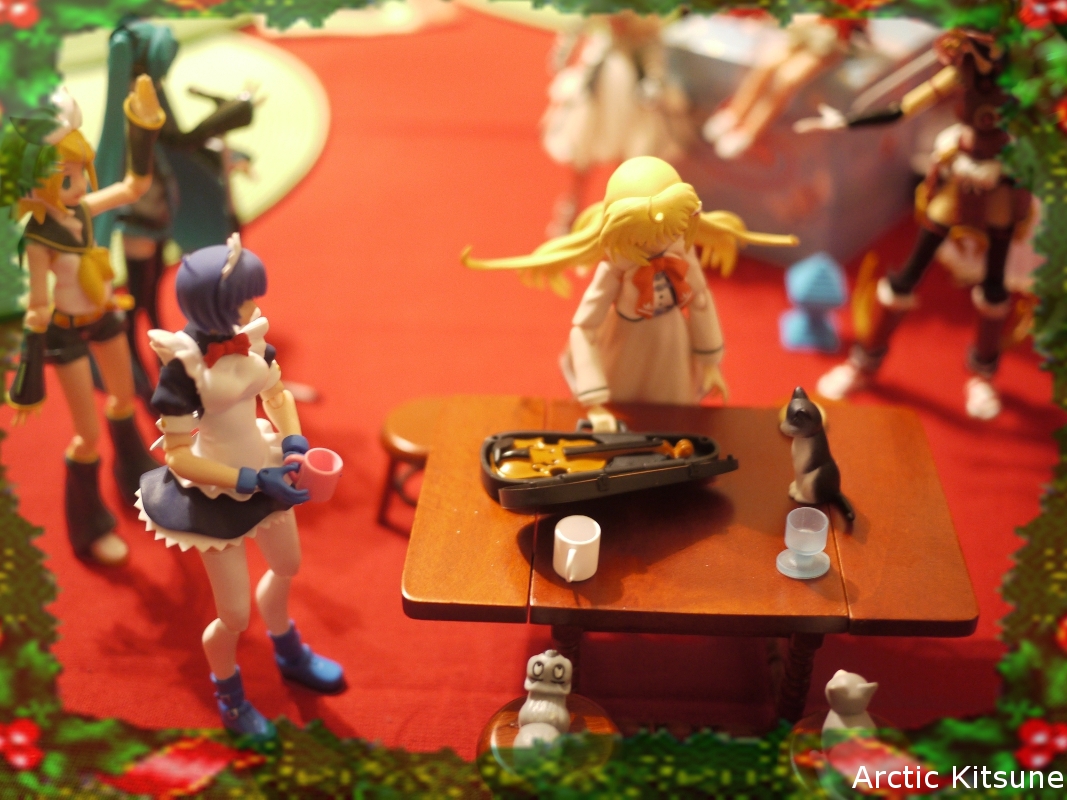 (Link – MySite)
Benio: "Ah! Renge! I spent the whole night attempting to balance out spiritual energy within the sword. Now the flow of energy is disrupted."
Renge: *Continues trying to poke the sword.*
Benio: "This way please~. Enjoy the show, Renge."
Renge: *Makes a funny disappointed noise*
Benio: *Benio nearly bursts out laughing*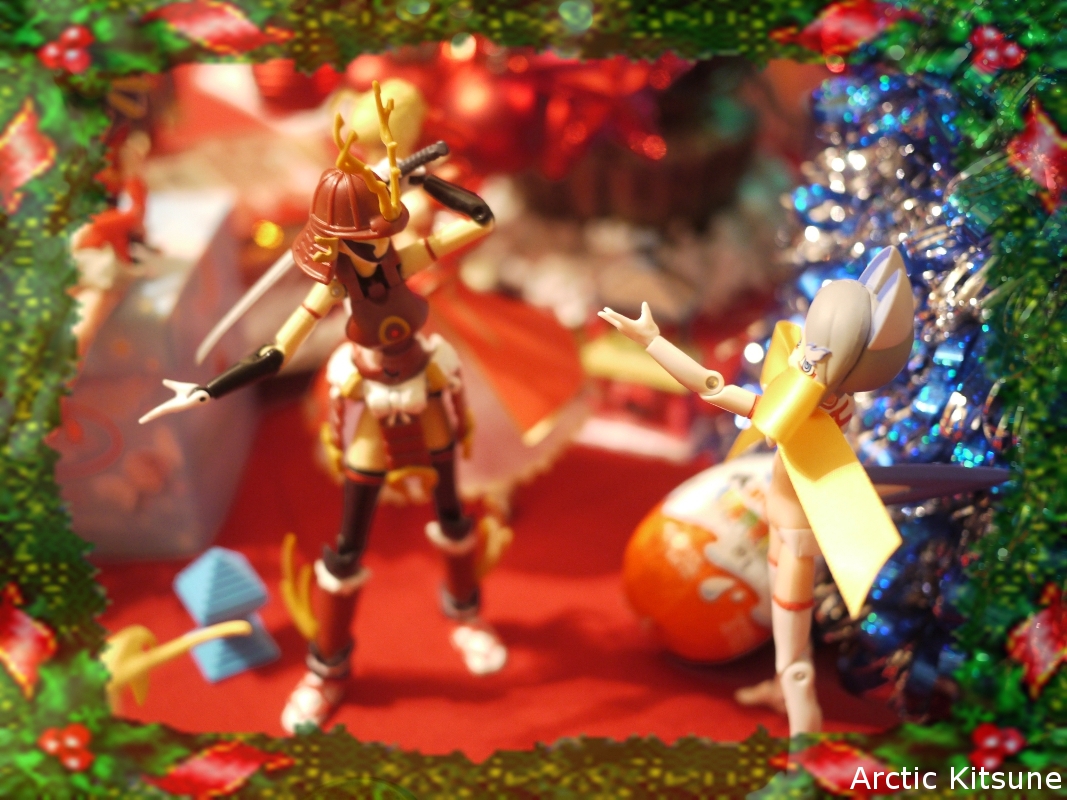 (Link – MySite)
– Moments later…-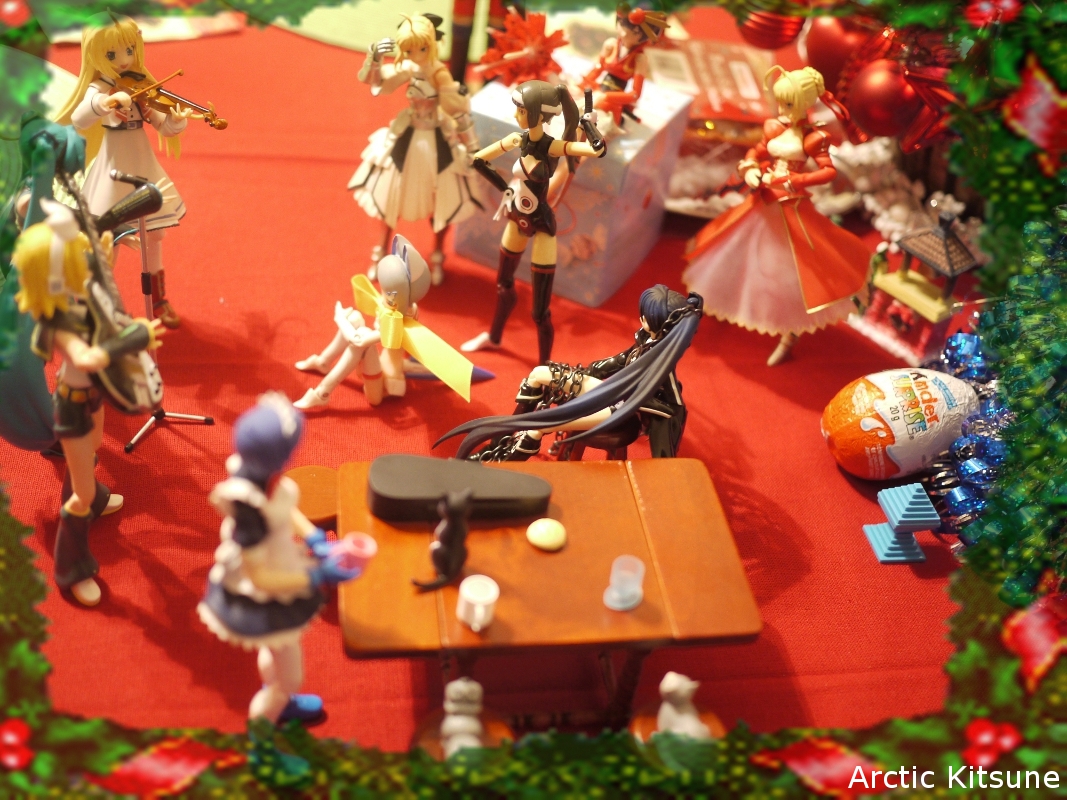 (Link – MySite)
I apologize if these videos don't suit your taste, but I did try to keep it vocaloid like due to Miku and Rin.
– Xmas Carmeldansen

– Silent Night – (already shown but in-case anybody missed)

– Last Christmas

– Carol of bells

– Jingle Bells (In Japanese. I tried looking for English! *sighs*)

– Merry Christmas Mr Lawrence.

(I hear Clannad vibe to this? Hmm – Rin' Version)
– ReSound Wave – Snowfield – Clannad – The Sound Story of  impression II

(Roaring tide.)
and that makes seven, enjoy!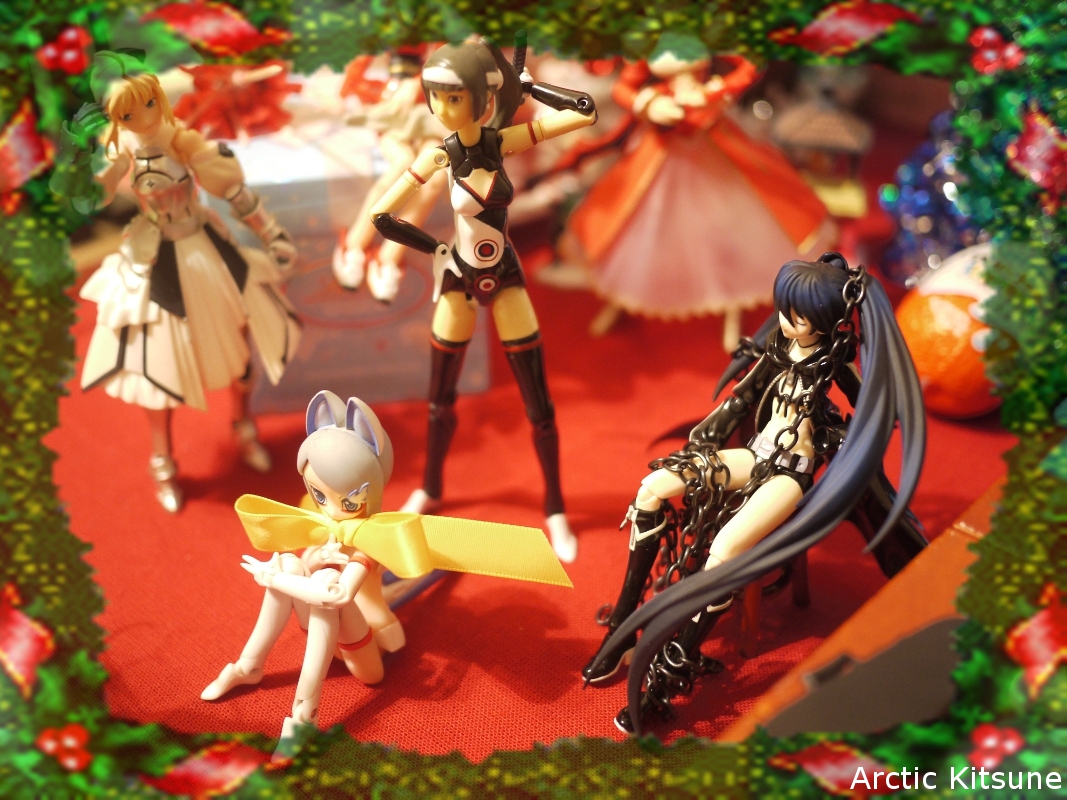 (Link – MySite)
Lights out, Christmas tree lights on!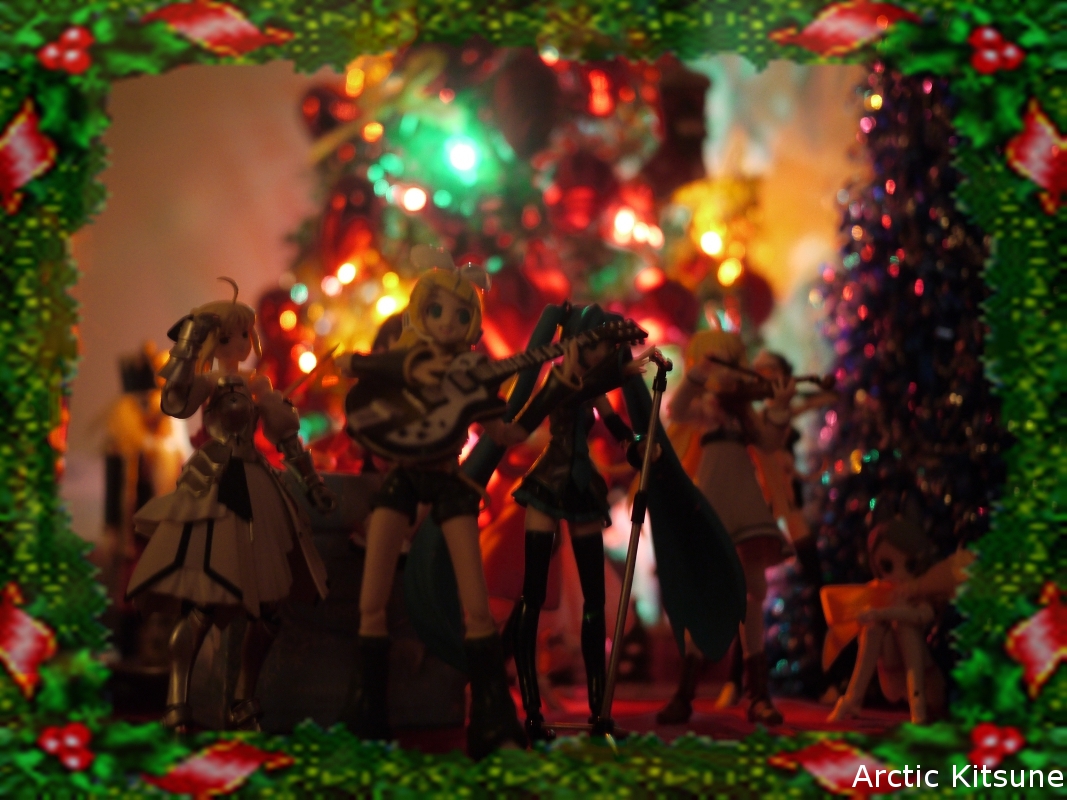 (Link – MySite)
Kohiru taking care of a sleepy little cat on-top of a winter themed Lindt Chocolate box.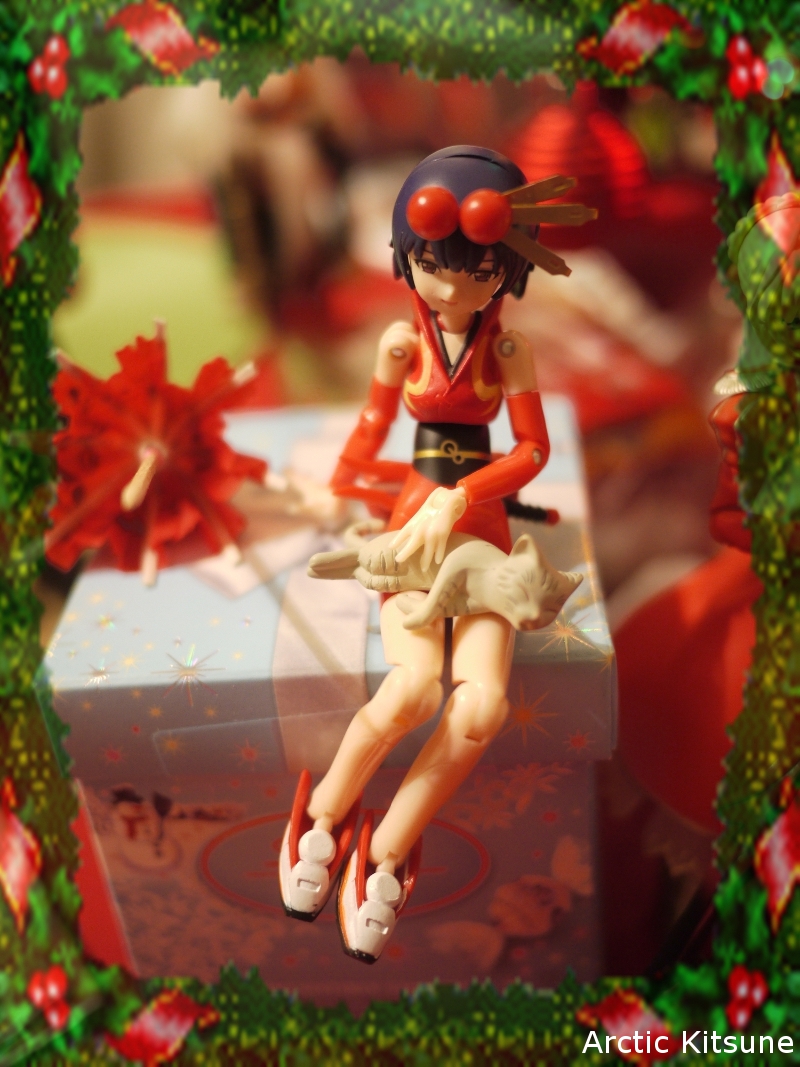 (Link – MySite)
Renge sitting under the blue christmas tree next to her source of power.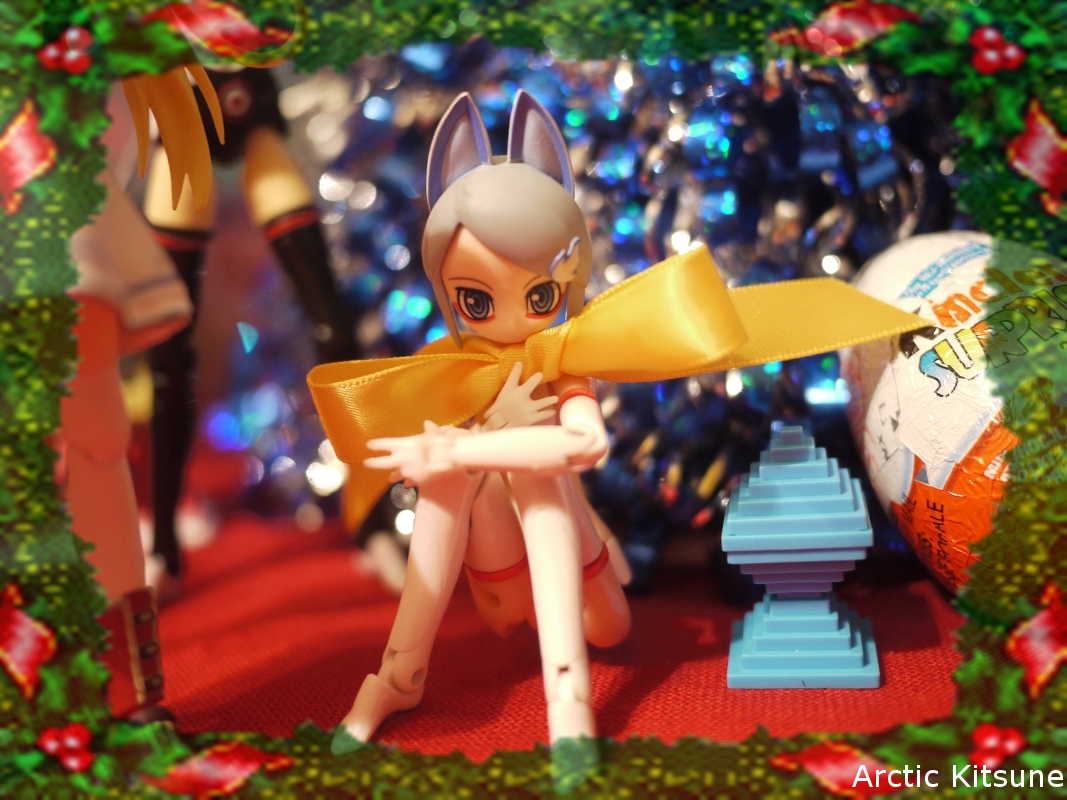 (Link – MySite)
Aya still playing the violion while Benio keeps an eye on Kohiru and Renge.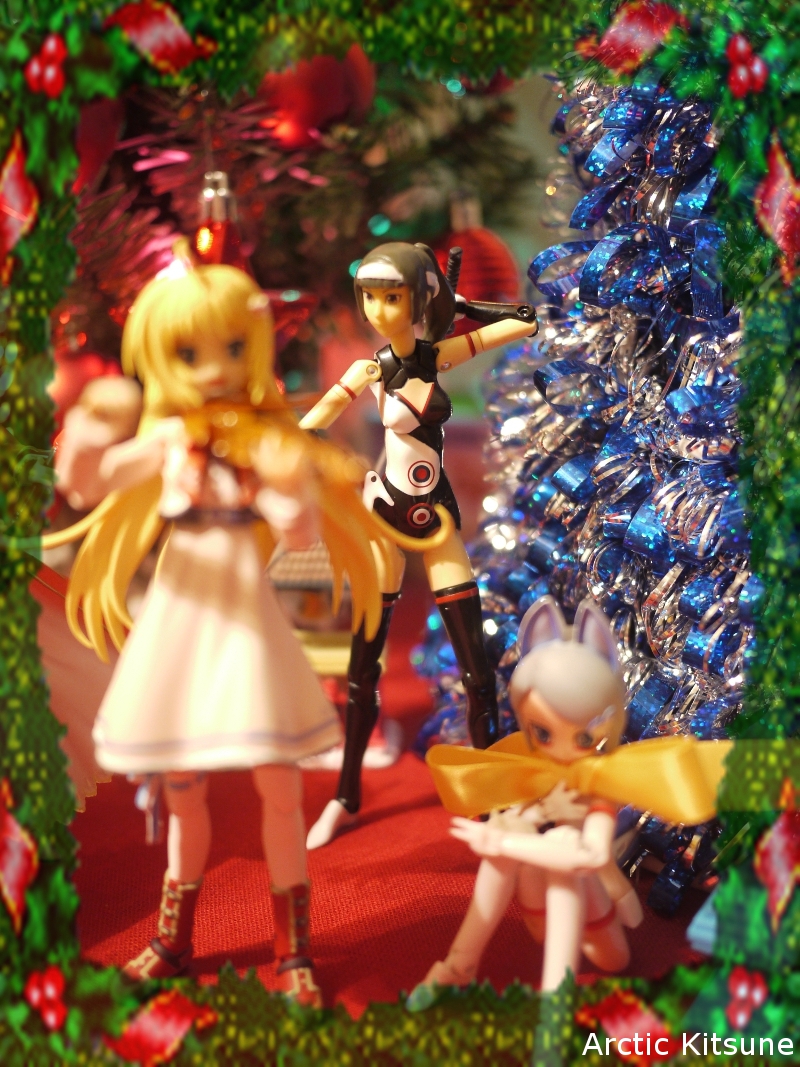 (Link – MySite)
And after the party the Shinki gang raid the Lindt chocolate box. Renge hops in, Kohiru observes outside of the box while Benio observes the two.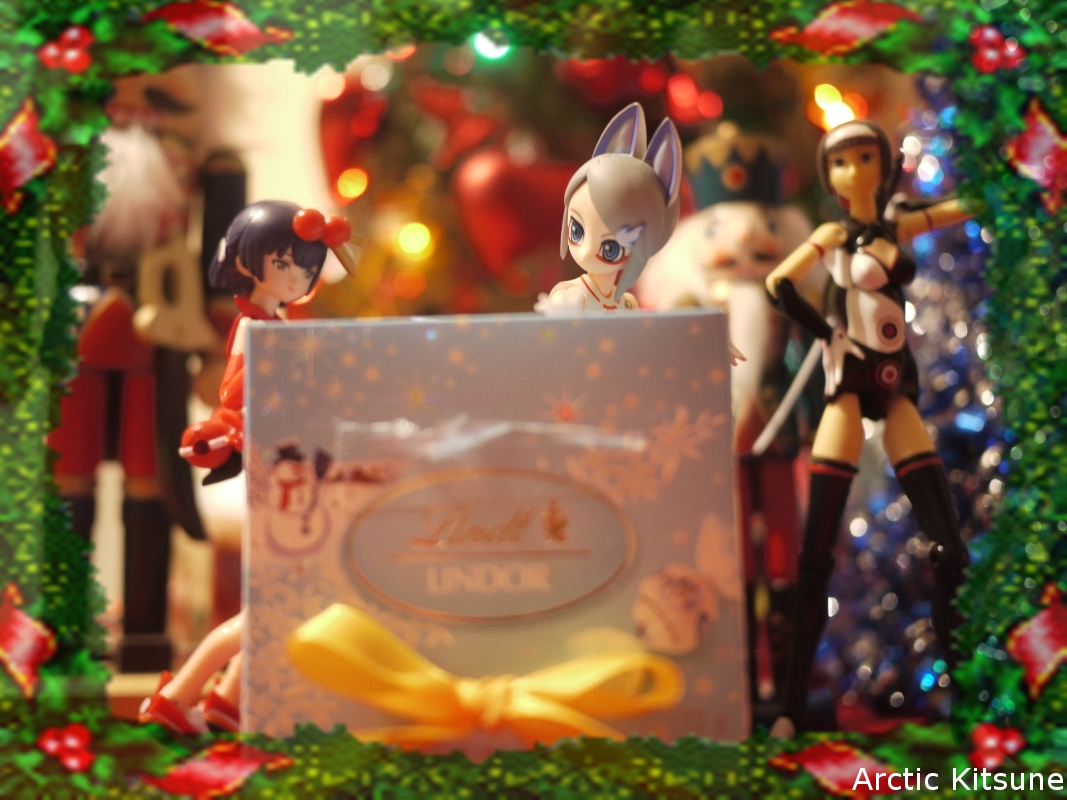 (Link – MySite)
Renge attempts to drag Benio into the mix. It appears to be failing.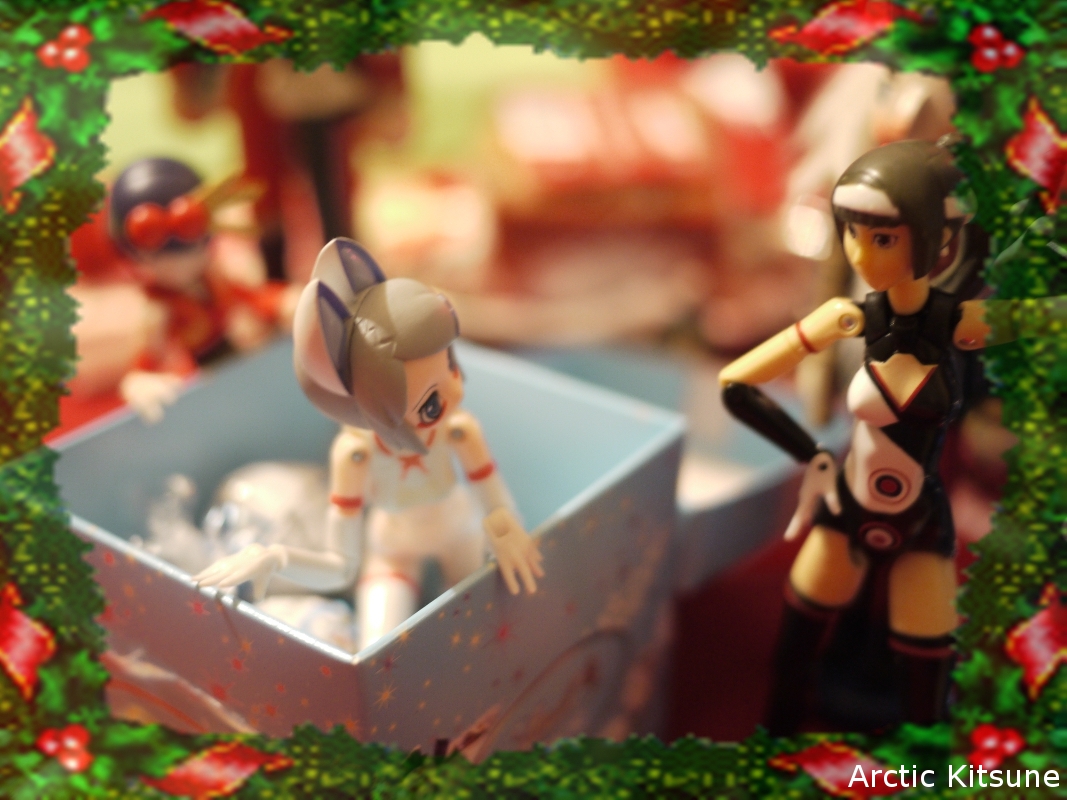 (Link – MySite)
…so, Renge goes to climb the blue christmas tree. You should of known that Fox spirits are mischievous buggers :P.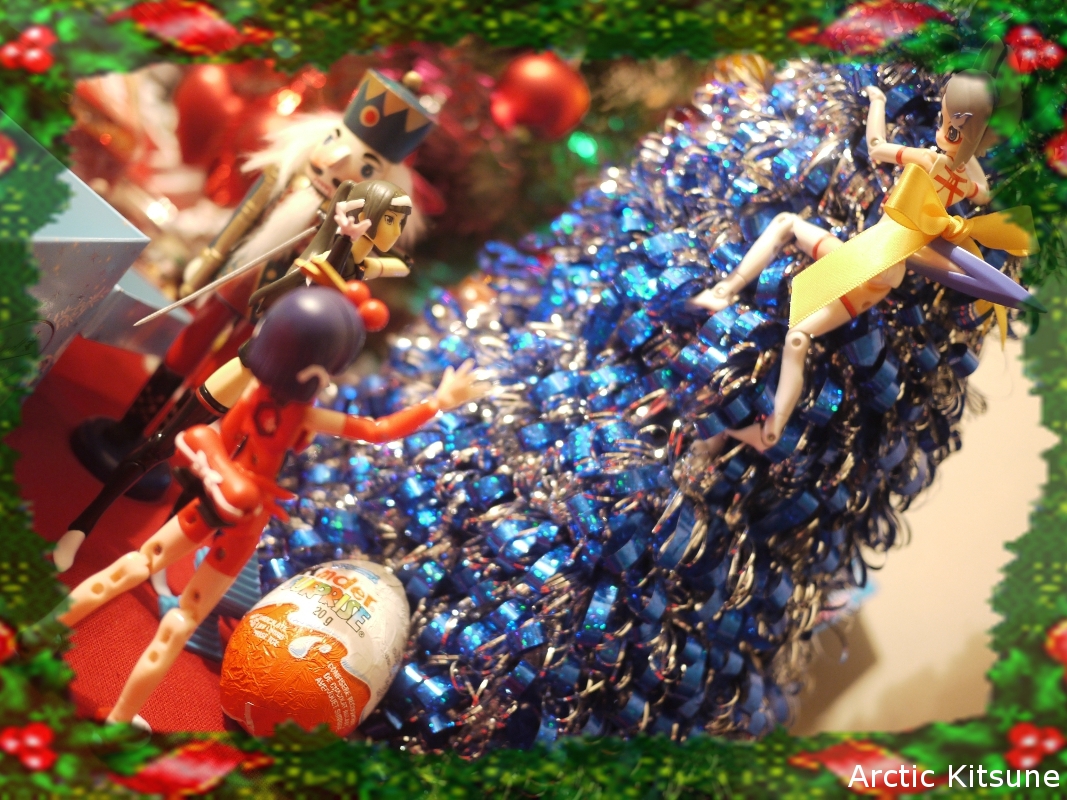 (Link – MySite)
Could almost be mistaken as a Halloween image. Renge's color shined brightly in the tree causing Renge to pose with such.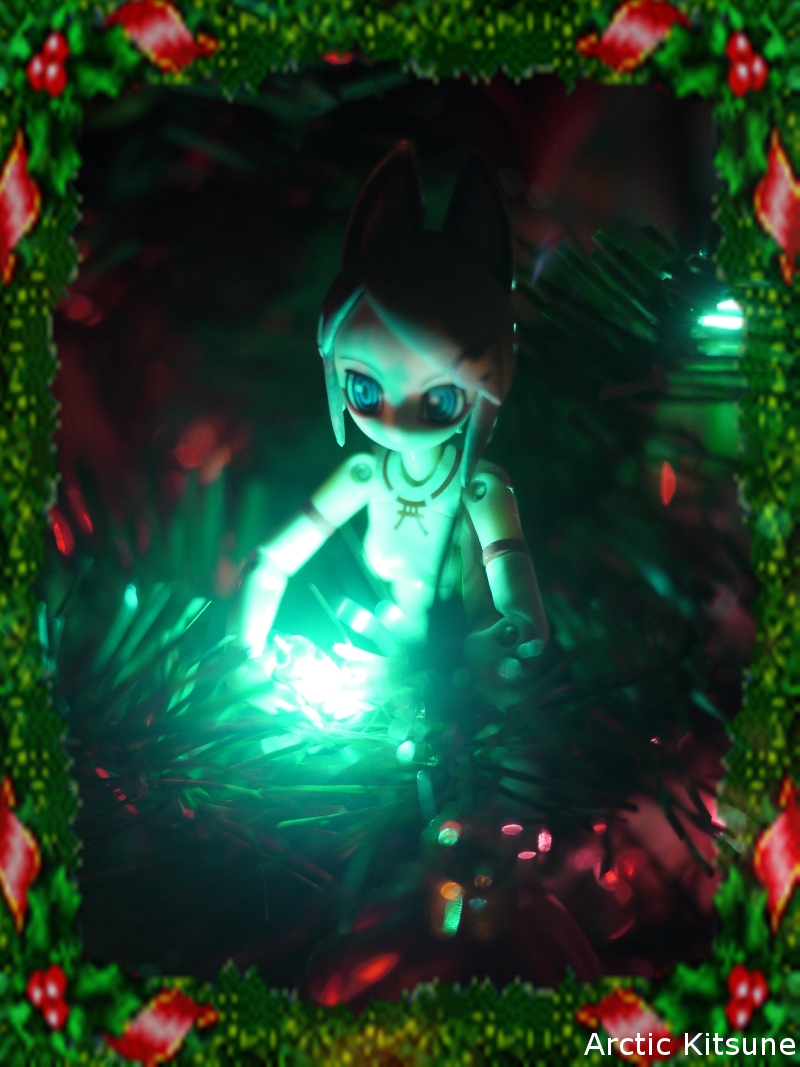 (Link – MySite)
And Kohiru did the same thing as Renge. And Benio? She had hers taken during Halloween.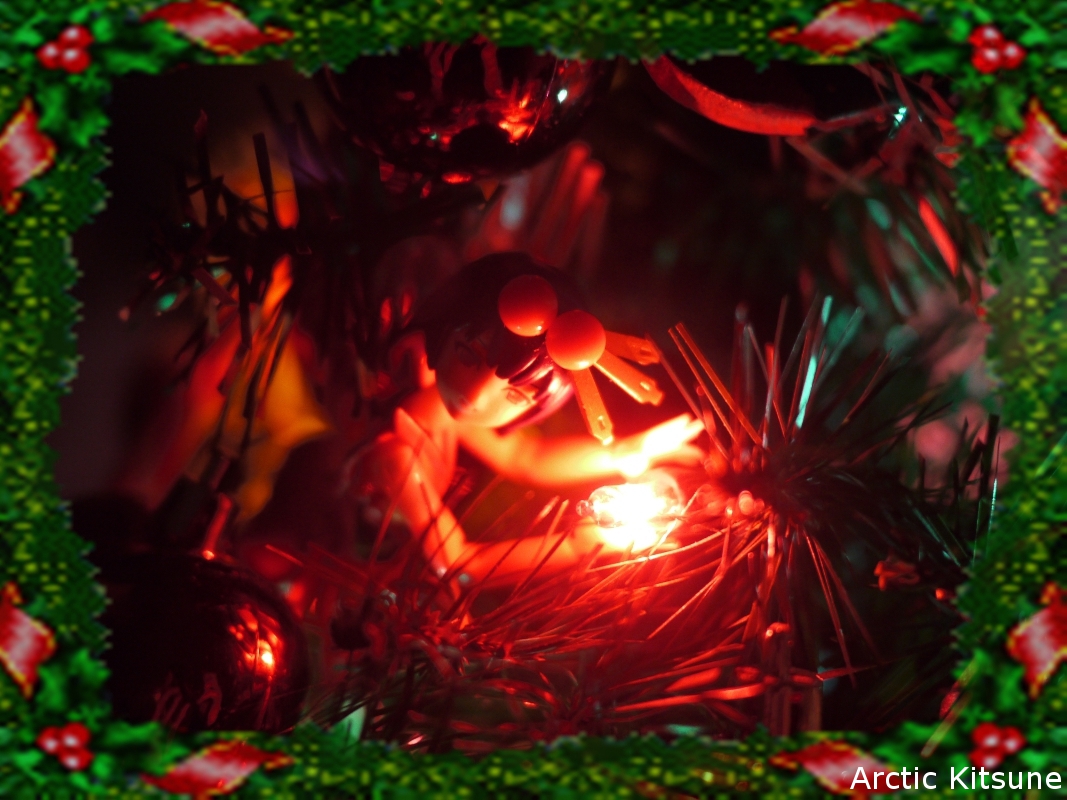 (Link – MySite)
Merry Christmasu! Renge being the jack-in-the-box thingy.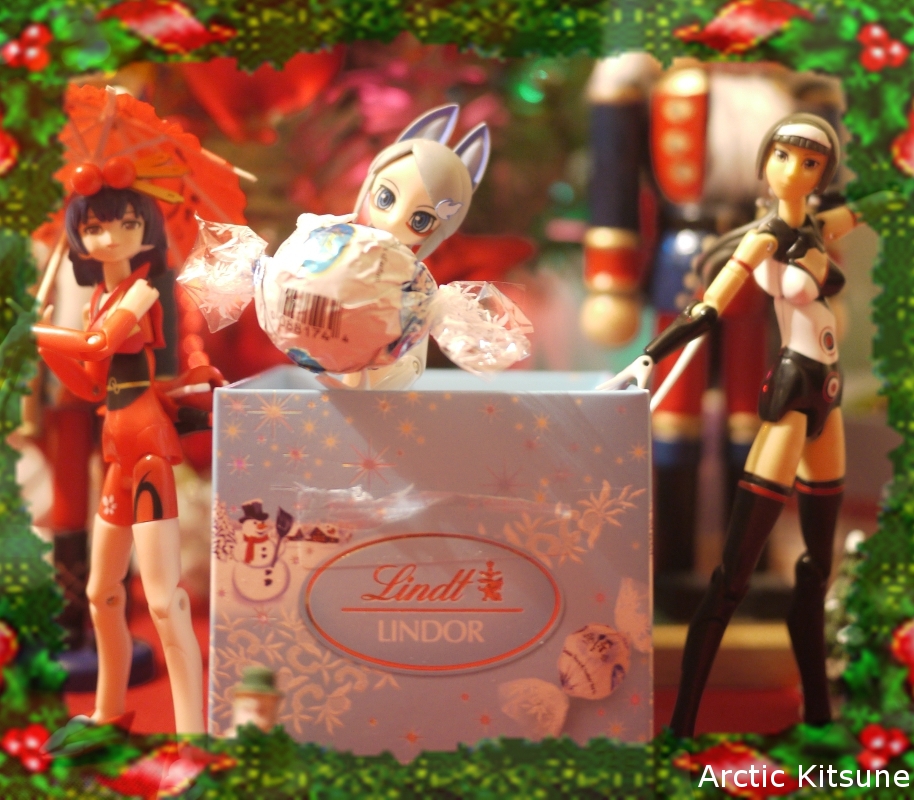 (Link – MySite)
—–
And again, Merry Christmas! I also could of had my planned themed photoshoot but I screwed up. So did a certain delivery company that lied to me :P. Ah well, patience should pay off and I could theme the next one with New Years day heh.