Happy Canada Day to my fellow Canadians!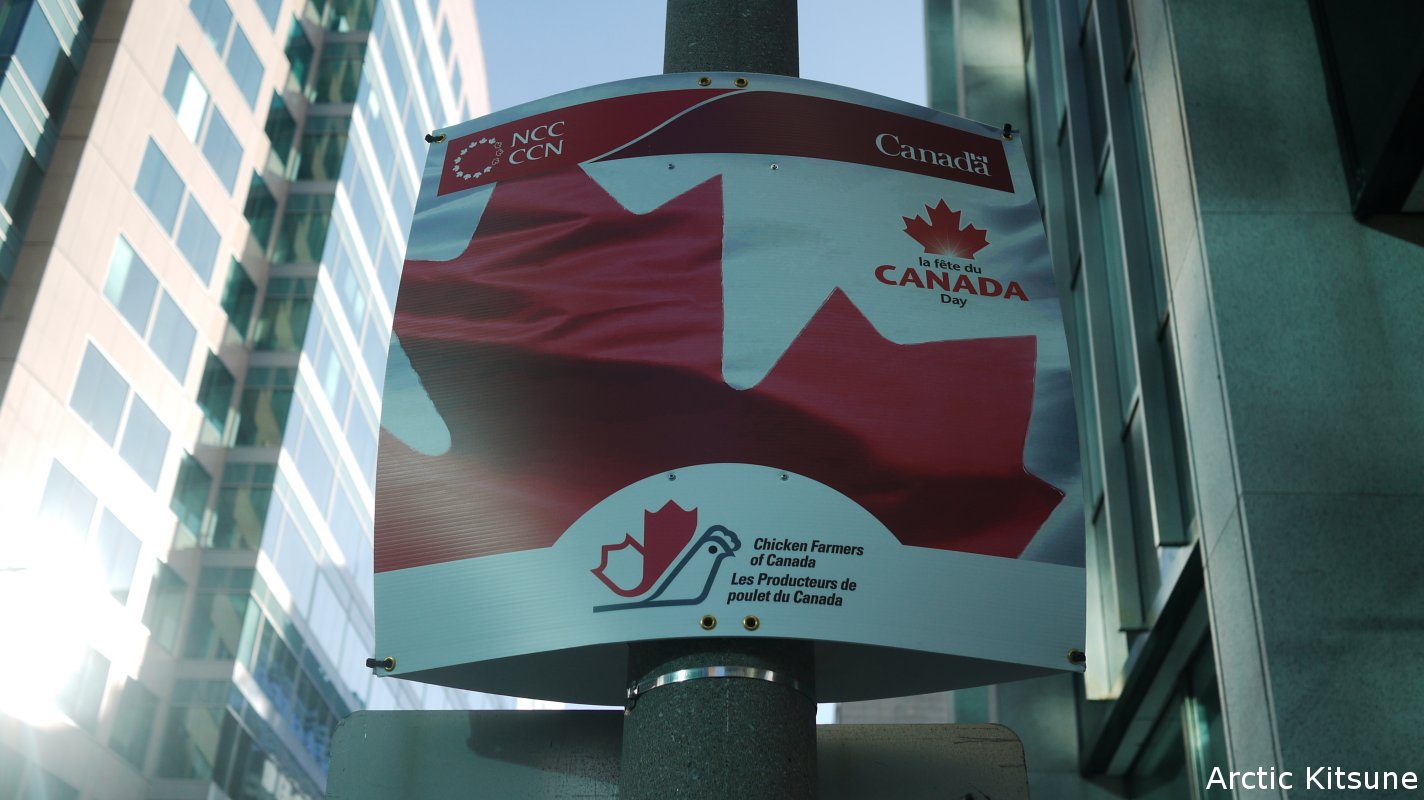 (Link – MySite)
(All images taken from a Lumix GF-1 – Pancake lens.)
I didn't see Will & Kate in person, but I did watch them on TV till about 2:30 pm. I went downtown a bit later and snapped images. I tried Twitcasting but apparently downtown Ottawa is either out of range or it purposely refused to allow me to stream live videos via twitter/Twitcast. Disappointing….Waited about a day for the streams that did stream to finish encoding (longer than normal). Also, I wanted to go earlier but didn't feel well, the reason why I watched Will & Kate in person. I forced myself to go downtown once the show ended because it's Canada Day and didn't want to wait another year.
—-
Related Articles:
– Canada Day – 143rd – 2010
https://arcticukitsu.com/Blog/?p=1058
—-
Twitcast Streams:
The videos that did work are linked here:
-> Miniature sea of people: http://twitcasting.tv/arctic_kitsune/movie/1945158
-> "Tour" of people in front of Parliament and up to Rideau: http://twitcasting.tv/arctic_kitsune/movie/1945272
—-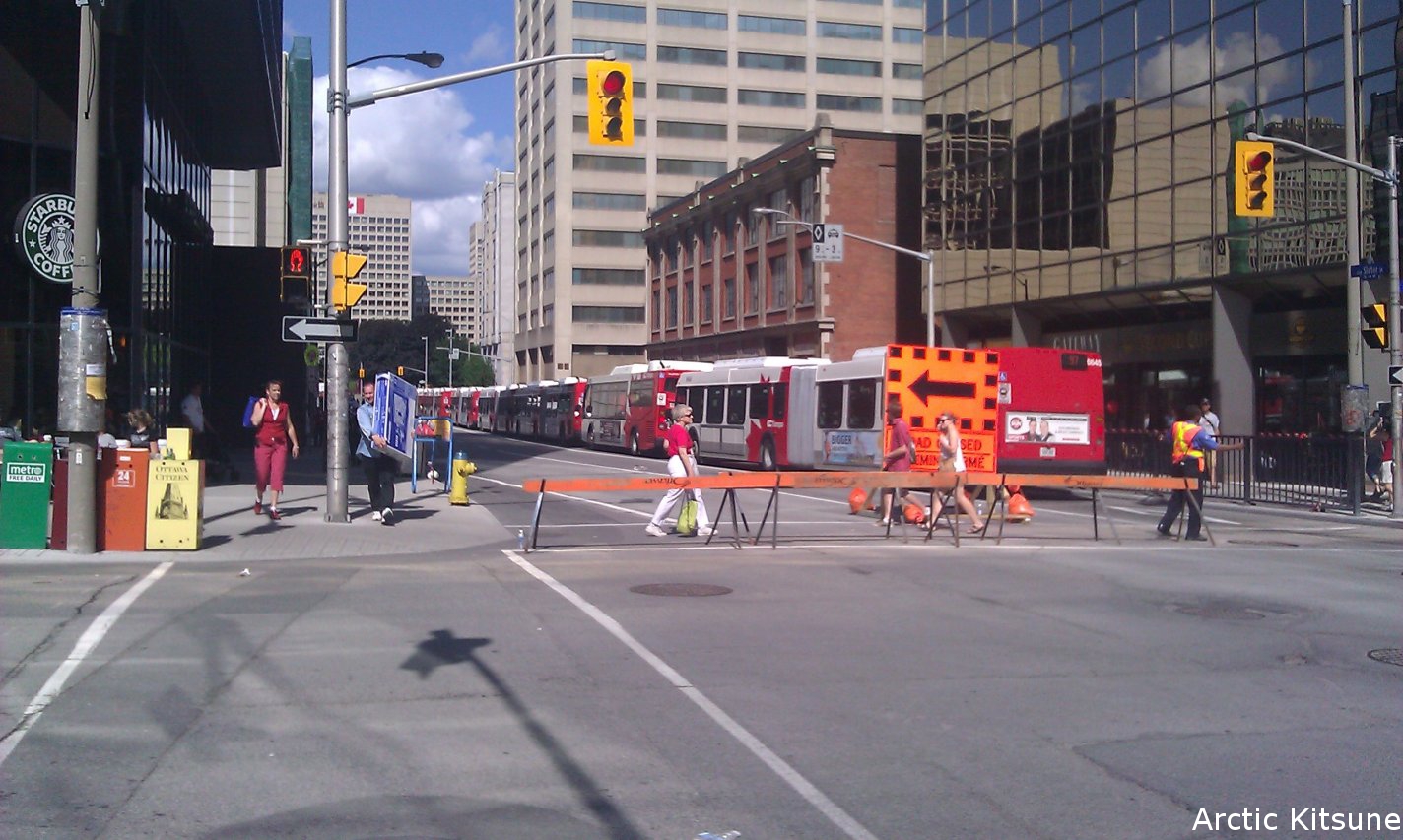 (Link – MySite) – Buses trapped.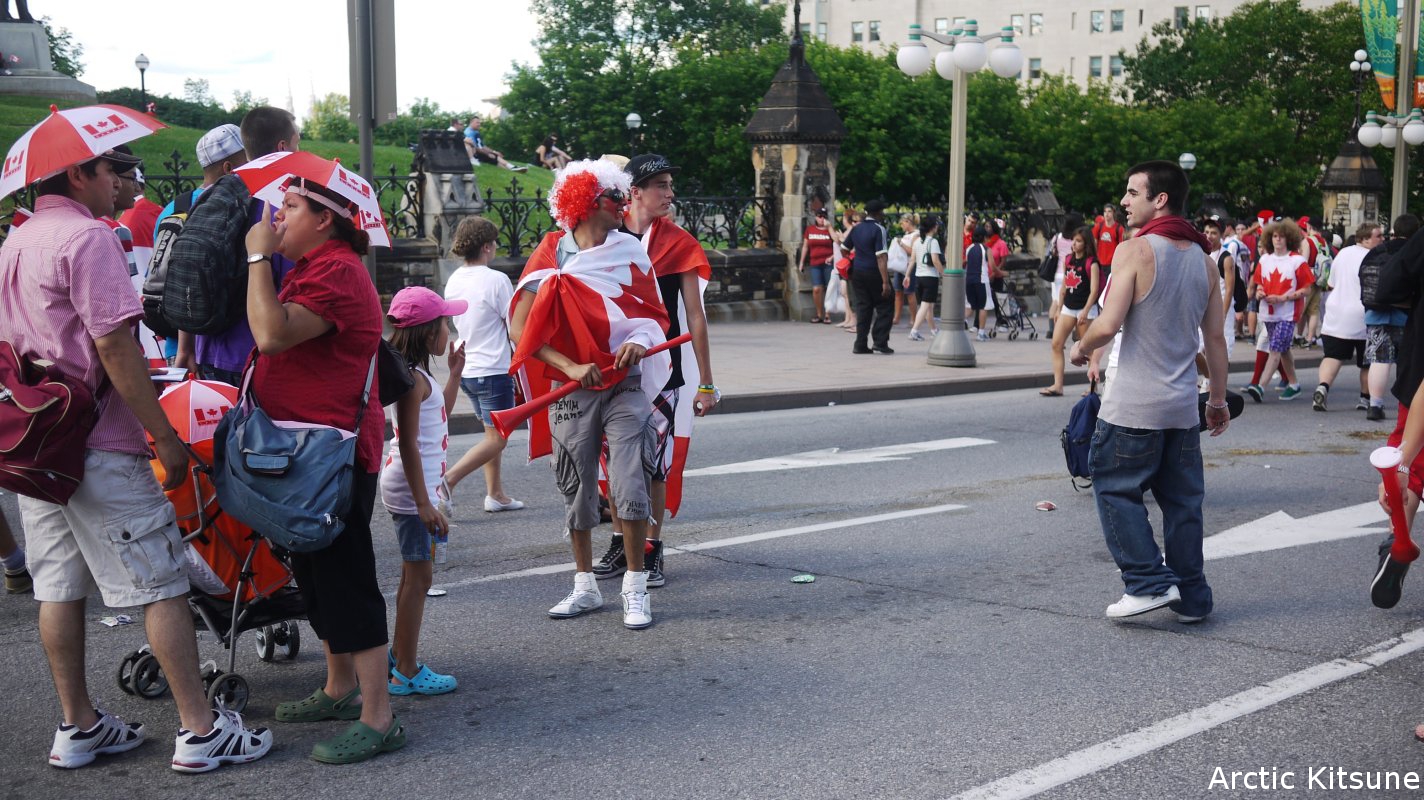 (Link – MySite)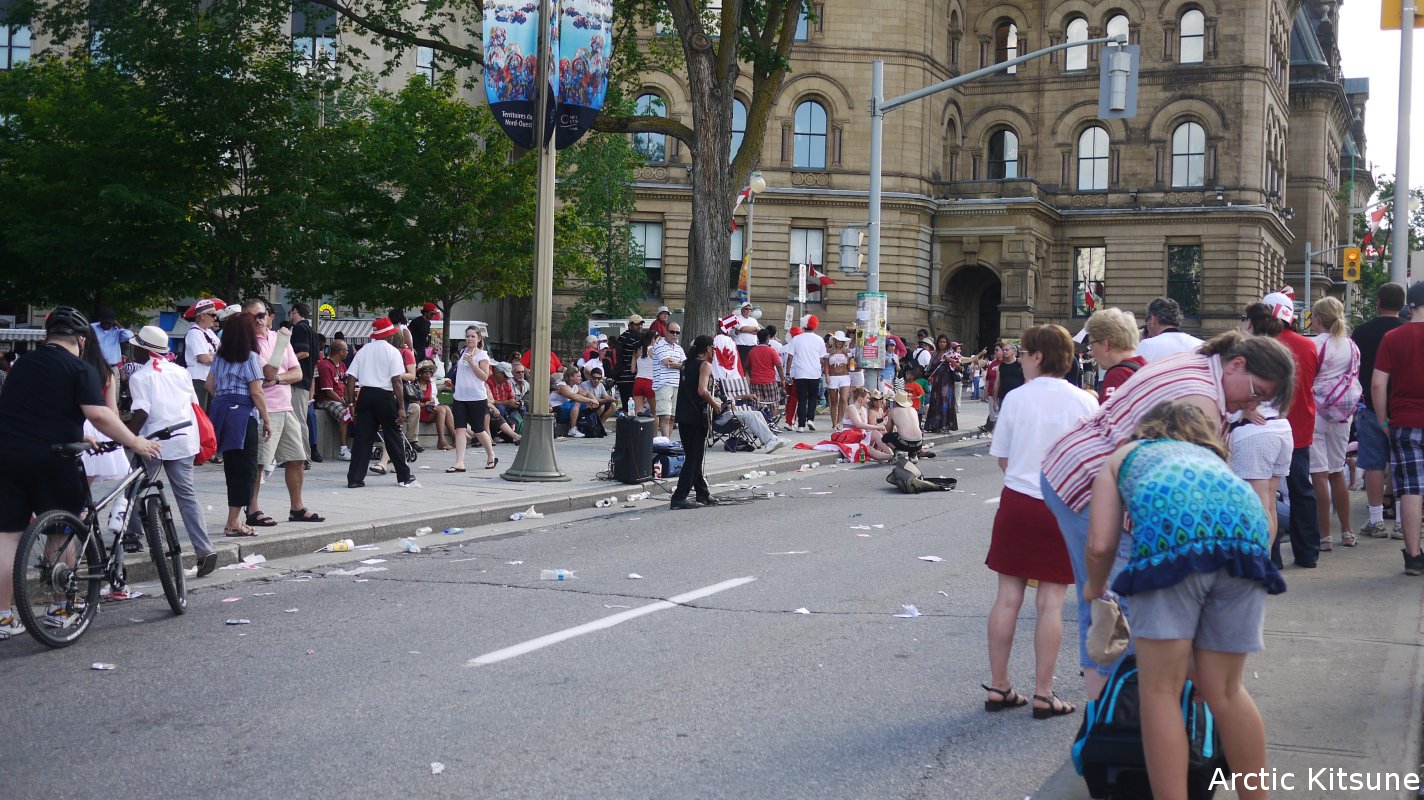 (Link – MySite) – Various performers out-and-about.
Seeing that pile of garbage during every kind of festivals. I didn't post the pile of garbage I saw at 2009's Winterlude because I was trying to be polite. We're just that dirty as Canadians when having fun :P. But to be fair, it gets cleaned up afterwards.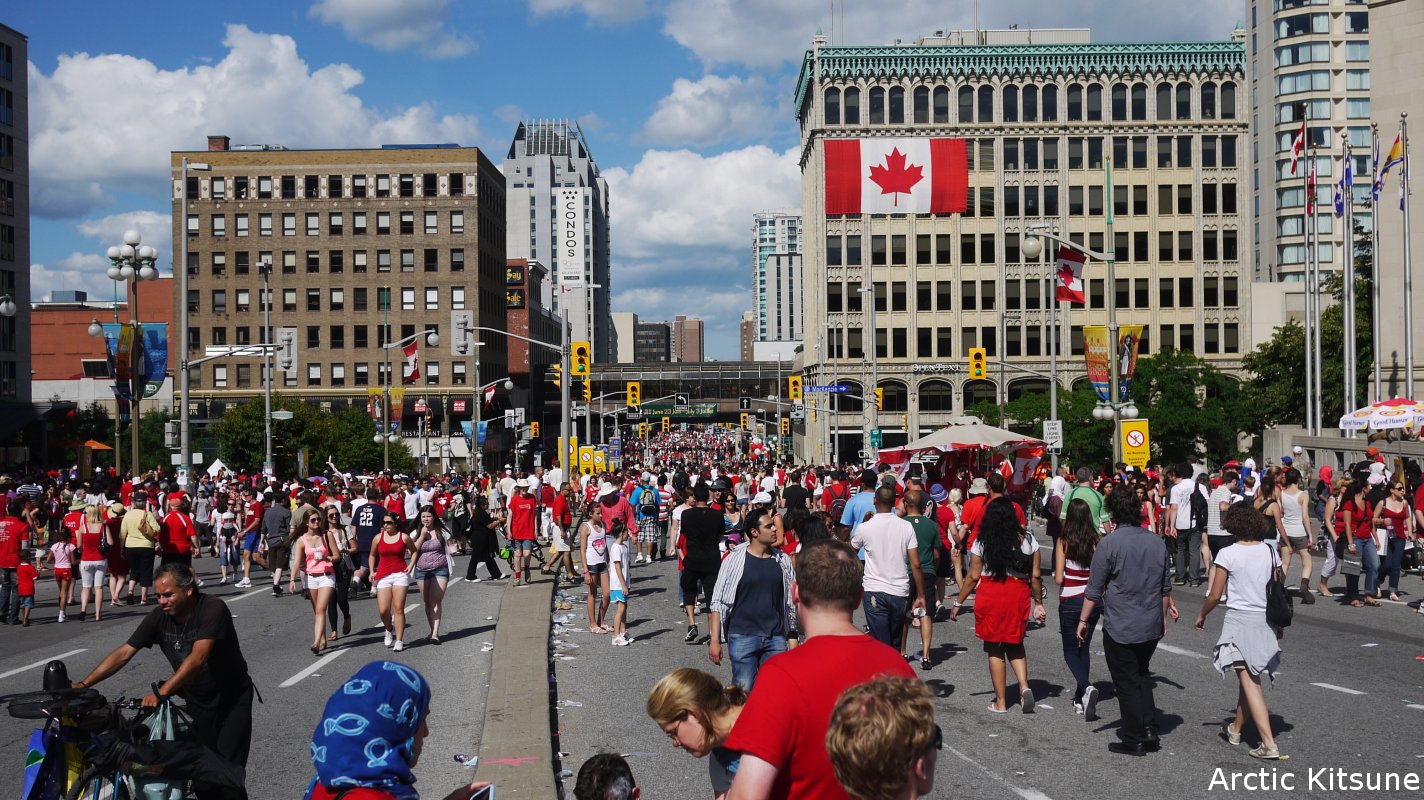 (Link – MySite)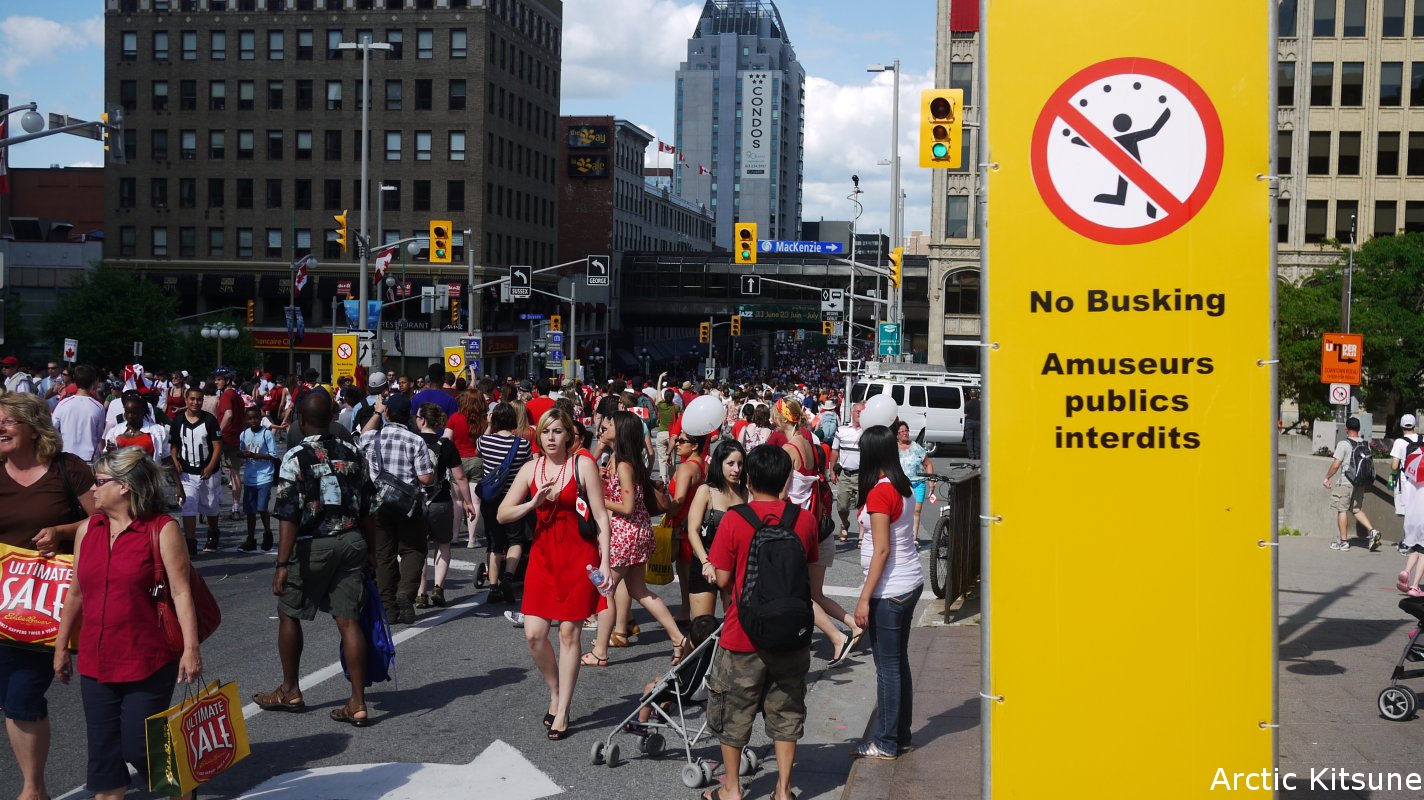 (Link – MySite)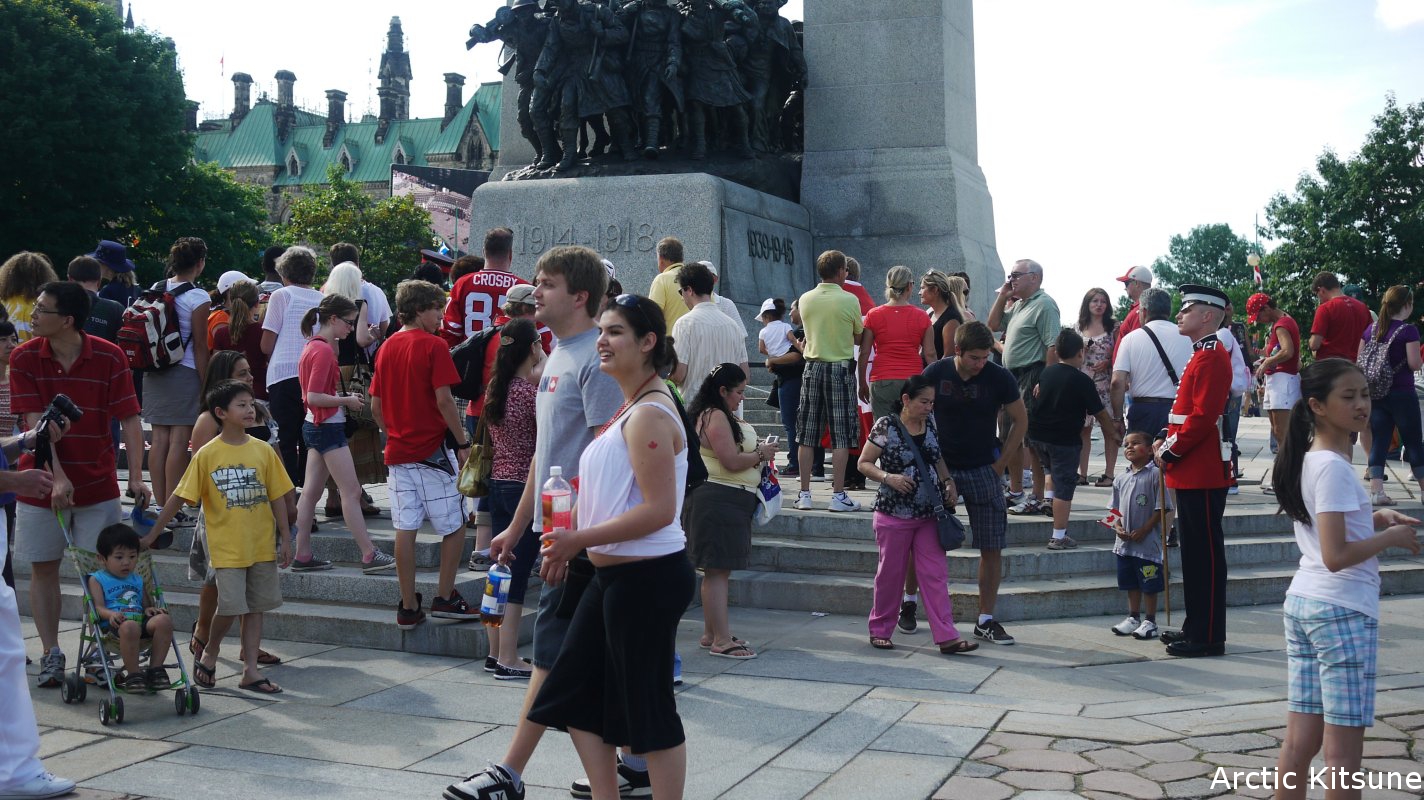 (Link – MySite)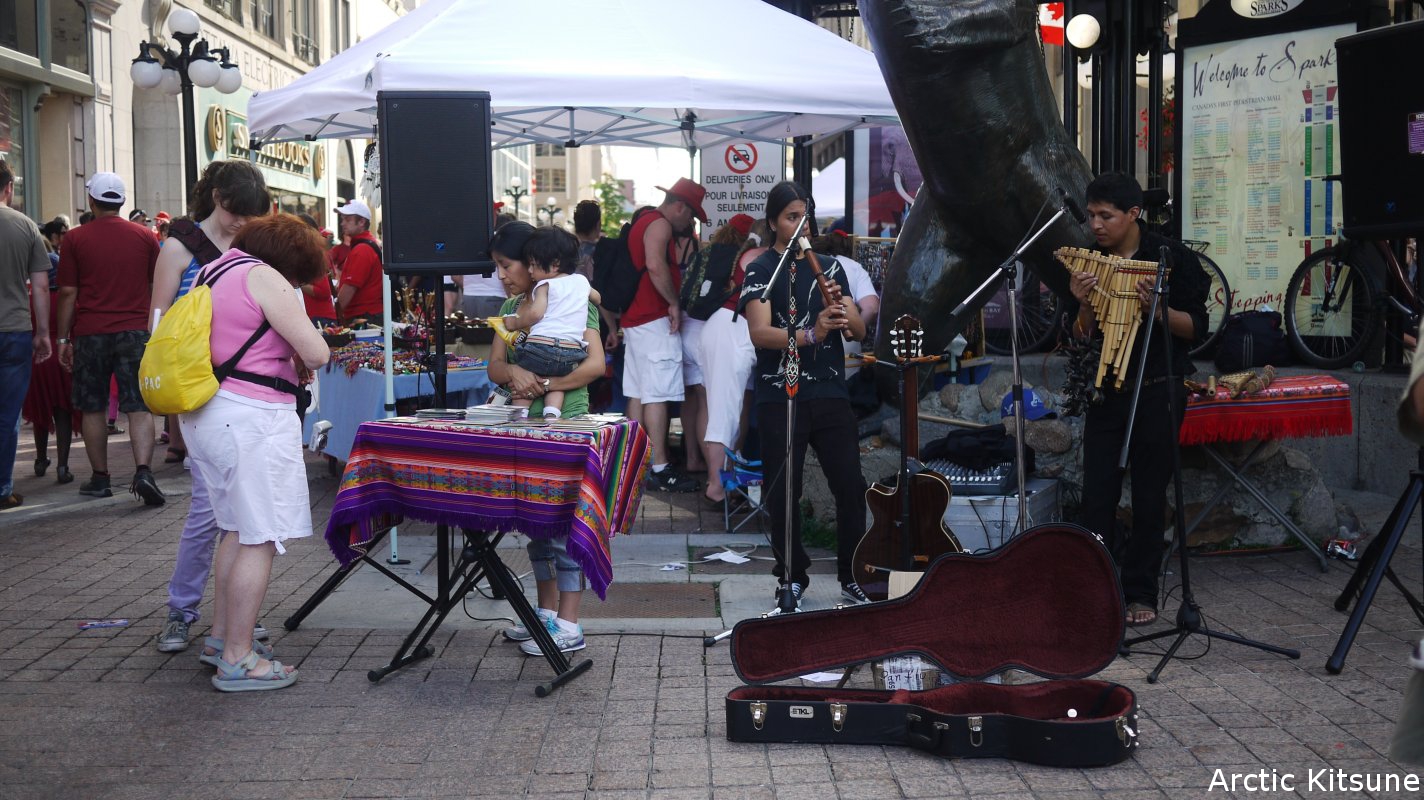 (Link – MySite)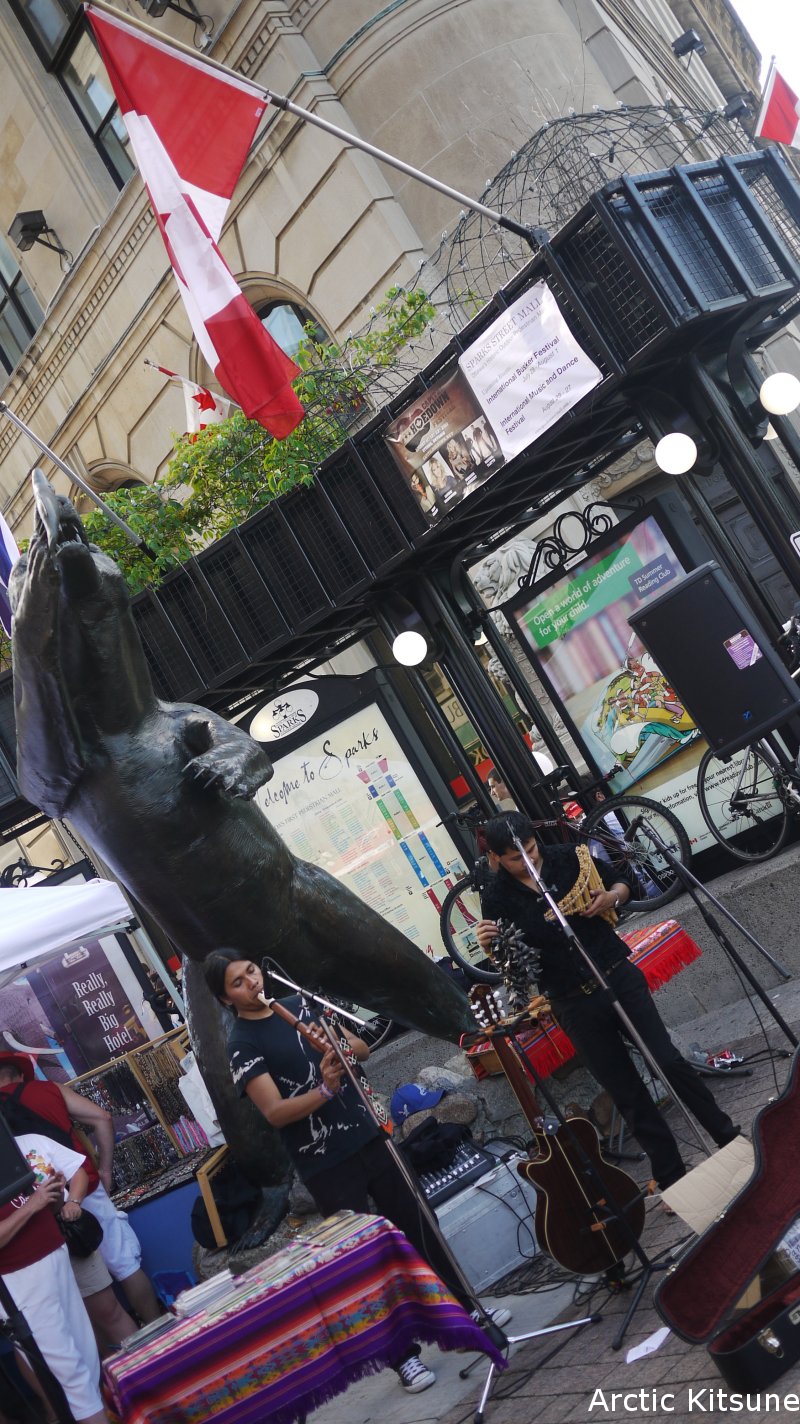 (Link – MySite)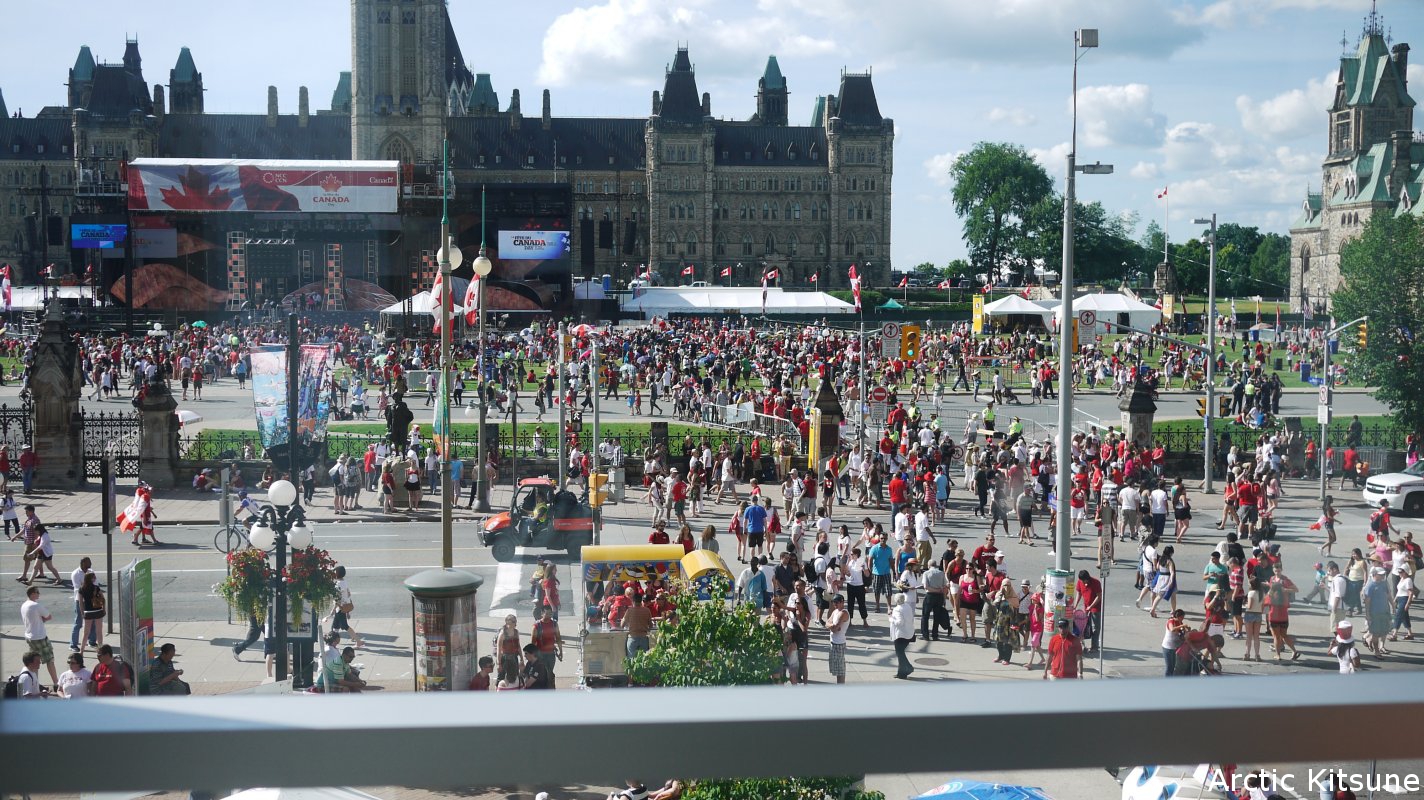 (Link – MySite)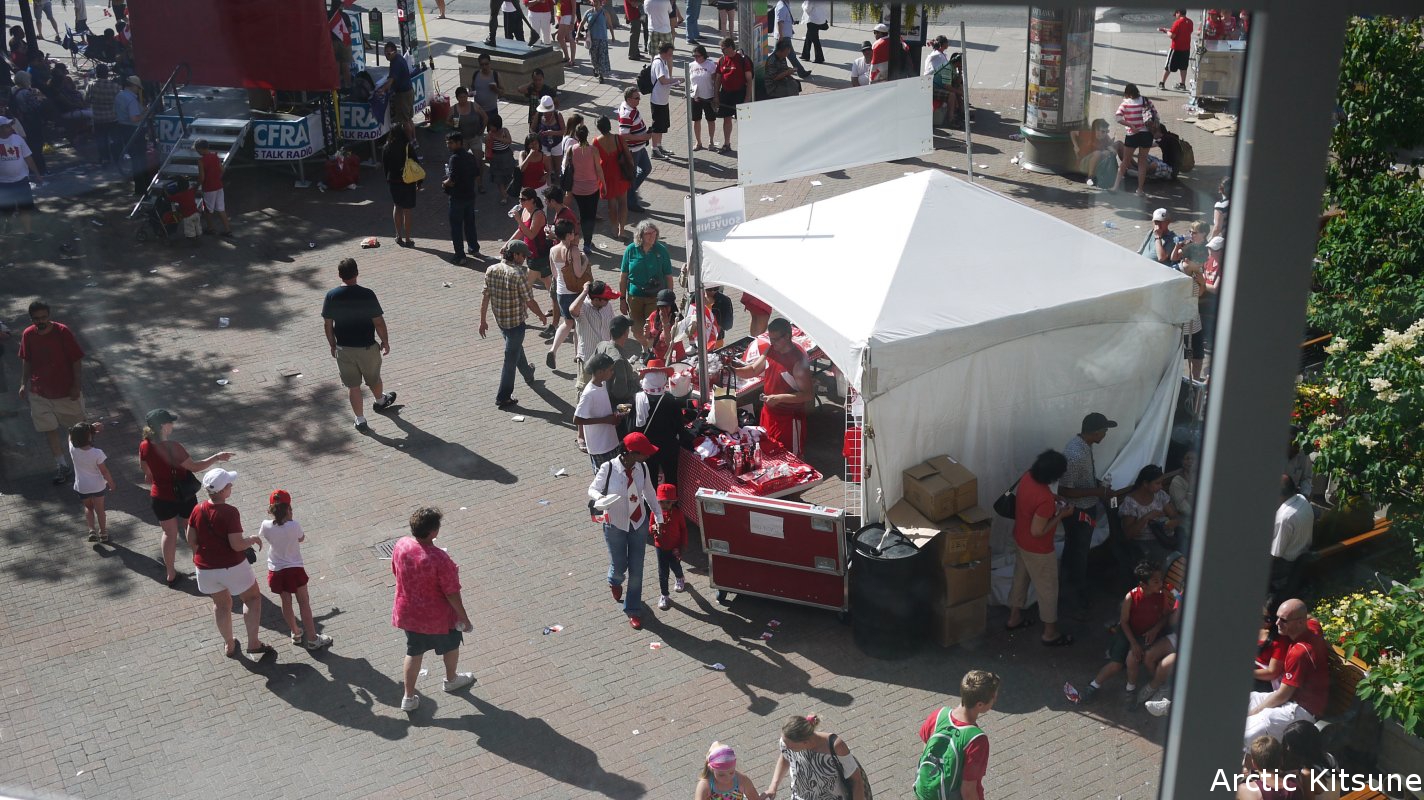 (Link – MySite)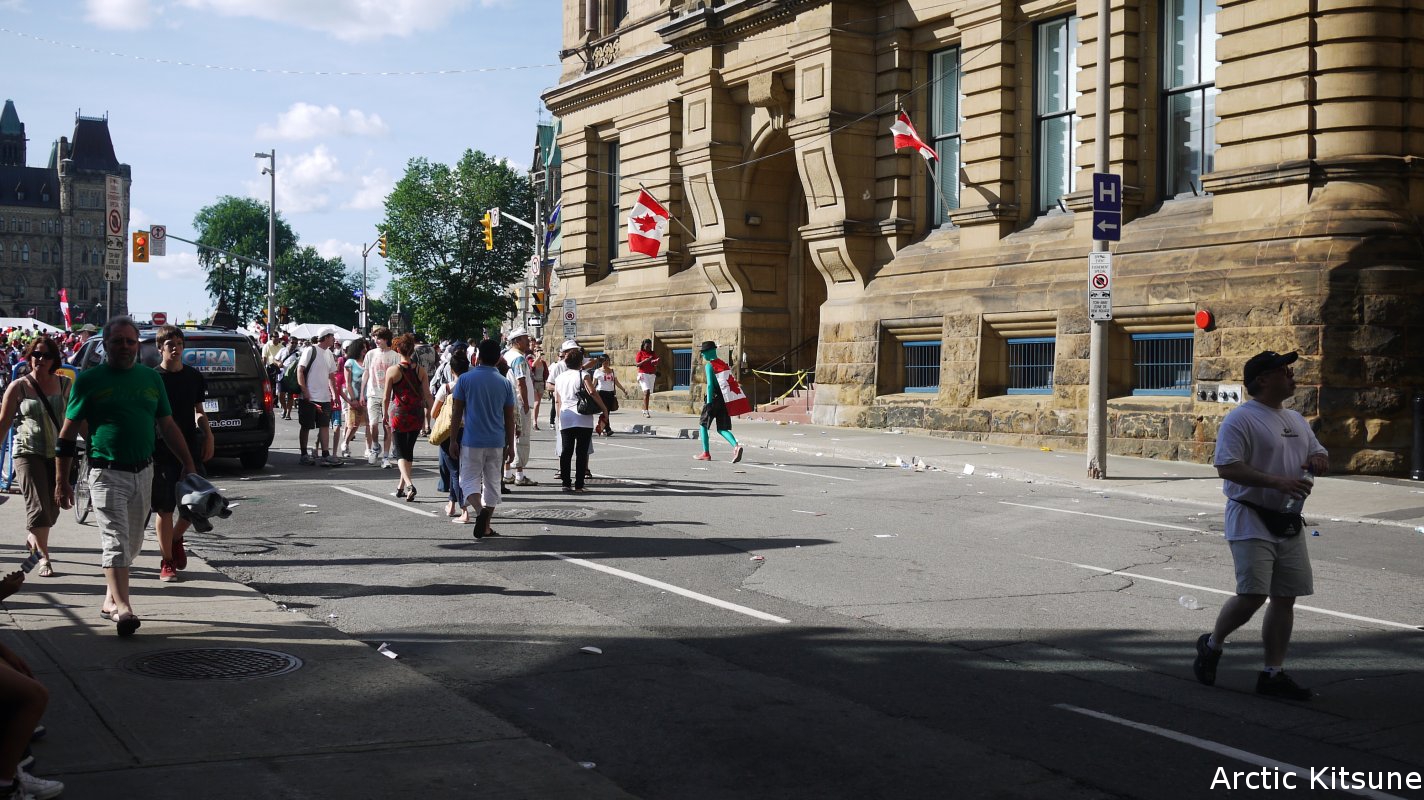 (Link – MySite) – Don't look at me, look at the green dude with the Canadian flag!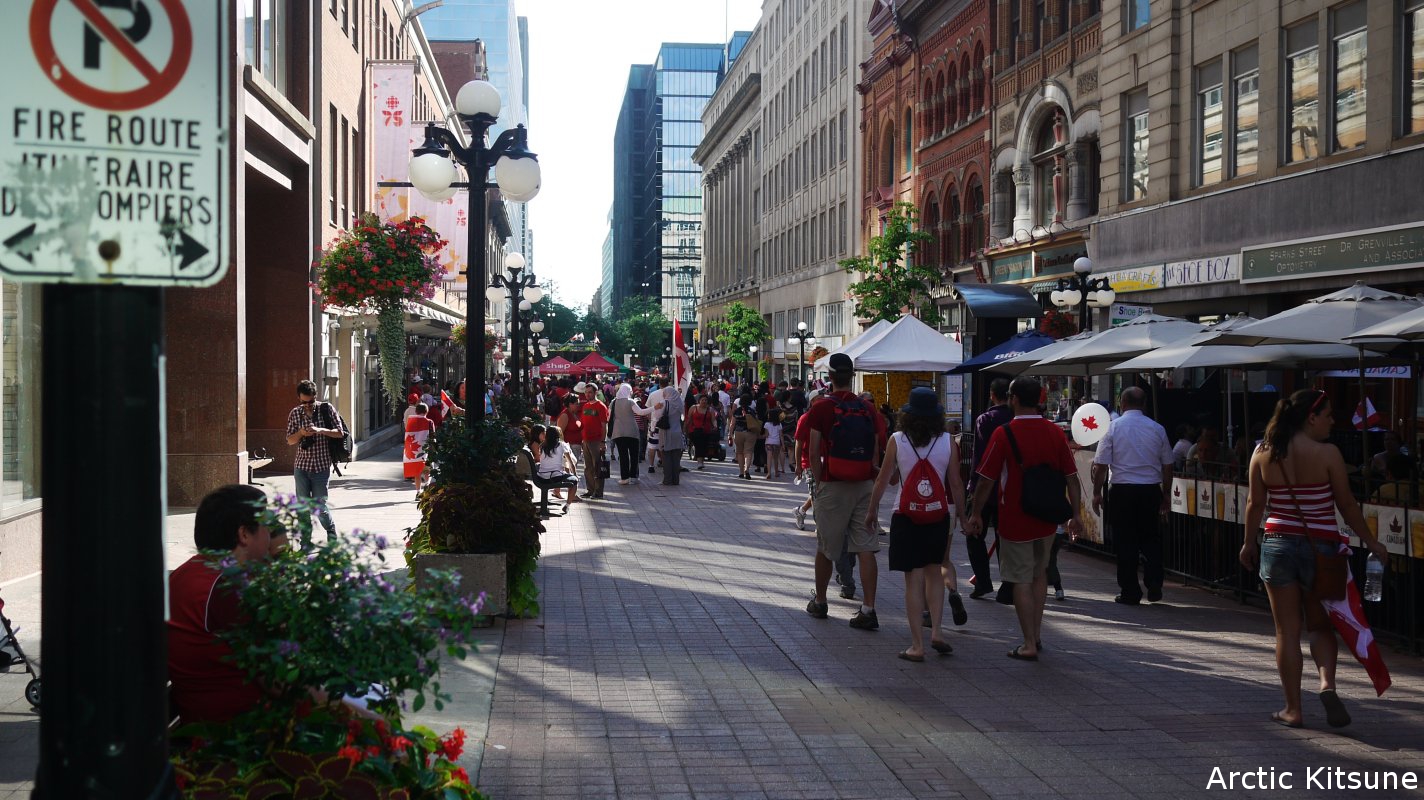 (Link – MySite) – One of the few times Spark Street show's off it's true hidden beauty! Tons of people and nice decorations.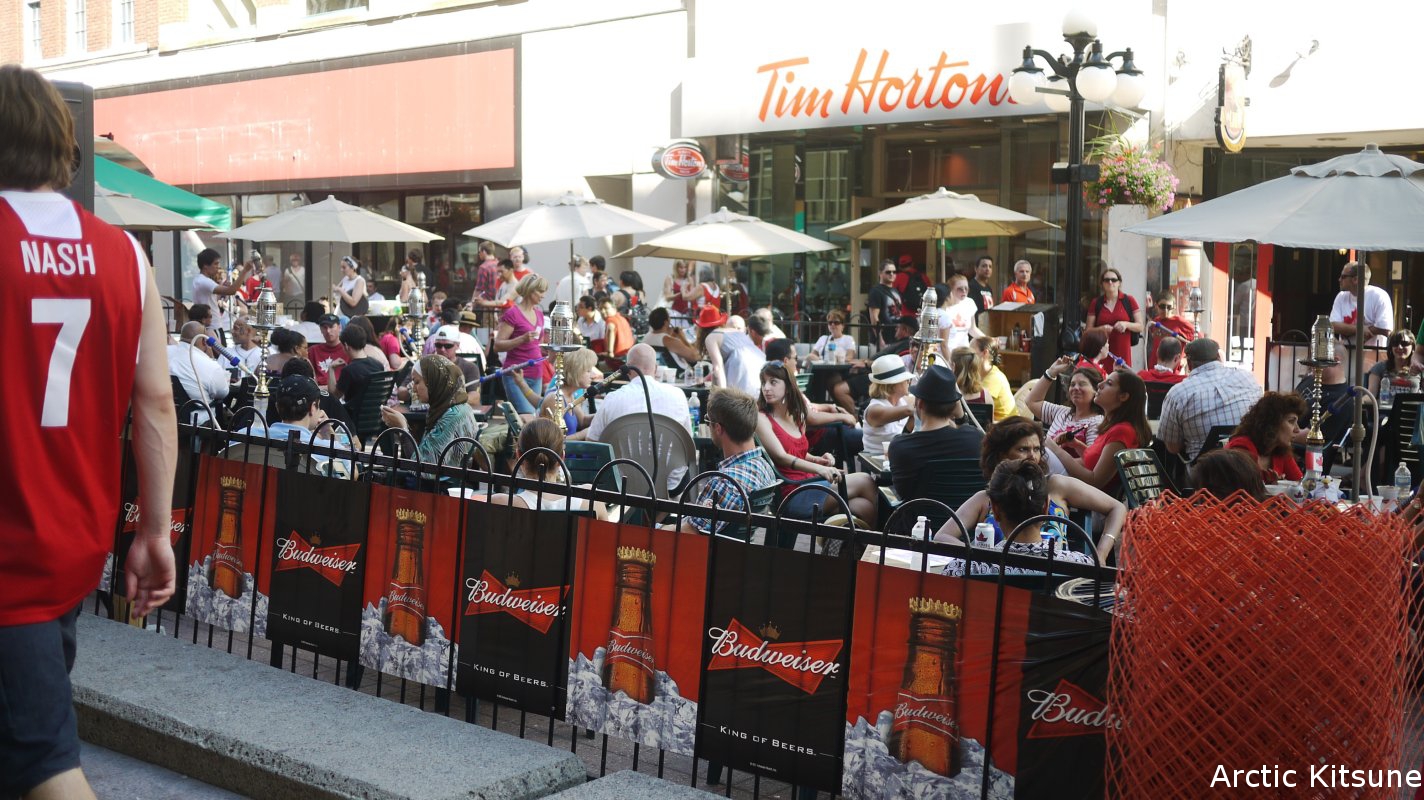 (Link – MySite) – Do I see what I think I see? People smoking bongs/pipes. Look carefully.
This performer sounded a tad bit rude, even the teens were wondering what was up with him. He insulted a girl to hug him or something.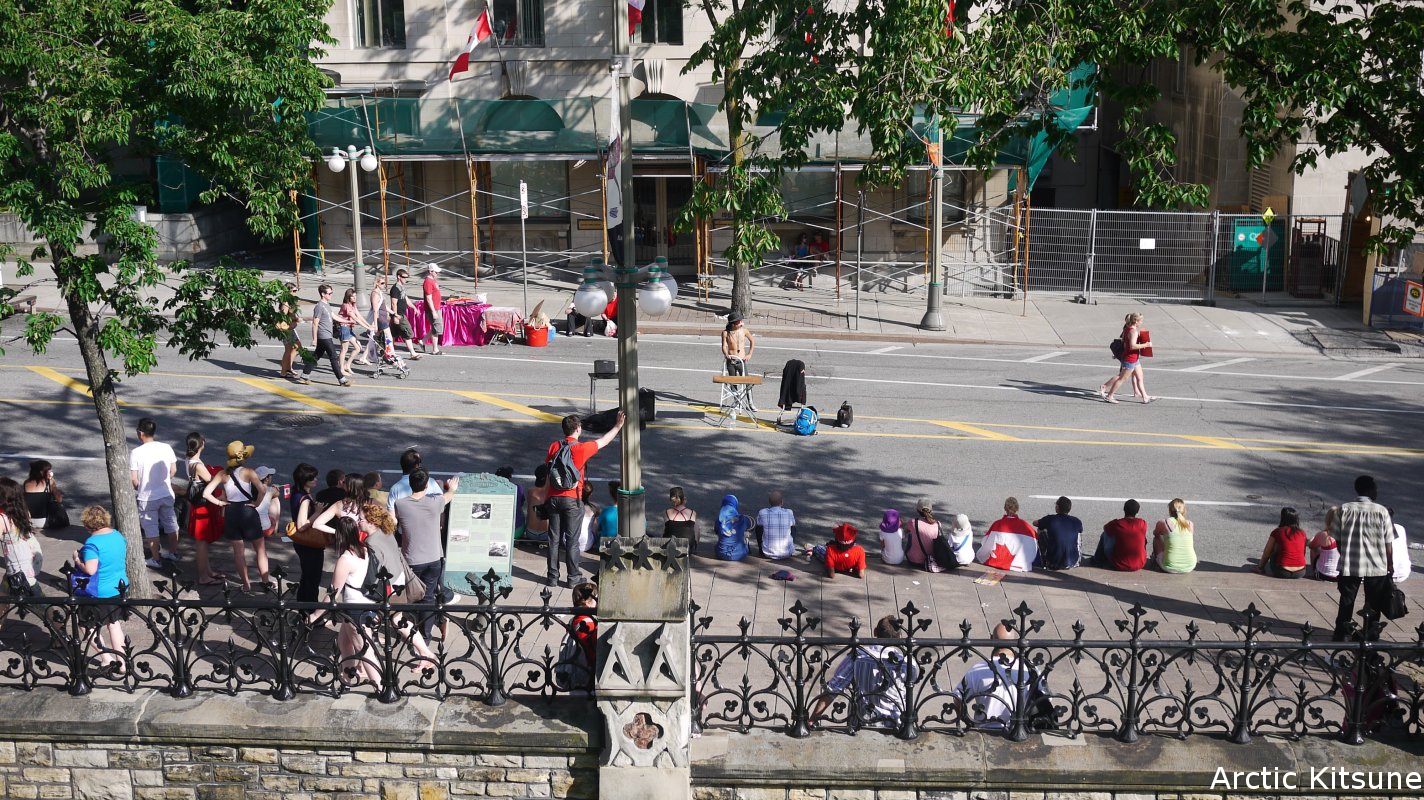 (Link – MySite)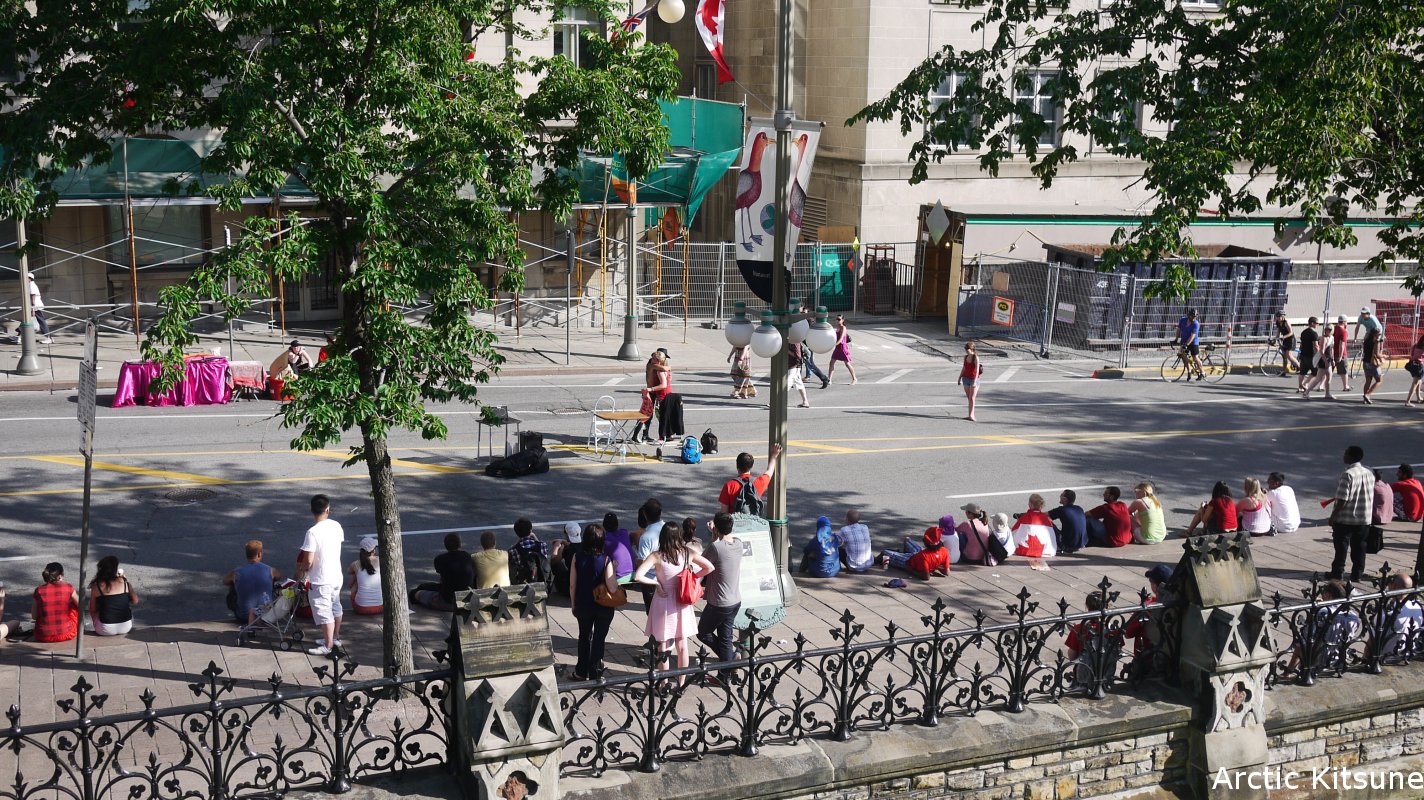 (Link – MySite)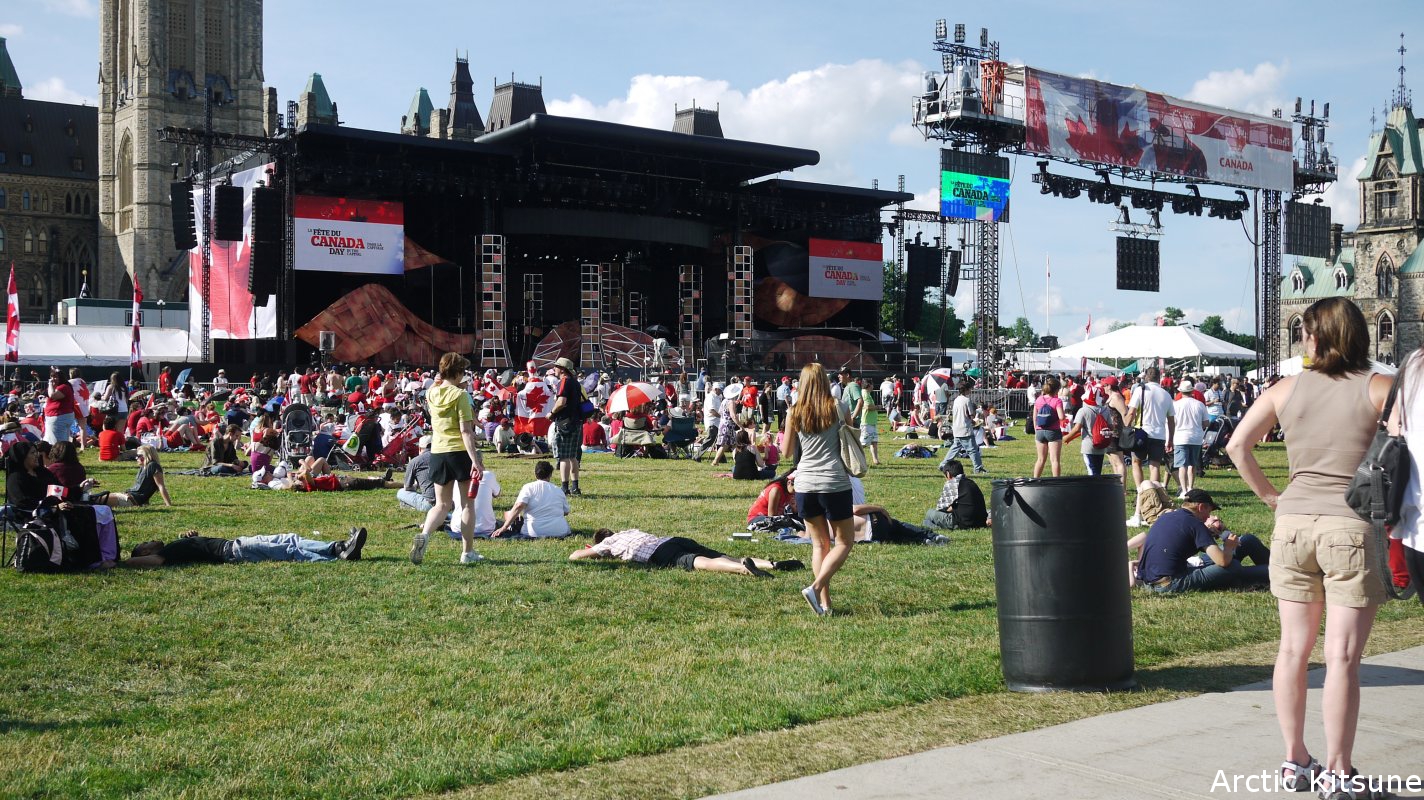 (Link – MySite) – People sitting around waiting for performances.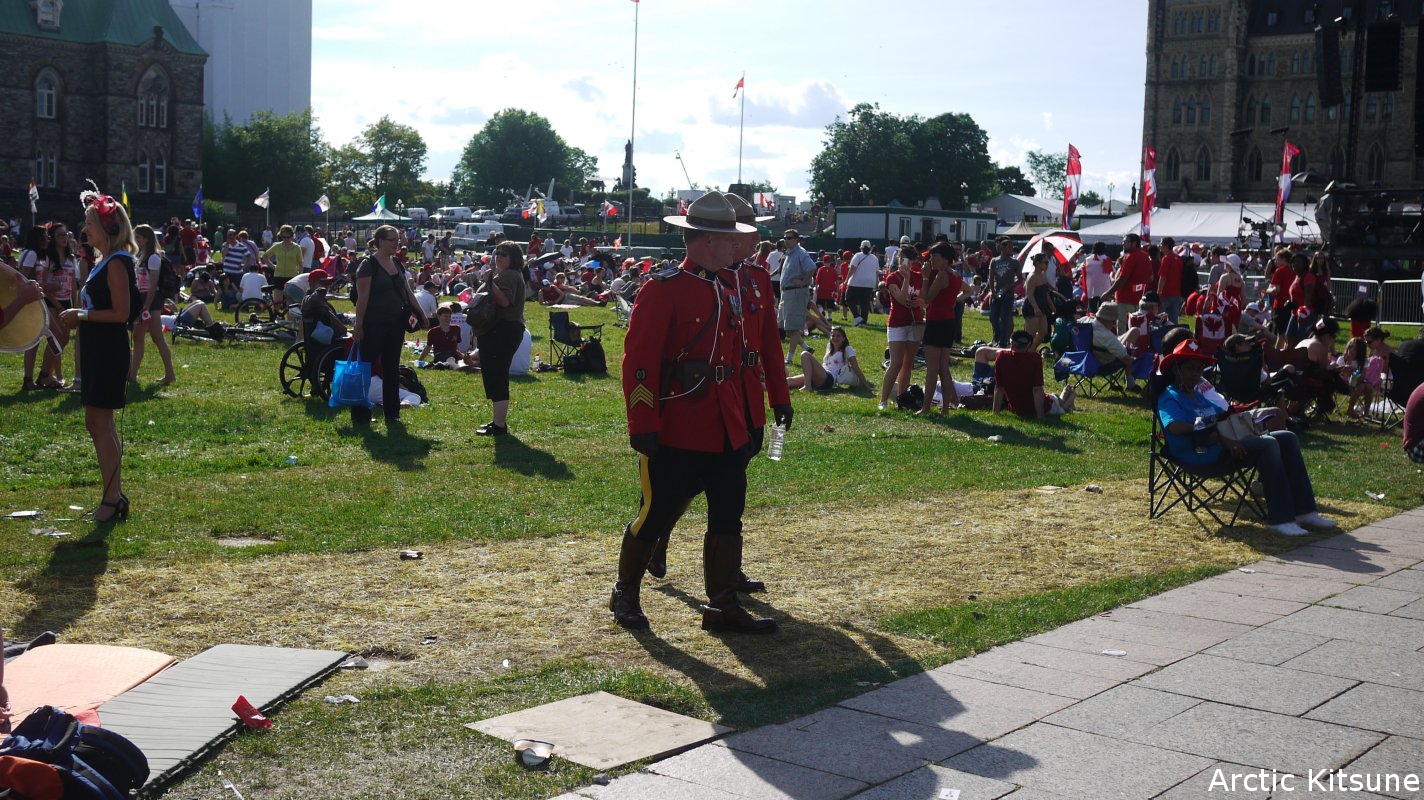 (Link – MySite) – Royal Mounties, and a newscaster to the left.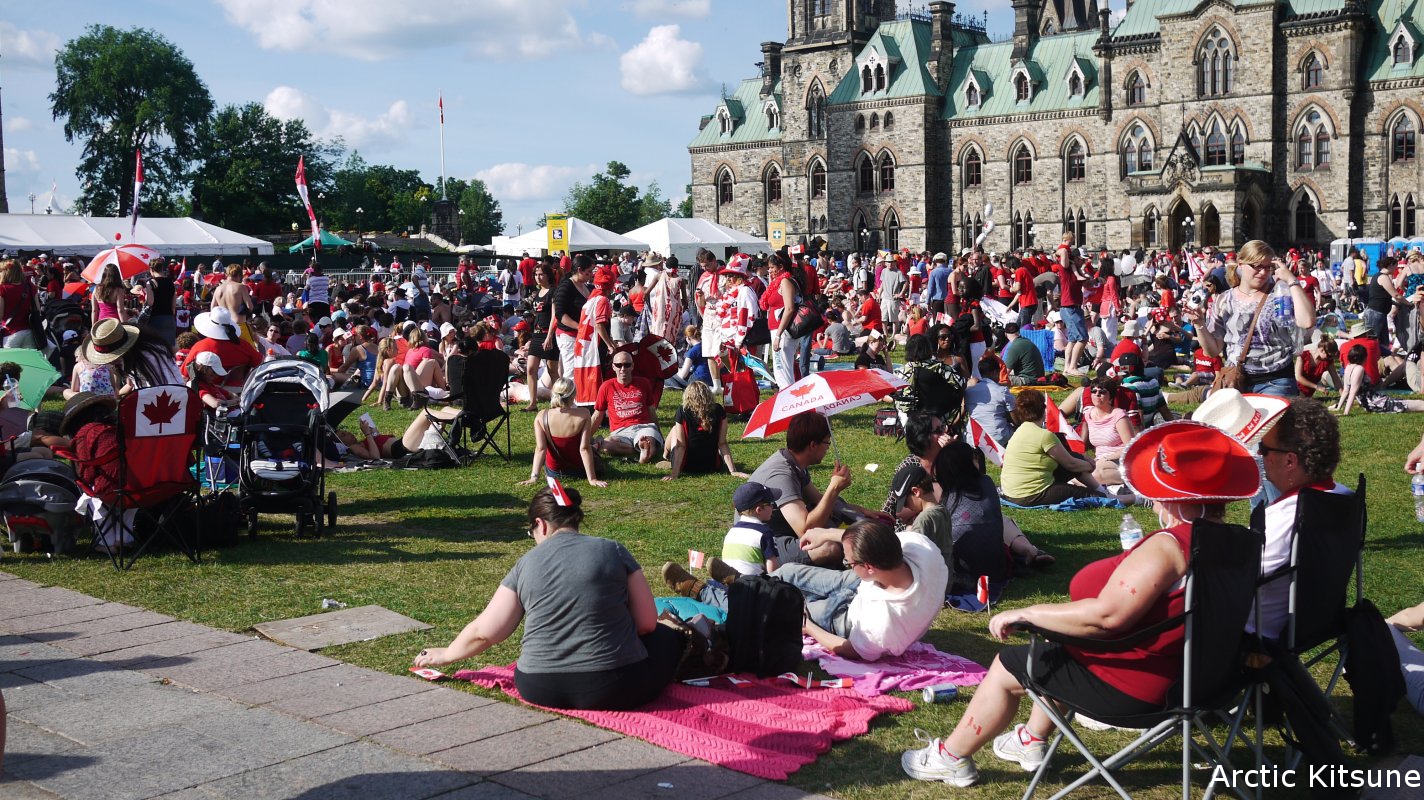 (Link – MySite) – Bunch of patriotic people waiting for performance?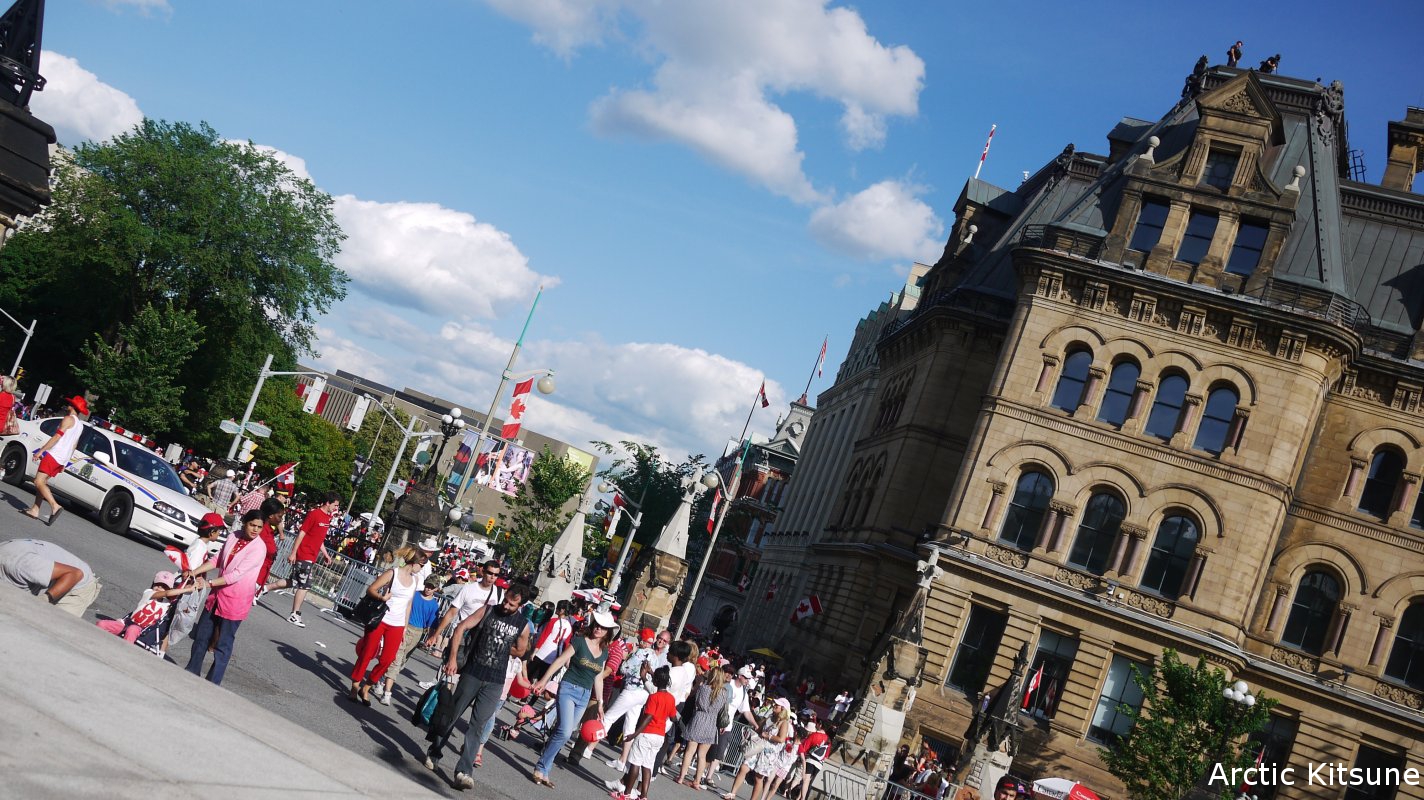 (Link – MySite) – Patriotic people and snipers (top right) observing them.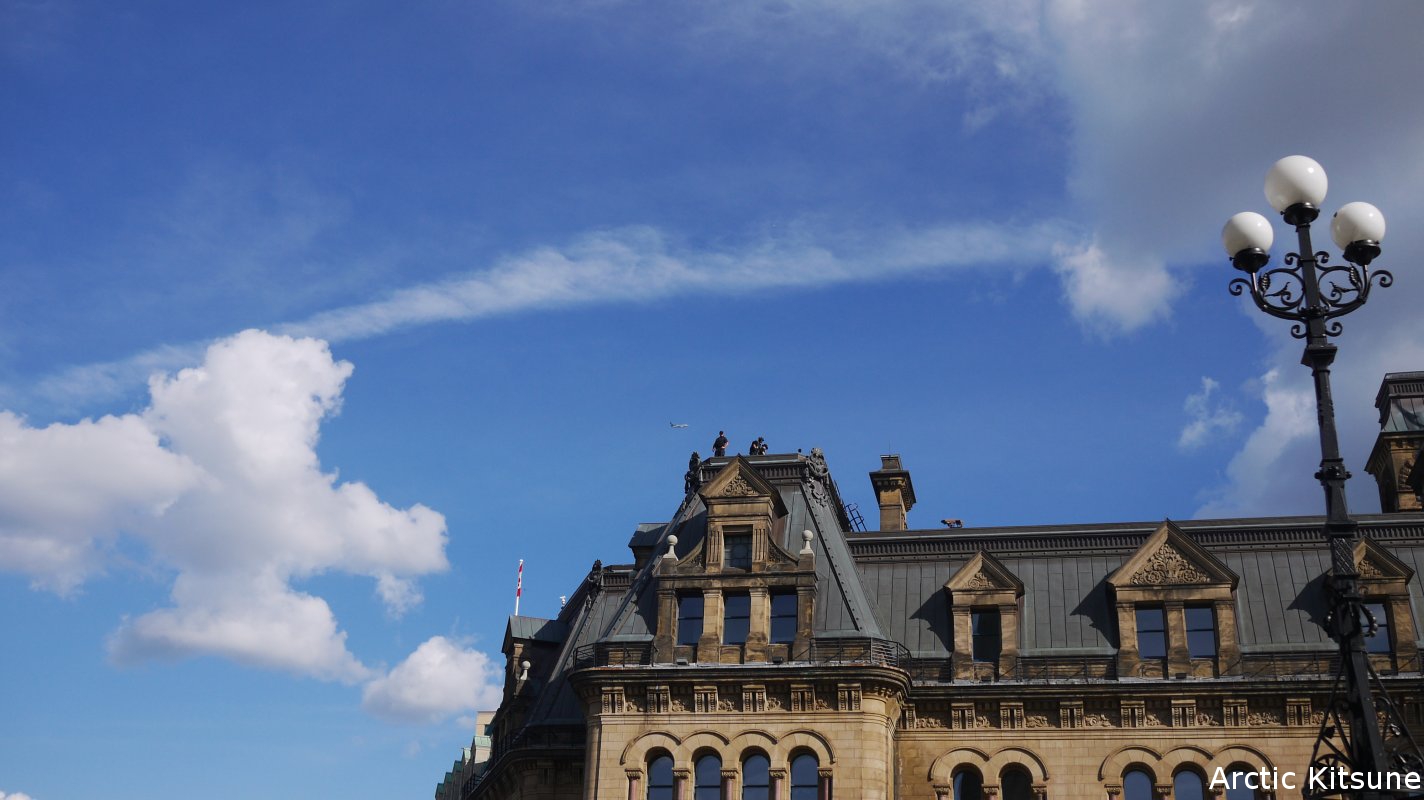 (Link – MySite) – Westjet flying behind the surveillance team.
Things barely went as planned so I returned home to change after a certain incident….I got the opportunity to borrow a buddy's balcony (Thanks!) to view scattered fireworks around the city so I took it. Was too far to video it and felt that using my Lumix's burst mode was a better and more creative feature for me. This is what my camera got out of Canada Day's fireworks haha.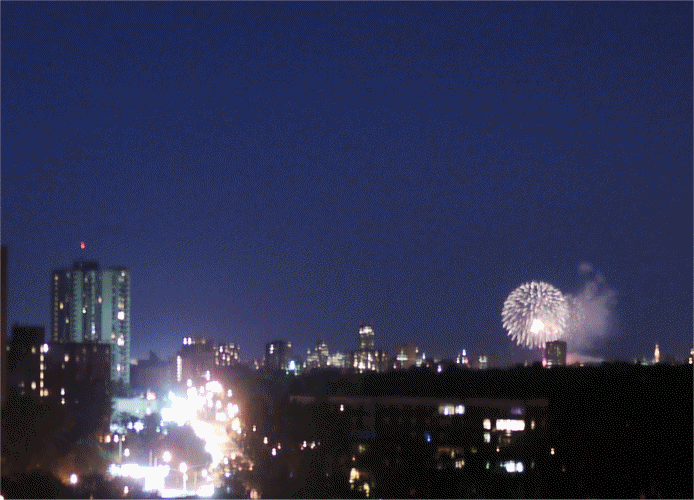 (Link – MySite) – Fireworks – Part 1
And part two in video format. Enjoy!
Was also nice seeing fireworks being set off from all around the city. One at this buddy's place, around my area, downtown, Yatch club, Tim Hortons area, Gatineau side, and Andrew Haydon park. Well, guess that wraps up another Canada Day. Here is to hoping I can make 2012's Canada Day an awesome one!
—-
Bonus: And not my content!
A net buddy of mine from Japan – Ken_works – linked me a few videos of a Japanese vlogger named "Jet Daisuke" who came from Japan to visit Ottawa. I found these videos awesome. Â So, I hope Jet Daisuke doesn't mind me linking his videos!

(Daisuke meets Will & Kate, amongst other things and living creatures.)Â 
Feels weird adding content that isn't mine, but I thought I'd add it because it's neat and shows off my city from a foreign perspective!
———
I'm 100% proud to be Canadian! Seeing my Canadian flag in red & white just makes me proud to live here. Just a simple glance at the flag show's the brightness and the pride without even knowing about Canada. It's a great country with great people (and crazy ones), awesome food, great scenery, nice transportation vehicles (i.e buses and trams), awesome planes, great short history (compared to Europe and Asia), awesome culture(s). We've got a massive backyard that others would only dream of! I just love my experiences I gained in this country. With the good comes the bad, as it always does, but I won't get into that as it's a bit irrelevant :P.
Hope you guys enjoyed your Canada Day! May you Americans enjoy your America Day on July 4th!