That's quite a surprise to finally see it airing for us to enjoy. I'm glad to see that it's borrowing and taking over from where Busou Shinki last left off while also being in its own universe. This anime is still Busou Shinki in ways, but now with Frame Arms Girl with more parts building and combat focused. This may contain large amount of images & some extended thoughts on scenes.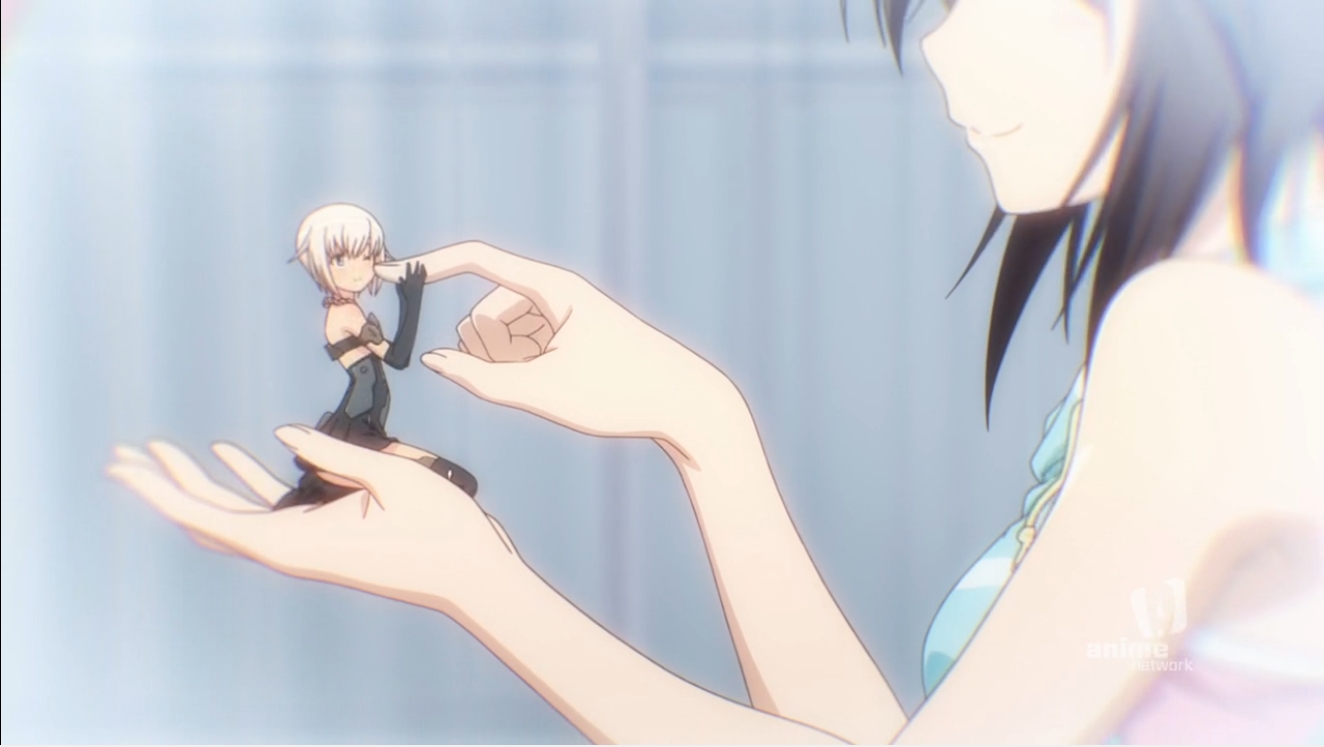 I'm actually quite happy that Frame Arms Girl has gained an anime of its model figure line where you can build and customize your Frame Arms Girl. What makes this special that I'm blogging about it? Well, go check out 'Angelic Layer', 'Busou Shinki', as well as even 'Gundam Build Fighters' with its sequel to experience the charm while also informing yourself of the genre itself. You'll eventually discover the fun appeal to this whole line. It's just fun having a 15 cm (roughly) tall Angel/Shinki/Gunpla to co-exist with you as they learn, try to be mini-maids (house chores), battle others, & etc. Building is fun, and it should be fun, that whenever someone gets arrogant you need to knock them down a peg to have genuine fun again. Frame Arms Girl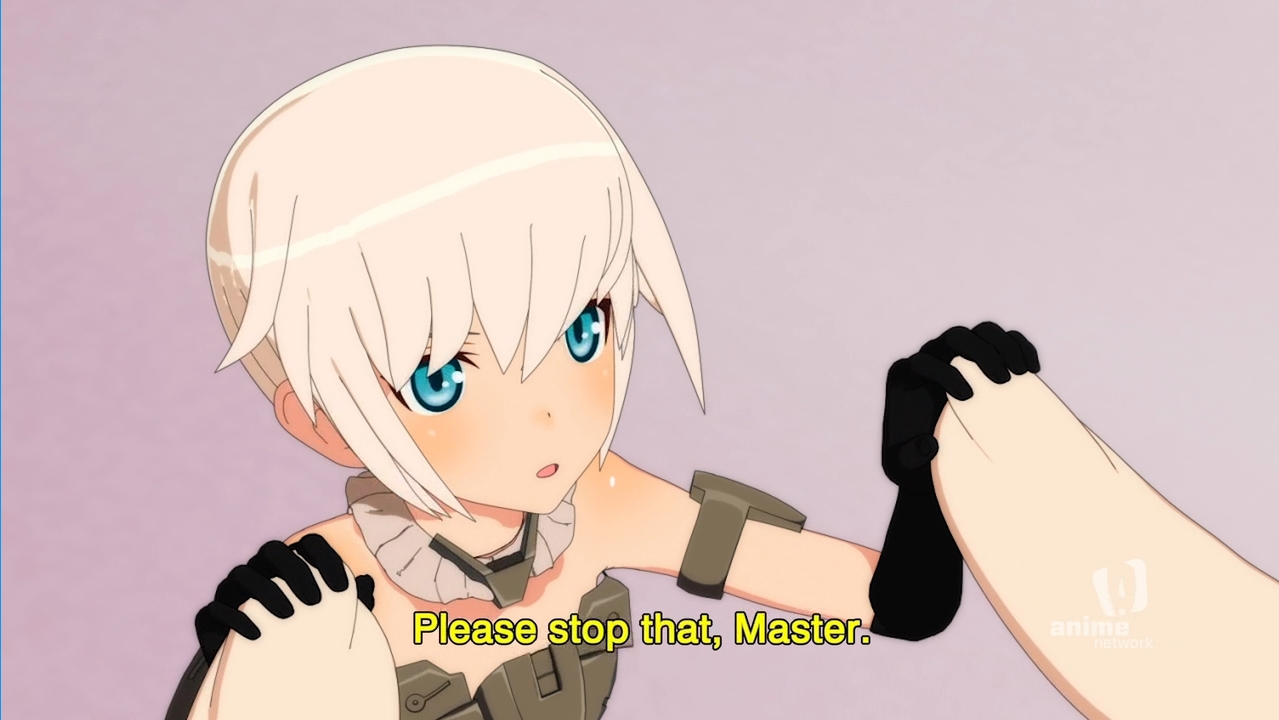 Frame Arms Girl is a figure-model line coming from Kotobukiya whom made more robotic designs. No girls, but actual mecha in the lines similar of Gundam & Macross serious designs. These 'Frame Arms Girl' is actually in response to Konami being brainless as they purged the actual worthwhile things for more…worthless pursuits in profit as they viciously harassed their employees to leave on their own accord so they wouldn't have their hands bloodied in legal issues. Major bad blood on all fronts as they prematurely pulled the plug on Busou Shinki which caused a major uproar over in Japan as fans went on a major scavenging hunt for left-over Busou Shinki figures before Kotobukiya jumped in as a saviour to the whole line [Or from what I've seen happen for the few years]. These 'Frame Arm Girls' are actually an alternate form of their mecha form, and if they'll become unique is to be seen. Kotobukiya intelligently releasing 'Frame Arm Girls' figures in re-supplies as to not have them be timed exclusives, as Busou Shinkis were known to be.
As you're also aware that this even shows Kotobukiya jumped on the Anime bandwagon to tap into the Busou Shinki market to even market their FA: Girl line to others, something that should roughly sum up the whole Frame Arms Girl line. Maybe someone shall correct me that this isn't Busou Shinki related, yet can't deny that the connection is quite strong between Busou Shinki & Frame Arms Girl.
===
Opening: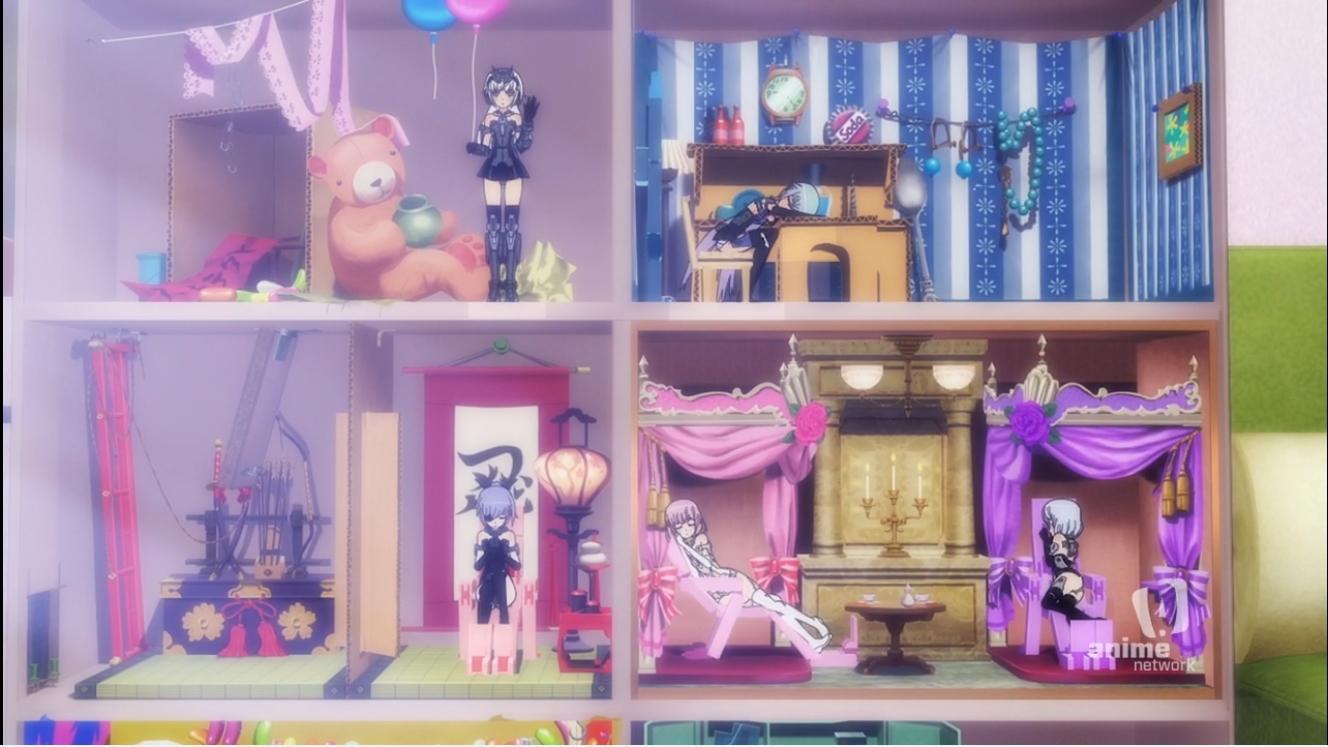 The opening doesn't quite catch me as it should. Nothing special about it. What I do love about the OP is that it's more showy visual wise that I can grab images from it for blogging purposes. It's memorable in a screenshot manner, not so much musical manner for me. One of the images from the OP is my preview image, others being in this section.
===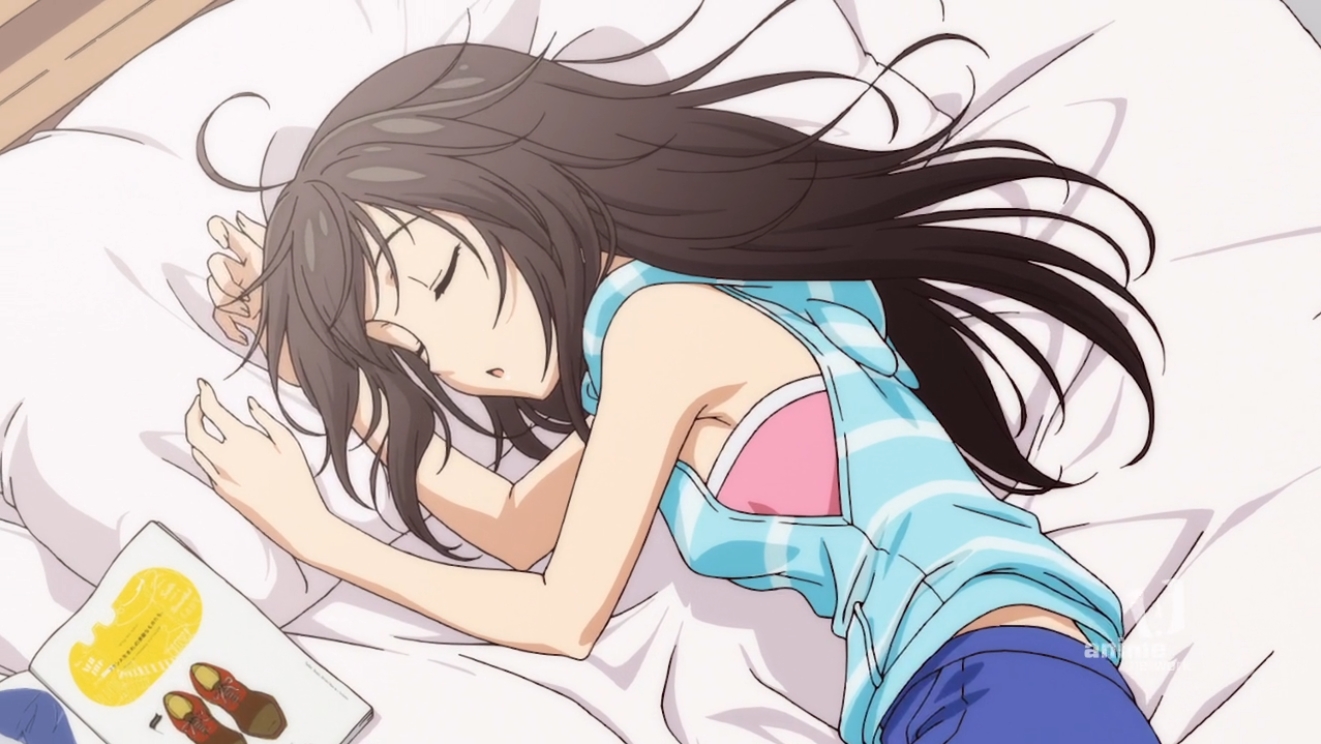 I'm actually quite pleased with the way it starts in a happy tone. Nothing too serious, too gritty, or despair. It's done in a proper tone where everybody can turn their minds off after a stressful day to enjoy this.  I'm going to assume that's going to turn people off as they probably might want to  more brutal content mixed with insanely complex story lines that you would have to be fully aware to know what's going on. Something more serious and gritty as they pass this anime off as something 'generic', yet this anime is more about the joys of having a sentient 'Frame Arms Girl' in your everyday life. A slice-of-life in a semi-serious & comical tone that it does this quite nicely while adding appropriate amounts of combat here & there. Again, having fun is something 'Gundam Build Fighters' tried teaching people. If people actually caught on is another question.
Ao is basically a girl entering highschool as one of her friends declines a planned outting allowing her to gain Gourai in that  time-frame. Her parents are overseas as she lives at home with her Frame Arms, something that might be a cliche in the anime world. Her dad most likely subscribed her to the Frame Arms list to obtain a 'prototype (test shot) version of Jourai that she now has to test Gourai in combat related settings to obtain data for the whole Gourai line for future mass-production. She now has to deal with not one, but three Frame Arms….Maybe even more as episodes progress.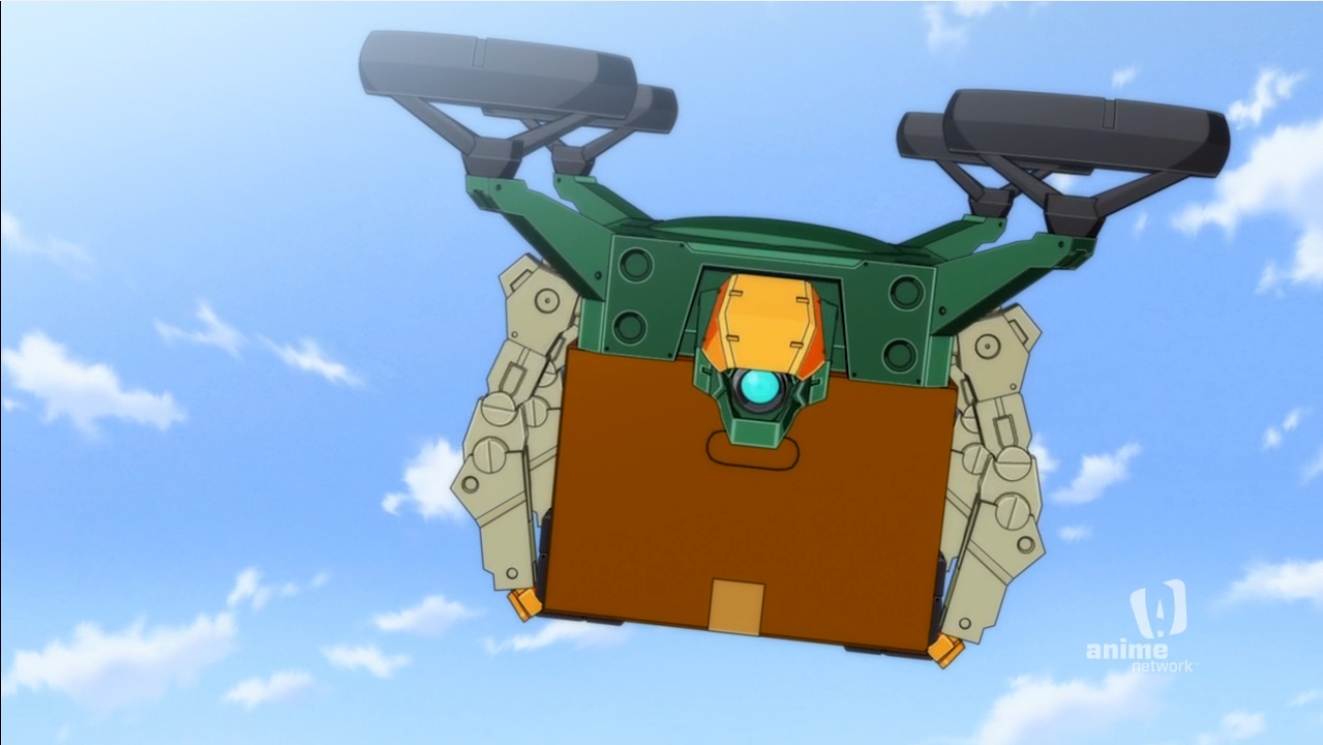 I'm aware this is irrelevant, yet having to note that when I had Gundam Wing & UC Gundam figures & toys that I had this thought of seeing the Albion ship toys actually flying on their own in and out of the window. Them, the figures and such that houses would have been the colonies & outdoors being space itself. A kid-teen thought, yet one that ties into why I find Busou Shinki & Frame Arms Girl appealing that they tie into this day dream of mine. The imagination….. I guess R/C vehicles would have fit that thought, yet more of a sentient thing on their own.
Also, seeing that drone delivering goodies is something we're seeing being experimented with by UPS, Fedex, Amazon, and etc that someday we just might see this being a thing in the future. All depends on location and such.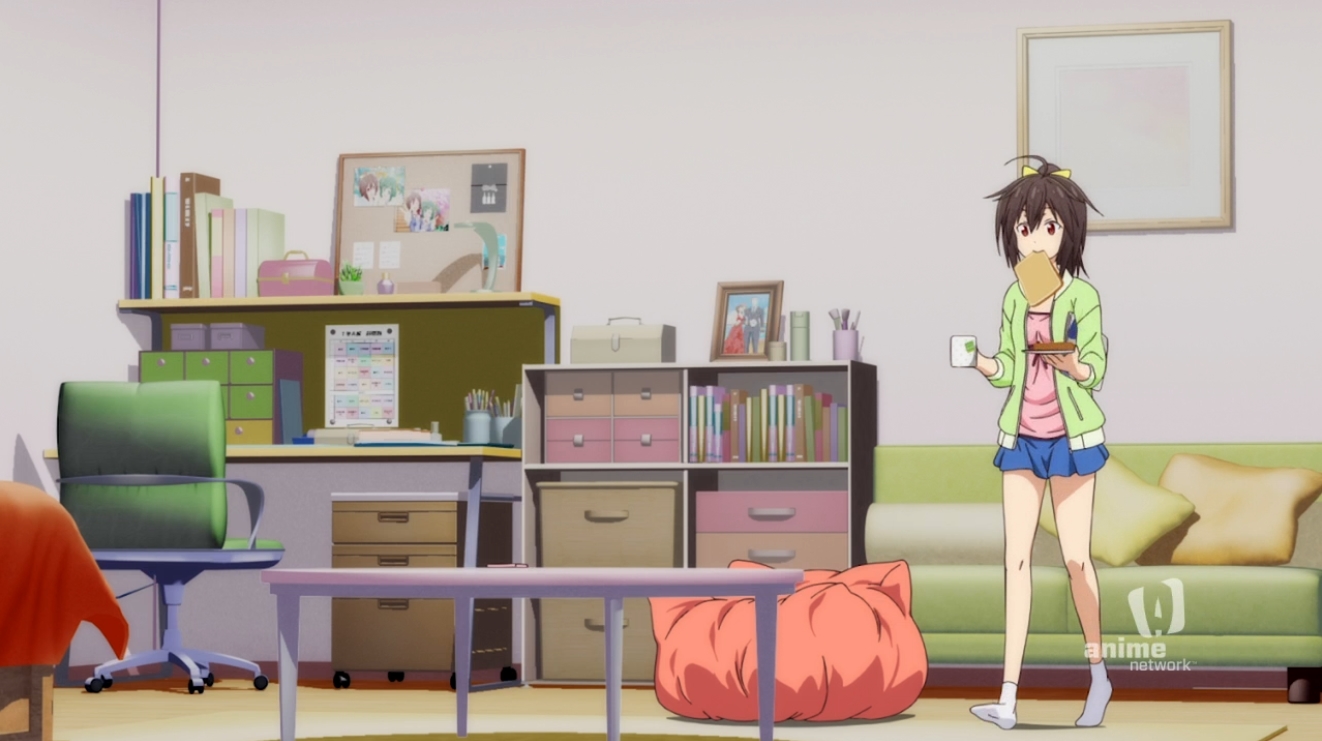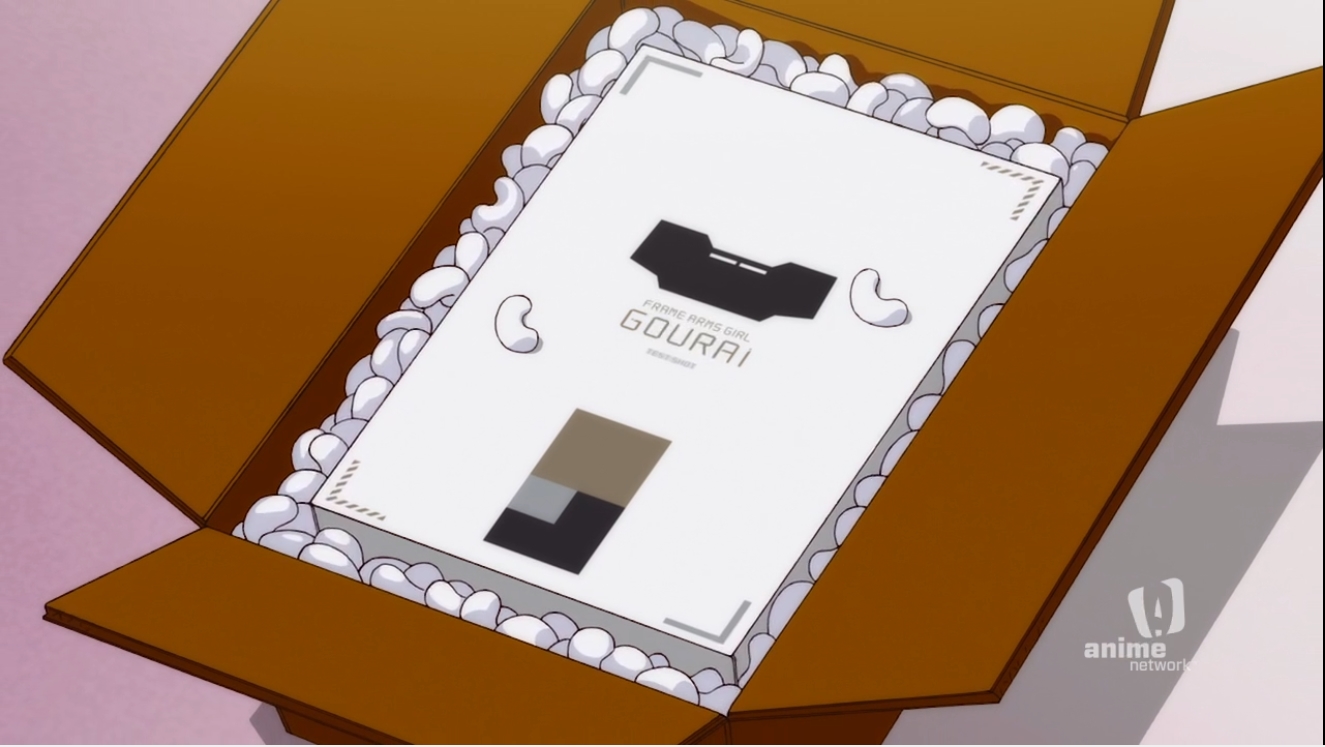 The image below is something that we wish would be real so we could interact with our precious FA: Girl (Shinki, or what have you) so we can have a thing called 'fun'. Fun co-existing with miniature humans, but in a robotic sense. It's like having a kid, but without all the puking, tantrums, and screaming.
I would 100% shell out good money to have a real world FA: Girl as sentient as this. Moving, and all. It's been said time & again that it's impossible, and I'm tired of arguments of possibilities, yet shall keep an eye out to Danny Choo who is working on on a robotic Smart Doll. Hoping for Frame Arms version of such, or even allowed to customize them.
The Frame Arms Girl (from out of the box) contain your basic intelligence as they begin to learn about the world. They have the instincts of combat, yet have to learn the fine details of combat, the 'emotion' thing, as well as being able to co-exist with you by learning your habits. There's this whole learning curve to it that was attempted to be a thing in a game called 'Busou Shinki – Battle Rondo' MMO before Konami selfishly & brainlessly pulled the plug on the whole thing.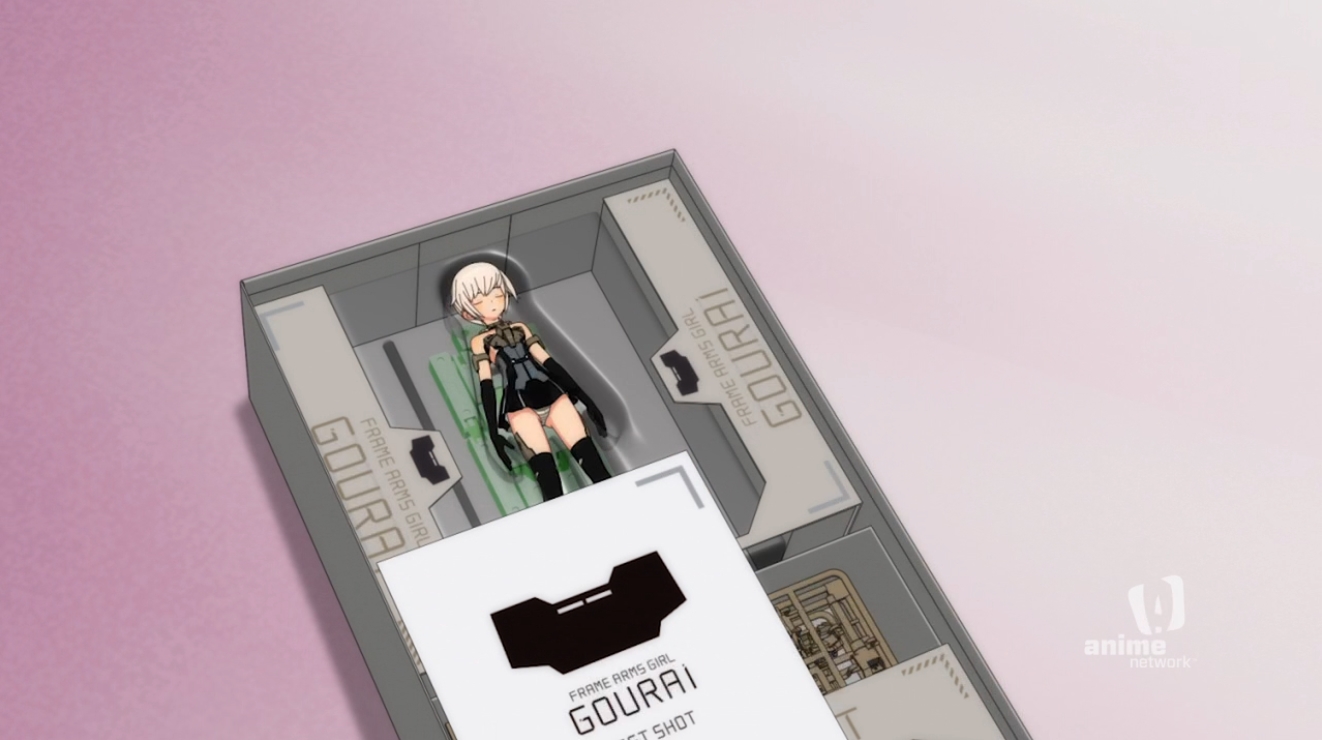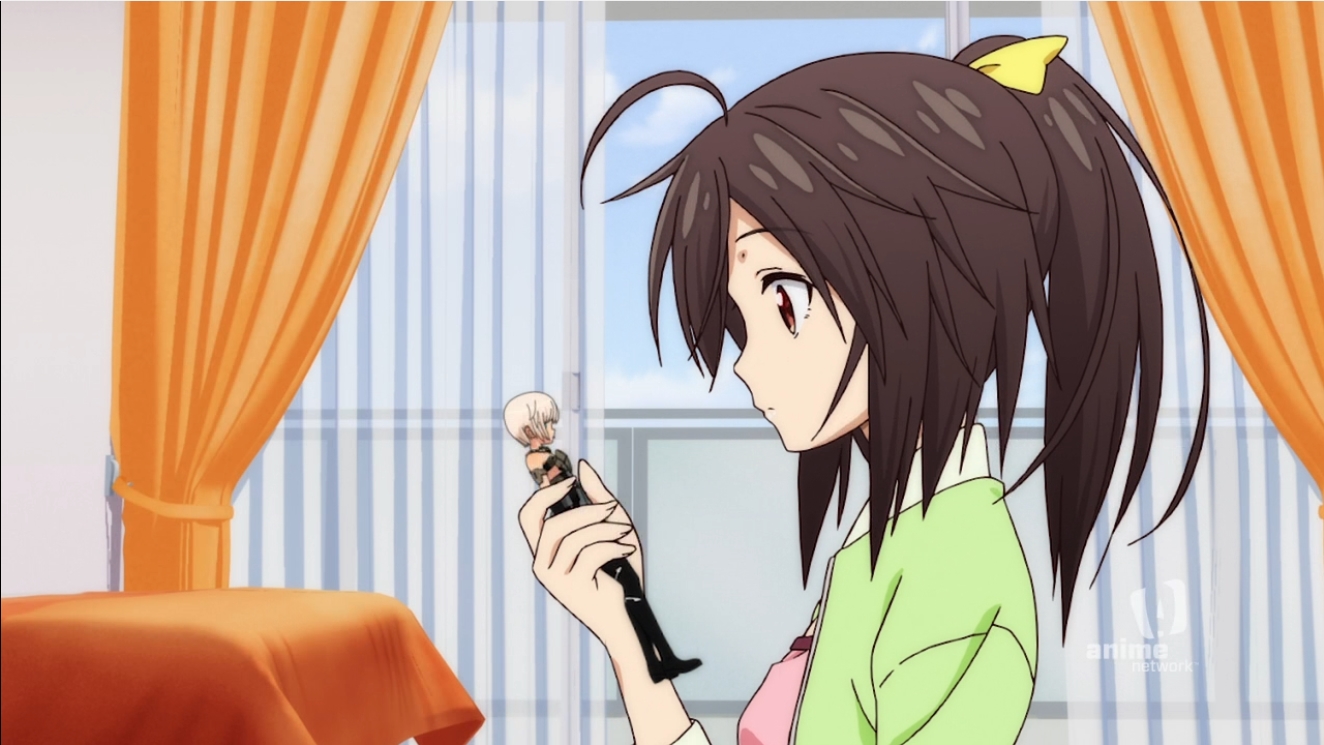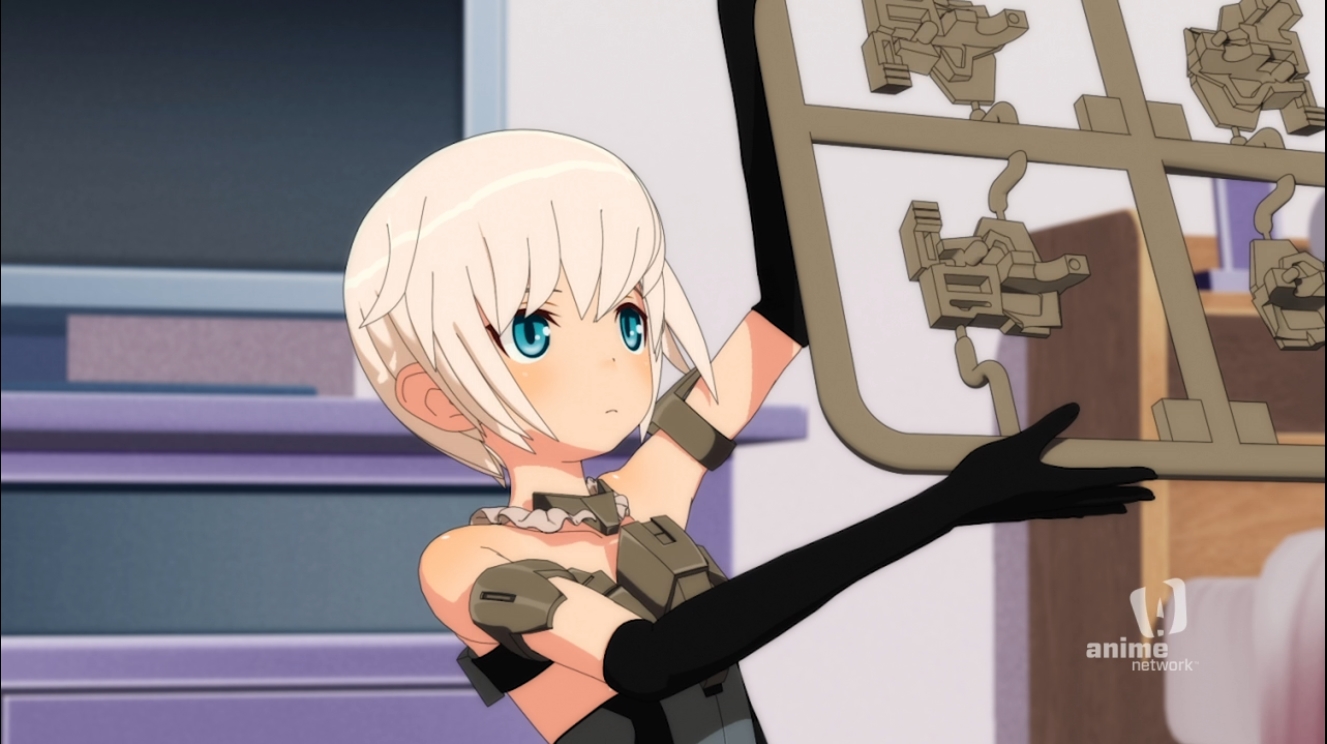 The next part bothers me because of how….out of place it is. I accept the whole concept they need to be charged by using that robotic plug thing that has an extendable cable to plug into the Frame Arms Girl. What I do not like, and find idiotic, is the whole sexualization of the charging. The whole plugging in. It's probably to earn cheap worthless respect points from the dark side of the community, yet to me it's a cheap worthless attempt at seeing eye-to-eye in a meme sense. I'm knocking off a point (or two) off this sad attempt.
Salty? Maybe….It's just… So out of place. Even Ao is wondering what the hell is up with that…..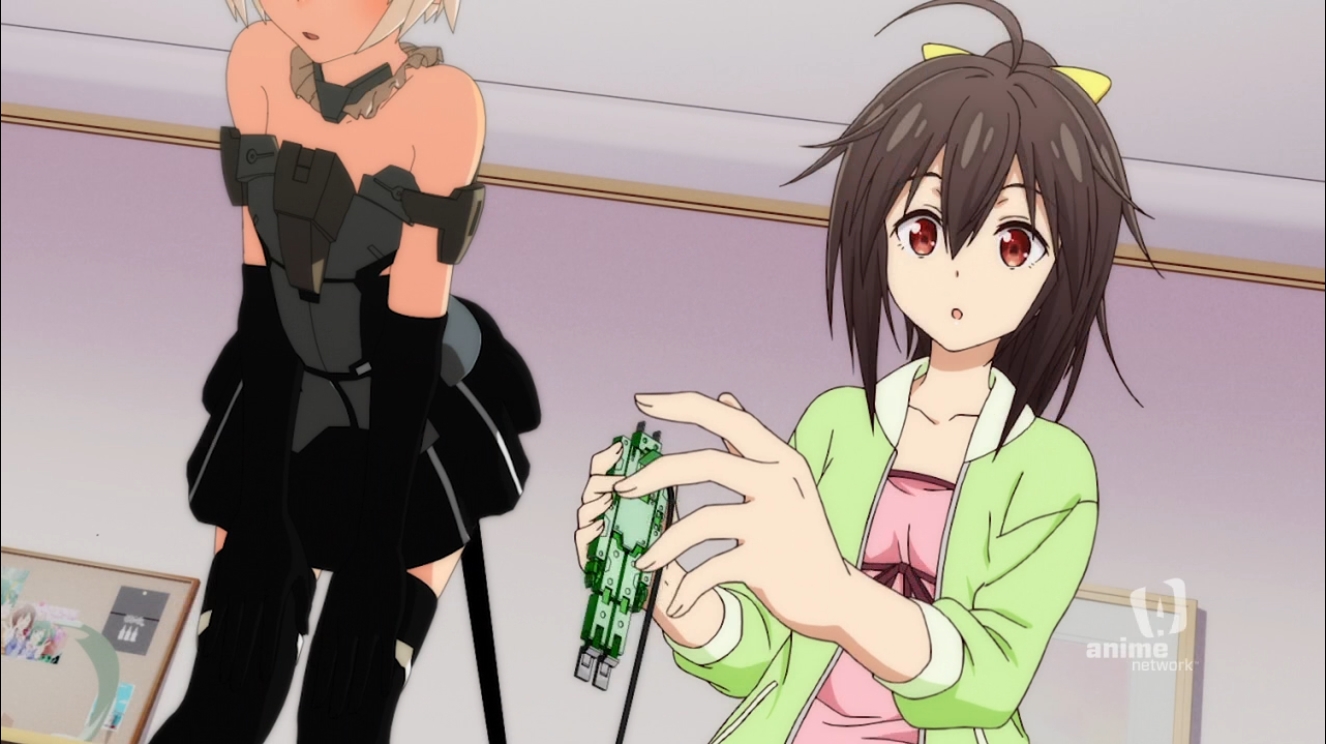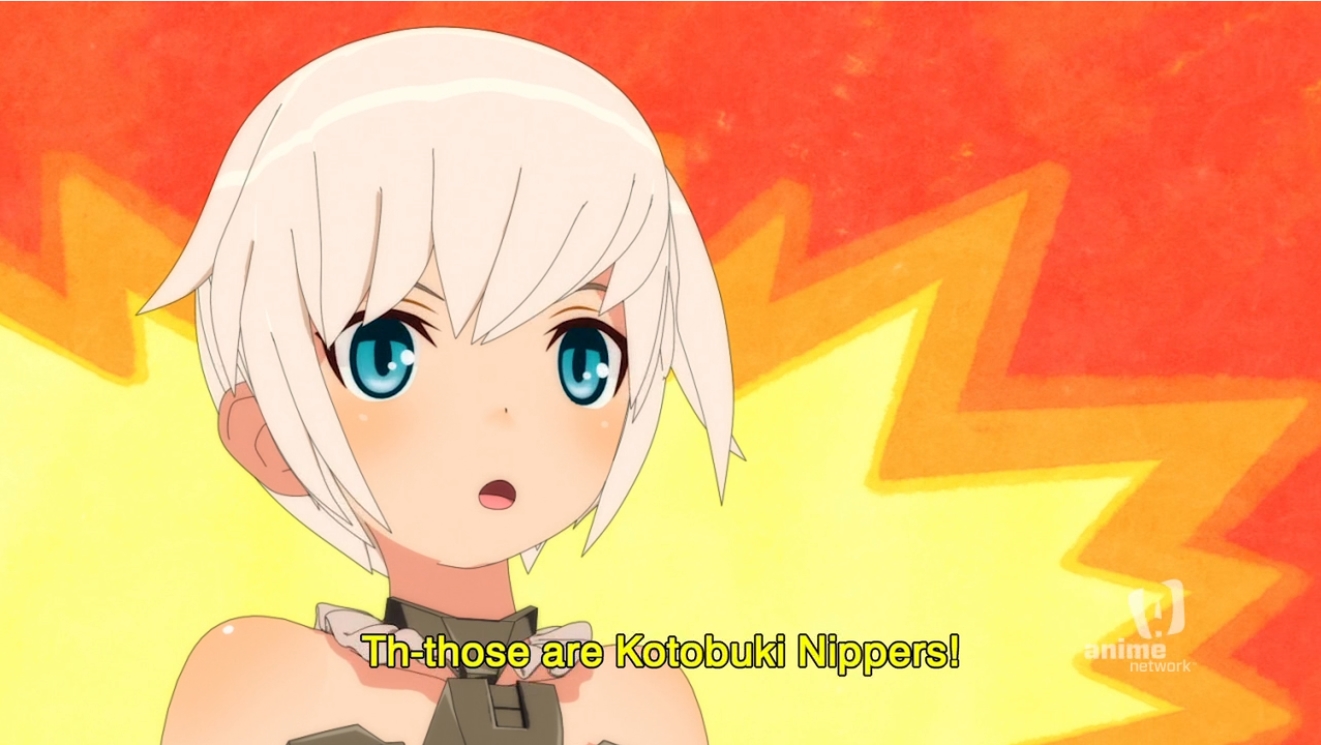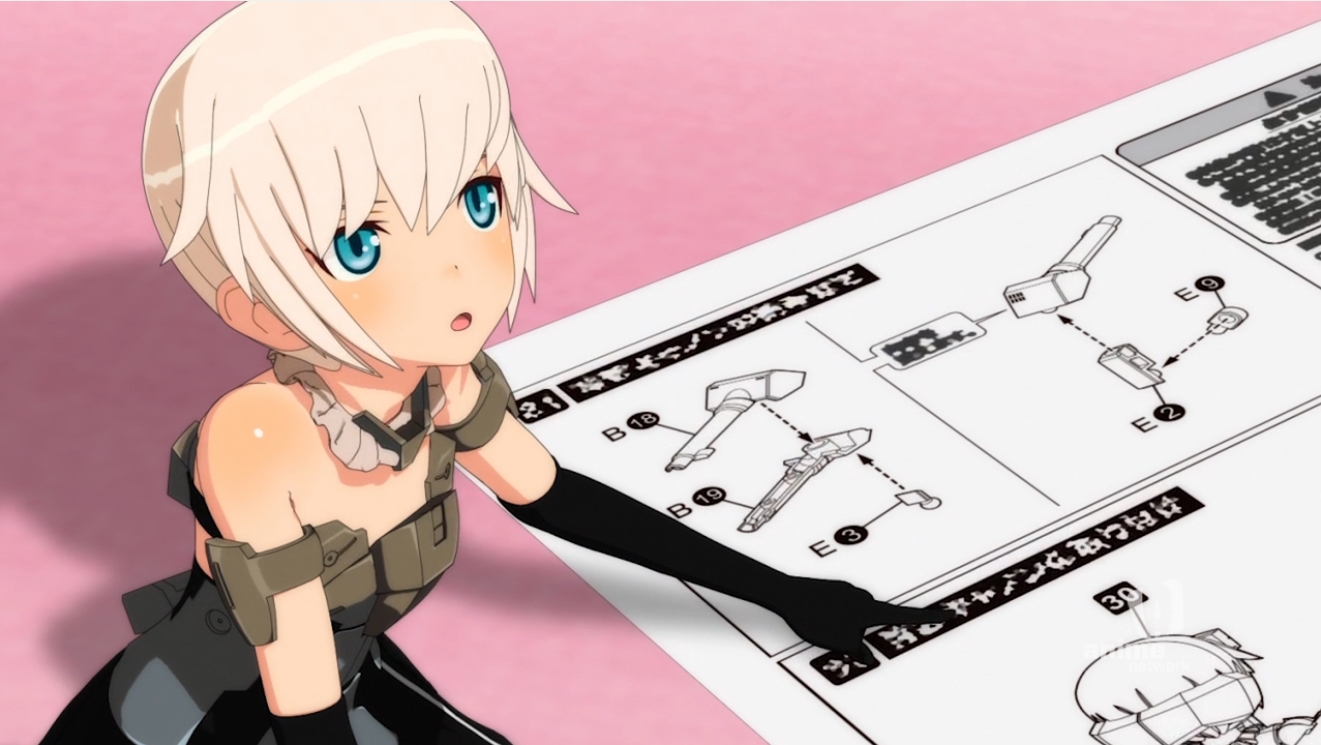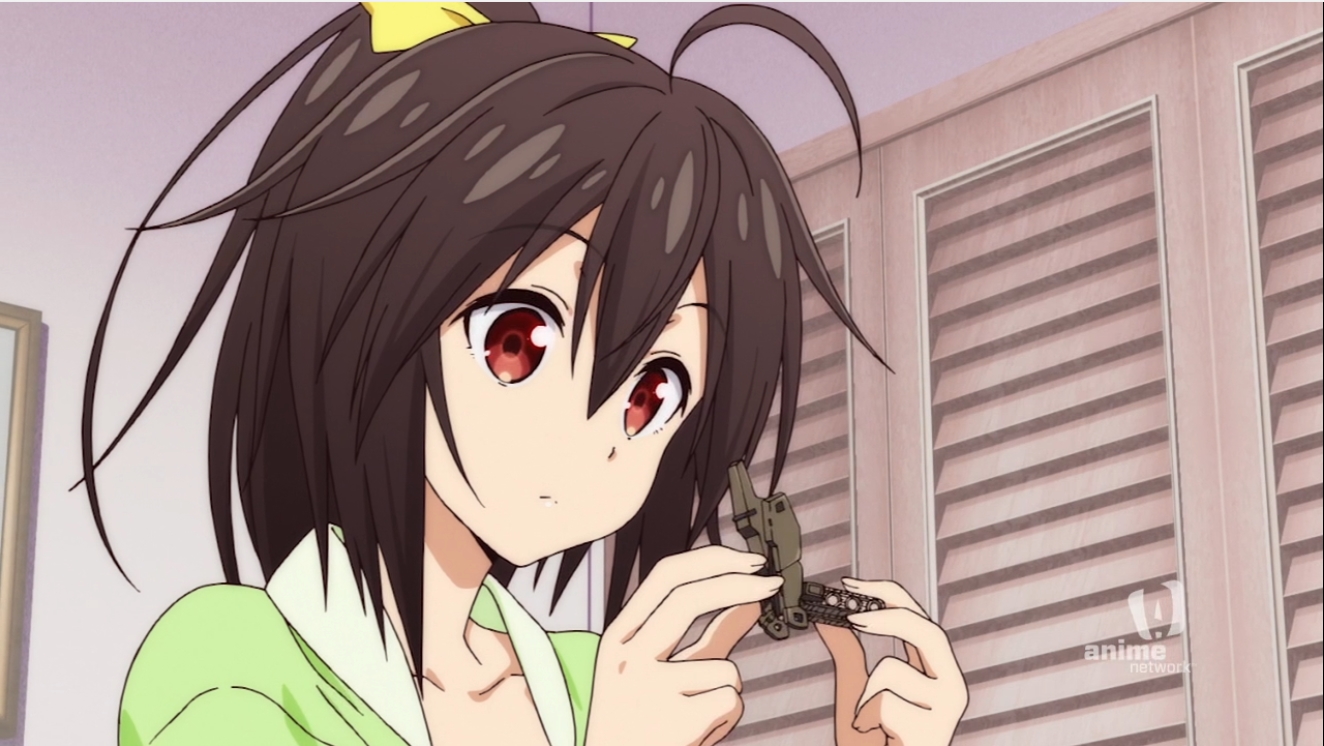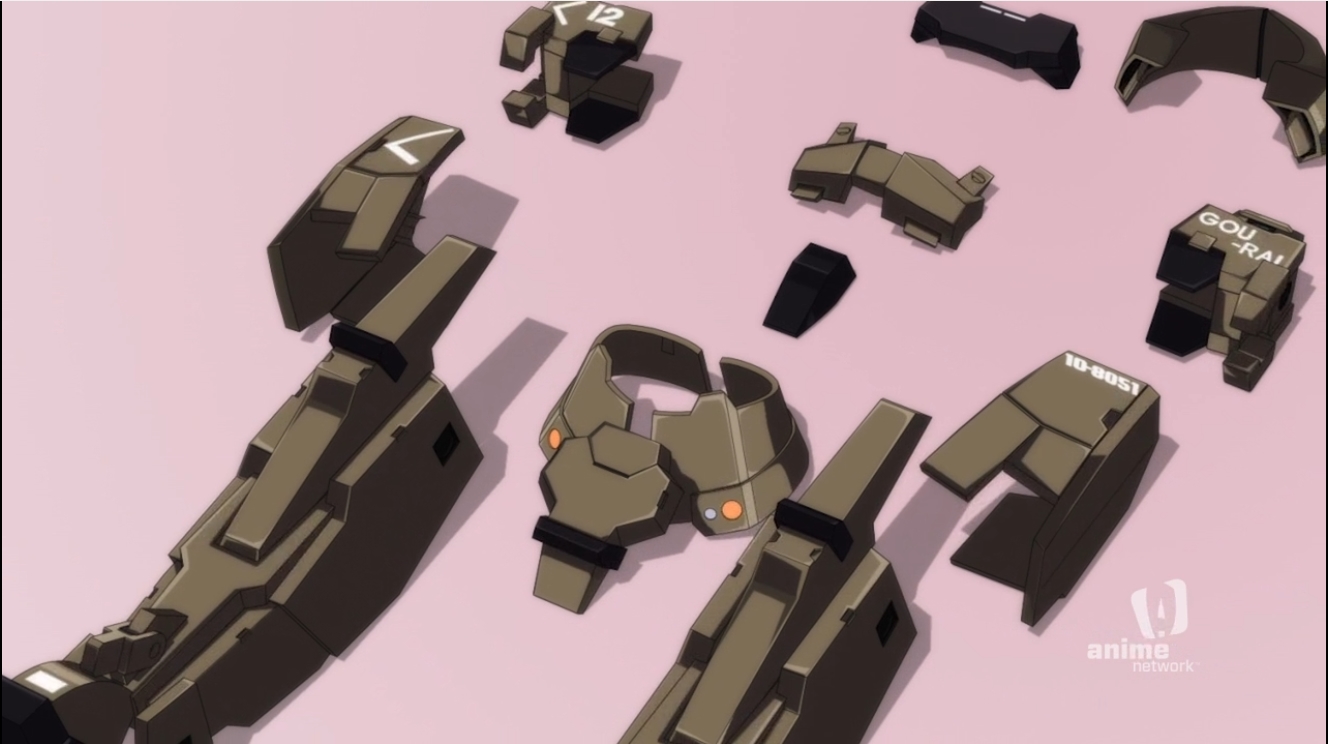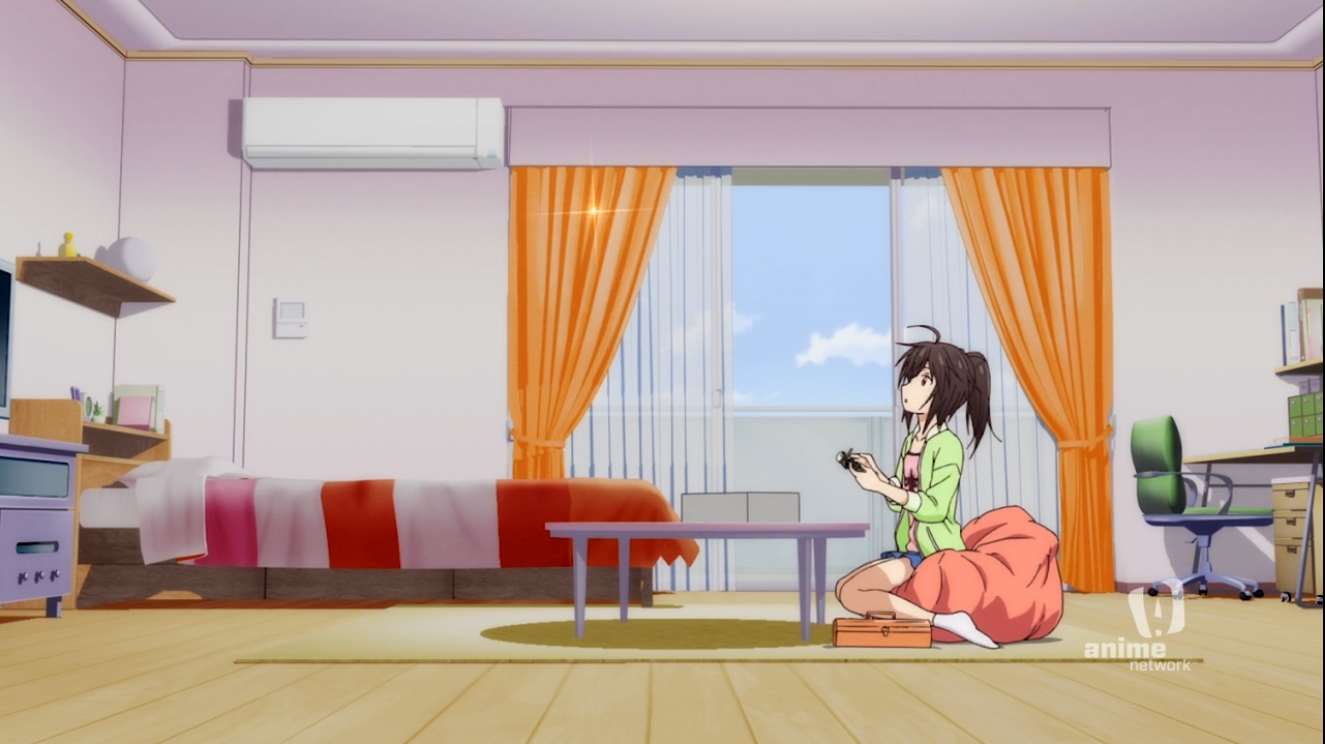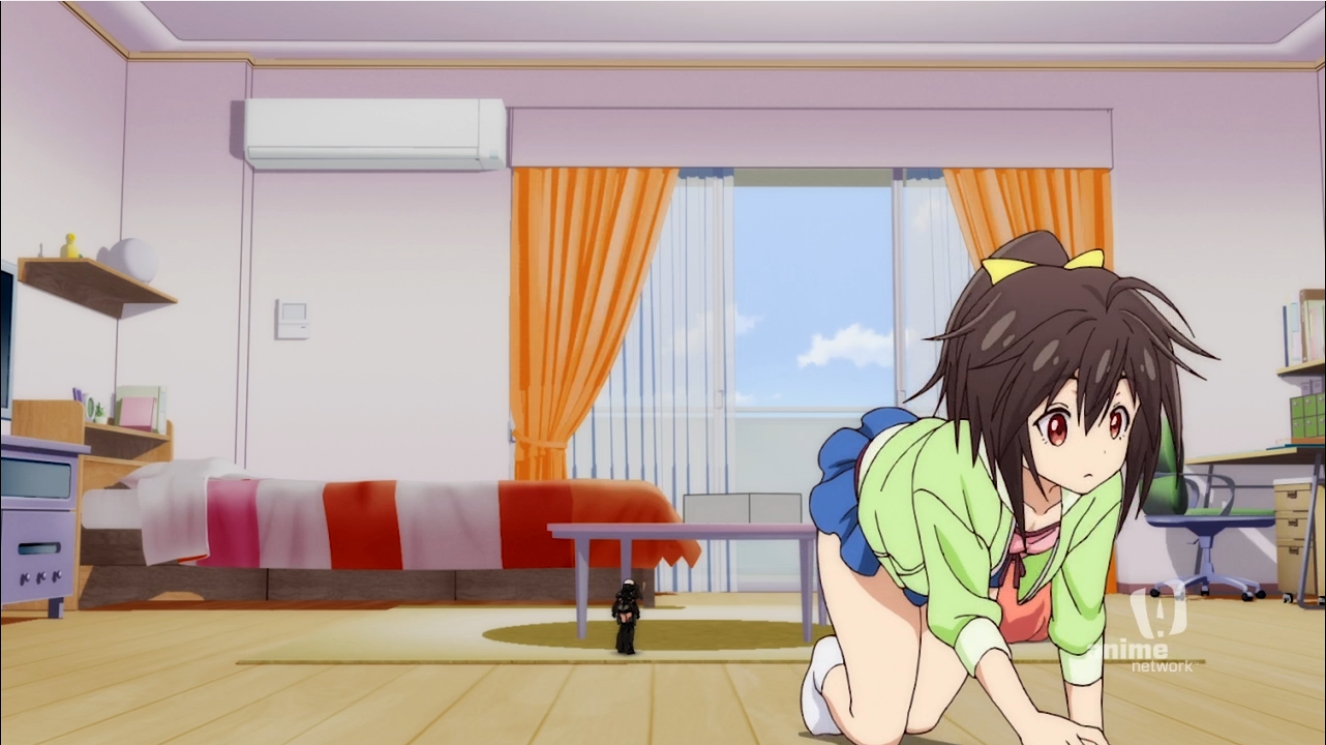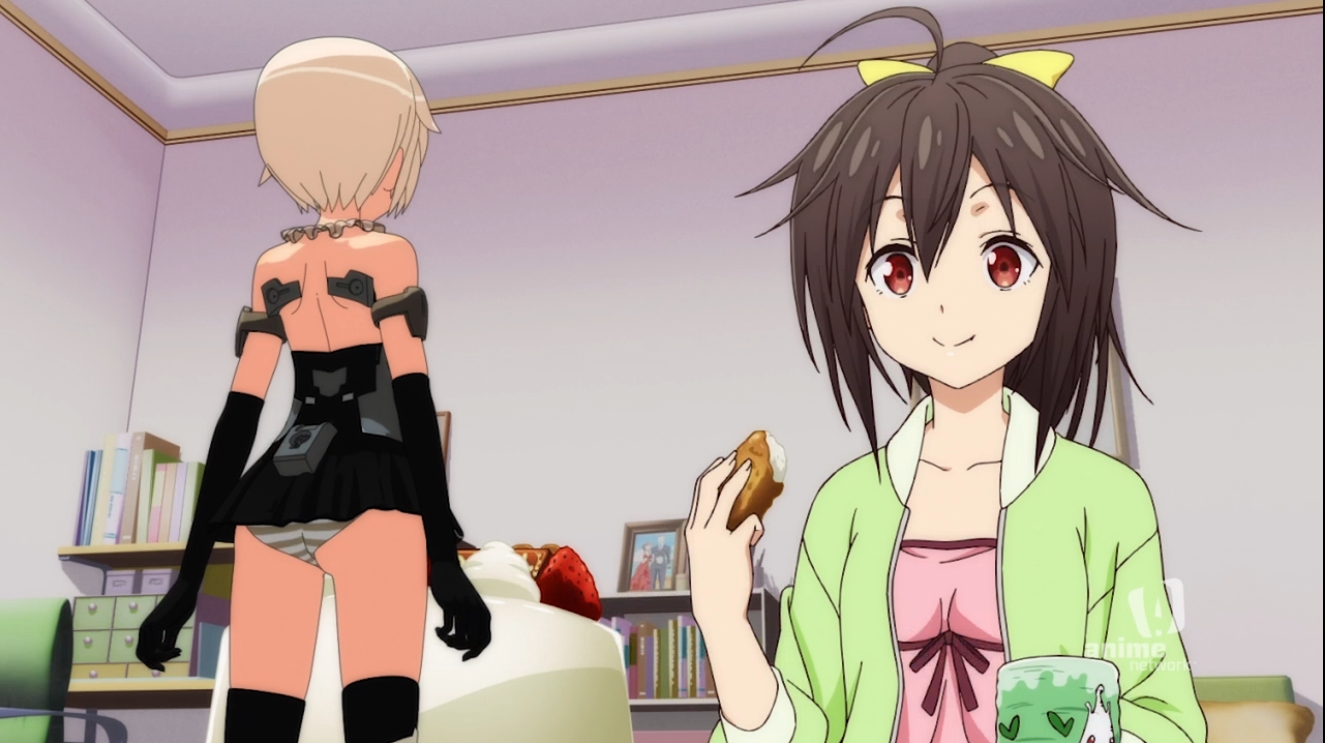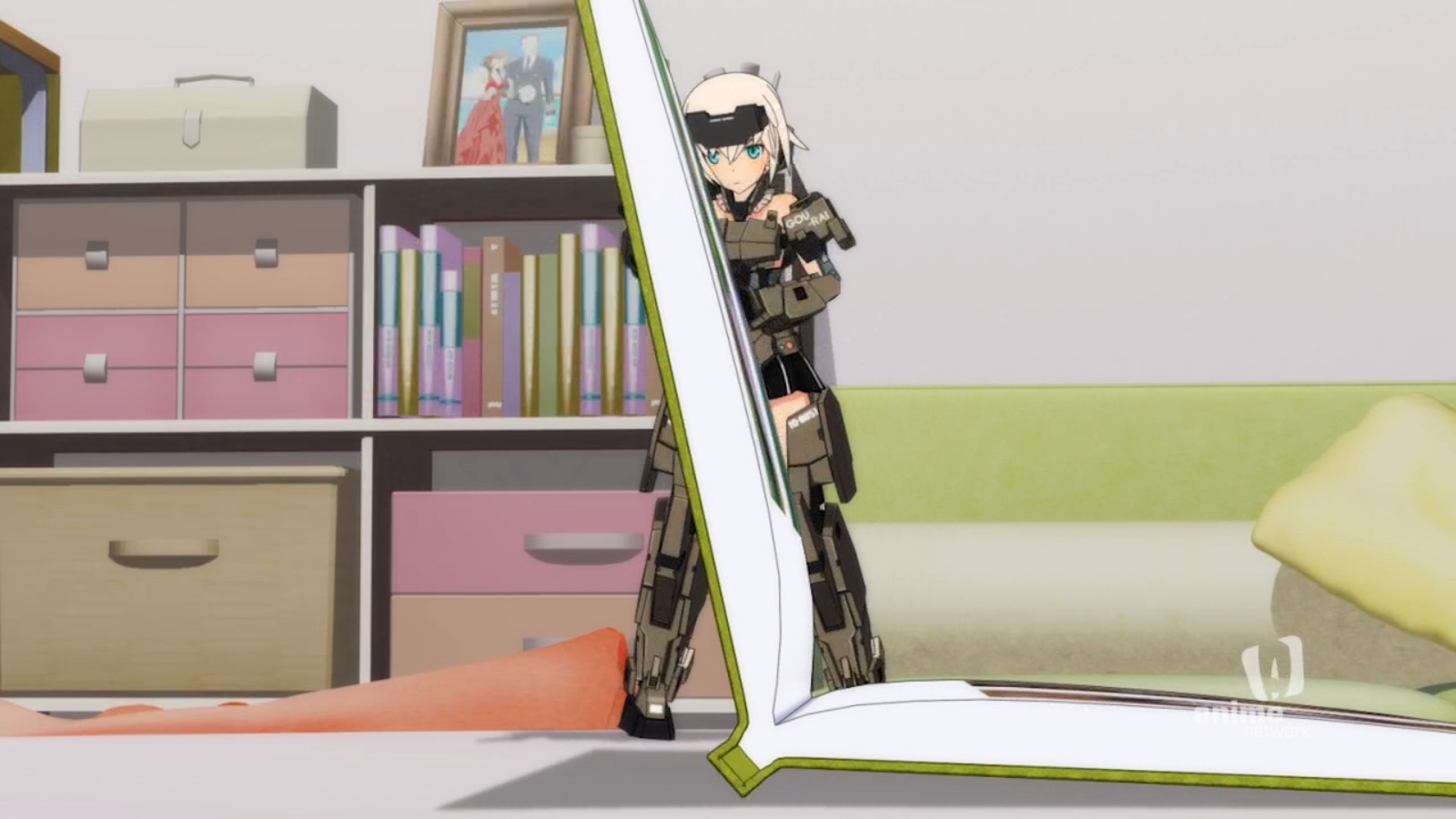 Now we're getting into the main reason why Frame Arms Girl is a thing. Again, look back at 'Angelic Layer', 'Busou Shinki', and even the 'Gundam Build Fighters' universe to see why this is appealing. The thing they have in common is the whole 'combat' purpose, yet they don't really have to fight. You can be a pacifist, yet battling is what they're designed to do.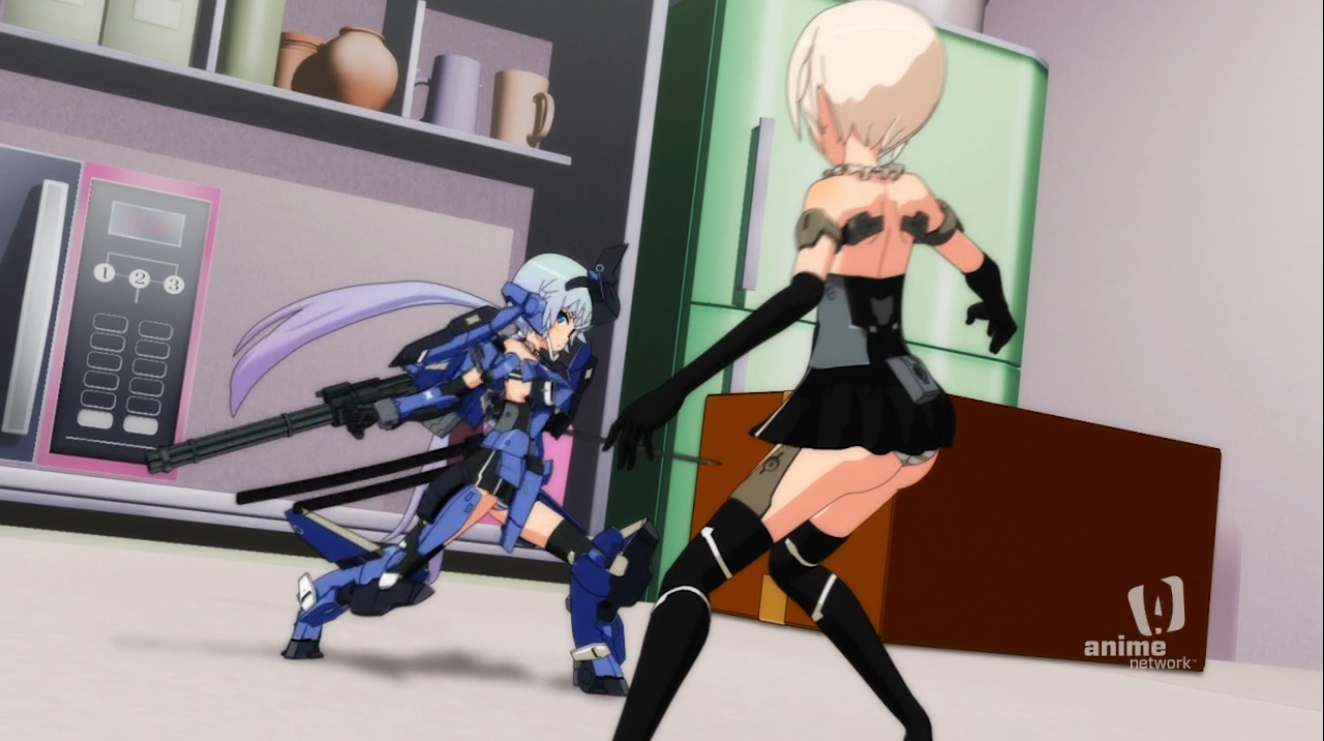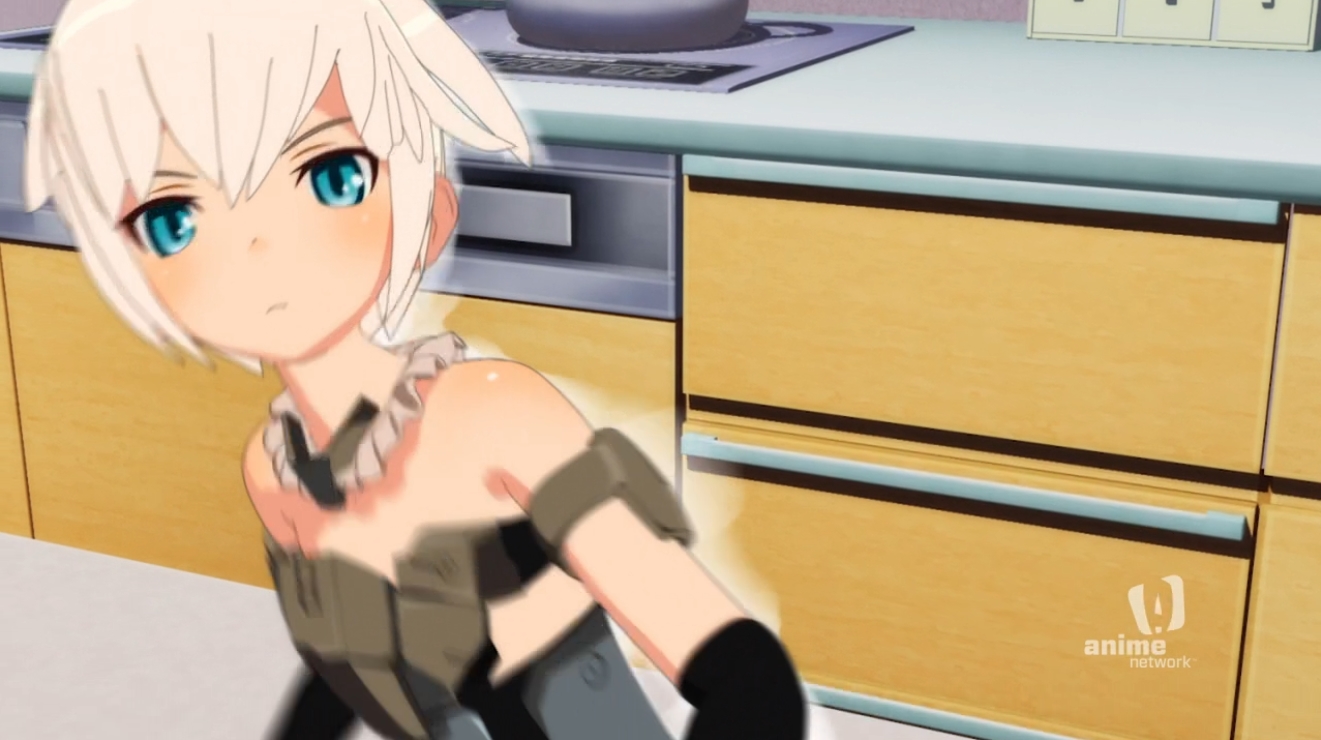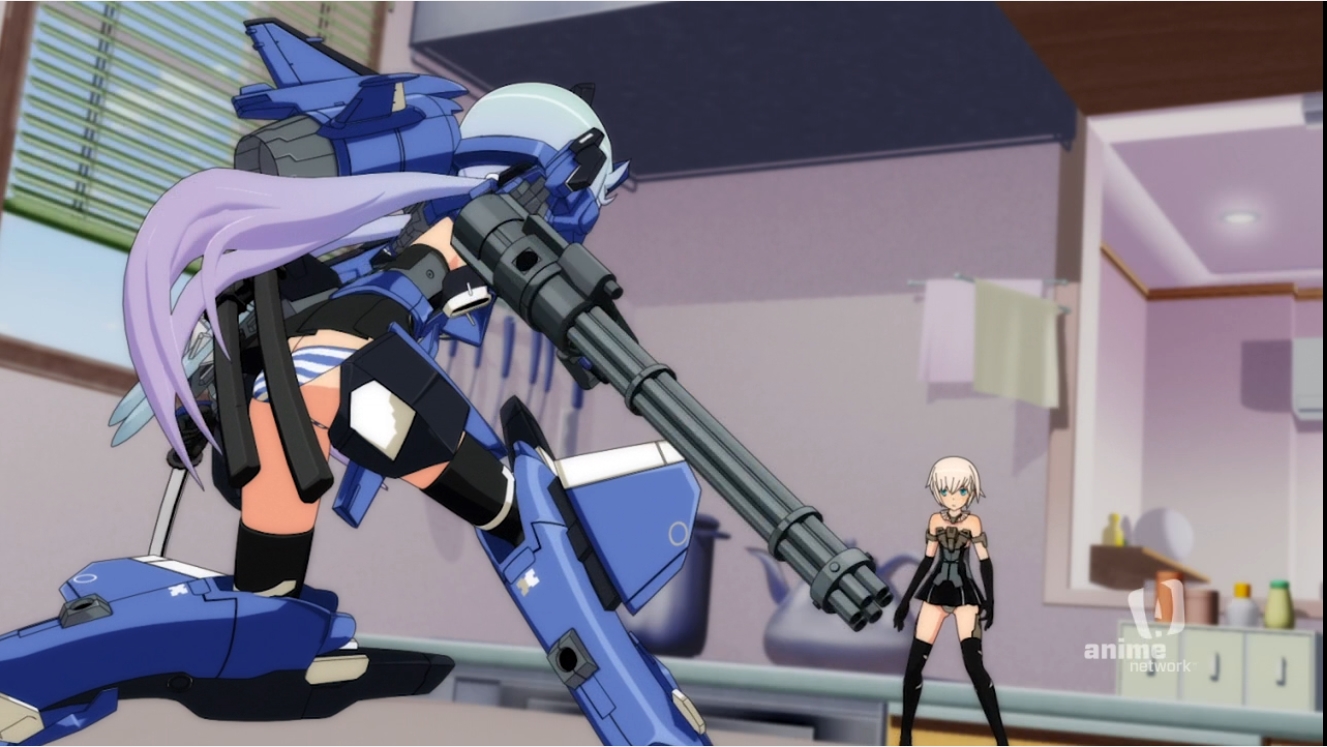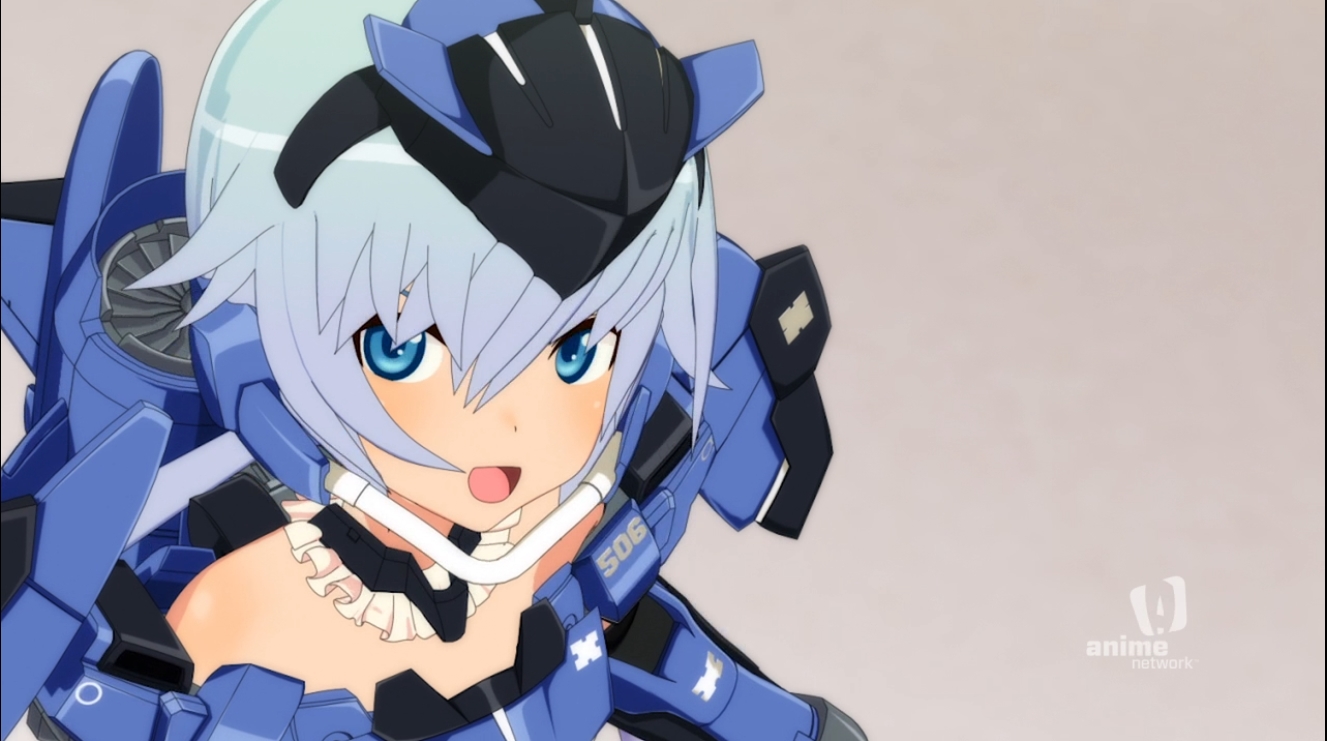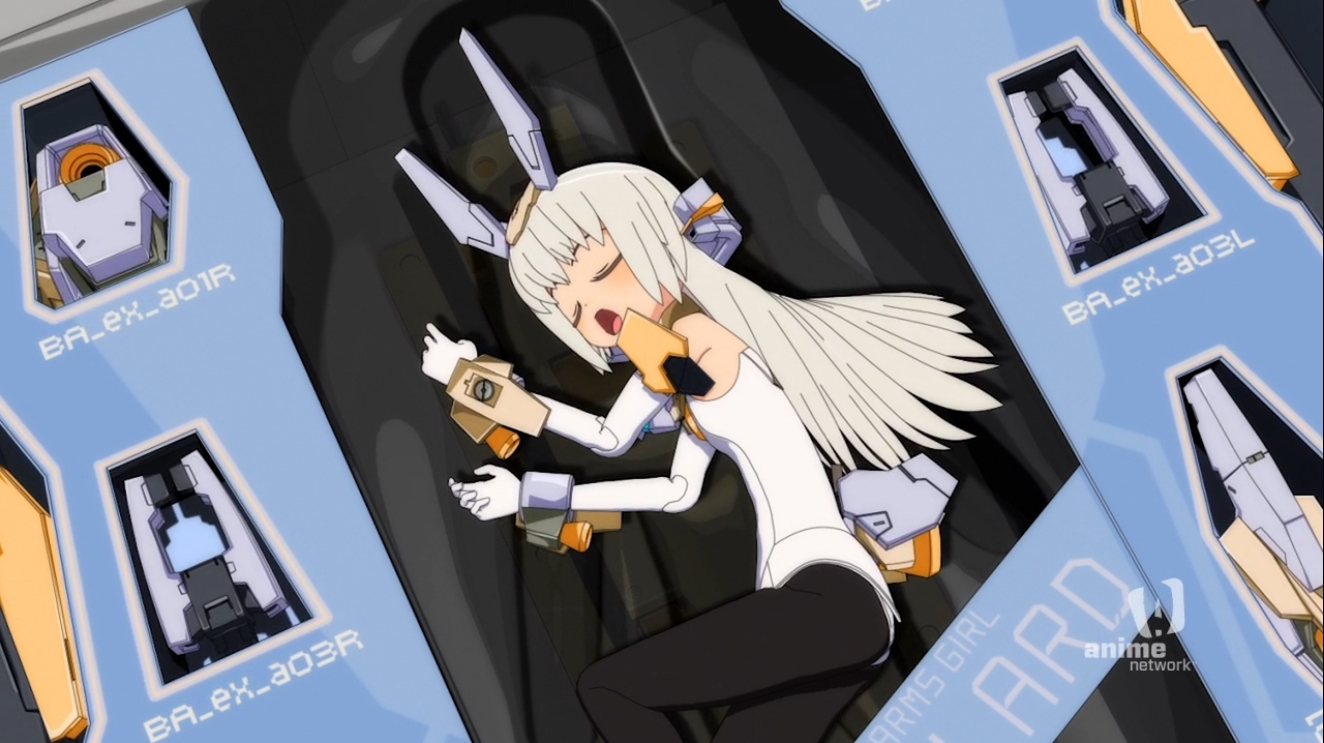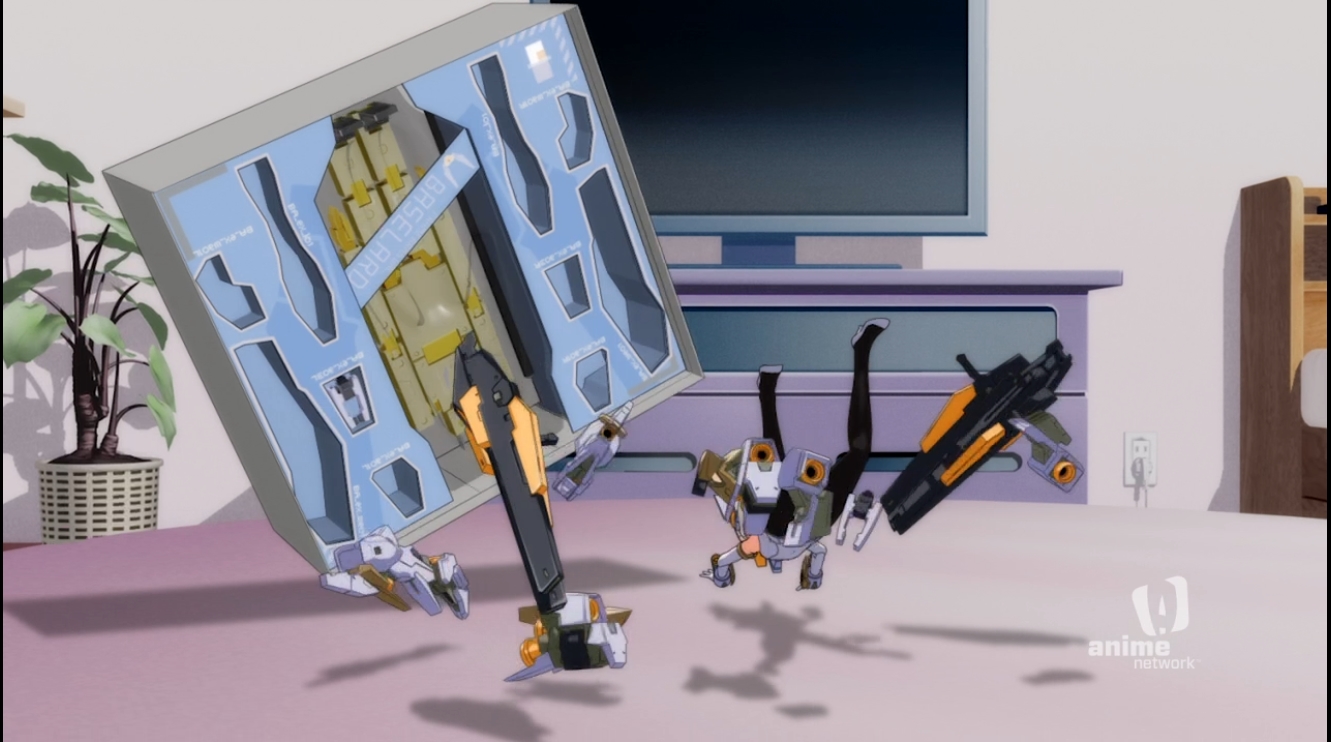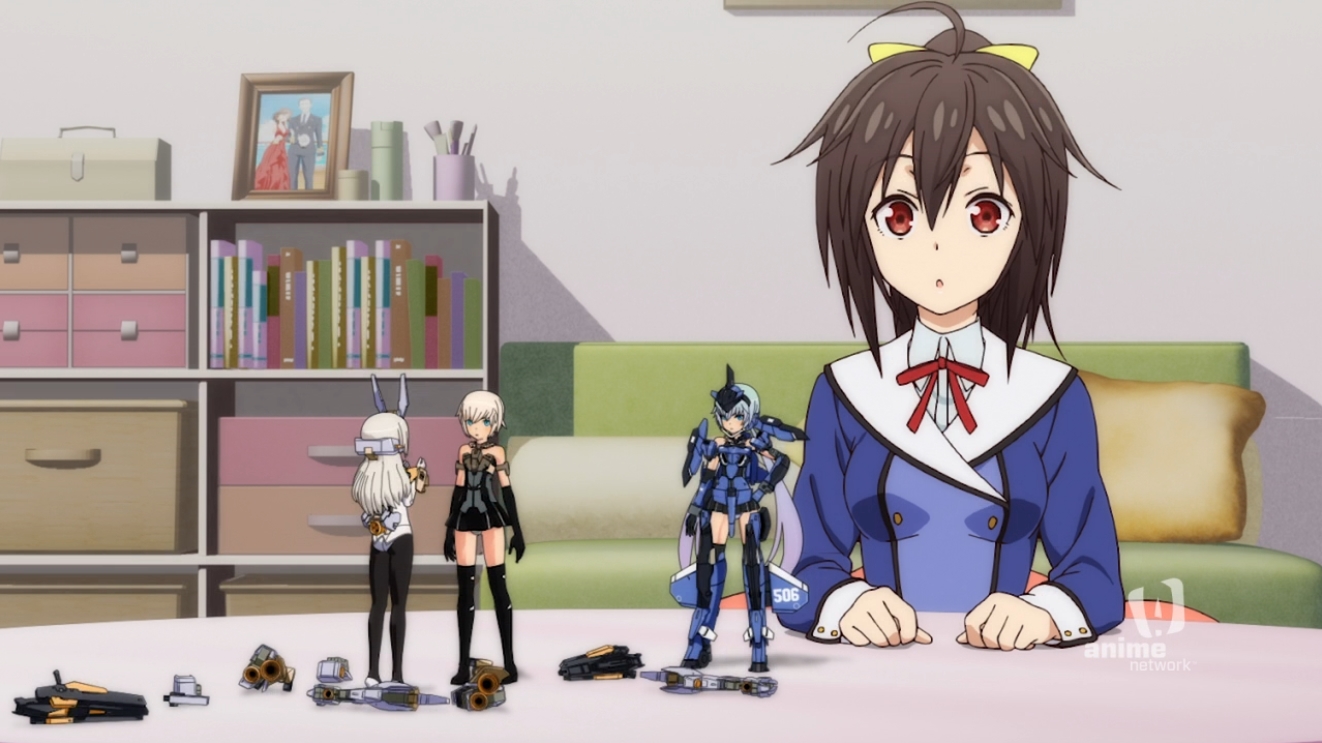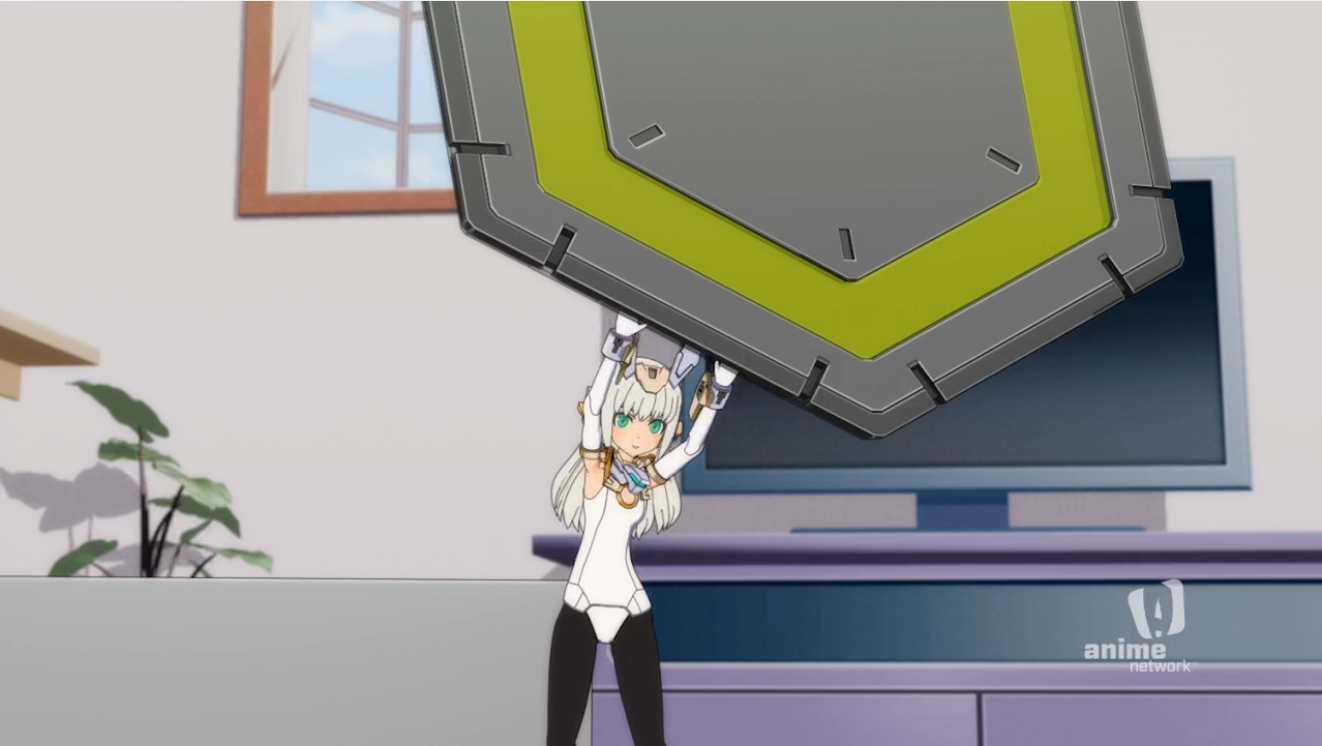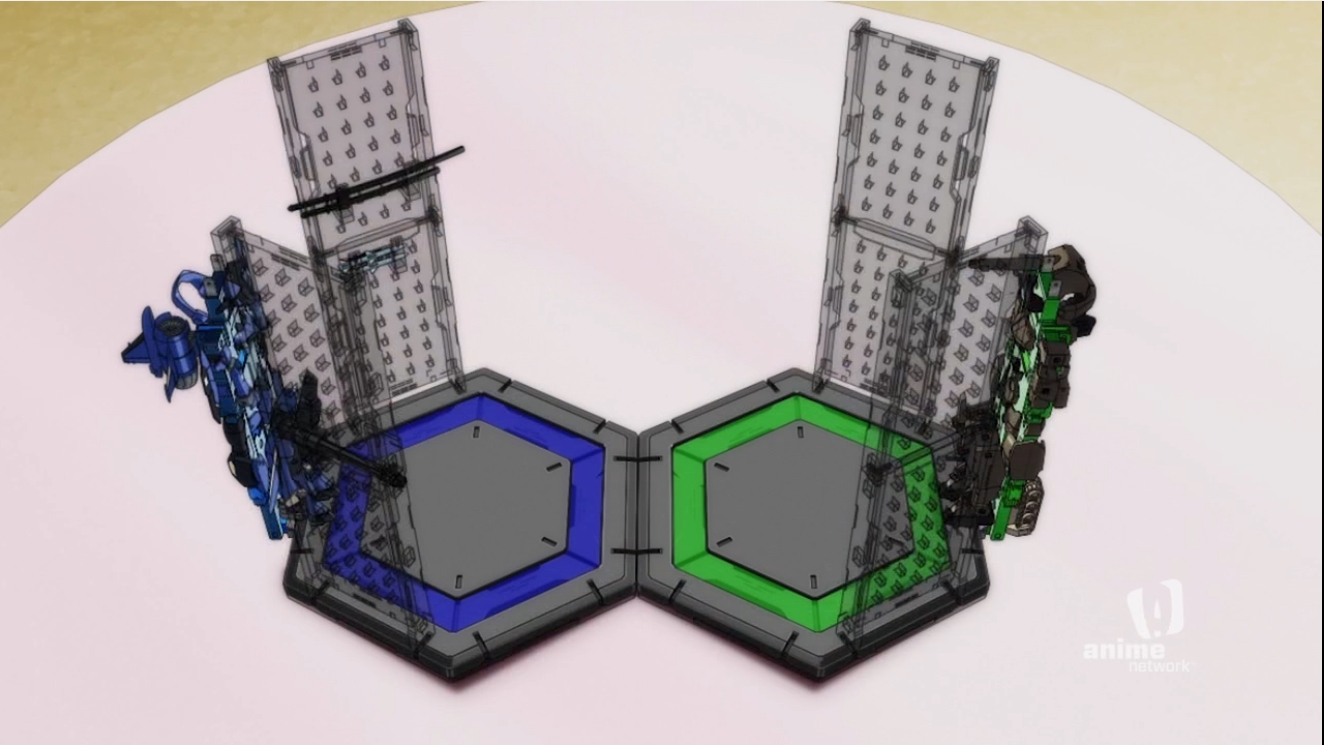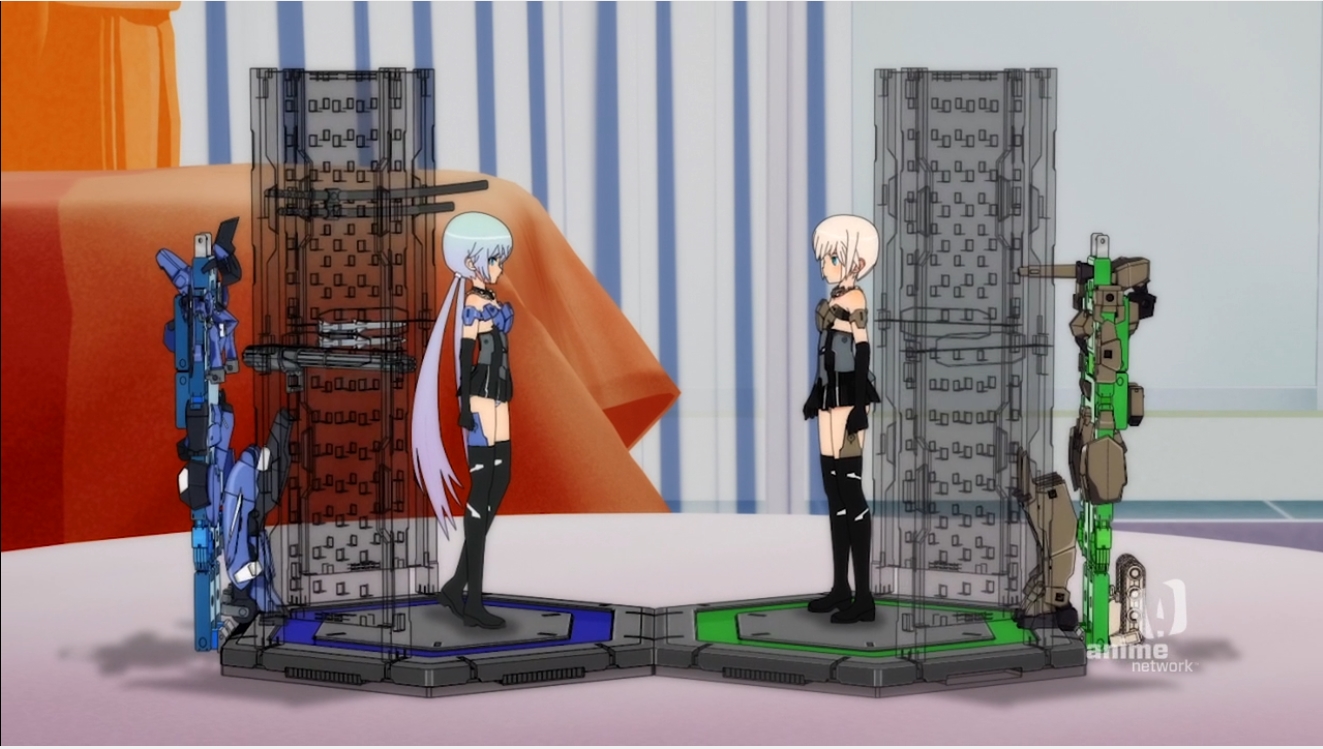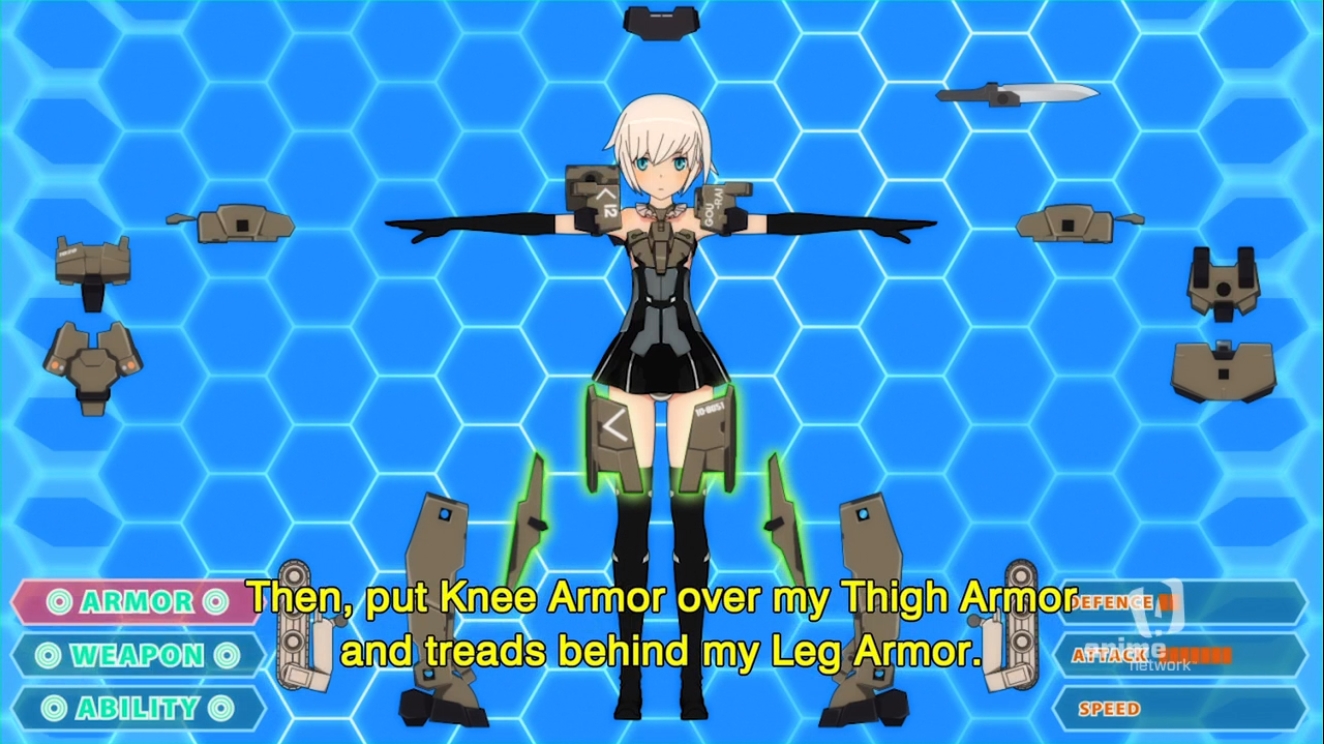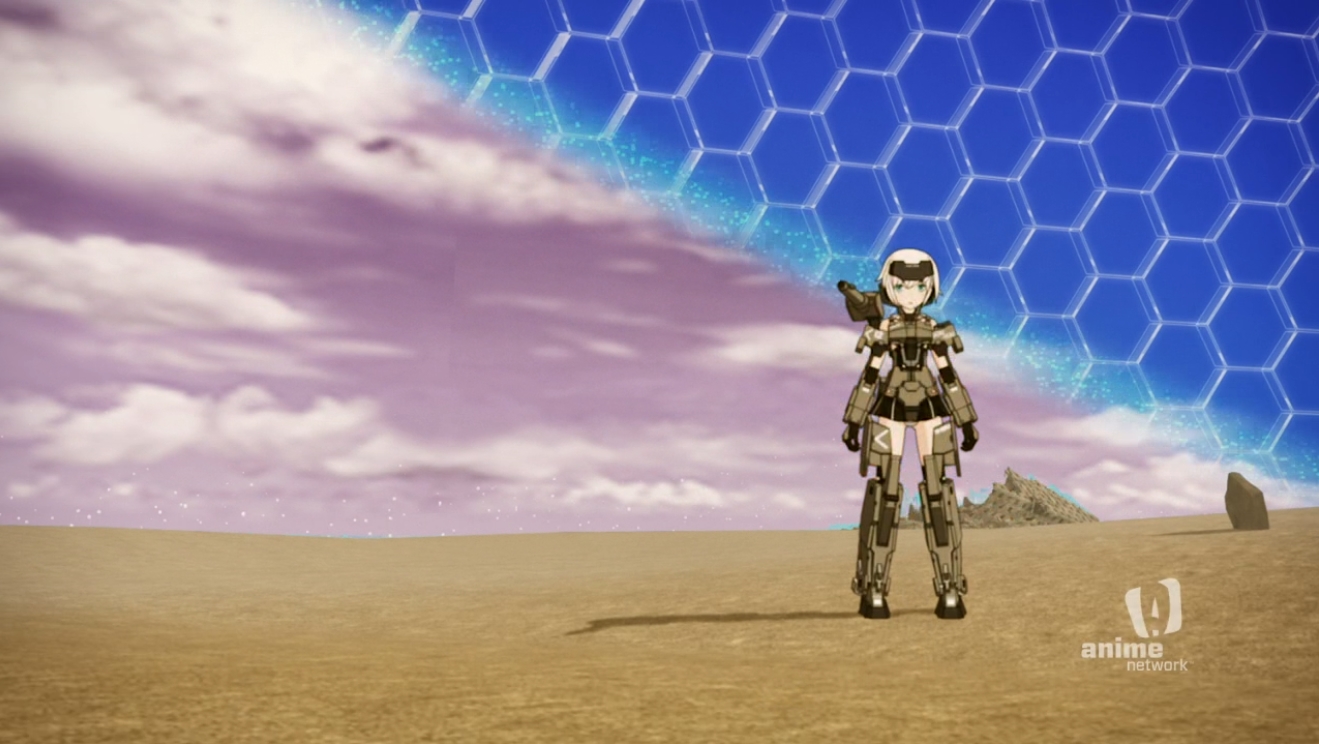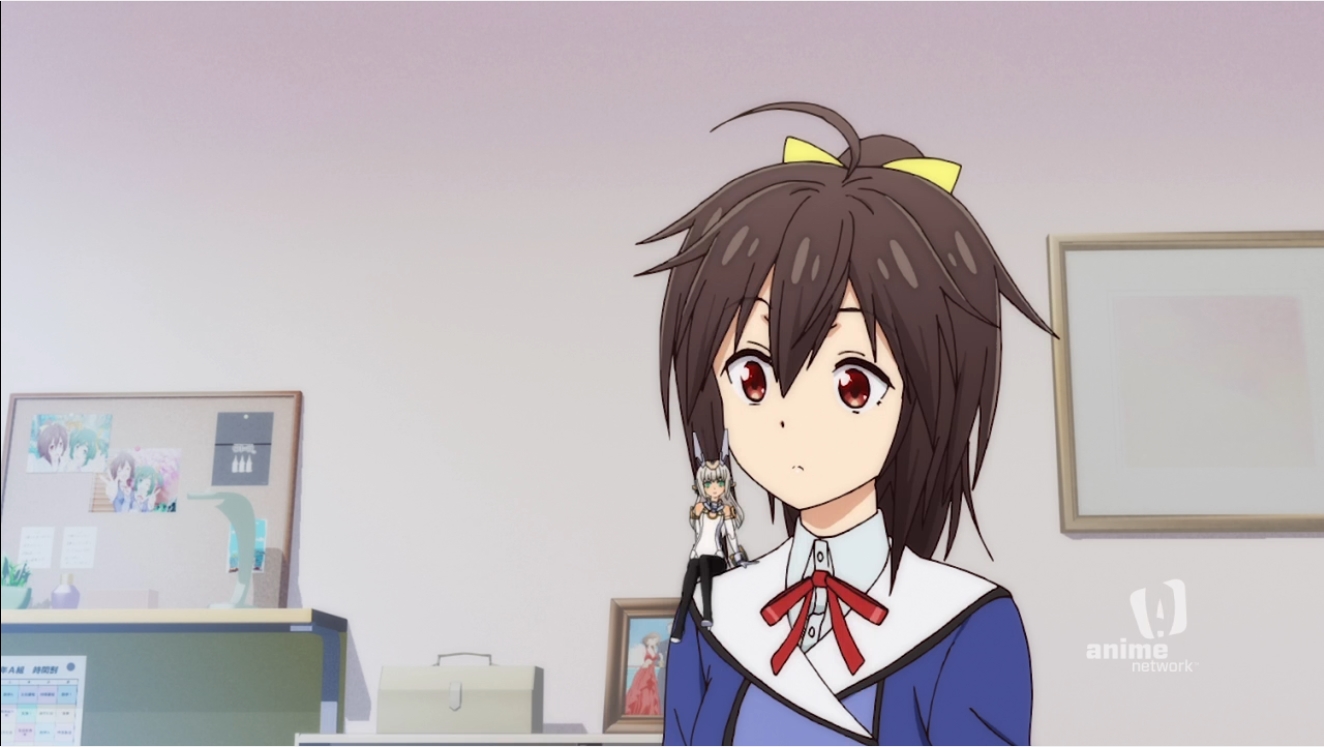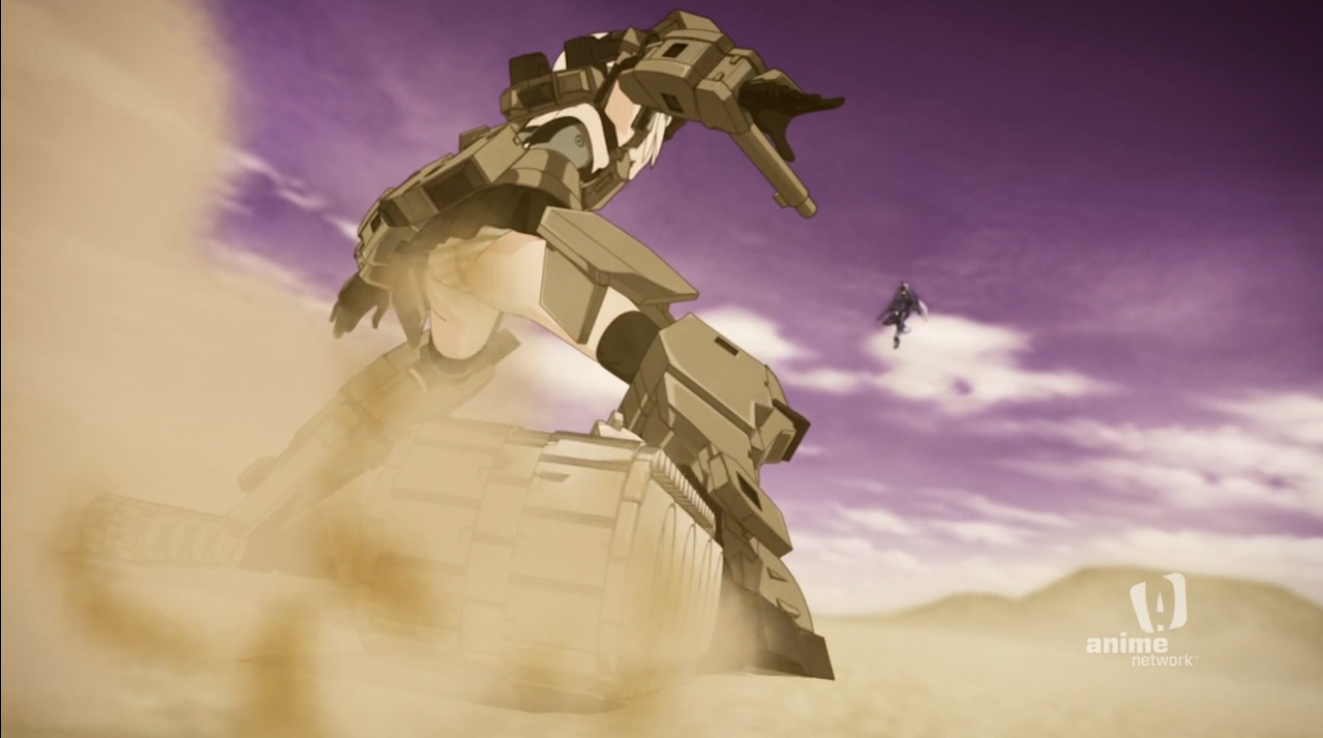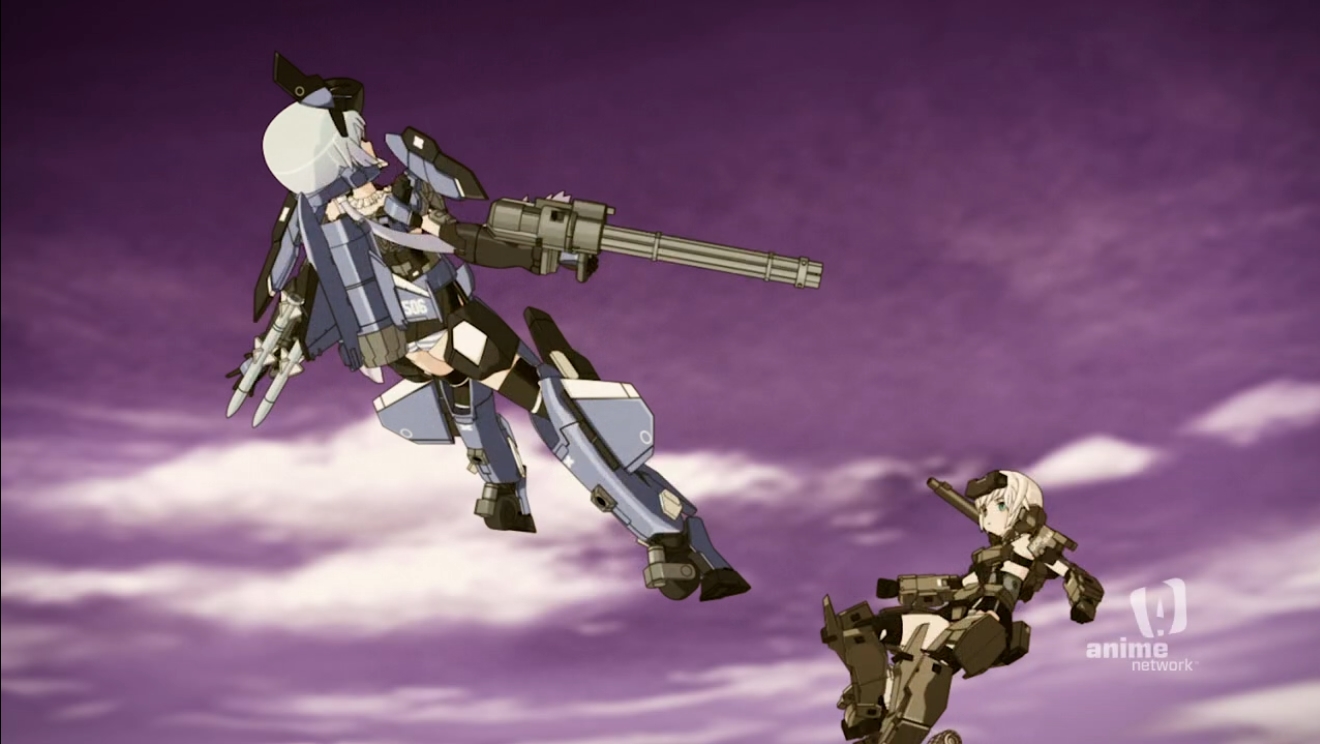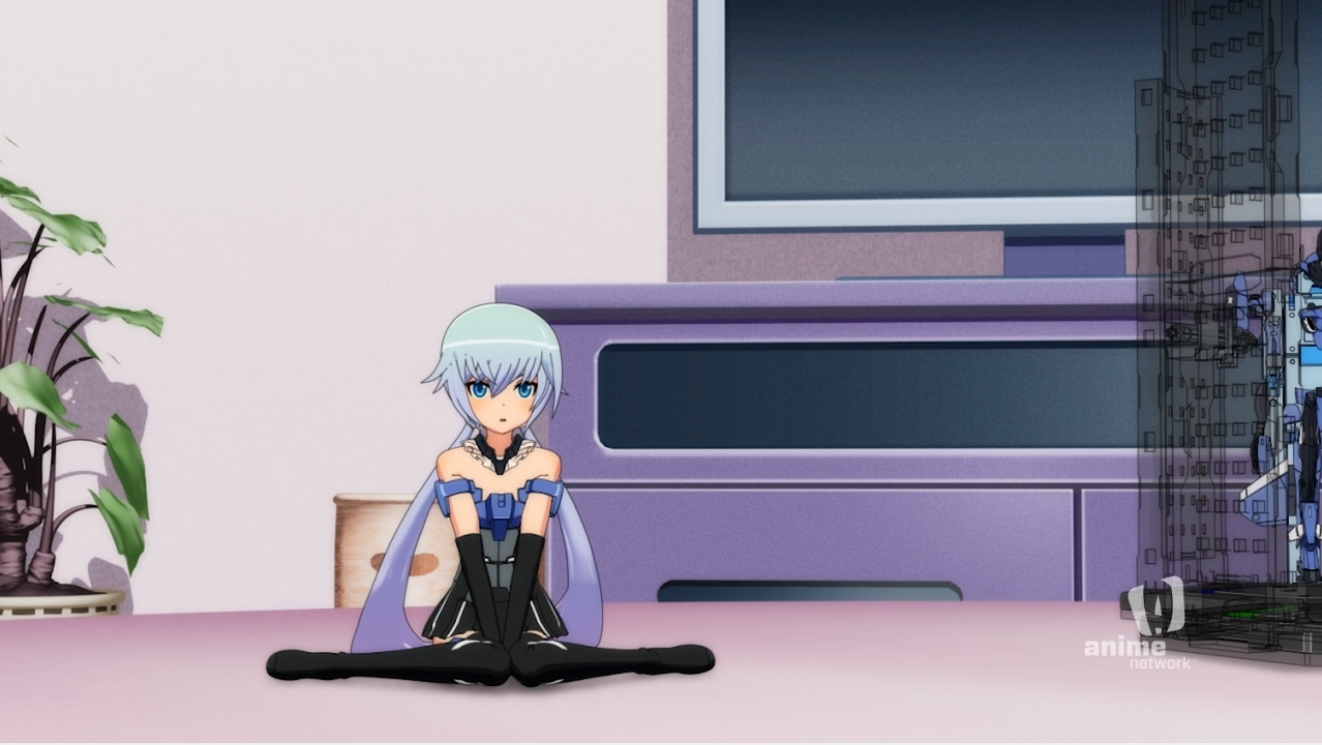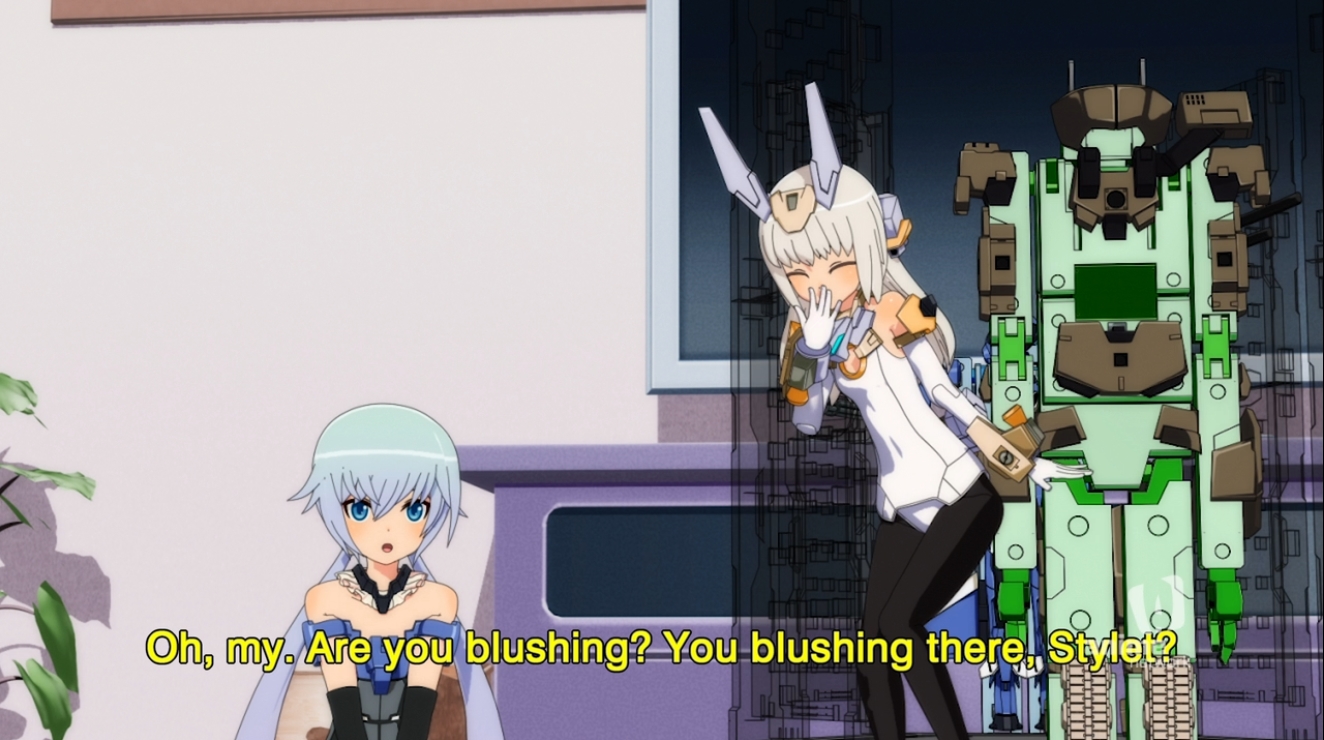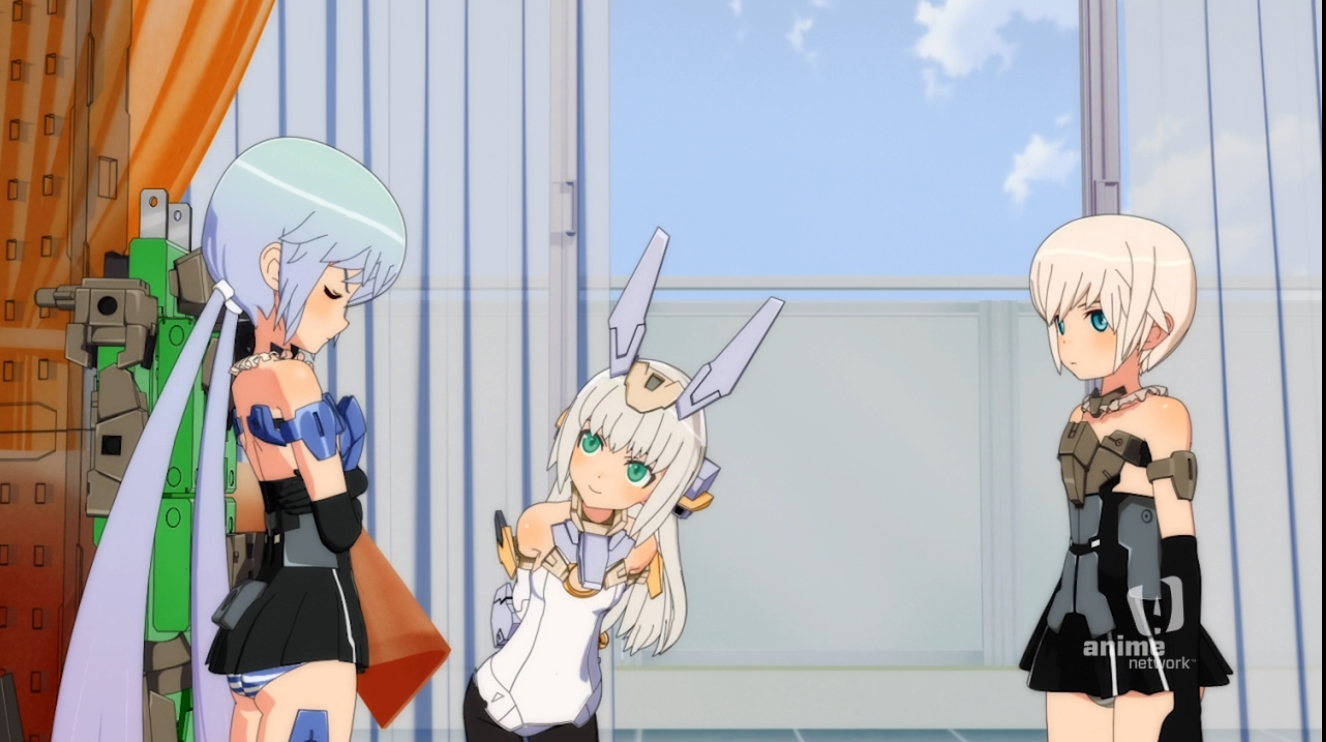 I've gotta say that Frame Arms Girl has impressed me that it appears to be a high 7-8/10 show. Others may vote lower, yet to me it's to be a higher ranking show with how Ao has emotions and intelligence. General signs of life. Gourai is tasked with learning to be more 'life-like', as with how the combat is handle. It's done nicely and enjoyably that it has high praise from me, more so when I'm gradually growing my collection.
A show like this was needed when I mentally broke down that I needed to be reminded of what "fun" actually is, and that fun is still to be had through Frame Arms Girl. The OP & ED to this show don't impress me, yet the show itself is to be something impressive. The music is also up there. Nothing special, yet it is something we should pay attention to.
I'm also hoping that if Kotobukiya is planning to make a game that they should shy away from Smart Phone games. It's not because I have a potato fun, but because there's just way too much of that. They should focus on more on a console or PC platform game, or something that would last throughout the years without being pulled on Playstation, or similar.
This show showed neat scenes that it has me itching to see more. Granted, I can't help but compare Busou Shinki knowledge with what's being seen in this 'Frame Arms Girl' as they're using same, or similar, concepts and ideas.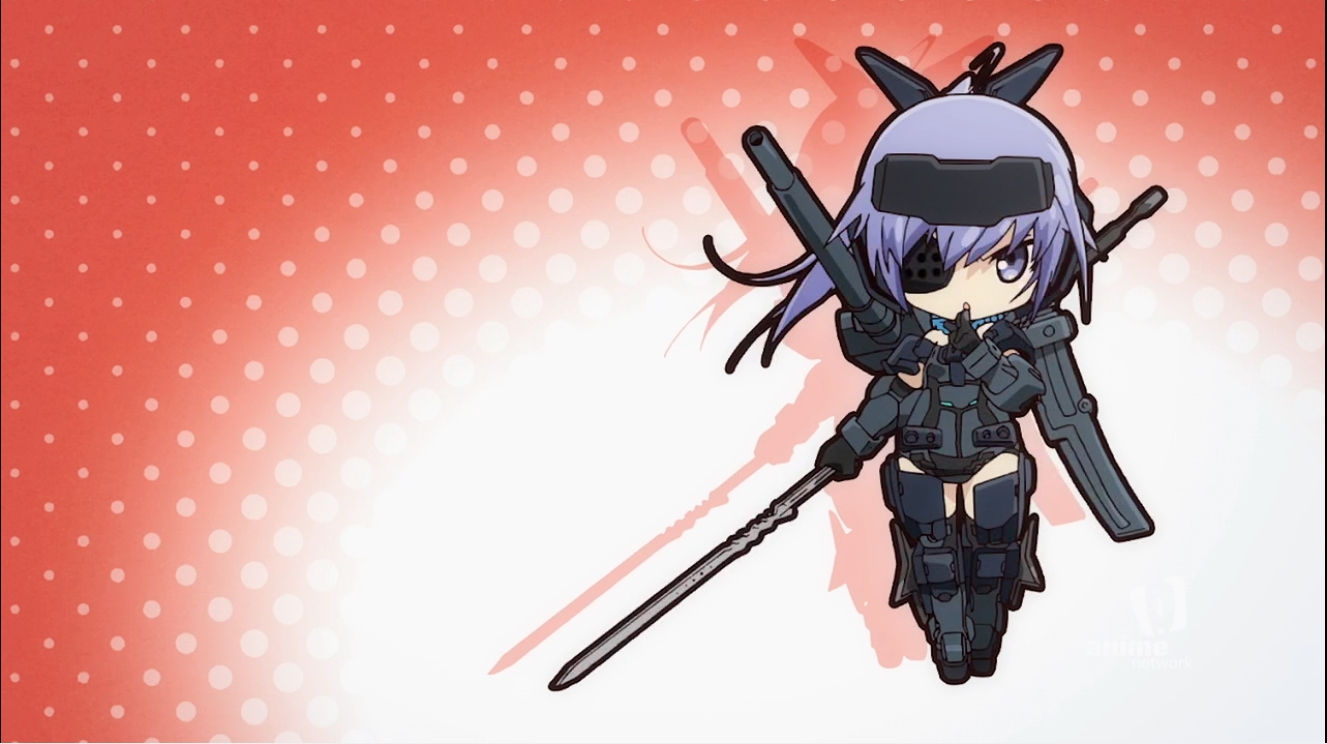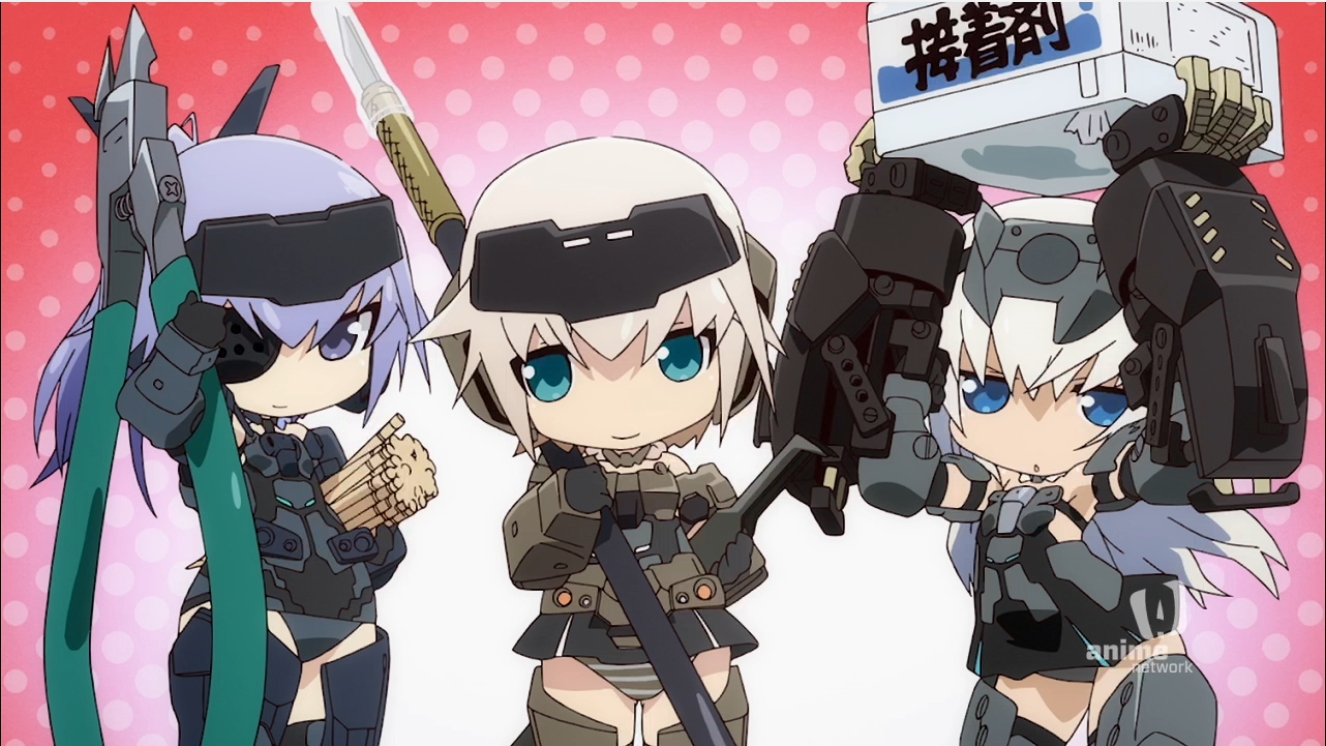 ===
See you in Episode 2 review + in an an upcoming 'Frame Arms Girl: Hresvelgr' posting!