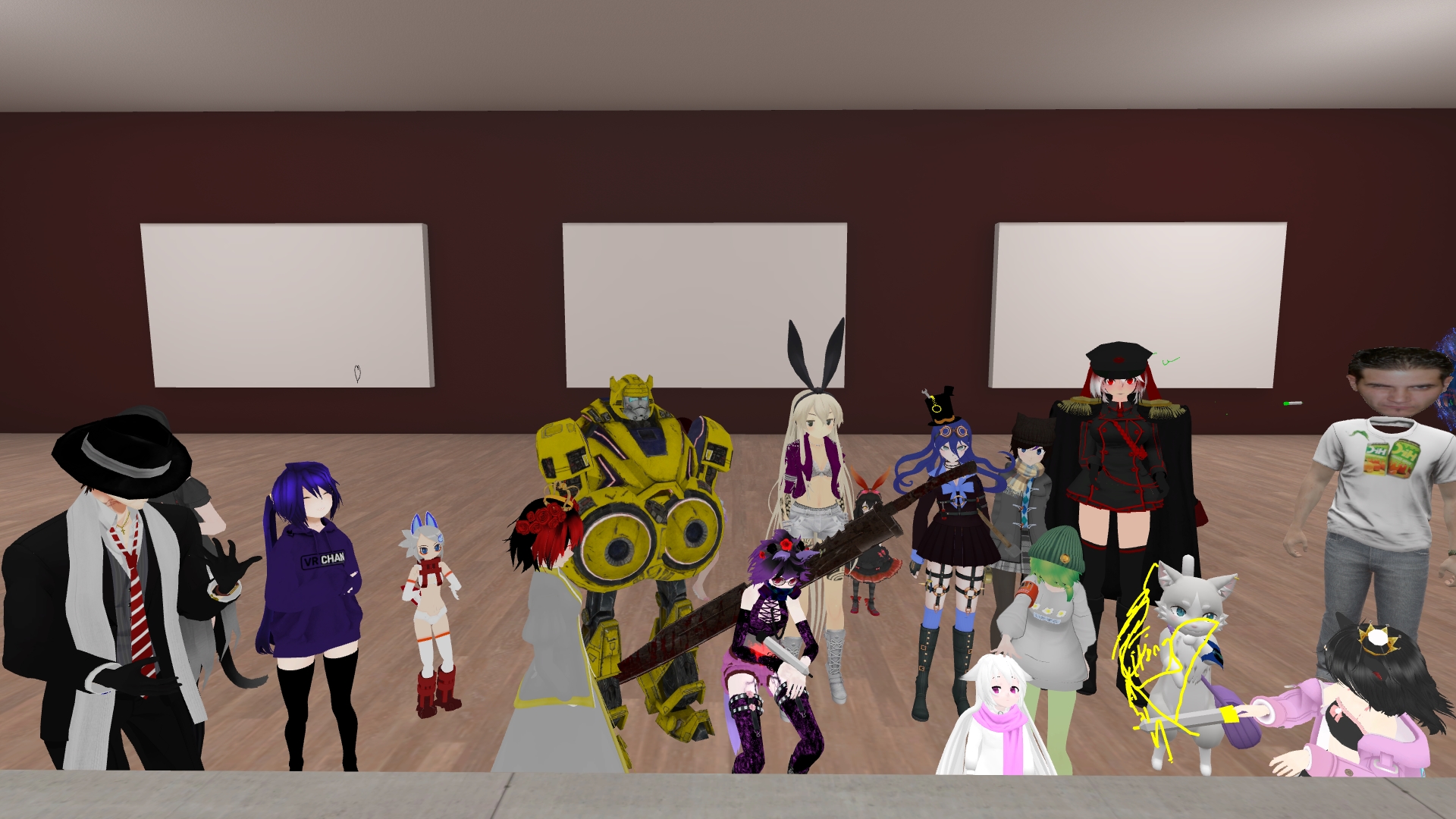 (Article may be image heavy with 80+ images relating to Nagzz21 side of VRchat & the whole drifting side of VRchat until I met cool buddies within game.)
This article is dedicated to both VRchat in general and the developers, as much as it is to Nagzz21, in respect for how he introduced us to this gorgeous game. The length of this article may be lengthy, but that's how much Nagzz21 has influenced both the VRchat community and myself. Nagzz21 going viral with the Nepdoll being stolen is an over-expressed reasoning as to why many people joined VRchat, and it genuinely is one of my reasons as to why I joined VRchat when seeing it on both my Twitter & Tumblr feed. If it wasn't for Nagzz21 I probably wouldn't be playing VRchat, nor highly into VR games in general. Even seeing the beauty which is 'Furious Seas', nor met cool people that I have on and off in VRchat. Upon seeing the Nep Doll video I checked out what the game was on Steam store page, what platforms it could run (VR and Desktop) to the point I tweeted on Twitter saying I'm jumping onto VRchat via desktop mode. I just had to with how welcoming it appeared, thus began my adventure. I tried it first, then I dragged my friend 'Nighthawk' into VRchat to the point he's mostly MIA hiding away in various Imperial Waifu Brigades and their various variations because of various "situations". As for myself, I simply became a traveler exploring VRchat since November 17, 2017 because I enjoy the creativity in worlds, though I do love interacting here and there when people want to feel social. Also, because of work, I can't play VRchat as much as I want to, as much as Nighthawk plays VRchat, which saddens me.
Ever since that NepDoll video, and me diving into VRchat, I caught myself up on the various episodes of season 1, even binge watching episodes after keeping up with the latest antics from season 2 up to 5 since November 17th constantly feeling happy and nostalgic. Been a fun ride loving all the fun treats, chill music, and nostalgic memories meeting new people and just having fun.
VRchat is an awesome game being more than a game because so many magical moments have happened within it making it more than "just a game". It's like how an Anime is more than a "Japanese Cartoon" because it contains the author's life, the authors emotions, thoughts, life lessons, and their soul. That's putting it barely in words because of how difficult it is to word feelings, skill, and experiences into words. That's VRchat put into words the best I can. Every time you hear 'Savannah' your mind thinks of all those nostalgic times in Nagzz21's Youtube & Twitch VRchat adventures, or the specific chill music recalling the times you've had fun yourself in VRchat. So many memories… The memories is what makes VRchat fun.
(This article into three parts: 1) Drifter – 2) Nagzz21's Influence – 3) New 'Life friends' 2018.)
---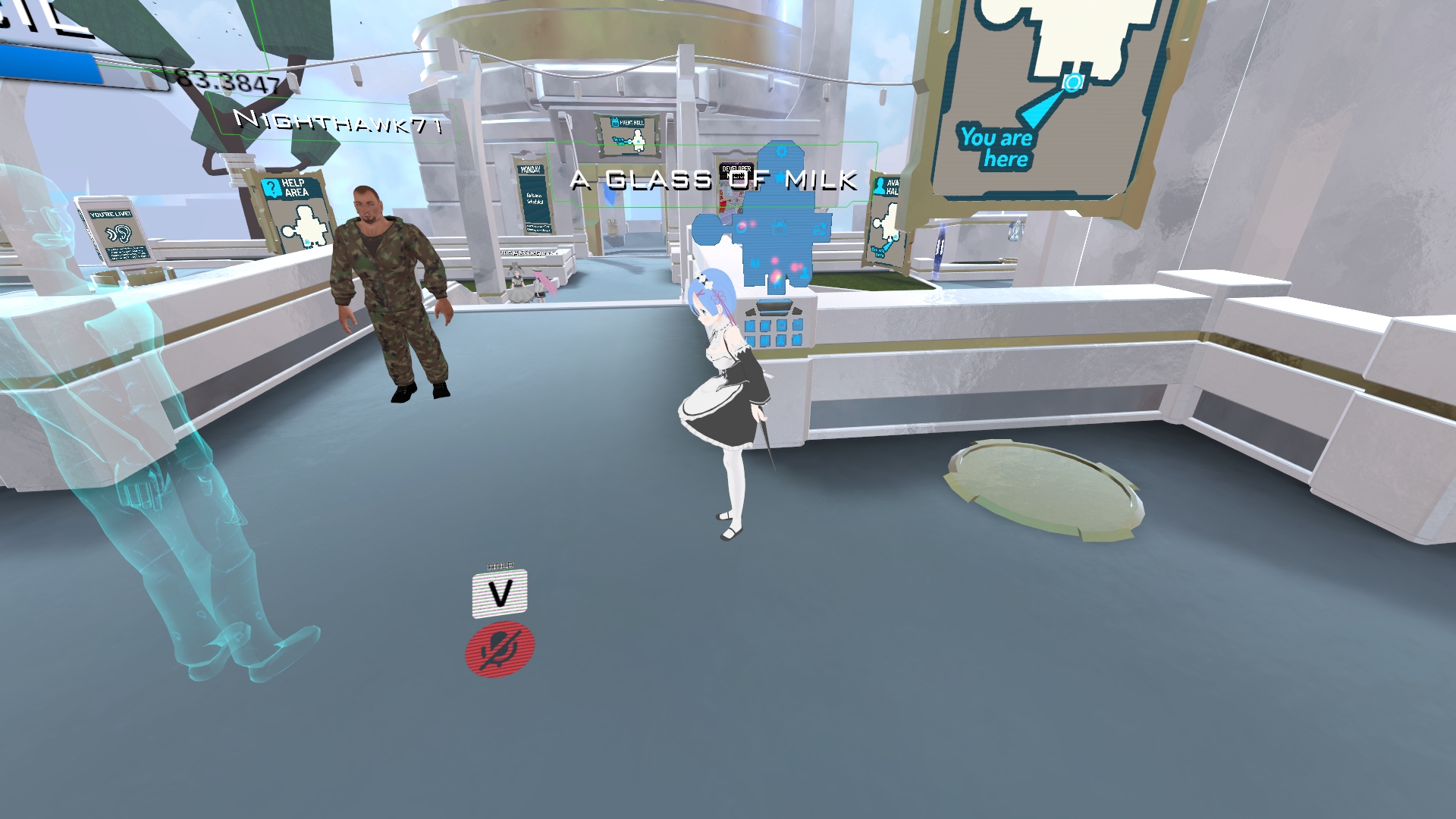 I was in desktop mode up until January 1st, 2018, or so. I however gained my Oculus Rift on December 24th, 2017, yet couldn't use it until I gained a proper video card and USB 3.0 adapter just in time for New Year's 2018. I made sure when I gained my VR headset it was worth it; I had to justify it with up to 5 games I knew I'd play (VRchat, Google Earth, Titanic VR, Harem Mate VR, & the odd games at that time) and all the parts because of how costly the headsets were at that point, and still are. Though, on the bright side VR headsets are cheaper now than they were in December 2017.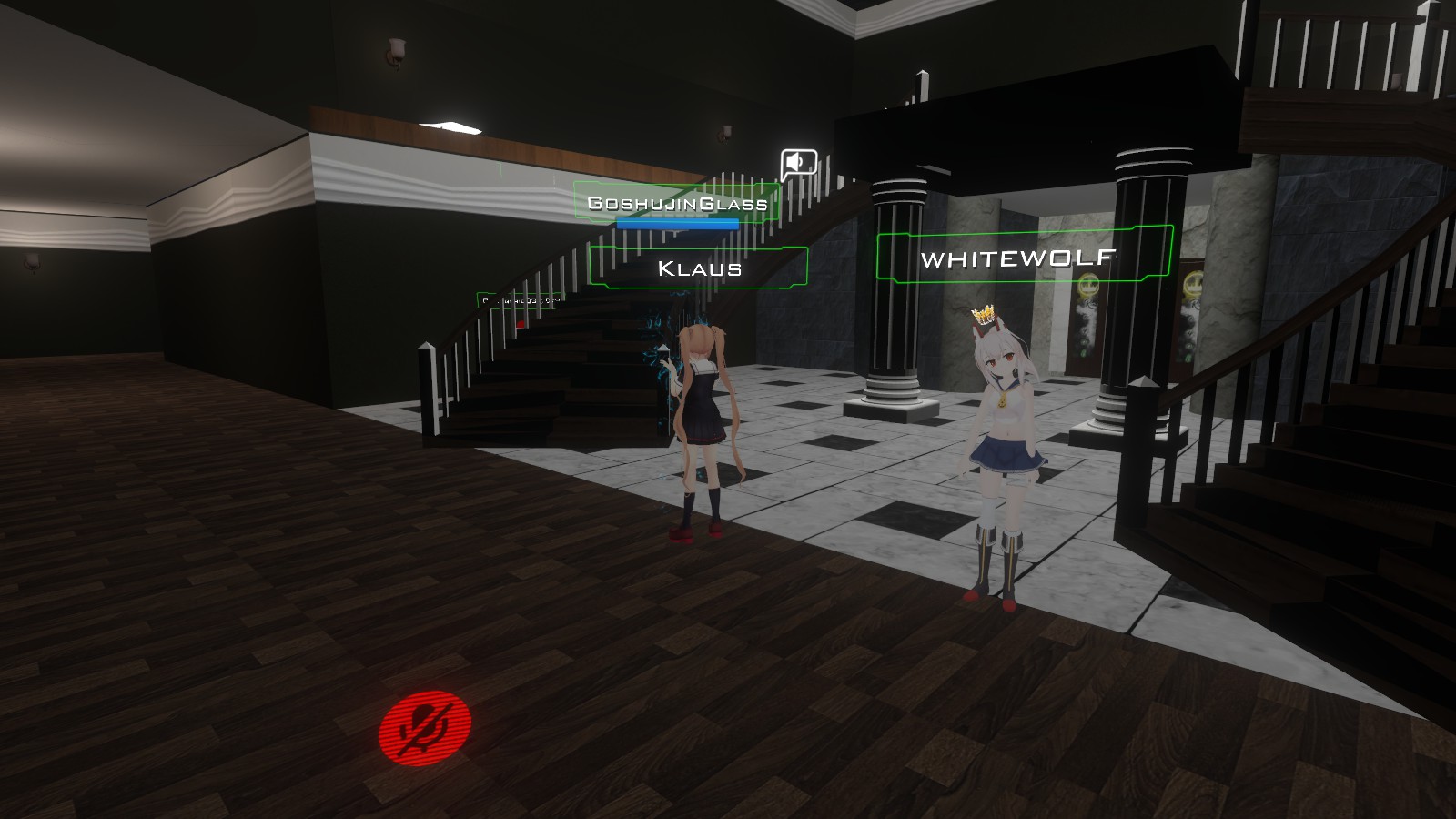 Between waiting for my VR headset to be usable I somehow stumbled across Klaus and Whitewolf, stupidly not befriending them. I'm still kicking myself over this of me not taking this chance to befriend them :(. I followed them around the world at a slight respectful distance just seeing what's up with the world hoping to see how they would solve the easteregg before the whole Nier Automata cave was an actual world on its own with its own fair share of eastereggs. We were trying to solve the in world puzzle in that hotel world. A shame I allowed that chance to slip.
I'm not going to push it because I don't want to friend them for the sake of friending them. They're not Pokemon, and they even noted this. If we ever do meet, and we do interact then that's the proper time to friend people you've come to know and love on Youtube & Twitch.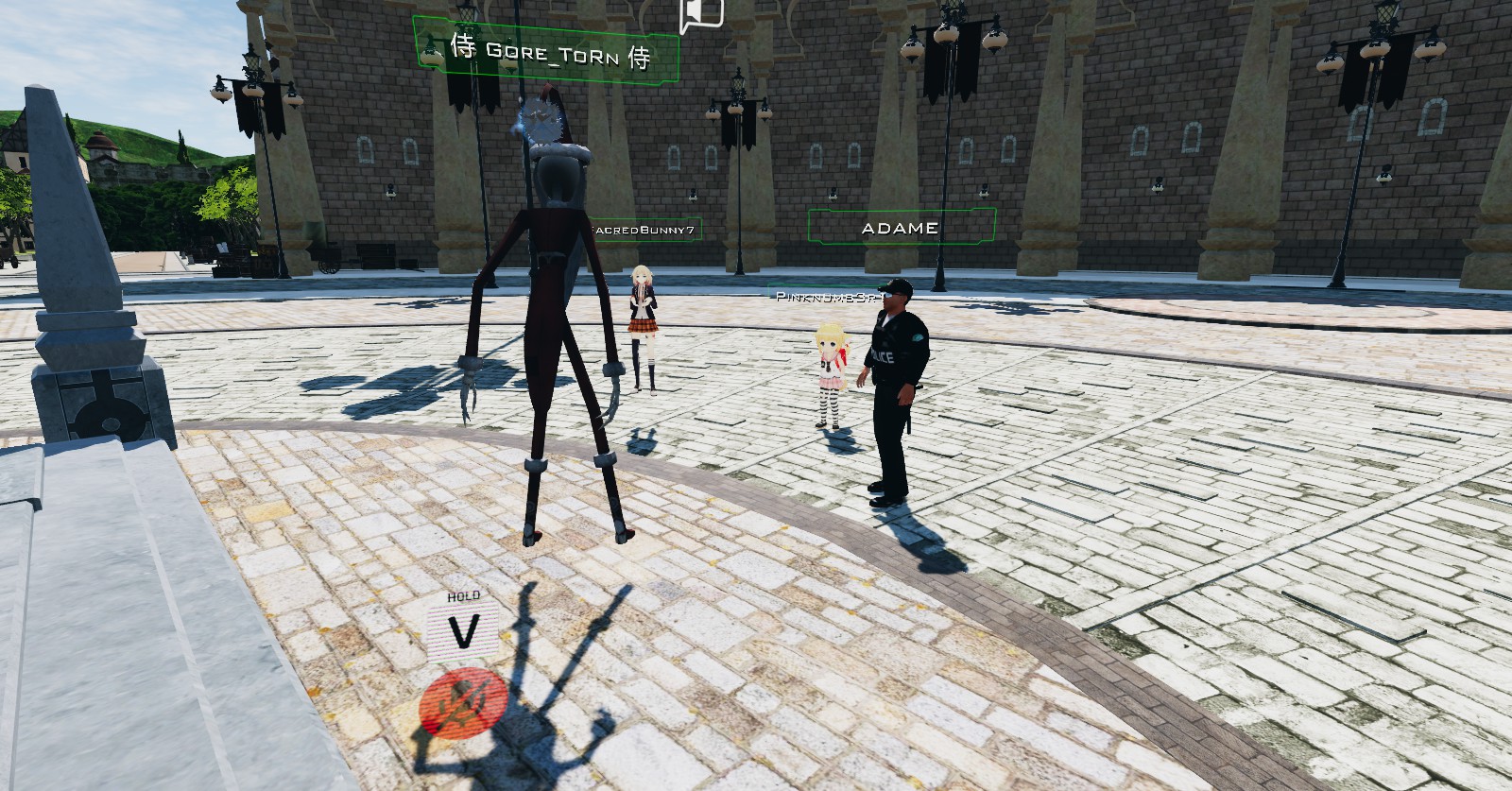 Adame commented about me just standing there as a white Scout trooper from Star Wars in the SAO world  (also in the first blog posting linked below) when I could have said something. I also probably did not have a mic so I simply stood there as a mute, or so I recall. Memory is a bit hazzy, thus things bounce a lot when I try to explain things back from 2017. It was however nice seeing those I saw in a Youtube video roaming the VRchat worlds freely back in 2017 making it feel "magical" in ways.
---
Related Articles:
Similar Articles:
– VR Experiences: 01 | 02 | In The Mood for VR Gaming | Blog Update; Death of Tumblr | Merry Christmas! (2018)|[VRchat] Happy New Year 2019!
---
I explored, I learned, and I even came across neat happenings here and there, quarter of which I tried logging onto Youtube, and the other quarter onto Twitch. I eventually also made a Discord group to log my experience later in the VRchat journey. It was a learning experience. I even unknowingly bumped into many other popular VRchaters, such as Zentreya in her PSO2 Gene avatar while as a loli foxy Ran in the Presentation room. I would occasionally buddy up with Nighthawk, or even just randomly observe happenings as they happened.
Feint – Drifters – Does seem appropriate for this:
Lyrics:
I can hear you far away (I can hear you)
I can see you in the distance
I am waiting for today (I am waiting for you)
I go forth with no resistance
If we drift towards and if we let it all
Go, then will you come with me? (Come with me)
Til' we are free
If we drift towards and if we let
It all go, then will you come with me?
I'm gonna make it somehow
I'm gonna break through the clouds
I will make you mine
I'm gonna sing it out loud
I'm gonna drown in the sun
Will you leave me a sign?
You're the castle in the sky (I see you)
I'm an island on the ocean
Will we make it through the night? (Been waiting for you)
If we go live by devotion
If we drift towards and if we let it all
Go, then will you come with me? (Come with me)
Til' we are free
If we drift towards and if we let
It all go, then will you come with me?
I'm gonna make it somehow
I'm gonna break through the clouds
I will make you mine
I'm gonna sing it out loud
I'm gonna drown in the sun
Will you leave me a sign?
I simply go with the wind to see what happens and it usually ends up with funny things happening. Traveling/drifting  faired better in 2017 because everything was more free, yet 2018 also had its fair share of amusements, hacking avatar theft drama, and such forcing people to hide in private worlds taking half of VRchat away. Interesting times. VRchat was free in 2017, went into a shell in 2018, then became free again late 2018, and into 2019 with people coming out of their shells. I hope I can experience VRchat the way I've experienced it in 2017, though I partially am with how I roam the worlds with my newfound friends.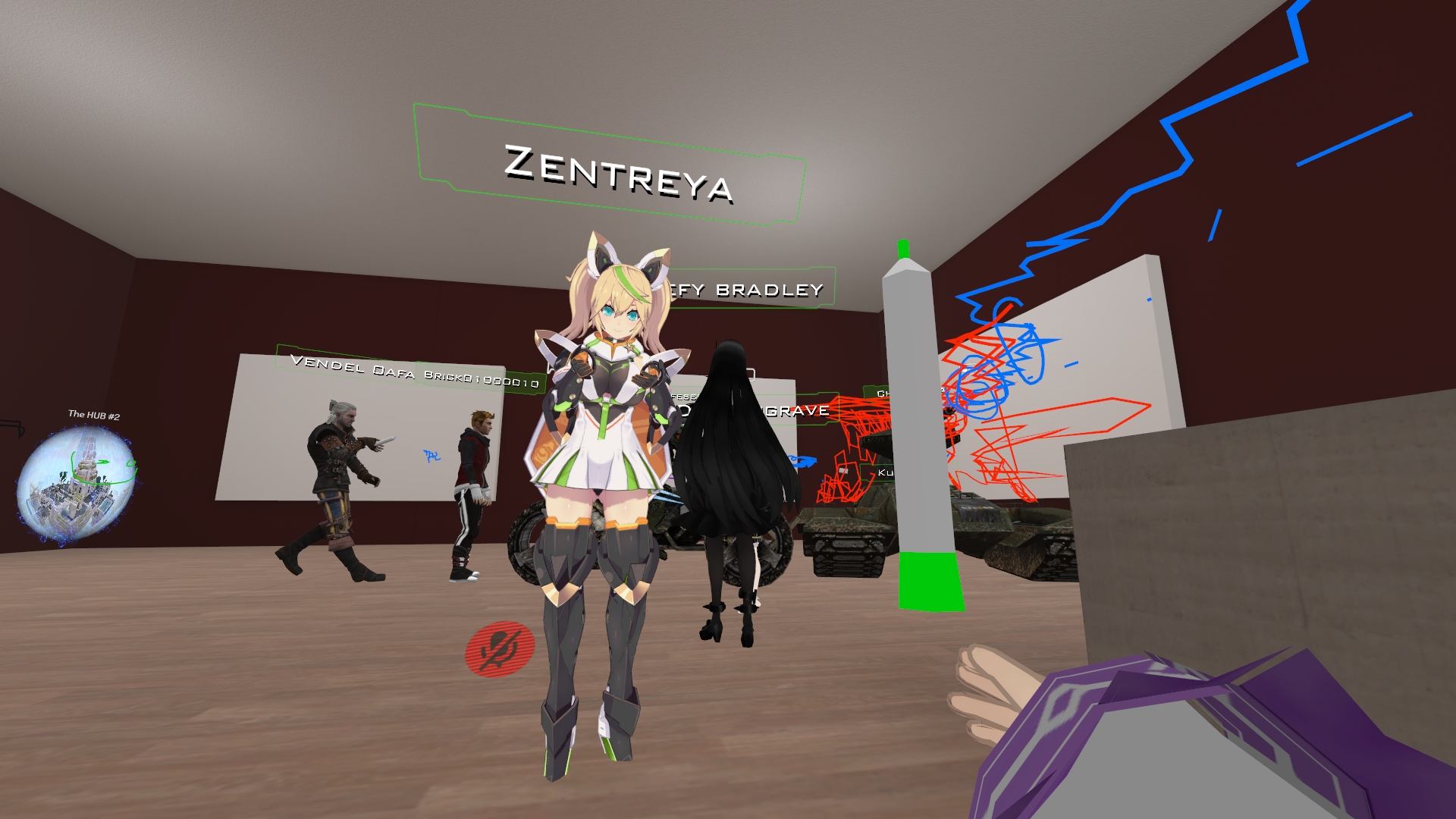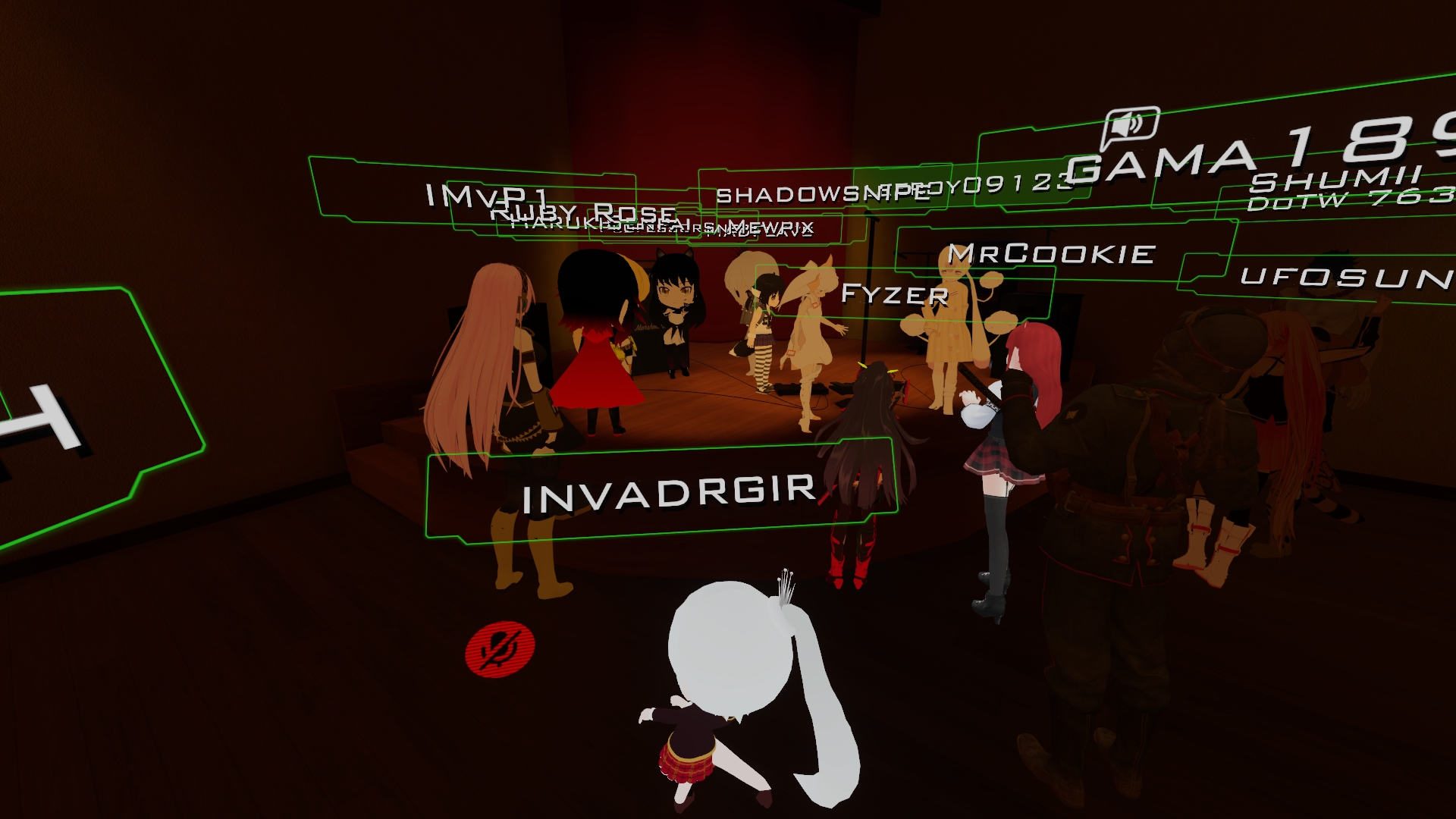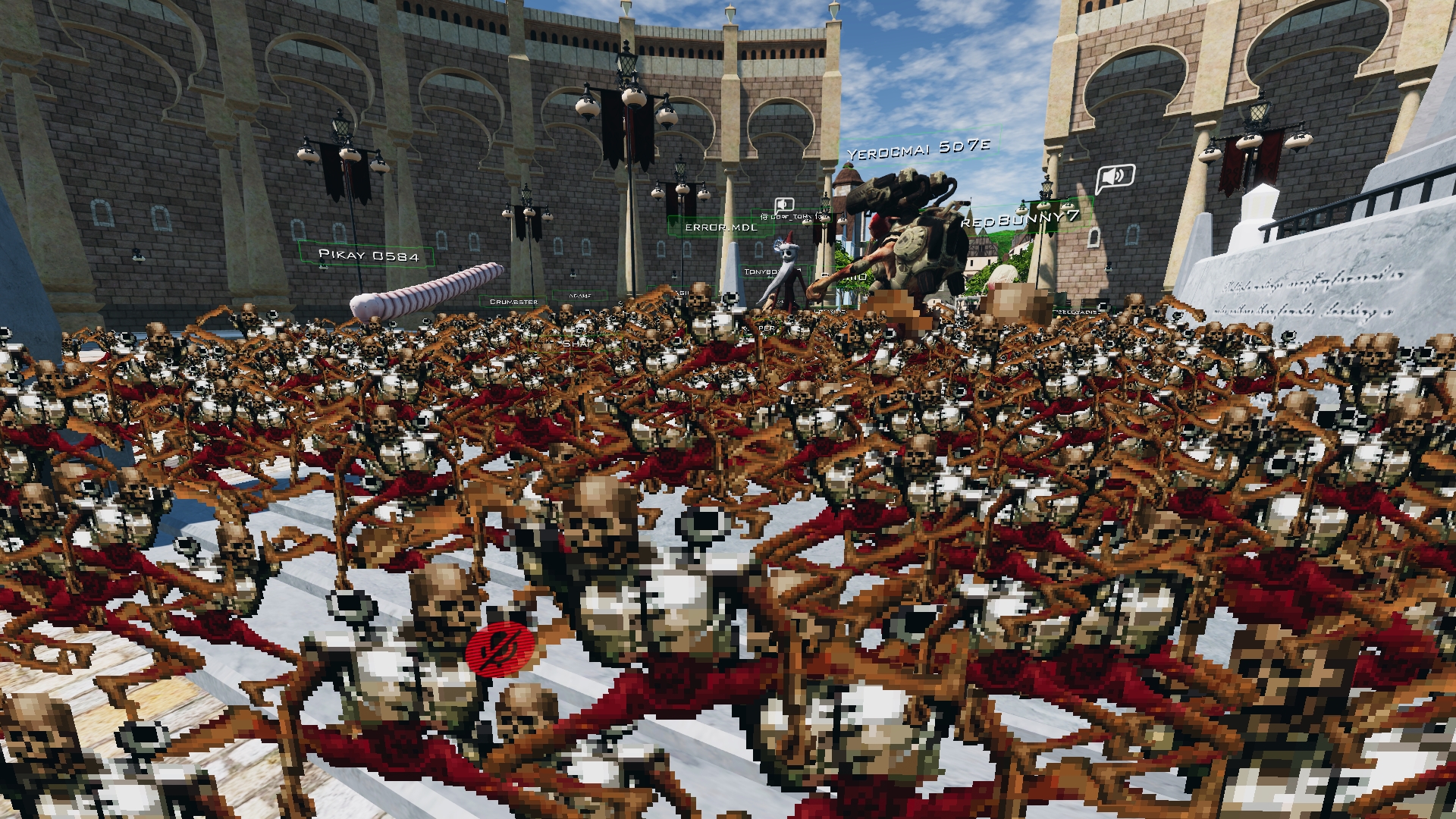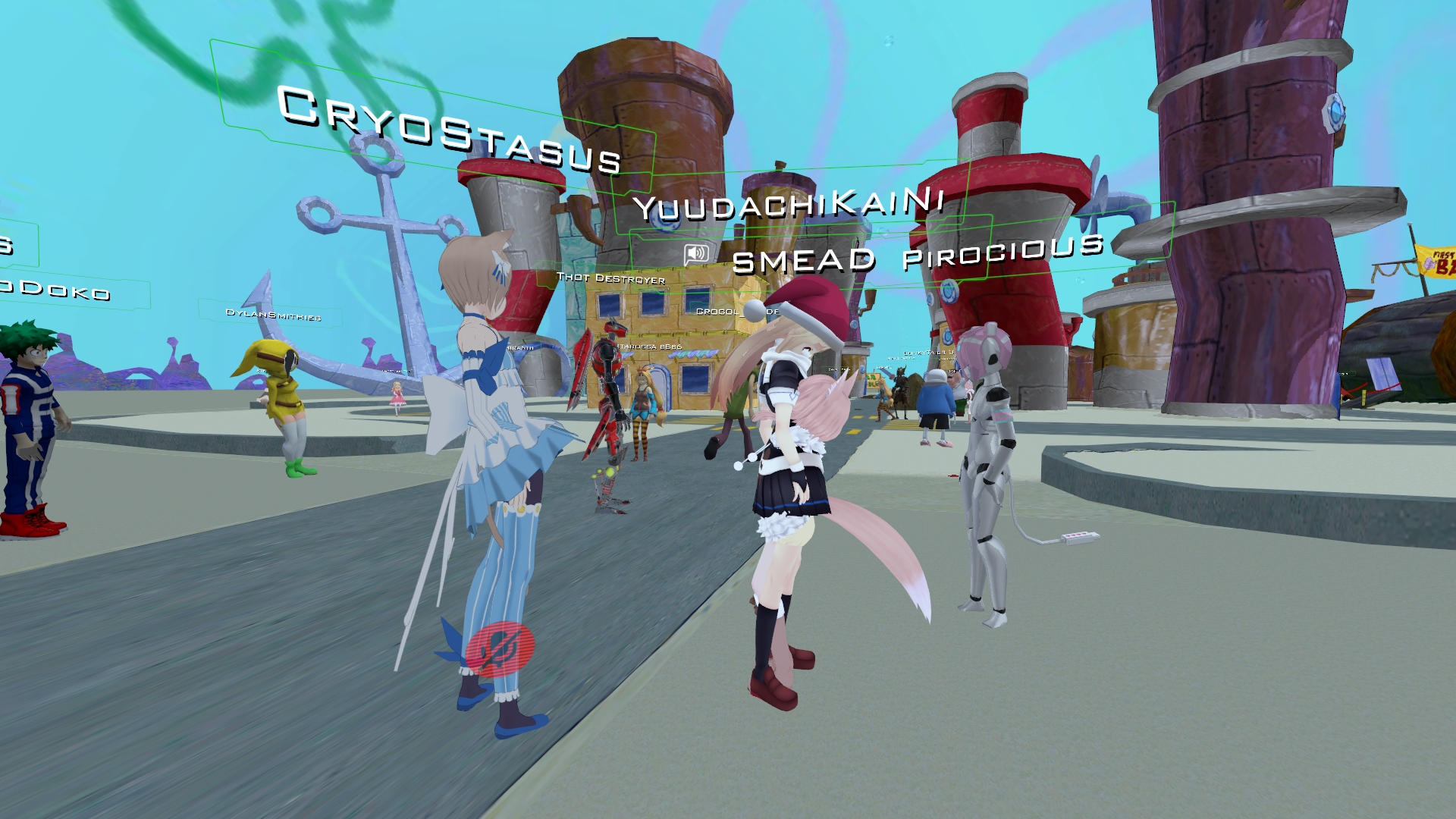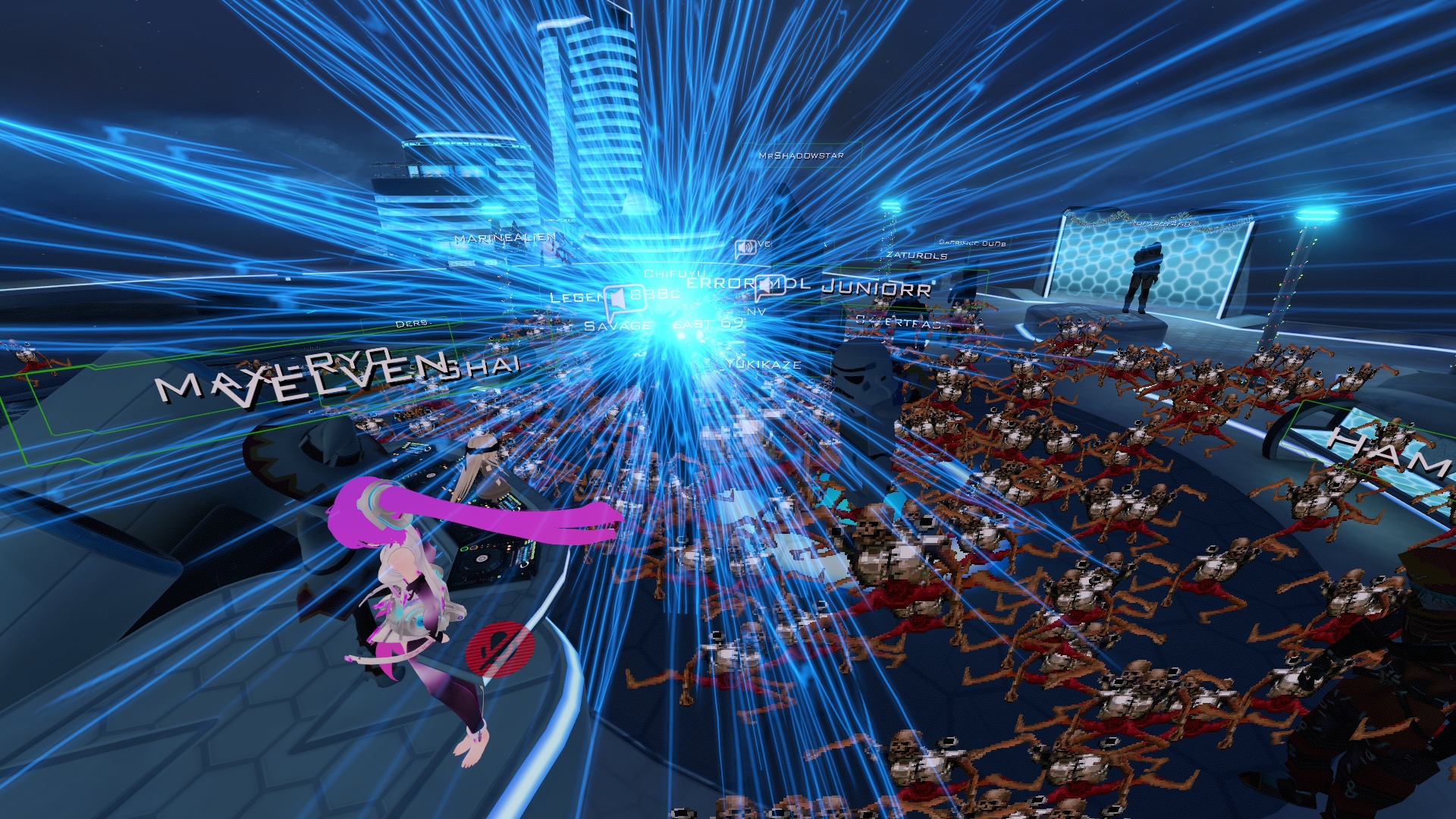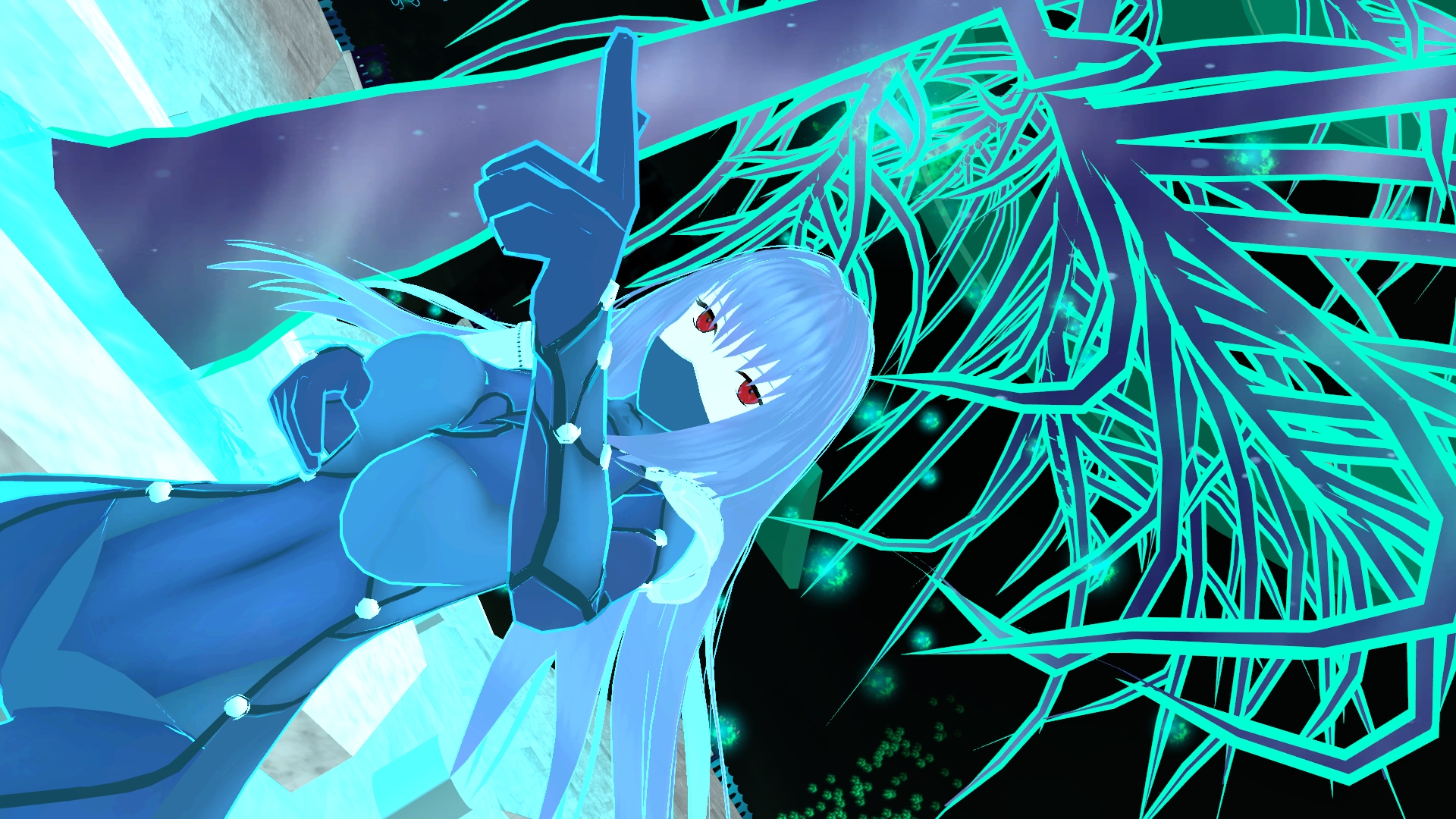 When I finally had my VR hooked up by New Years I befriended Duskitten and Xillione, both of whom toured me around VRchat welcoming me in by showing me various worlds. All the images above are from desktop mode. They would pass me objects, allow me to examine it, and etc. We had fun chatting, discussing Sword Art Online stuff, and just enjoying VRchat for what it is, and was at that time. They made me feel welcome, and I thank them for that! Without them I probably wouldn't have kept traveling the little bit I had through worlds chatting with people at random, exploring, and taking images. I even have to thank Einz, someone I commissioned, for a special happening in the SAO world with the large floating avatar of his. Very appropriate.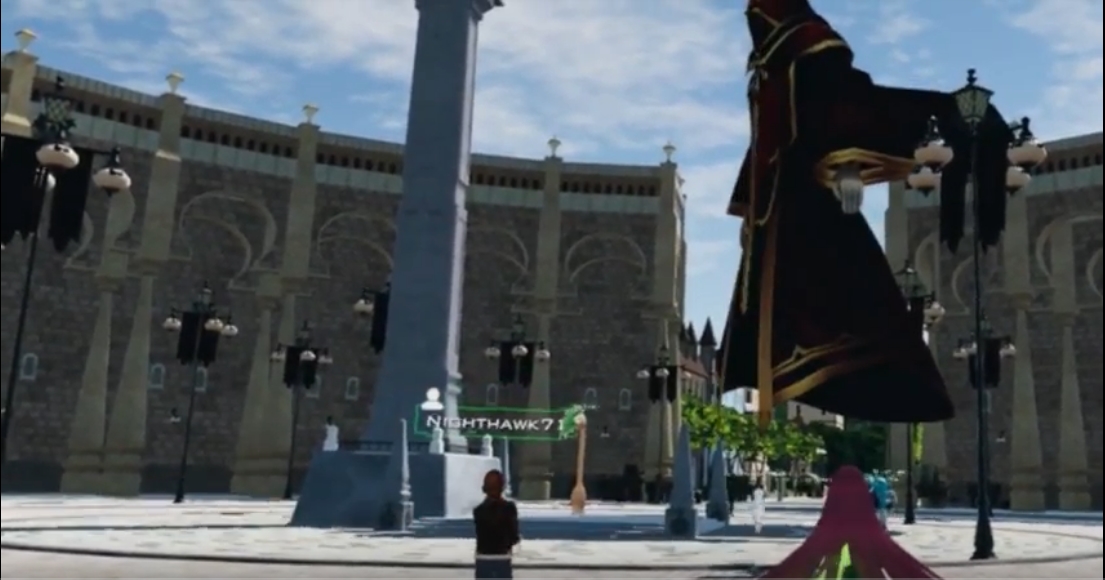 When the avatar hackings happened I chose to avoid it for a few weeks, something which may have costed me both their respect, and others, to the point I may have been sidelined in being joined in various VRchat sessions.  They also wanted to hang out with Nighthawk, something which was becoming difficult to do with how he was joining various Imperial Waifu groups jumping from one to the next. It was interesting times testing us out, and it appeared to have broken us a little bit. People were also hiding in private worlds, it was a rough time when the avatar thefts occurred. I was also singled out because I called out the Knuckles meme for being vile, something people didn't seem to enjoy. I took note of it, trying to be more positive about it. What kept me coming back was Nagzz21's & Oathmeal's videos at the time, and I'm glad I gained nostalgic/curious once more to jump back in by simply watching their videos on Youtube. I kept tracking VRchat while feeling nostalgic missing the moments I could easily be a part of by simply being in VRchat. VR & VRchat growing pains, you live and learn. Those lessons can even be painful, yet necessary.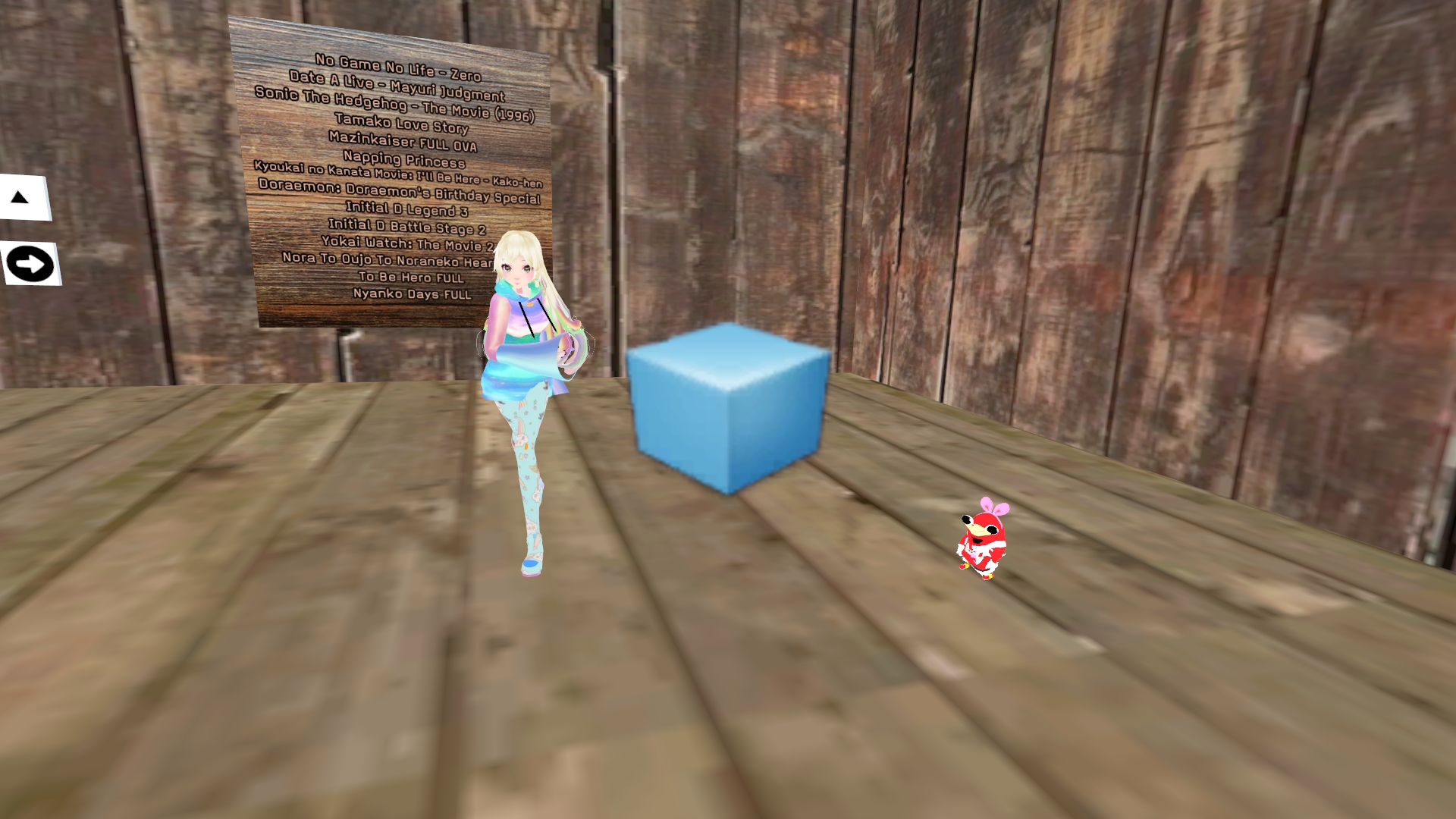 At that time I also commissioned Einz to make a MMD Scathach avatar compatible with VRchat gaining two variations out of that. One from Einz (without Gae Bolg/Lance), and one from Xillione (with flowy hair, Gae Bolg, and breast colliders)…Helpful, yet still somewhat awkward. Einz and myself also became great friends with him constantly showing me Kamen Rider avatars whenever he was free. Had fun once more when VR cameras became a thing. I tried taking as many pictures as I could and had fun doing so. I had fun exploring. Exploring is half the game just taking in what people have made which also kept me coming back curious what people have made.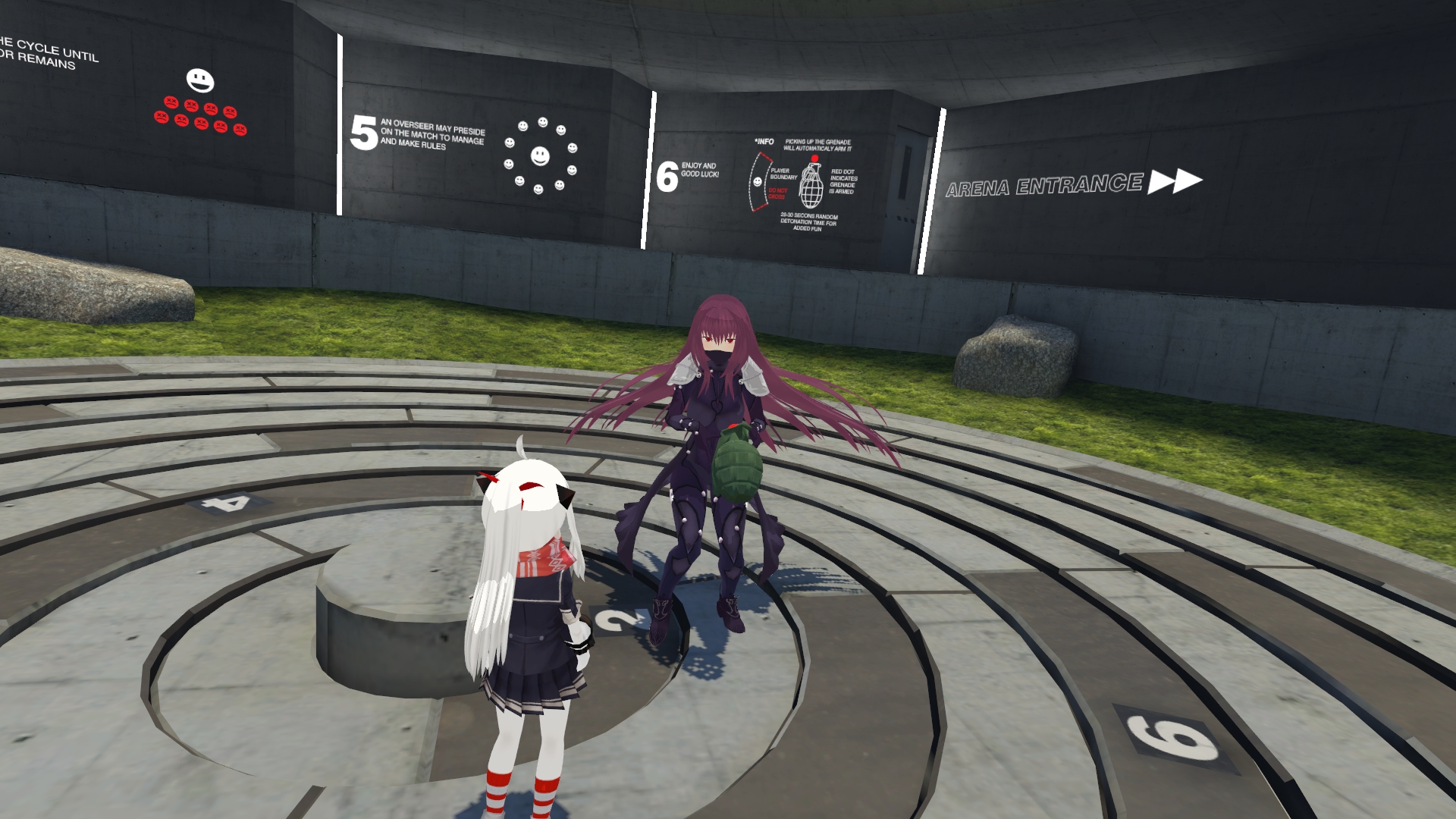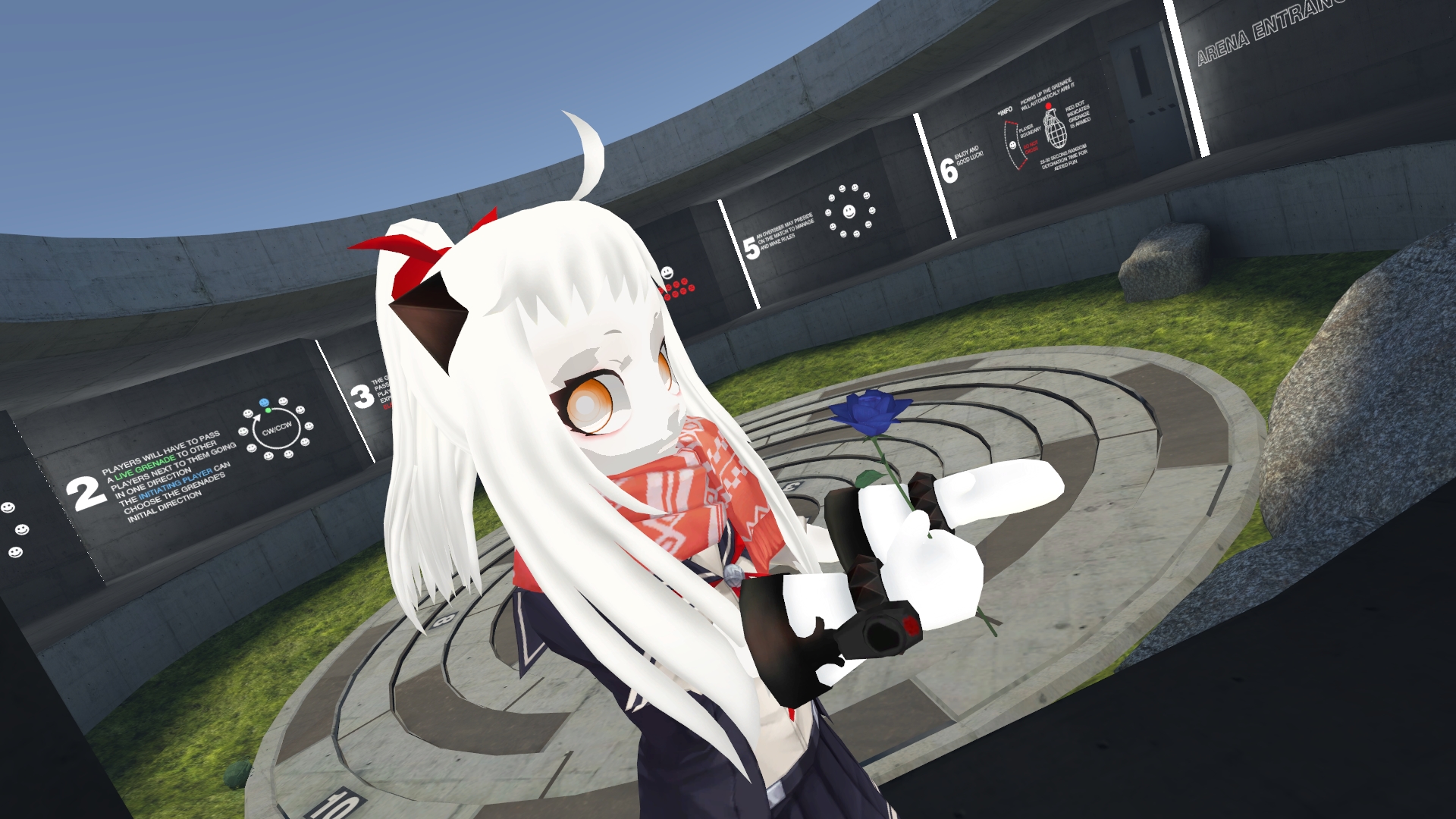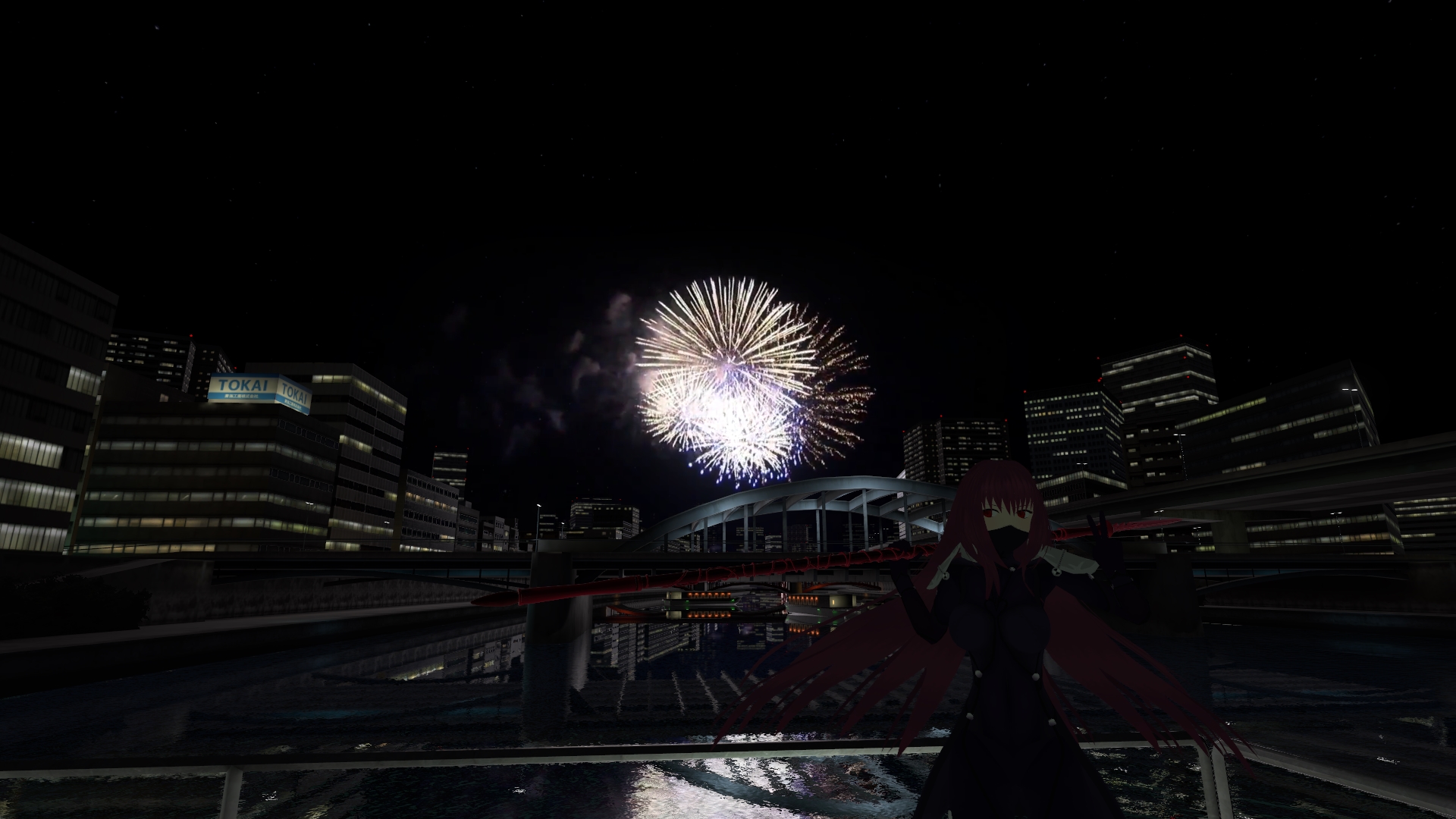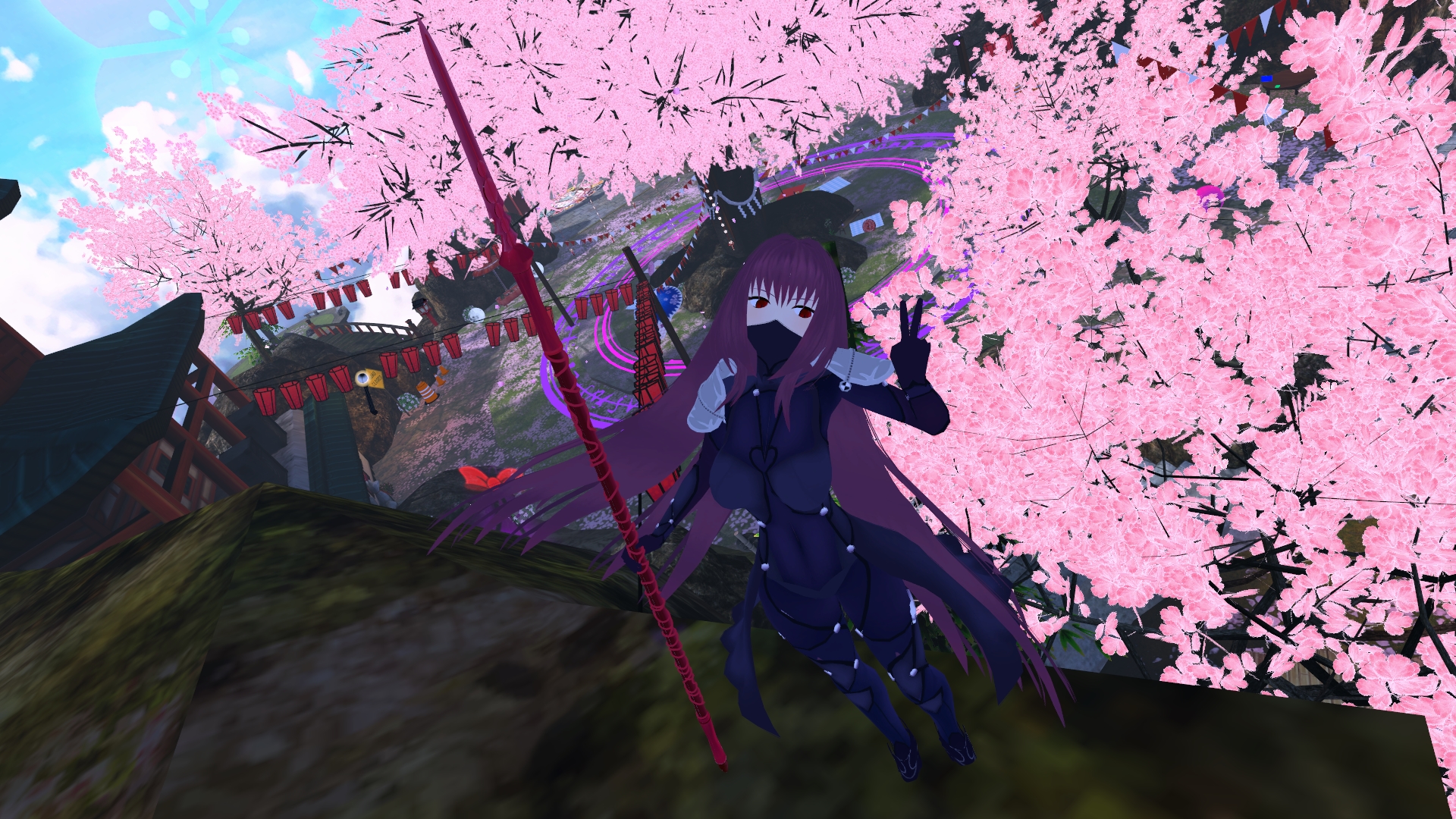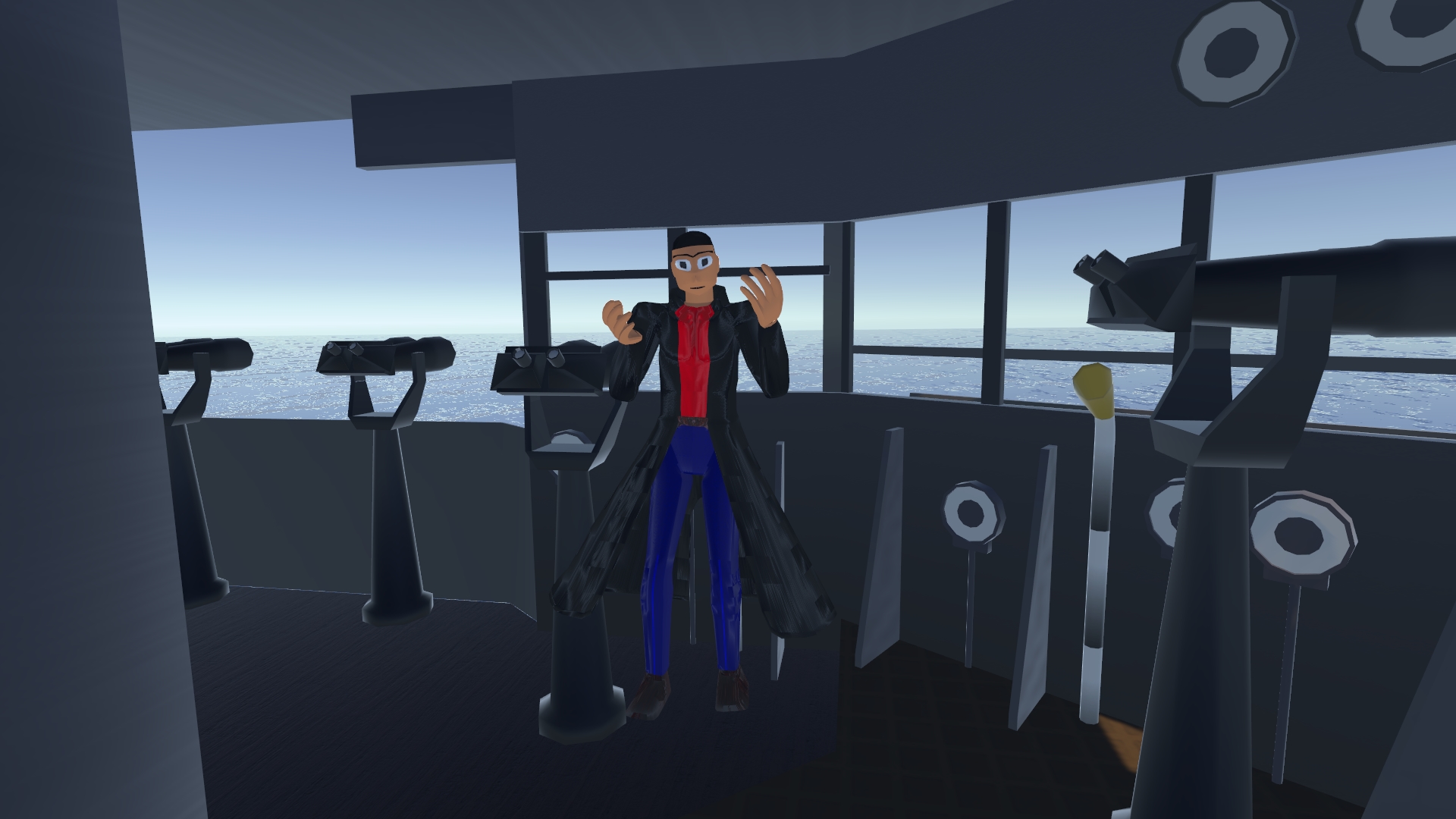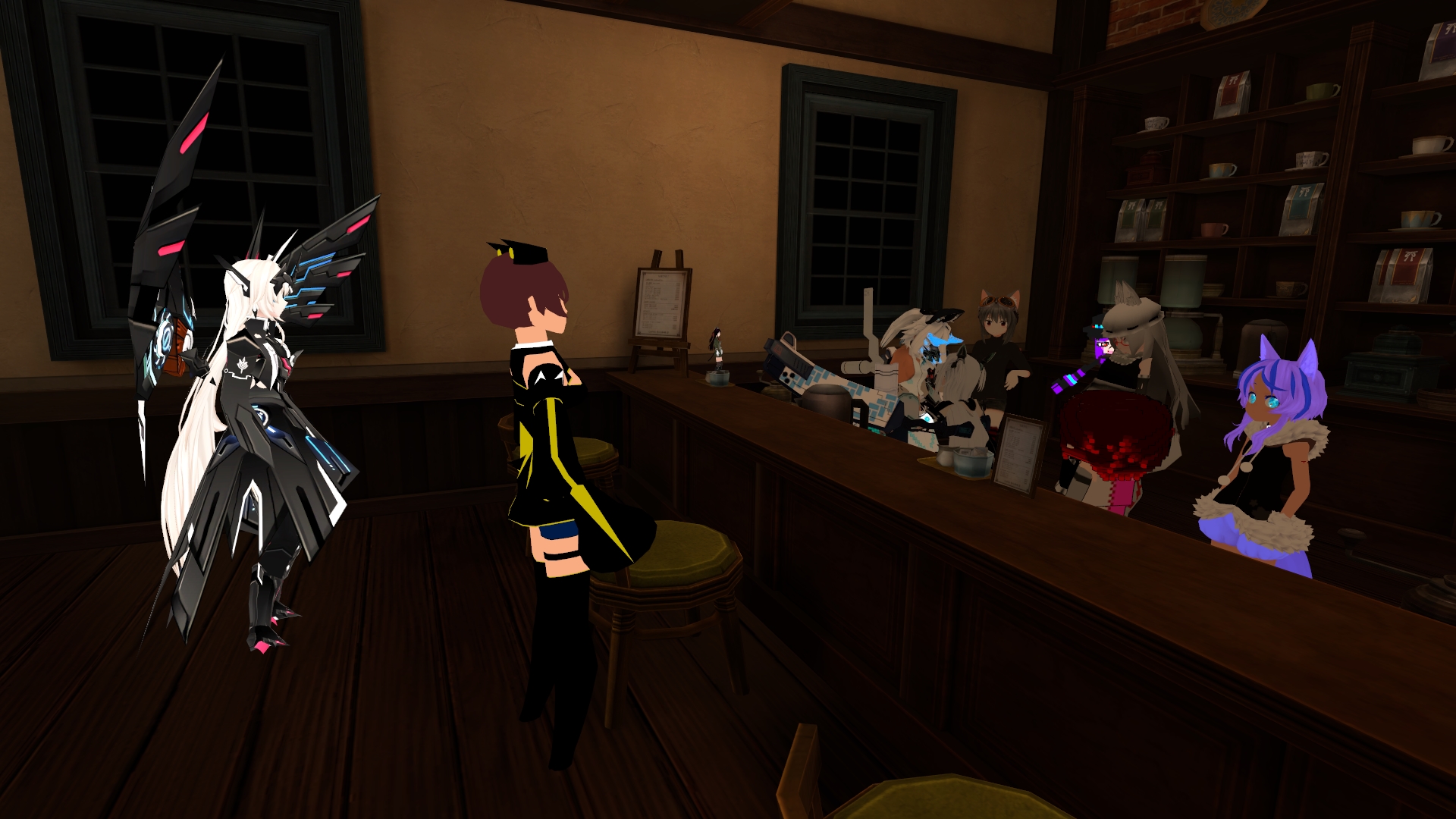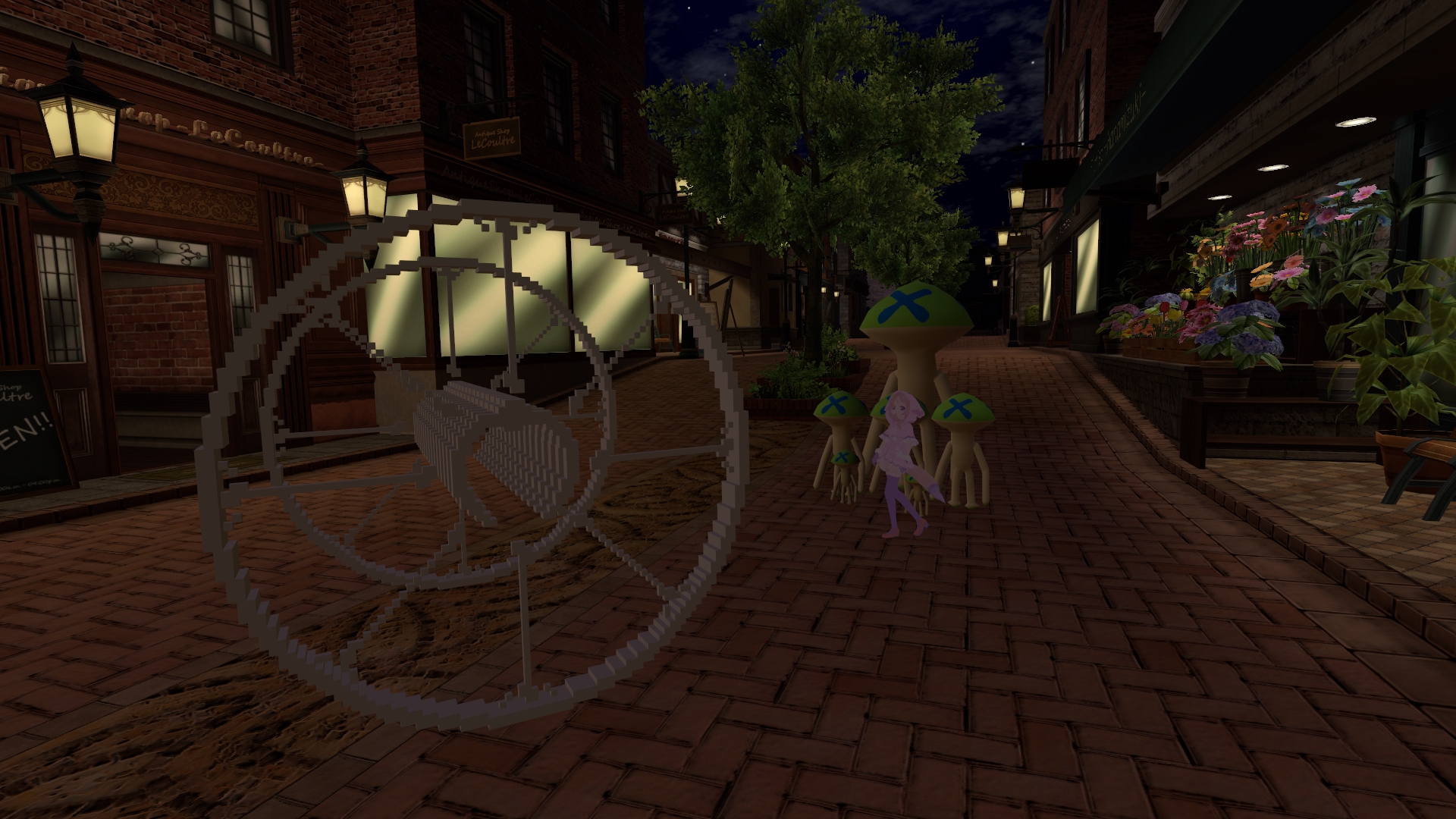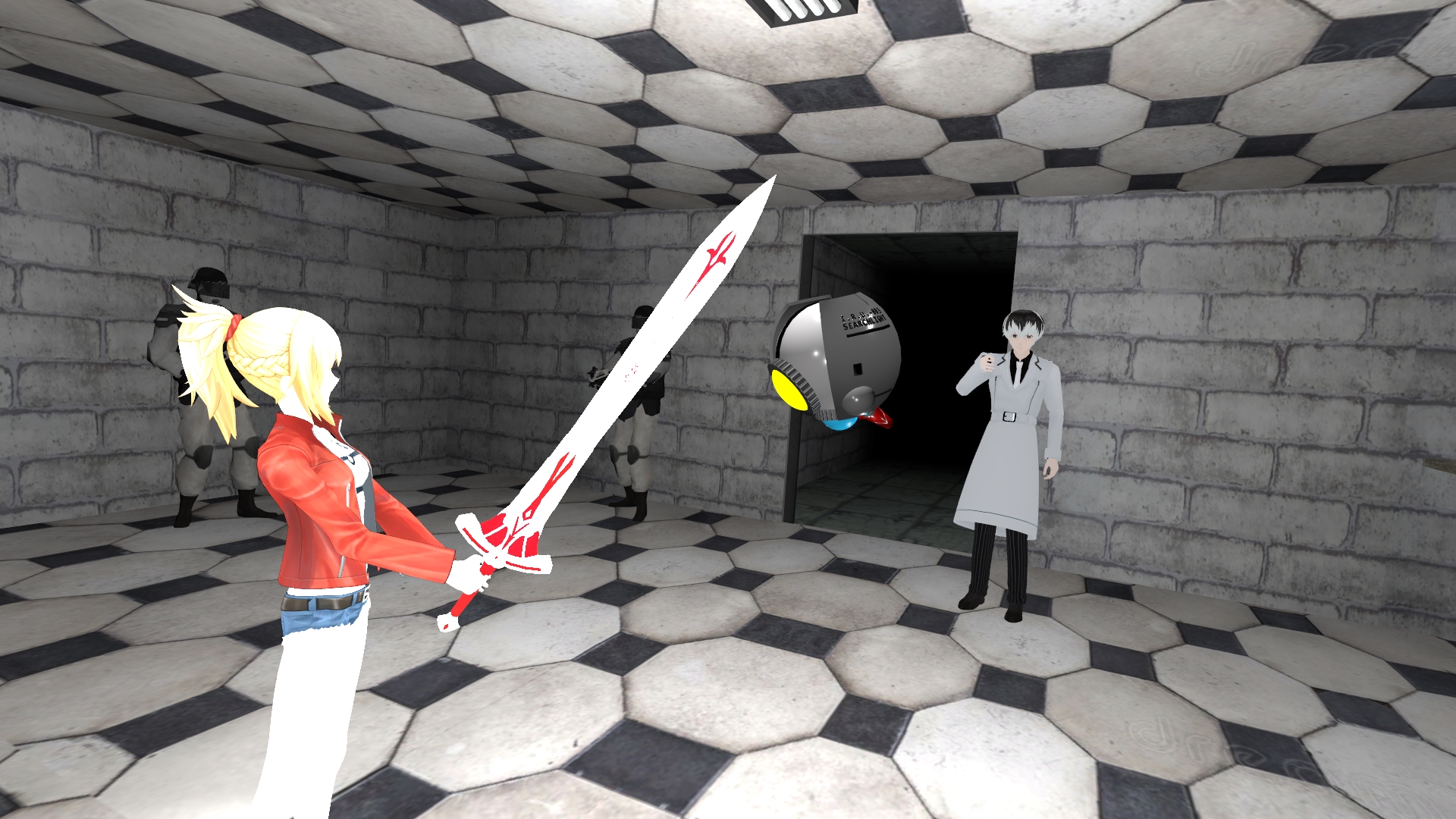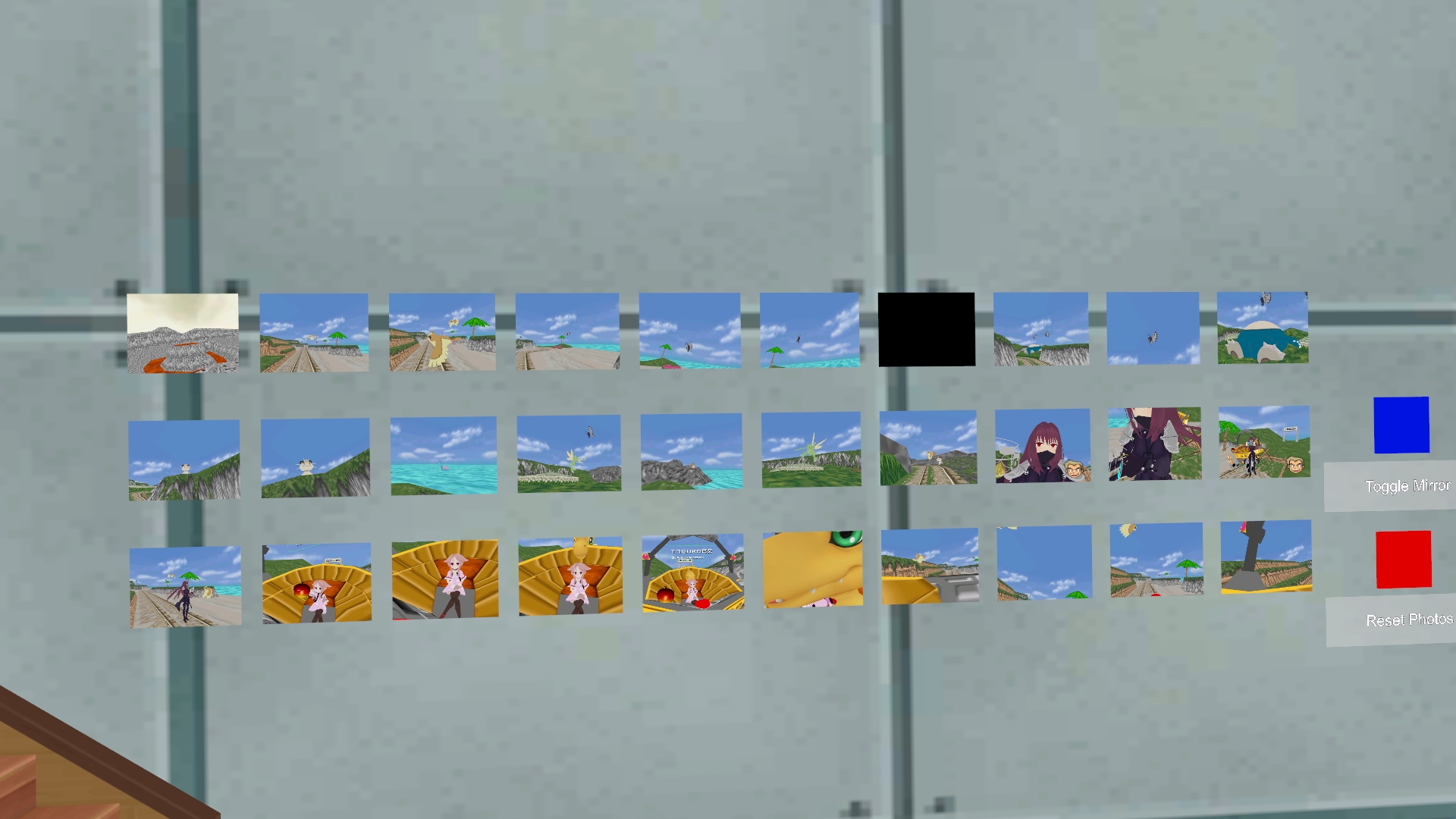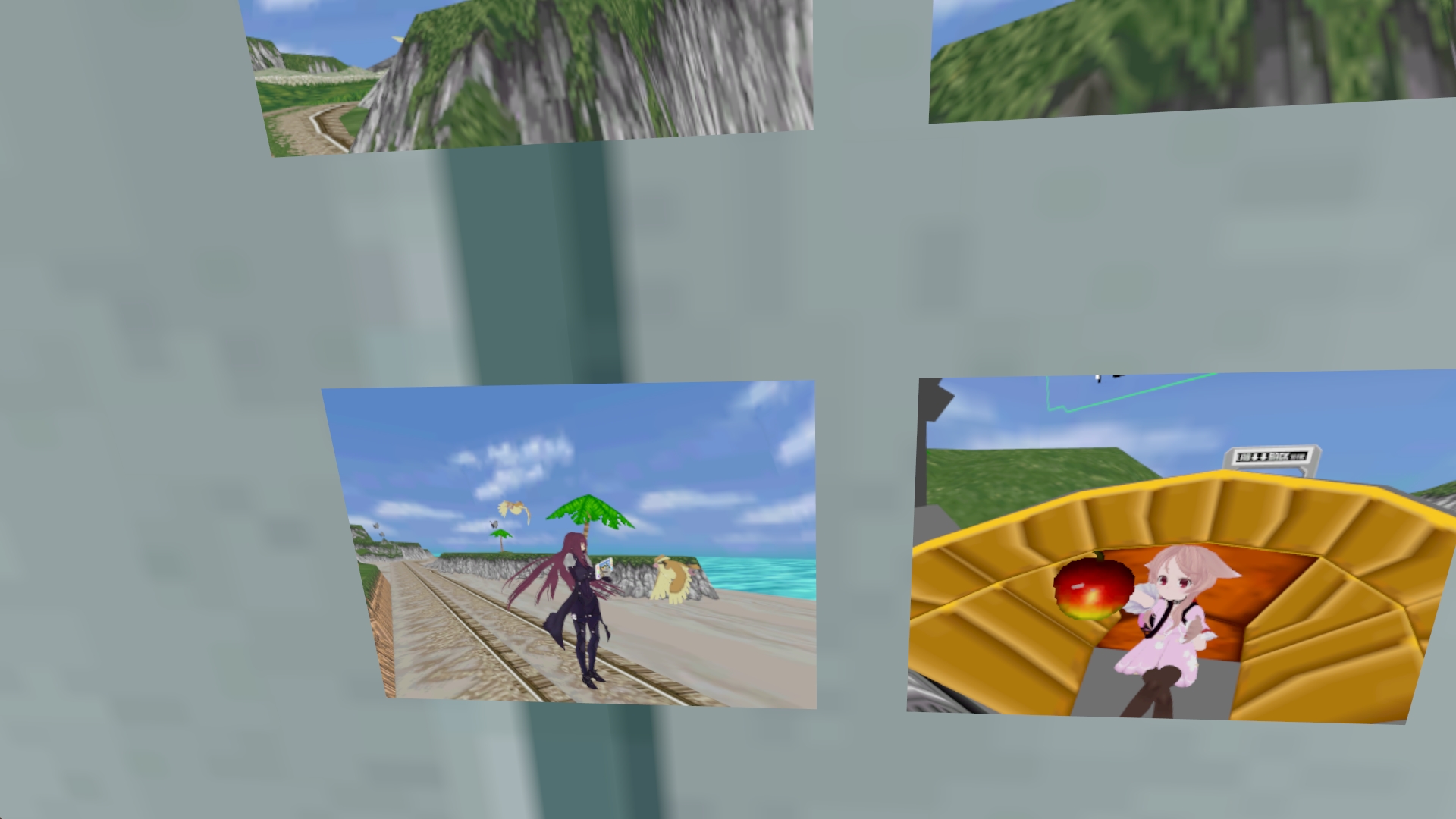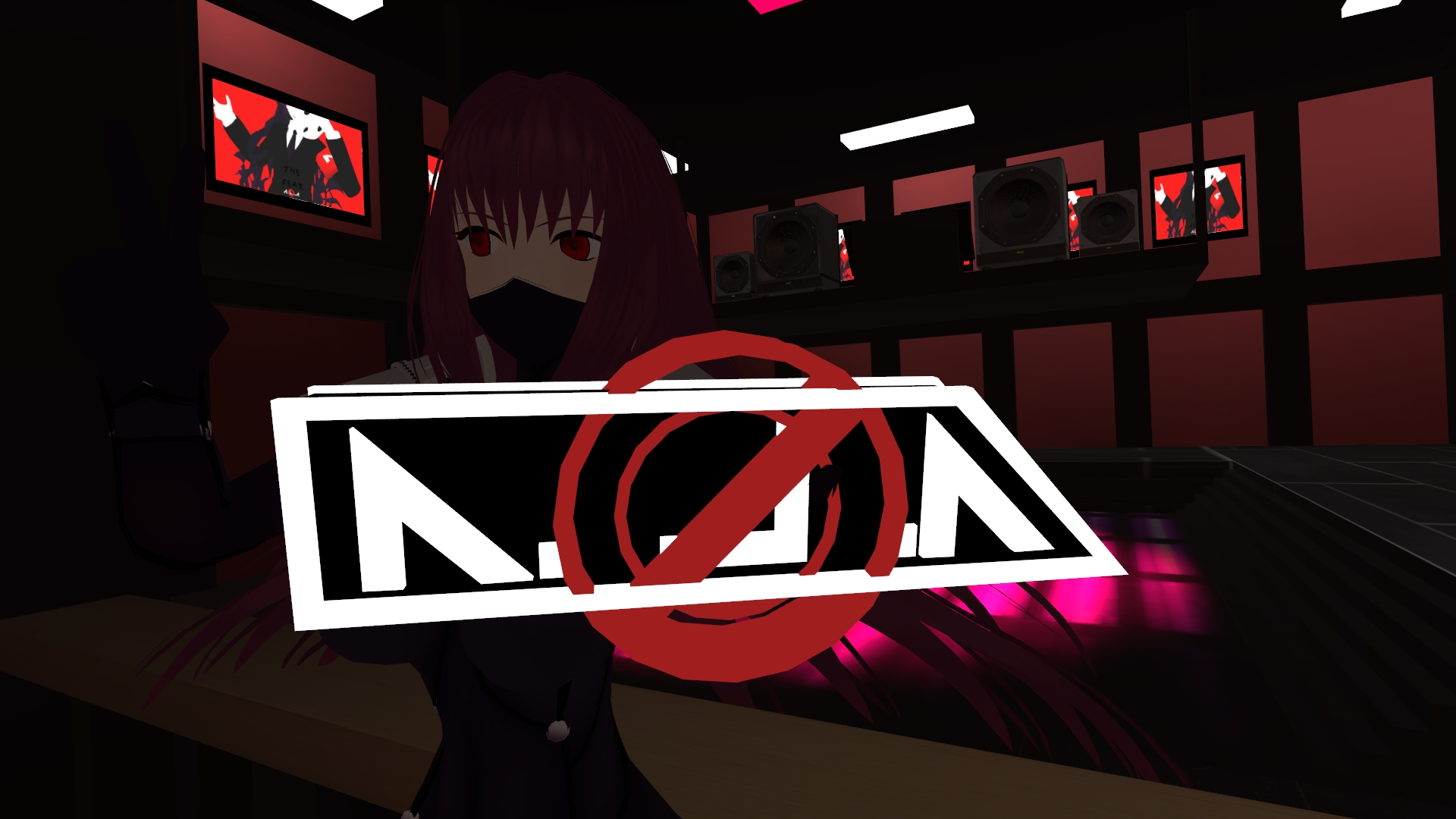 I recalled the time I met Zentreya while we were both streaming. I deleted my stream in rage because it was mute, yet the part that had Zentreya in it… Deleted. I only have my memories of that incident + a Nappa Daki image to recall it by. I however do have one image of Zentreya in Gene avatar as I handed her that pen in the presentation room so I guess that counts for something, eh? I however do give my high respects to Foxe for being a talented world builder, even the private one he invited various people to. Foxe is a skilled world builder. His Worlds are quite awesome.
I'm also in the process of trying to make myself a home themed to Renge, Busou Shinki, and the like. Just a simple home not going over the top. Still seeking proper days off from work to tackle this, for Unity to behave, and for Oculus Rift to stop tantruming every chance. VR growing pains fun heh.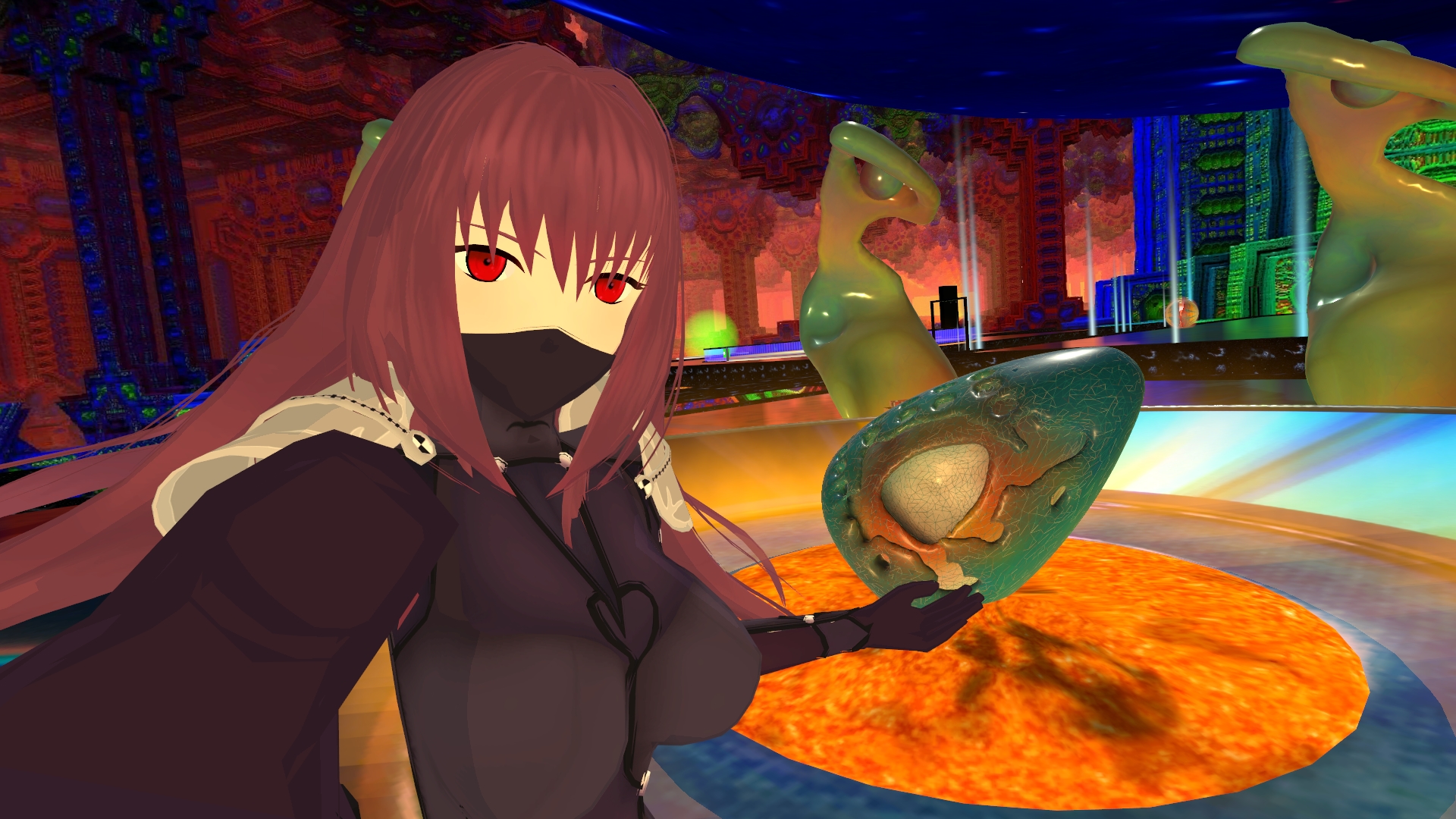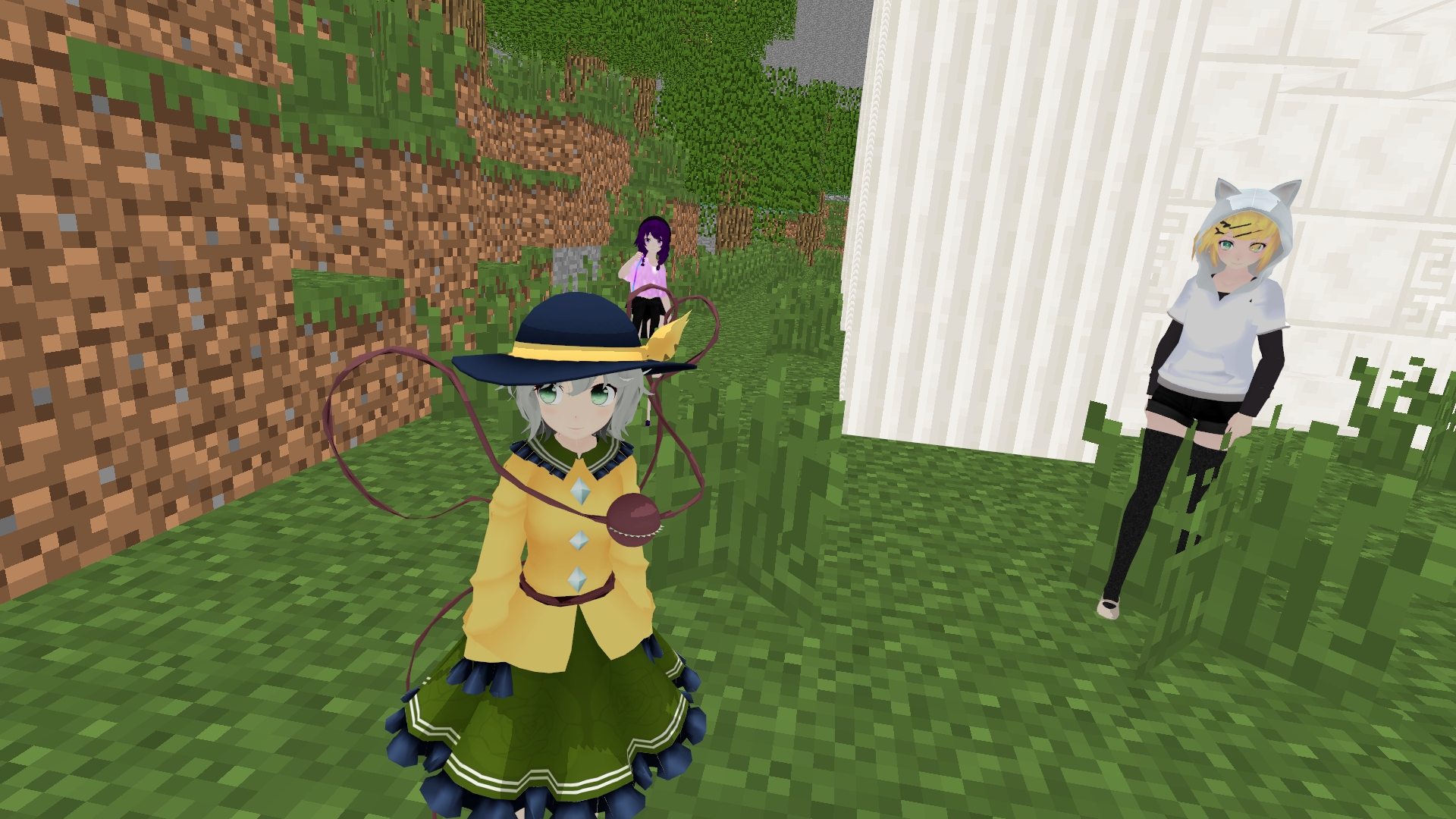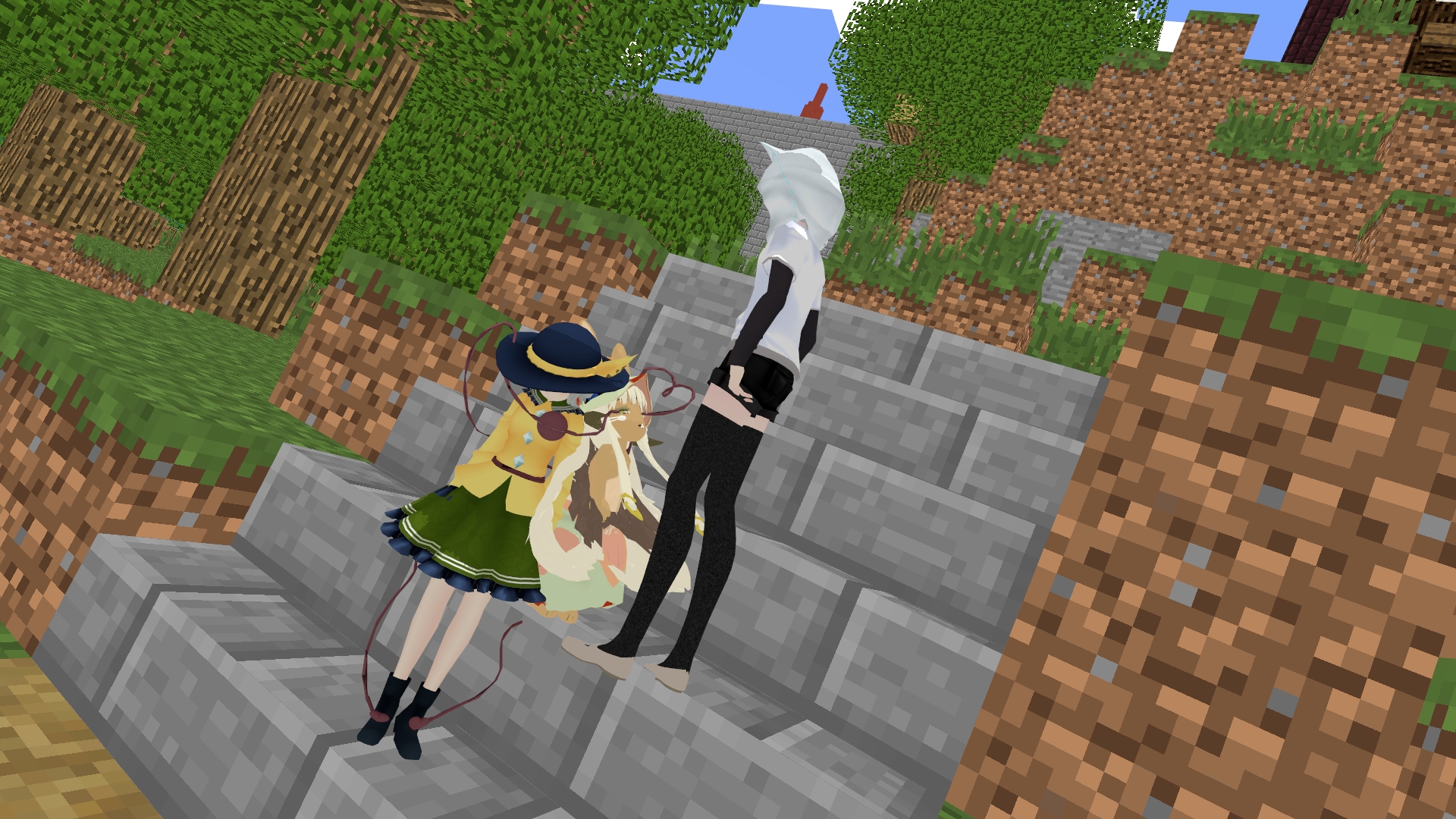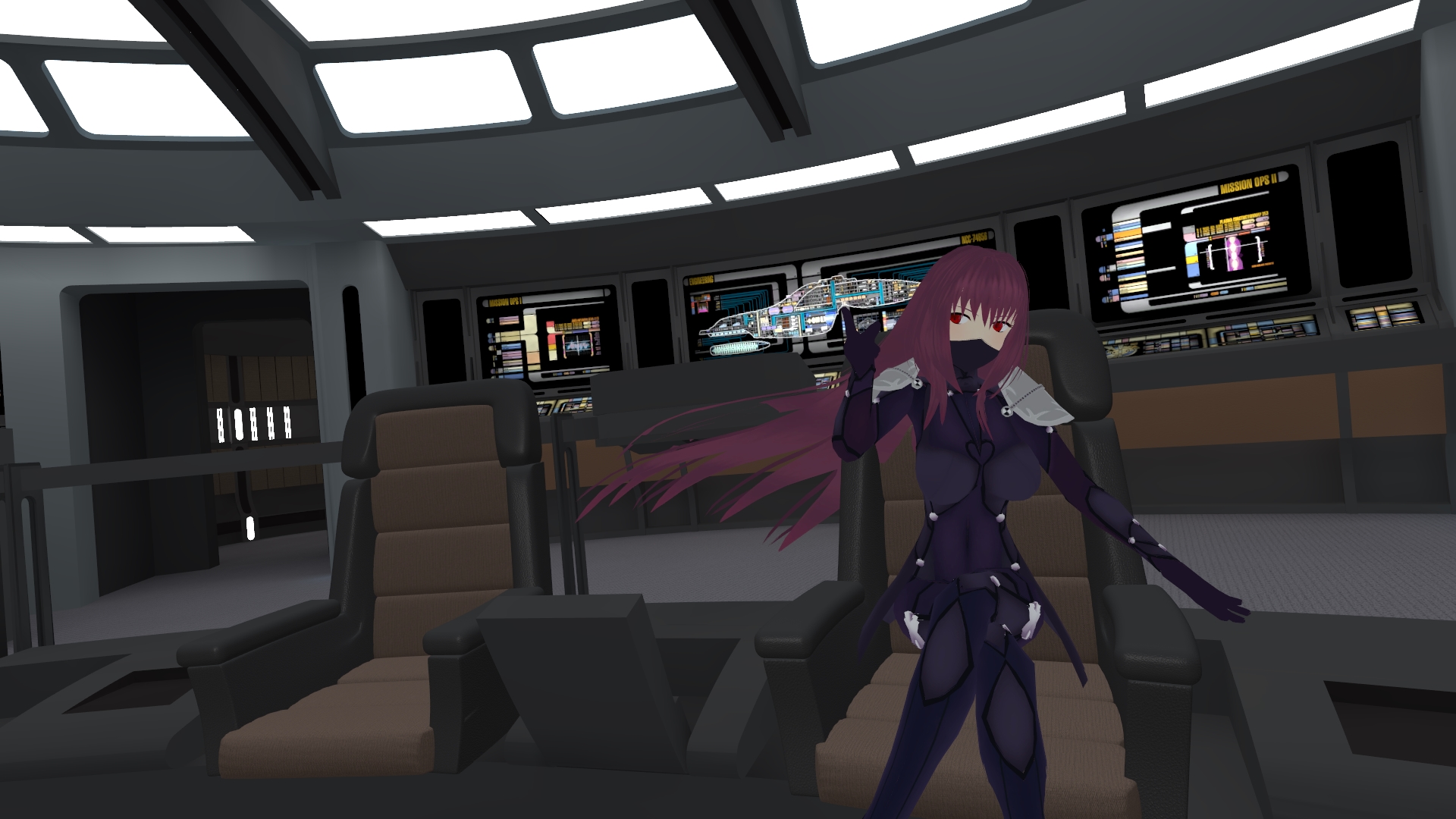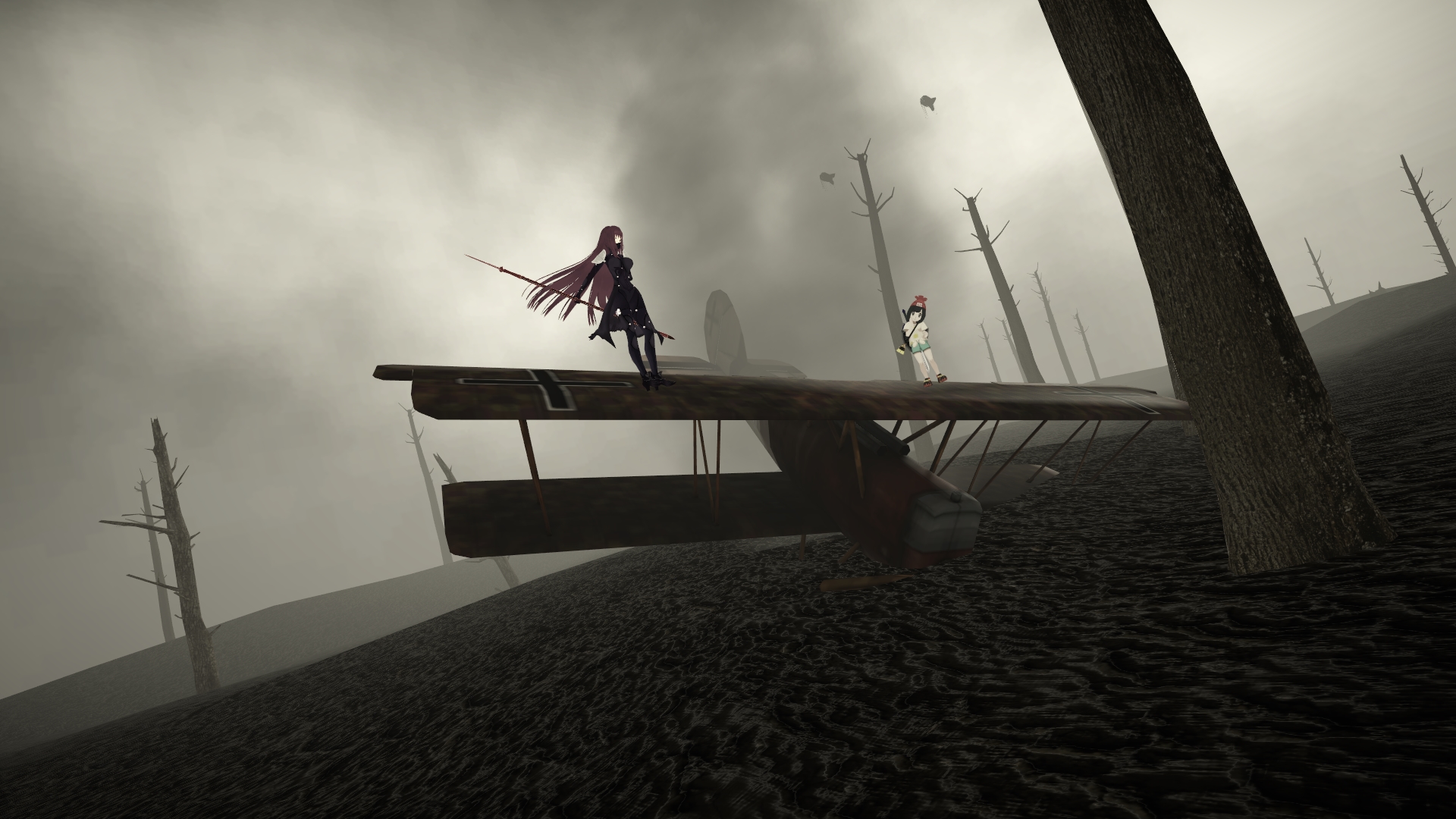 It was around this time I accidentally stumbled into Chipz's (StealthRG) world with us both being confused. He must have made his world public without realizing it to the point awkward things happened. My voice cracked at first, then managed to tone my voice down after that. A major "WTF?!" moment for the both of us. Memorable one, thus why it's here. Being mistaken as Zentreya was amusing; Wish I would have asked Chipz for an image, or something. What happened, happened, and I loved it.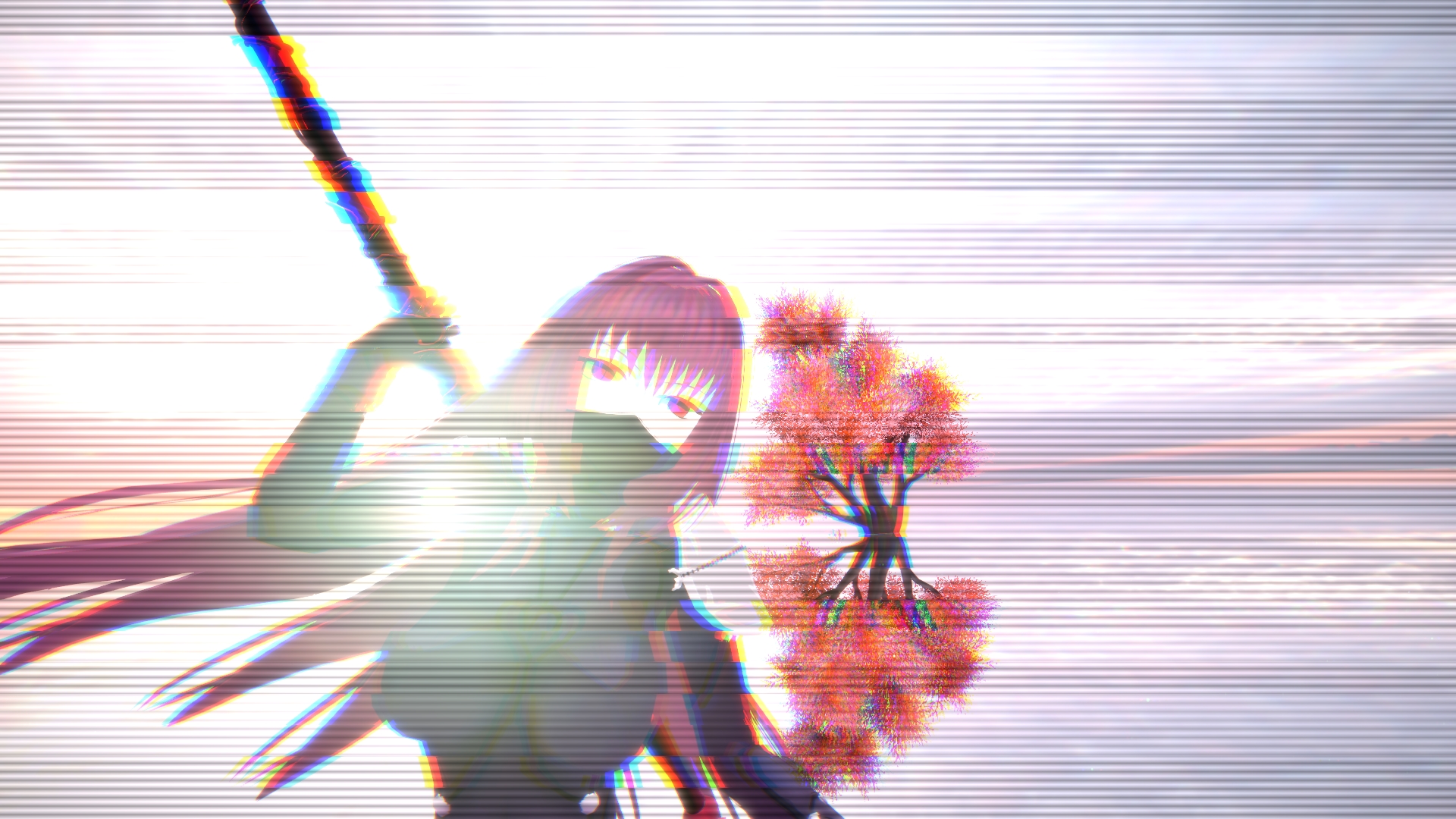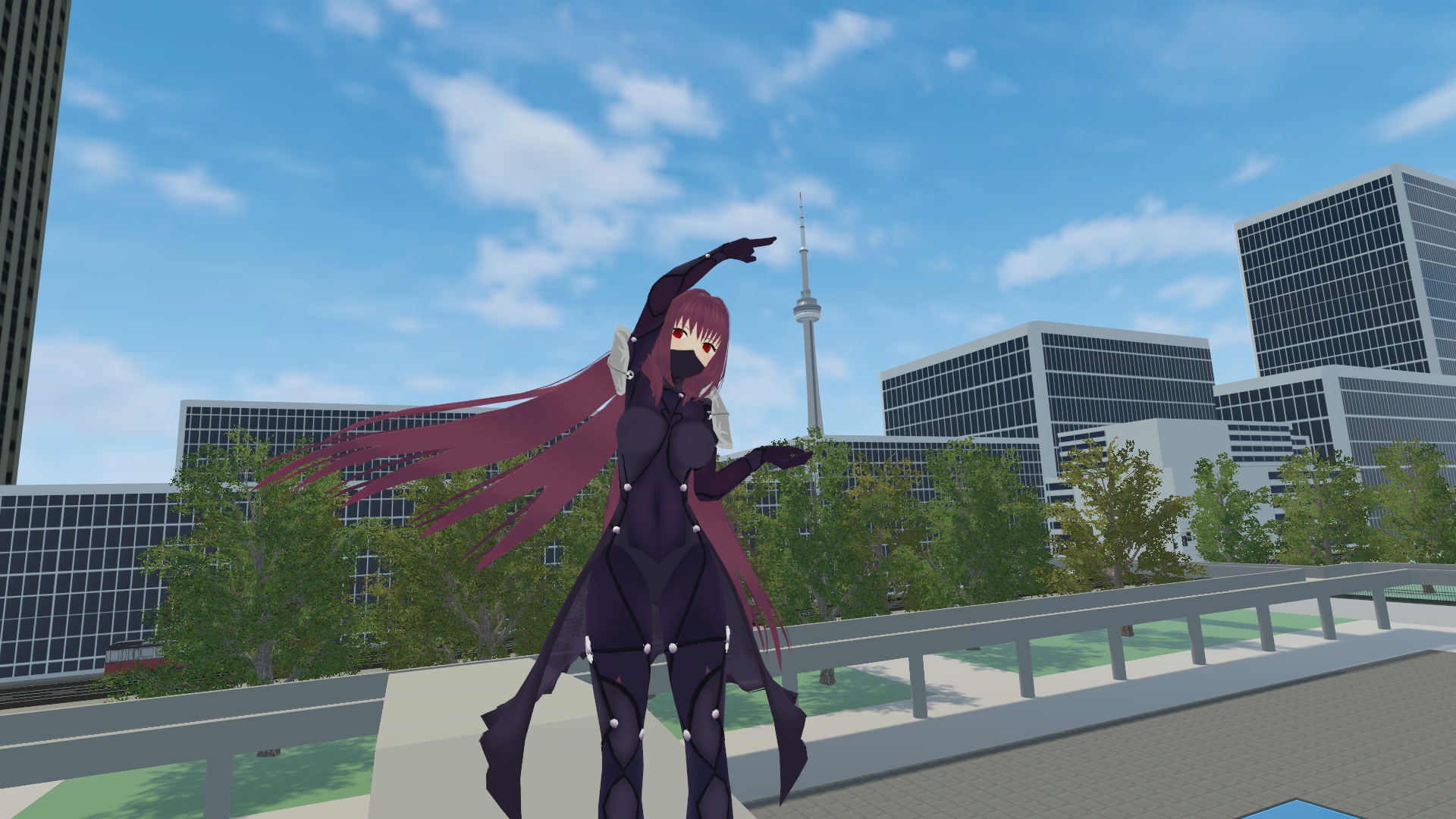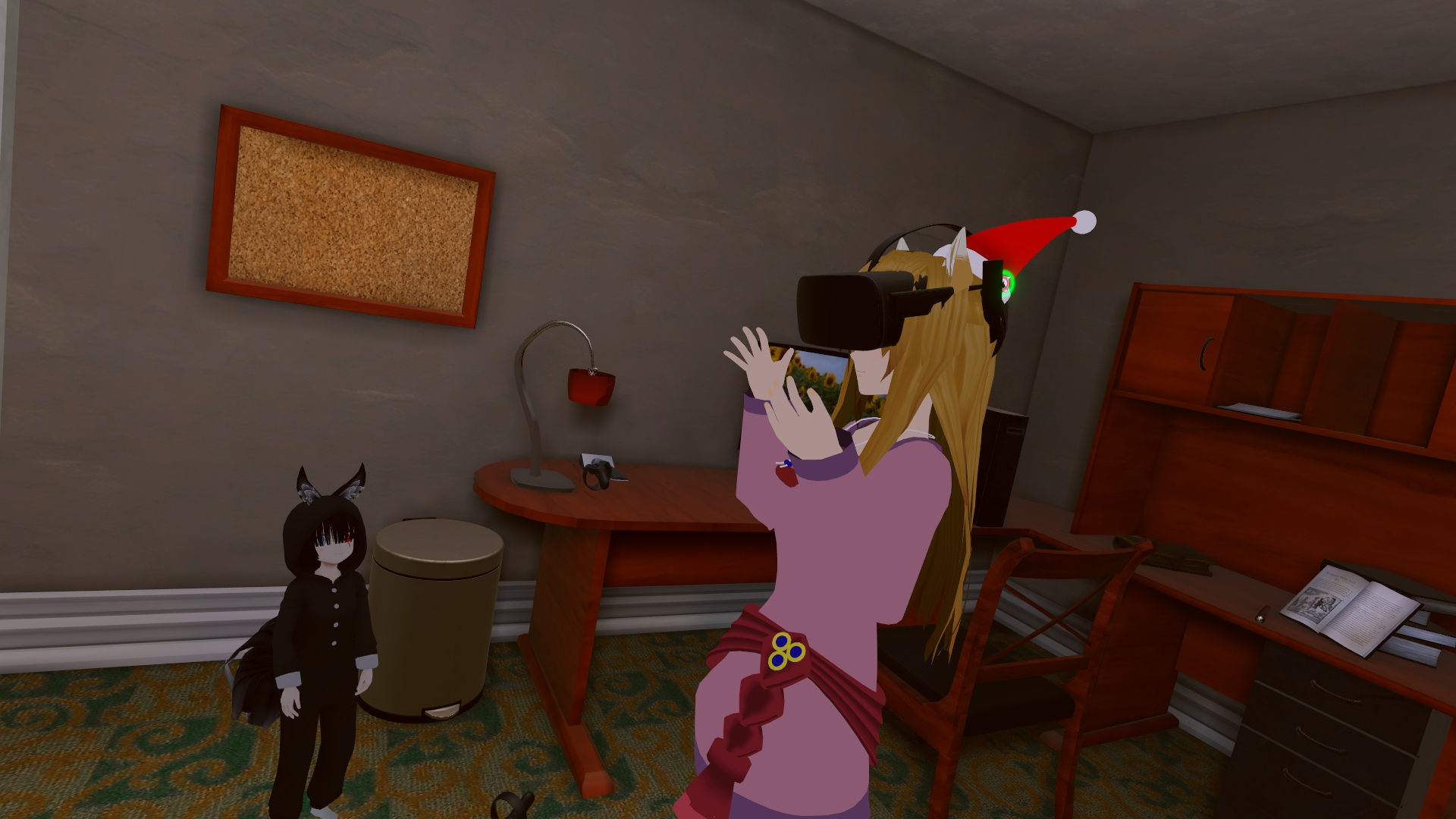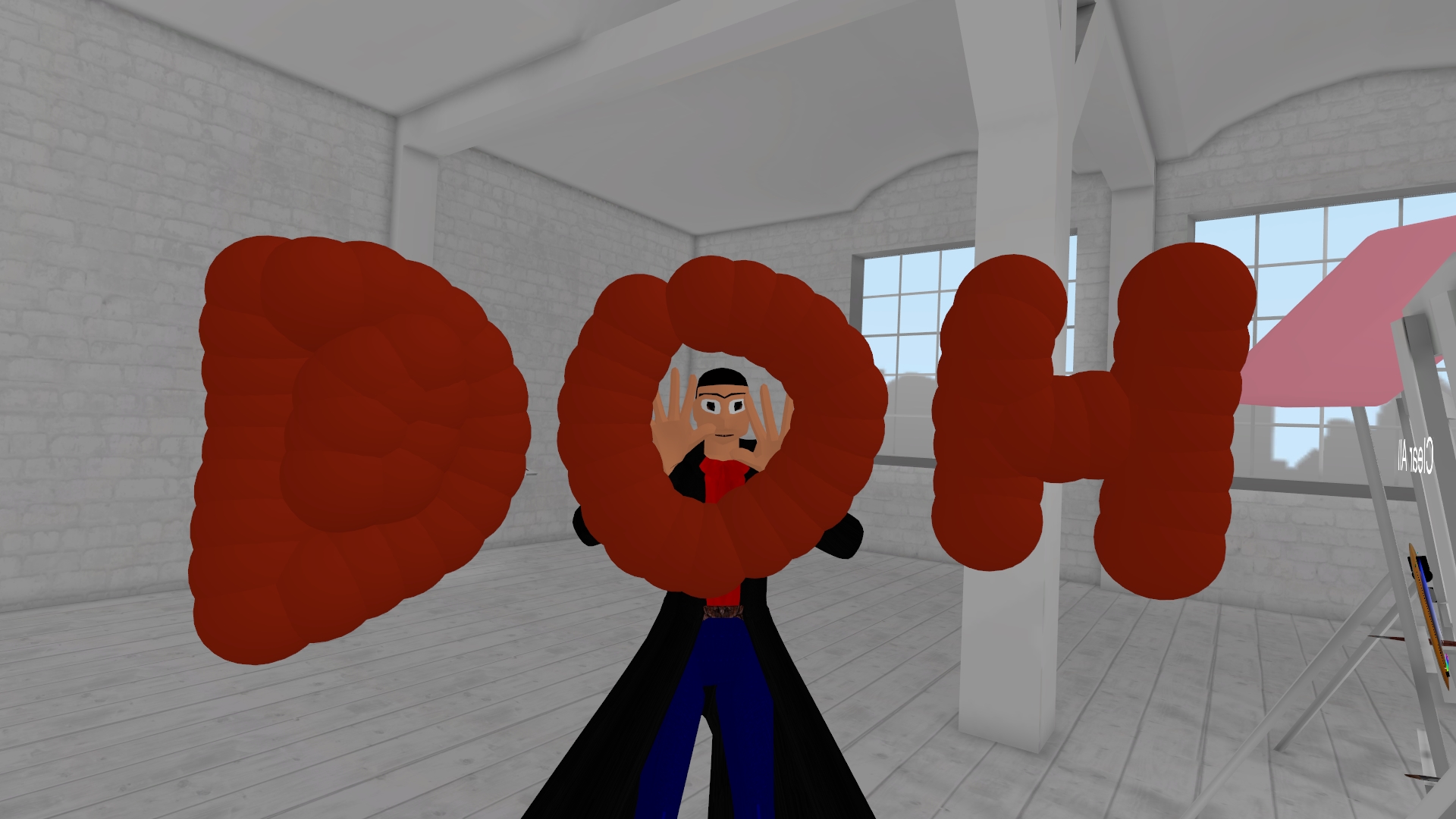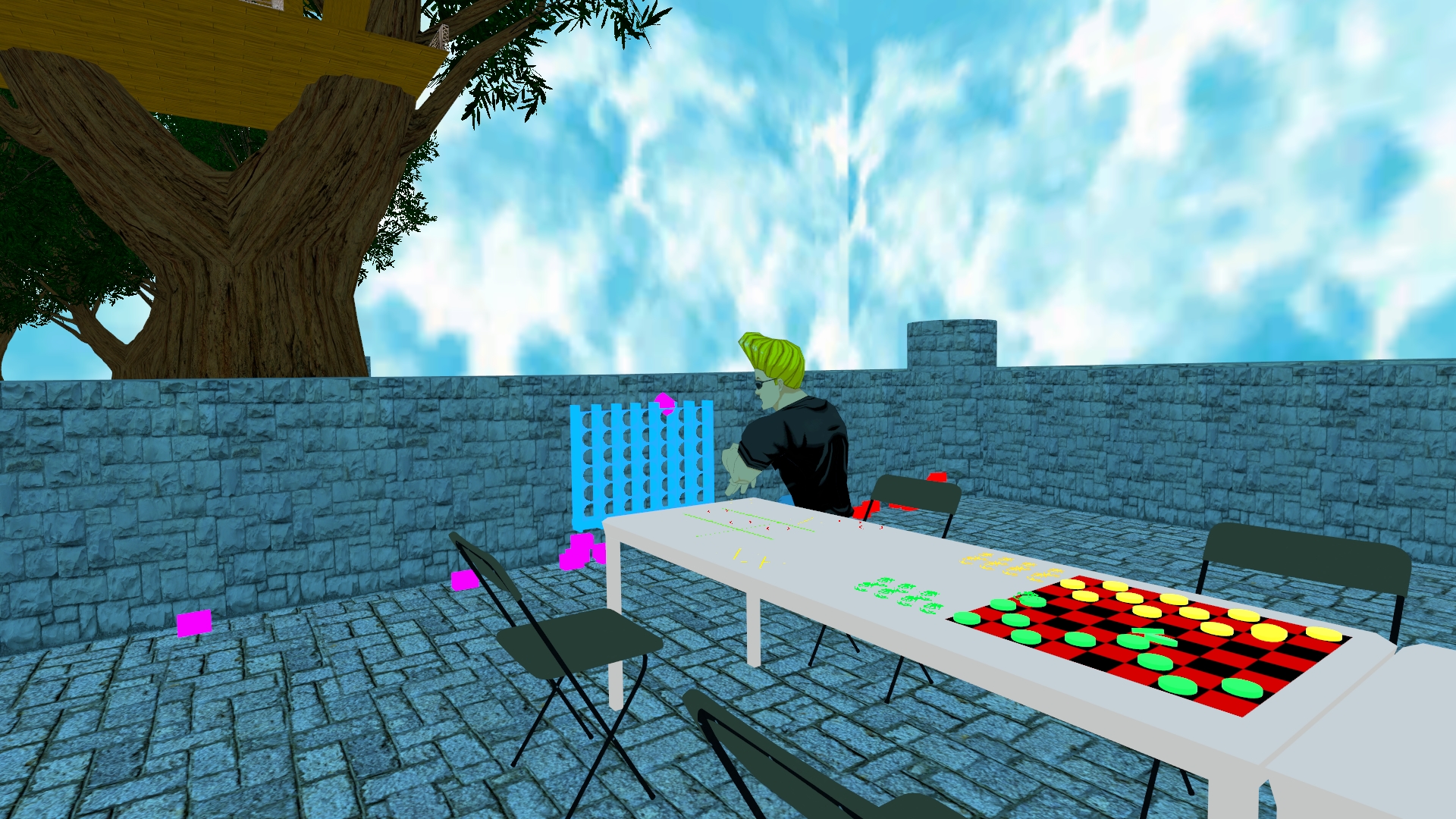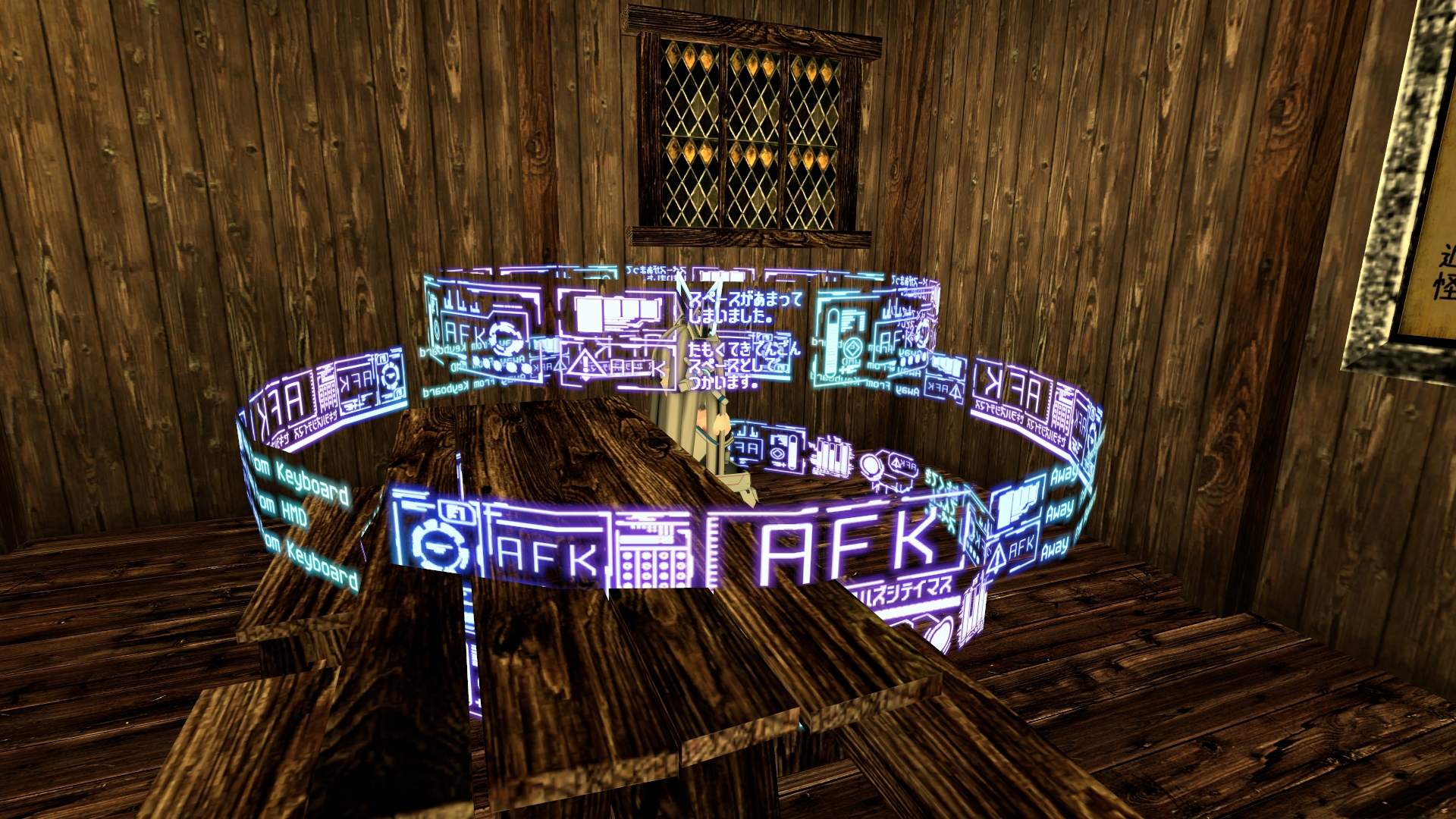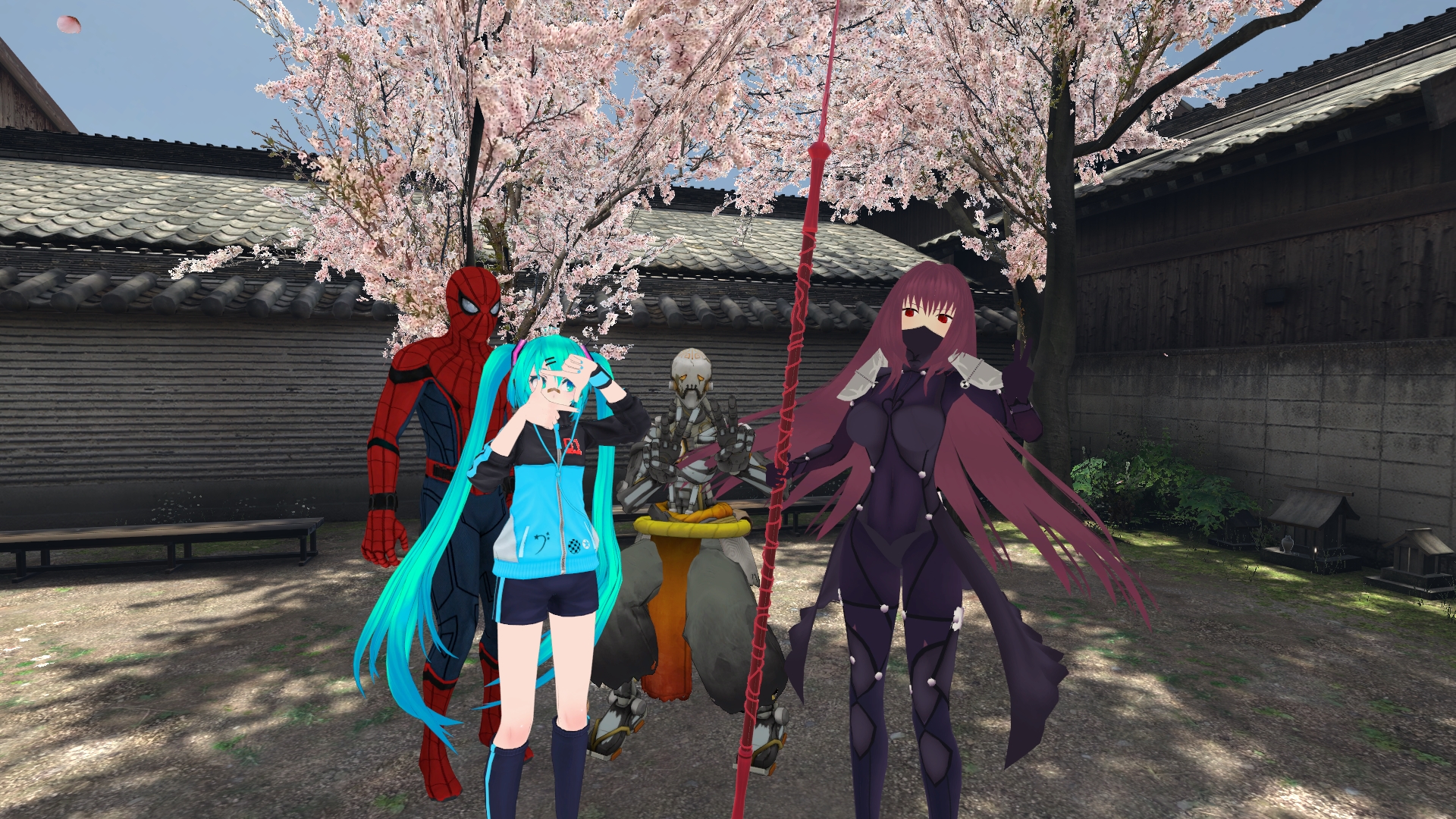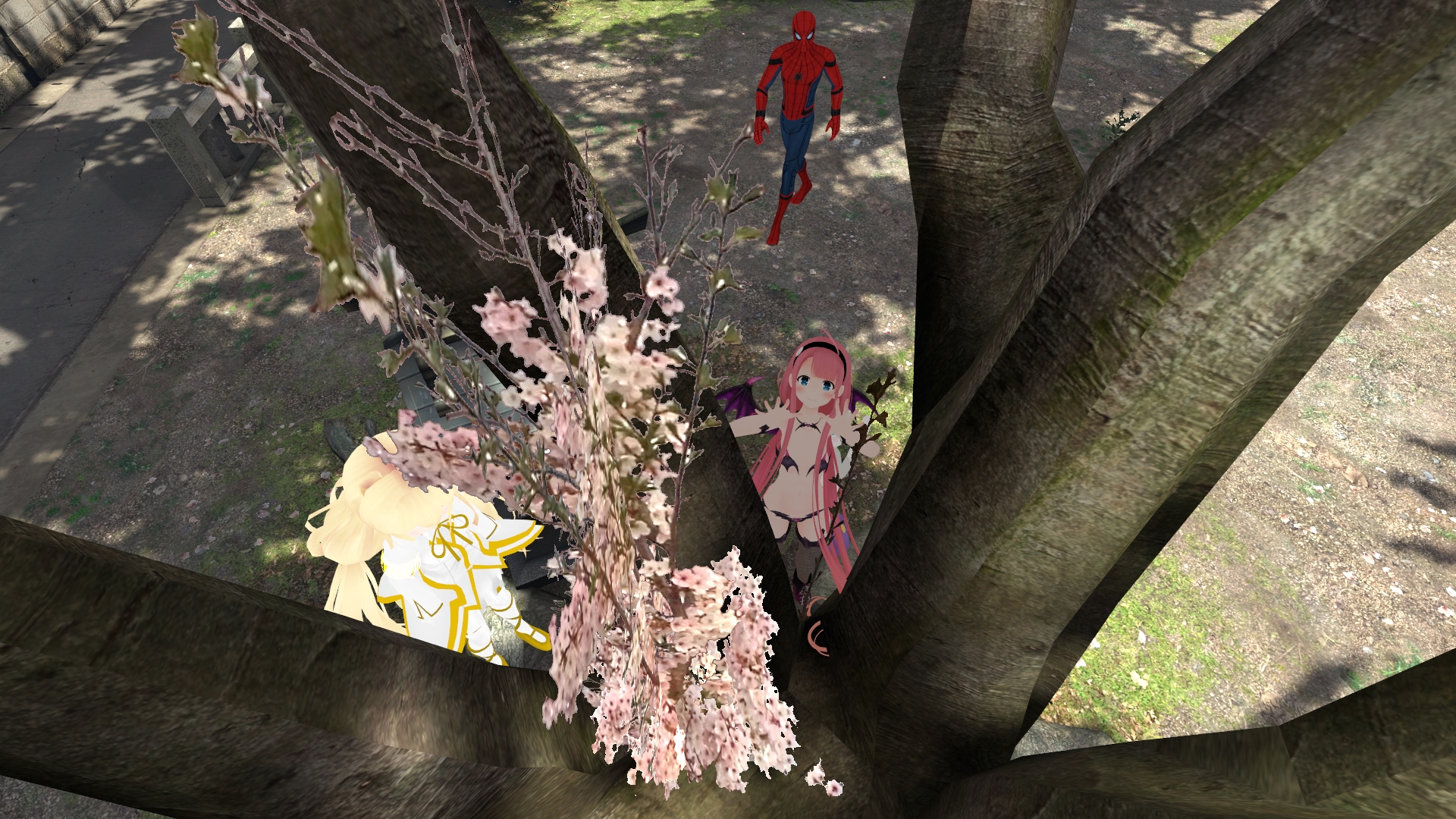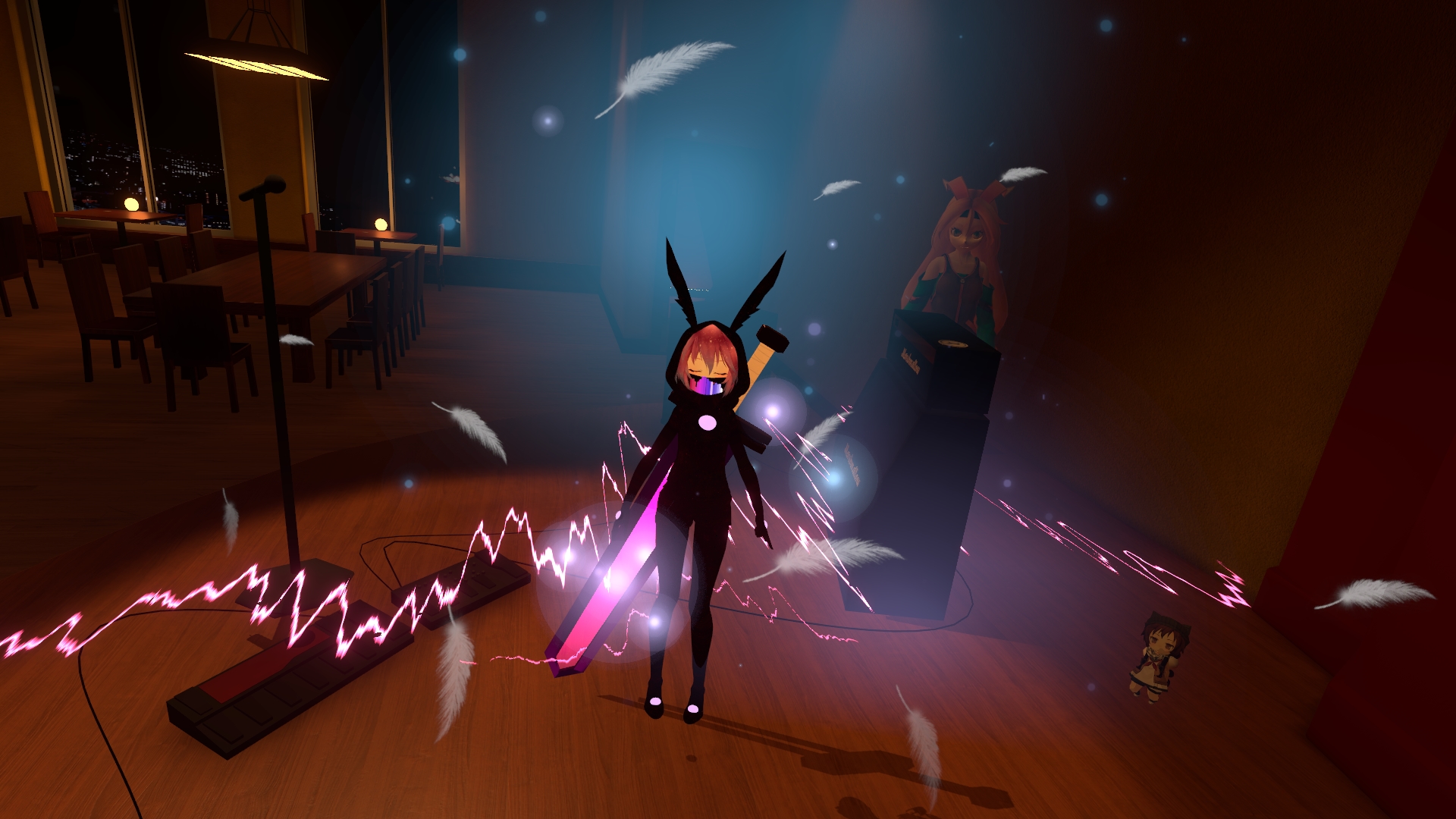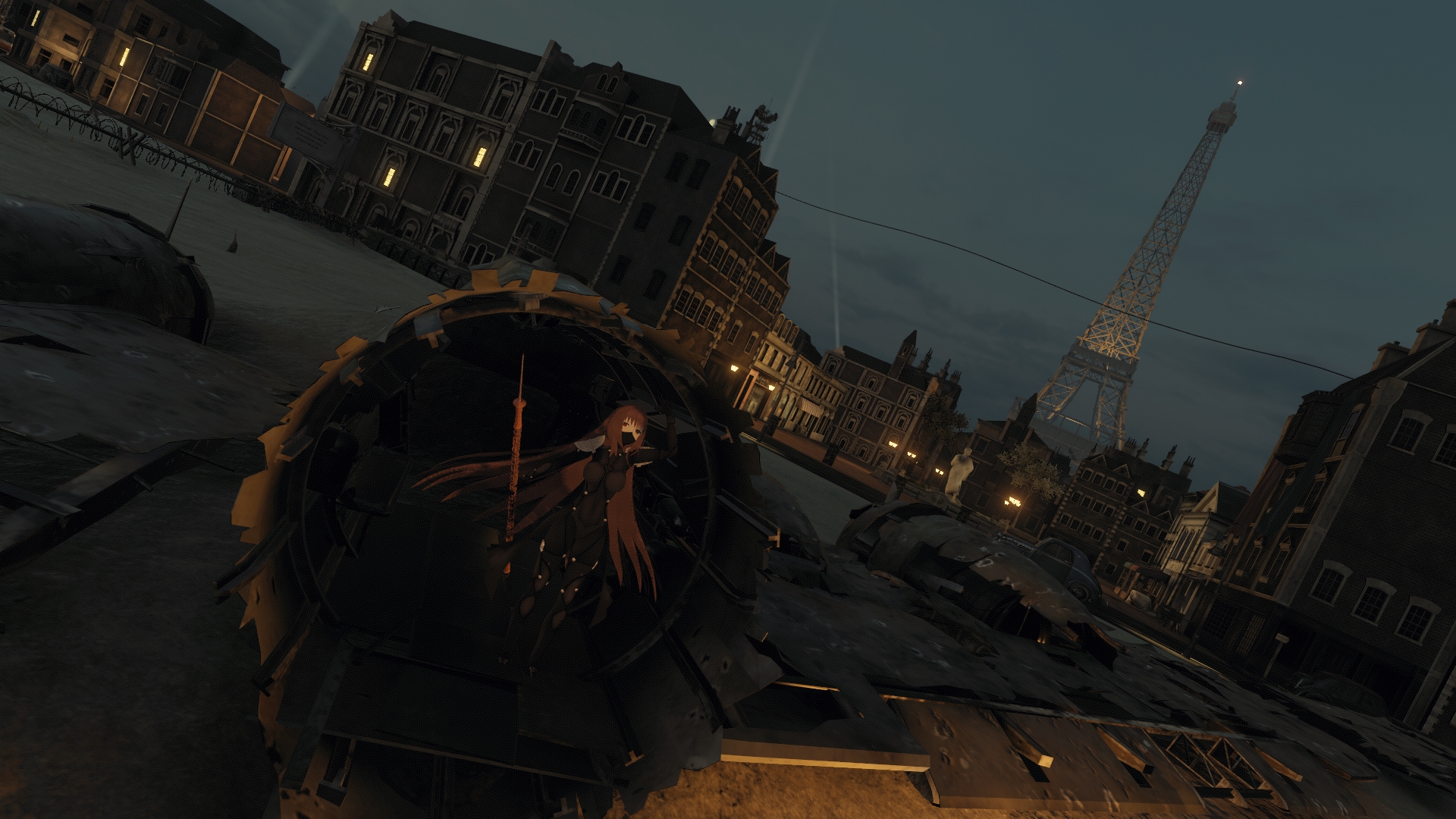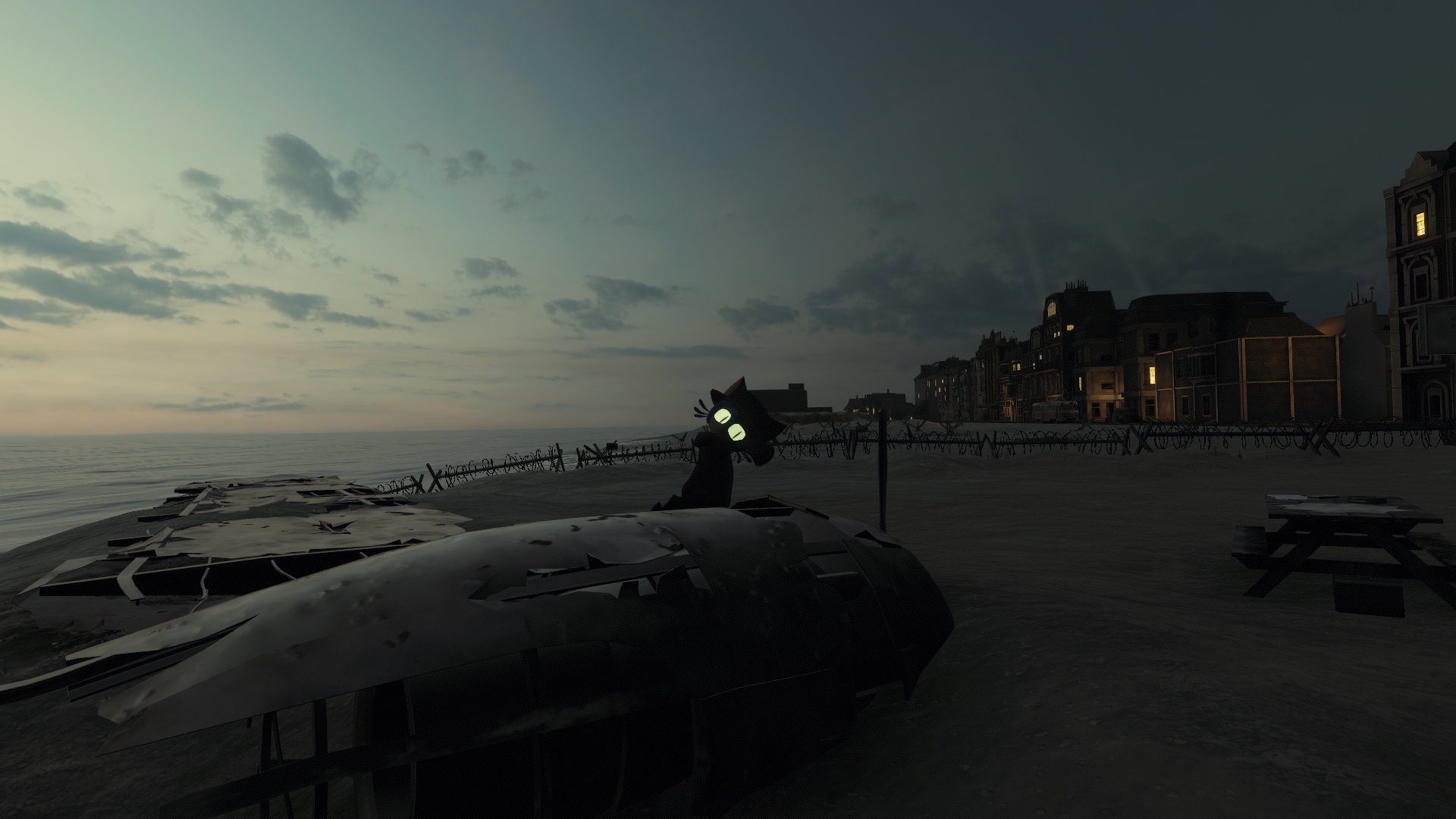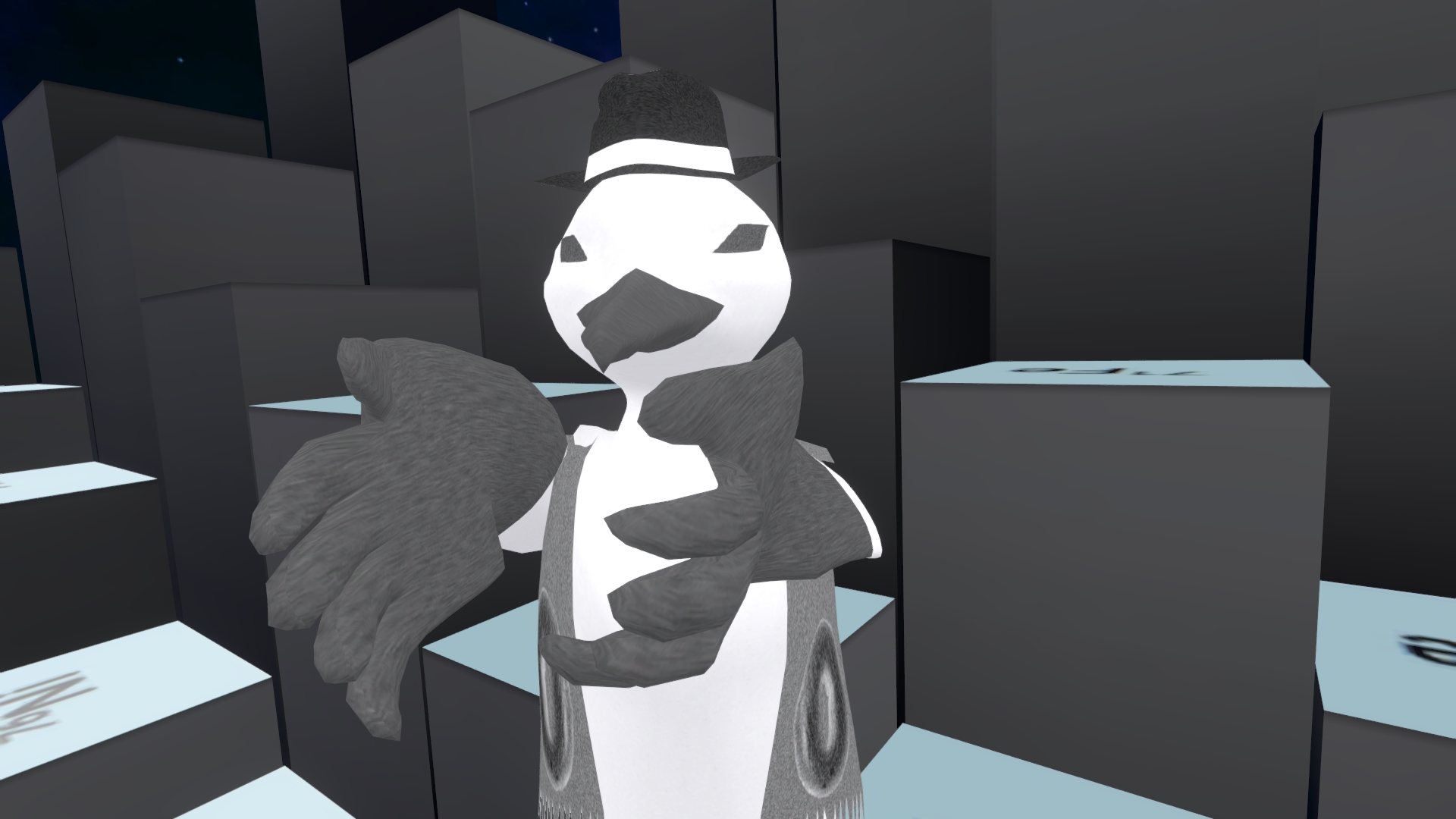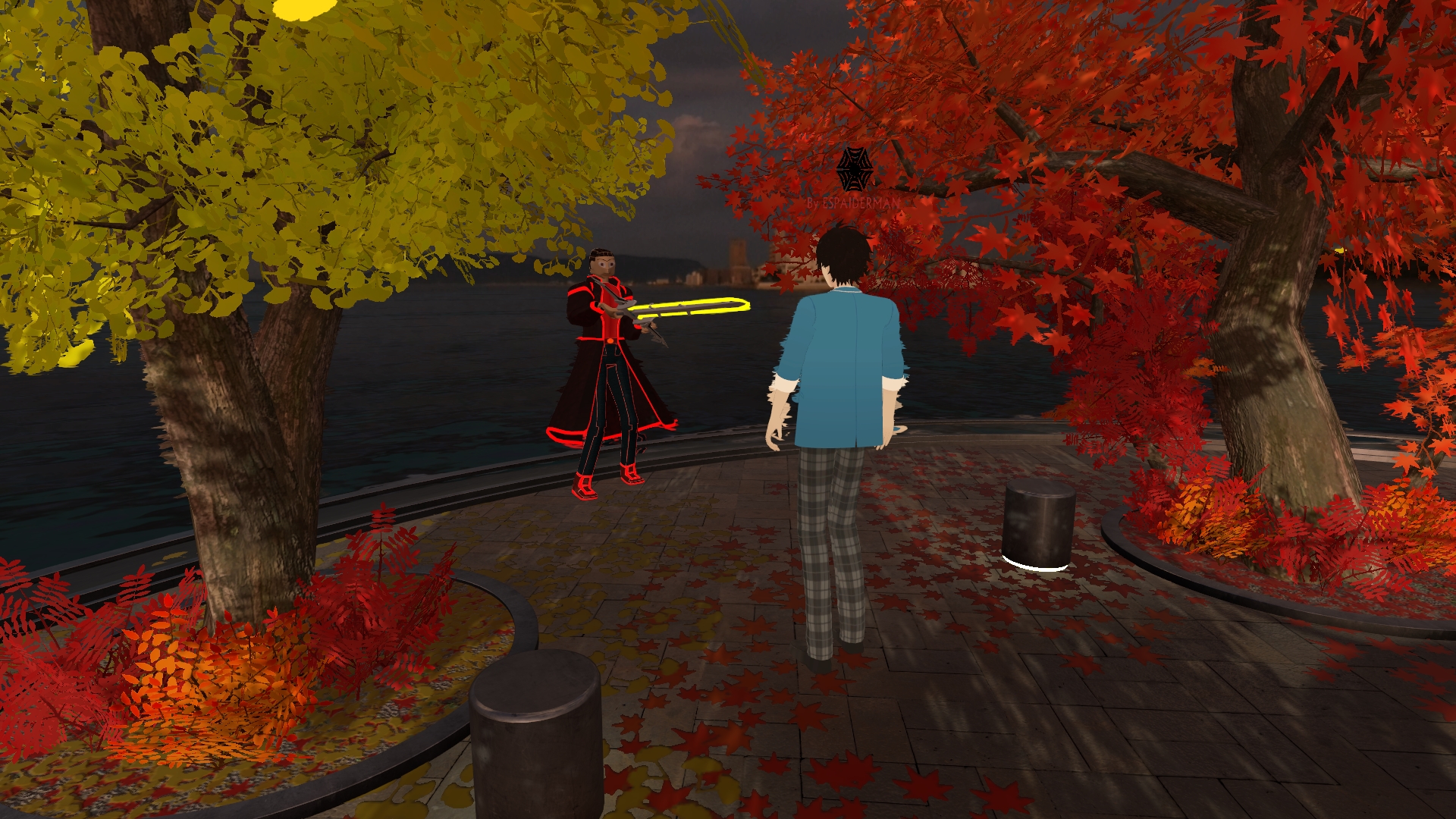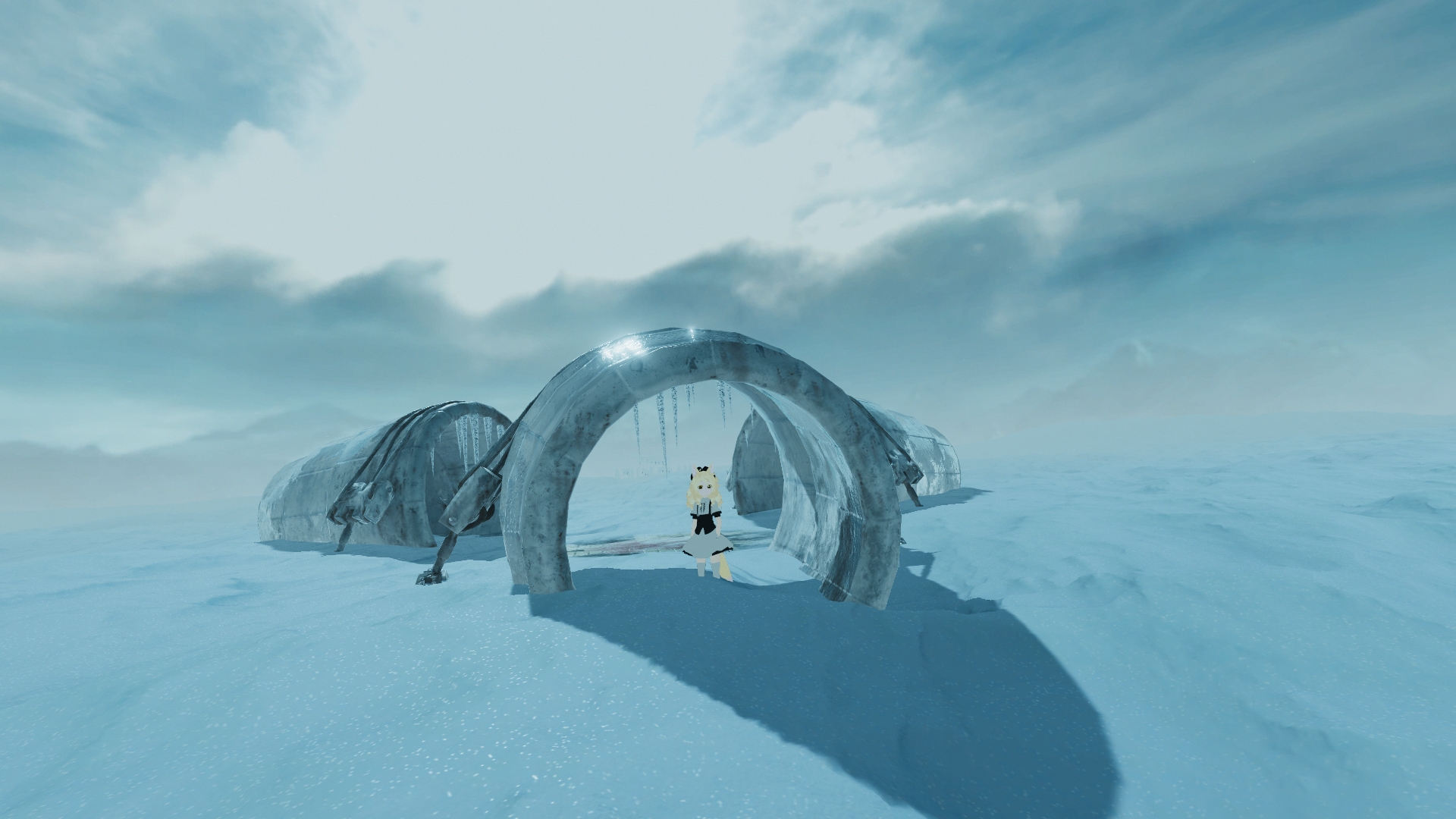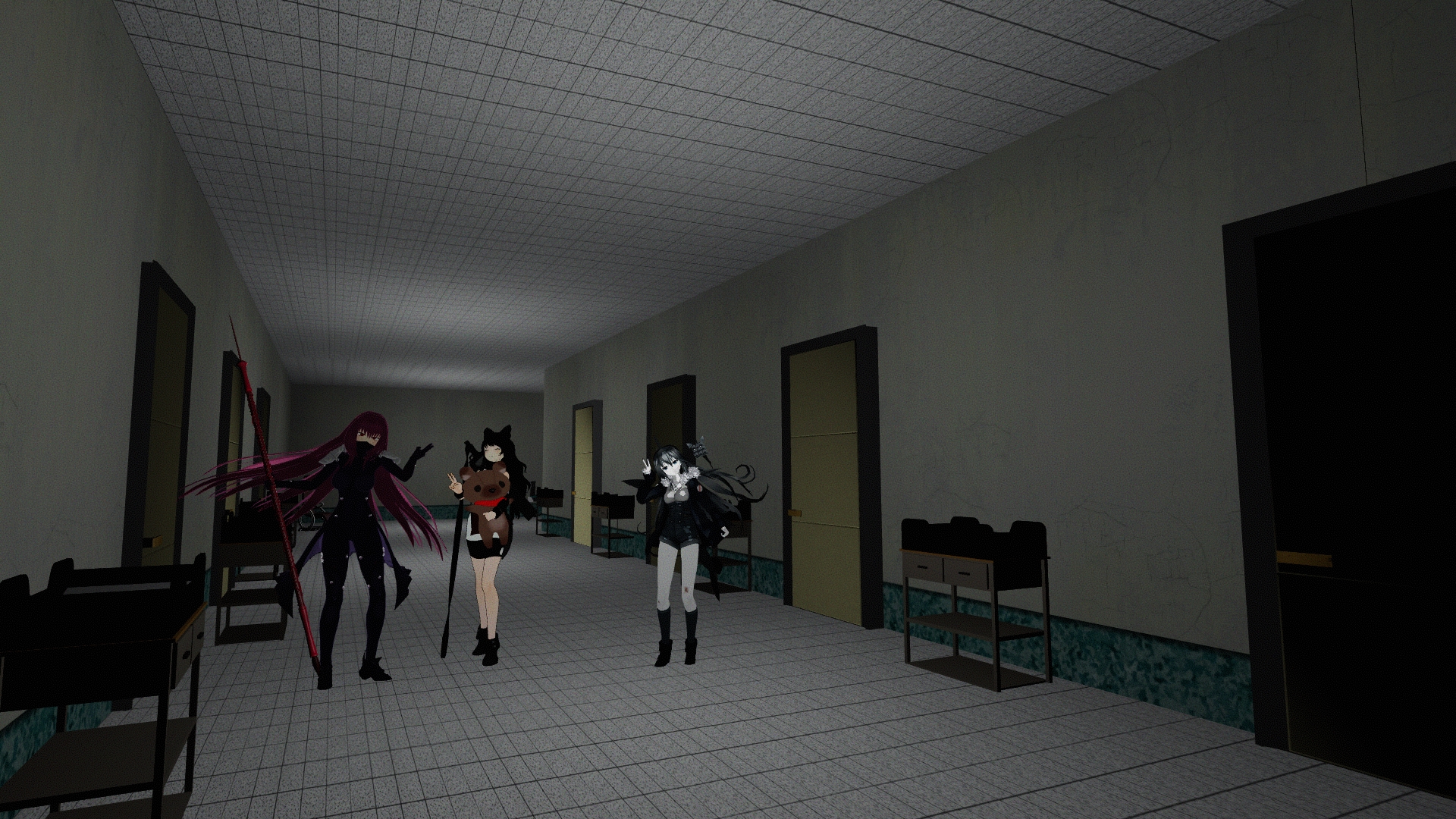 ---
From Drifter to VRchat Regular:
I became highly stressed from work to the point I had to force a one week off vacation, and it paid off. I even joined Nagzz21's Patreon after finally gaining enough funds to join his Patreon freely. I finally joined a few hangouts and photoshoots. Finally! I however regret venting about the Oculus Rift sensor issues to a certain someone, in general, and about the constant lag causing them to distance themselves from me. VR growing pains. Even so, I've started to become welcomed into the VRchat community that it felt good both inside and out. Not even the beginning of my vacation things started to shape up to the point I hung out in a hangout. I even befriended friends on a Saturday/Sunday night. It was roughly a year (or slightly more) where I started seeing me finally connecting with the core of VRchat. If it's a solid connection is yet to be seen, yet the feeling is awesome to finally tap into the awesomeness that is VR in the deeper cores of the game. Everything in the VR RPG I can deeply relate to, and glad I could also be a part of the Dordles themed VRchat meet-ups meeting new people.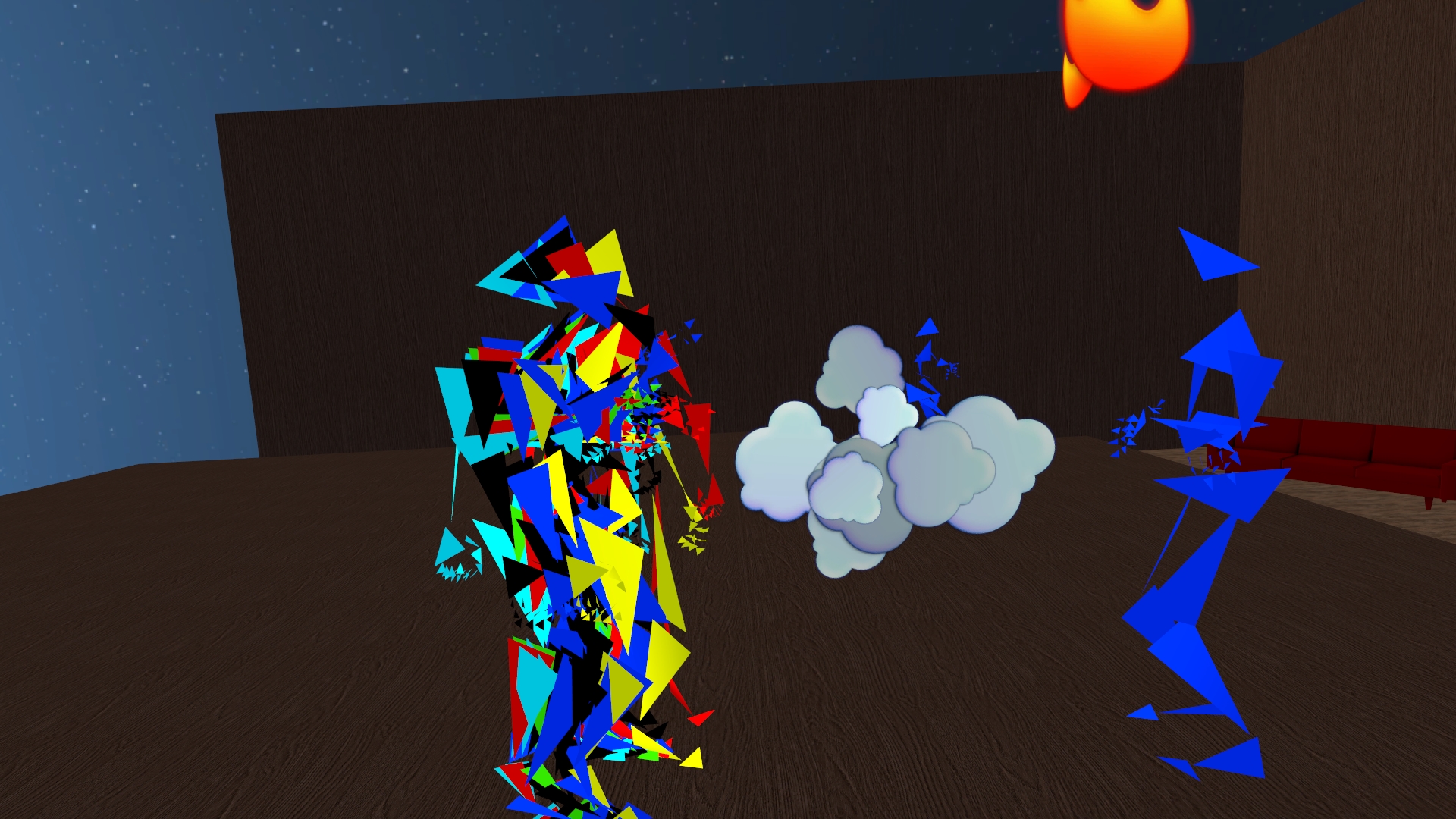 The music which spawns so many memories, nostalgic feelings, and a whole lot more <3
The song we can all relate to. It's a shame it's been stained & tainted, yet still a track we can all relate to regardless of the negativeness.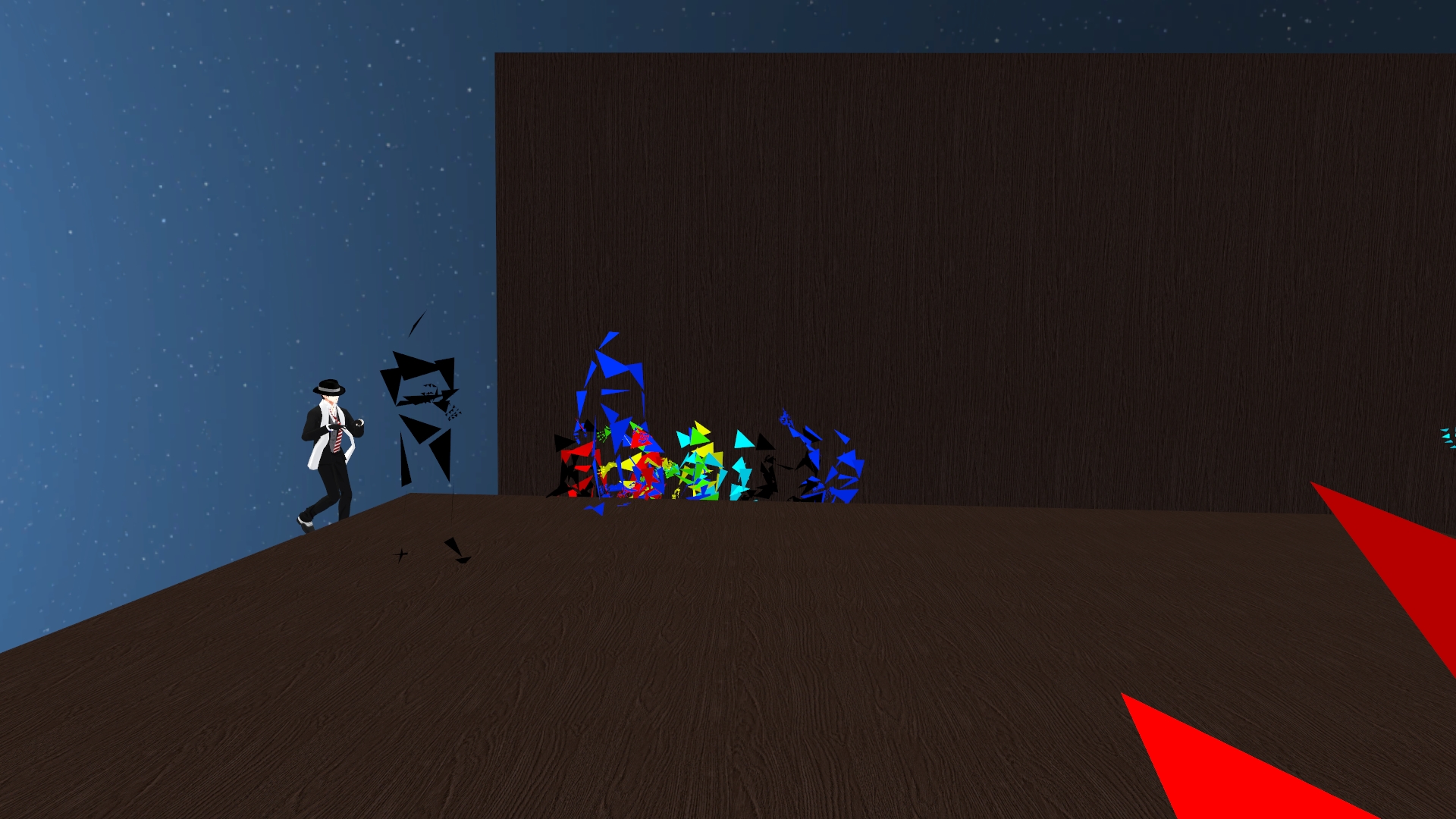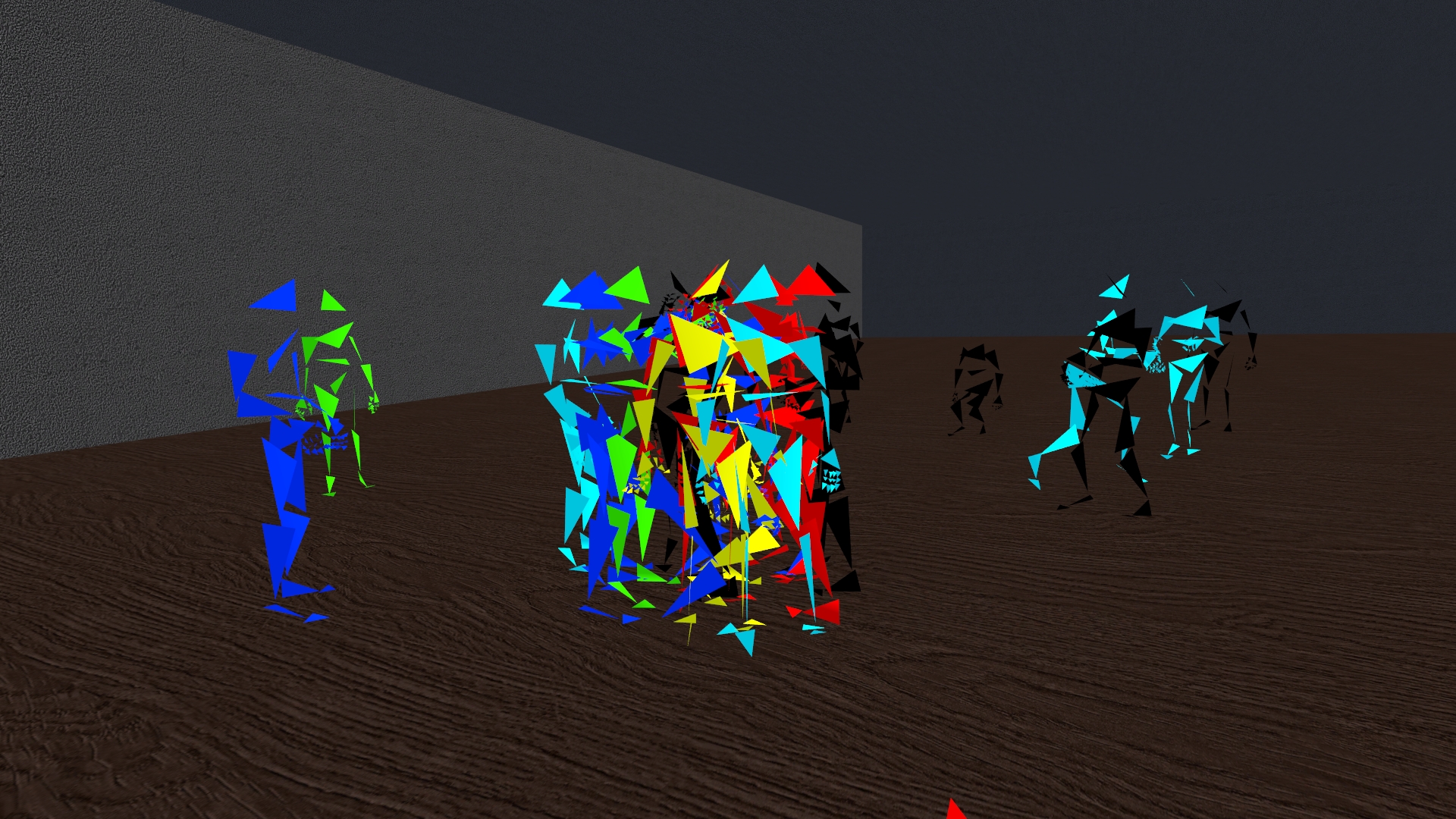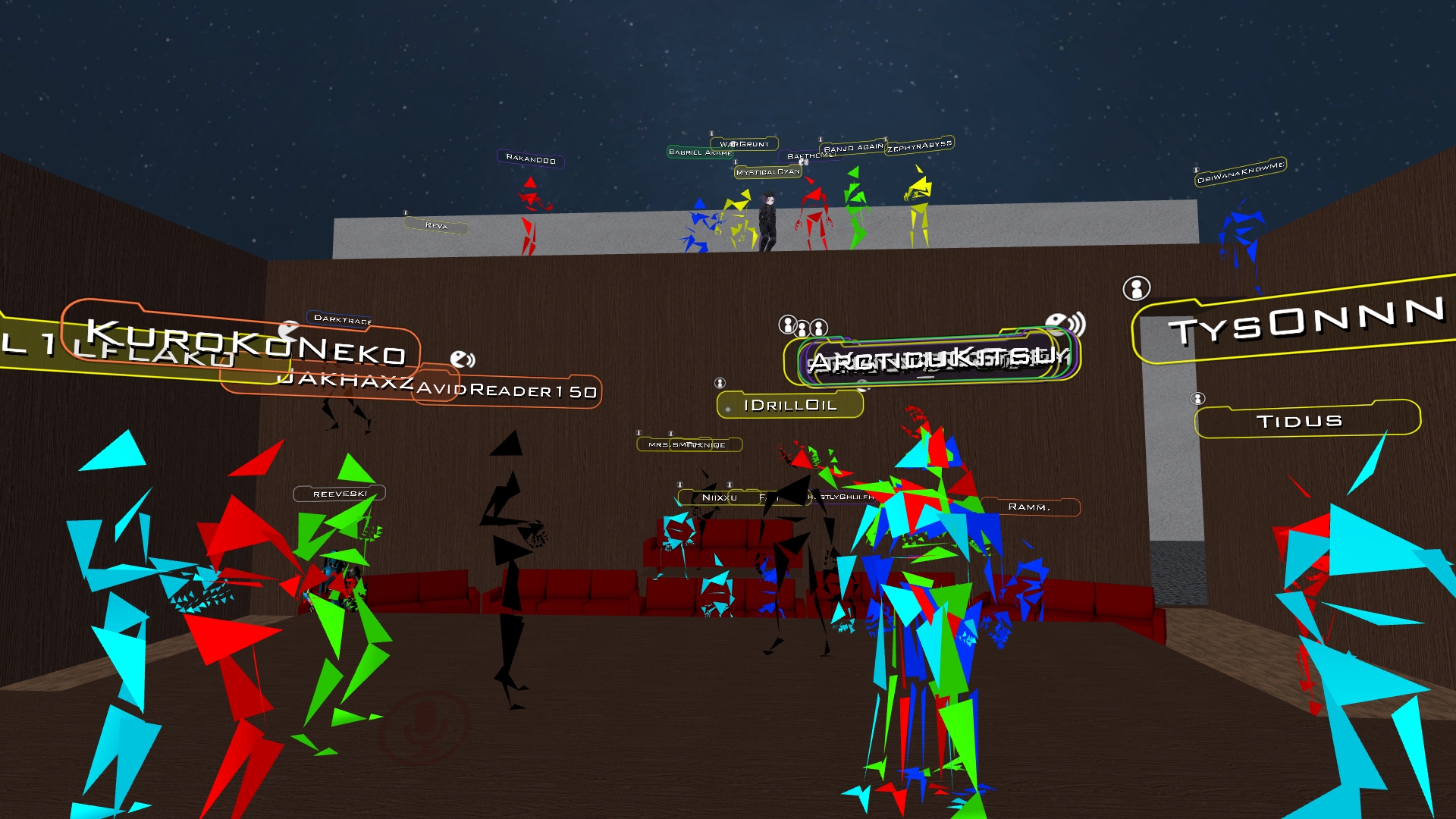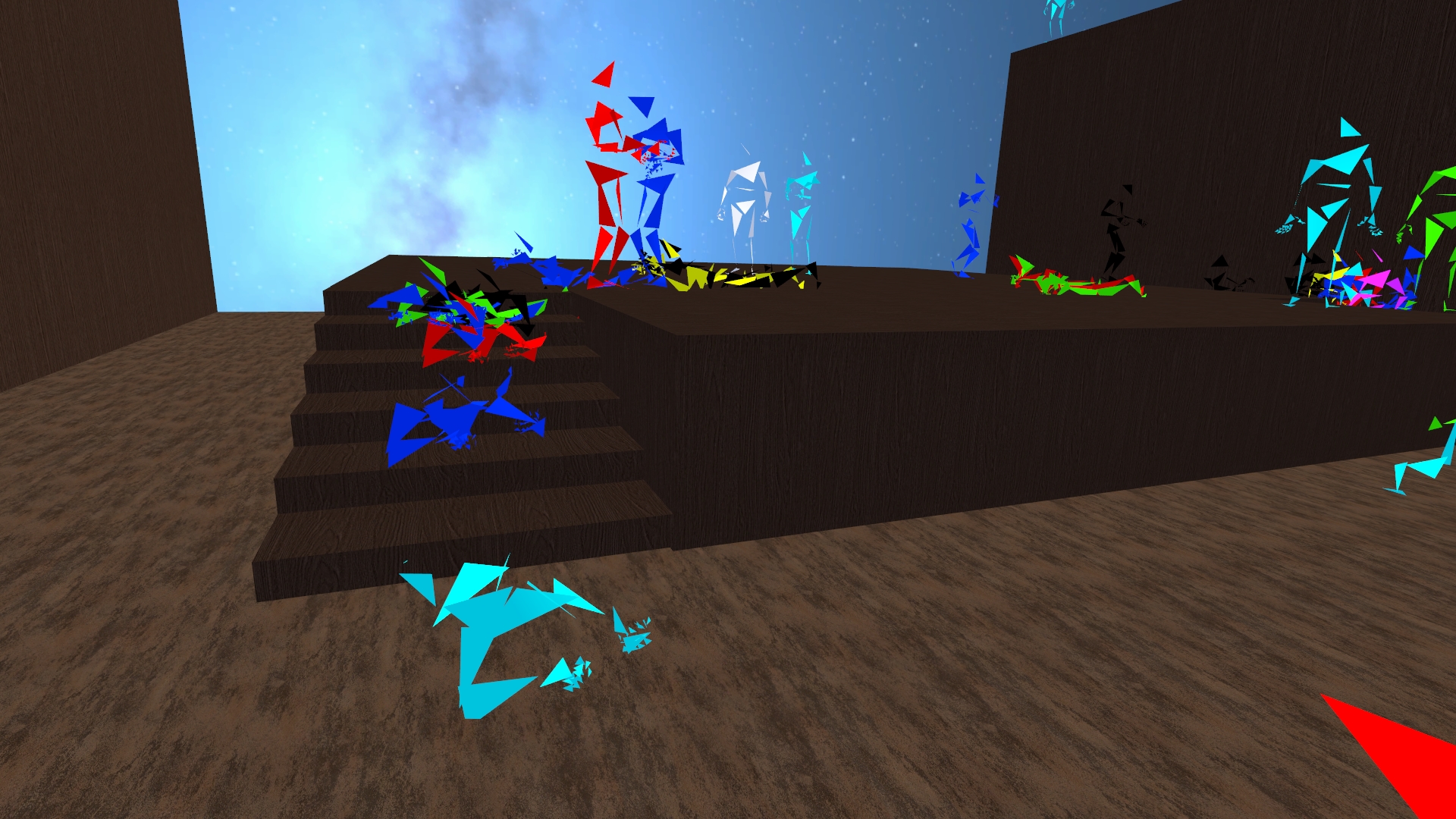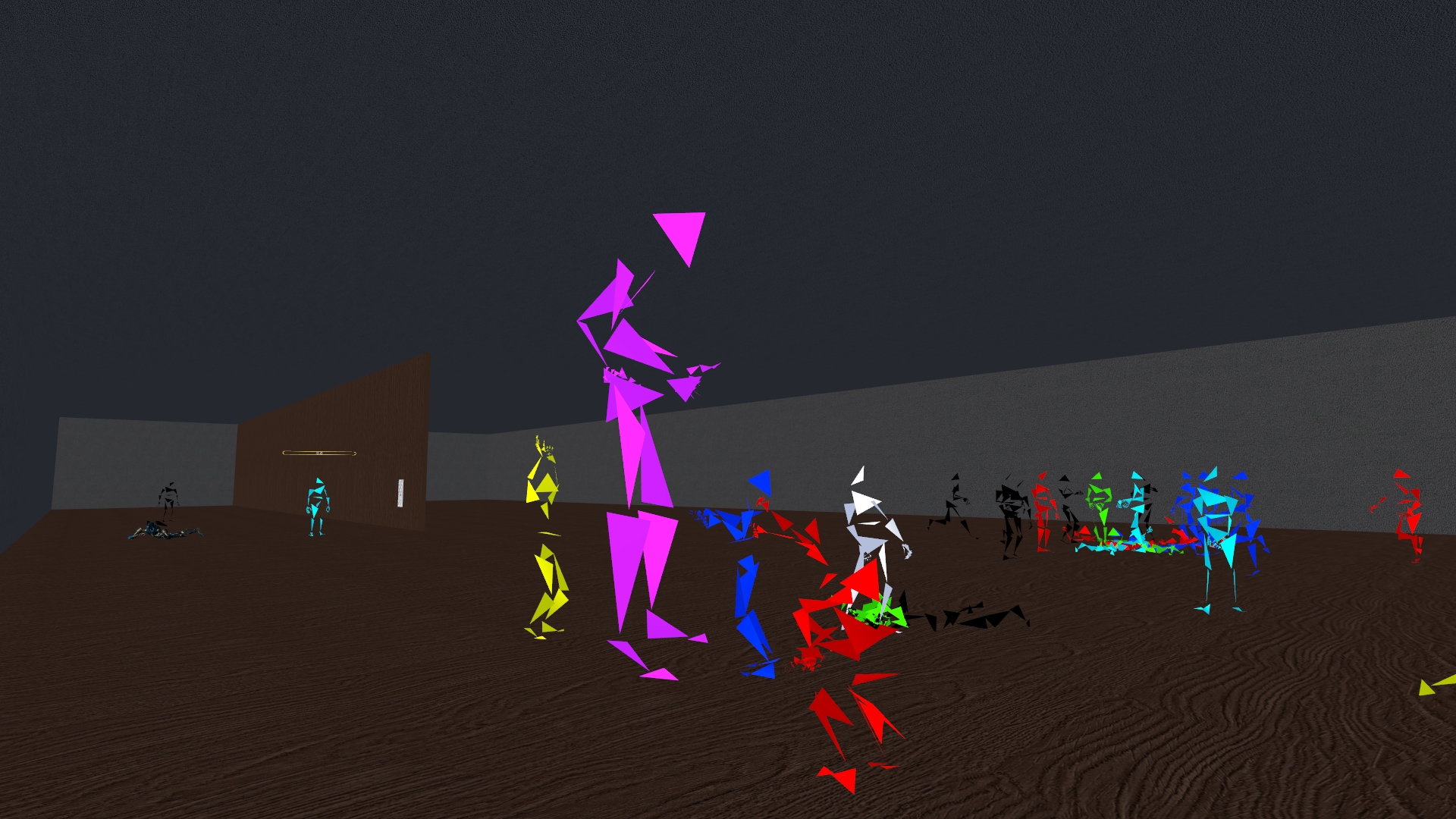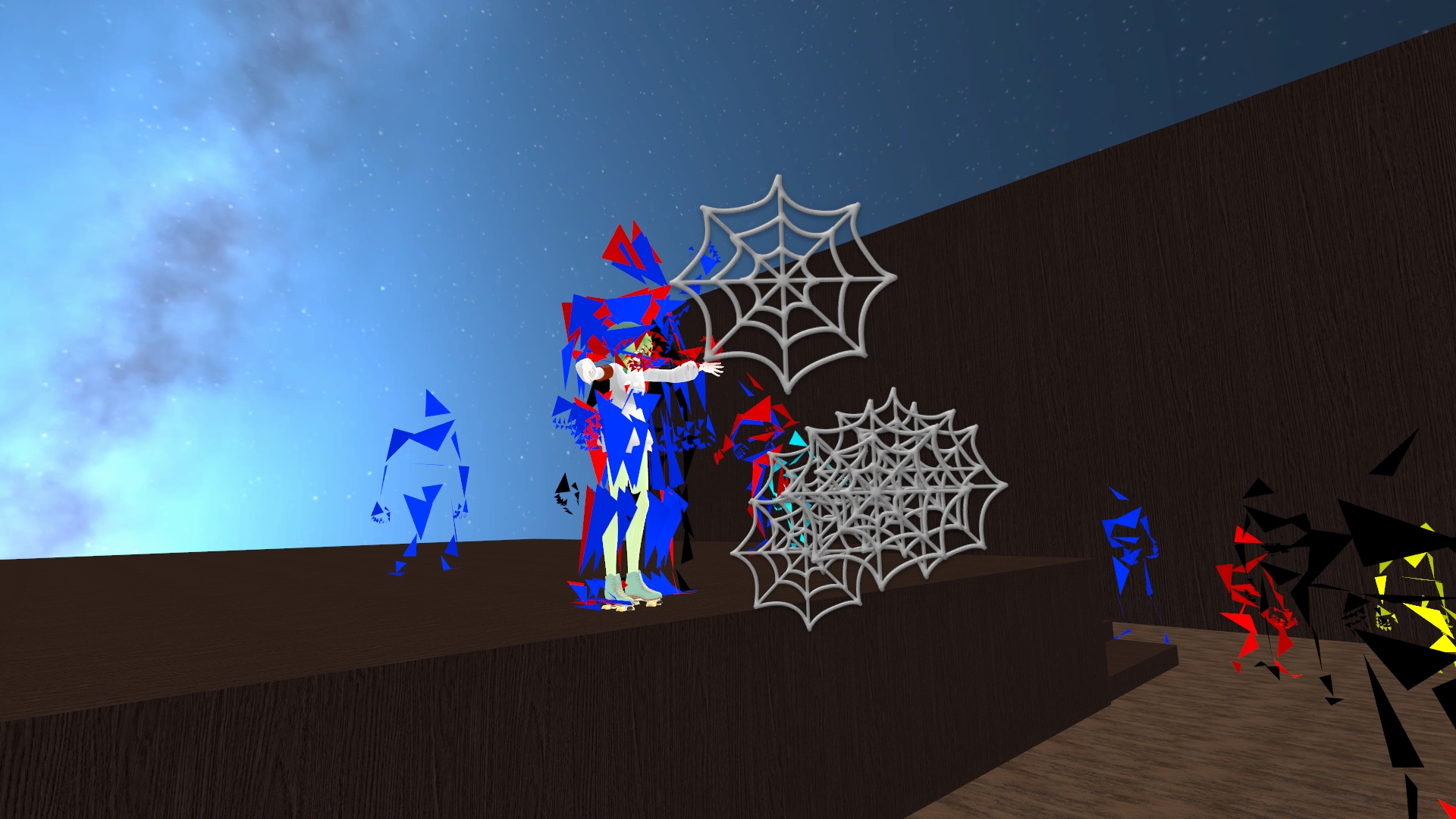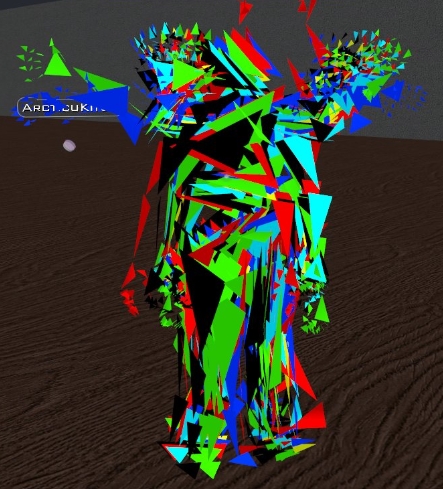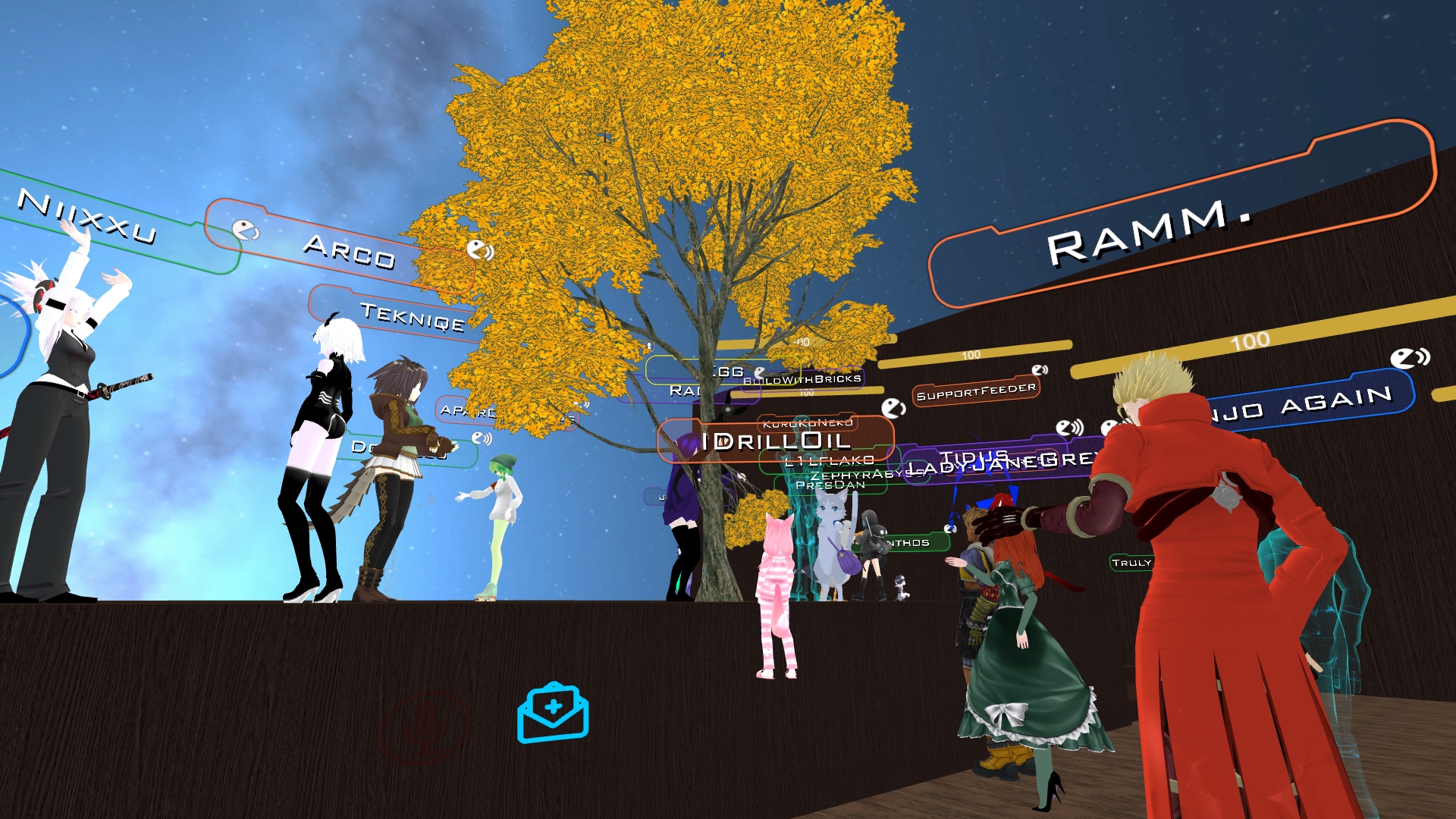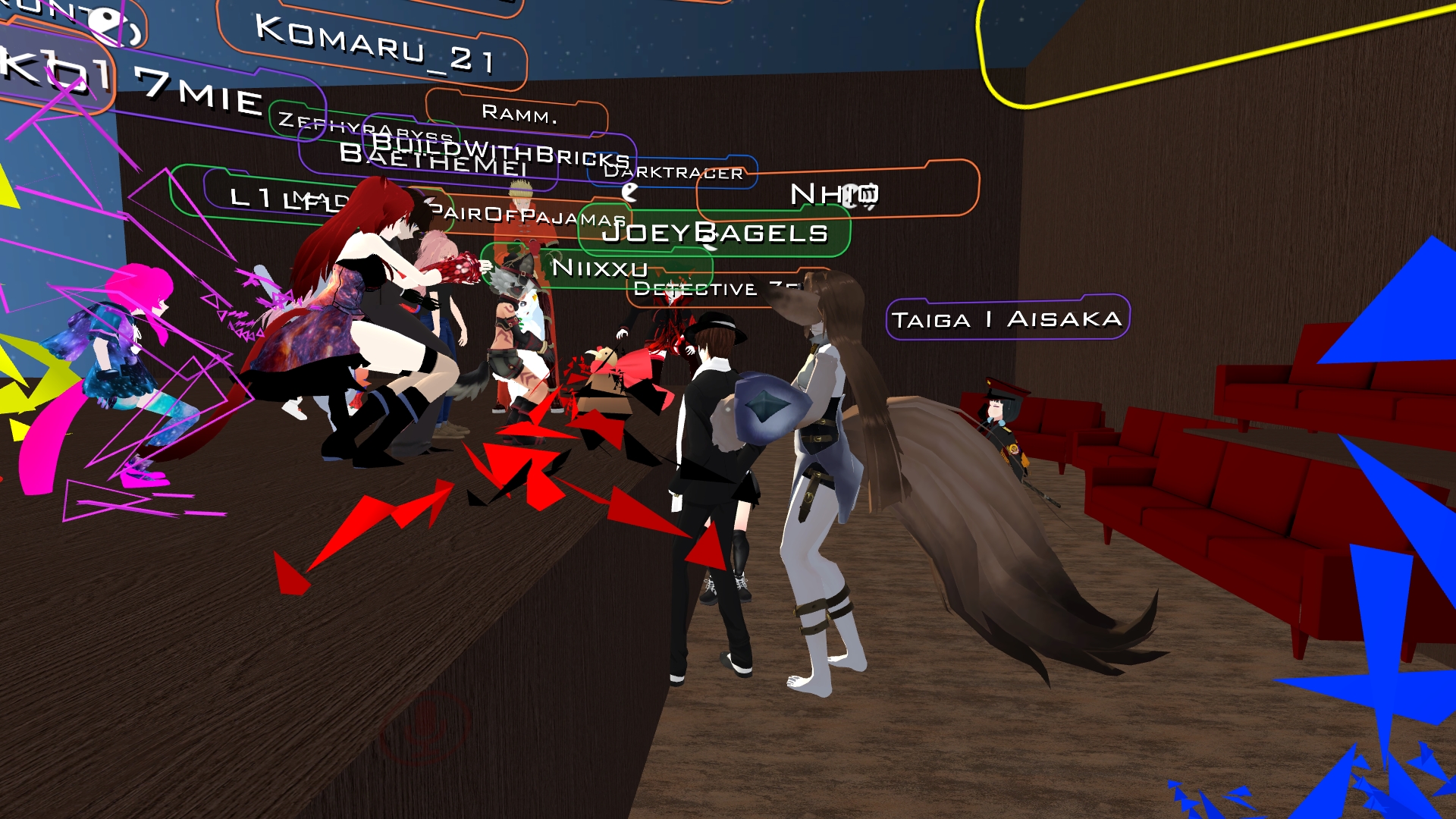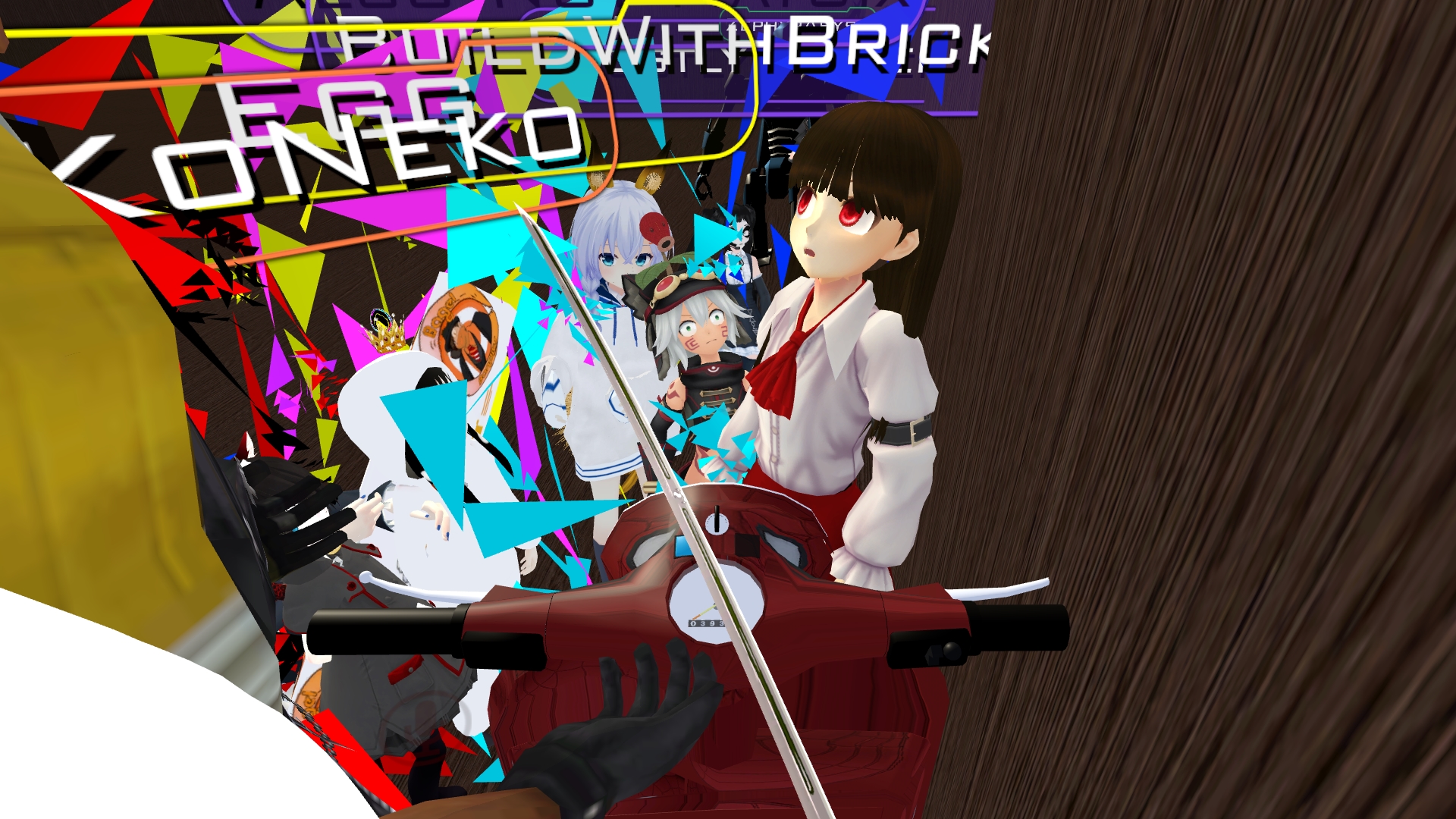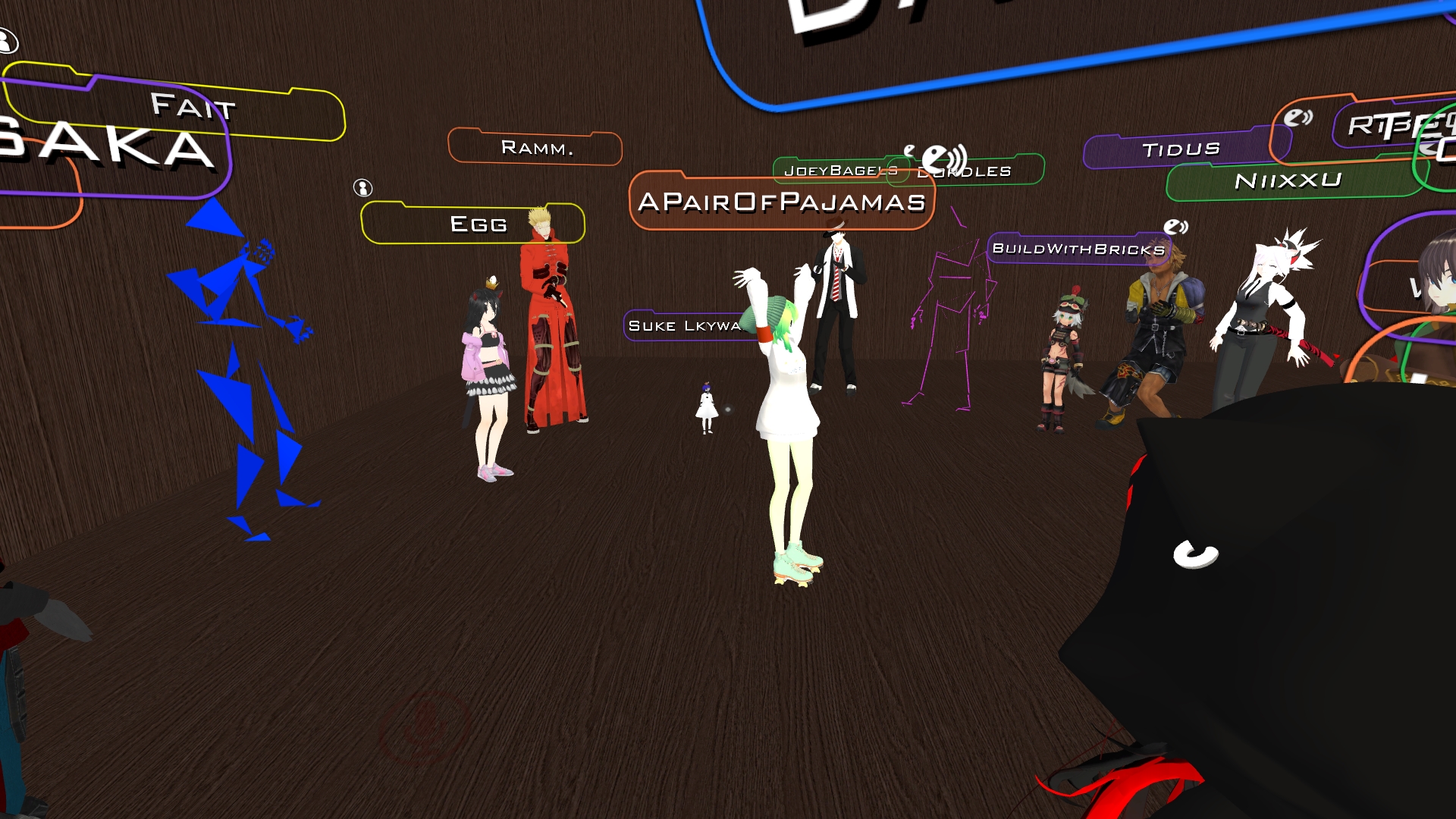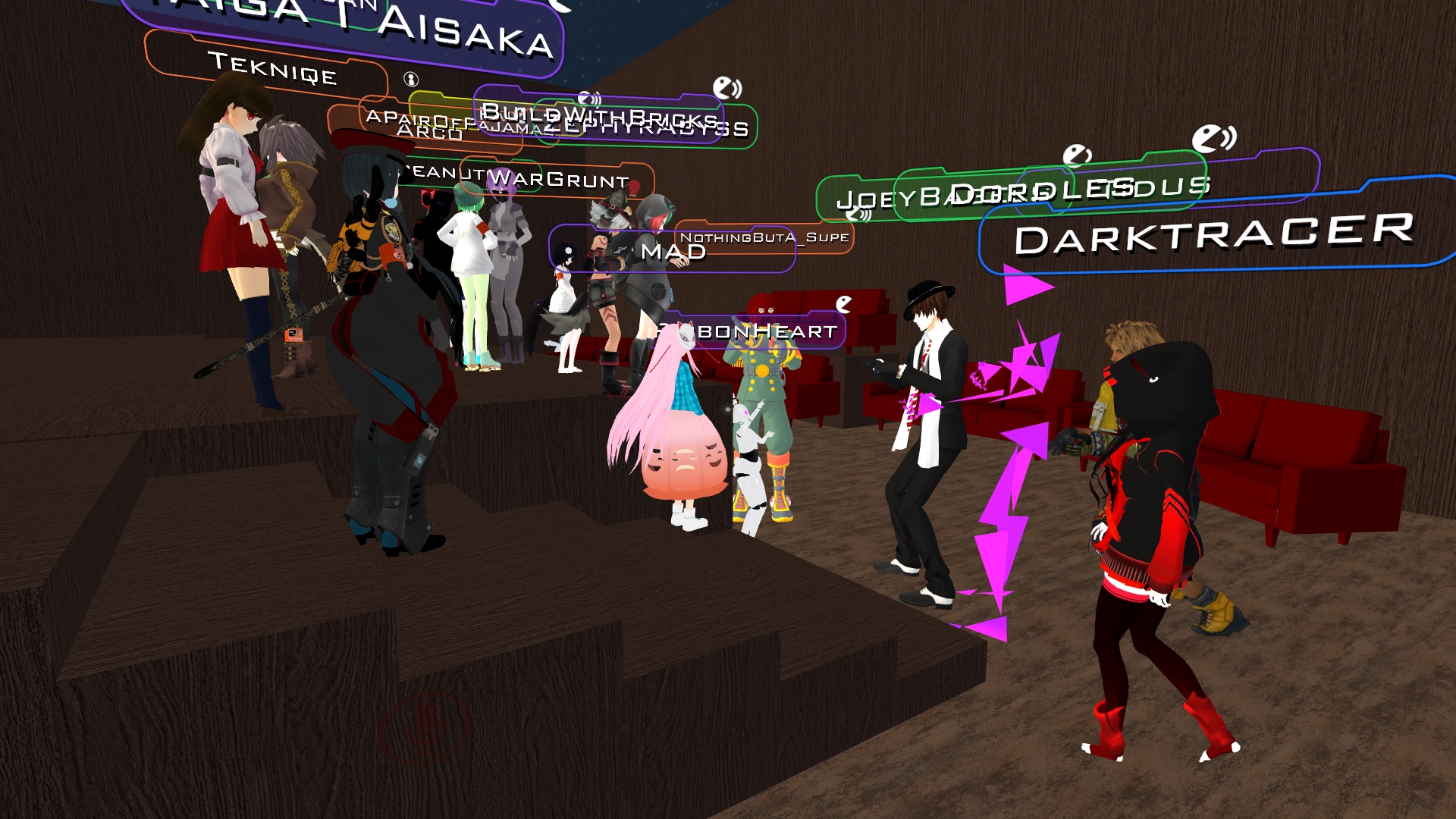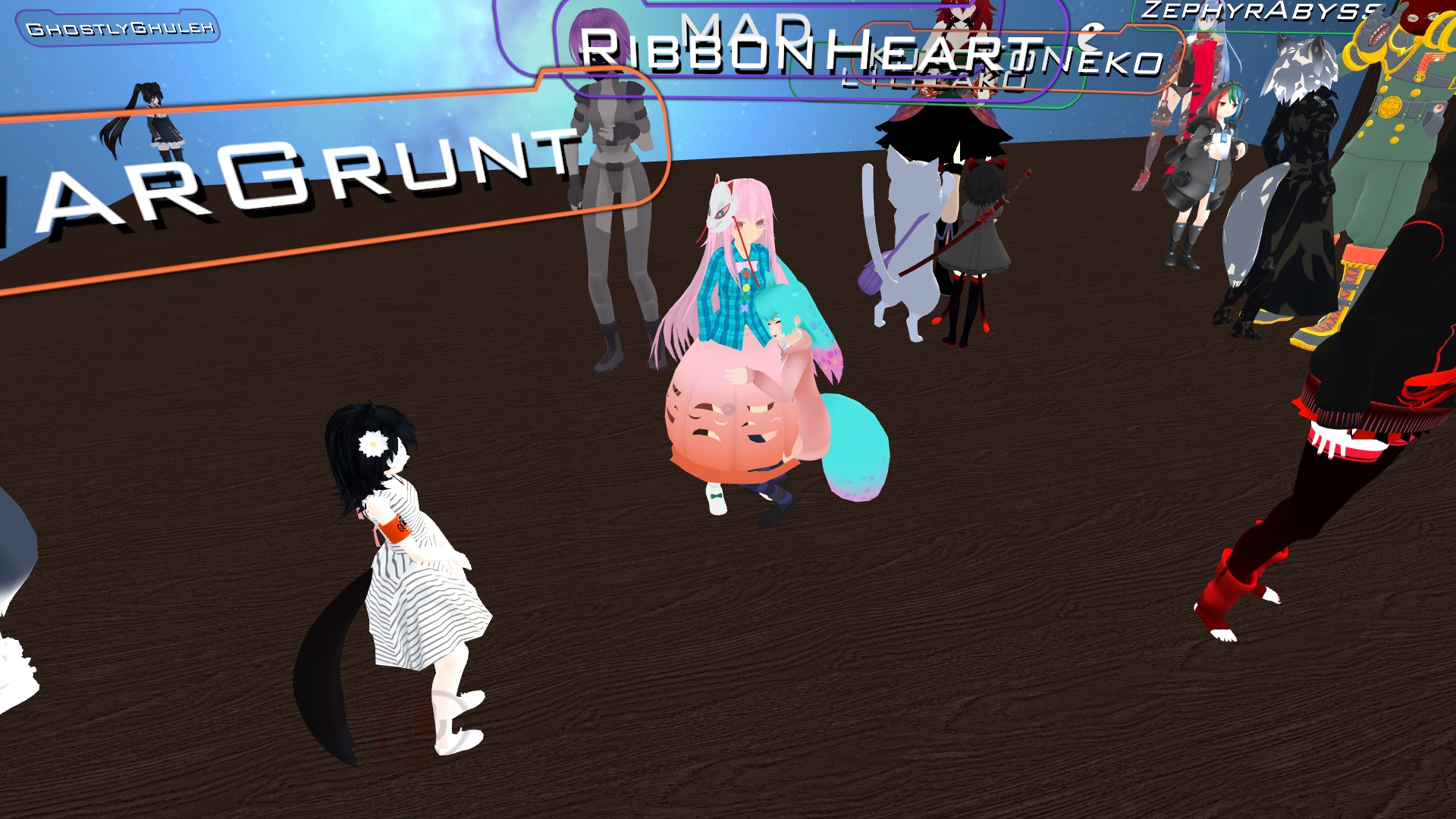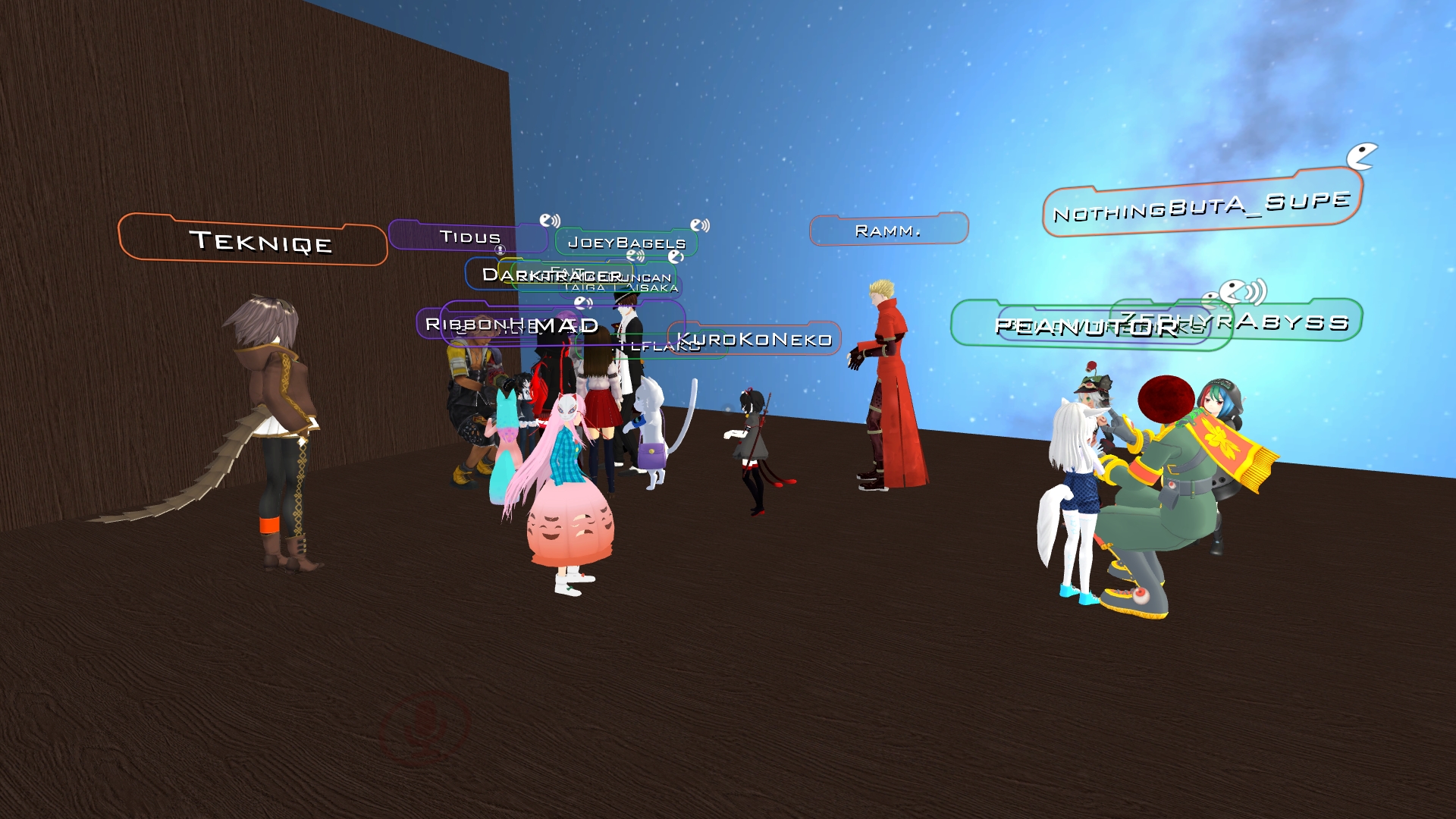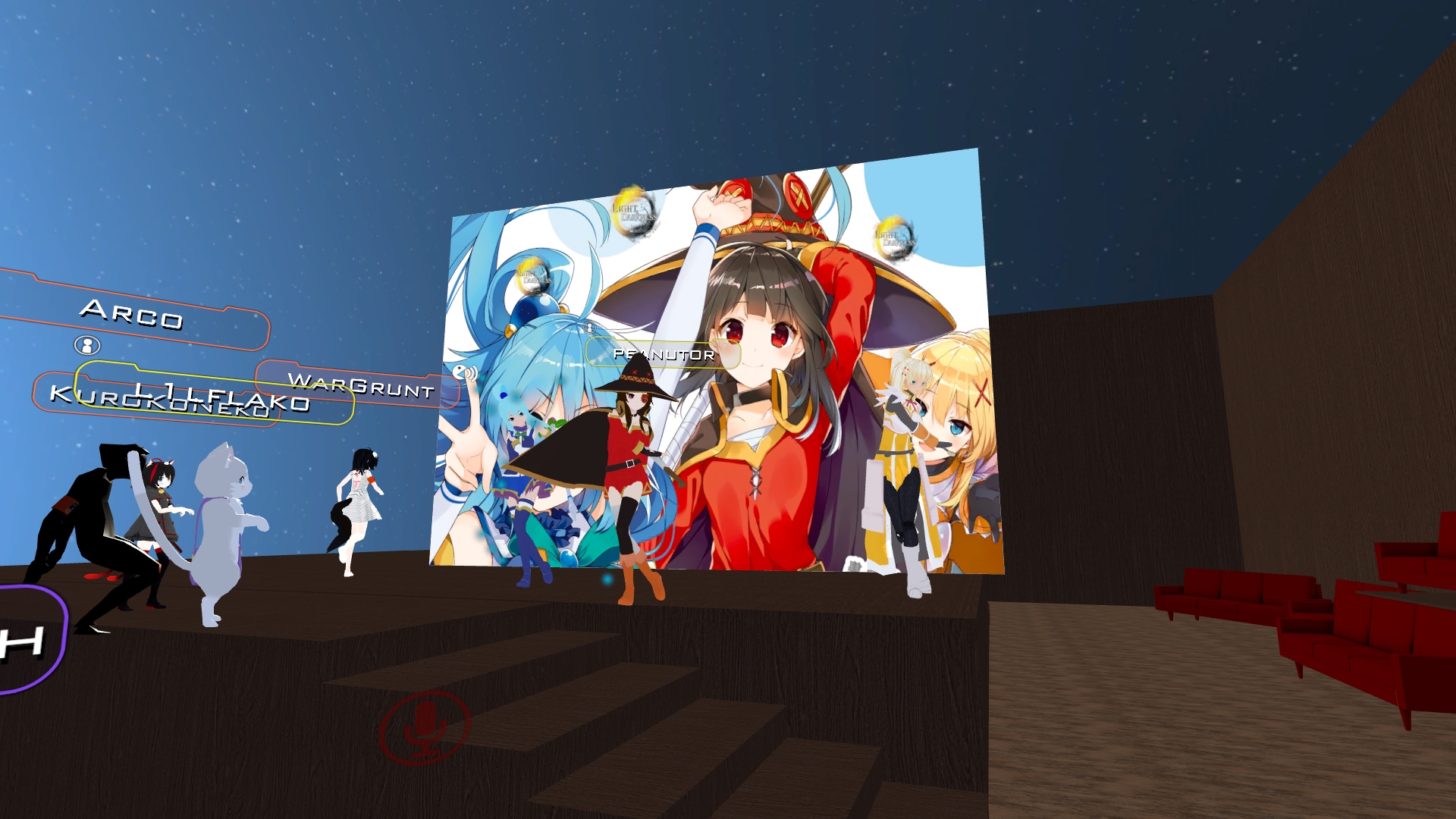 I also, really badly, wanted to be a part of a photoshoot. At least once, so I could leave my mark in the community, and I have. I left my mark with the Dordles meet-up, and I'm happy with the positive messages I gained from those photoshoots. I tried to be positive about the whole thing, and I'm happy with the results. I'm however disappointed with my computer not being able to keep up with the core players, but I am happy with what I gained out of it. I want more of those fun moments <3. The first image is one of these photoshoot fun moments, as well as the following images below.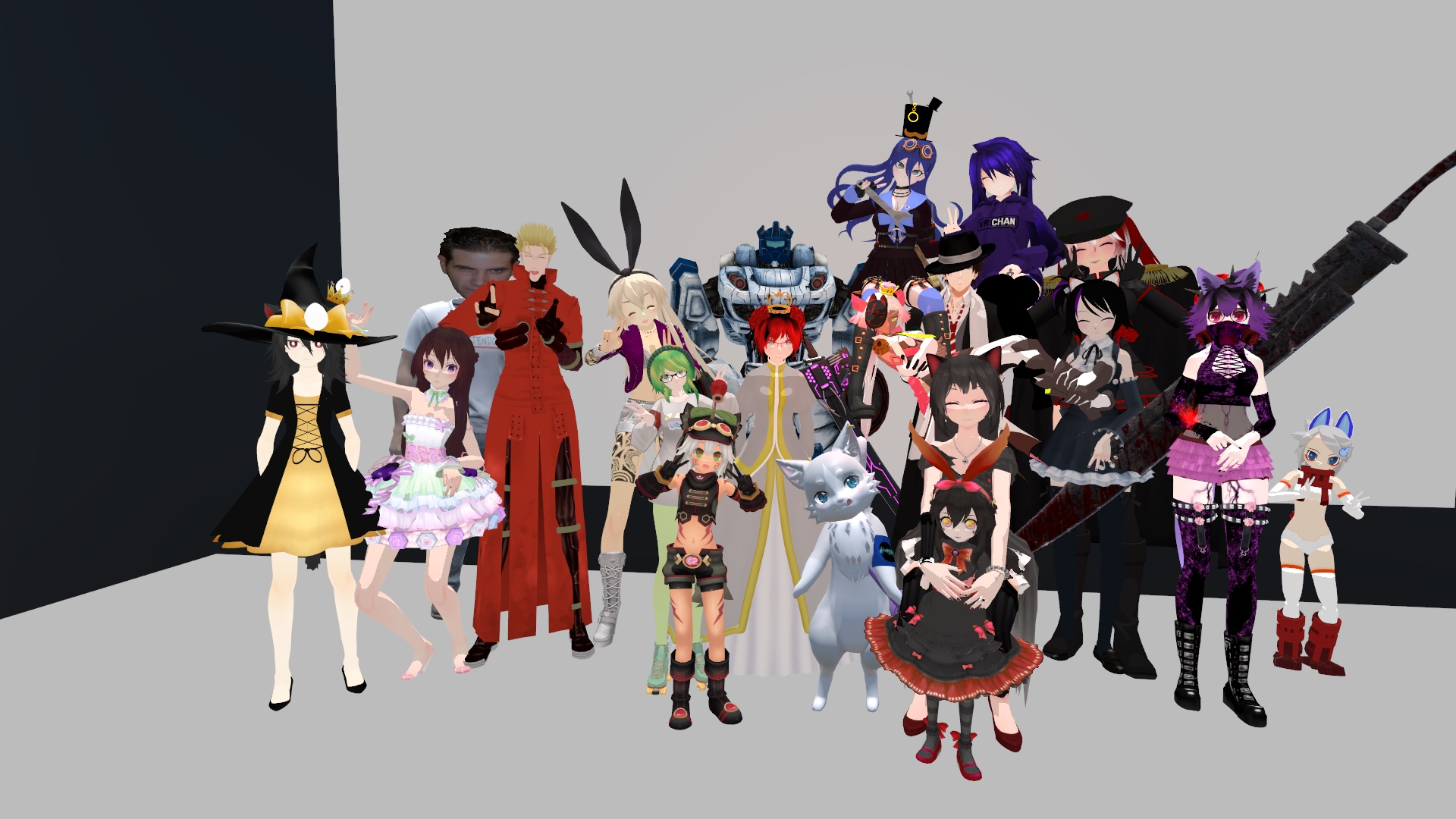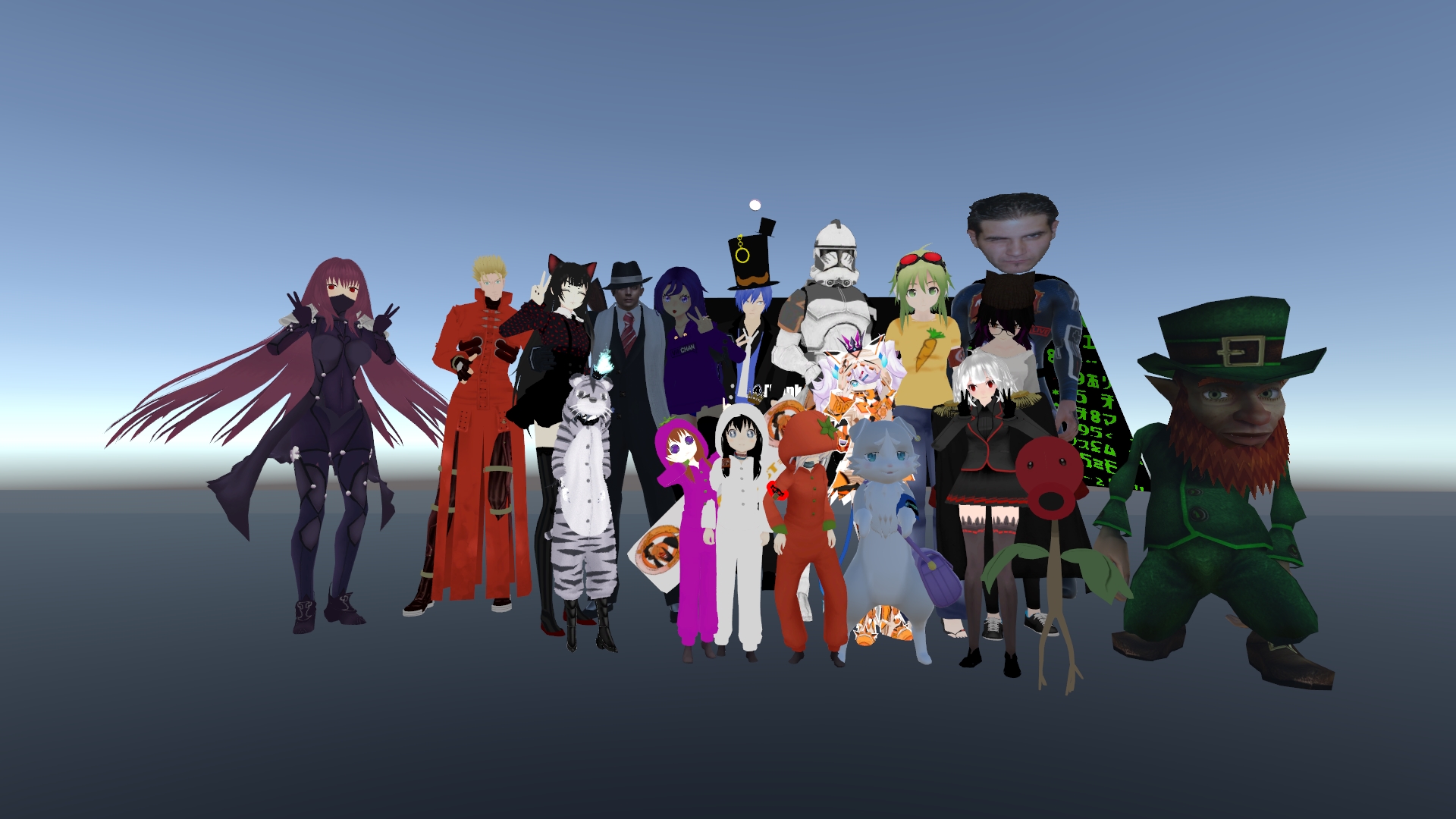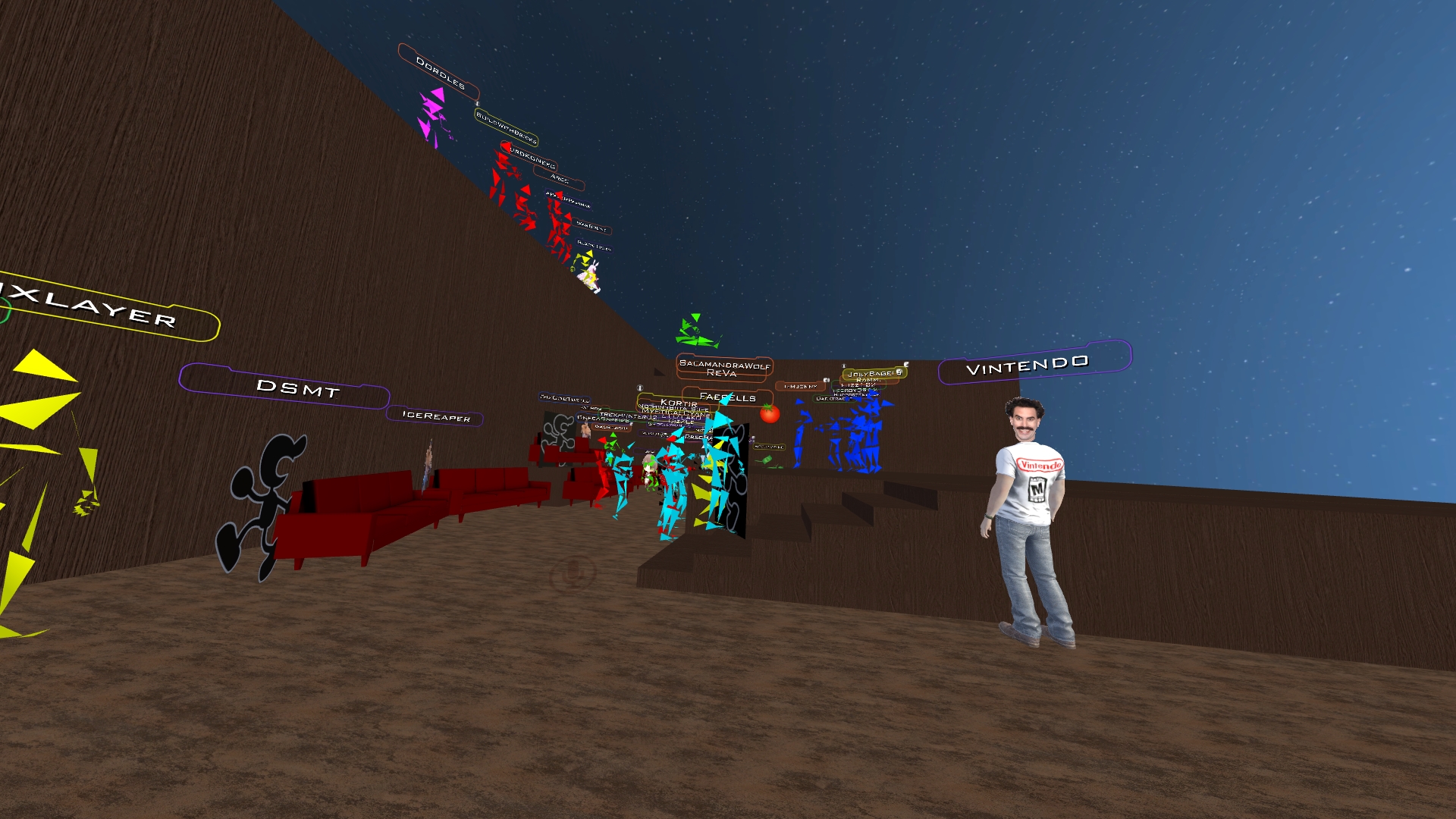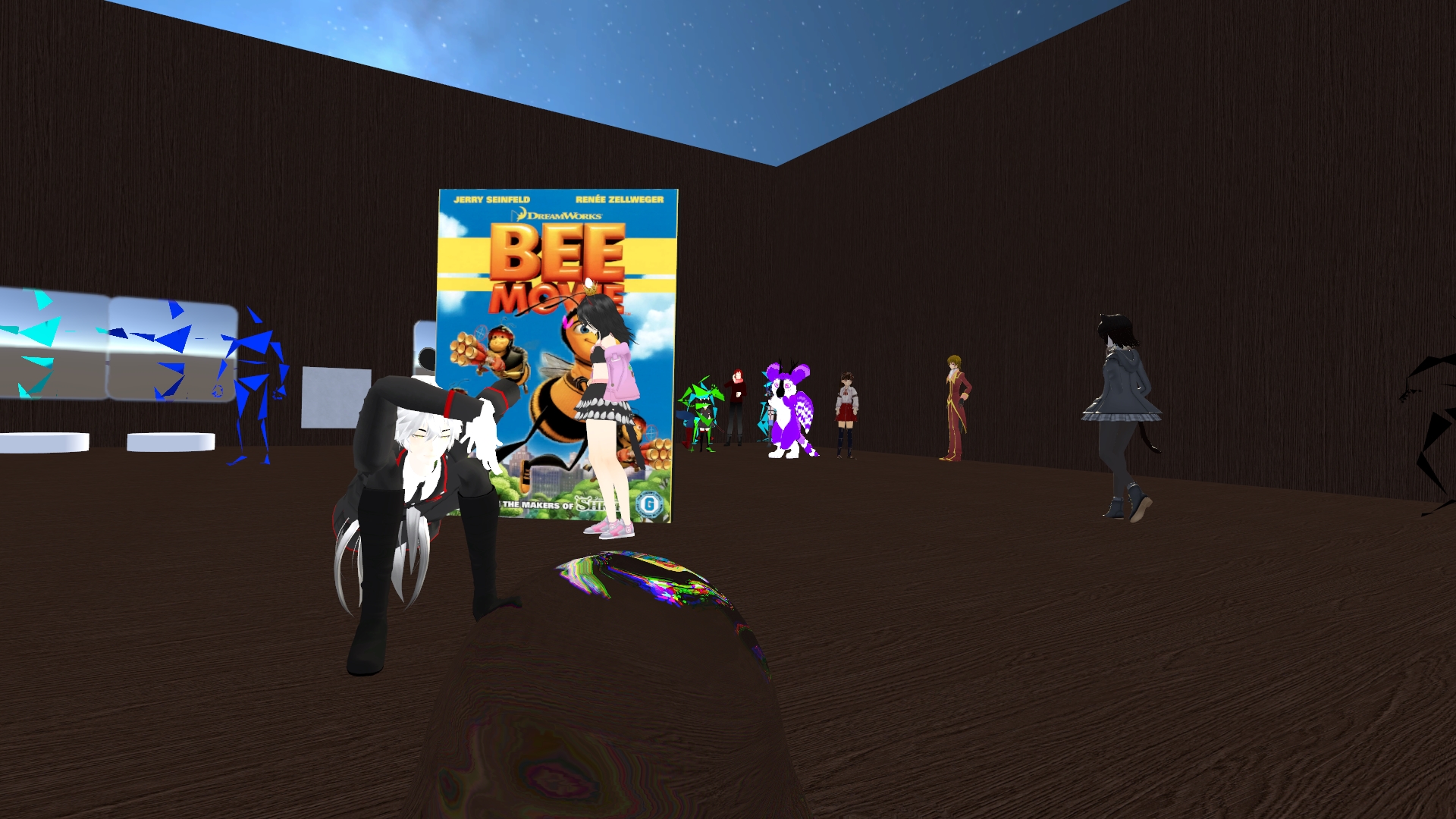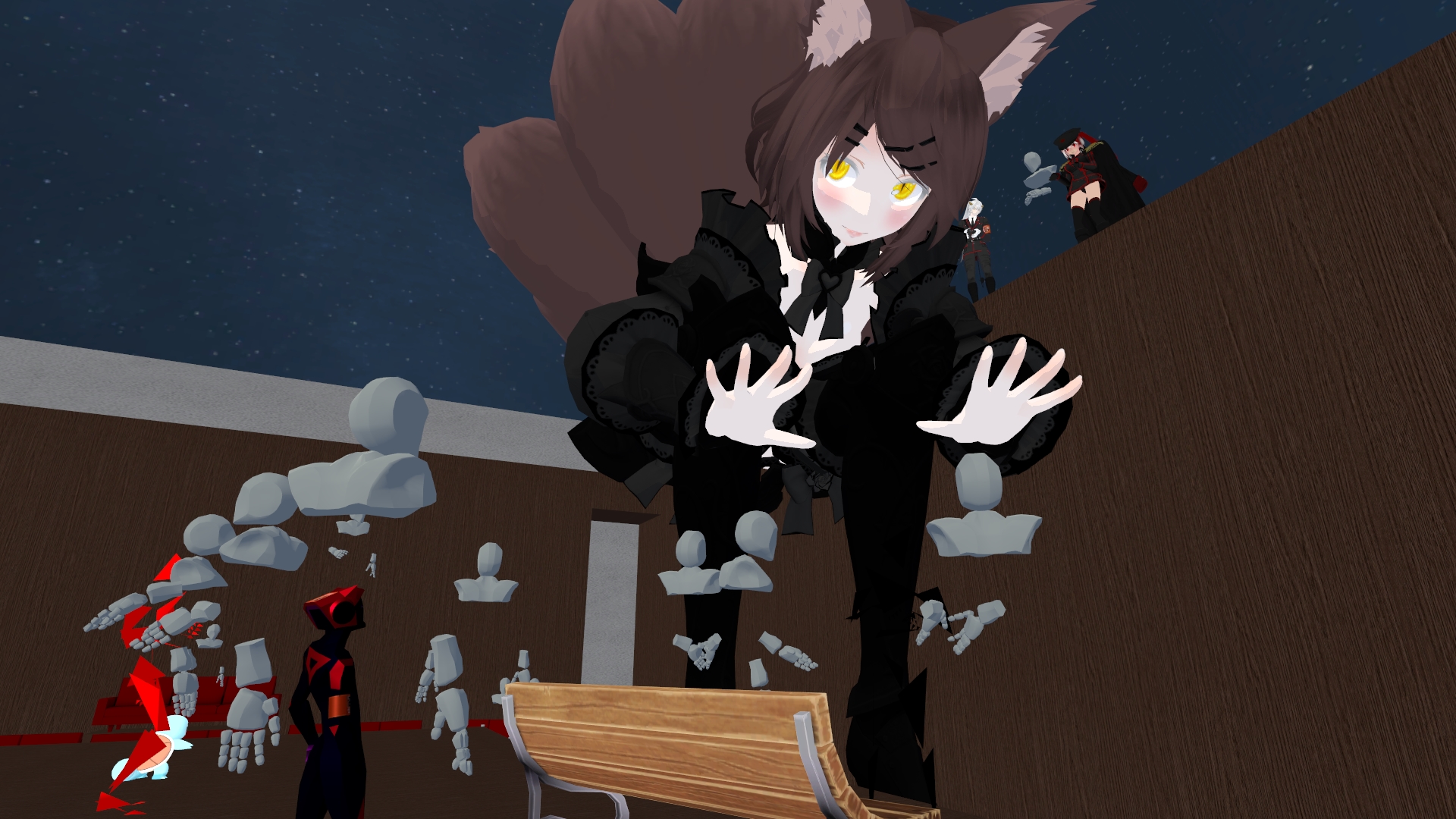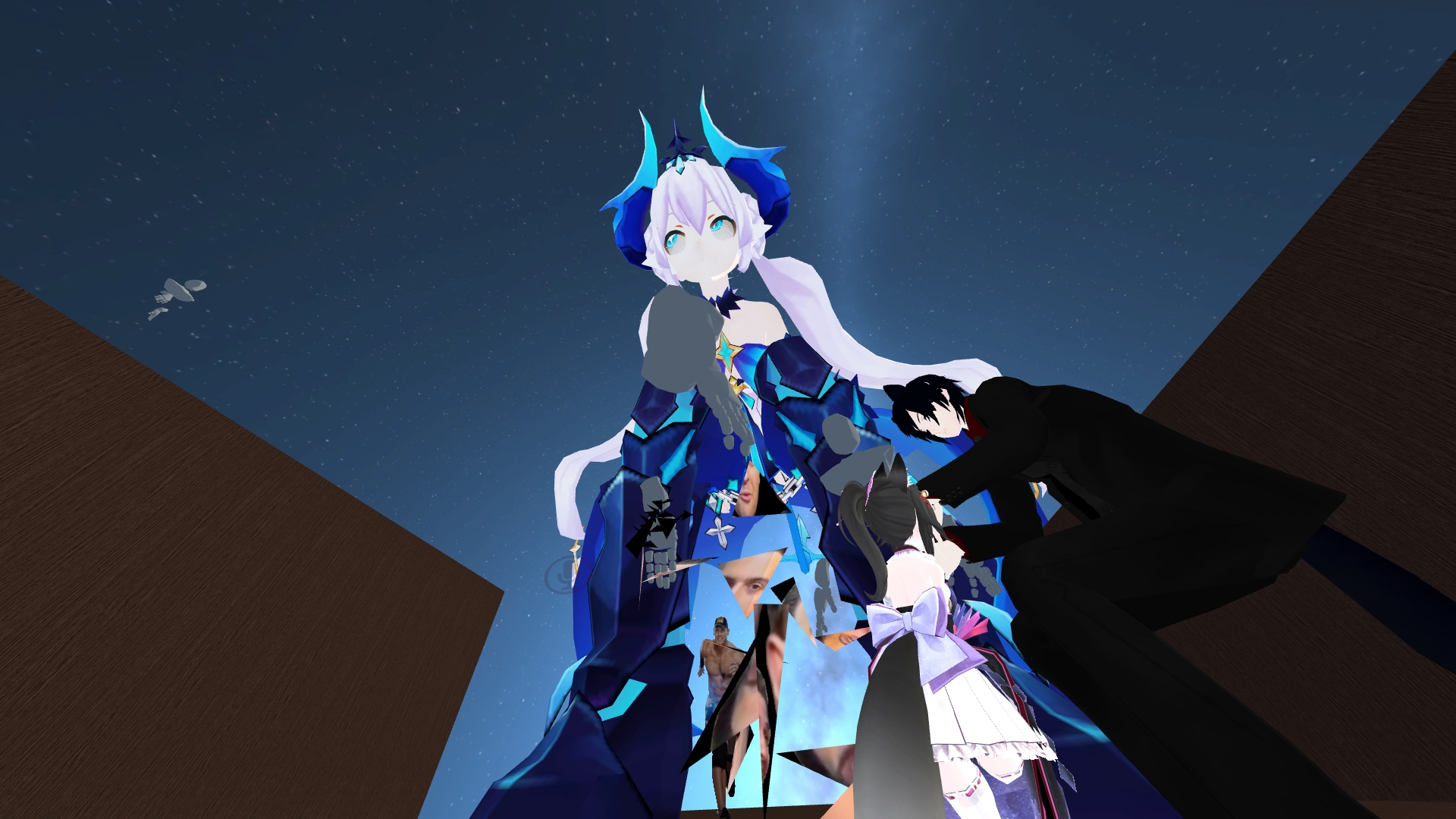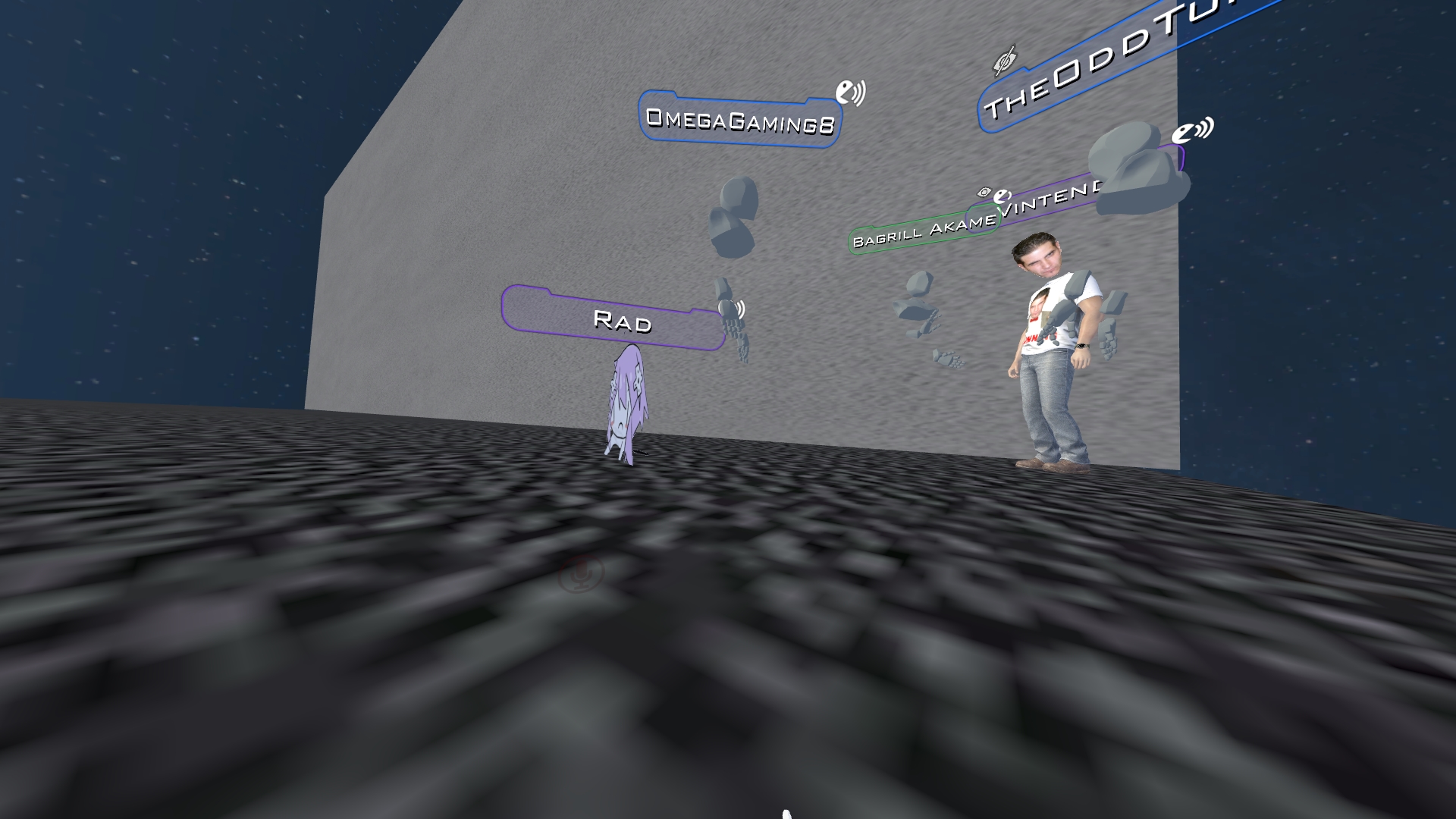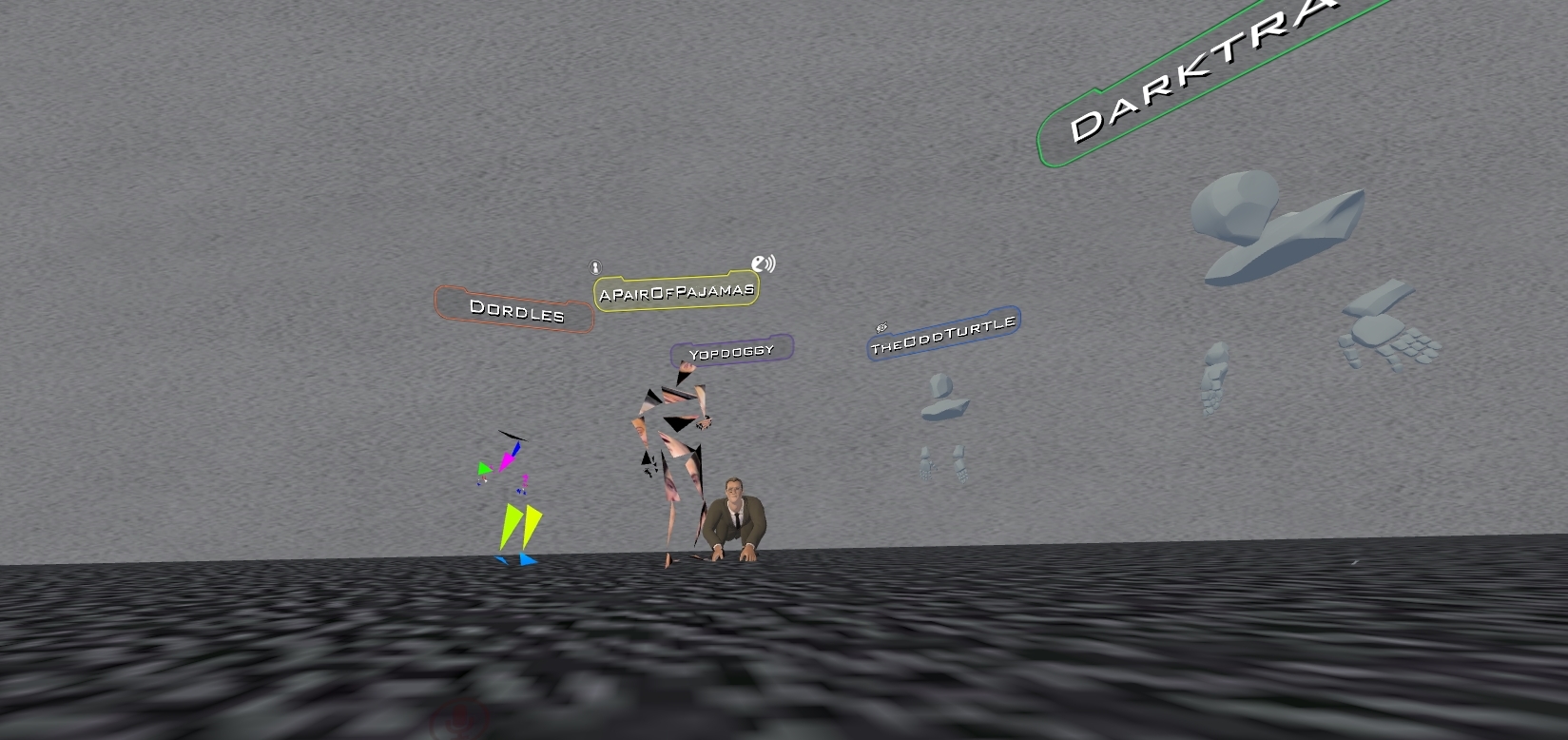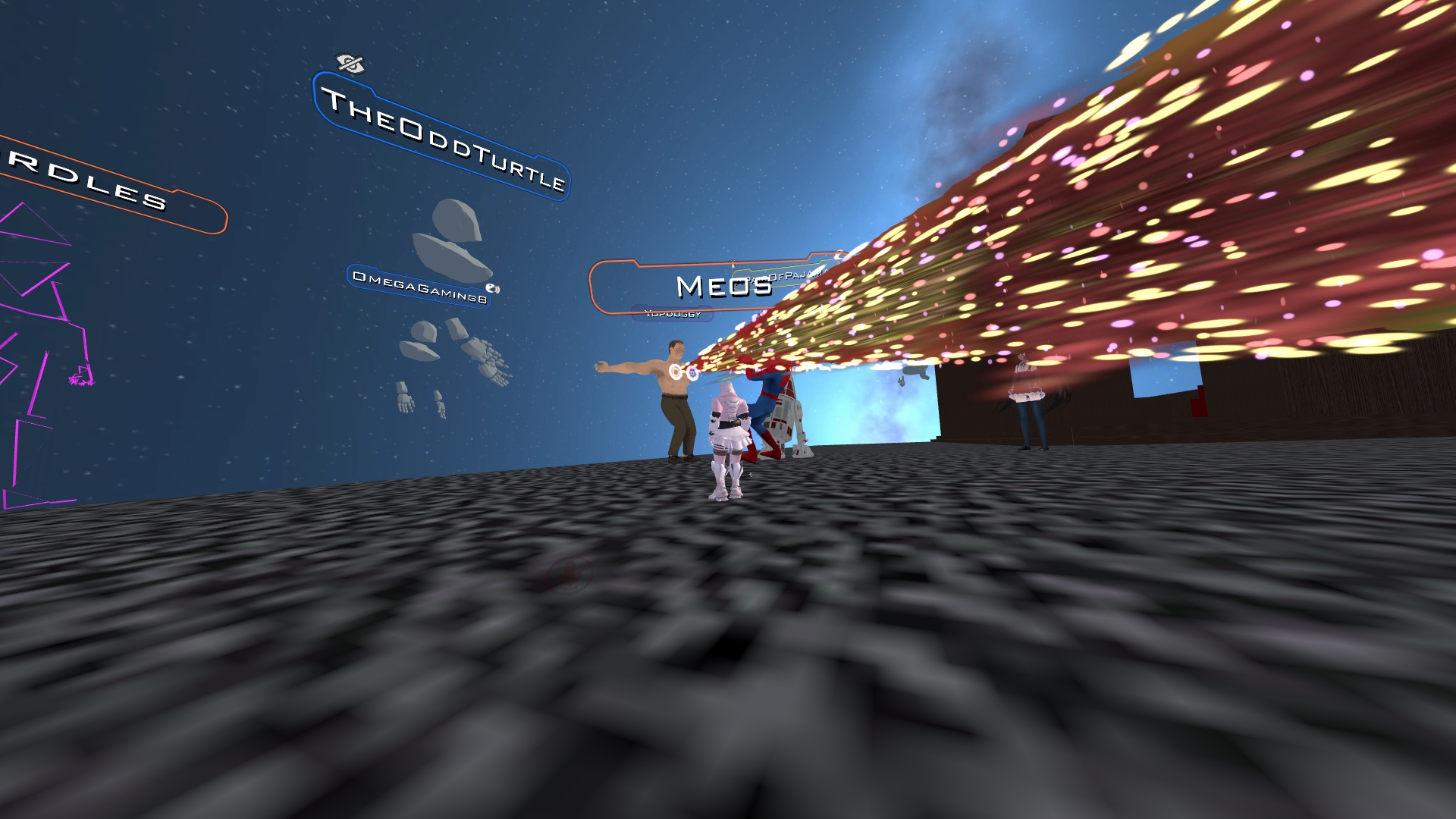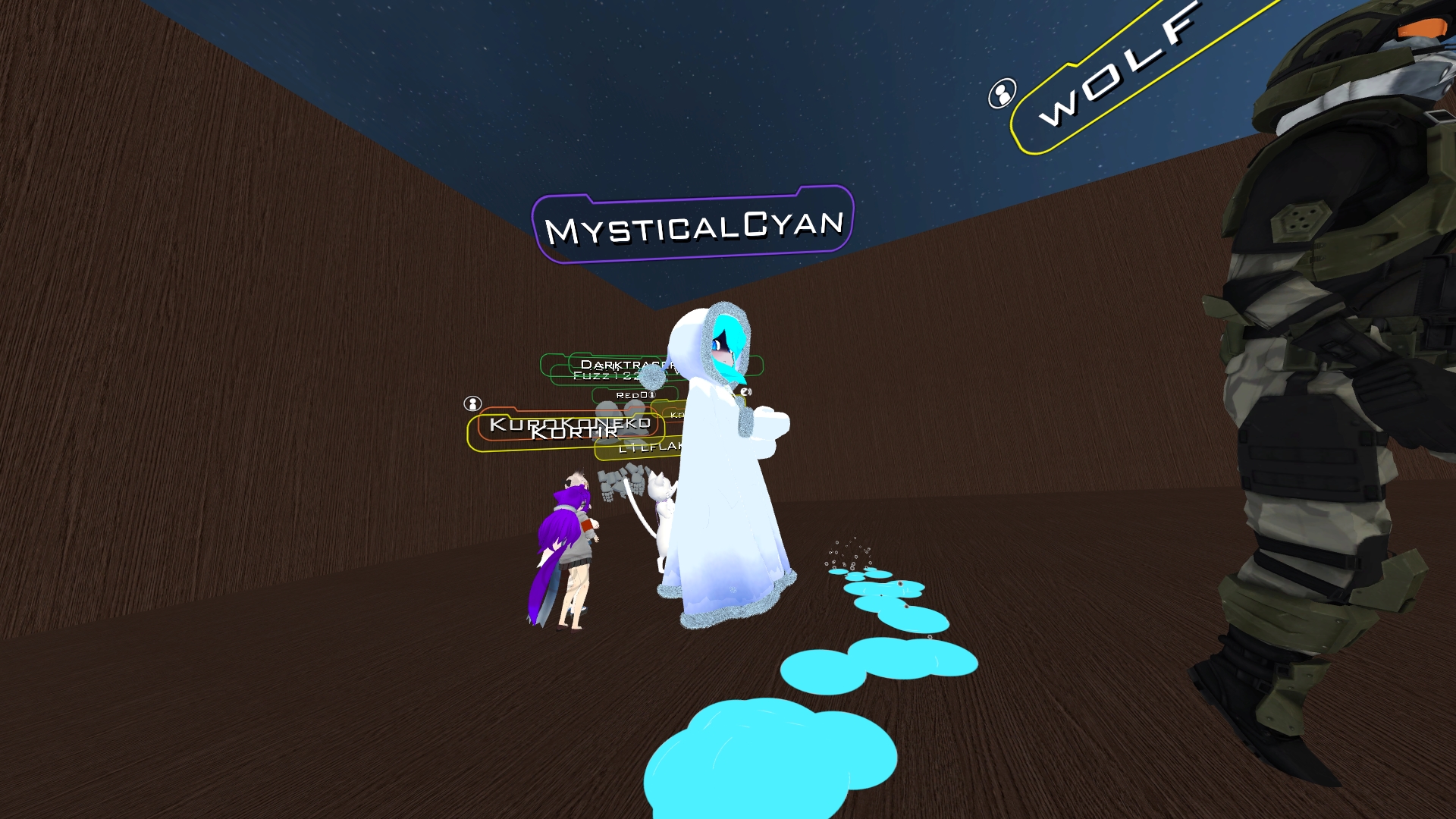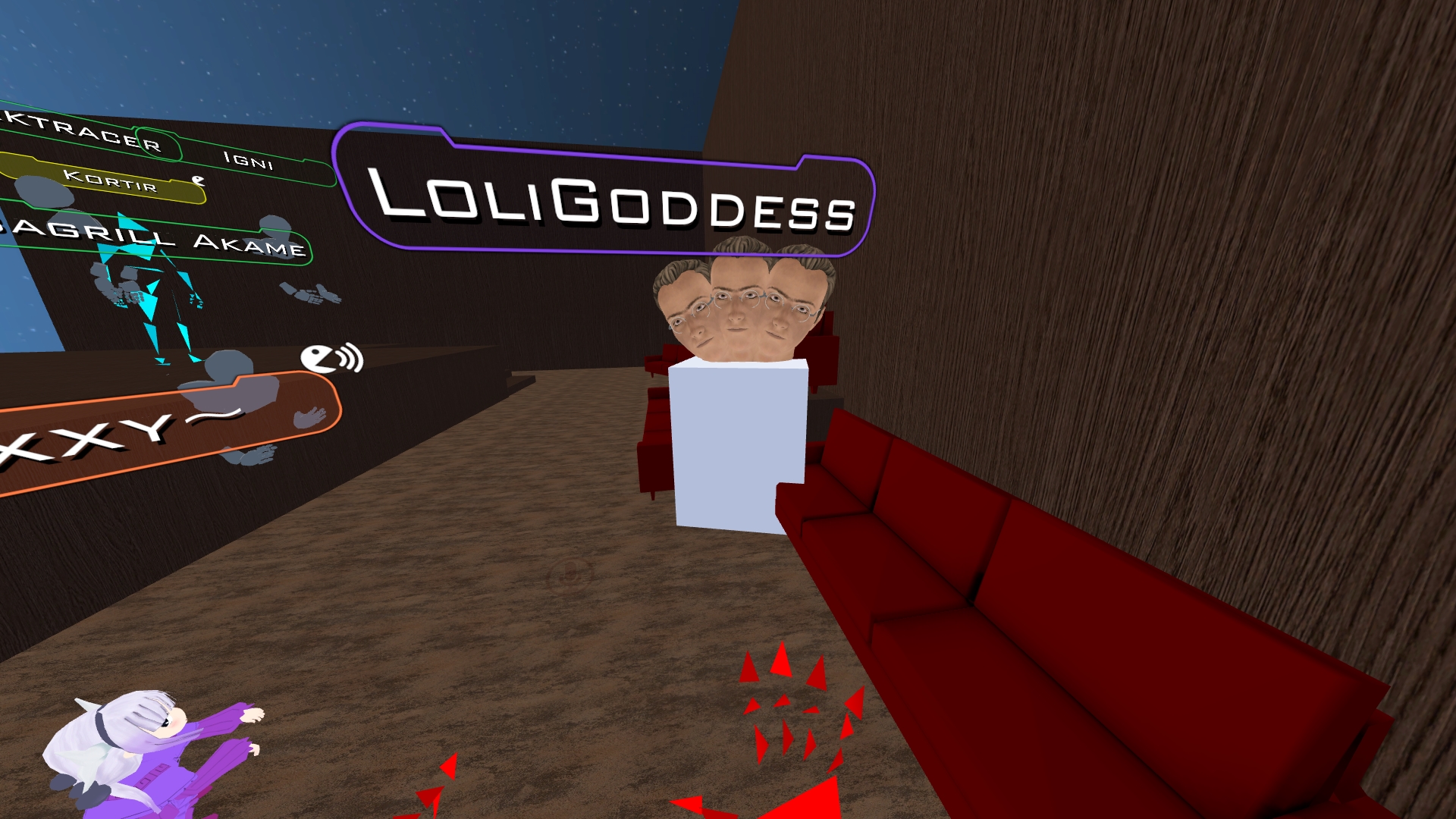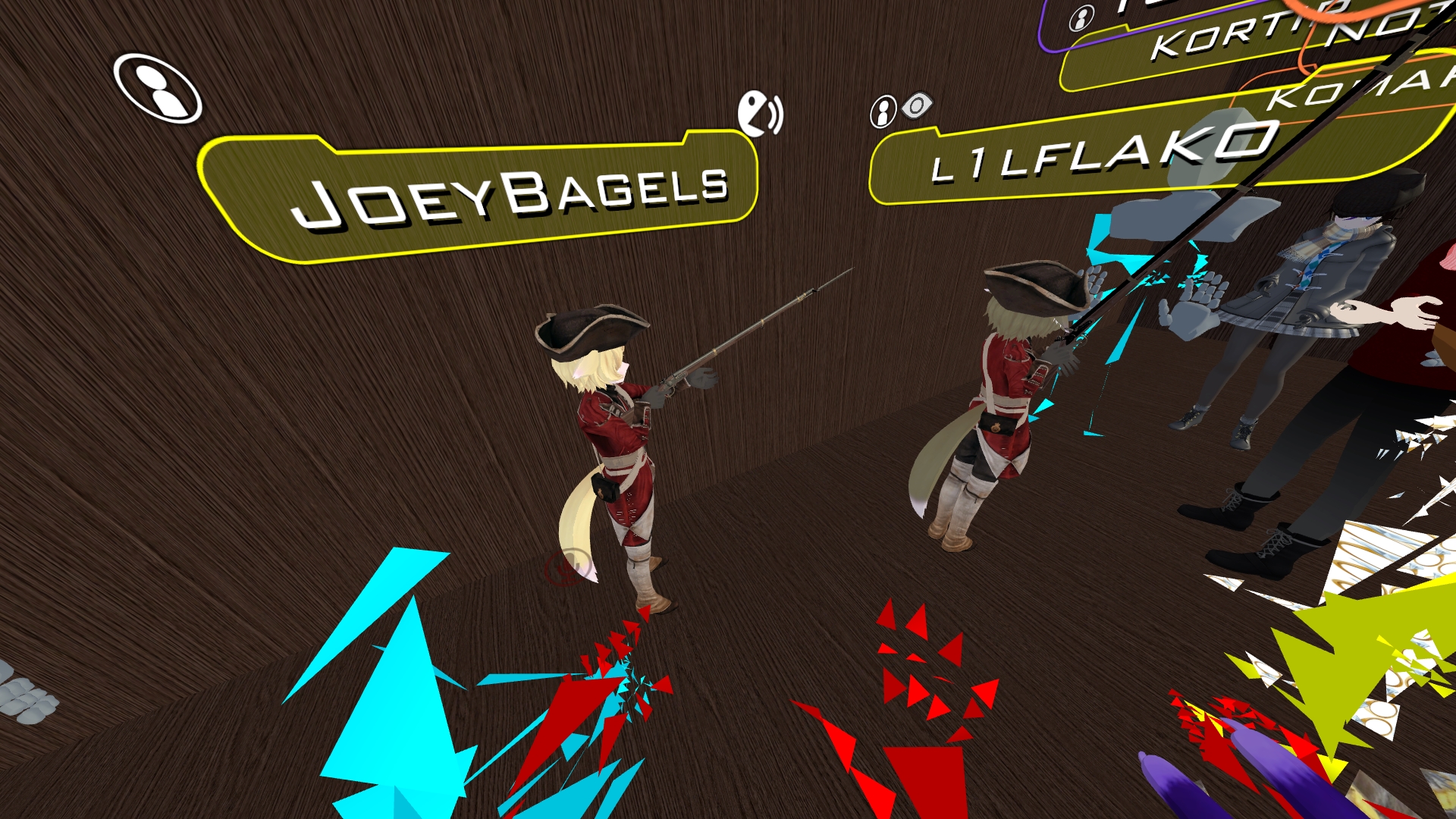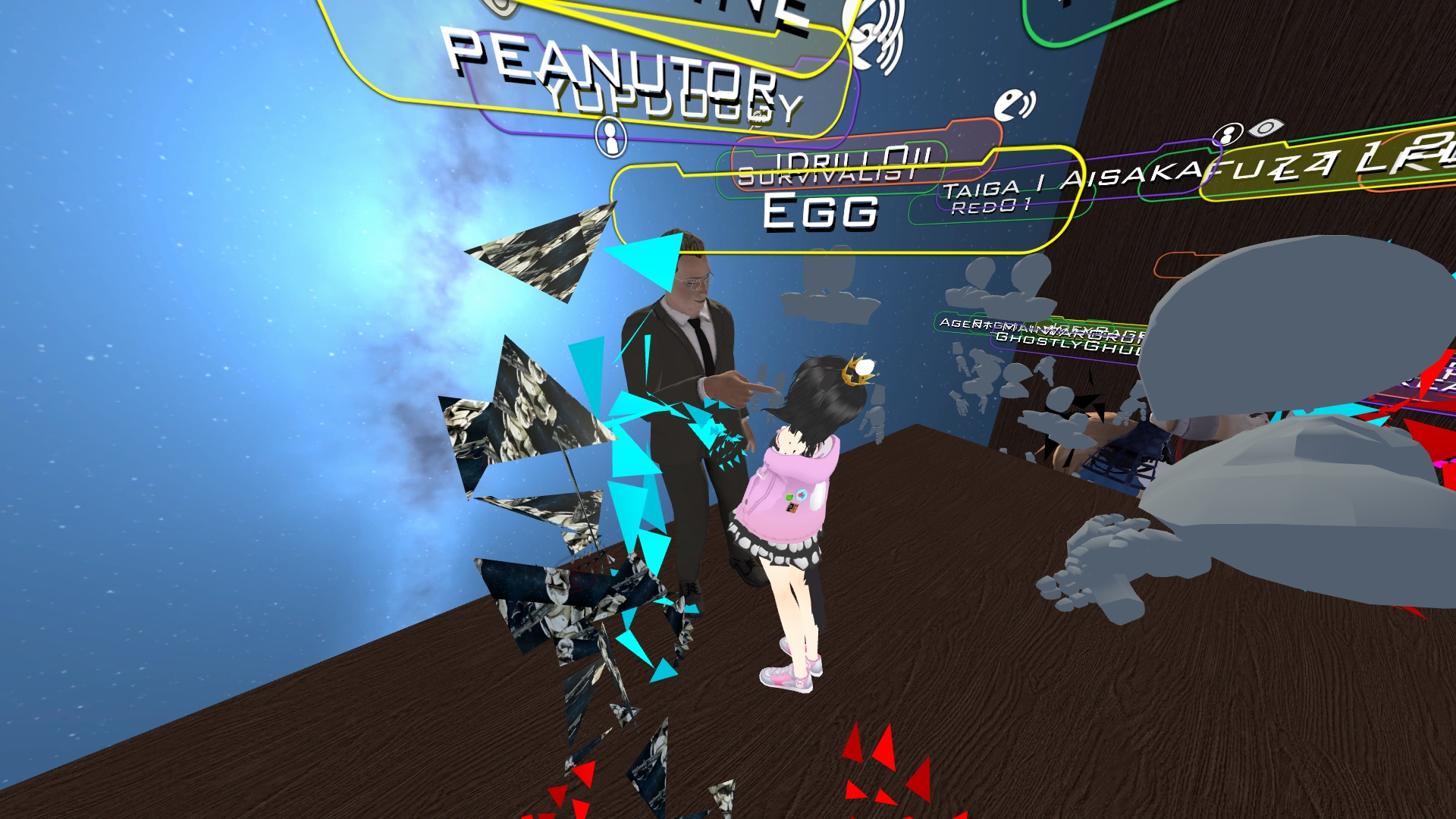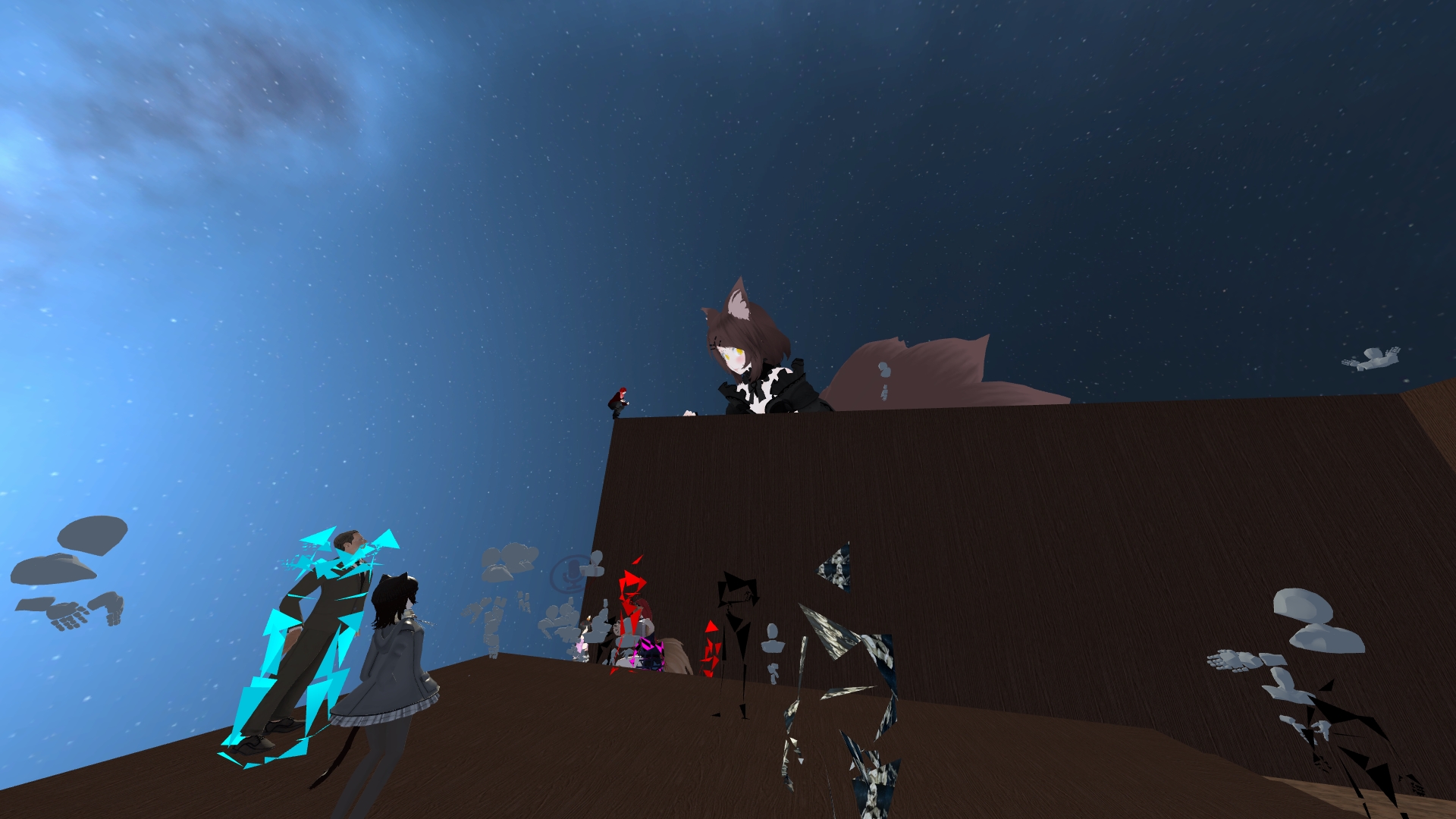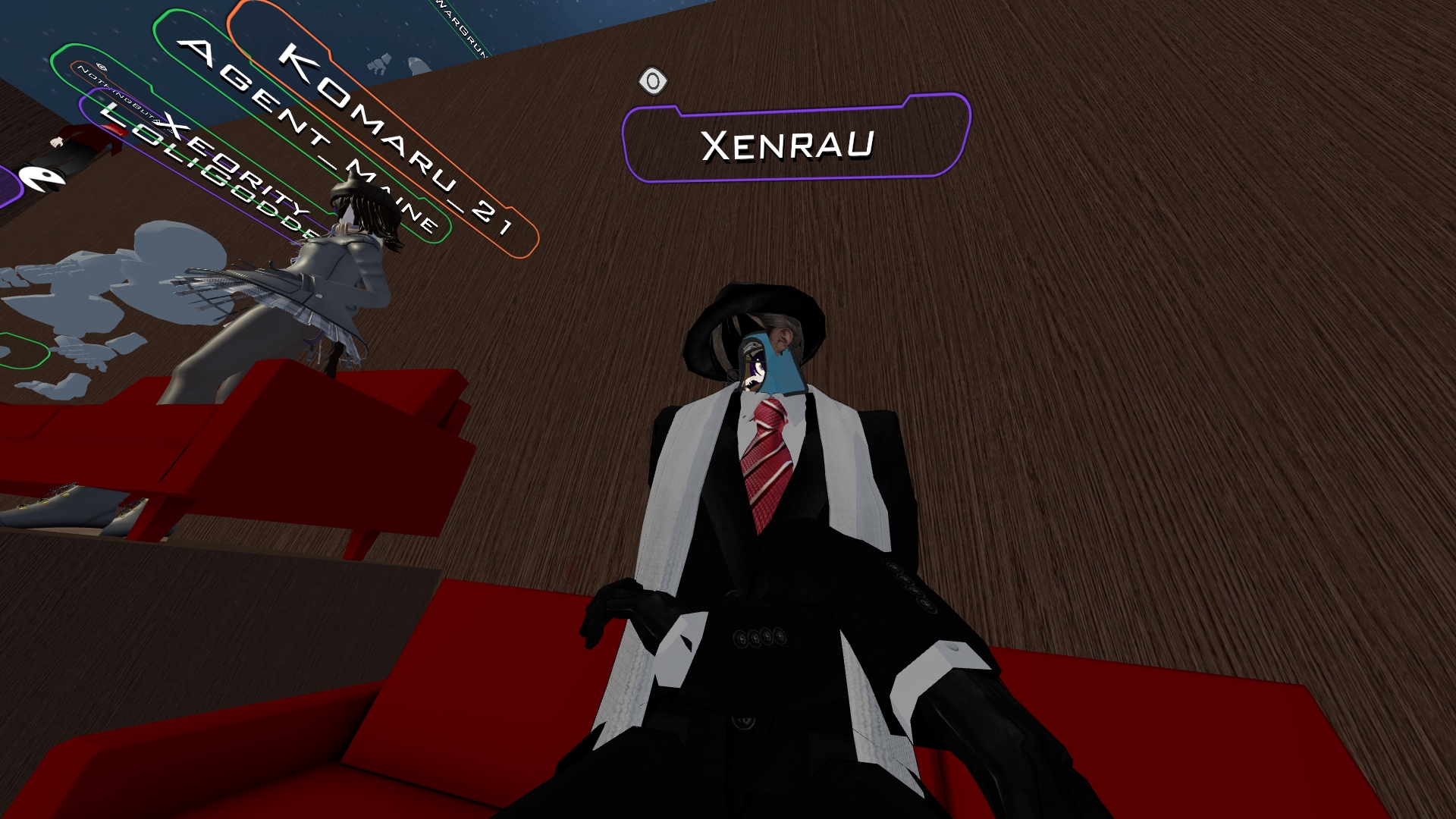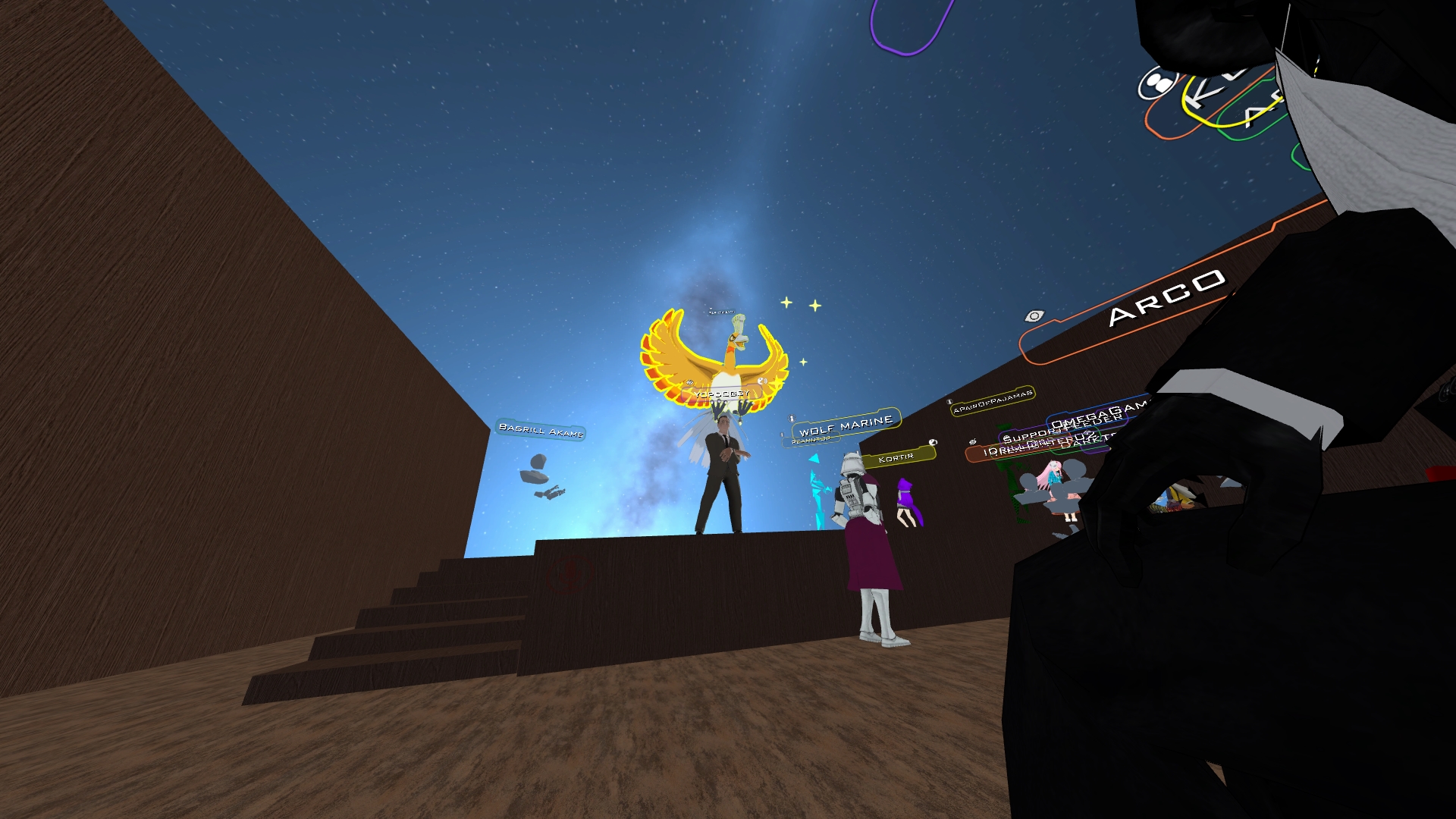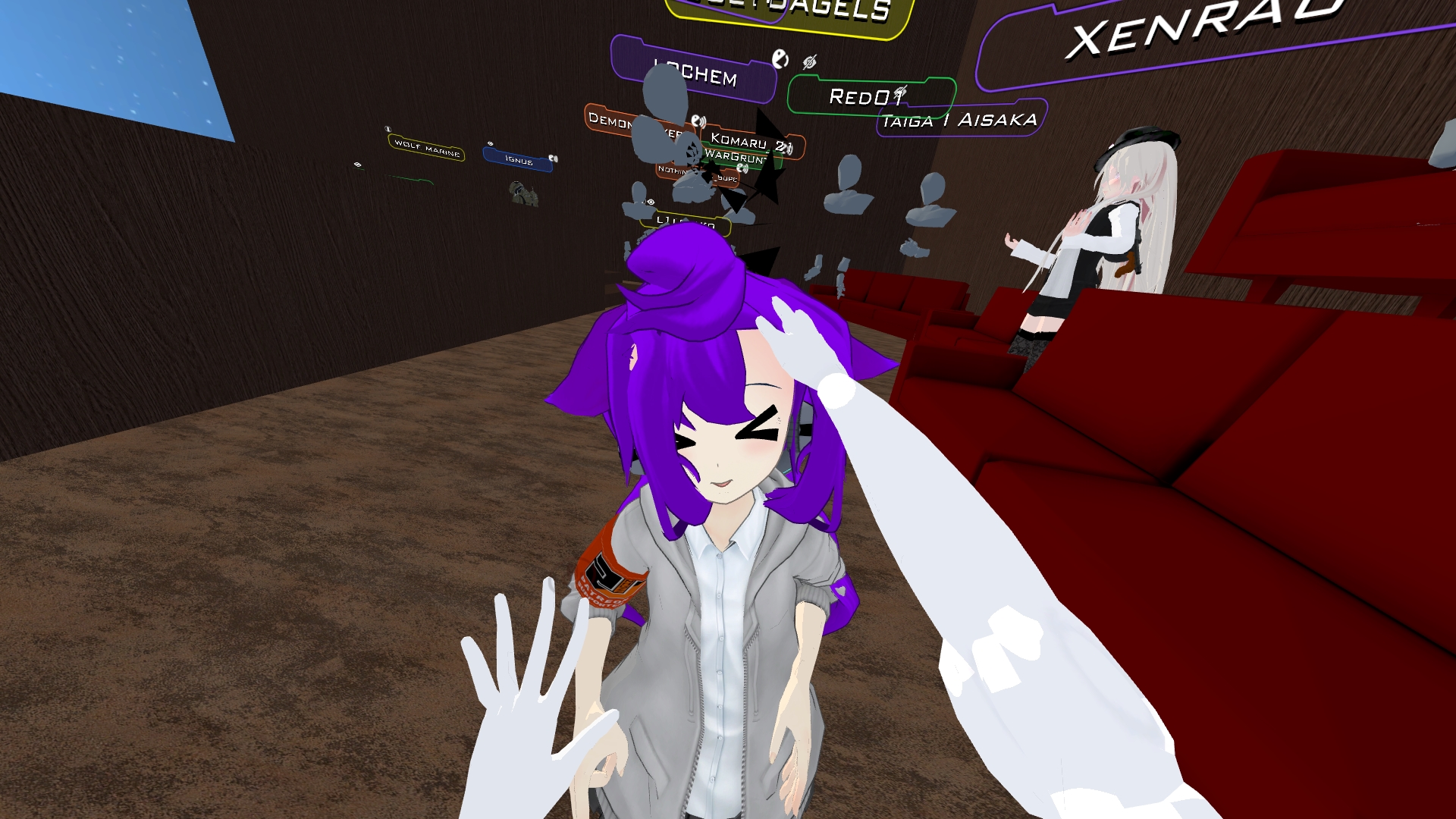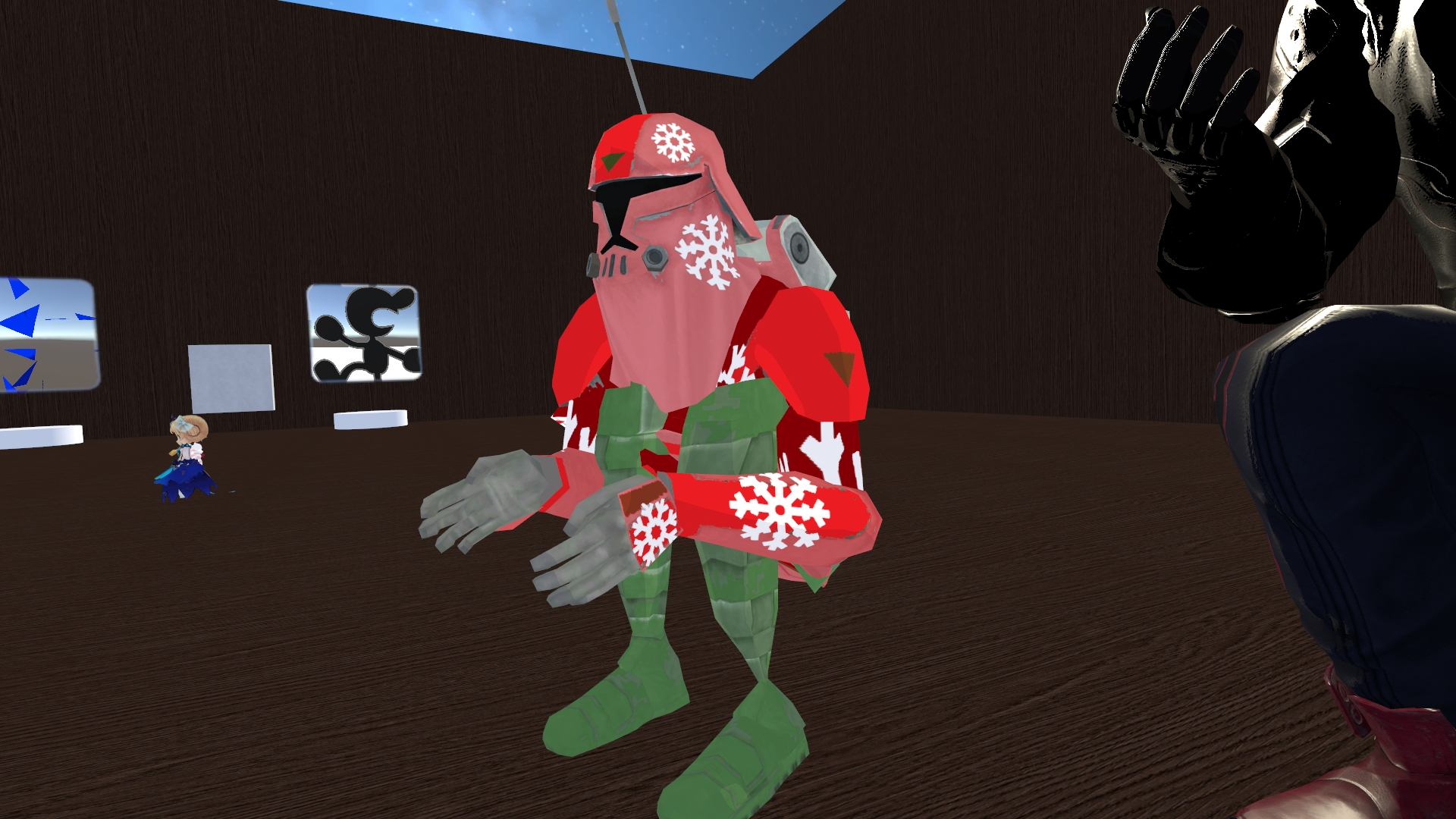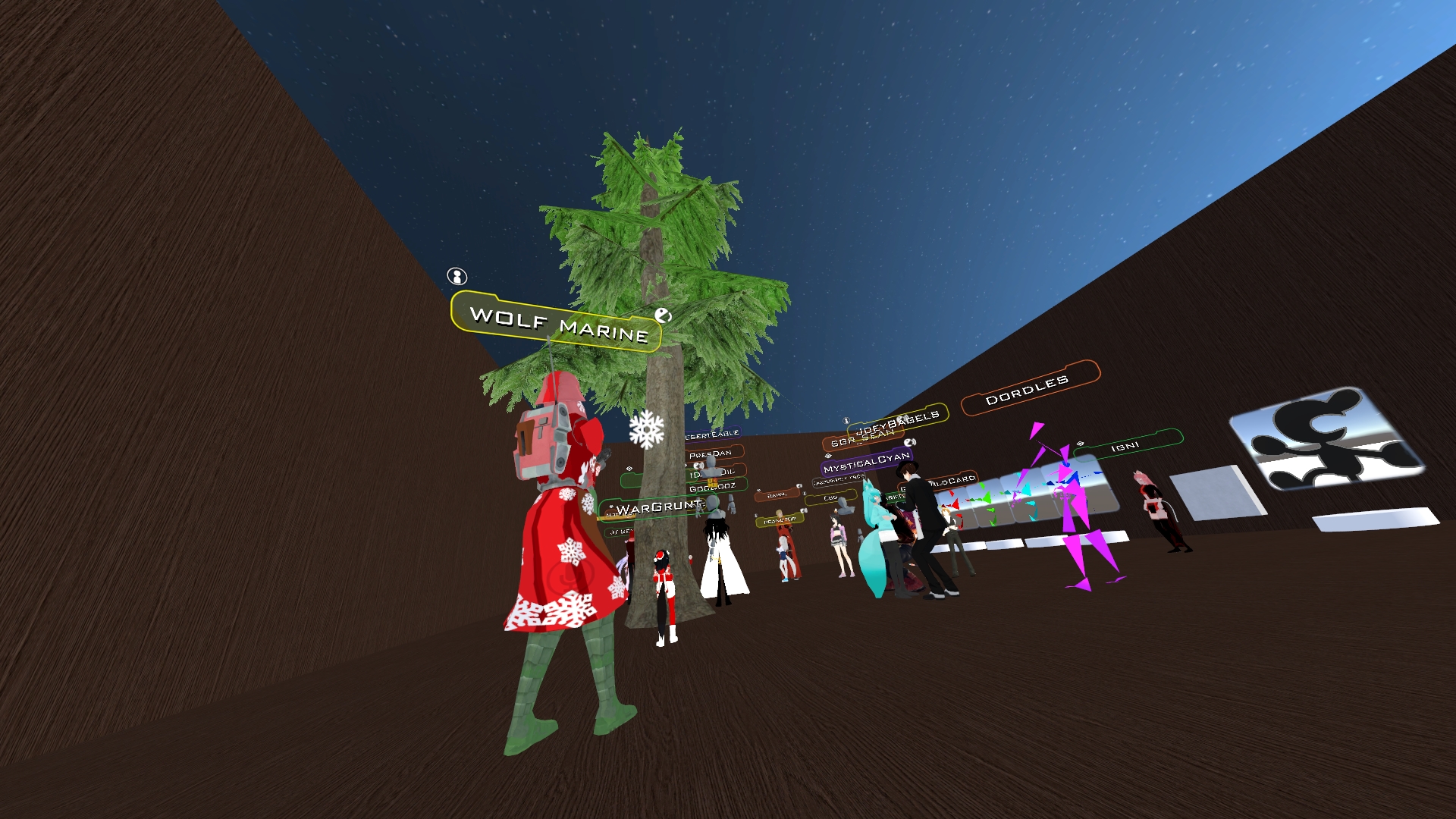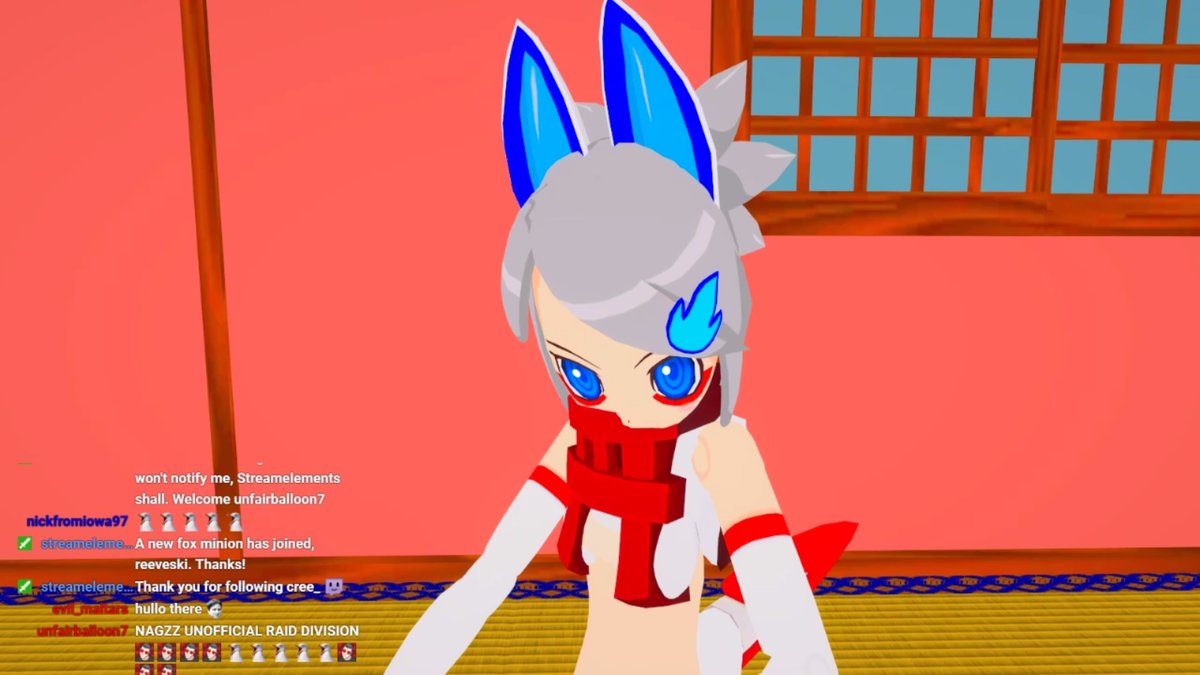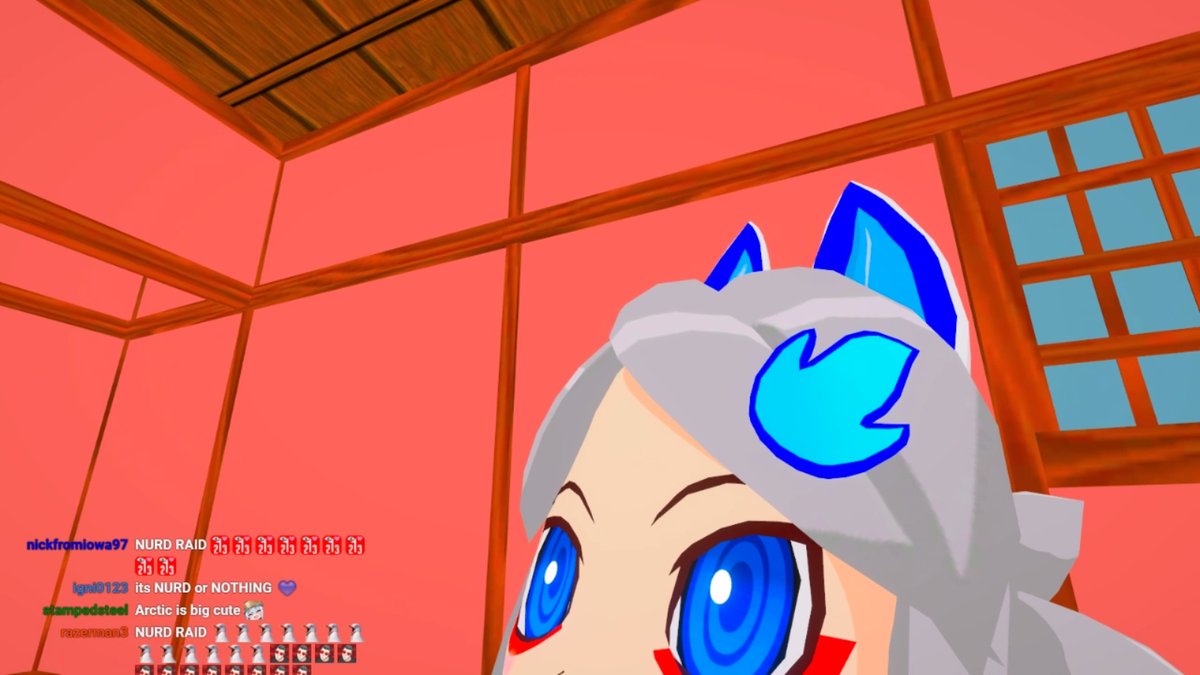 ---
A Very Special Moment:
During the Photoshoot meet-up I rushed from work to this photoshoot to be a part of it, barely making it in. I'm glad everything worked smoothly enough for me to boot up Oculus, boot up VRchat, jump in, and have my fun in VRchat. I was able to meet Flako, Nagzz, Blackbutterfly (indirectly), WOlfmarine, and others. I lagged painfully, yet was there. I'm at least happy I was able to talk to Nagzz21 leaving a precious memory behind. Thanks for the fond memory in this precious clip <3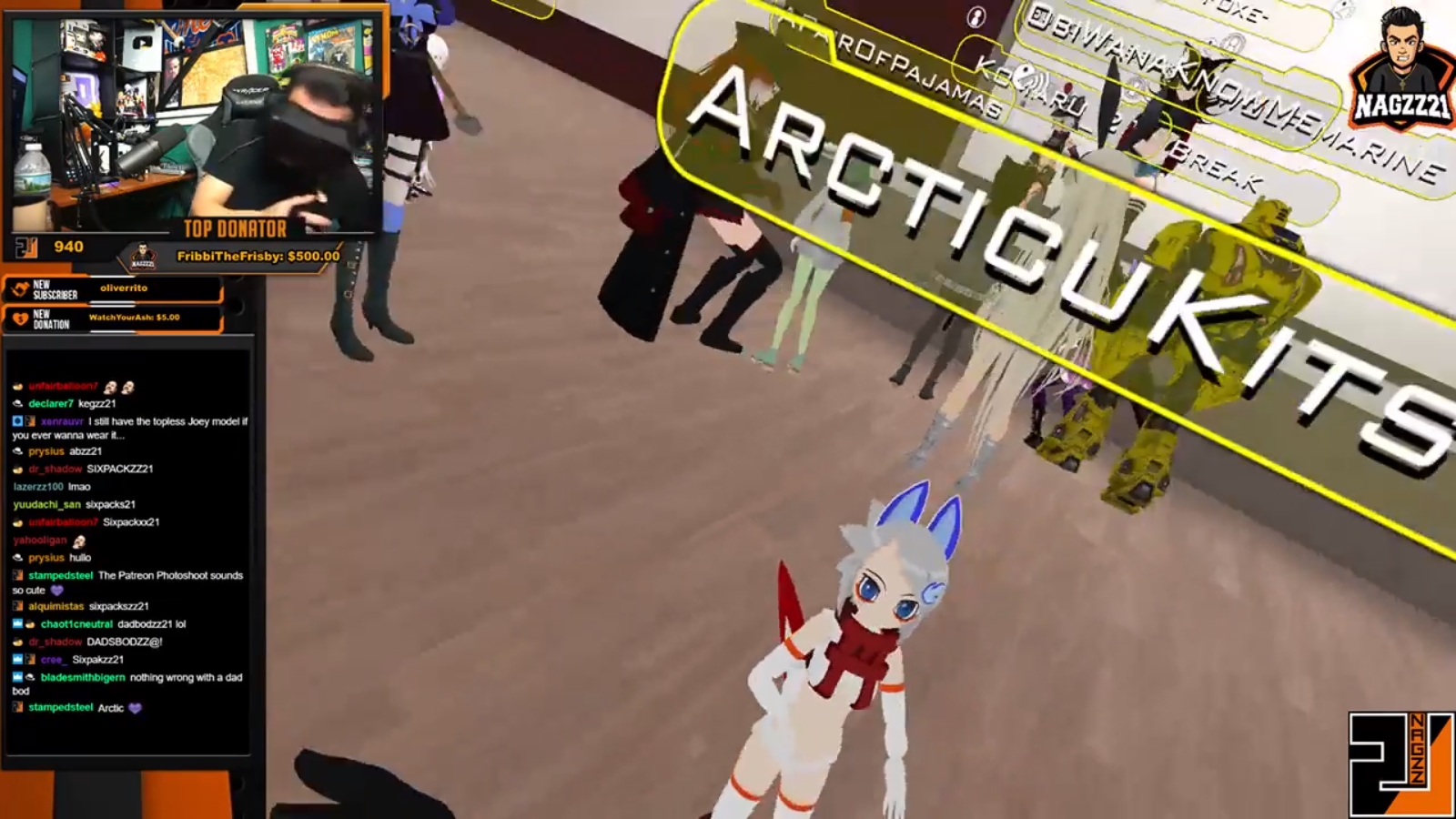 Nagzz21, I know I'm sounding sappy and over-praising you, but you really made me happy being in VRchat with your videos. I probably wouldn't have played VRchat, nor be in VR the way I am without you, Oathmeal, Zentreya, Summaril, and other content creators/regulars. Way too many to list. All those journeys we both went on, almost in parallel, with how worlds popped in and out of the world tabs. I've watched people's stream finding interesting people in awesome places. I also thank people for following me, supporting me in return <3
It's honestly a shame I'm constantly lagging in VRchat, but shall eventually thank you in person in VRchat when the "time is right". Thanks for being awesome, thanks for creating this community, and thanks for being "you".
---
Felt good creating a shockwave in VRchat! I honestly want to do it again in a positive tone <3
Start of a New Beginning:
All because I took that one week off, not only have I gained an awesome chance to meet up with cool people in the Nagzz21 meet-ups, also people just lurking in the public worlds. They're all cool, they're awesome. It was an interesting, semi-chaotic time, where people came and people went. I made a noticable impact in the VRchat community, and I love it. I want to do more; I want to make a Busou Shinki hub. I need more time so I can do what I need to do what I need to do in VRchat. What I have done though, I'm happy 🙂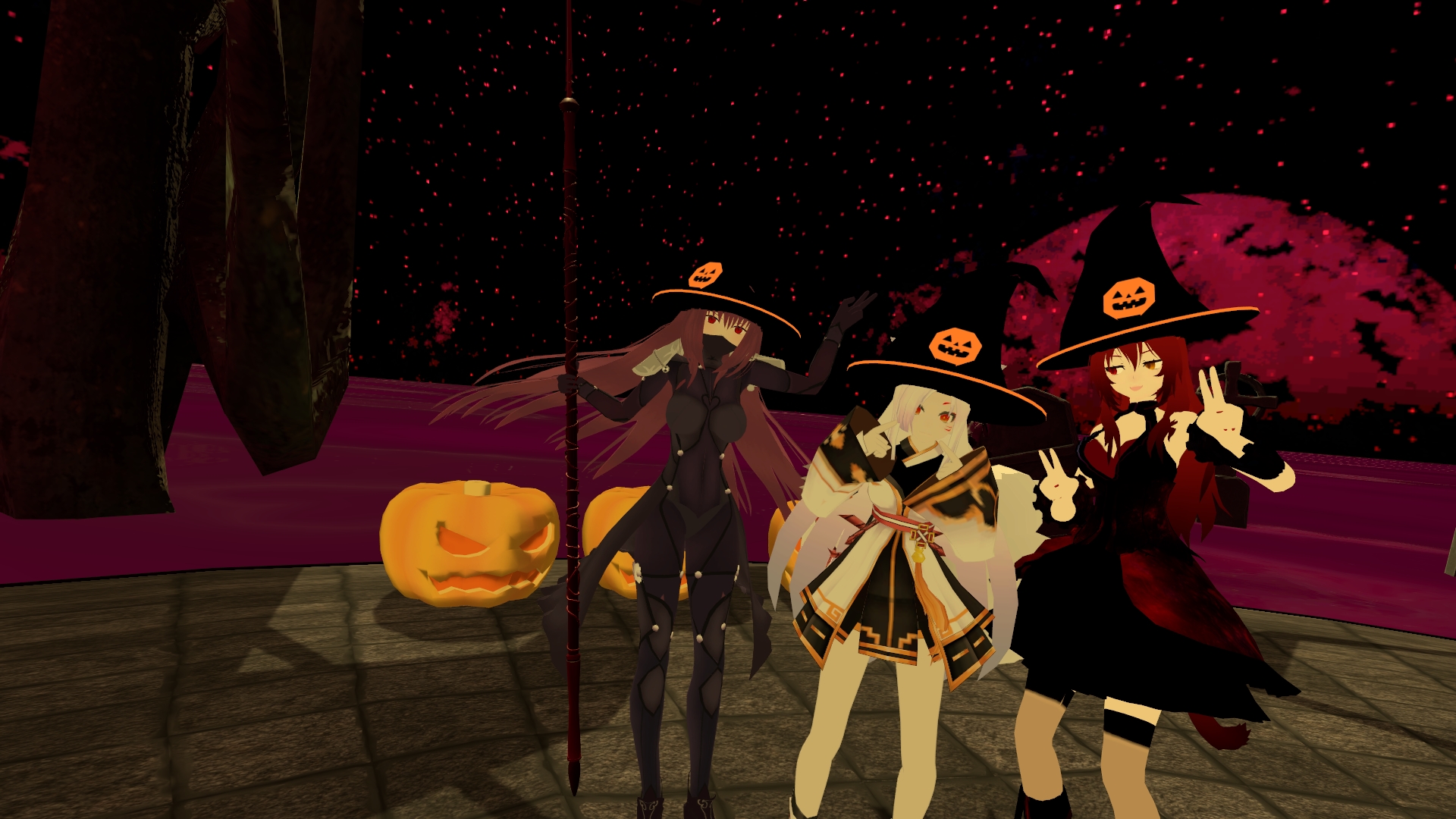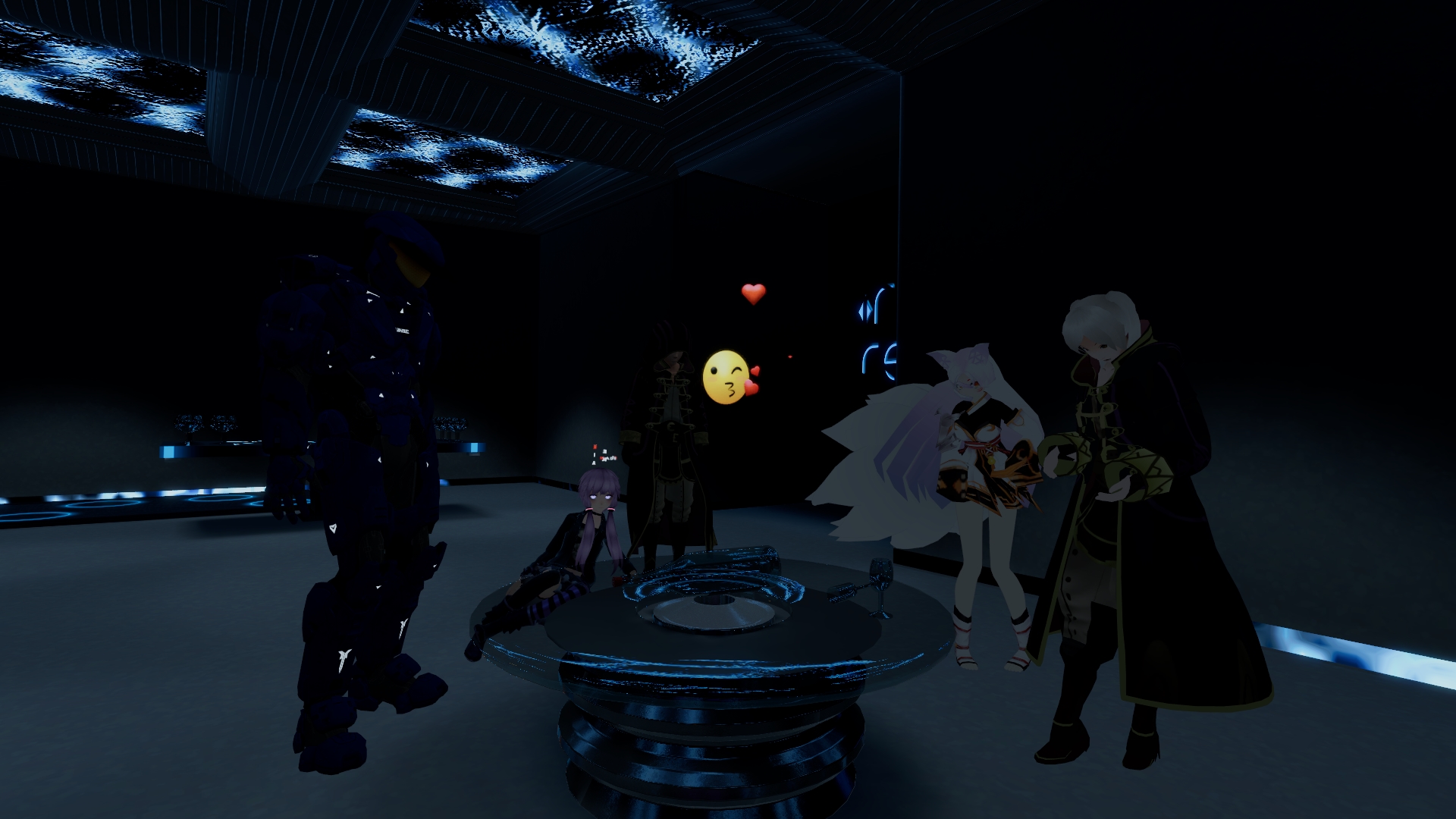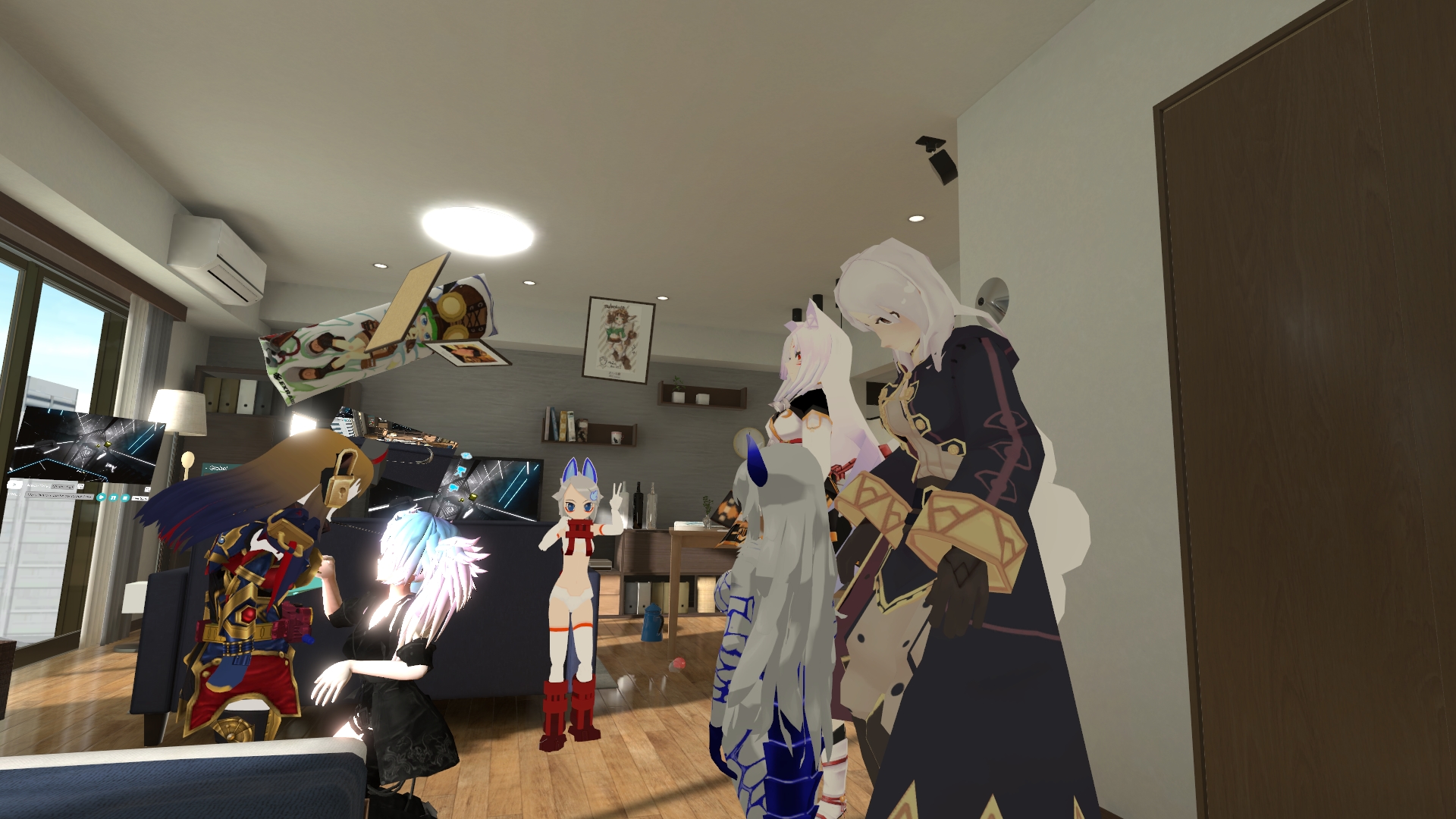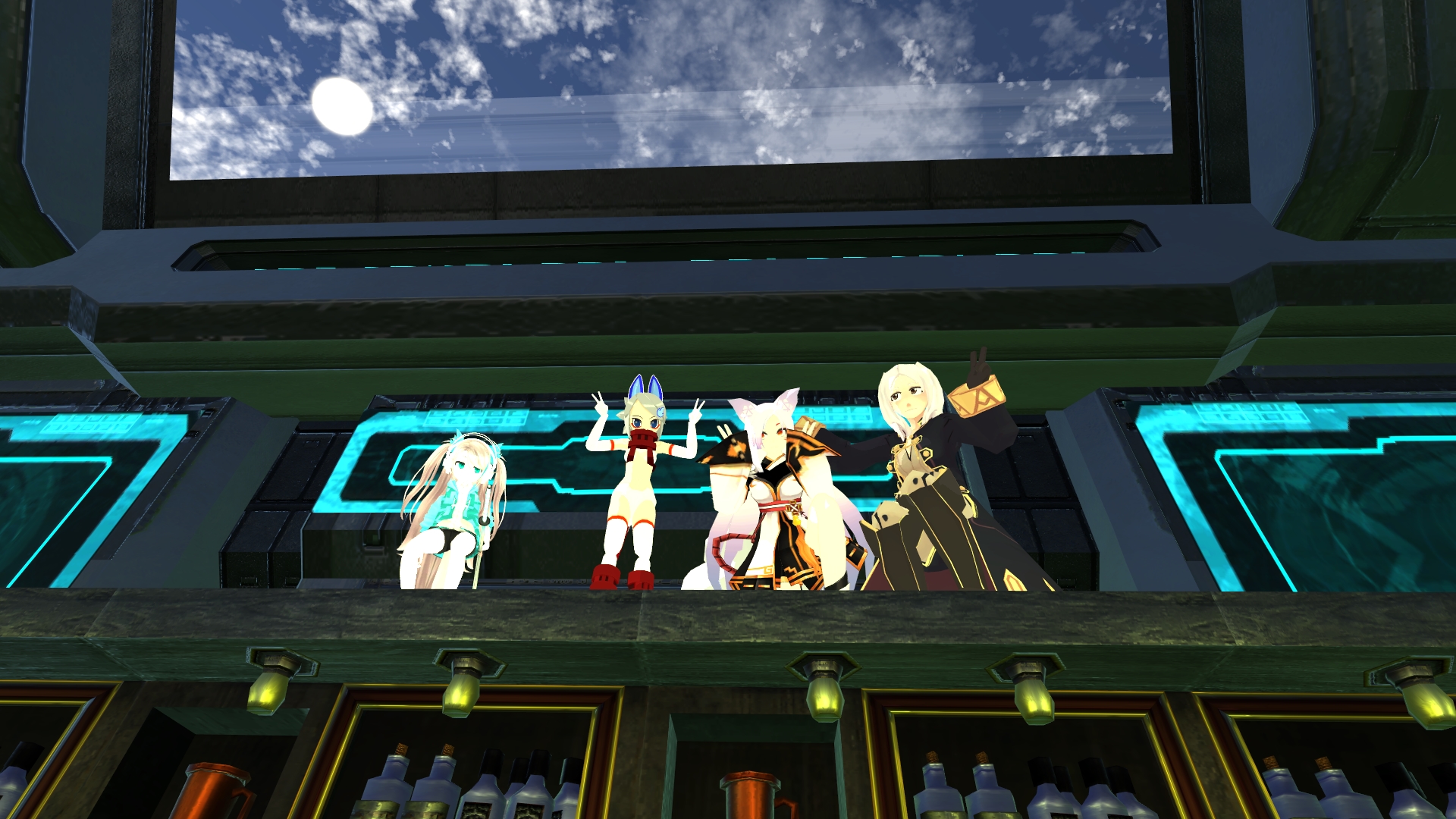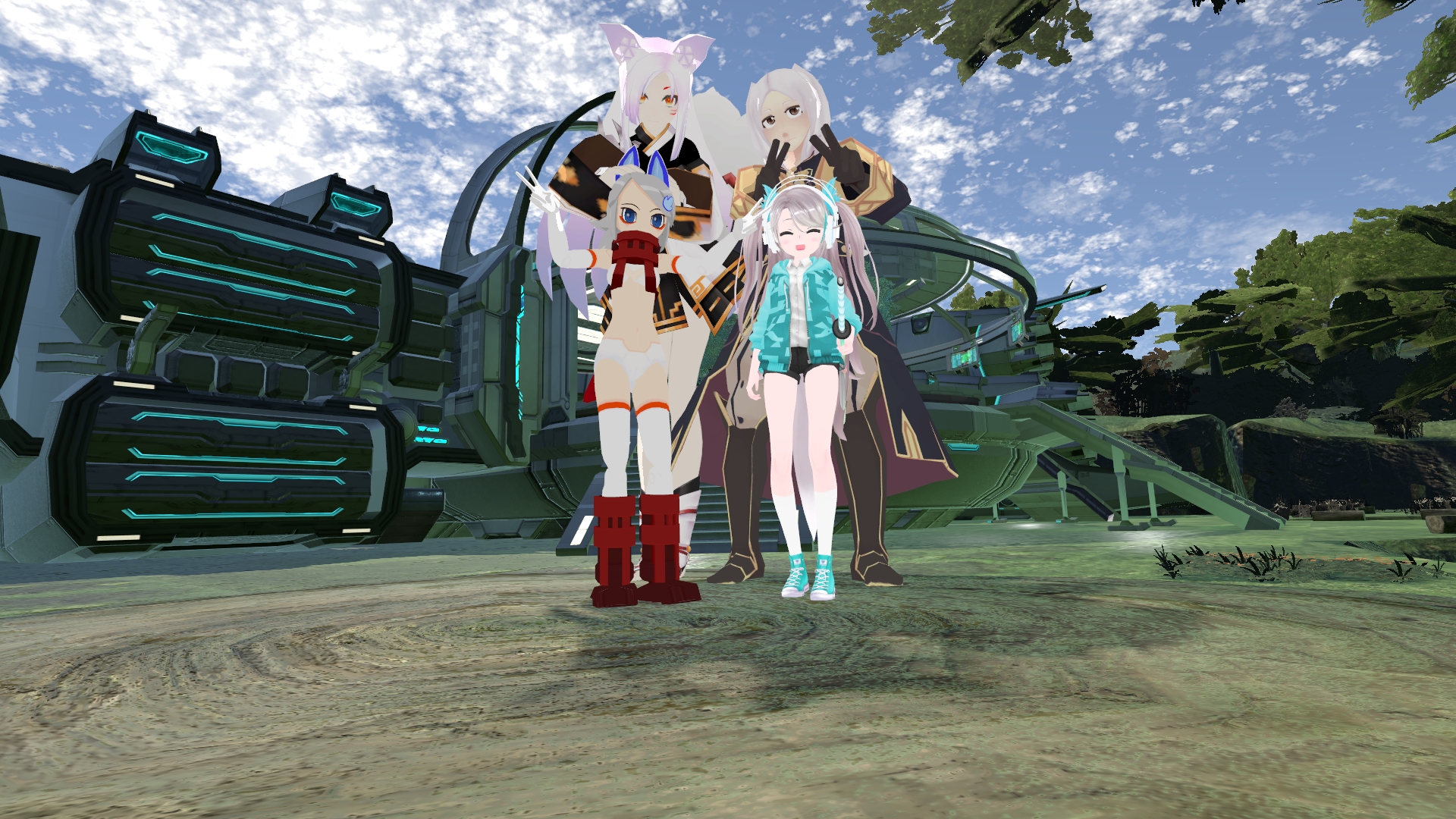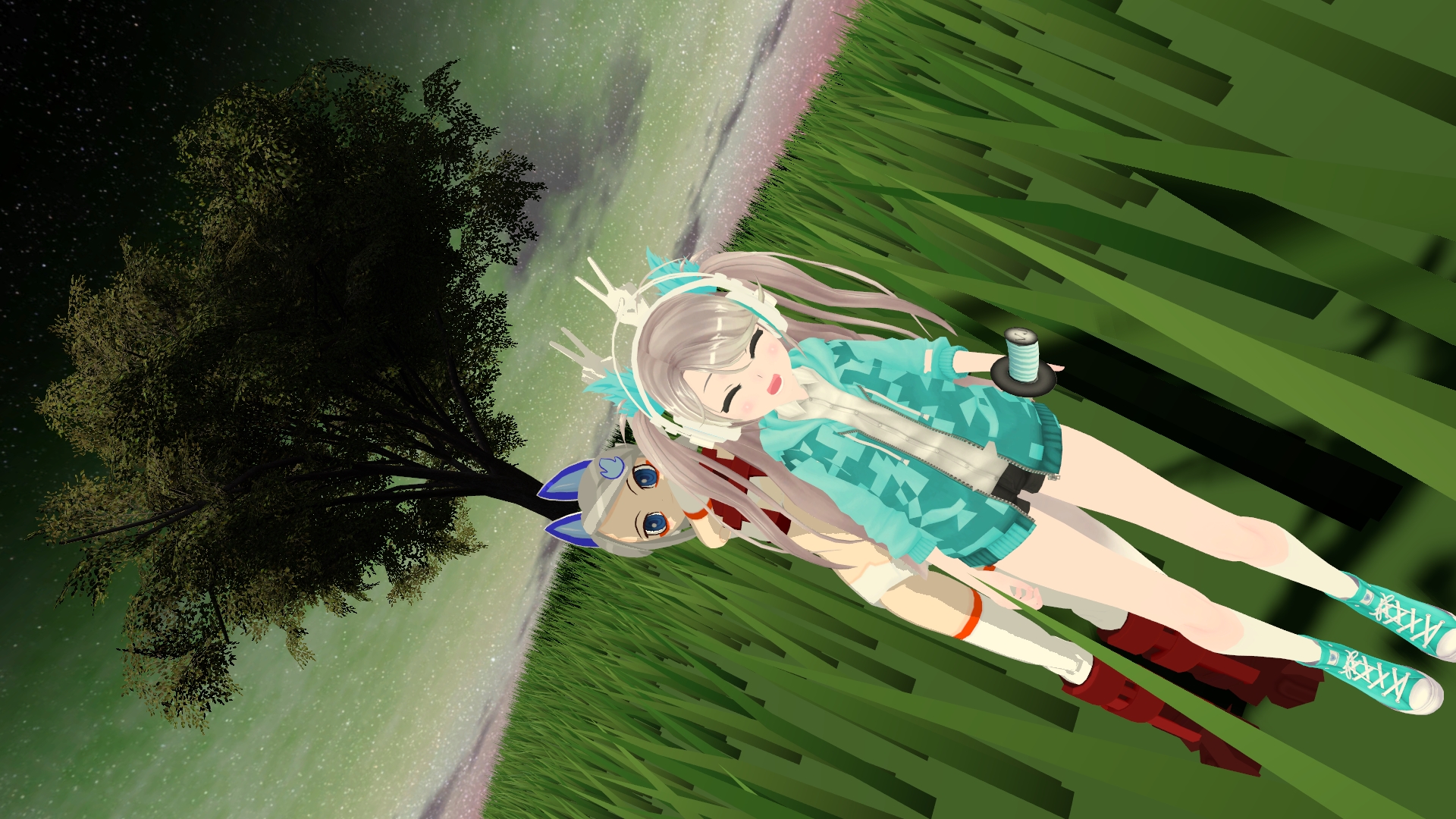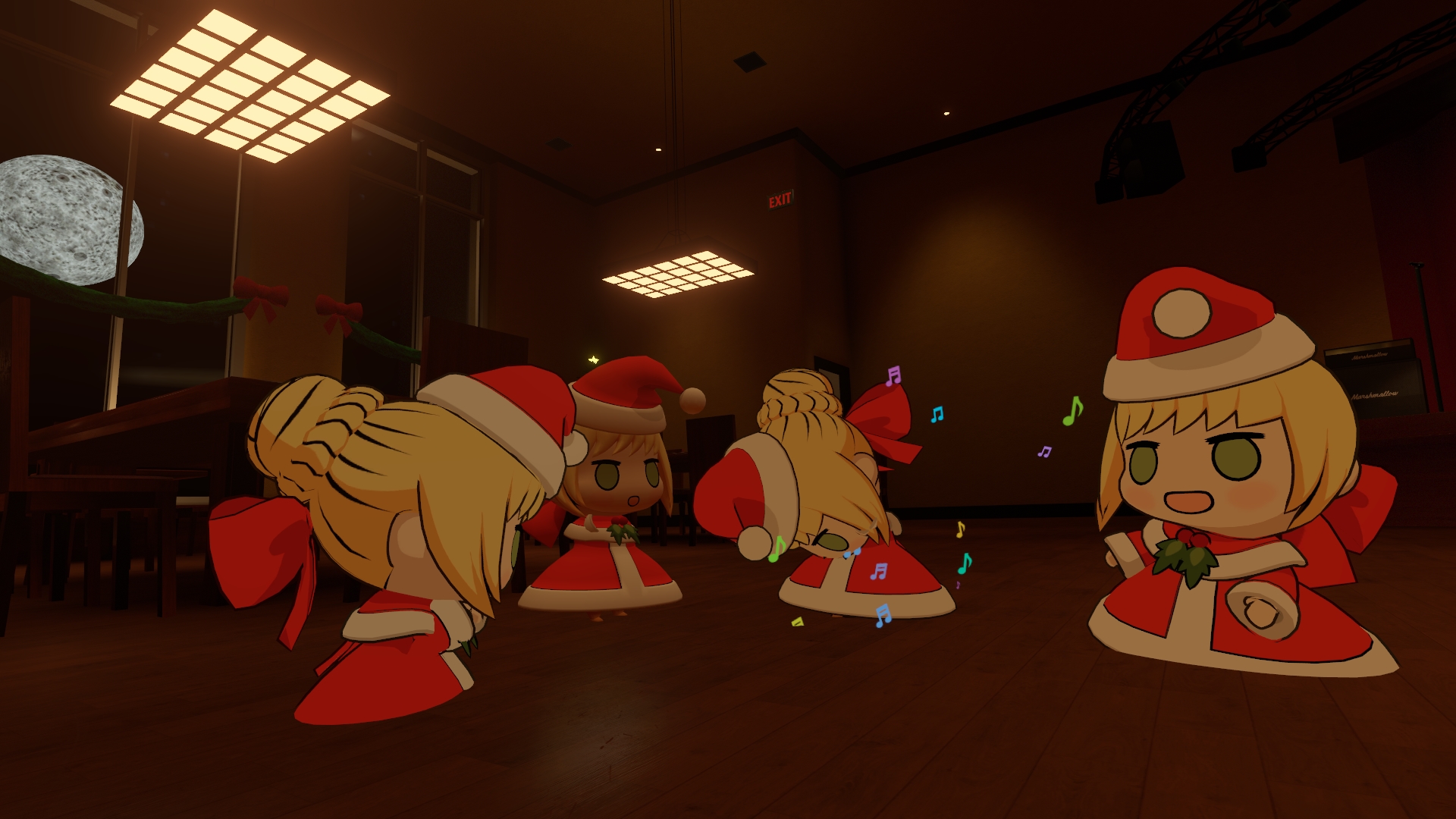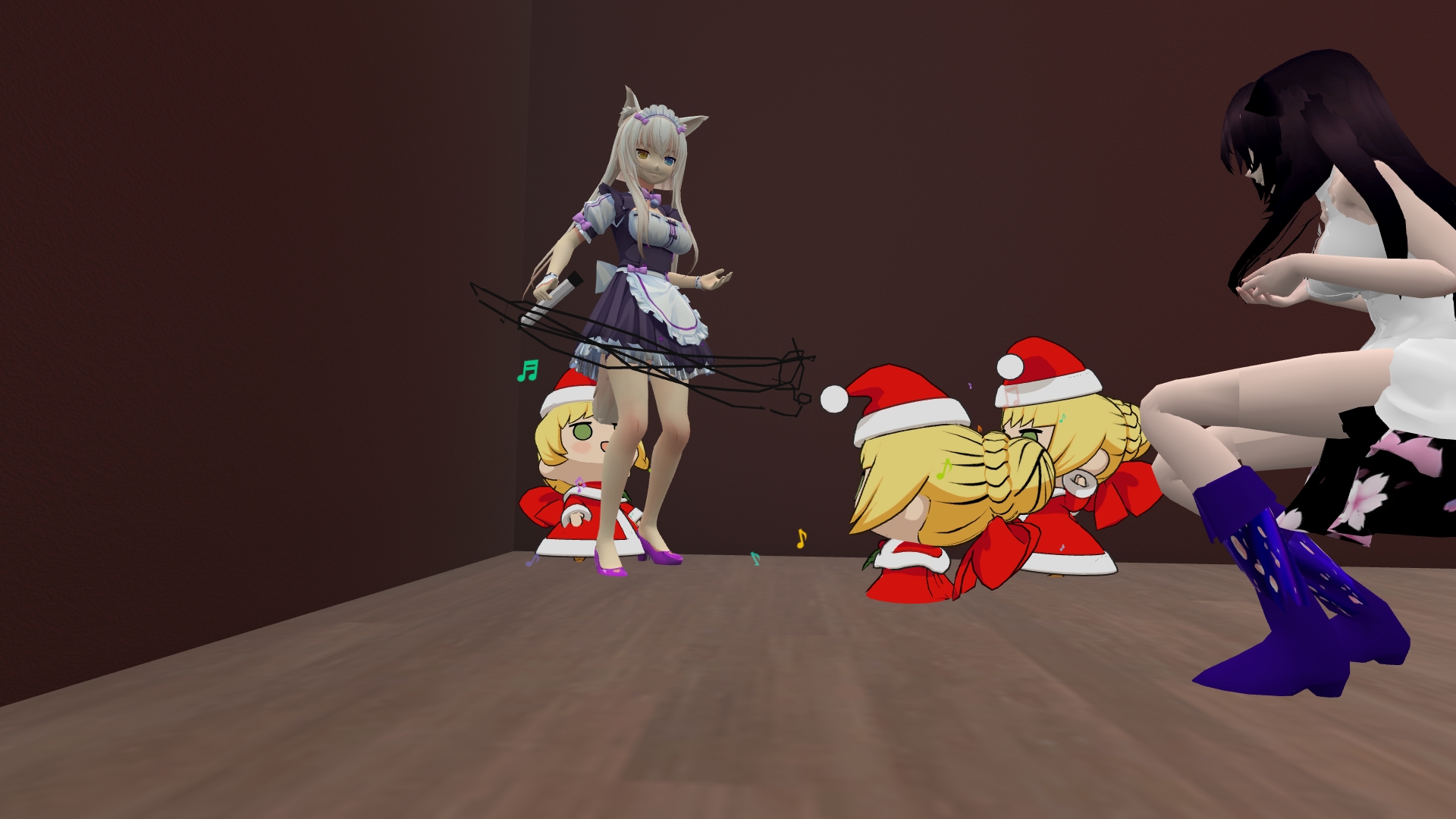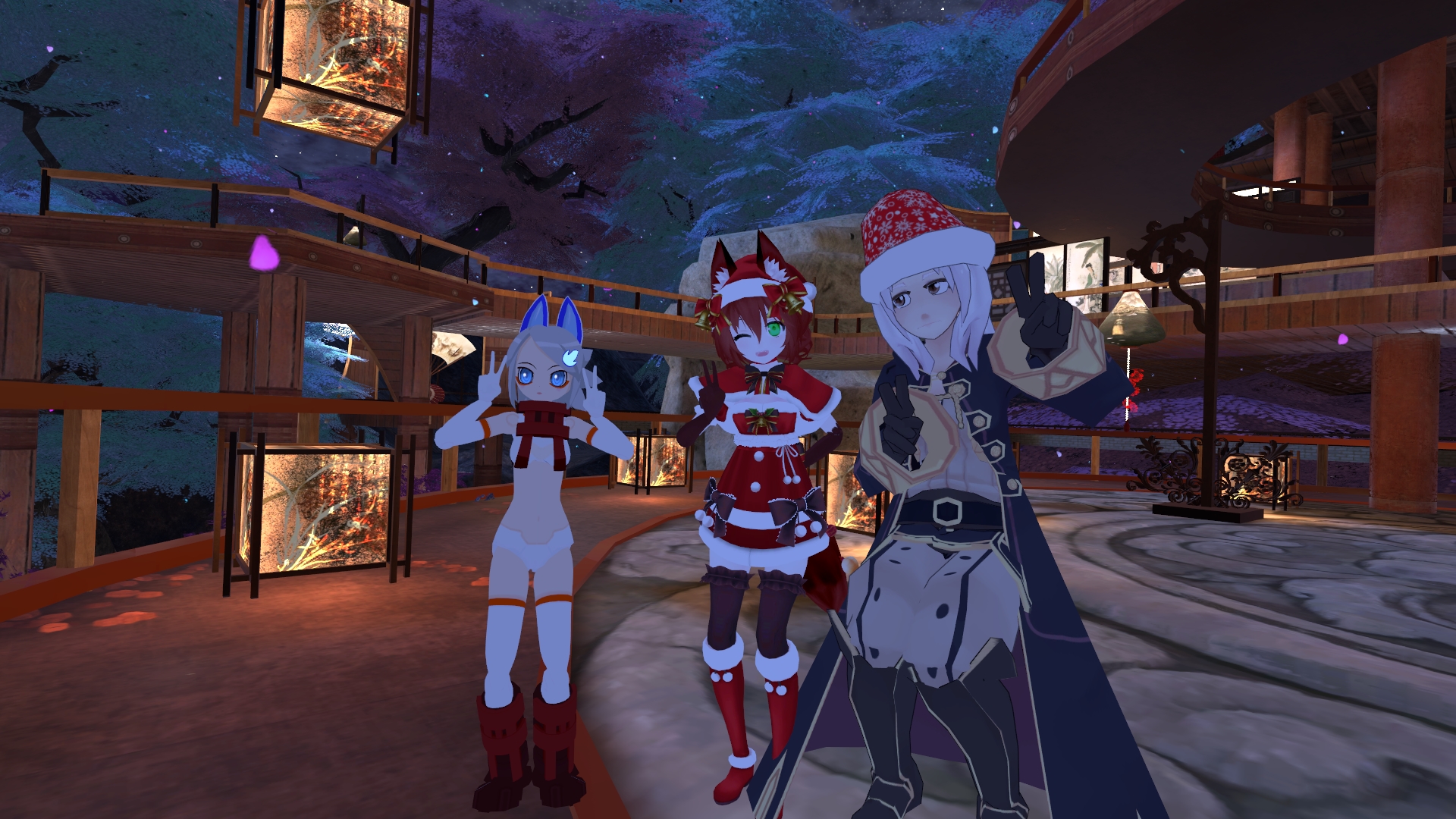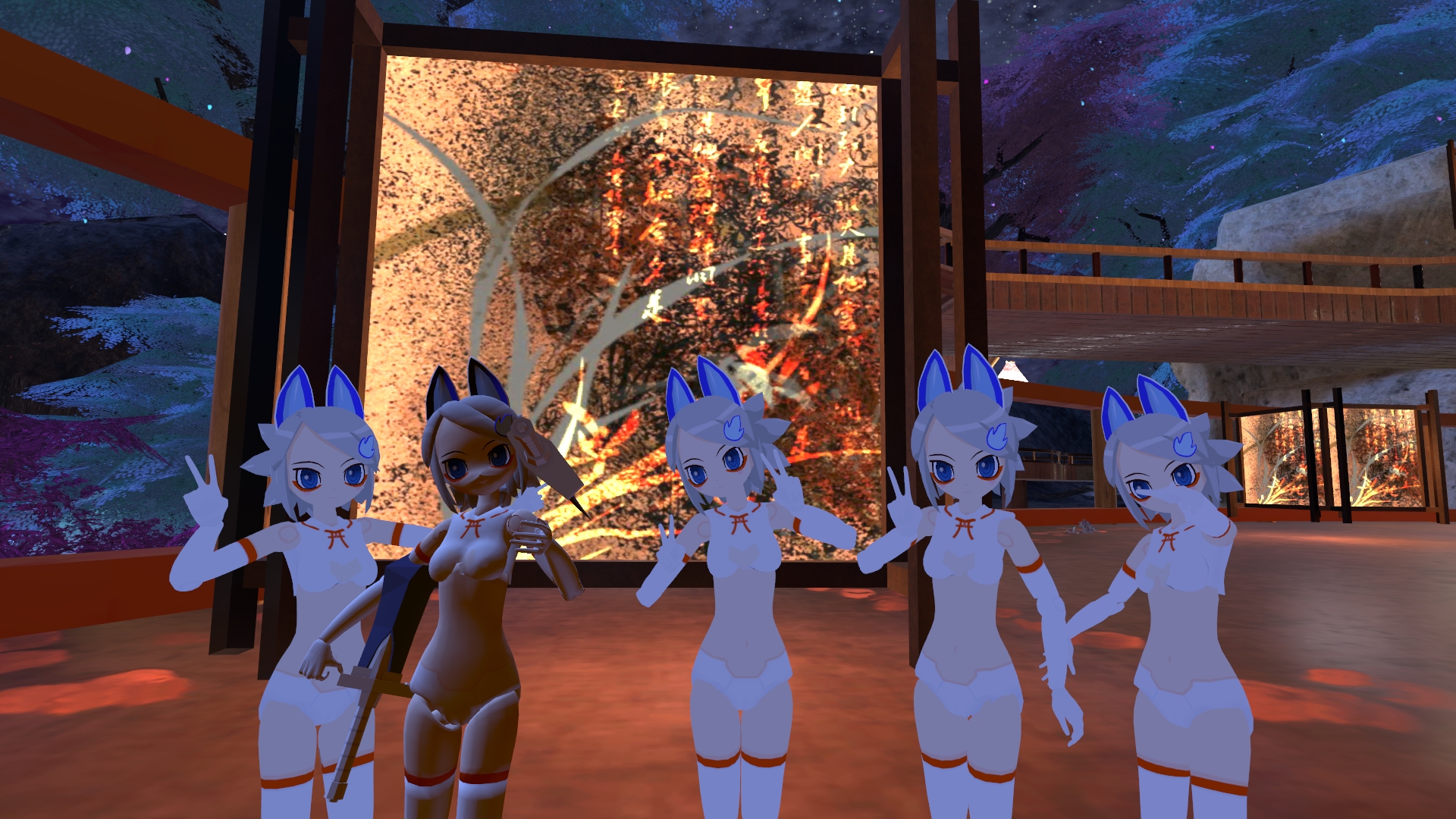 ---
I honestly thank you guys for following me, for supporting me, and welcoming me into VRchat. It most likely took a year to finally settle into VRchat, and I'm happy with the people I have met. I'm happy to be where I am, and I'm constantly itching to go back to VRchat. I may fumble with my words, yet will constantly express my gratitude and thankfulness to people to the point of obnoxiousness. I am THAT thankful to be a part of the VRchat community, even if it may sometimes appear to be a diamond in the rough. I'm happy with what worlds people create, the memories which come flooding back when playing certain styles of chill music, the people I've met, hung out with, and recalling things in parallel as they happened on both Youtube & Twitch. It's awesome having started various chain reactions in the Twitch stream, as well as 'Sugar Cat' in Summaril's Twitch stream because of how hyper Zexion is. If I didn't start it, I at least instigated it, and I'm proud heh.
To those that have accepted me, I thank you kindly! To those who have pushed me away in VRchat, a shame, but I guess that is what it is. I however hope we can have fun in VRchat whenever we do meet up in VRchat again. I'm always free and welcoming to those who want to enjoy VRchat for what it is, not what it shouldn't be. If you want to hang, just let me know, we'll figure something out. I'm always up for hanging with people, just don't be shy. 🙂
If I do sound negative then I do apologies. Sometimes I'm a little TOO transparent trying to let things out in the wrong channel. I struggle to force stress and such into their appropriate channels while also forced to keep it bottled within my body like a bad poison. Similar to a steam engine people eventually explode like a ticking time bomb, I'm sorry. I really am sorry! I'm sorry! VR growing pains, bad wording, and such. So, again, when people support me it honestly means so much to me. I thank you kindly and highly for supporting me! Thanks for friending, me, following me, and etc! It honestly means a lot <3
Nagzz21 always says he doesn't deserve any respect for VRchat. You do! Without you we wouldn't be here doing what we do. Be honest with yourself, be happy with what you do, and we'll do the same. We'll be honest, we'll play, and we'll have fun in VRchat hanging out with people while enjoying VRchat for what it is. "Stay fresh!" :P. I also guess this could have been viewed as a community letter, yet felt too long winded & image heavy to be a part of that, thus it being its own article as I realized too late I could have done a letter for Nagzz21 to read. 
Lastly, could we consider VRchat to be an "isekai"? Traveling to a different realm to do what you can't do in the real world similar to all those fun anime in the "isekai" genre of anime. A stretch maybe, yet awesome heh. By March 2019 hoping to upgrade my computer so I can play VR games properly by upgrading CPU, motherboard, and such; To allow me to stream VR games & to hang with the core players in the meet-ups. Hopefully.
---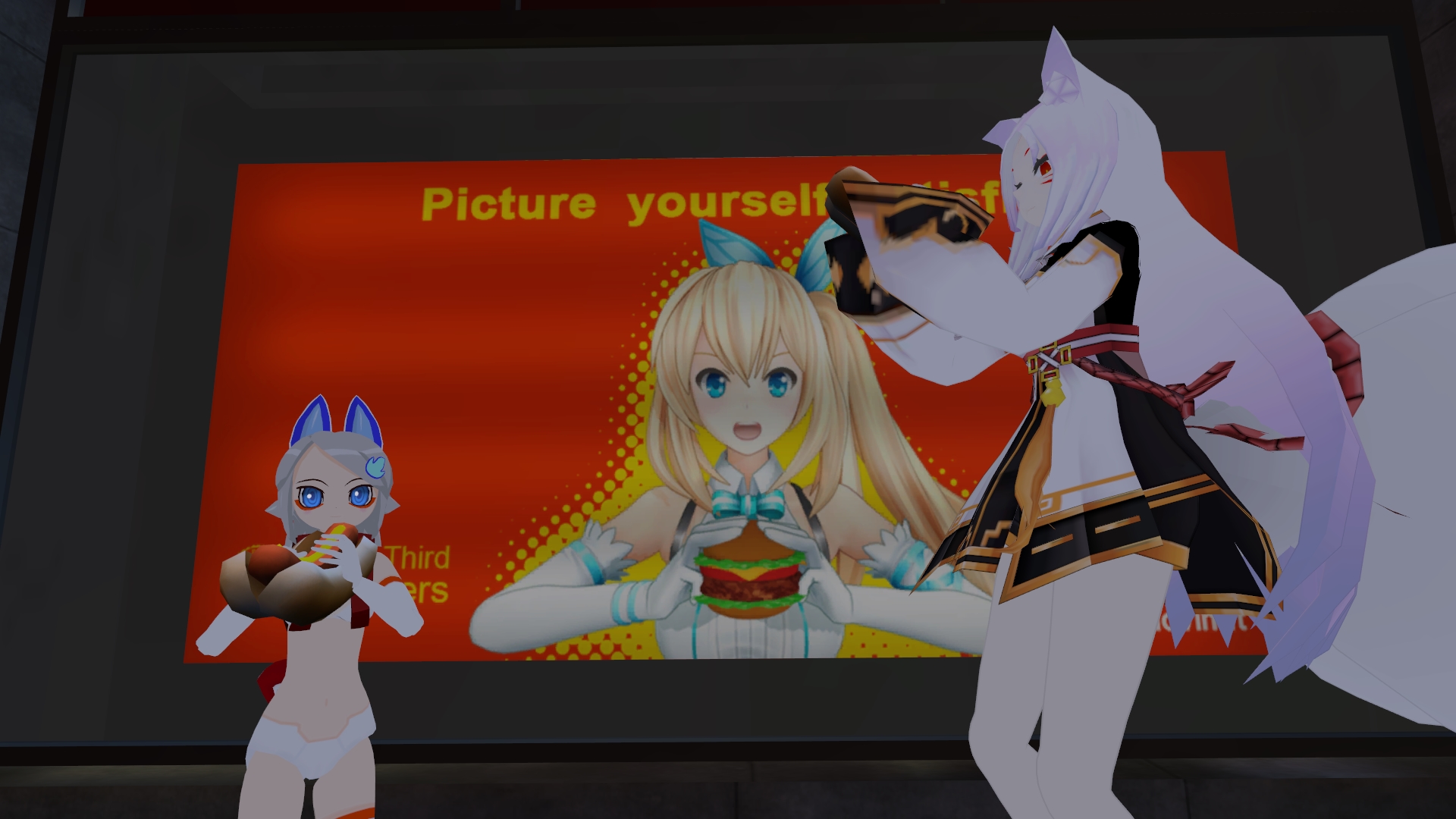 Thank you guys! Thank you Nagzz21! Thank you VRchat community! Hawk & Hunt! Kobi! #MaiyaMoth!, Isha & Delta! StampedSteel, and the others! List goes on, and on! Thanks! 🙂 VRchat is more than a game! It's awesome! <3