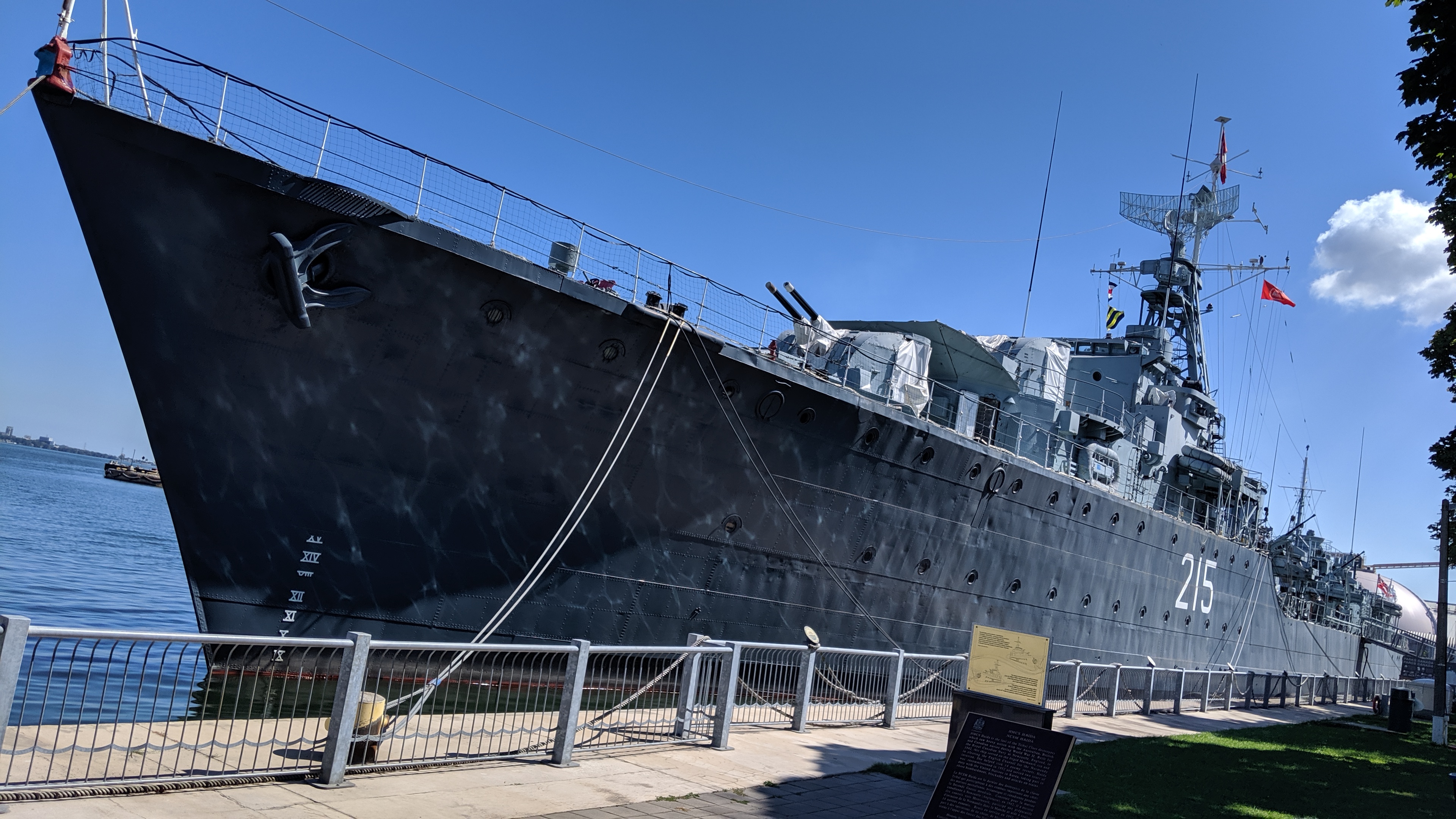 (Note: Posting contains 257 Images; View when able.)
---
After a few years of plotting and planning I finally managed to visit the beautiful HMCS Haida. I'm proud of having done so, I'm happy, I'm highly satisfied, and am highly impressed as to how HMCS Haida commands respect. She even commands respect as a museum vessel. HMCS Haida is an Canadian Tribal-Class Destroyer serving the RCN from WW2 up until the Korean war, and into the 1960's. It was then fought for (by those who served on her) to be a museum ship to be stationed at Toronto, then Hamilton after that. I'm honestly happy she's been saved for museum purposes to spread awareness and to have a lovely vessel to be proud of.
Why did I even visit HMCS Haida? It's with special thanks from a Japanese WW2 web game called 'Kantai Collection' (before it turned rage-inducing) for sparking interest in some Canadian pride after being curious in seeing what Canadians had during WW2. Anime has been known to be free, thus why I praise anime so much seeking out Canadian things for it in certain series. Basically war time anime exploring elements to things, thus how I was made aware Canadians even had a museum ship in Canada with HMCS Haida and HMCS Sackville; The latter being harder to get to for me. I wanted to know more about them so I could connect with them in games, and etc. I however had a "falling out" with the game 'KanColle' because of how unforgiving and abusive the gameplay is (games are meant for fun). With that, I'm now pushing for Canadians Azur Lane side because it is genuinely more fun and entertaining on that front. Without KanColle though, I would have been majorly ignorant of Canada's contribution during WW2, let alone their naval fleet and Haida. Schools don't really teach you these either, thus games are being the ones to bring awareness to where everything else lacks. I'm still thankful for being made aware of HMCS Haida, thus I'm paying my respects to this beautiful woman of a ship through this blog posting, and any way I can. Ships are viewed as feminine so I'm quite fine with praising beautiful ships.
Canada's navy basically consisted of mainly destroyers, Corvettes, 3 Merchant-Cruisers, and 2 light cruisers, among many other mischievous vessels. HMCS Uganda (Later HMCS Quebec) and HMCS Ontario were our largest vessels right at war's end of 1945. Aircraft carriers came far too late to enter service for WW2, though we co-served on HMS Nabob & HMS Puncher. Not fully Canadian though.
---
Related Links & Resources:
Azur Lane Hype & Addiction:
https://arcticukitsu.com/Blog/?p=5453
– Comparing KanColle & Azur Lane:
https://arcticukitsu.com/Blog/?p=5176
– HMCS Haida:
https://www.pc.gc.ca/en/lhn-nhs/on/haida
– Kantai Collection:
https://en.wikipedia.org/wiki/Kantai_Collection
– Canada's WW2 RCN Naval Fleet:
https://en.wikipedia.org/wiki/List_of_Royal_Canadian_Navy_ships_of_the_Second_World_War
---
-Exploring HMCS Haida:
Just seeing HMCS at a glance was a sight to behold. Just seeing the size (even for a destroyer) was highly impressive. Plus, you would be hard-pressed to even find a vessel from WW2 anymore, thus her beauty and worth grows even further from that. You could basically see others and myself taking selfies, taking pictures of what we're able, and to just record everything while I can. While I'm down here (in Hamilton, Ontario) to see her I had to take as many images as possible, thus I had by trying to record 'EVERYTHING' which caught my eye. For a long trip there I spent a good 3 hours gradually making my way through the vessel finding out just how gorgeous she is. Who knows if and when I'll be able to visit her again.
I honestly wish someone would provide hefty amount of funds to continue to upkeep HMCS Haida properly because she honestly commands respect. She needs to be shown the same amount of respect back without being treated as a side-object. HMCS Haida needs to be remembered, not forgotten, nor treated as a forgettable entity. You'll see what I mean once I start showing off the bridge area and the Captain's room.
---
HMCS Haida – Parks Canada Video:
---
Sailors and naval crew view their vessels as 'she' (Bismarck as a 'he), thus why Japanese & Chinese games called 'Kantai Collection' & 'Azur Lane' view these vessels as human woman (personifications) for that fan-service type tug. It ended up being an interesting selling point for the Asian market, and now the western market. Having toured HMCS Haida I view her to be a stoic and strong girl, especially with what I had to go through in touring her. Many rough edges (uneven footing, tripping hazards & etc), yet gorgeous for the view. Haida is no pushover; She commands respect. It's no wonder HMCS Haida is called "The Fightingest", and it's true. I say this because only fairly fit individuals may explore and traverse the majority of what the vessel has to offer while also being rewarded by the various sites offered on her. Many tight areas, low spots, obstacles at foot level, among other hazards. A combat ship, basically. It's no pleasure cruise (obviously), and that's a given. Proceed with caution. Treat HMCS Haida with respect and she'll do the same.
Games can be used as a learning tool, if done correctly, and not in a 'cookie cutter' manner. If schools won't teach people, games shall; Kantai Collection & Azur Lane shall teach those interested about history itself. It's why I keep weaving Azur Lane & KanColle into my posting for being a heavy influence on me for inspiring me for even visiting HMCS Haida in the first place. I also wanted to connect with my Canadian identity while seeking them for various World War 2 games hoping to eventually "command" them to connect them with my Canadian identity. Too much to ask, yet something I'll still desire while also admiring the beauty that is HMCS Haida. 🙂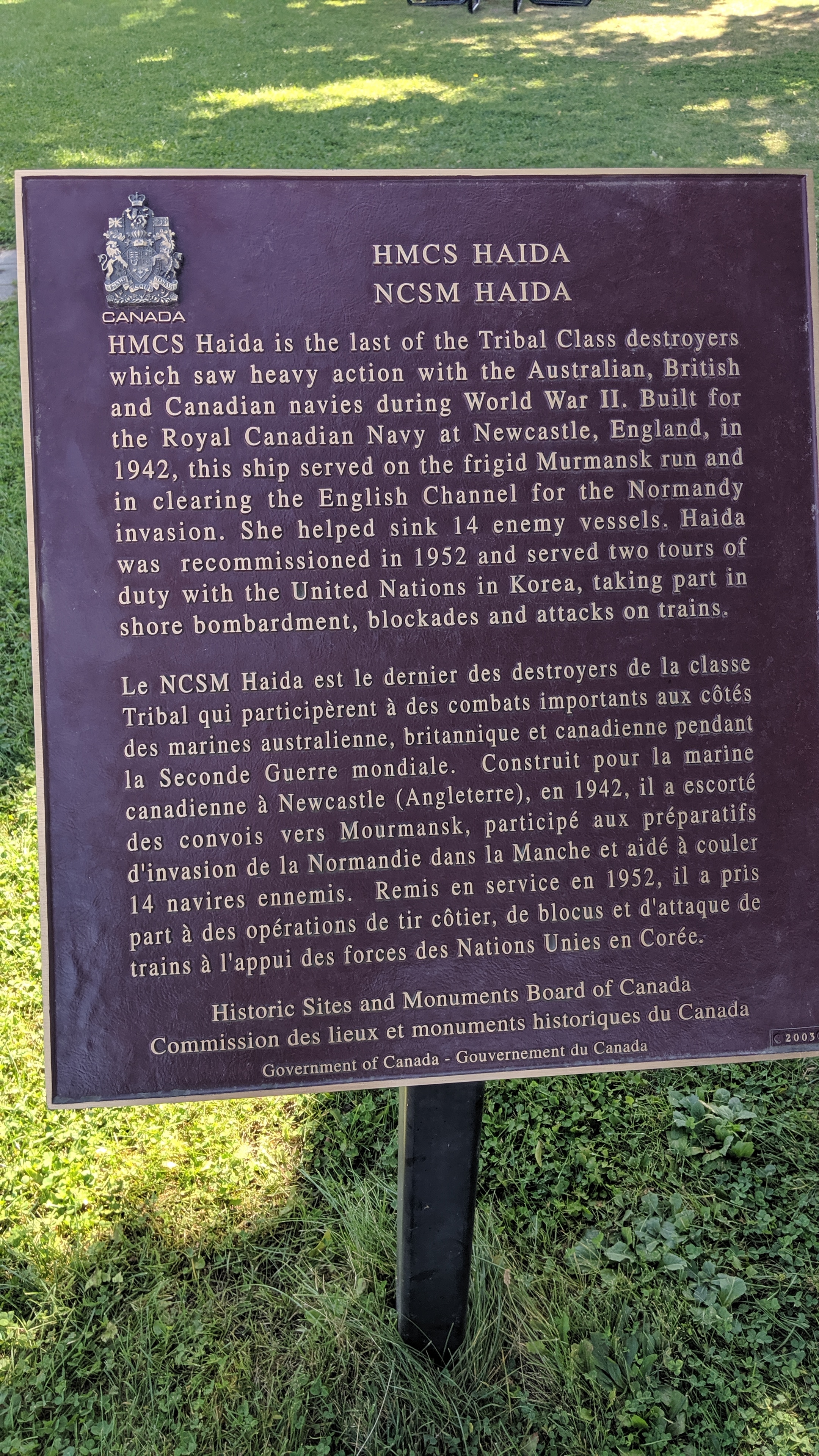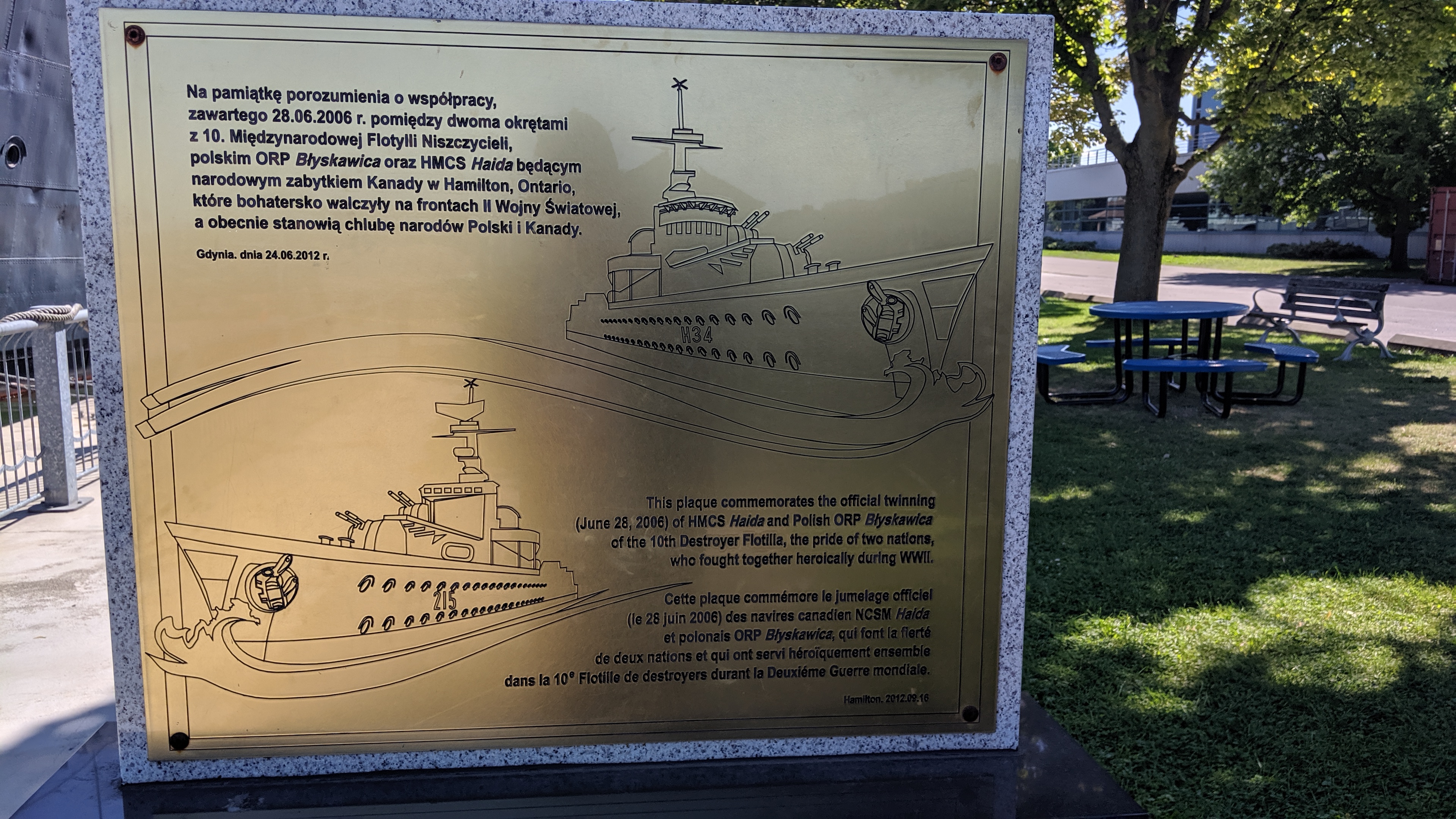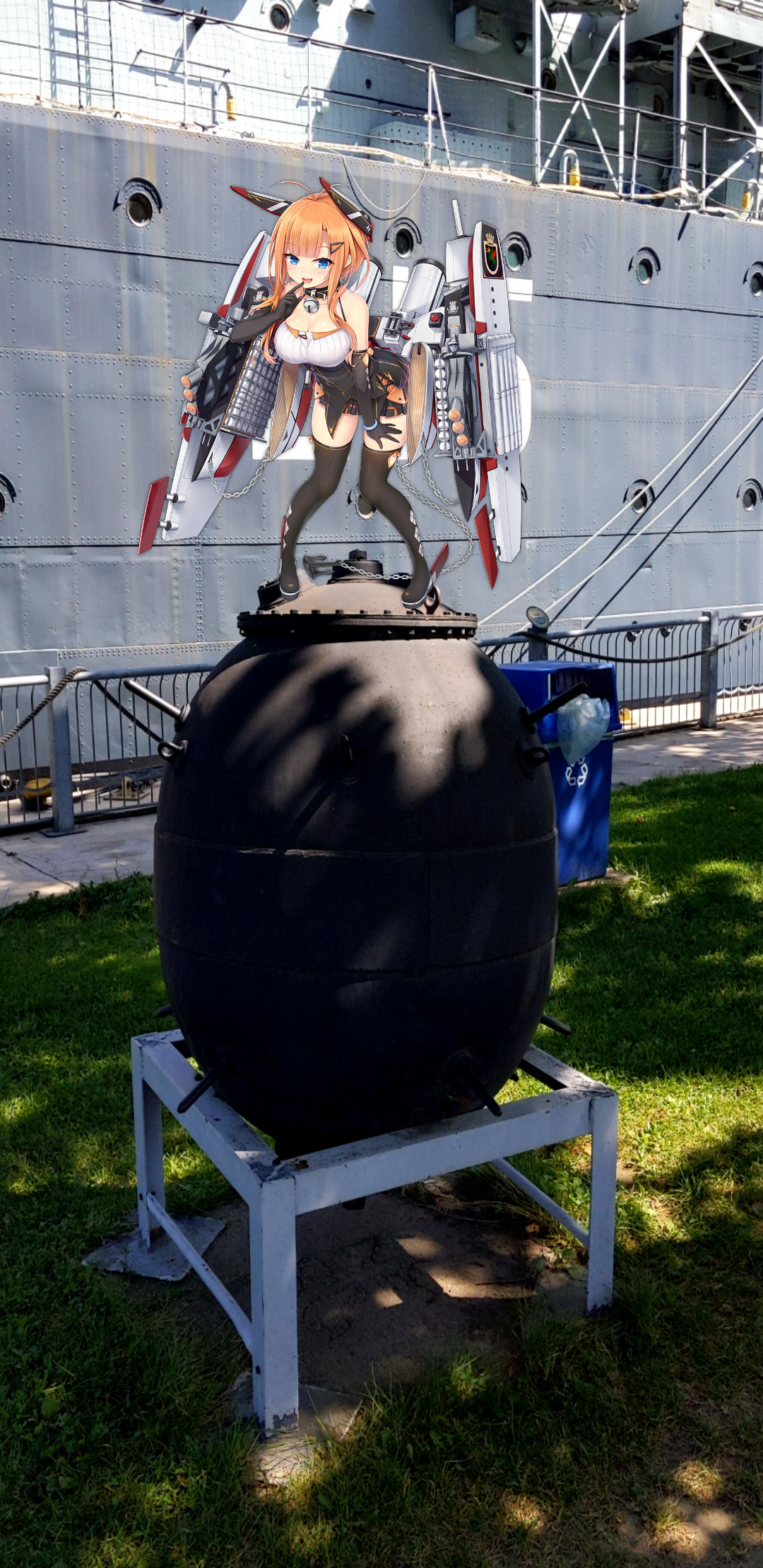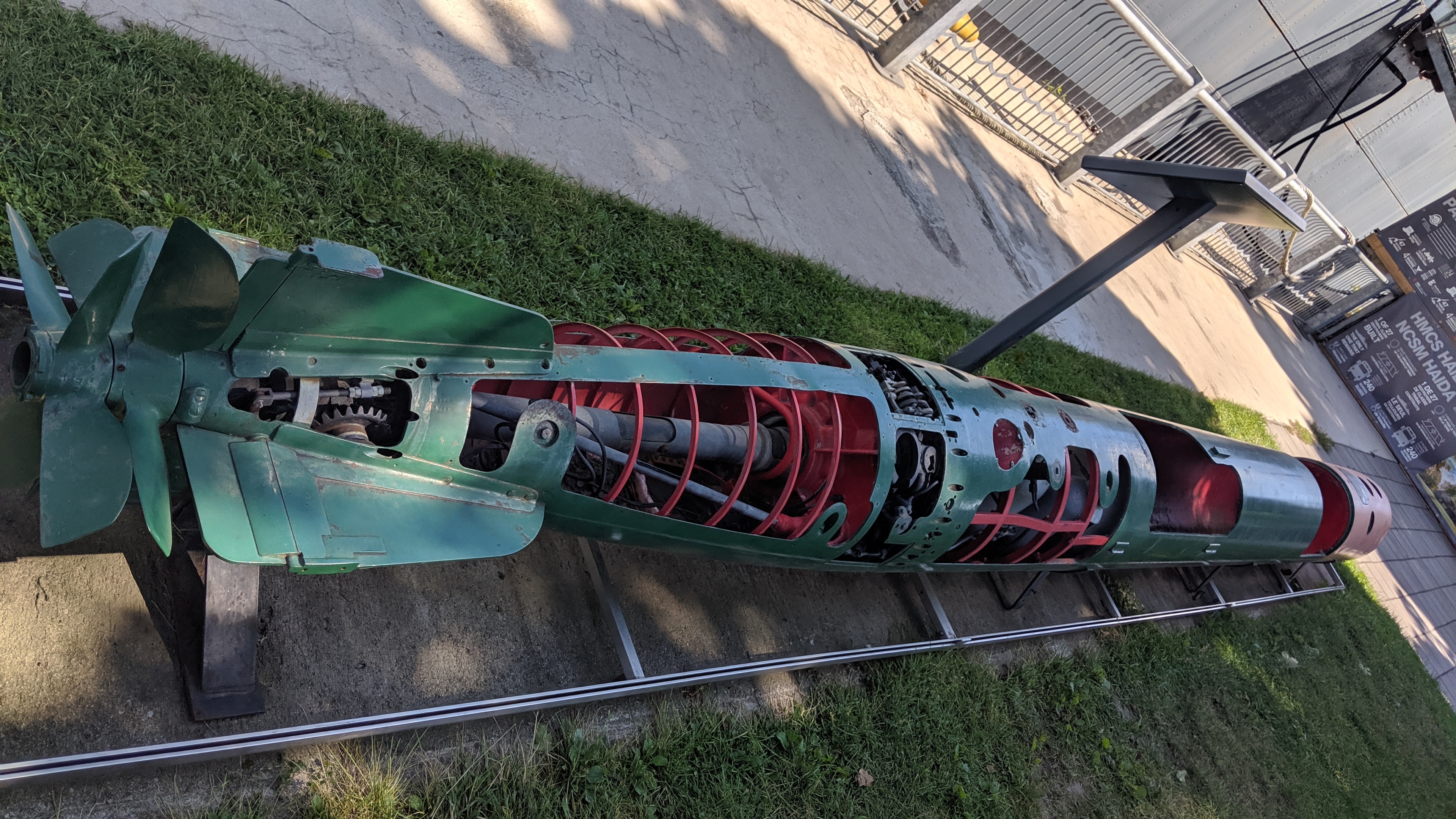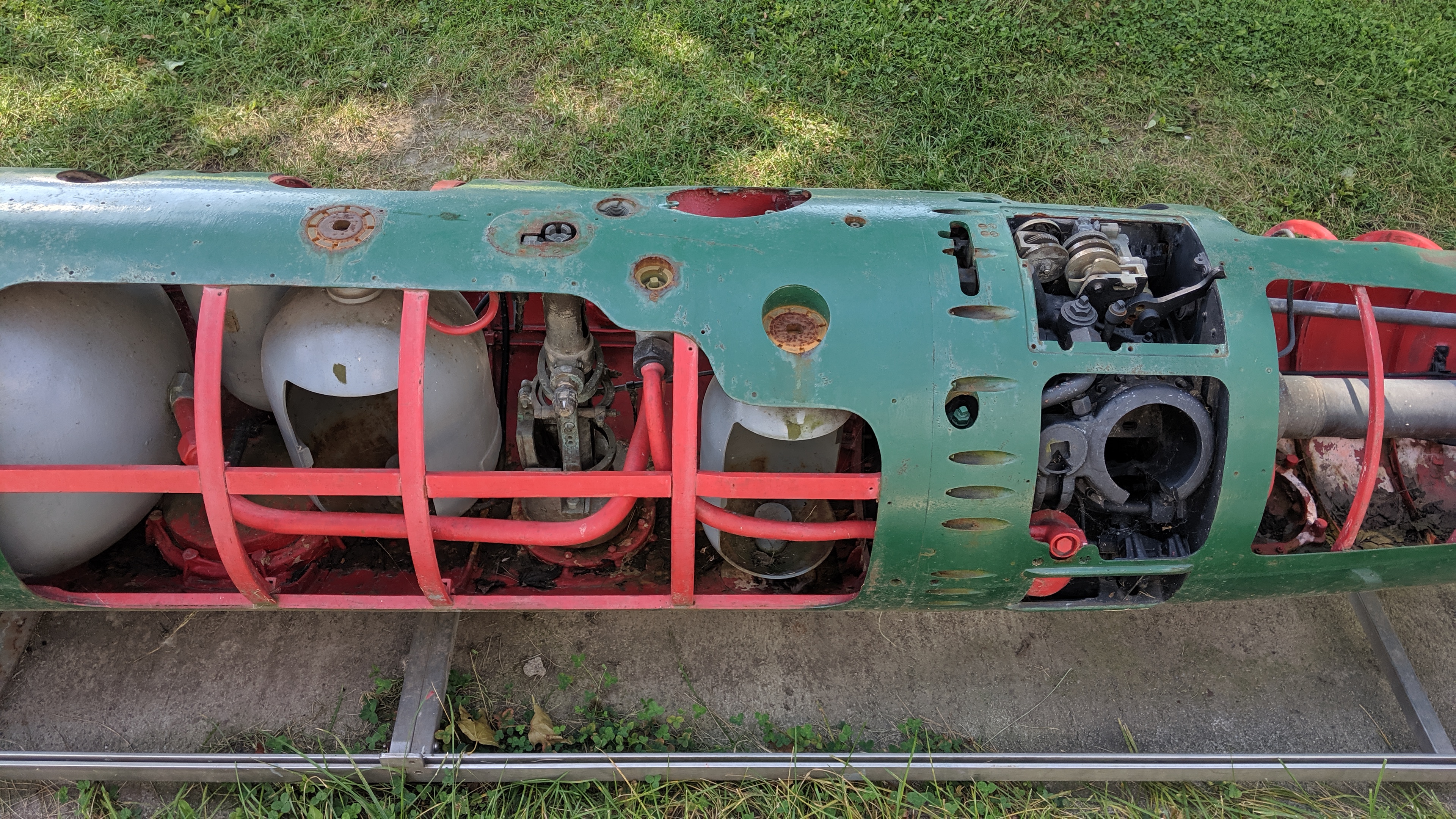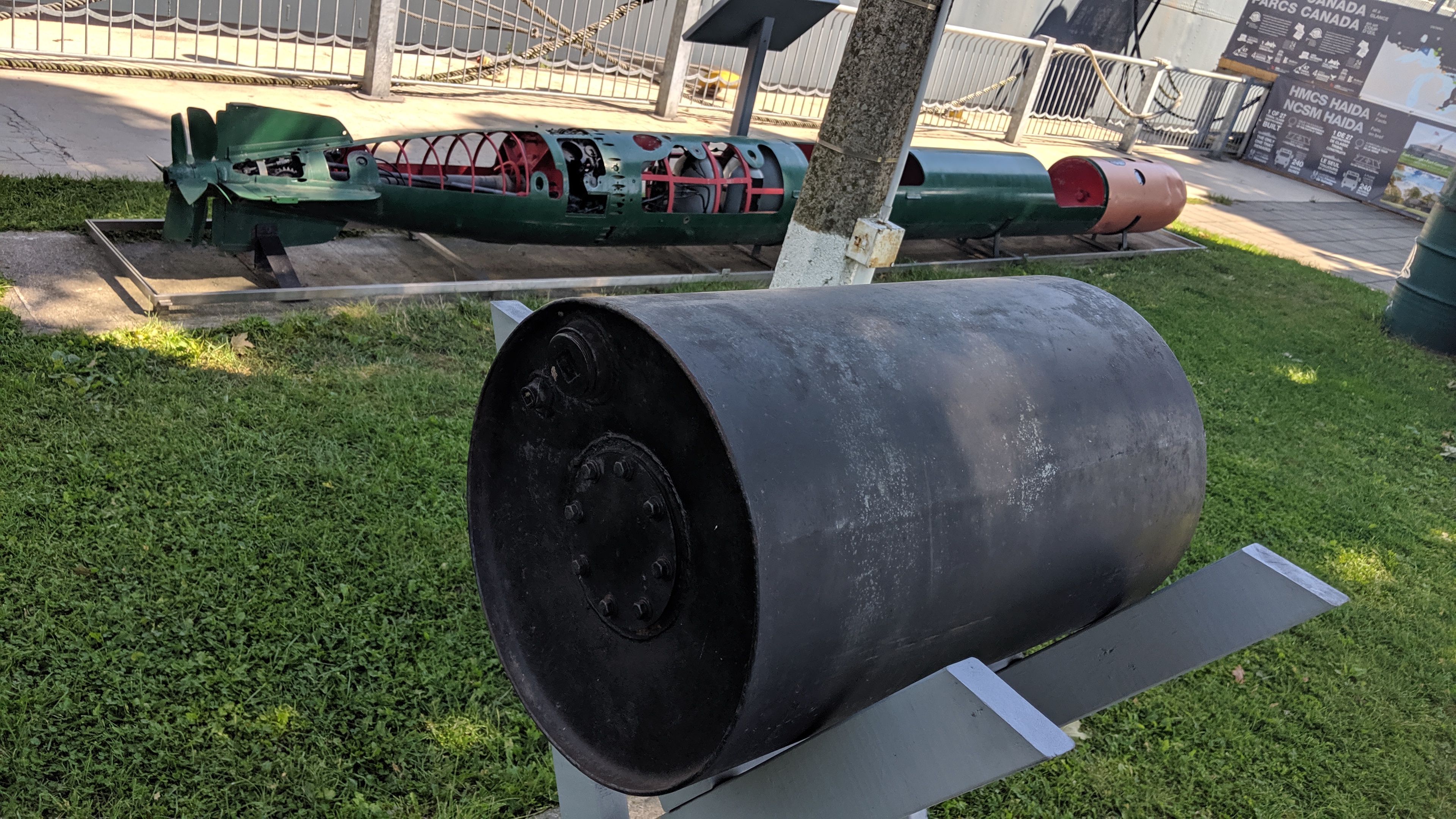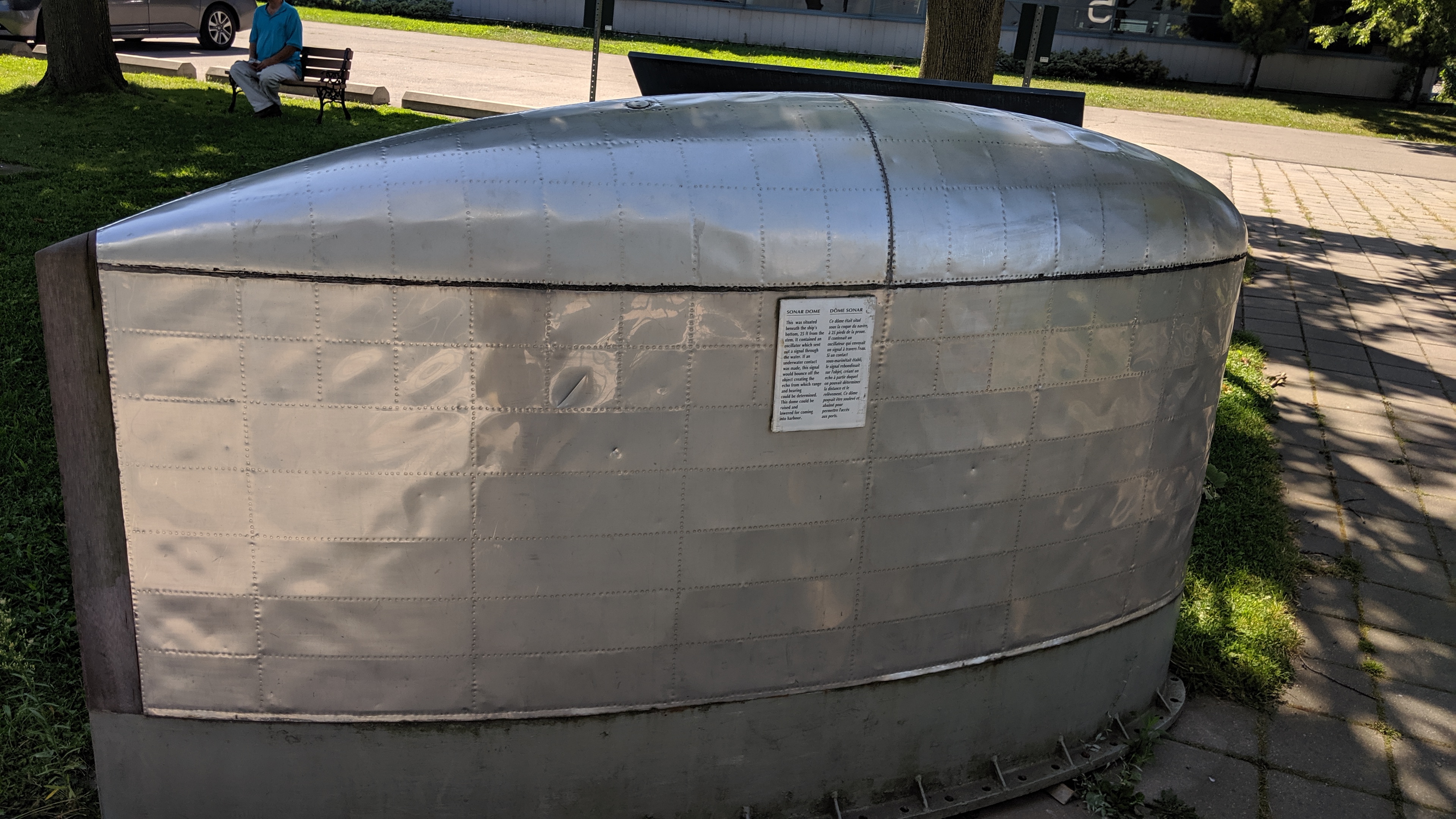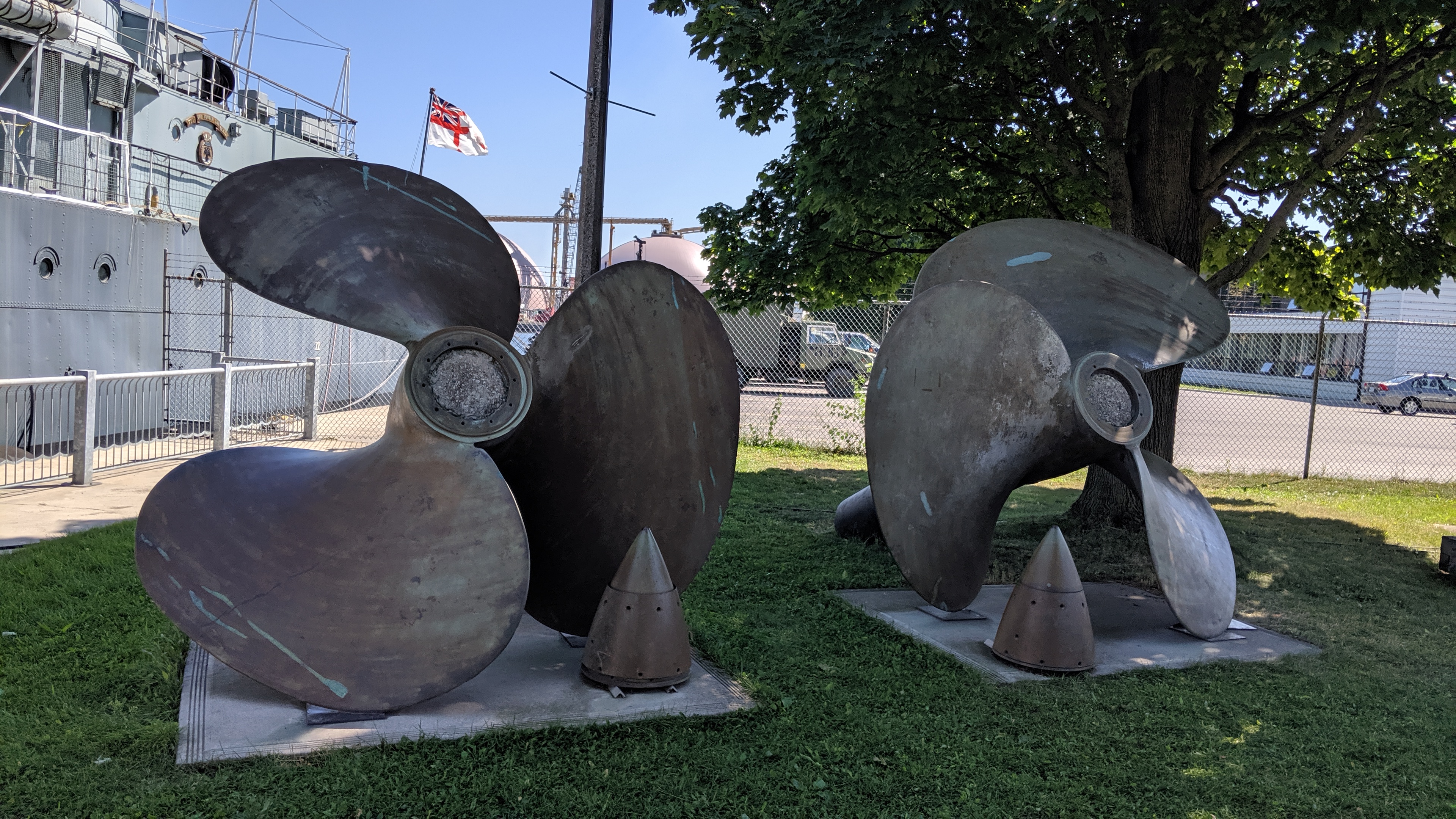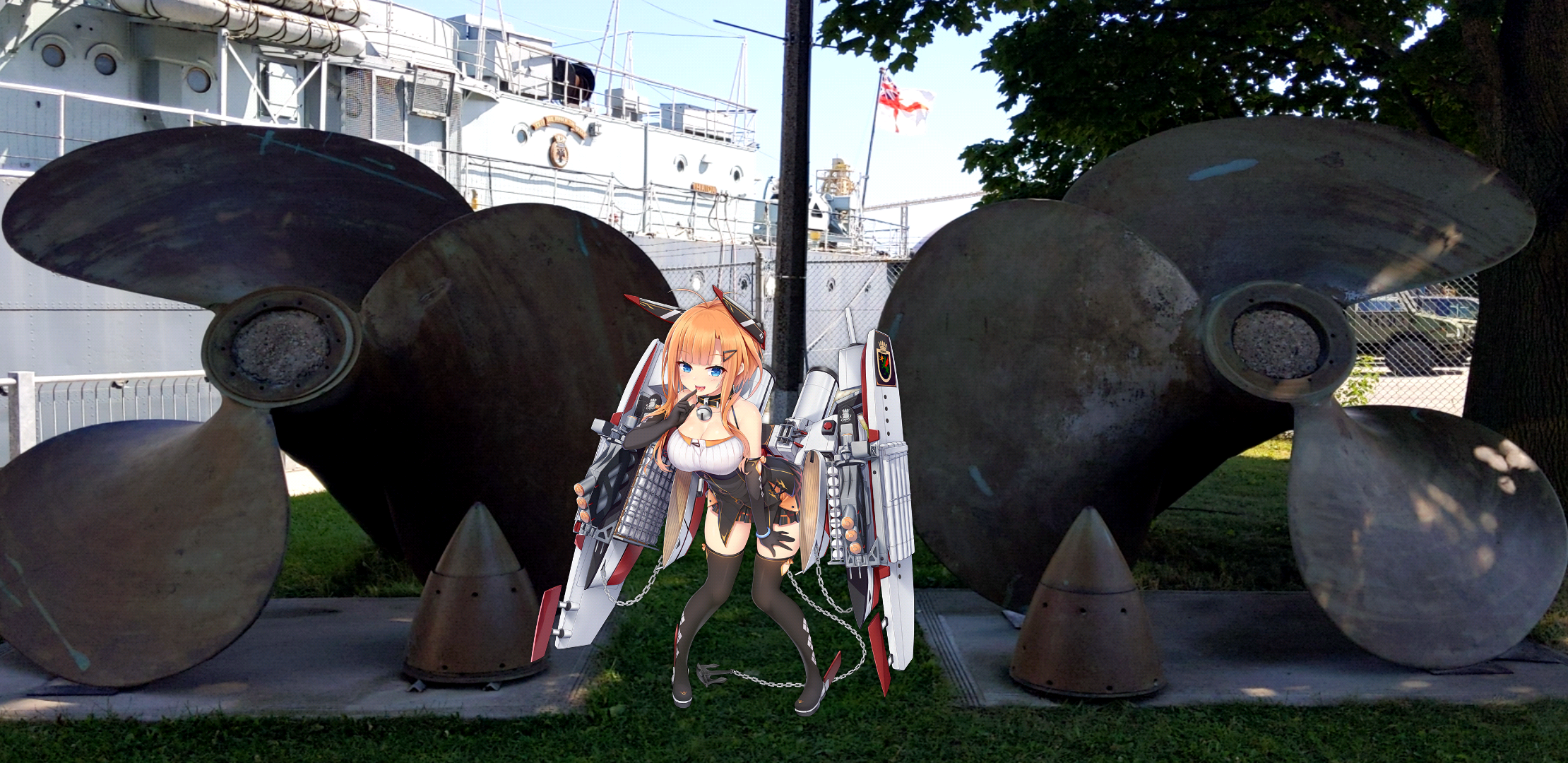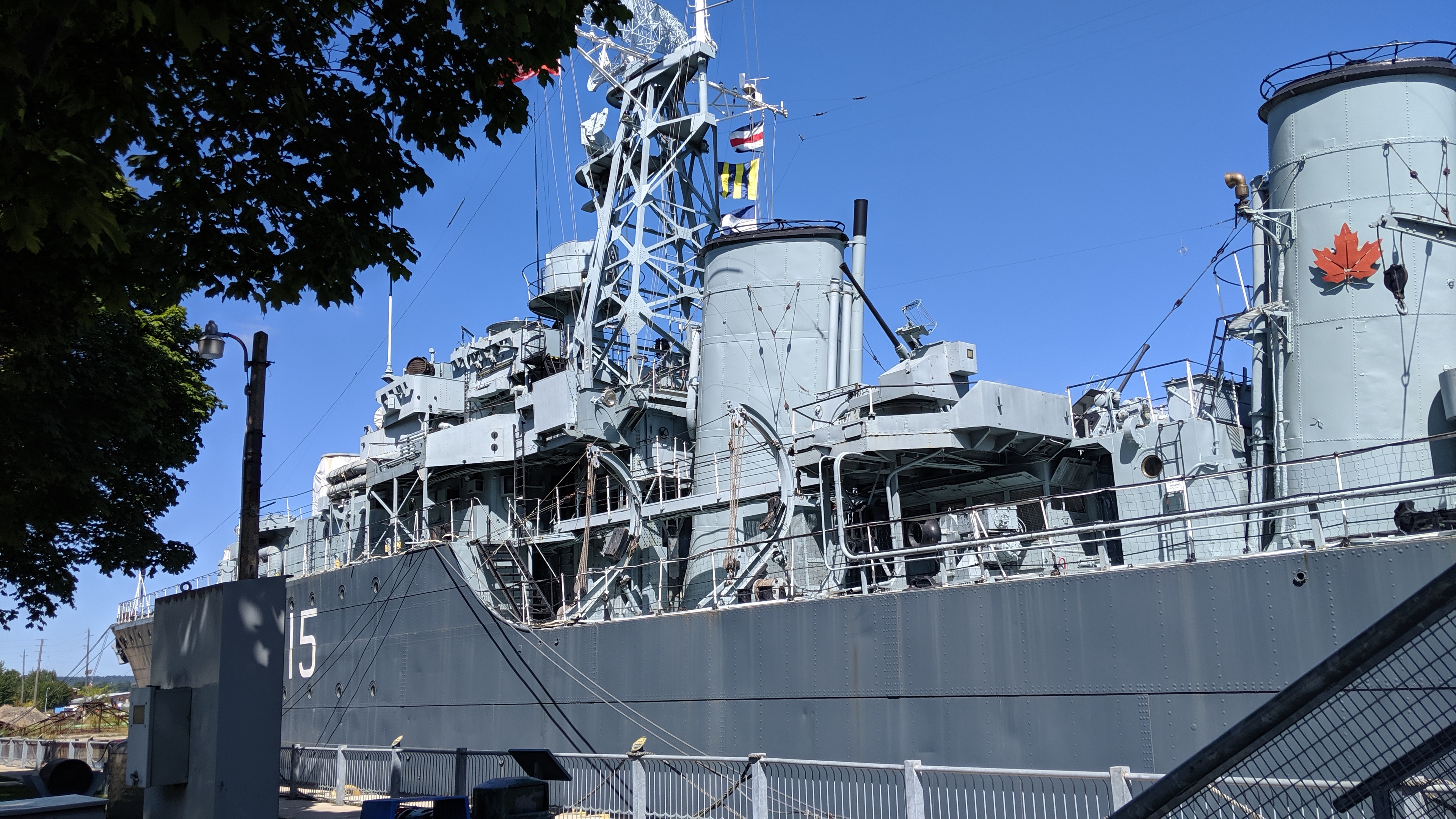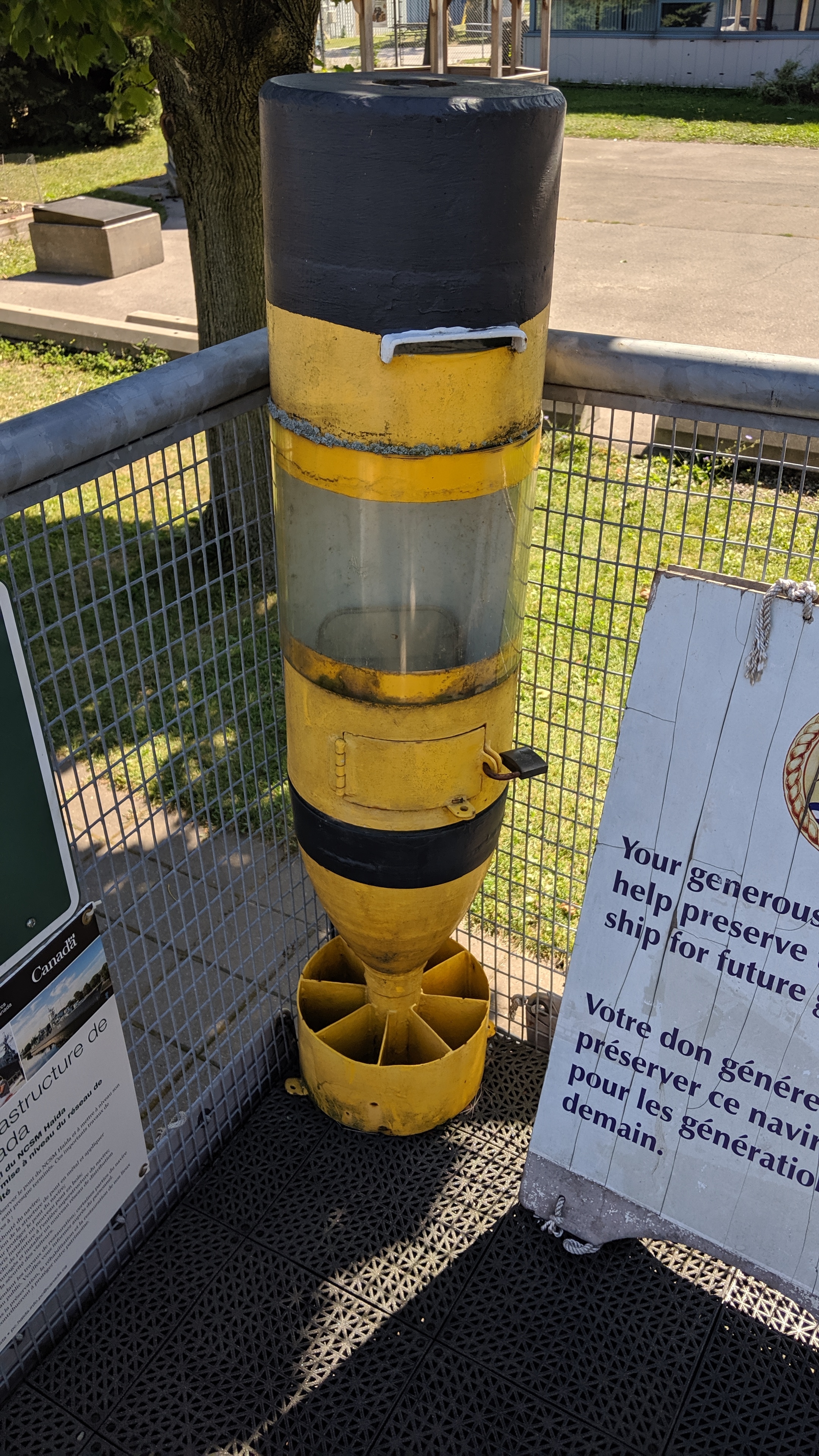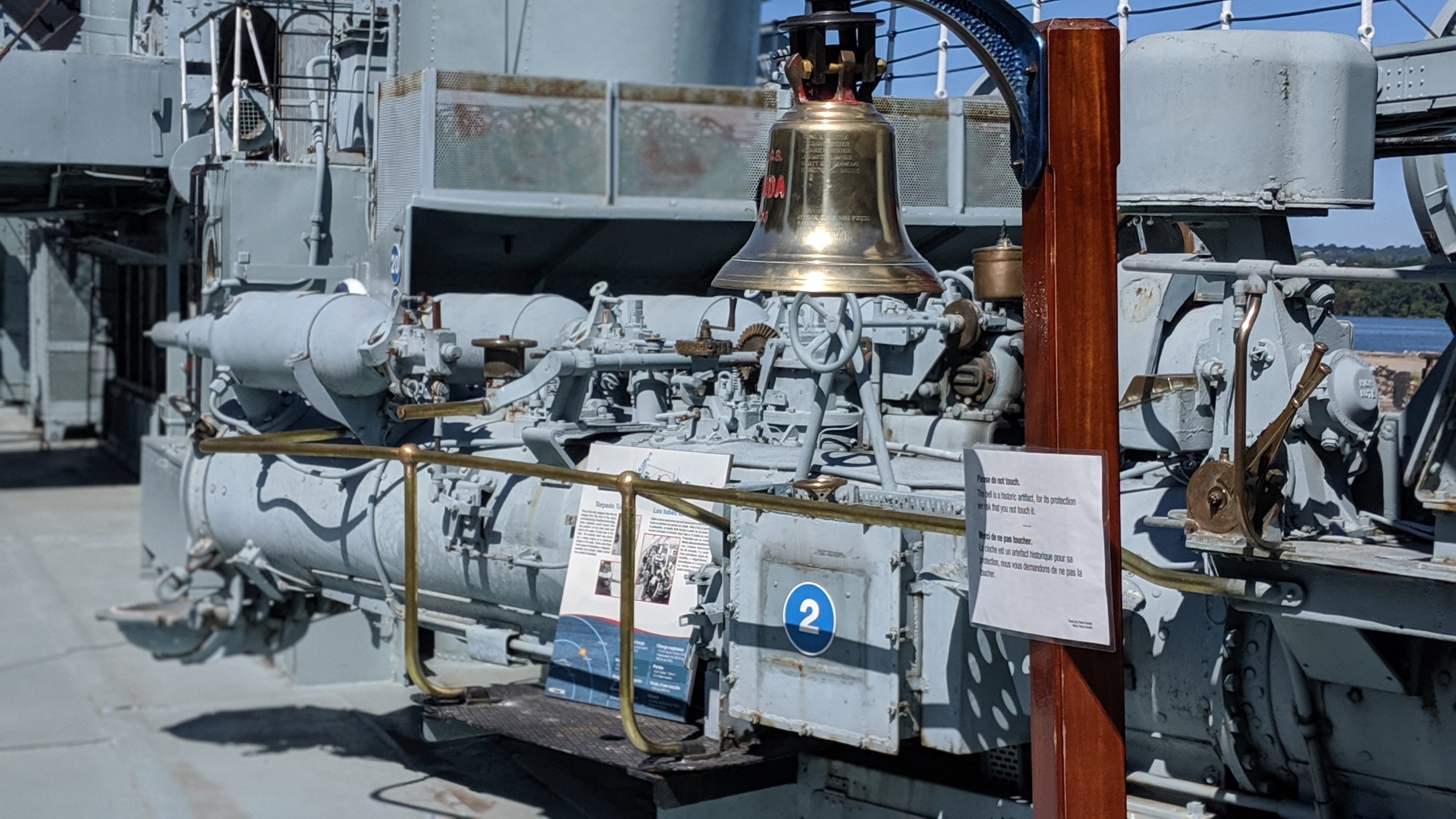 It was at this very moment (the moment I stepped foot on the ship) I knew how 'dangerous' HMCS Haida is, and how 'dangerous' she was. Not a death trap, just a military vessel. Do not take my wording that she is "unsafe" and "unkept", she is a military vessel, thus needs to be treated and respected as such. An example could be instead of walking through a park, think of how cautious one needs to be when hiking in the woods. All those rocks and such. I was warned to be cautious, thus I was. I'm grateful for that warning. Haida is no push-over. Her deck was uneven (angled), various ceilings were low, and many obstacles in the way because of war-time needs and standards. You had to watch where you were going most of the time, especially at the bow section with where the gun is located. It gets so narrow that I had to start crouching. I can't swim, thus having to crouch as to force my center of gravity lower to match the railings to my side as to not slip overboard. I'm not taking any chances. I also had my phone and charger with me. I kept tripping near the very front of the bow section with where the guard was. All those low bumps and black hook spots. It's also fairly easy to hit your head on various parts of the ship with how low everything is. Everything is tiny, cramped, and dangerous, yet still somehow majestic. It's also quite rough behind the bridge, something I'll note further down below. It's the part right before the first funnel and at the mast.
Safety first! HMCS Haida is still an impressive ship. Like a rose with thorns.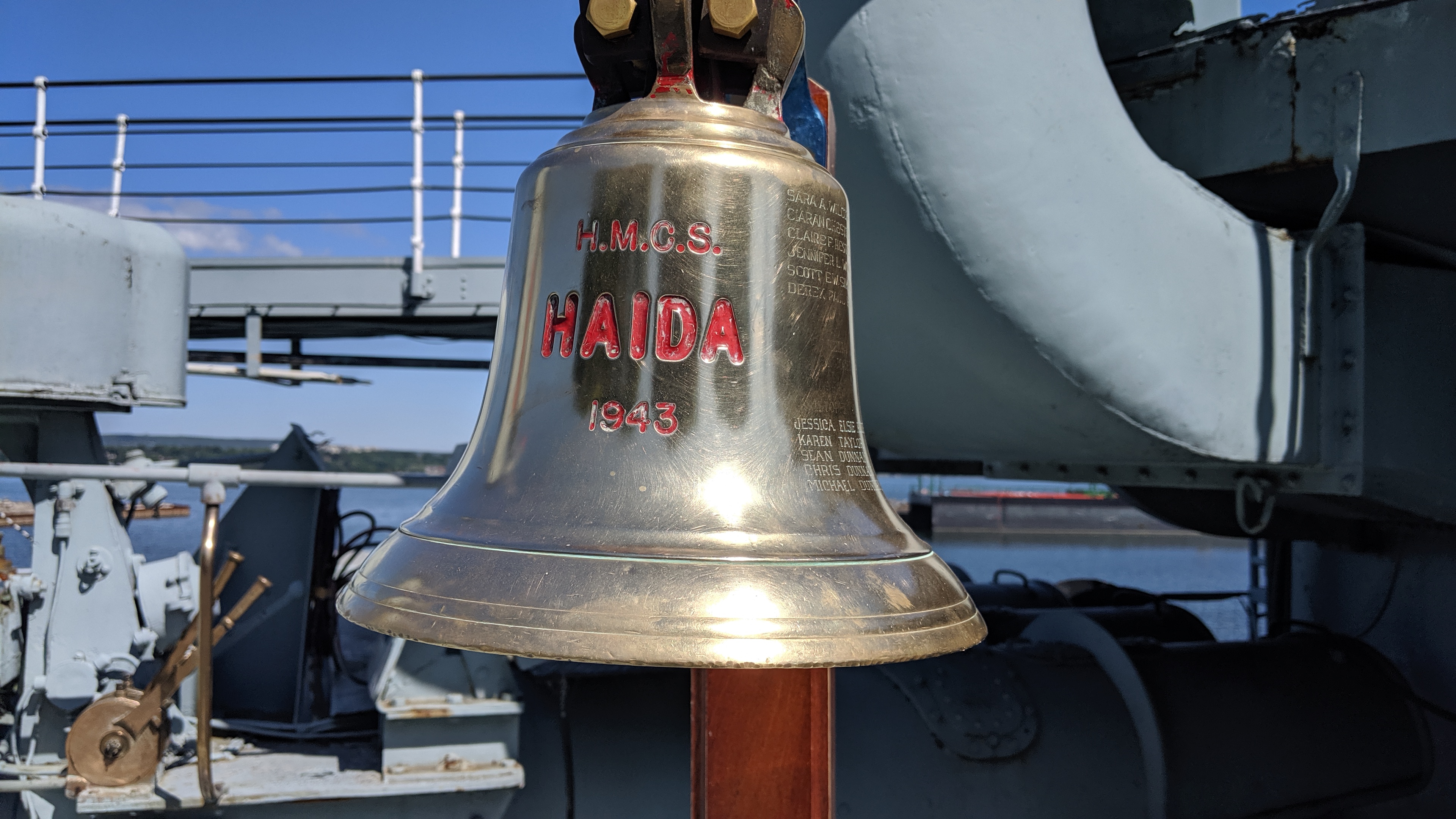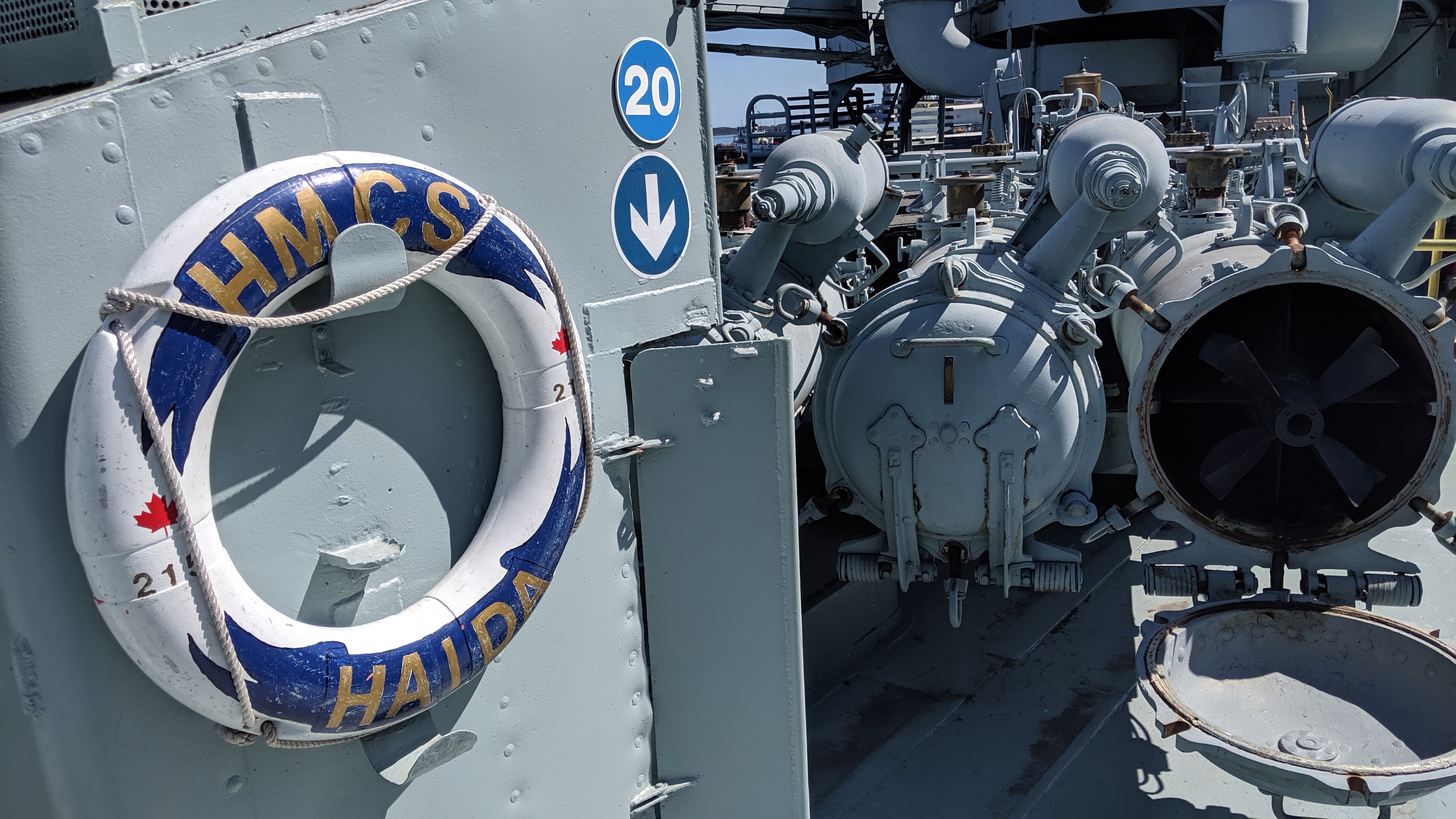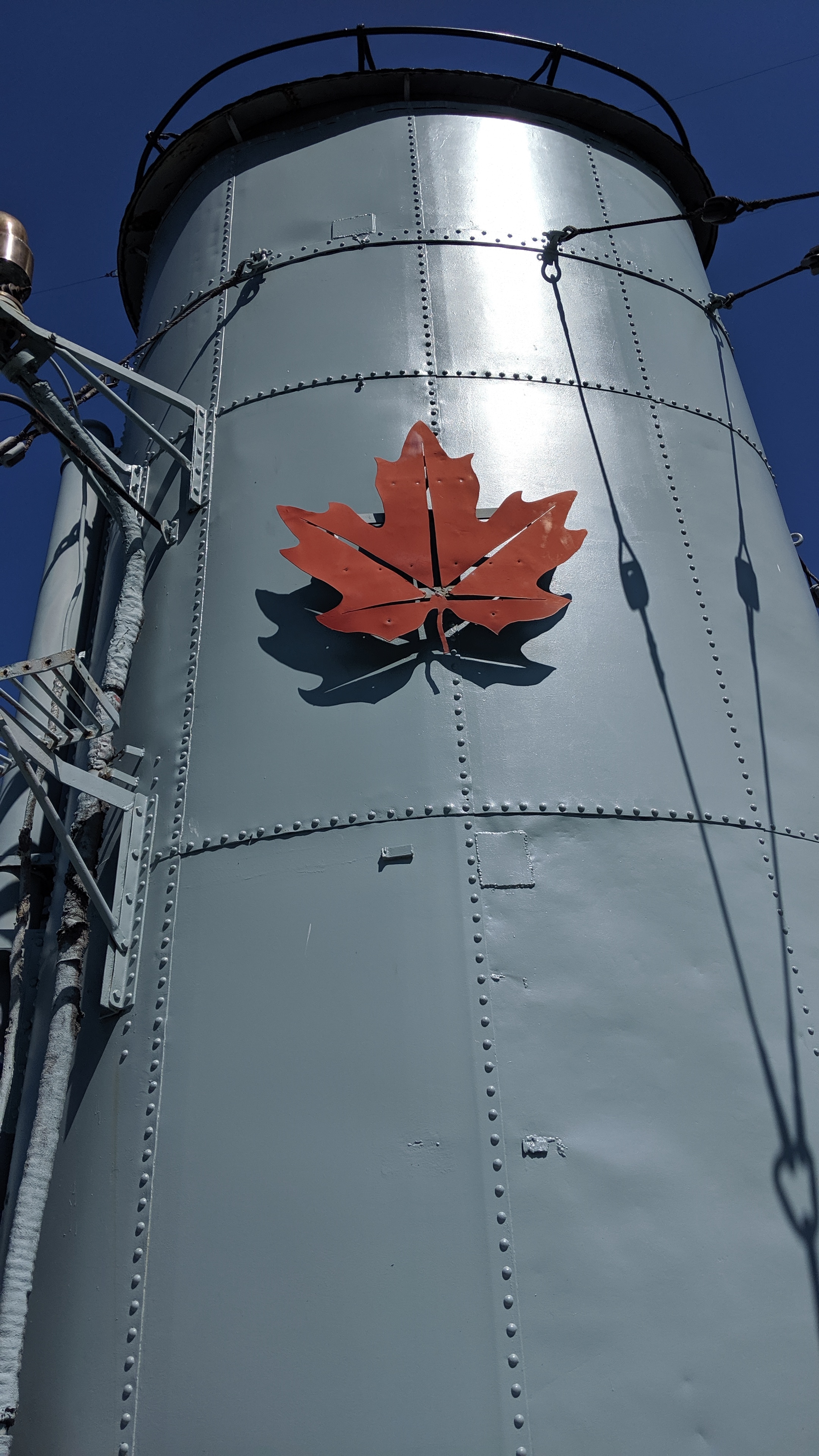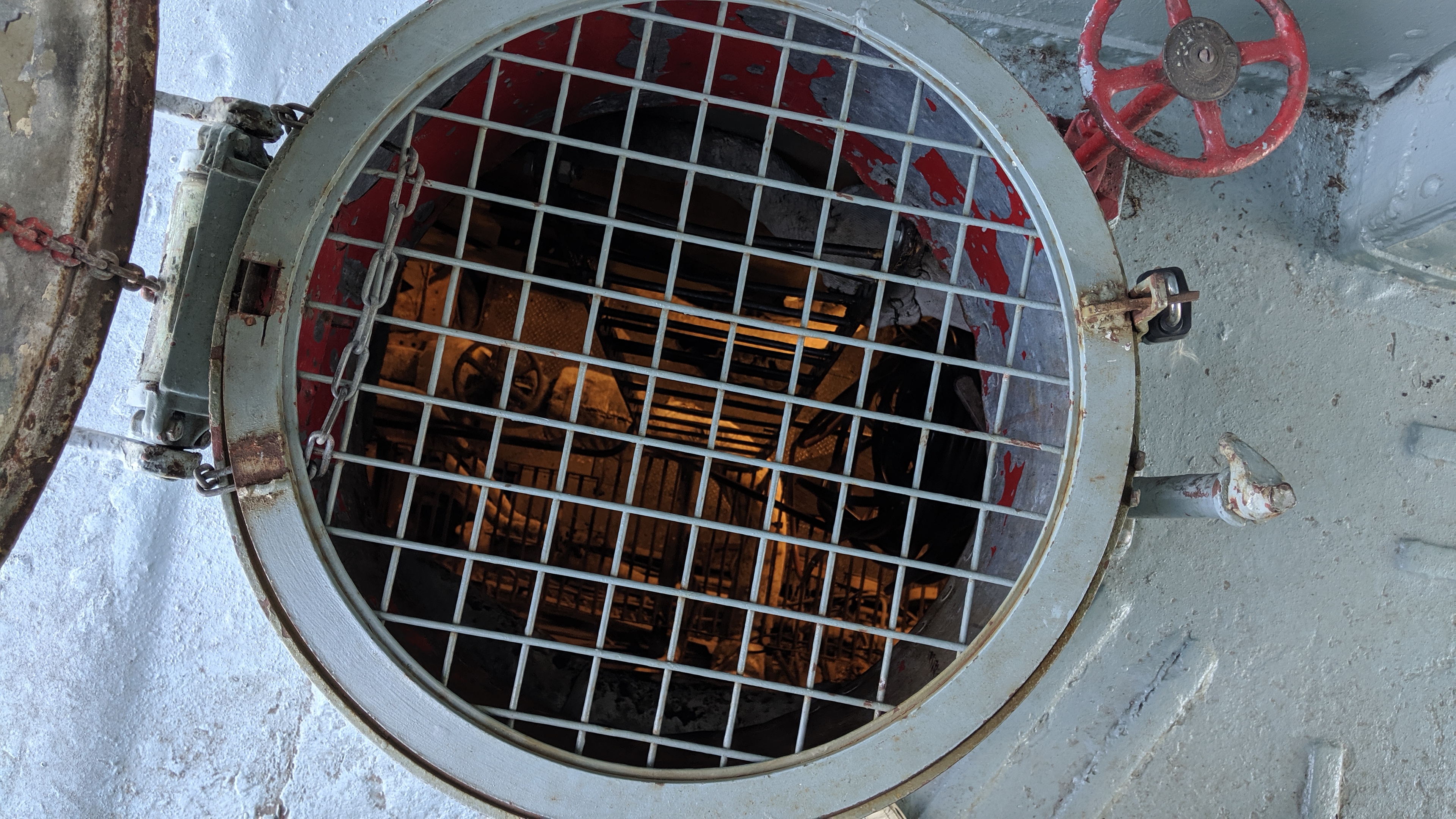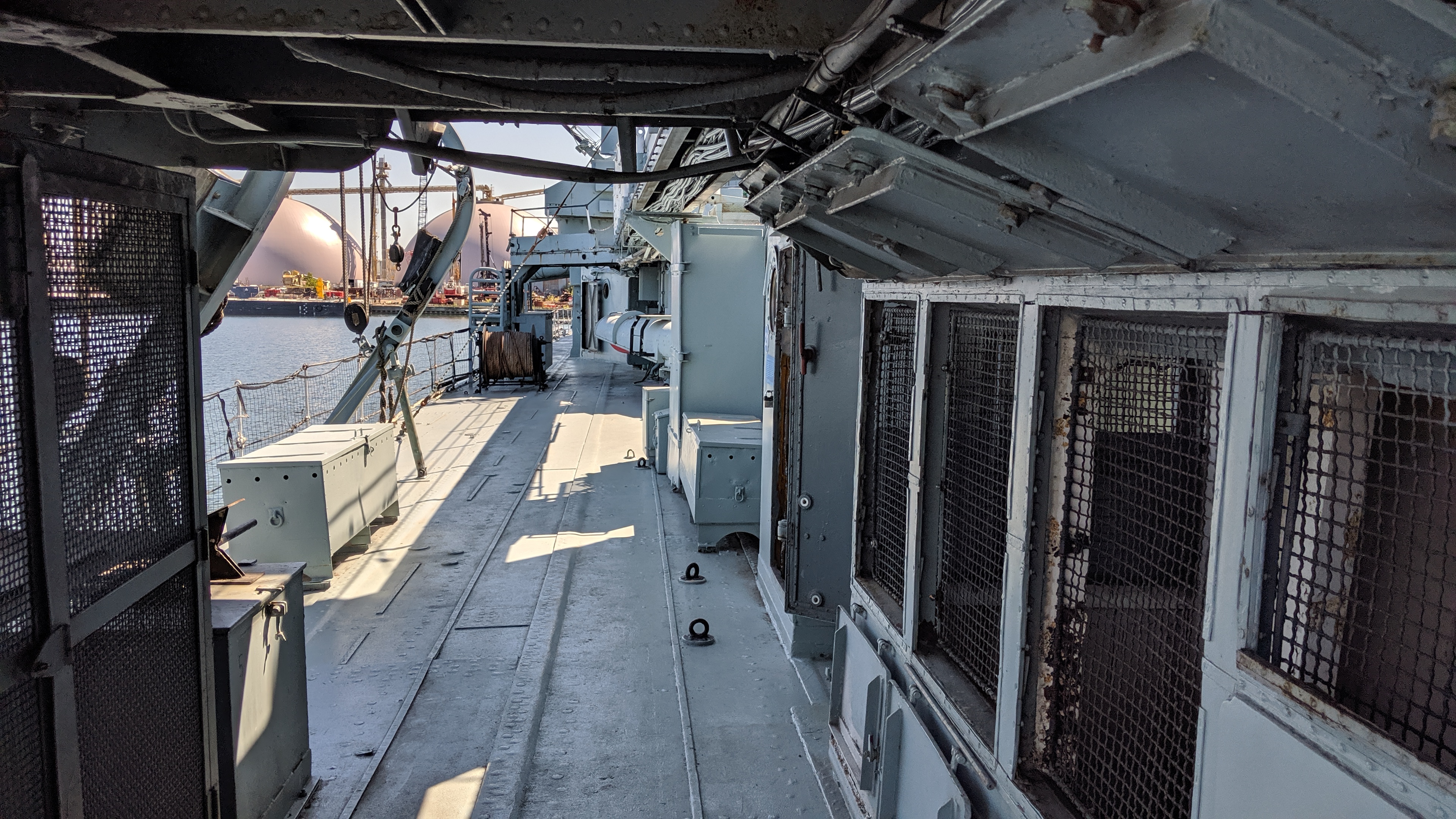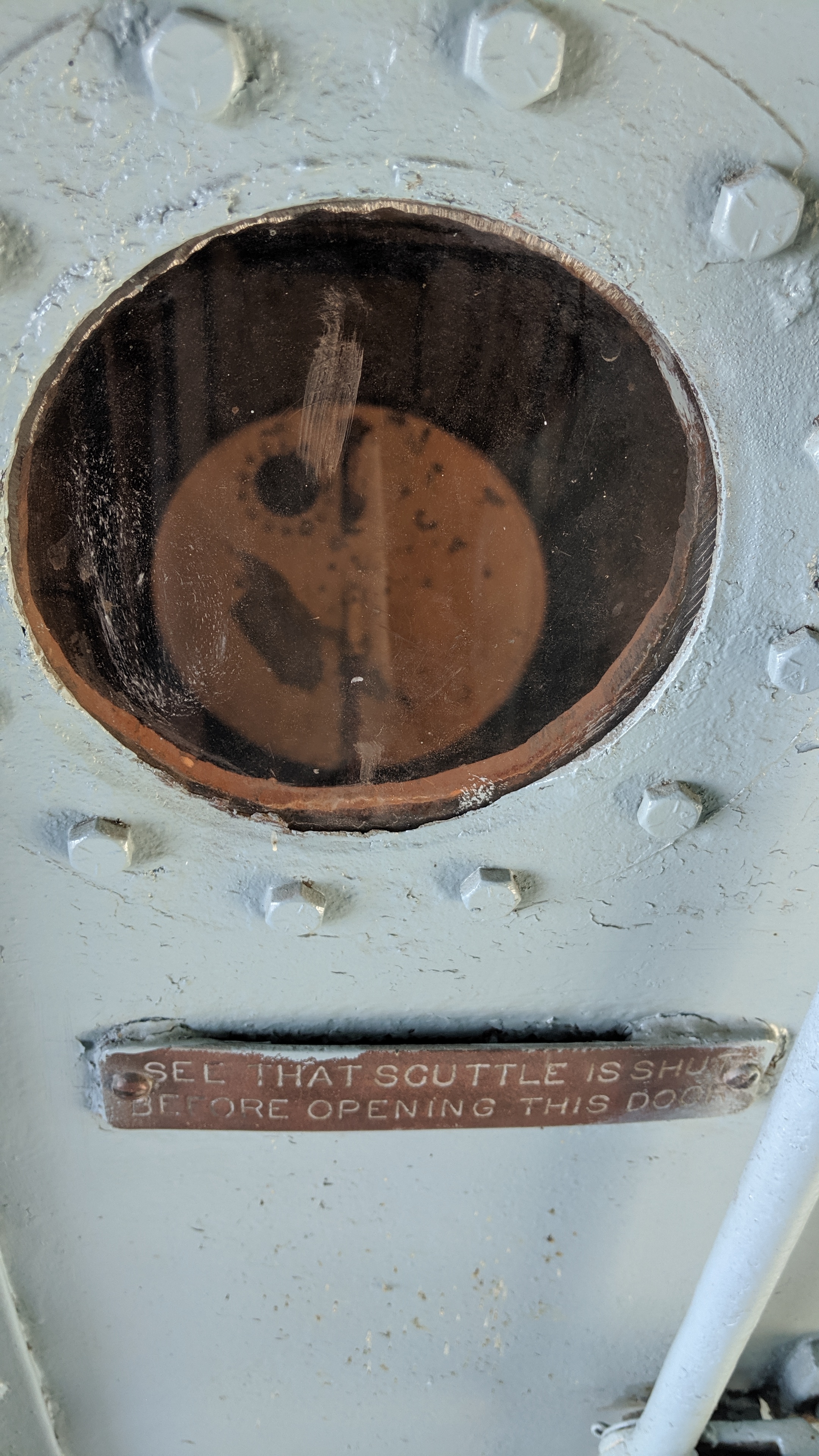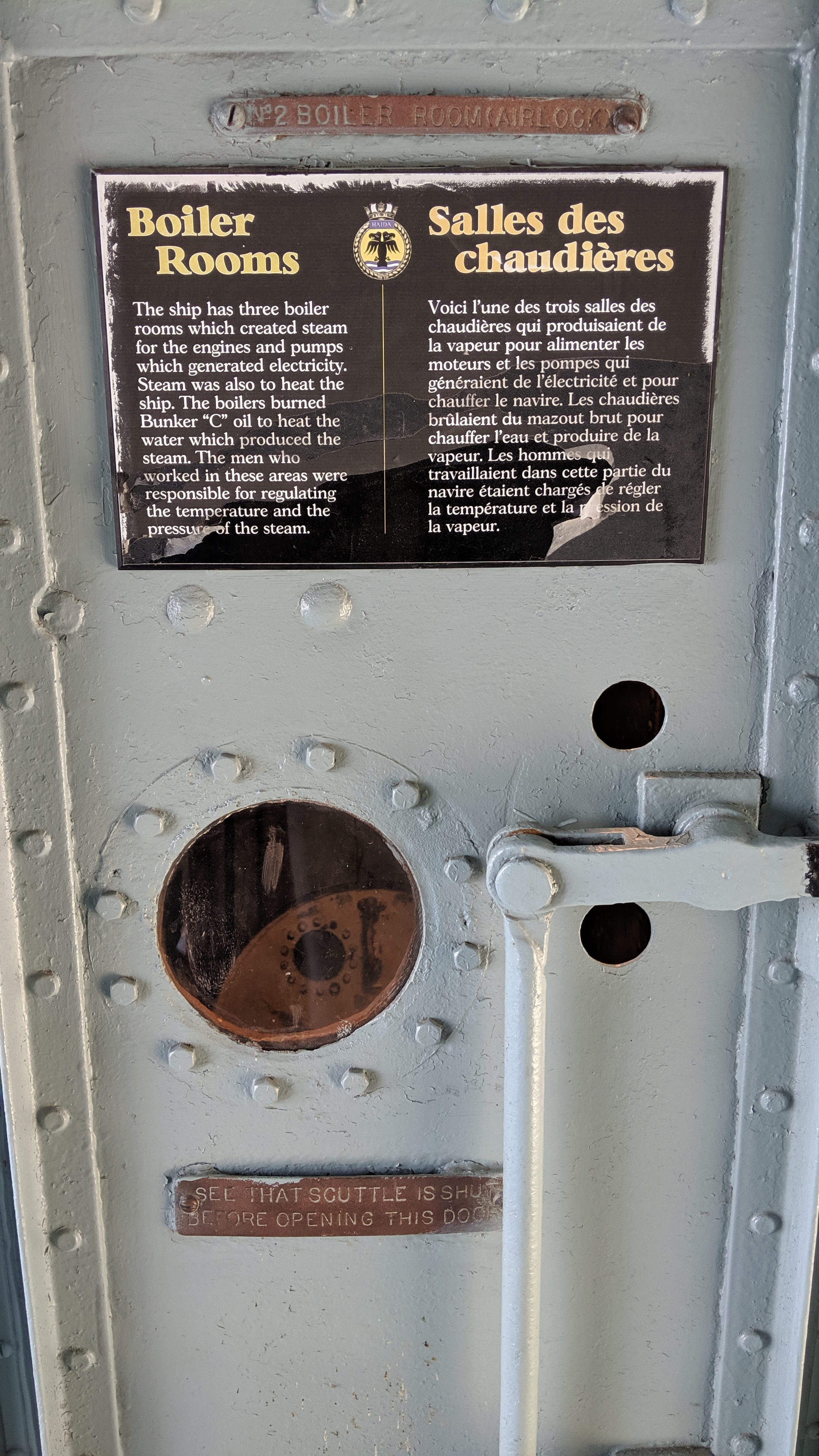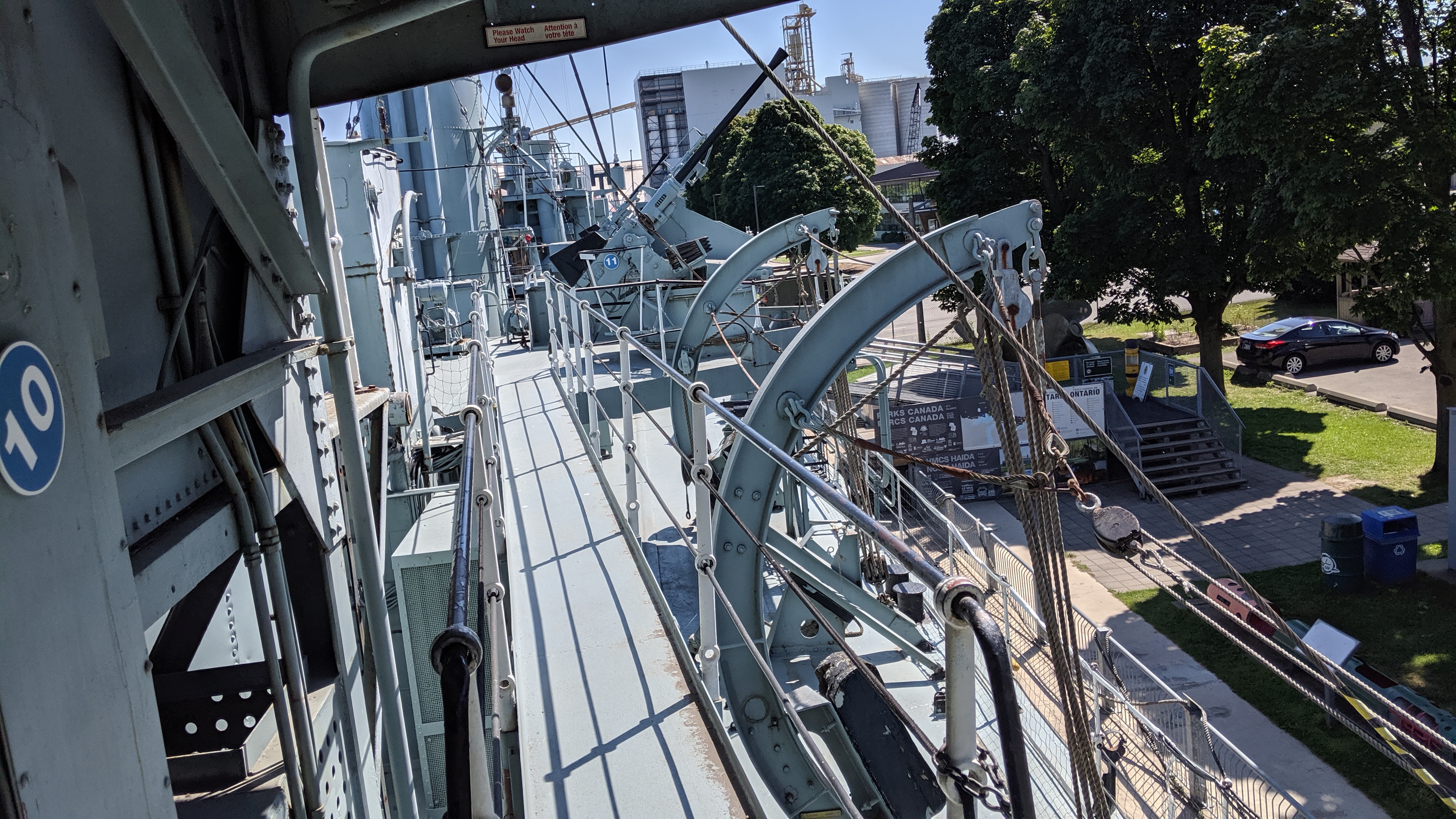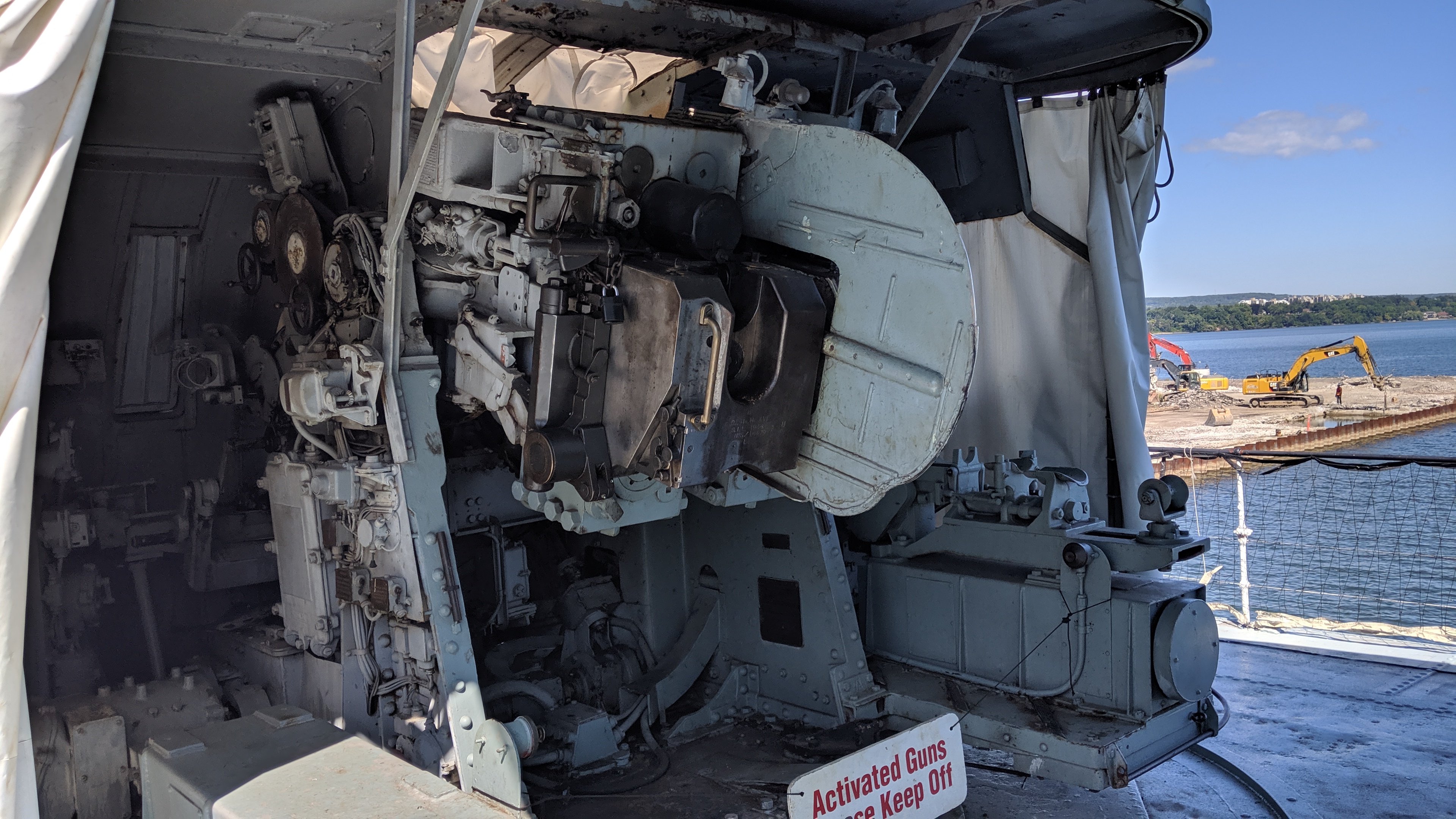 As you can also see in the image (top image; Right side) you can see diggers digging away. It's because of their construction efforts that I was slightly frustrated I was unable to obtain an alternate view of the vessel. I had to be content with what I had, and I was. Having traveled from Ottawa to Hamilton I had to make sure to grab everything there-and-then, or else I'd waste the trip (Thus this overly lengthy blog posting. I had to snap everything while I could, thus I went image crazy trying to capture EVERYTHING which caught my attention. I spammed my Discord group saving all my images there to show before sharing here. Who knows if I'll come back to this fine vessel again, thus taking tons of images out of necessity, and to make the most out of my situation as possible.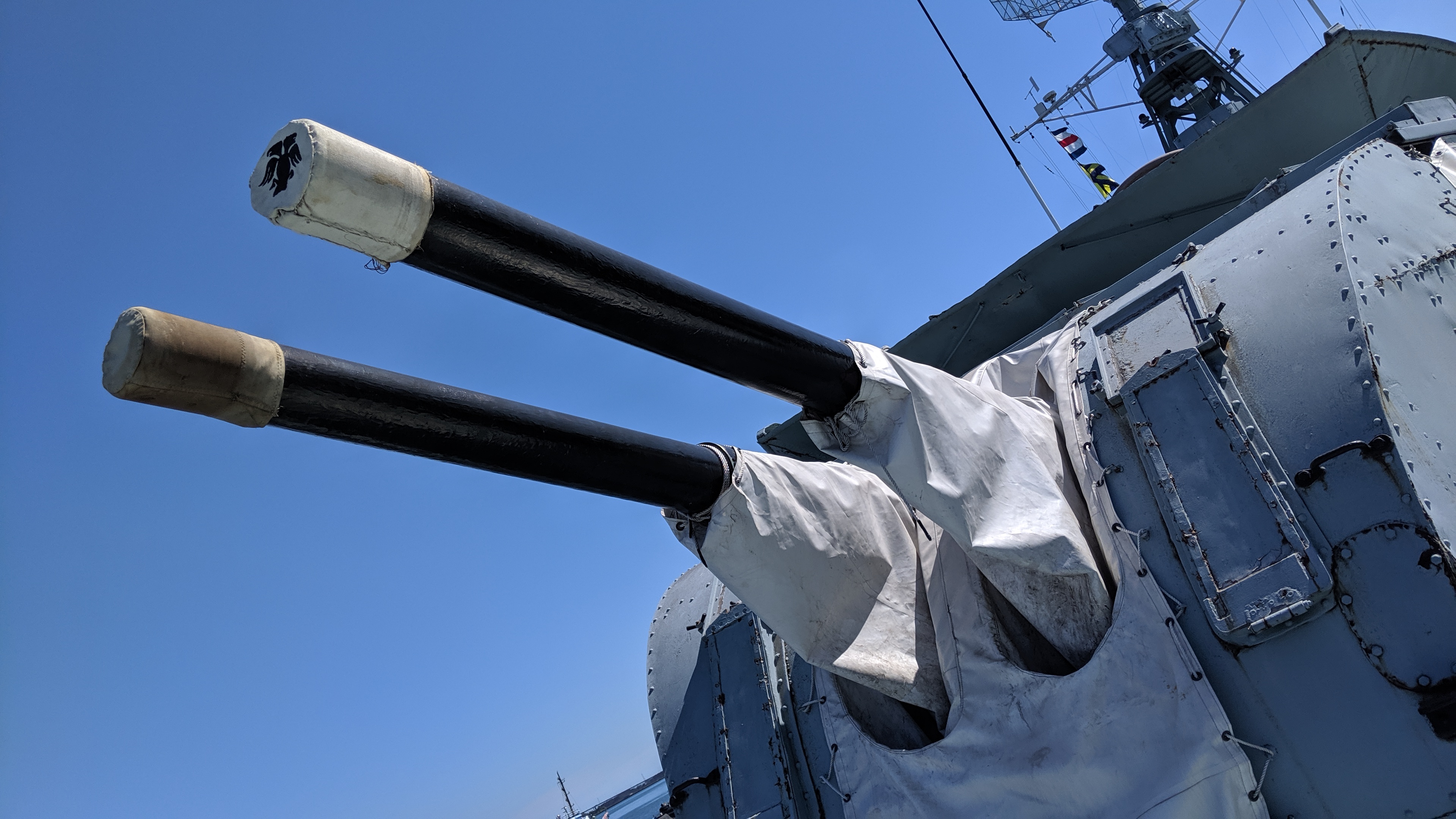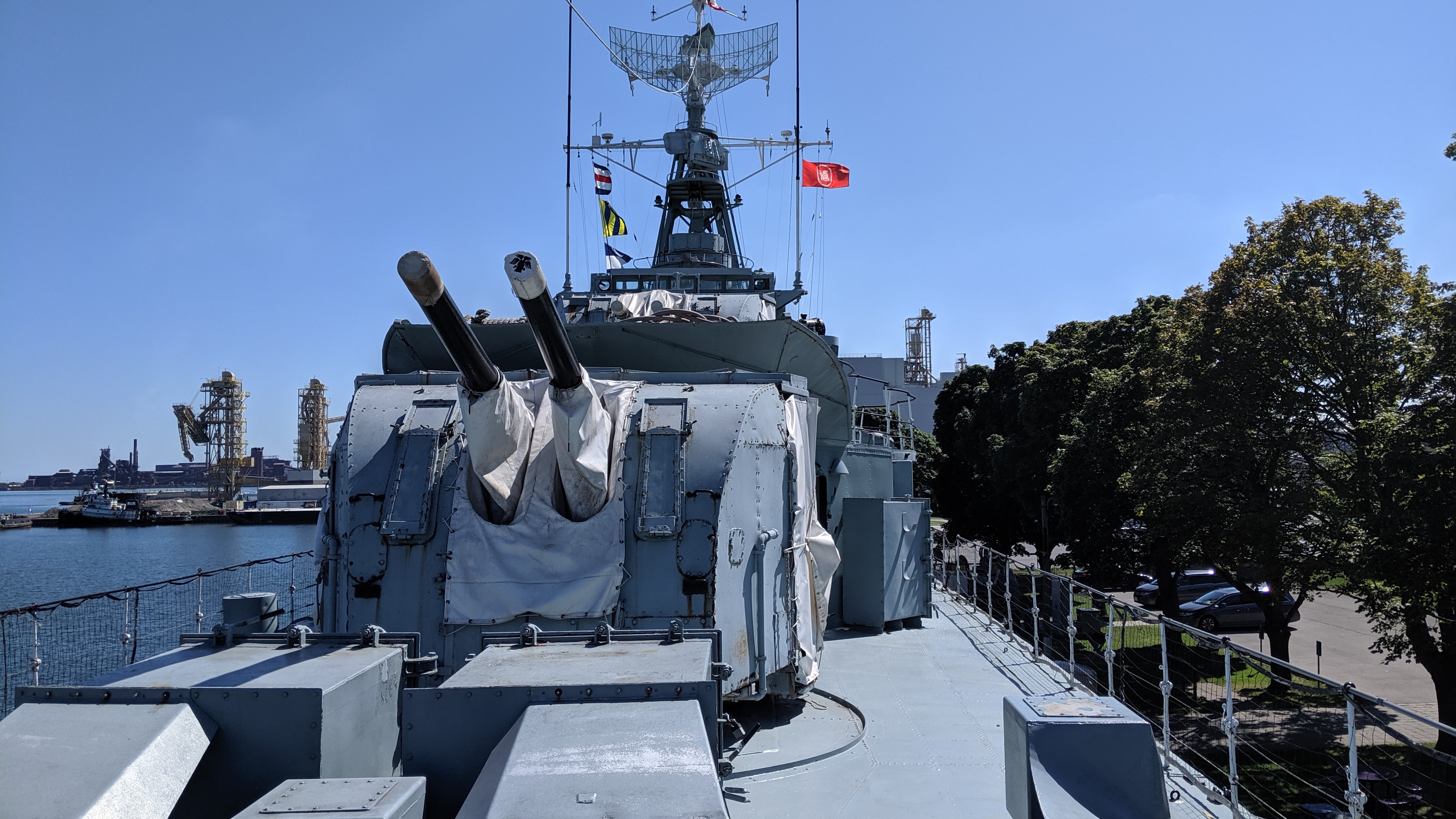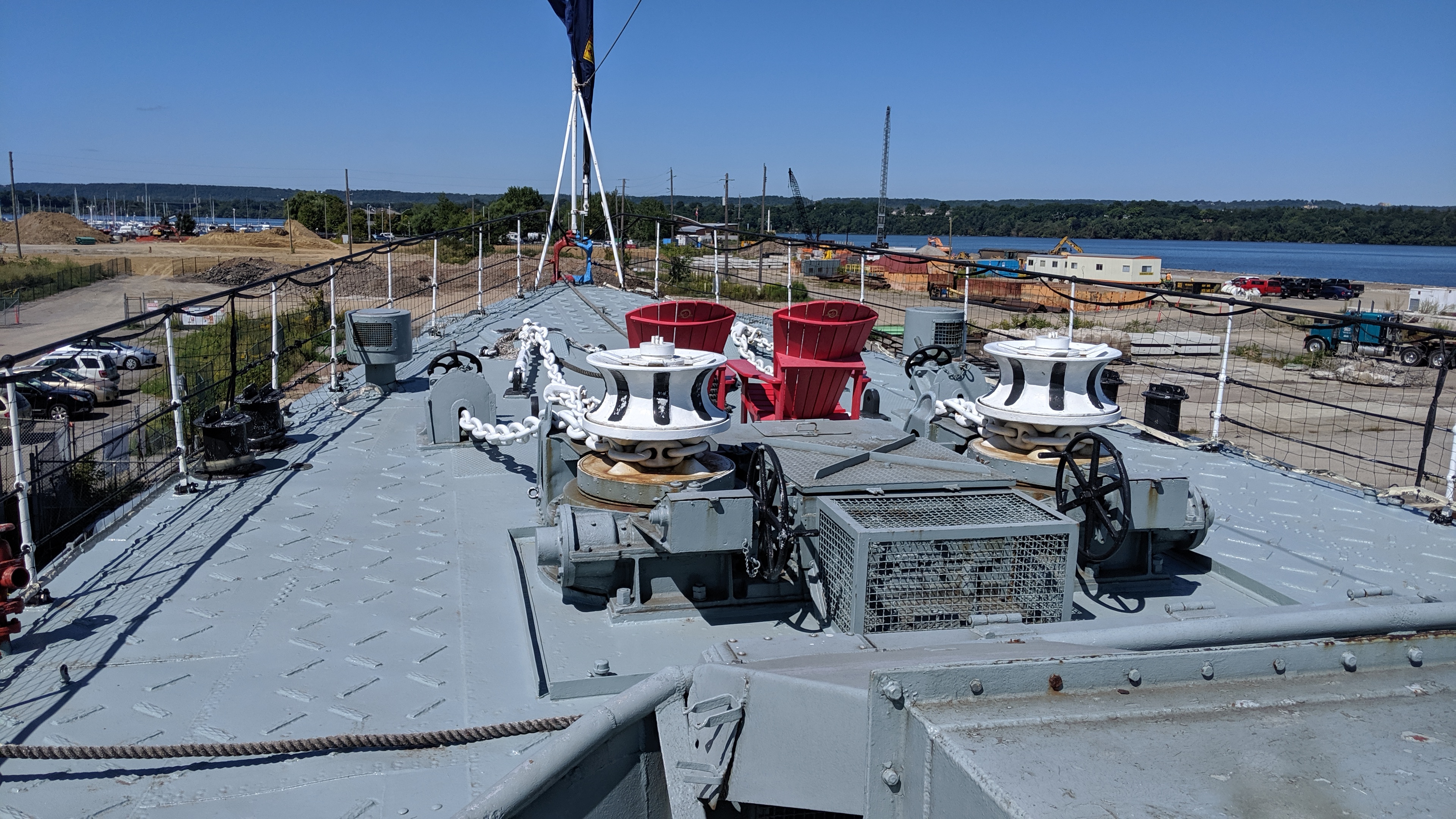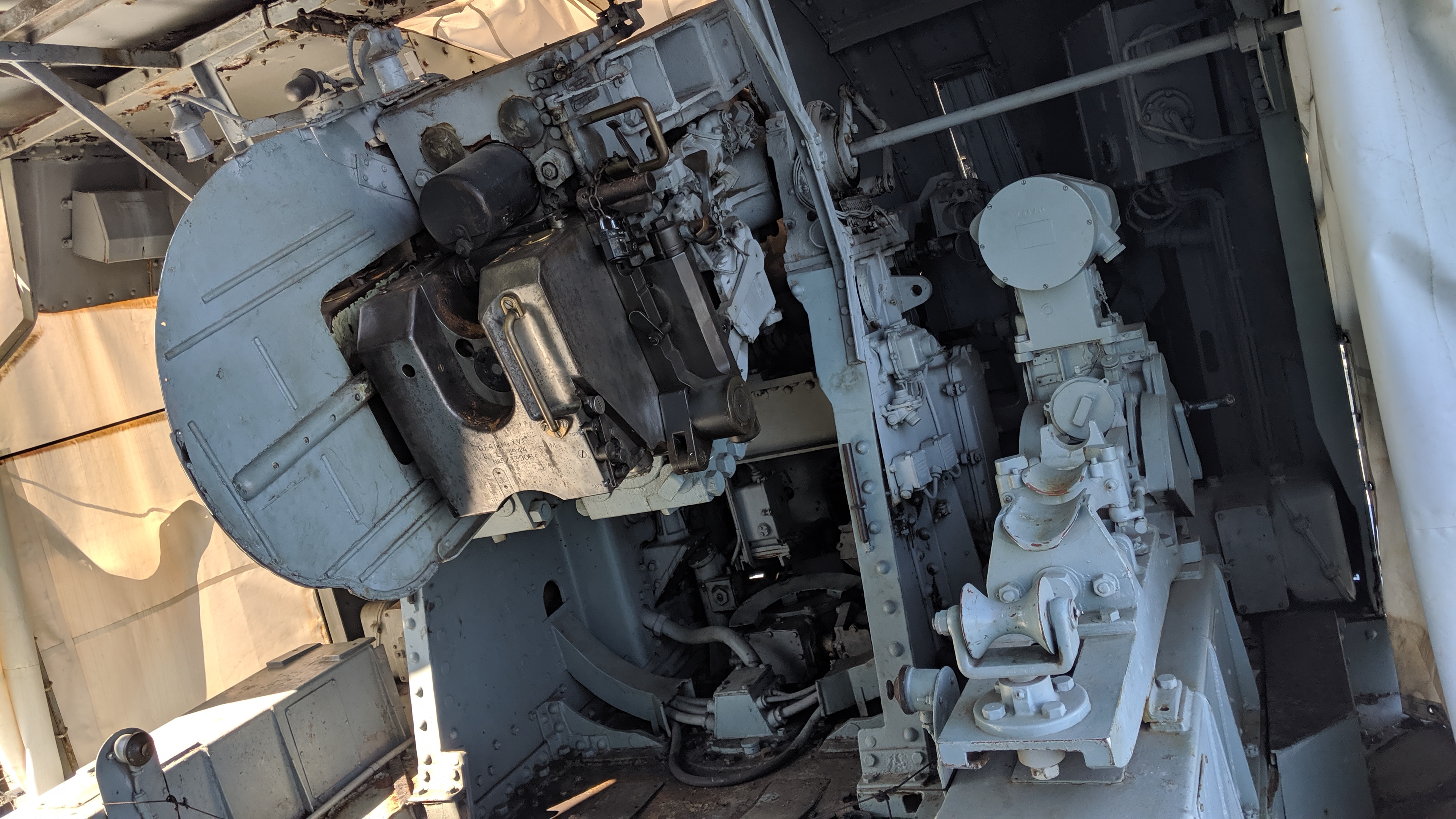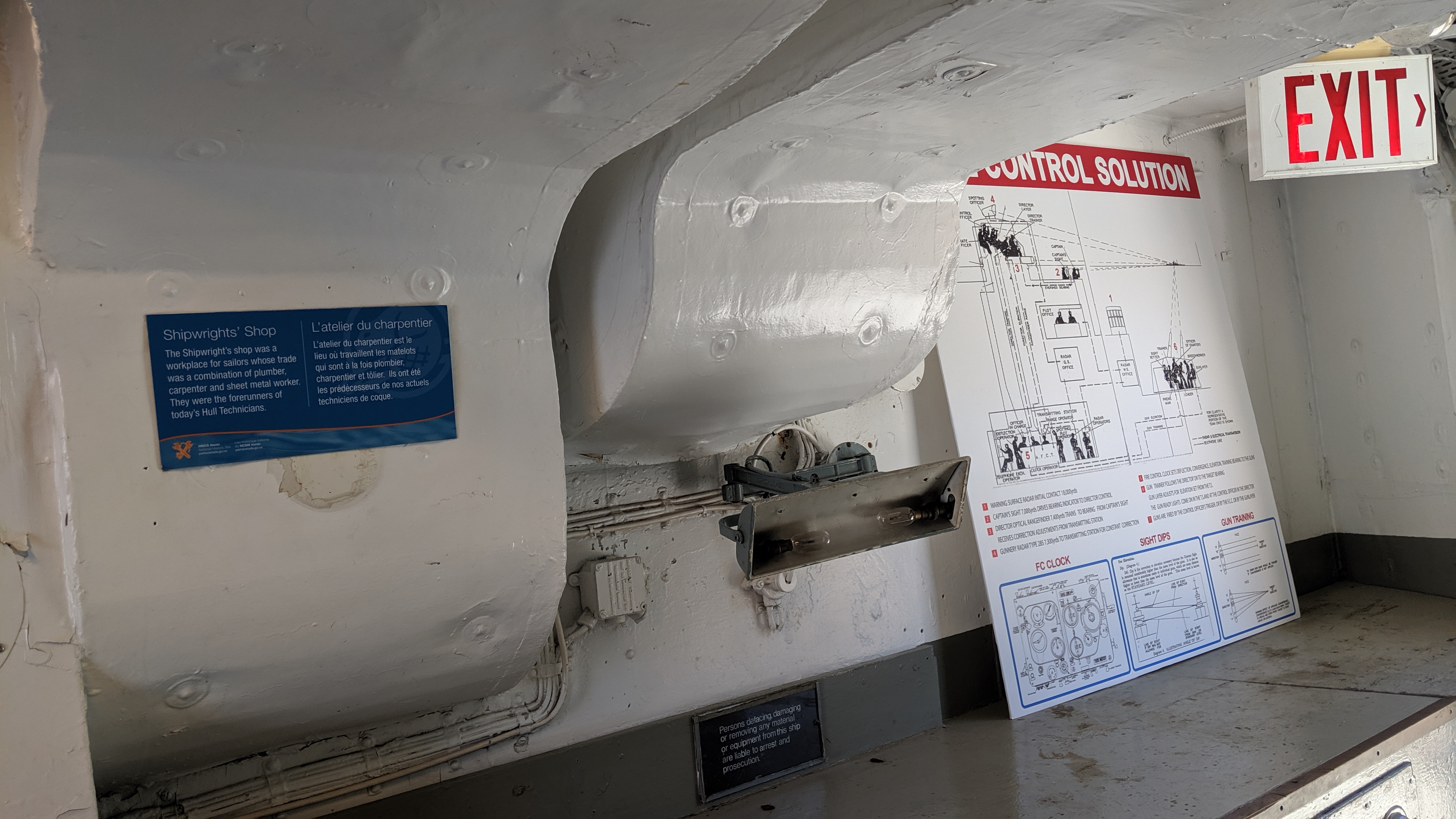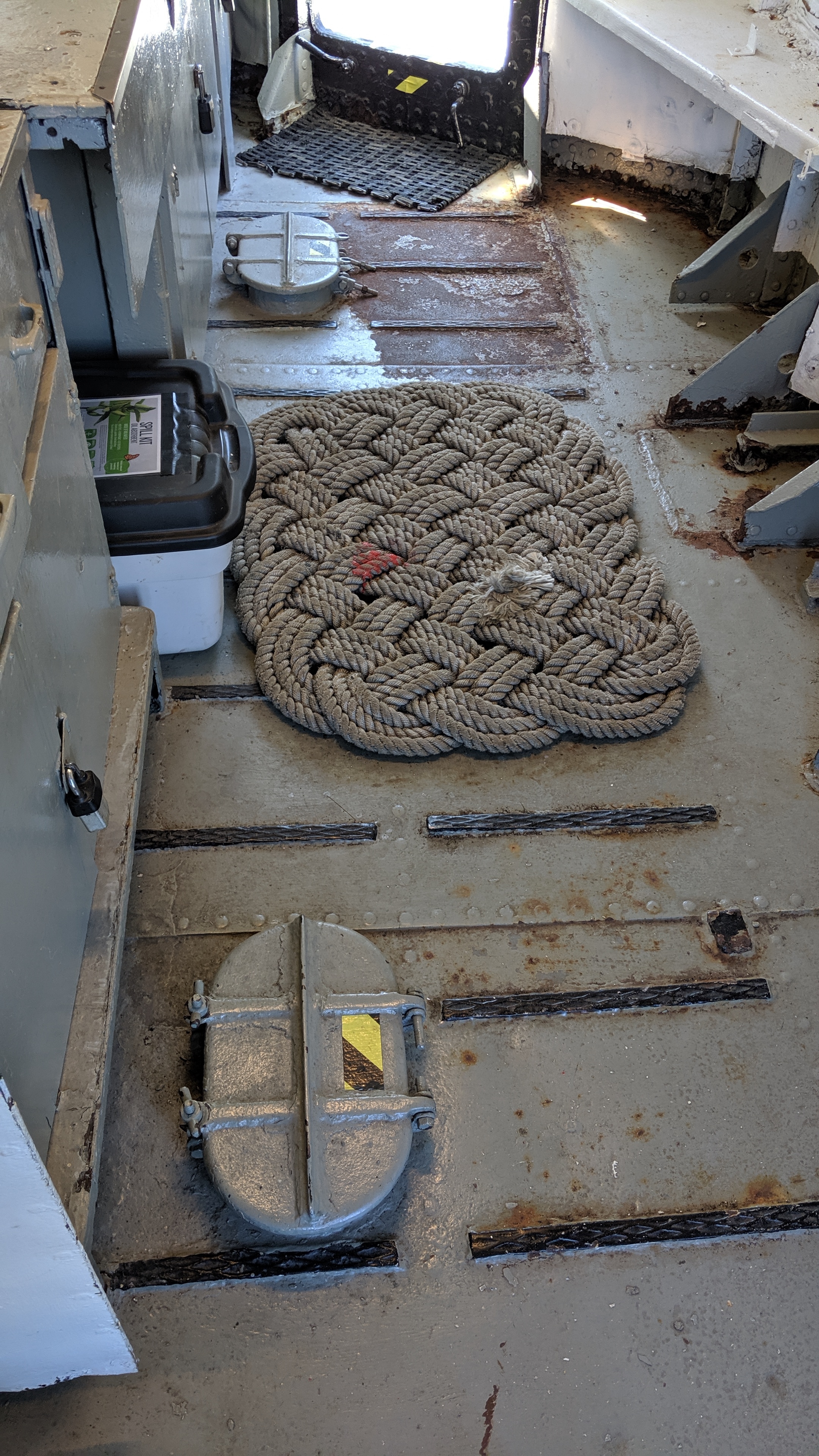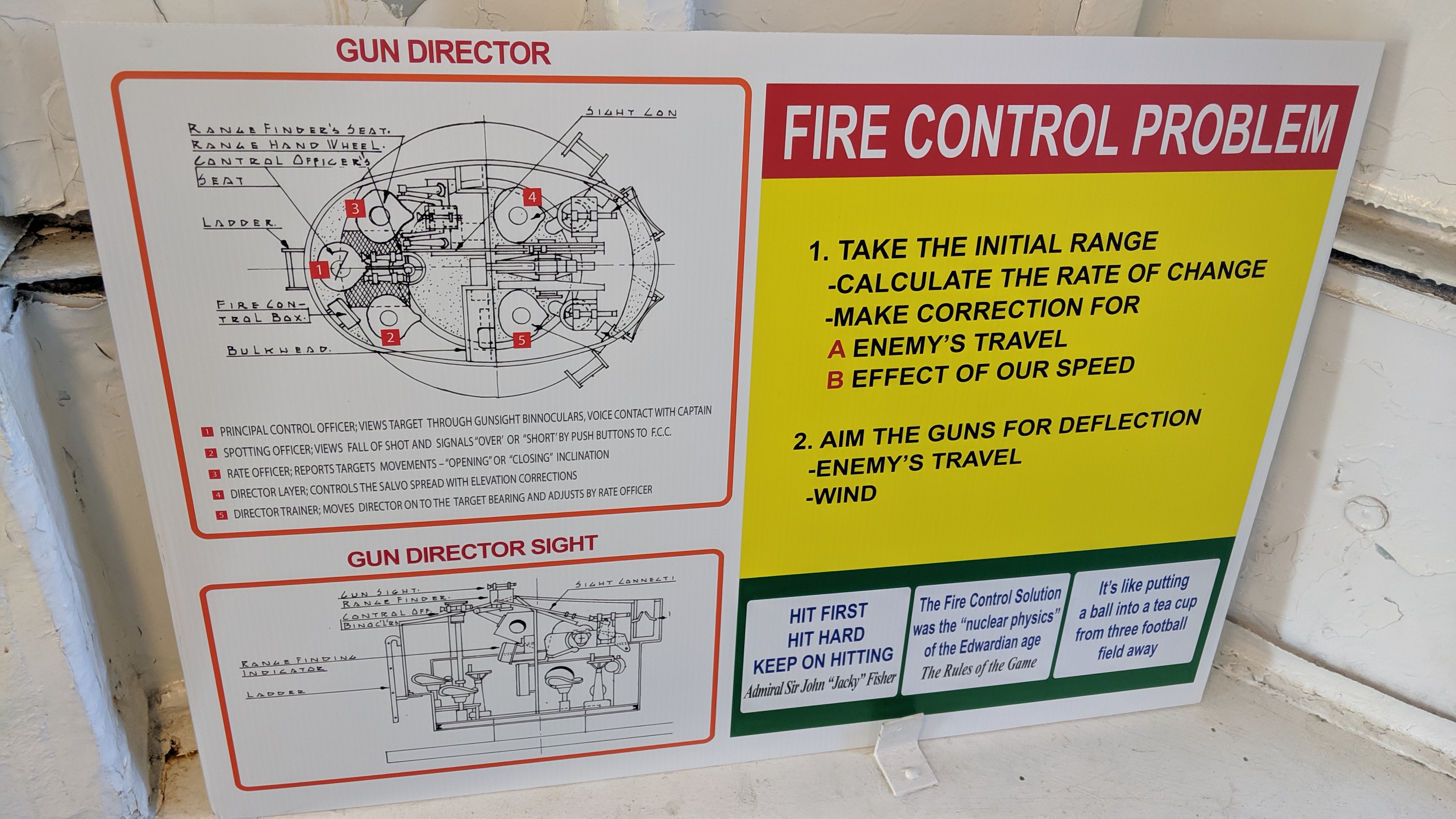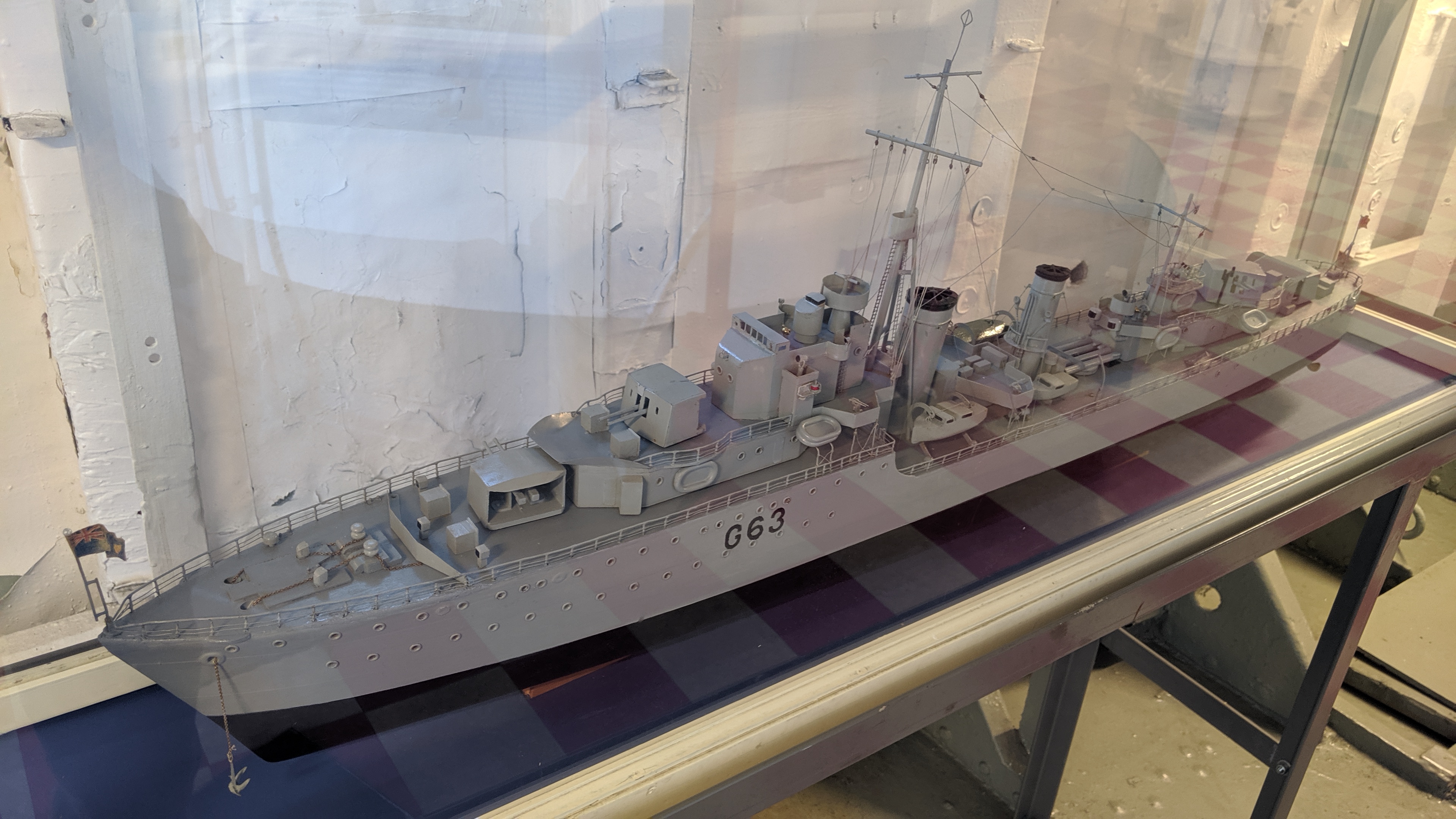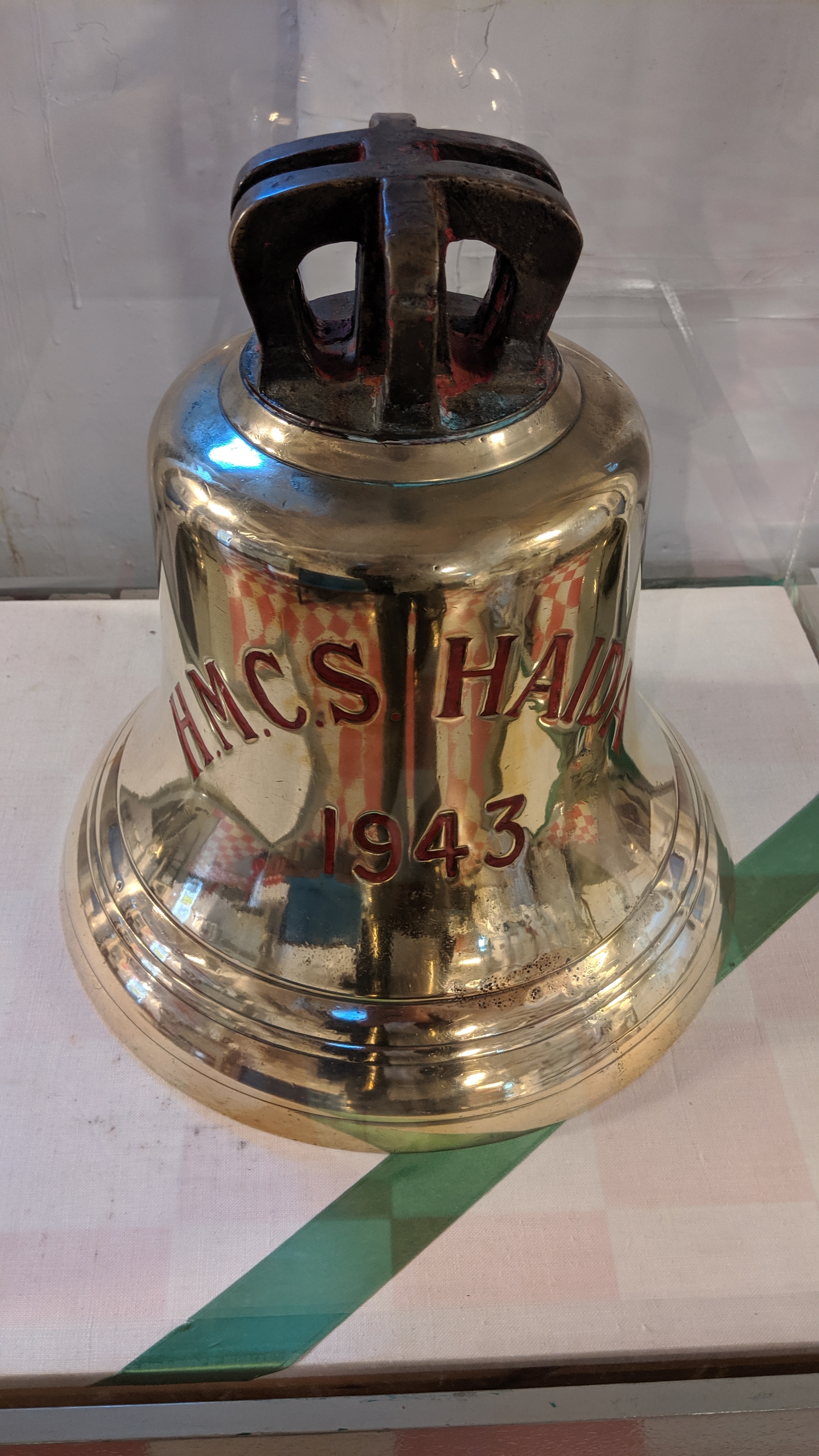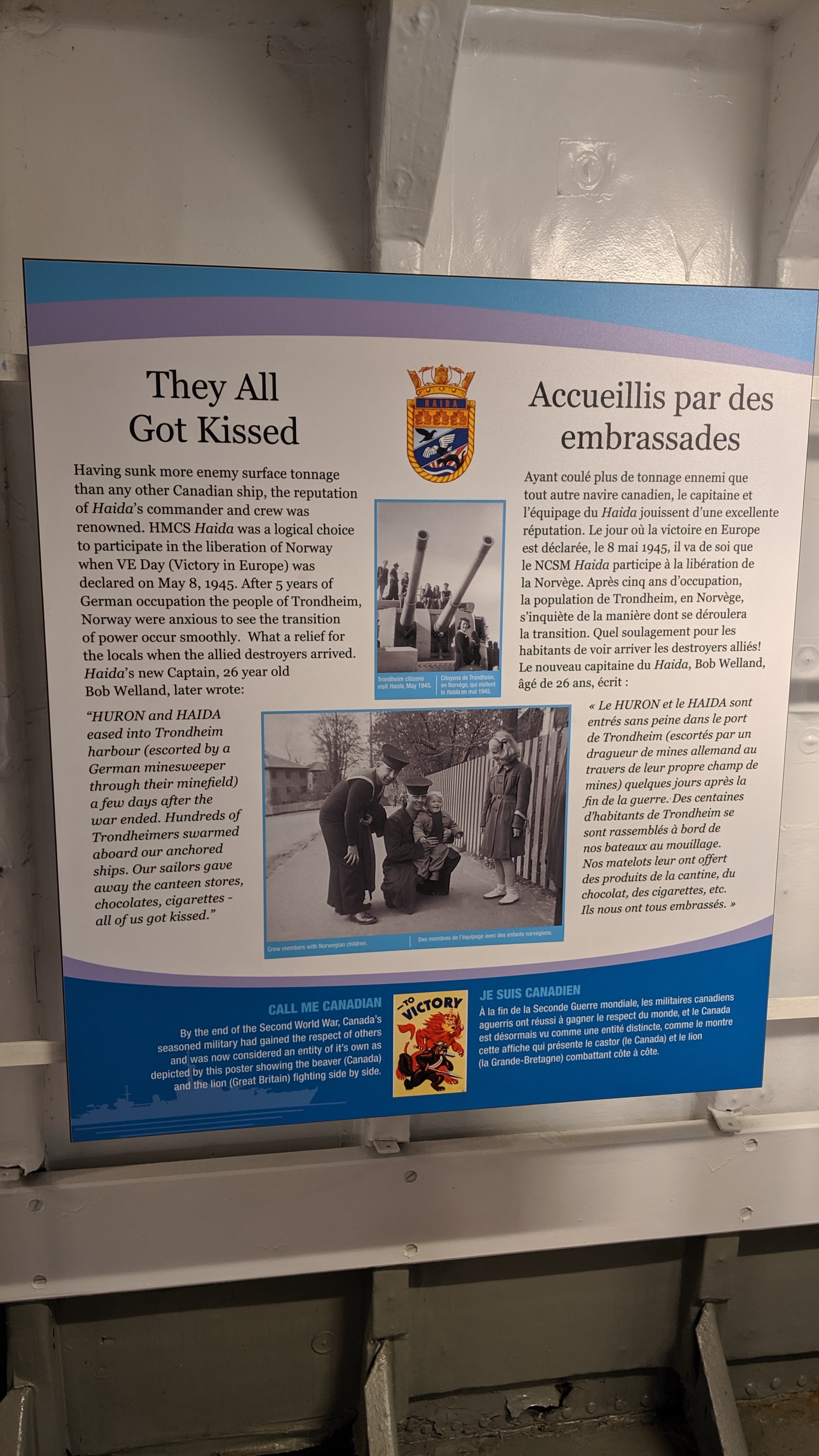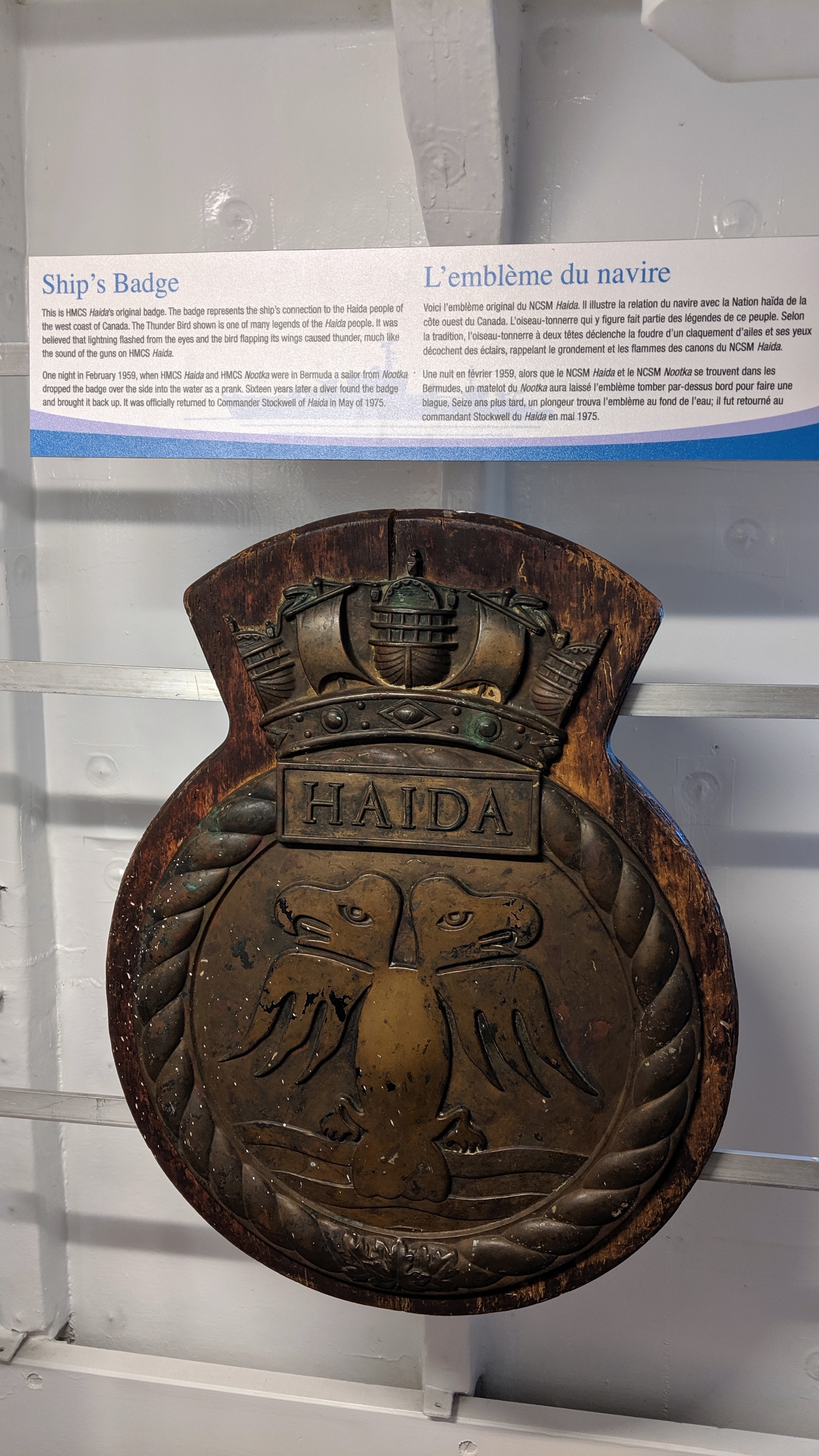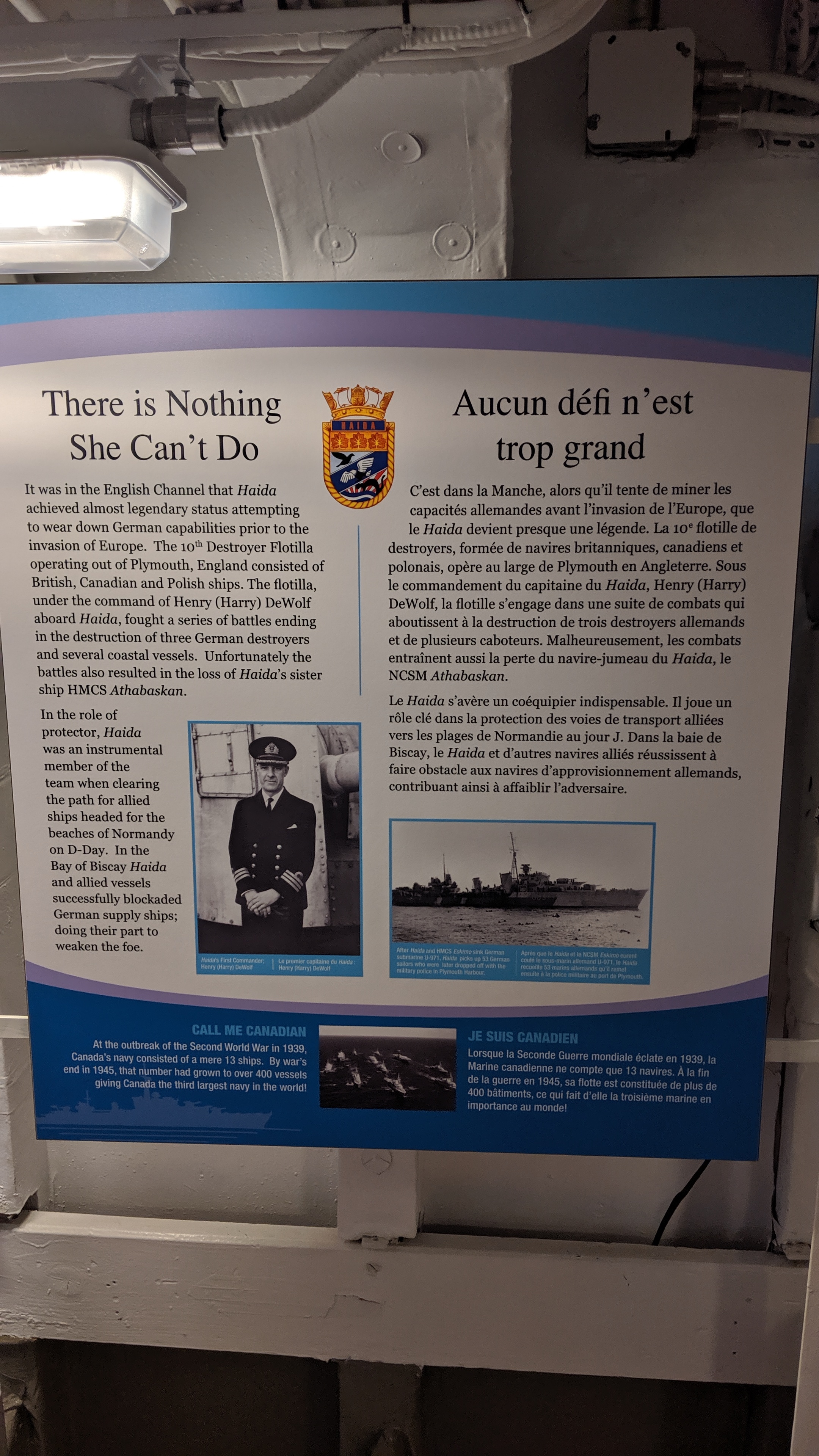 I've seen my fair share of people denying others & myself from admiring HMCS Haida. I'm not trying to be blindly patriotic to Canada, I however do respect Canada's contribution when its genuine. Canadian aviation, Canadian naval and military accomplishments, among others. When Canadians care they can accomplish whatever they want, they however tend to be "tardy" at times. Too complacent. I admire Canada's contribution to World War 2 (special thanks to KanColle & Azur Lane, as noted) while also hoping to see them in a genuine WW2 game which is not a 'cookie cutter' type game. I would honestly love to command HMCS Haida in a proper game, such as a 'Silent Hunter 3' type game in modern times (not World of Warships) for being free-roaming to do as you desire. It's honestly difficult to connect with your Canadian identity when people keep treating Canadians & their smaller Allies as expendable trash.
Canadians can't even treat their Avro Arrow replica with respect:
https://toronto.citynews.ca/2018/08/17/avro-arrow/
(Keep it in a hanger, or somewhere genuinely safe. Don't leave it sitting outside! It's a national & historical piece of history. WHAT ARE YOU DOING?!)
I get called "dramatic", that's however caused by people pushing back on my desires to see Canadians in a proper war game; For game developers to actually do their job when making war games. Every time you request Canadians for these war games you always gain some puzzling push backs for being a 'minor nation', or some nonsense, or how the game is USA focus, or some nonsense like that It's genuinely baffling, especially when it comes from a fellow Canadian trying to impress fellow Americans, or something. I still genuinely admire HMCS Haida though, thus why I went to see her, and why I'm blogging about her. She's highly gorgeous!
I'm proud to have visited her, and I'm proud with what I've learned what Canadians have contributed in WW2. How we had two light cruisers named HMCS Ontario & HMCS Uganda (two light cruisers) during the final stages of the war. Same with knowing how we had HMCS Prince Henry, HMCS Prince Robert, & HMCS Prince David for being our three Armed Merchant Cruisers. Many destroyers, many Corvettes, and how we captured a few German submarine U-boats. Just paying that bit of respect in a WW2 game would go a long way,thus why I respect 'Silent Hunter 3' game for adding detailing where able. I'm highly happy I learned new bits of tid-bits by reading the info signs about various mascots, potato theft, and etc. There's much to learn to those who want to listen.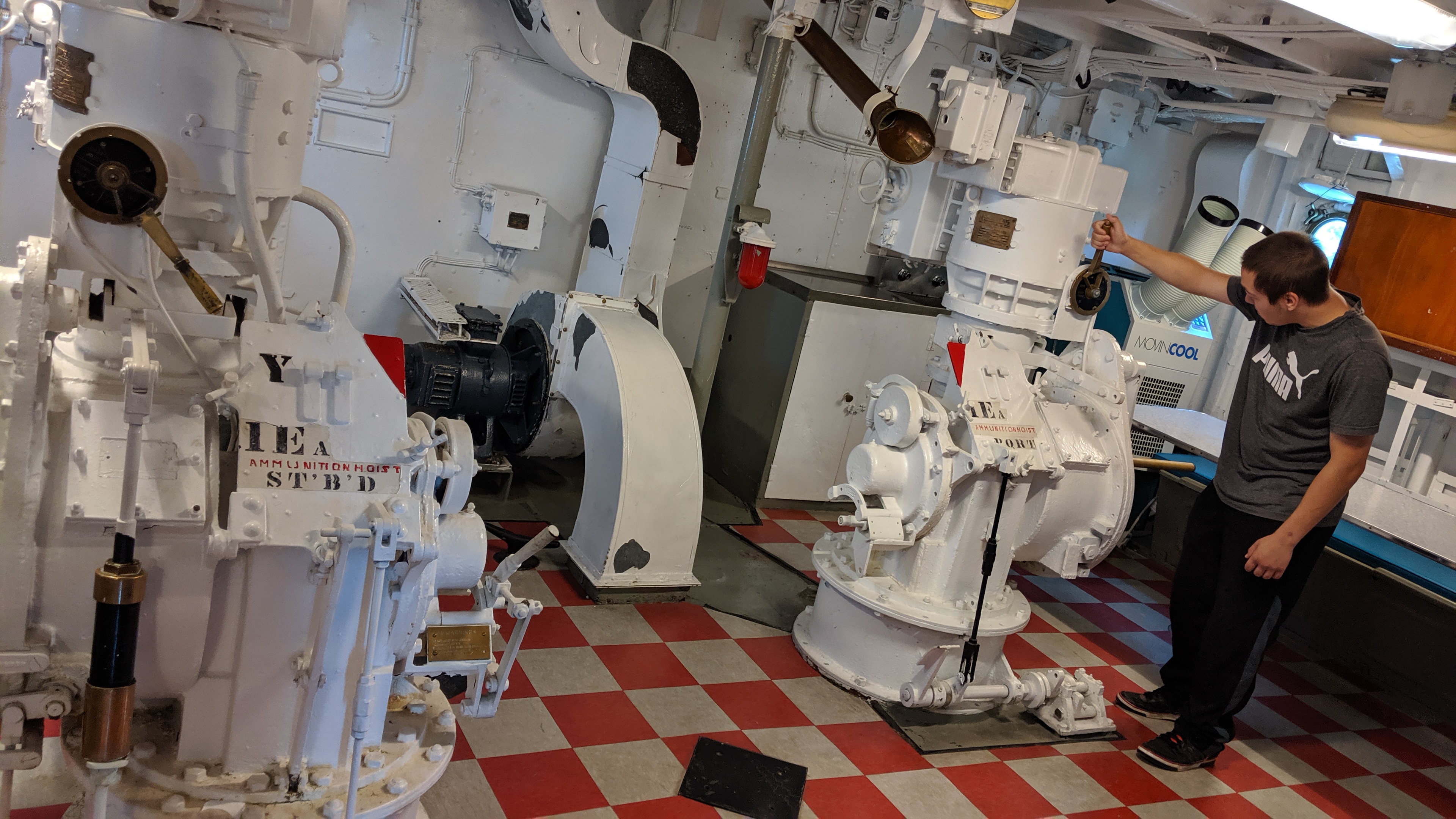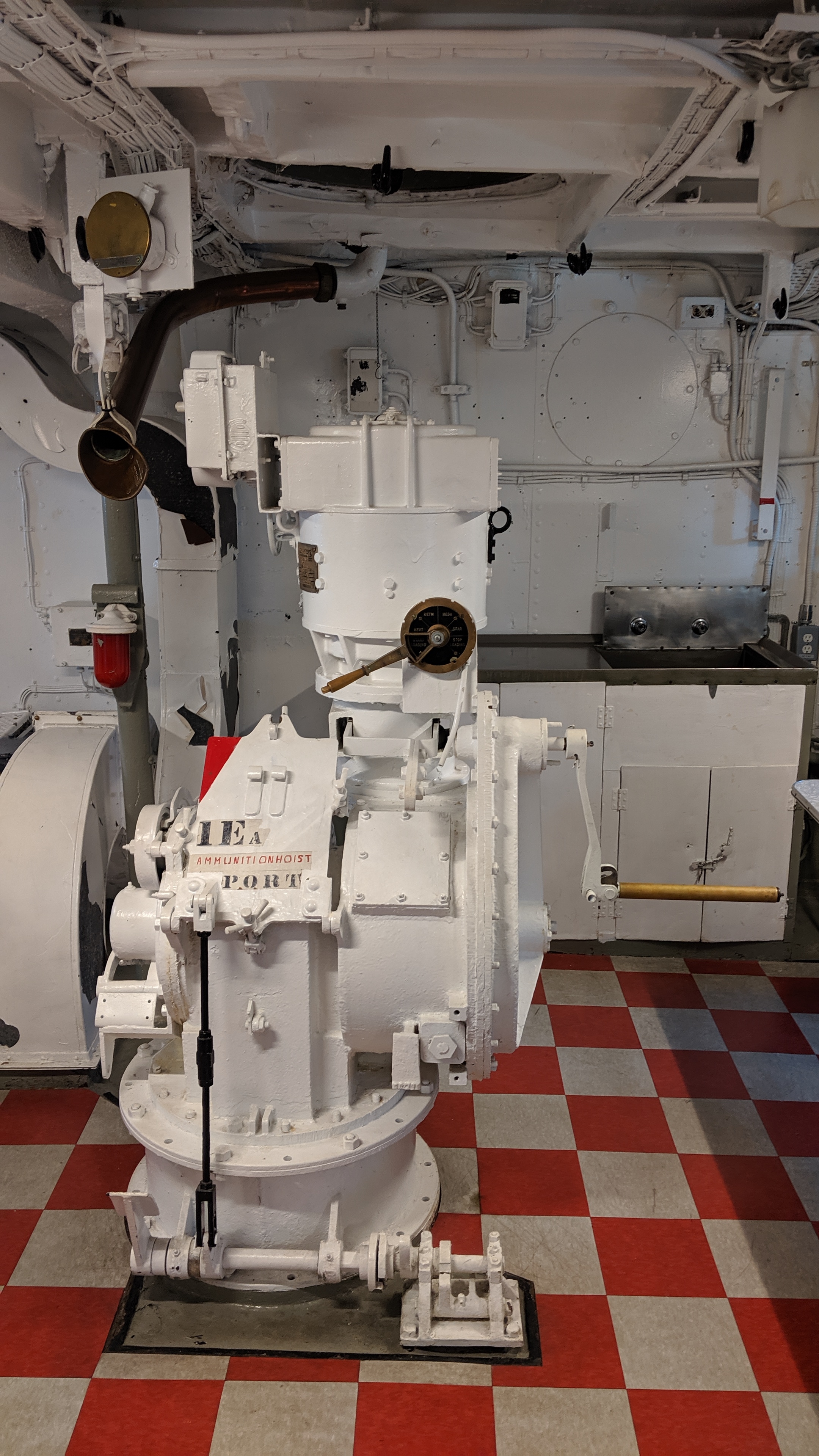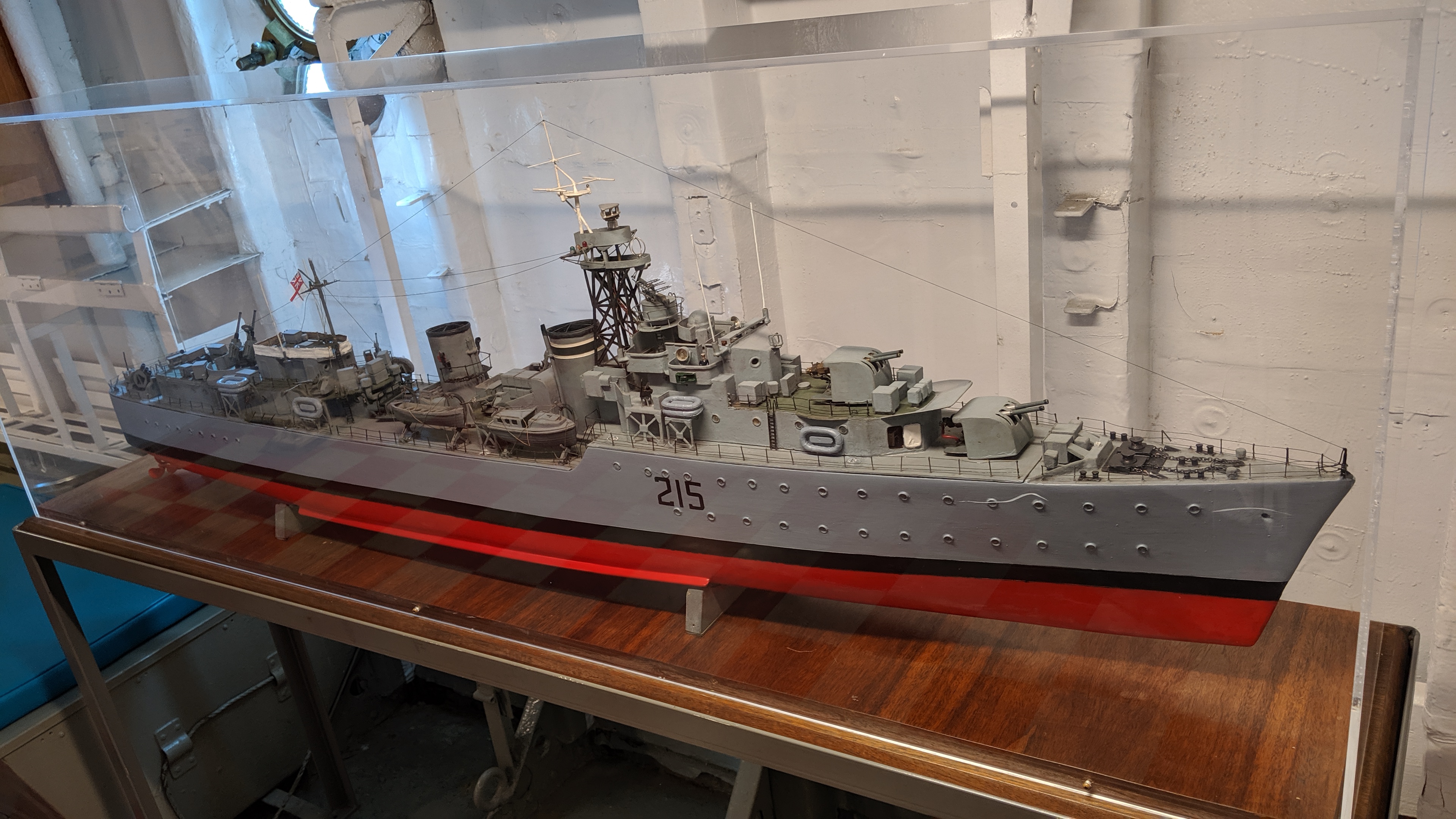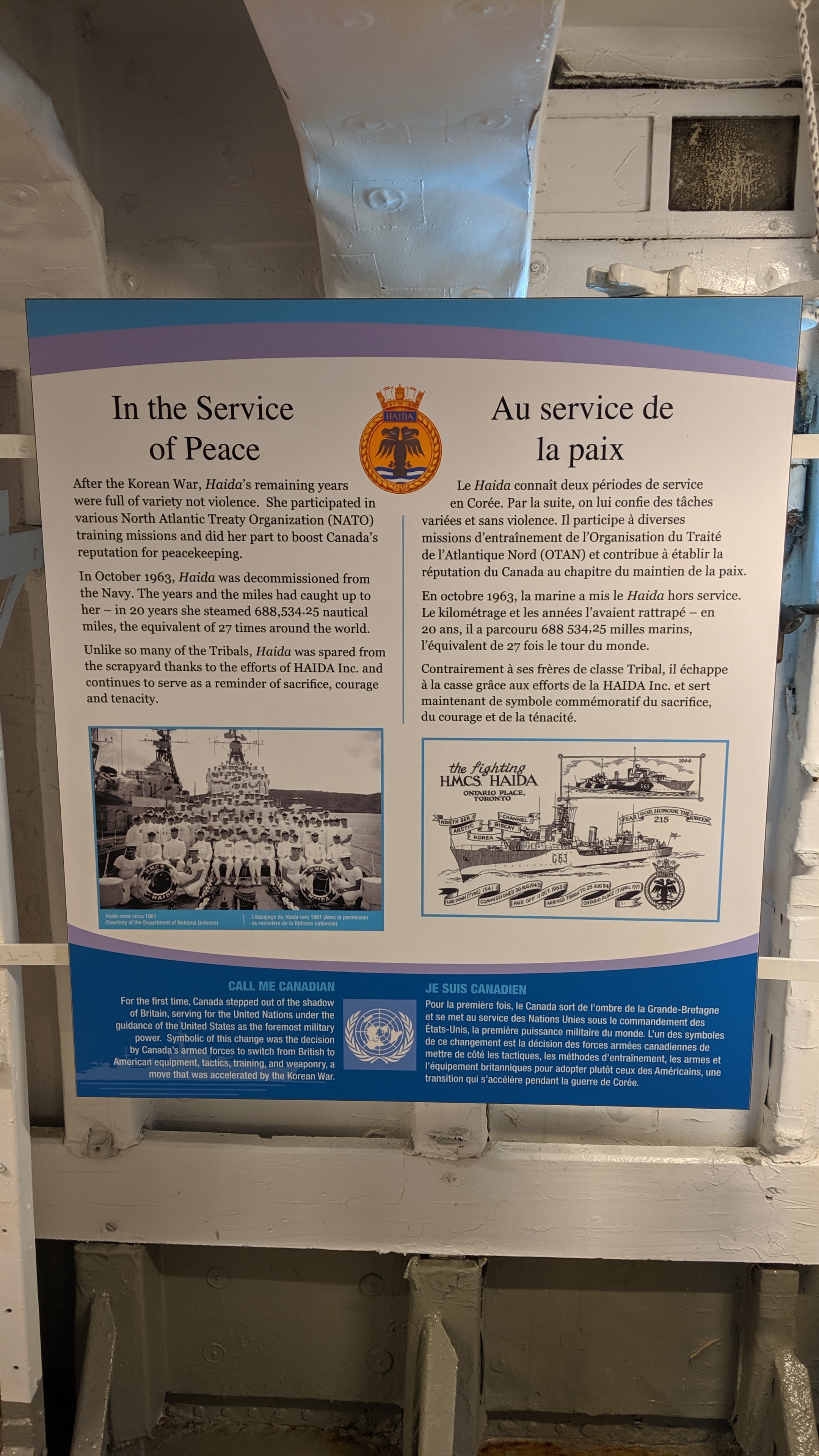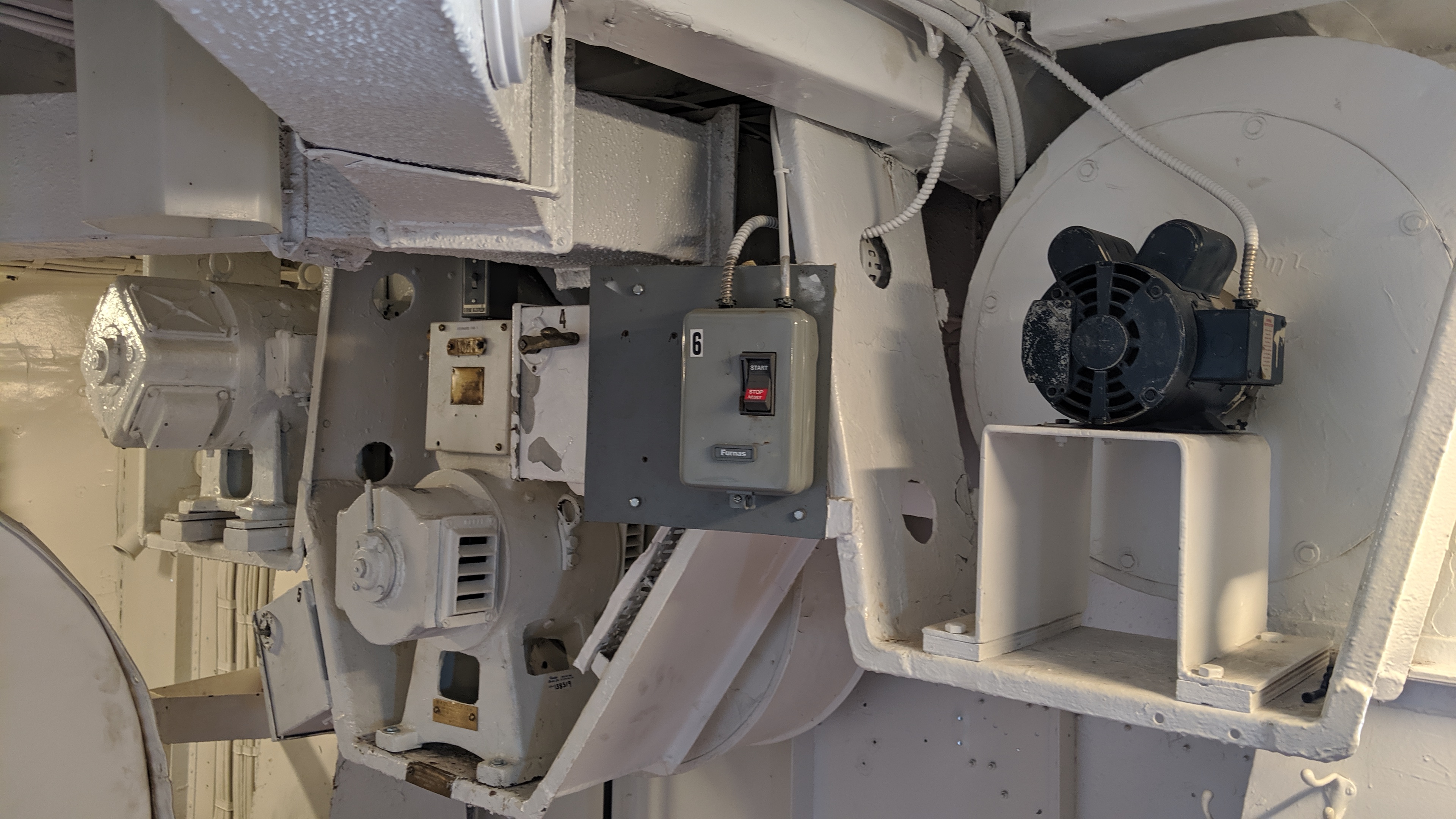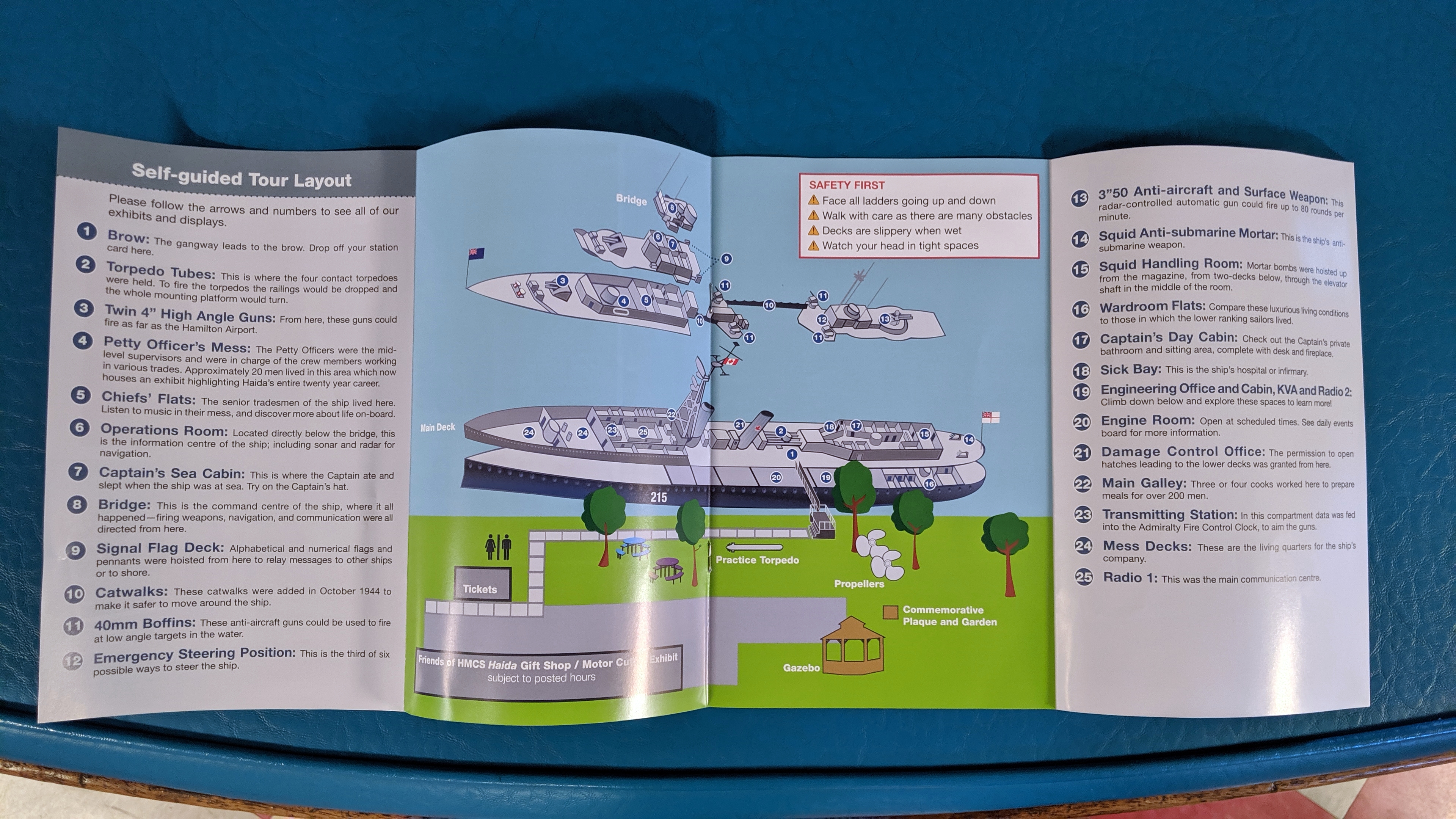 Feel free to open up the tour map on the side to follow along while trying to keep track of where I went. It may help guide you on the route I took.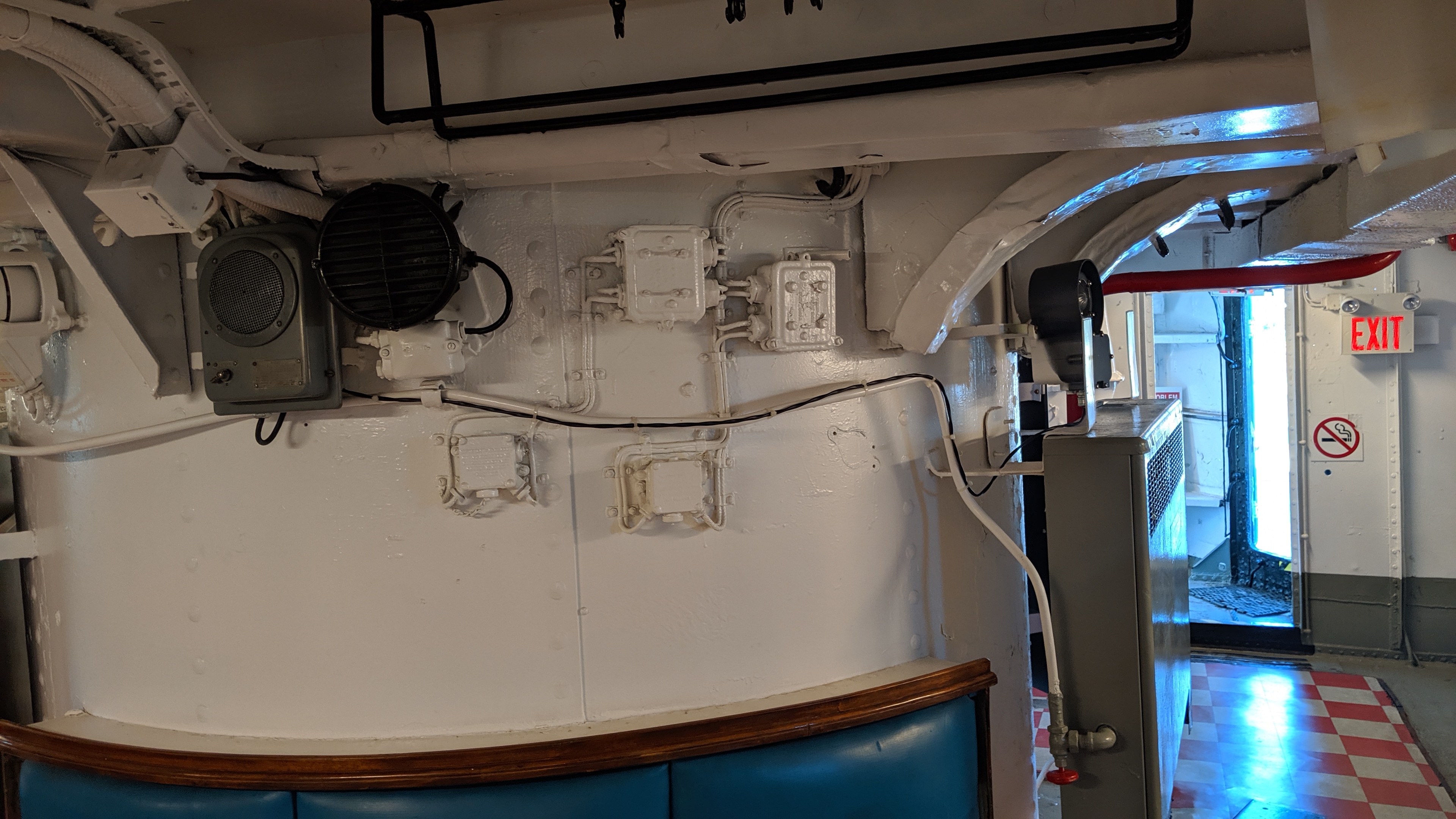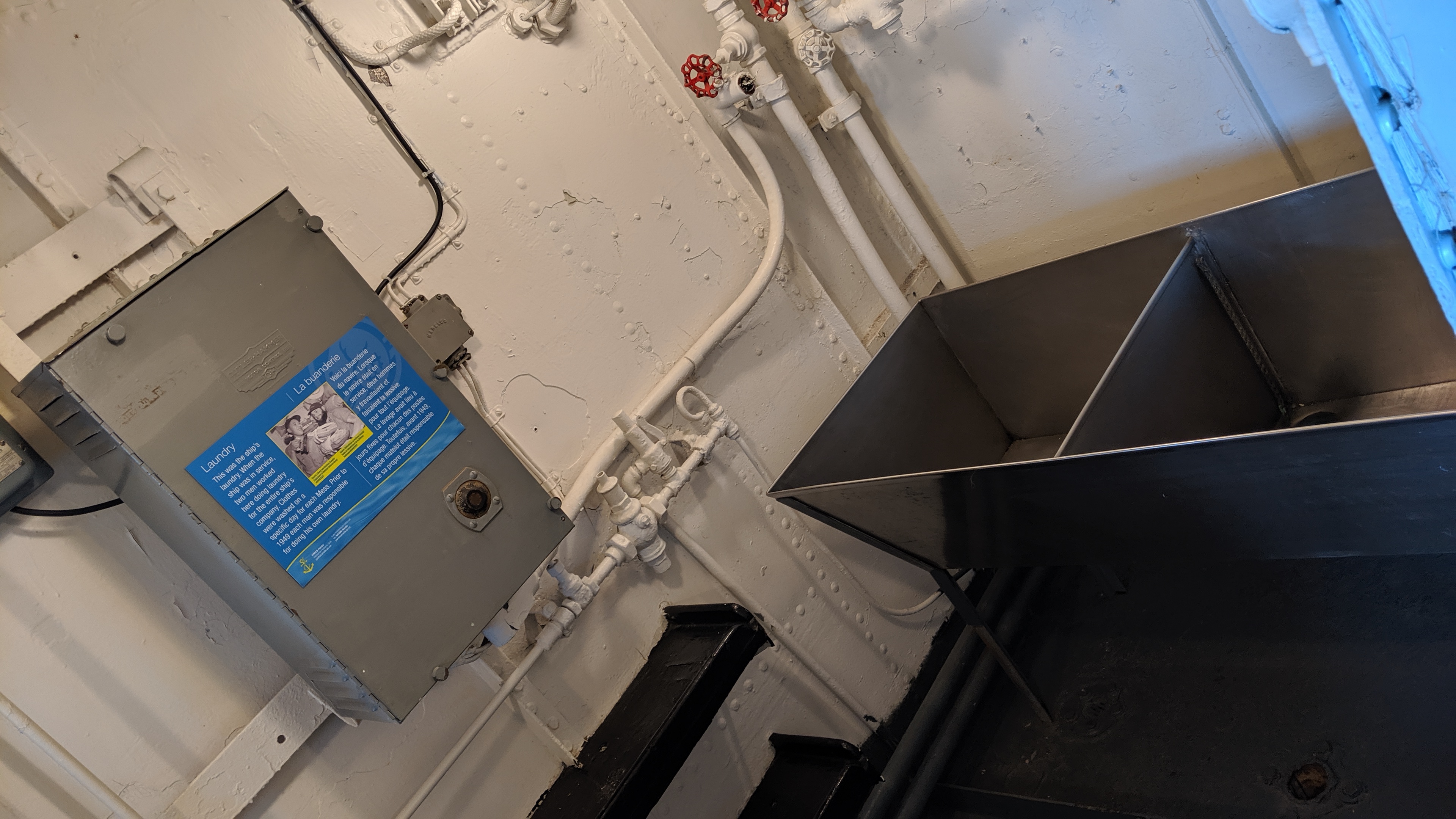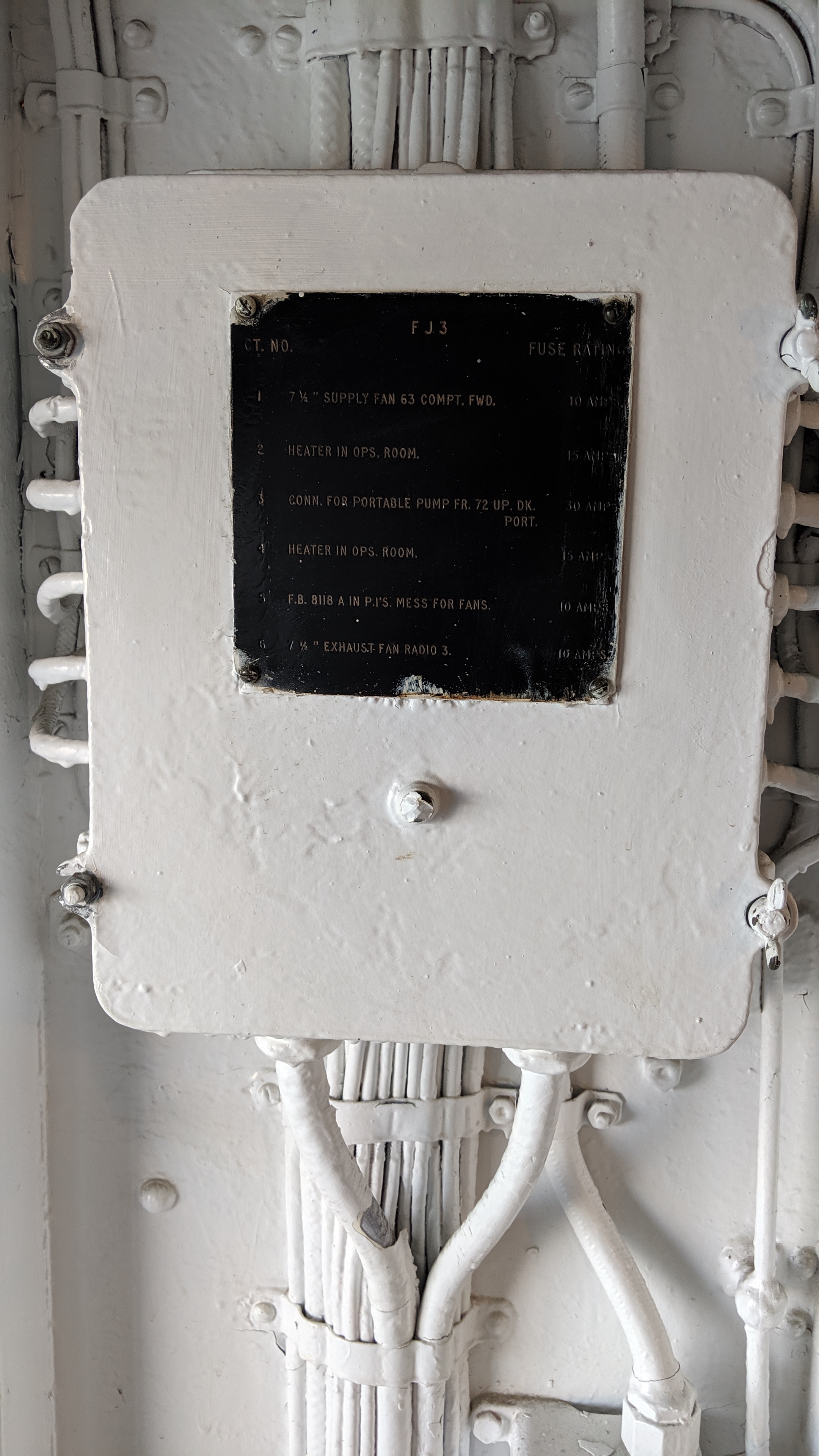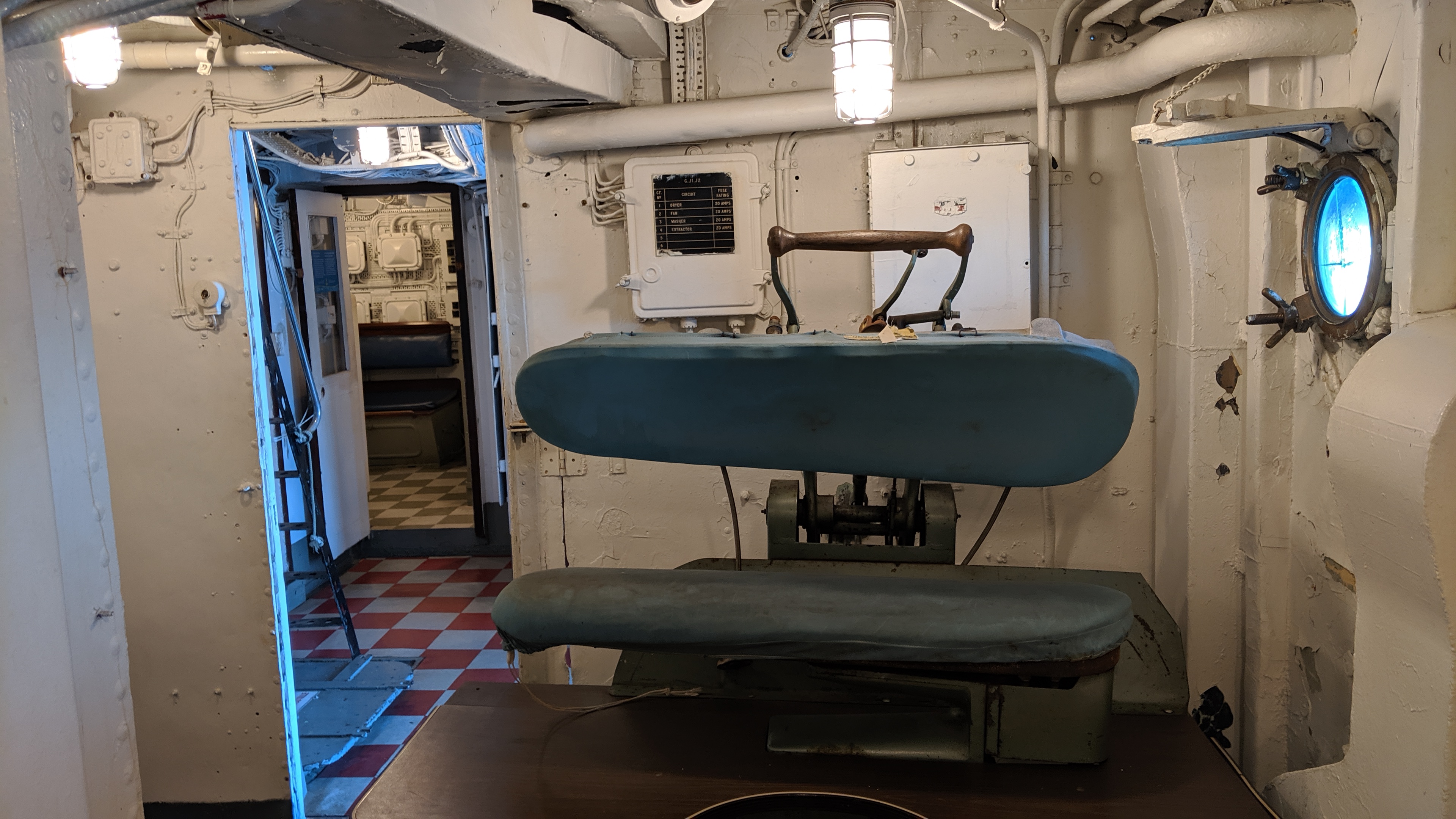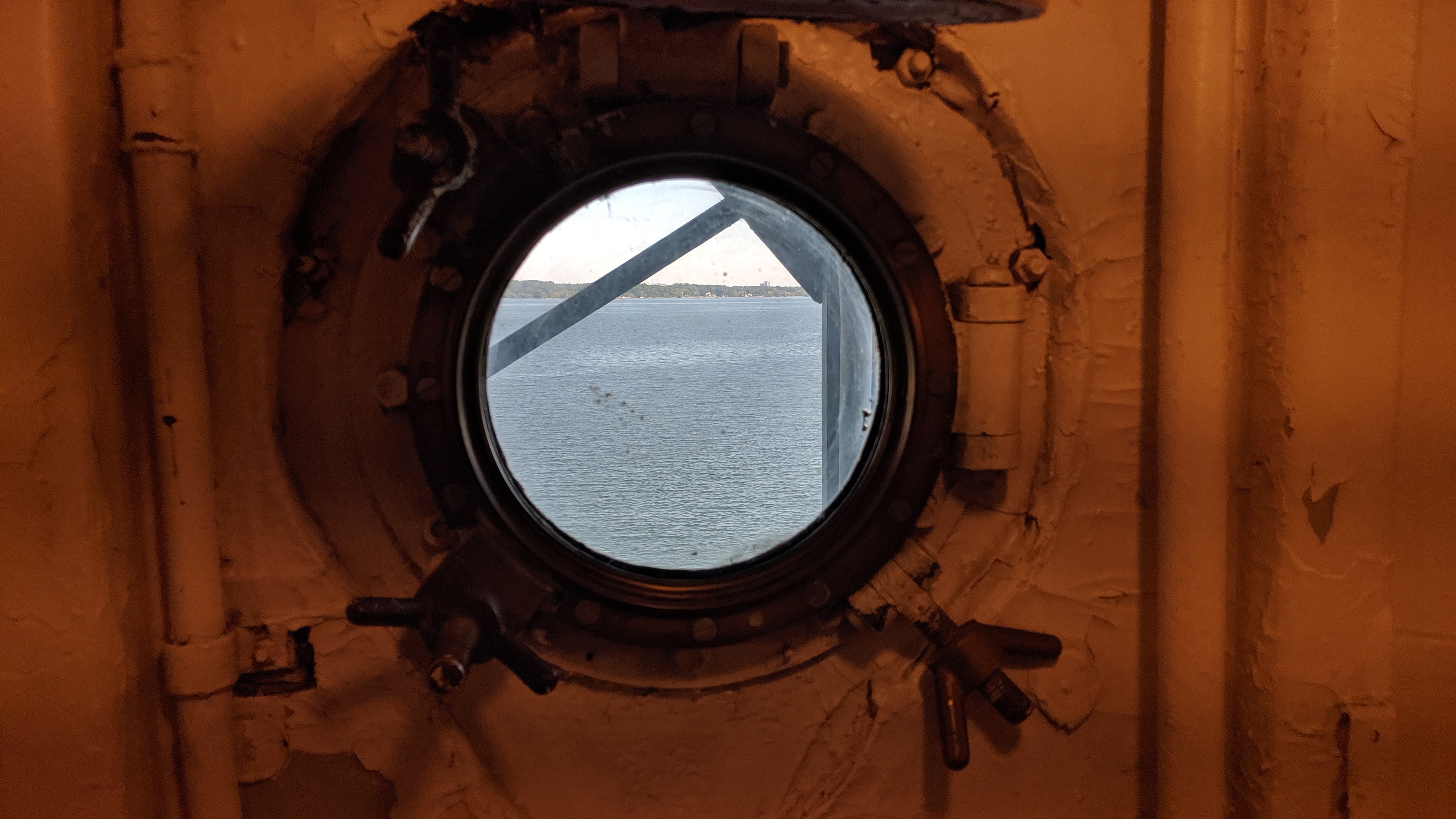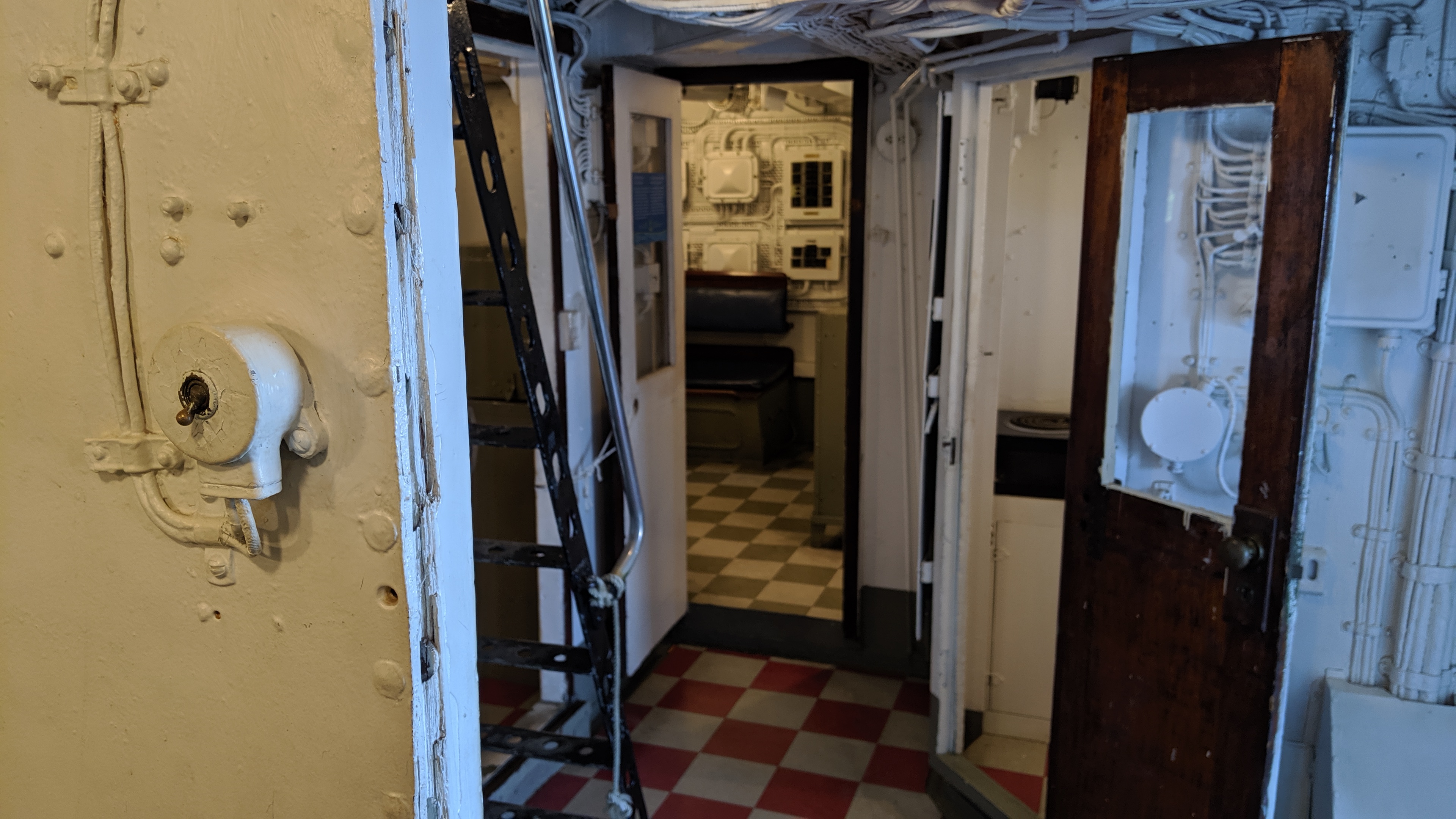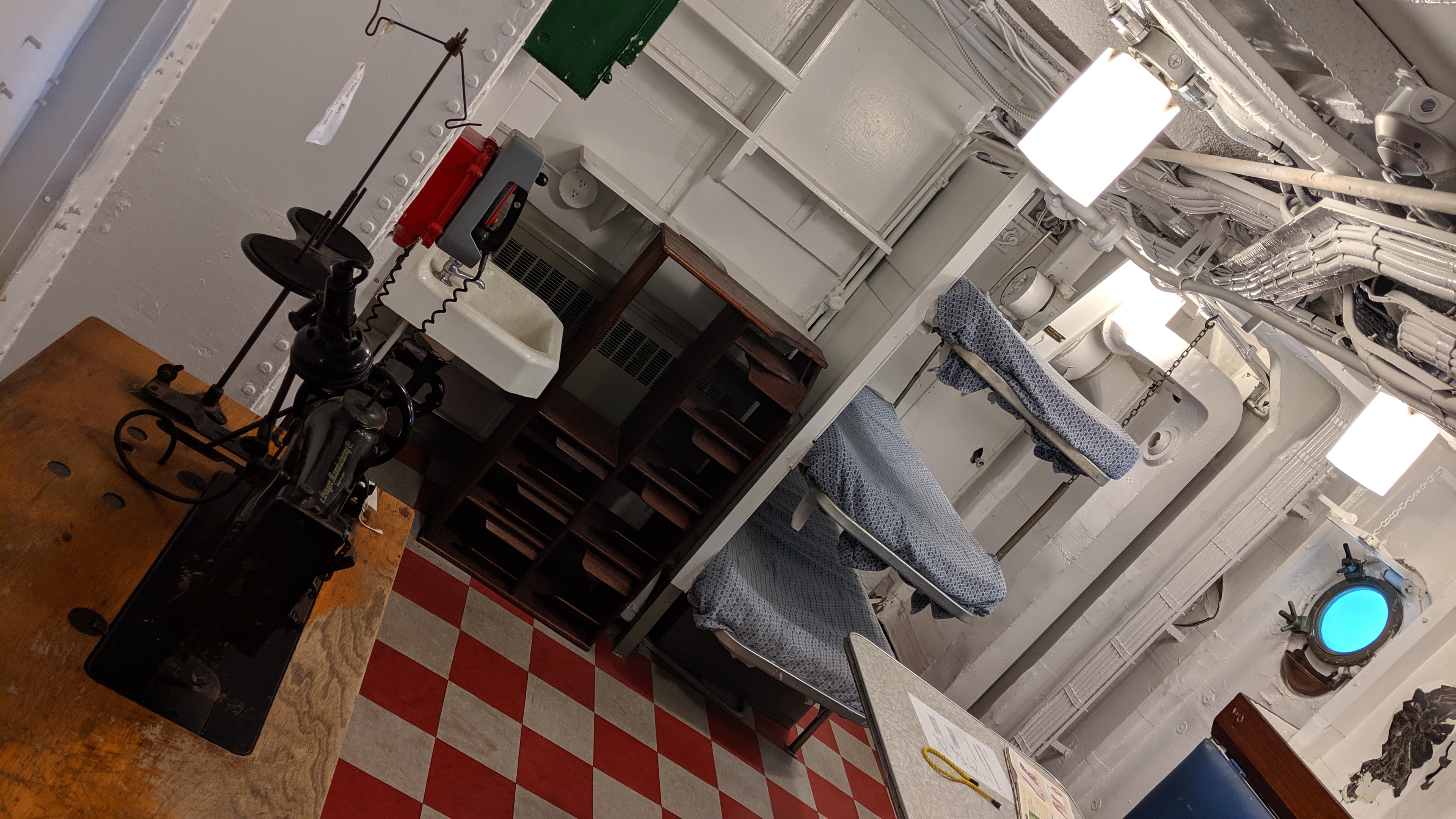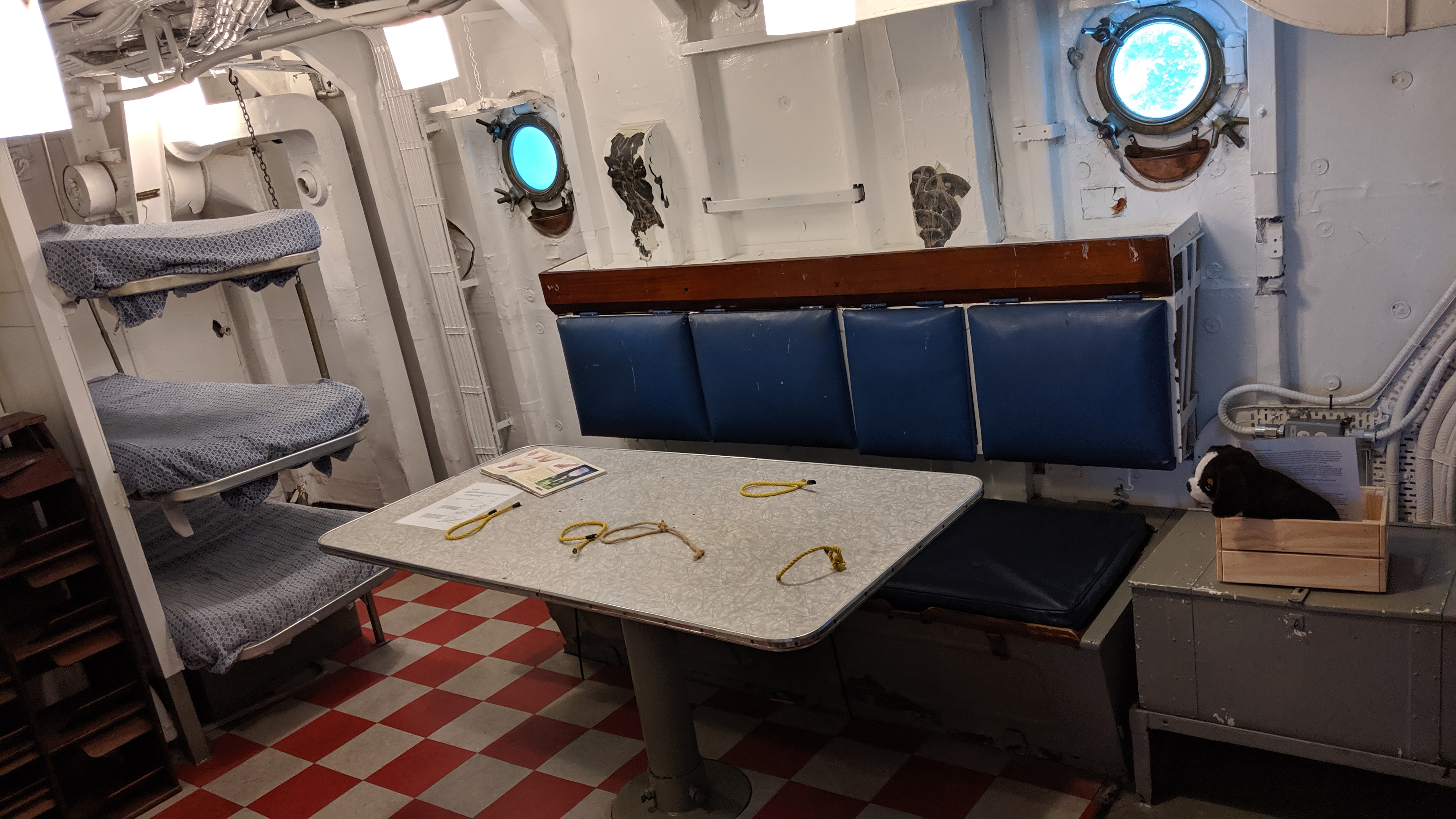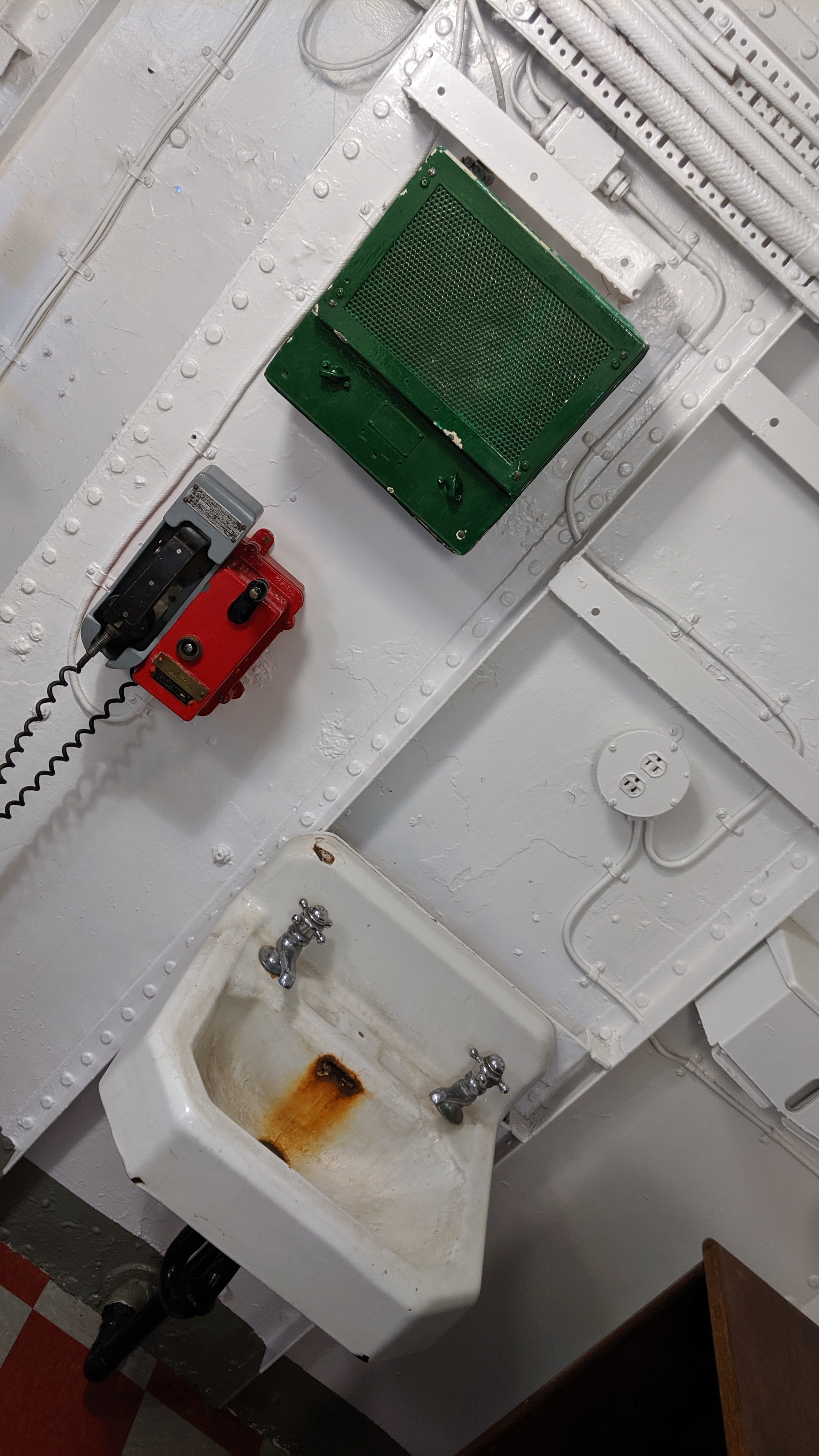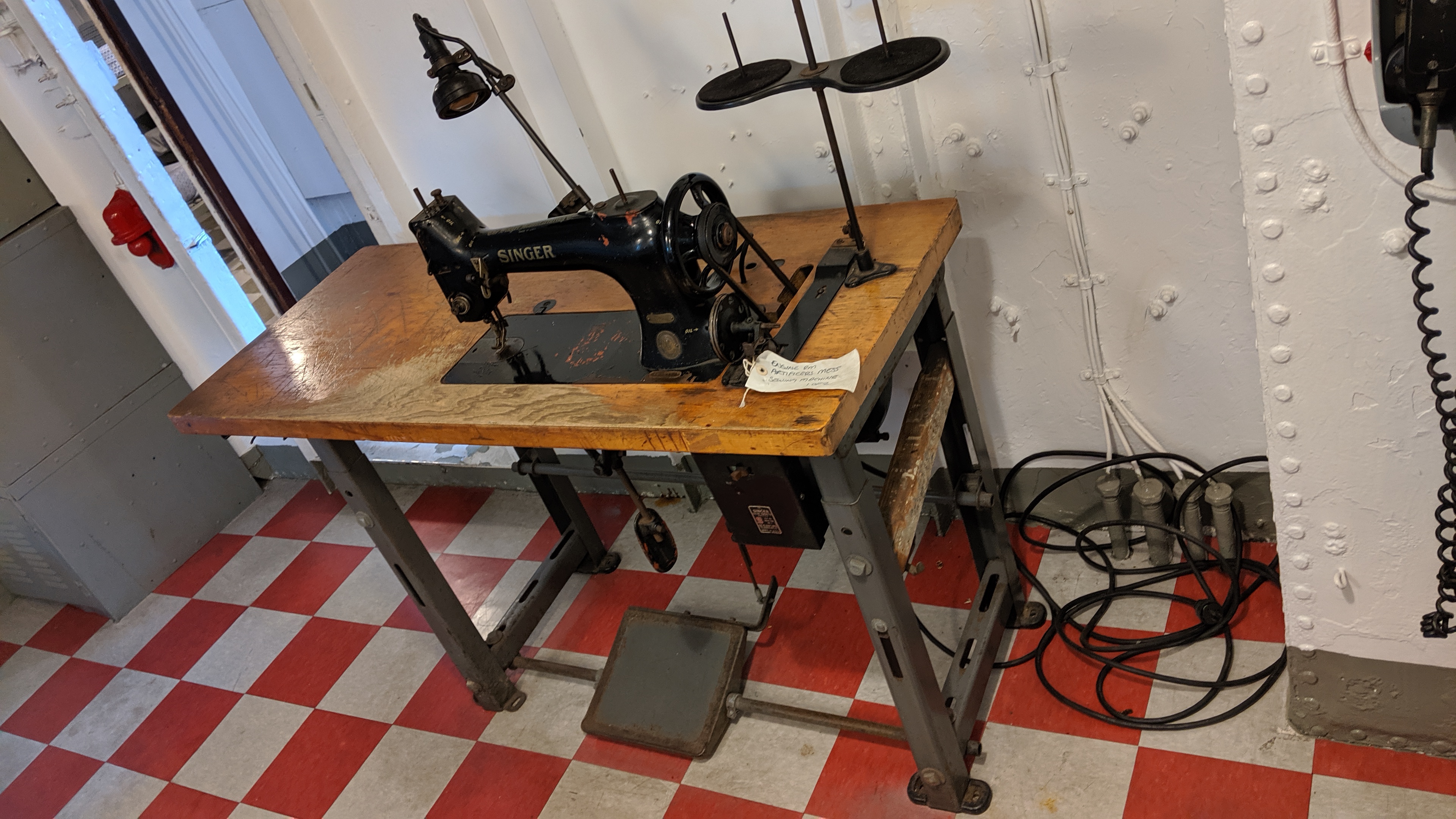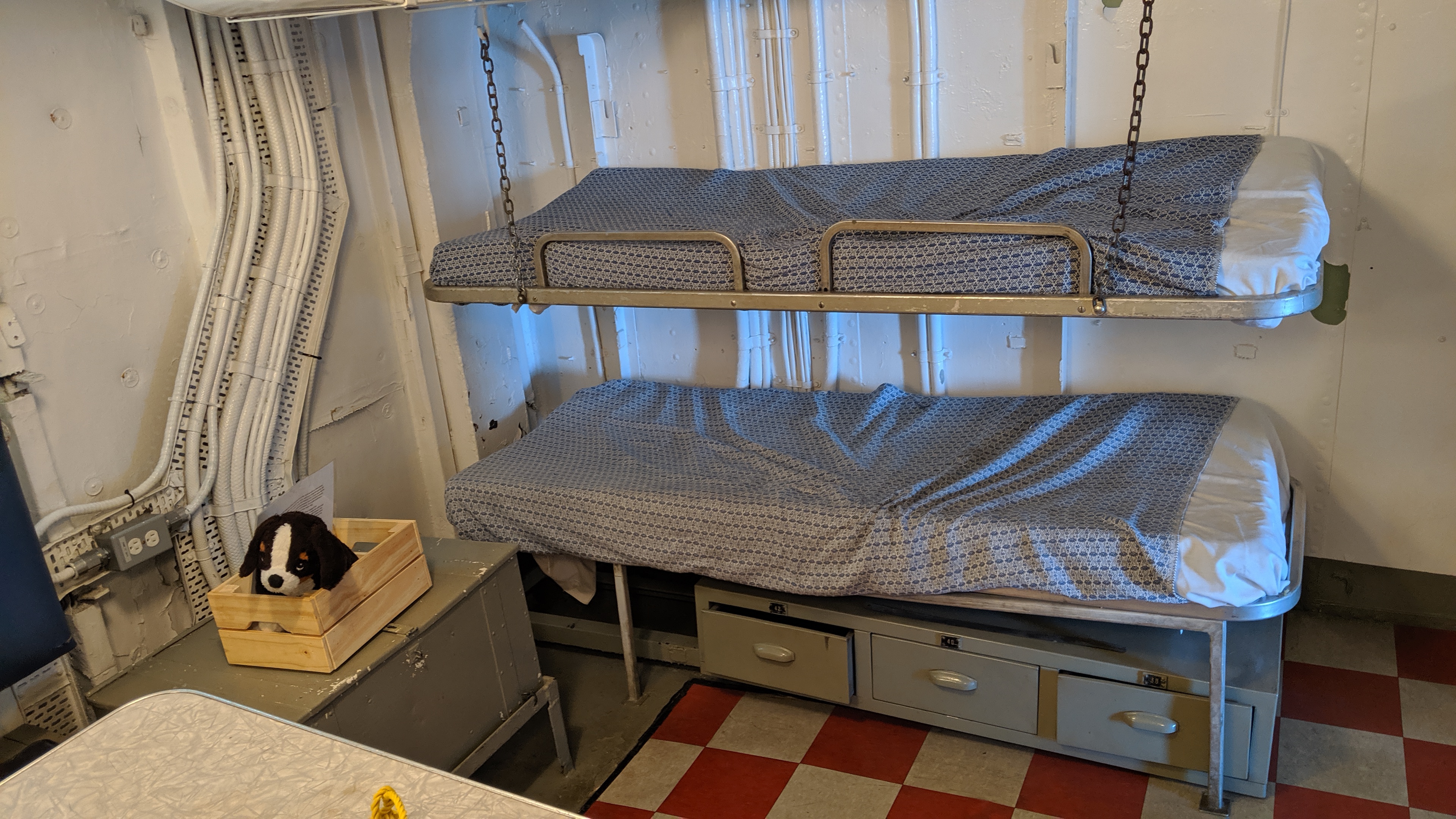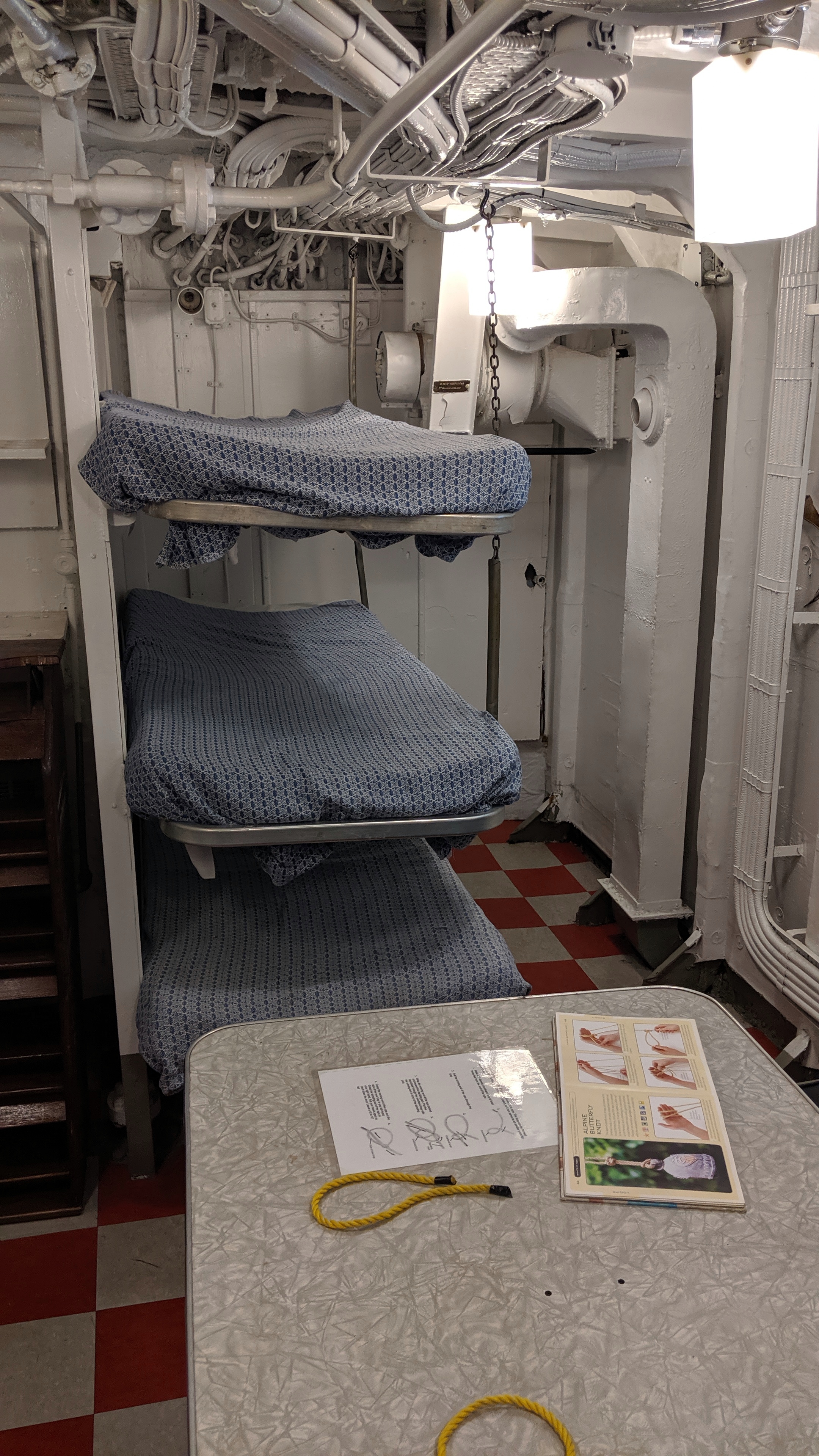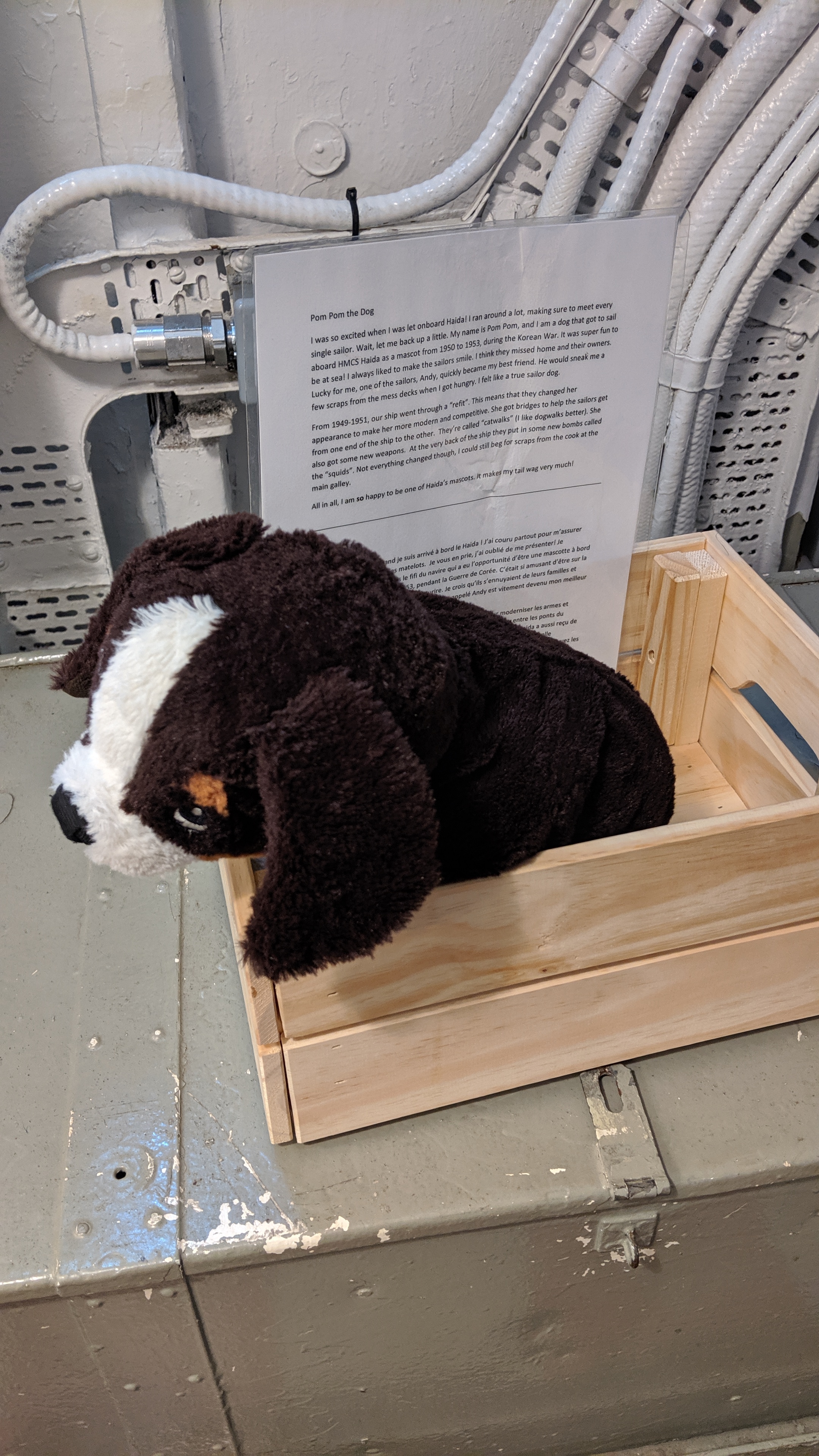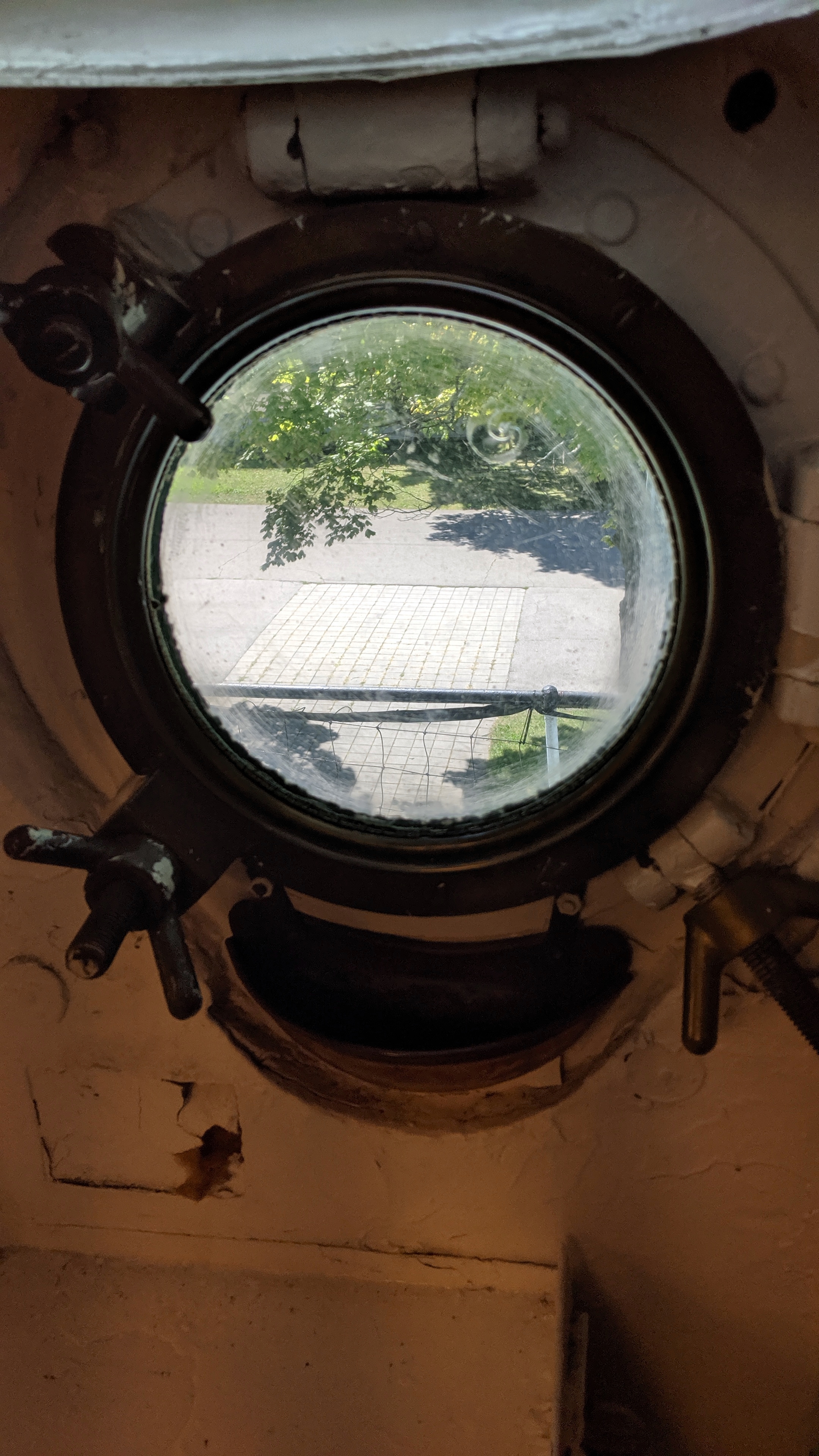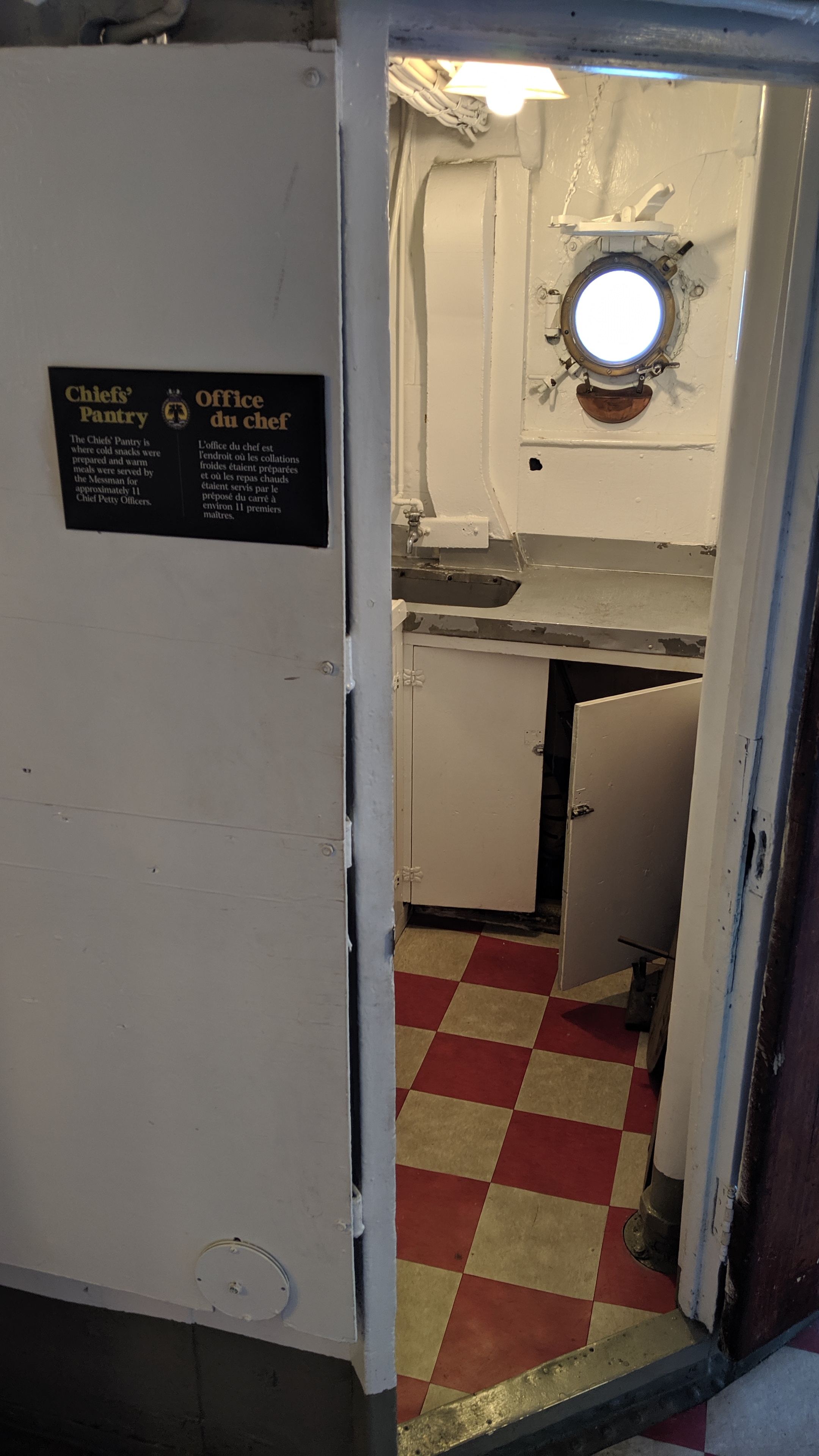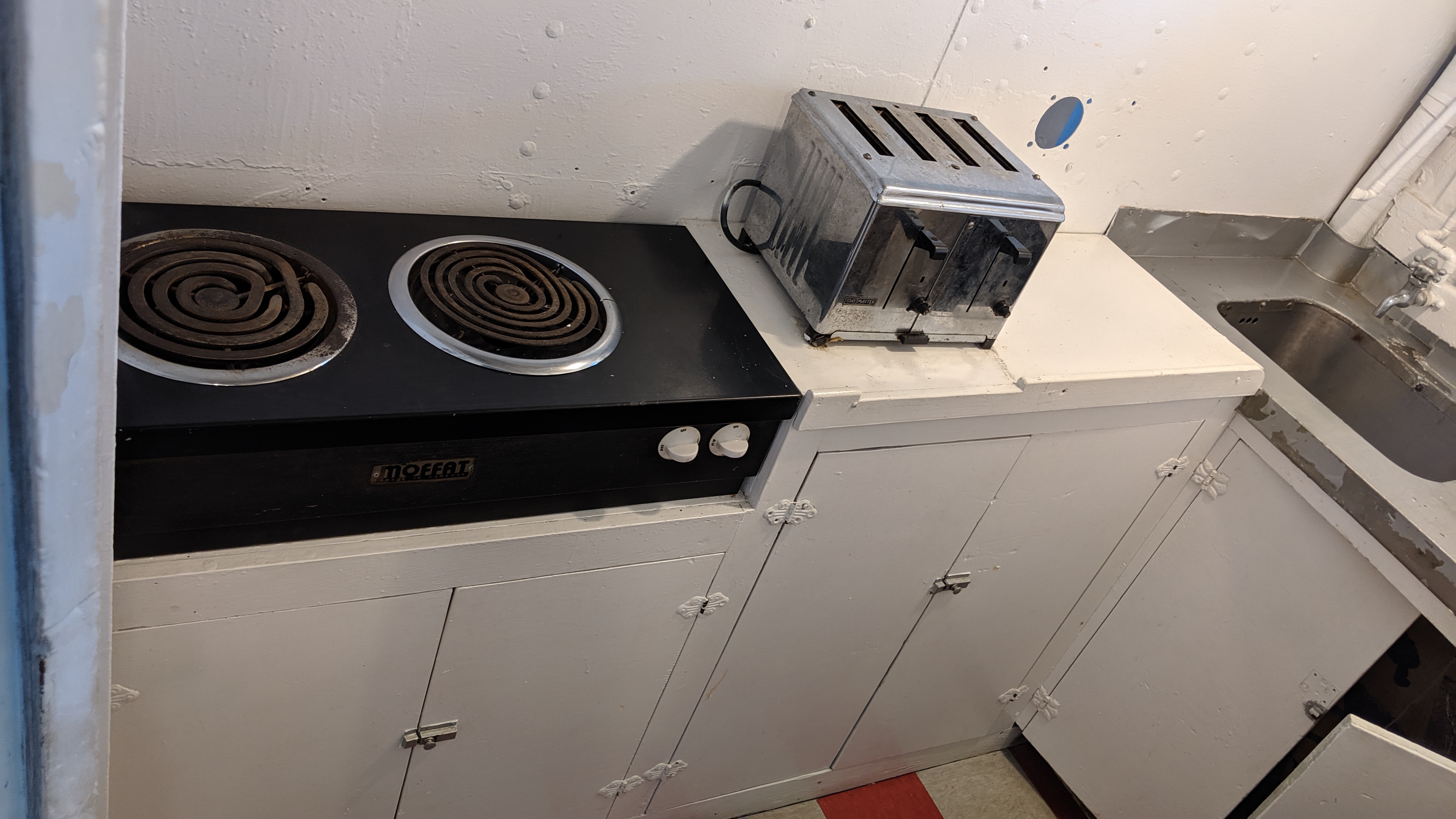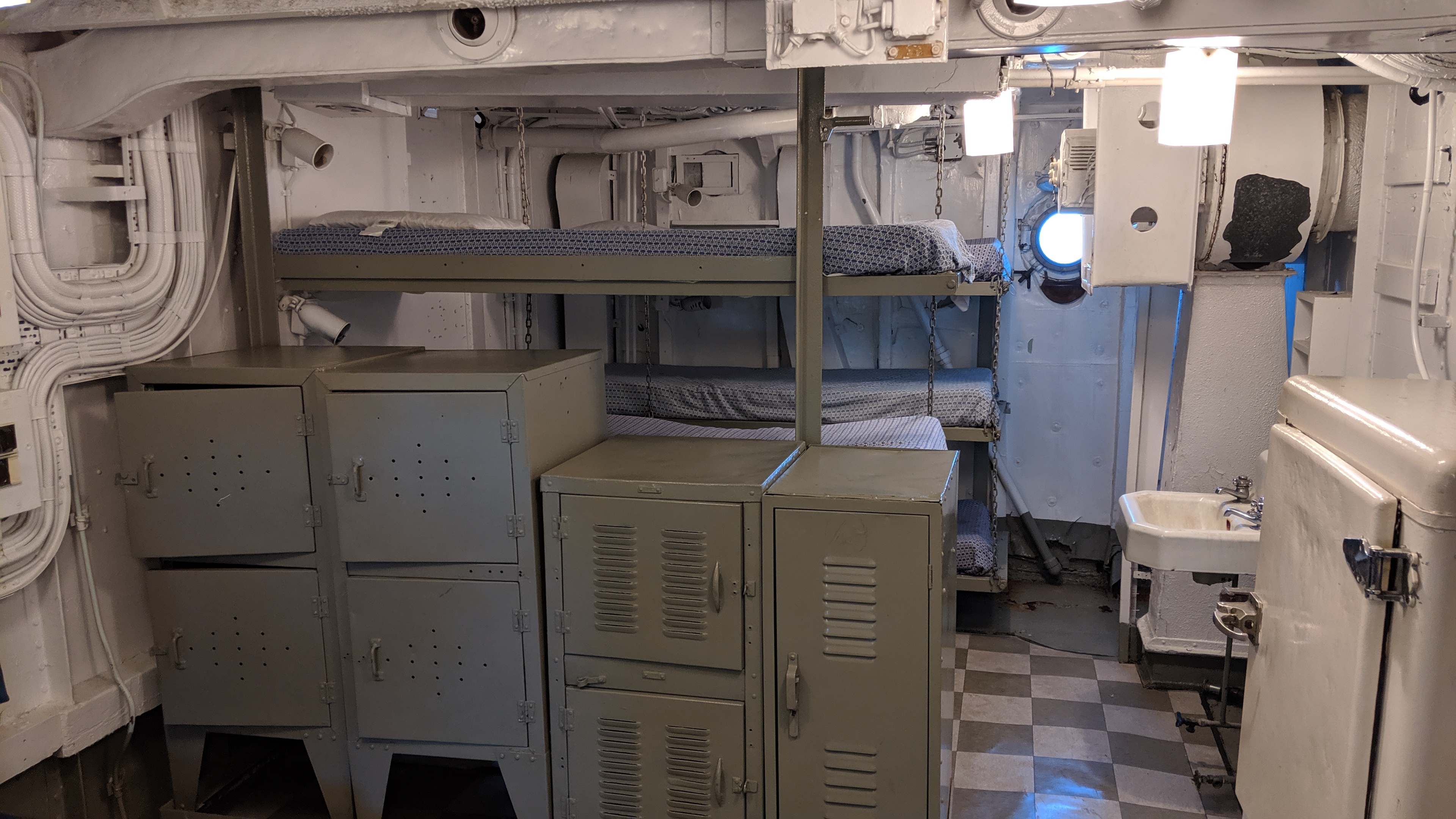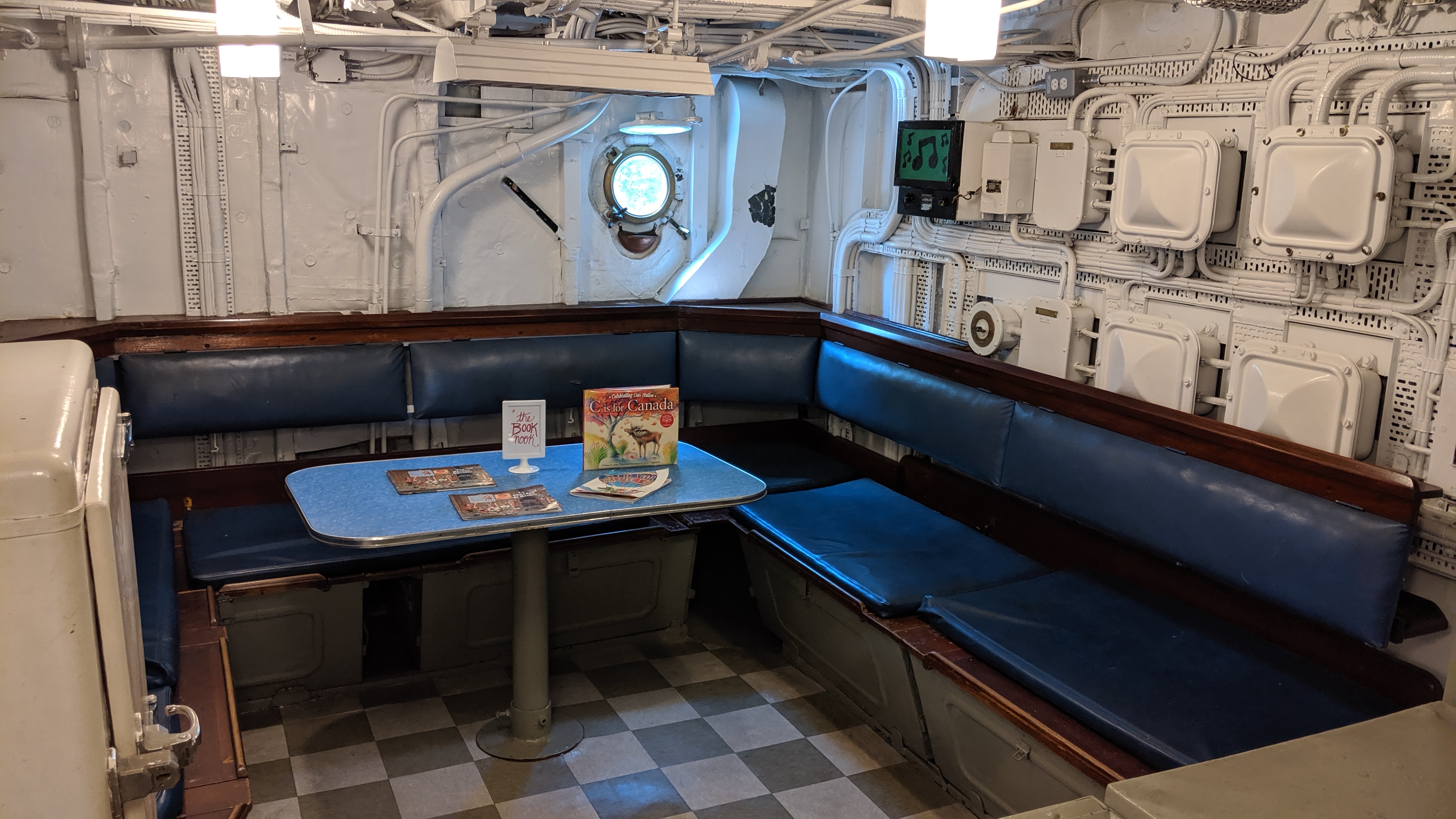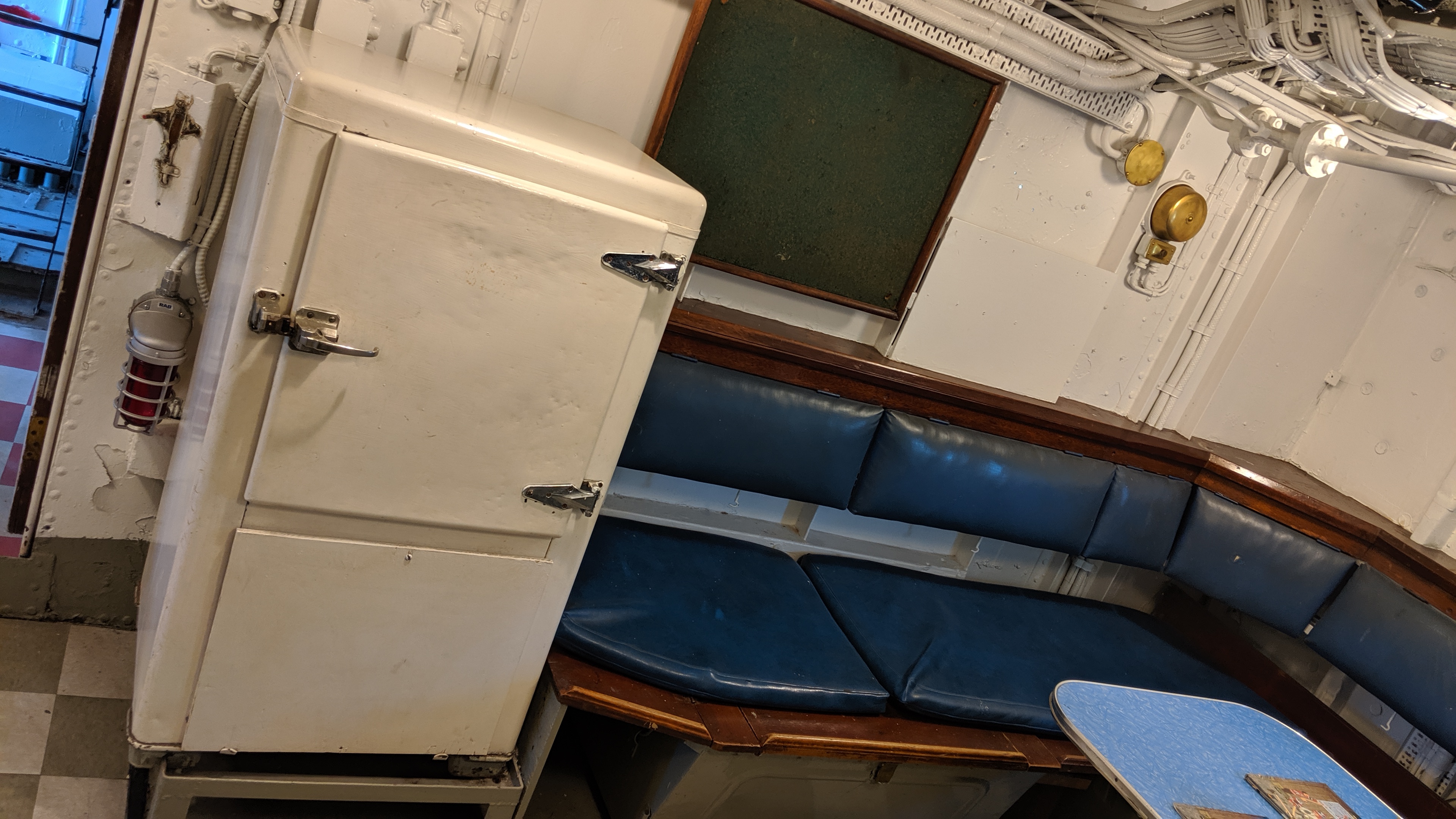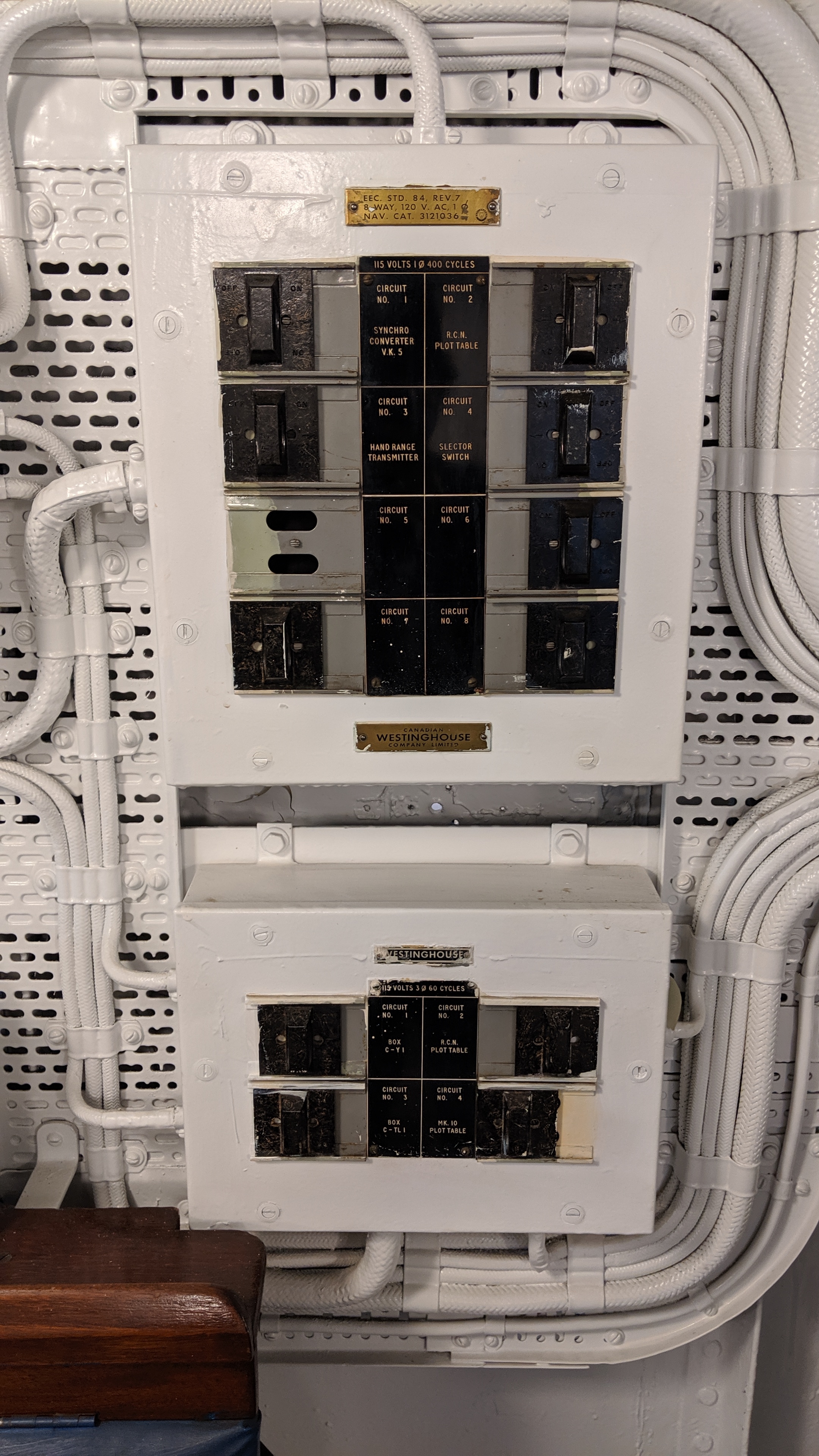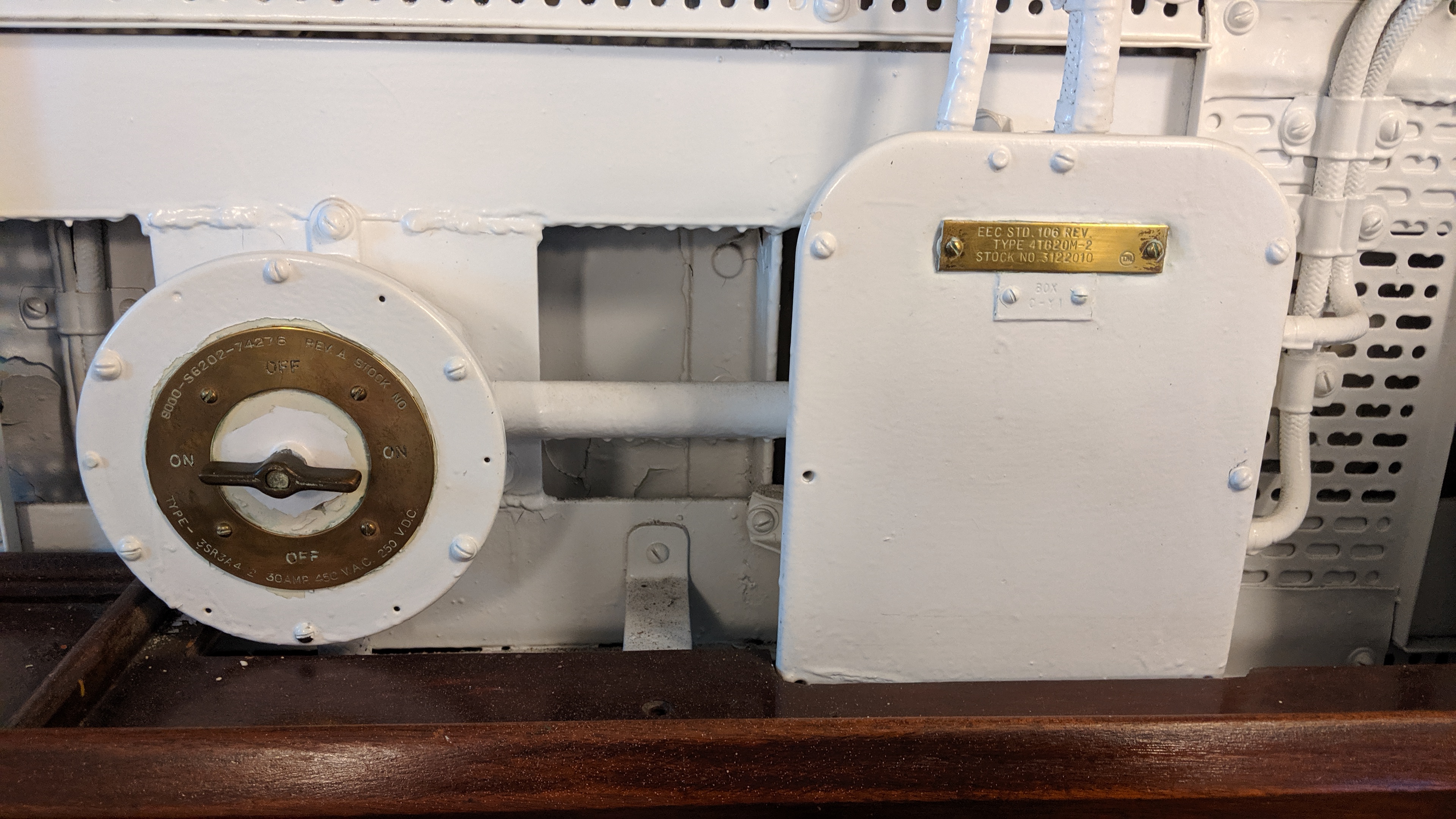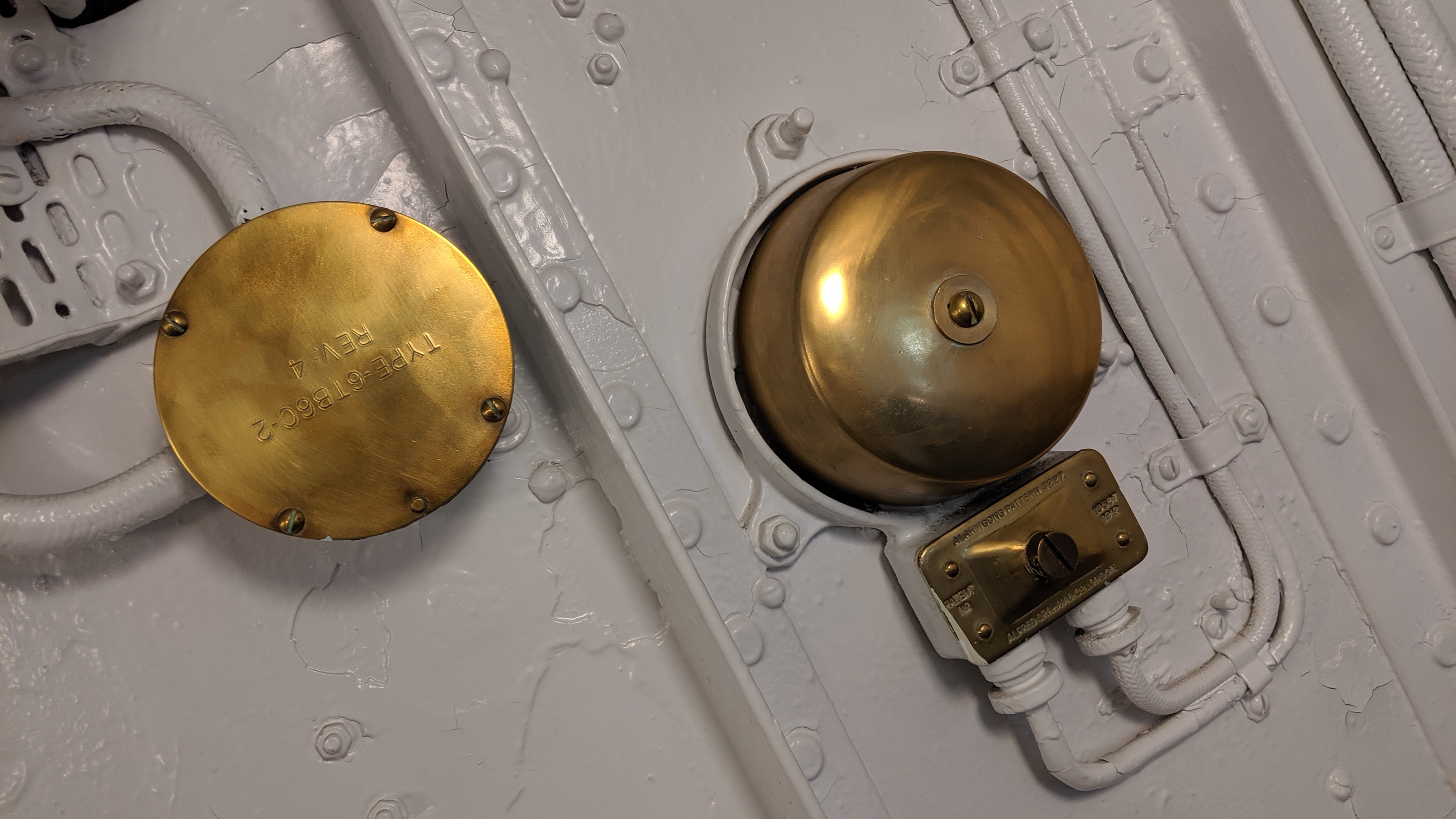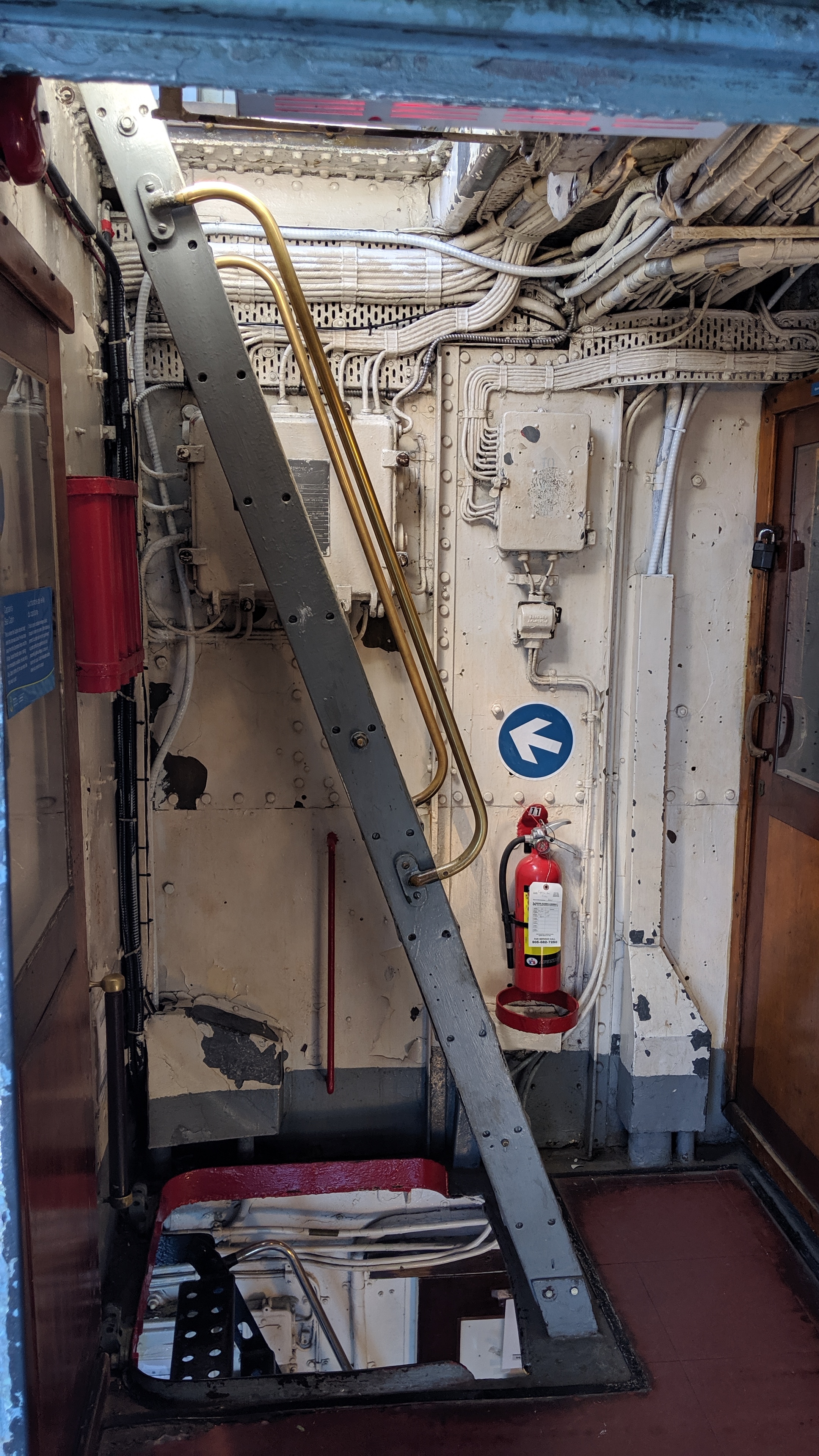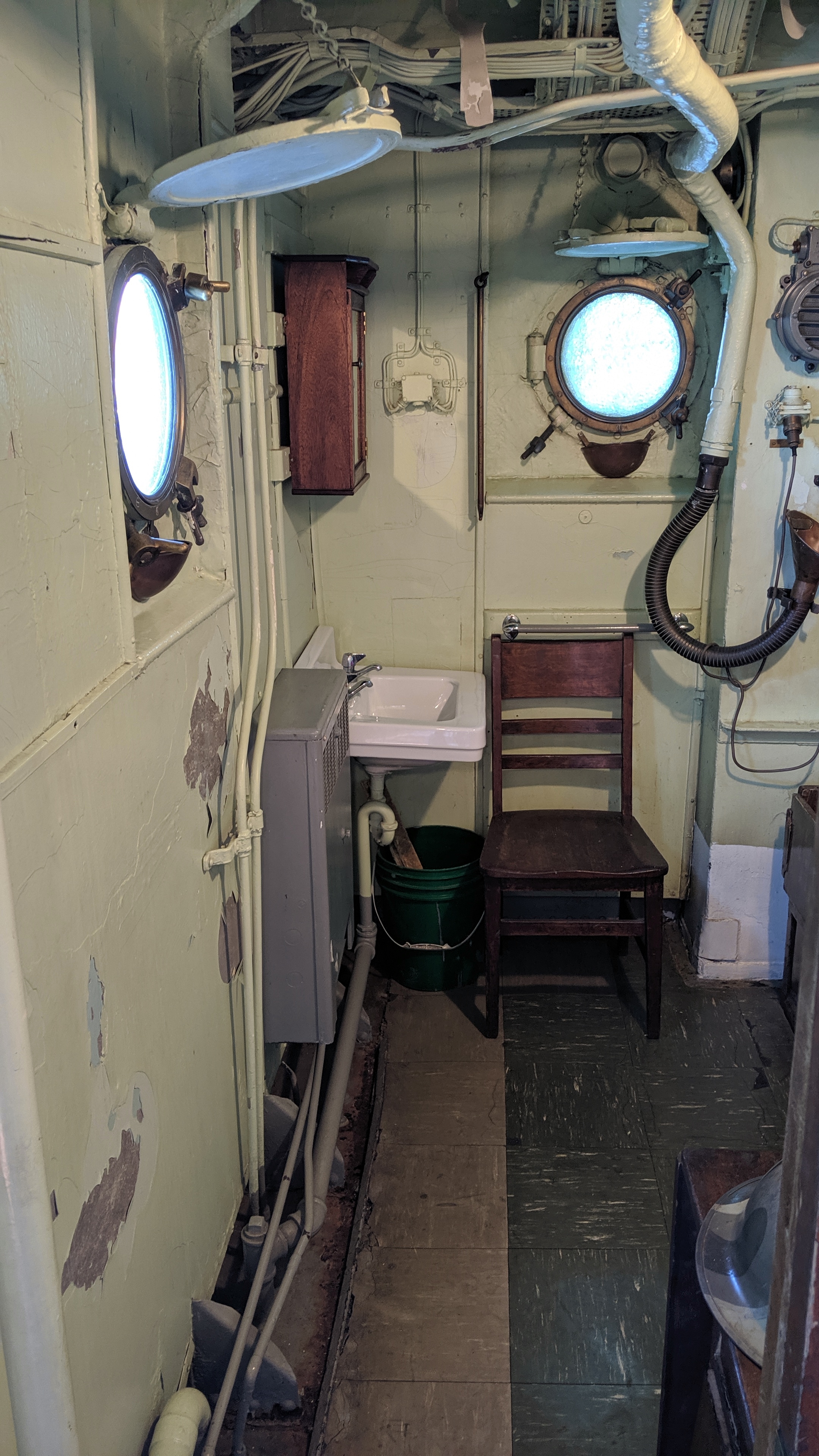 At the bottom left (outside of image) you can see how harshly the rust had eaten away at the ship. There is a nasty hole at the left corner of the doorway. It was painful to see. The ship is in mostly fairly good condition, it's however rusting in a painful manner. (Out of sight, out of mind).
On another note: Captain's quarters tend to be tiny because they should be busy commanding the ship, nothing more. This isn't a cruise ship, or so noted by various tour guides on other museum warship sites. Captain has to be ready at a moments notice to tend to whatever the ship needs, the rooms are as tiny as a closet room. Took this information from a video about USS Iowa or USS Missouri.
If they want a better accommodation they can always go to the Captain's Day cabin.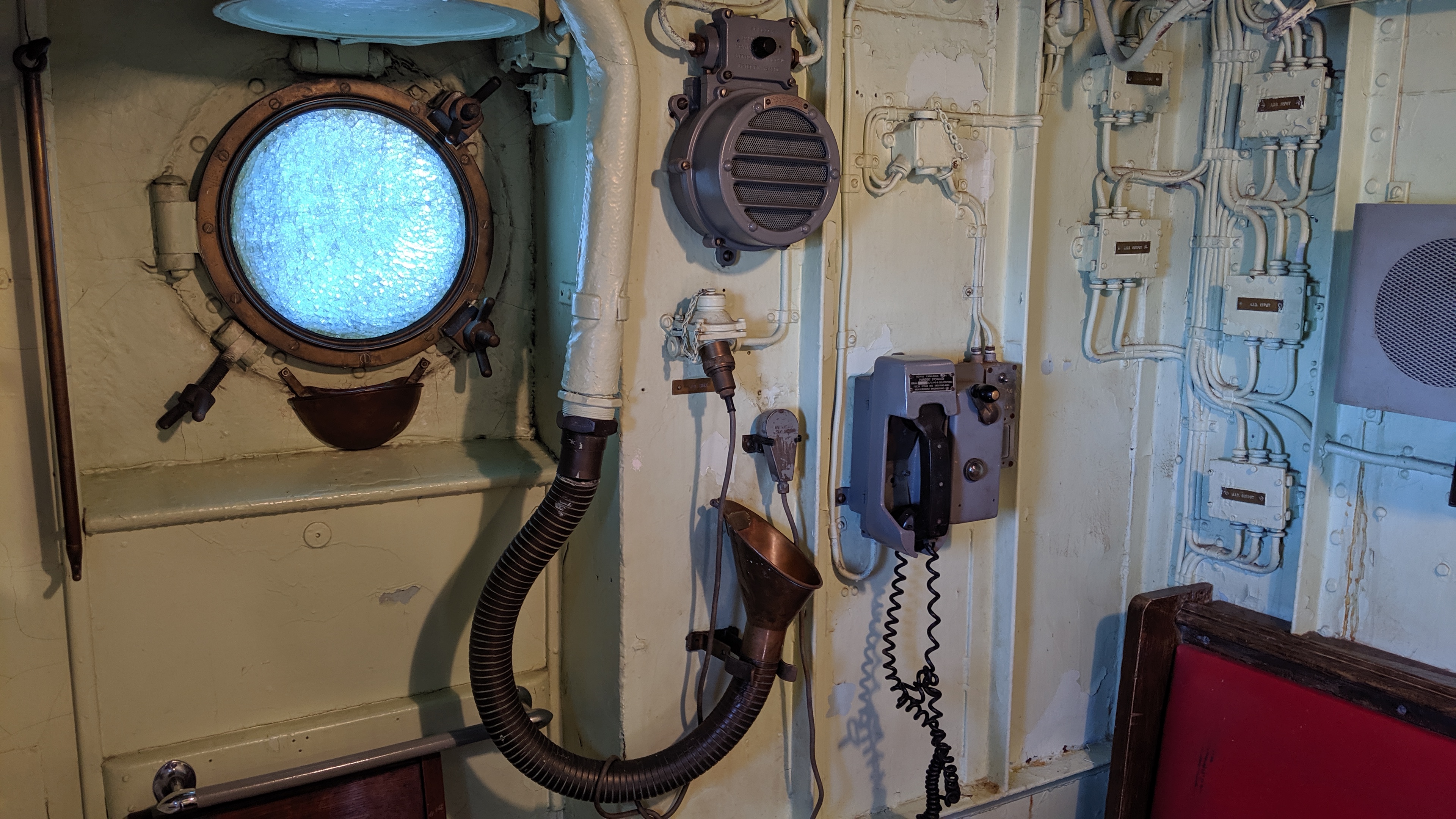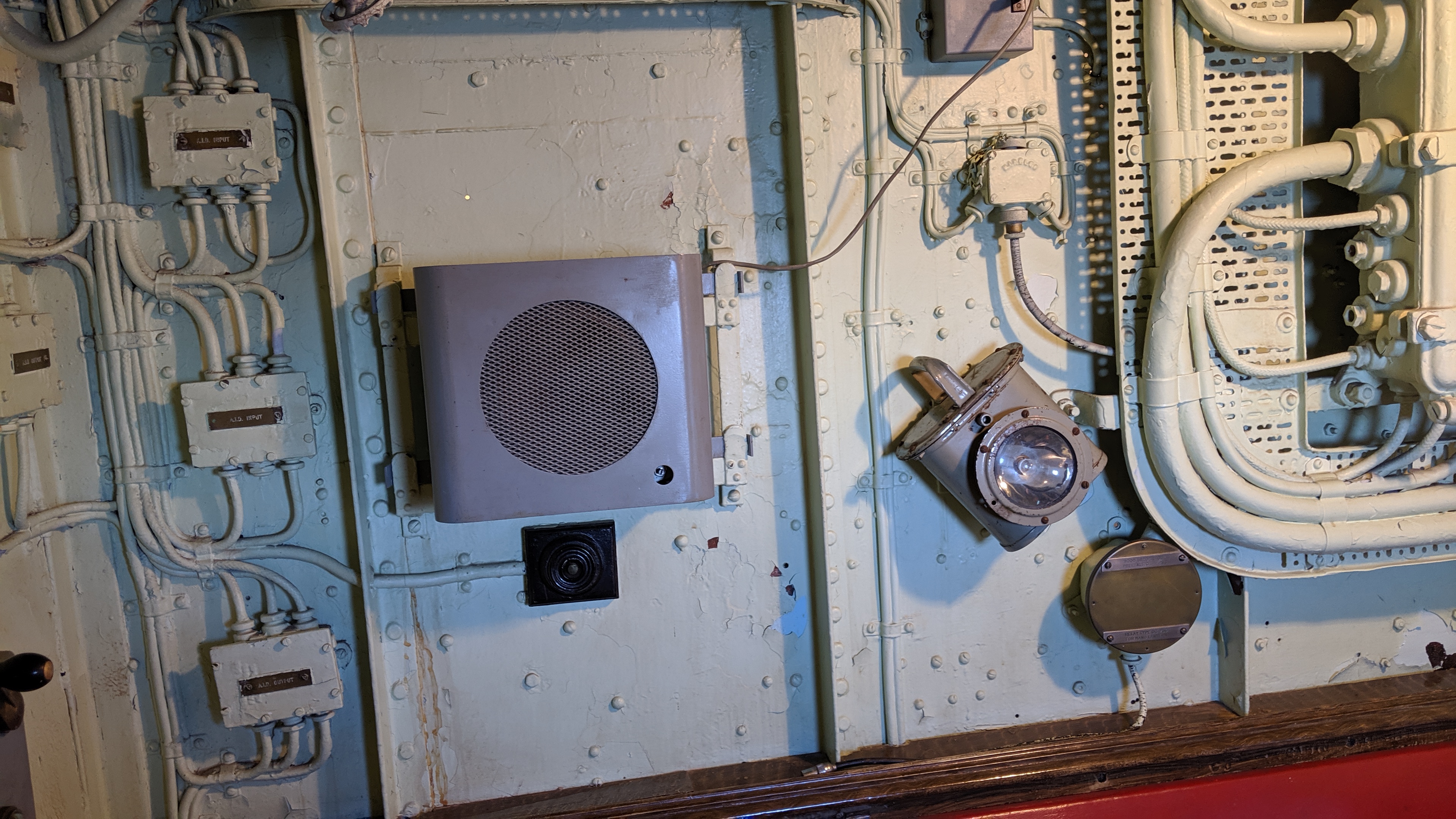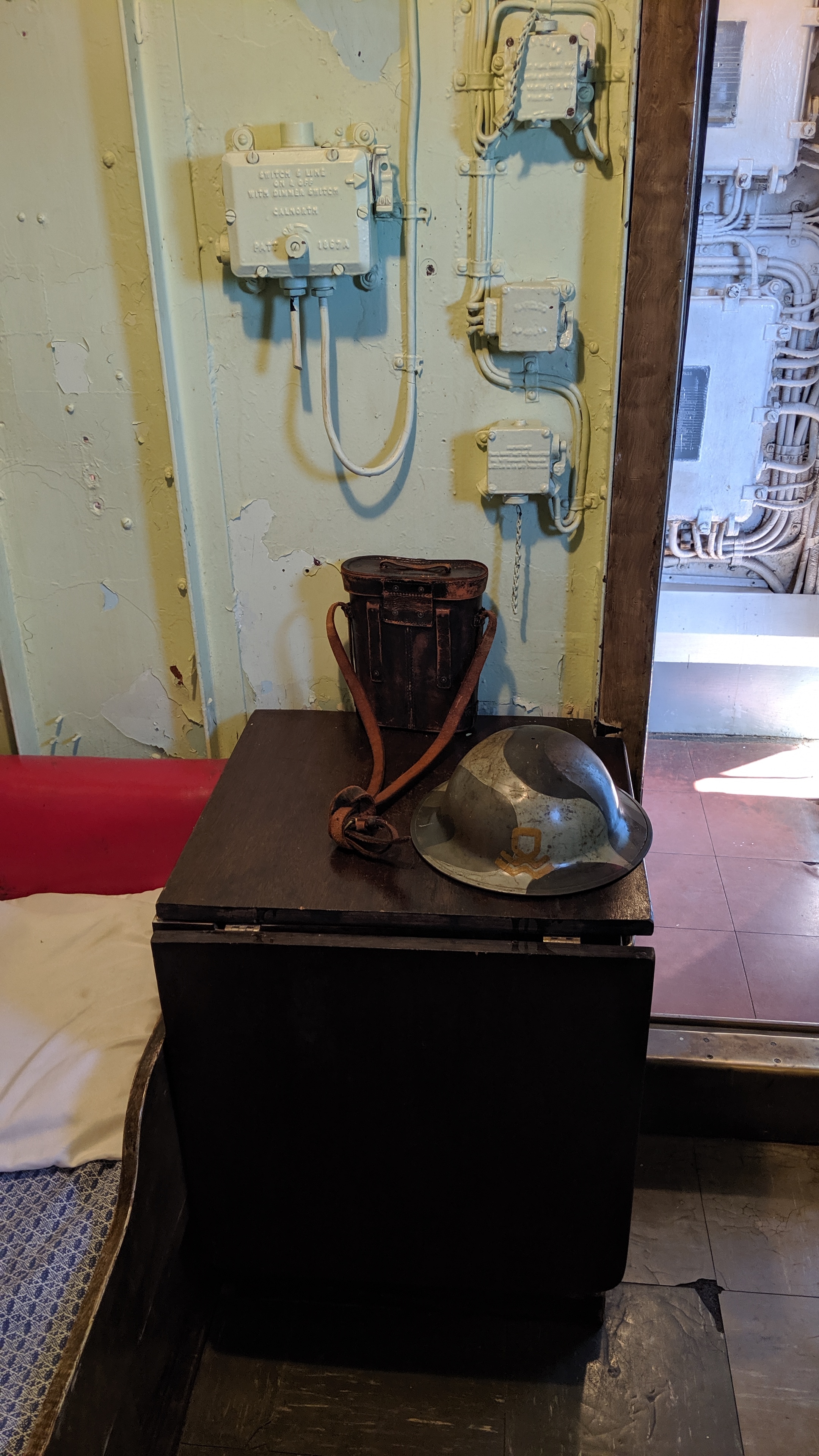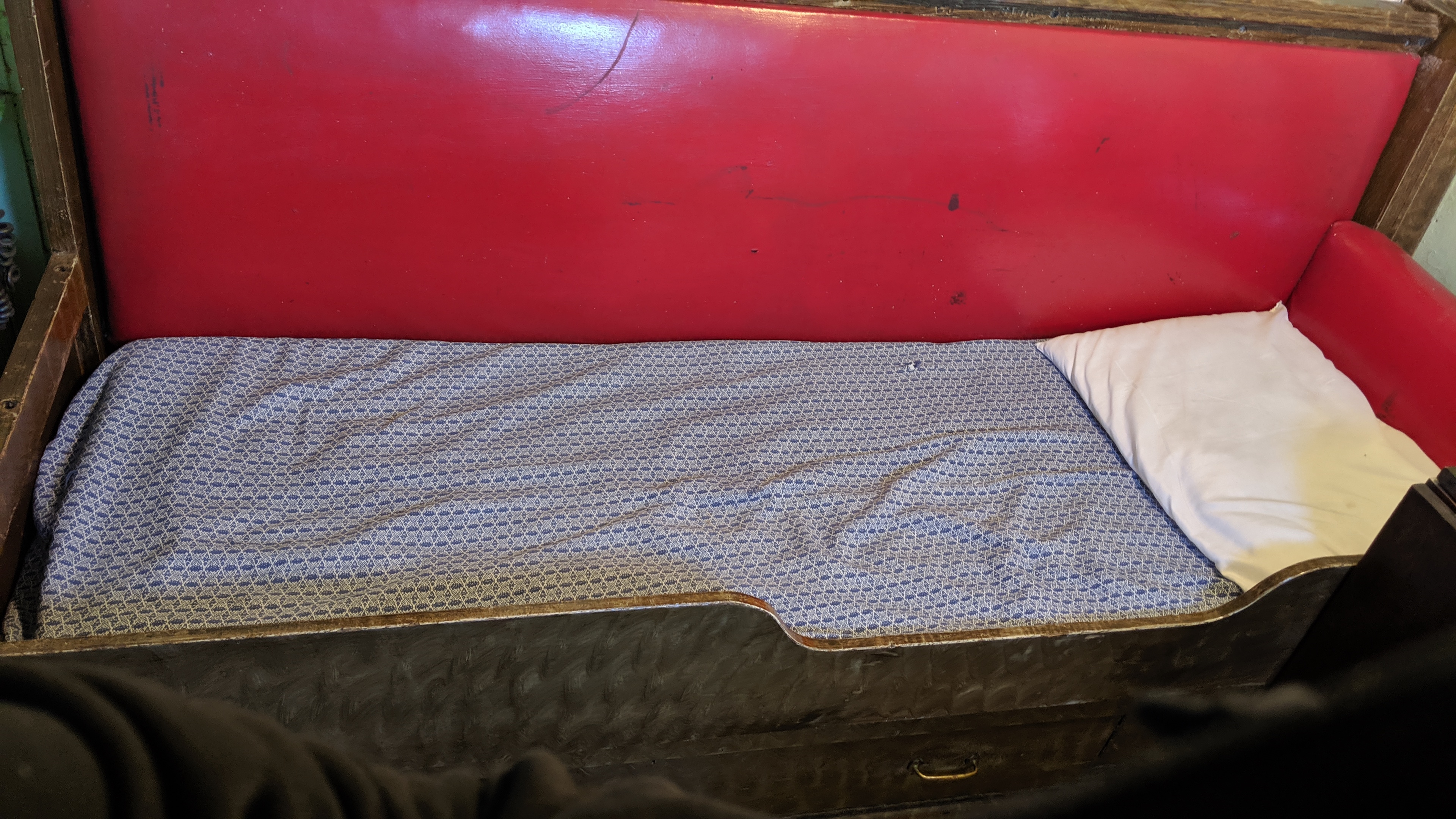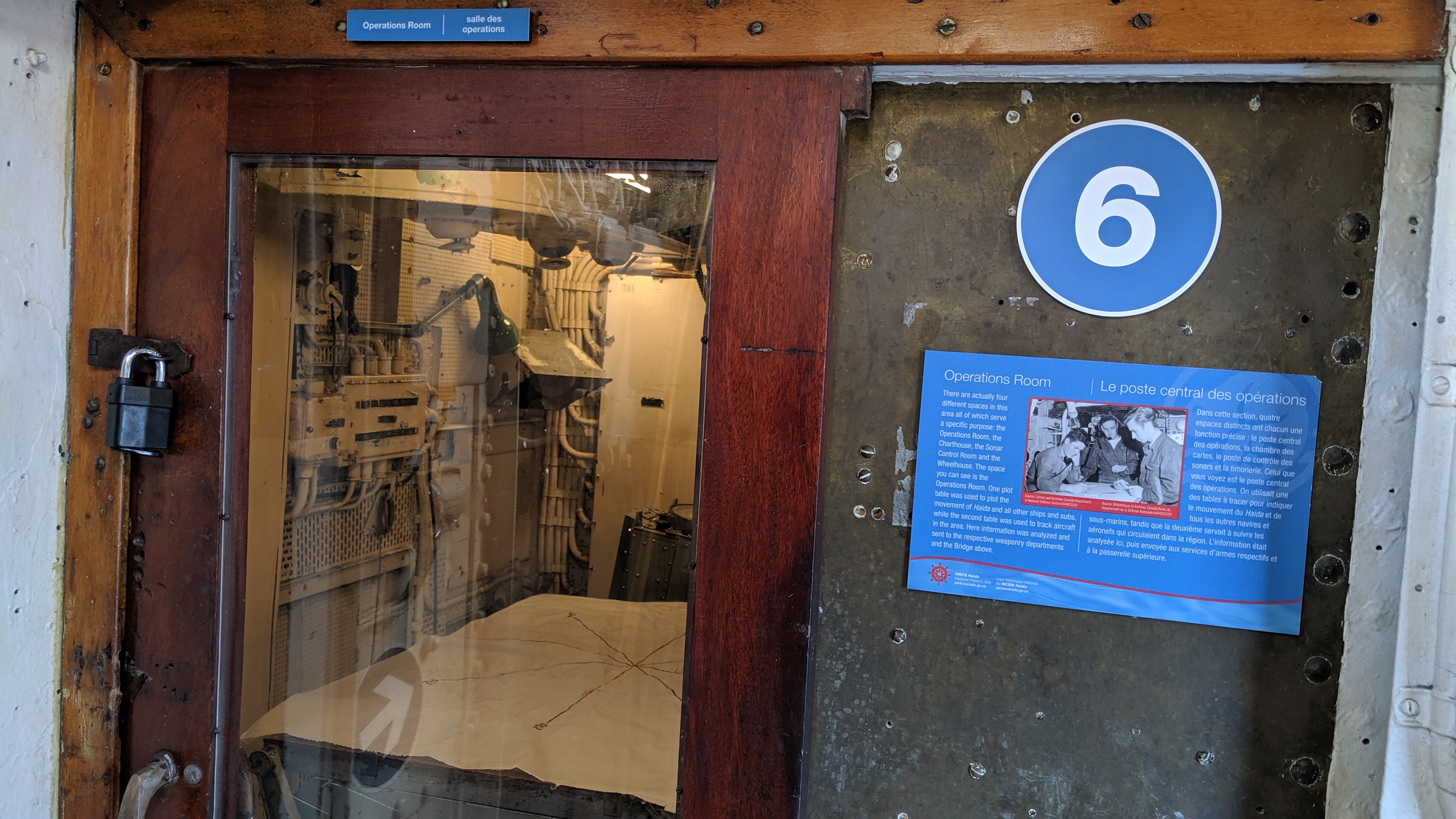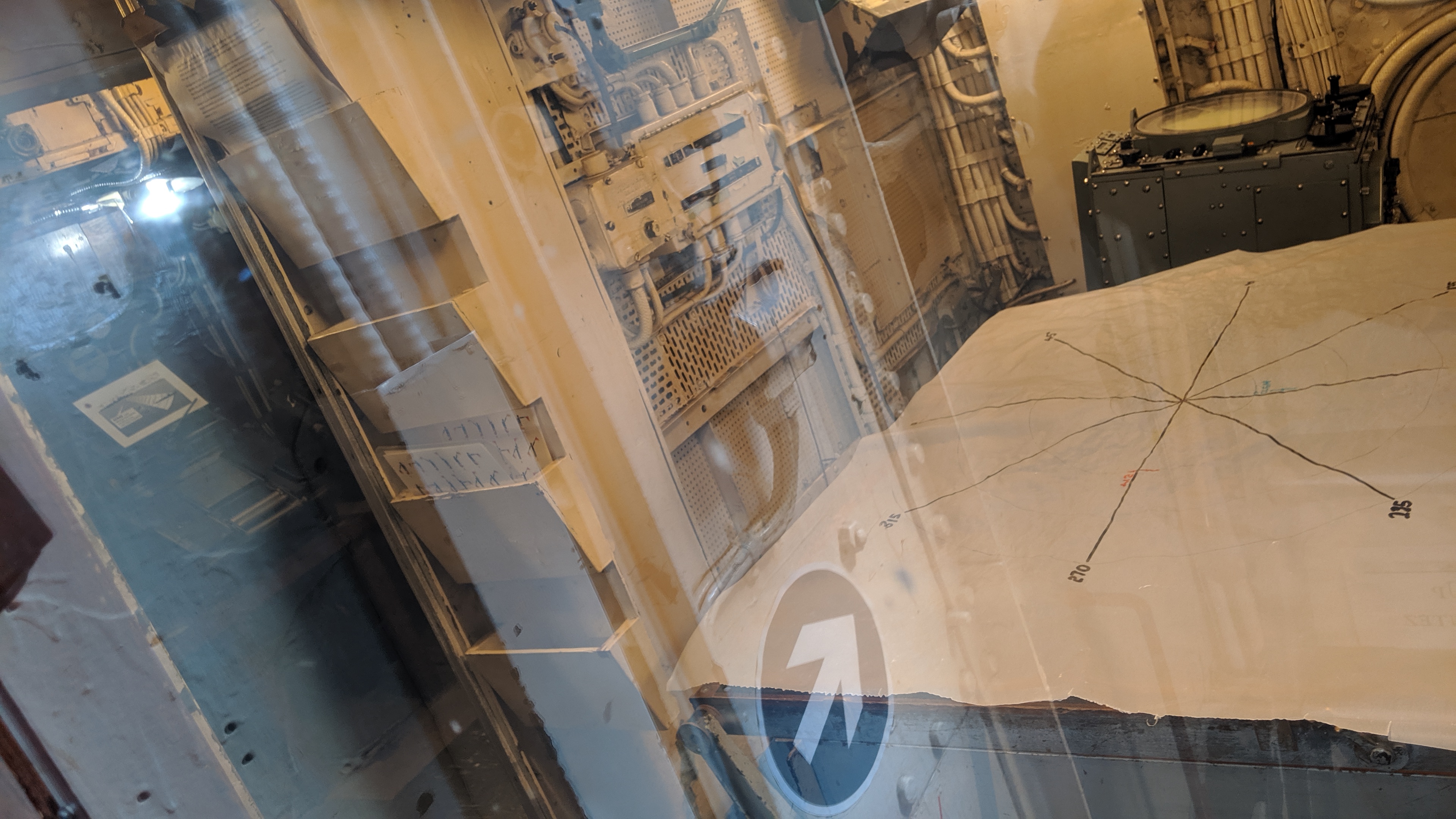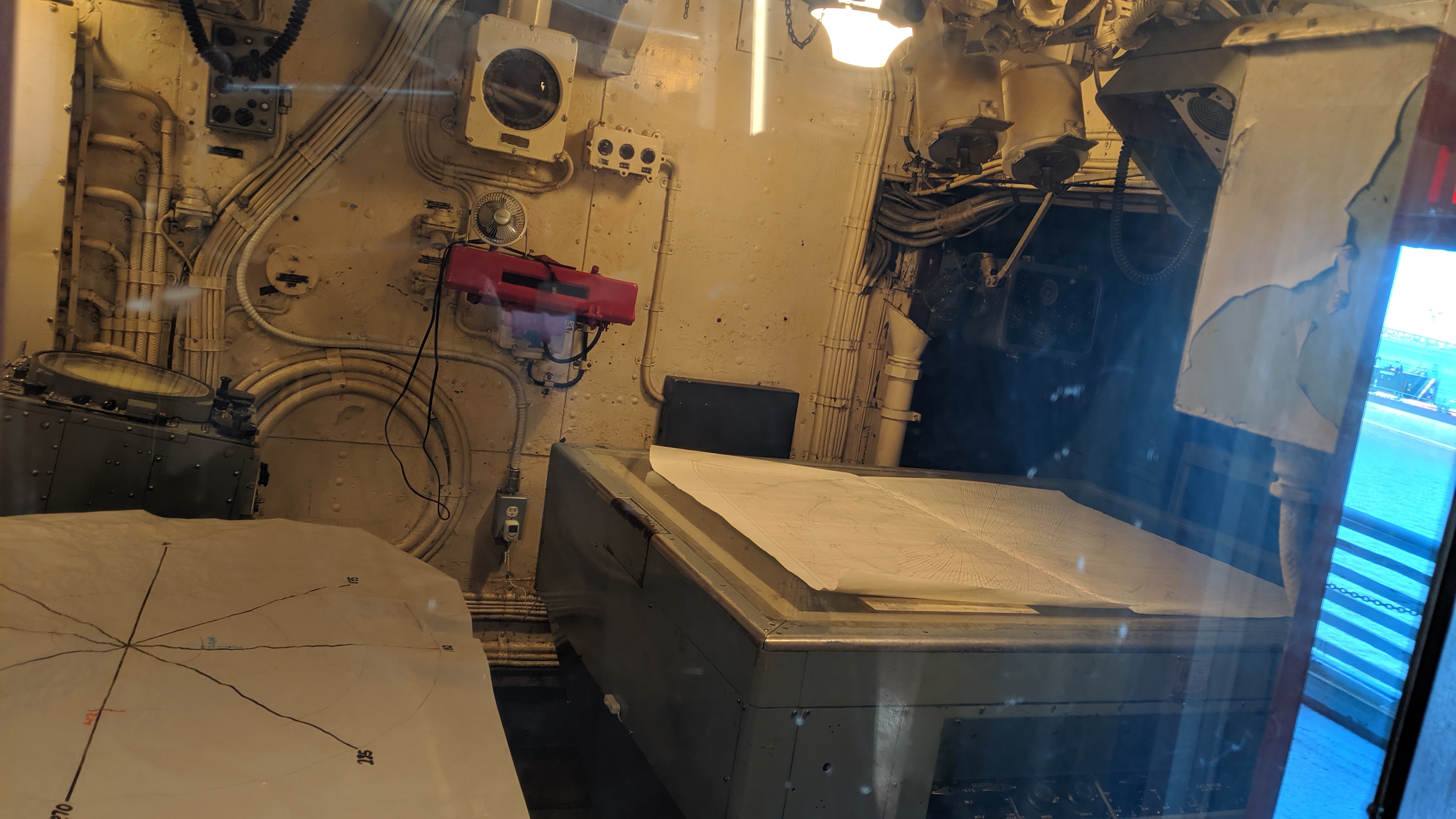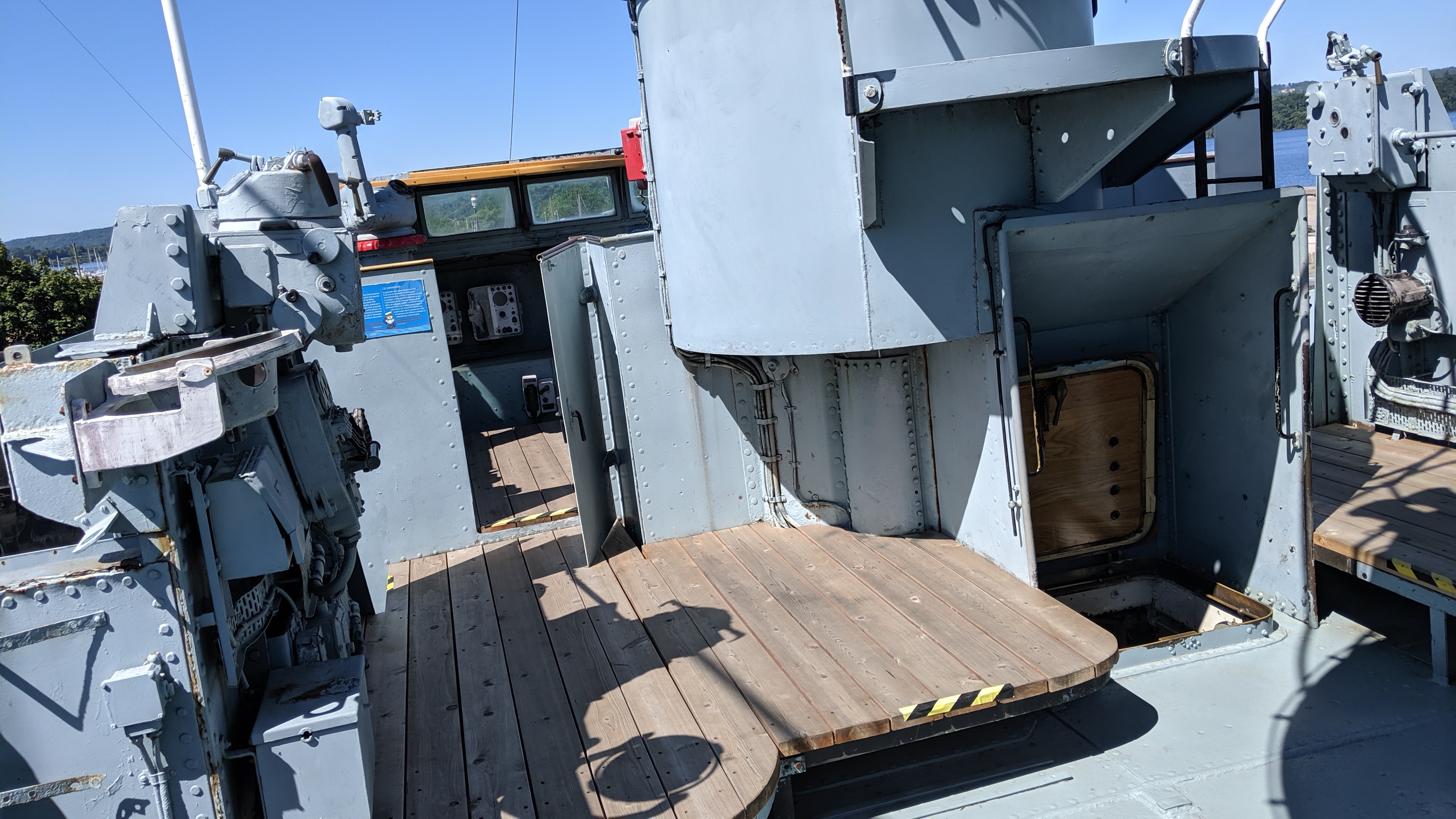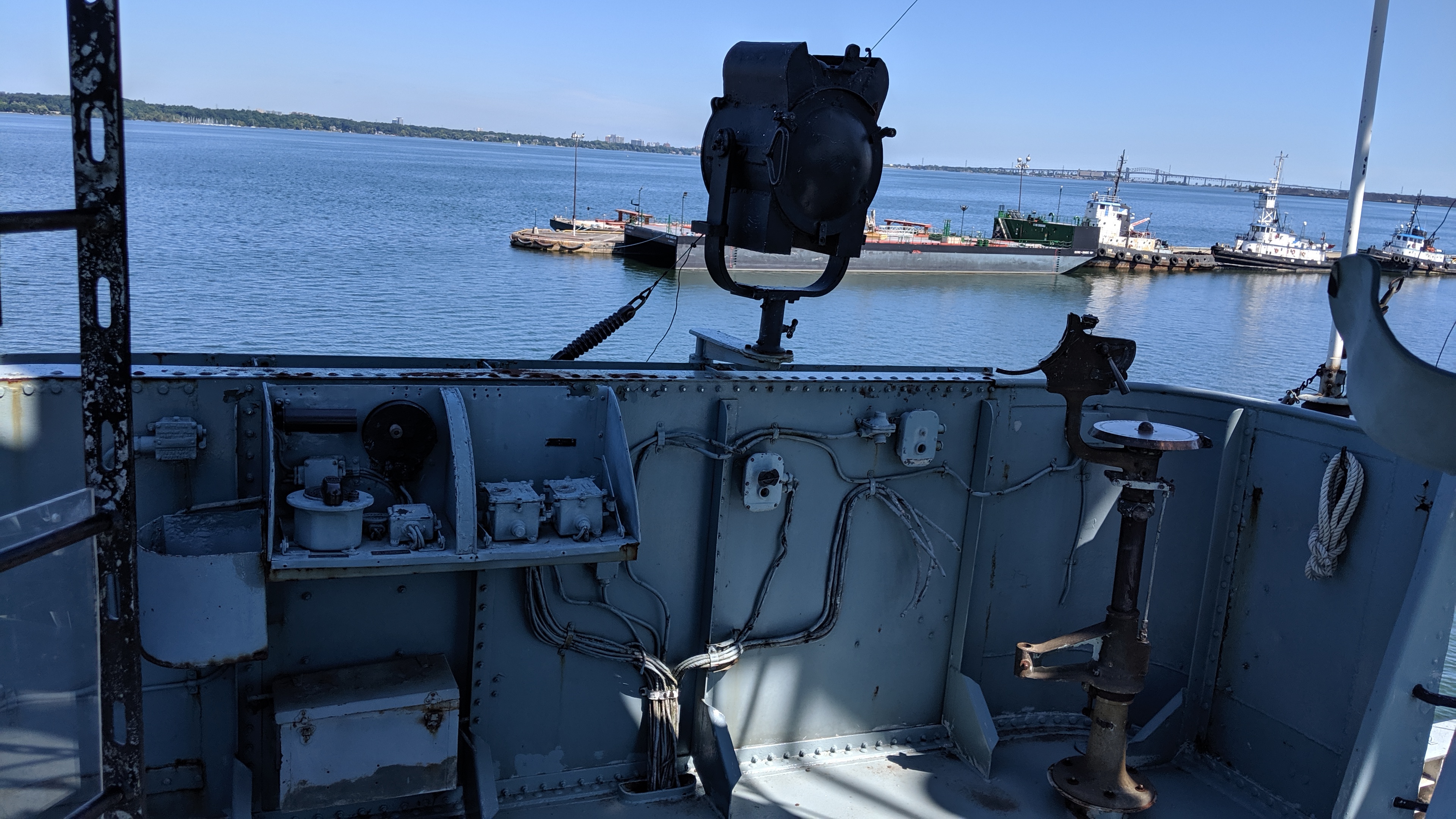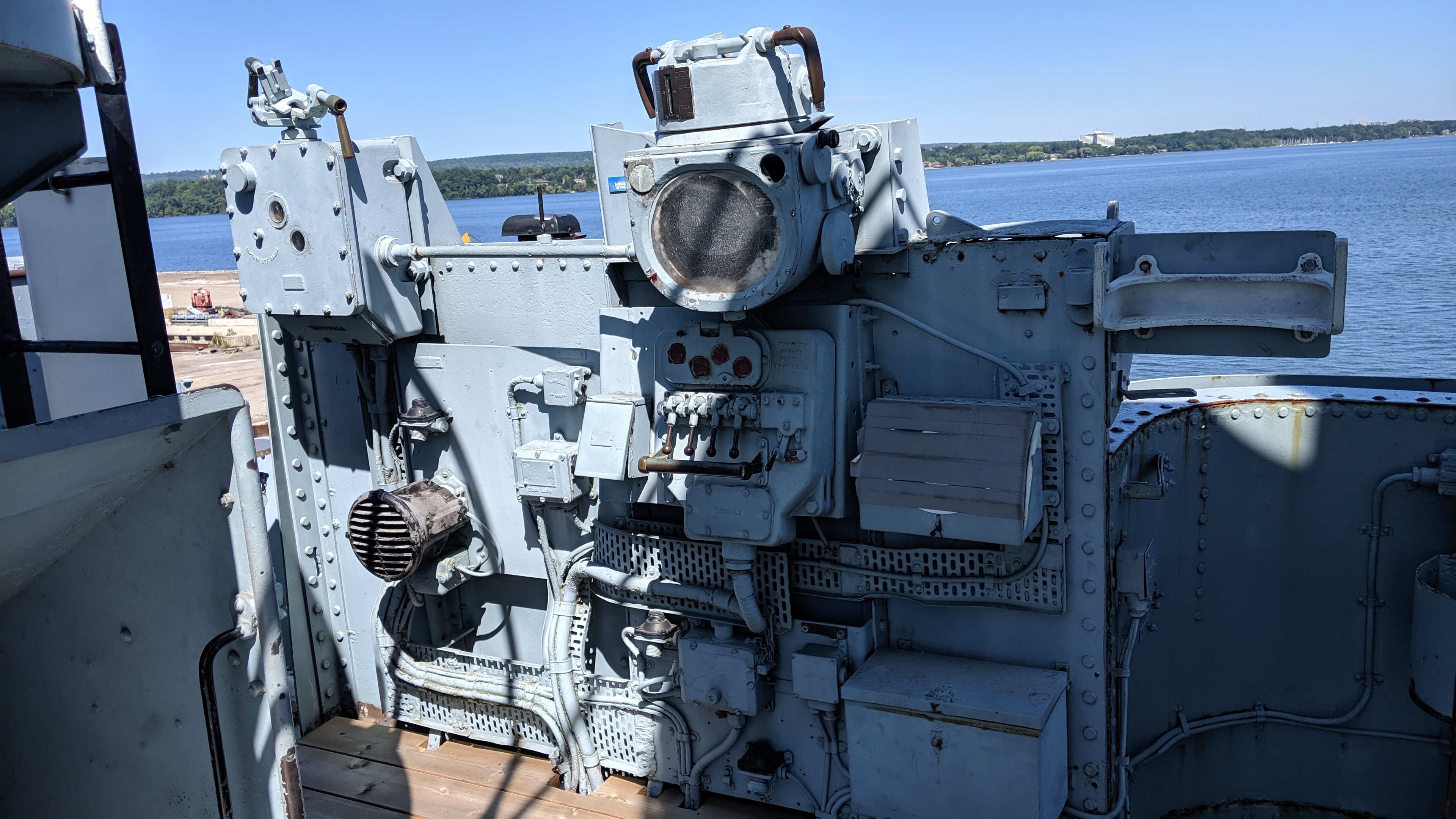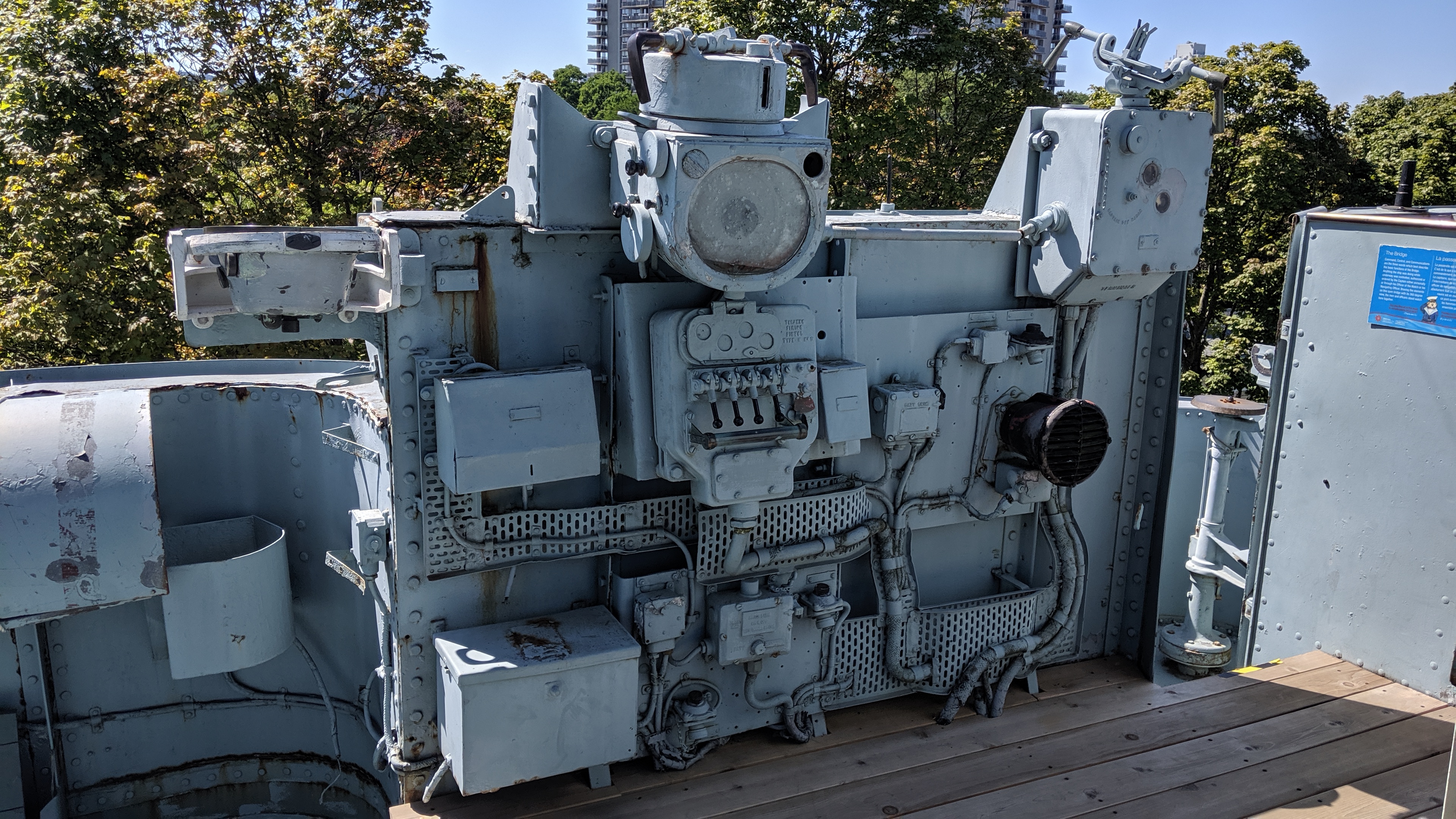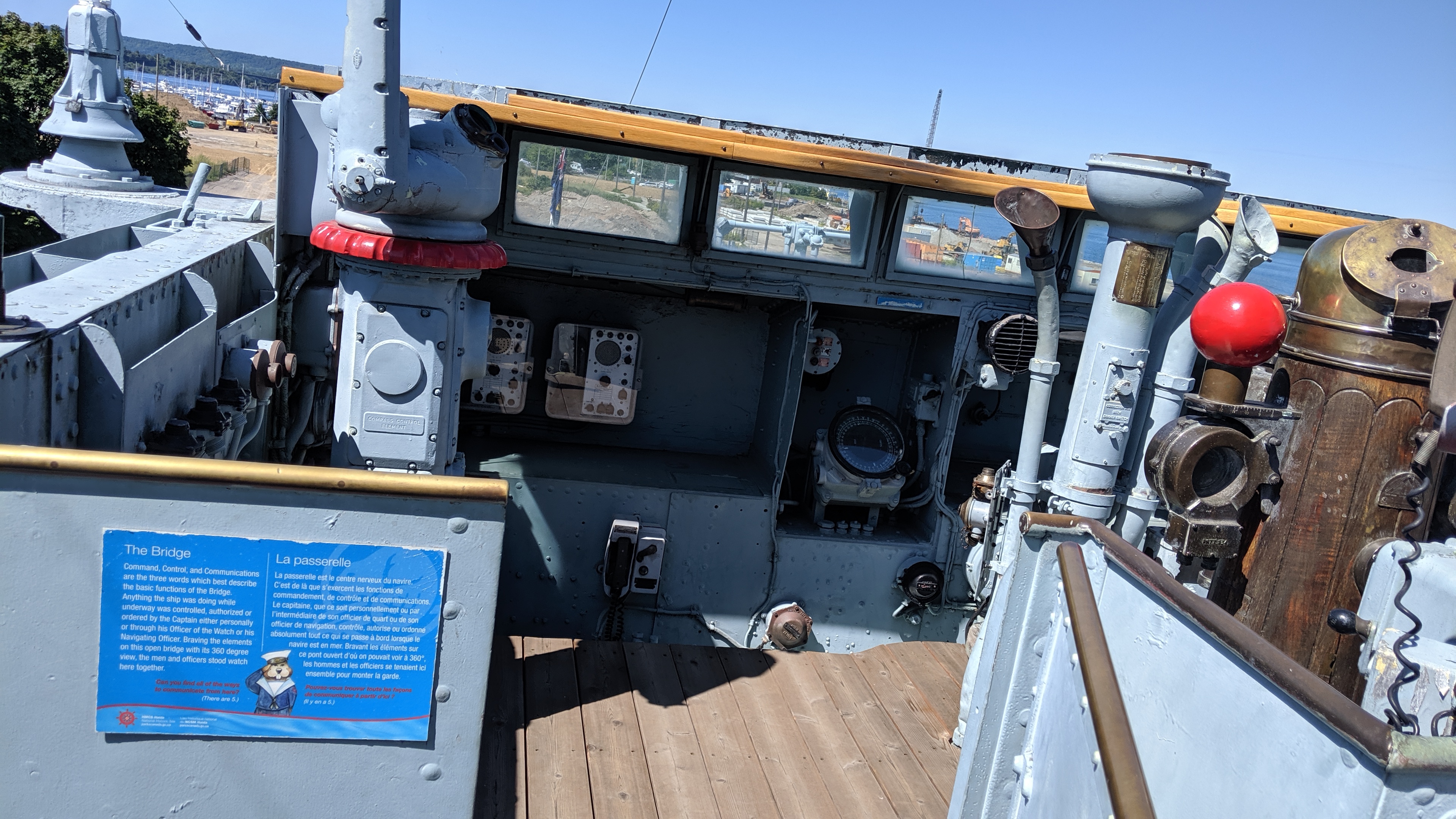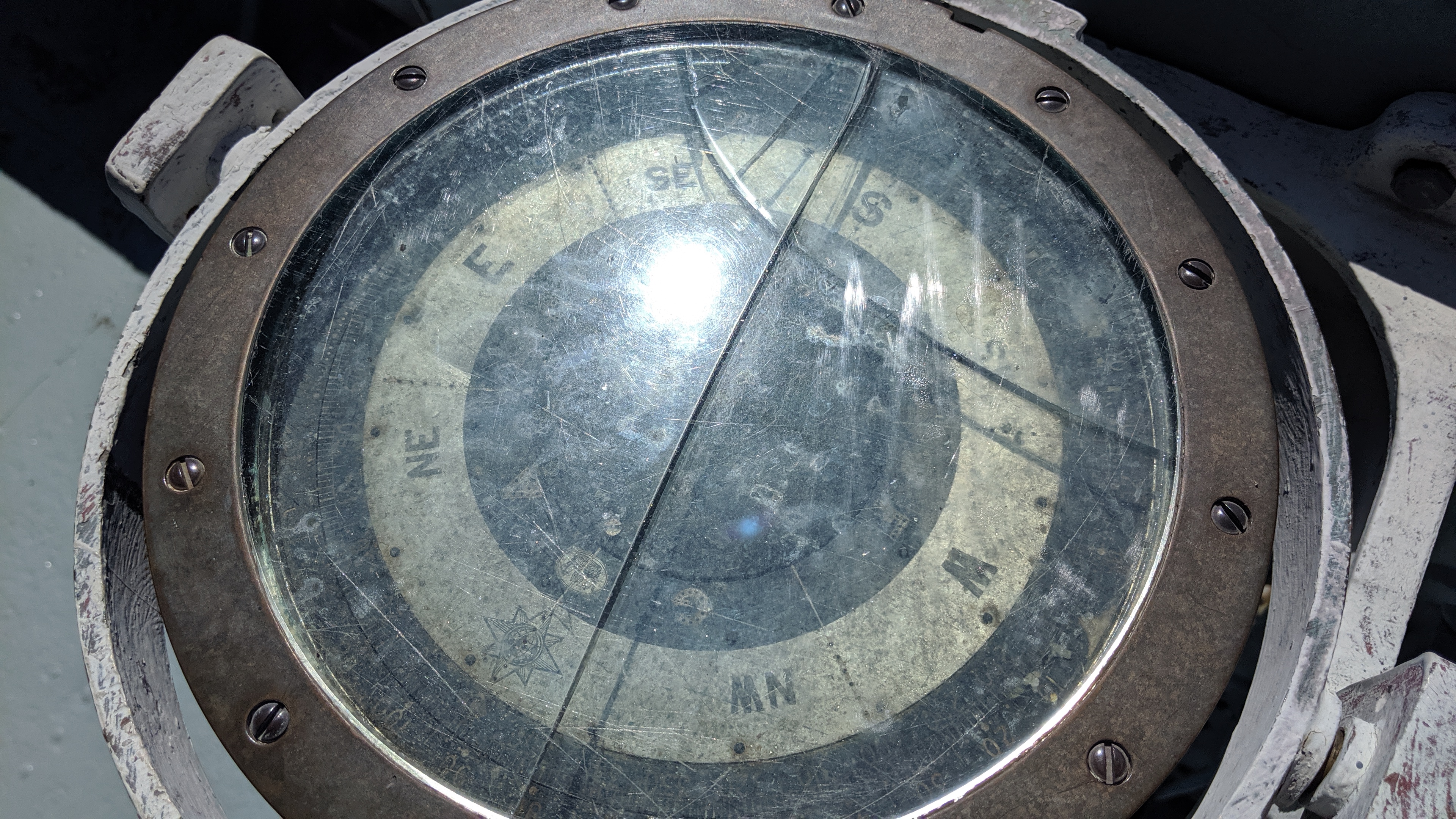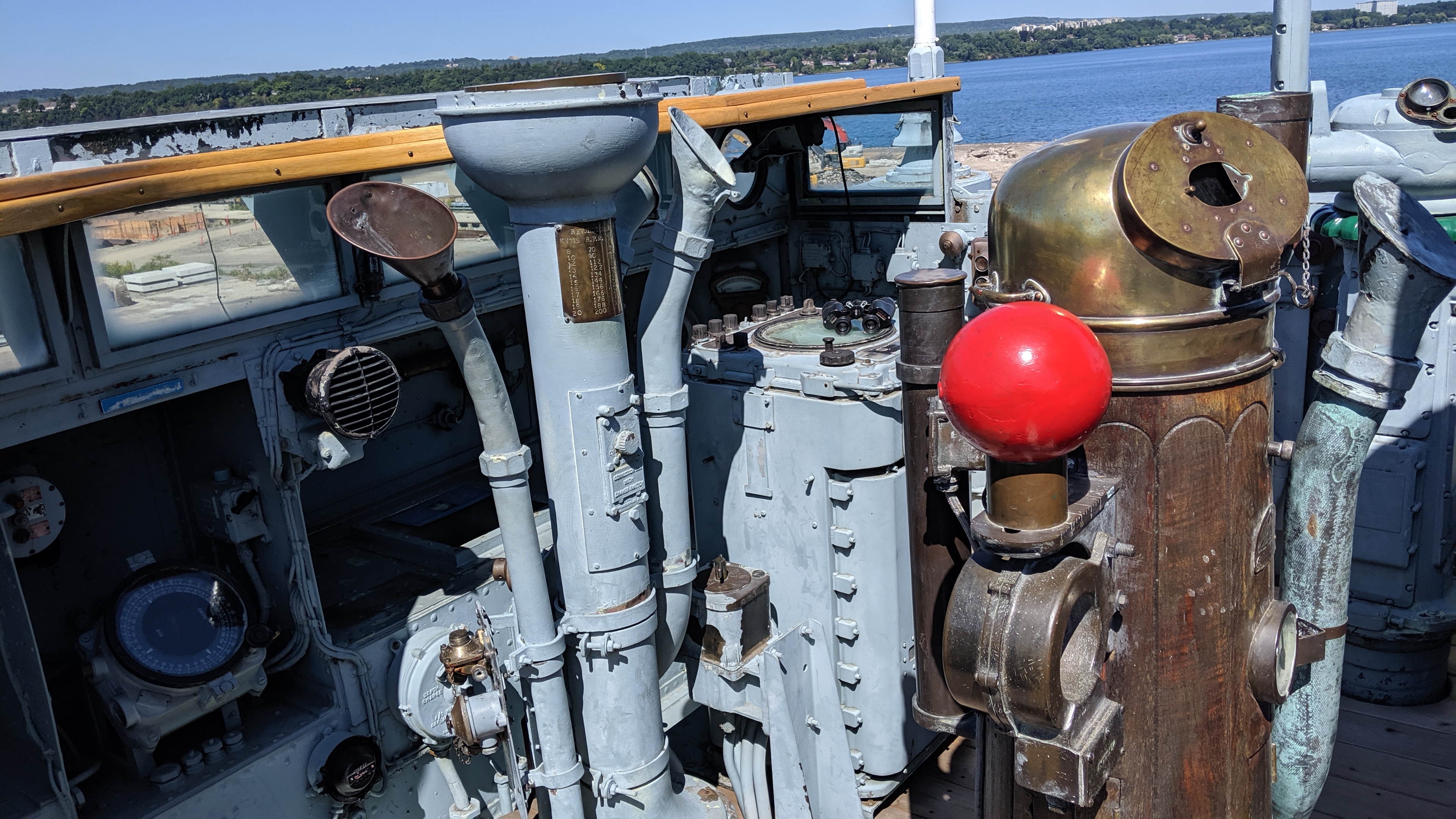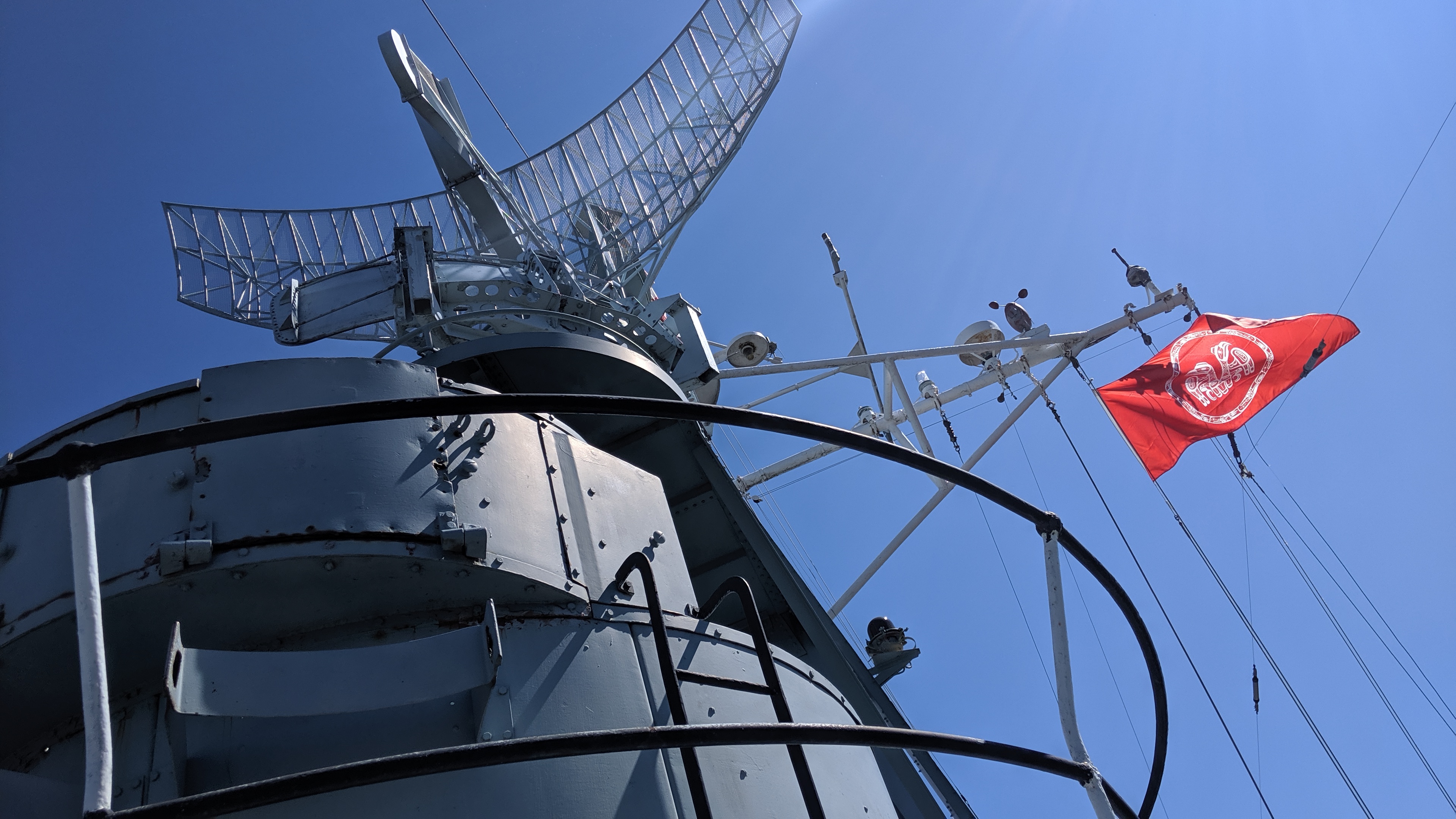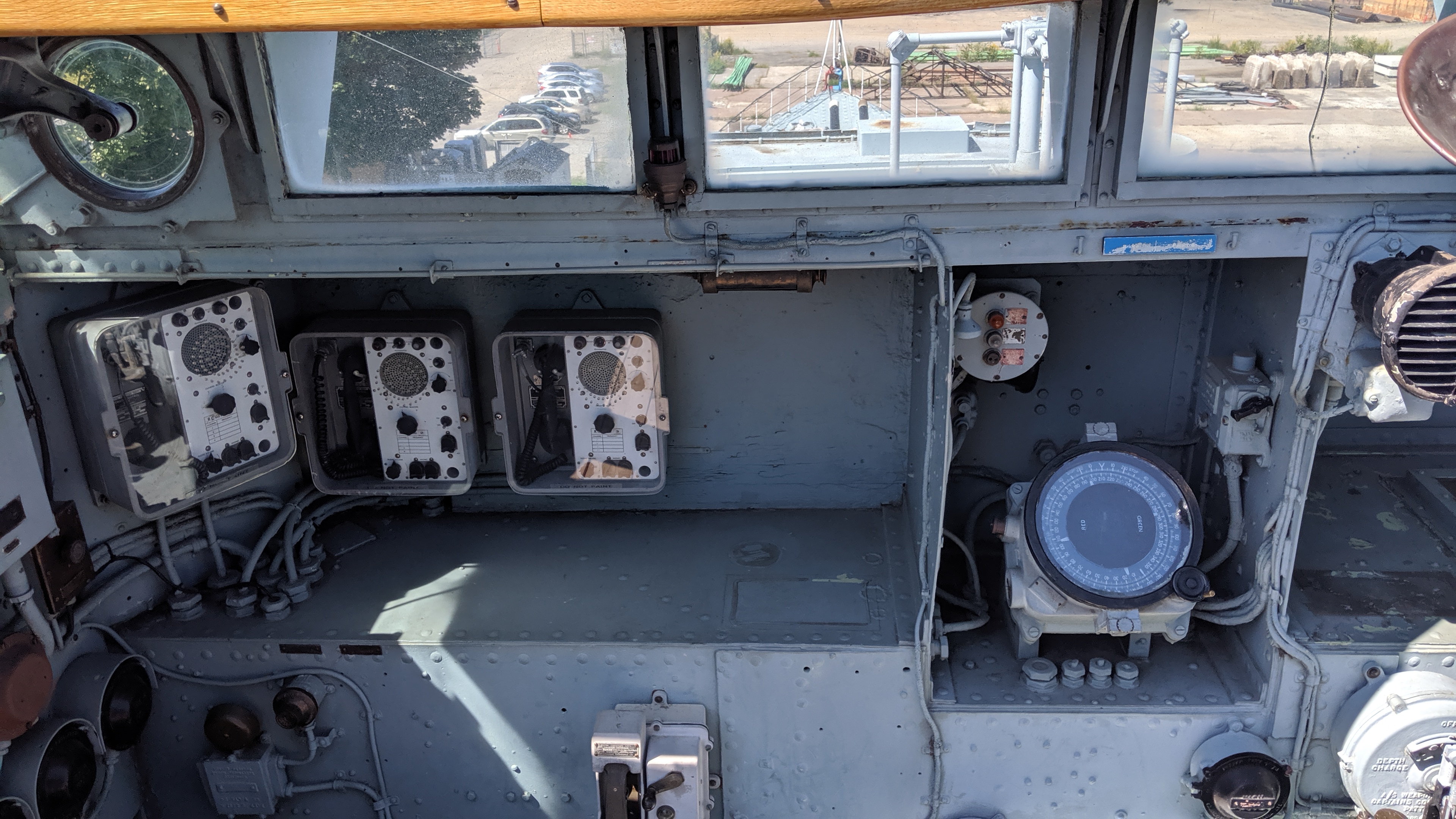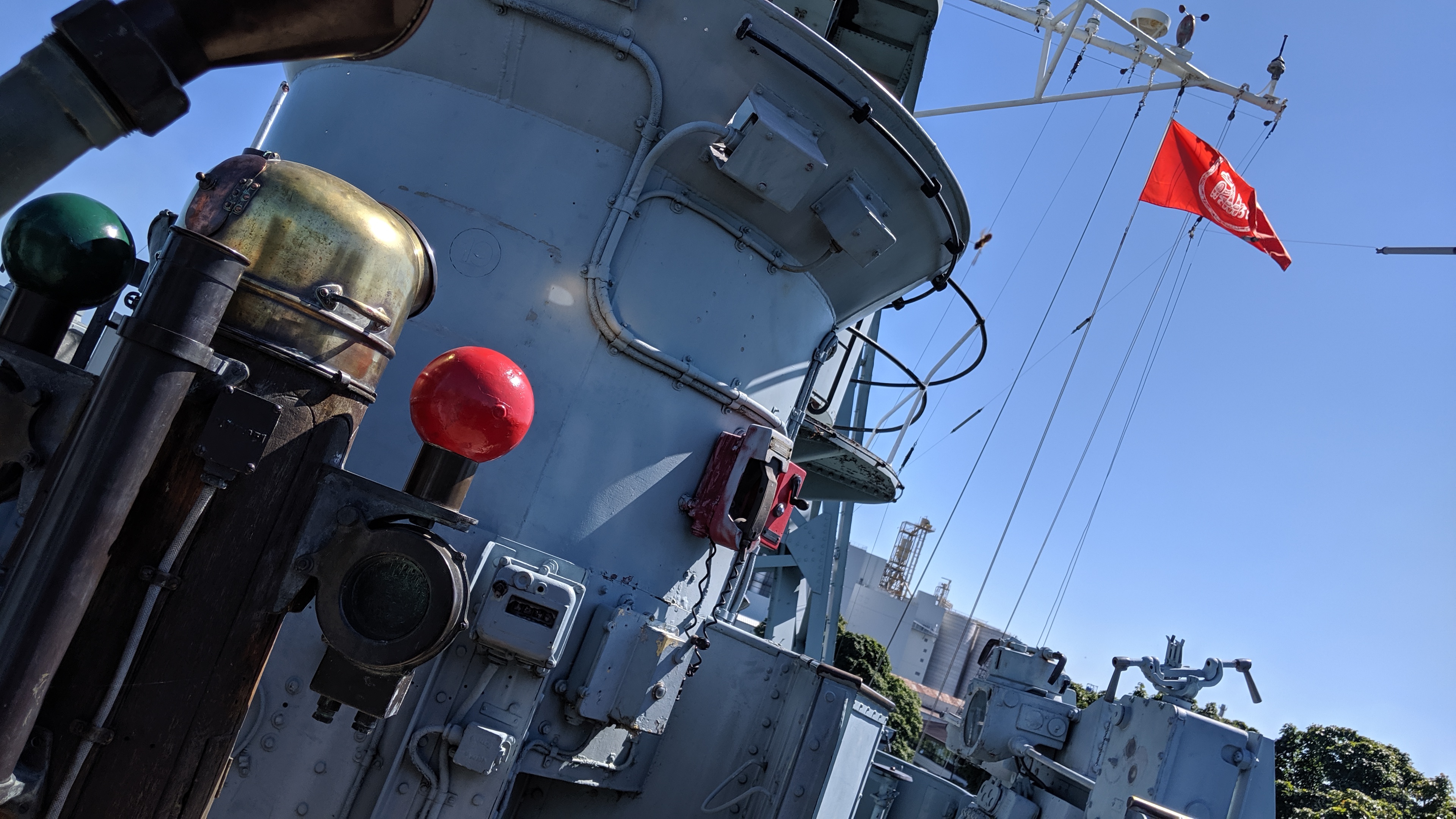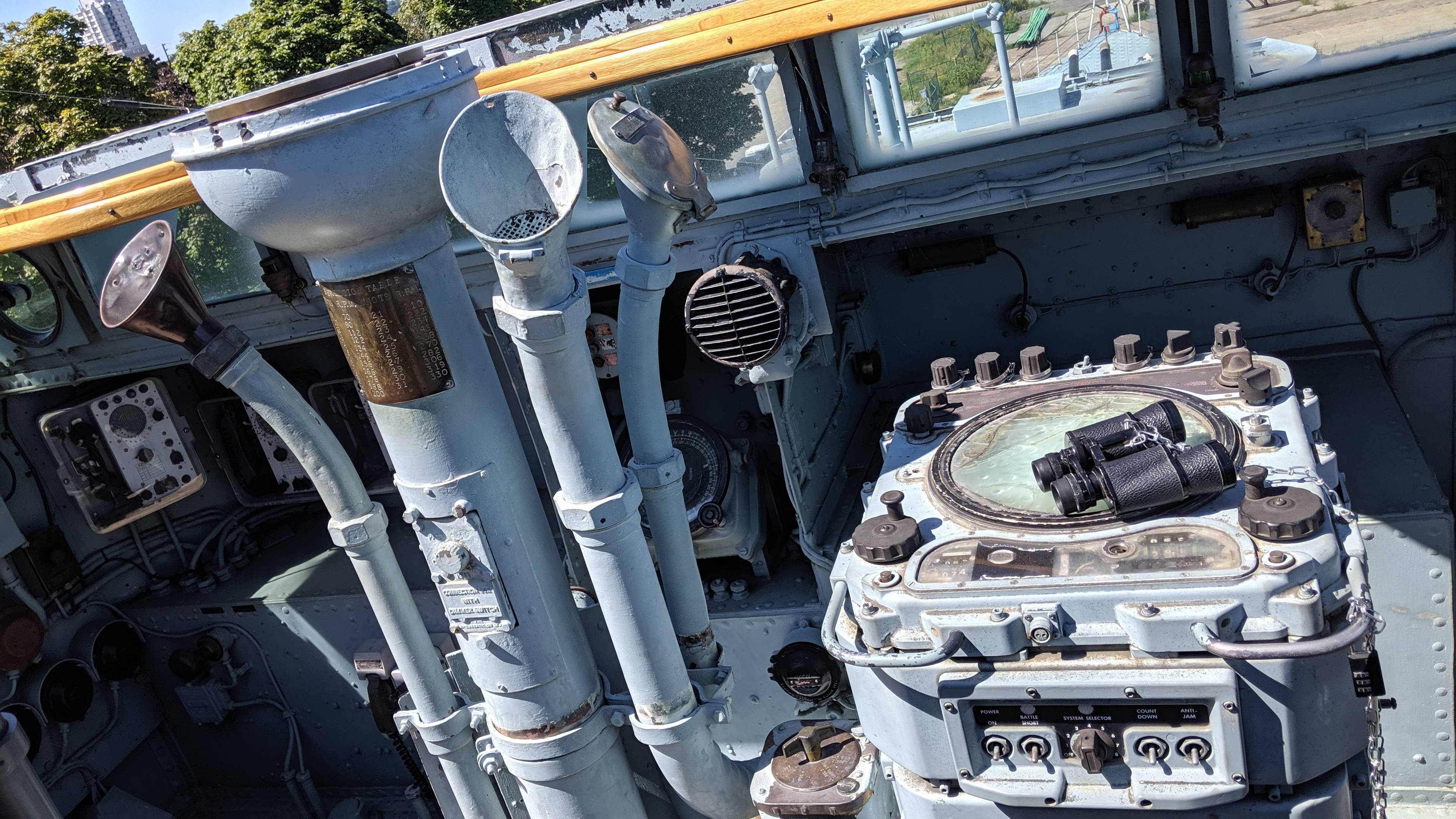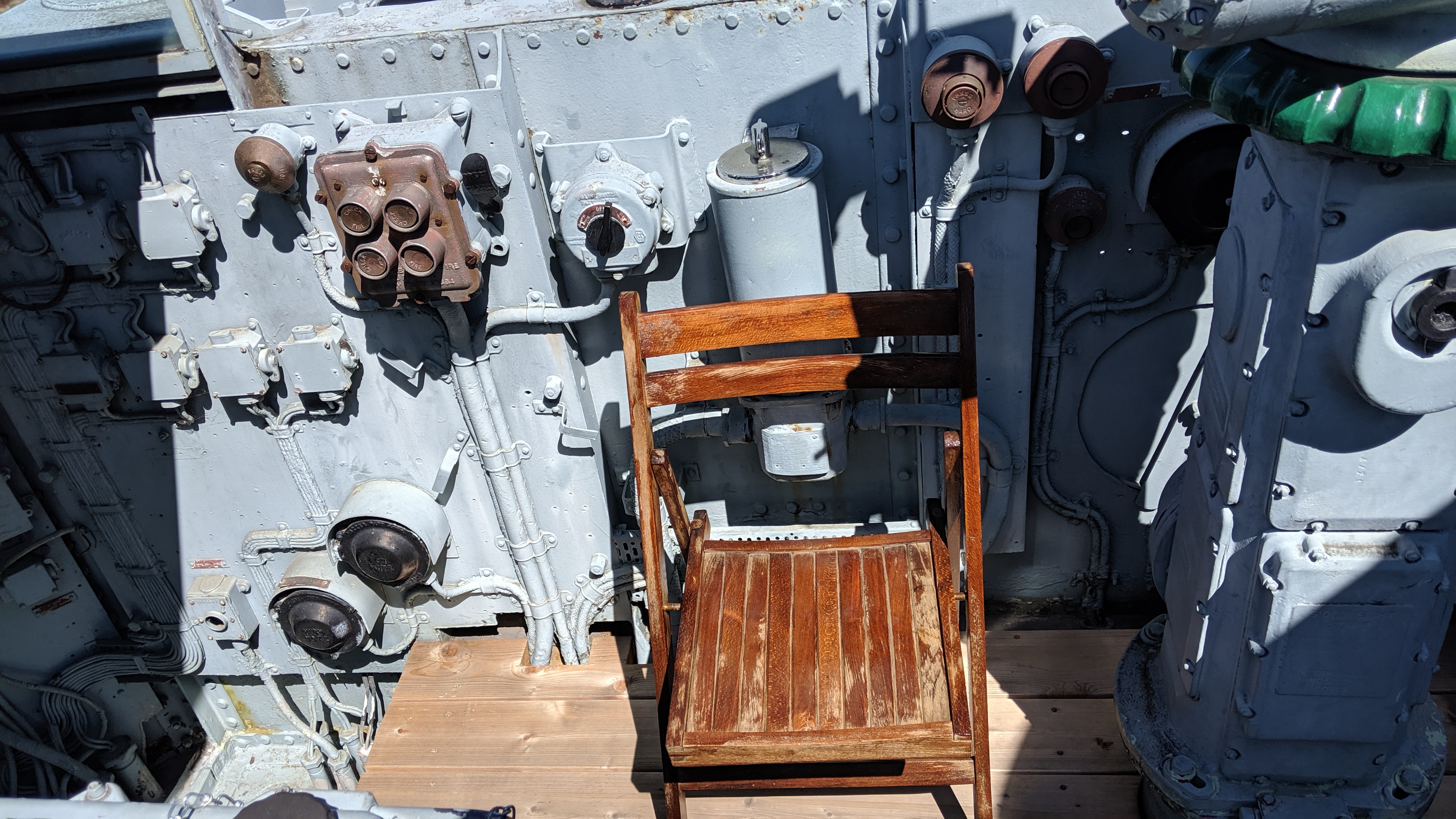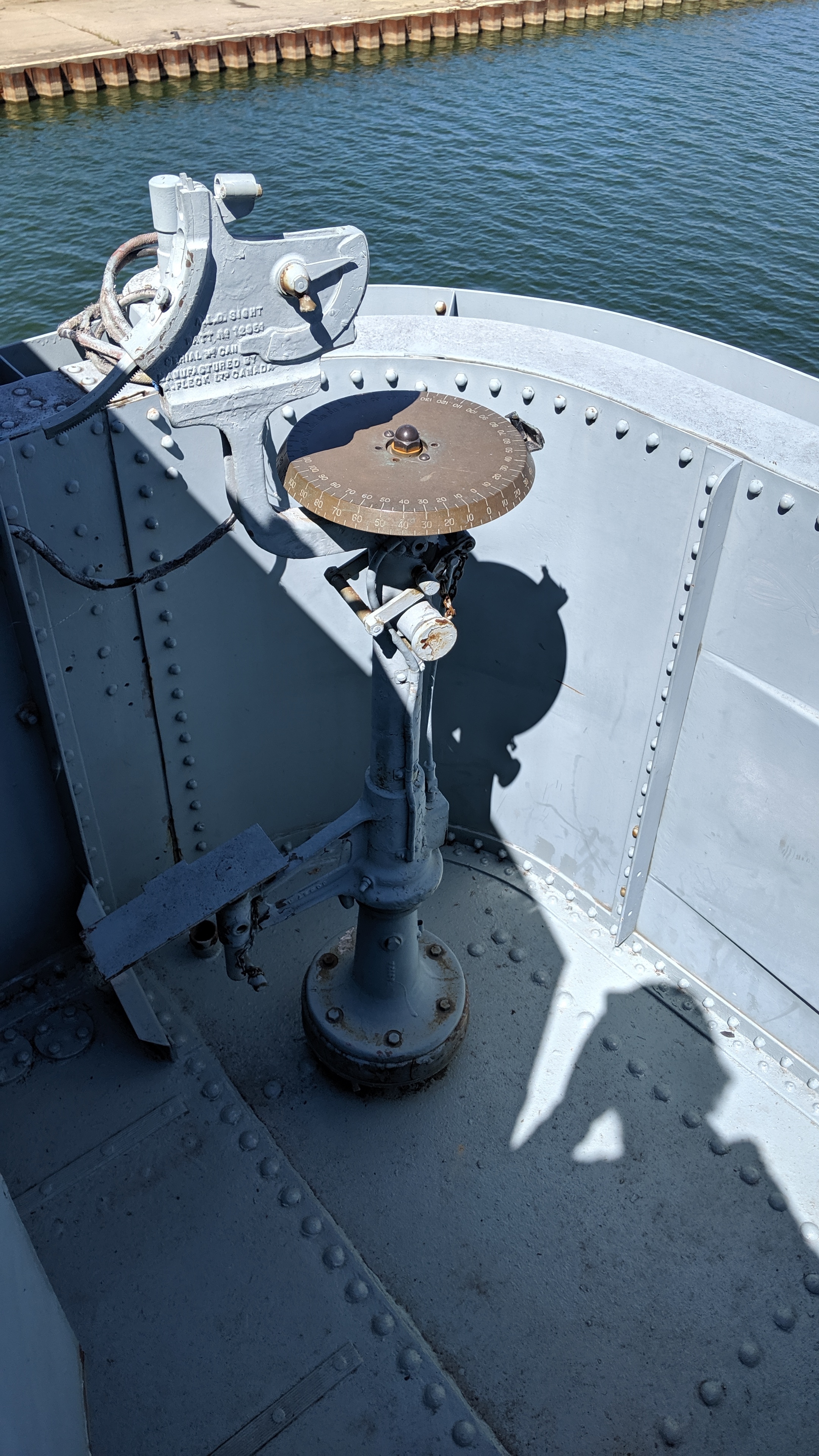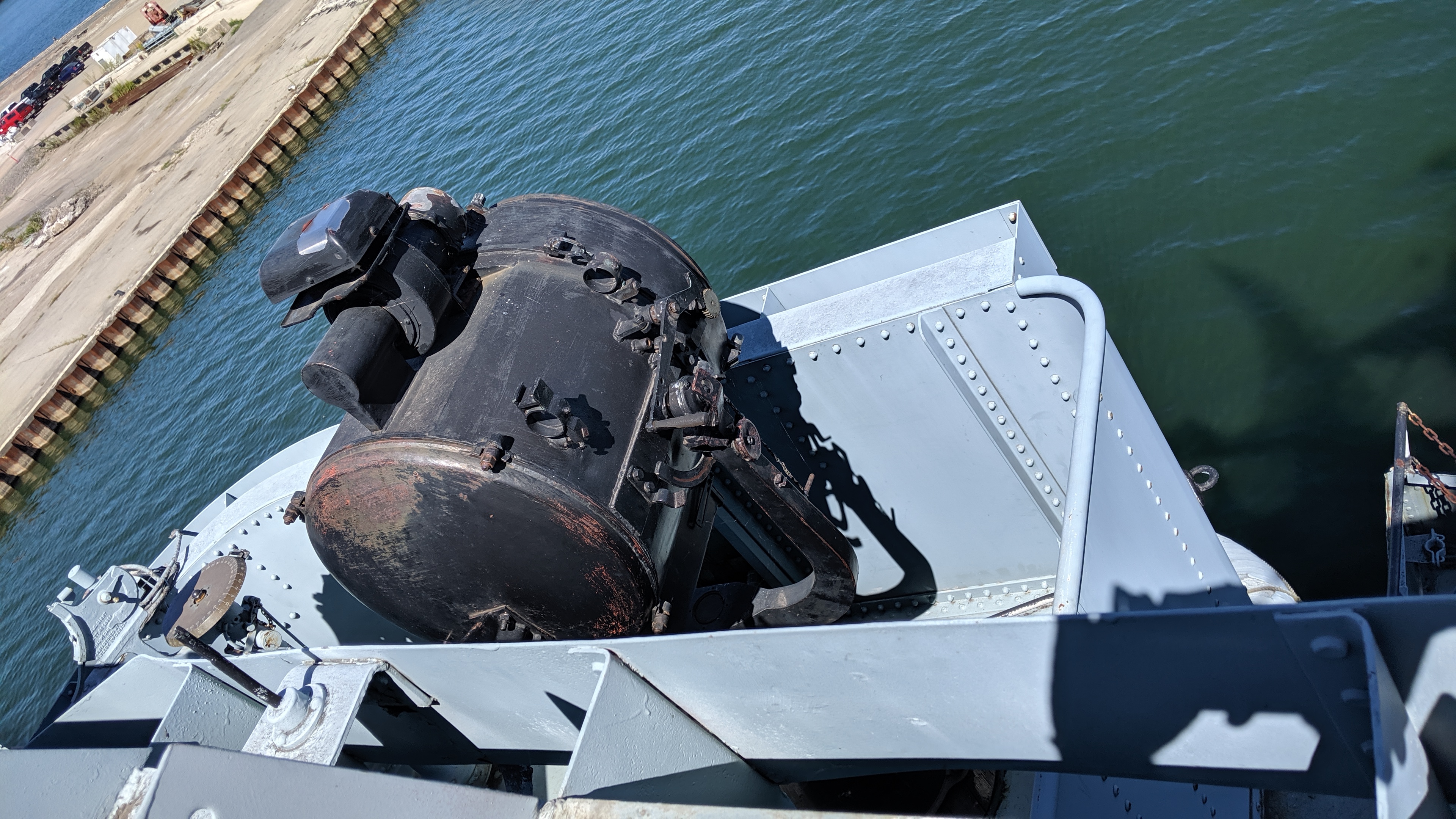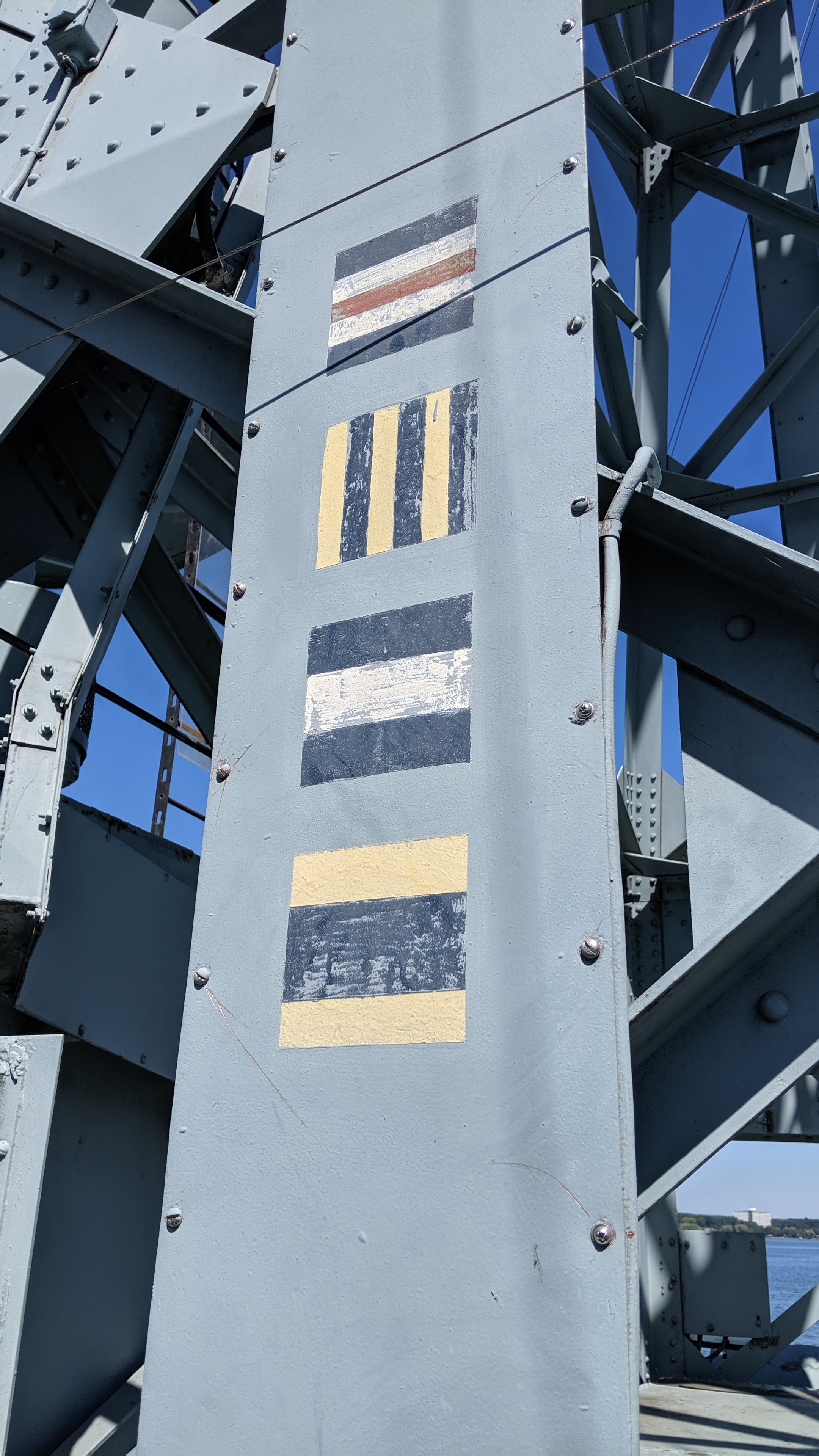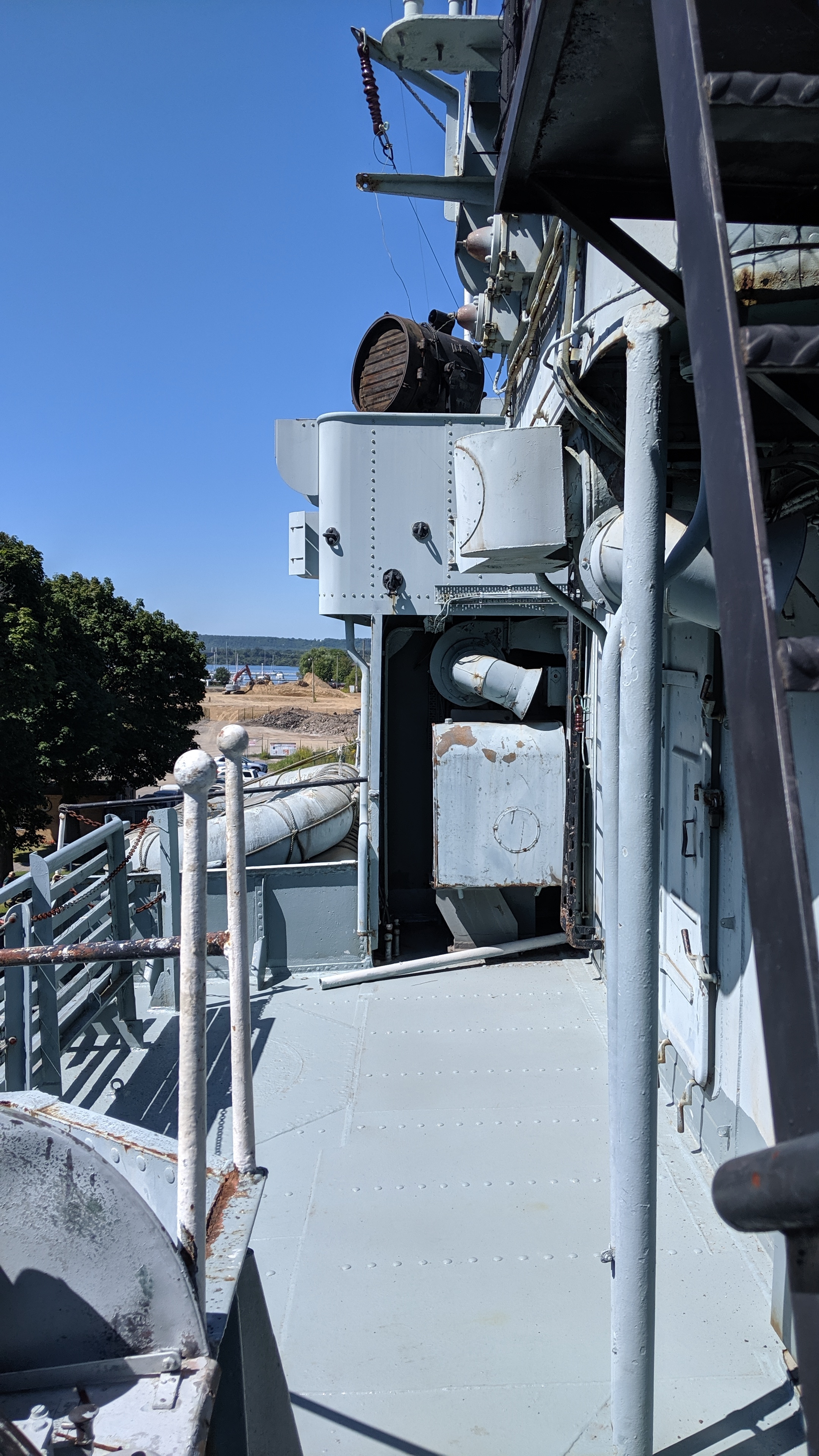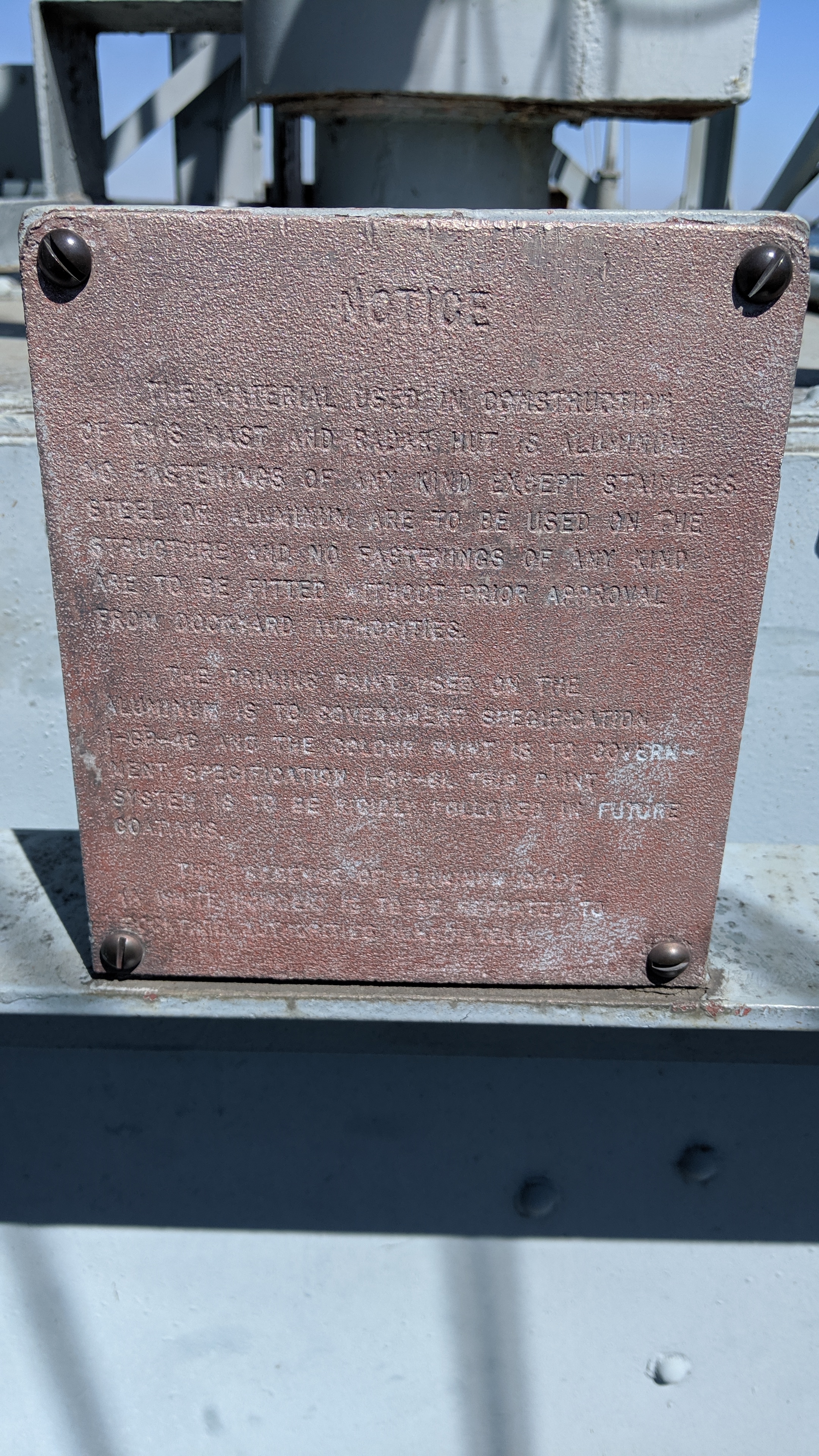 Notice:

The material used in construction of the mast and radar hut is aluminium. No fastening of any kind except stainless steel of aluminium are to be used on the structure and no fastening of any kind are to be fitted without prior approval from dockyard authorities.

The priming paint used on the aluminium is to government specifications I-GP-40 and the colour paint is to government specification I-GP-81. This paint system is to be rigidly followed in future coatings.

The existence of aluminium oxide is white powder is to be reported to dockyard authorities immediately.
(Hard making this out, though this is what I've managed to make out. The second paint may either be 81, or 86. Hard to make out.)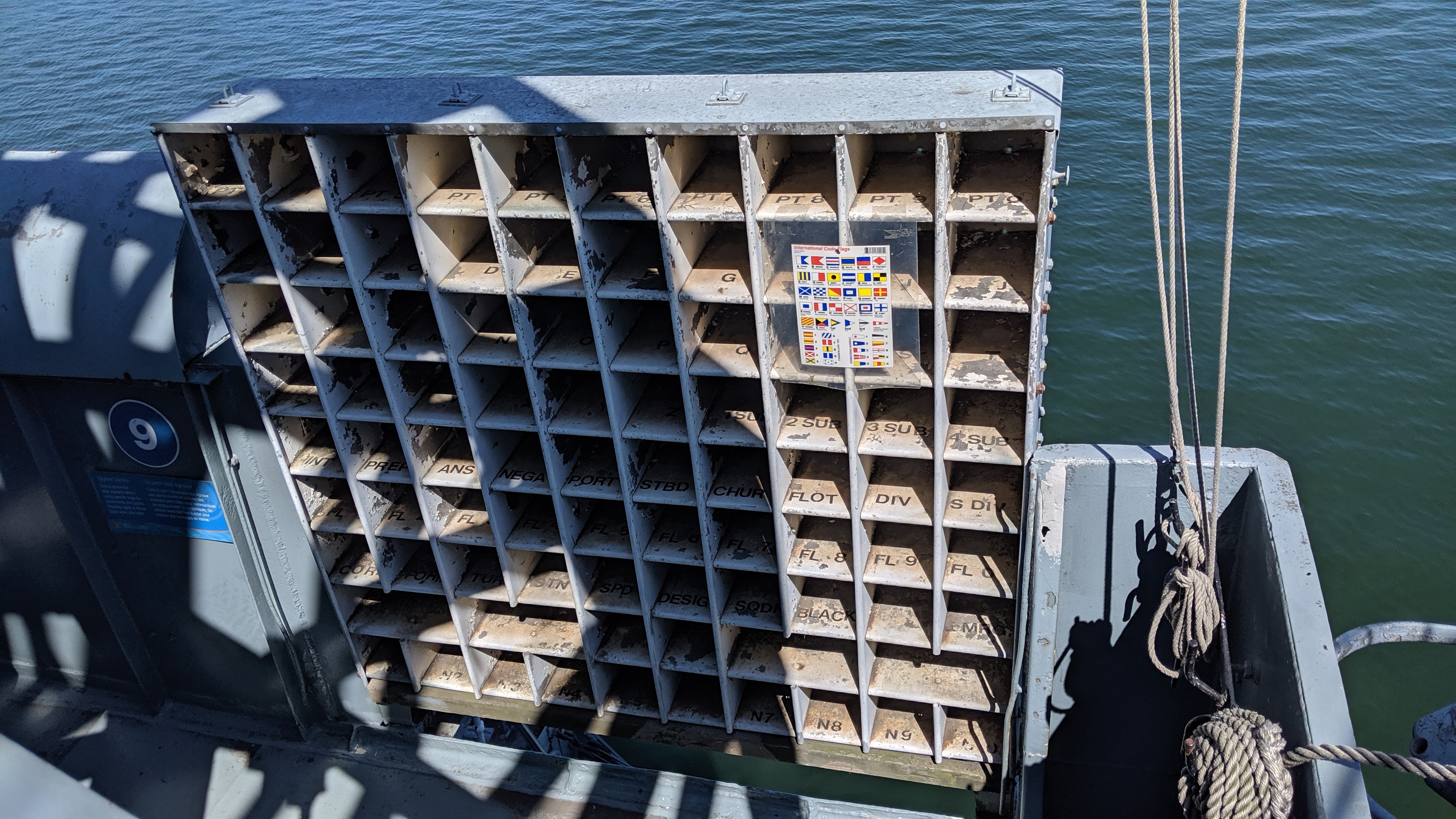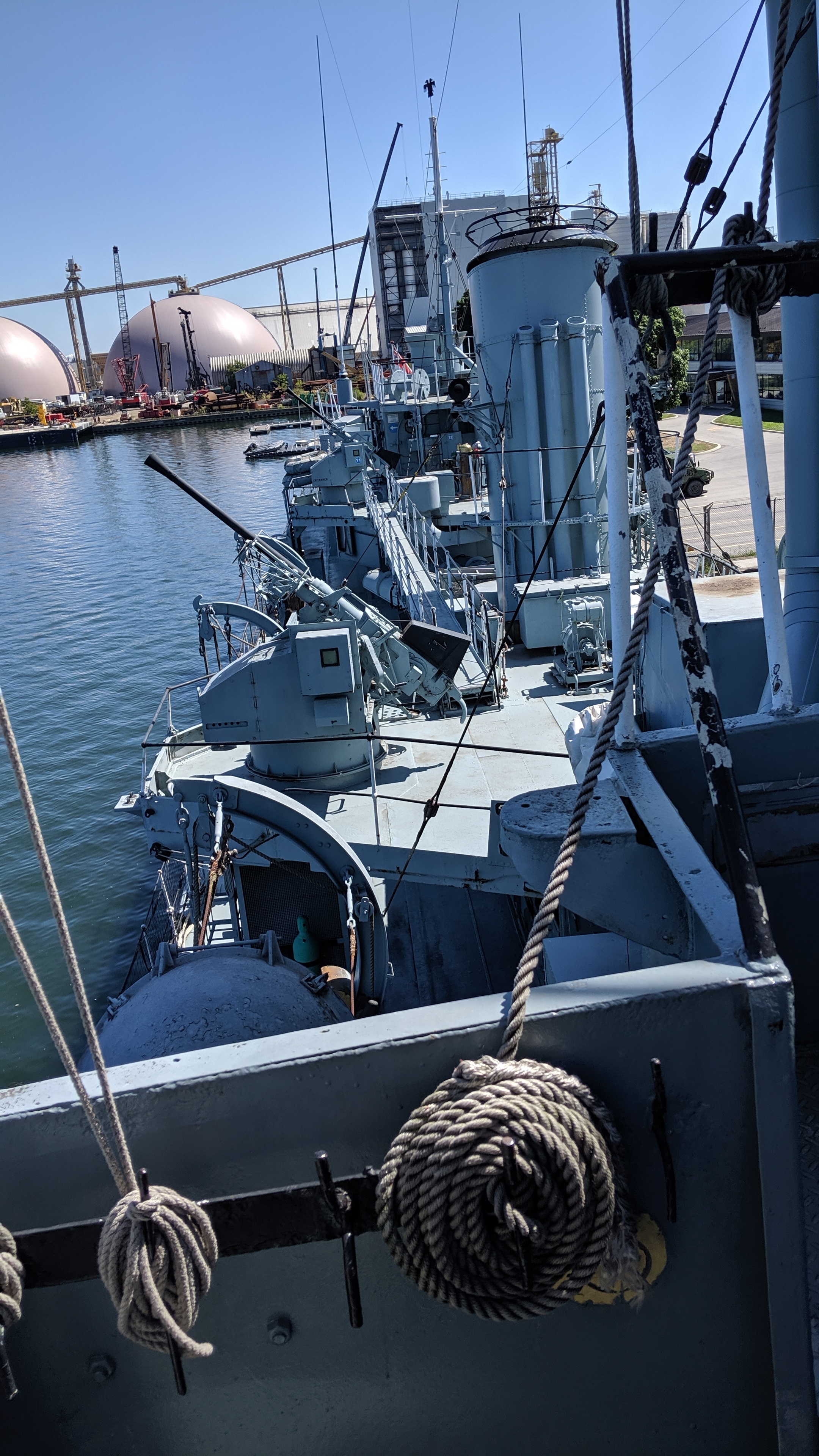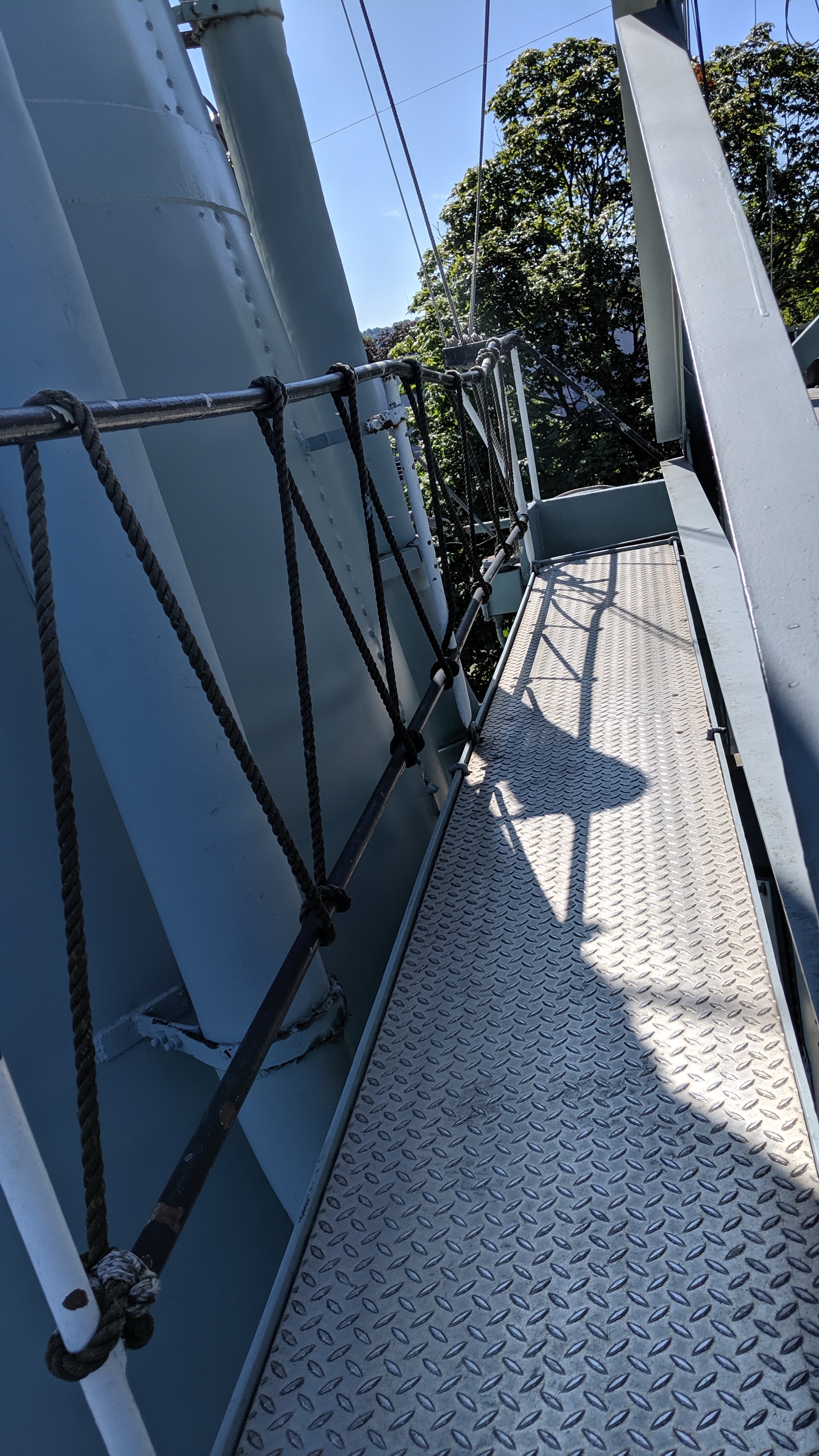 Warning! As of September 5th, 2019:
There is a wasp nest in a screw hole under the mast (left side of ship; Port side) with wasps coming in and out of a hole. There was a missing screw (or similar) allowing wasps to make a home there. HMCS Haida needs a lot of polishing and a tiny bit of pest control.
This warning may not be valid if read past 2019. This is simply what I saw on September 5th.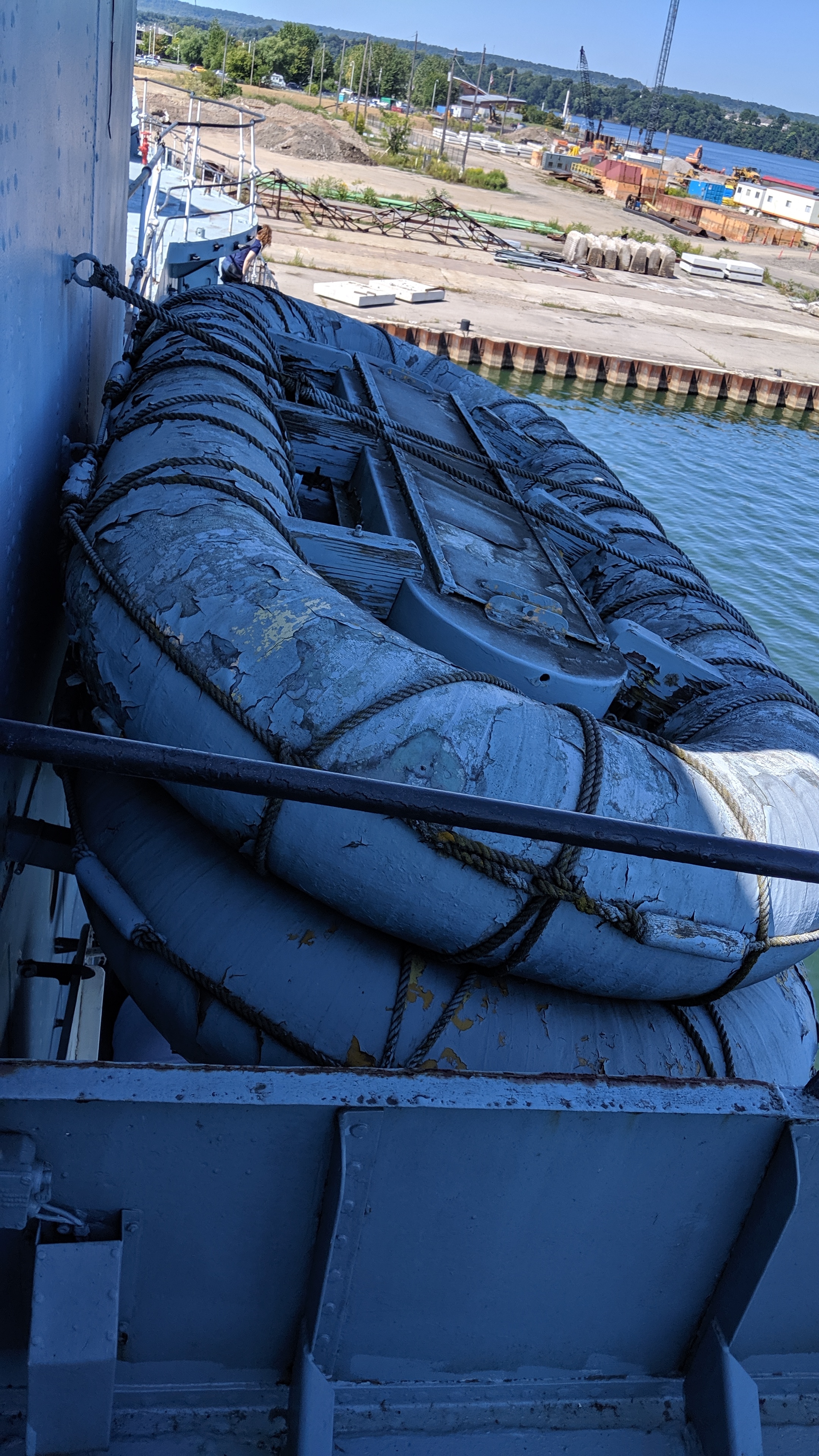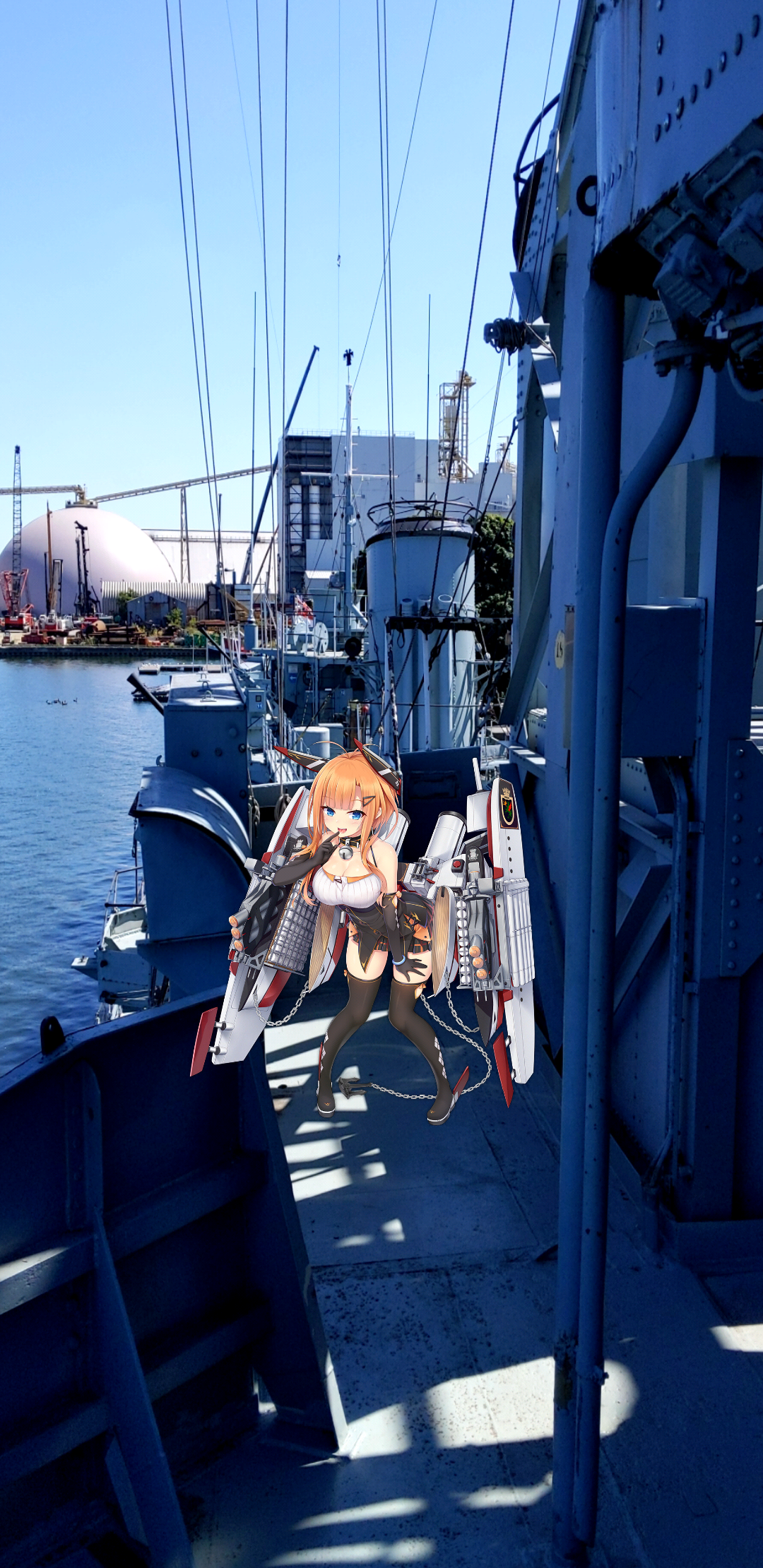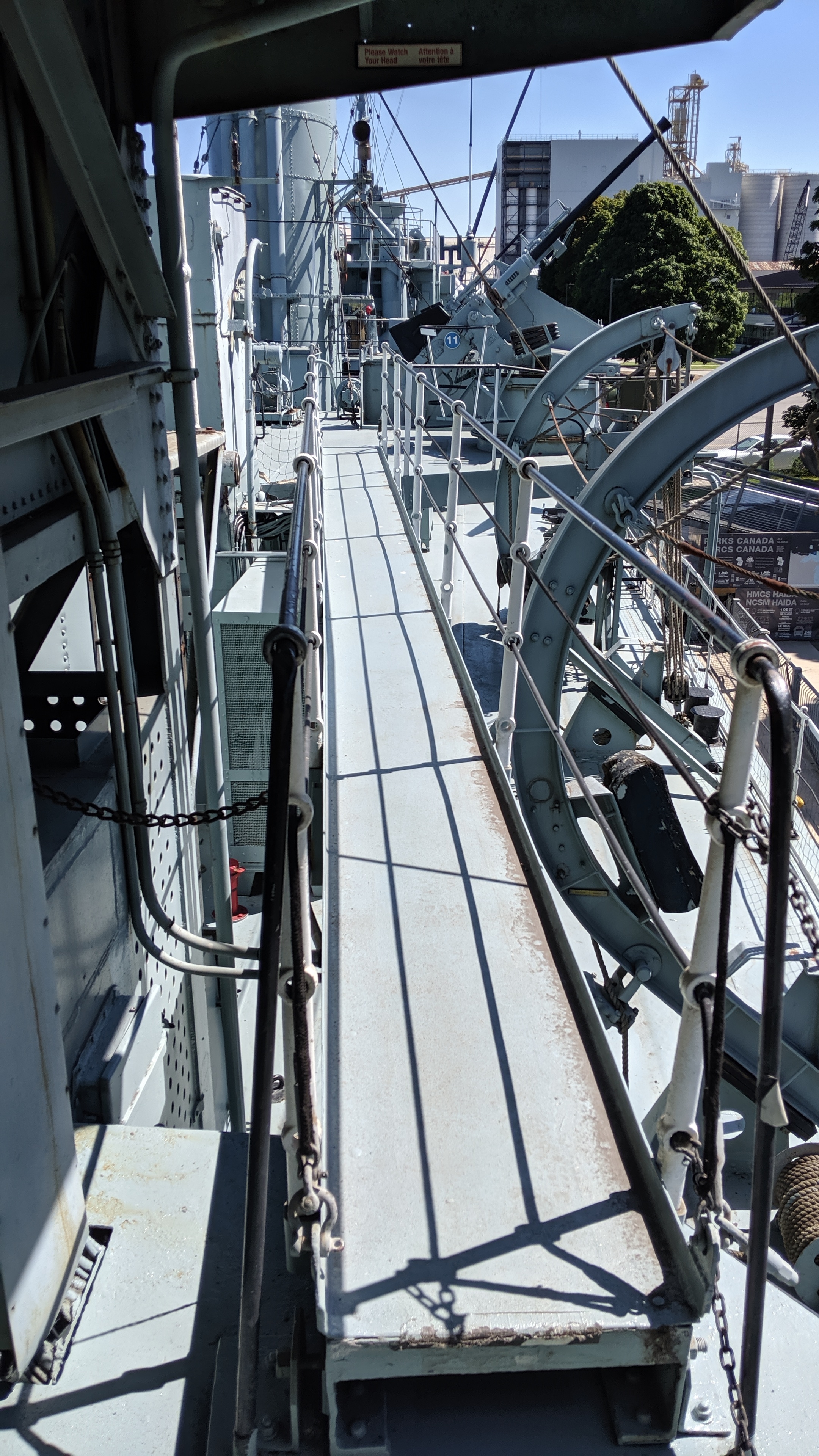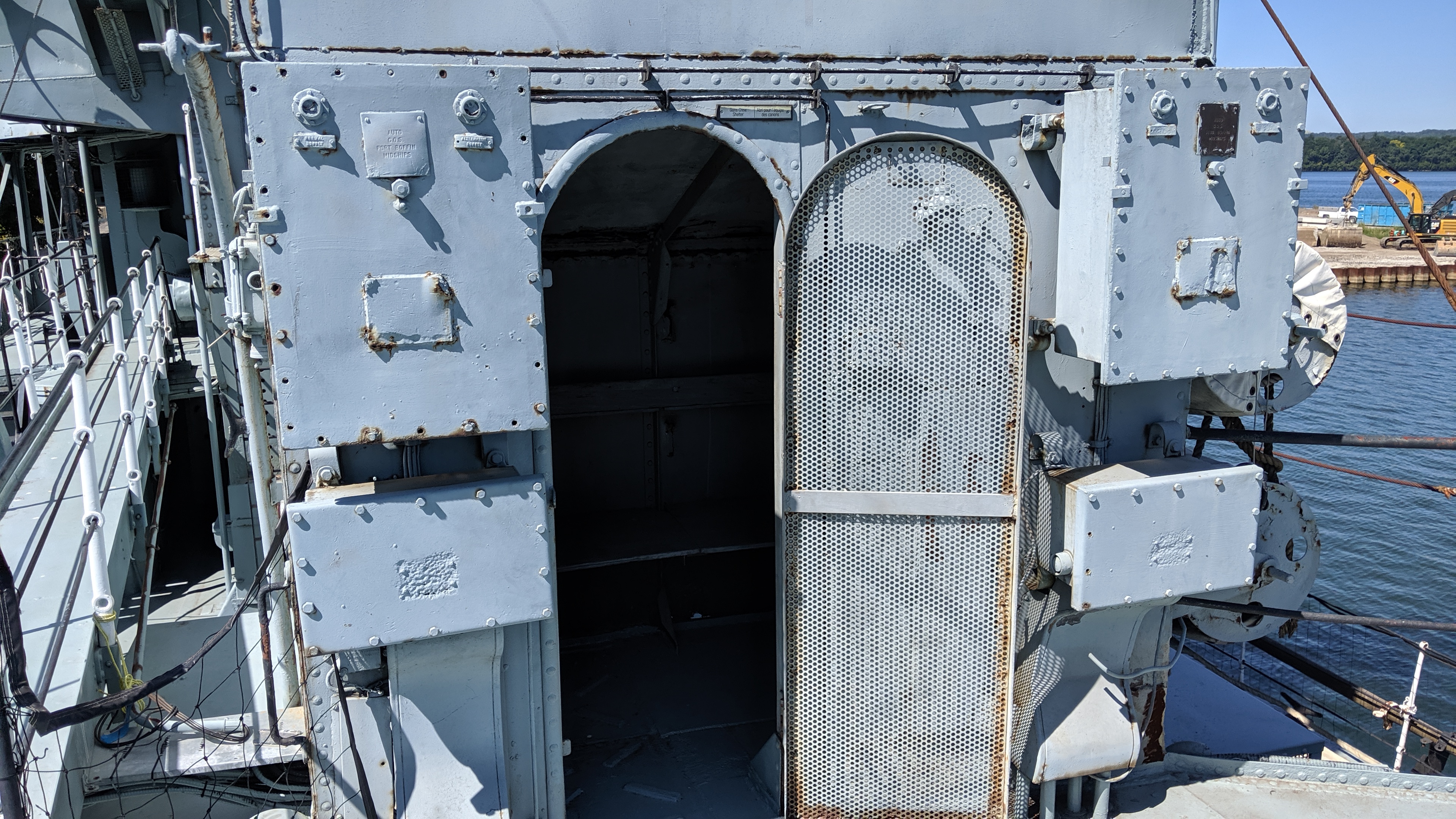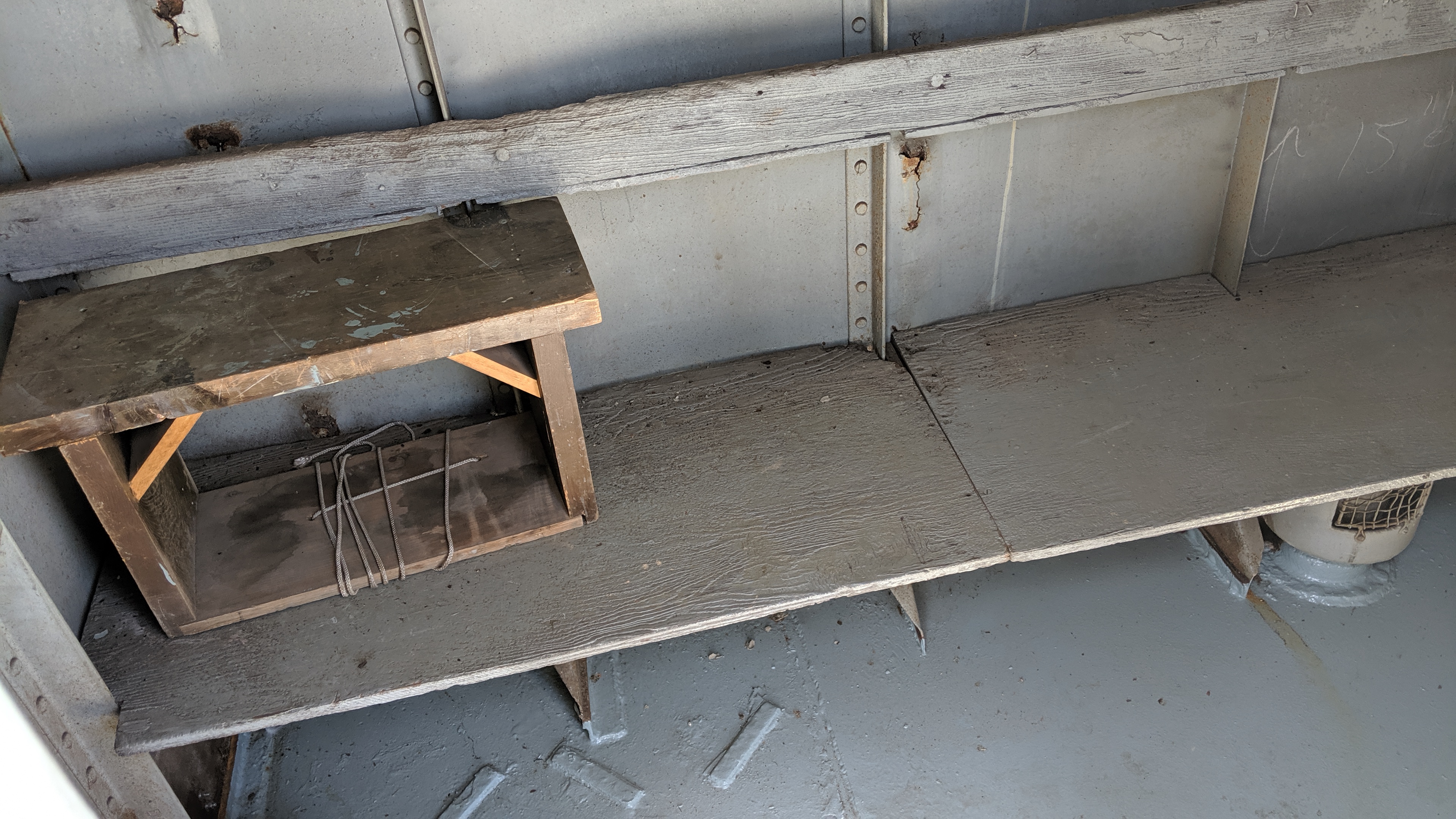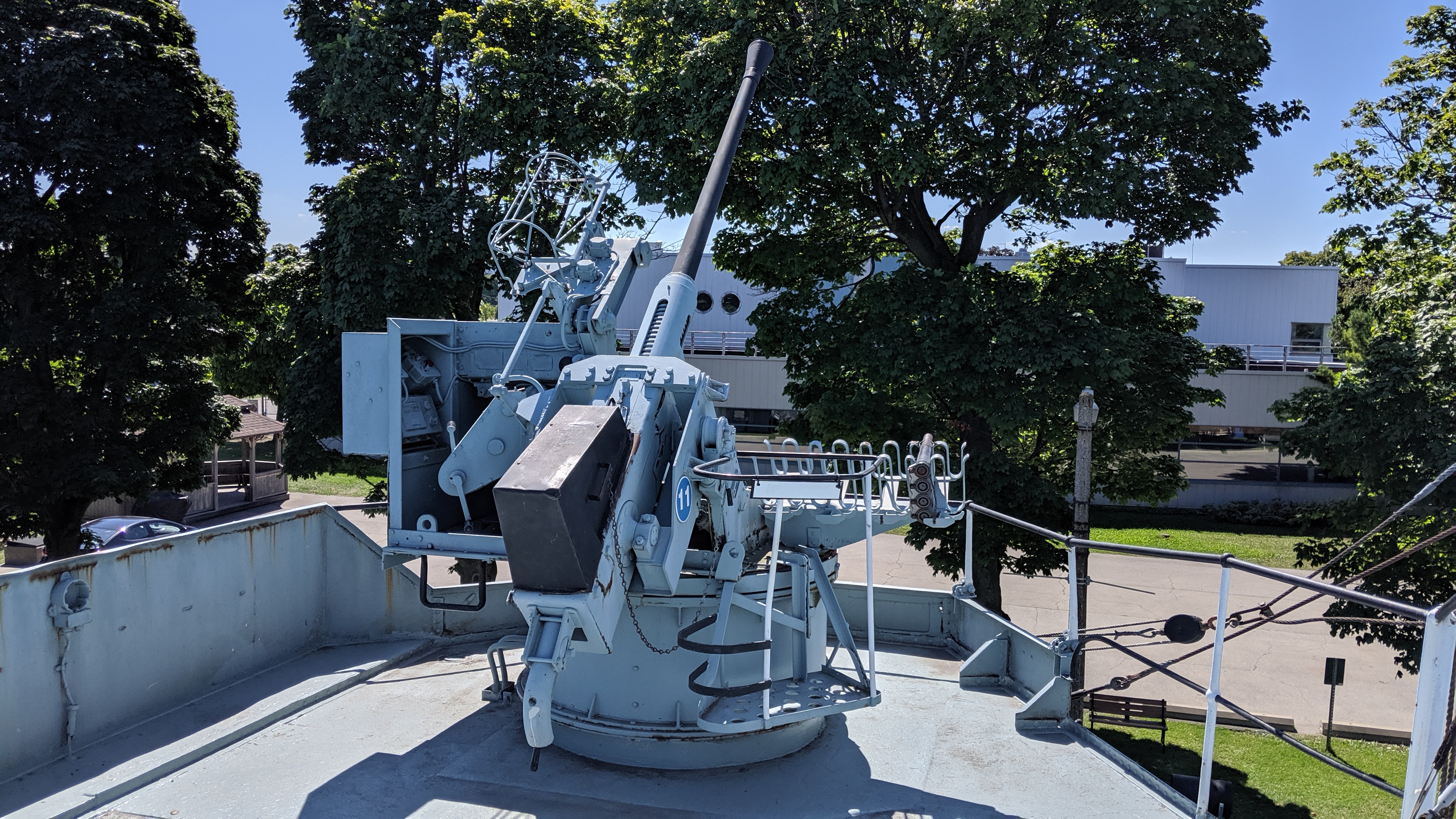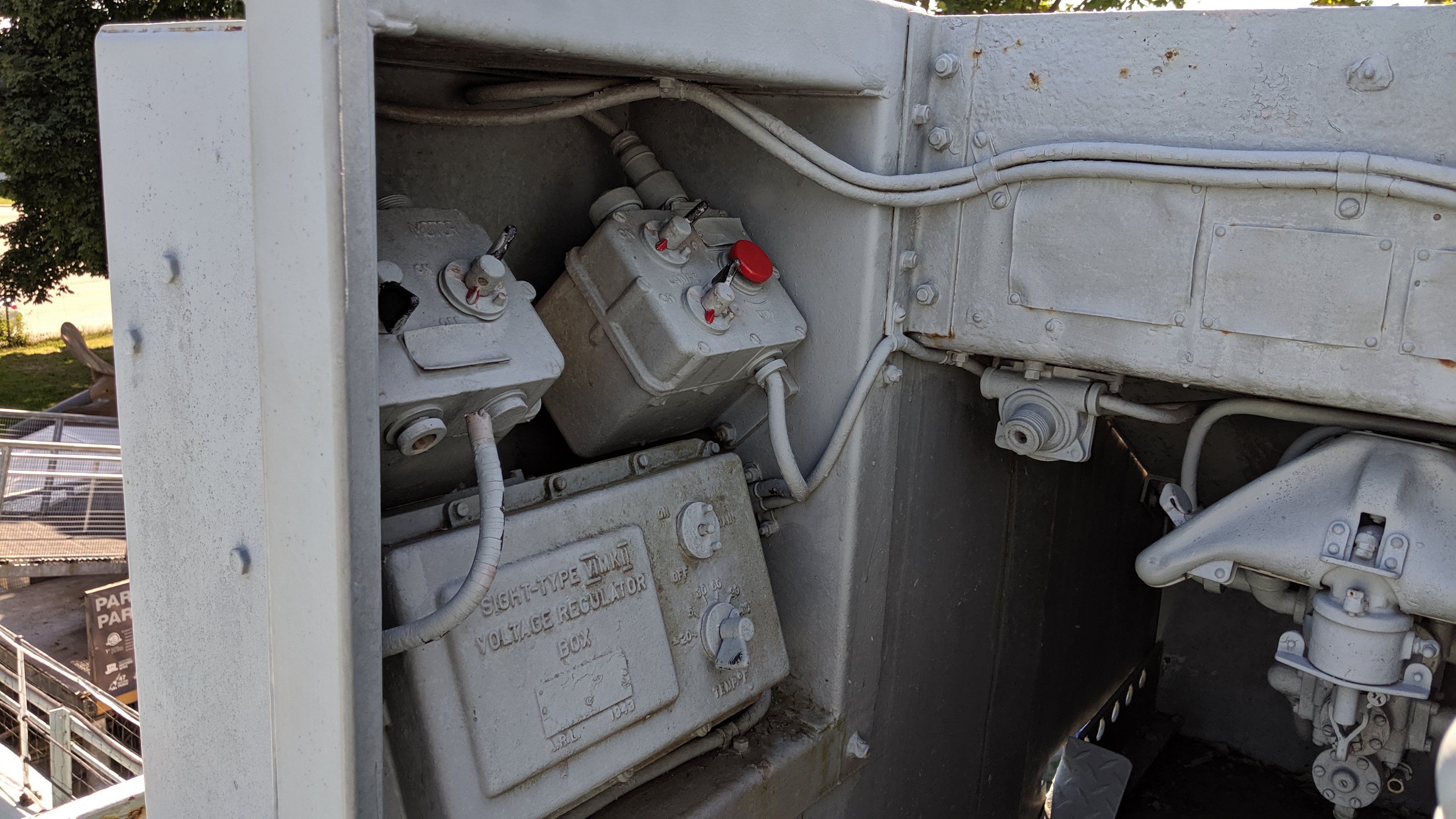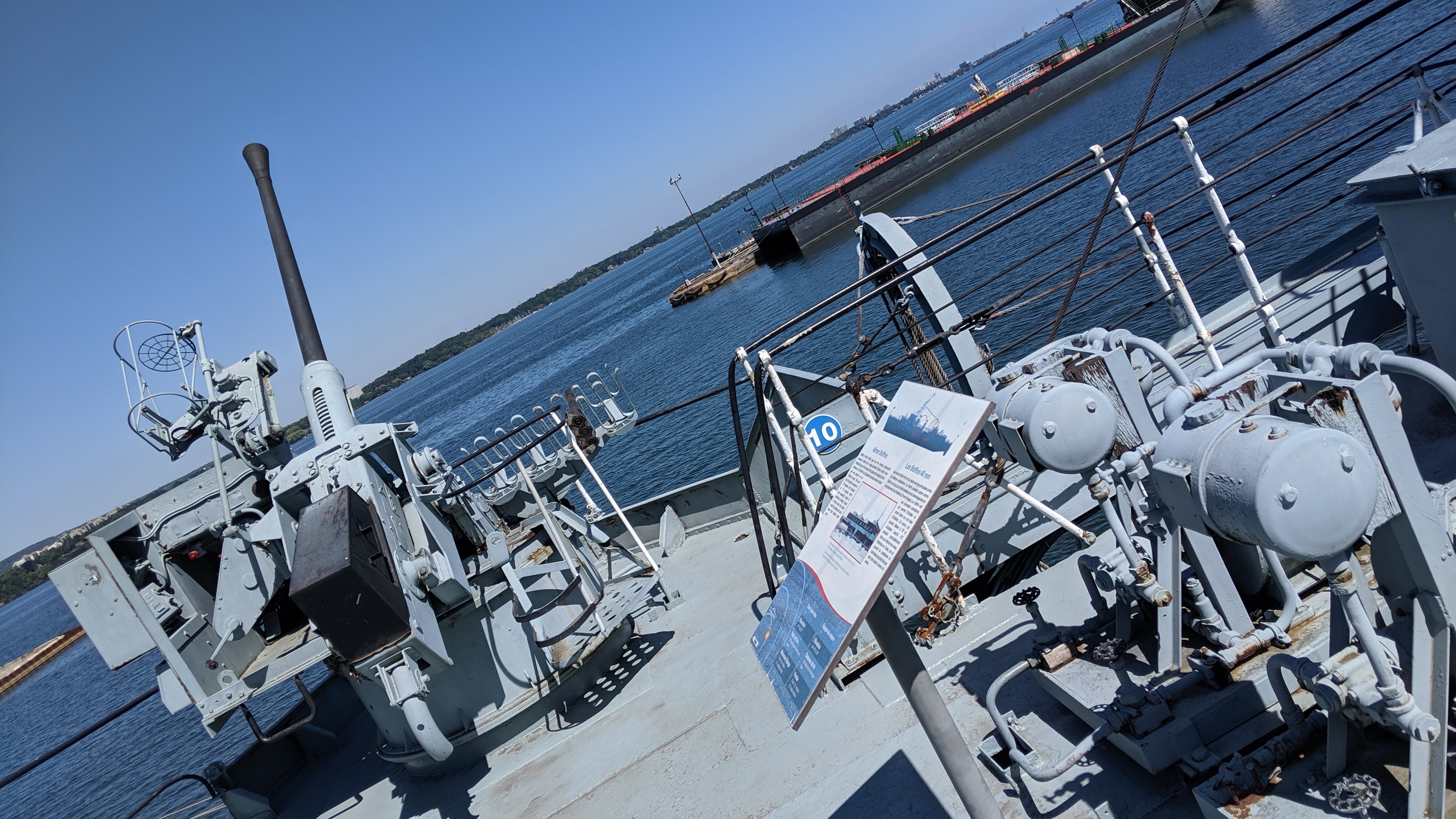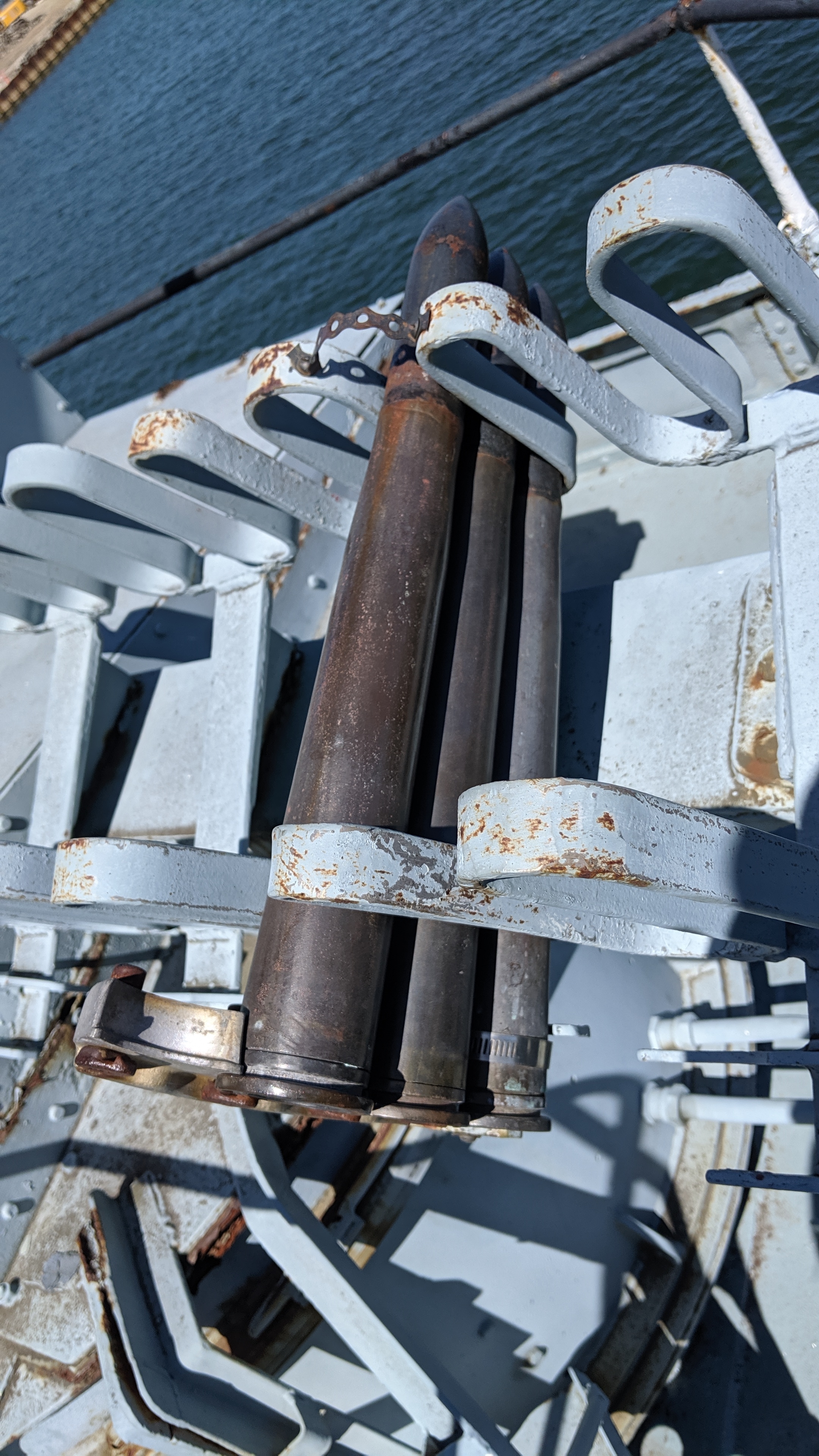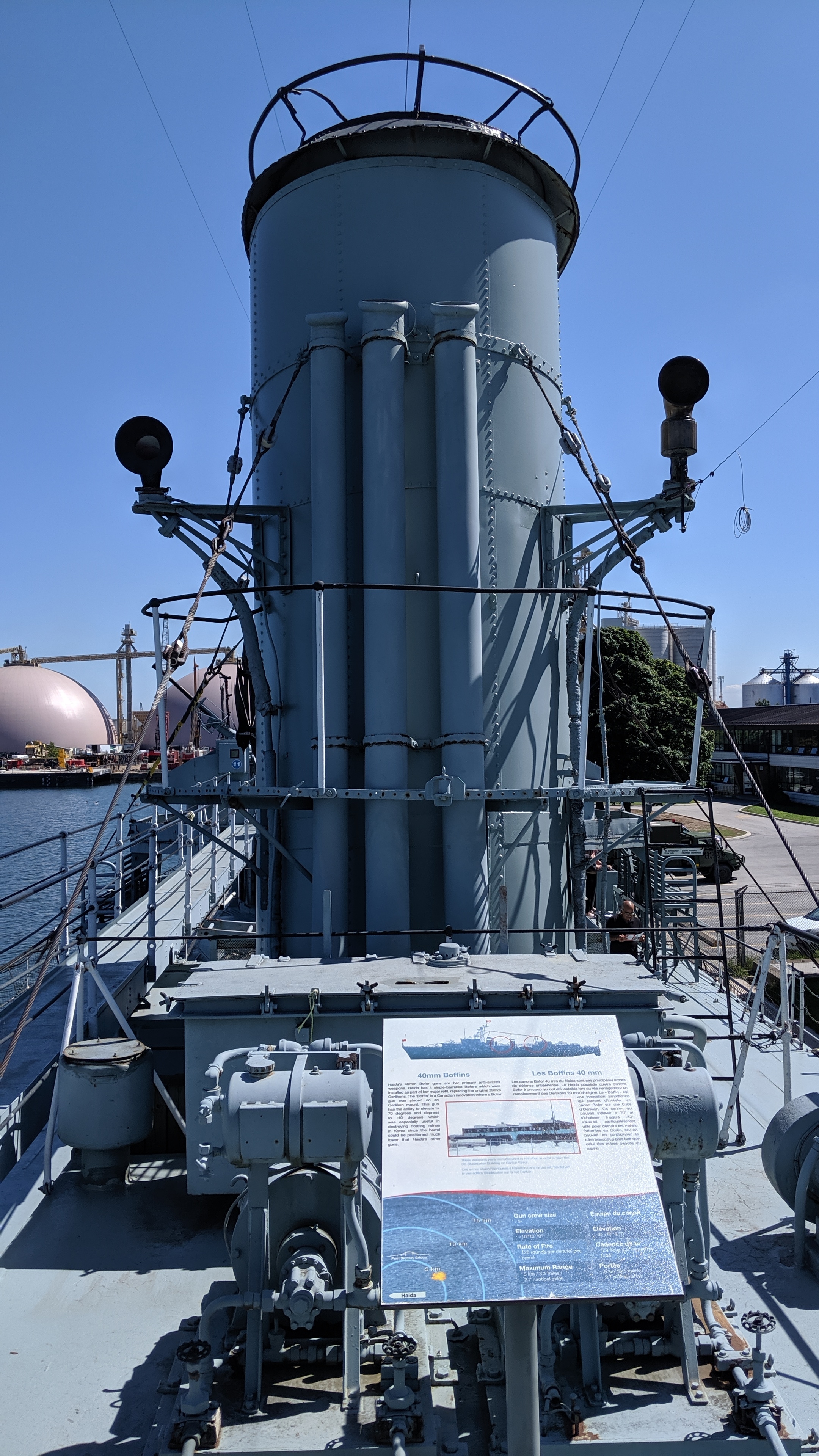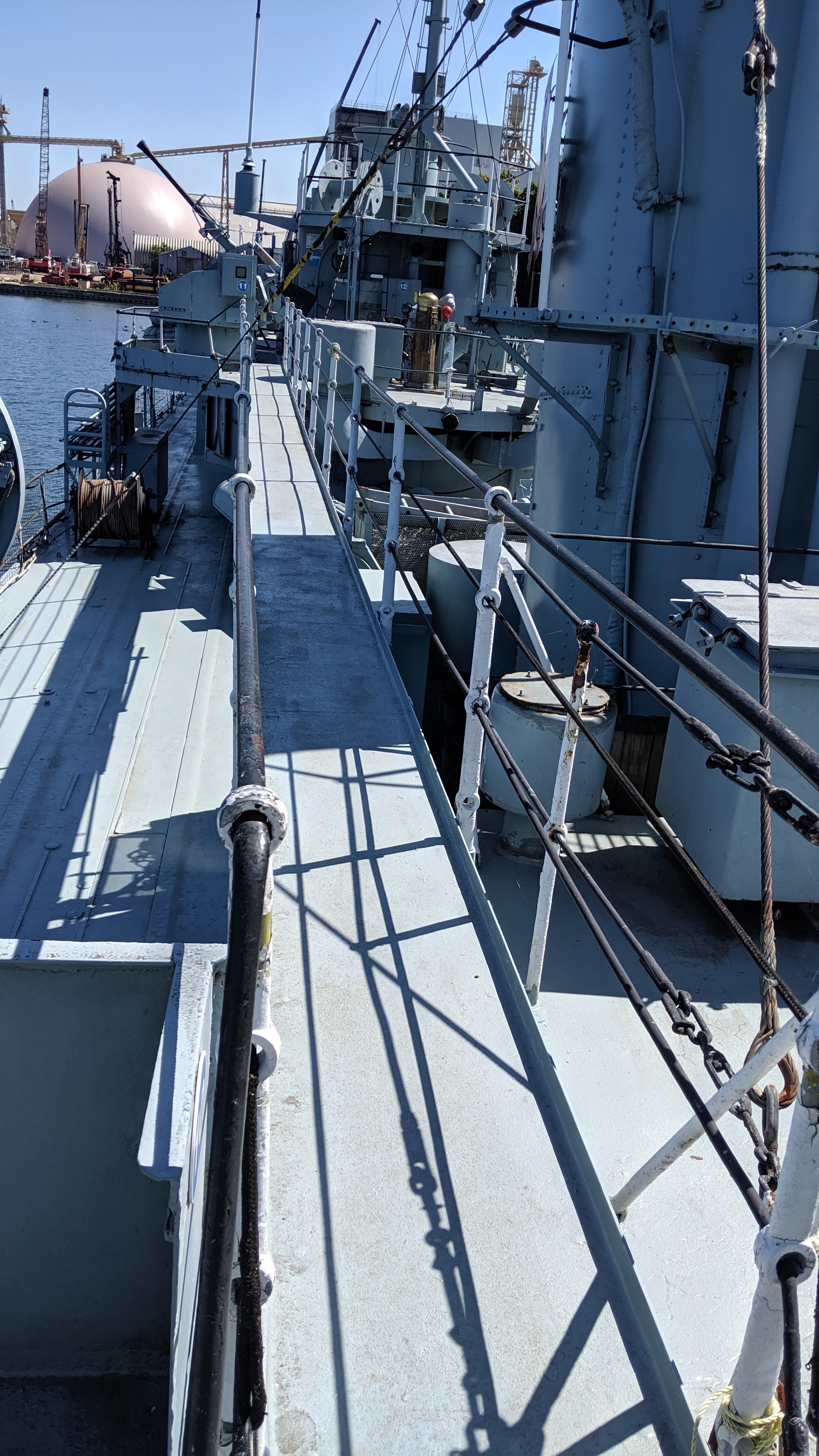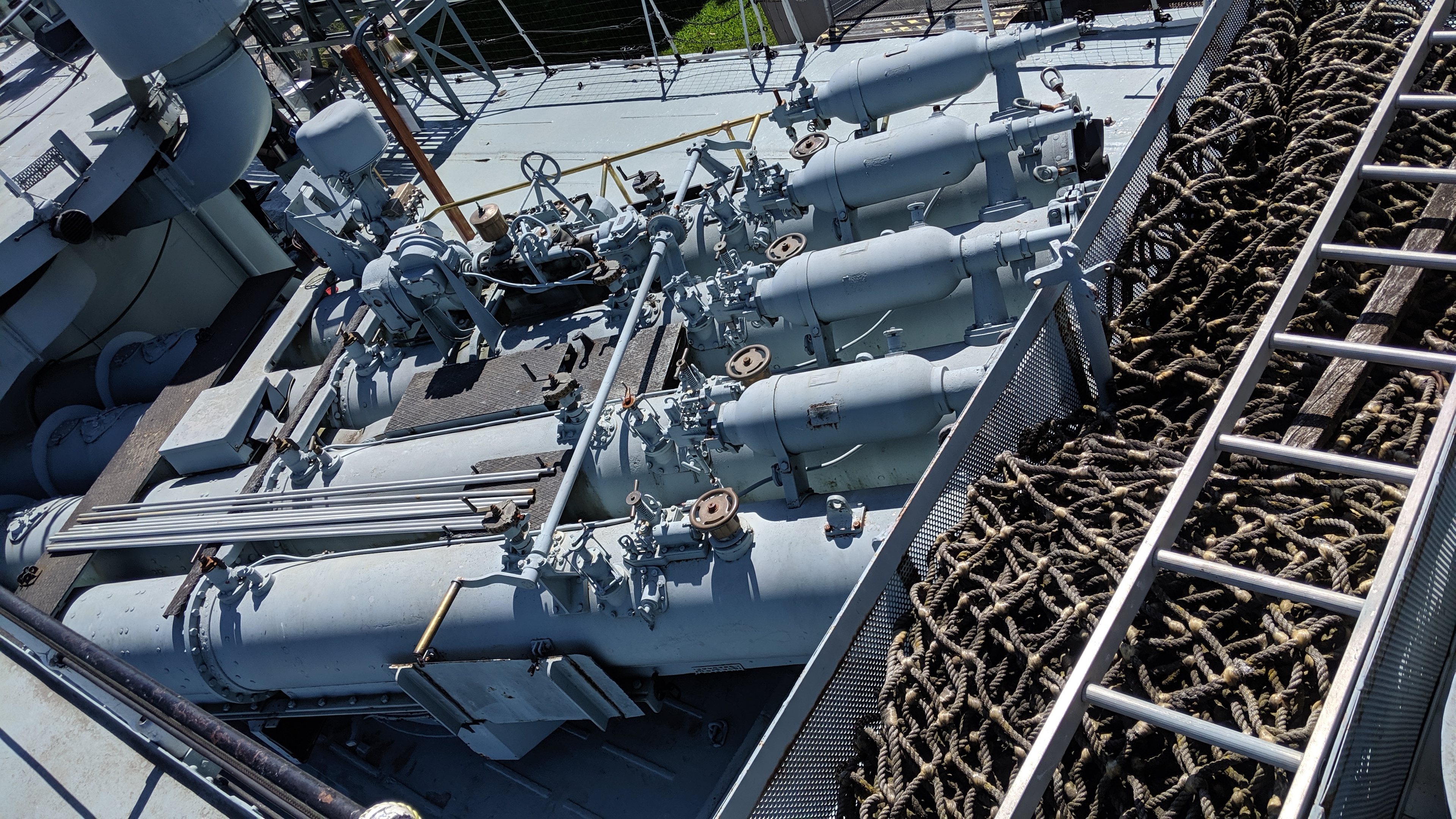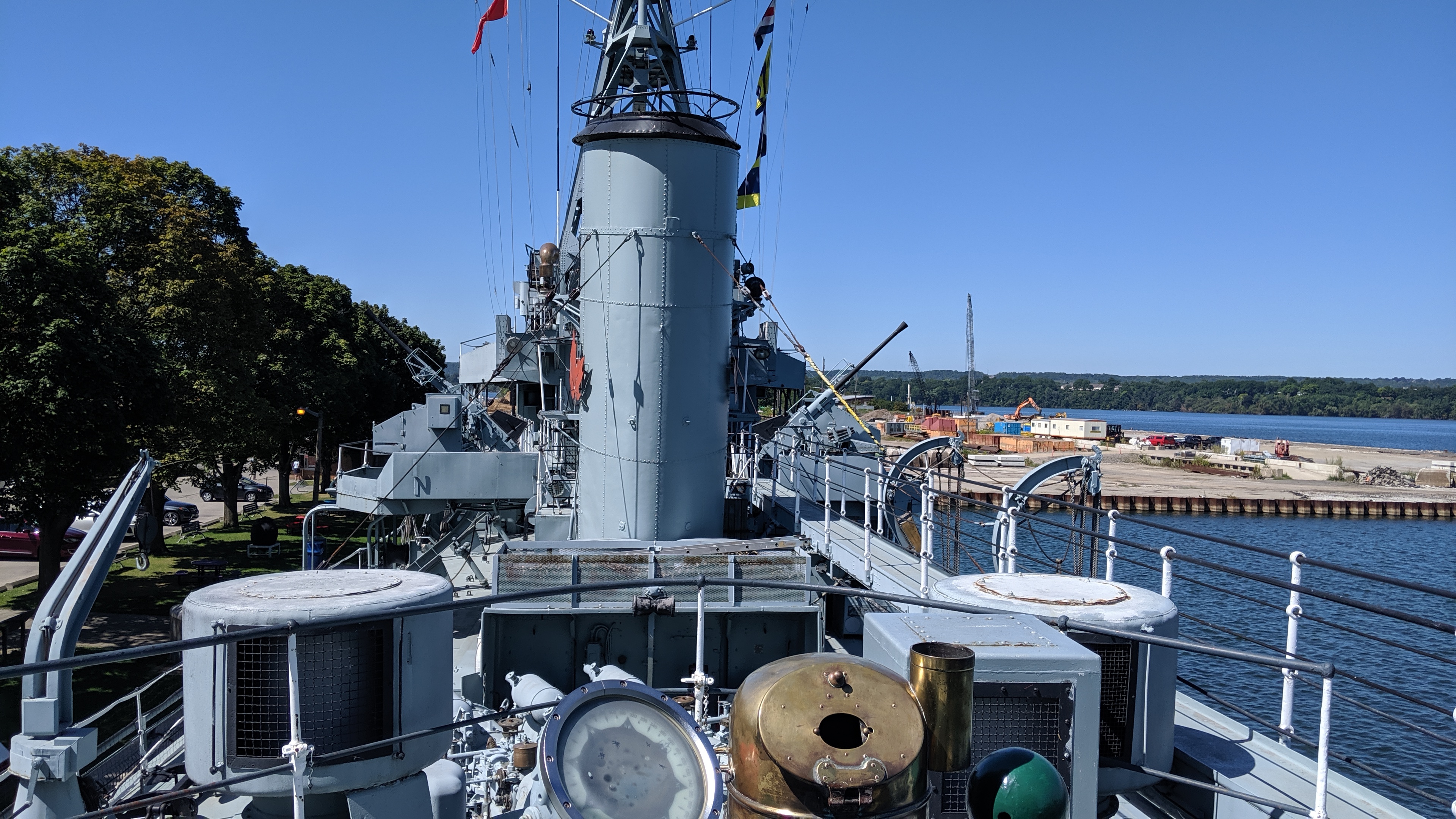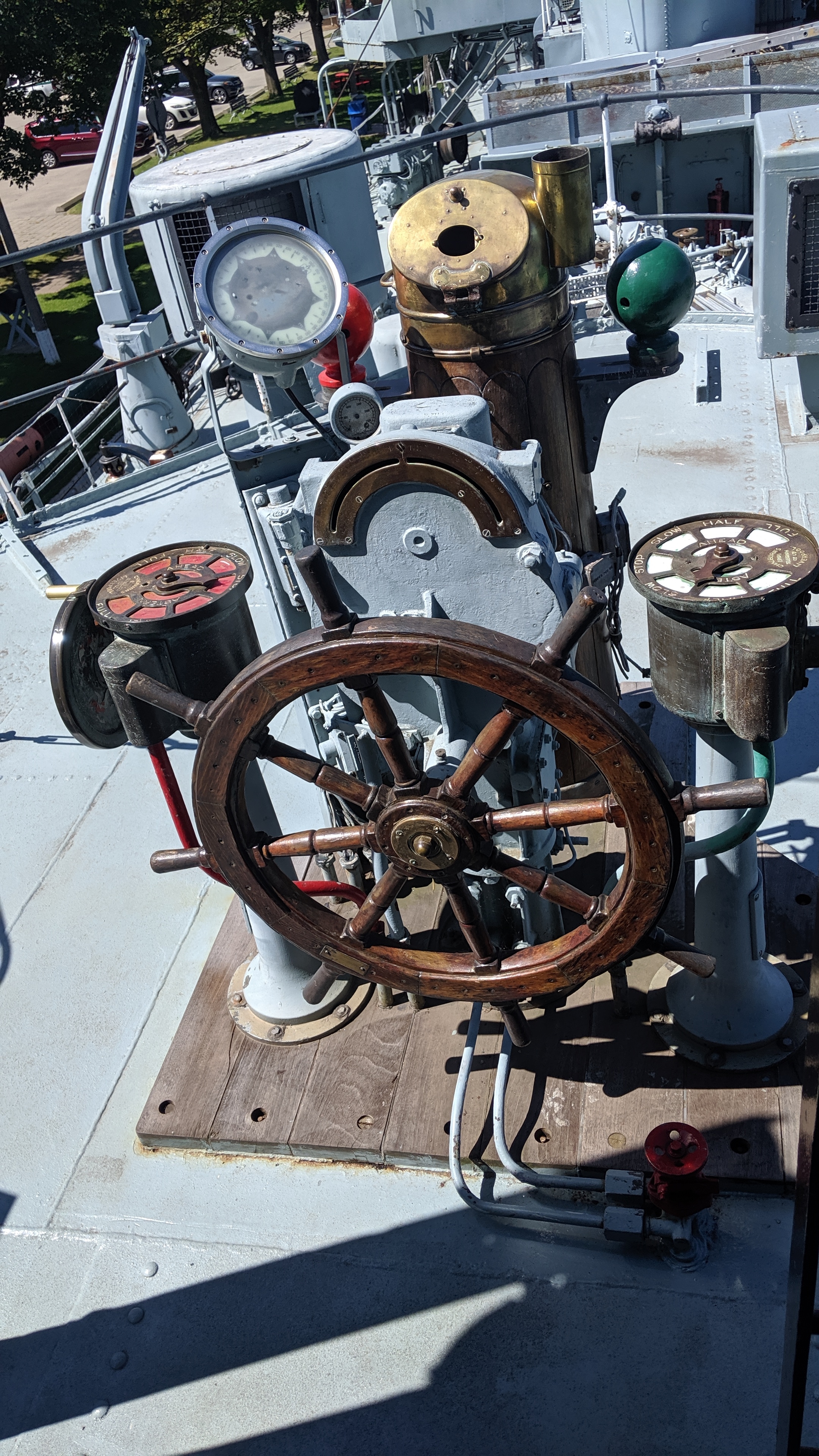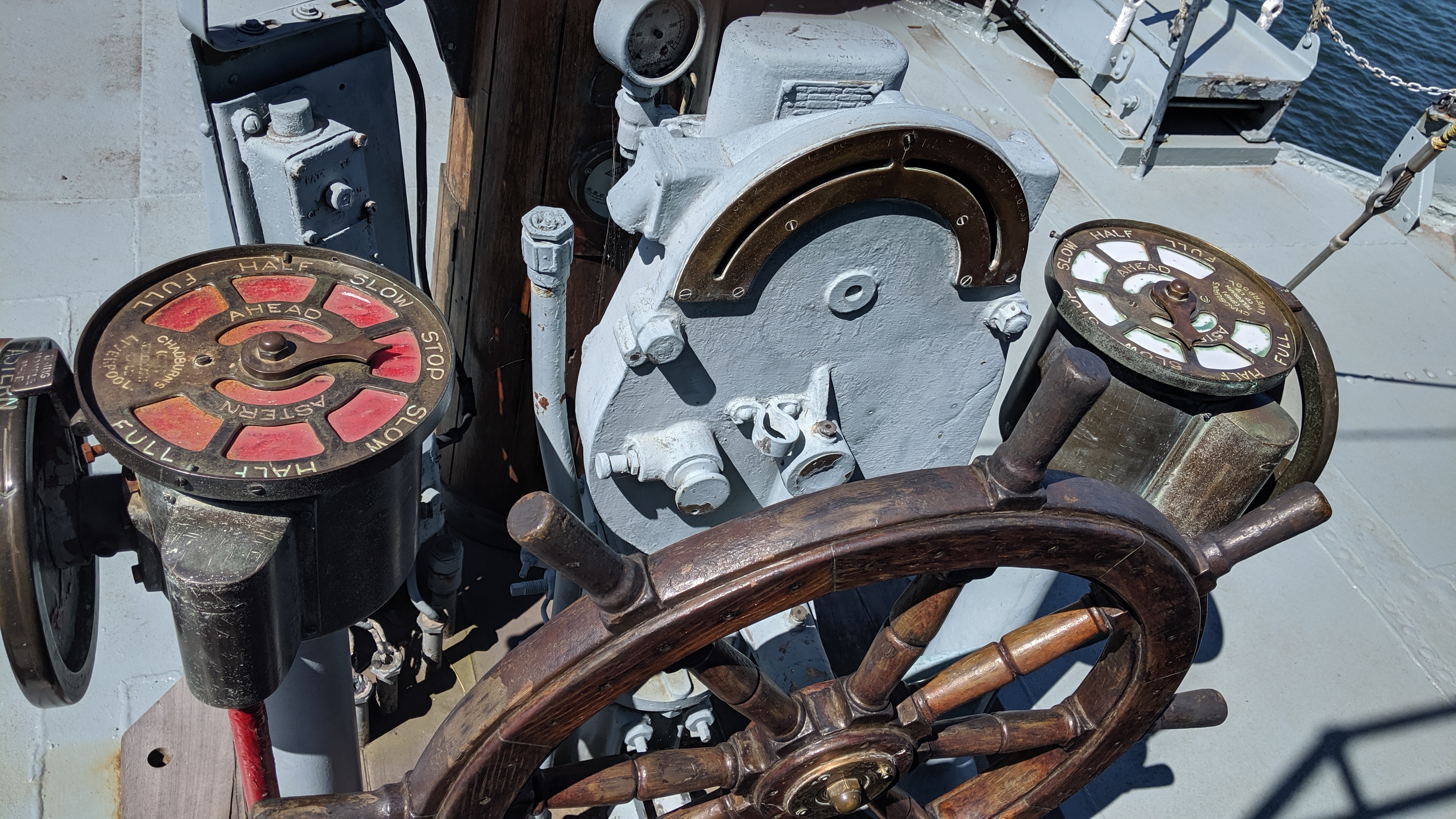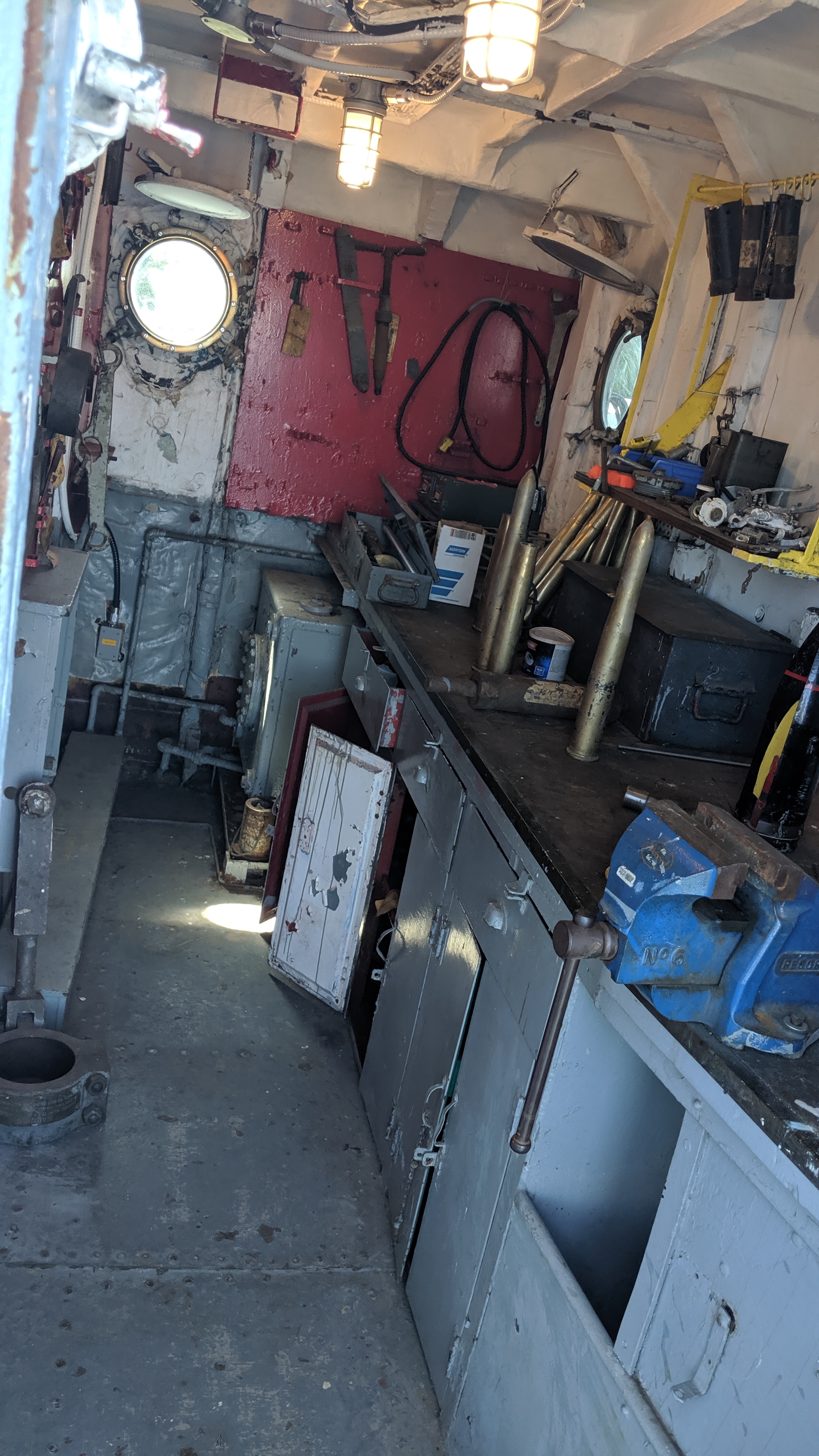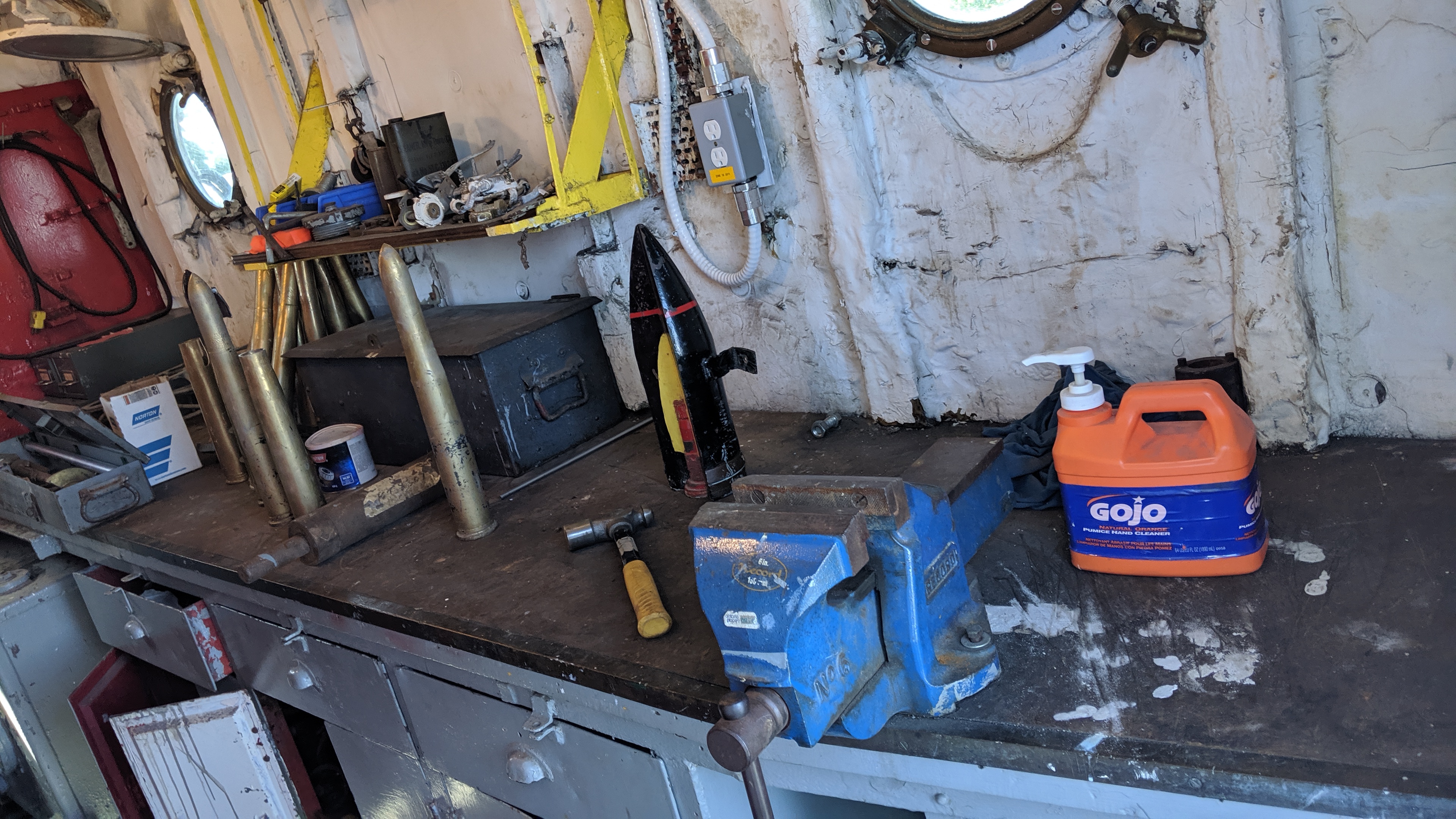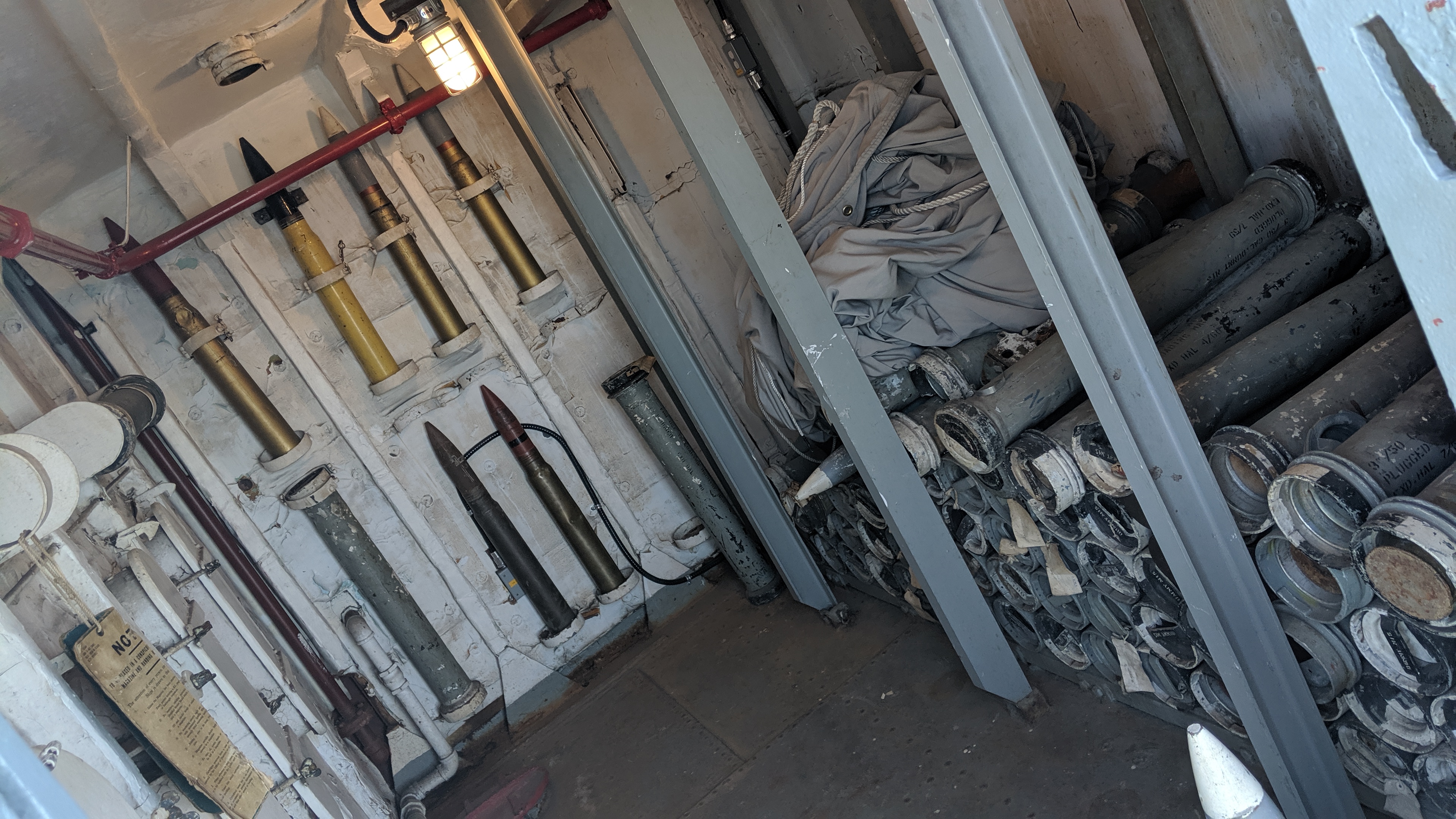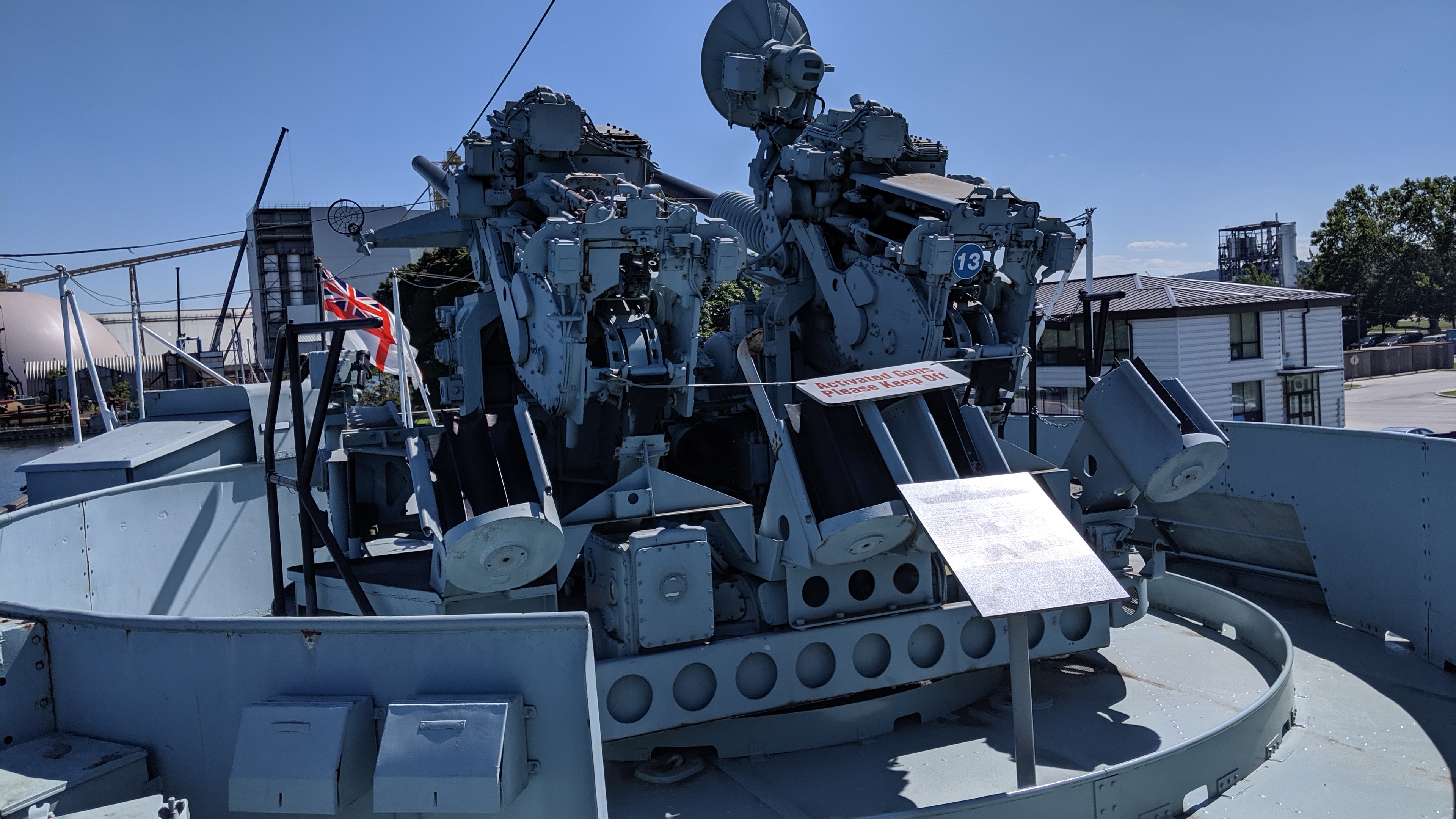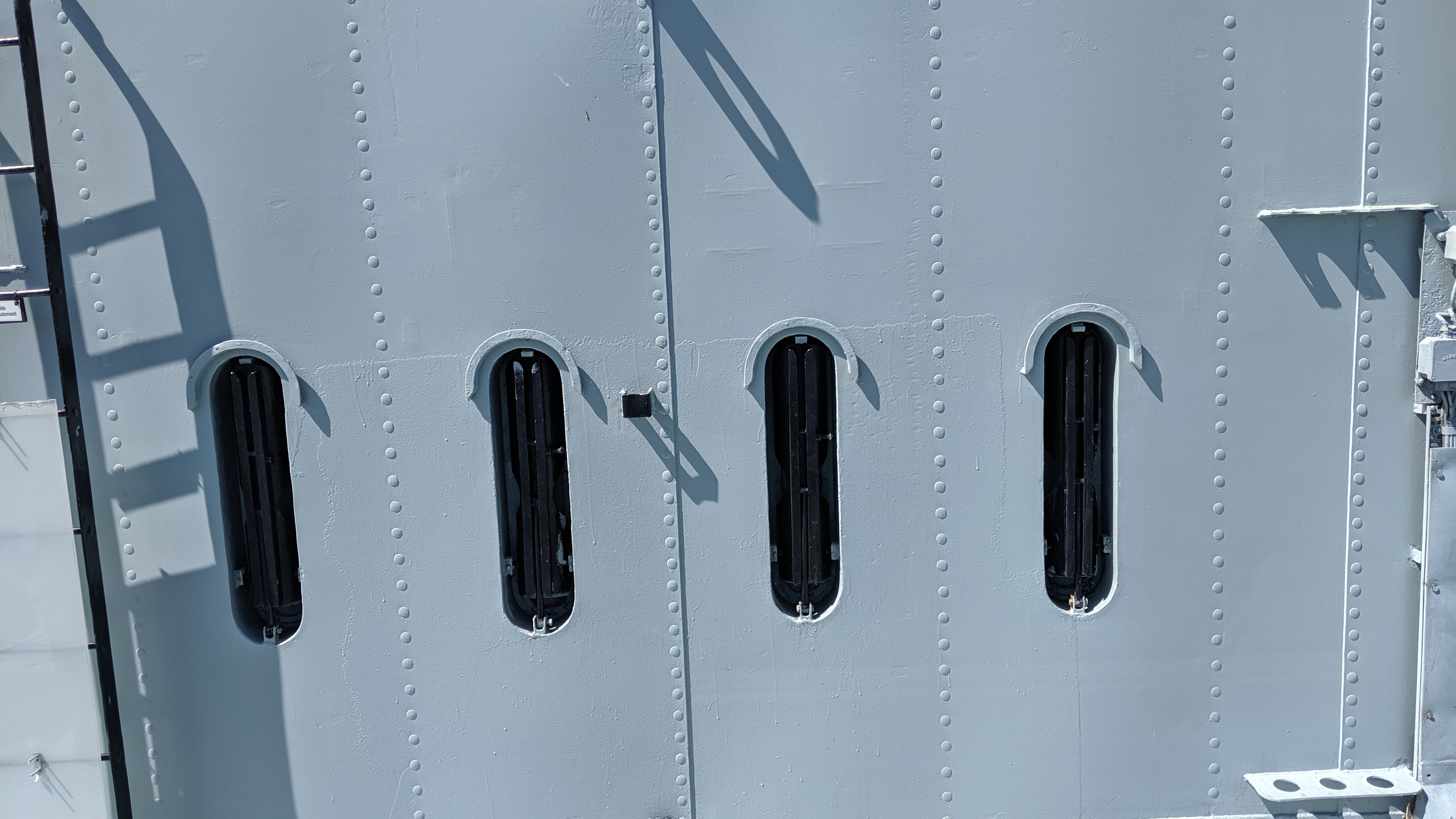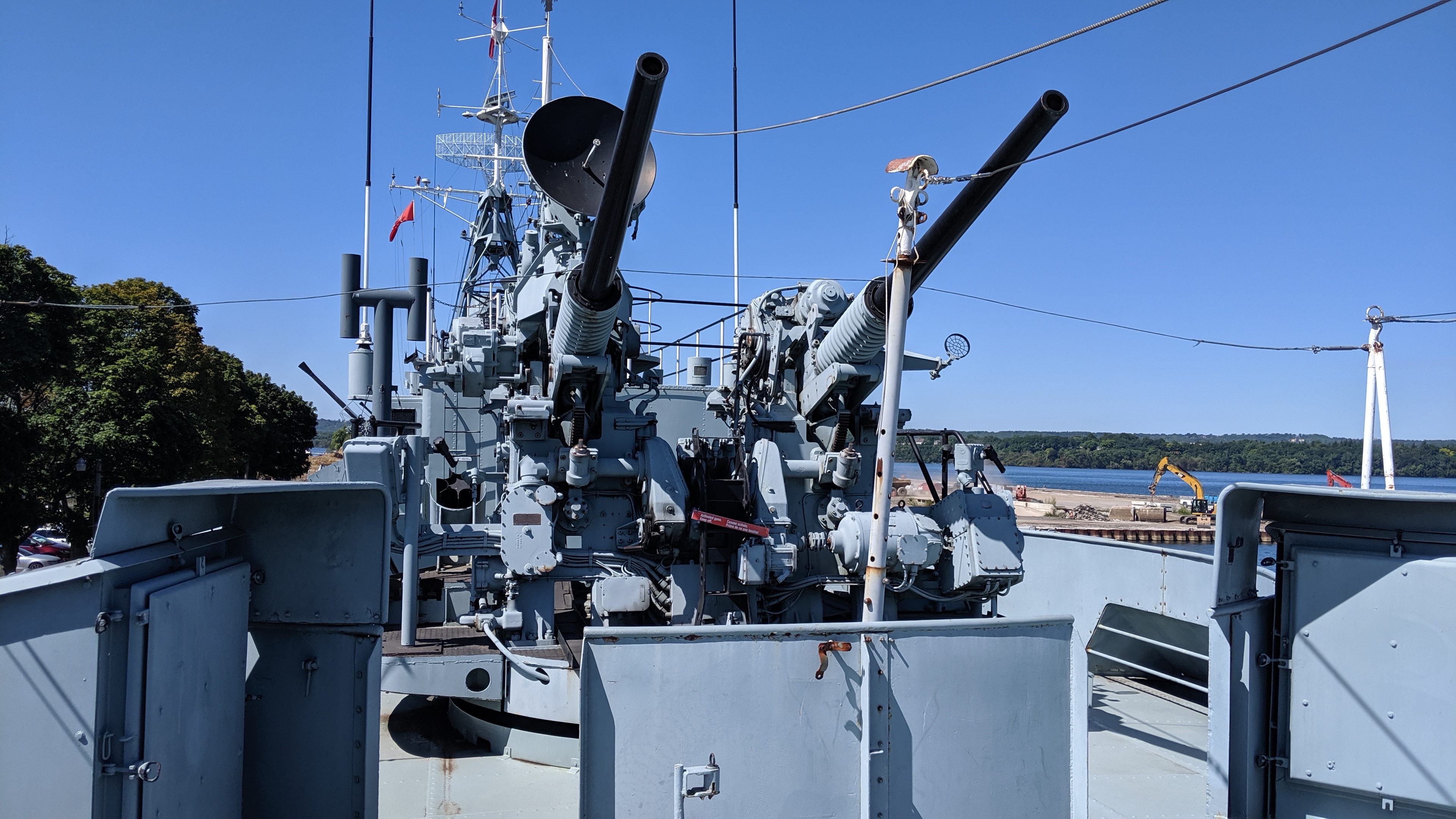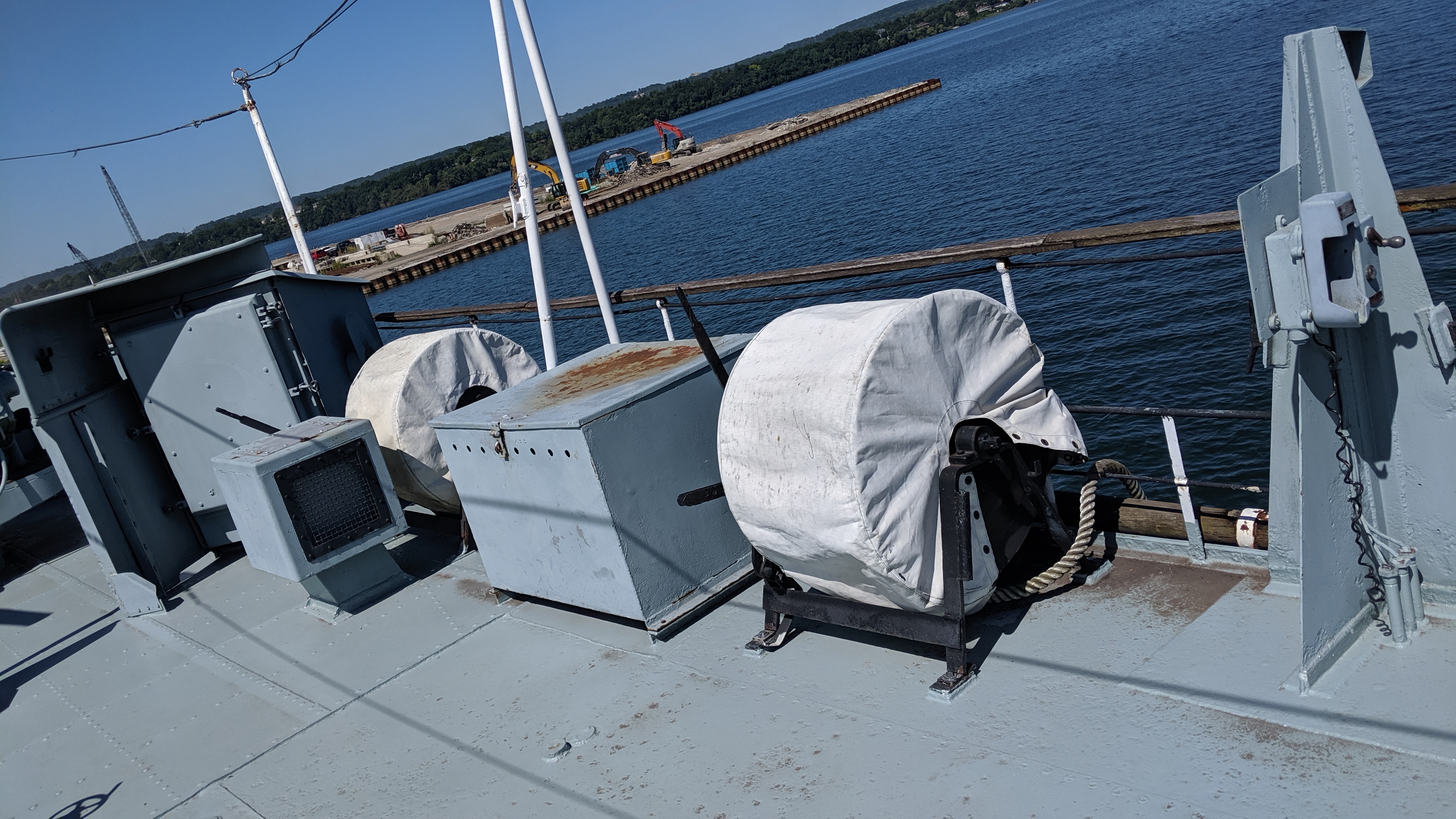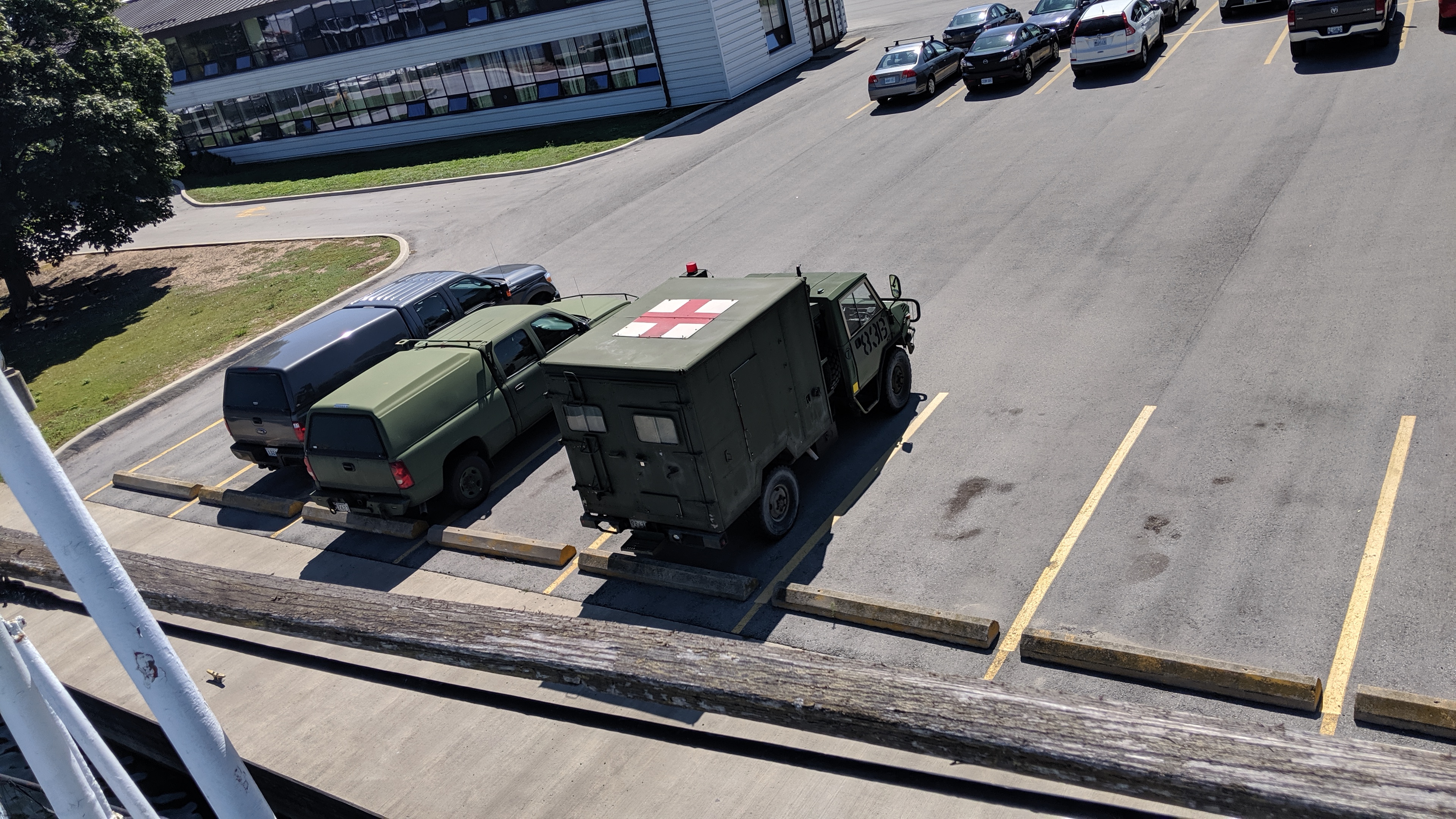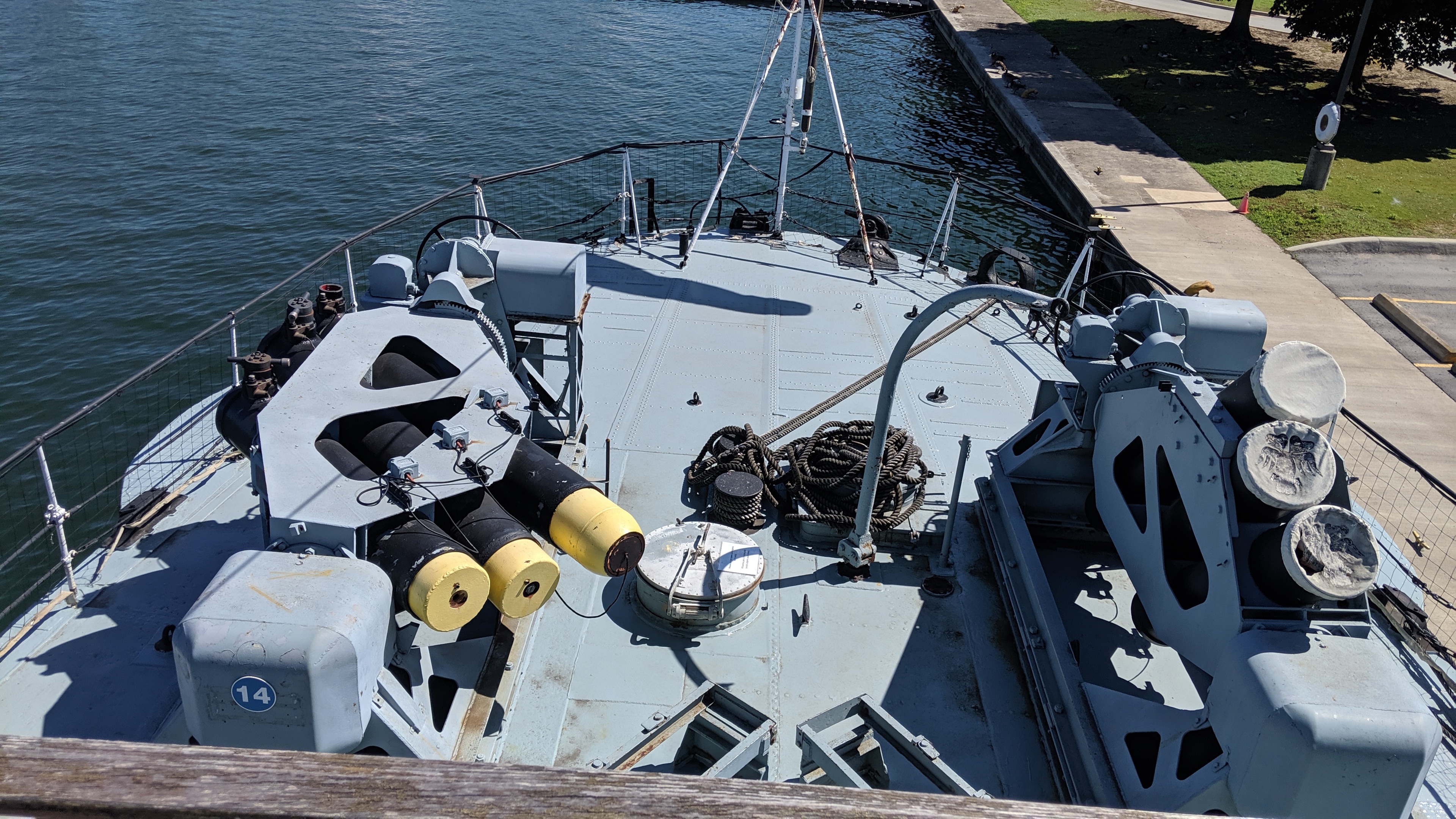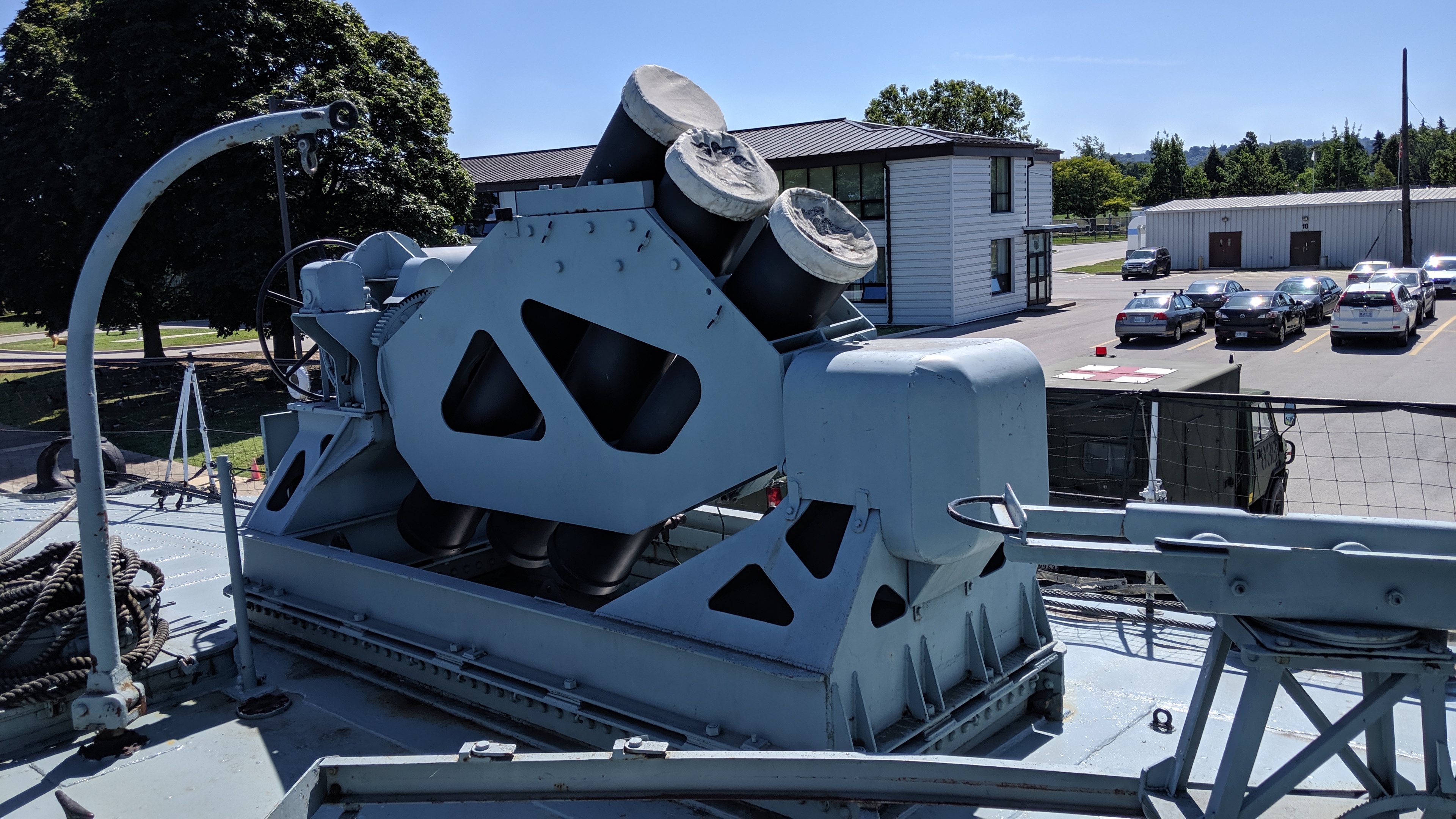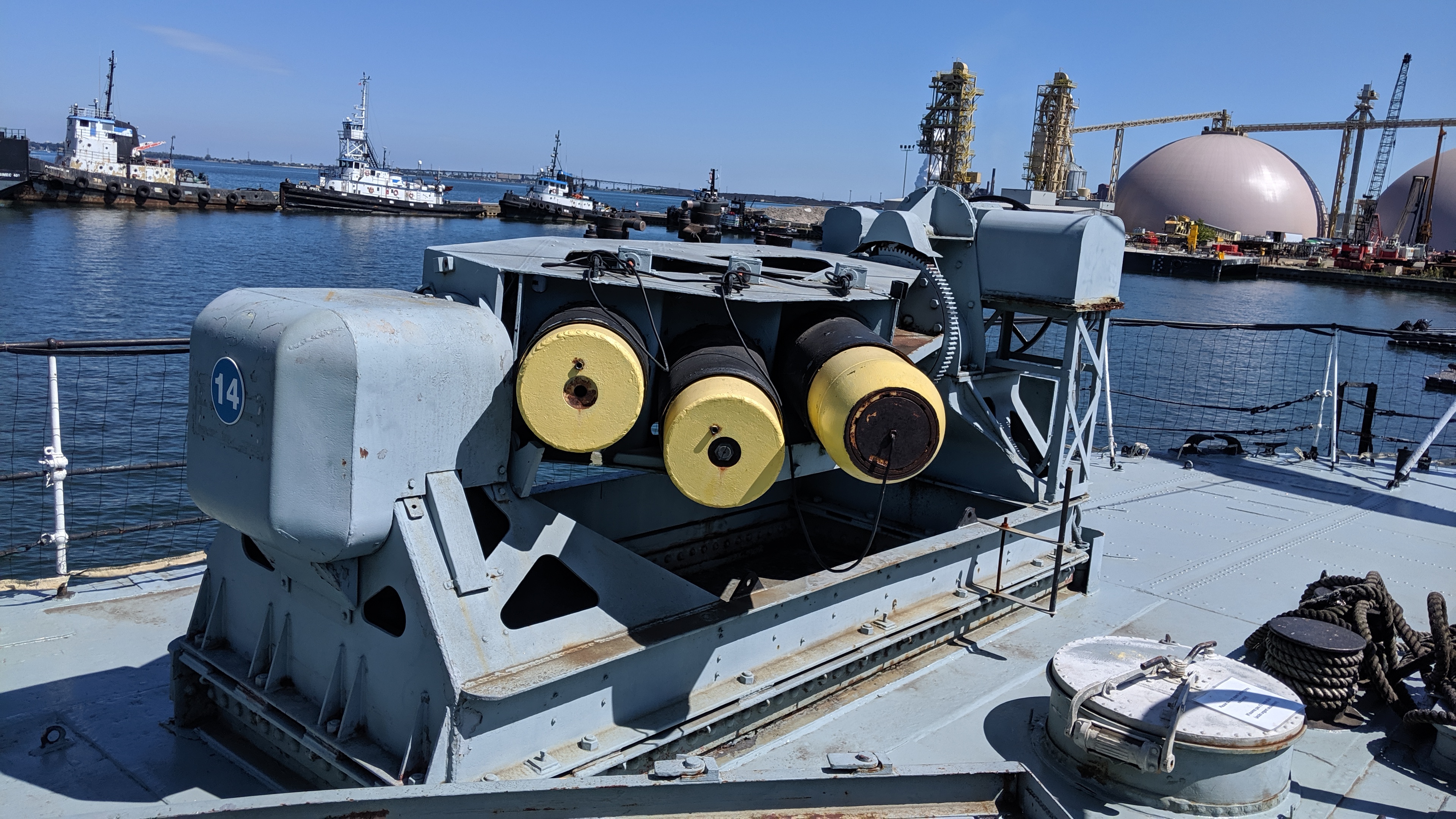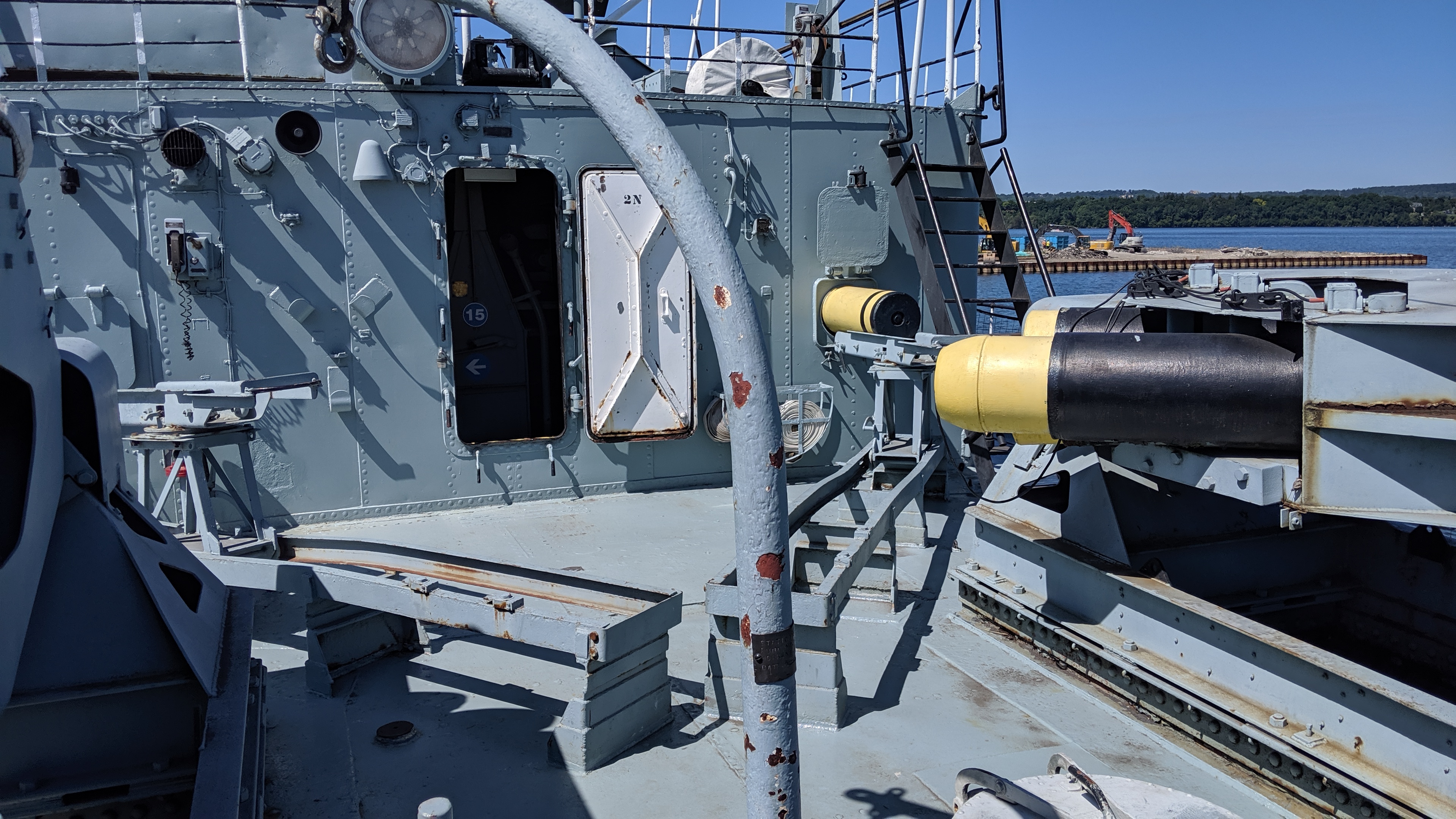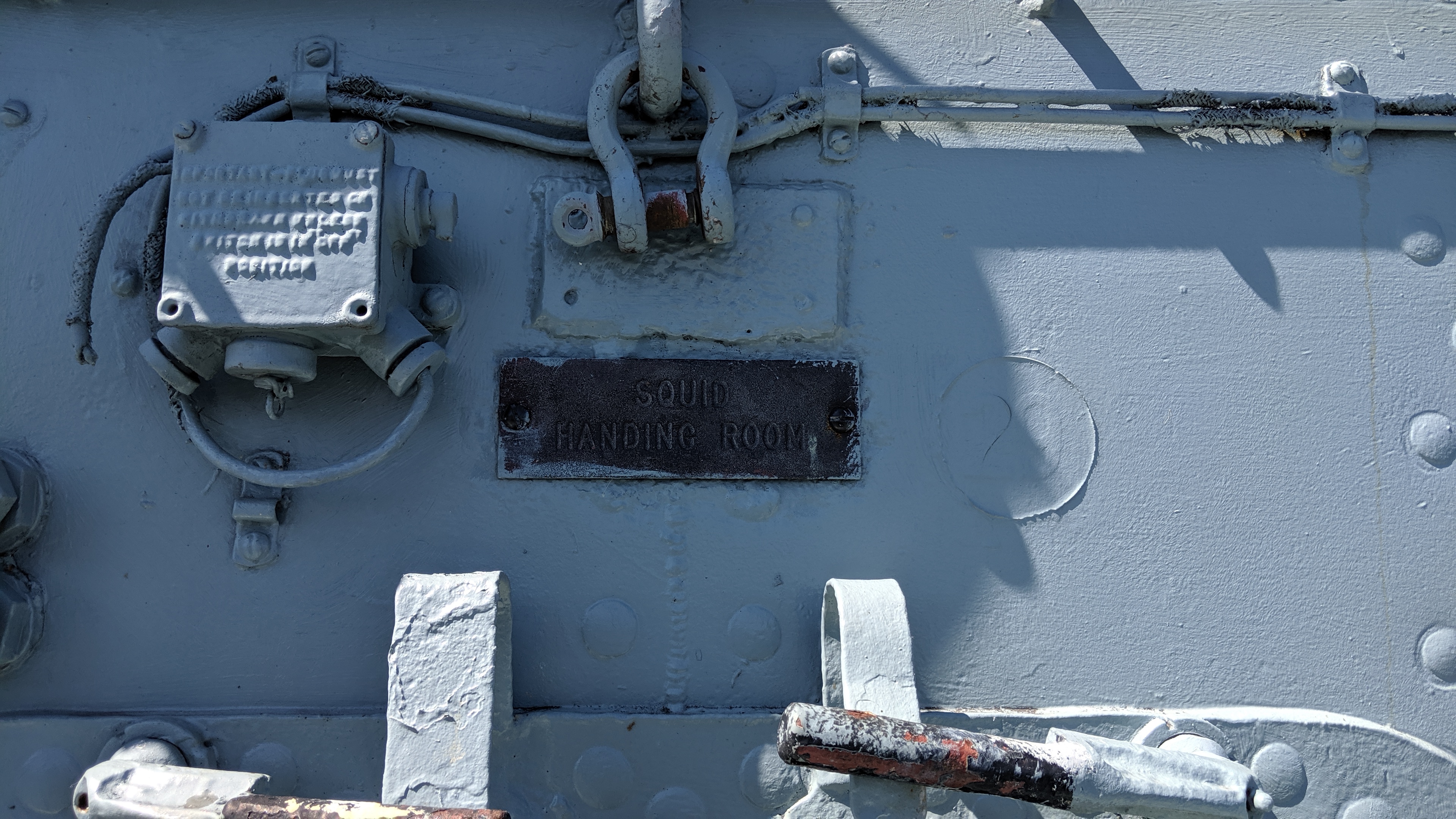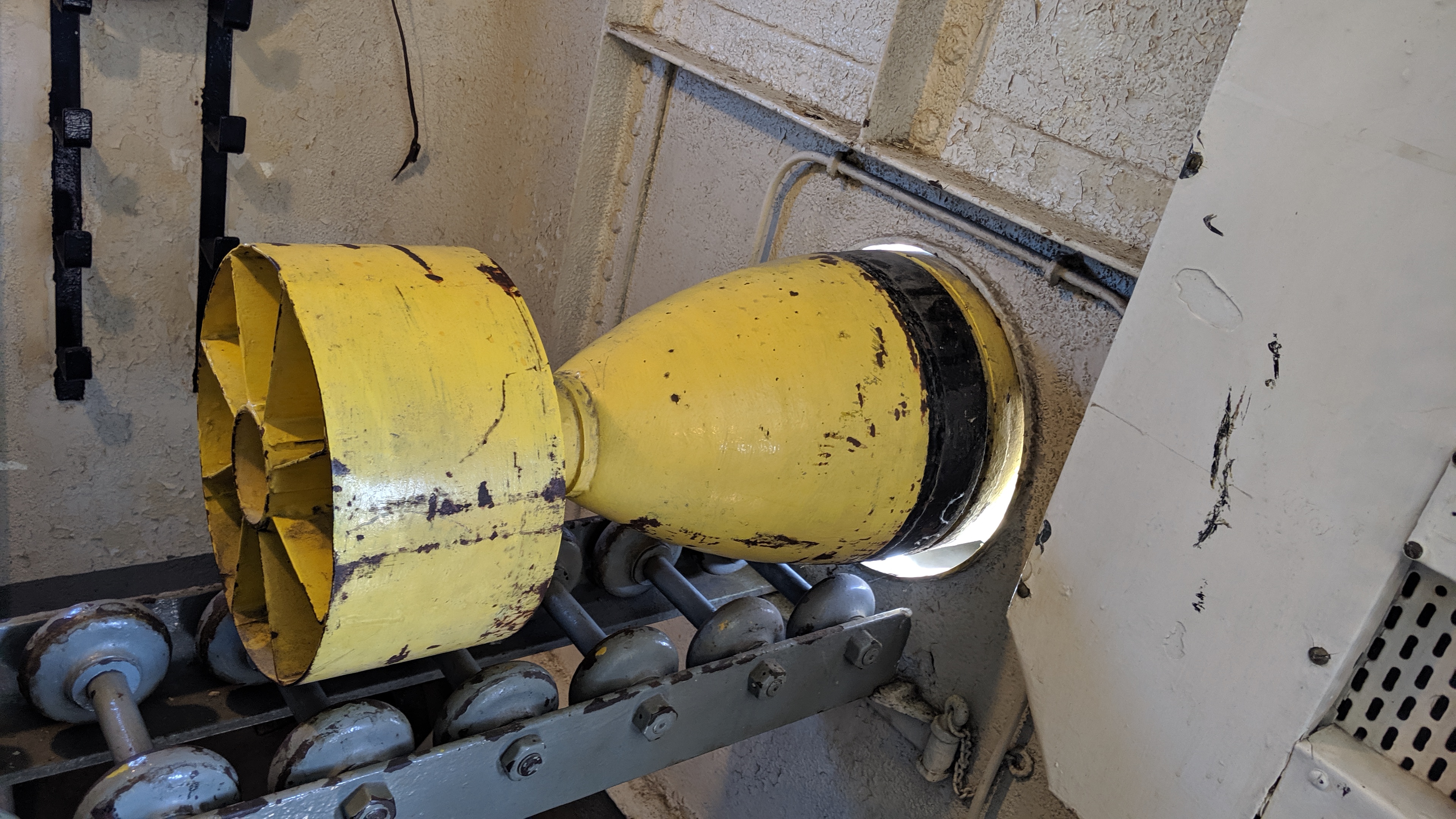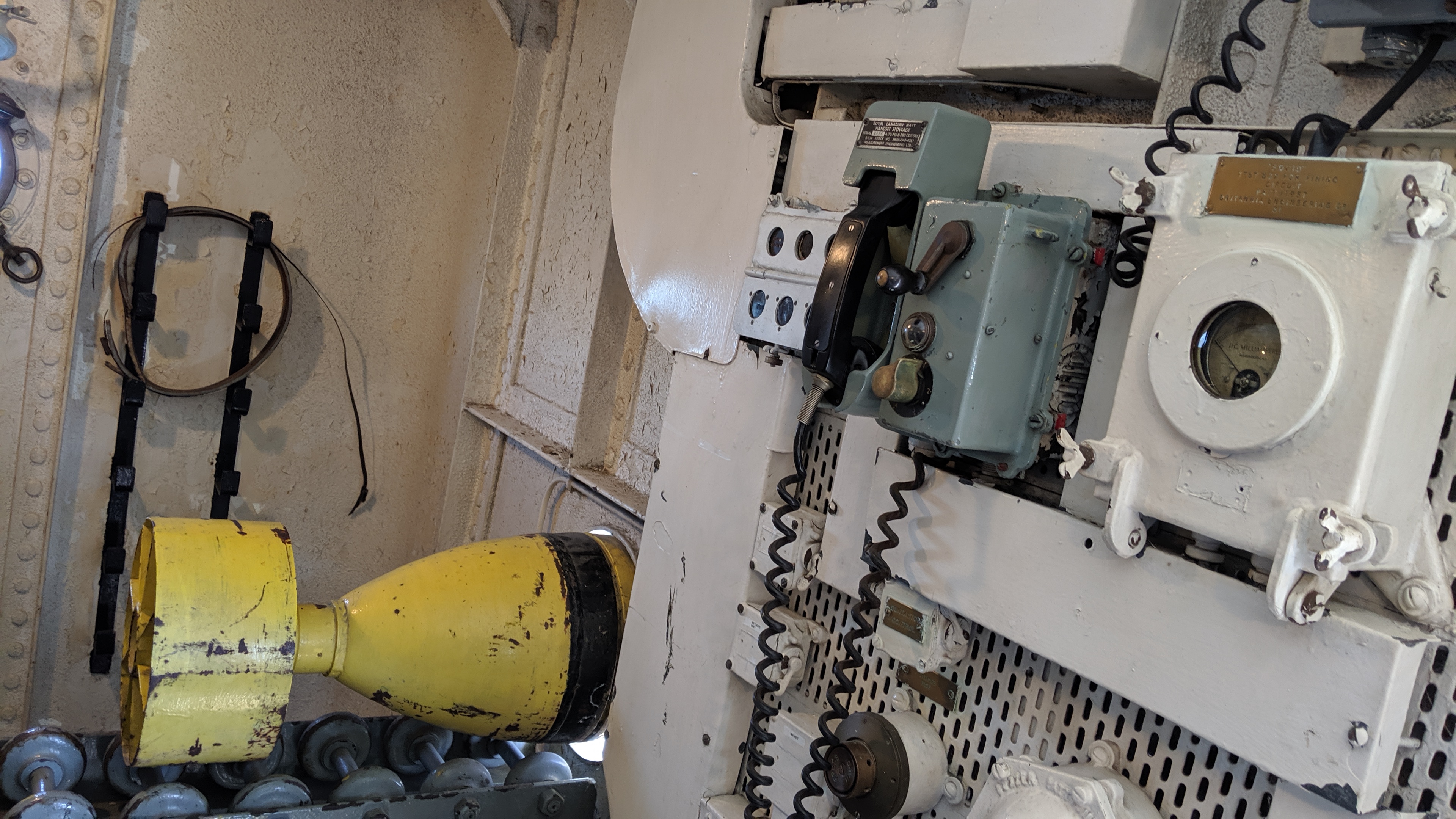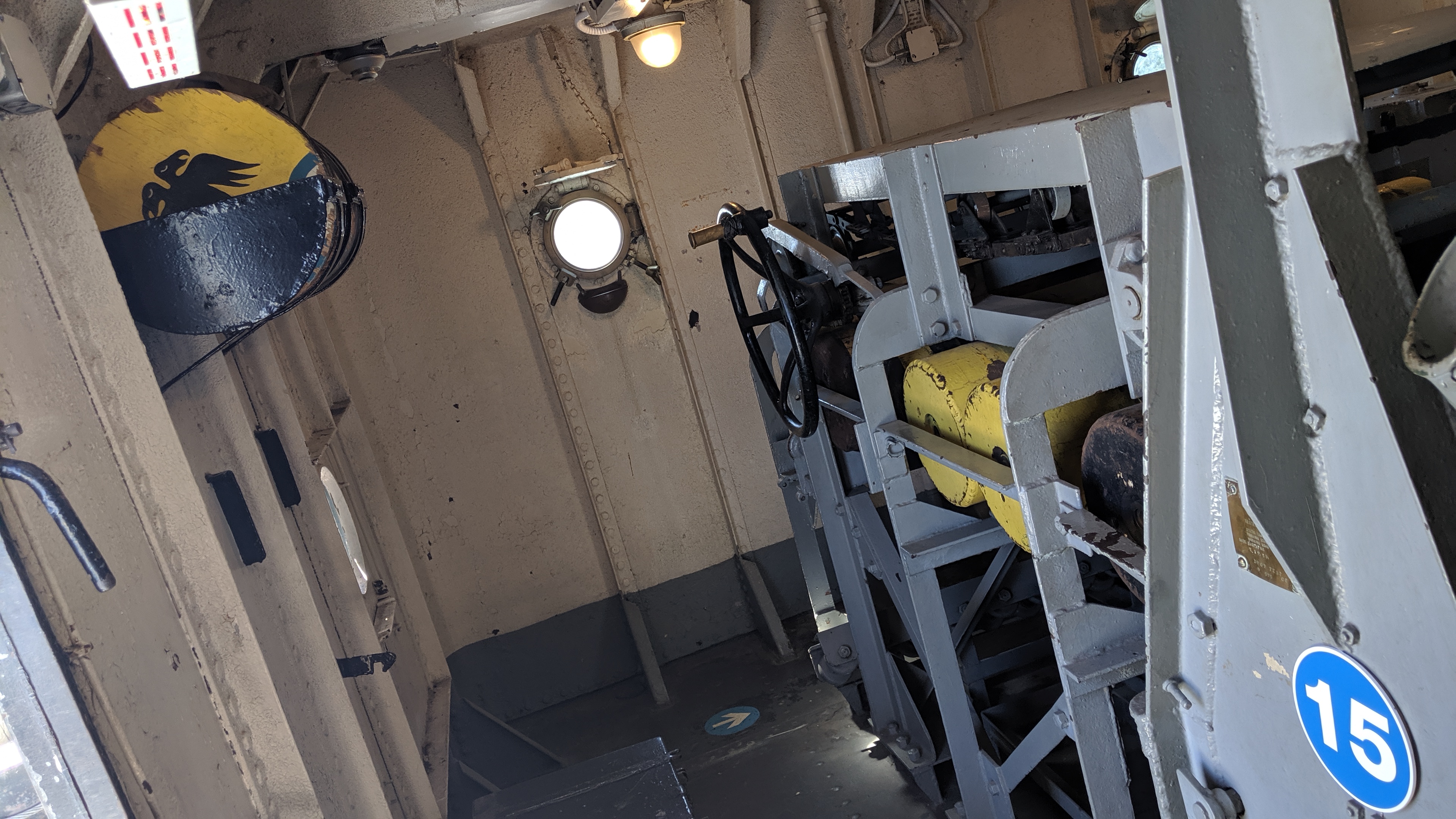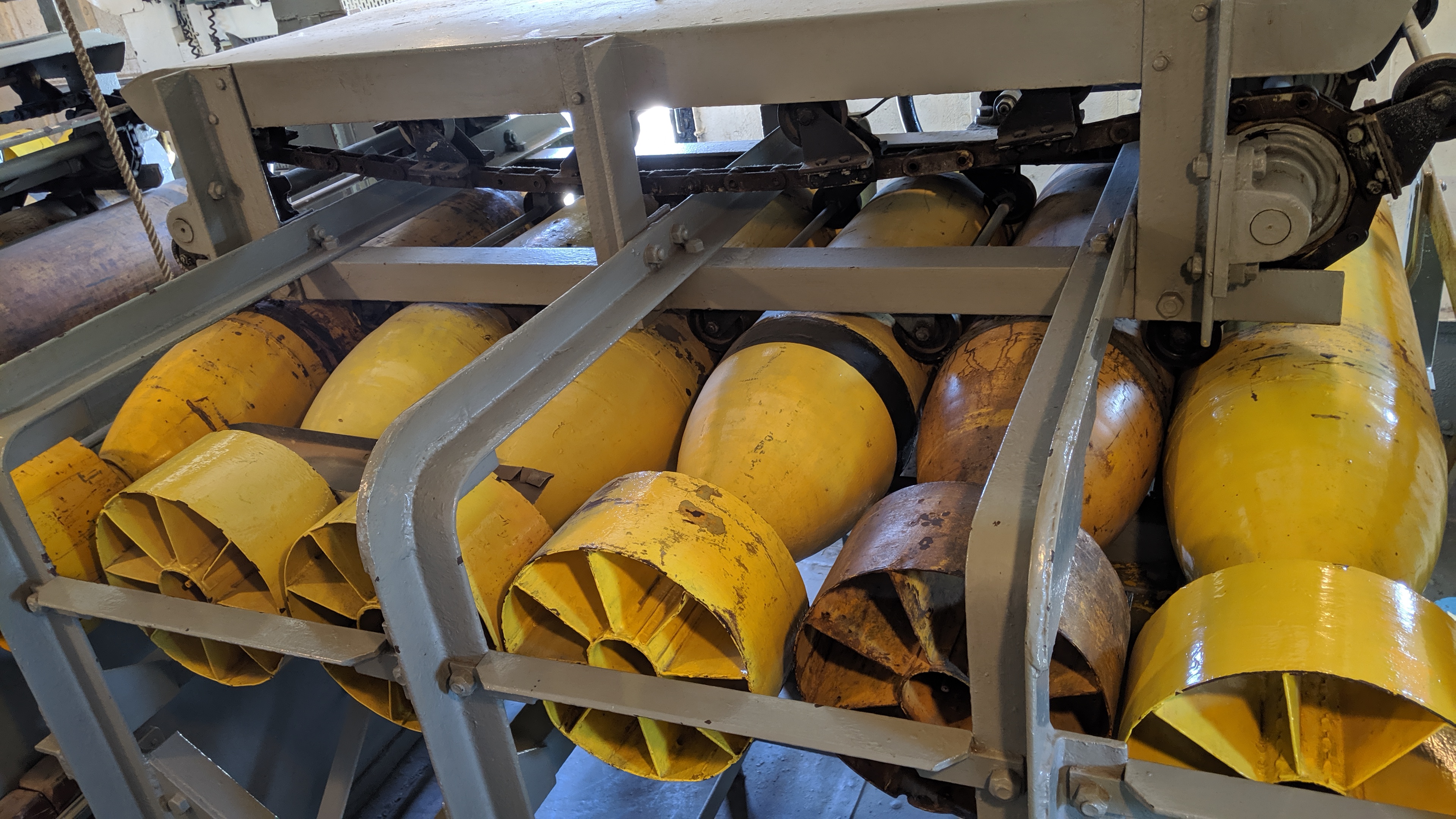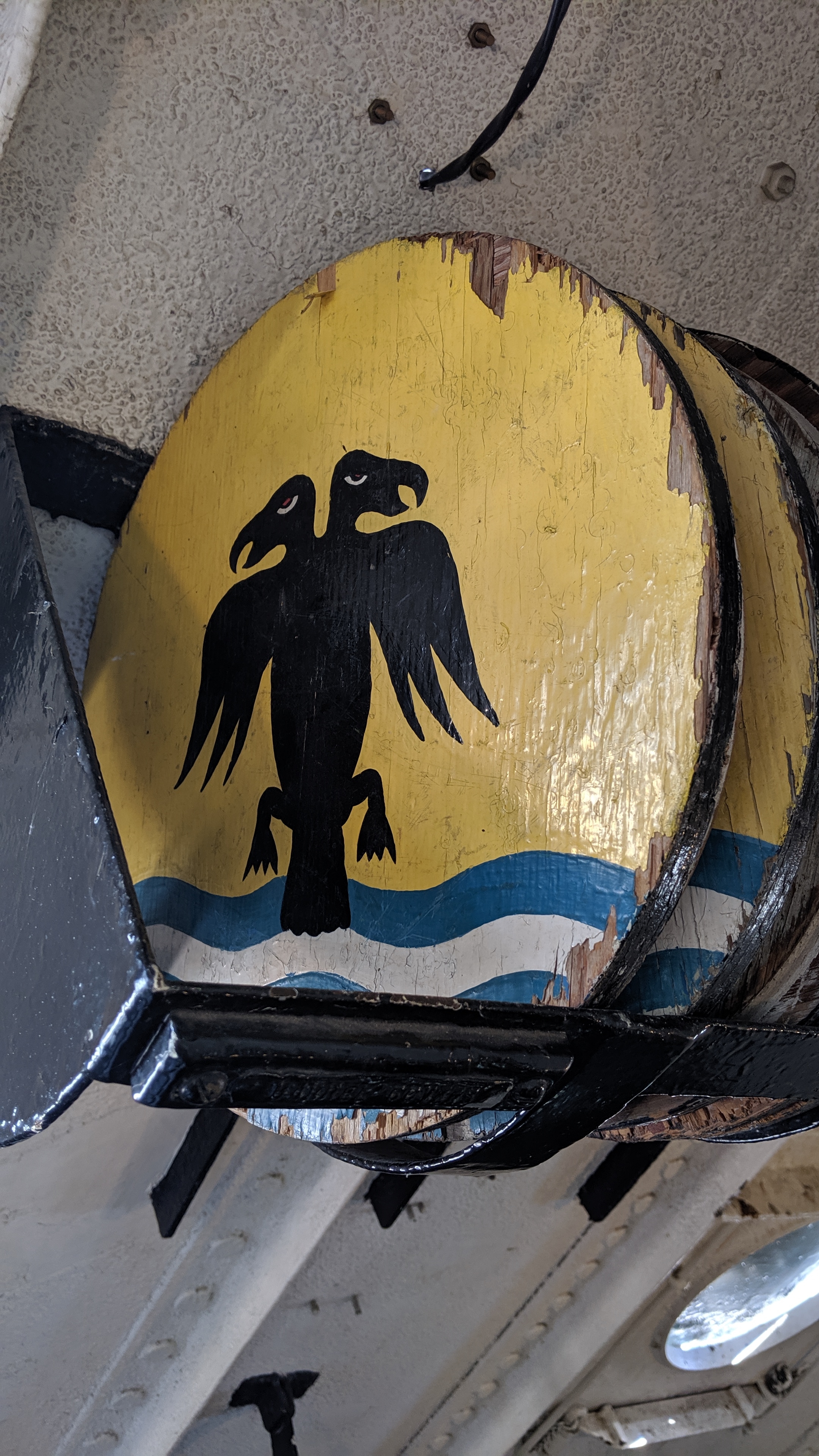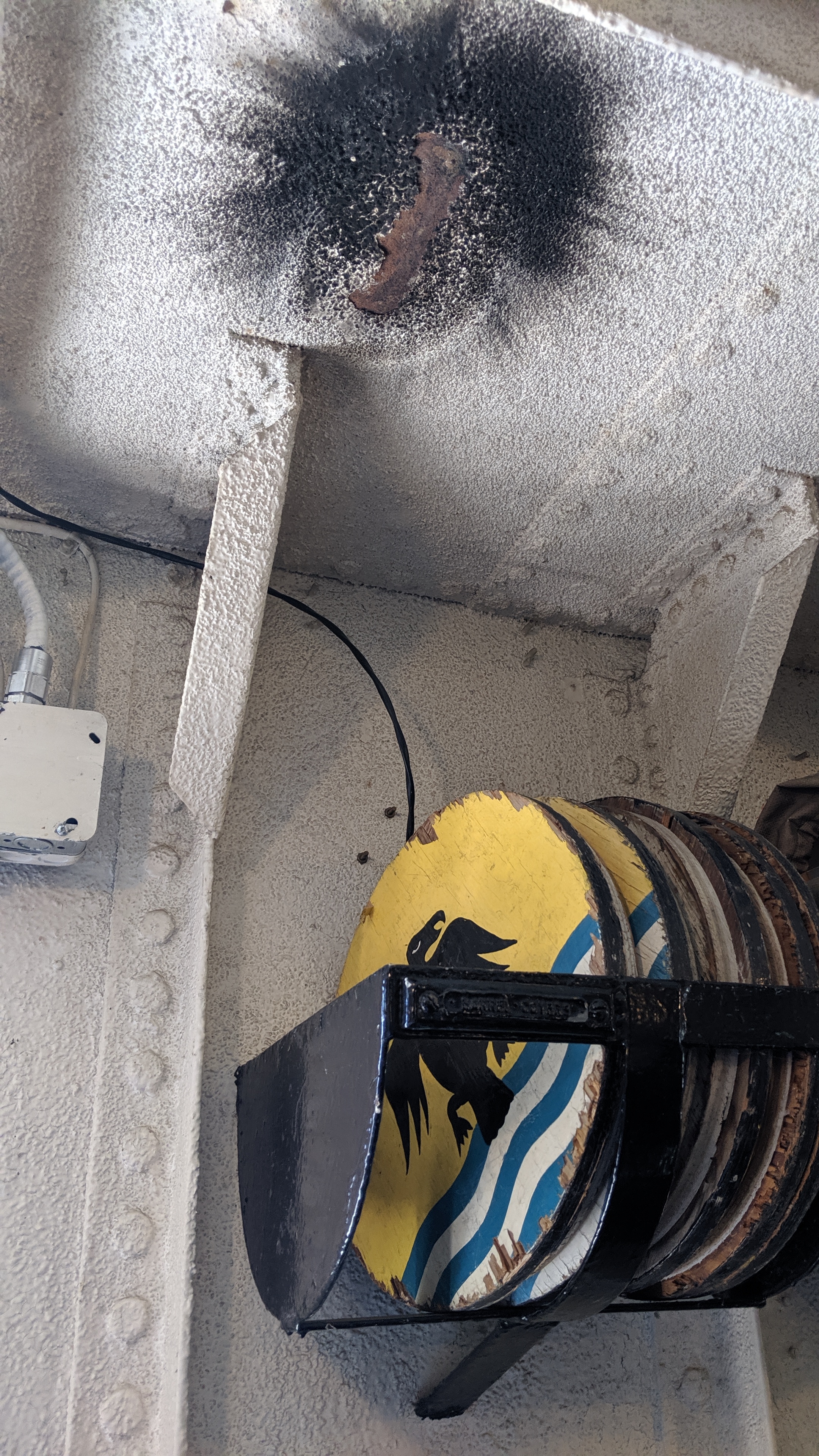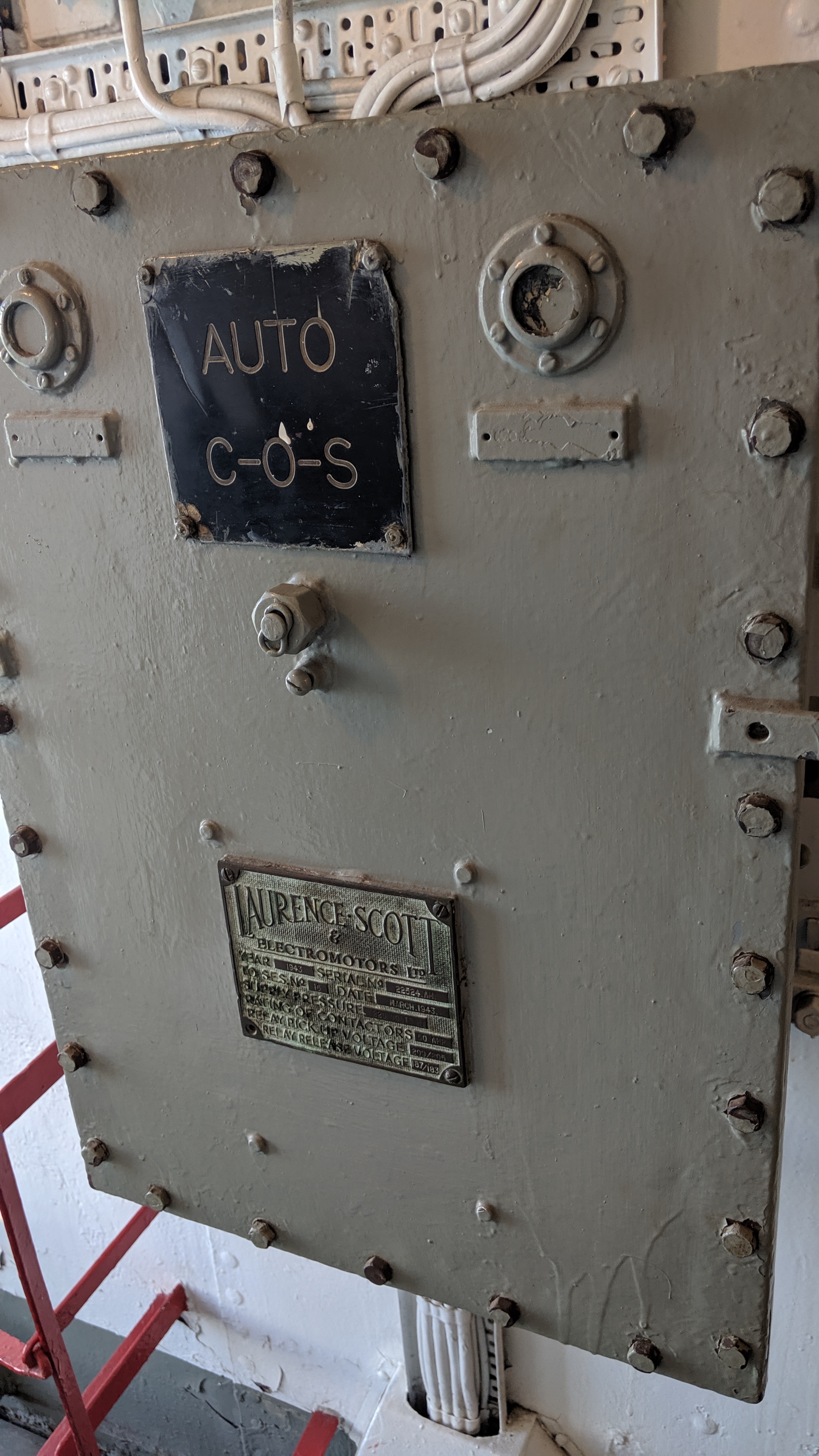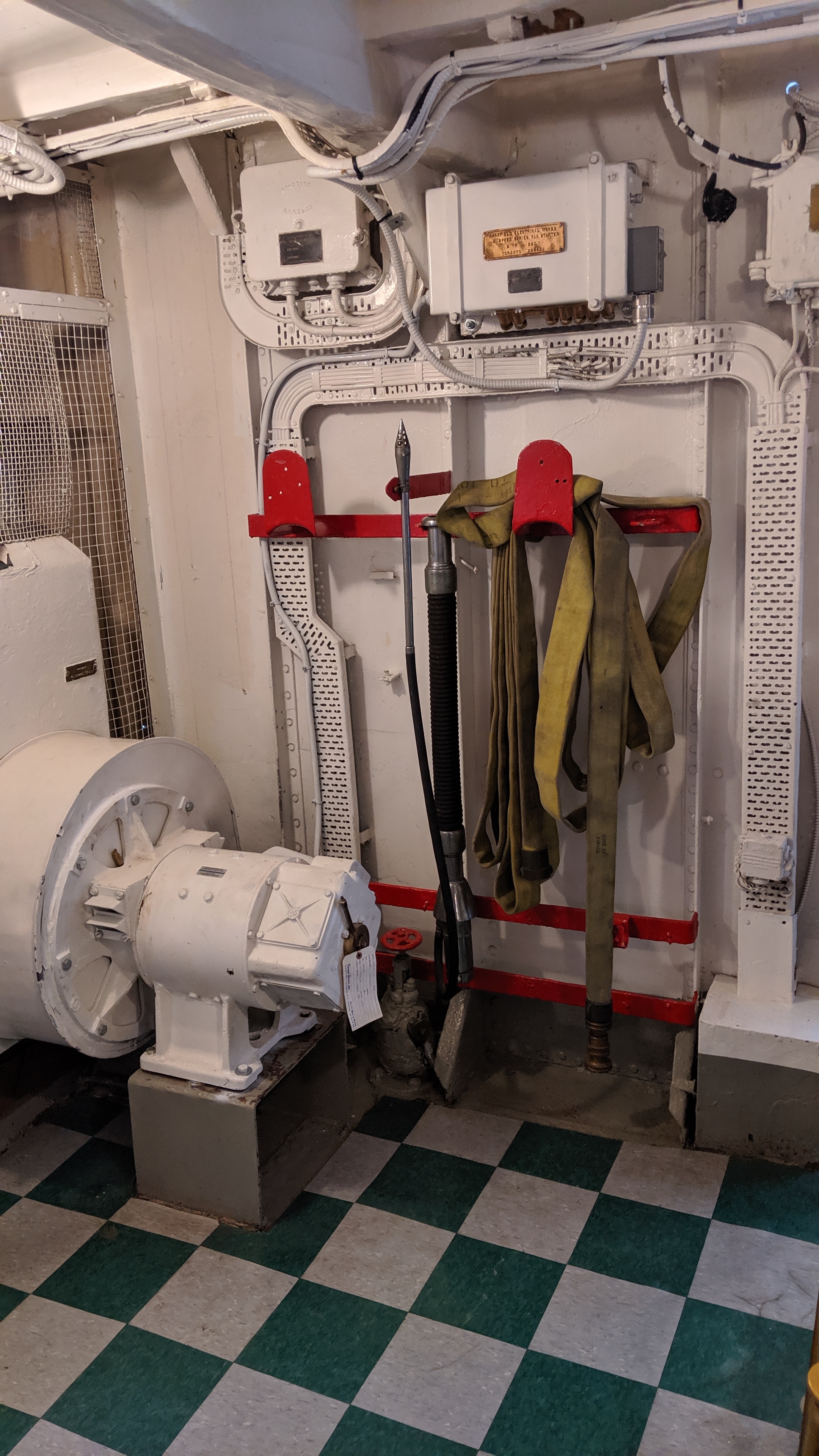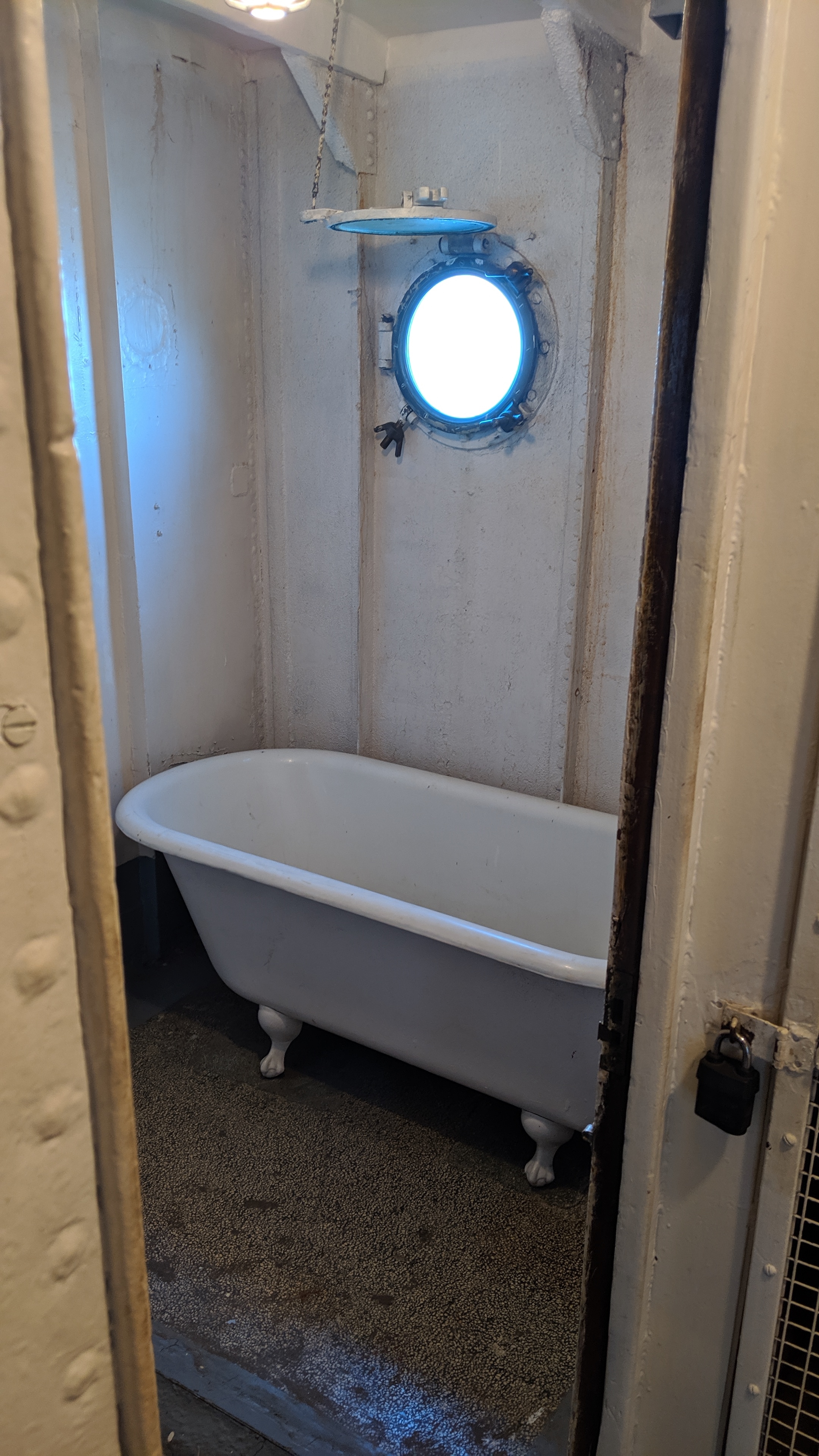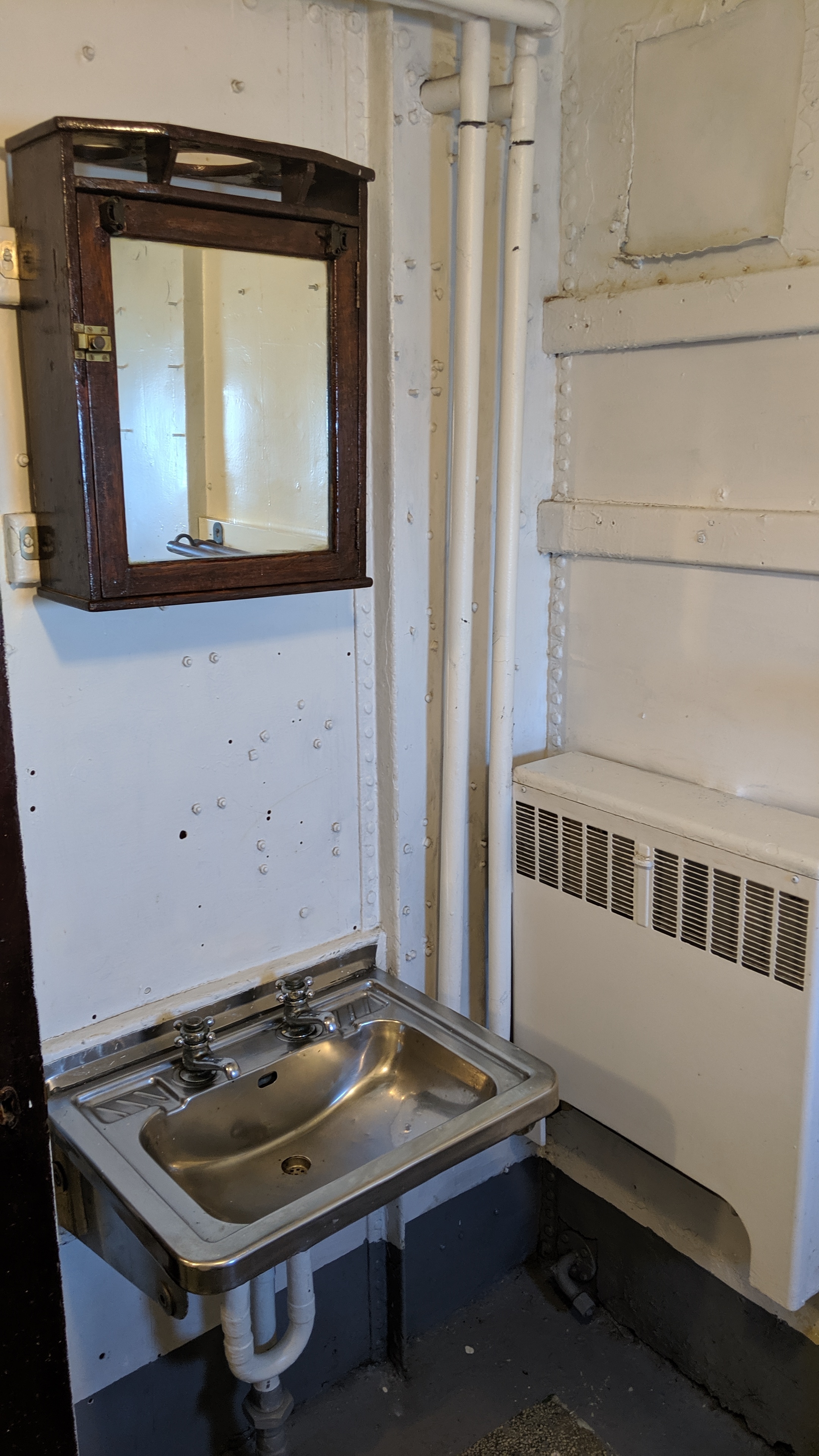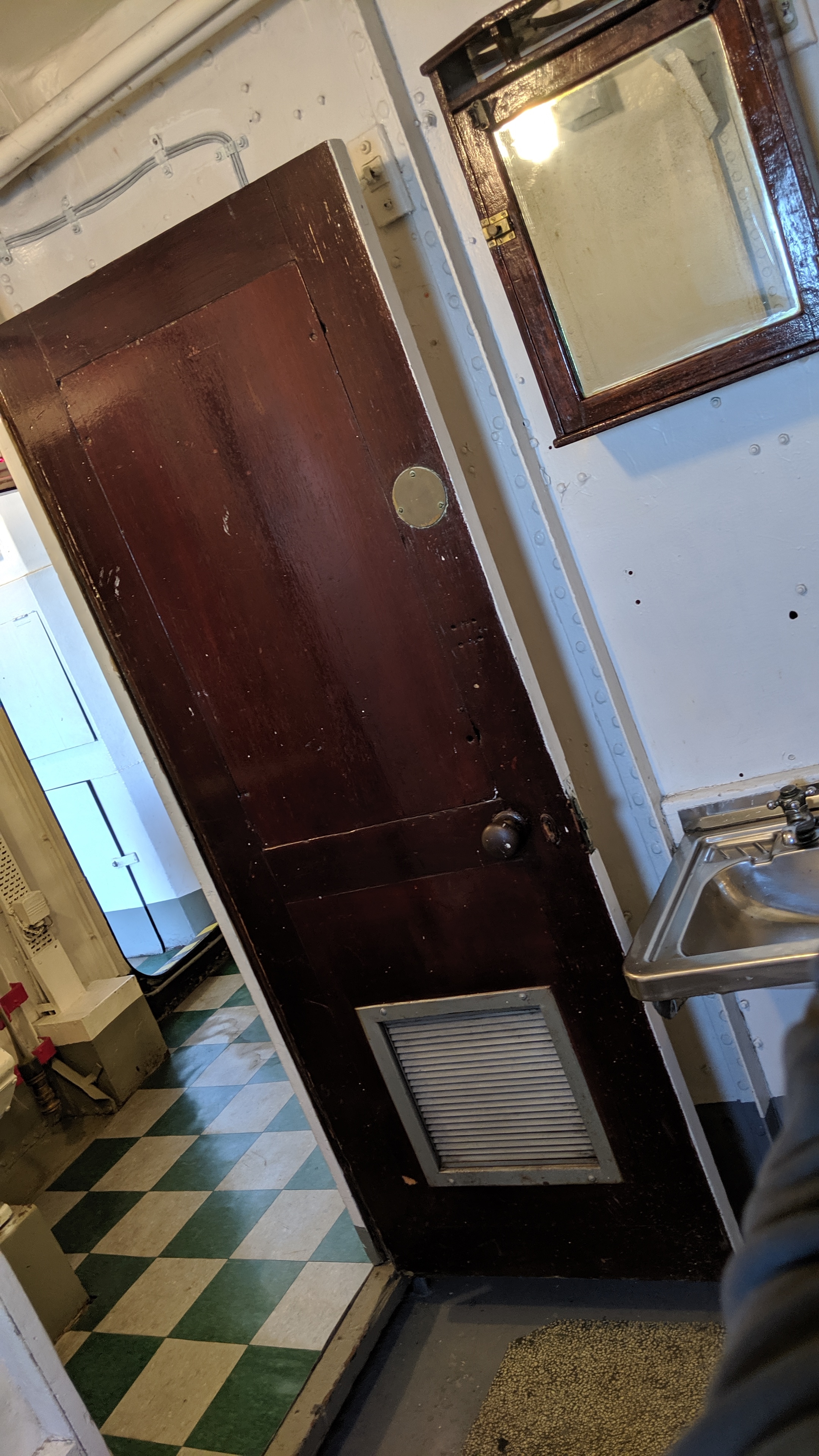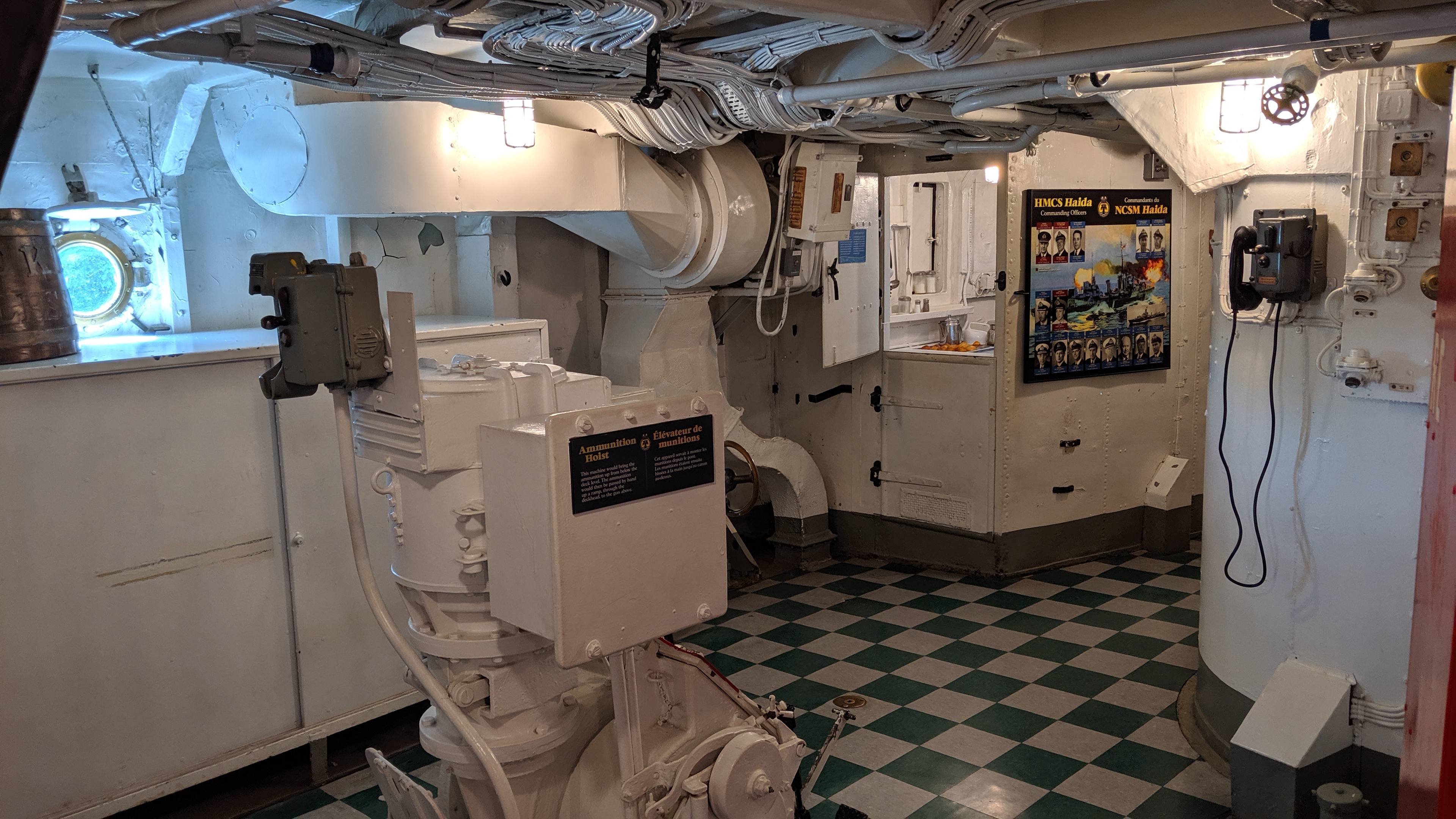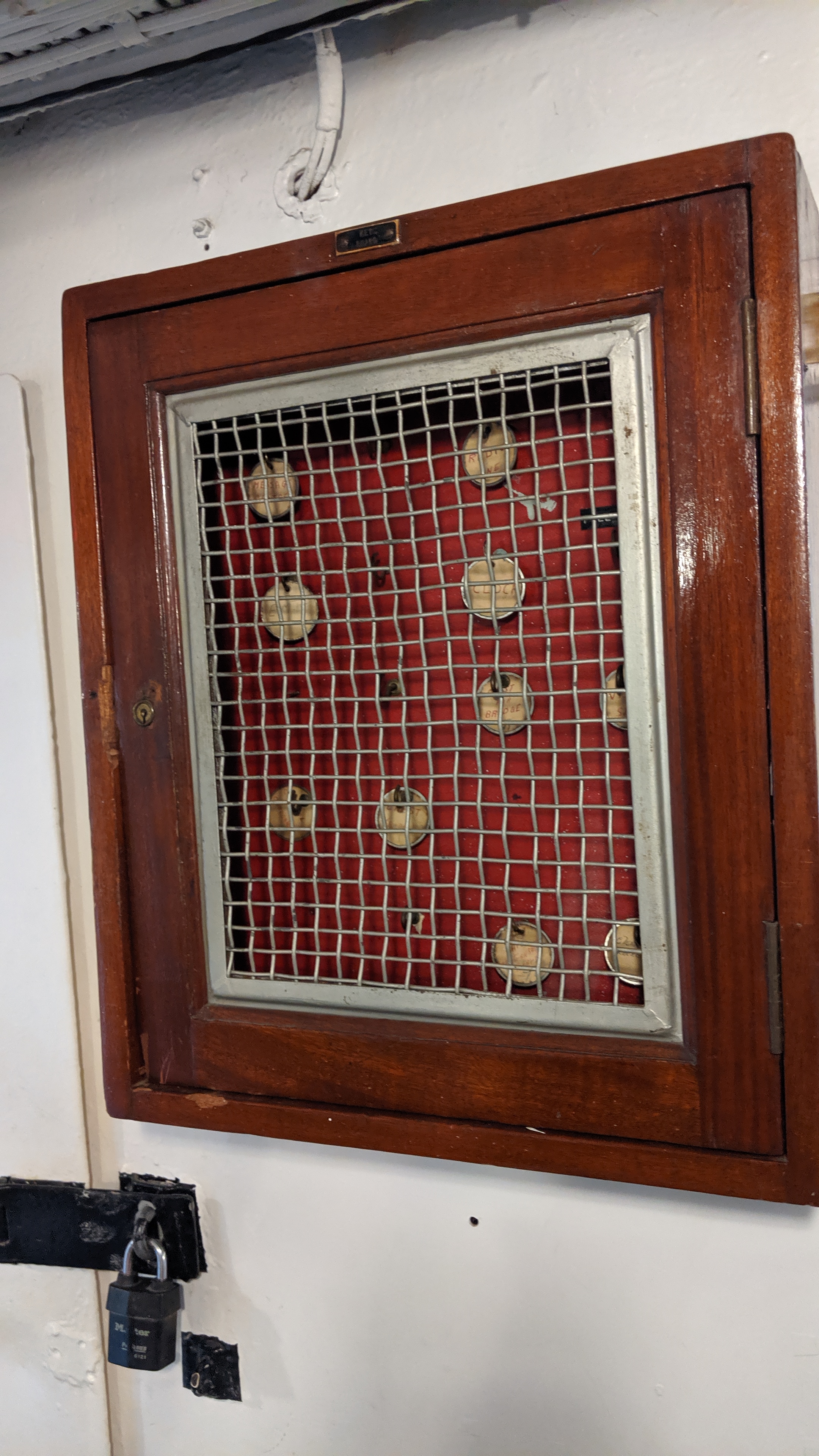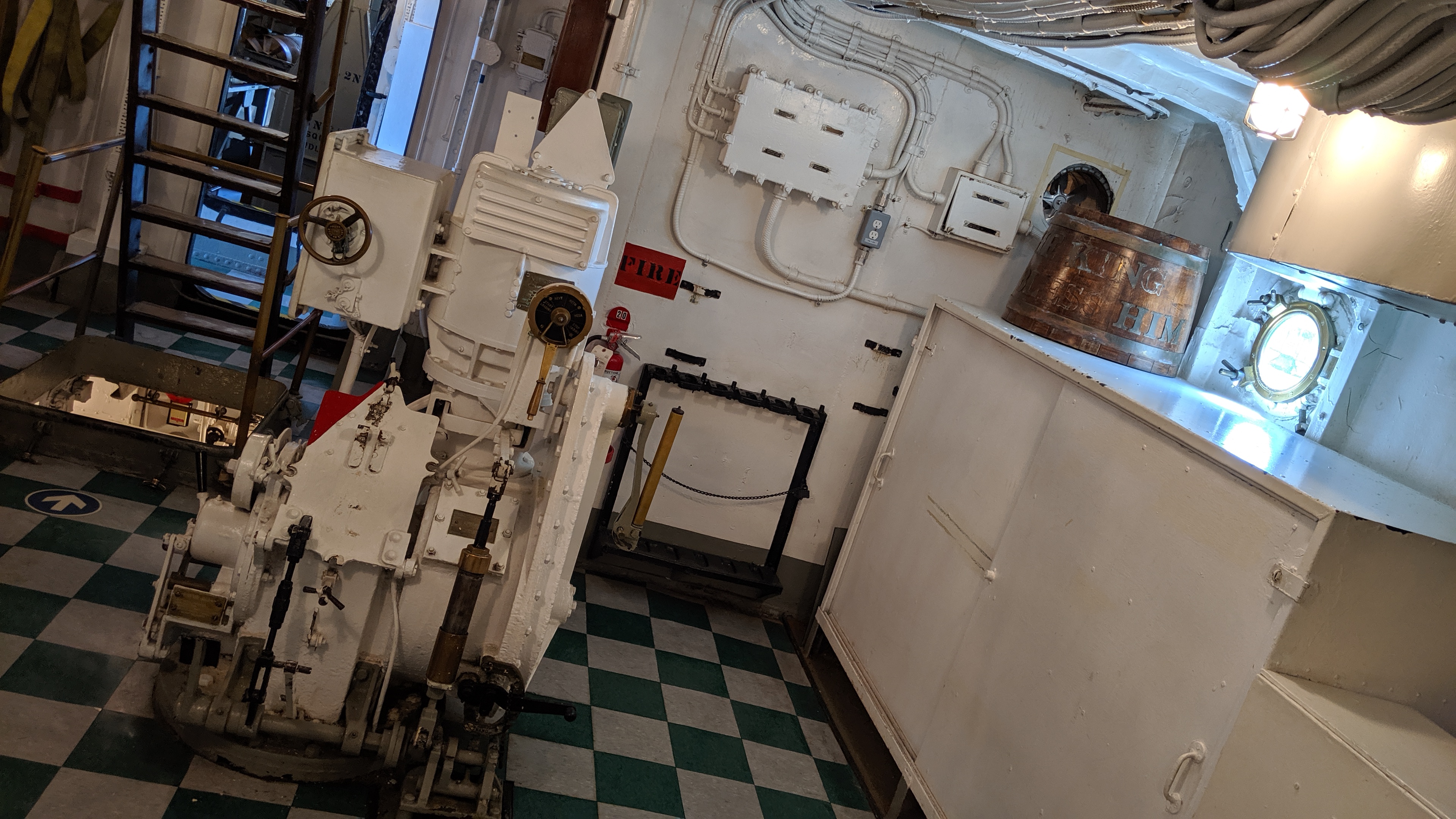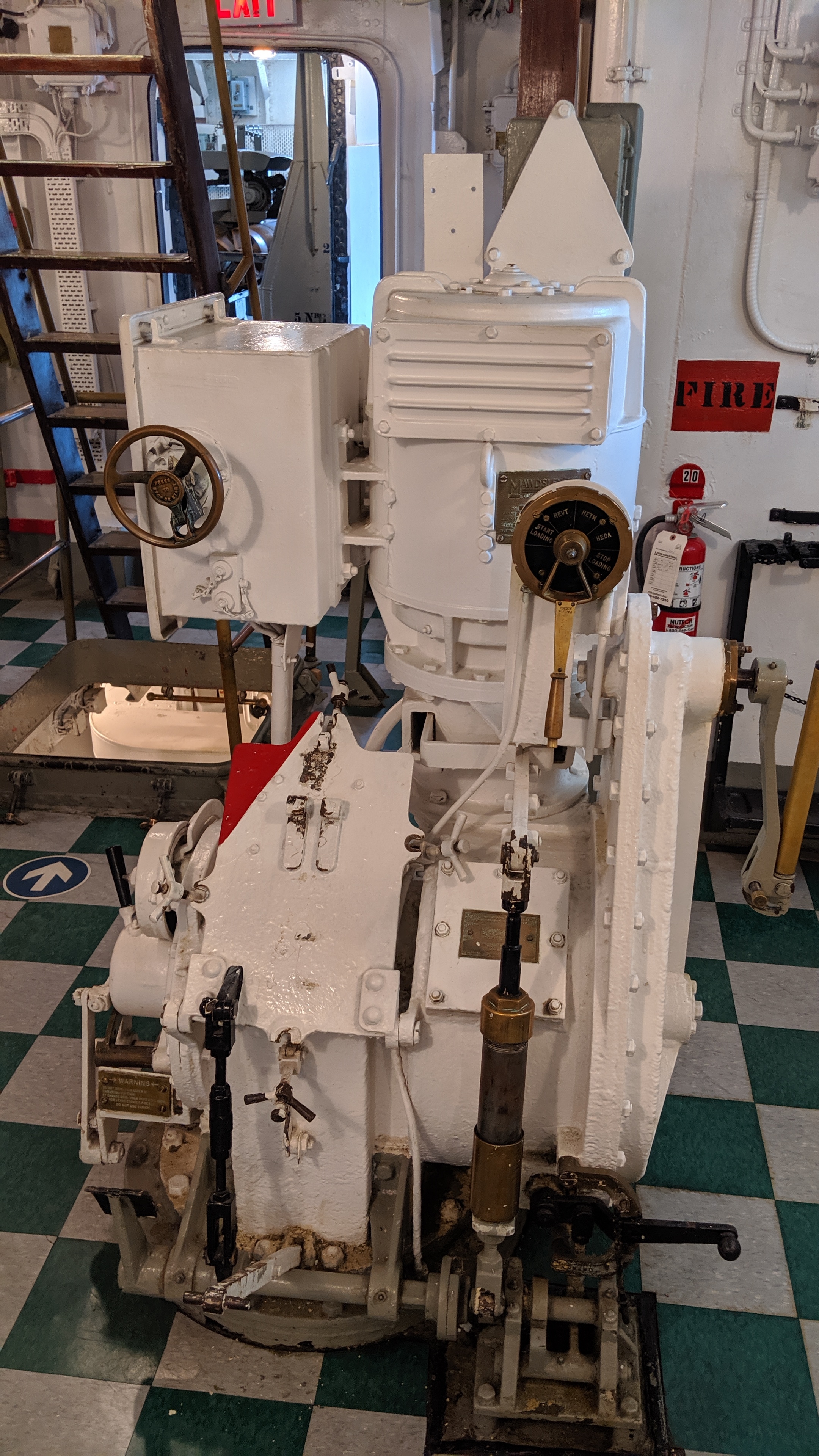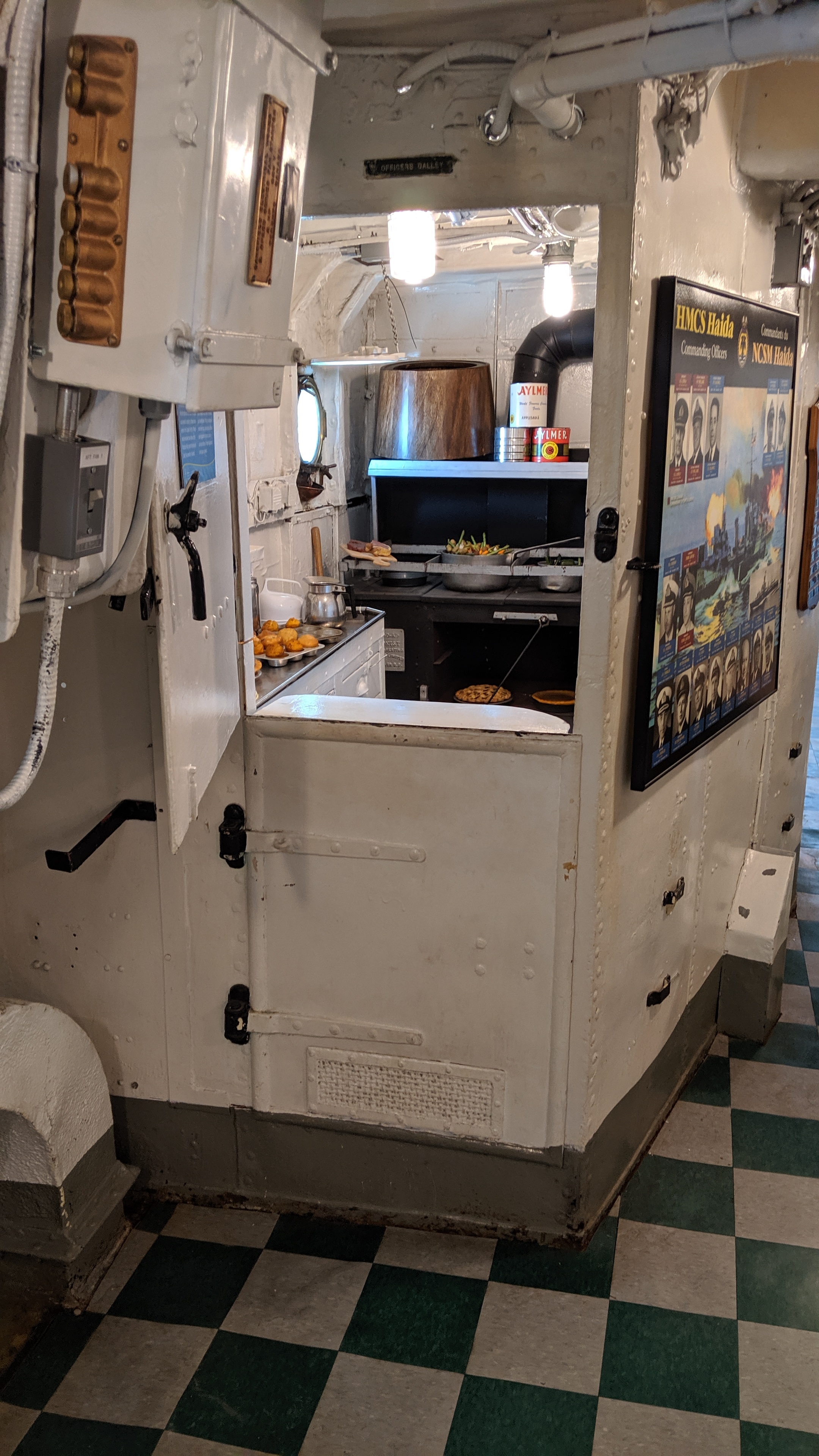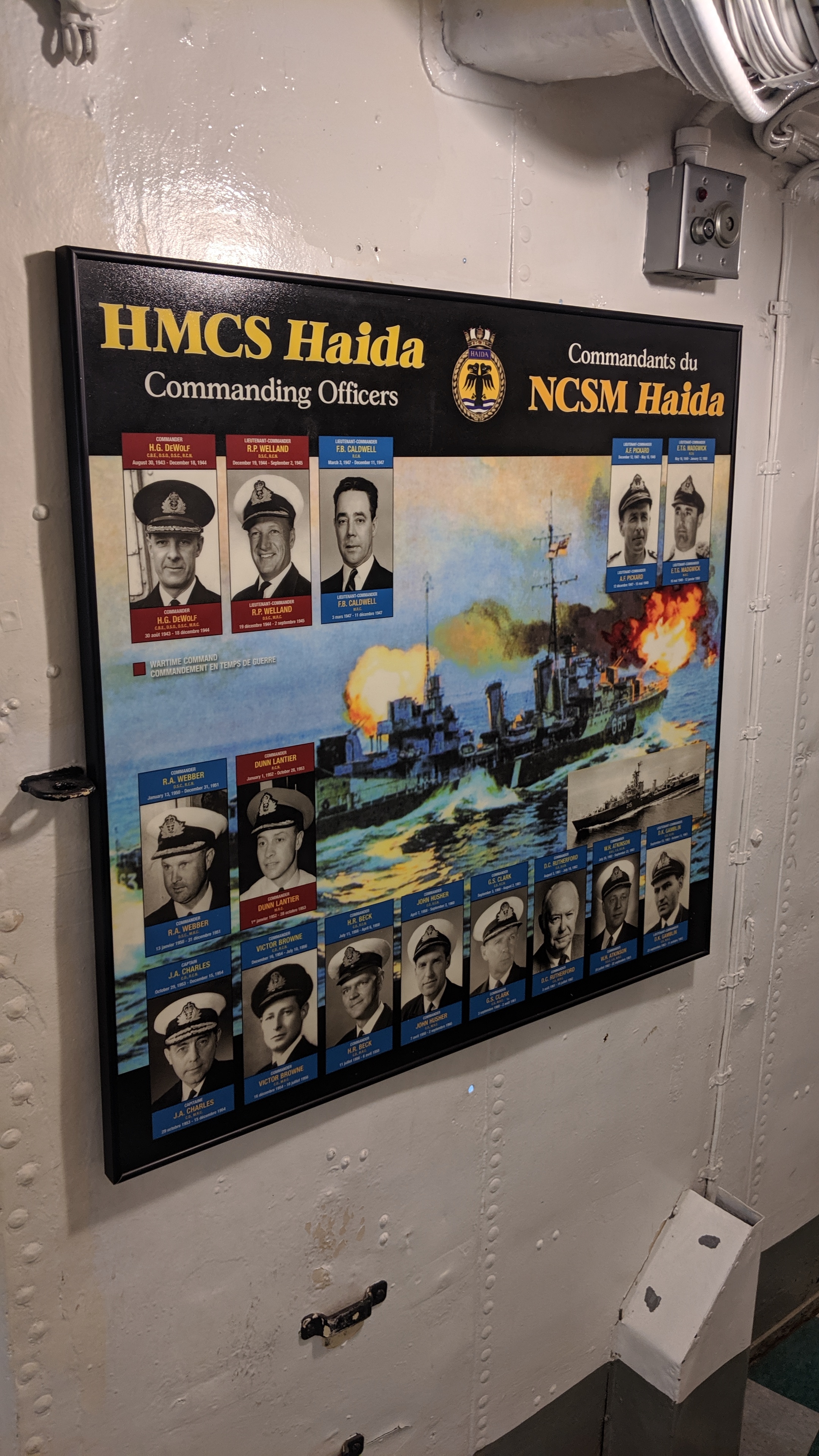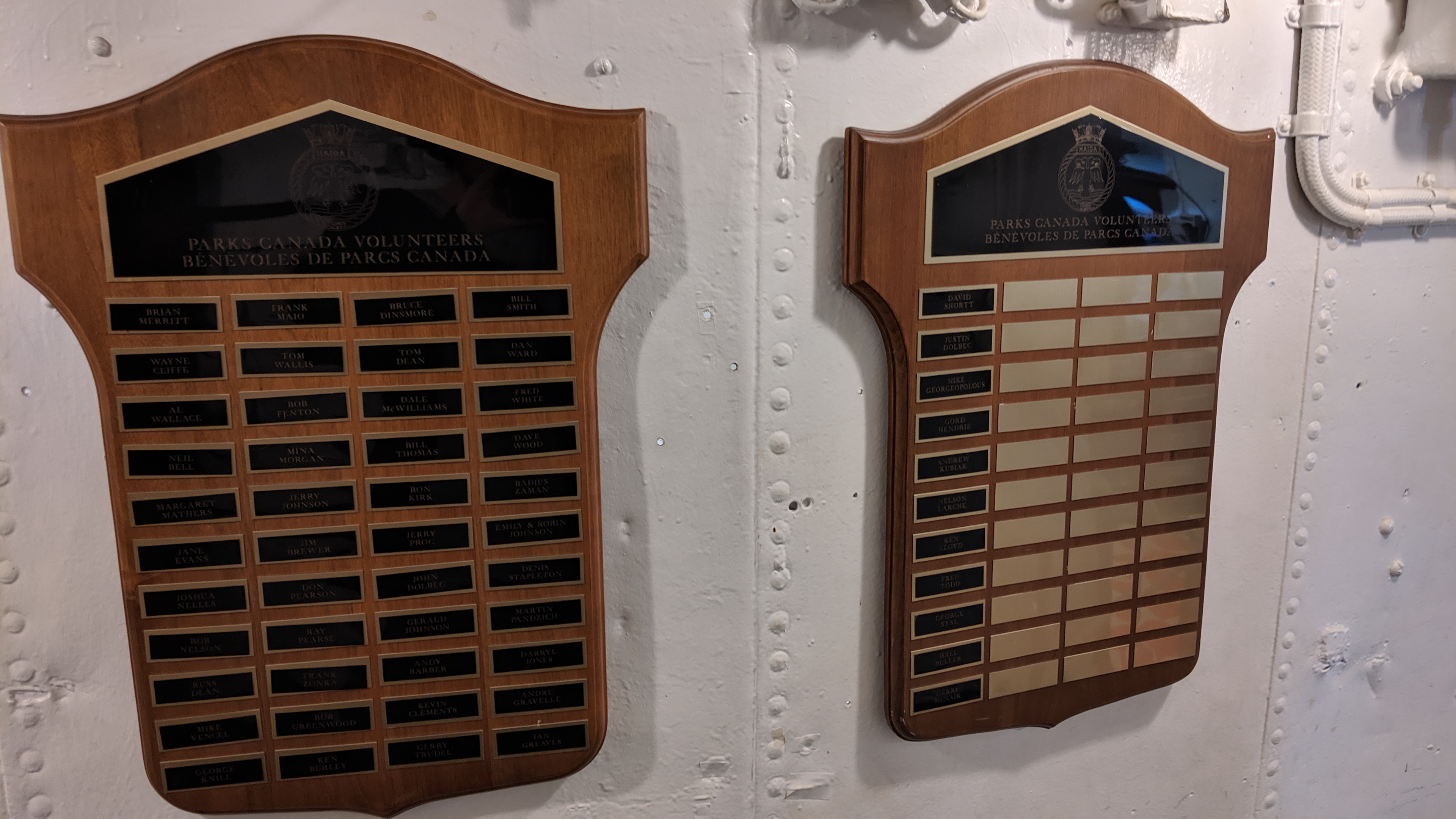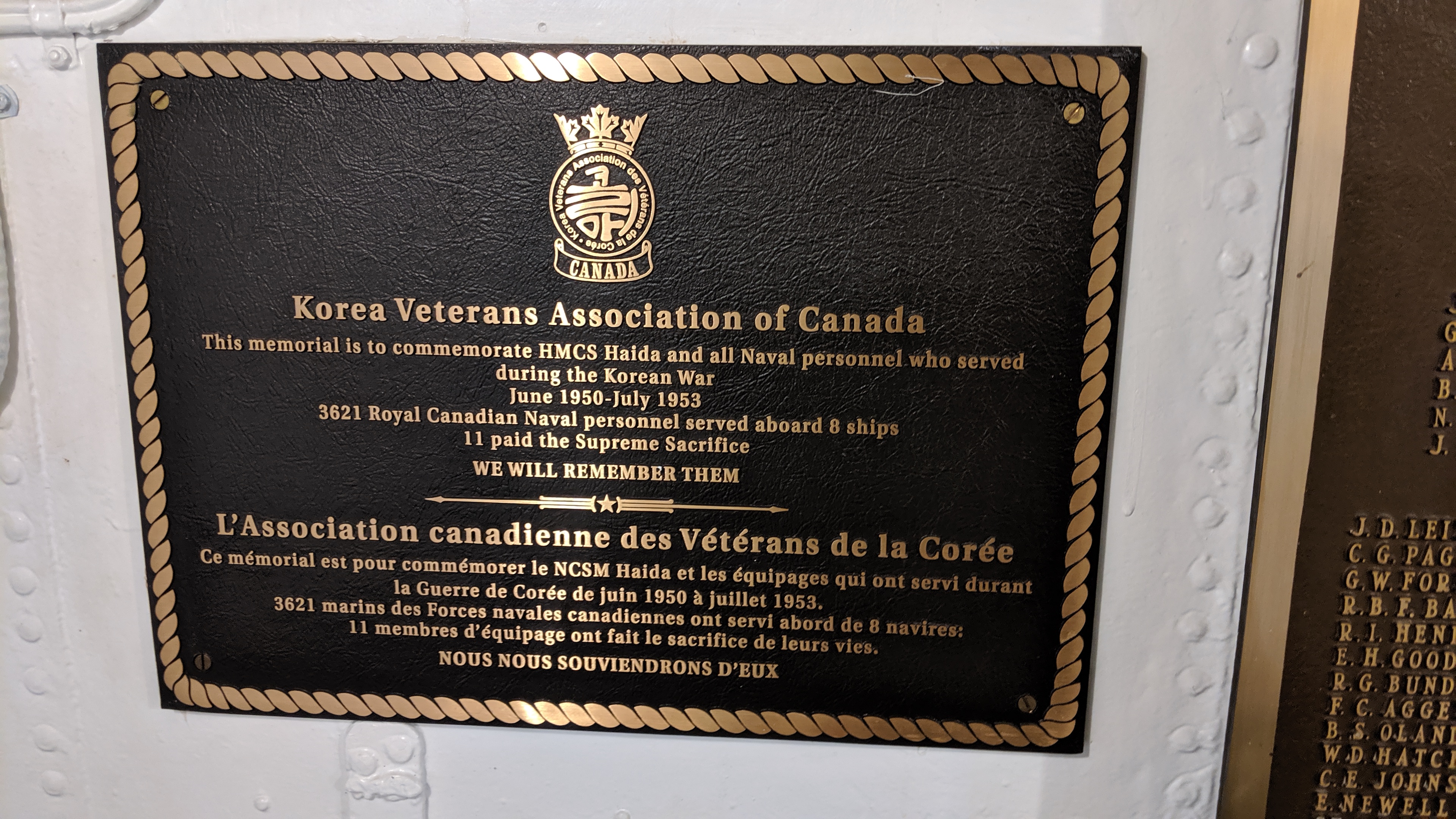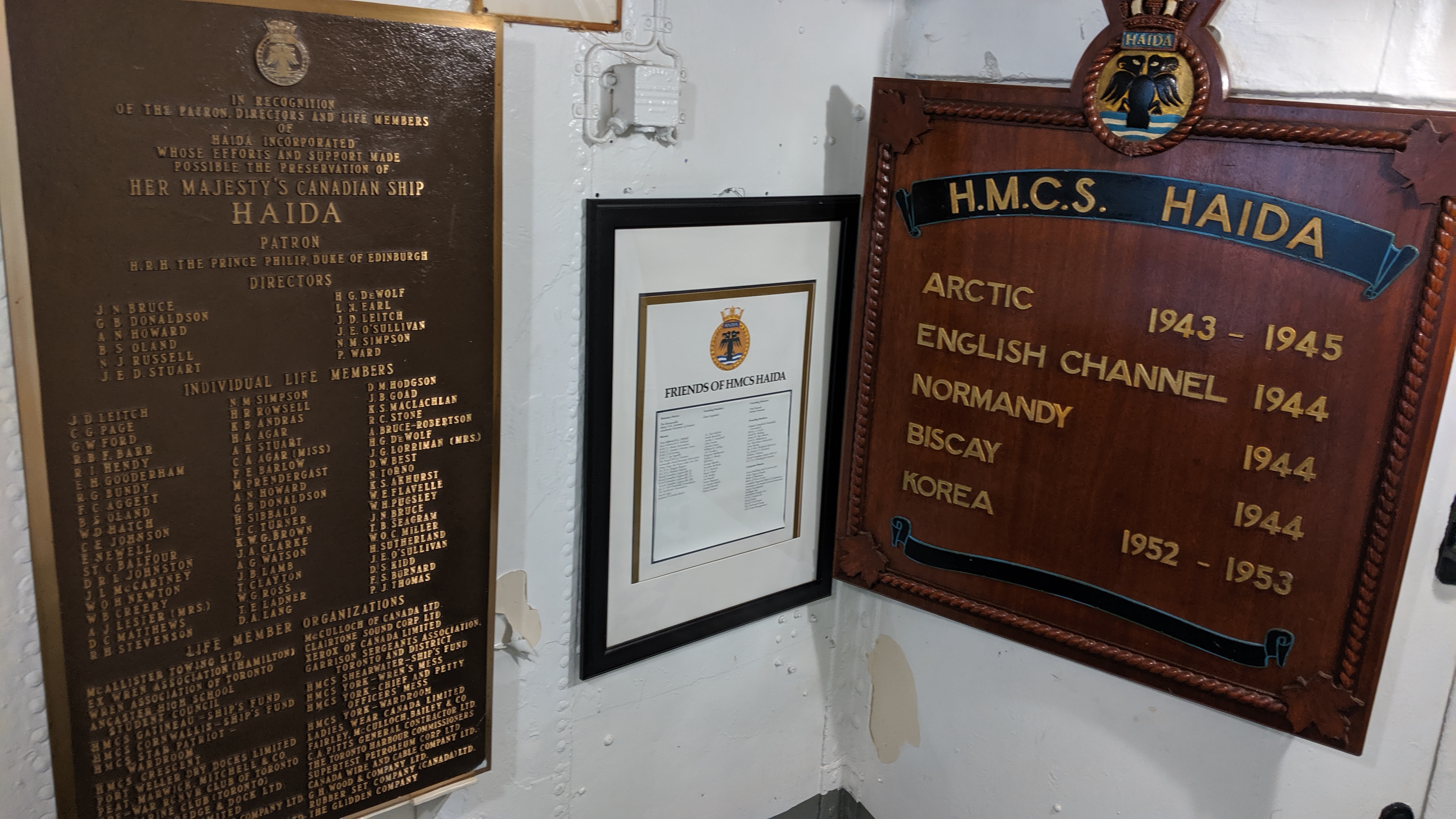 My main one regret when visiting Haida was not using the panorama mode here, and other certain areas. Exactly here! I should have done an panorama of this room from left to right showing off this room. Nope! I had to learn fairly late while on a floor before. Even, this was still an awesome experience. I had fun exploring everything, even doubling back a few times because I apparently missed a few things. I still feel I may have missed something. Who knows how long I'll have to wait to visit HMCS Haida again. Maybe another few years, who knows.
The smell of oil, grease, and furniture was strong in this part of the ship. The smell of oil and grease (even paint) could be noticed throughout the whole ship giving the ship some aging qualities. I guess a military perfume, or something.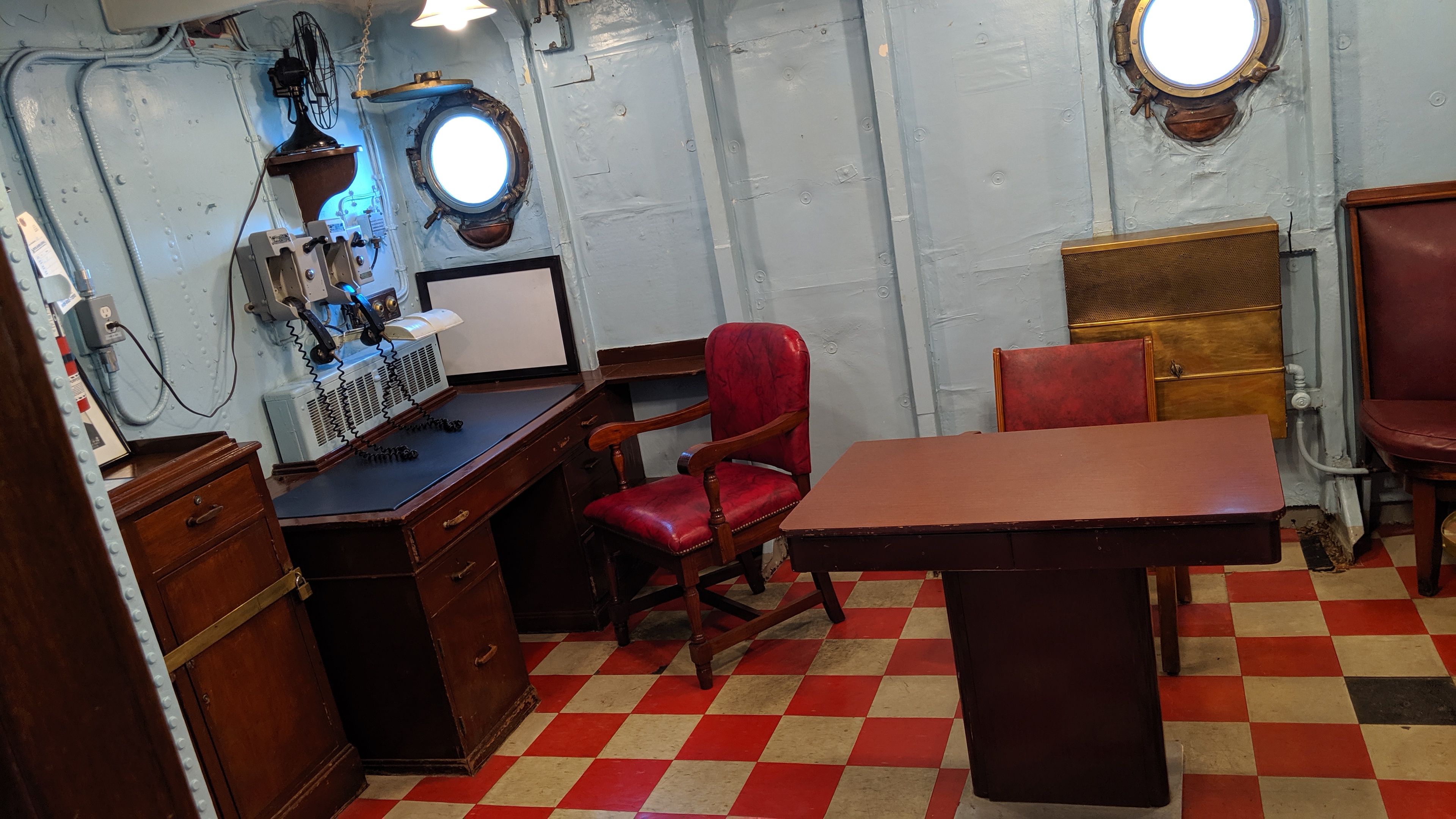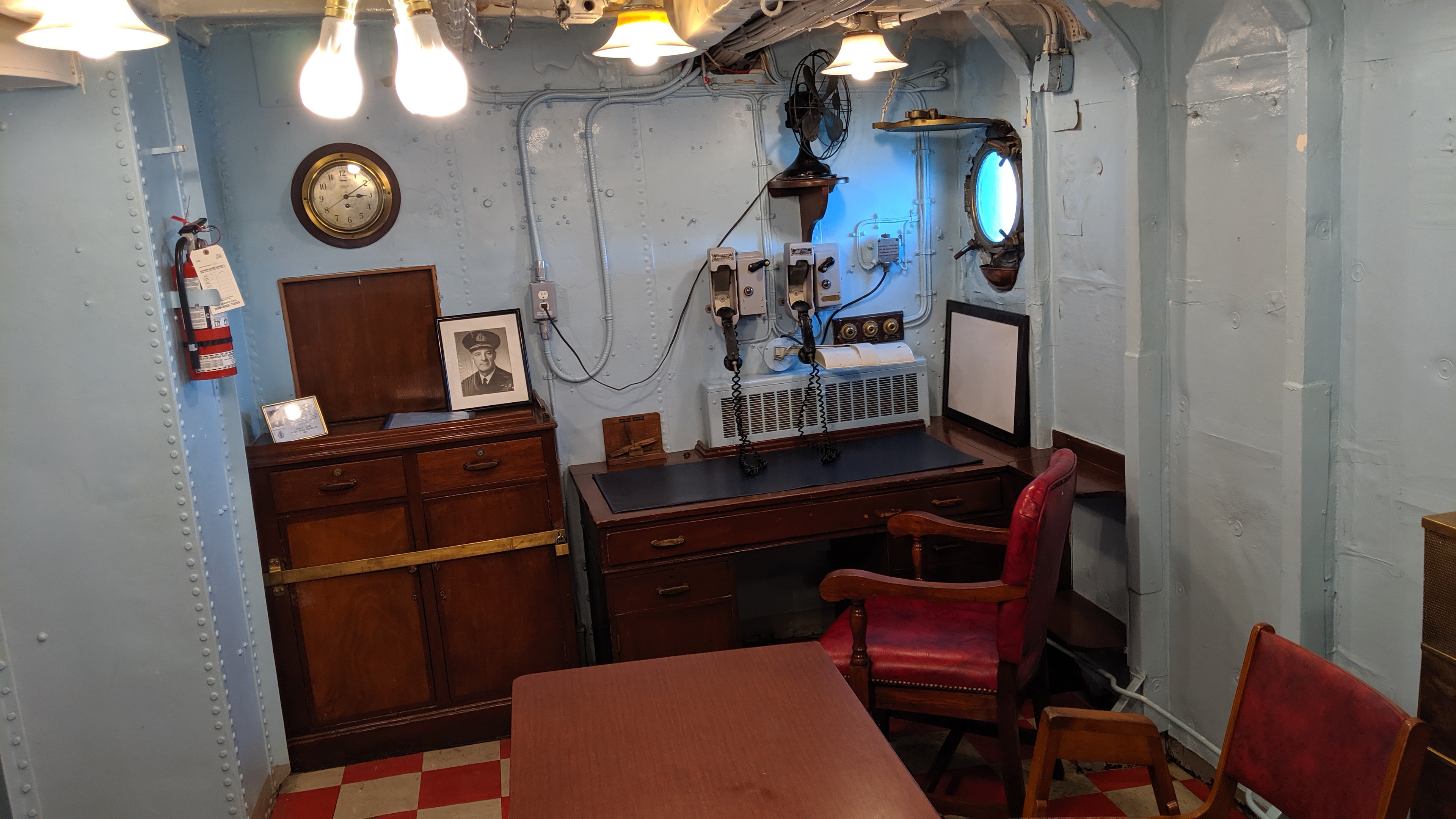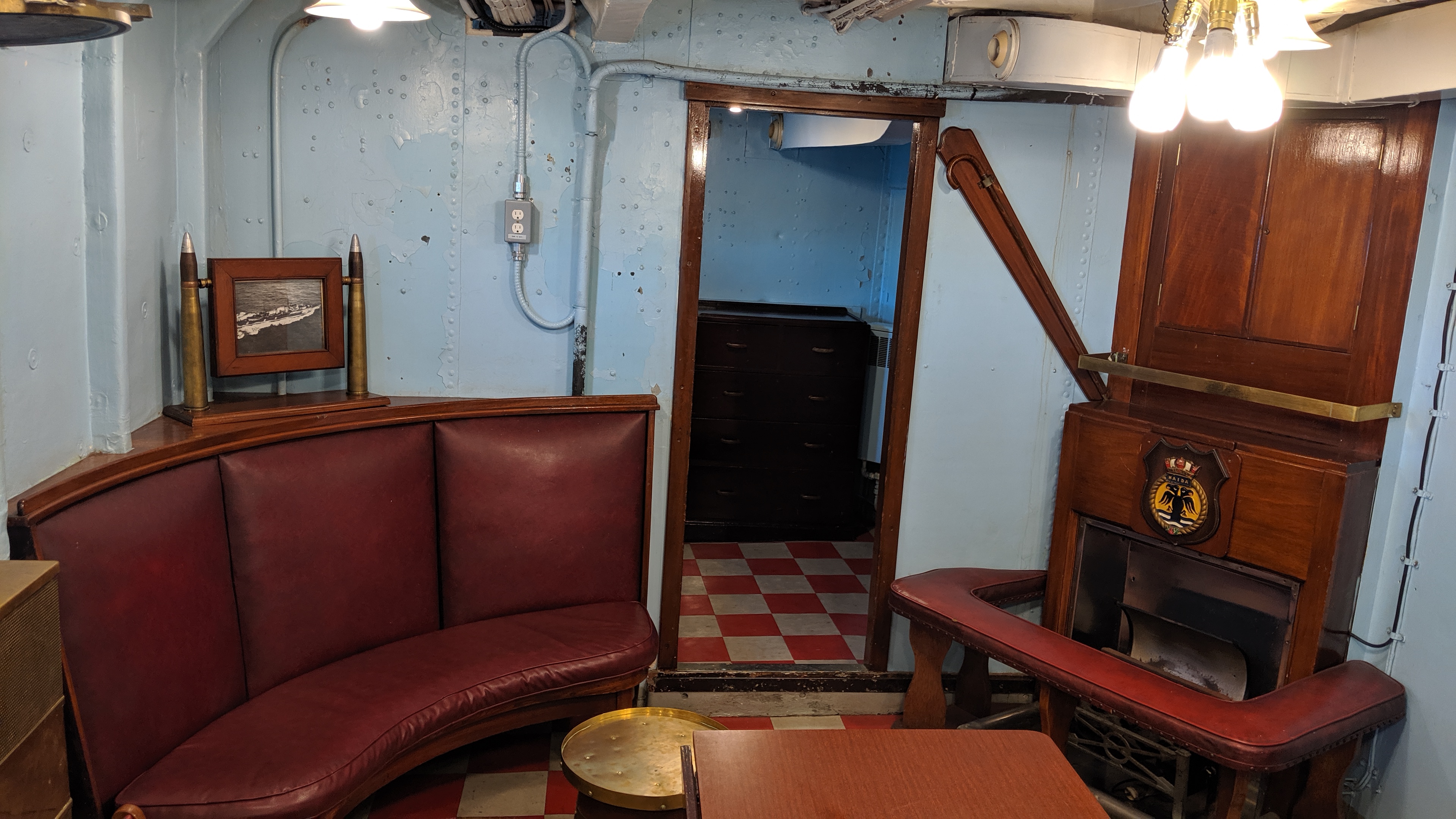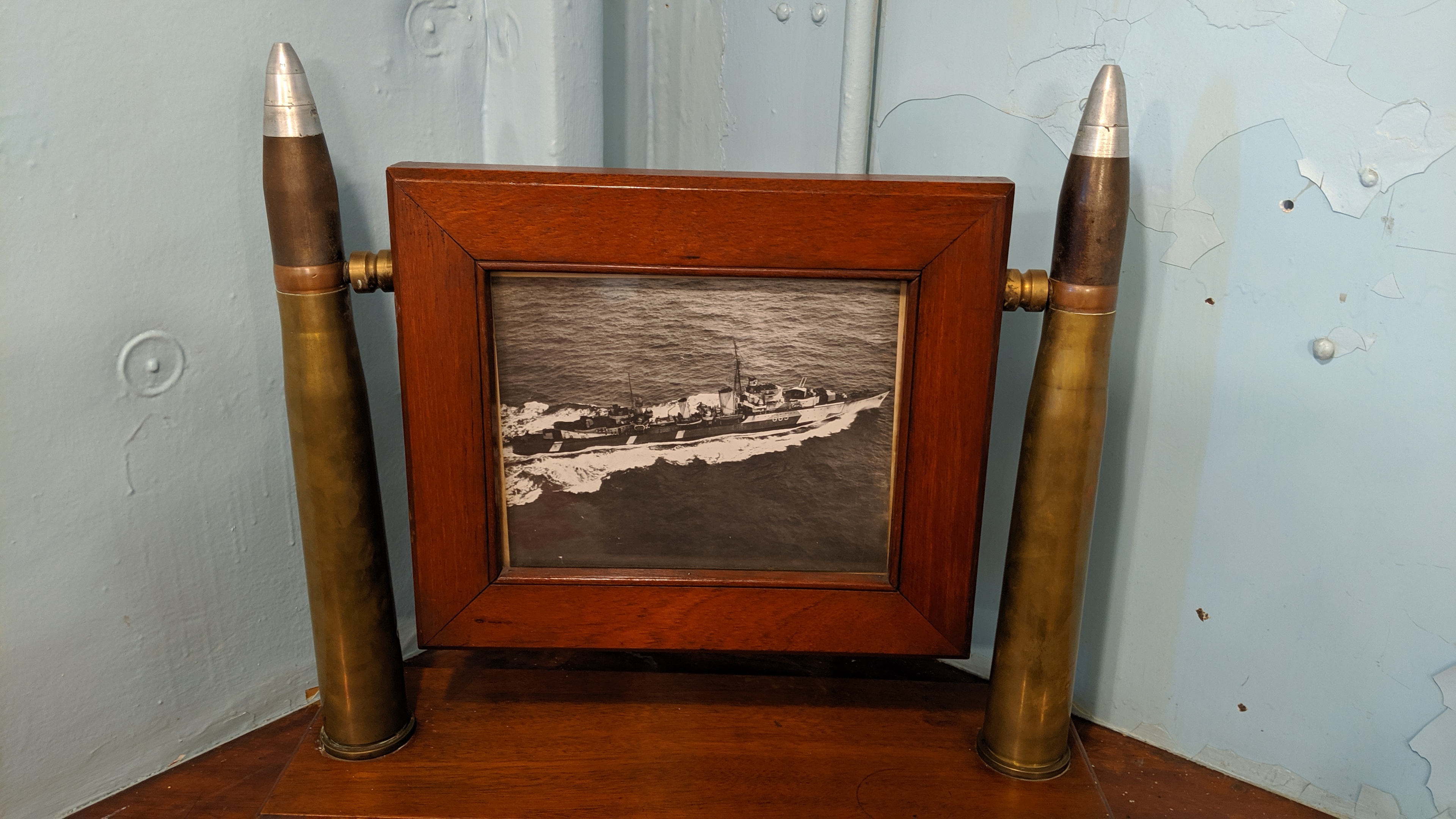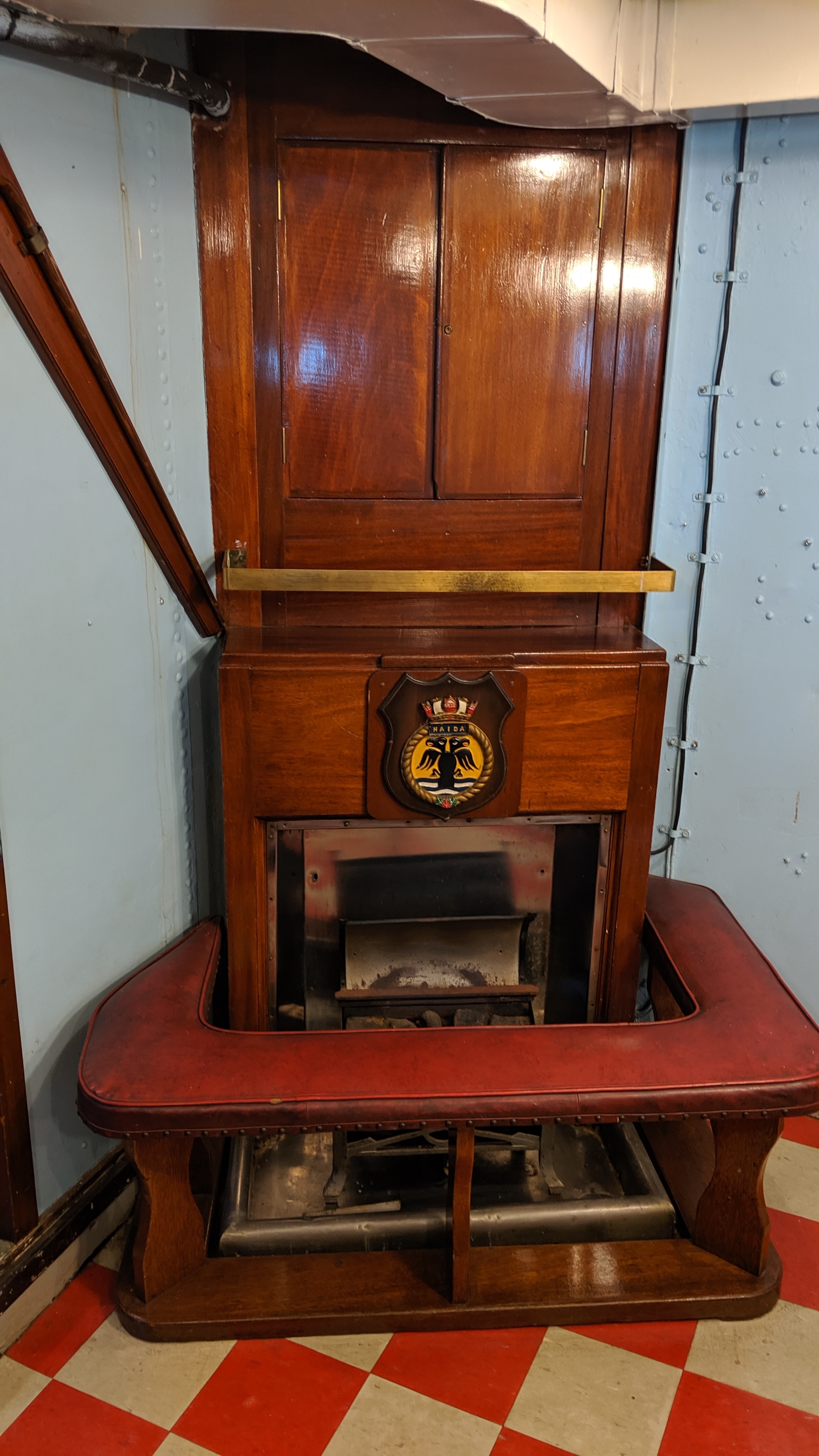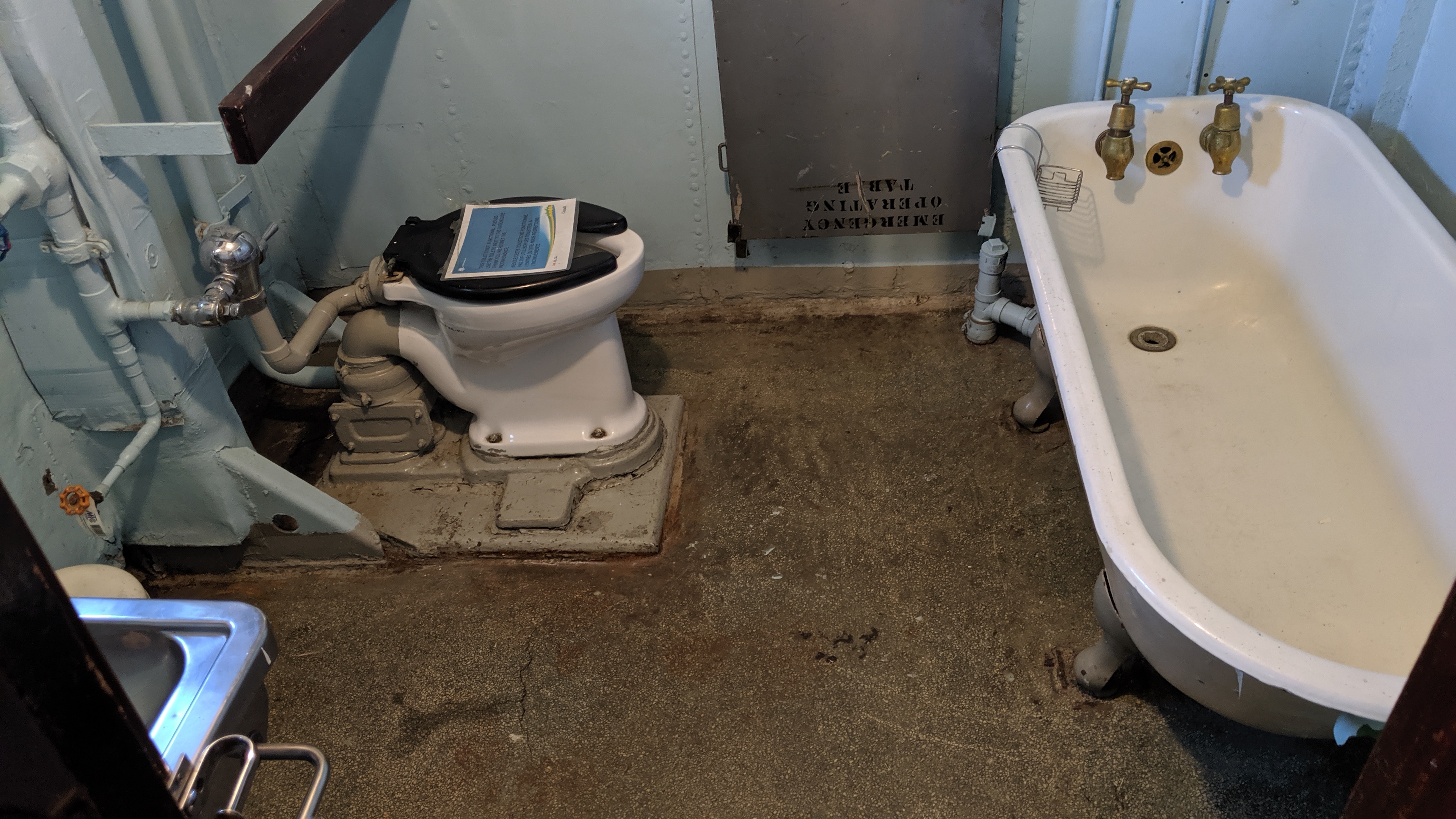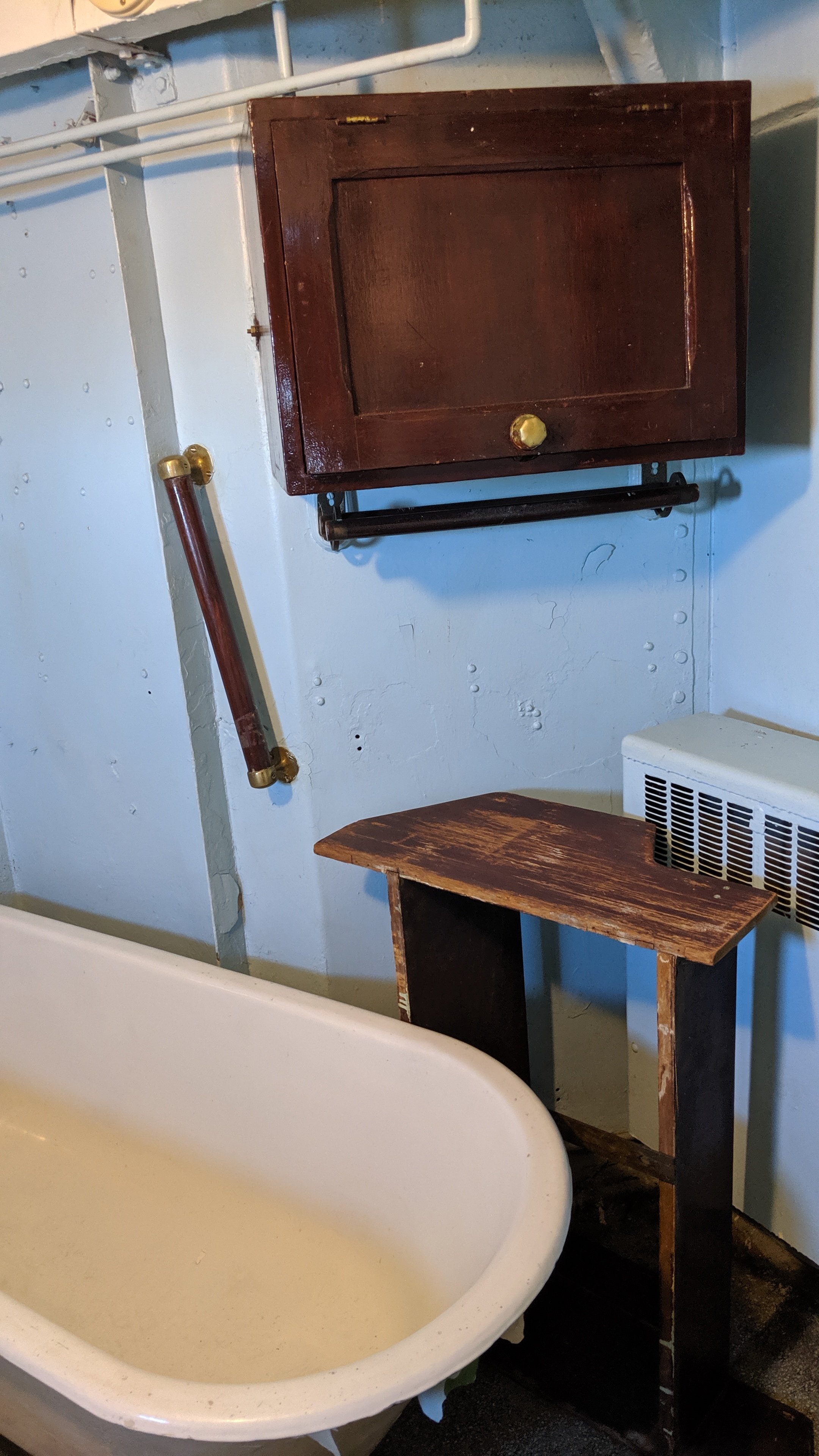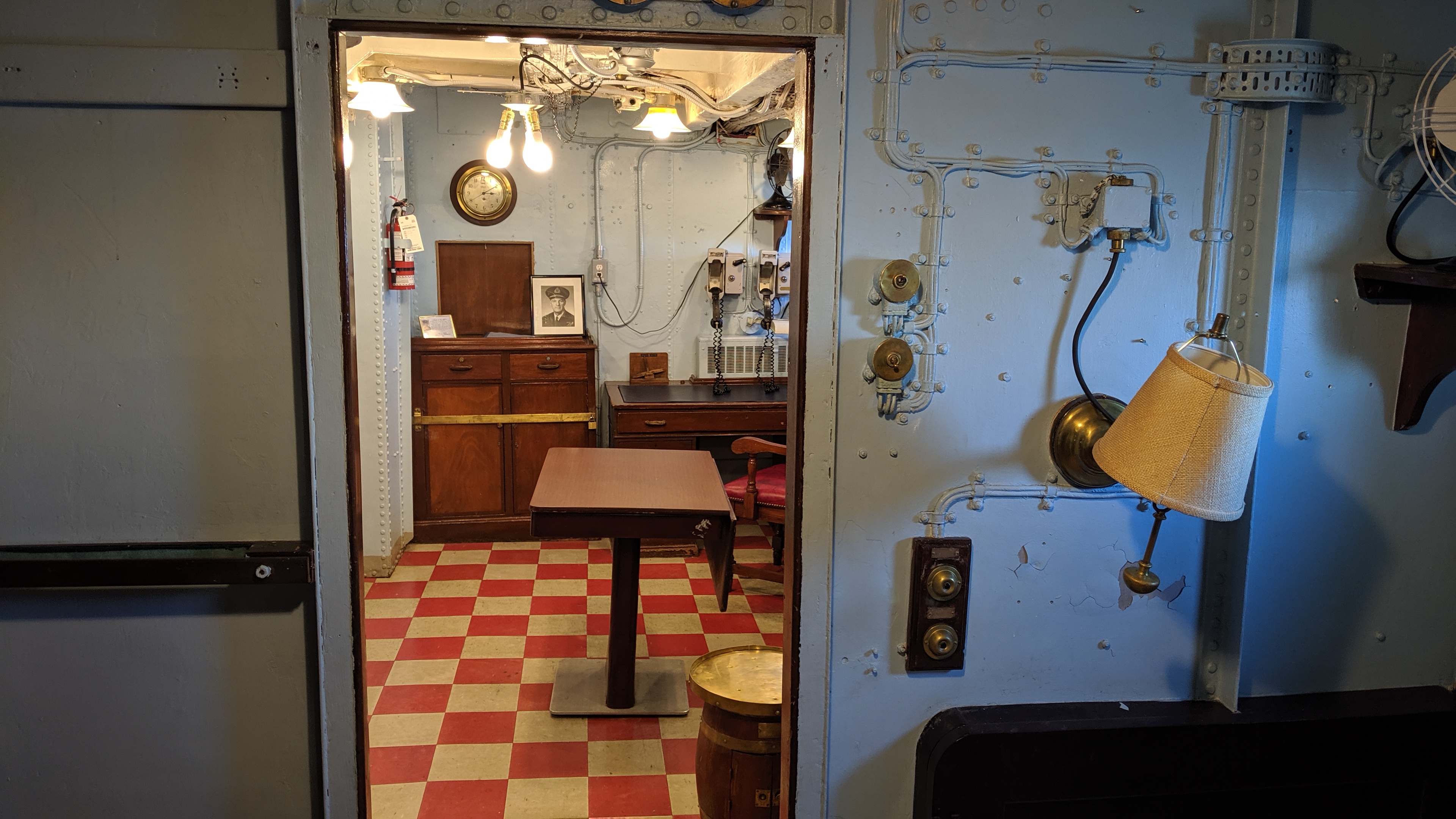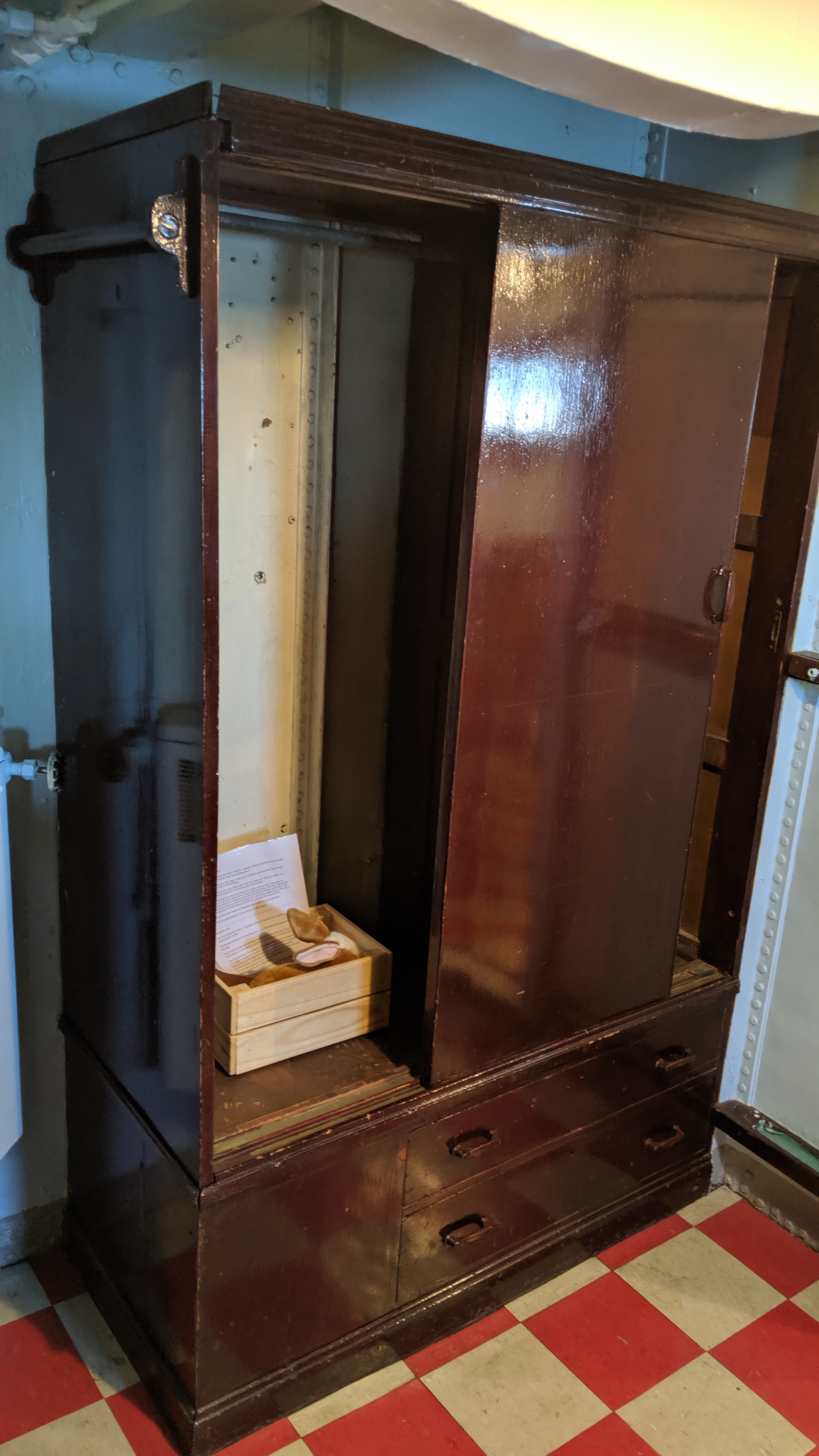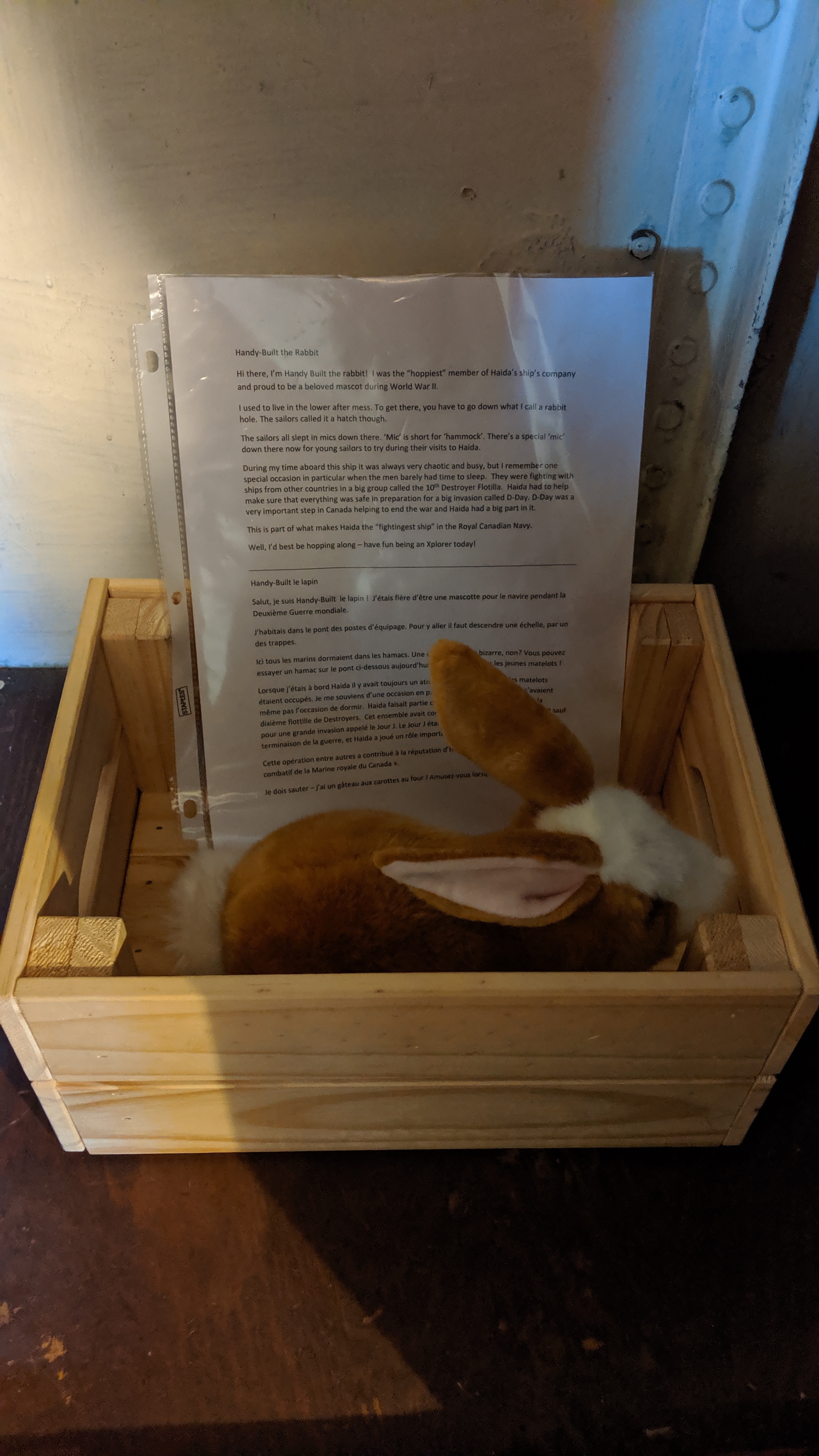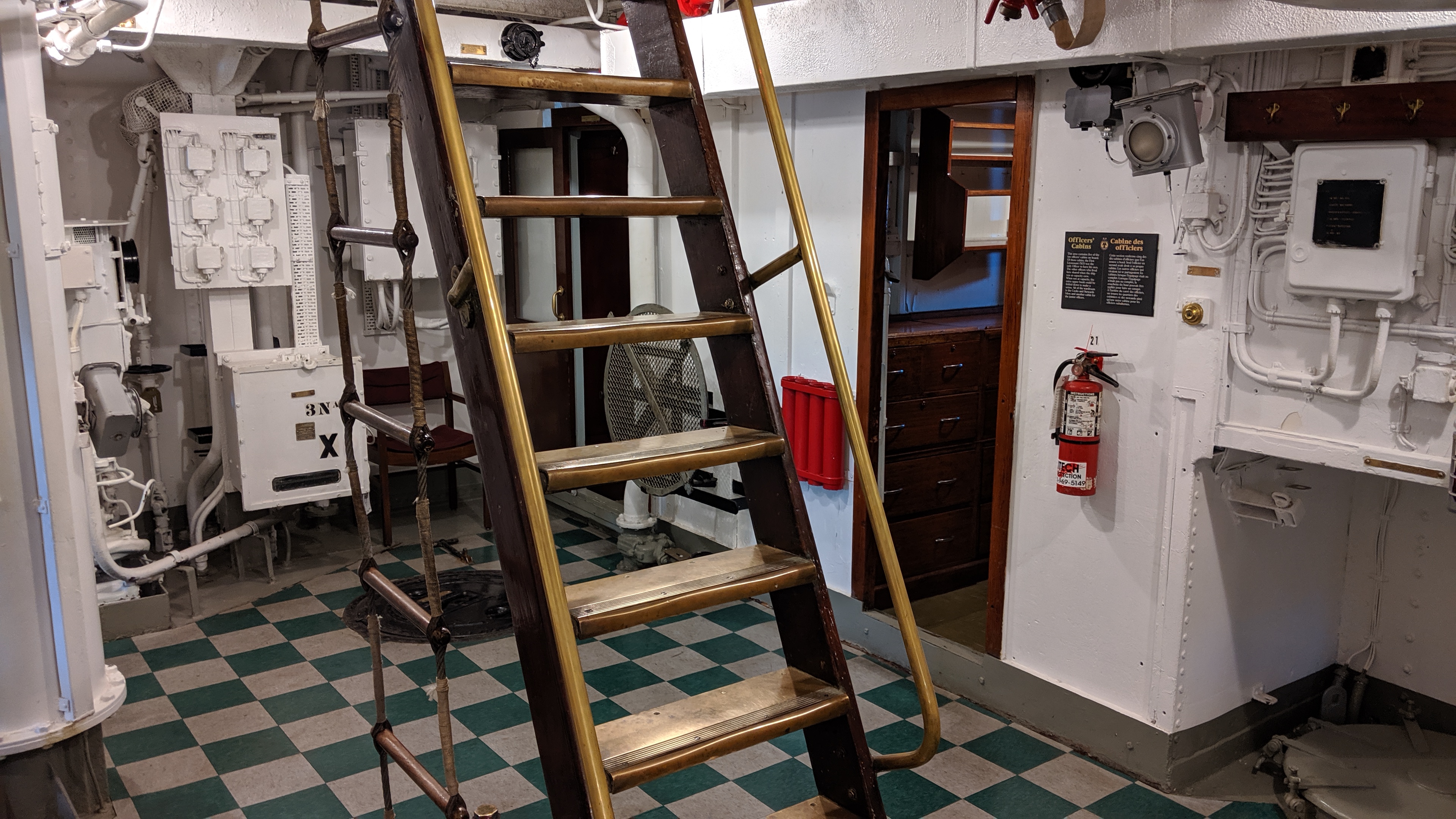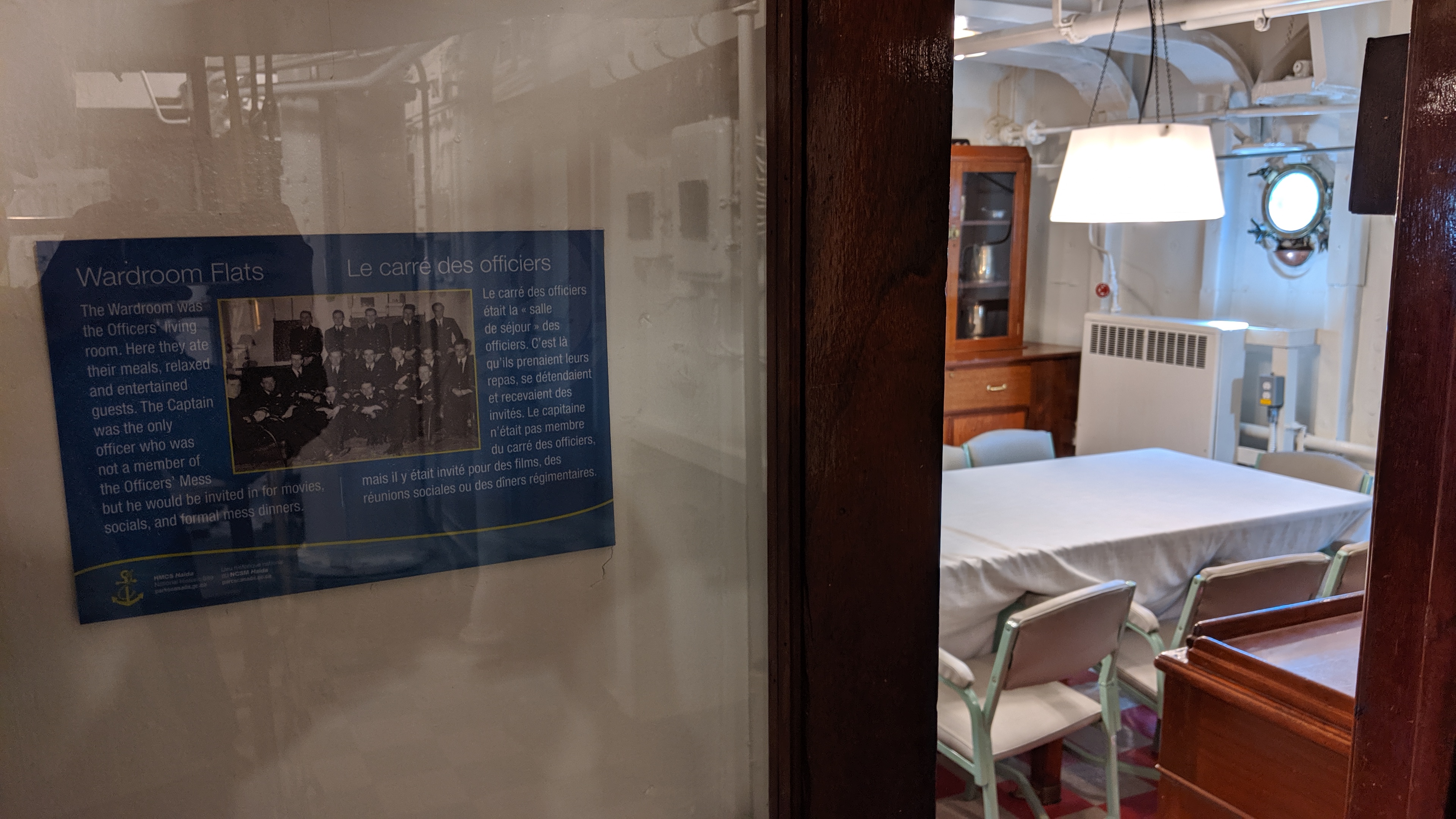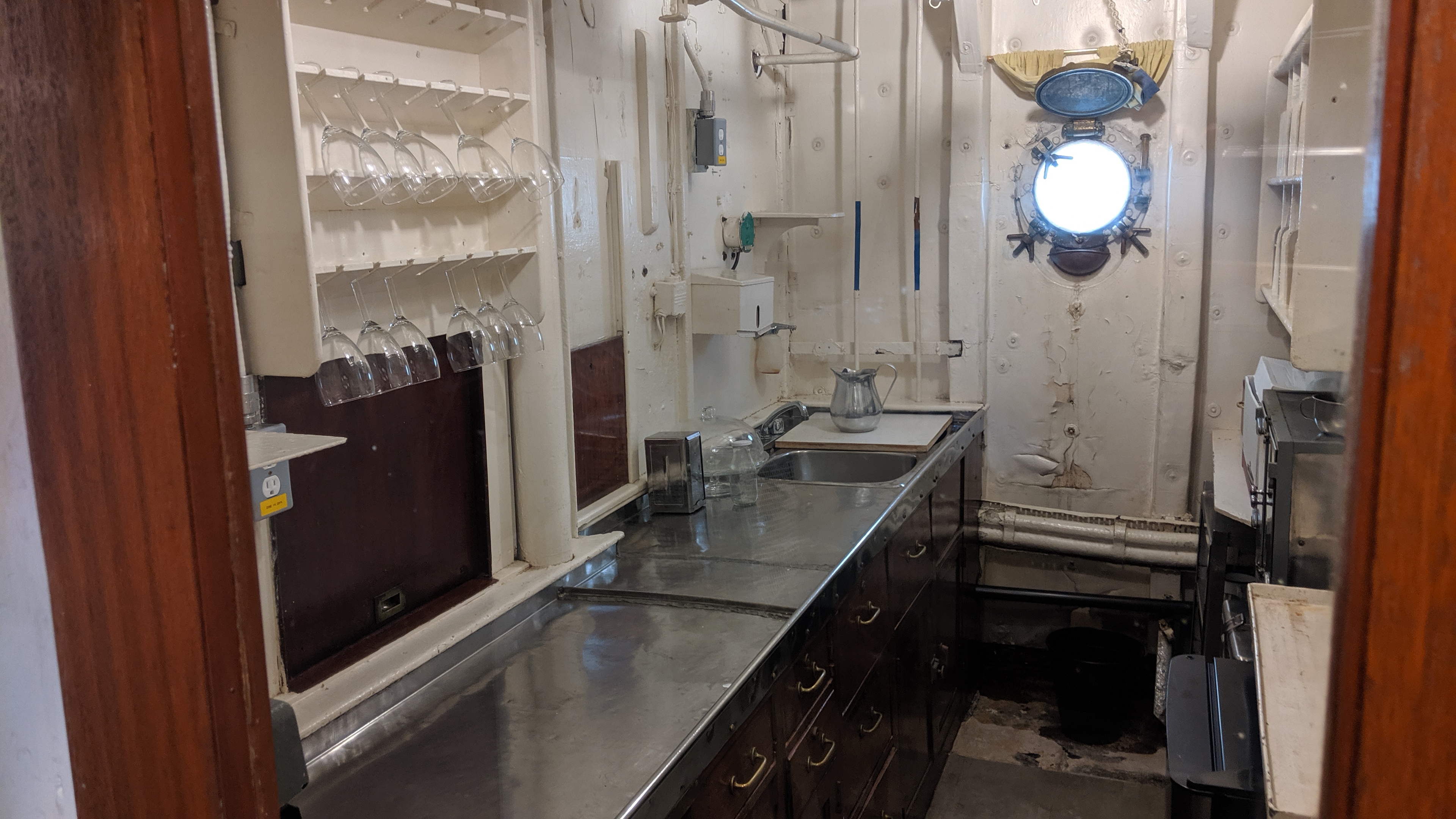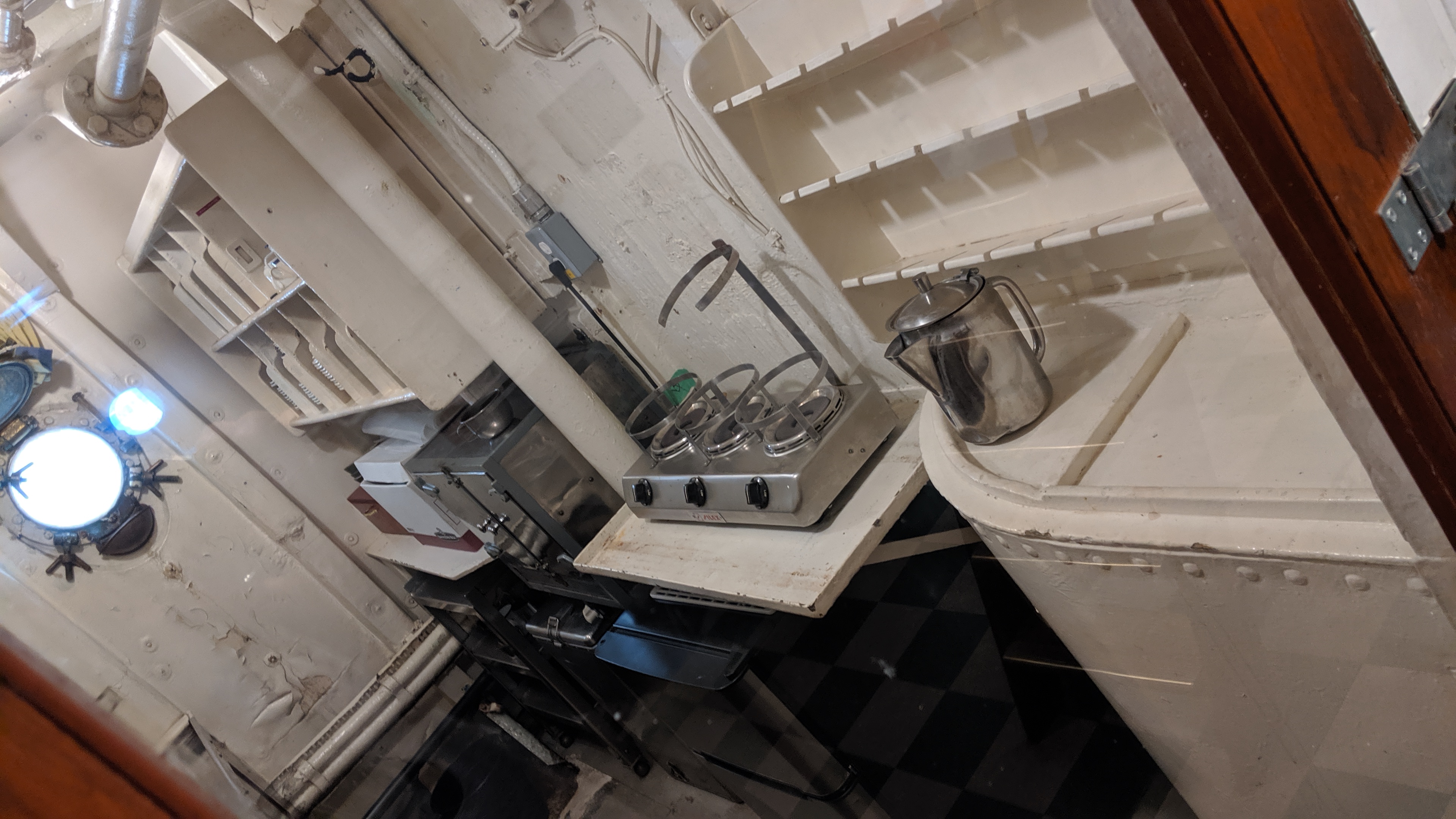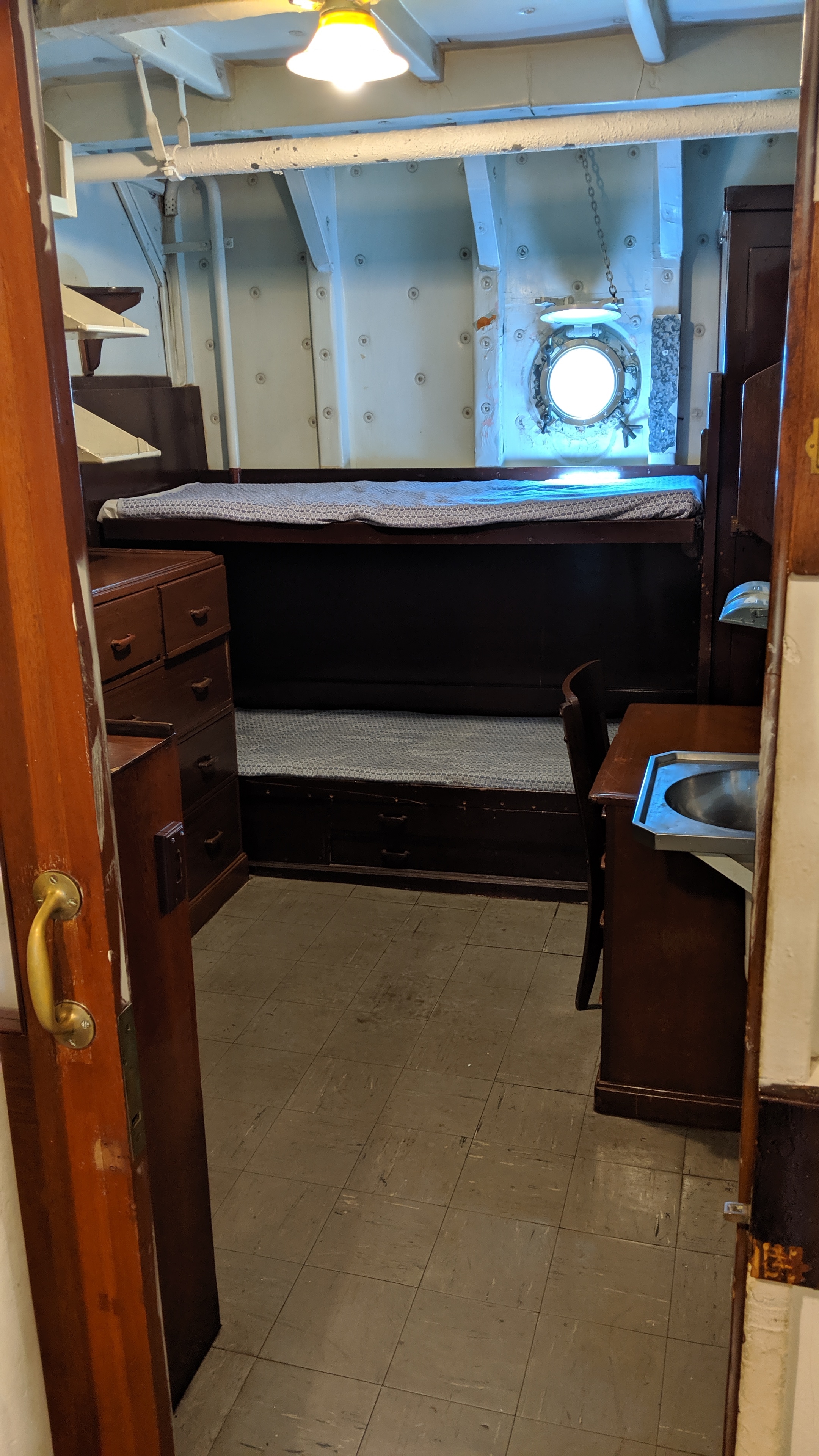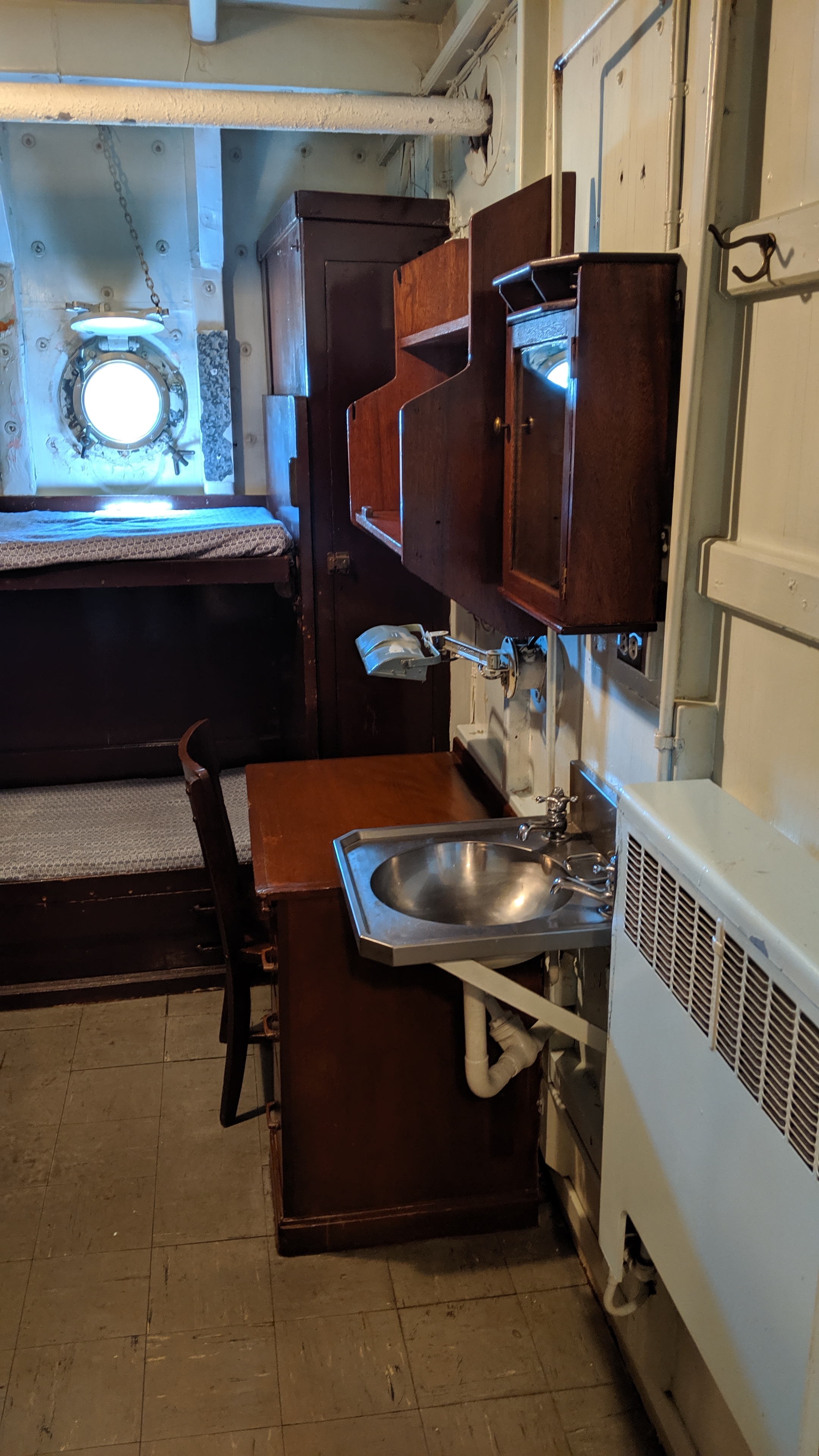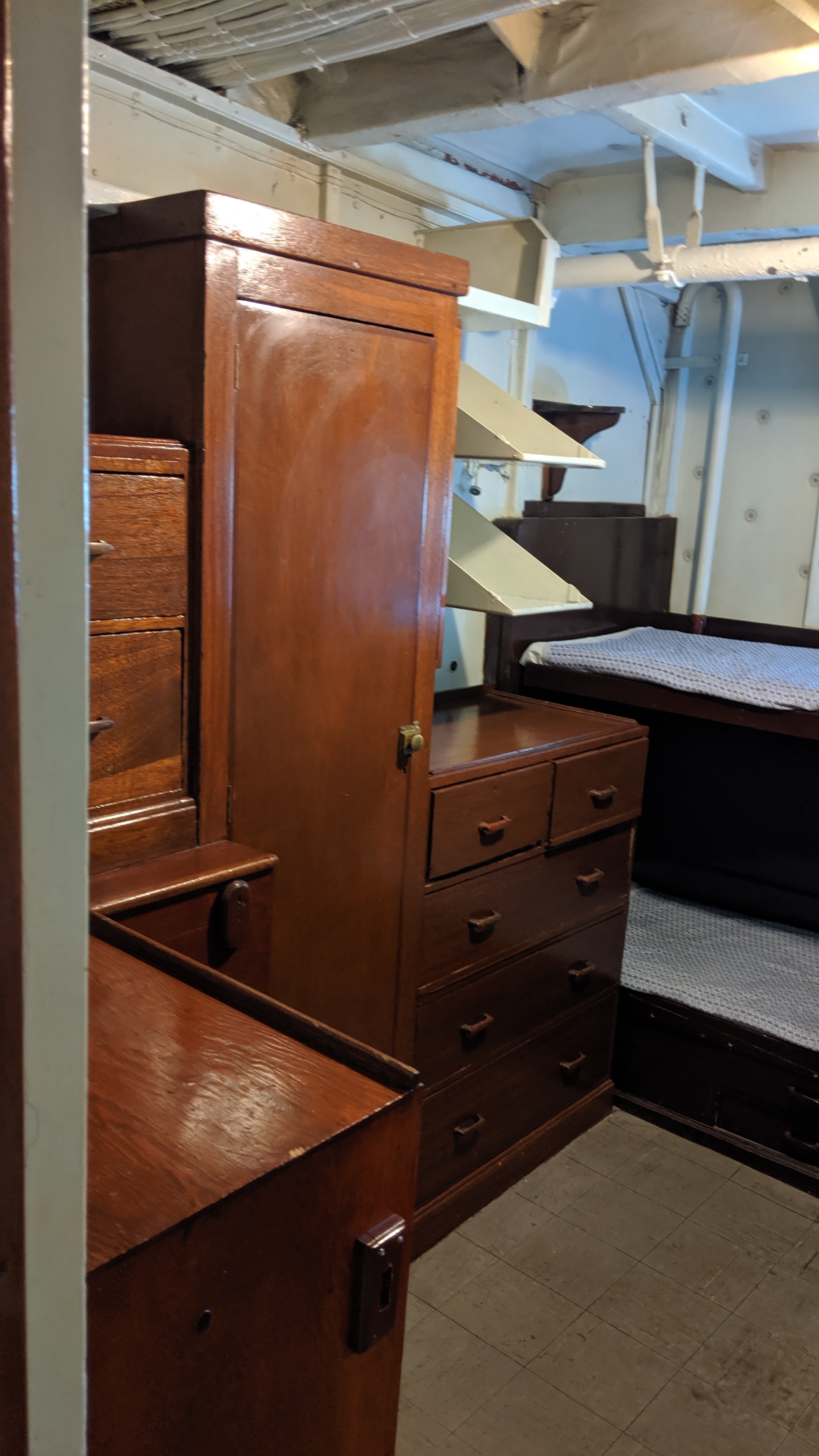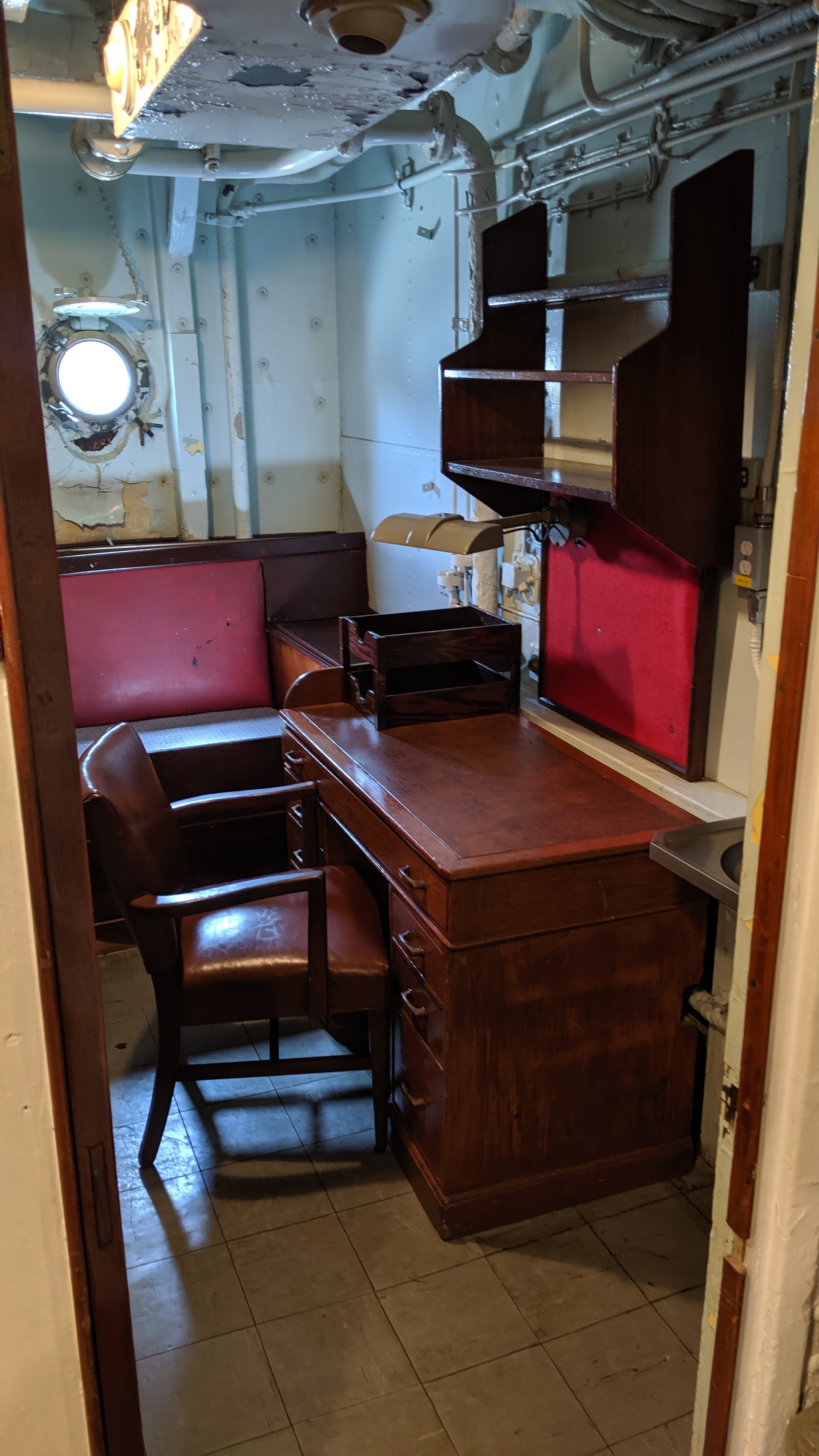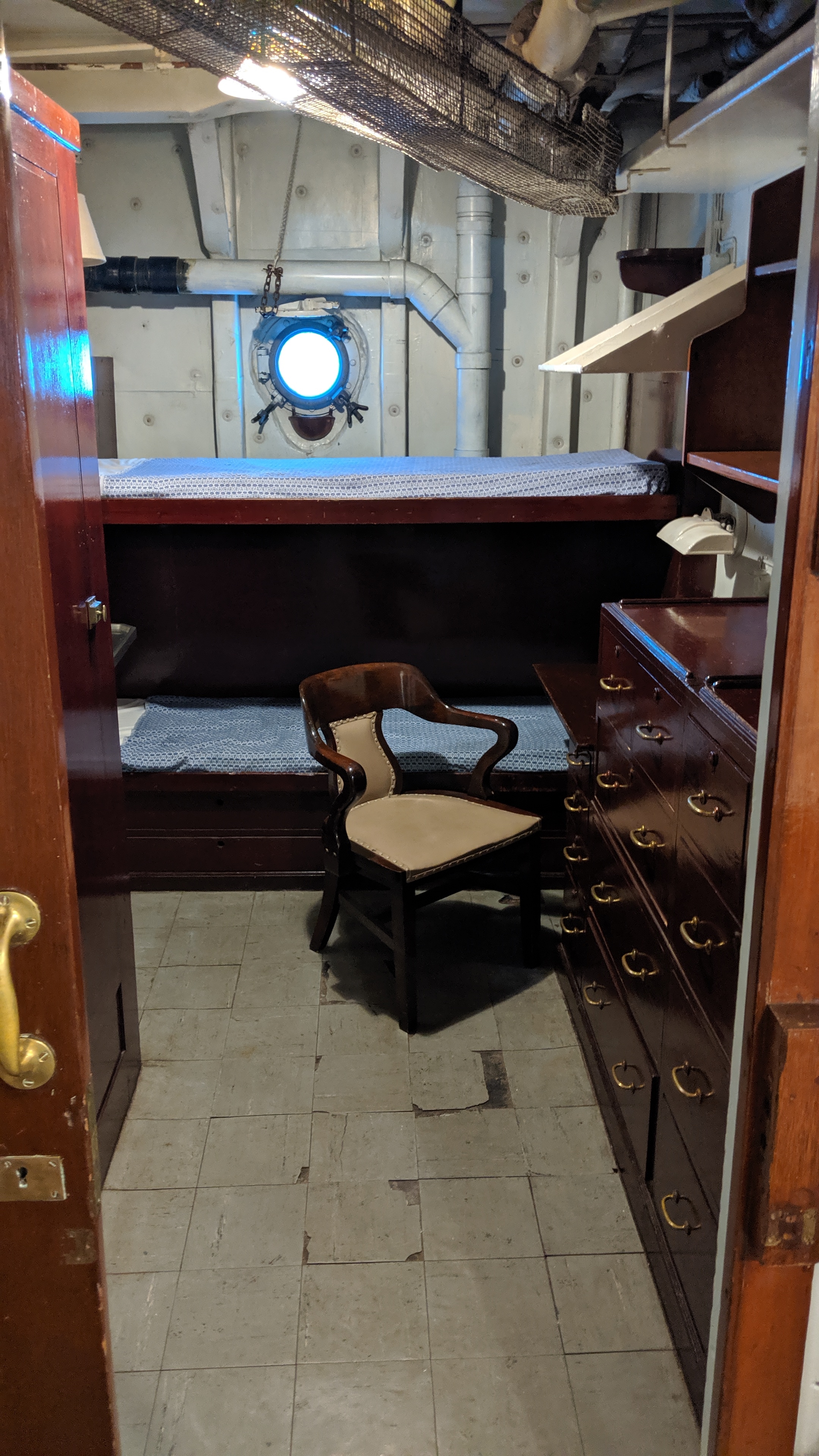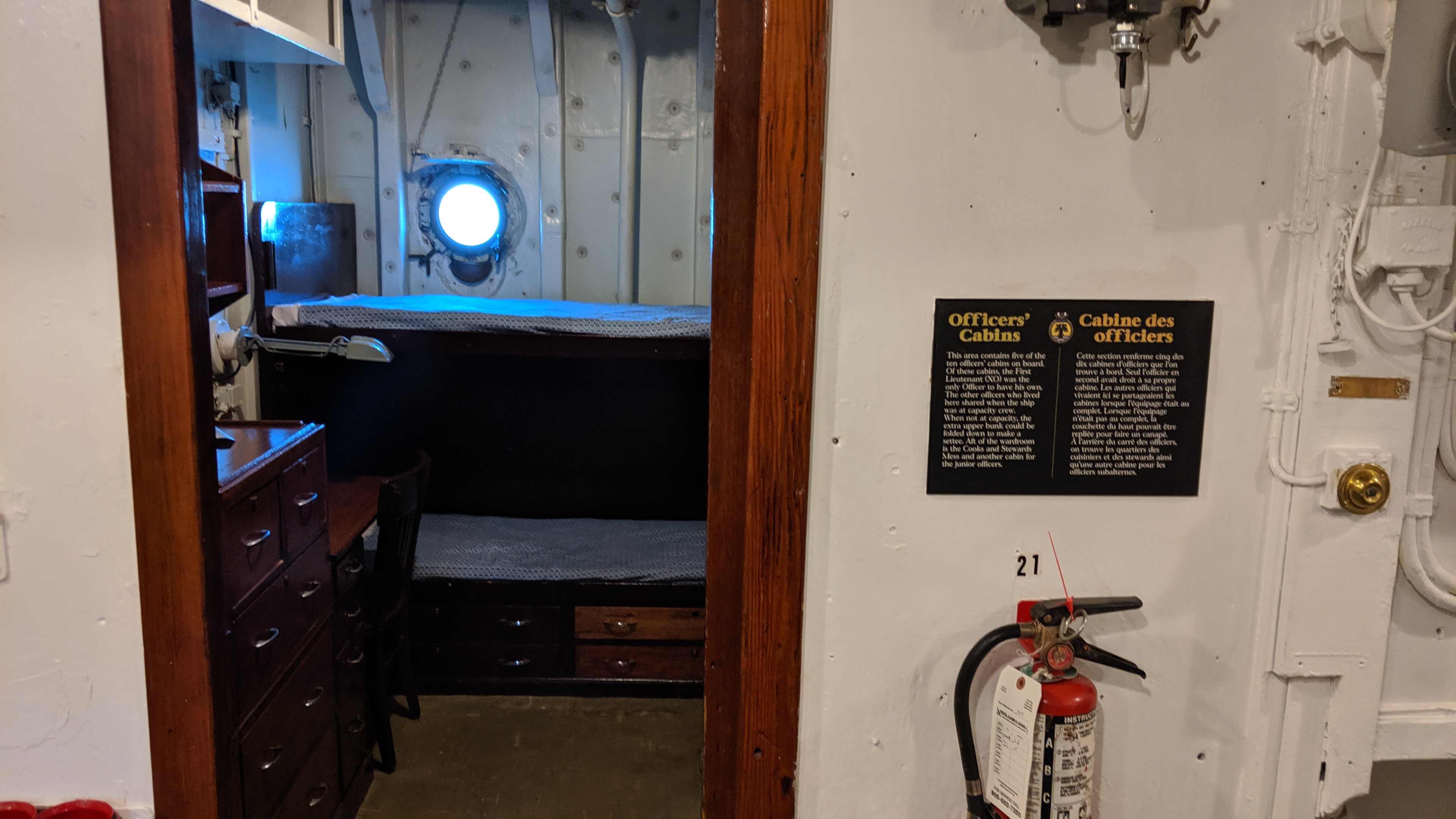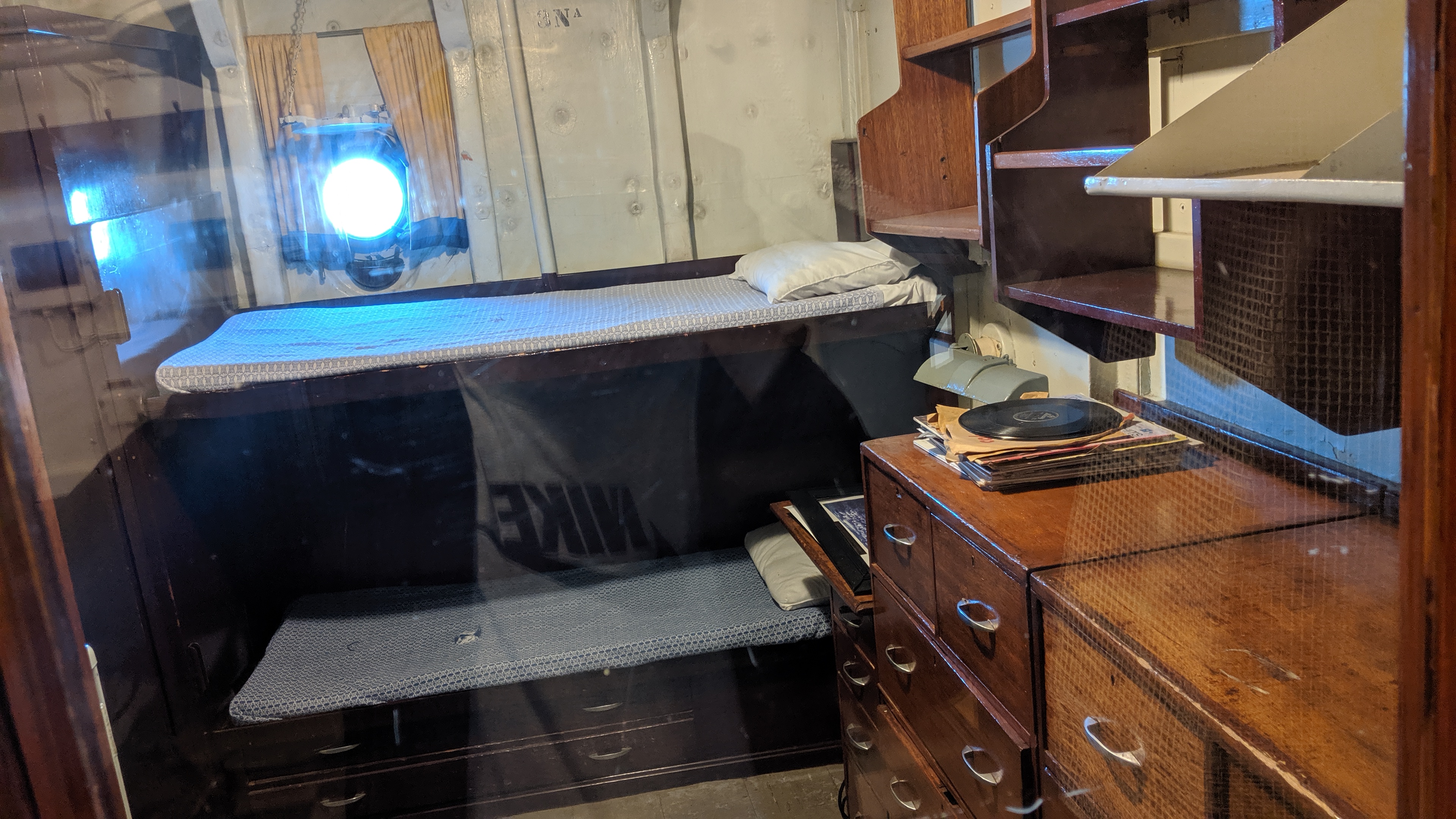 ---
Wardroom – Grand area:
As noted numerous times, this is no joke reminding me of the Titanic. The various movies, or even the Das Boot movie with the scene still at port in Germany. It's quite lavish. The officers are treated almost like royalty, and it shows. Not quite like 'Silent Hunter 3', yet close.
This honestly caught me off guard. Also, at the back, there is a hole which you can squeeze through to see a certain section. I stuck my phone through there (a bit paranoid) taking images of what was back there. Some equipment, and then a sign noting what's where. I'm not sure how to get there officially, or if you're even supposed to be back there. Feel free to read the sign when we get to that image. It's very "funky".
Basically, look at the pillar on in the middle of the image to focus on the leftern portion to see a gap. I feared I would have gotten stuck there, thus I haven't gone through.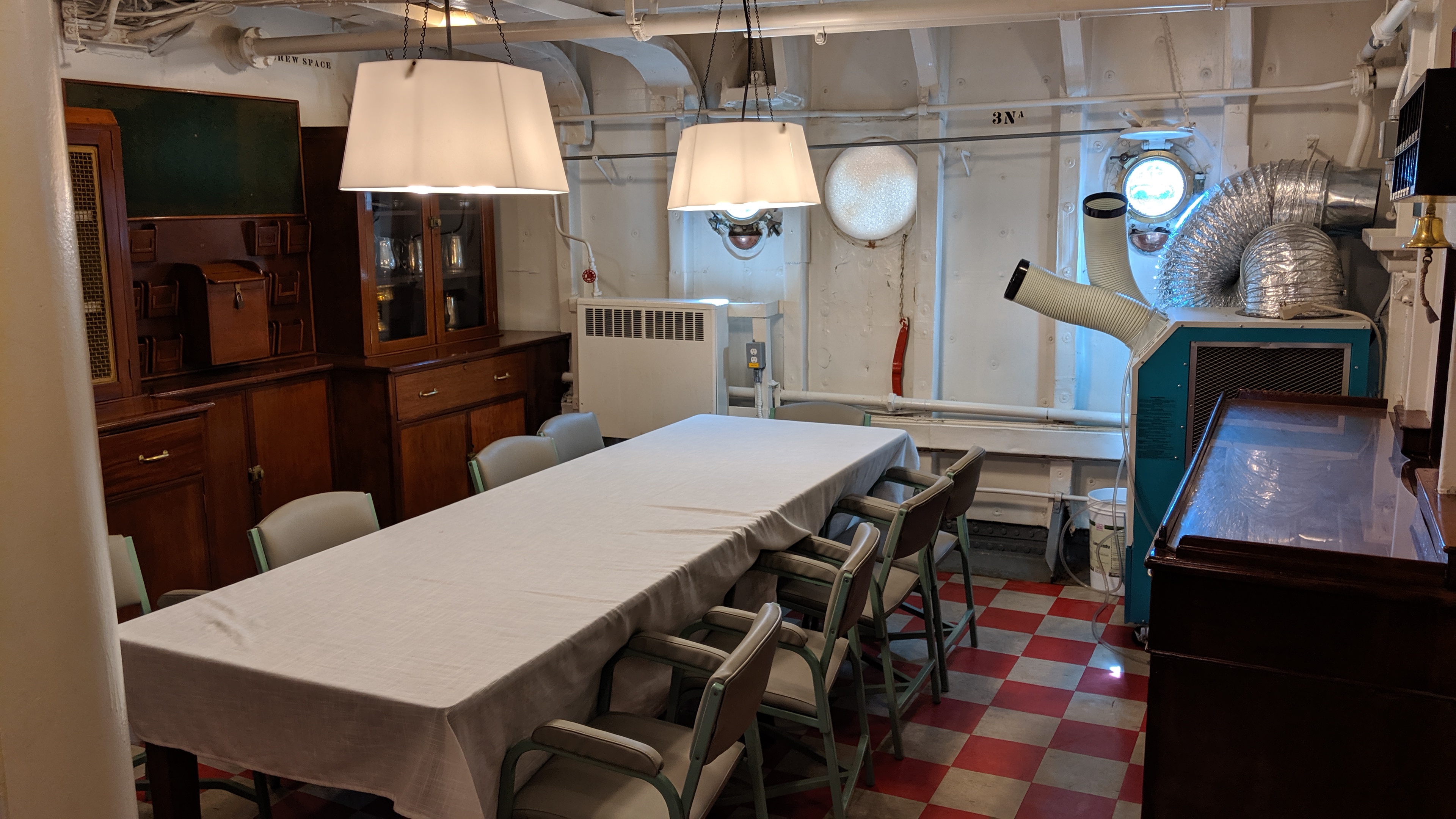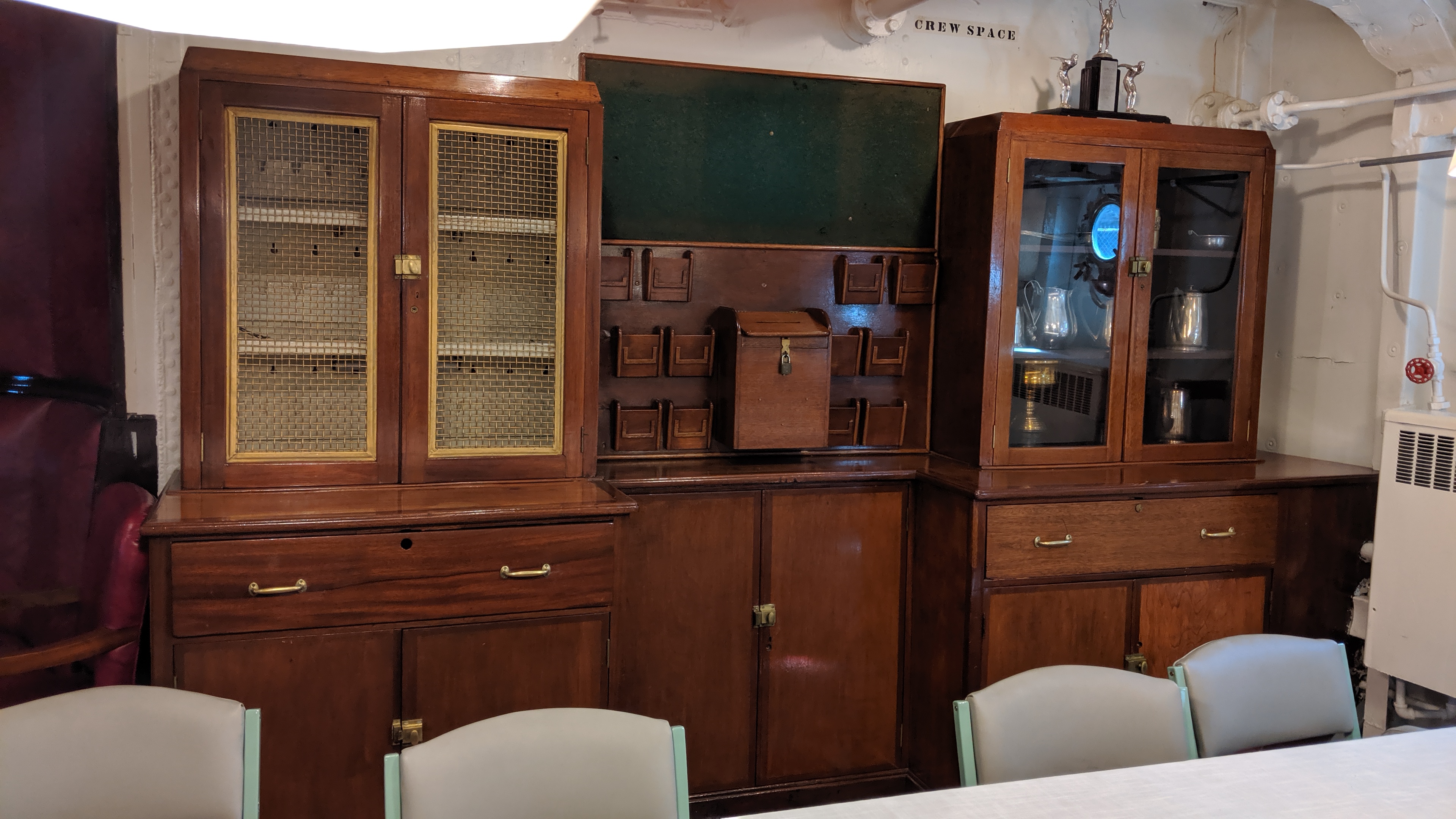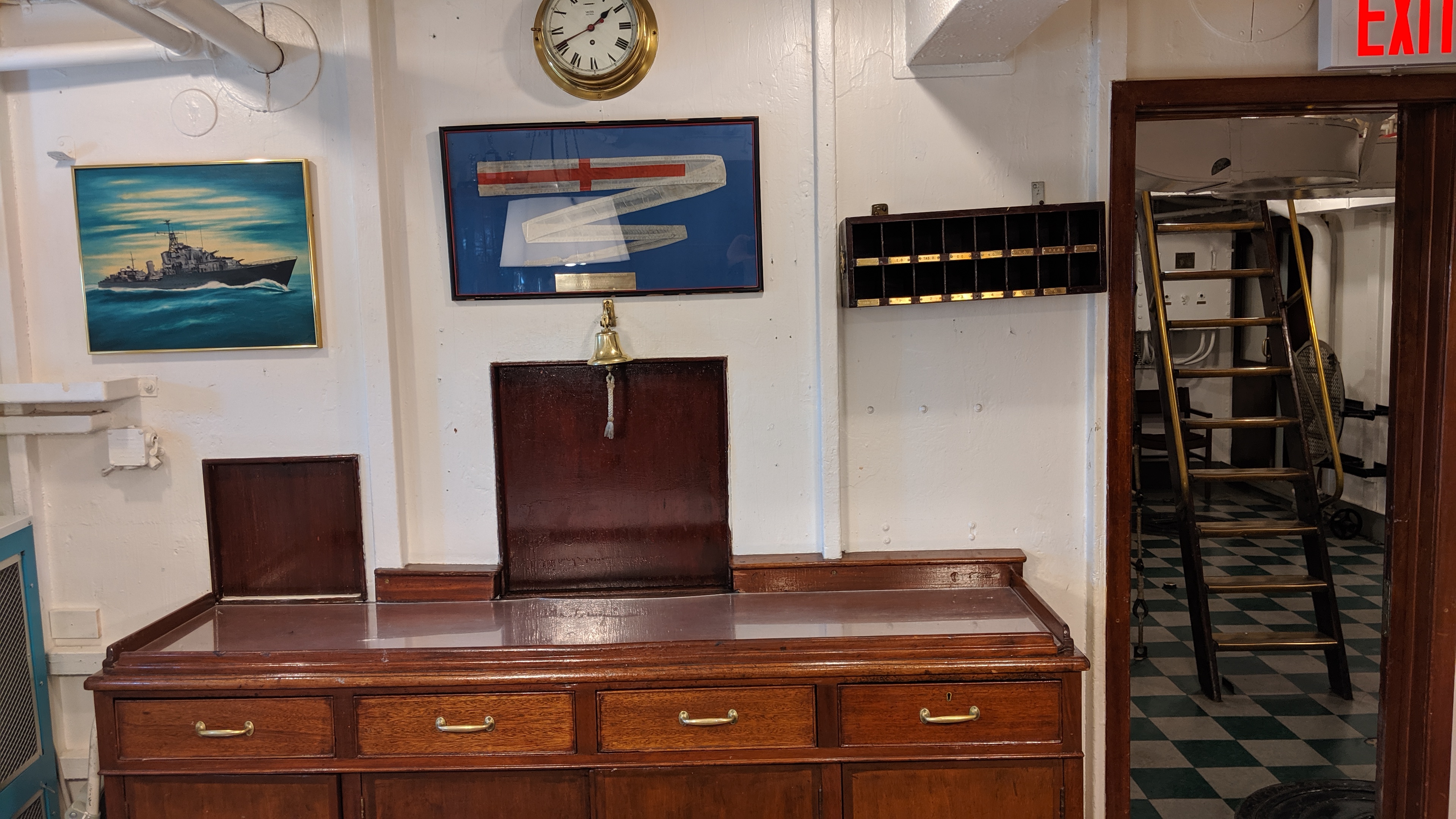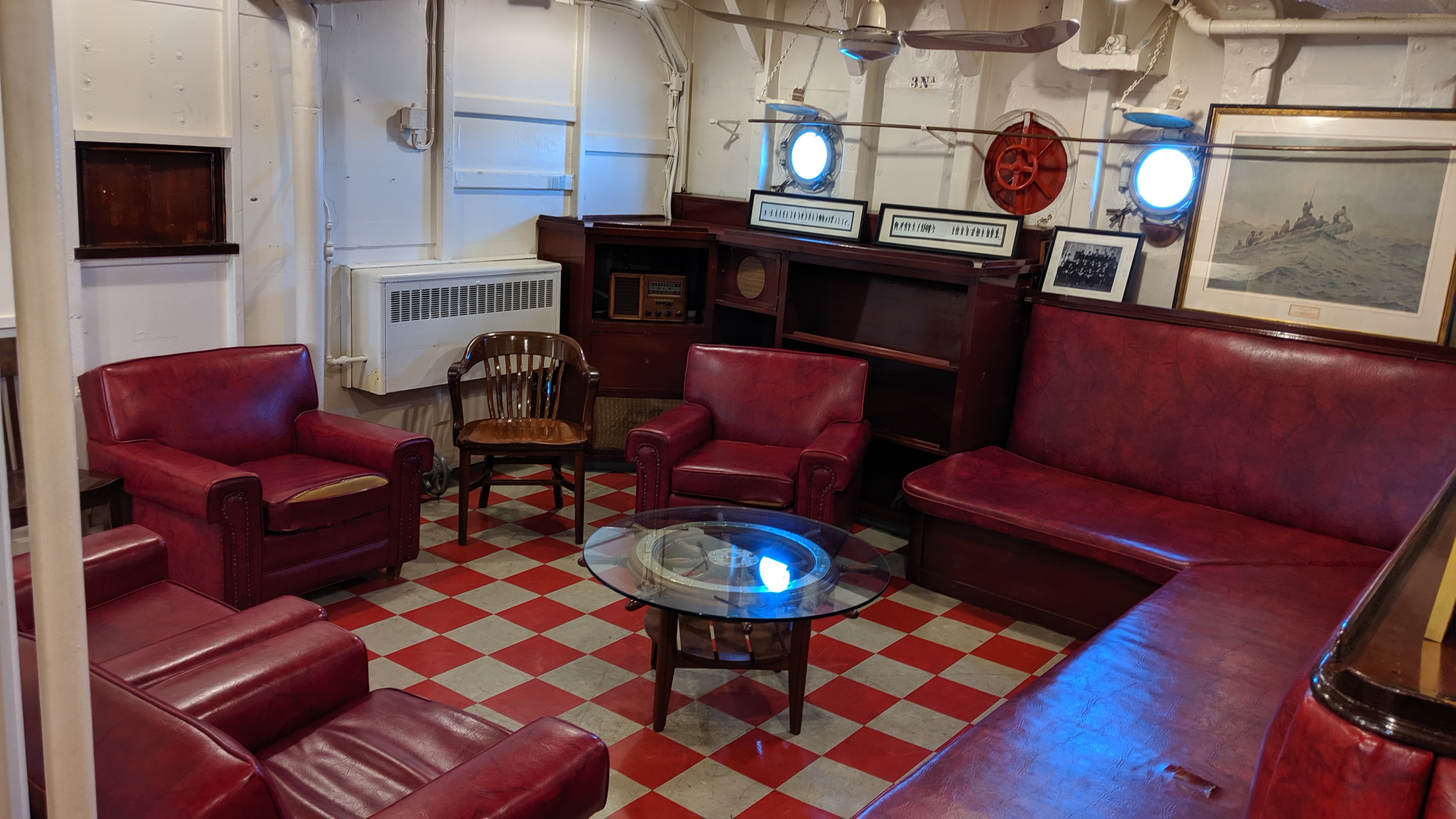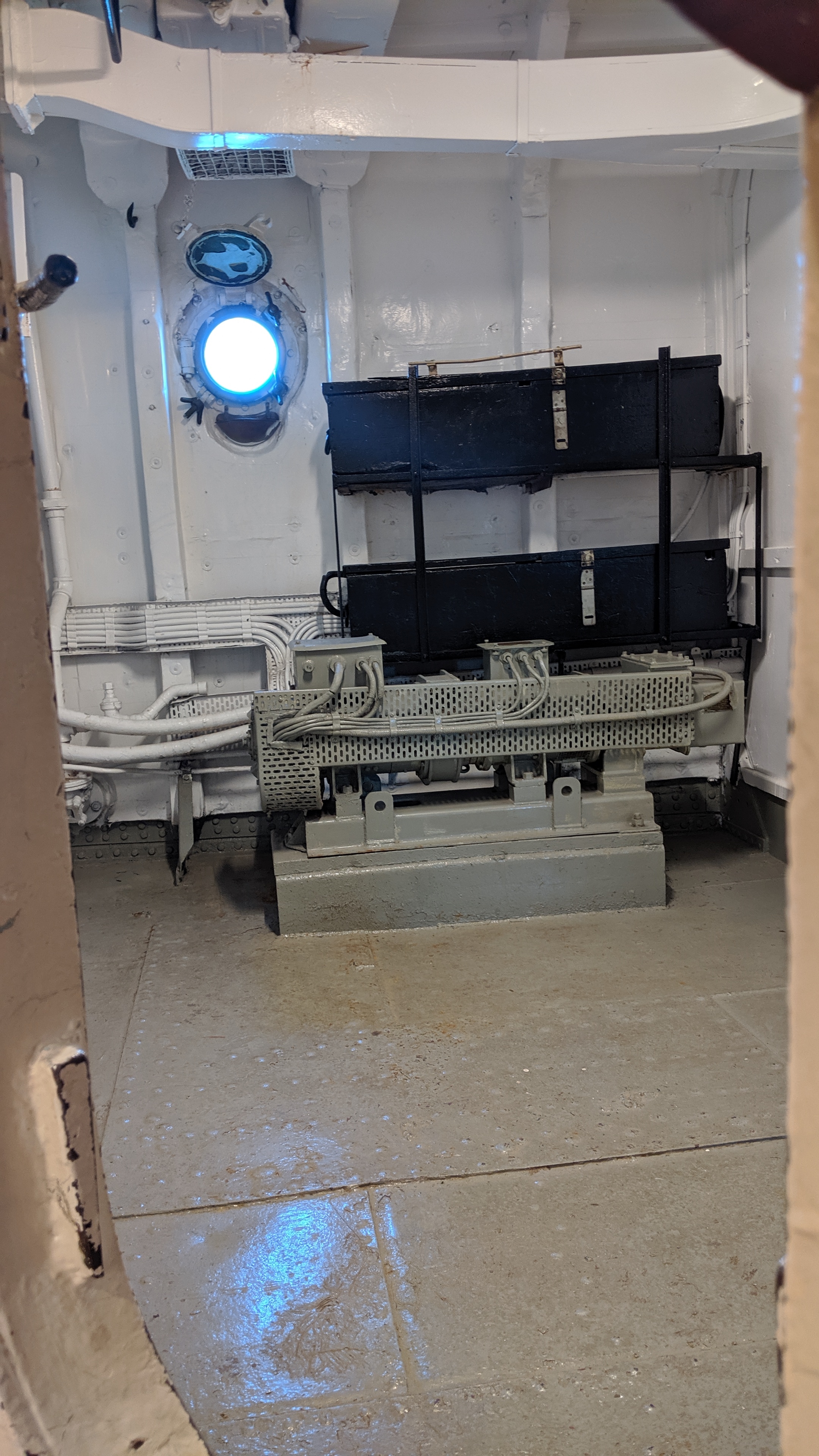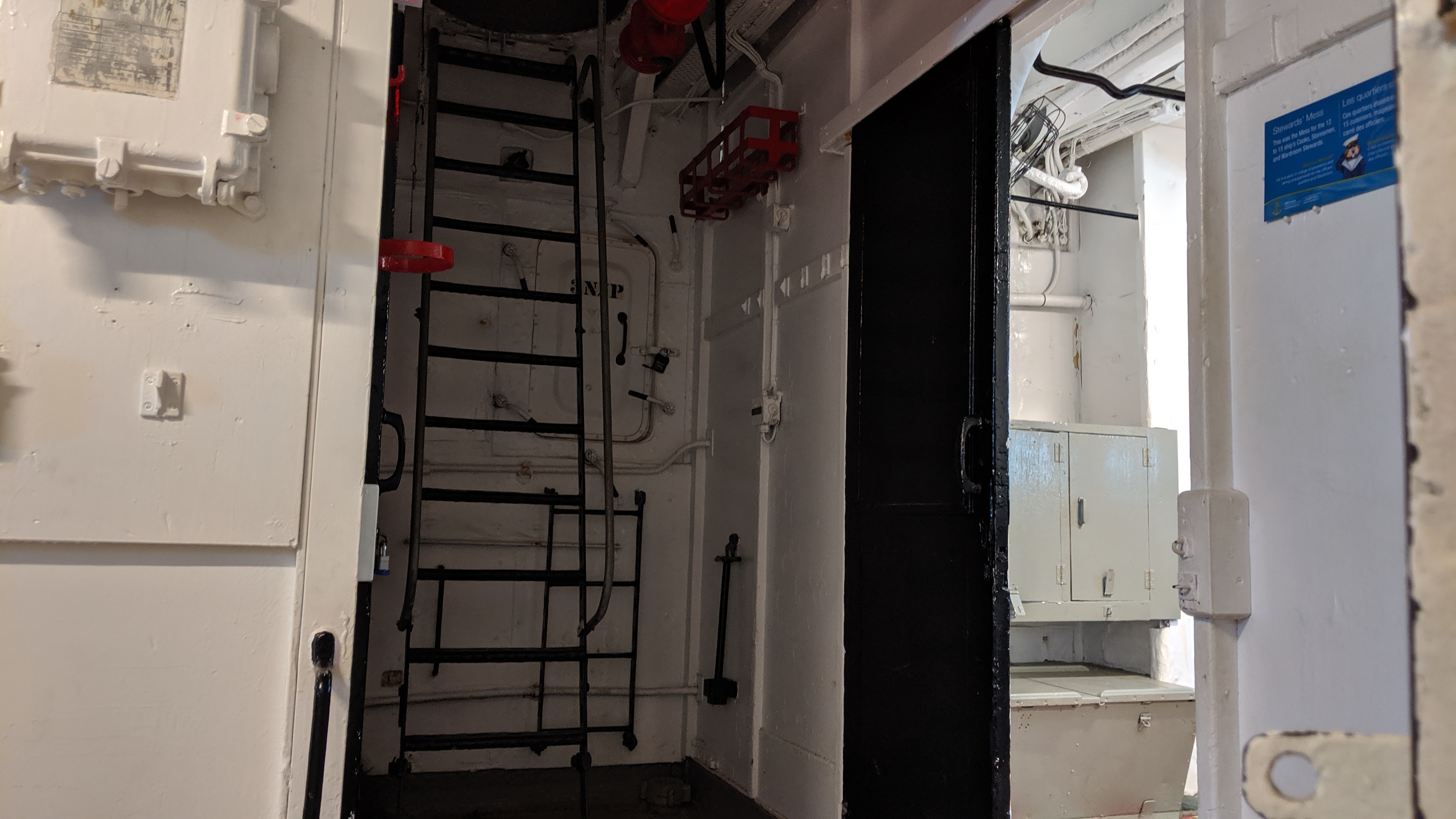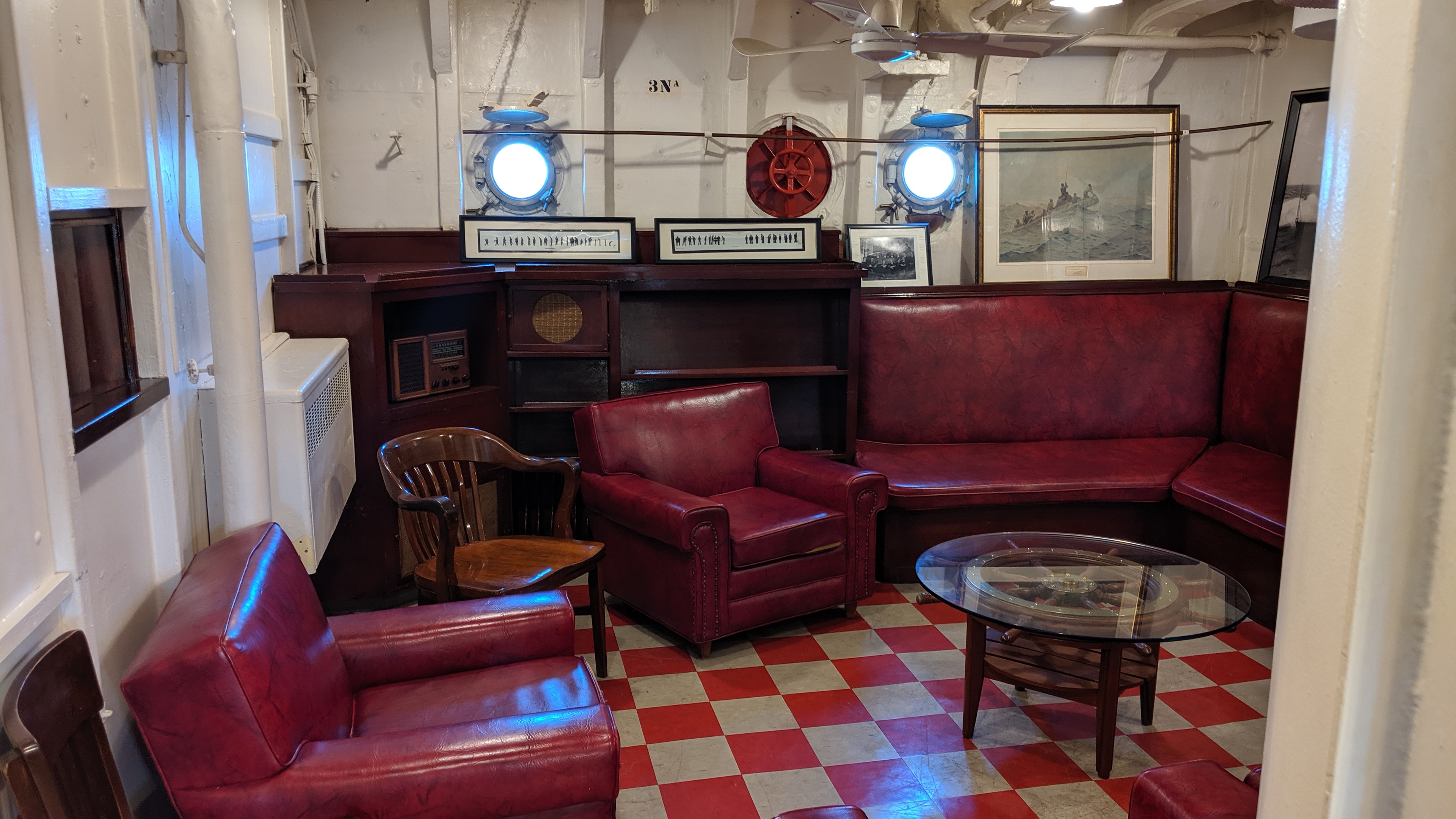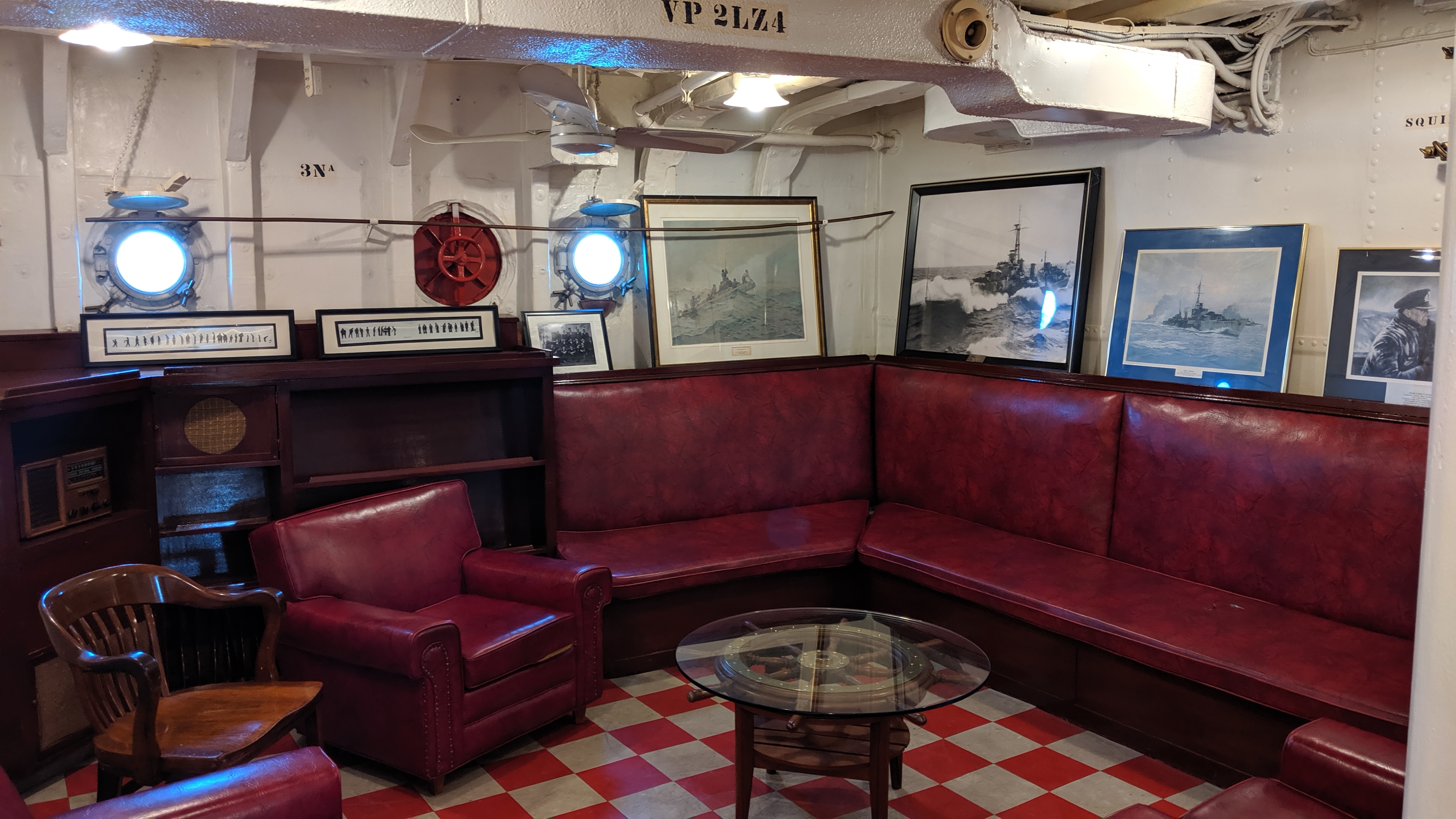 After I felt satisfied I've searched everything I double backed heading back up the stairs to continue the tour. Next up, the sick bay. This is where I learned my ticket contained a word to play a research game called to find out what my role was HMCS Haida. Apparently I'm a 'tiffy', a doctor on the ship.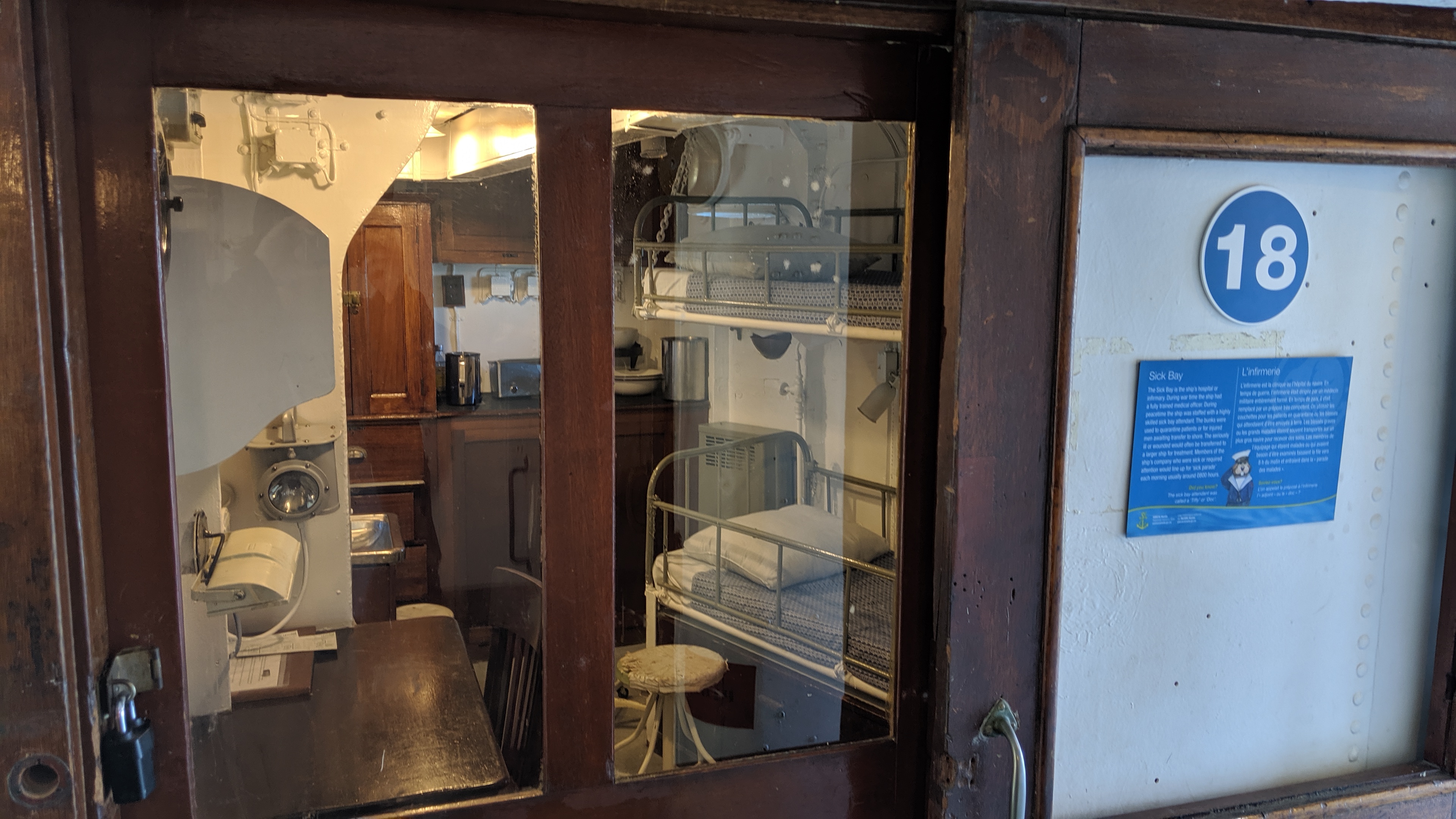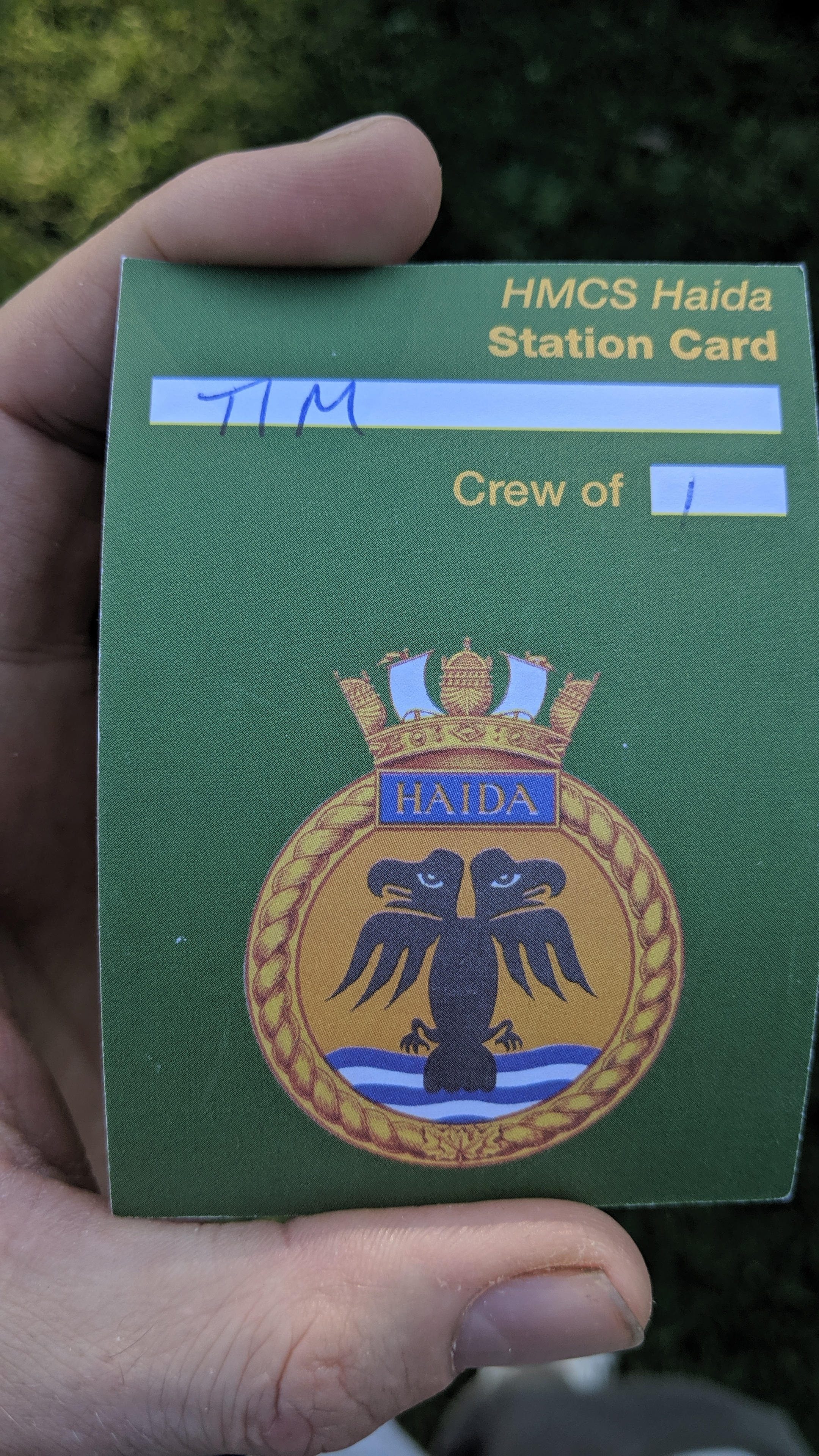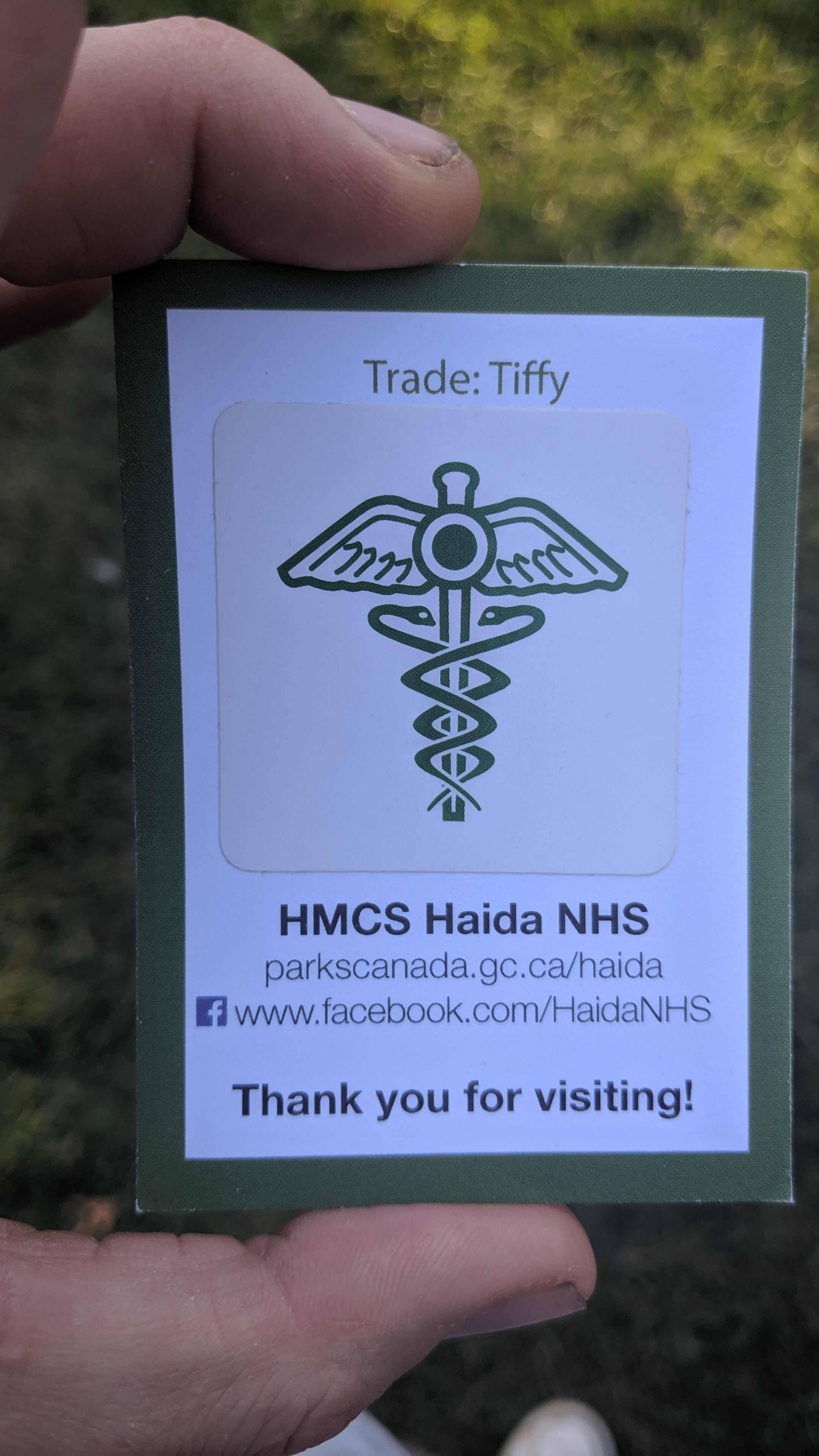 To the left of the 'sick bay' there's a ladder leading downward leading to the radio room, office, machinery, and cabin. A funky place tucked away under the other rooms.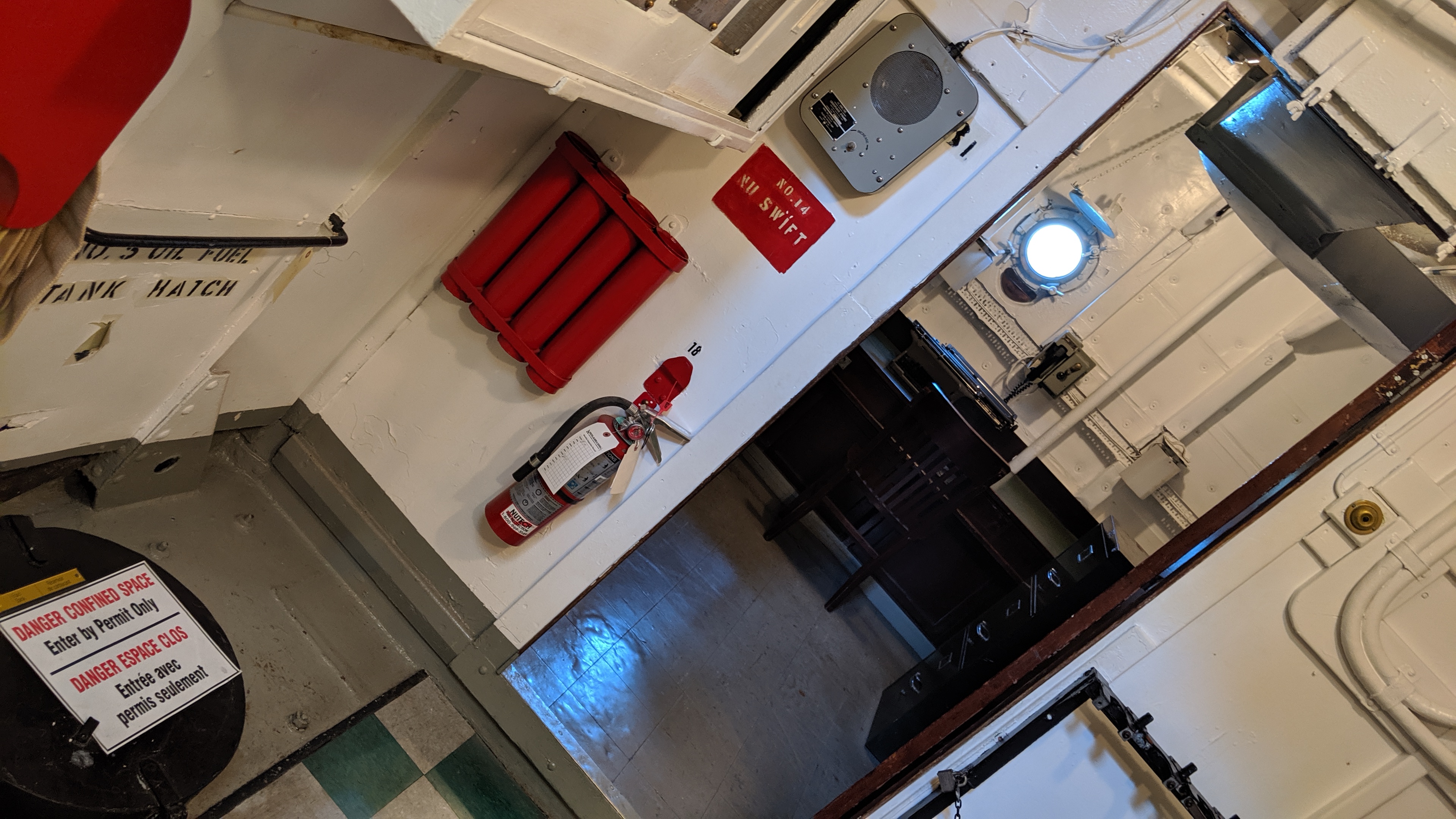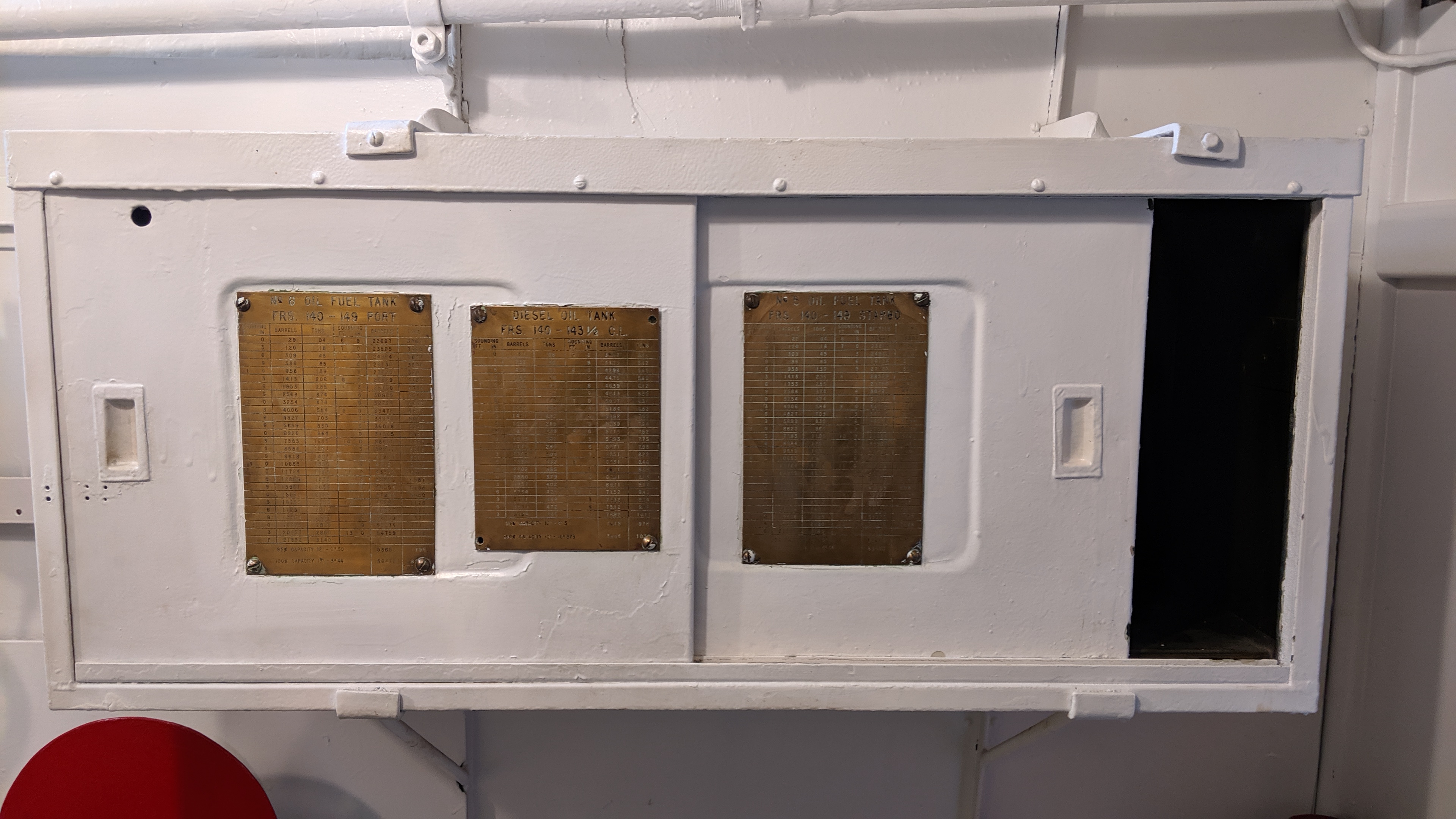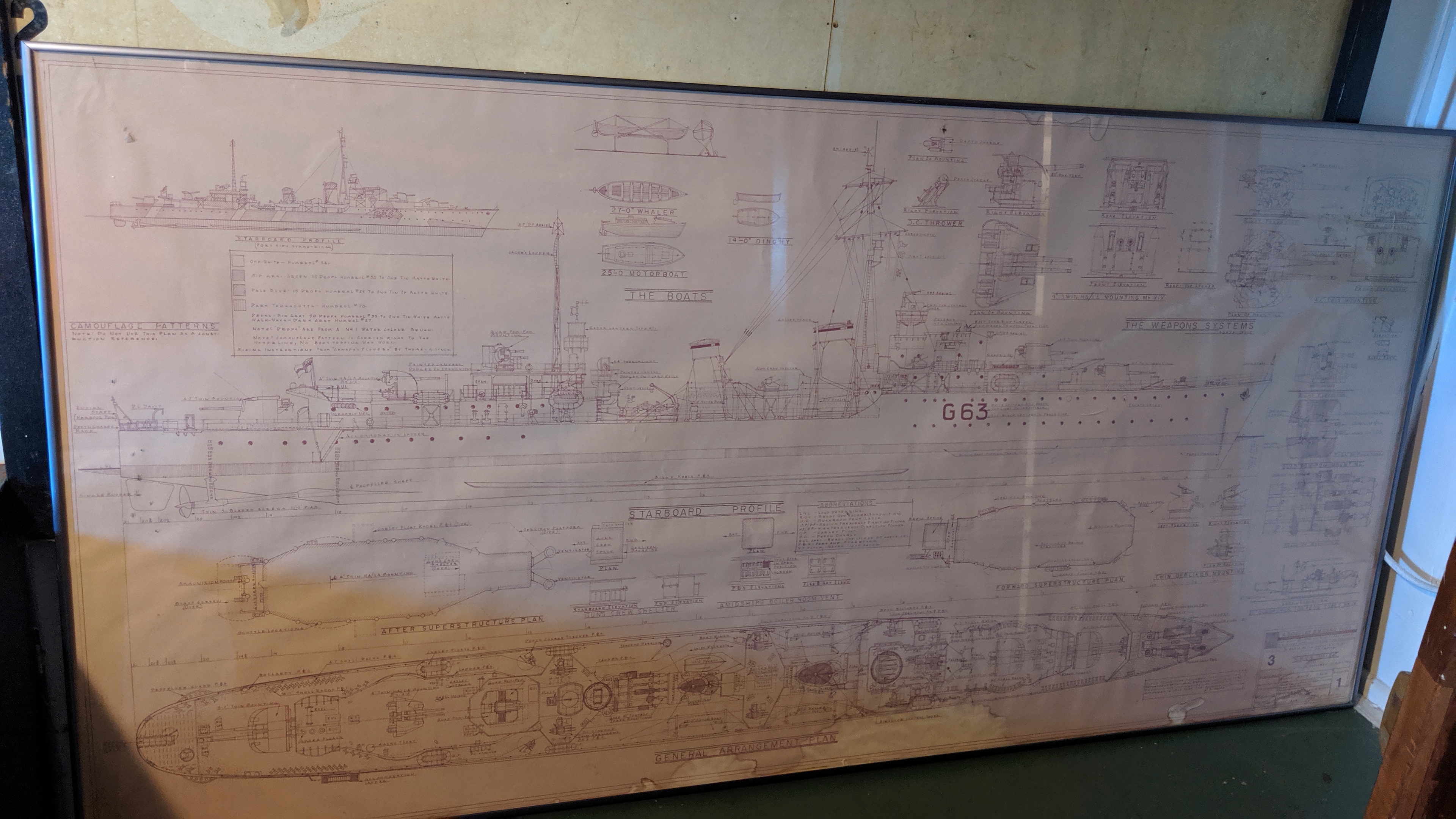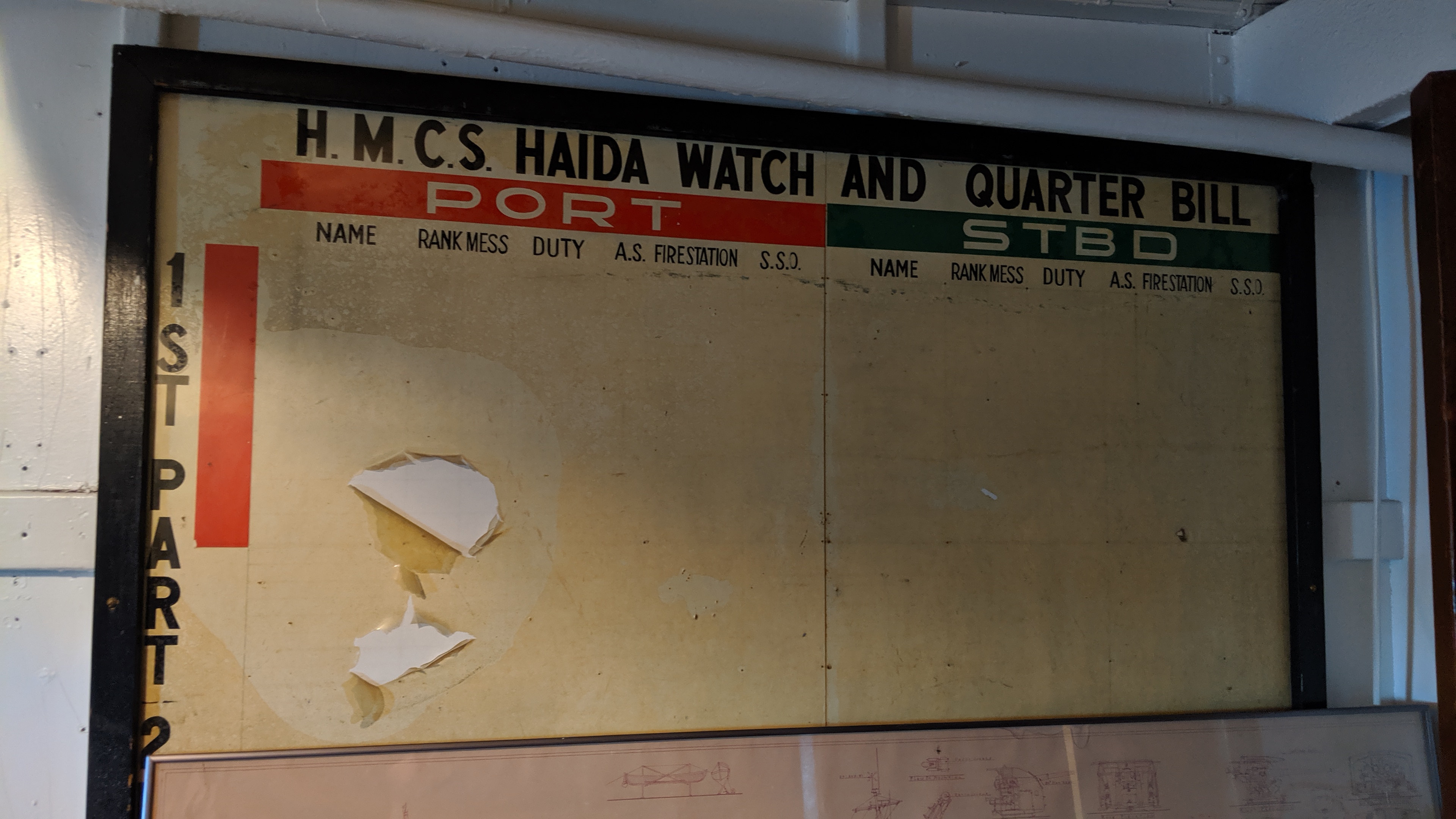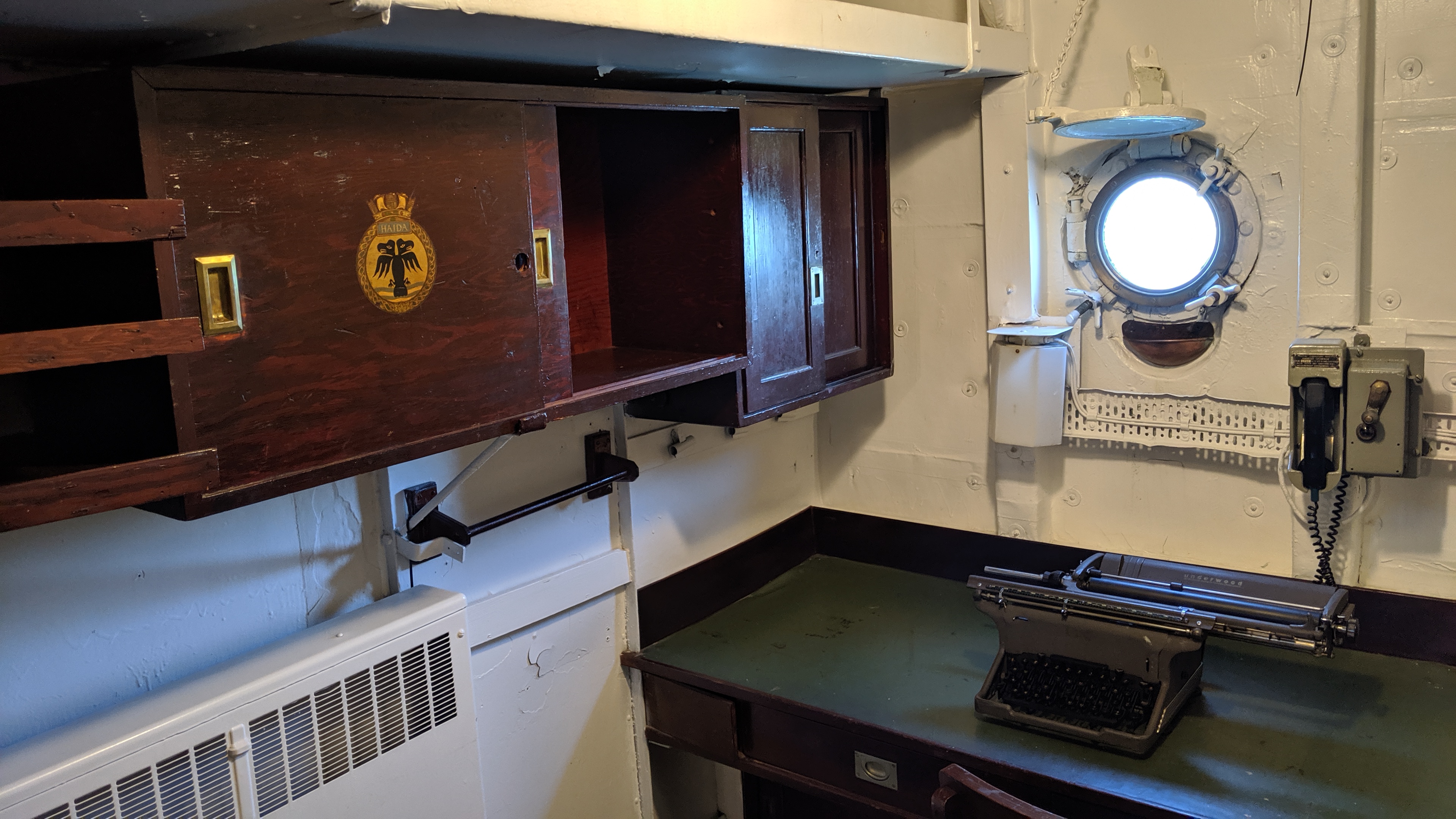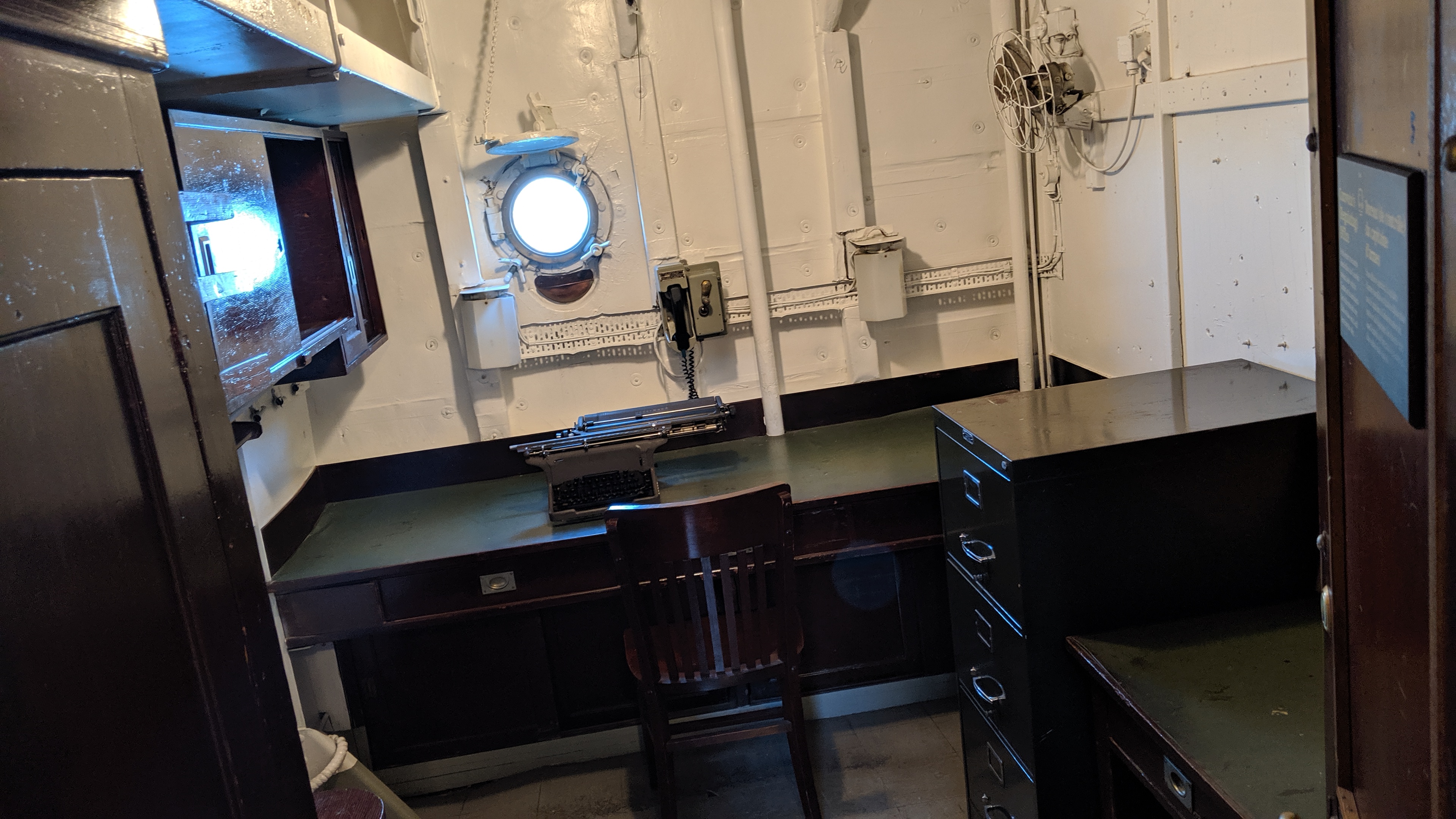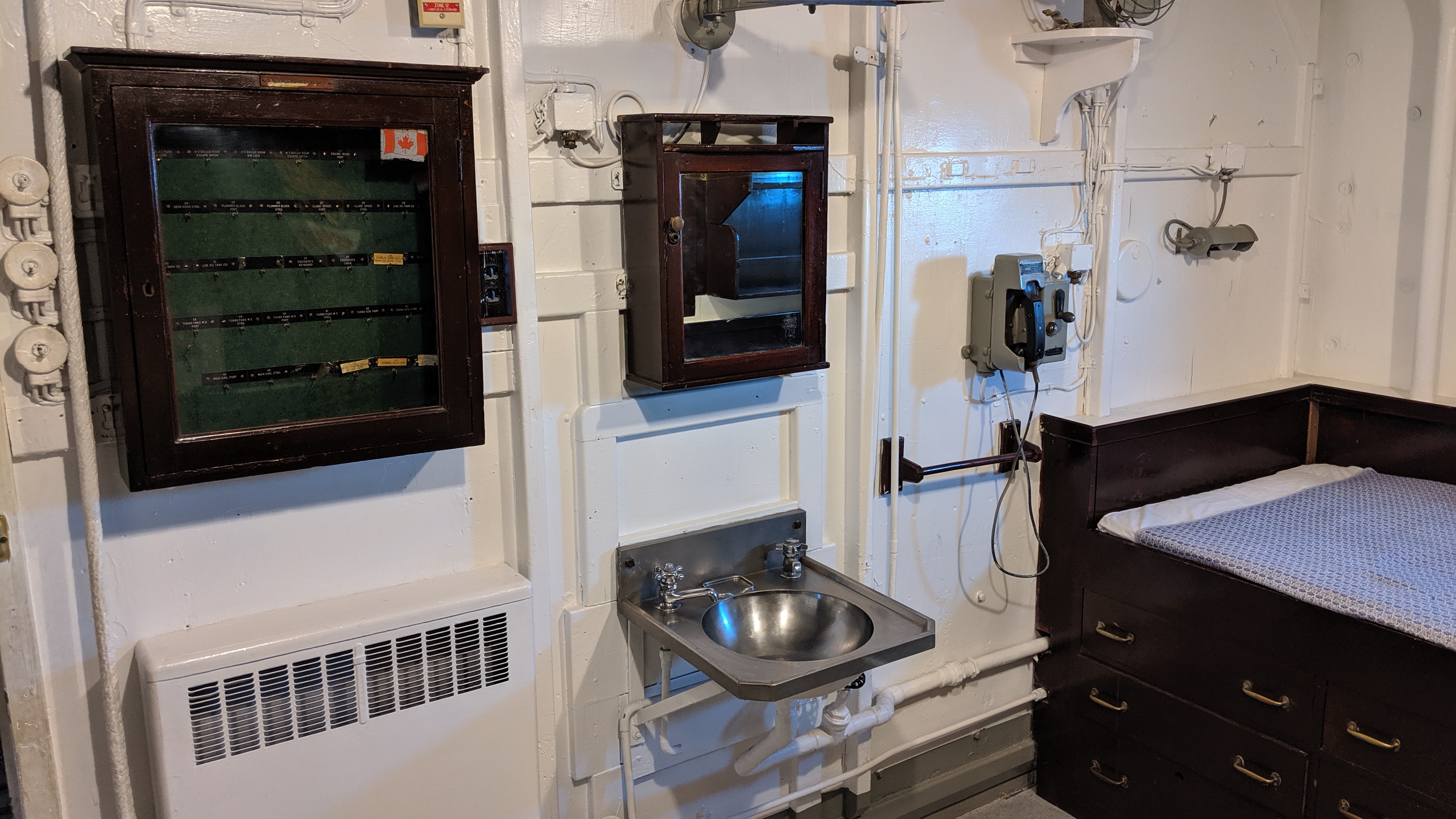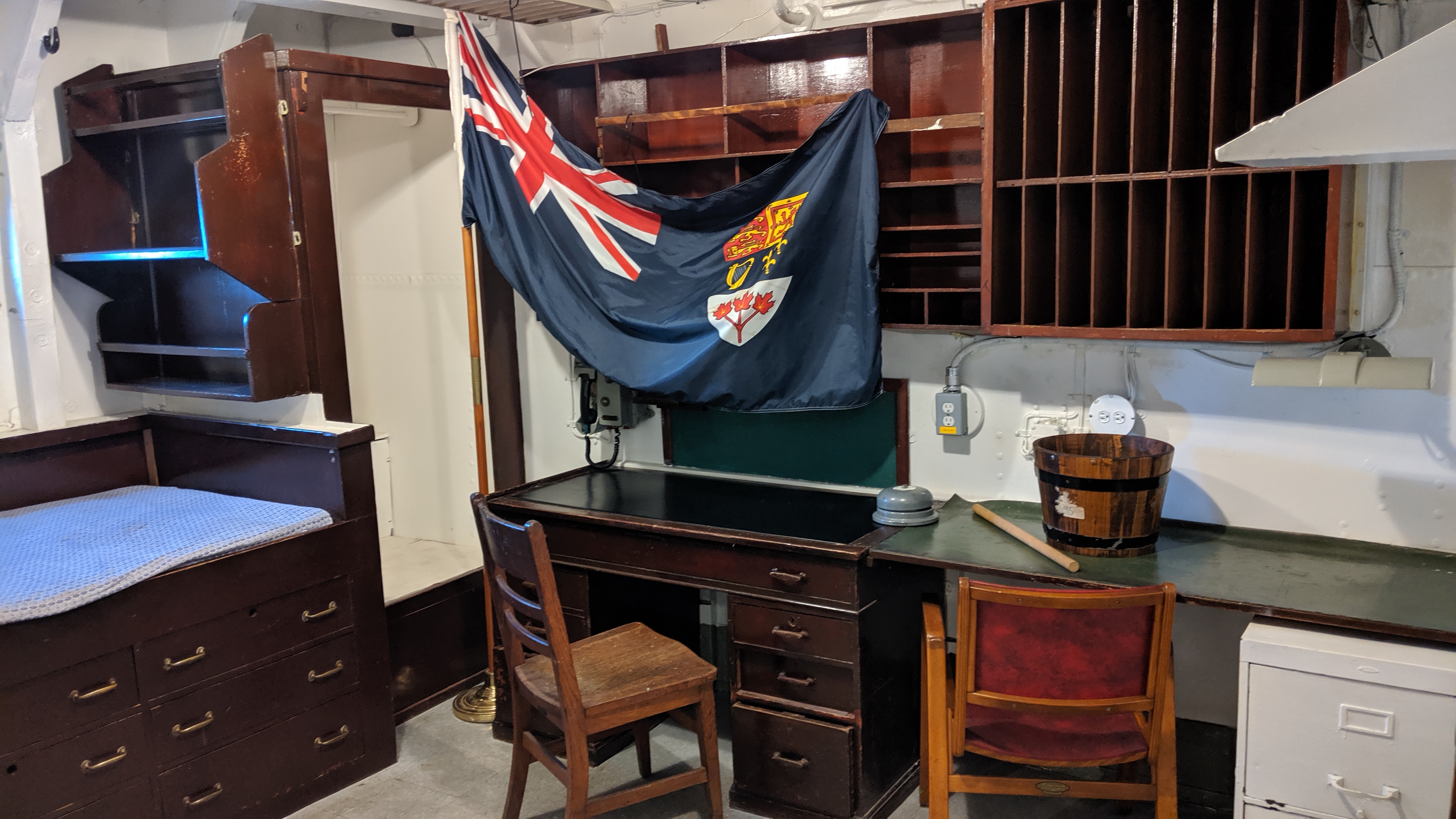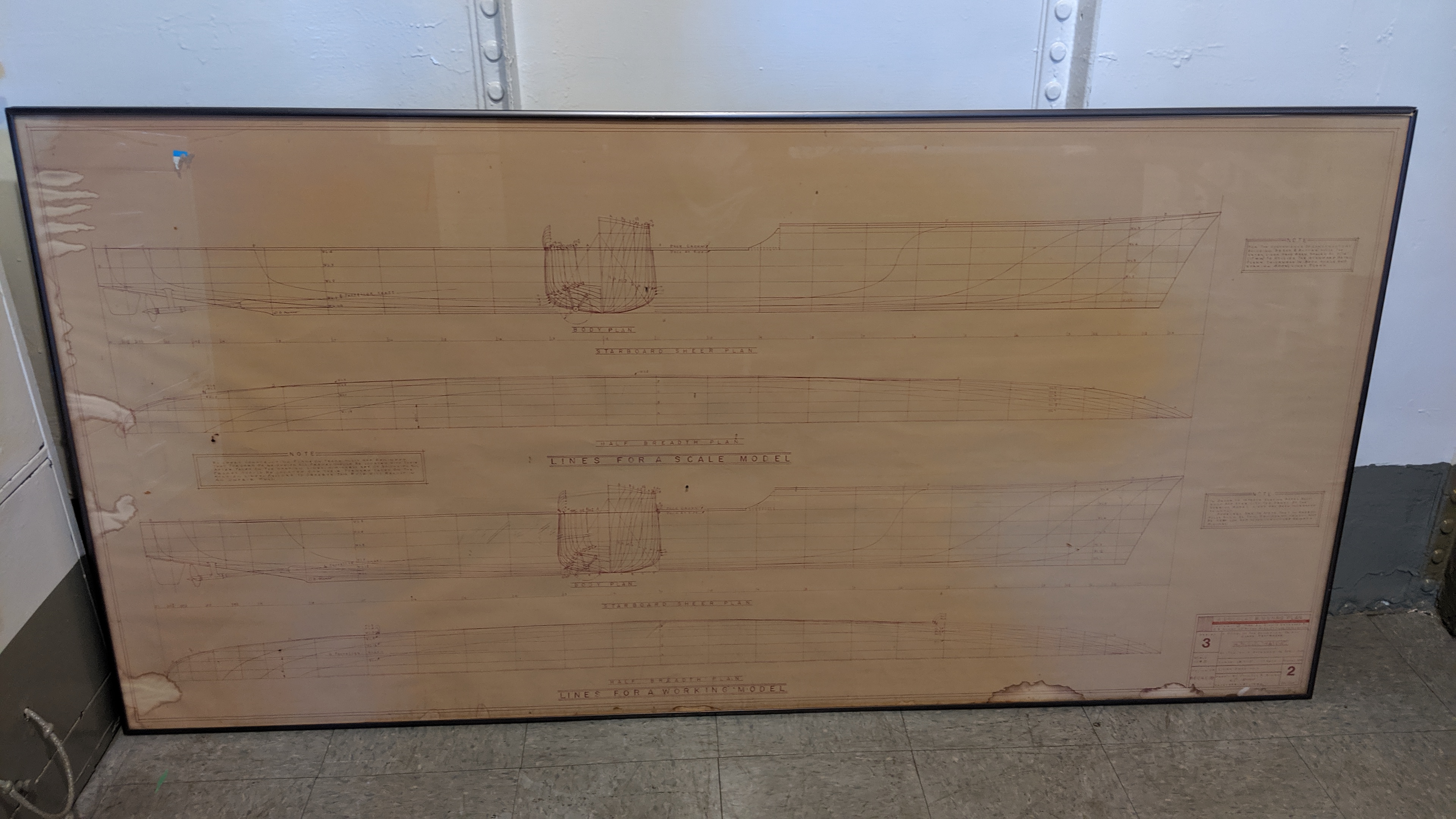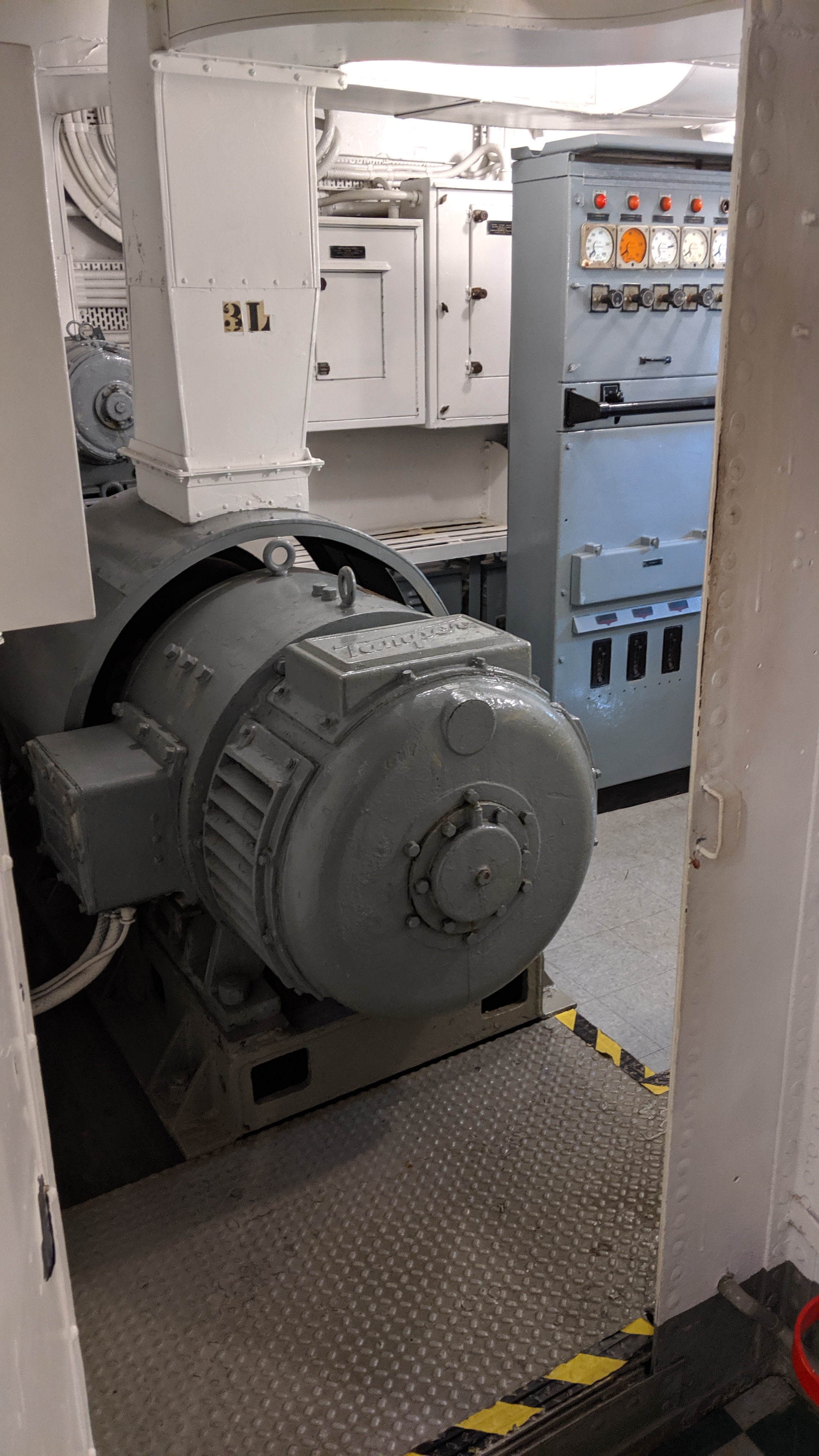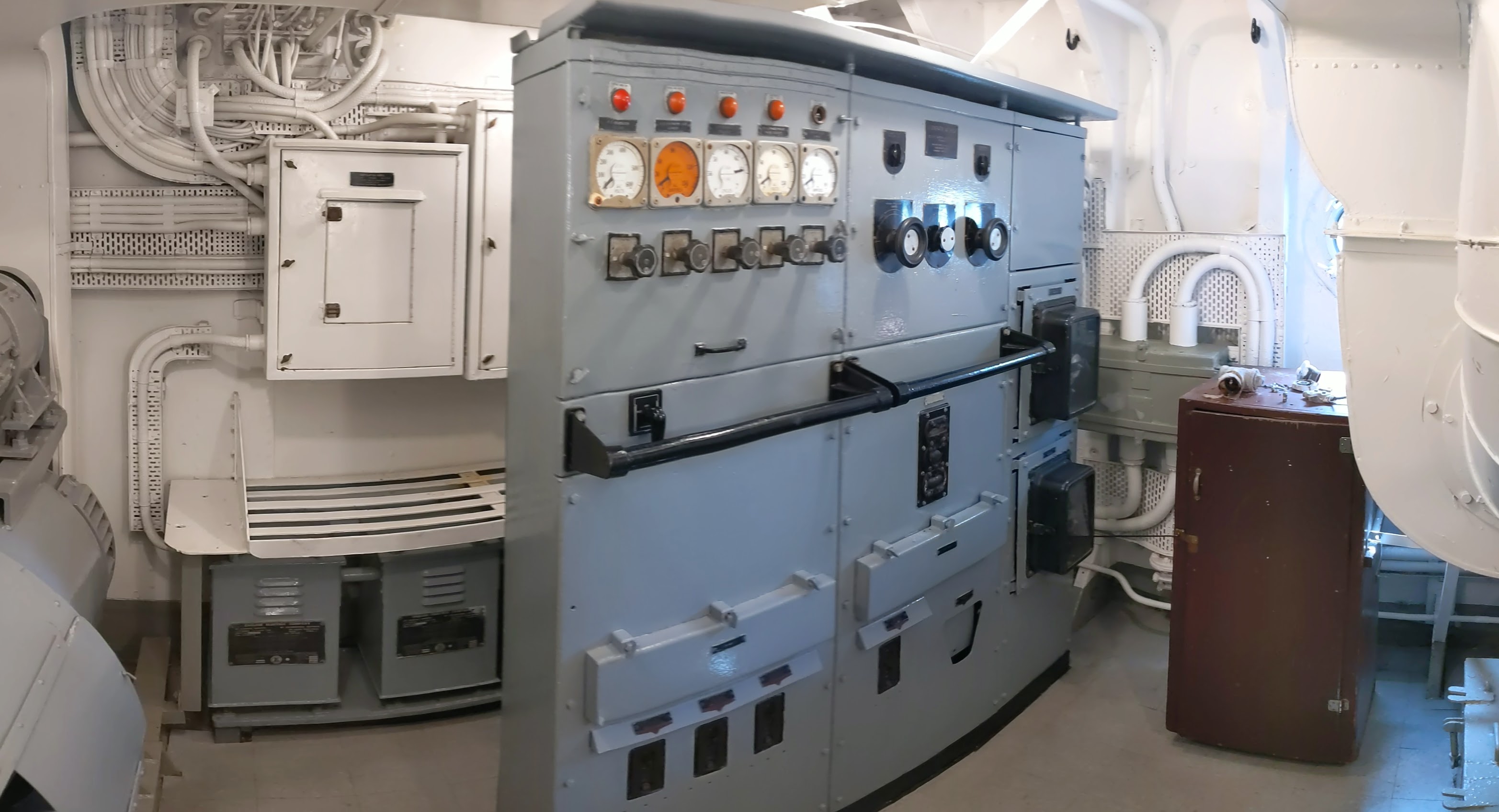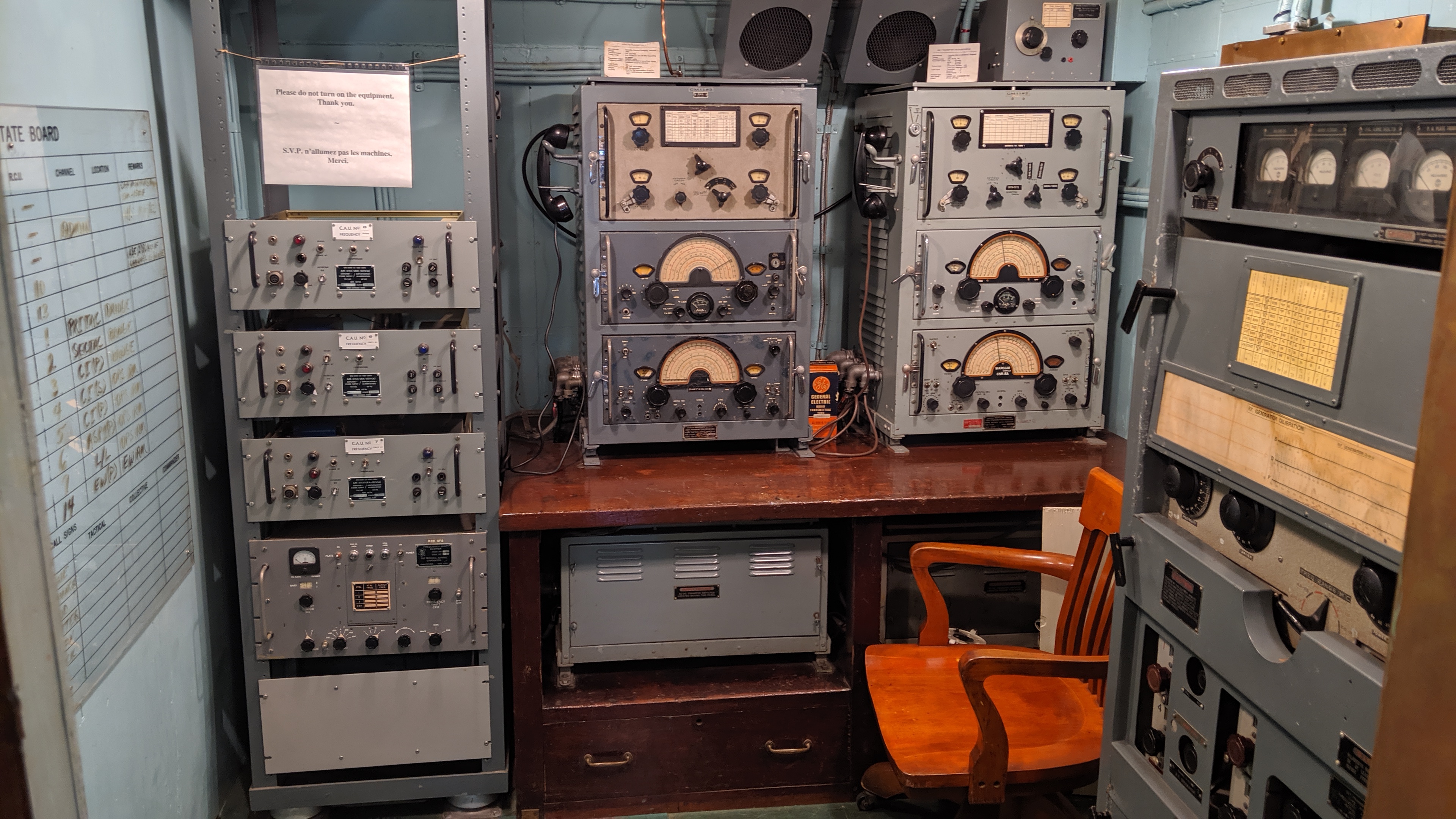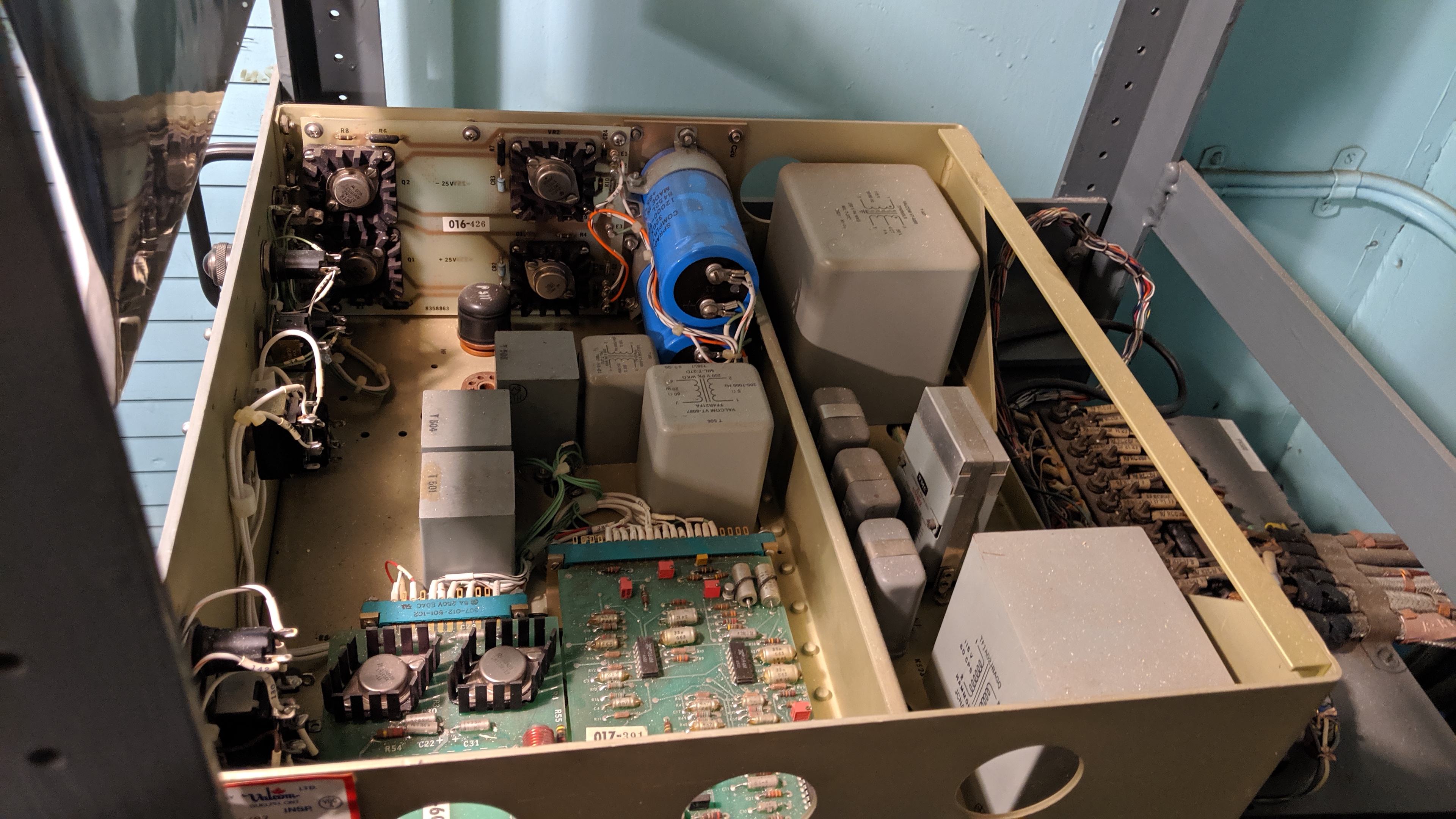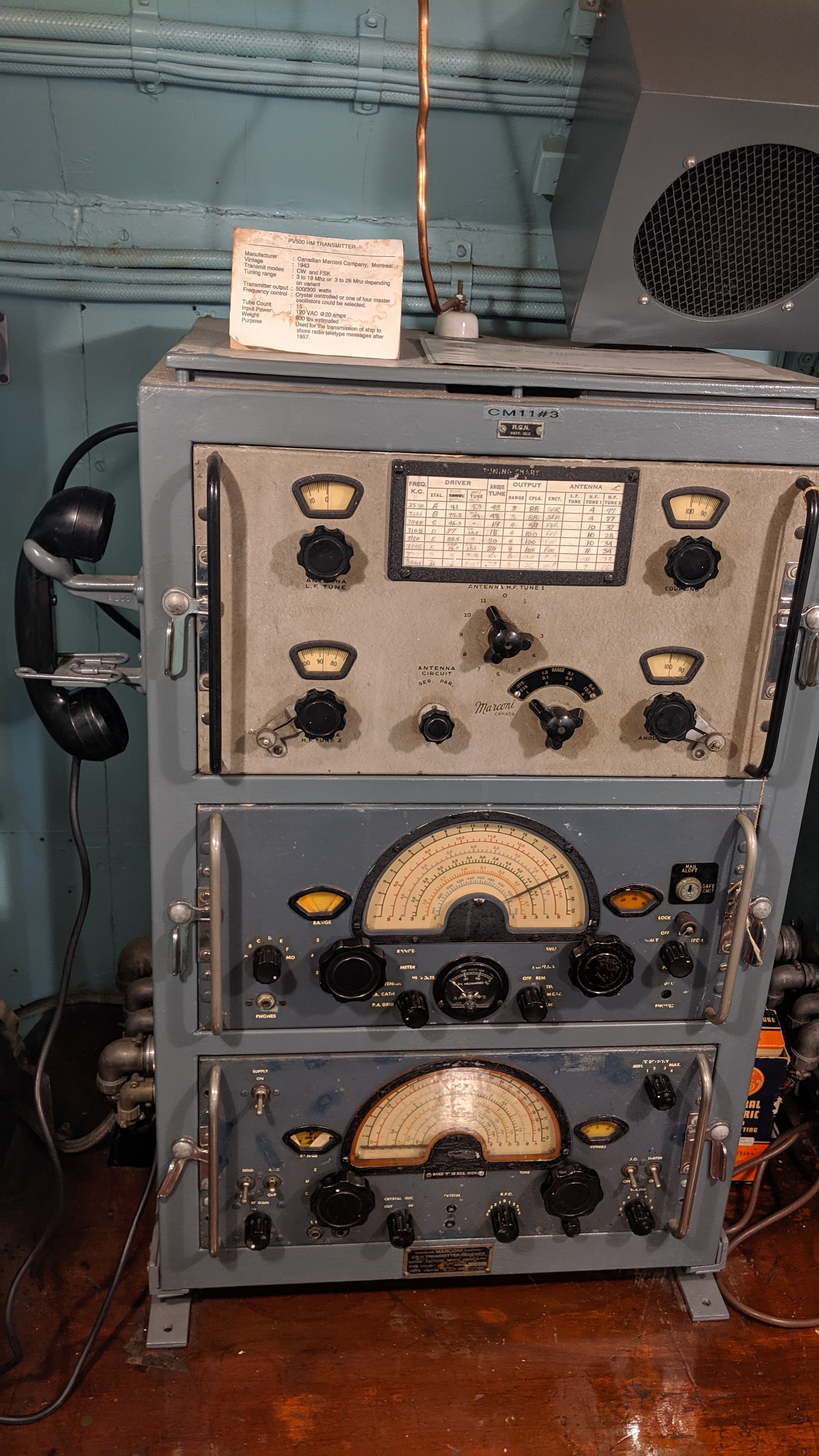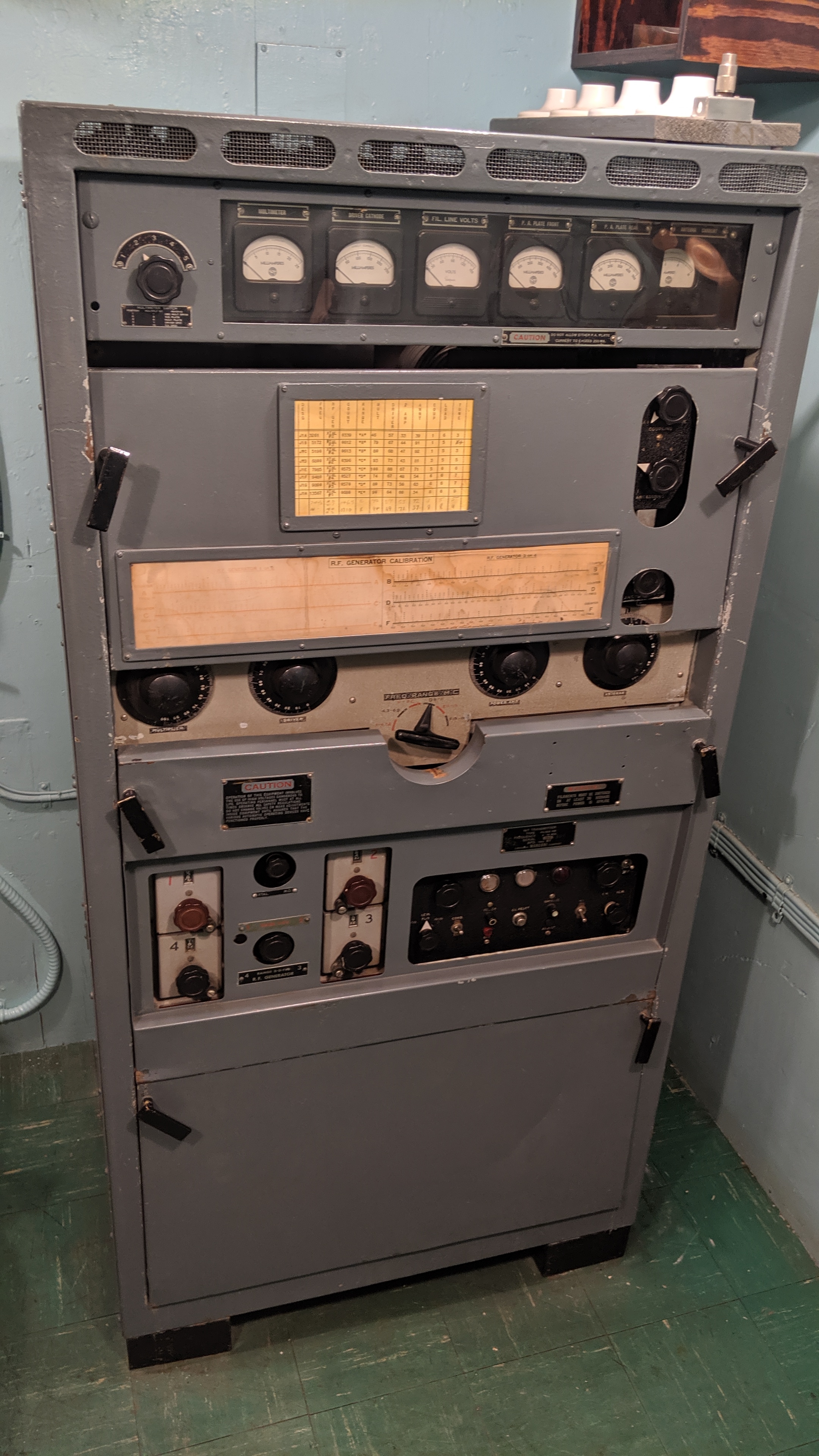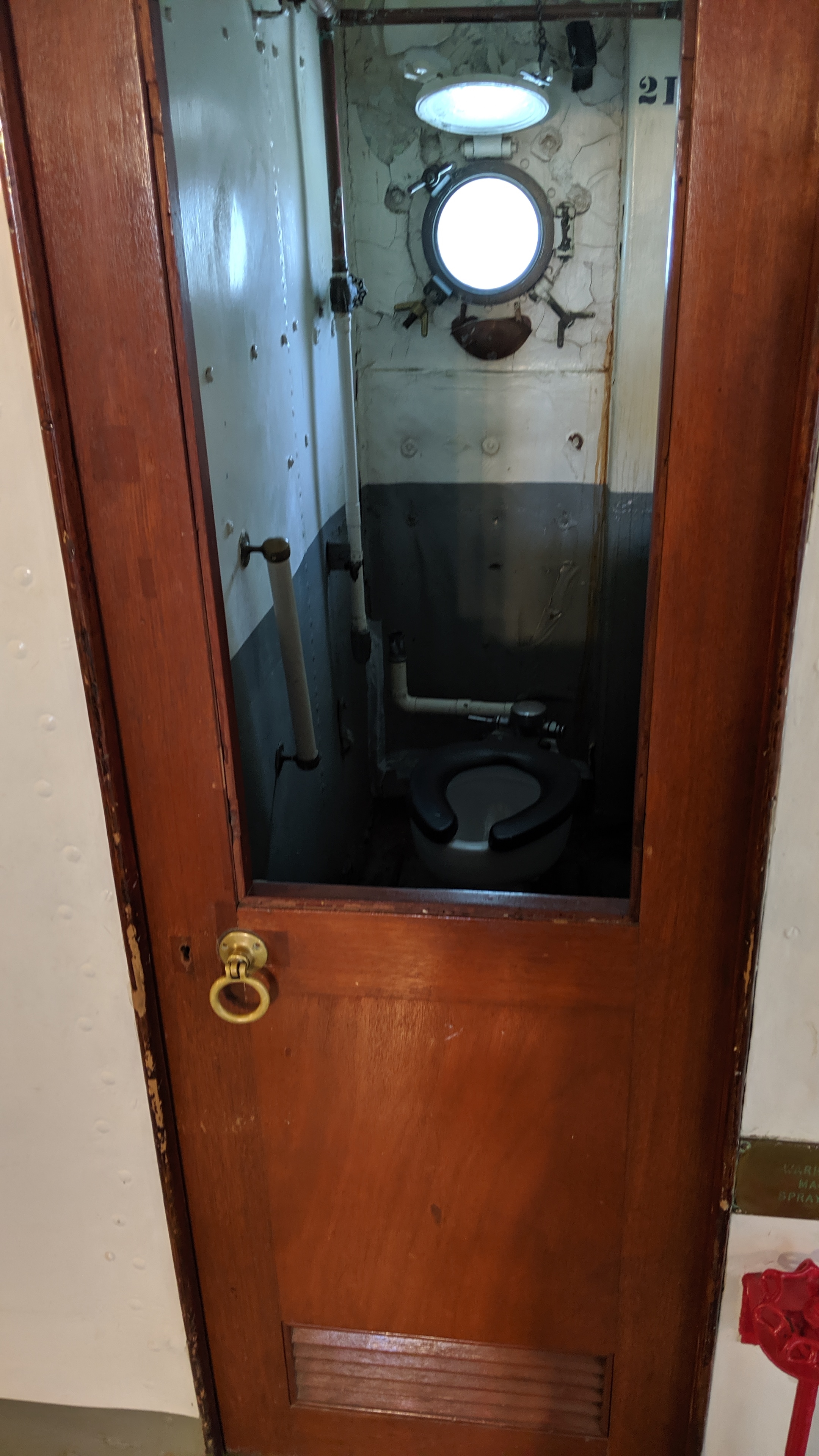 Having felt I checked everything at the stern I made my way way towards the front of the stern; Into the interior. Had a quick talk about Haida with the volunteers sitting on the ship, about what 'Tiffy' was, while also being told about the engine room. Was going to leave that for last because I still had areas to visit.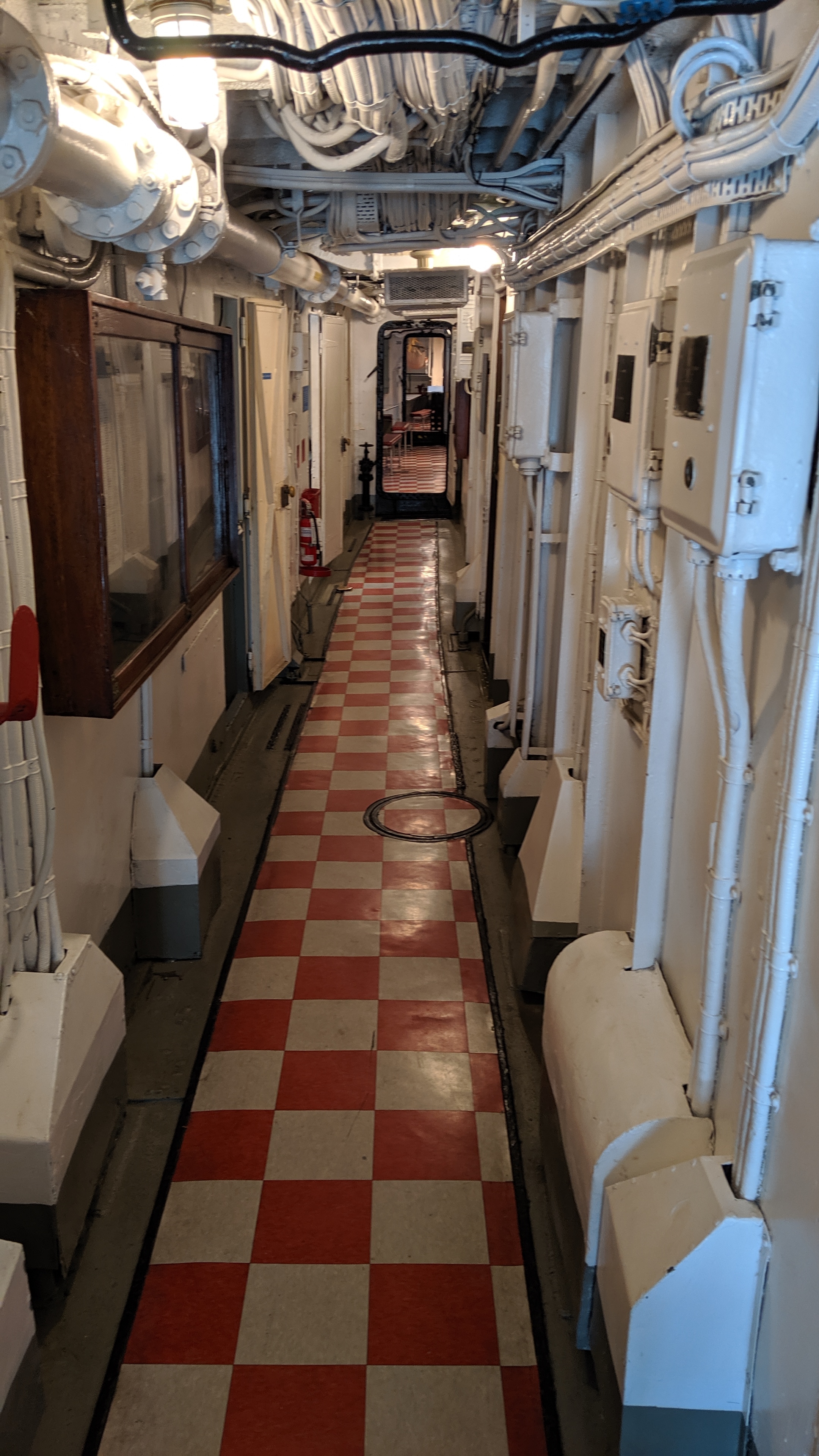 Like I said, I'm making note of everything while here. With how far it is, how much of a hassle it is to travel to HMCS Haida, I have to make note of EVERYTHING, even the crew list with religion and location 🙂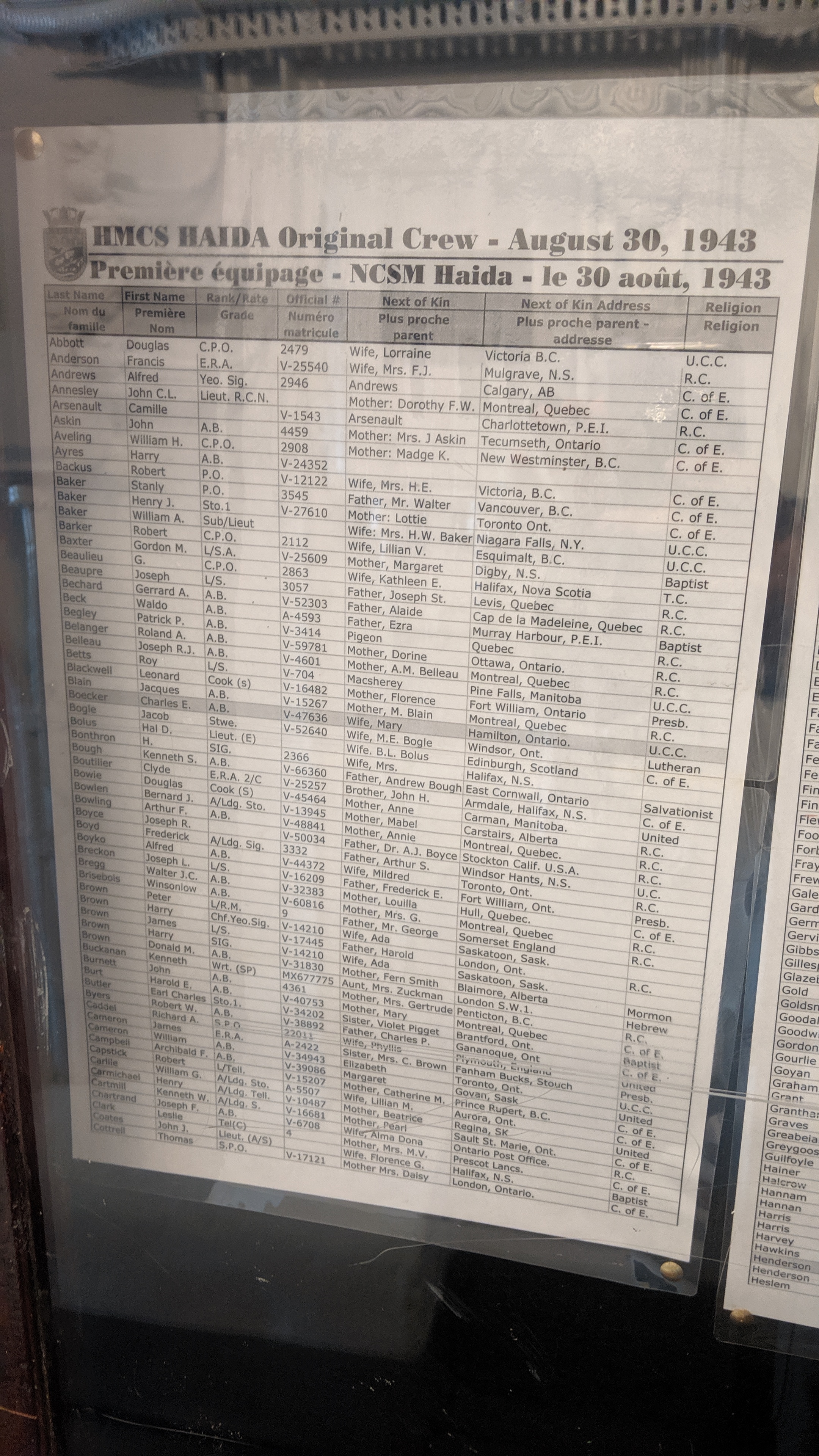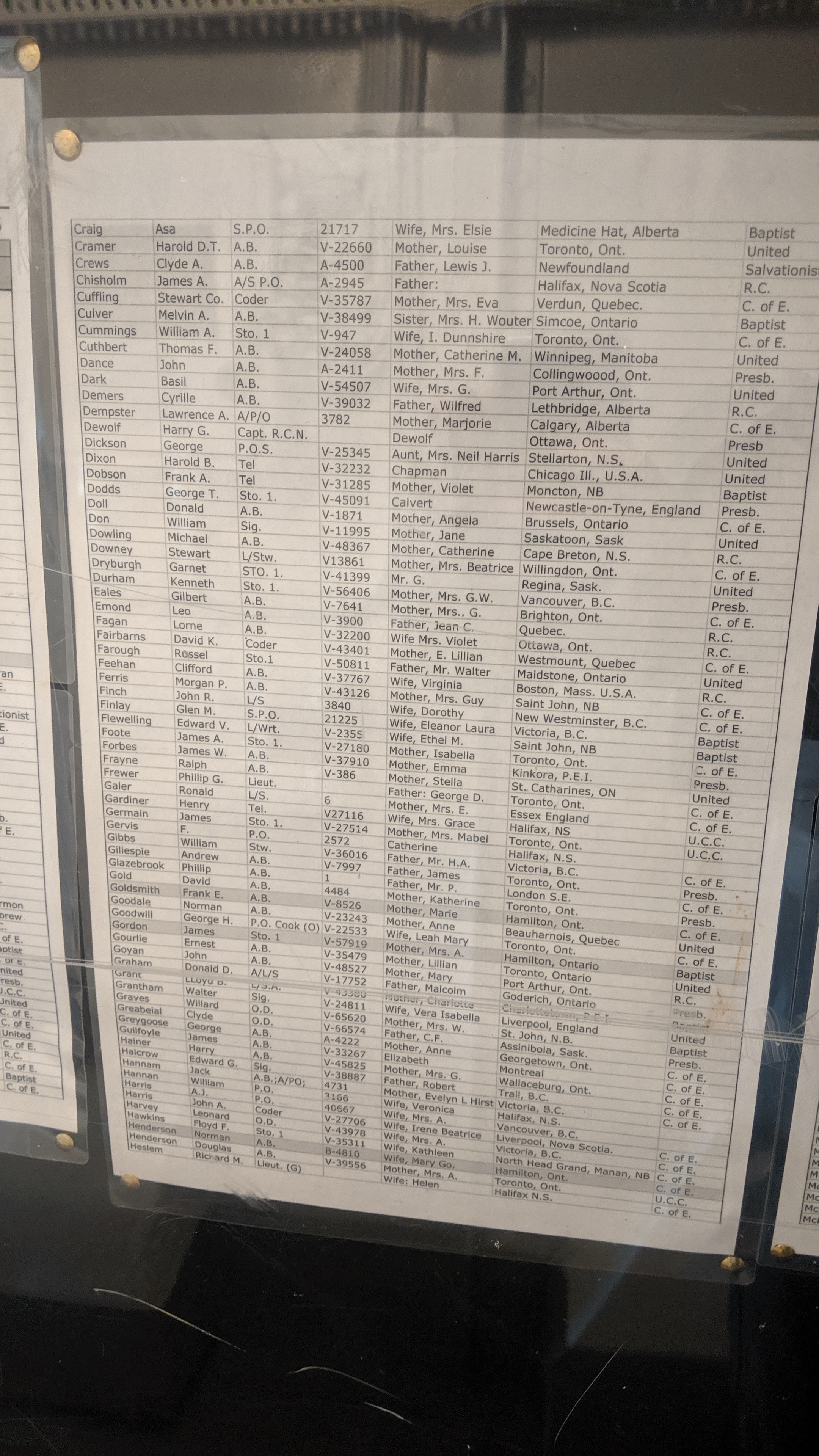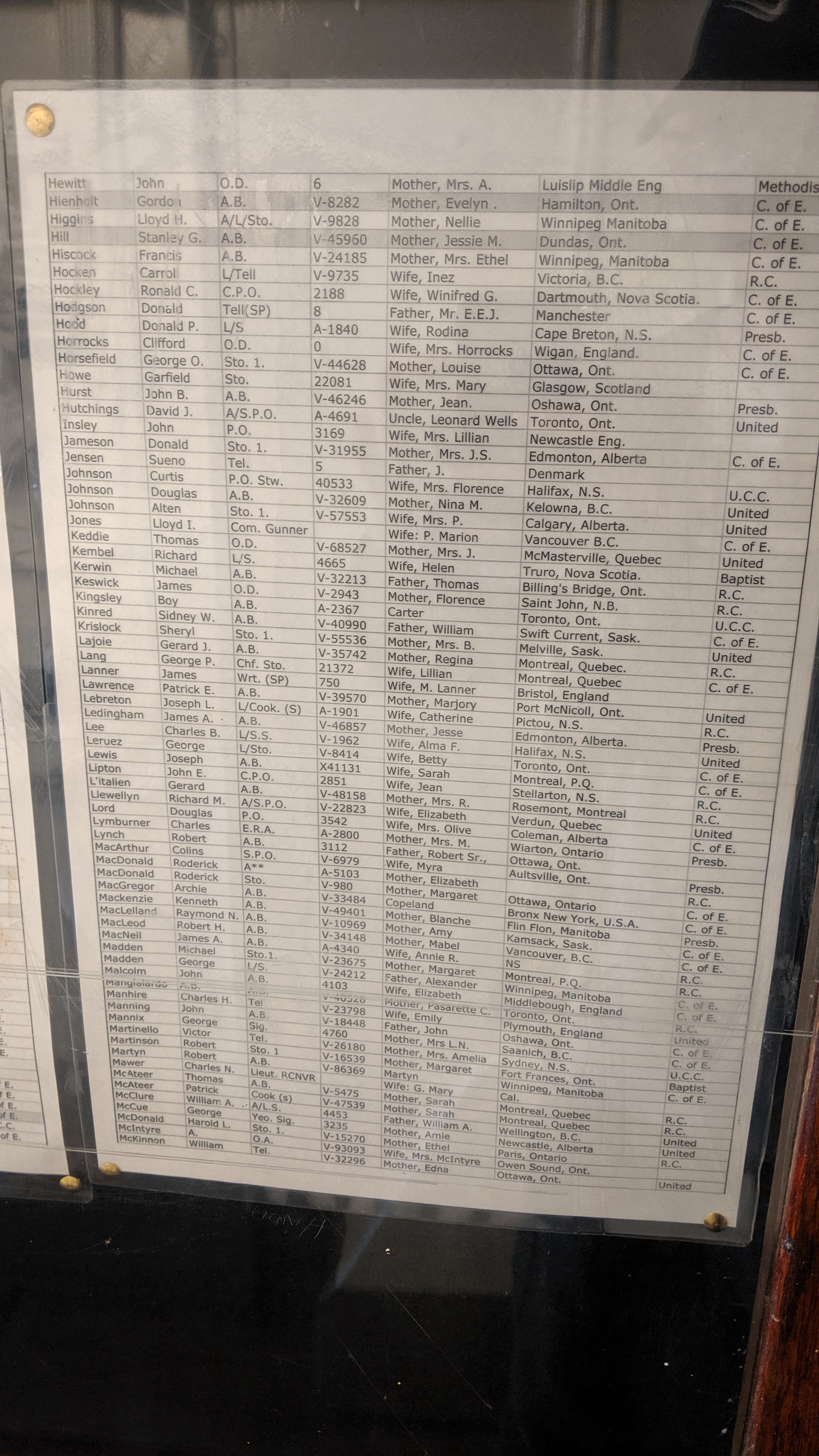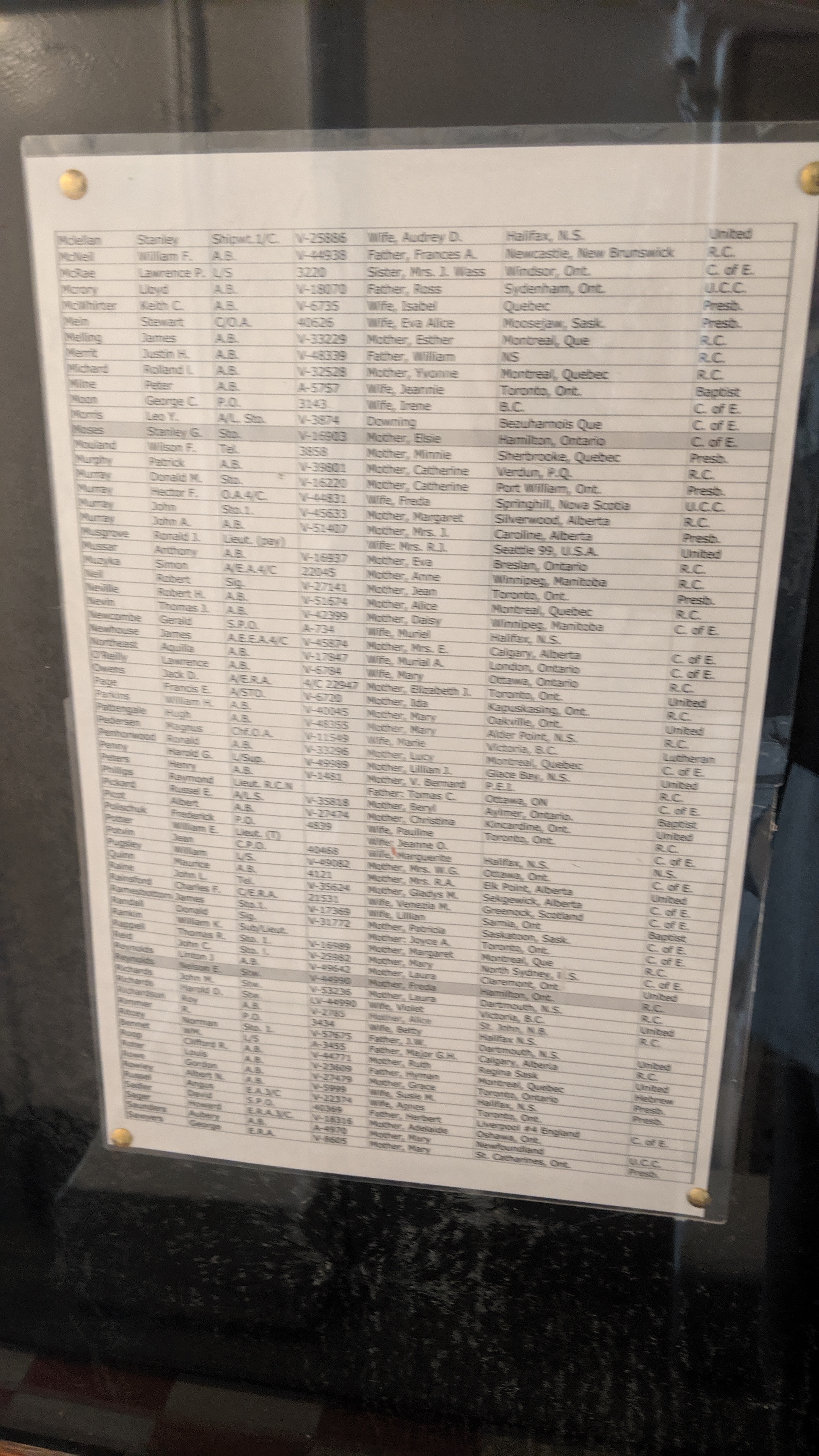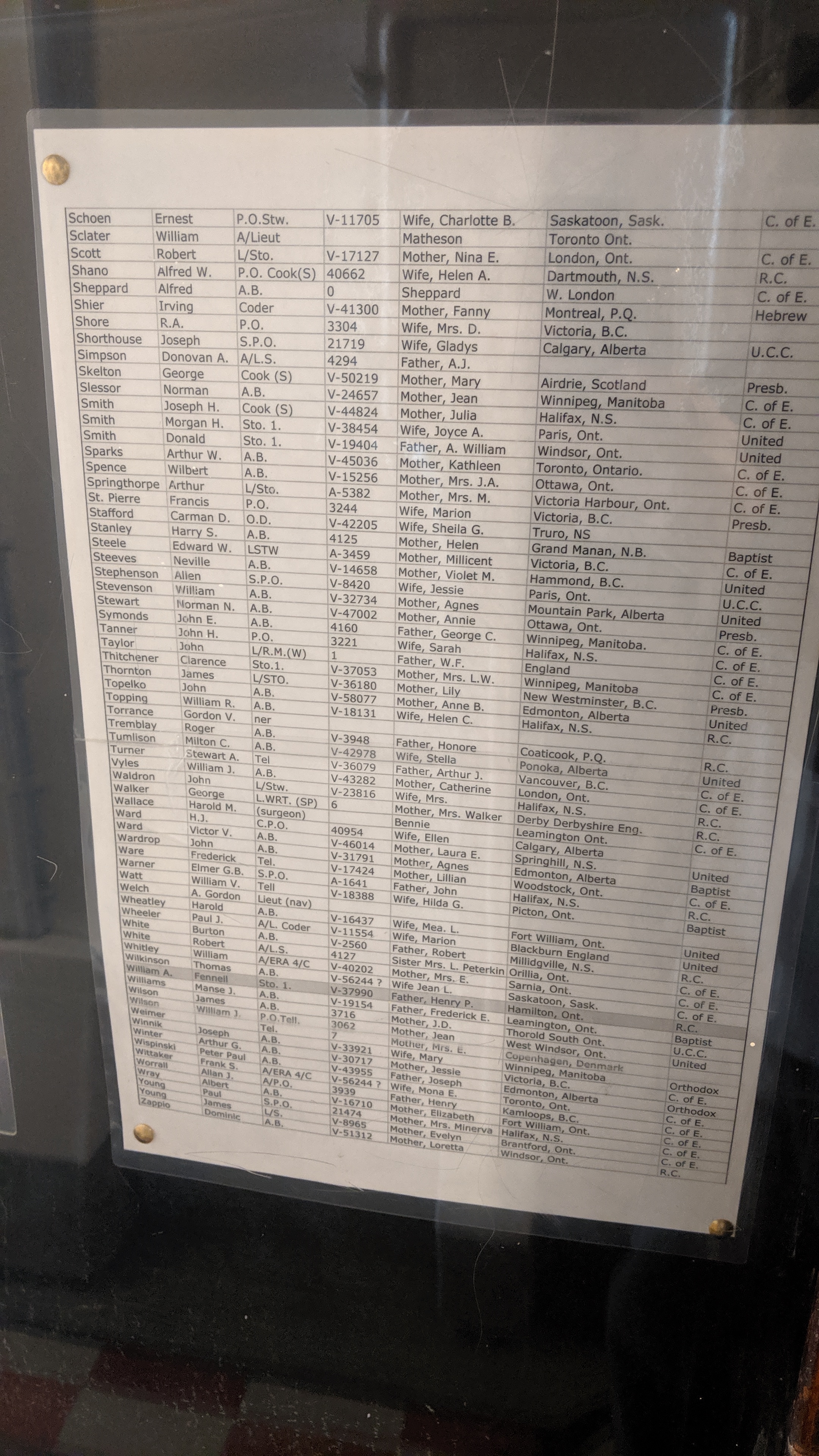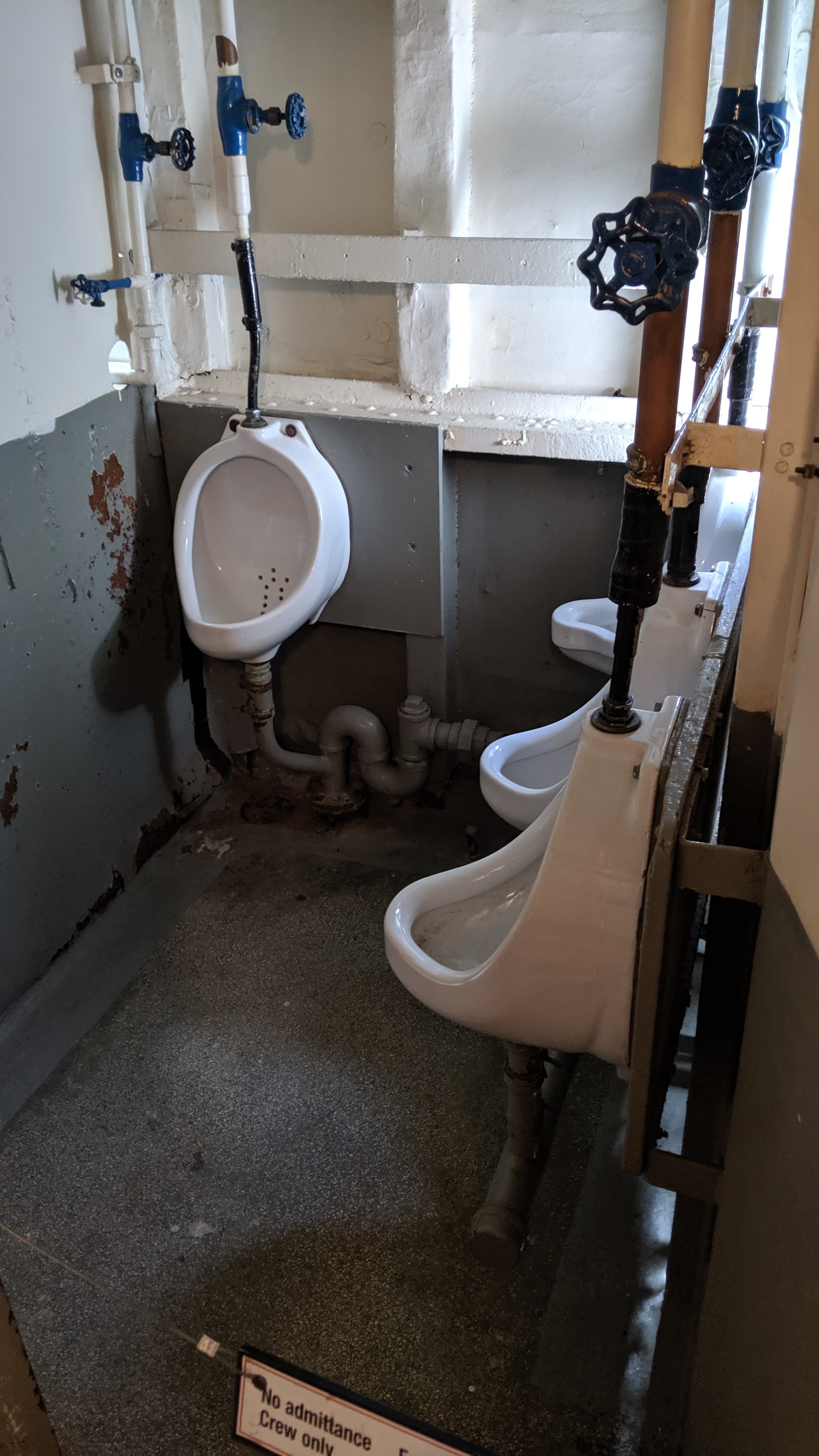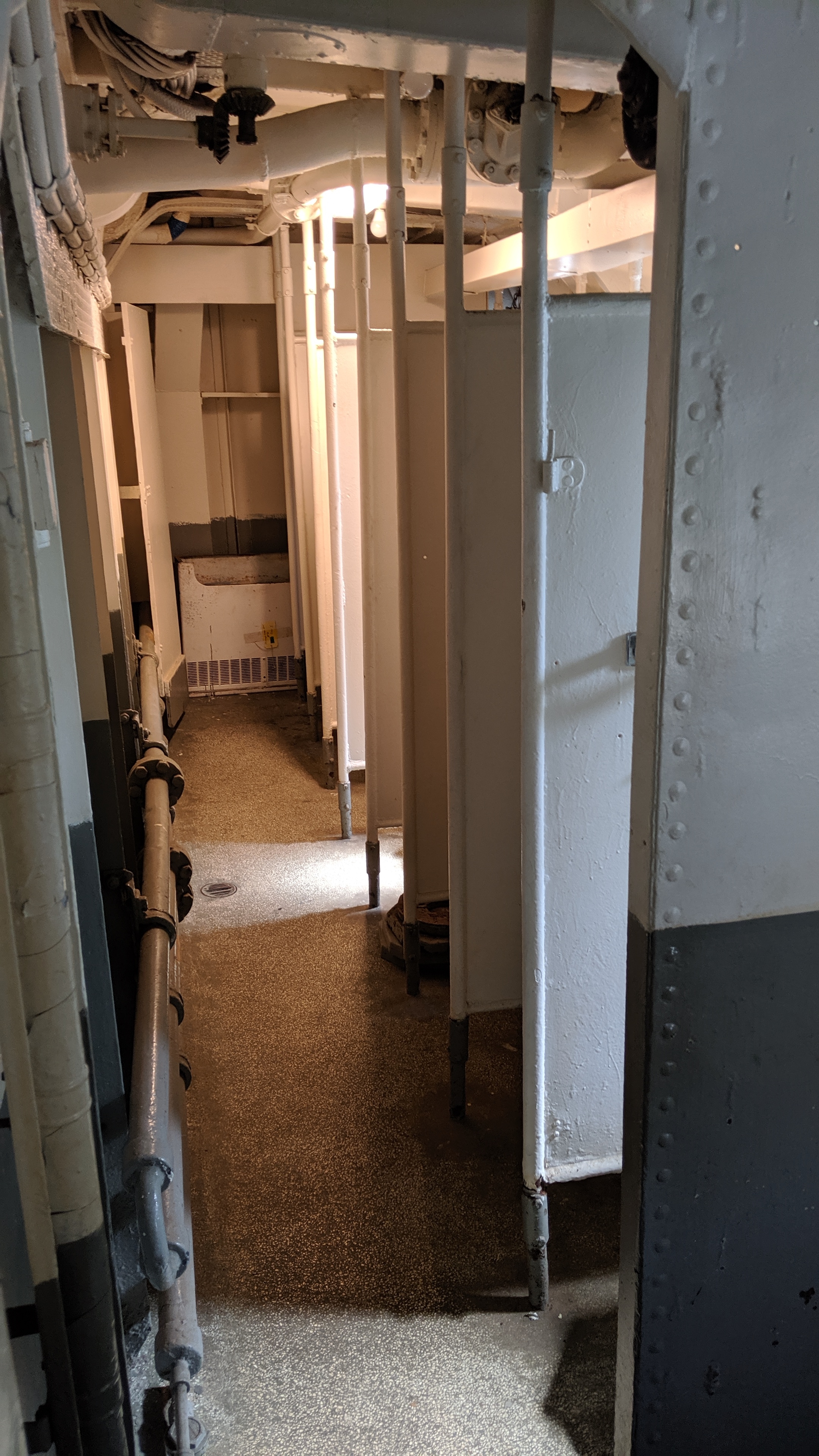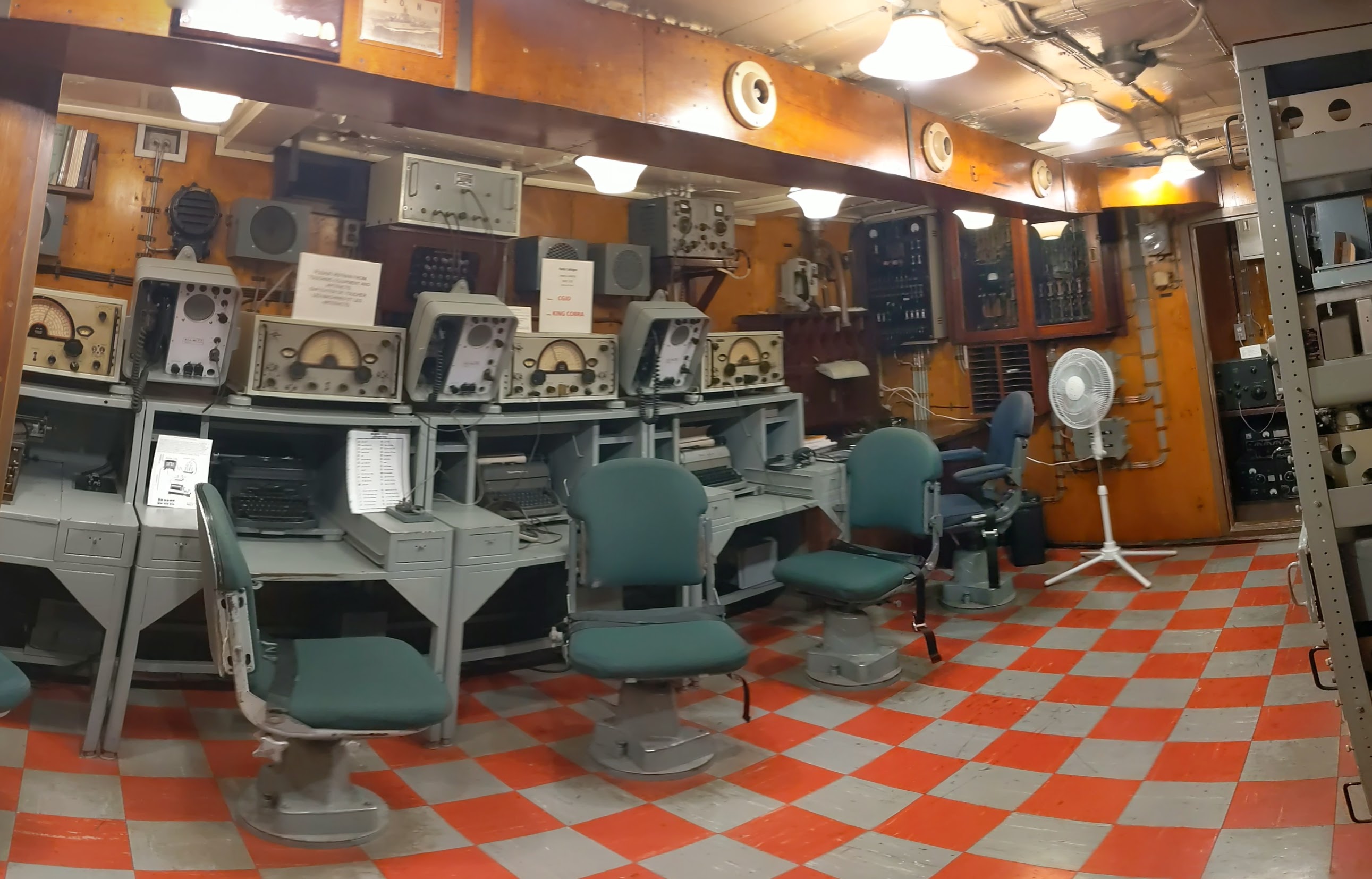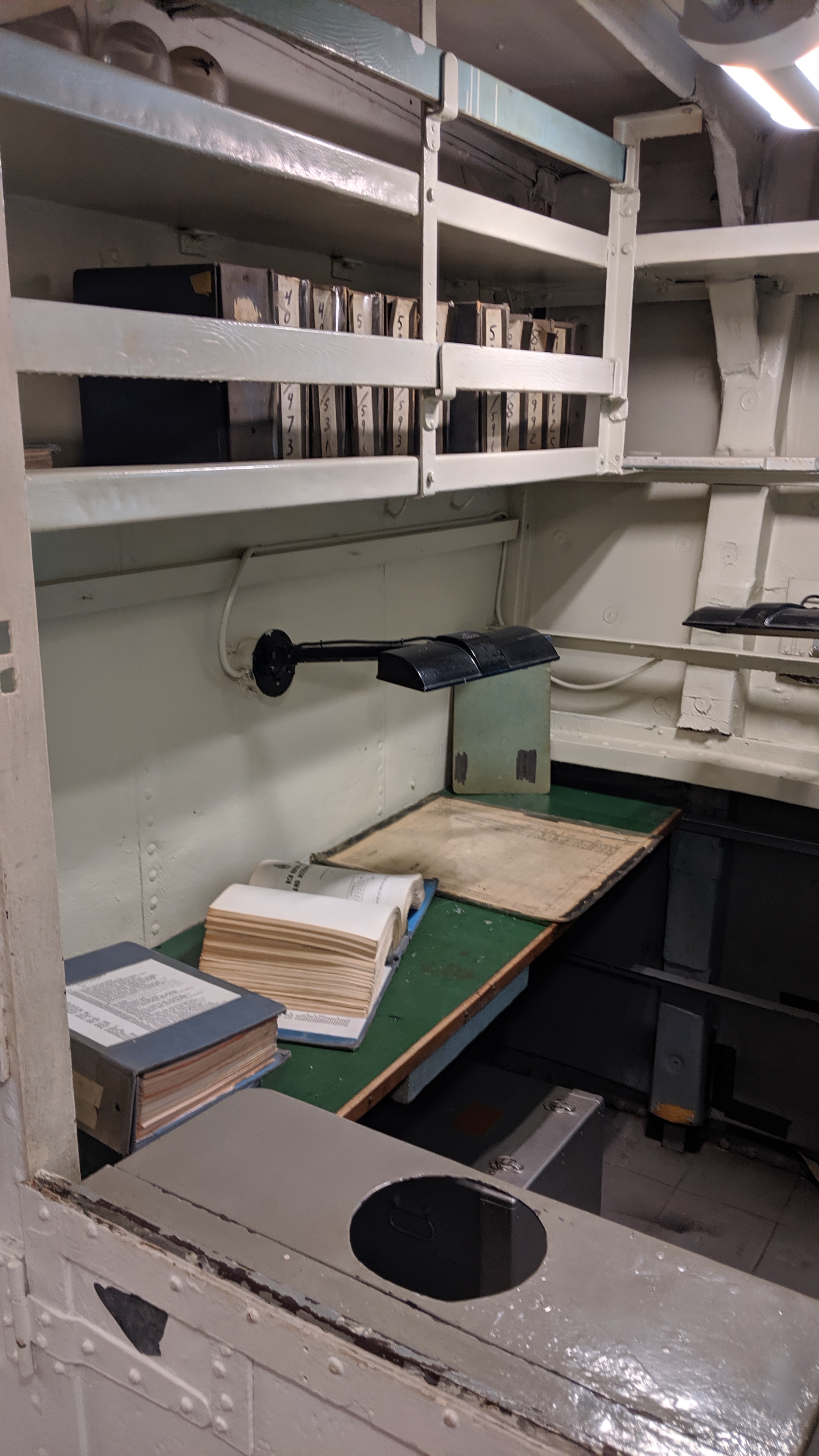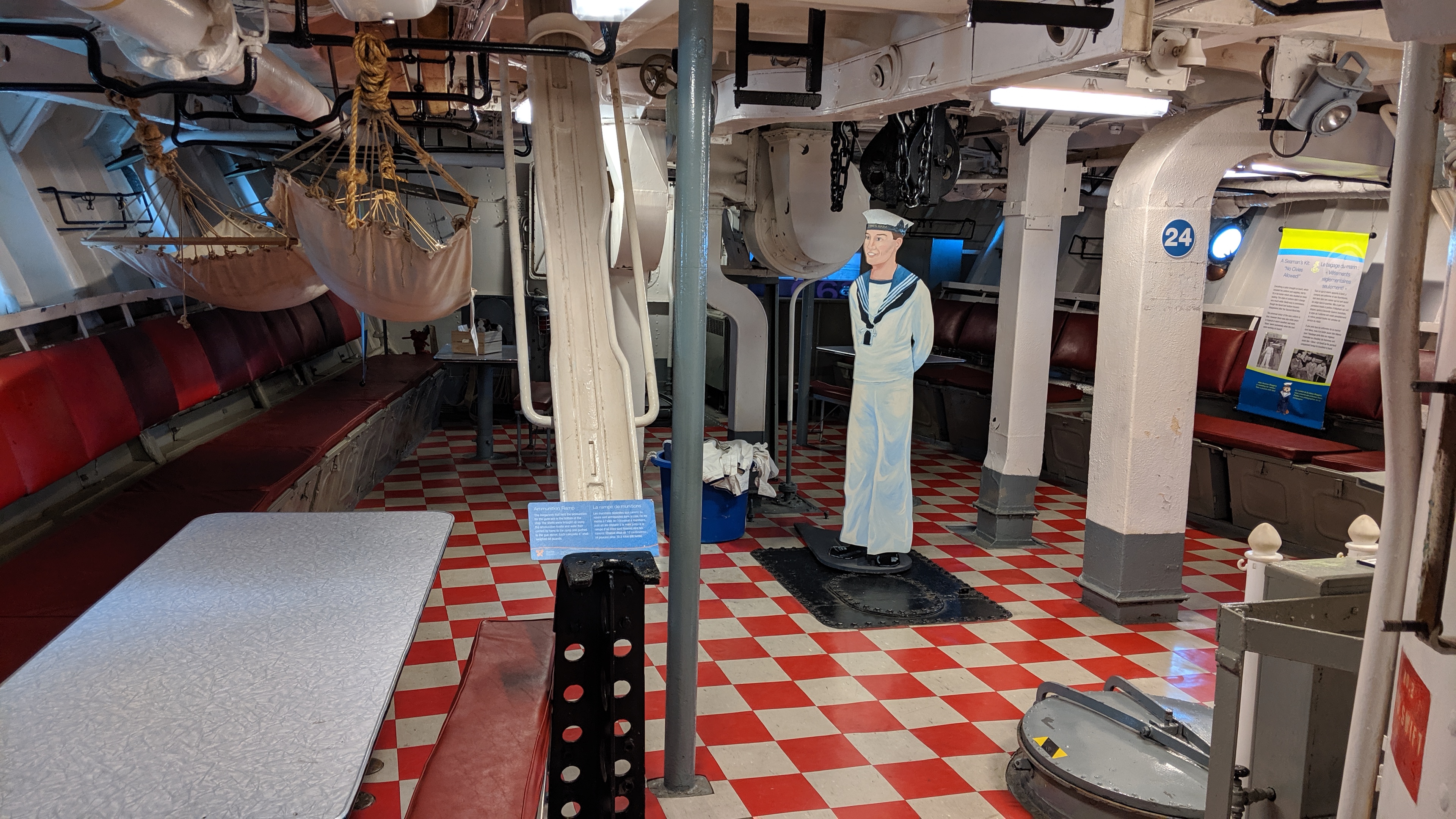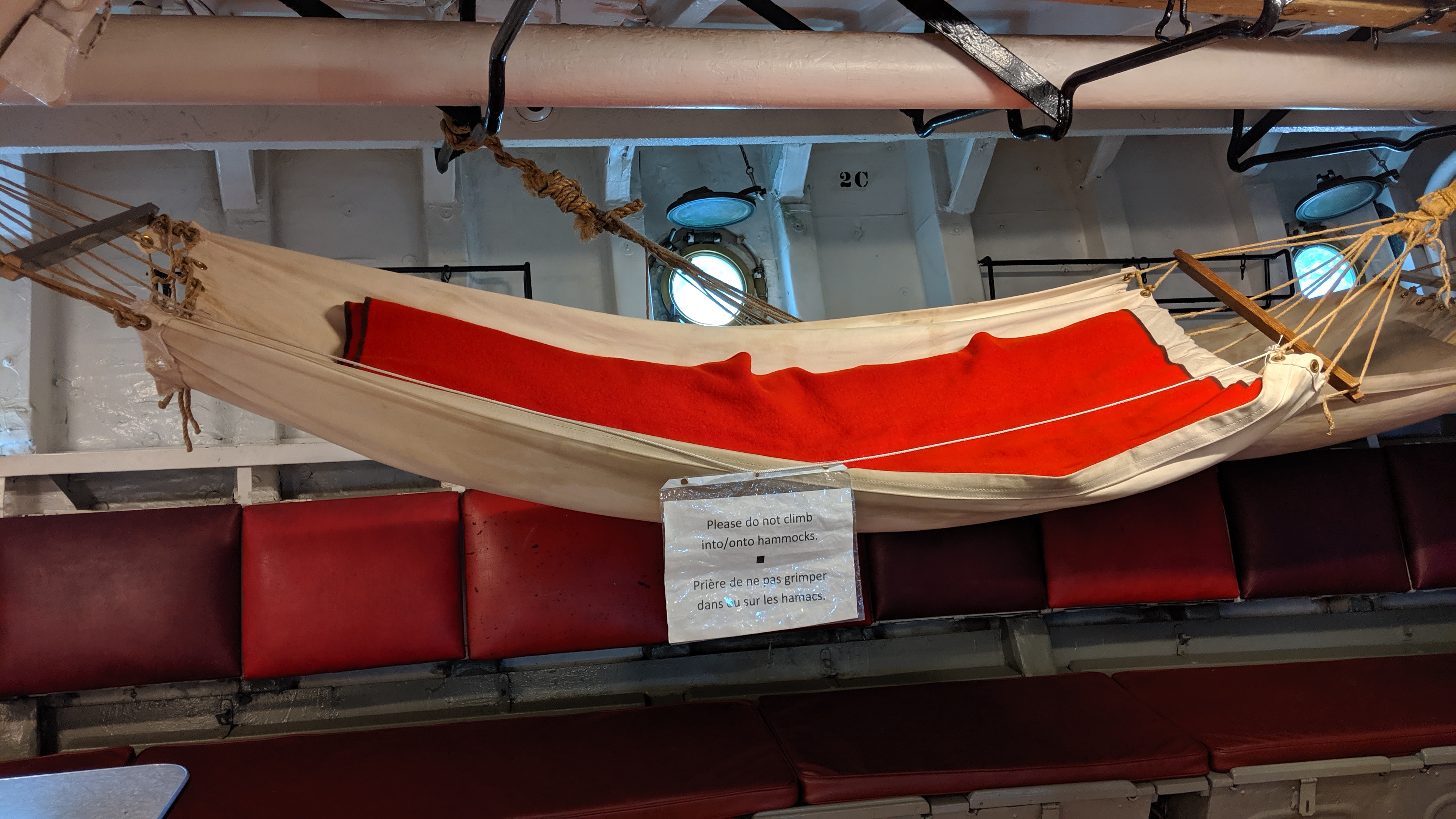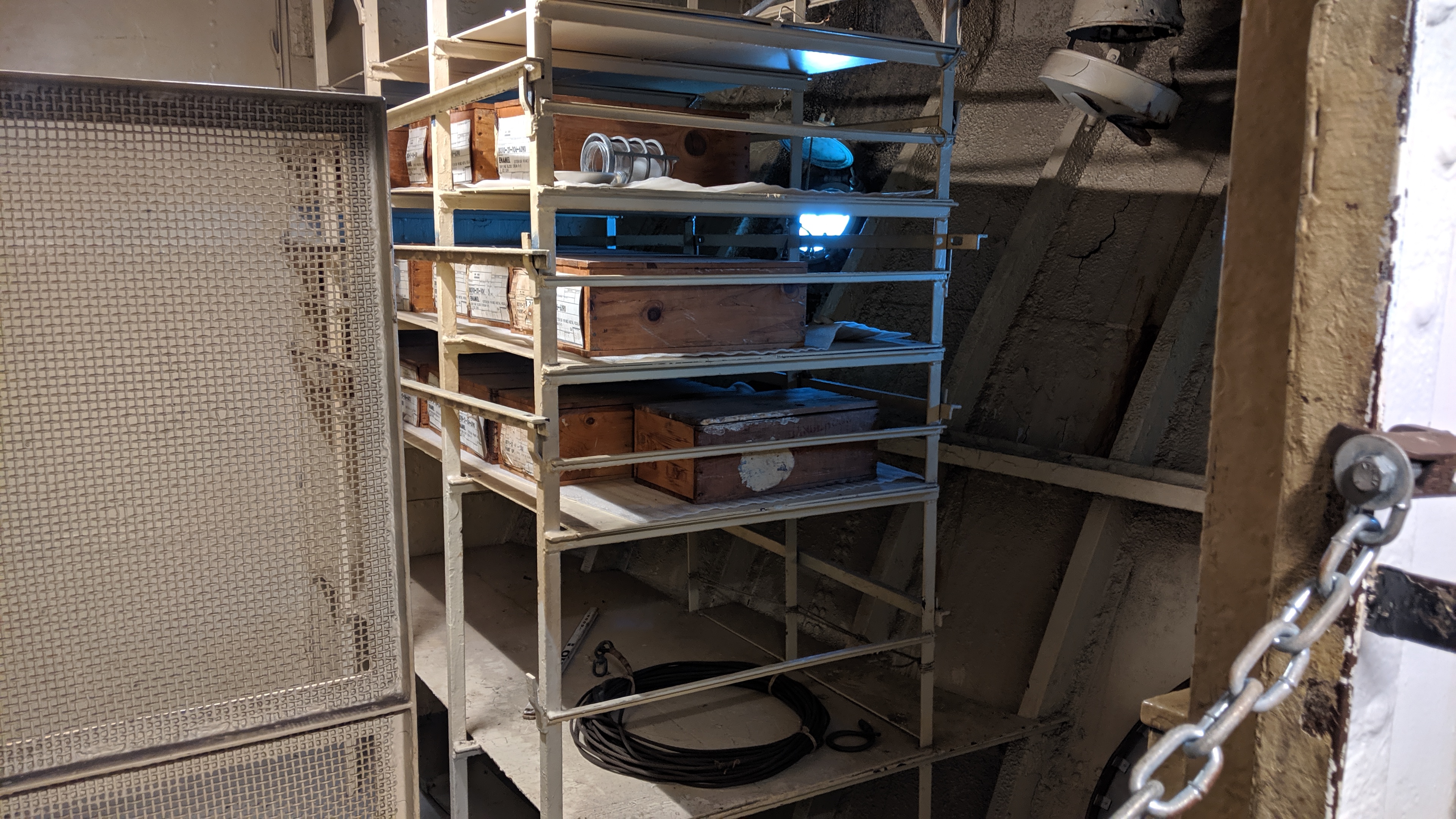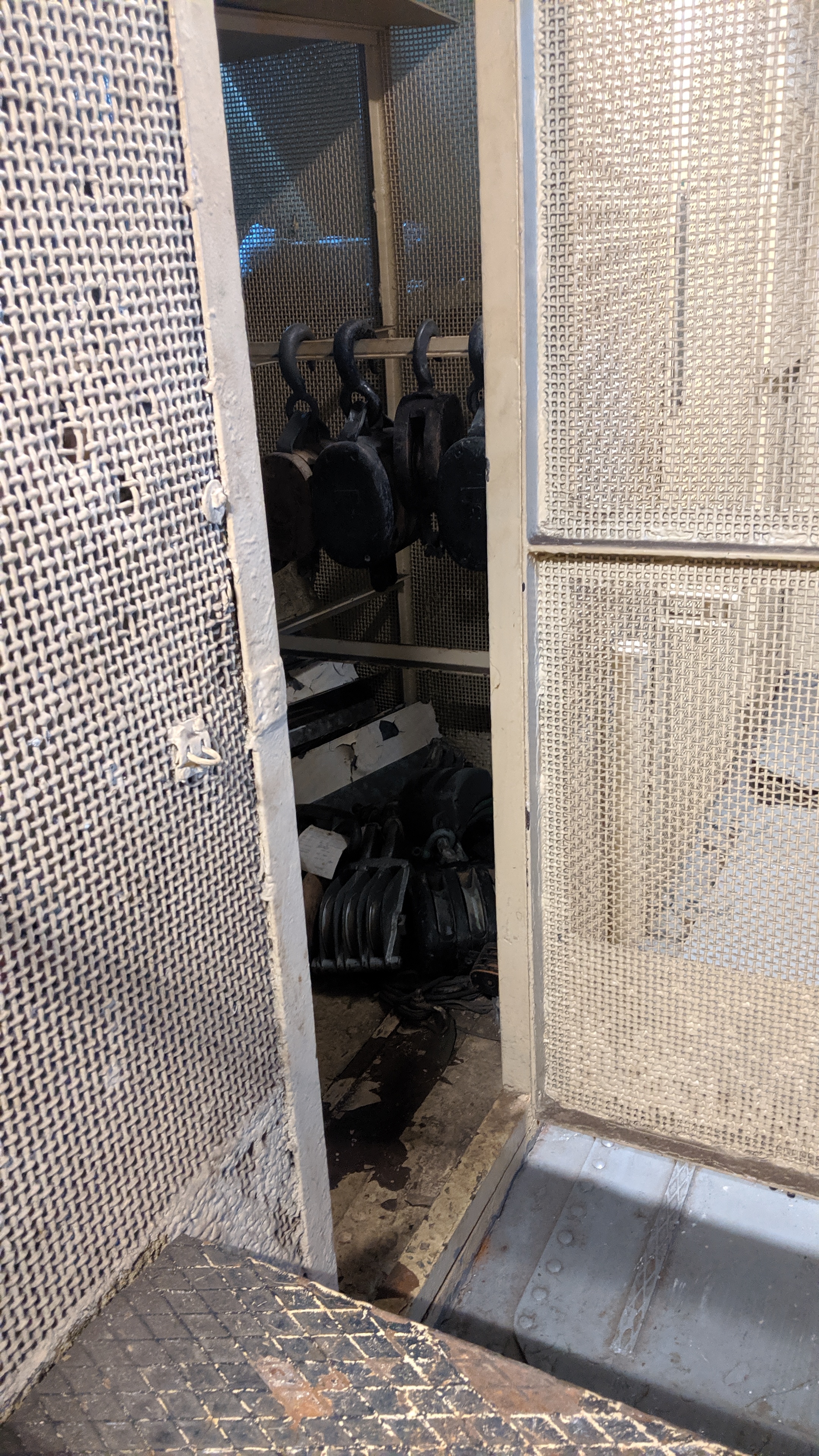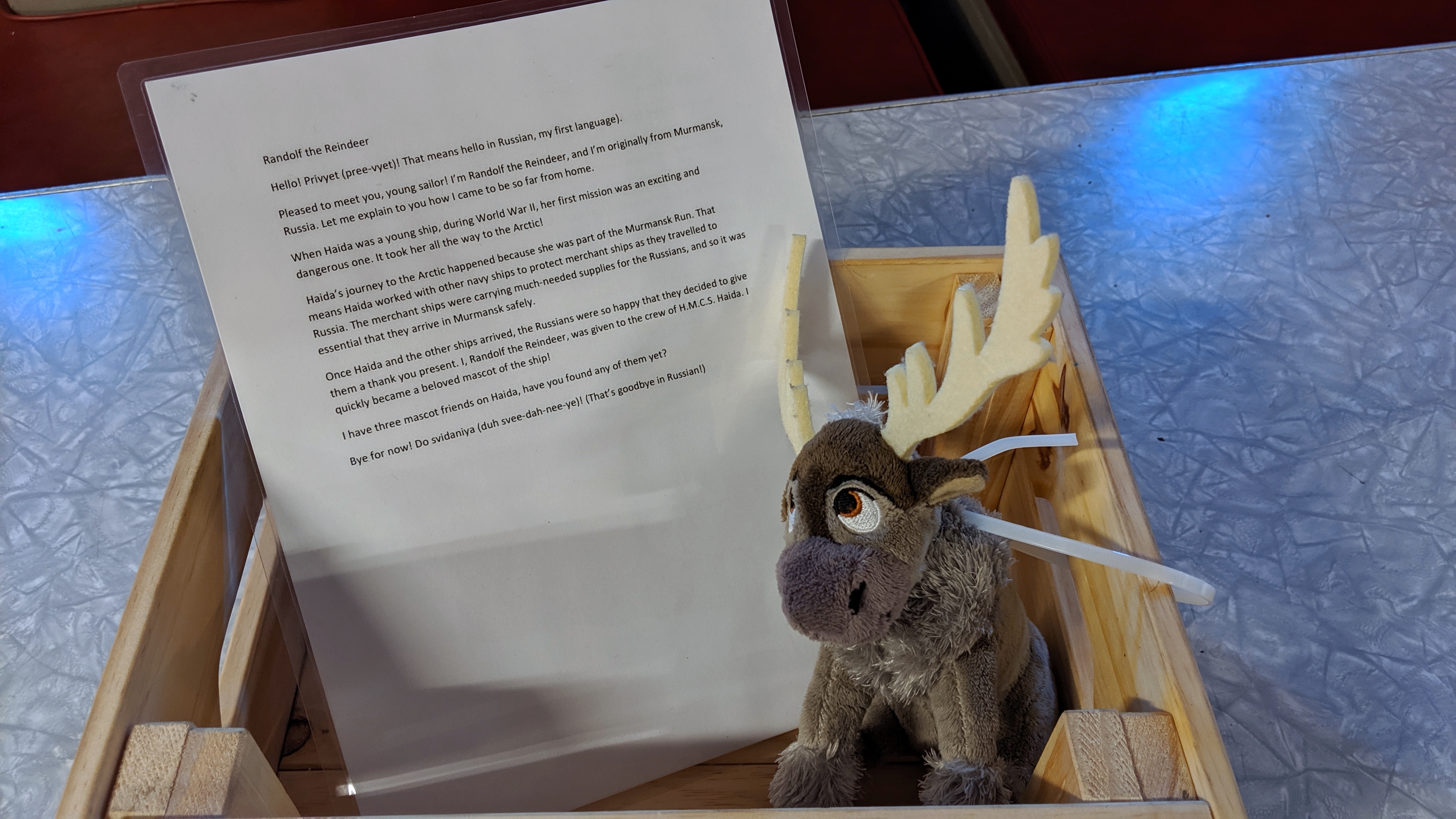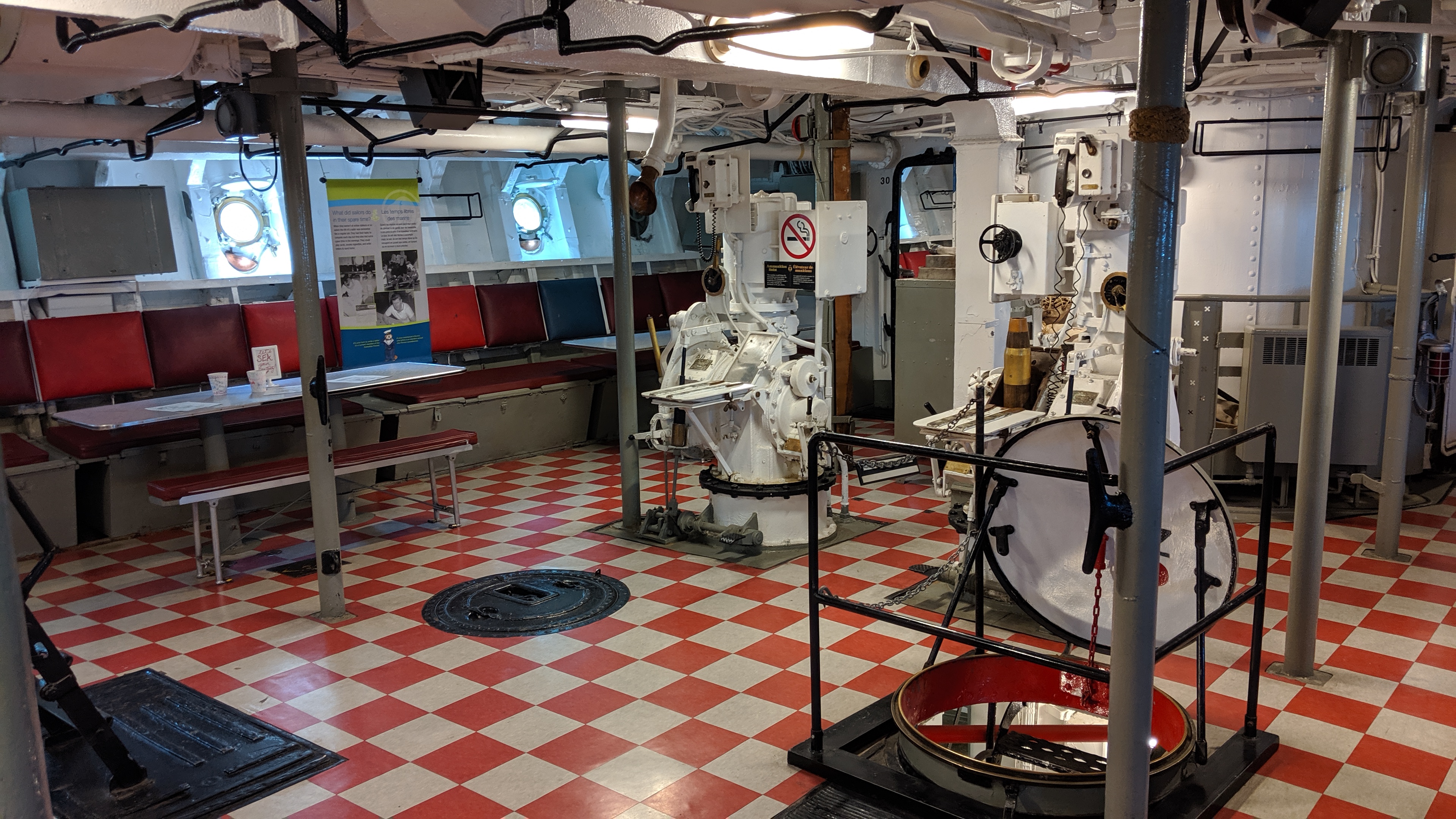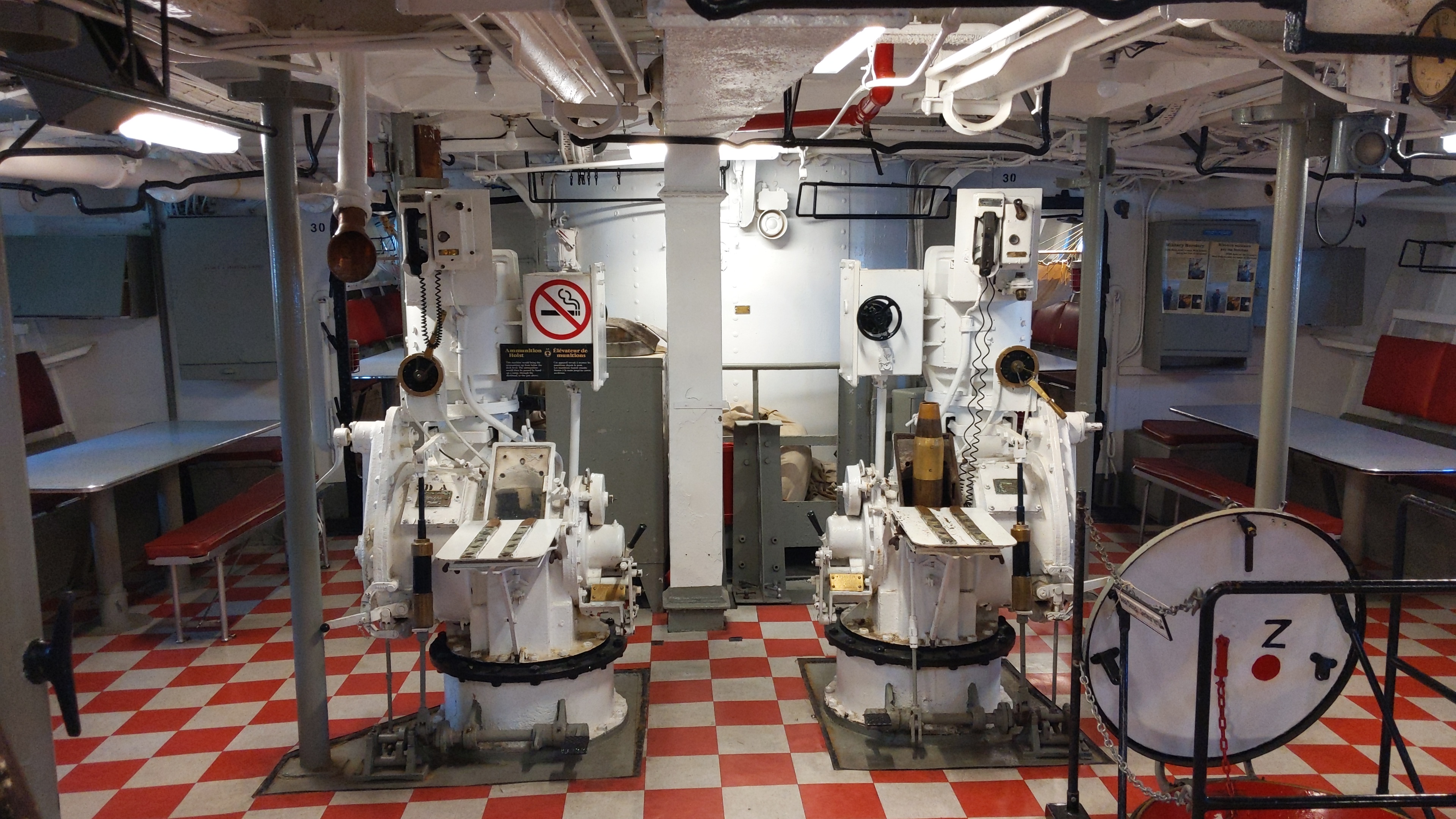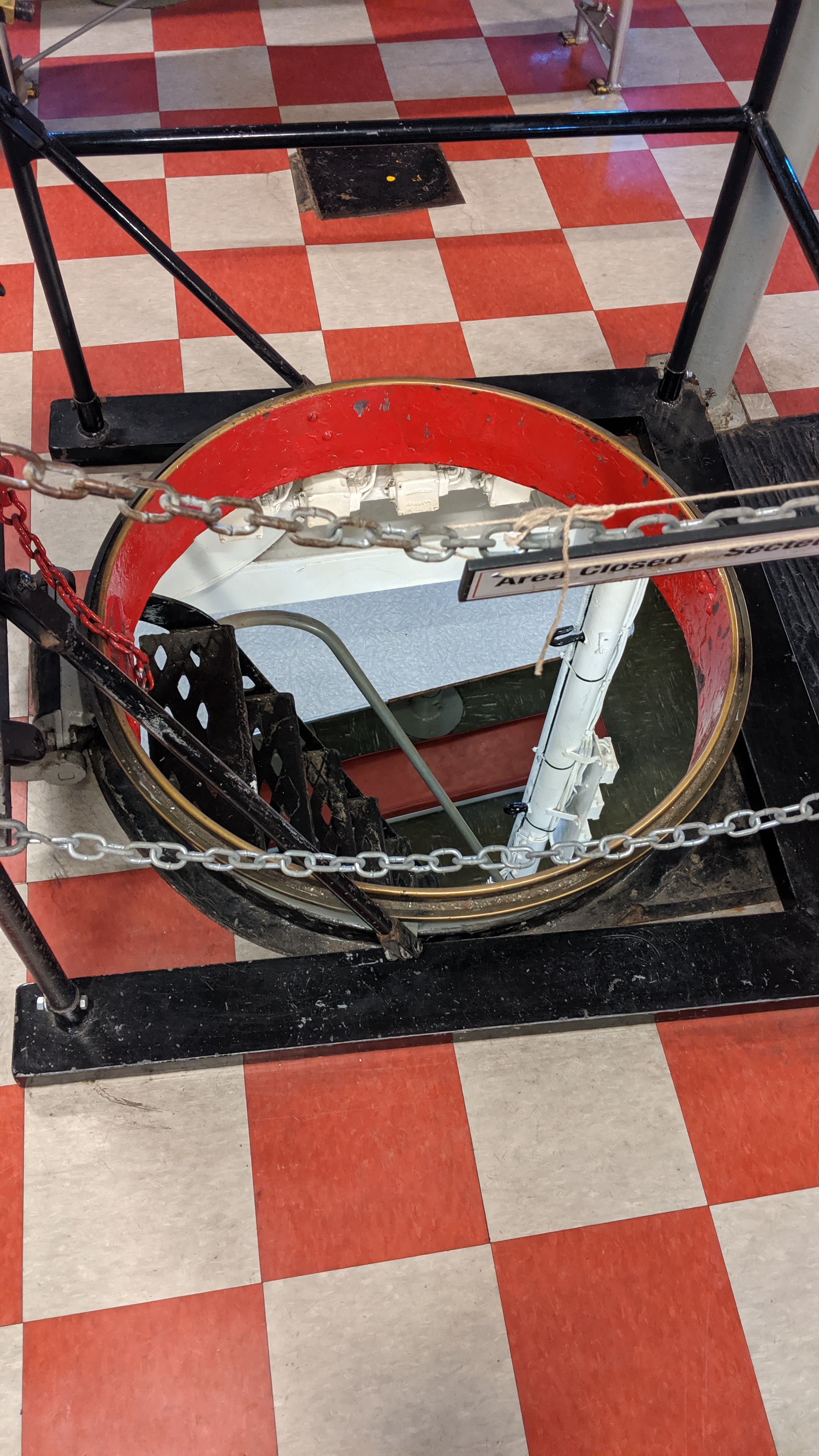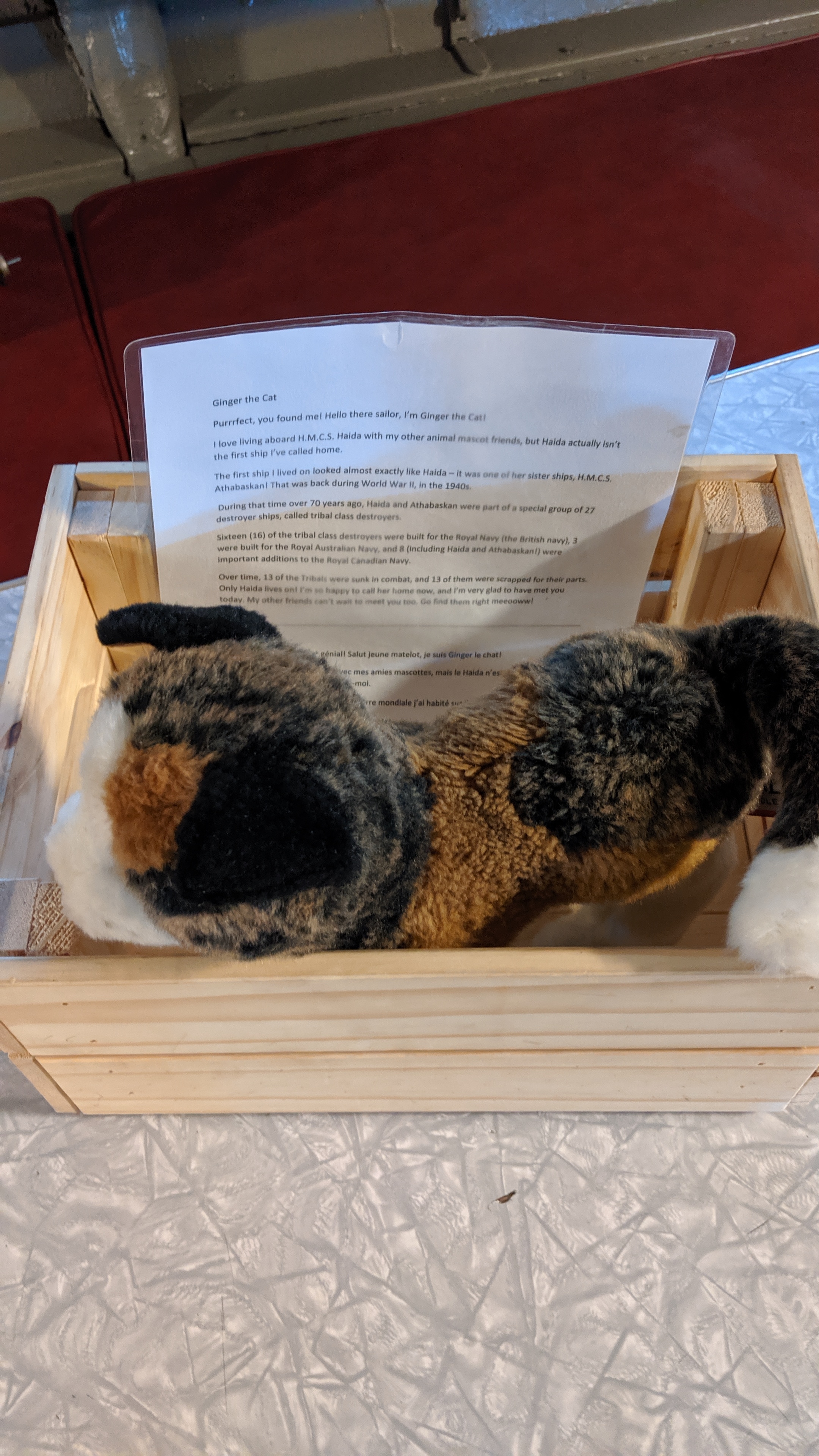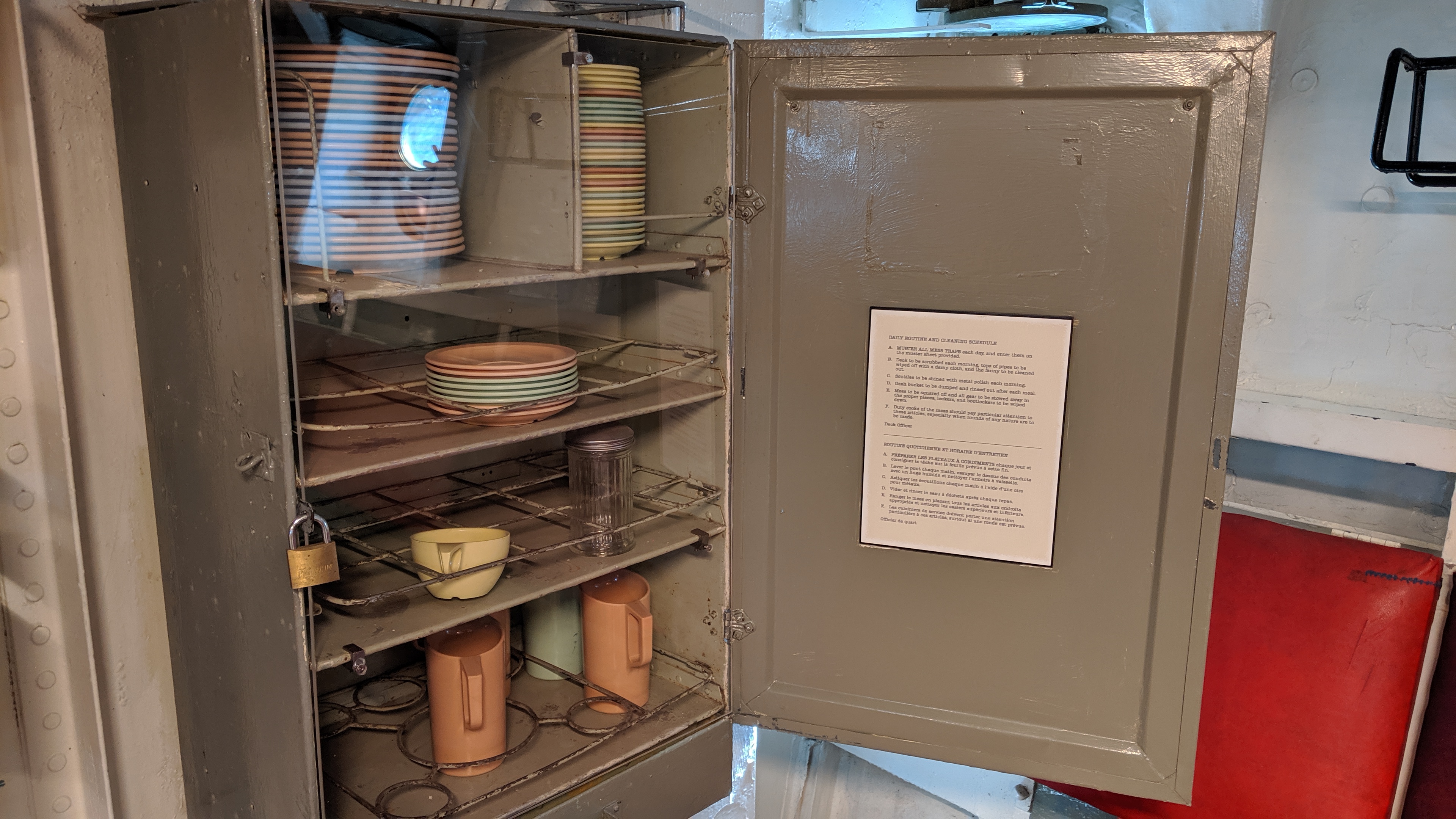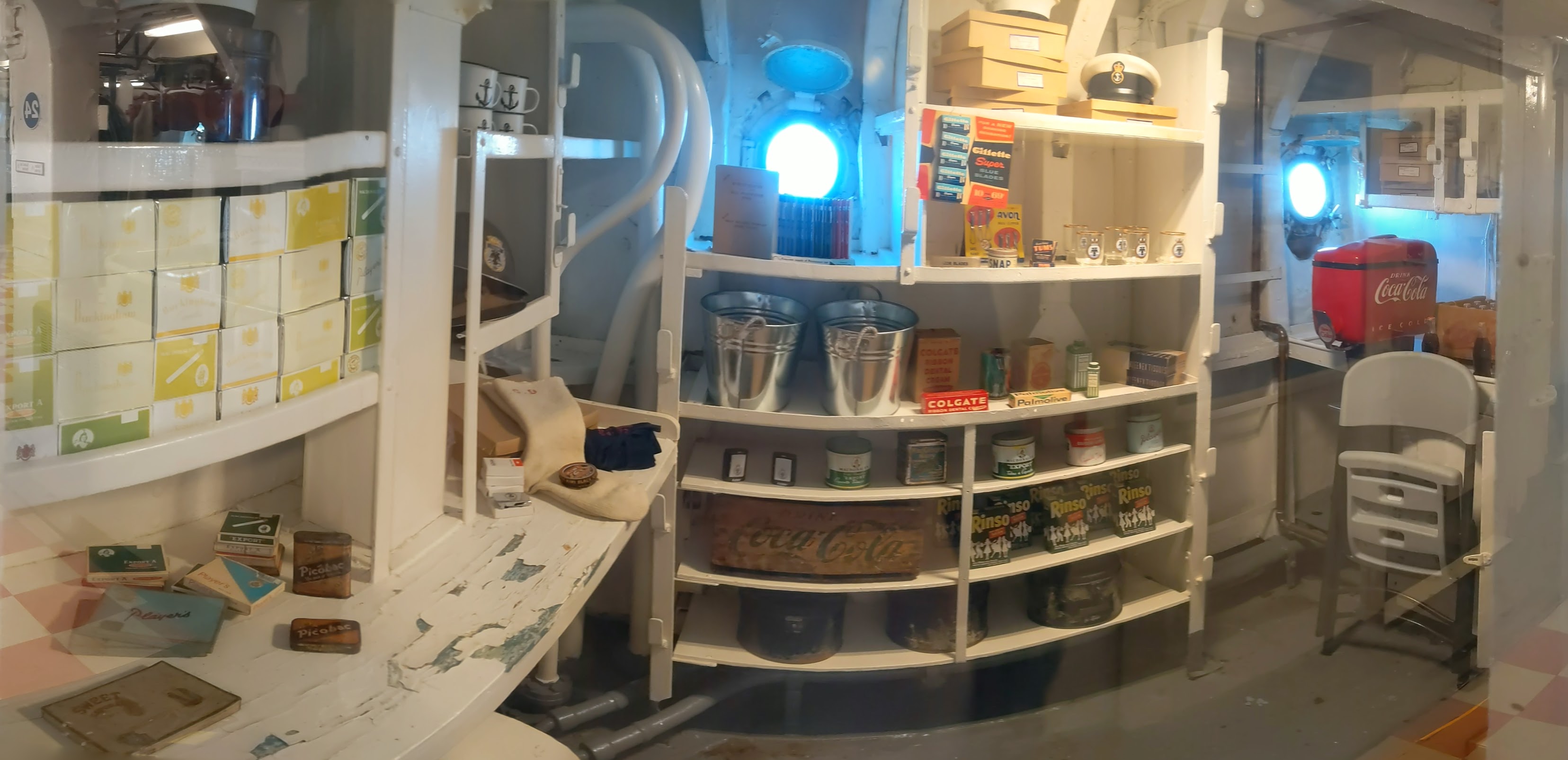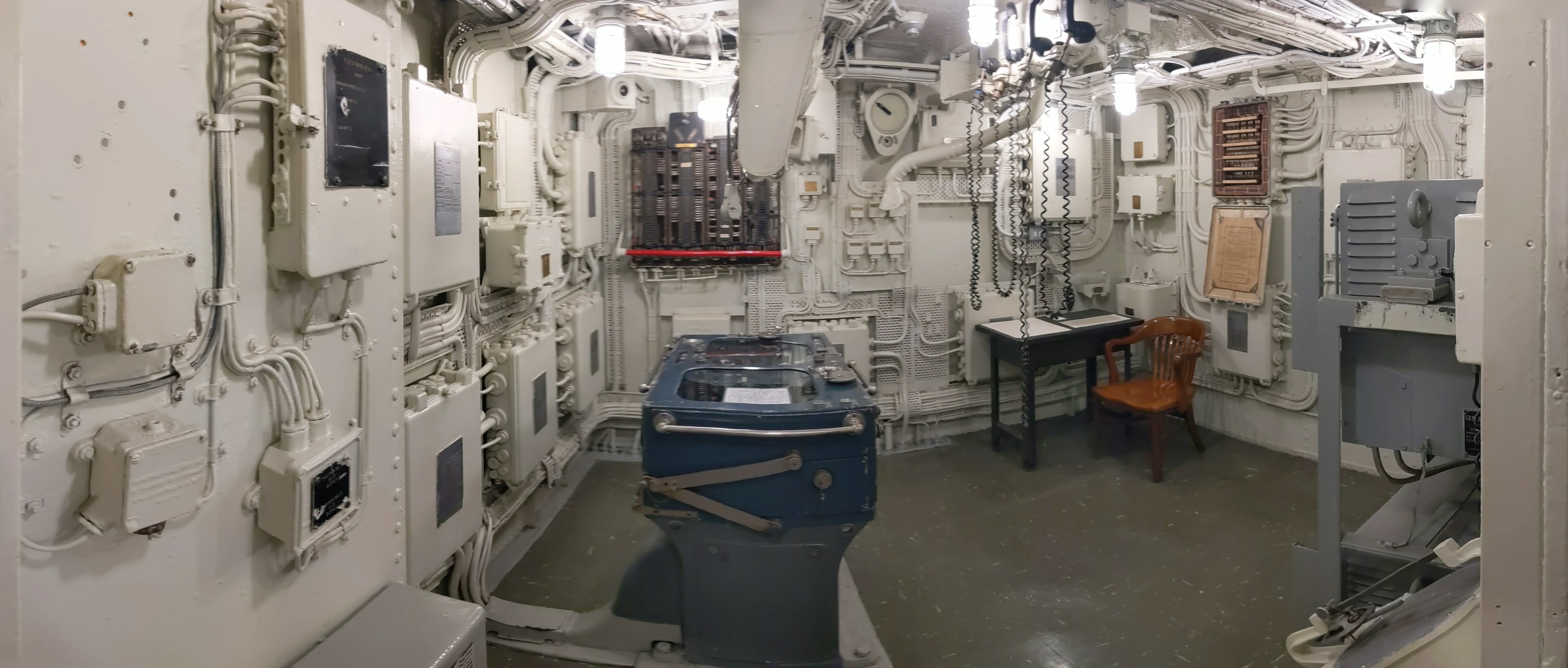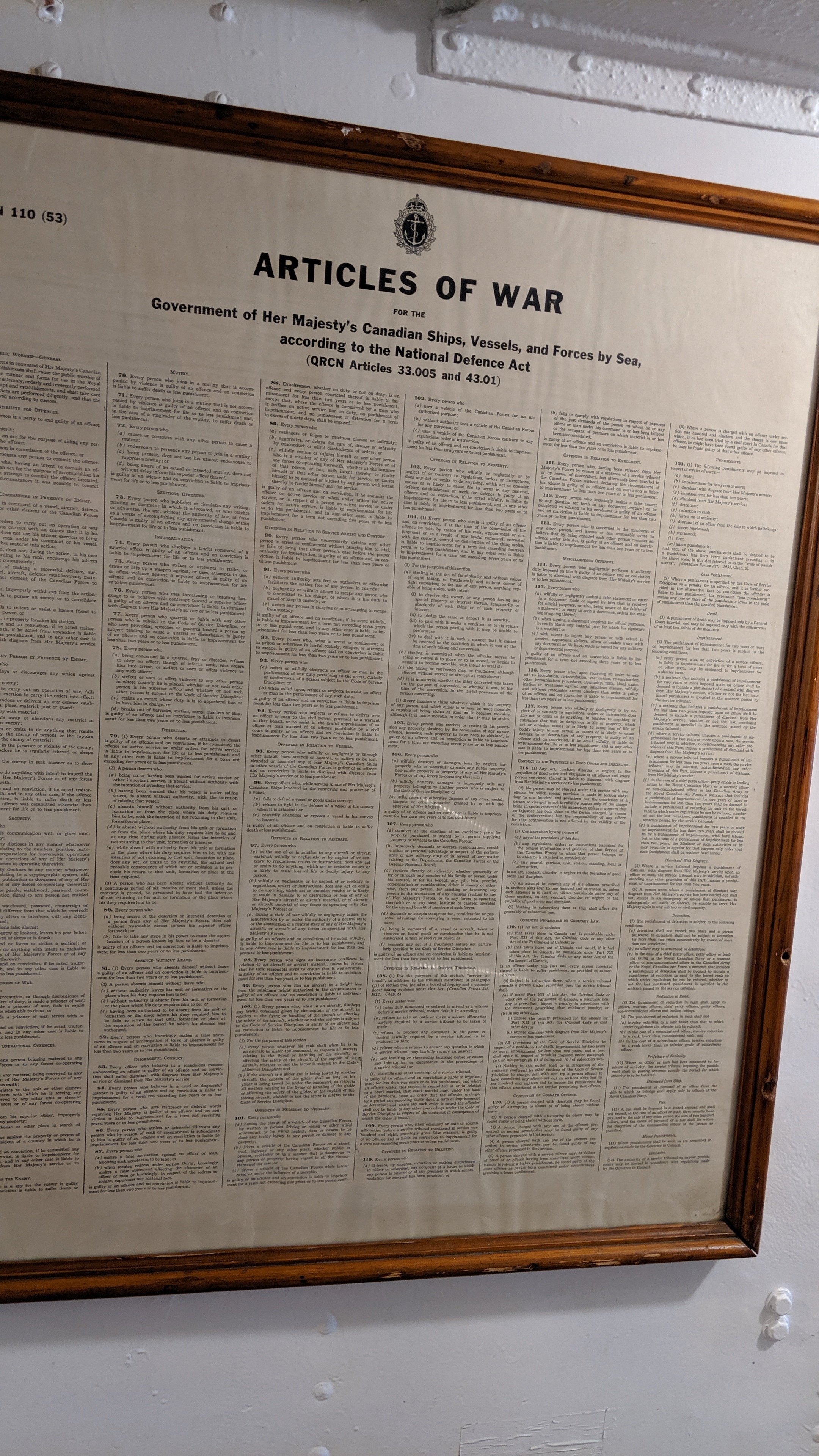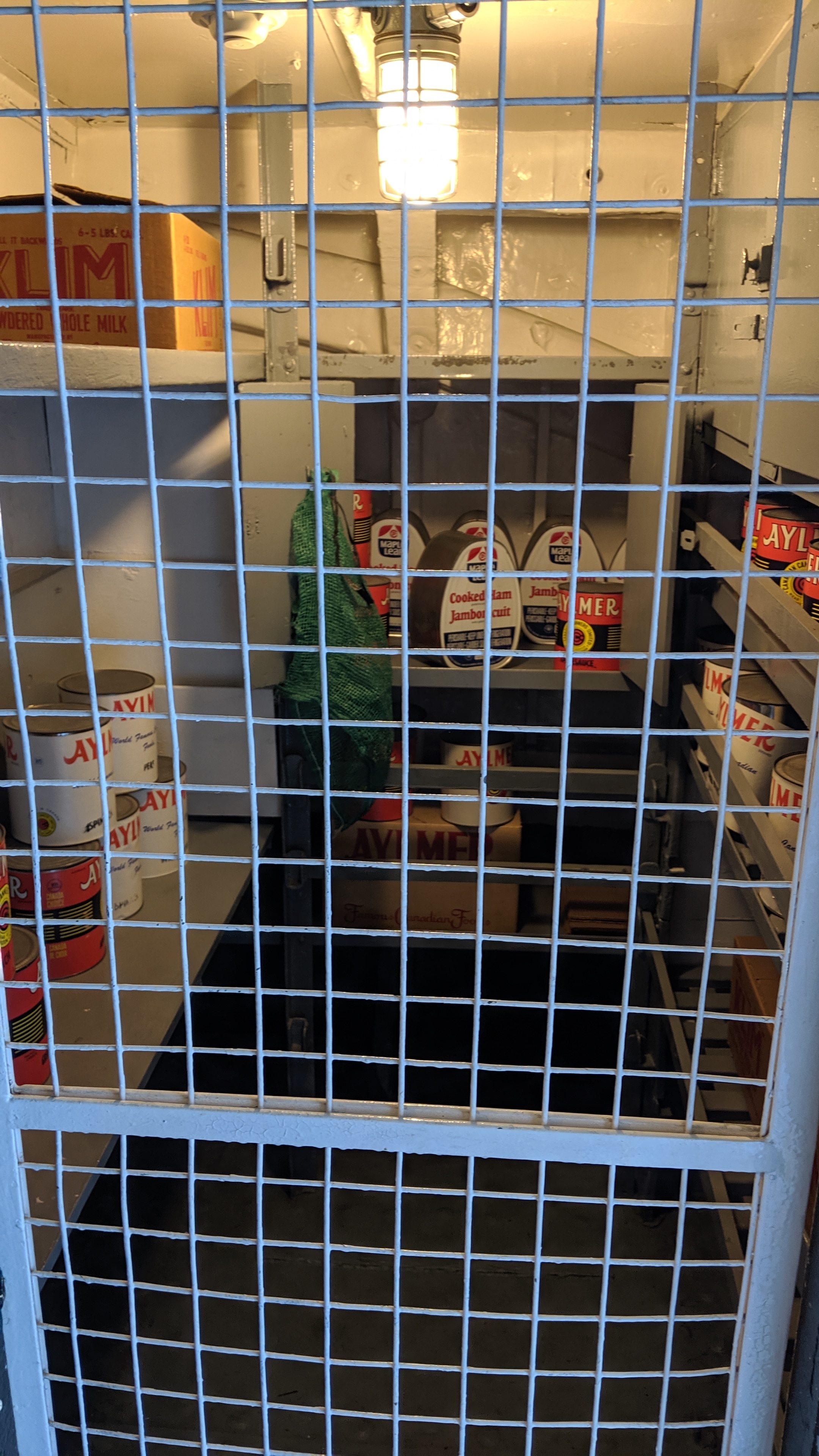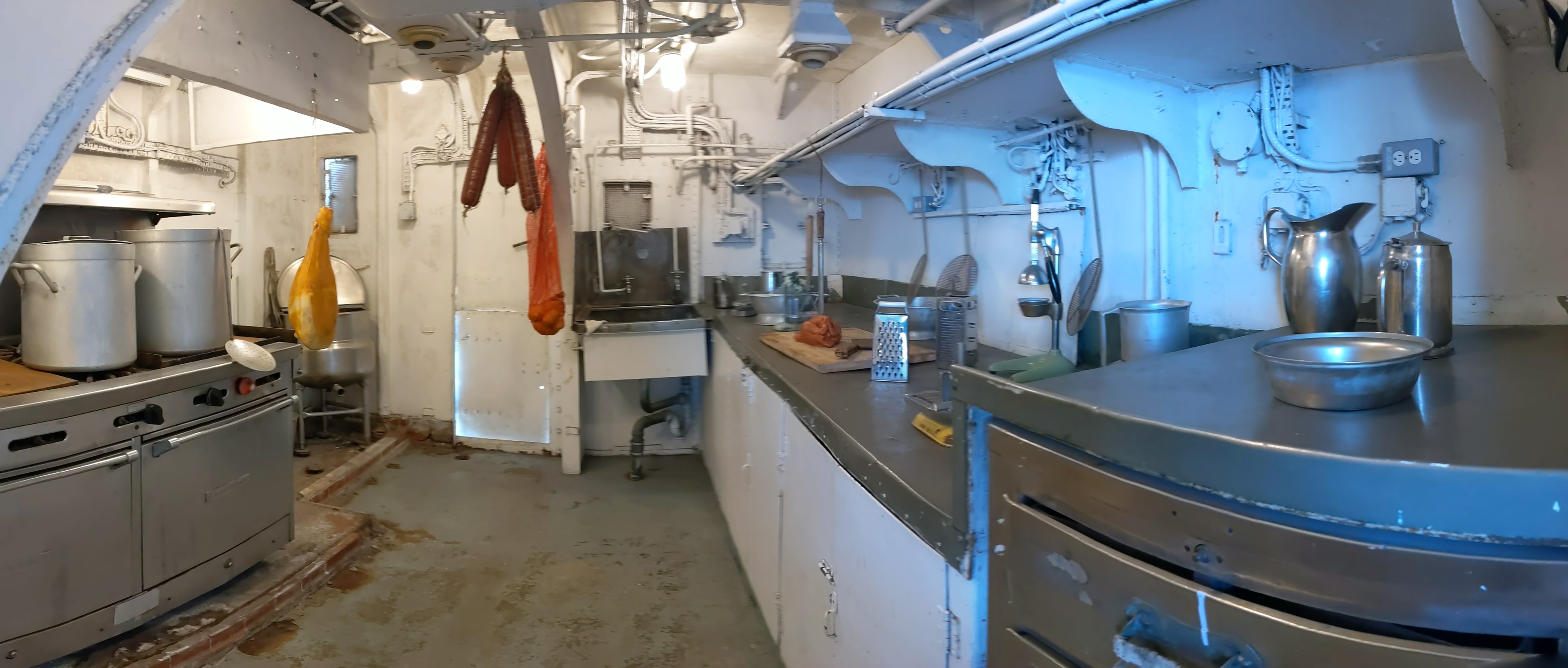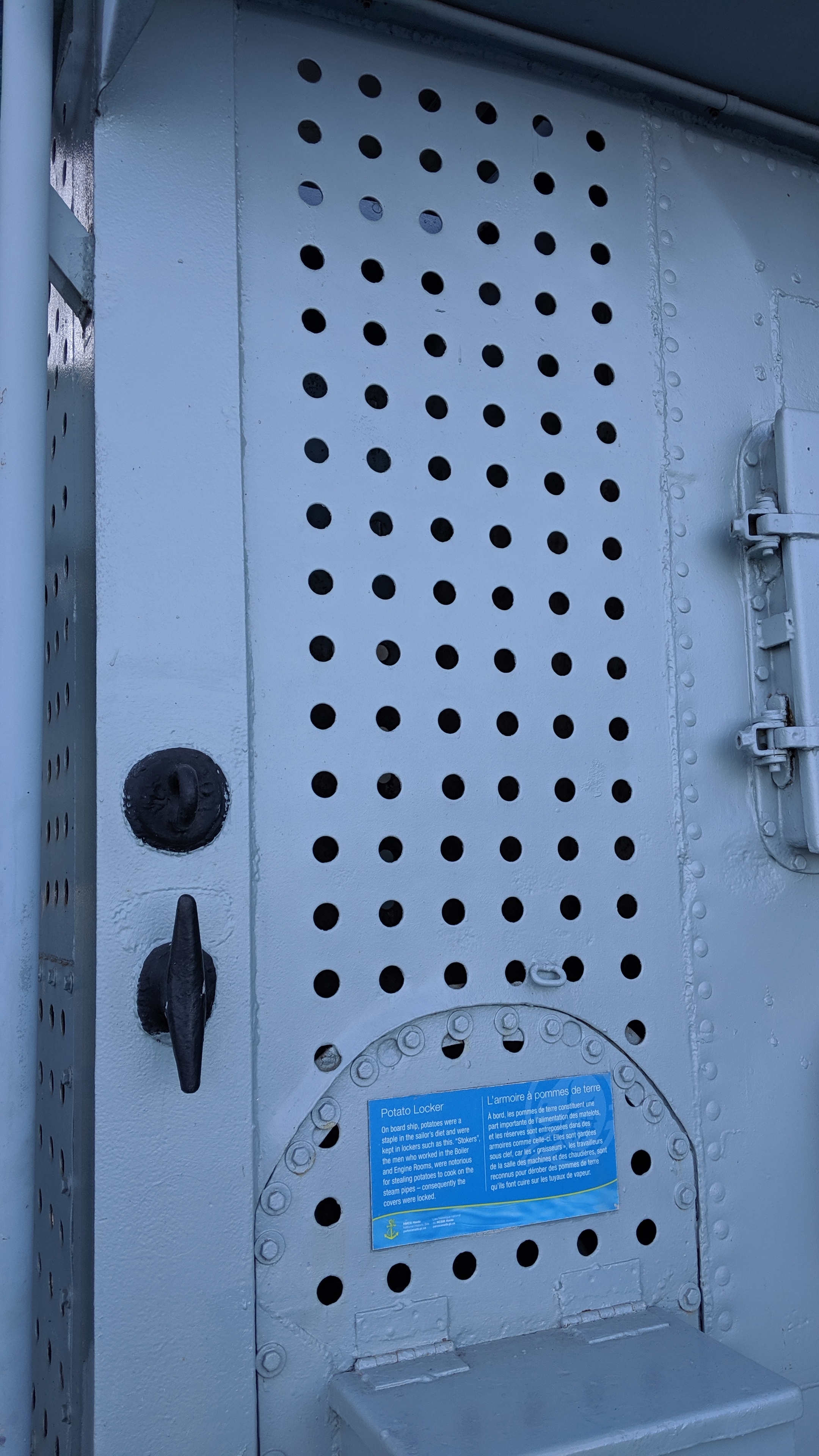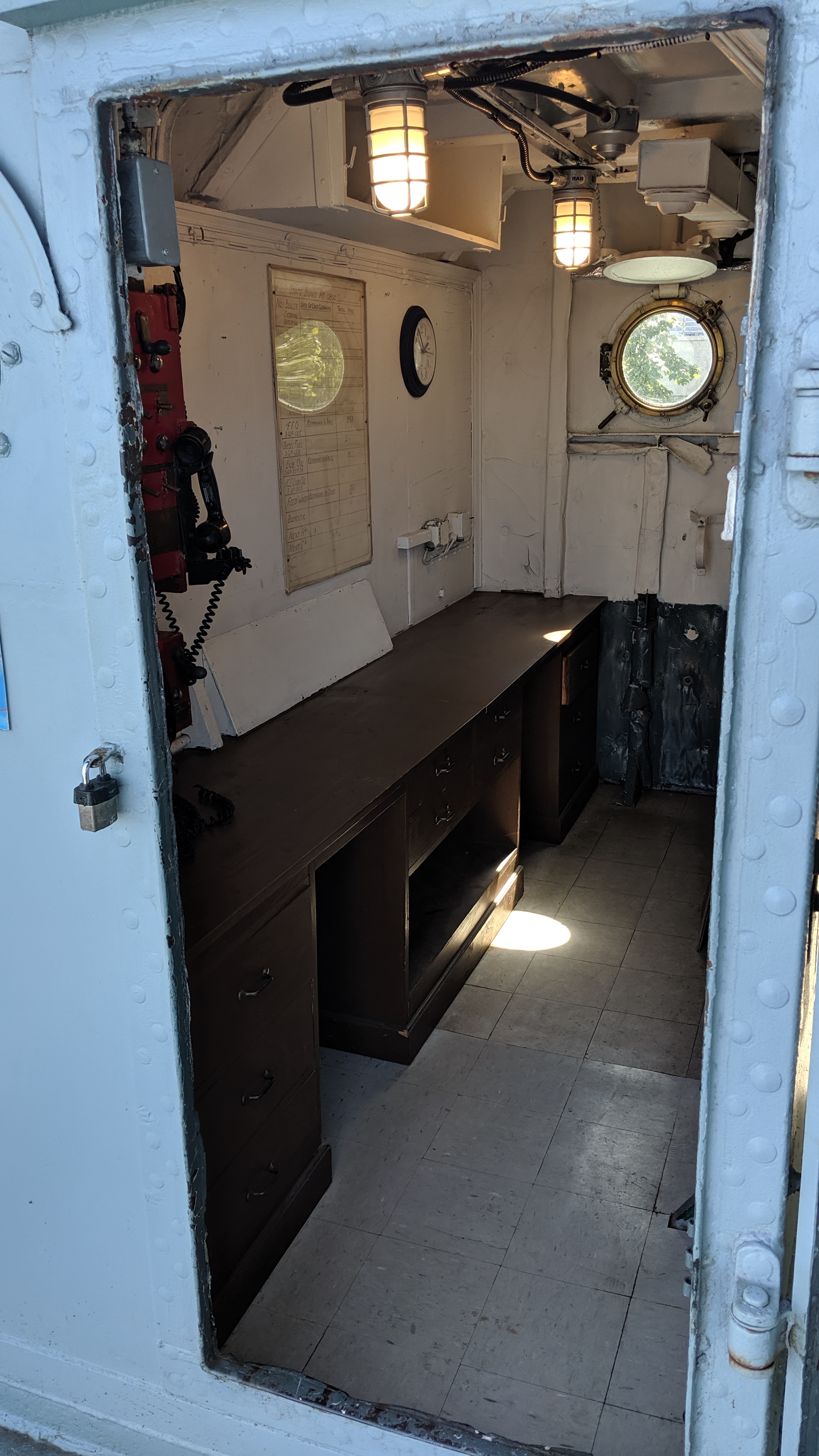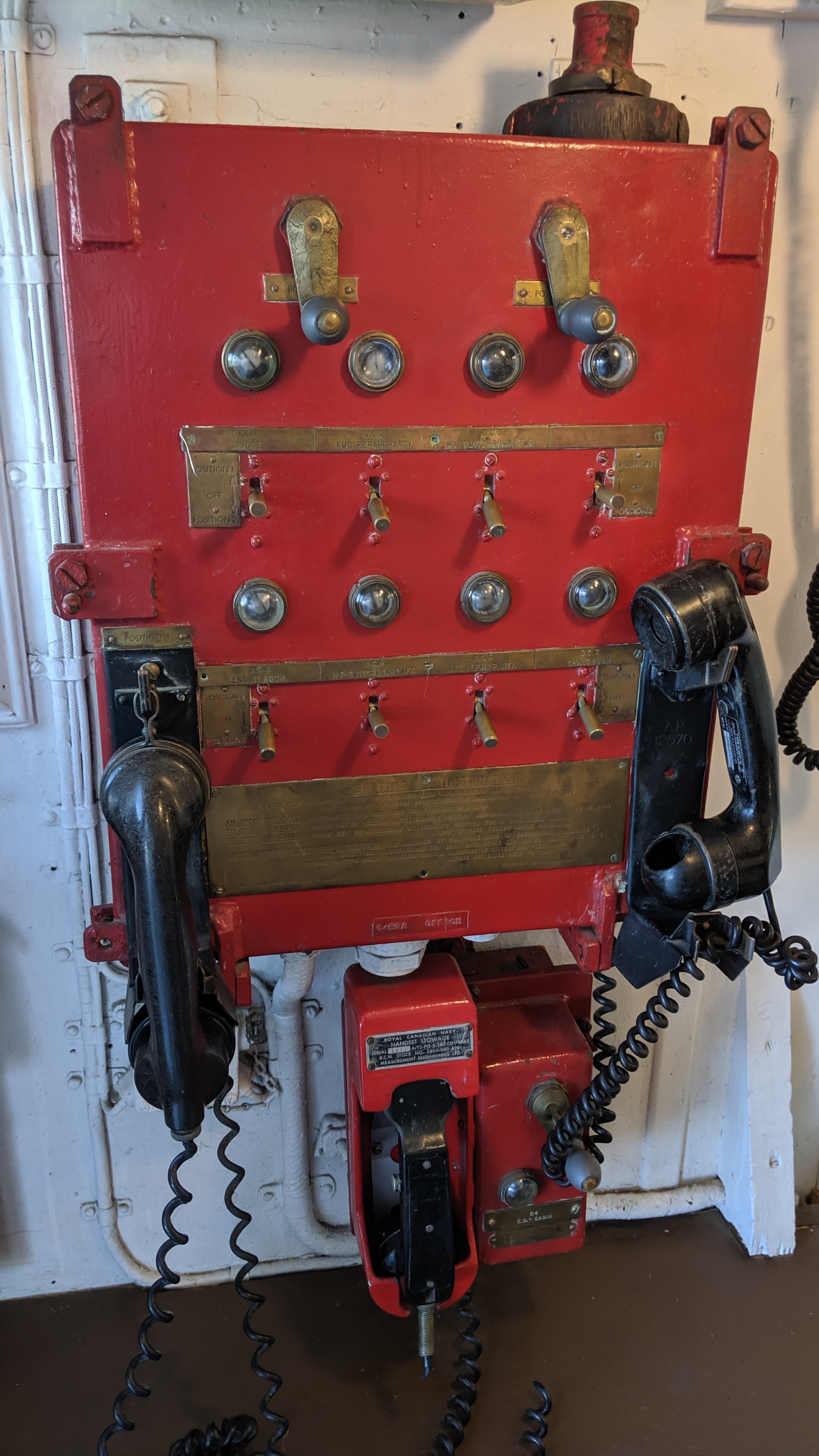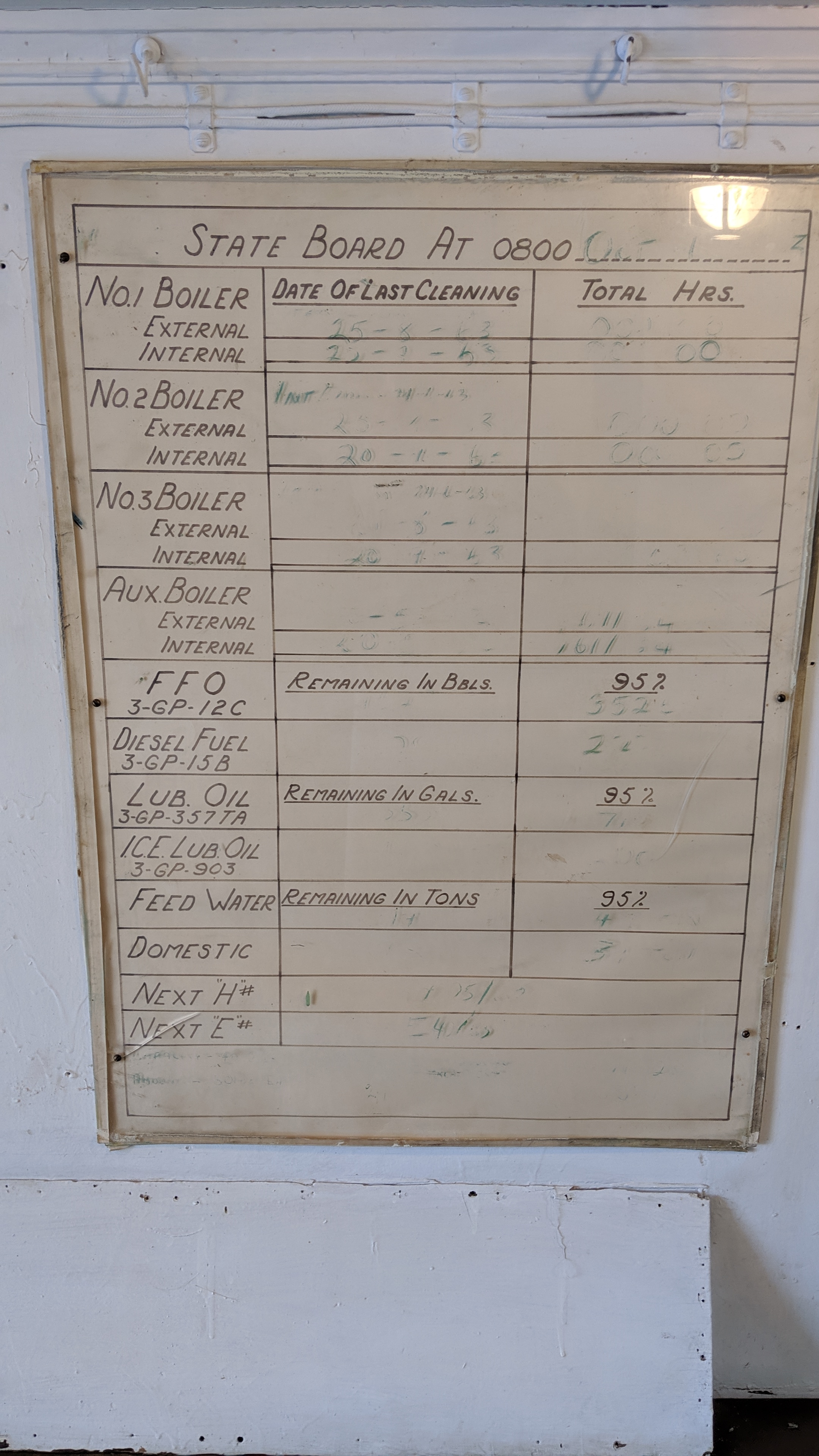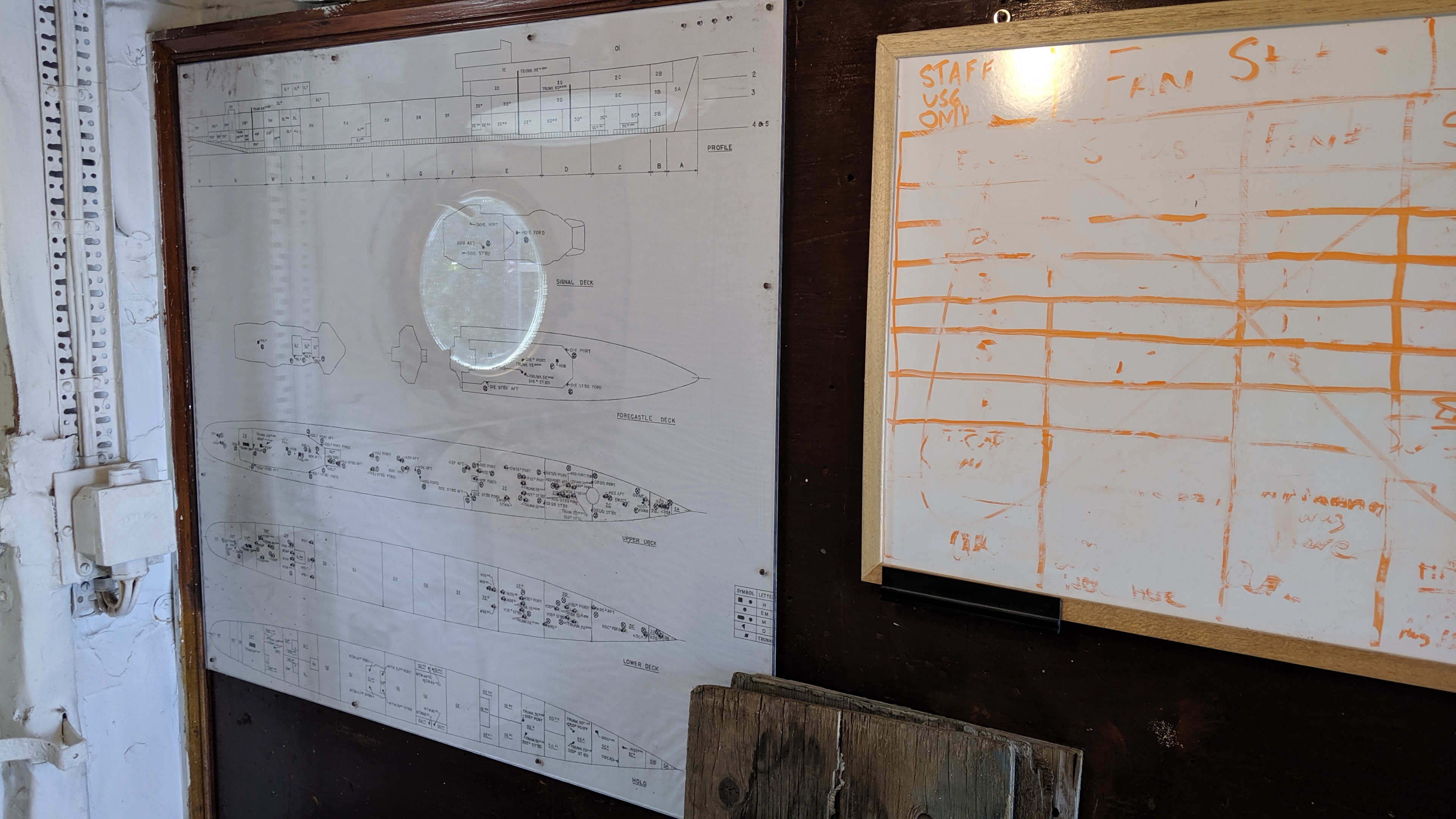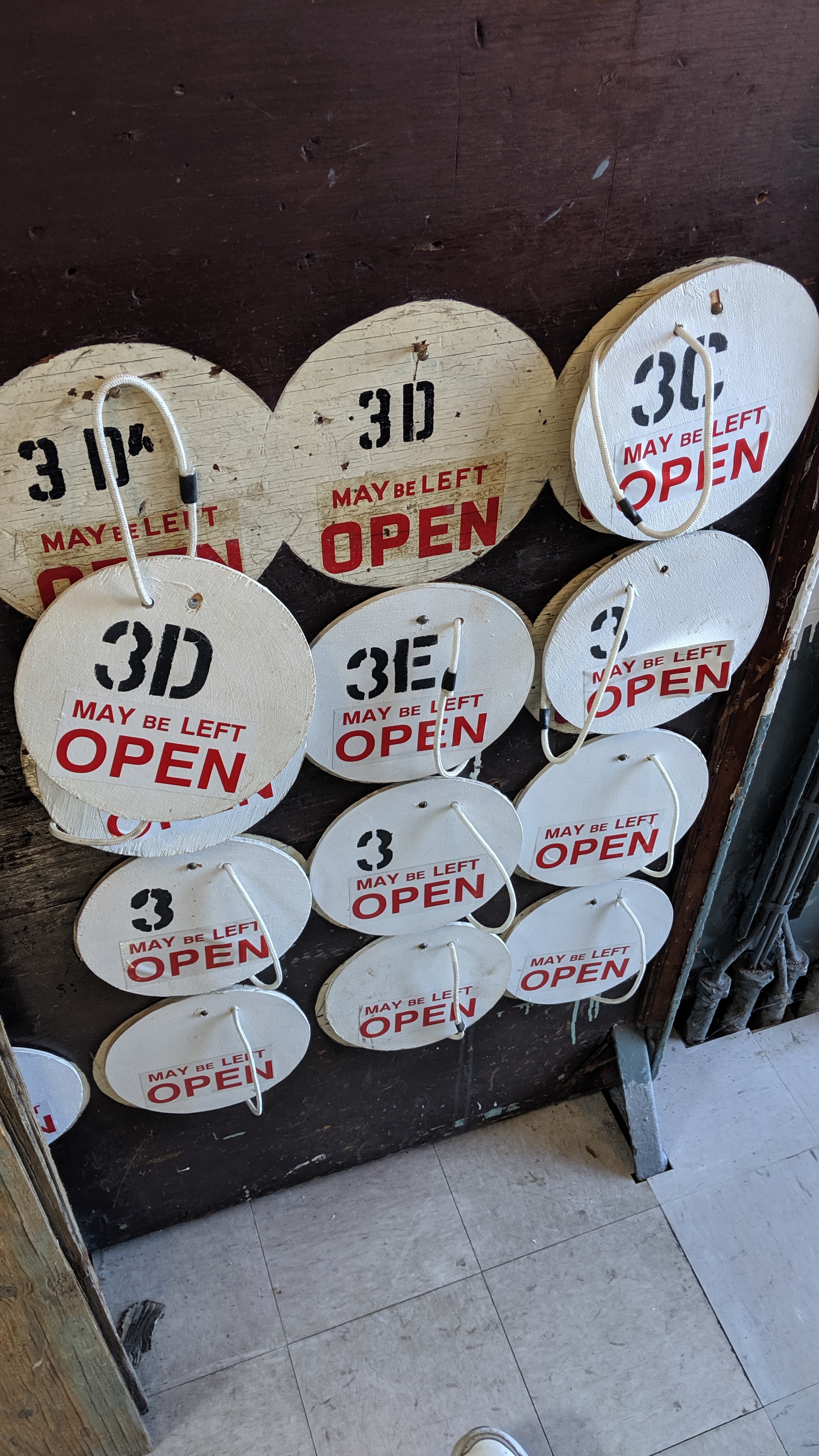 Finally, onto the engine room! People claim its the best, though that's just perspective. it's surely impressive. It is, though there are finer details people need to pay attention to, something they miss out through because of inexperience. Everybody is tuned different though so each to their own. Let's head off to the engine room! 🙂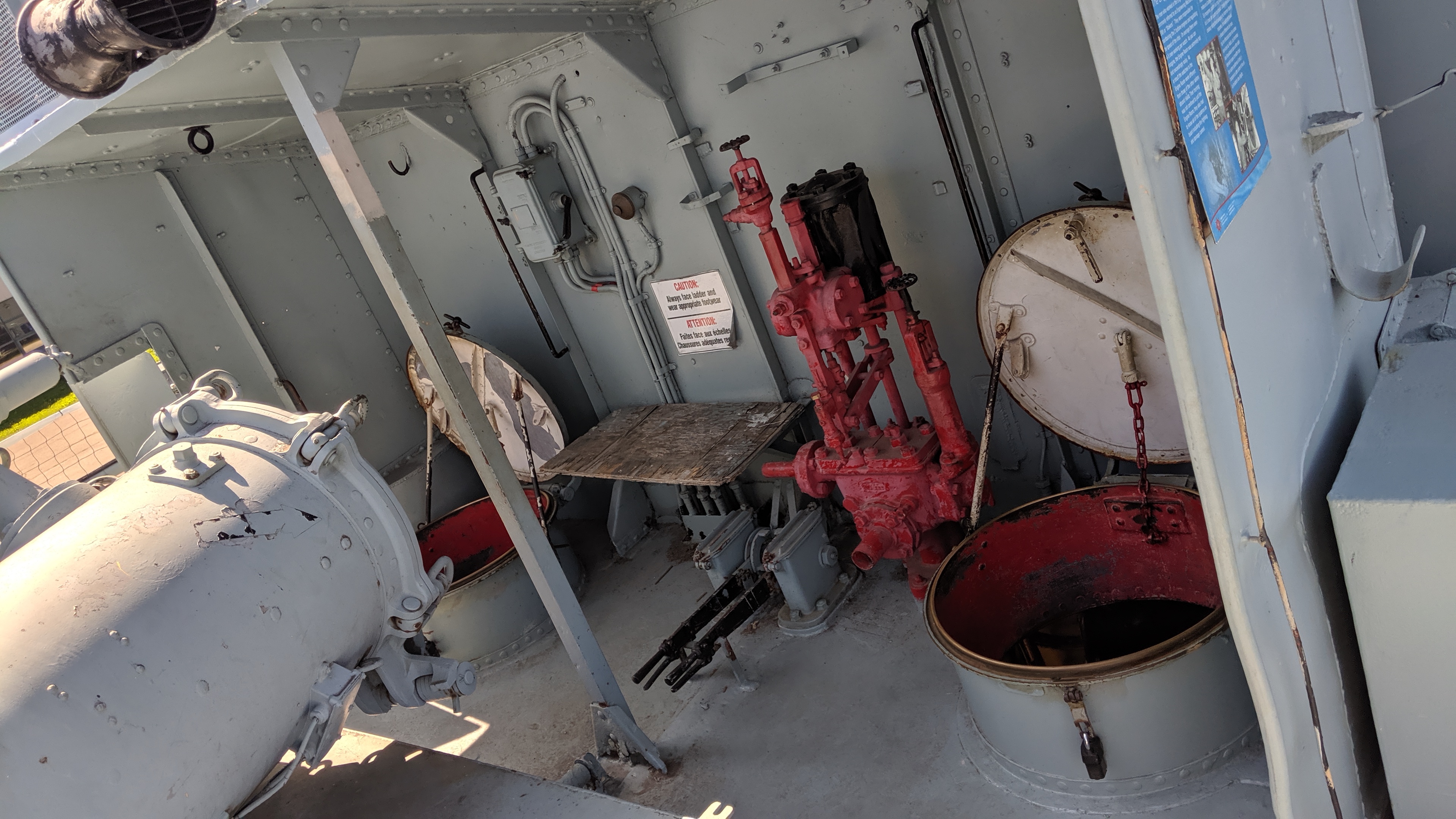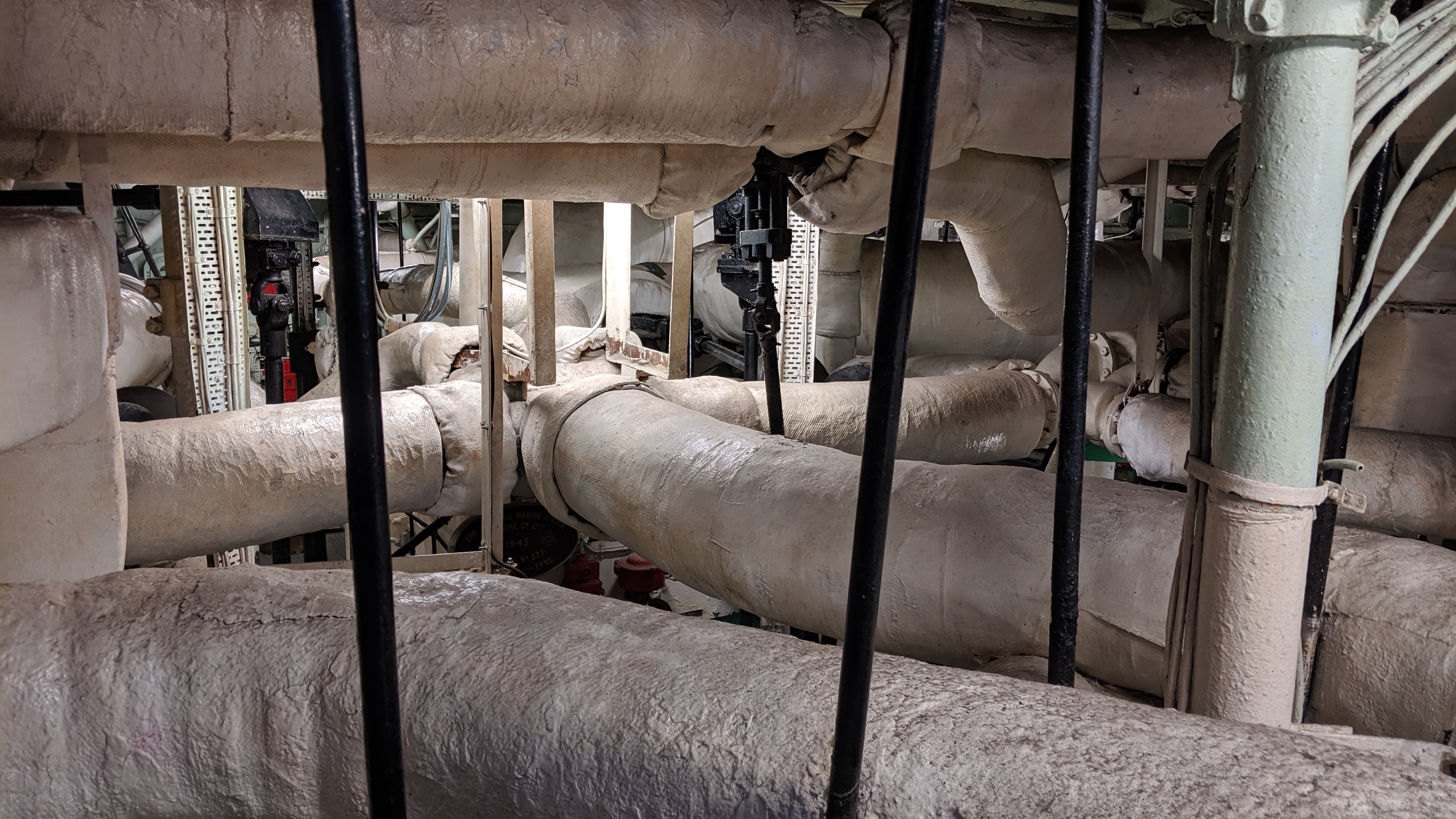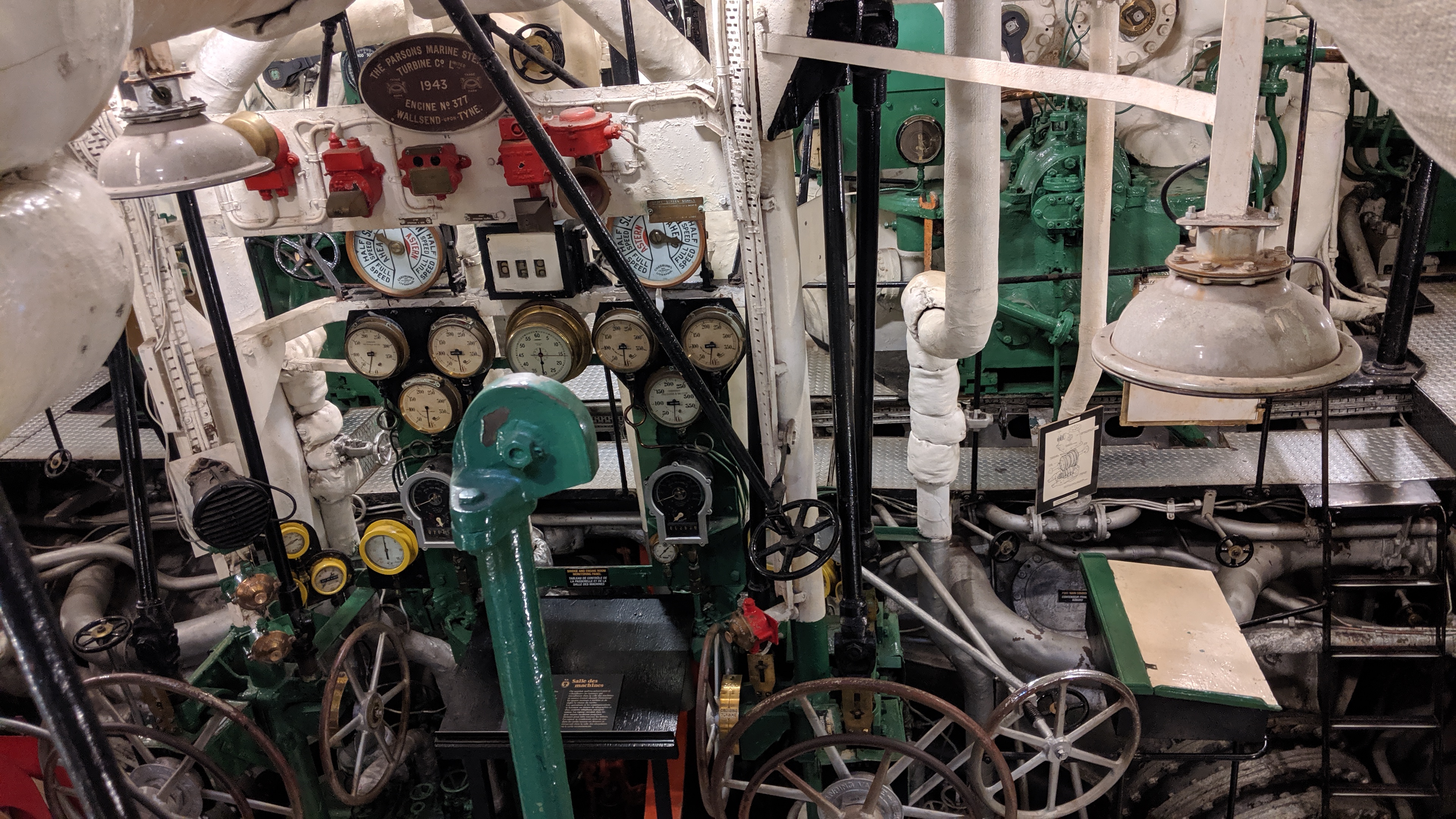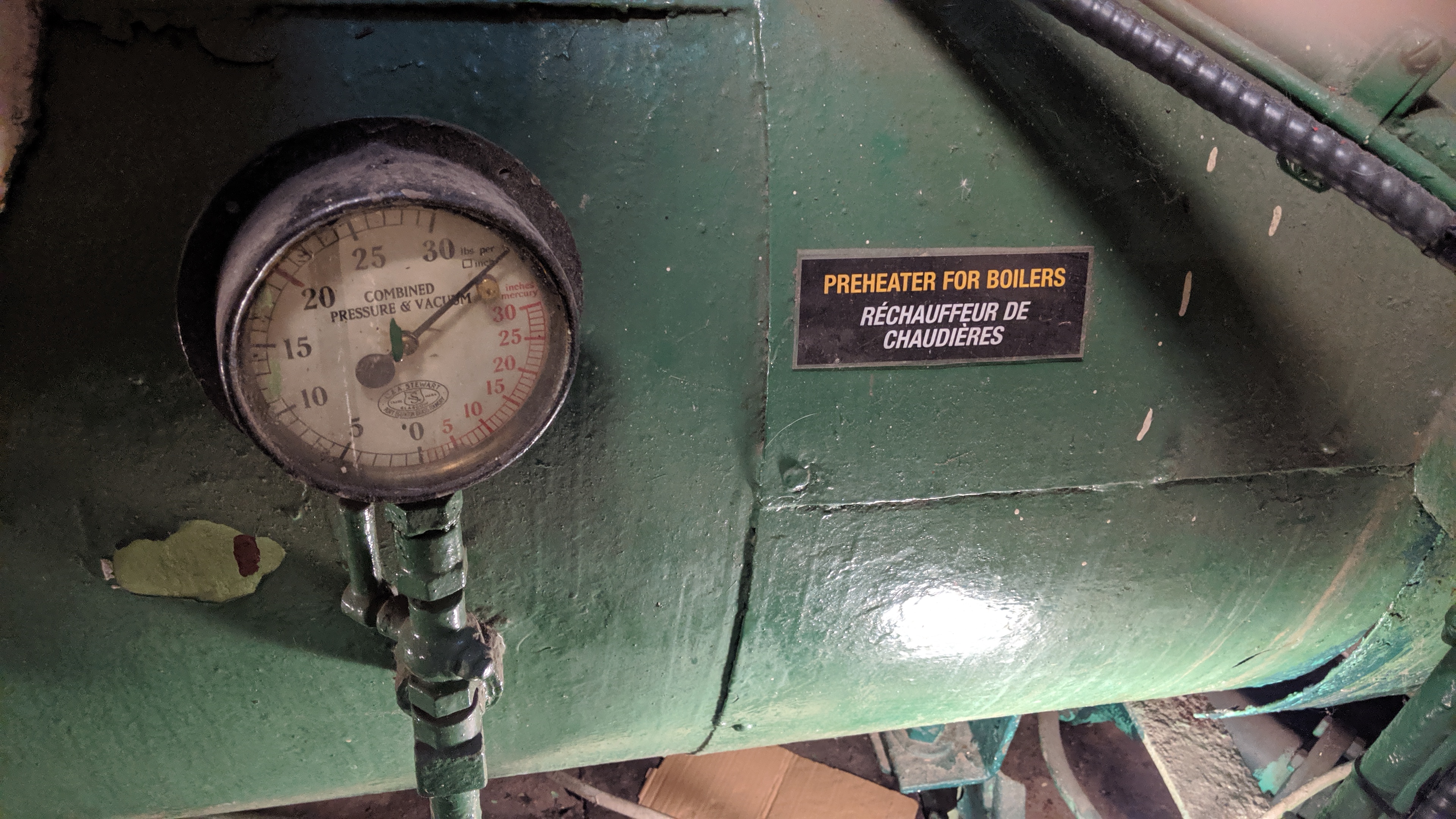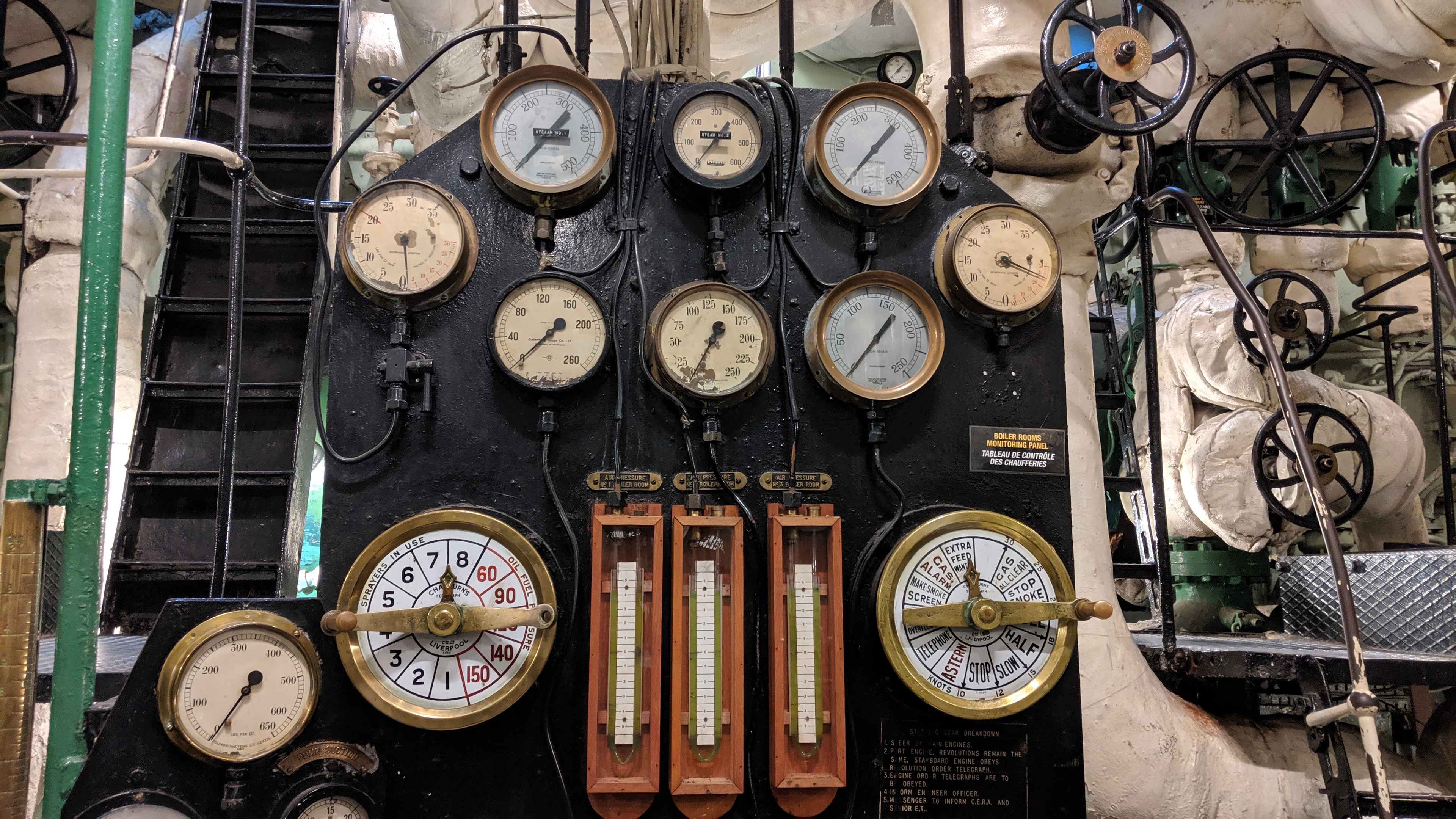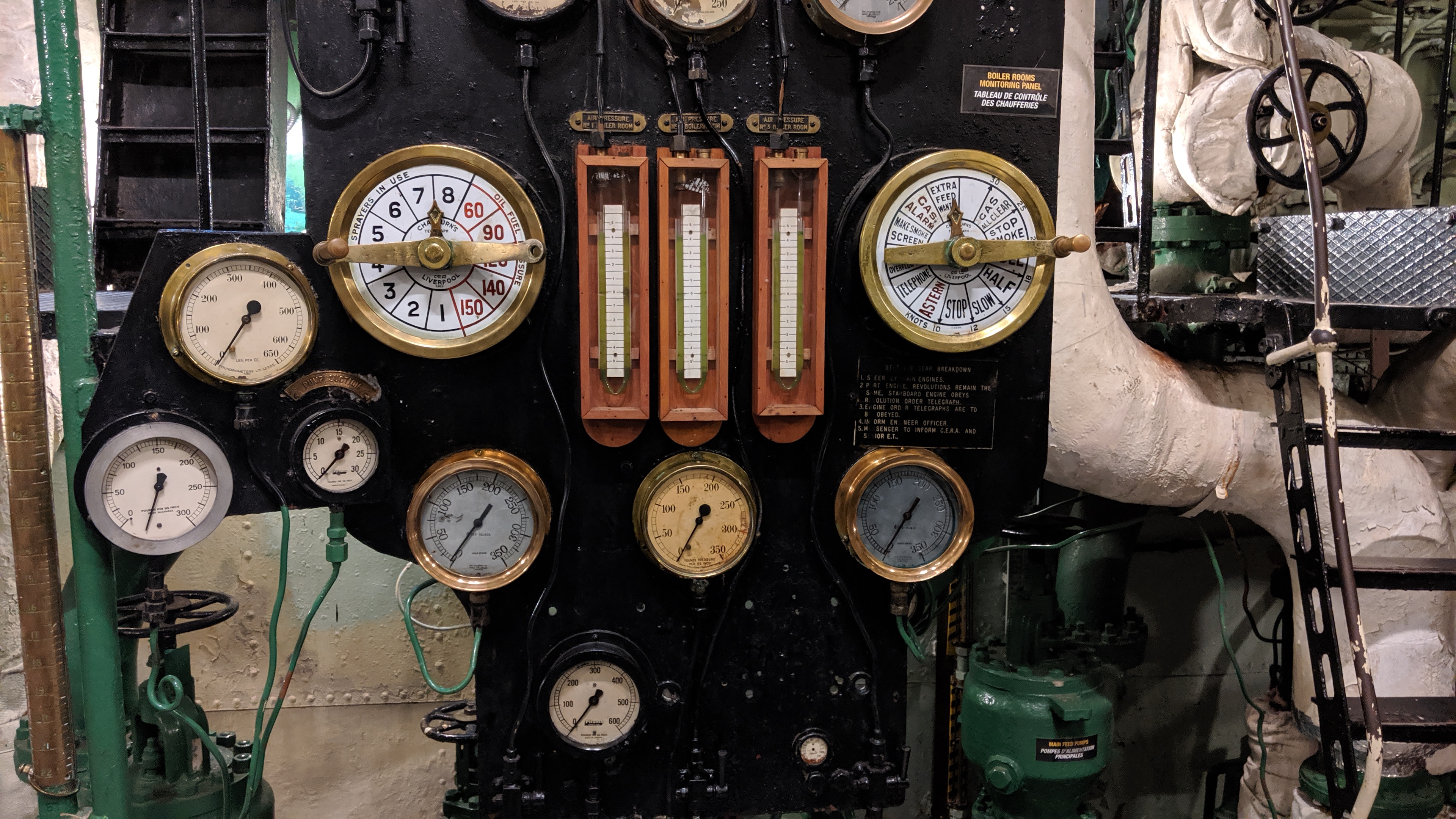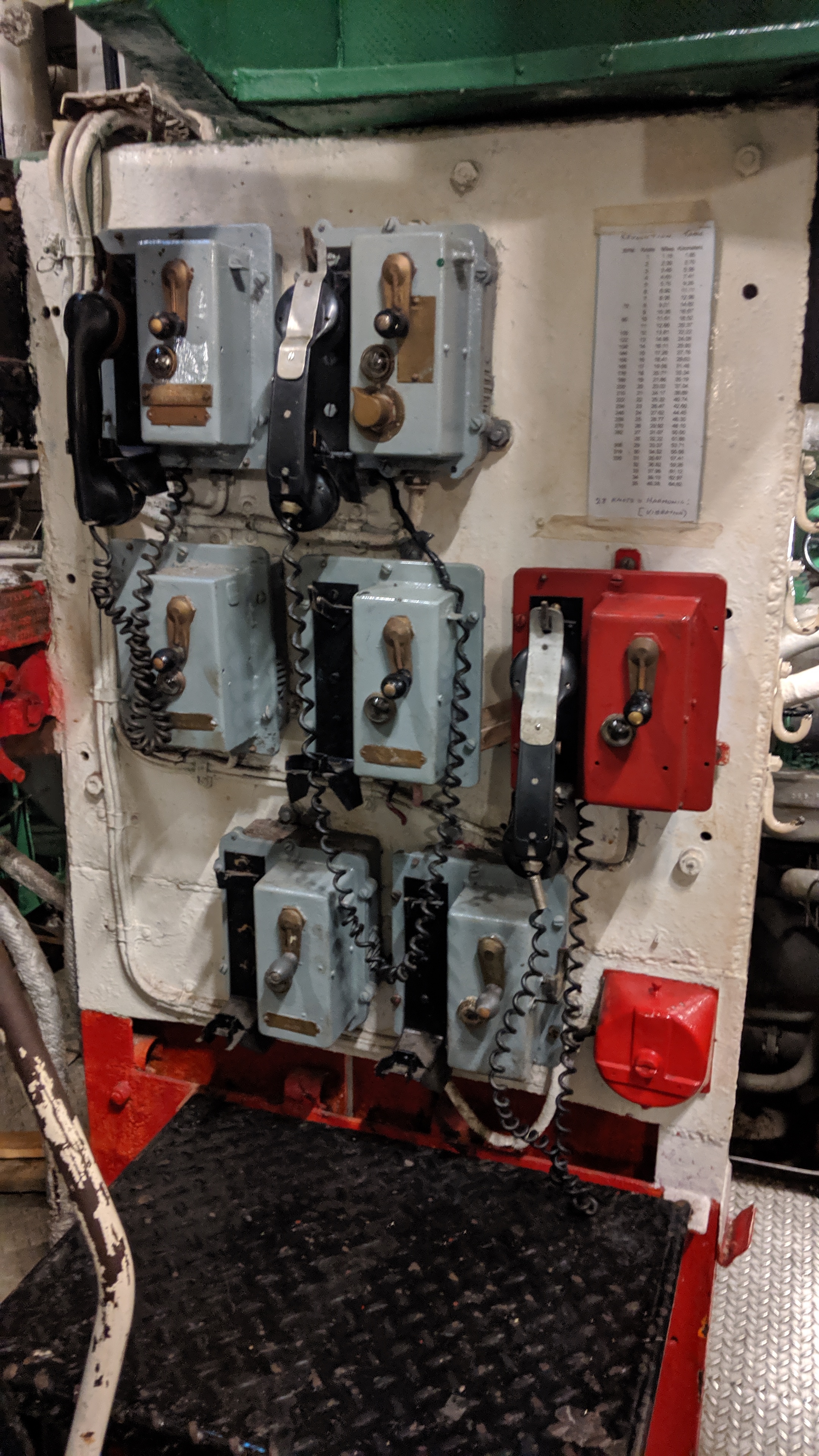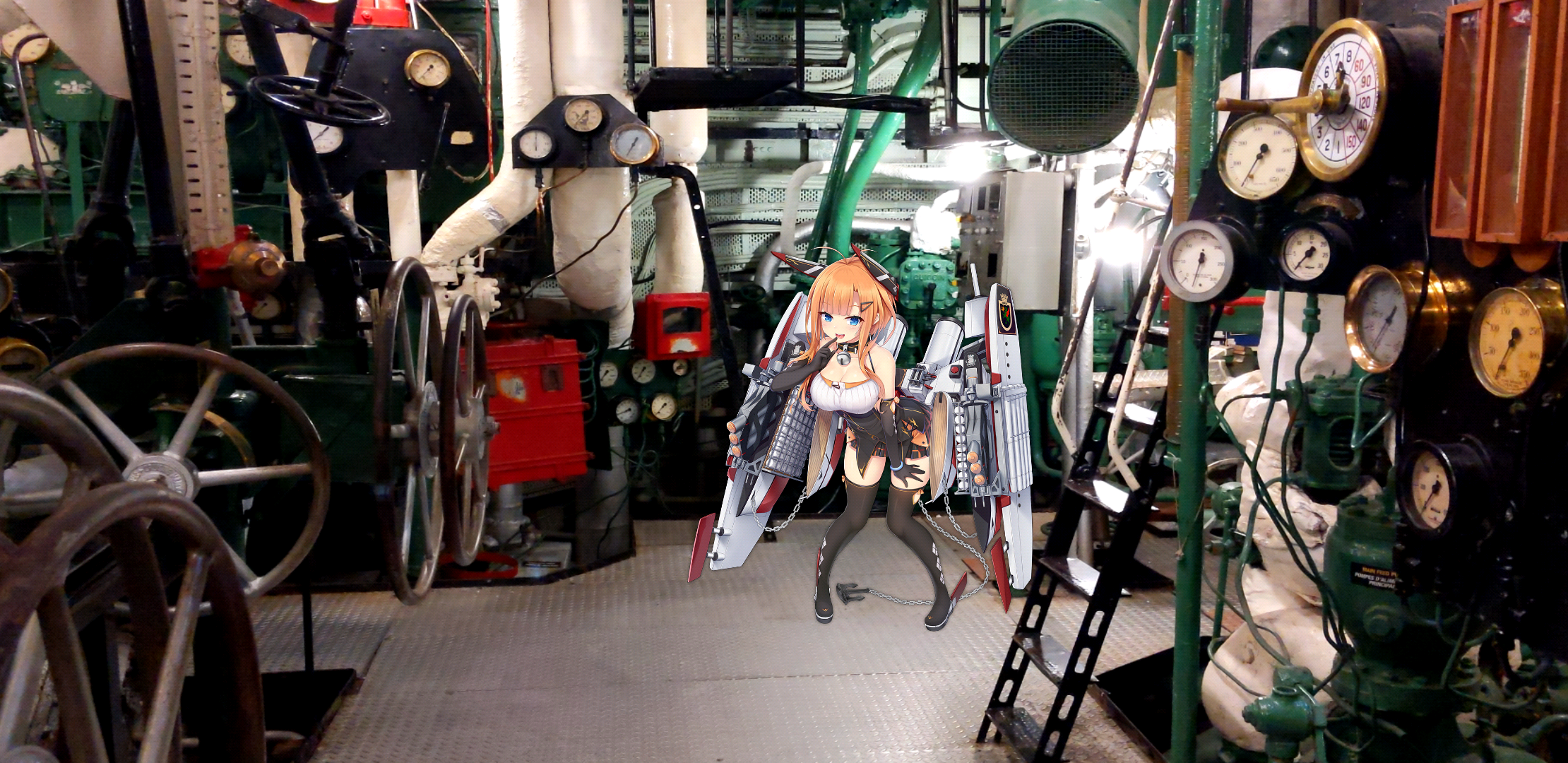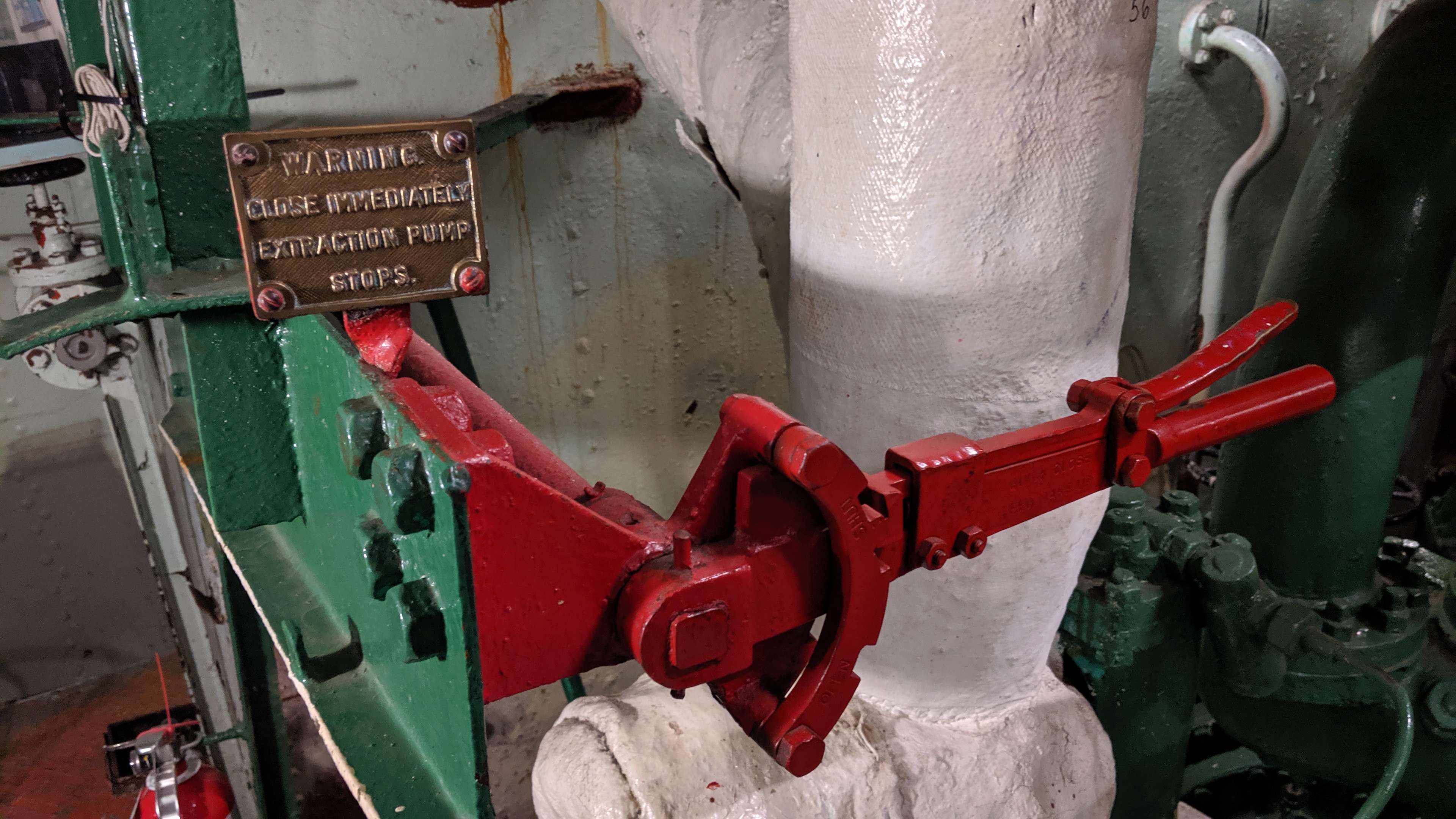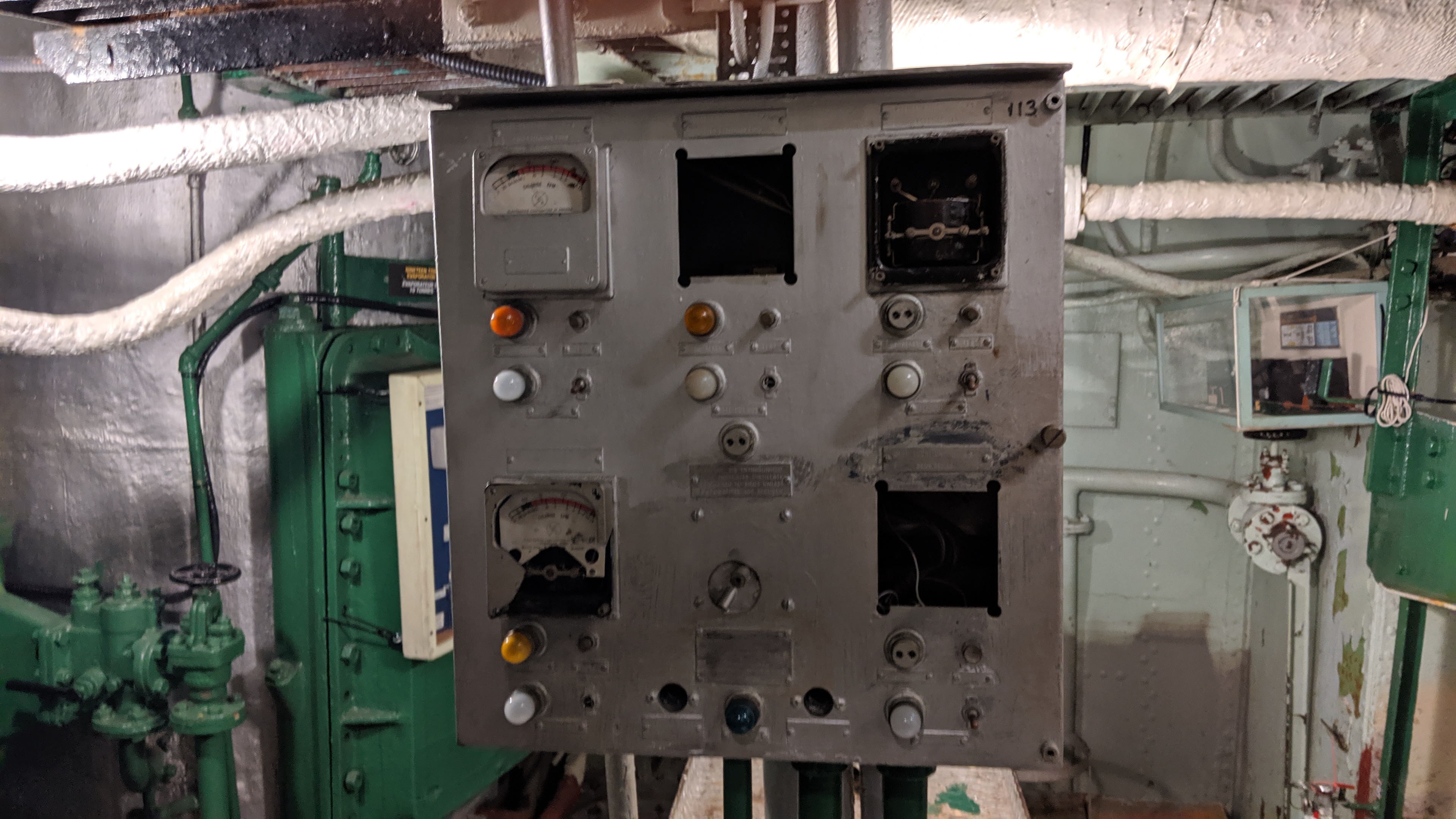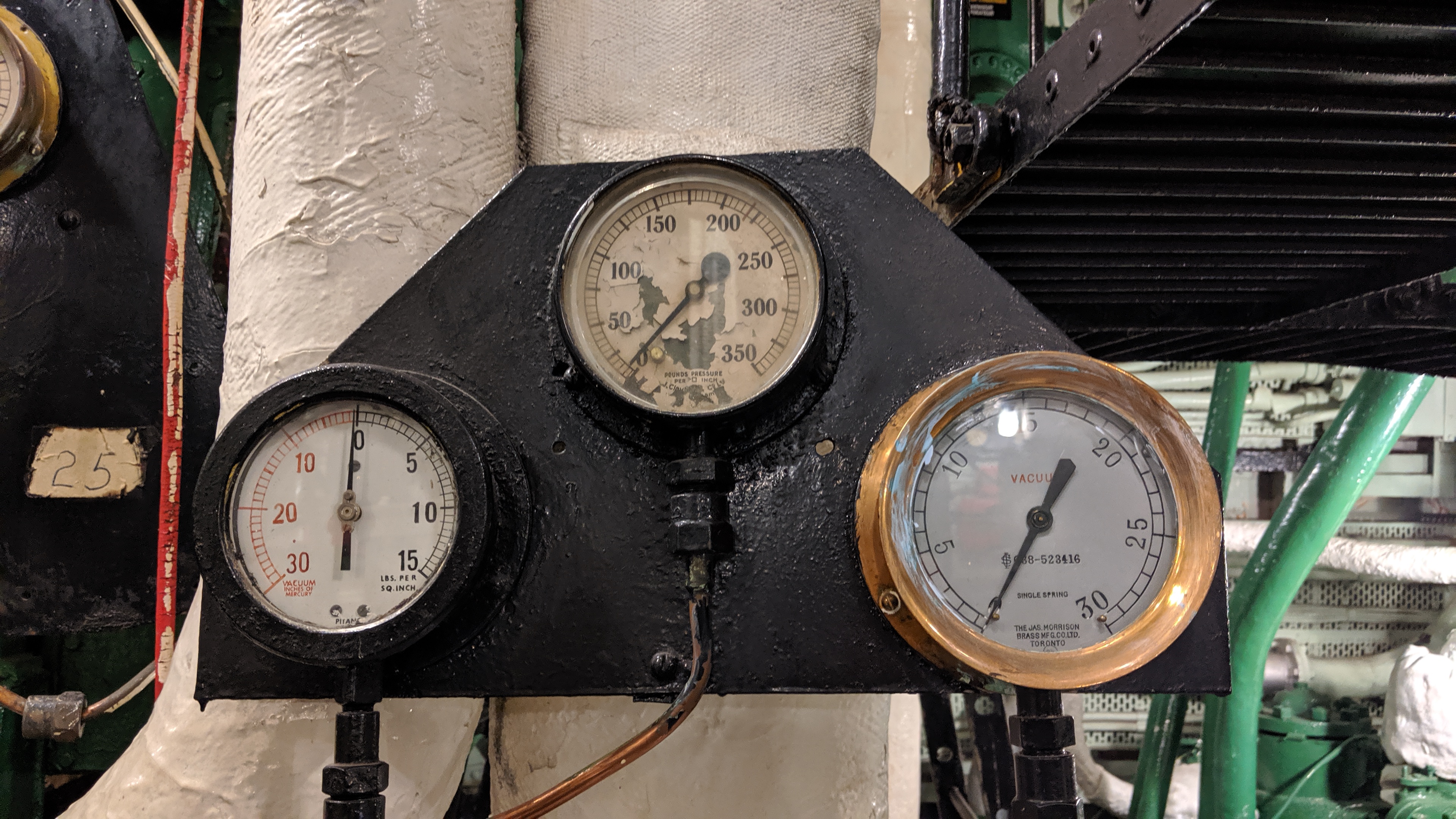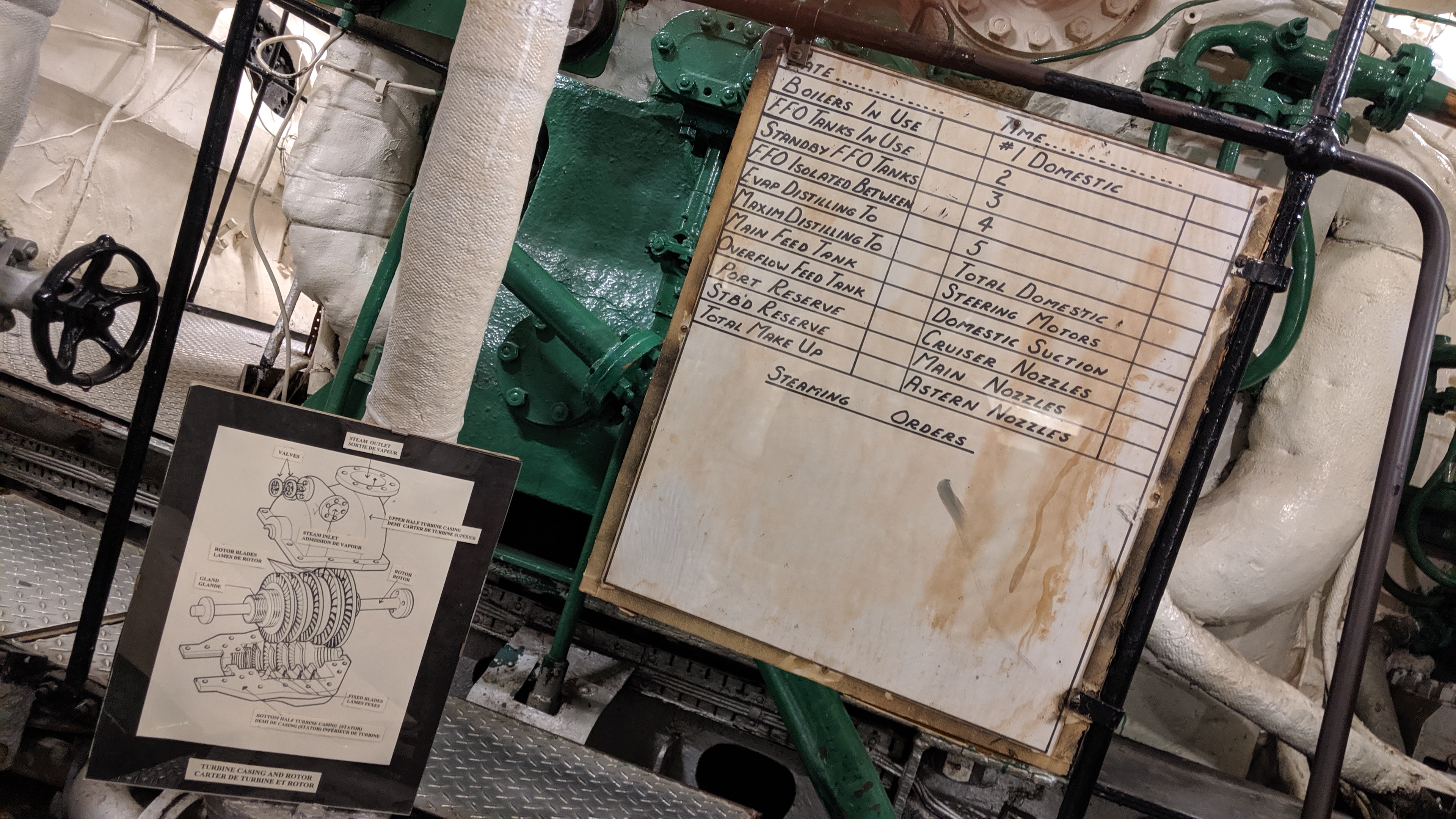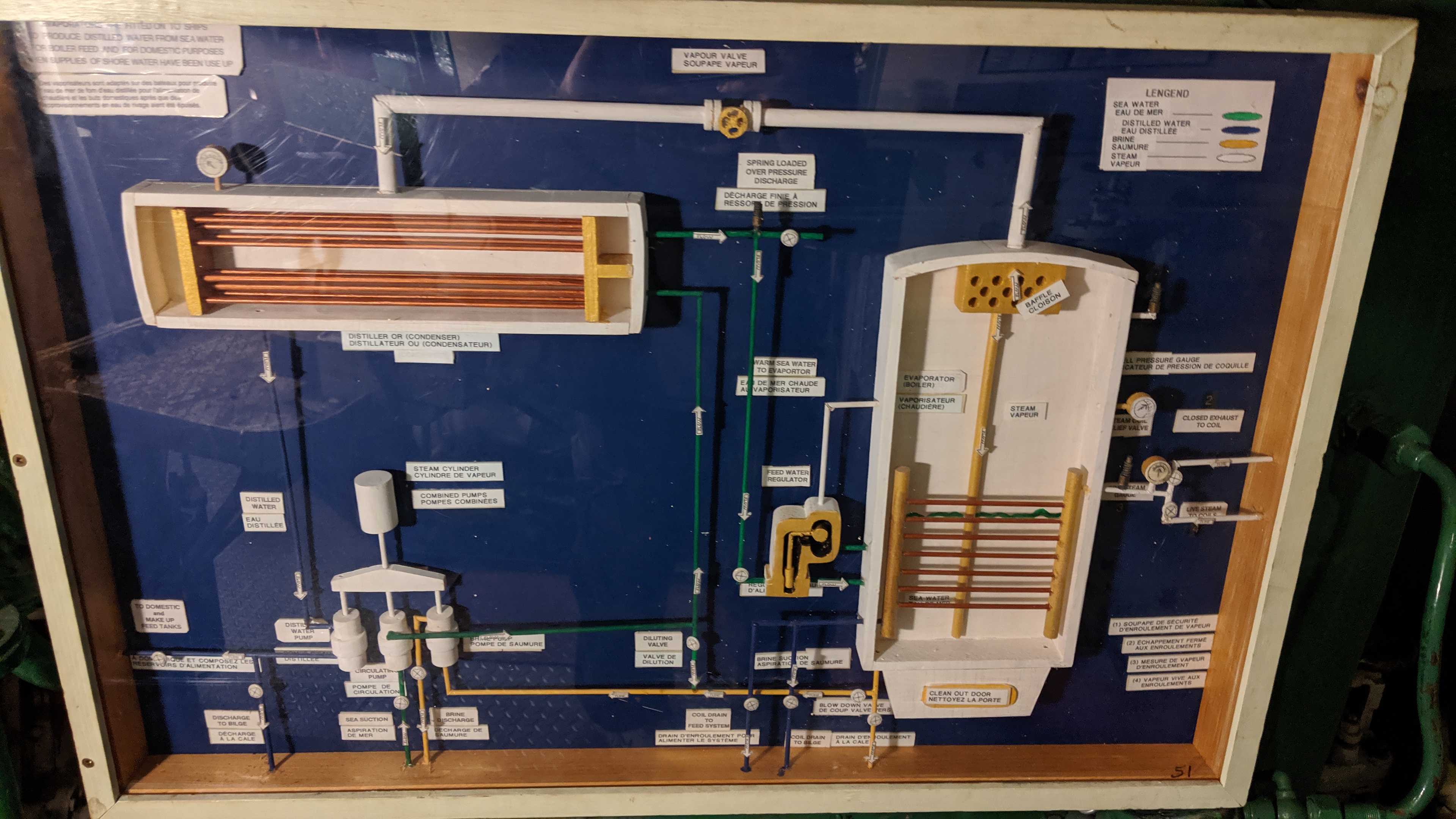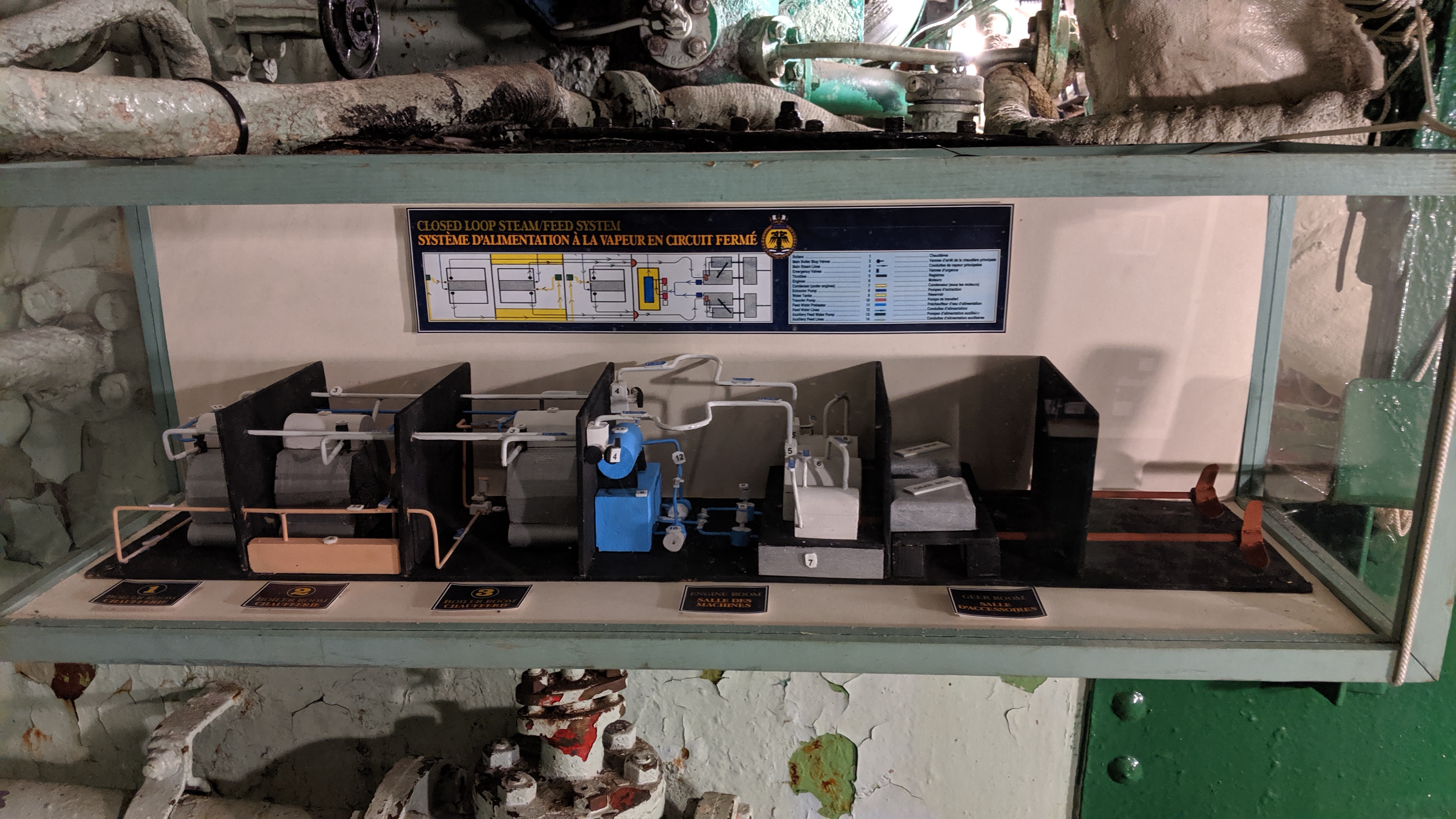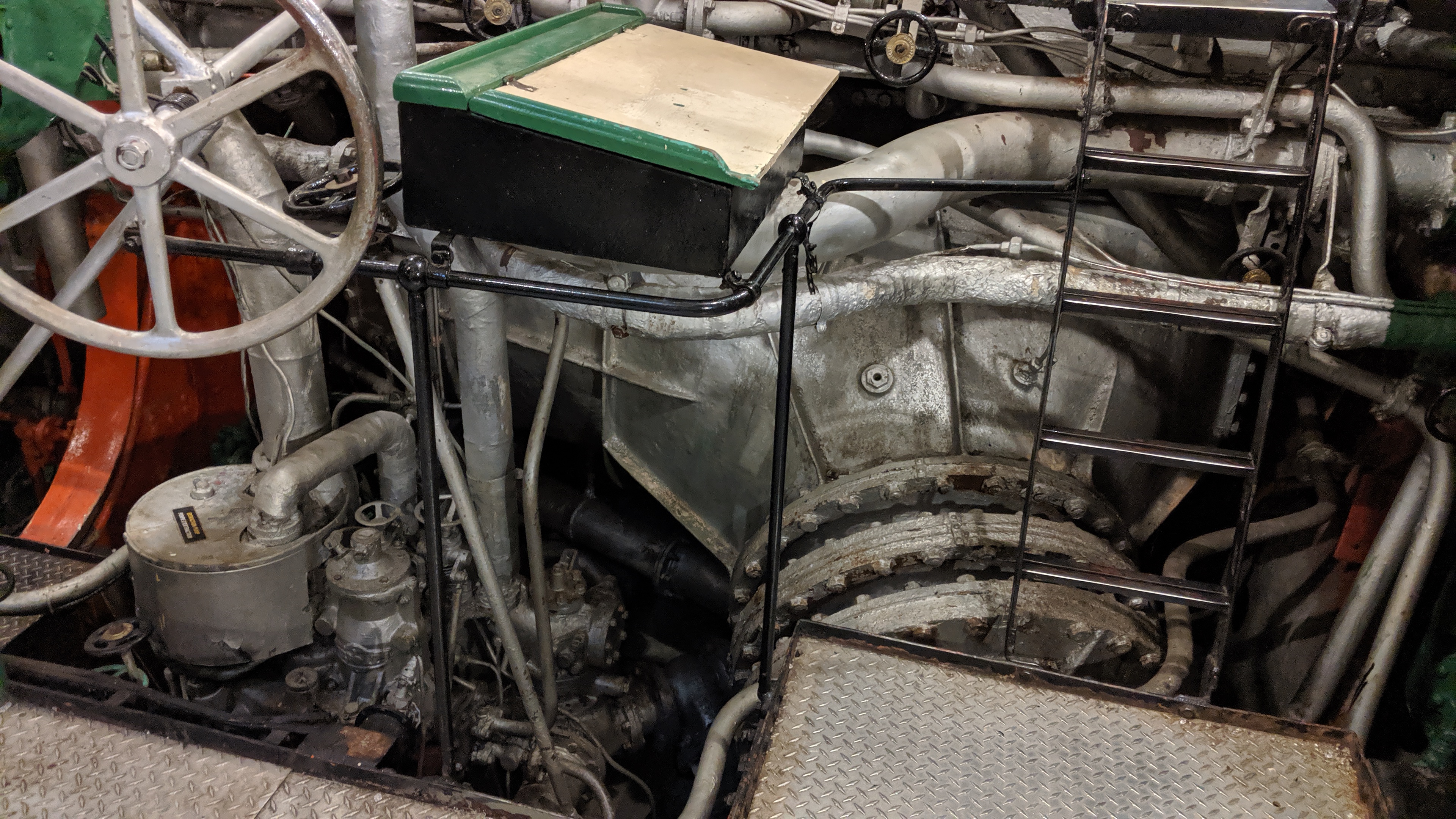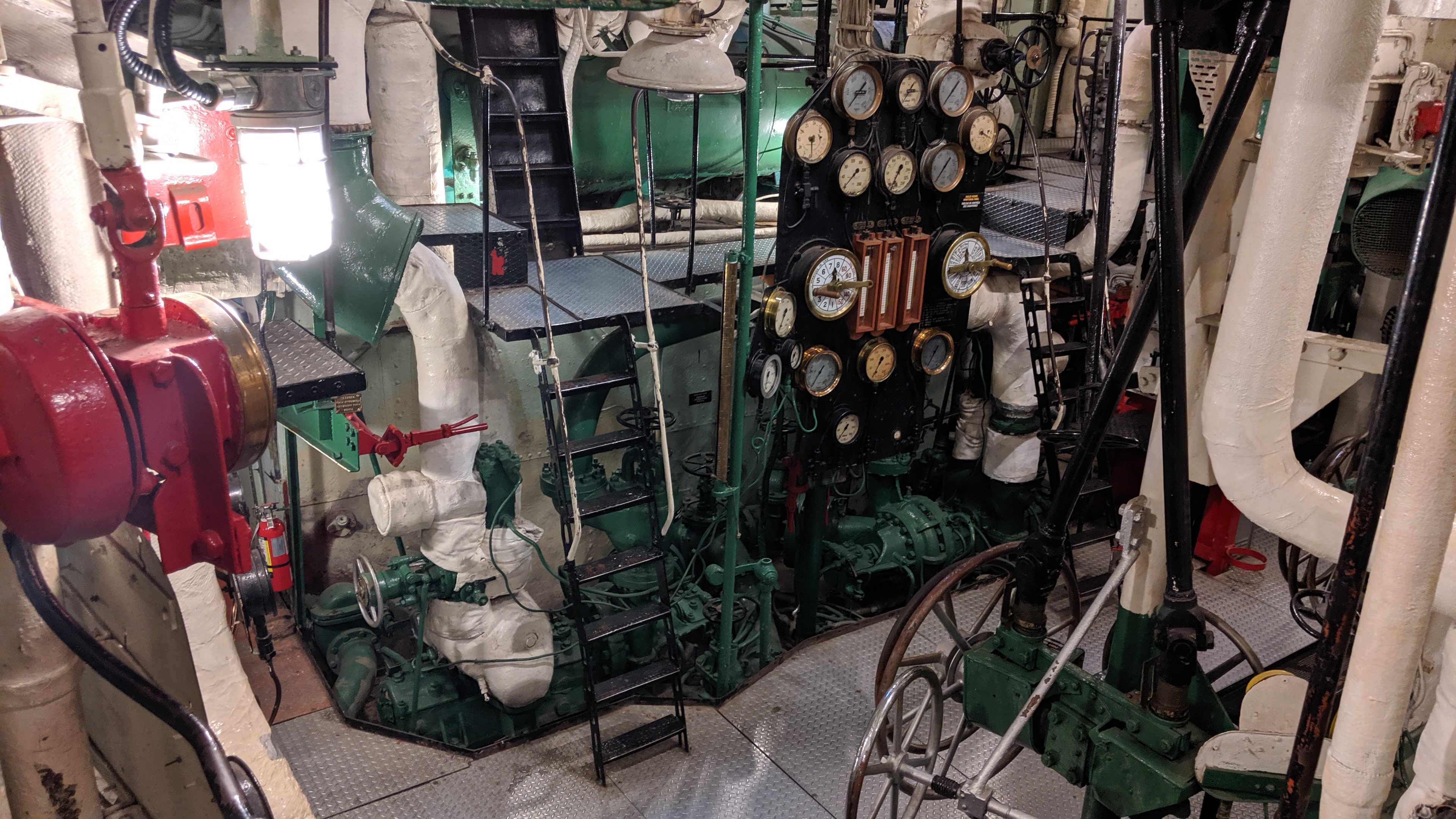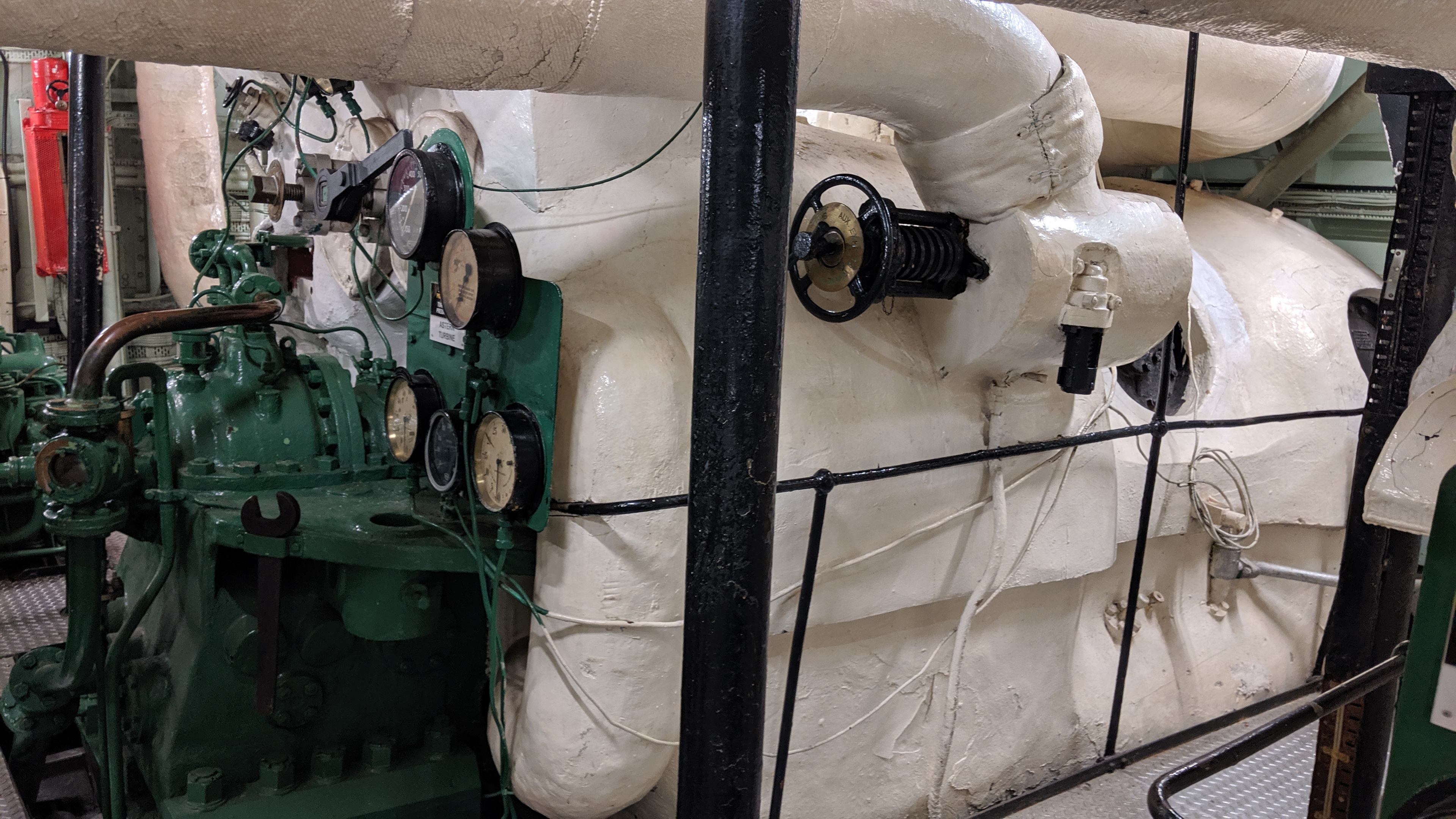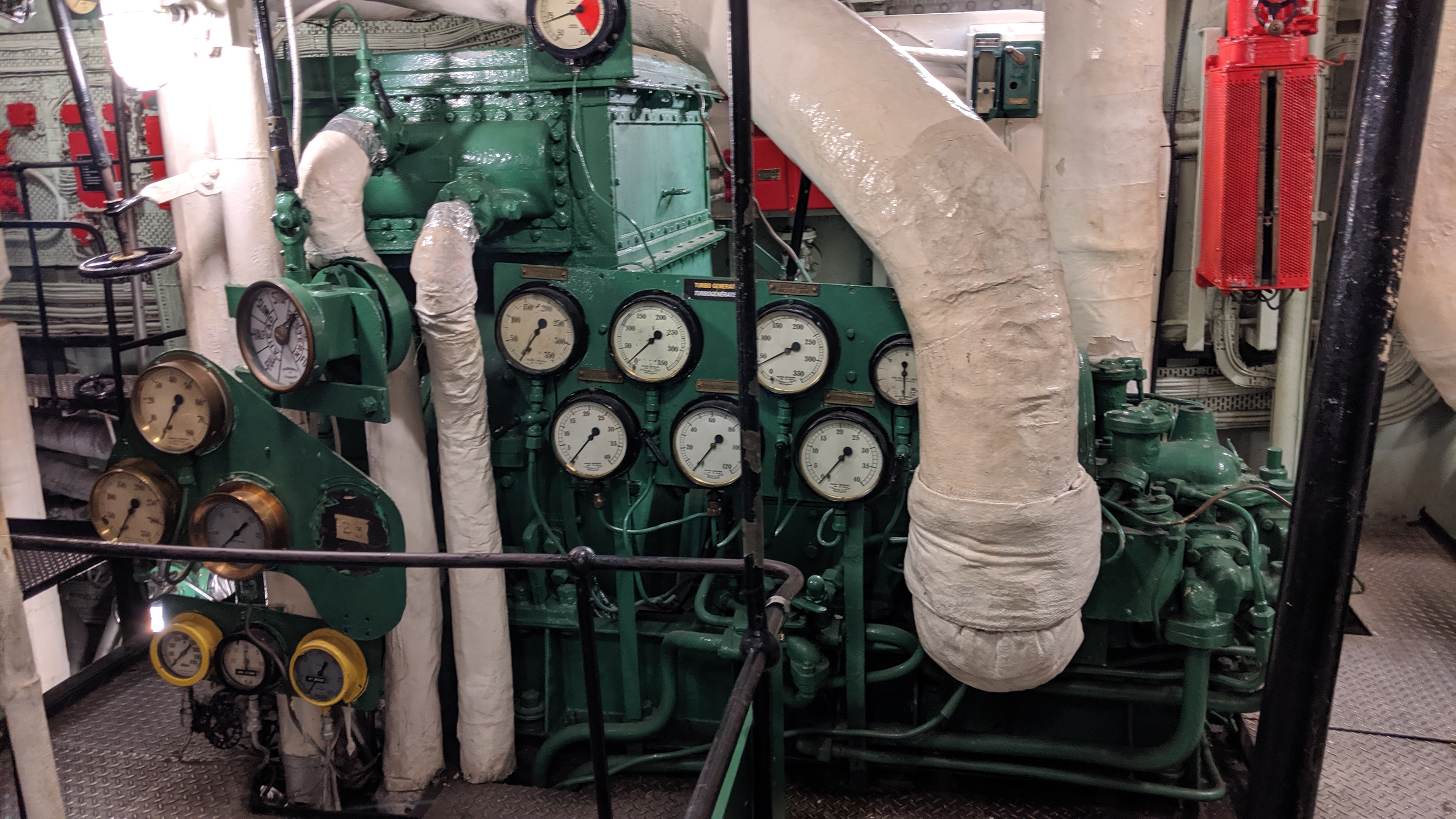 ---

---
Bonus Images from my trip to visit HMCS Haida.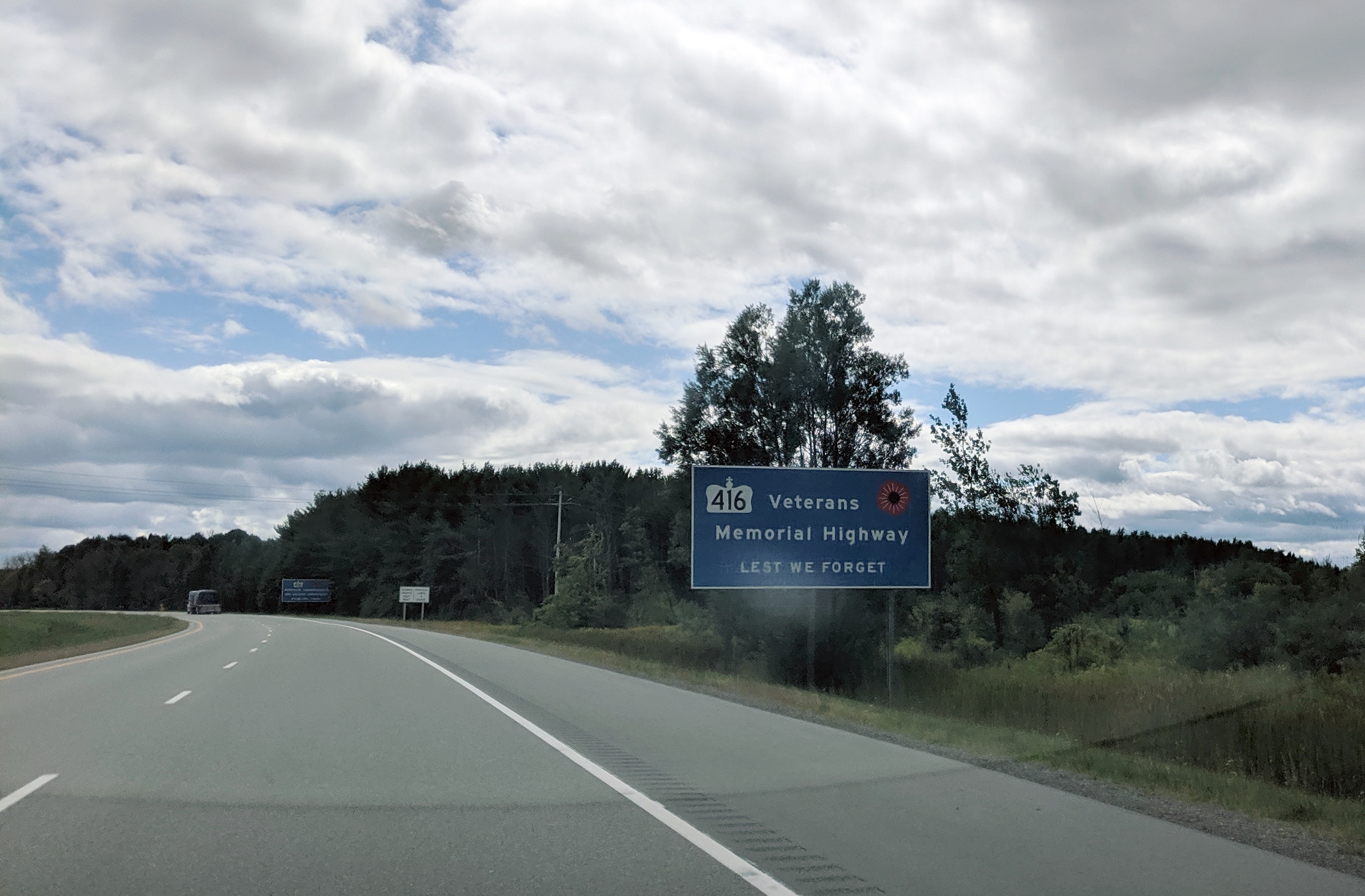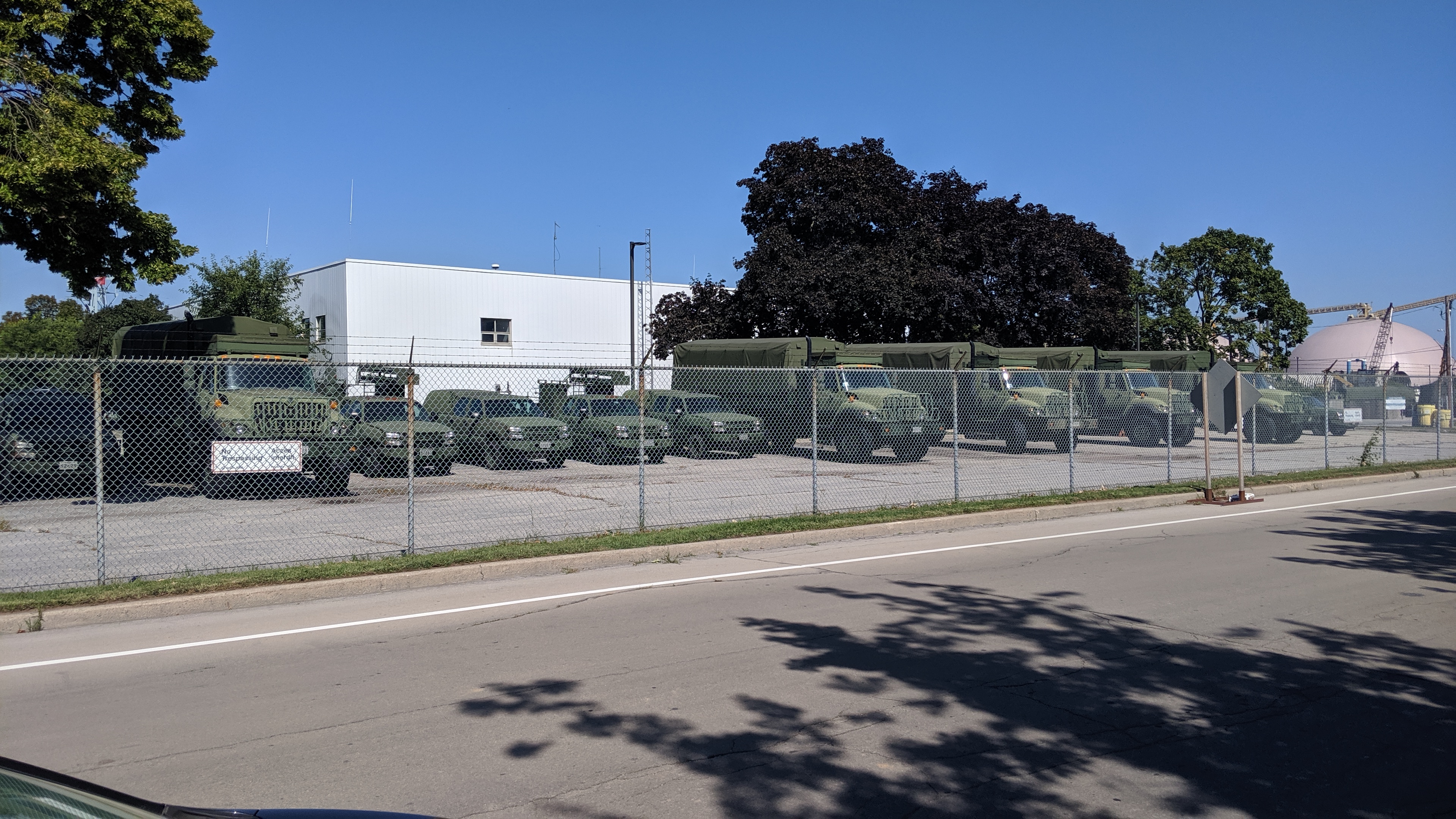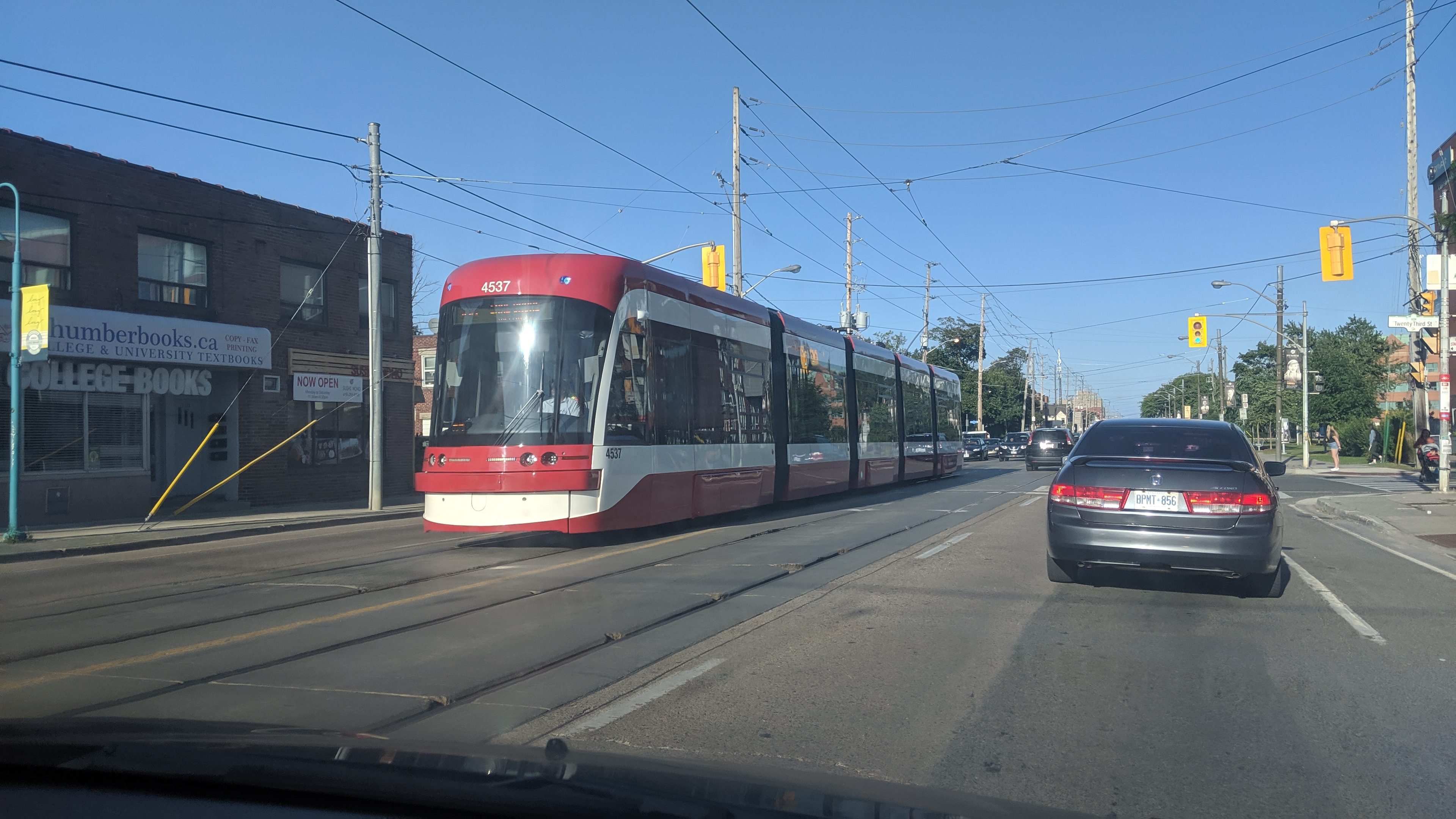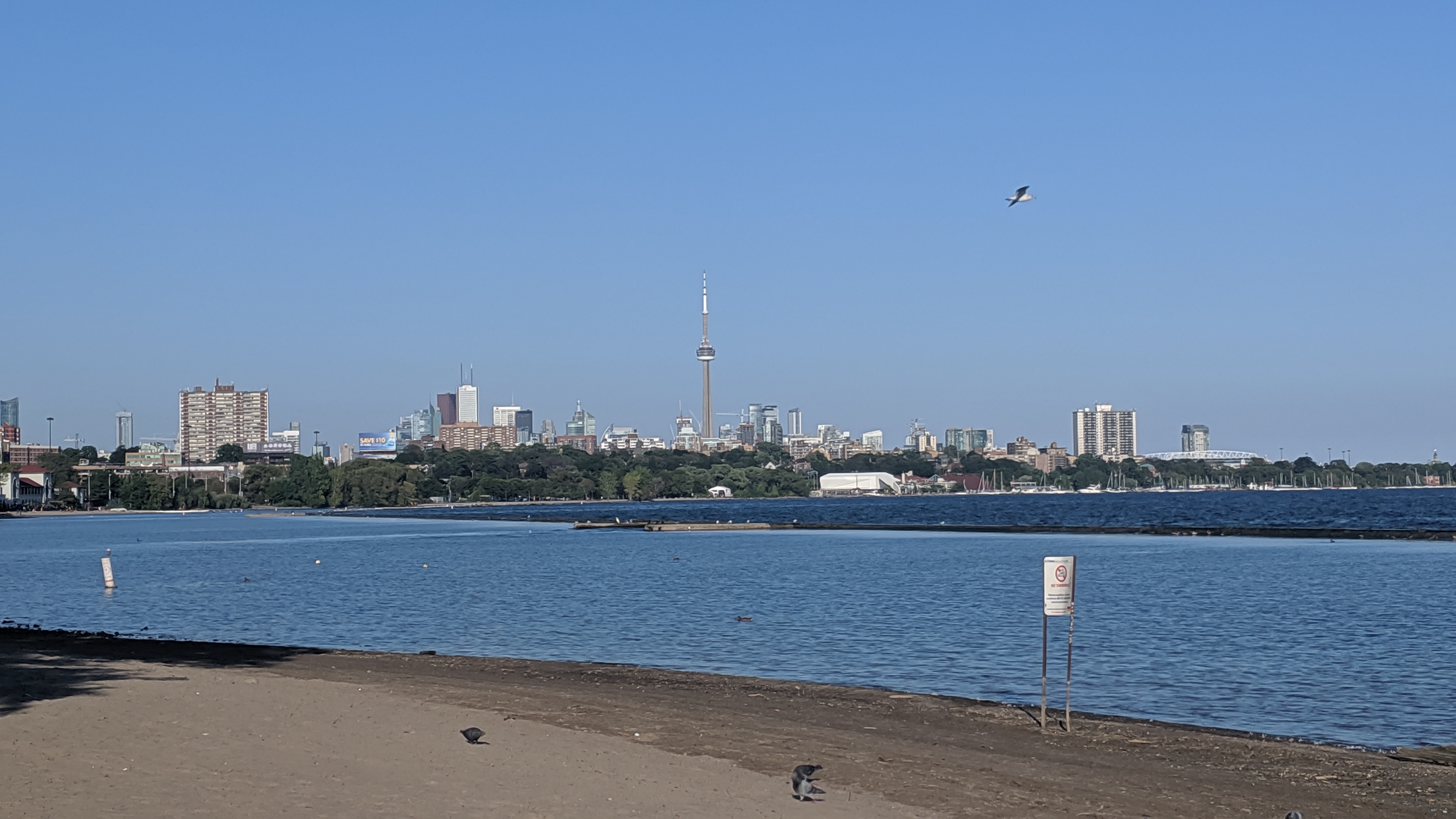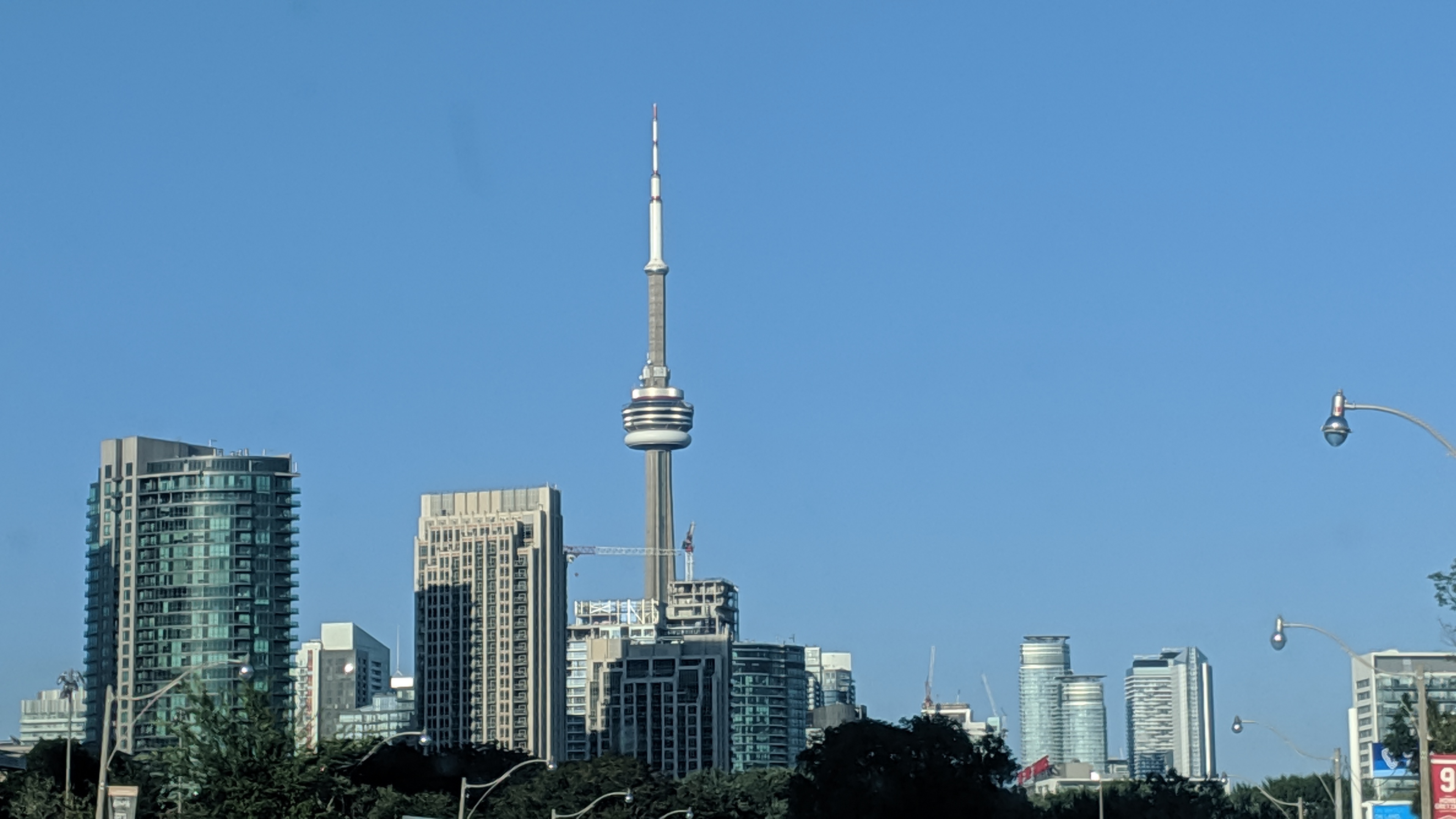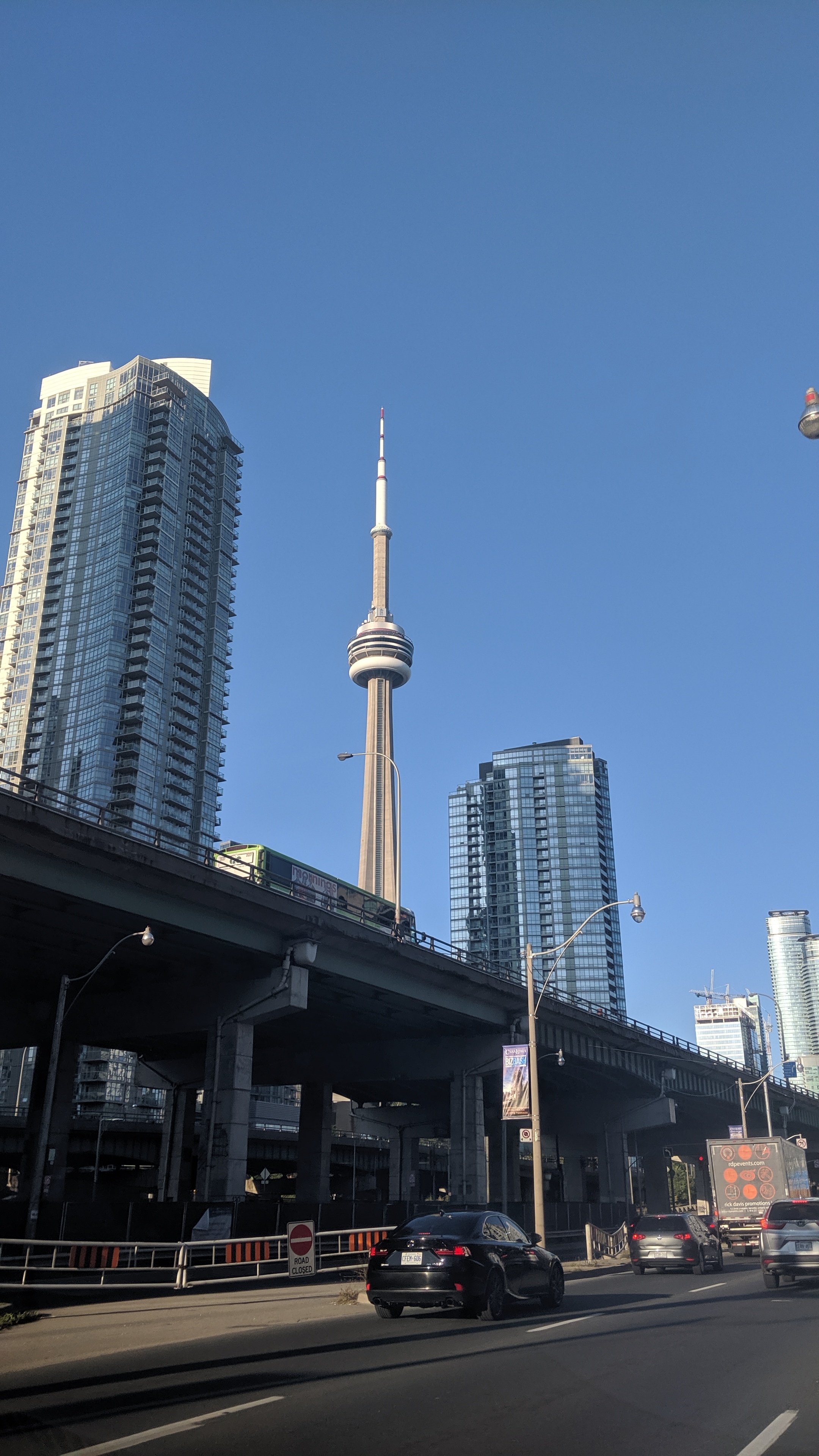 ---
To conclude:
HMCS Haida is awesome. It's a shame and a pain to see her rusting. When I read someone's account of how she was shiny when in service, then rusting as a museum ship I can now believe that. She's struggling to contain her former glory, though she still manages to still command respect with how she's being treated as a museum vessel. Even when viewed from afar (mast alone) you just know how special Haida is. When I simply saw her bow coming from the west (Guise St E) first seeing the bow it was a highly majestic experience. Is that Haida's bow? Yes! yes it is! Damn, that's impressive. Got closer, the view simply became grander. Everything about Haida is impressive. It's however a shame to have noticed paint peeling, rust eating through the Captain's cabin flooring, and even a wasp nest at the mast. HMCS Haida needs love.
I honestly loved the contrast of how the room styles changed from aft to forward, what rooms are hidden where, and how they are hidden and how accessible they are. Everything is awesome, and you learn something new every day. Even though I took many images (280+ images), you still have to view this ship in person because there's are things you can only notice in person. The sounds, the 360 view you gain as a human, and the smells. With it being cramped I can only note so much. I can't note the grease/paint smell, nor atmosphere. You have to also support Haida as much as you can before she suffers the same pain both the Avro Arrow & Avro Arrow replica had faced. Canadians and other folks do visit her, Canadians however neglecting their past, their history while taking things for granted.
HMCS Haida was honestly worth the trip south to see. I've learned a lot, I've recorded a lot, and I've even noticed things after the fact (from images) viewing HMCS Haida in a better light. I have a better understanding of her "personality". The staff working with HMCS Haida were extremely nice and helpful. I'm simply grateful HMCS Haida is even accessible, unlike HMCS Uganda & HMCS Ontario. I still wish Canadians would have saved them somewhere. It however is what it is, thus having to make the most of HMCS Haida & eventually HMCS Sackville. Though, Sackville shall be harder to get to. She's painfully far out of my way to get to, thus shall be difficult to get to.
Favourite station? All of them. Though, I could probably narrow it down to the Captain's quarter & Mess hall, though minus that gap in the wall. A solid wall is what I prefer. The engine room was indeed highly impressive (into the belly of the beast), though not my main focus. I loved being able to walk on the bow, to see every inch of the ship (90% of it). Everything about Haida was awesome. If anybody is able to financially support HMCS Haida, they honestly need to. If you lose HMCS Haida, you lose everything Canadian, as you would with the Avro Arrow replica. You might as well reject Canada, and step on the Canadian flag by not supporting HMCS Haida. A bit harsh, but that's how strongly I feel after having visited Haida knowing she's the only museum ship we have from WW2. No replicas (or partial) have been constructed of HMCS Uganda, nor HMCS Ontario to pay respects. Only in name, not physical form. Trying to also get them into games is a difficult tasks because game developers love their cookie cutter games while ignoring the finer and more interesting parts of war. Whenever you request Canadians in games people always whine and moan, guilt tripping you about being "dramatic", and a troll, among other weird nonsense. It's nasty experience. Stop with the dramatic games and just add the Canadians in naturally. Don't play these moronic games with Canadians seeking Canadian identity in games.
Just know that I left HMCS Haida all happy and hyped. She was worth visiting. I wanted to visit her for many years, finally having done so. I'm 98% at peace, yet 2% left with unfinished tasks. I want to go back to take some final panorama images of certain rooms & sections before feeling fully satisfied. I want to purchase a mug I was eyeing, and to come back with Azur Lane's version of HMCS Haida to pose next to Haida in various portions of the ship.
---
Thanks for reading, and hope you enjoyed the images & the thoughts contained within. She's highly impressive! Please visit her in person if able. Keep her afloat and as a museum ship as long as possible!