I went to my local Anime Stop (20 minutes bike) to look at what they had. I came across this Saber which I got here and accidentally mistook it for a Figma Saber. She was acquired on Sunday, May 18th, 2008 just for those curious on the date.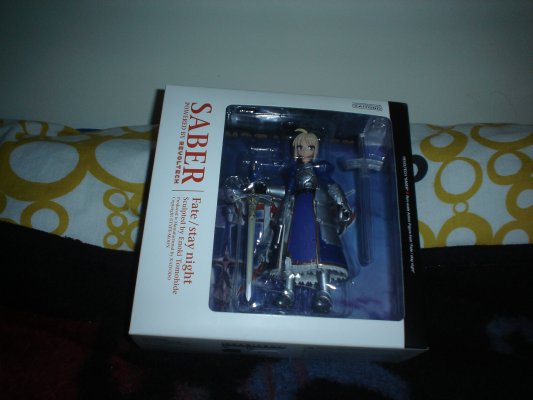 (Link)
I put her on hold on Tuesday making sure nobody would buy her so I could finally have a Saber Figma model that I have been seeing constantly (or similar). Now that I got one I'm half satisfied and half annoyed at how she has been articulate and that shes not the Figma Saber. Her arms do move around and so does her legs in various places but not as much in a proper pose where she looks like shes been hit with a lance to the head. Her head leans forward as if she has neck problems which is my main issue with this figure.
For those who are curious its made by KAIYODO and sculpted by Enoki Tomohide. REVOLTECH "Saber" * Non-scale Action Figure from "Fate/Stay Night", interesting mini print I must say. Its a you learn to like it (and I did when I saw her in the store) its just my main issue is the neck, the neck! Well I should move on from that small negative rant styled issue and say/show how well she is made for a $45.99 (with tax, $39.99 without). Like in the picture on the box she moves in the pose. Her bottom armor does move but only on the sides and her chest armor piece.
I showed you the front box and now I'll show you the other sides of it: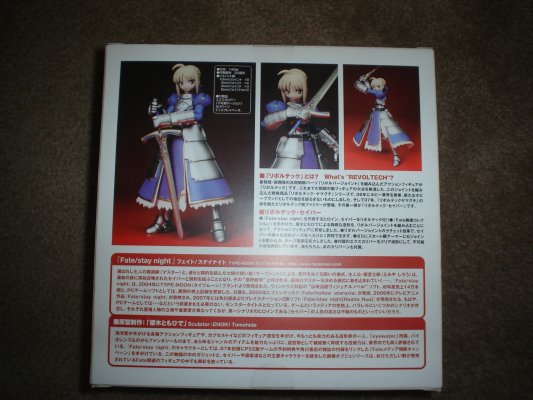 (Link)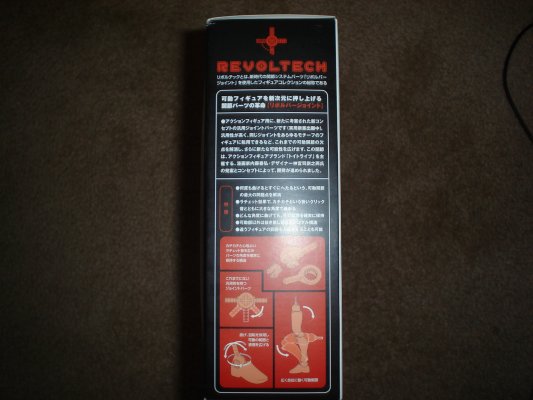 (Link)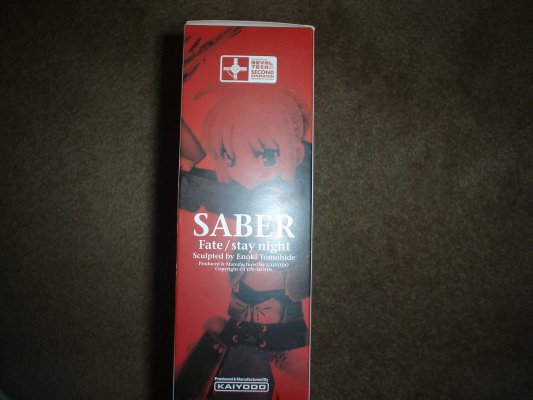 (Link)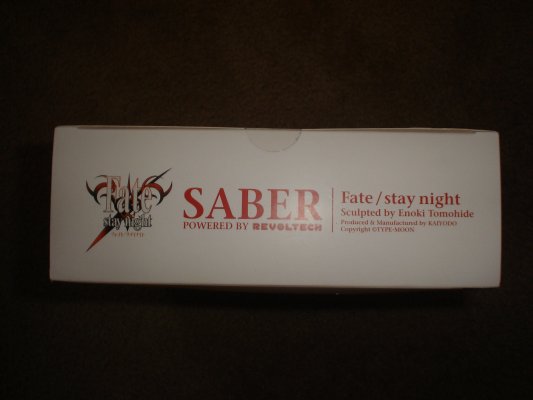 (Link)
Now to show you what was in the box (No pictures of a Revoltech Second Generation paper):
A background piece with Saber holding her sword, and a invisible one to the right. The black thing is a poorly made stand as I can't pose it properly.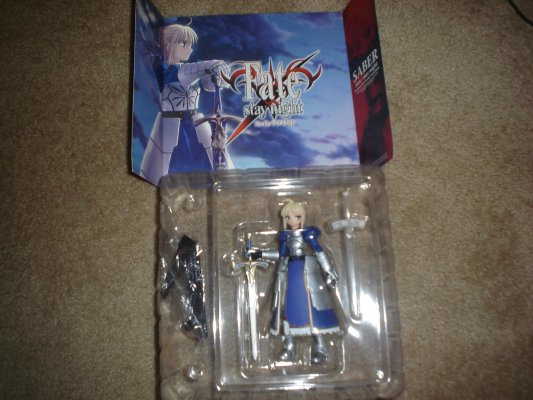 (Link)
And below we have Saber posing similar to that of the image behind her. As you can see the neck is forwards.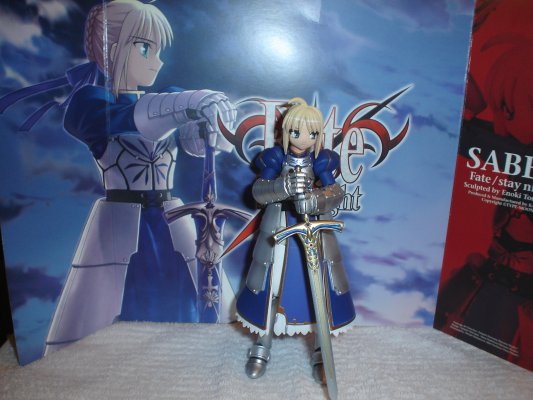 (Link)
Focused on the quality of the lower portion for you to study the image if you like.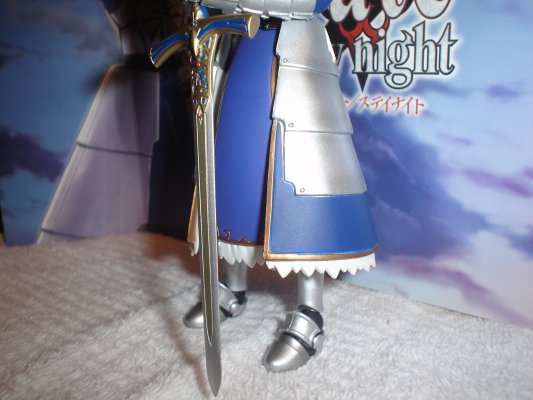 (Link)
And now you will see the top part of Saber looking at you all pissed and her neck looks fine in this one. Just don't piss her off or she will send you flying to the moon in pieces lol.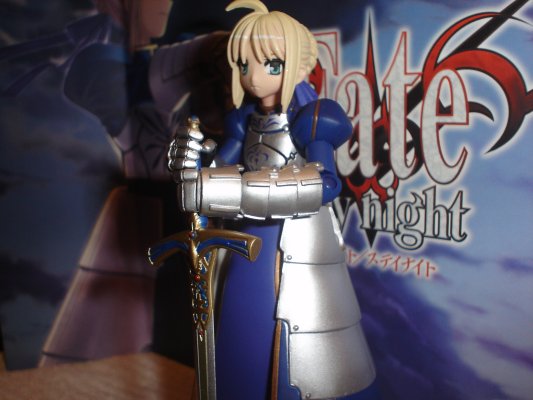 (Link)
I tried to make Saber do the Kendo poses when "Walking your sword", though not the proper stance. Can you forgive Saber? :p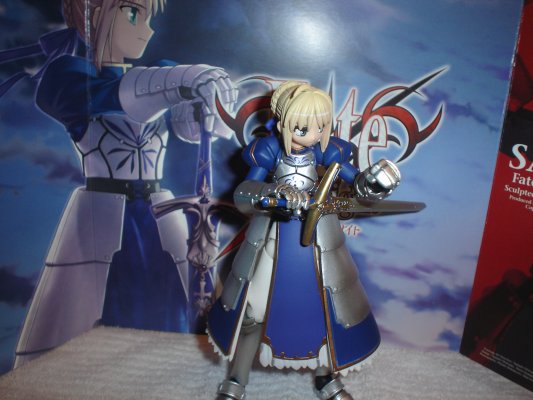 (Link)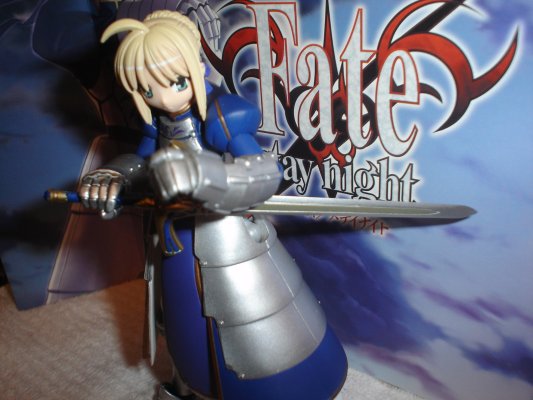 And the below image is supposed to be tilted upright so if it isn't let me know. And here we have Saber ready to go into battle, did someone piss her off? :p Did anybody call her short?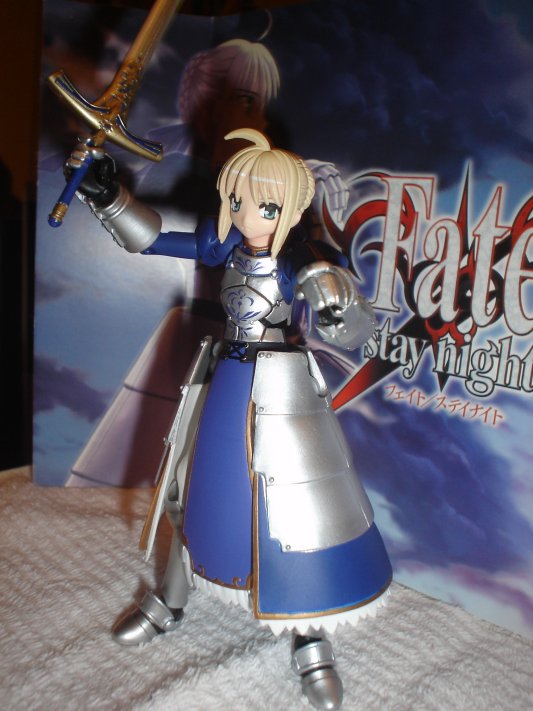 (Link)
And now for the articulating armor bits which make her look like a plane or a helicopter. Hmm, *pictures Saber's armor piece spinning with her flying into the sky*.
*Fly me to the moon* comes to mind.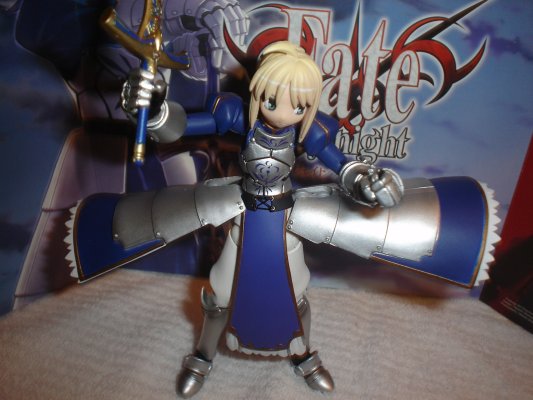 (Link)
I tried to replicate a Saber Figma pose where the sword is held sideways and to the back. Guess it might be a matter of perspective and angle?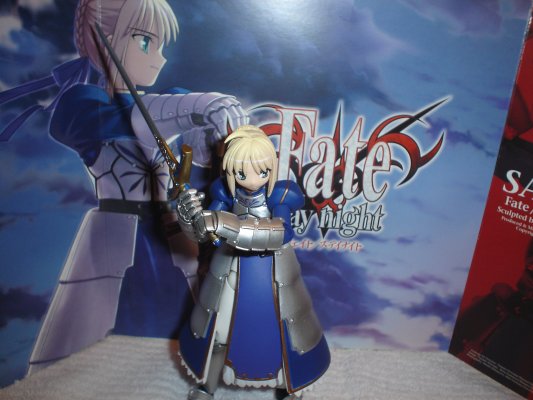 (Link)
And here we have her in a natural resting position with no poses. I excluded the stand , of some sort, so only her and the two swords remain. I'm pleased she can wield two swords with no issues at all :).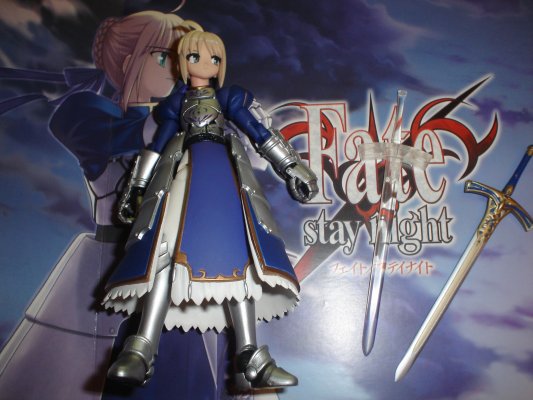 (Link)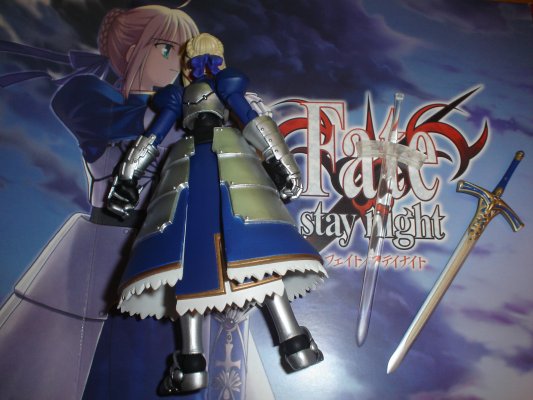 (Link)
And lastly Saber wielding her two swords, Exalubern (two versions). For those who have not seen this anime series please do so now or I'll come over there and knock you out with a shinai :p.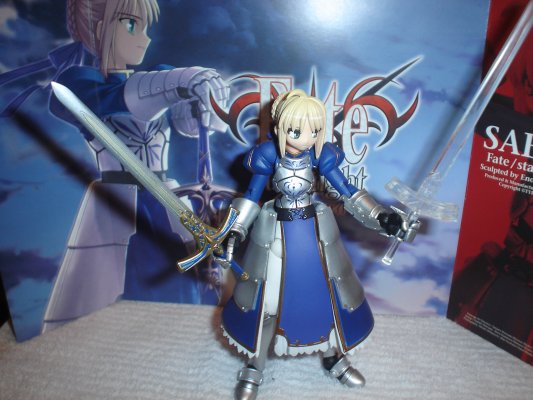 (Link)
So in conclusion:
This is a nice simple model that you can use/collected for your anime collection. Her movements are simple and clean enough to do simple poses but if you want to do more complex make sure you have a huge patience reserve. Saber, even though made by KAIYODO, is a nice "action figure" to own if you want to pose her but make sure you have something to keep her balanced or she will keep falling forwards or backwards. If you figured out how to move her neck forward or backwards then this figure is perfect for Saber/anime fans. It was worth the $45 Canadian I put on it. I'm a tad bit disappointed though since I was aiming to get a Saber Figma but I got this but I'll get the figma sooner or later so I'm satisfied.
————
Edit: July 05, 2010: Left the article as is, only added the split for index viewing.