Went to my local Anime Store again and tried to find new Figmas to get. My choices for today were
1) Figma Ryomou Shimei.
2) Figma Mikuru Asahina School Uniform Version.
Either those two or the $100 CAD Deformed Saber figure (Link)…….. I can hear my wallet crying already :(. I also saw bunny ear'd Nagi-san (Link). Nice choices but damn, I'll try getting them online for cheaper (slim chance).
Well I checked out the Haruhi Bunny revoltech and saw one that seemed to be opened and twisted around. I made sure that what I was checking out was as best of a quality before I took one.� She looks cool and in perfect condition, so I picked her up and bought her. She also had a guitar which made me get her over the other two Figmas.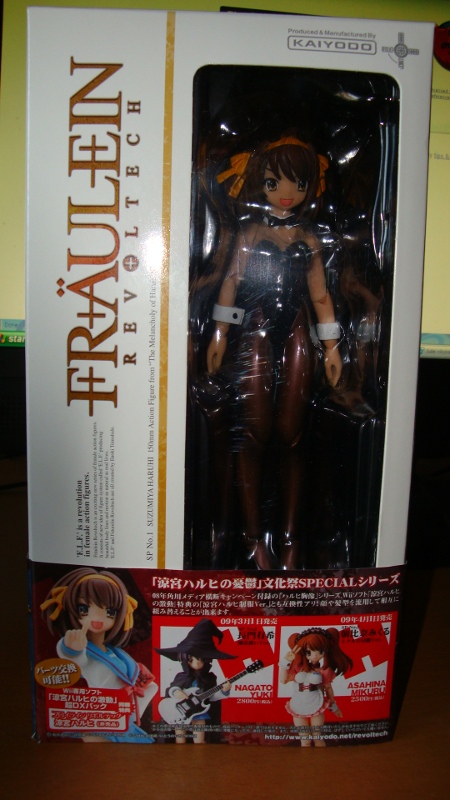 (Link – MySite)
And of course I get attracted to nice box art from those companies who care for their product. Haruhi nicely fits the box and should make for a nice wallpaper material, heh.
(Link – MySite)
Then we got obvious examples of what you can do with the figure whenever you want to pose them (my favourite). I like how they do this and it helped me see how I should position the guitar for laser posing pictures.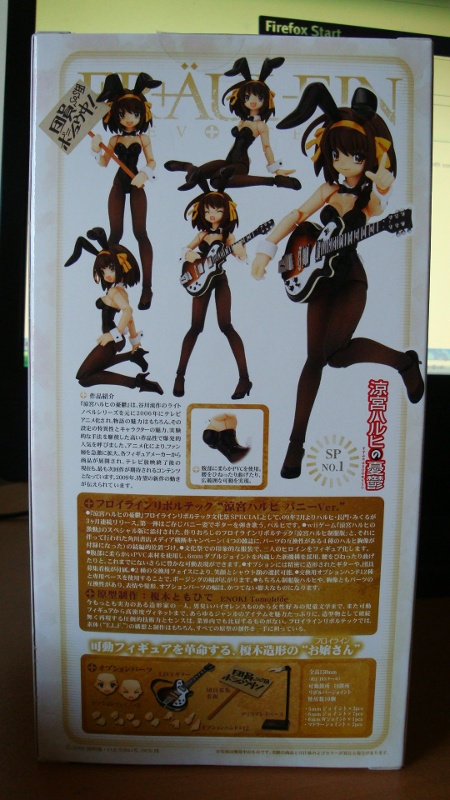 (Link – MySite)
Another shot of the side of the box. They should put a better warning on how fragile these joints are…….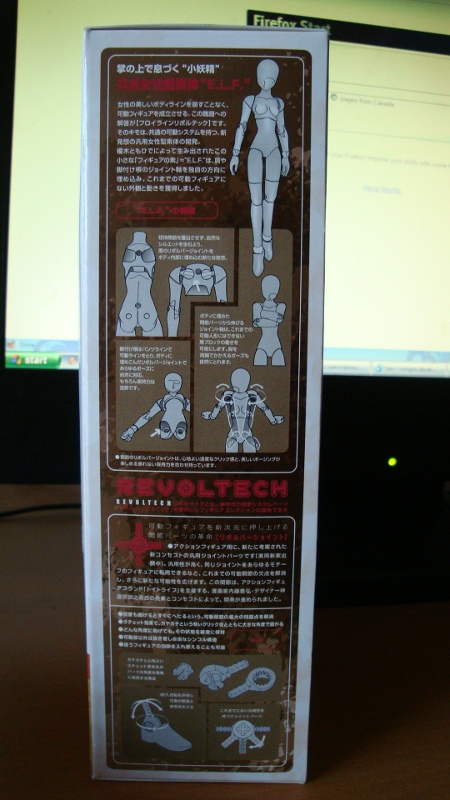 (Link – MySite)
I finally opened up the box and noticed that she comes with 6 (7 if you count the hands on Haruhi) pairs of hands, 2 other faces, a SOS brigade sign, a guitar, and 4 parts of a stand. Got a more exotic Haruhi to bring outdoors for other people to stare at me with.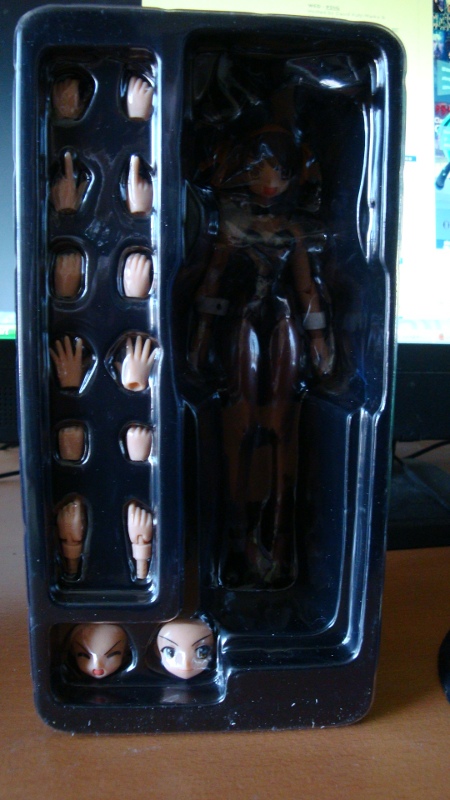 (Link – MySite)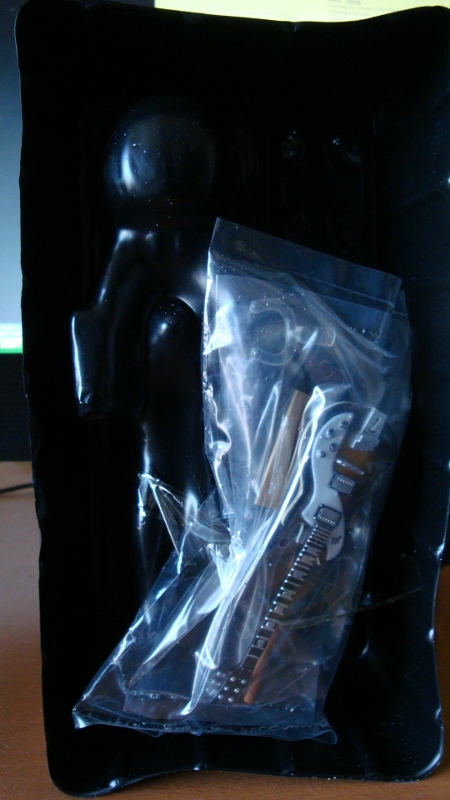 (Link – MySite)
Then we got some random advertisements and instructions that I can't read.
1) Image – Advertisement
2) Image – Advertisement Part 2
3) Image – Advertisement Part 3
4) Image – Advertisement Part 4
5) Image – Instructions (Didn't help me much.)
6) Image – Instructions Part 2 (This is what I needed damn it!)
And I finally got her out of her packaging with her looking like this when she "wakes up".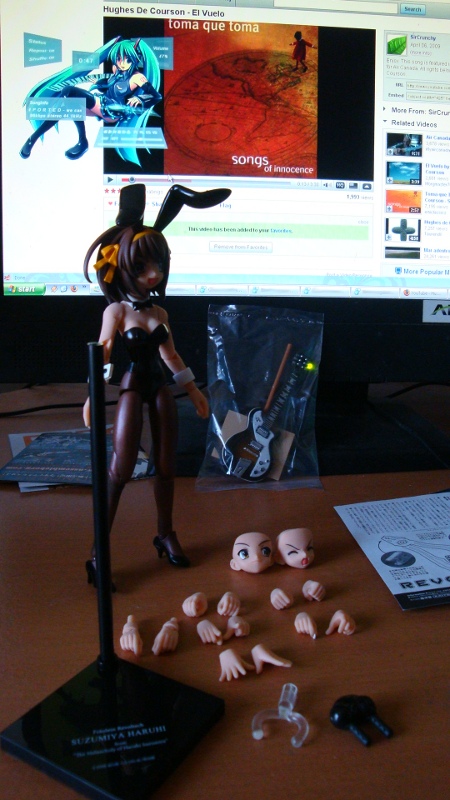 (Link – MySite)
And two bunny tail shots.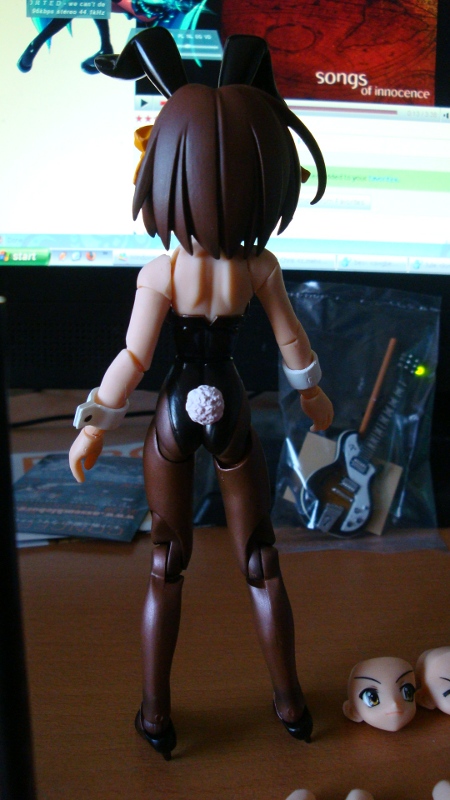 (Link – MySite)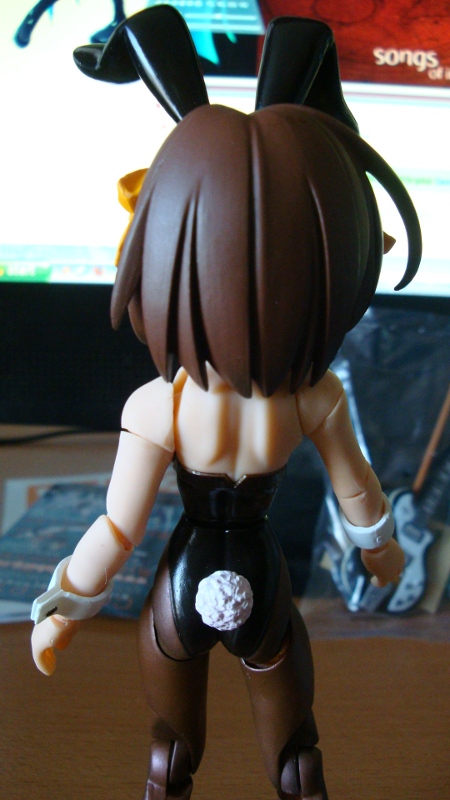 (Link – MySite)
Her pair of hands and faces. I just love it how these figures are always suggesting "two"…….I smell a conspiracy.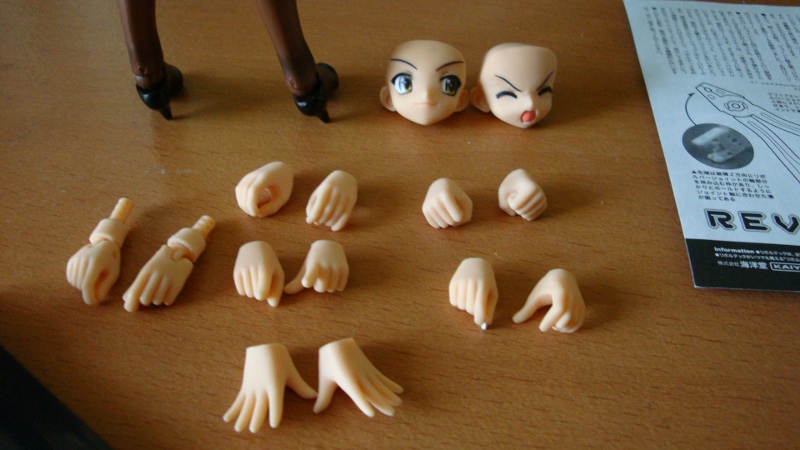 (Link – MySite)
Then we got the stands with some nice writing on it as well as the two pieces that let Haruhi fit on it.
Hmm, is that Hand from the Adam's Family to the right there?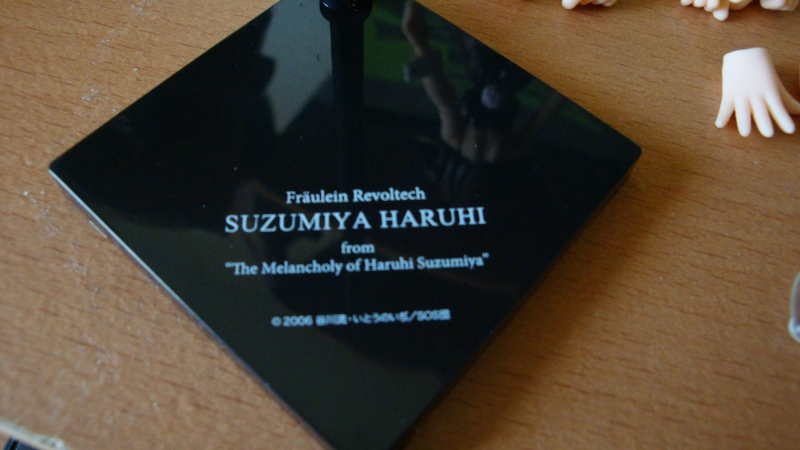 (Link – MySite)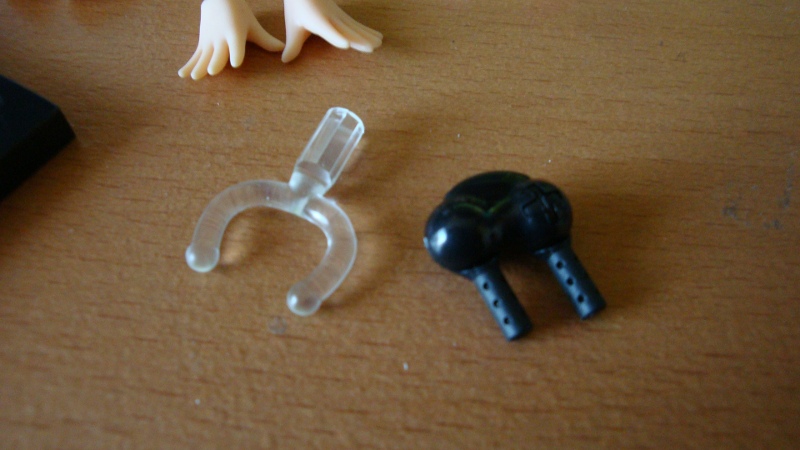 (Link – MySite)
Shes lovely ain't she? Don't let her seduce you or you might end up in some crazy antics of hers heh. You probably might have to climb some mountain to find some weird non-existent relic :P.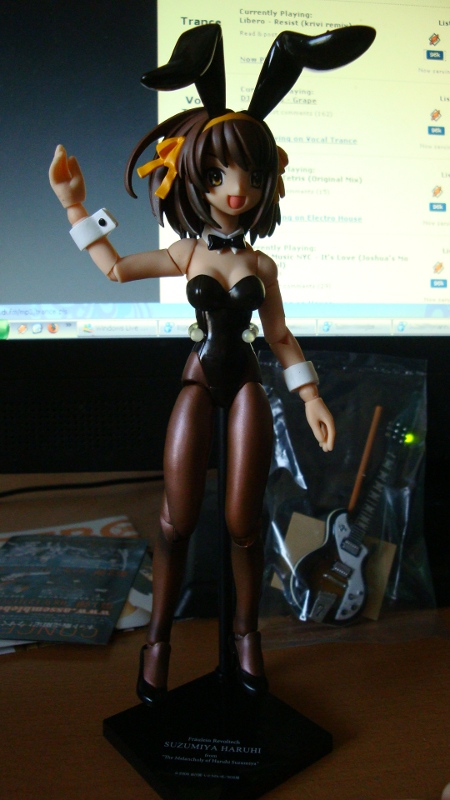 (Link – MySite)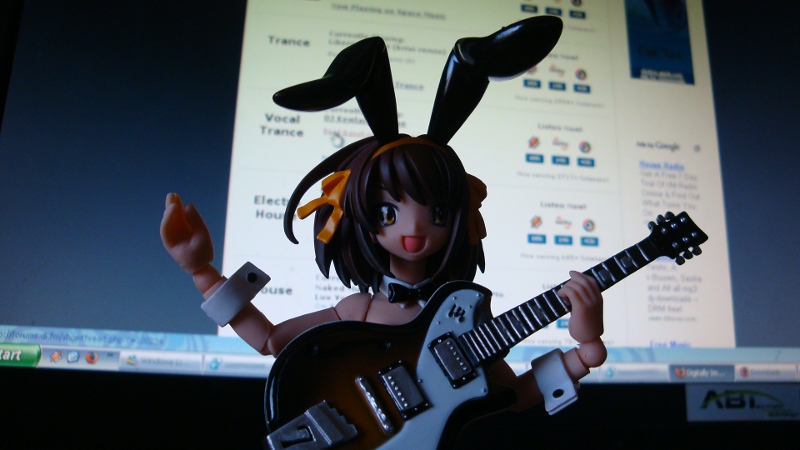 (Link – MySite)
The next image is the time/point/part where I tried to change her face and found out how she differs from Figmas. I had to take the two head pieces apart (both the front and back head pieces) and had to take out this little neck joint to place on another face piece. I went to grab an old styled wrench and tried to wiggle it out of the face, with the process of loosening the joint. DOH!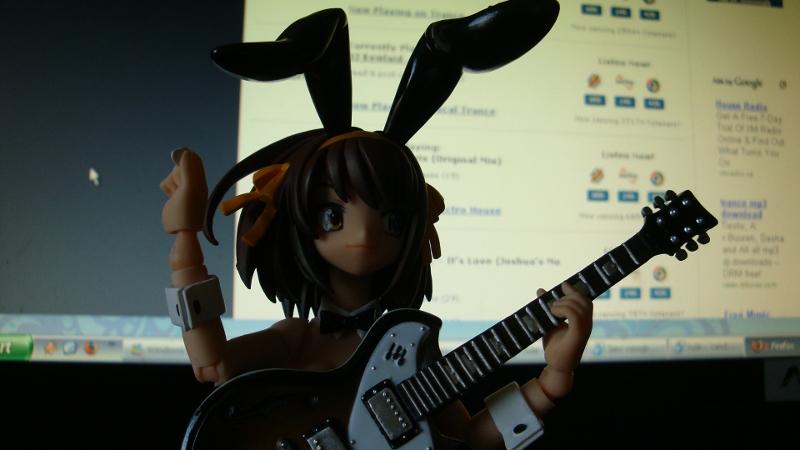 (Link – MySite)
Now Haruhi has neck problems, I'm screwed…..T.T Give me instructions or spare parts…..
Well if she leans backwards a bit then her head looks fine (95% fine). Lastly, I tried to give her a nice concert for her to play "God Knows" 🙂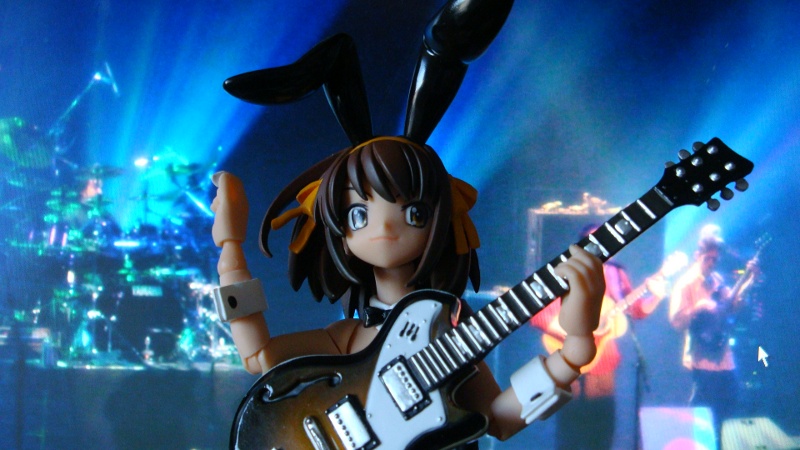 (Link – MySite)
I'd suggest getting these Revoltech Fraulein's if your familiar with the Figmas. Once your familiar with how to handle the joints then you should be fine with handling these more complex Fraunlein type figures. I ended up loosening the neck joint and I can see some careless Anime collector breaking the joints.
Shes a good figure to have around and adds a nice touch to your Anime figure collection. Similar to the Figmas, but gives you slightly more issues then Figmas. I guess I'm just used to my growing collection of Figmas.
Hope you enjoyed this lengthy figure review. I'll leave you off with a video of "God Knows" and ponder how I'm going to get her kneck tightened up.
God Knows – Youtube
(If the above video doesn't work then simply go to Youtube and type in the song name.)