Heyo! Thanks to me pledging for Star Citizen with the 300i ship, and with me scanning the forums I came across a SWG nostalgia thread. That thread mentioned the beauty that was "Jump To Lightspeed" expansion pack which had me scan through my ancient CDS/DVDs just to find my main screenshot pile. If you don't mind I shall now be in 100% nostalgia mode!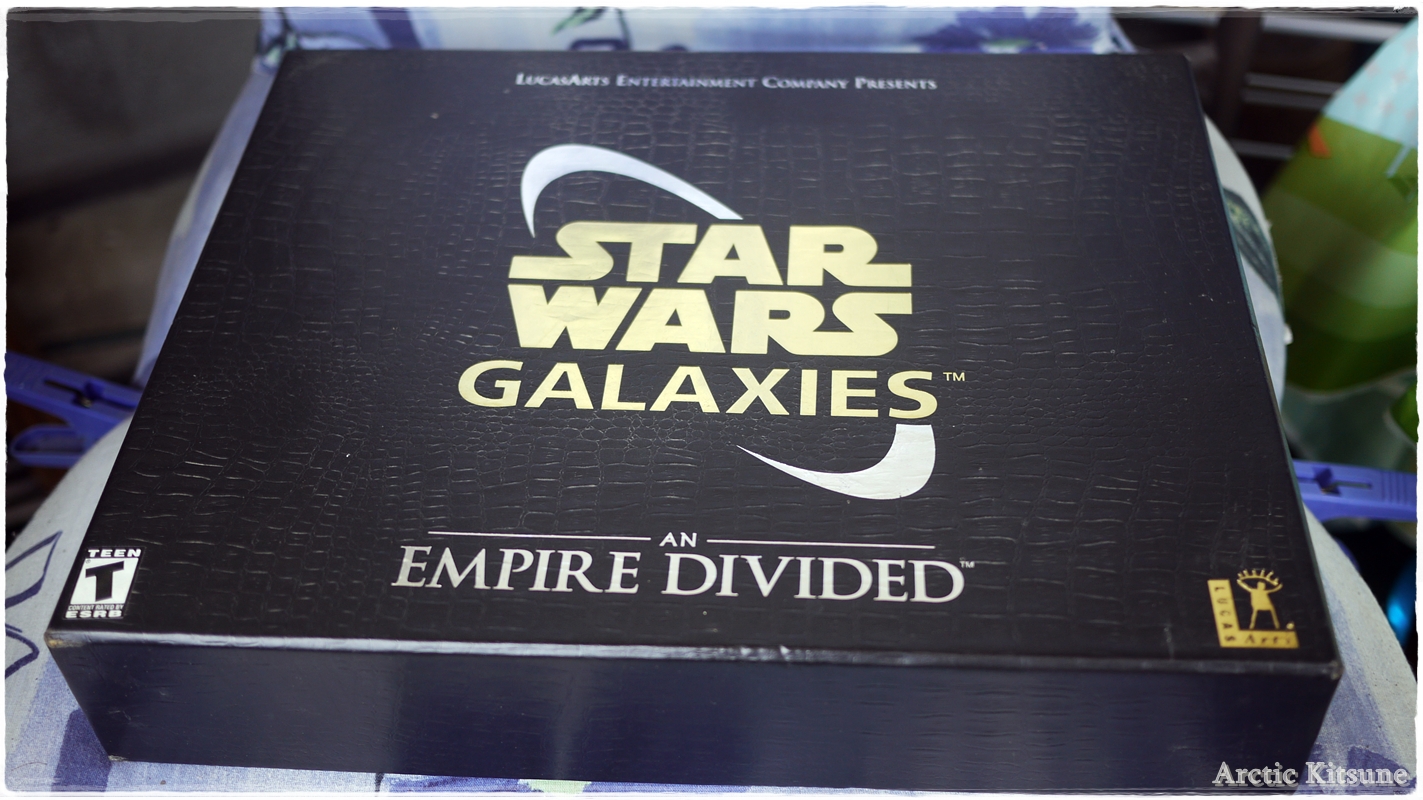 (All images taken with a Lumix GF-1 – Pancake lens & Printscreen button within SWG; Article is nostalgia heavy and image heavy!)
This game truly does bring back memories, memories even before me fully within the Anime realm. Fun times! I remember jumping into Star Wars Galaxies because of the trial (similar to SWTOR) just to test the waters and enjoyed what I saw. I had so much fun with the trial that I went out and purchased the collectors edition. I've joined up way before the whole stupid WOW craze came in, still prefering SWG to this day.
I also prefer SWG over Star Wars: The Old Republic (SWTOR) because SWG was more free and more homely. SWTOR just doesn't offer as much as I experienced within SWG. They also know space is faulty yet won't fix it, nor add in mini-games for those "inbetween times". Sorry, but SWG is where it was at! Sugar-coat things as much as you want about SWTOR, I prefer SWG, even though SWTOR itself did have its fine moments. It wasn't a bad game itself, just doesn't offer freedom, flexibility, nor re-playability. It fell short for me.
I loved SWG when I joined, more so with Jump to Lightspeed, and before the whole NGE (New Generation Enhancements) bullshit that nullified my whole progress. I came back to a game in a trial to notice my main account being butchered by their new update! SWG with JTLS was the best!
—–
– Star Wars: The Old Republic:
https://arcticukitsu.com/Blog/?p=3045
(Didn't like the ship part of the game; Shouldn't pay for fuel on your own ship.)
—-
– Collectors Edition:
I'm glad I didn't obtain the basic game box. I'm quite pleased I went with the collectors edition because it is one of those MMO's that was actually worth my time, time well spent, and had some awesome goodies for when it released. It came with an art book, a pin, a badge, 4 discs, and two manuals. The art book being my most favorite bit of it all.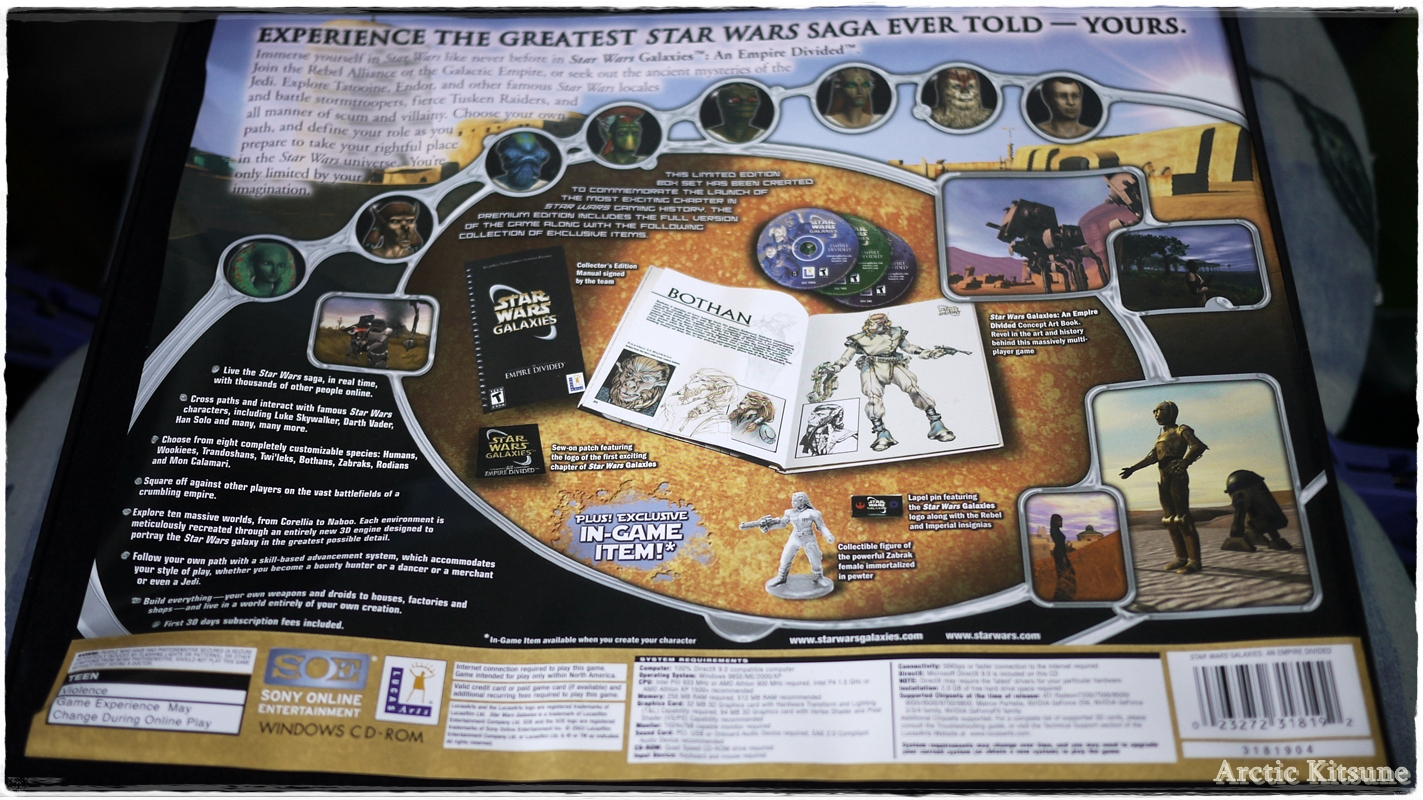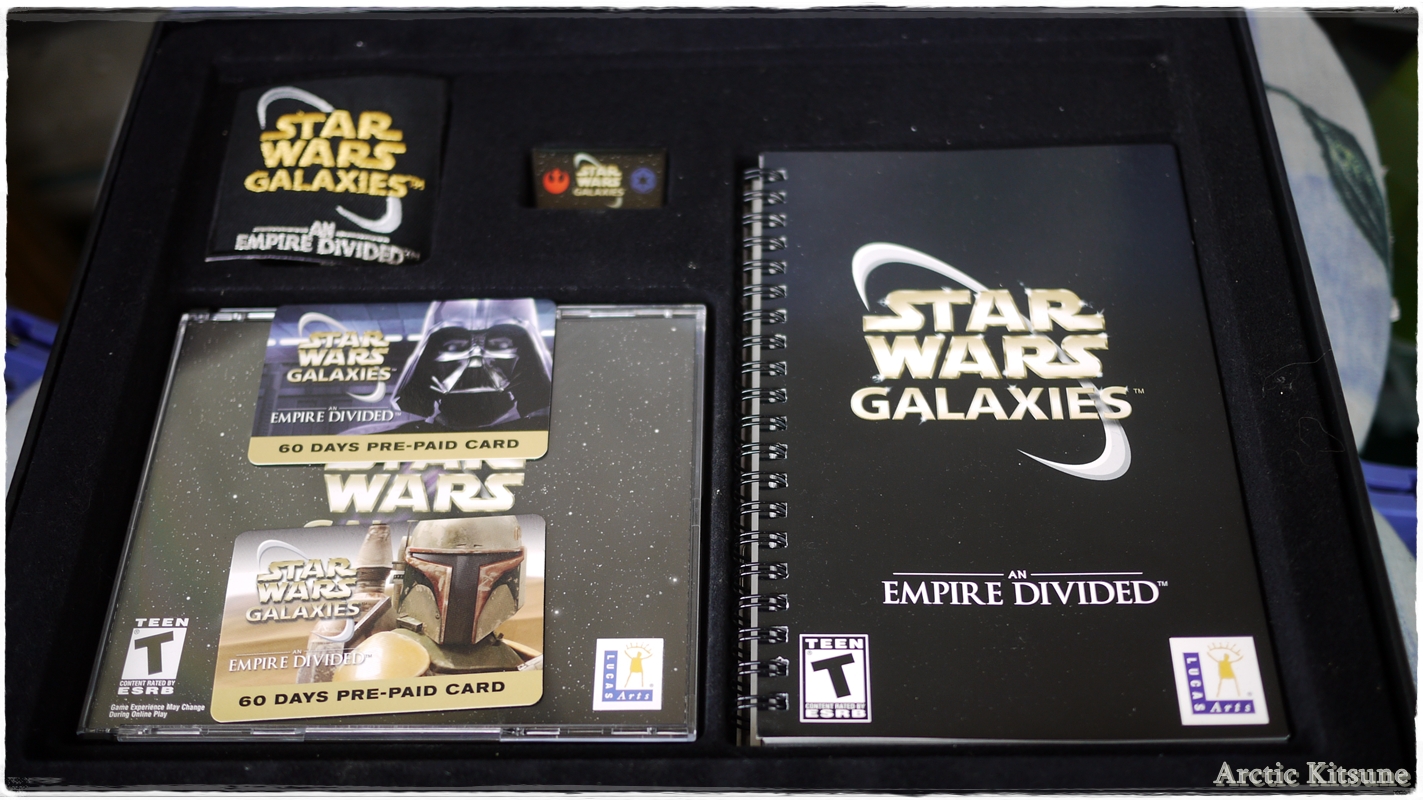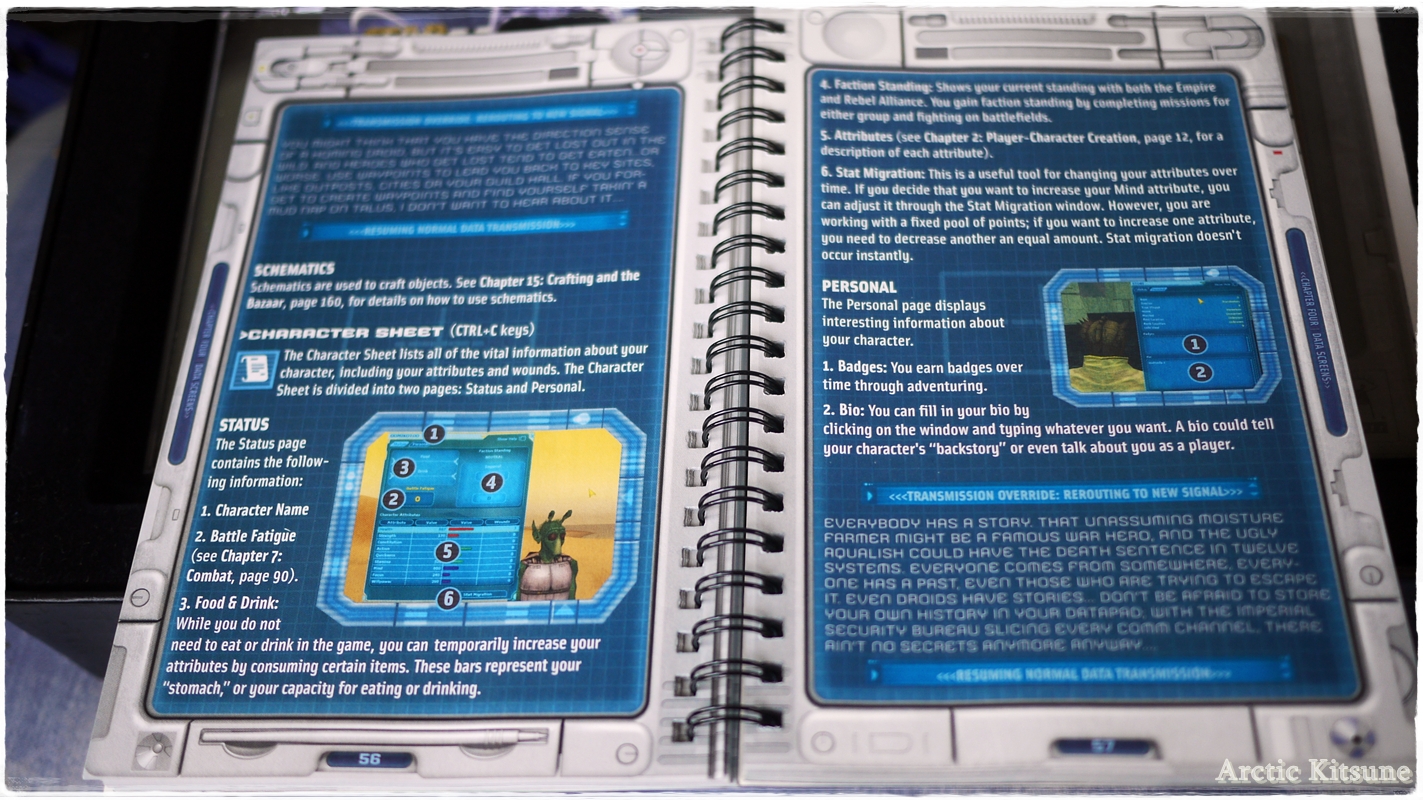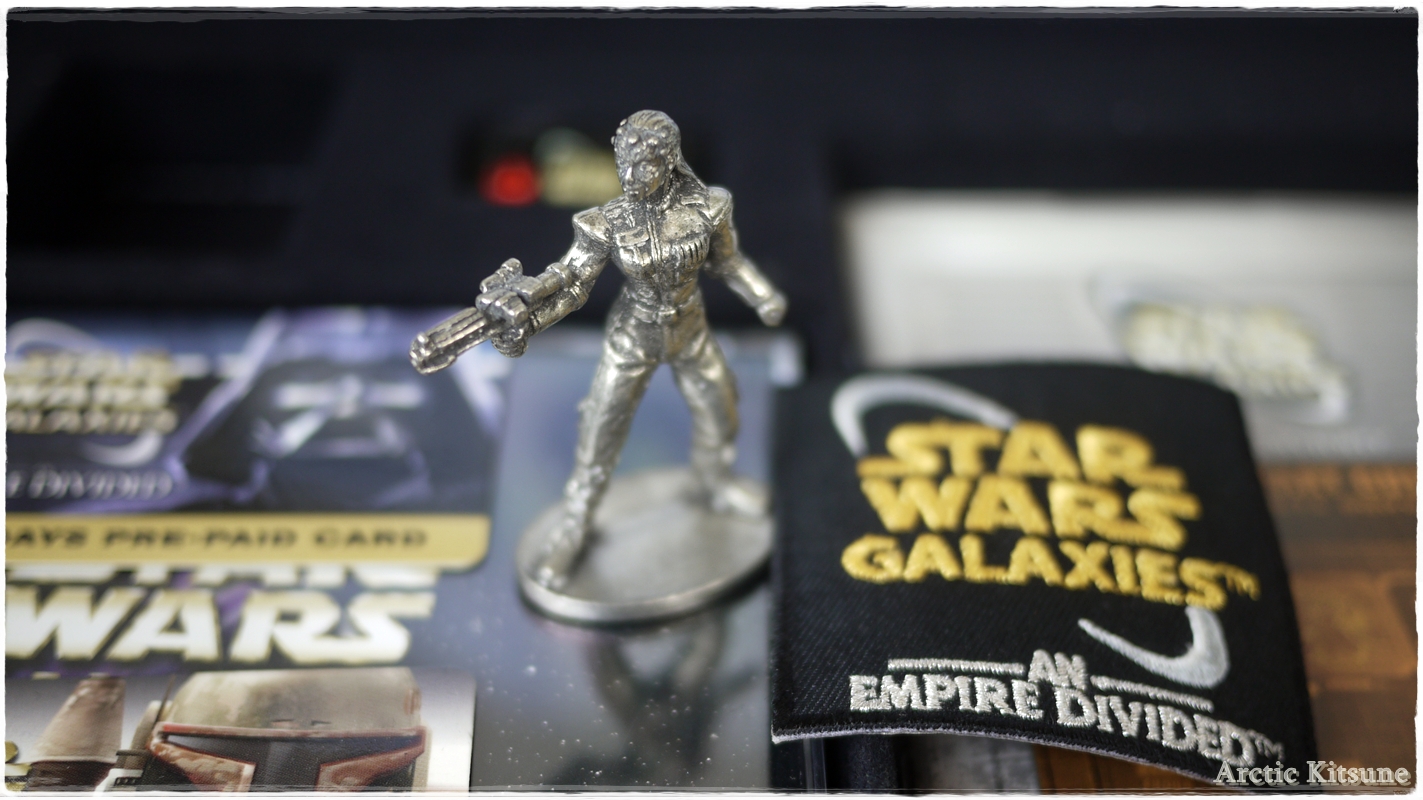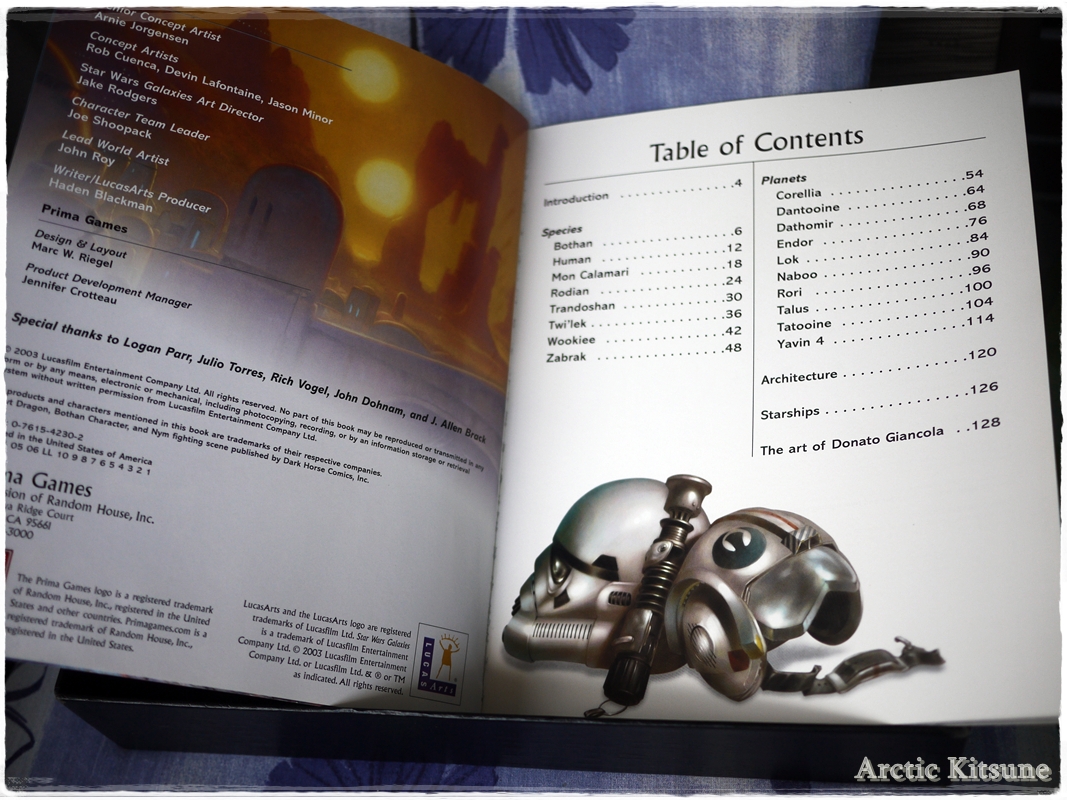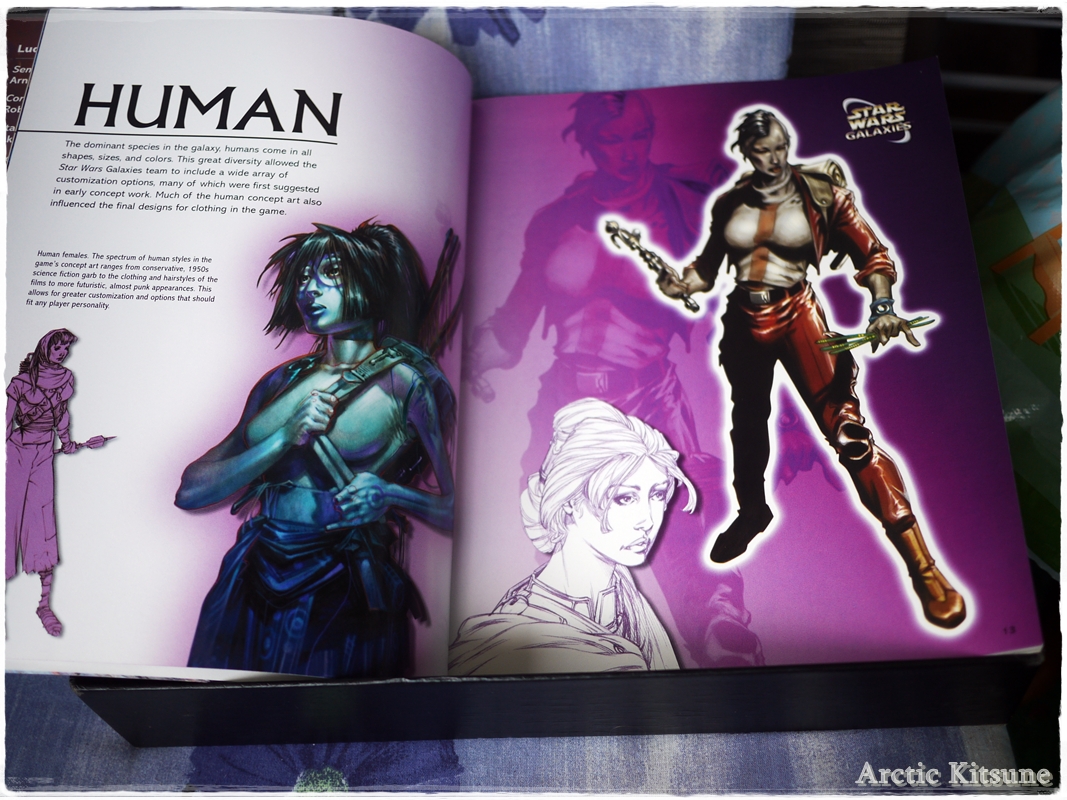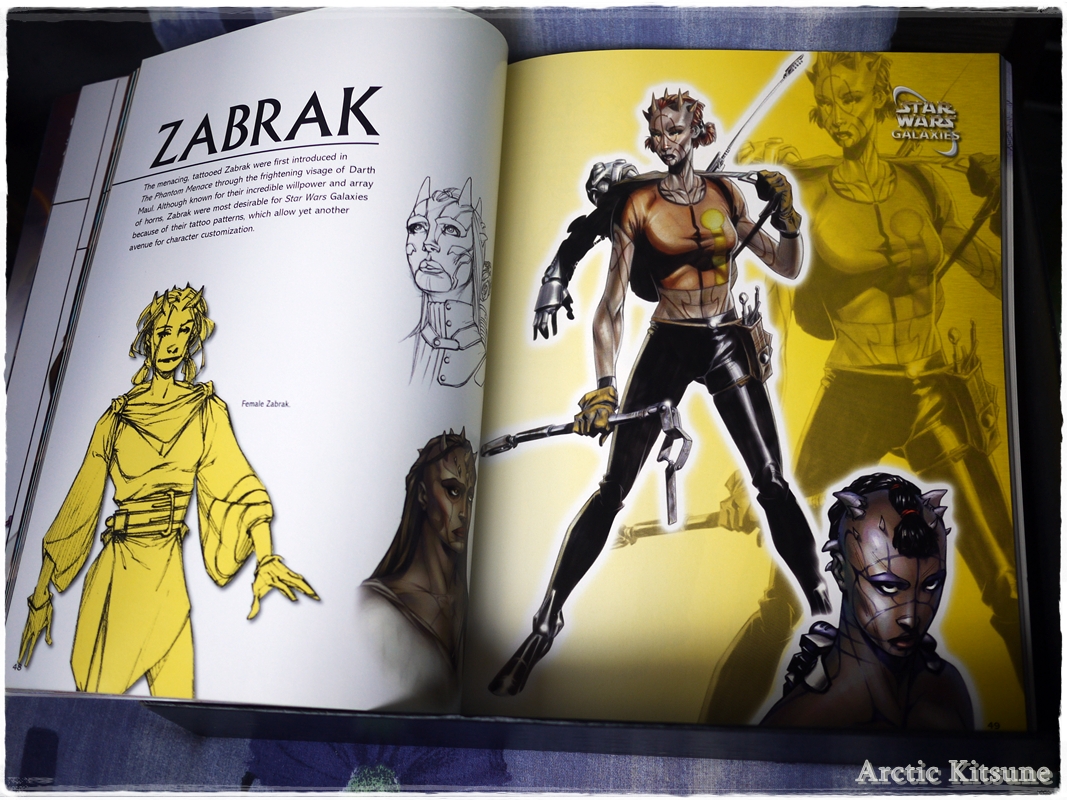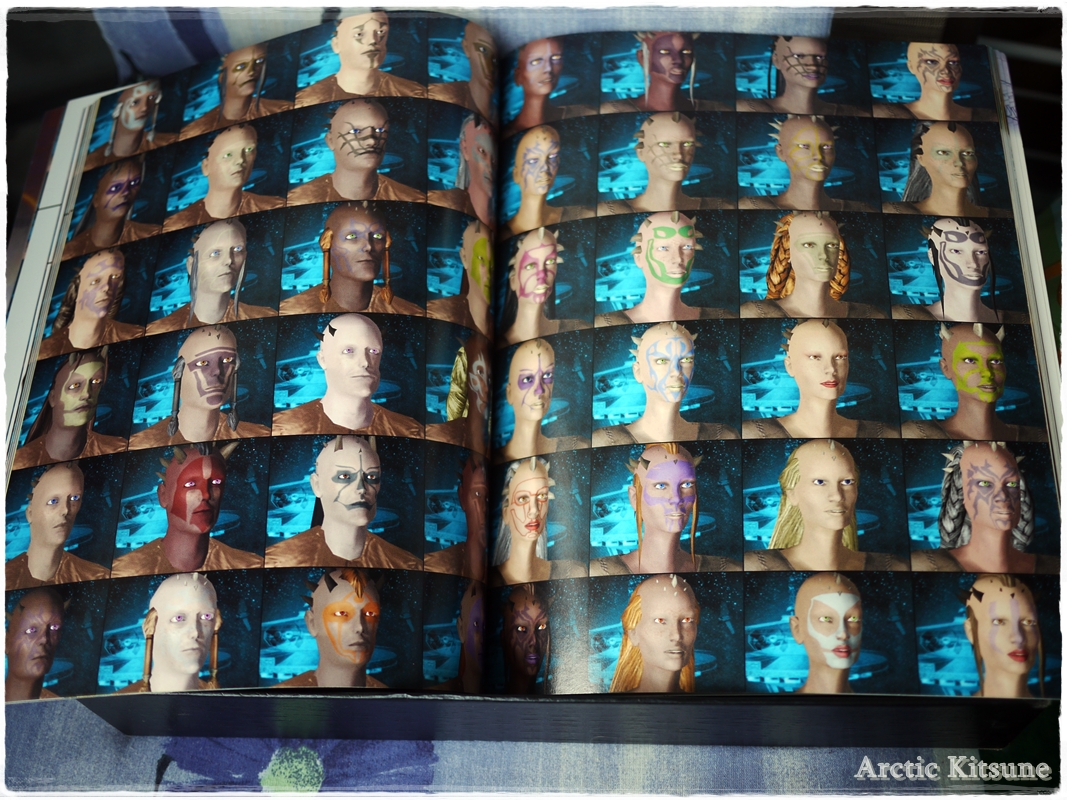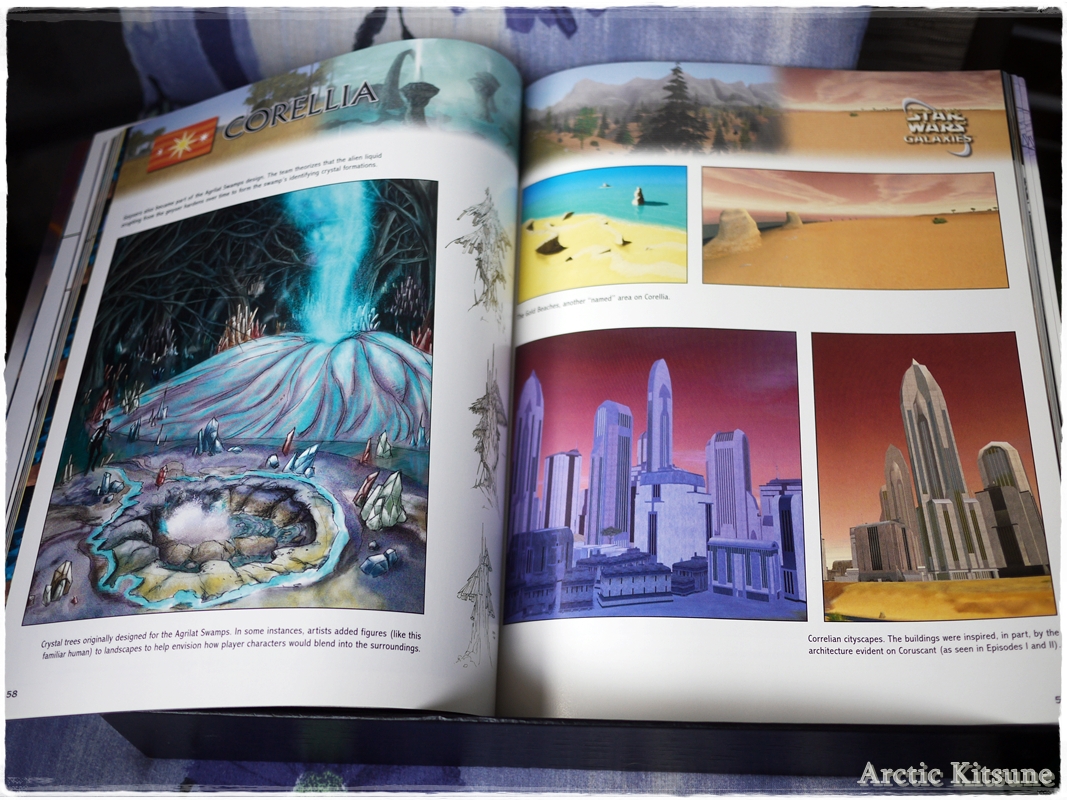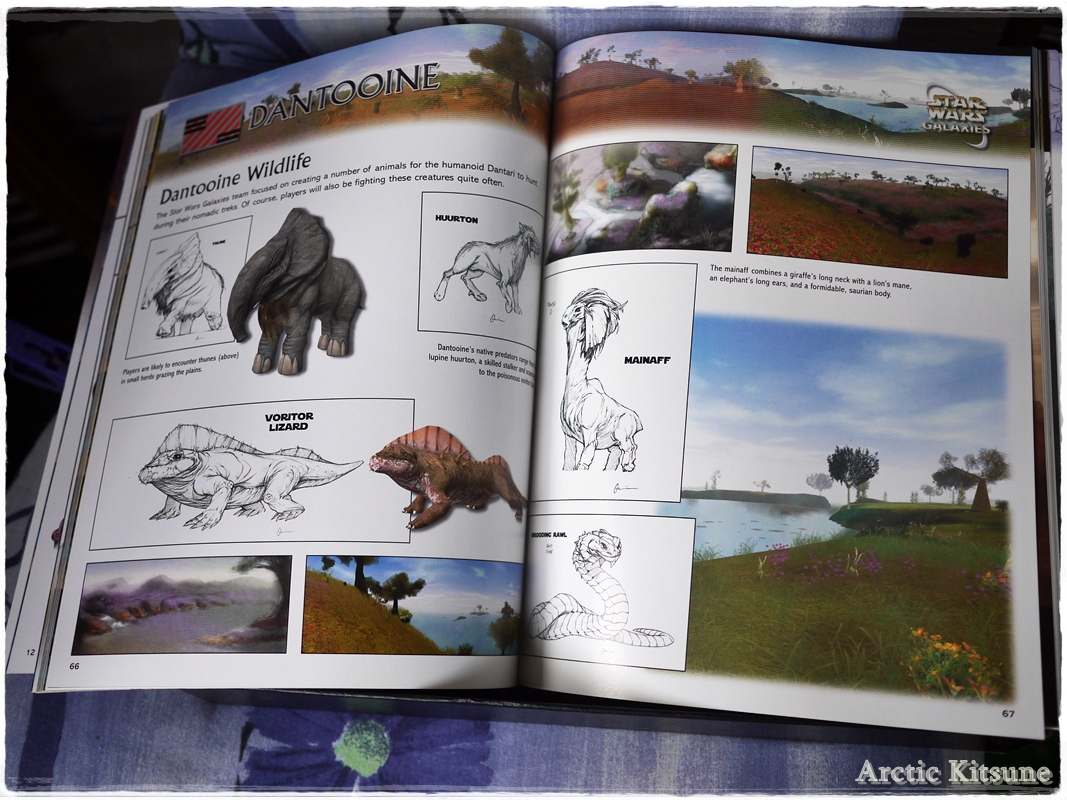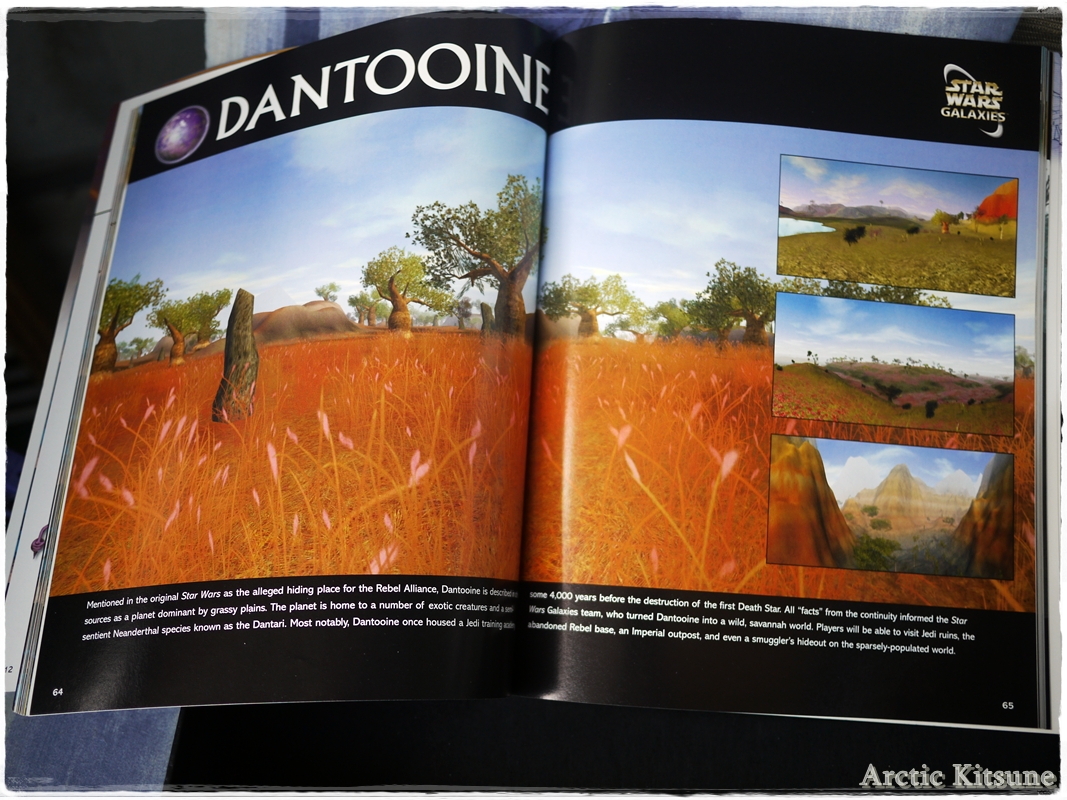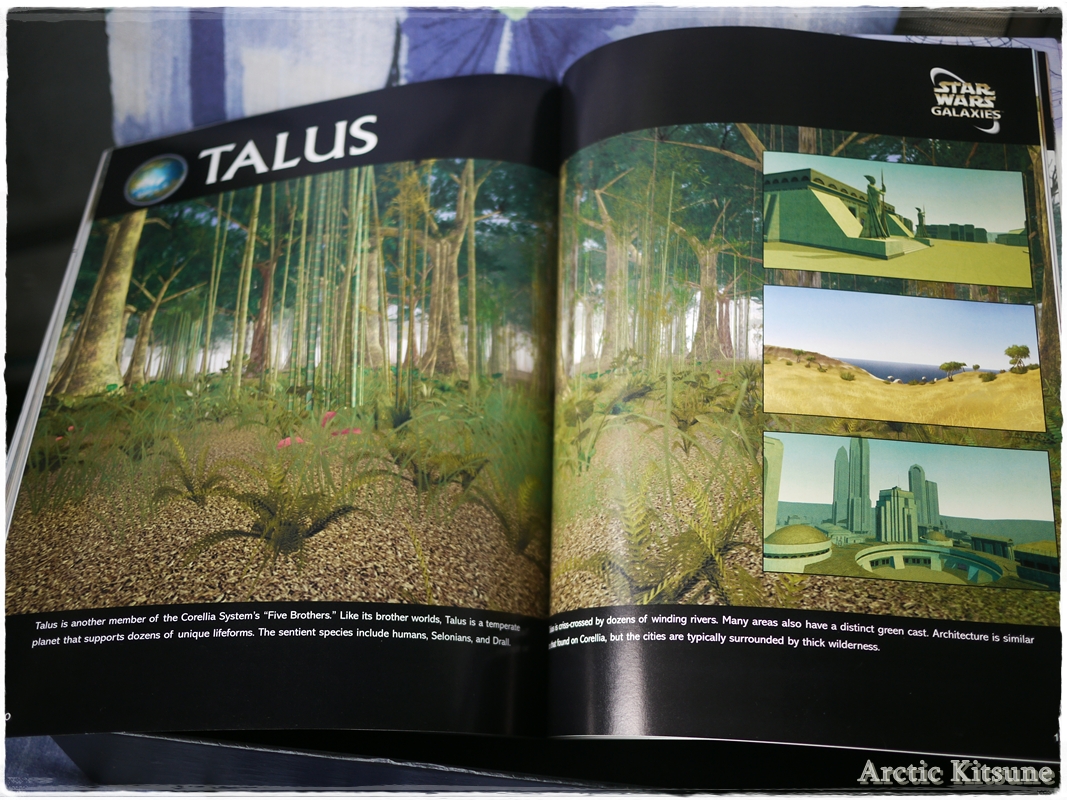 I can still remember trying to build a town in Talus almost near the main hub. I tried to get those I played with to assist me, coming close. Even held some festivities with fireworks at one point. Sadly, my subscription ran out leaving my town open for invaders to steal/scoop-up my hard work. They settled where I did, ruining everything with the NGE update. FUCK!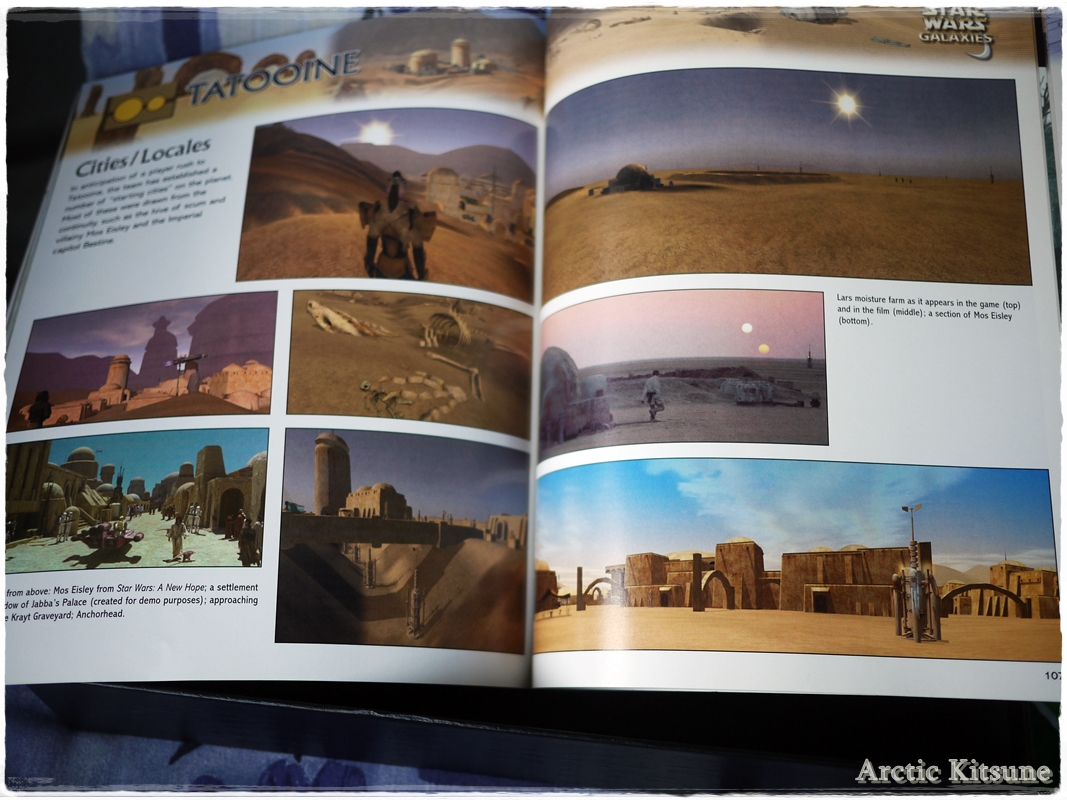 —–
– Main Game images:
—–
– Trial Adventures:
As mentioned, I started off my adventures as a male human named "Ghostly Magnio". I met new friends along the way, even bringing an old now-hated Highschool friend along for the ride. We all gradually ventured from the main starting city – Mos Eisesly – out towards into unfamiliar lands. We fought Worrts, Banthas, Jawas, Dewbacks, and even those over-sized rats. We camped whenever it was night.
(Went onto the EU-Chimaera server because I was looking for Europeans after my trip to Europe back in 2003.)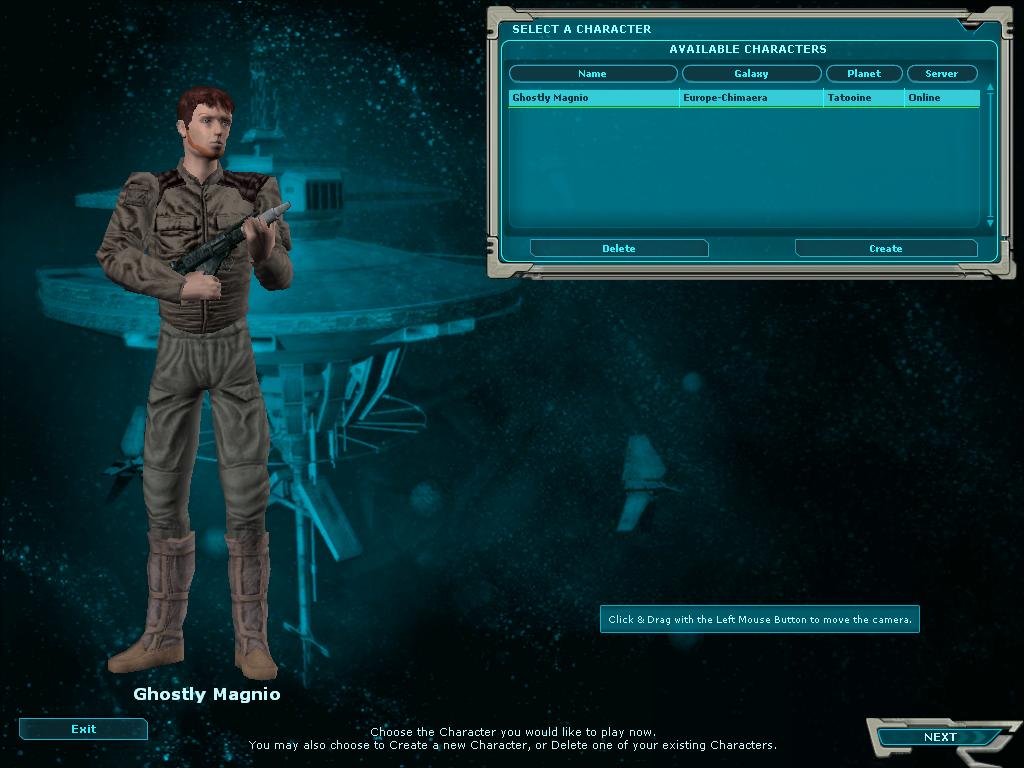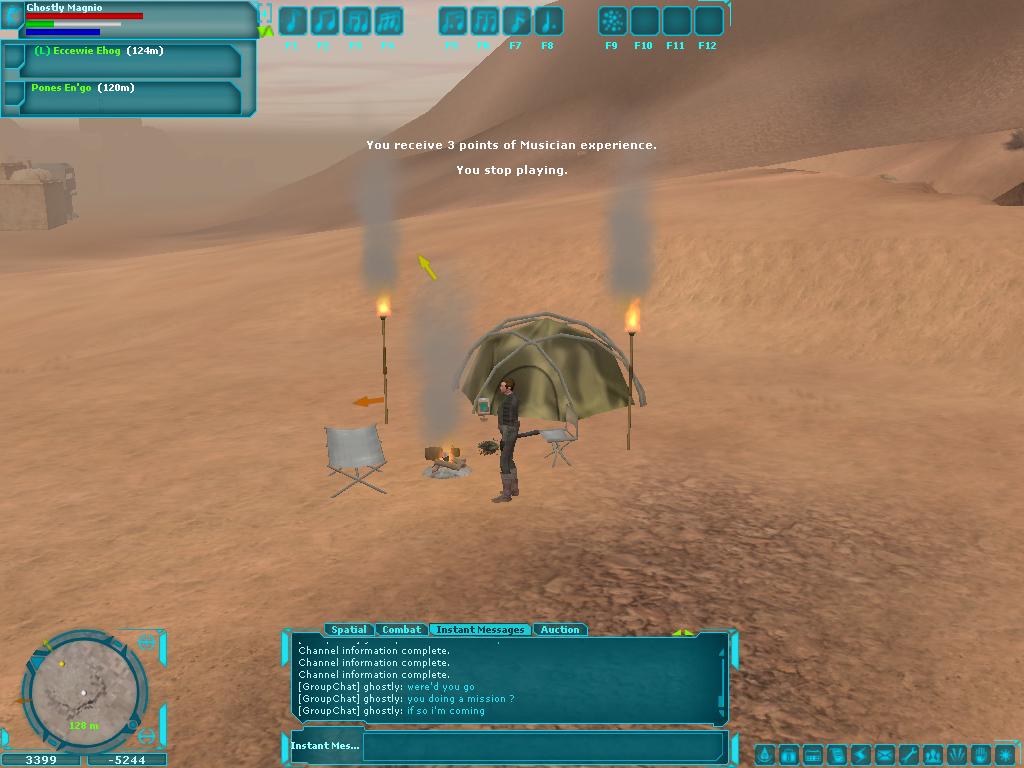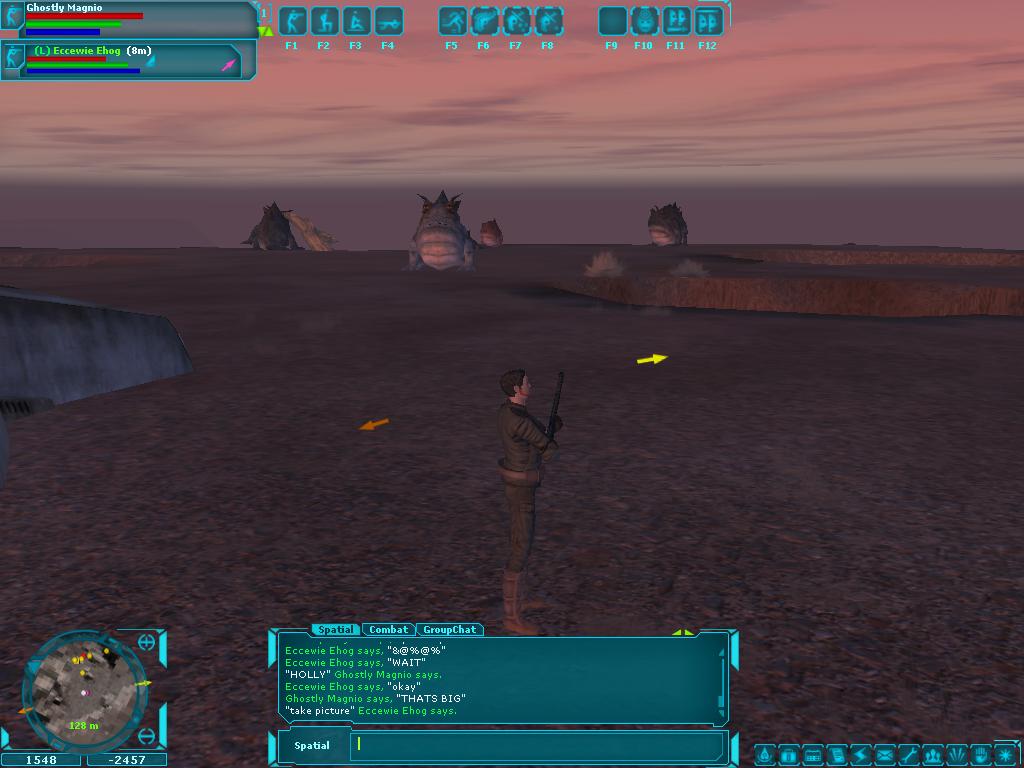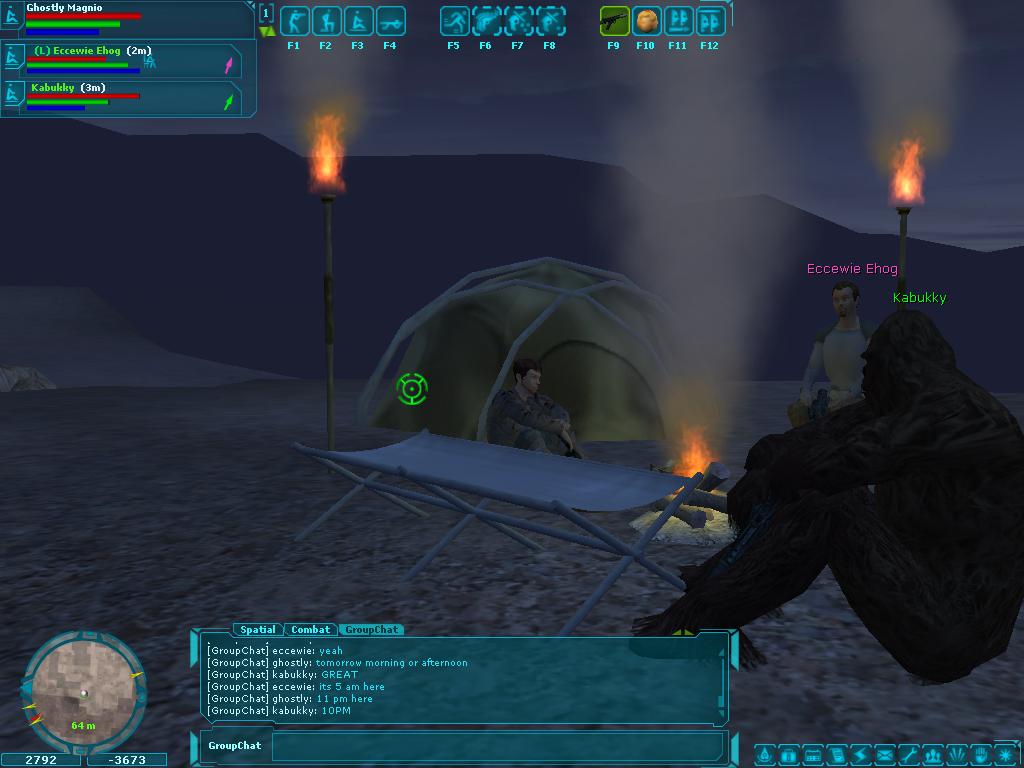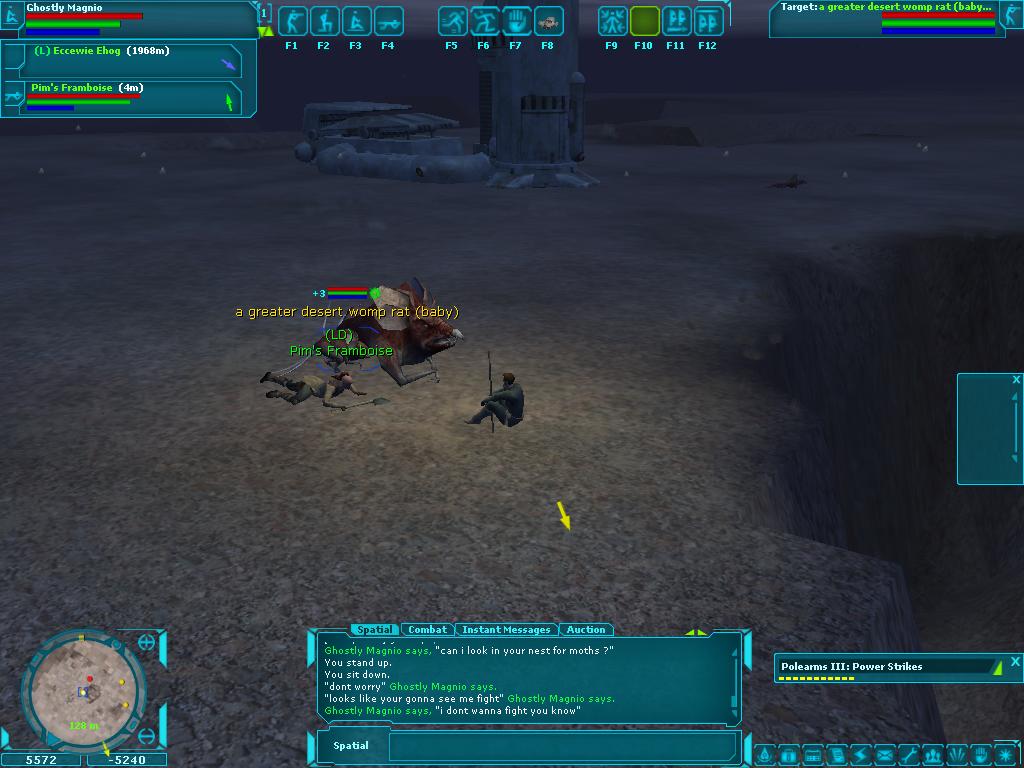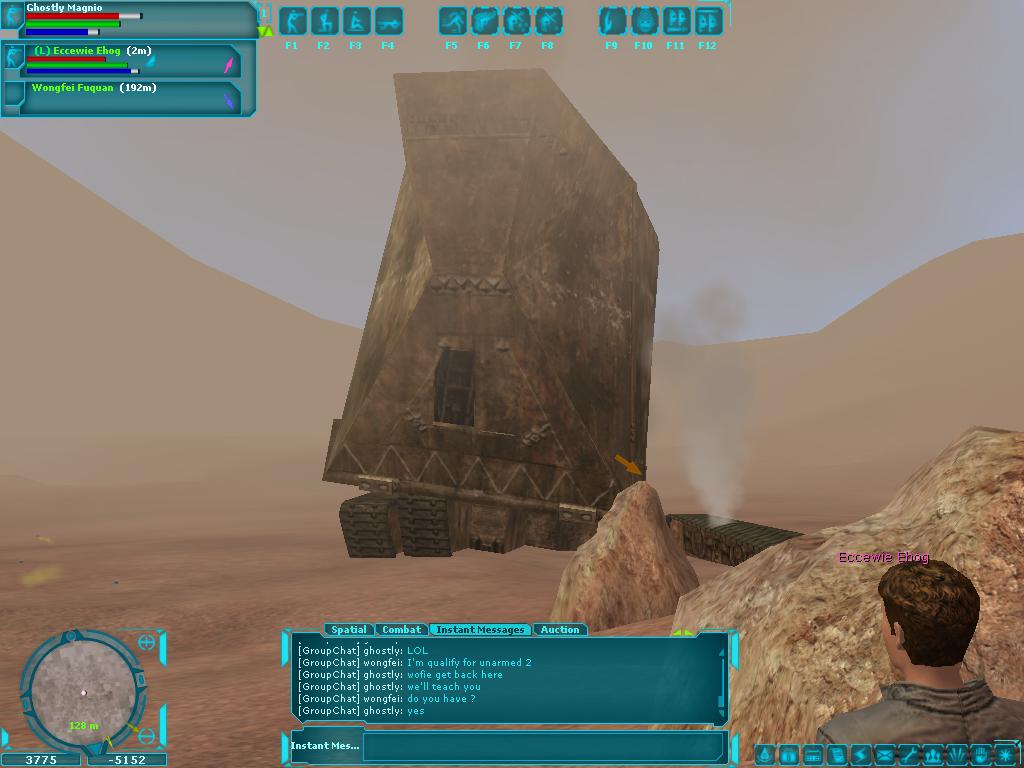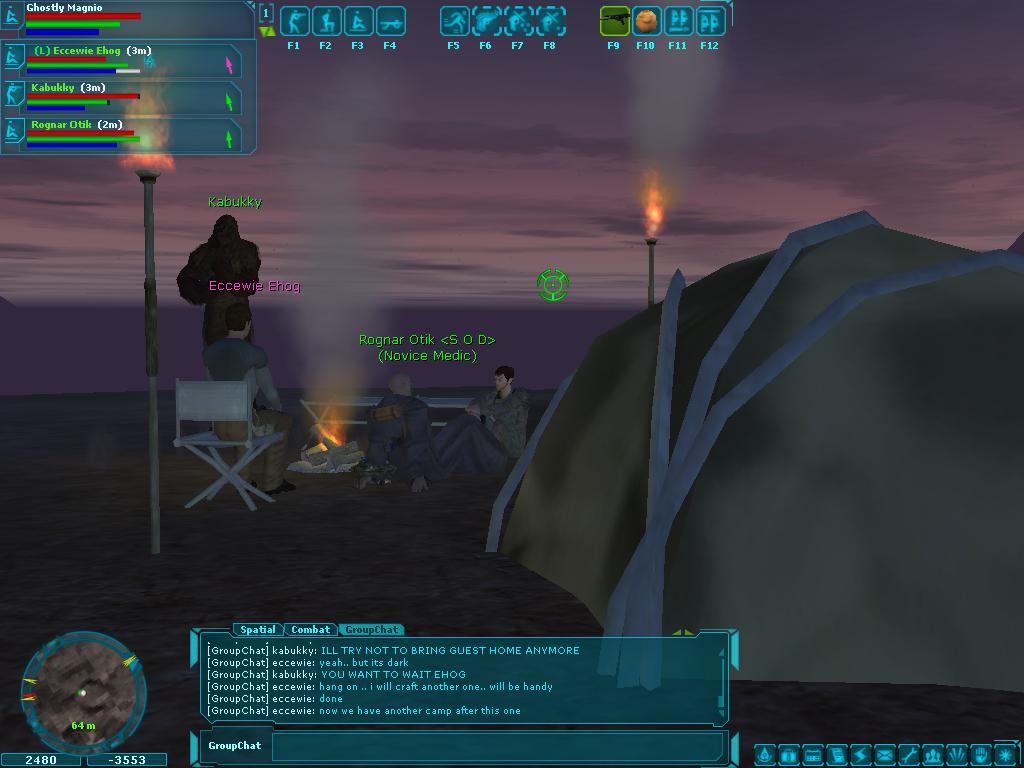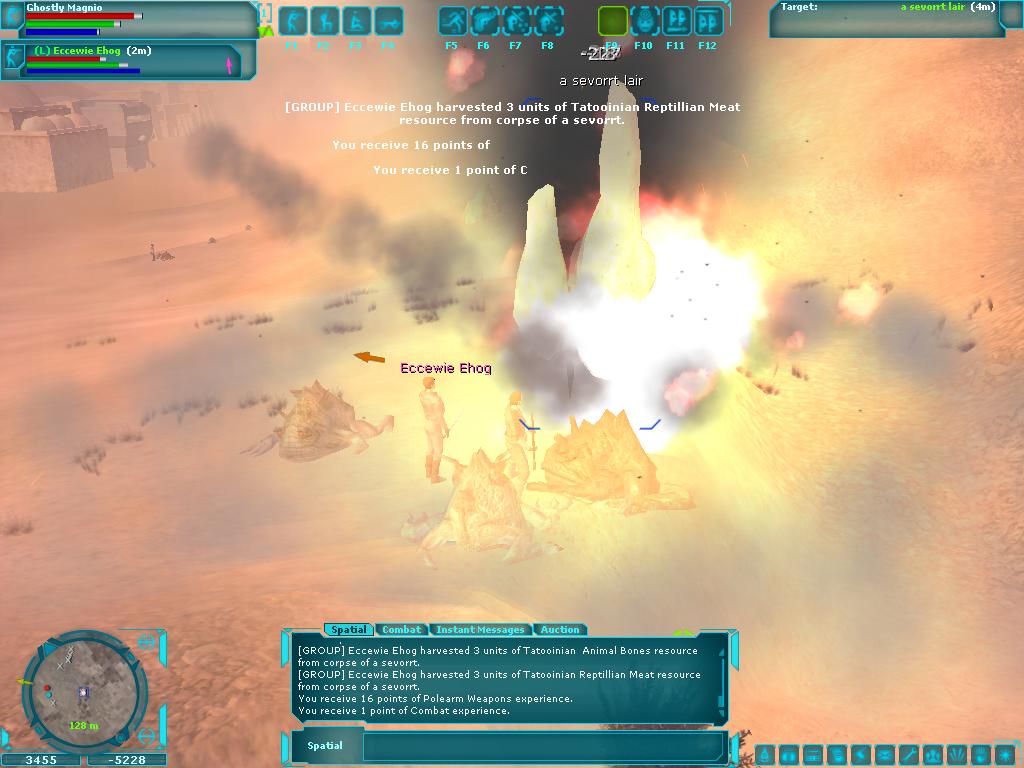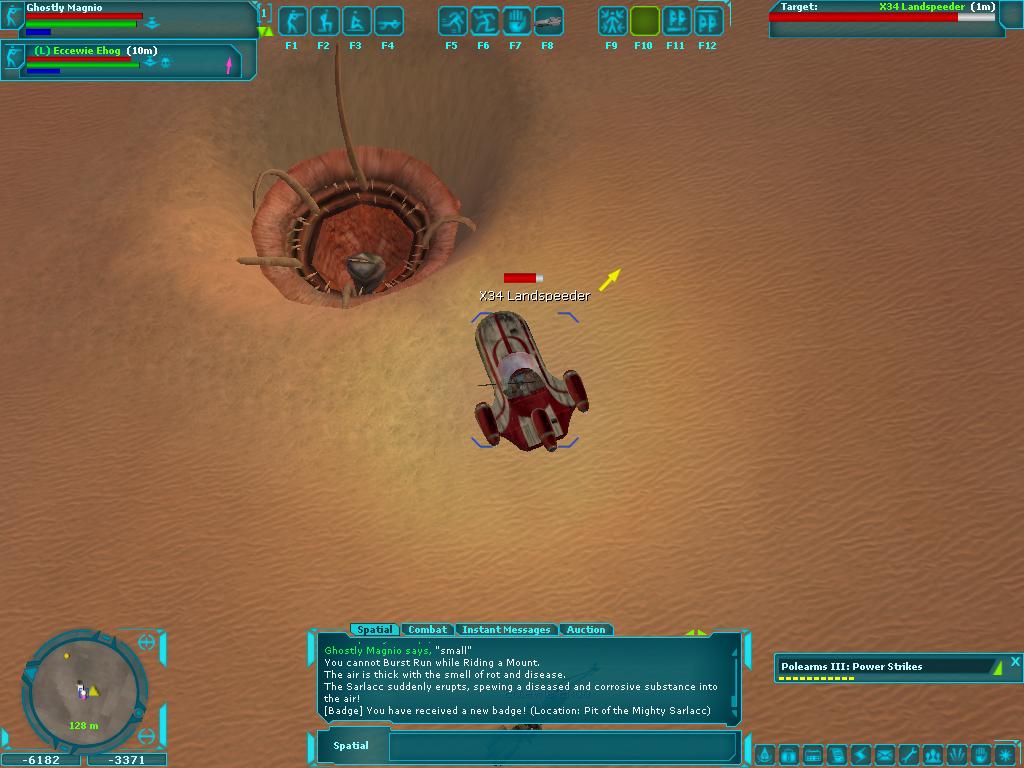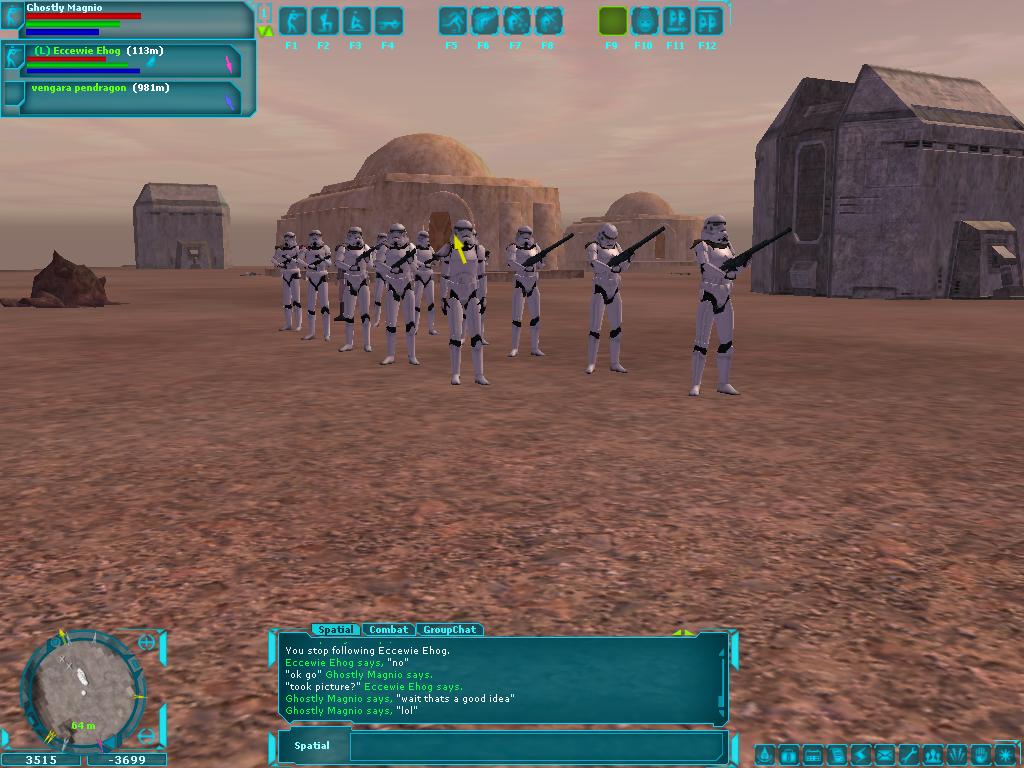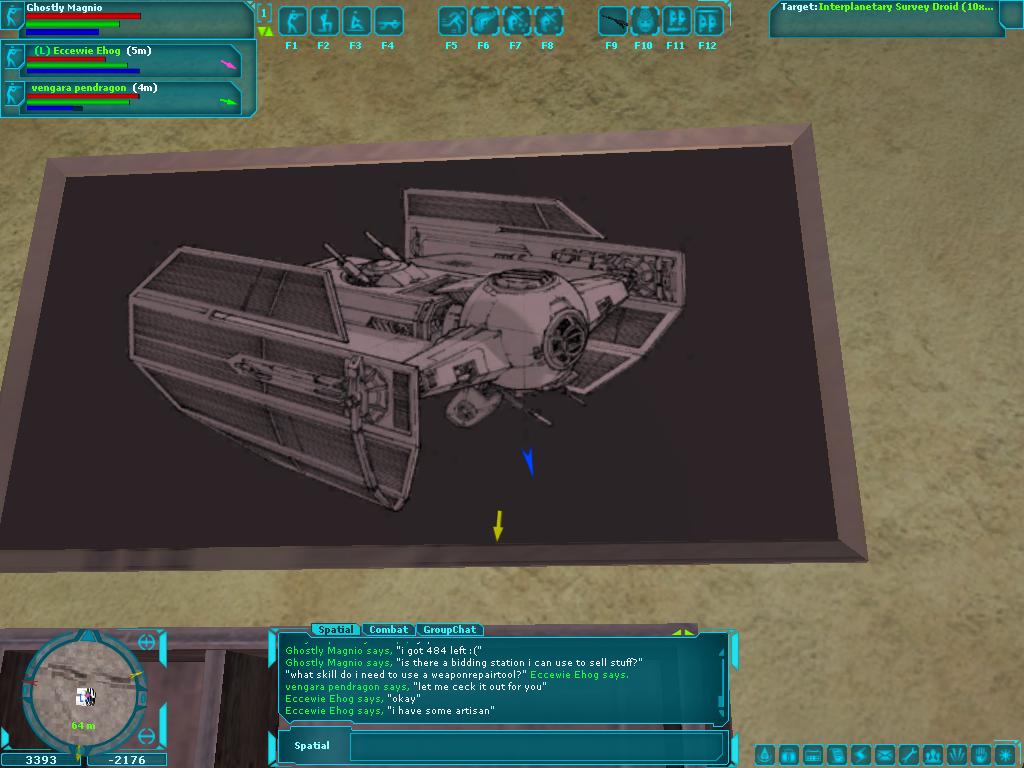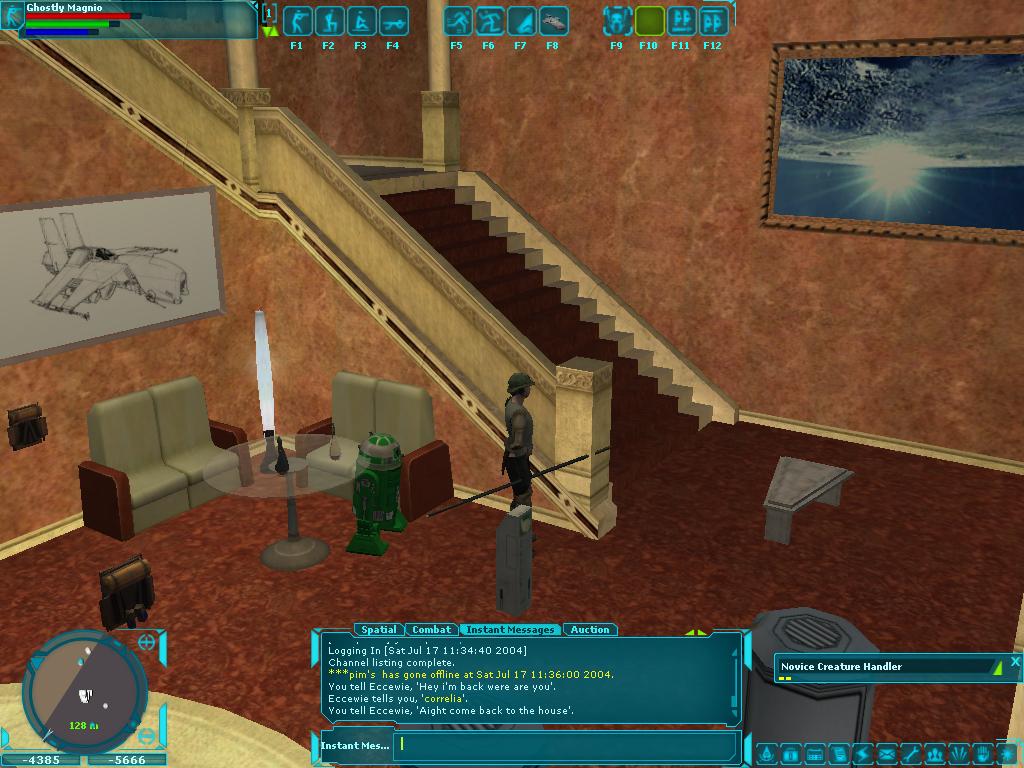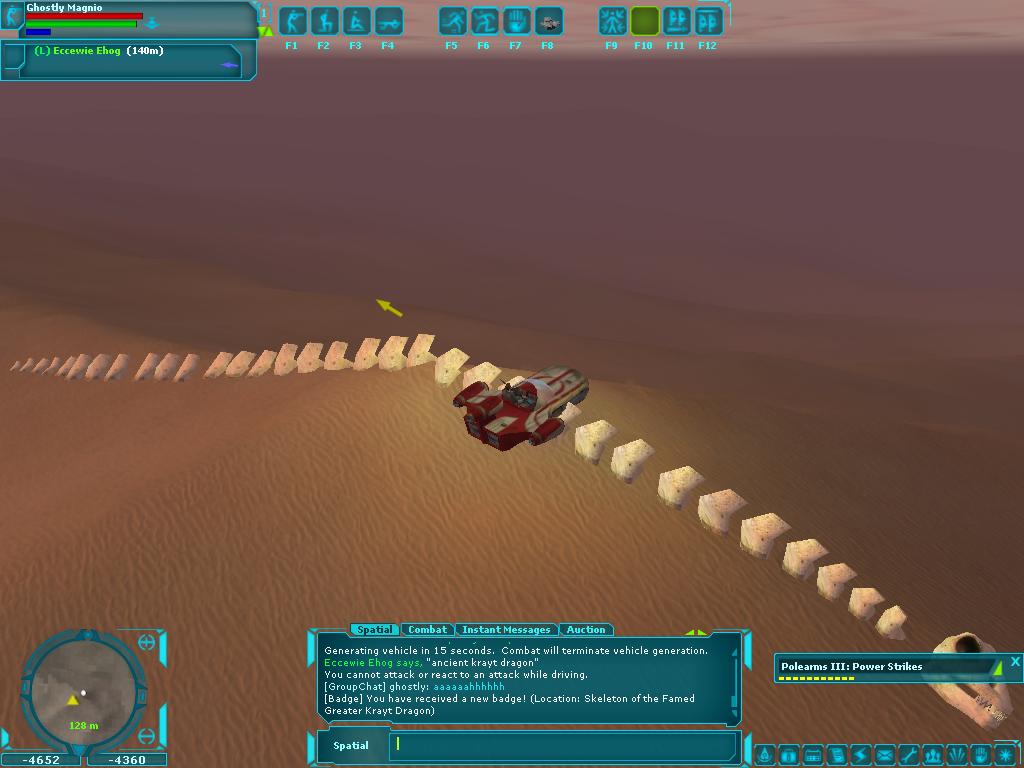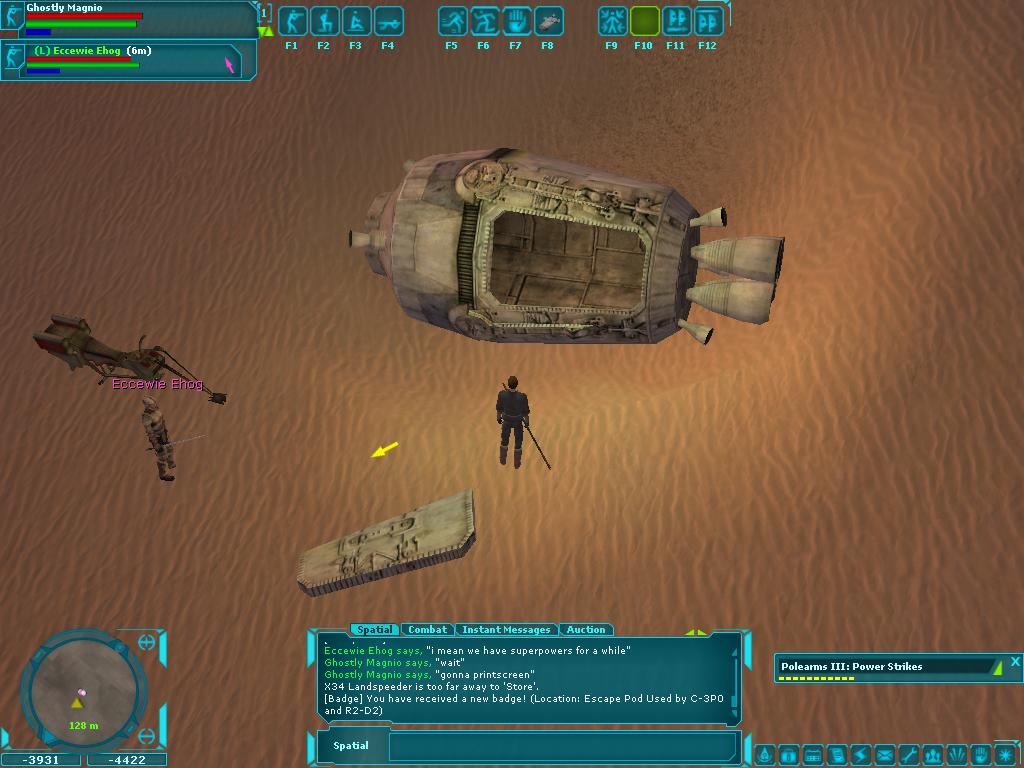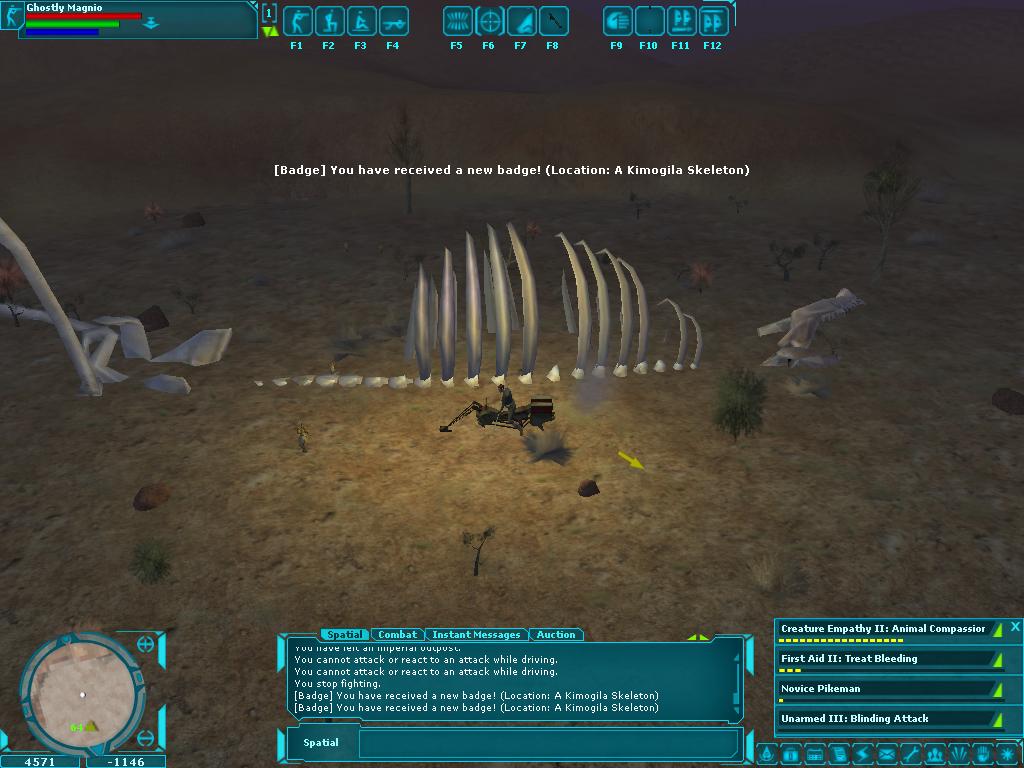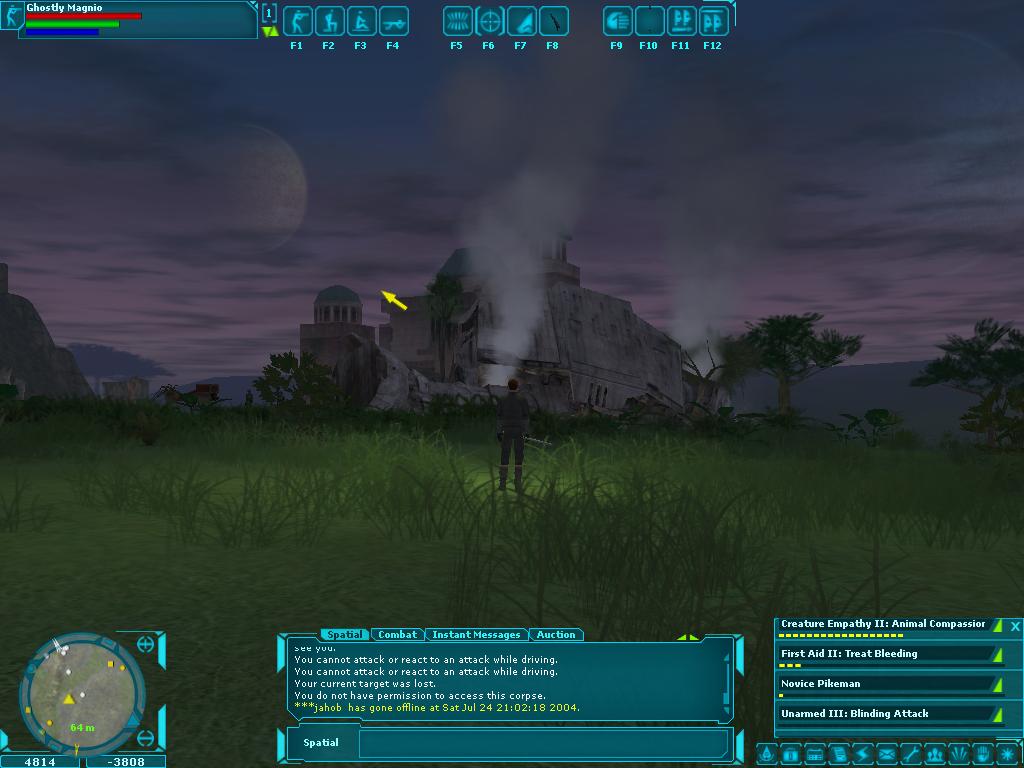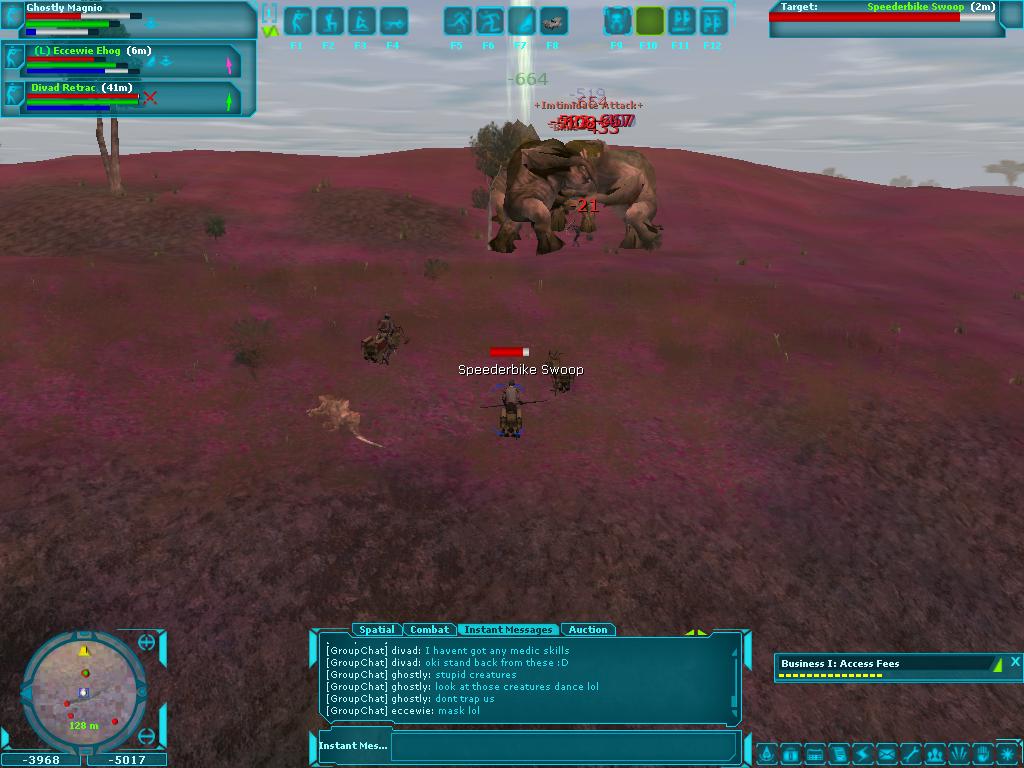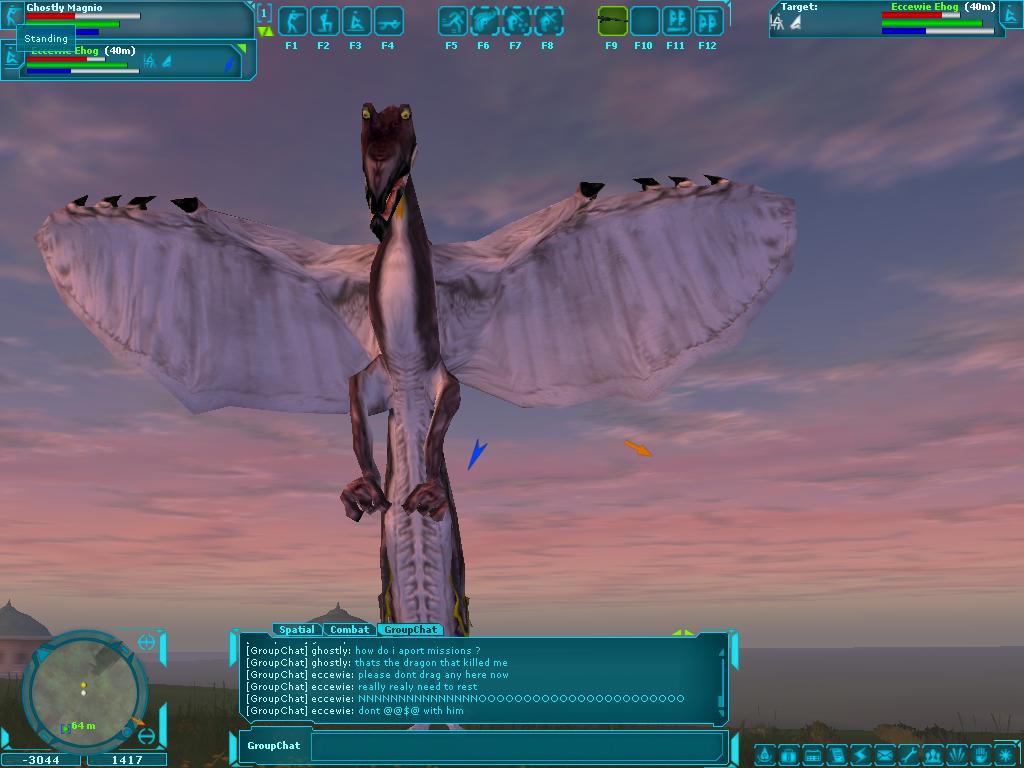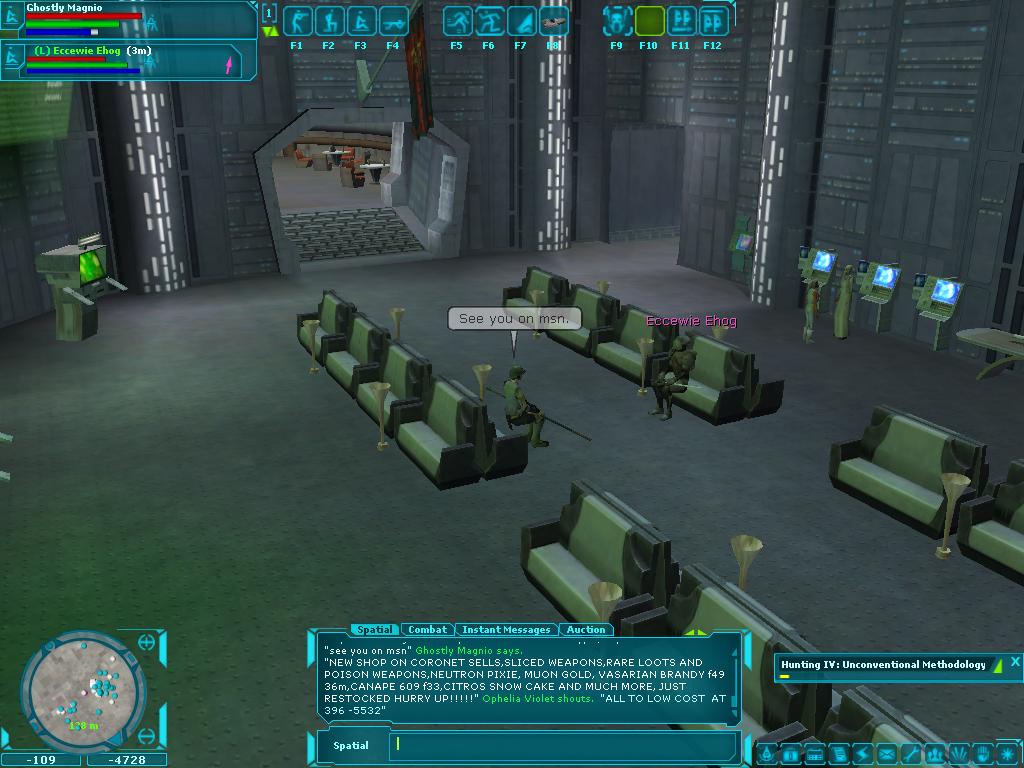 Trial was fun so I purchased main game, obtained more credits than I could hold, and had now-forgotten fun.
—
– Main Character – Polovnik Modrav (Blue Hunter):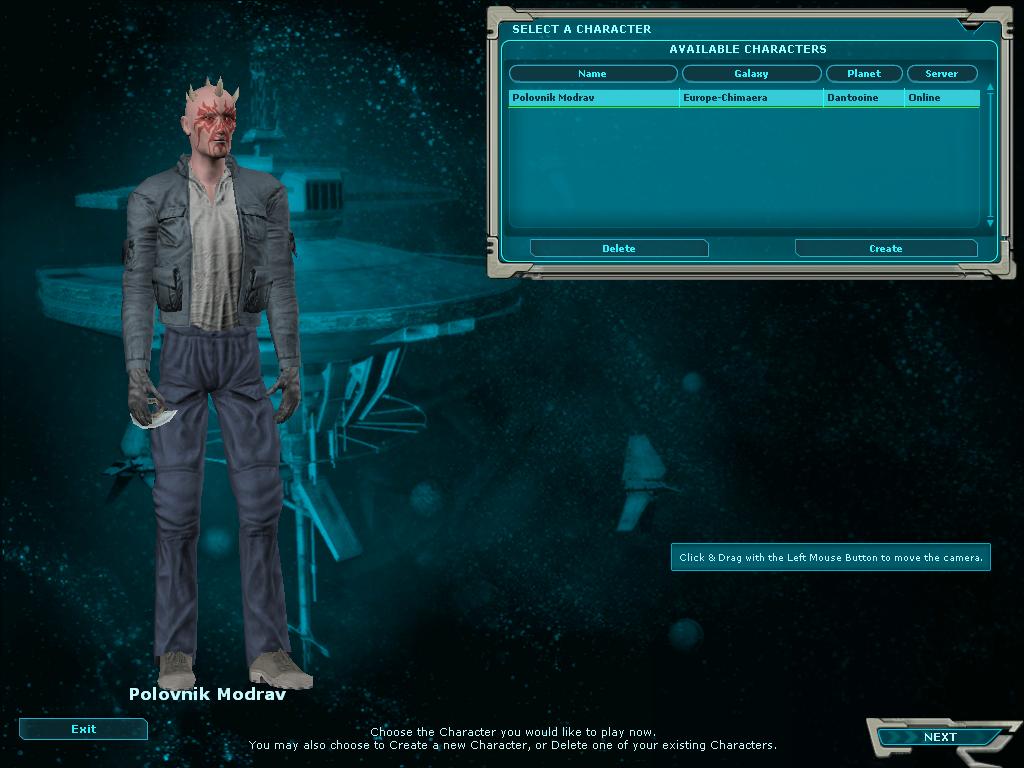 My main adventure began when I rolled "Polo" (as he and I were nicknamed) into existence. Went around the galaxy taming creatures, learning creature handling & Brawler (melee and weapon) skills, and eventually Imperial Pilot. Mastered half the professions at that with constant resetting.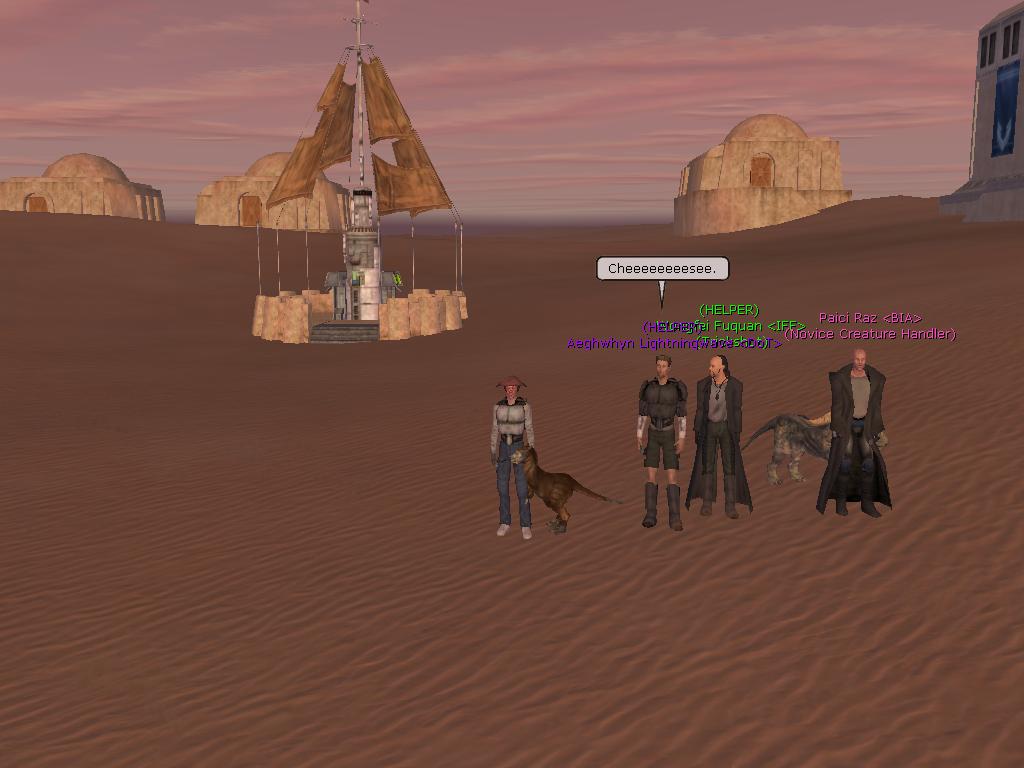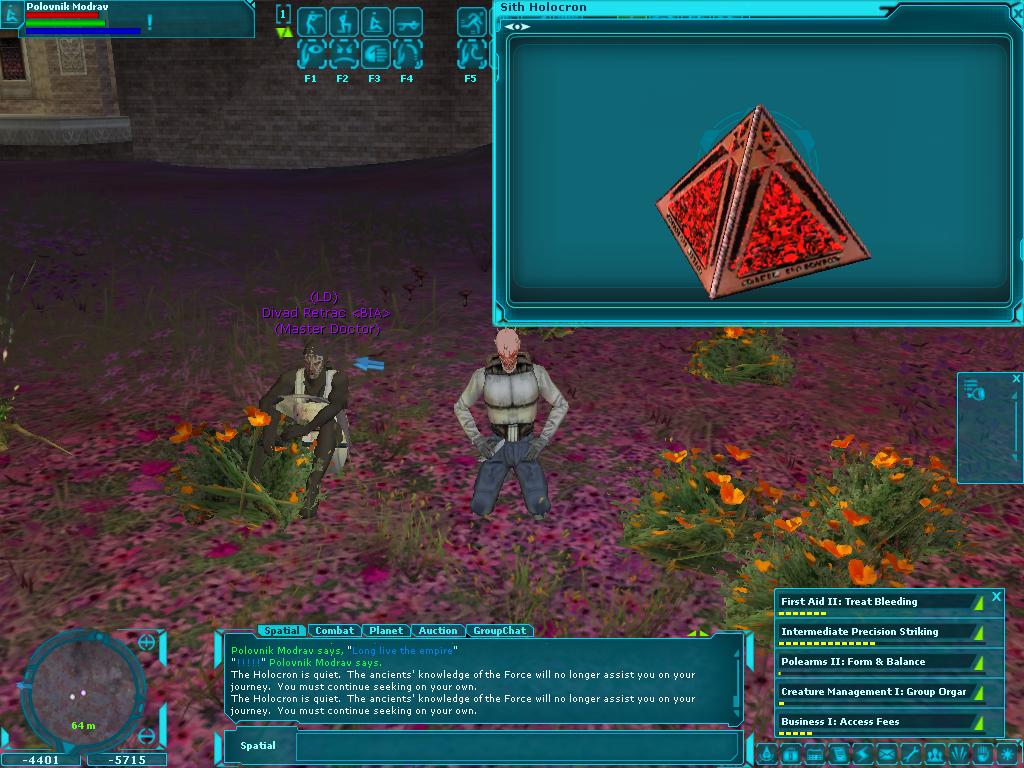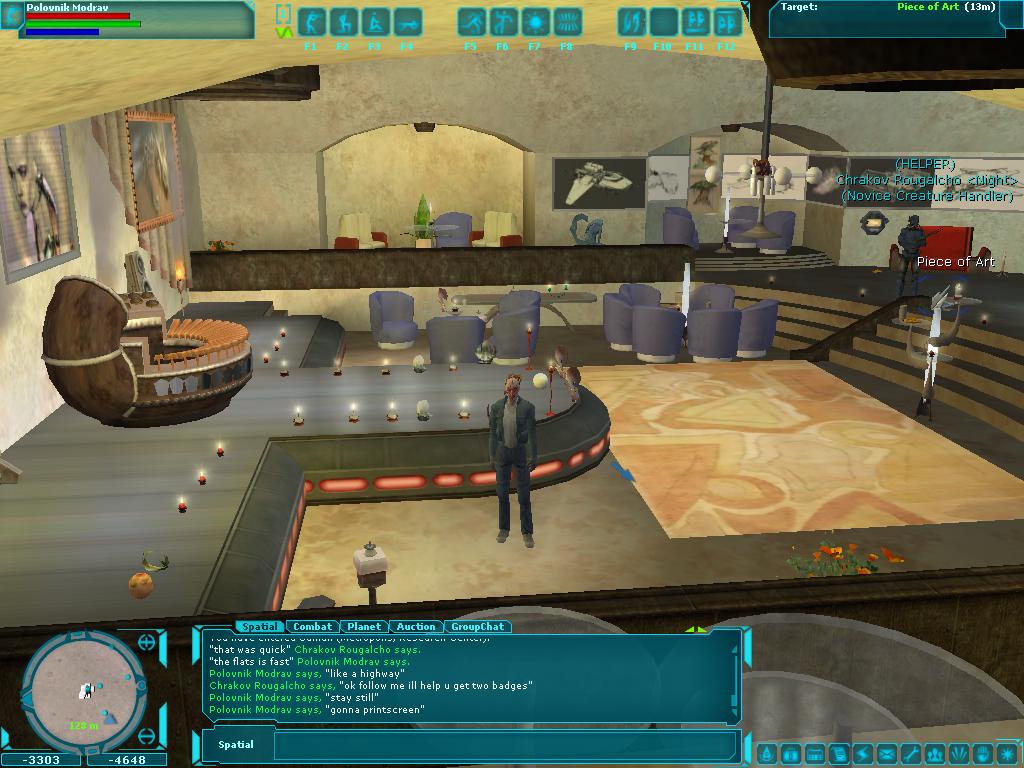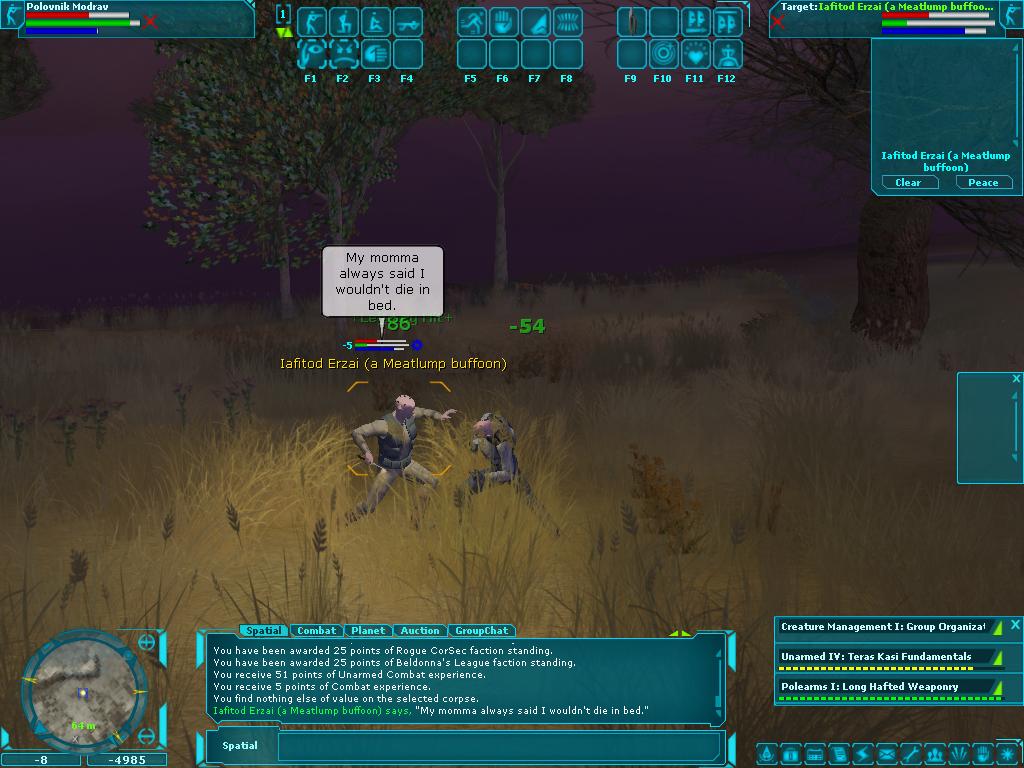 I loved how this game had you learn skills by going to specific trainers or learn them from players. To learn how to speak "Basic" (Human language) you would either go to a trainer or learn it from a passerby. To understand what Wookies and other aliens said required them or npcs to teach you, that made it fun!
You could even share (certain) profession skills by offering it to another player having them learn it as well without returning to base or town. Didn't like something? Just remove it and start fresh.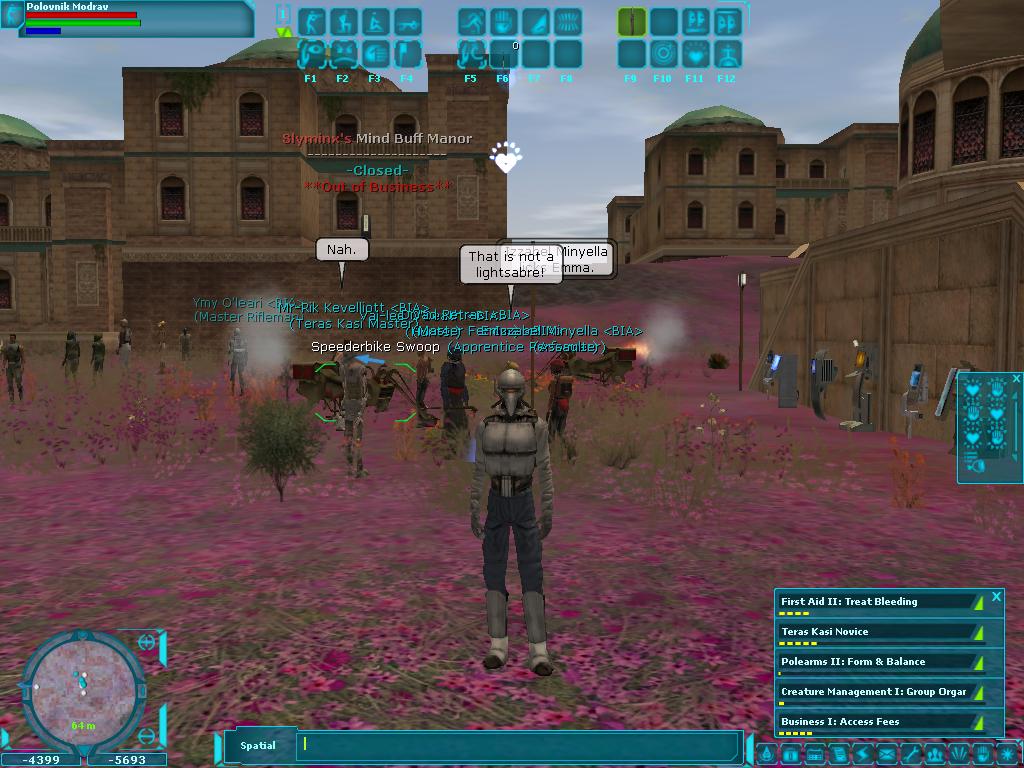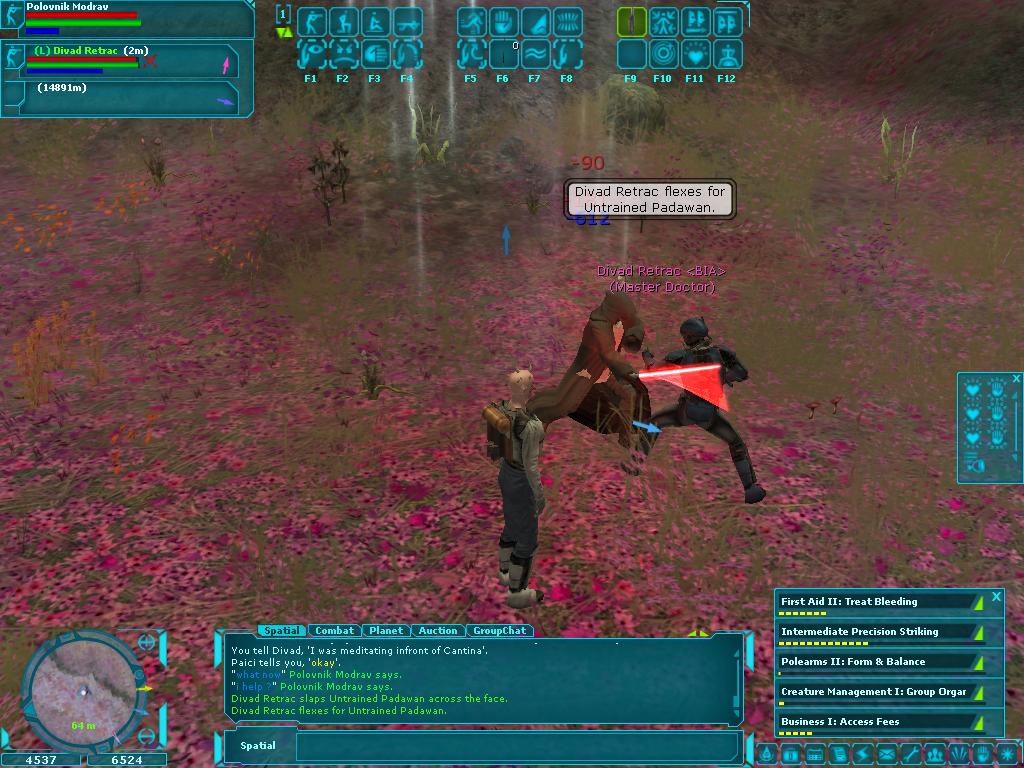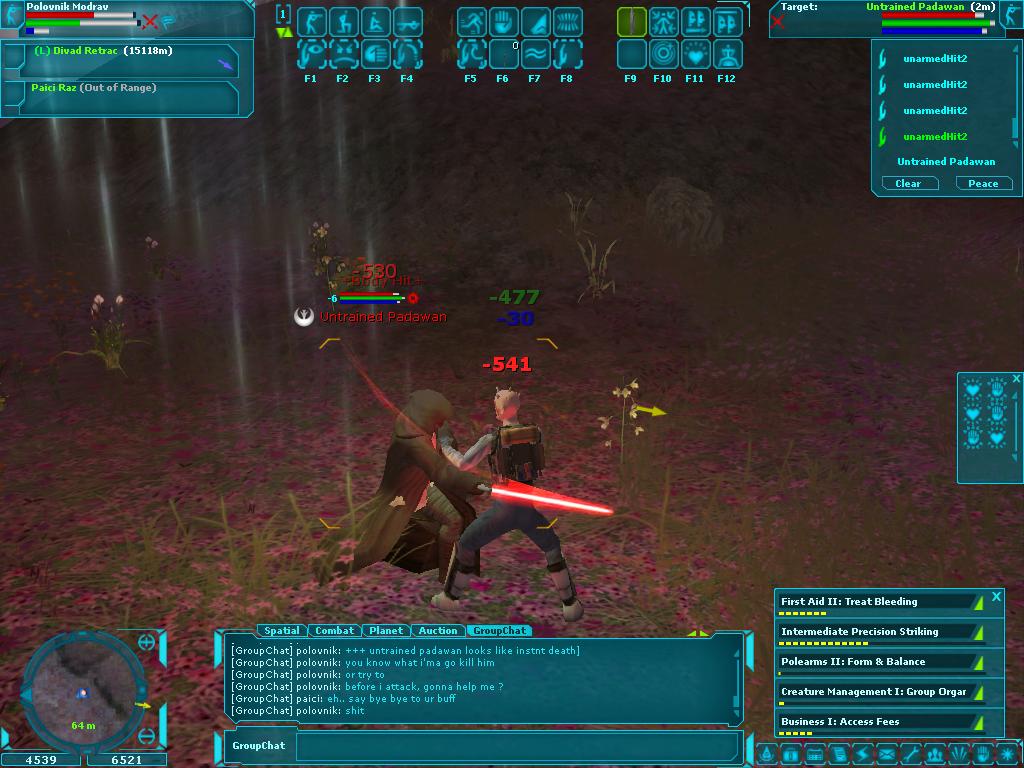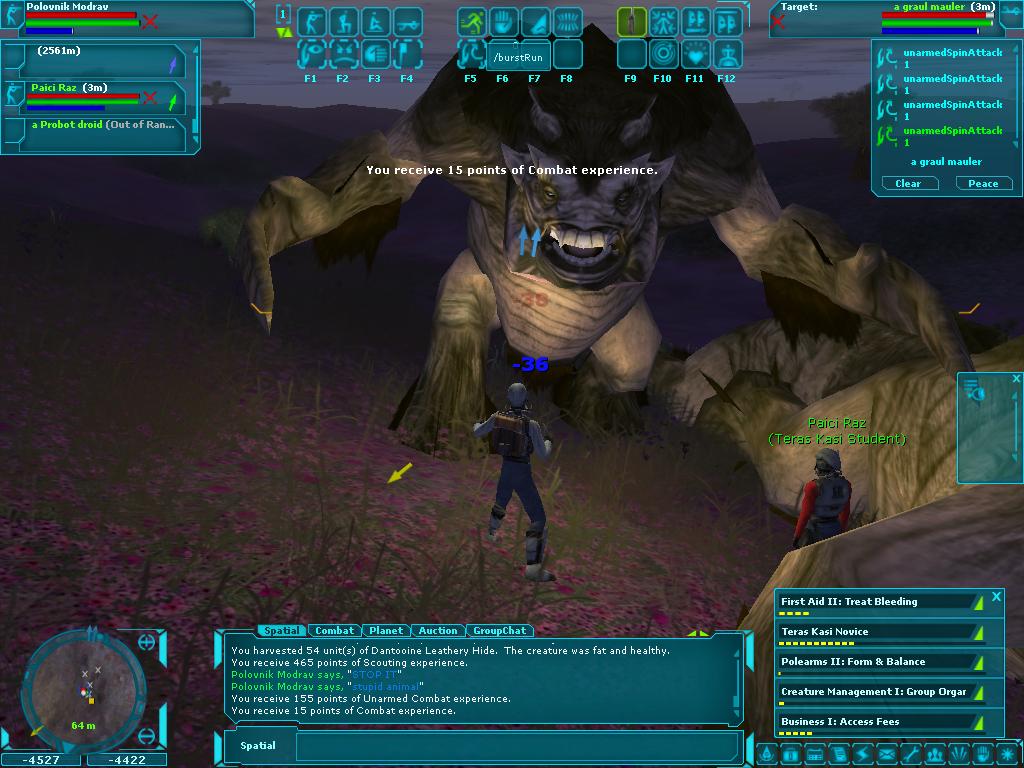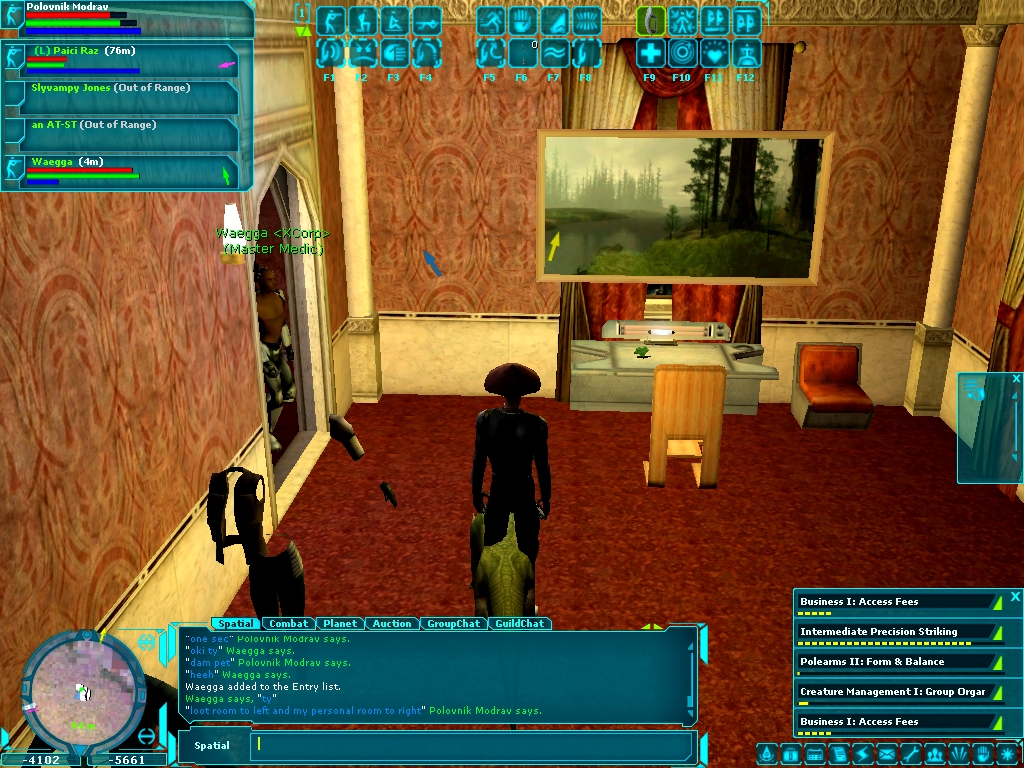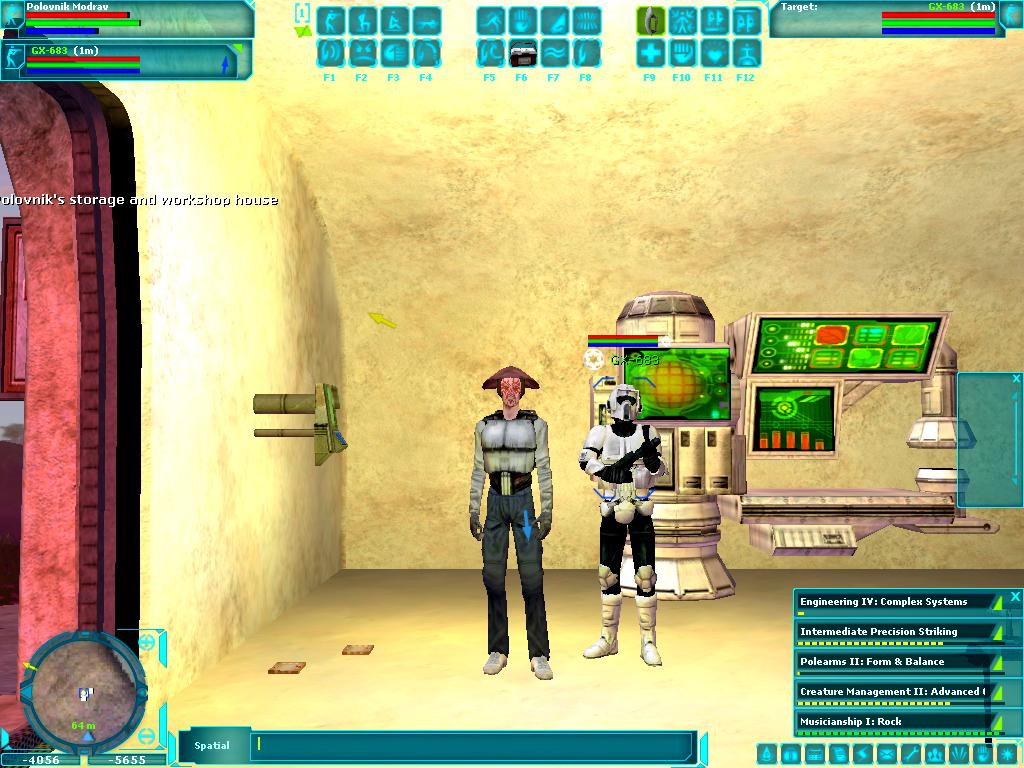 To gain resources you would need to A) Purchase them from a vendor or auction/market place- or B) Mine them up yourself using a mining machine.
Depending on where you place your mining machine you would get varying quality of ores.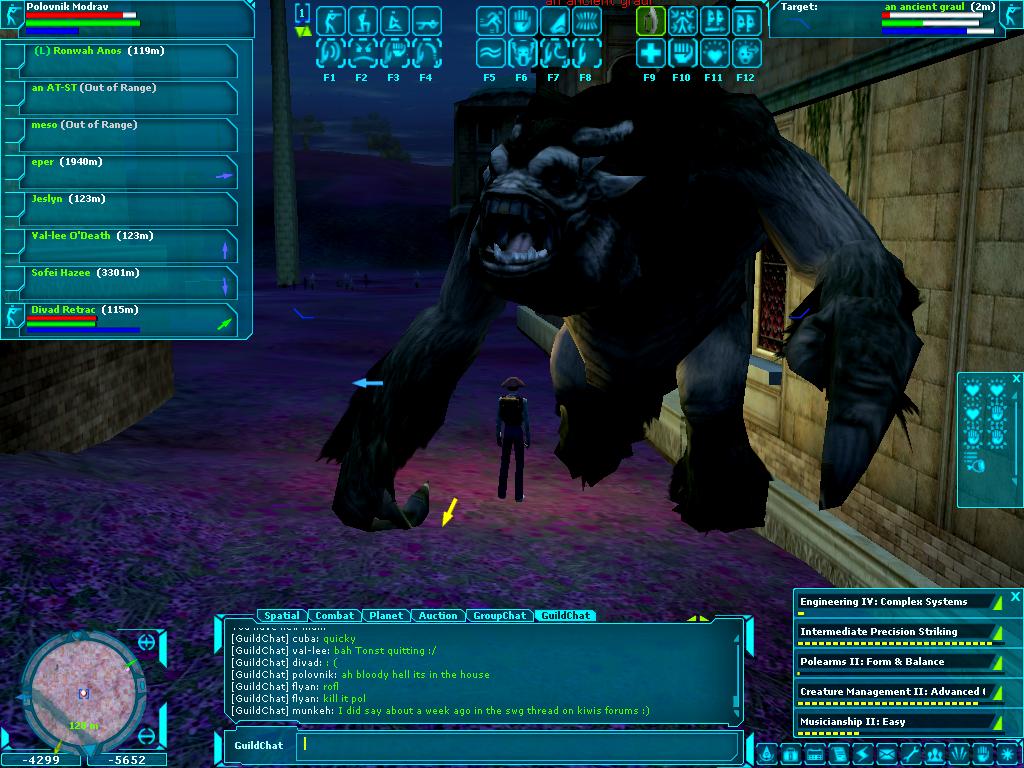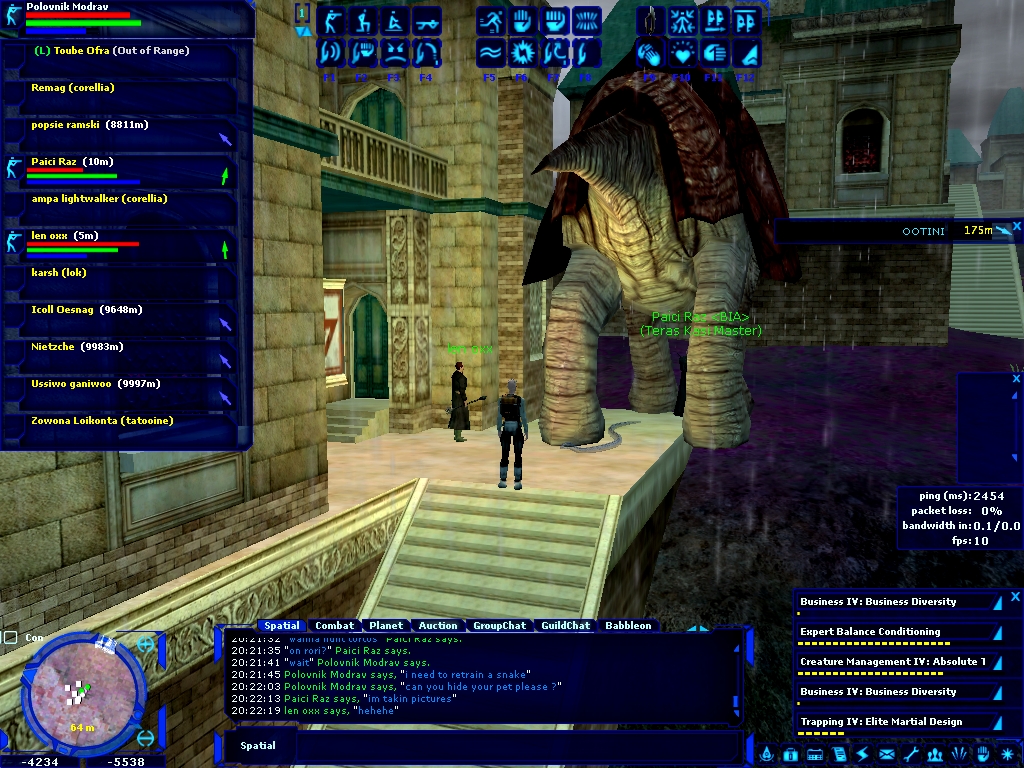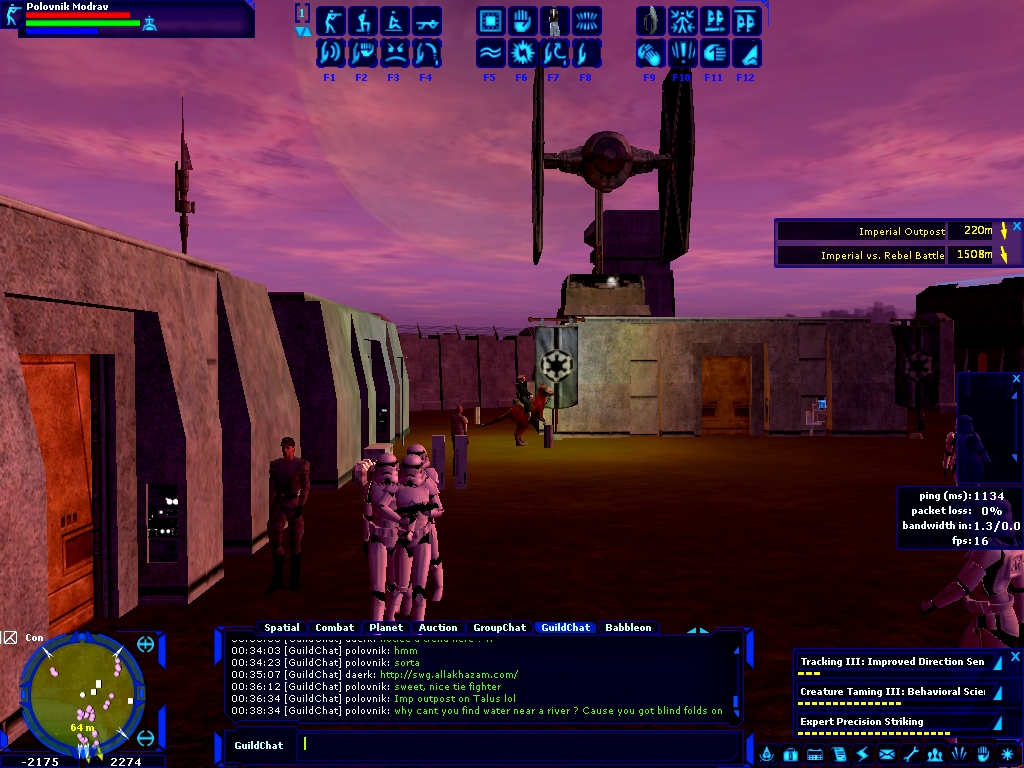 Just like with the Busou Shinki – Battle Rondo, I wanted the Anime badly, and we did. The same thing for SWG with me looking at the Tie Fighters, Bombers, and ships. I wanted to go into space, and when we did they both died on us in a swift manner. Battle Rondo got pulled, as did SWG. The two MMO's I loved the most had to die….
I also remember playing SWG heavily before going back to high-school. I spent whatever time I could playing it so I could forget about it. What a torturous dungeon school was and a safe-haven SWG was.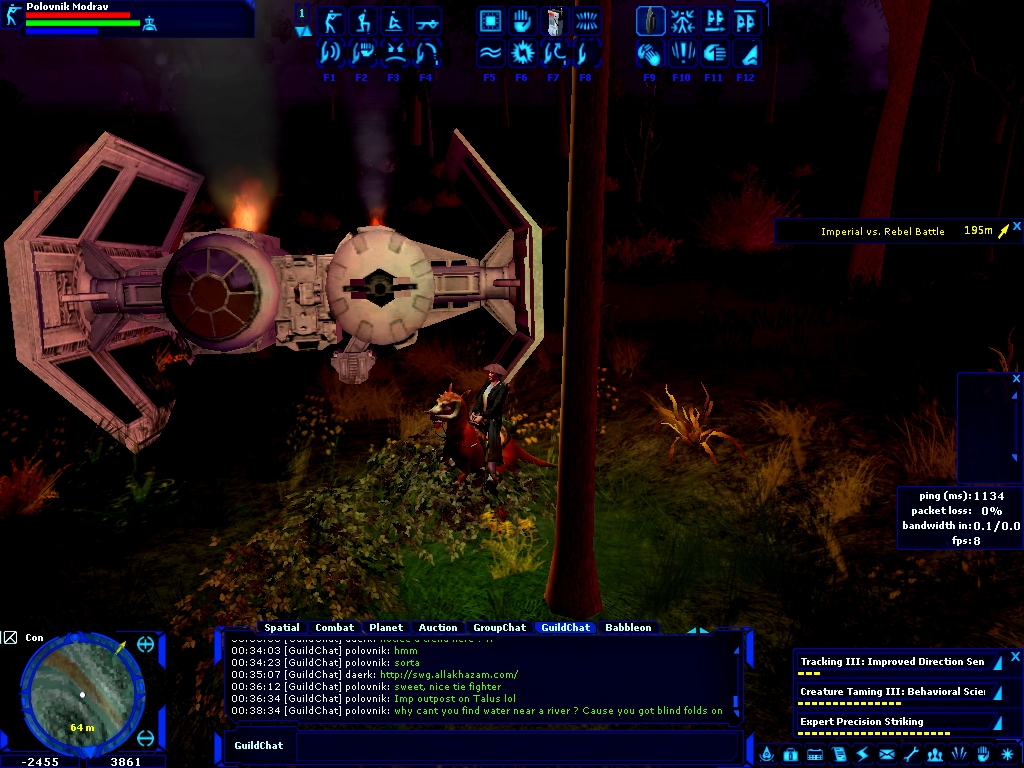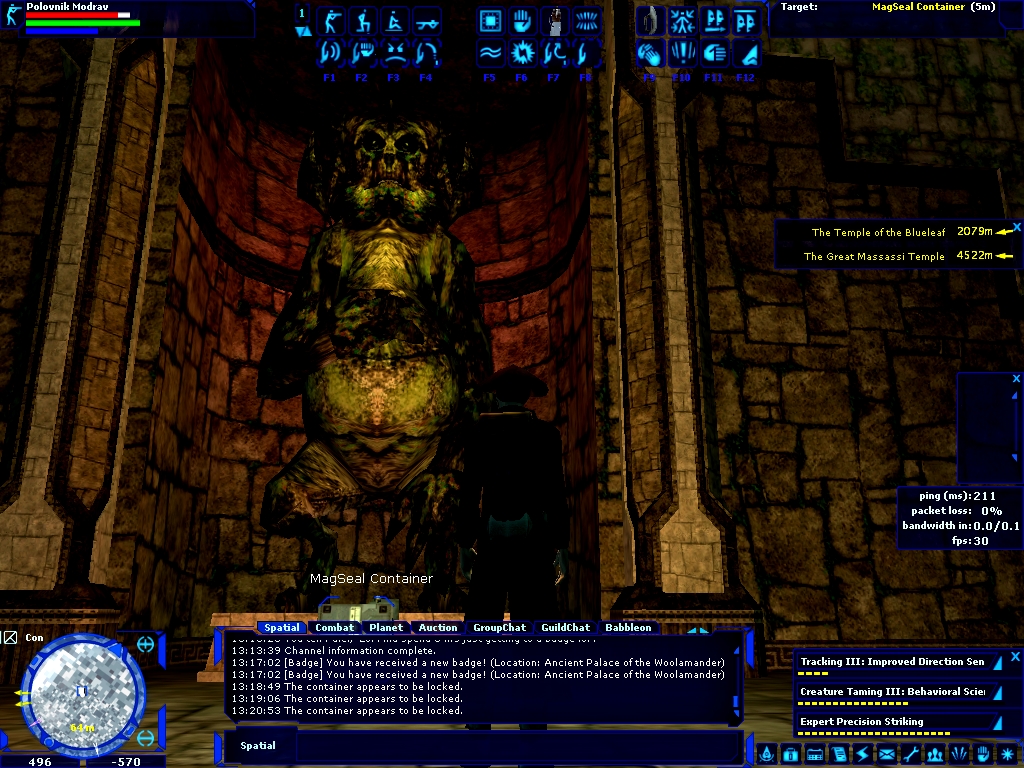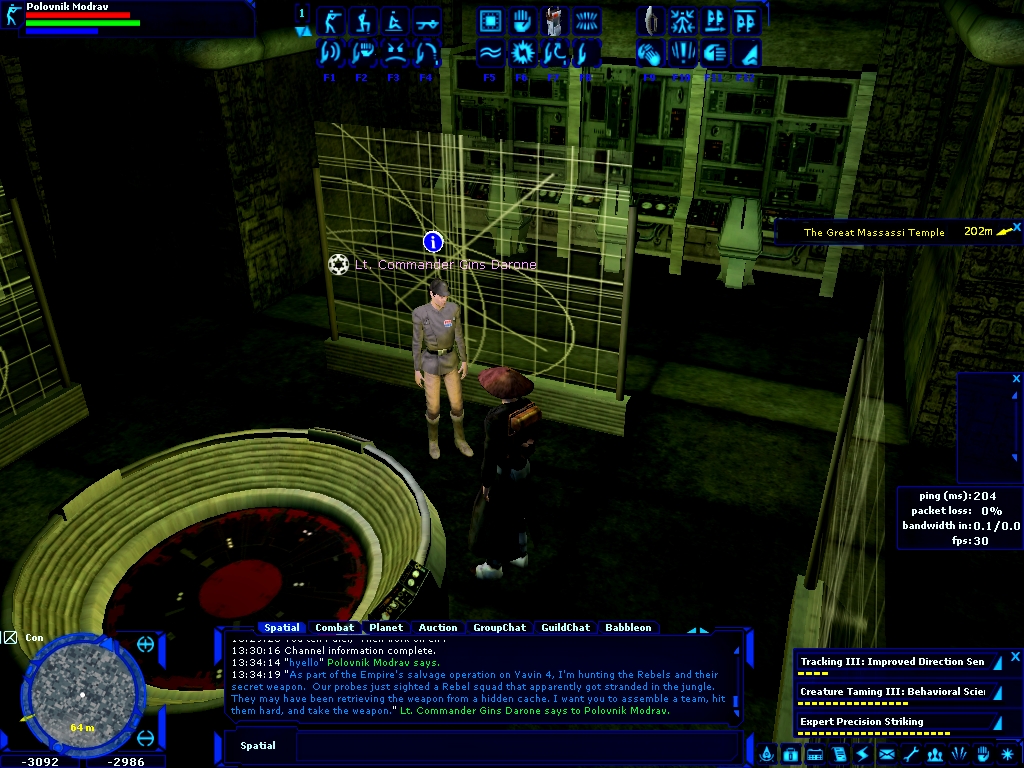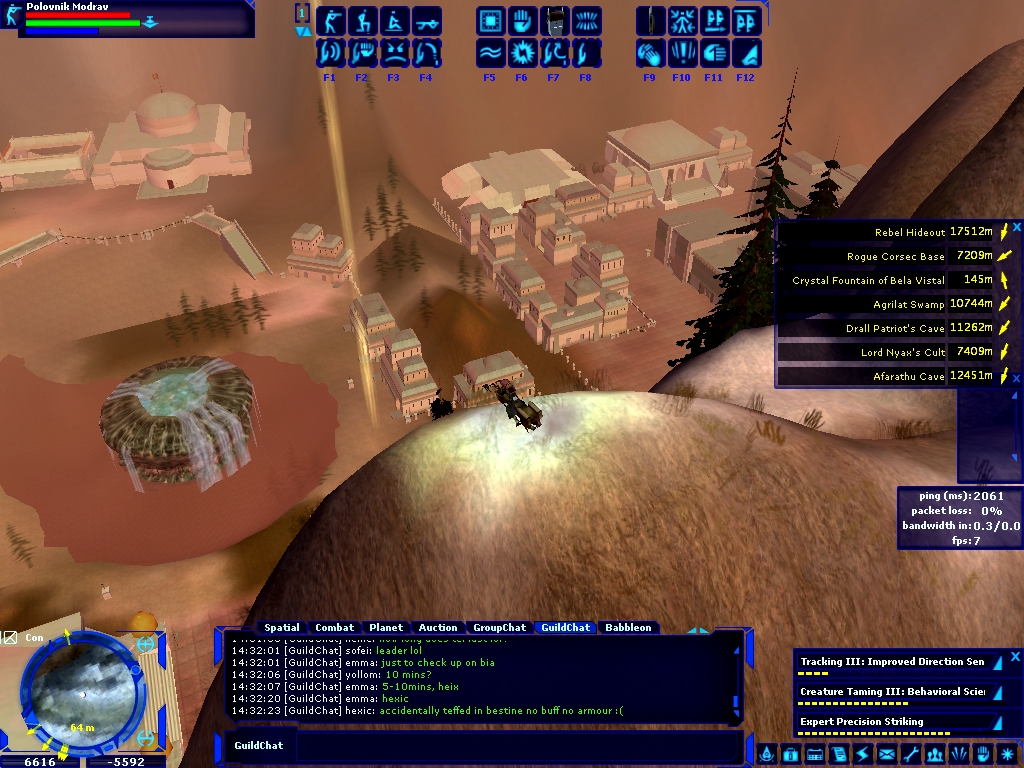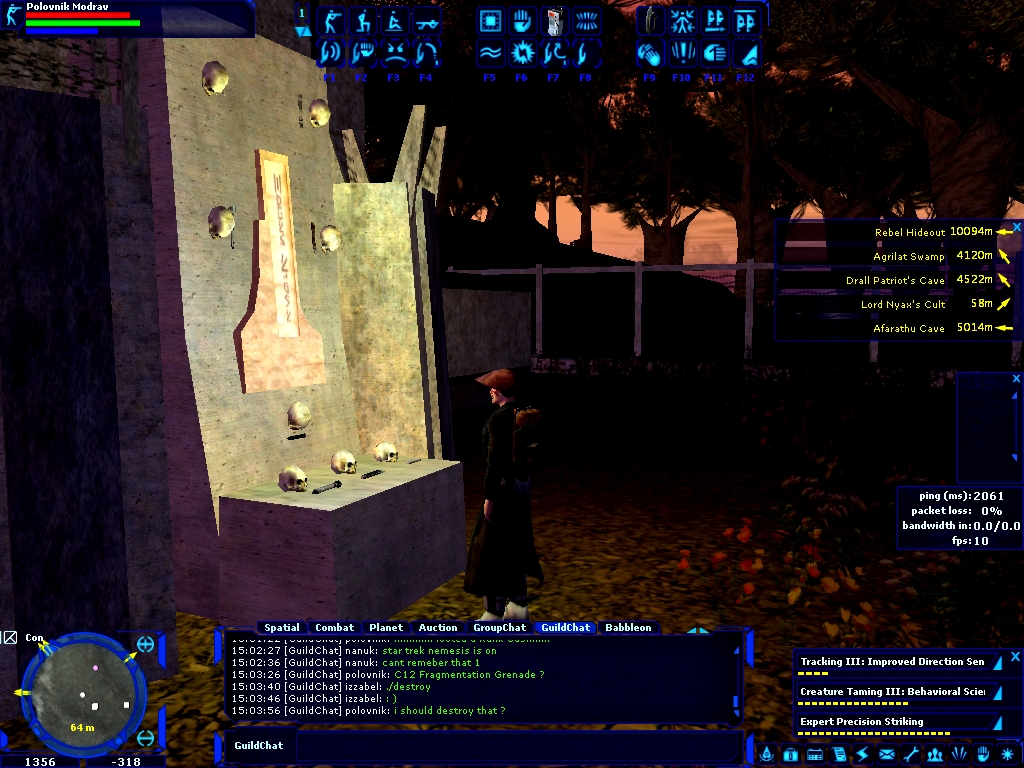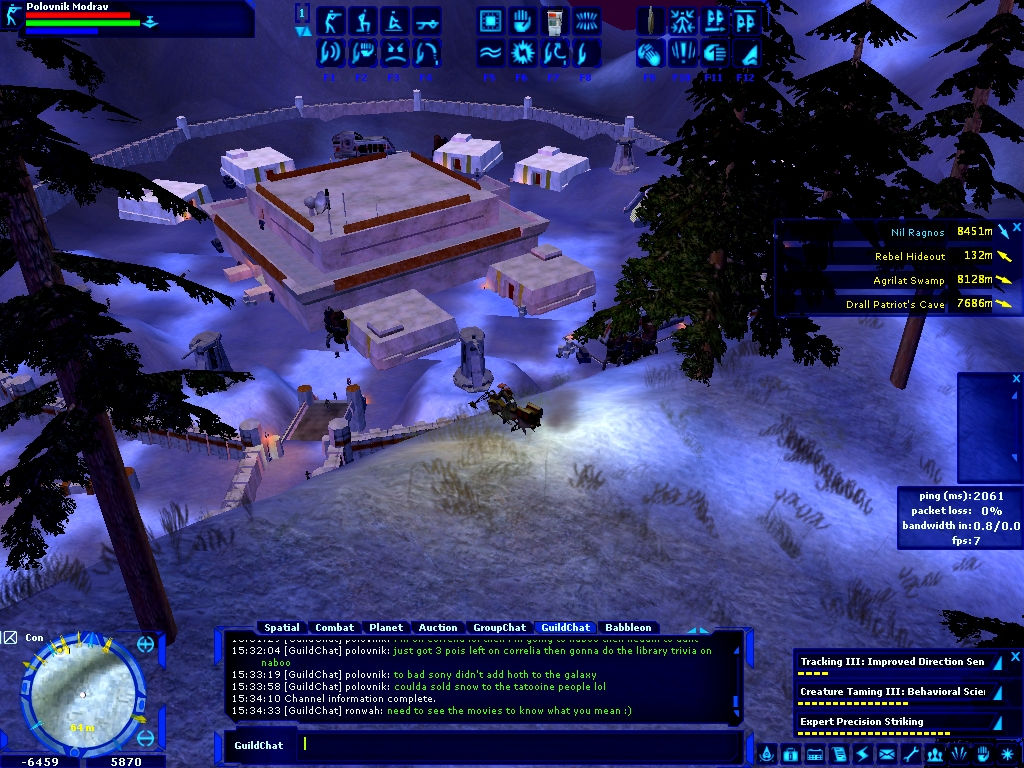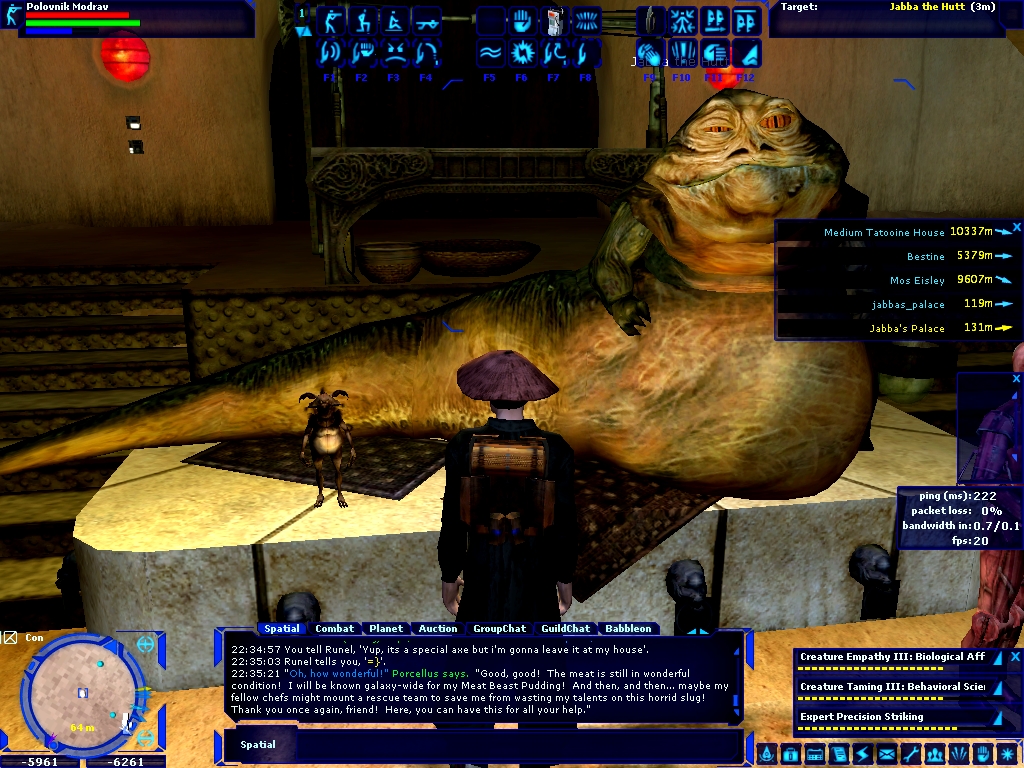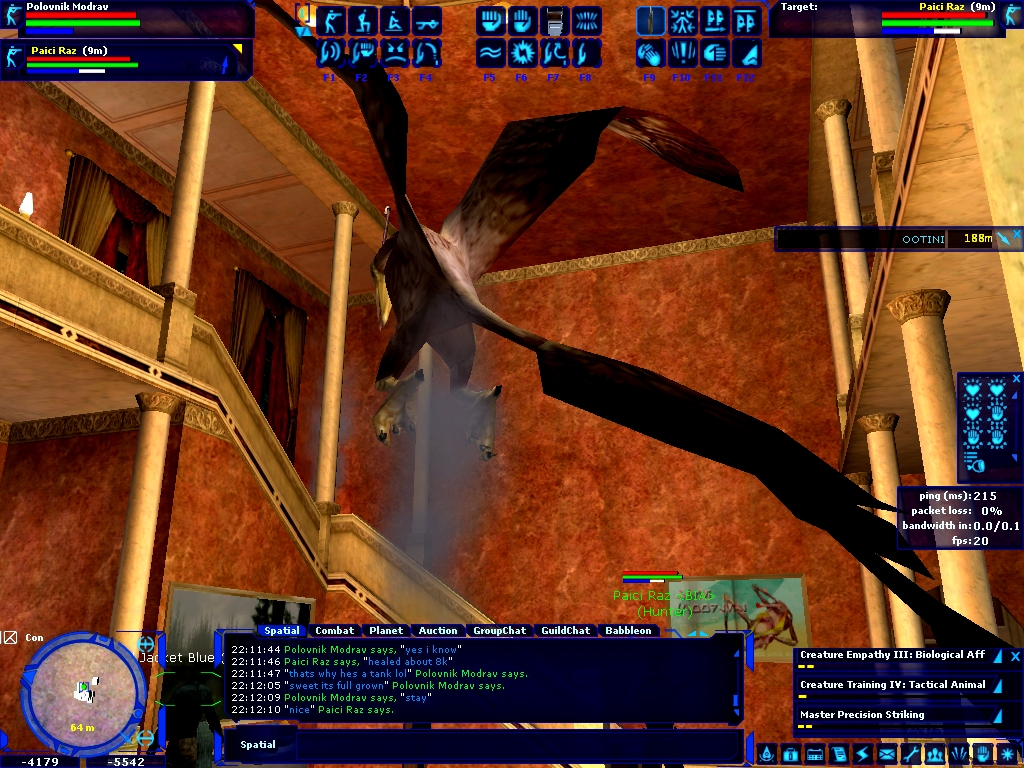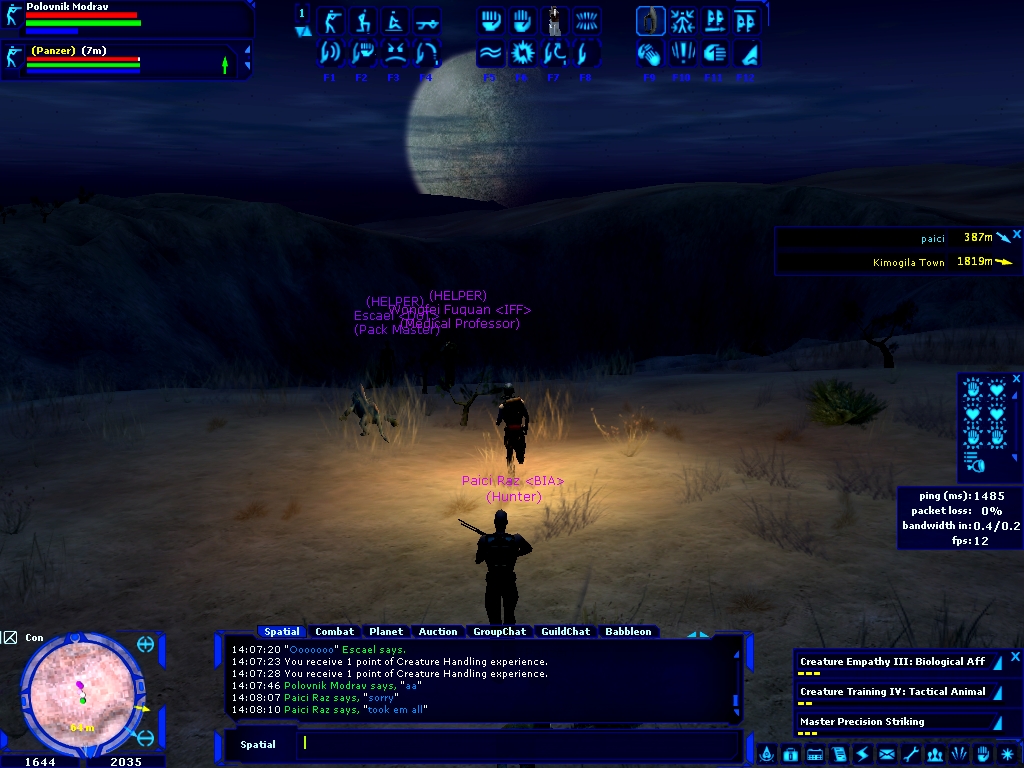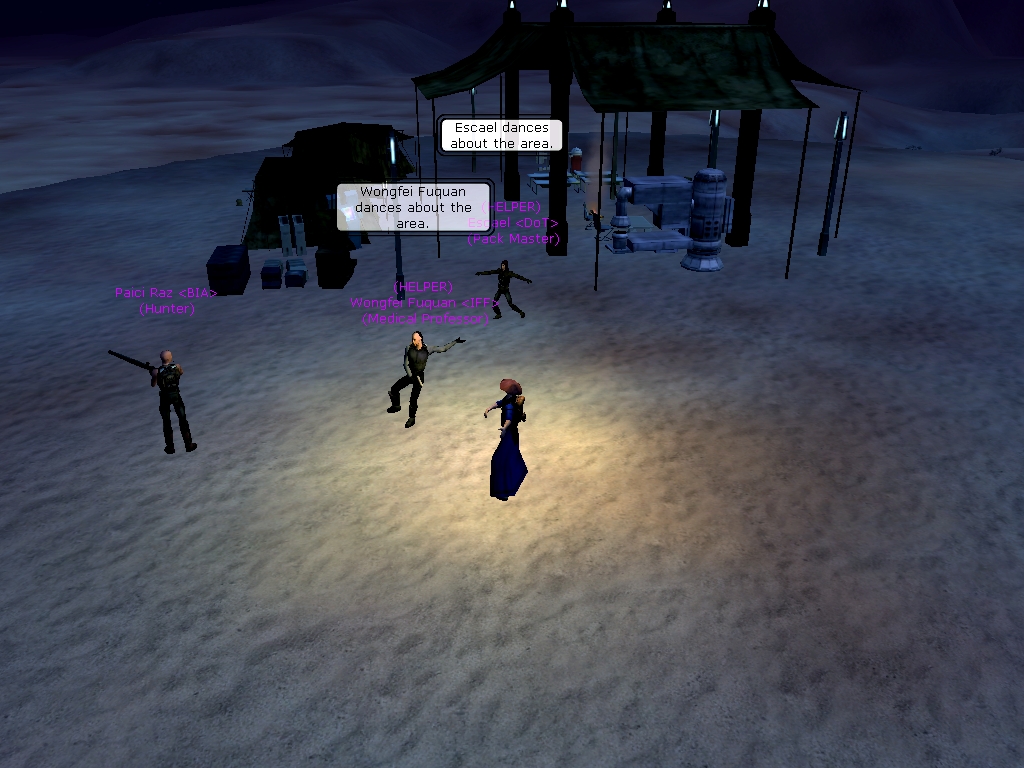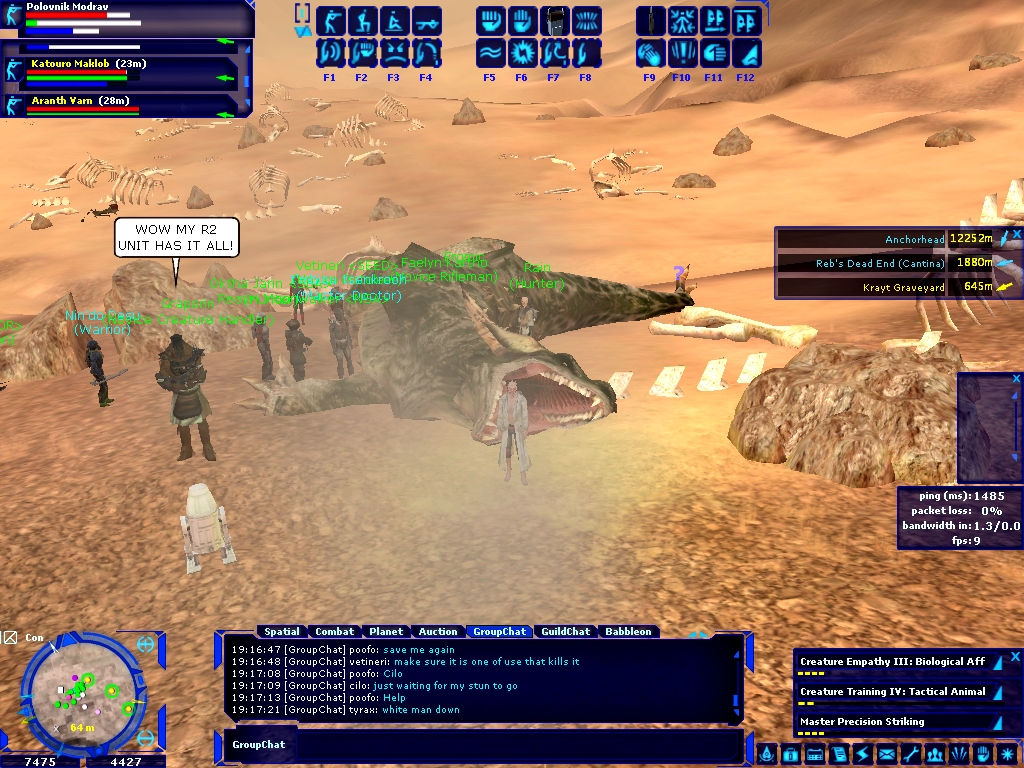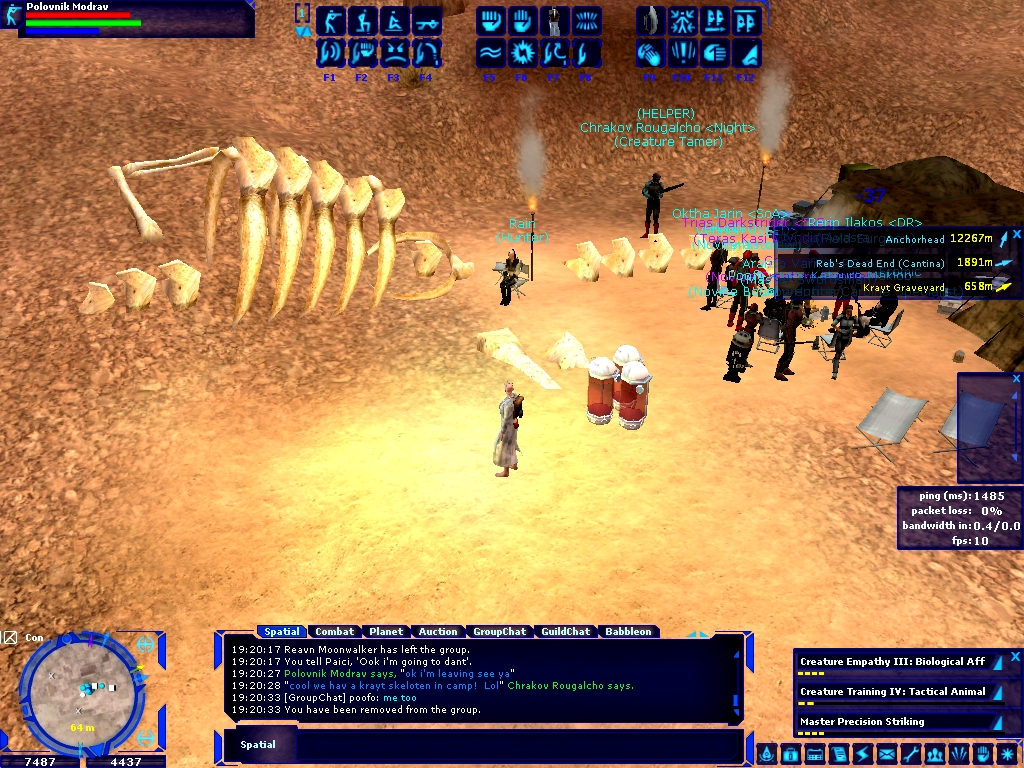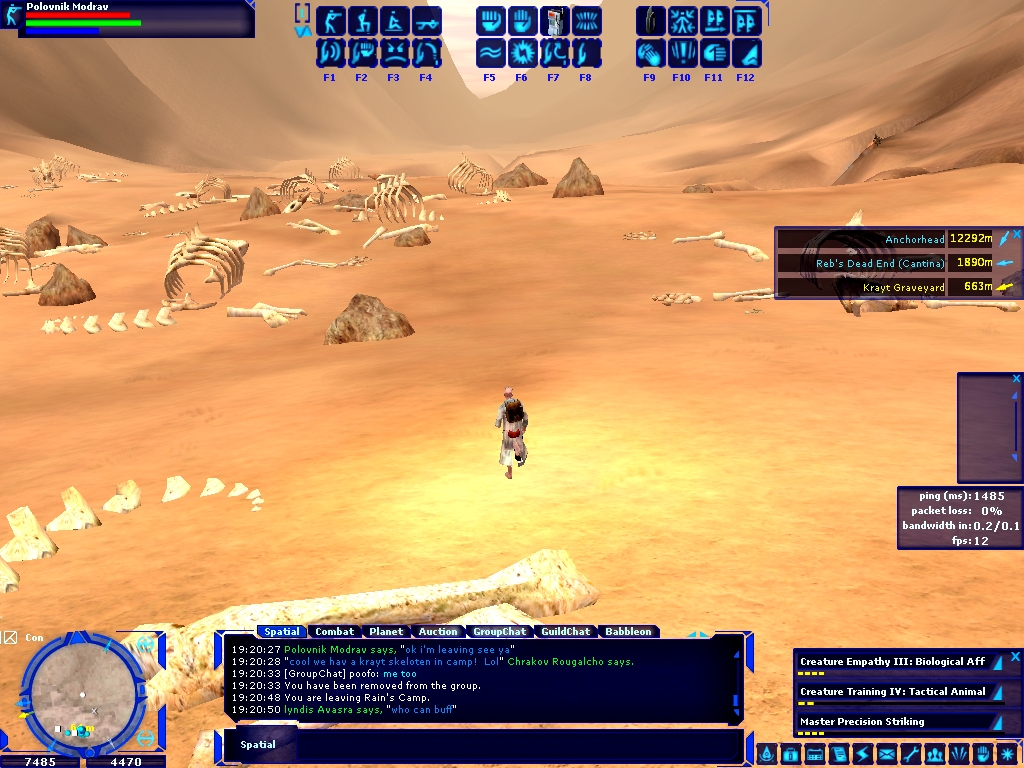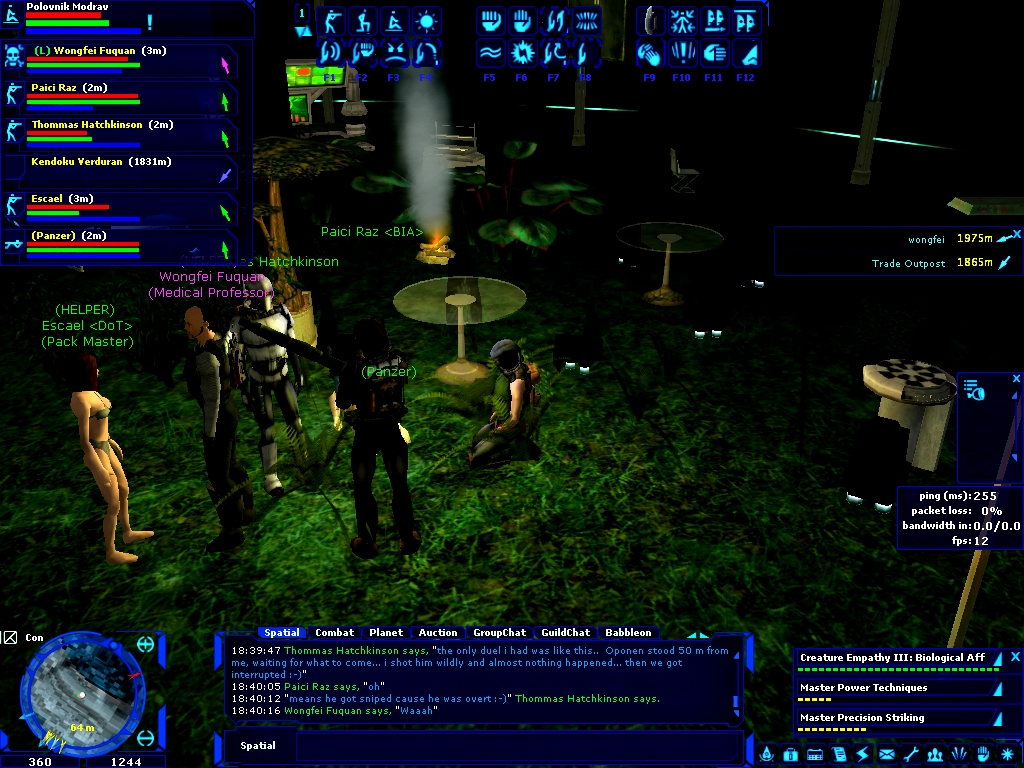 If I haven't said it yet – Dantooine is and was my favorite place! Had a bit of a travel time to reach the main outpost, was well worth it in the end.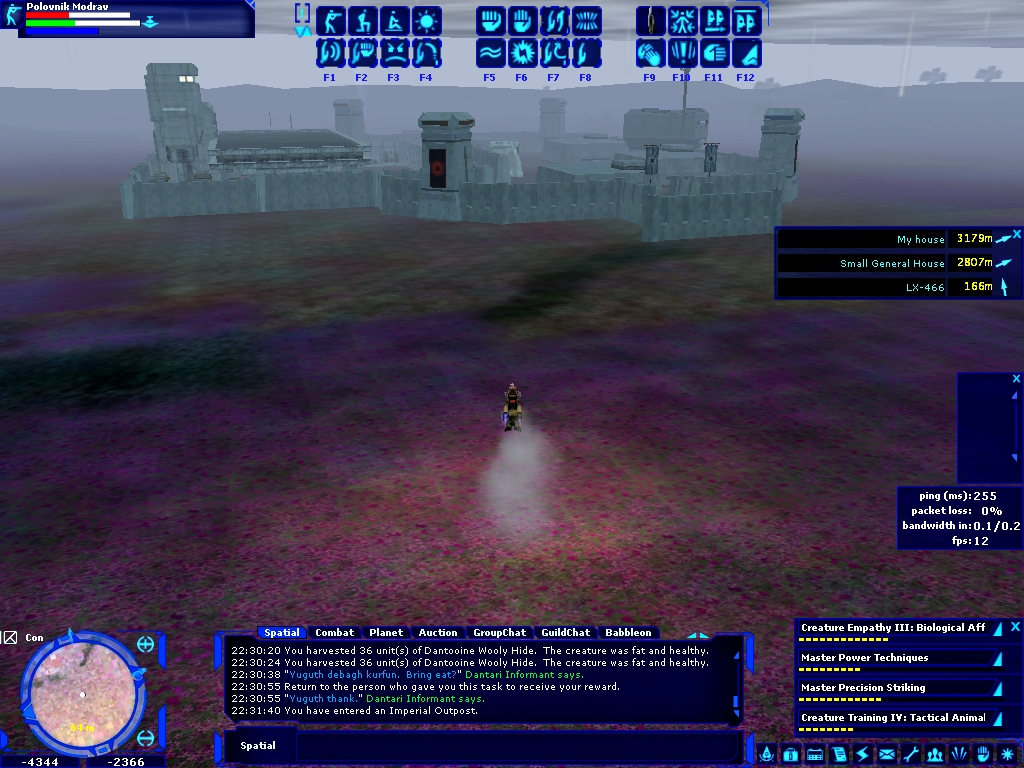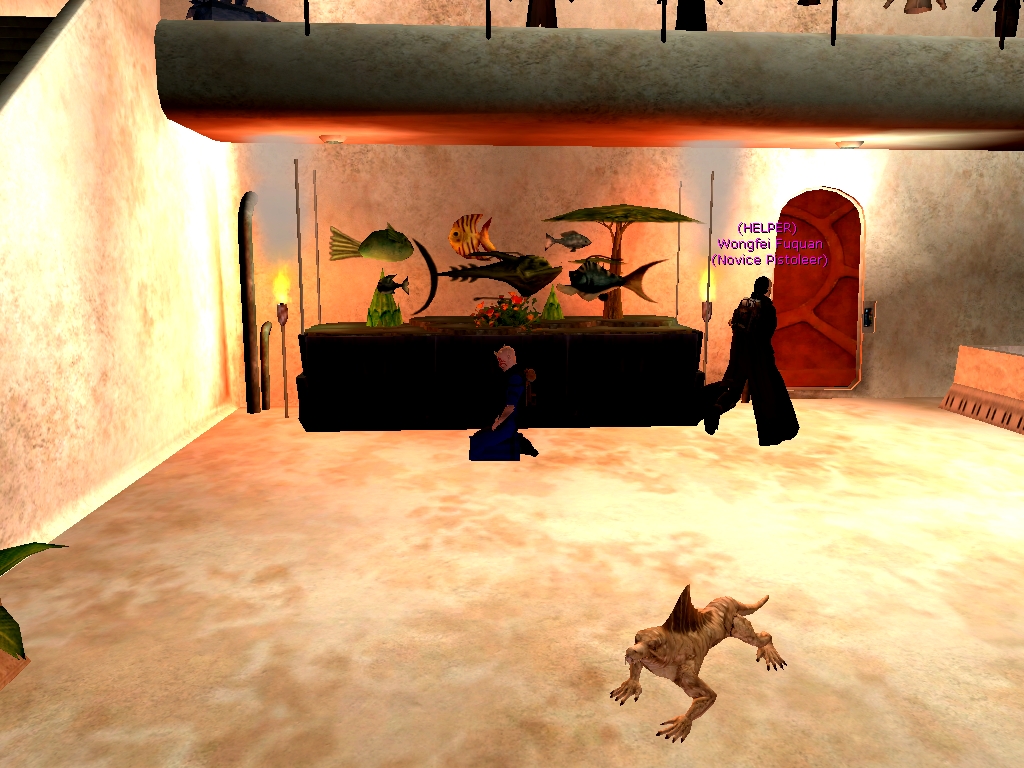 I loved the home customization in SWG, something that SWTOR is lacking. You could place items in any spot, make fish tanks, store ores, and just "pimp" it out the way you pleased.
The game also had fishing, fish you could display up in your home. One simple fishing session later with a pocket filled with exotic alien fishies. The fish tanks people created for them were quite impressive; Wonfei's fish tank being one example.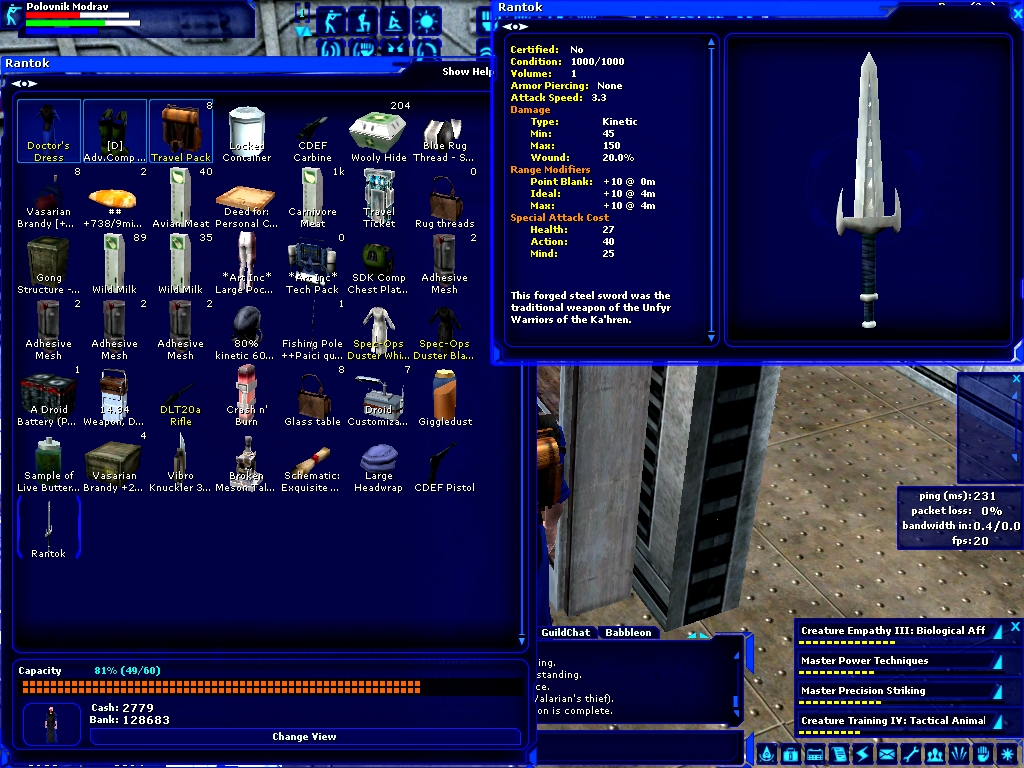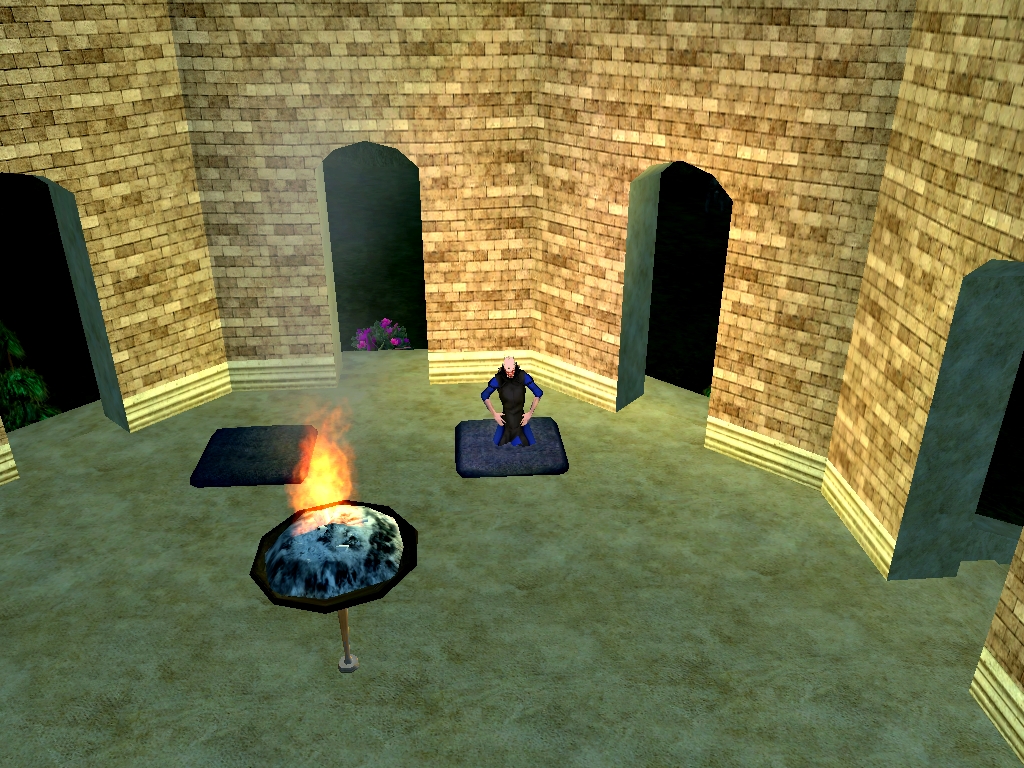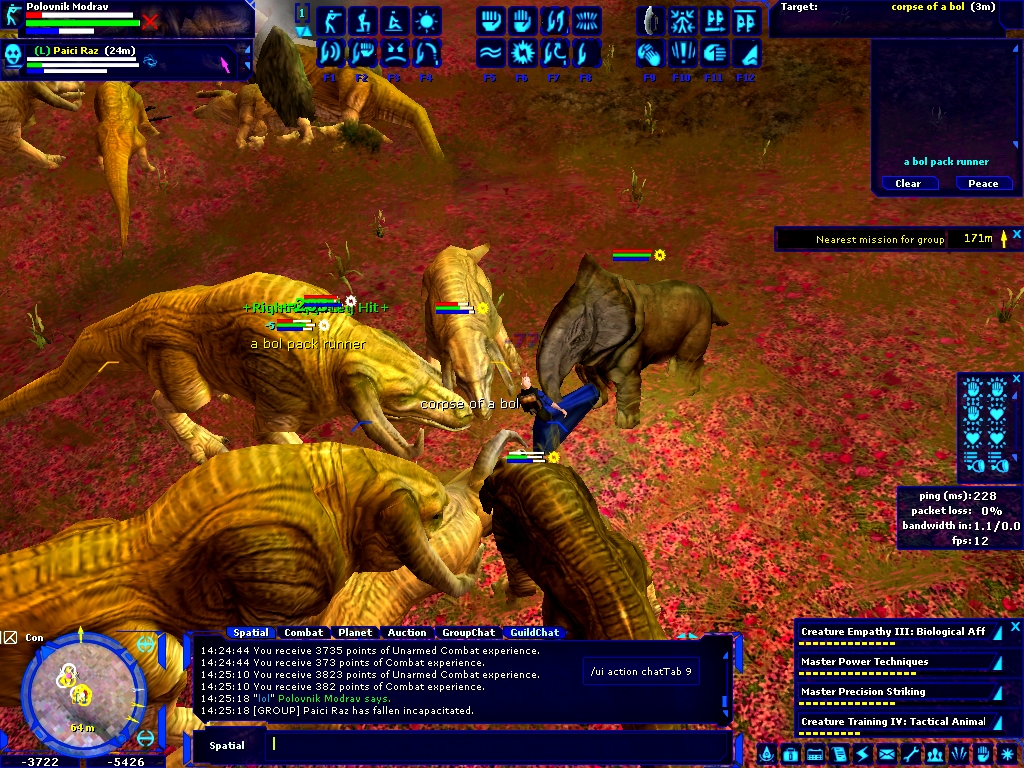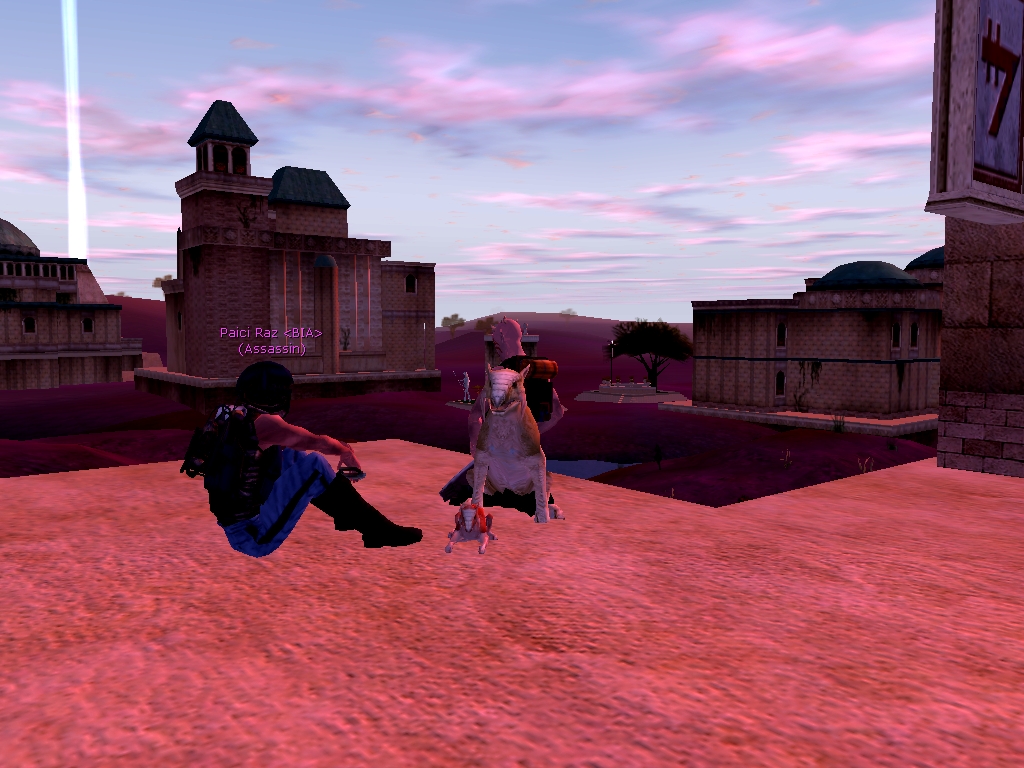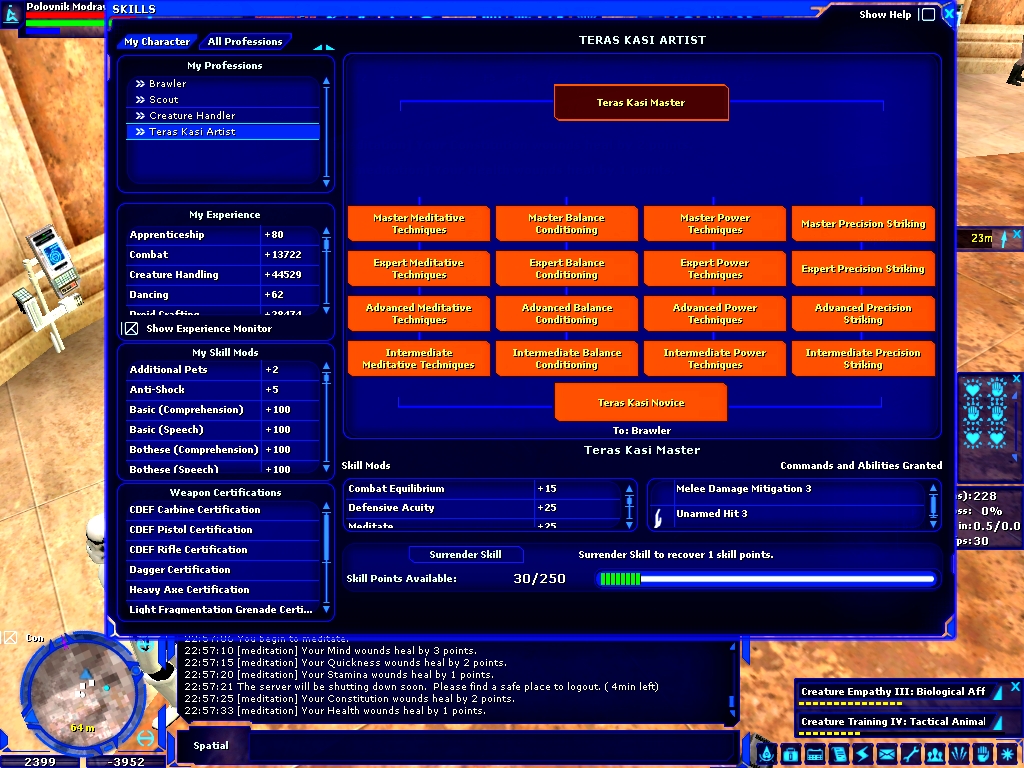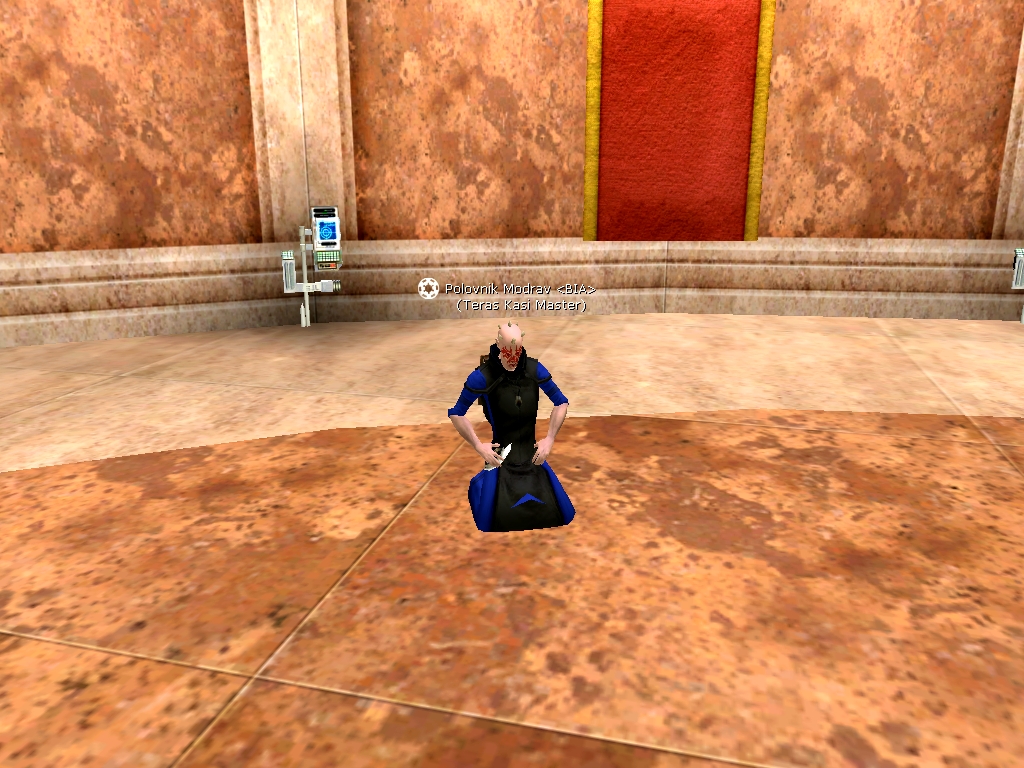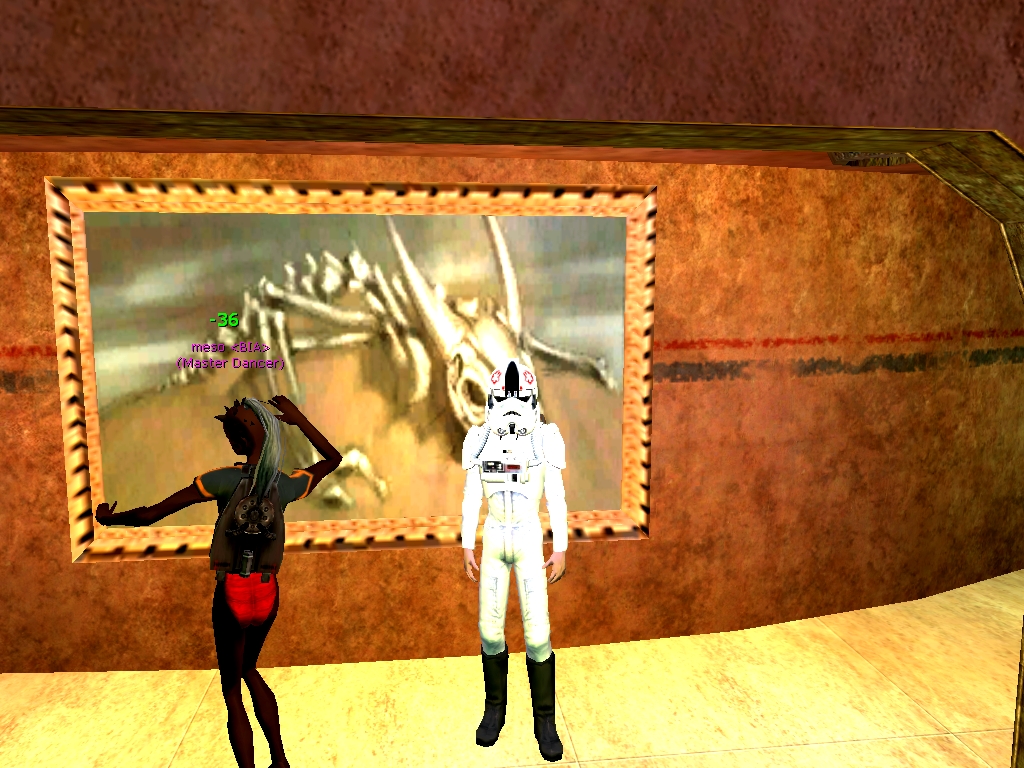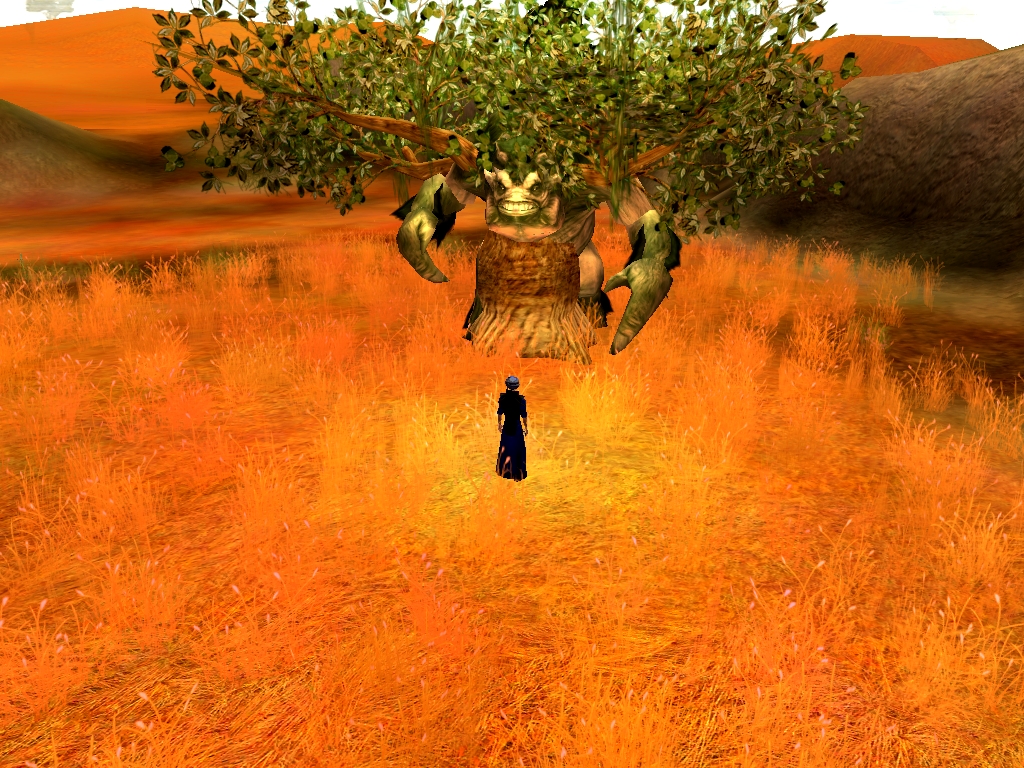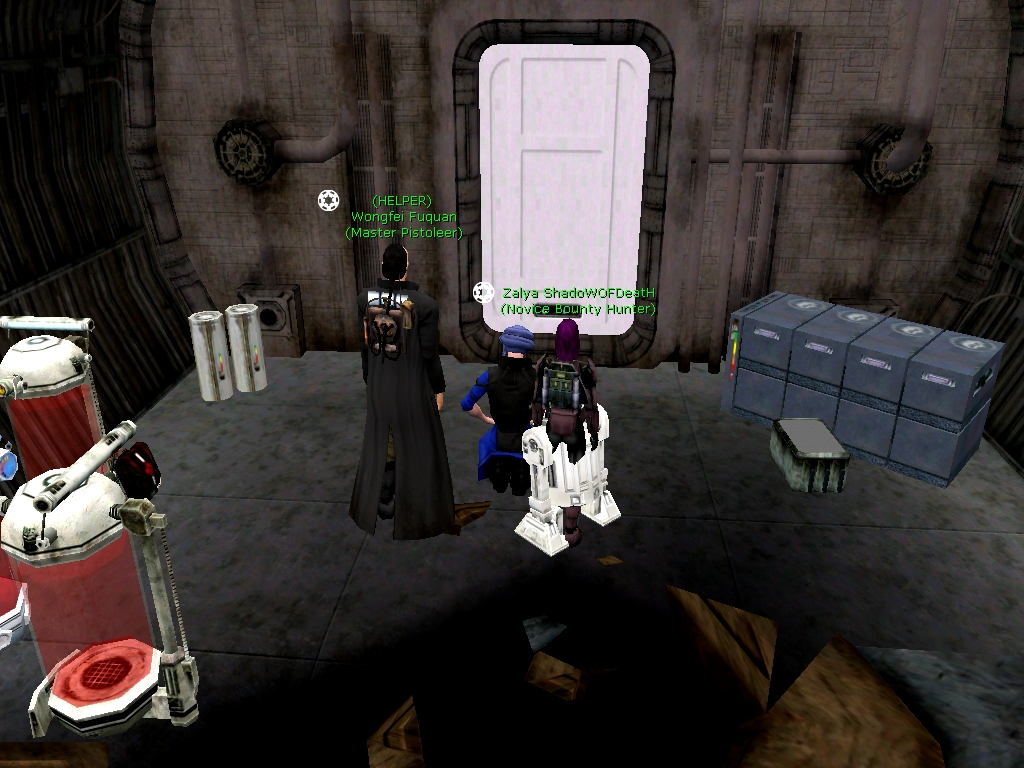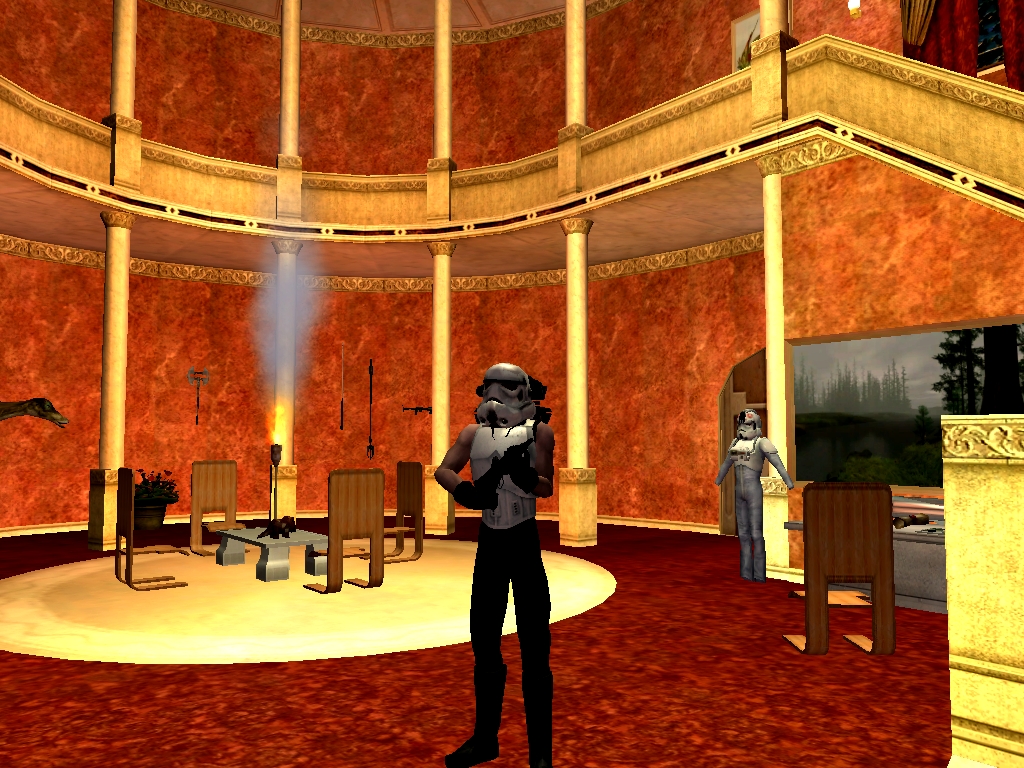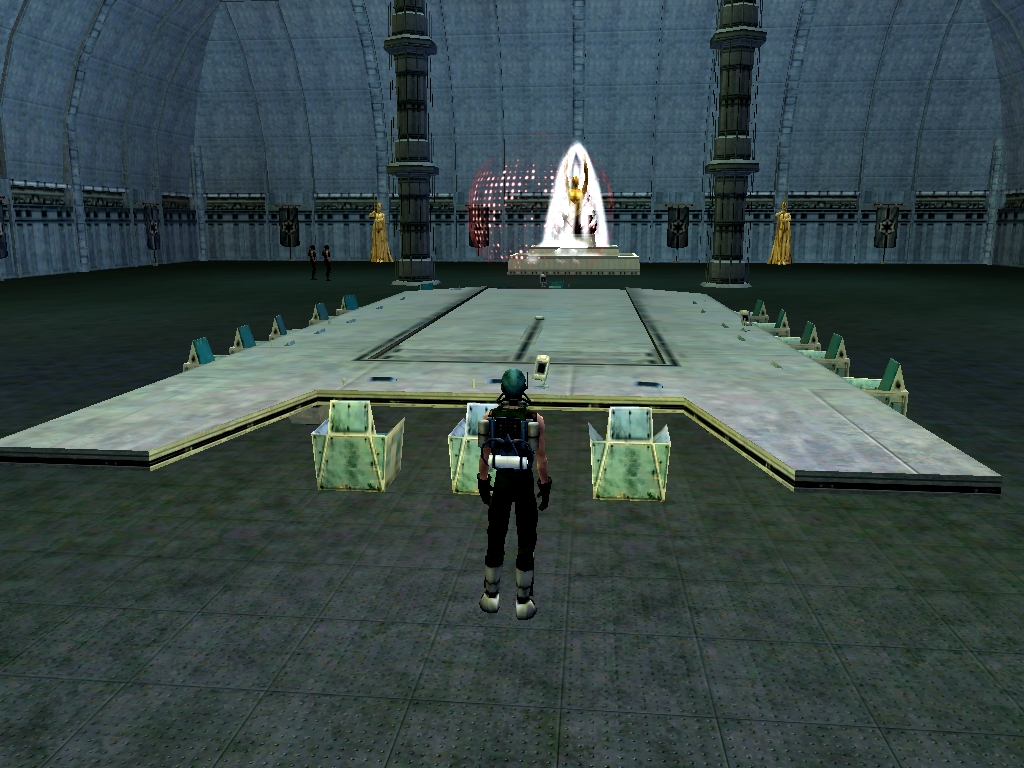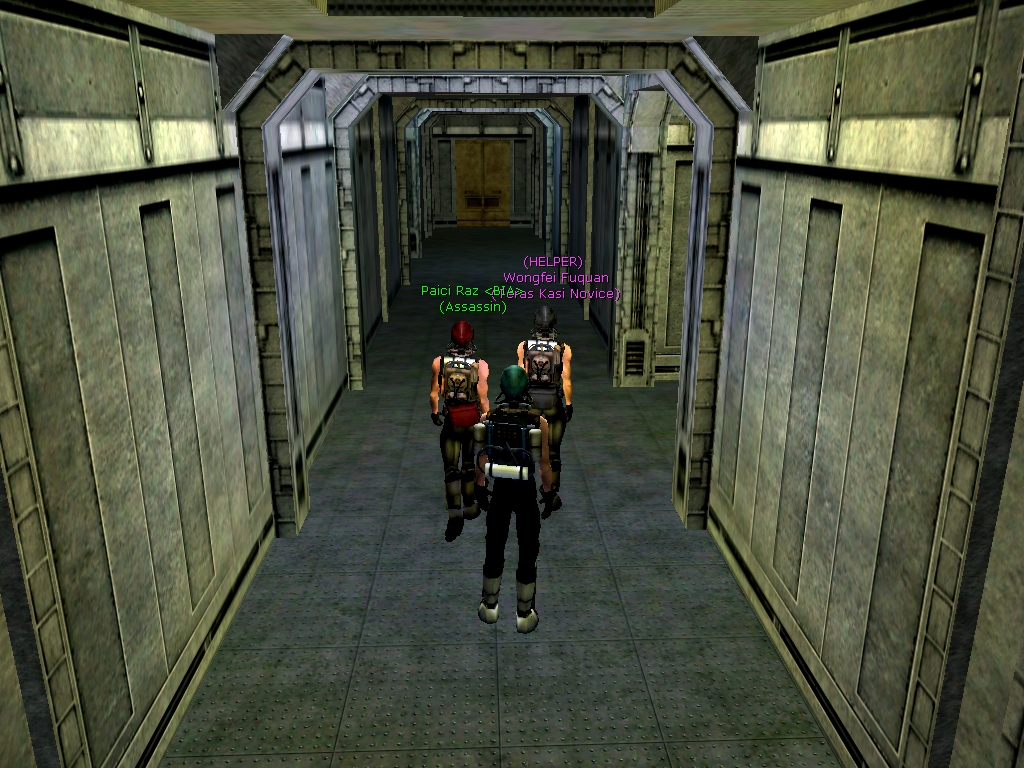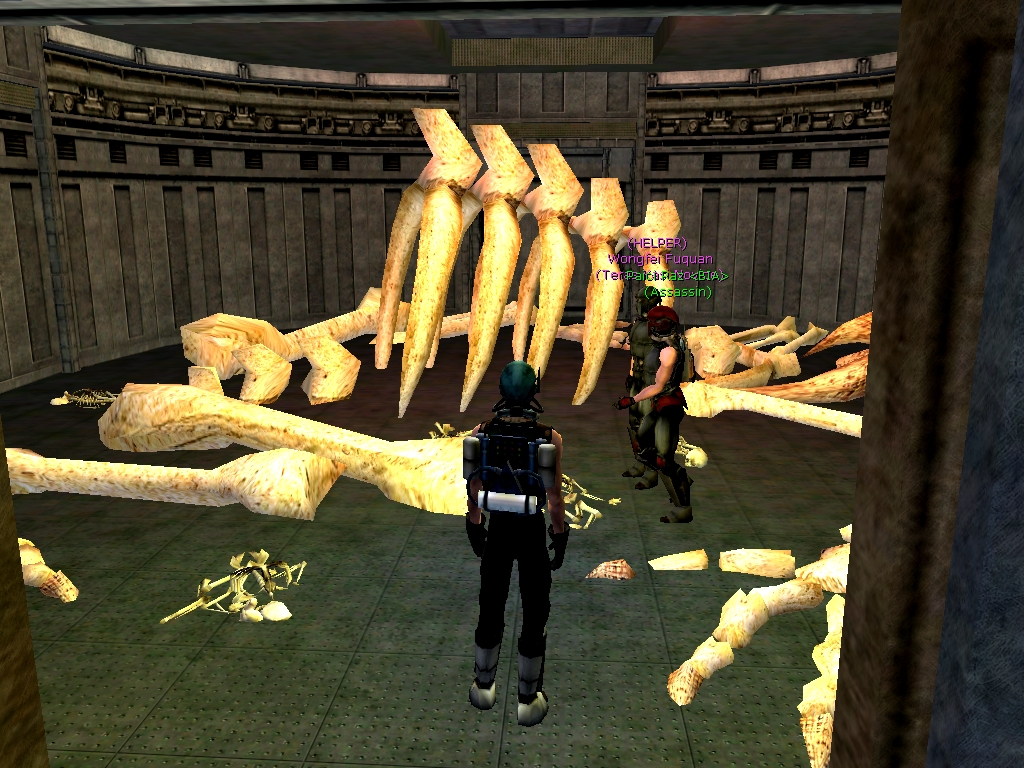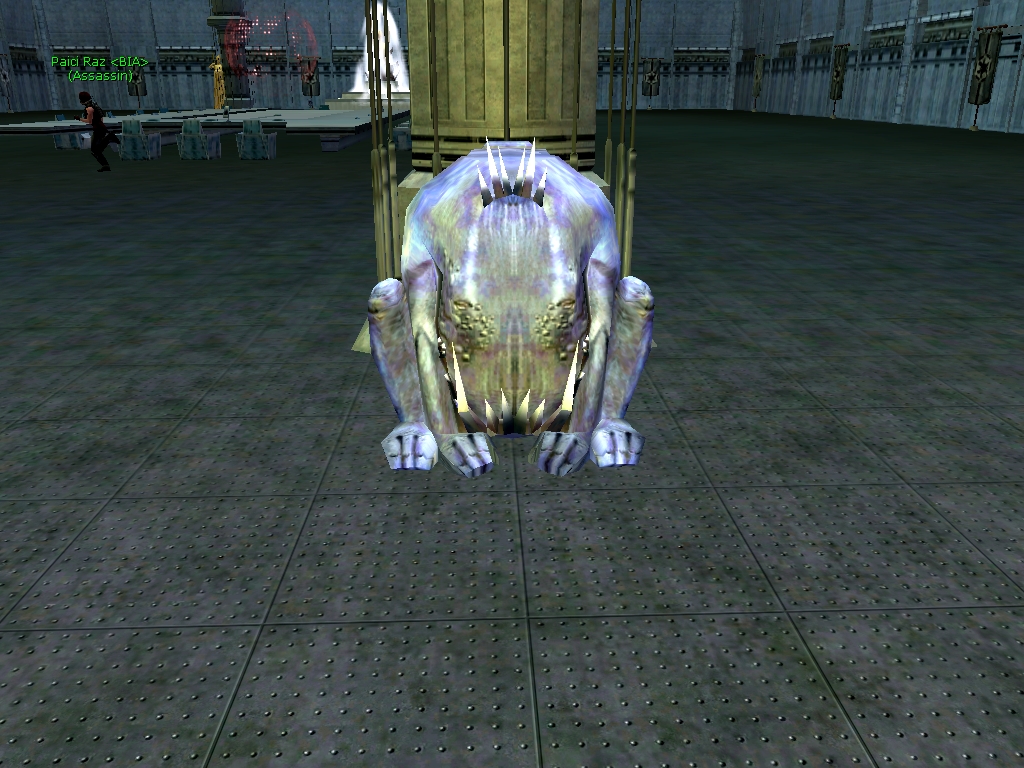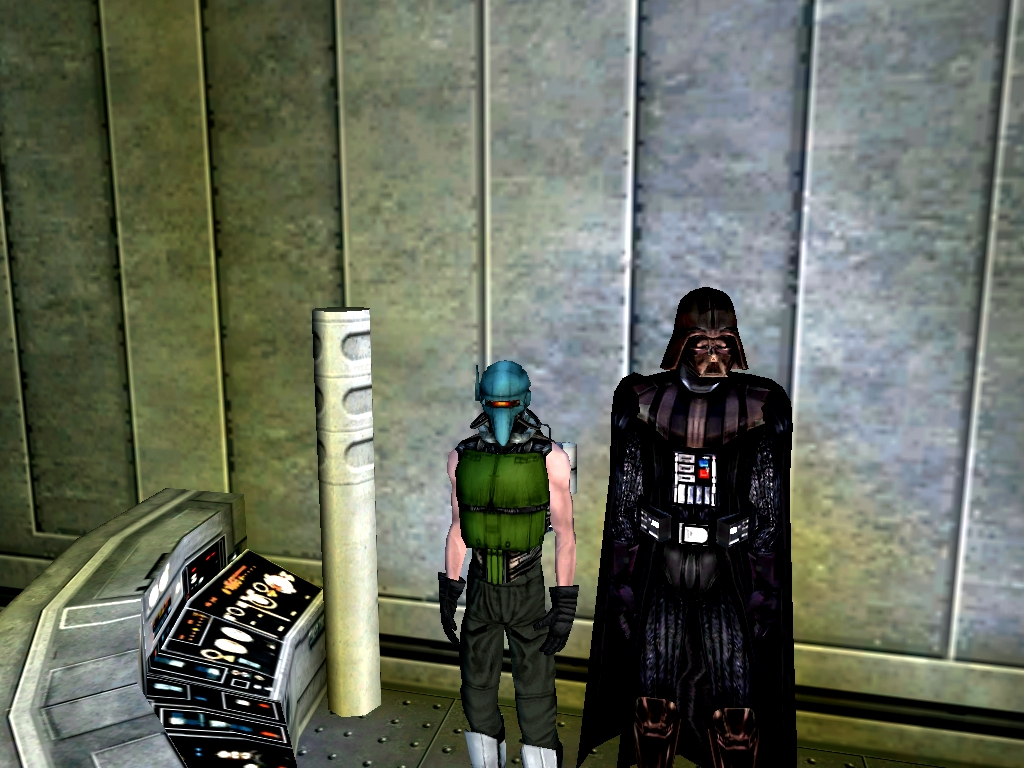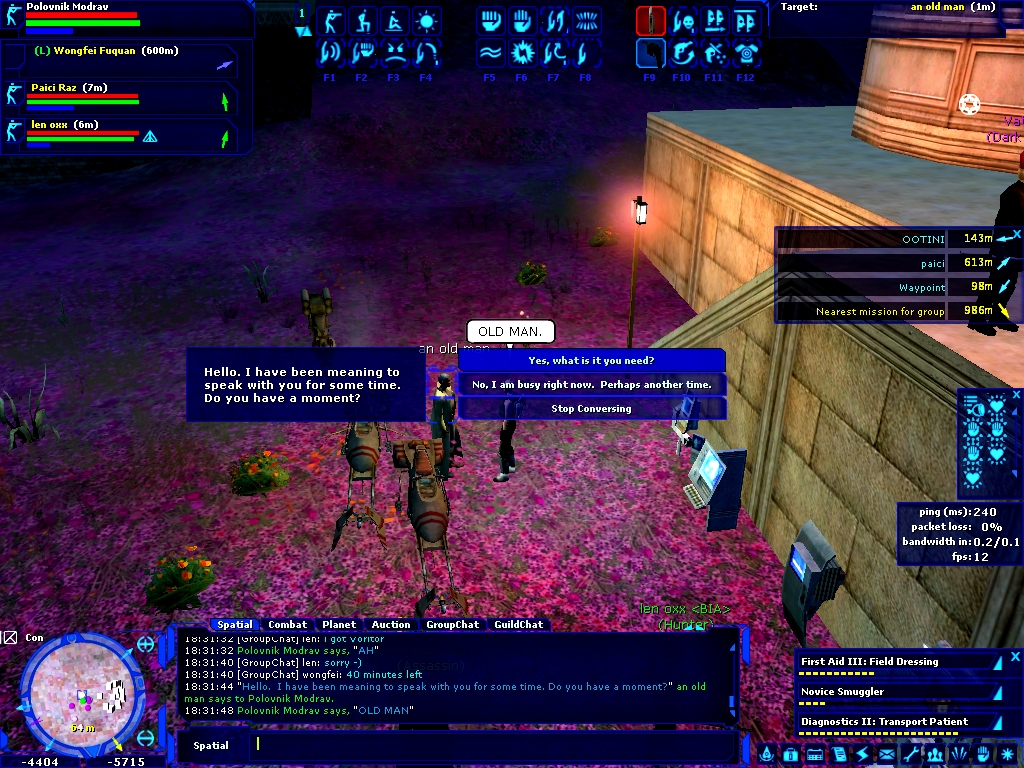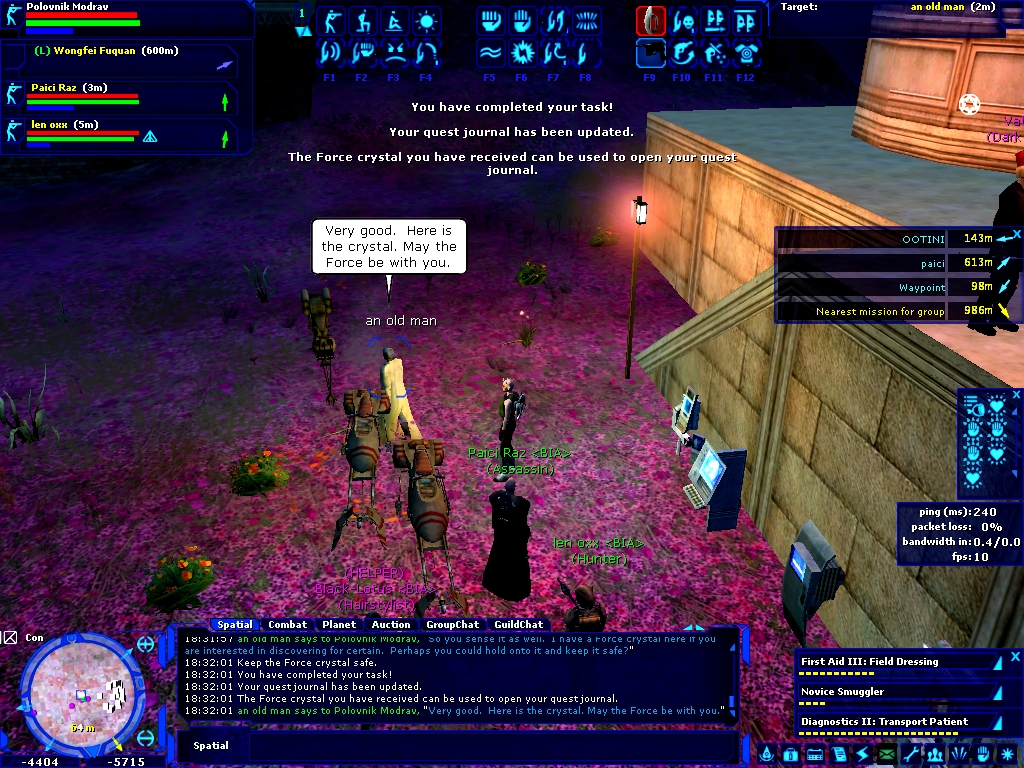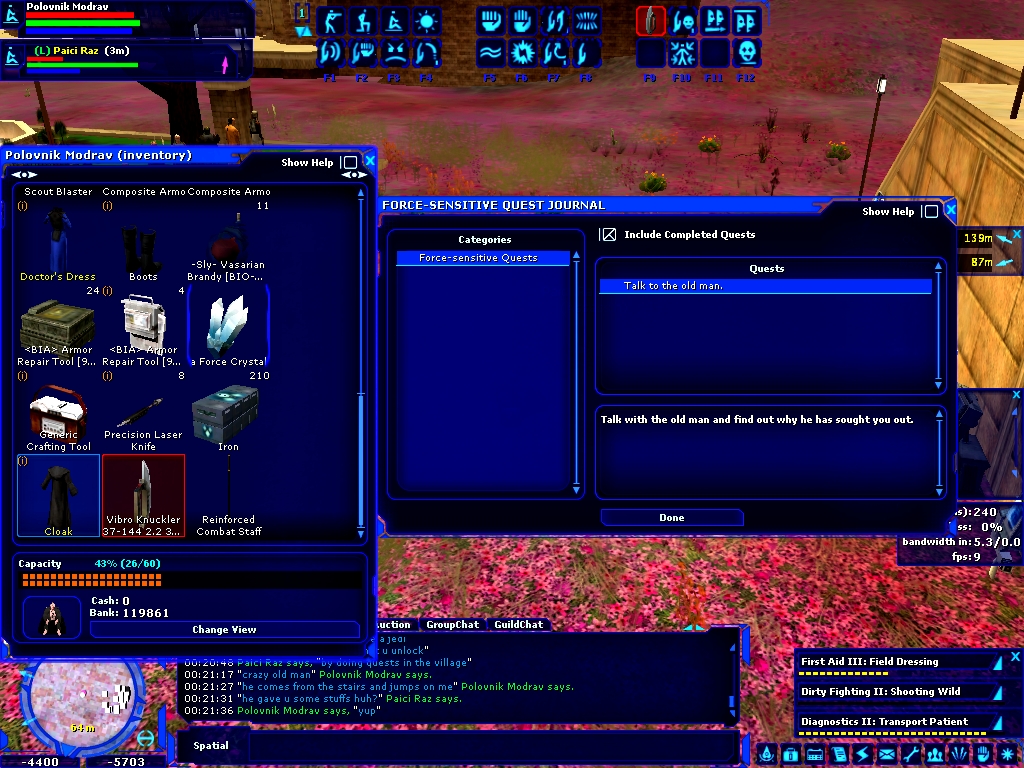 Sadly, this is where the images of the main SWG ends. Even lost the majority of my Jump to Lightspeed images.
Continued training at Dathomir, doing things the natives told me to do
Continued to play "freely", exploring places.
During a glitchy moment I spammed a space port full of giant animals and got attacked by a GM. Was let off with just a warning while feigning ignorance.
—
– Jump to Lightspeed – Expansion:
Jump to Lightspeed was a space expansion pack that added space sectors to planet and the ships we know and love from the Star Wars trilogy. The height of this expansion made SWG so much fun that I spent whatever time I could on it, and in space. Loved how you could use your ship to freely go wherever you wanted, without paying fuel, while having your ship docked at the last space port you left it.
When it was first announced I waited impatiently for it. I waited…and waited…then it arrived, I had my fun and then it just…..vanished. NOOOOOOOOOOOOOO!
Goes without saying that I went as an Imperial pilot.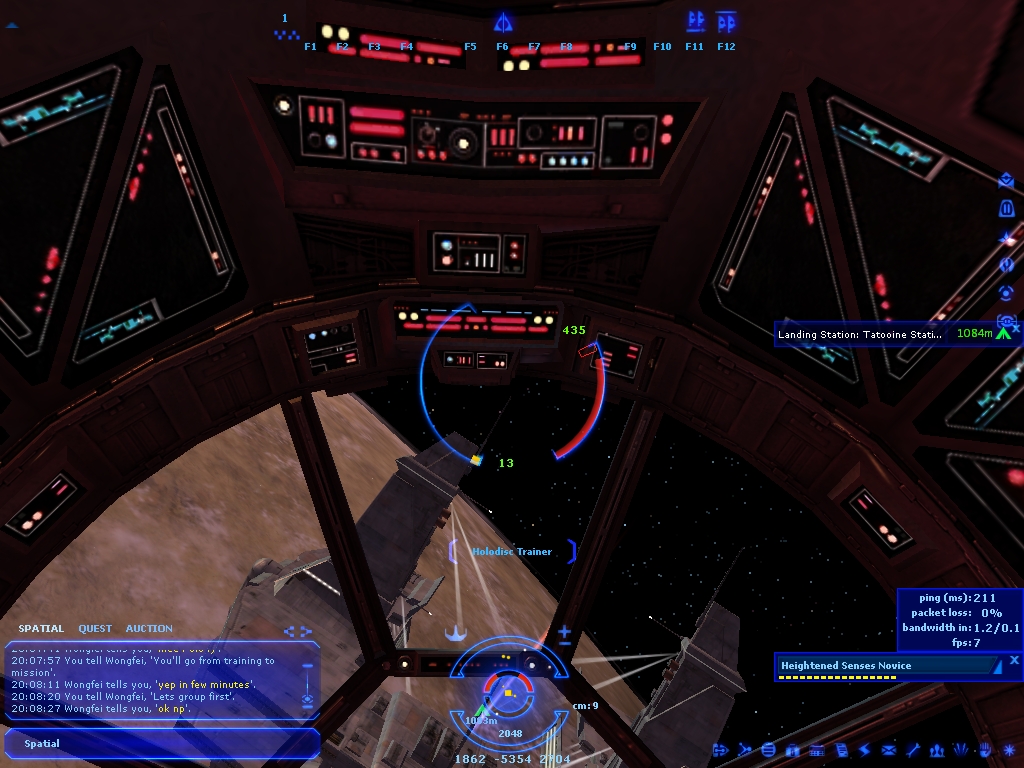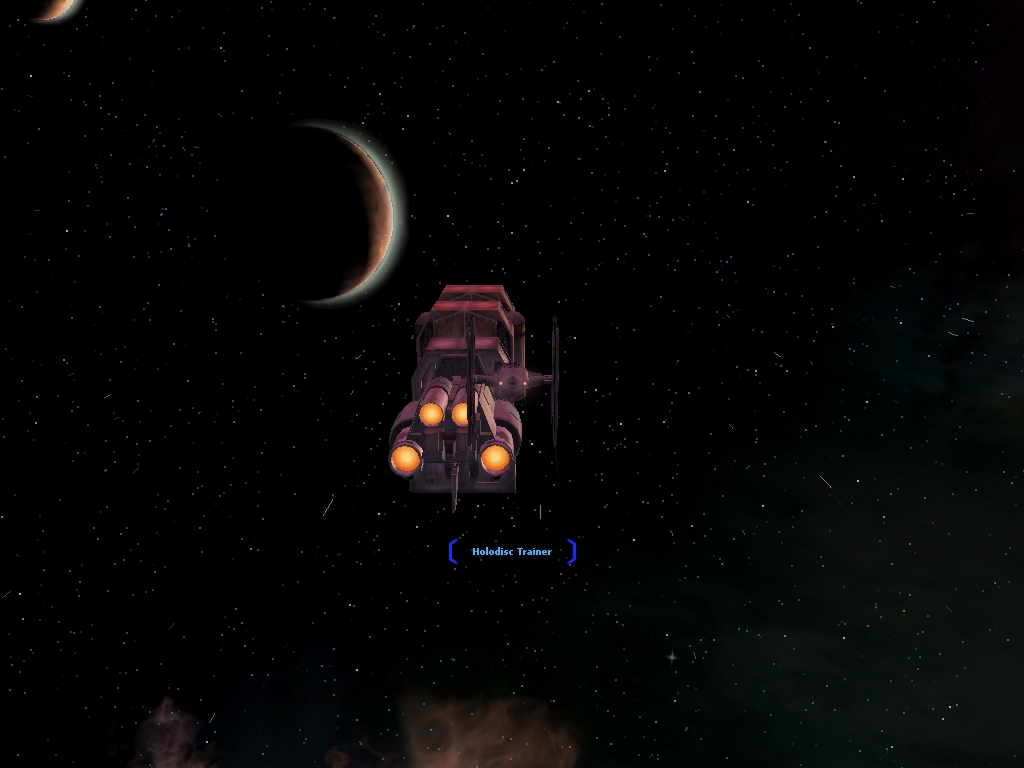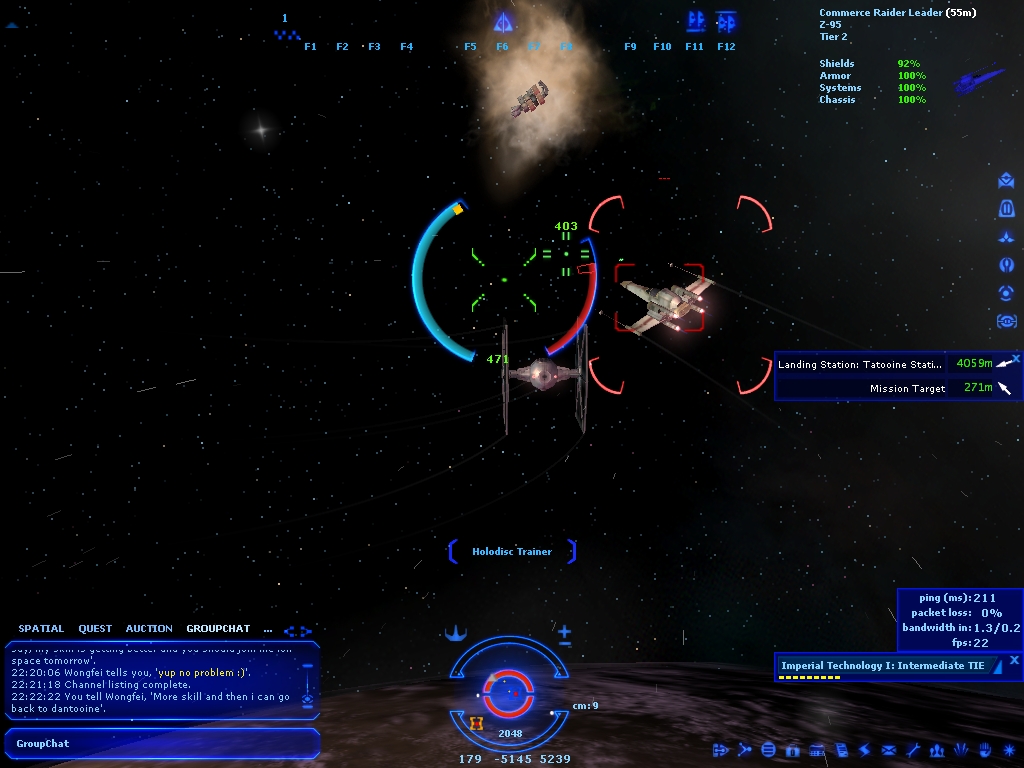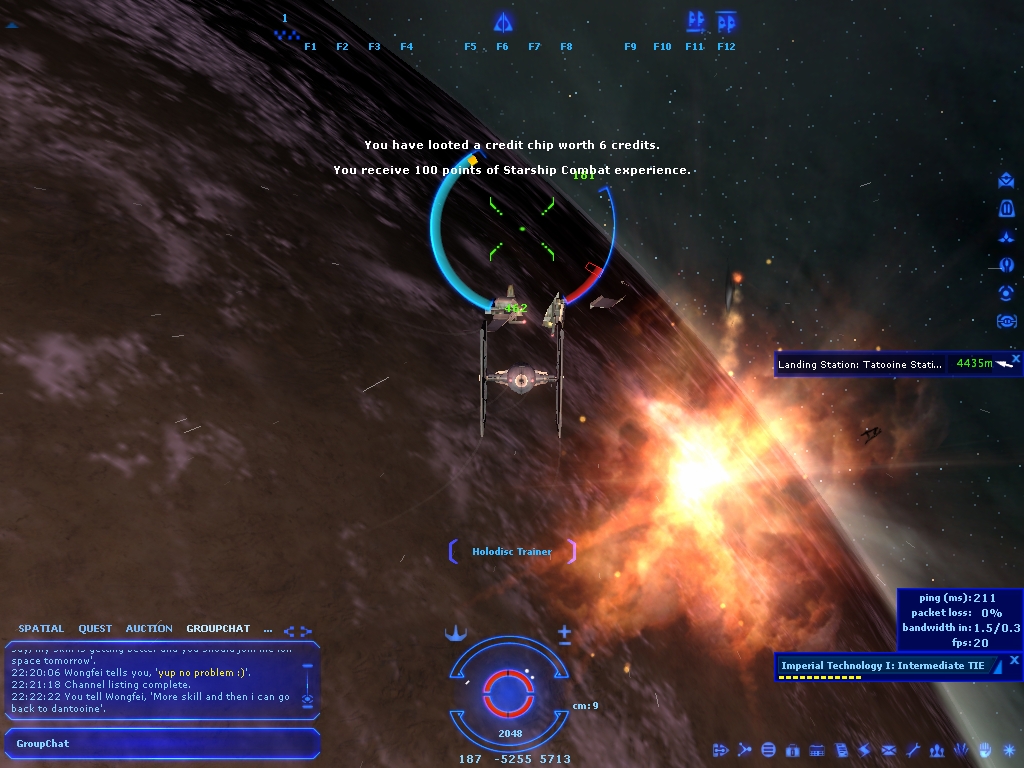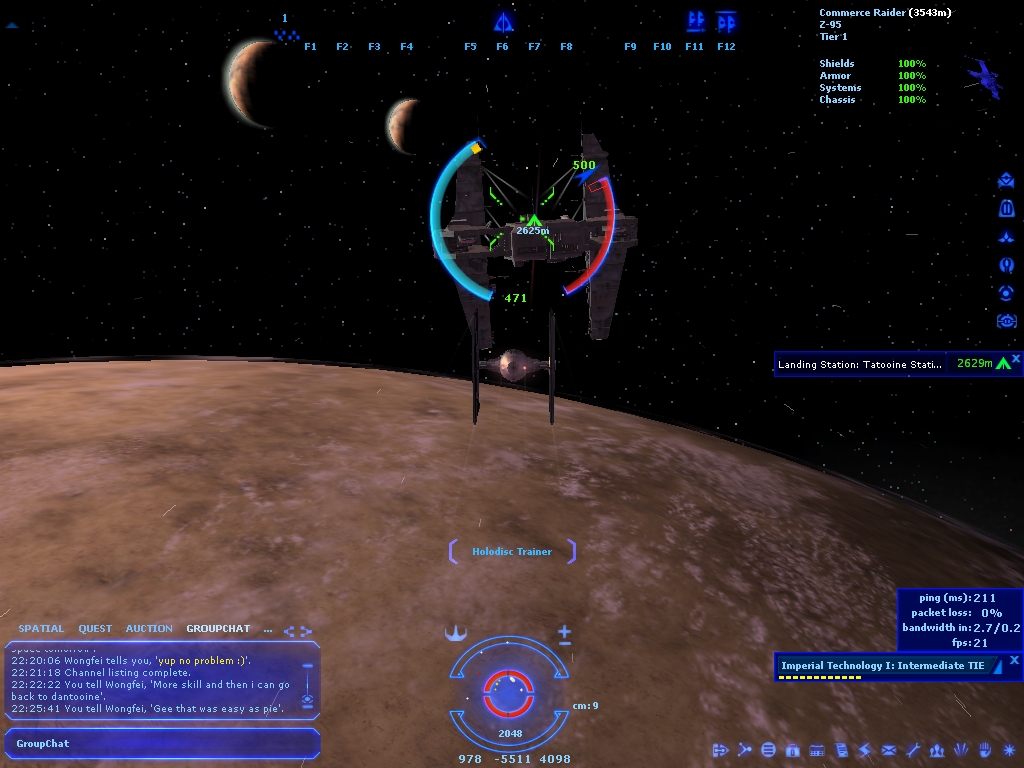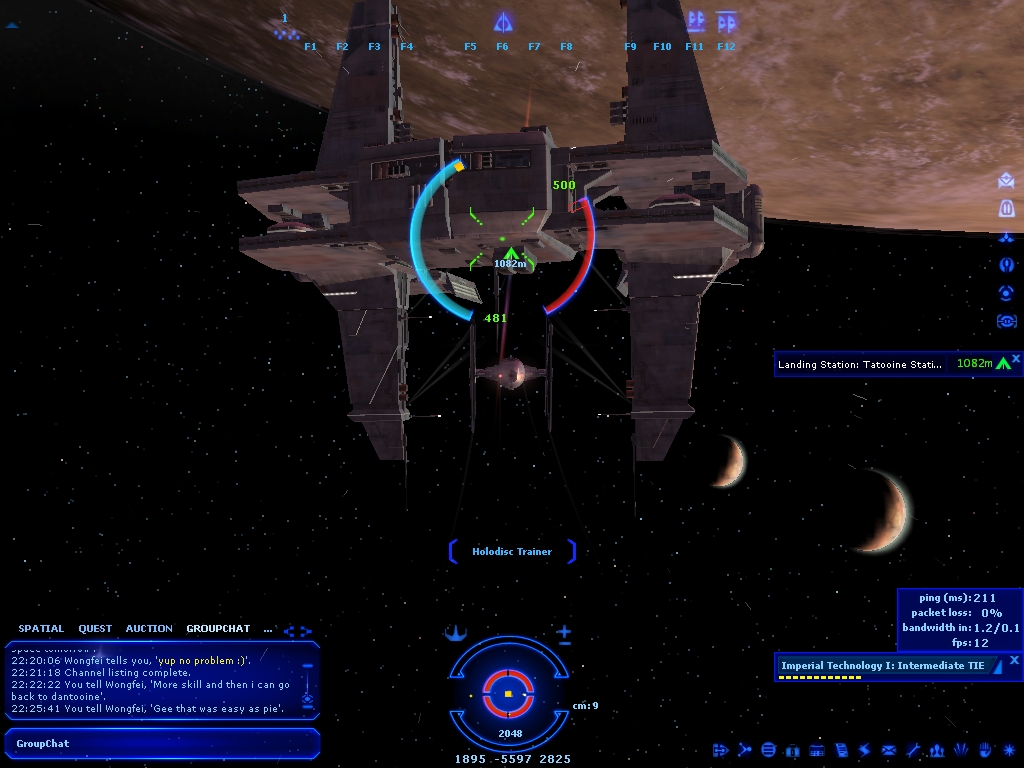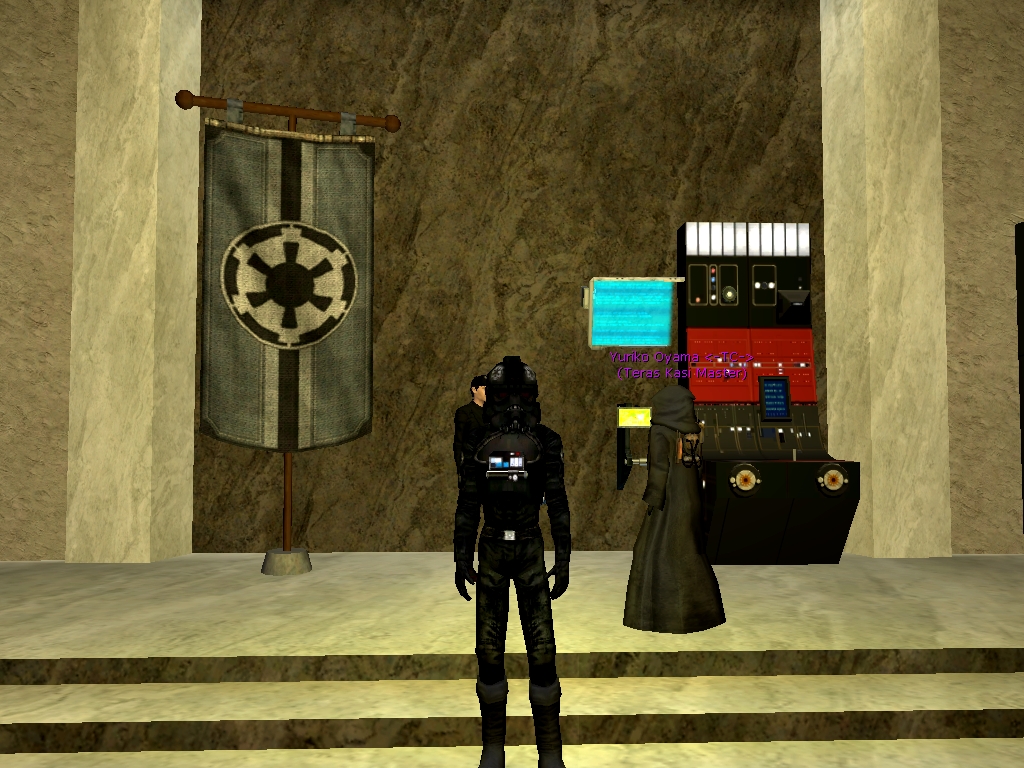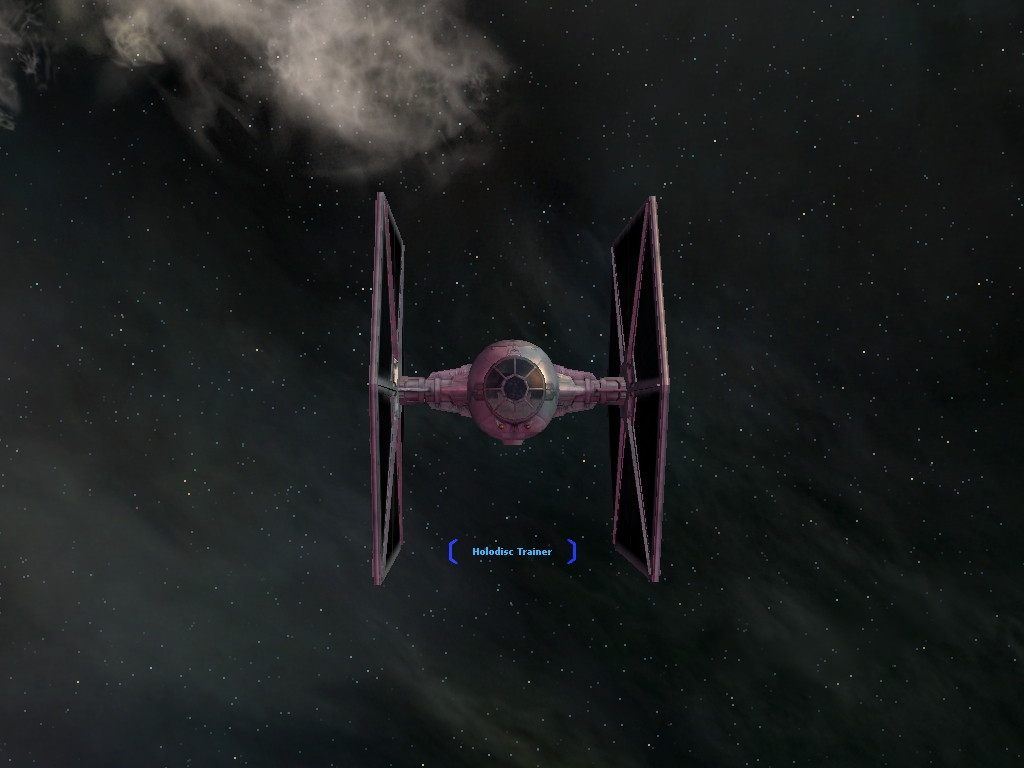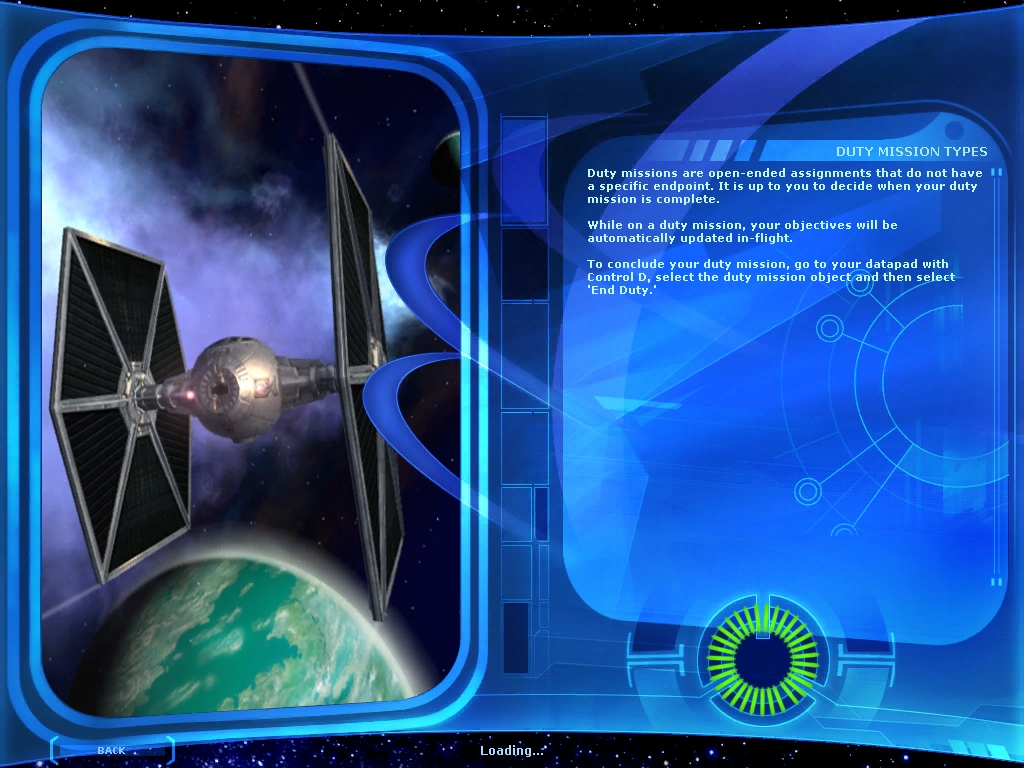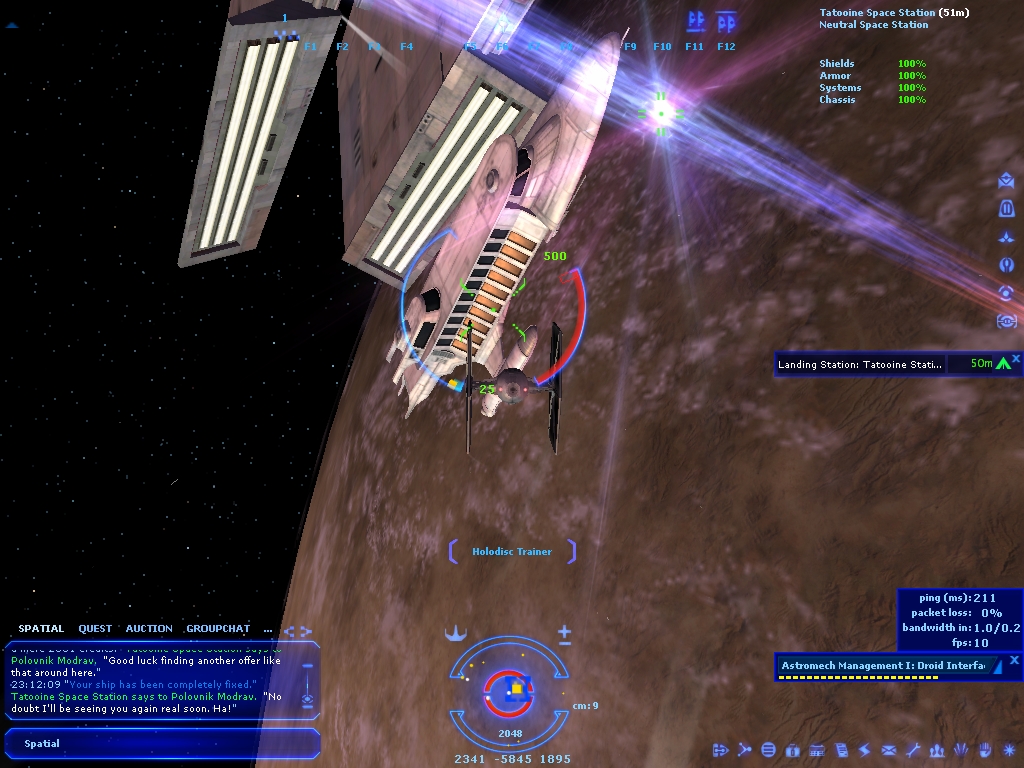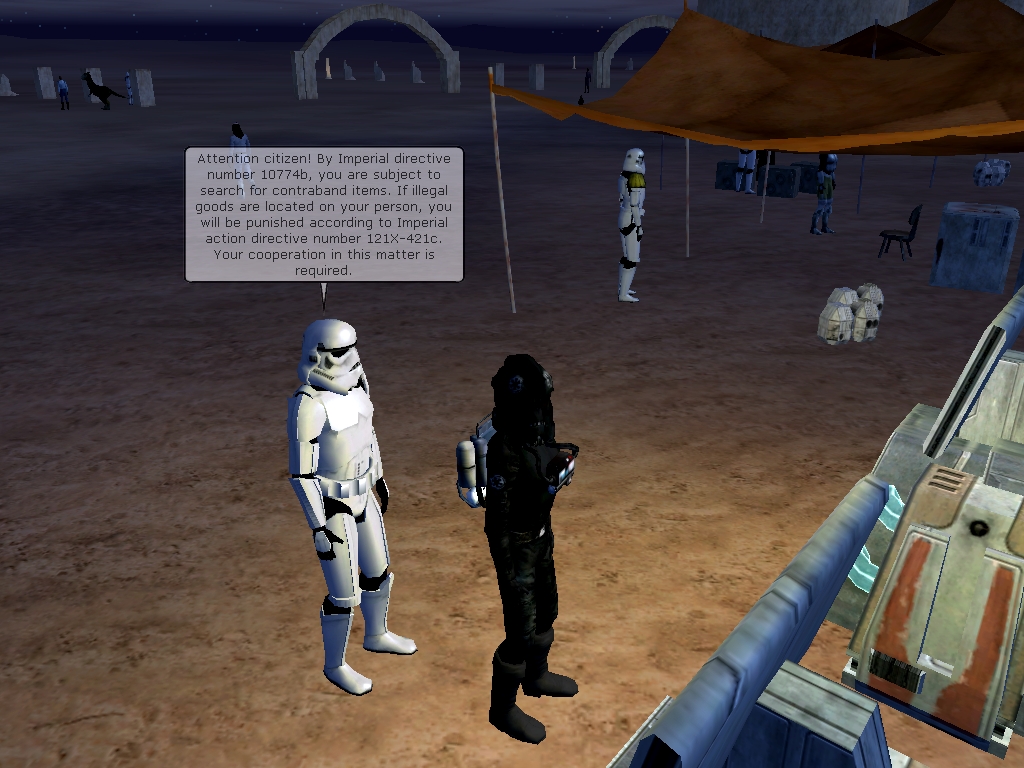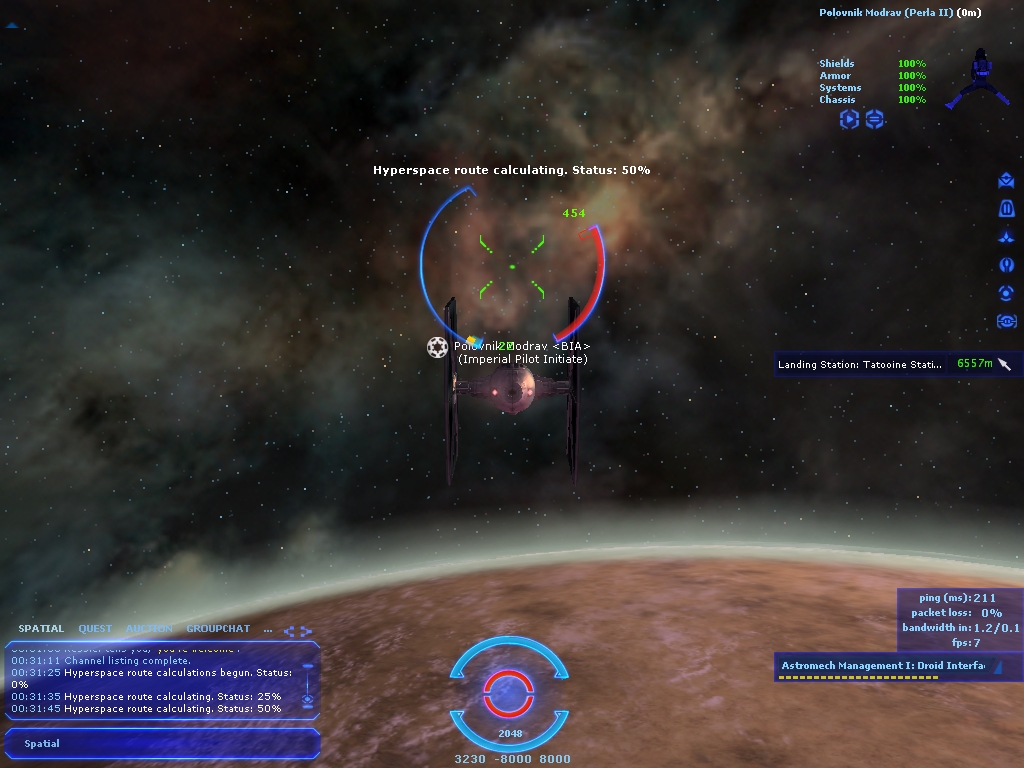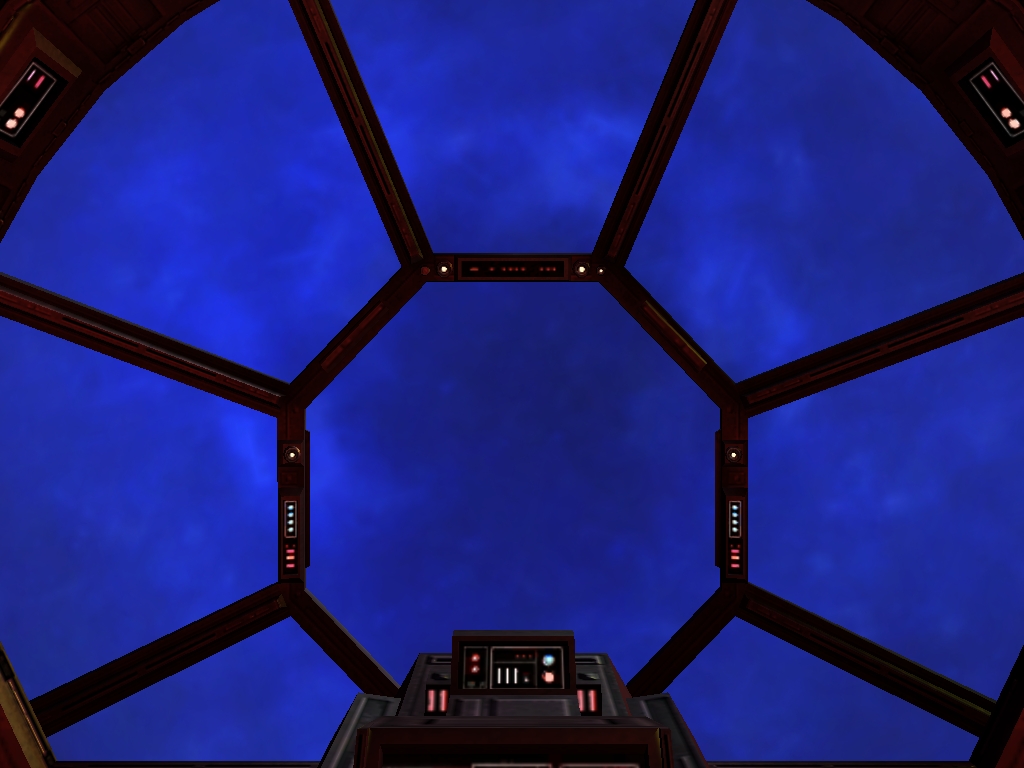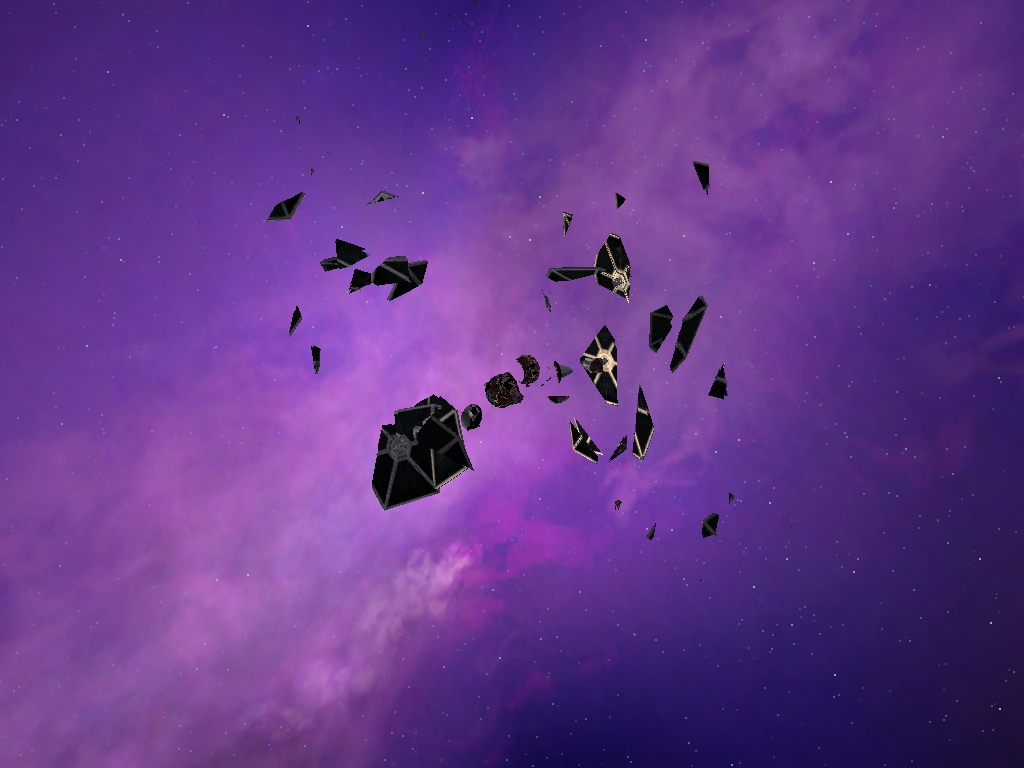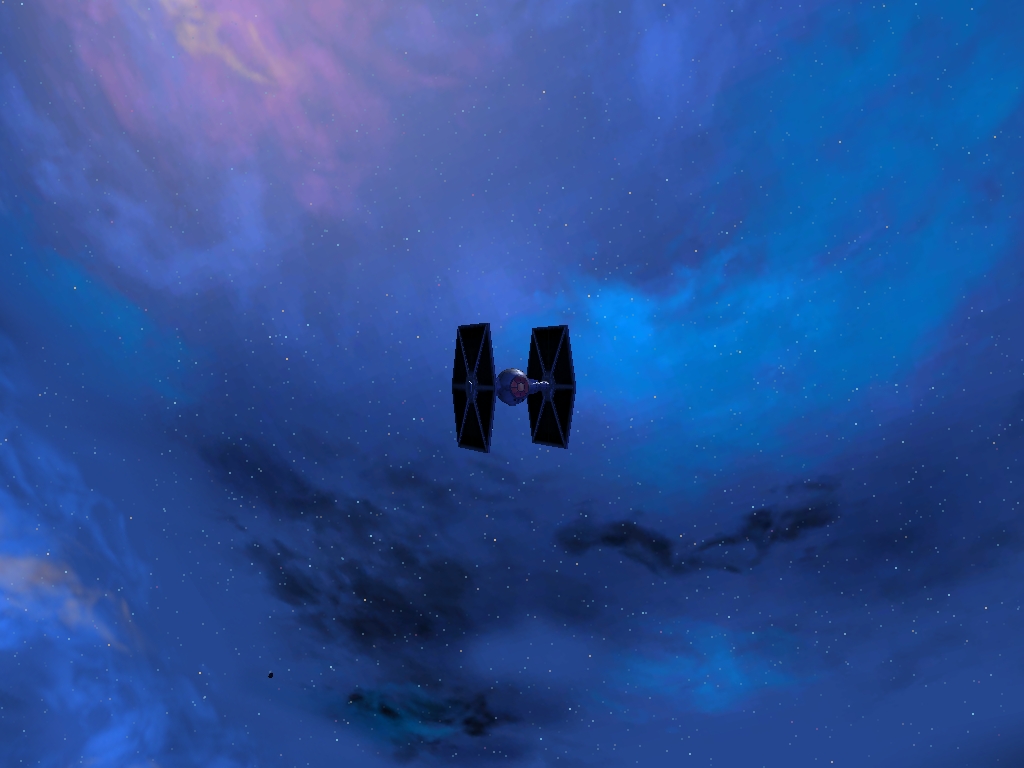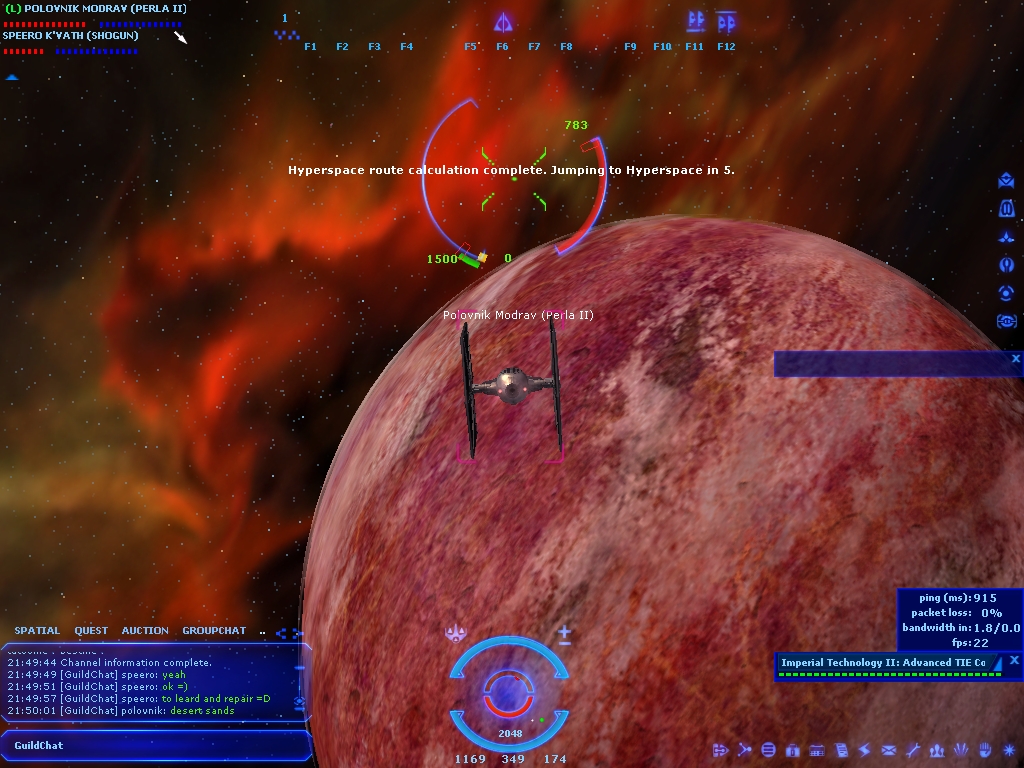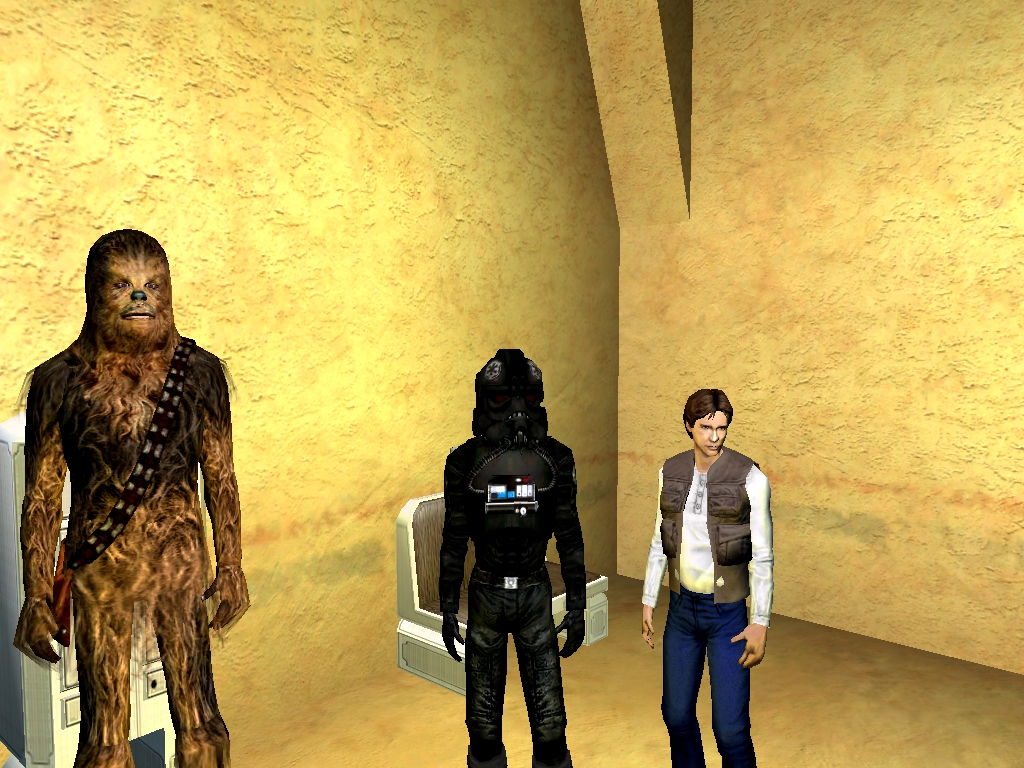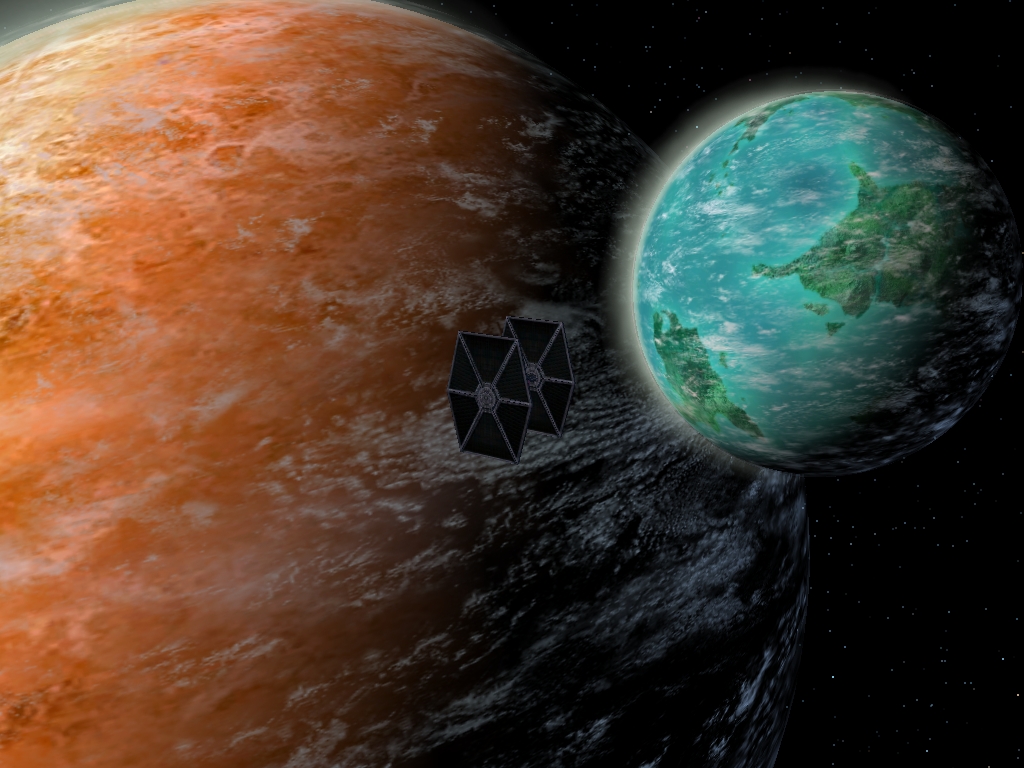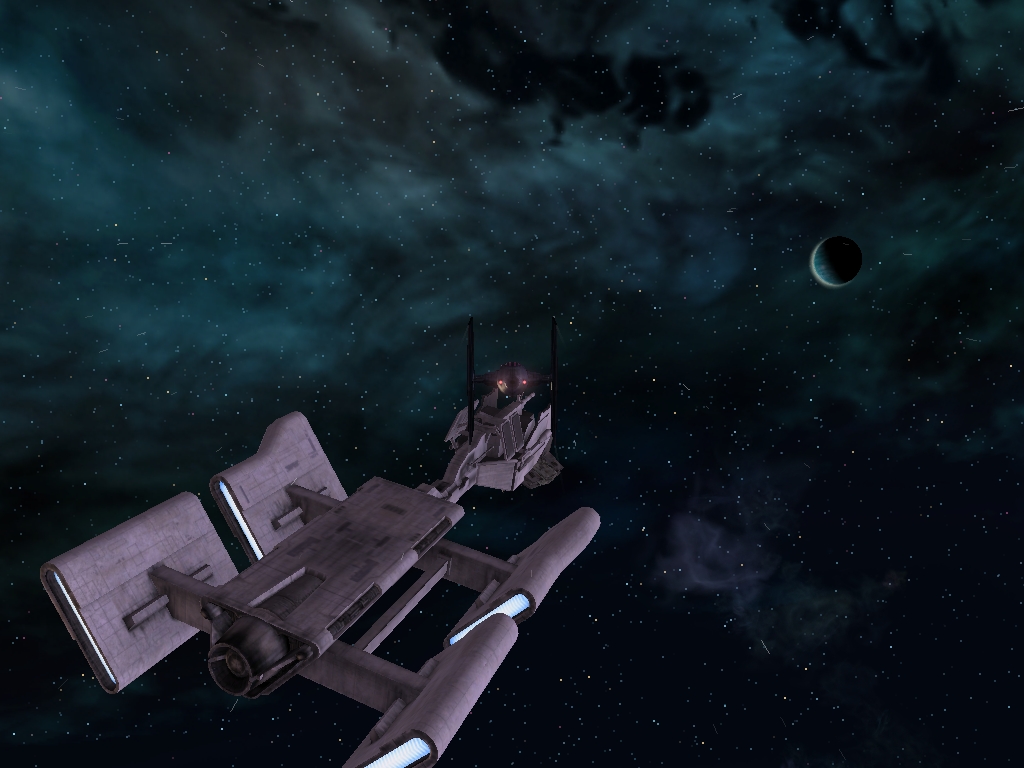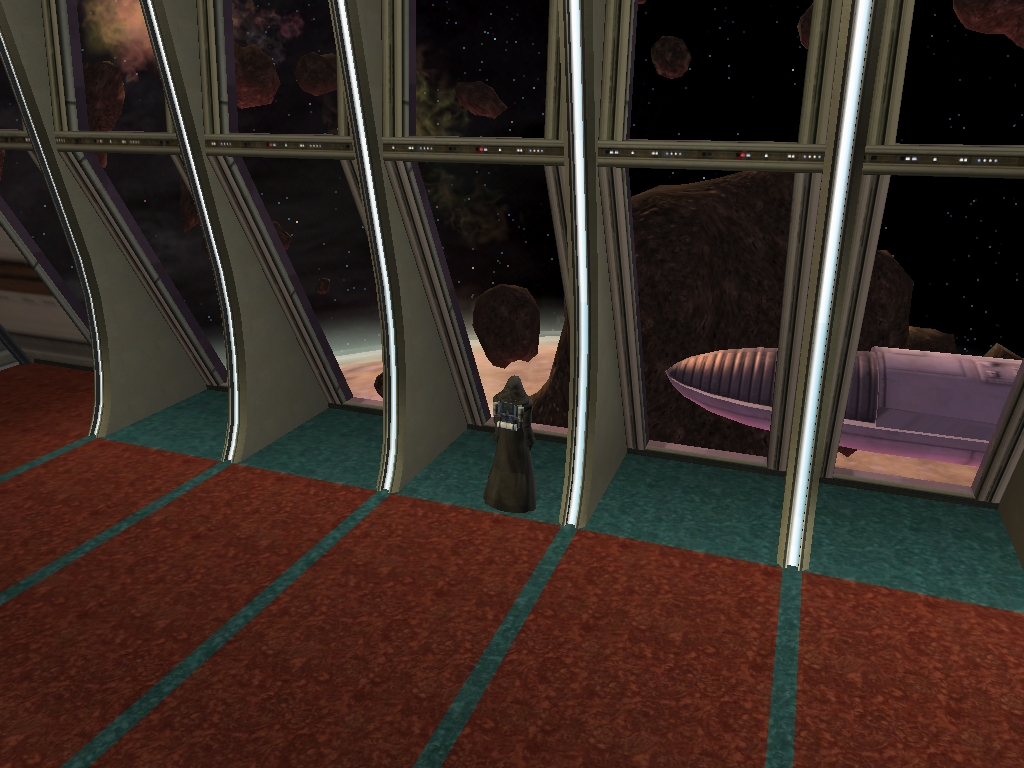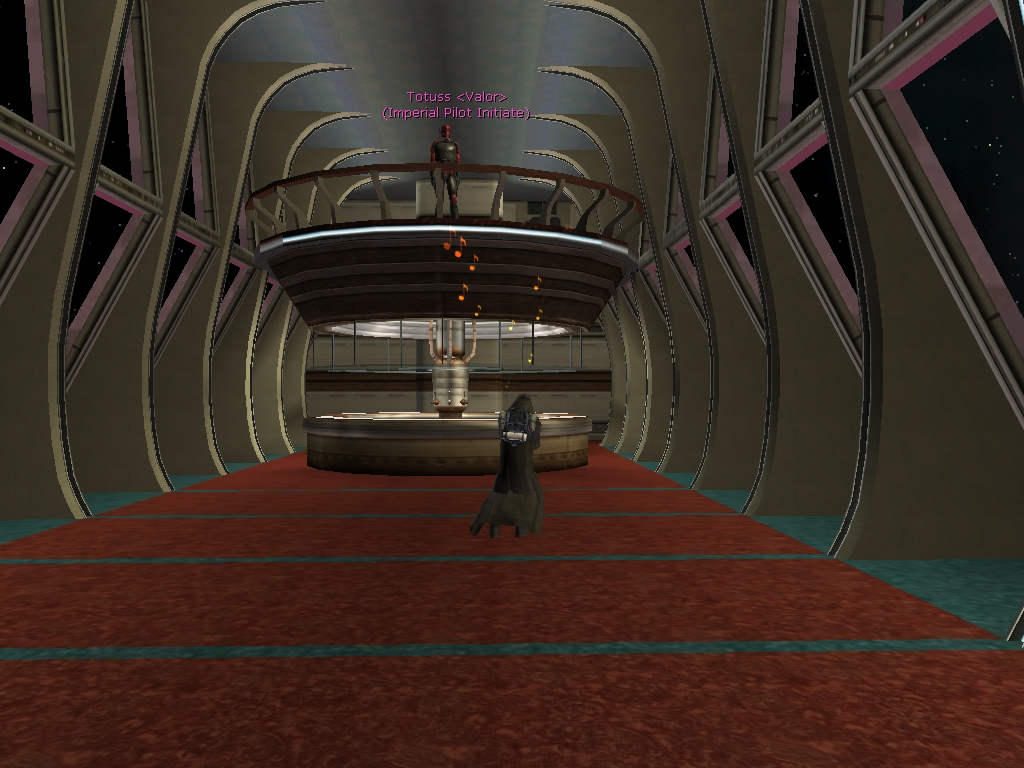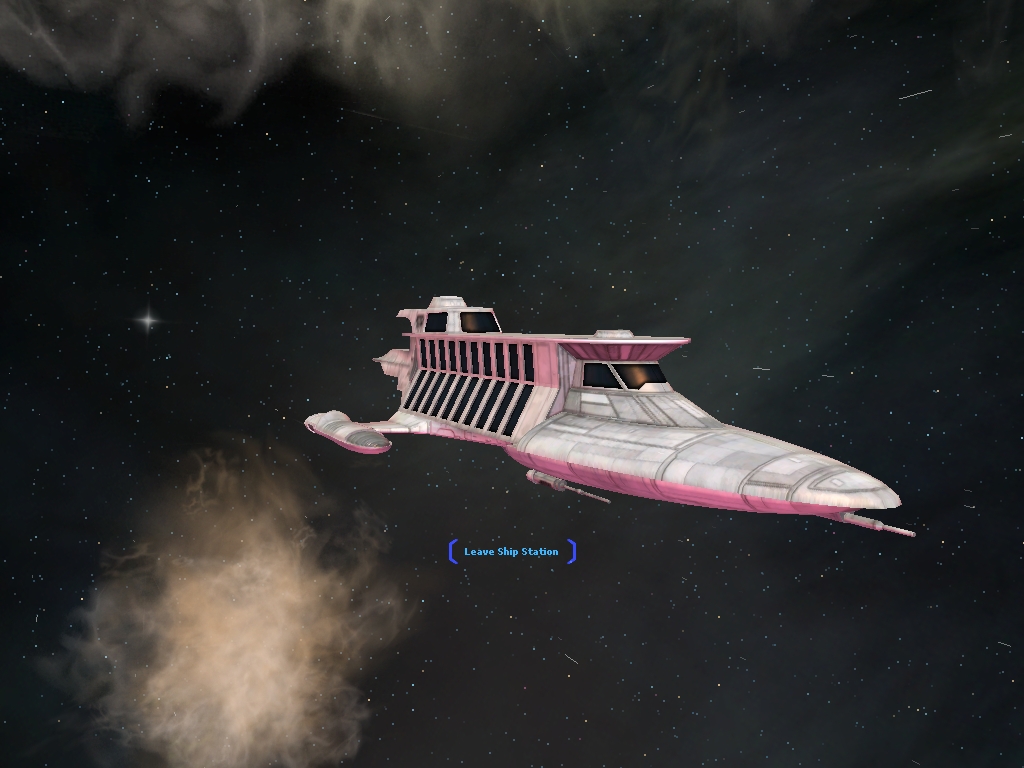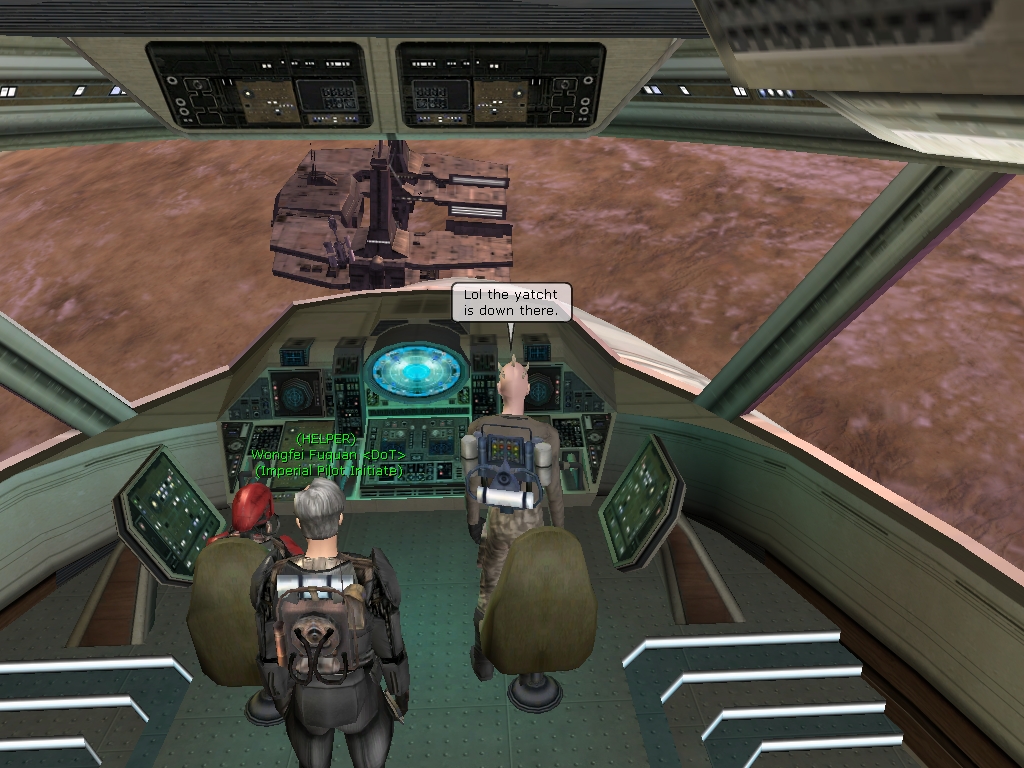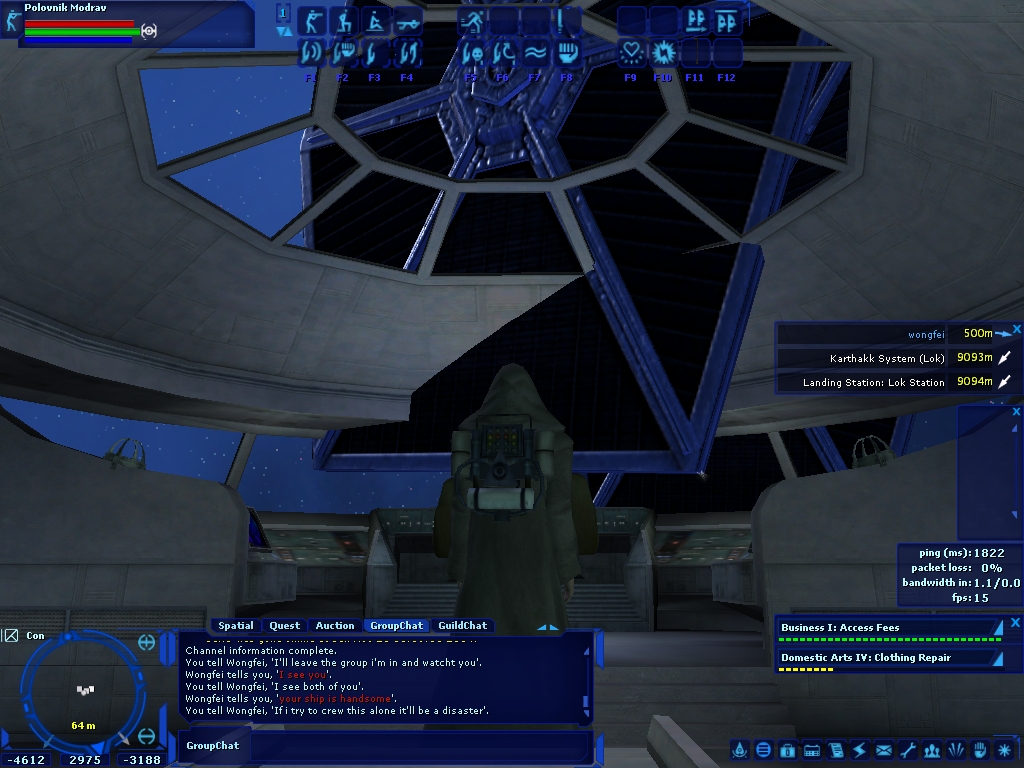 As mentioned, I did get my Yatch, decorating it in the way of a creature handler because….why not! I'd go back and for "classy" things but ya…SWG was pulled.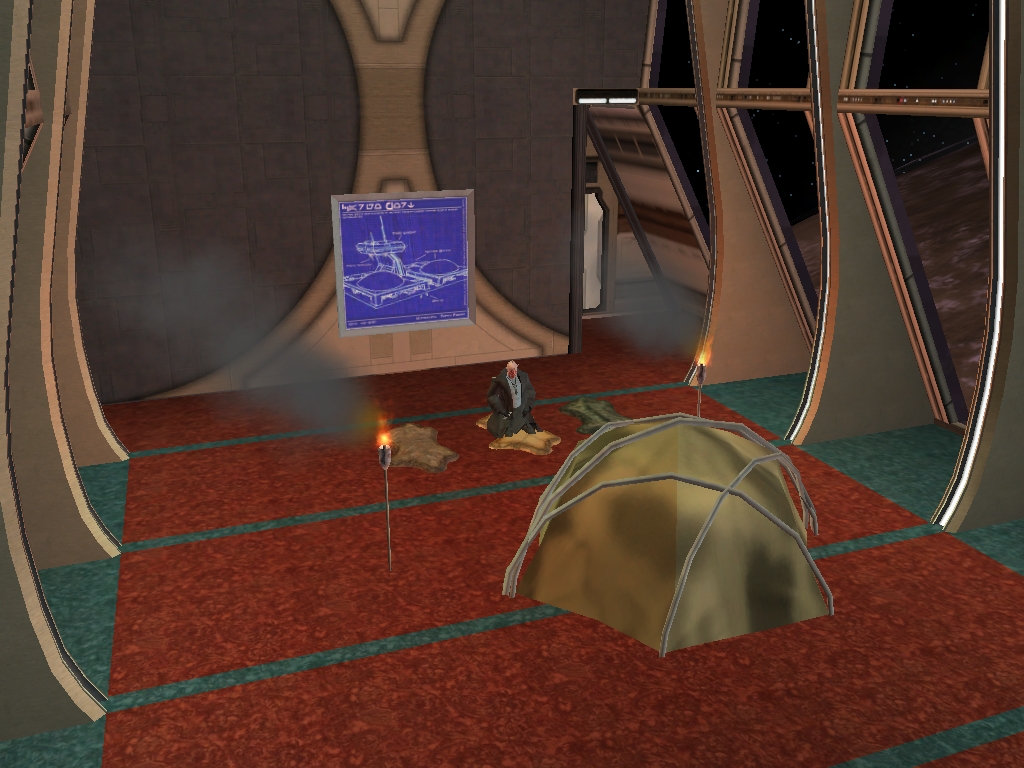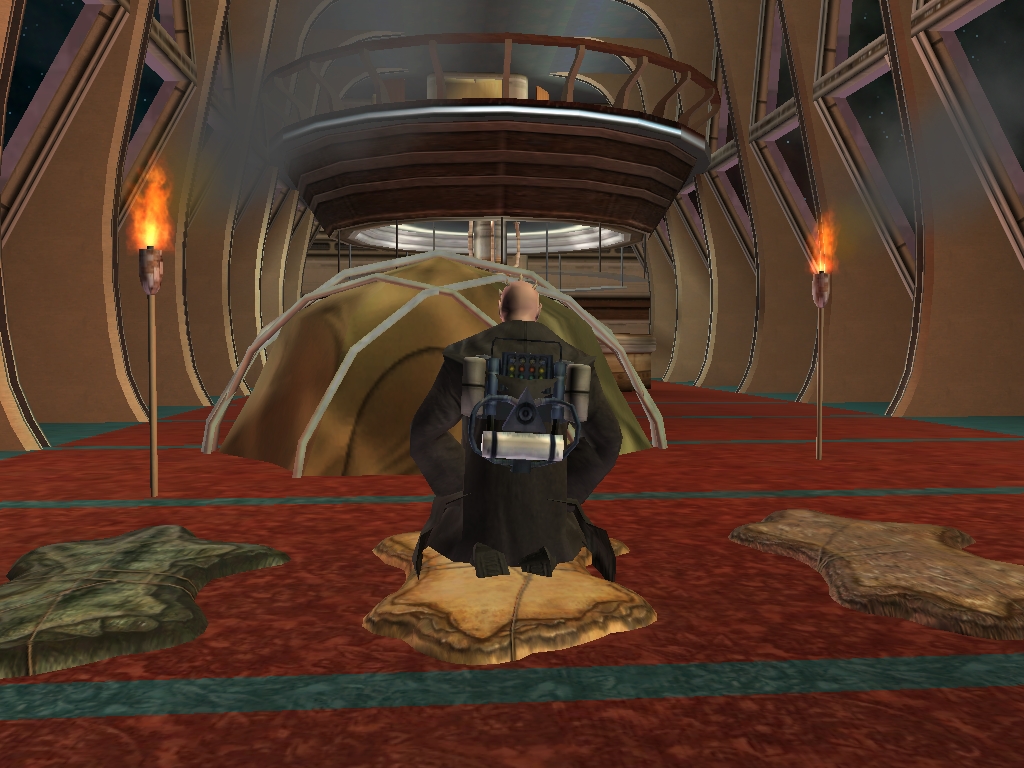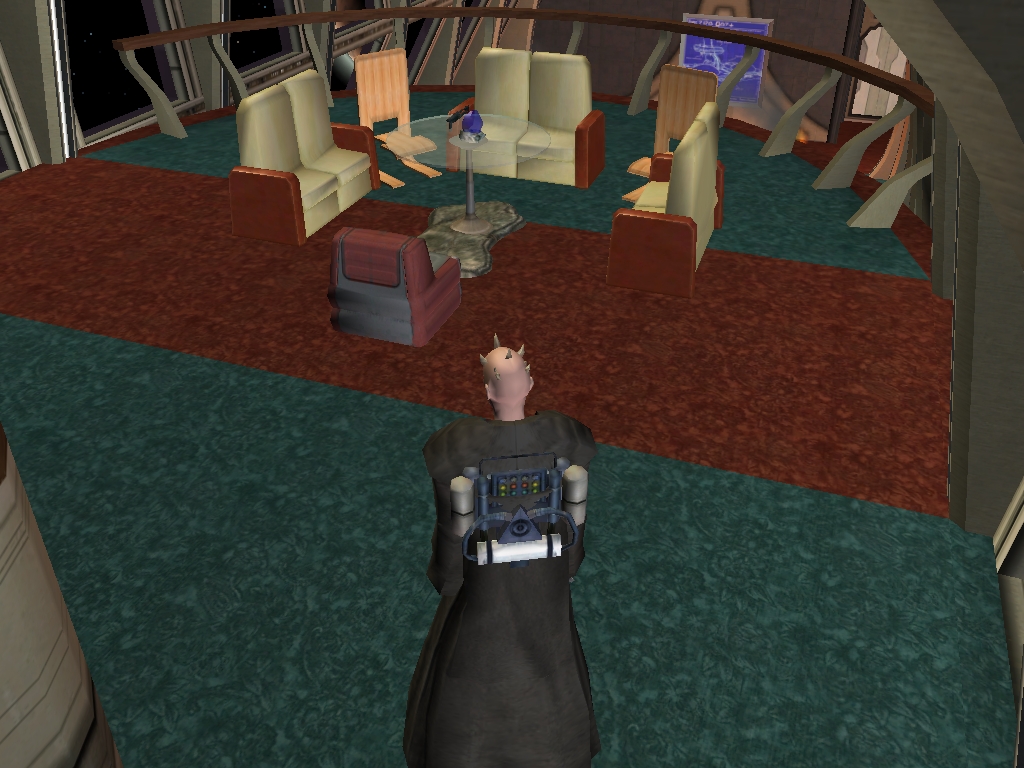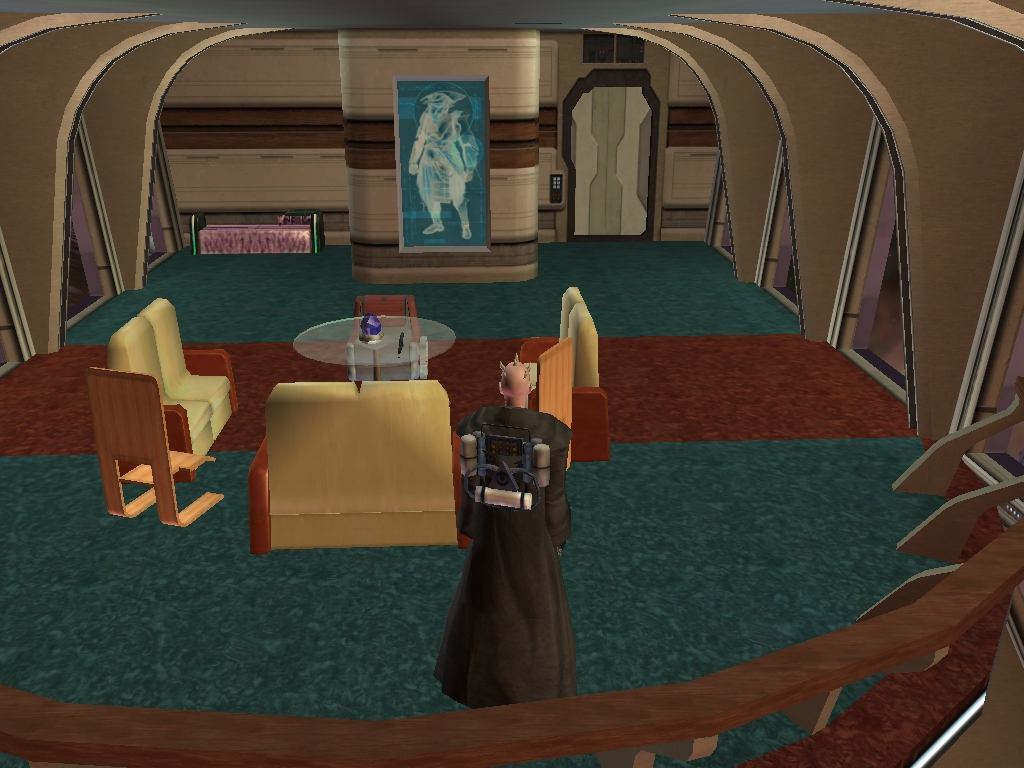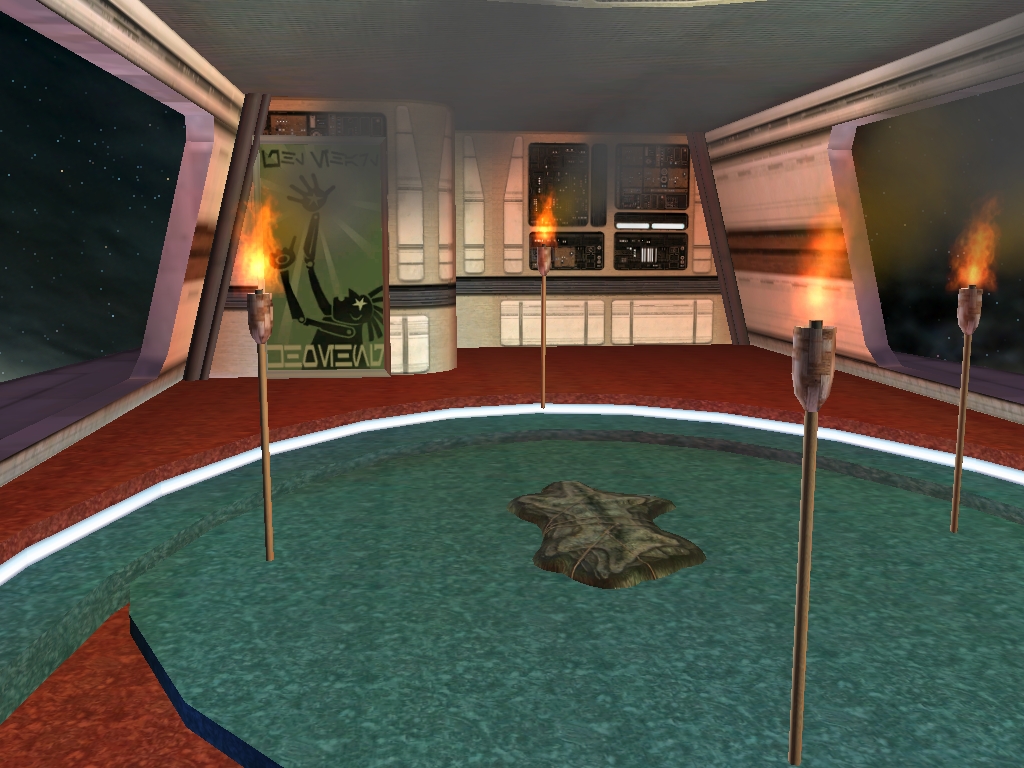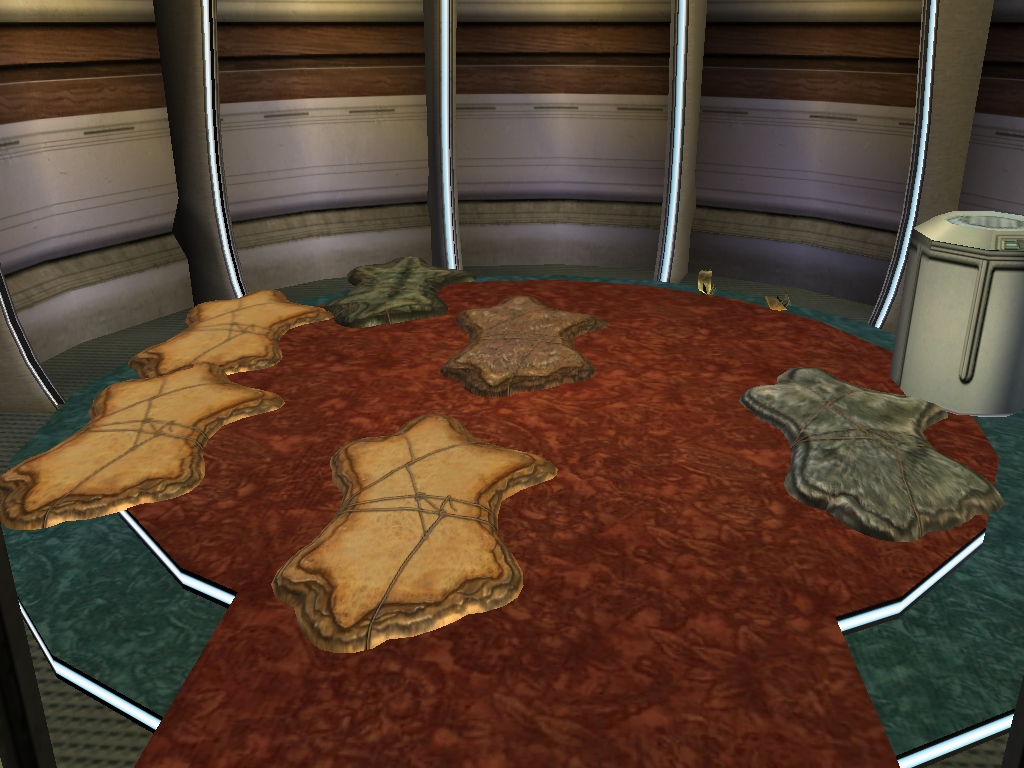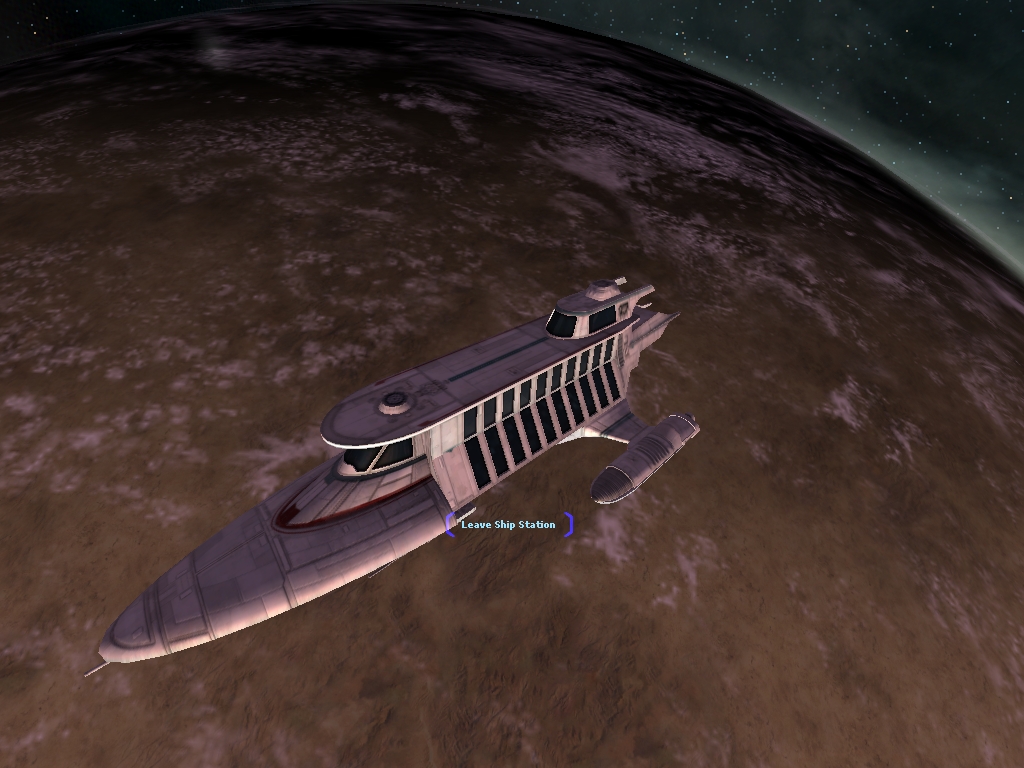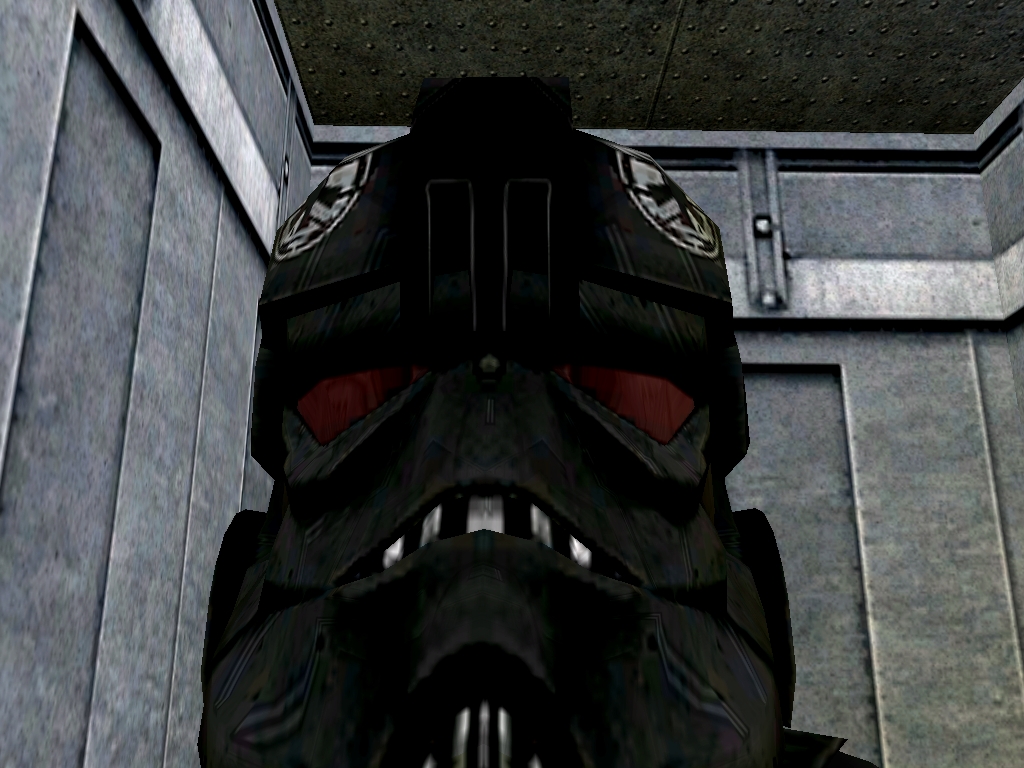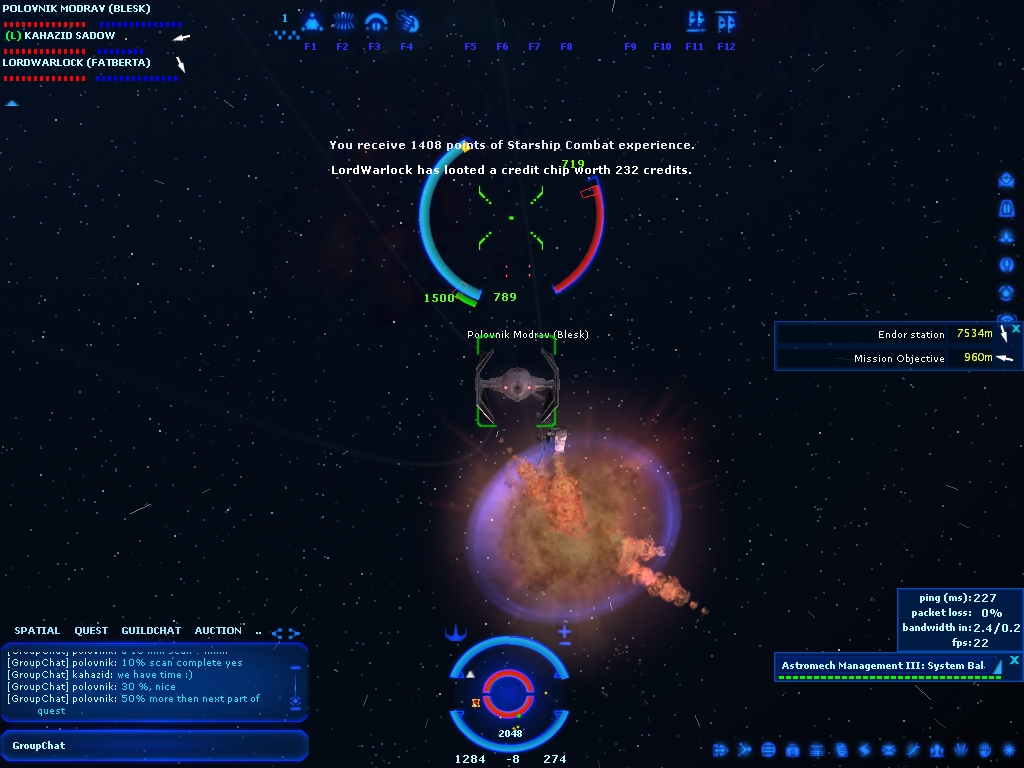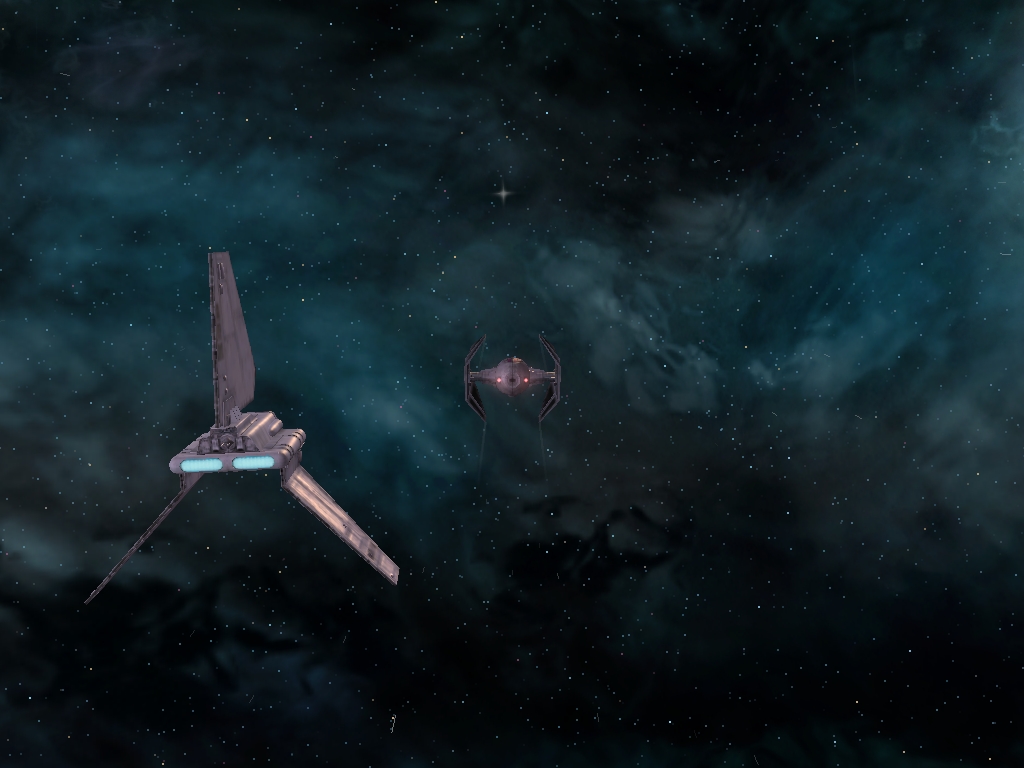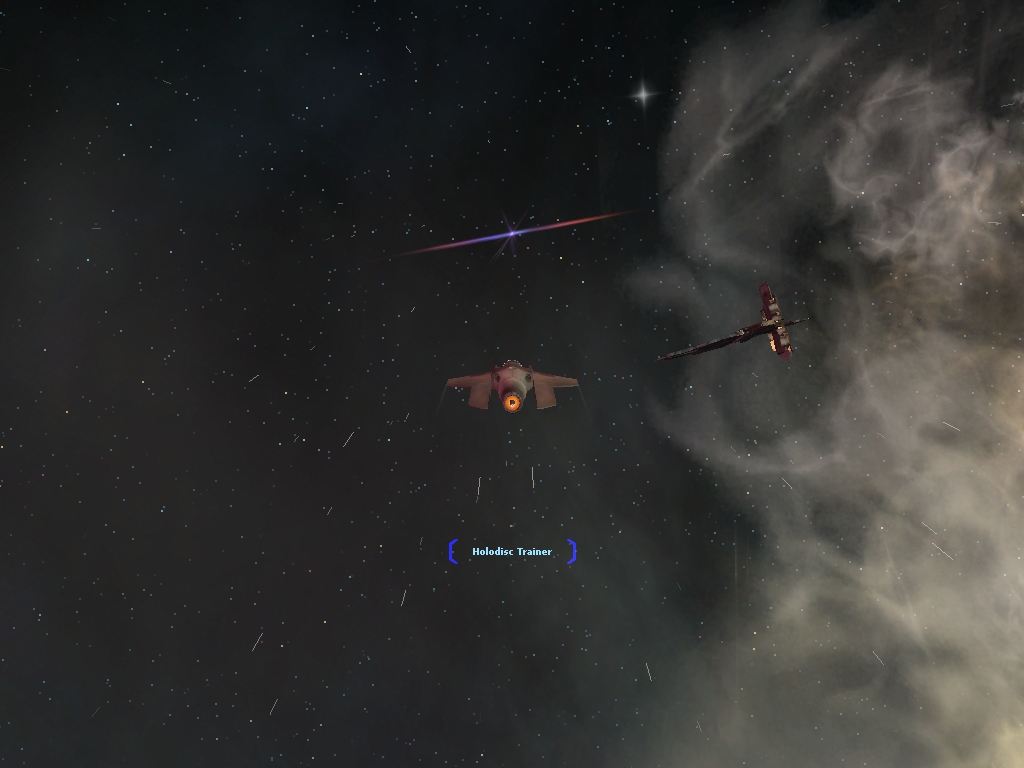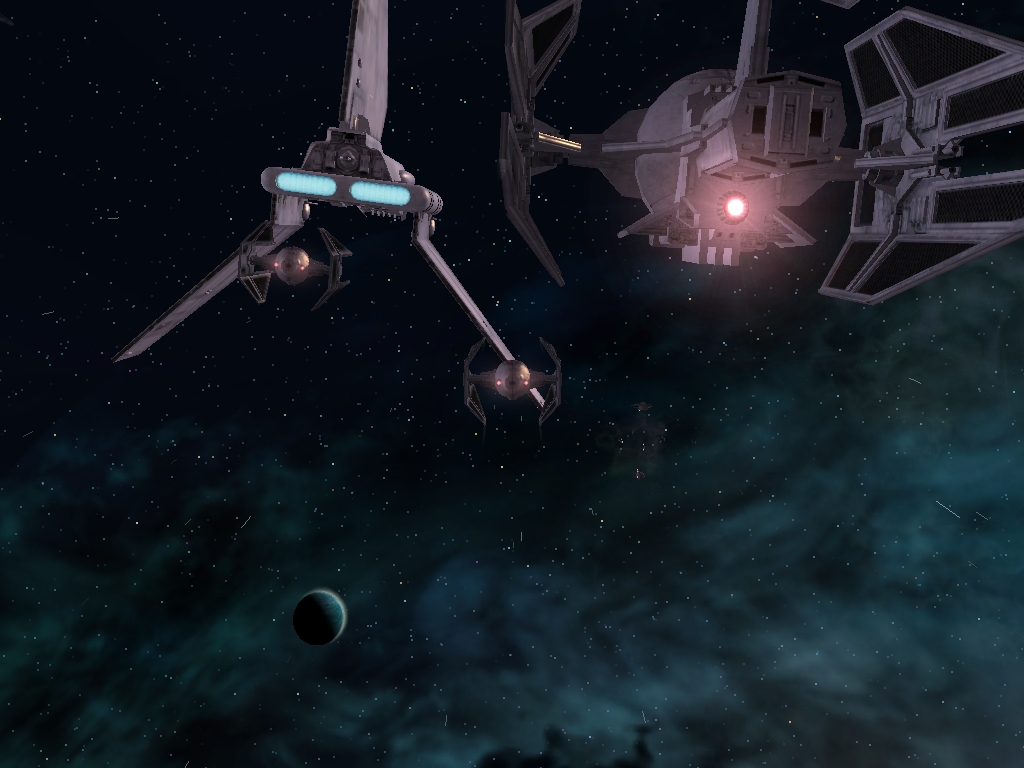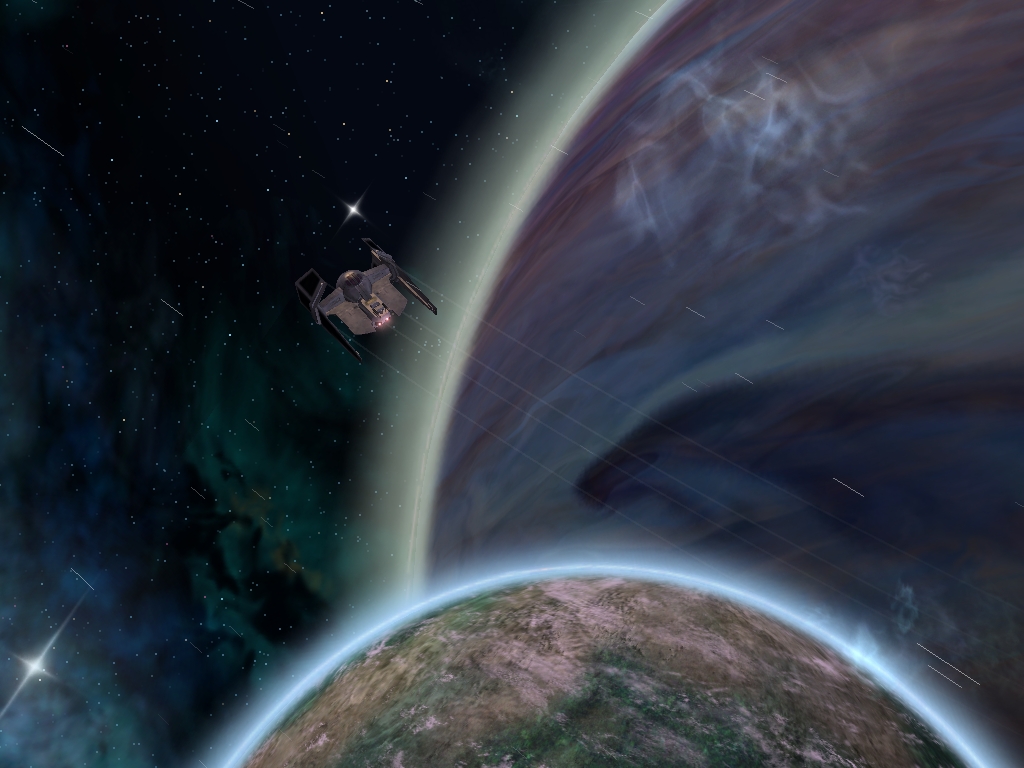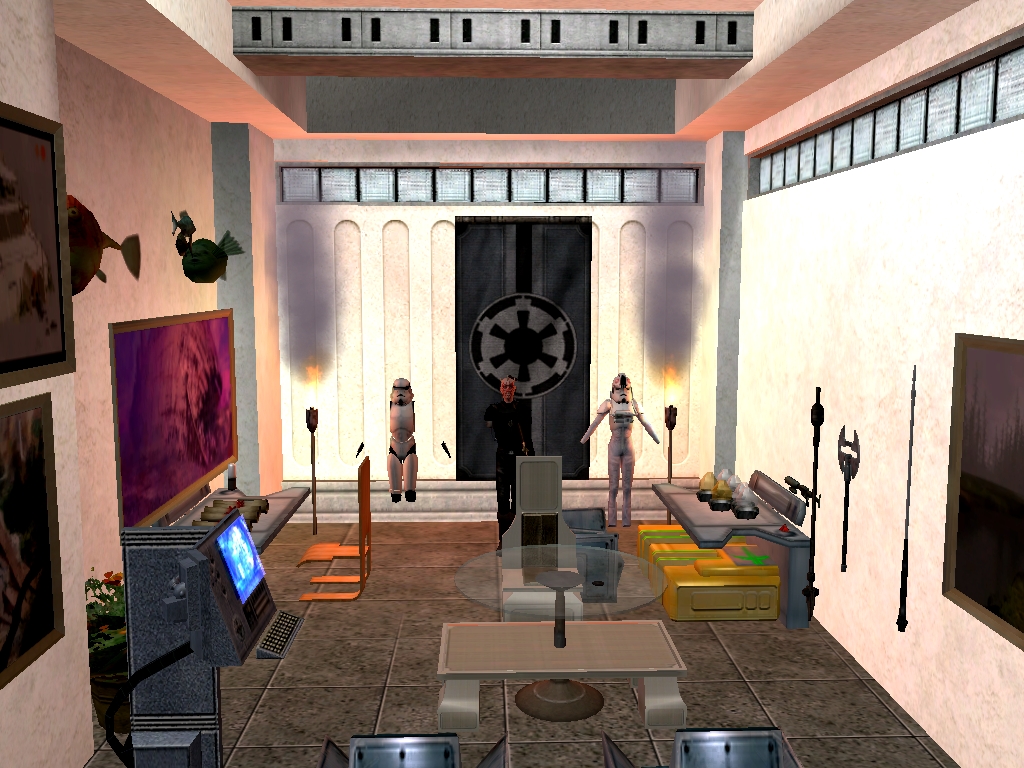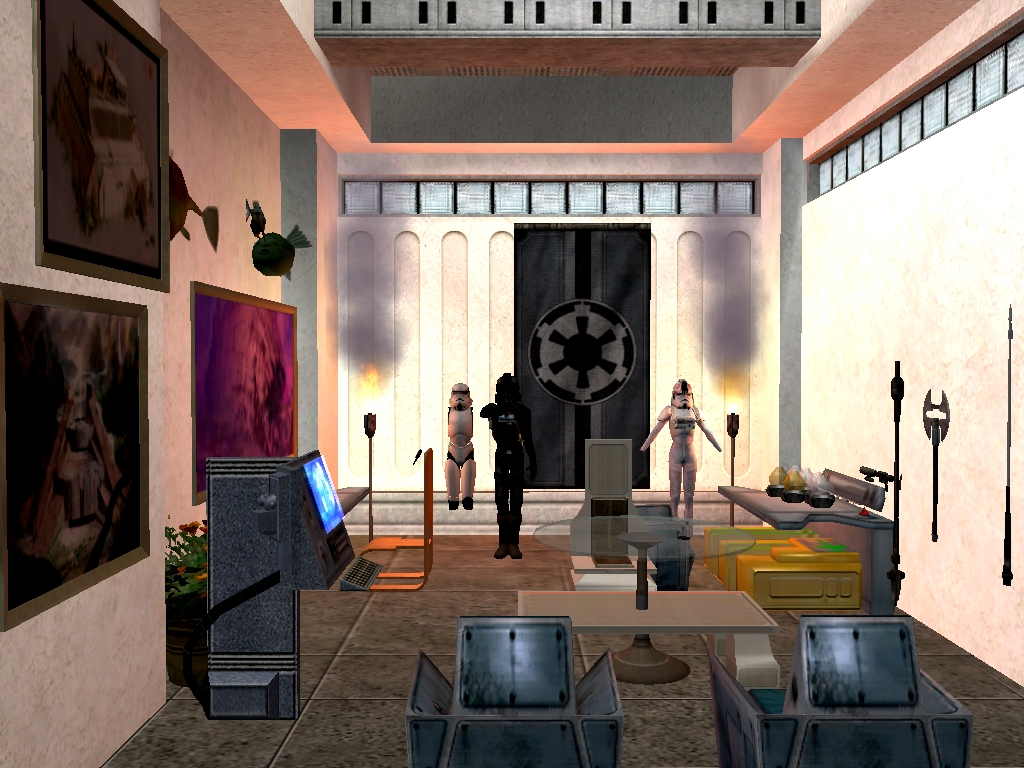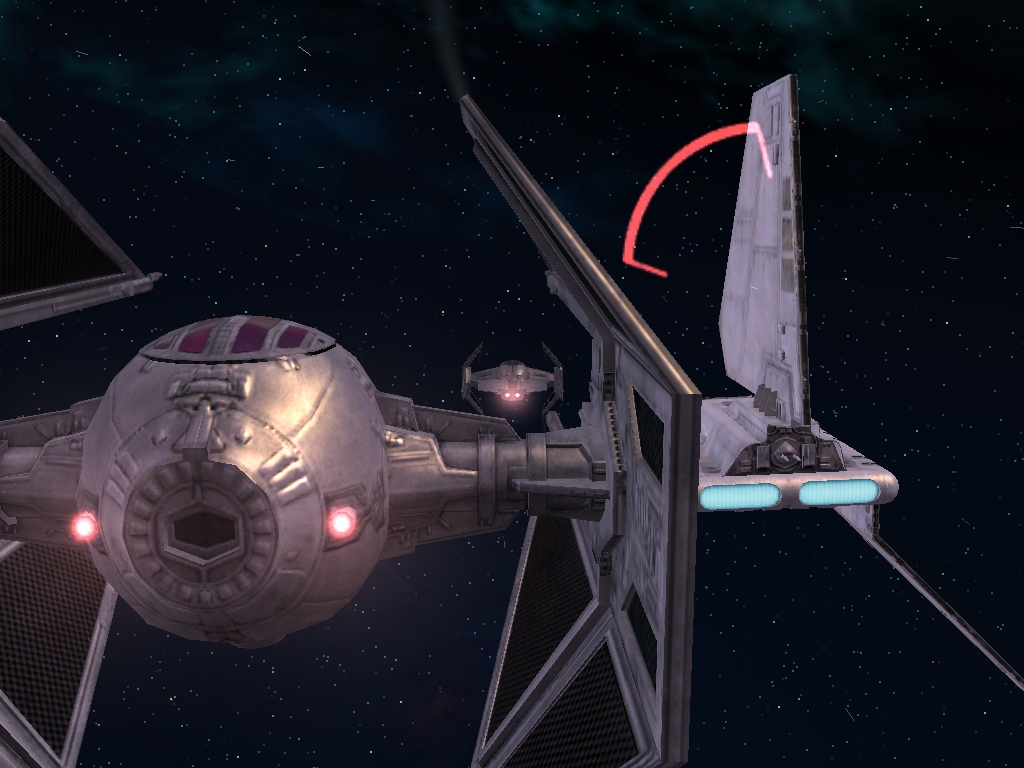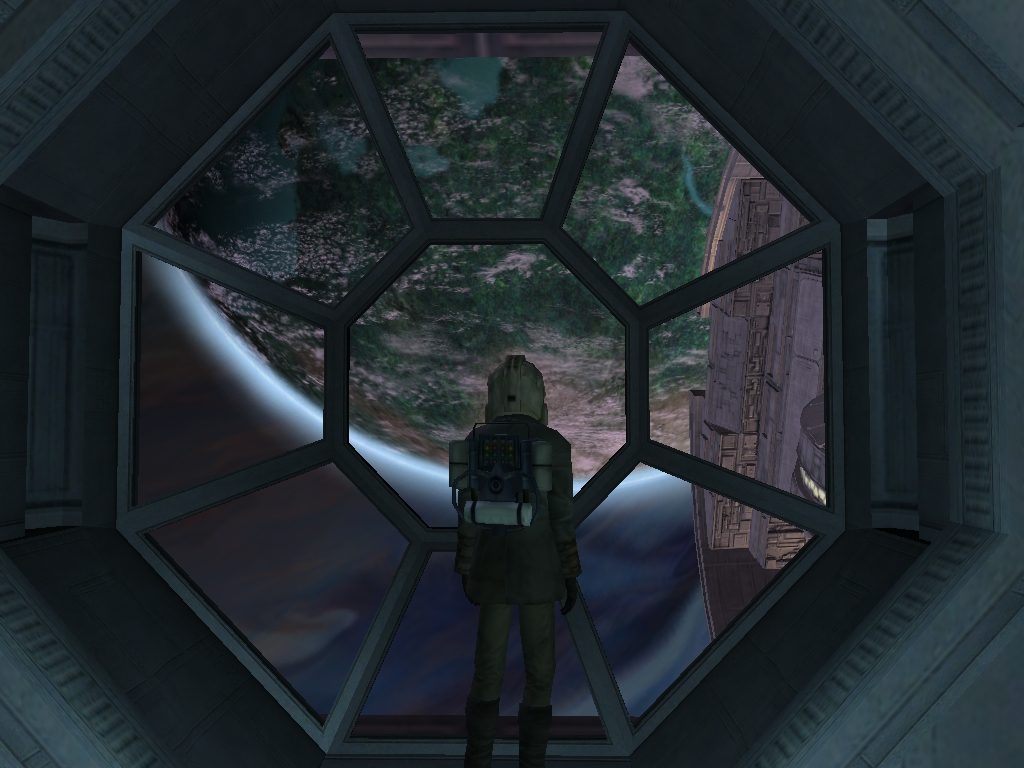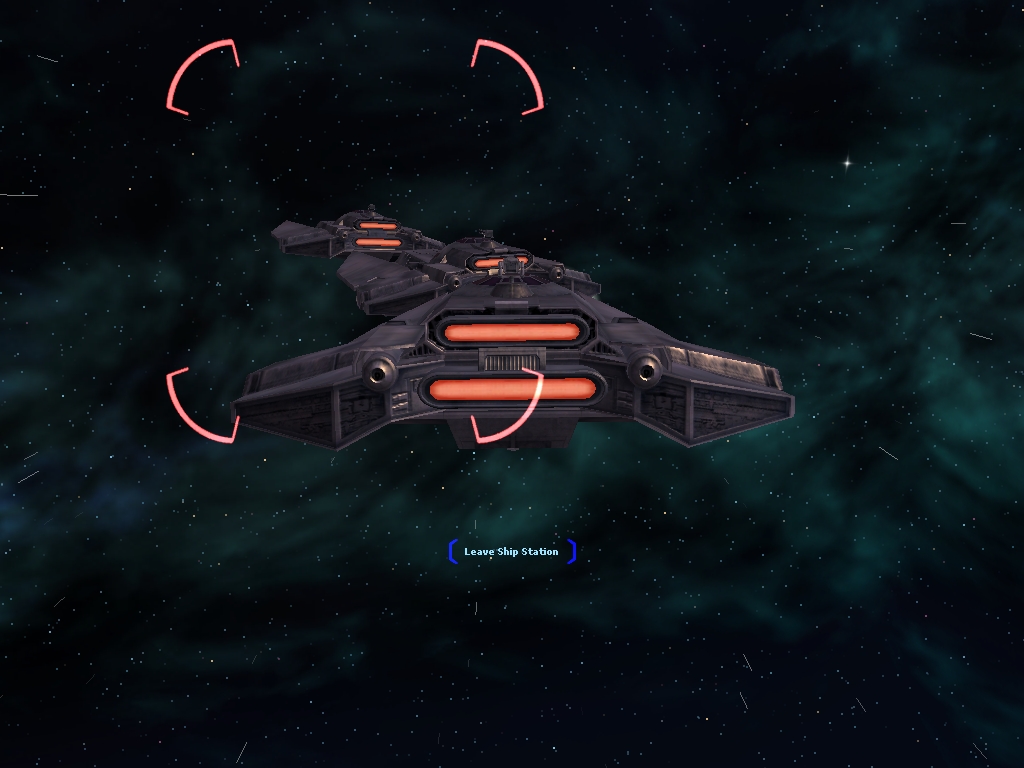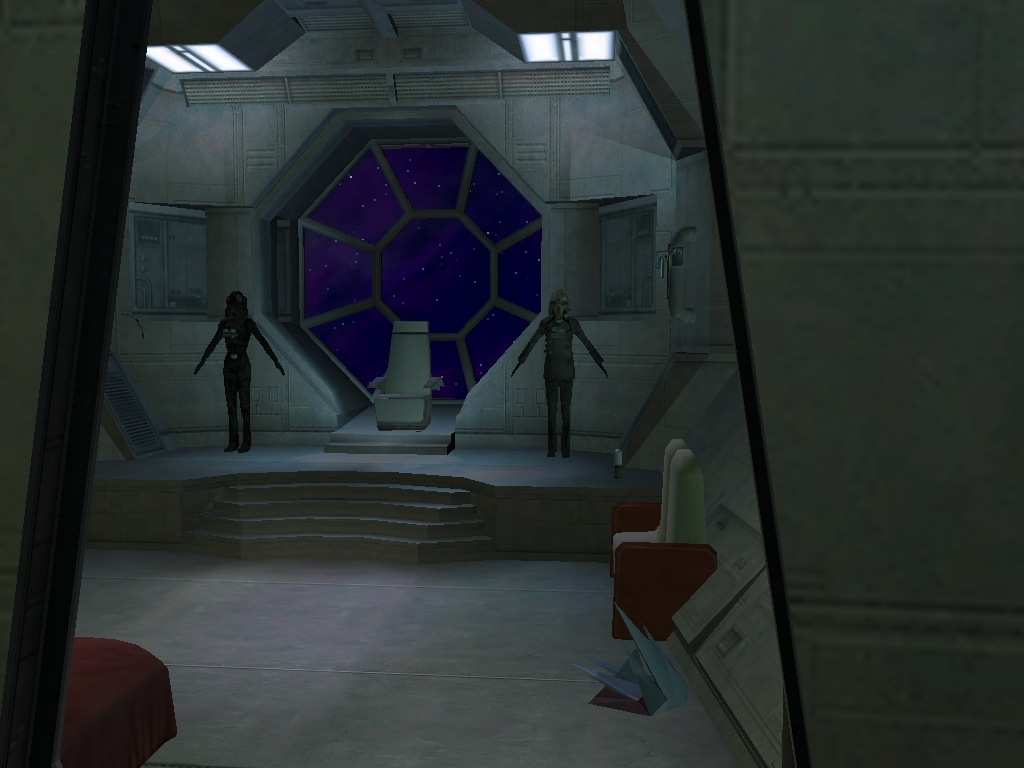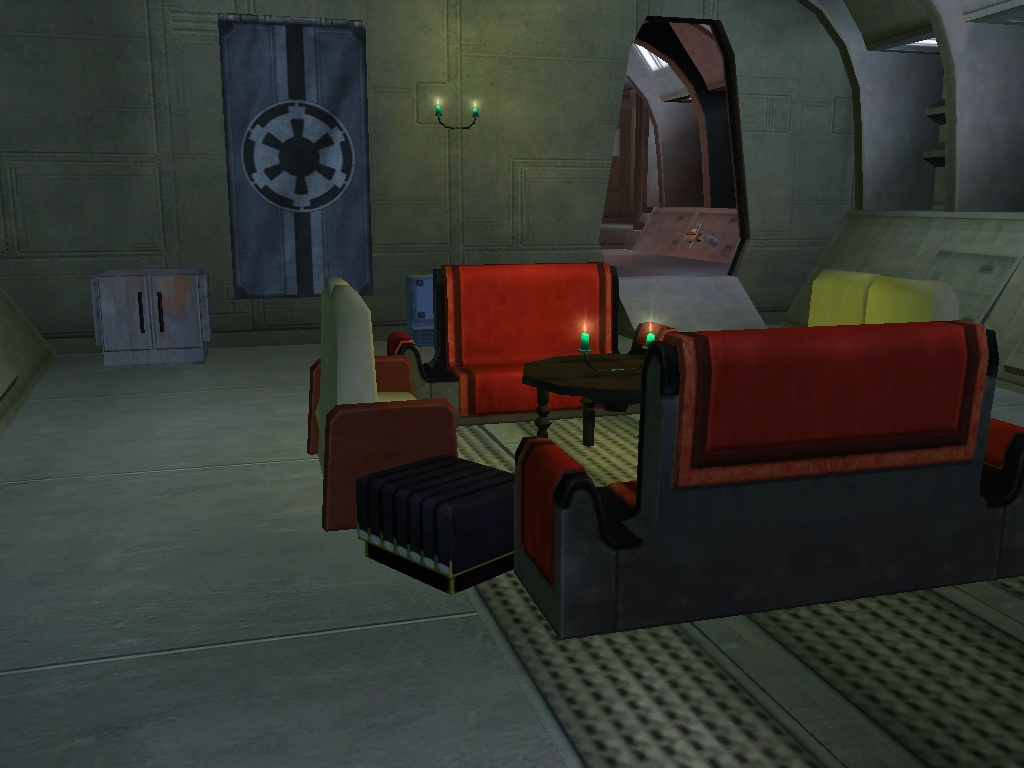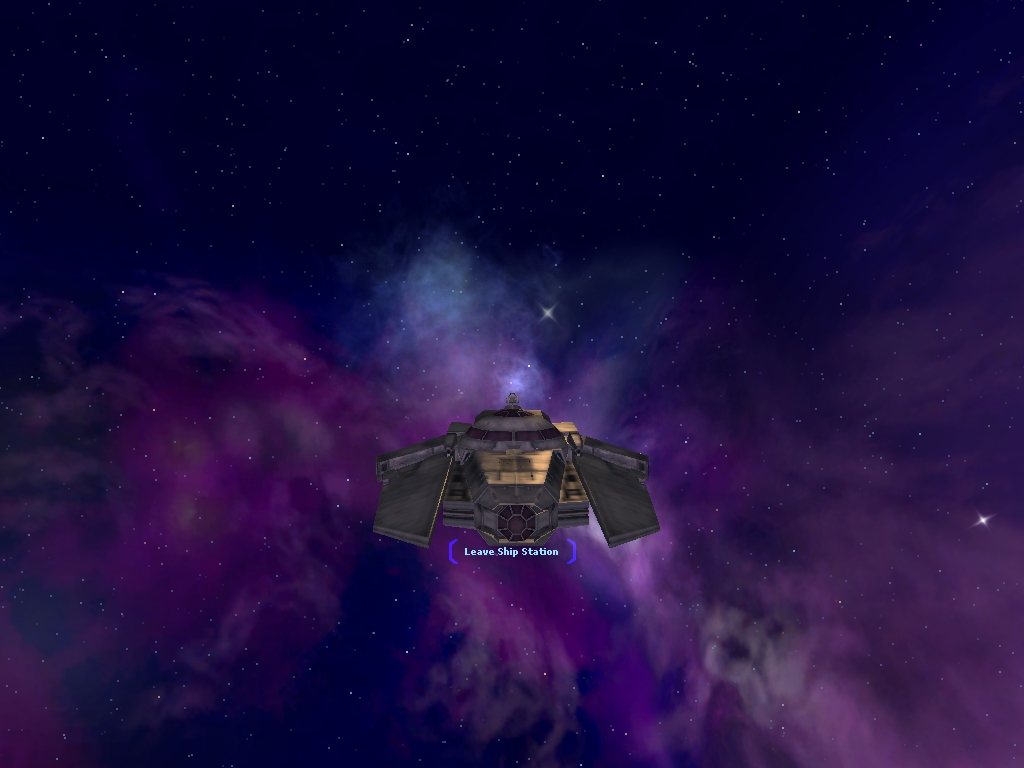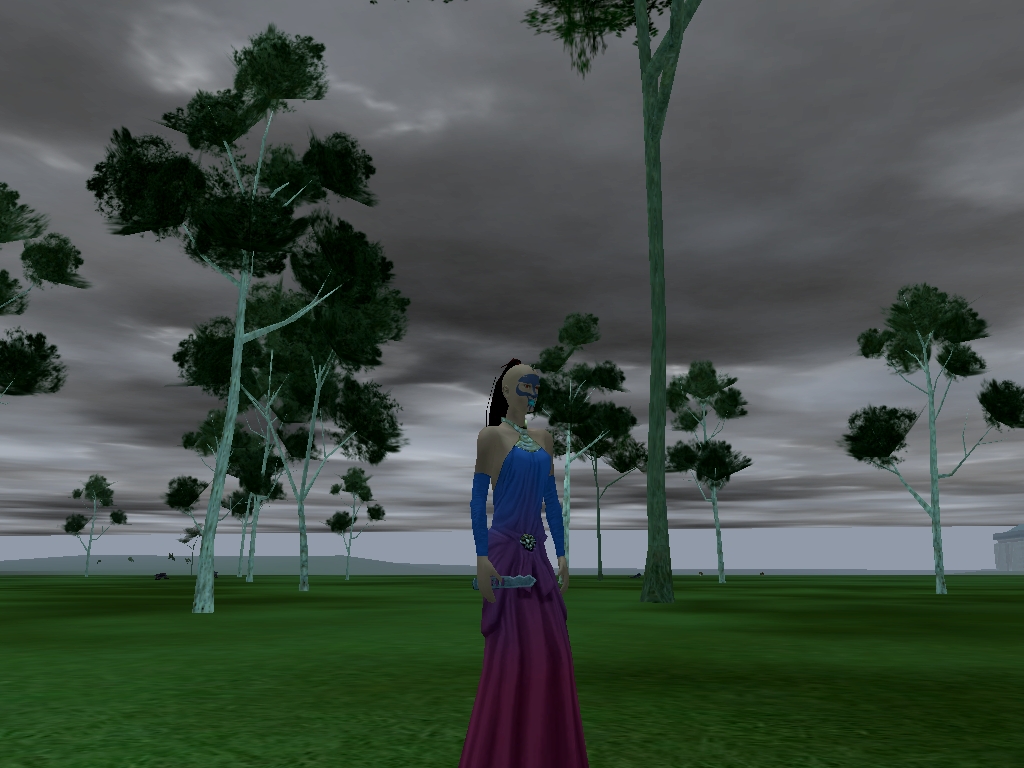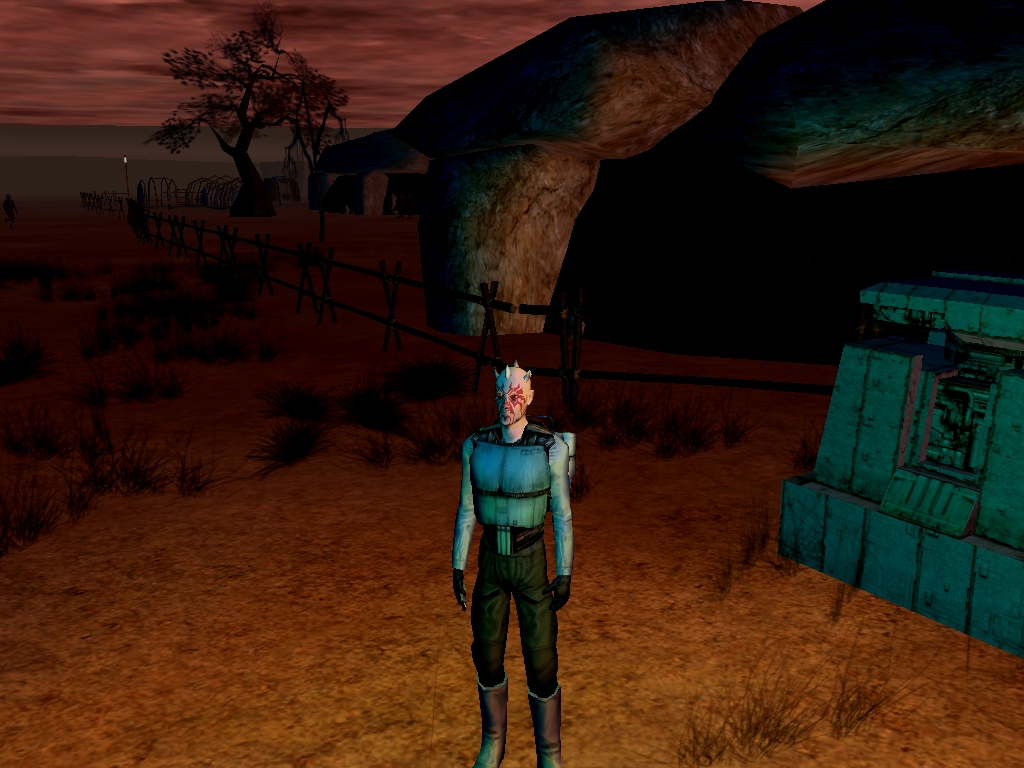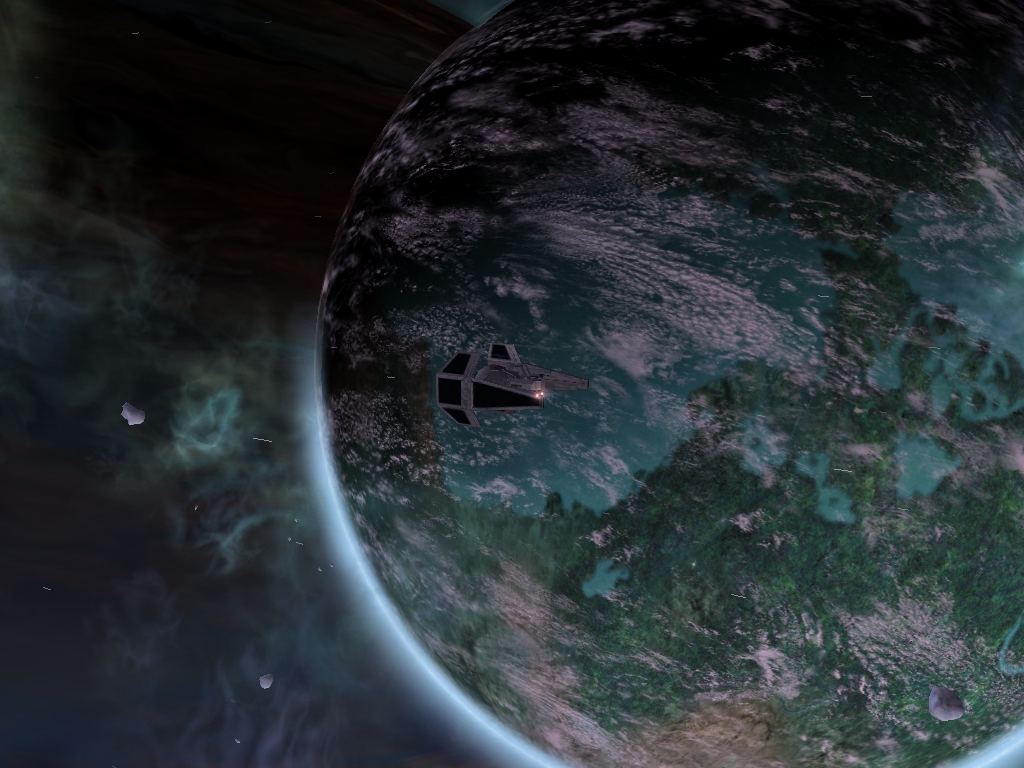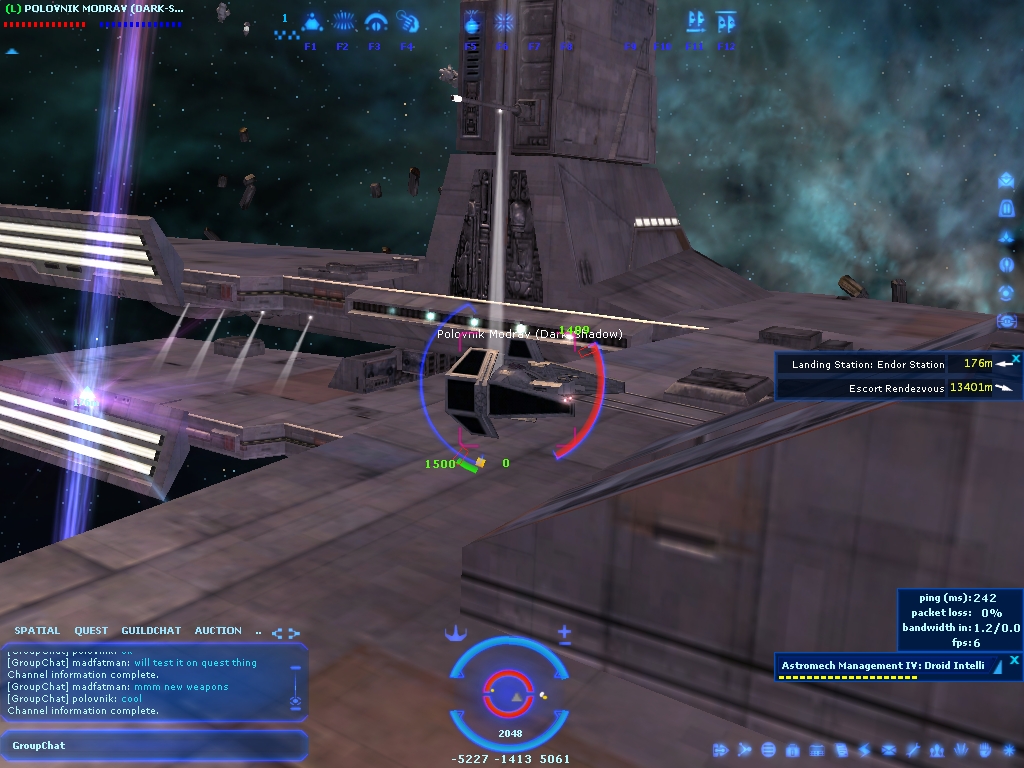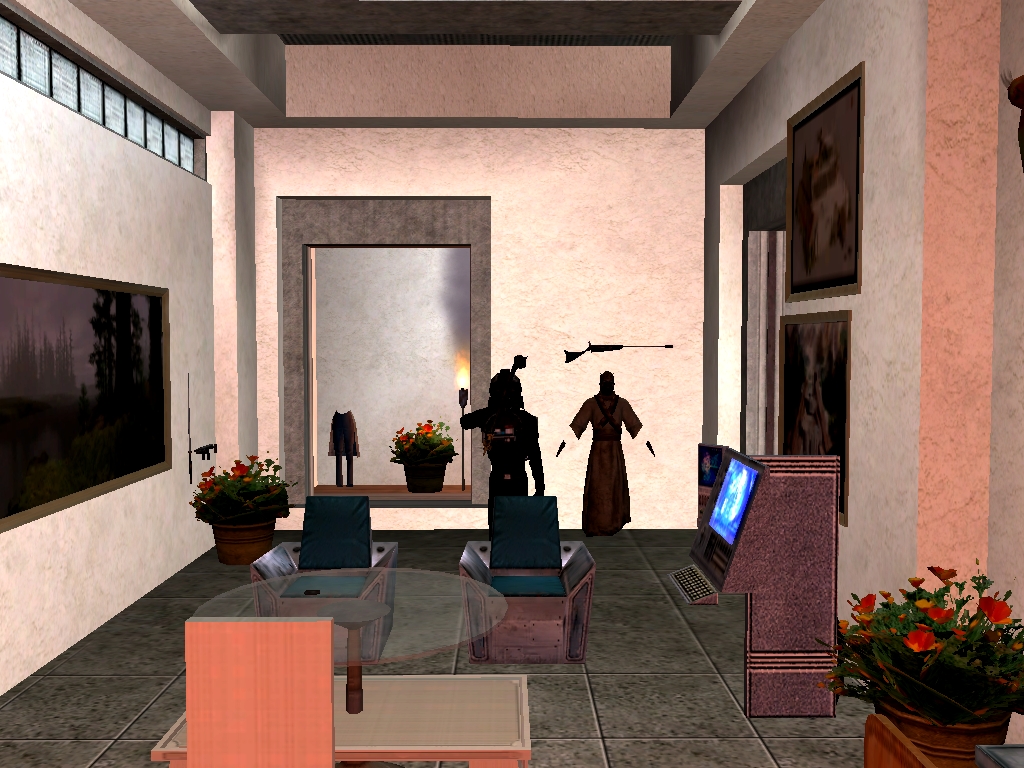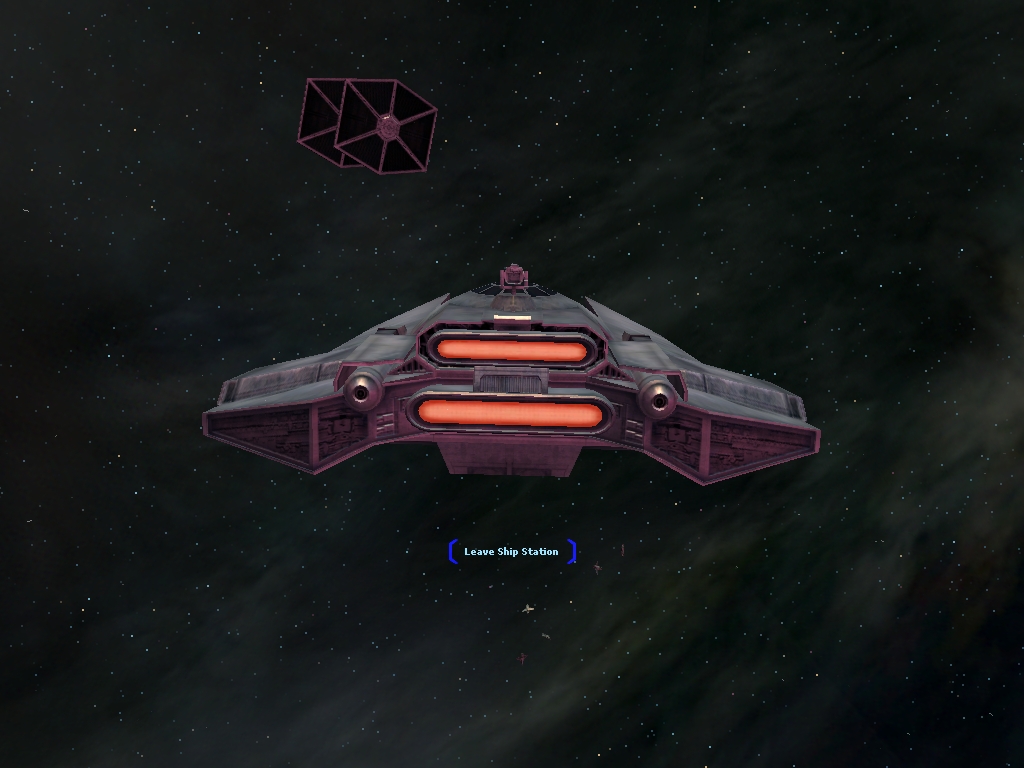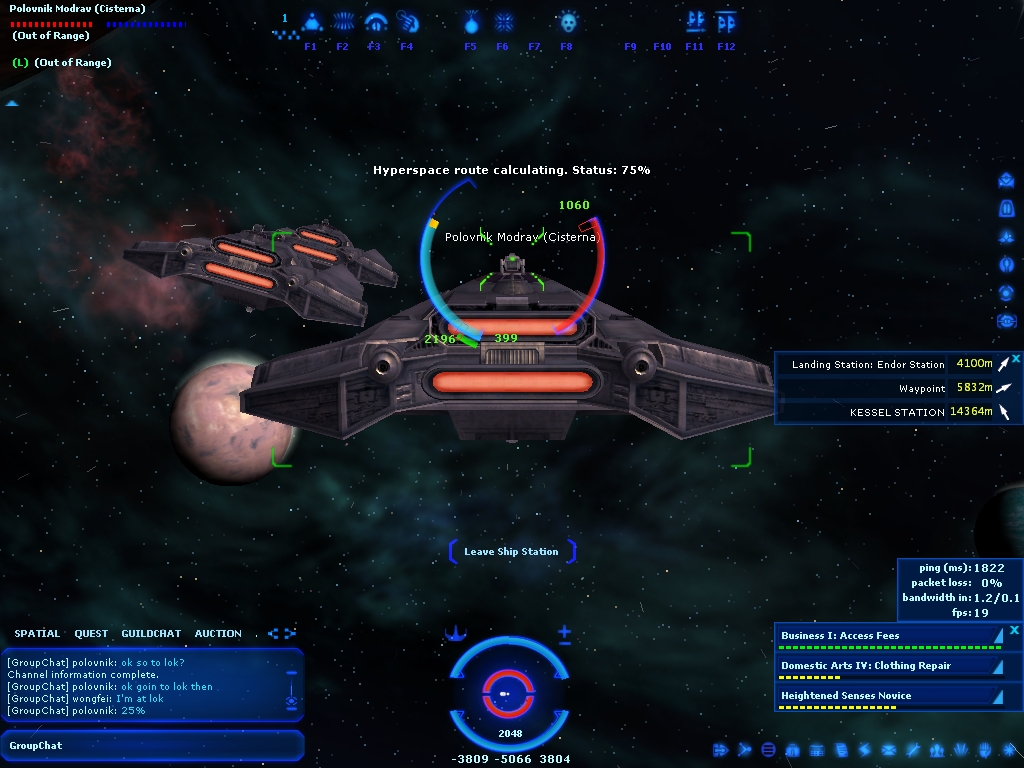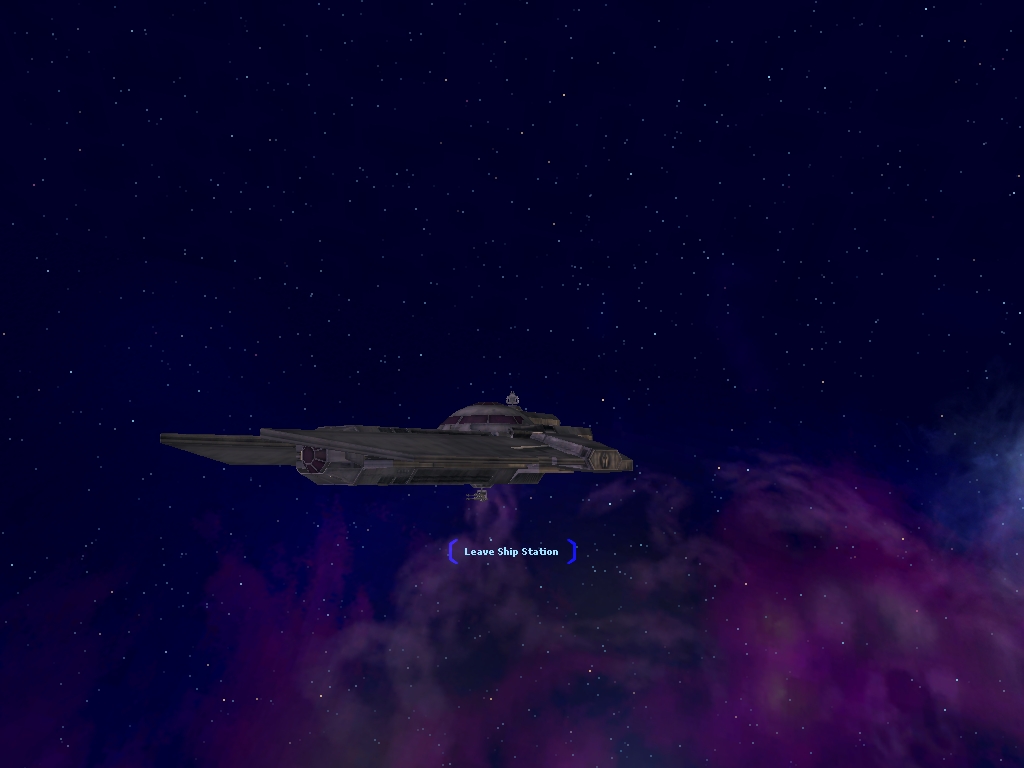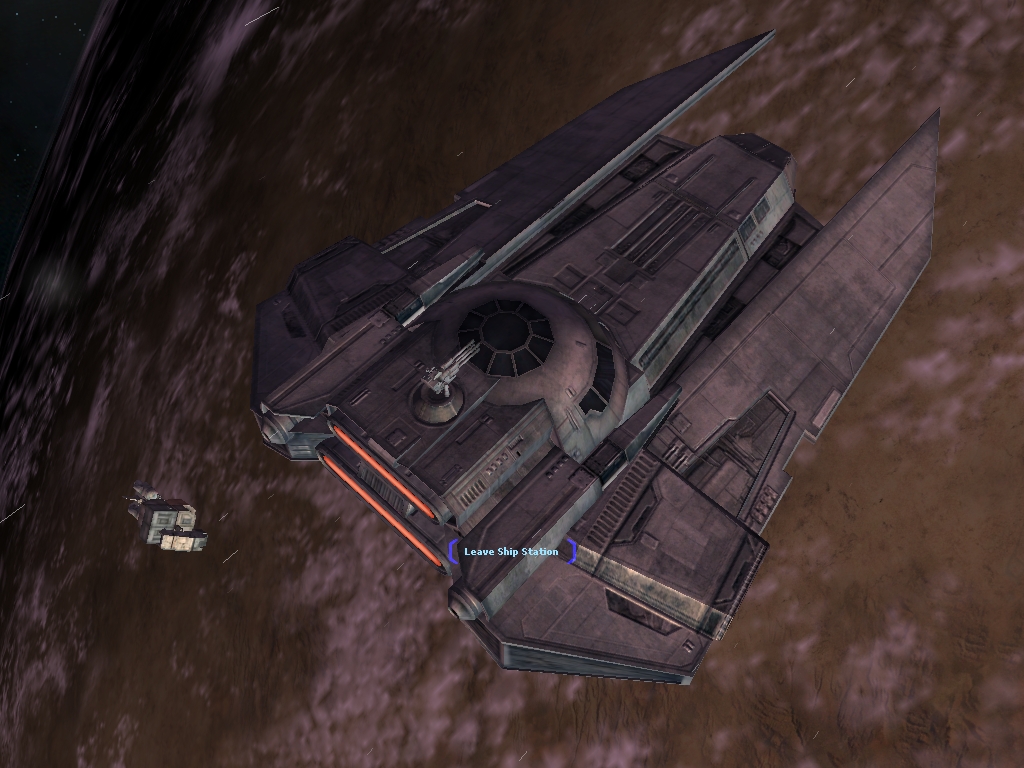 (I have more images, again…they're lost in time. I have to come back and edit this when I do find the rest.)
I obtained lots of Imperial goodies, a Tie Interceptor, and a Decimator. I even attempted to set up a town on Talus, only to later vanish. NGE ruined my character, some guildie moved into my town-to-be, and everything was in ruins. Lost a town I was familiar with on Tatooine as well….Everything went to hell when I left.
———
– Final Thoughts:
It was a very fun, yet dated, MMO based in the Star Wars realm. I still prefer it over the other MMO's, including SWTOR. Sorry, as entertaining as SWTOR was, it just doesn't offer the good "Minecraft-esque" free-roaming memories as SWG did. I can still hear the idling hum of machinery in hubs, space ports, and Mon Eisley. Those beautiful moments in the Cantina, hunting Rebels, doing quests, and the randomly generated quest givers.
What I loved about SWG was how you were just another person, not some hero, able to choose his or her own profession. You made your own choices, your own destiny, while even choosing the path you wanted to choose. That freedom is lost in SWTOR, even shunned heavily when shoved deep into a single-file corridor due to story. You can't choose your own companion, nor fight in open-space similar to JTLS.  I don't dislike SWTOR, just doesn't offer, nor fill in the void that SWG filled.
As dated as SWG might have been, and how faulty it may have been, it was the one chosen by the force. It was better with the expansion, though not so much with the NGE update. NGE ruined it all, negating everything I had done, everything we all worked for. We had to start fresh to regain what was once lost.
I had fun memories which could rival those from Guild Wars, Minecraft, and Phantasy Star Online 2. The fun memories of being a simpleton roaming the land, Role-playing as an Imperial taming creatures, or following Decimator convoys with my own in space. Freedom and fun to do whatever you wanted to. As dated as this game may be, it was where it was at for the Star Wars fans.
I feel that it now needs a re-birthed and modernized version using the pre-NGE updates while using modern game mechanics. Needs to be open-world, Minecrafty, with that touch of survival. Basically what SWG had, but modernized. This isn't an idea a game-developers could trash because it would be welcomed by SWG and new fans alike. Even those that left SWTOR. Hell, even a single-player co-op RPG Star Wars game (Non-KOTOR) would do.
People will view SWG as a piece of shit, maybe even biasly at a glance. Those people need to be whacked on the head with a toy lightsaber because they're taking things for granted, or trying to seek attention. Yes, SWG may have played badly at times, or even dated, but it did offer many things that they would have found interested, even things SWTOR failed to add due to their stubborn pride. The freedom to fly in space, customize everything, roam freely (no level caps or level specific), and a proper personal ship system. Yes, I'm spoiled by what SWG provided me.
You'll be missed SWG! Both you and Battle Rondo!
——
(Do note this is Pre-NGE Pro & Con list.)
– Pros:
The freedom of the Star Wars universe which allows you do to anything while being a nobody becoming a somebody. You're not some hero or some pre-scripted character.
Crafting system being quite detailed. You could create anything you wanted, becoming specialized in certain professions.
Creature taming was fun. Being able to tame small-to-large creatures was the best part; Taming big creatures to piss people off.
Jump To Light Speed: Best thing that happened to the MMO by adding space. Being able to fly in space made it feel more like Star Wars. I love my Tie Interceptor and Decimator.
The push to explore the world. You're encouraged to go exploring, gaining badges and new-found knowledge of landmarks from the lore.
The memories gained from SWG were purely positive and welcomed. Each and every moment within said game being cherished as if it was actually real, which it is. Even virtual memory & experiences becomes a real memory.
The randomly generated quests were the best, though stale at times. When interested, you could go hunting Rebel camps, creatures, and similar for experience and credits. Simple, yet awesome.
The Day-Night cycle made the world lively and awesome. Loved how during the day you would hunt and at night find yourself camping.
The weather system was awesome. One moment you'd find yourself in clear conditions, the next in a dust storm, thunderstorm, rain storm, or similar.
The health death penalty. As annoying as it was, it pushed you not to die. To get rid of it you would need to see a medic from the NPC side, or a dancing human player at a Cantina.
Being able to customize your home in whatever way you wanted. Being able to move around and decorate made each home feel unique, with that added Second Life home feel or vibe you would see on people's random sites. All those gothic or "Emo" (in a good way) homes.
Imperial and Rebel NPCs roaming the land, vehicles scaled to proper size.
Being able to name and customize your ship, even decorating the inside if passenger-type vessels.
—
– Cons:
Screw the NGE update to hell! It nullified and ruined everything great about SWG. Though, it did add some things great.
SOE pulling out of SWG leaving SWTOR to run rampant with close-minded developers dictating what is best for their fan-base.
The sometimes glitchy combat or landscaping. Camping on uneven terrain was tricky.
The overly weak AI. They needed to be buffed or made useful. They needed to be RPG type strong (Looking at you Skyrim and Dragon's Dogma, or even KOTOR).
Those typical buggy days allowing me to spawn giant creatures at space ports to trap people on said planet. I must have ruined many people's days, even getting punished by a GM.
Not being left a basic hanger application to keep viewing your ship with assets in them. 🙁
The now dated graphics/textures which makes it partially nice to see it gone; Space ex-pack freed from this.
The randomly generated quests for musicians and dancers were unnecessary, or so I found. You would be placed in spots with little to no population.
No memory of any mini-games, other than fishing and emoticon rolls.
——-
I'll still play SWTOR, whenever I can get my computer to run it without problems. It's just I miss SWG's space features and wanted the mini-games in SWTOR. Sadly, the developers said both things were unimportant making re-playability less interesting or to play those mini-games elsewhere on other games. With such I'm not interested in playing SWTOR as I find that as a big "Fuck you!" to players. Yes, I'm spoiled by what SWG gave me.
Hope this was a fun "Memories lane" article for other SWG players. I would much prefer SWTOR get updated or to see SWG 2.