Heyo! Obtained a new package filled with gifts for Vara, something for her to wear on different occasions and to support her while on display at Anime conventions. Variety in clothing and support at events.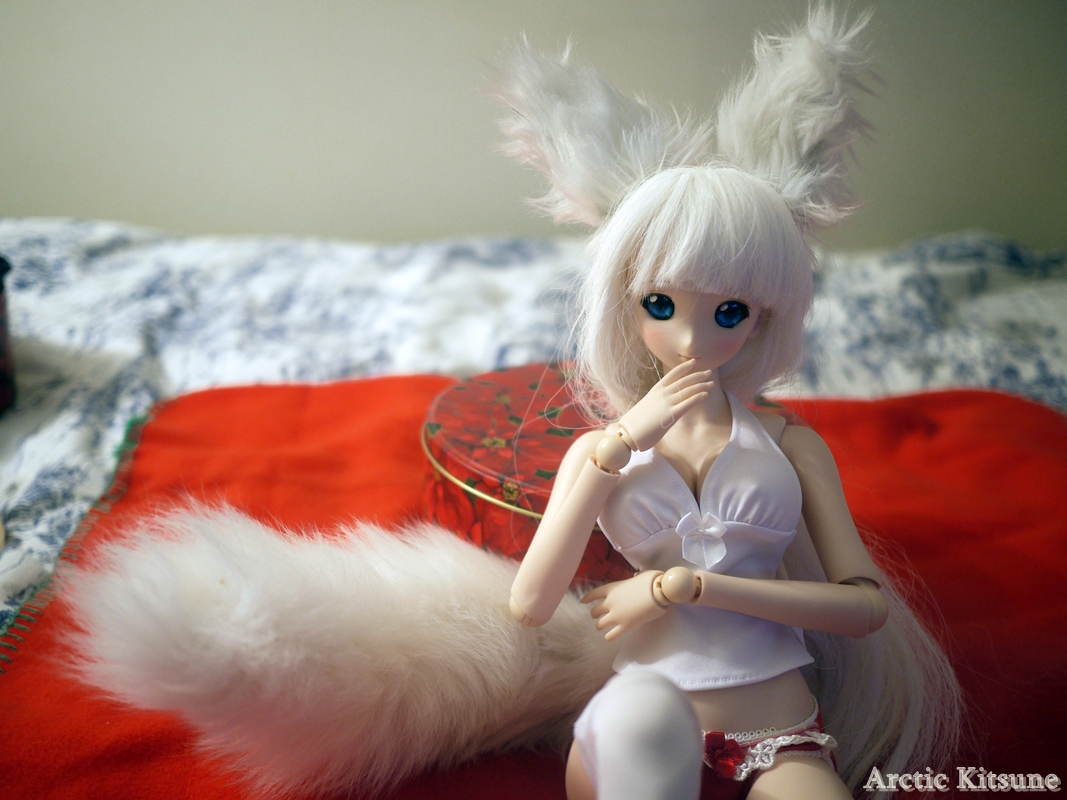 (All images taken with a Lumix GF-1 – Pancake lens.)
I ended up receiving the first of three packages gifted to Varakitsu. The first one from Coolcat that contains a night gown, bow tie halter, reflexes short socks, long tank top, and a thigh stand so I can display her happily. Needed to also change her outfit from the knitted long top because it was staining horribly into a yellow color. I was overly cheerful when I obtained package and overly pleased when I found out everything managed to fit her as intended so here is my excitement in this article.
I had a little  accident with my camera and another with Varakitsu's foxy ears. I fixed the ears by moving them back closer to the middle (just like the second time), because the first was too far back. The ears kept falling off because the magnet came out of place under the head-cap.
I also had a screw-up with RAW format images because I wanted to try and play with them by recommendation of Dolls of Ottawa group. The images ended up being too small to share so I had to re-do the whole photo-shoot review. Did use the .DNG converter provided by Adobe which is where I found the image sizes being horribly small. Hoping to retrieve the actual images at a later date in full resolution…hopefully and if it can be done.
*NSFW Warning: Changing of clothing, revealing clothing, and etc. If you came here expecting doll nudity then there is something wrong with you, not me. Shoo!~ Otherwise, enjoy viewing the images! This warning also here for those about to complain about anything "suggestive" that may get them fired from work or just overly a pain in the ass themselves.
—–
– Related Articles & Links:
– Varakitsu's Knitted Long Top:
https://arcticukitsu.com/Blog/?cat=53
– (CoolCat) Sexy Long Gown Lingerie Set:
http://us.sk-coolcat.com/front/bin/ptdetail.phtml?Part=yd56
– (CoolCat) Reflexed Short Socks:
http://us.sk-coolcat.com/front/bin/ptdetail.phtml?Part=D2-1015-03
– (CoolCat) DD Thigh Stand:
http://us.sk-coolcat.com/front/bin/ptdetail.phtml?Part=sta_dd_10
– (CoolCat) Bow Tie Halter Top (White):
http://us.sk-coolcat.com/front/bin/ptdetail.phtml?Part=dan1n_4
– (CoolCat) Long Tank Top:
http://us.sk-coolcat.com/front/bin/ptdetail.phtml?Part=dan3n_1
—–
– Unboxing:
I caught Vara & Renge both unboxing the loot I happily carried home in a reusable shopping bag. (I was happily walking on a sidewalk with Ottawa being stupid and impatient today with constant honkings at intersections and a nearby Pizza Pizza; Another person nearly T-boning a Novice Driver in a driving school car for his G2 license at a Pizza Pizza parking lot). Renge used her tail and Vara helped by pulling on the lids. Ah! No problem, seeing as how it was all meant for Vara so she could change into something different so her knitted long top could get cleaned up. The main purpose of this package also being for the sexy long gown to bring out Vara's beauty some more. Also purchased the stand so I could display her at Anime cons.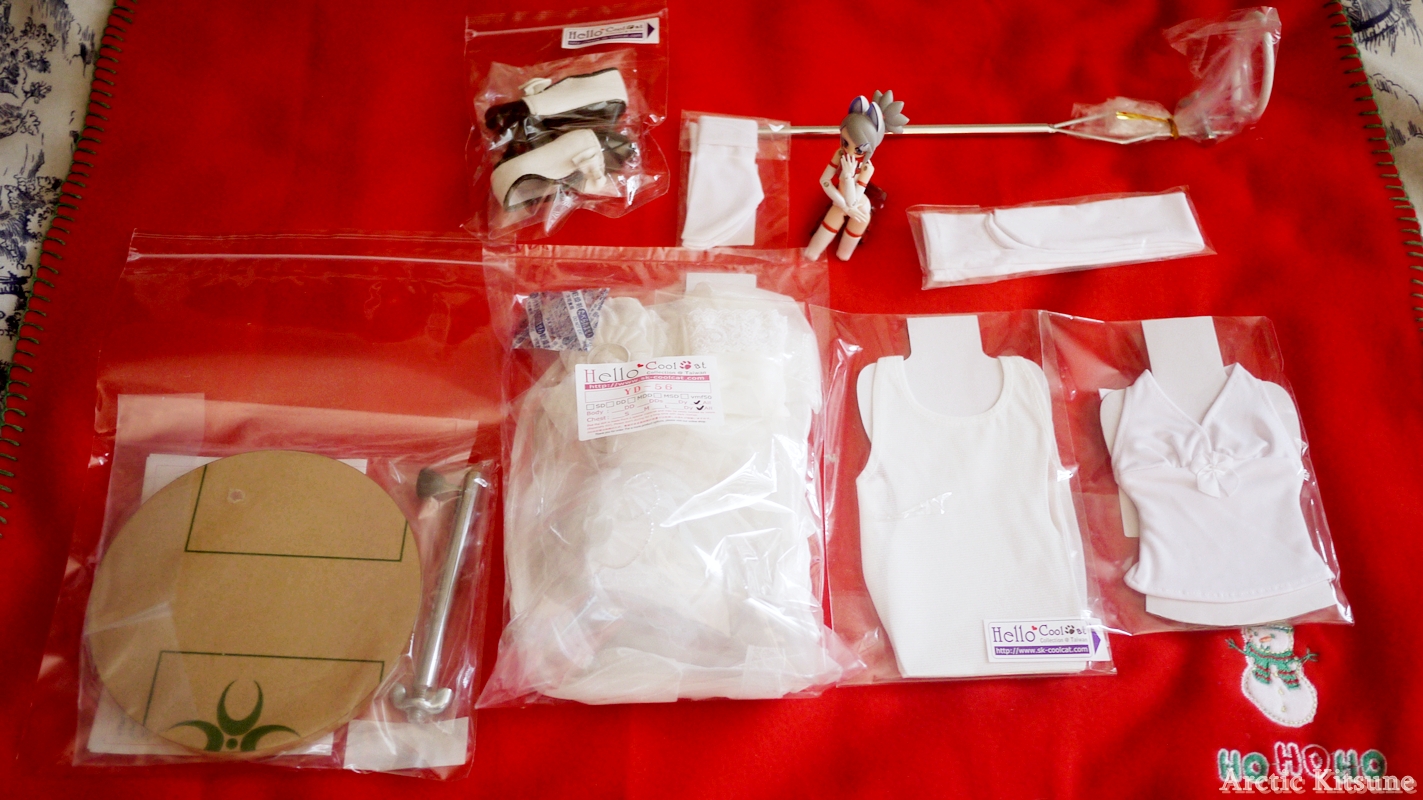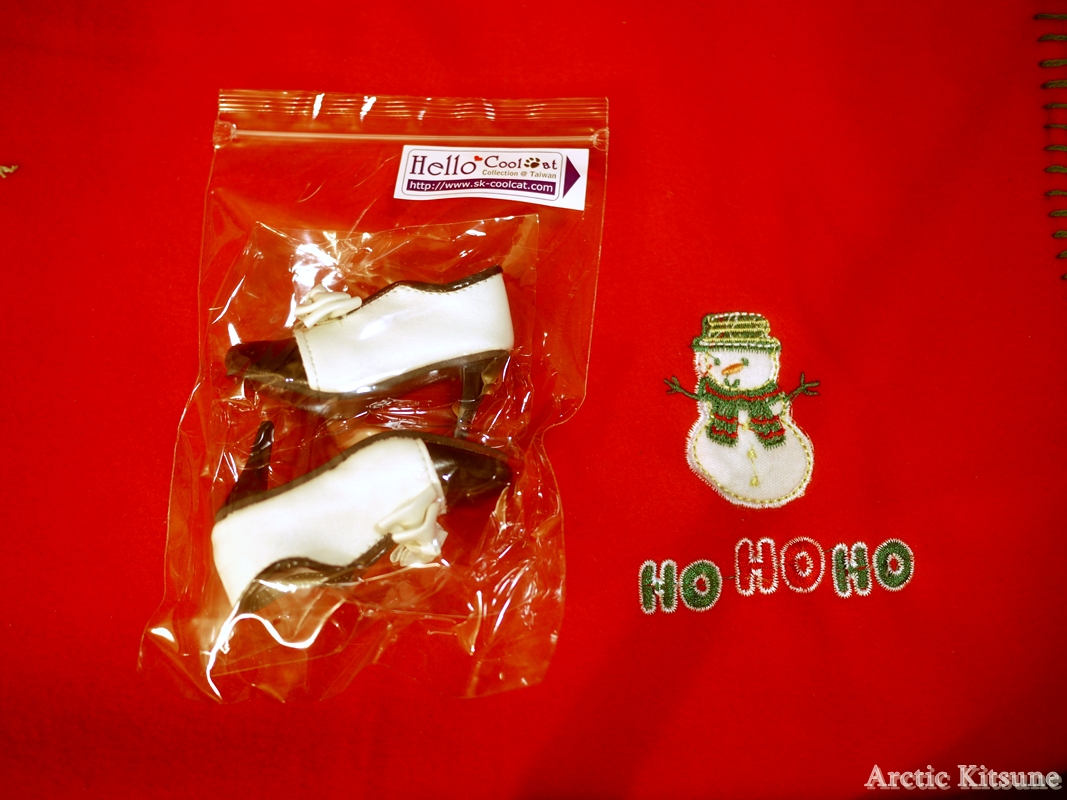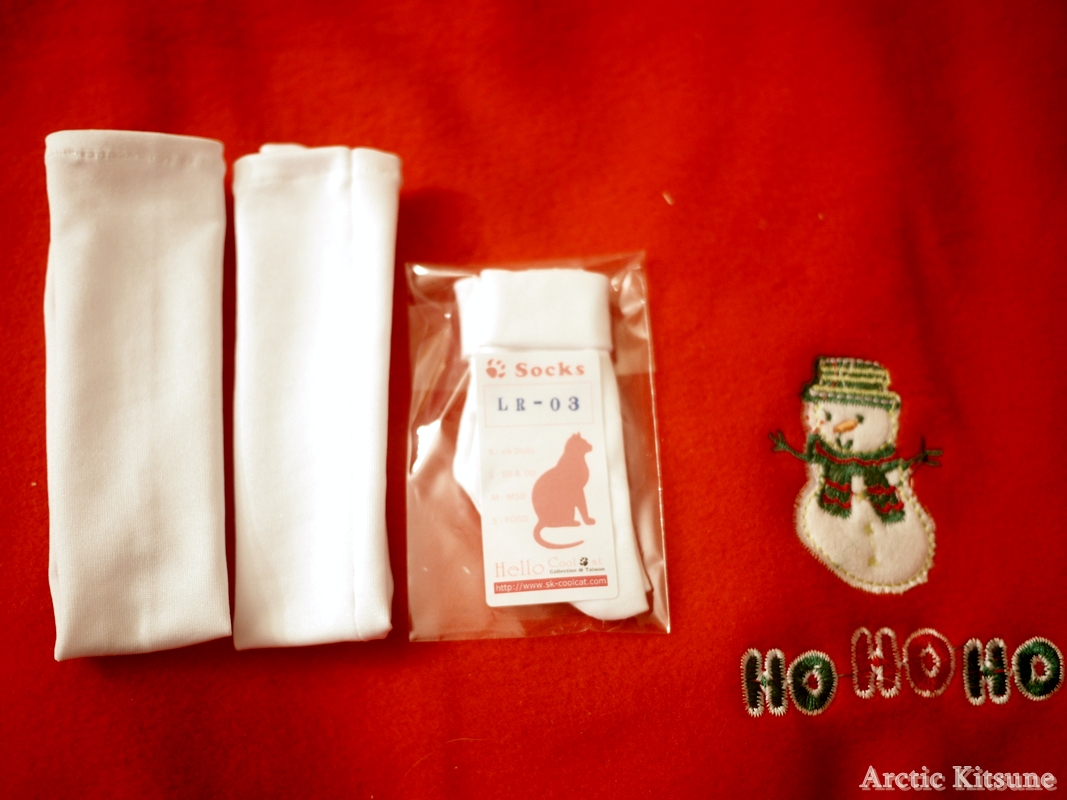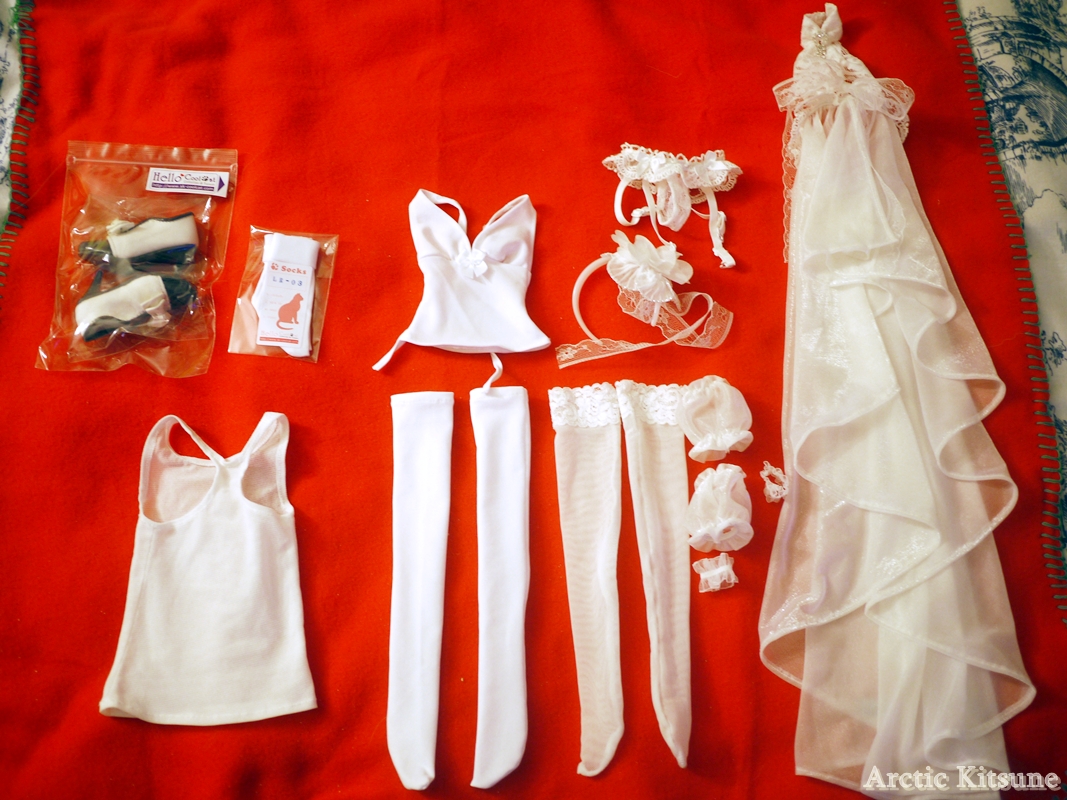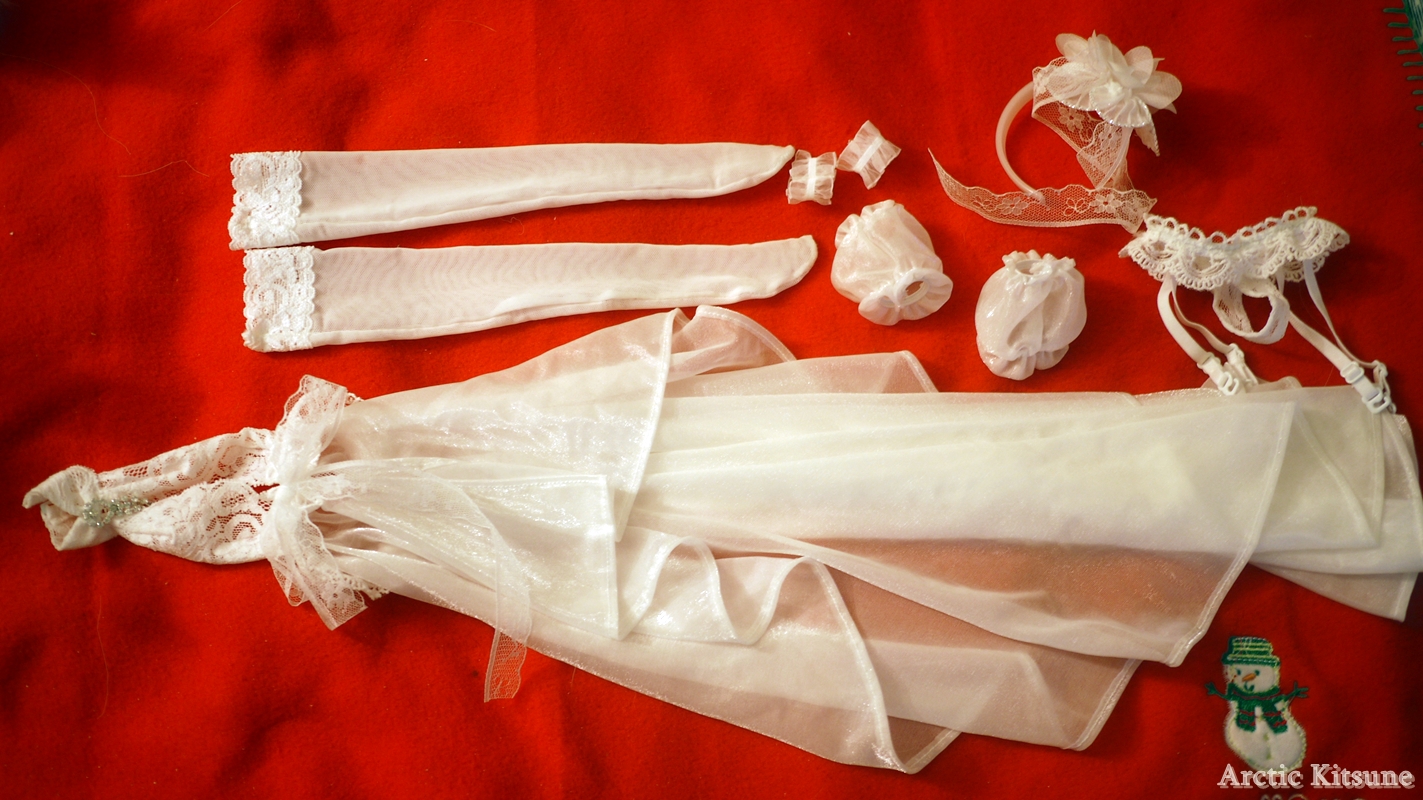 – Thigh Stand:
I actually approve of all the loot I obtained this time around. I made sure what I obtained is what I wanted and what would fit Vara. I'm however having issues with how to use the thigh stand for Vara. With the high heels she can be happily posed, but without the stand wants to go to her waist. Maybe I'll let it or figure out how it actually behaves.
Maybe I had my stupid moment again causing it to not really fit. Or maybe it does fit, just me not knowing how. I want to say "I know how" because I have her posing happily in front of my TV.
—–
– Main Review & Photo-Shoots:
(I tried taking images in RAW to see if I could have more control over my images. Sadly, I had to redo the whole photo-shoot so images will be all over the place.)
Vara sure looks neat. She felt like an actual individual again once I started displaying her in my room again using the stand. Just like above, I however had issues. There is a 1-2 inch gap or I need to poke the stand in from the side. Varakitsu's presence demands respect :P.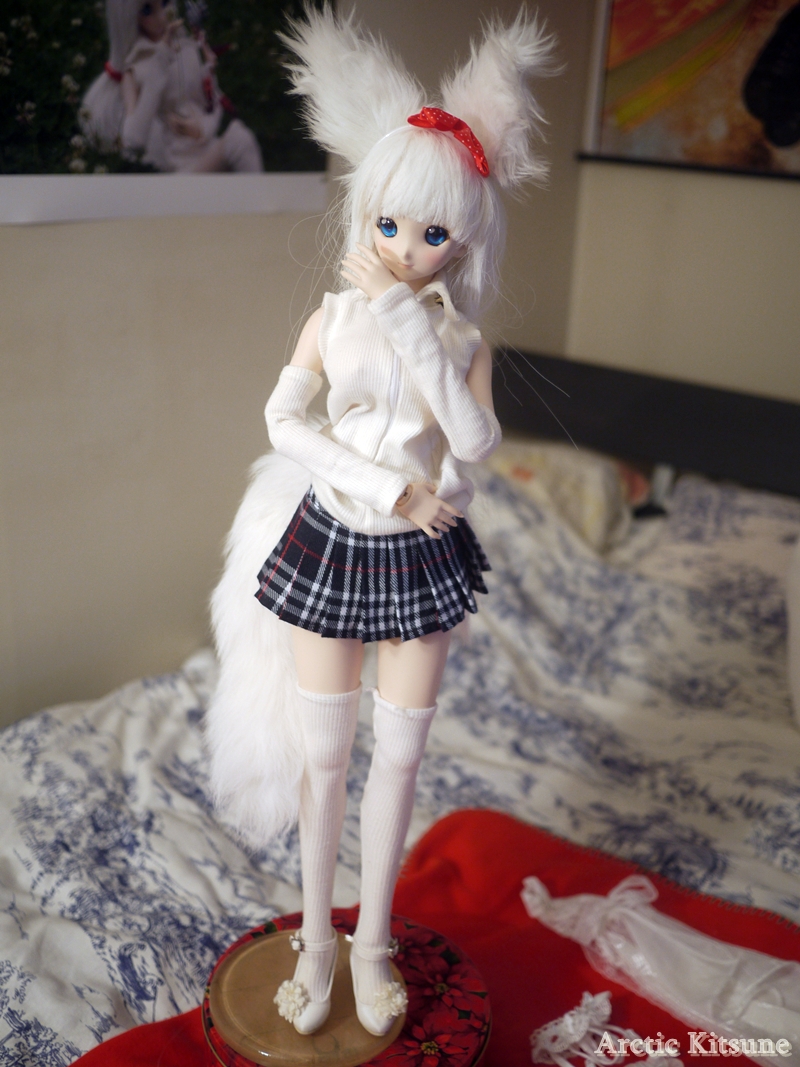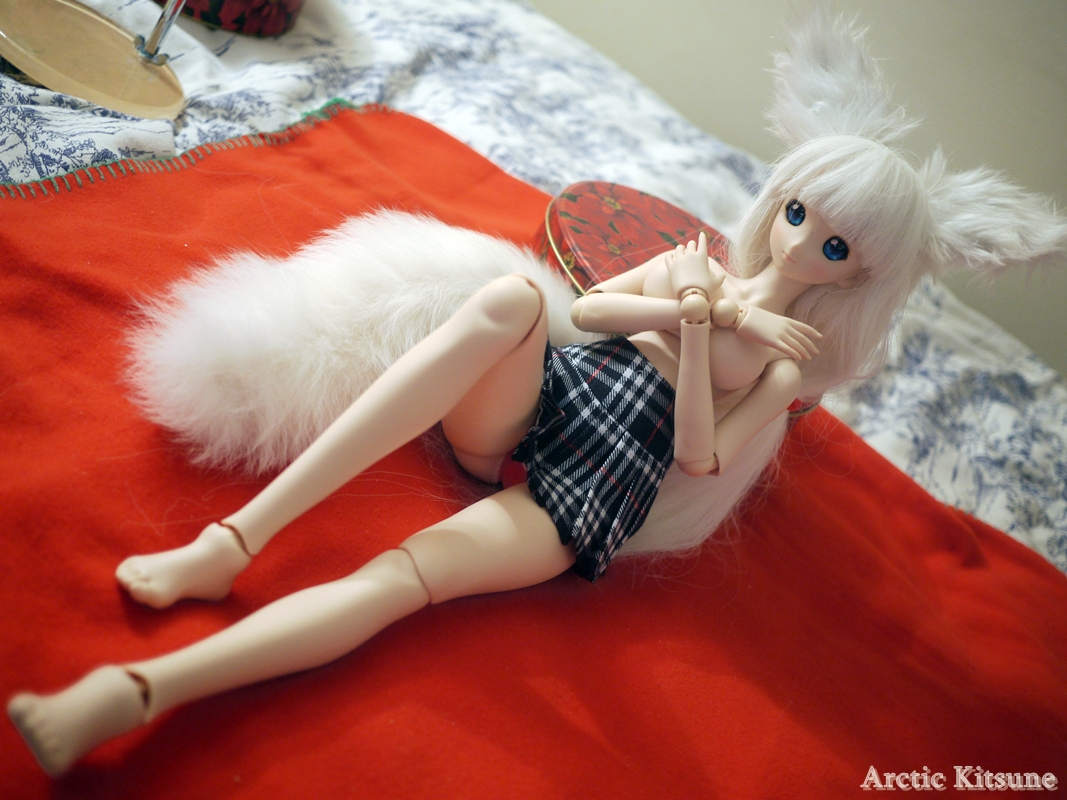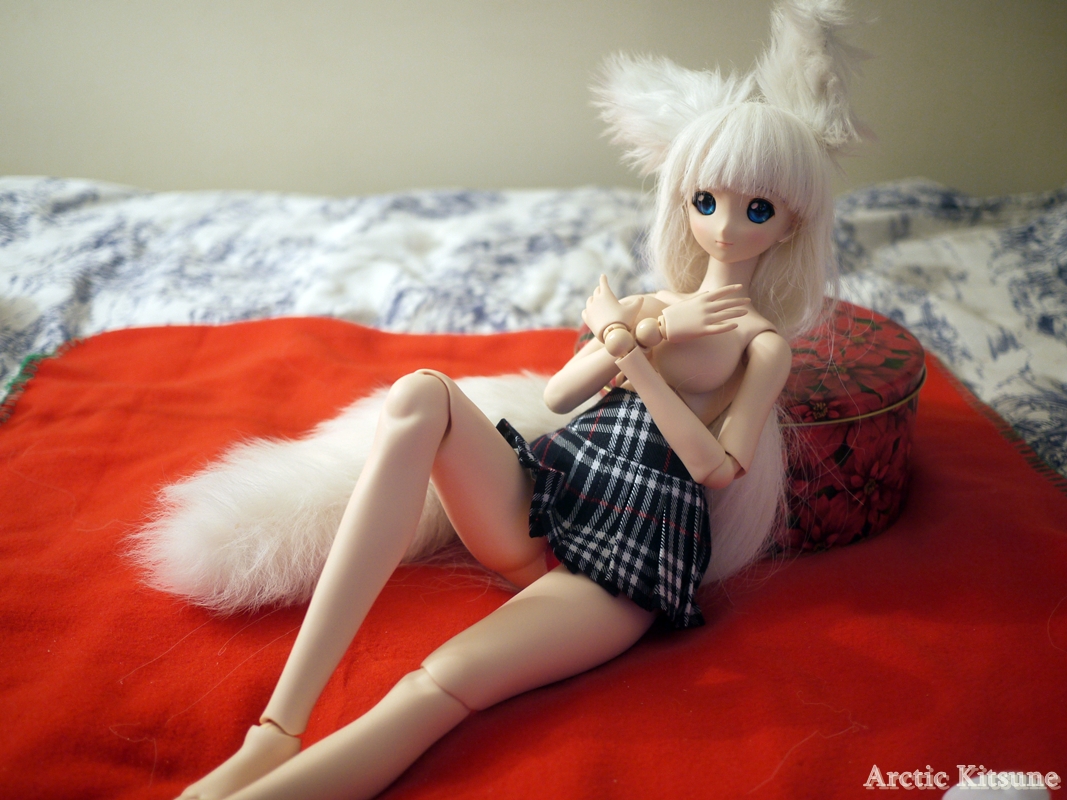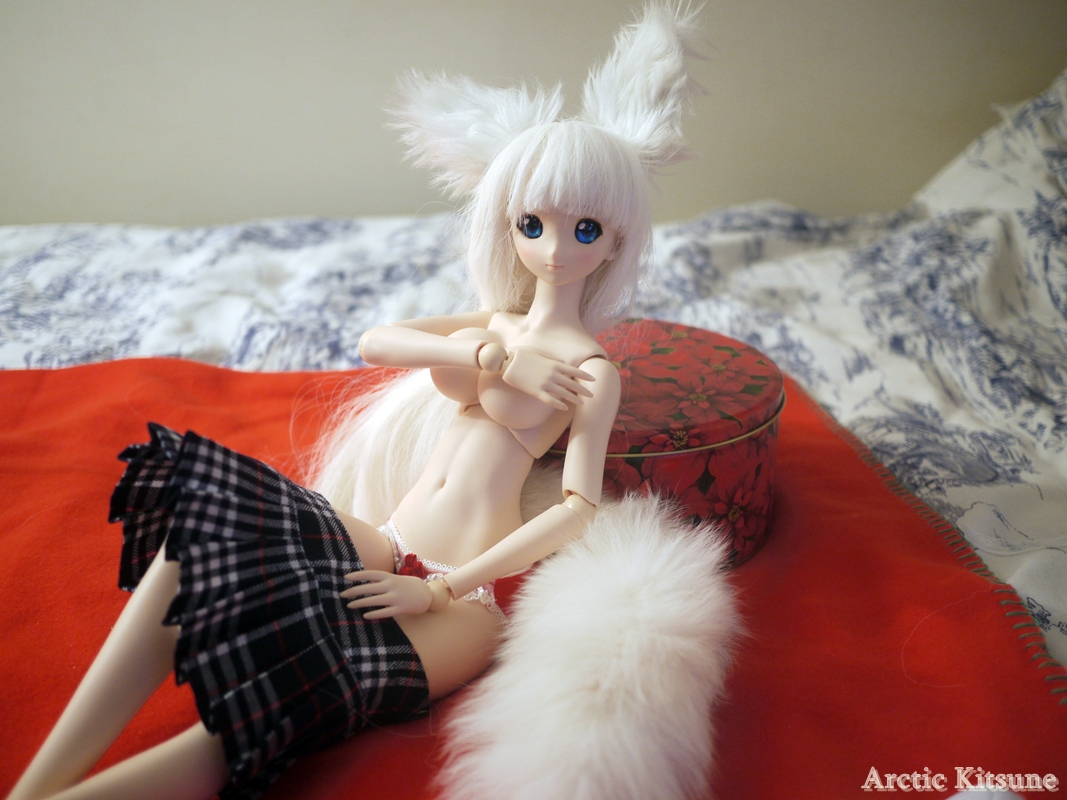 – Haltered Long Top:
It is quite neat and casual. It makes her look overly cute when she puts it on. It's just too easy to tease Vara by pulling the string, or by accident when the knots come undone. I'll be honest and say I can't tie it properly. I can do so, just not one that lasts for wear-and-tear type situations. Vara shall be having fun with this top when wearing a jacket, sweater, or during warmer temperatures/season. Also in combination with her second main loot. Quite neat.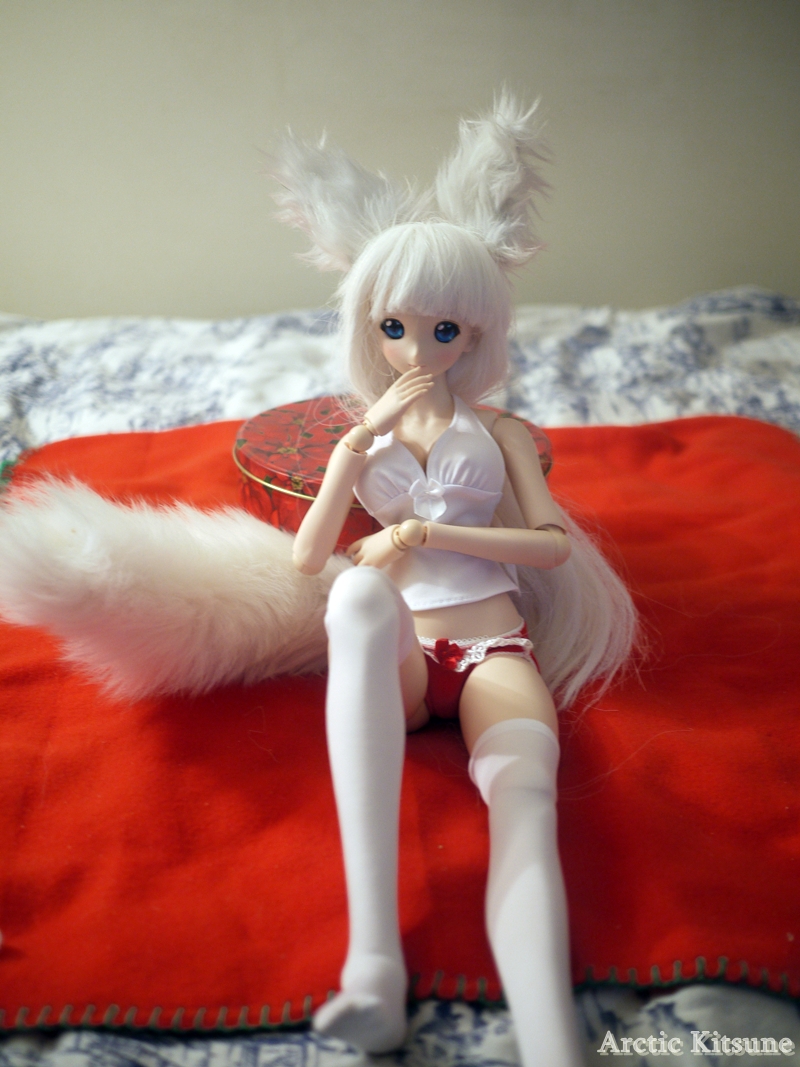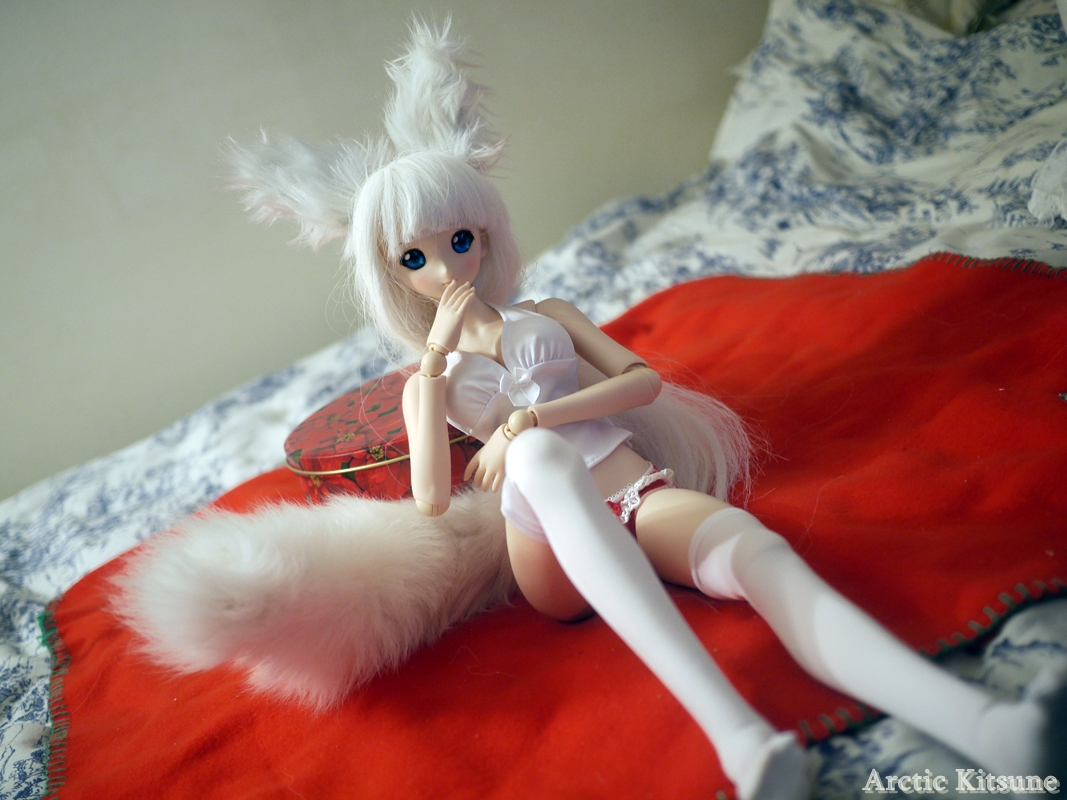 – Long Tank Top:
Something on the more casual side. This was more 'for fun' and so she could swap with her dirtied white knitted long top. Looks quite neat and is quite flexible; easy for Vara to get into and out of. I can see Vara using it during the summer season and for more relaxing situations. More for her to choose in between.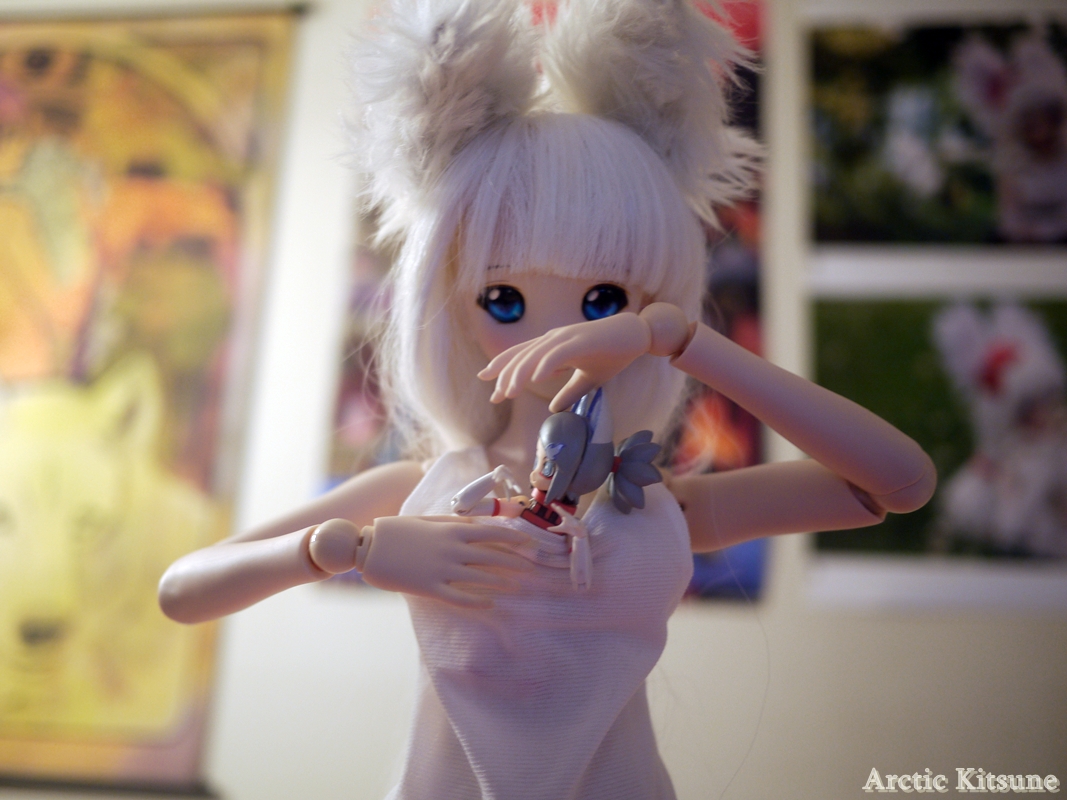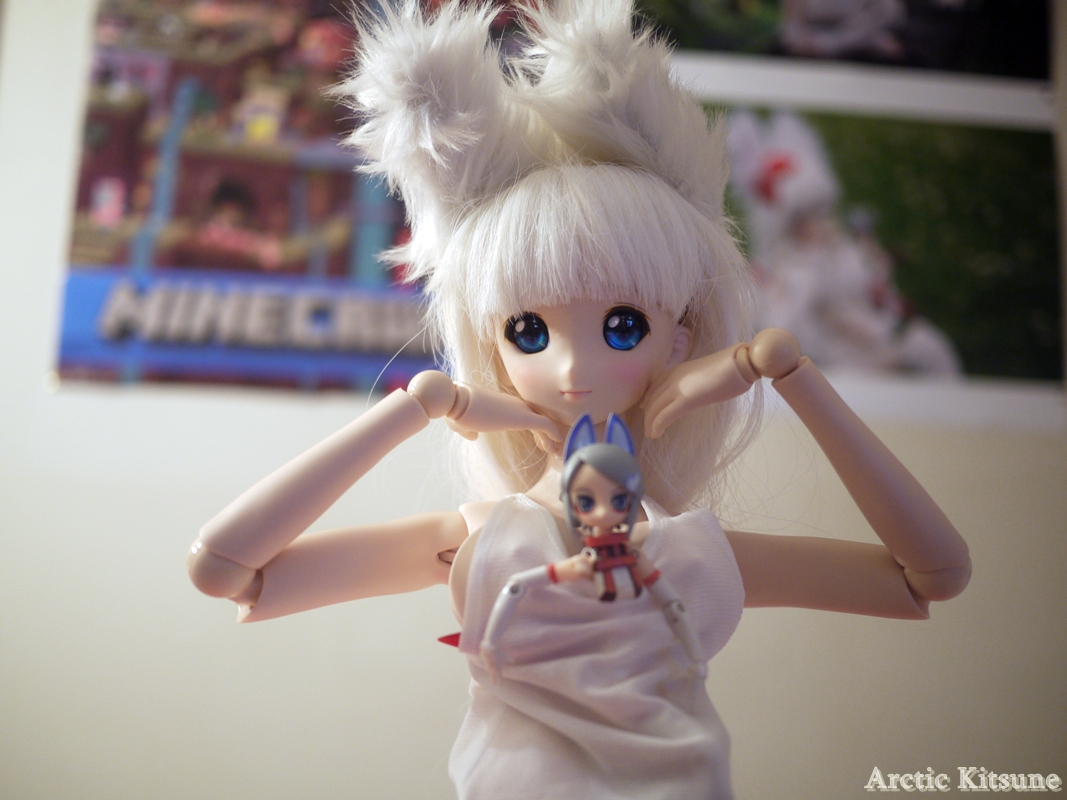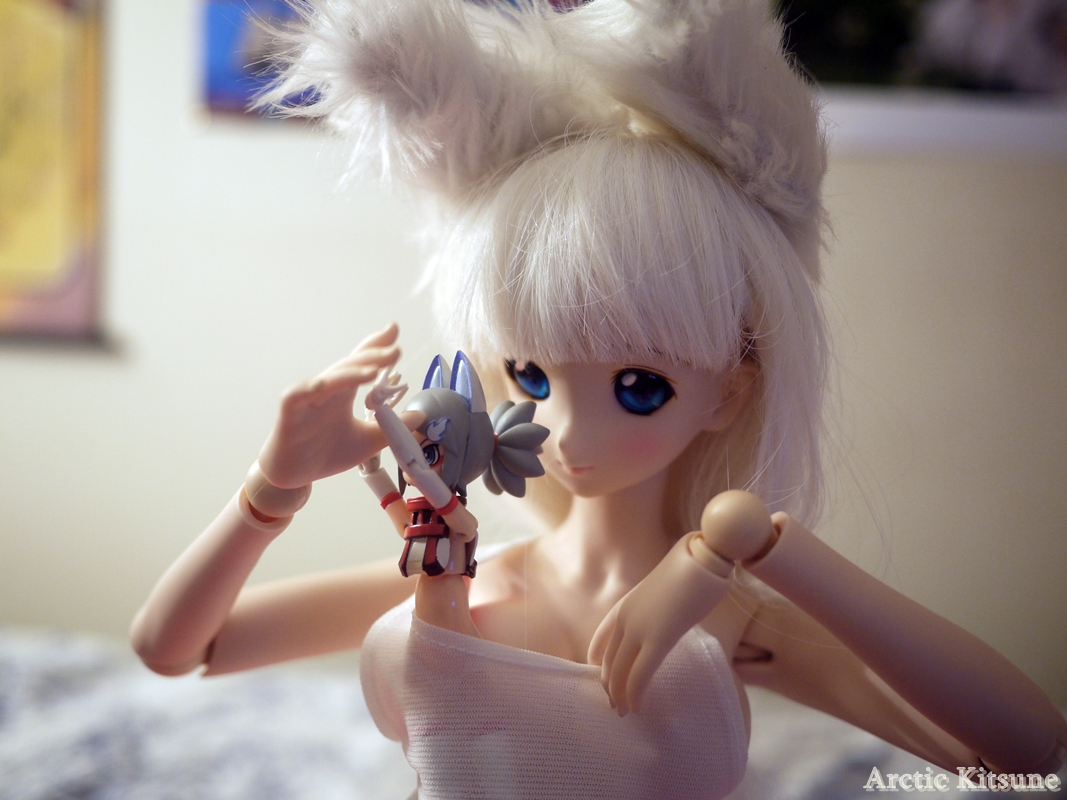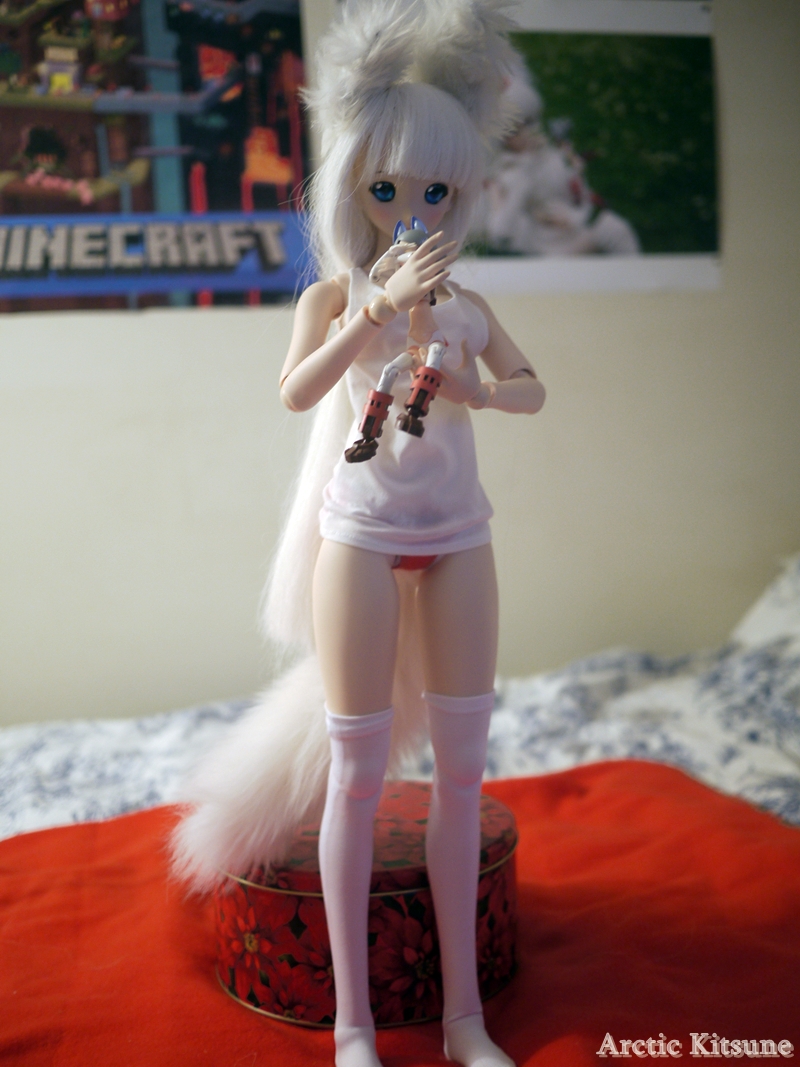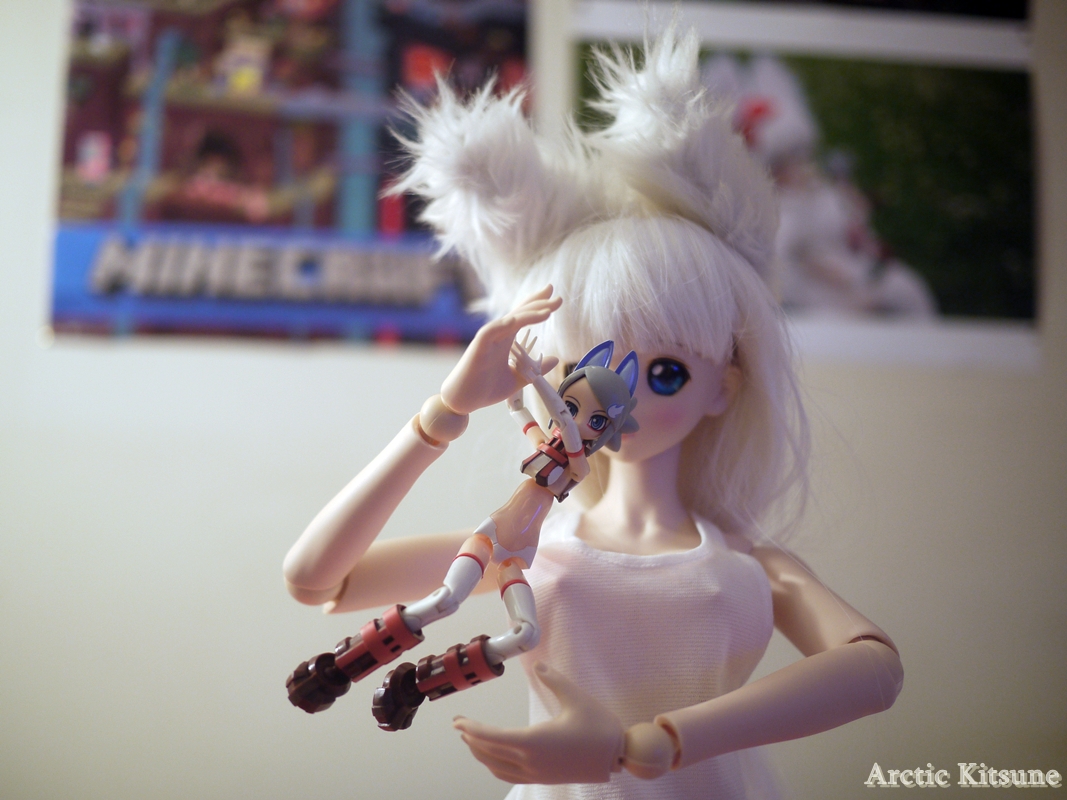 – Sexy Long Gown Lingerie:
The main reason why I had the package gifted to Vara – to make her look sexy! That, and to give her more accessories to wear than just wearing one set of outfit. It's quite impressive in how detailed the sexy gown is along with how it is made. The garter belt, the one-piece garter belt and pantsu, and the whole gown itself; from the waist down and to connect it up at the neck. It's all neat and well made. I have to also say the necklace is neat with that added little touch. It's added onto the neck-piece that holds up the whole gown around the neck and another around the upper torso-waist area.
Surprised that it managed to fit onto Vara at the breast and hip area. It fits her breasts bust nicely and barely at the thigh-to-butt area. The garter belt barely makes it up the thighs. Have to be extremely careful with it or it'll rip, even if it is sturdy and strongly made.
I'm however feeling a bit of varying contrast is necessary. She is all white needing some kind of red or a different shade of color to bring the outfit out some more. Must also make note of her looking awesome in her white high heels from Volks. The high heels compliments her gown nicely. A snow princess of an arctic fox.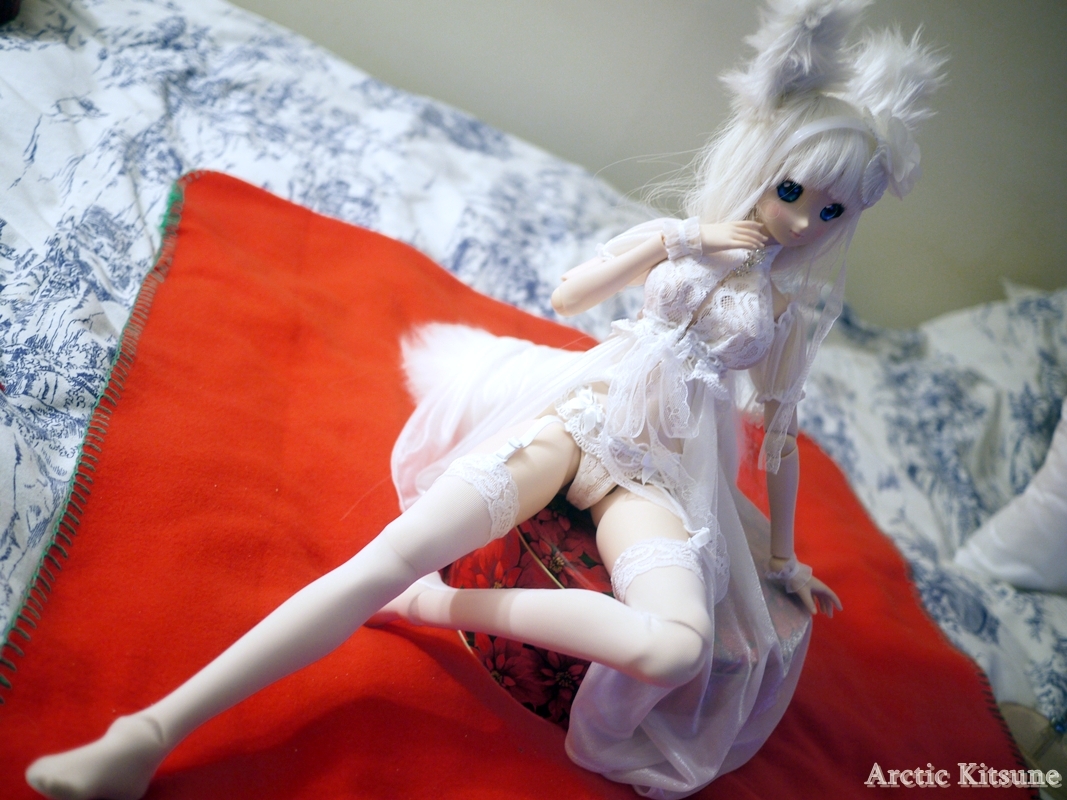 – This next part may have seemed awkward without this little text-heads-up so I'll say that I wanted to show you where I connect Vara's tail (with a magnet) and to show the beauty of the outfit itself from the rear; too many front shots. I connect the tail to that rear part of the garter belt with it holding nicely, for reference. It allows the tail to poke out behind her without little trouble. More strength than with her "Canadian pantsu" thanks to how strong the material of the belt is and with what it is made of.
(Maybe that made it twice as awkward. Either way, I do hope you know what I meant.)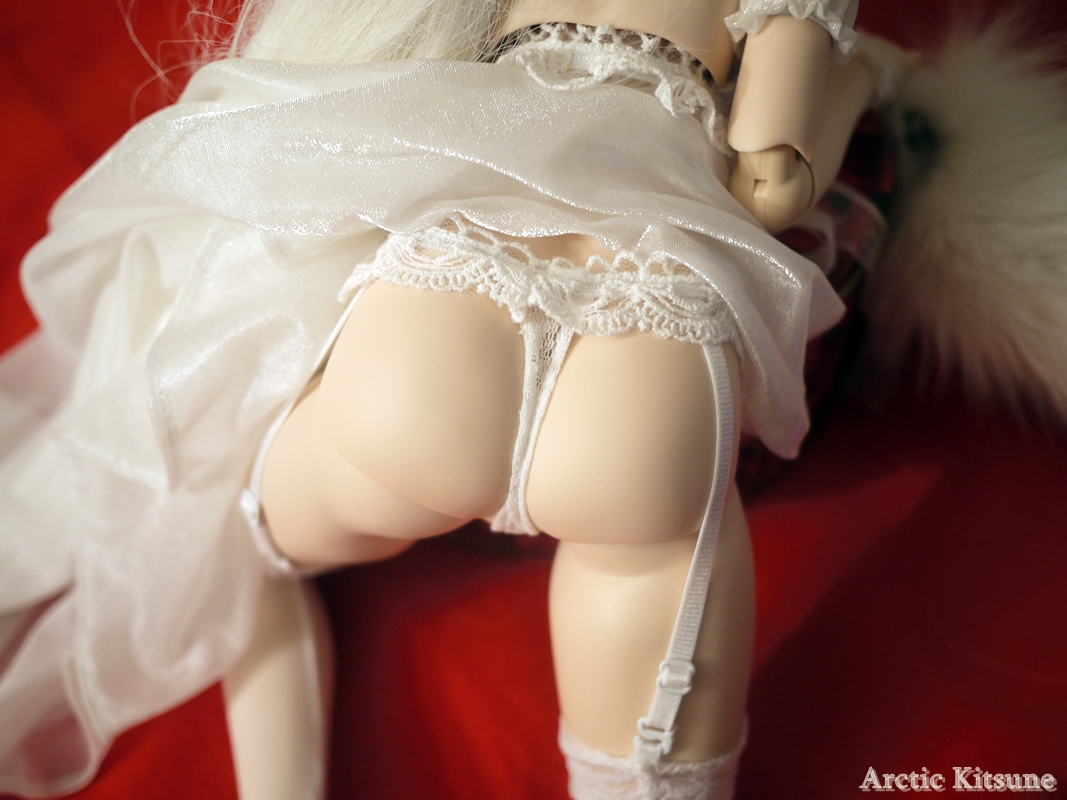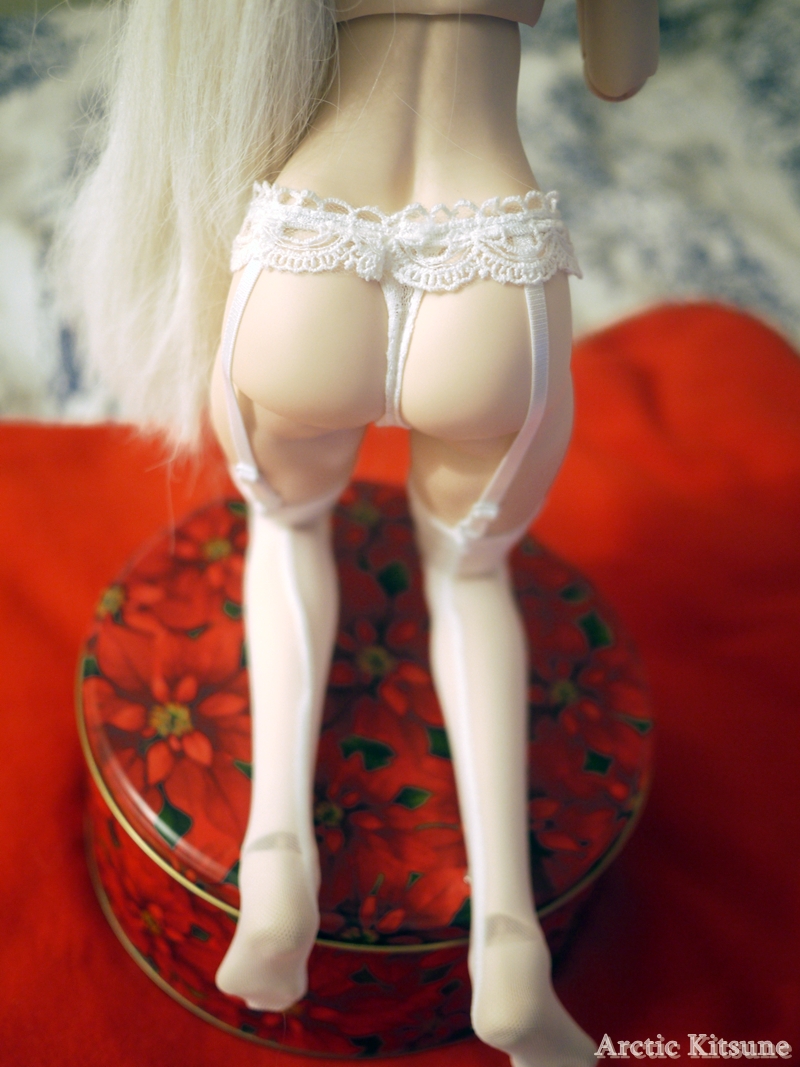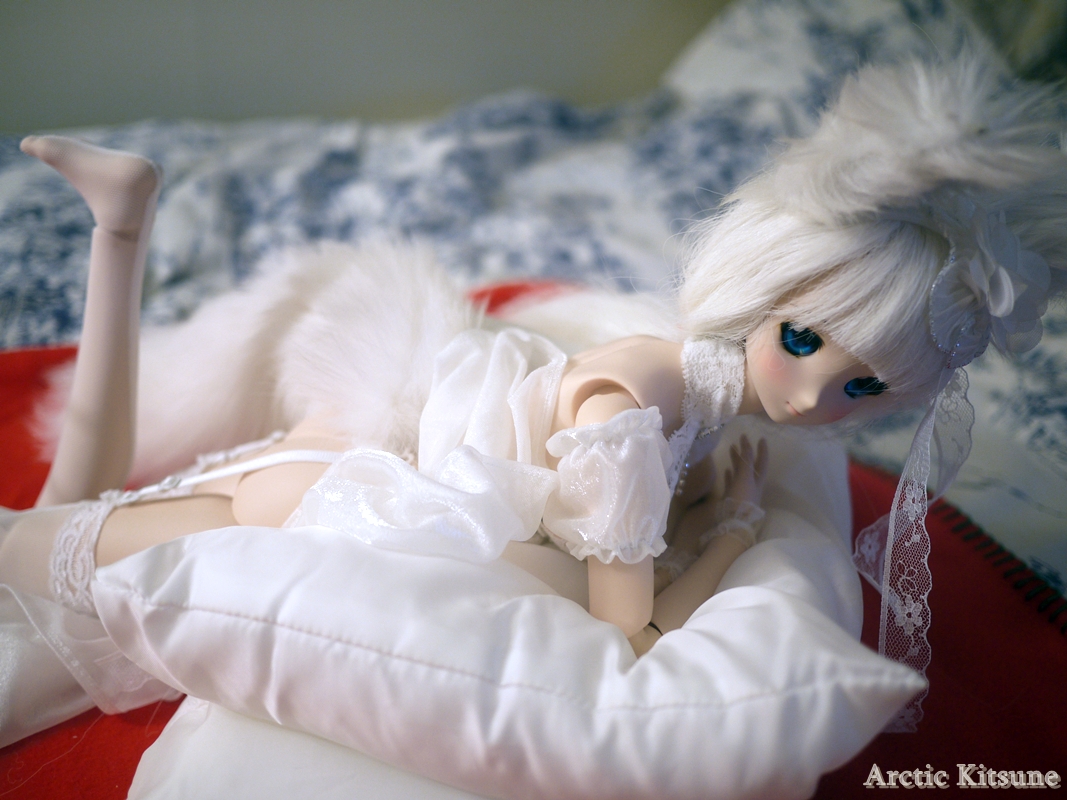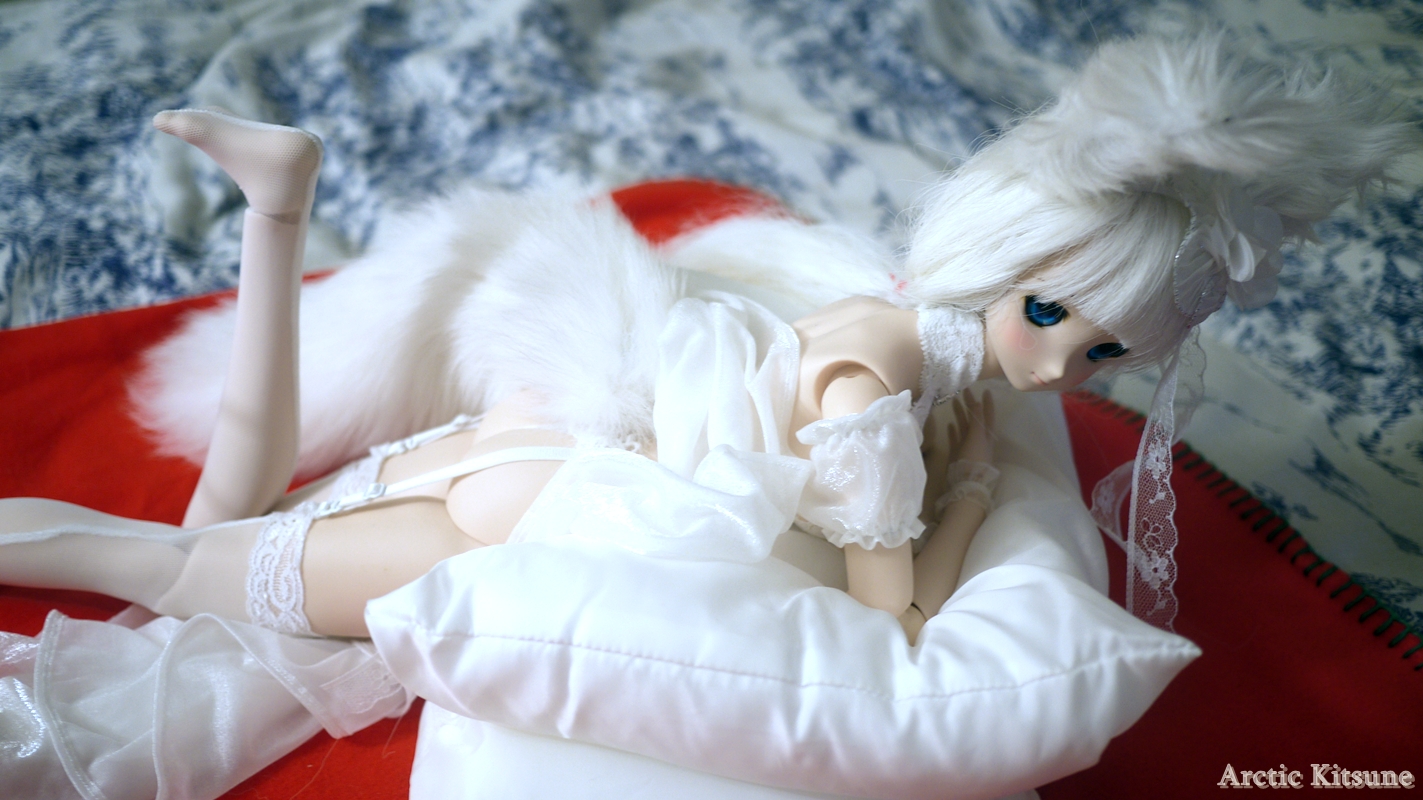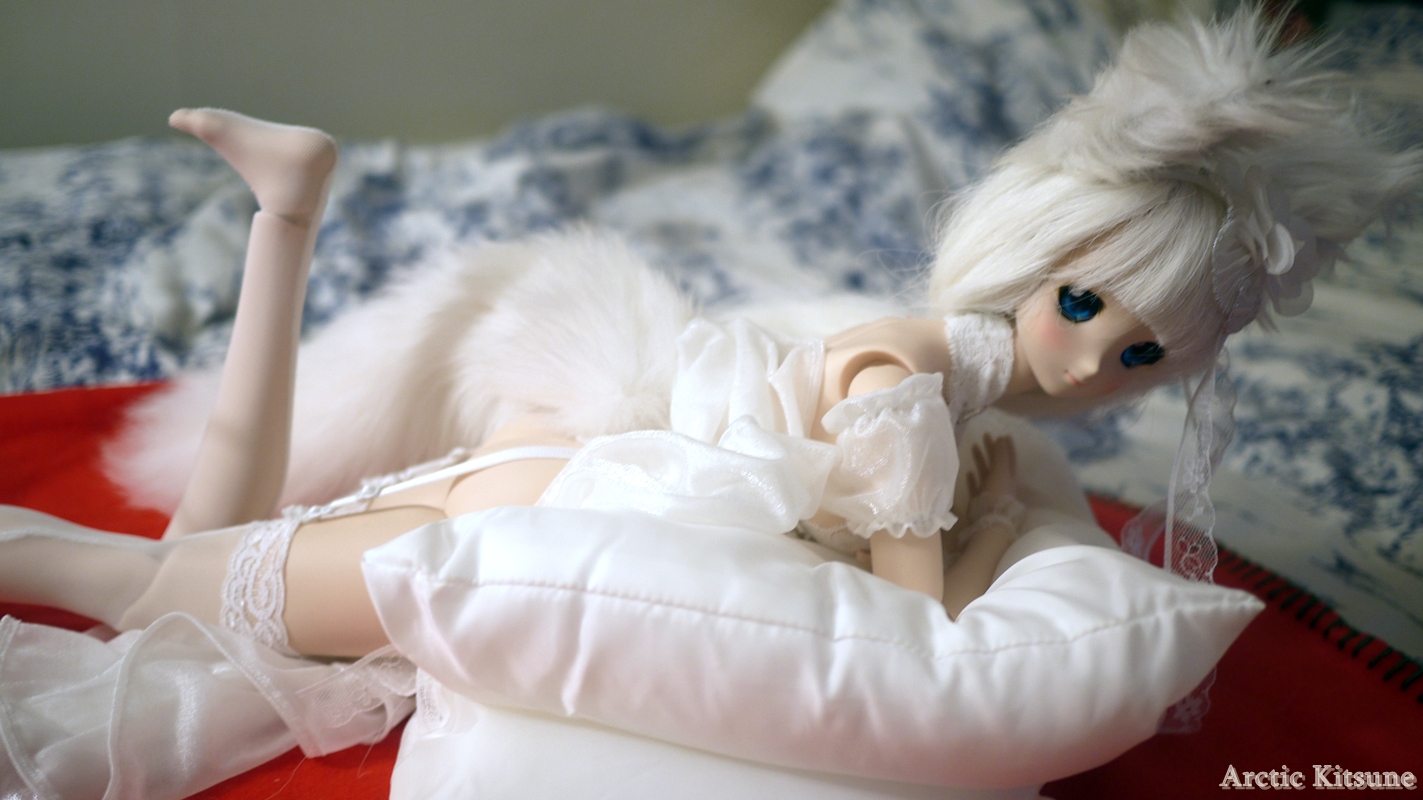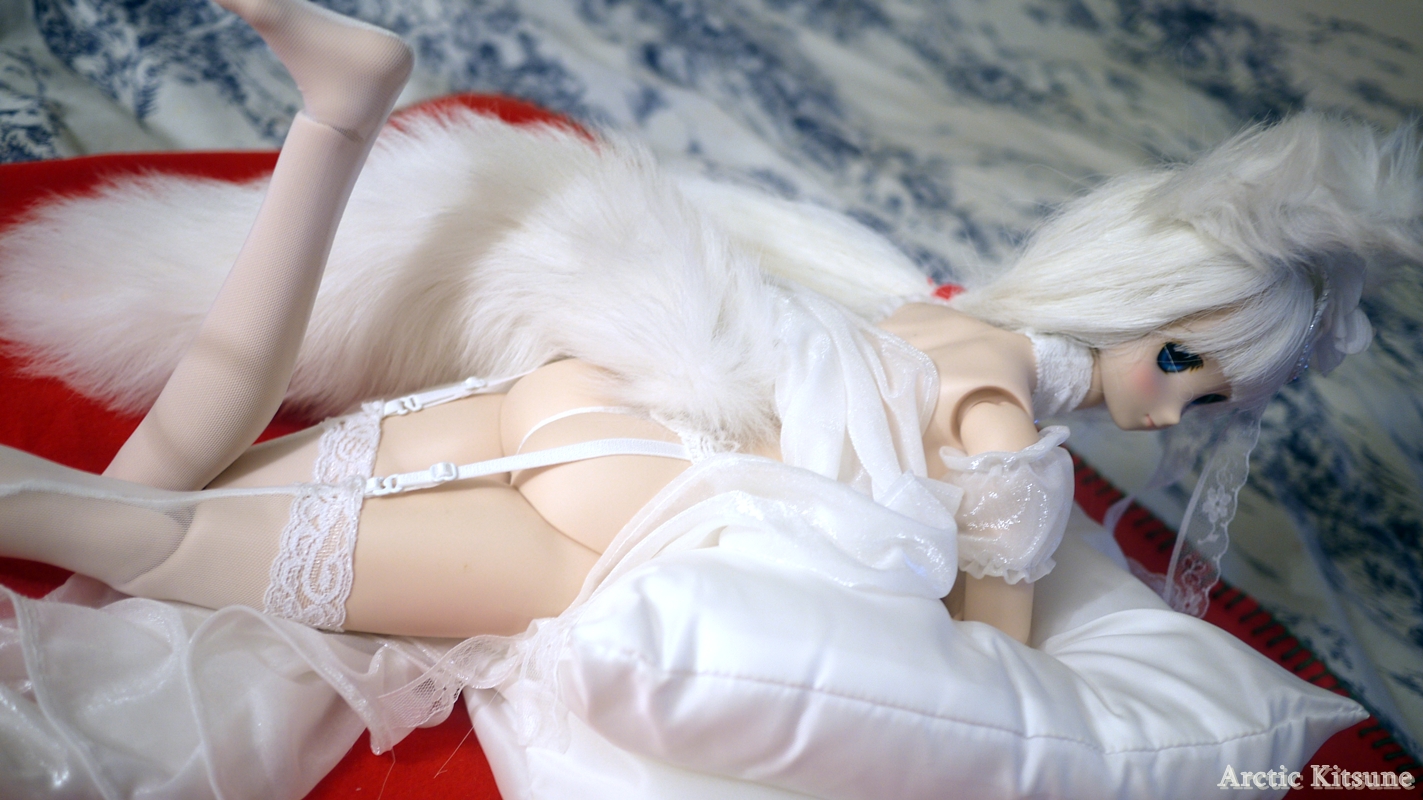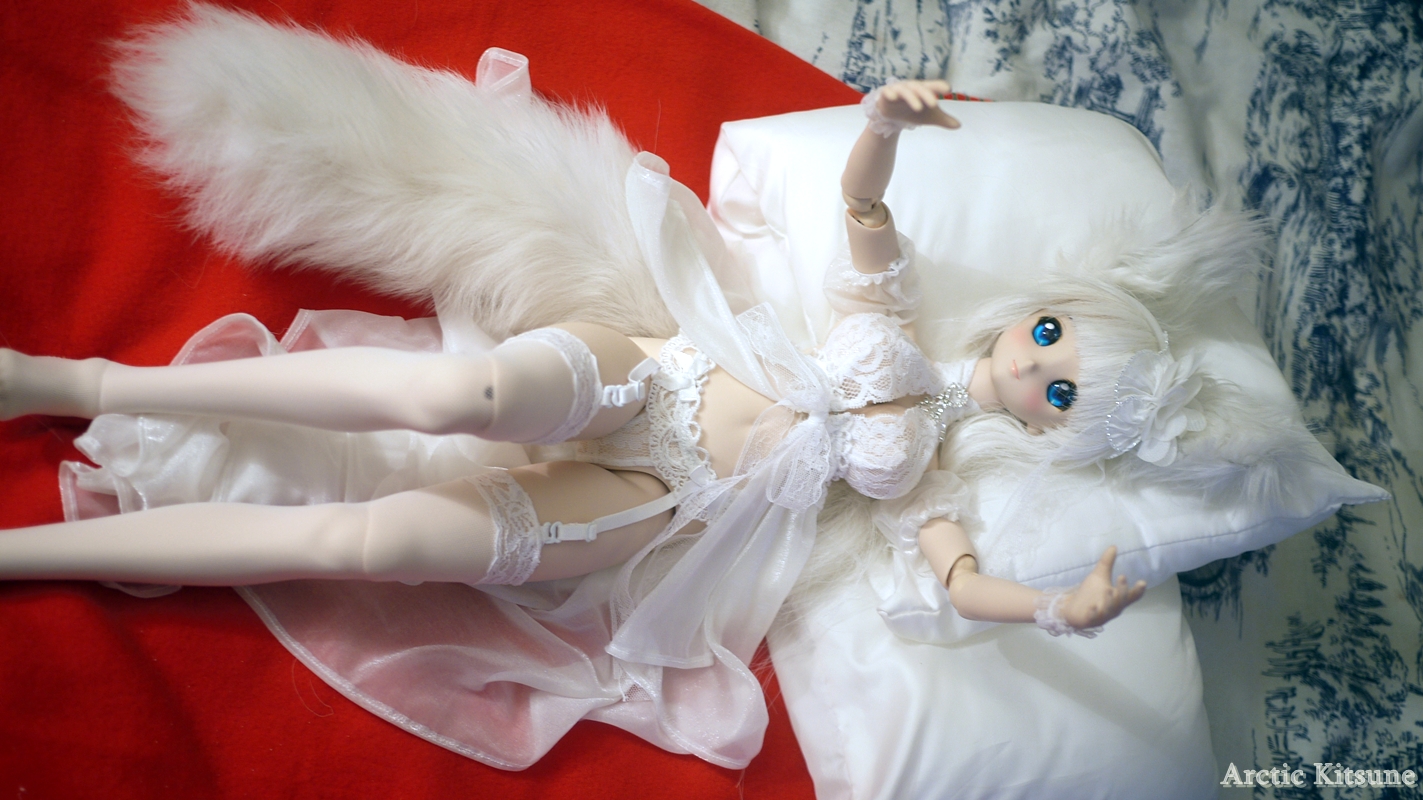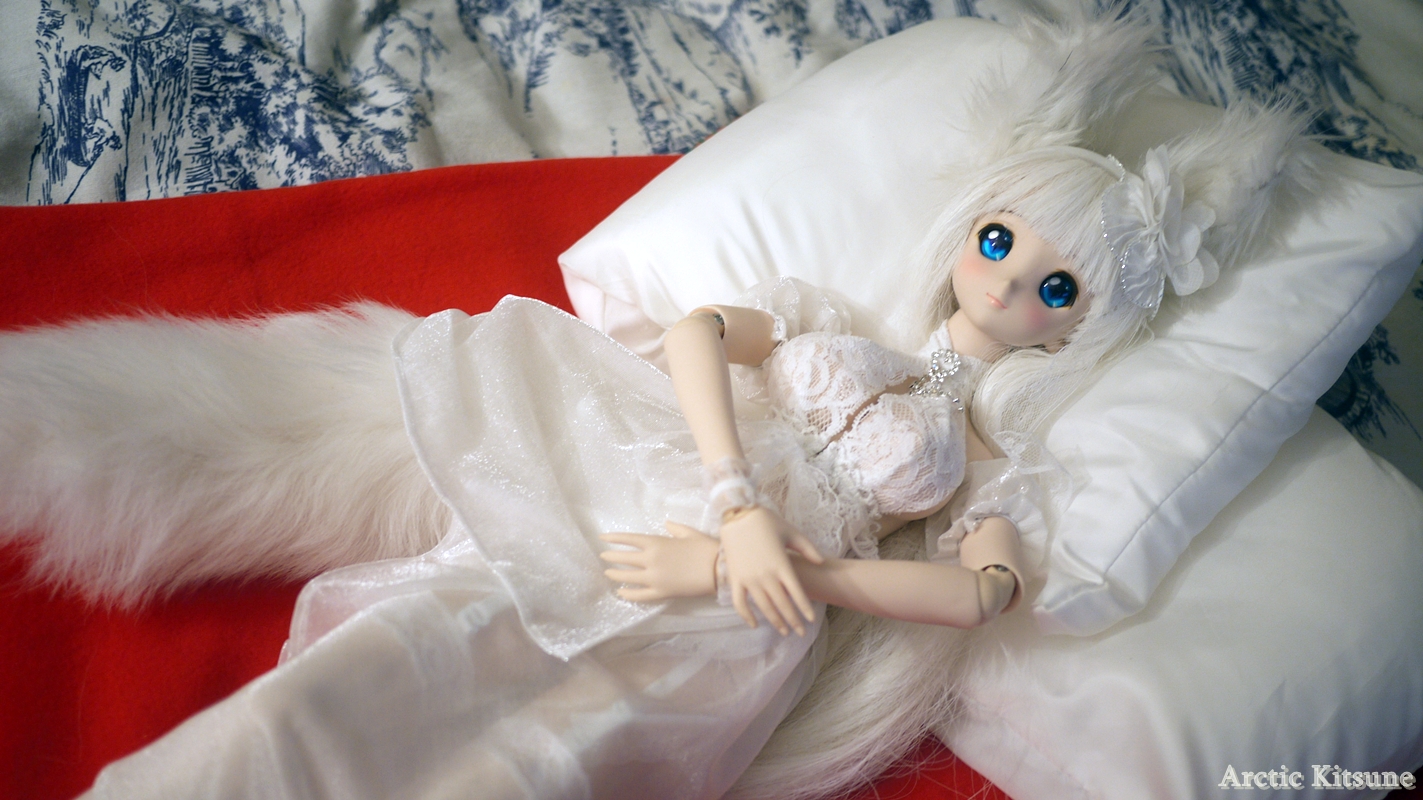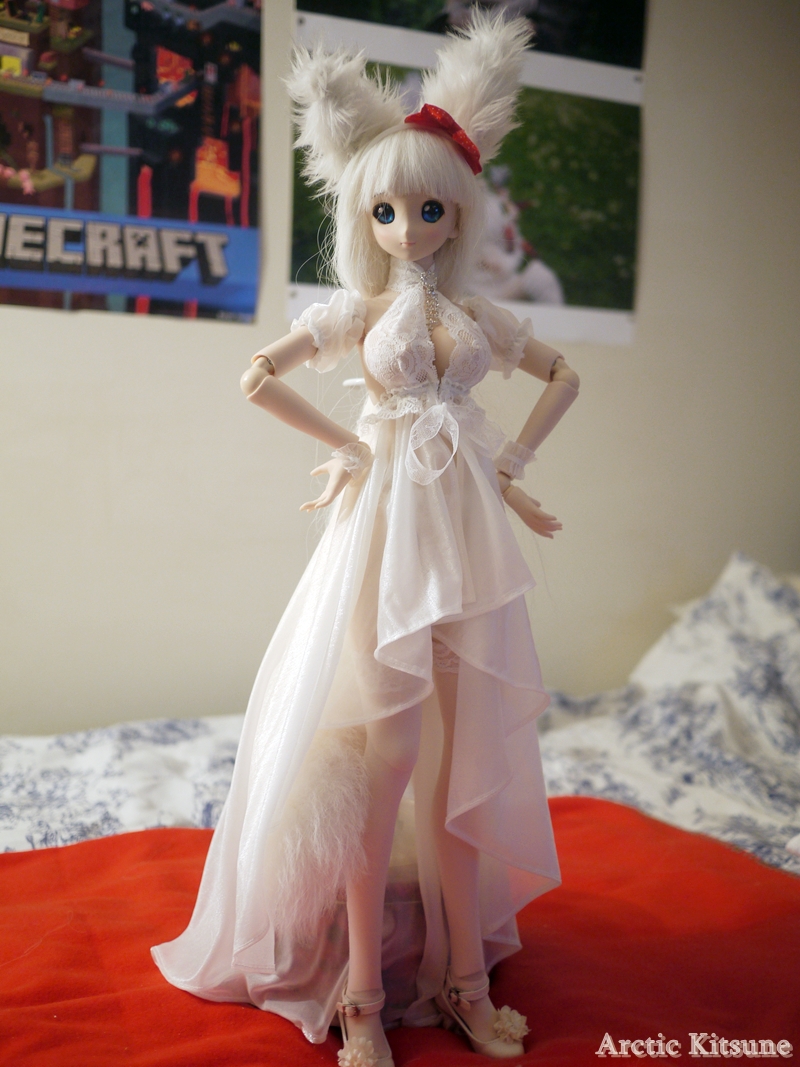 —-
– Bonus: – Socks & Shoes:
Just some extra images of the shoes and socks that came with the Coolcat order that I didn't originally add into the posting. I did order the socks as extra items "for fun" because they were there and Vara needed something for her feet. Too small of an item to actually show originally when upping this blog post. The socks fit, just not the gifted shoes though. Shoes were a gift item from Cool Cat. Socks go on easily in a similar manner to the reflexed leg socks and shirt.The socks shall be used on occasions once Vara stops coplaying as Koko, or in between such.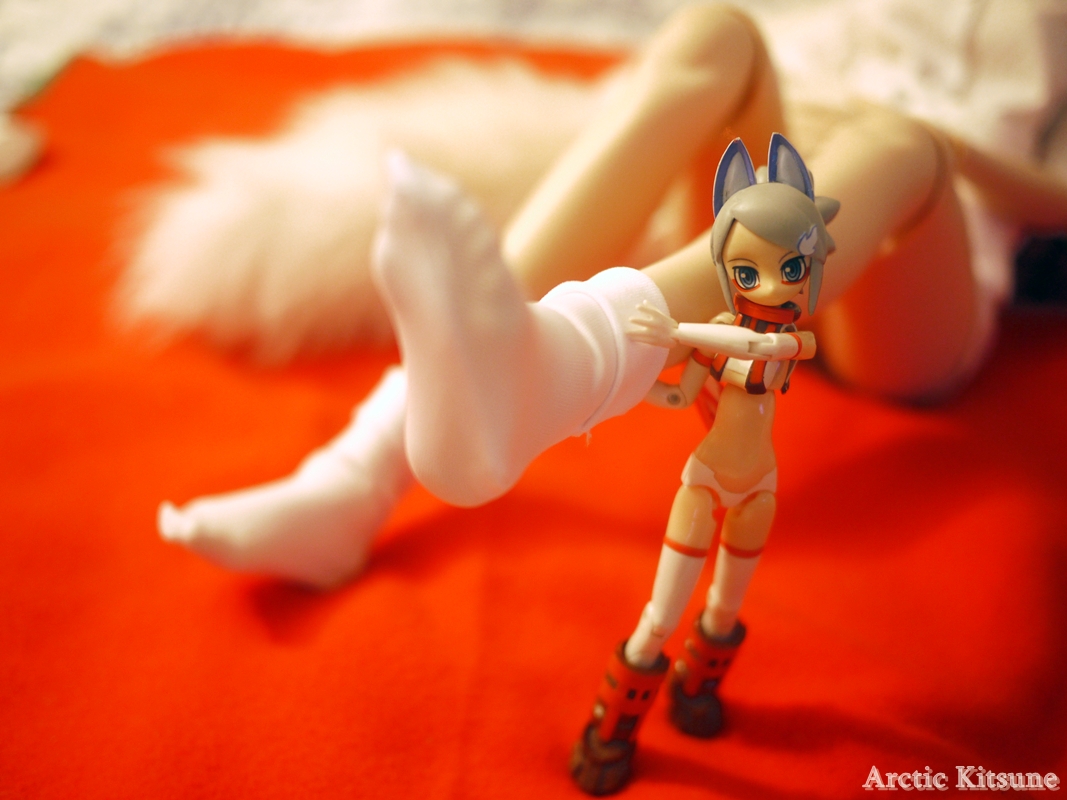 —
That was fun! Actually quite enjoyable to see Varakitsu fitting into every outfit I purchased for her without any issues. Vara is now happily standing in front of my TV without issues! I tried to use the brightest lamp in the house to redo the photo-shoot so do hope it came out nicely. I approve of the images. Patiently waiting for the other packages to safely arrive.
I however need to obtain a display case because of all the pesky things invading my room…..I tried ordering from Amazon JP only to get denied.  I need one urgently!
Thanks for viewing and I do hope you enjoyed the teases and the review! Until December 5th now for some Sinterklaas festivities! 🙂