Happy Canadian Thanksgiving to my fellow Canadians! Tried to grab some more 'quick-shots' for us to all enjoy, as with a nice surprise from a German game developer. Some nice quick news to enjoy.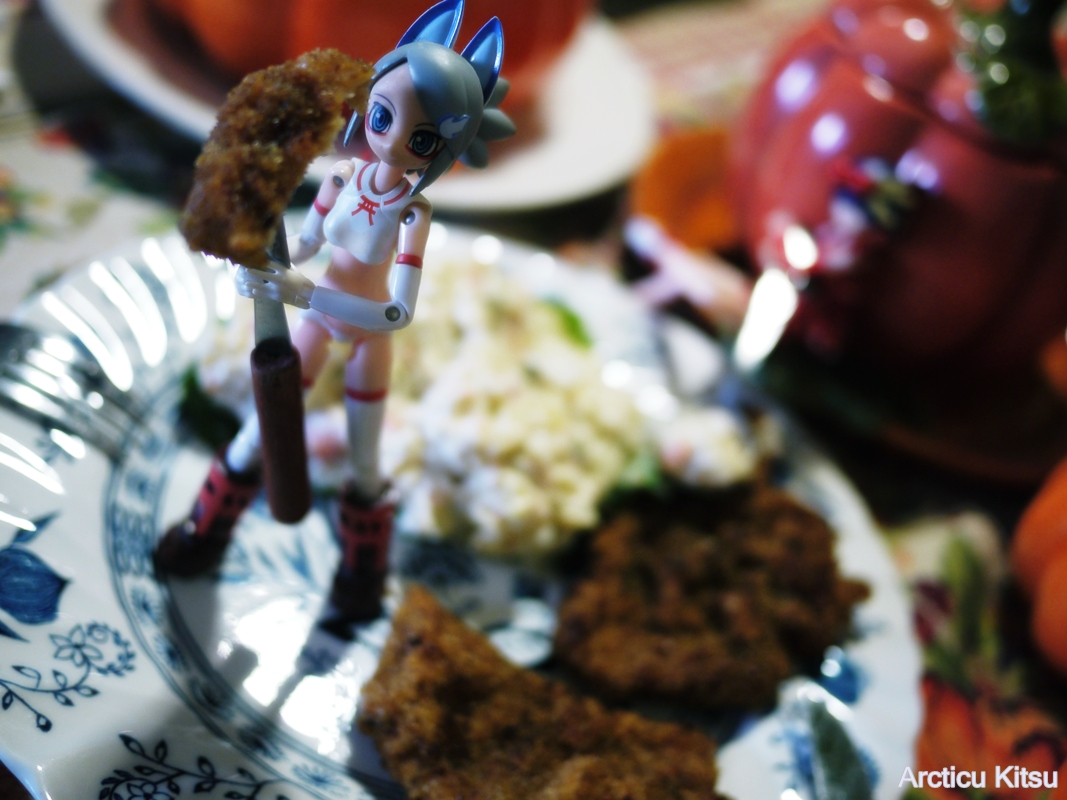 (All images taken with a Lumix GF1 – Pancake lens; Minus KanColle.)
Once again: Happy Canadian Thanksgiving to my fellow Canadians! Such a lovely time to be feasting during an Indian Summer. I was forced to eat my giant turkey a week ago around the same time because my fridge decided it was the best time to give me more headaches by refusing to cool. Chucked that out while gaining a replacement within a few hours. Turkey was awesome, as was these schnitzels. Potato salad was awesome with the salad making it appear loosely like cauliflower. My Dutch net-buddy – Naitonii – now possibly knows me as the 'Lettuce Guy' from Avatar with how much I had to tend with when dealing with a retarded turkey lady & all the cauliflower the other time.
It's a shame I also had to catch a flu. Always something to pester me in the year 2015. What could go wrong seems to want to go wrong without restraint. Now having to deal with a flu, yet luckily one that seems to now be behaving *knocks on wood for luck*. Damn.
I guess the lighting was poor, yet was aimed at Renge's back. It was indeed bright and sunny, yet difficult to get proper lighting on the bowl. I still do enjoy these images, thus me sharing them. Quite neat, or so I find.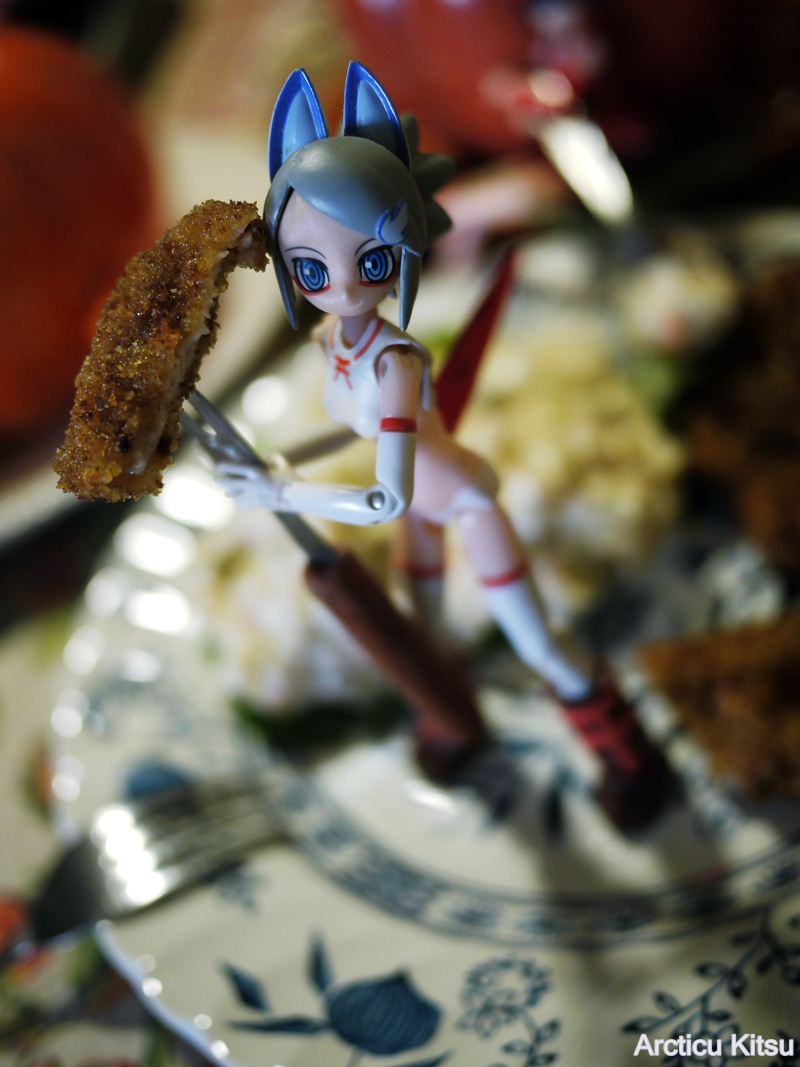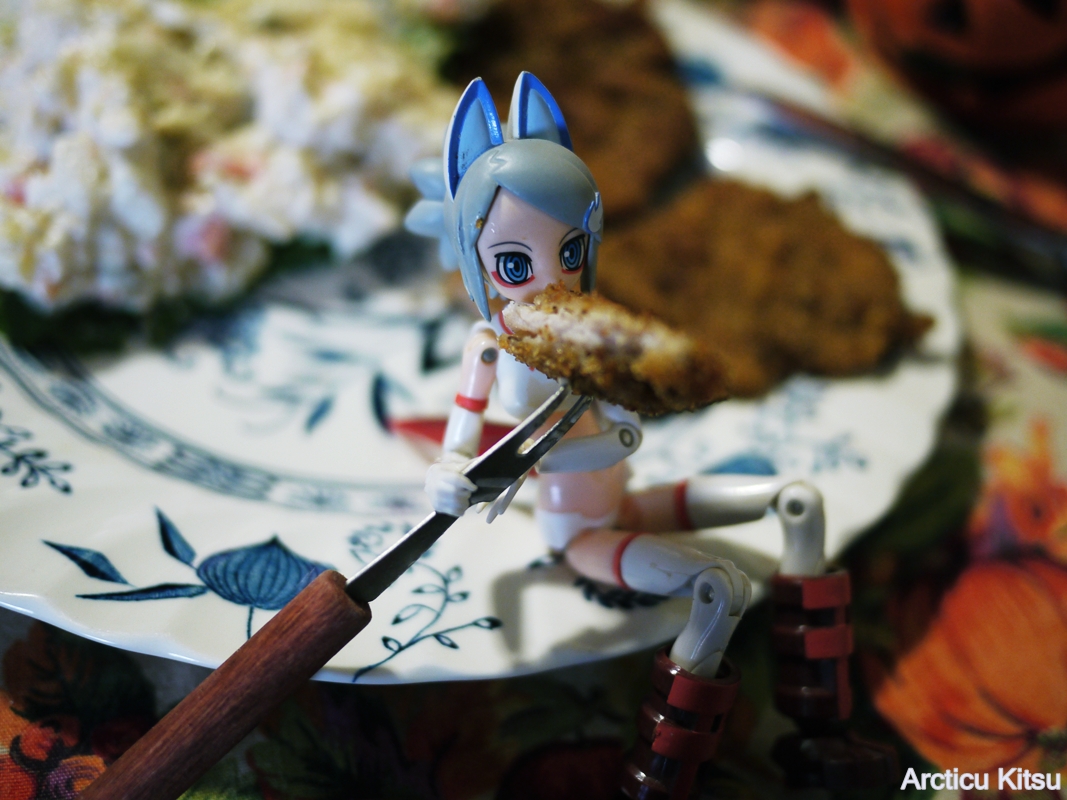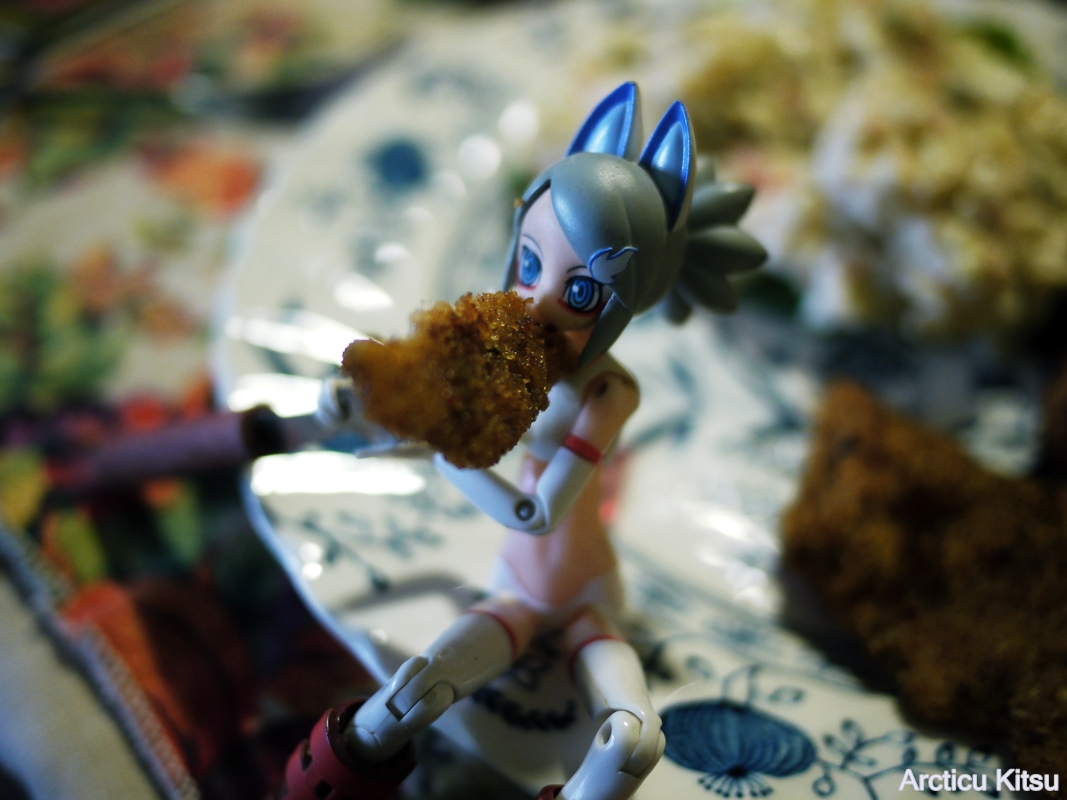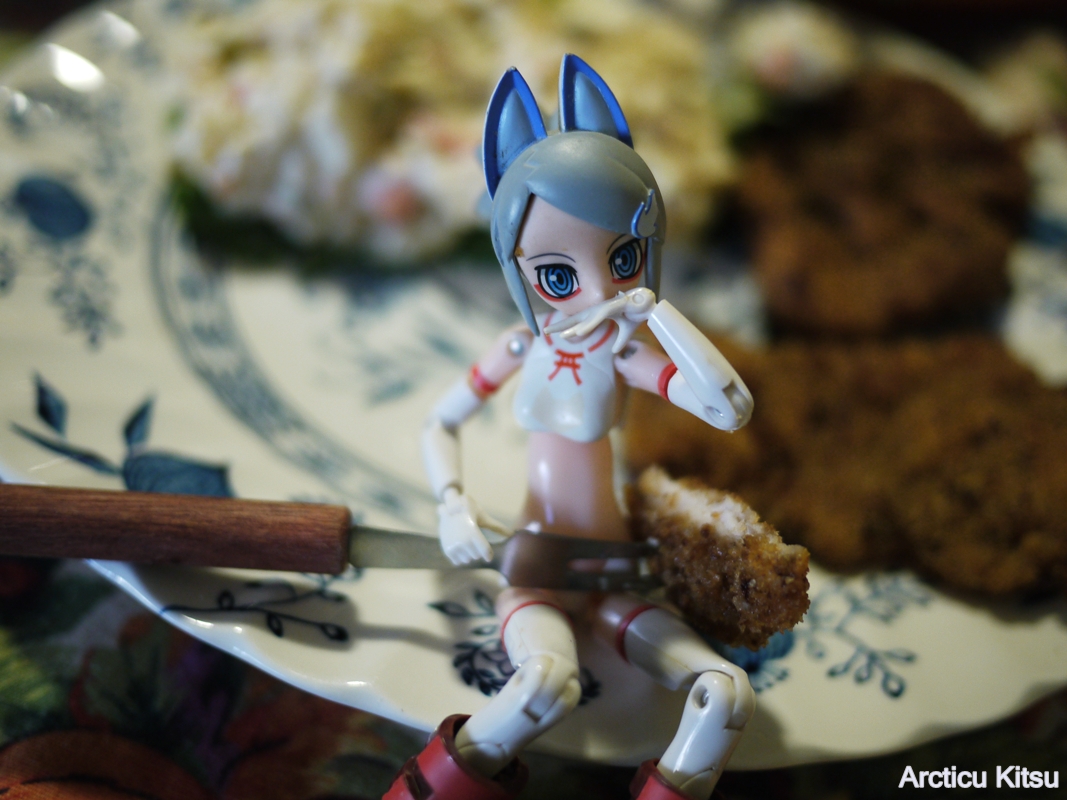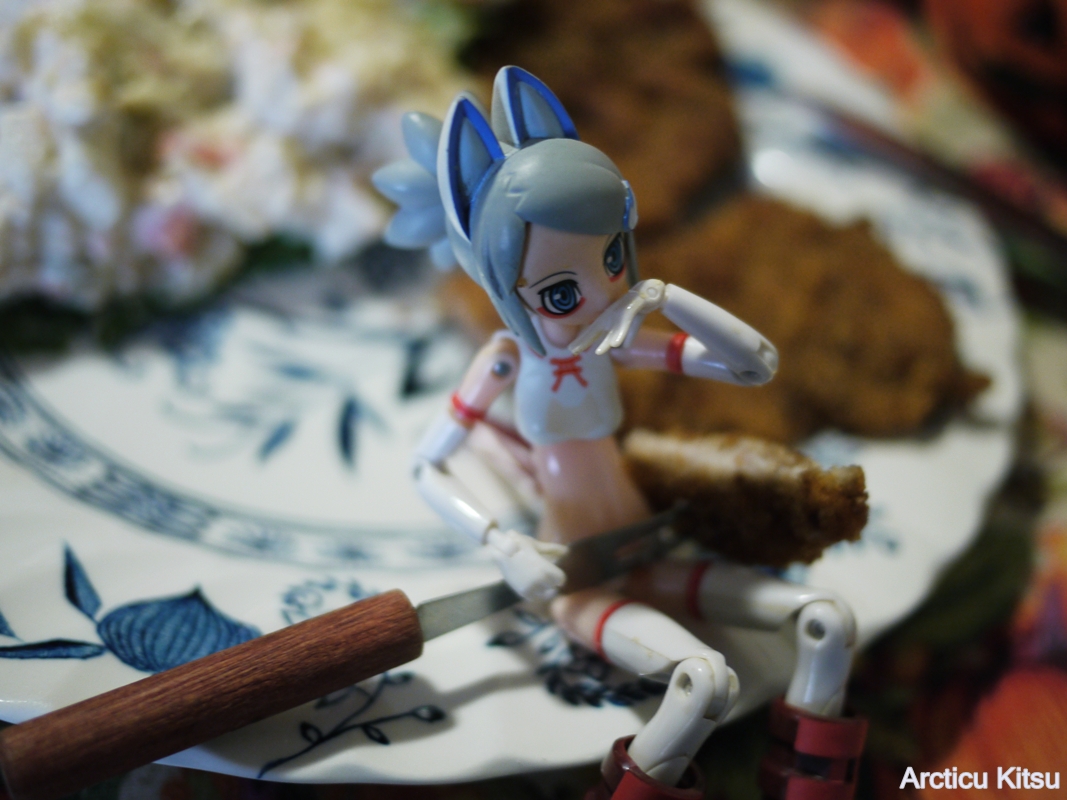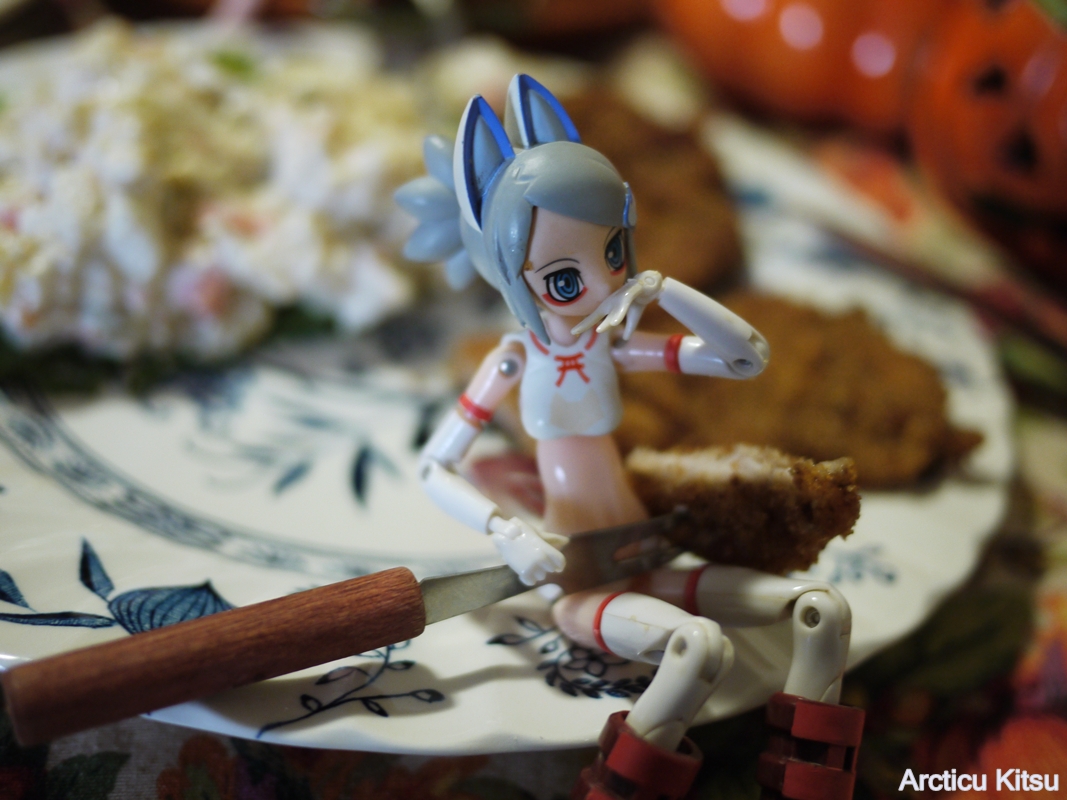 What an interesting Thanksgiving this was. Blue Jays happily won a game against the Texas Rangers 8-4. They probably also have to thank the Blue Jay I heard earlier in the day flying past my window heading somewhere. Easy hearing; Hard to spot.
It's a real shame the Americans have to constantly insult Canadians every chance they get, even on a Canadian Thanksgiving. A Fox news commentator for the game insulting Canadians that we can't catch baseballs, and another one I had to block on Twitter because he wanted to pick fights calling us Canadians "pussies" over my vent about Fox News being moronic. *Sighs*. You silly Americans aren't helping your cause when you're trying to better your image, nor are you doing any favours to the more intelligent in your nation. Stop picking fights and start respecting those around you. You're no saints, and you're no angels. You're not even the "White Knight" bullshit you've been taught….
Anyways, once again….Happy Canadian Thanksgiving! Congrats to the Blue Jays for winning allowing them to stay within the game!
(I fear for a Liberal Party run Canada for they fuck everything yet get away with everything. Everybody pretends Liberals are saints & innocent. They've done things the Conservatives had to repair. If Liberals do find themselves elected I then I want the liberals to pay for my bills for their idiocy. I'm not joking; Don't fuck around.)
——-
[KanColle Bonus:]
So awesome getting Yuudachi up to level 90. She now needs to get to 99 with Jun'you, Bismarck, and Hamakaze. I really do wonder who shall find themselves up there. Such a nice Thanksgiving note with 2-2 huntings & daily quests being tended to. Lots of expeditions being done to prepare for Thursday's possible fleet expansion. That is if everything goes as planned.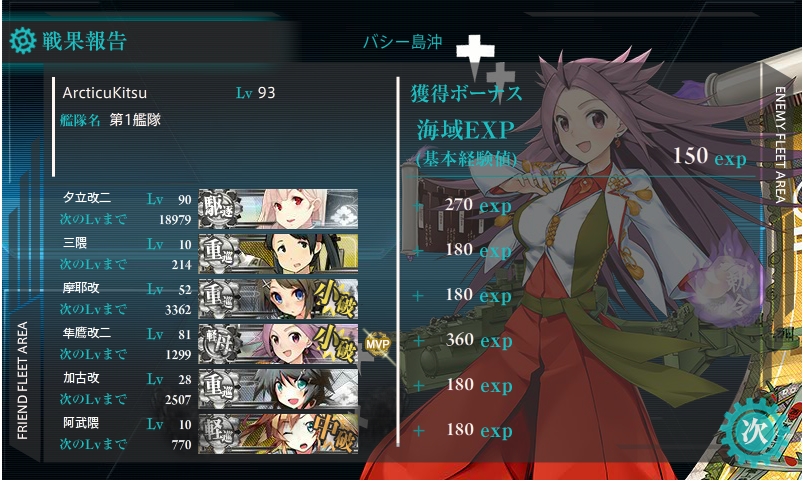 Tirpitz, please find yourself in KanColle looking overly awesome & epic. You've been my "waifu" ship even before KanColle and Anime. I want you to join the ranks as soon as possible. Please join the lvl 90+ club in my fleet! Tirpitz! I'm calling you! I know this is silly, yet I had fun listening to how she was constantly elusive to the British.
(Still wishing for more Silent Hunter 3+ clones for more naval fun that is open-world, yet able to use any vessels.)
—–
[World of Warship Thoughts]
Wow, I'm surprised to actually see 'ORP Blyskawica' being added into World of Warship. A destroyer and a warship. Where's the whole -"But they didn't have a navy" or "they had a small insignificant navy!" from the Americans? Even so, that's awesome seeing this beauty of a ship being added into this game. Both surprised and astonished (hyped) to see her being added. Congrats to the Polish, for you have not been forgotten or insulted by the Americans!
For those that are also unaware: ORP Blyskawica is "twinned' up with HMCS Haida of the 'Royal Canadian Navy'. They share a common significance with their role and importance in the role. I'm hoping to eventually find HMCS Haida in there in the least. Maybe at most with HMCS Huron, HMCS Iroquois, HMCS Uganda/Quebec, HMCS Ontario. Maybe for the hell of it we could even add in HMCS Prince Robert (Wiki failed to add in separate sections for Henry & Robert) as an Anti-Air ship to escort other vessels being harassed by aircraft carriers. Canadians can still have loads of fun, and I'm hoping Wargaming shall wander over into the Canadian realm in the Premium manner.
It's wise going for variety in war games because you pay tribute and respect while also going a bit "Pokemon" by focusing on one, or a few units at a time. People tend to forget this when insulting or viewing other nations as "minor". I'm proud & excited to see Russia, Italy, and other "forgotten" nations gradually being added into war games. Naval war games needs variety like this. For those that do also gain my respect.
Thanks Wargaming! You're awesome for adding in ORP Blyskawica!
——
[Rising World – Chicken Turkey]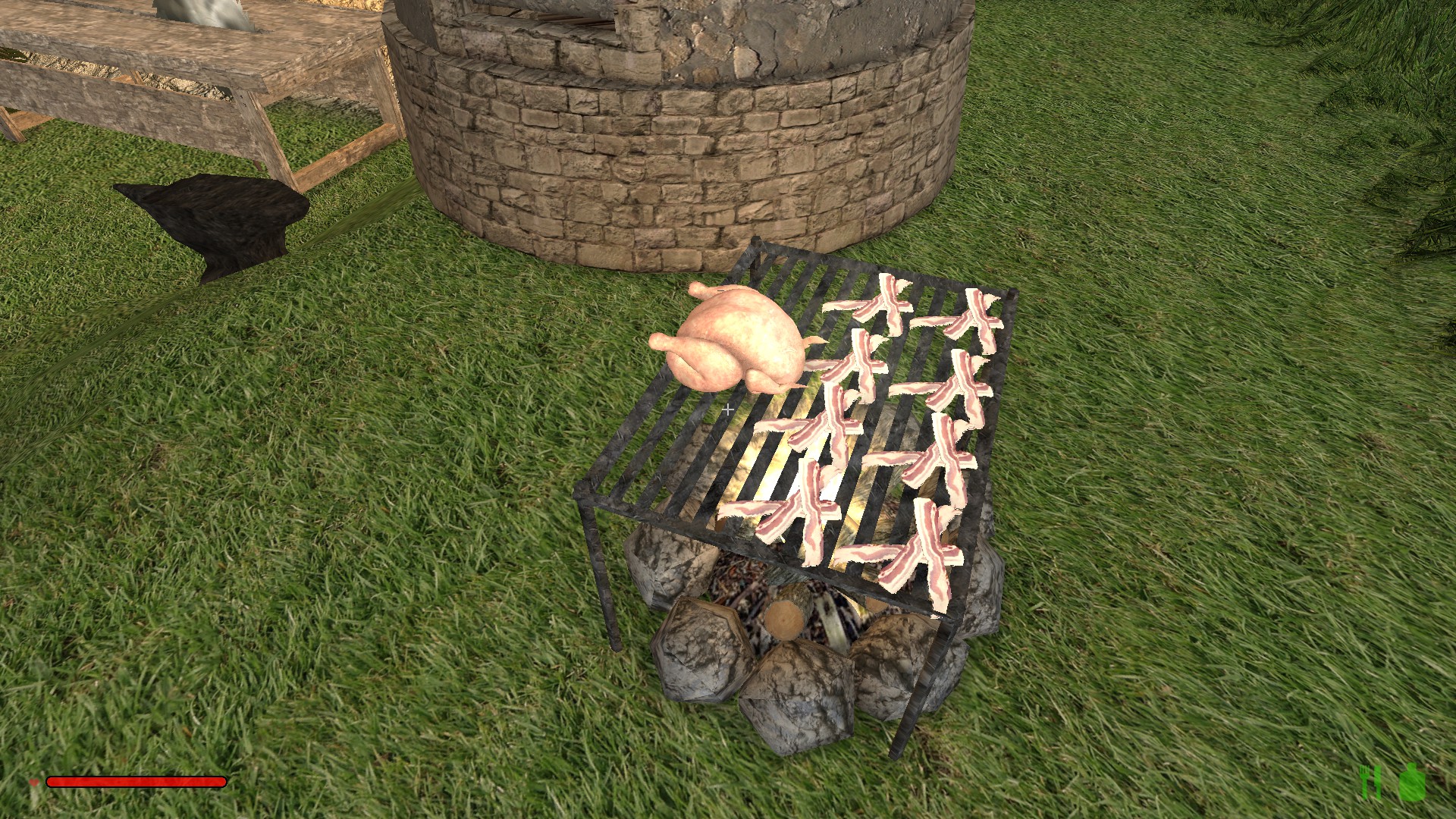 I guess nobody is going to make note of this because Red51 didn't make note of it in his log. I did however request turkey to be added into the game as a Canadian Thanksgiving tribute, and damn! That chicken is as big as a damn turkey I ate! It's massive! I wish I was playing this game right about now so I could bloody cover everything with my touch! I'm basically "back-seat" gaming here. Can't wait for December!
[Rising World Steam Page] – [Rising World Forums]
Basically think of this game as Minecraft mixed with Skyrim or Minecraft + Feed The Beast modpack using the technology mods. You're very welcome.
———-
Happy Canadian Thanksgiving! Proudly Canadian!