Not quite like the Black or the White edition, but at least its something.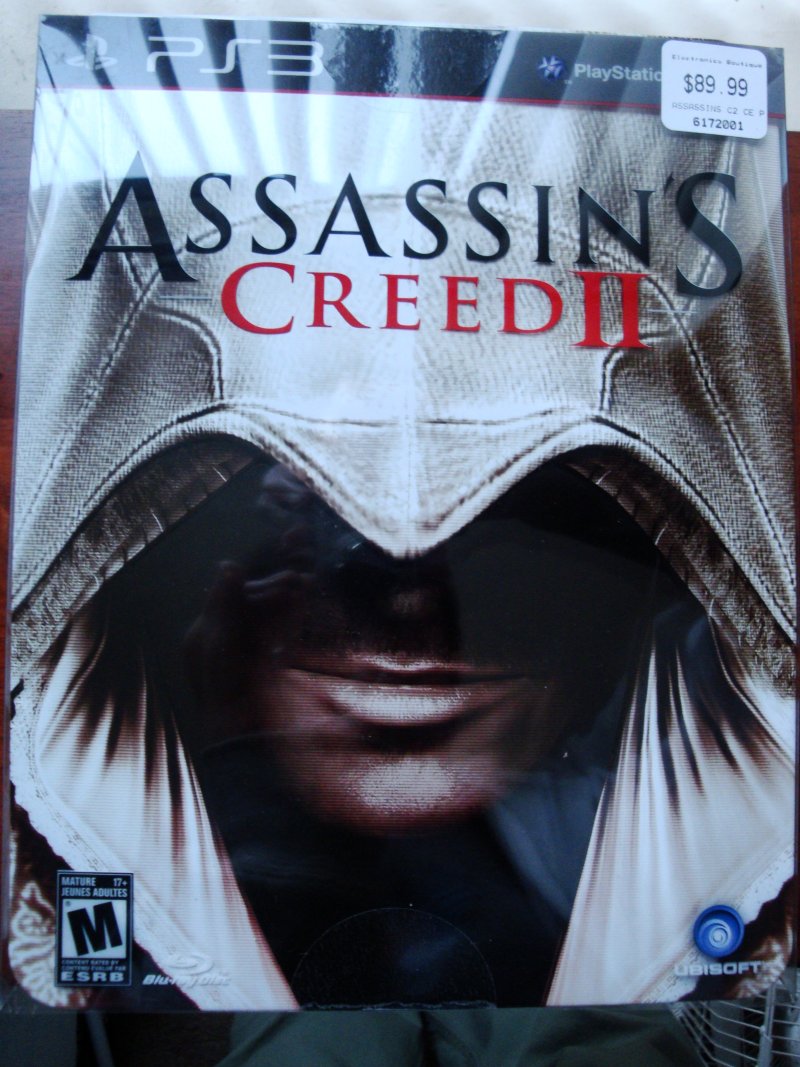 (Link – MySite)
My game review may be found, here.
I've obtained the collectors edition from EB Games for $90 ($101 with tax) CAD.  I obtained Assassin's Creed 2 (original game) on its launch day, Assassin's Creed 1 a week later after I beat the game and noticed a large box sitting in the back window of EB game's counter. Nobody told me there was a collectors edition so I never thought of obtaining that instead. Now I got two copies, who wants one? lol.
===================
Contents:
The two Exclusive in-game maps that come with this edition are:
– Palazzo Medici (Pre-order bonus) – Even if I didn't pre-order, heh.
– Santa Maria Dei Frari – (Limited exclusive)
The box also comes with an "Exclusive Art Book", Collectible 8.5″ Tall Ezio Statue, and a bonus CD featuring Behind the scenes, soundtrack, and more….
The figure has been sculpted by Attakus Collection, was made in China, and the Assassins Creed in Canada, Montreal – Ubisoft.
———————-
For those who were out of the loop, like me, can see the difference of each package.
Black Edition:
(Link – gadgetrepublic.com)
White Edition:
(Link – media.ubi.uk)
Collectors/Masters Edition:
(What I have)
(Link – ps3theevolution.com)
Seen the front image of the tin box, now the various angles that they take the time to fancy up so we can buy the product itself.
(Left & Right Side)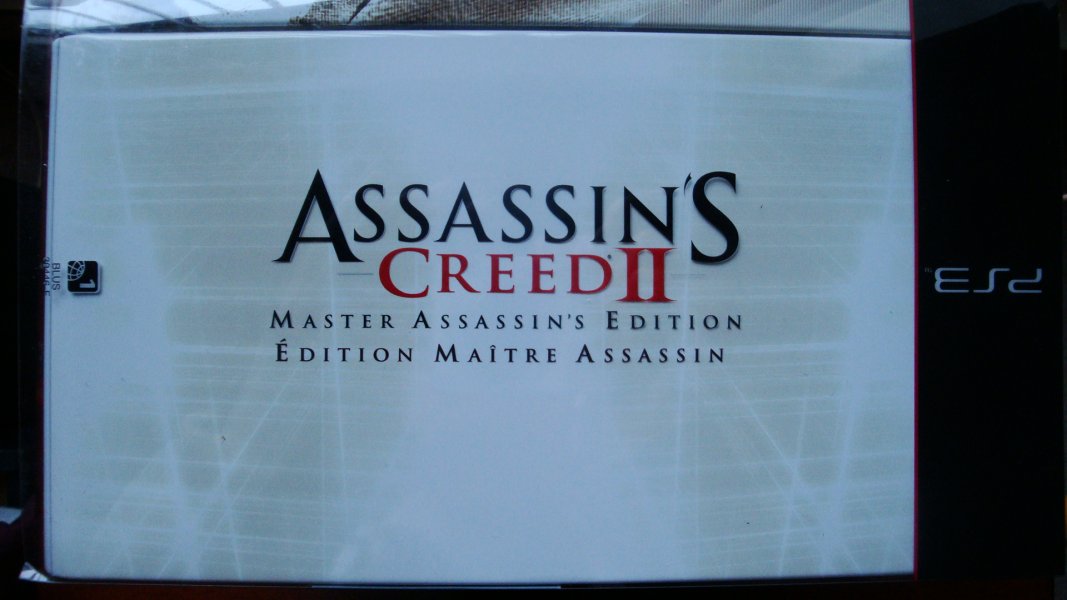 (Link – MySite)
Rear of the box/tin.
For those doing key searches for tombs they are easy to find. Simply play through the story, use Eagle Vision and the rest should be spoon fed to you on your map/GPS mini-map. Those that come with the special editions have a little cardboard like paper with access codes that show you exactly where the secret areas/tombs are. I can't see how people are having issues with it :).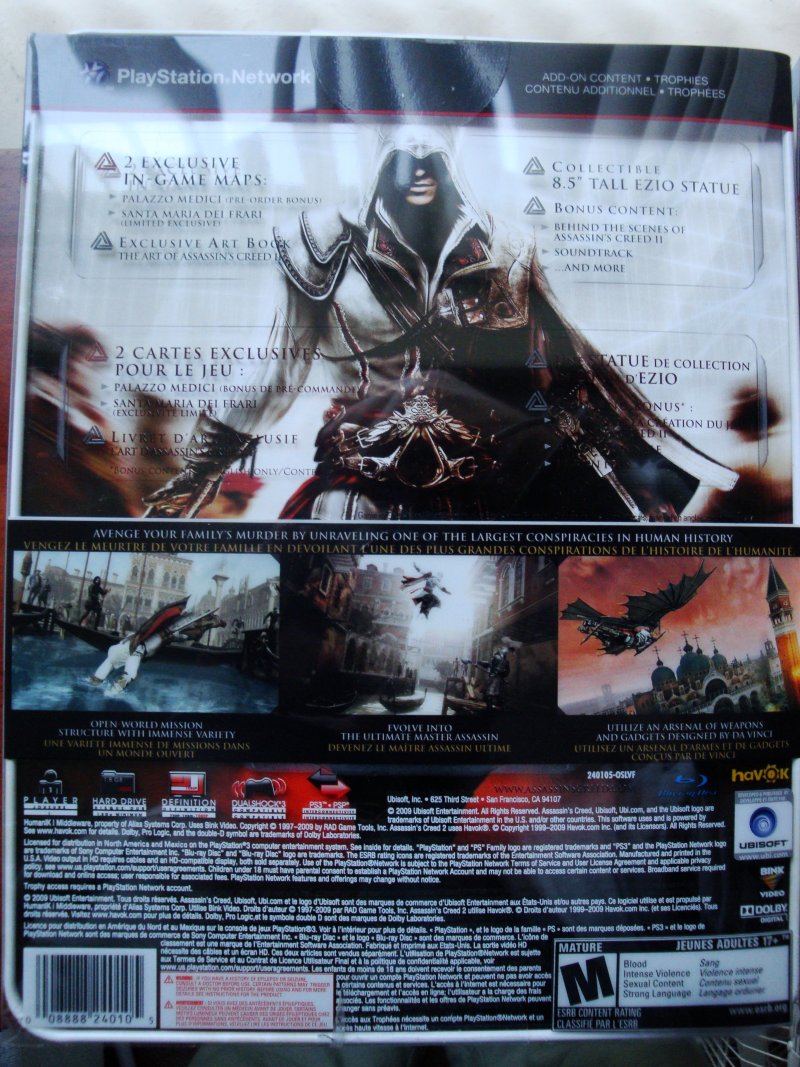 (Link – MySite)
Sorry, tried to get her with that expression/pose for awhile now but the lighting didn't go in my favor before.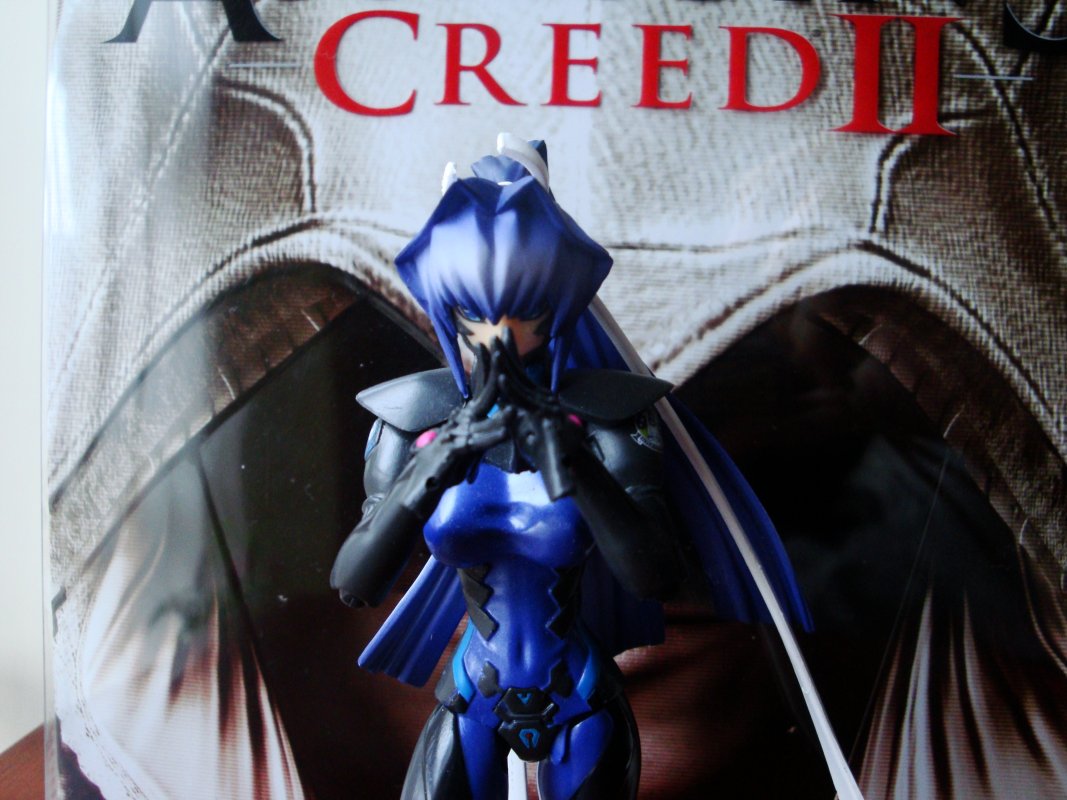 (Link – MySite)
And the tin container itself was protected by a transparent plastic sleeve. Leaves the tin container free of advertisements.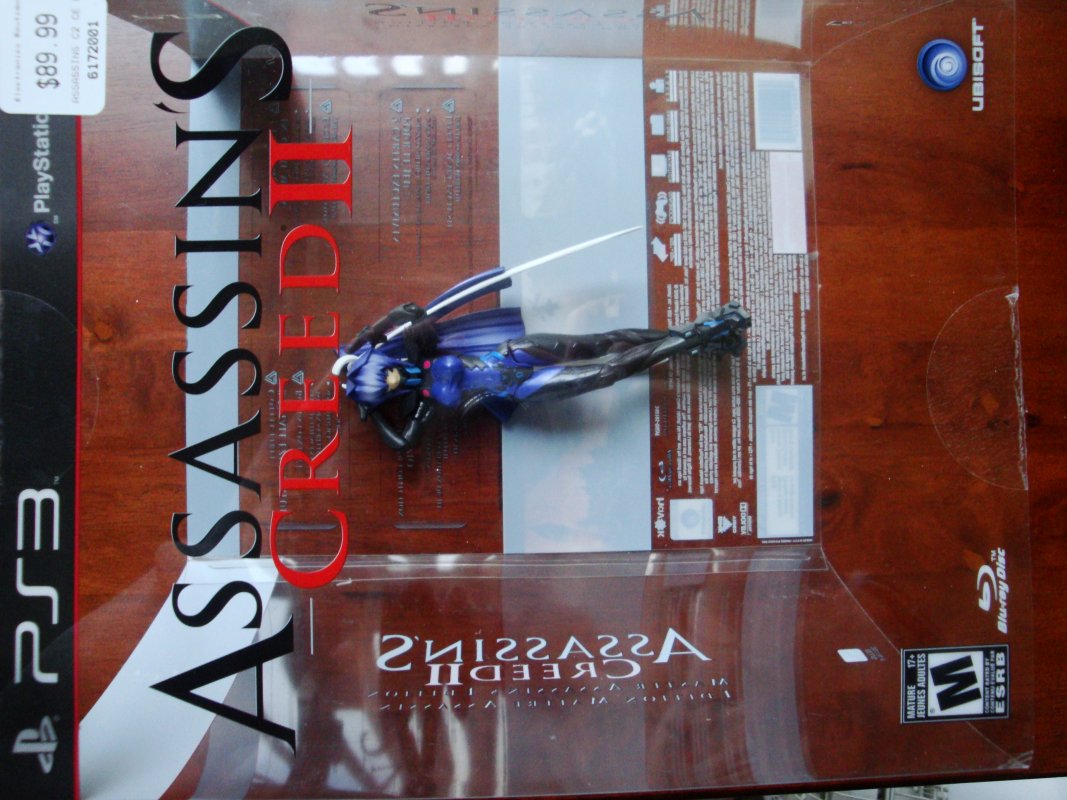 (Link – MySite)
Box art, minus the labels.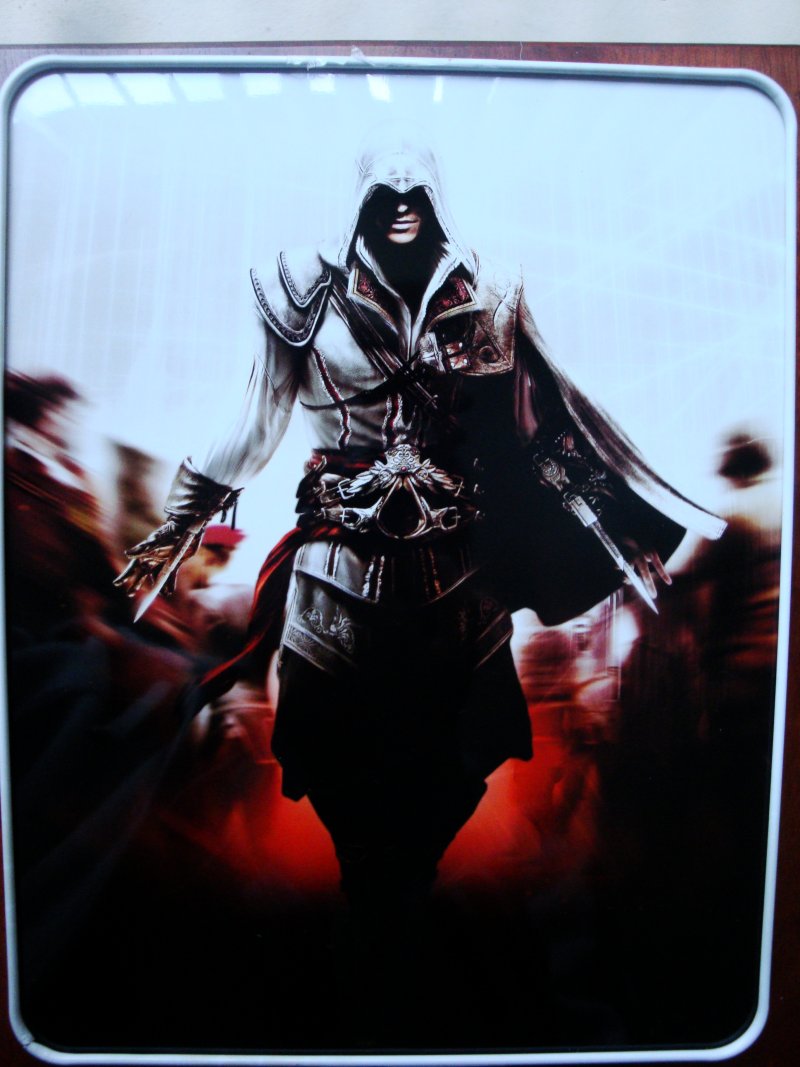 (Link – MySite)
The first thing you see when you open up the tin container, and the things laying underneath.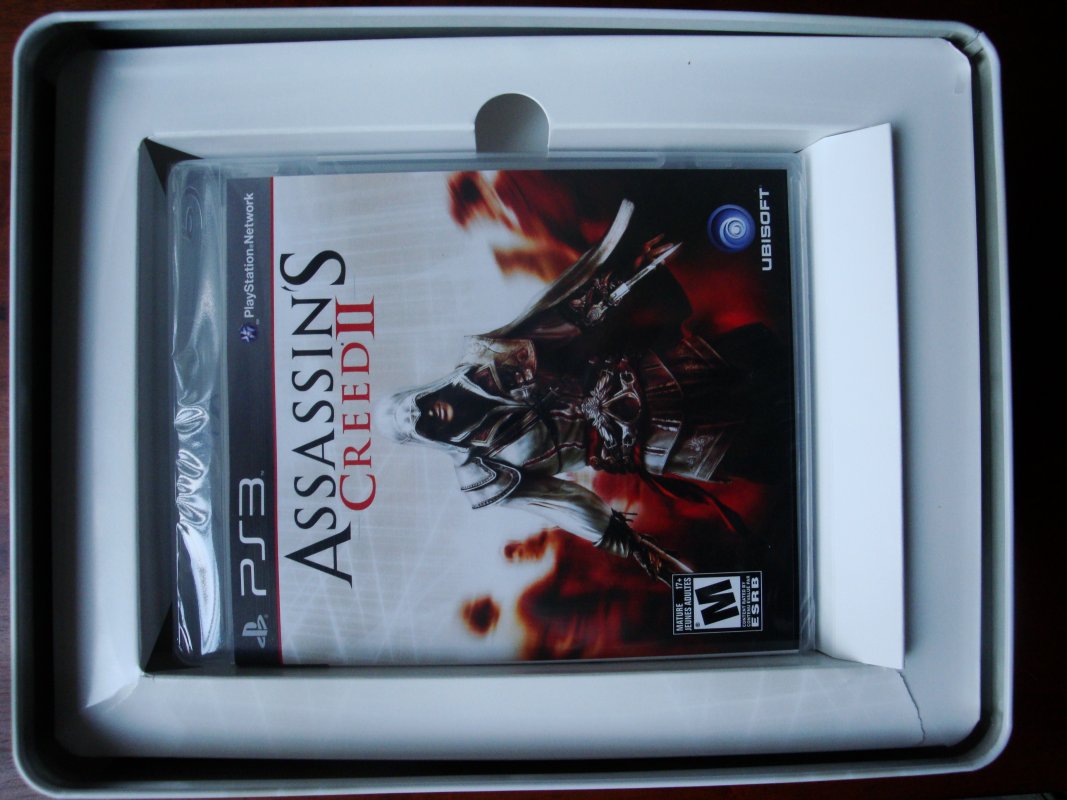 (Link – MySite)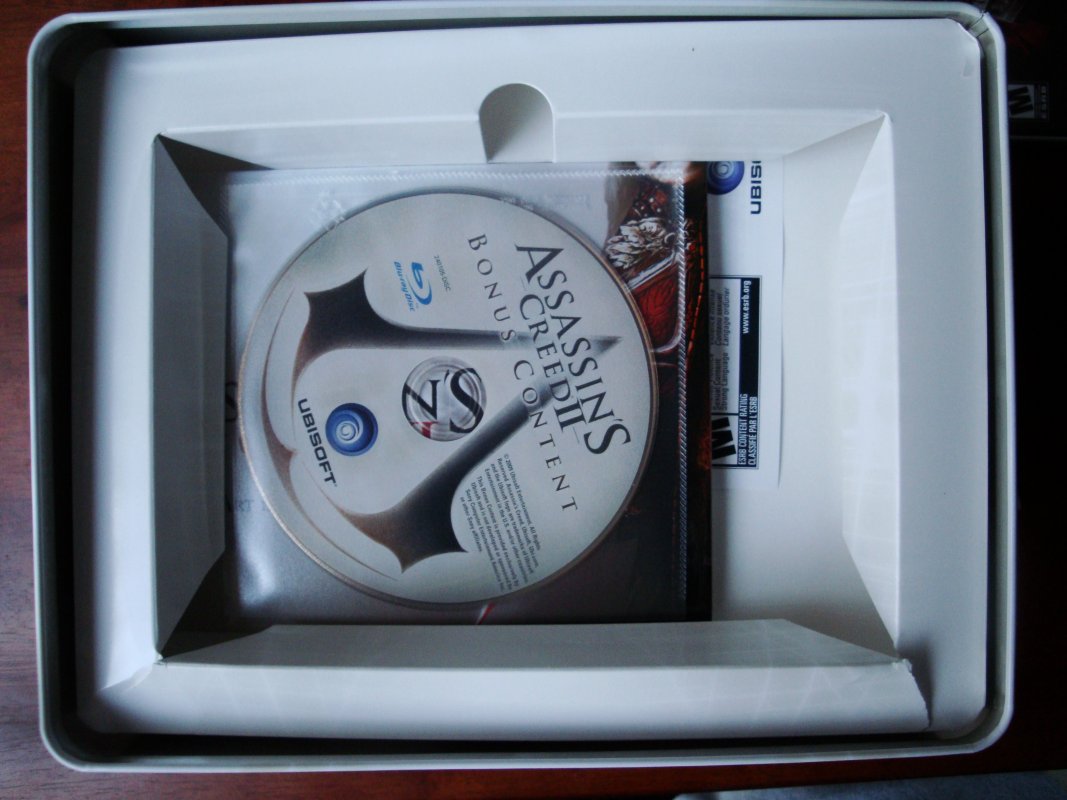 (Link – MySite)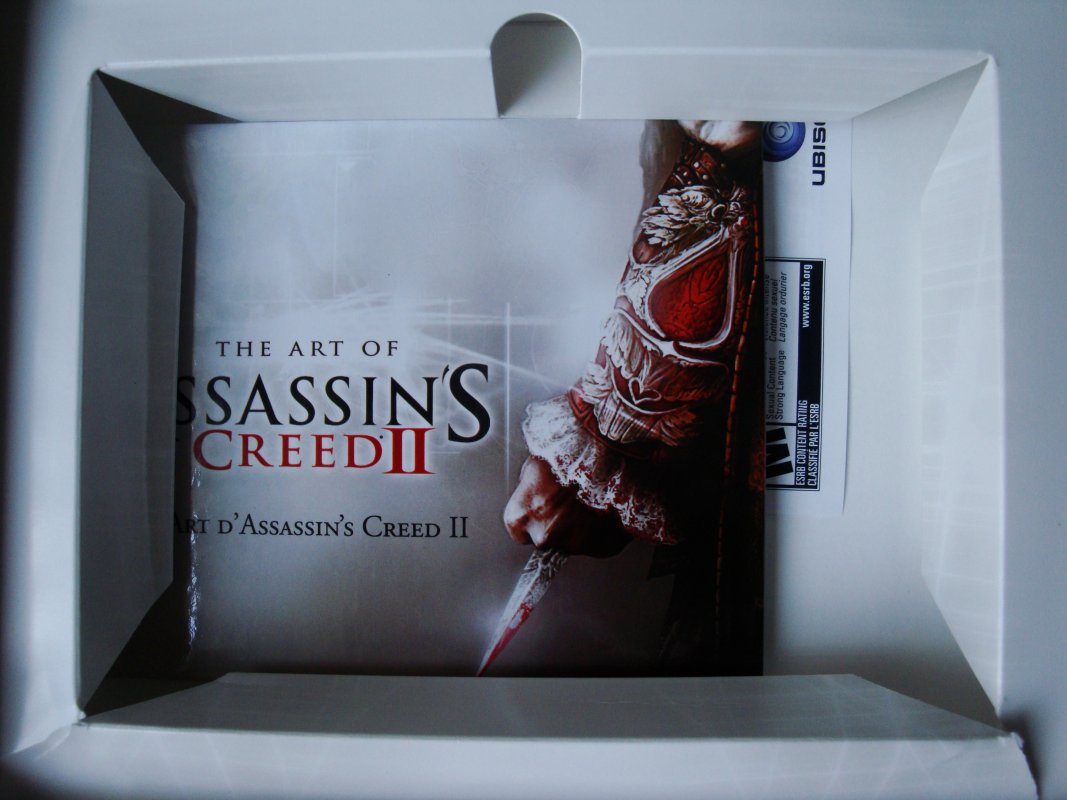 (Link – MySite)
And the little leaflet/paper that shall show you exactly where the tombs are. These tombs are literally spoon fed to you.
"Where are they, Where are they?"
Play more through the story and you shall find them with ease :). With these codes, and the U-play map, I assume they shall be instantly in the location as they aren't really story position triggers.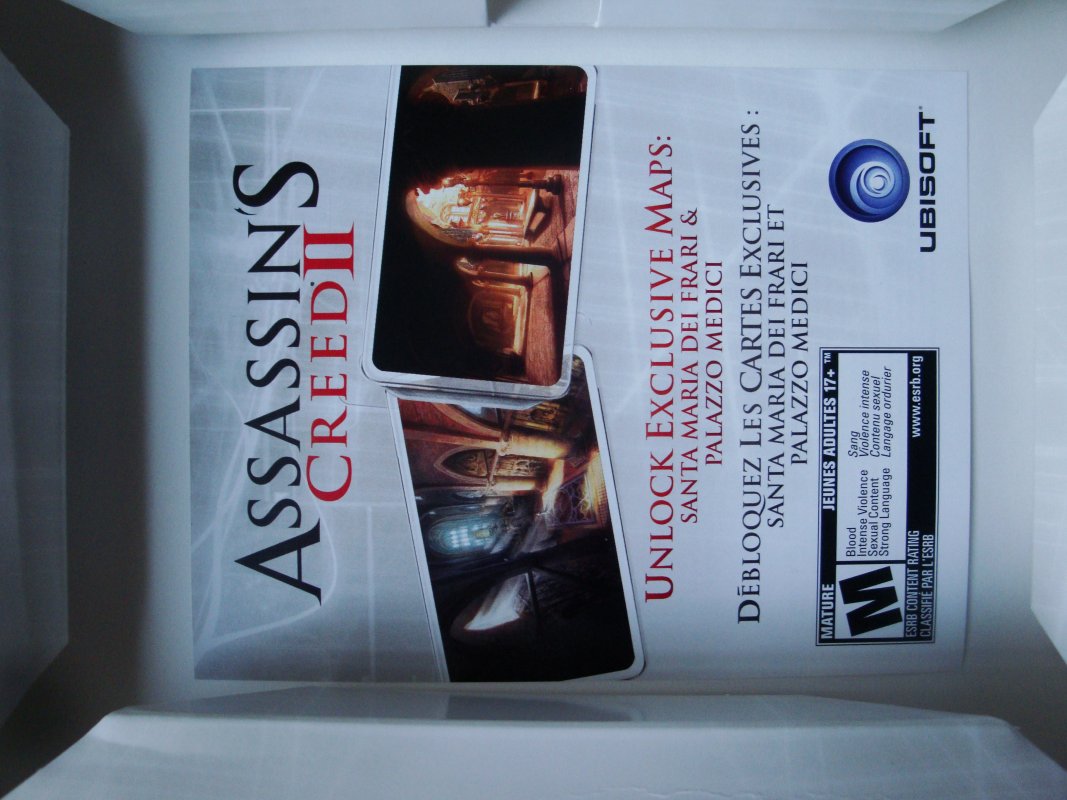 (Link – MySite)
Now onto the figure! Ezio! So how does this figure fair? Not as epic as the Black or White edition but does look sweet in its own right.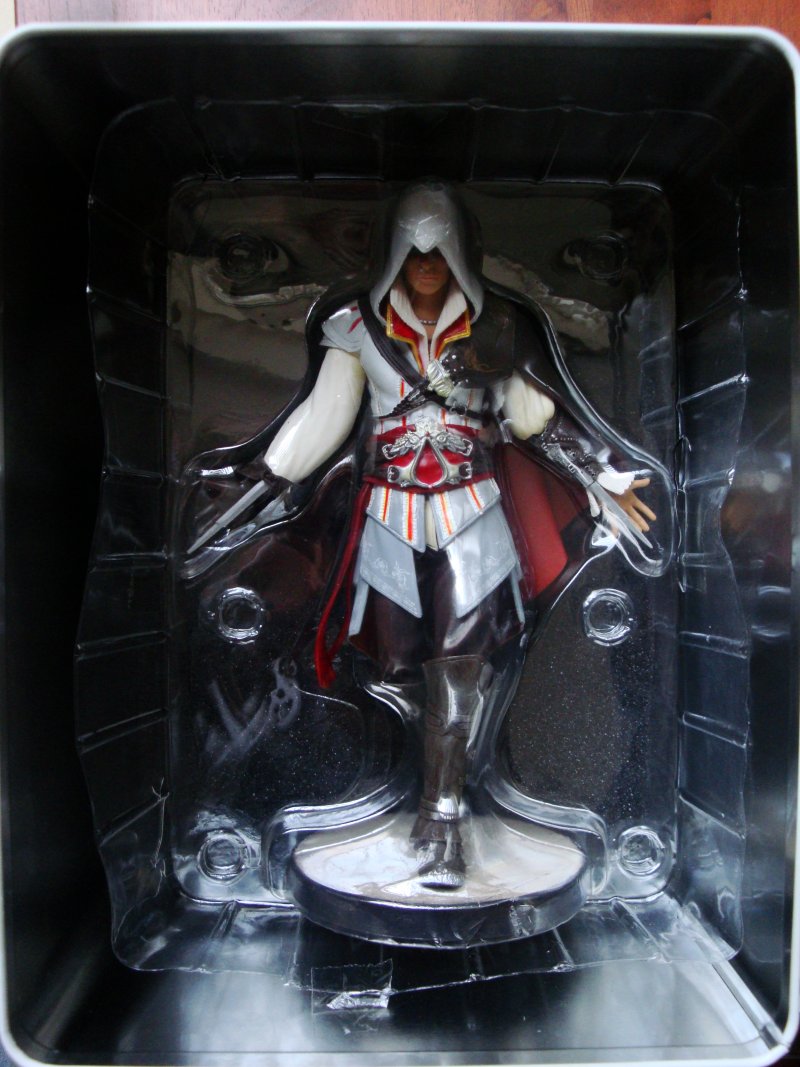 (Link – MySite)
"Want a piece of me?"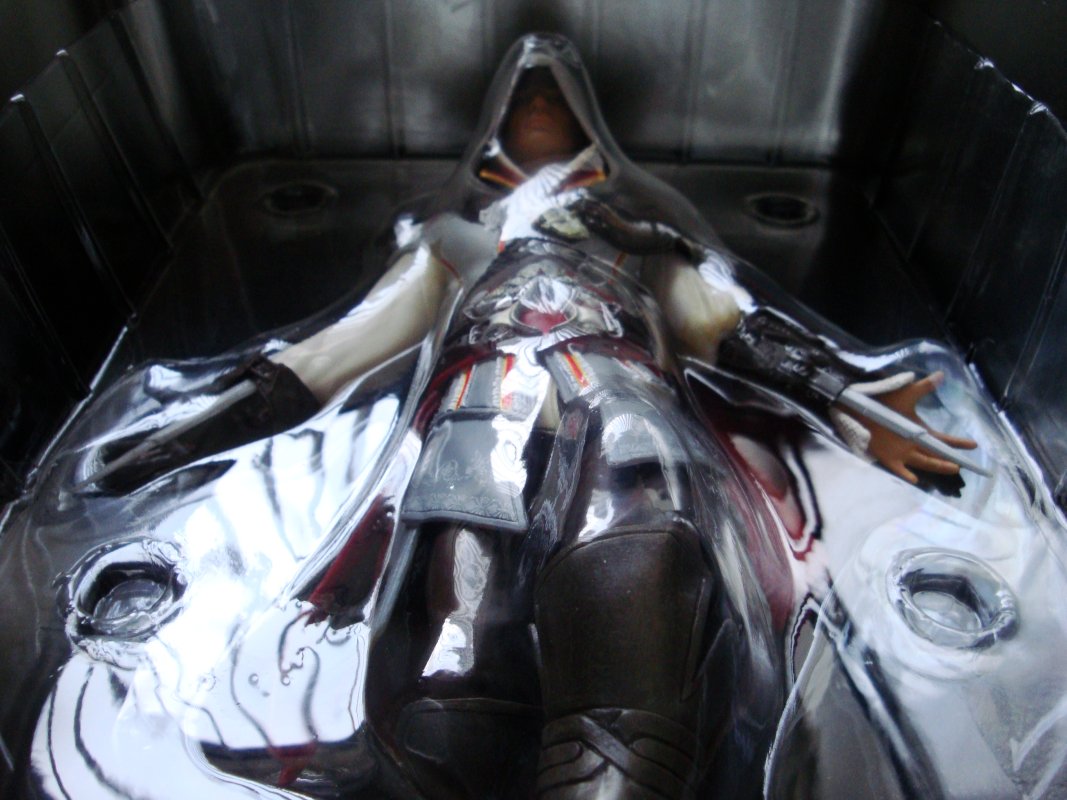 (Link – MySite)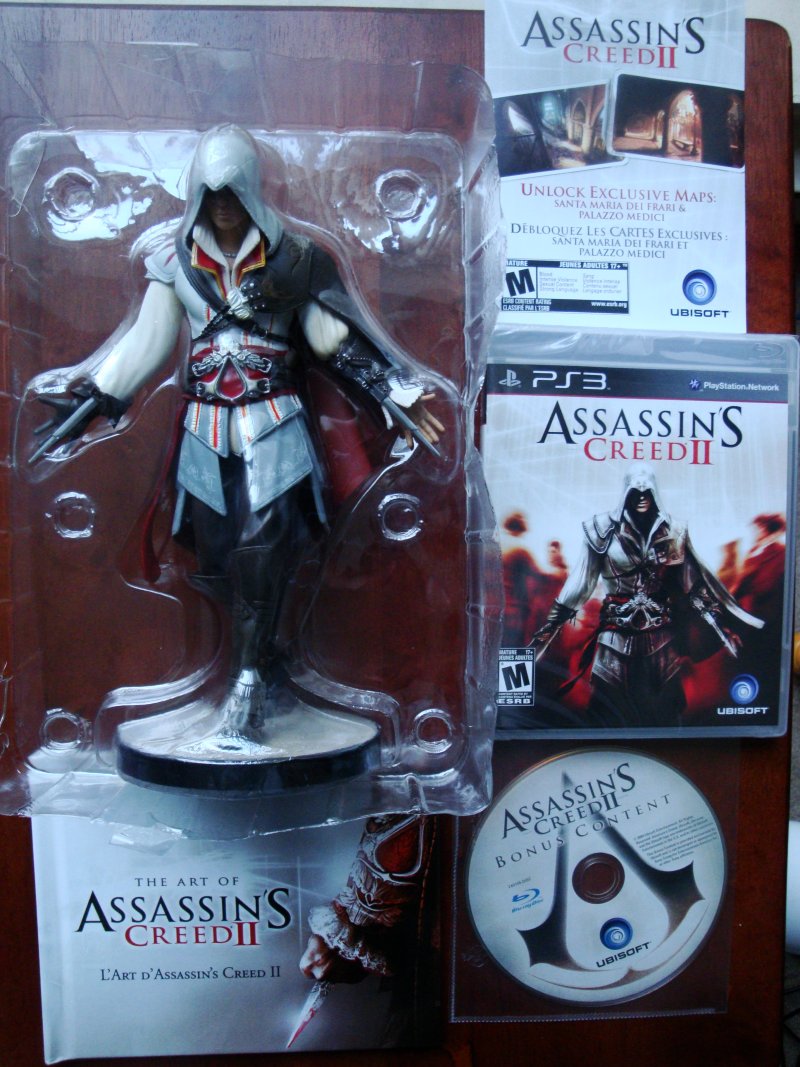 (Link – MySite)
A quick look at the mini art book that contains some pretty neat concepts and art. The book even shows how some of the gadgets are supposed to work, nice stuff.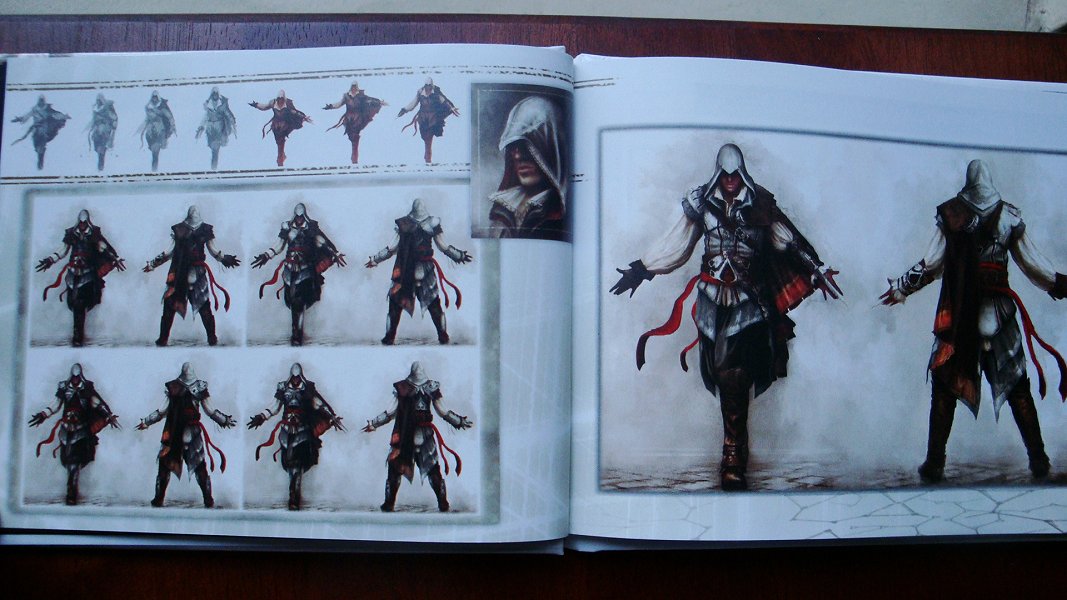 (Link – MySite)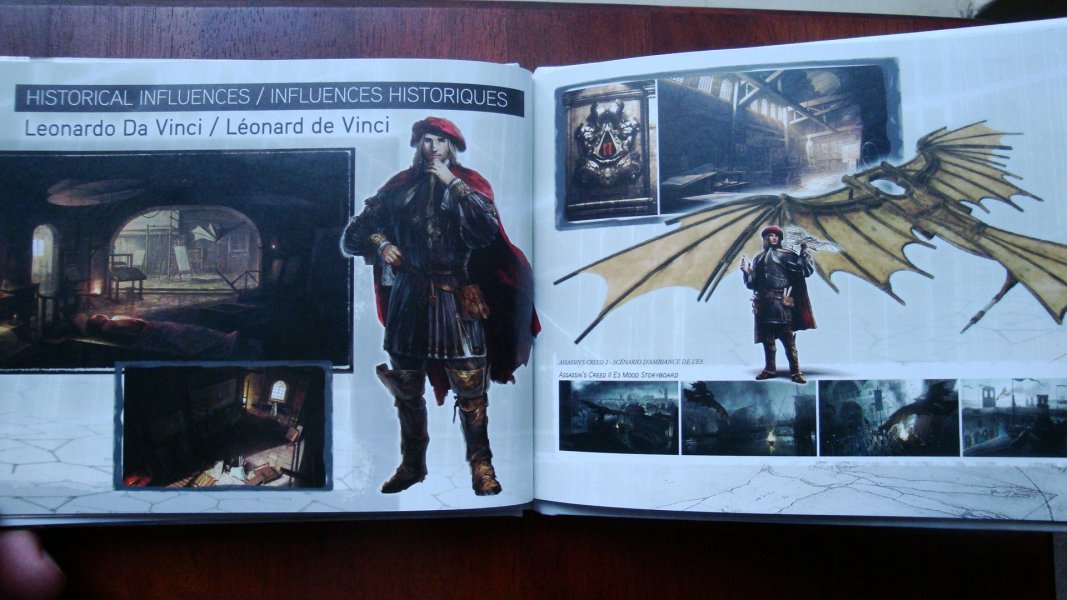 (Link – MySite)
*Hears footsteps coming from the distance*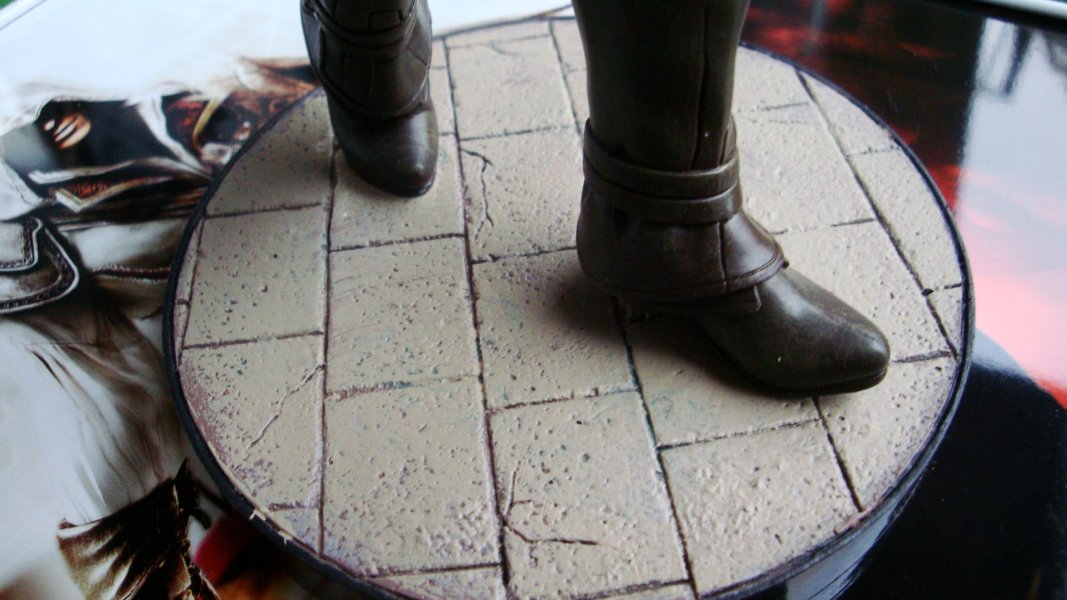 (Link – MySite)
Nice cape design. I noticed there were quite a few unpolished areas where the plastic bits were probably cut from.
(For those having a hard time with the perspective, this is the bottom of the cape)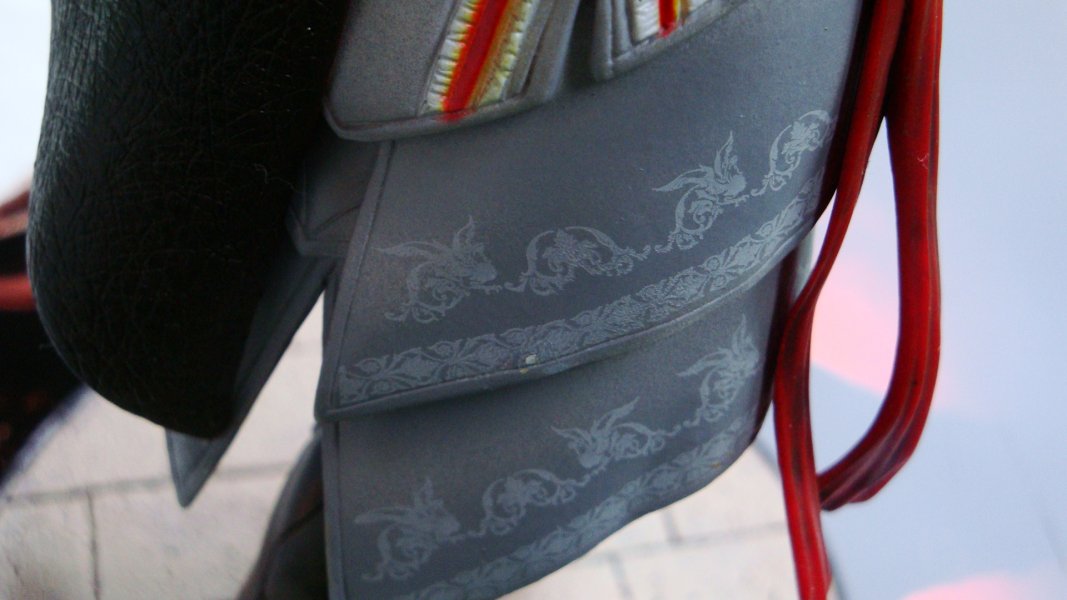 (Link – MySite)
The backside of Ezio. He looks bad ass from the rear, or when his face is being concealed by the hood. I like the detailing on this figure.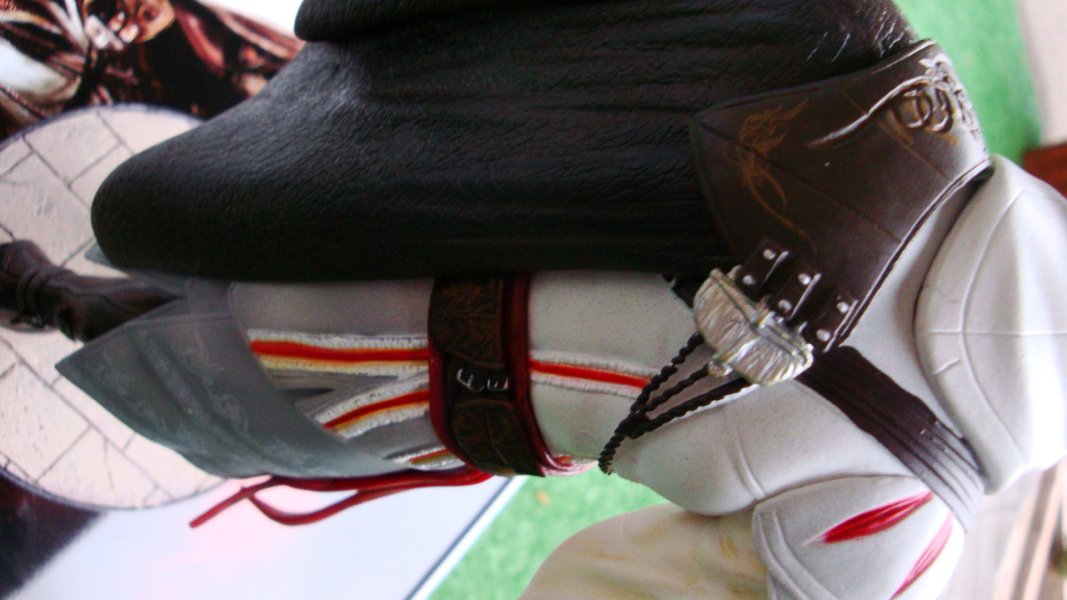 (Link – MySite)
Who's next on the assassination list? Ezio's two hidden blades are thirsty for some blood. Any recommendations?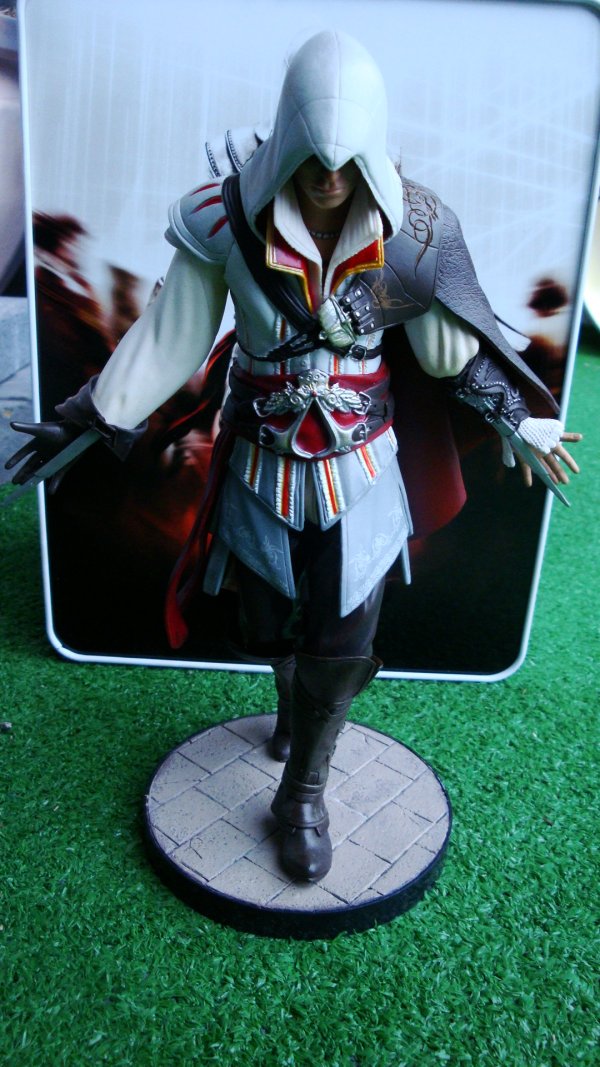 (Link – MySite)
And for those who normally forget where their figures originate from then here is a friendly reminder.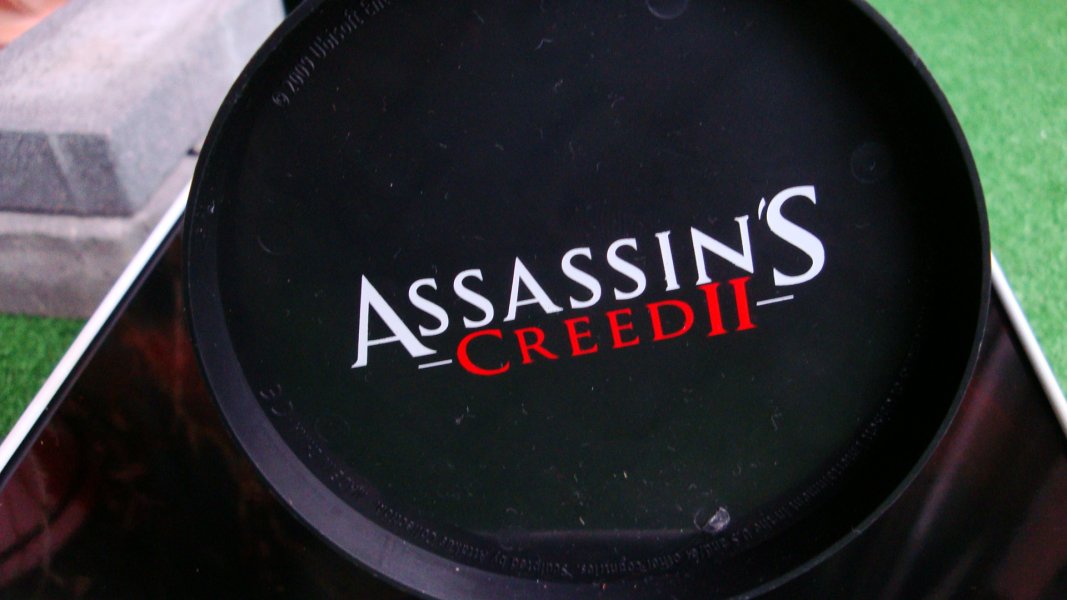 (Link – MySite)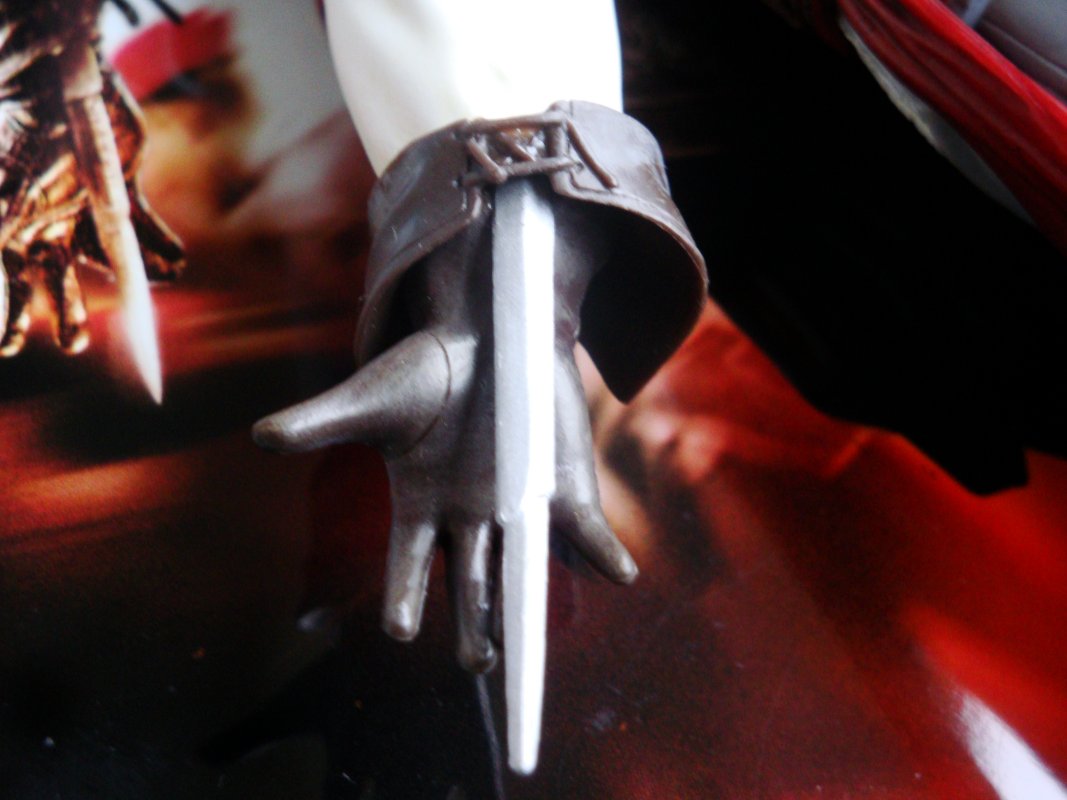 (Link – MySite)
The hunter becomes the hunted? Trying to imagine Haruhi with a hidden blade…….we're screwed.
Yet again, I couldn't resist.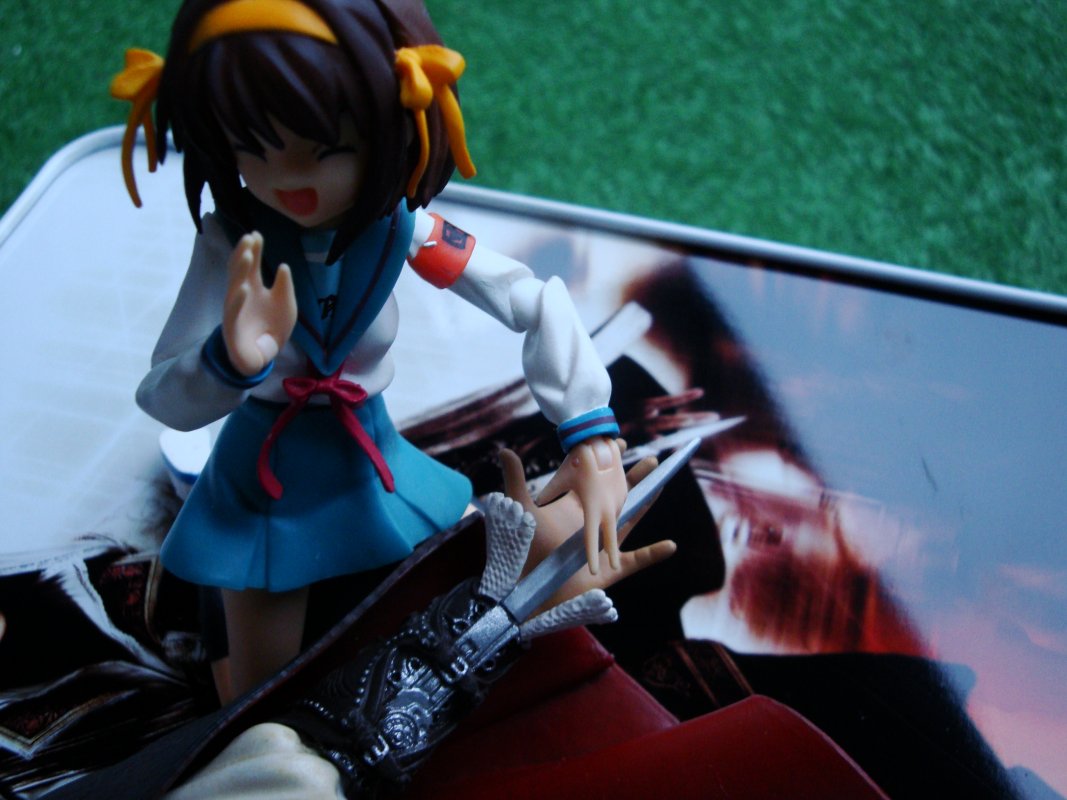 (Link – MySite)
According to this figure the hidden blades are of two parts. Both the left and right hand the blades are of two parts. Yet again, do note the detail on the hidden gun and the hidden blade.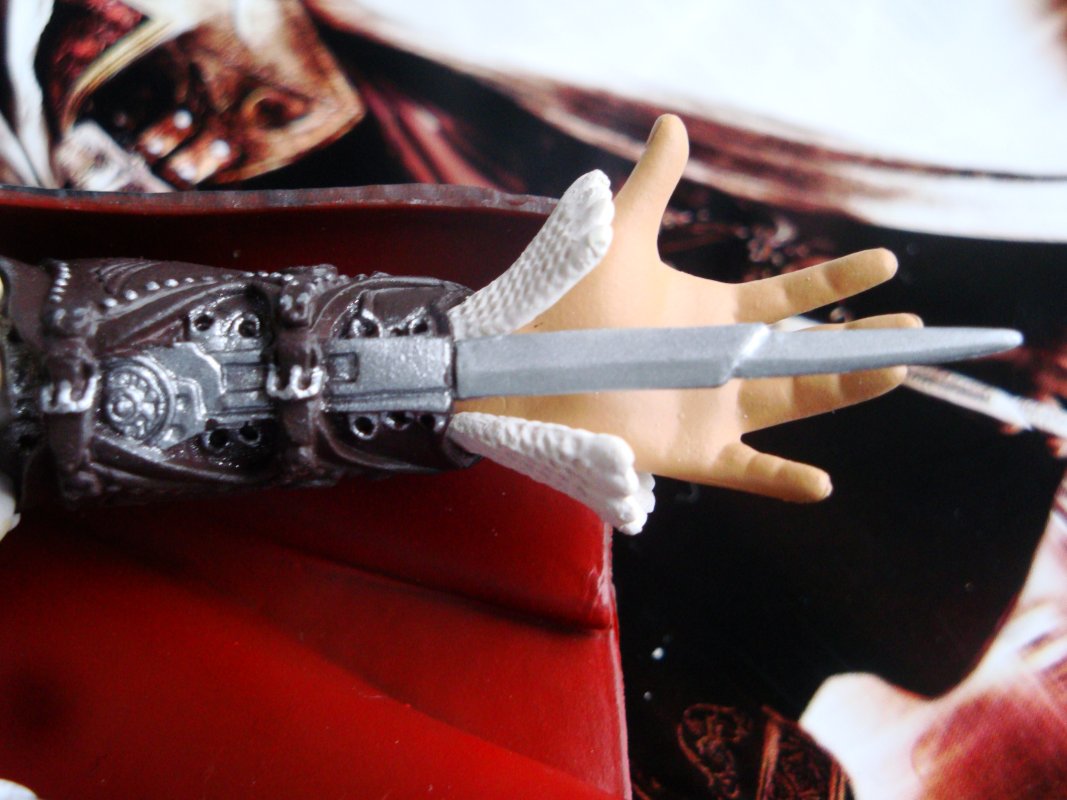 (Link – MySite)
The face……I have issues with Ezio' s face. I didn't see the trademarked scar, his eyes look messed, and his expression is awkward. Its as if Ezio really did become the prey as he was accidently stabbed by his own poisoned hidden blade or he just had enough. Either that, or he is extremely depressed that he can't have some opposite gender fun now that he is an assassin. Its not that bad though as it found a place in my glass cabinet.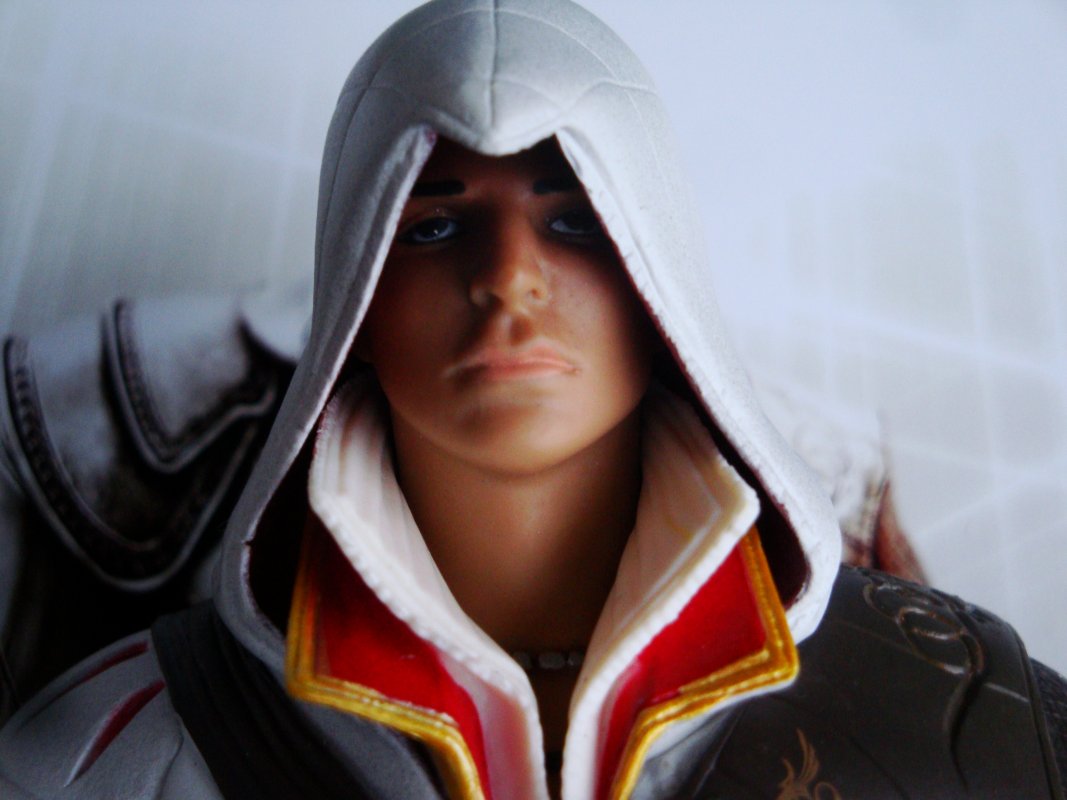 (Link – MySite)
The Assassin Crest belt on Ezio's Assassin Suit.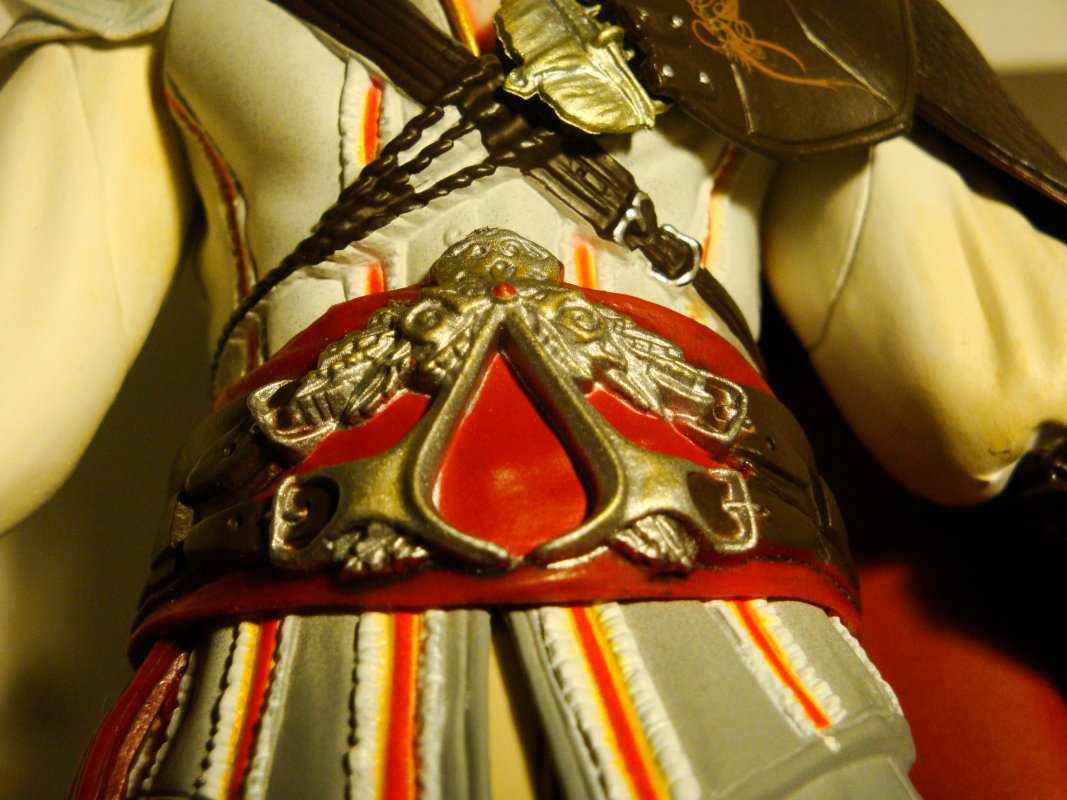 (Link – MySite)
Ezio's detailed cape with fine leather detailing. Would be nice if there were extra capes to place on the figure – Auditore Cape.
(Link – MySite)
I dare Ubisoft to make a Figma like figure of Altair, Ezio, and Desmond. Not the cheat Power Rangers like figures but something that moves like the Figma brand, the wooden Doll that Leonardo wanted in AC2.
I plan to take Ezio out on a figure photoshoot when the weather decides to be kind. If I do decide to it will be when its a sunny snowy day or a nice cool sunny day.
——————
Pros:
– The tin box contained a removable plastic that eliminated any sponsor or markings on the main box.
– Highly detailed figure. Nicely painted hidden blade, belt, cape hooks, and etc.
– Contains a nicely detailed art book of Assassin's creed with various concepts and designs.
– Bonus CD – Things you normally would expect
– The codes for the two bonus are nicely listed on the bonus paper and shows you exactly where they are located.
Cons:
– Ezio's face doesn't look like him nor is the scar on his lip. He looks like he has been drugged by his own hidden blade or hes asleep on the job.
– Three versions tends to cause confusions. Three different versions probably may allow others to boast they have a better version then what you may (or may not) have.
——————
Ha, viewing the bonus CD contains "behind the scenes" content that talks about some cool features that got removed from the game.
1) A bridge demolisher that destroys the bridge to have guards fall into the water.
2) Clown/joker to send you flying to the nearest structure's roof to flee from guards.
The game shows that Ubisoft is trying but they're being hindered by either time or budget. There is always something missing that should be there.
– Thanks for viewing and hope this article informed you or helped you in any way.