Loving these two-part single episodes so much. Always watch it first whenever they appear that I'm pleased to see Architect & Roomba errand race in this episode.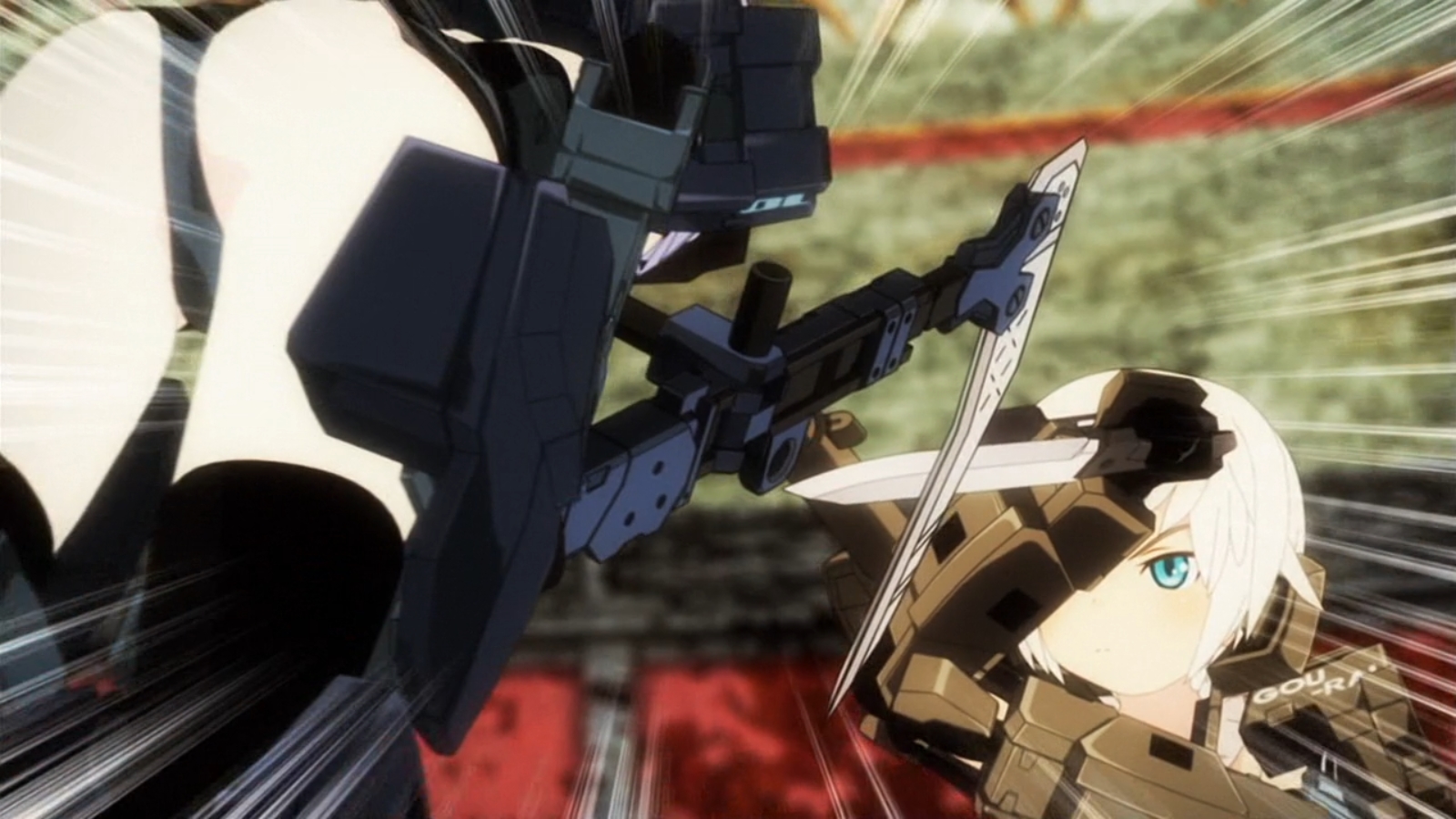 Pardon the belatedness of this review being released a few weeks behind, yet more distractions are at end (or was) which prevented me from releasing these postings when desired. KanColle Spring 2017 event + work.
I'm however quite pleased to see this episode starting off with an actual practice battle taken seriously in an abandoned ancient Roman-Greek styled arena. A lovely arena where both Jinrai & Gourai may both fight their battles in a Busou SHinki Battle Rondo MMO type manner. Quite neat. A nice honourable fight between the two  as they both enjoy their time there, yet interrupted by 'Architect', a digital ghost seeking more combat related data. Both Jinrai & Gourai accept Architect's desire for data knowledge that the level of intensity in combat increases nicely.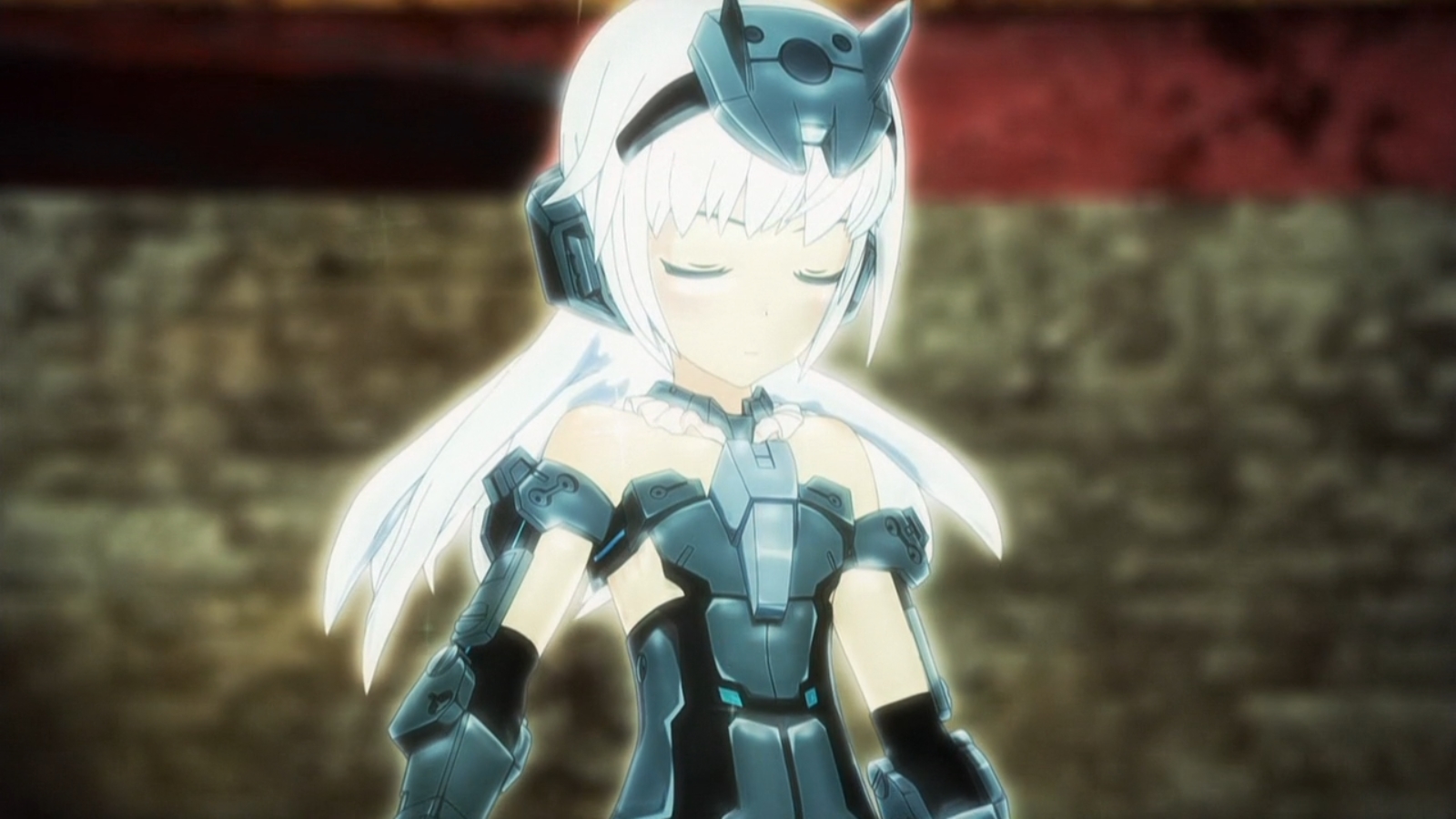 The funny thing to see is a serious Baselard, one whom grabs the mic in all seriousness that it's also highly comical at the very same time. Baselard having to lecture Ao because she's still unfamiliar with the world, as well as carefree, that the Materia sisters and Sty-ko have to call her a 'blockhead' for her ignorance on the subject.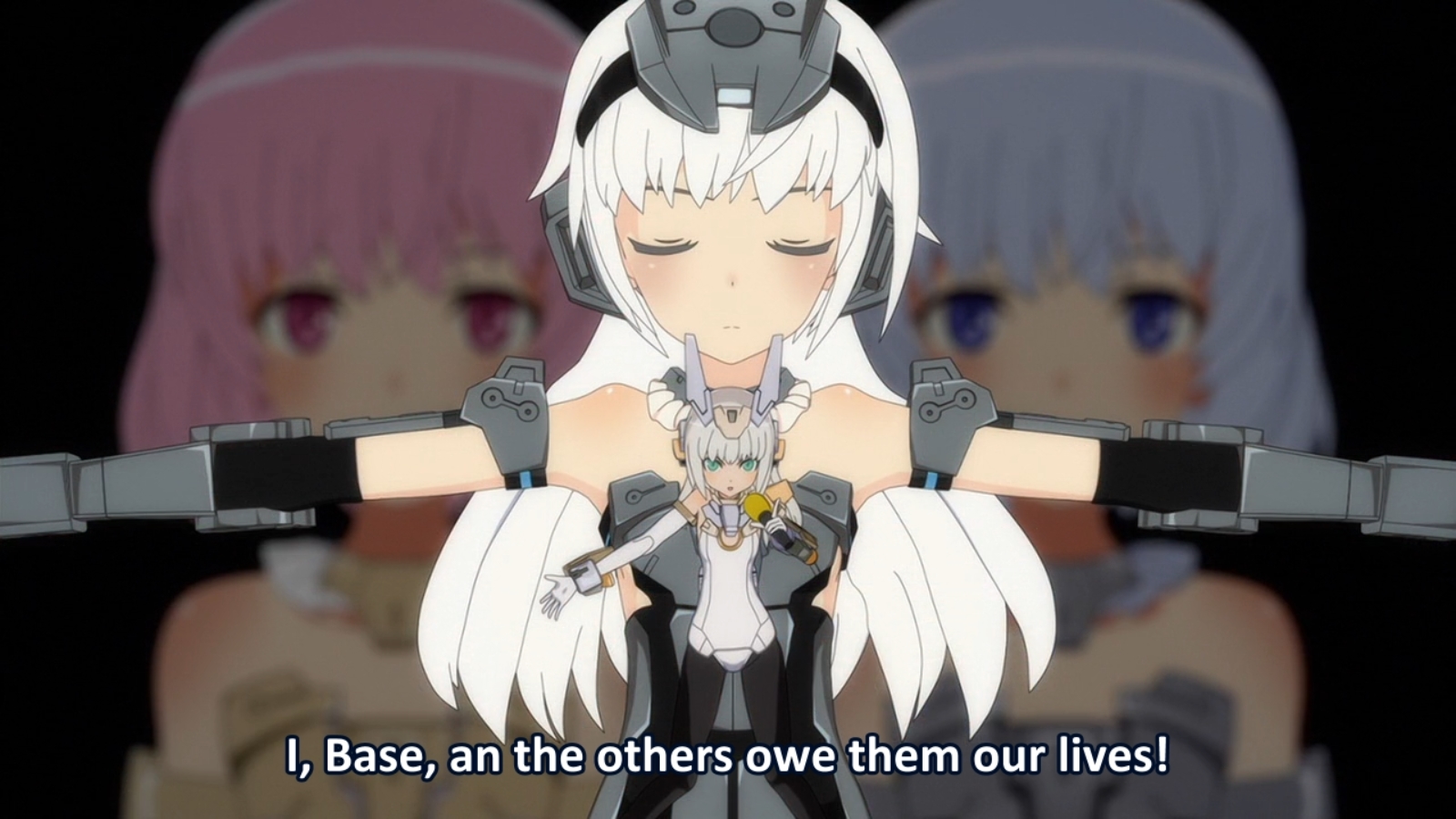 I do have to however wonder if this Kotobukiya's response to Busou Shinki's 'ghost' (or soul) being let loose in the network when 'Busou Shinki – Battle Rondo' MMO was a thing. You fought to encounter, and possibly free, a rogue spirit in the network, or something along those lines.
That, and it's also interesting to see Architect testing Gourai & Jinrai by adding guns in 'toy army man' poses on the field. Even more interesting as she also choses different fighting styles to challenge Jinrai & Gourai by also making use of melee weaponry which Architect already owns, as well as trying to gain the advantage through unit specs readings. Trying to fly up in the sky because neither can fly, yet that was shown to be false.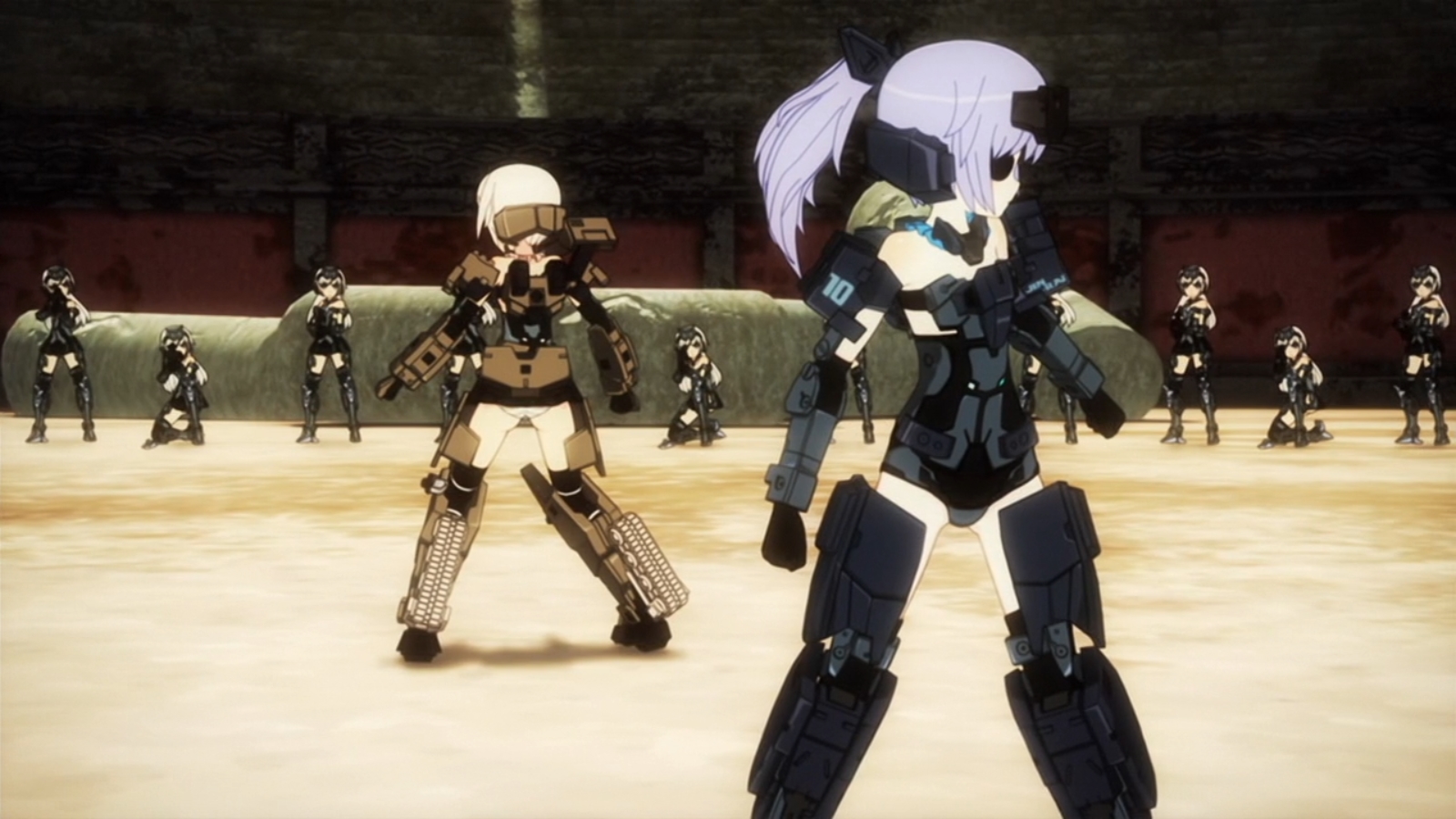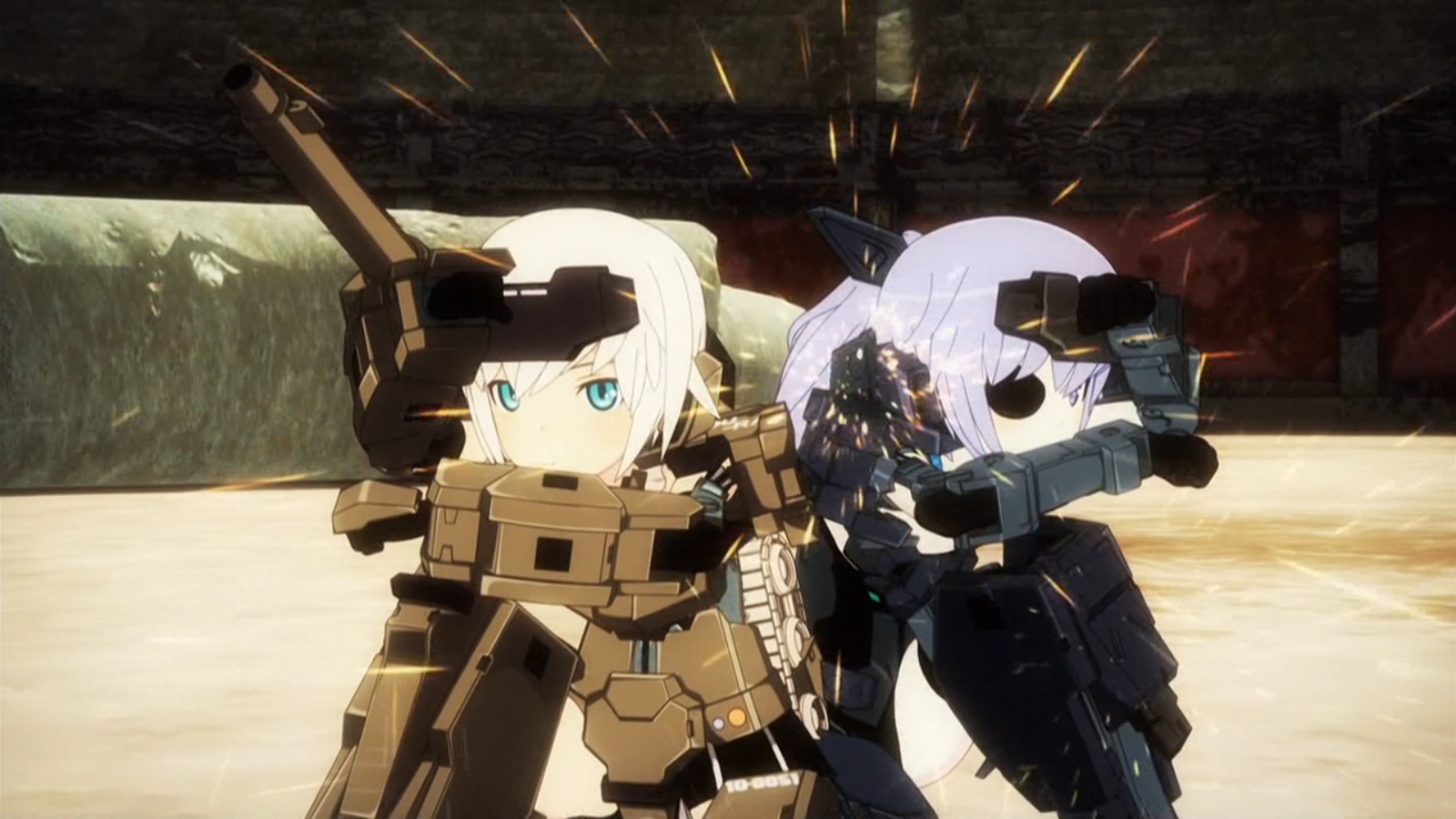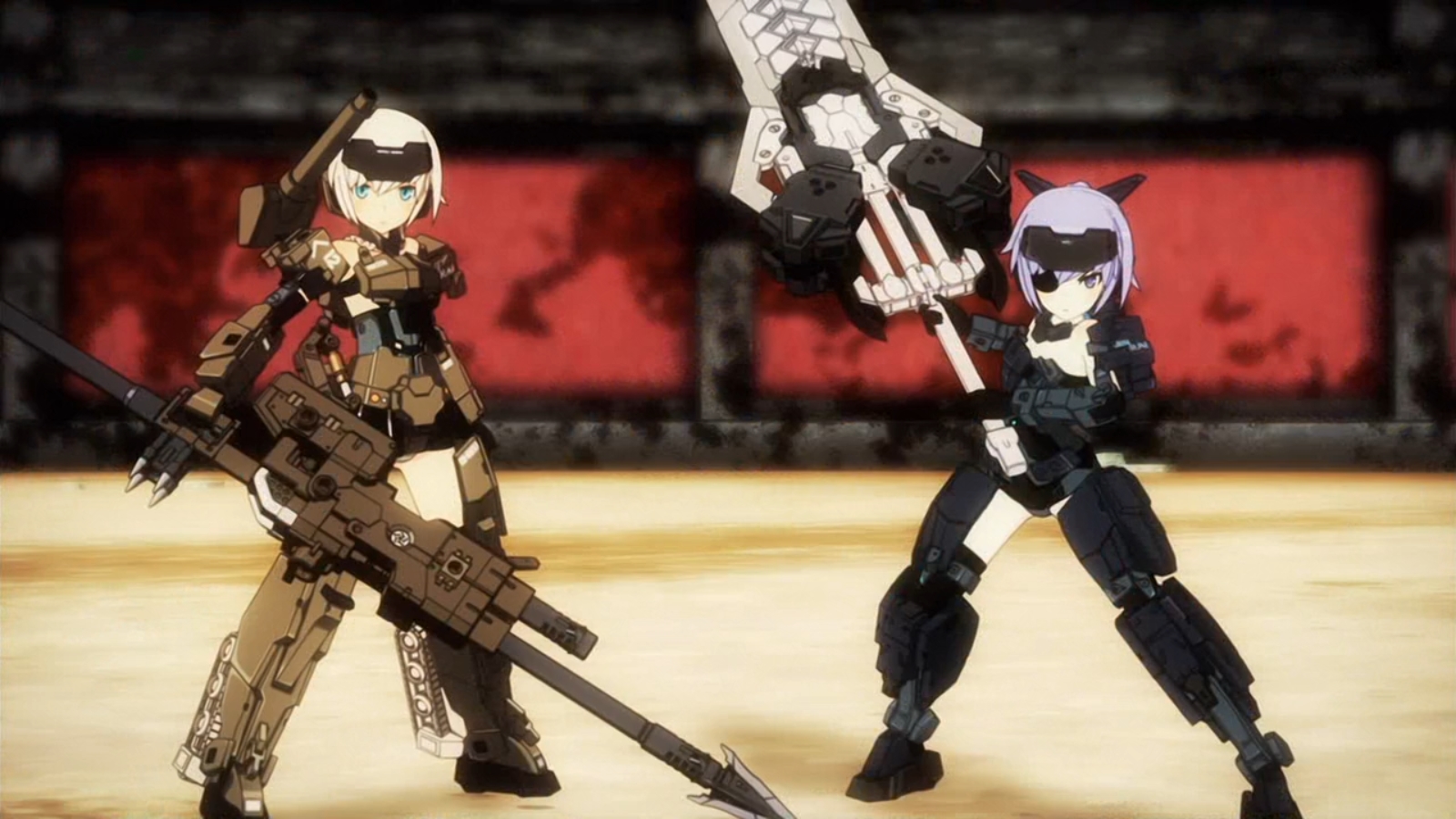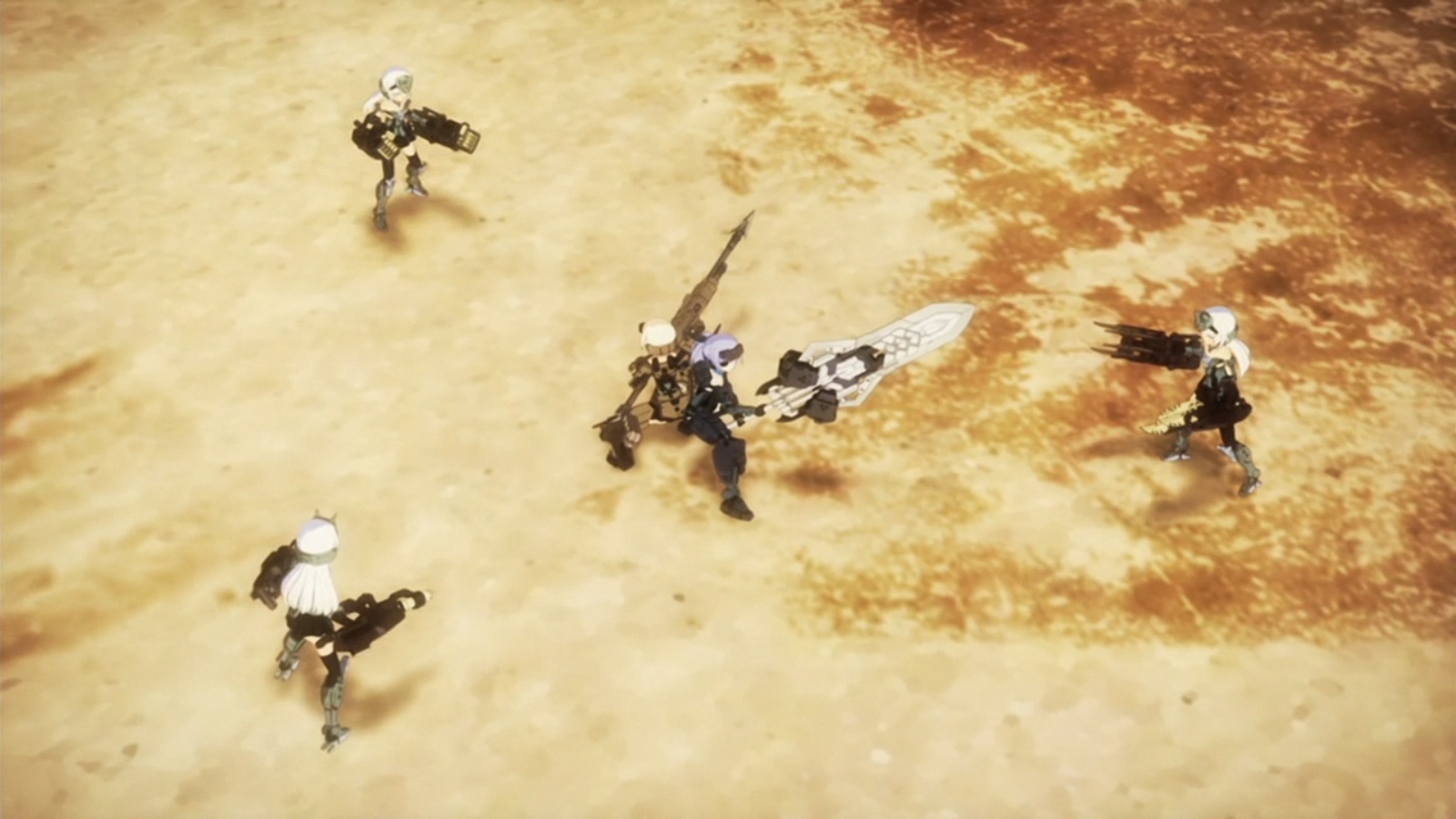 And then with that challenge beaten, another one was to be had with air superiority, something that Gourai knows how to deal with the best. Quantity > quality > Air superiority tests.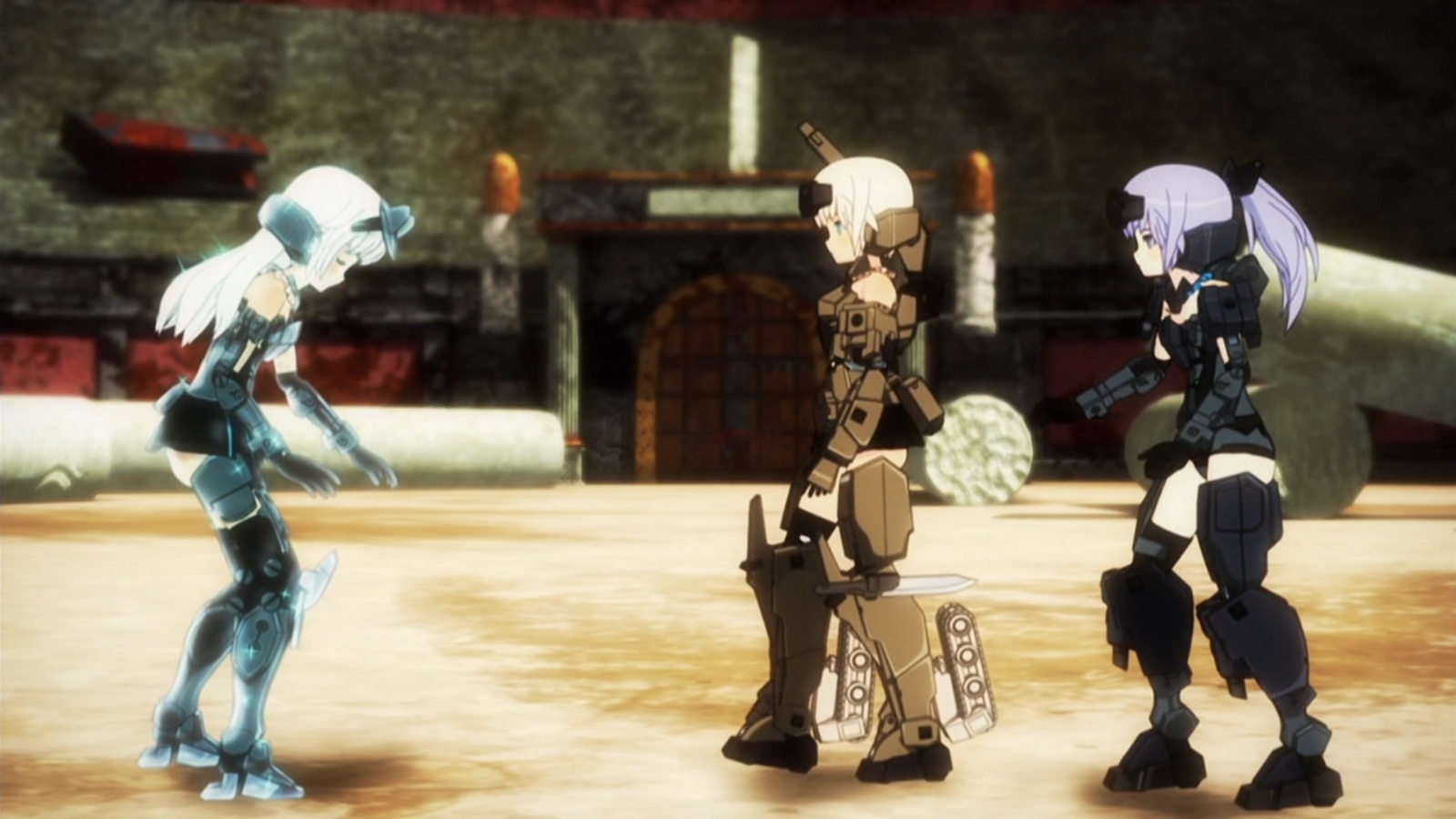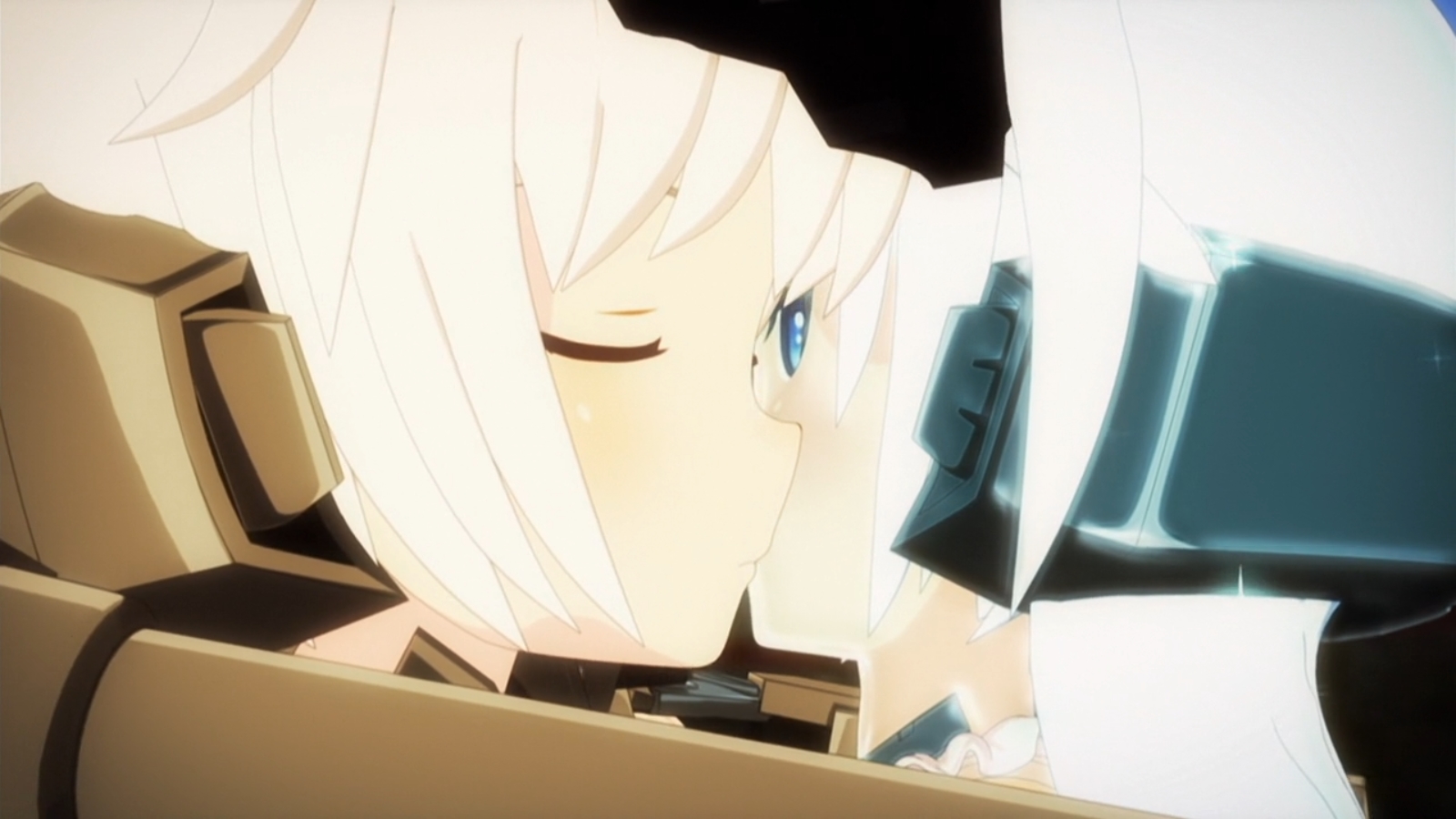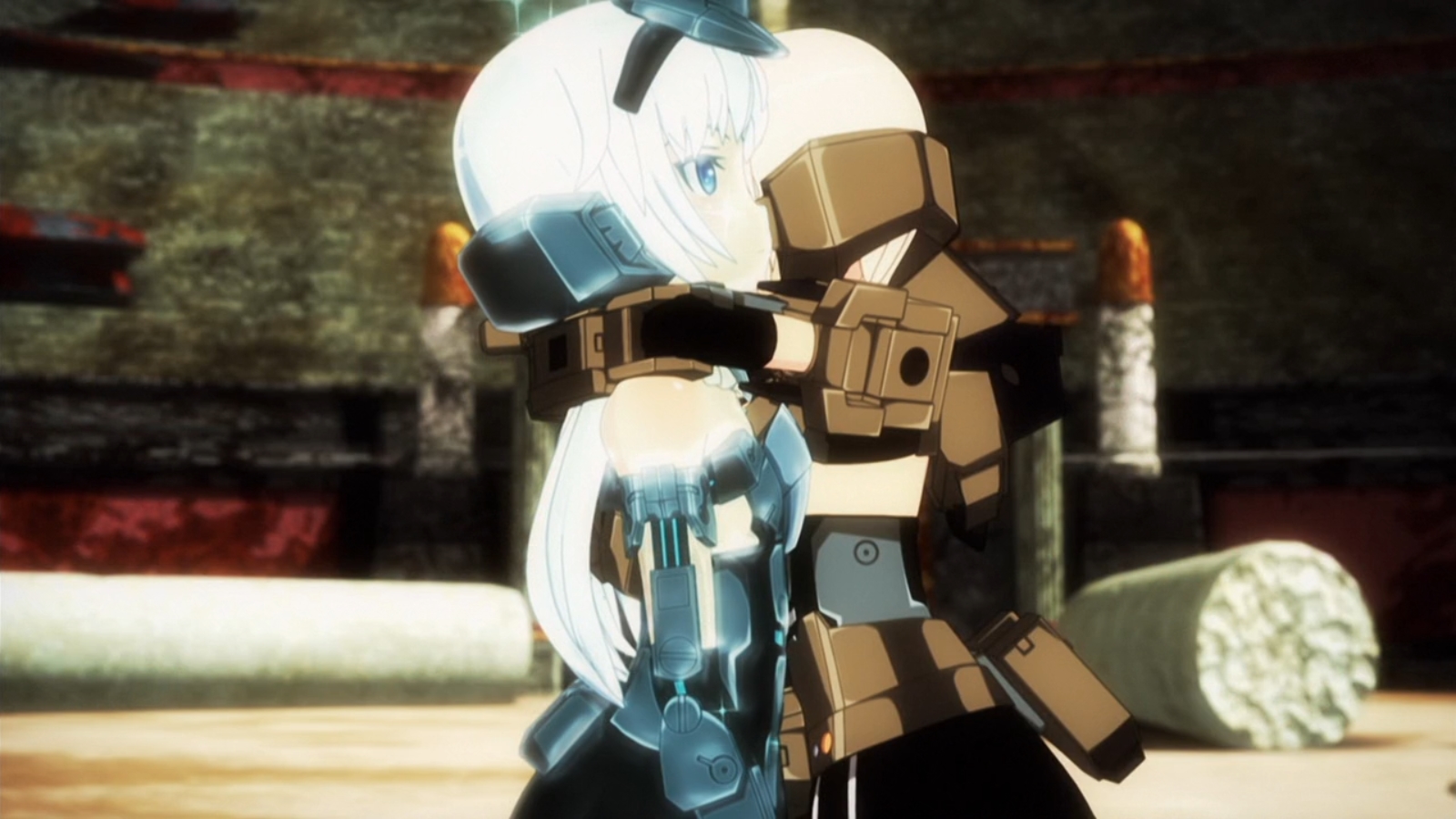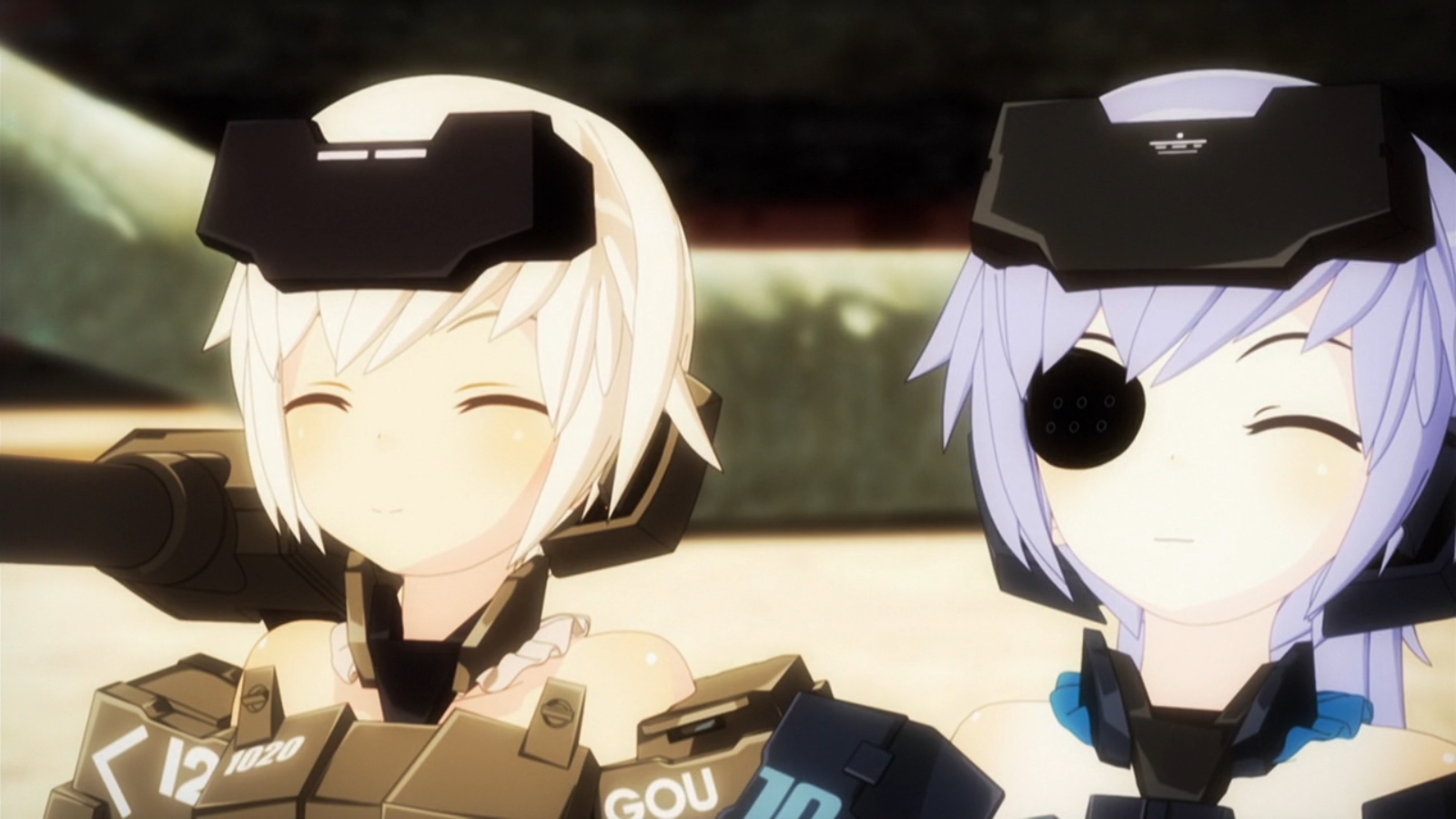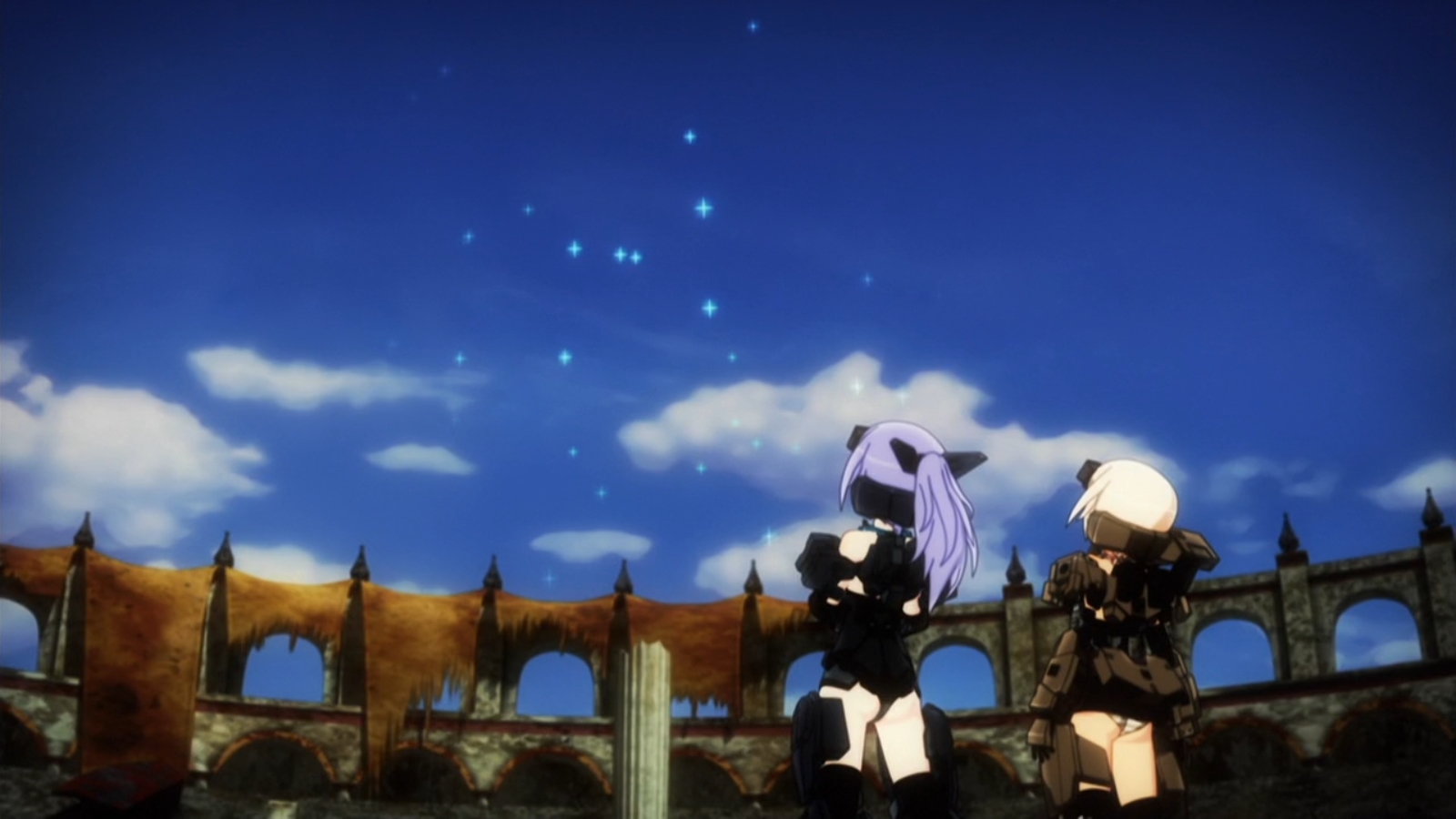 And, of course. Ao and the audience/viewers called it! On what? Architect gaining her own physical body in joining Ao's growing harem of Frame Arms Girl by being a 'deadpan' type character. Neutral jokes of being the most 'grounded' in neutrality. I'm fine with that.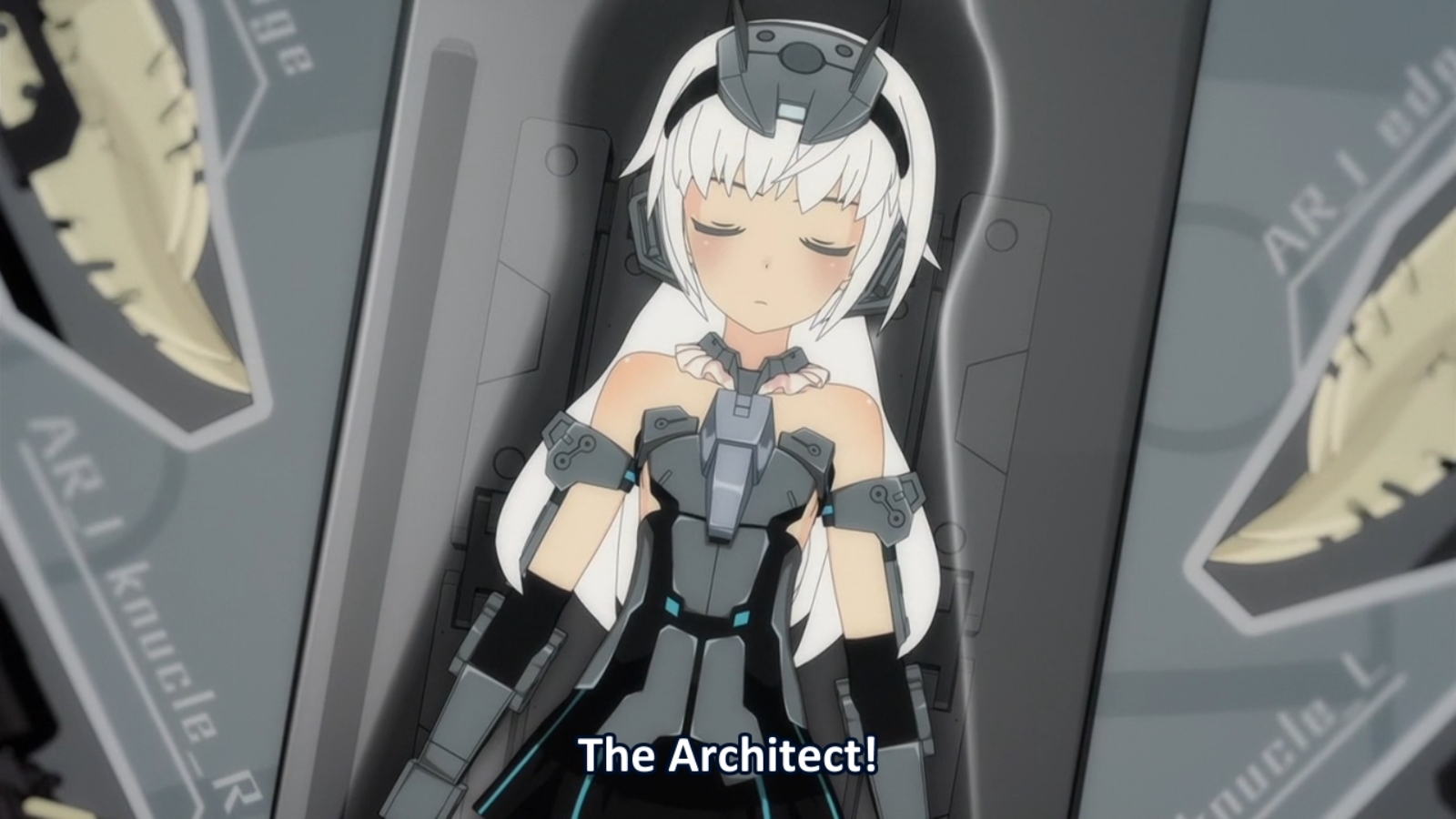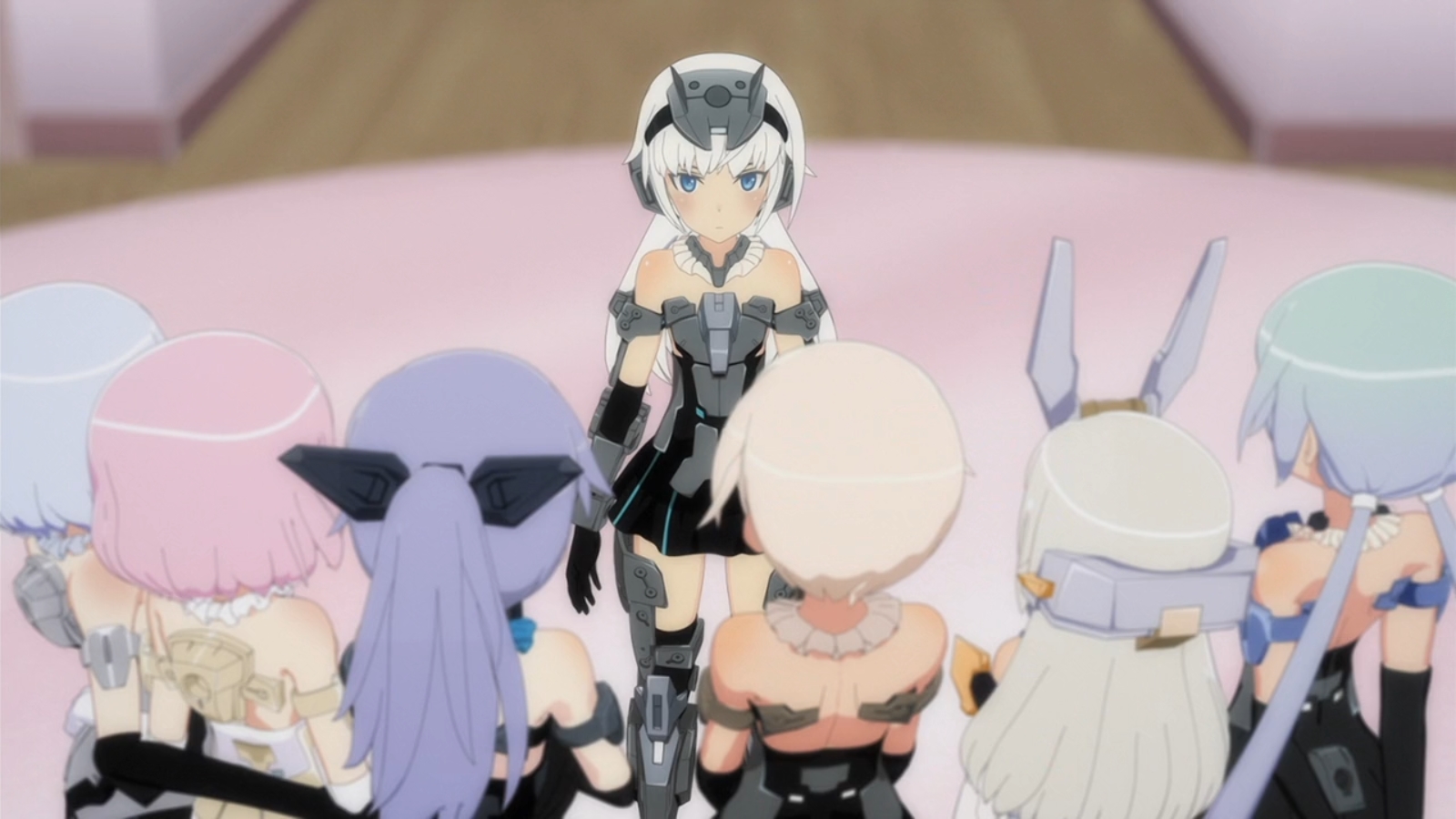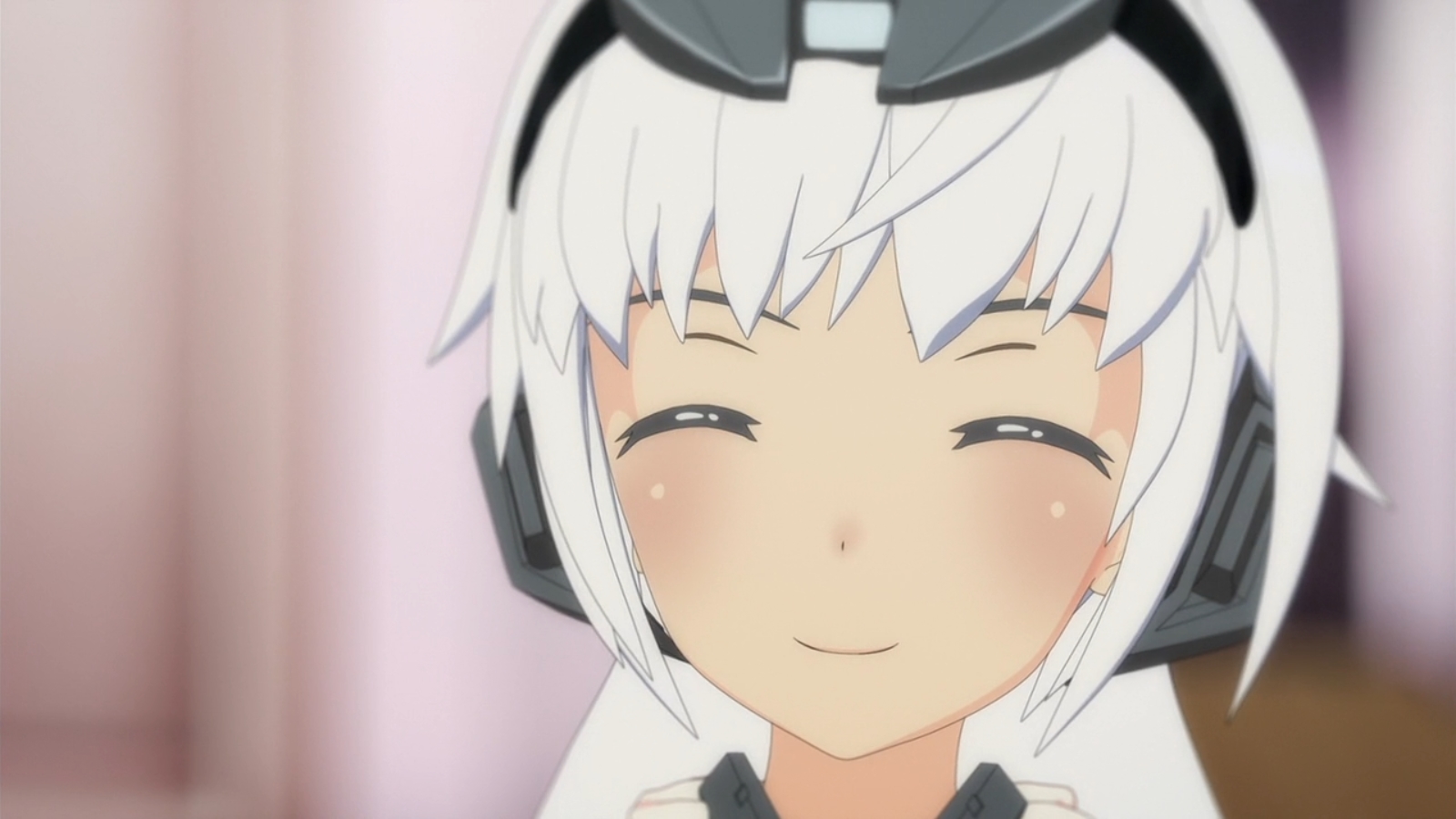 People complained that there were lacking battles in the Busou Shinki TV Anime, something that I have to note because both are running on parallel courses in ways. From my perspective the battles are done nice and seriously that I truly hope people aren't whining about any sort of flaws in the battle part of this show. This show actually improves on what people 'whined' about, and I'm happy that it is indeed an improvement. I love seeing Materia fight as I also recall my Busou Shinki memories of when I first joined versus what I know now. Fun looking back.
---
The Errand Race:
Something on a more human side of things we have Ao desiring to cook for Bukiko. Making a 'sweet & sour pork' to thank her for repairing her roomba, as well as making weapons for Ao's FA: Girls for combat. As Ao cooks she ends up missing vinegar, something in which leads into a silly race for ingredients. Remember the race from the Busou Shinki TV Anime? Similar vibe. Not the same, yet similar. Found it comically amusing, yet quite silly. It shows that Architect is the most 'grounded' in normality, if bland.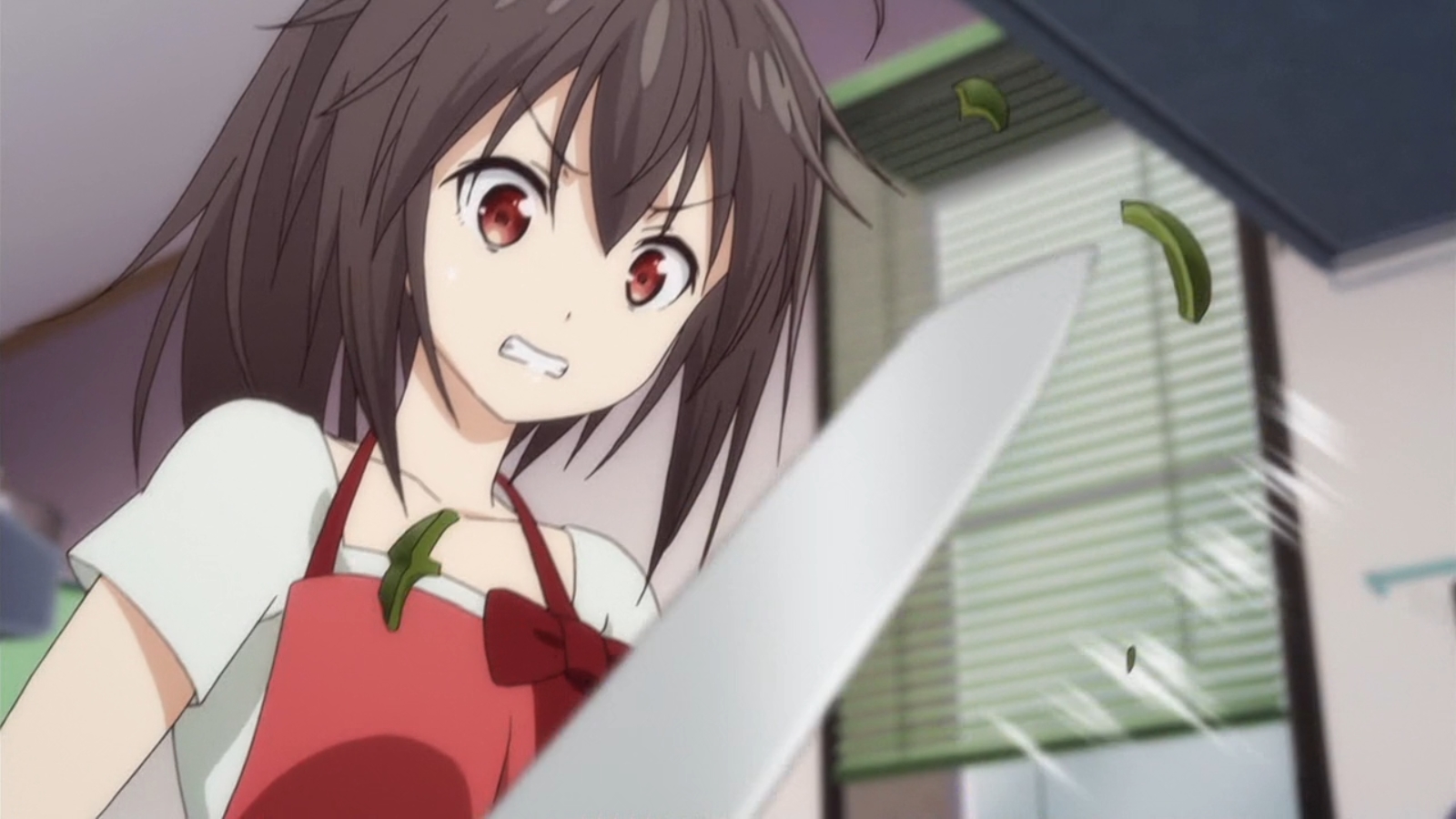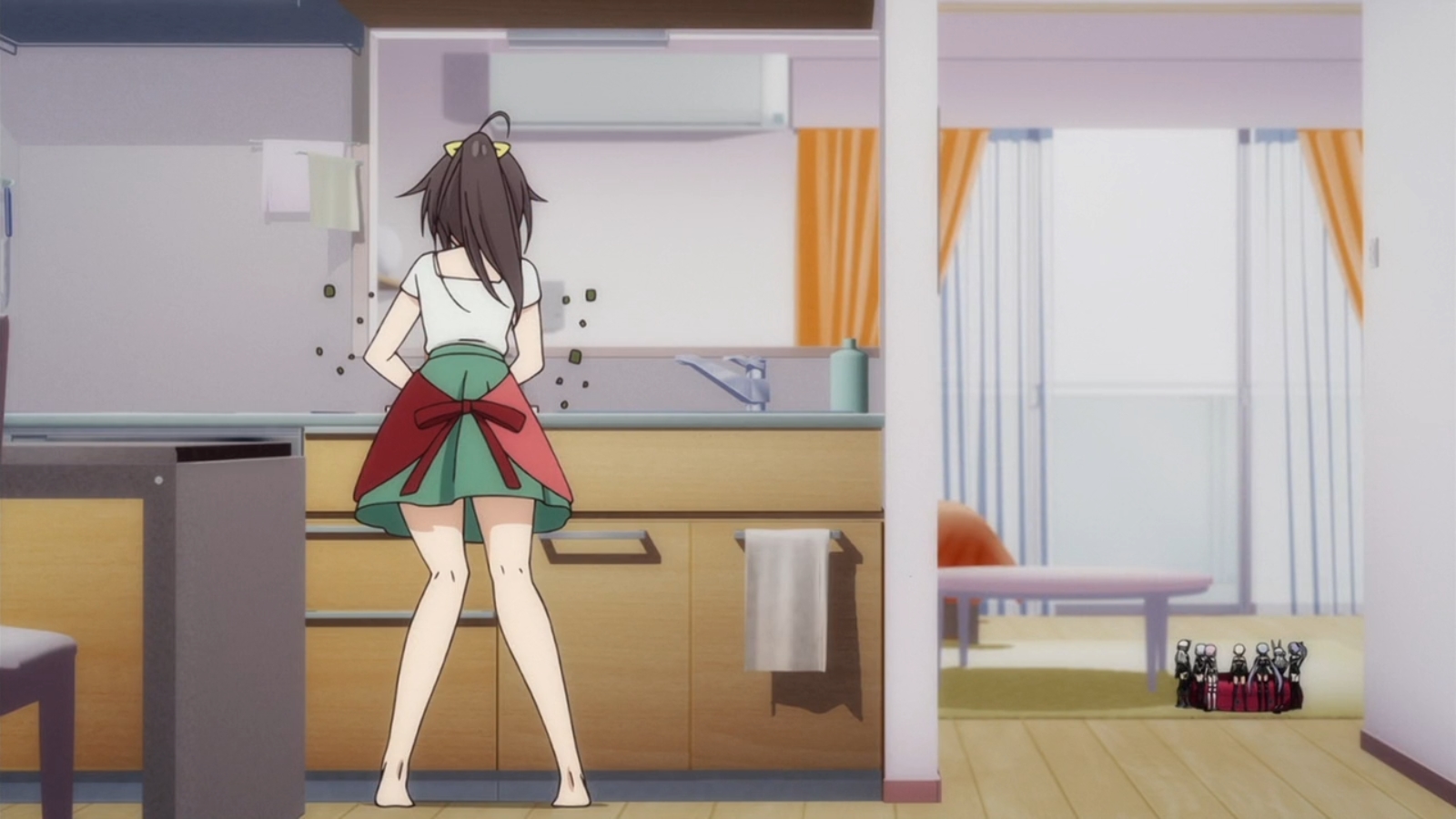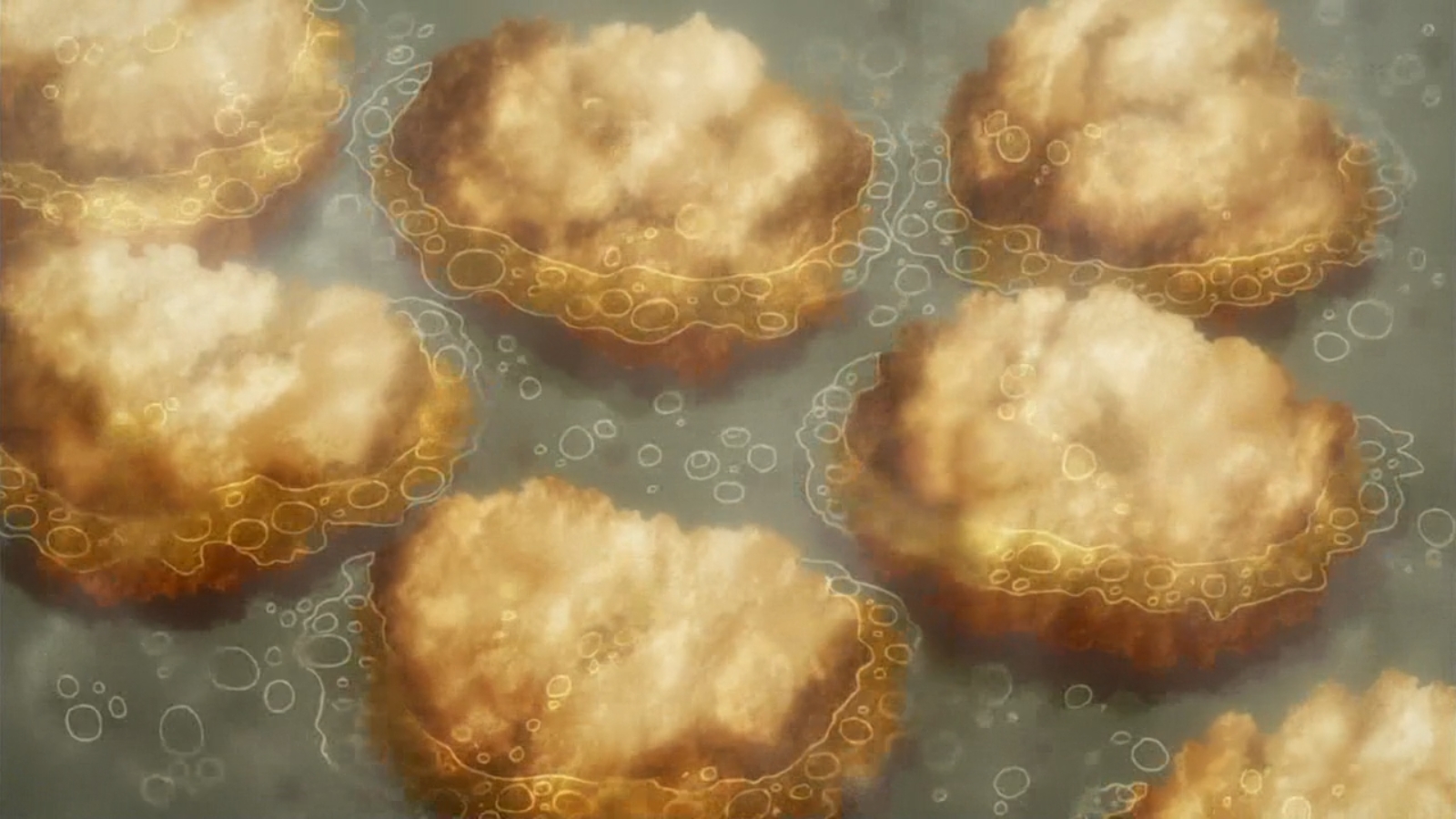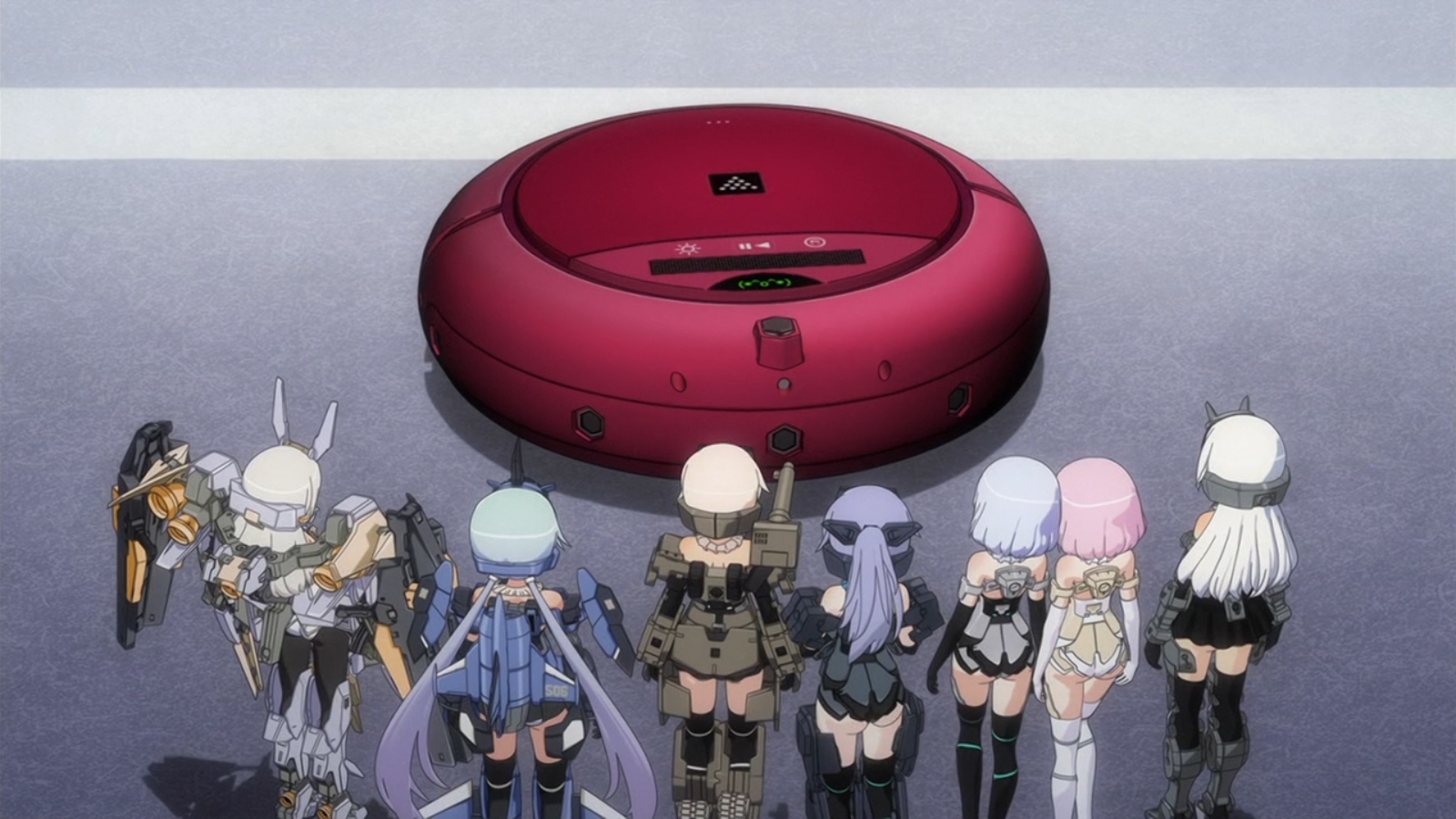 Jinrai considers this Roomba to be a mount of the old era, as with Gourai viewing this as a vehicle support. Interesting perspectives when you consider the type of FA: Girls they are, and how they view this single object.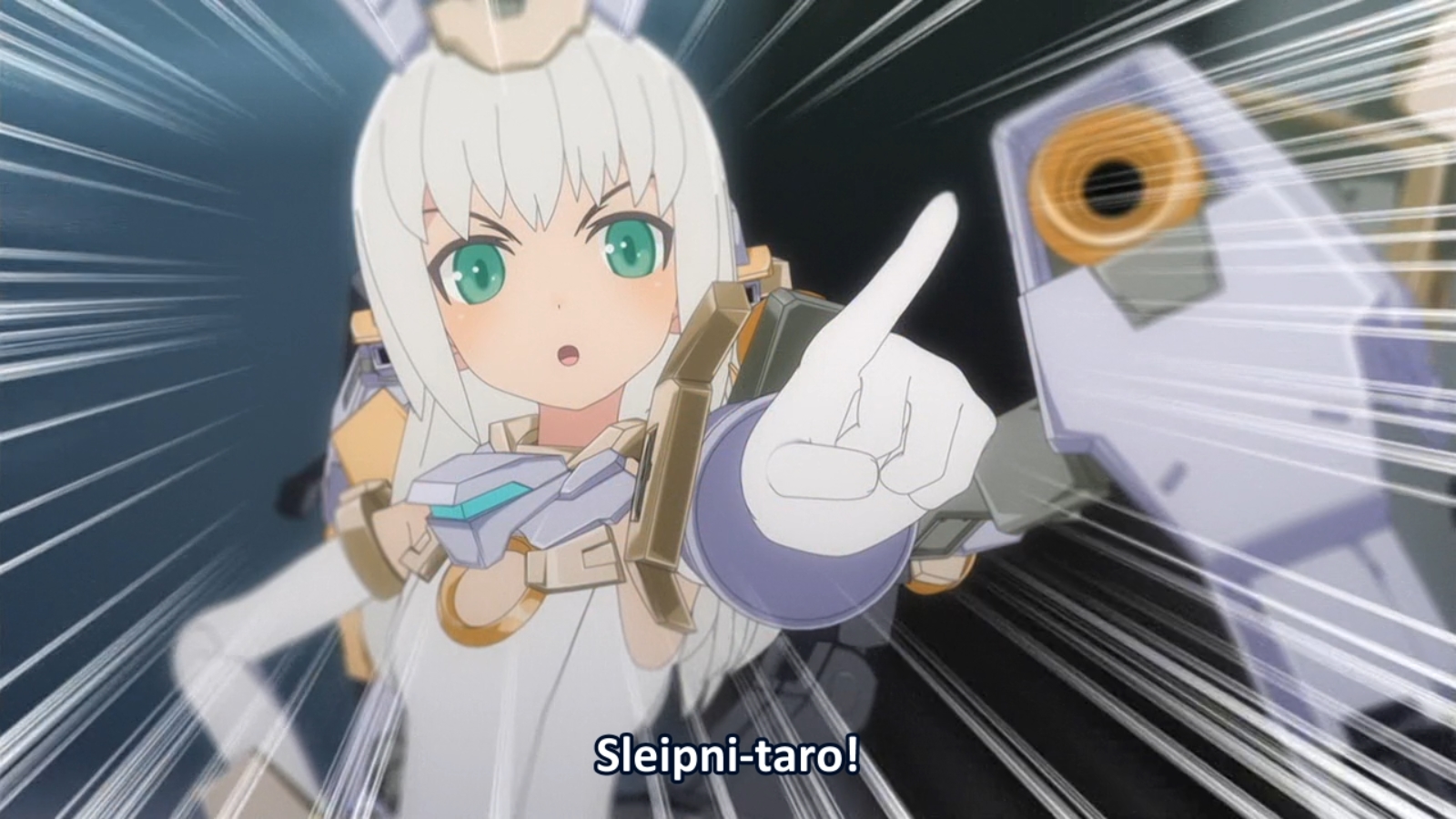 What I find neat is also how assertive Gourai is now in how she wants to go on an errand for vinegar by treating it as a race. Neat to see how she also split the FA: Girls into teams, yet still somehow made it come off as comical as they all become distracted in their own ways, still ignorant of the world in a childish manner still learning the ways of the world.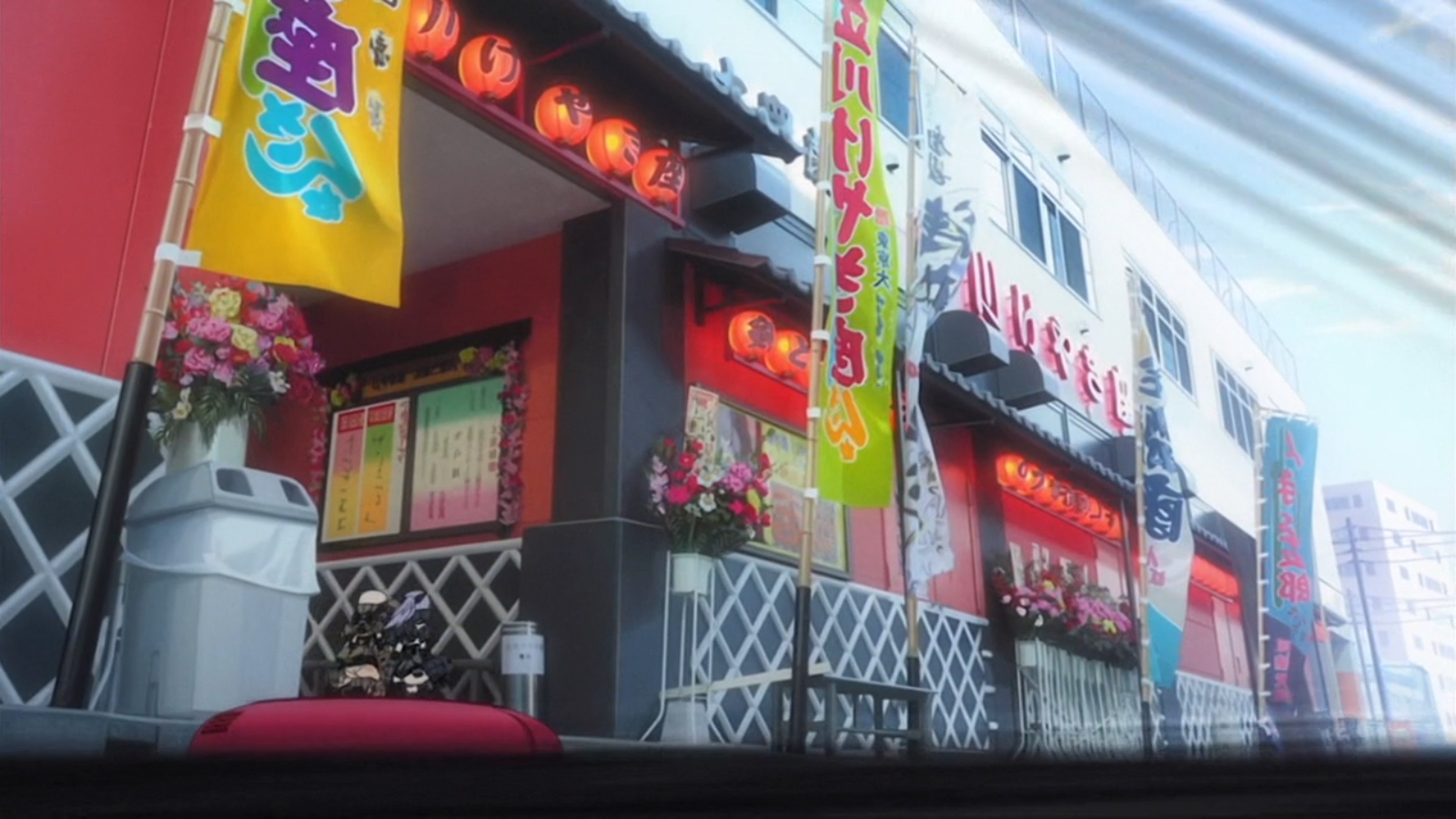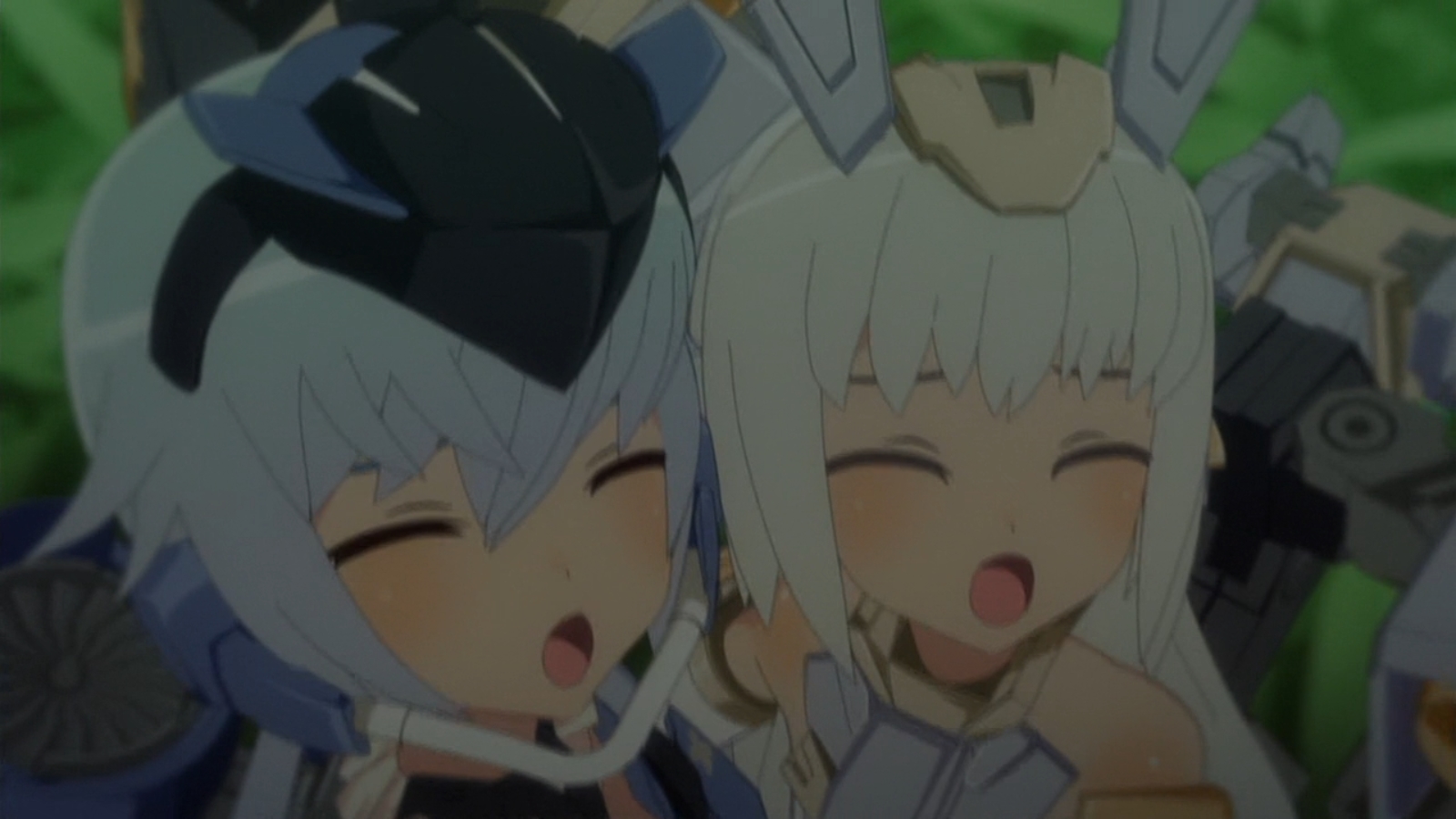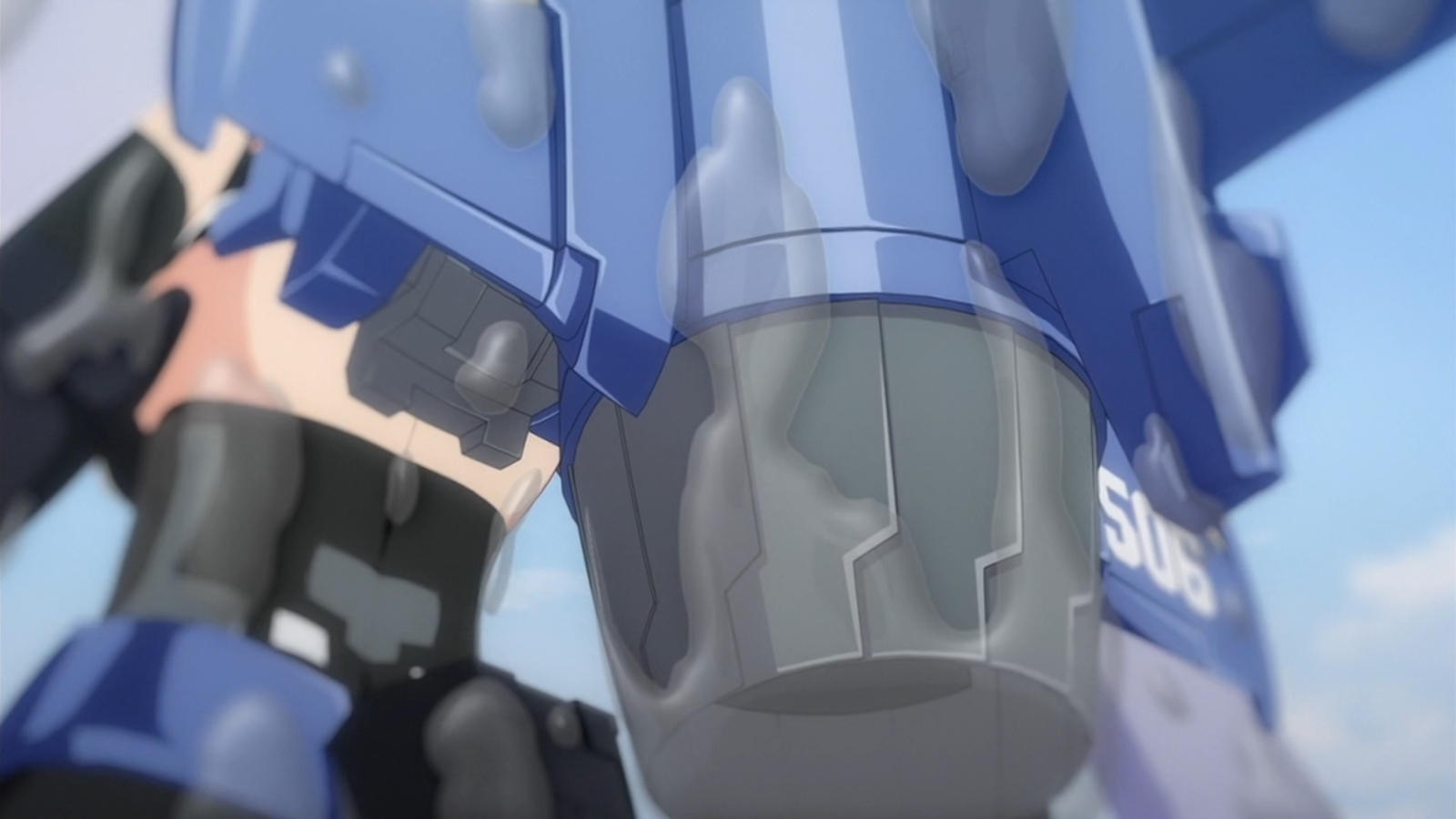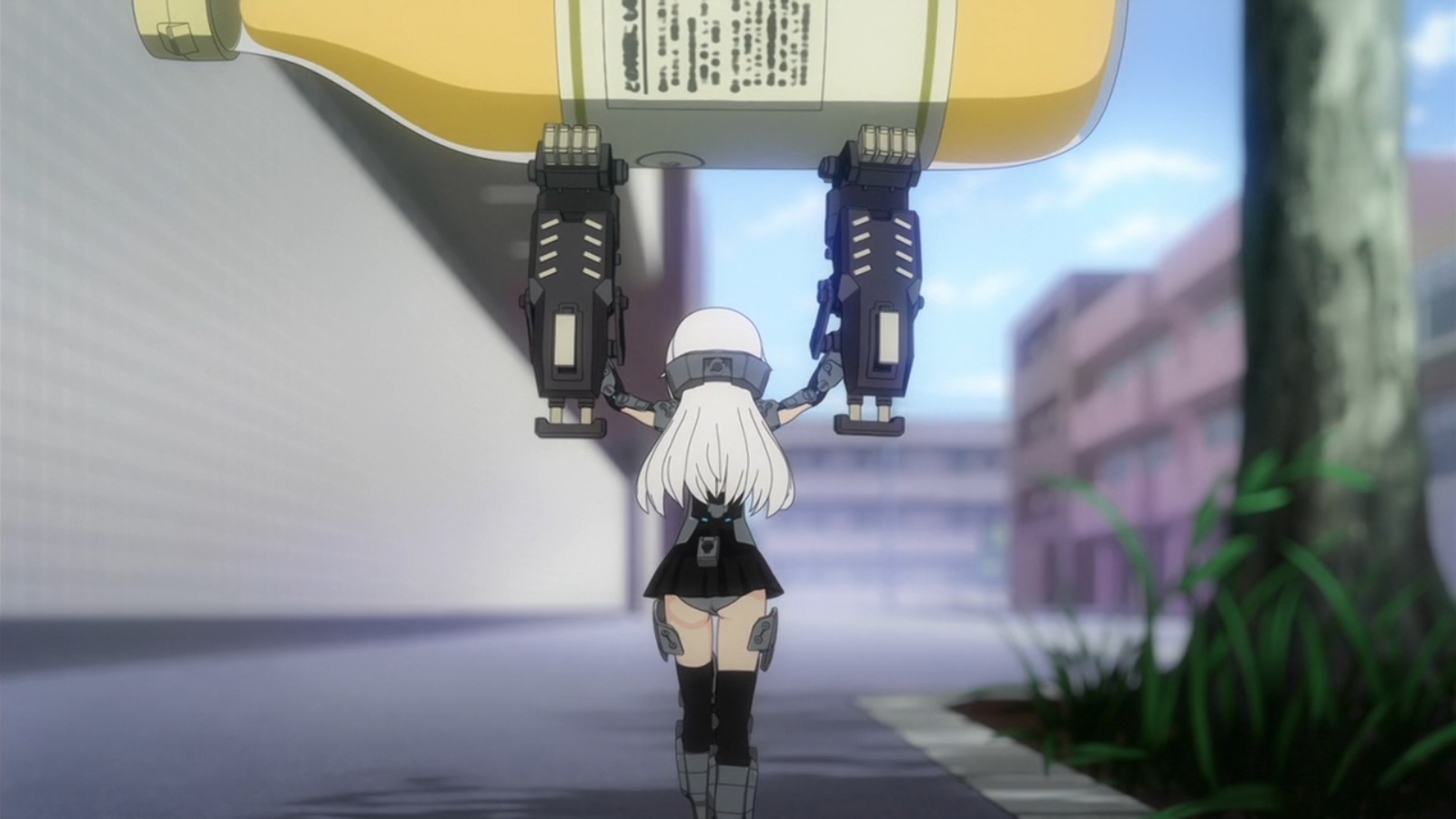 SEE! This is what I mean by "I do not trust Ao with a knife", because THIS happens!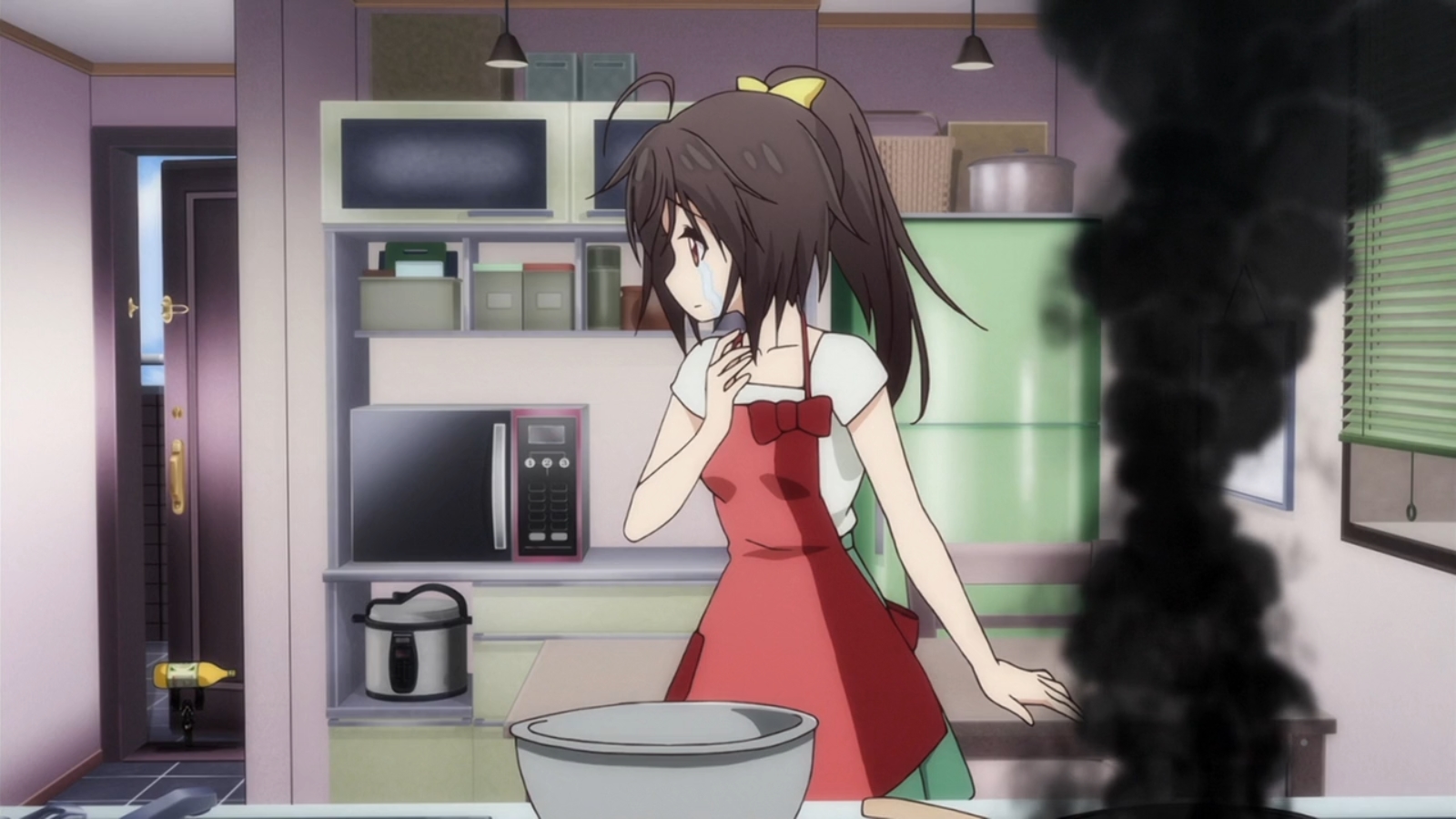 The results?
Gourai & Jinrai: Crashed in a park.
Materia Sisters: Stranded in a tree.
Sty-ko & Base': Goated
Architect: Victorious X2 (Vinegar & pork)
Not bad. Not bad. I actually had lots of fun with this, yet it still was a "What the fuck?!" moment for the errand race. I love the fun in this, as well as the battles. I love this! Ao is actually living, the FA: Girls are still Busou Shinkis reincarnated, and there's still that aura of Busou Shinki concepts being reworked and re-done here that in that coincidental or intentional homage manner.
8/10, this episode!
—
See you in Episode 6 review as I try to catch back up on my back-log!