Great news has hit the VR and anime market that Spice and Wolf shall hit VR in 2019! We shall see our fluffy wolf beauty in VR sometimes in 2019 on VR.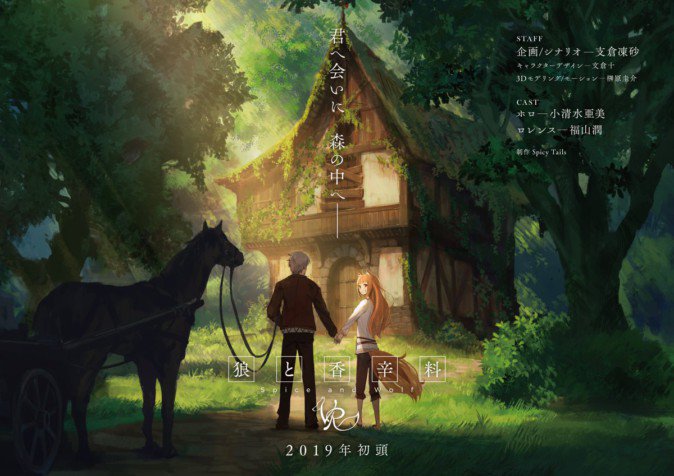 Spicy Tails recently announced that they're going to release a game based on Spice and Wolf on VR in 2019. Being a big anime fan, as well as a big Spice and Wolf fan this makes me insanely happy that I just had to add a big insert on my blog for this great announcement. I loved the anime, I have a nendo Holo, and I even have VR that this is great news. 2019 shall be a great year for VR because of Spice and Wolf entering the market, among other fun VR games.
You'll be able to play this game both VR mode & desktop mode, or so noted in Reddit. You'll however need either the Vive, Oculus, and other VR headsets to play in VR. Even a Hololens, if you so desire.
====
*Links of Interest:
====
Isuna Hasekura and illustrator J? Ayakura's Spice and Wolf light novels have been in print since 2006, and they're no stranger to adaptations. There's been manga, anime, and even a couple of Nintendo DS games, and the next step for the franchise takes it to the virtual world. 

Spice and Wolf VR comes from the appropriately-named Spicy Tails, which features author Isuna Hasekura and previously worked on the World End Economica visual novels. Hasekura handles planning and scenario for the game, and the cast includes Ami Koshimizu and Jun Fukuyama reprising their respective roles as Holo and Kraft Lawrence. 
Quoted from Crunchyroll
===
You see the world from Lawrence's perspective while Holo banter with you and can freely look around yourself, and even move in certain scenes in a limited manner

Will be a series rather than one work, but whether that means shorts or full episodes isn't stated

You can solve minor puzzles, interact with the environment, and touch Holo's fluffy ears during the free roam sequences

VR isn't required (https://twitter.com/spicytails/status/1018836030521110528)

Koshimizu is confirmed to voice Holo

Hasekura did the script

Ayakura is doing the art direction.

Subs confirmed (https://twitter.com/rikineko/status/1018836908665794562) safe to assume it's coming to the west
Above quoted from Reddit.
===
My Thoughts:
Having seen how 'Project Lux' handles I'm having my doubts (paranoid) that this may not be free-roamy as it should be. Basically to push the VR experience  properly out there is that you need more freedom to be able to travel around the world freely, but even so with that "flaw" I'll still be picking up 'Spice and Wolf' because I loved the anime series. Even if it may be a visual novel experience I'll still be trying it out to see how it flows that I can't wait to try it out. I made this blog post to boast after all to post about it that I'm hoping you'll be looking forward to this 'Spice and Wolf VR' game as much as I am.
I can't wait to fiddle around with the mini-puzzles, to see how the traveling sections behave, as well as being able to hopefully tease Holo by petting her ears and tail. Being able to tease Holo would be the best that if we could poke her ears long enough she'll protest, bite you, or even cuddle her tail to protect it, among other amusing Holo behaviours.
See you in 2019 where I'll be able to hopefully tease Holo in VR!