Happy Canada Day!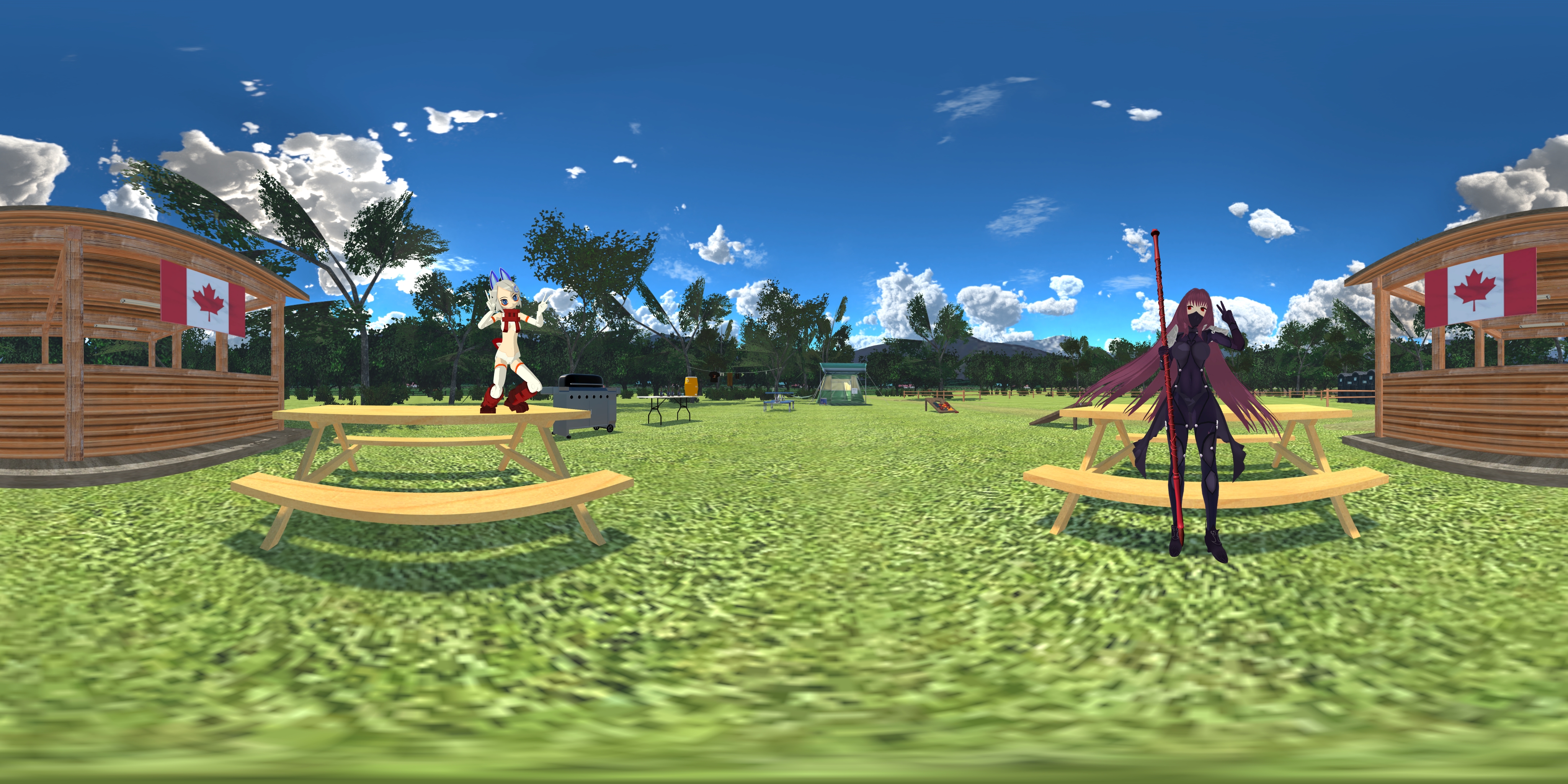 Happy Canada Day!
Another year to be proud of being a Canadian, another year to enjoy everything around us, and more ways to still be creative in games. I still love associating myself with Canada and Canadian pride because of our history, our gorgeous environment, and our technology. We can also be awesome in games, if given the chance. I highly dislike Canada's childish politics, yet everything else is awesome. Gaming wise, historical, and etc.
Disclaimer: Always a day late because of what happens on Canada Day to share this the next day over on July 2nd.
---
VRchat Canadian Fun:
I had to get a bit creative with these images (photoscape) because Oculus refused to allow me to go into VR to take my own poses. It told me my headset isn't connected, something which is a lie. I had to desktop mode these images to then add over some transparent images I took previously to make it seem I was there…. At least in desktop mode.
Simply search for 'Canada' then you'll see the following chill world below.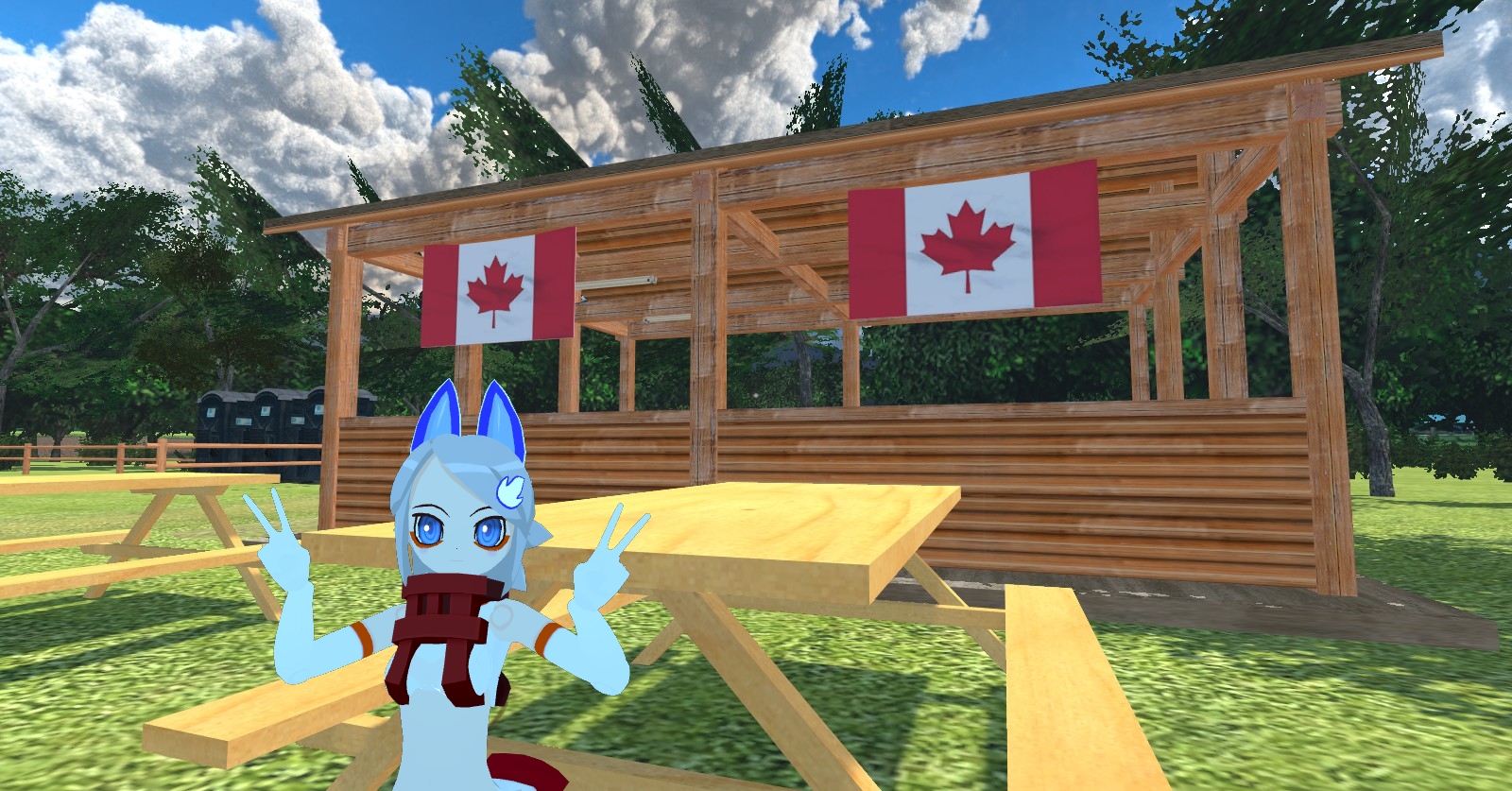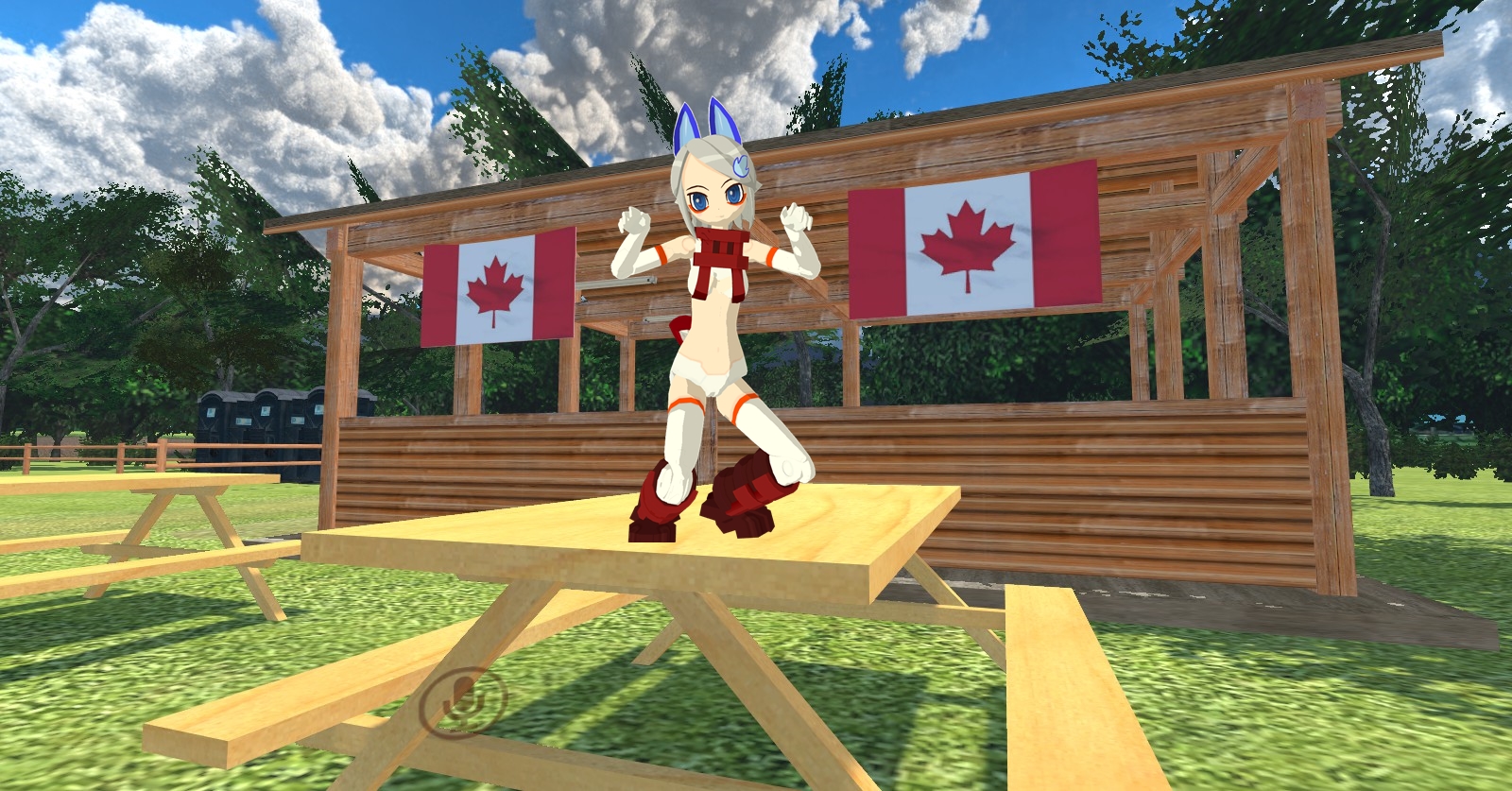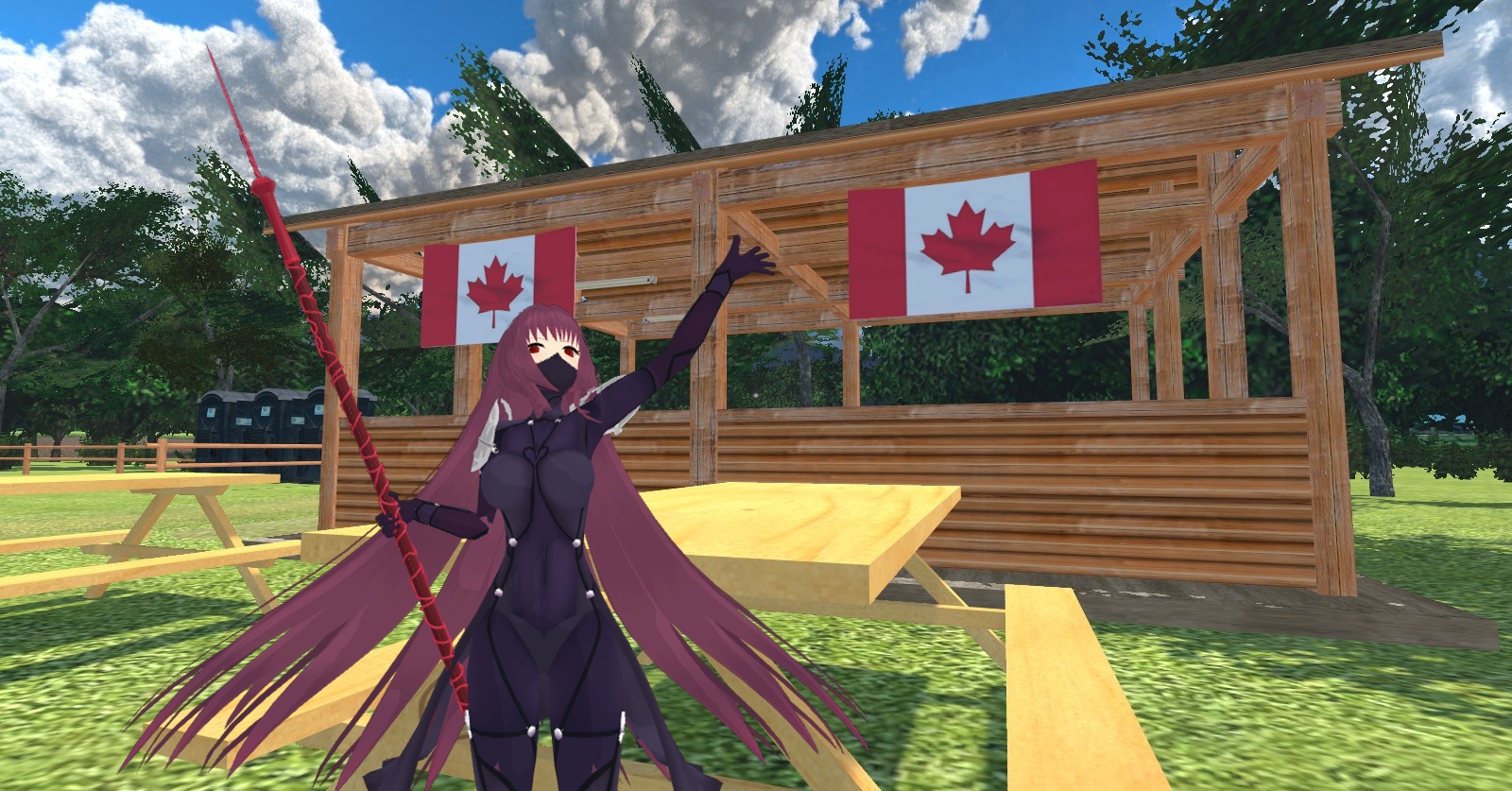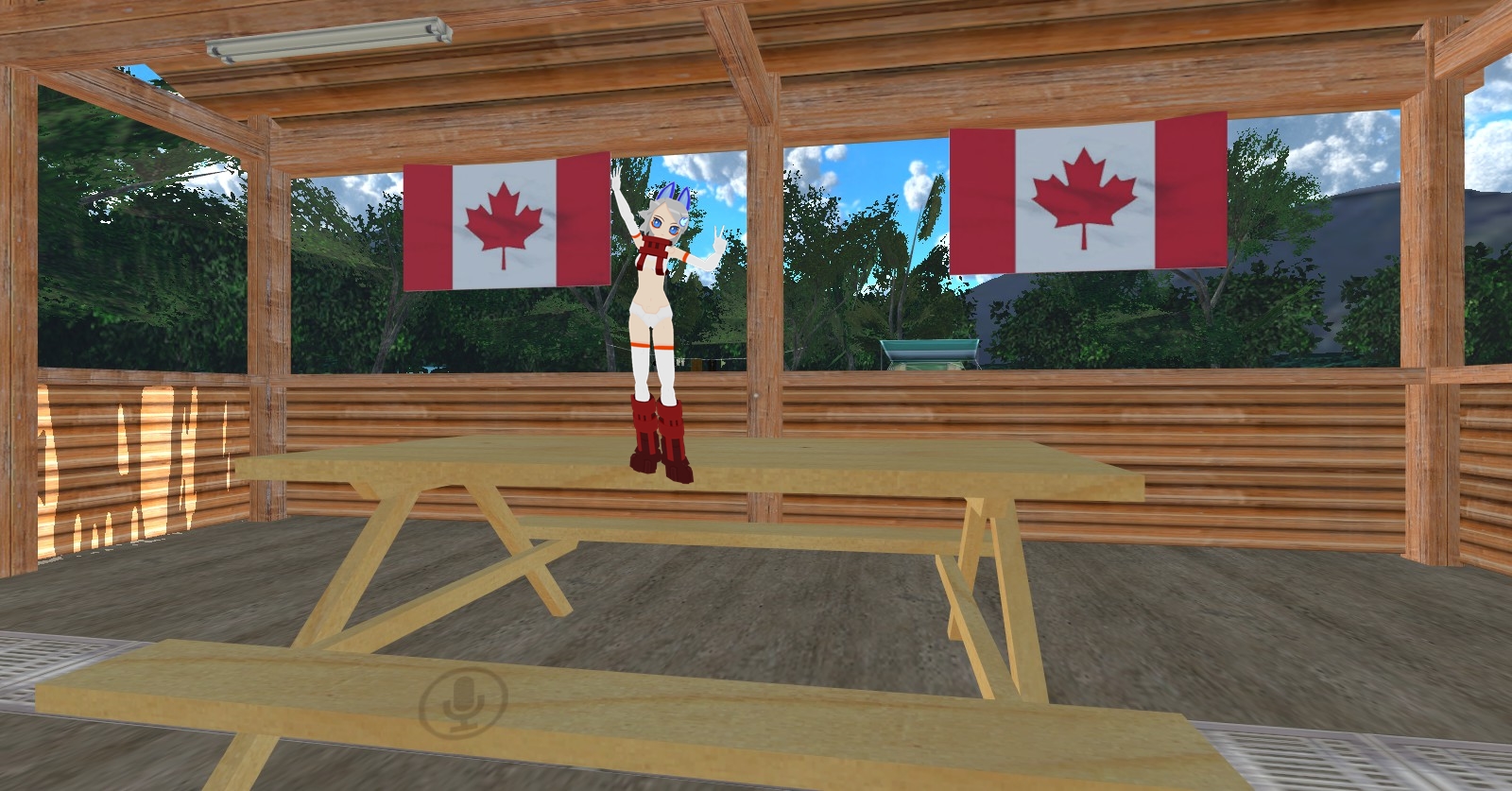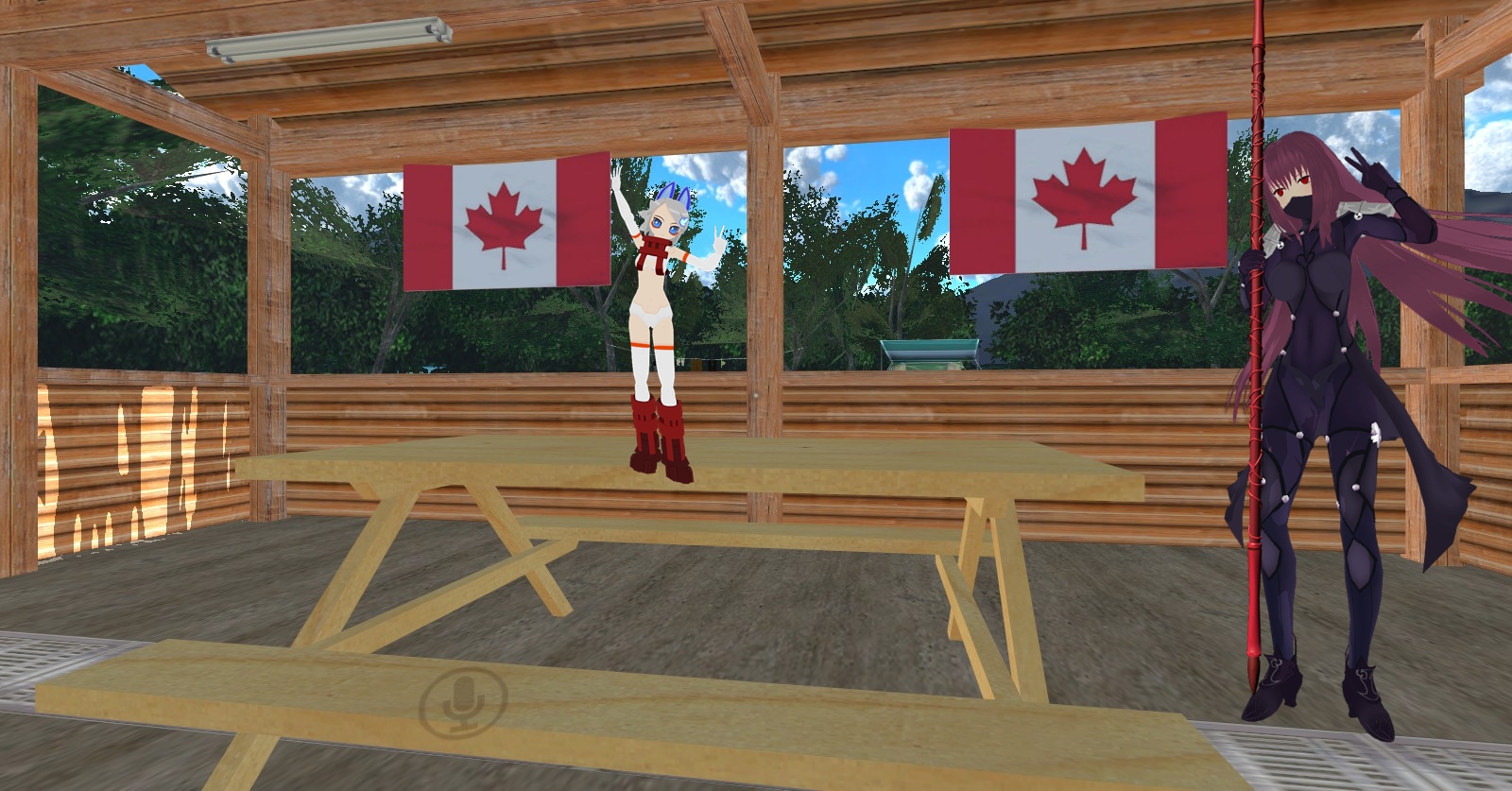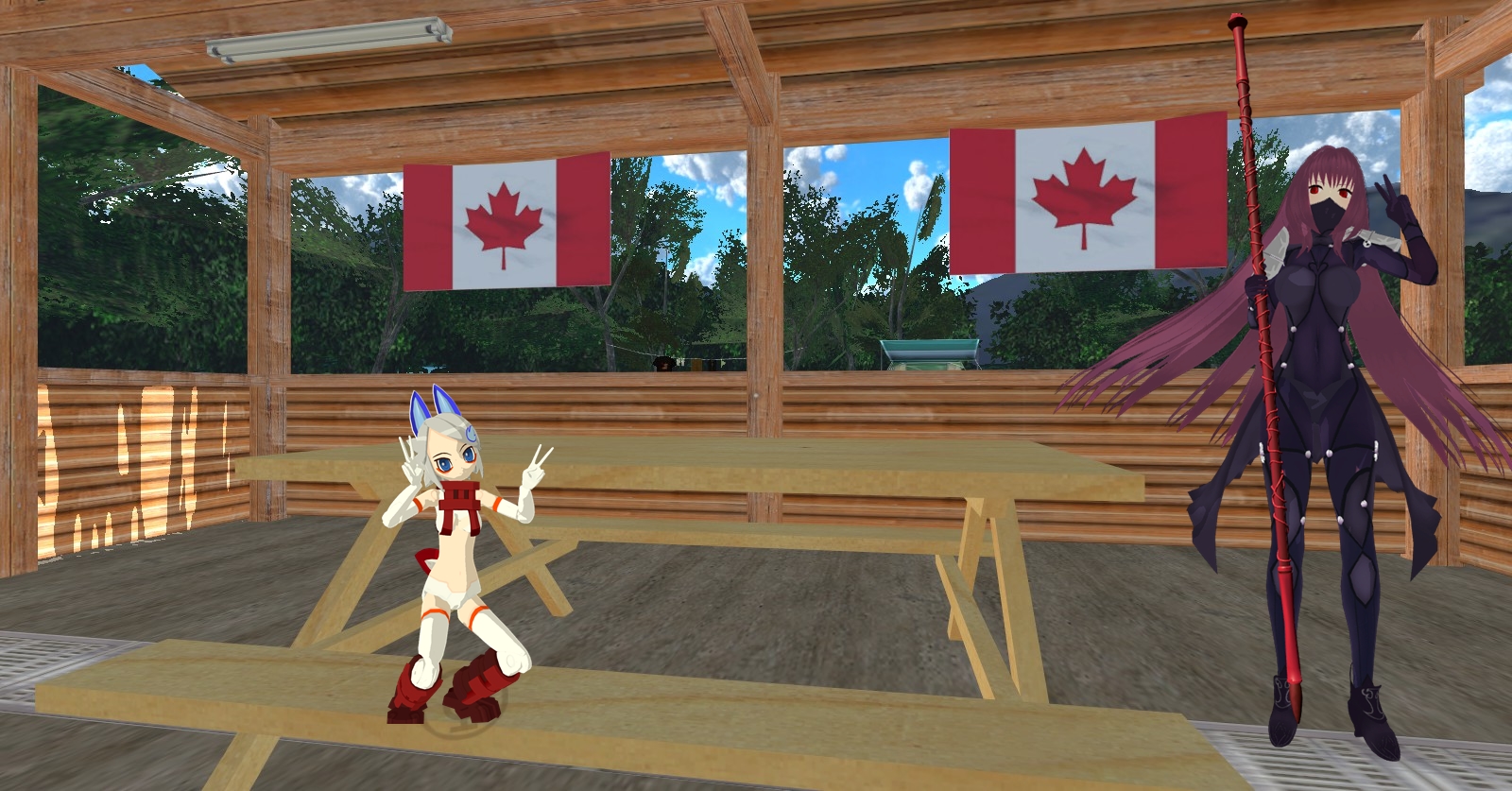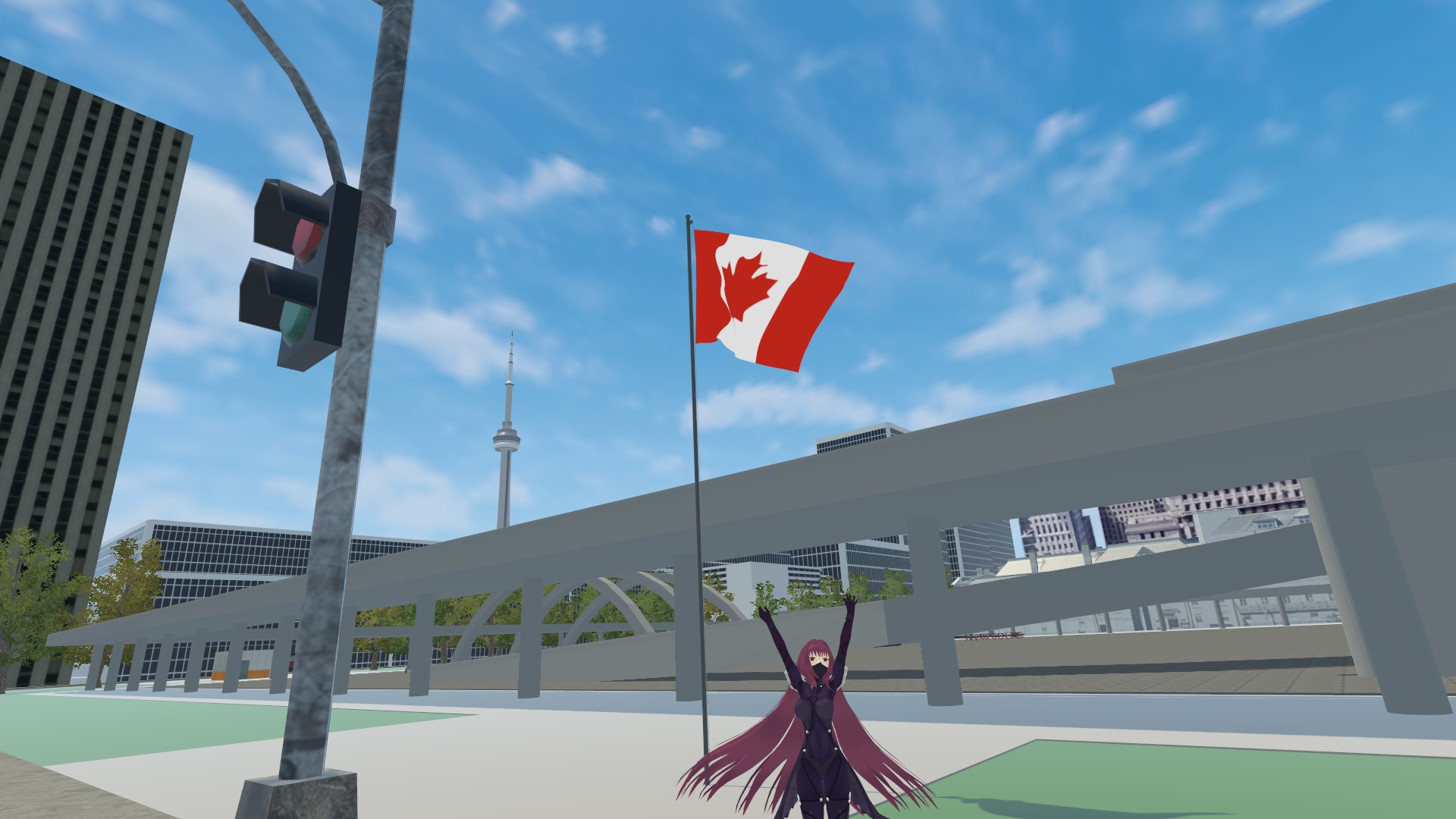 ---
Azur Lane – Canadian Day Acknowledgement:
Something special happened on Canada Day, something which rarely tends to happen. Something I'm highly proud and hyping up about because of the kindness in that gesture. Azur Lane developers on the English side went out of their way to commission 'Doomfest' in Canada via Pixiv (Japanese art side) to share on Twitter. It's done in an amusing stereotypical French-Canadian manner, something I view as tolerable. Nothing stereo-typically cheap about it, thus I approve. Now, if it went on about 'Aboot' & 'Poutine' THEN we would have serious lazy issues.
I view this as a simple, yet a very huge gesture by the Chinese developers because it shows they care about their fanbase, about the Canadians, and to feel inclusive in various ways. Was nice seeing how other fellow Canadians wanted to have HMCS Haida added into the game in response to this tweet. Tried searching through the Japanese Twitter account to find no love. Makes sense, I guess… In ways. Maybe.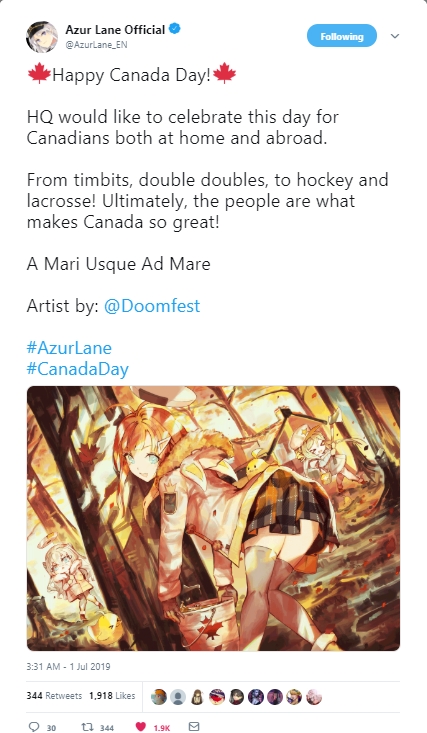 Canadians are indirectly added into Azur Lane with Fortune & Foxhound being the semi-big players. They've also been given some references as to their involvement into the war in their dialogue, or at least by one of them. They make references in their dialogue, or at least for one of them. Fortune & Foxhound are the big ones, though, a missed opportunity was noticed with how their retrofits ignore the 'HMCS' designation. There are also a few other subtly hidden shipgirls (shown in tweet below) in in Azur Lane in a more unofficial manner than with Fortune & Foxhound.
It shall be a glorious moment to see Canadians having their own factions similar to how the Chinese & French sub-factions. Canadians have quite a number of noteworthy vessels to be added.

---
Azur Lane – Foxhound Canada Day Retrofit:
Happily managed to retrofit Foxhound just in time for Canada Day celebrations to celebate Canada Day with. If there's a will, there's a way. I'm a Canadian, I desire to pay my respects to the Canadian navy from WW2, thus given the chance with Fortune, Foxhound, and any others :).
Tried to get Fortune retrofitted in time to only find I need more resources on the English side; More leveling to be done on the Japanese side. I'm on two clients because I screwed up.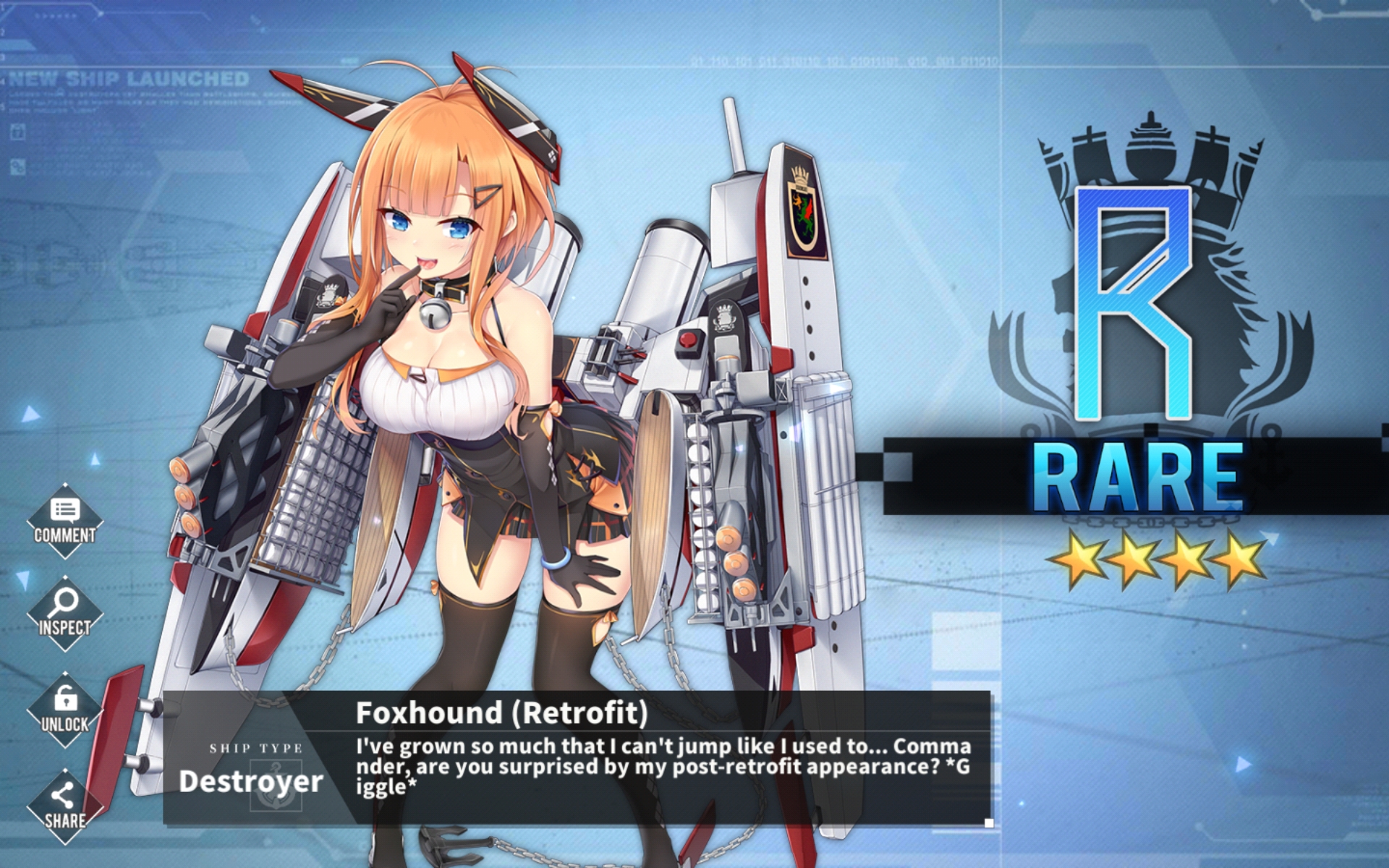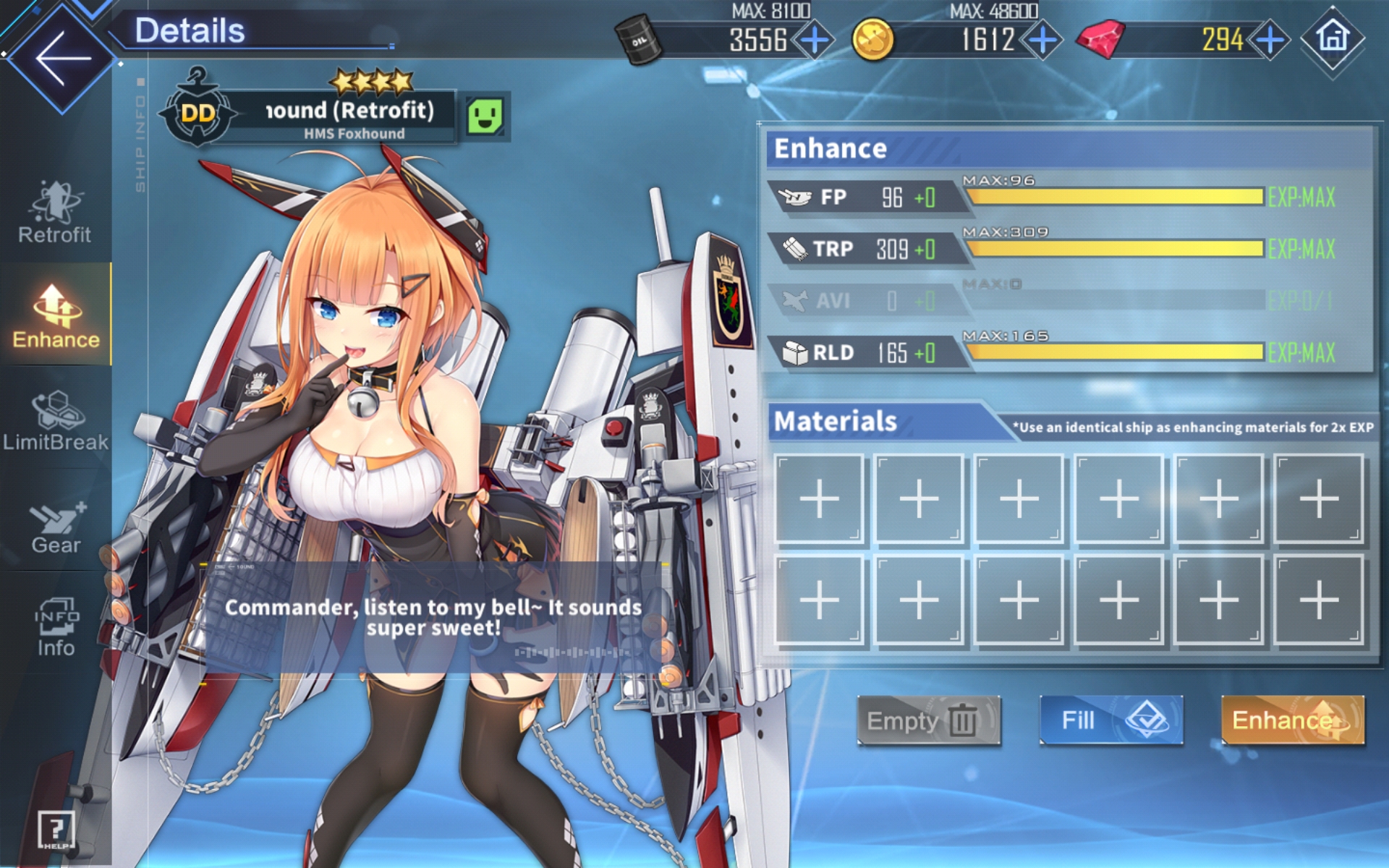 It's awesome seeing people desiring HMCS Haida because she's a museum ship, it's however a bit of a shame people have forgotten about HMCS Uganda & HMCS Ontario. They're light cruisers, they're bigger, and they've been prided & boasted about by the sailors having served on them.
---
Destroyer Class Tribal-Class:
– Athabaskan (& II), Huron (G24), Cayuga (R04, Iroquois (G89), Micmac (R10), & Nootka (R96).
Minotaur-Class Light Cruiser:
– HMCS Ontario (C53)
Crown Colony-Class Light Cruiser:
– HMCS Uganda (Later HMCS Quebec)
Queen Elizabeth Battleships (Planned; Plausible Research Orientated):
– HMCS Ontario, HMCS Acadia, & HMCS Quebec
(Reference 1) – (Reference 2)
The Canadian Naval Aid Bill of 1913 intended to provide the funds for three modern battleships, which most likely would have been three more members of the Queen Elizabeth class, potentially named as Acadia, Quebec and Ontario,[20] in much the same way as Malaya had been funded. The bill met with stiff opposition in Parliament, and was not passed.[21] It is unclear if these ships would have served in the Royal Navy (as with outright gifts like Malaya or the battlecruiser New Zealand), or if they would have served in the Royal Canadian Navy (HMAS Australia, an Indefatigable-class battlecruiser, served with the Royal Australian Navy).
---
Shall be interesting to see if they even do consider the planned battleships or not. They're from WW1 era, though if put into service they would have most likely even been around during WW2 so I really don't see it being that of a far-fetched idea of it being added into the game. Many WW1 era ships found their way into WW2 through refits. These three Queen Elizabeth-Class battleships were planned to keep the Great Lakes safe.
---
Tower Unite NPC fun:
Something on a semi-random note, yet still fun….. I had fun messing with NPCs adding in both my Anime waifus and my friend into Tower Unite. Was fun.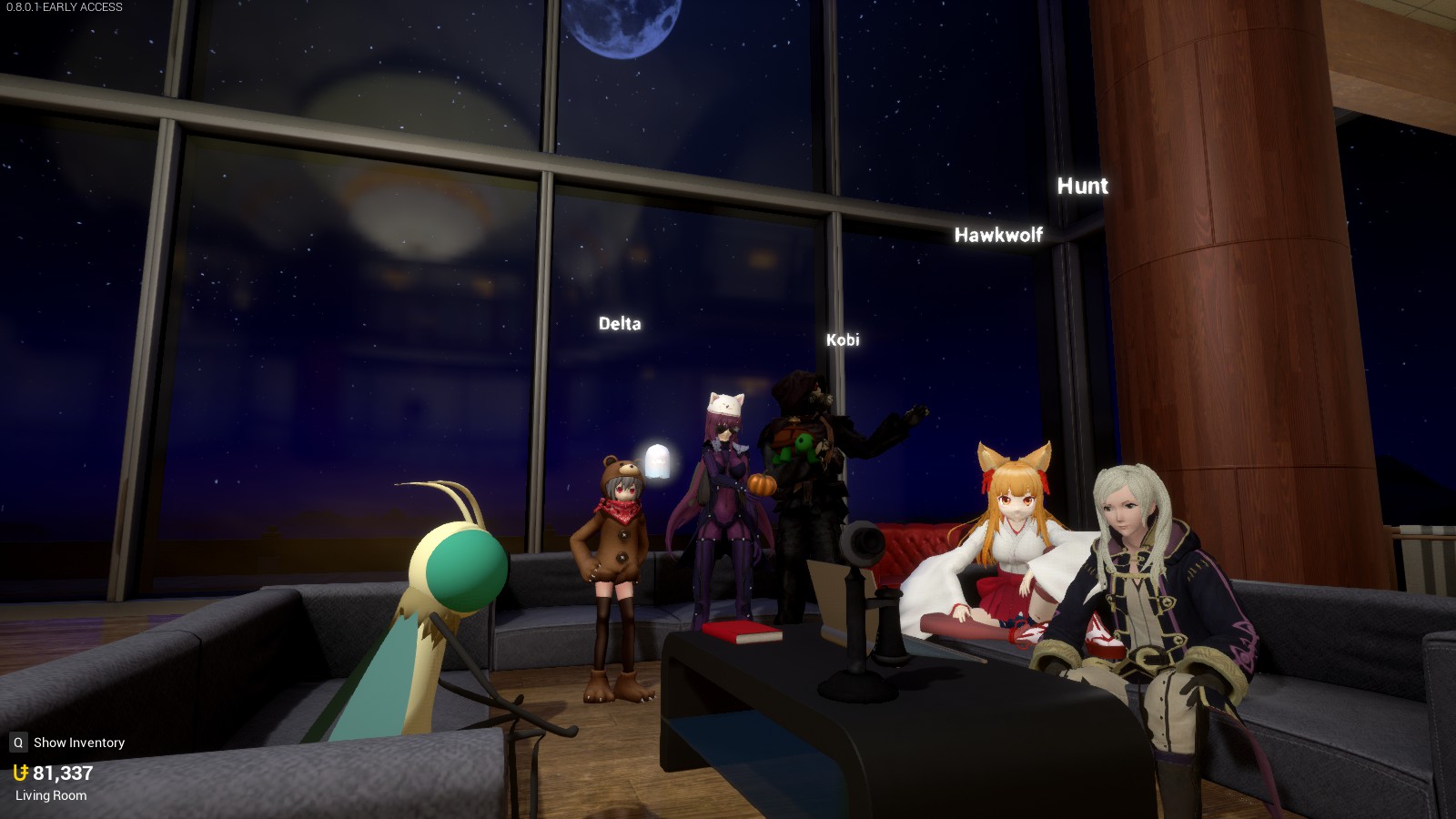 Going left to right in the image:
Maiya as a moth. Lamp!
Delta as a Bear girl because he finds 'cute' avatars.
Myself as Scathach (neko hat & pumpkin).
Kobi as a death trooper because of how I first saw him in VRchat. That's the closest I could get him.
Hawk, because of his kitsune floofiness. When I first saw him he was a 9 tailed fluffy fox girl. It's close, not quite, but it works. Close enough.
Hunt being Robin because that's the avatar he often used before going more kitsune.
Once I saw the NPCs feature I basically nerded out. I added both Bismarck & Scathach as my NPC waifus in the game. I spent my time copying the dialogue to make them believable. I was even happy seeing Little Bel (Azur Lane) being used as an avatar making her an NPC for how adorable she is. If they had Bismarck from Azur Lane I would have also added her in. I honestly love how you can turn any NPC into your 'anime waifu'. It's one of the best features to have, something I wish to see in a game called 'Rising World'.
Now, if I can get Renge (Busou Shinki) and Bismarck (Azur Lane) added into the Tower Unite condo then that be both the icing & cherry on top. Excellent! 🙂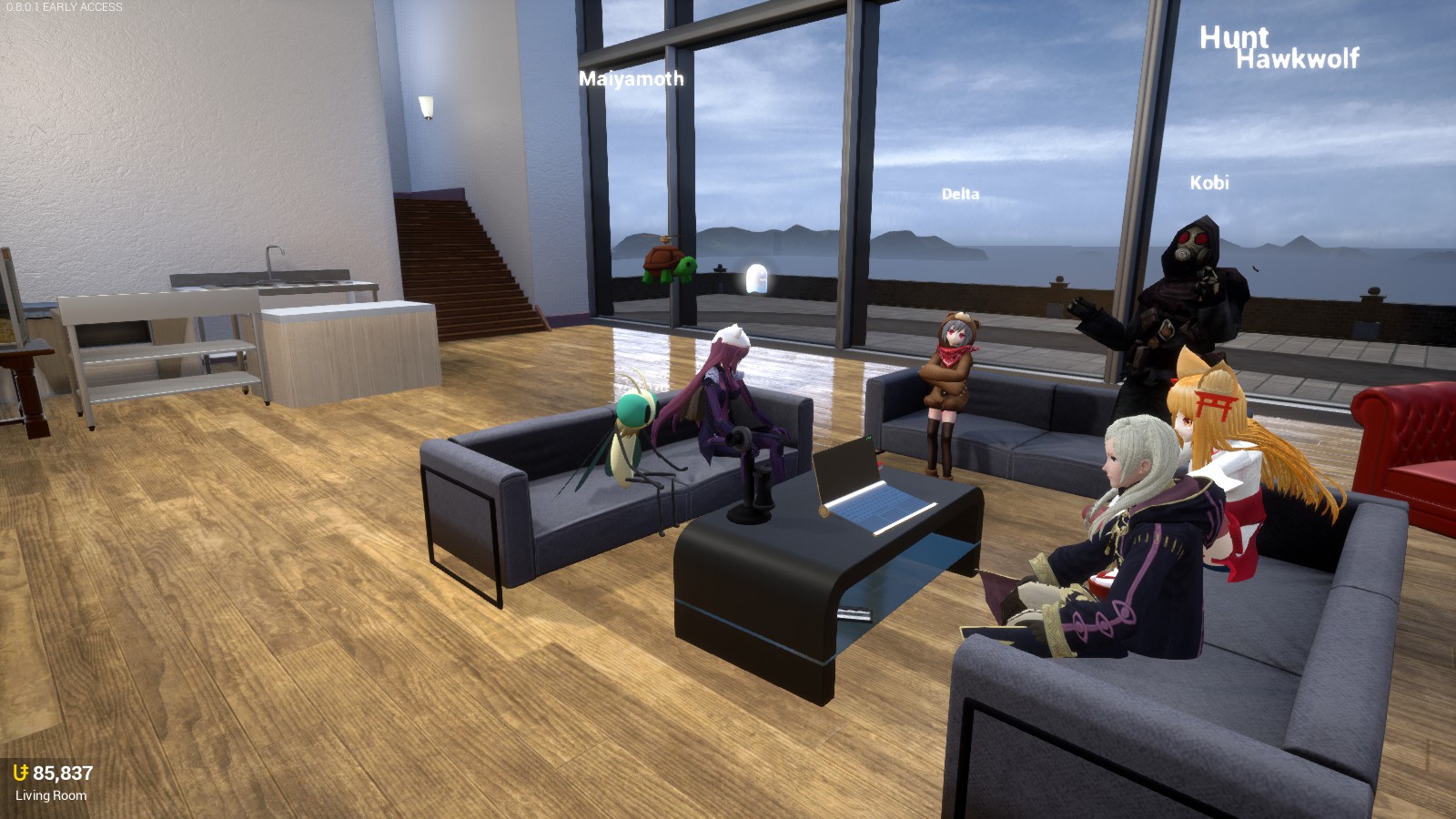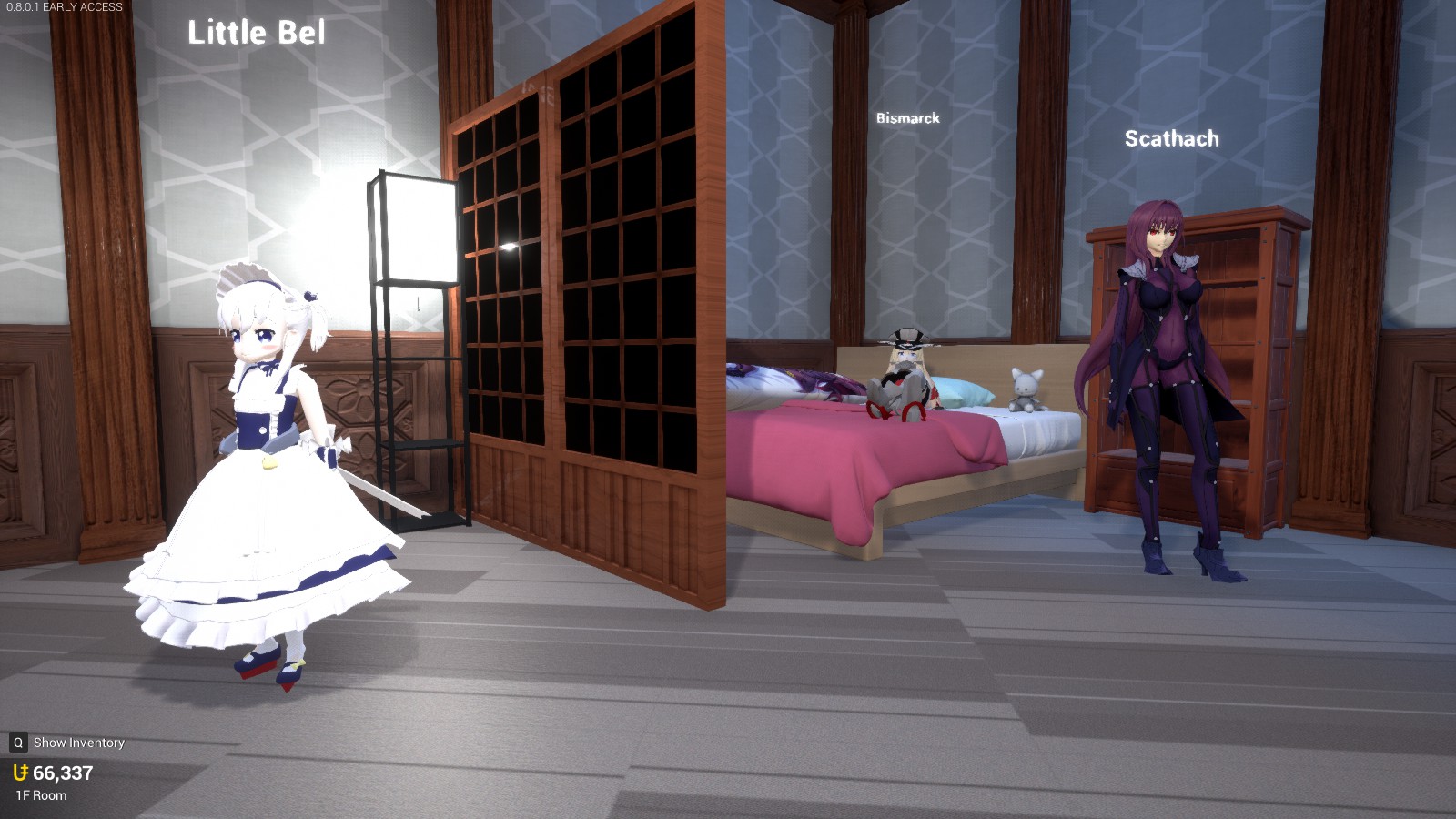 I can't wait to see this similar feature added into 'Rising World' so I can also do my survival sandboxy, building, and exploration in that game. I would love to see Scathach & Bismarck dealing with the environment with me as my comrade-in-arms & etc. Fun times, fun times 🙂
---
Been fun. Happy Canada Day, and thanks for reading 🙂