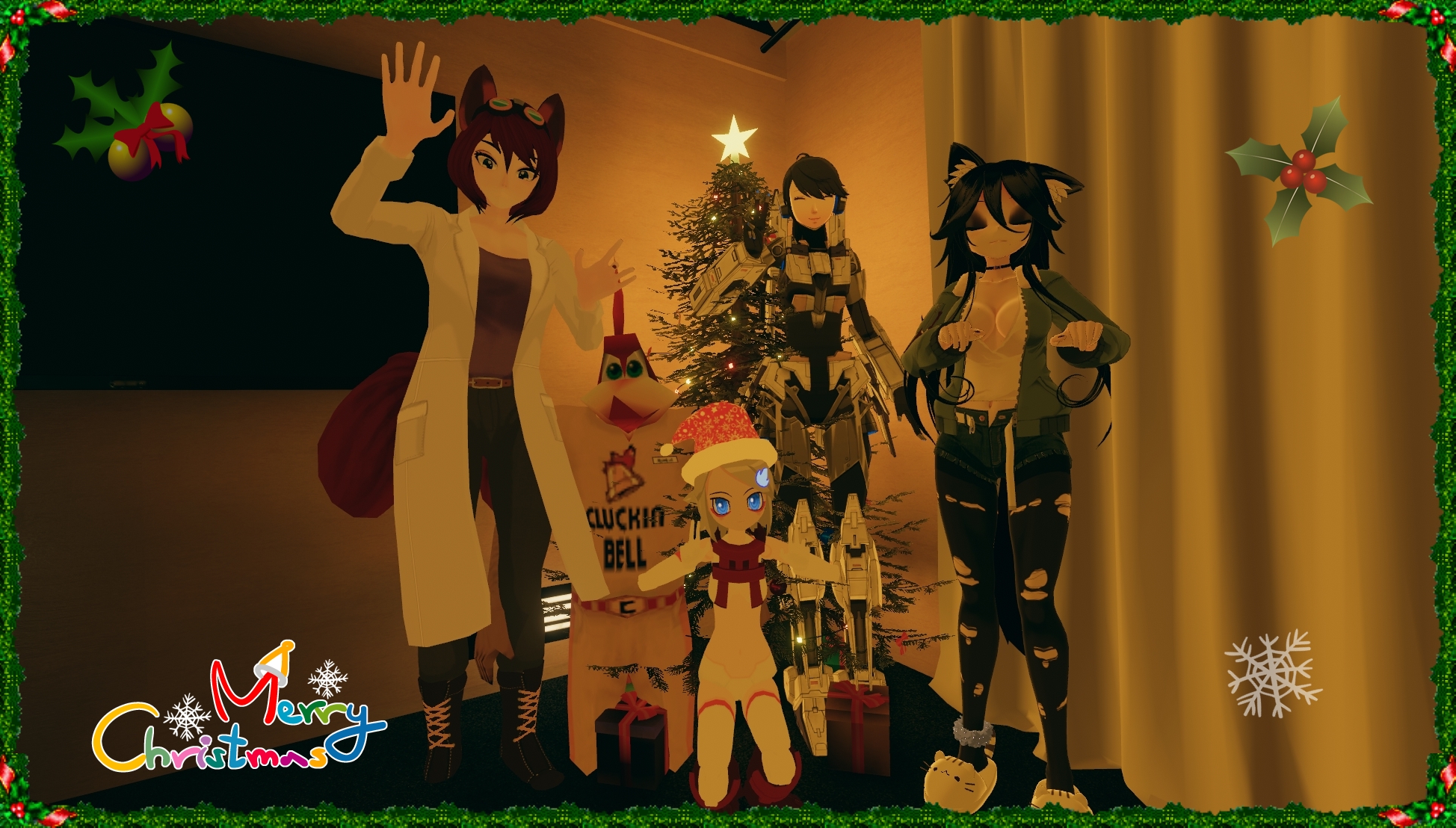 ---
Another year, another festive time to be cheery and positive. Even a chance to properly meet up with all your friends at the same time in the best condition possible. Theoretically. Since last year's New Year I've tried my best to be on VRChat to simply struggle in the end only hopping onto VRChat a handful of times. You could probably count the number of times I hopped onto VRChat on your hands (and maybe your toes) making me wish I was allowed to VRChat more often. I'm certain I was allowed to, I'm implying life and adult things in life; Life responsibilities and obligations. Even so, I'm still happy I've met my friends in VRChat back in 2018 still hanging out with them in 2021. Even able to be on fairly good terms for hangouts, among other activities. We all wish for the same thing. Certain times are hit or miss, it's all life's take on RNG.
When it comes to festivities I would much rather do them on VRChat than anywhere else because of the immersion. It's more true to its festive nature than anything IRL. It's far more colourful, impactful, and meaningful when you hang out in VRChat over real world. The world, as nice at it is, tends to forget how to have fun. More so in the area I live in nudging me even more so into VRChat to see things in their more 'exaggerated', if true atmosphere. It feels like a dream is what I'm trying to say.
Also took me awhile to post more stuff on my blog thanks to some technical difficulties. Now that's sorted, more blog posts incoming!
---
Article is broken into 4 parts:
Solo exploration admiring the beauty of Christmas train world.
Main Christmas Eve hangout with friends.
Bonus images with Christmas vibes.
Friend Images of event.
---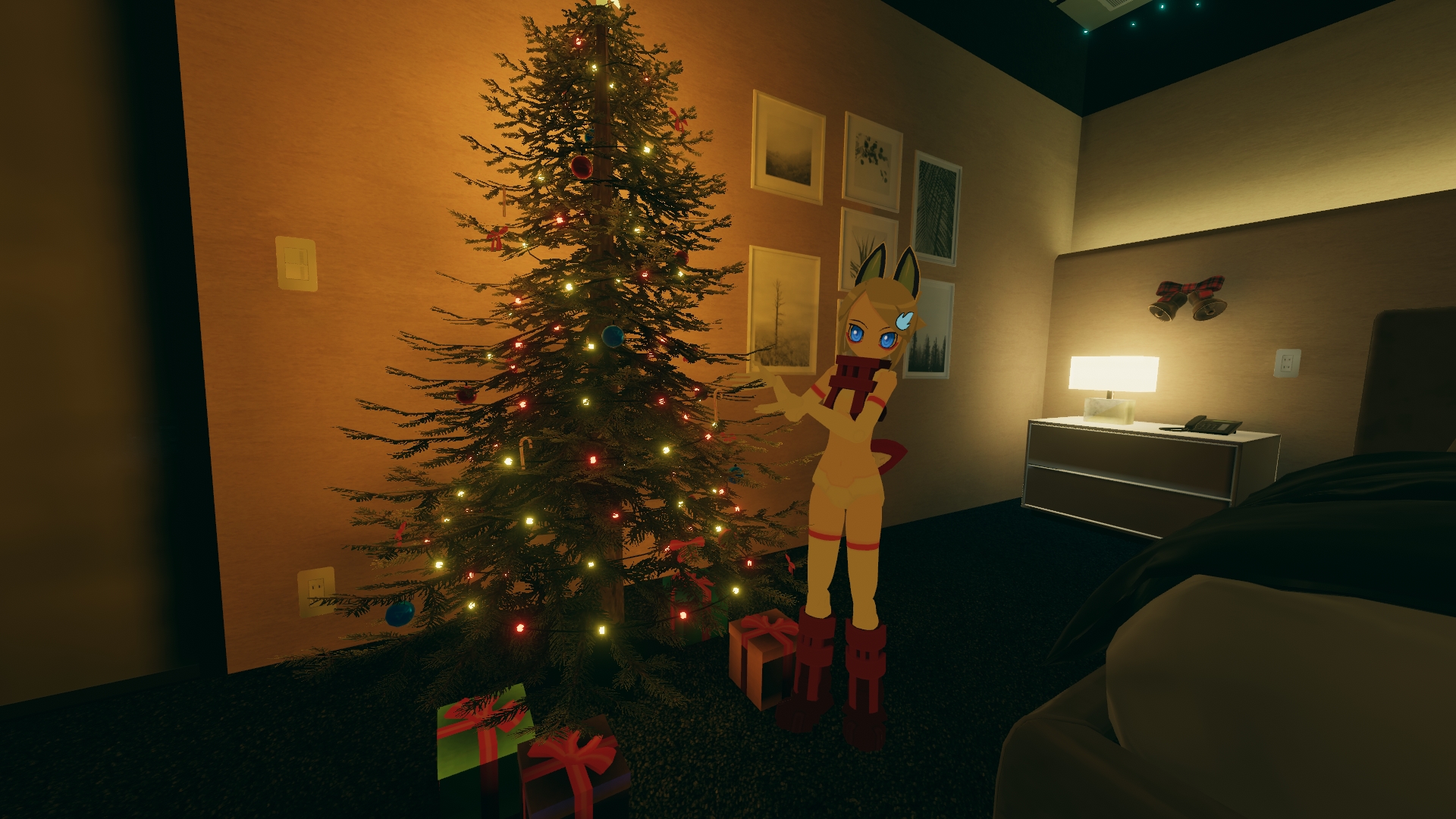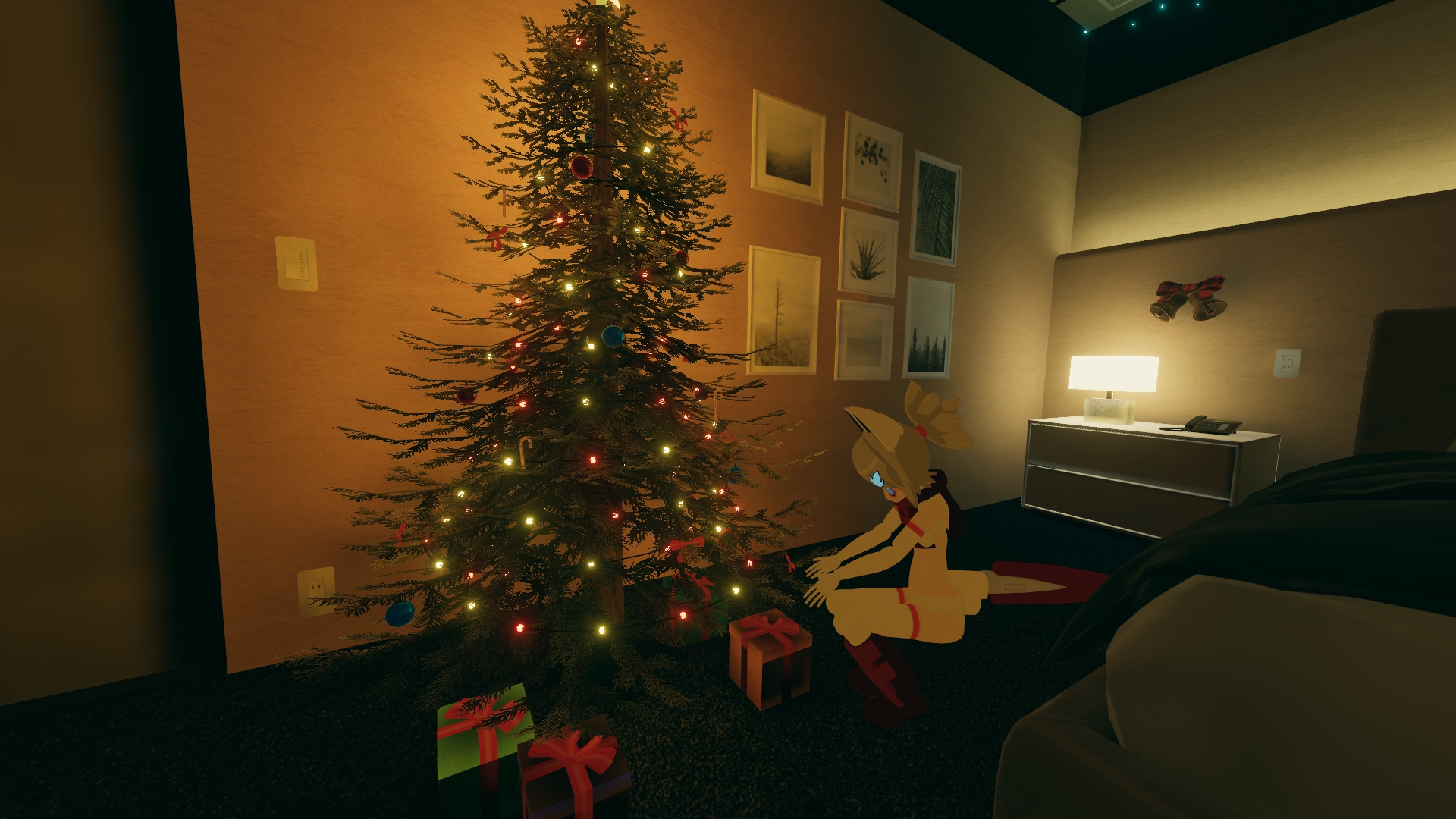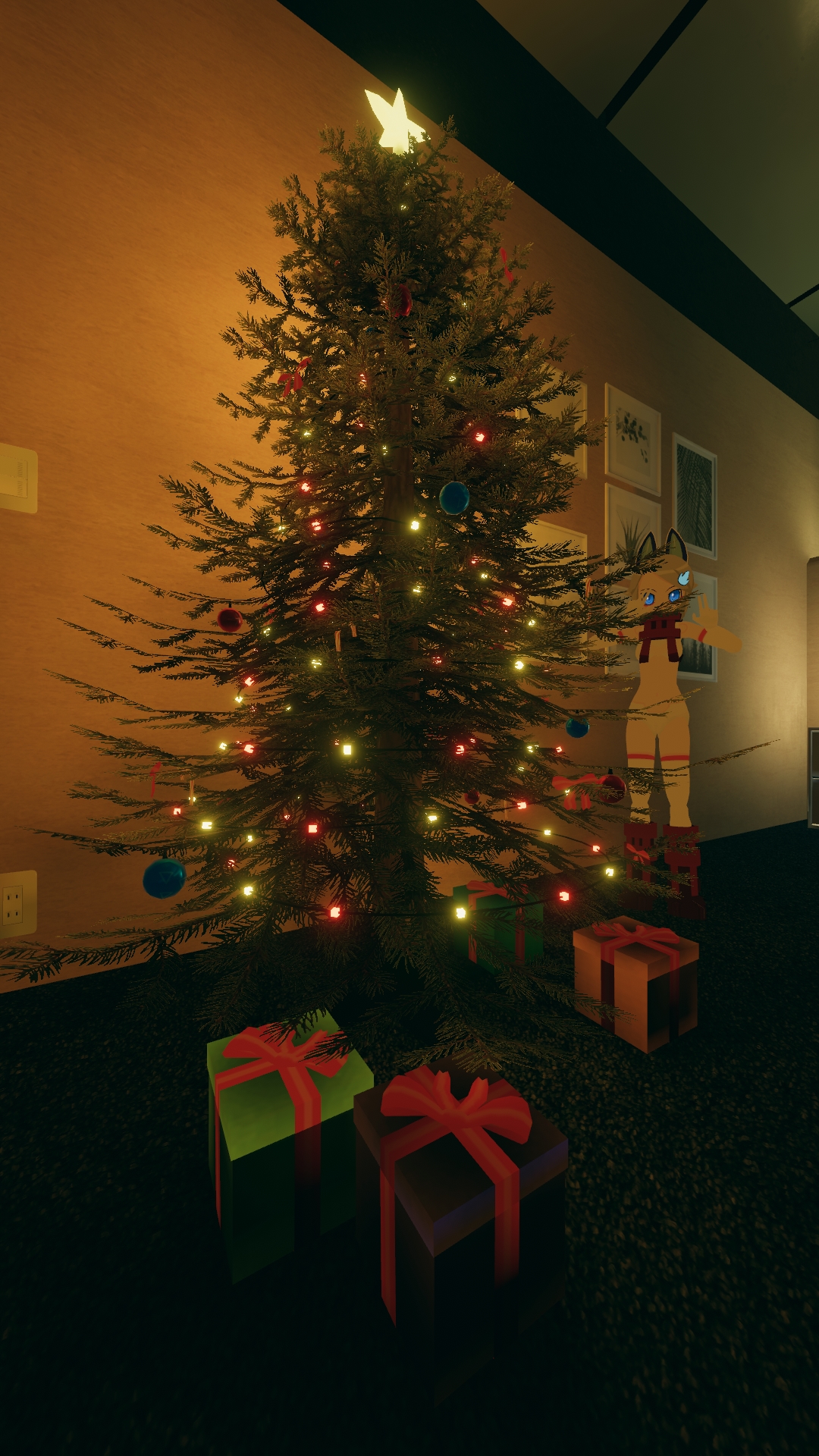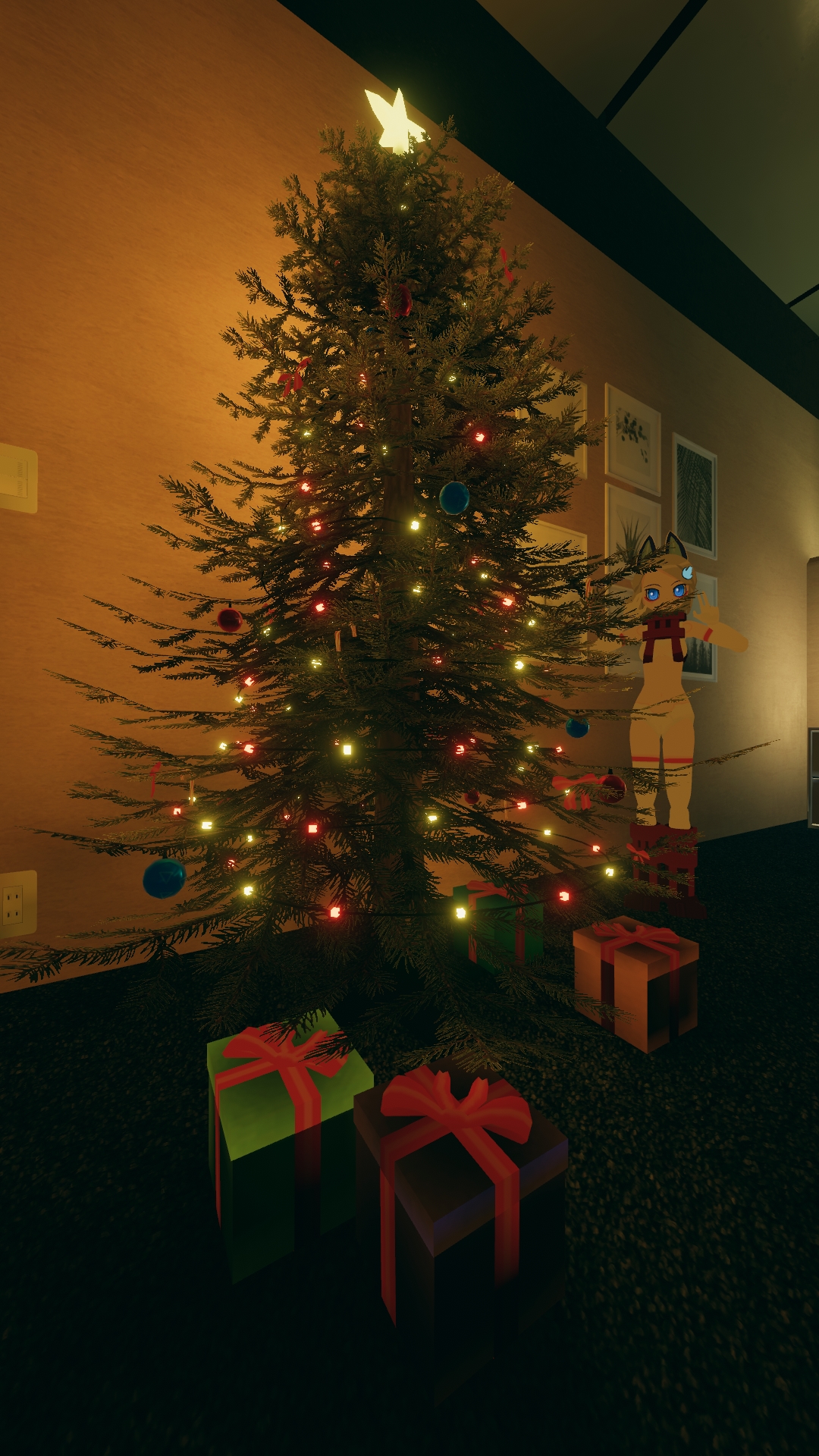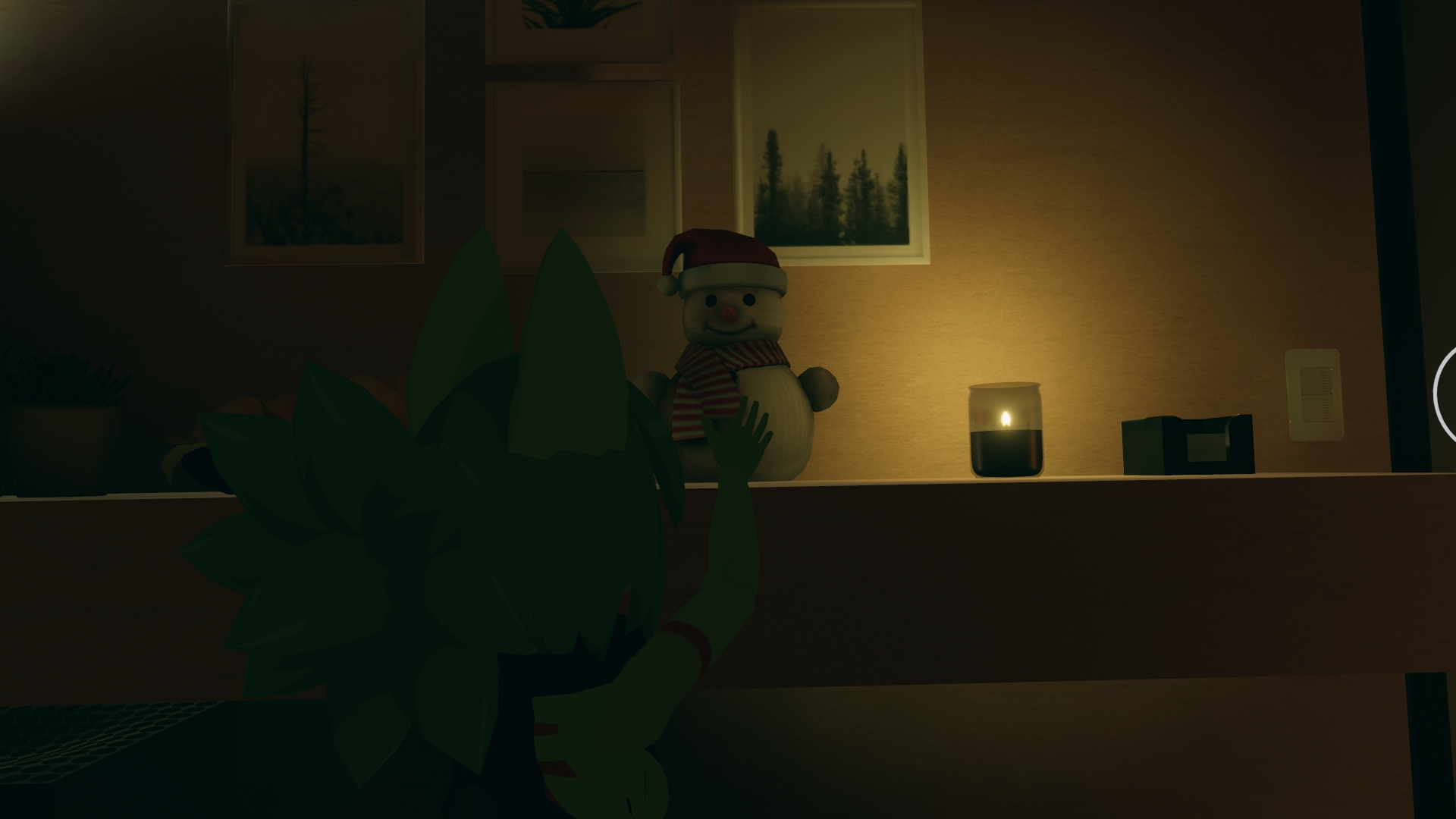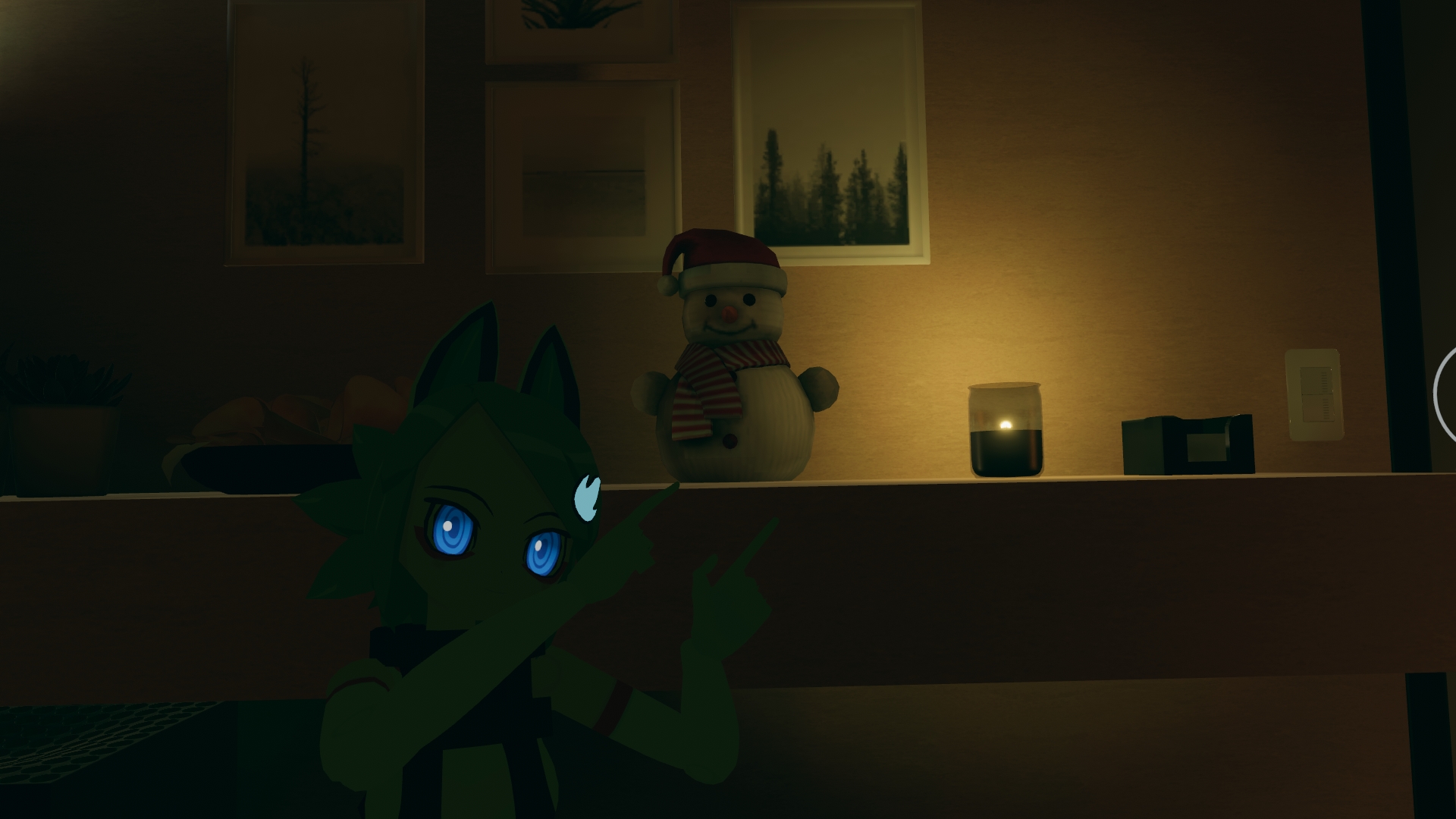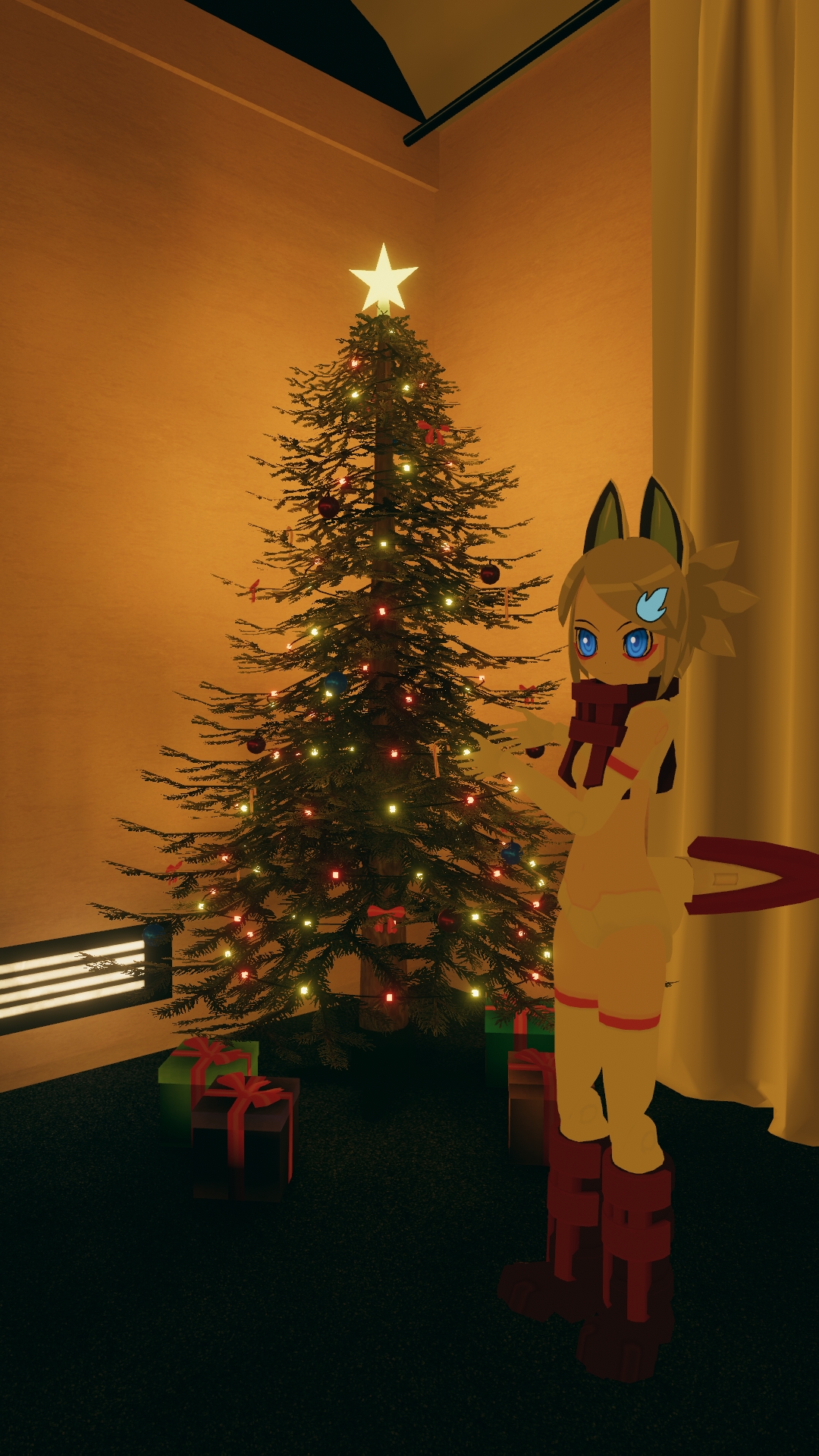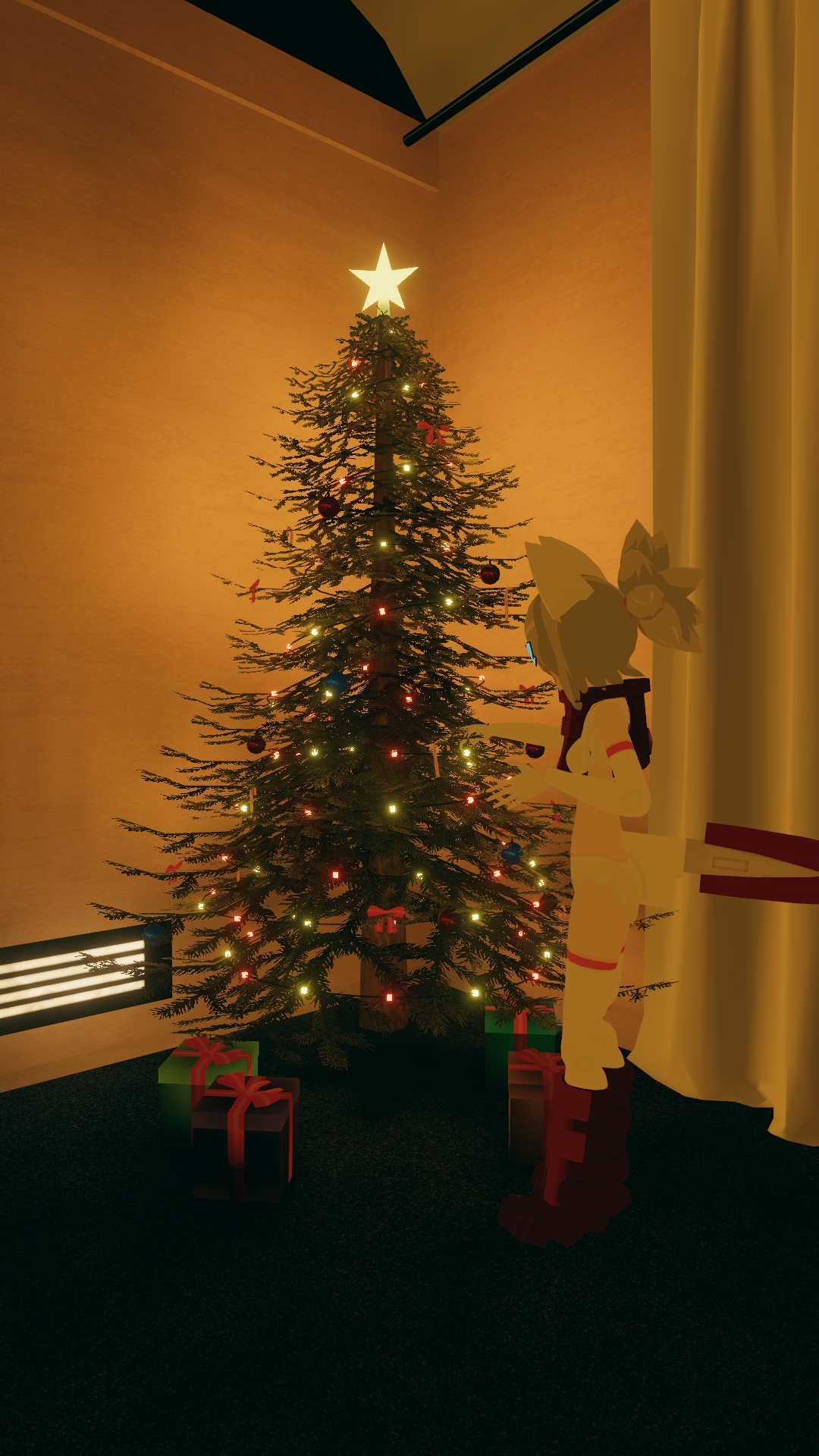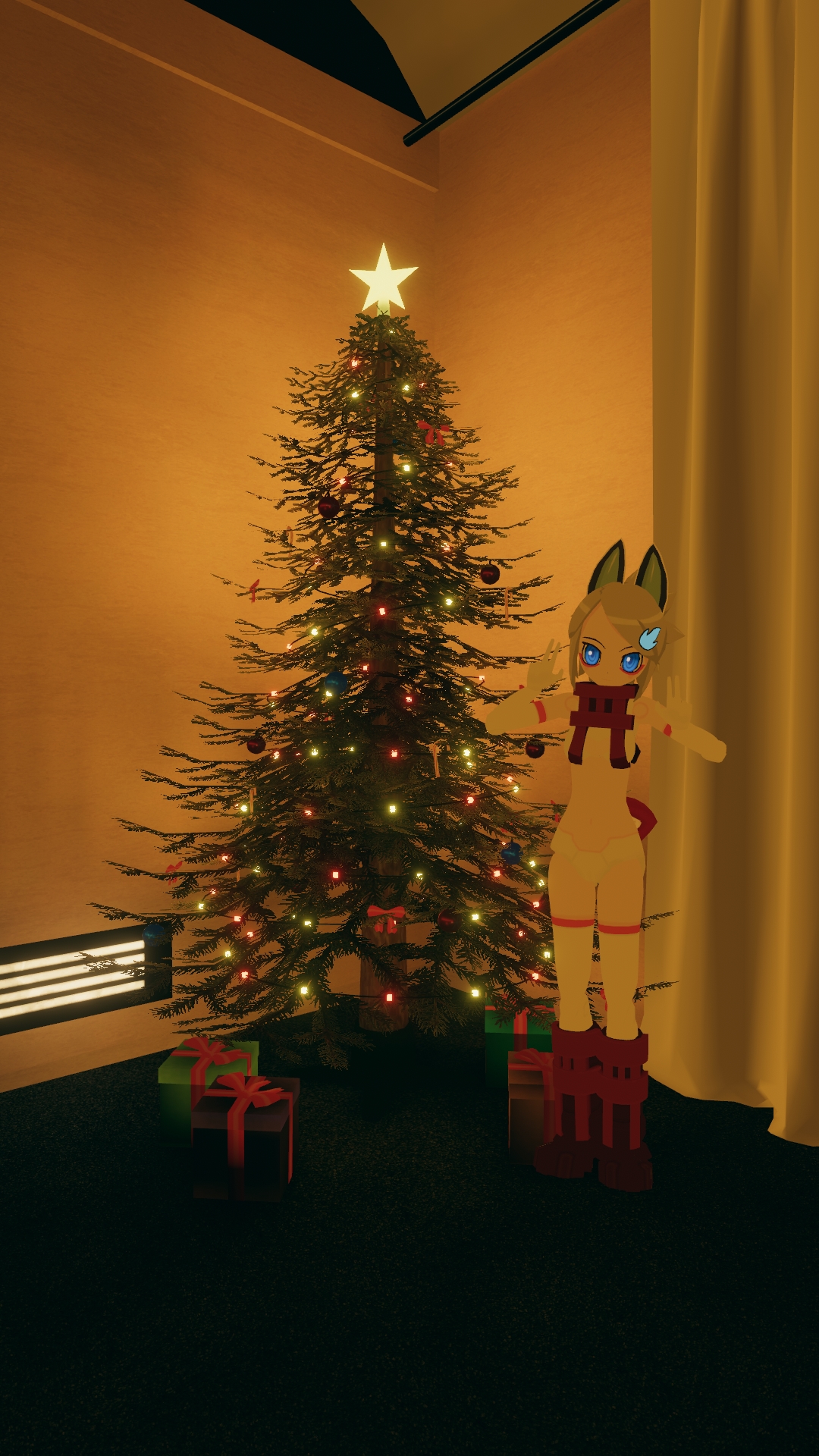 ---
The actual VRChat hangout on Christmas Eve – December 24th: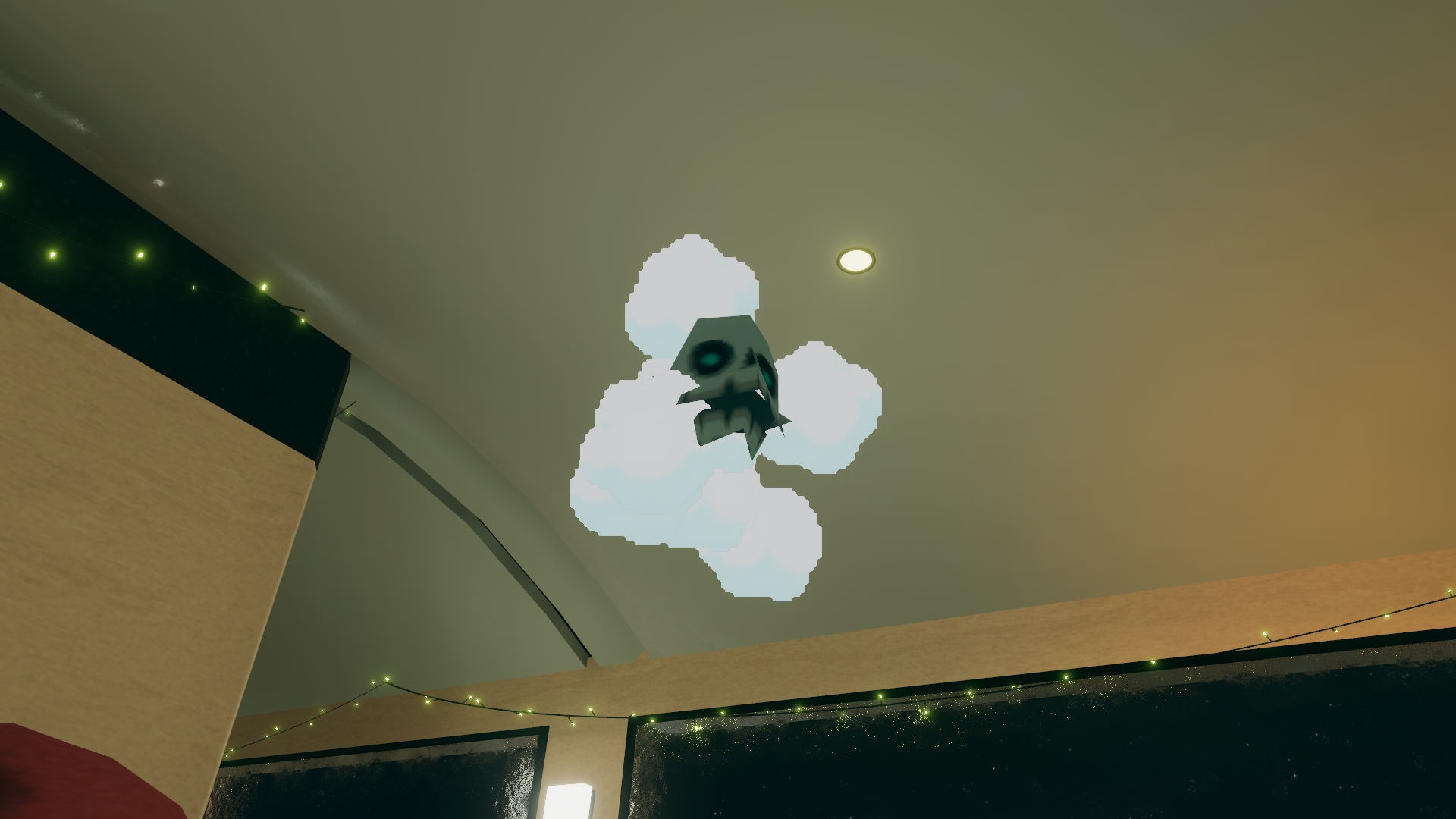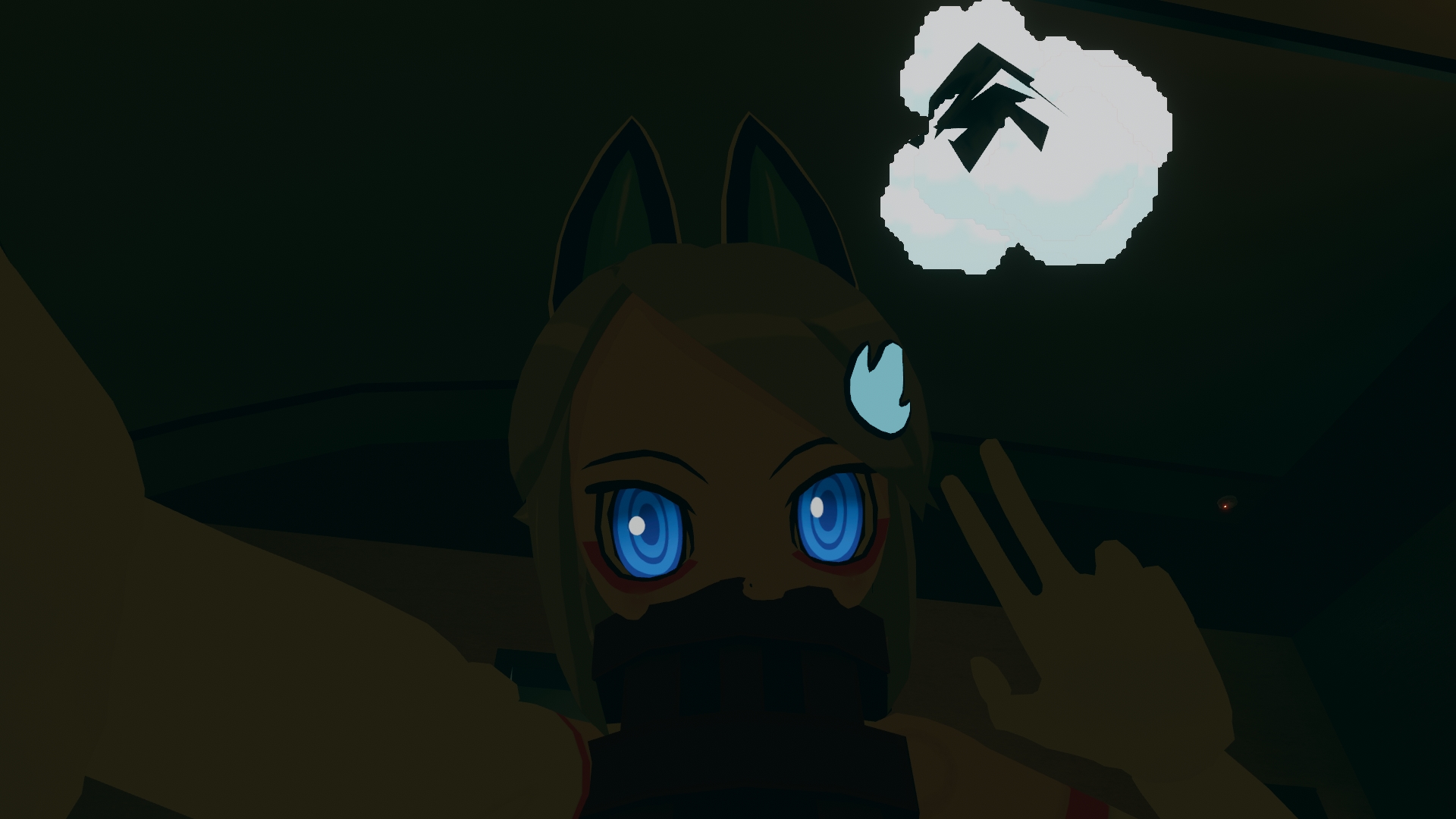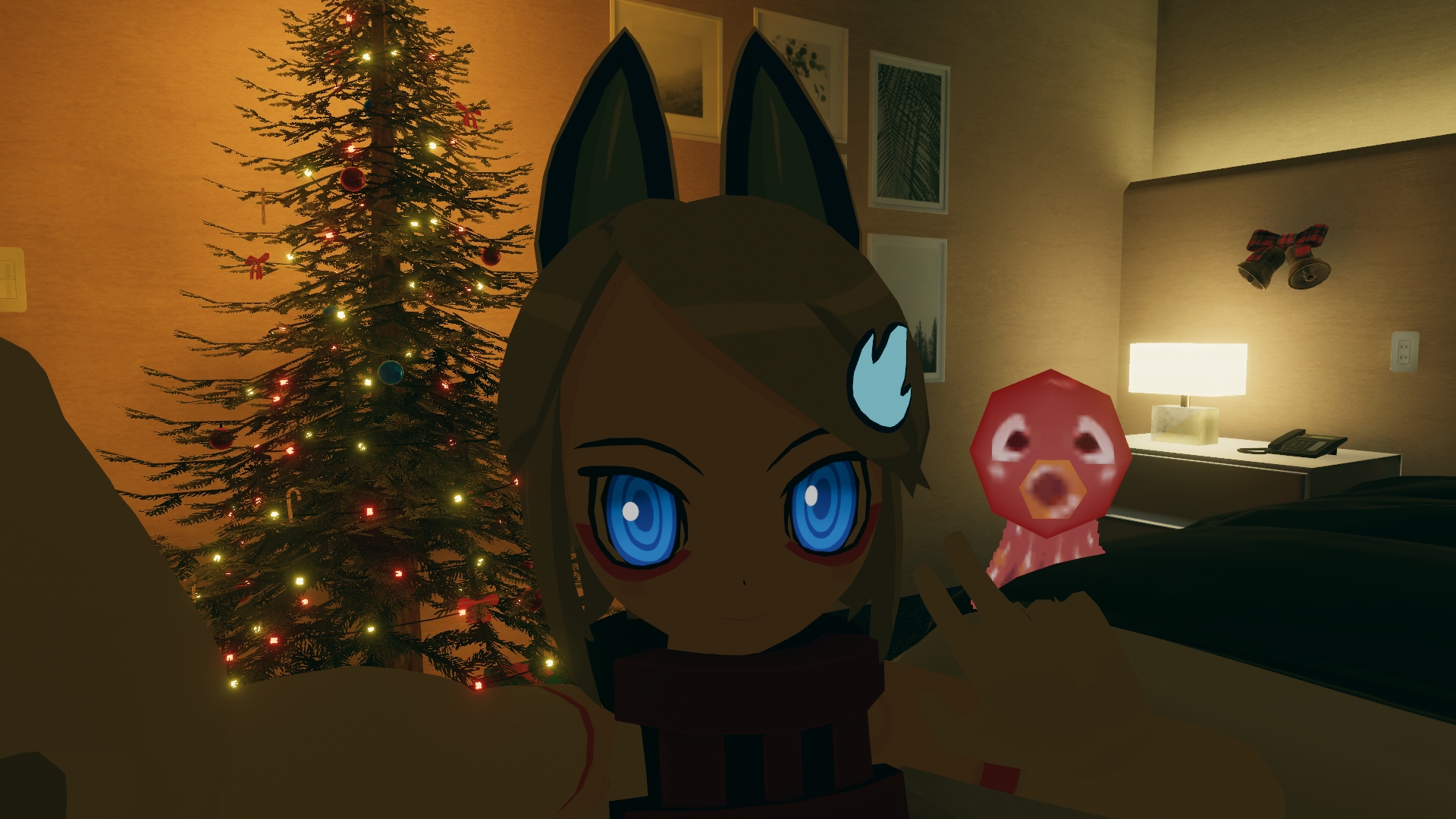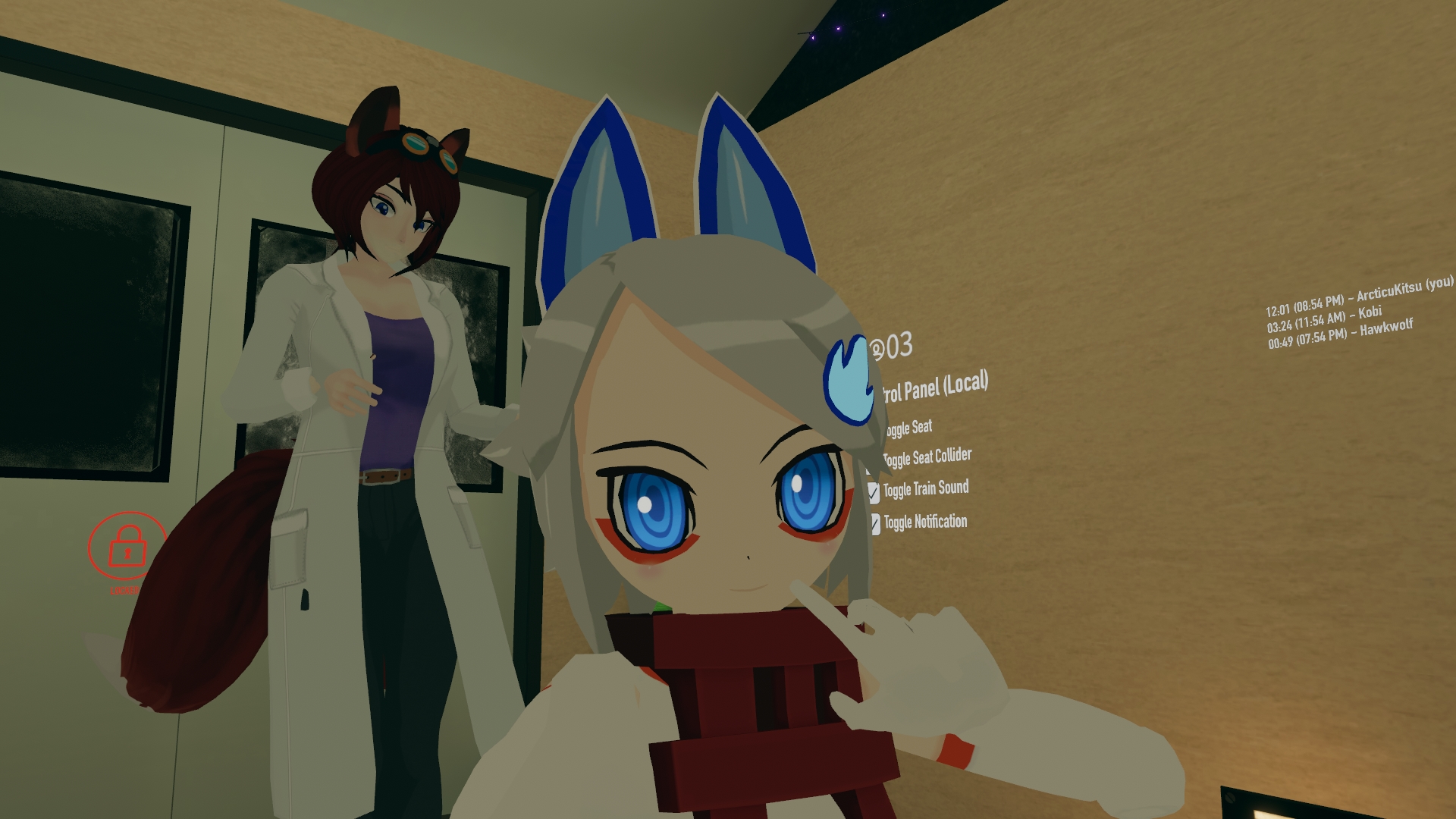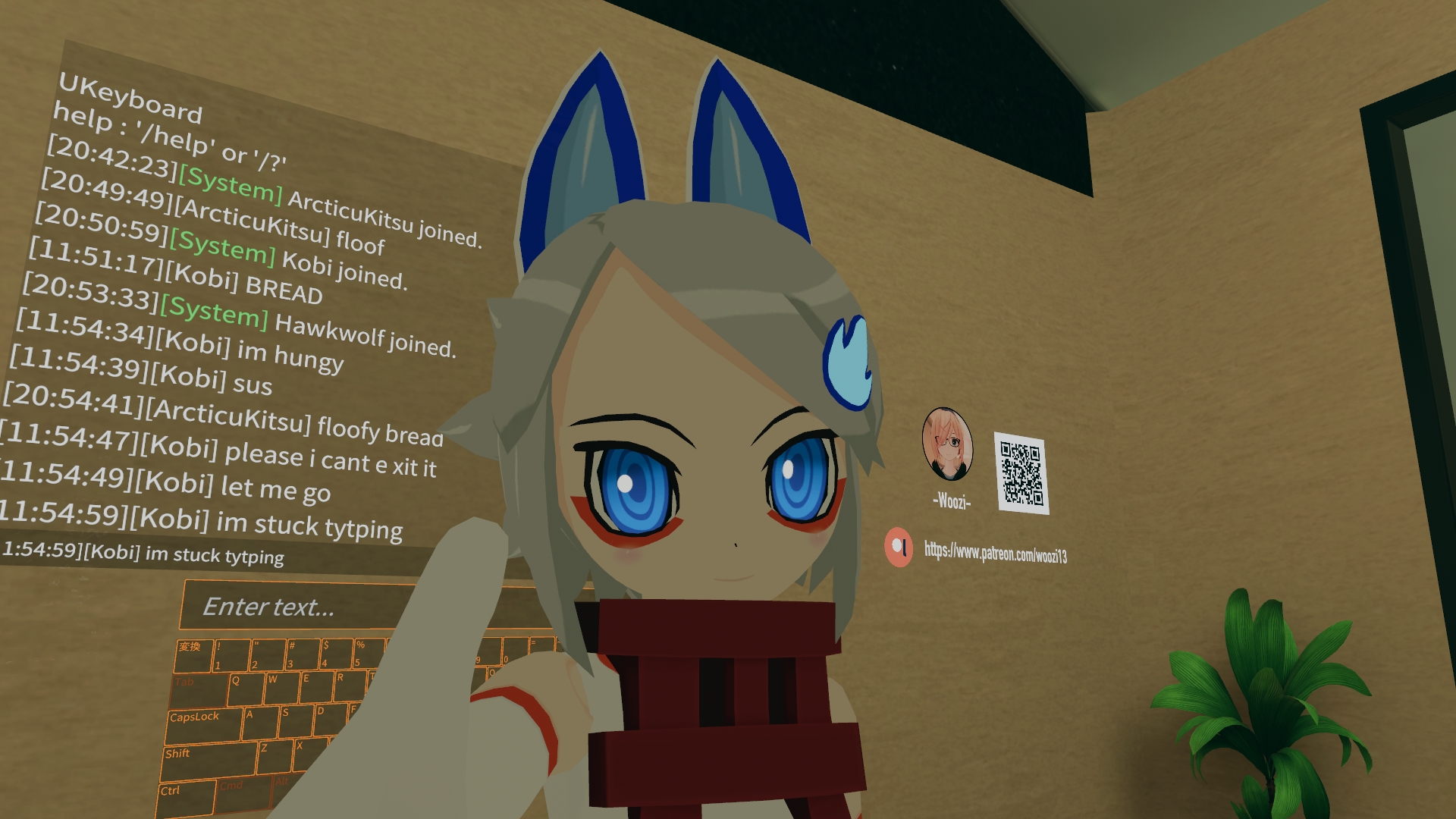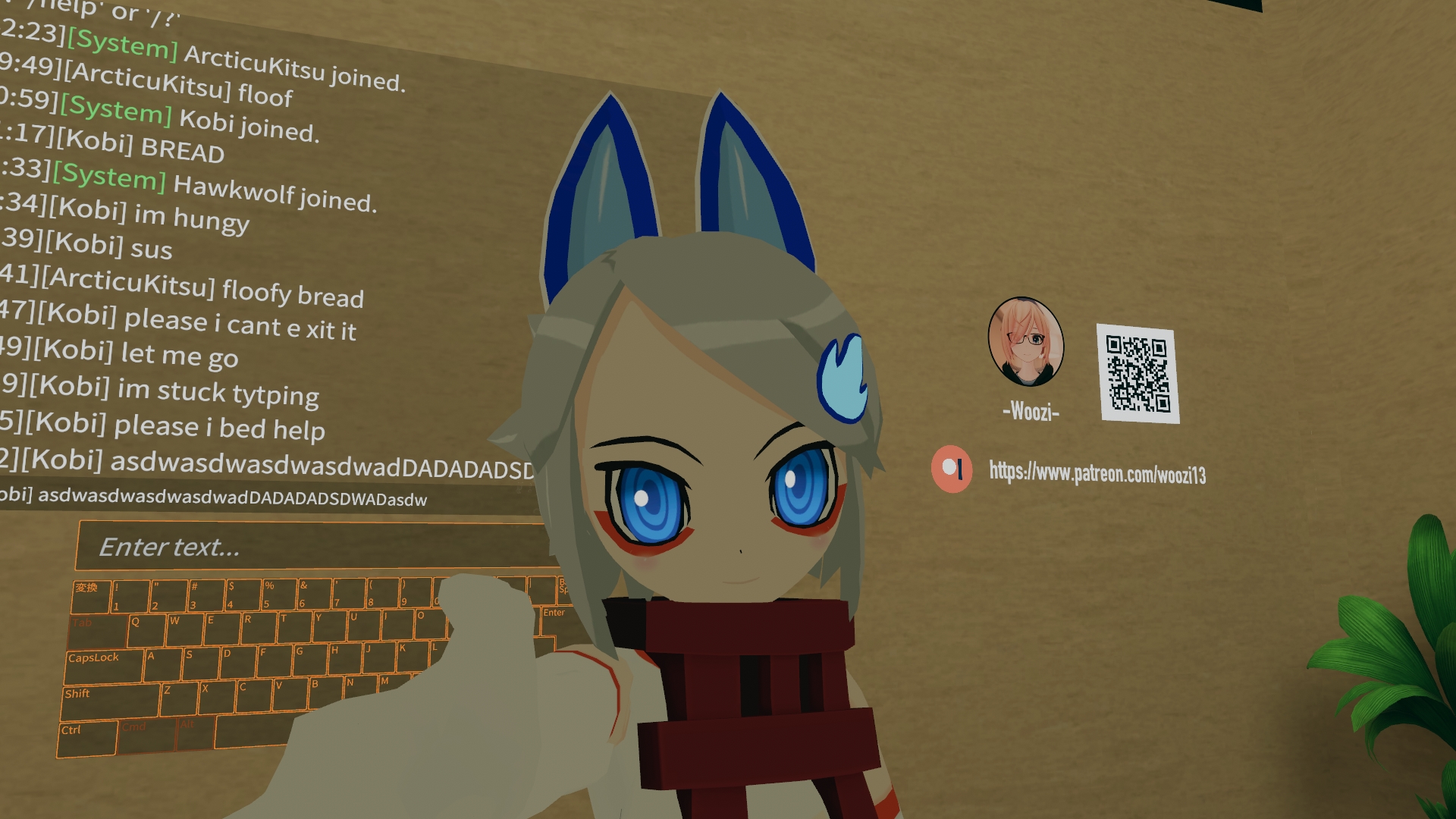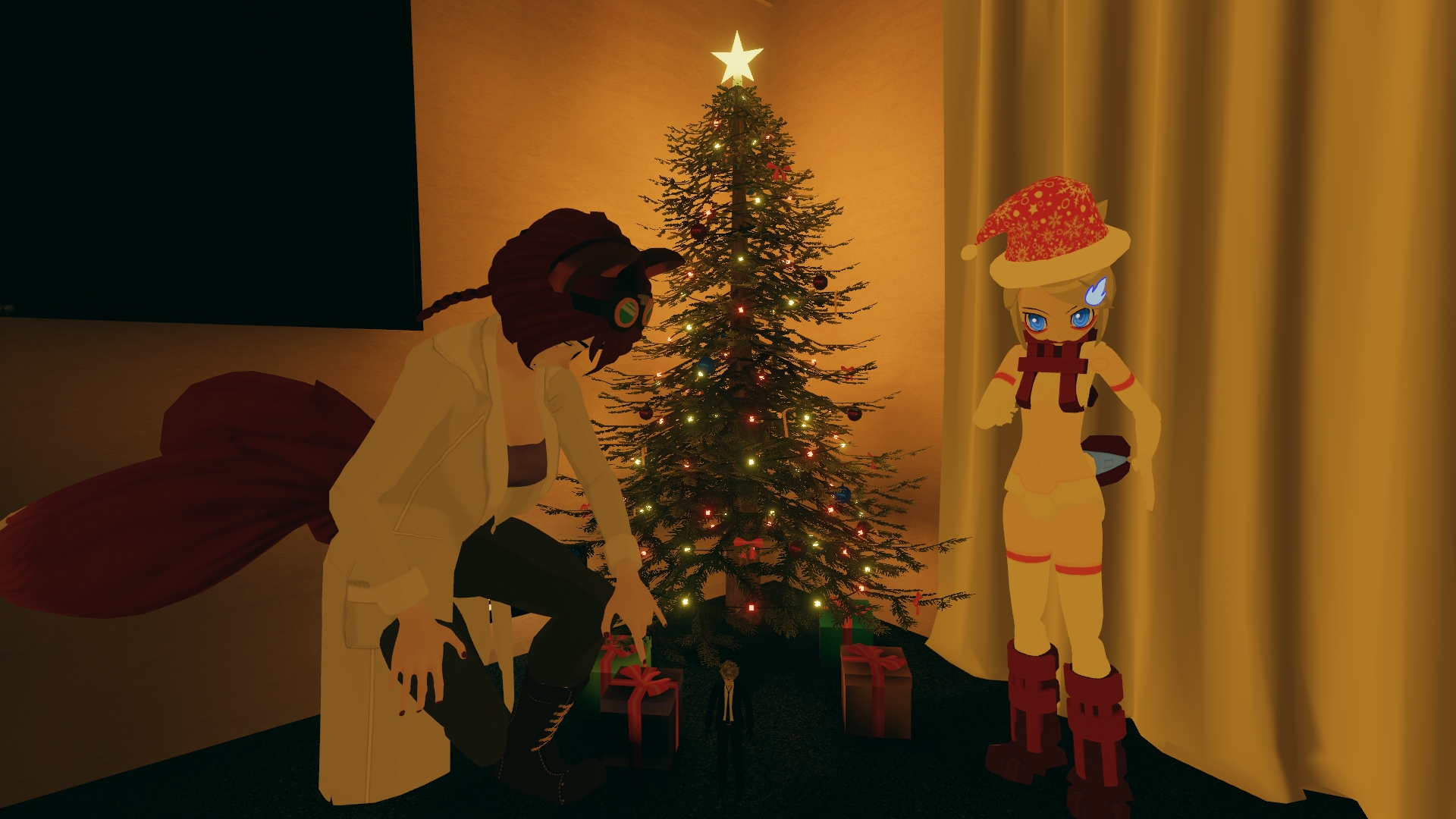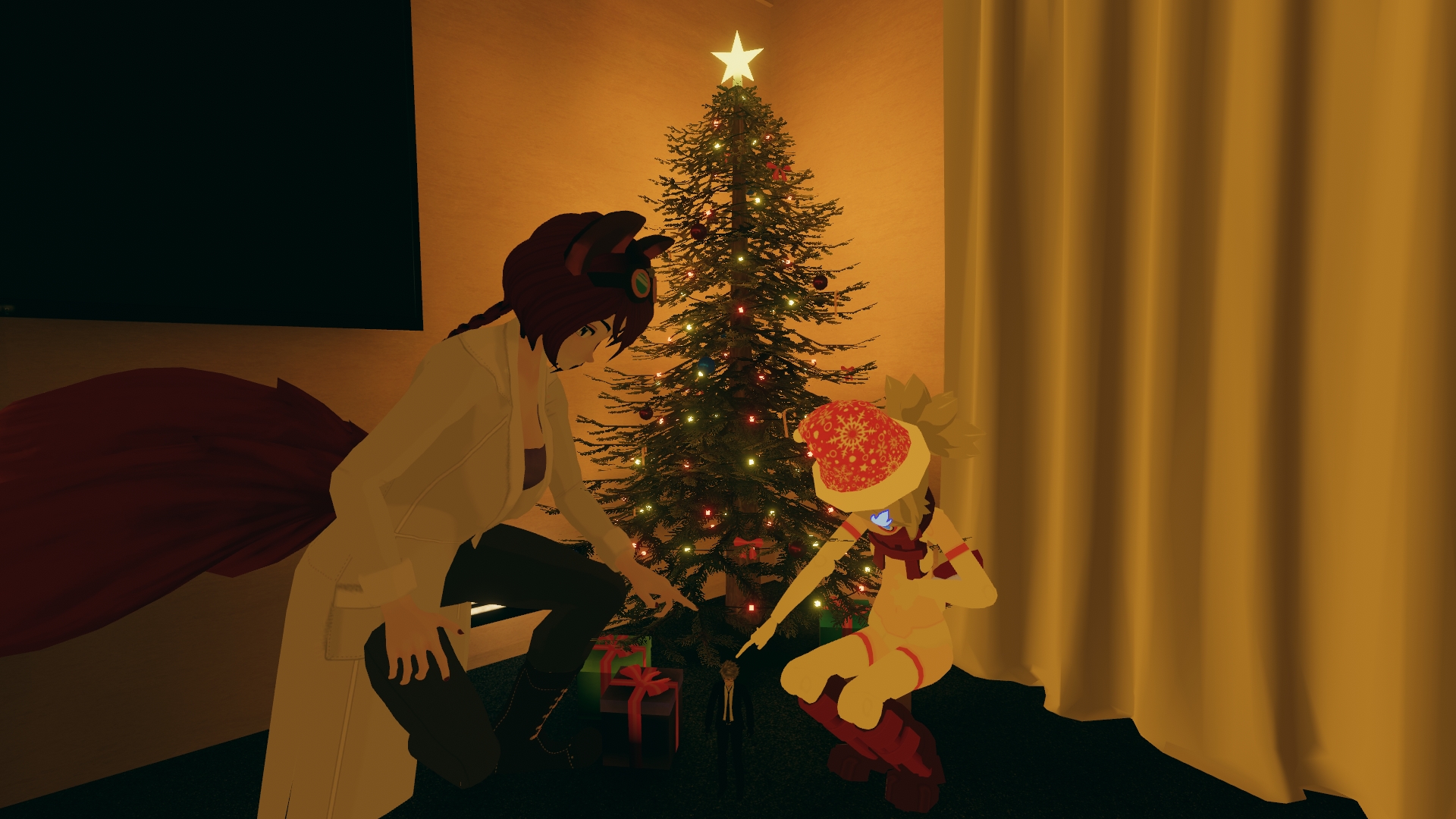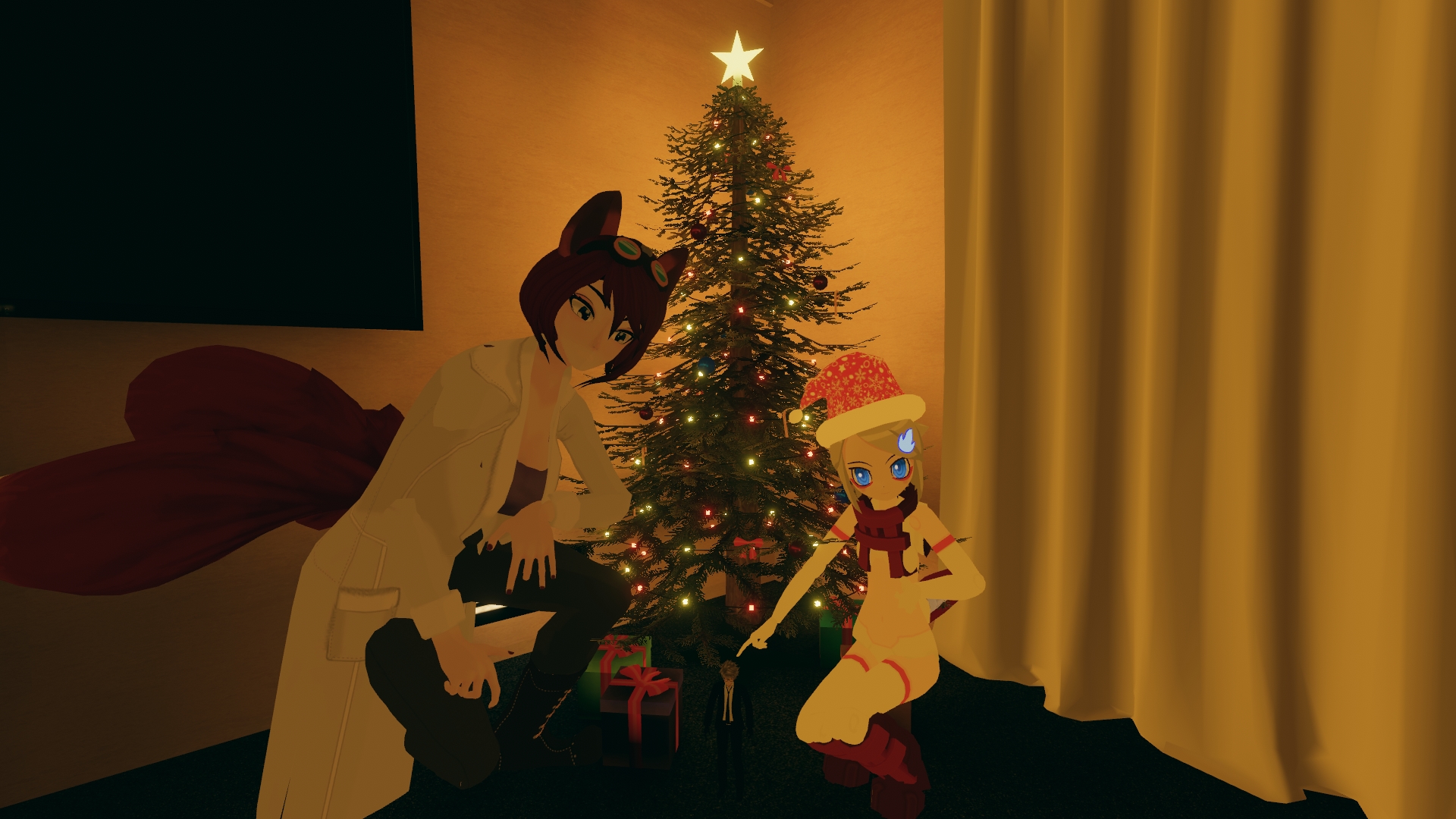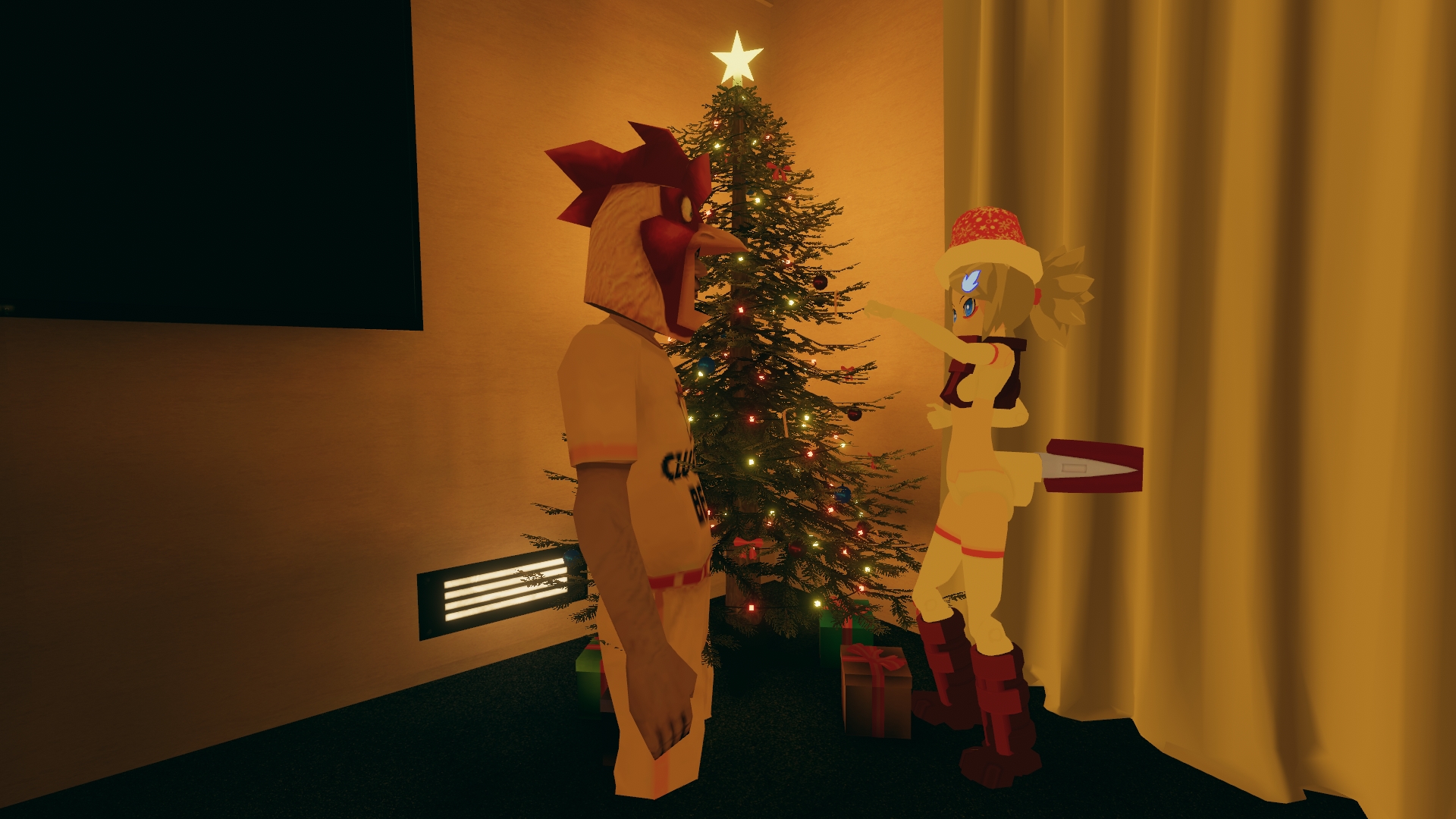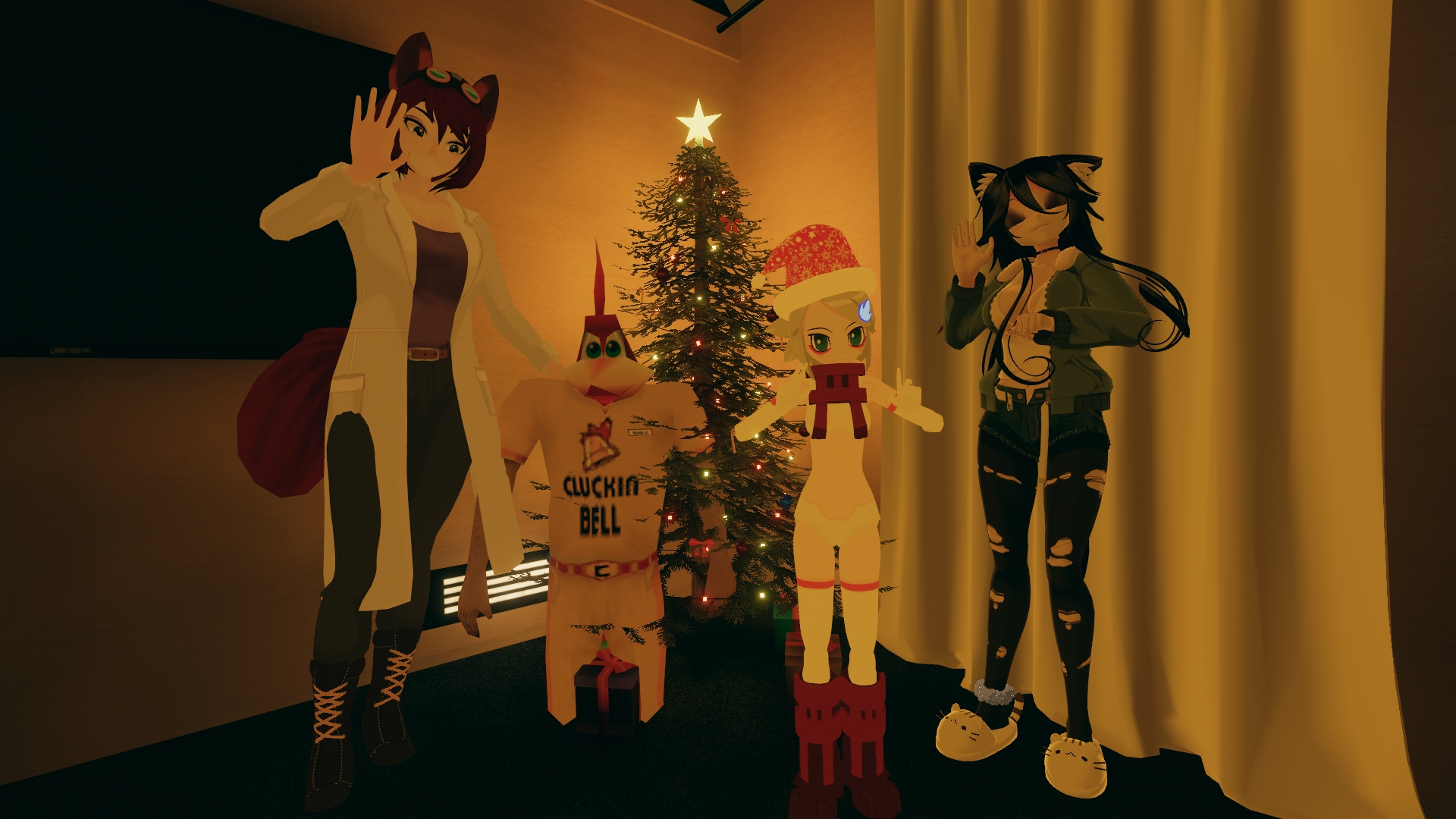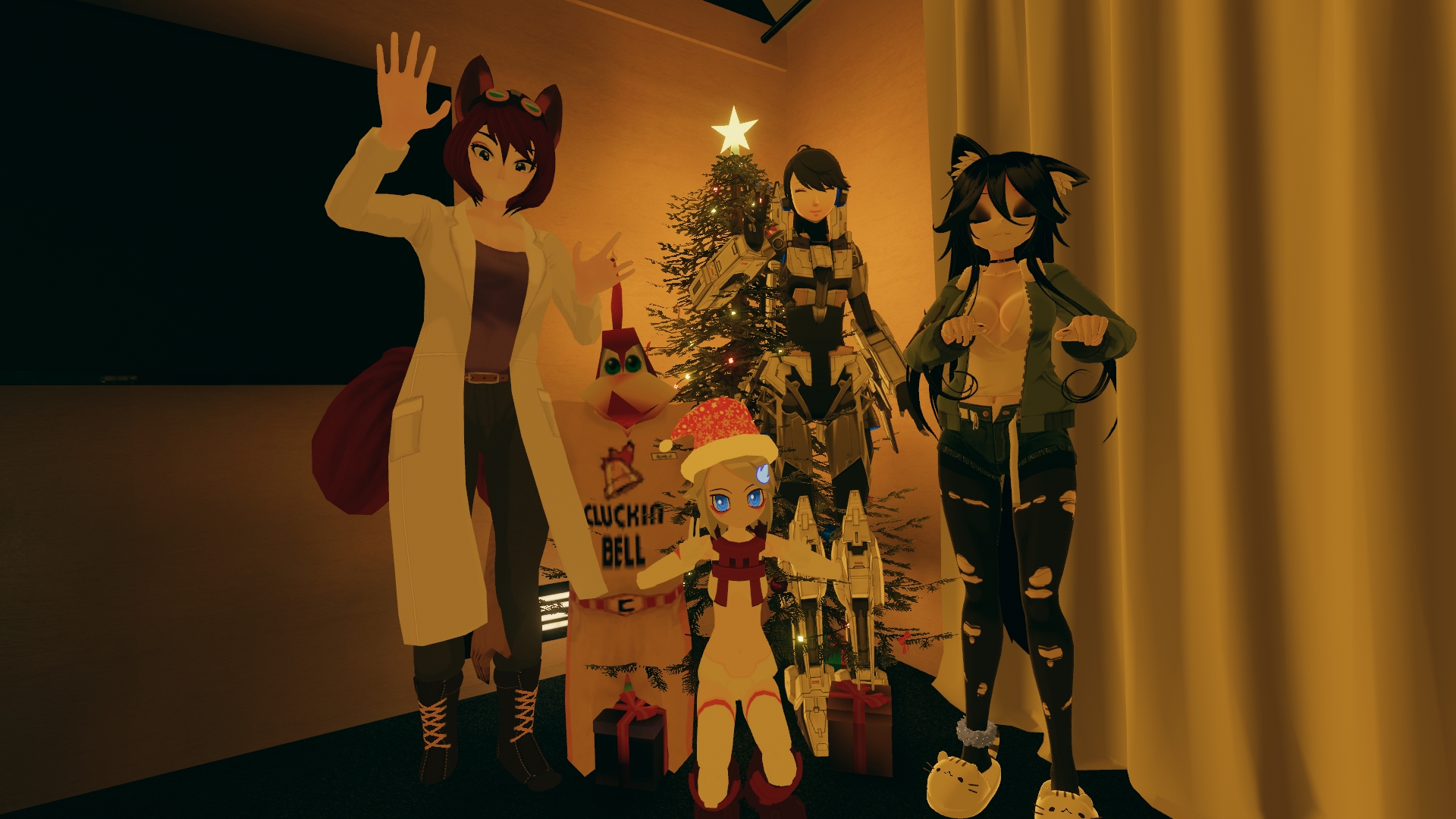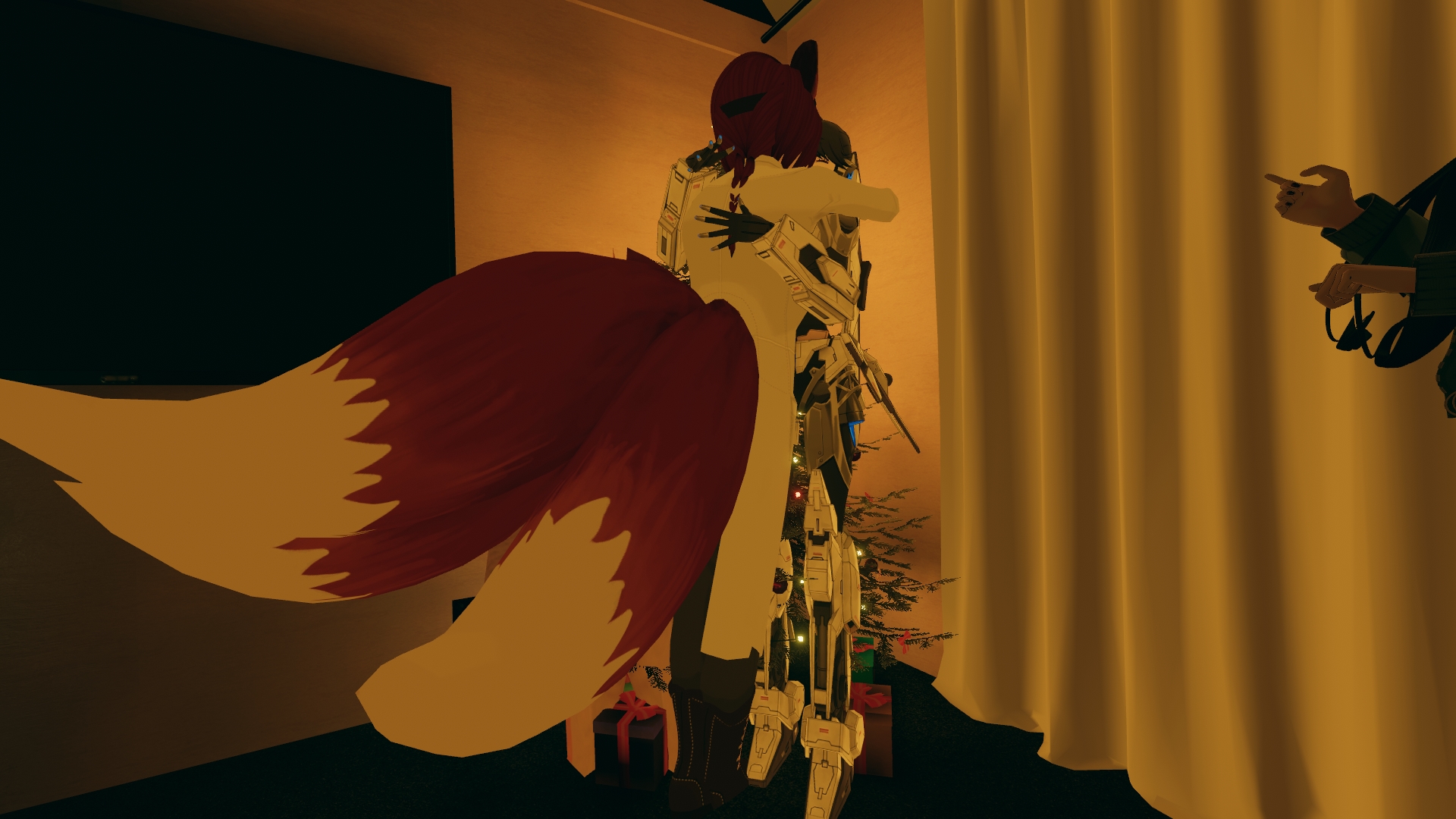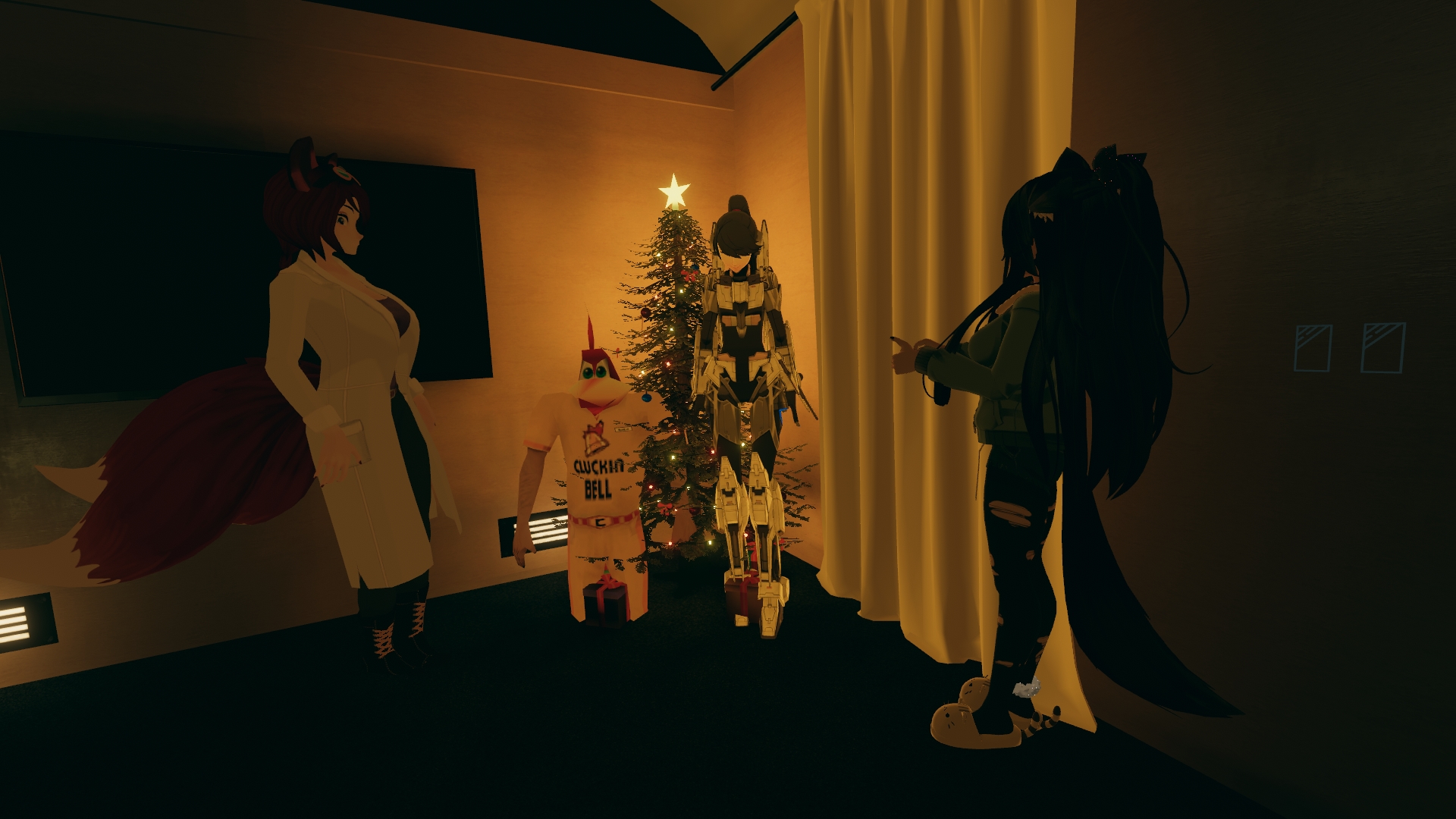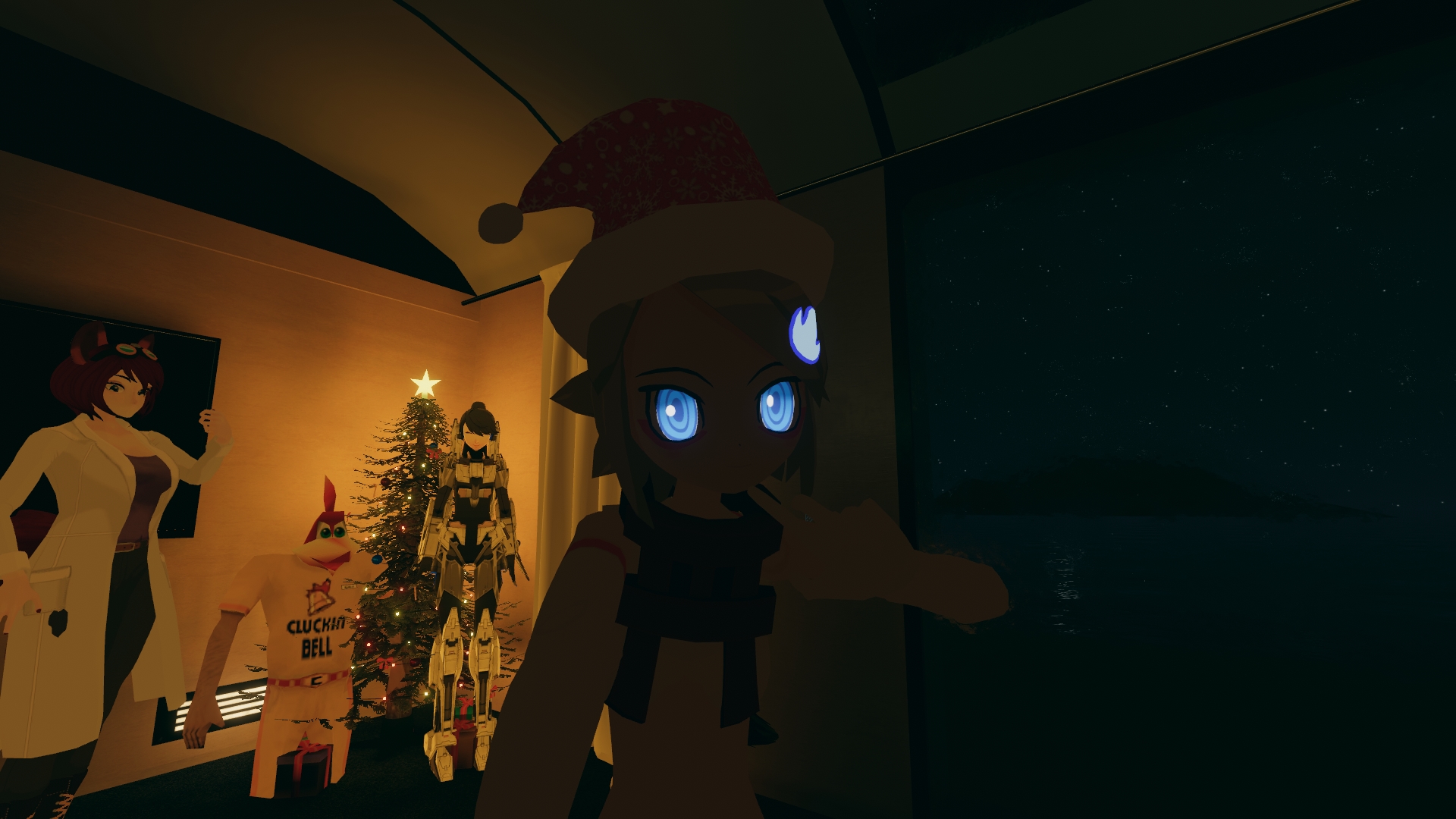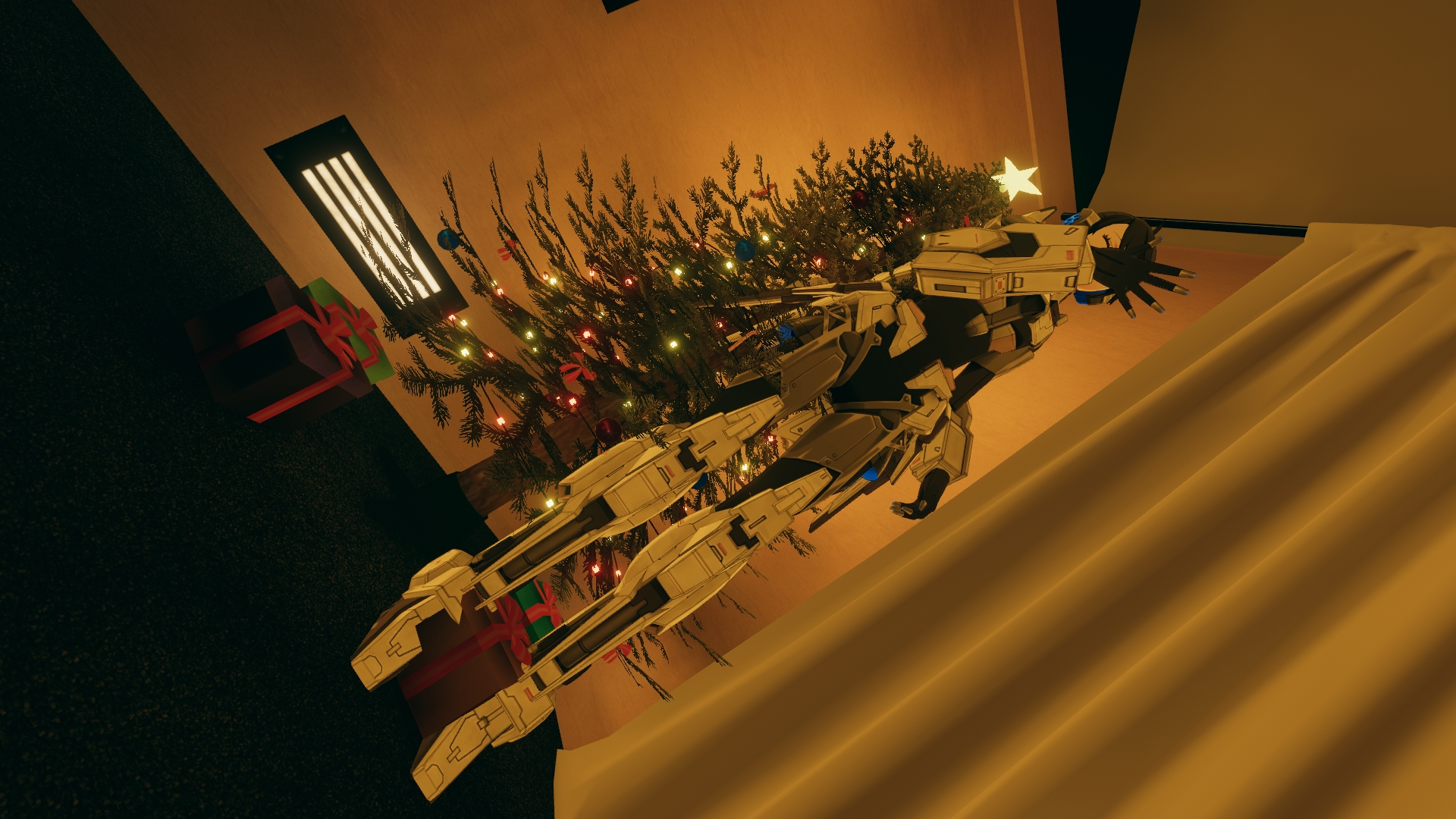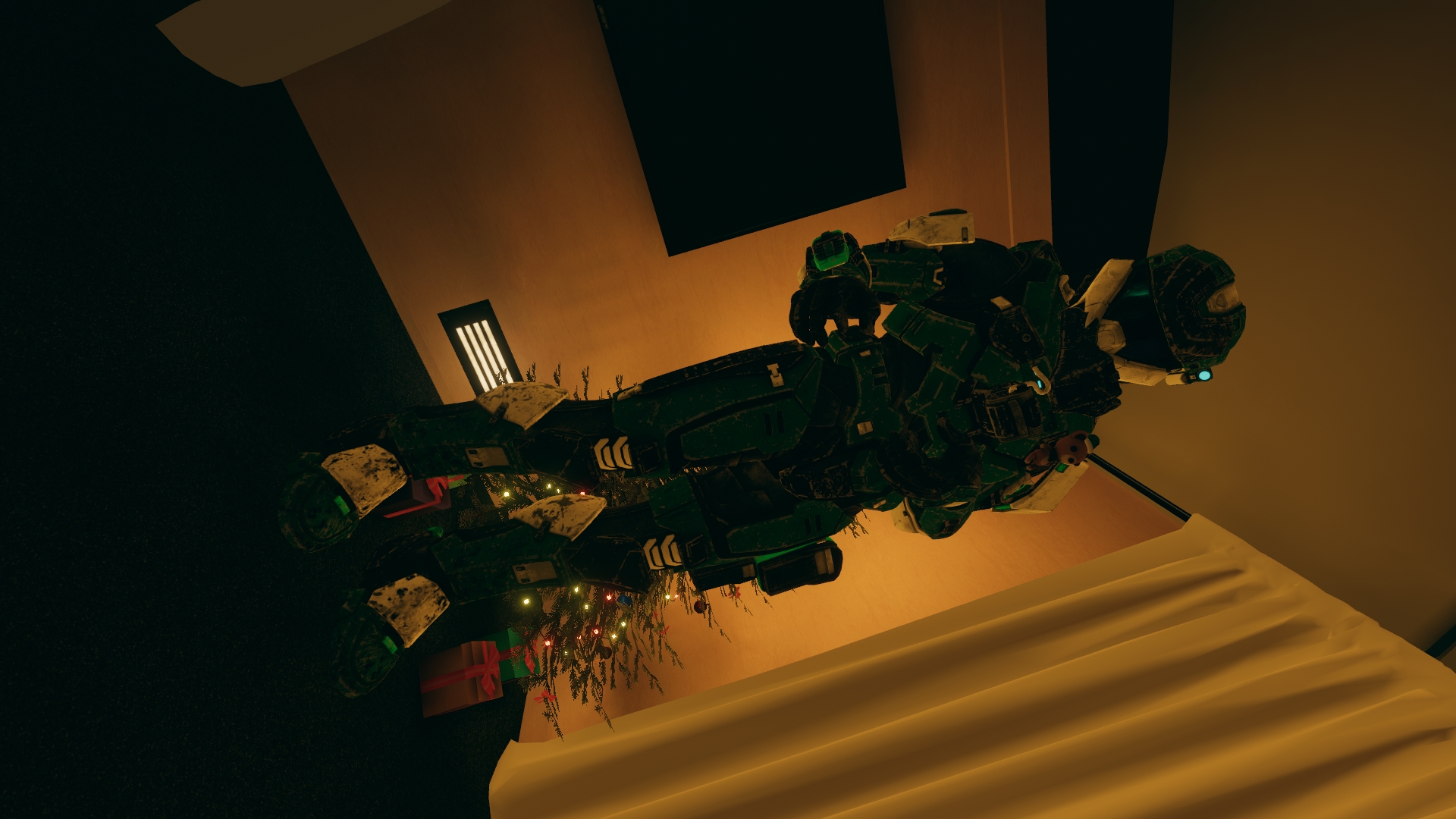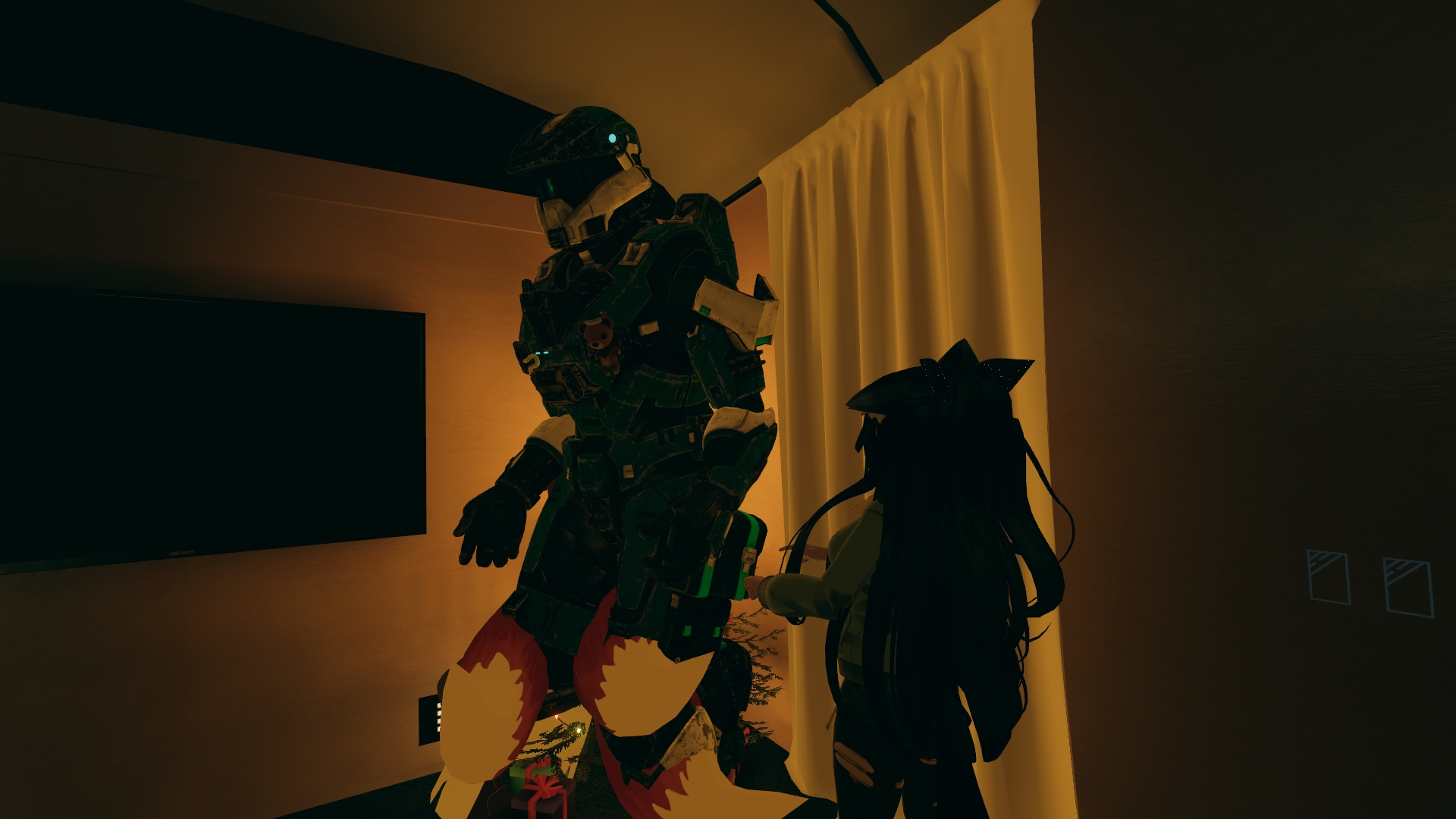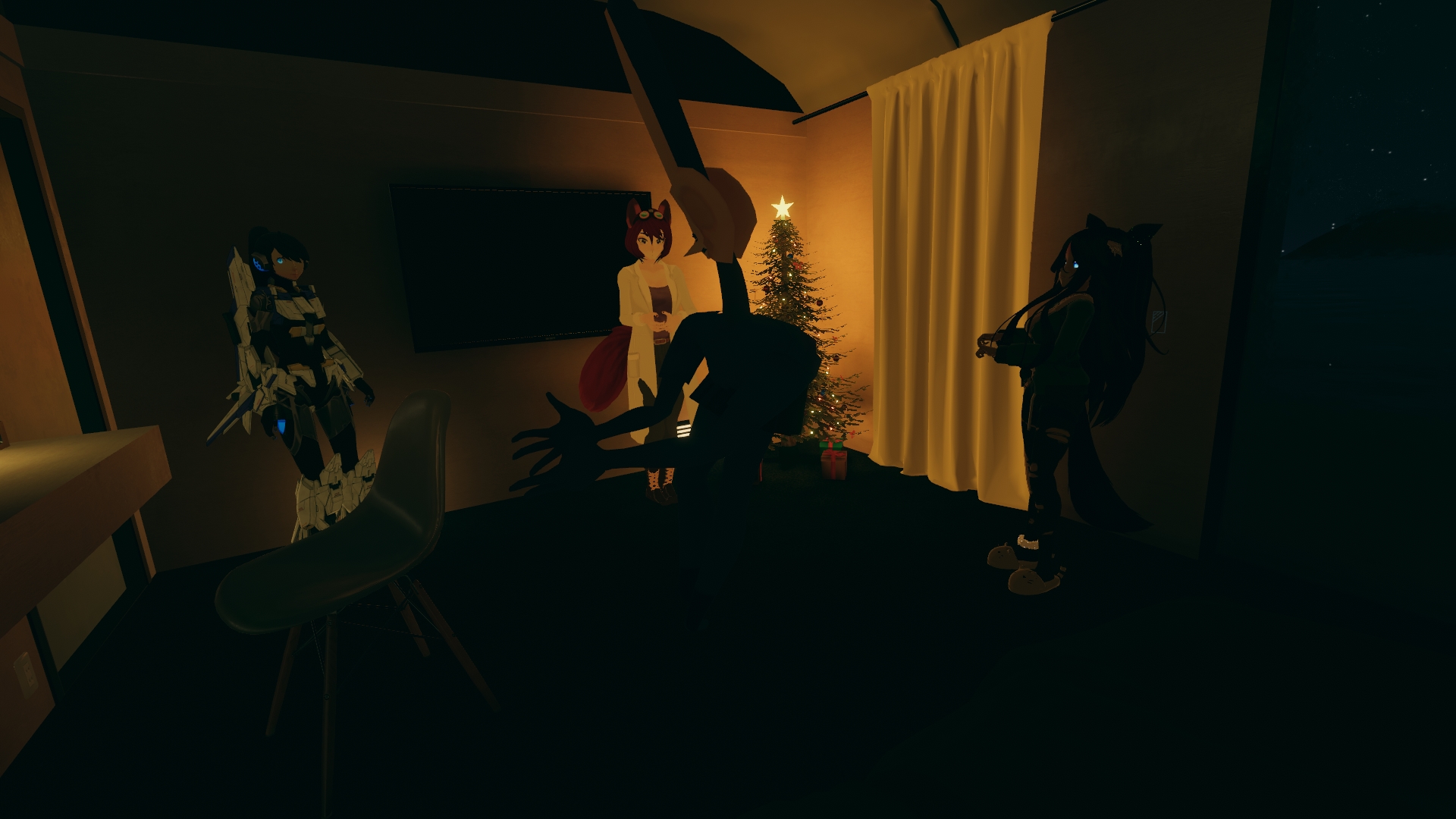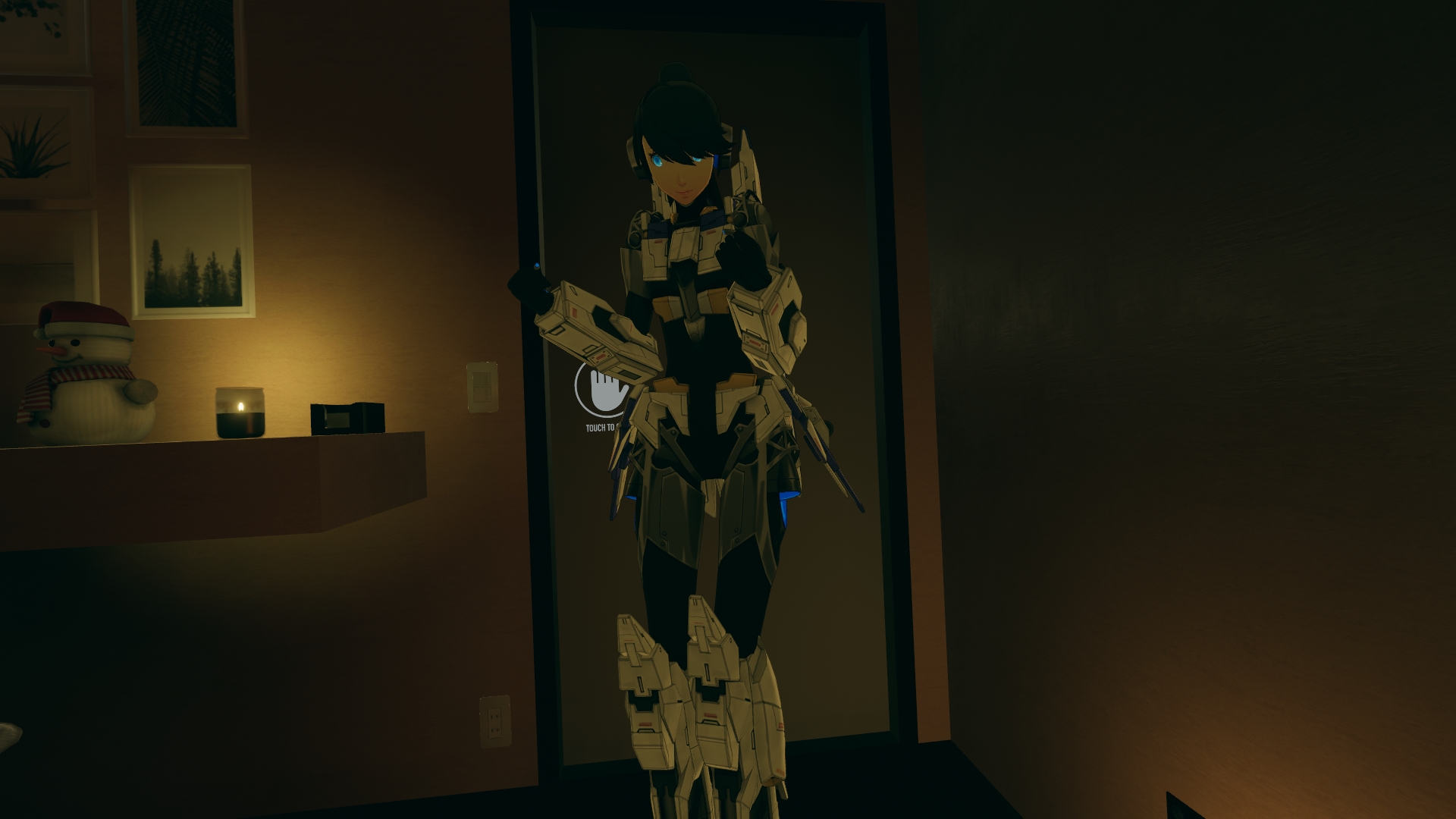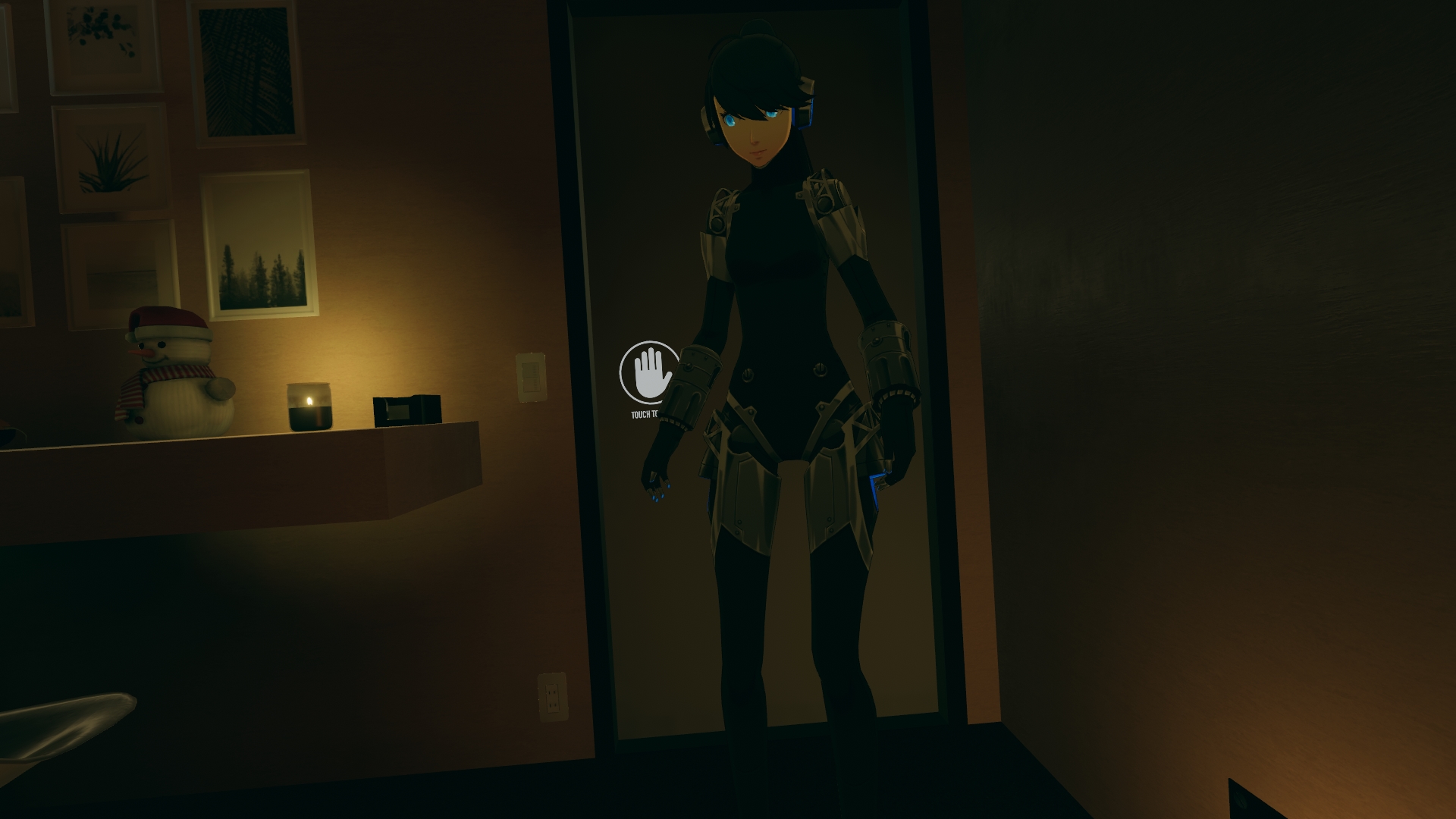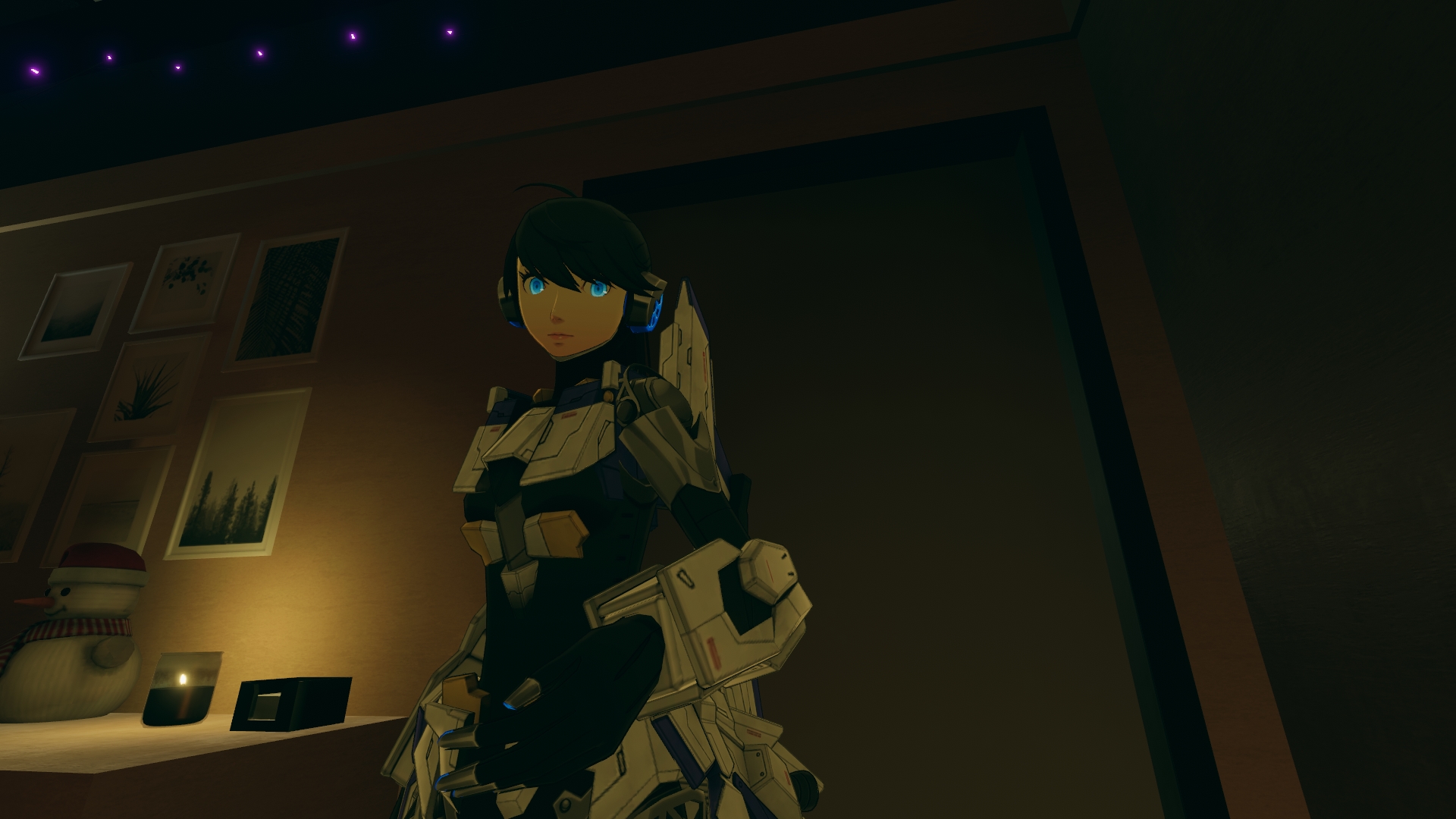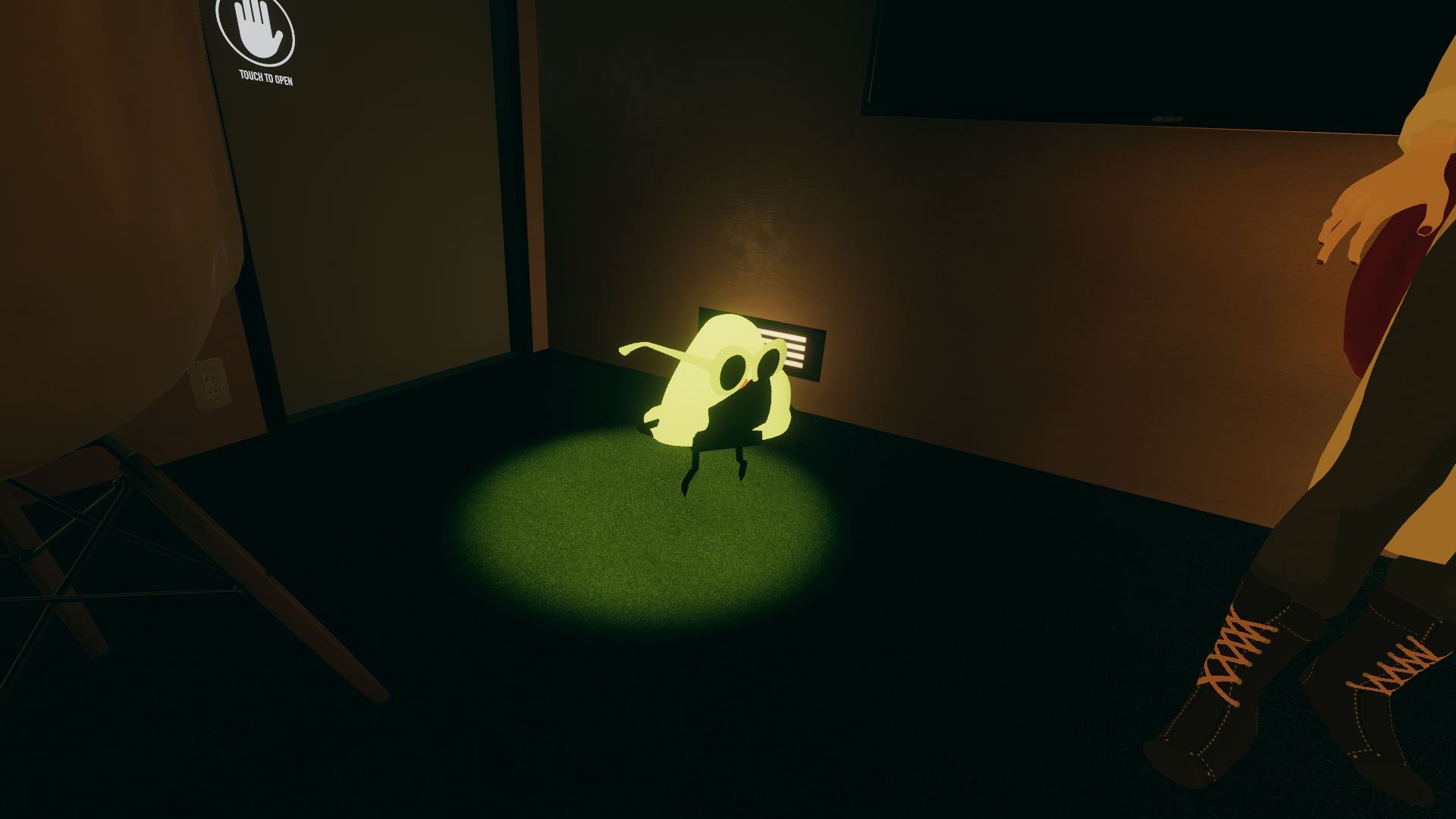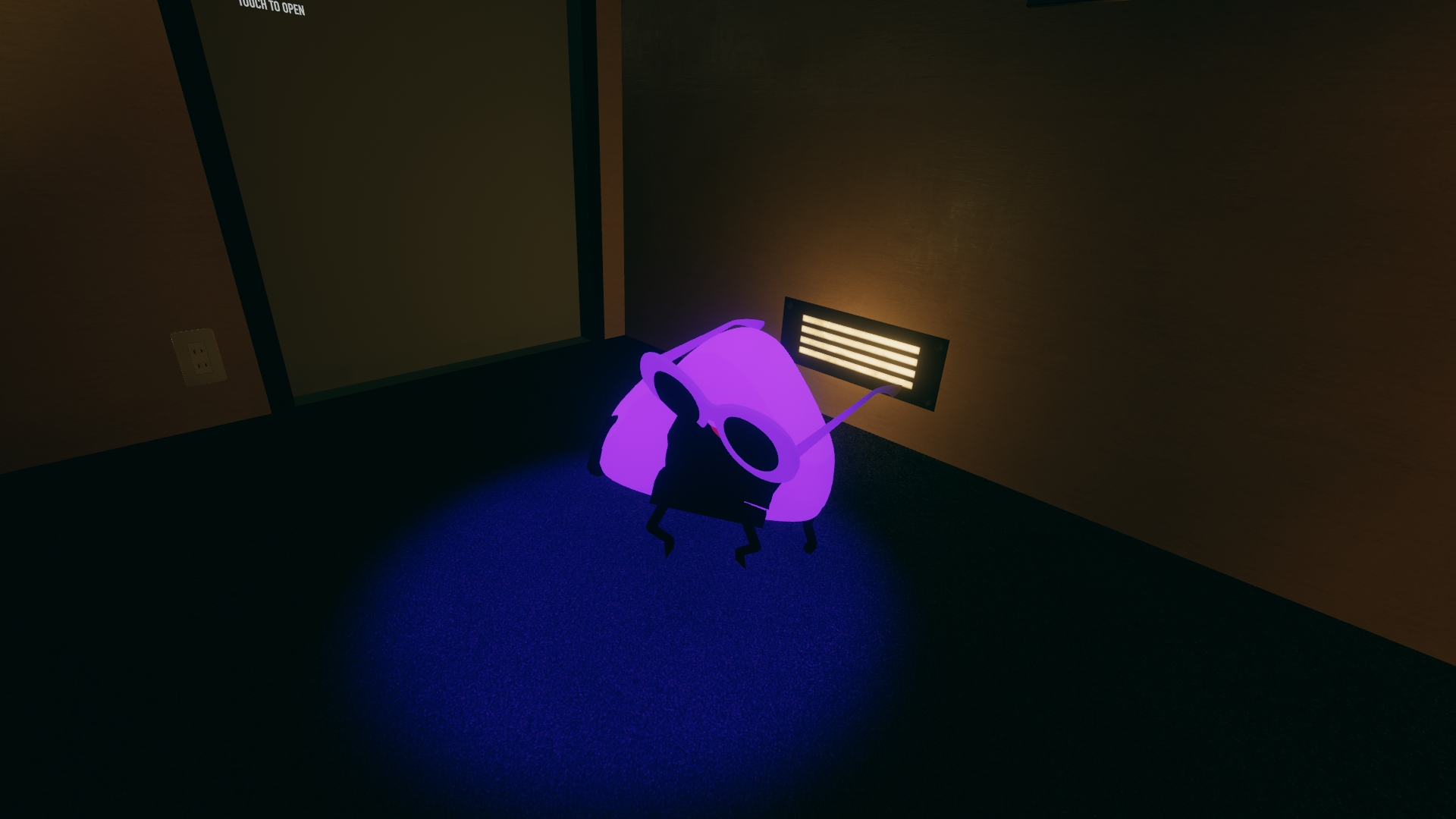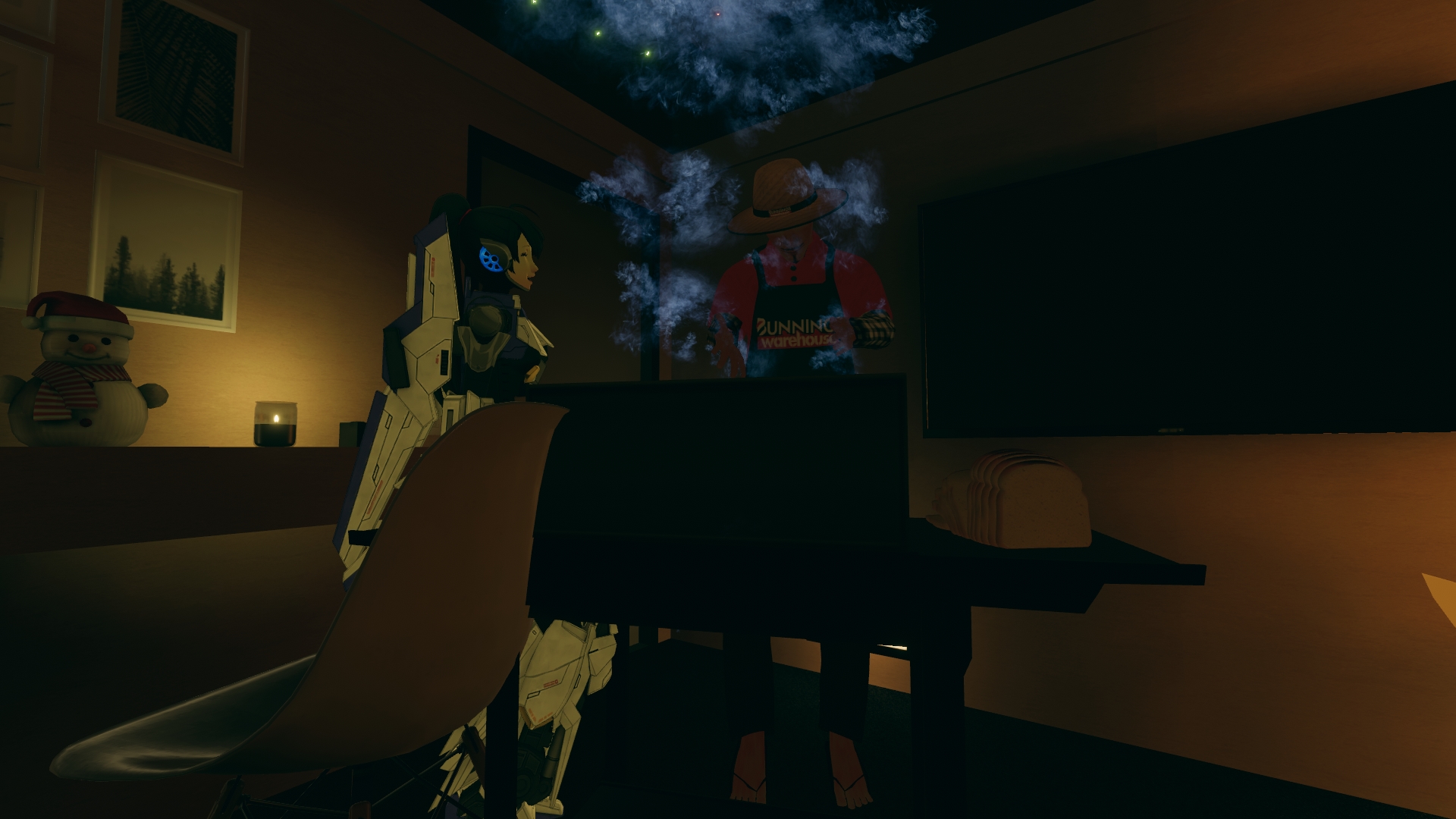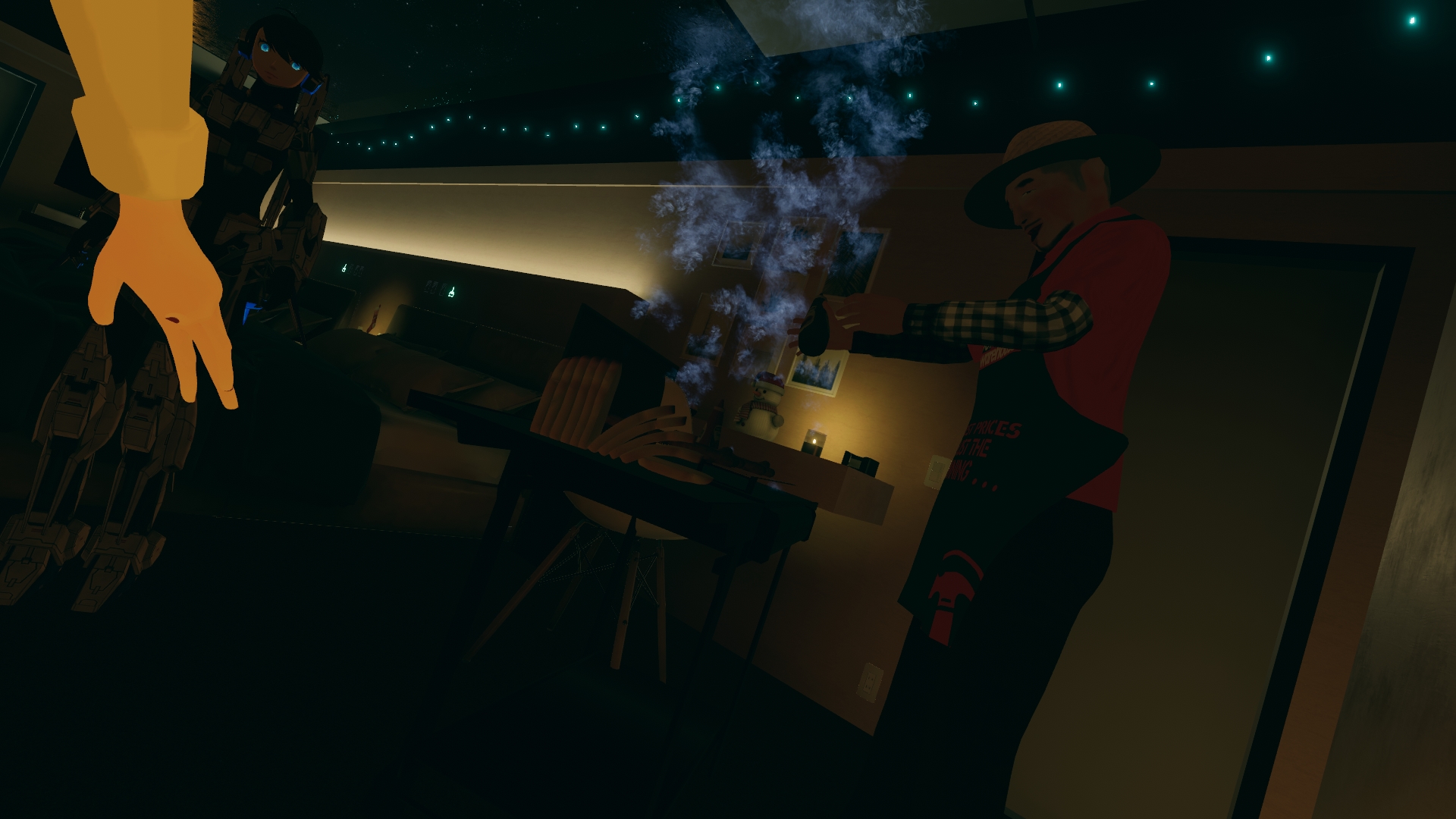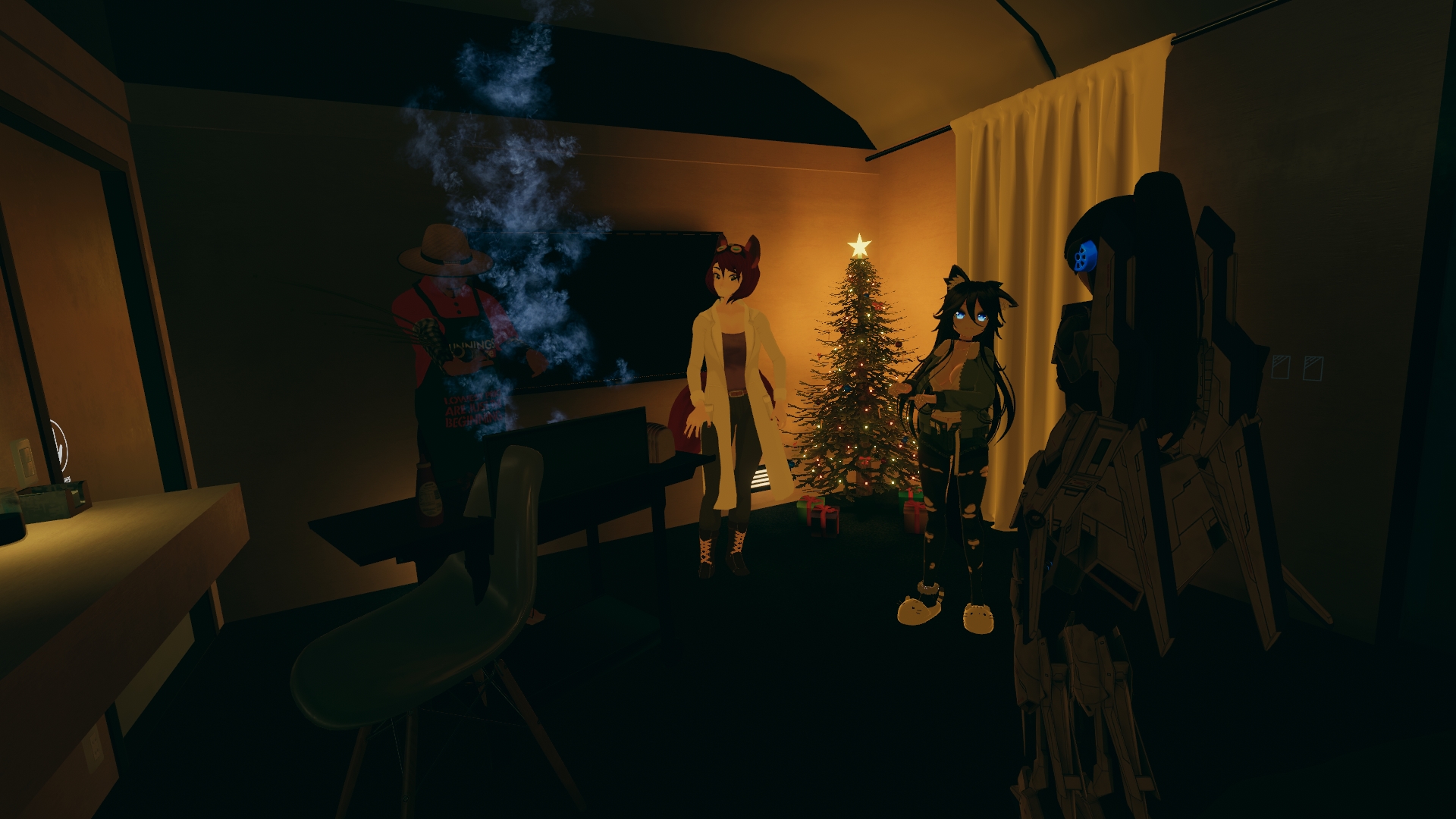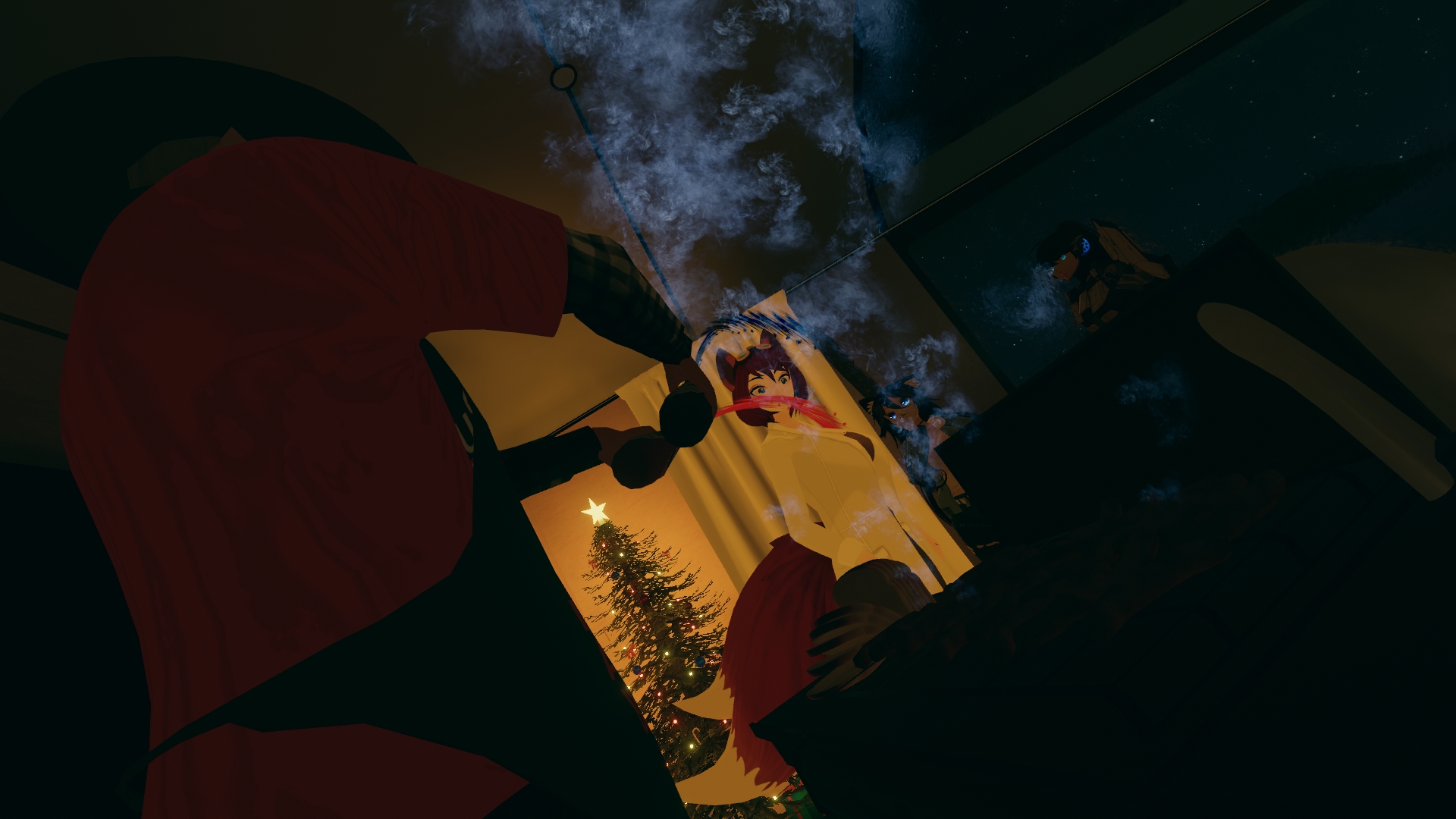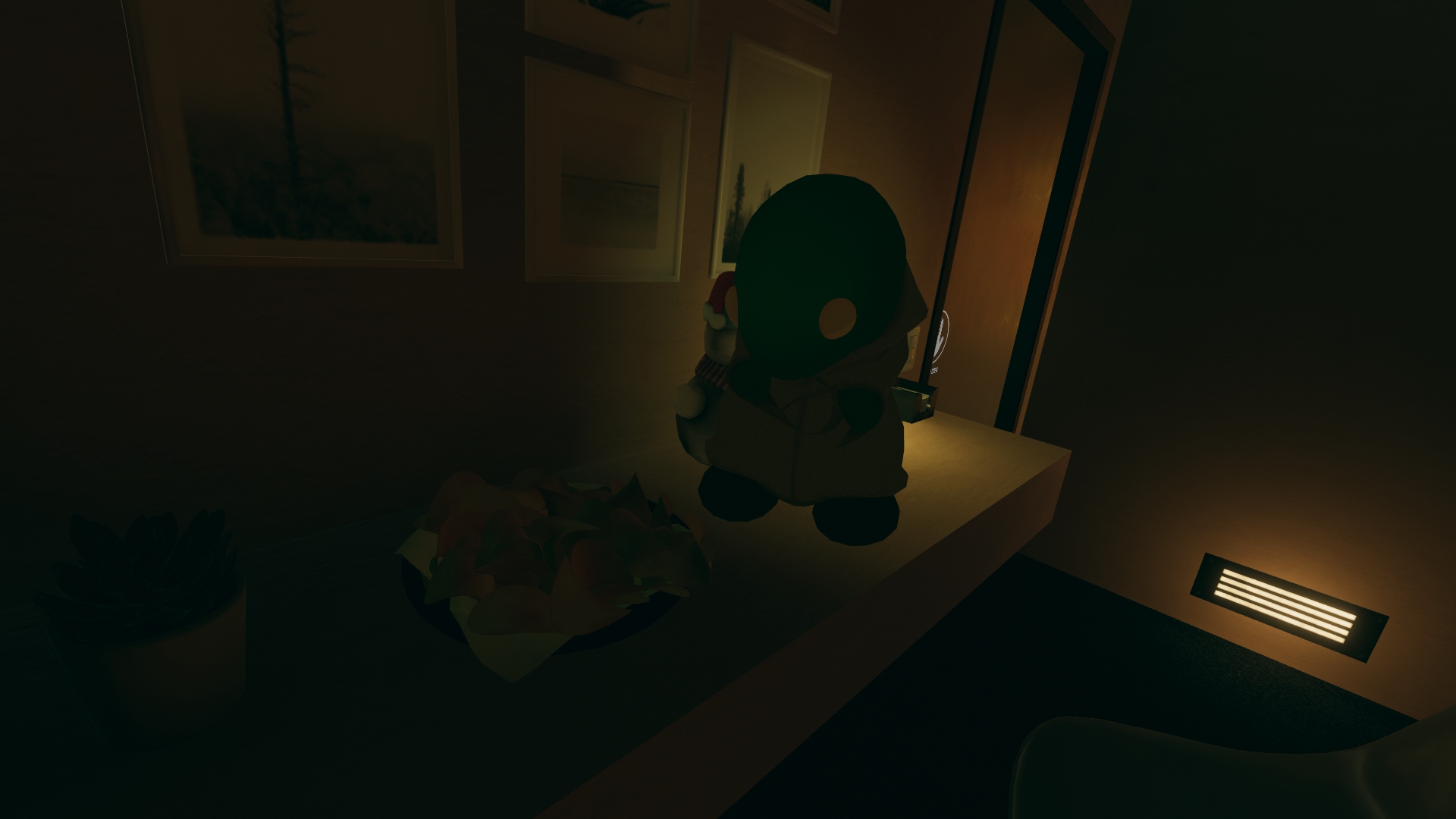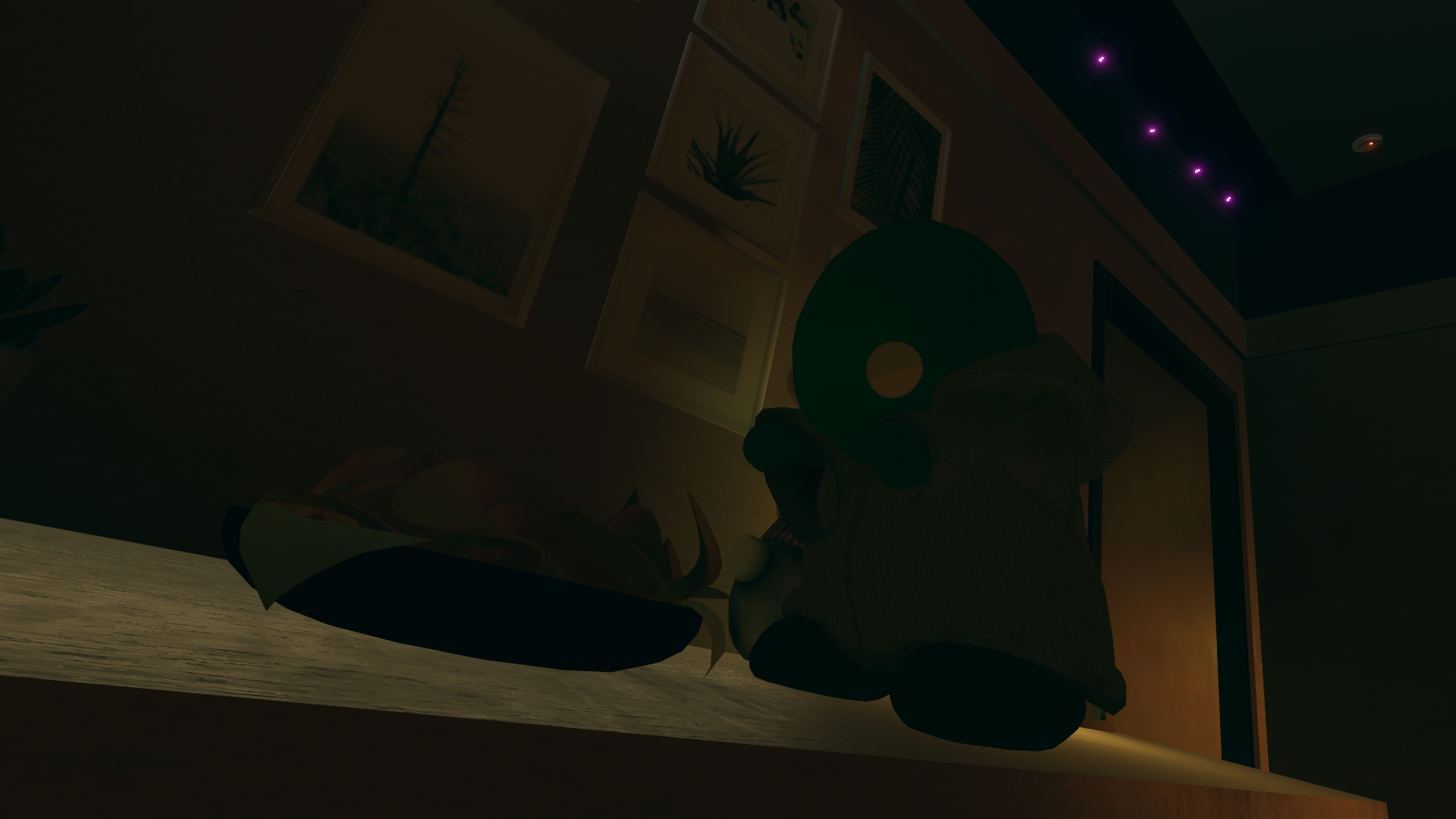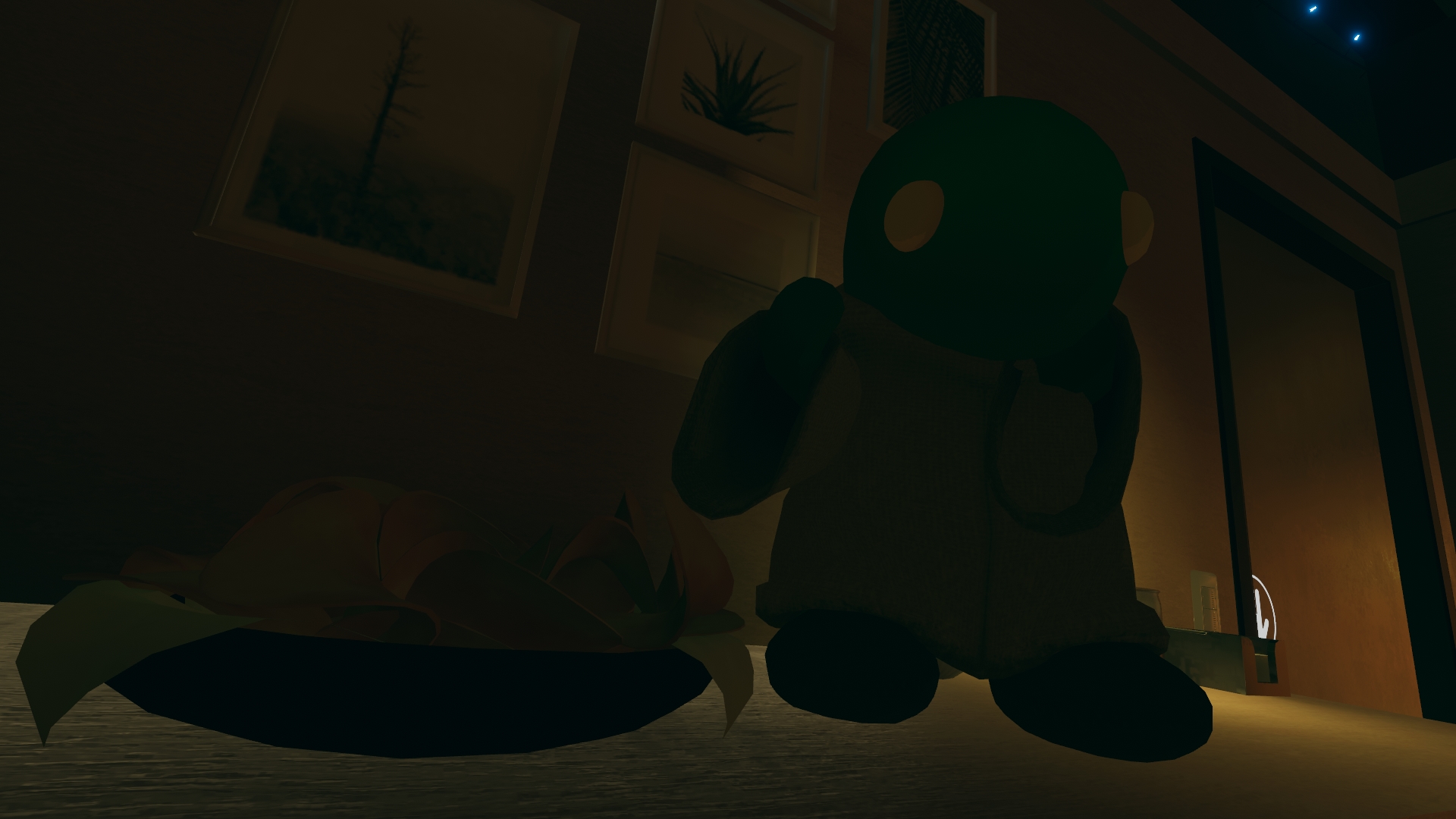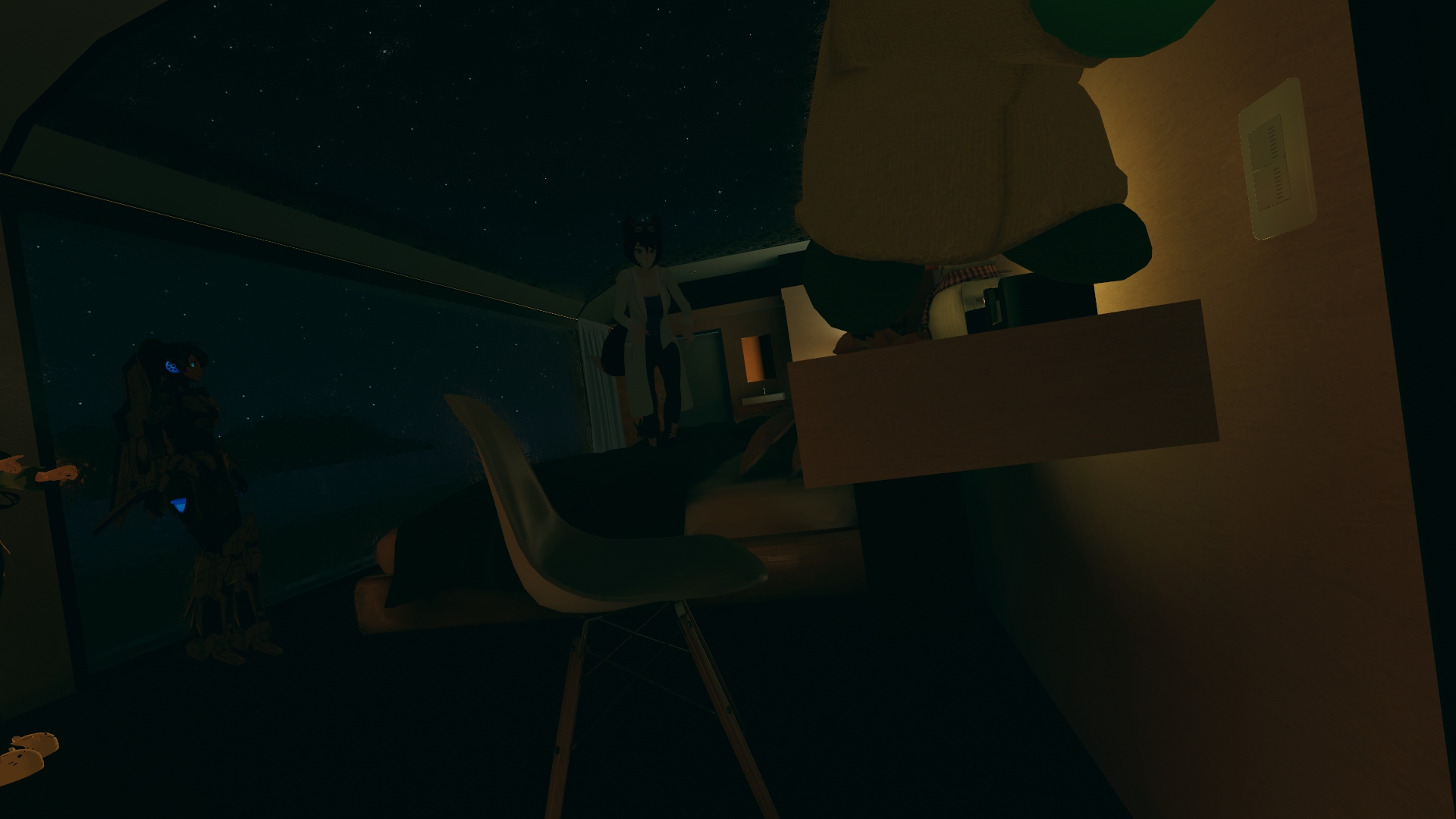 ---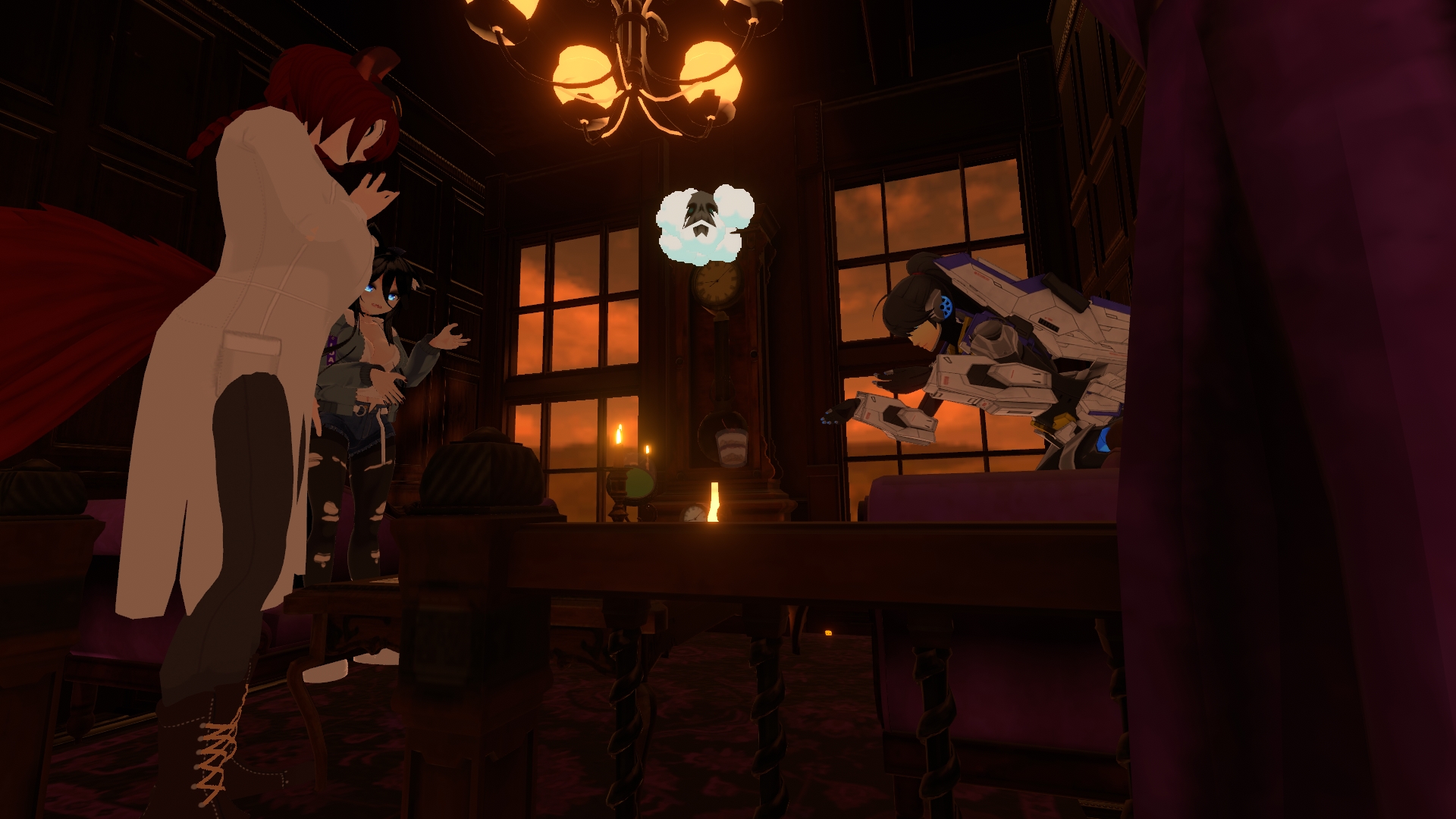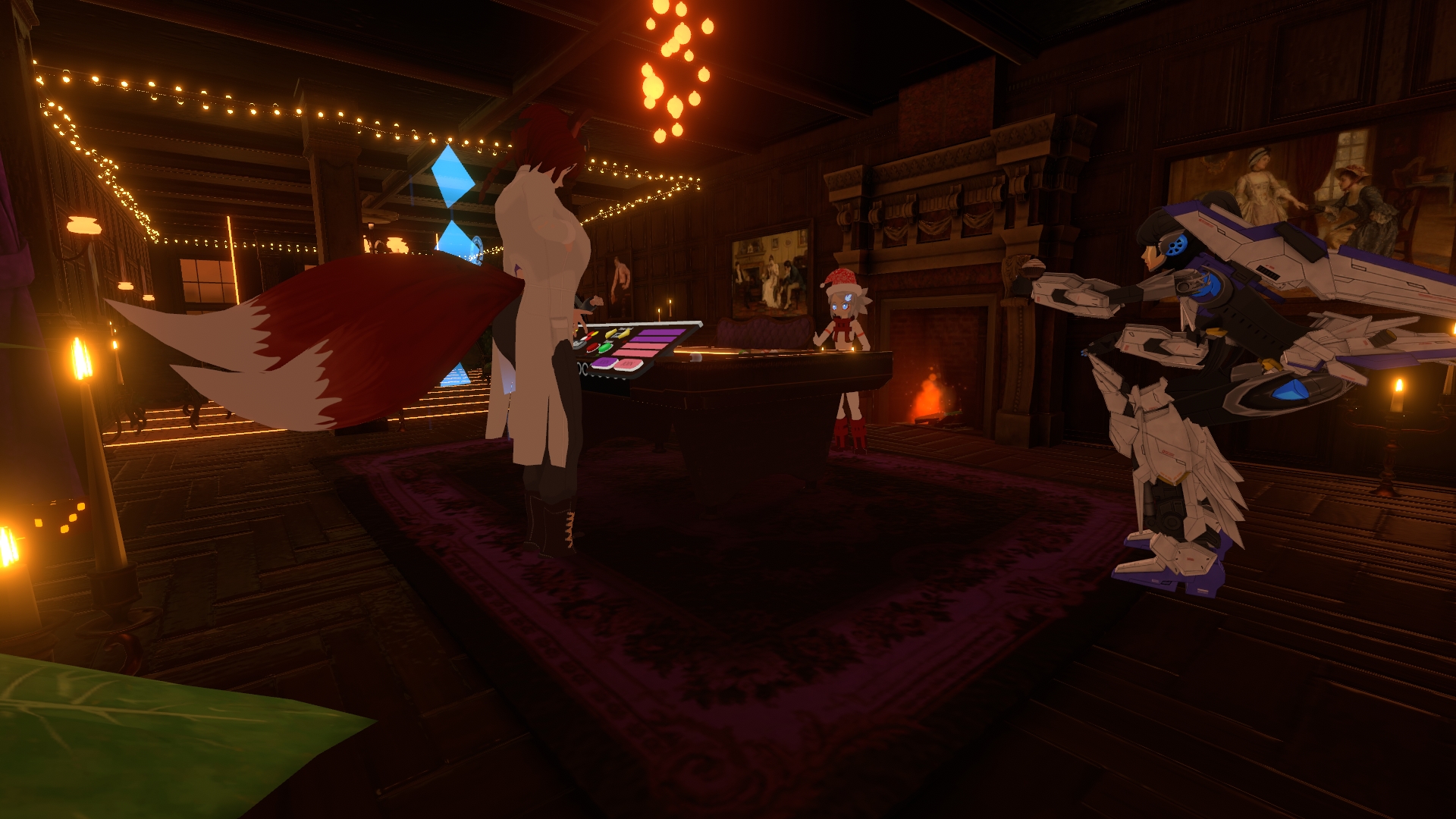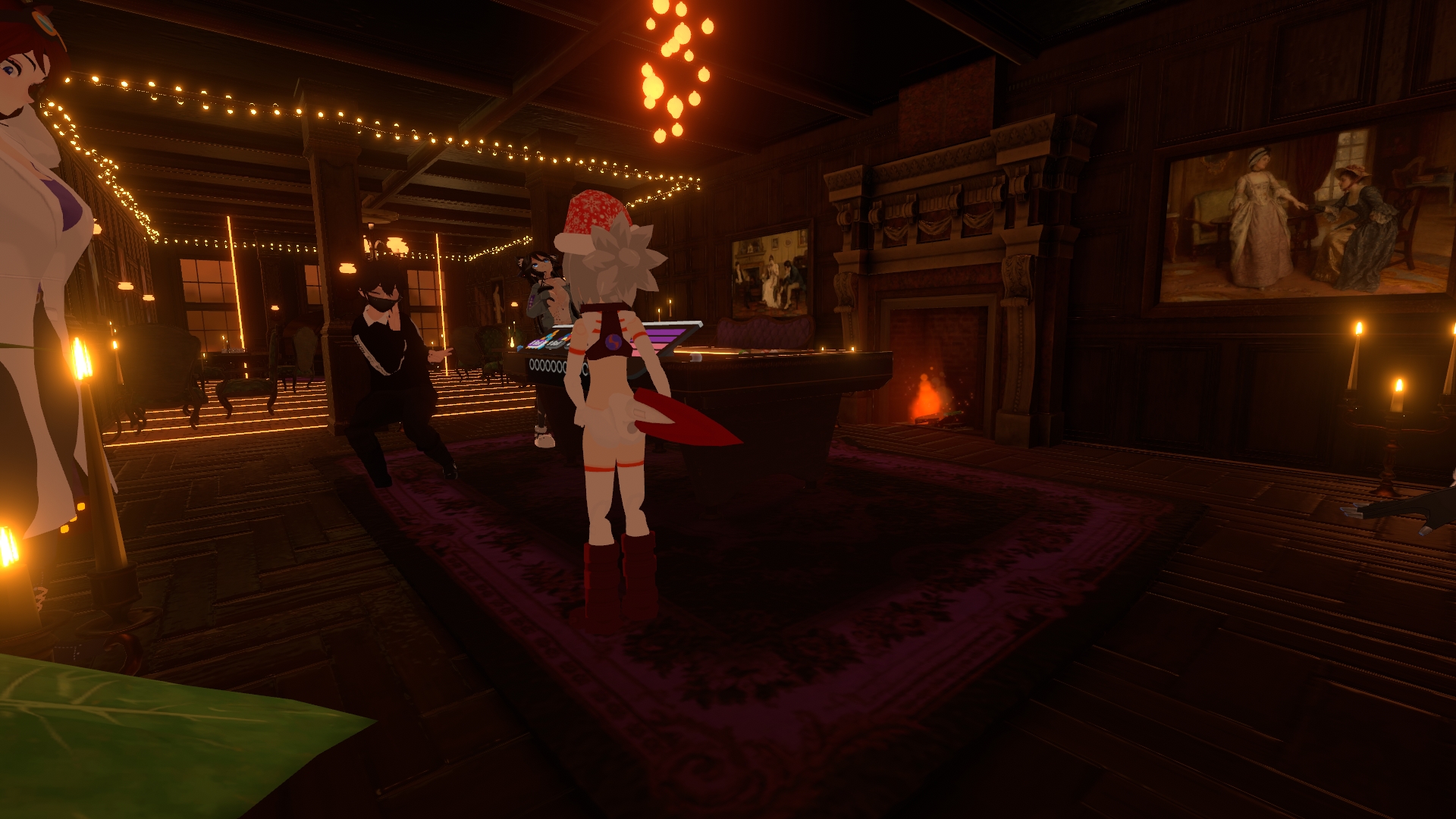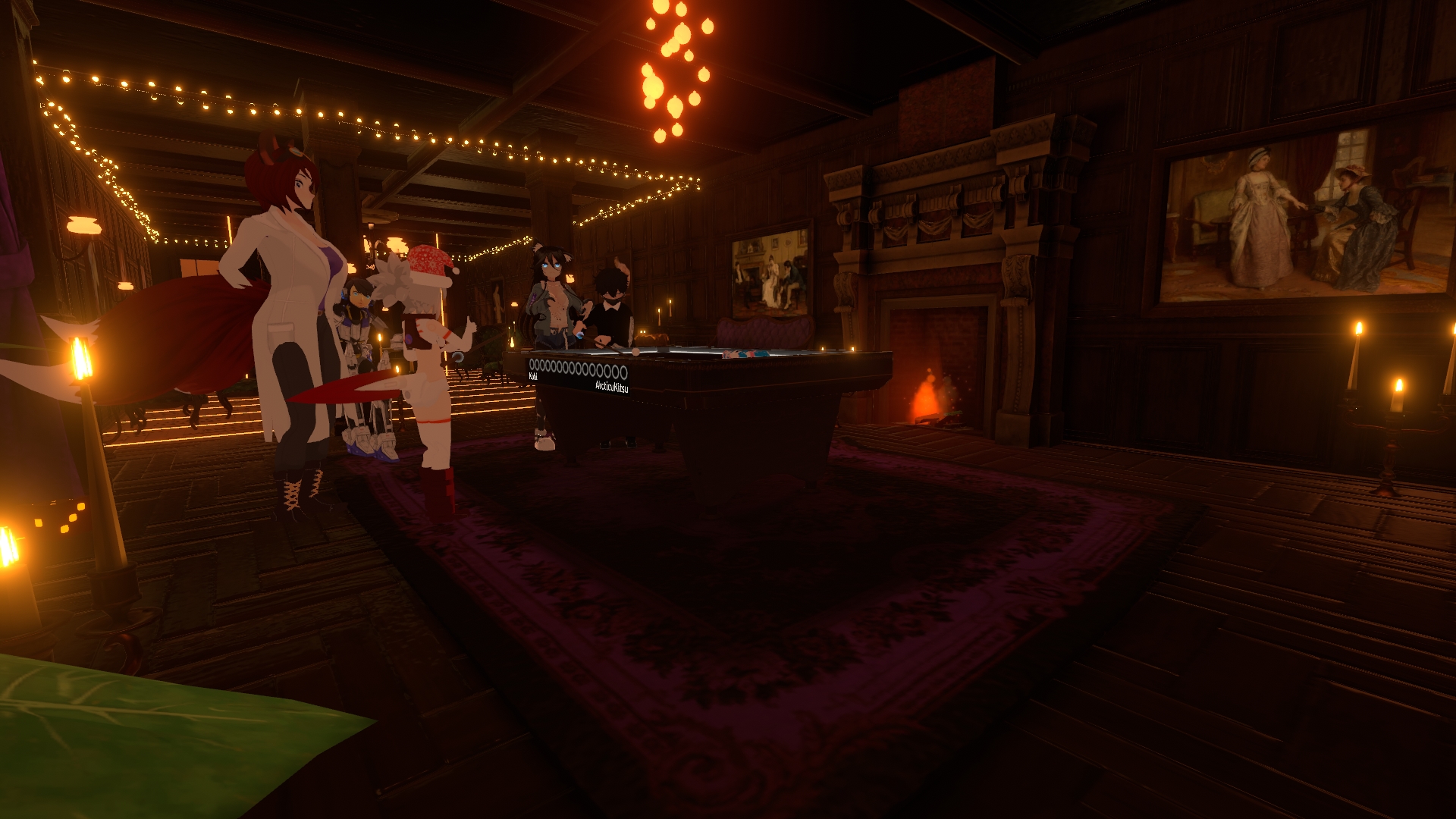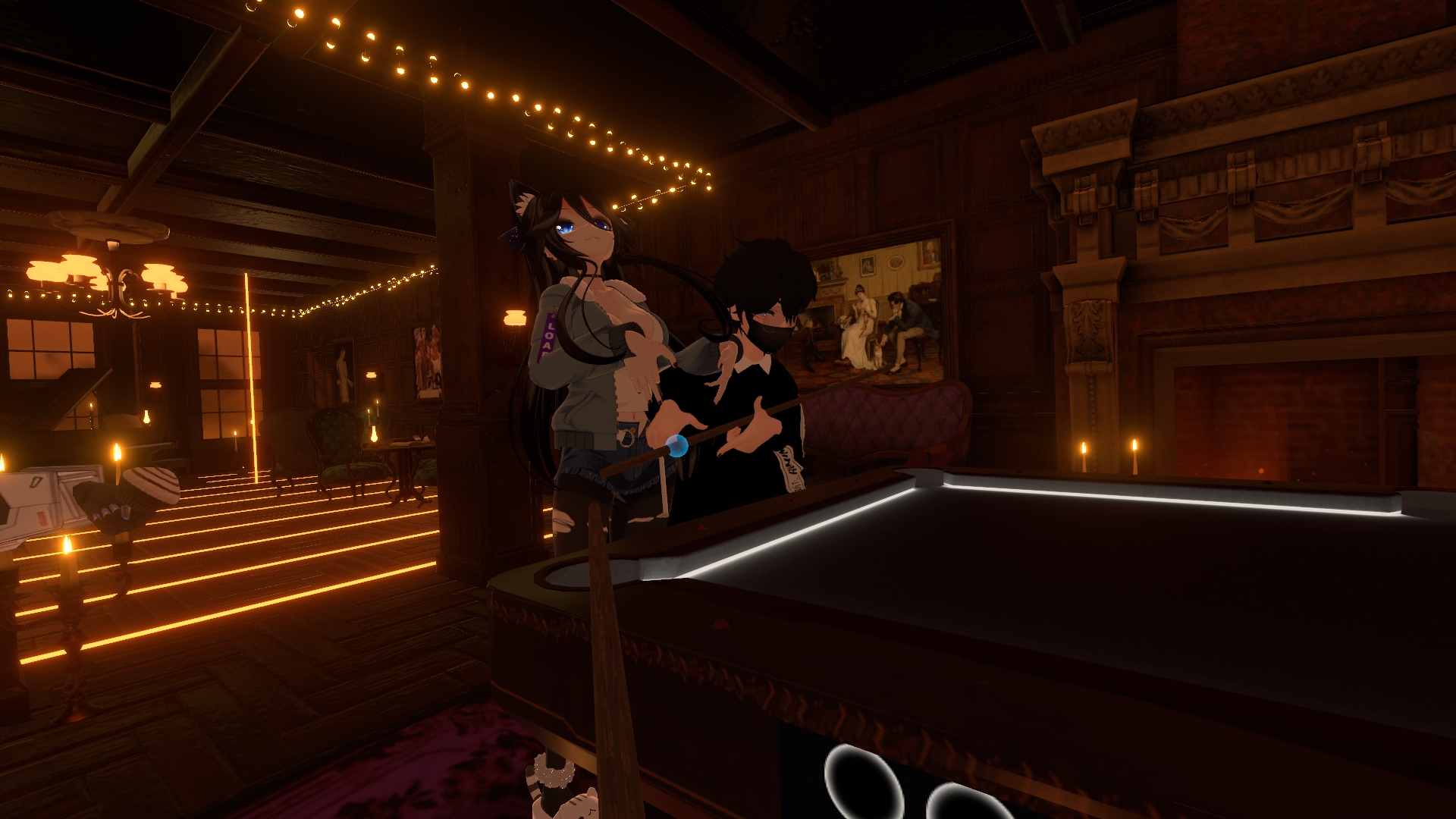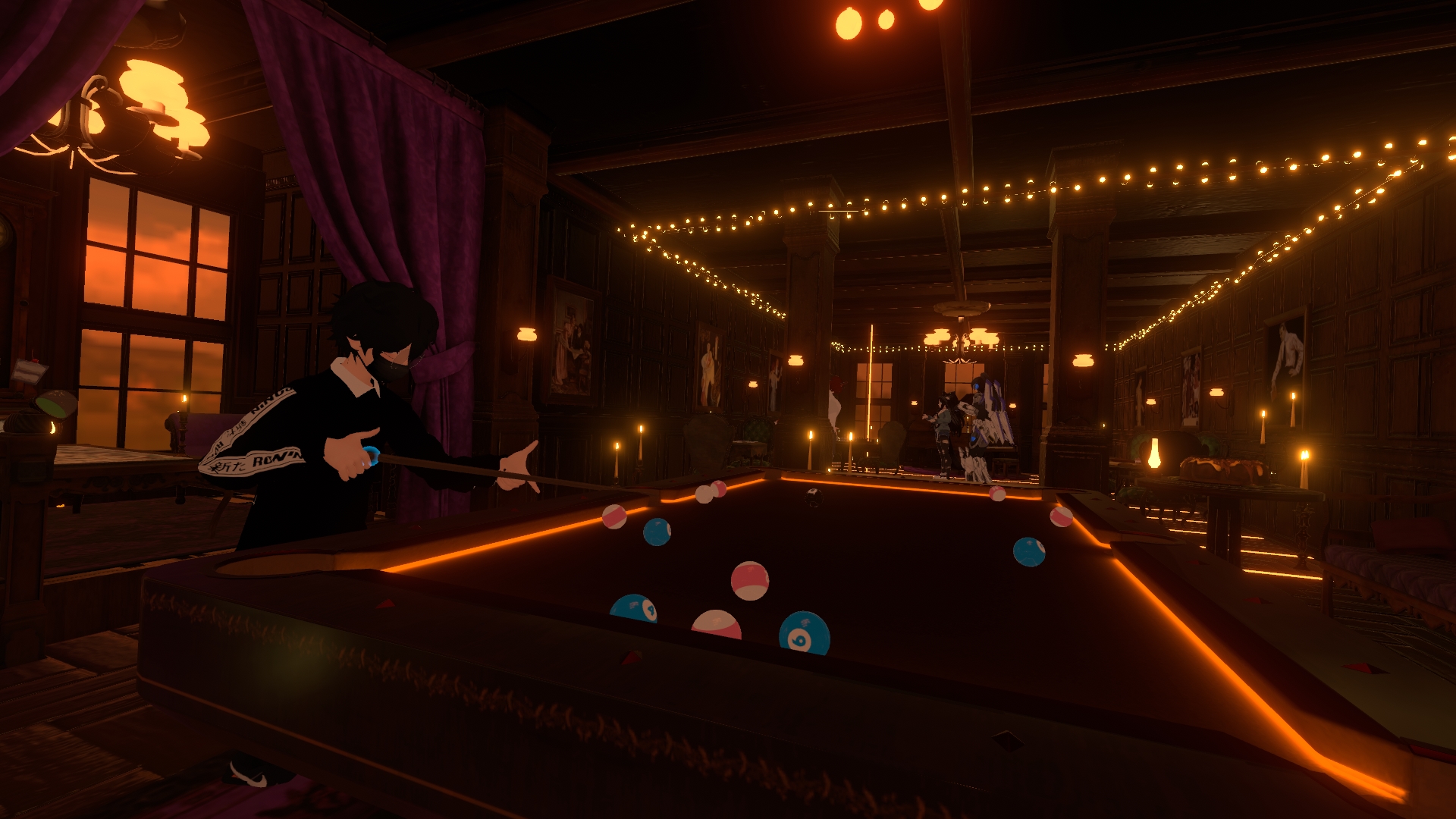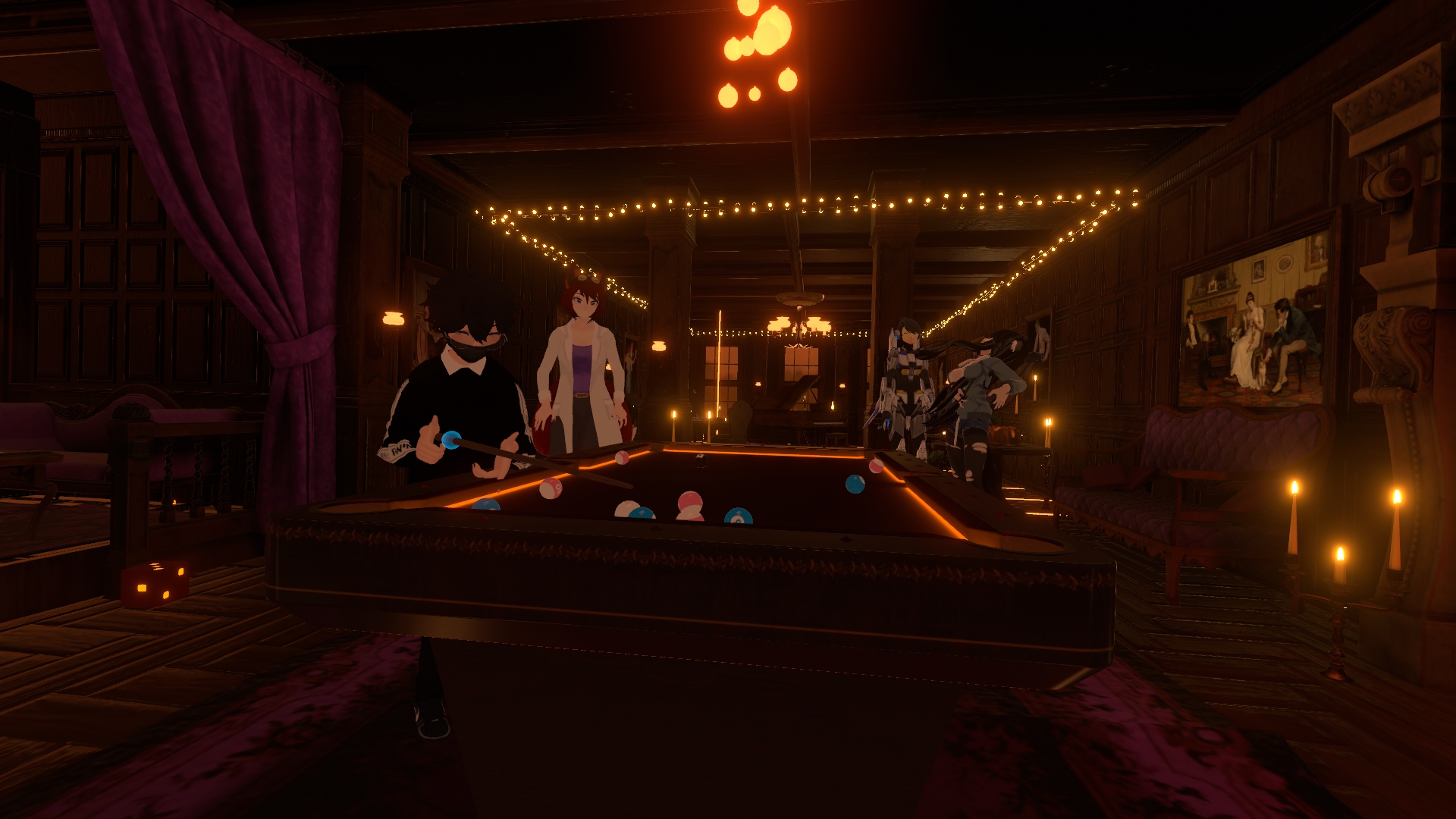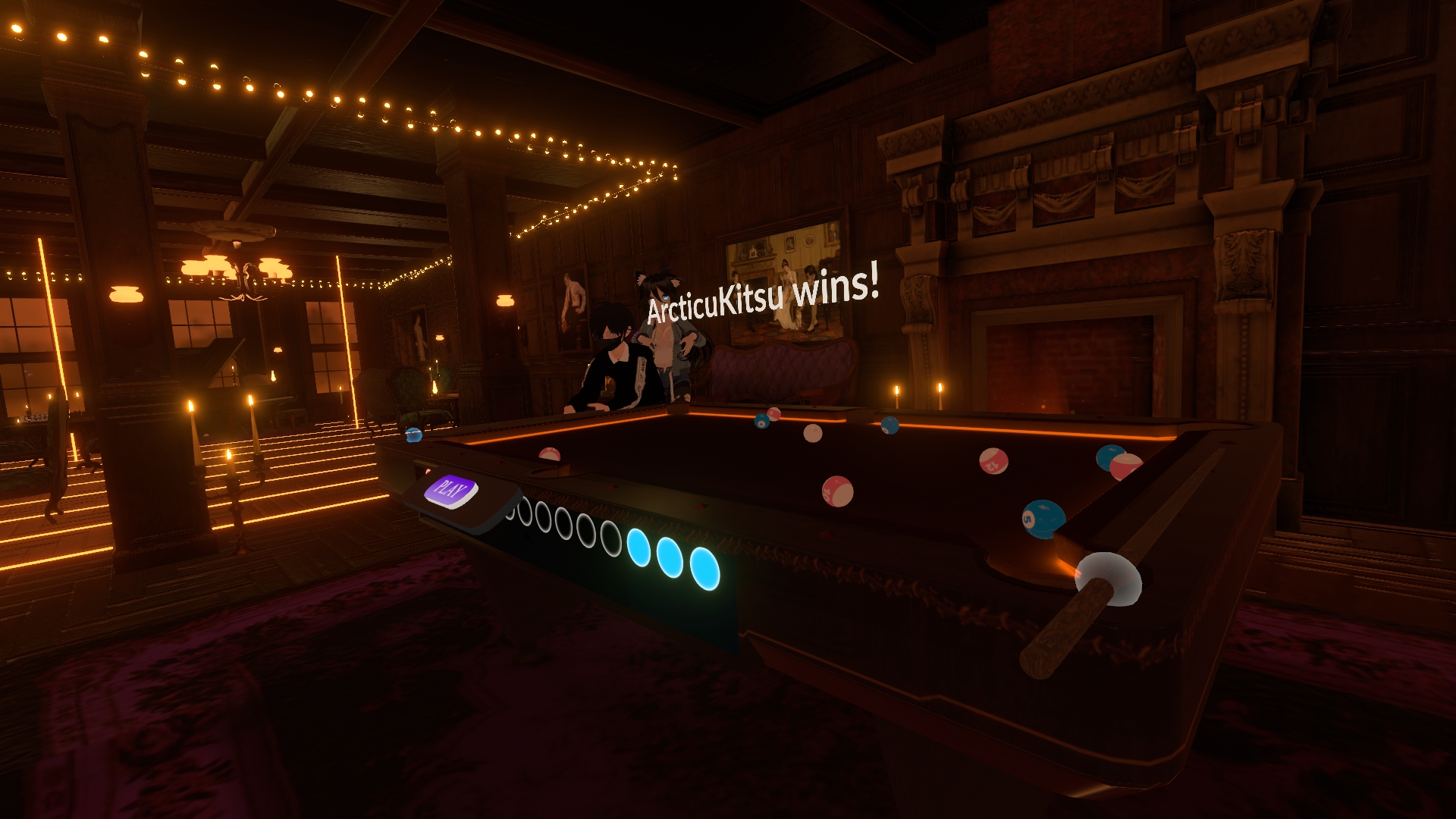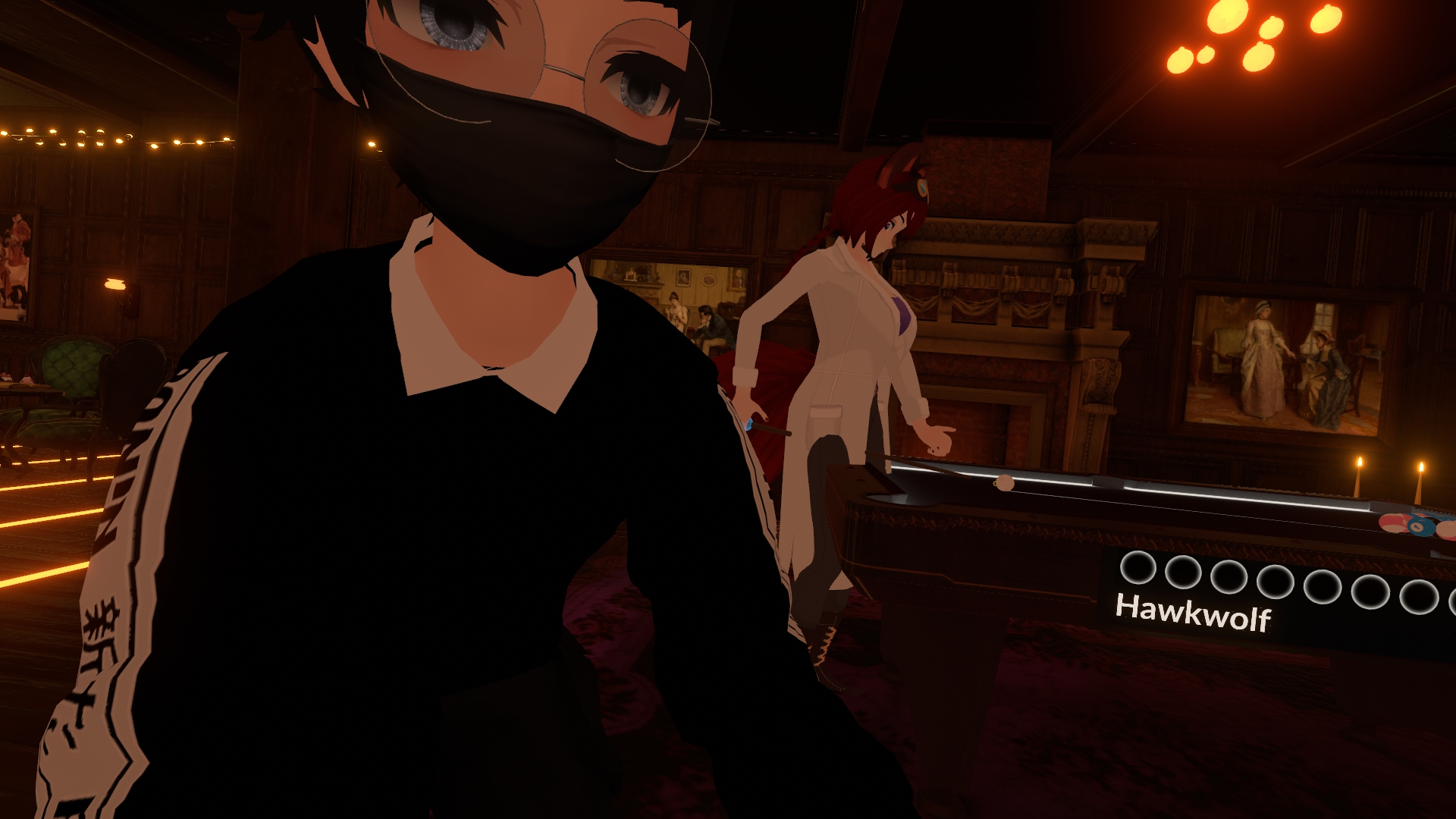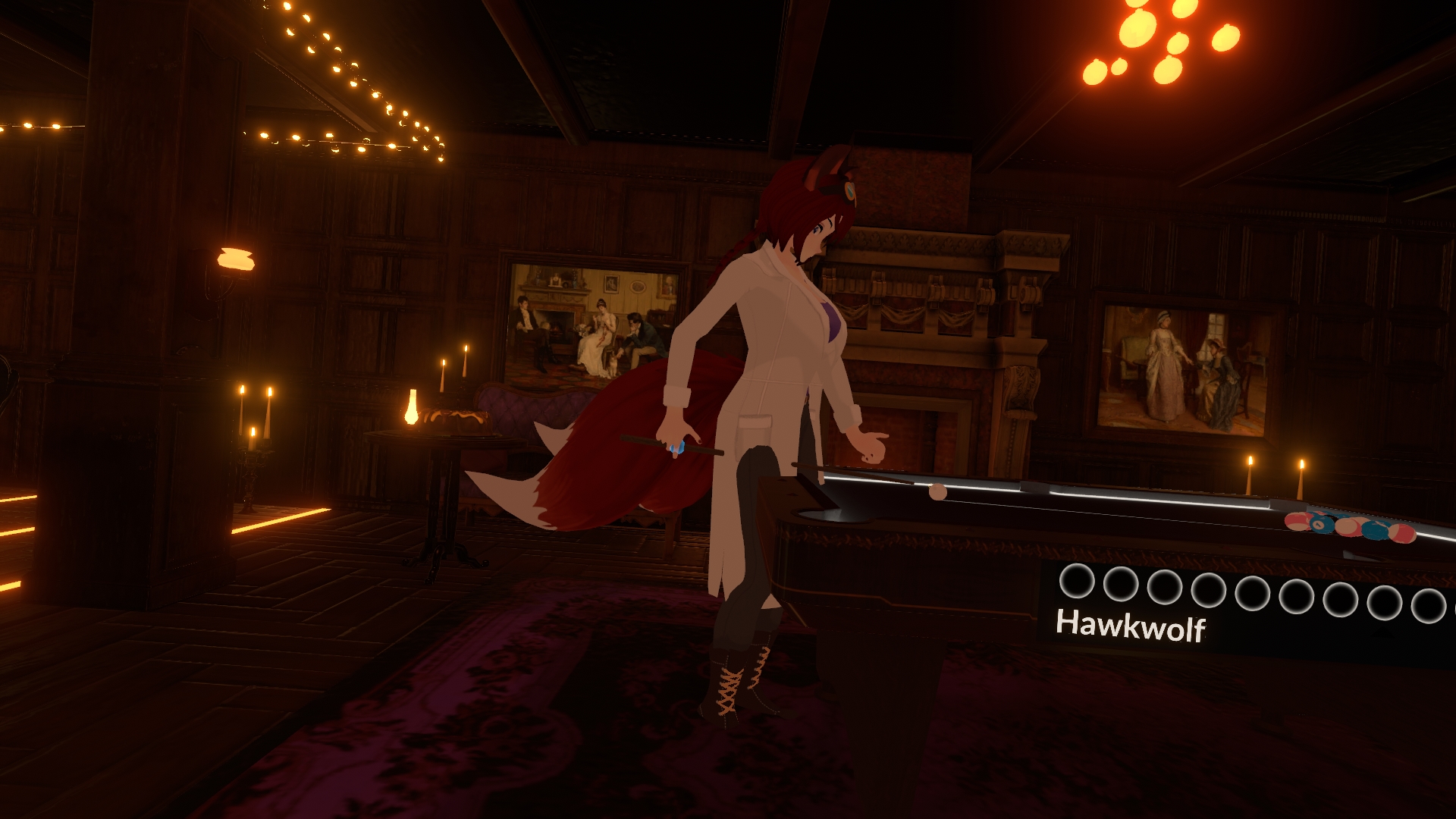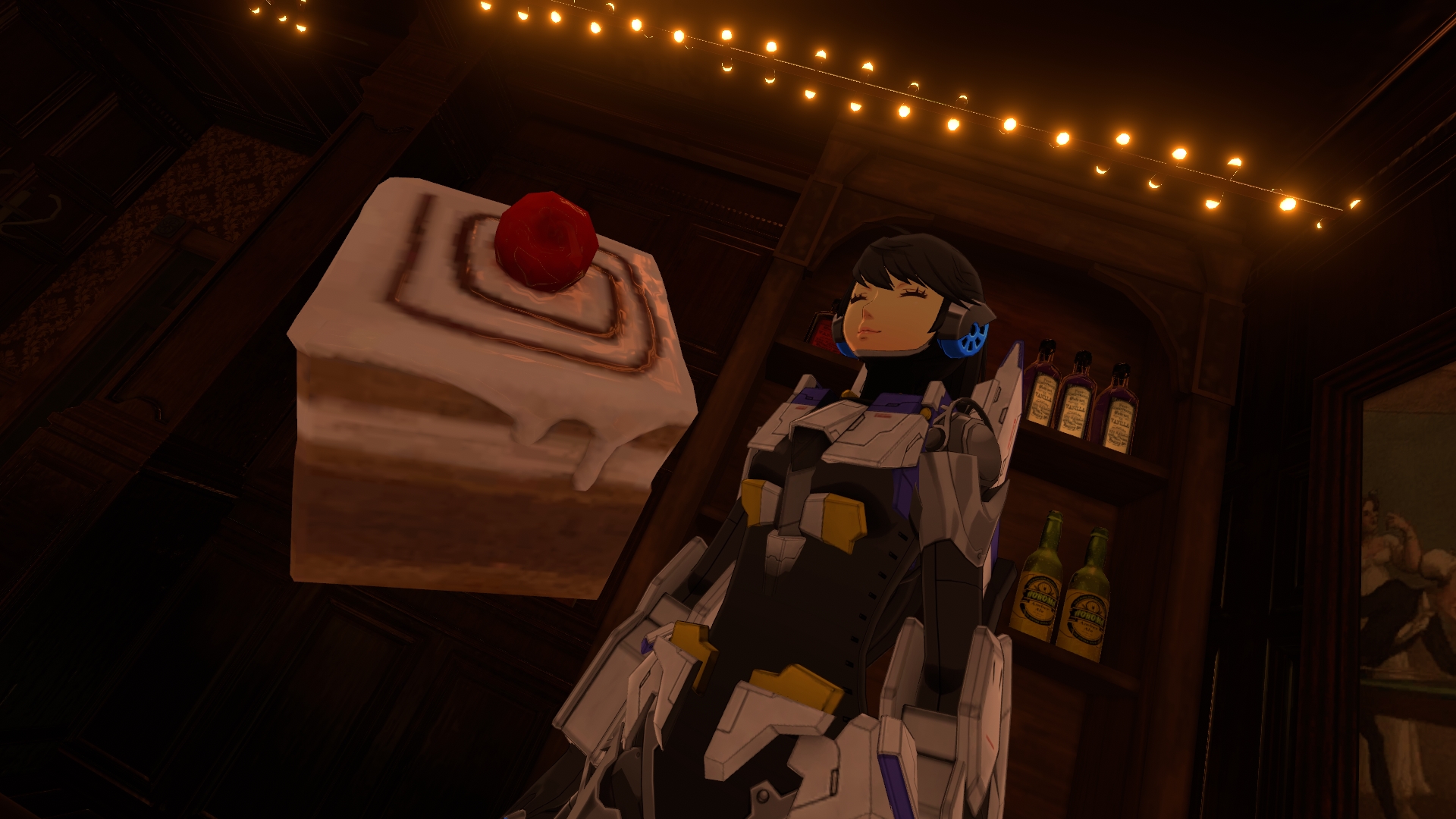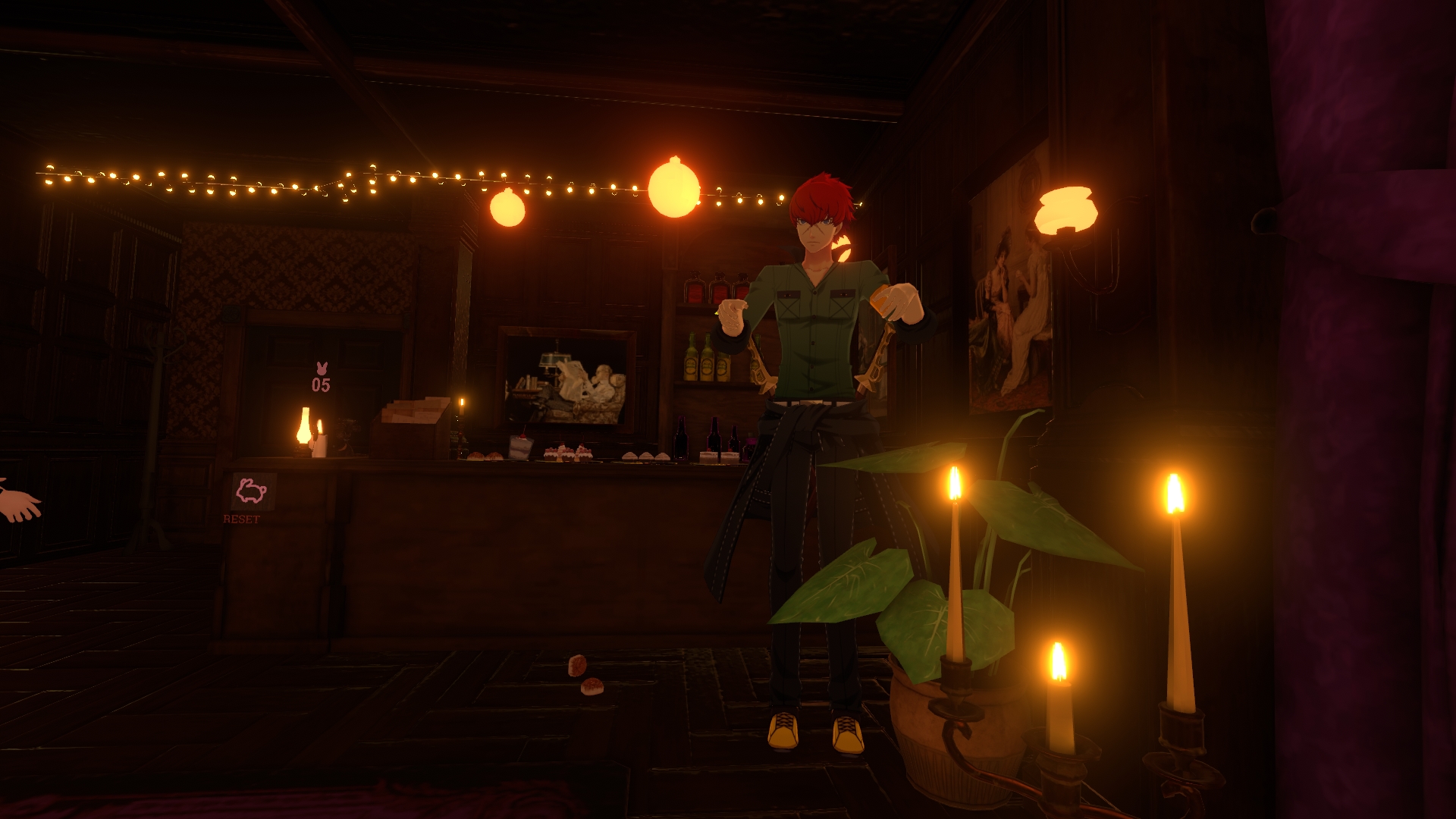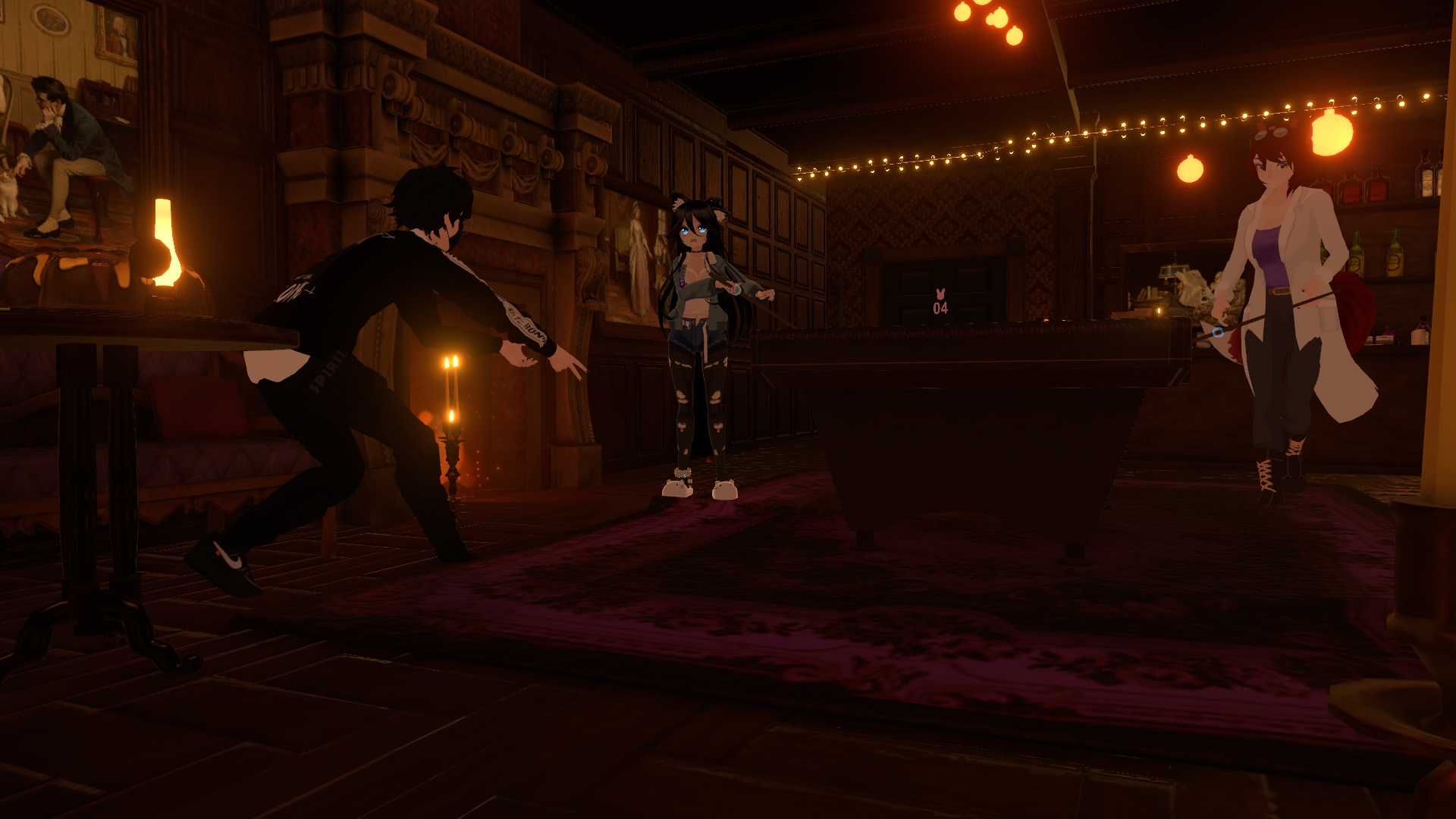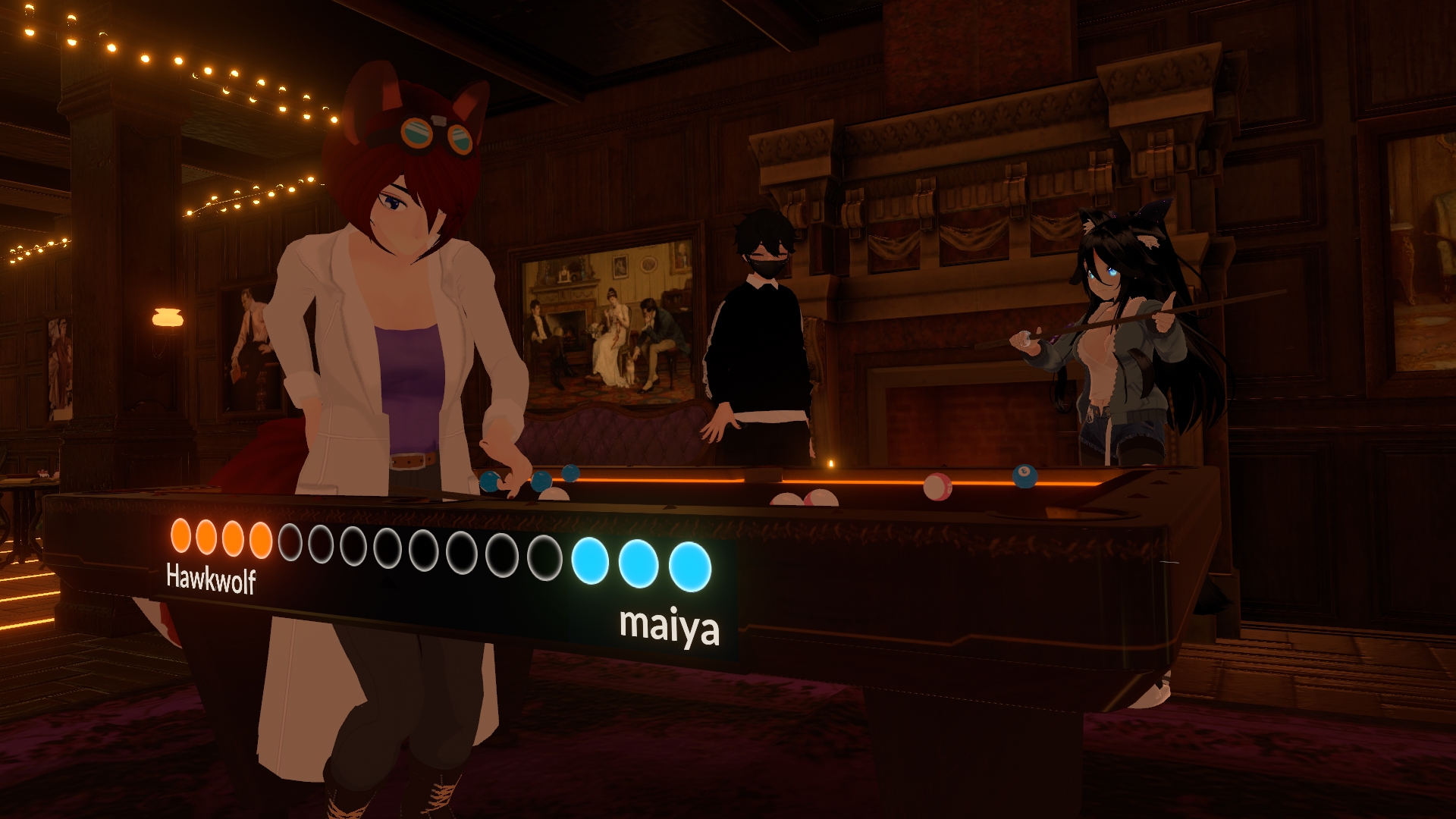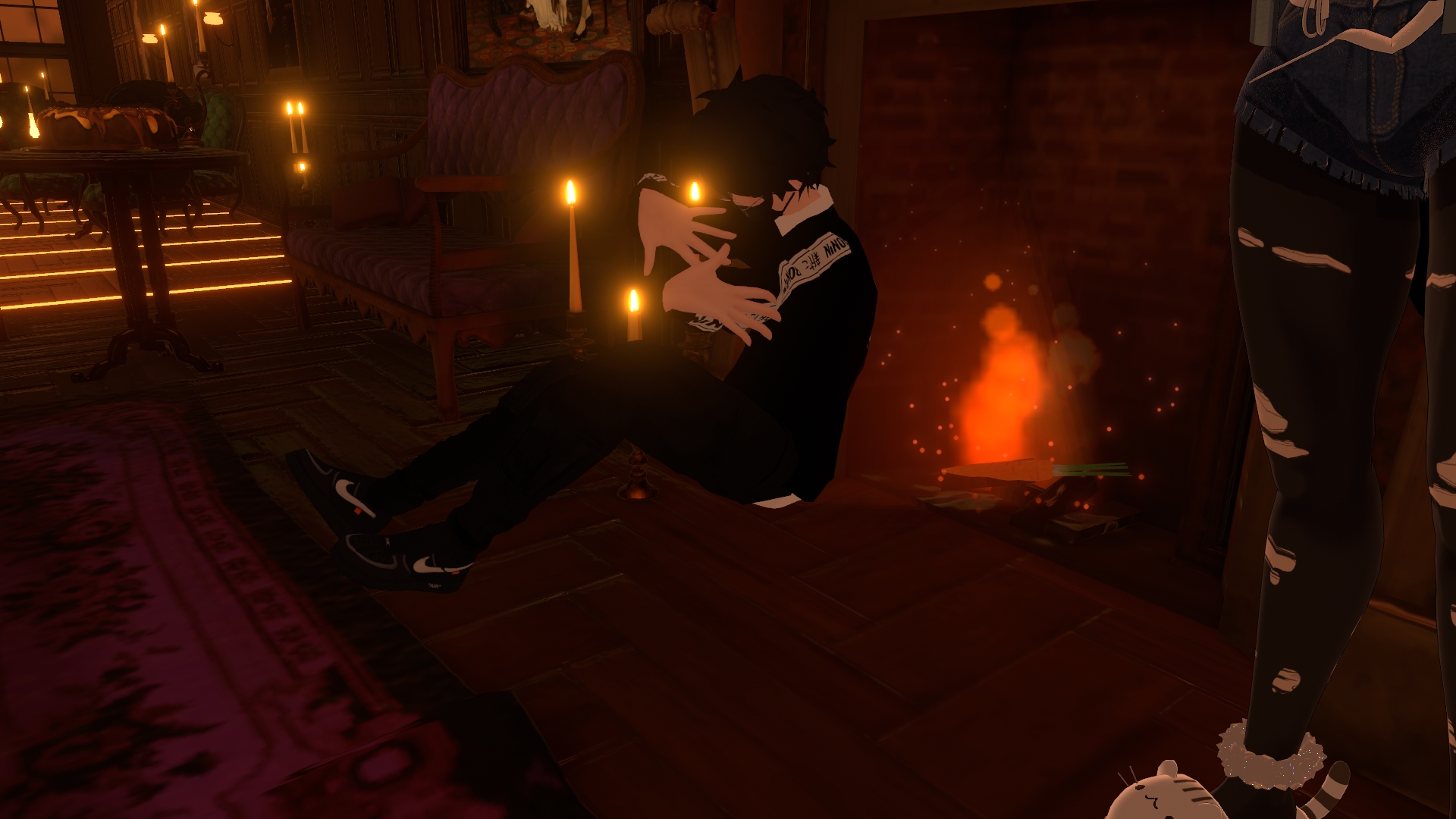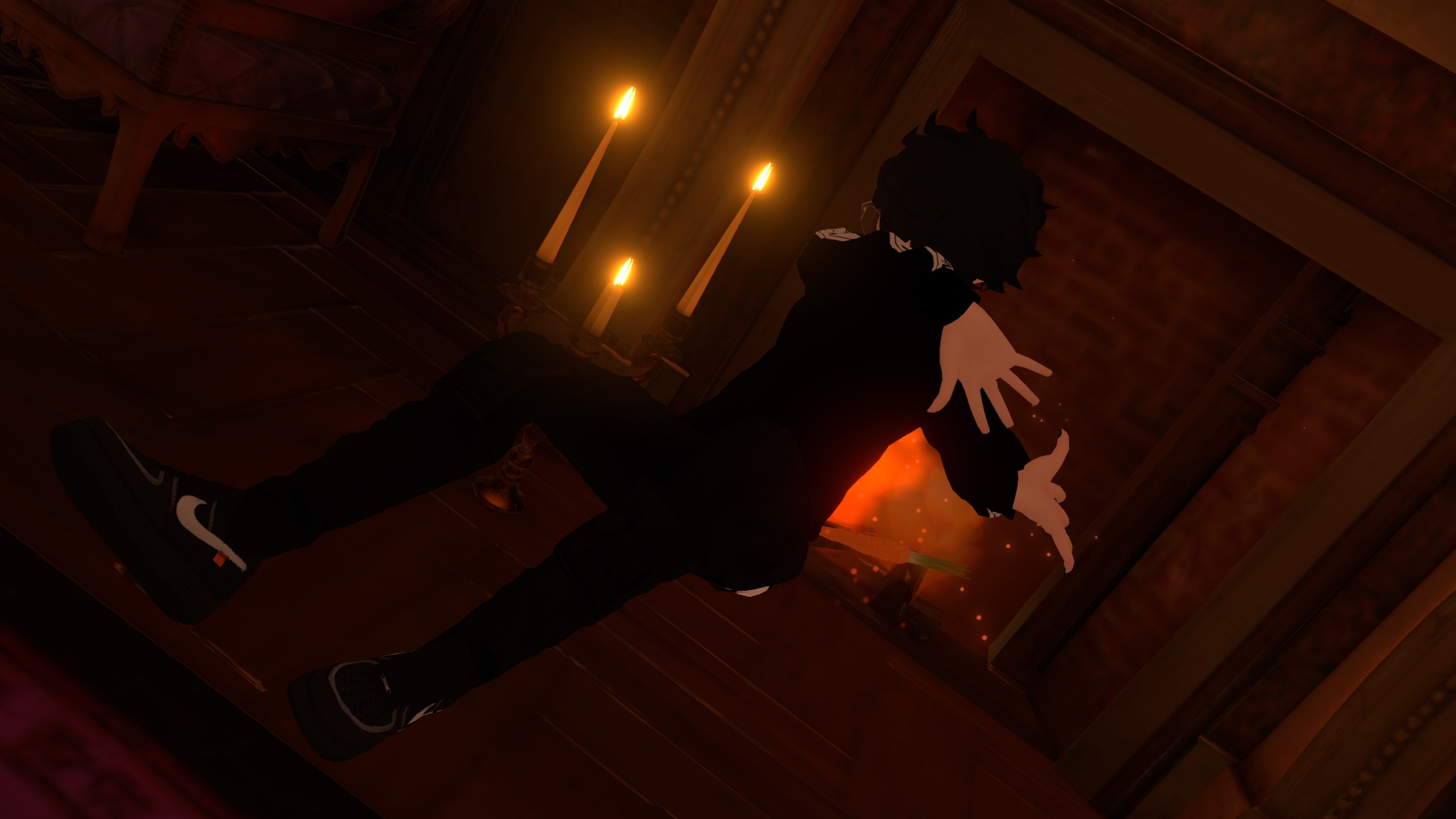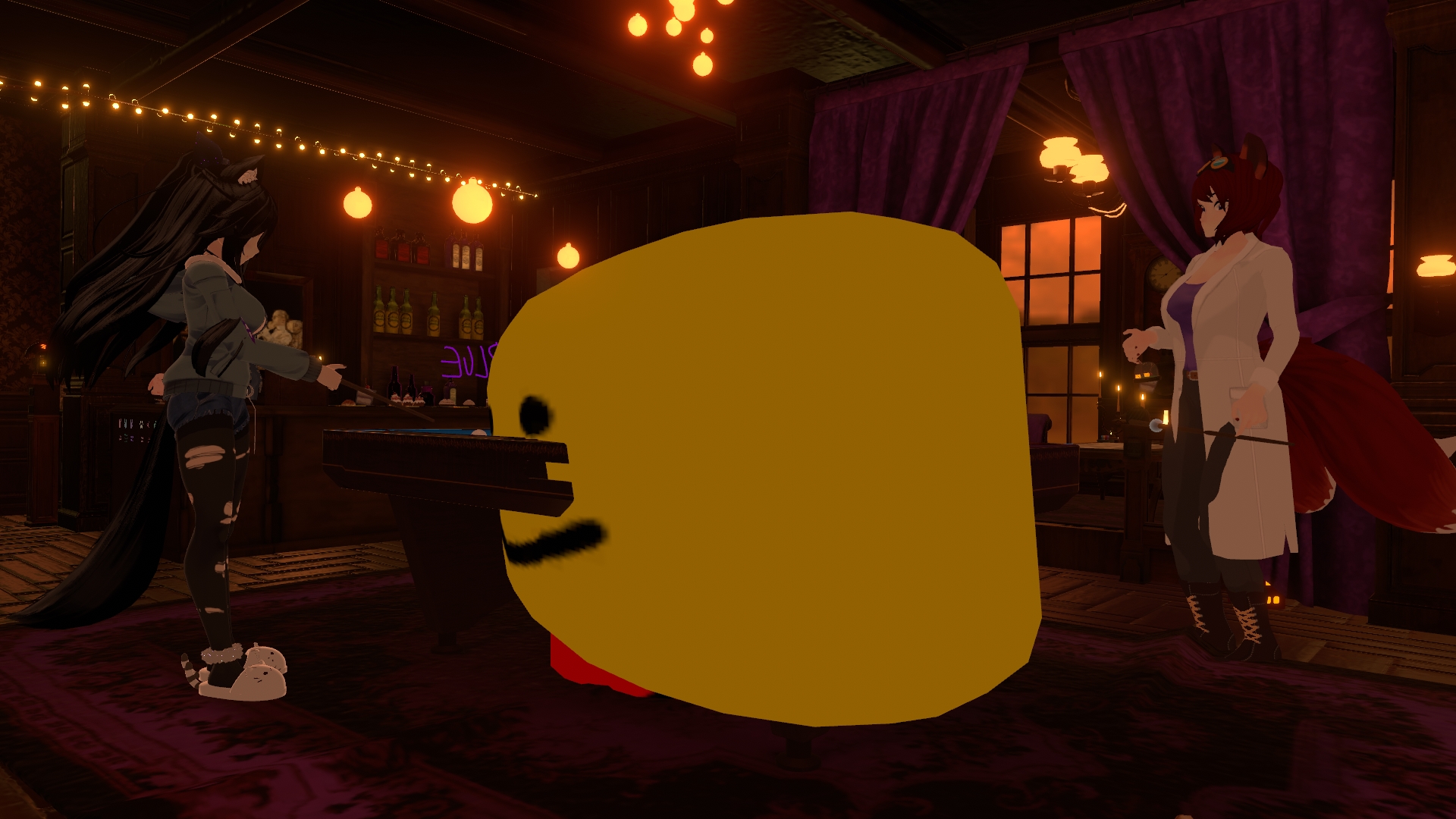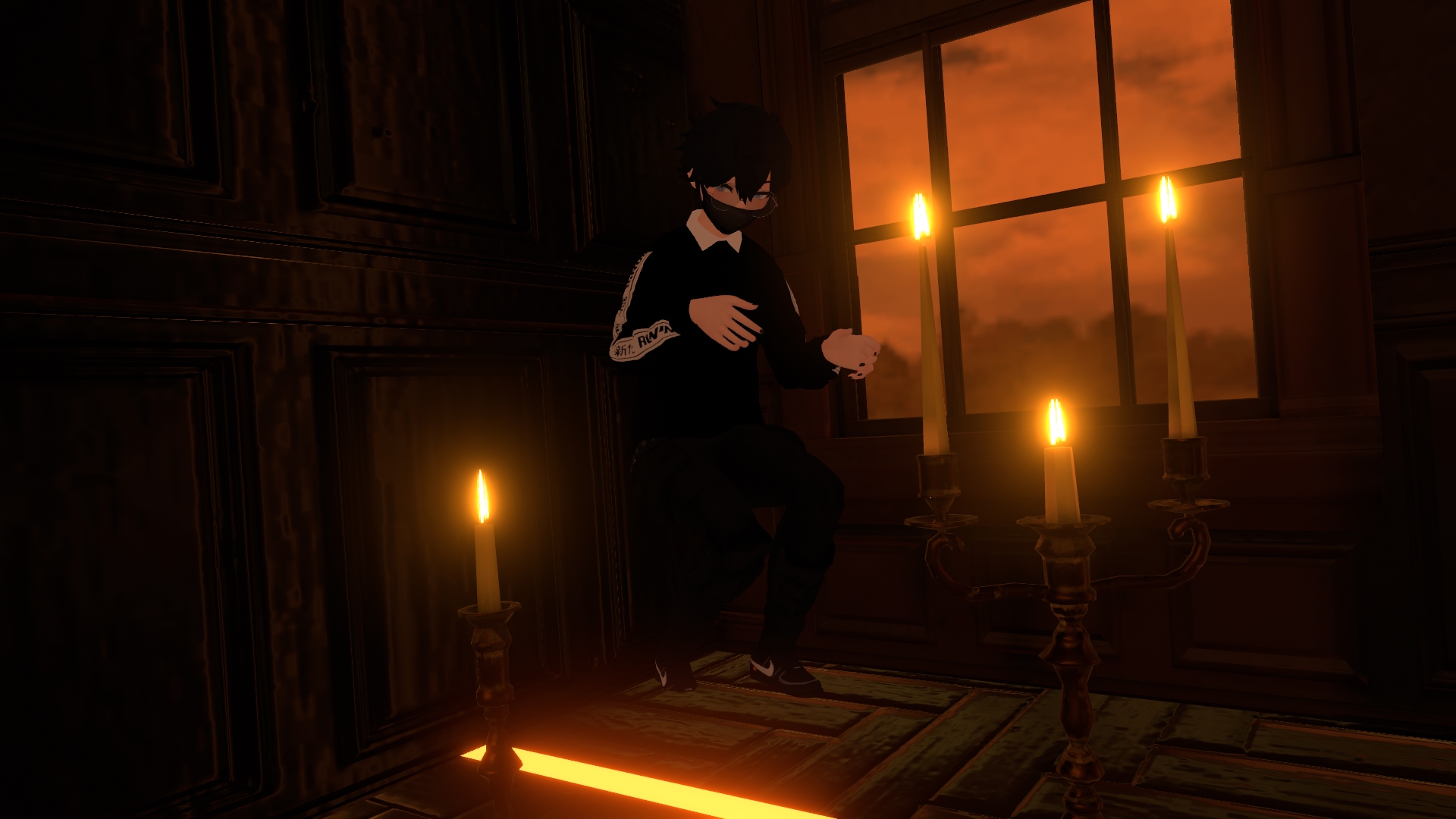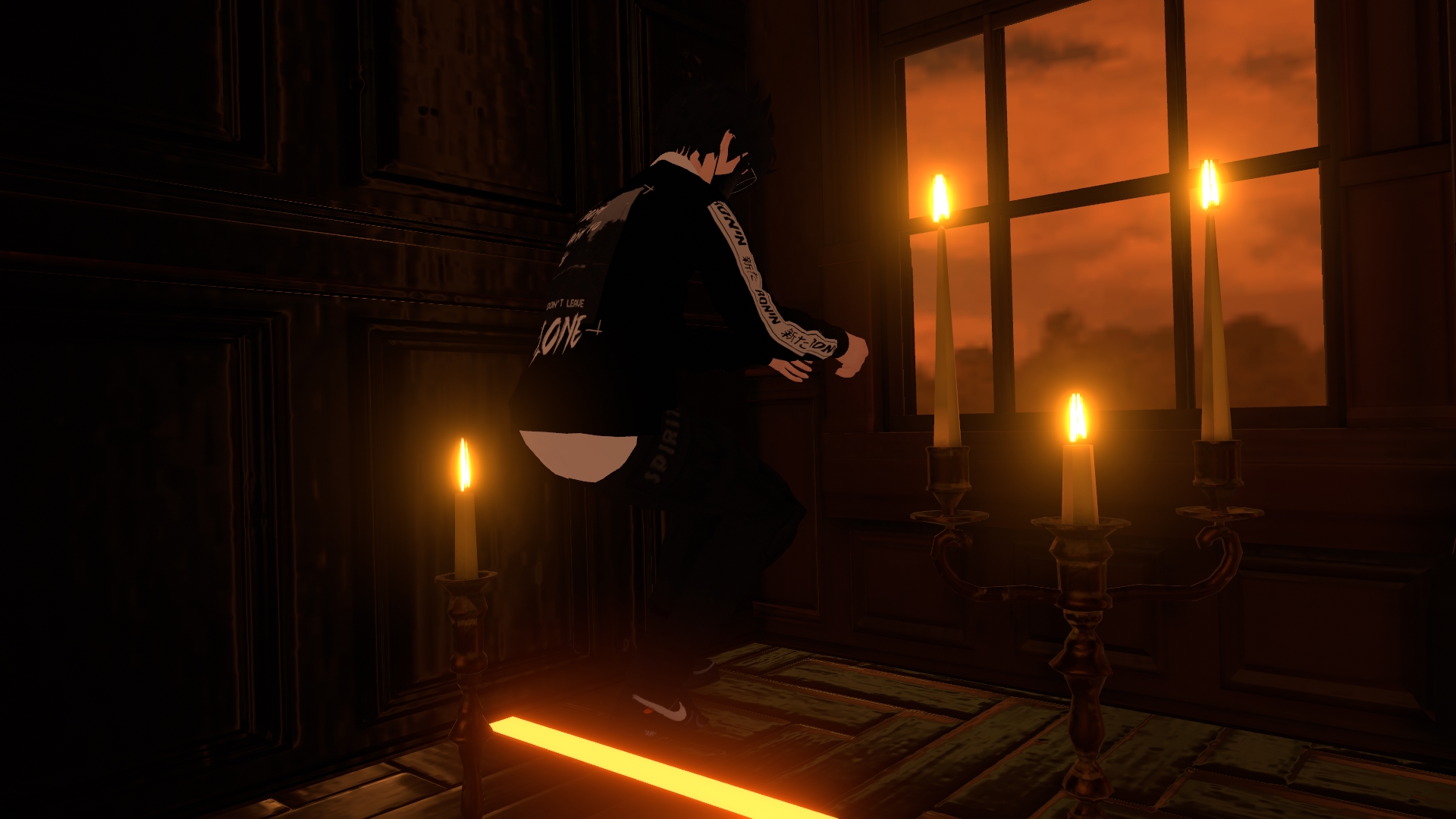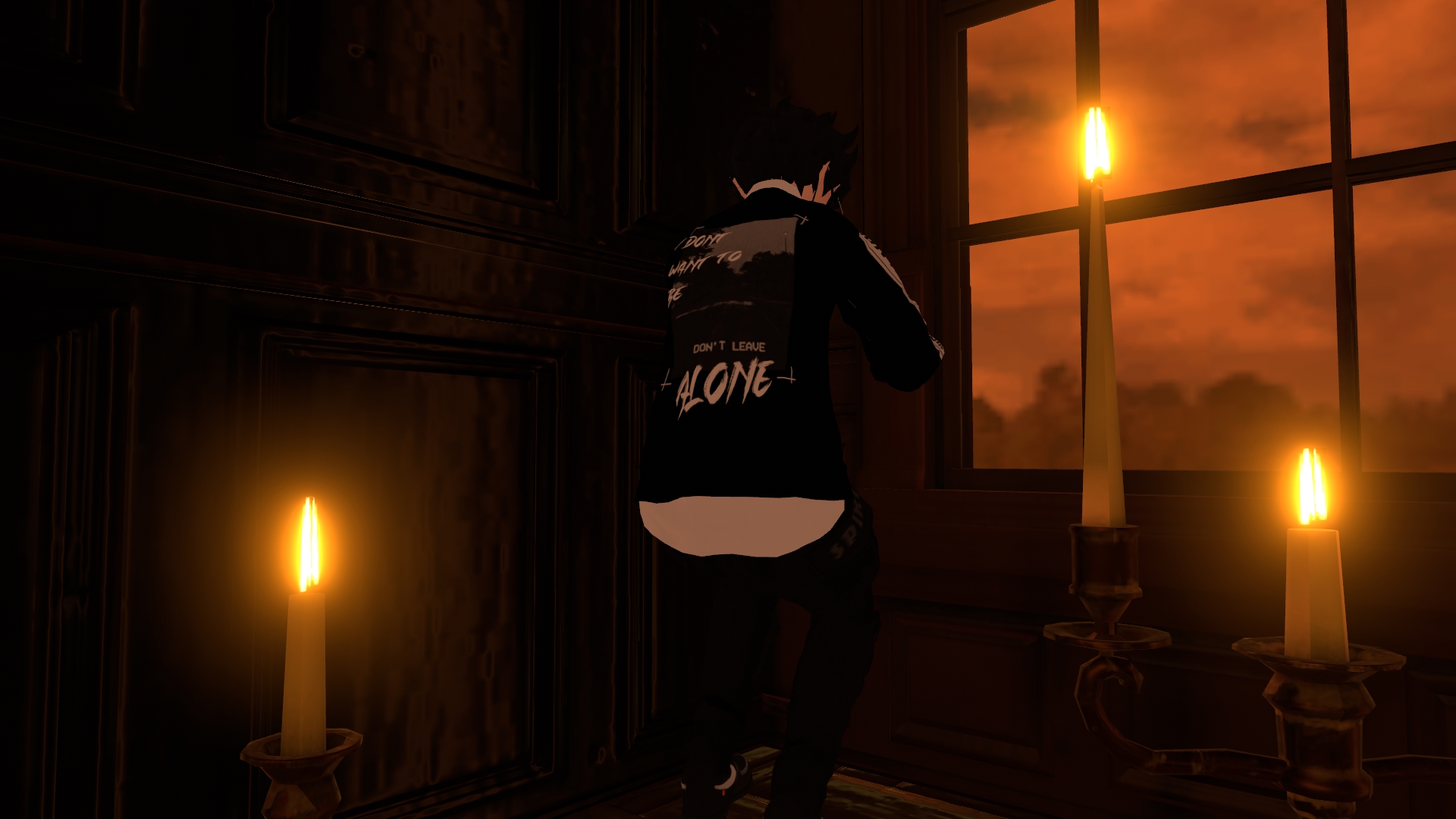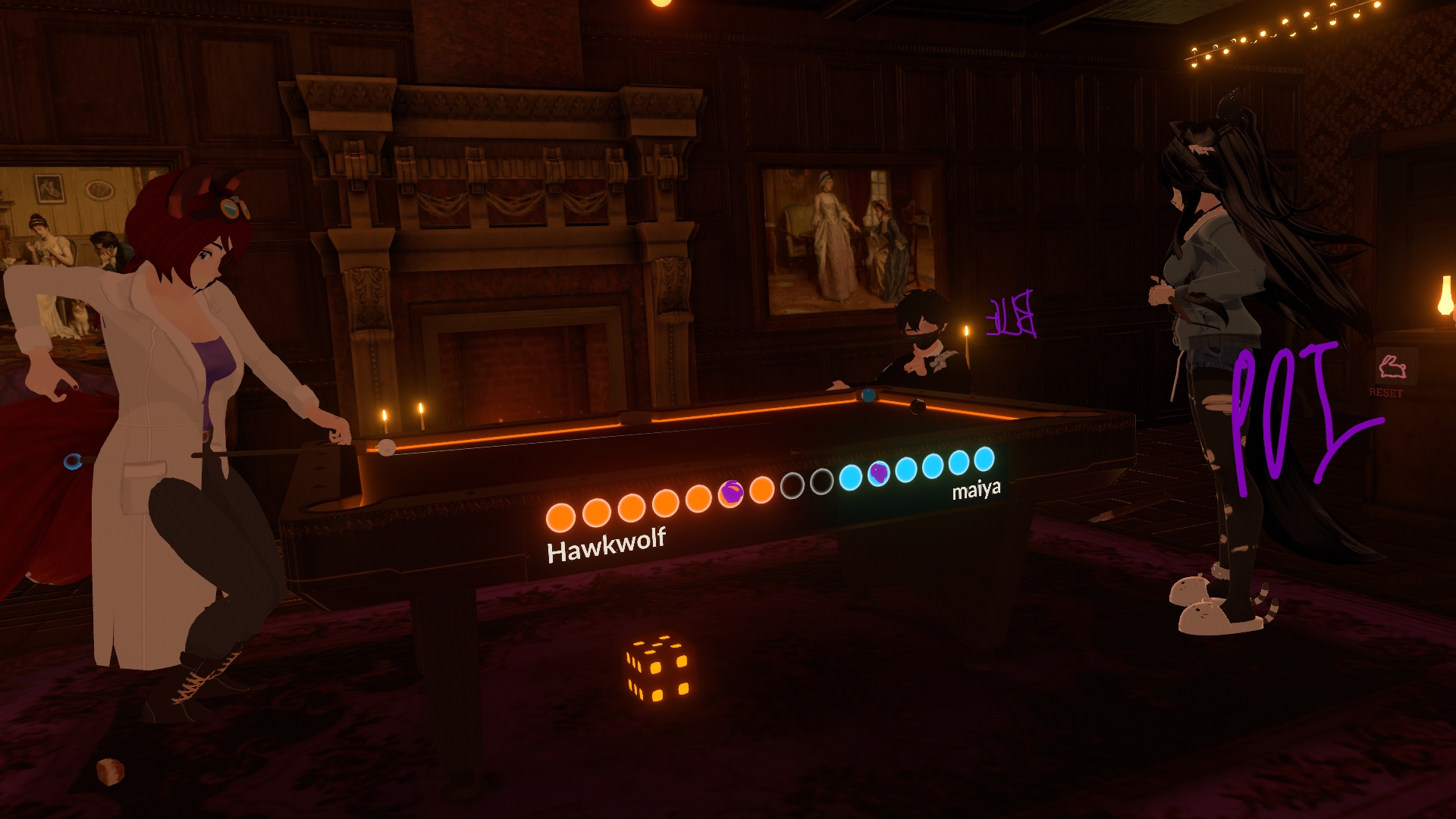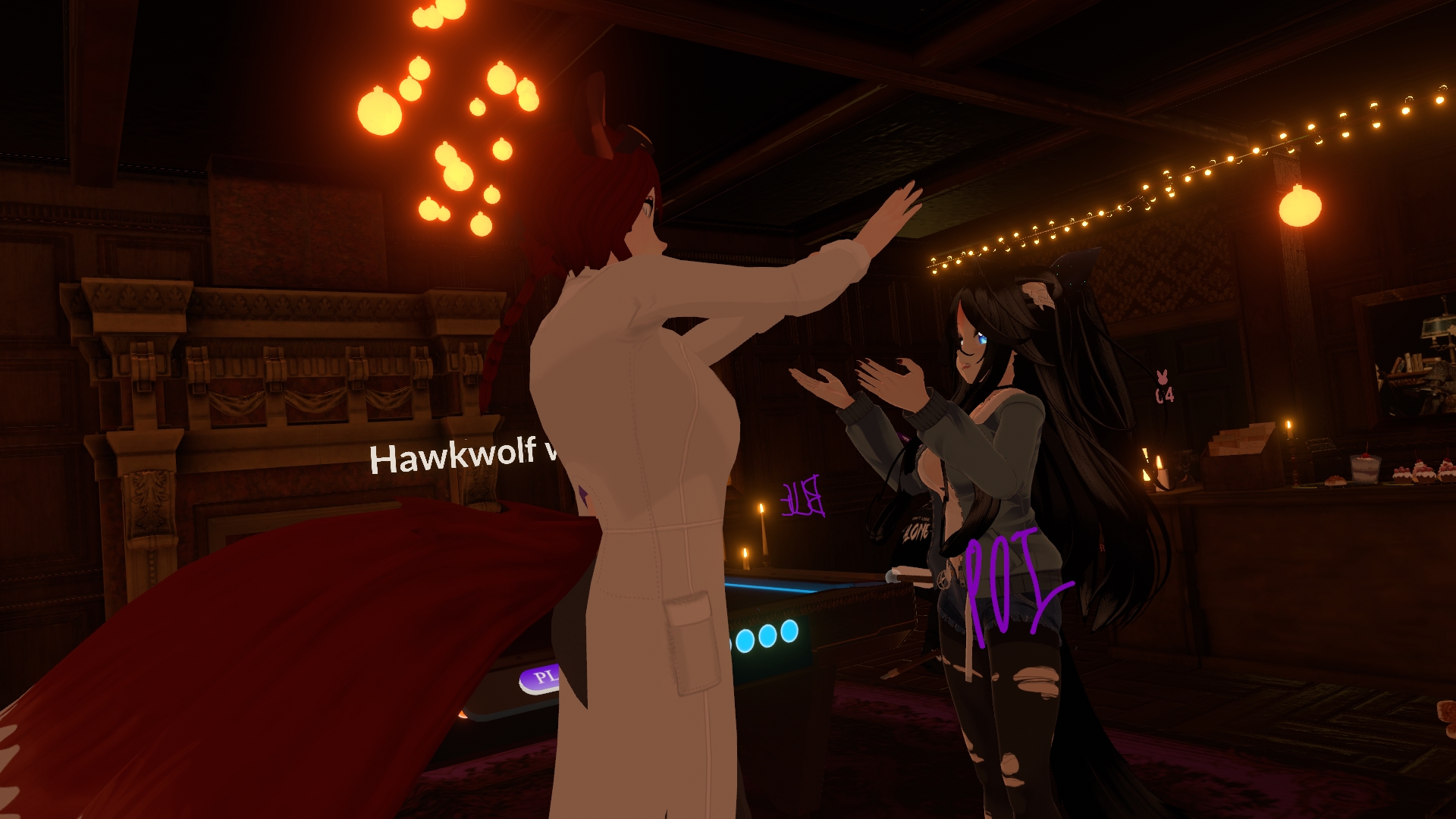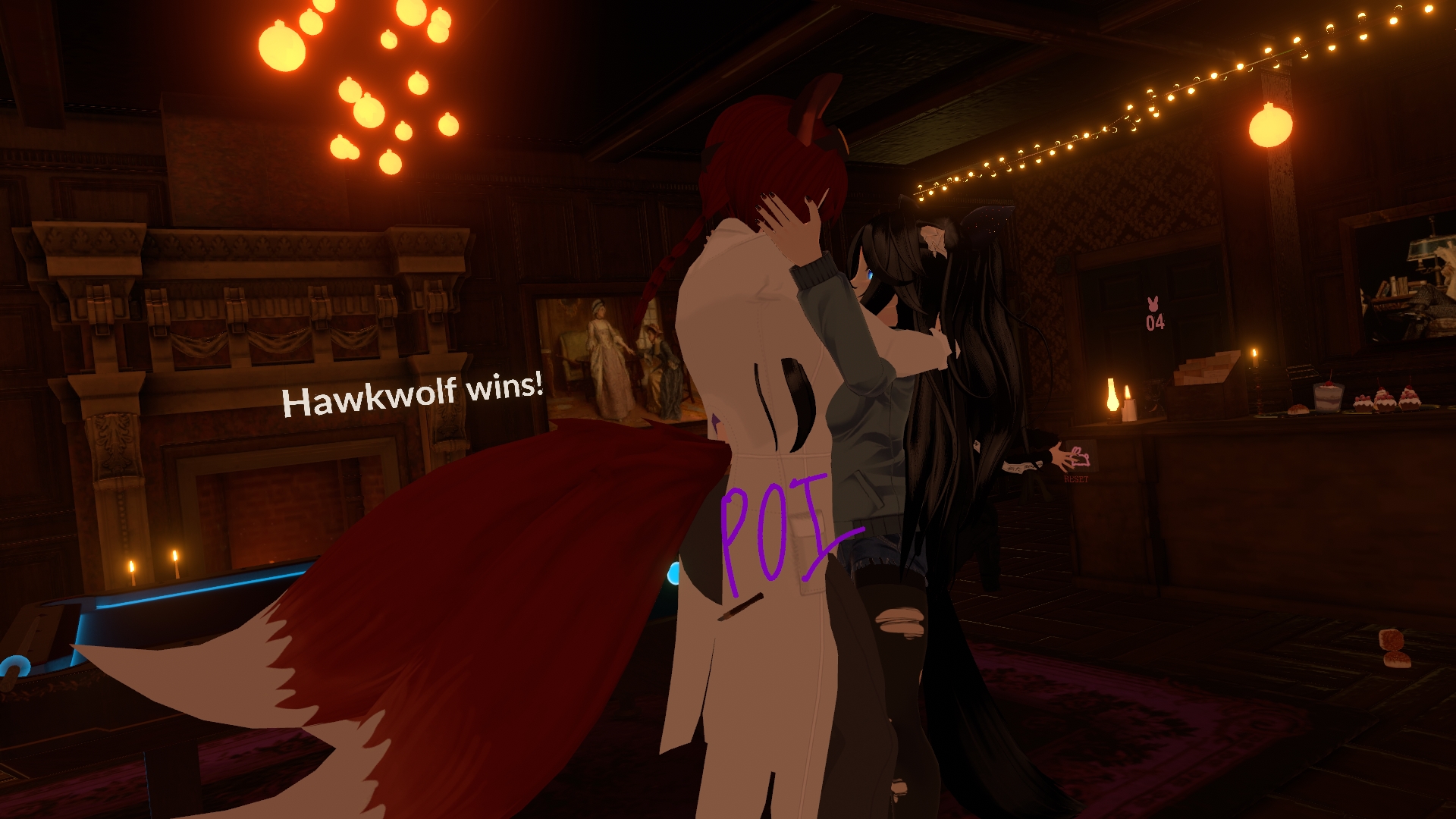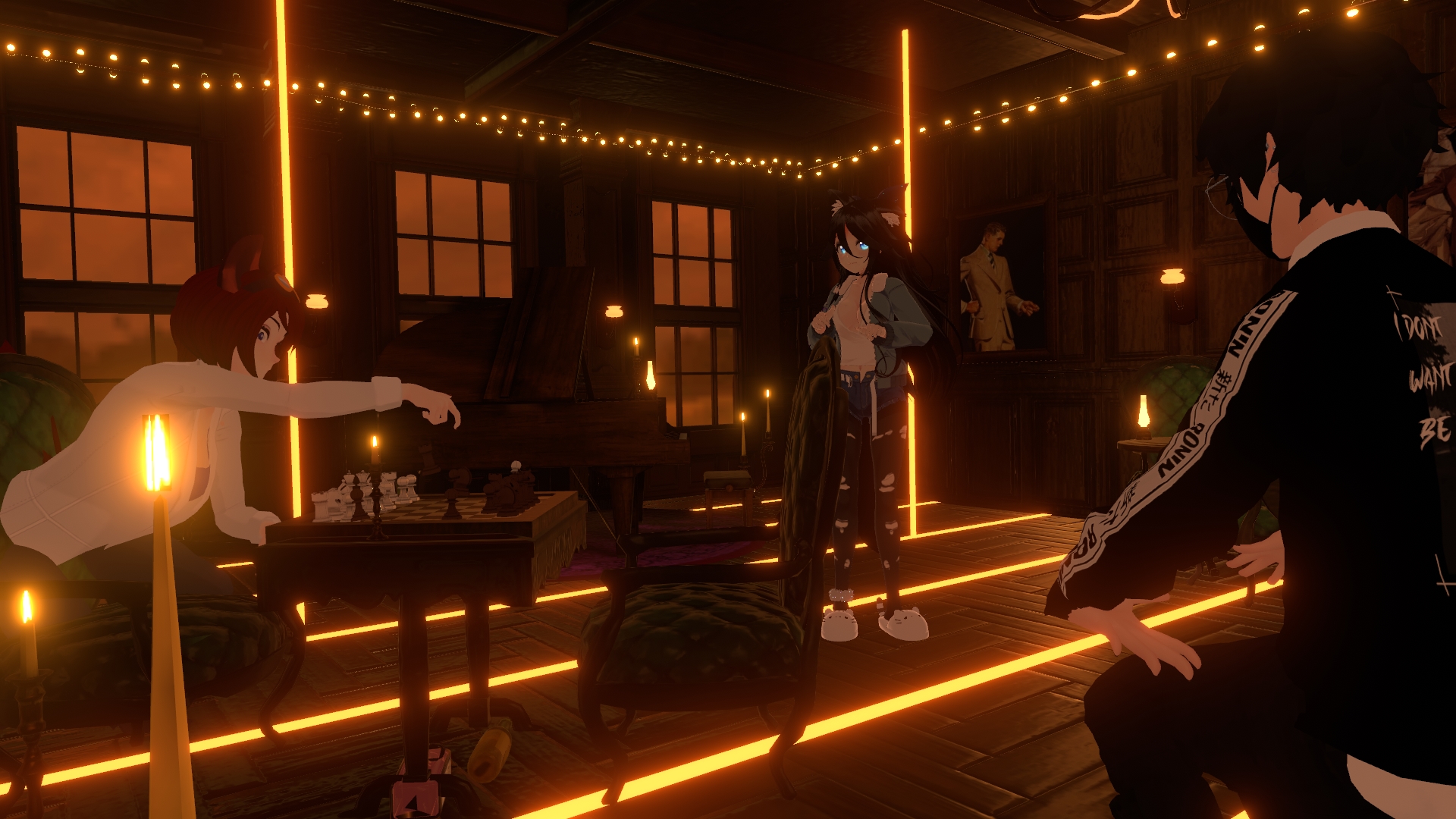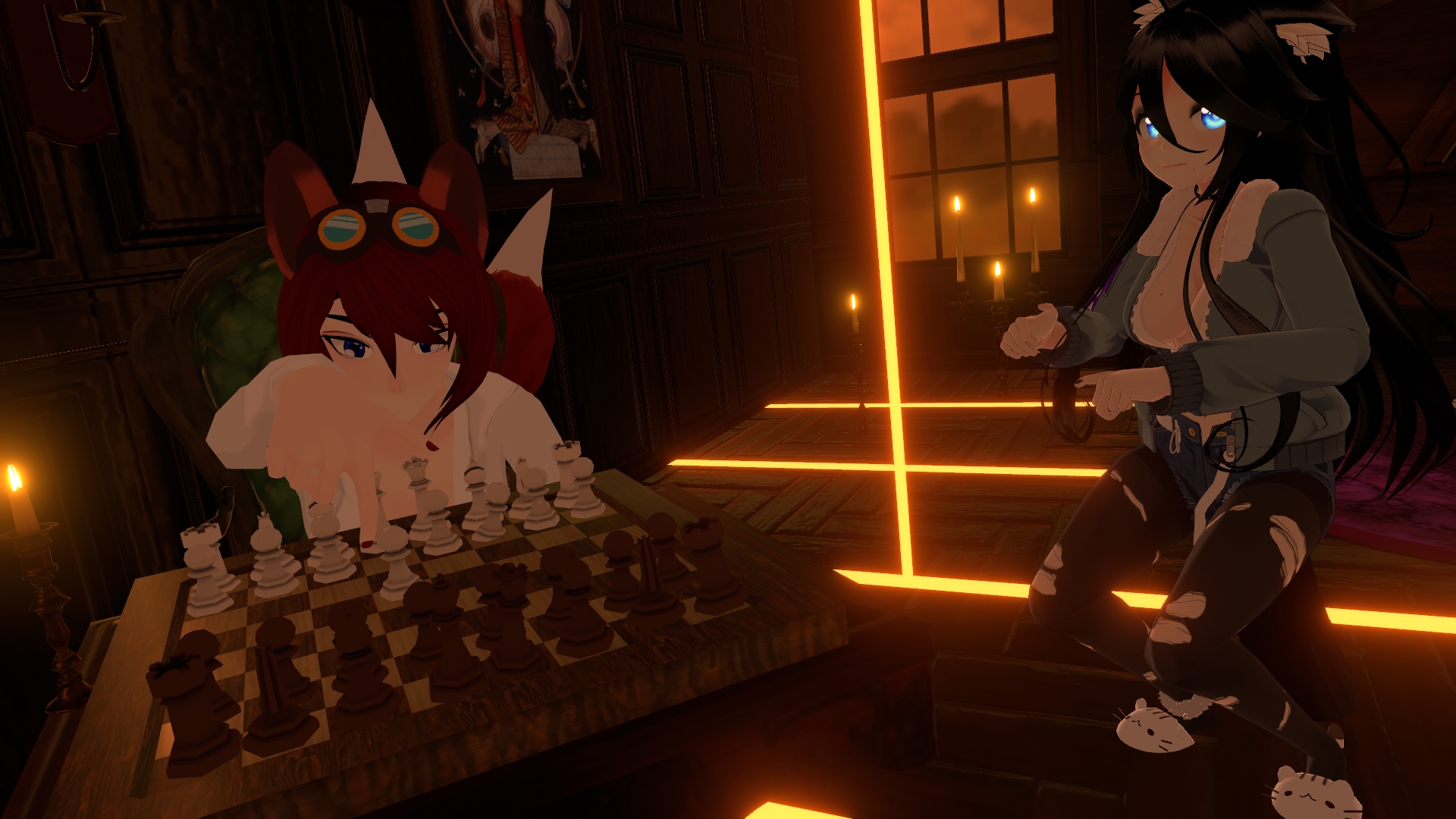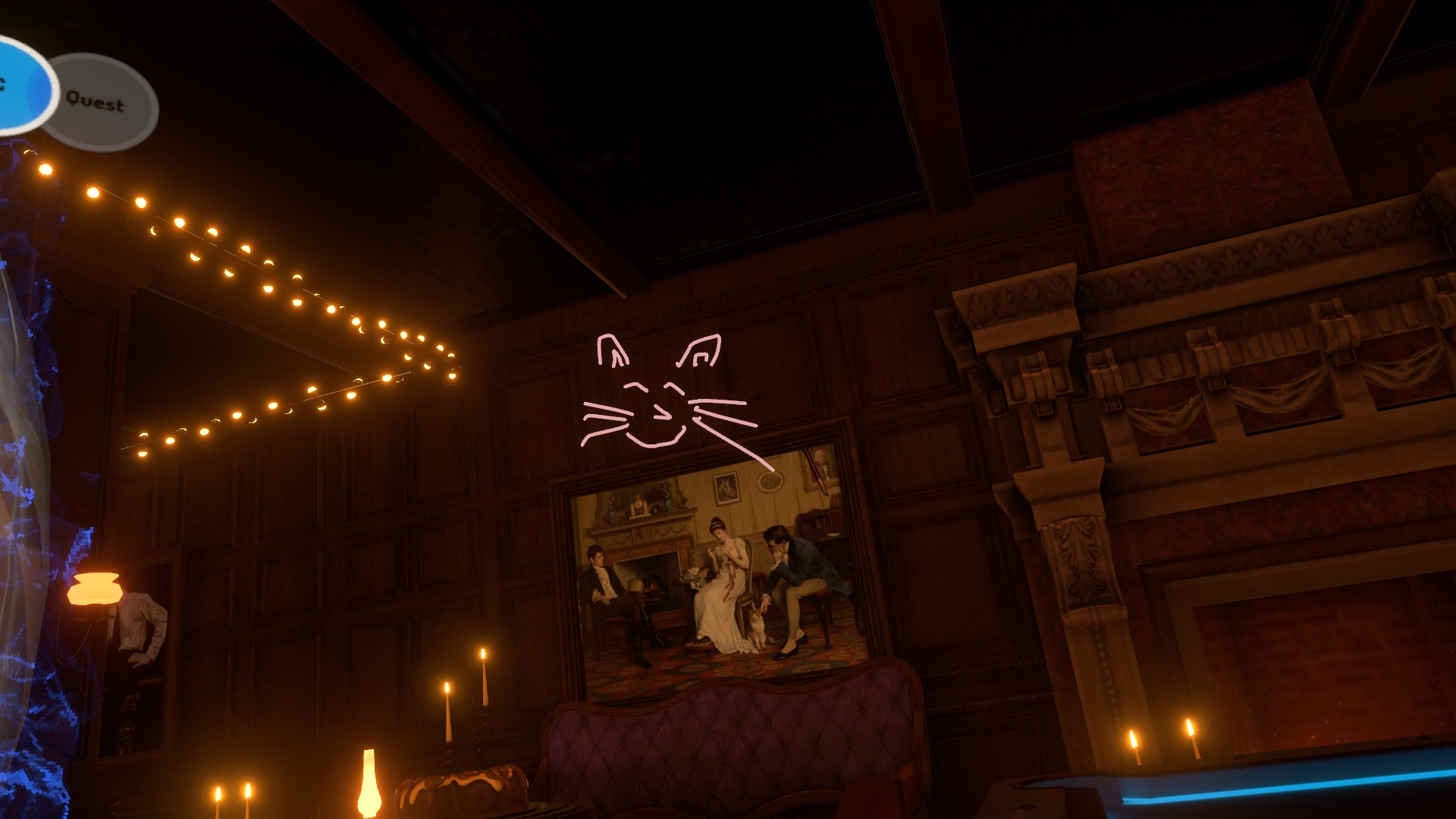 ---
Poor Maiya brought us to a world for a good time to only bring us to a Japanese adult version of a good time. Poor Maiya. *laughs*. We laughed, Maiya hid in shame. Poor Maiya, everything is fine. *headpats*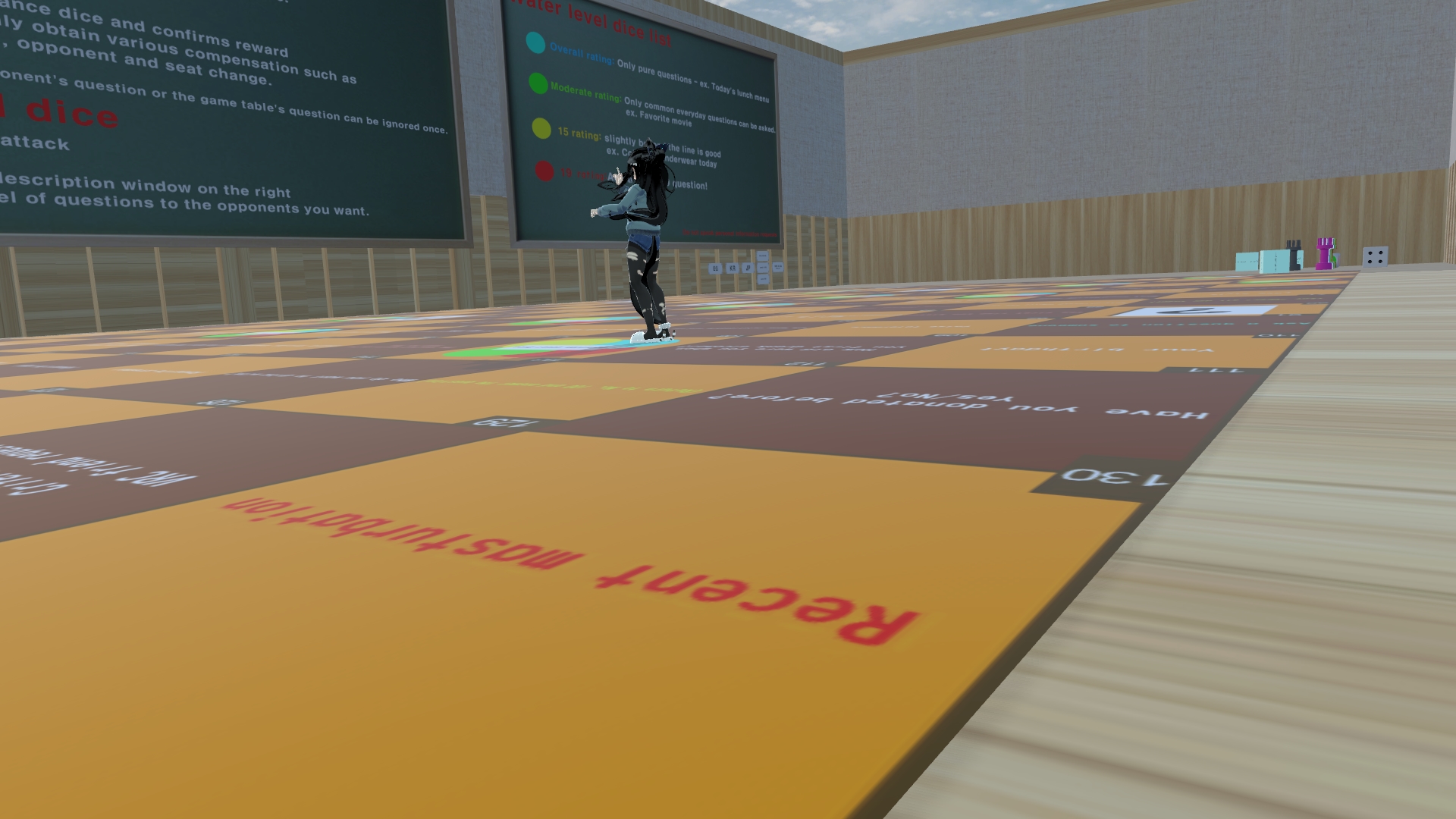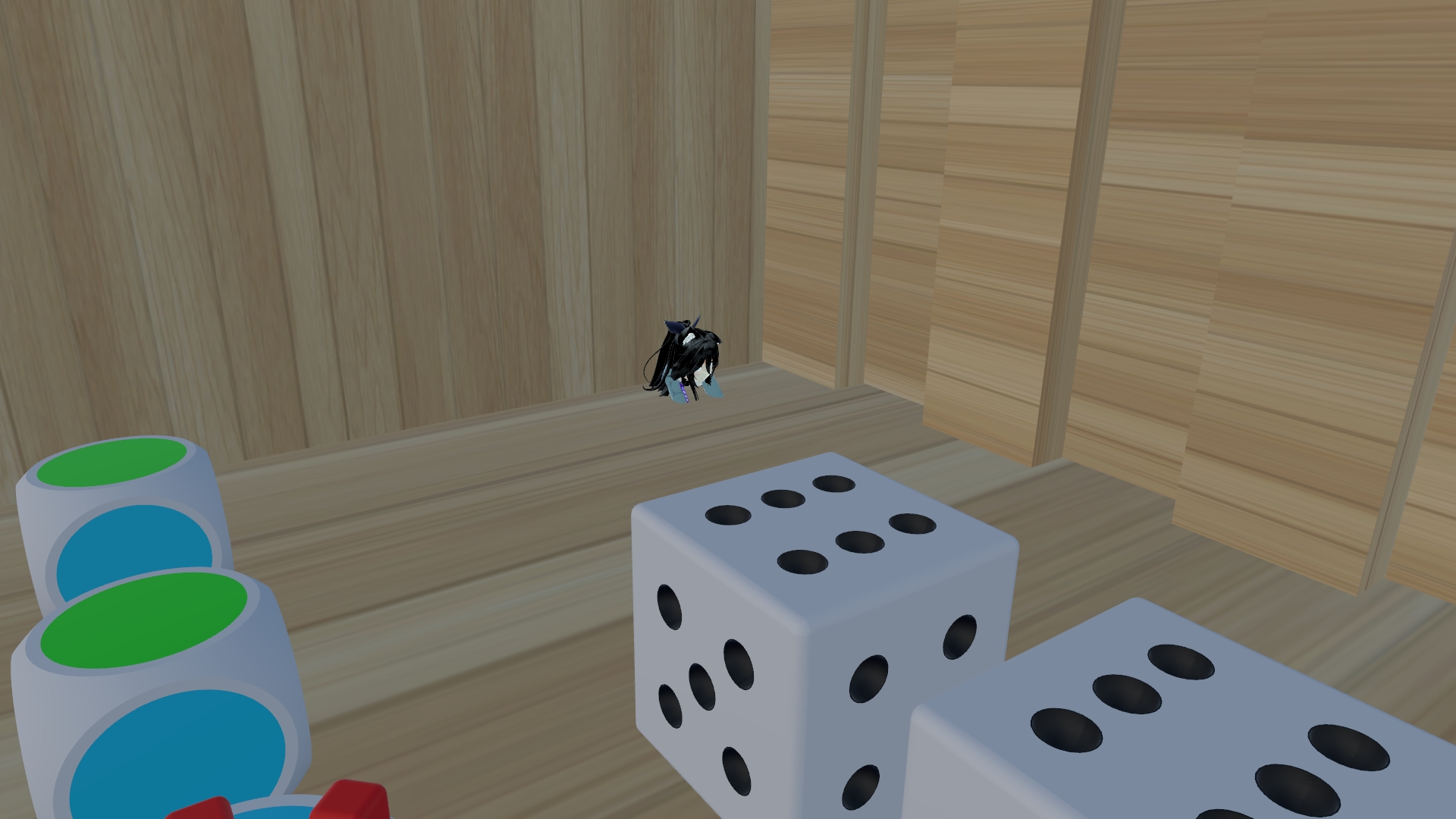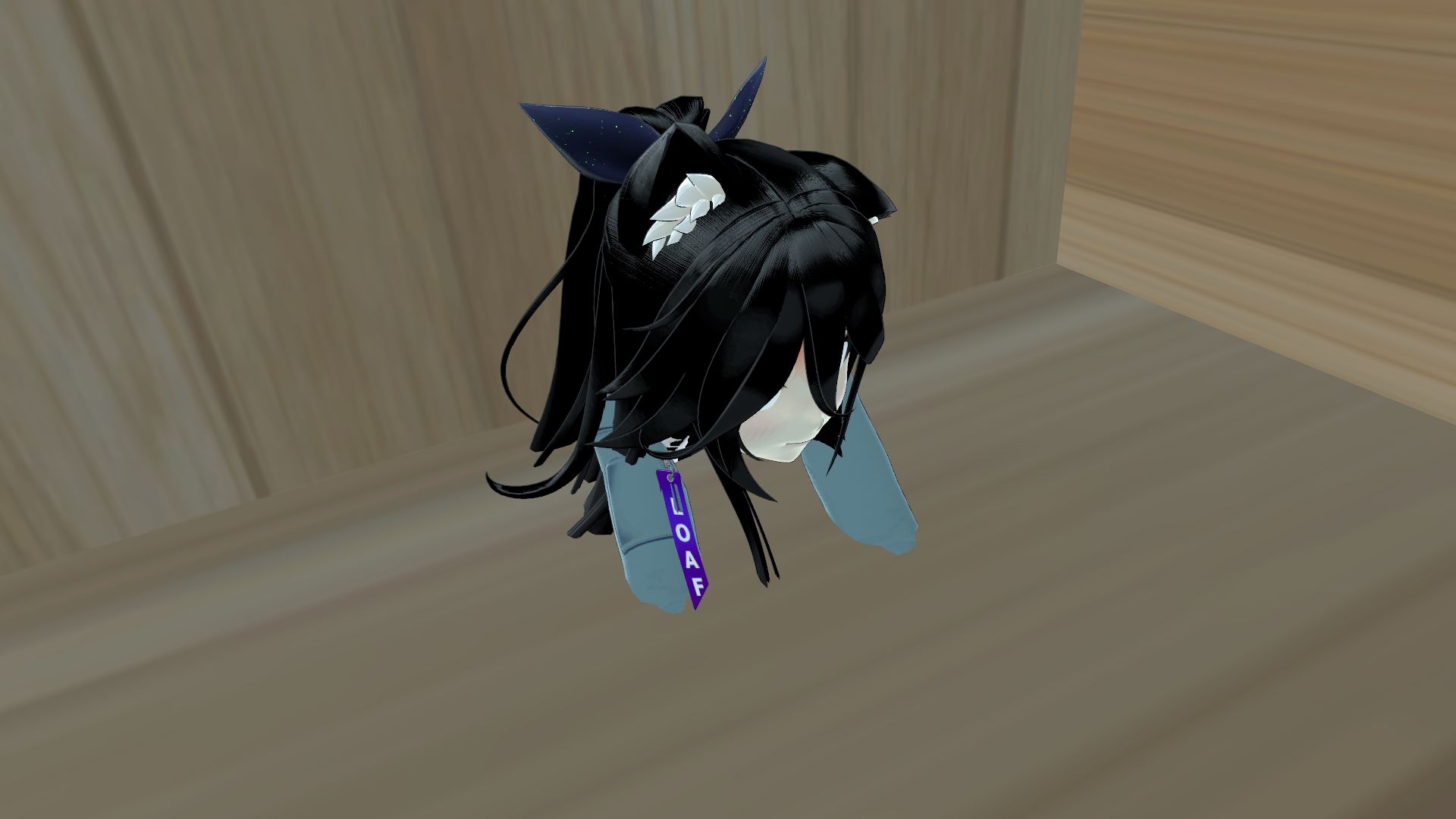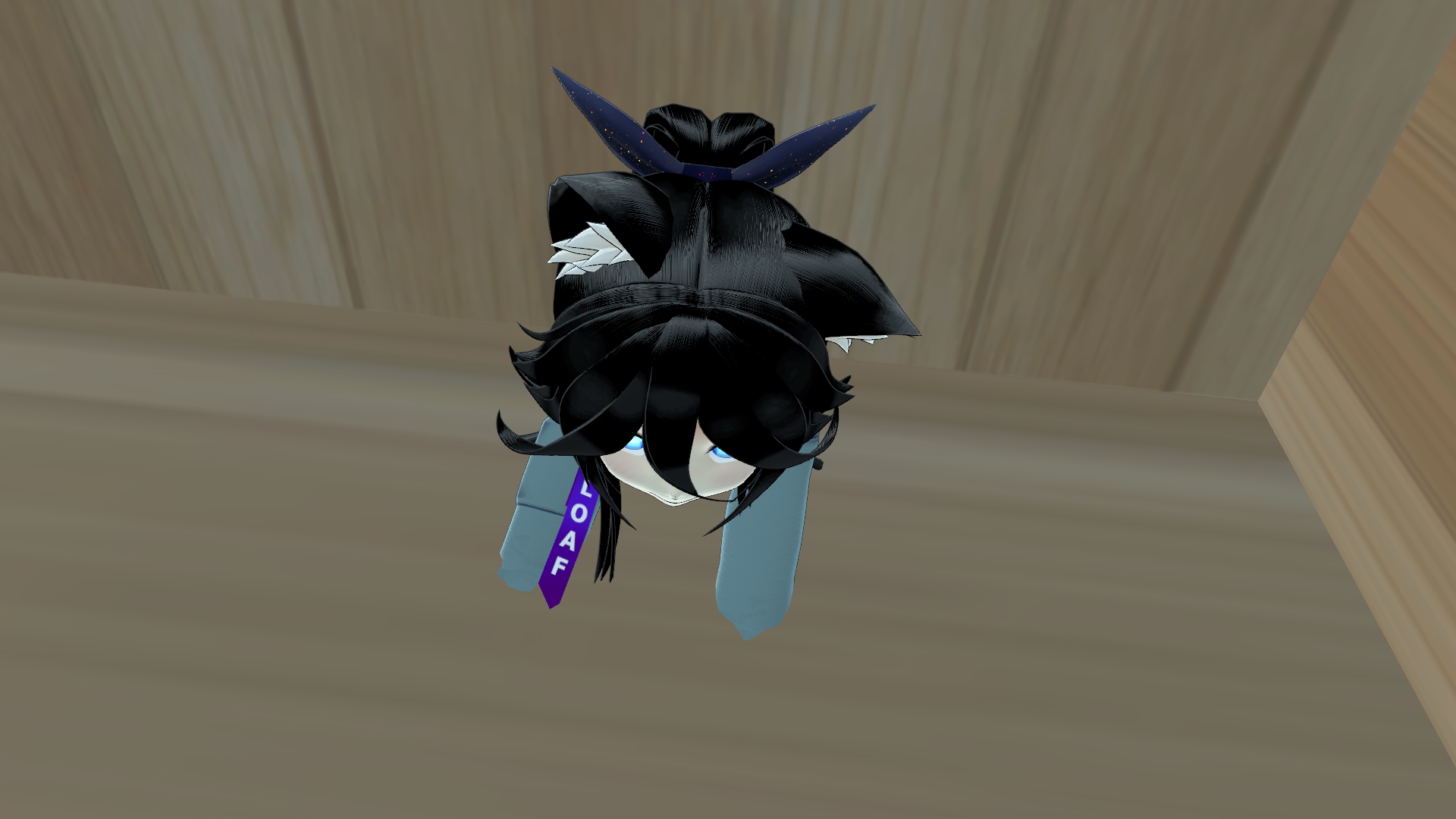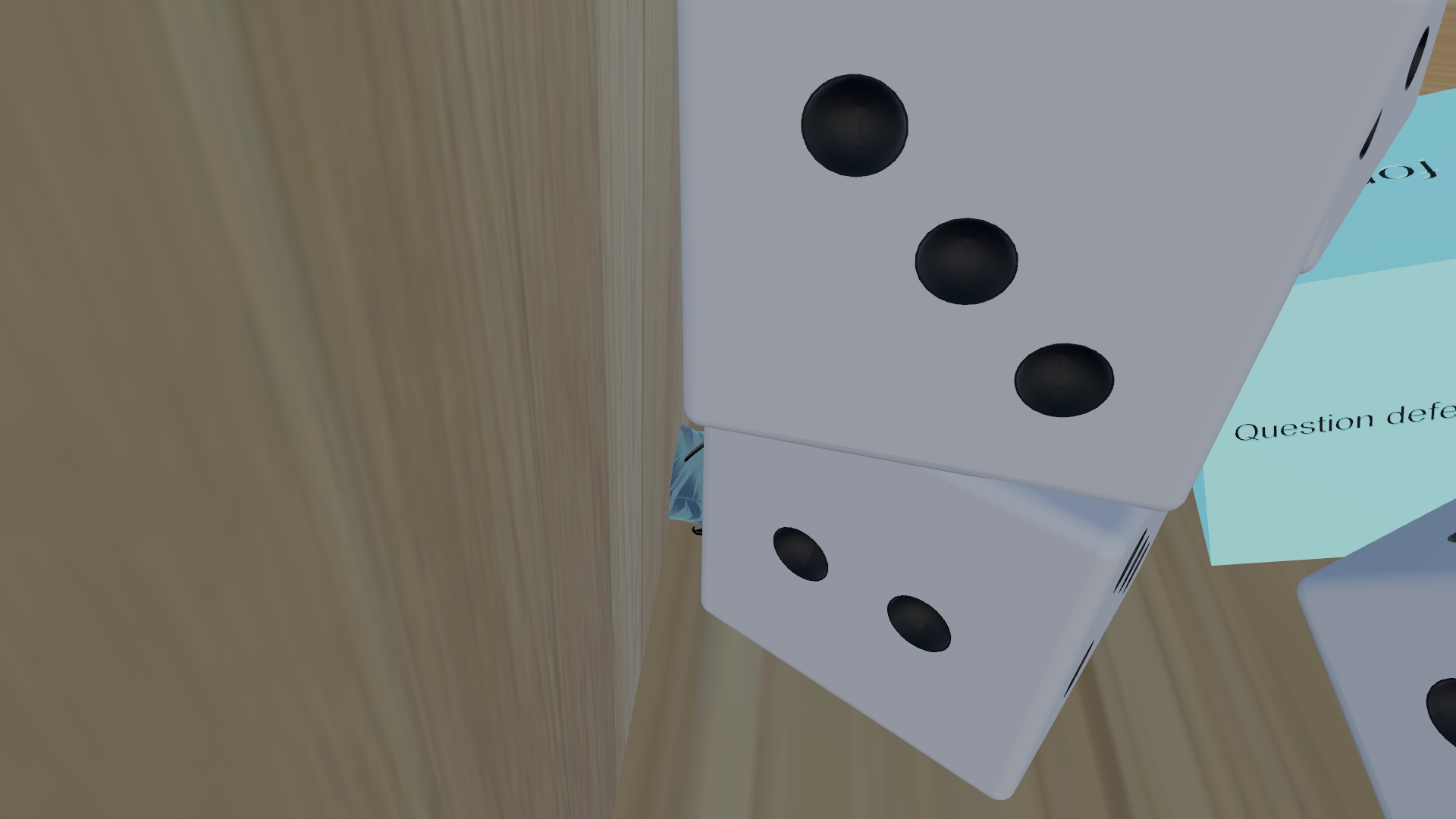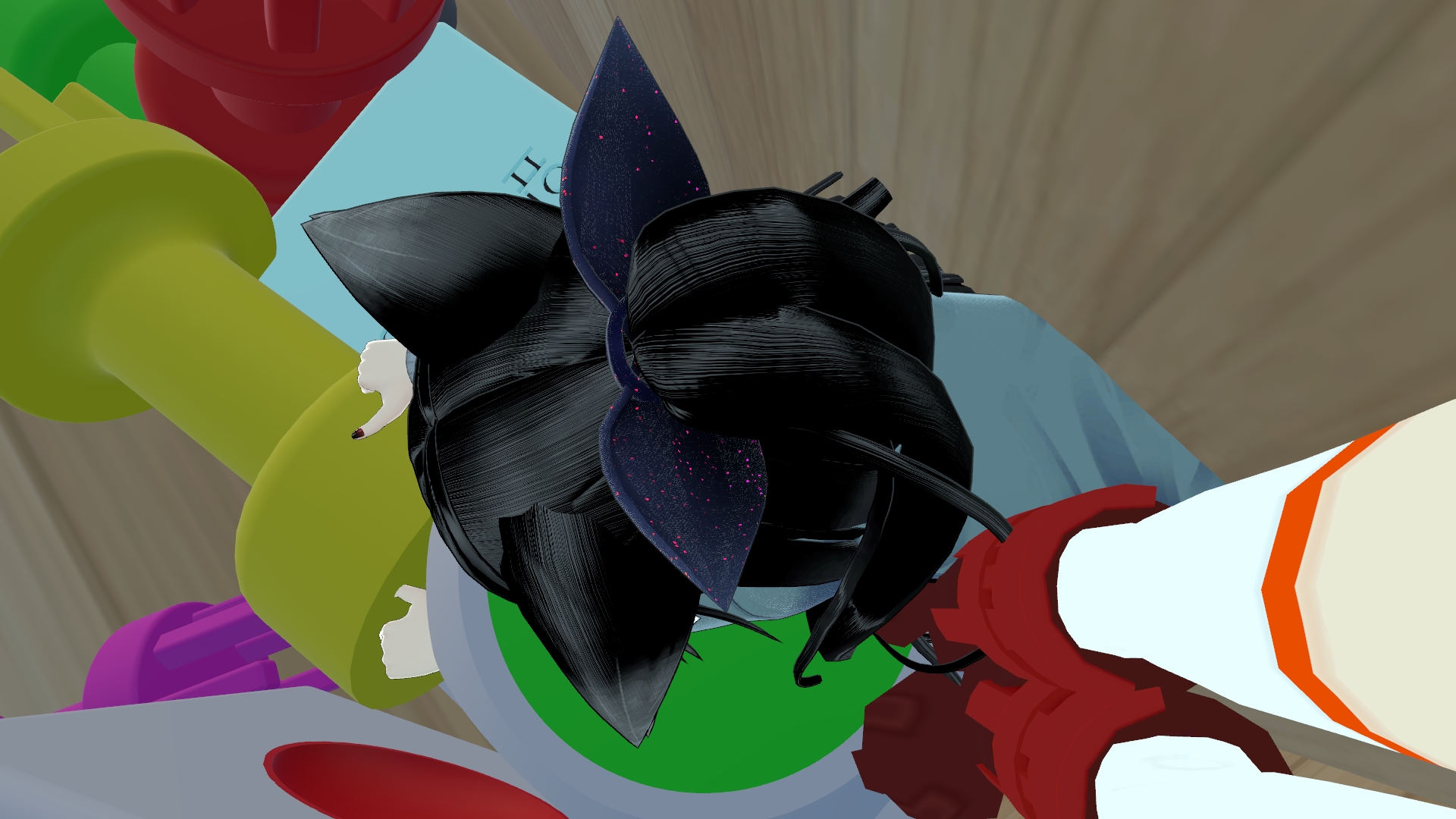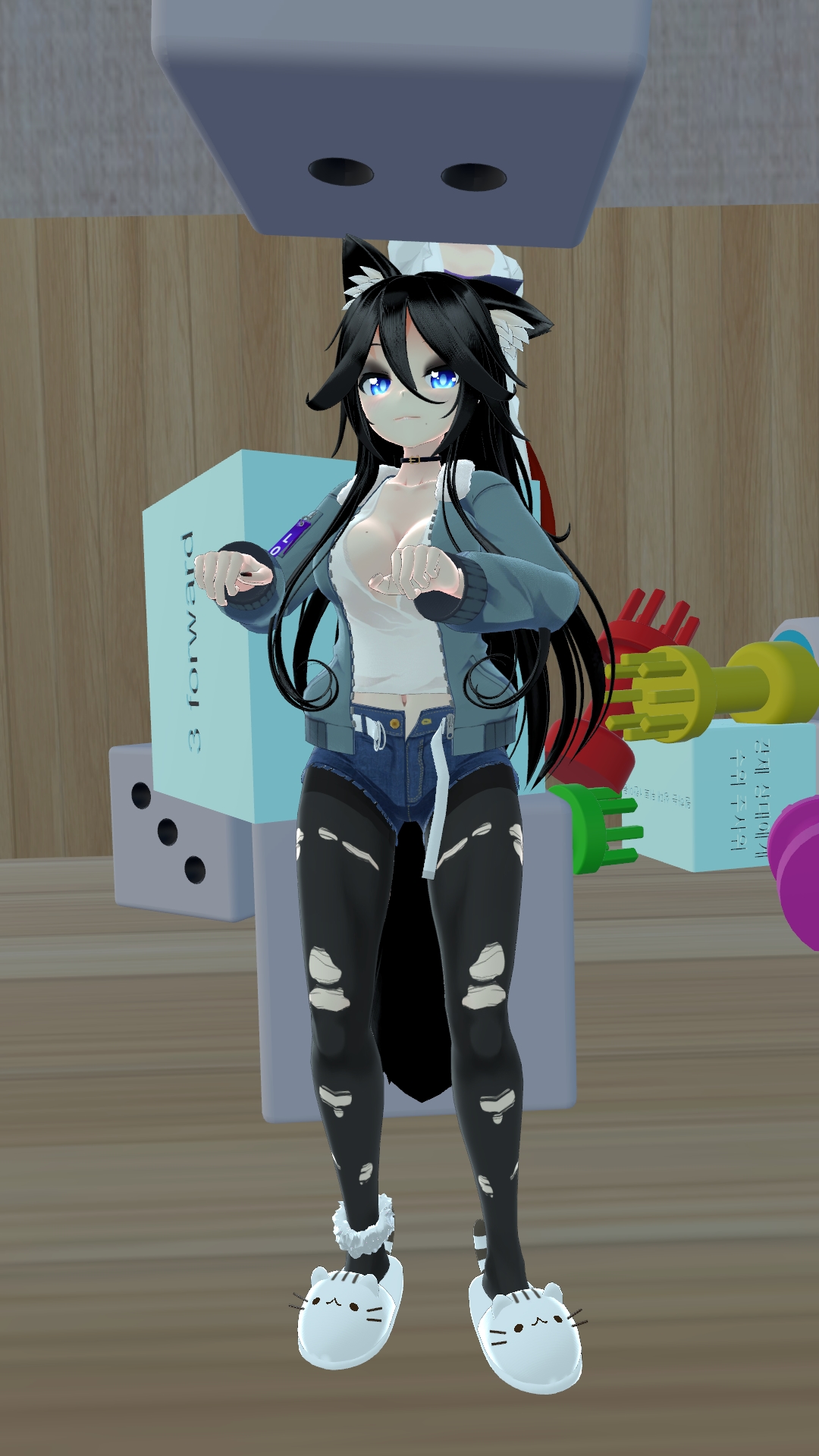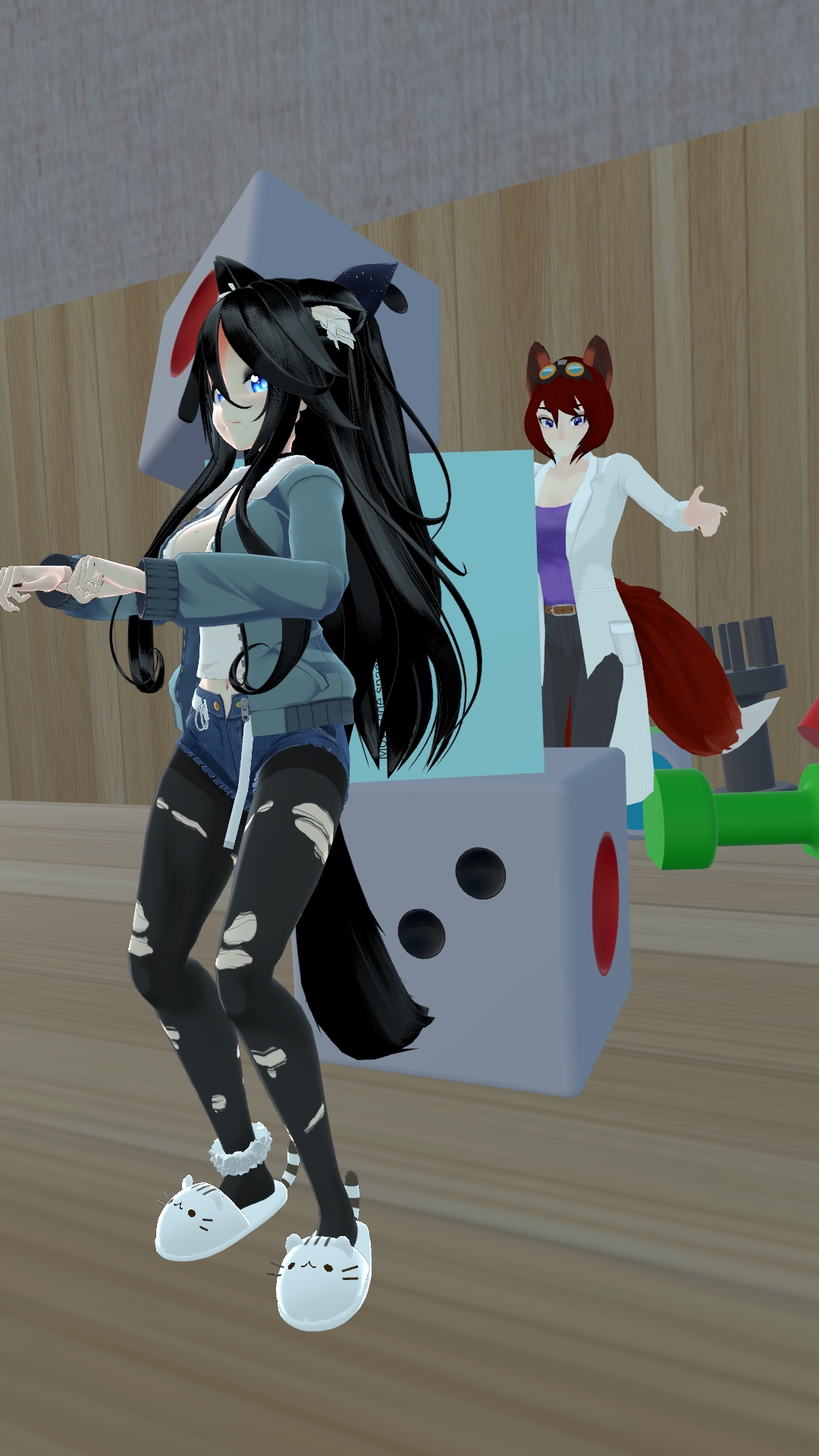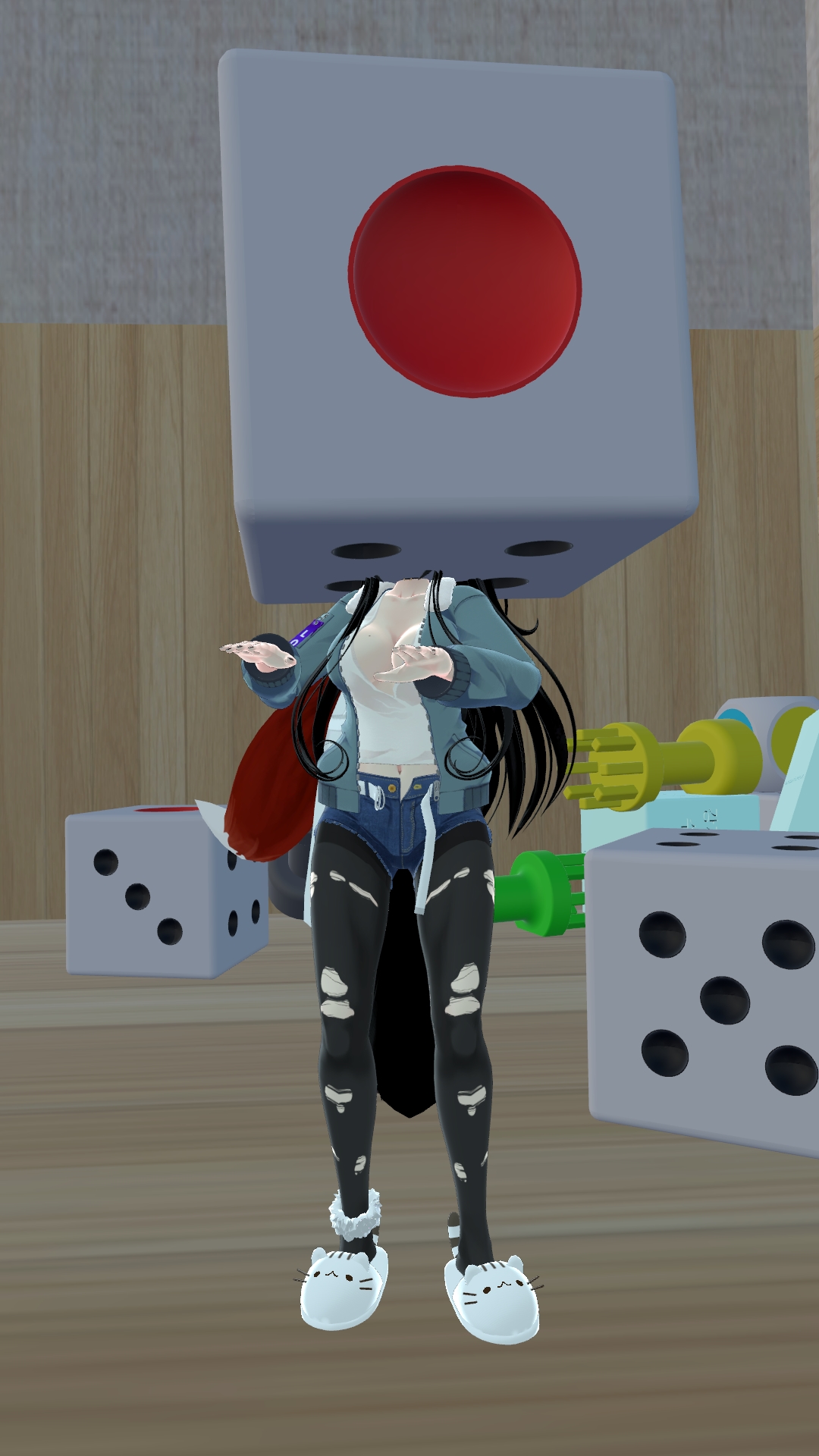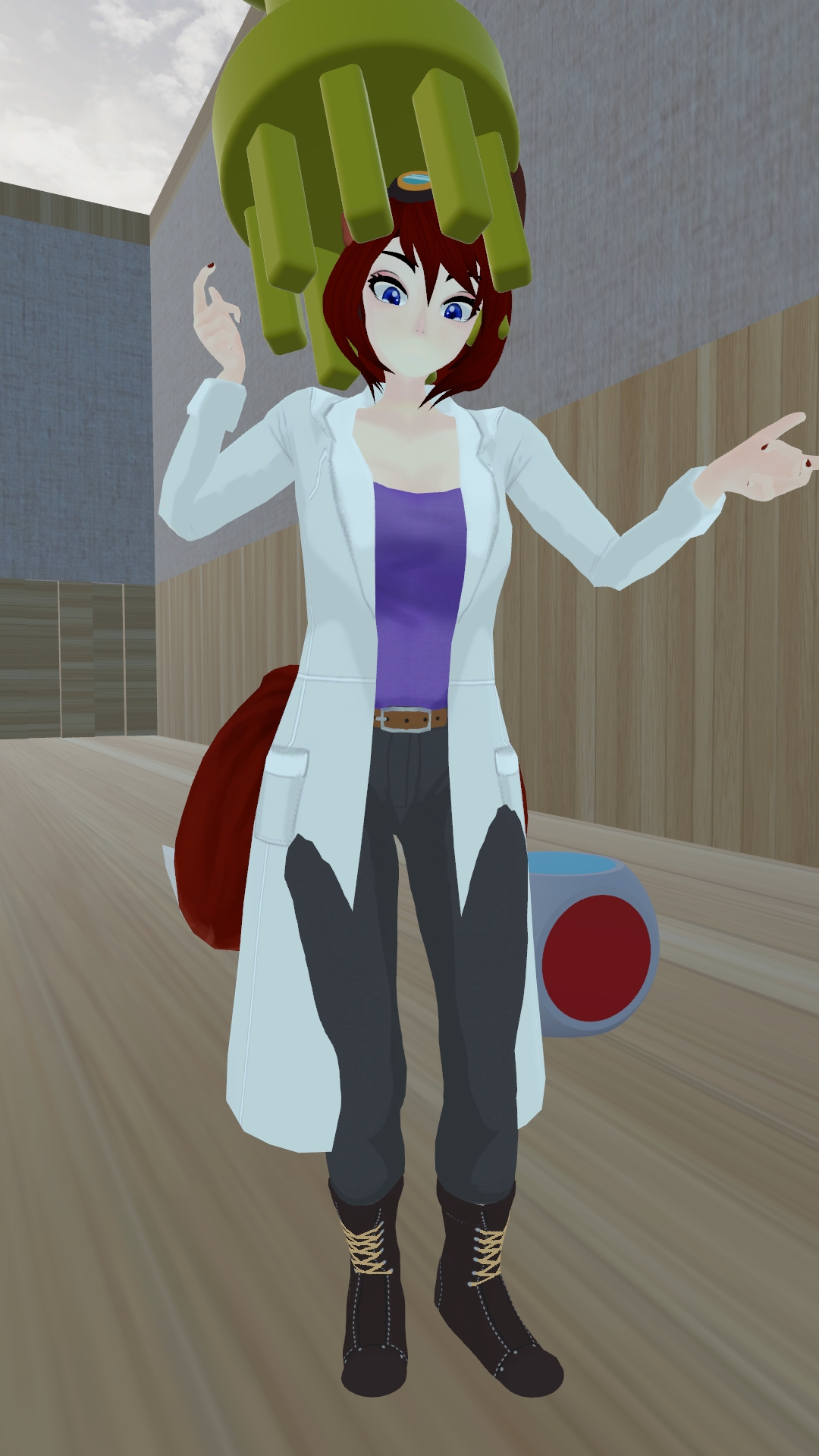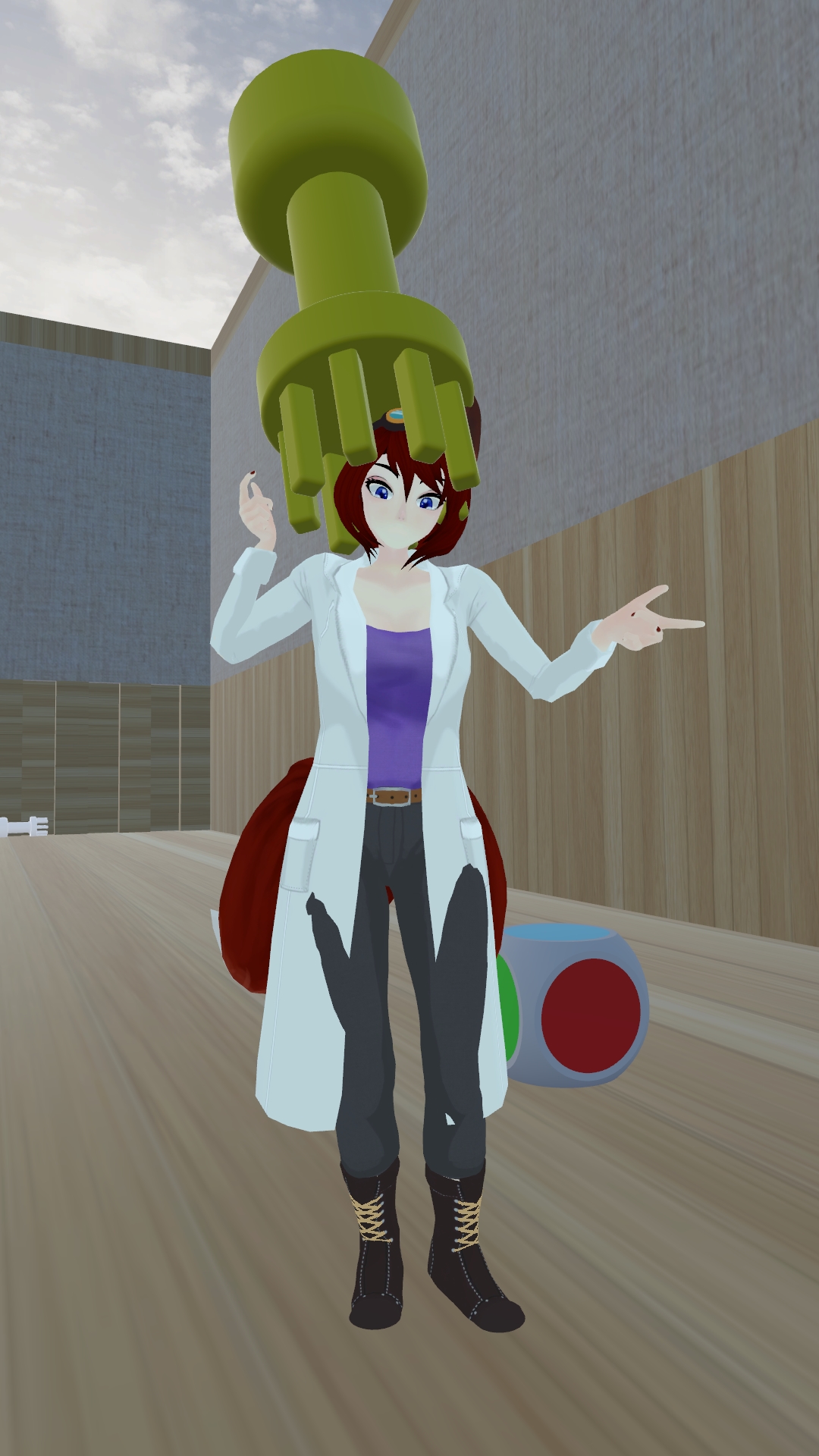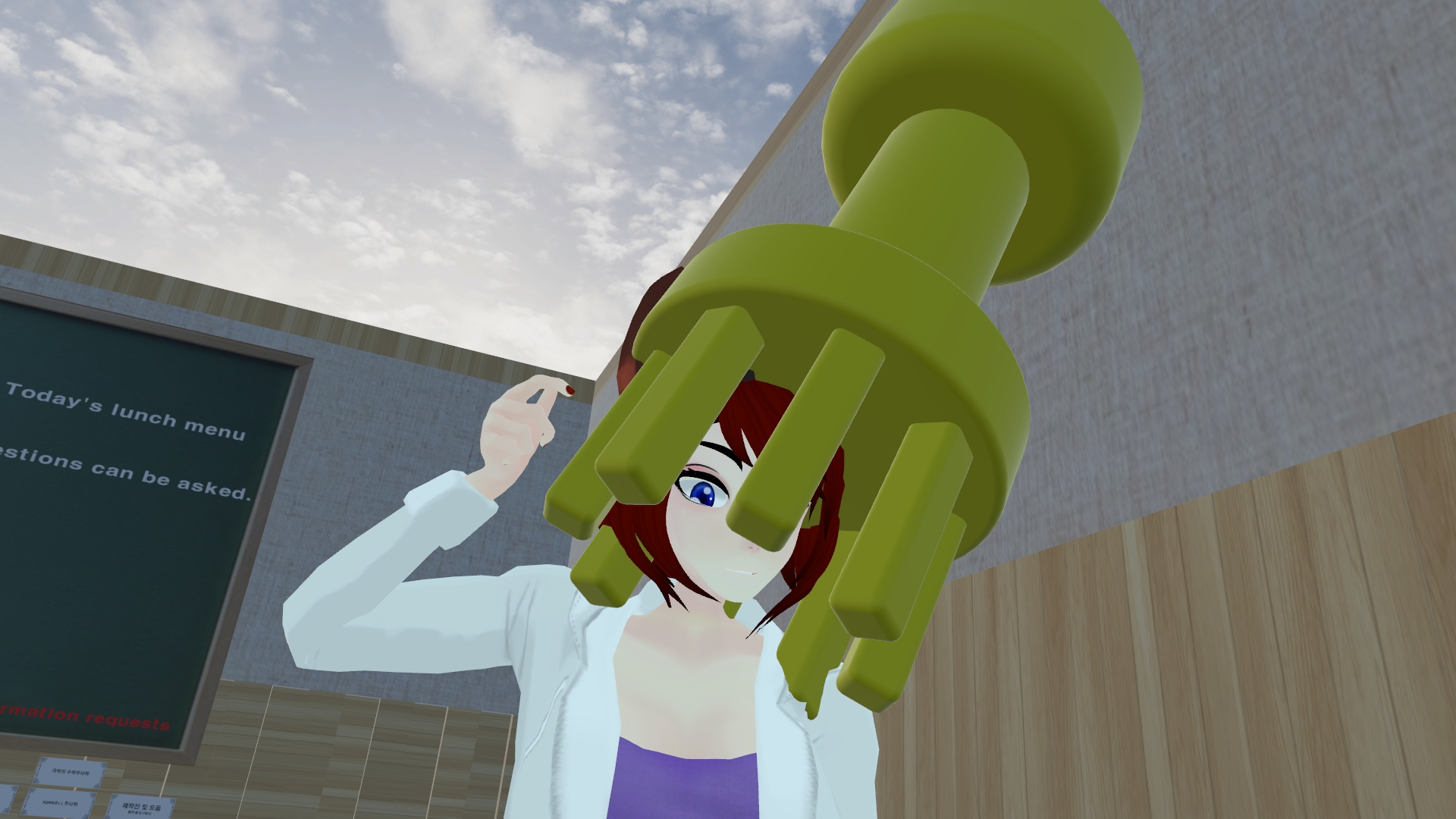 ---
Prop Hunt time!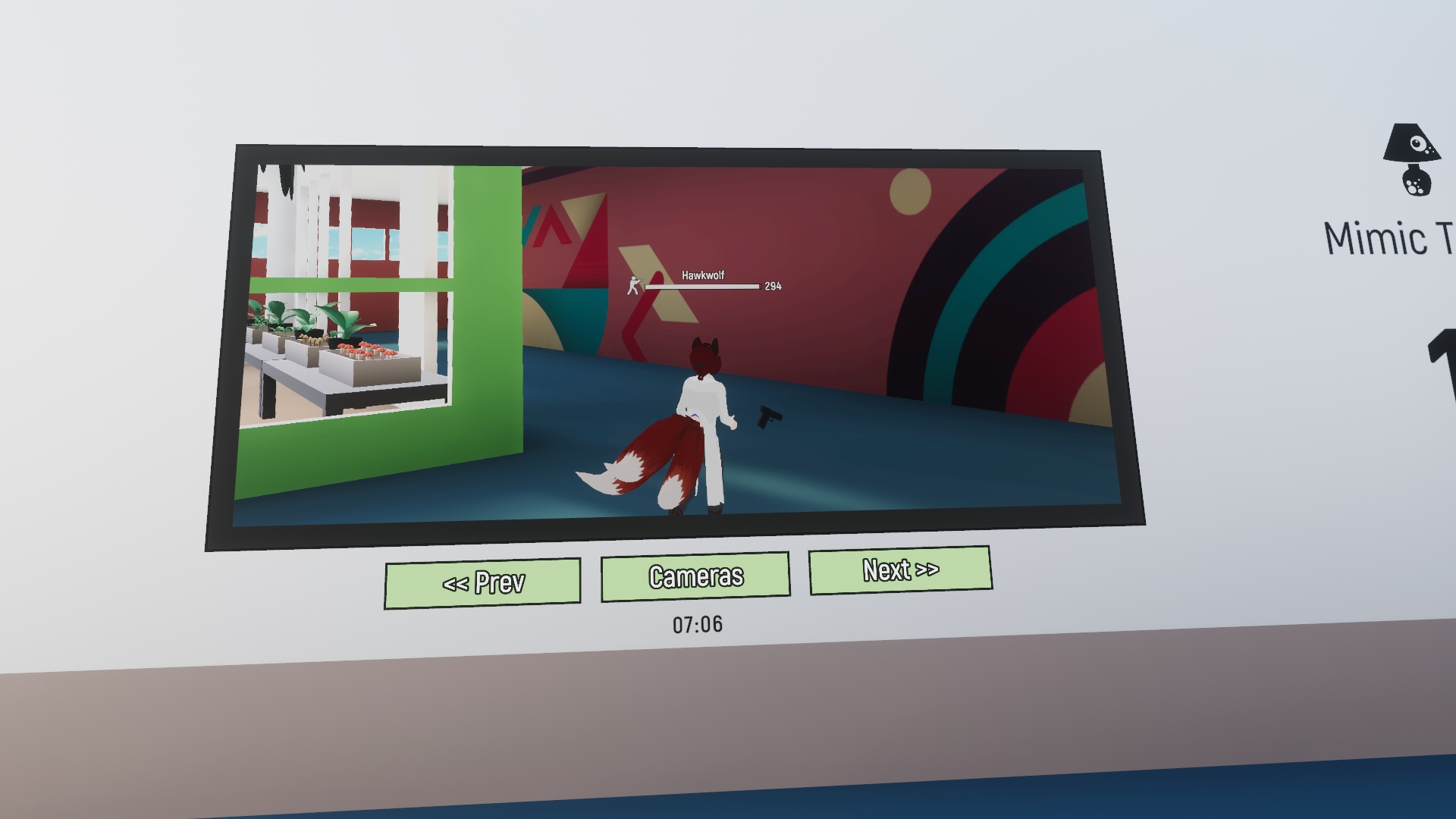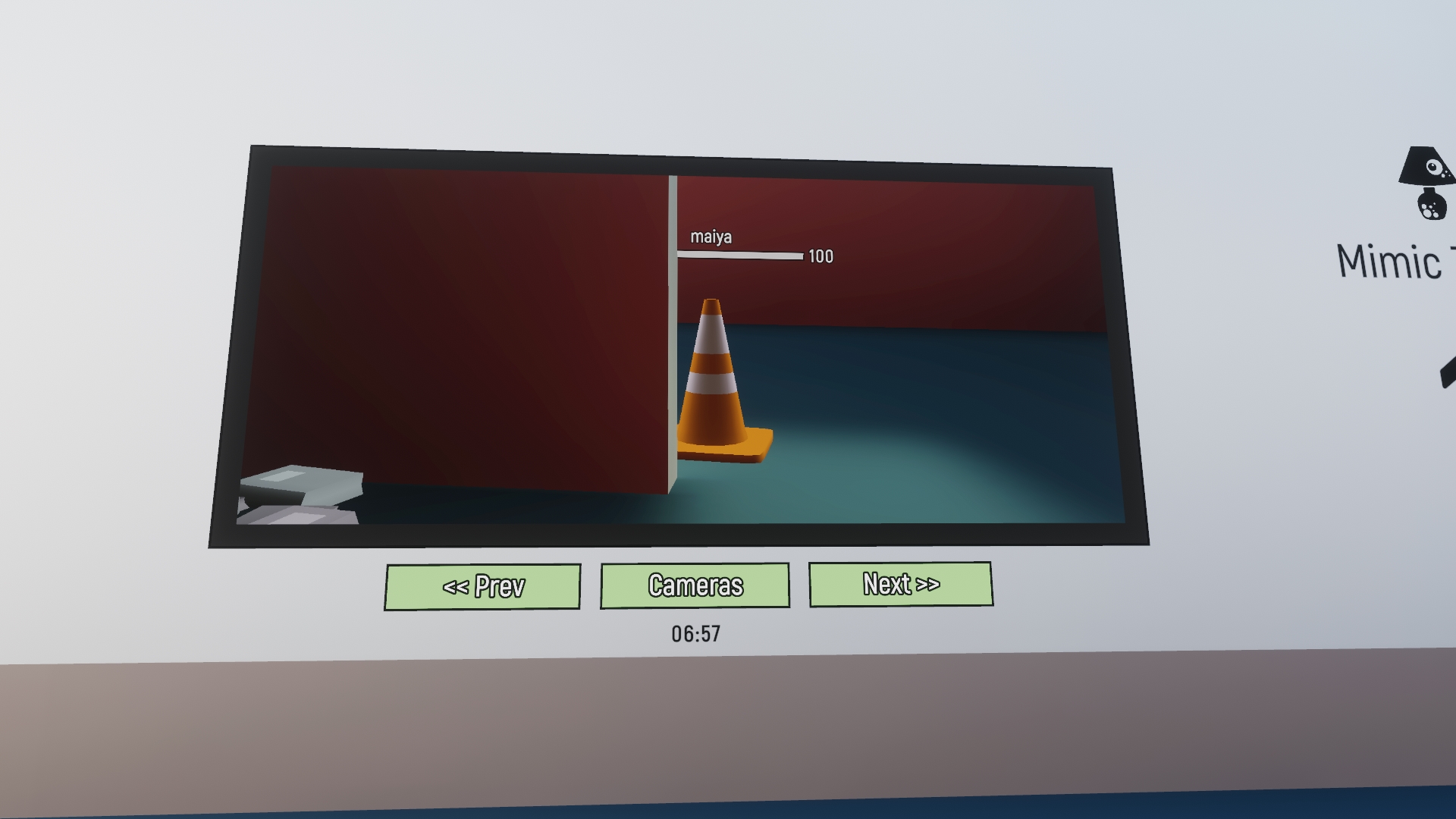 They jumped into a game fairly quickly preventing me from joining the first round. I loaded in too slowly because of my situation caused by 2020. Things were choppy, though still manageable.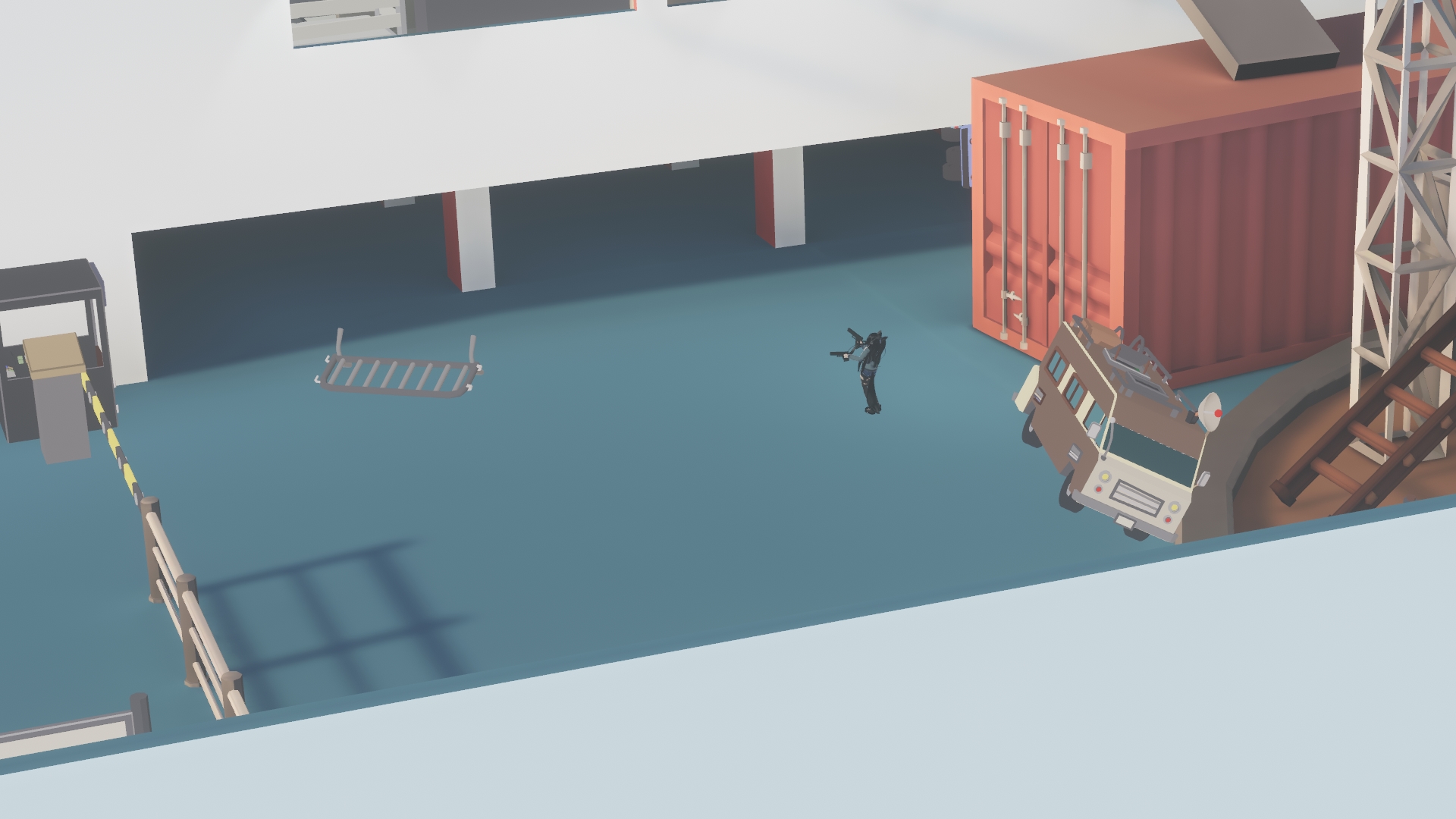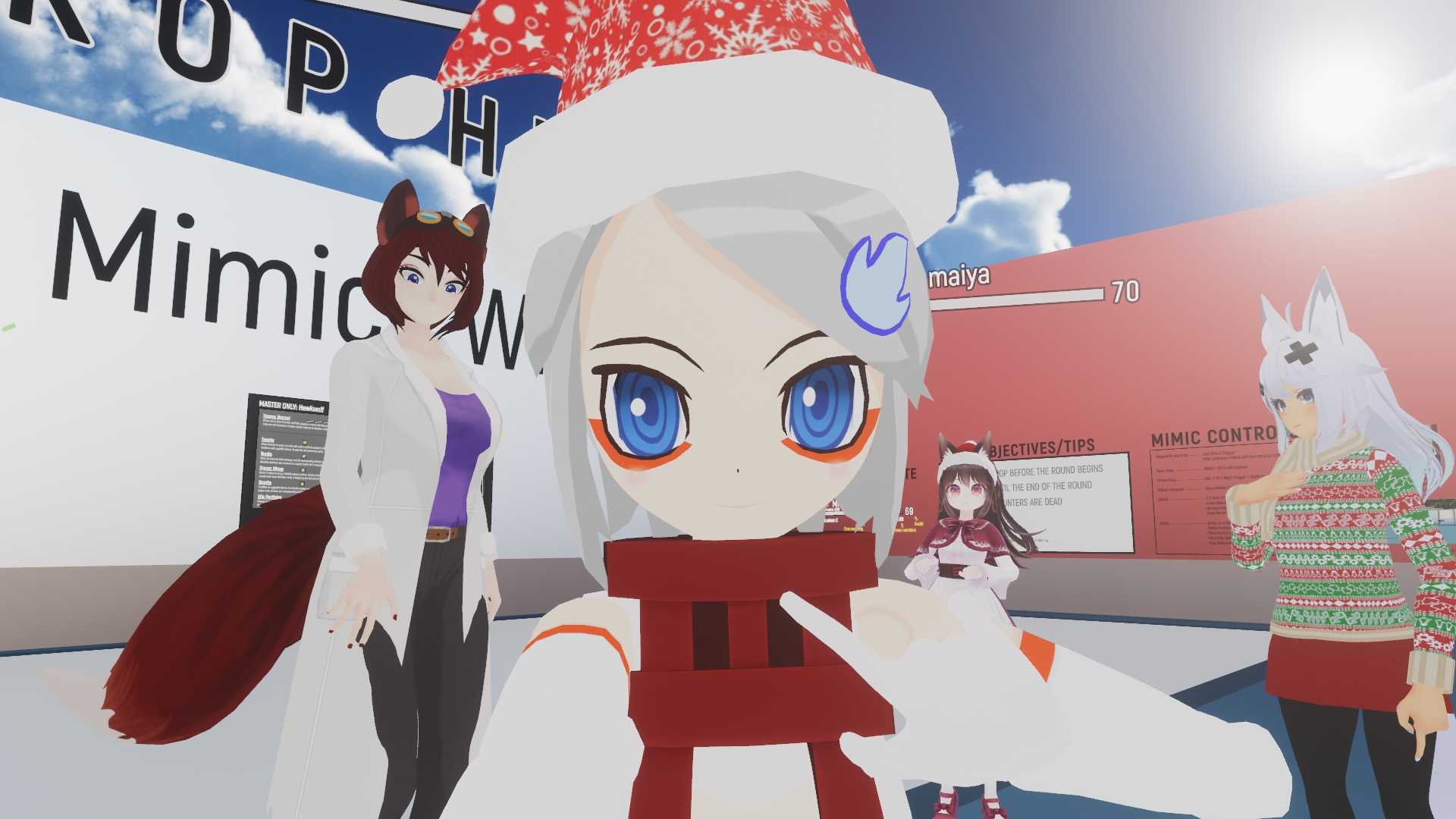 Yes, I was hiding not because of my social anxiety but because of semi-tradition. Maybe it was social anxiety. It's a hide and seek map, after all.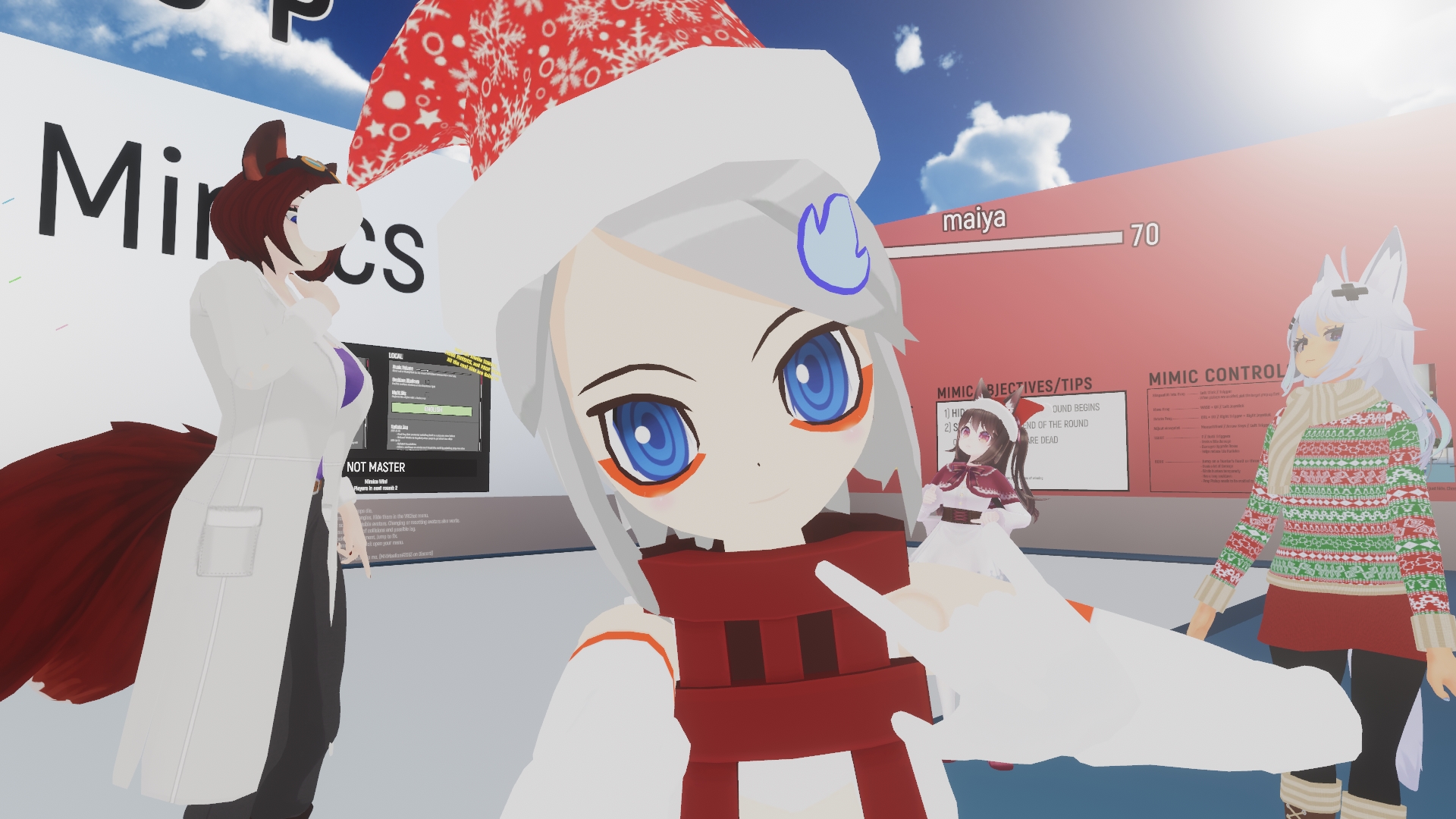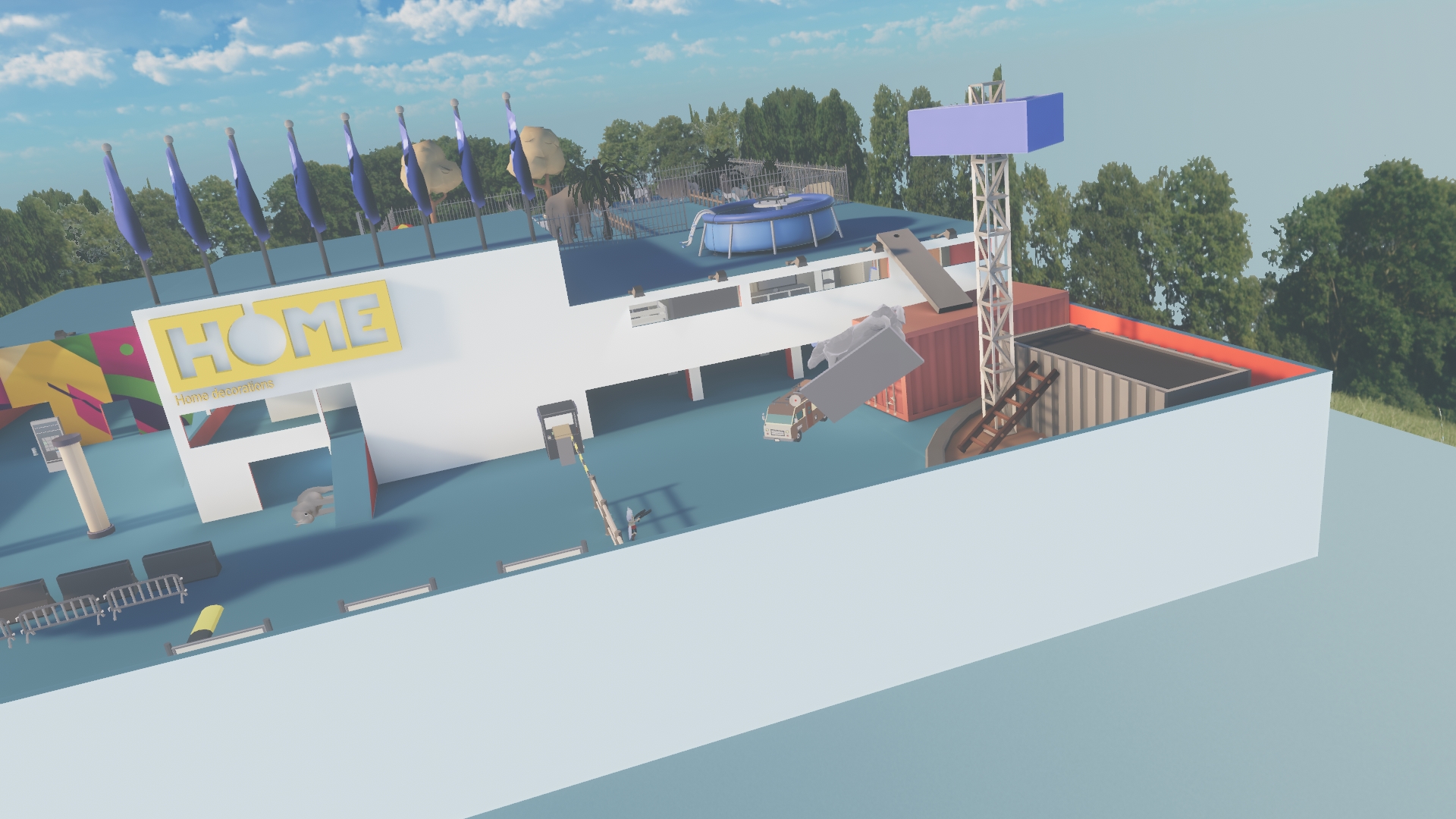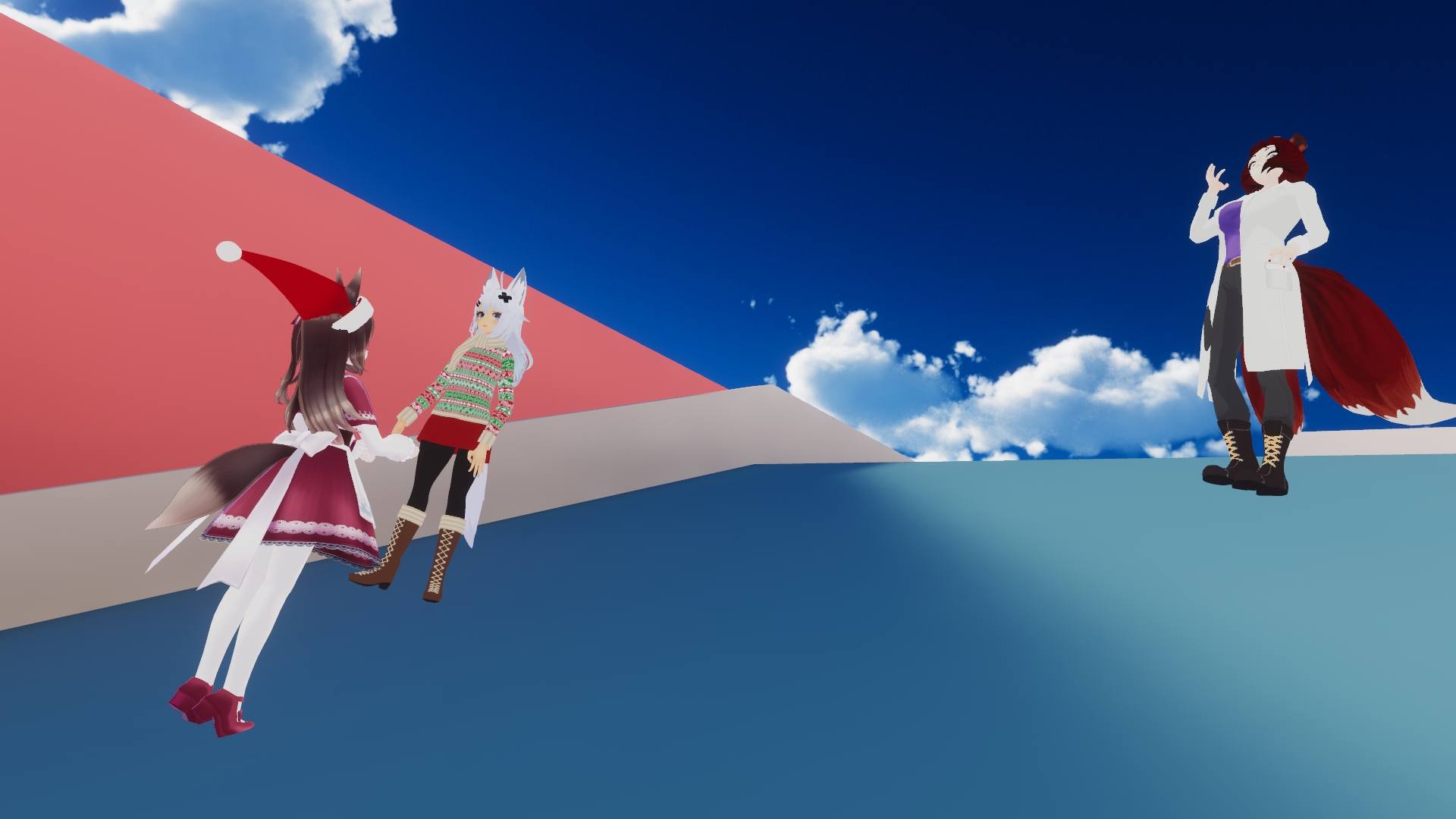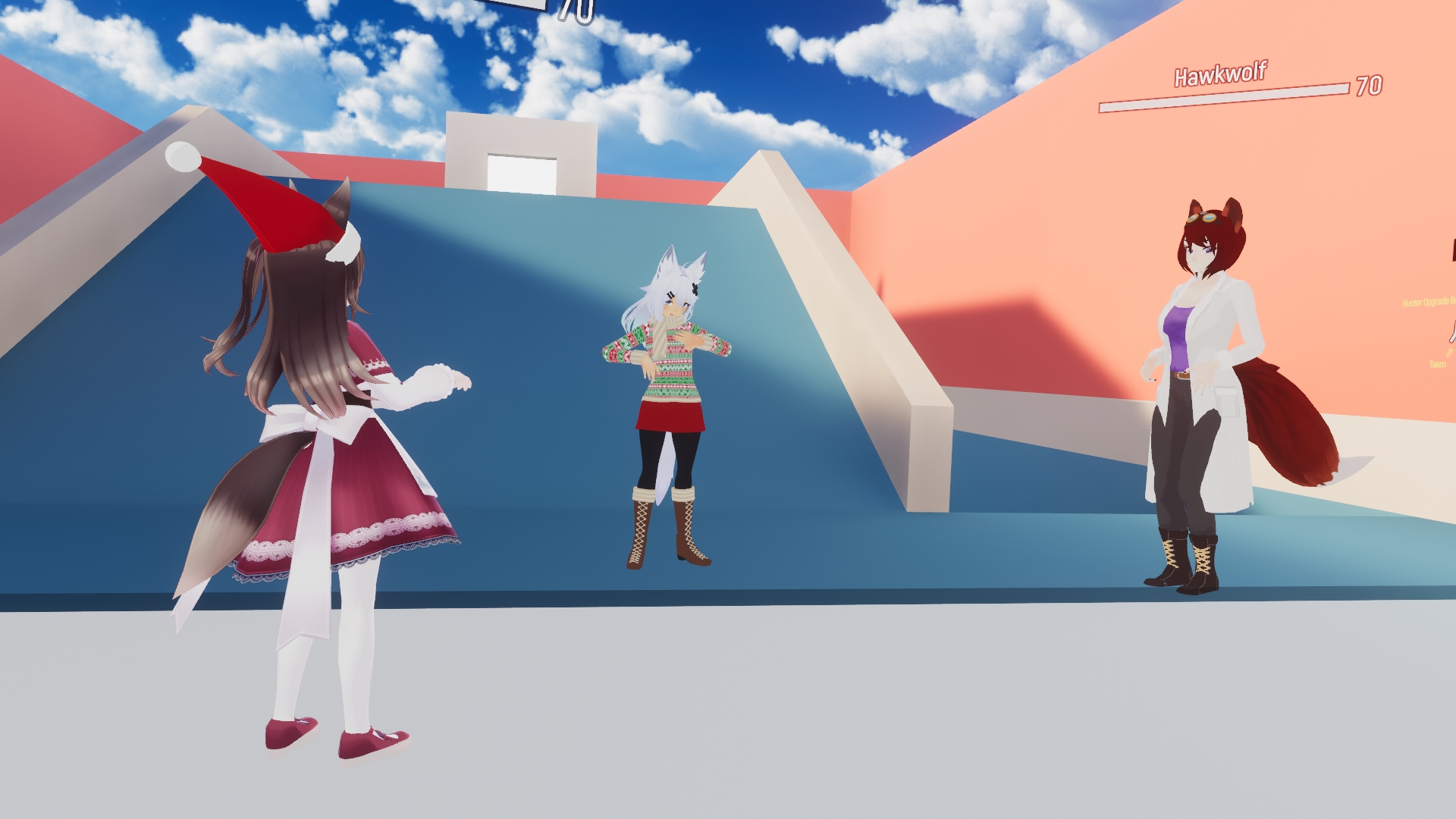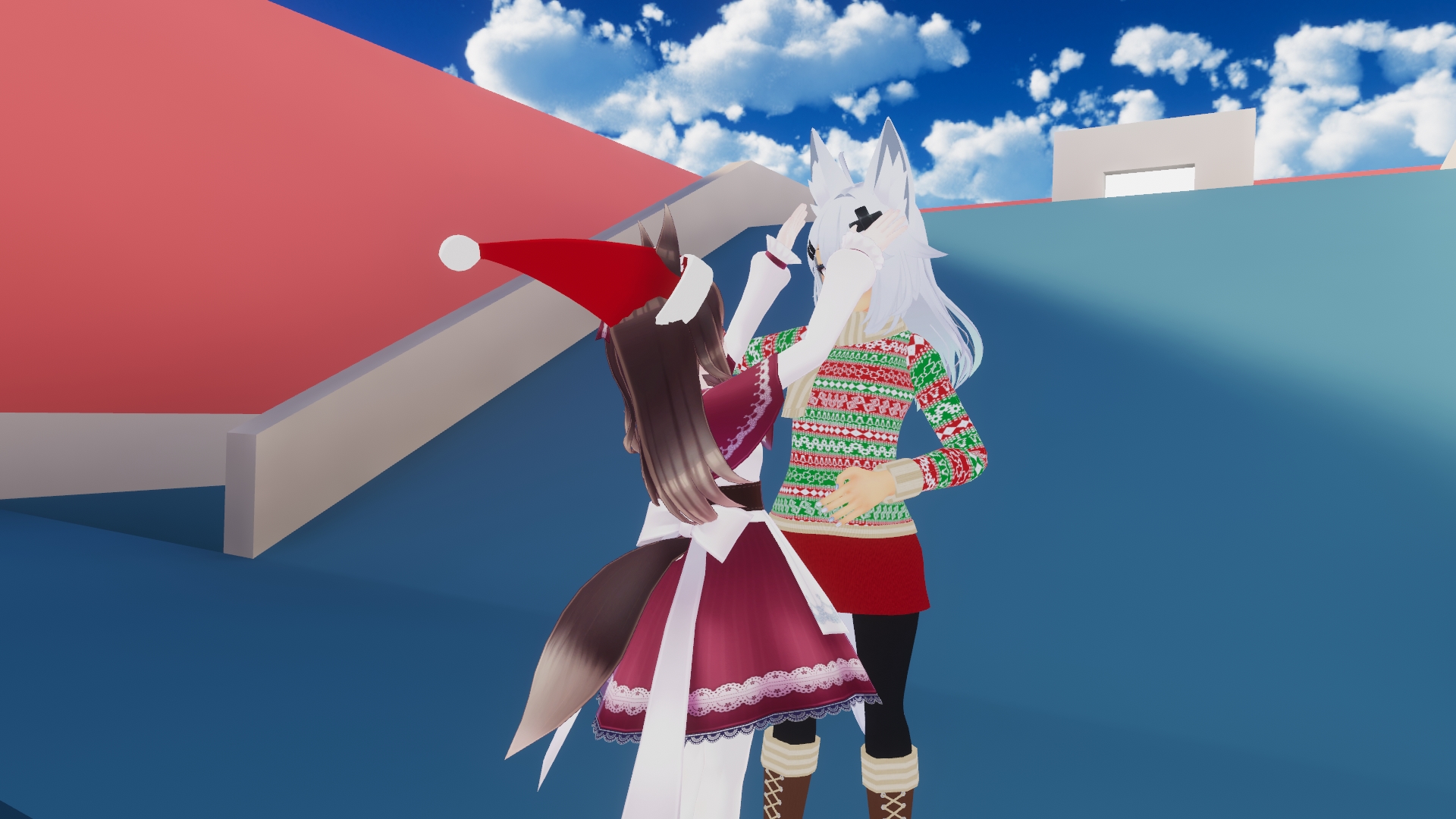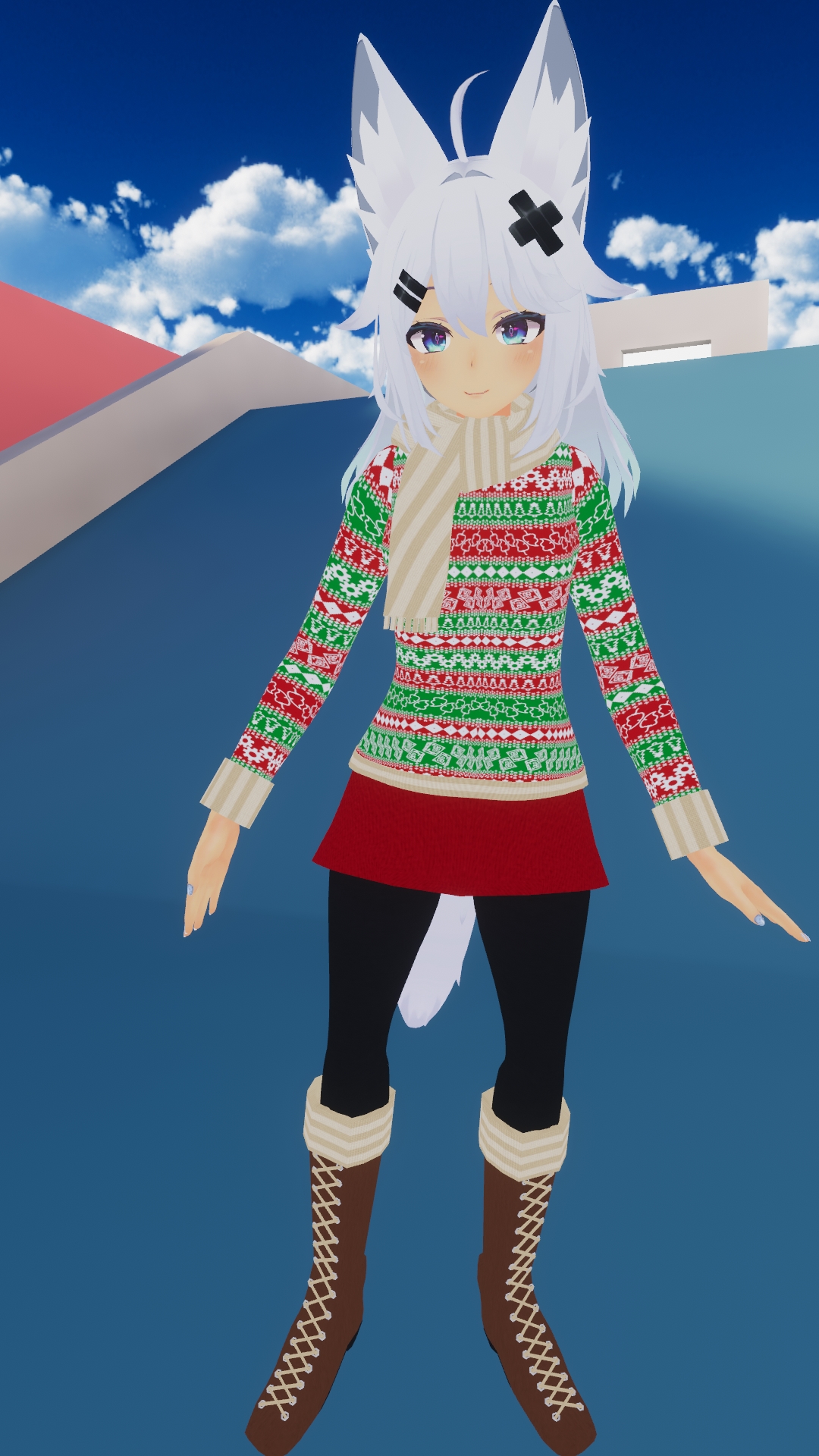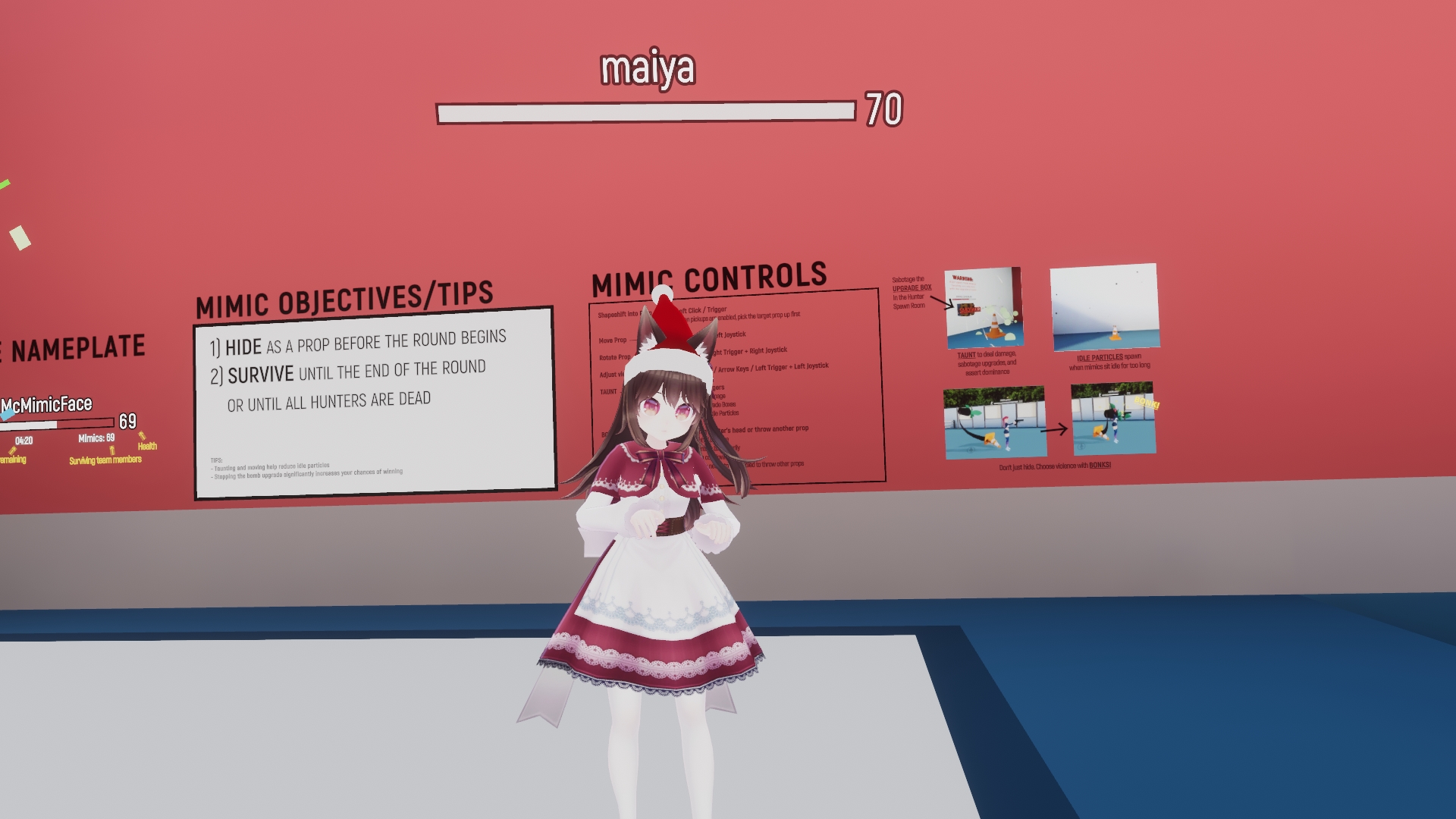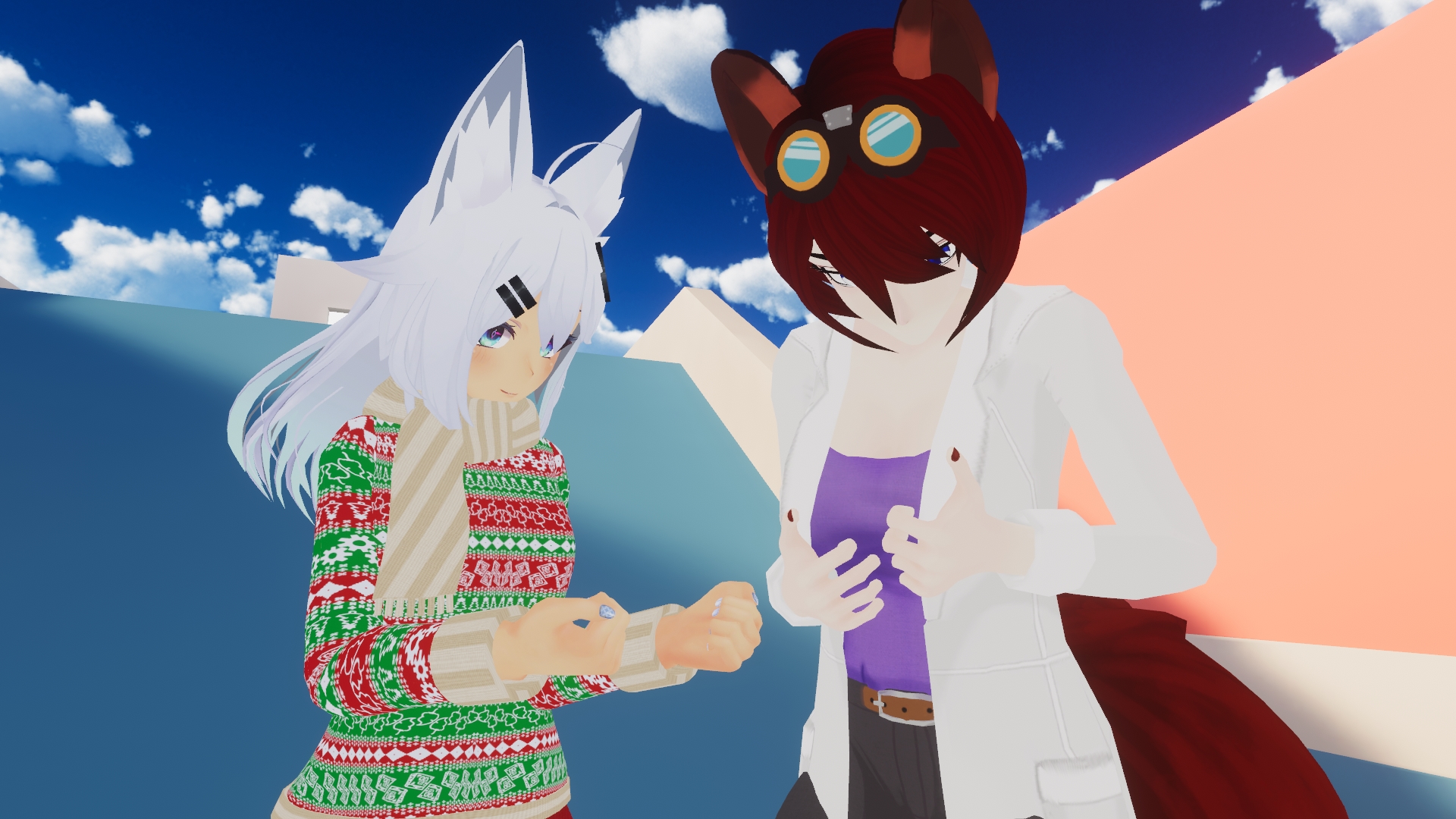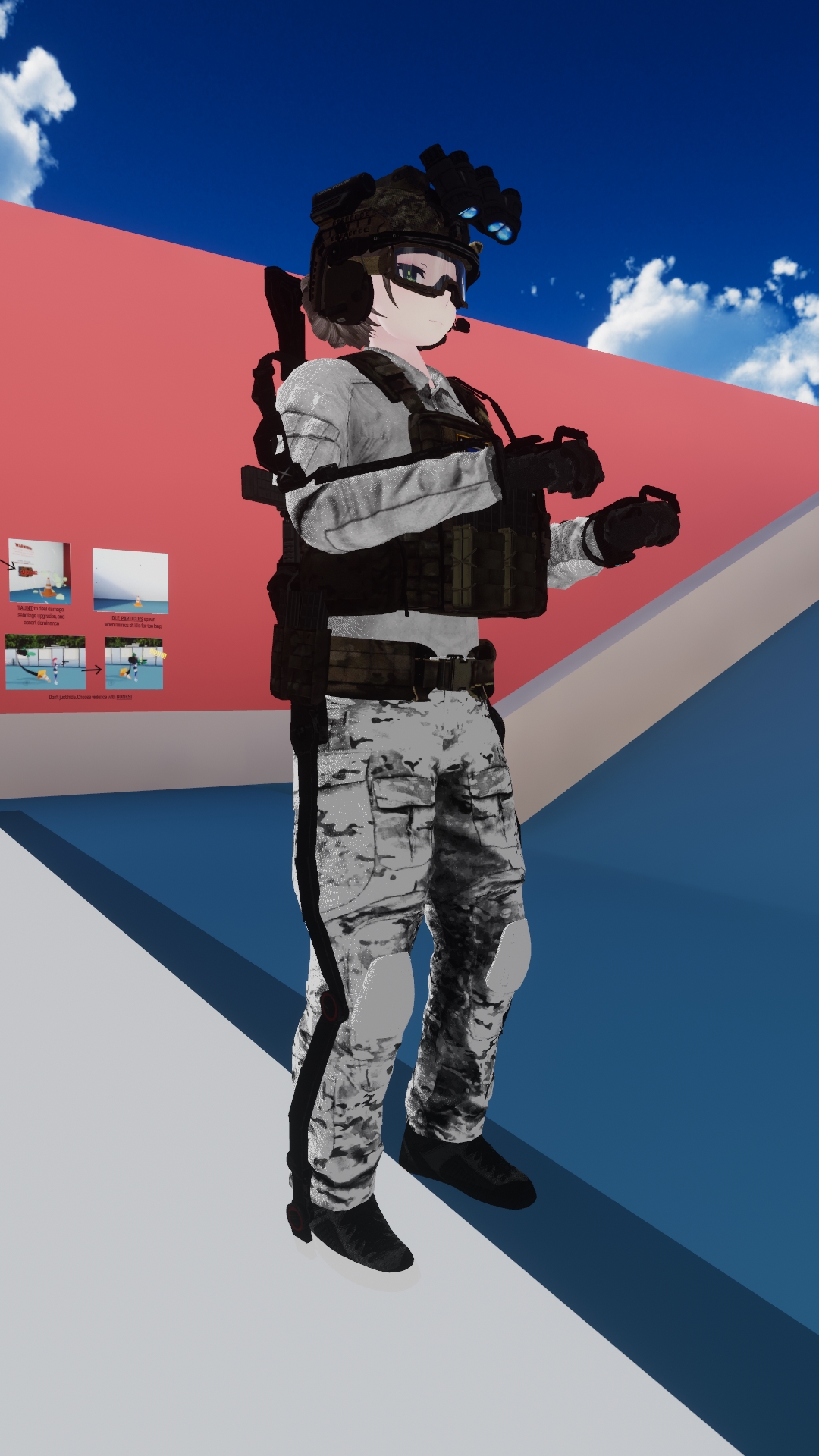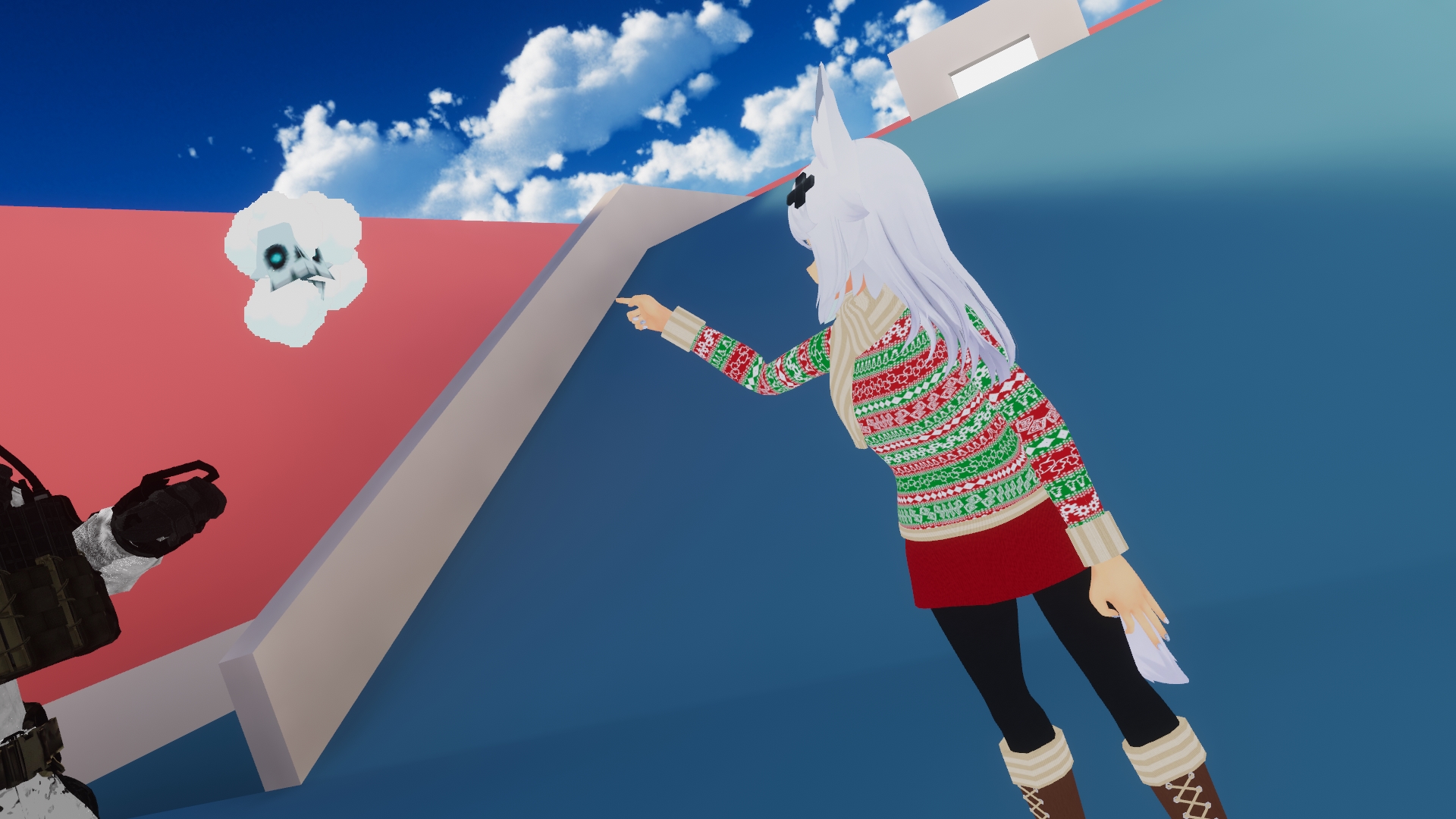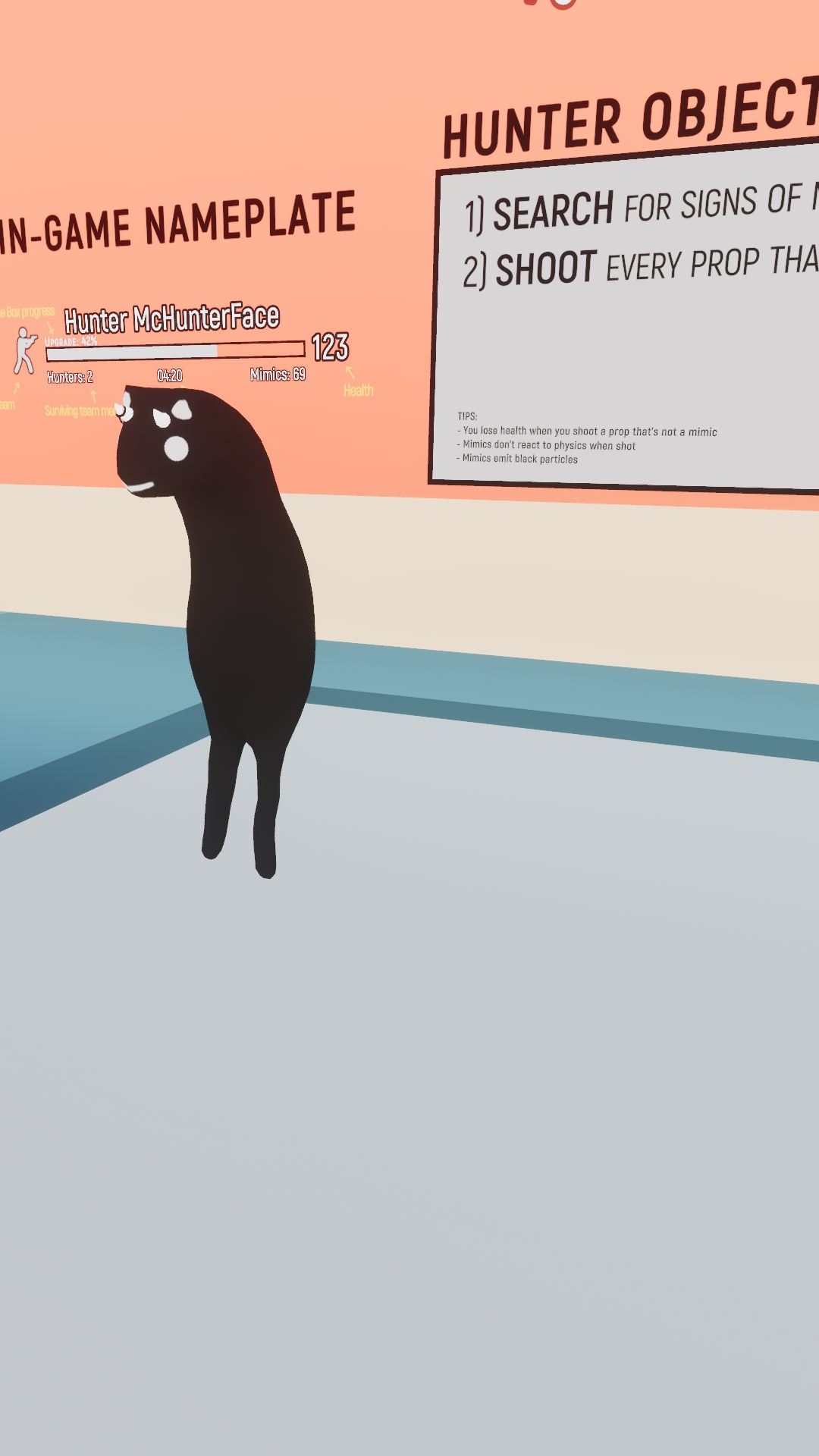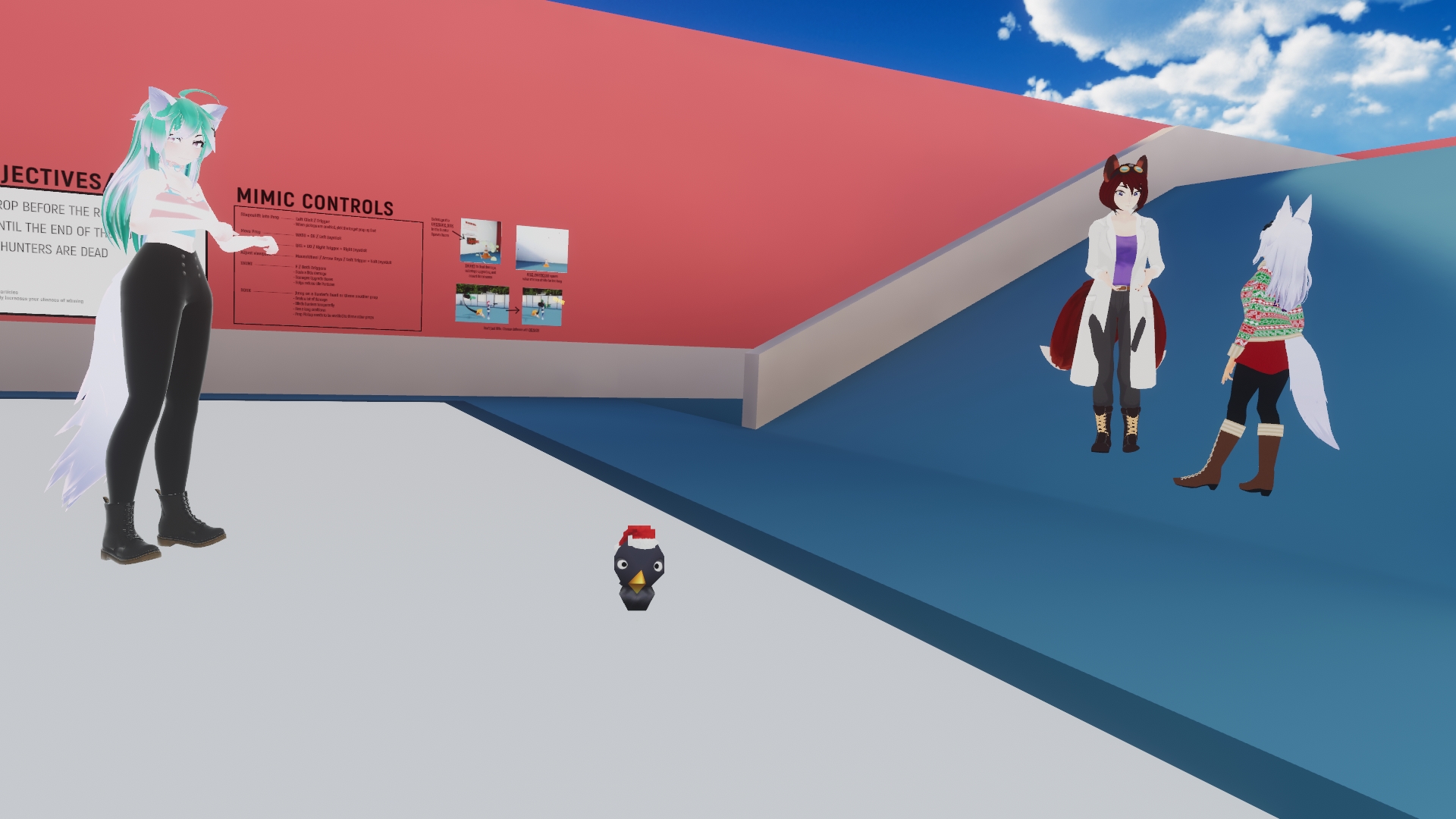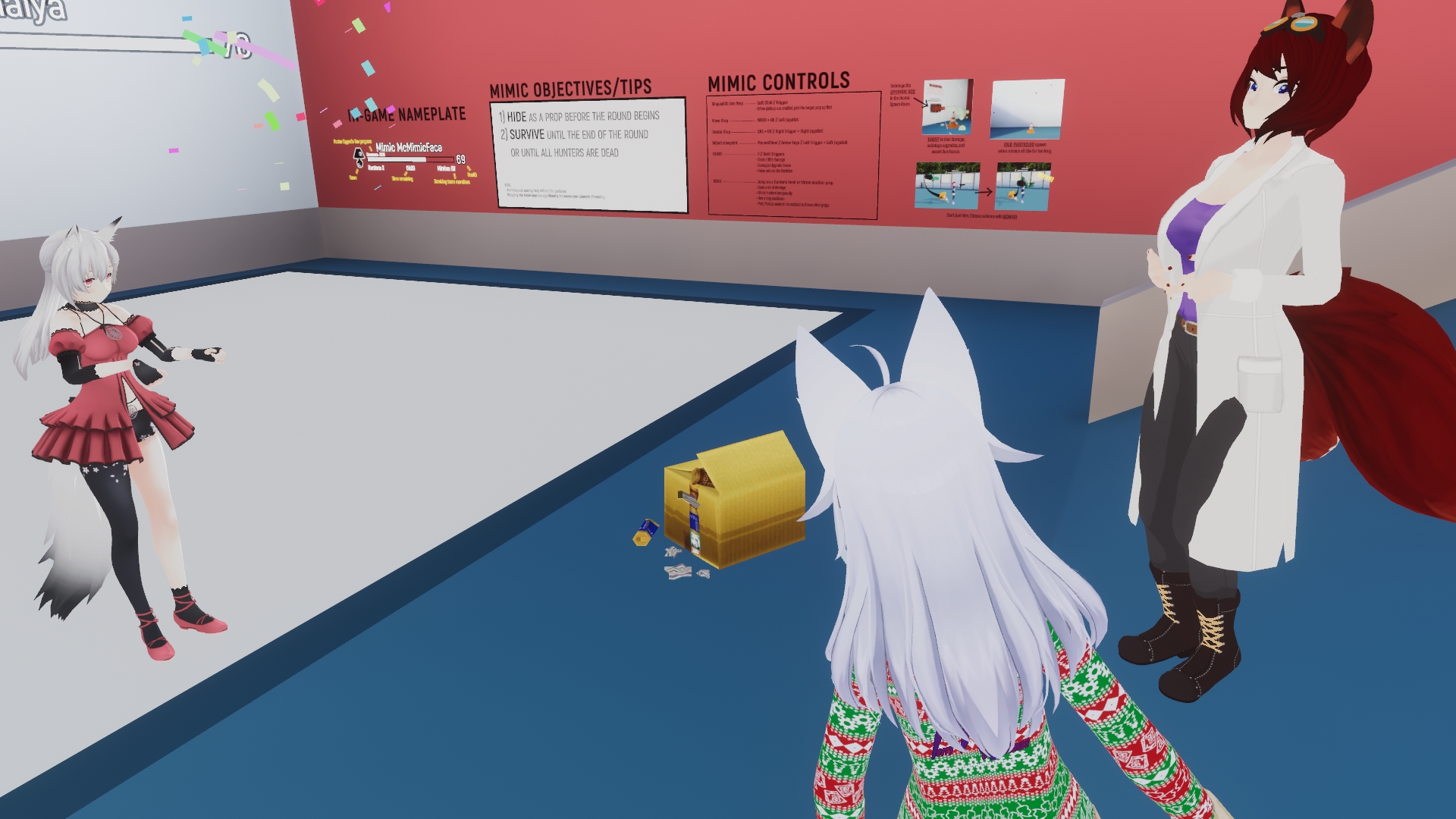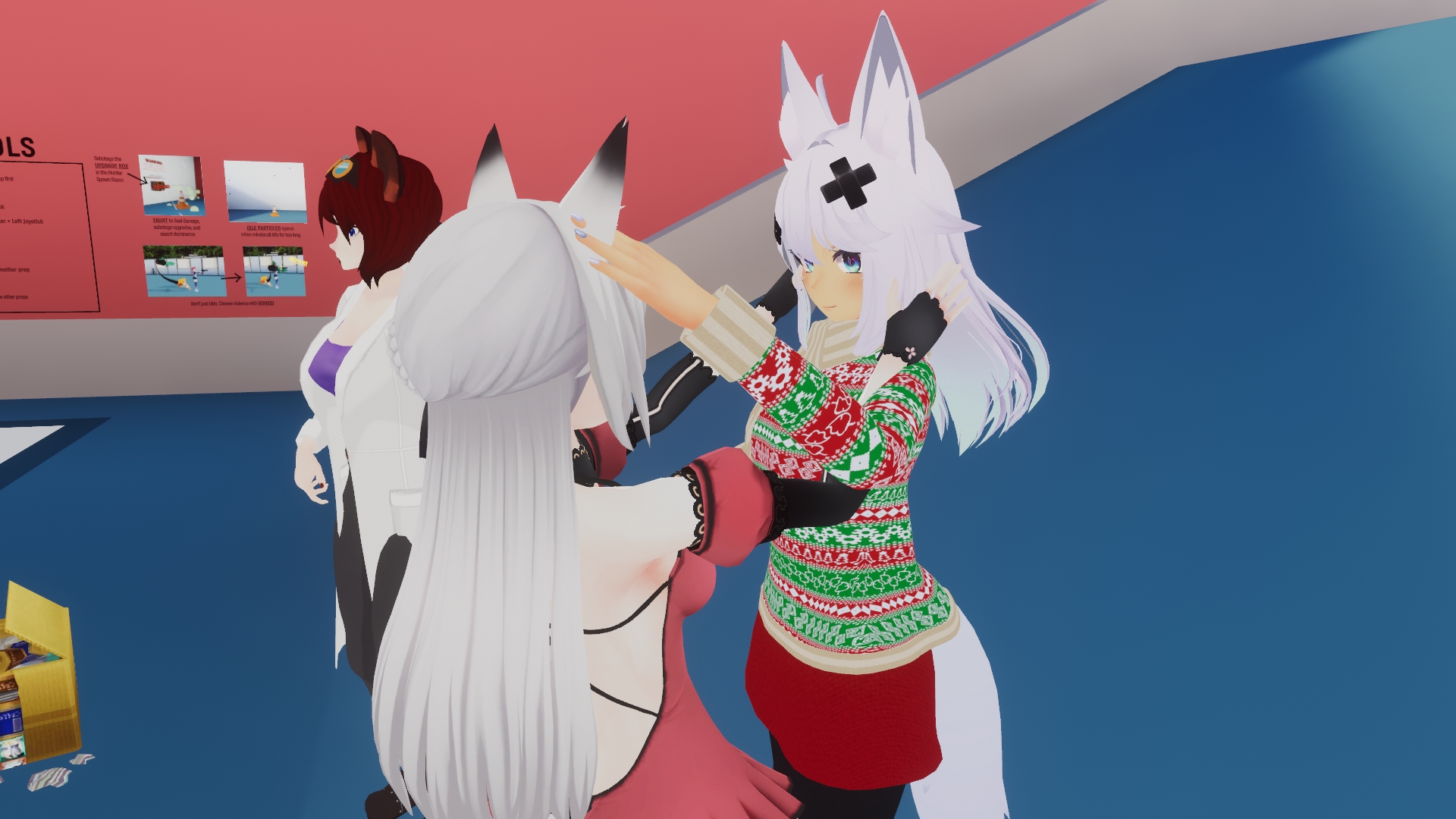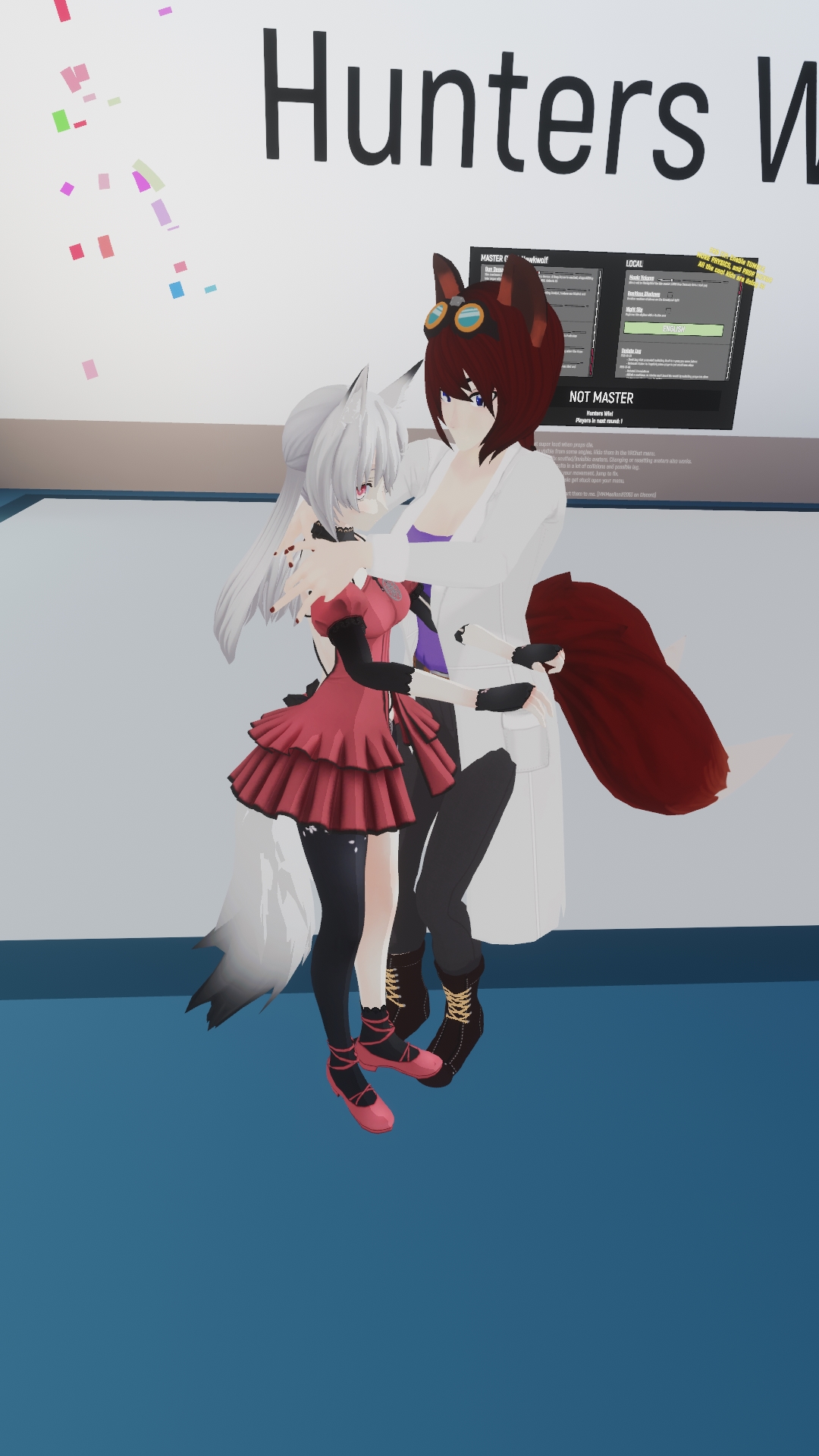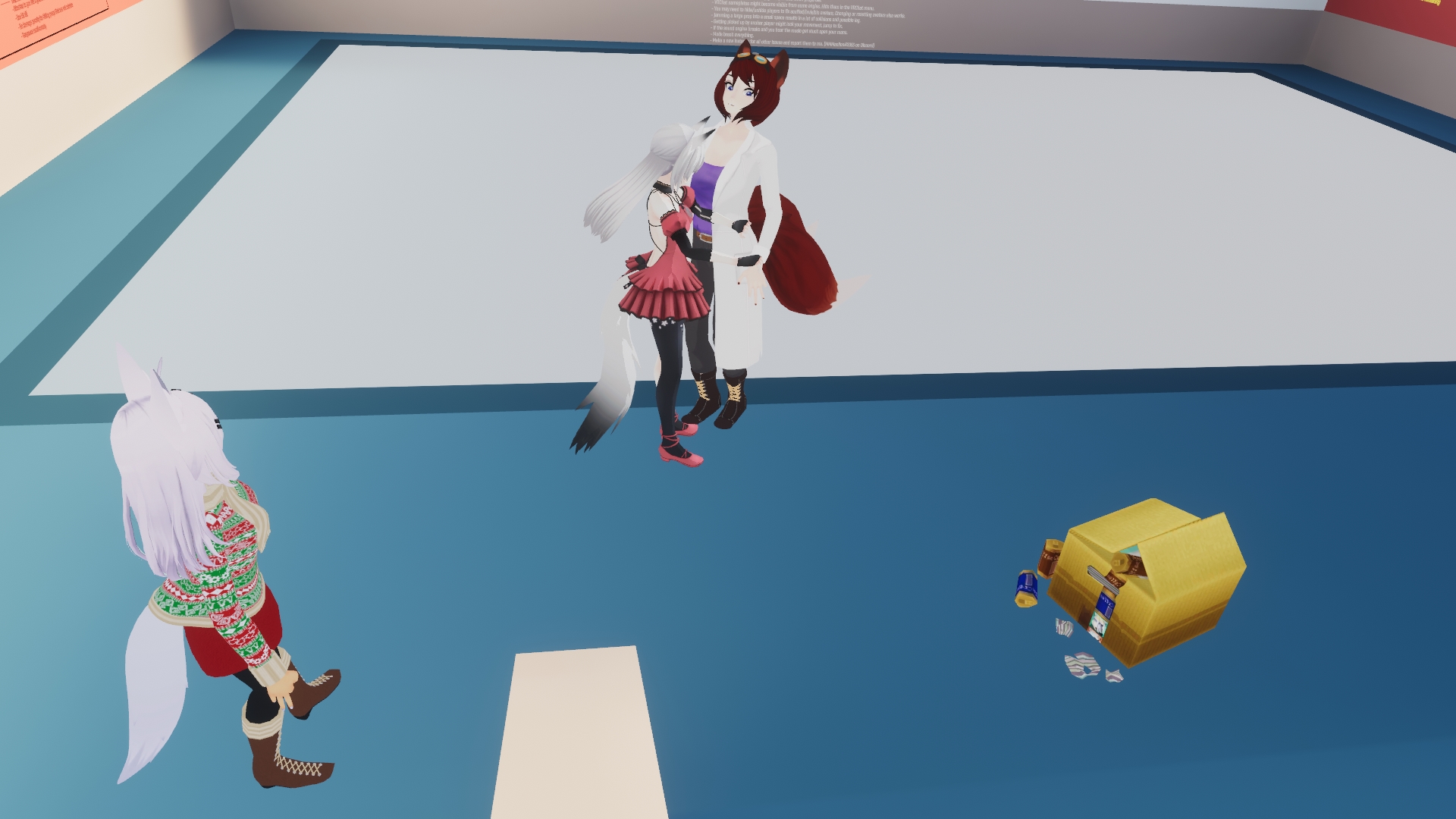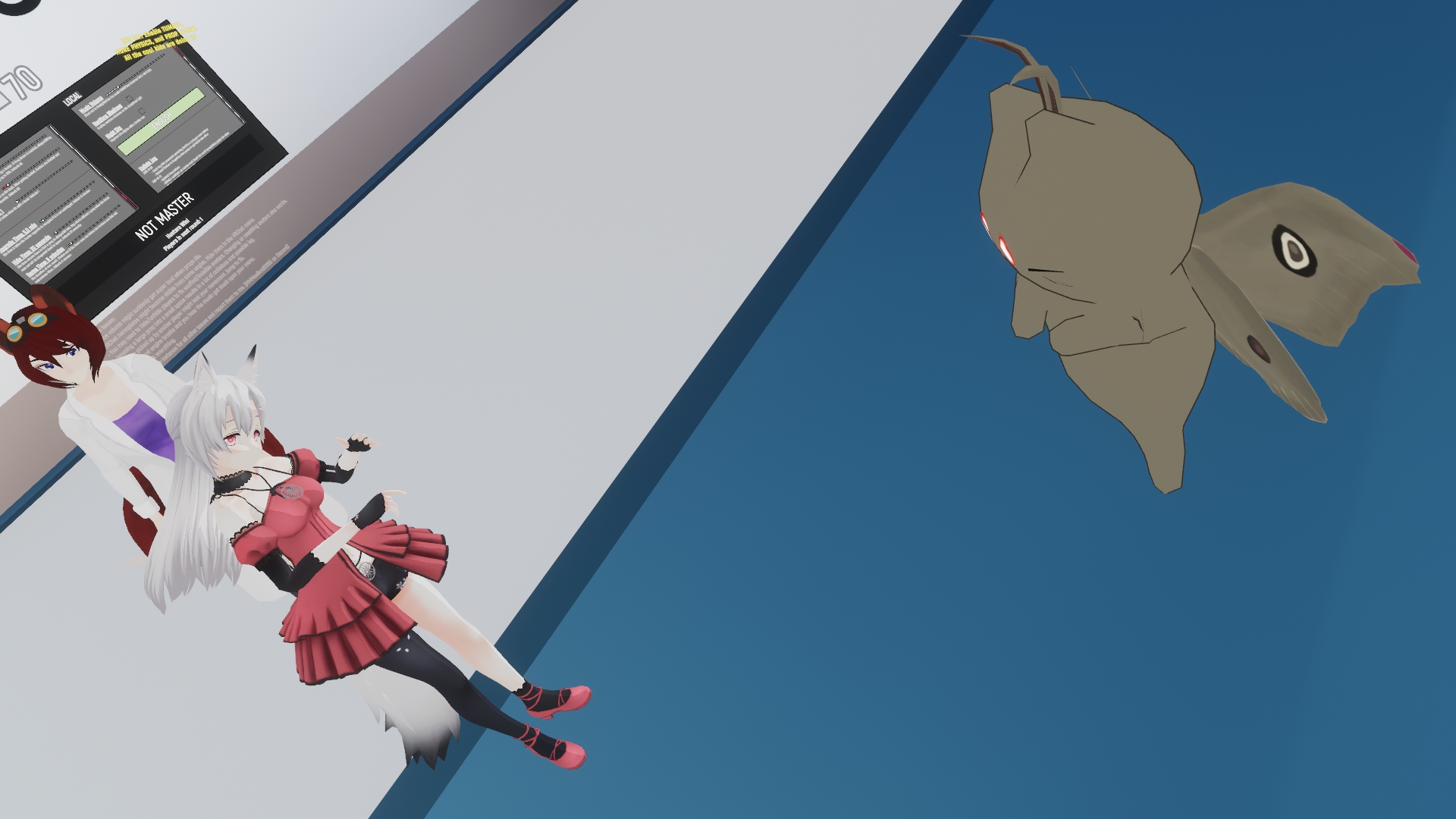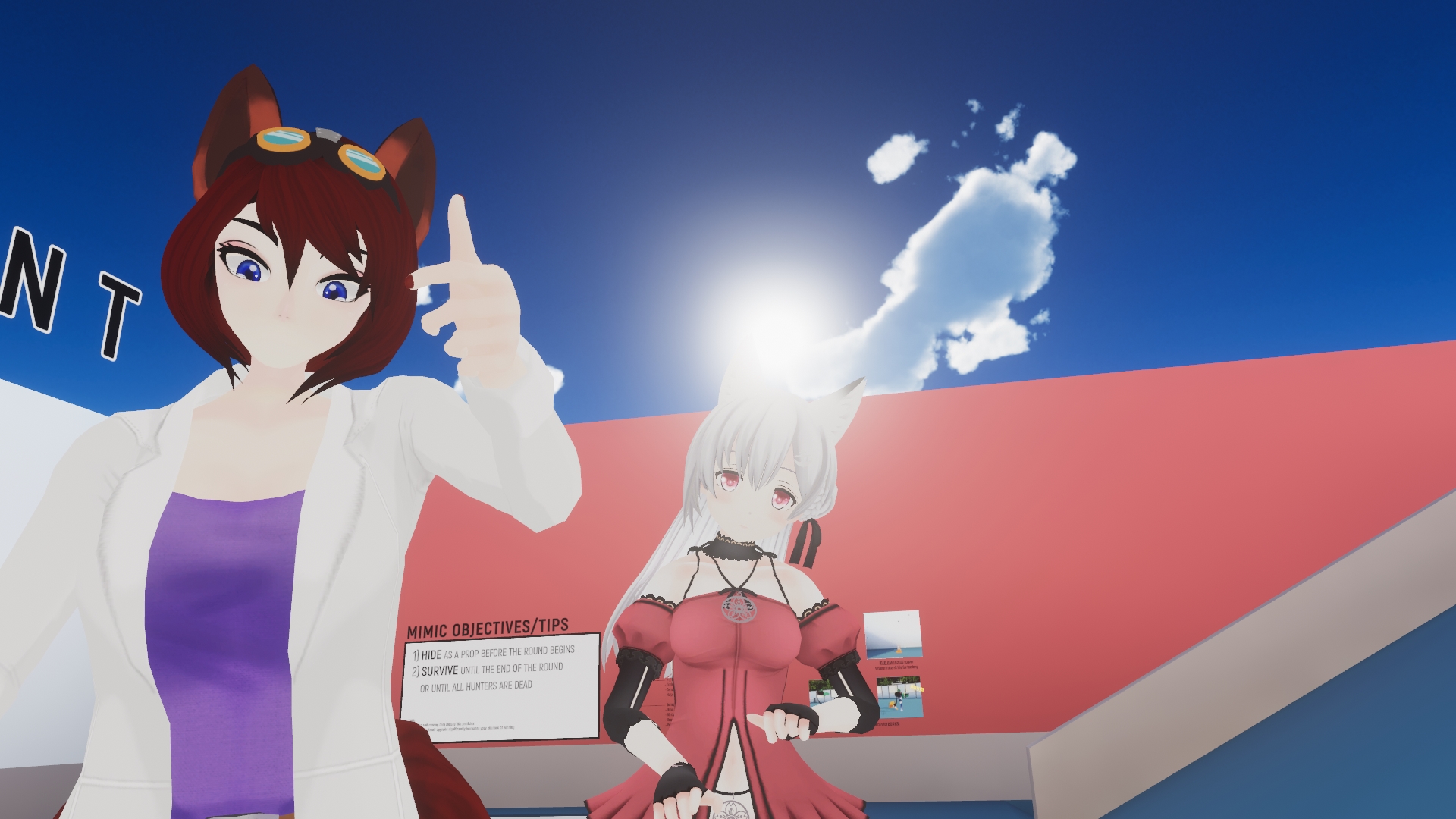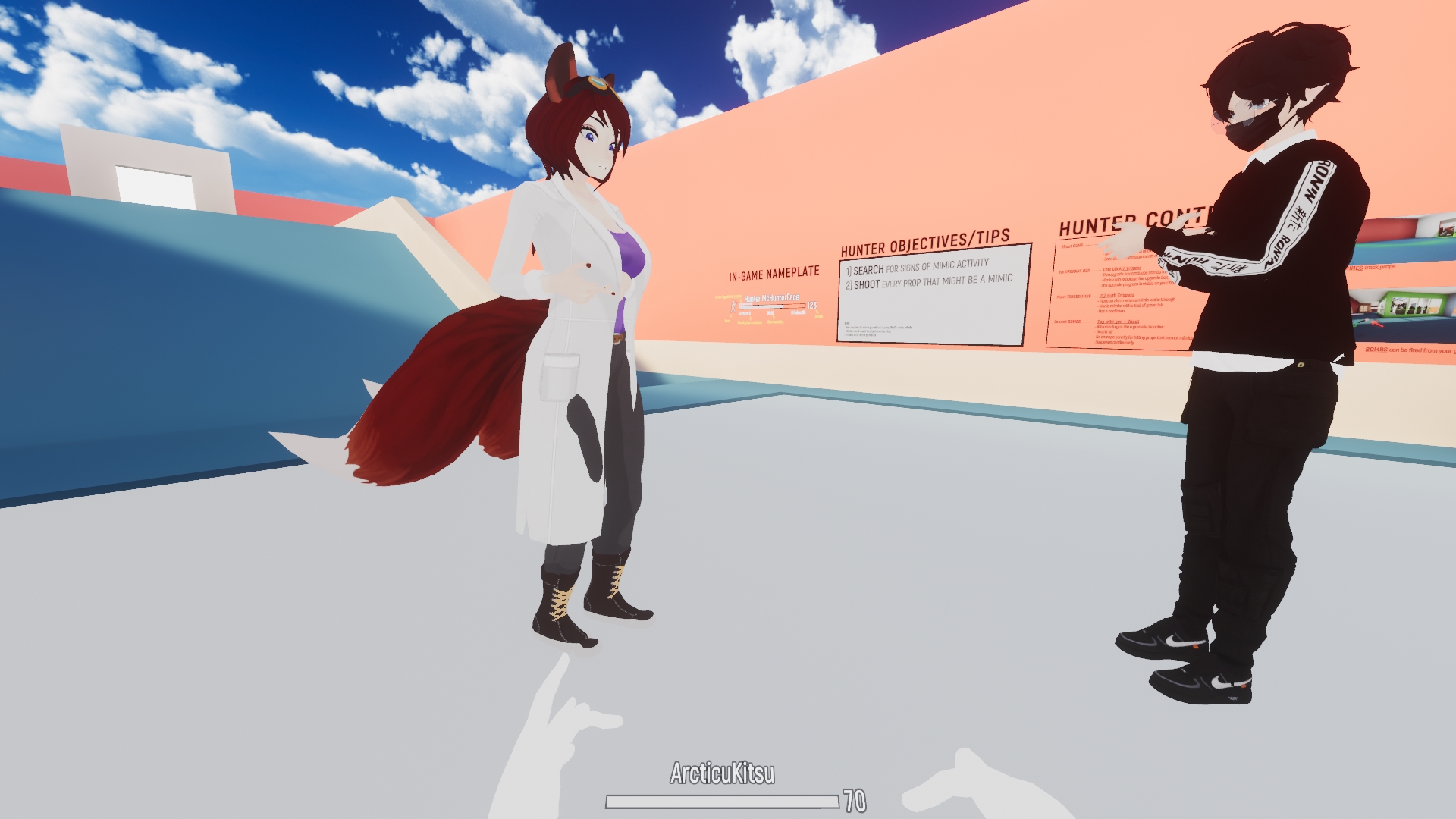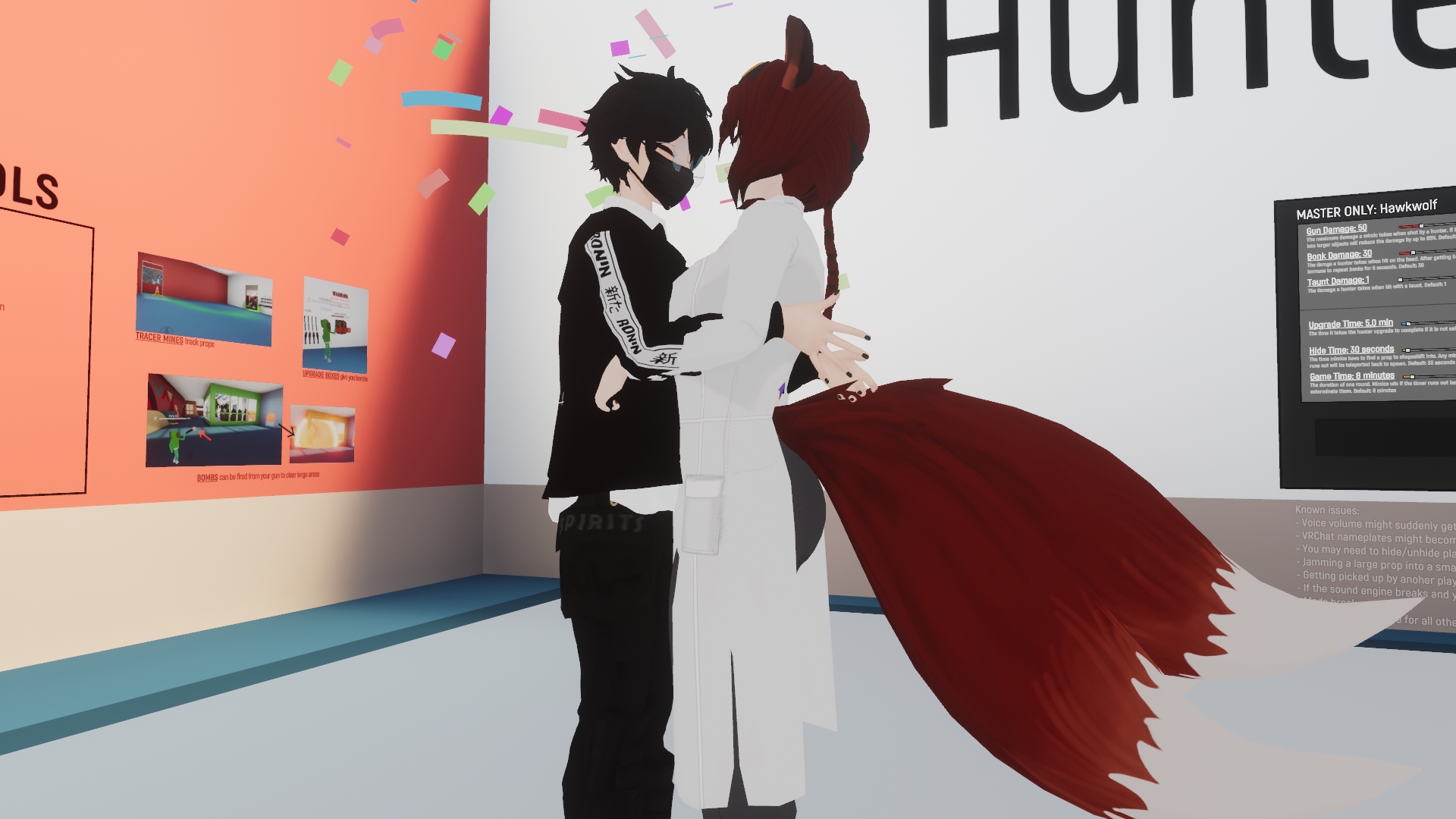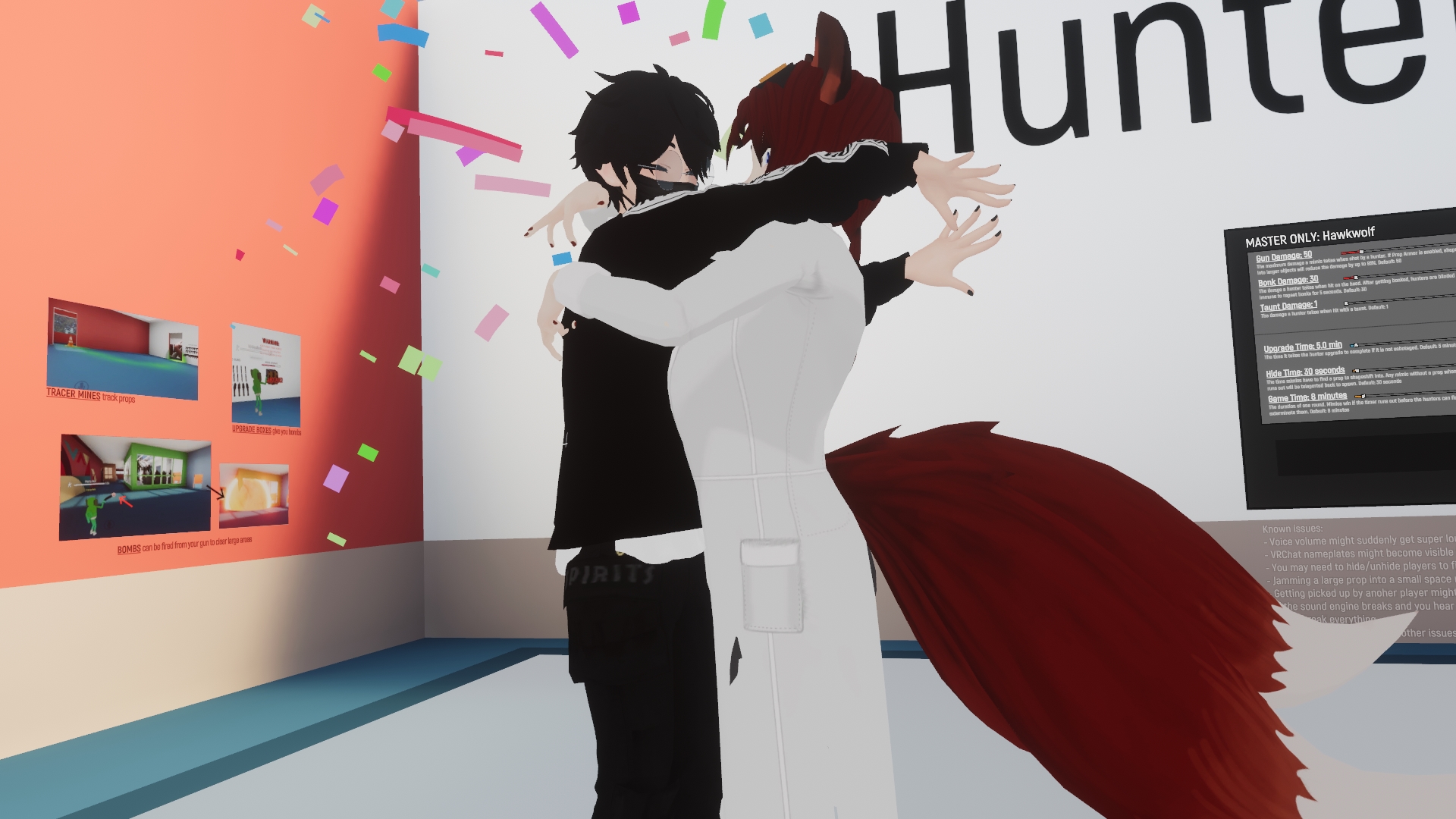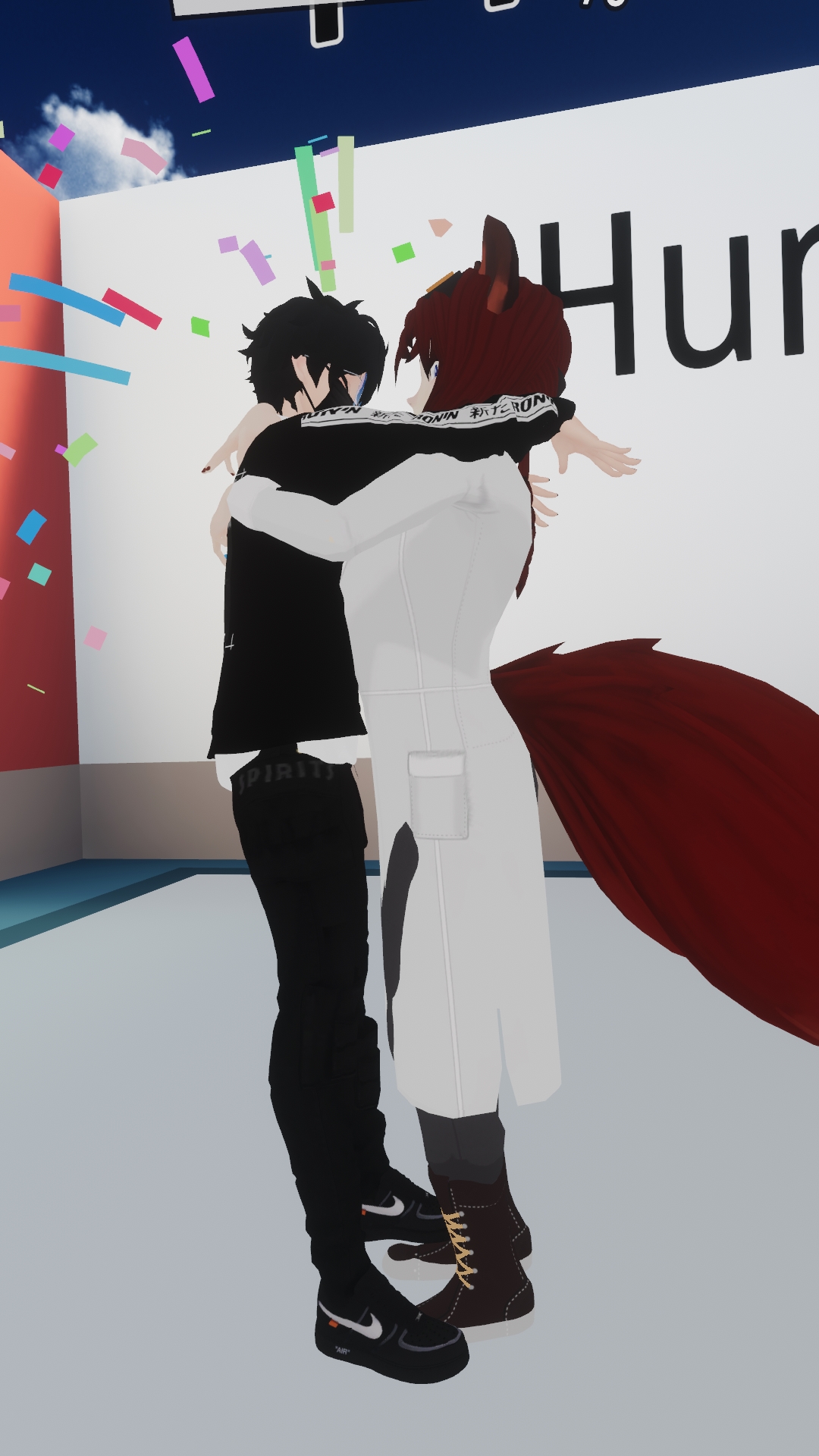 ---
Midnight Haven's Tree Decorating:
Hawk had to leave so we said our festive good nights. Kobi joined me into the next world then had to leave himself after that. I tried to stay as long as possible. Had to also leave missing out on an memorable photo.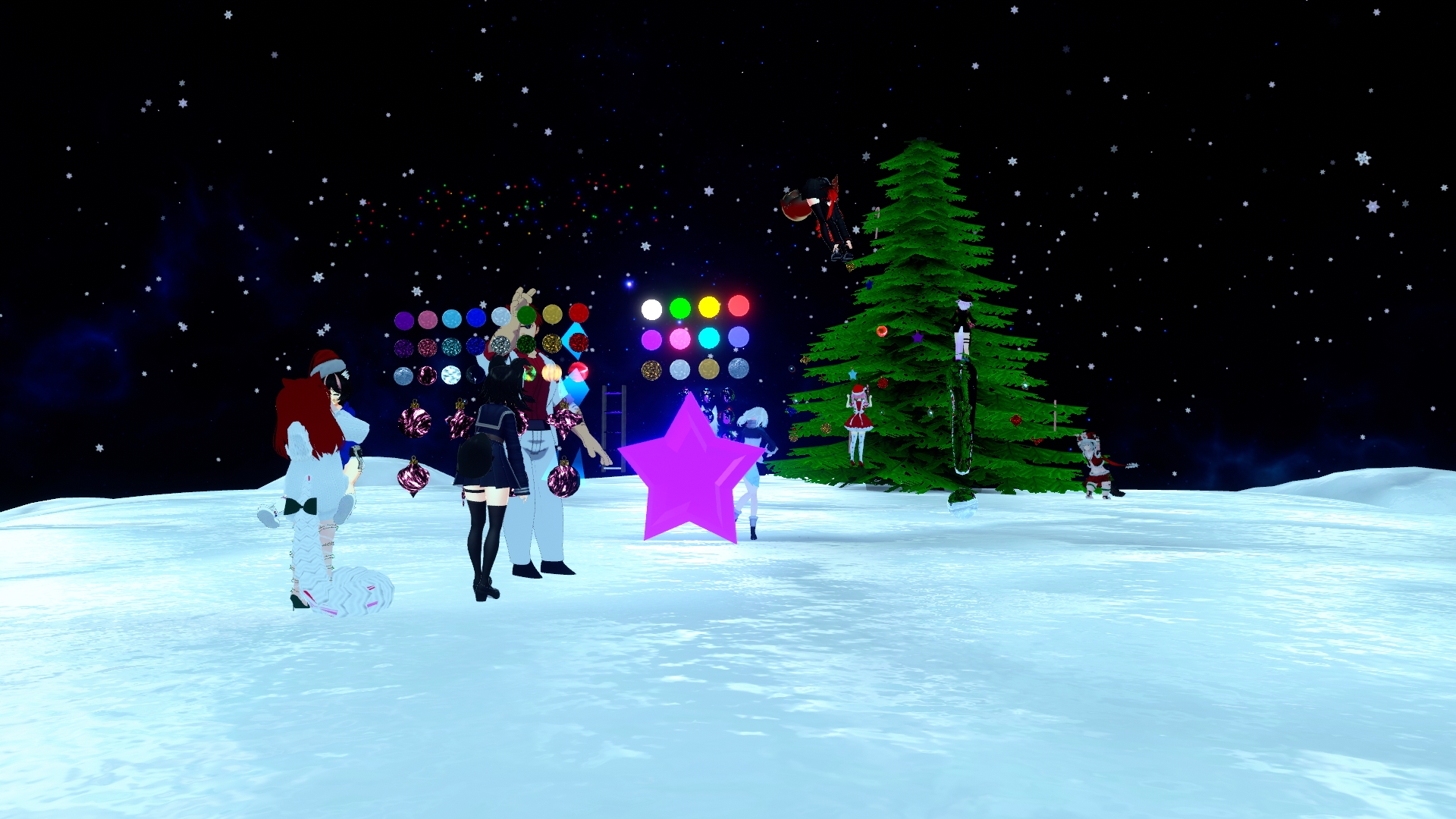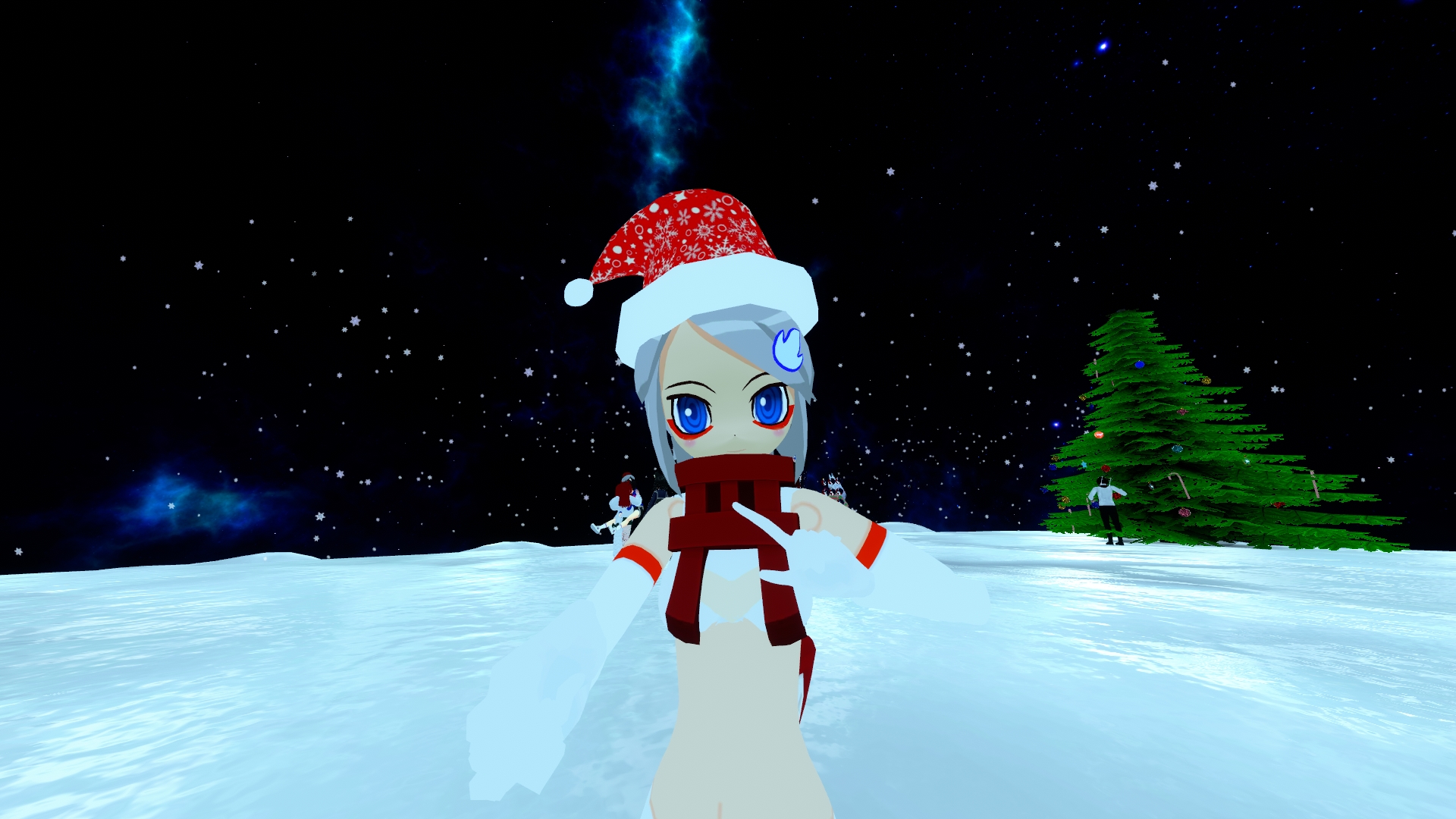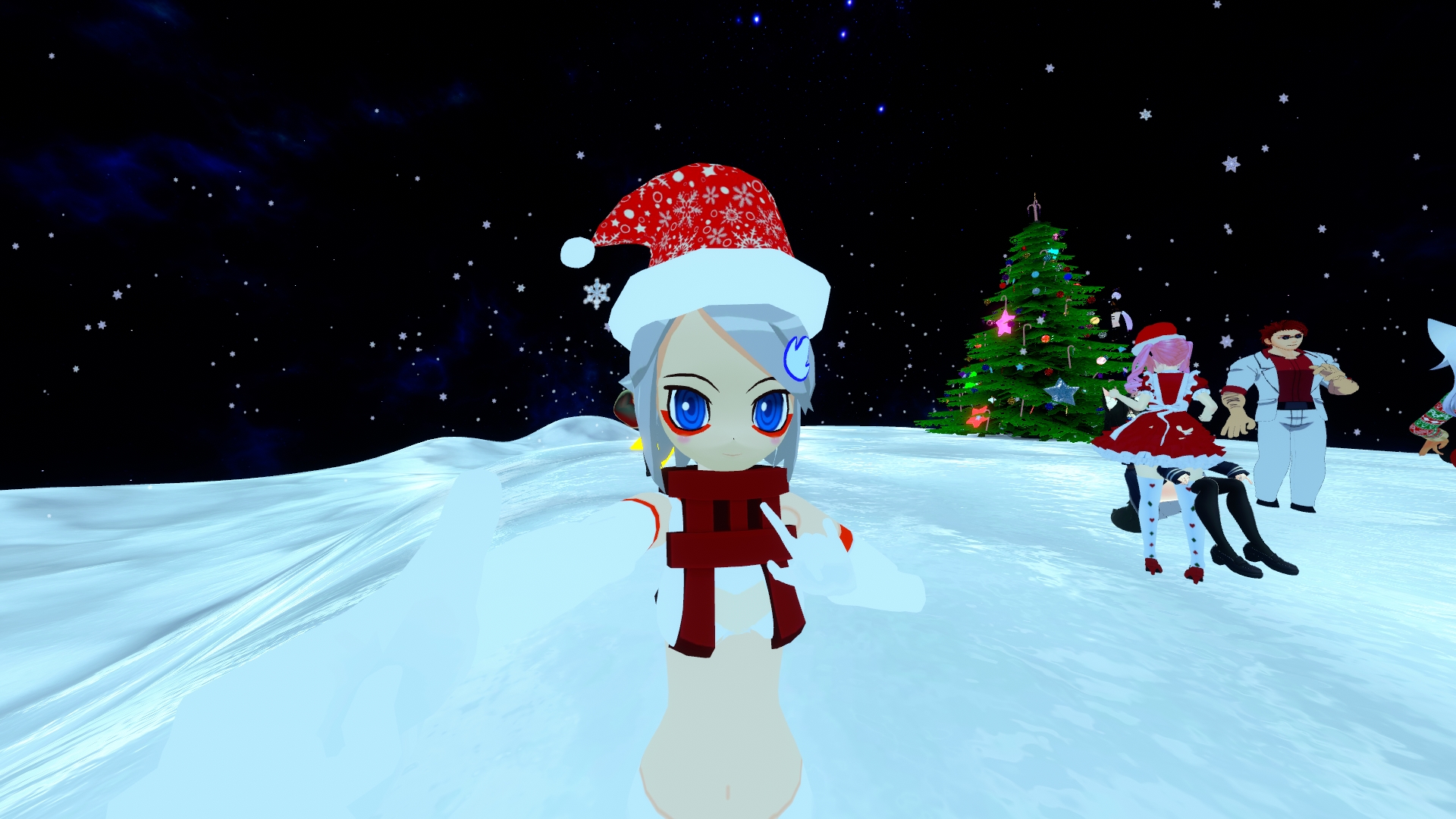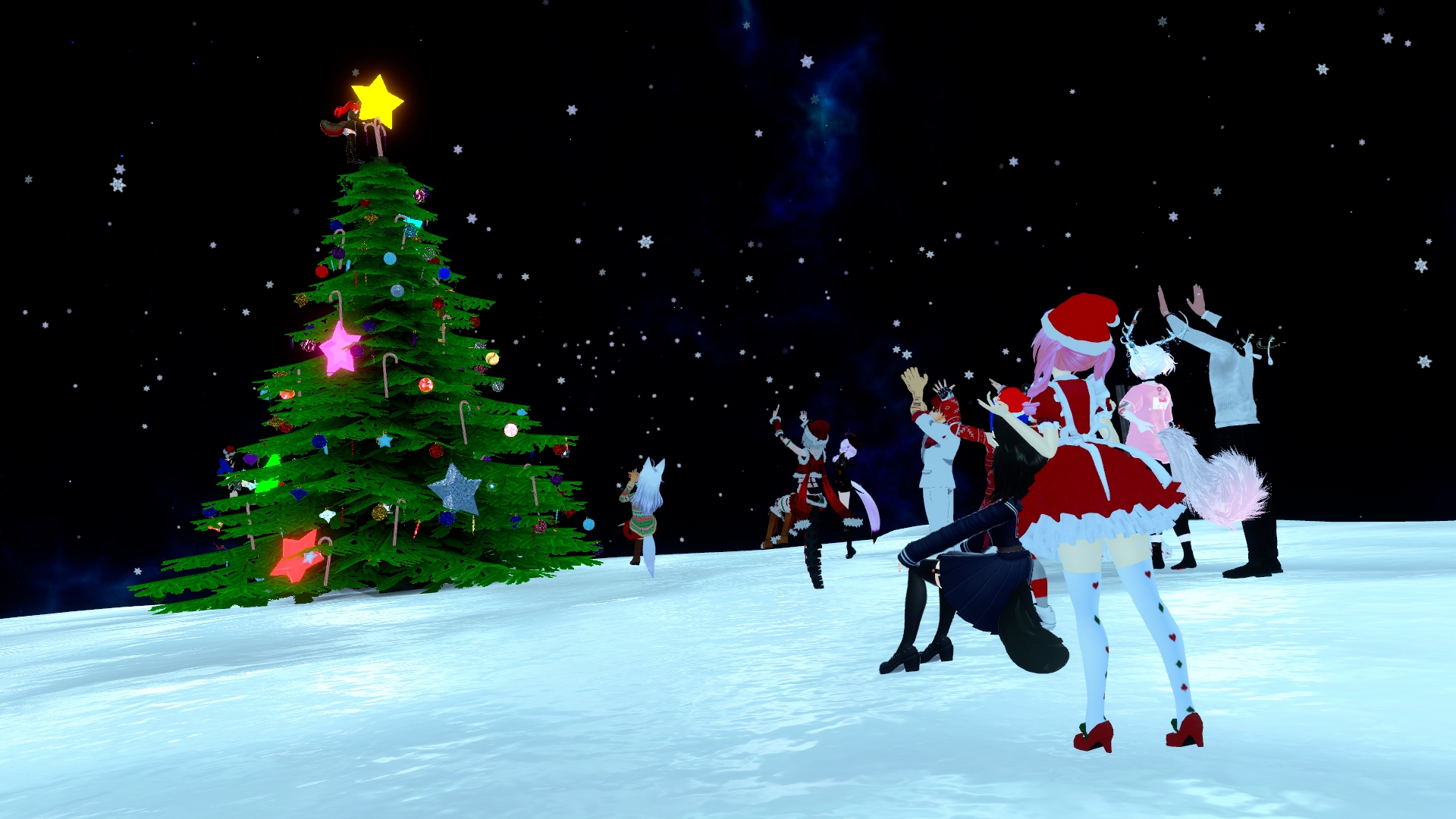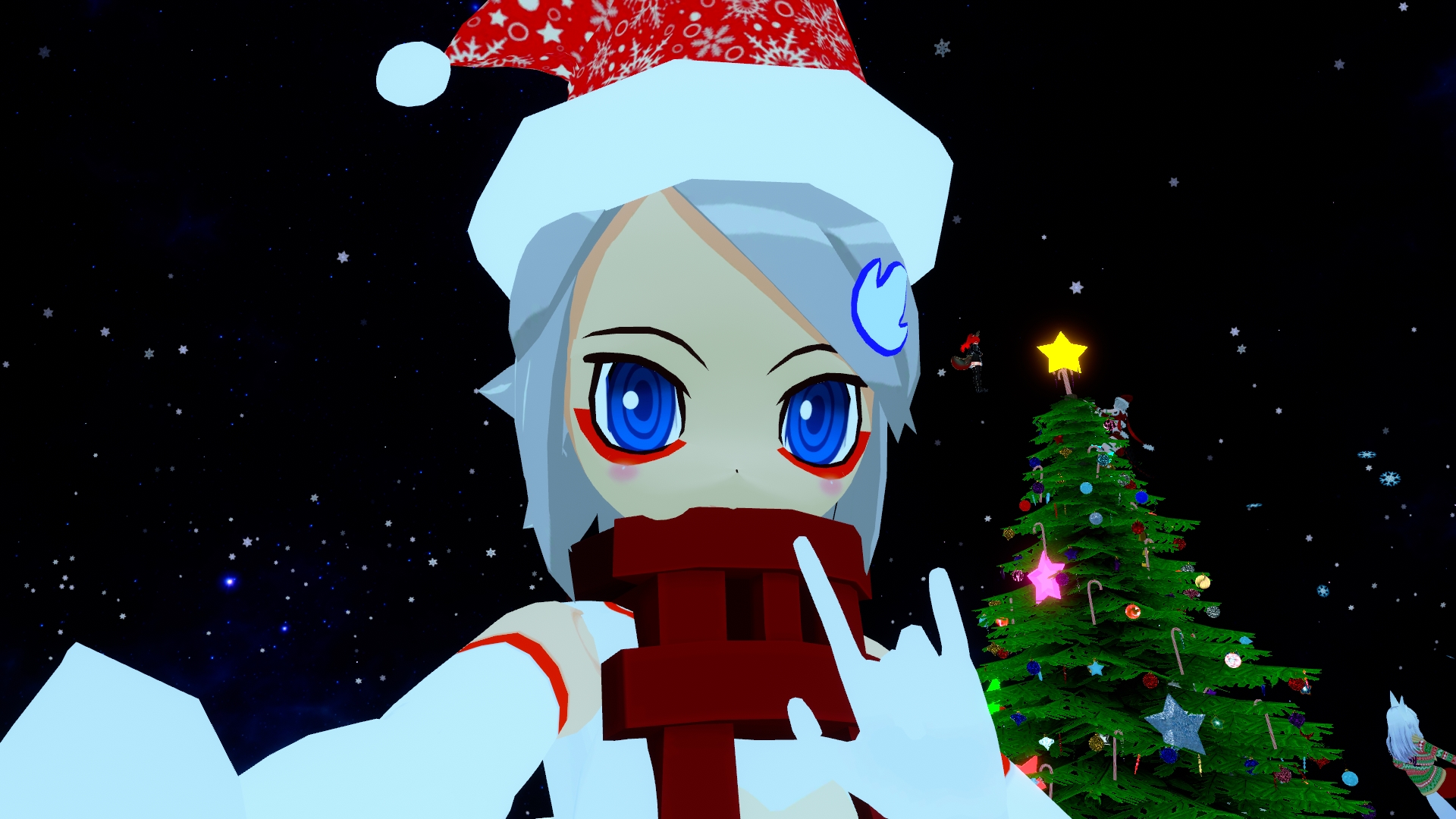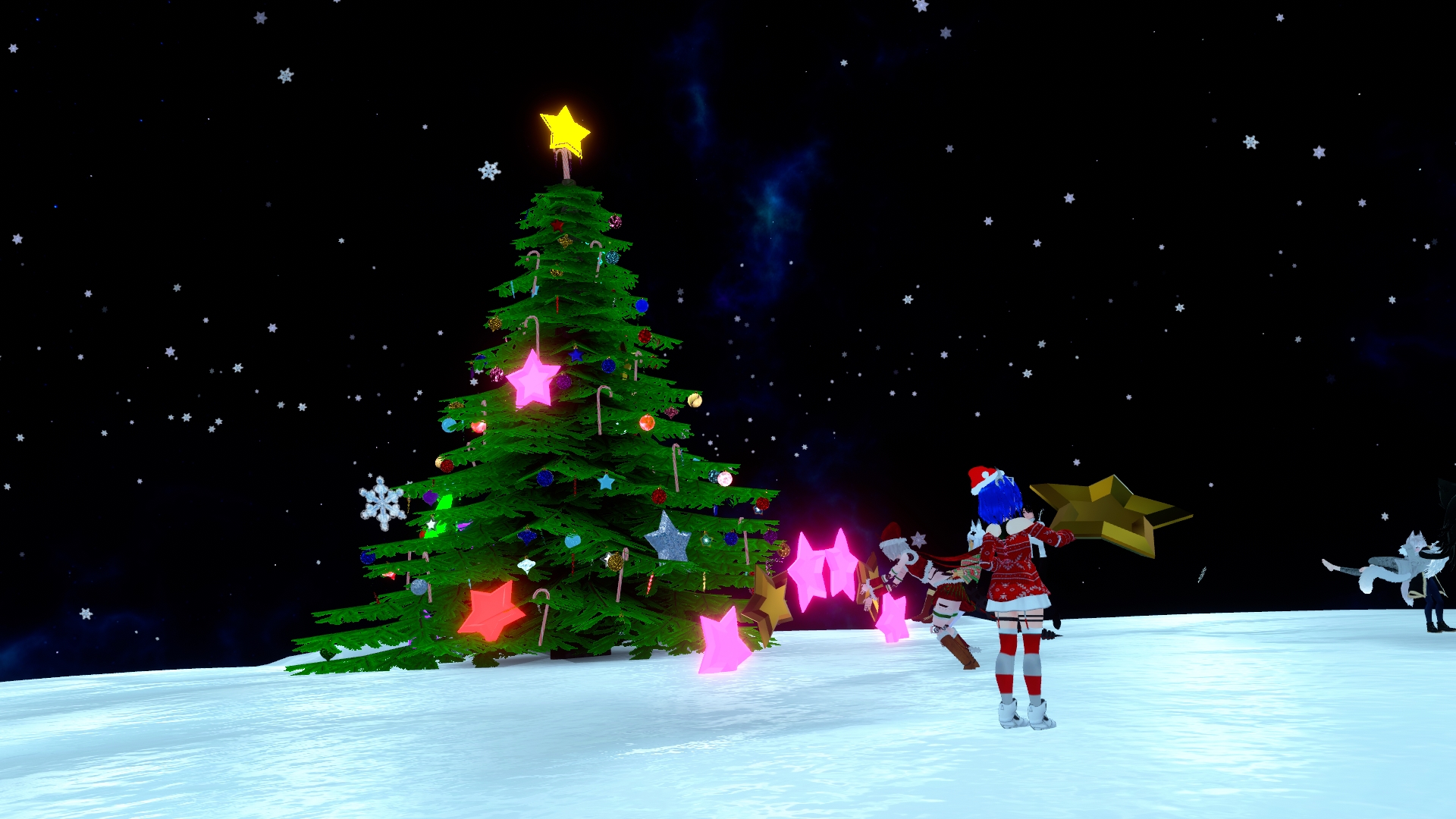 Because I had to bail "early" (compared to pre-2020 standards) I was lightly frustrated when I saw a group photo a few days after from Midnight Haven. I crudely photoshopped myself into the image in the bottom left because I was still there, even in spirit at that point. I might as well be a mechanical fox ghost spirit. Kon!~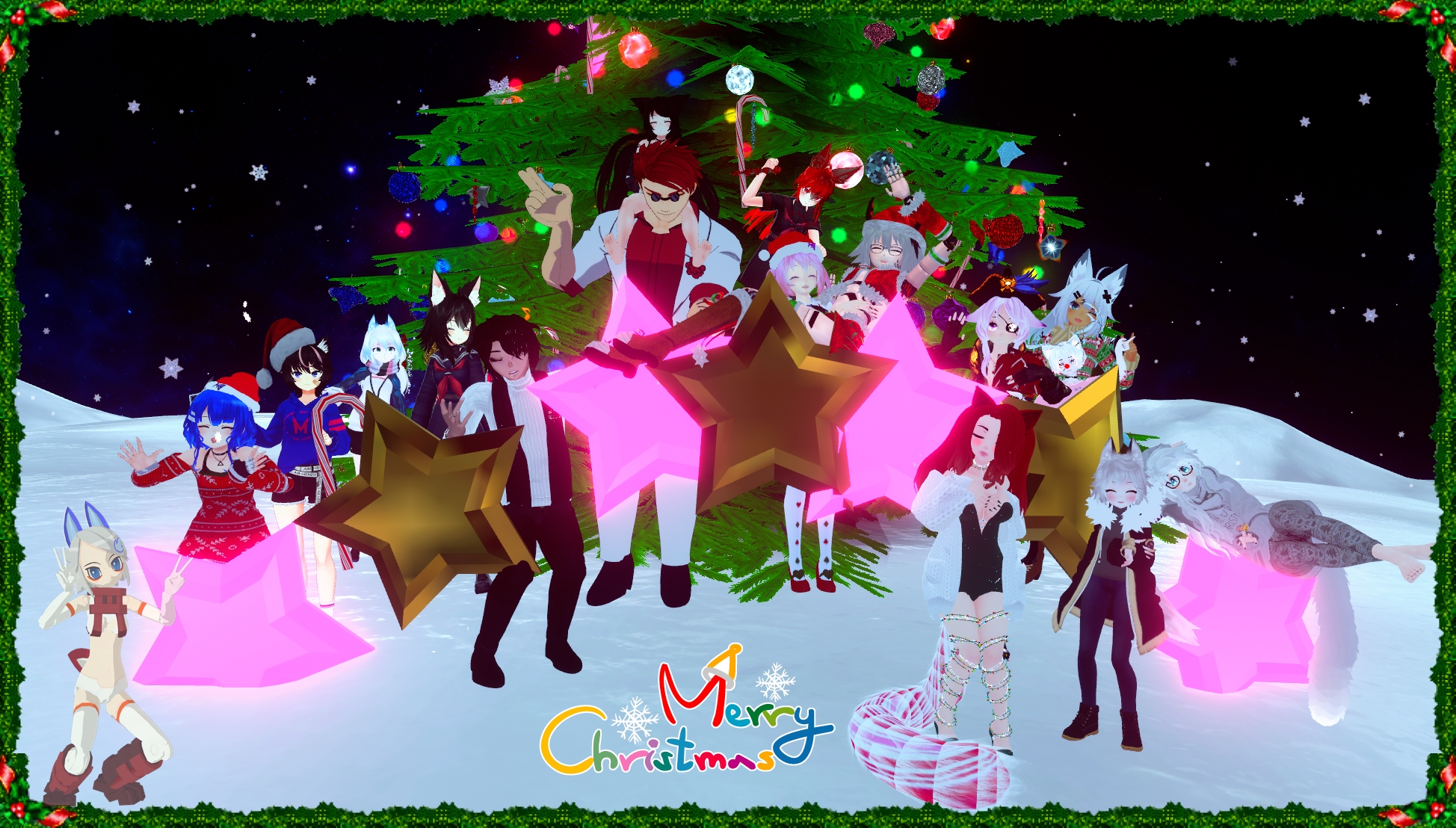 ---
Friend Images – From Hangout:
Hawk was the only one who seemingly took images so I'll be sharing his POV of things.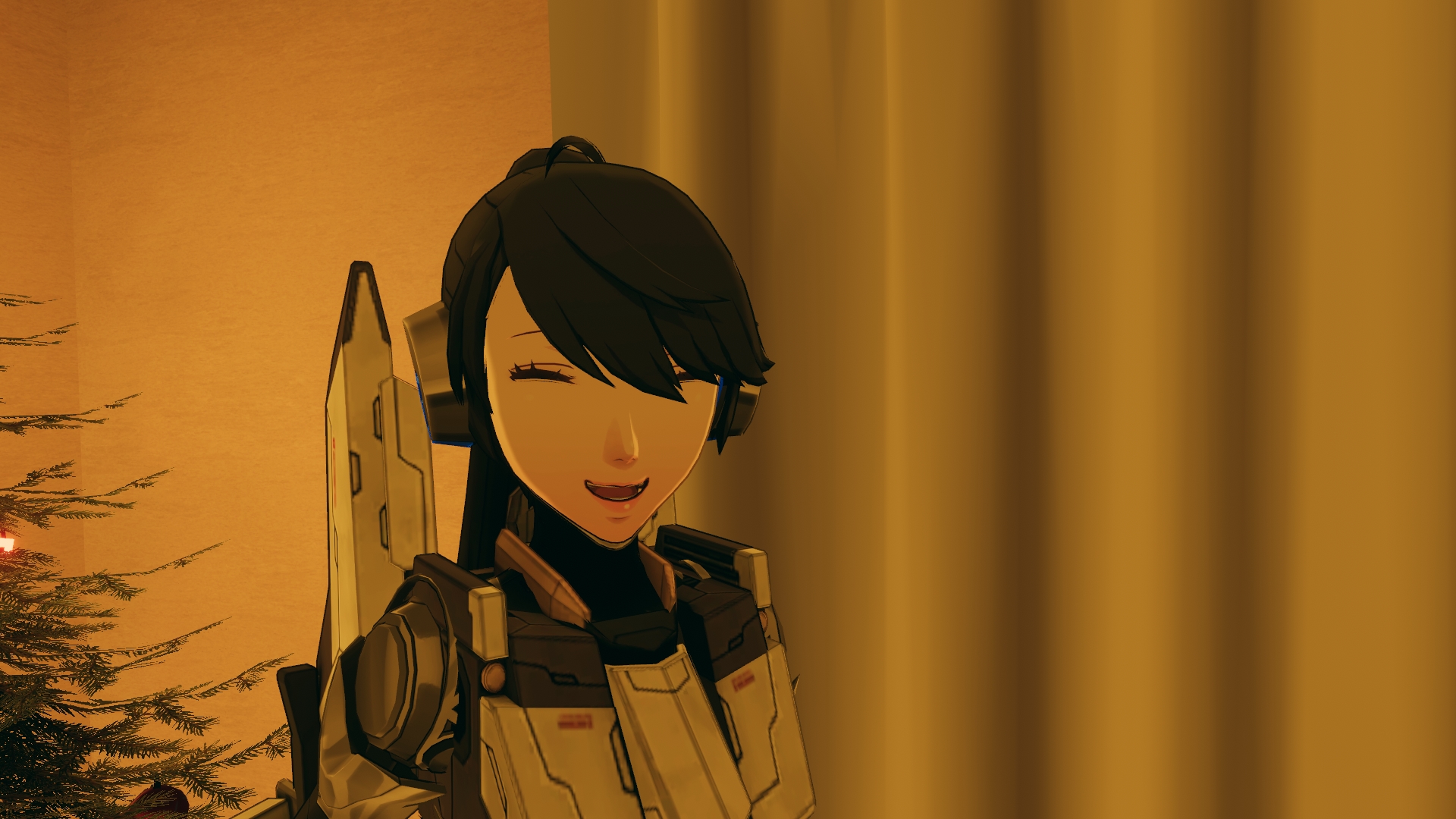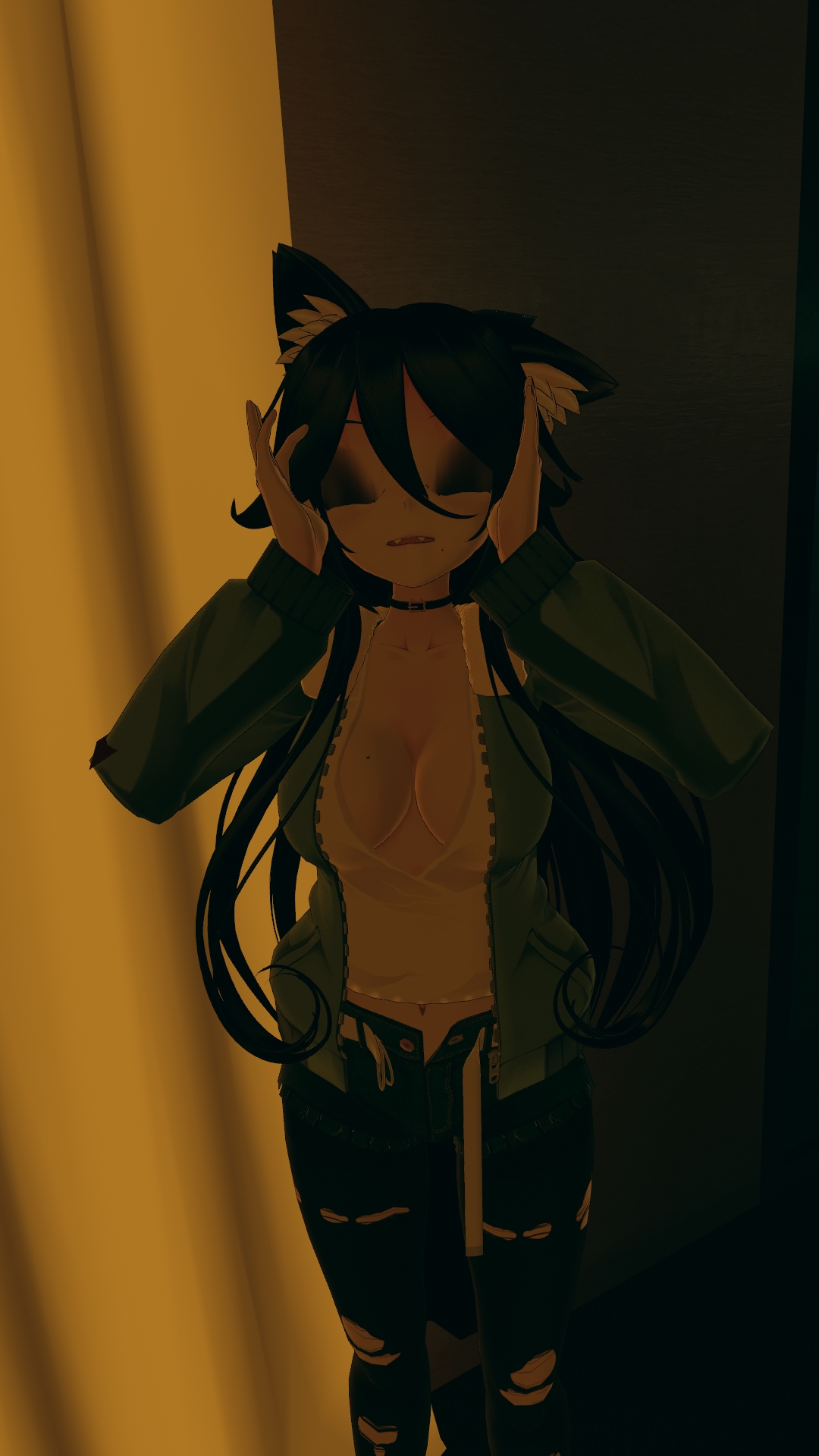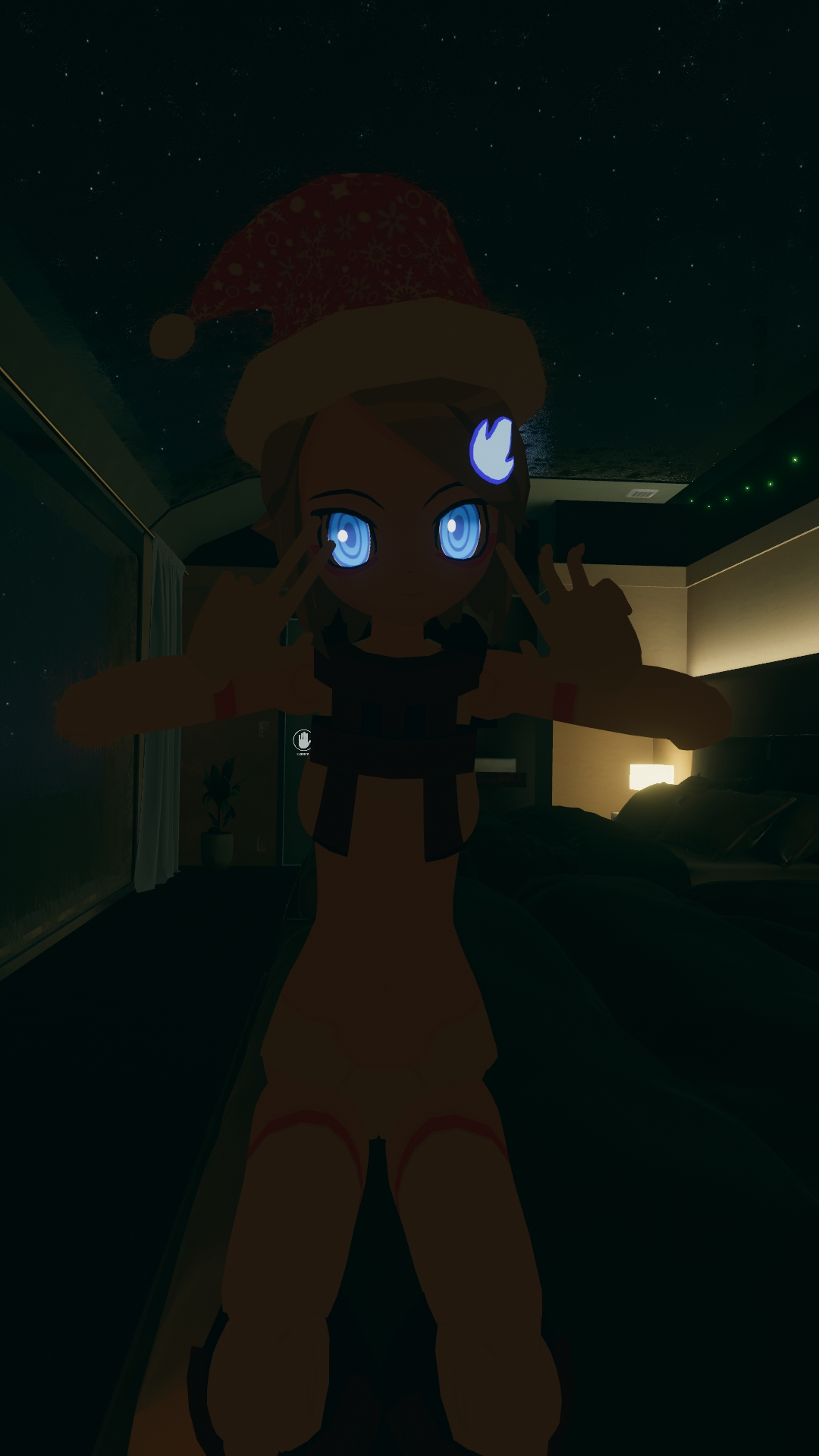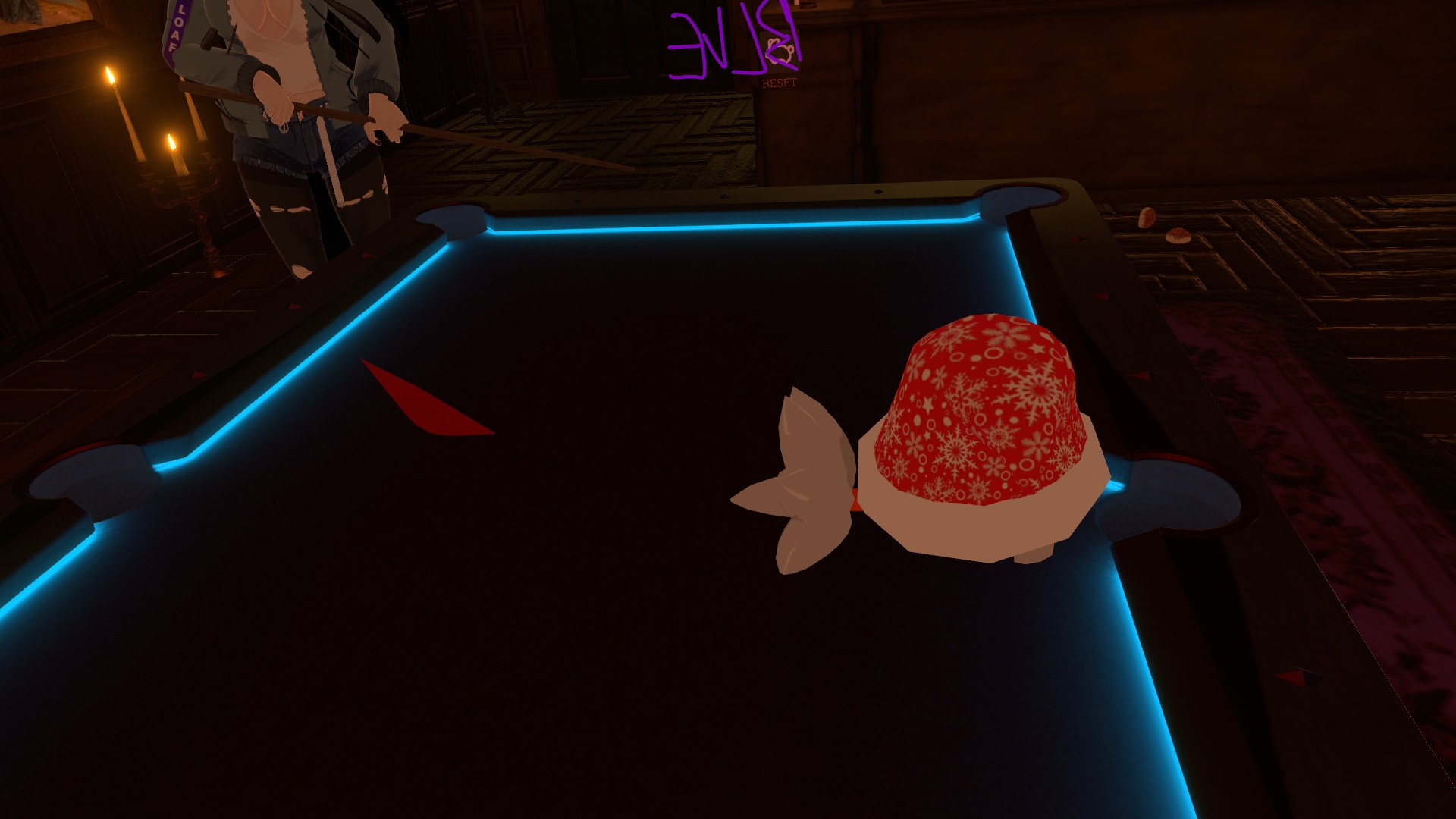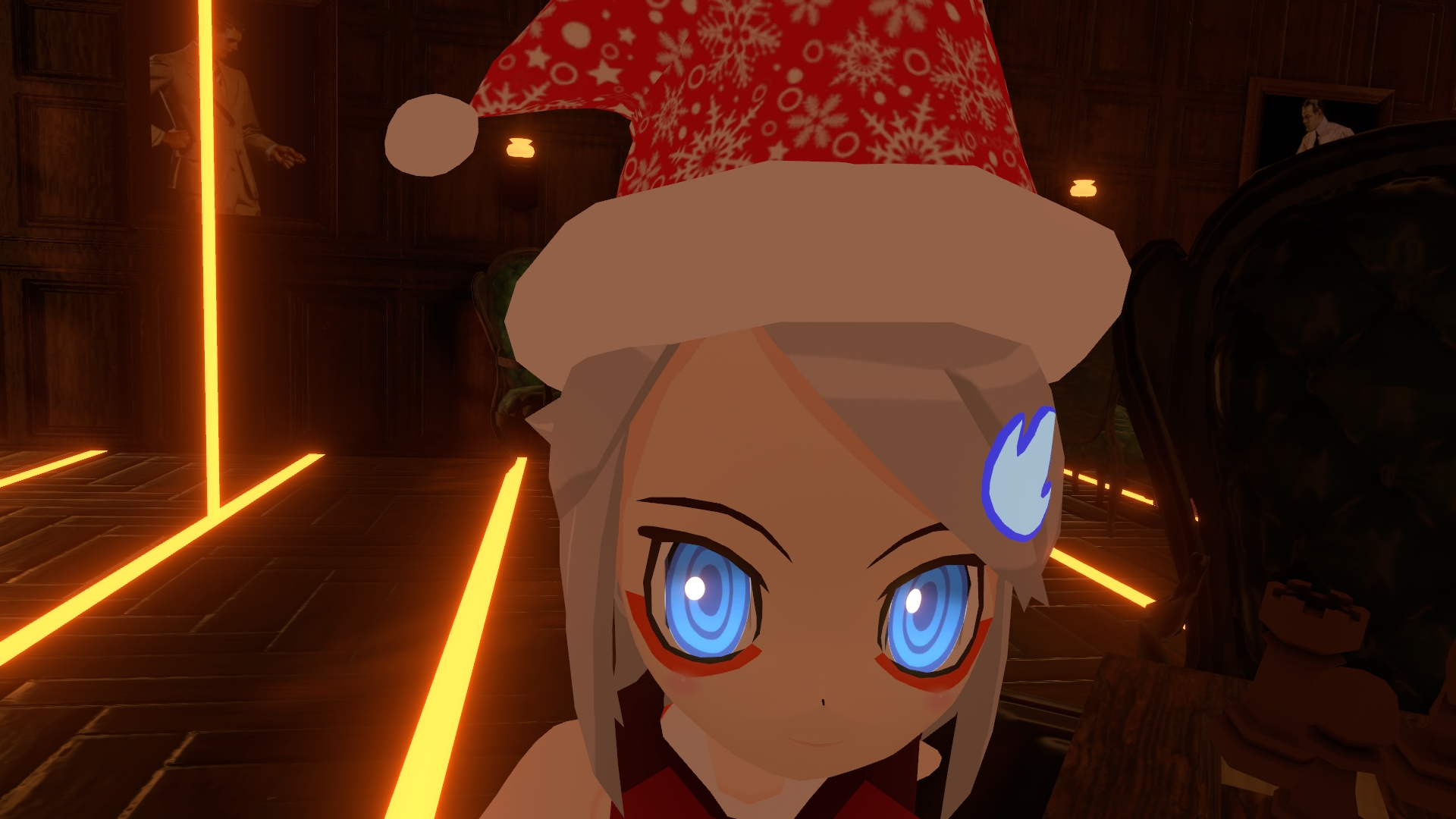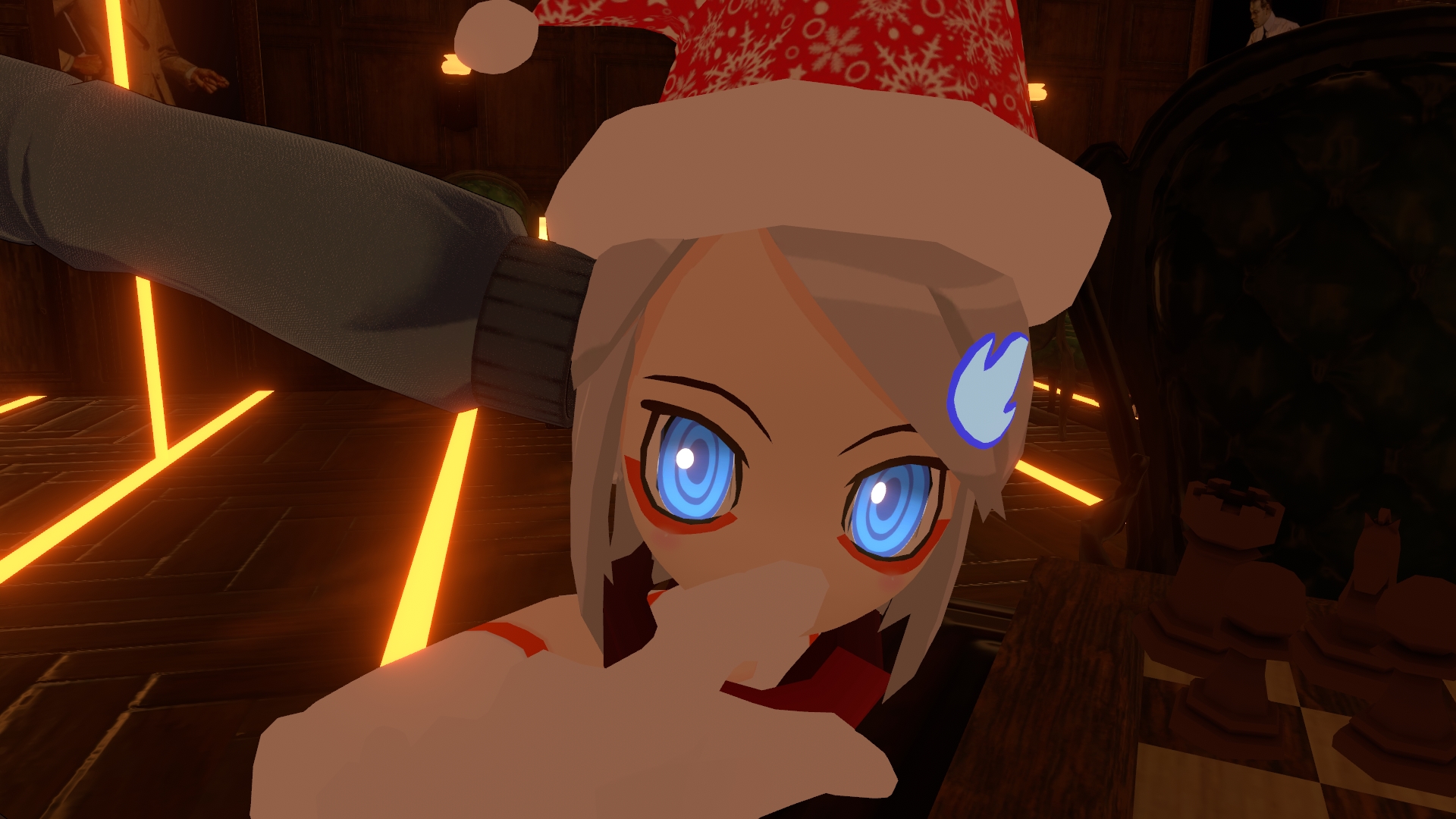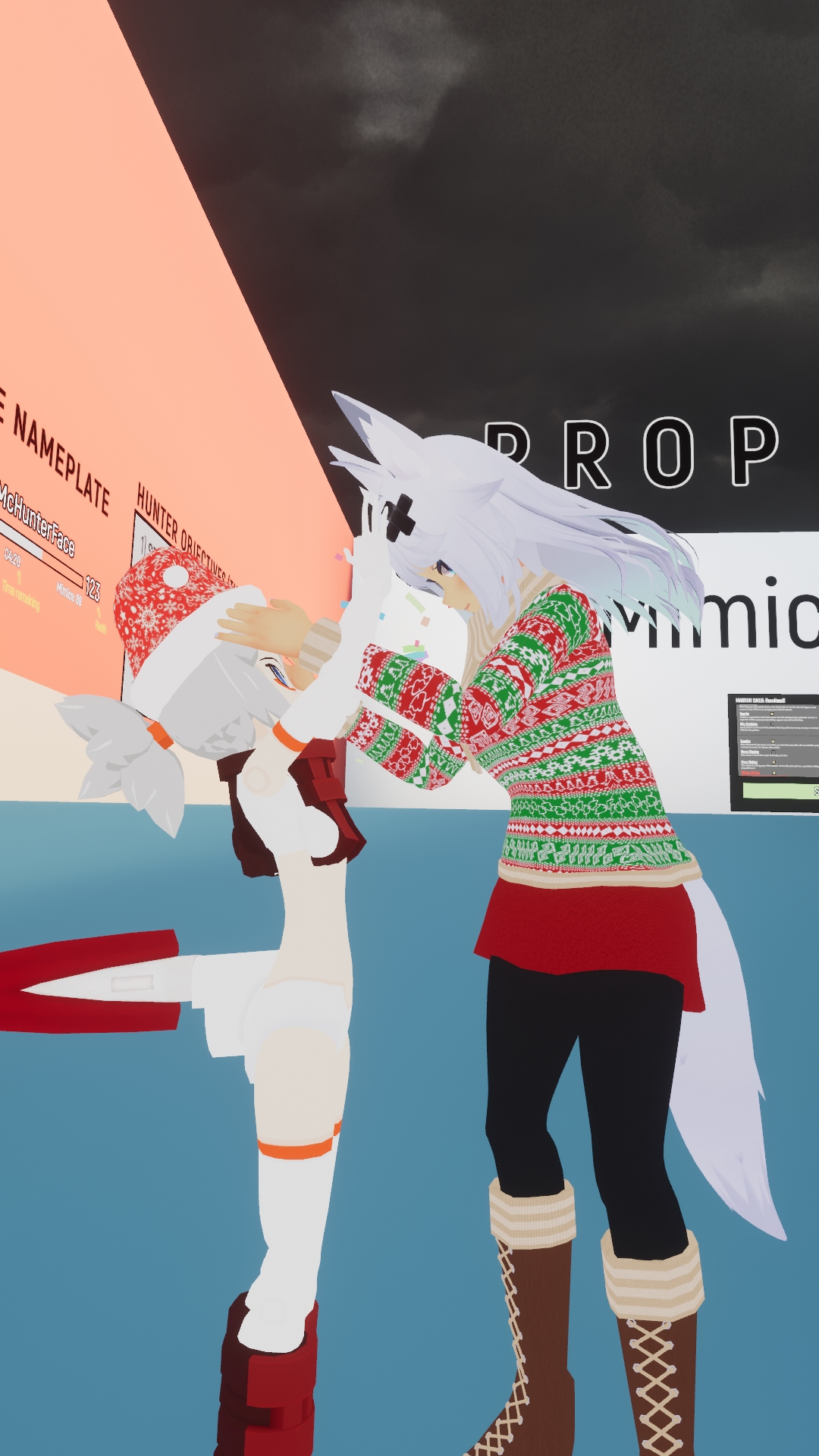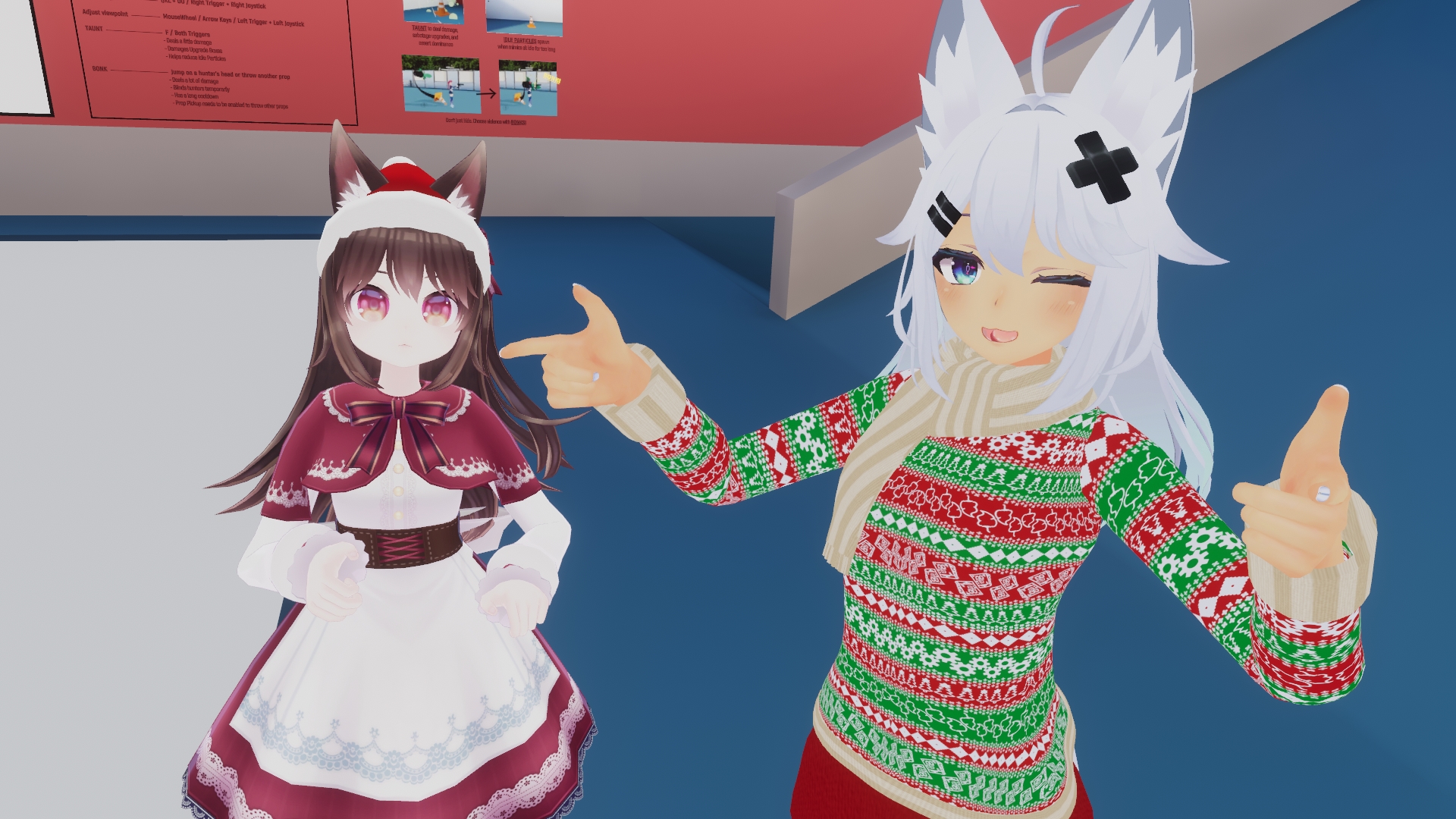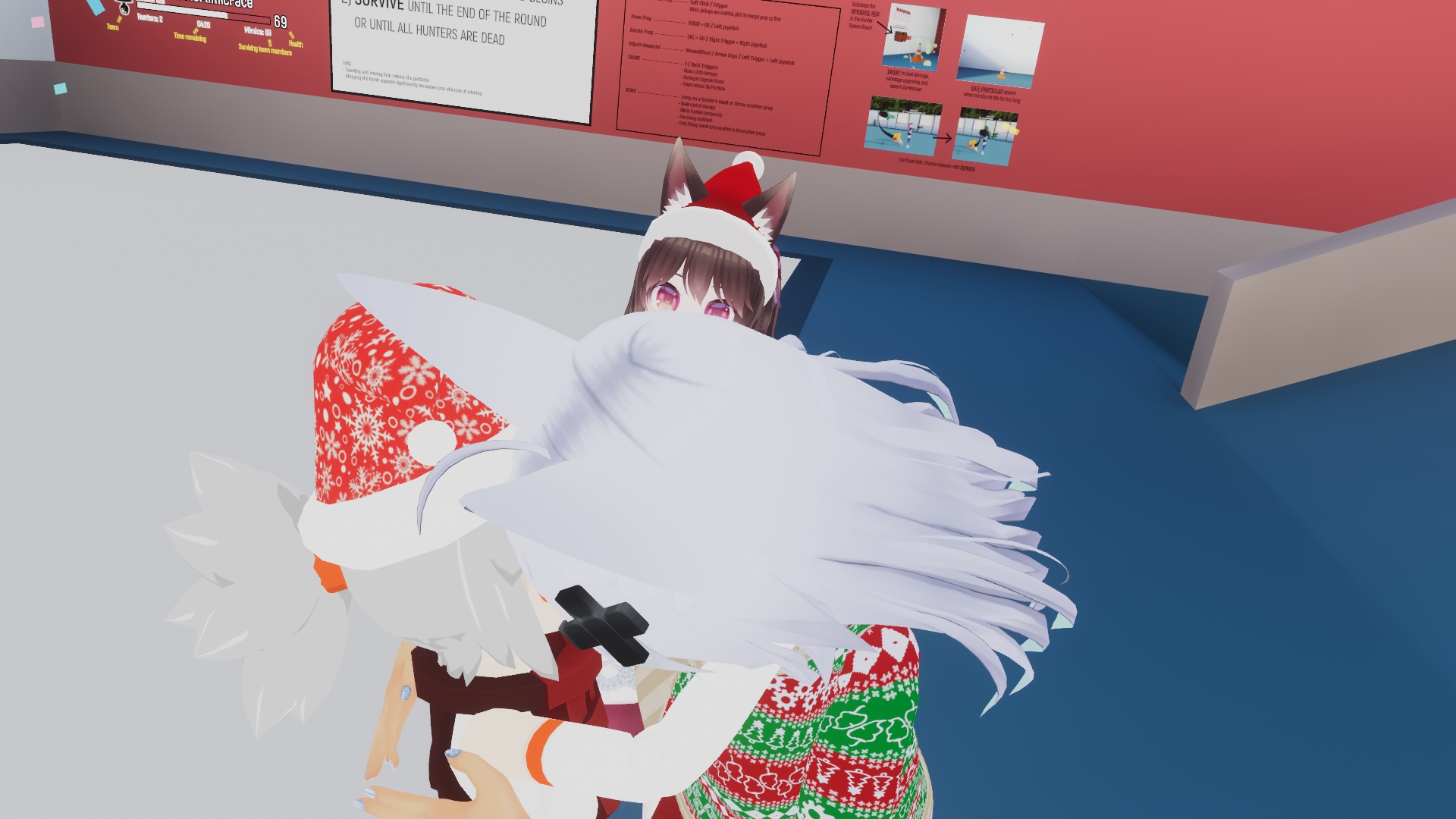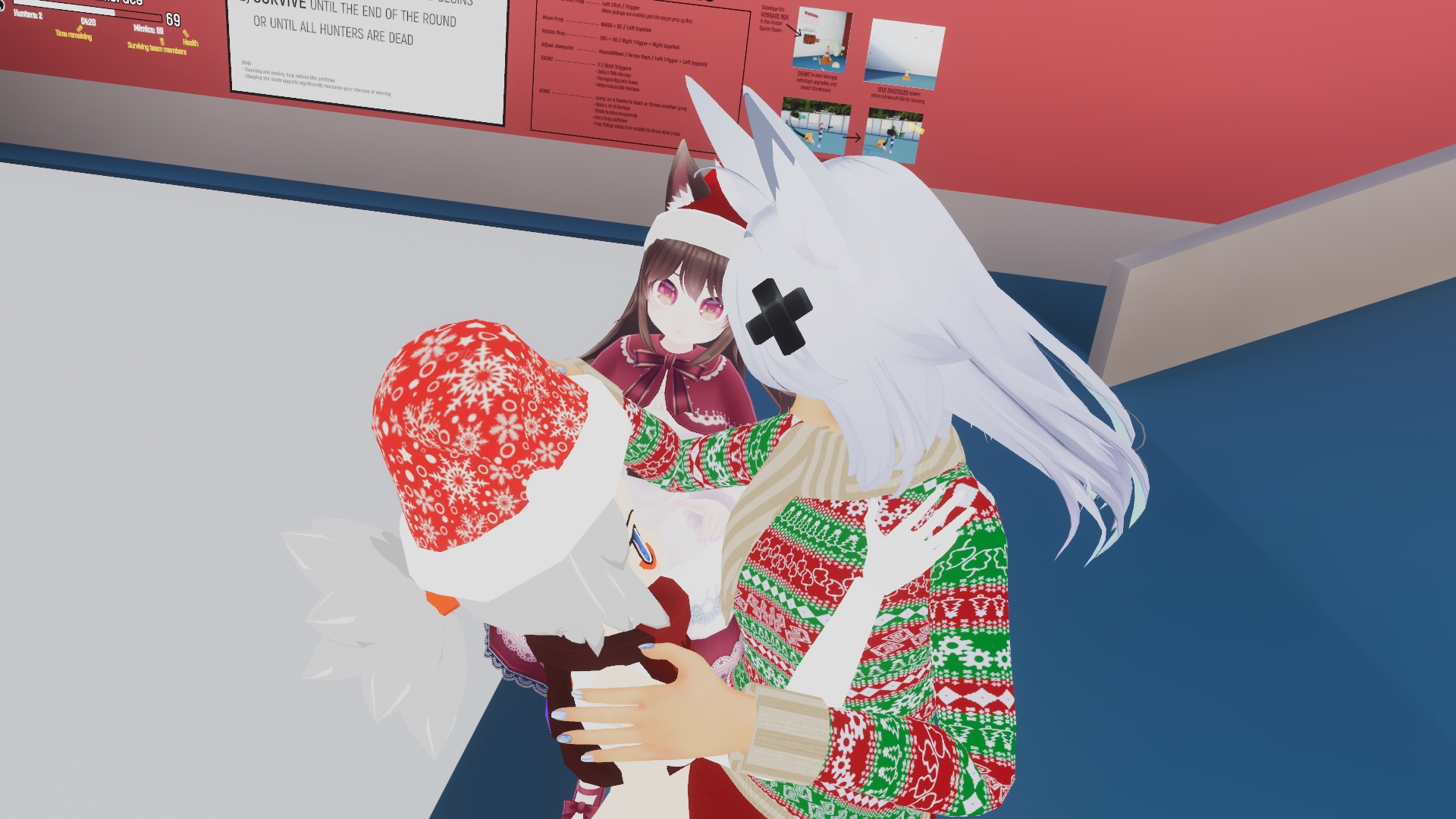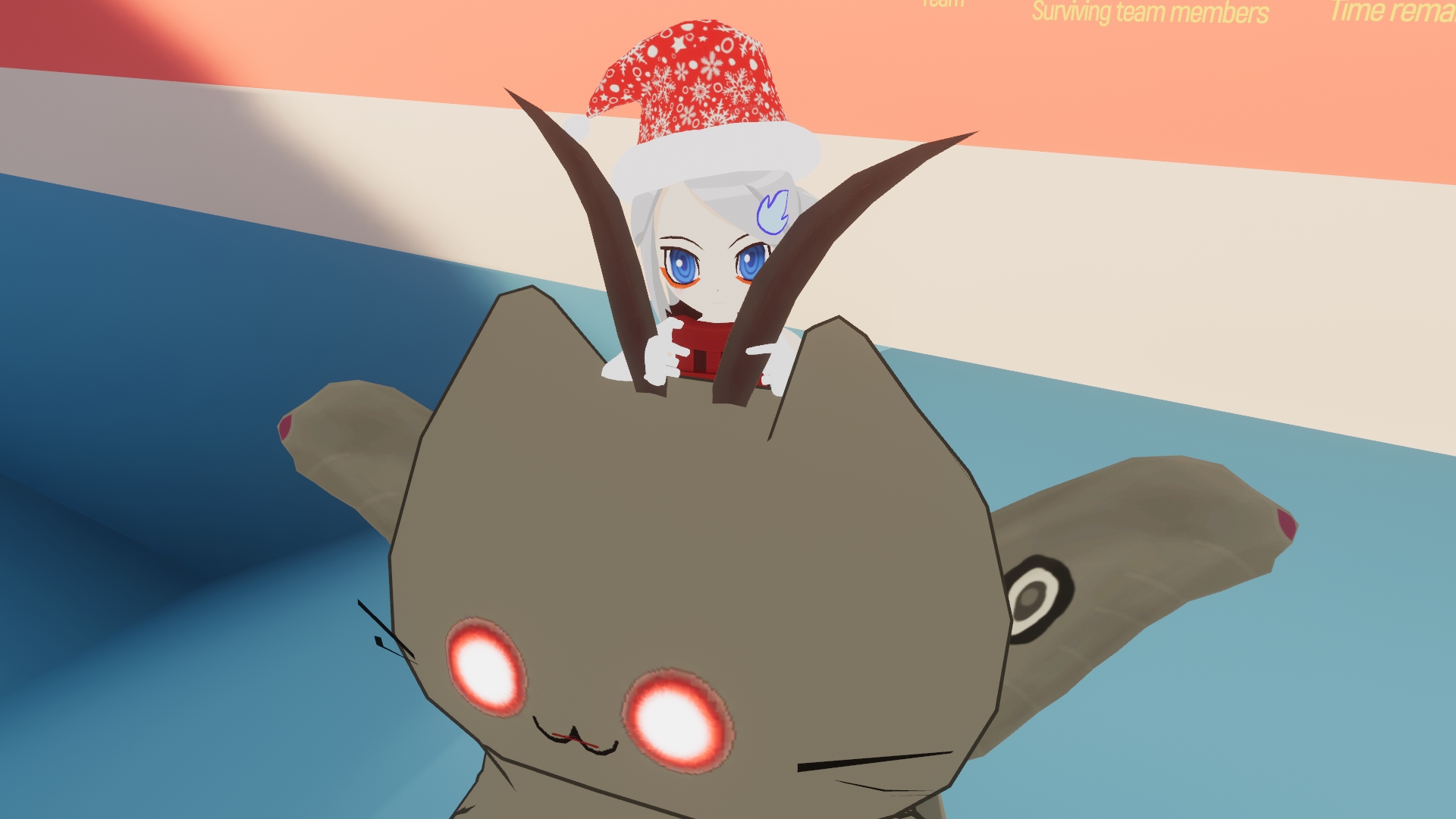 ---
Bonus! – #Smollverse – Hololive World:
Ame advertised a Hololive world on VRChat for us to visit so I desired to visit it after Christmas. Having forgotten about it sooner I had to visit this after Christmas.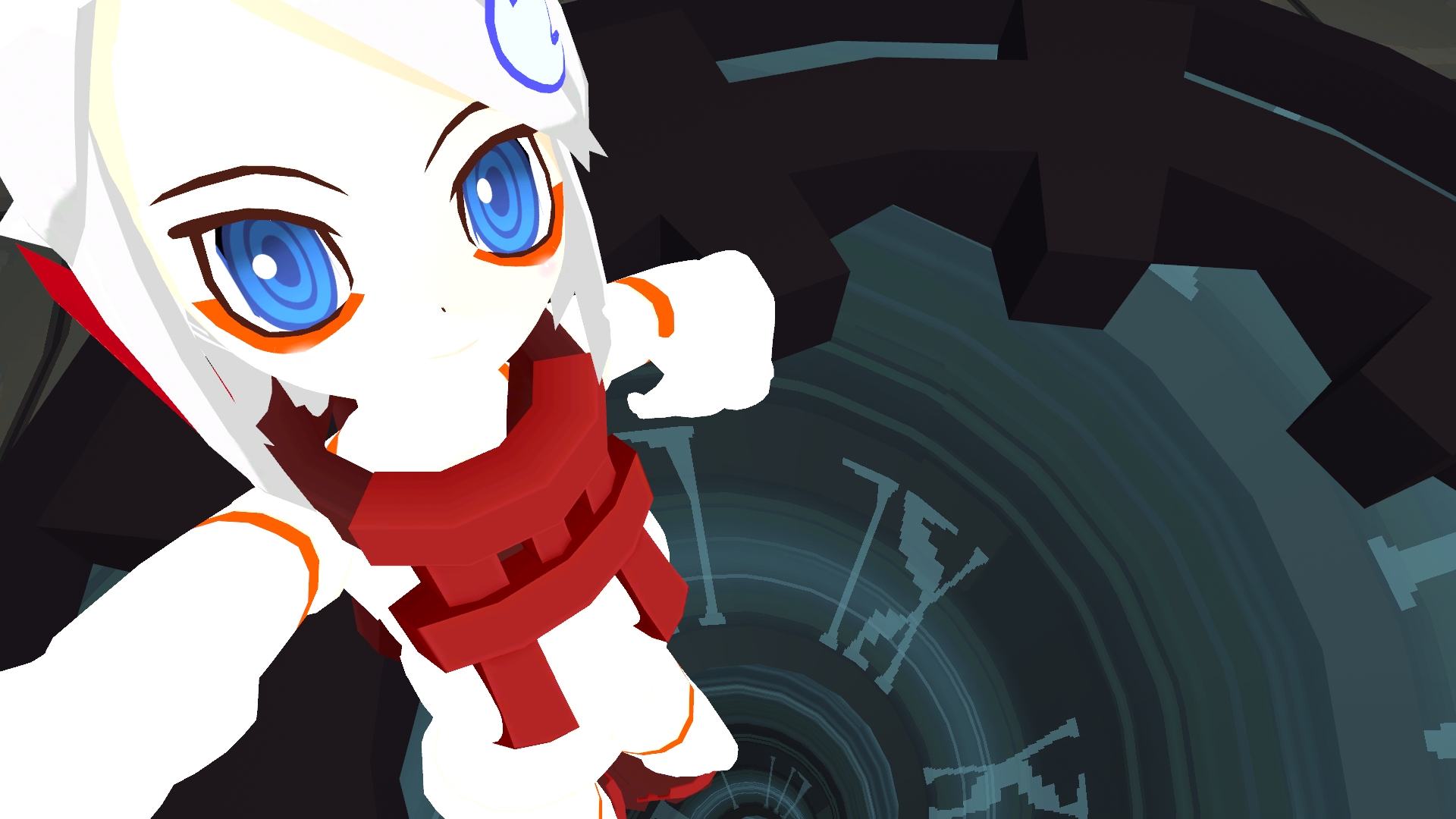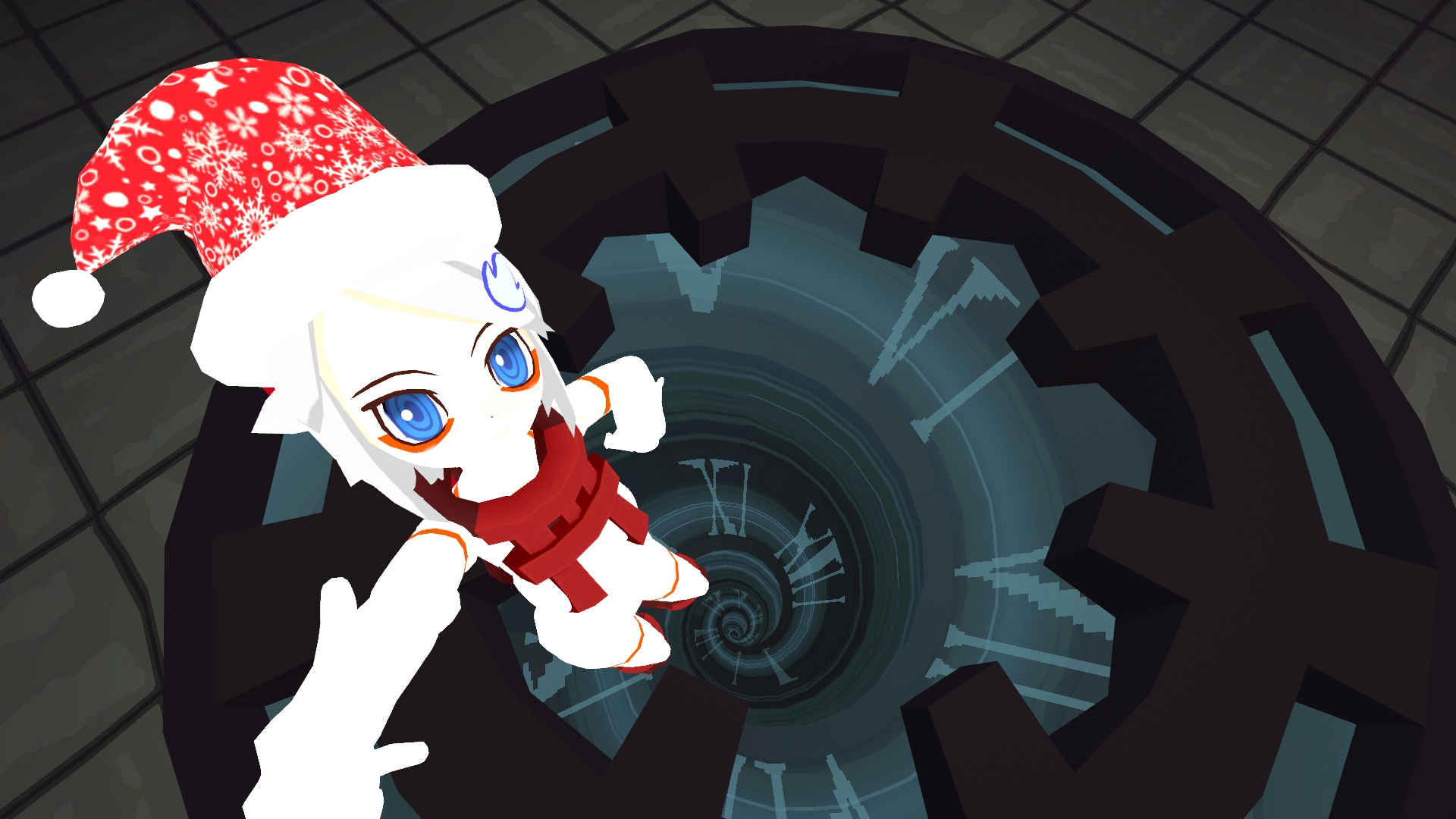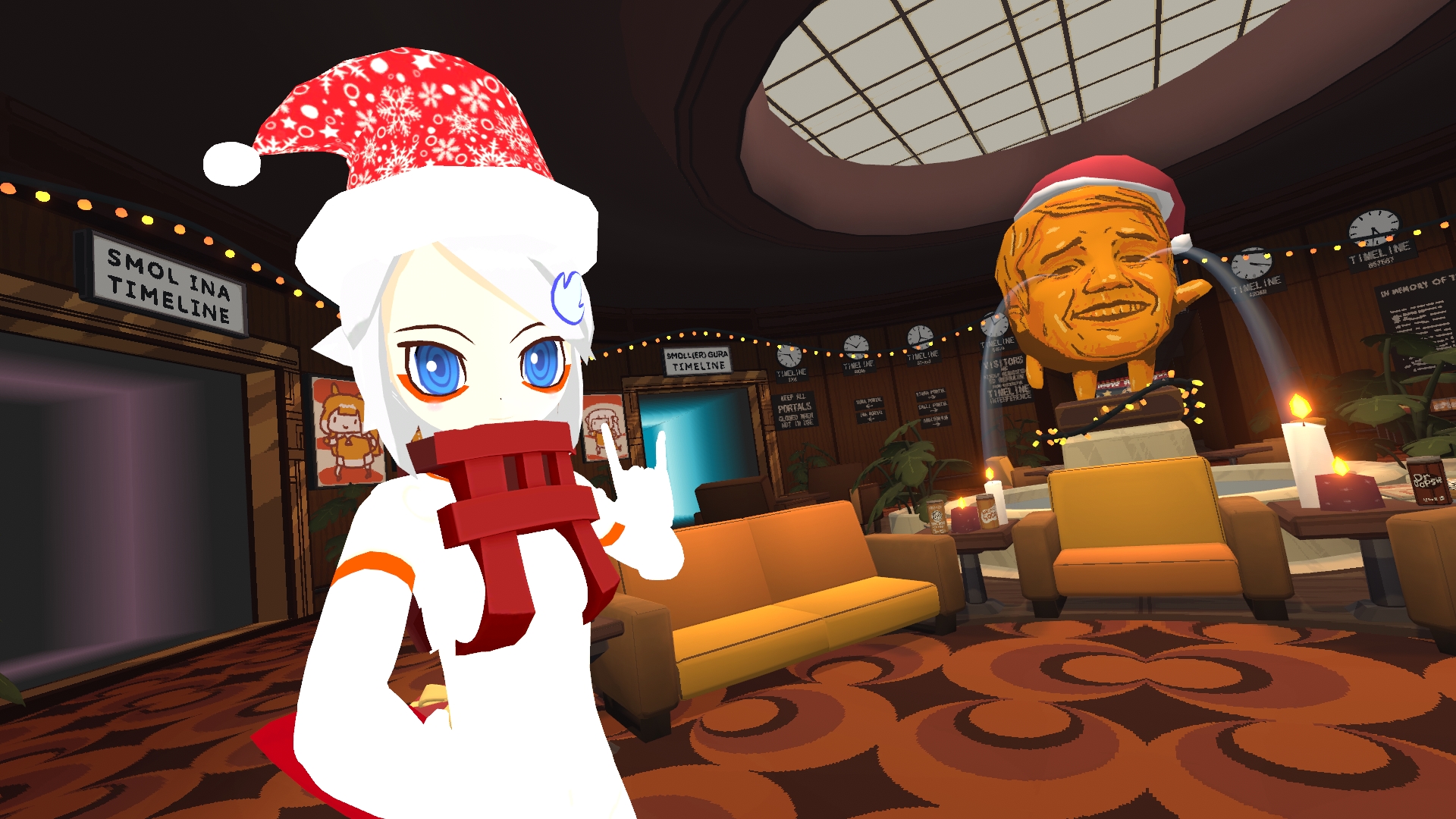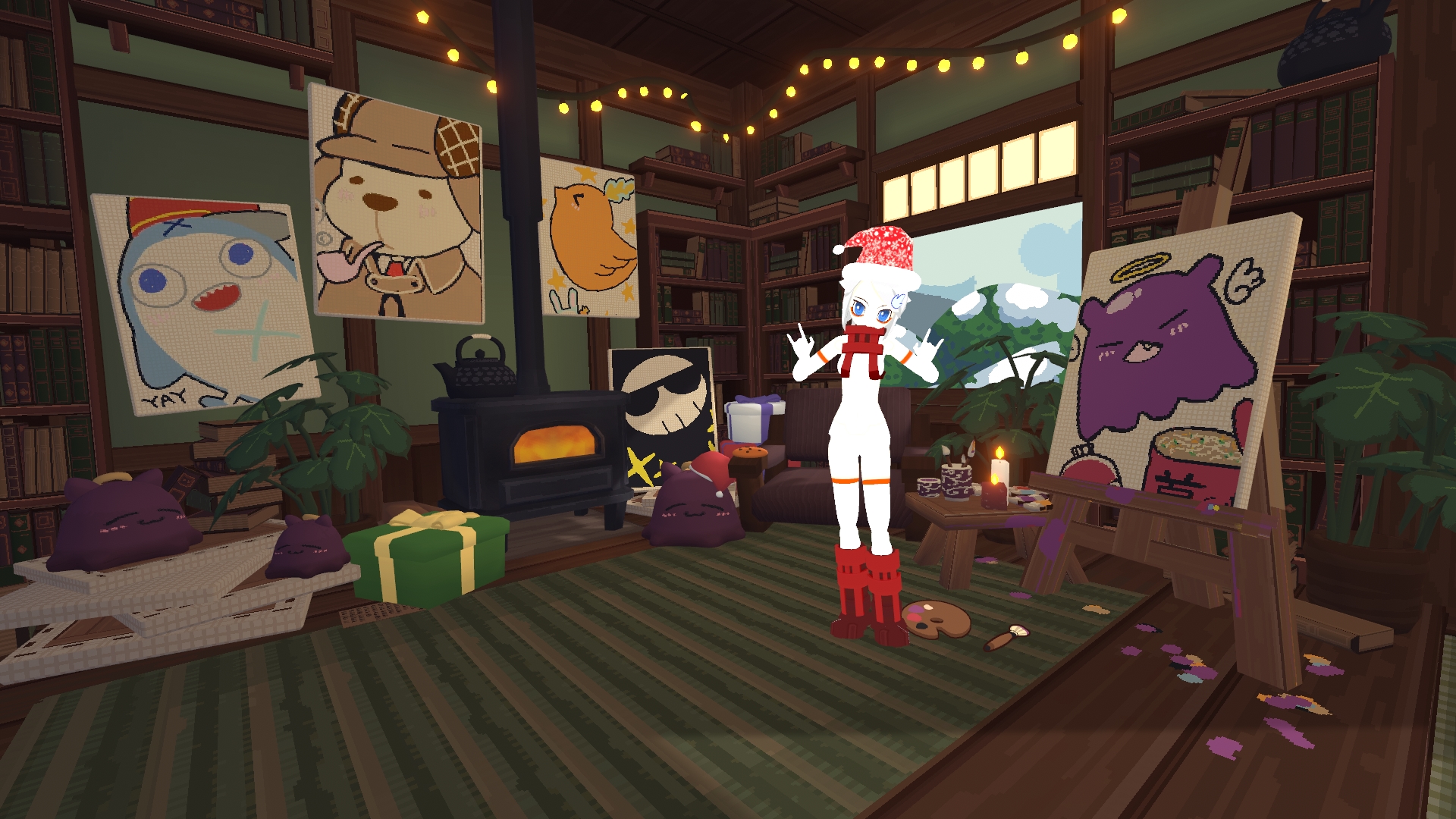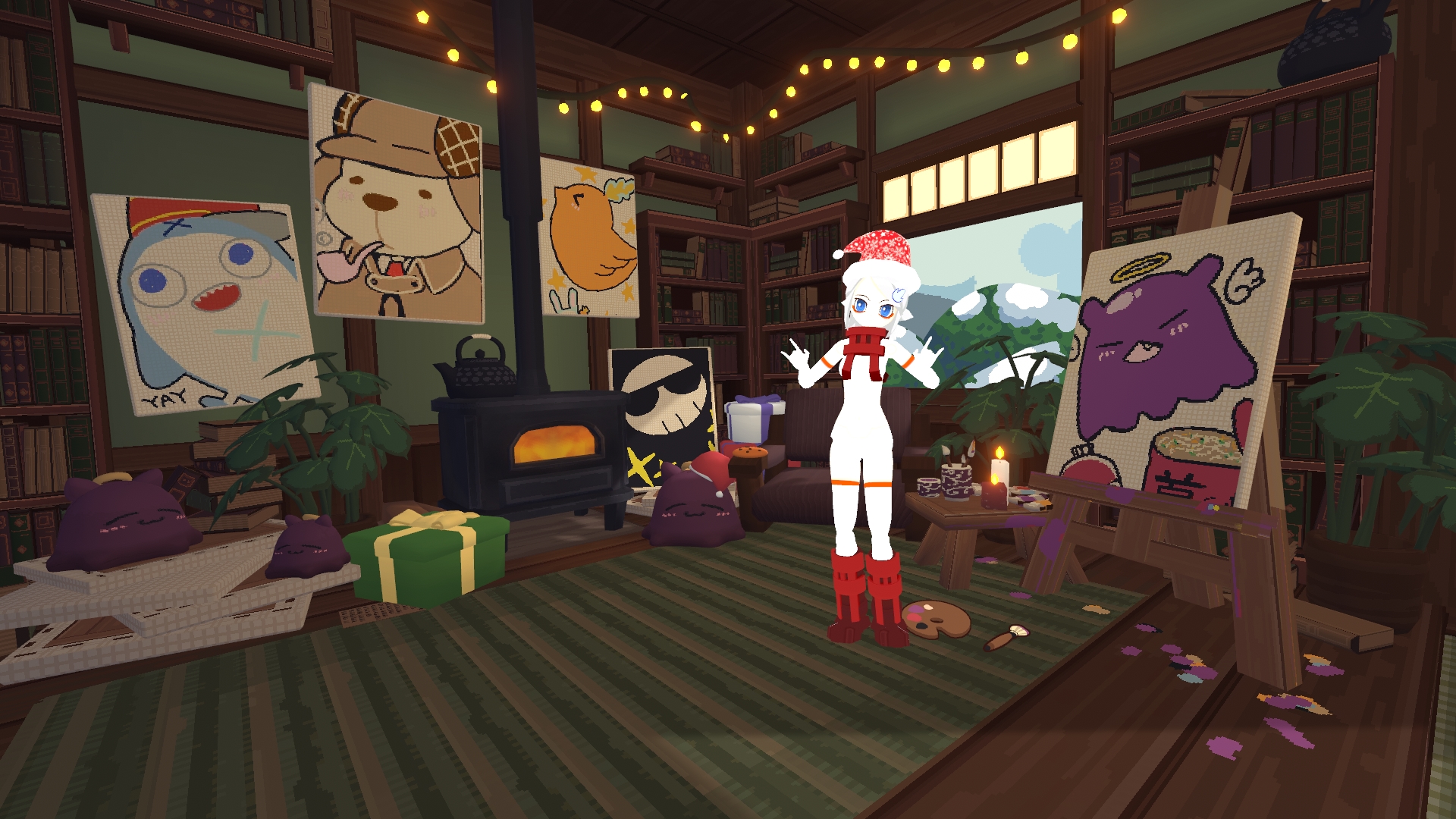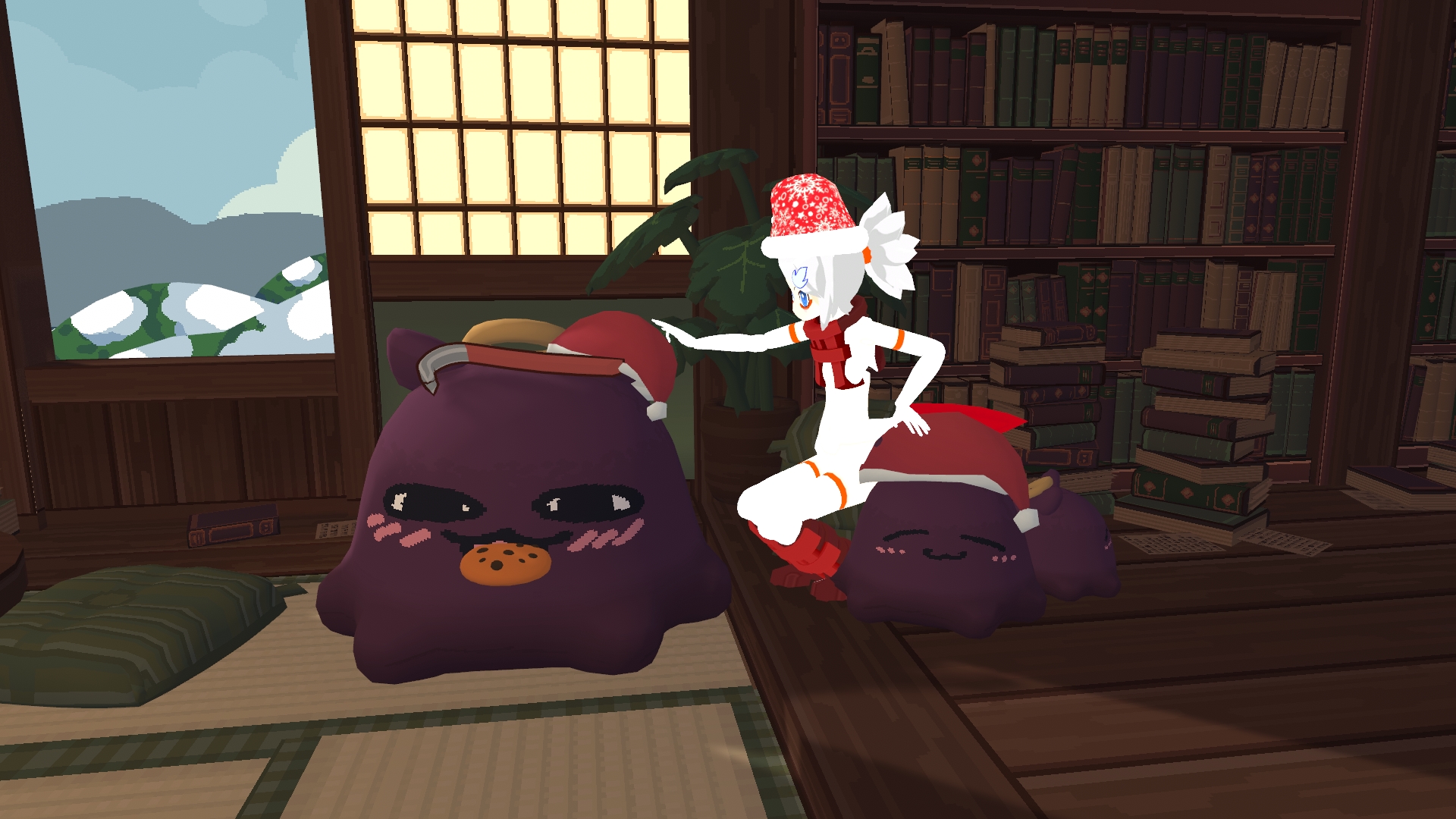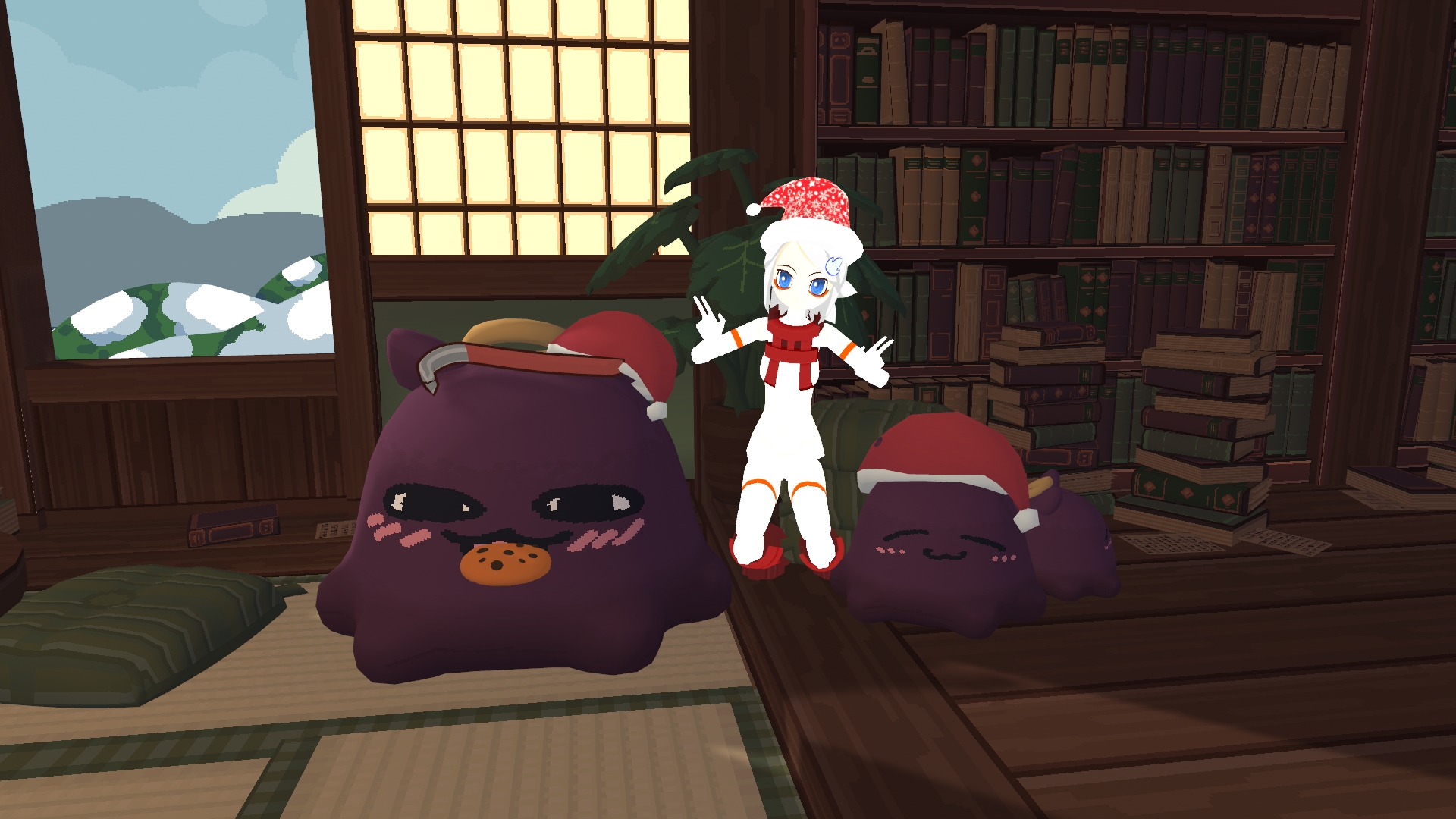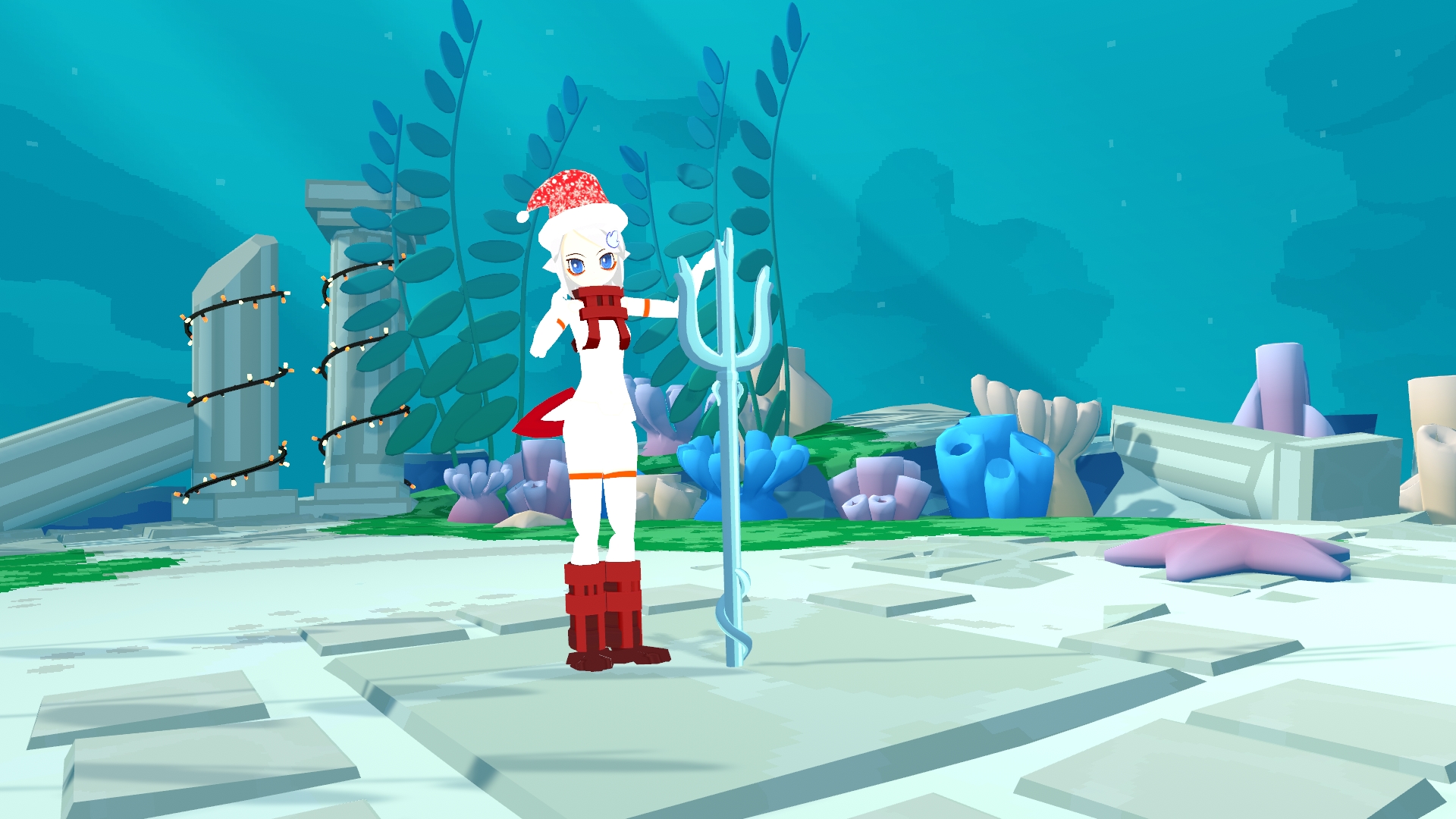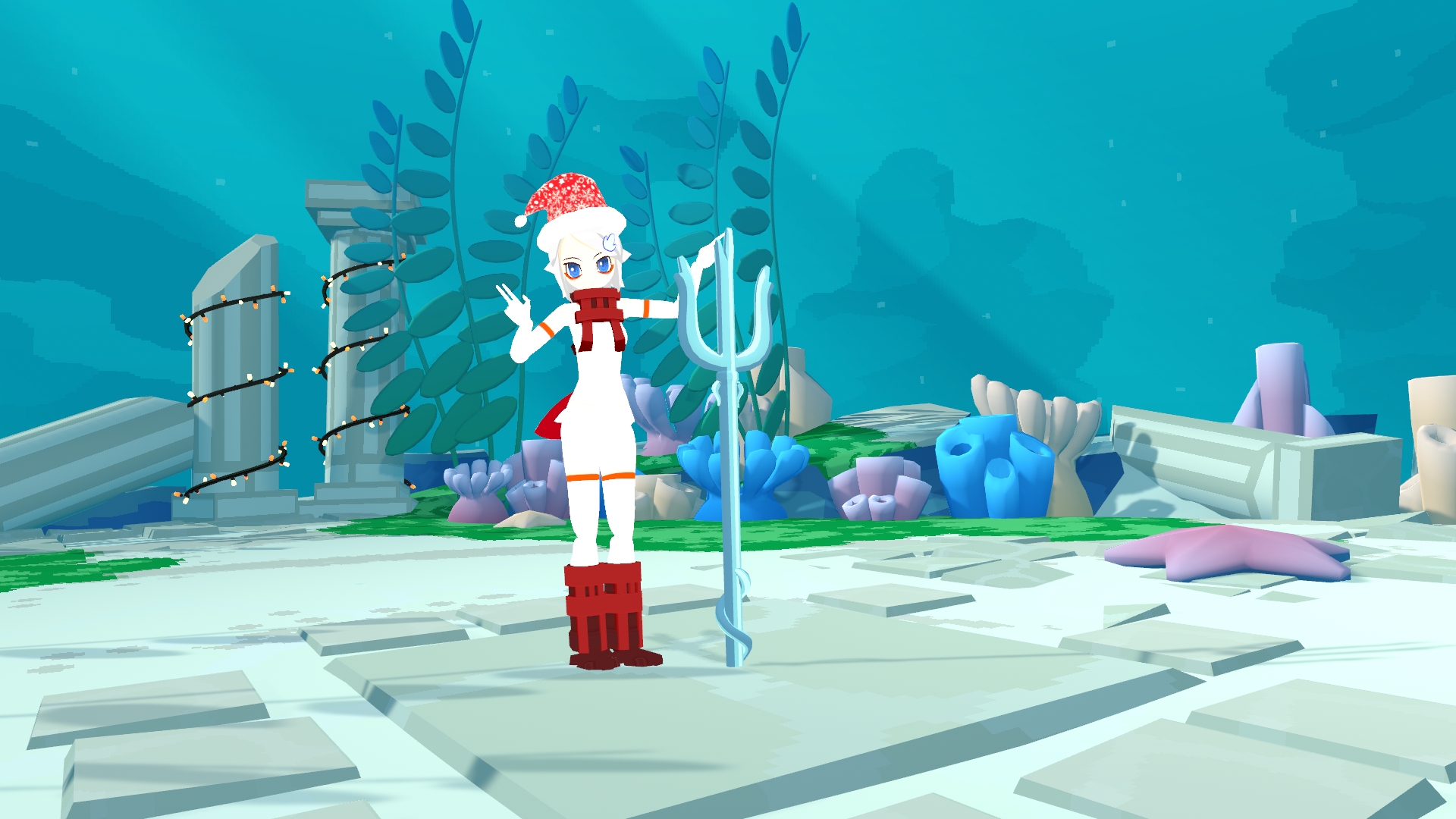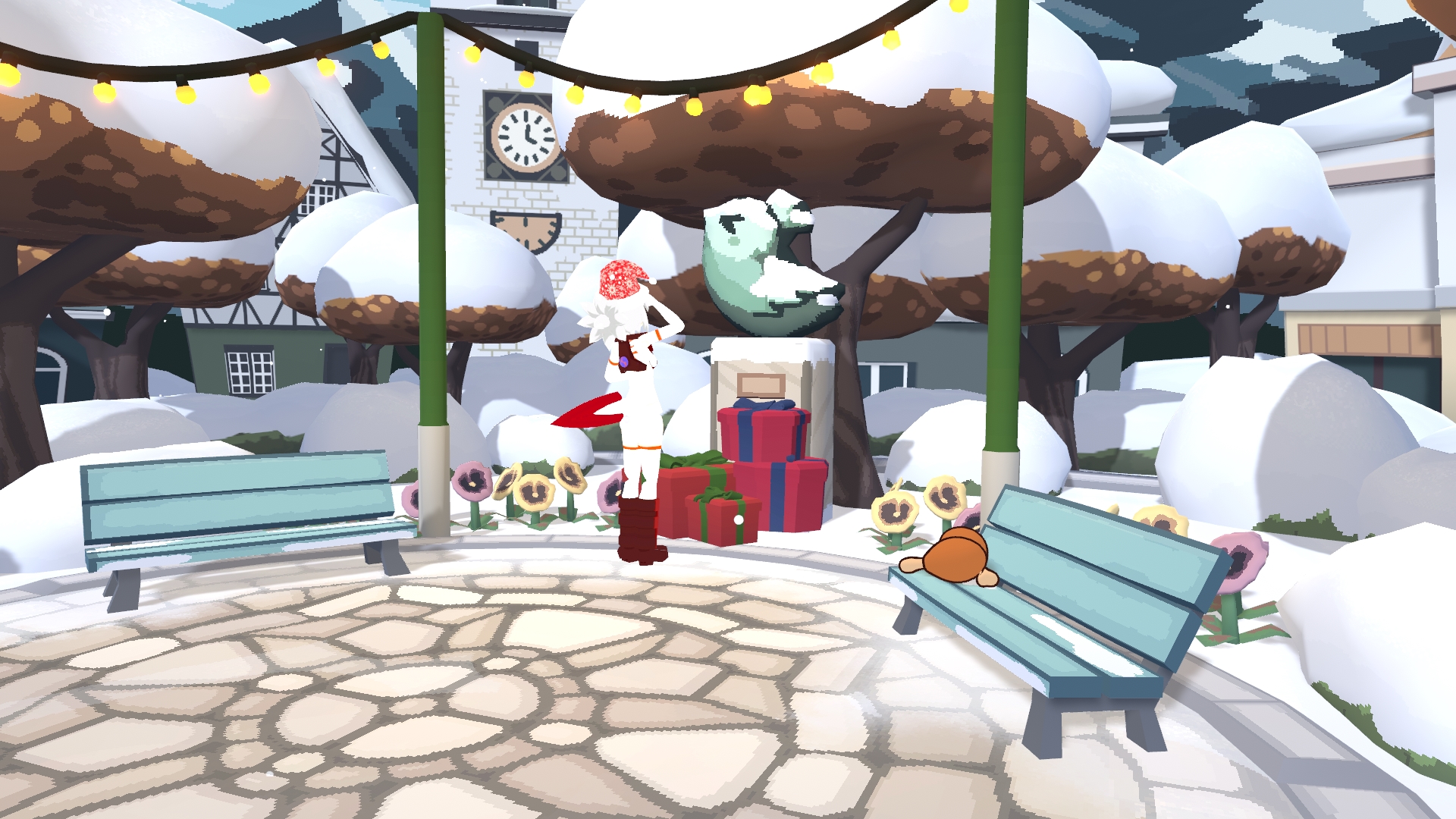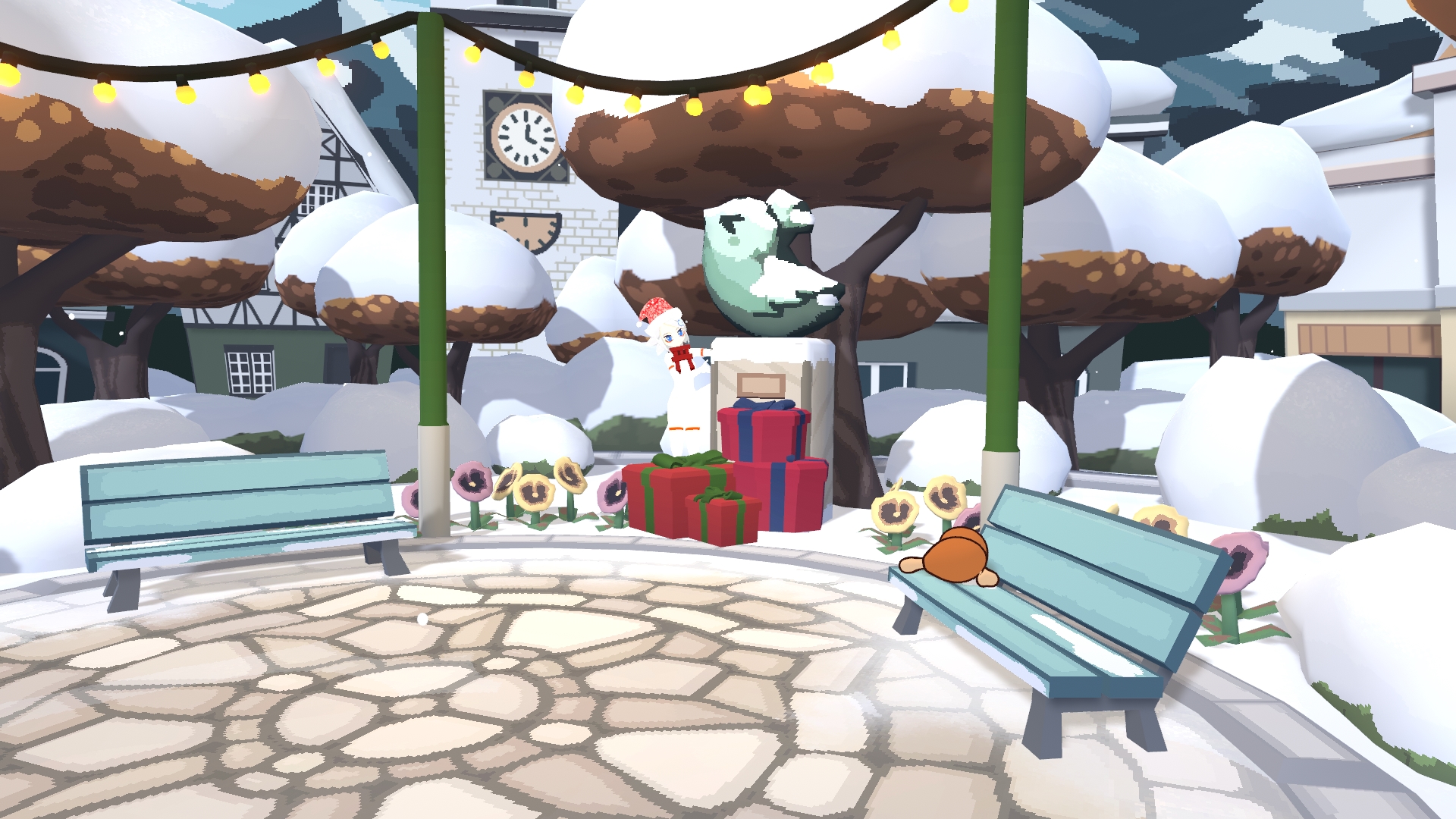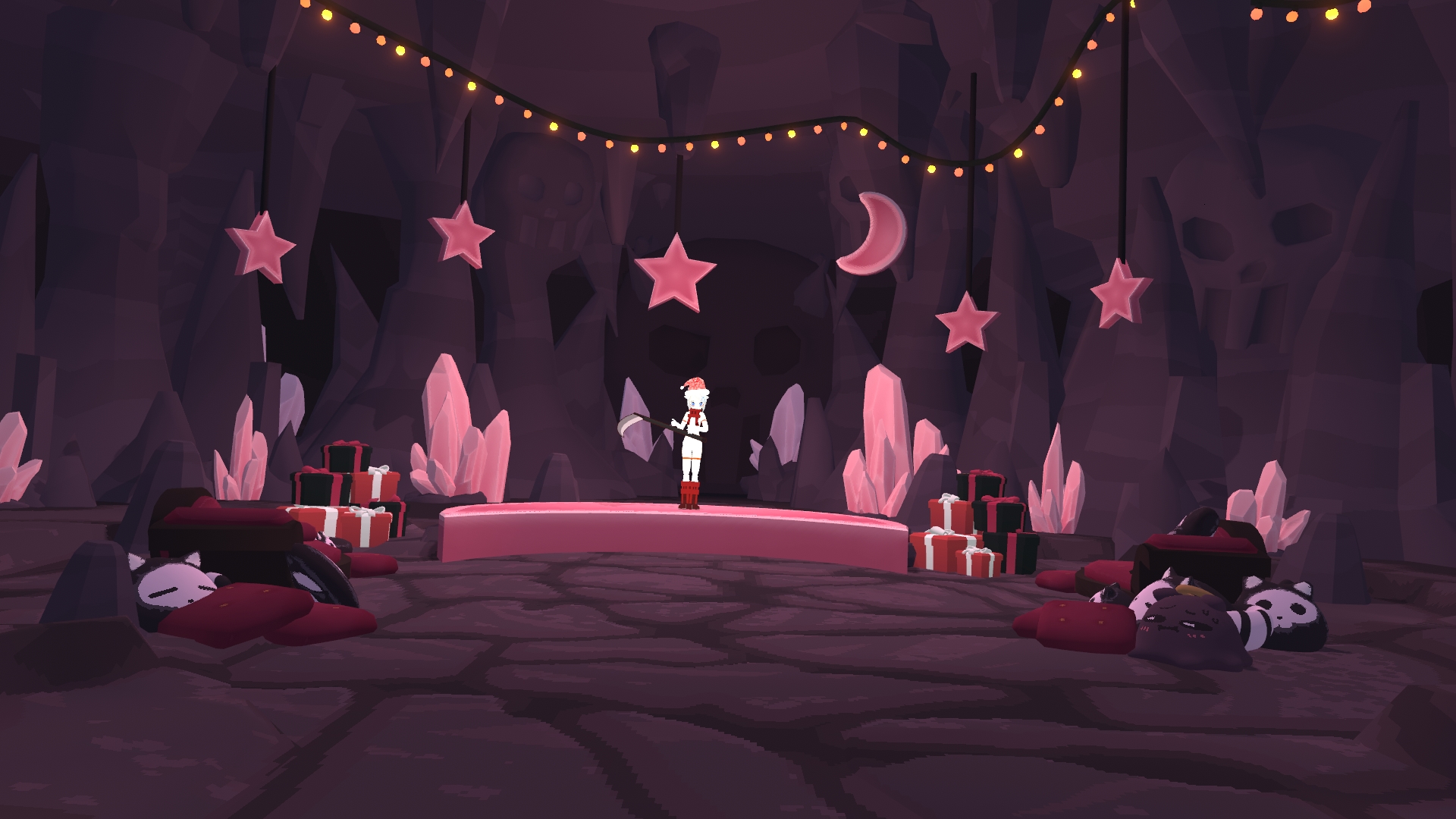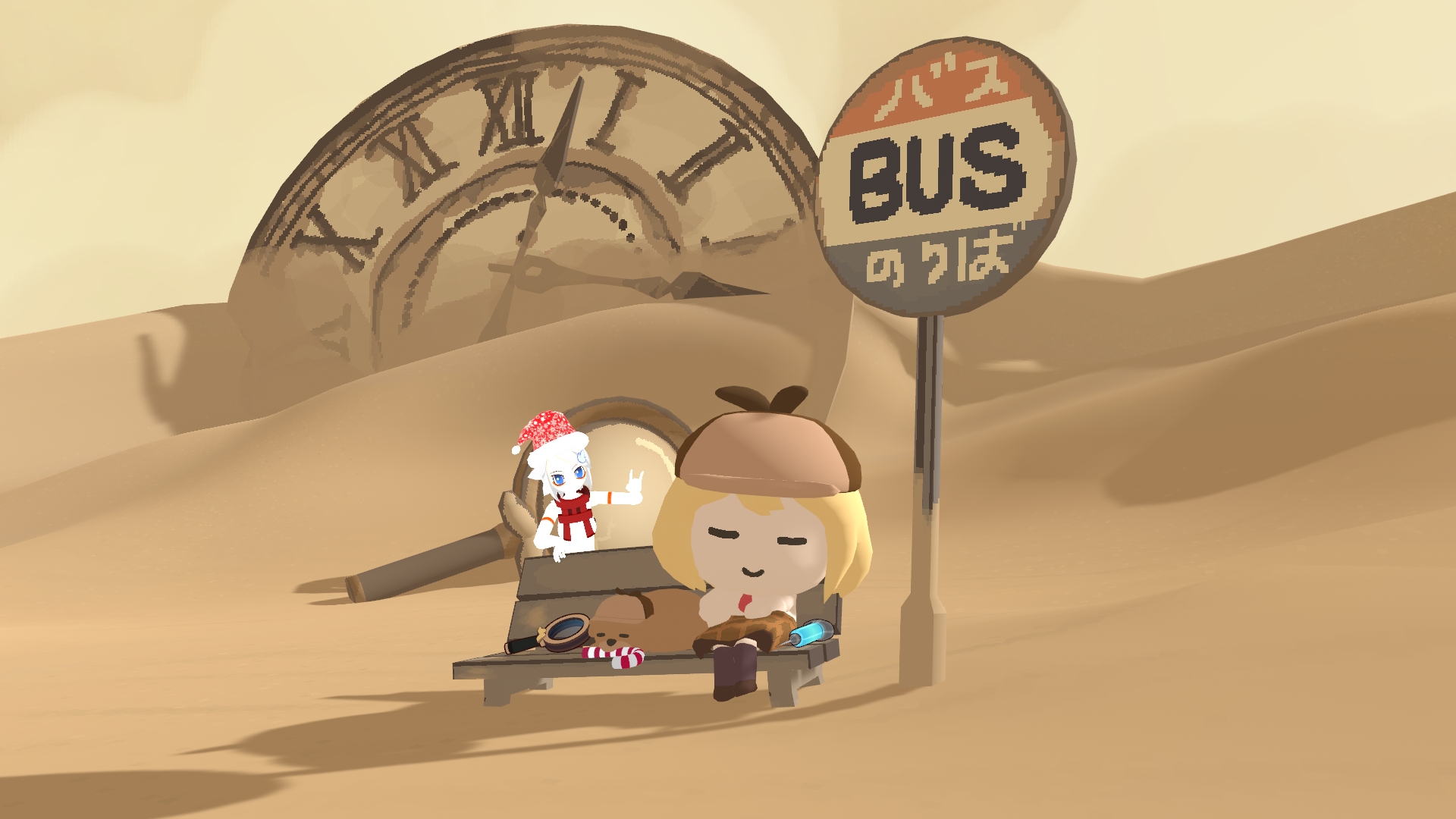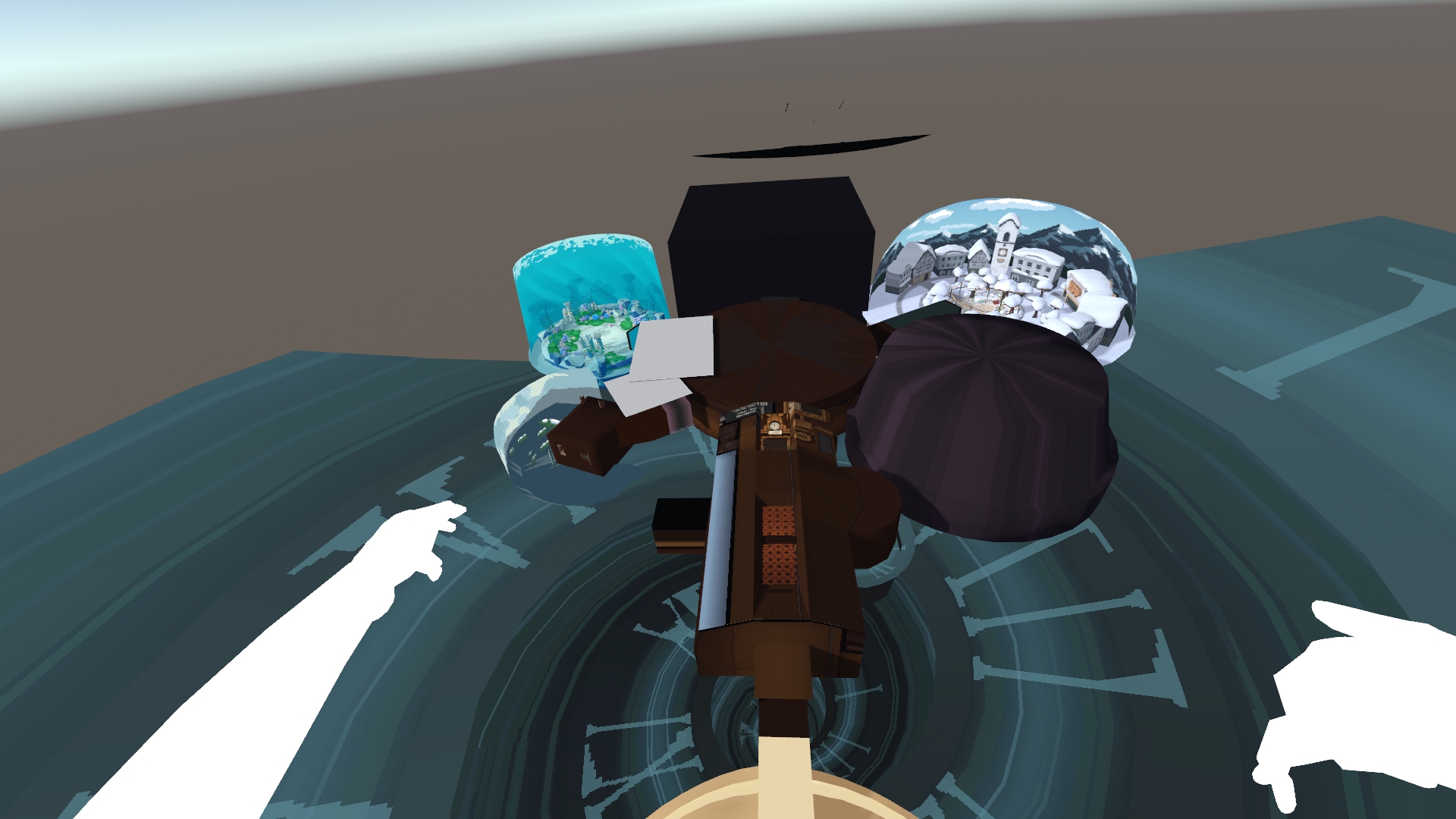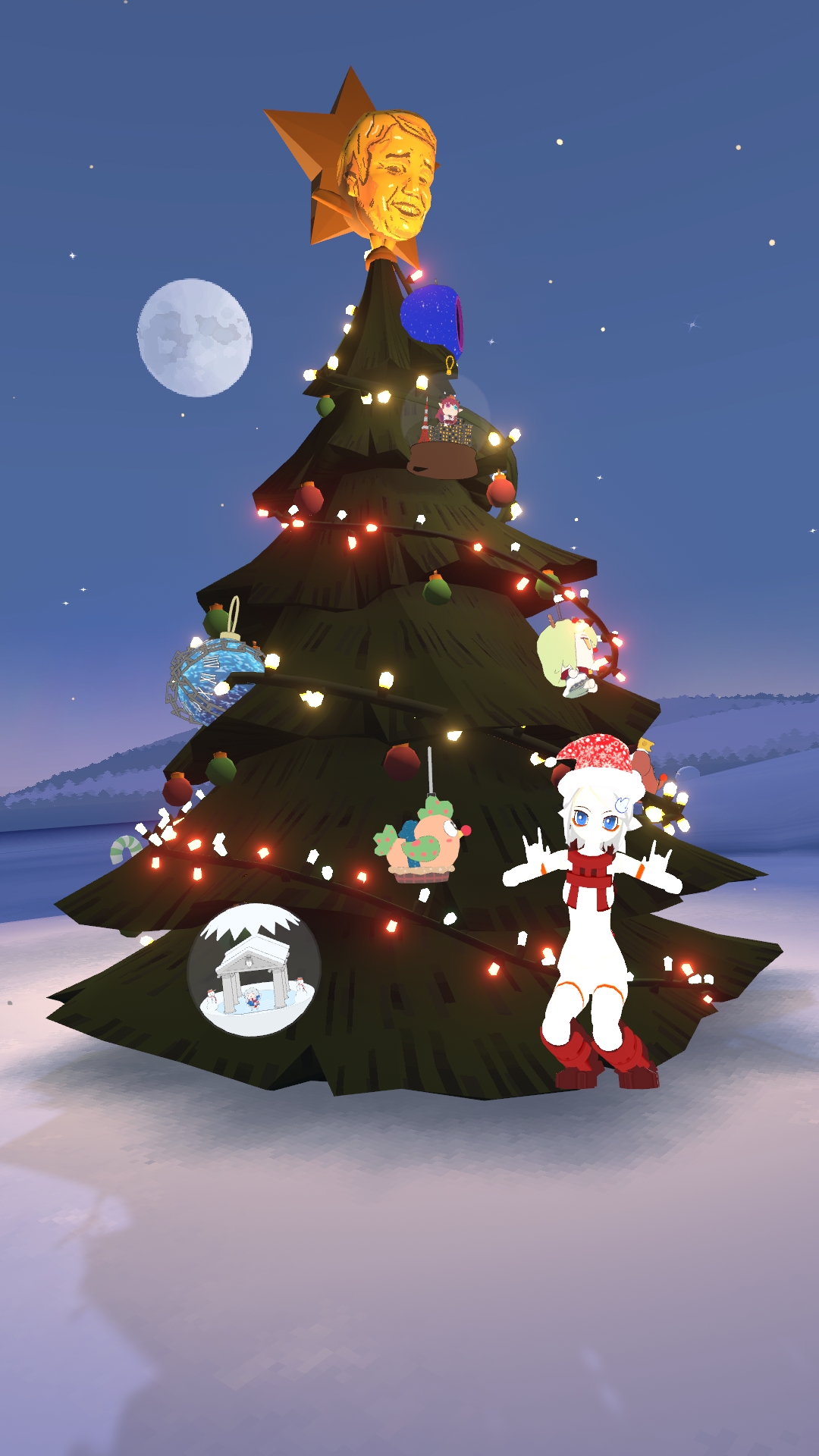 I honestly find it interesting how I always looked up to people to only end up being rejected by them. Danny Choo? Partially accepted until being fully rejected by him. Nagzz21? Same deal. Though, thankfully I have memorable clips on my Youtube and this blog to look fondly back in respect. There may have been times I may have been both artificially stunted and sabotaged to not reach my full grasp in the VRChat area, I however still push through in various ways. I even admire Hololive for their entertainment value, even their life discussions. Even their semi-censored life stories and temptations in life. They freely discuss things which tends to both push the boundaries while also being highly relatable on human experiences of temptation and stress itself. Actual genuine harassment, bullying, stress, hard work to become a rapper, etc. I admire Hololive for being mostly true, even if certain parts are staged and artificial for entertainment purposes. Having high respect for Hololive I've even built a few Hololive statues with the help of my VRChat friends in Minecraft in respect for Aloe Mano and attempted a Coco Statue. Everything shall be far easier in a game called 'Rising World' with models being far easier to import. Aloe Mano shall always be remembered. She deserves a place on a tree, unless I'm oblivious missing various contexts, etc. Both Aloe Mano and Coco deserve to be remembered. Even if Hololive won't acknowledge me for being overly popular, large (bloated), I'll still look up to them.
I still respect Danny Choo for inspiring me to get into figure photography, getting me into Busou Shinki, and to do certain things I otherwise wouldn't have, and etc. I'll admire him formally, though frustrated by how I was basically thrown under the bus for not "being good enough". I was struggling with life, I was venting, and people also threw me under the bus 2017 onwards for simply being human.
I admire Nagzz21 because of how genuine he came off as doing videos mostly professionally. While being abused by his community he would be pure to himself in various ways keeping things funny. In a very strange way it was overly wholesome, almost in a way a family is wholesome in that crude yet kind manner. I caught many of his streams as possible, interacted with Nagzz21 (clips on Youtube), and even met friends thanks to his adventures in VRChat. It's thanks to Nagzz21 I'm where I'm at in VRChat, if organically or potentially artificially stunted by his community in some way. Maybe both. Even if I can't watch Nagzz21 as I used to, I still respect and cheer for each and every one of his accomplishments, even if he no longer accepts my praise.
What I'm trying to say is I formally respect Danny Choo, Nagzz21, and even Hololive, even if I won't obtain the recognition in return. I'm happy both Danny Choo and Nagzz21 partially acknowledged me, the rest I feel is artificial in nature of having been stunted, cast aside, and just weird. Hopefully what I was trying to say came through in a reflecting manner of the past. It's because of them I was inspired to tackle figure photography, go on VRChat adventures, among other things. I may not do things perfectly, I however still do them semi-professionally. I'm only human.
I appreciate where I have come from, where I have traveled, though acknowledge I could have also done and been more. Life is life, and I understand why I am where I am right now.
On an unrelated note in a below image: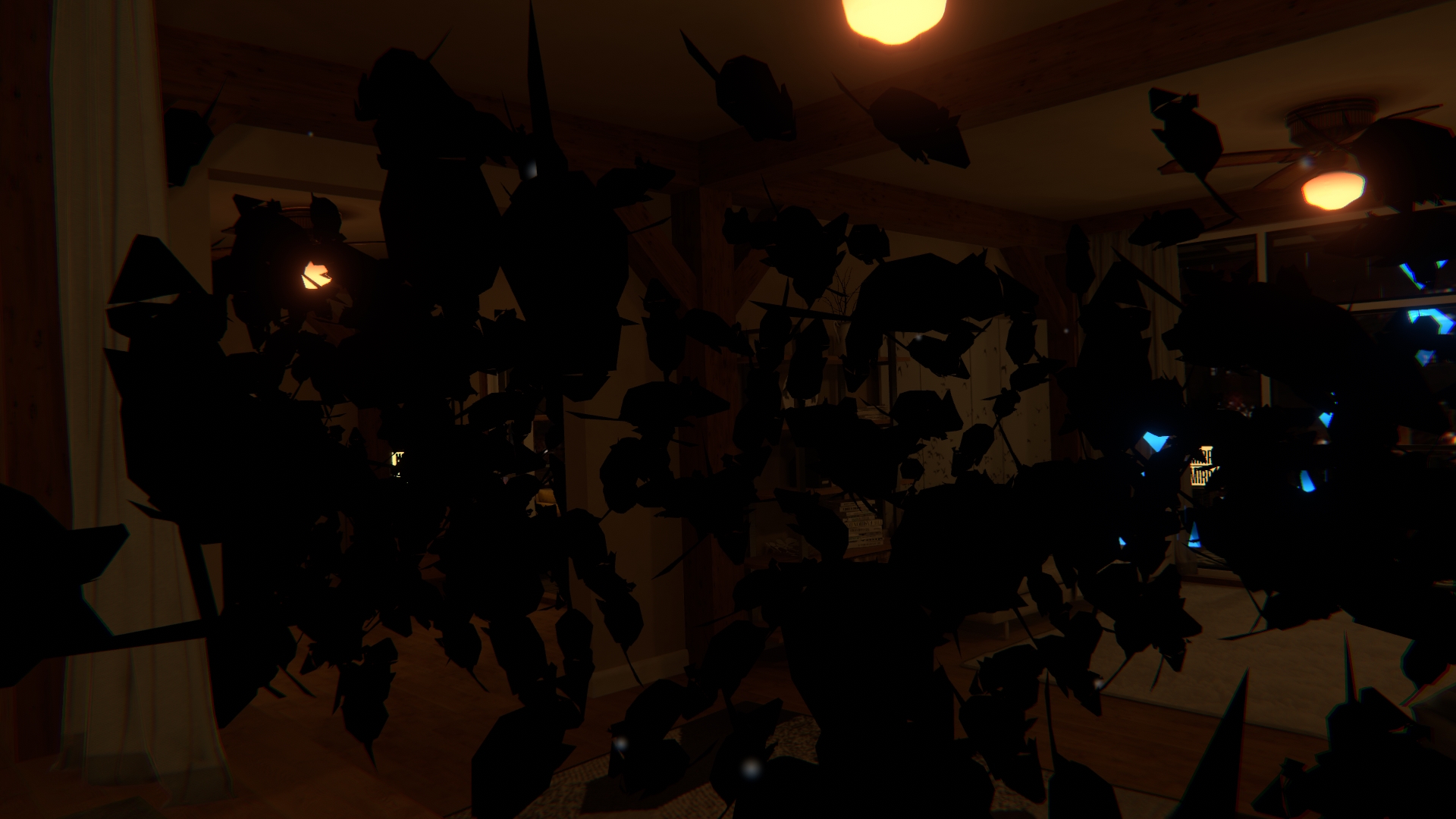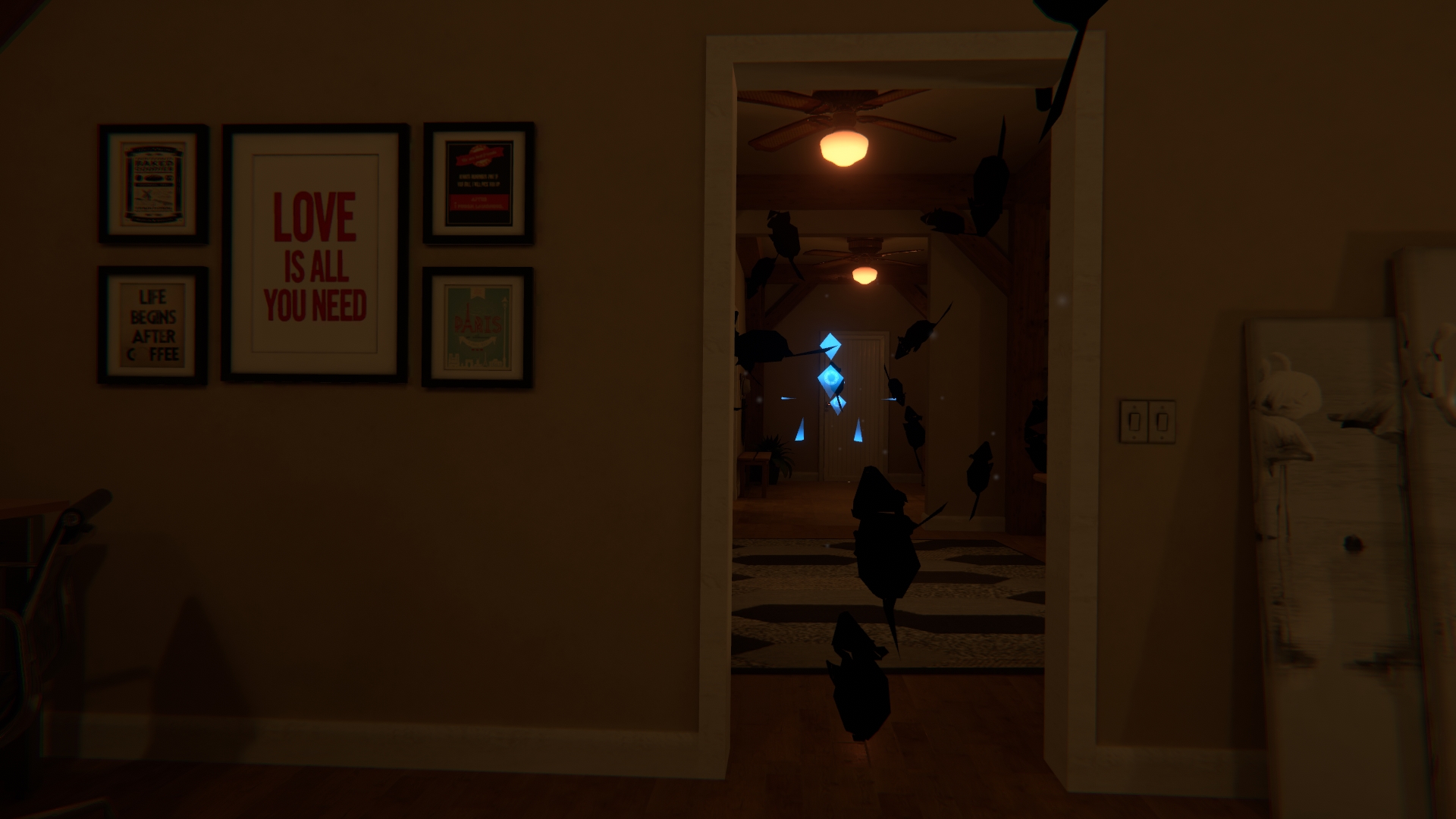 Let's end on an awkward sappy note relating to the above sign.
"Love is all you need", which indeed may be true in an idealistic manner. People always claim you should visit therapists for your mental needs. Sure, though there is also a cheaper solution right under people's noses. Simply acknowledge the person, acknowledge people's interests, and do your best to make one another feel welcome. Not cliques or tribal mentality; More along the lines of simply acknowledging people exist. People fail to do this to instead stir up highschool level drama where it isn't needed, people tend to suicide for not being properly acknowledged.
Most of the things in life can be mended by simply acknowledging people exist, their hobbies, their insecurities being protected, etc. These VRChat hangouts can actually heal the wounds, though not fully cure them. They can make people all cheerful and fuzzy so acknowledging people exist goes a long way.
I'm honestly thankful I have VRChat friends willing to hang out with one another for these memorable moments we can blog about, even if I have this sad habit of mood-swinging in my blog postings. Find people who are willing to hang out with you in a chill manner while respecting your hobbies. I still have this very nasty depression and social anxiety I still need to cure. VRChat is helping for the most part, though also damaged by it. VRChat is a double edged sword. I'm always admire the worlds in VRChat, they're gorgeous, while also viewing any proper VRChat hang out as a dream.
---
Merry Christmas! Happy New Year! 🙂