This blogpost covers the day of March 23st, 2023 while in Tokyo, Japan.
An early morning rise with a belated meal. I basically spent time focused catching back up via Twitter, Azur Lane, and even had a belated meal amongst a larger crowd in the hotel's eating area. It's just something I can't get used to (line-ups), even reminding me of pained memories of school having to fight for the "cool seats". The staff helped me pick an area, it however wasn't the area I desired. I was still forced to eat there. I couldn't fight it.
The plan for the day being to visit Akihabara properly this time, if ignorantly visiting it pre-opening hours by mistake. The secondary plan was to follow it up by visiting Daiba for Gundam Unicorn, among other areas.
May have potentially gone to the nearby 7/11 on Tennozu Isle for more cash and to purchase an umbrella, an umbrella I tried to discard many times, yet kept with me. I nearly left it in a cafe, yet still have it with me to this day. Holds fond memories, especially for being a special travel companion keeping me mostly dry. Feet were soaked.
---
Related Blog Posting (Japan Travel):
---
My goal for Akihabara was to obtain other Azur Lane cards for both myself and my friend.
---
Shoheibashi Higashi-zume Park:
With hours to go I basically tried seeking out a nearby park to hang out at. I decided to visit 'Shoheibashi Higashi-zume Park', a very overly tiny park with Sakura trees and a neat view of the JR Railway. I basically spent my time here using Google Maps to search up restaurants, stores, Gundam Unicorn, take videos of passing trains, and even pictures of Busou Shinki. Even tried streaming via Discord in Midnight Haven's VRChat group. It didn't work out well. I even soaked up the ambient noise of ambulance roaming around every other street. Even amused by how overly polite the ambulance are in Tokyo when compared to their Canadian counterpart.
In short: Just relaxing until the necessary time for the stores to open.
---
After much waiting, taking many pictures and a few videos, it was time to head back to Akihabara in hopes of visiting that specific store I desired for Azur Lane stuff.
I had to wait a fair amount of time, eventually obtaining the desired Azur lane cards eventually.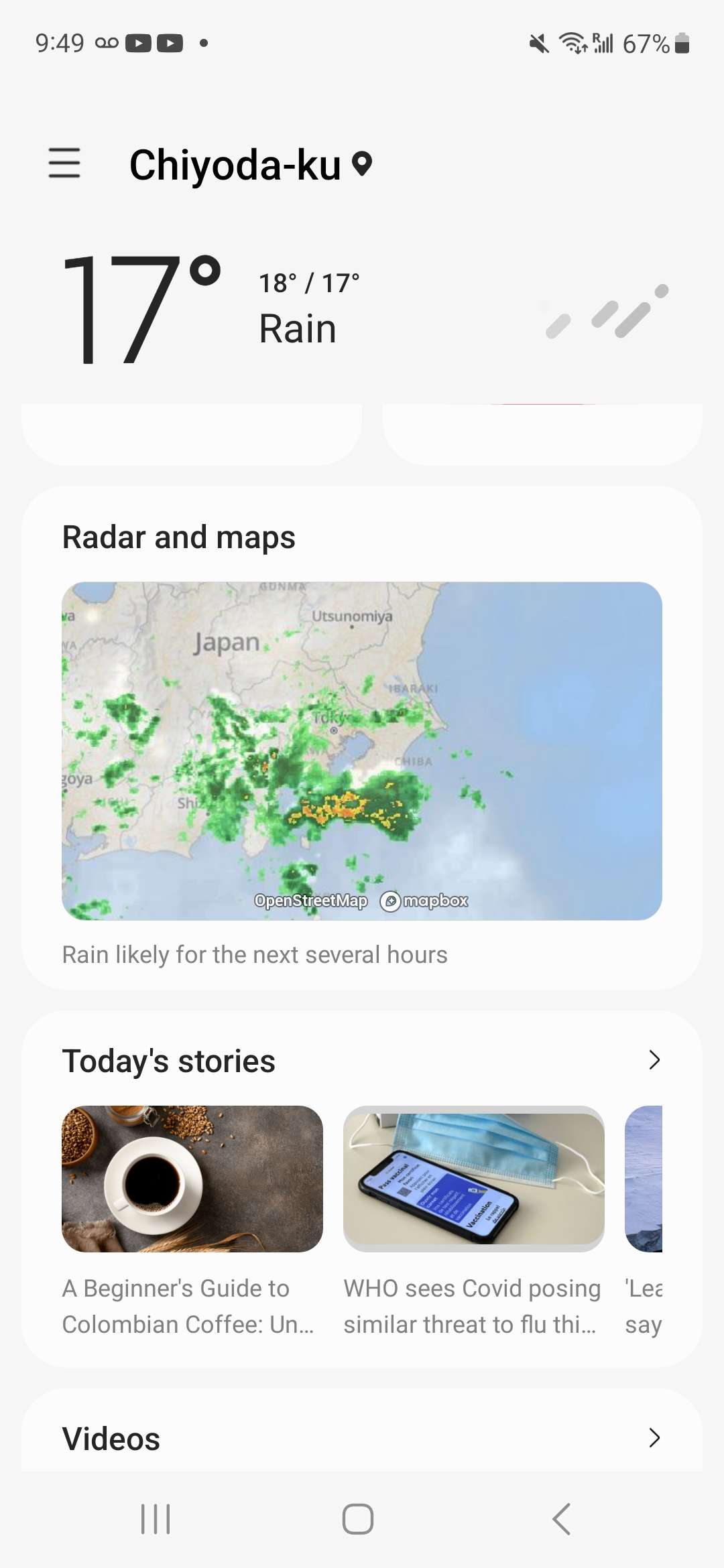 I highly recommend Mos Burger, even as a quick-and-easy hunger fix. I however need to learn to choose a proper burger next time around. The correct burger makes all the difference.
I've bought a Scathach shirt, Scathach button, and even Azur Lane cards during this trip to Japan on this day.
---
Transition from Akihabara to Daiba, VIA Shimbashi Station & Shiodome:
---
---
Daiba/Odaiba:
Finally arrived at Daiba! Viewing Google Maps I noted to check out the local landmarks first before heading towards the Gundam. Visiting a viewing platform to see the Rainbow Bridge, the Statue of Liberty, then to visit the nearby mall for a few snacks. If only it wasn't raining, it be one of the best trips.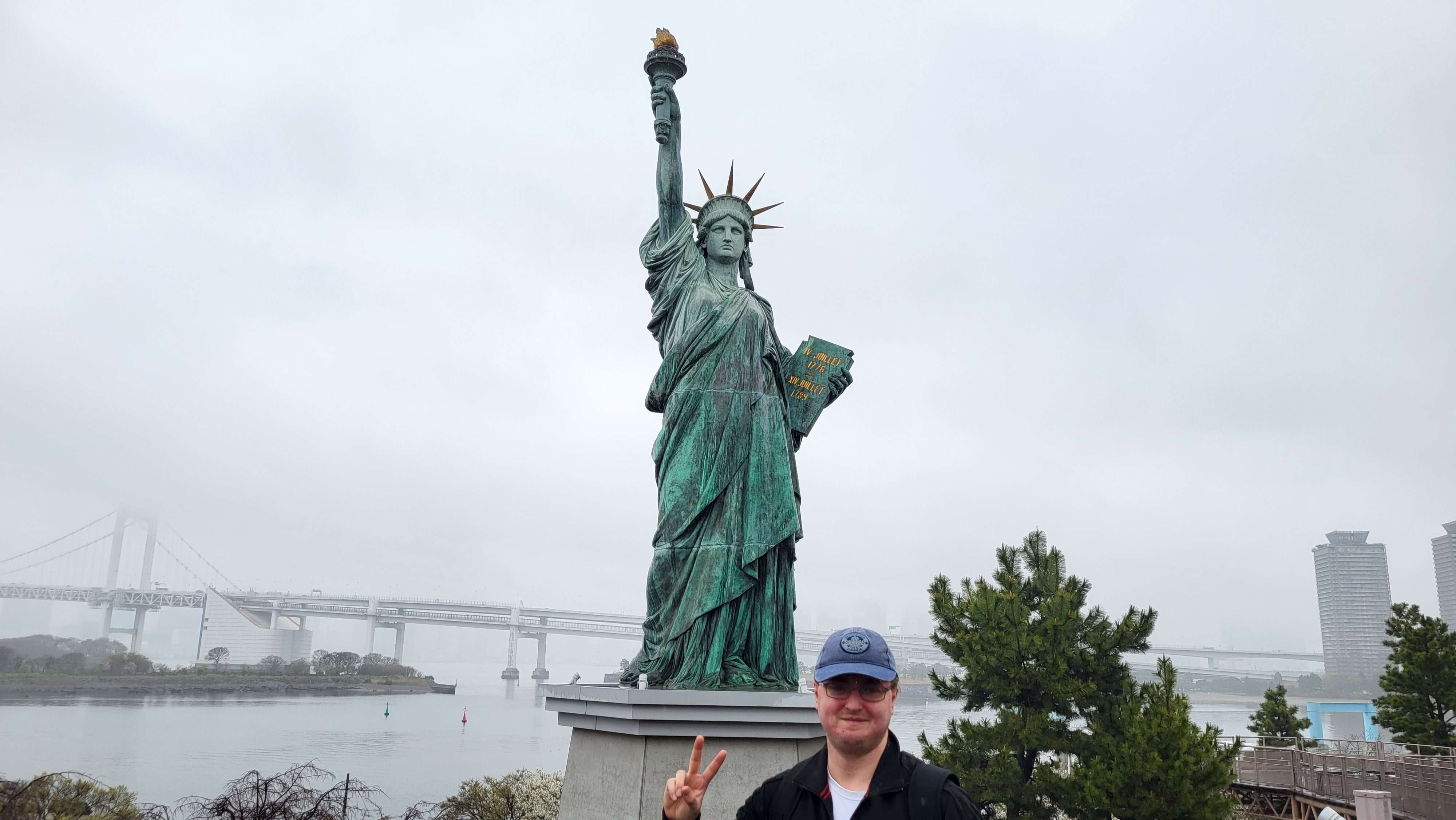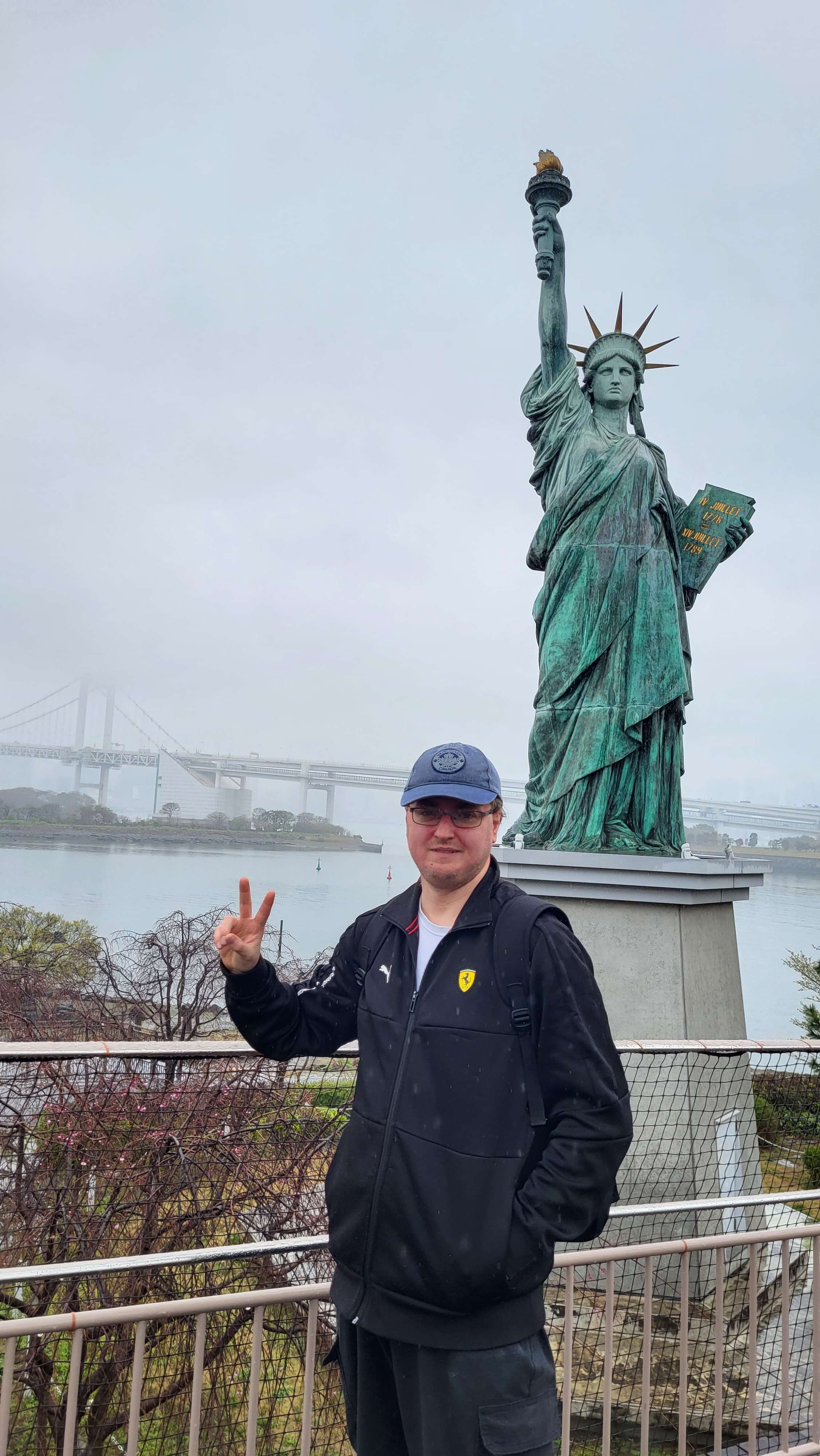 While eating a family came over grabbing chairs to eat nearby. A spoiled kid kept whining and moaning, throwing tantrums. Dogs barking, families being families. The kid was overly spoiled to the point he had many things taken from him. Spoiled brat. I paid it no mind, plus it's not my place to say anything. Just charging my phone through the power bank while playing Azur Lane as I eat. In fact, I nearly had forgotten about this completely had it not been for this blog post allowing me to recall such silly events. Quite amusing, in retrospect.
This mall has some overly neat locations and outlets. Neat places to shop. I even considered purchasing new shoes. Decided against it not knowing where to keep my current shoes at.
Sadly, the above isn't for me. I'm still not allowed to have that sort of fun and enjoyment in life, or at least when I made this blog post. Life is punishing.
I had to visit a LEGO store, I grew up on it. Having visited the one in Vancouver (Richmond Mall), I had to visit the one in Japan.
While leaving the area I passed by a Daiso, a store I ignored having visited in Vancouver prior to this visit. Also made my way through various areas struggling to get out, eventually finding the proper area. I eventually found my way out, even passing some Gyaru girls which caught me off guard. Not used to seeing them. I wouldn't even know HOW to interact with them.
To me, gyaru type girls are something to get used to (culture shock). It's an overly "interesting" neat experience, yet a major culture shock to see in person, especially after hearing about them through J-Vloggers, Anime, Manga, and other forms of media. I'm also certain there are overly attractive gyaru type girls out there (more than what I've seen), they simply need to be found. Not knocking on the ones I've seen, it's a culture-shock type statement. Genuinely an 'each to their own' thing.
(It's surreal hearing about something so much to eventually see it with your own eyes. It catches you off guard.)
---
Whether I'm going the correct way or not, It's still a rewarding adventure regardless.
The moving Gundam in Yokohama is why I came earlier to Japan, I heard it was supposed to be removed by the end of March 31st, 2023. After everything was set I heard the Moving Gundam was postponed to be removed at the end of March 31st, 2024. Lucky, in ways, yet frustrating in others. It threw a few things into limbo which I had to patch up hastily. I thankfully was able to put Gundam Unicorn (Daiba) onto my list. Sadly, not the one from Fukuoka. Too far, too much effort. I'm happy with this one though. It's an awesome visual experience.
Look, I know what you're thinking. Yes, I should have gone the OTHER way to visit the Gundam Unicorn. Google took me the other way, and I'm glad it had done so. It's one of those happy accidents being able to see other bridges, other areas, and other cool neatness I otherwise wouldn't have seen. Accidents like these I'm overly happy they happen. I would later retrace these steps another time upon my return.
The "funny" thing is, I missed Gundam Unicorn's transformation by a few minutes. Something around the 10-15 minute mark. I would eventually see it later. I was forced to stay to be able to see it.
I've seen other Japanese on Twitter share their Busou Shinki figure photography via Twitter, now it was MY turn. My time to shine! My time to be happy, to be proud, and to have my own Gundam Unicorn memories.
Out comes Arnval and Renge!
Below images of Renge may appear the same, they're the varying levels of blurriness. Take your pick.
---
With a few hours to 'burn' until Gundam Unicorn transforms again, I decided to venture into the Diver City to see what it contains. My main focus was 'The Gundam Base' within. While enroute I skimmed various stores, attempted to help a person who lost something (they were confused), and even awkwardly making my way up to this area.
---
---
Gundam Unicorn – Transformation:
At last! The time has come for me to see Gundam Unicorn transforming.
The rule of thumb regarding photography is to take as many pictures of the same thing as possible, or at least on a similar focus. Why? For at least one image to come out perfect. This is far more true when regarding a troublesome phone camera. In hindsight I should have also used my Lumix GF-1 camera. Shame.
Also, I took tons of figure photography images for the thought of not knowing when I would be allowed to return to this location, let alone if I'll be allowed and able to return back to Japan.
At this point I was debating as to where to go. Should I visit the Tokyo Big Sight? Should I seek out food? I was genuinely hungry at this point wondering where to eat. I voted against eating at Diver City, crazy line-ups. Where to go, what to do? The rain also started picking up at 5 pm making things once again irritating and annoying.
---
Shiodome Station:
Eh? Google Maps noted I should travel from Shiodome Station to Shimbashi. Had me overly confused to the point people came and went, even making it many times further than I had in my own confusion. Being lost in Tokyo isn't that bad of a feeling though. It felt somewhat peaceful. A bit alarming, yes. It however felt somehow…… tranquil?
Once I entered Shimbashi station the amount of stares and look I obtained was hilarious. I was heading my way towards a 7/11 to obtain some snacks to then head to the train taking me back to Tennozu Isle. Ottawa has a fetish of staring at other people (or used to) so I probably became somewhat used to it, yet the Japanese staring at you comes off as hilarious. You're still a foreigner so it's all good. No harm, no foul. It's all fine.
Plus, I also have a skin condition so I'm unsure if they see that as well. We eat too many cancer-causing foods over in Canada so I'm a bit conscious on that more than I should be. Since 2010 onwards there have been an explosion of cases of people having eczema from all the frozen foods, bio-engineered foods, etc. I stress far too easily. I'm only saying this to note of what I'm aware of or in the mindset of while roaming Japan. If people do a double-take then I assume they're viewing my overly red face. Shame, but it is what it is.
Watched a bit of Japanese TV, caught up on Twitter and Azur Lane, then went to sleep for the next day.