Hello folks! Did you have a good New Year? Hopefully you did. I snatched myself a pair of outfits – sweater for Renge and a Santa outfit for Tama-chan. Kept receiving comments so I caved and purchase some outfits for mainly Renge.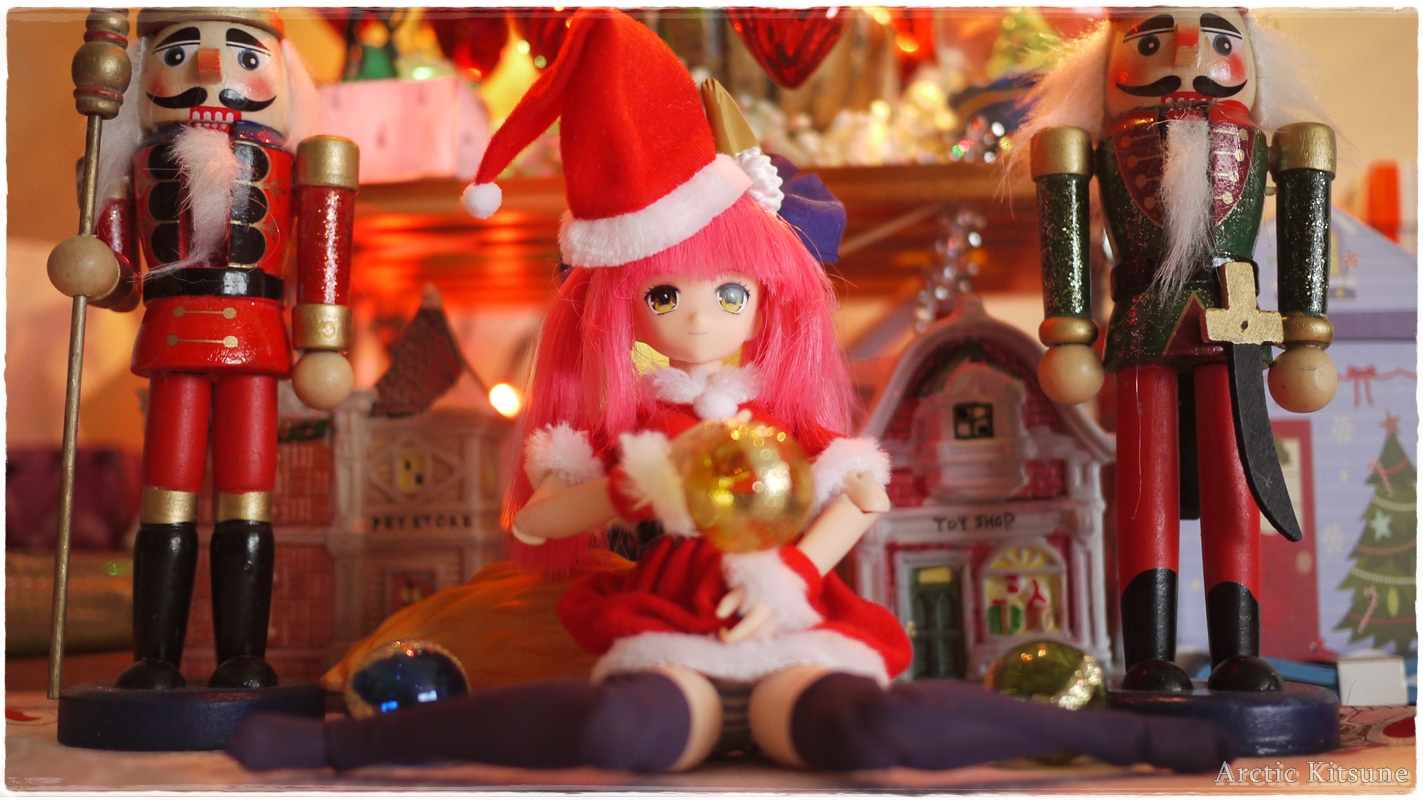 (All images taken with a Lumix GF-1 – Pancake lens.)
I finally caved in and purchased Renge an outfit suitable for winter while also getting Tama-chan her Santa outfit for the fun of it. I kept receiving comments that Renge appeared to be freezing in the winter climate of Canada in the snow without any armor or her miko outfit that Fubuki borrowed instead. I also was on the hunt for some 1/12 scale Santa outfits both locally and online only to be gifted a Santa suit for Renge a few days after. Woot!
I also know it's a bit late to say Merry Christmas but eh, the festivities usually drag on for one more week after January, both in school and game setting as well as general vacationing.
If you must know I purchased my outfits from Hobby Search  – Nyan Nyan Parker Mini Onepiece & PNM Santa Set 2012 (Red). 

—-
– Shorty Miko Dress – Foxy Renge:
https://arcticukitsu.com/Blog/?p=2239
—-
The Shinkis and Tama-chan wanted to gather to show off their outfits. Fubuki took Renge's miko outfit, Renge got her own winter sweater, Sharatang took Renge's Santa outfit, and Tama-chan got herself a lovely Santa outfit. I ordered and searched a bit late so received the pages a bit late due to the clogged mail system heh. Either way a nice fun share :).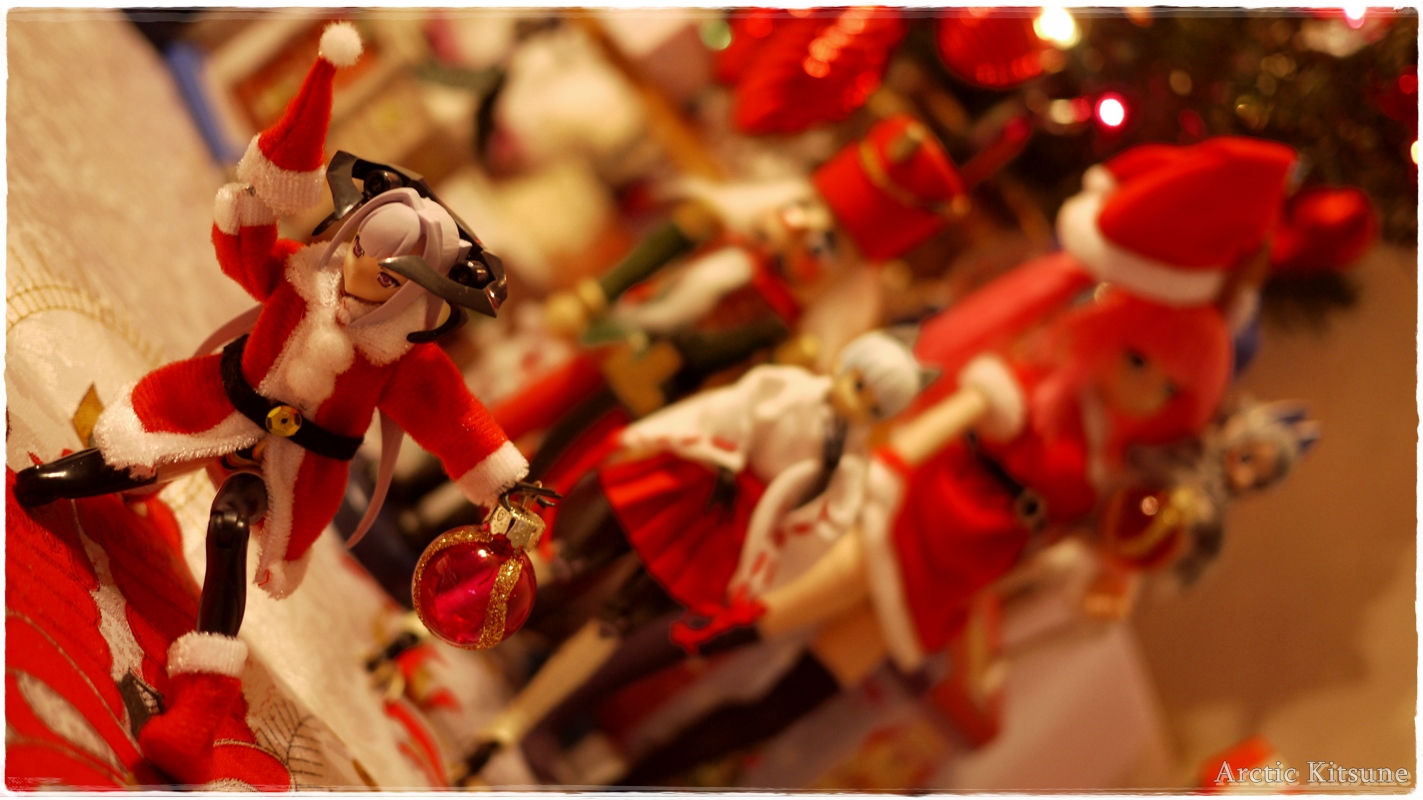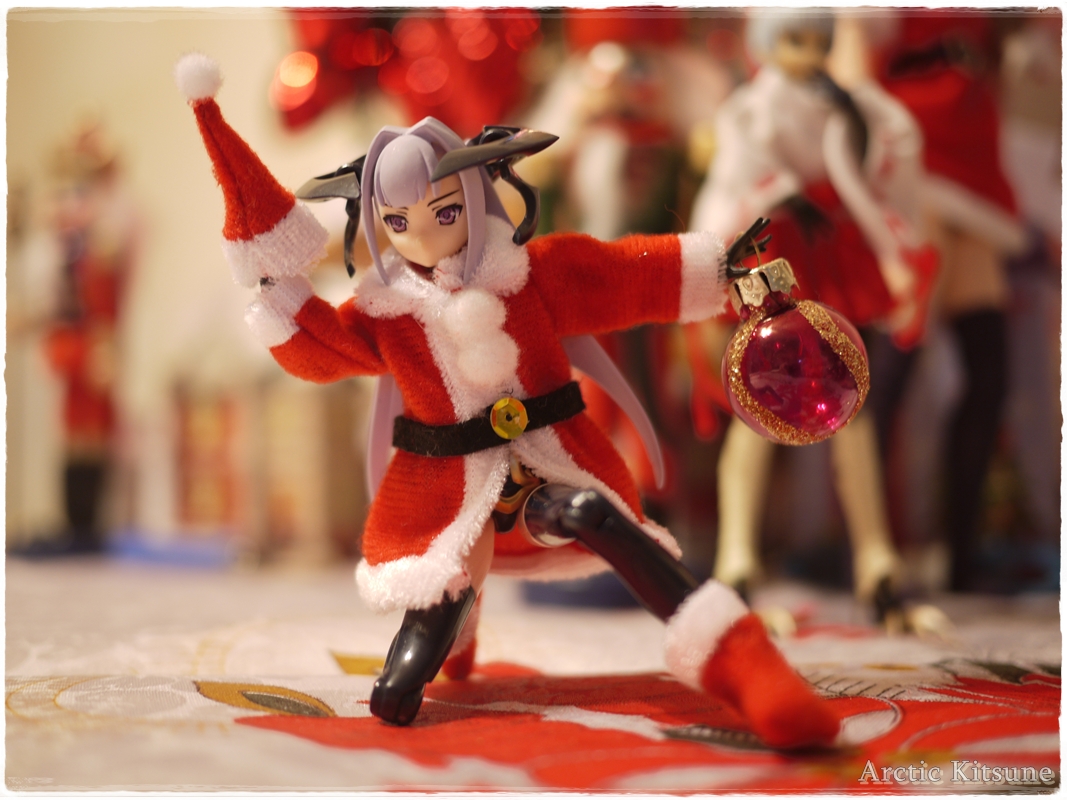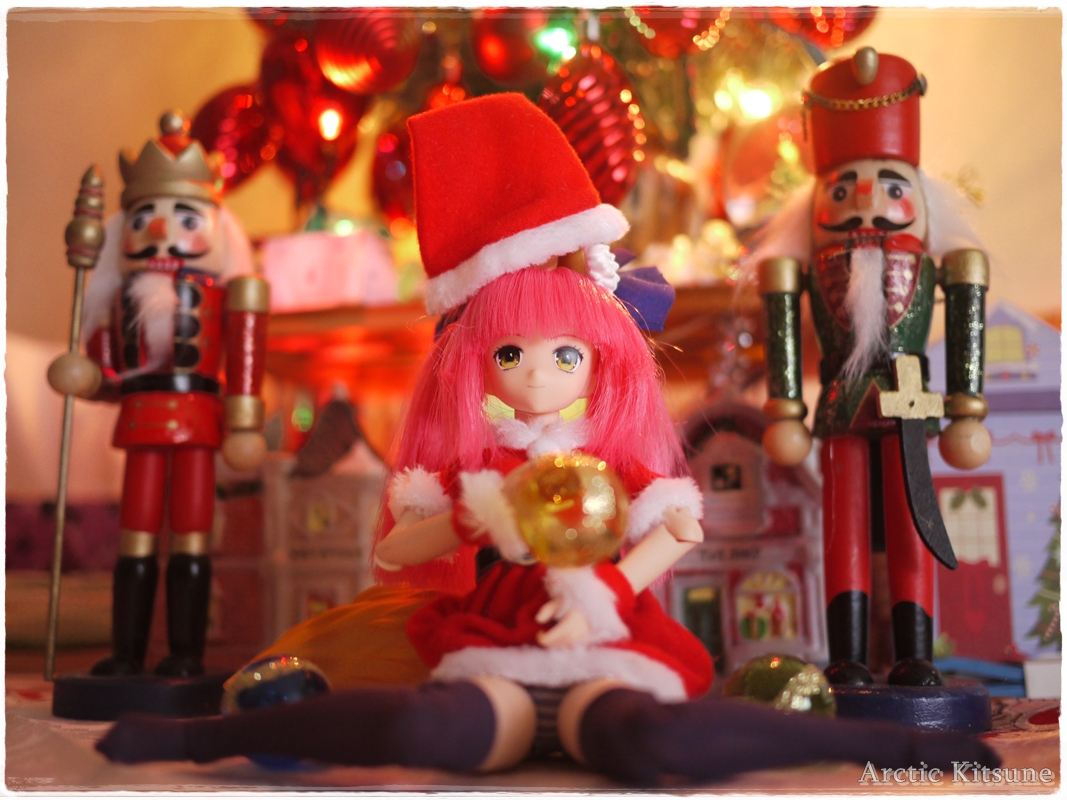 I was worried at first that the Santa outfit wouldn't fit Tama-chan. It looked so small that I paniced lightly as soon as I opened the packaging. I held up the packaging briefly to my relaxing Tama and breathed a sigh of relief. Woot! The Santa hat however looks a bit awkward on her because uh…it covers her ears and gets in the way of the ears.
As for the one-piece sweater outfit – worth the purchase. The sleeves bothered me and Renge a lot and kept disconnecting her arms off the joint. I had to cut off the sleeves or else I'd be constantly fighting with both the sleeves and Renge's joints. Shout at me if you want, I had to do it and it is my purchase heh. All that this outfit needs now is a maple leaf stitched on the back so I can remove the red tail to identify this Renge as my unique own Canadianized Renge.
Tama-chan looks sexy in that Santa outfit, damn. I mean, when you look at how neatly it goes around her without the tail you just want to fall in love with Tama-chan. That tail…..I'll need to hunt down a fluffy one for her.
Was also lurking people's articles and keep being recommended to get the Obitsu body. I shall, whenever I can I shall.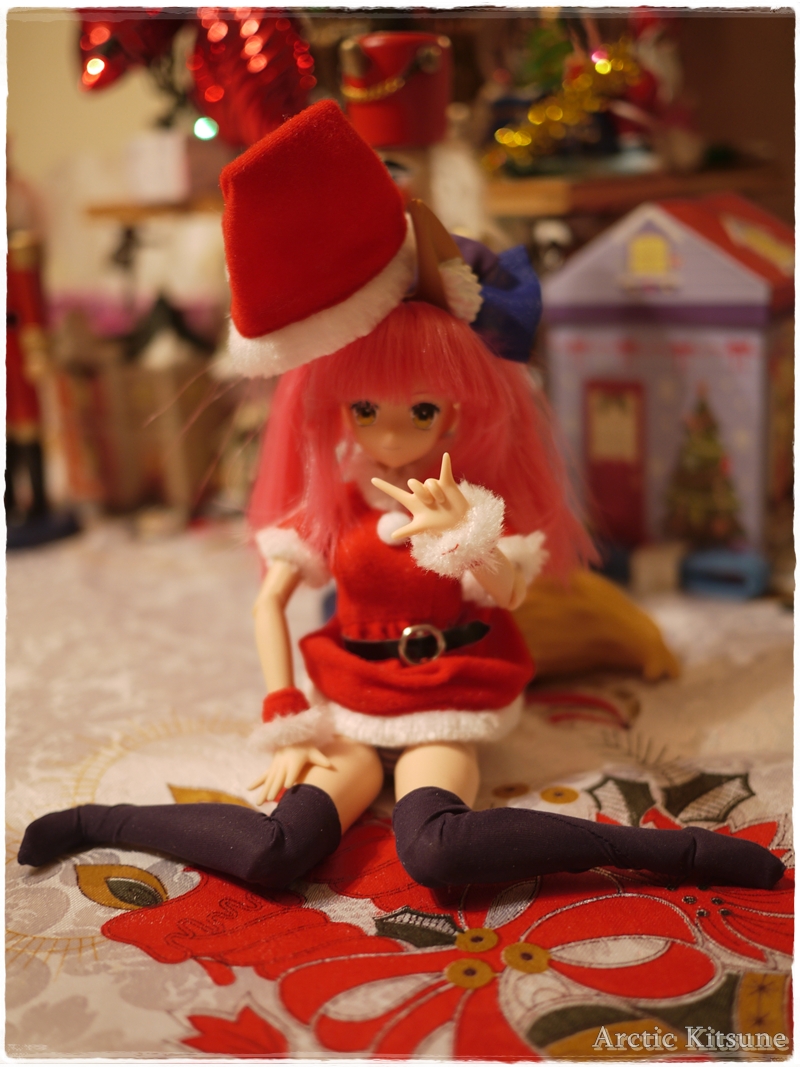 ——-
– Final Thoughts:
As always – well worth the purchase. I make sure what I get is worth it, with this being that. Renge can now stay warm while Tama-chan could belatedly join in on the Christmas and New Year festivities. Tama-Chan and my Shinkis shall be ready for next festivities.
The Nyan Nyan sweater suits the Shinkis well, even more so without them being equipped with their armor. The zipper doesn't move to be fully opened but eh, not really bothered. She can still wear it and stay warm in the images. The sleeves however were a major pain in the rear. It wouldn't cooperate what-so-ever so I cut it to fit Renge. I did get it for her mainly so no real problem there. The hoodie with the cat ears is a nice touch, with me being able to spin it into a foxy-ears type of thing. Now I won't be seeing the "She looks cold" or "is she cold?" comments.
As for Tama-chan's Santa outfit it looks beautiful. Was worried it wouldn't fit at first glance when it arrived only to be overly satisfied by it. Love how it suits her nicely and makes her look sexy. Nice touch with the wrist-wear and the Santa hat. Sadly, the hat itself doesn't fit all that nicely or I was just being hasty in doing such. Placing the hat over the ears takes away from her being a fox while placing it on her ears gives her that nice playful touch, me thinks.
Perfect! If you can snatch them I would recommend doing so.
—-
Now I just need to find myself some sort of fox mask and wears to cosplay with at future Anime cons. See you for G-Anime! That is if nothing makes me forget or gets in my way.  Kon!~