Heyo! Basically wanted to show off the month of October in both a Halloween and autumn manner. I witnessed Vara getting bothered by Renge along with Renge and Ach having an outing outdoors.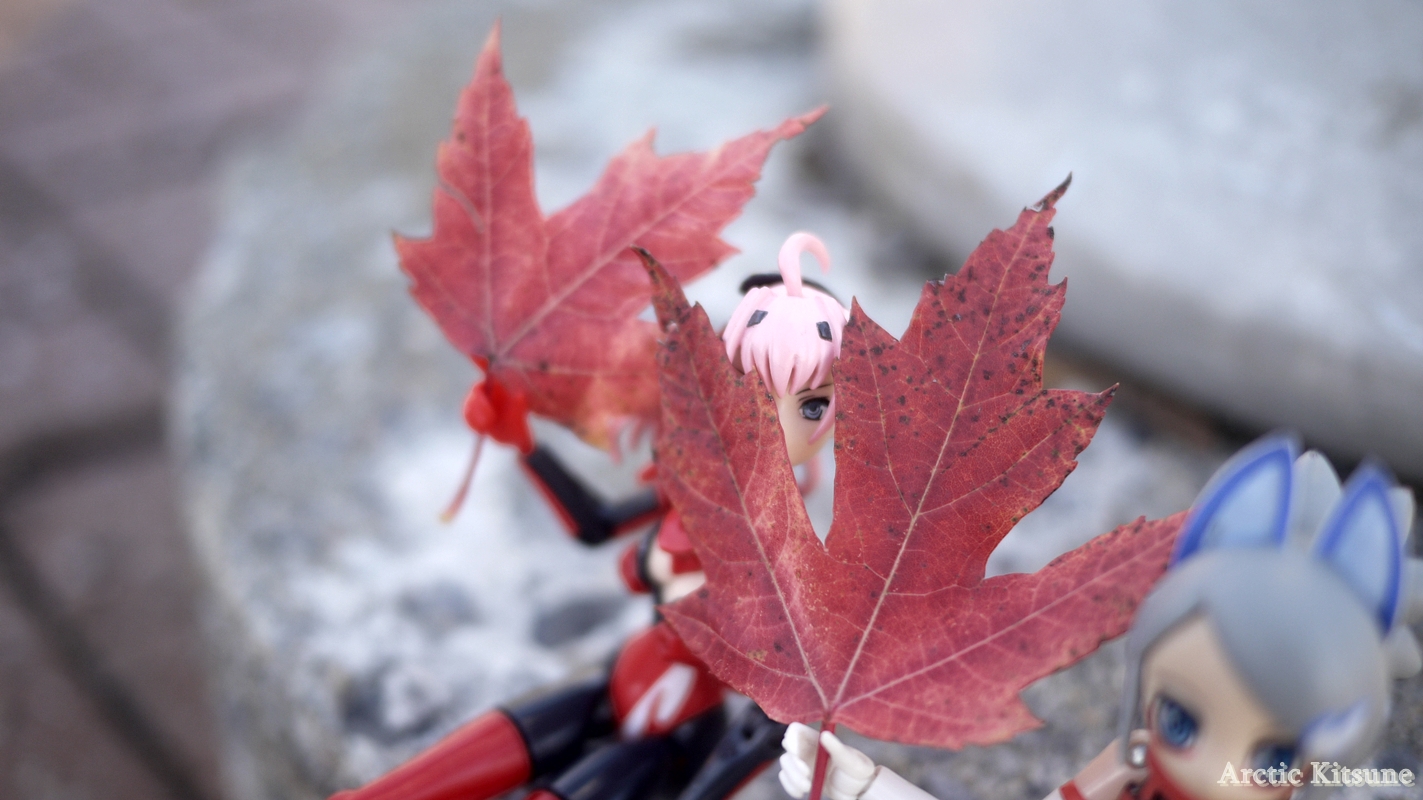 (All images taken with a Lumix GF-1 – Panacake lens.)
I was hoping to take images of my gals showing the October Thanksgiving-Autumn-Halloween spirit. Not full-on, but just enough that it does feel straight forward to such. Didn't have many props to play with. I'm also hoping that the images came out as intended; that they are of viewable enjoyable quality for myself and others to enjoy. Quality may be all over the place. I still approve of them :).
Been wanting to make this a "mega"-thread of images for Halloween which I may split into two parts with this one being for October itself and the other for Halloween.
The weather was also not playing in my favor with constant wind, clouds and rain forcing me to take images indoors. The second half being on one of the more "tolerable" days.
—
– Part 1 – Varakitsu's Pesky Foxy Annoyance:
Caught a moment with Renge pestering Varakitsu during one of her grooming moments. Renge was attempting to train her Fennekin only to end up climbing onto Vara to annoy her and similar. All for fun; Kon!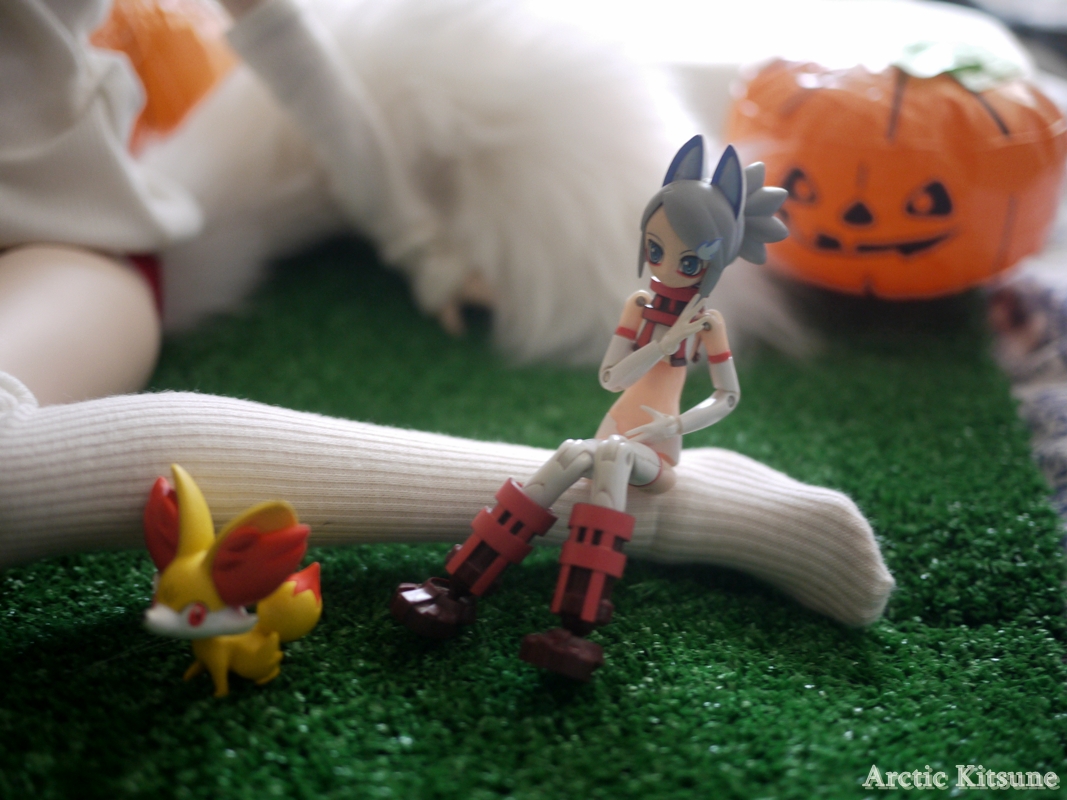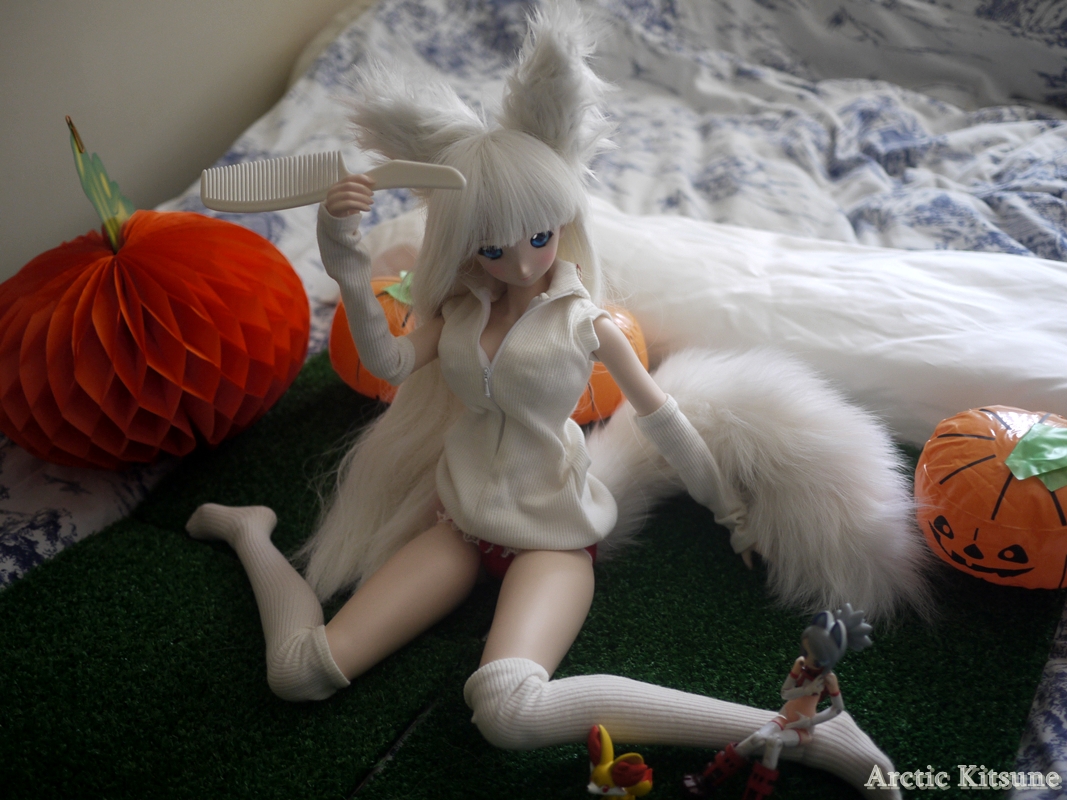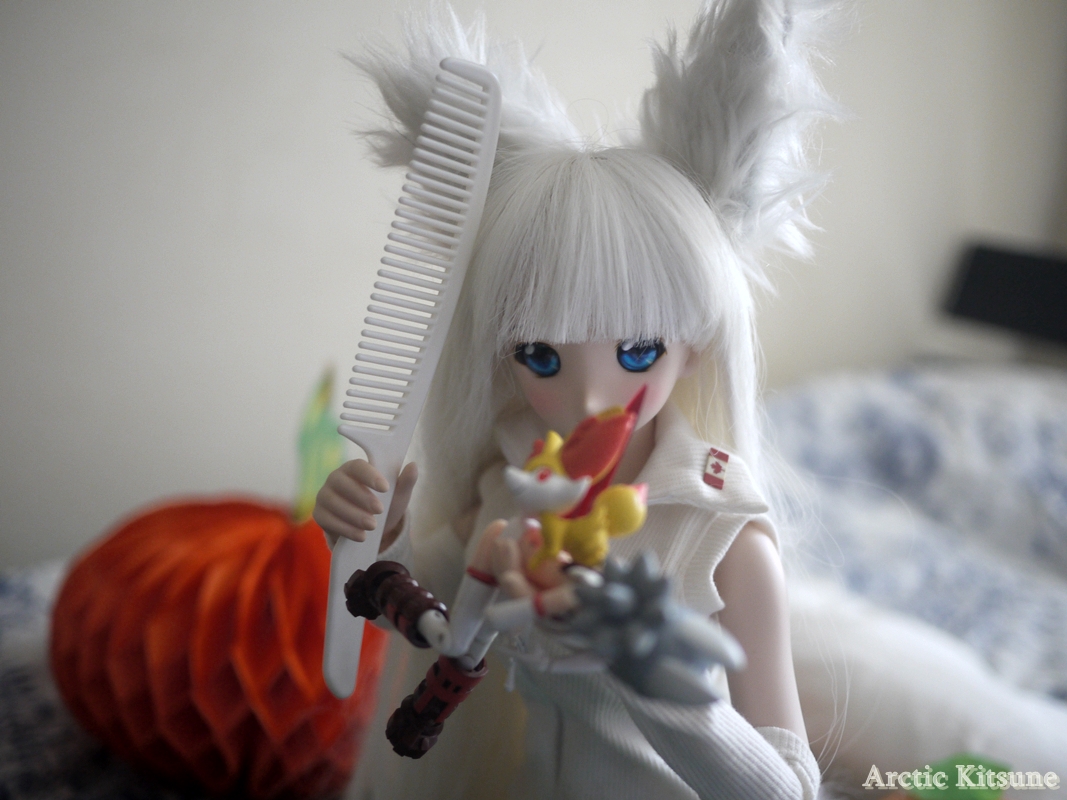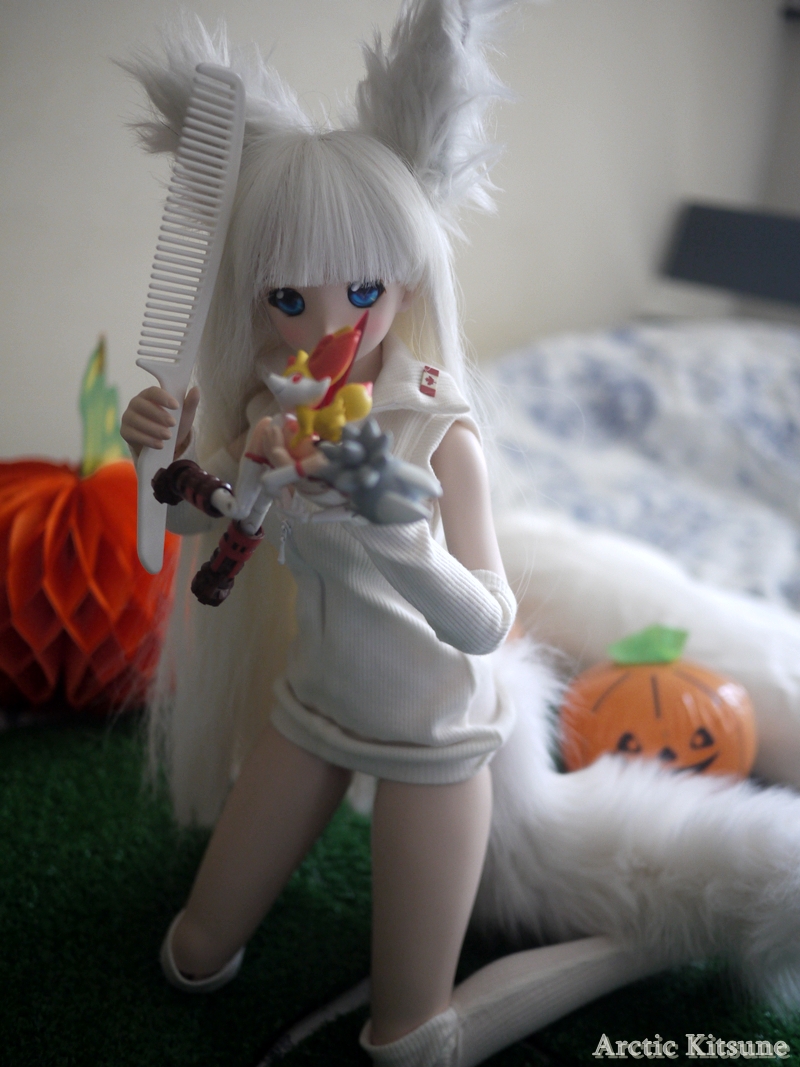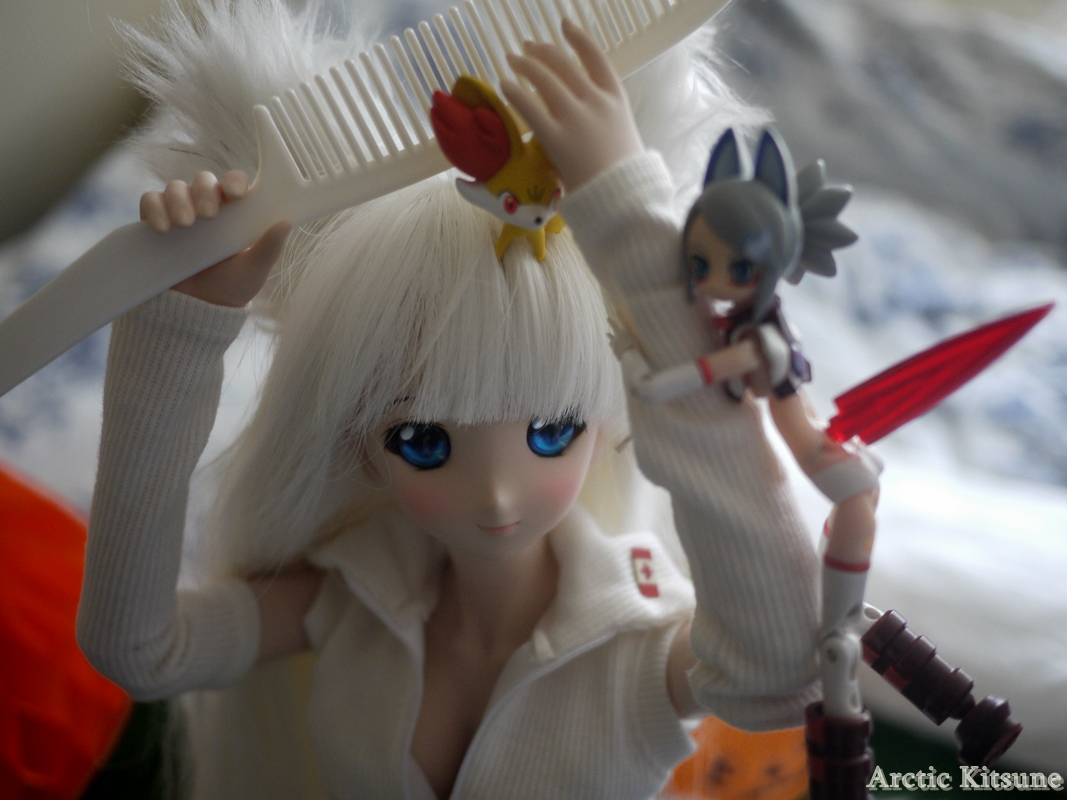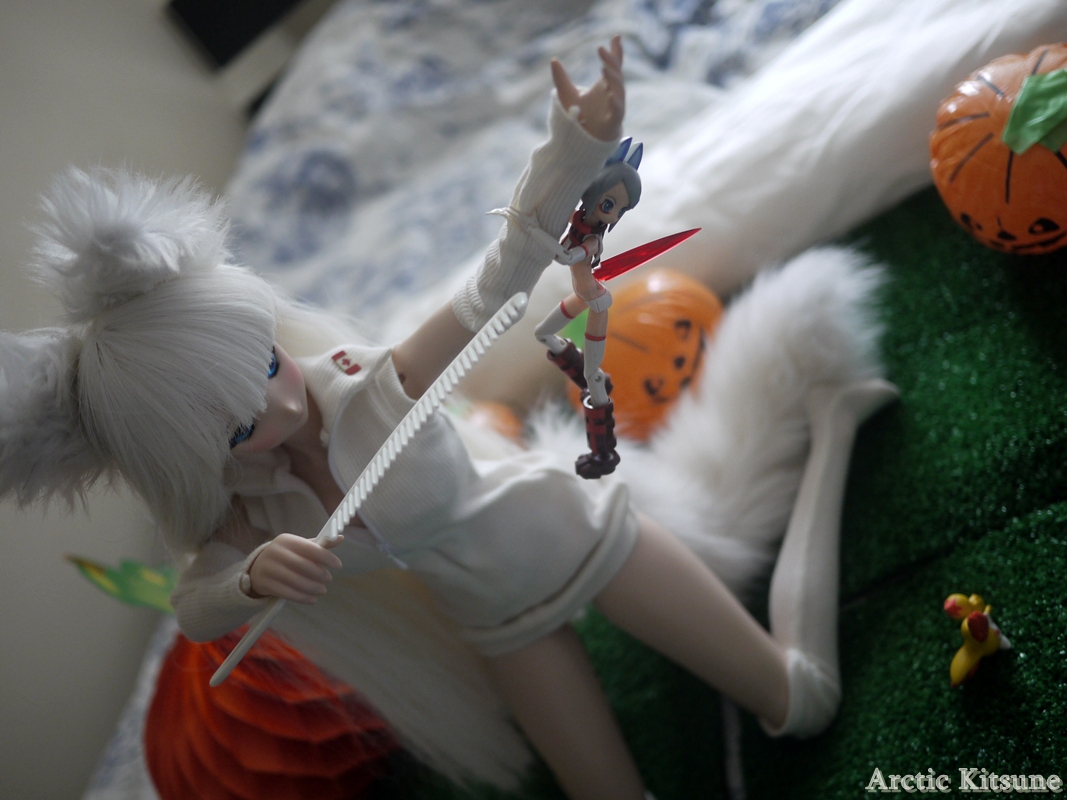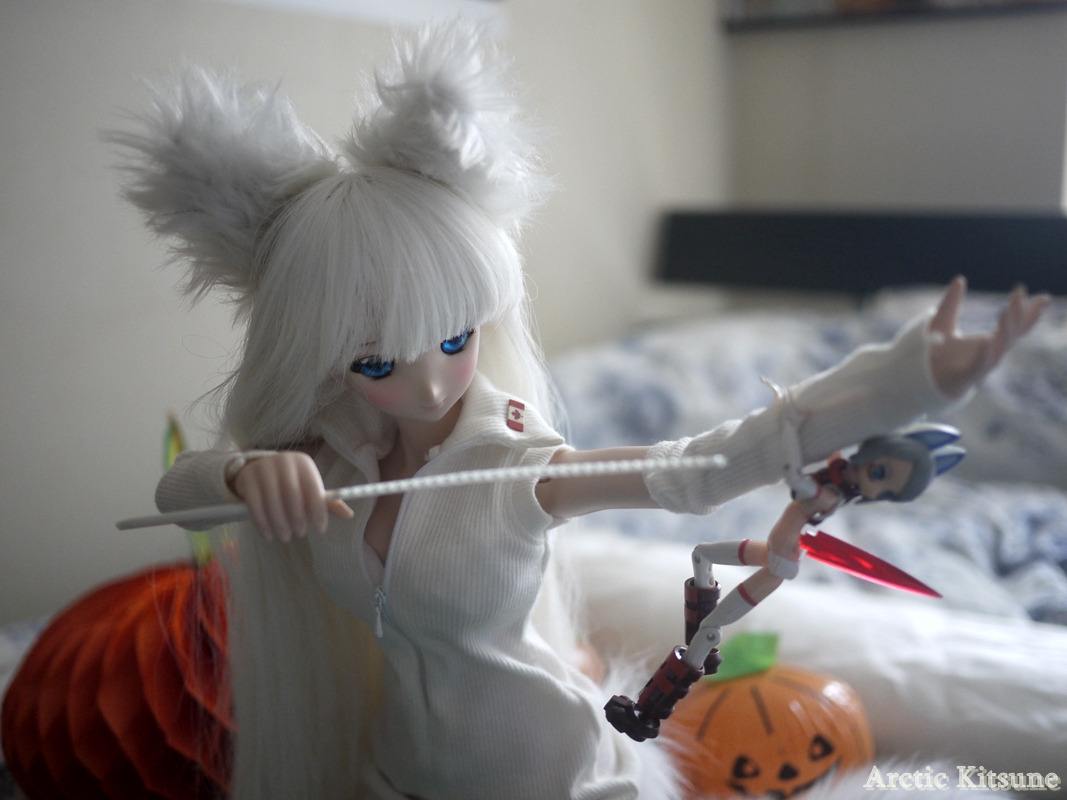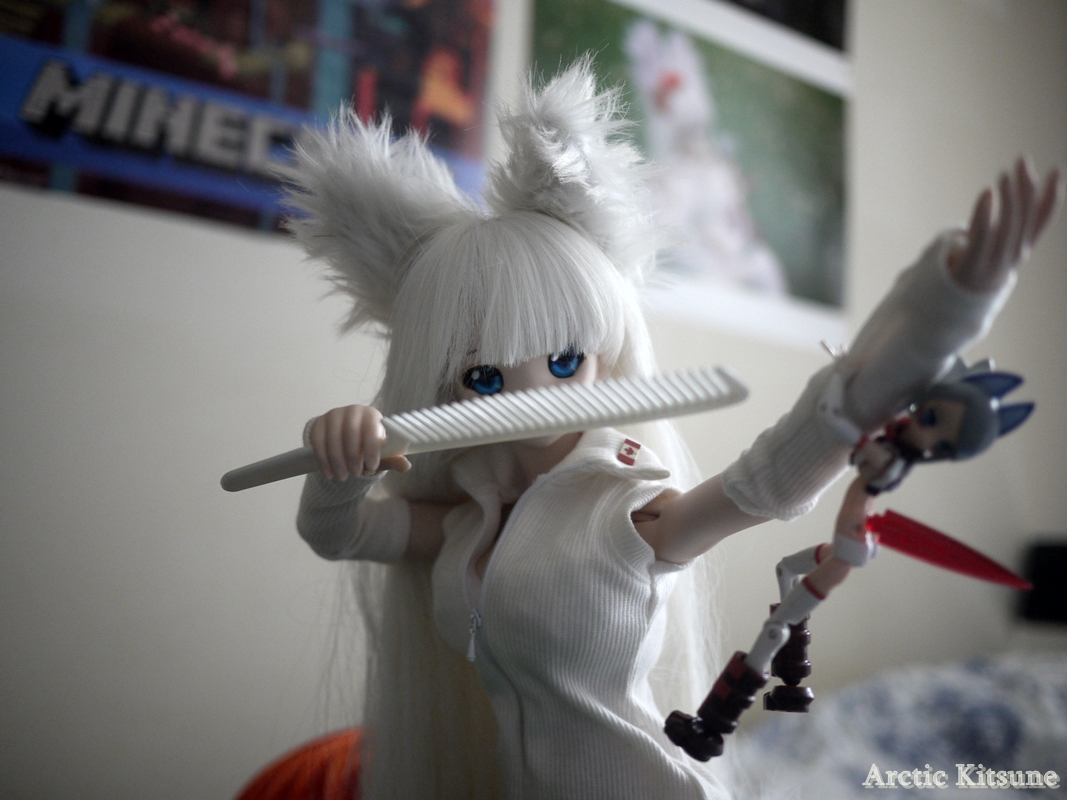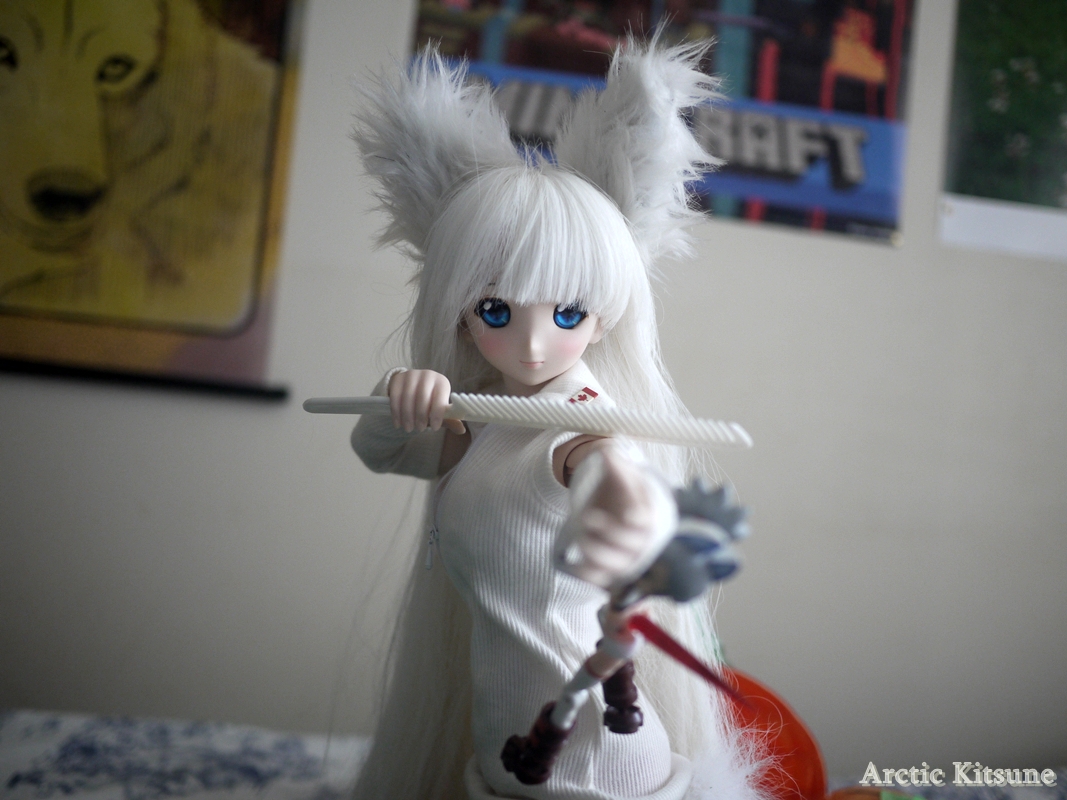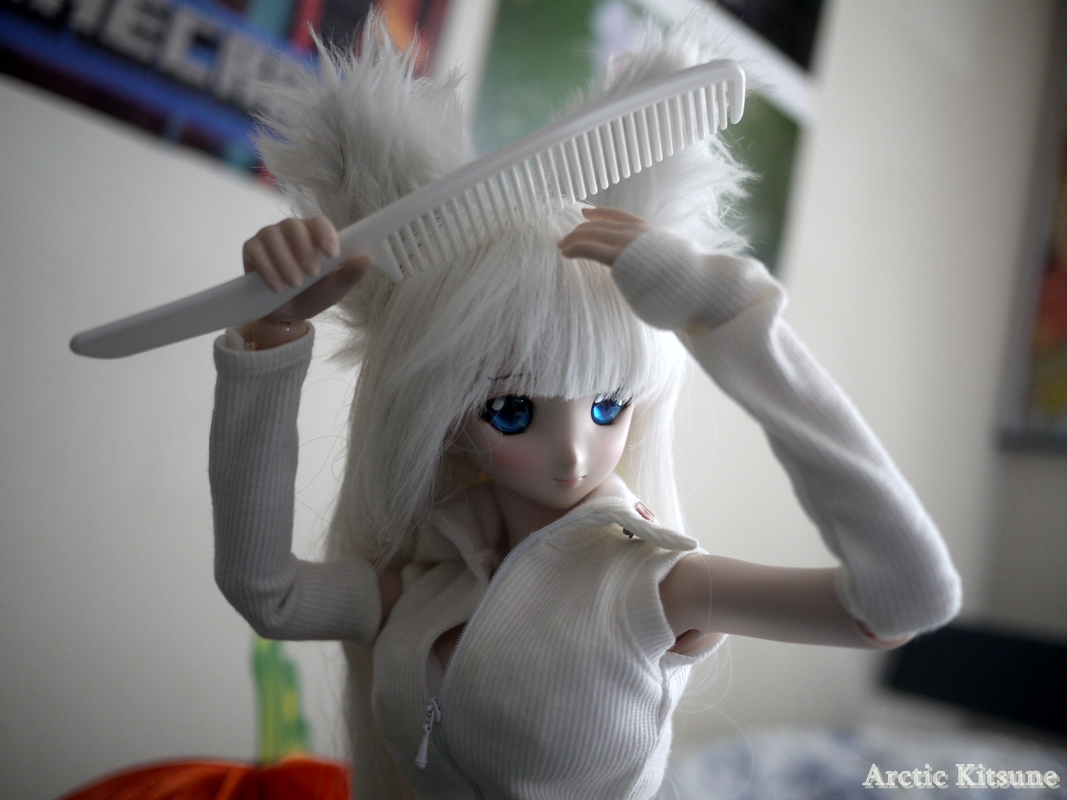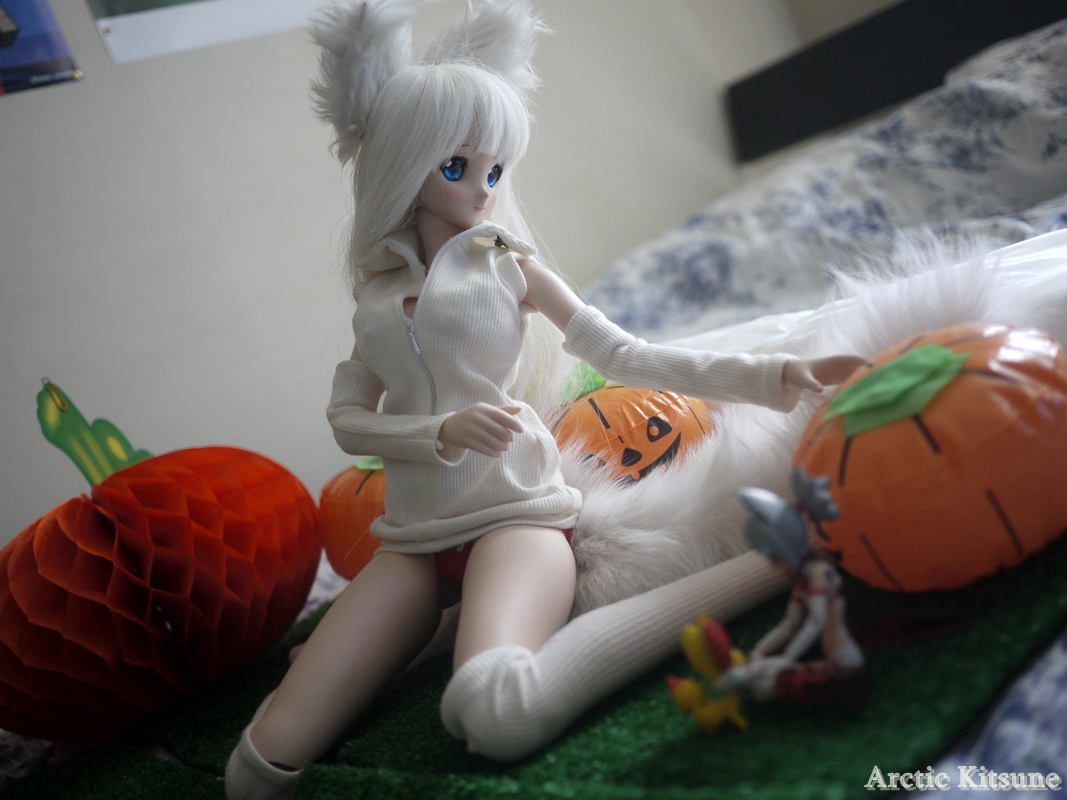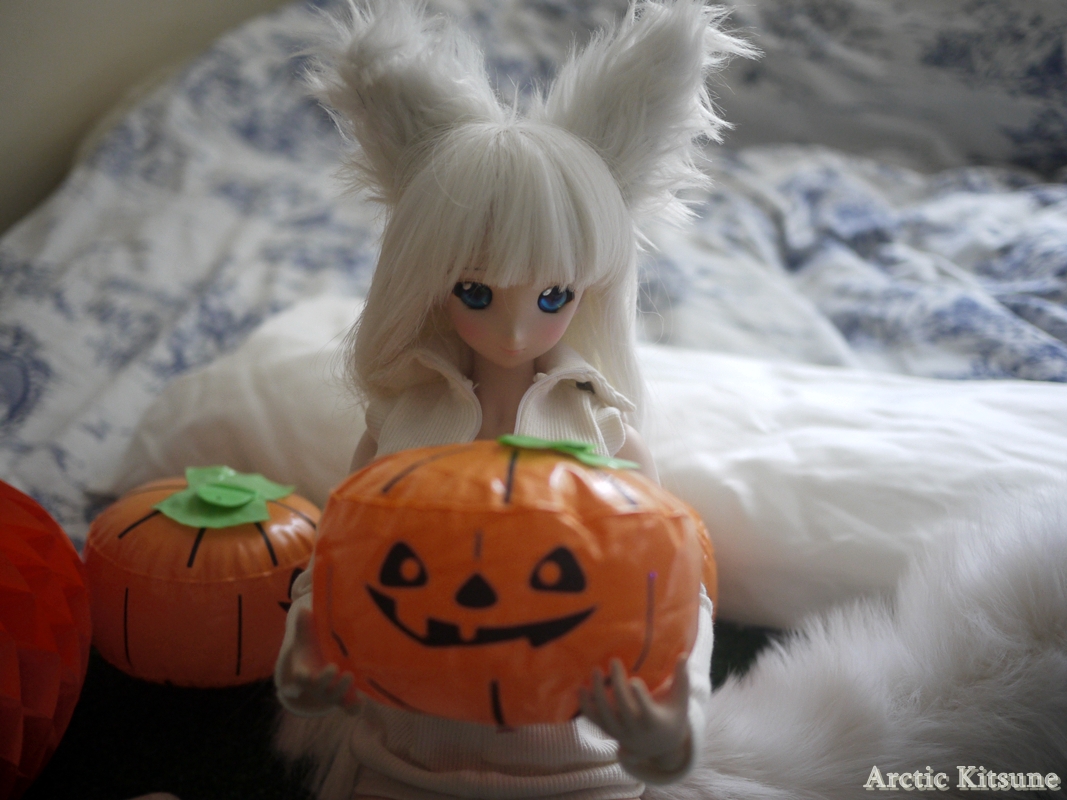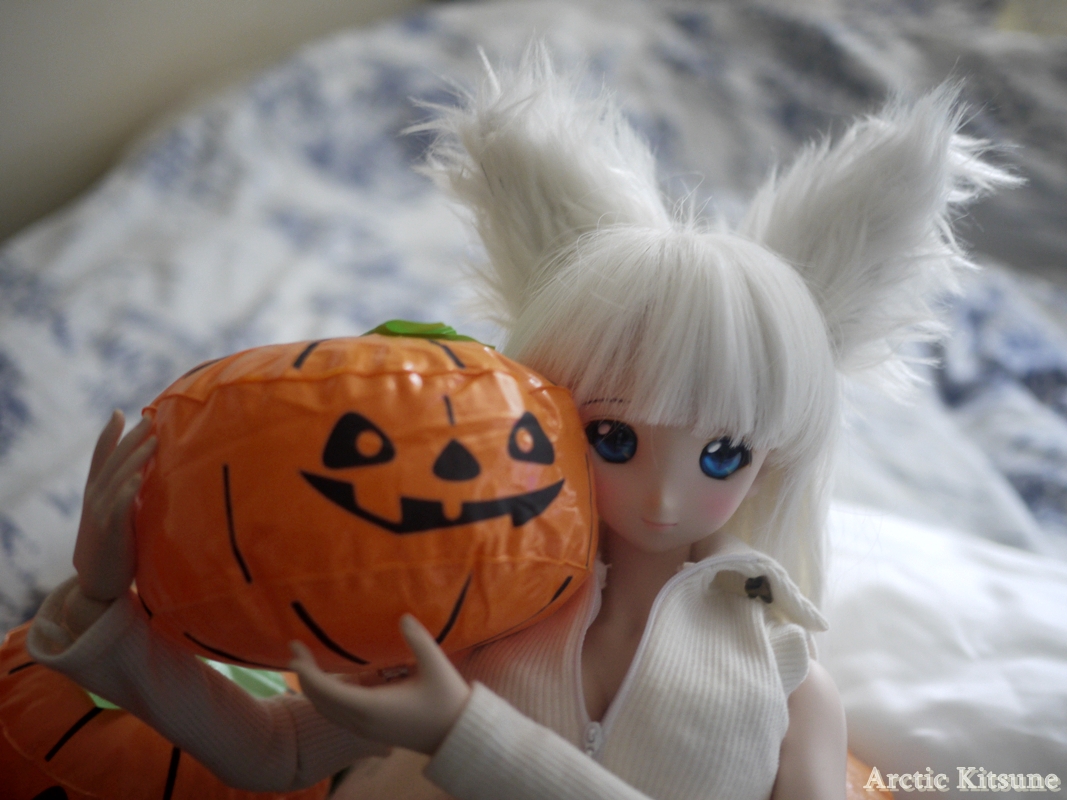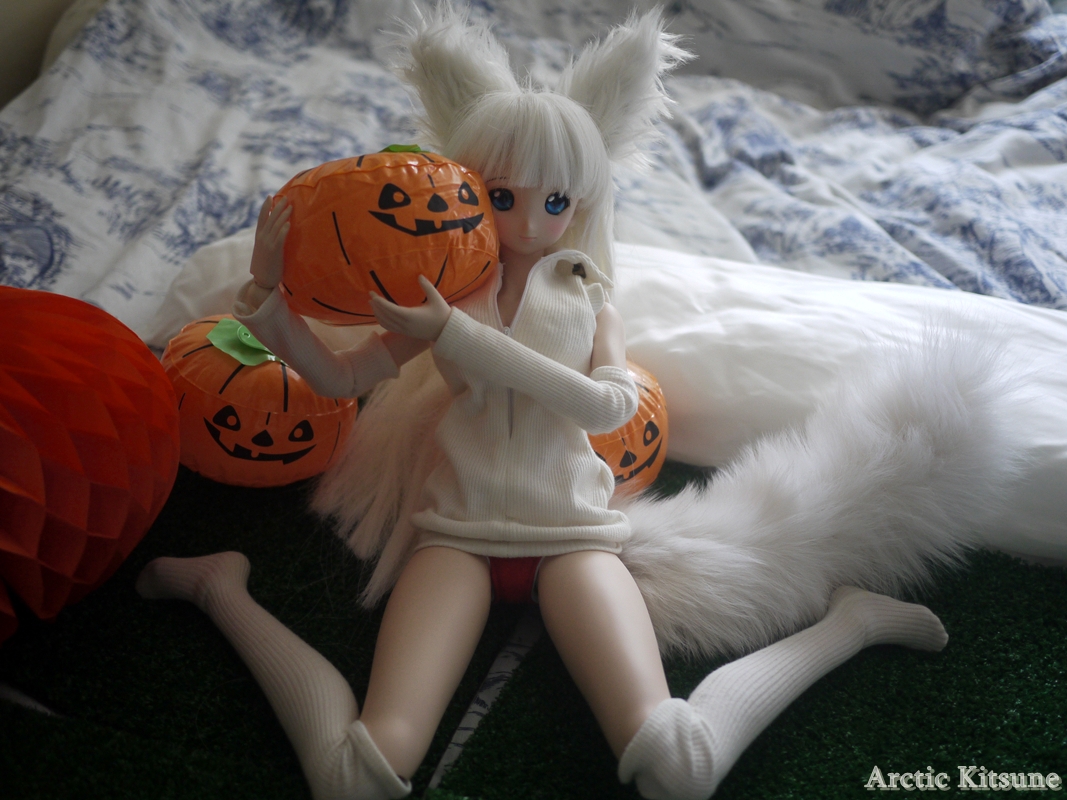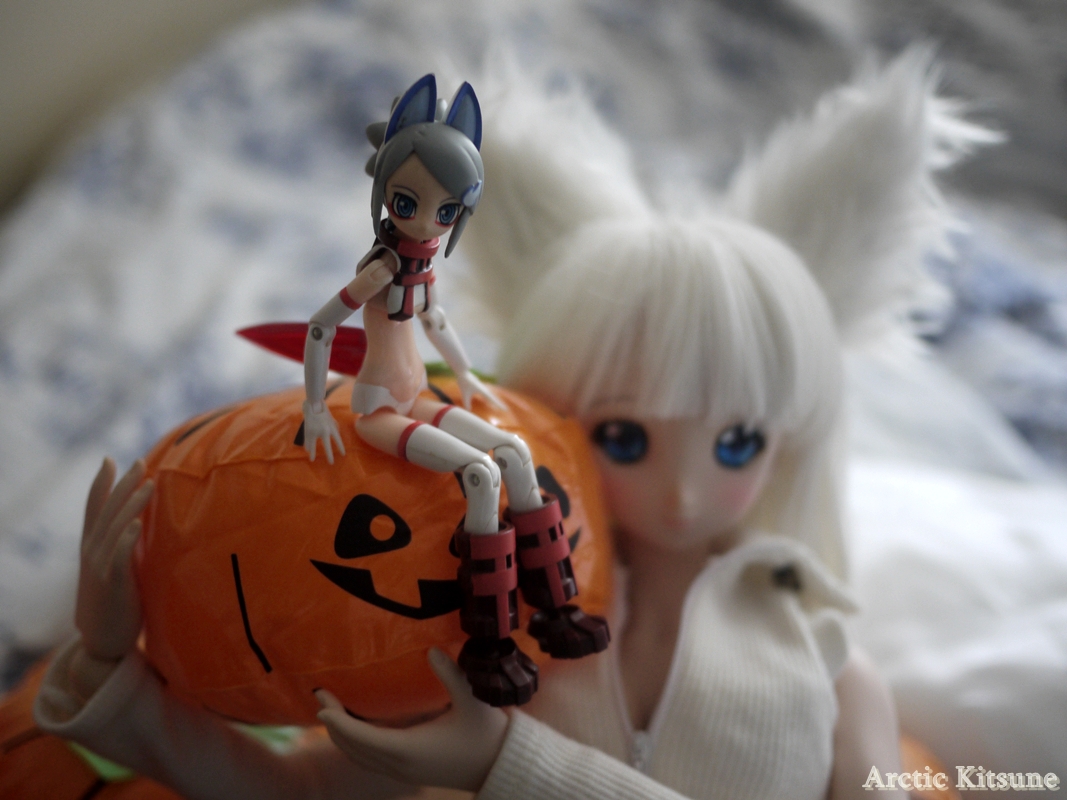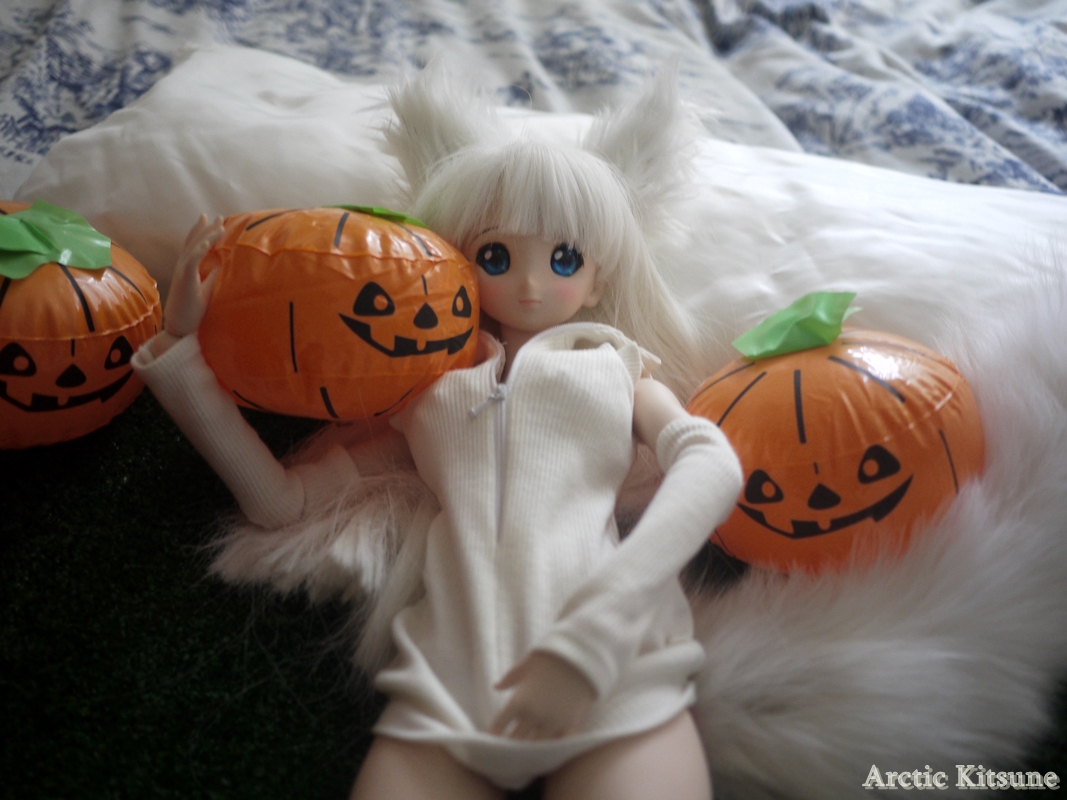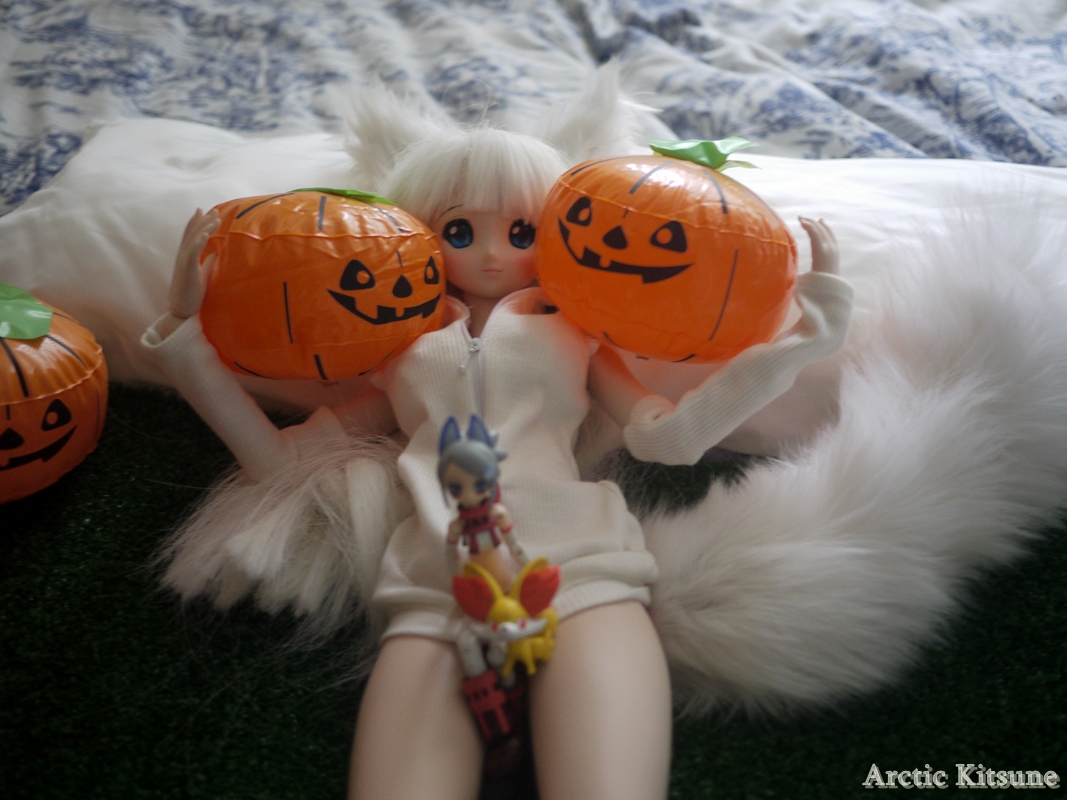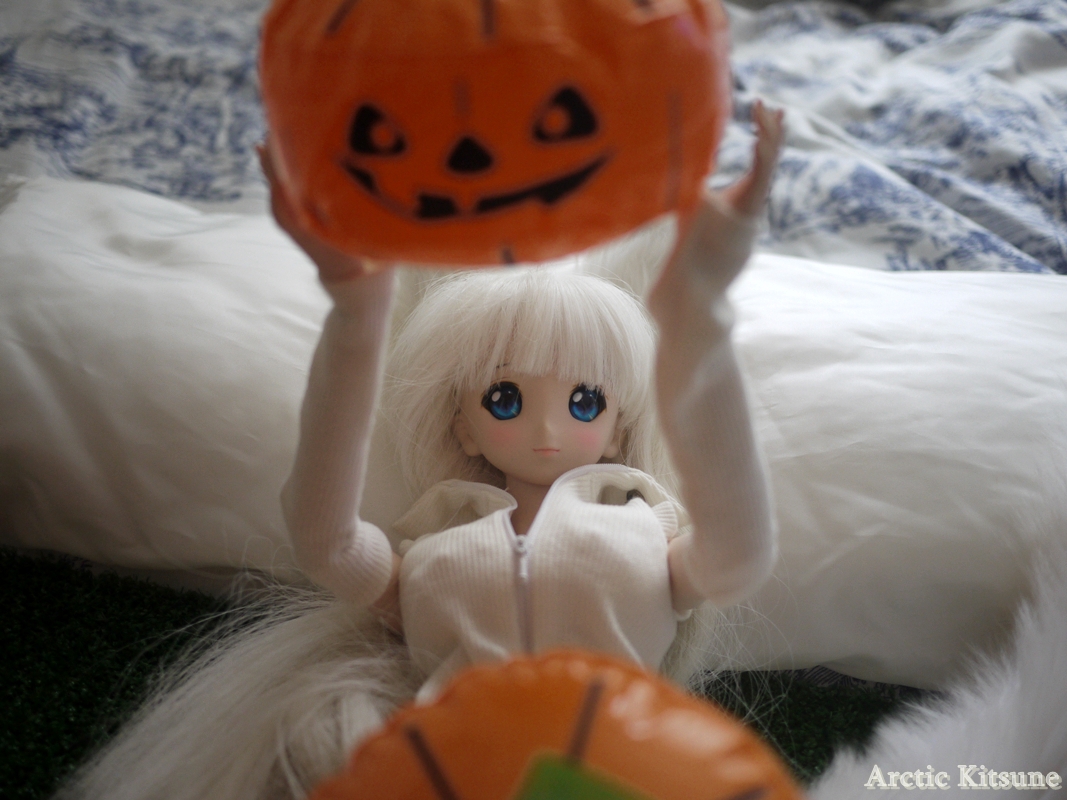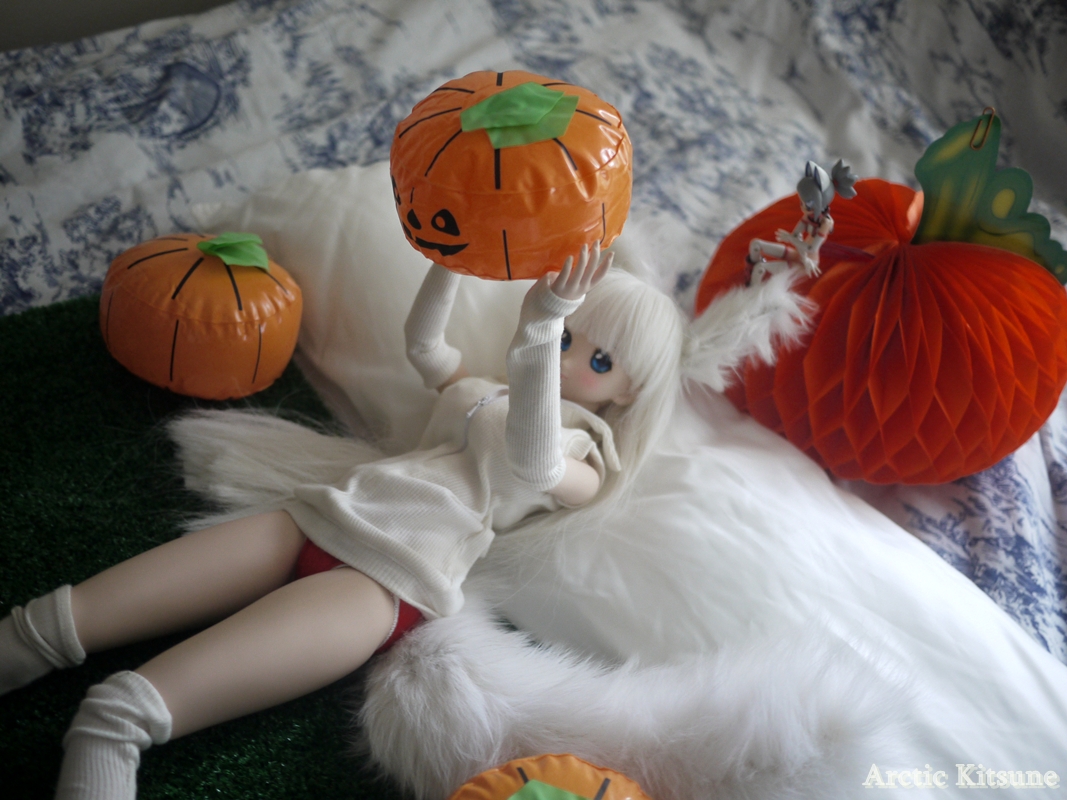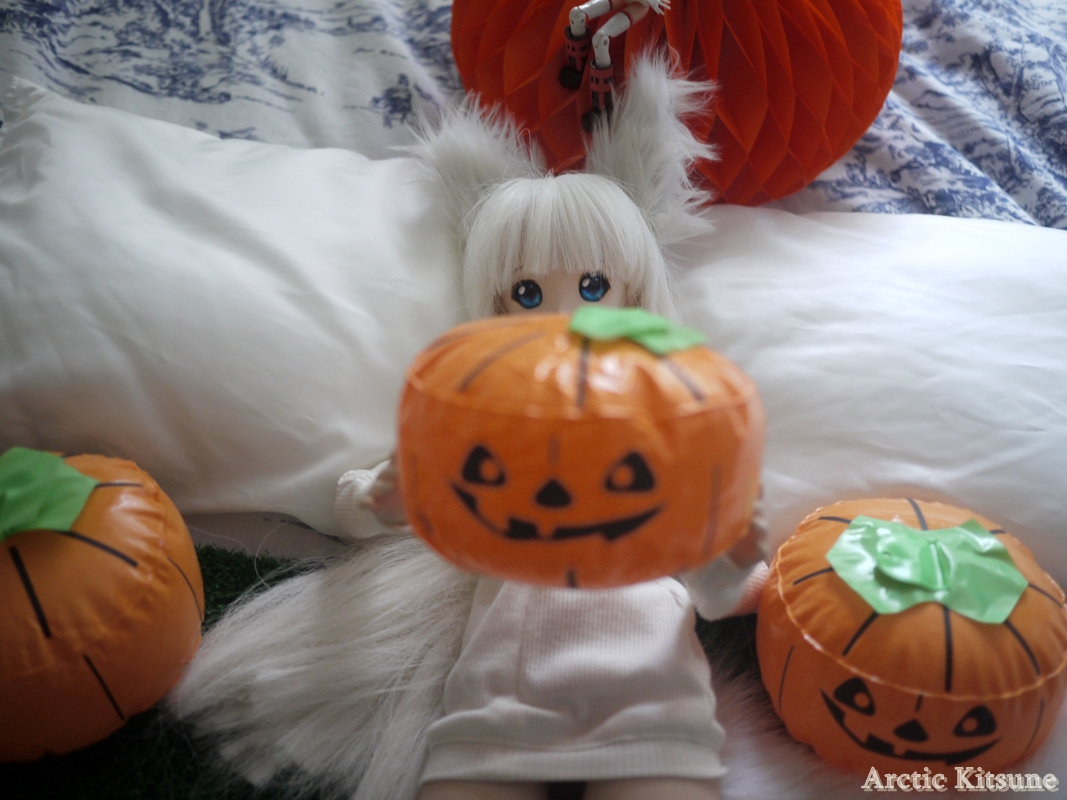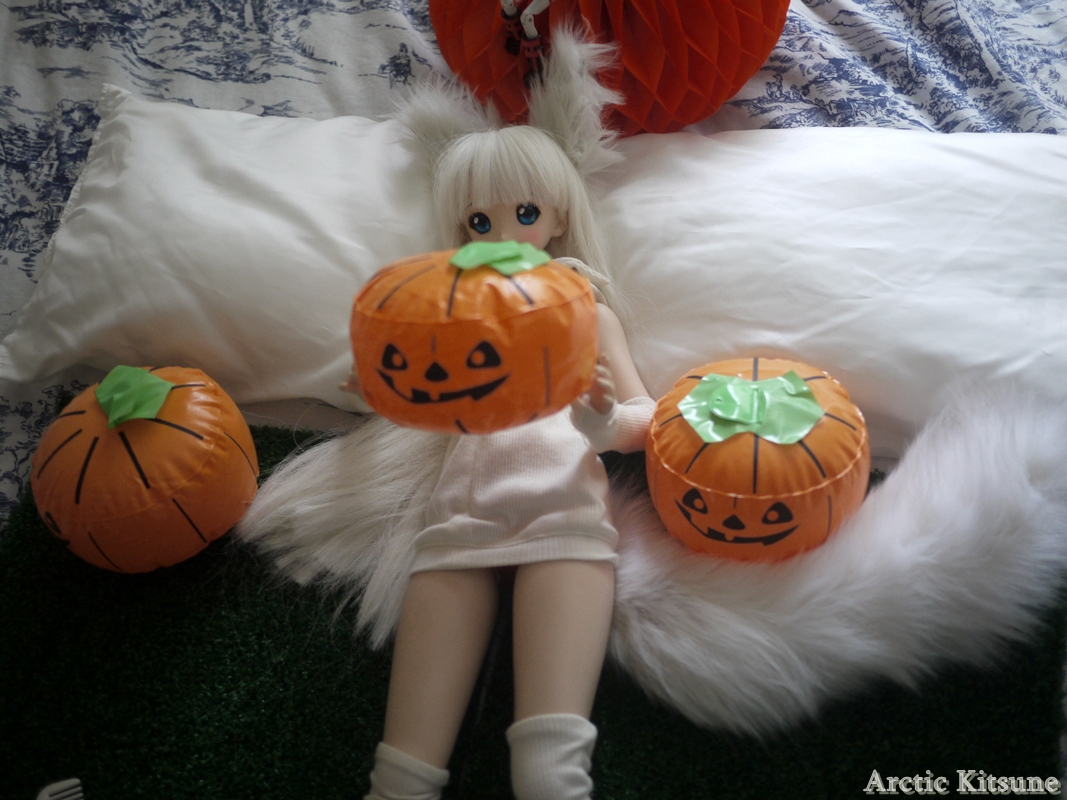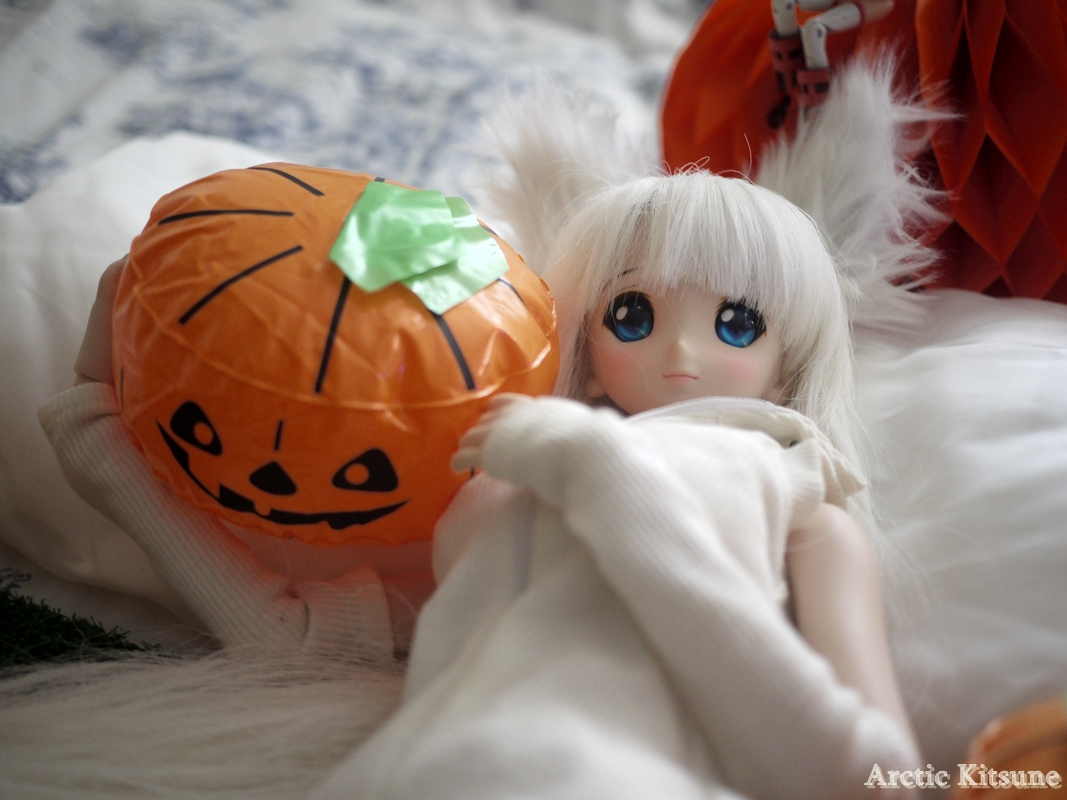 An hour or so later Renge wanders back in with Vara's Halloween lamp. We would go blind yet she stares deeply into the lamp. And yes, it gets insanely dark early which I dislike for fall and winter.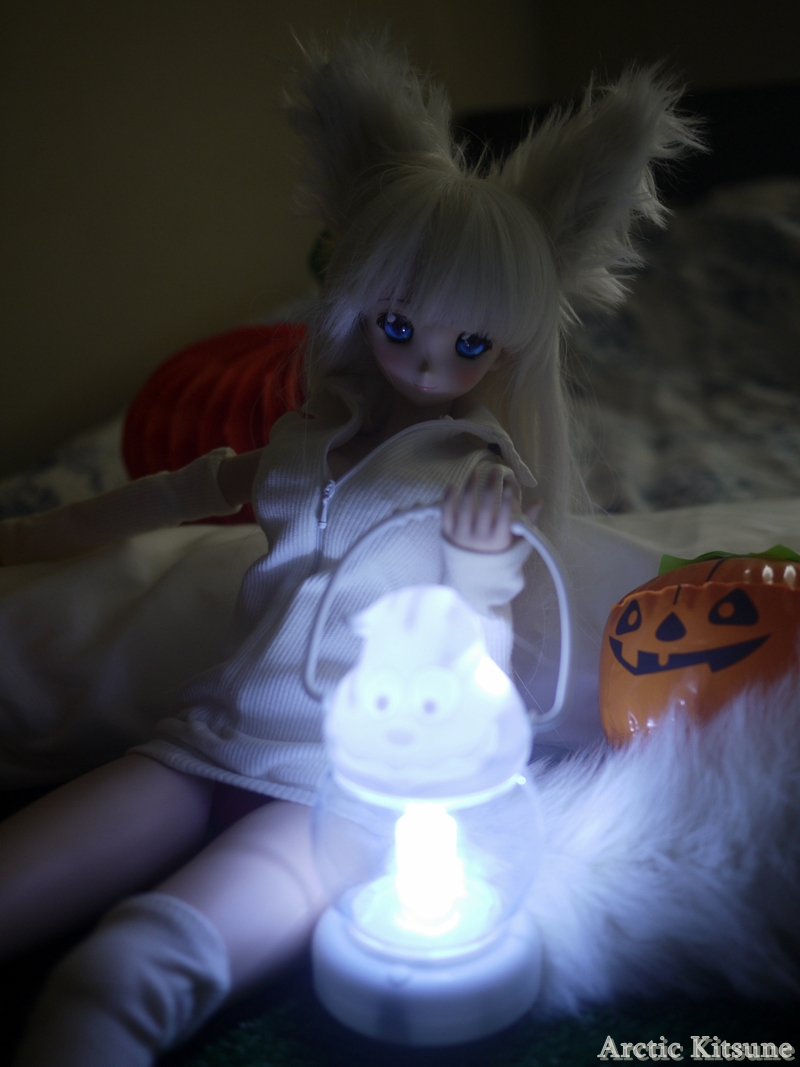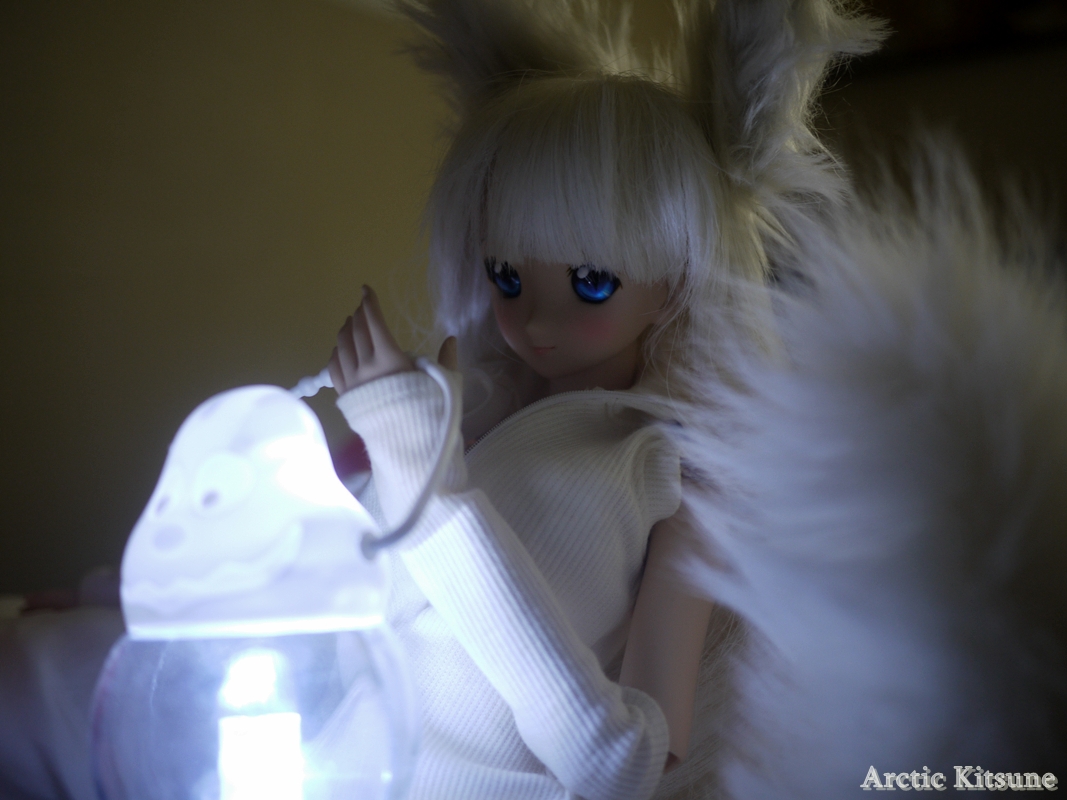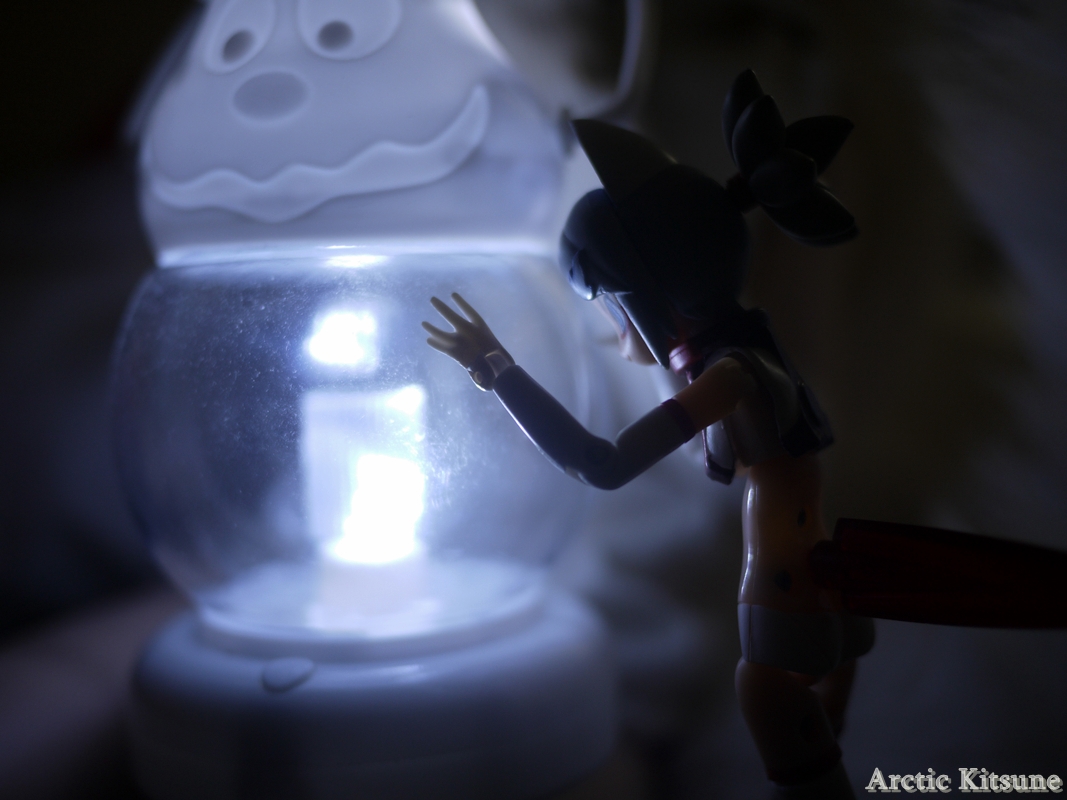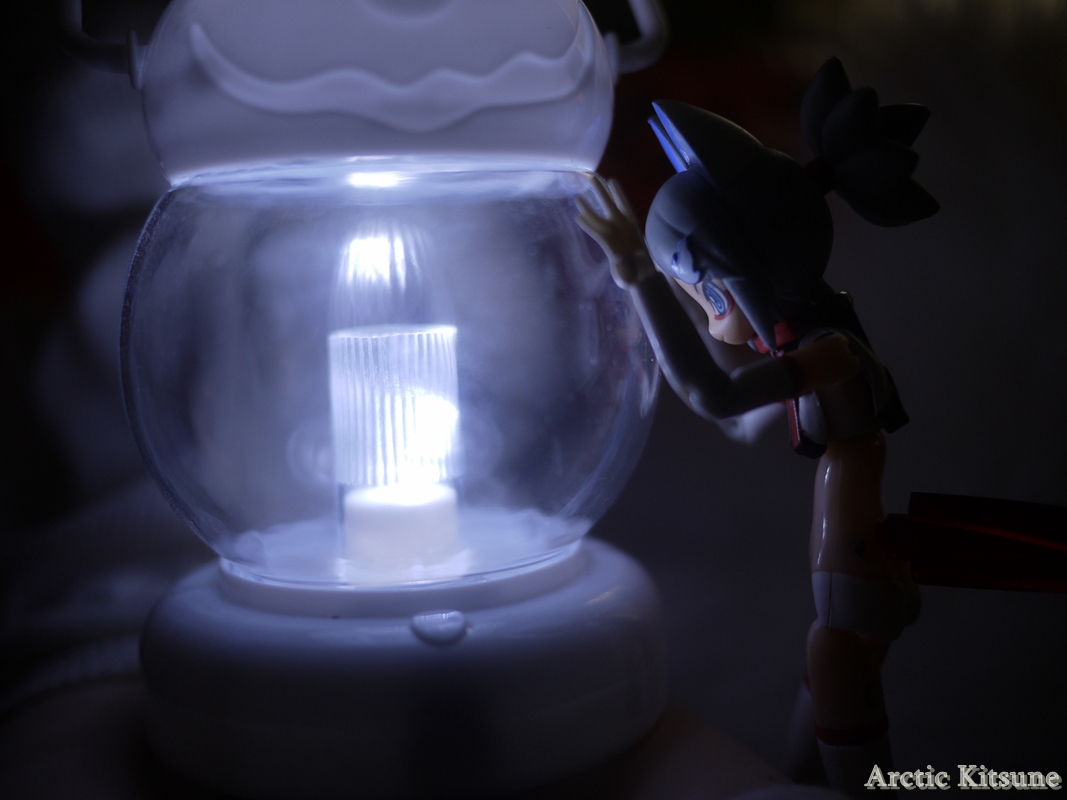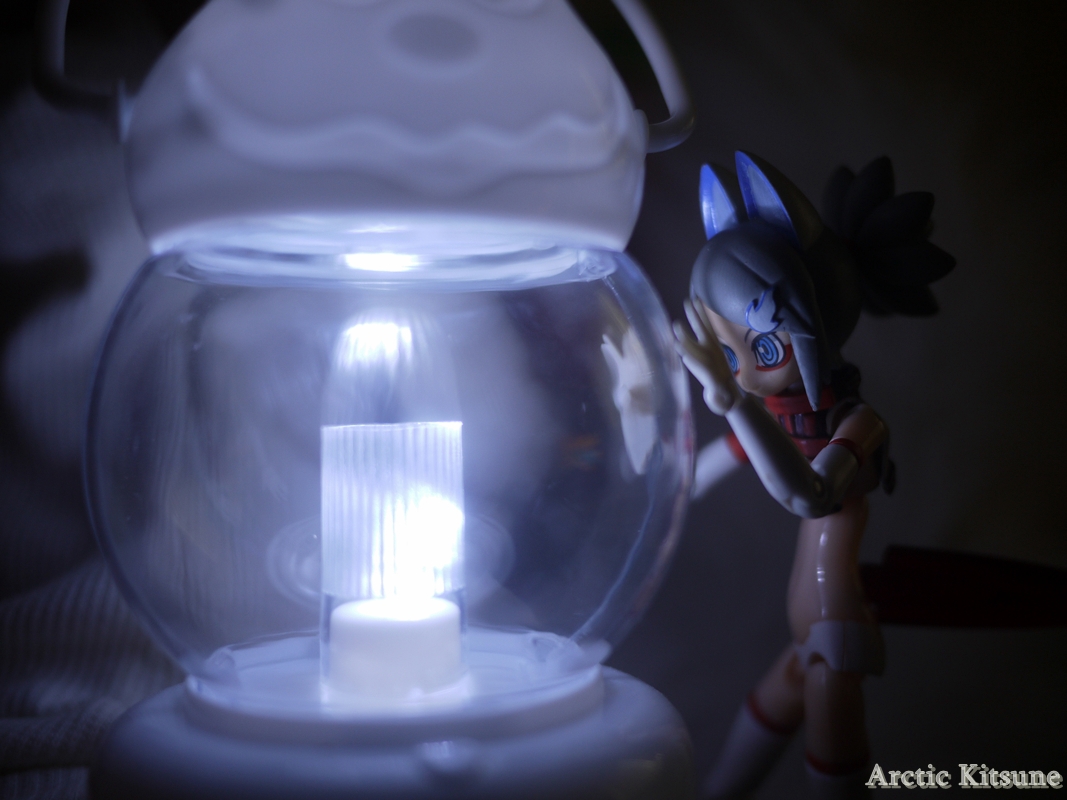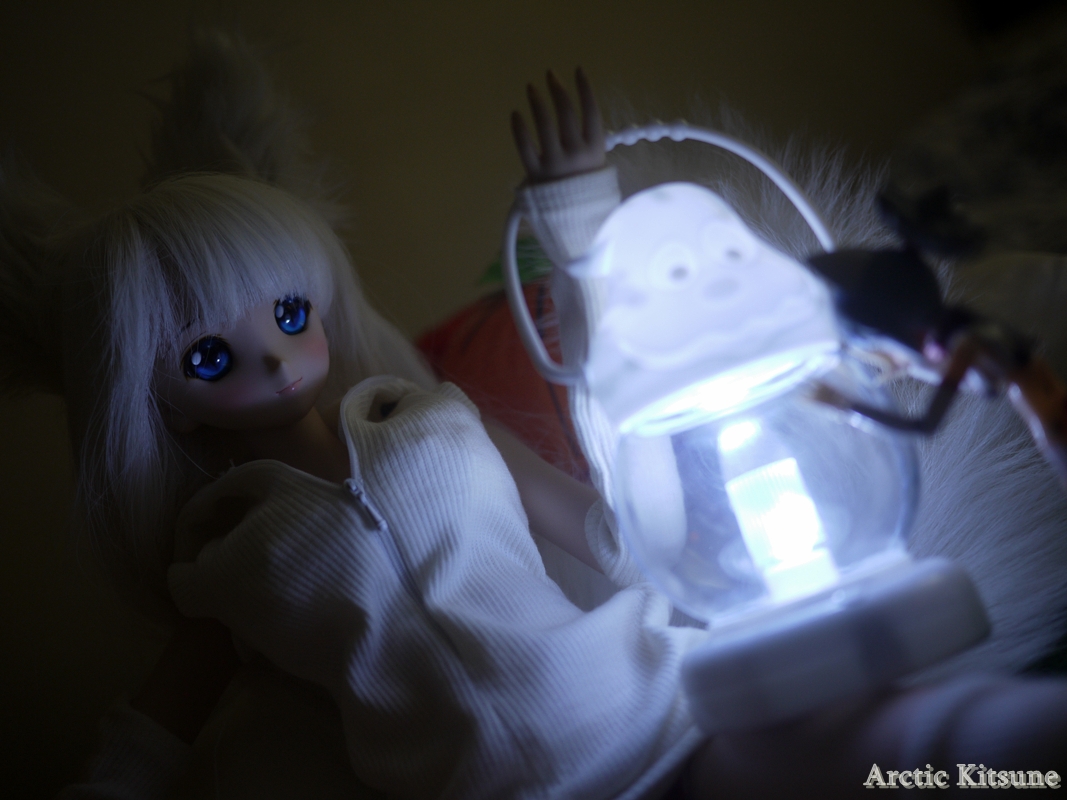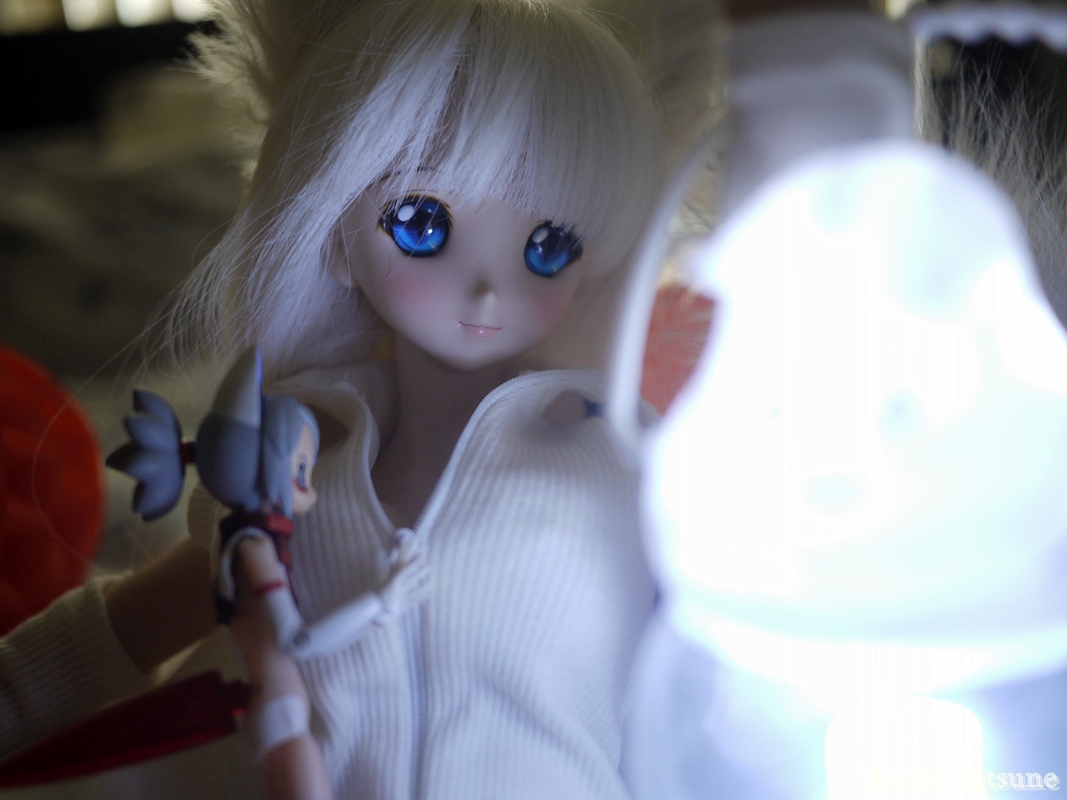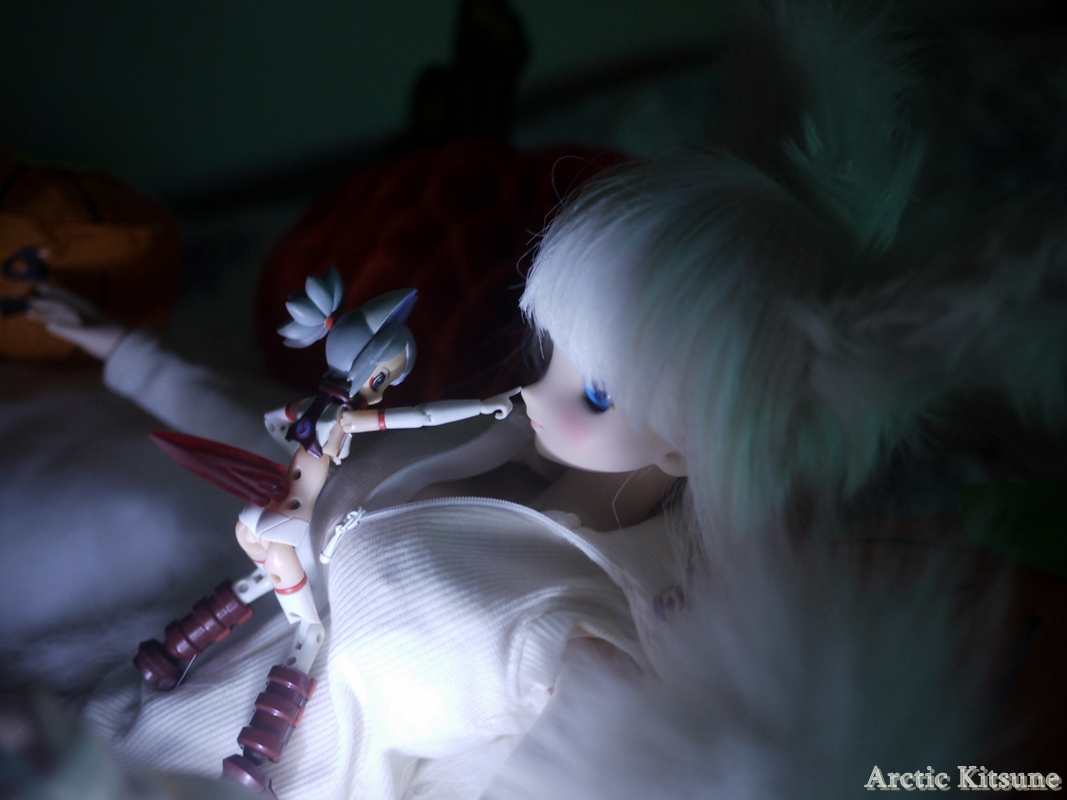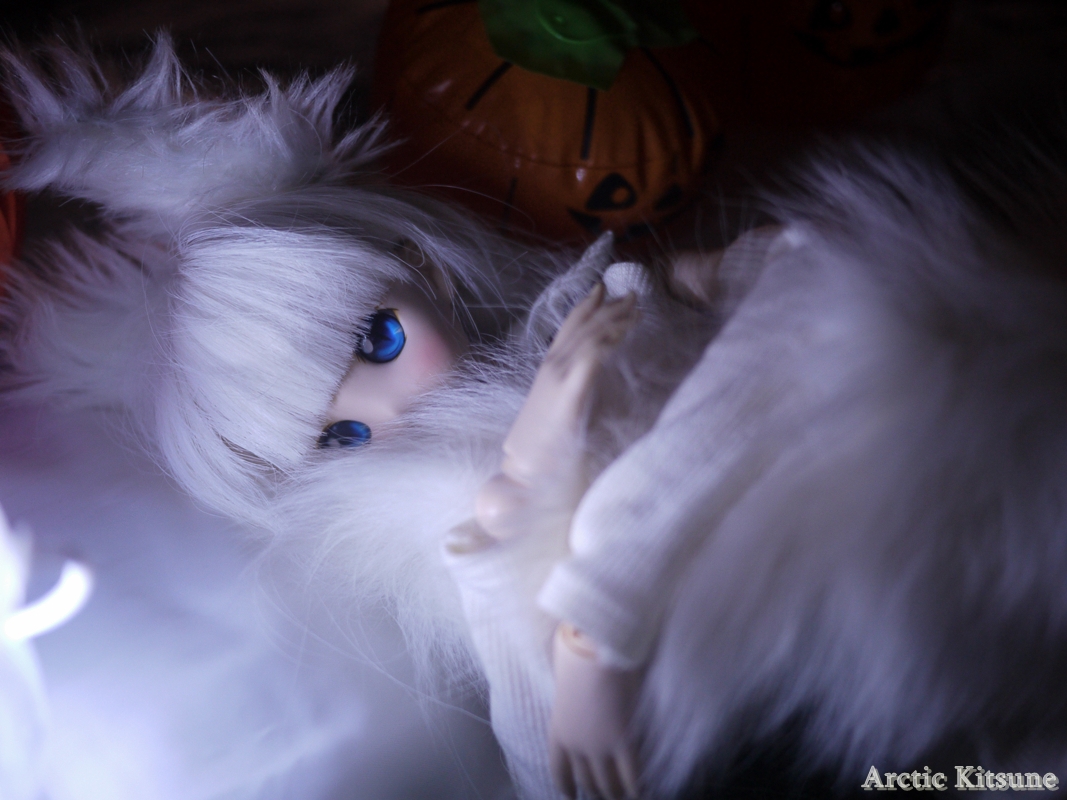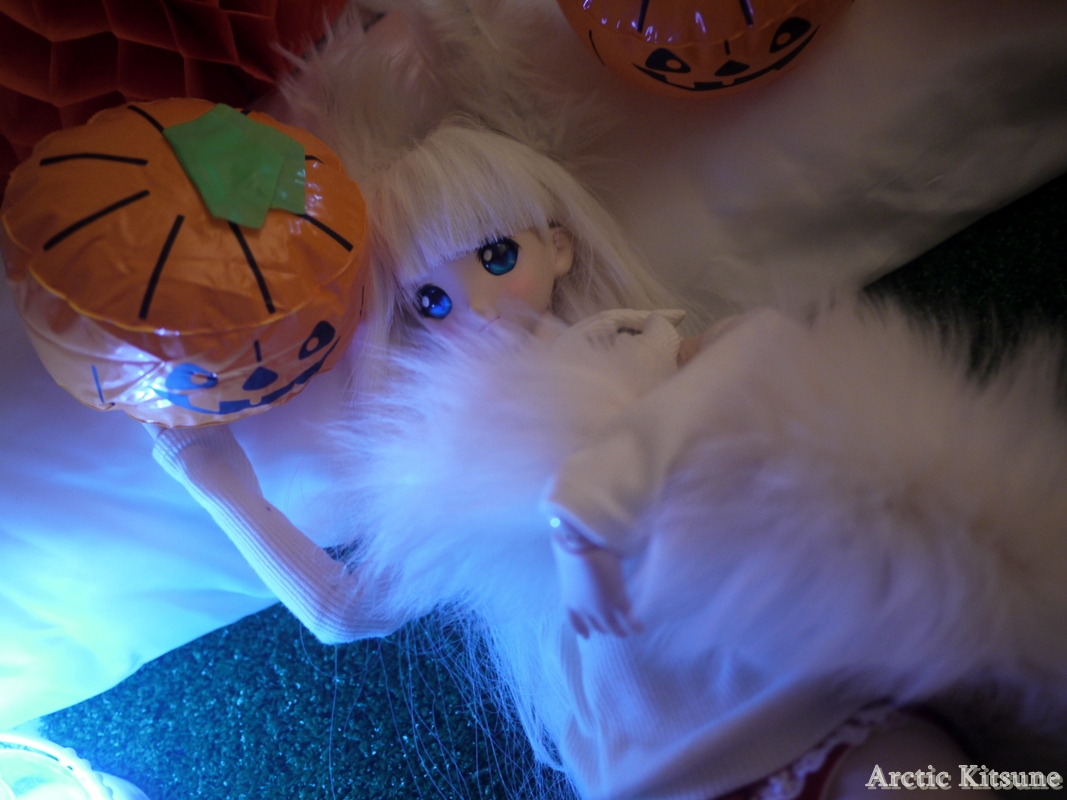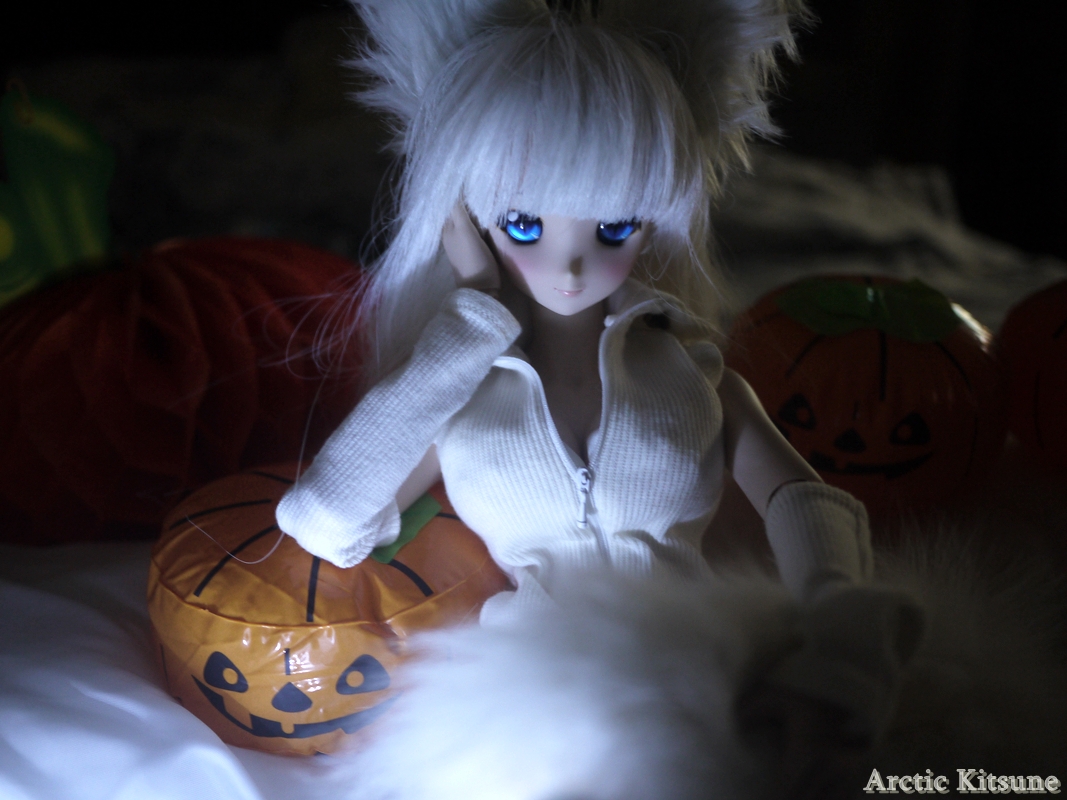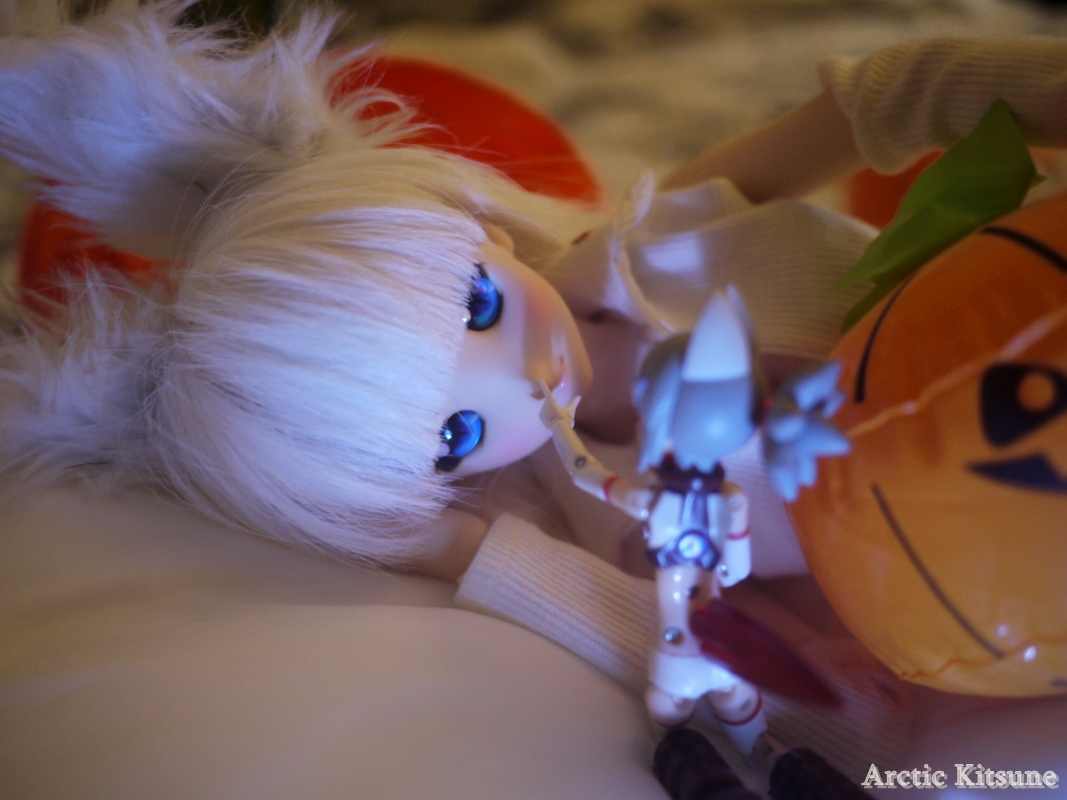 Was attempting to have Vara's butt prodded upward to focus on her tail. Wanted to focus on her fluffy tail arced forward. I either don't know how to pose Dollfies or it just can't be done. I did get a similar pose  working only for the image to fail >.< I'll try again for the next or save it for Christmas.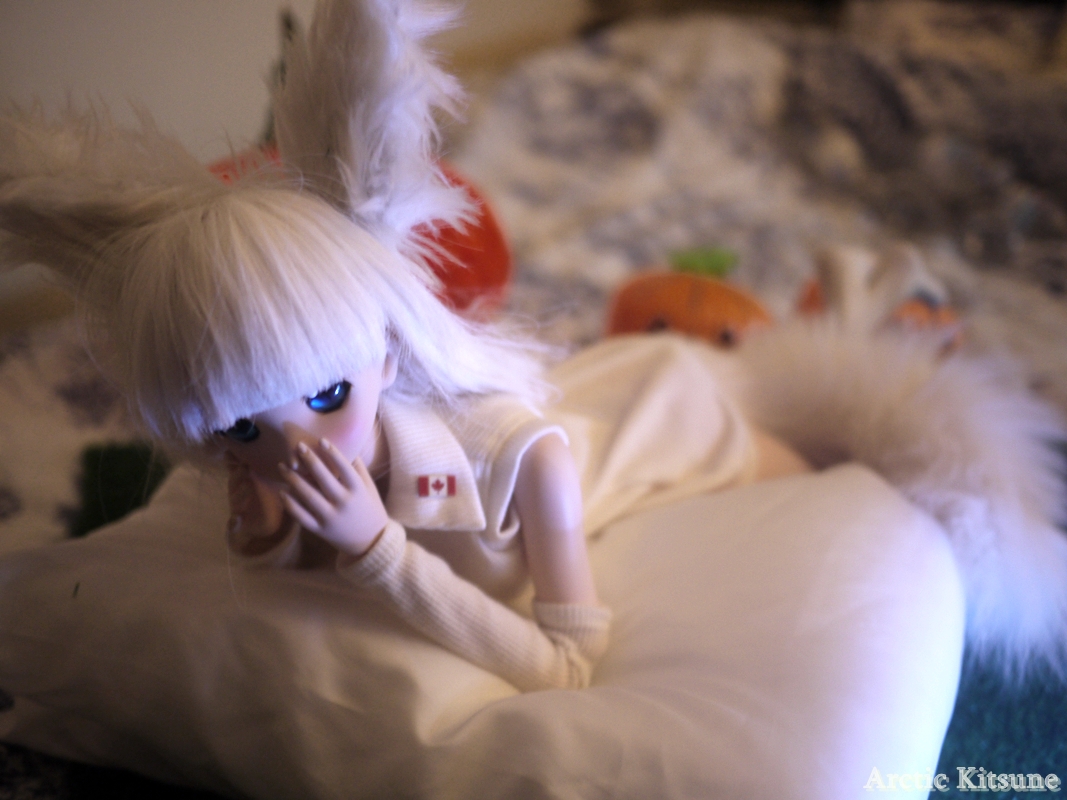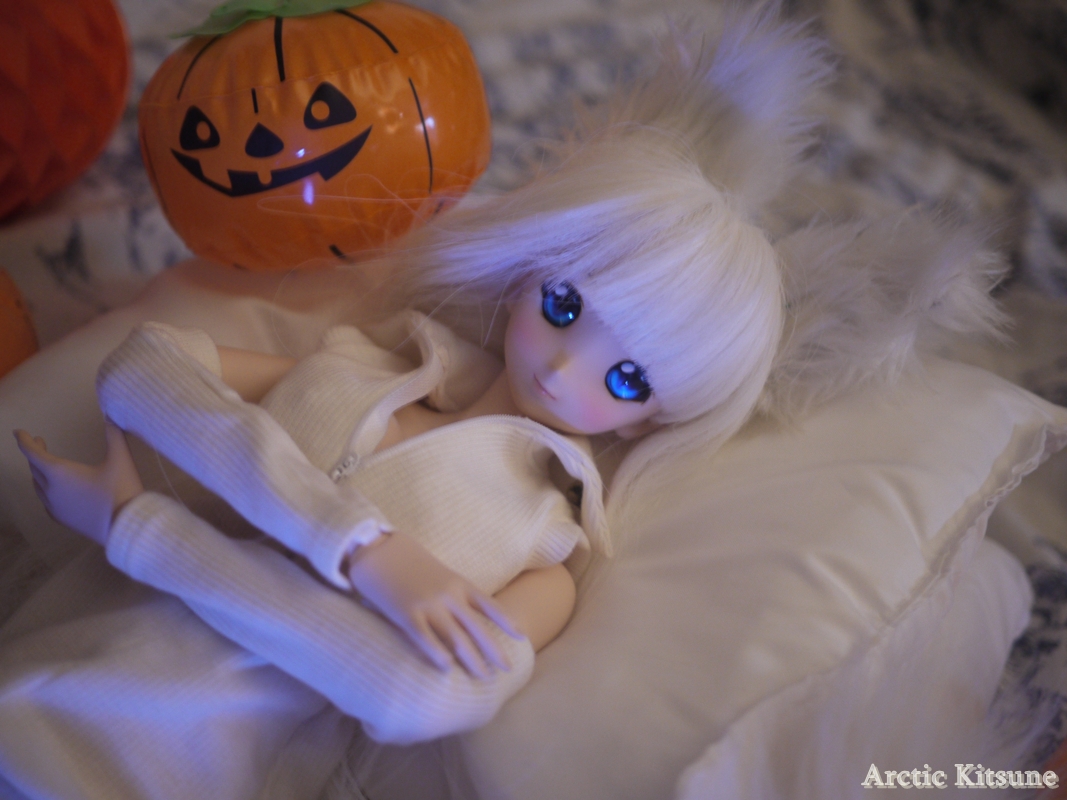 I love how cute Vara looks with her tail. Looks like a nice fluffy hug pillow/daki.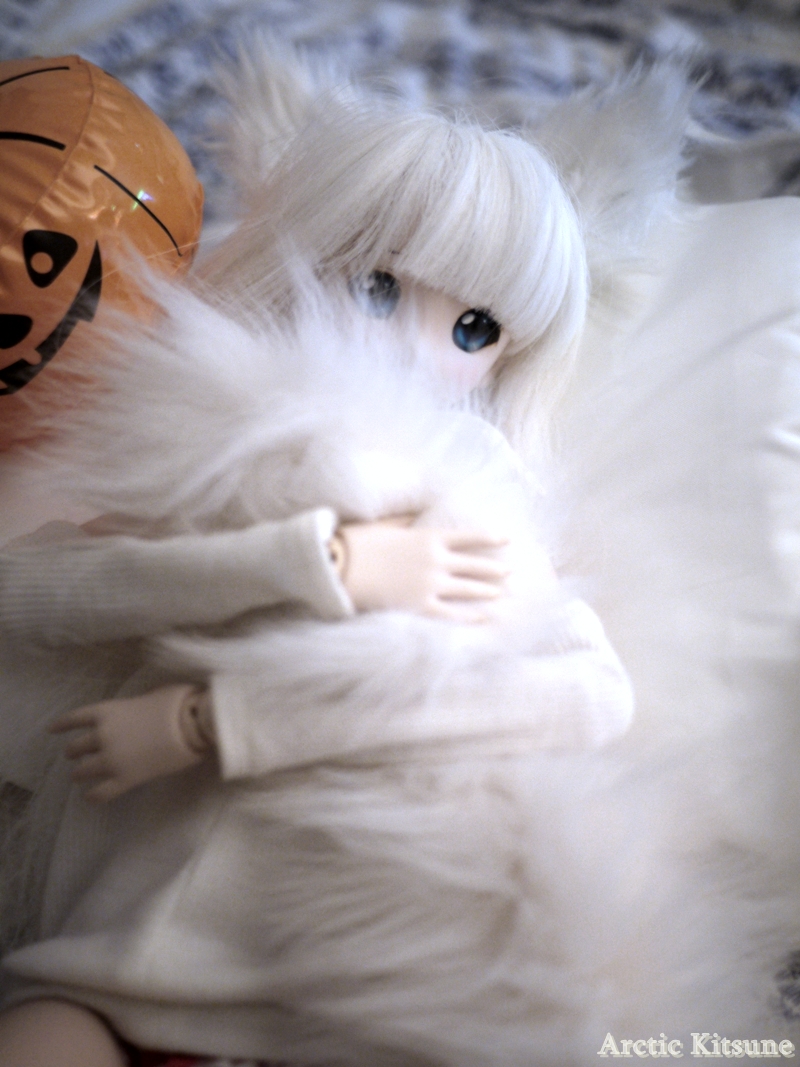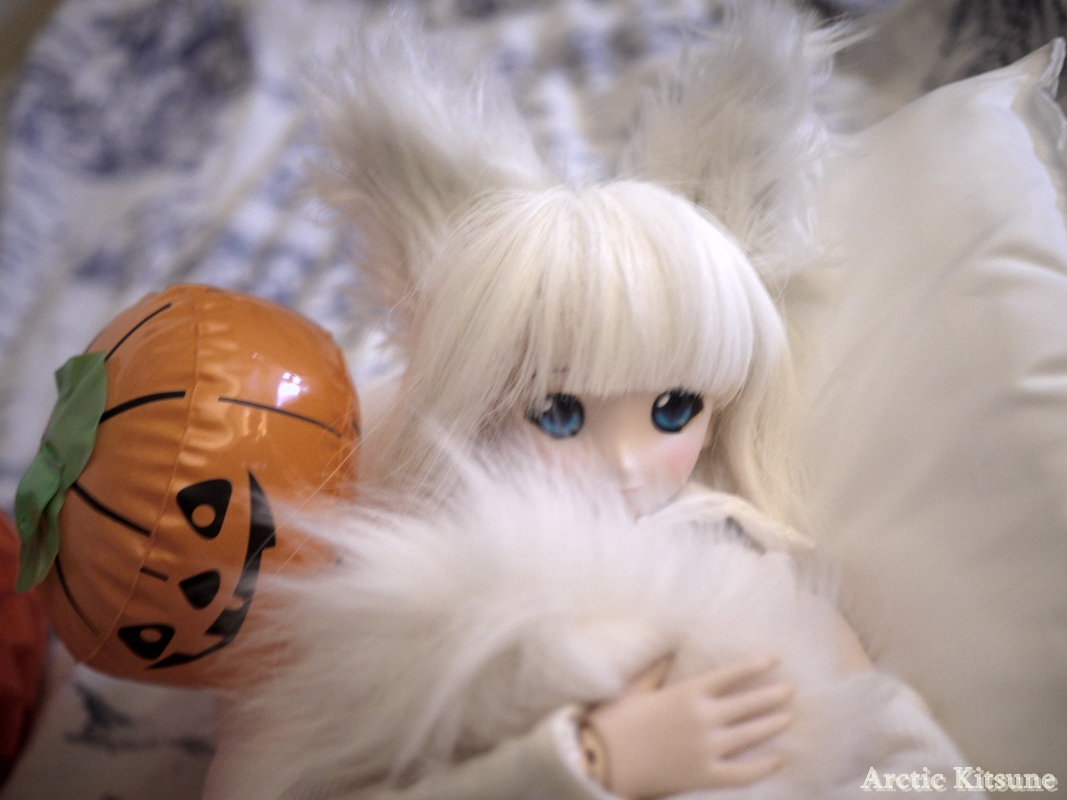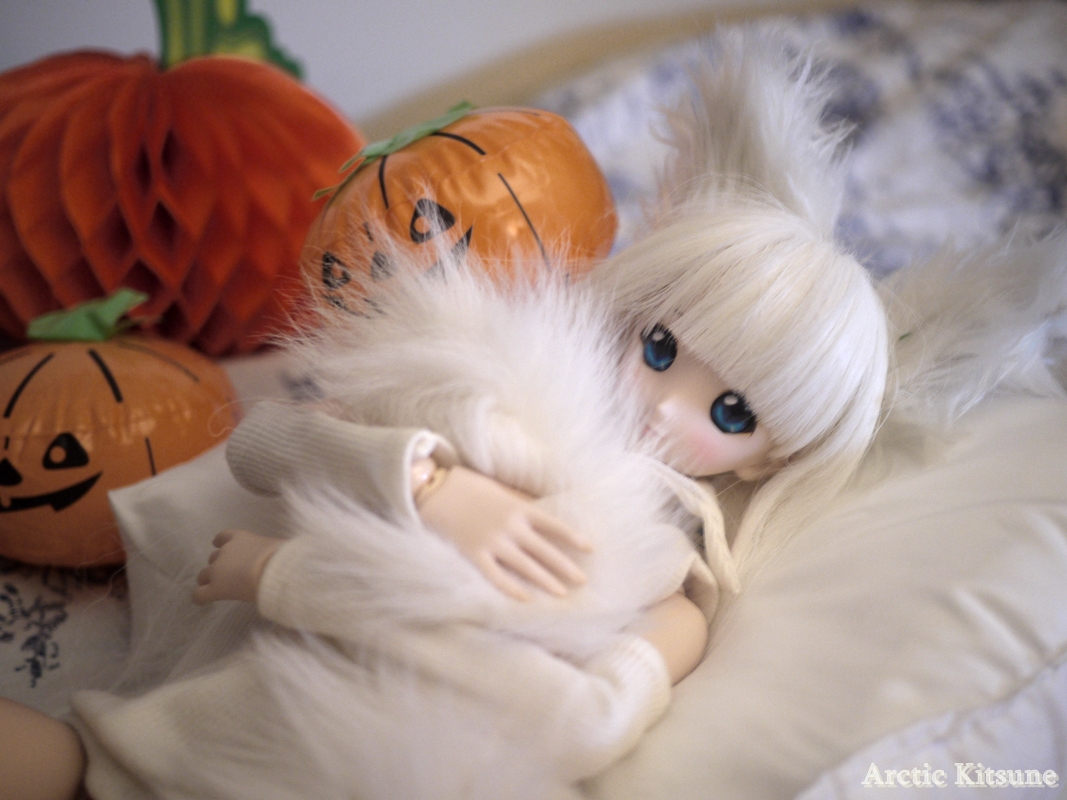 You wondering why I'm not picky about her being skirtless. She's at home so I find it alright. It's only when she's outside that I tend to worry. She's just relaxing, plotting, and forcing me to buy her new outfits like – This military uniform, second version, and this busty dress. Can't even find a Santa Dress from CoolCat or Volks. Not sure how to even purchase fox masks from ALBA DOLL without actually being in Japan. I may need to poke my two Japanese contacts, just afraid of doing so with the silence given from previous Busou Shinki related requests and don't want them hating me either. Those accessories all appear to be event only items needing Japanese assistance or a much needed trip to Japan.
(I should have been in Japan by now; I need to go to Japan – constant echo in my mind.)
—-
– Part 2 – Renge and Ach's Outdoor Autumn Adventure:
Been wanting to bring out my Busou Shinkis outdoors only to get stopped by rain, gloomy autumn clouds, and strong winds. Quite chilly and windy day it was. Brought Renge and Ach outdoors to enjoy the best of the autumn weather.
I basically went to the water filtration plant with an interesting mini garden. It was obviously out of season now to even take advantage of the garden. Still a nice place.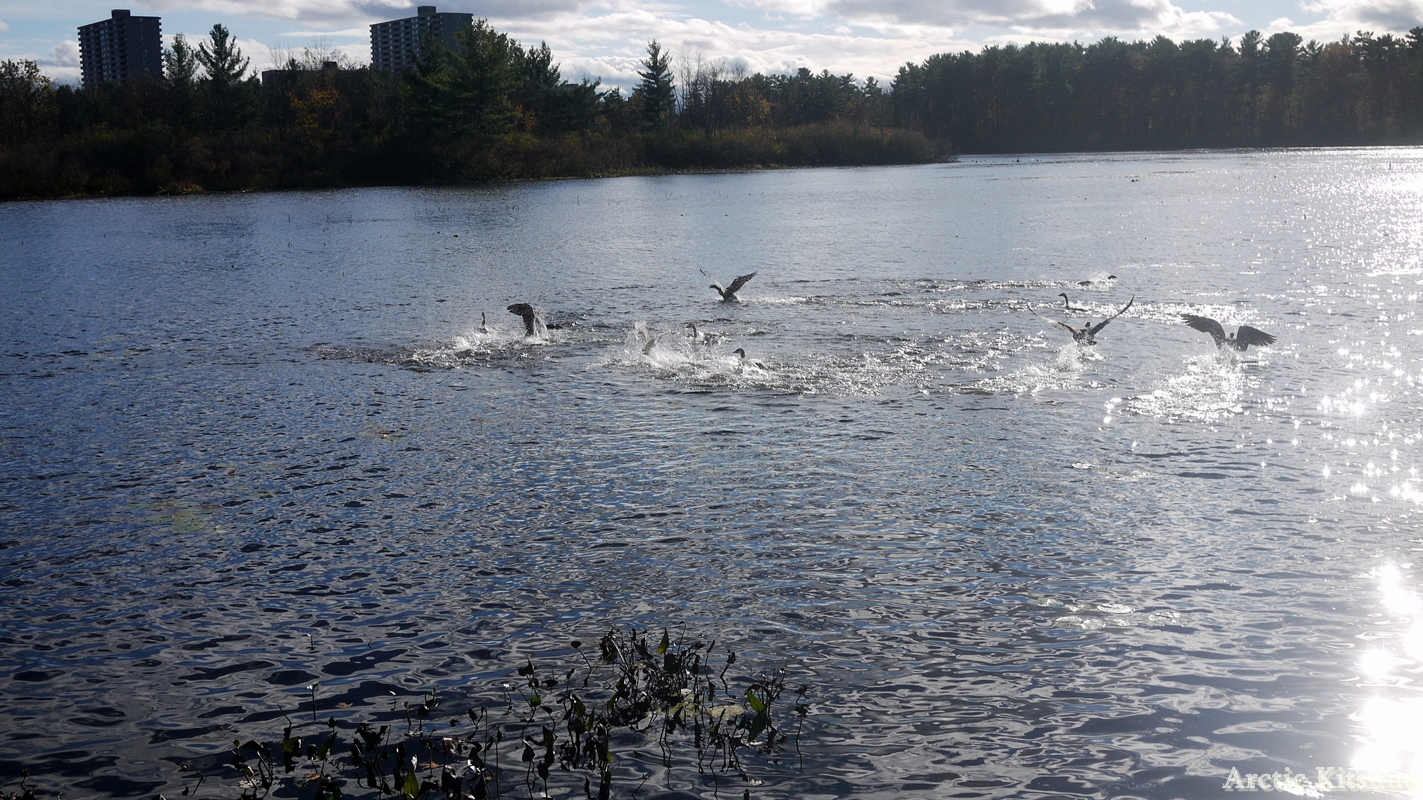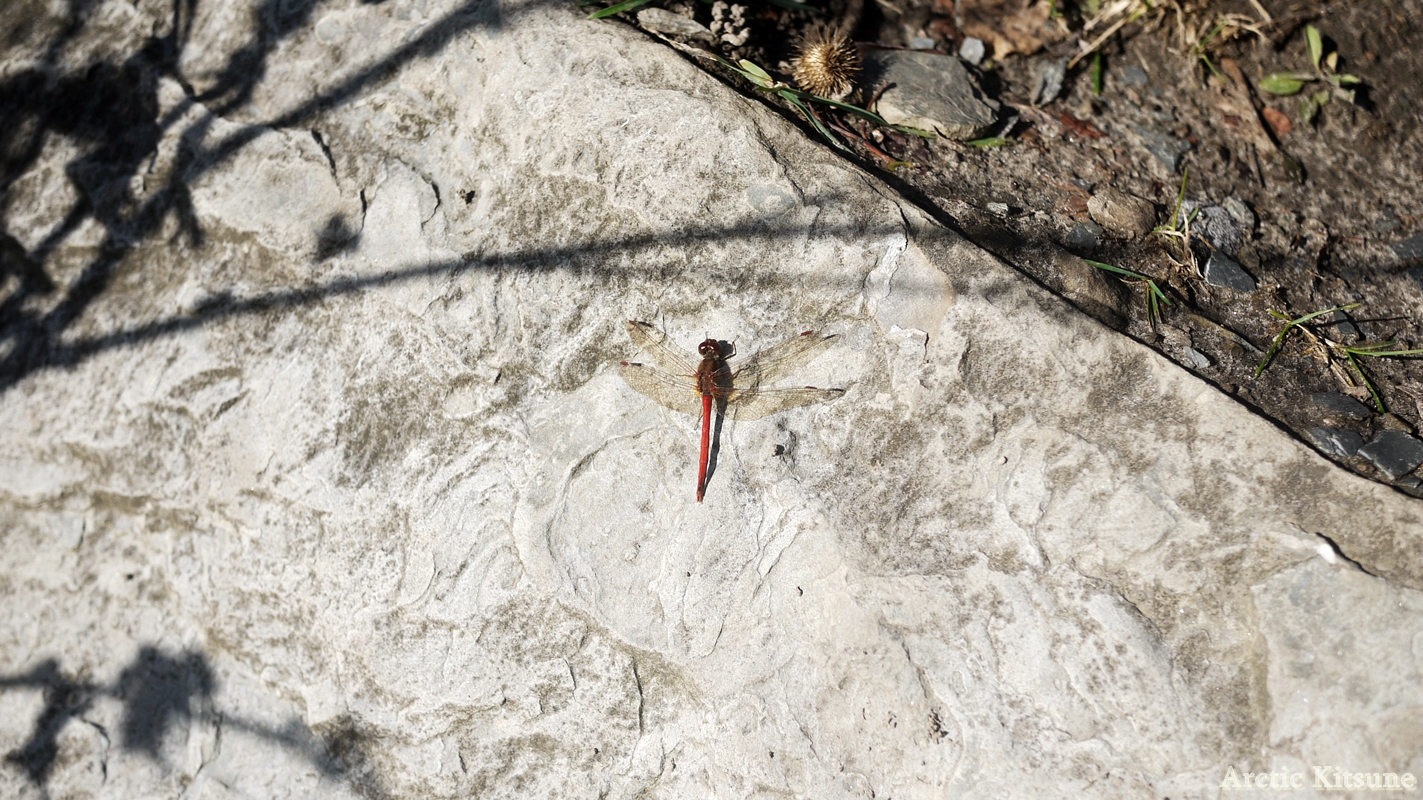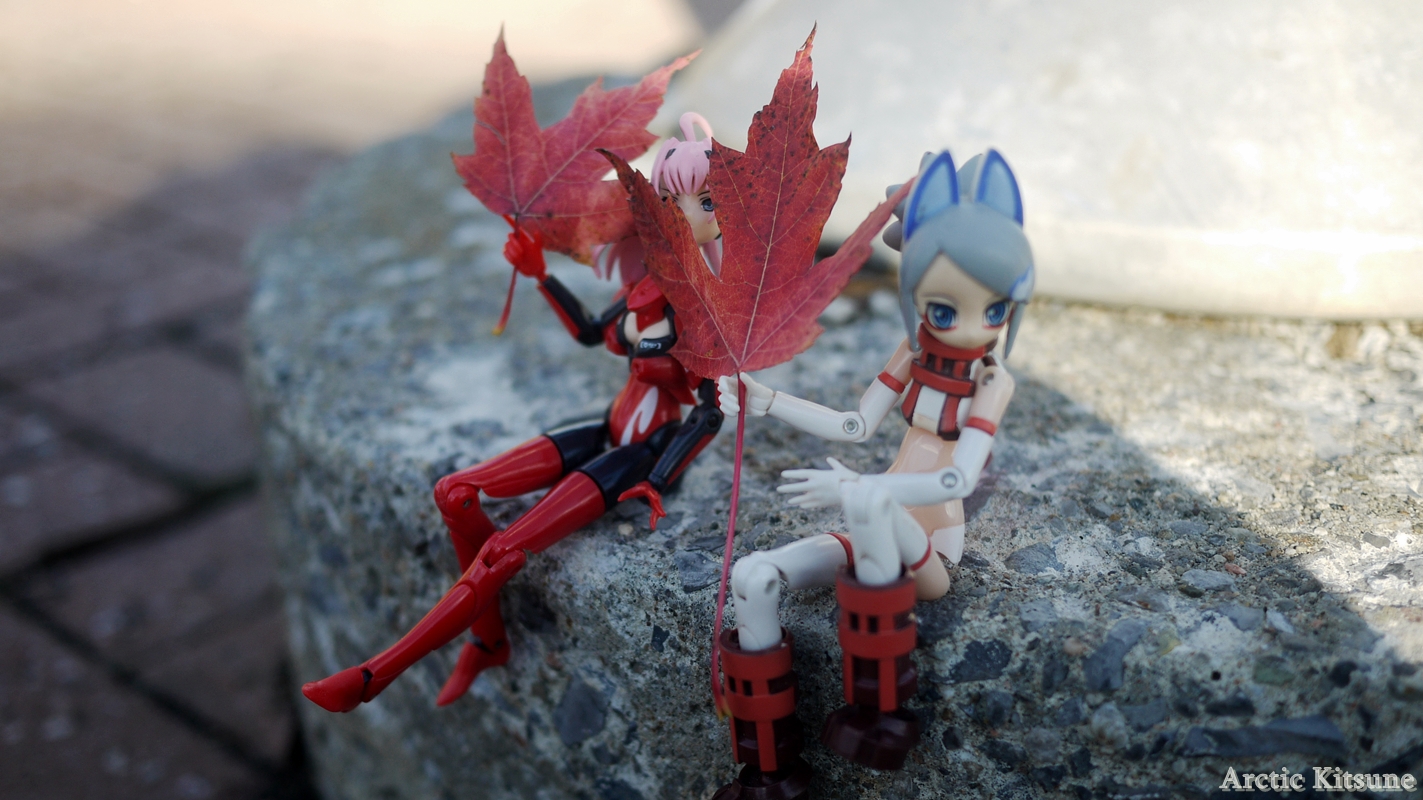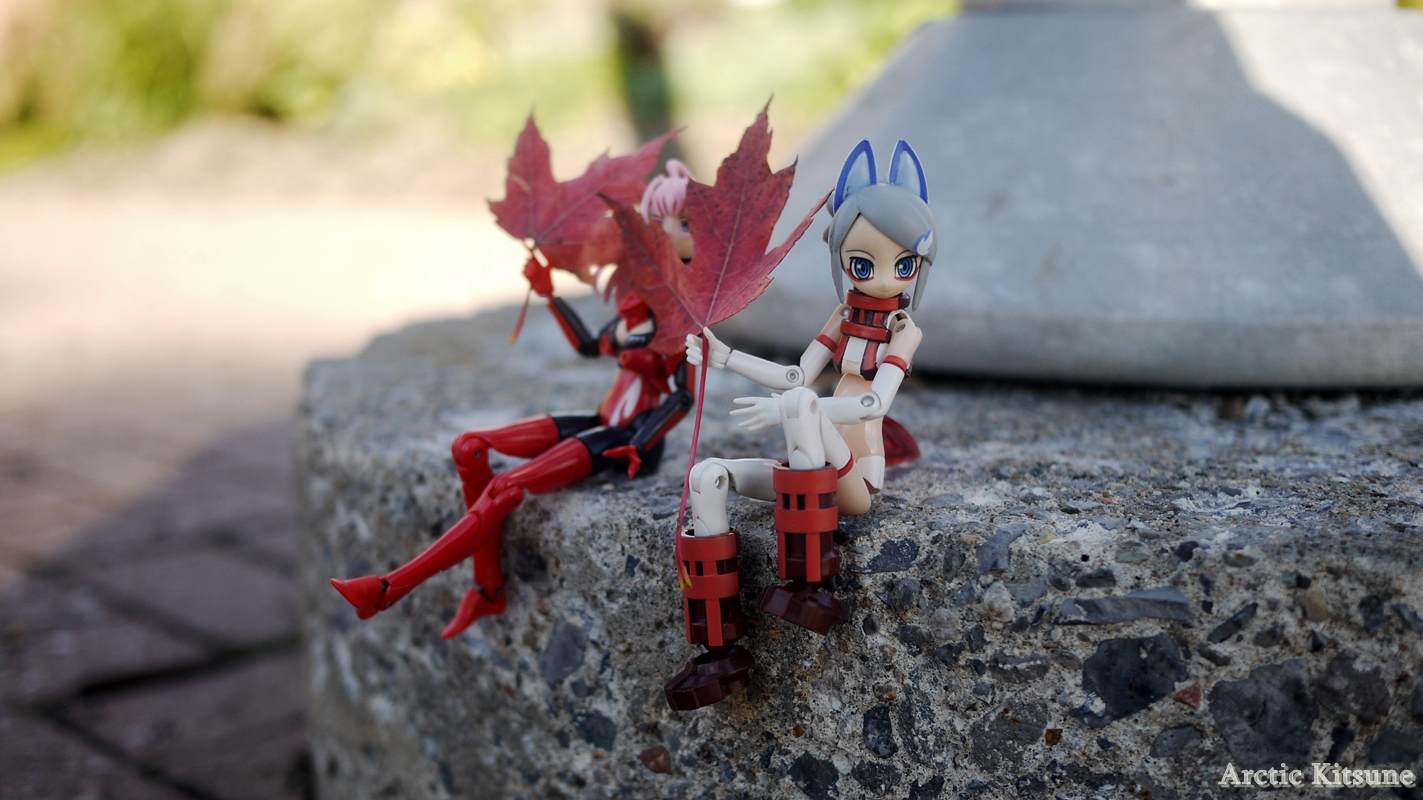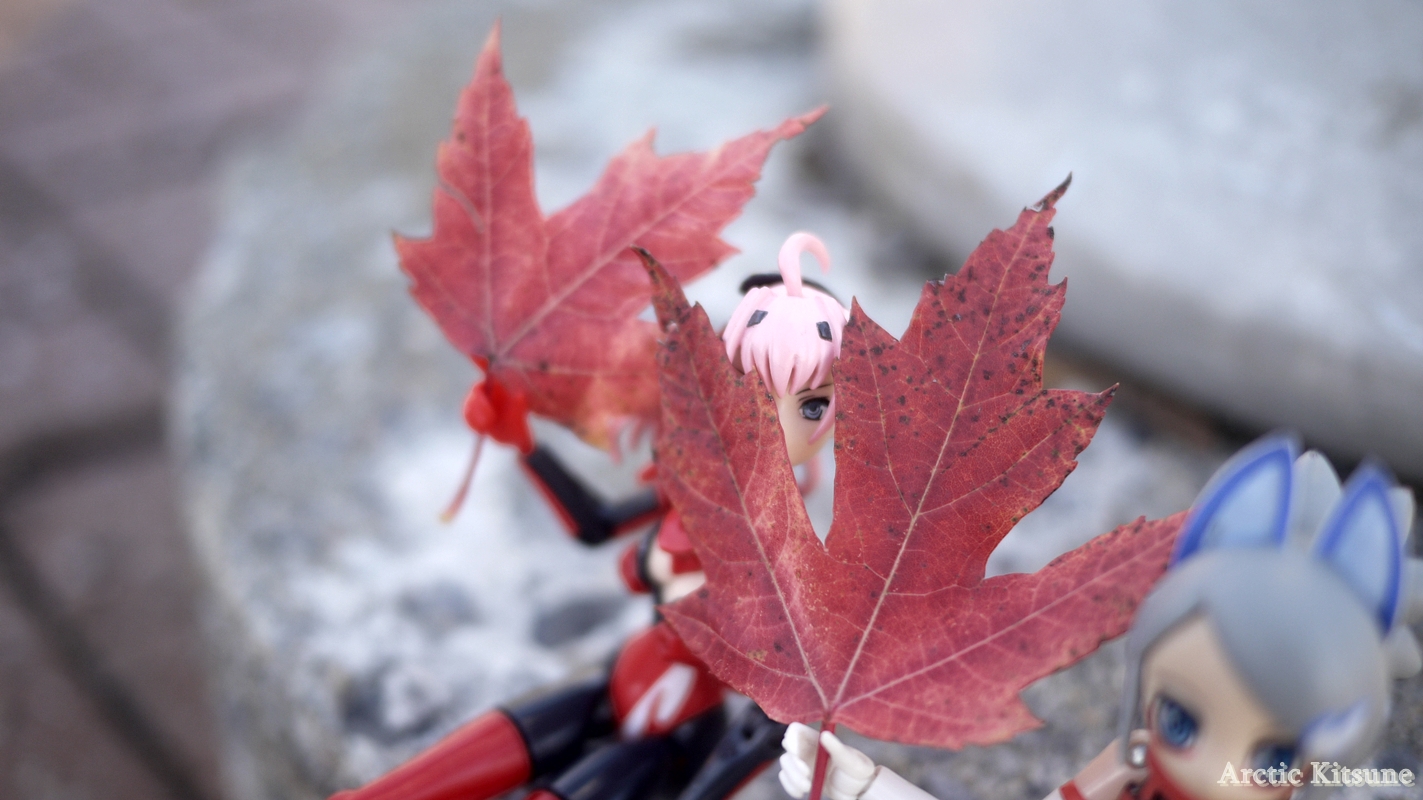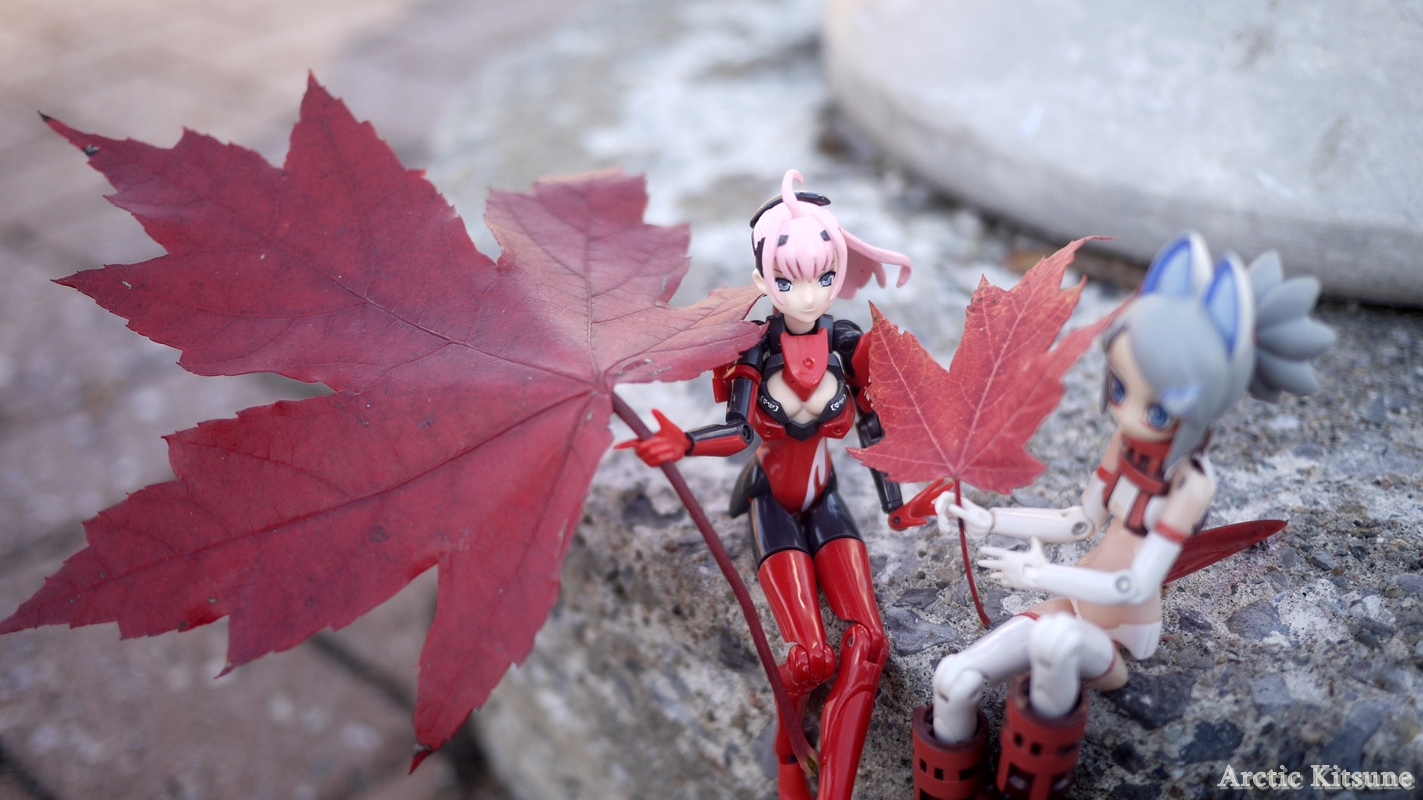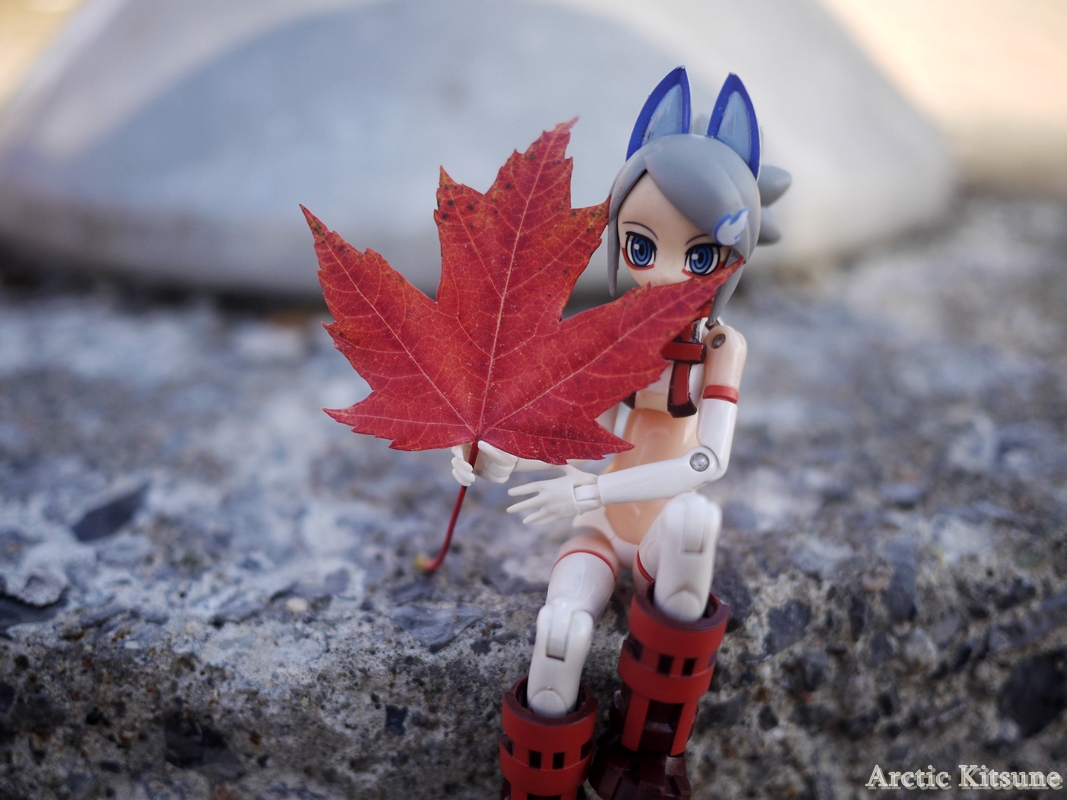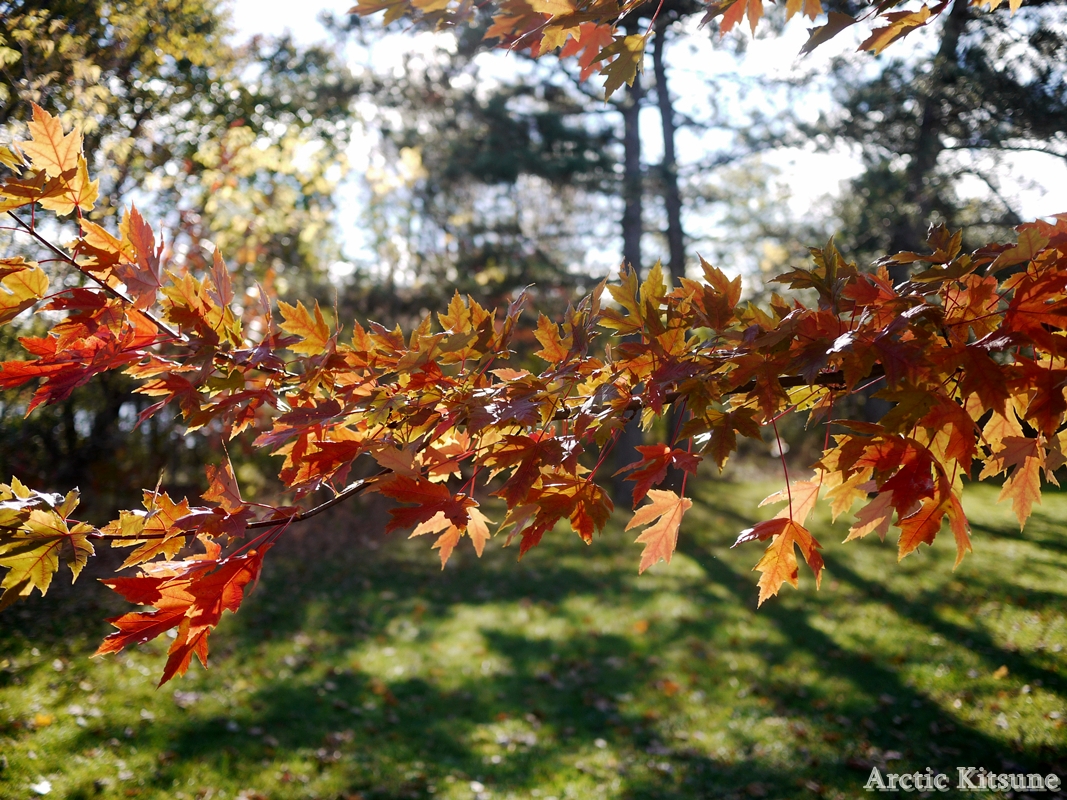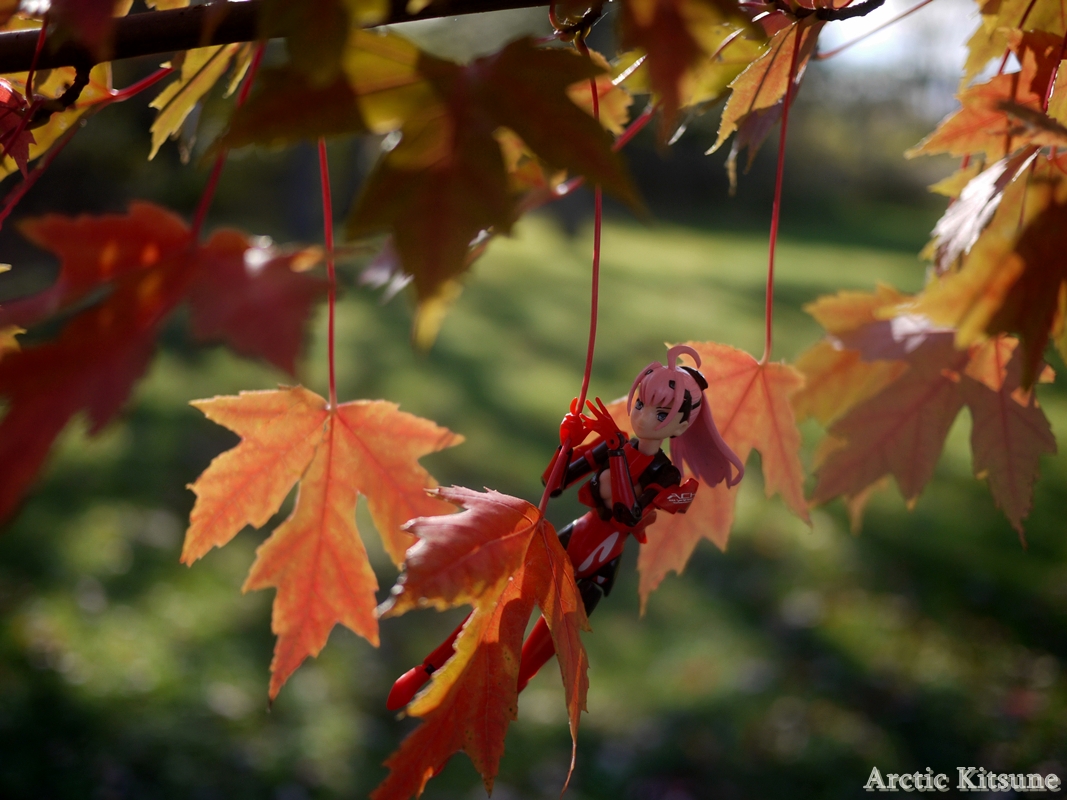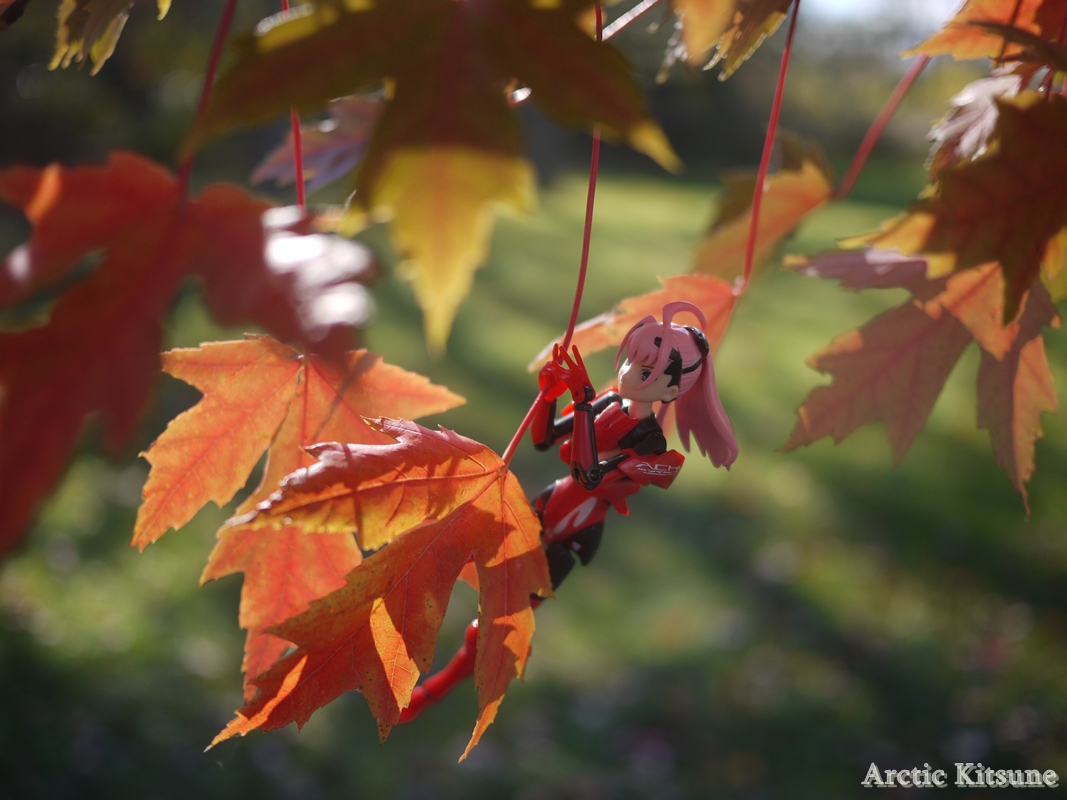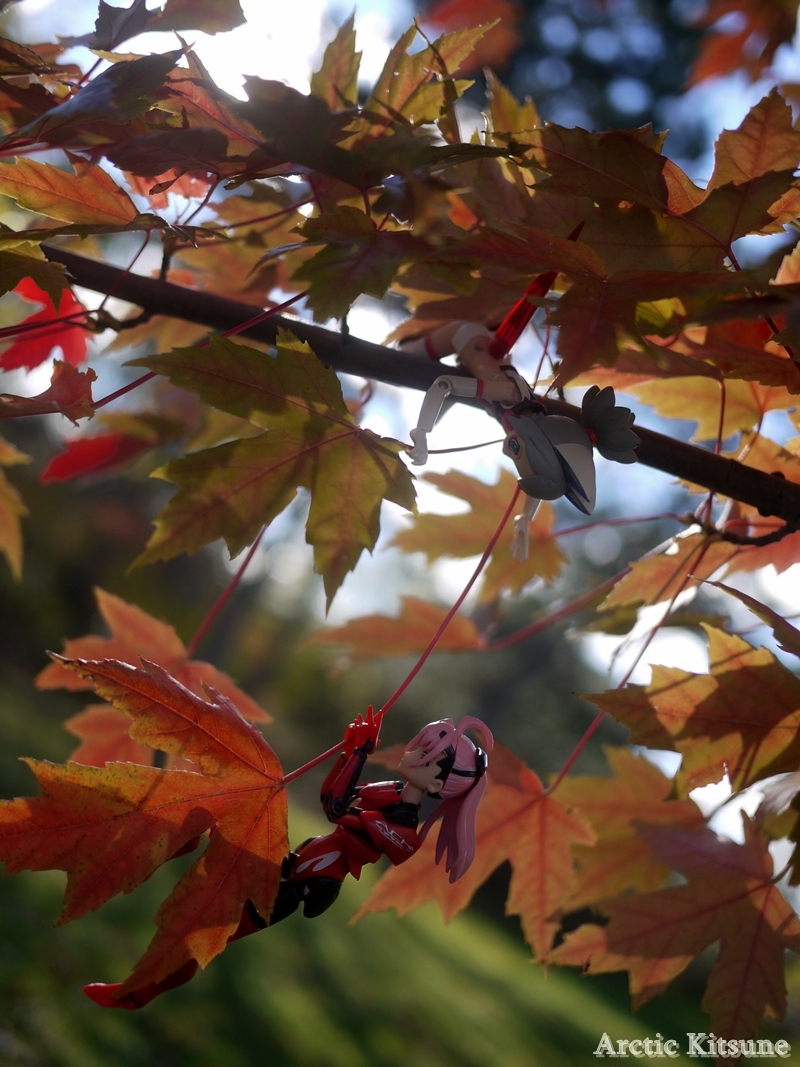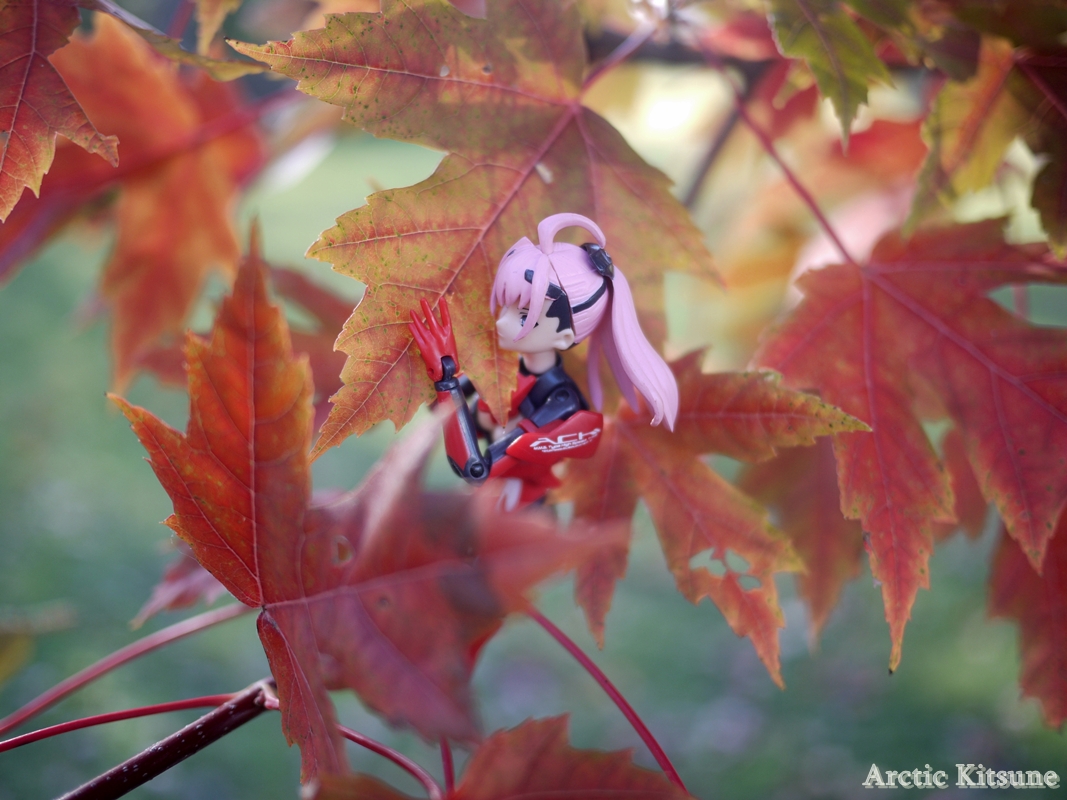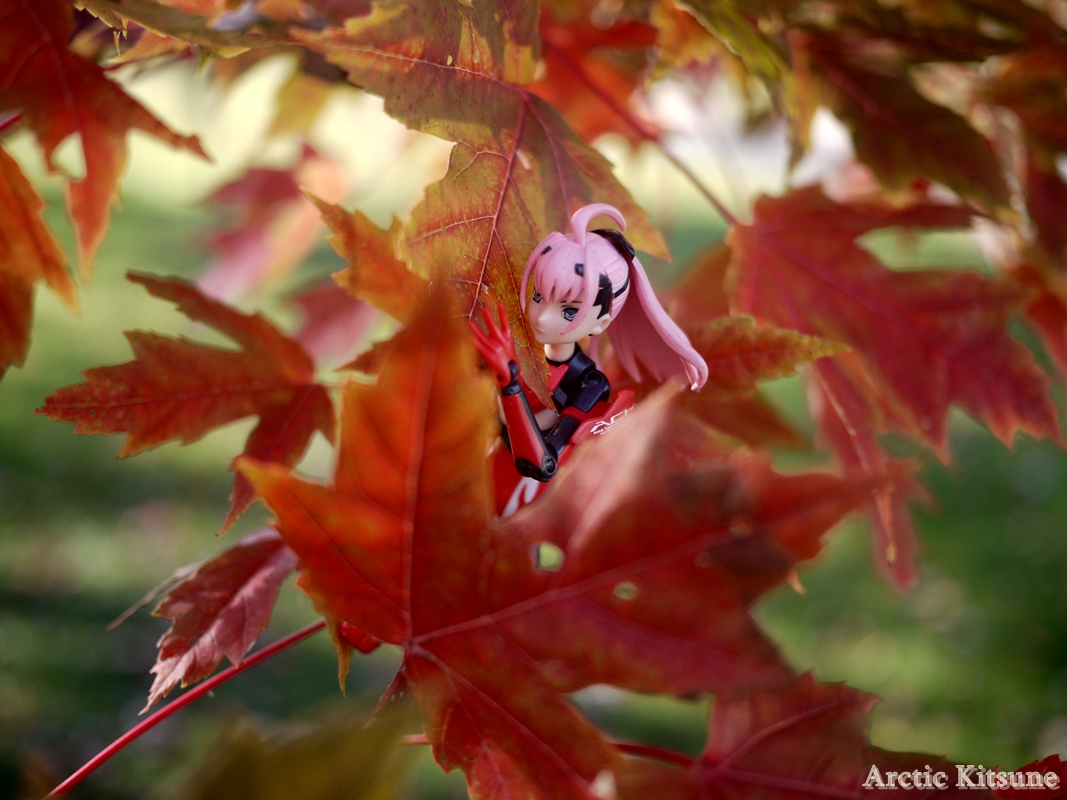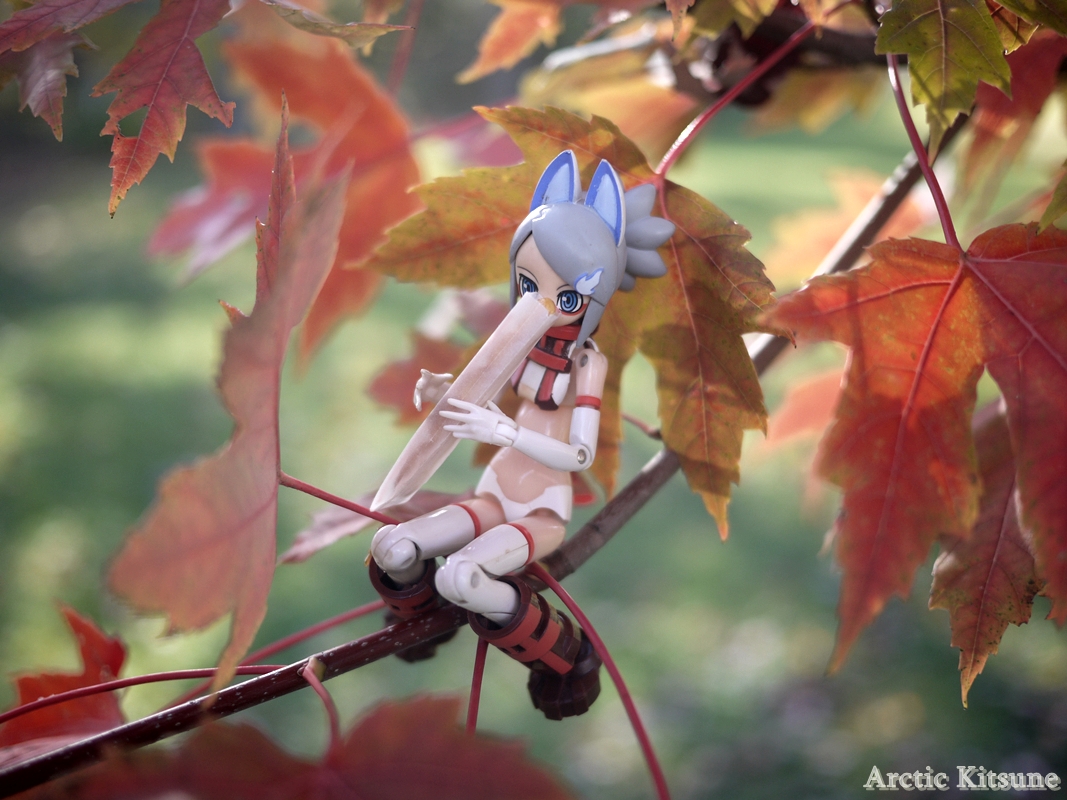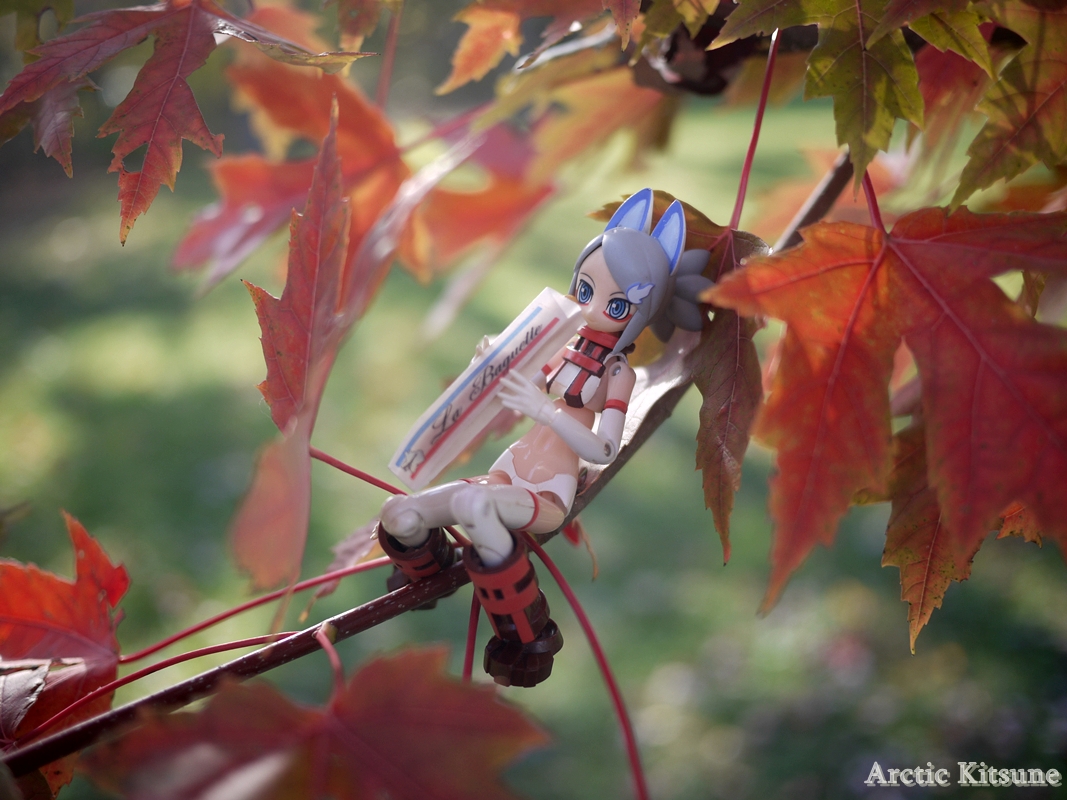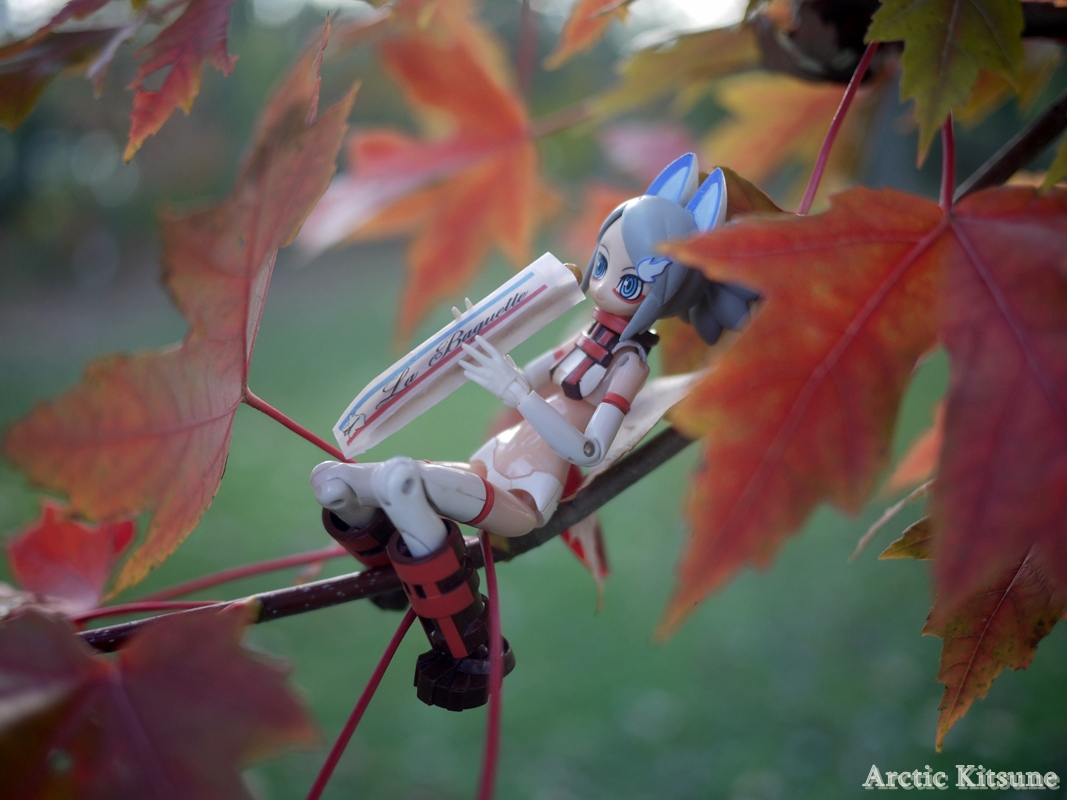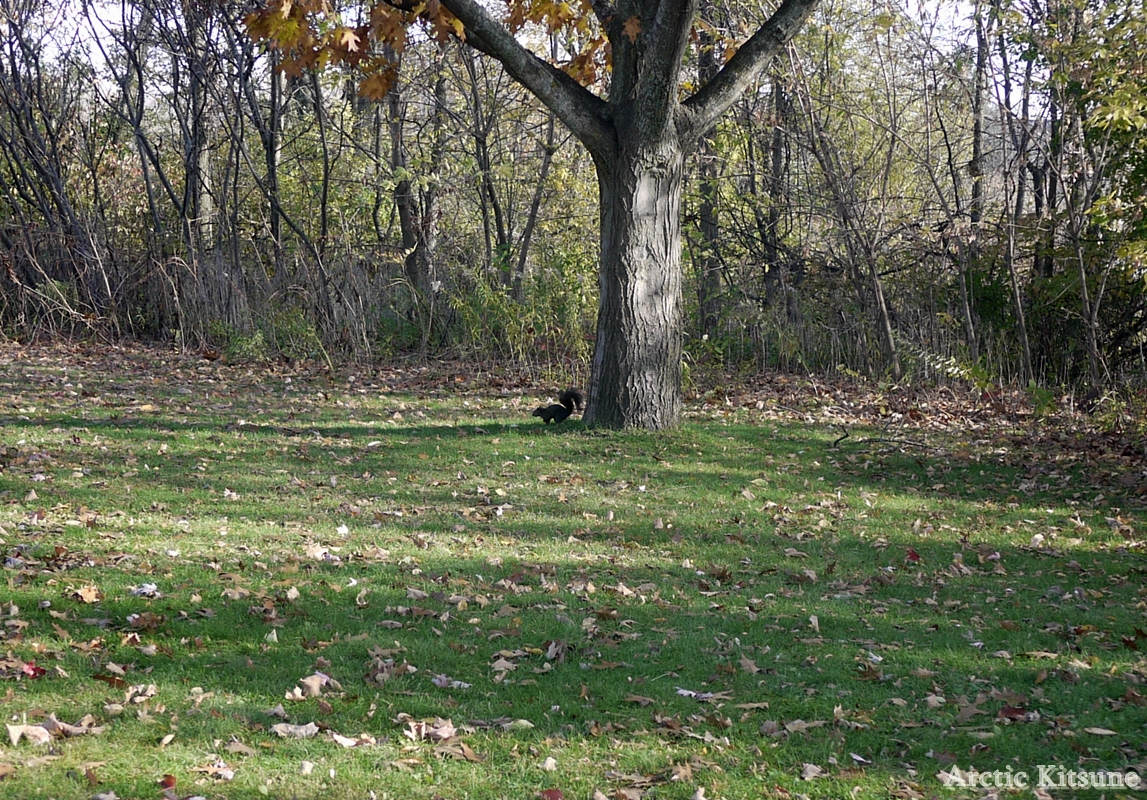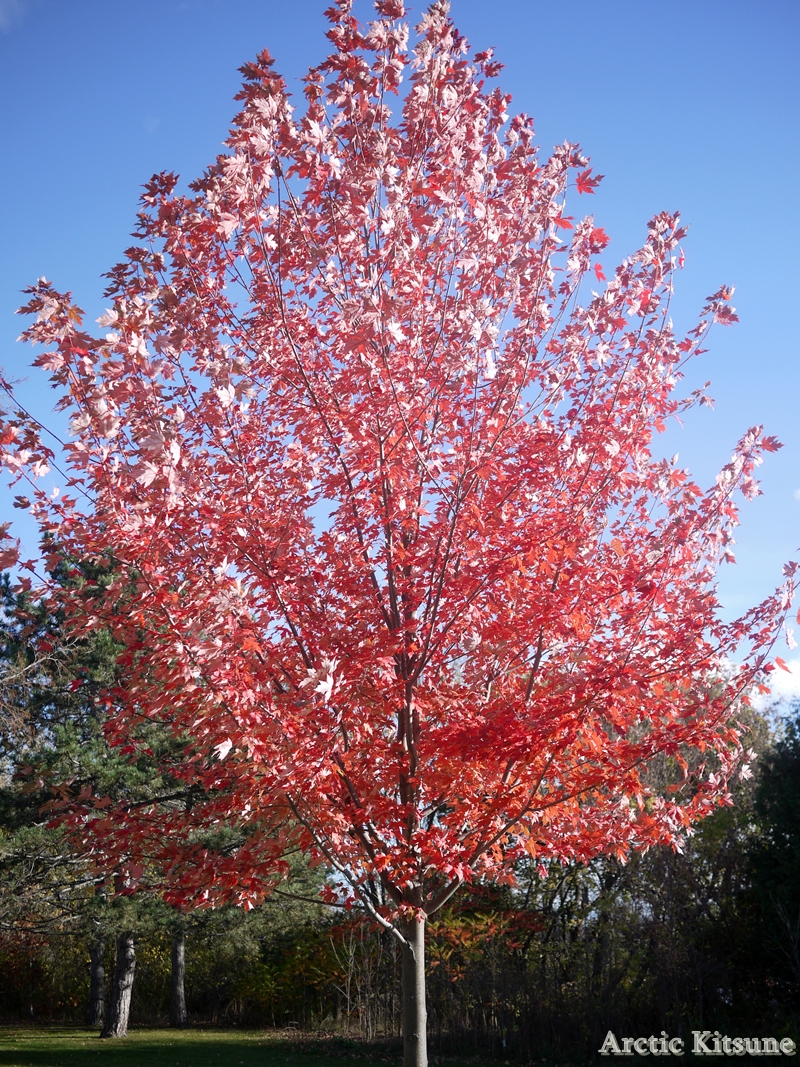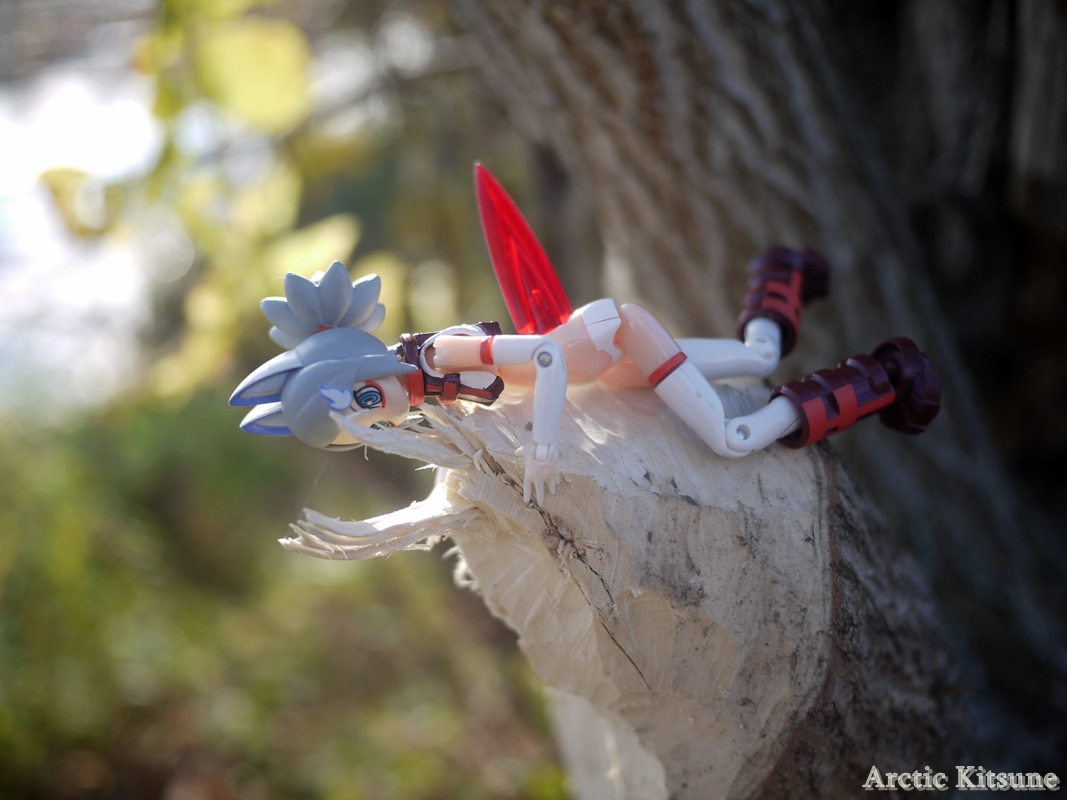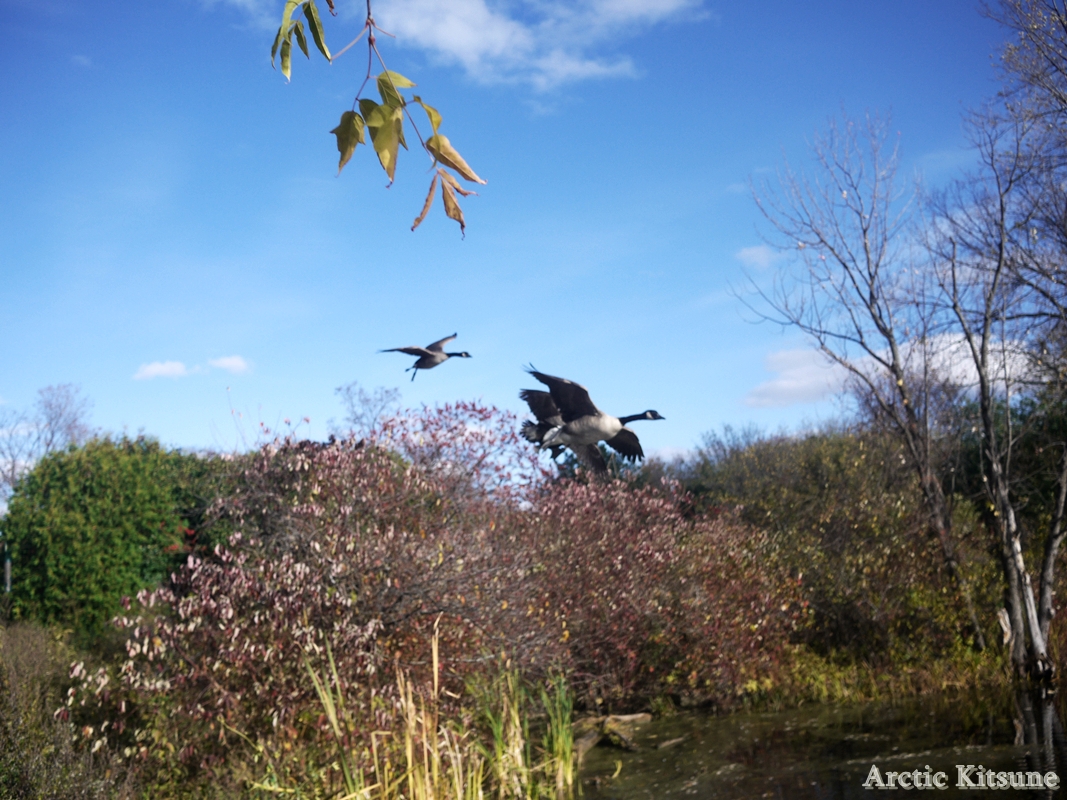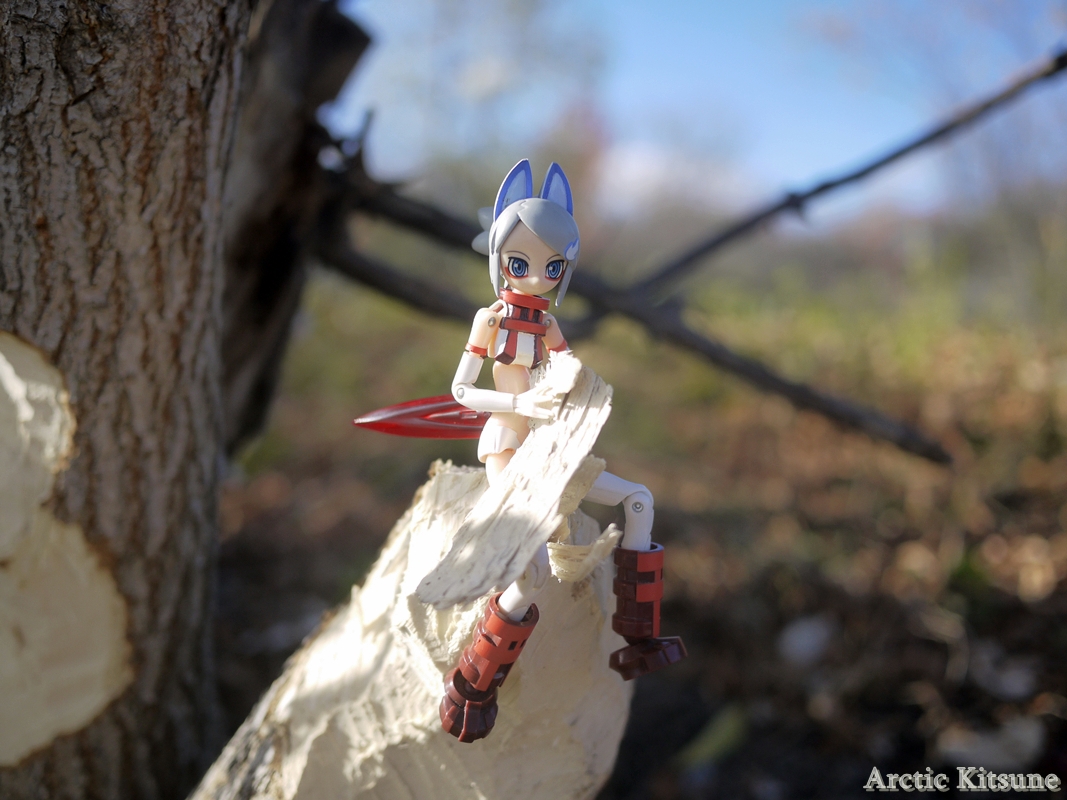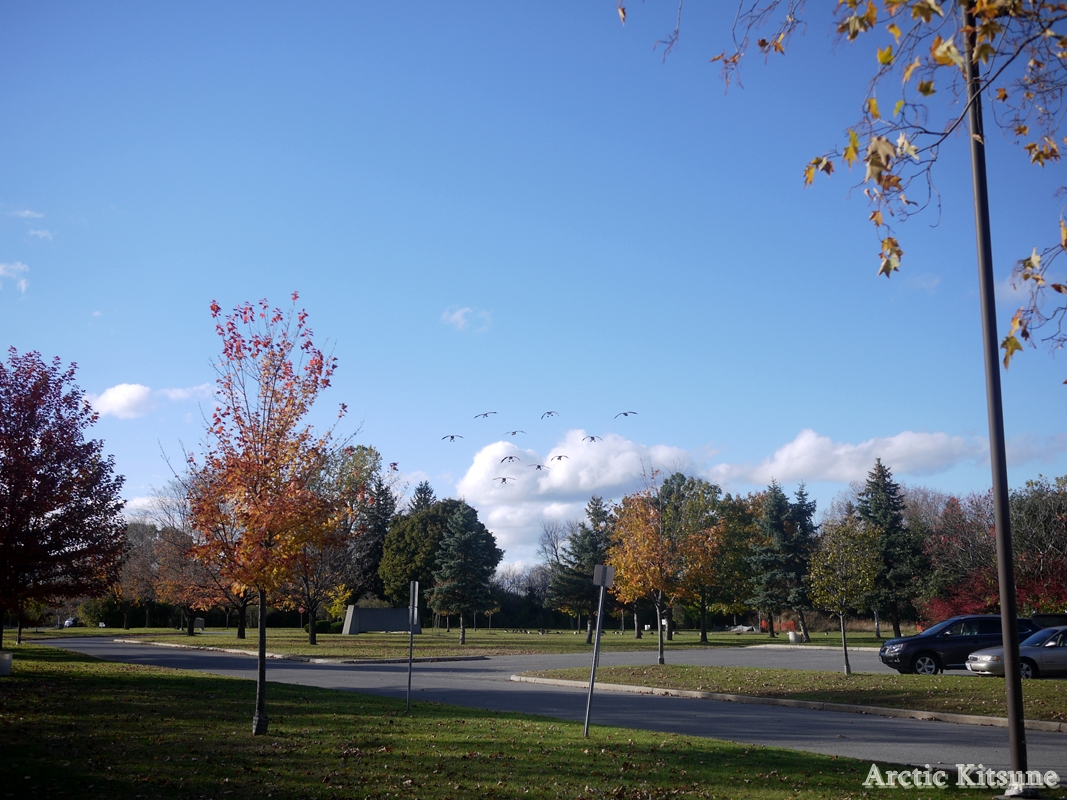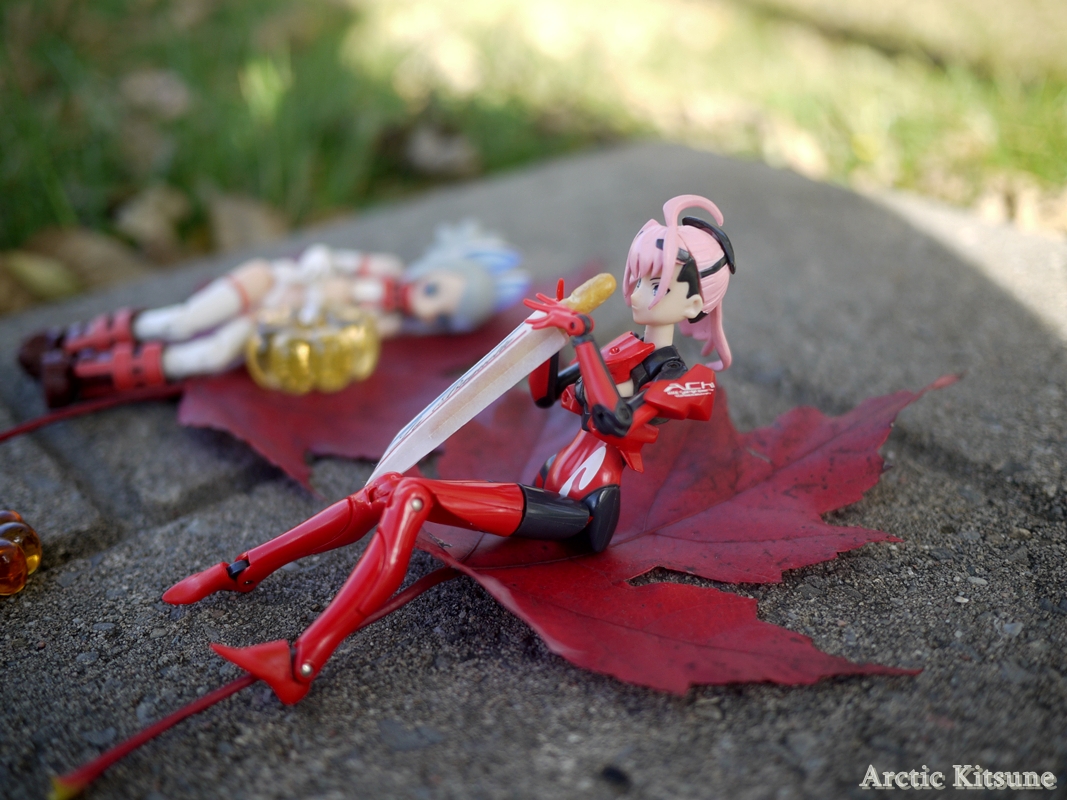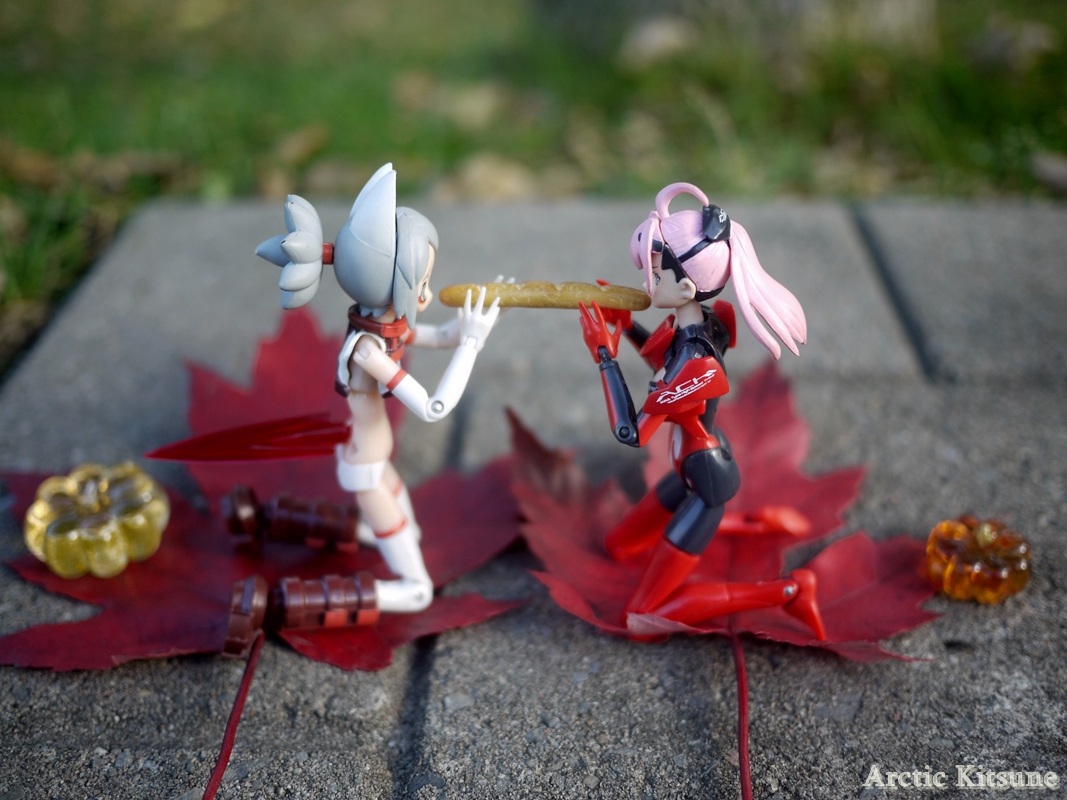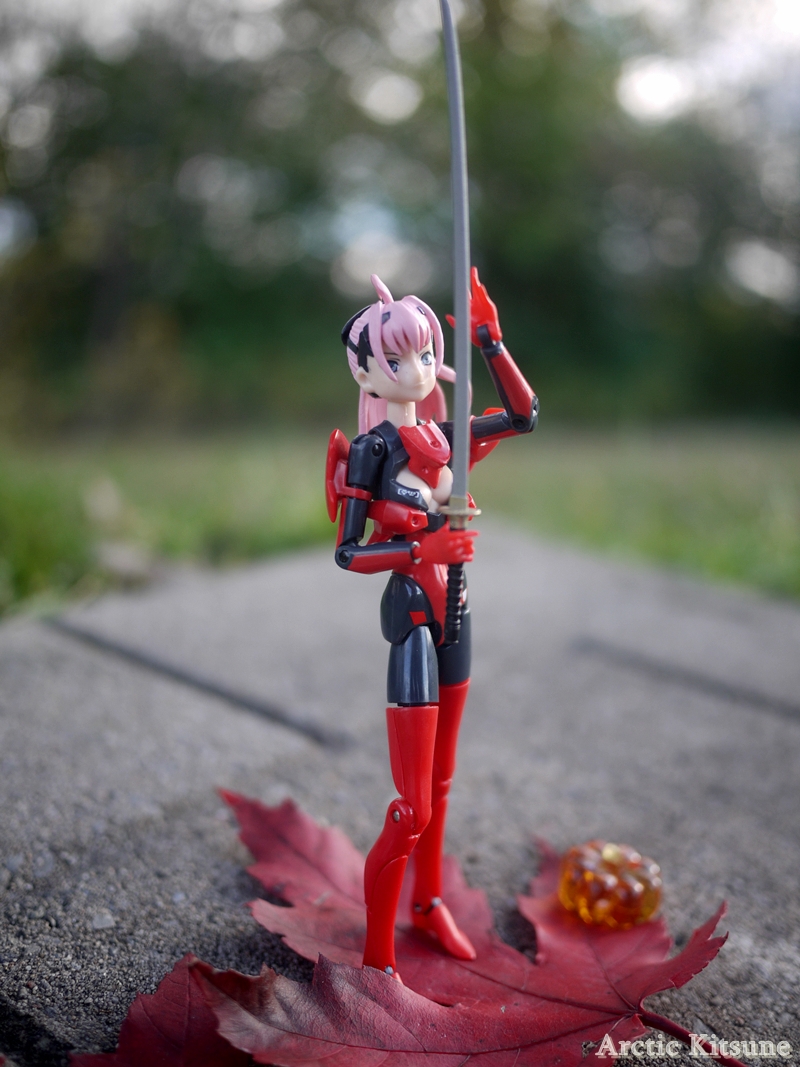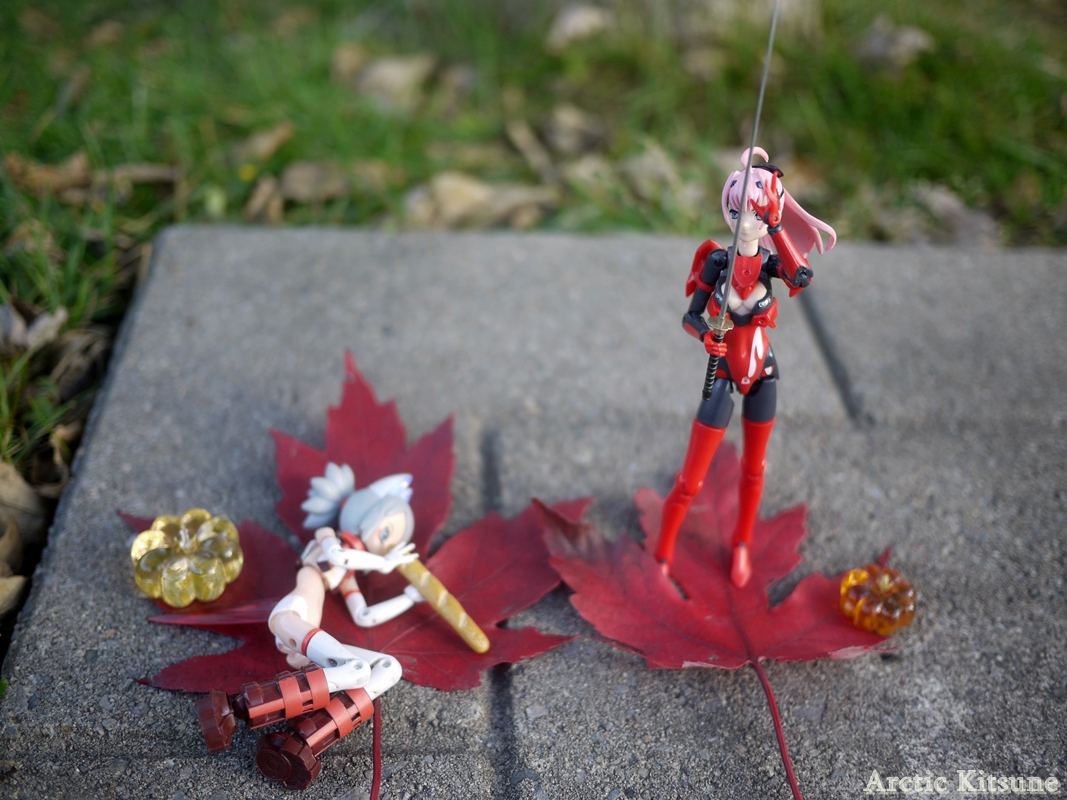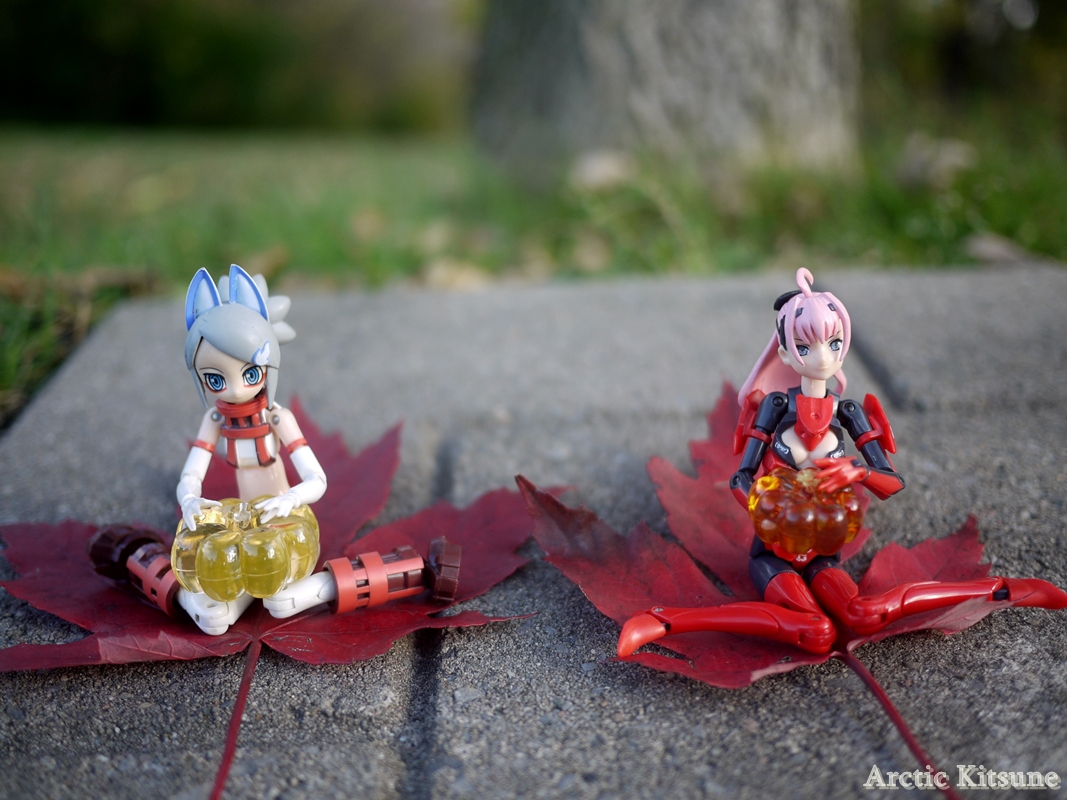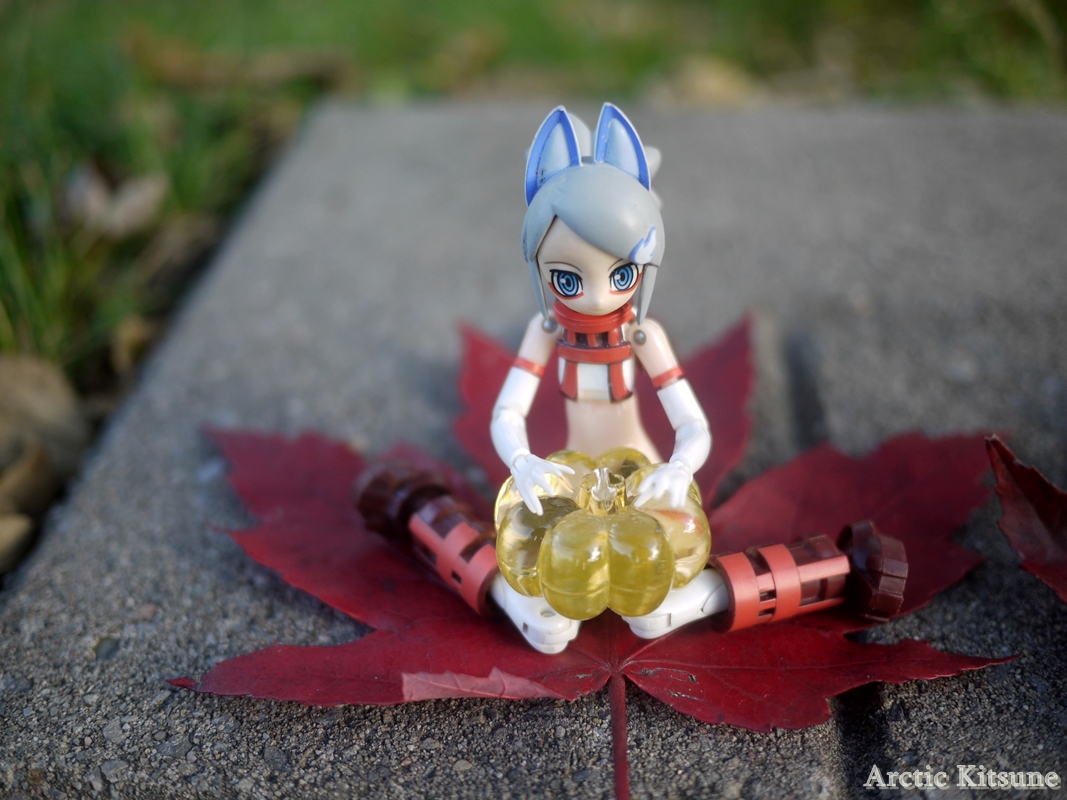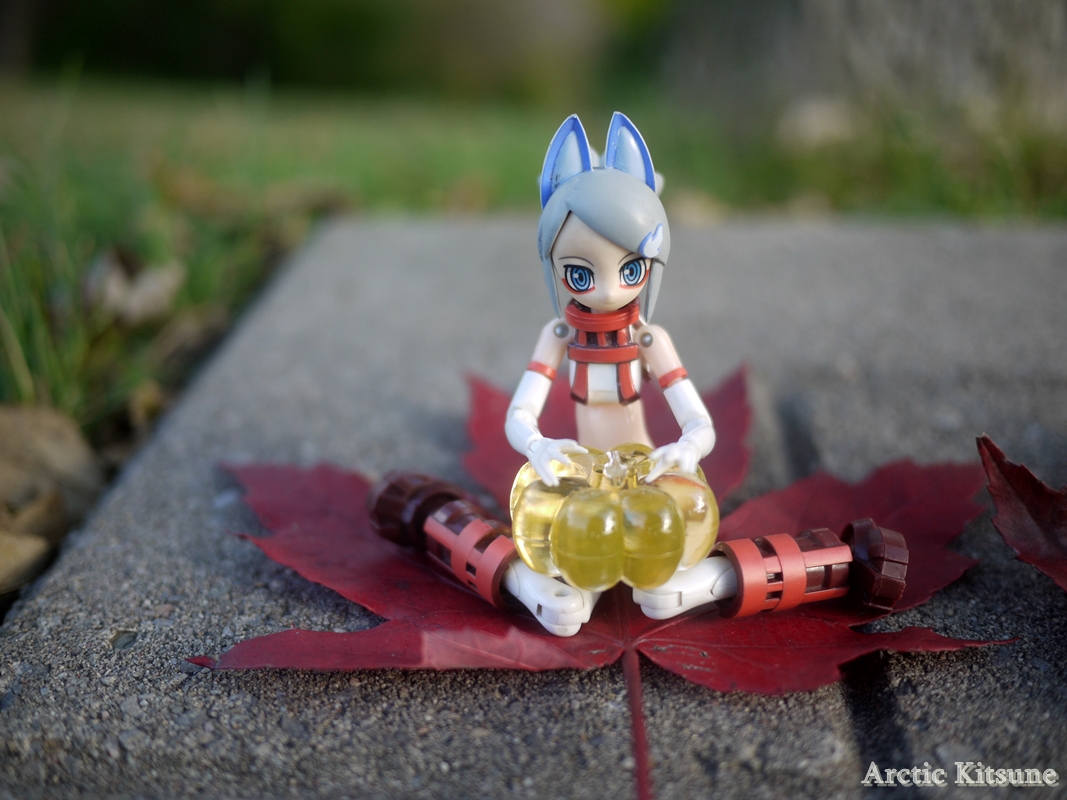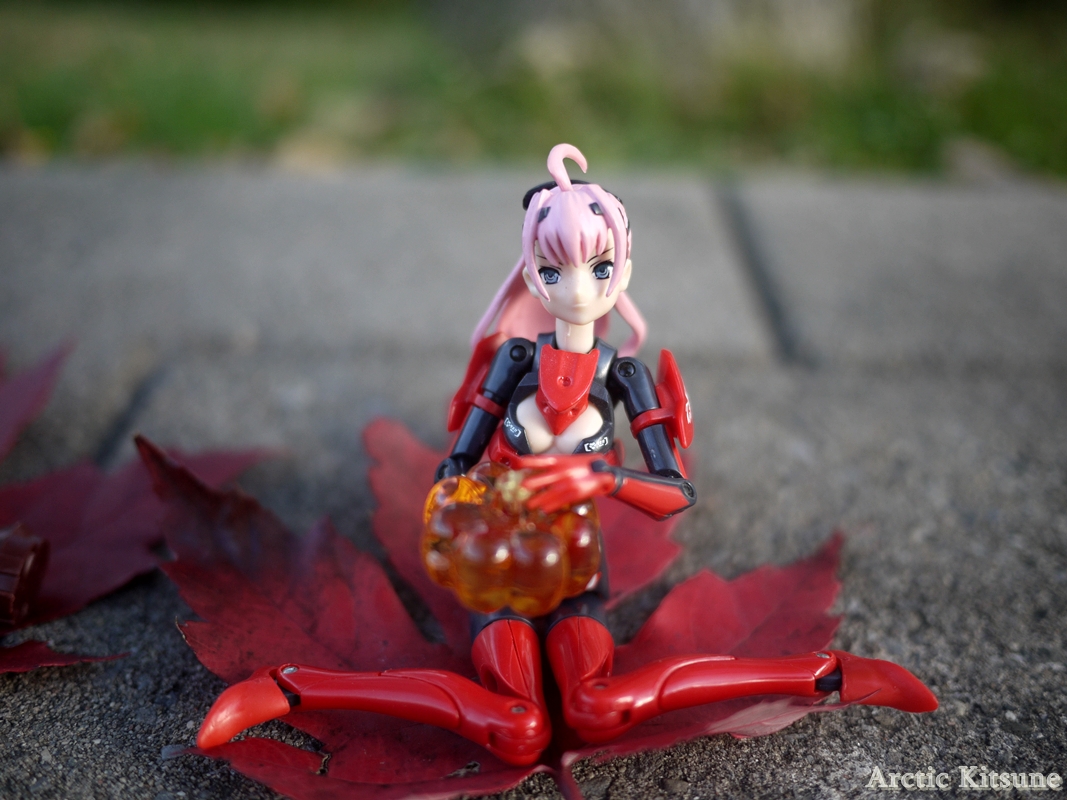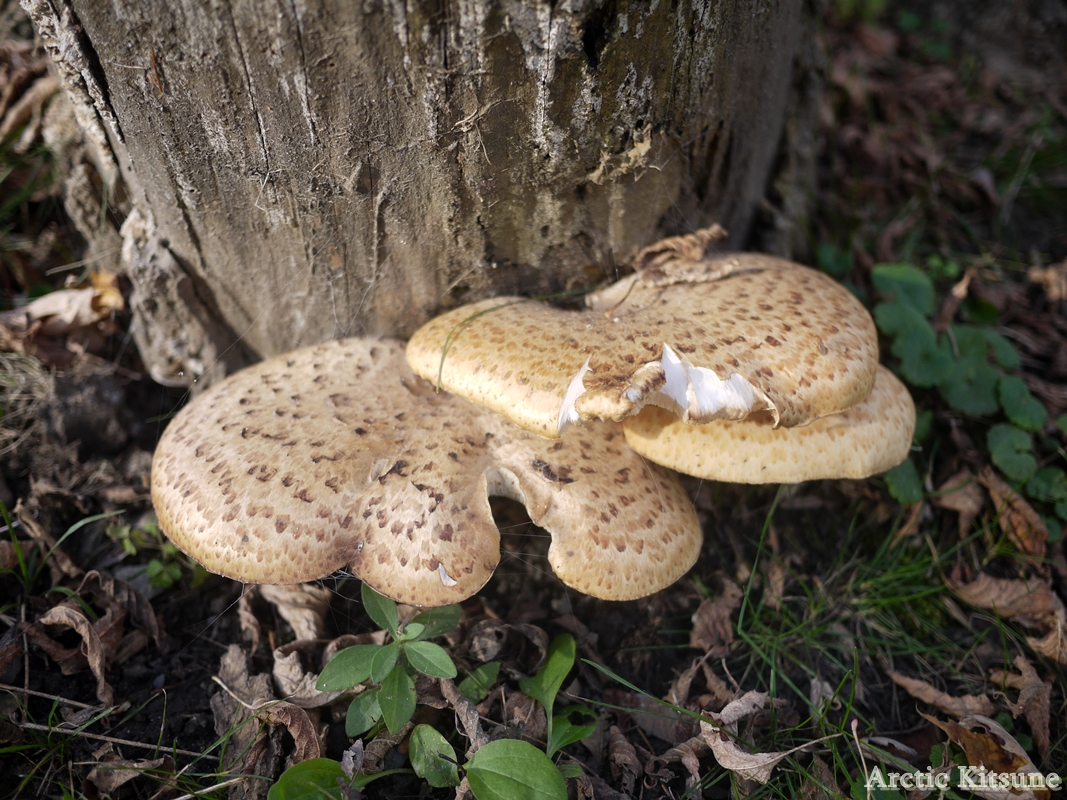 That sure was fun. Ottawa folks however enjoy staring at one another. Been wanting to take images like these for the past few days getting quite…..impatient and restless. I'm mostly pleased with part 1 and fully pleased with part 2. Hoping to take more images for an equally big article for a part 2 for Halloween. See you then!
—
Hope you enjoyed some, most, or all the images.  Hope the fall weather is treating you nicely. Also been told Vancouver has been fogged up by a friend. Would be awesome for images.
Kon! See you in Part 2!