I'm genuinely 100% loving these episodes. I'm glad they're around with episode 2 focusing on both Stylet's and Baselard's personality and character.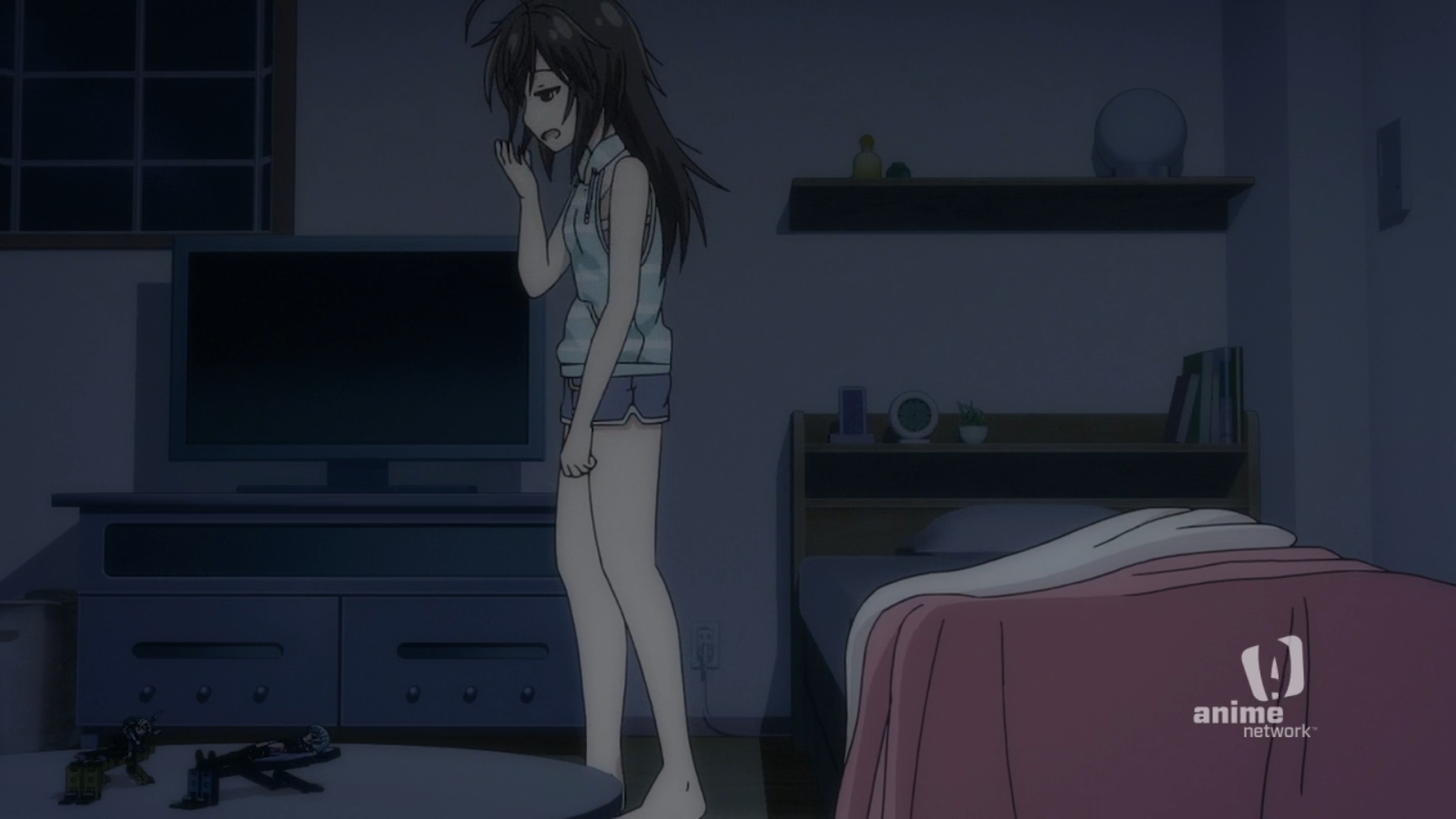 (Spoilers contained within.)
I'm quite pleased with this second episode also, even more so when it's so well comically done. It's a nice mix of 'slice-of-life', combat, as well as robotic mayhem as they to quench their curiousity. I found myself genuinely laughing that Kotobukiya did well with giving these Frame Arms Girl an anime. This episode focuses on Stylet, now nicknamed 'Sty-ko' for the first half, and then Baselard (nicknamed 'Base', as in Bass-eh. Or Bazzeh) with the cleaning robot half of the episode. We end up learning more about their character, even how crazy they all tend to be as they try to co-exist with both Gourai & Ao's world.
First half of the episode is tending to Sty'ko's 'trauma' as she's found to end up freezing in place like a statue. They try to cure her, yet things……become far more teaseful as trying to tend to Sty-ko's problems becomes more of a slap-stick comedy.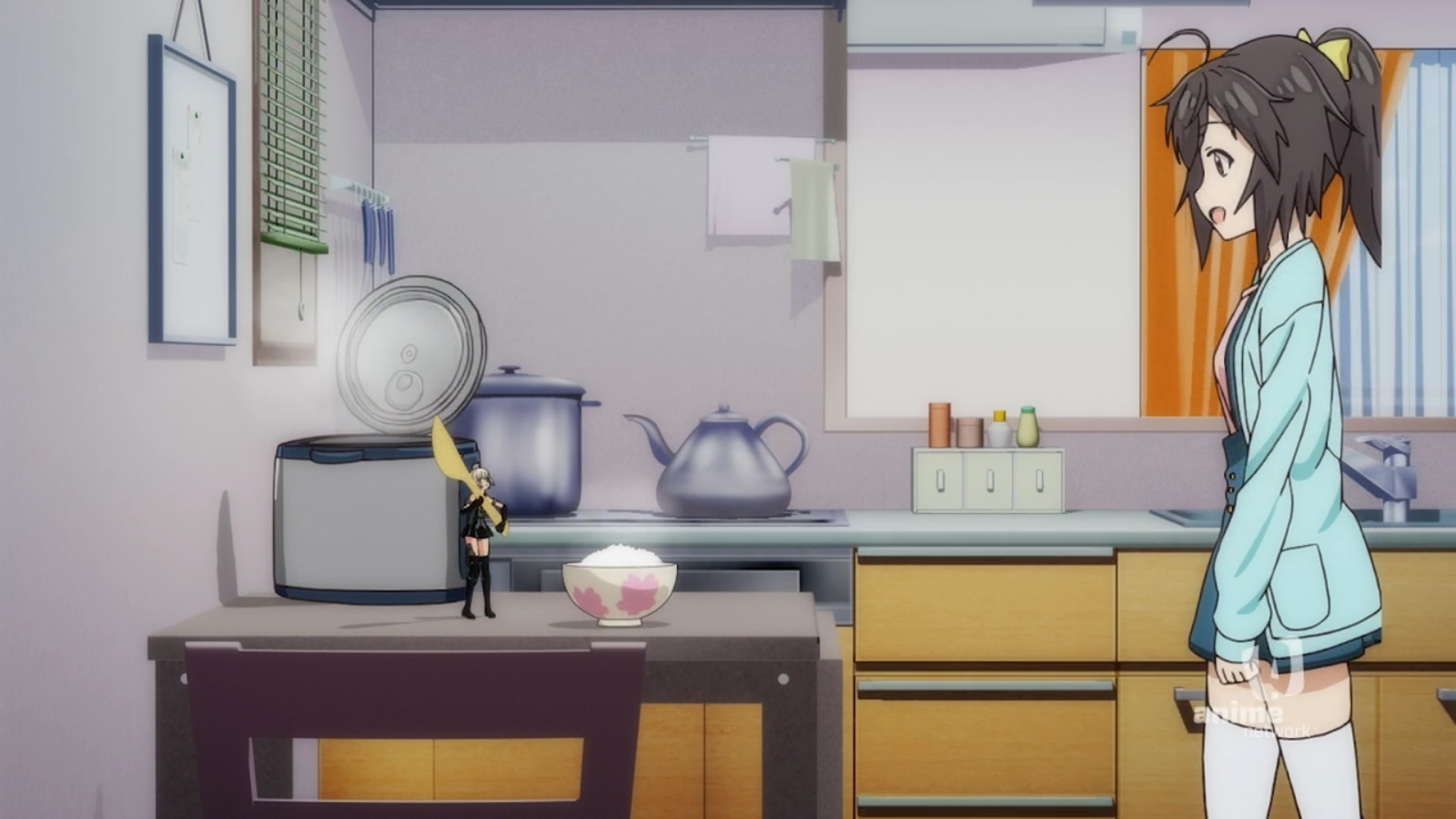 I find it amusing that Kotobukiya would announce a charger model kit of this 'Charger' on Twitter after this episode had aired. This is the answer to Busou Shinki's charging cradle [example here] that allows these little ones to keep so active in both combat & casual life-styles. The new charger can be adjusted accordingly, even used to send parts into the 'Session Base' hologram world, as well as being its own sentient entity.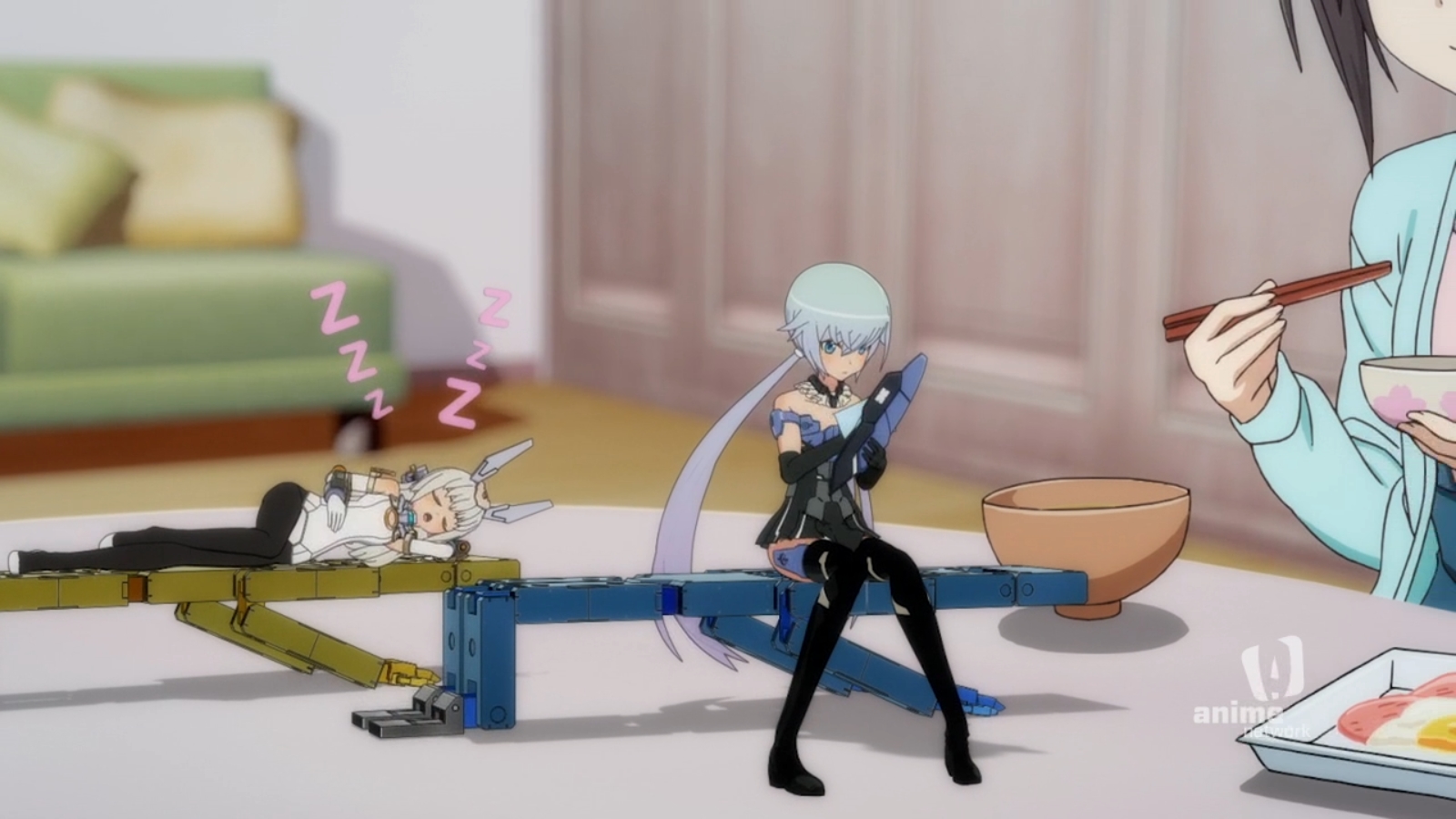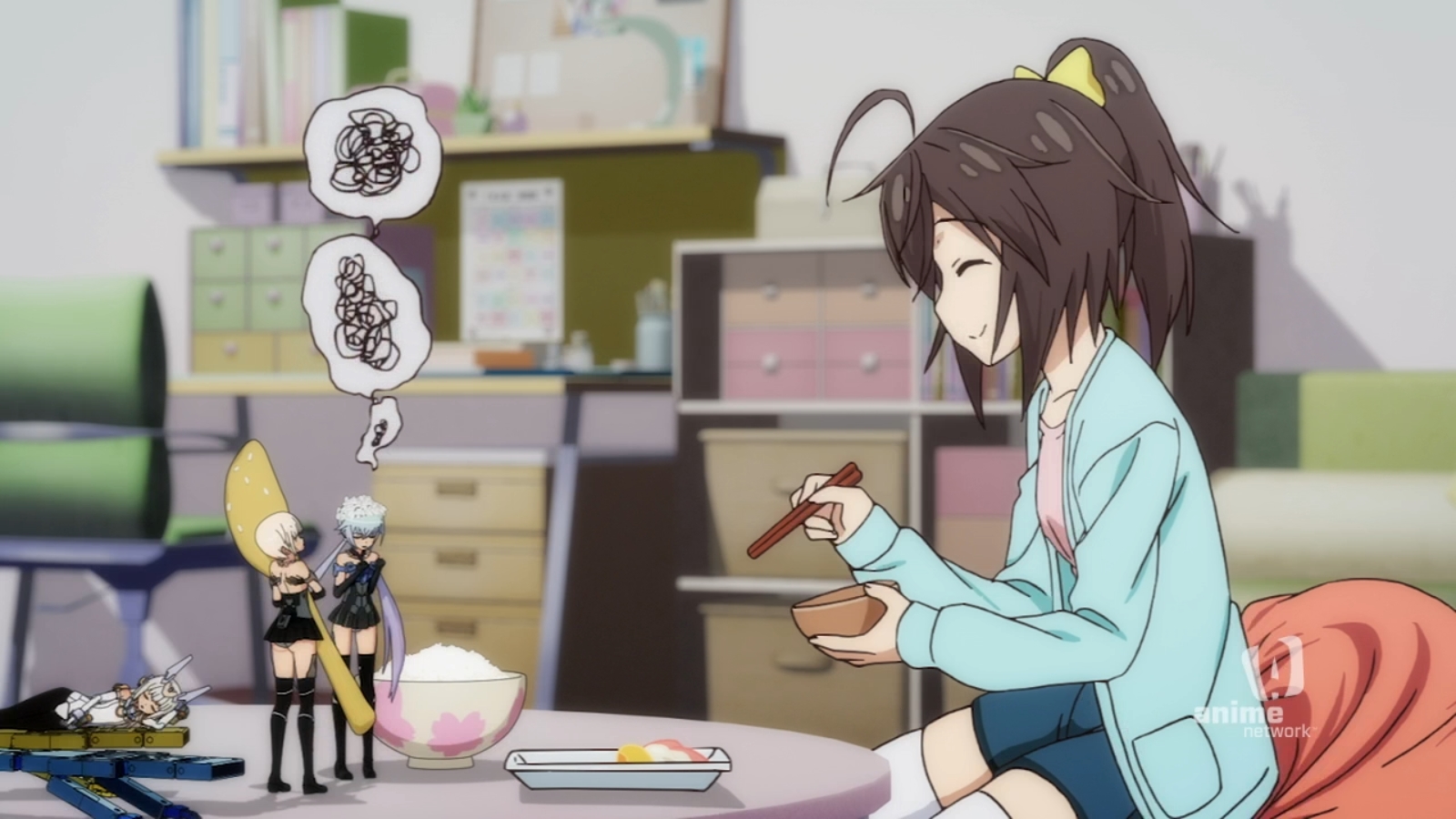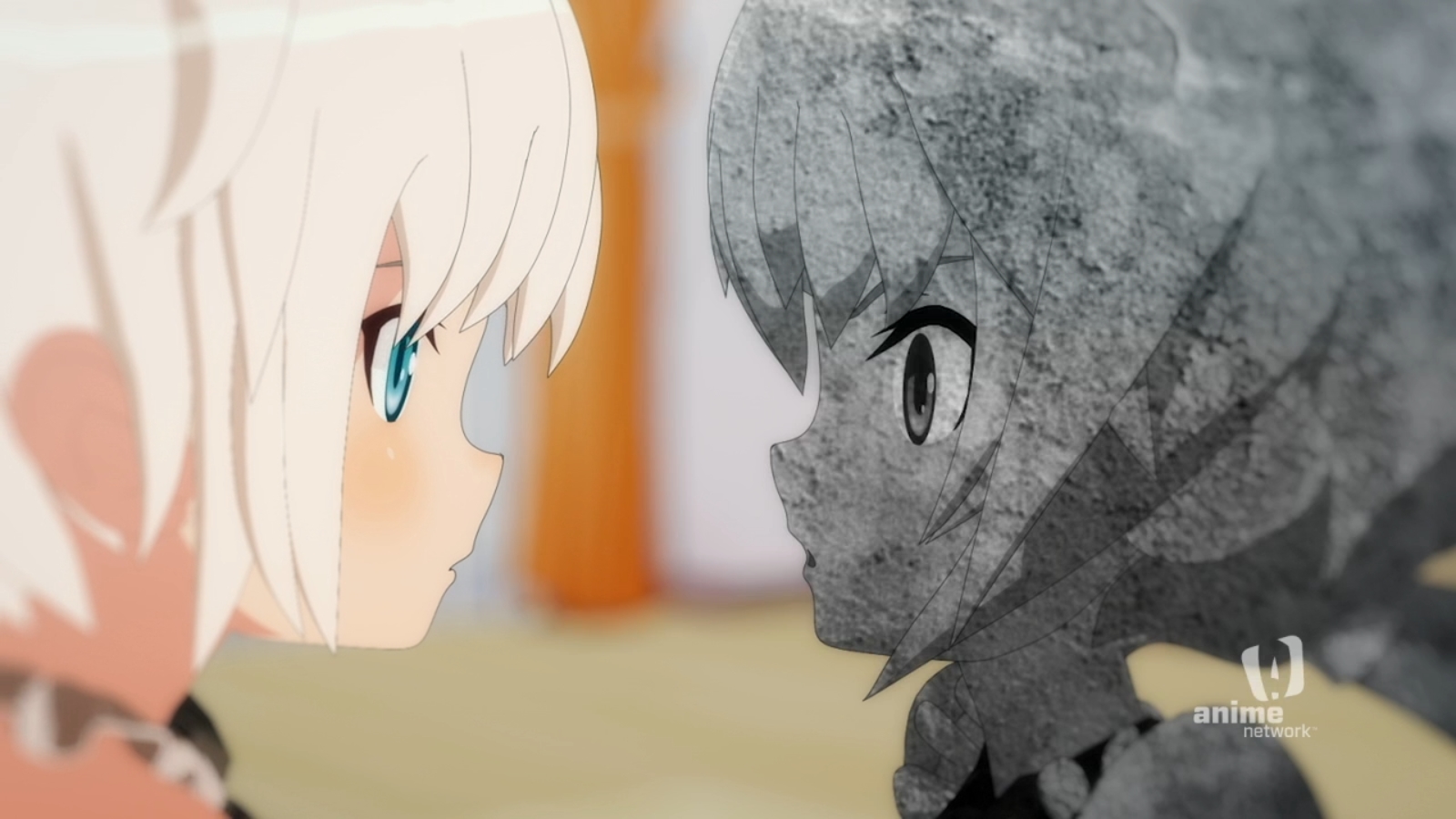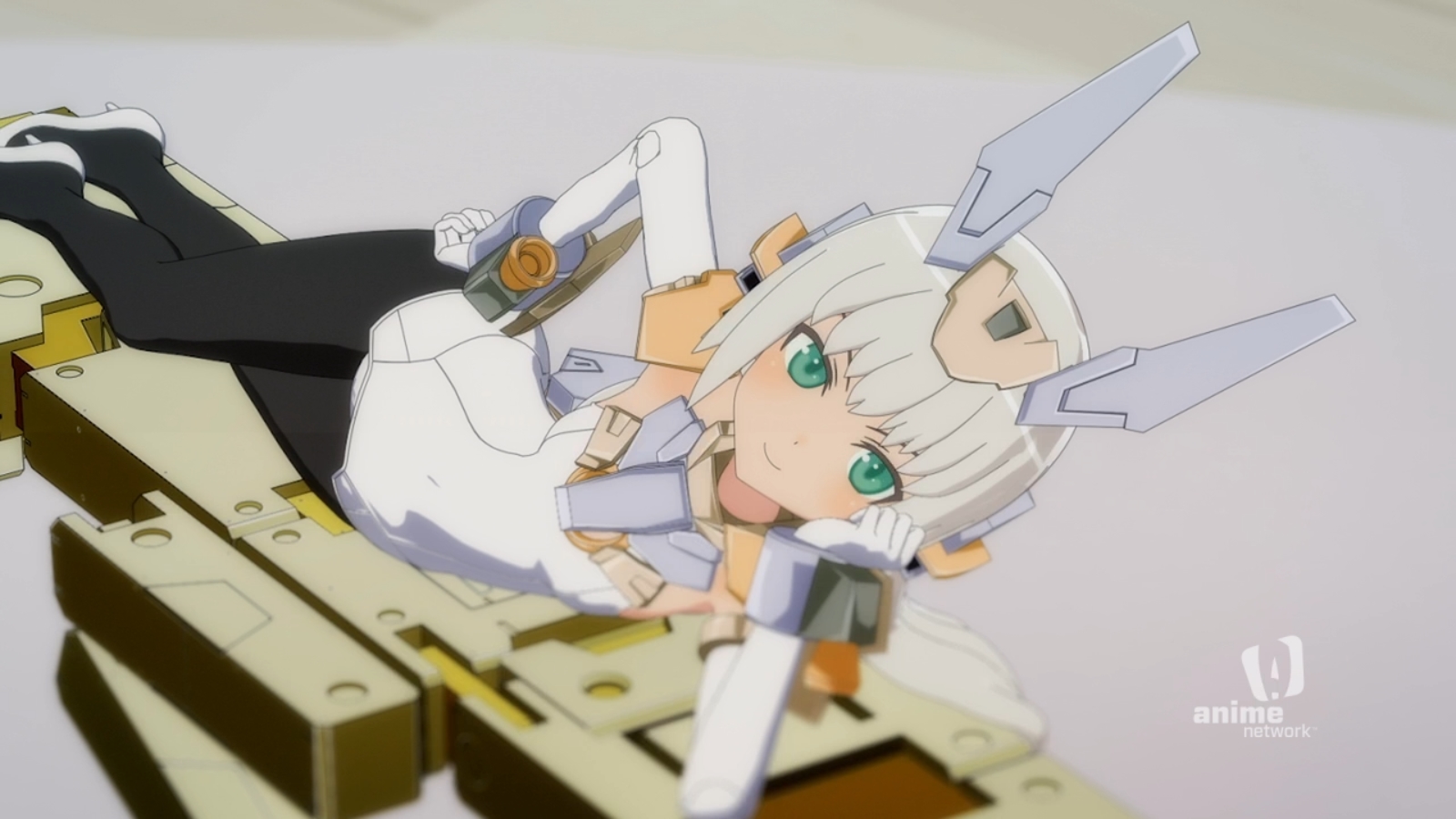 Thanks to Baselard being more of a witty & intelligent character I'm finding myself favouring the idea of purchasing both the Charger + Baselard version that release in September. Quite an interesting character with that touch of mysteriousness to her.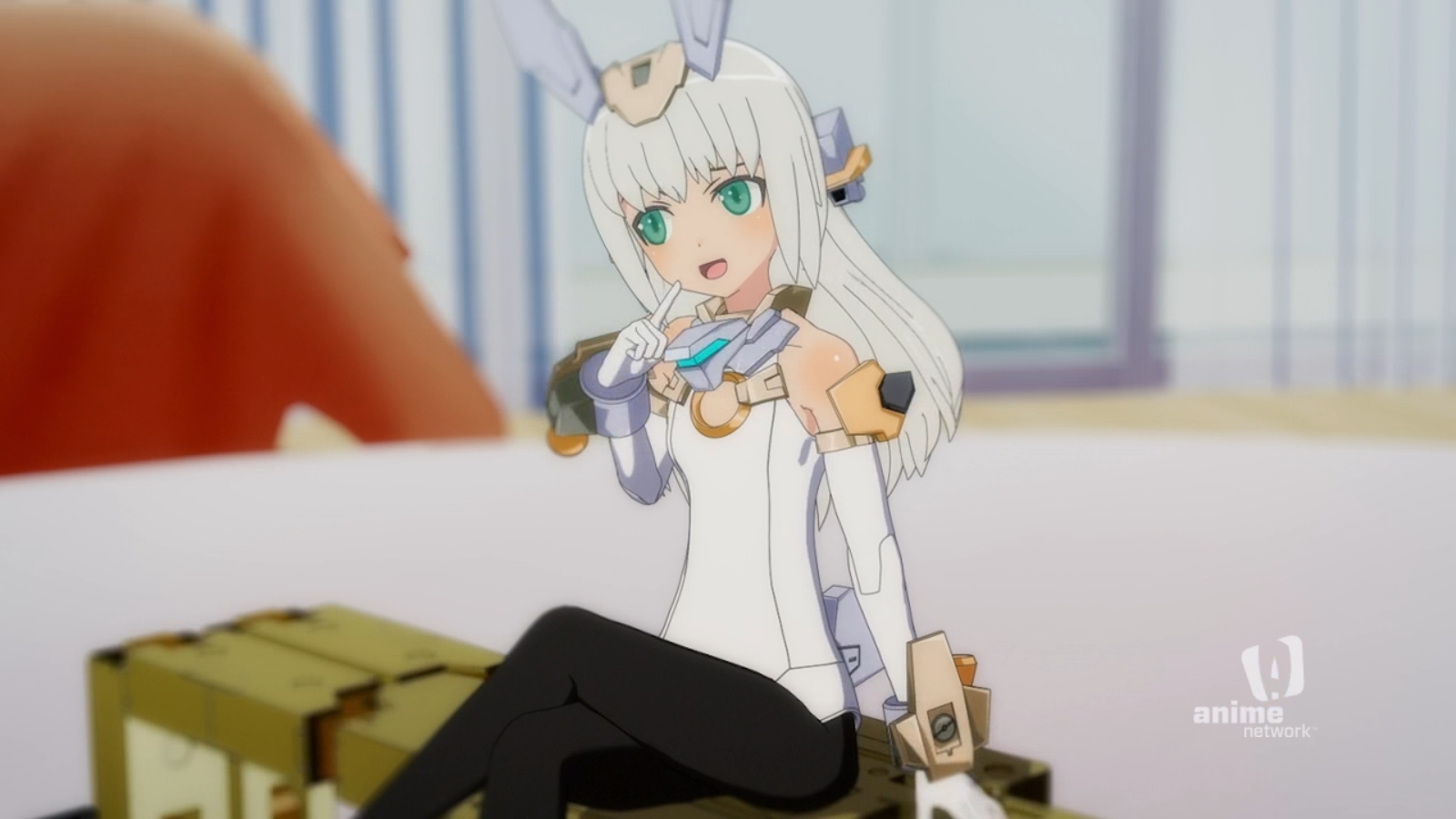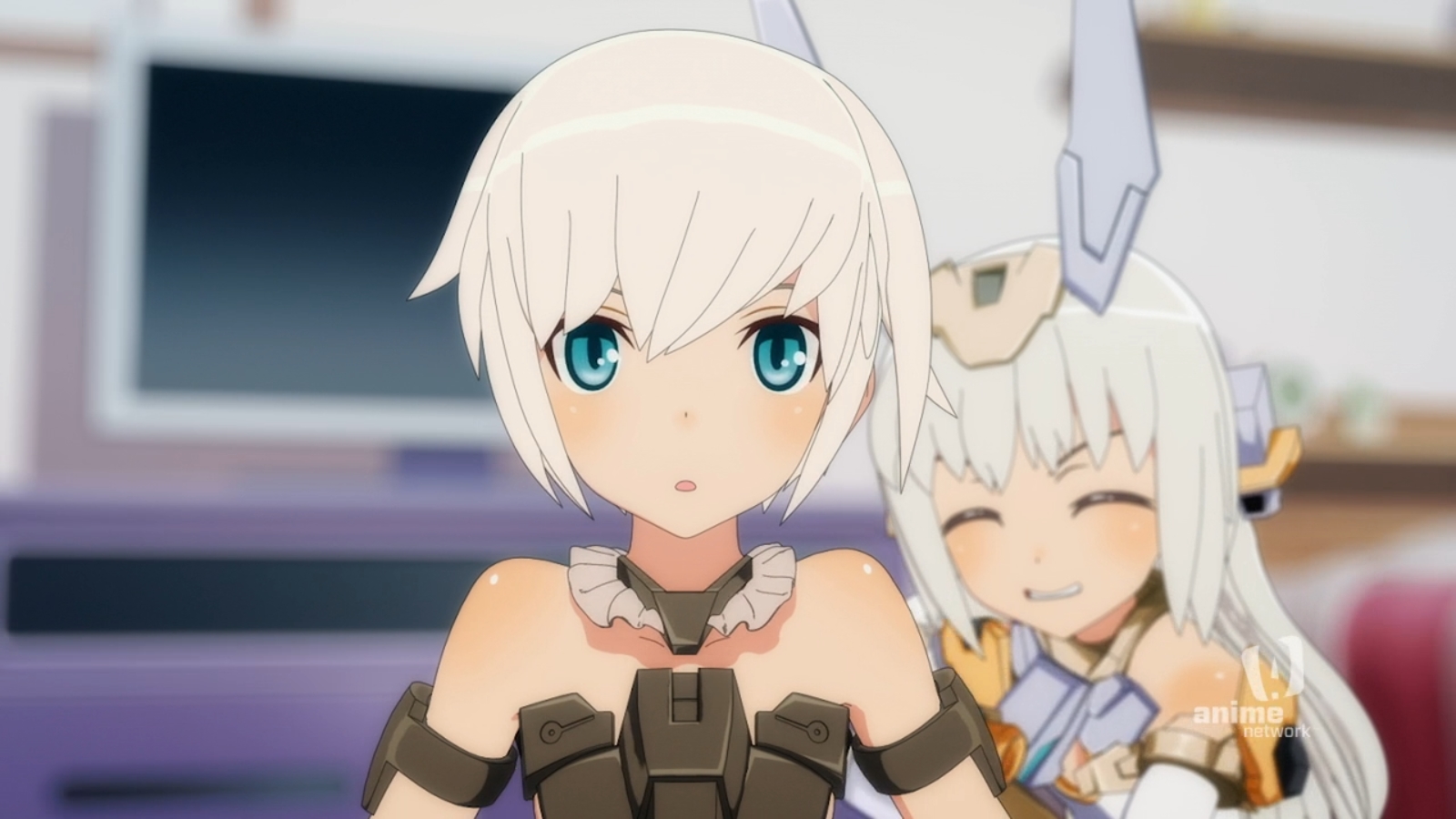 Oh, the hilarity in teasing Sty-ko is what makes the first arc. How all the actions and expressions adds onto the satsifaction of respectfully teasing her is quite amusing. Even look at all the Baselard expressions, as well as how we end up loving Ao more as a human character.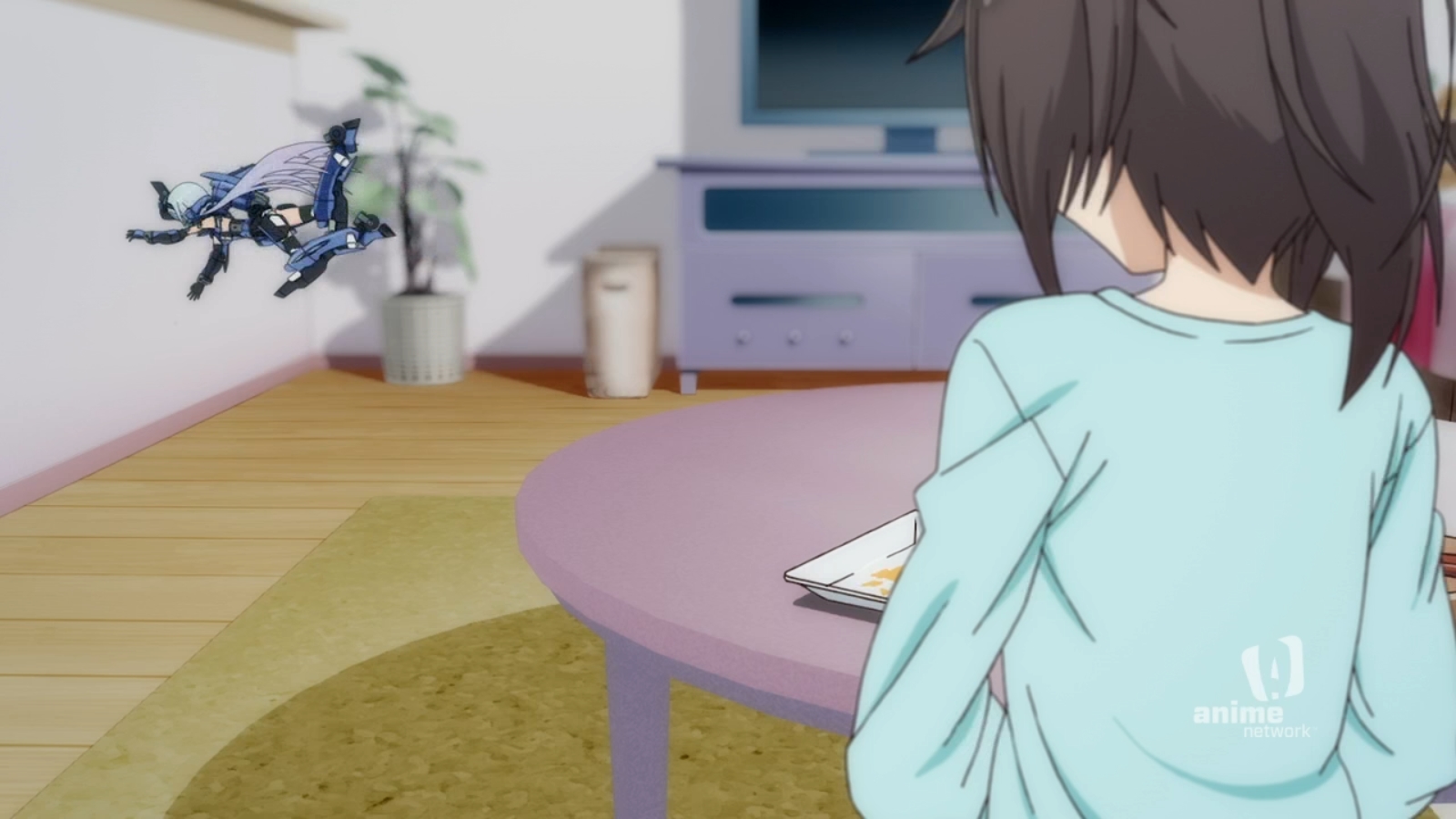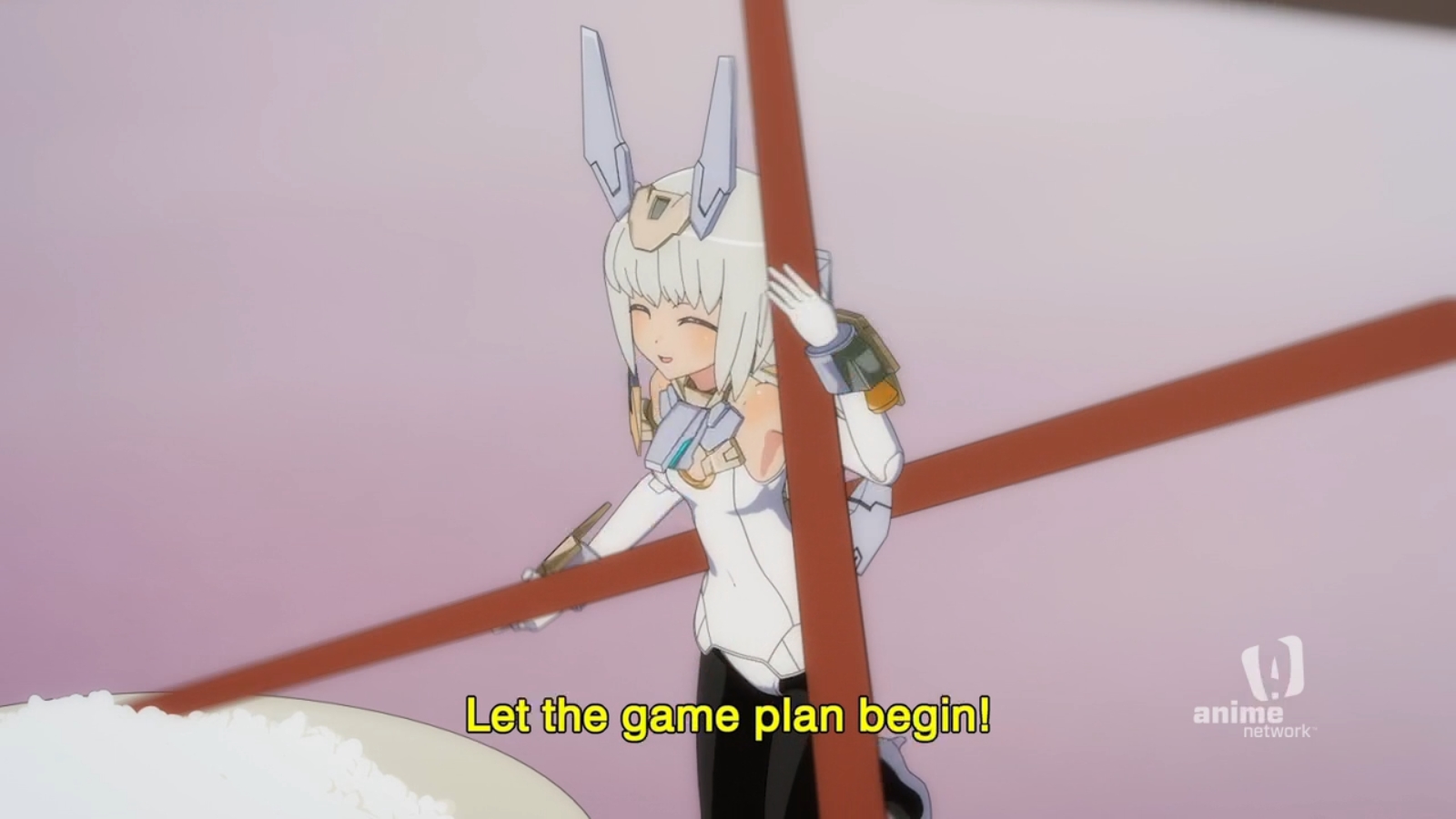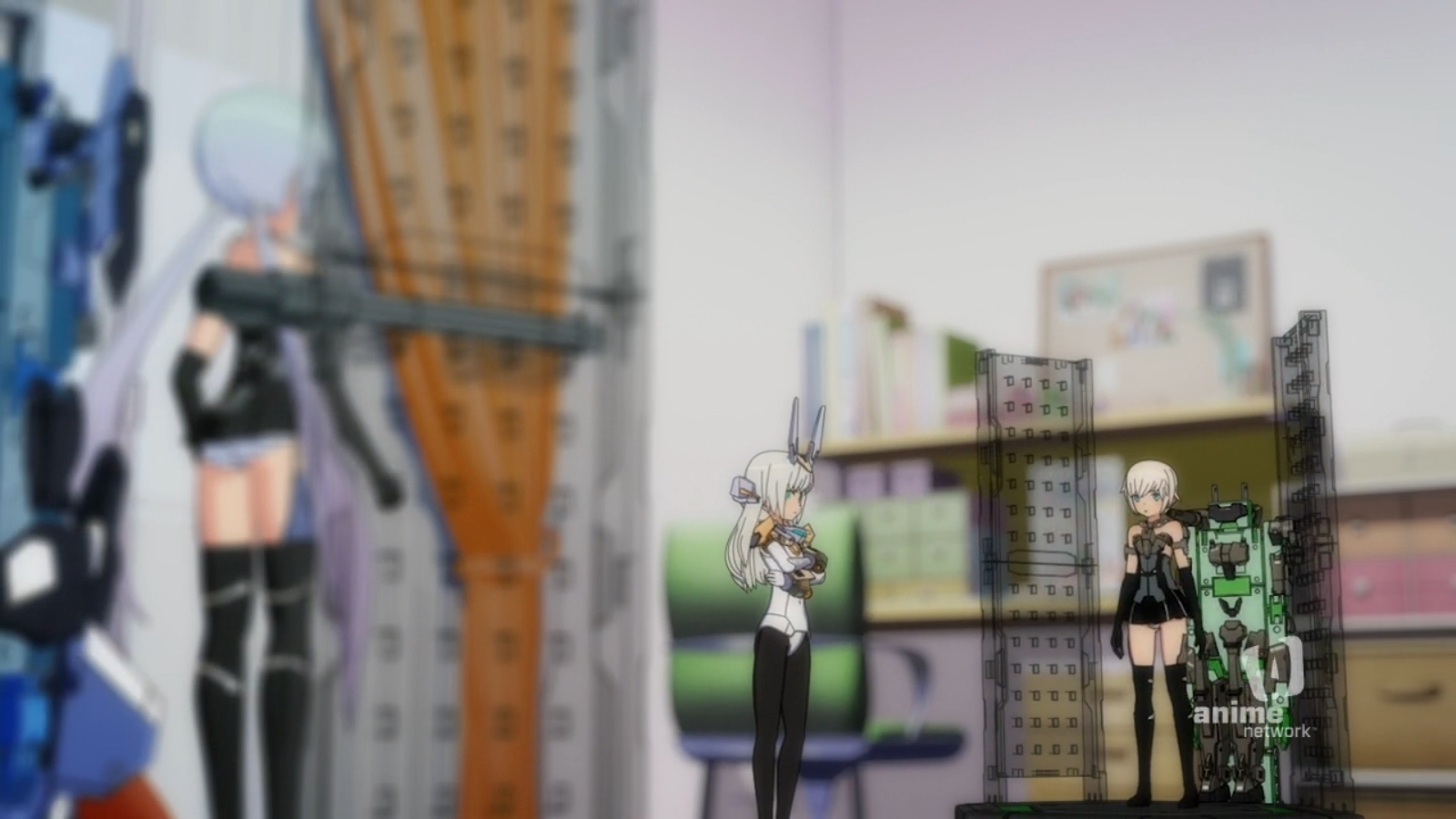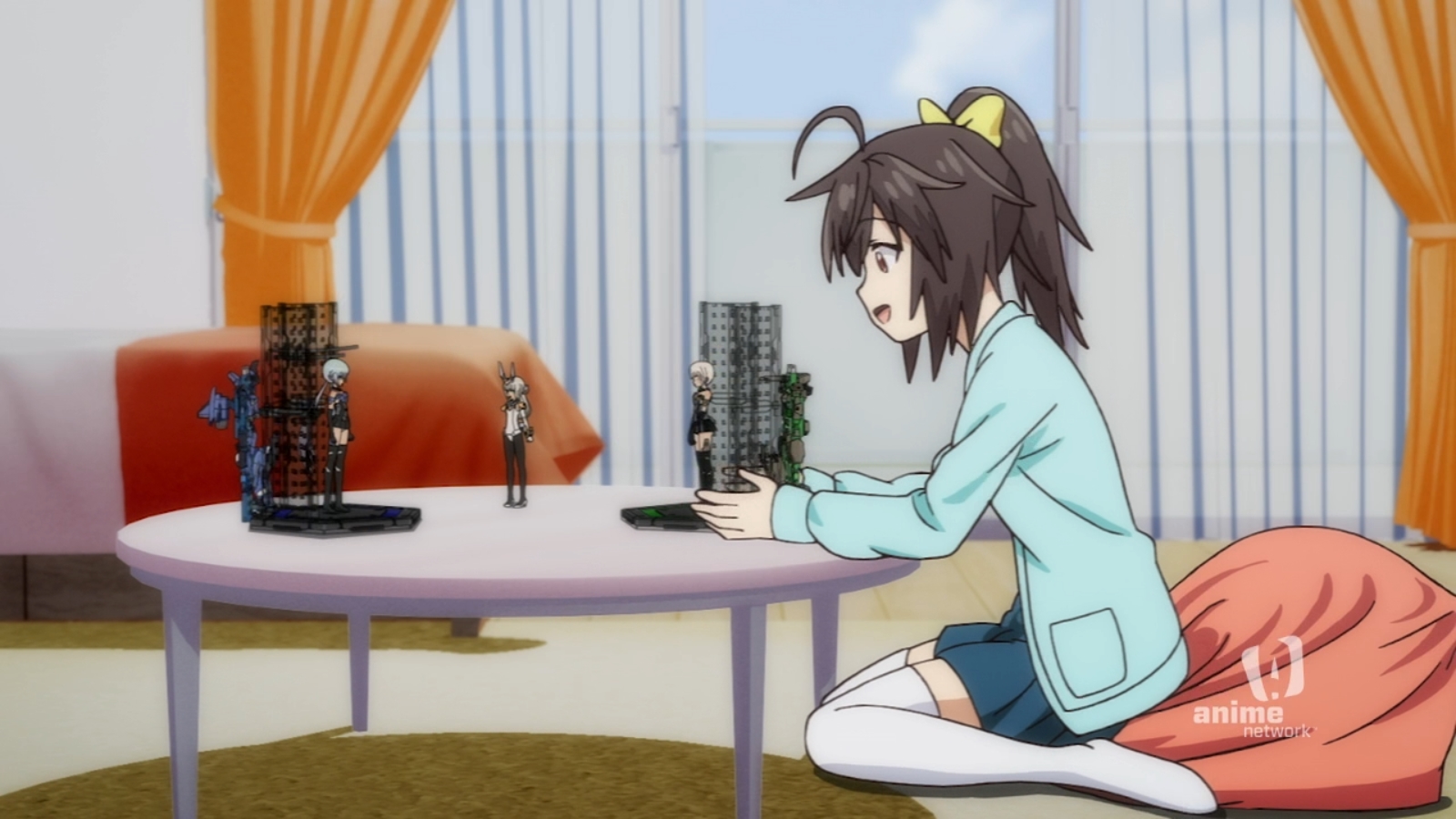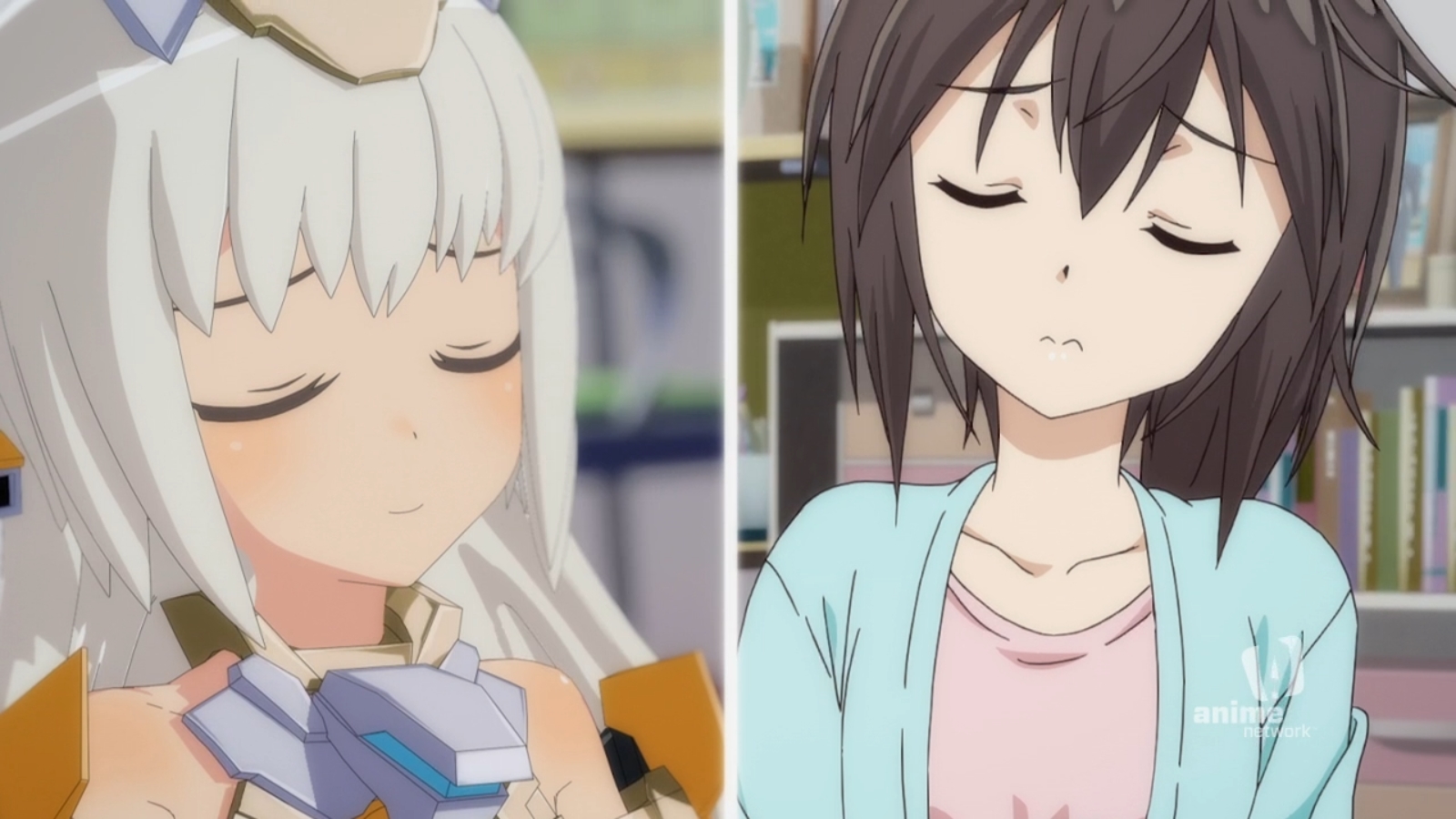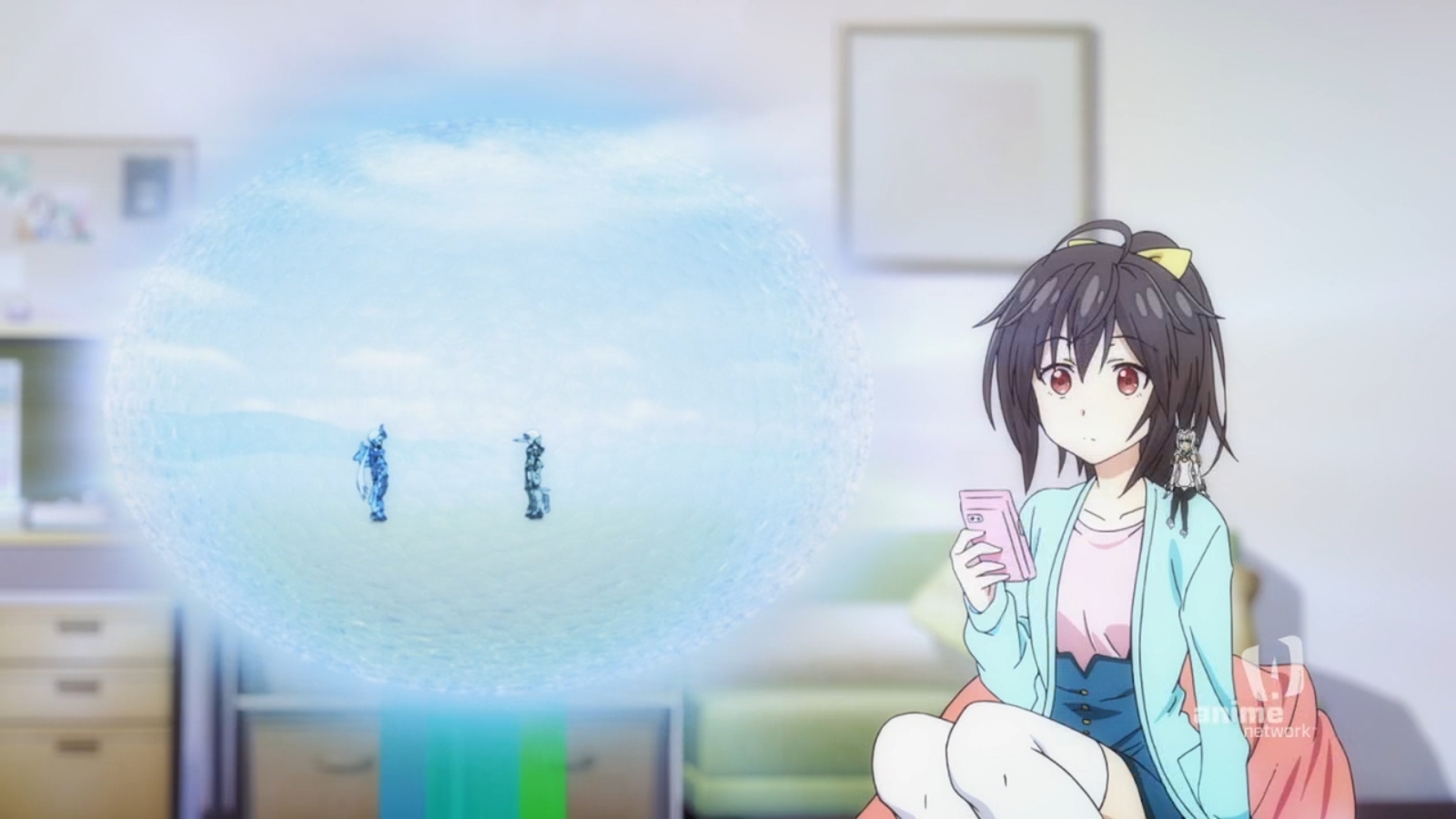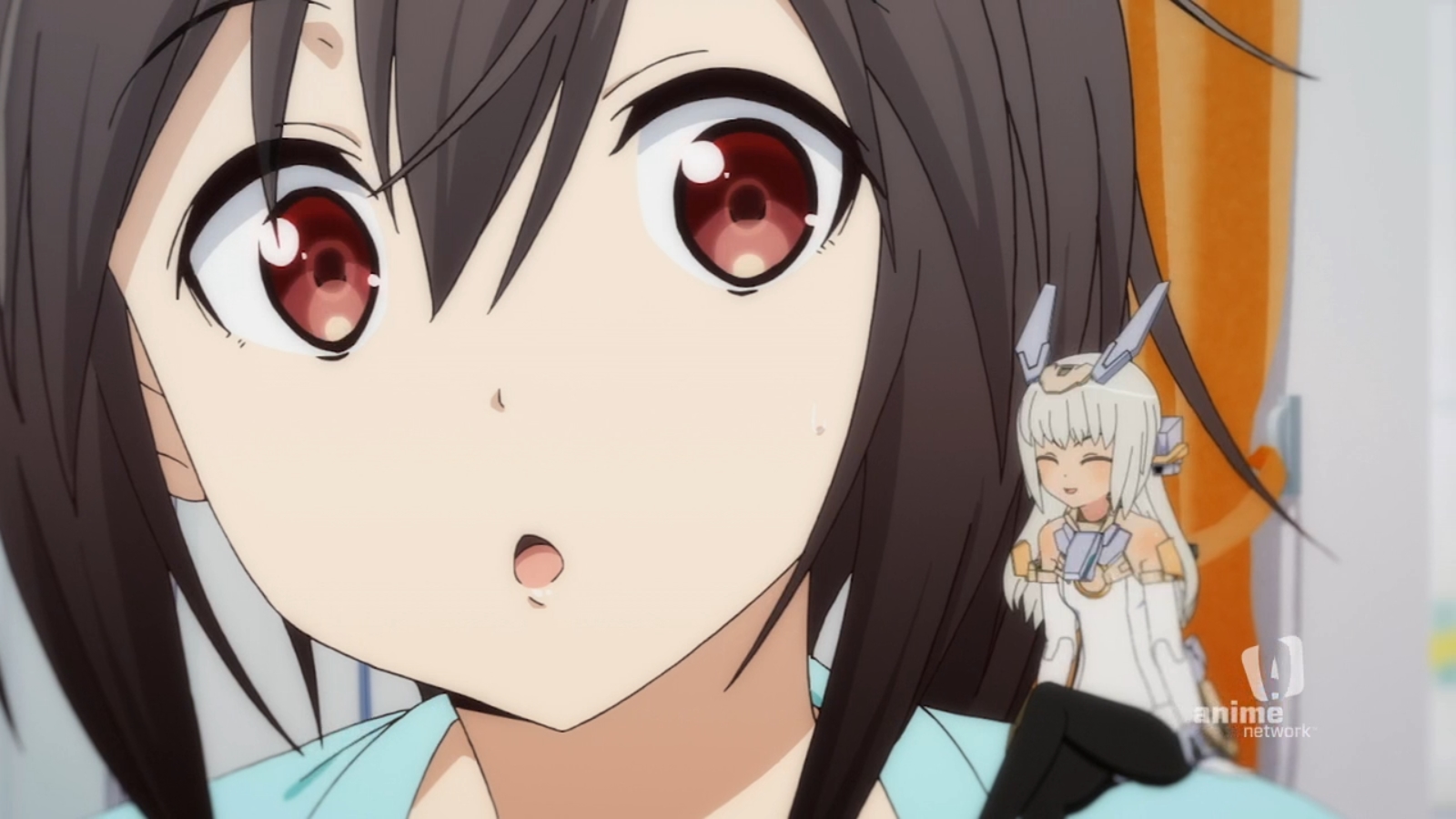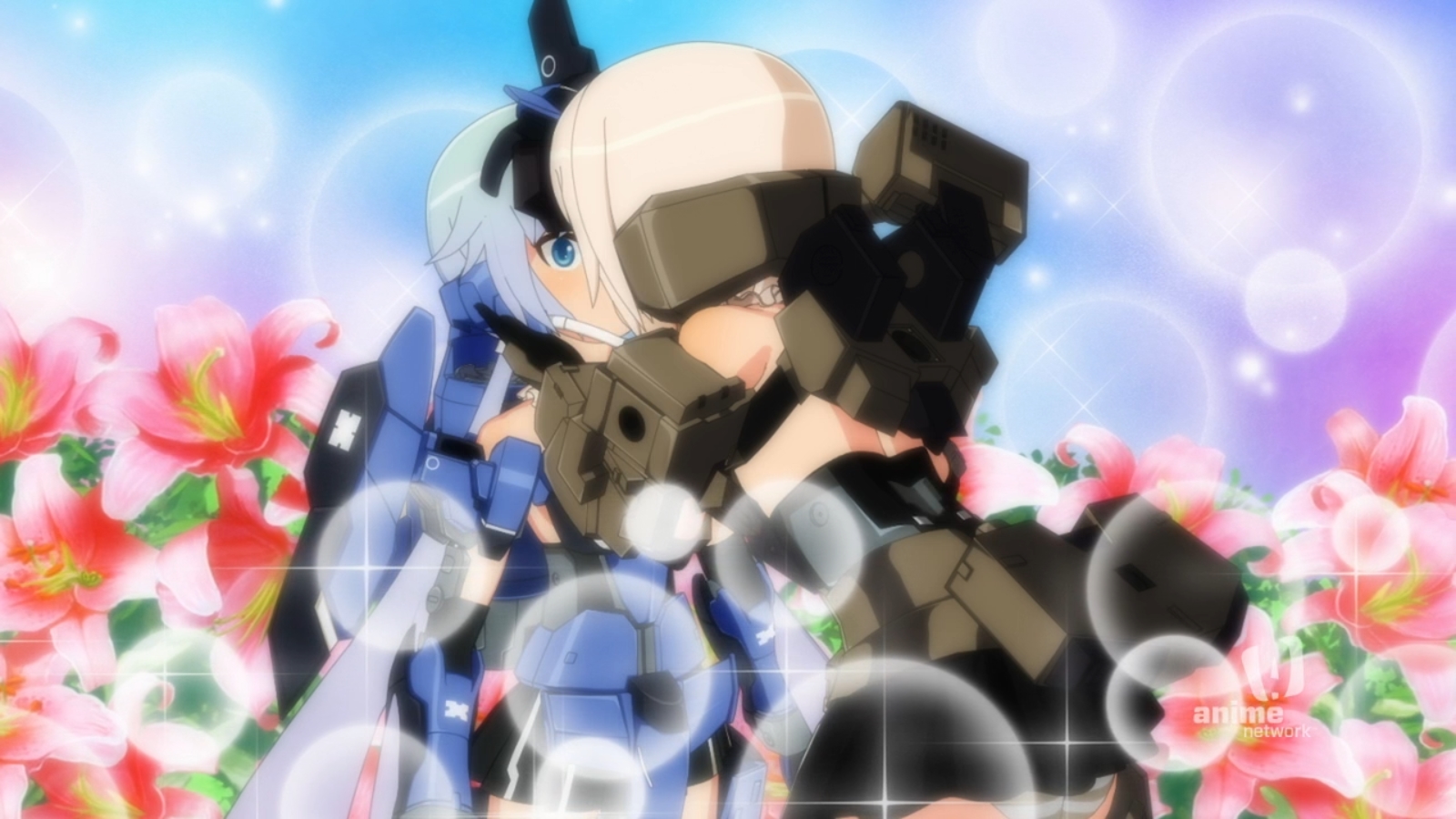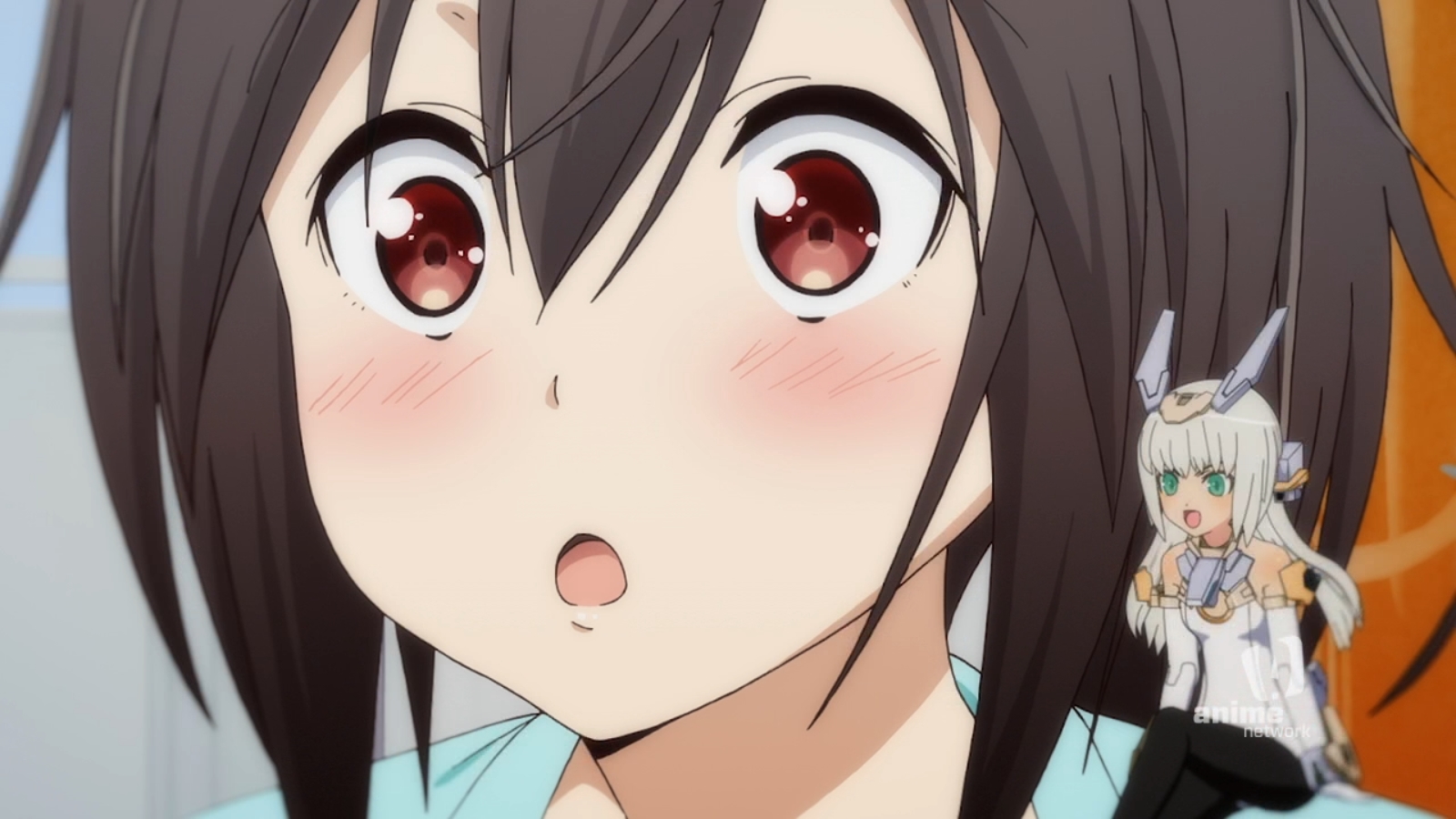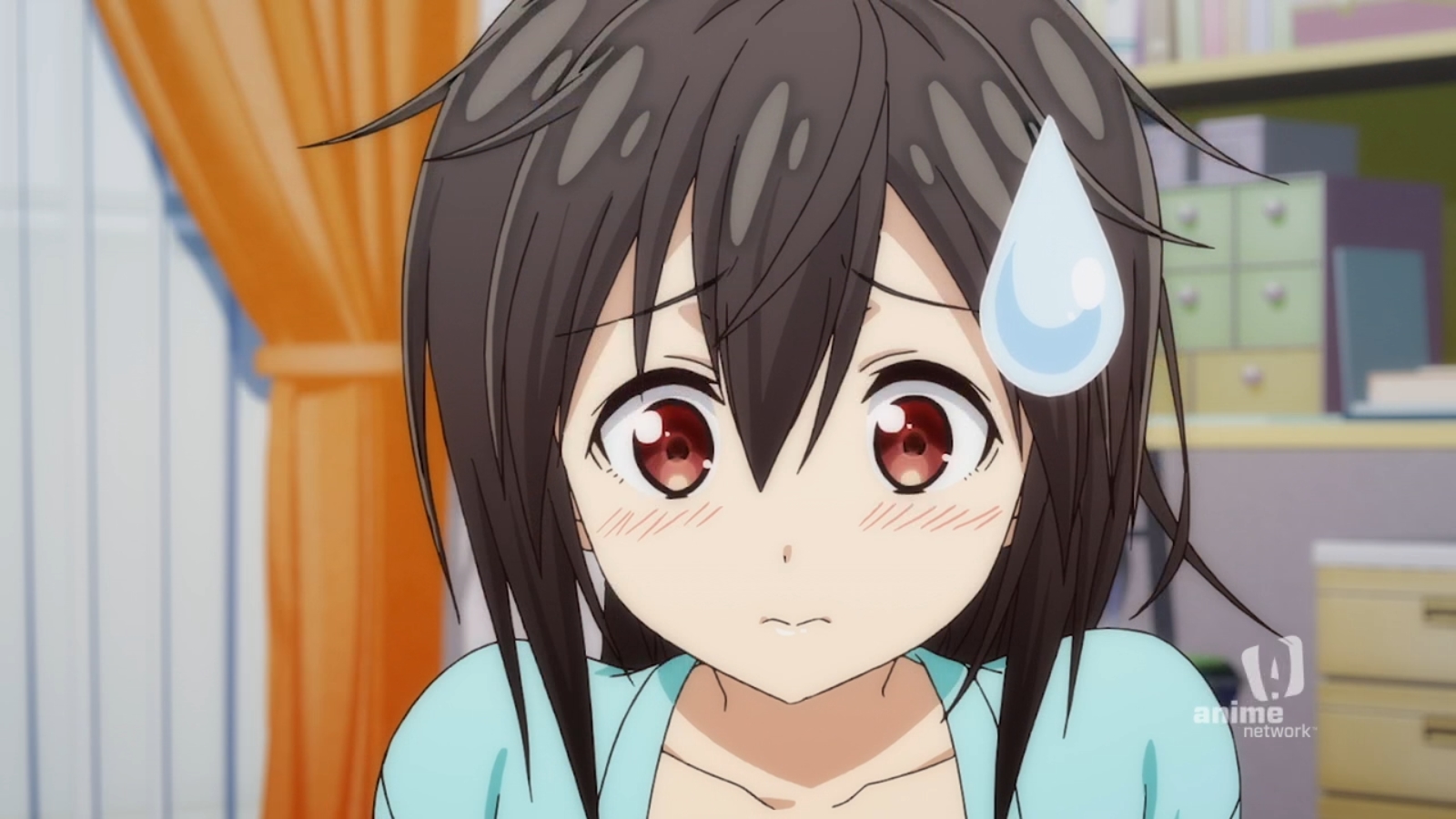 I find it refreshing how human Ao is. One moment she's just a 'casual' self, another she's highly energetic. Quite lively & wise for a character in this genre, and quite self-aware at times. I'm loving Ao as a lively character.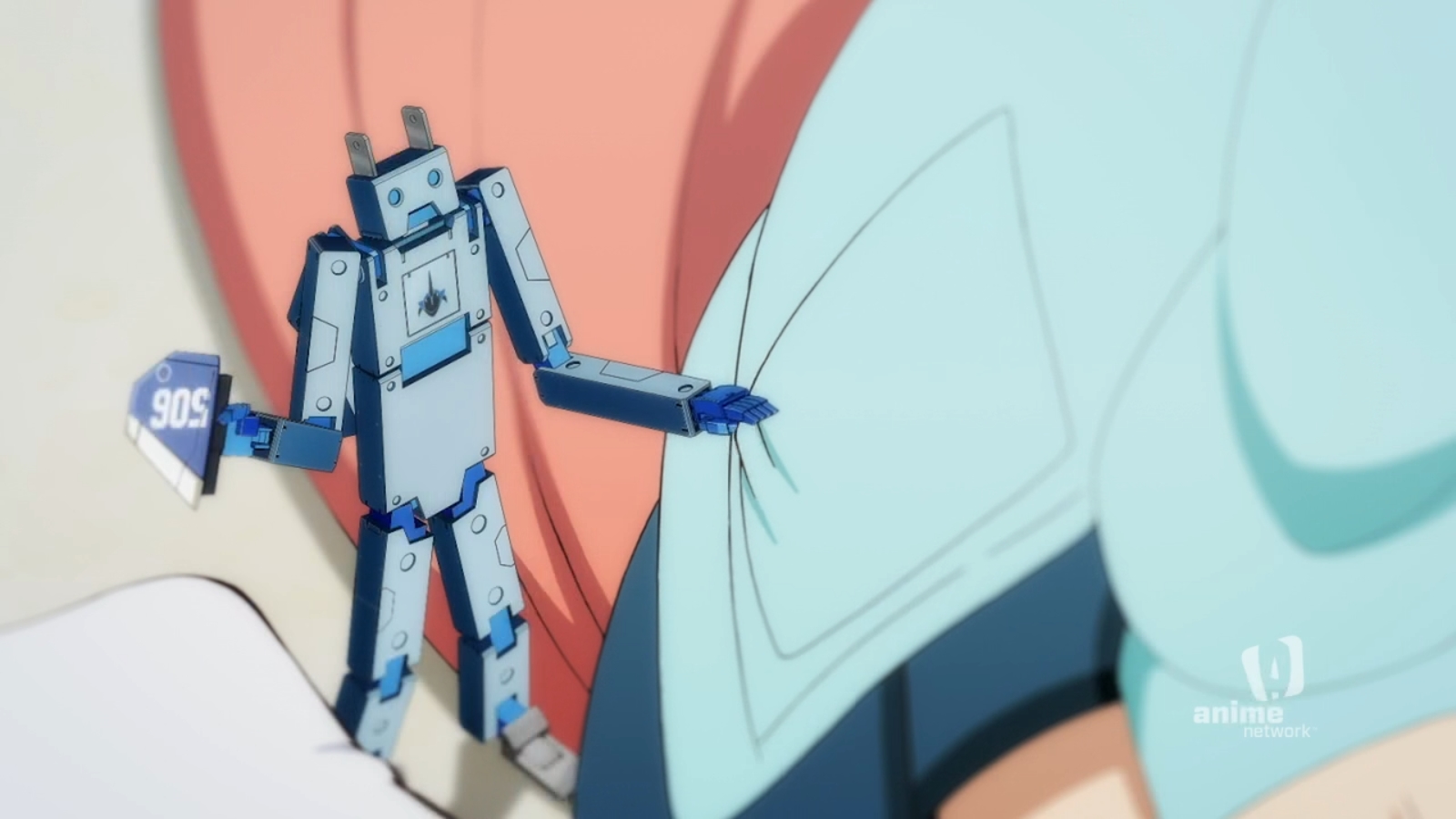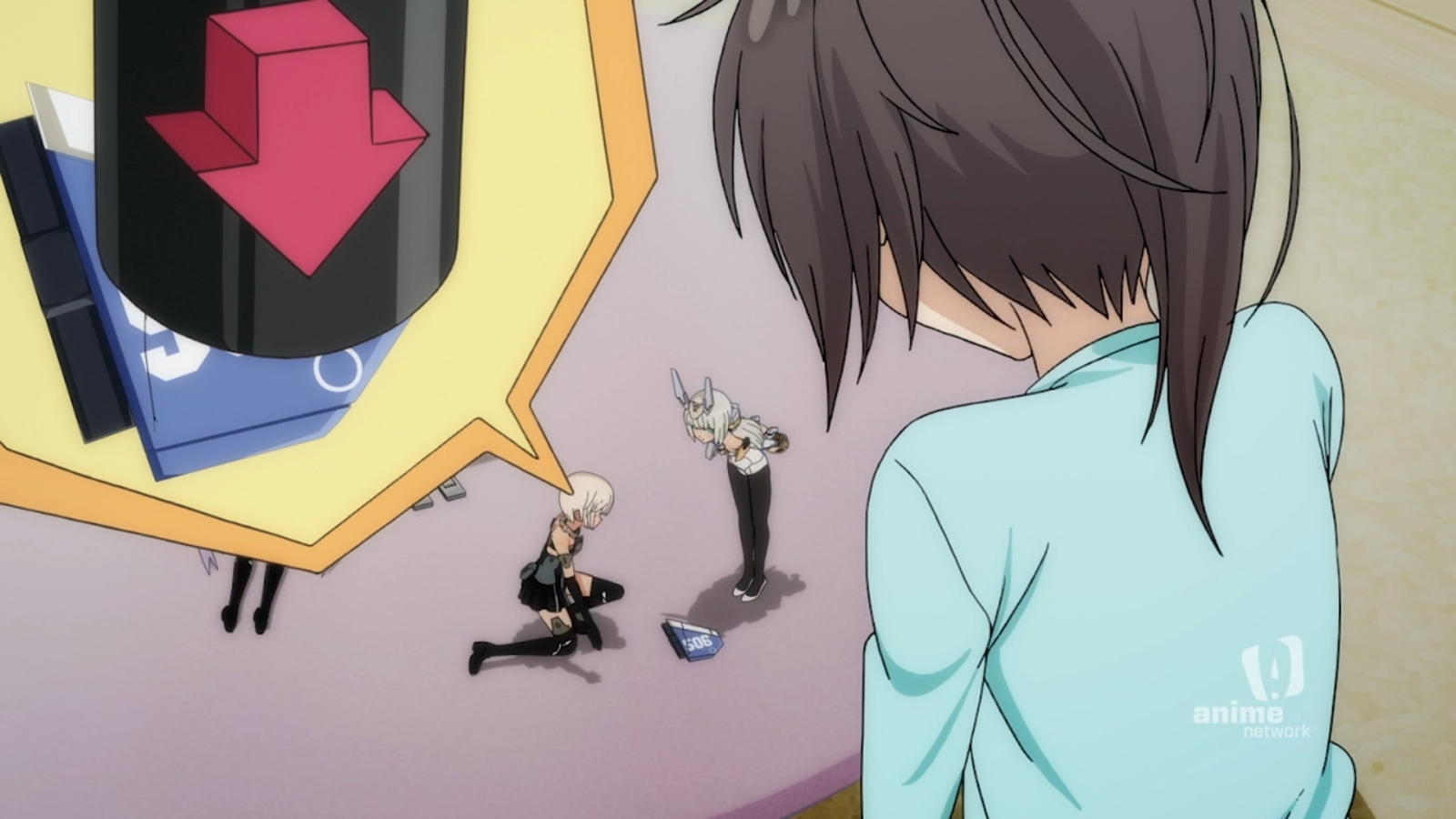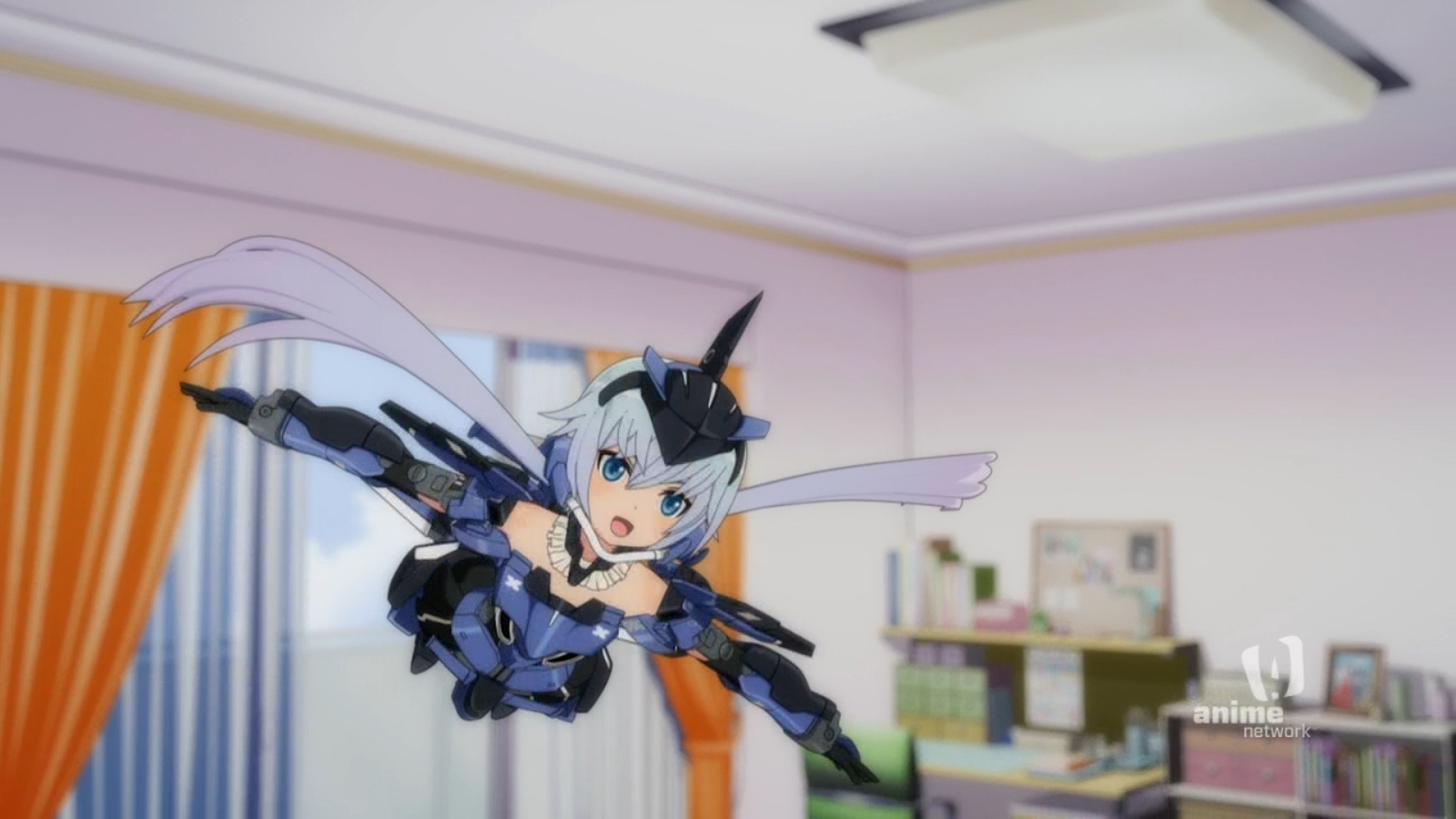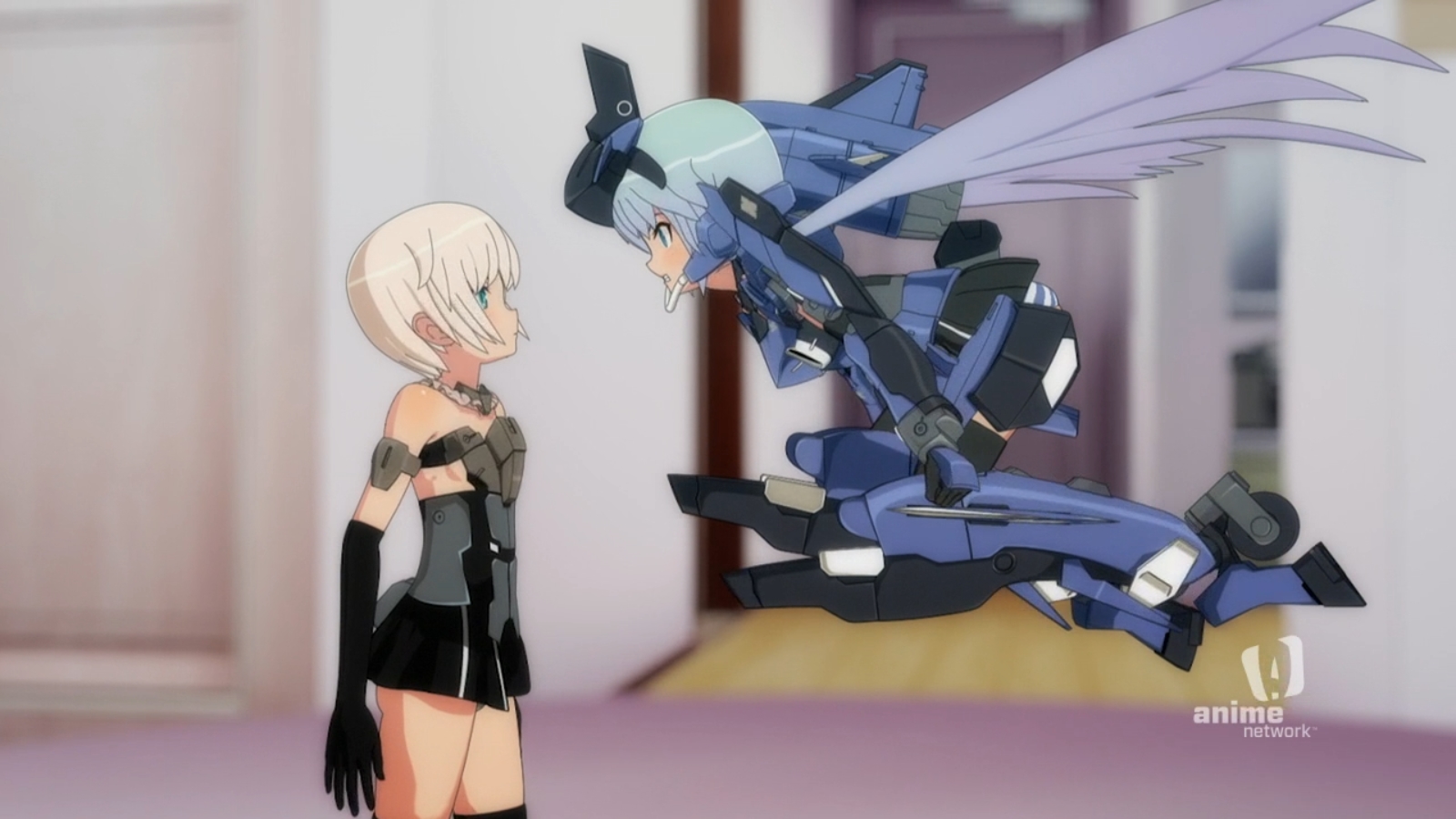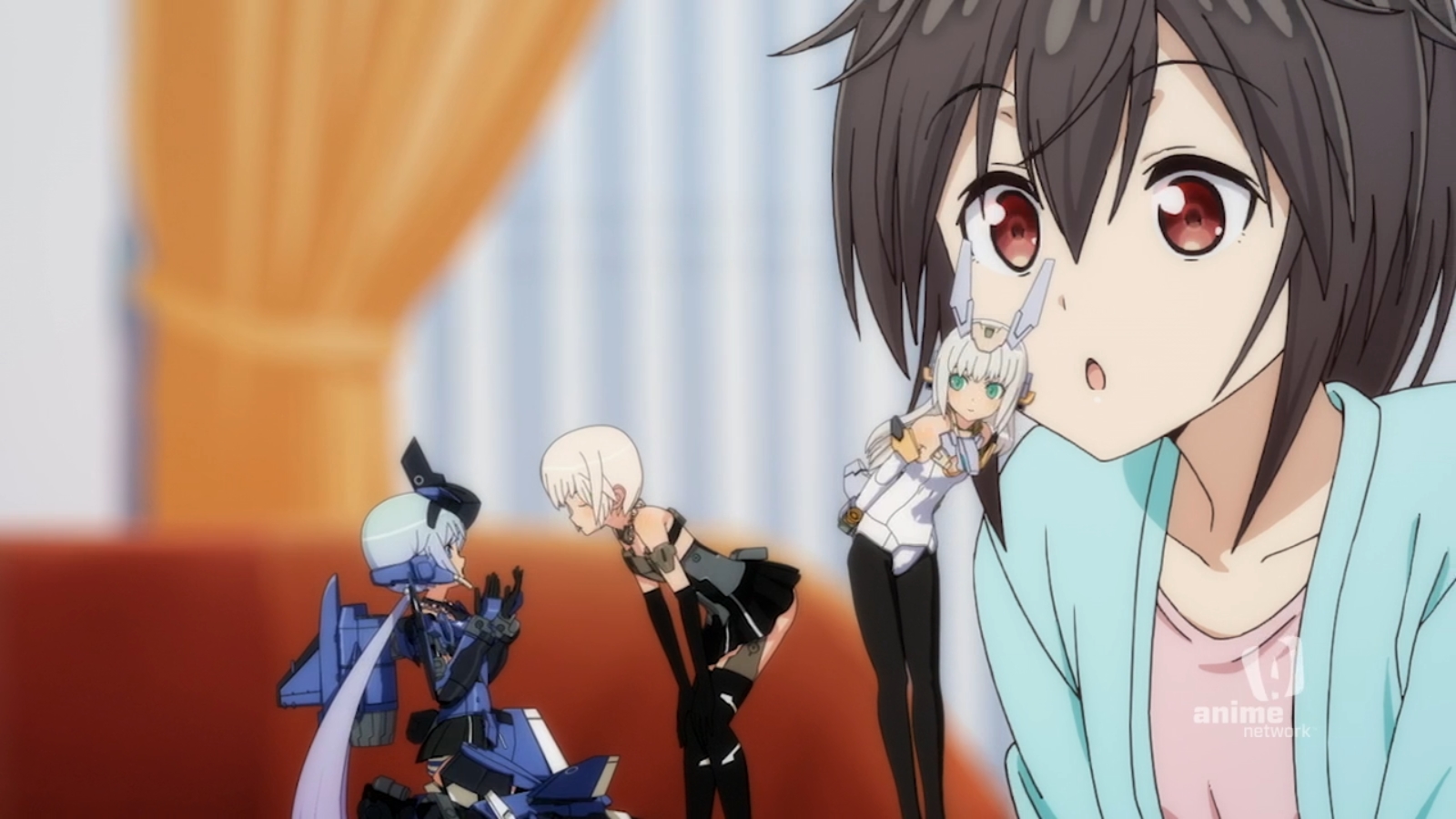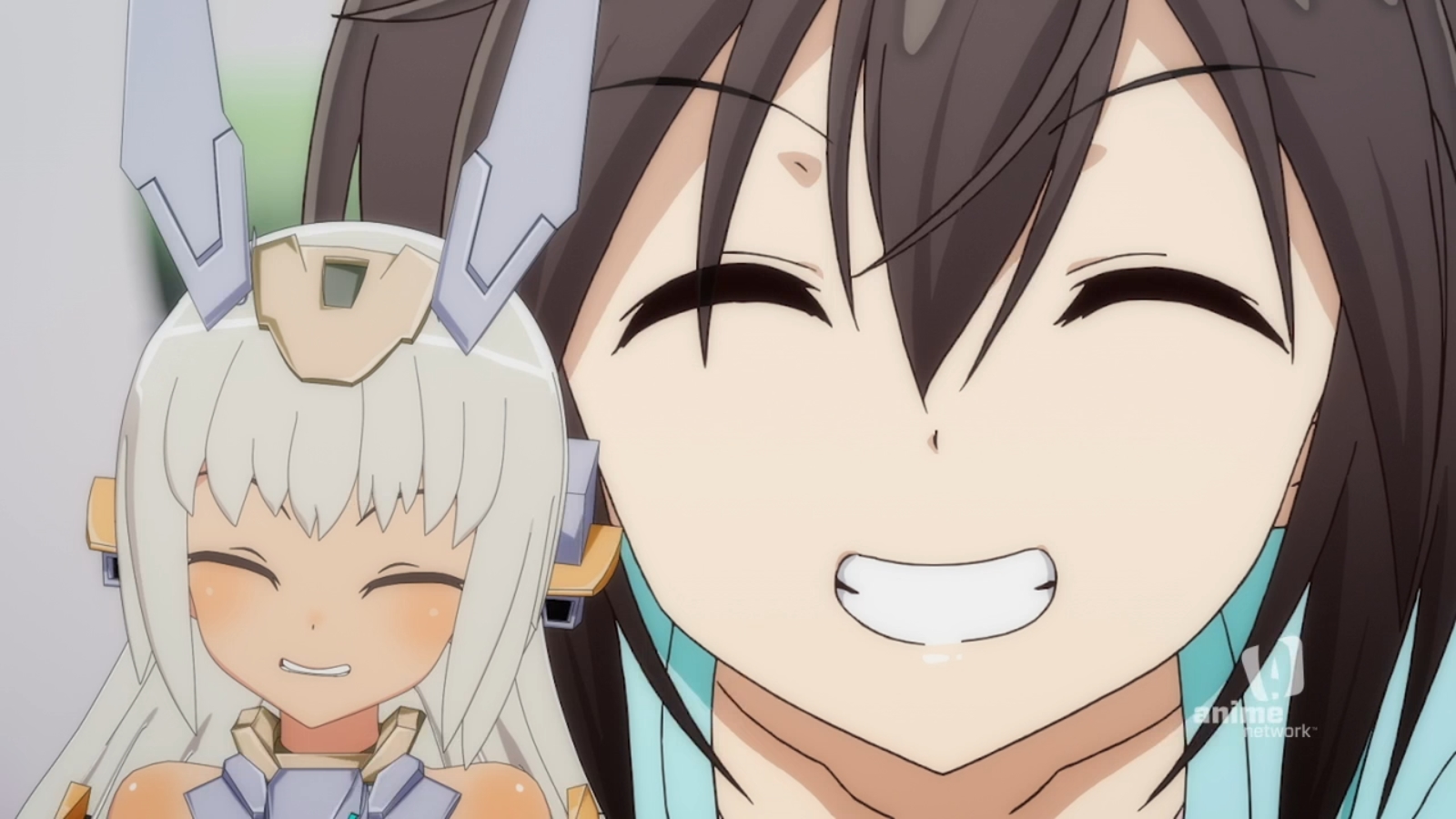 I just loved this as I was able to be rewarded by glorious facial expressions by both Ao & Baselard. Their teasing and expressions is what makes the show, as does the Frame Arm line. Maybe I could have also cut down on the images, yet this simply shows how much I love the show.
First half done! Now onto the Room Cleaner bit!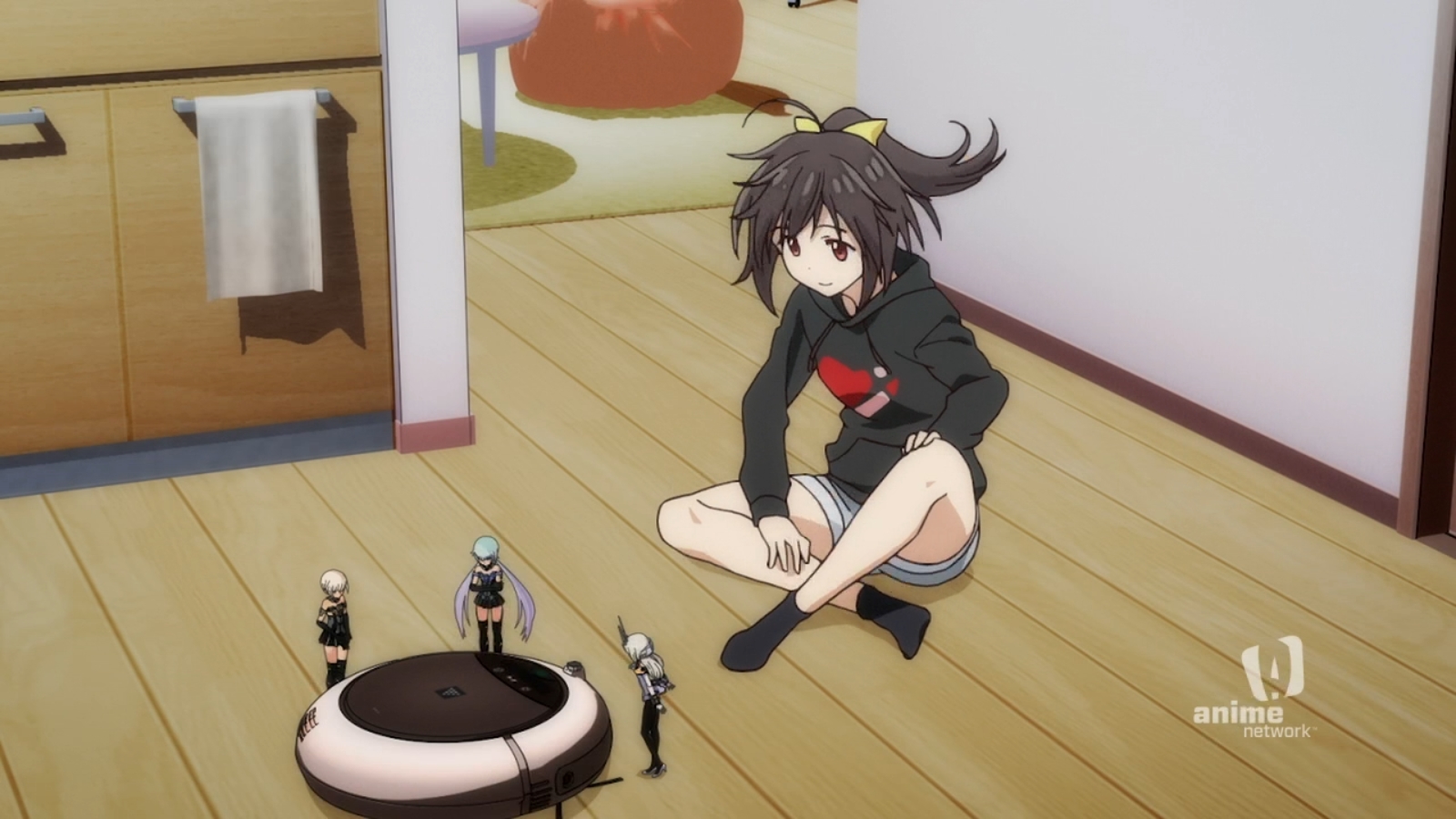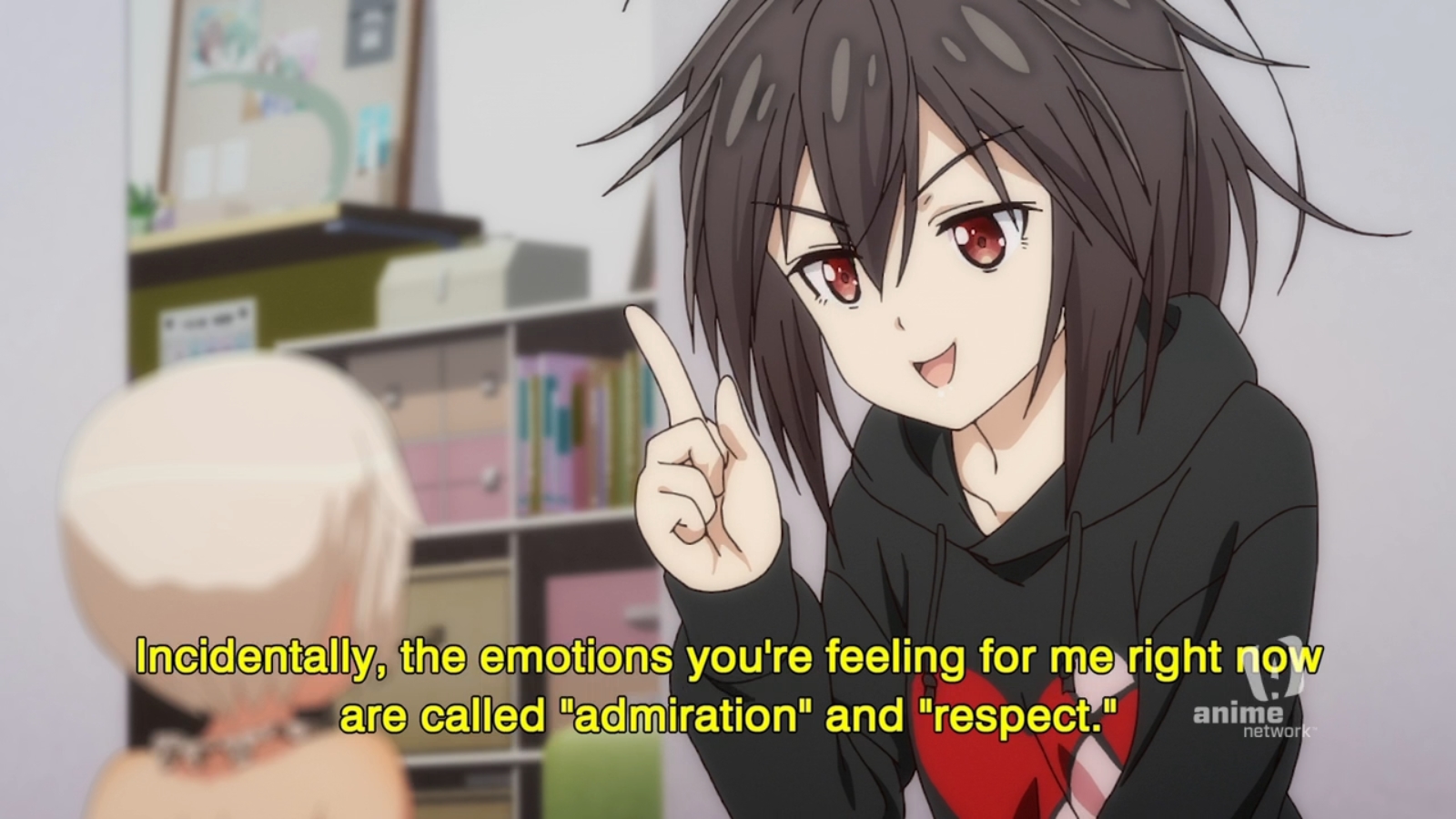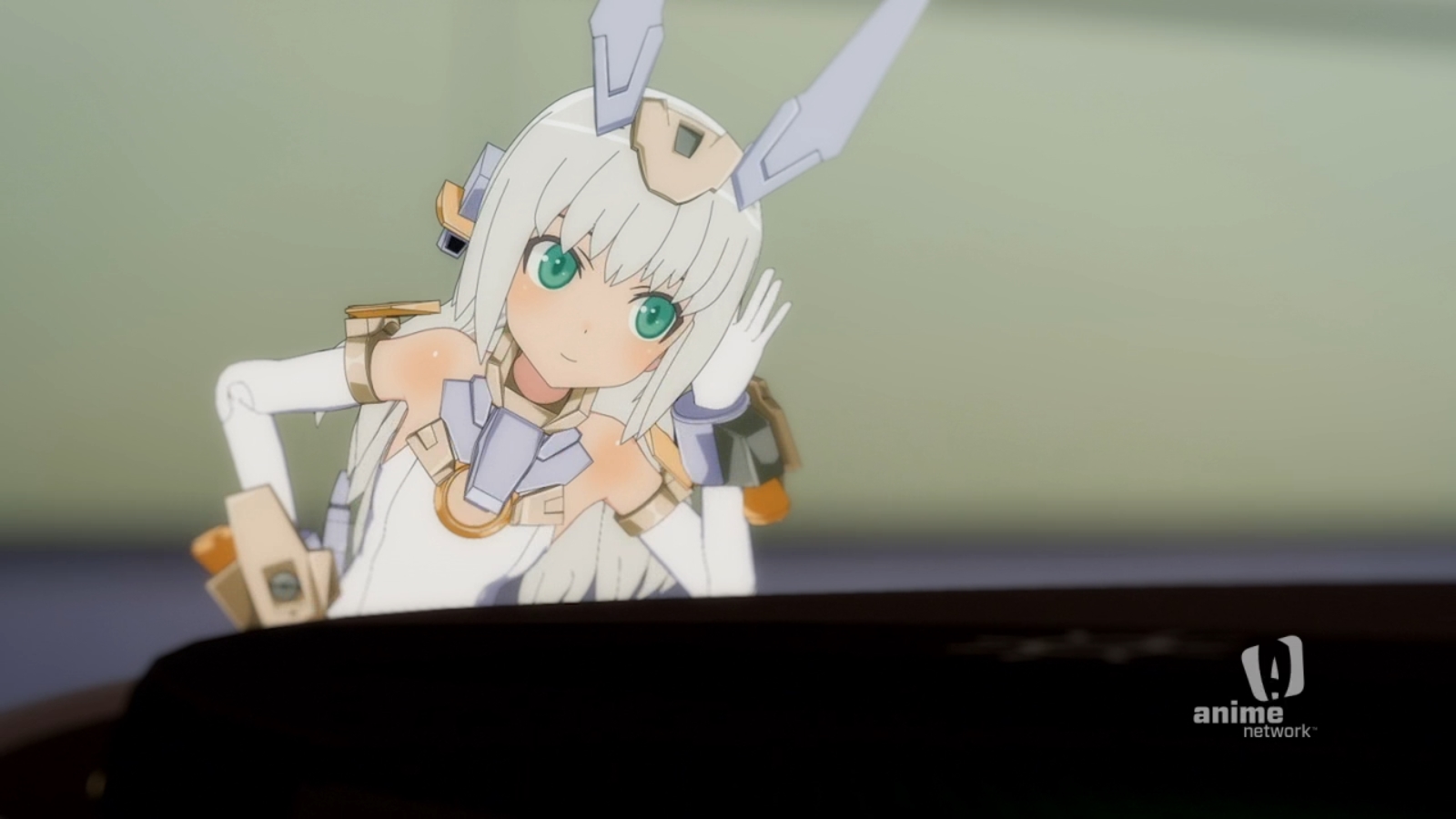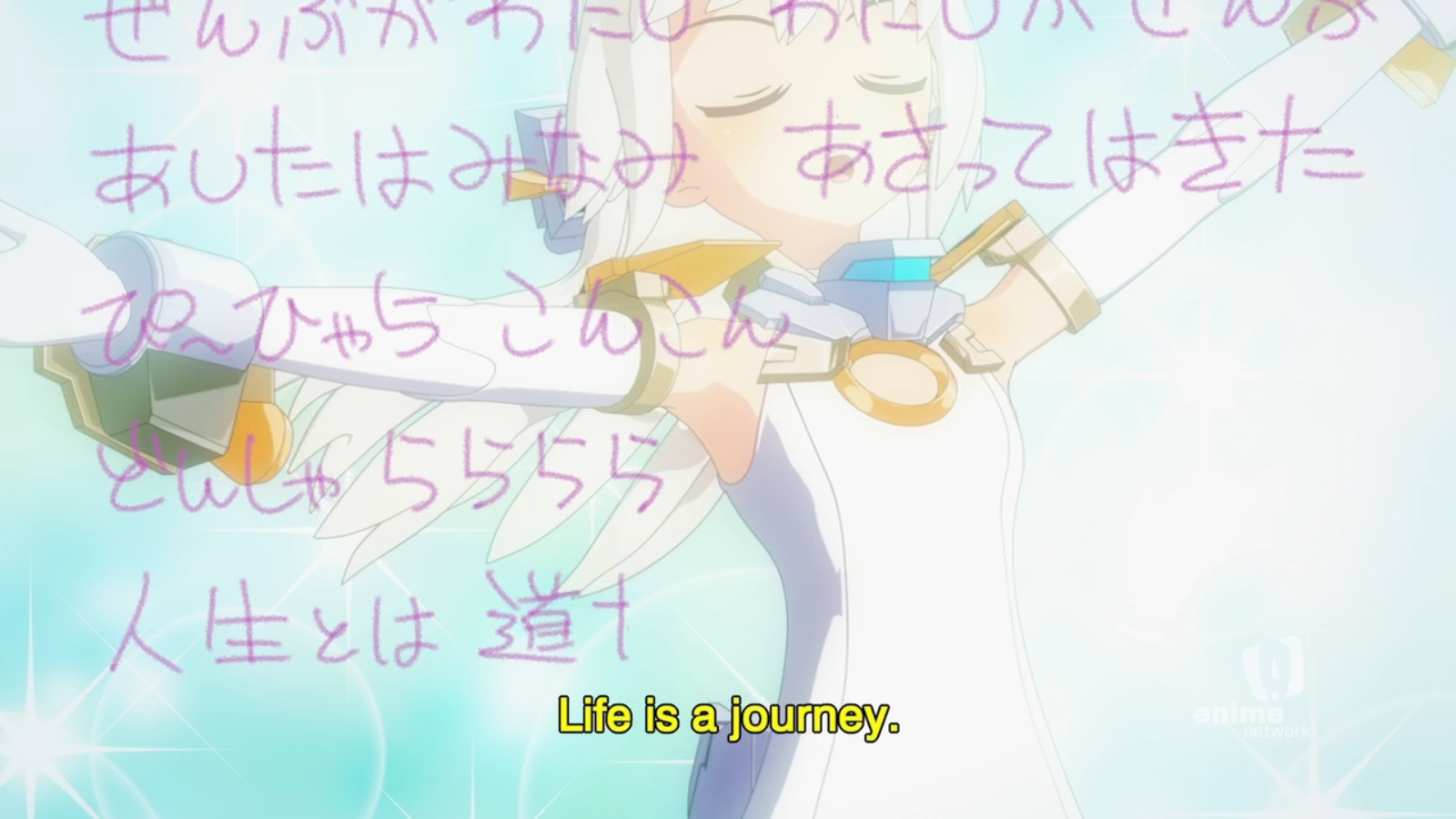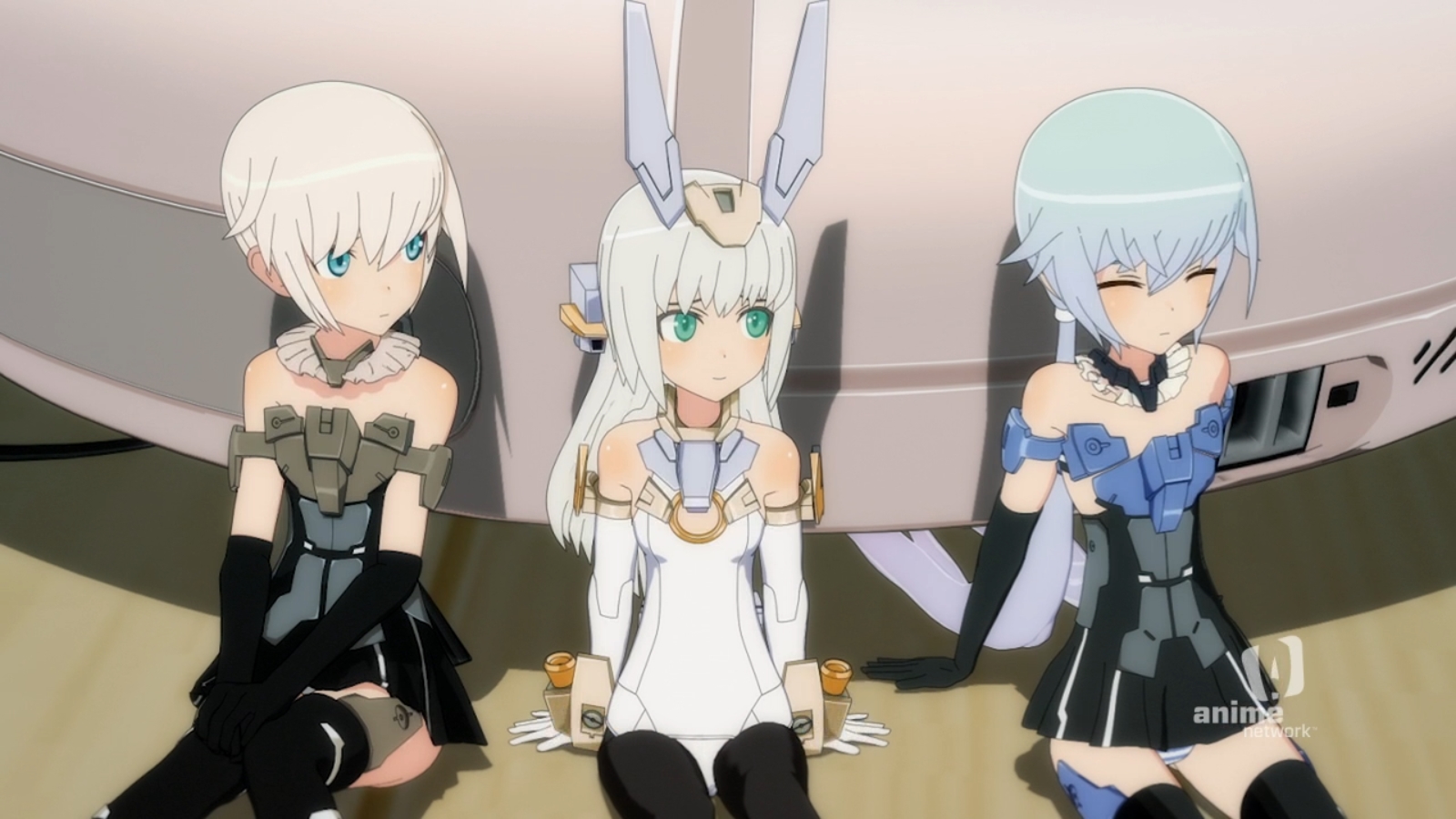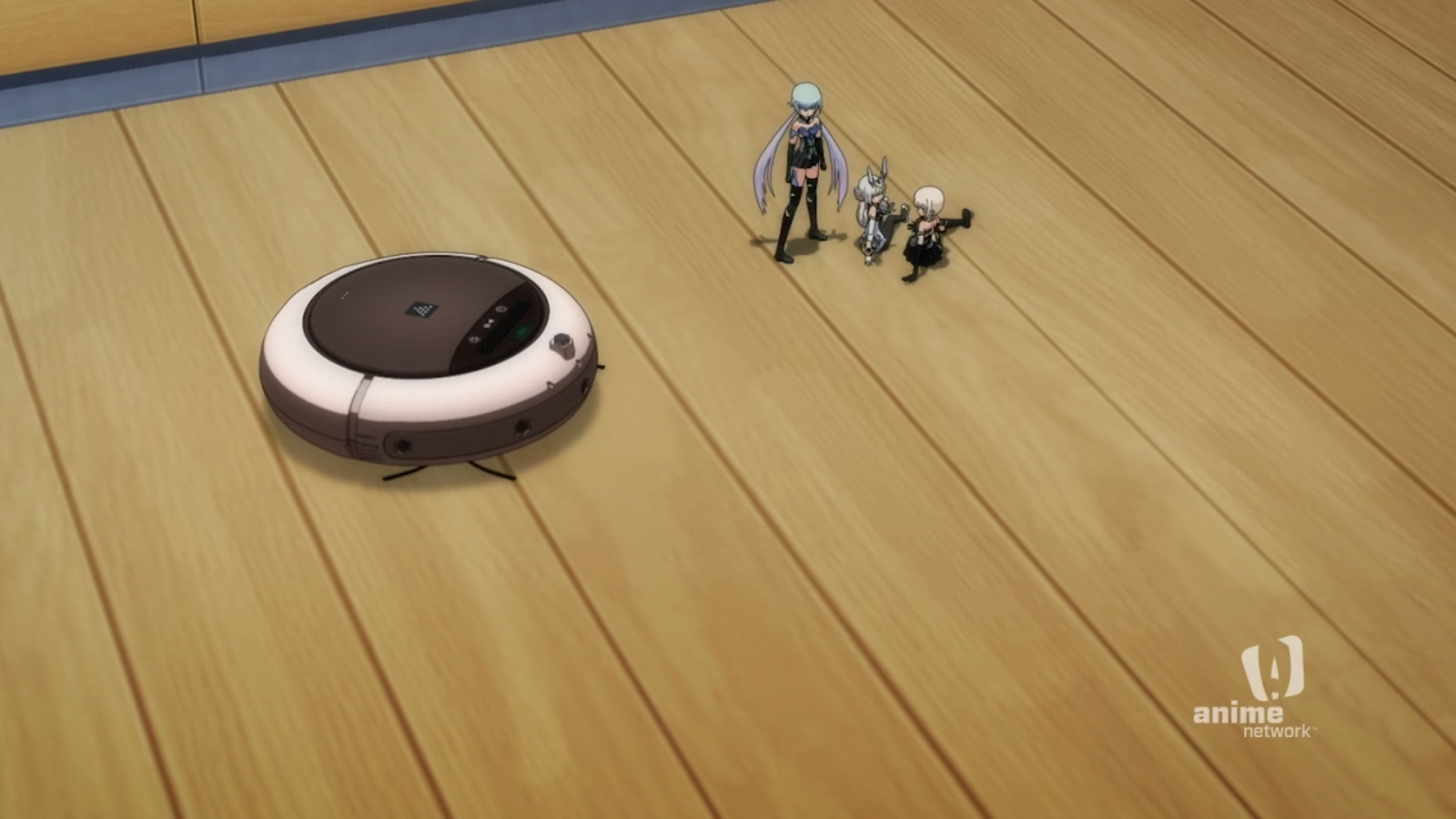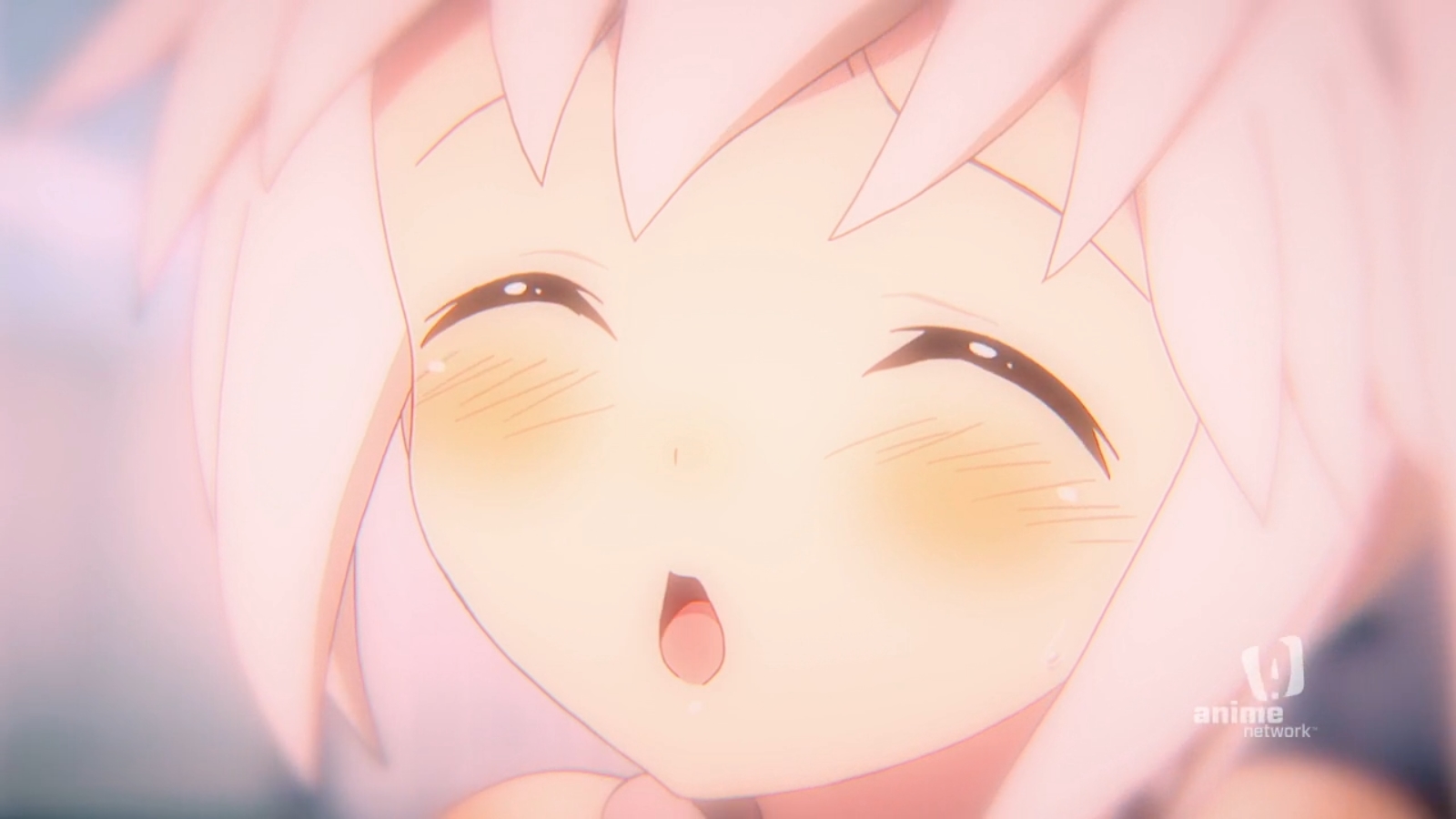 Sorry, but what? Everything else is awesome, but this…. Sexualizing girl-bots….. Not even that, it's just random, and now a running joke. Think of eating sushi, but with every fish type sushi you eat it moans in horror. Yeah.
Also, having mocked Ao behind her back the cleaning robot recorded it all, jumbling it to mock the FA: Girls in return. They now have to catch it at the risk of being thrown out, or assuming they would. Some sort of punishment, or similar. The whole conversation recorded, yet played back to mock the girls.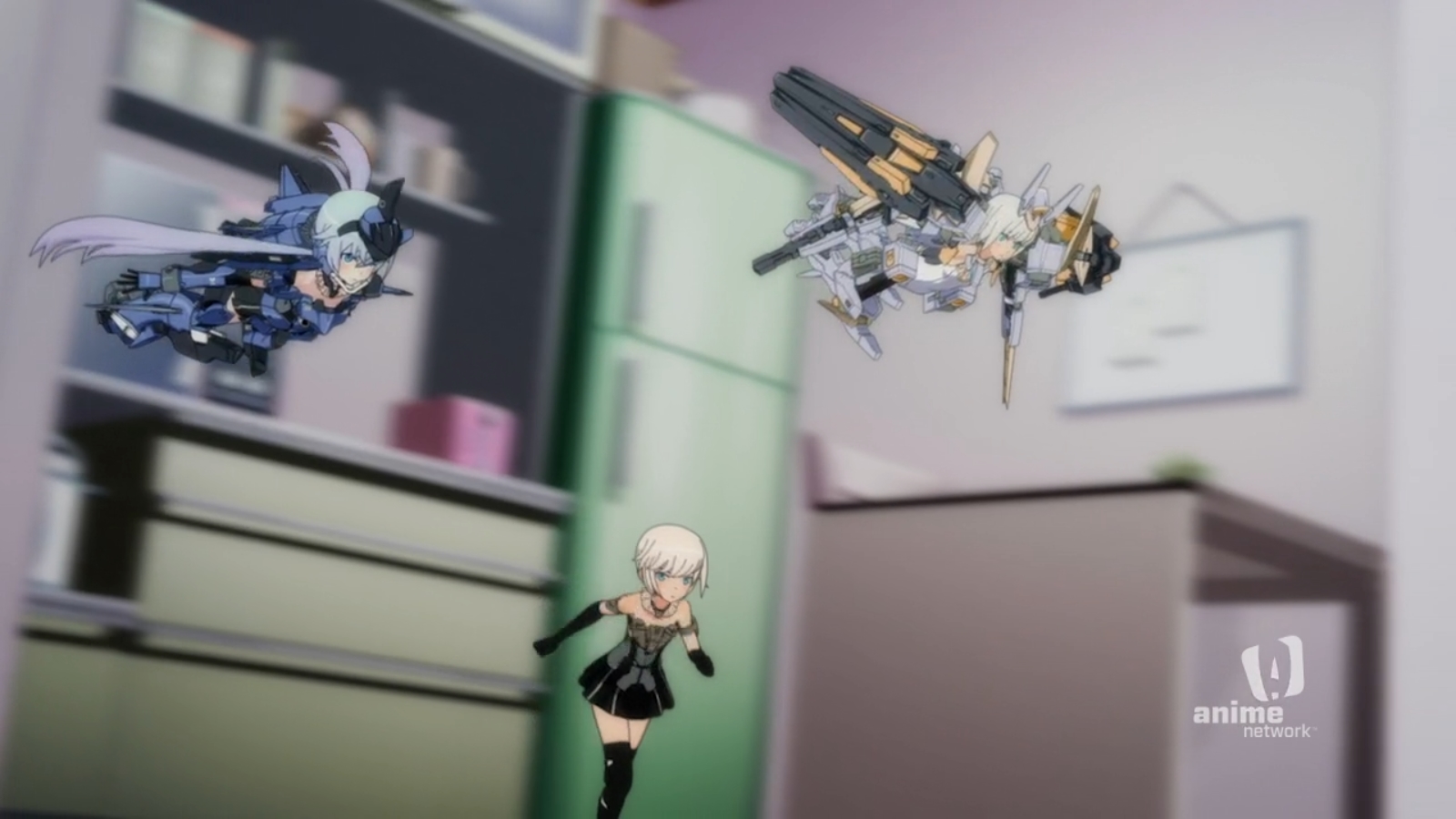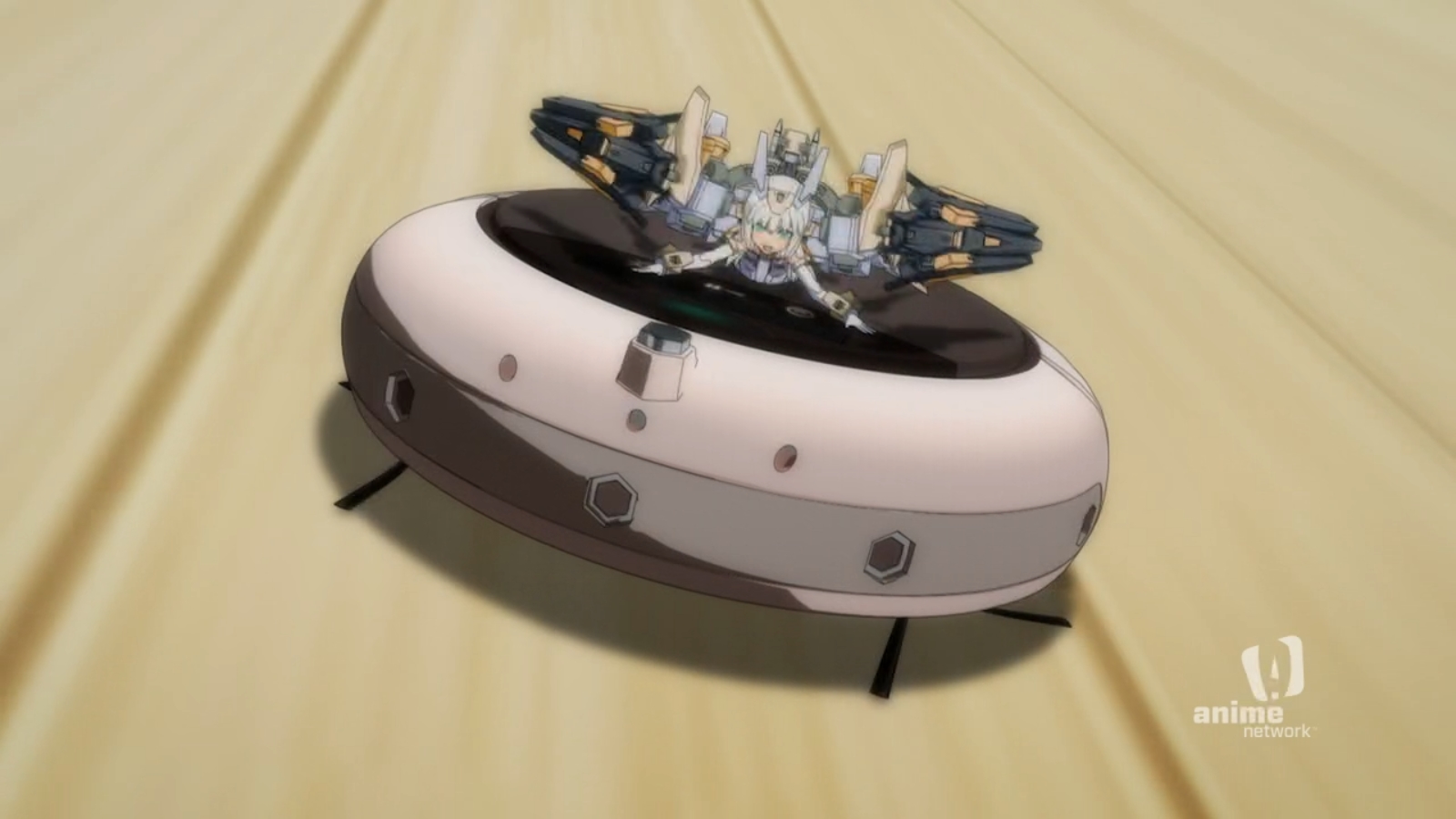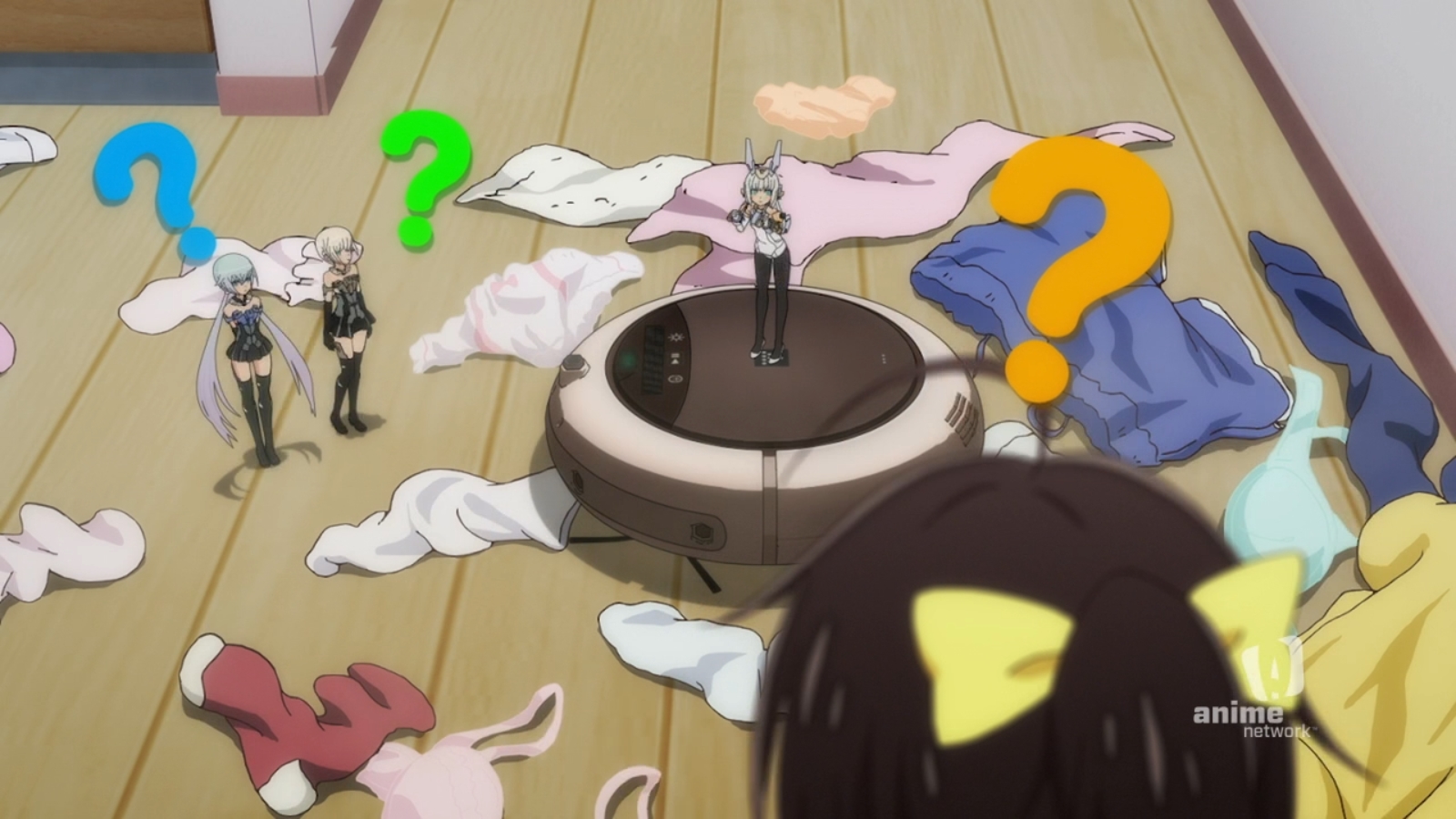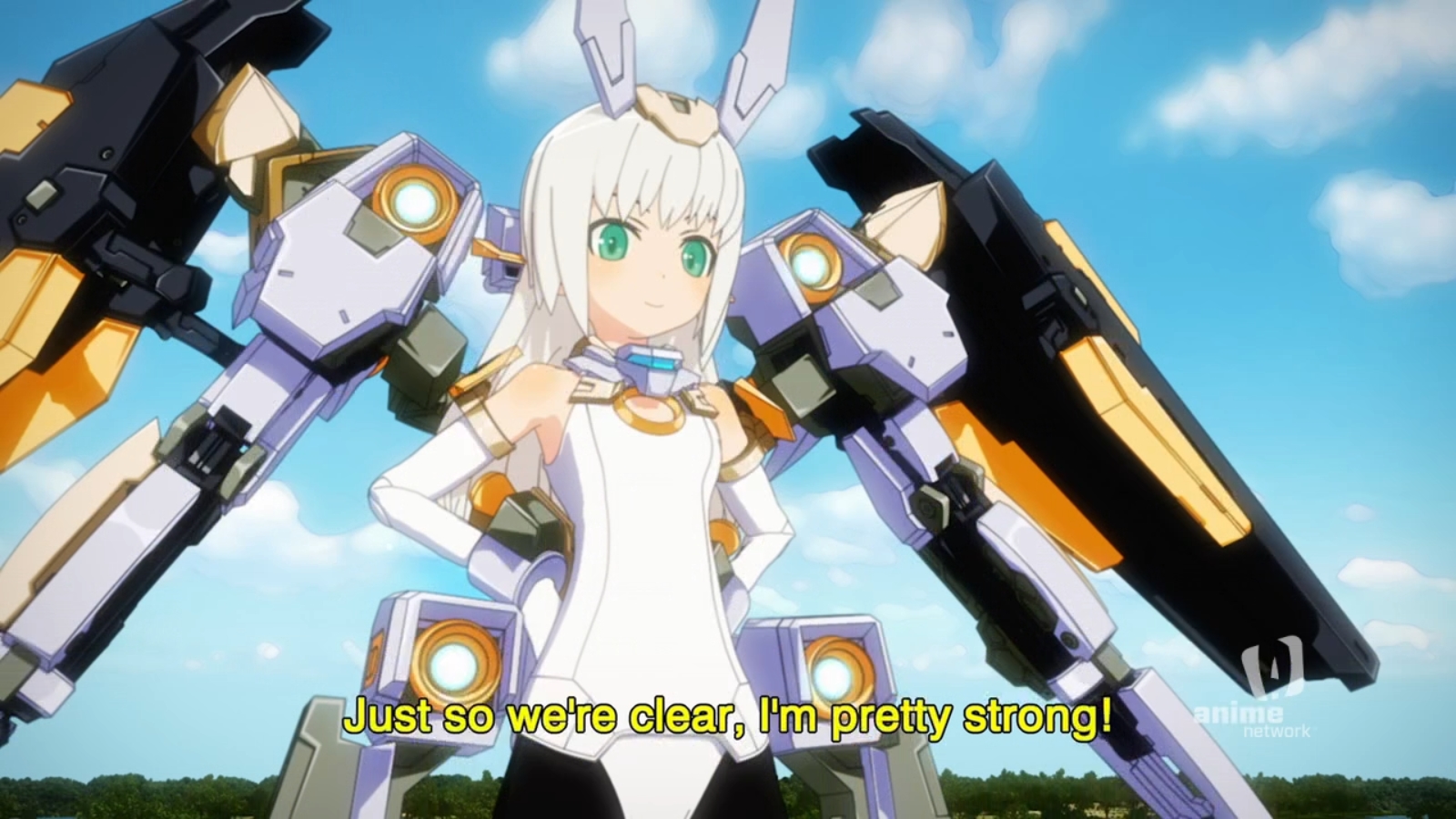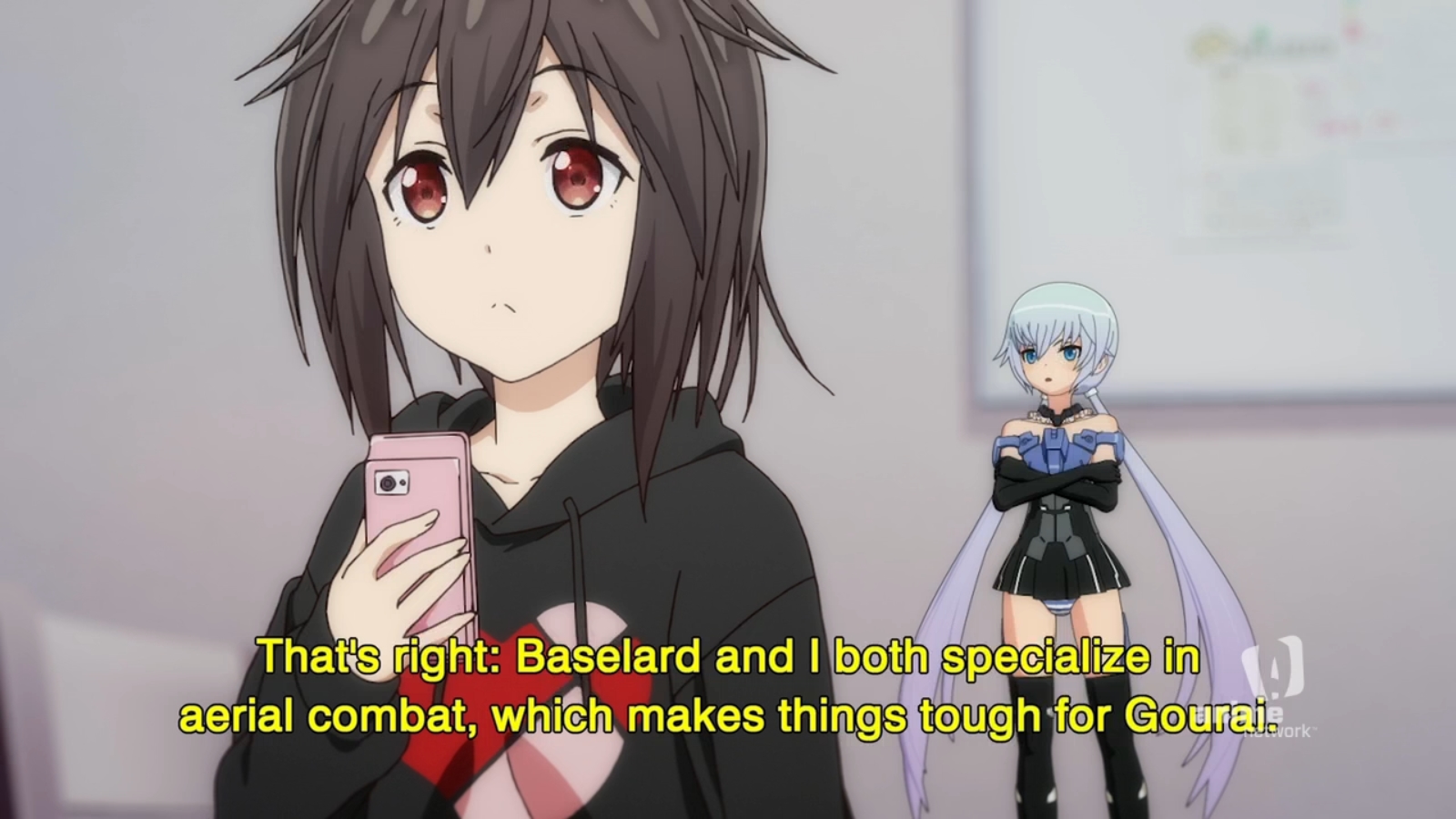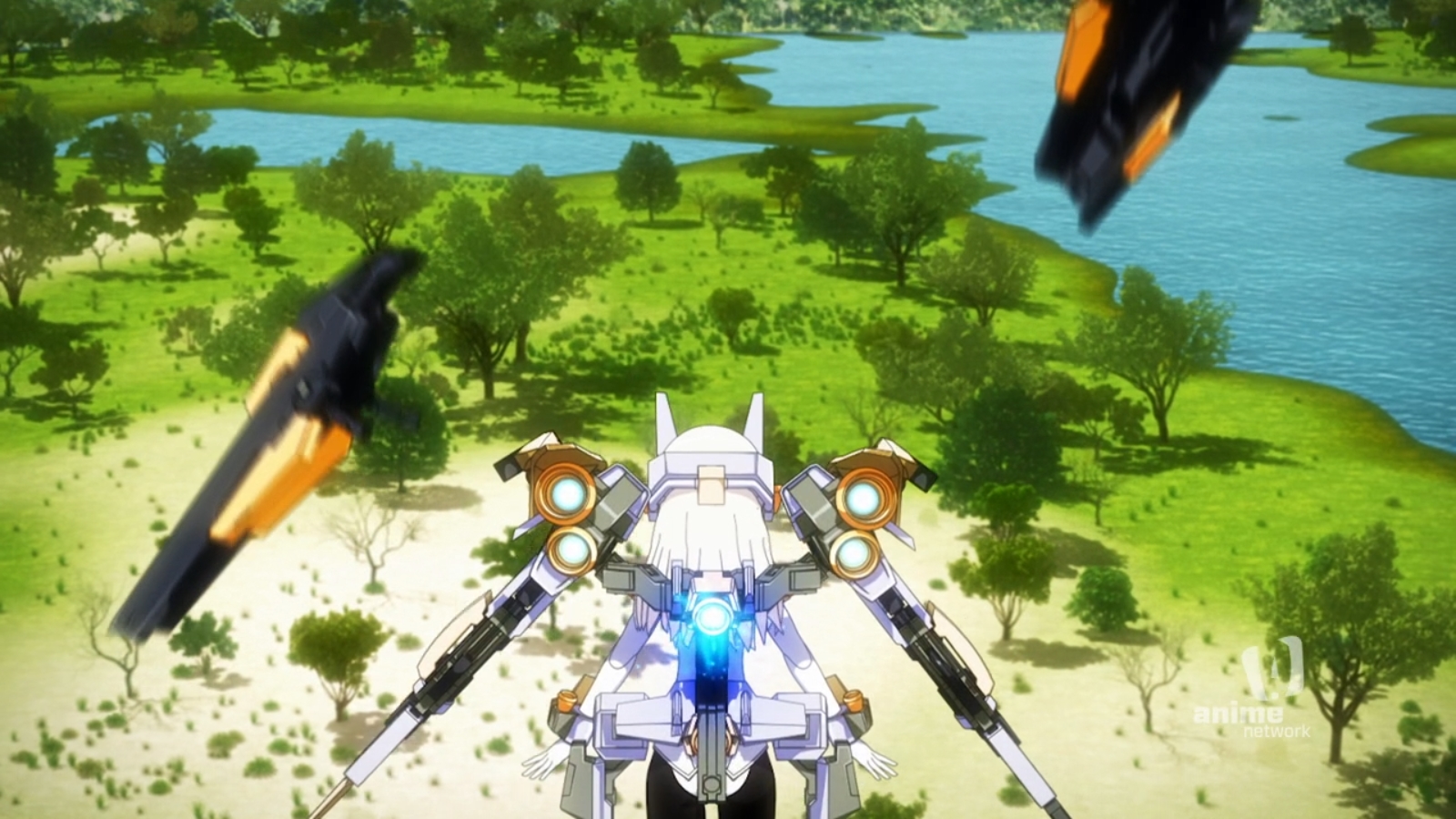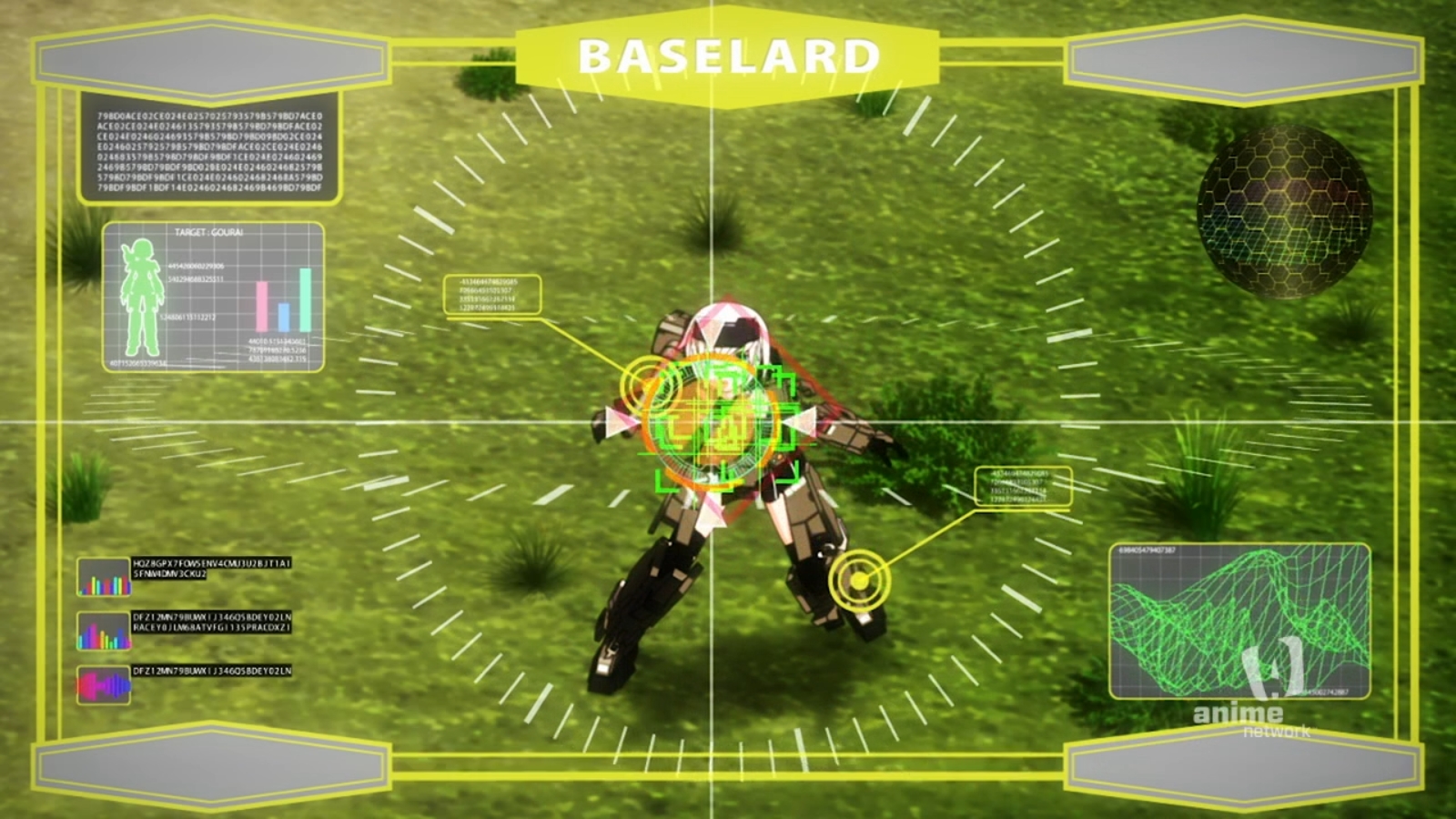 Yup! Baselard's Gundam Seed styled Freedom Gundam type laser attacks failed to reach Gourai because of 'chaff' from the cleaning robot. I'd say that makes sense and shall allow it to pass.
One thing to seriously note is that Gourai's weaponry is dangerous that it truly KO's opponents in 1 hit. A 1 hit KO that it makes you wonder what Gourai really is. She's an all-terrain type from my POV. Makes one curious.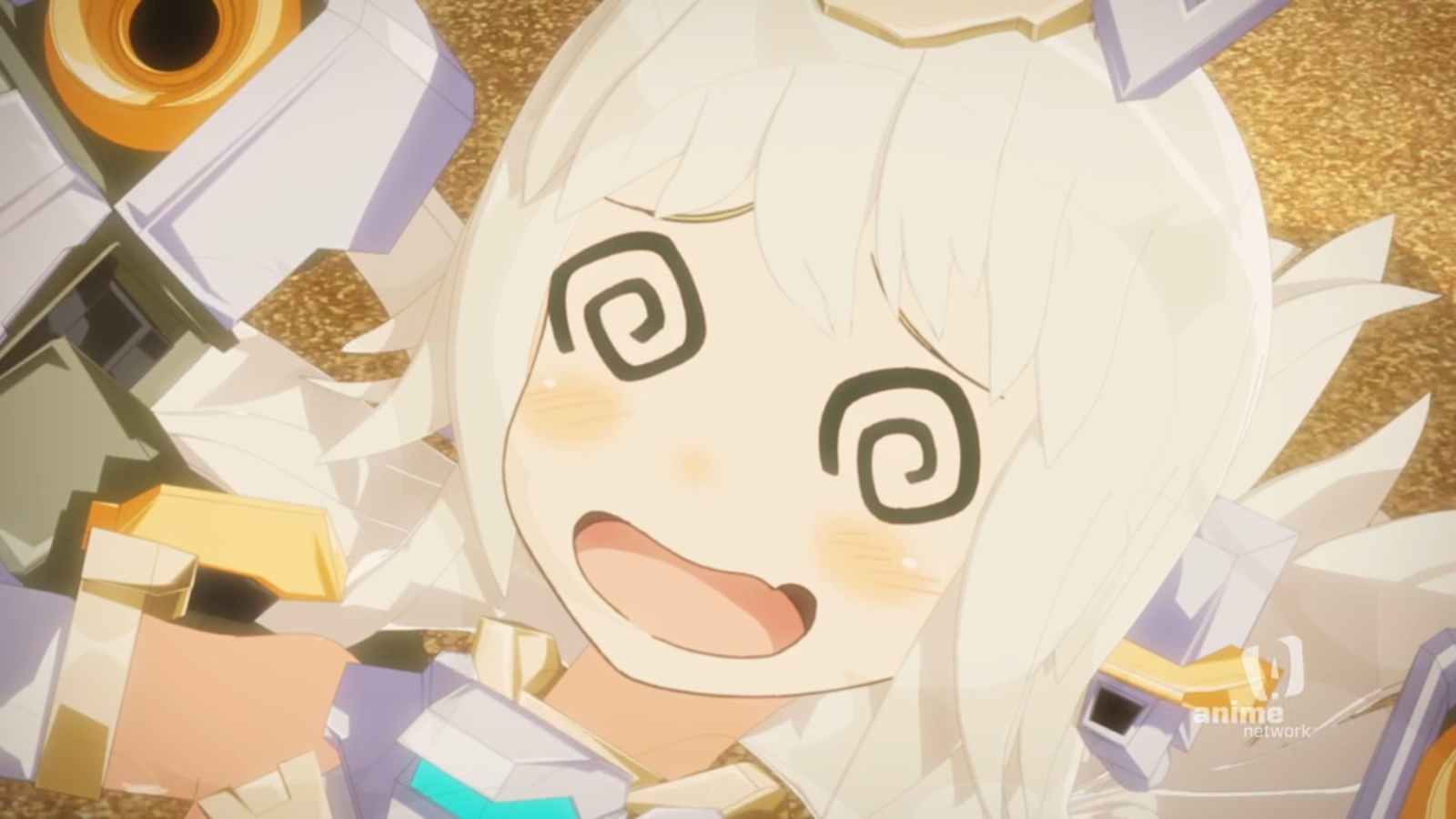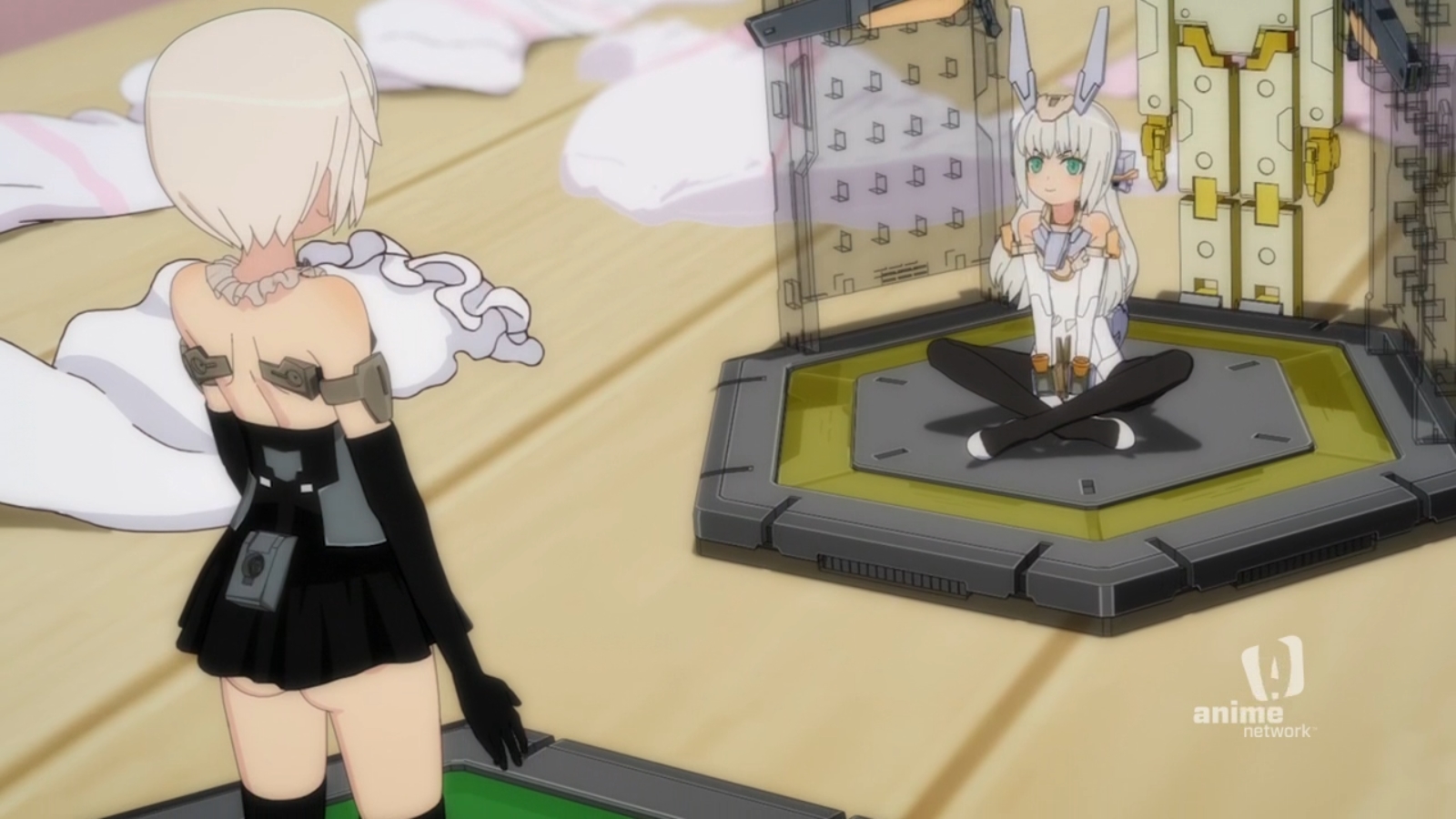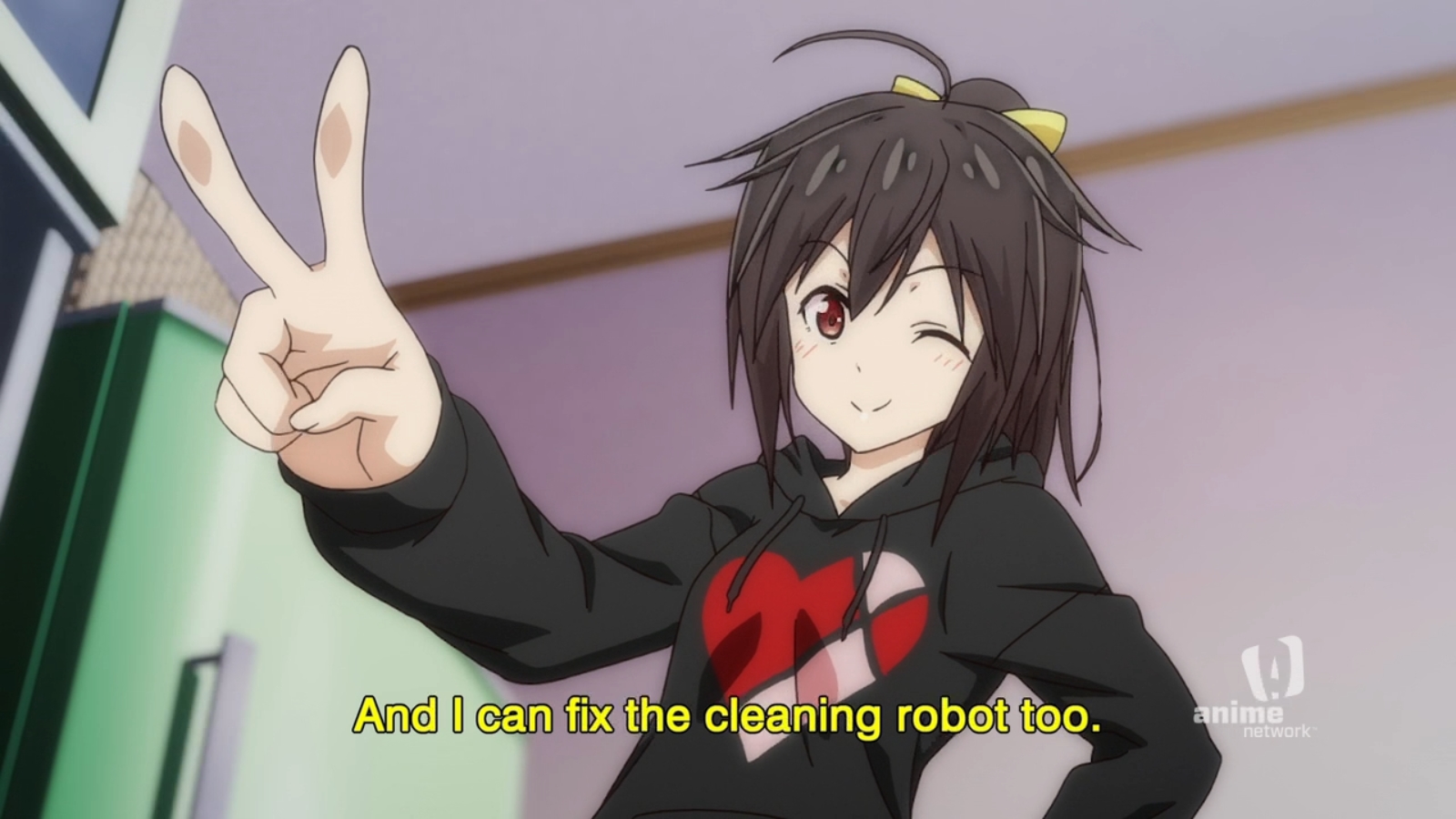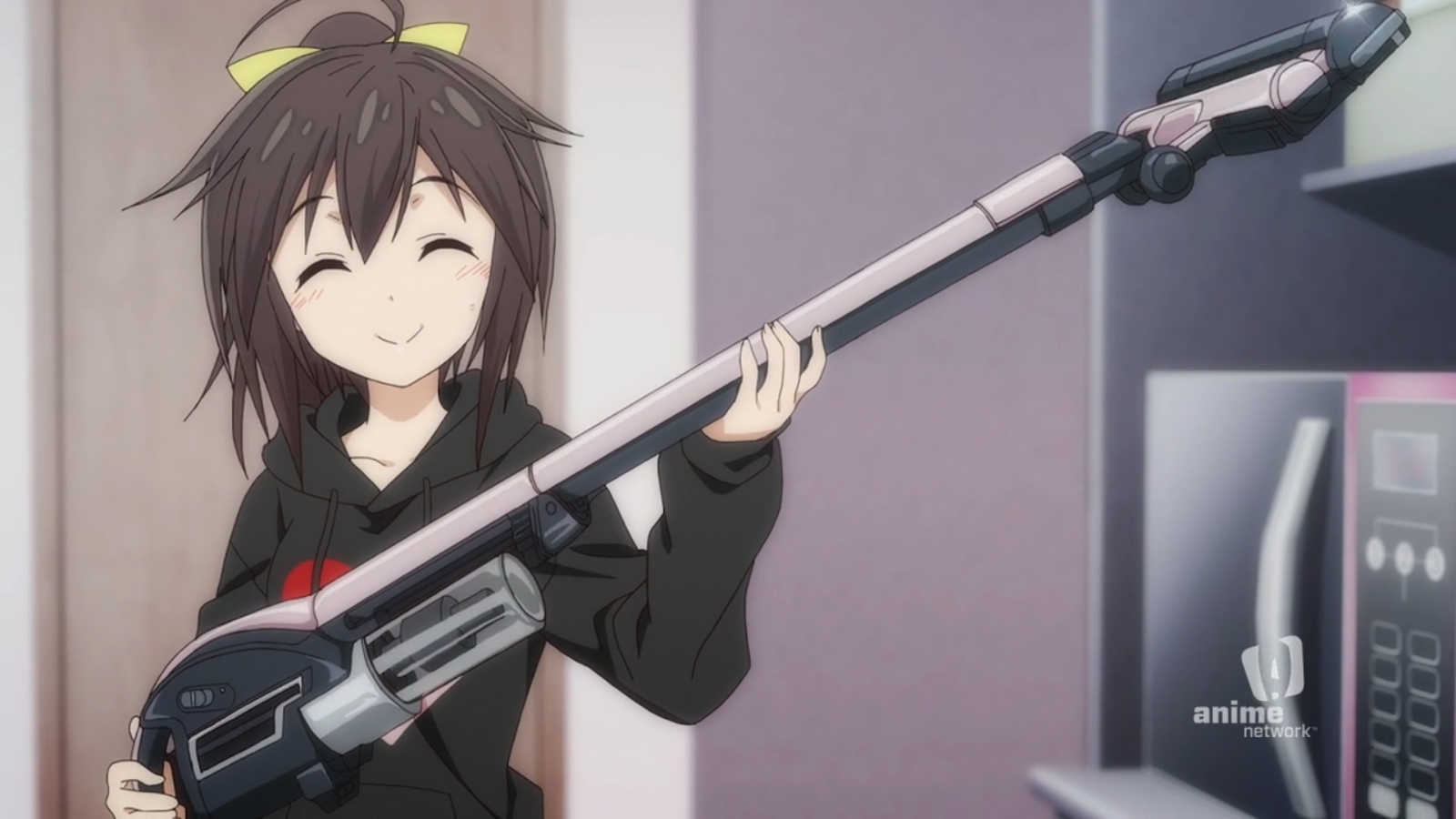 I may have over-done it via the image count, yet I just love this show. I genuinely find it worthwhile, even with and without the hype. It's that genuinely fun that I'm finding myself laughing at the silliness of BOTH the FA: Girls and Ao. The FA: Girls feel like Busou Shinki types carrying off of what Konami brainlessly killed causing Kotobukiya to pick up a similar line to fill in the void caused by Konami. This show, the line…..It's all fun and rewarding that I'm highly amused to be laughing at teaseing Sty-ko, both Ao & Base's smug prankful face, as well as seeing Baselard being more of a 'kitsune' type prankster in that intelligent manner……..This actually goes deep, and I love it.
This makes me want to see more. I want more! I want to see what they'll do when they max out the FA Girls being personfications of the mecha line. Maybe through the SOL line, or something. Once the FA Line is capped they could go through their SOL, and various other lines. This anime is great, and obviously a funny grand commercial for the model kit figure line. If I was to rate this episode I'd give it an 8/10. Not the best, yet it did make me laugh while having hilarious worthwhile moments. It's not even average, yet above average. Worthwhile! I now want that plain-white Baselard model kit!
See you in Episode 3 review! I have no other FA: Girl to post so it'll be another episode review.