Heyo! Had a doll meet this Saturday at Ottawa's scenic Experimental Farm. One of my favorite places to meet up and take pictures at. Been wanting to with Vara and Renge so I had my fun with others until the wedding (crashers) came to the area. Day was on the chilly and windy side.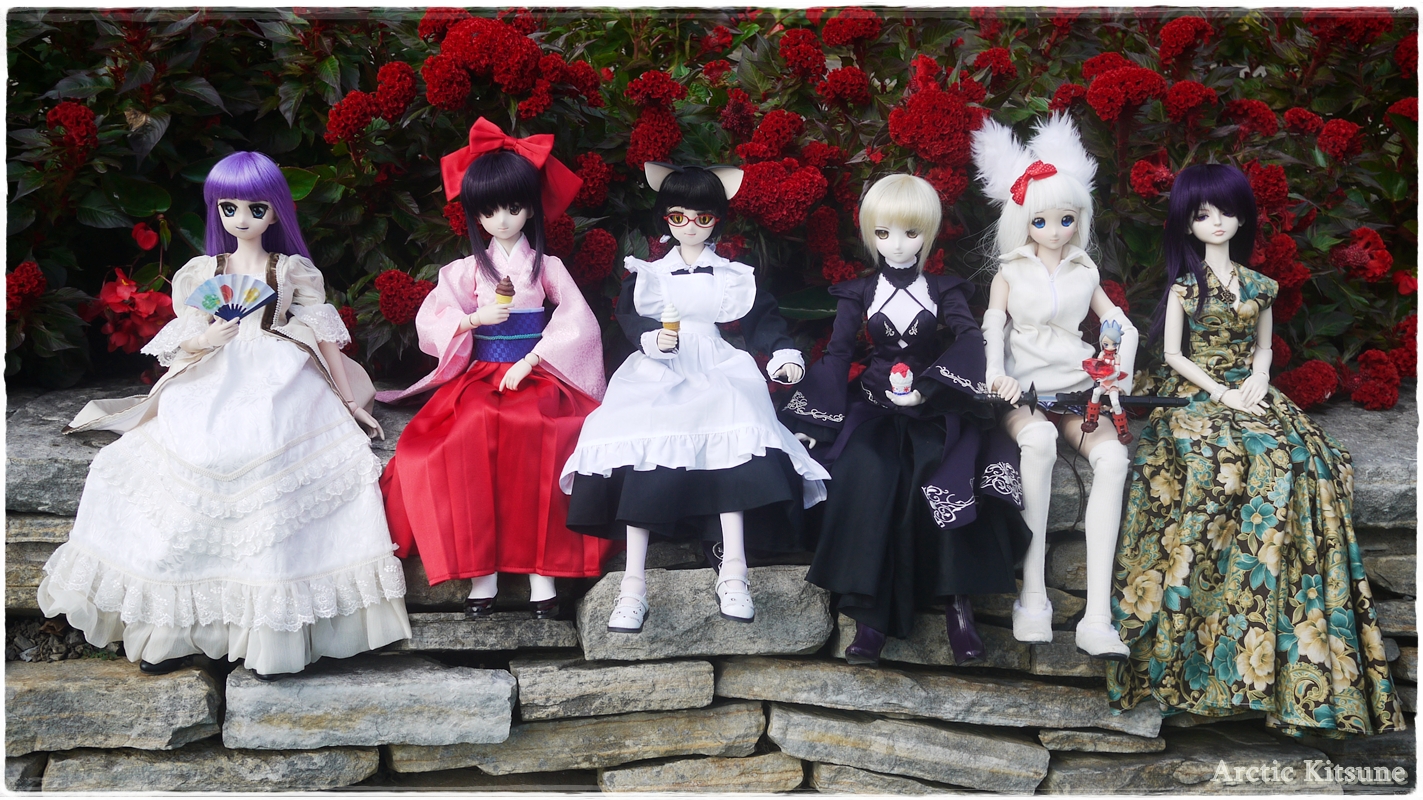 (All images taken with a Lumix GF-1 – Pancake lens; Right-click and open images in new tab.)
Today has been a nice fun day with myself and Tieren arriving first to the meet wondering where the other folks were at. I tried to obtain a few "head-start" images before they arrived…did so but not fast enough for the other sets of images. No matter, have other types of images that make up for that so all good.
Also, am aware her hair is a mess. It's one of those wigs that is a pain in the rear for me to keep tidy with me waiting for a chance to obtain a "friendlier" type. Was suggested such so may aim for such later.
—
– Related Articles:
– Experimental Farm w/ Figmas:
https://arcticukitsu.com/Blog/?p=801
– Ottawa Doll Meet – Andrew Haydon Park:
https://arcticukitsu.com/Blog/?p=3826
– Beju Doll (Canadian):
http://www.affordabledesigns.ca/beju/homepage.html
—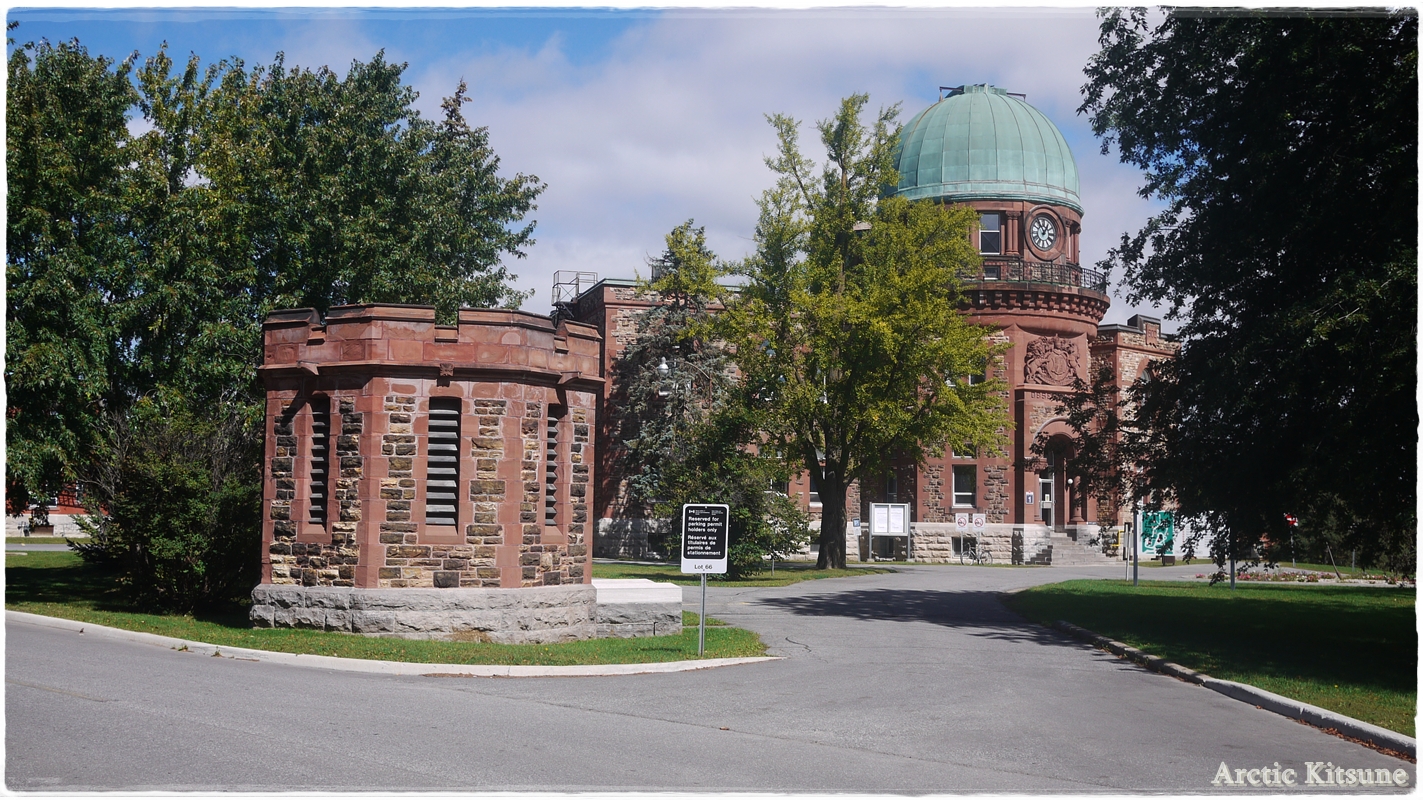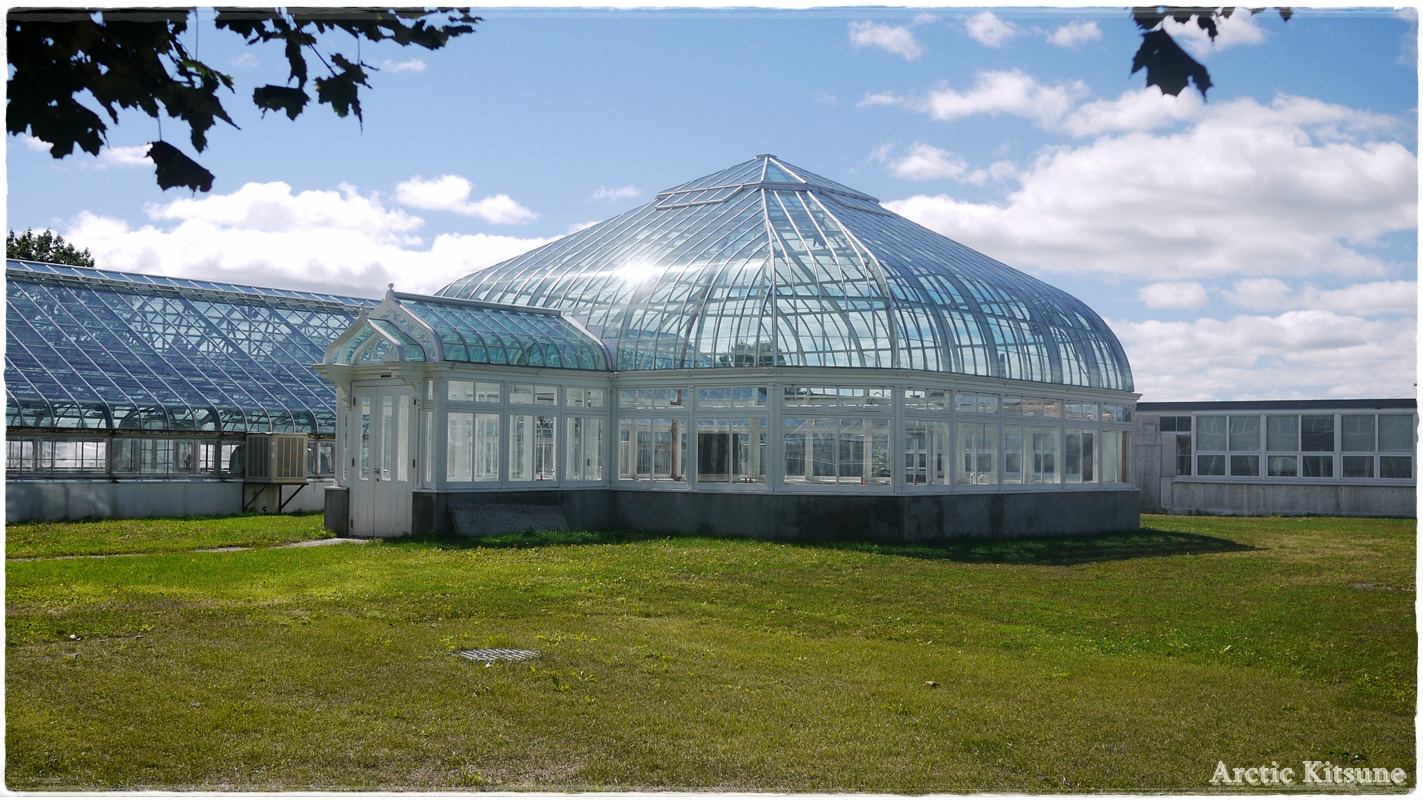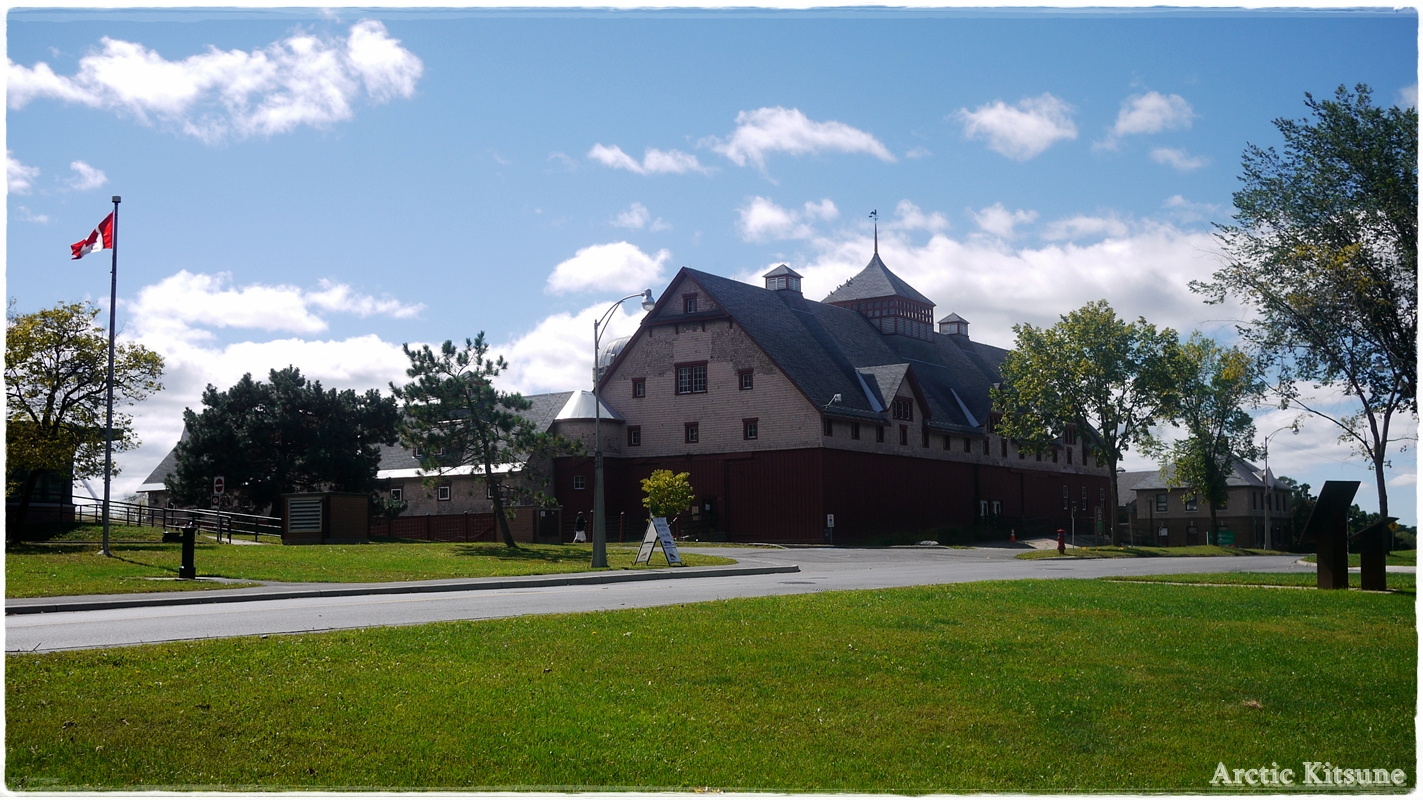 While scouting the area out for the other doll(fie) owners I noticed loads of spider-webs on the hedges. They were almost everywhere looking neat. The whole garden area itself looks neat and why I love coming here with Figmas, Busou Shinki figures, and now Dollfies. It's one of the more perfect lovable areas of the city. So much so that it is a popular place for weddings which we got interrupted by half-way in.
The dolls of ours, mine and others, had a happy time falling, wobbling in the wind, and falling into our hands. Vara had a few moments where she fell into the grass and more annoyingly into a flower bed with moist dark soil.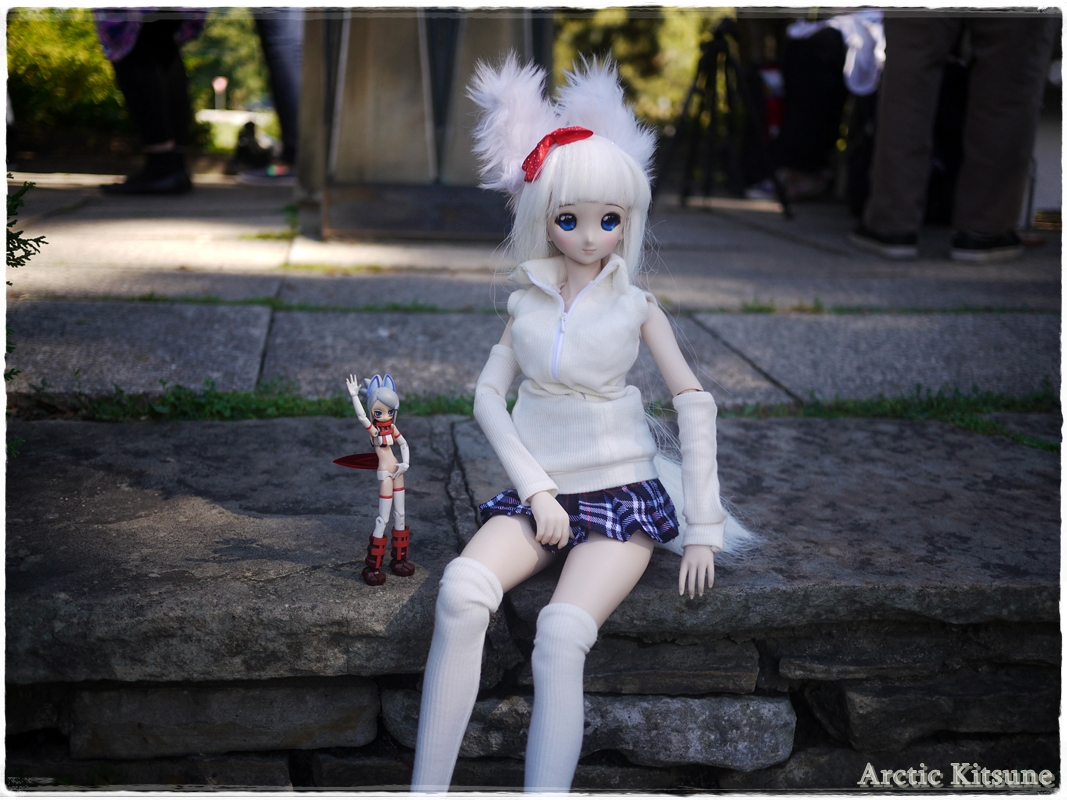 The reason we had this meet was because of a new Canadian doll line named "Beju Dolls". It's so knew that this is the first time we all seen such dolls in person. Both genders use the same body and about the same size for easy accessory swapping, or so I over-heard.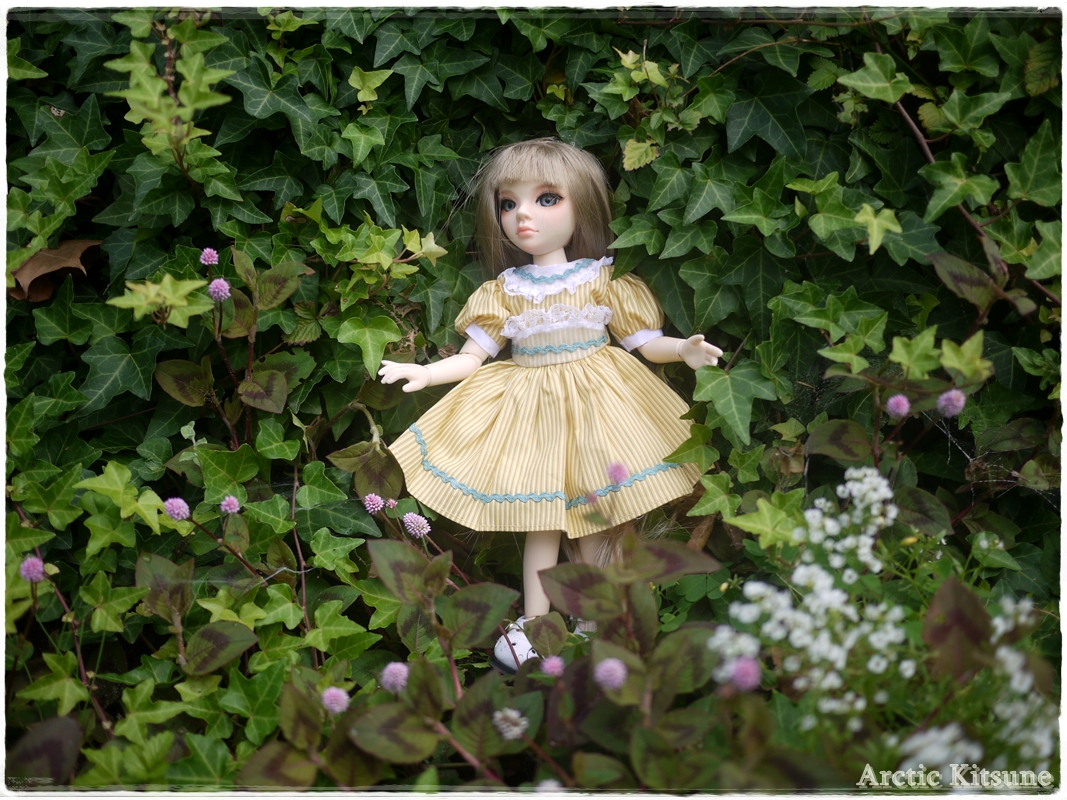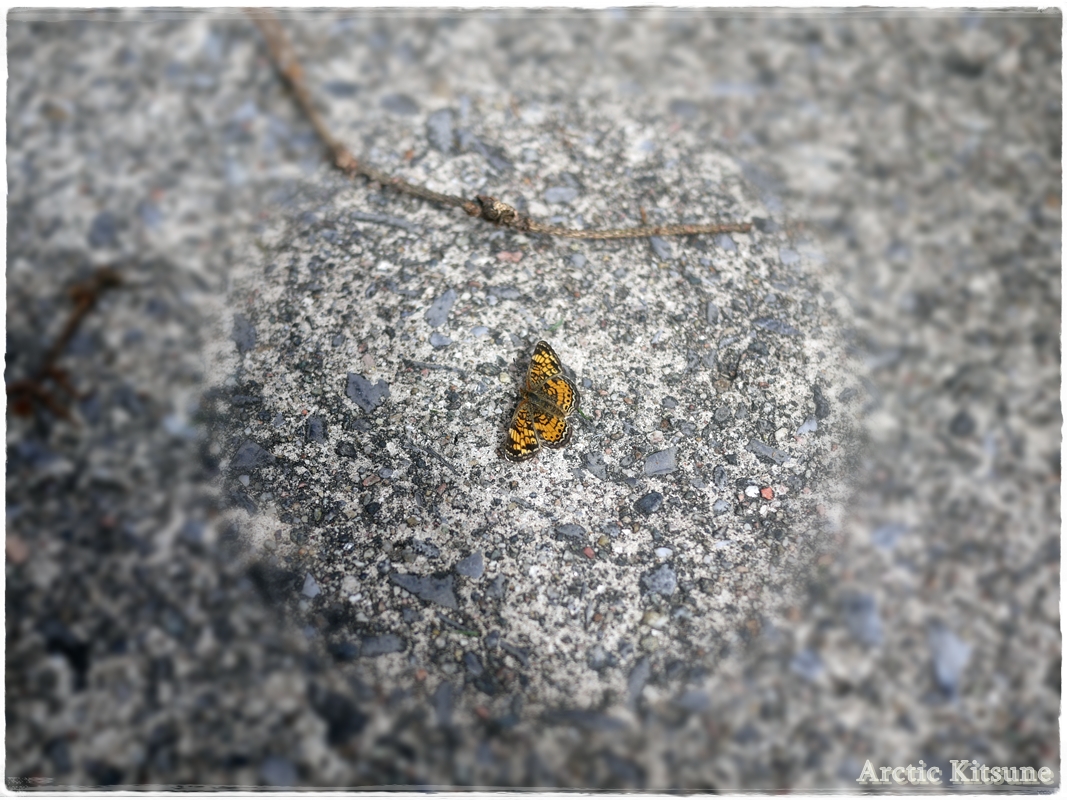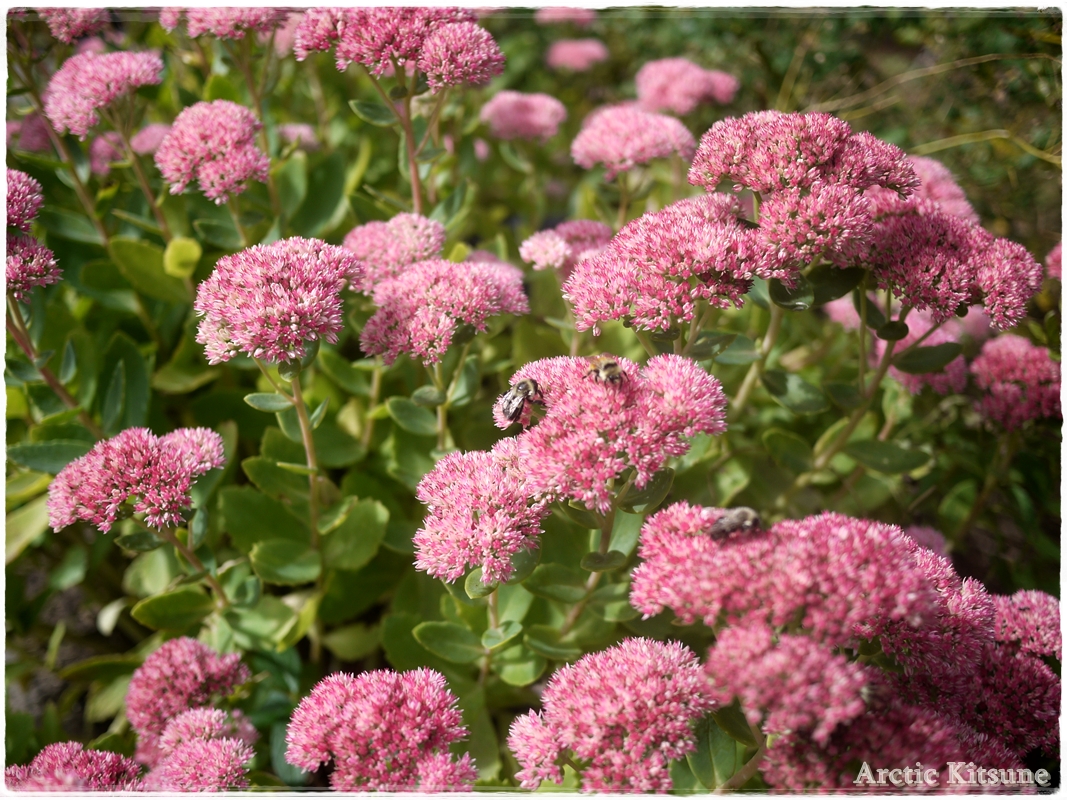 Once I completed my lap Varakitsu joined me by examining the flowers and scenery. She had a nasty fall, though still in fine condition. Poor Vara. She did put on a little dance to show she was fine; kon!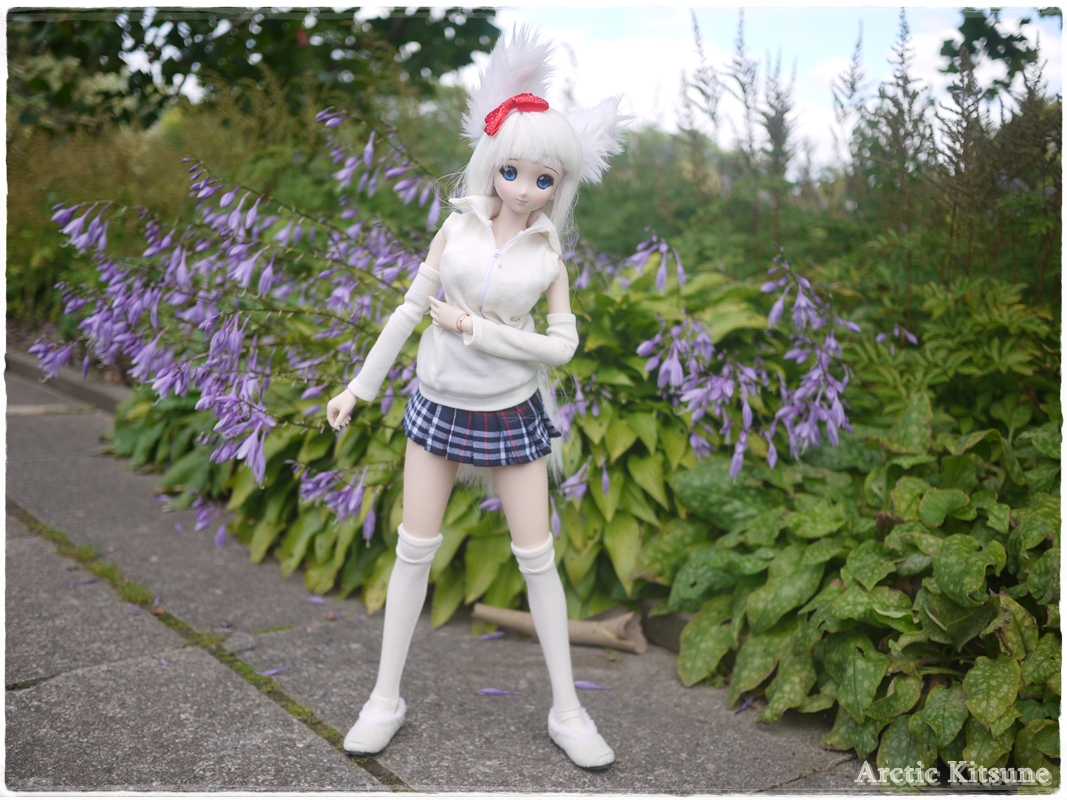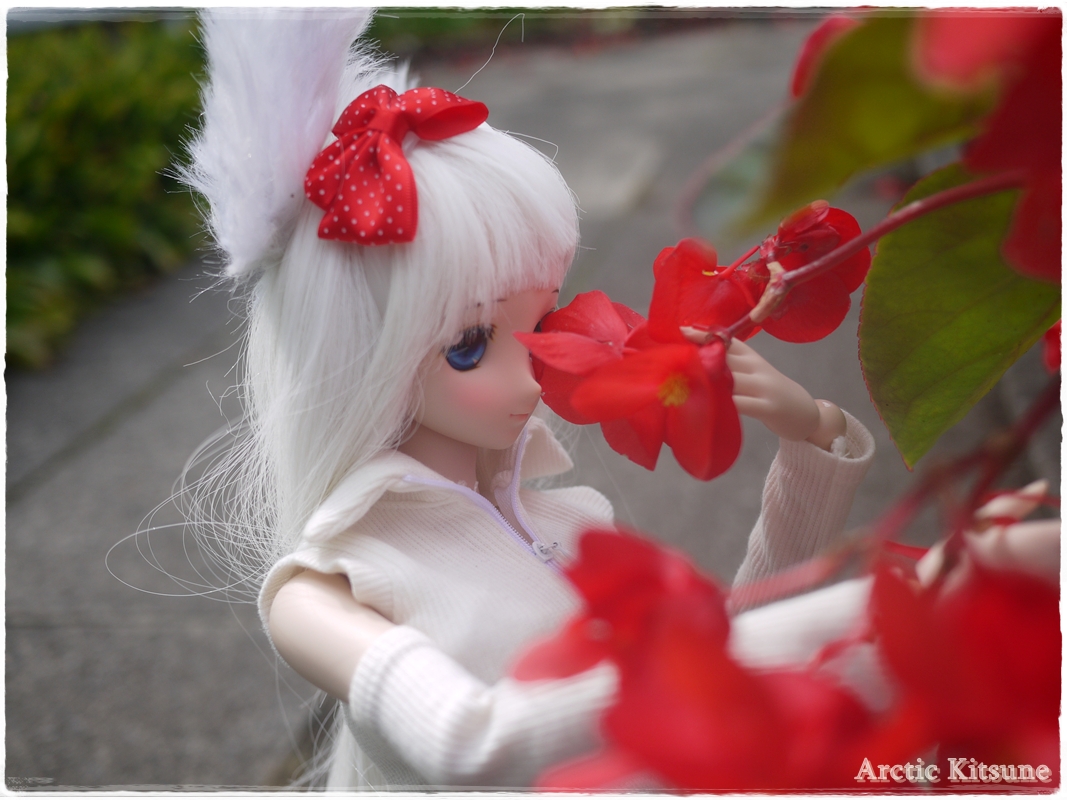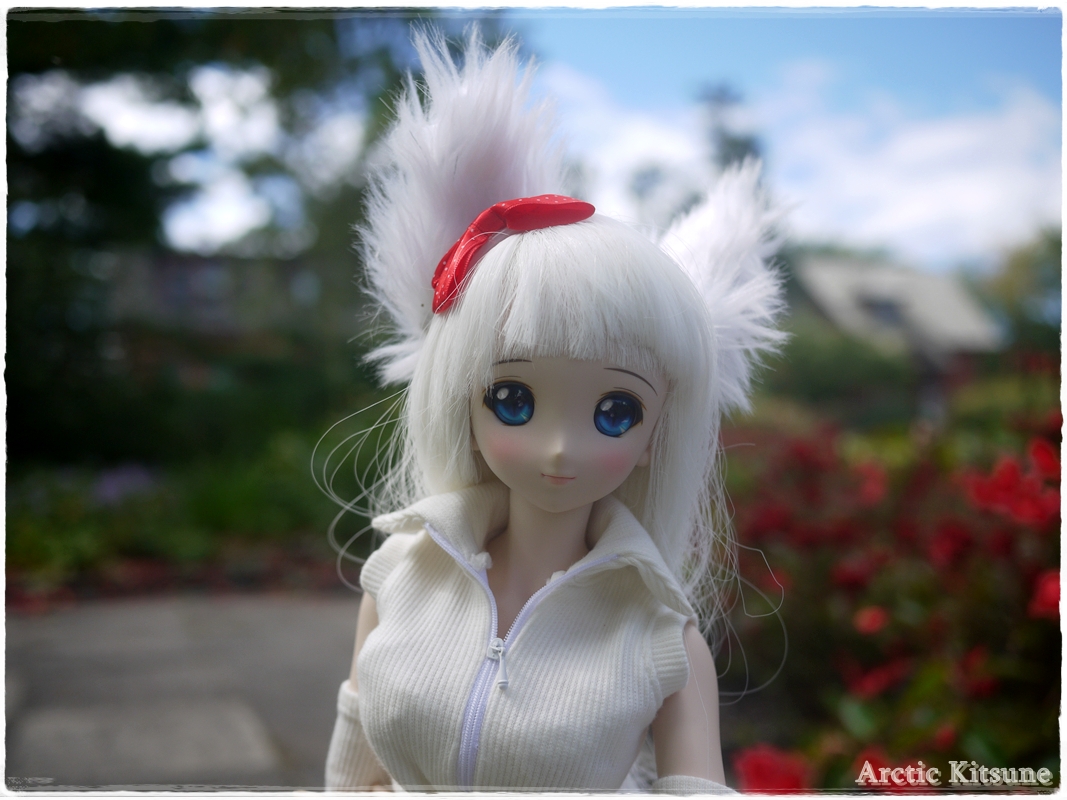 Wandered around a bit attempting to get Vara into a pose. I spent roughly 5-10 minutes forcing Vara to stand in a samurai-drawing-sword pose. She was being stubborn and the wind didn't help any. She eventually posed for the camera briefly, and once more when I took a shot on the latter with some old ladies mentioning how cute she was. They were asking when I purchased her (March) with all those similar discussions.
(Vara is a personification of an arctic fox spirit in a human female form.)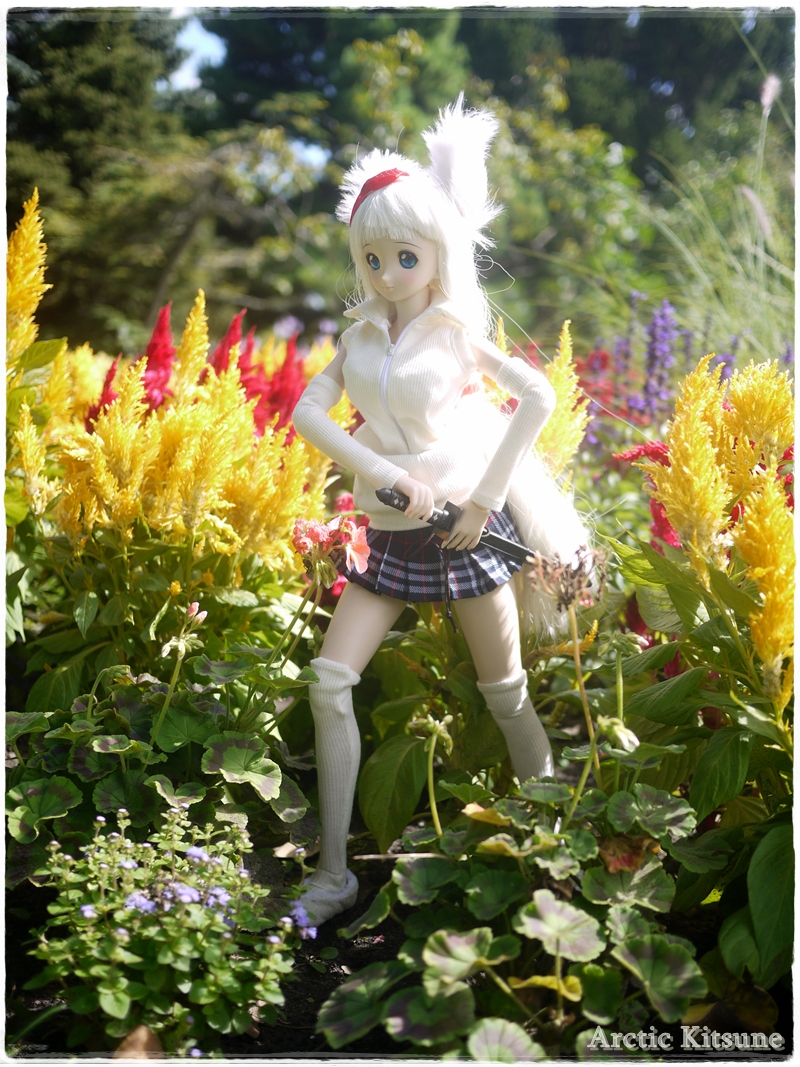 She got dirty from the wet moist dirt in the flower bed that I had to dust her off on the spot and on the bench. I'm glad the dirt came off easily. Dirt, grass, bugs, and the sticky stuff from a European tree…ouch.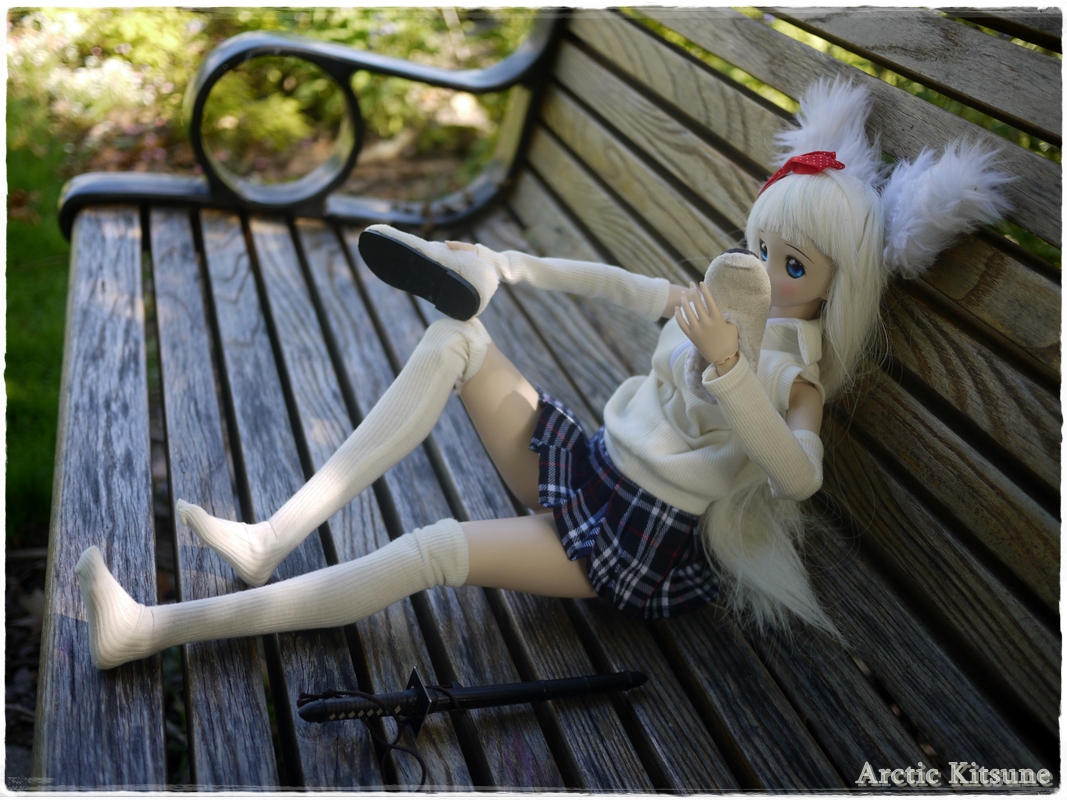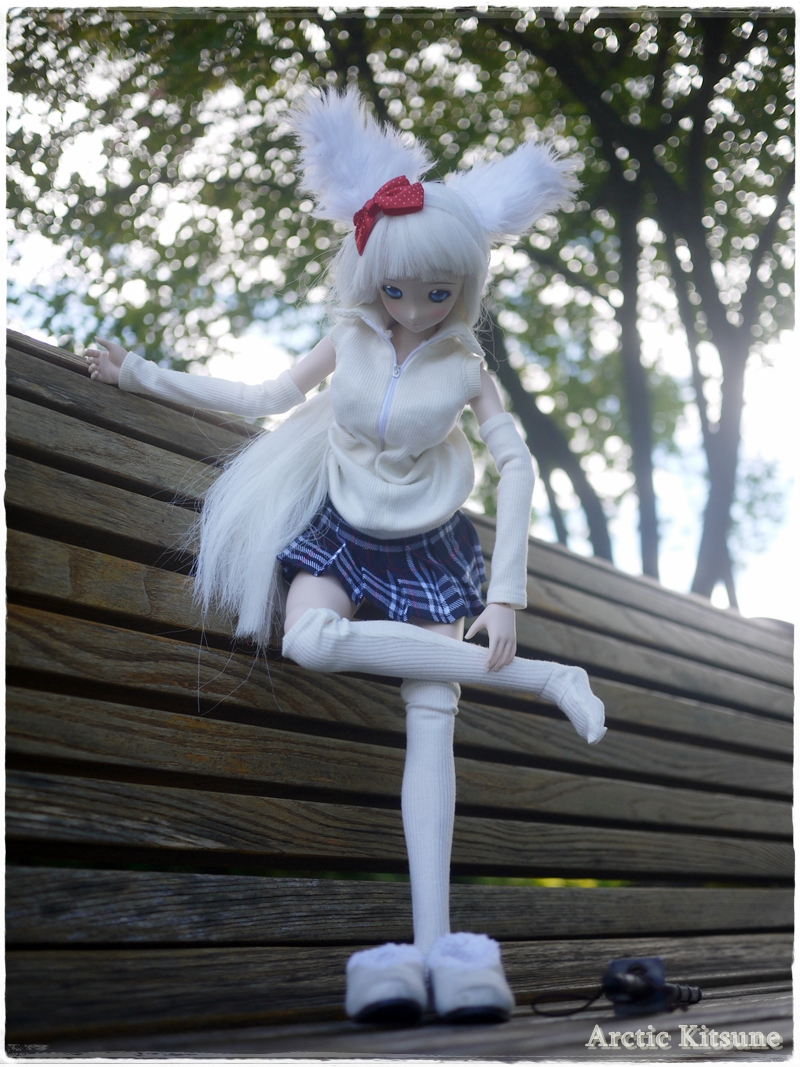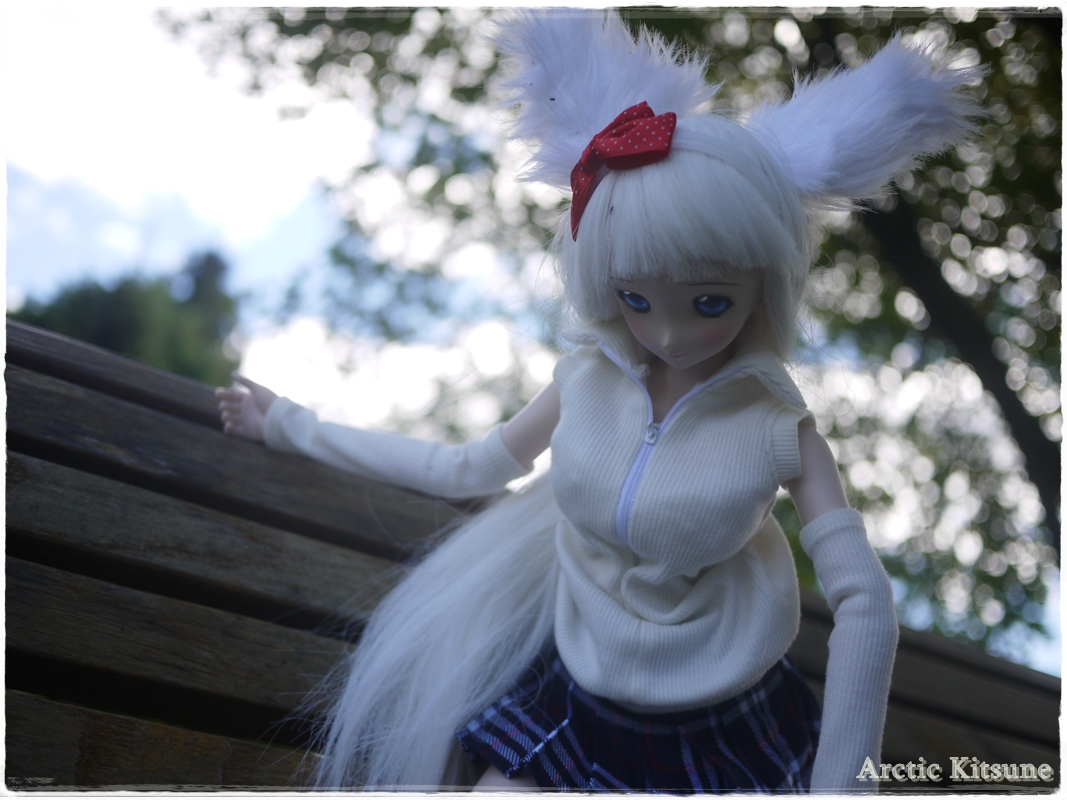 Part 2 of Vara's attempt to wield a sword properly. Worked out mostly well I'd say.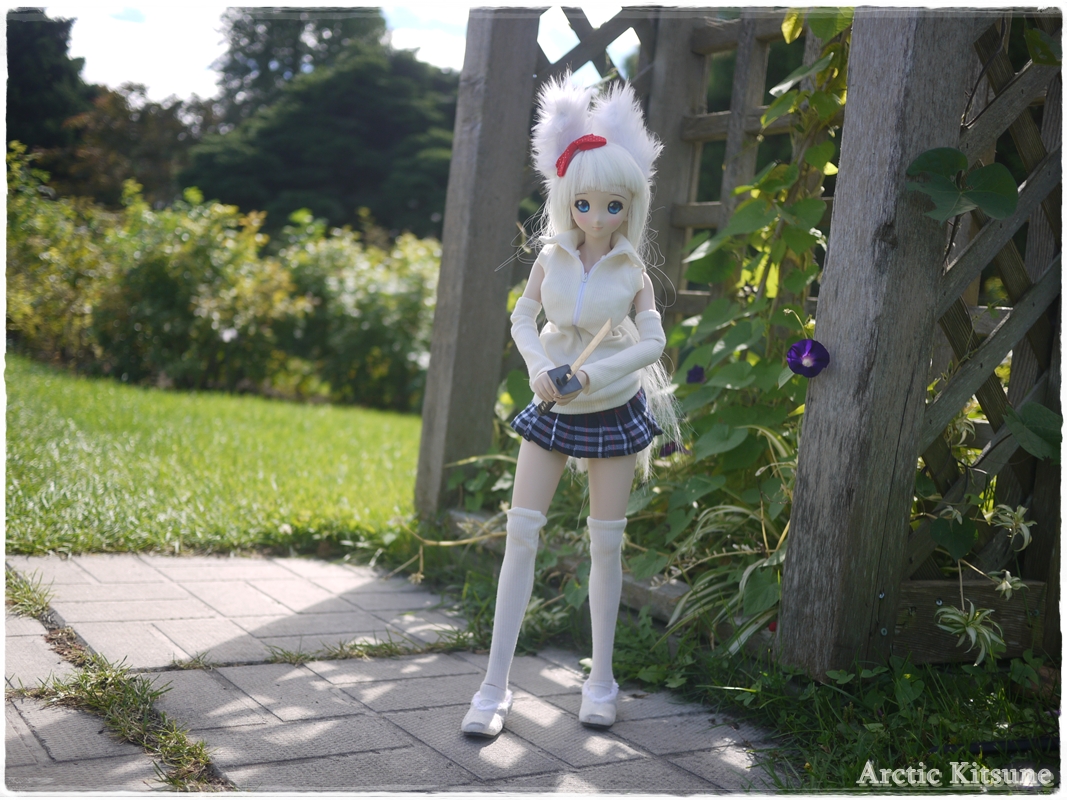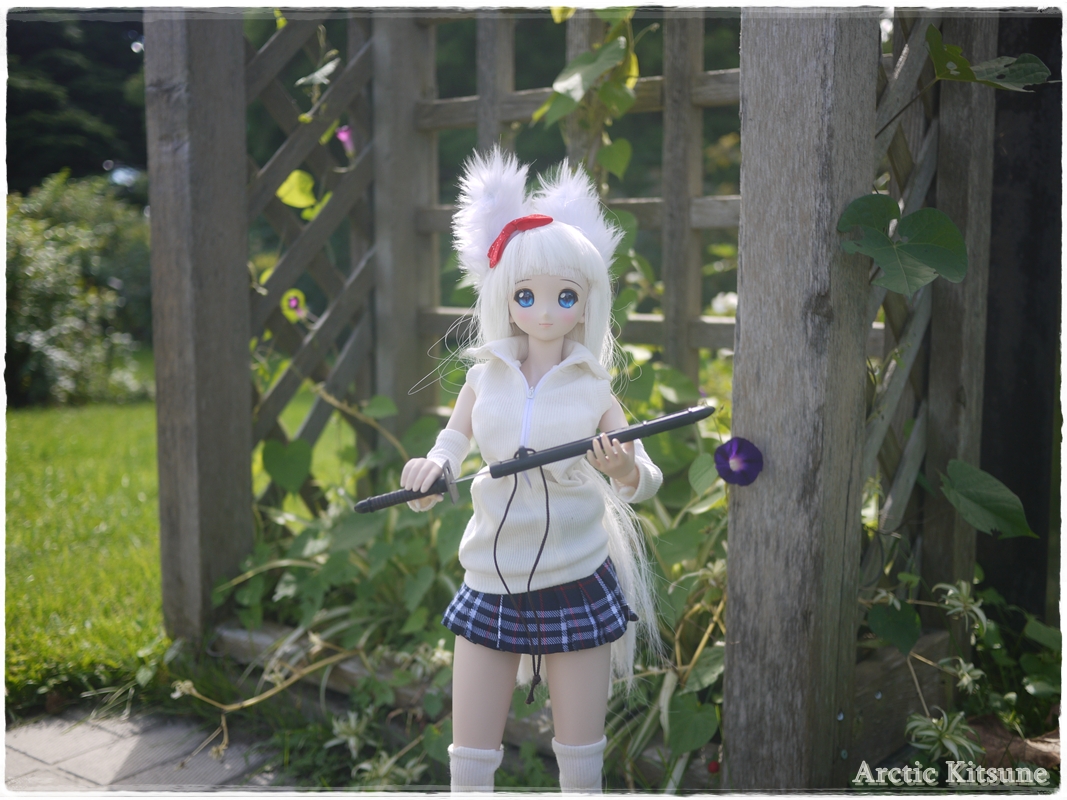 Wandered back to the main group to find Tieren's girl hanging off a ledge. Careful now! XD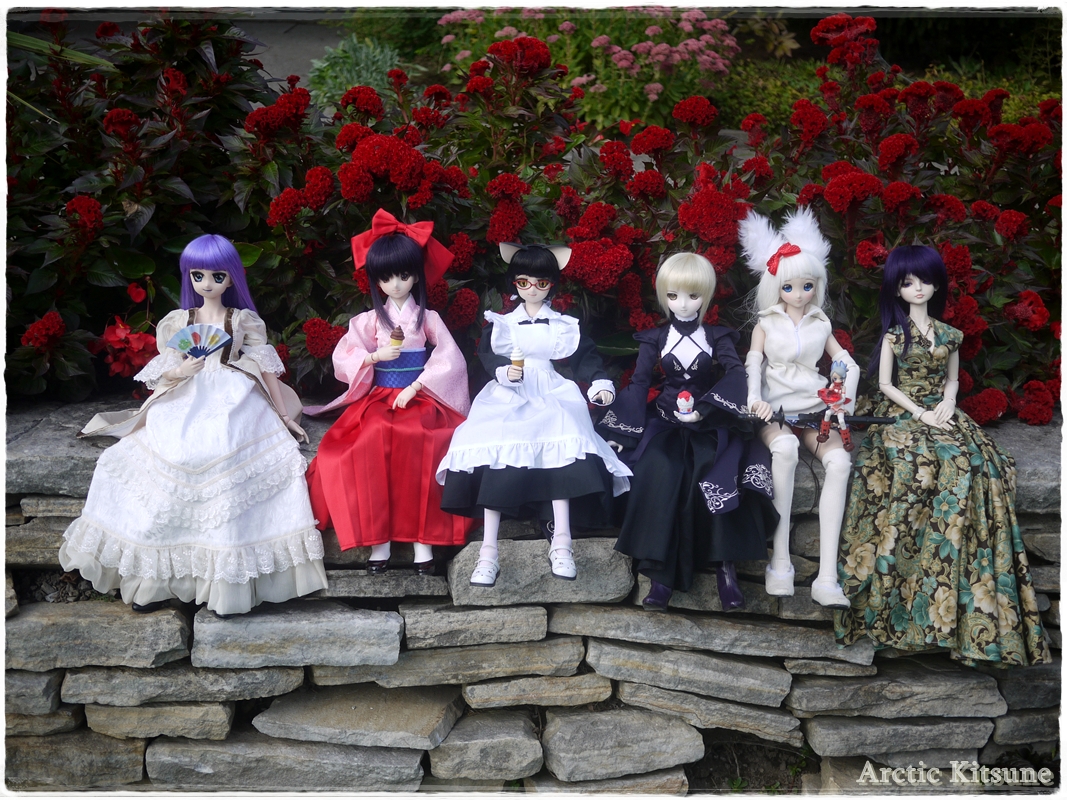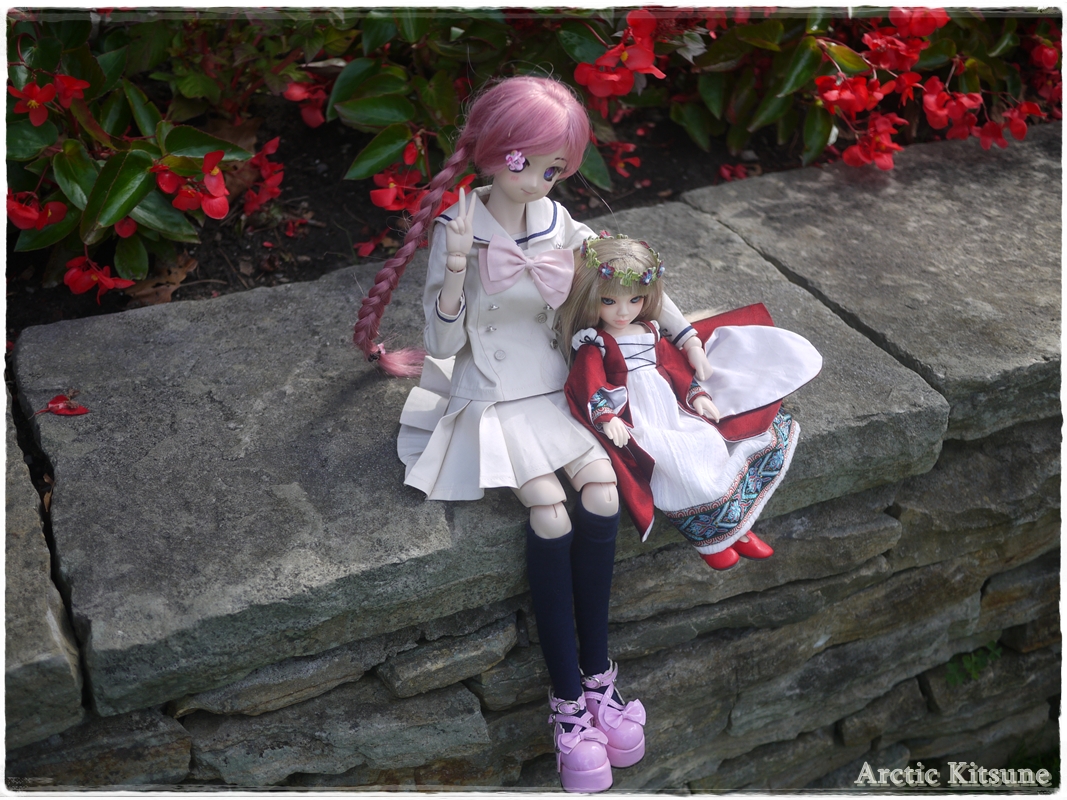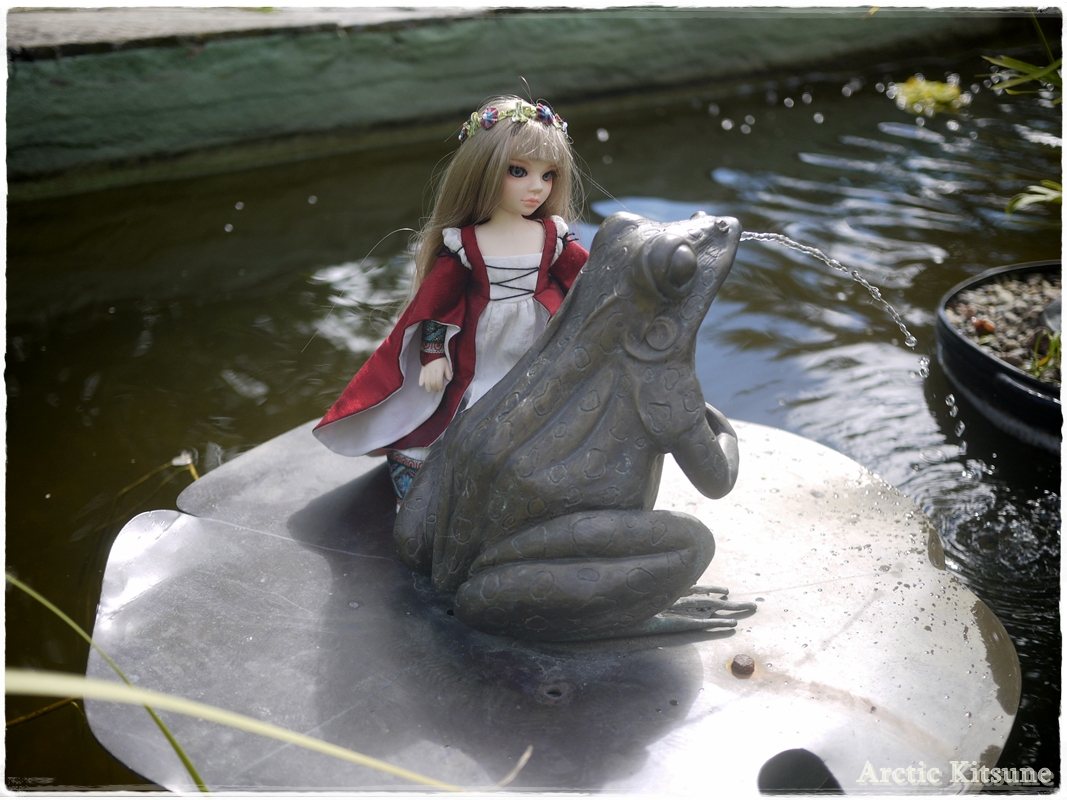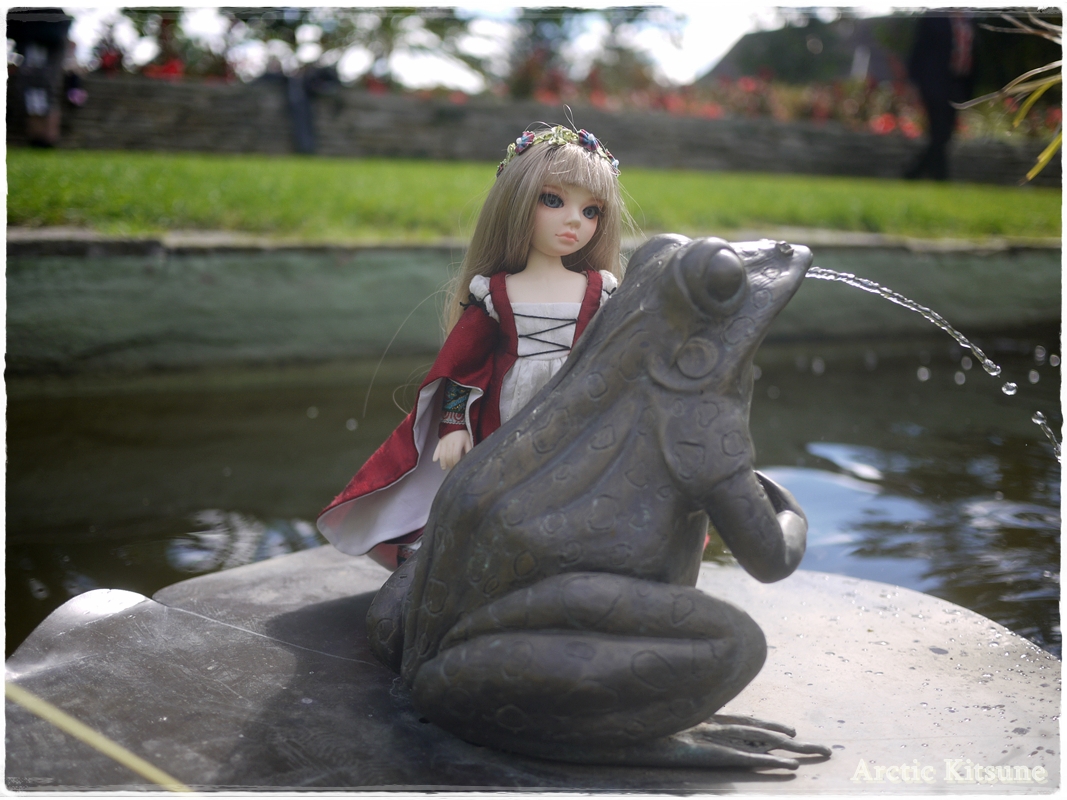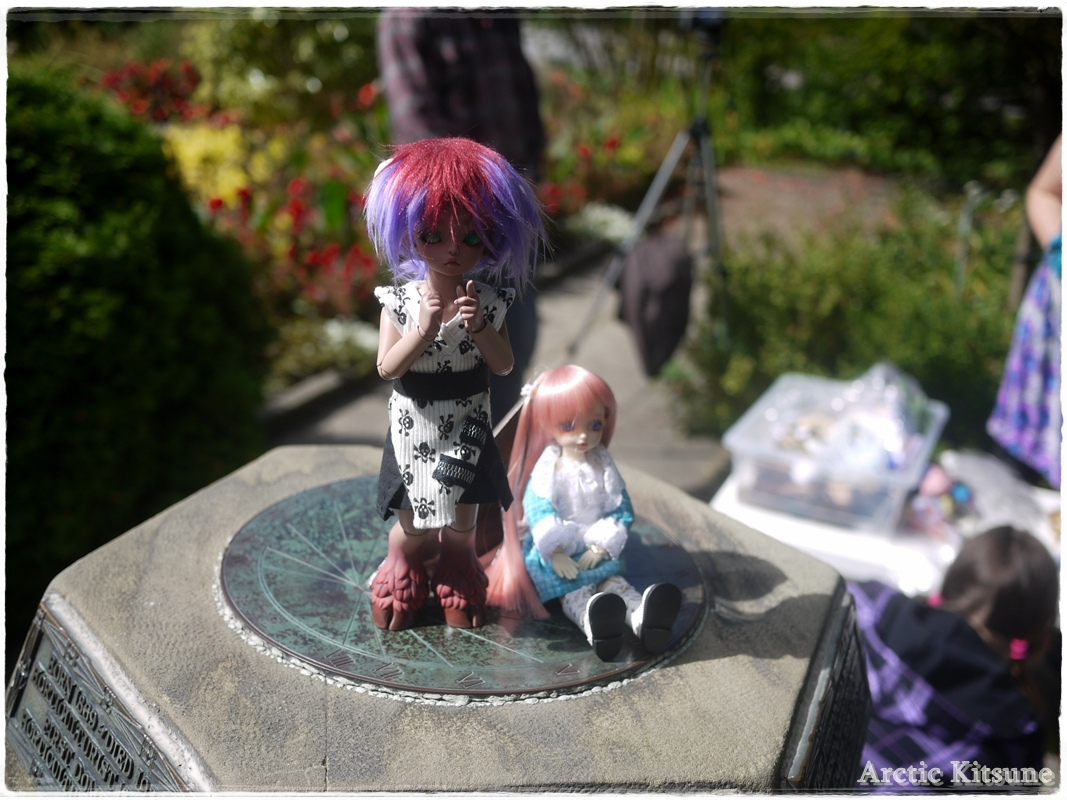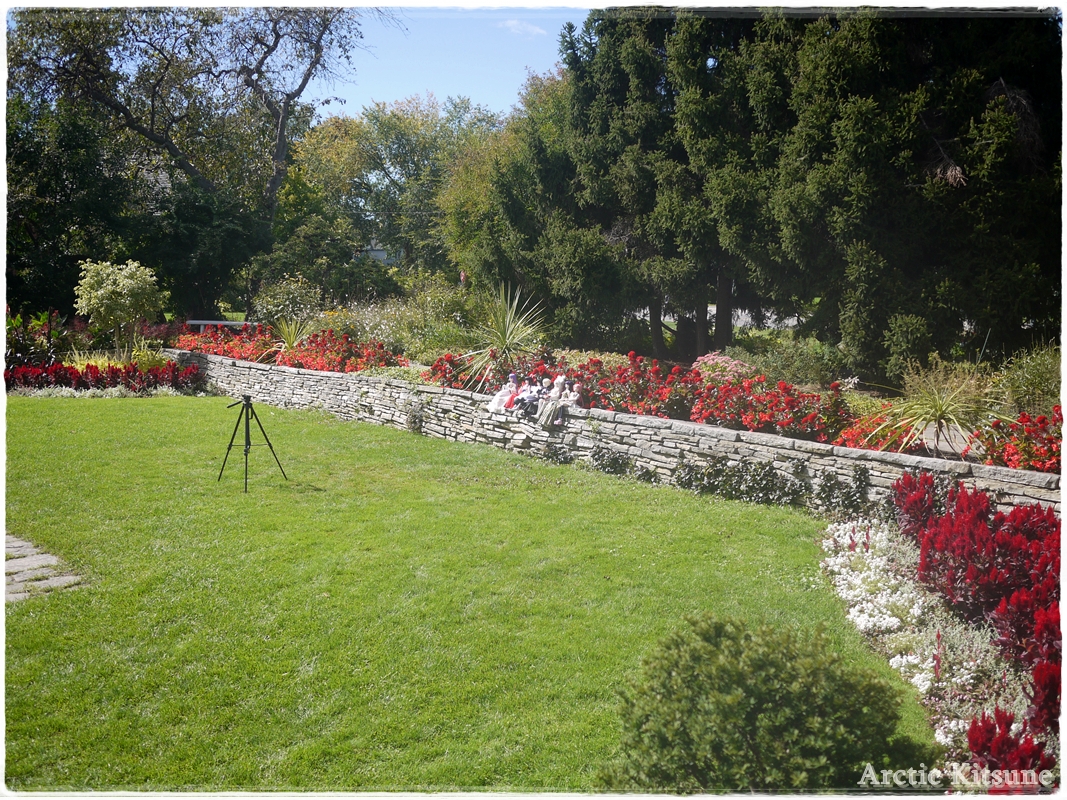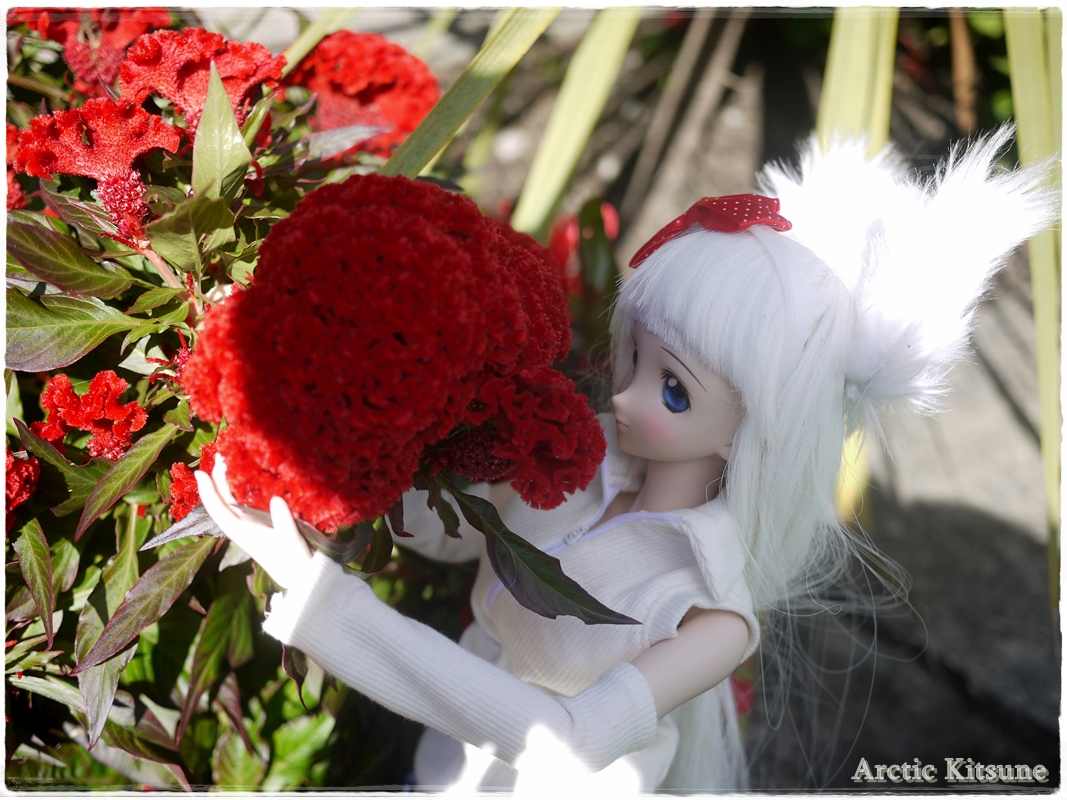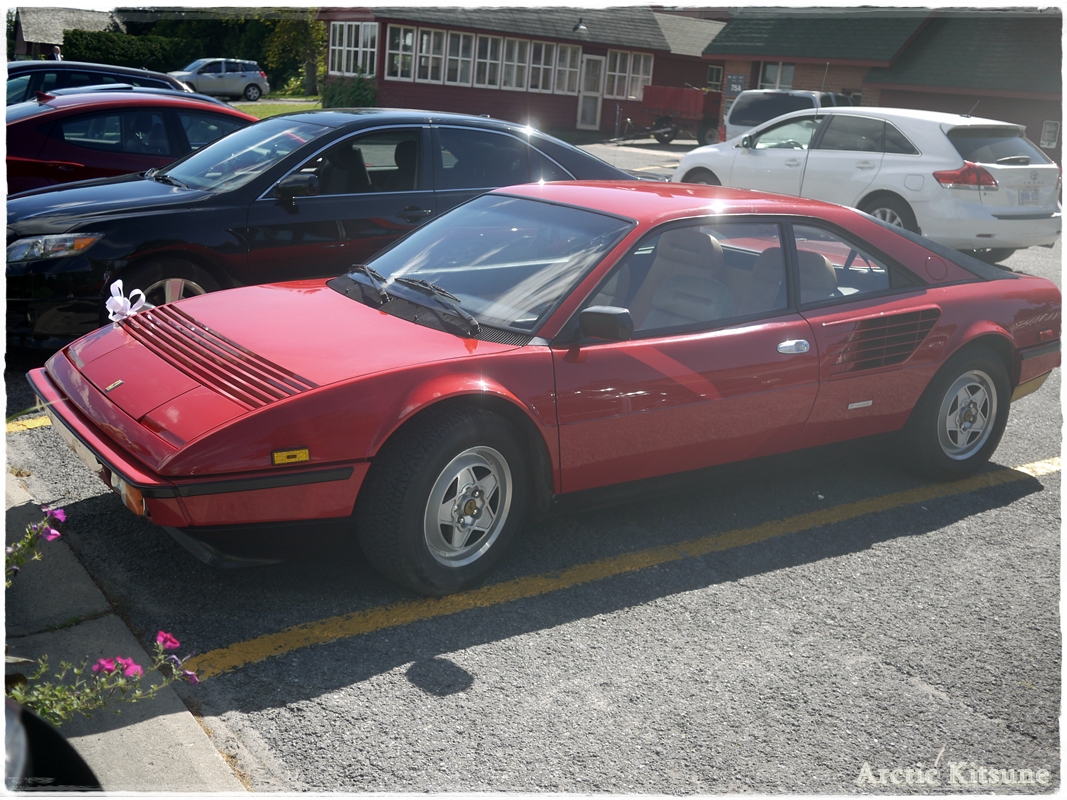 I wanted to take more images still so myself and Vara moved to a new location from our Figma days.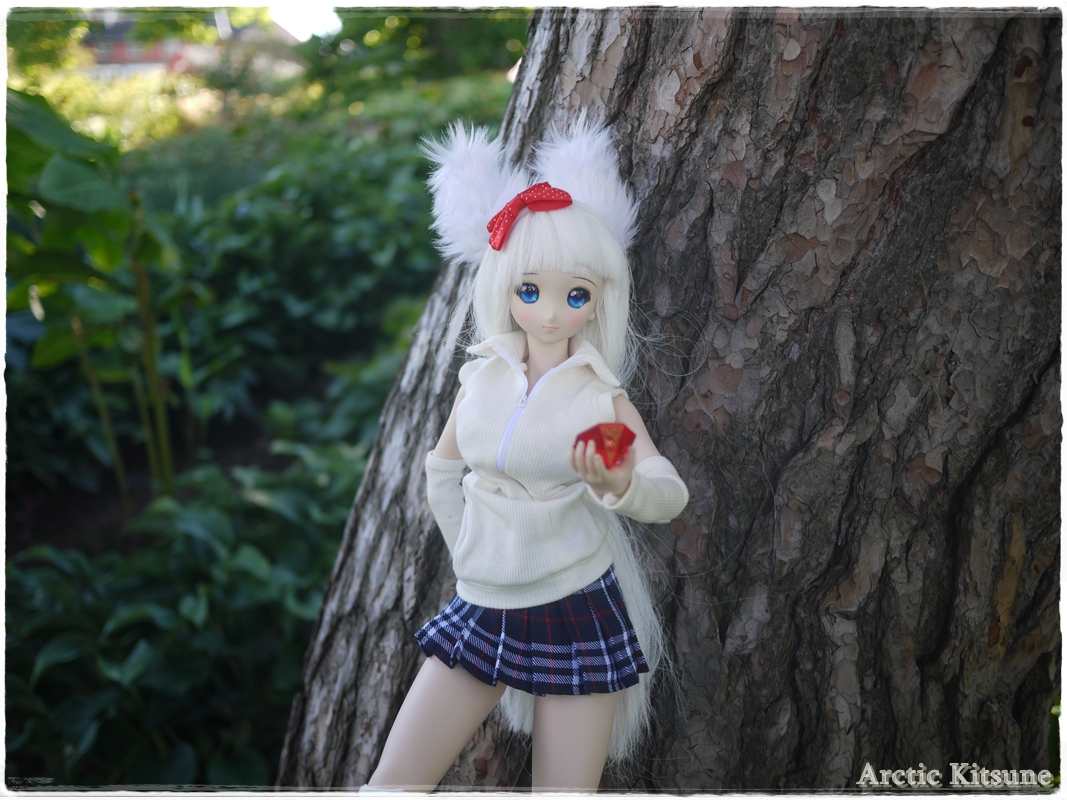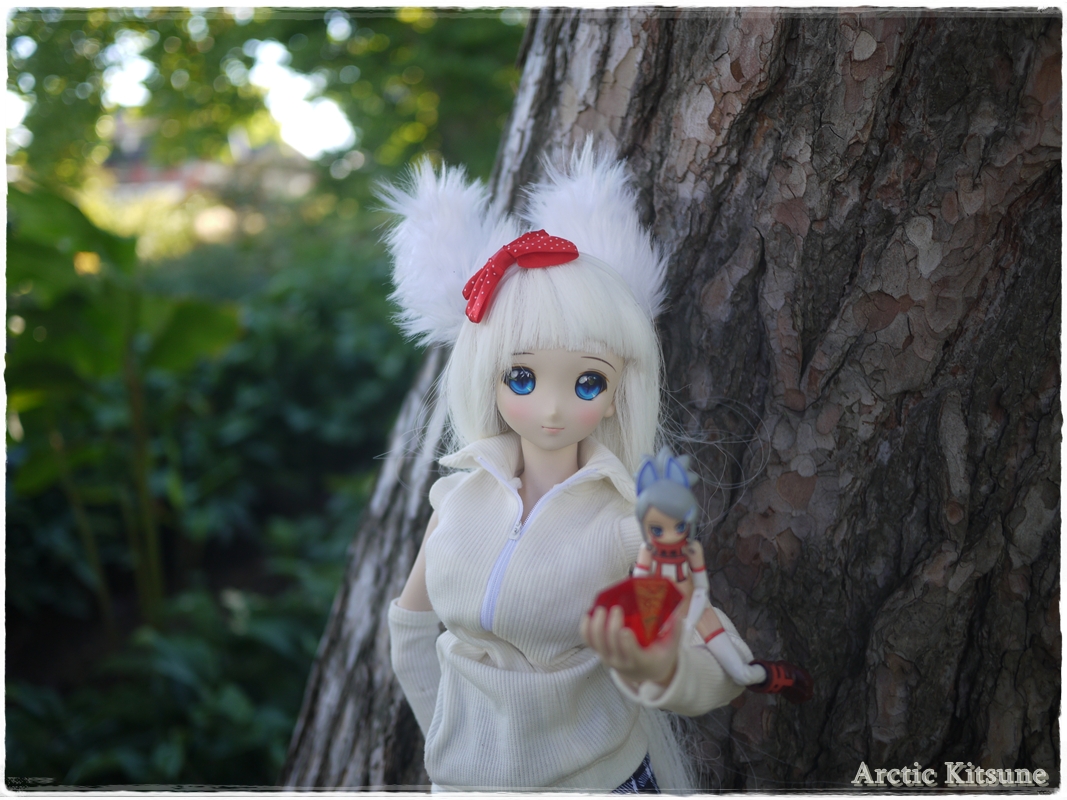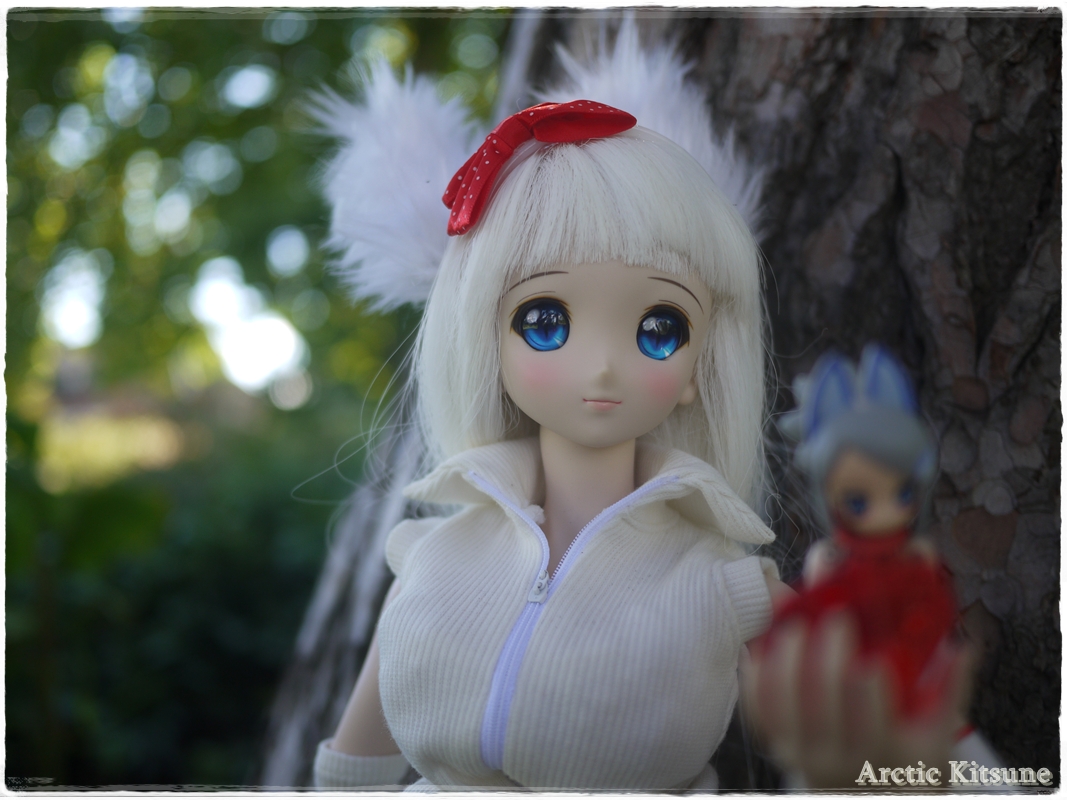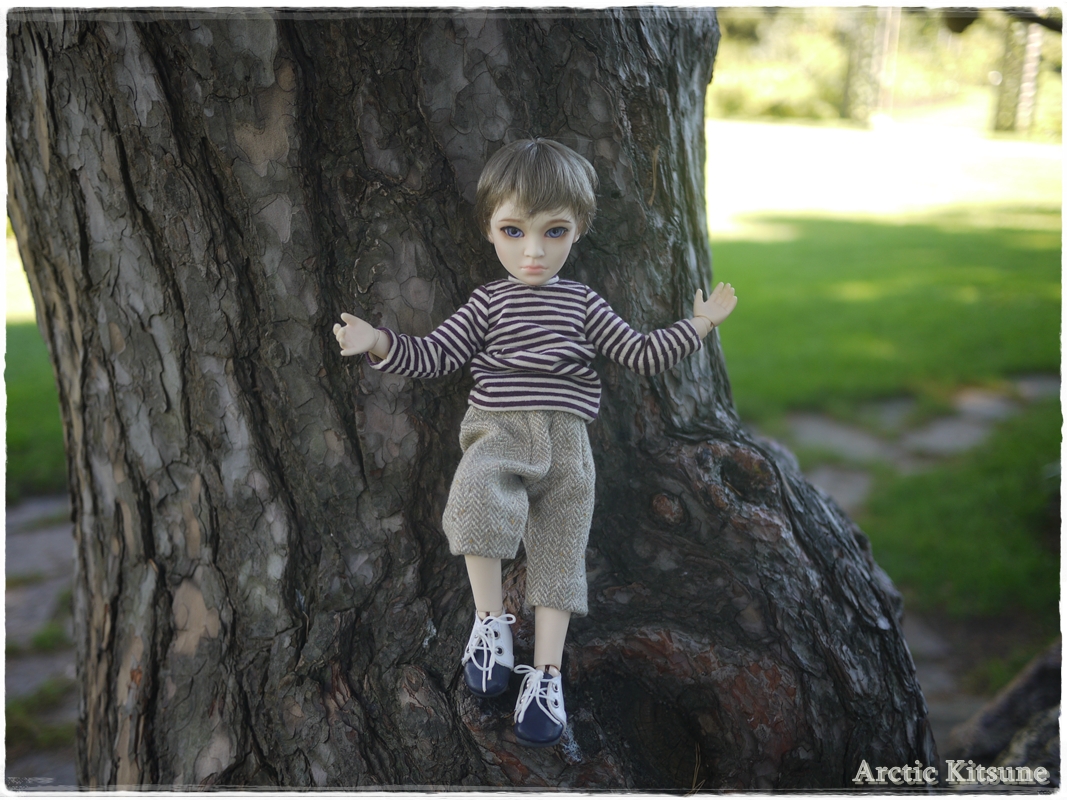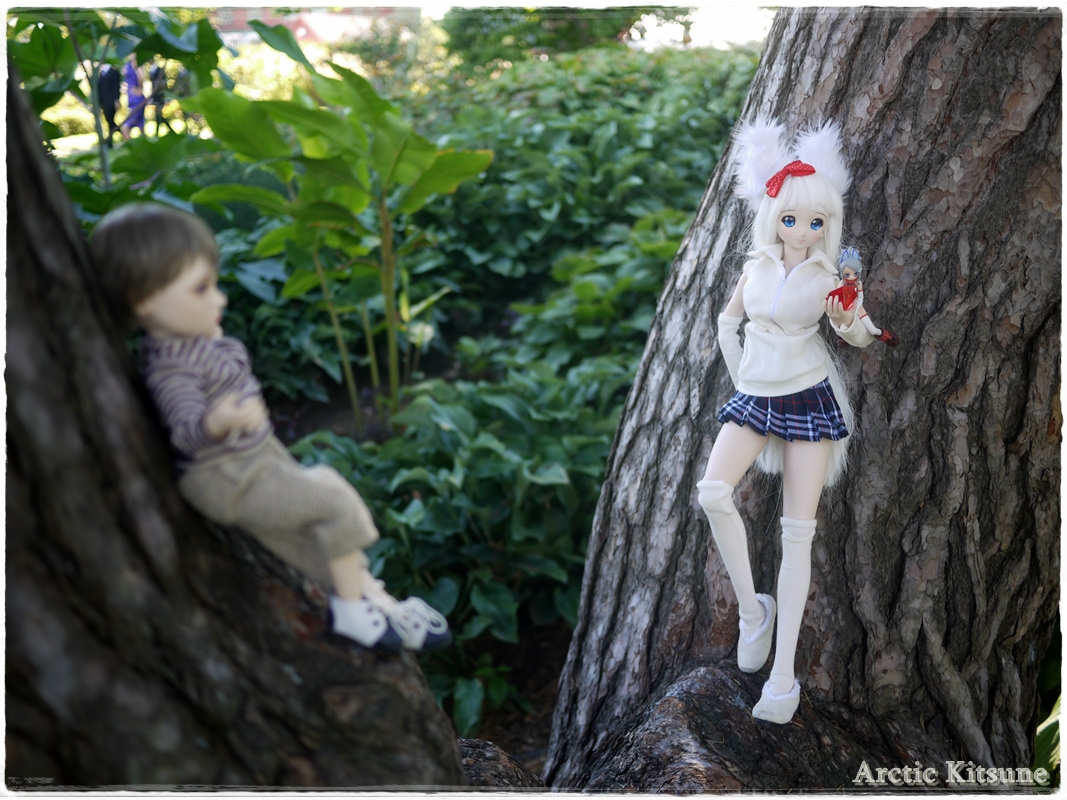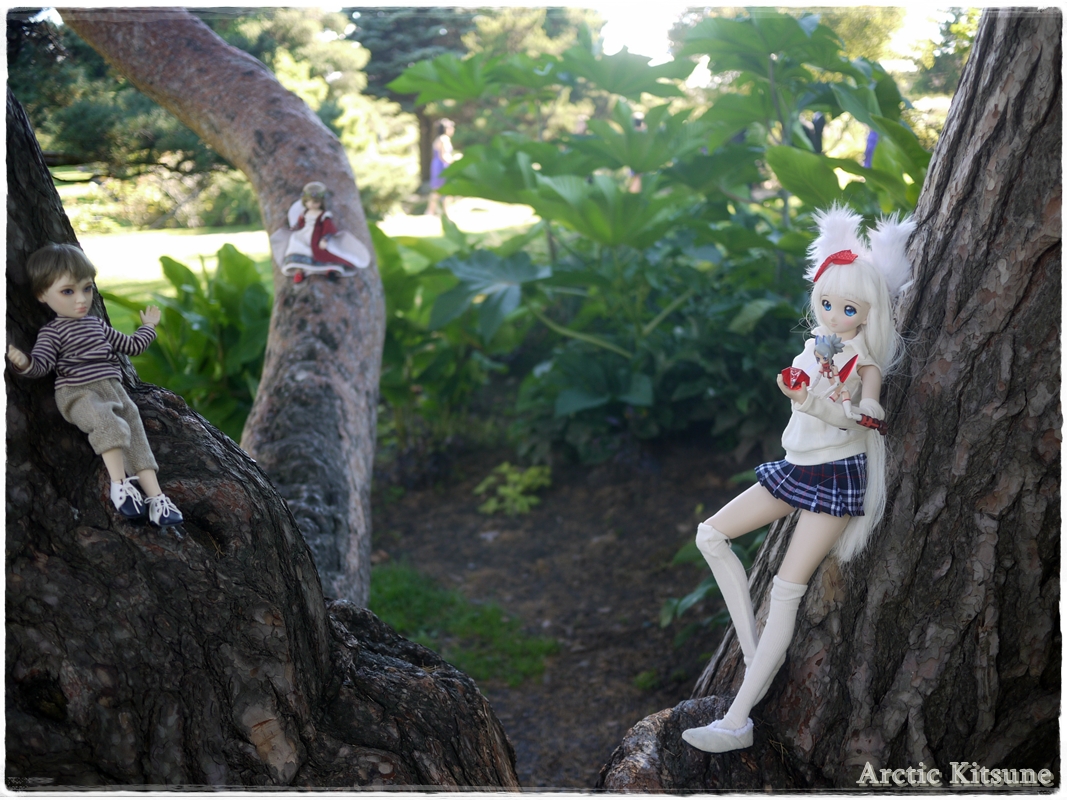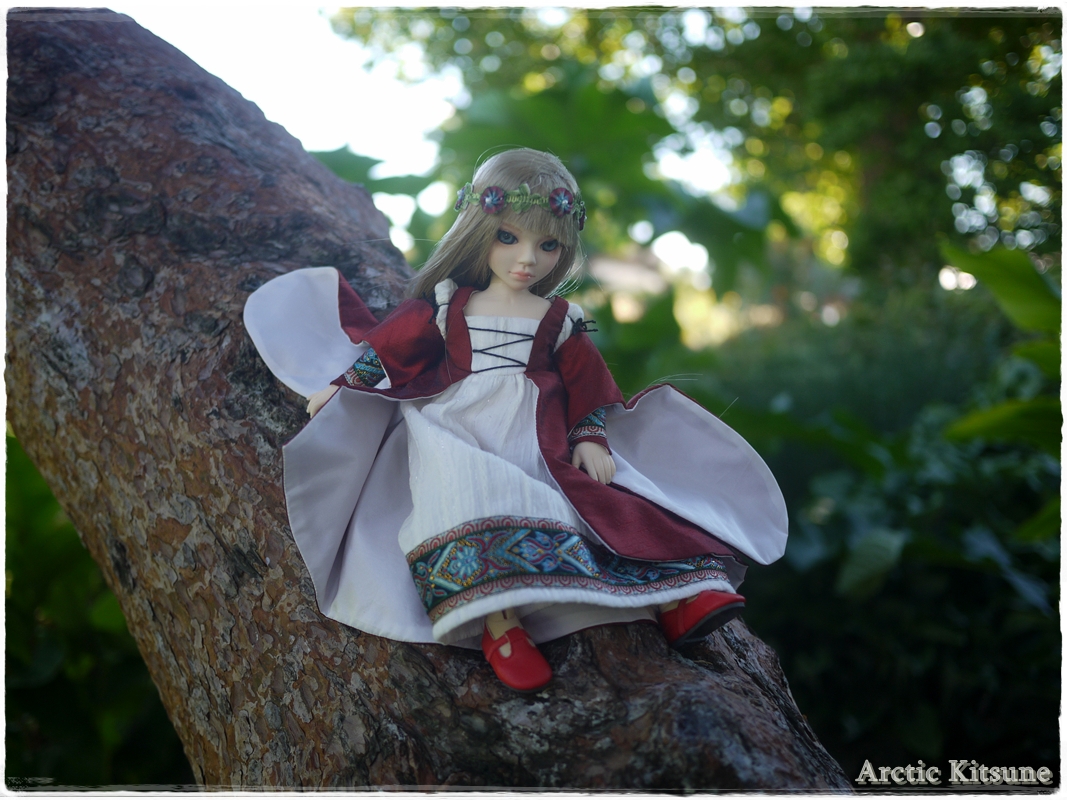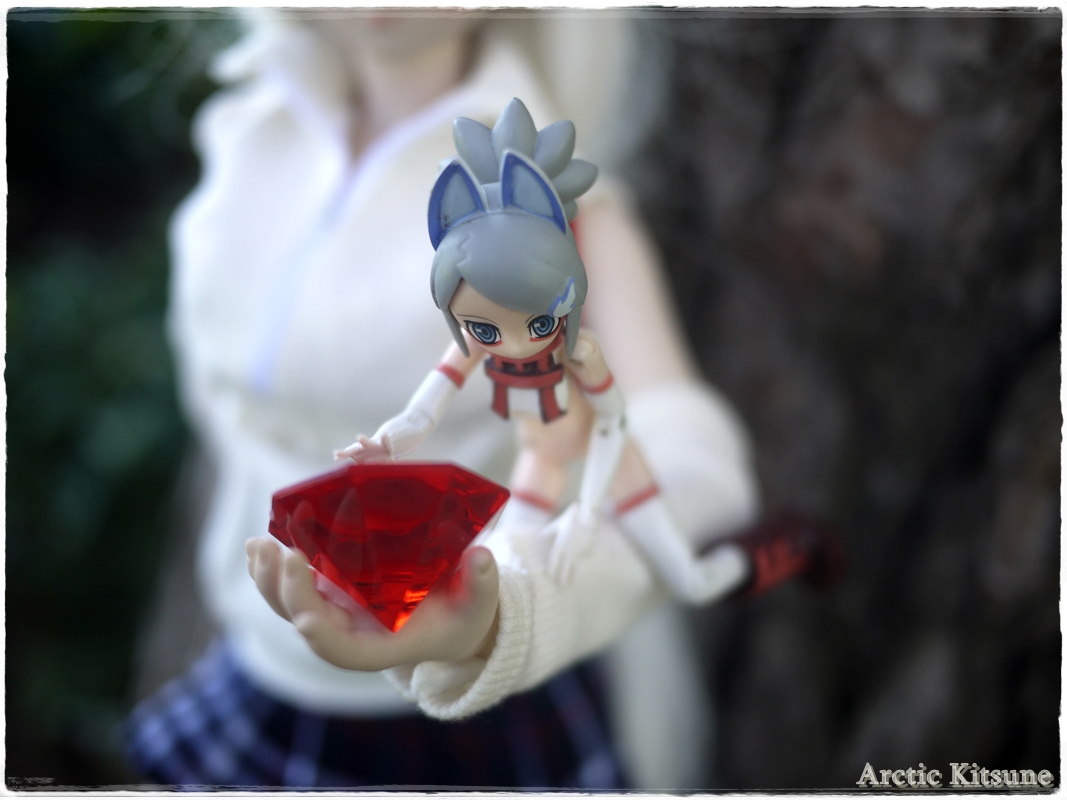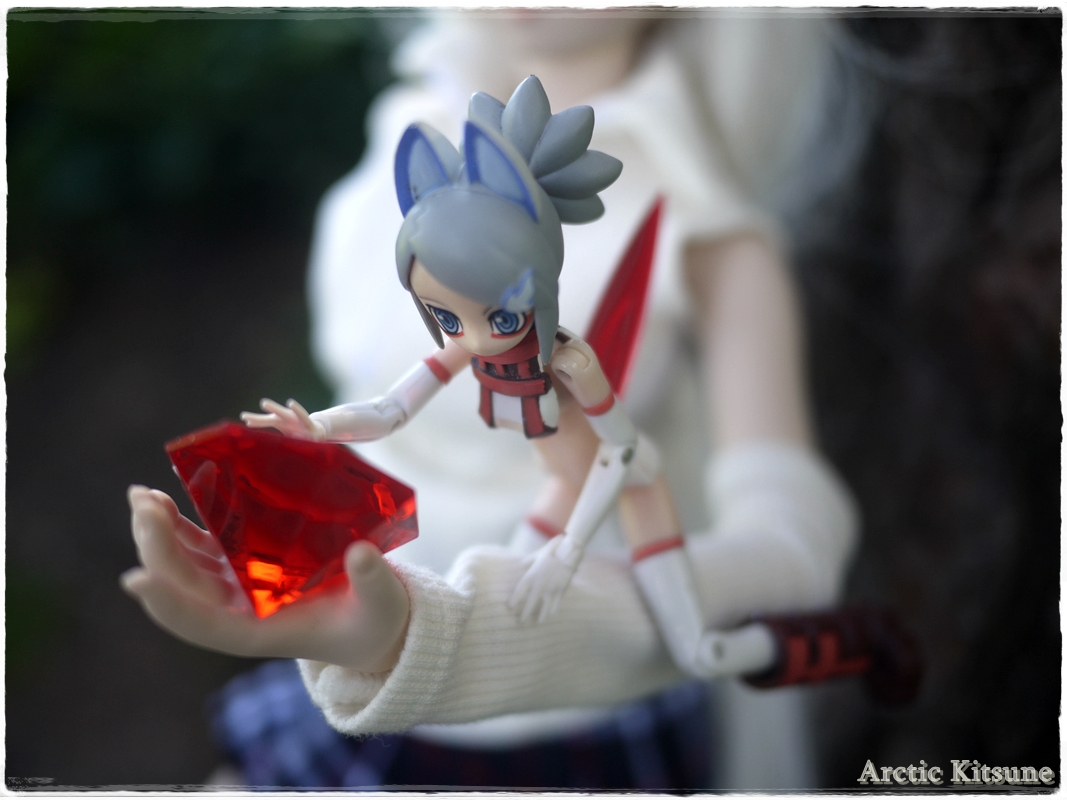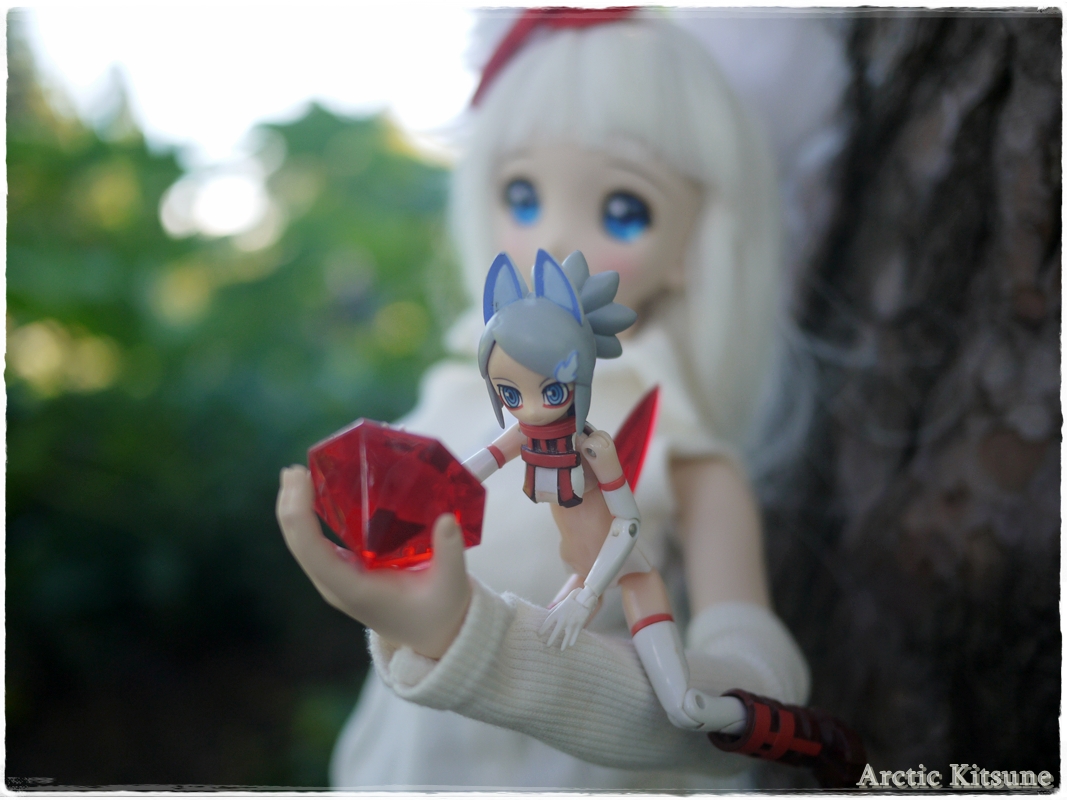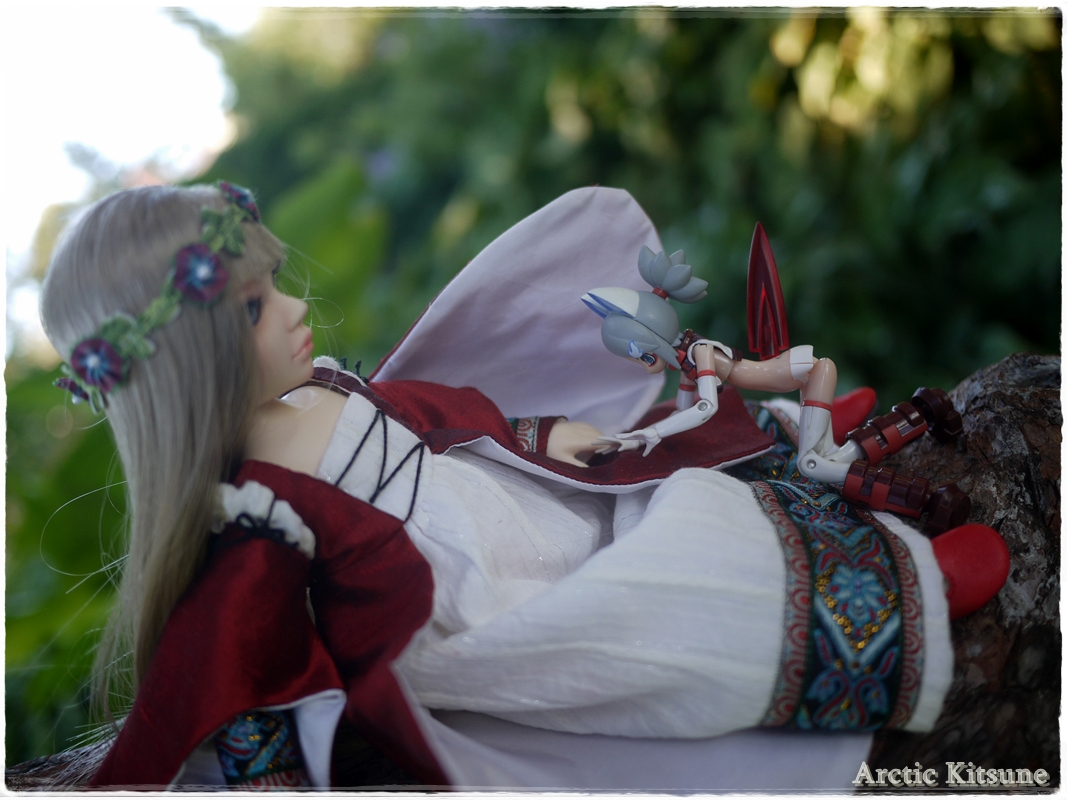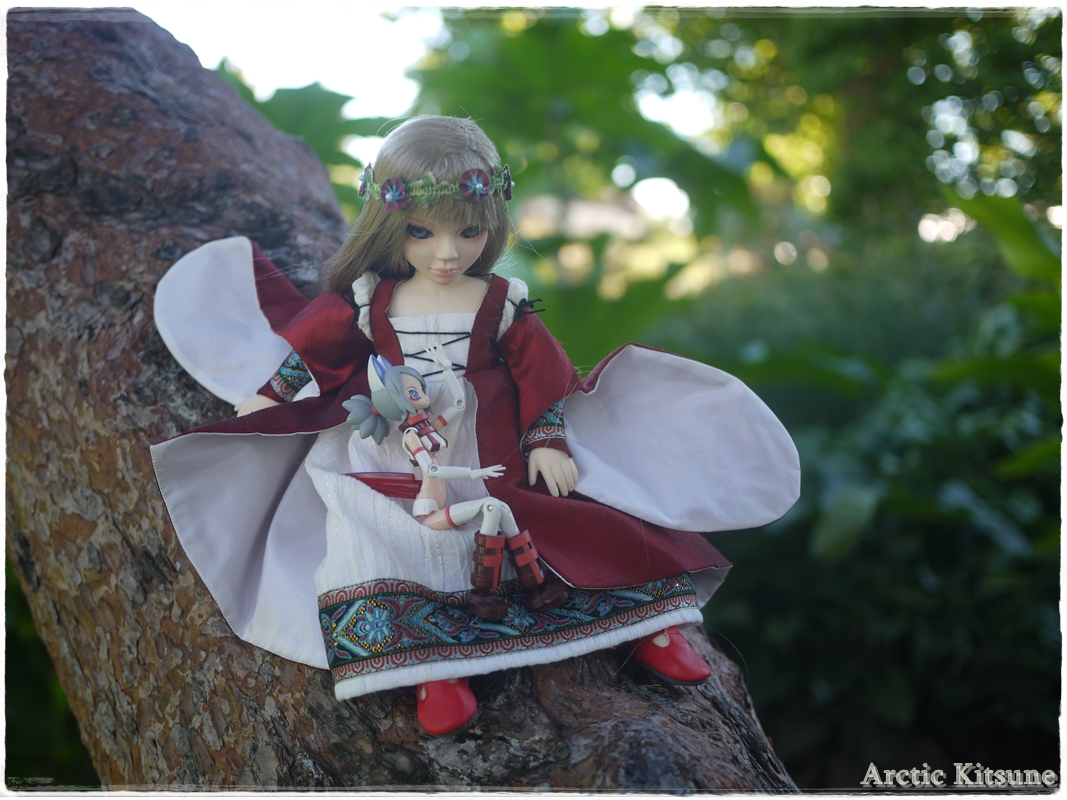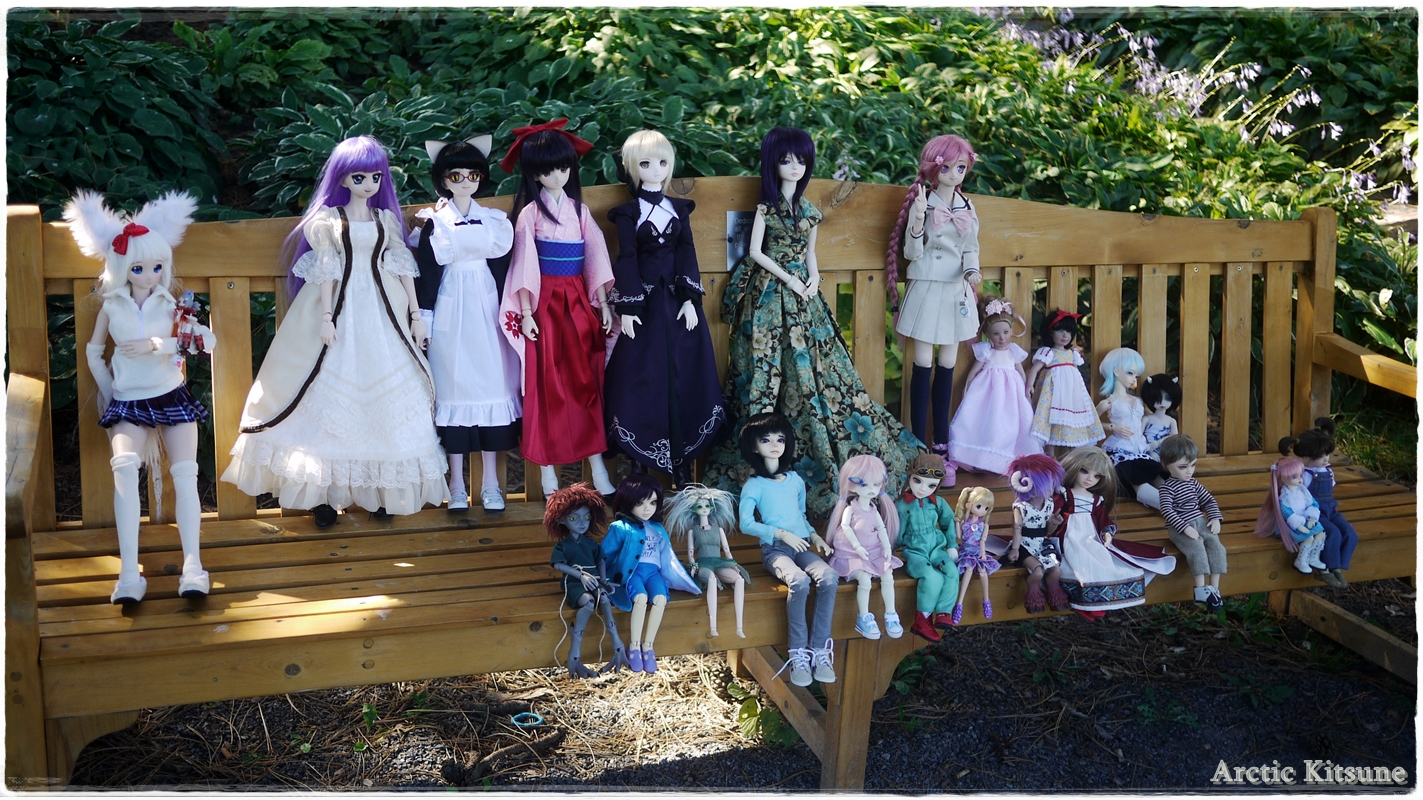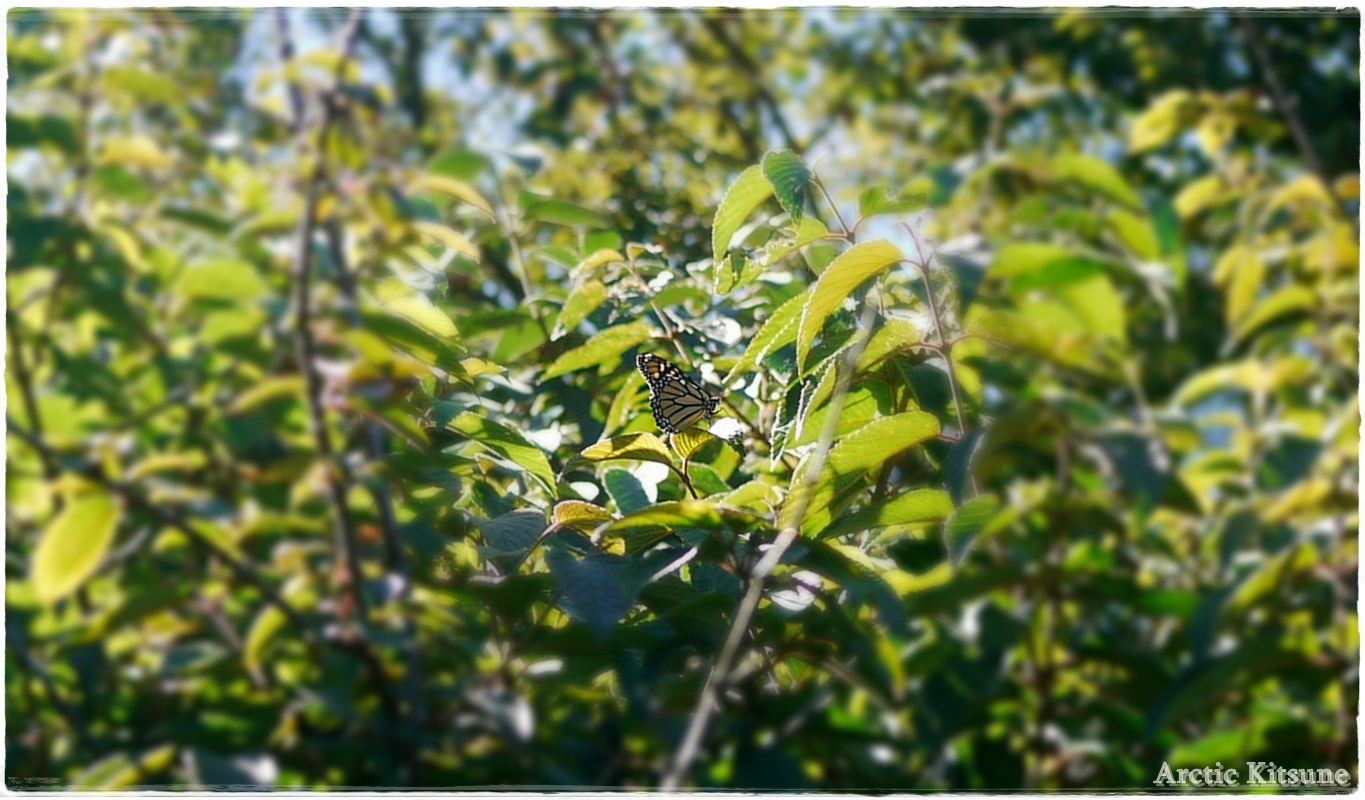 I'm curious…..Vara's weapon of choice being a sword or a gun, hmm. I view Vara as being a sword girl, not so much a gun girl due to her foxy lore borrowed from Japan and twisted in a Canadian manner. Sword and claws as weapons of choice. This gun works well with her I must say. Then again, she is 2-5% inspired by Koko Hekmatyr from Jormungand with hair and eyes.
(Rifle borrowed from Kodama.)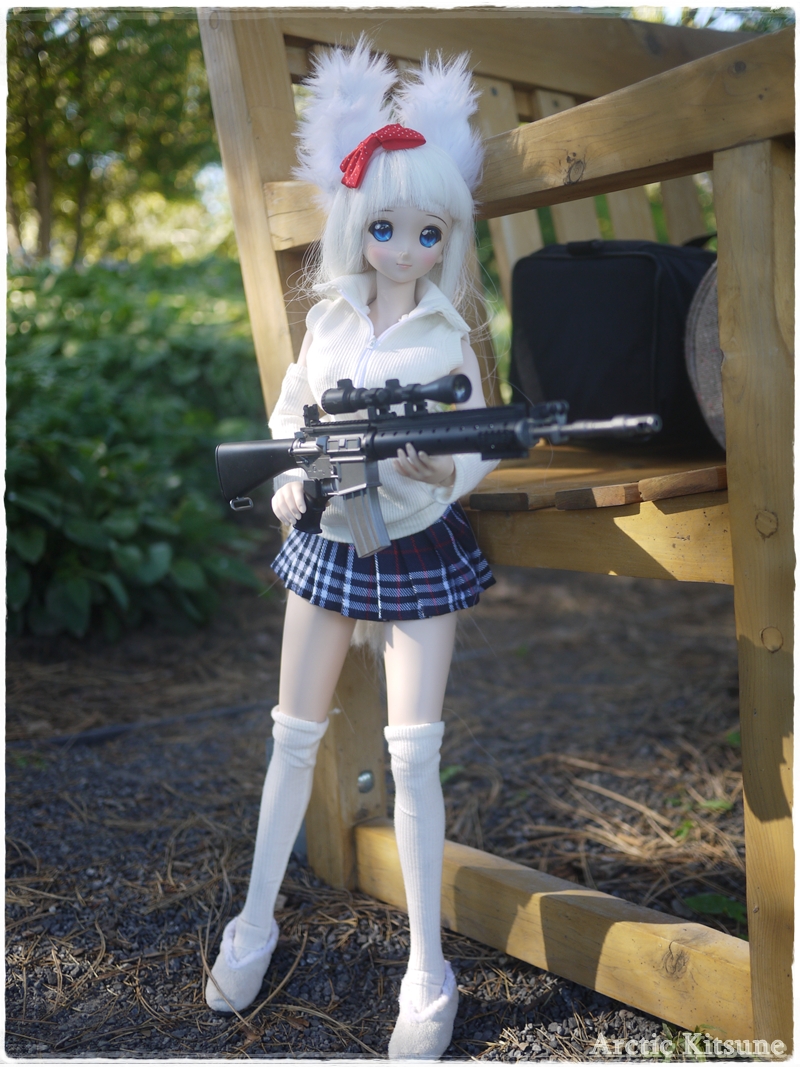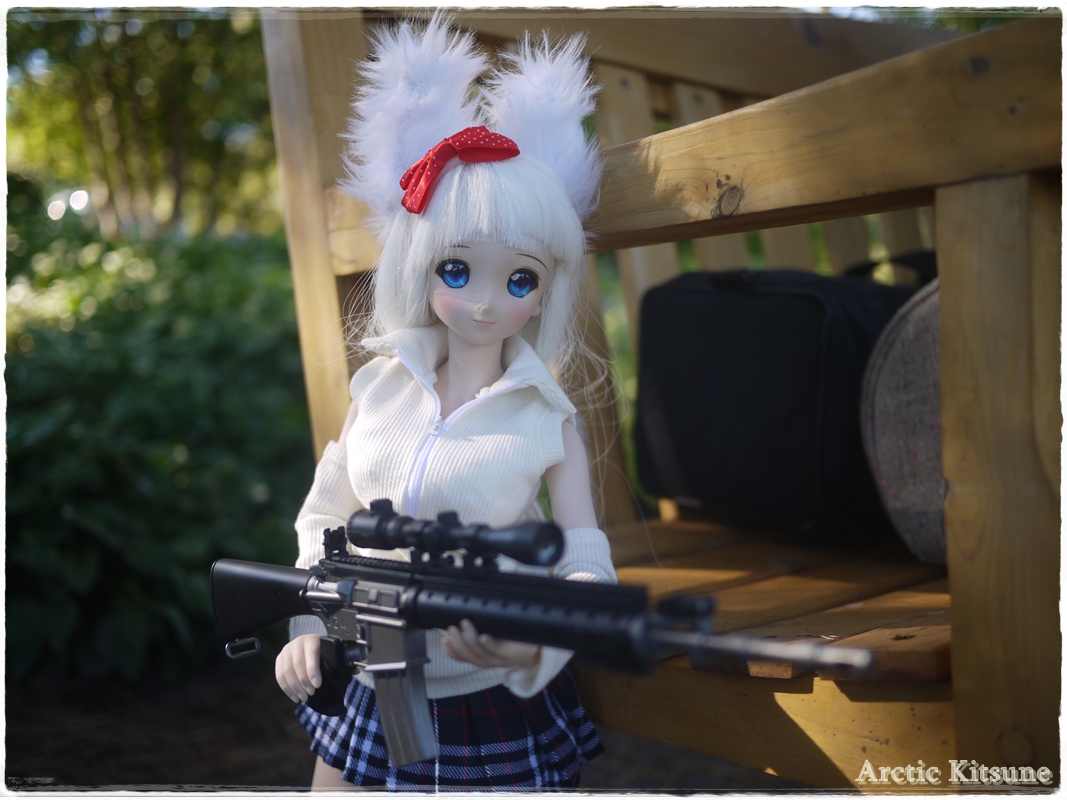 Lessons to take away from this meet-up is to not mess with Varakitsu, to not place objects in an area then walk away, to not leave dolls unattended with them standing, to stop dropping things in a form of loss, and to hold onto my bus tickets firmly so they don't drop onto the road to get into a car accident. She needs a slim yet strong stand for those harder poses so she won't fall into the dirt again. I need to also hold Renge properly and not from the chest or head.
While walking back to the bus stop I stopped three times to take images of landmarks and cute prints which I noticed on the way to the meet. The footprints itself I assumed were left by the three groundhogs with wet feet, two of which were somewhat further, were leaving wet marks on the side-walk. Apparently not. These footprints were when the sidewalk was constructed recently.
– Lovely greenhouse design: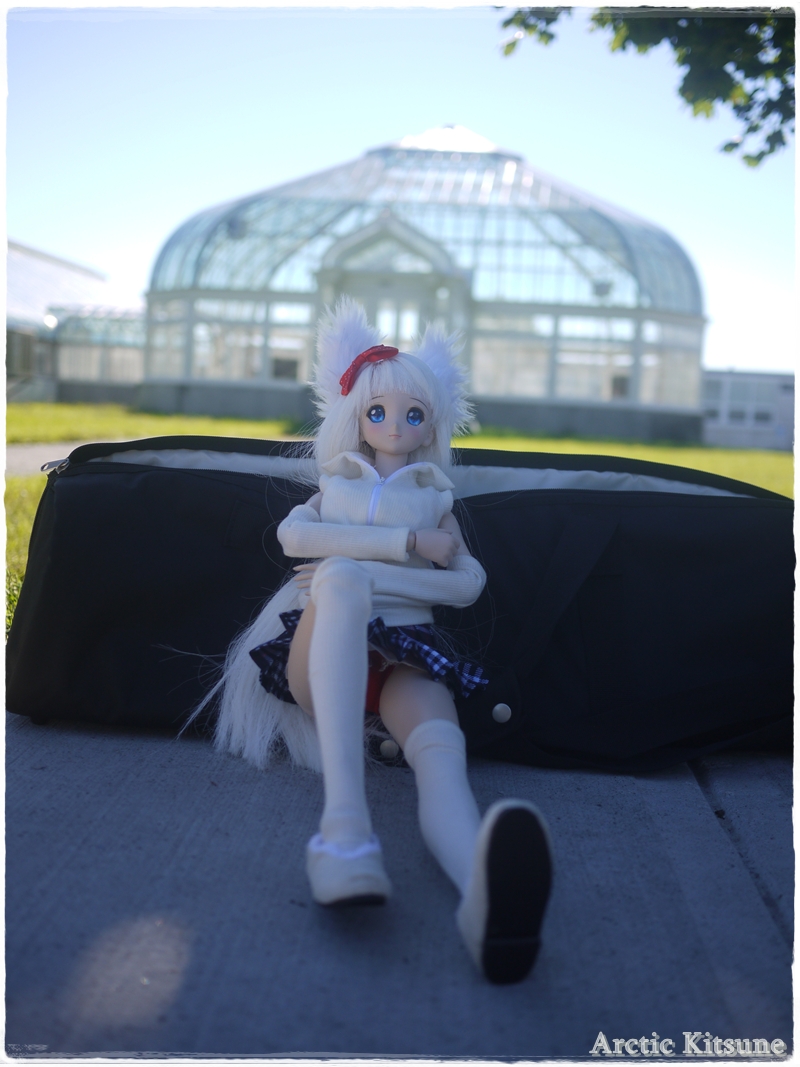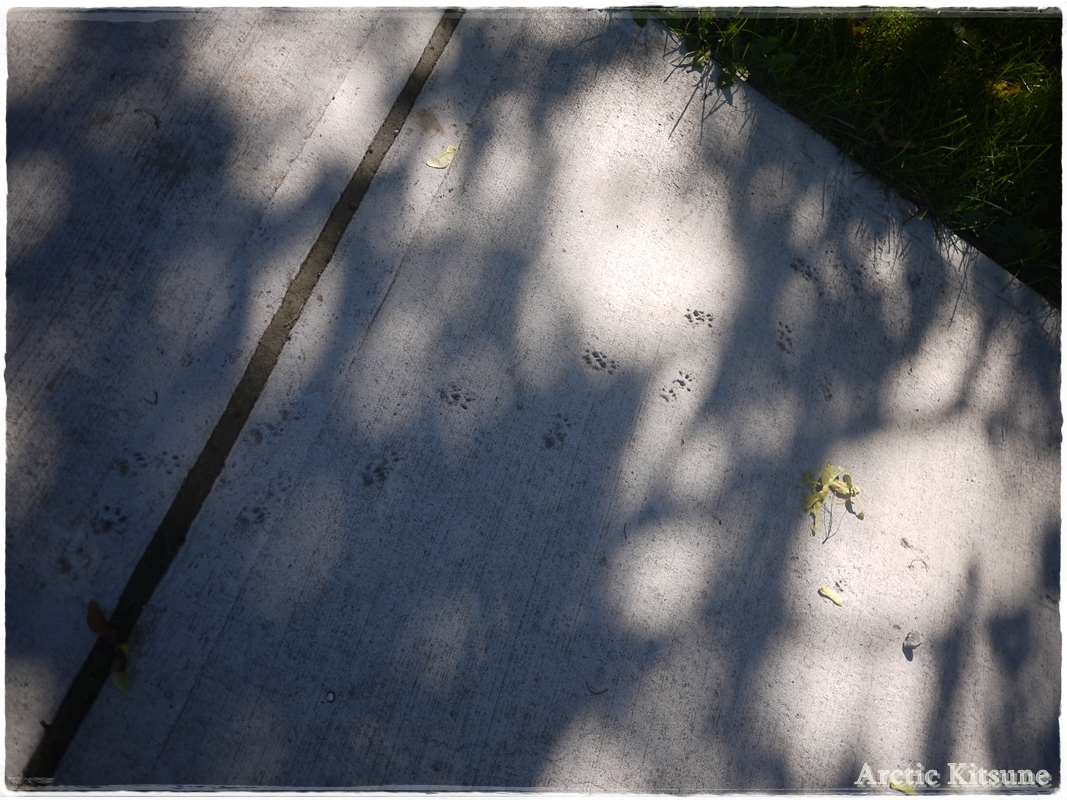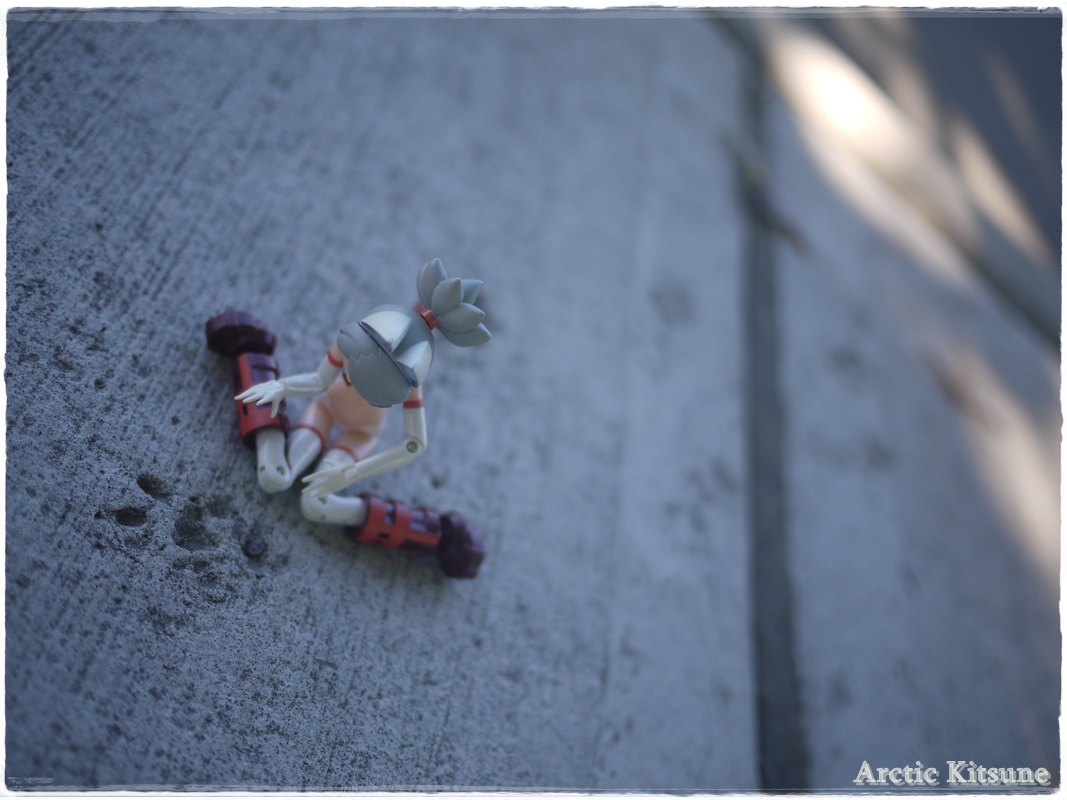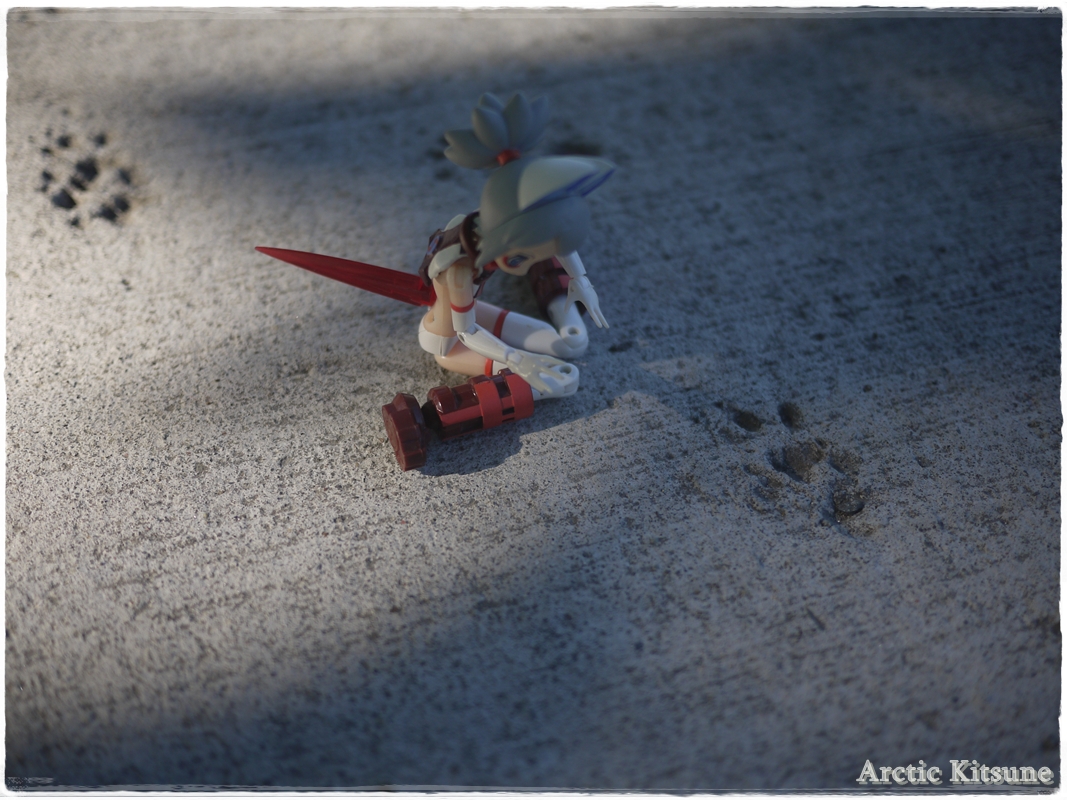 The last three images annoy me a little. I took roughly eight yet these were the ones I approved of the most. She looks stressed or distressed which bothers me, and same with the lighting. Still sharing it because I do approve of it somewhat and someone may enjoy this perspective of Vara. That observatory is awesome. Do not take hastily taken images as I did. Was rushing to get on a bus.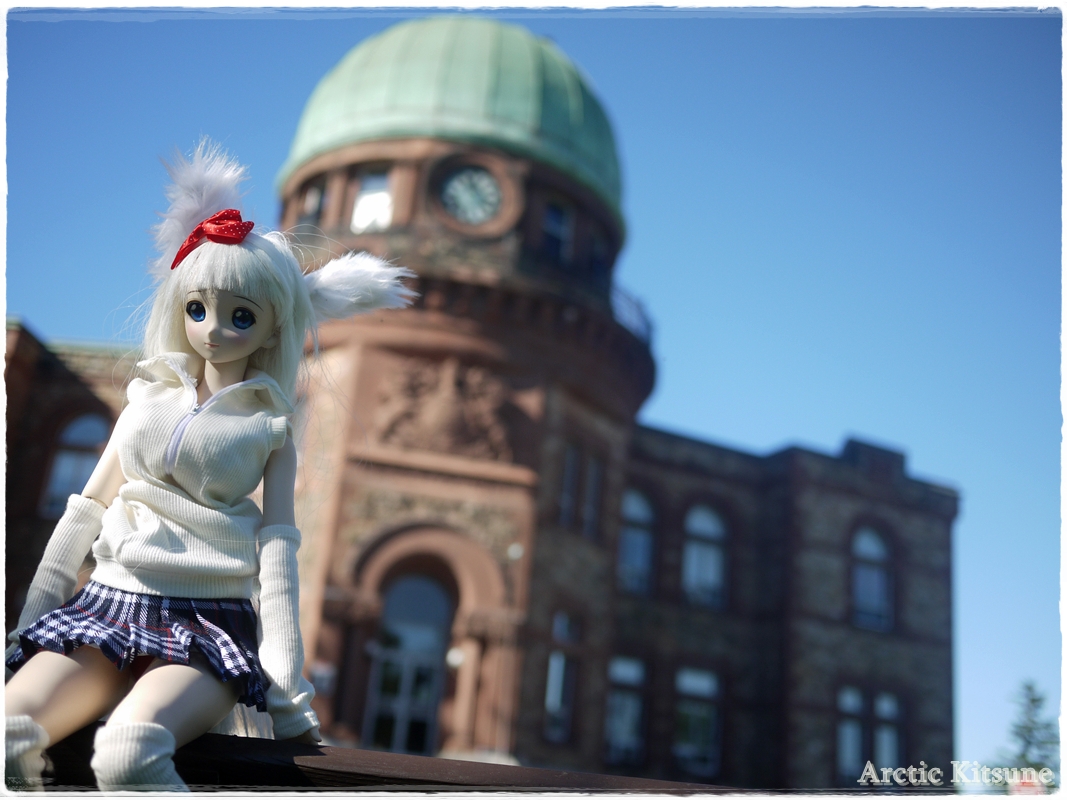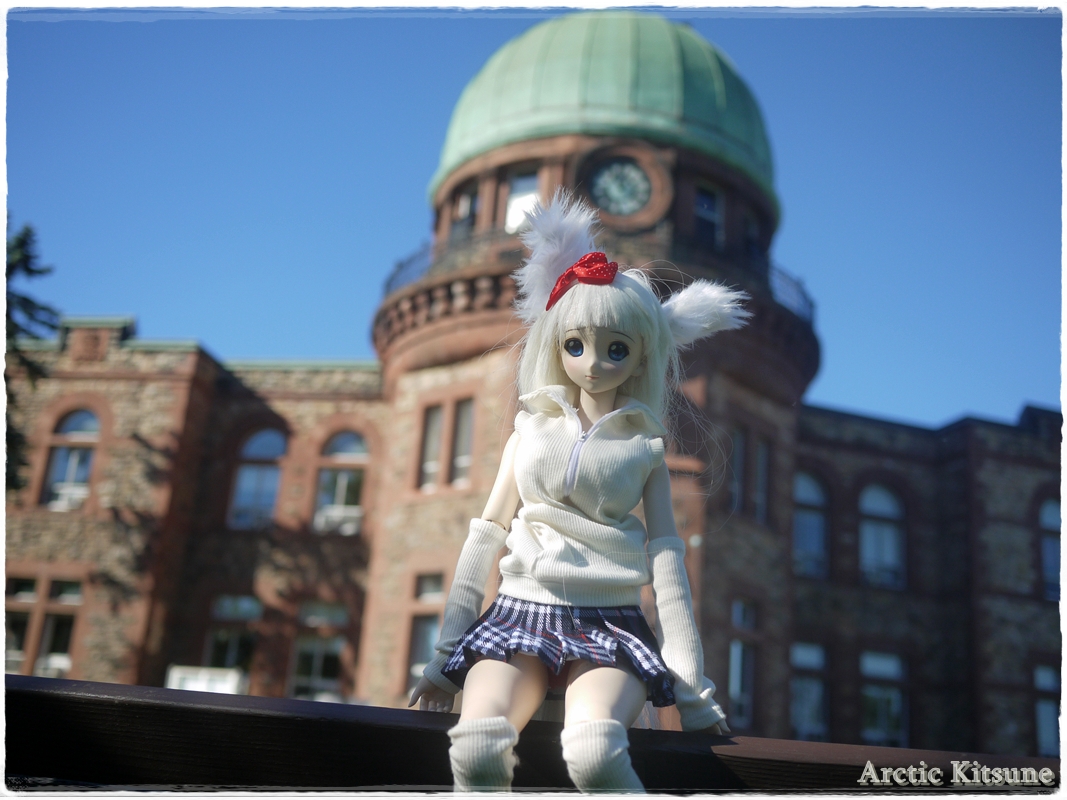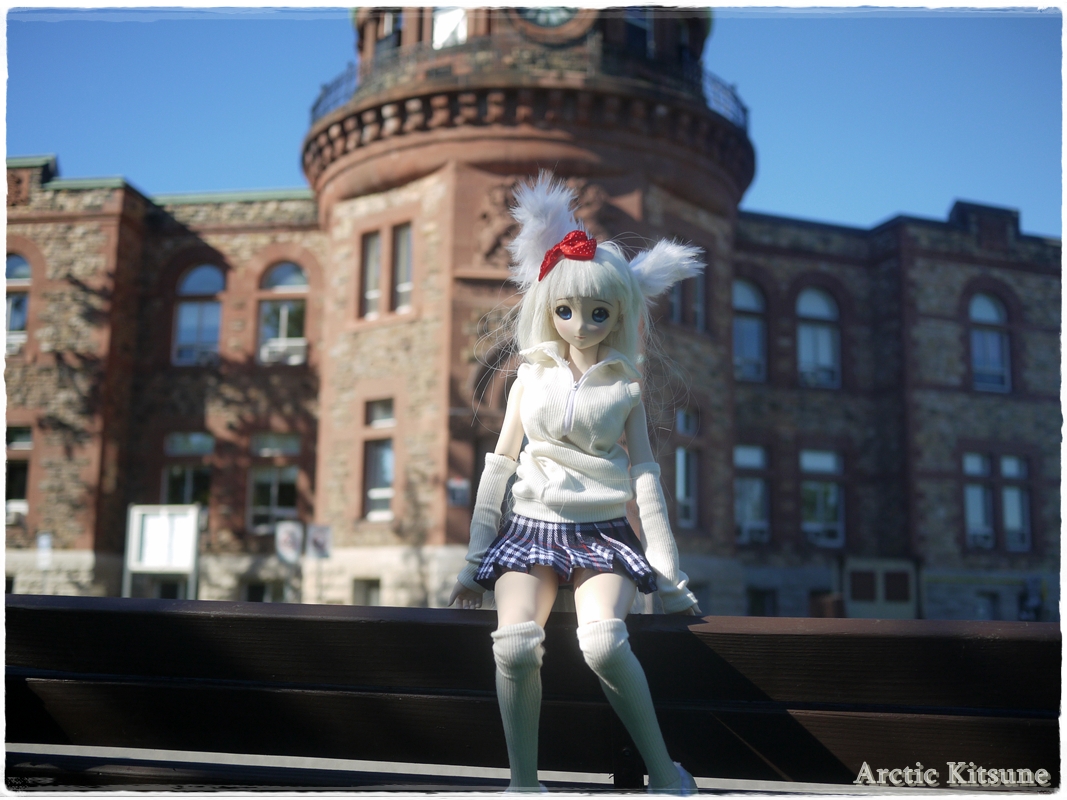 (I love these images I took, found the meet fun, with everything being 99% positive; 1% negative towards the fall, lacking fox tail, and the dirt-fall mishaps.)
———-
Thanks for viewing and hope you enjoyed these images and meet as I did. Until next time with fox tail! 🙂