Heyo! Finally received a foxy tail that I've been waiting (impatiently) for over the summer period and most of September. Was worth the wait, though highly bothersome, finally allowing Varakitsu to appear beautiful with a fluffy new tail.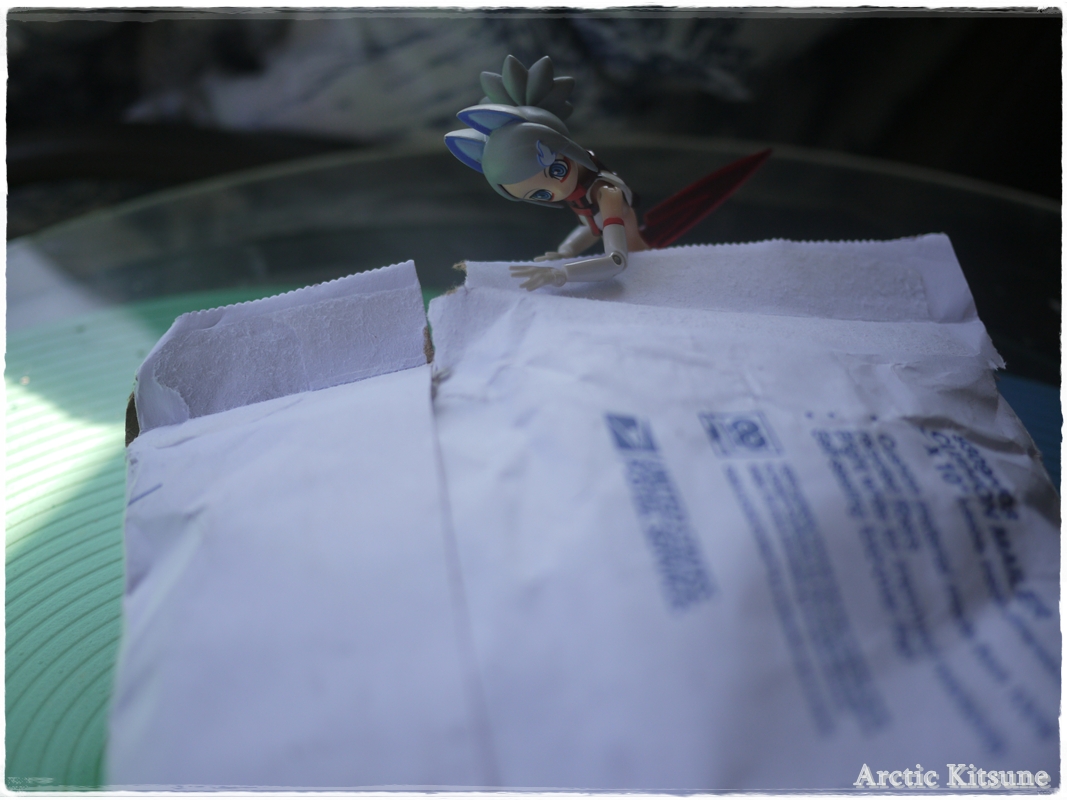 (All images taken with a Lumix GF-1 – Pancake Lens.)
I've been waiting a very long time for this package, not counting when it was first sent that I'm finally glad it has arrived safely. Been waiting all summer till almost fall itself. Now that it is finally here with the tail on Vara I can finally "chill out", rest easy, and continue improving on Vara while taking images as planned, if belated.
It is a real Arctic Fox fur  in the shape of a fox tail. Feels like it as well. With her being based on an Arctic Fox & Kitsune myth/folklore would make sense of her having an arctic fox tail of her own. Fox tail came from Etsy (From Russia to USA to Canada; To me) because it wouldn't be sold to me directly. Thanks Ratbastard for being my proxy!
If the mail traveled normally or not -Â 1 month and 5-6 days worth -Â it can finally be put aside because it is finally here. Tracker didn't even update once it hit Canadian Customs, even after it covertly entered my mail-box. Was simply irritating/annoying when it was so close in Canadian Customs yet so far you couldn't have Vara finally show off her nice fluffy tail at two meet-ups. As mentioned now, I can rest easy and have fun with Vara and her fluffy tail at various meet-ups and photo-shoots.
—-
– Related Articles:
– The Tea party – Ottawa Doll Meet '13:
https://arcticukitsu.com/Blog/?p=3661
(Was gifted ears and tail, only accepting ears.)
– Ottawa Doll Meet – Andrew Haydon Park:
https://arcticukitsu.com/Blog/?p=3826
– Ottawa Doll Meet – Ottawa's Experimental Farm Garden:
https://arcticukitsu.com/Blog/?p=3861
—
The package itself all looks to be fine with no noticeable damages. The package was snuck in covertly while leaving the tracker un-updated and hanging. Renge swiftly ripped open the package on the side to check the contents (as soon as I saw it I opened it up to confirm the contents).  Was delighted to see that it arrived covertly and in one piece.
I even chuckled at the note by Tana. Myself, Renge, and Vara all saw it with all three of us letting out a nice chuckle. Thank you for that note and being a proxy sender, Tana and Rattbastard. Much appreciated :).
The only "damage" was a loose green bottle lip balm that made certain things sticky.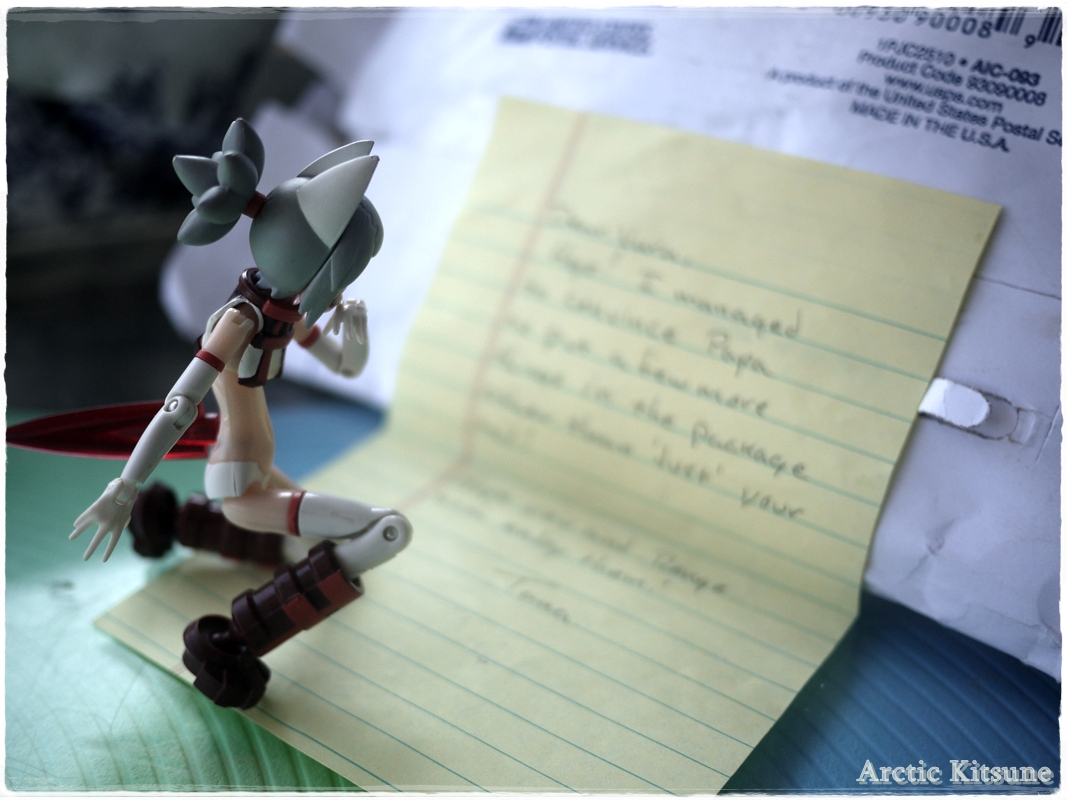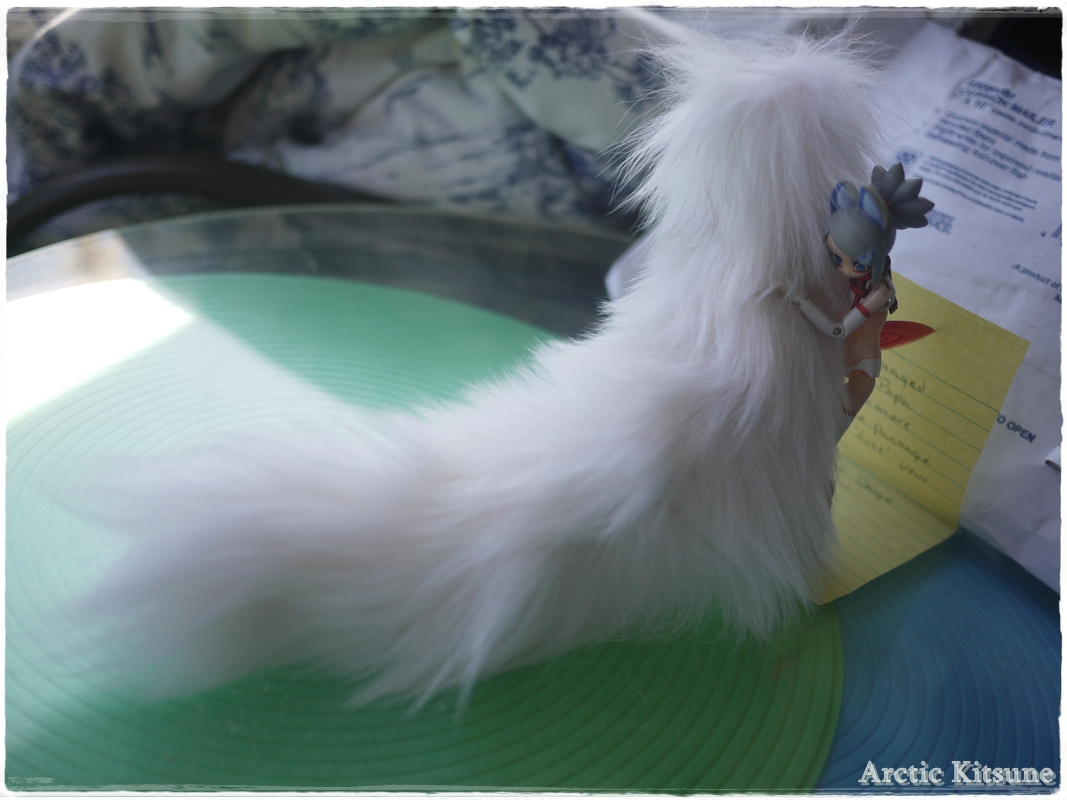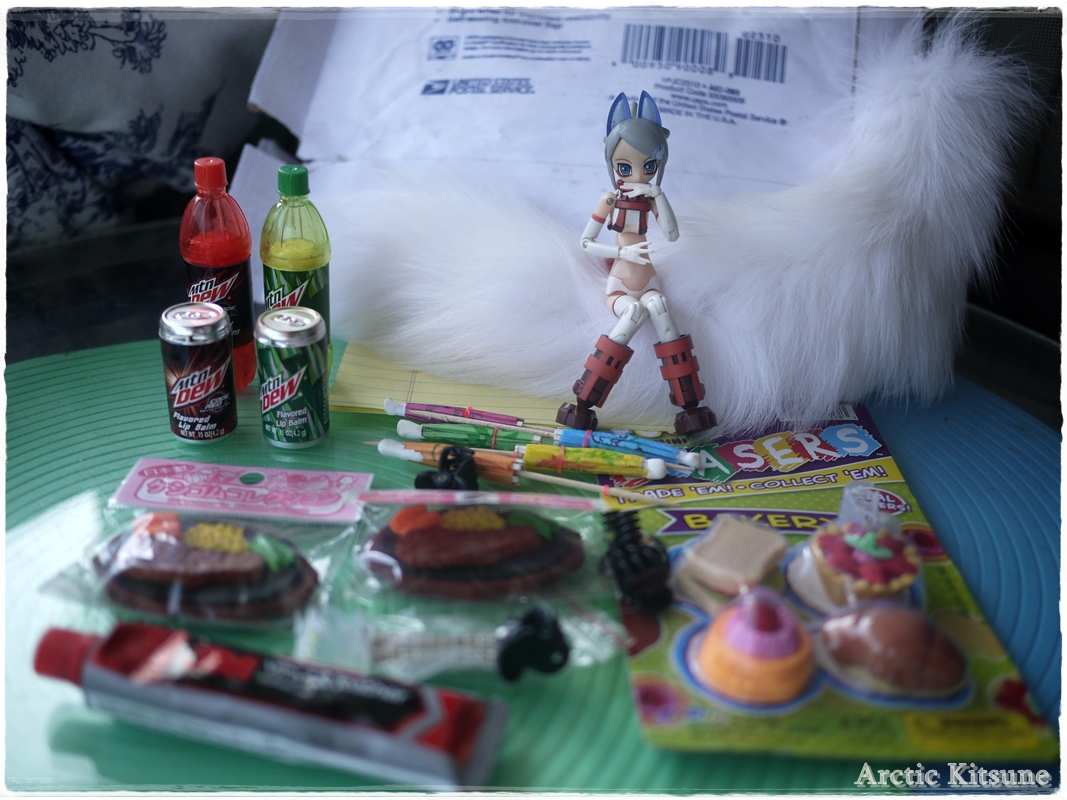 Love it how the tail now adds onto the mood while also changing it at the same time. Does so in a nice manner. Vara was combing her hair and newly spawned tail that she ended up giving a nice cute expression with the comb infront of her face. Looked all so cute and adorable that I had to take images.
Unsure if the camera managed to capture the exact cuteness I saw or if it's showing something equally as awesome. Everything is best seen in person.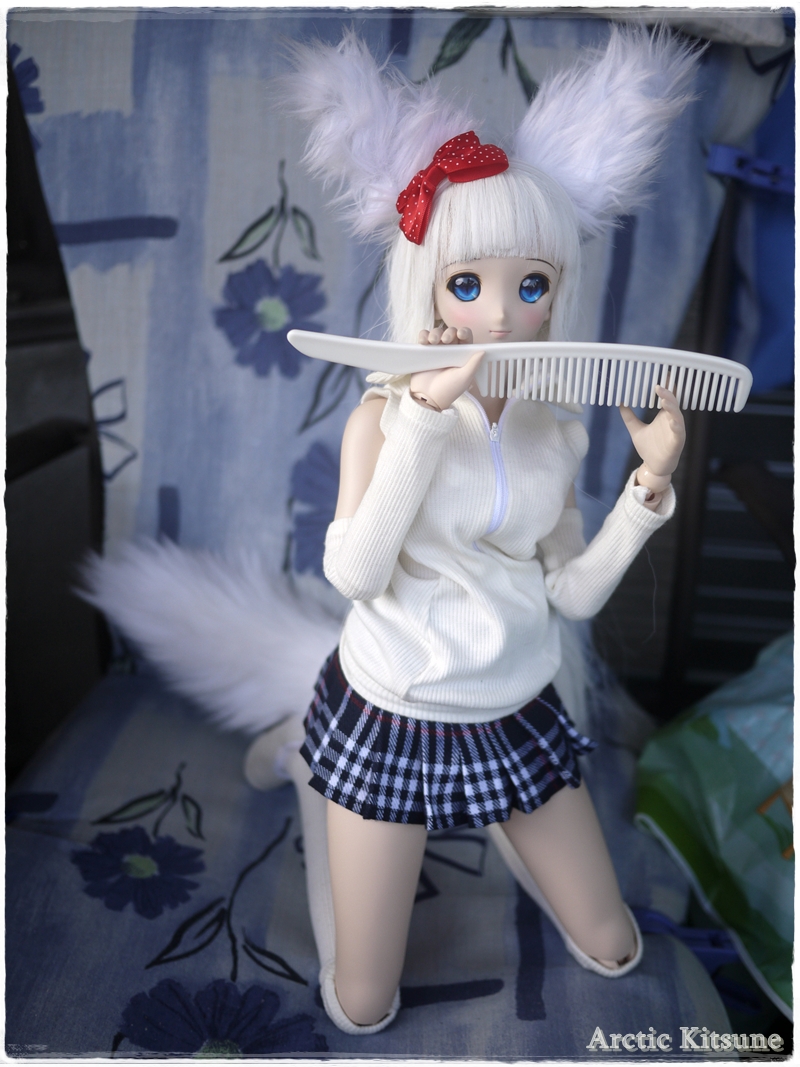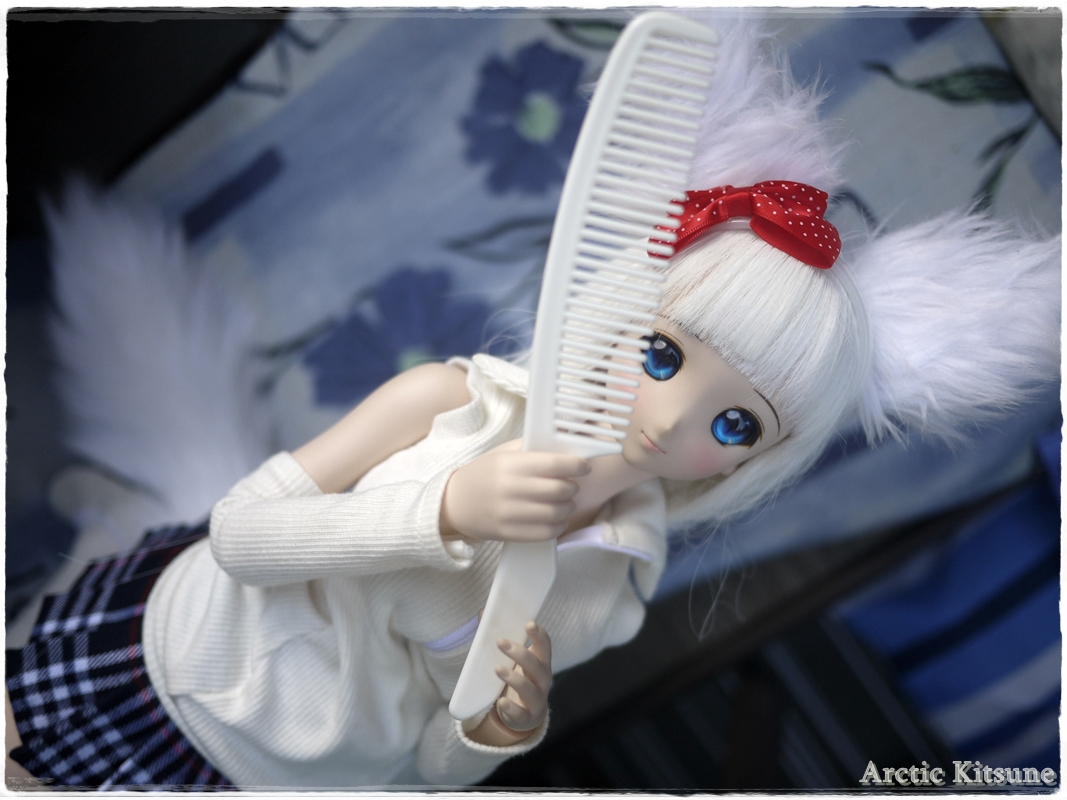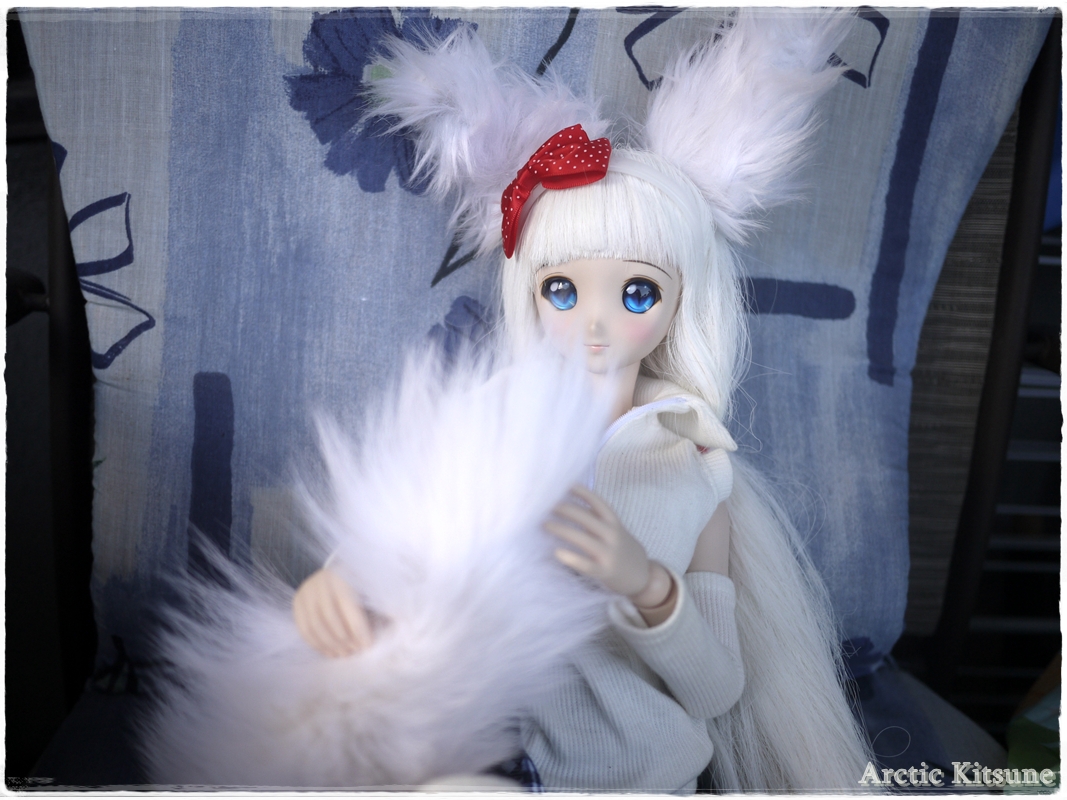 I'm quite pleased with how foxy Varakitsu looks now. I want to now touch up her ears, curving it into a more foxy manner. I also want to get a new wig and to make her look like Koko for Jormungand still.
One thing I didn't show was a nice little Canadian touch which I added on a whim after spotting it in my closet. Hope you'll chuckle at that addition when the time comes to share more. Small though amusing.
Thanks to her new tail I cleaned her up. I even 'fixed' her ears positioning along with making sure she was ready for the camera. Also, I would love to know how to remove yellow dots, pink marks, and similar because I'm having issues cleaning them. Need to also figure out how to keep her legs at 90* angle when lifting her. She used to be able to hold such a pose before. Guess that looseness is from when I barbaricly took her apart for transport to Andrew Haydon Park. My fault & my bad, I know.
—
– Forgotten Bonus:
I noticed I forgot to share further images when not double-checking my Flickr stream. The first part – being here – with Renge looking up at the moon and posters. I've been meaning to add updates on me finally putting my images into a simple book as a test and two posters to make sure my images are actually seen and not forgotten by me. The first book I had printed was a "testing the water" type deal to see how it would actually end up. I'm glad the Photokano anime along with the fellow figure.fm'ers sparked my ponderings.
The other image I wanted to share was of a Cicada I spotted thanks to a shy yet amusing Squirrel crawling up a tree.
Other than Vara getting her tail and these forgotten images I will also note that I missed my chance to go to the "Vintage Wings Over Gatineau-Ottawa" on the previous weekend. I'm of course annoyed yet not much can be done except wait for the next one or to visit the next airshow. Either that, or go plane spotting at the Ottawa Airport which I just might do.
—
Well then, thanks for viewing and hope you enjoyed. I'm finally pleased that everything is back to "normal". Kon! 🙂