Heyo! Went to take part in Ottawa's Doll Show at the Ernst & Young Center (EY Center) next to the airport. I took Varakitsu and Renge with me to have fun at the doll show more at mine and OC Transpo's pace of transit. Lots of goodies to be discovered for non-doll owners and doll owners a-like. Fun prankful Varakitsu to have fun with also.

(All images taken with a Lumix GF1 – Pancake lens.)
I say that this doll show has to be the most chill (both meanings) I have had yet. Everything was all mostly peaceful while the weather itself decided to get all chilly, windy, with on-and-off flurries. It's been enjoyable while even having to deal with Varakitsu's arctic fox elemental pranks by making it windy and snowy when it was instead supposed to be raining. I'll consider it a blessing because rain is horrid when you have doll stuff to carry. Same goes with Varakitsu not being able to pose outdoors. I'm however sad that I came in just as Tieren and Salica were leaving.
For the times I didn't take pictures I spent going through my 3DS's streetpass to see who I encountered. I gained new Mii's to venture further in the Streetpass plaza. Quite awesome! I even had fun playing Animal Crossing: New Leaf while there.
—-
– Related Articles & Links:
– Ottawa Doll Show & Plane Spotting:
https://arcticukitsu.com/Blog/?p=3697
(Spring/May 2013)
– Ottawa Doll Show – Fall 2013:
https://arcticukitsu.com/Blog/?p=3893
—-
Making my way to the EY Center greeted me with strong winds, light flurries, and this interesting antique car for the wedding show. It caught my interest.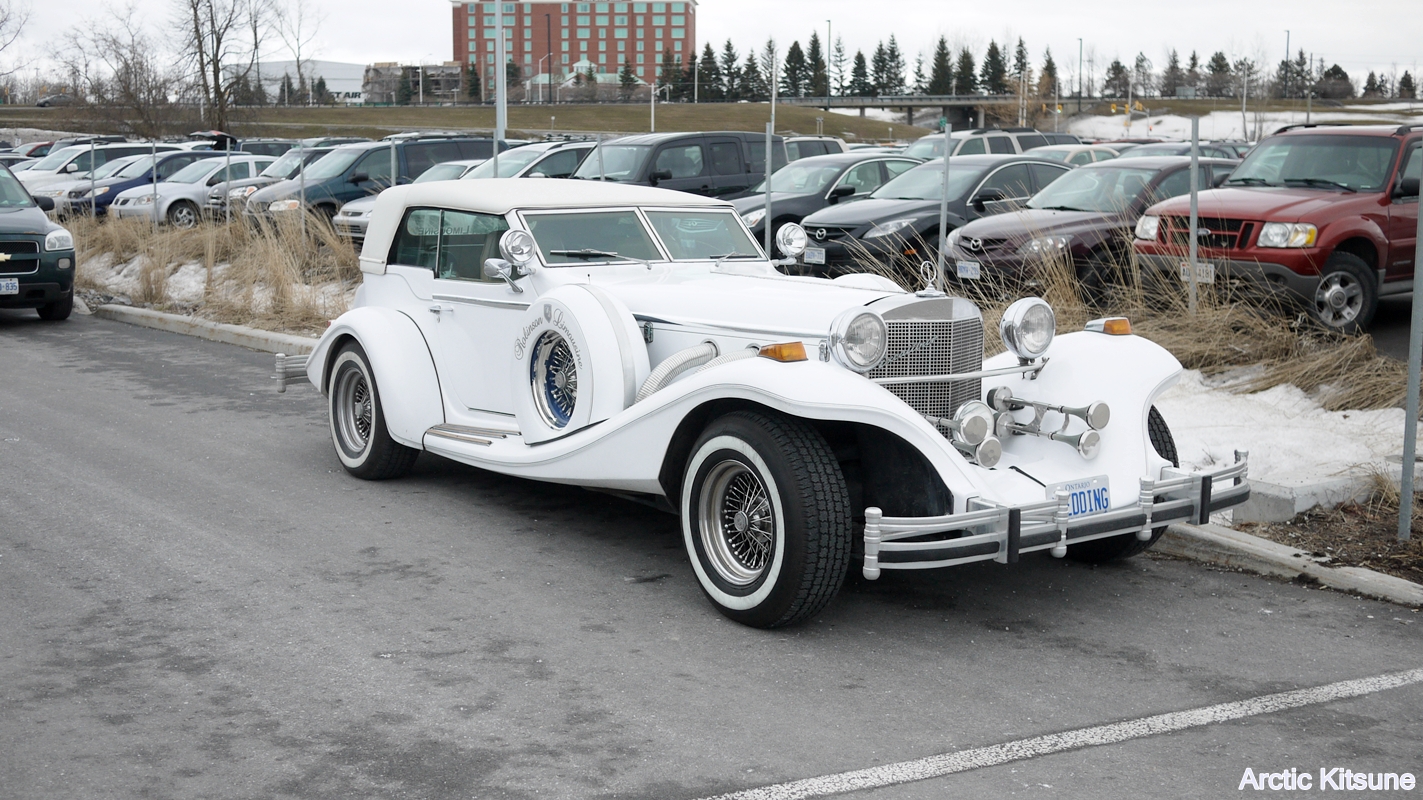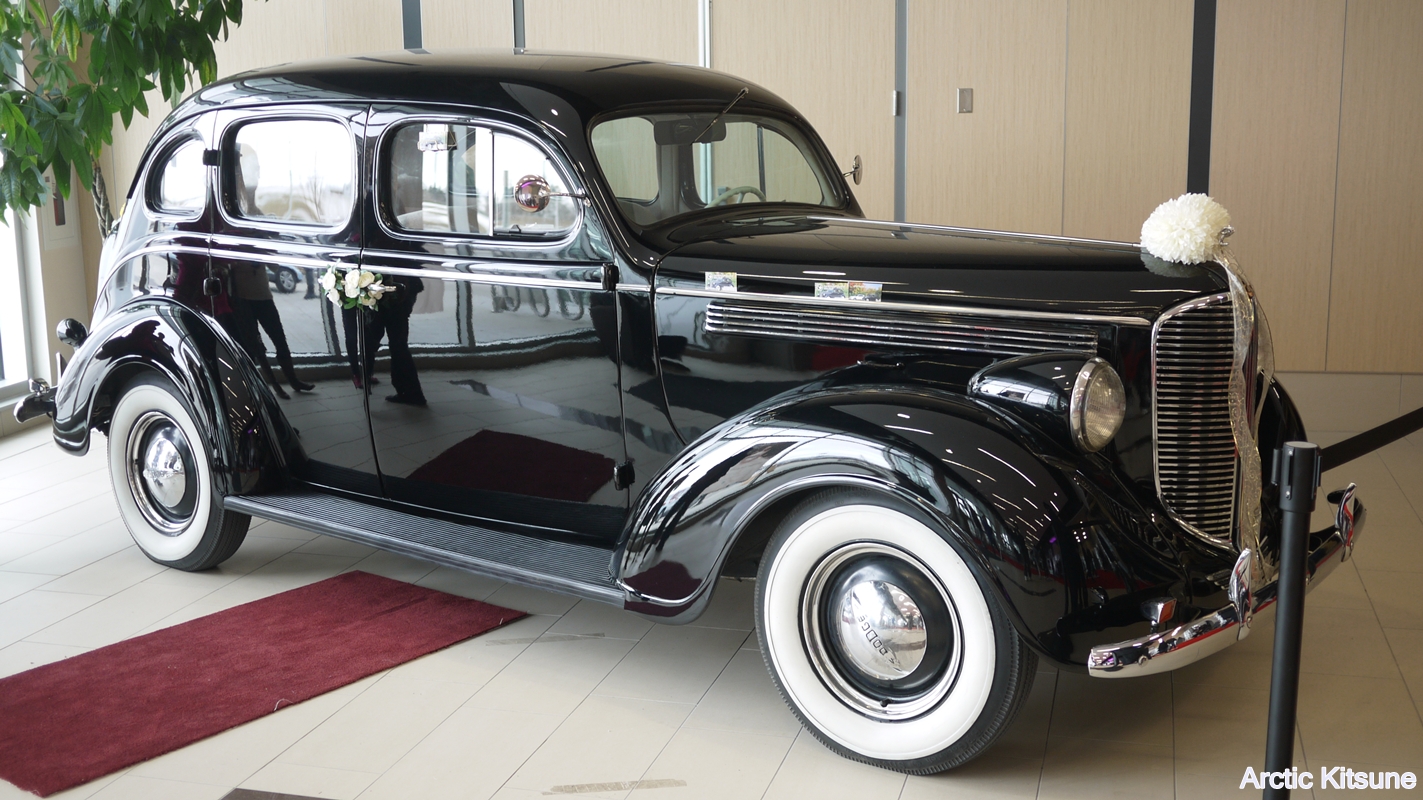 I arrived at the Ottawa Doll Show to be greeted by some quick shock-and-surprise. Think that's the earliest I came to a serious meet-up. I was however slowed down by the bus, even though it did speed through the transit way nicely. Took Varakitsu out of the bag, swapped her lagging, and had fun displaying her.
I went to take my picture-taking round to see what kind of goodies are hiding from me and others. Lots of nice tables, just not enough as there was last time. I'm going to estimate that 4-8 tables were missing.  Quite nice stuff to browse through even if you may or may not be interested in Dolls exactly. It's always fun to see what hidden goodies they have. Take the fur squares or fabric for example.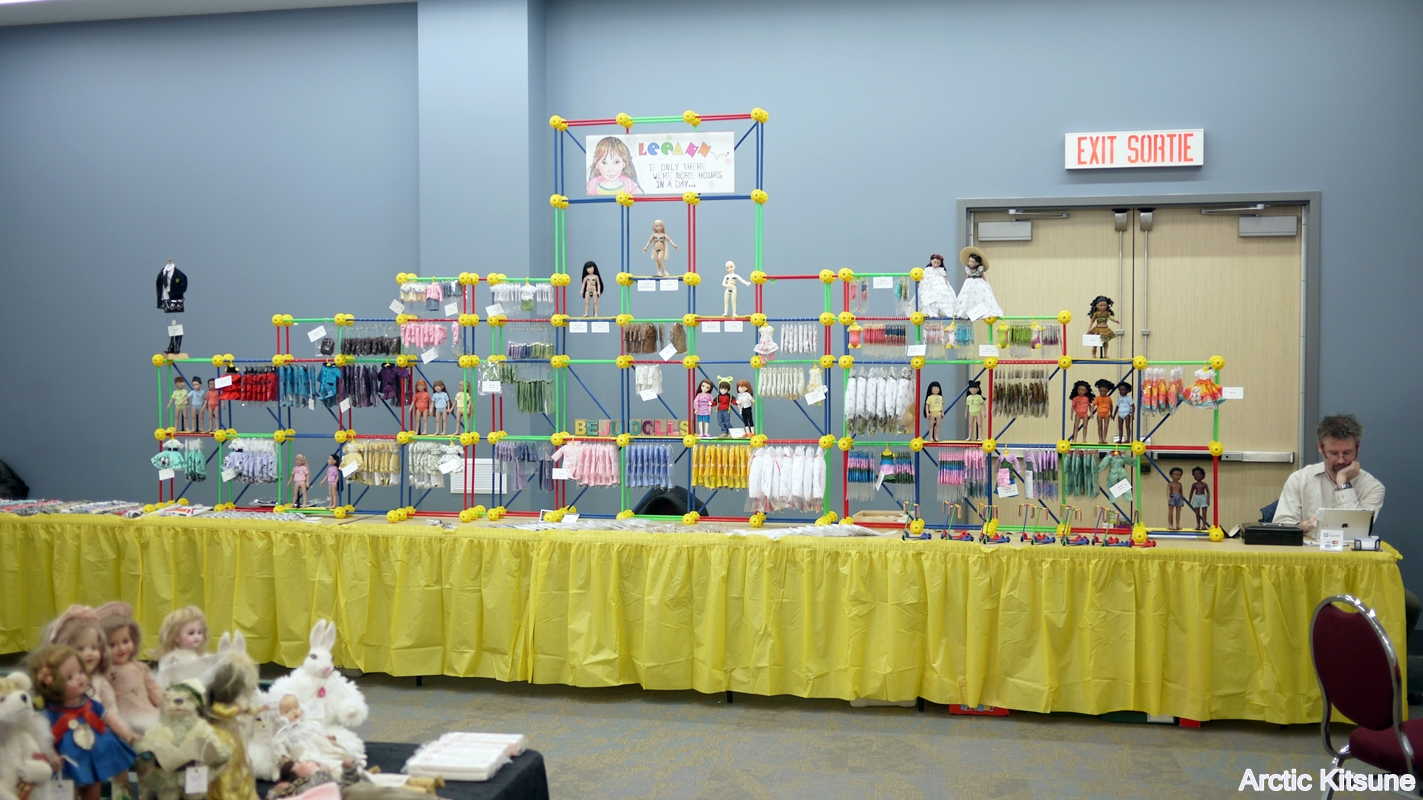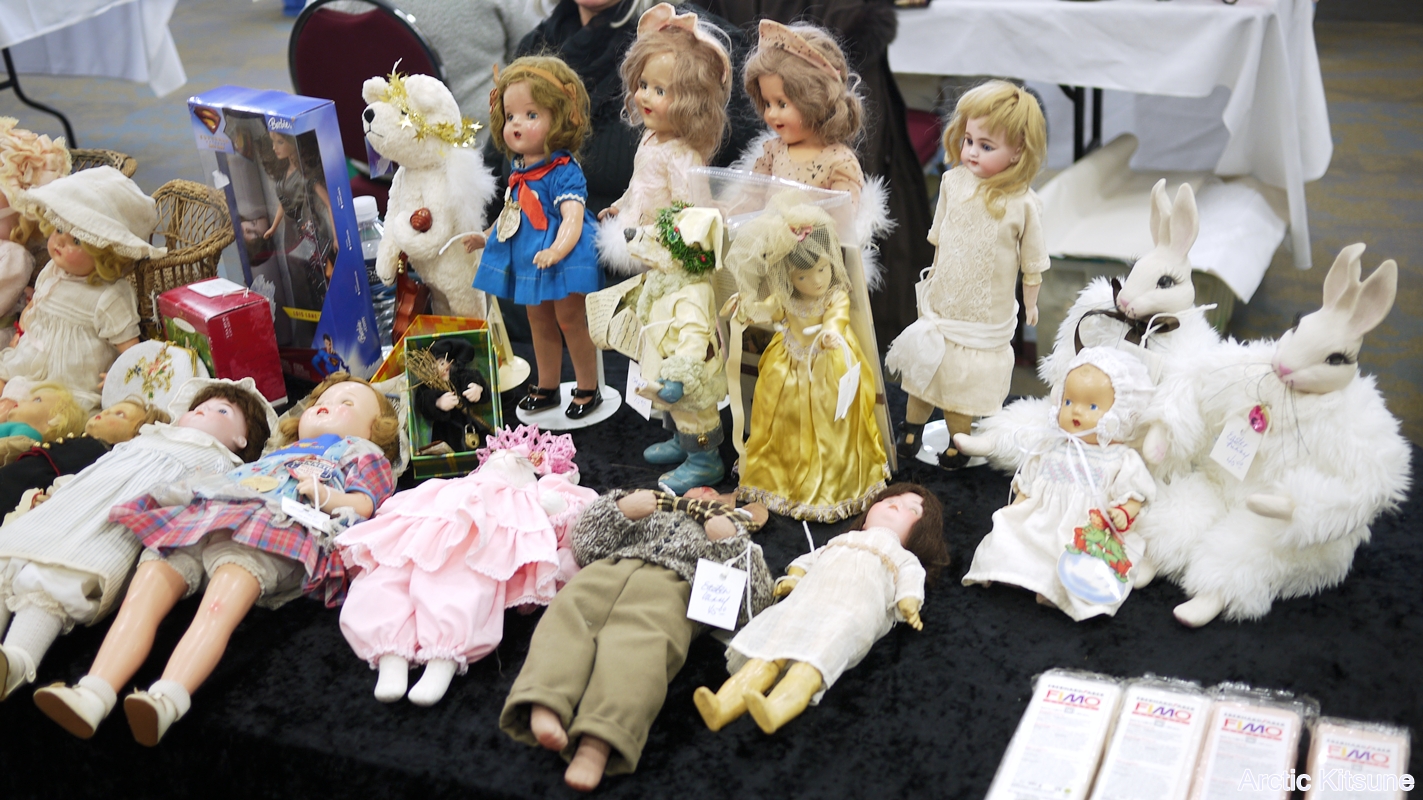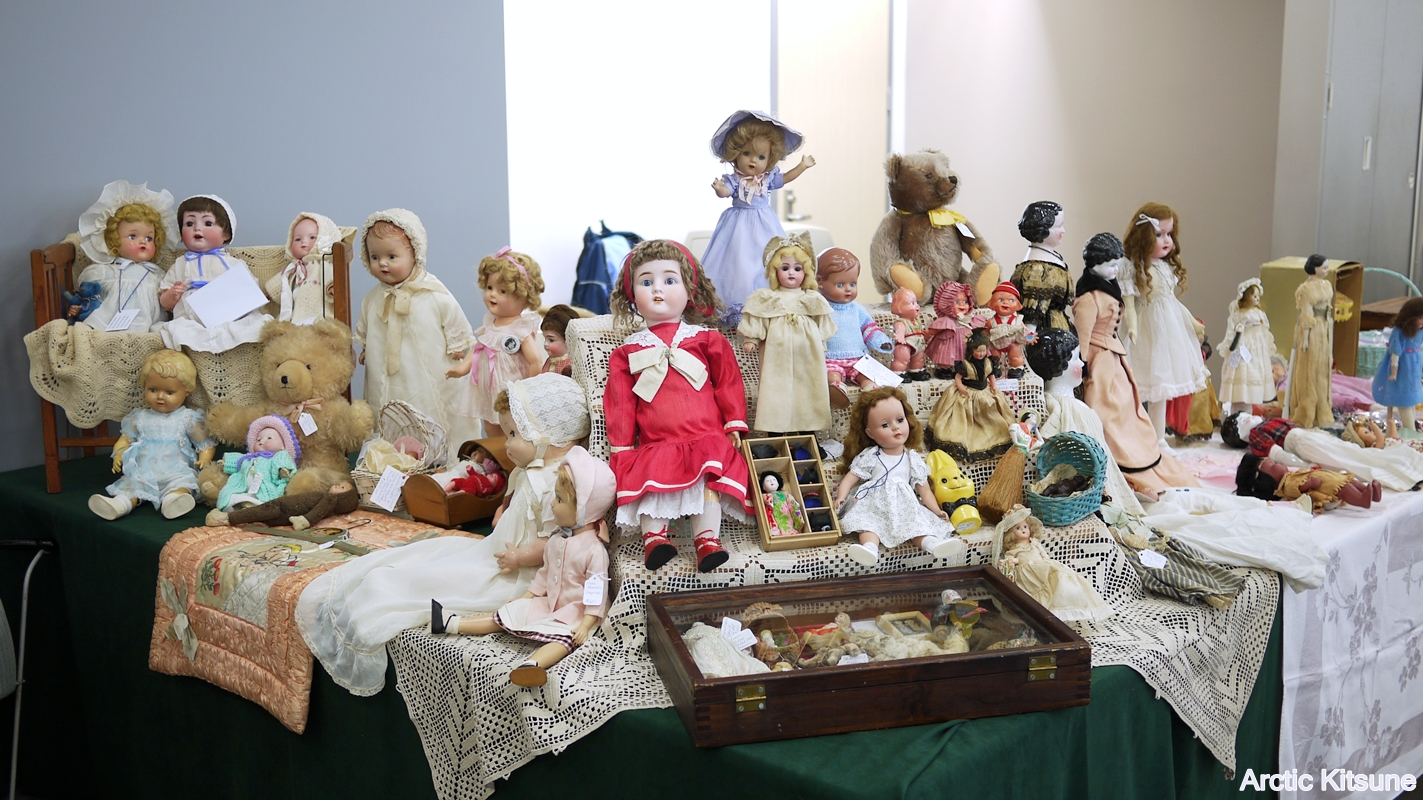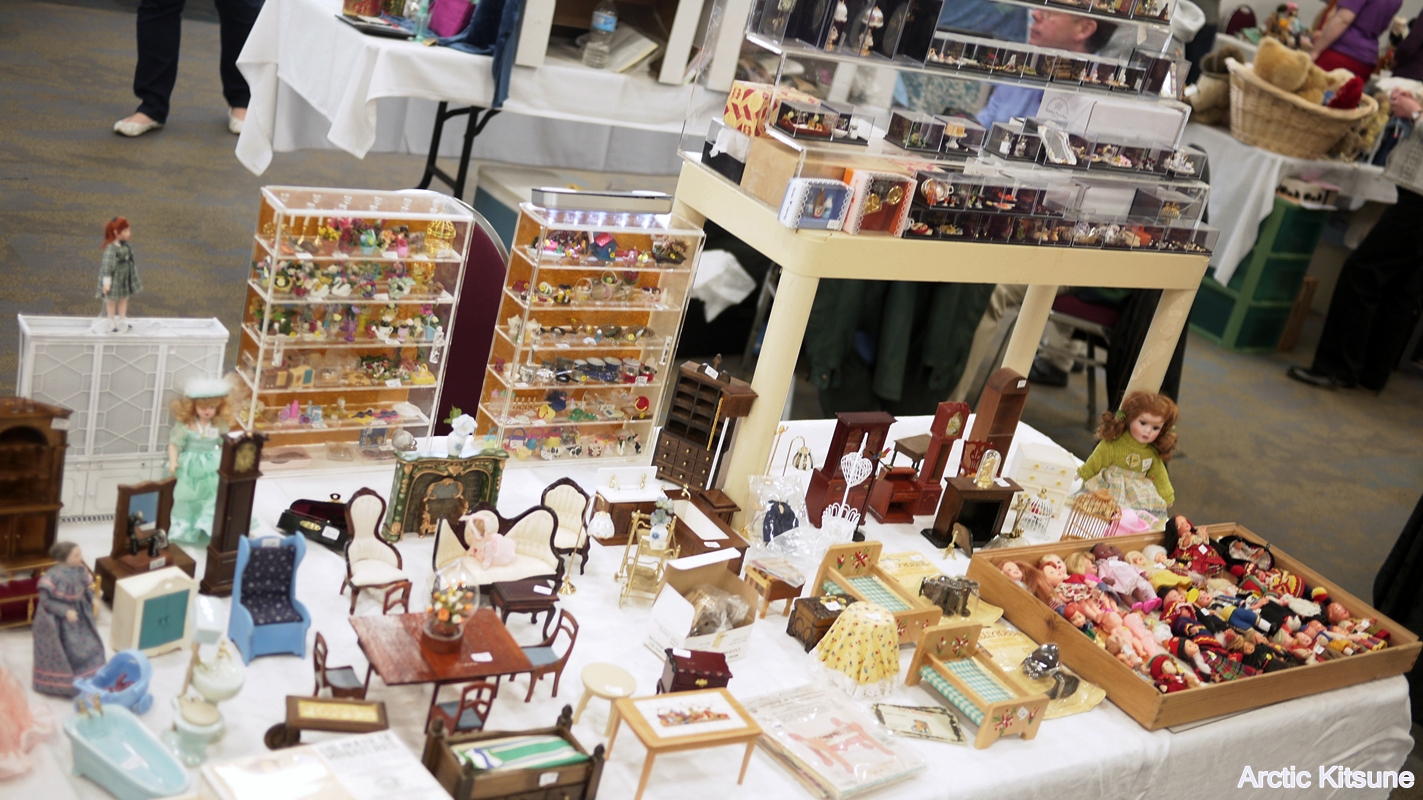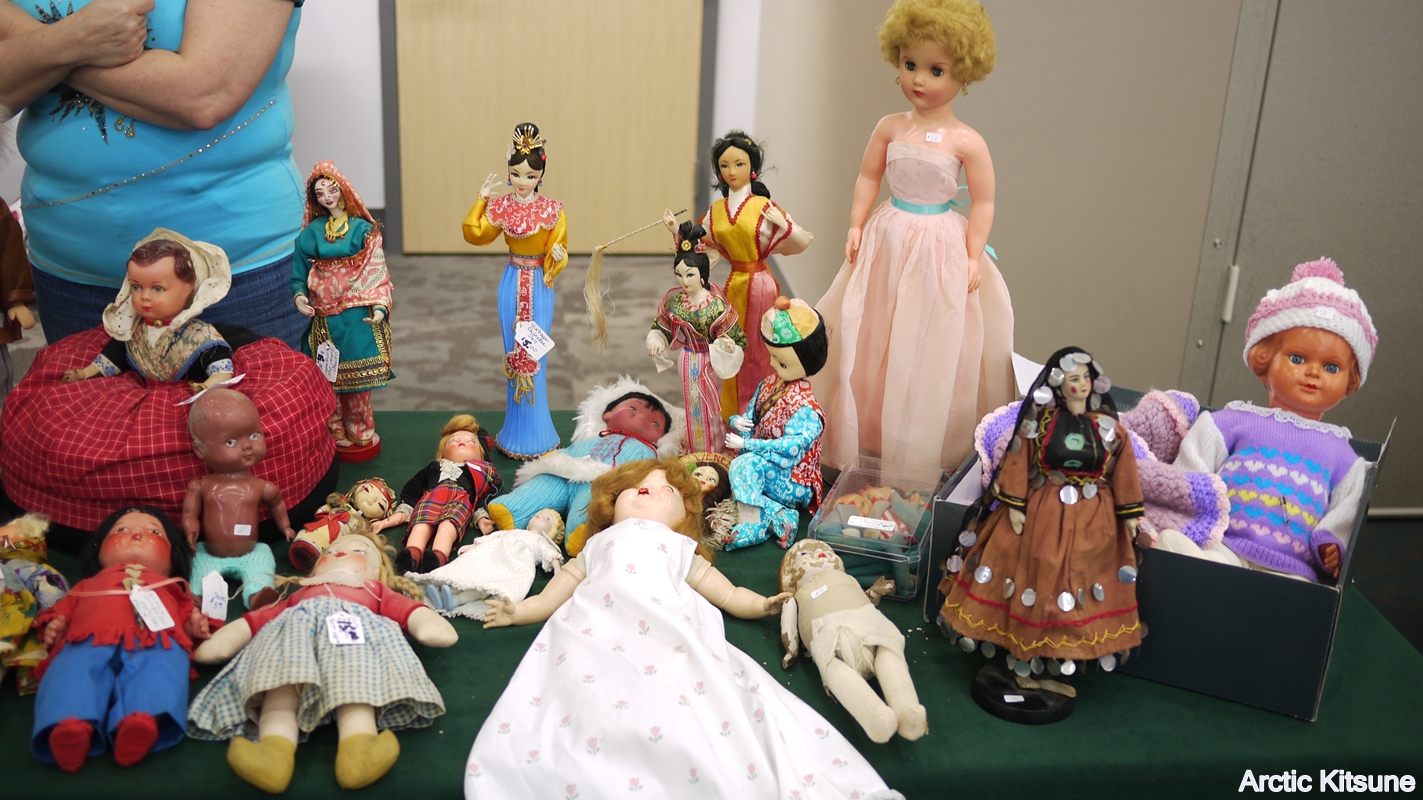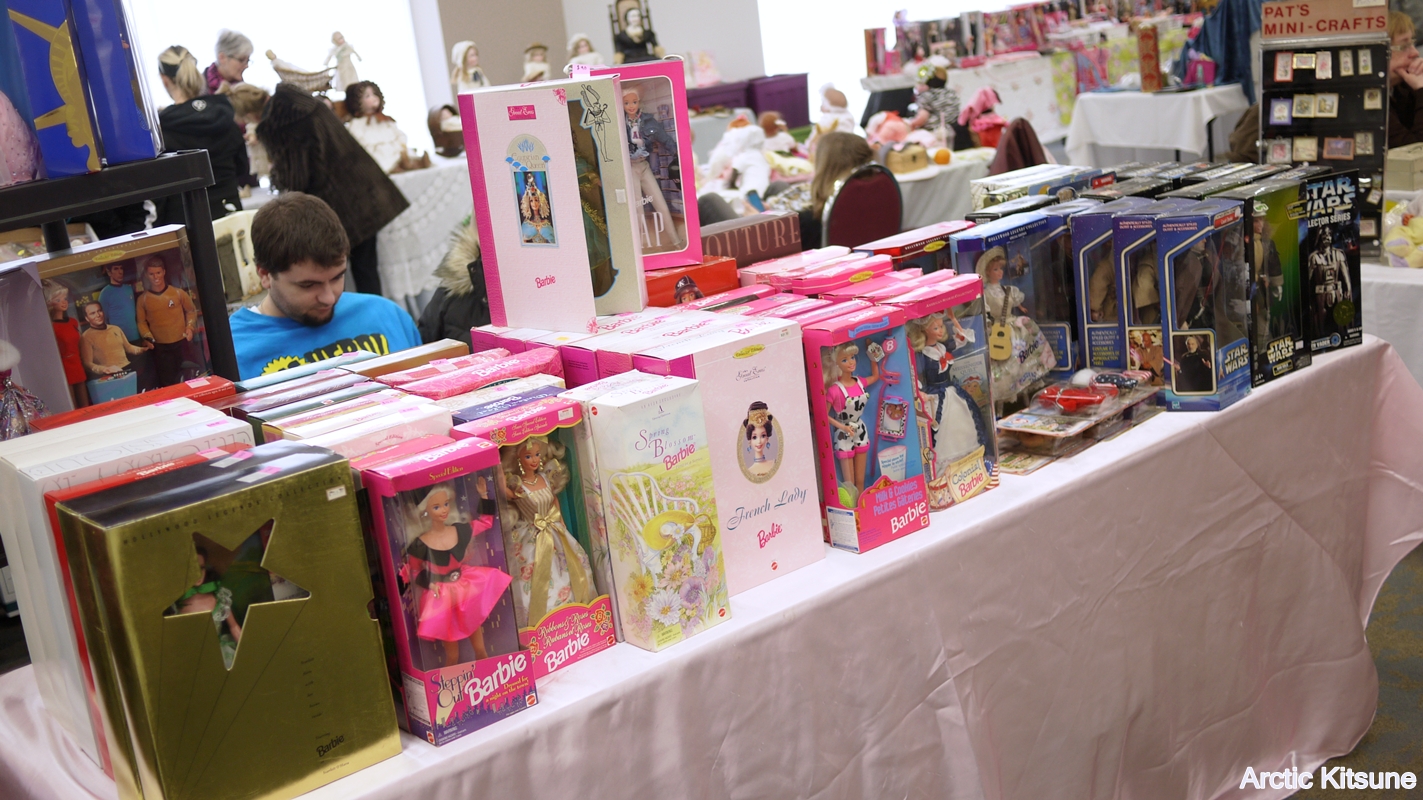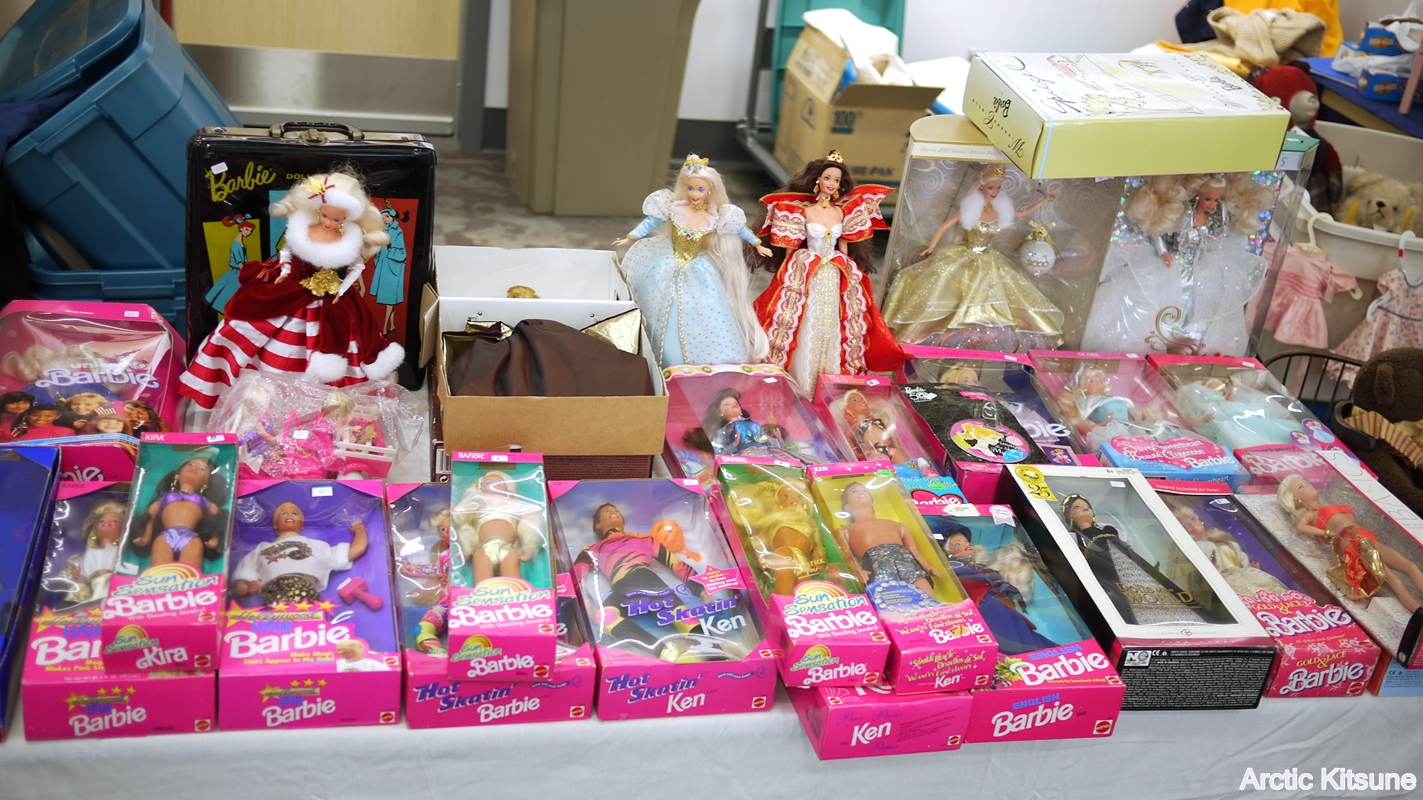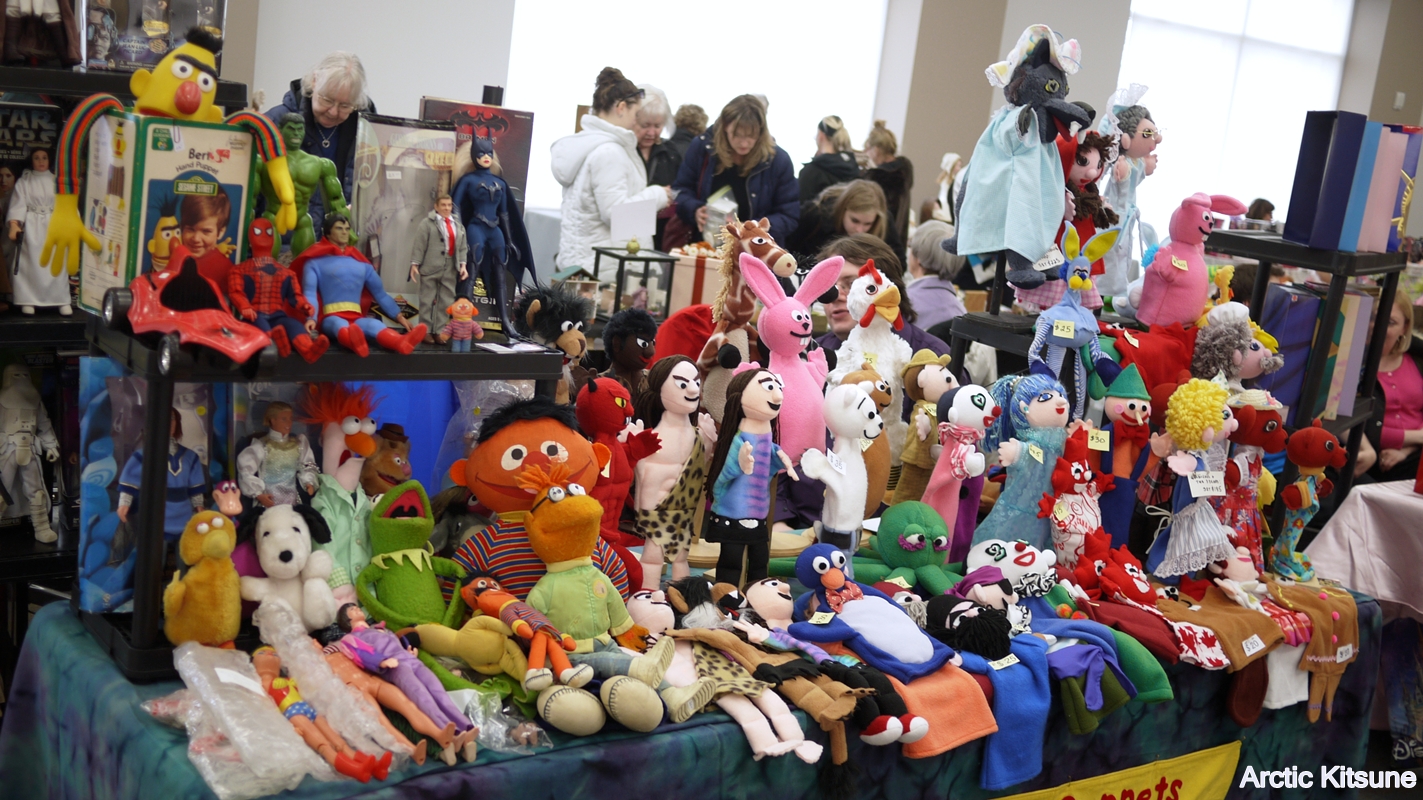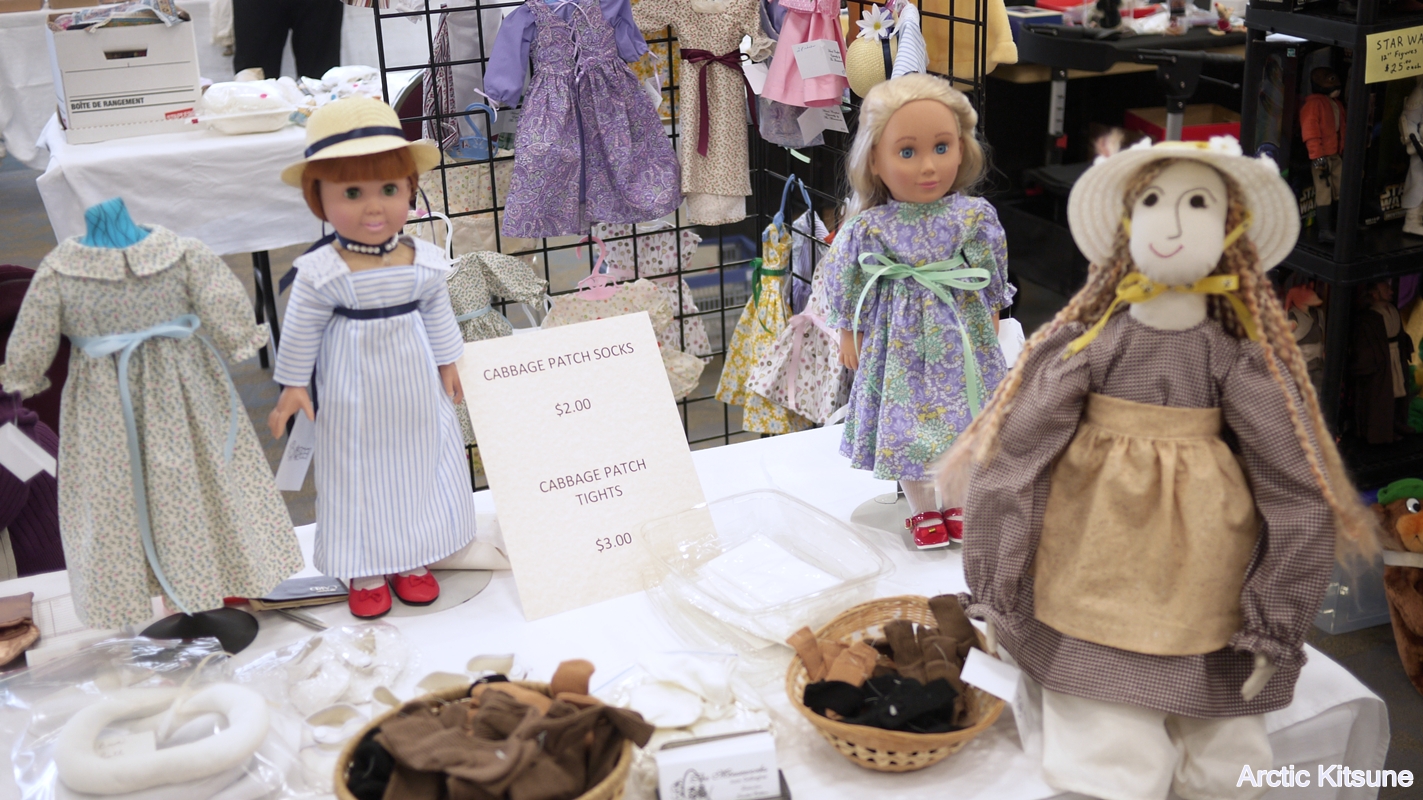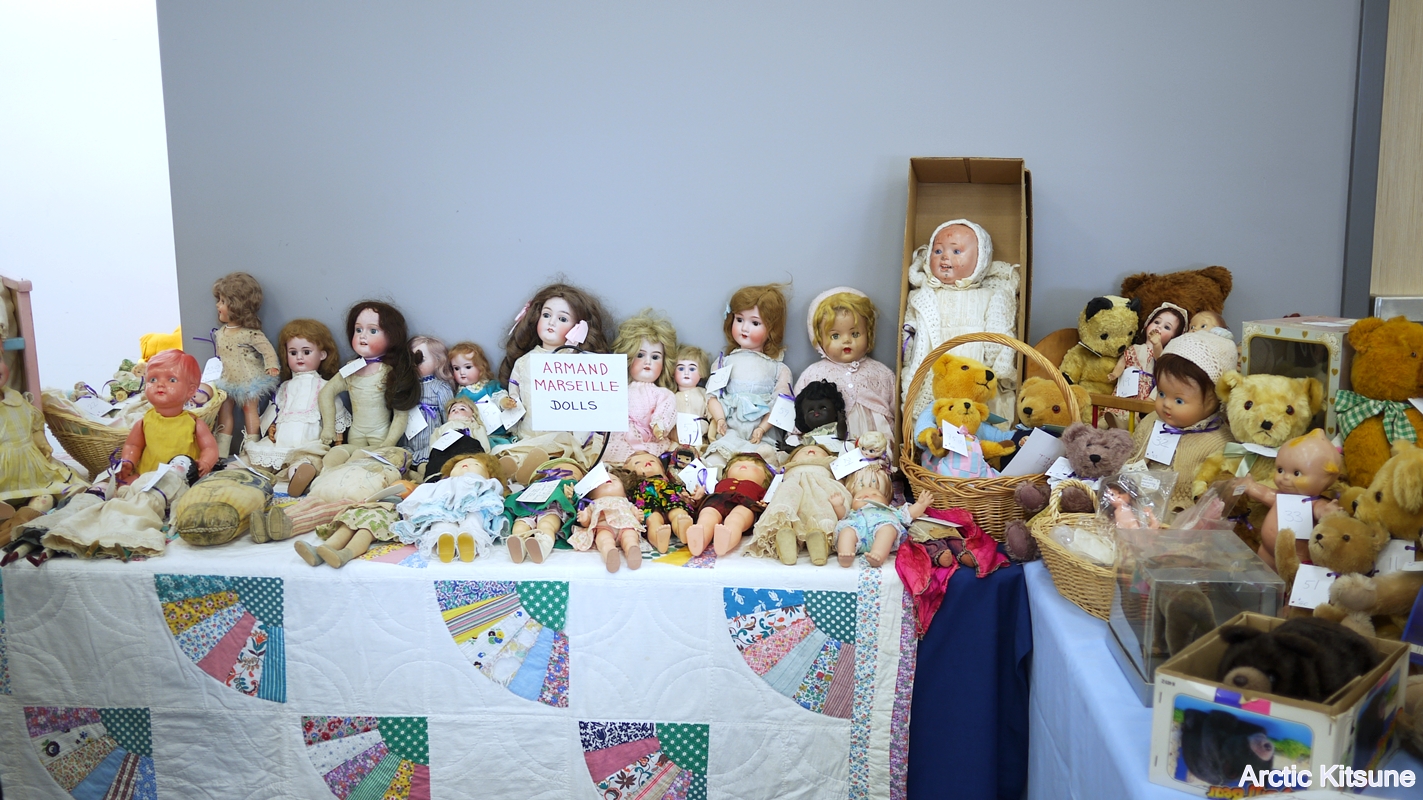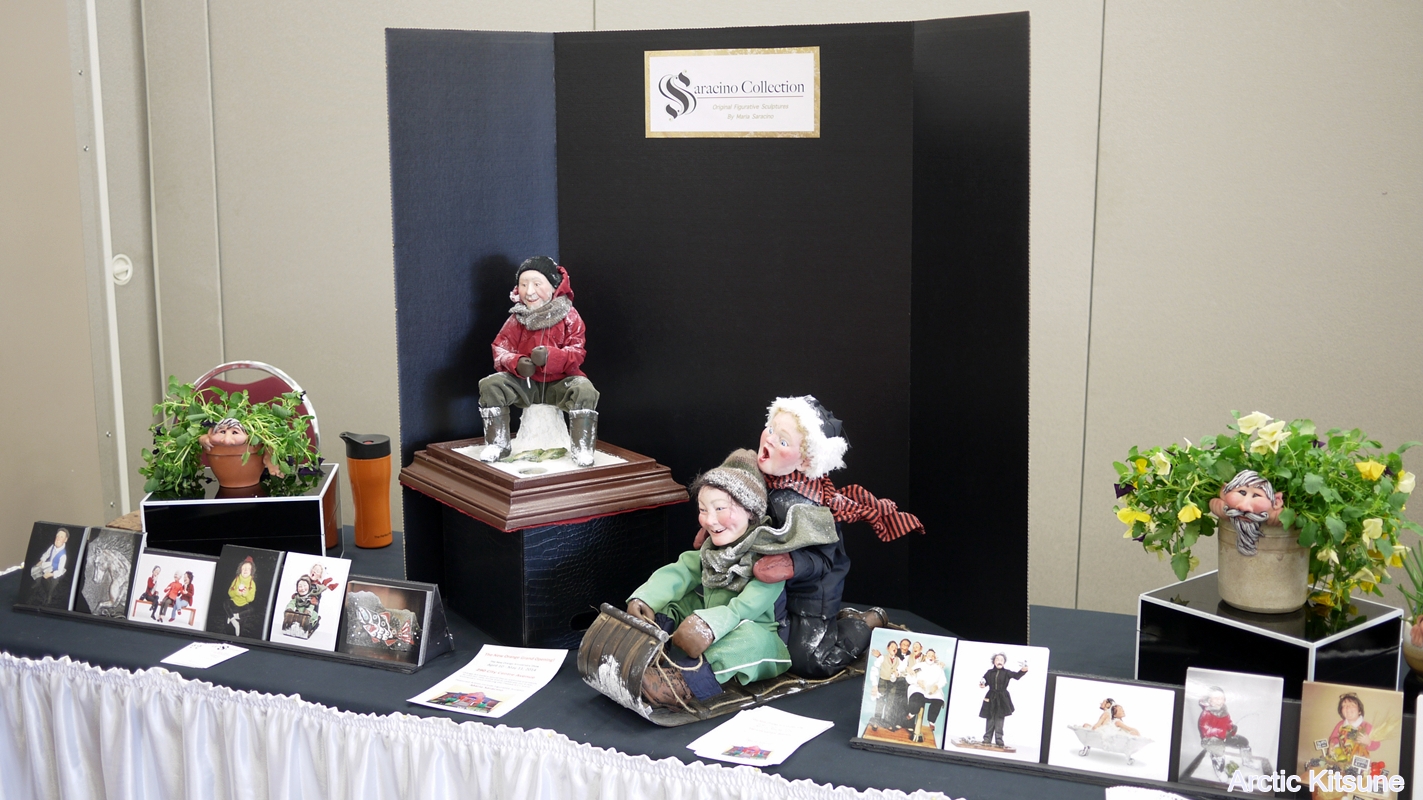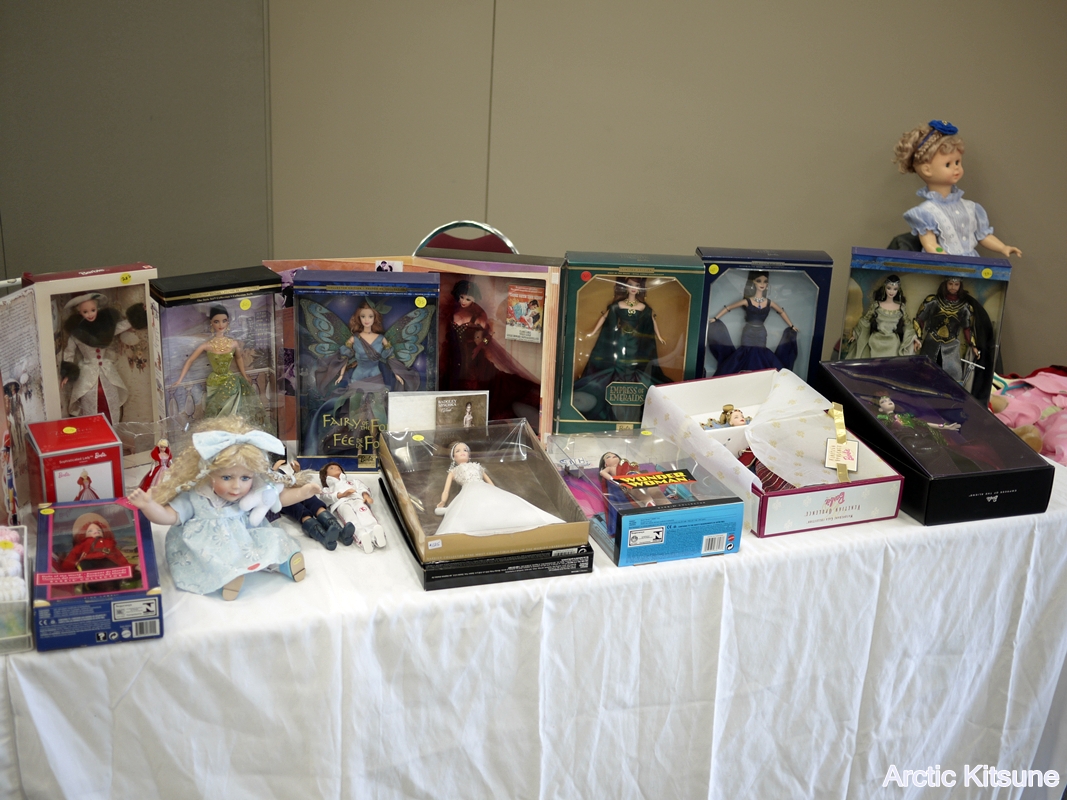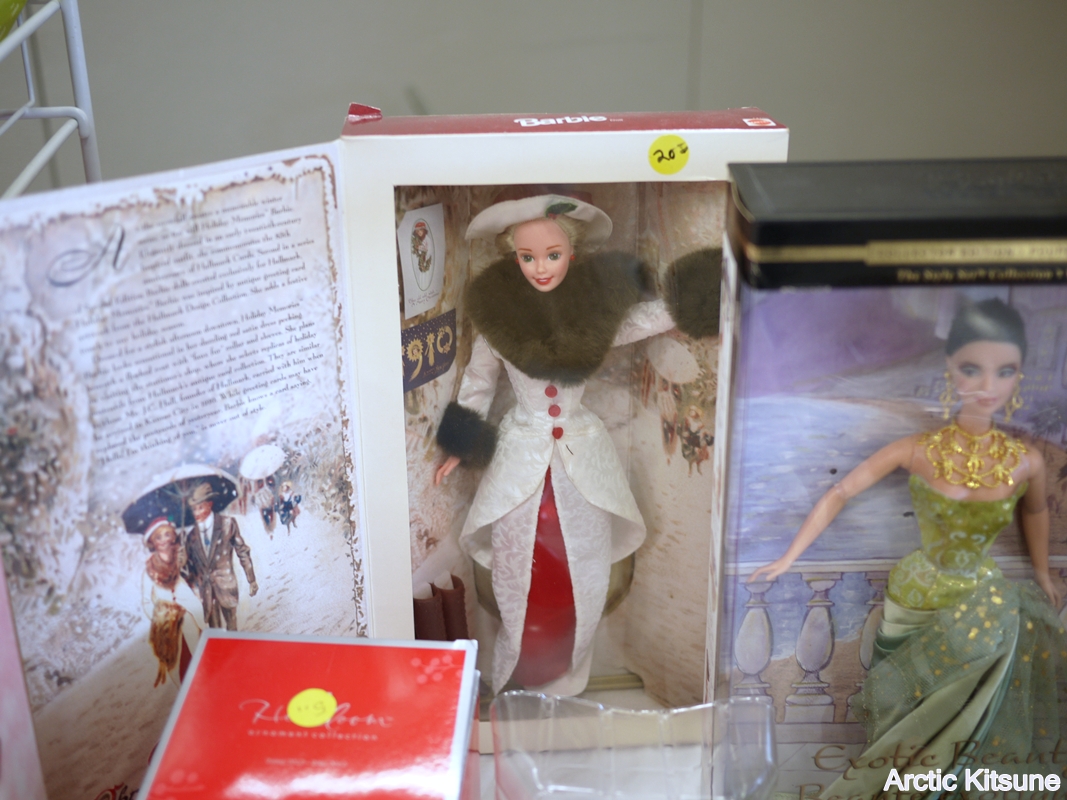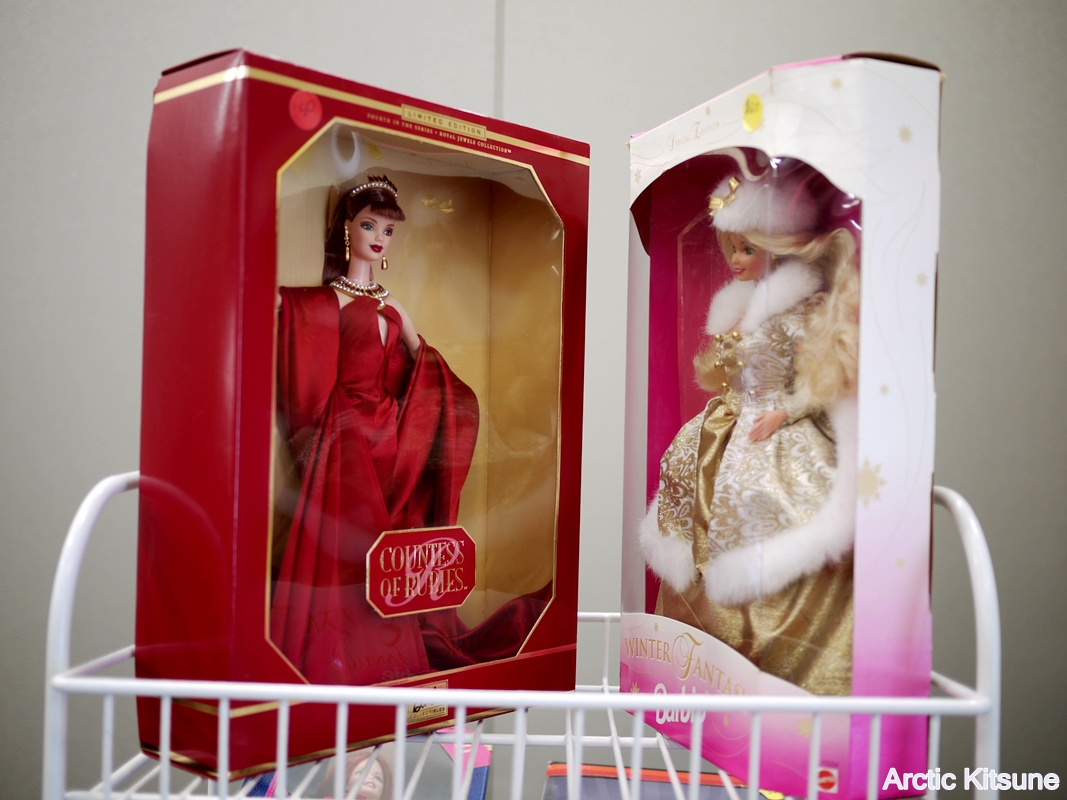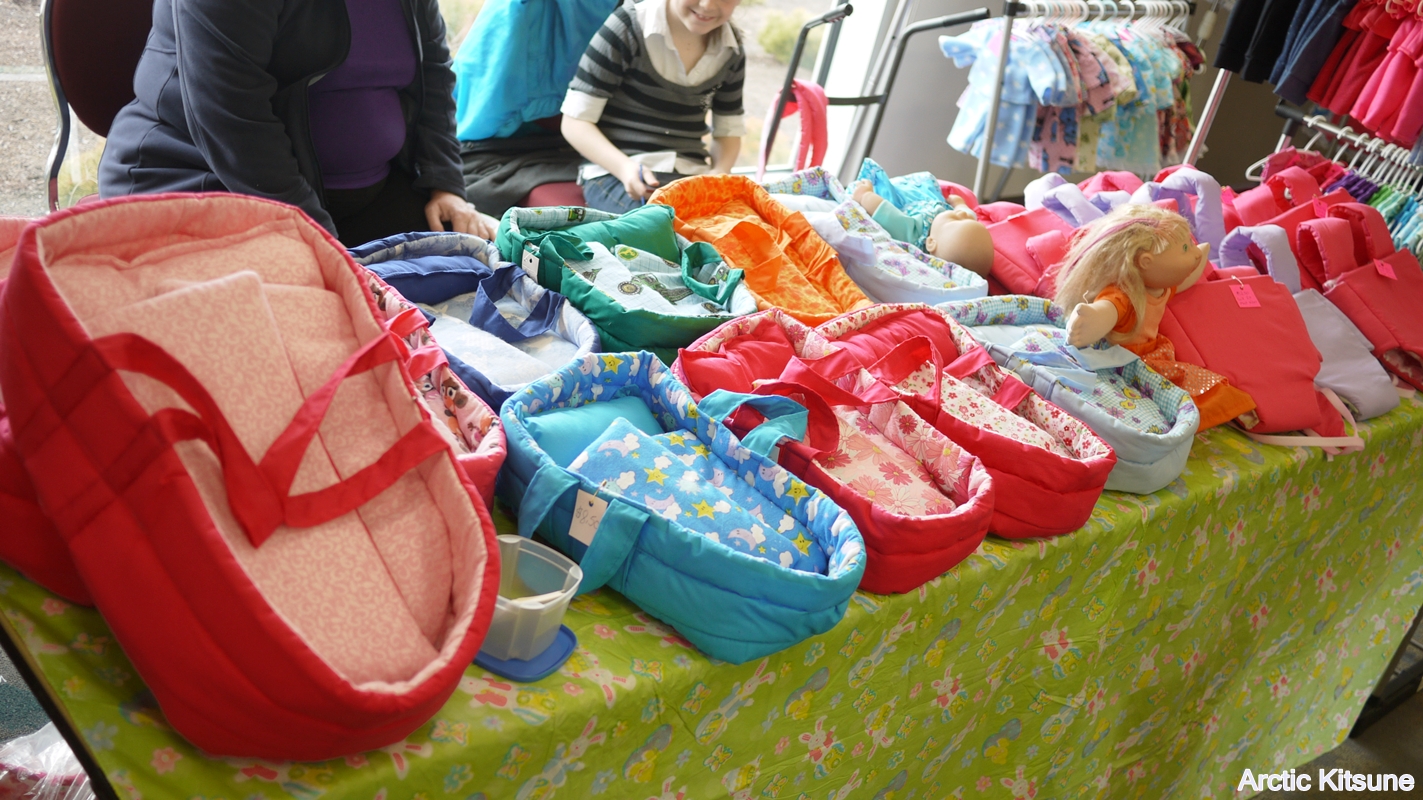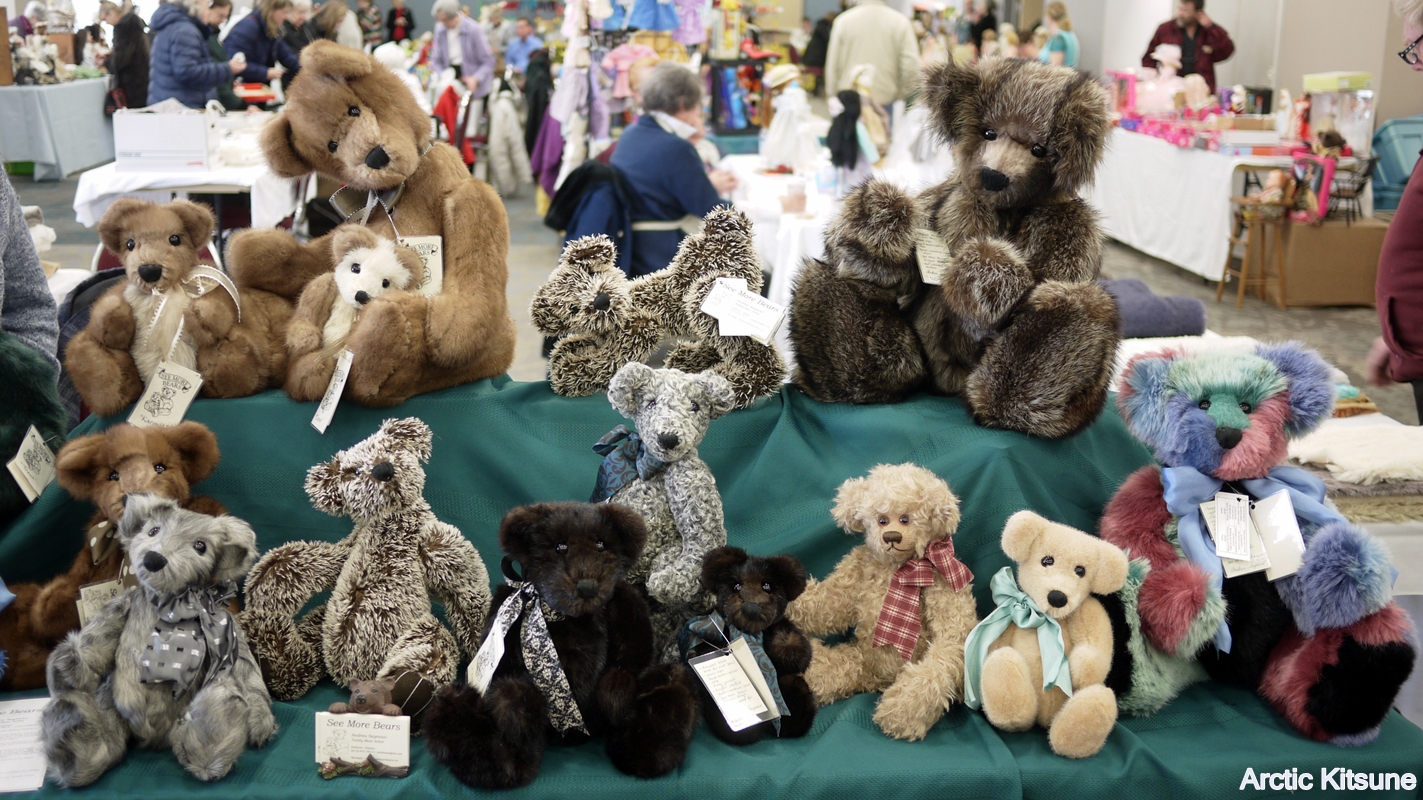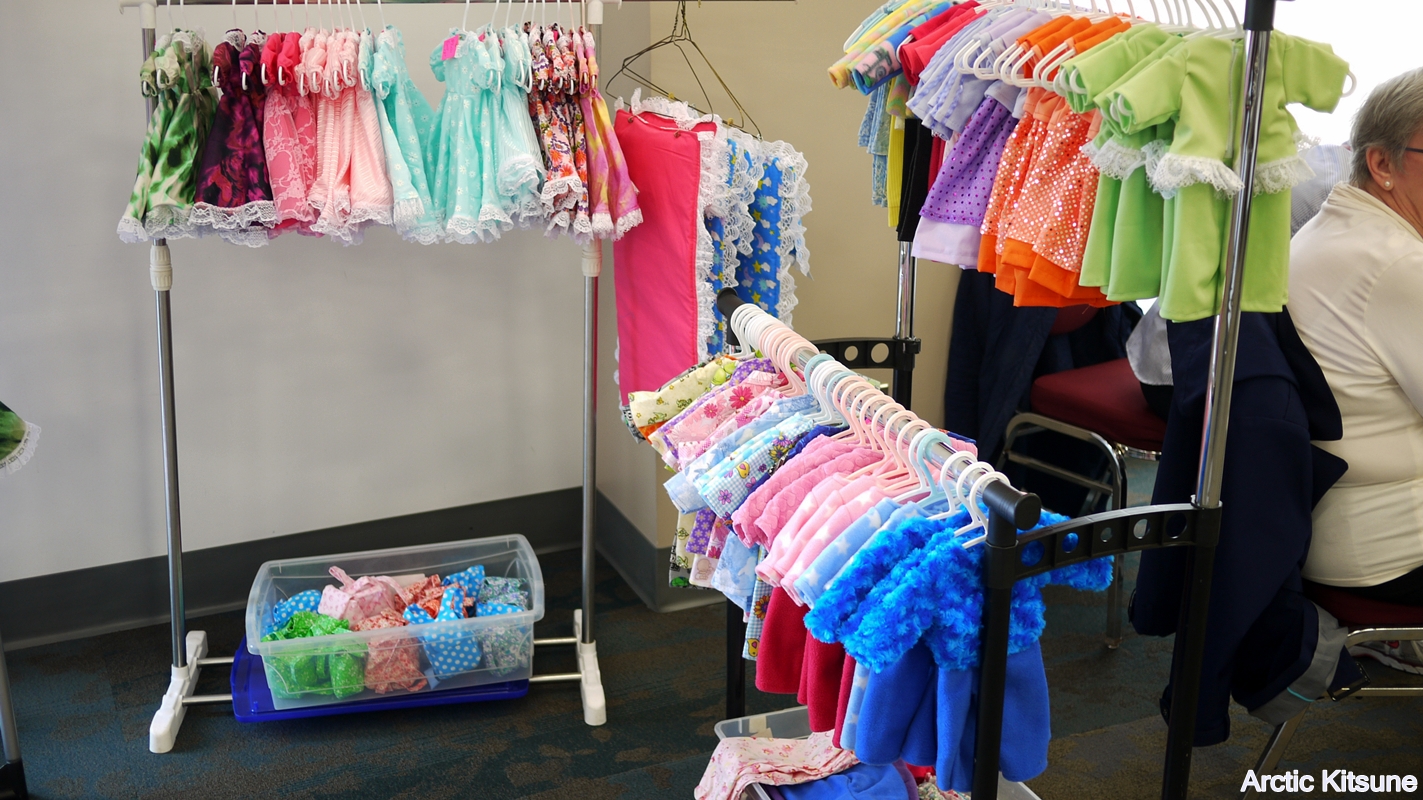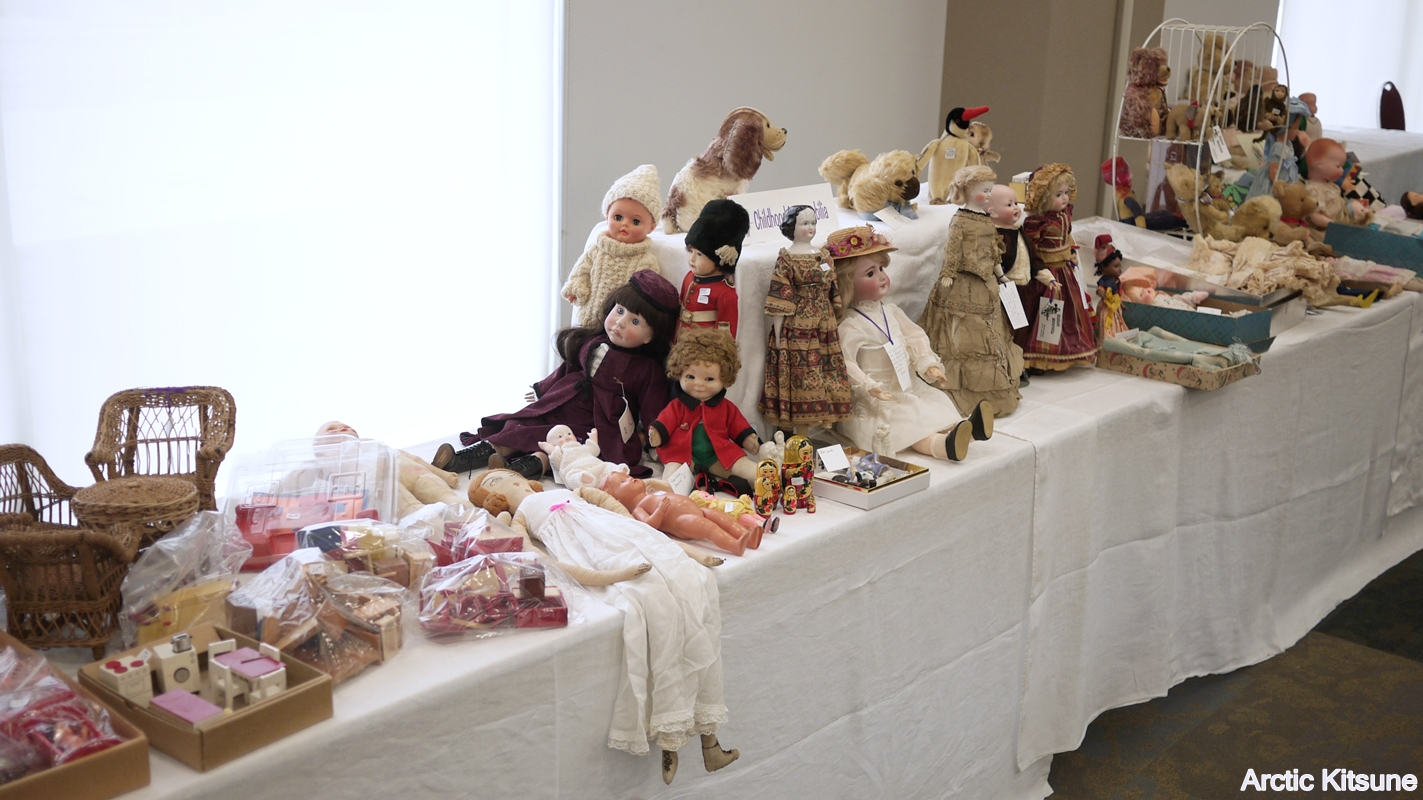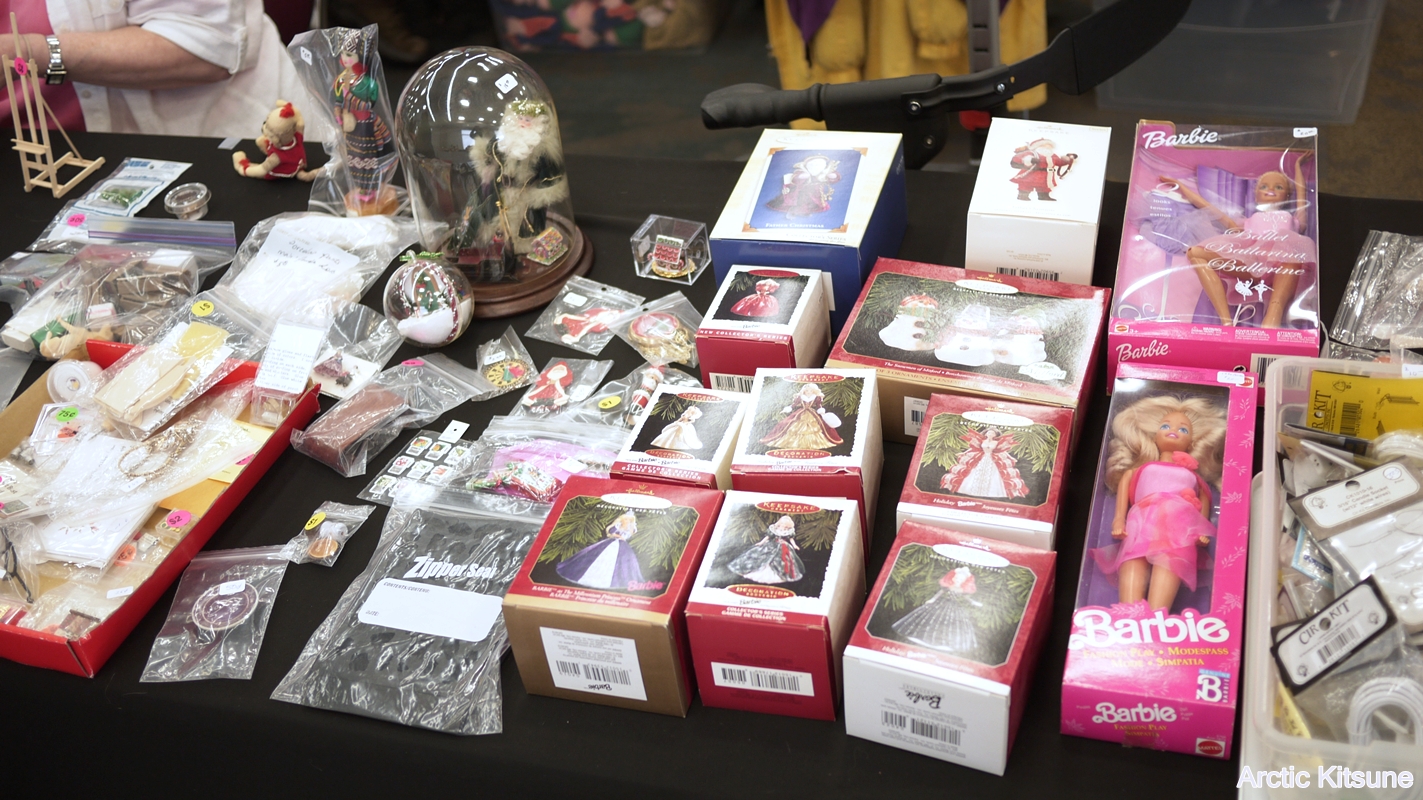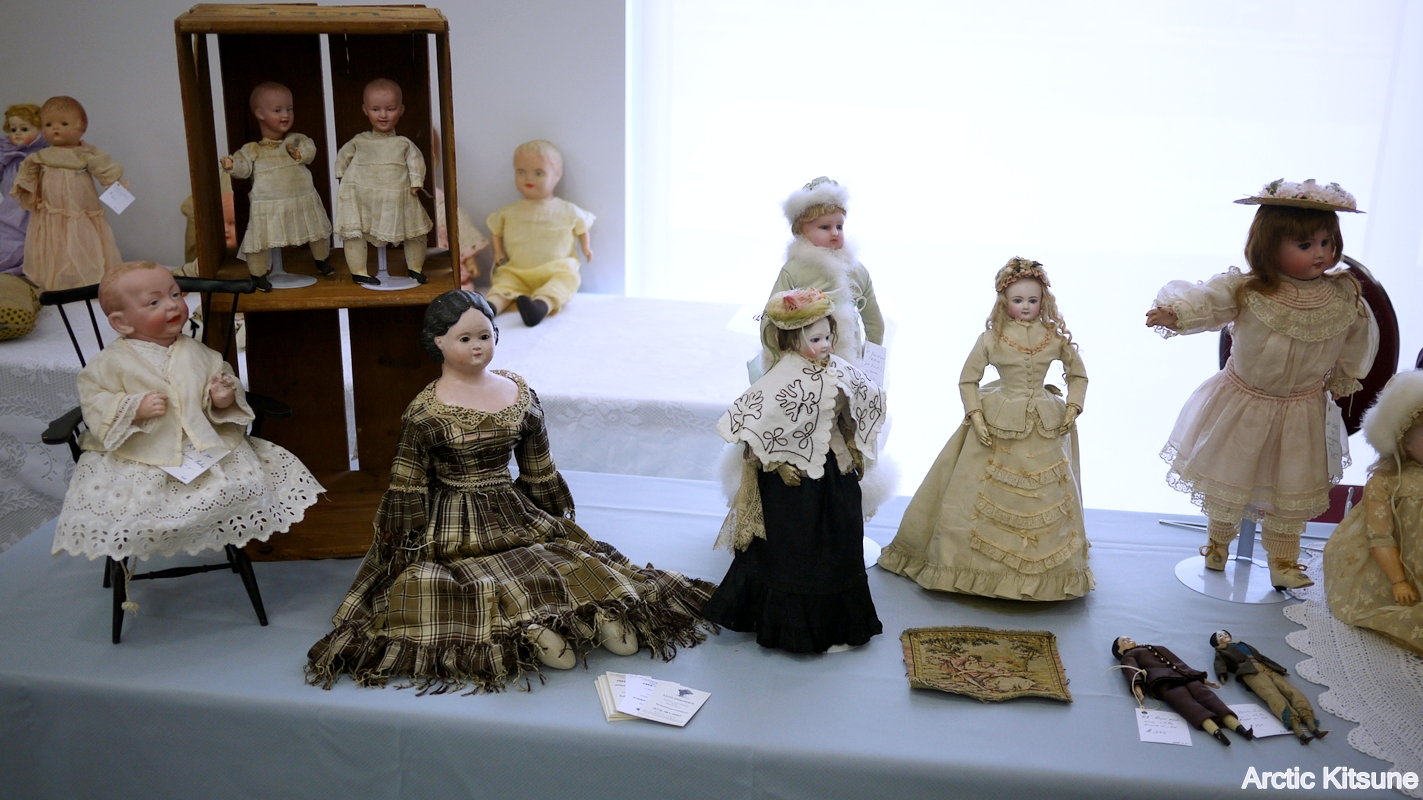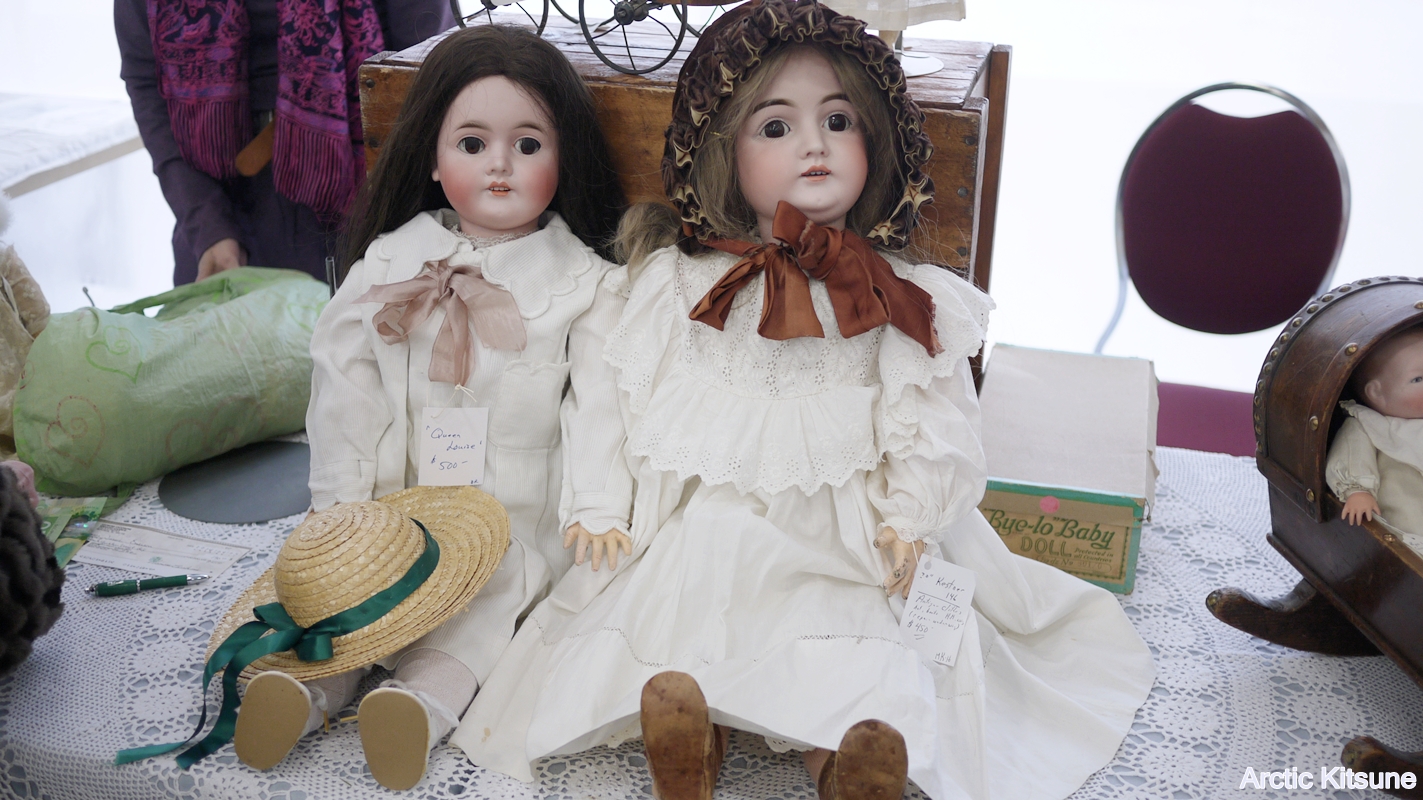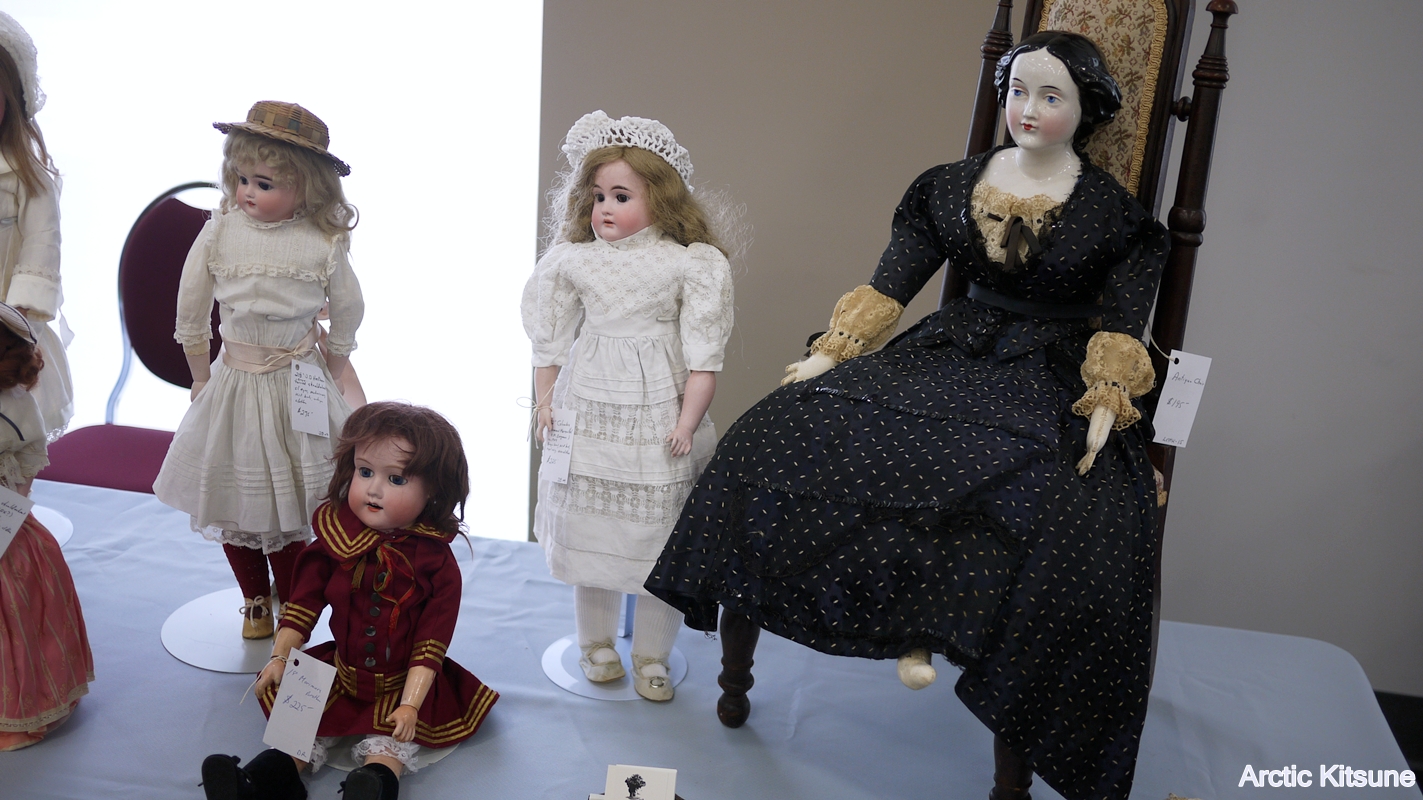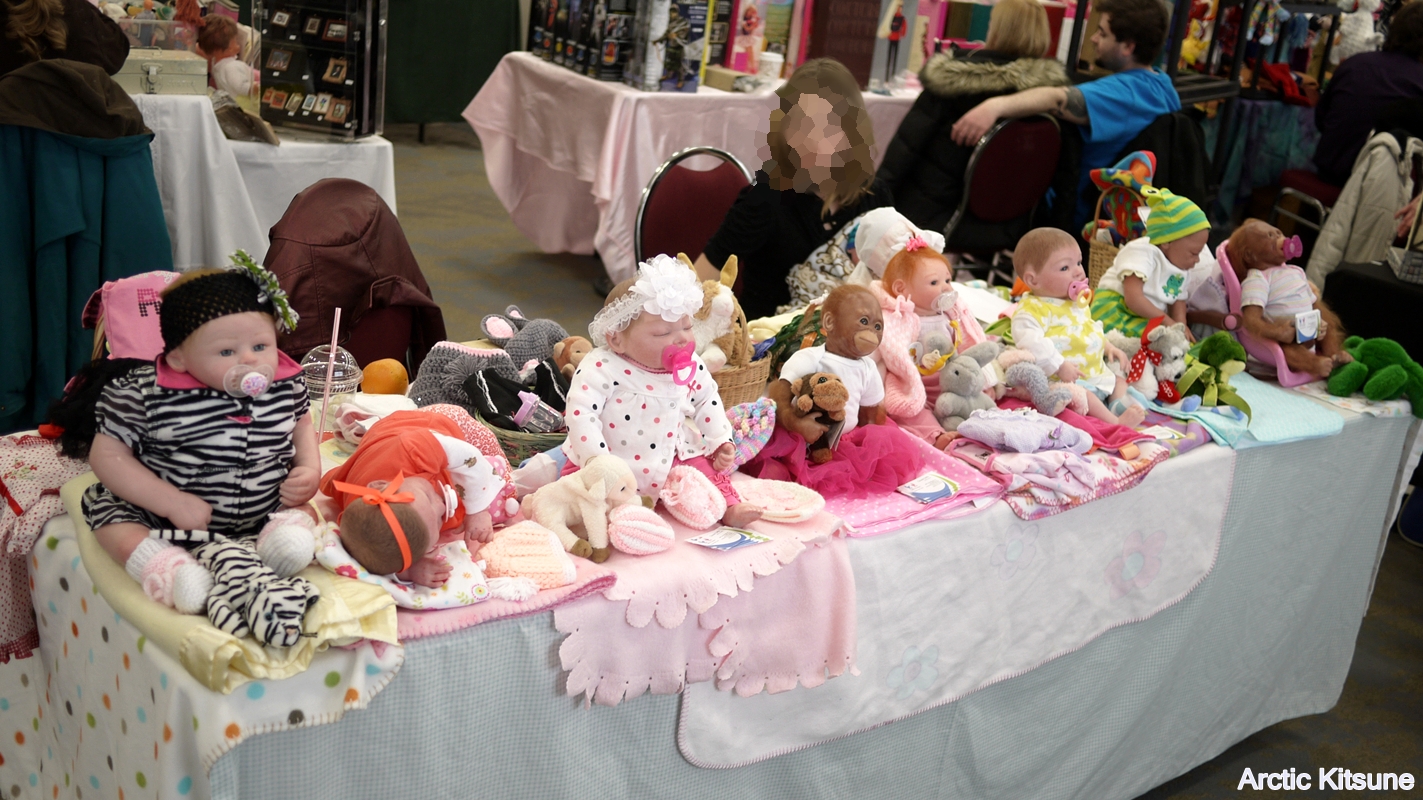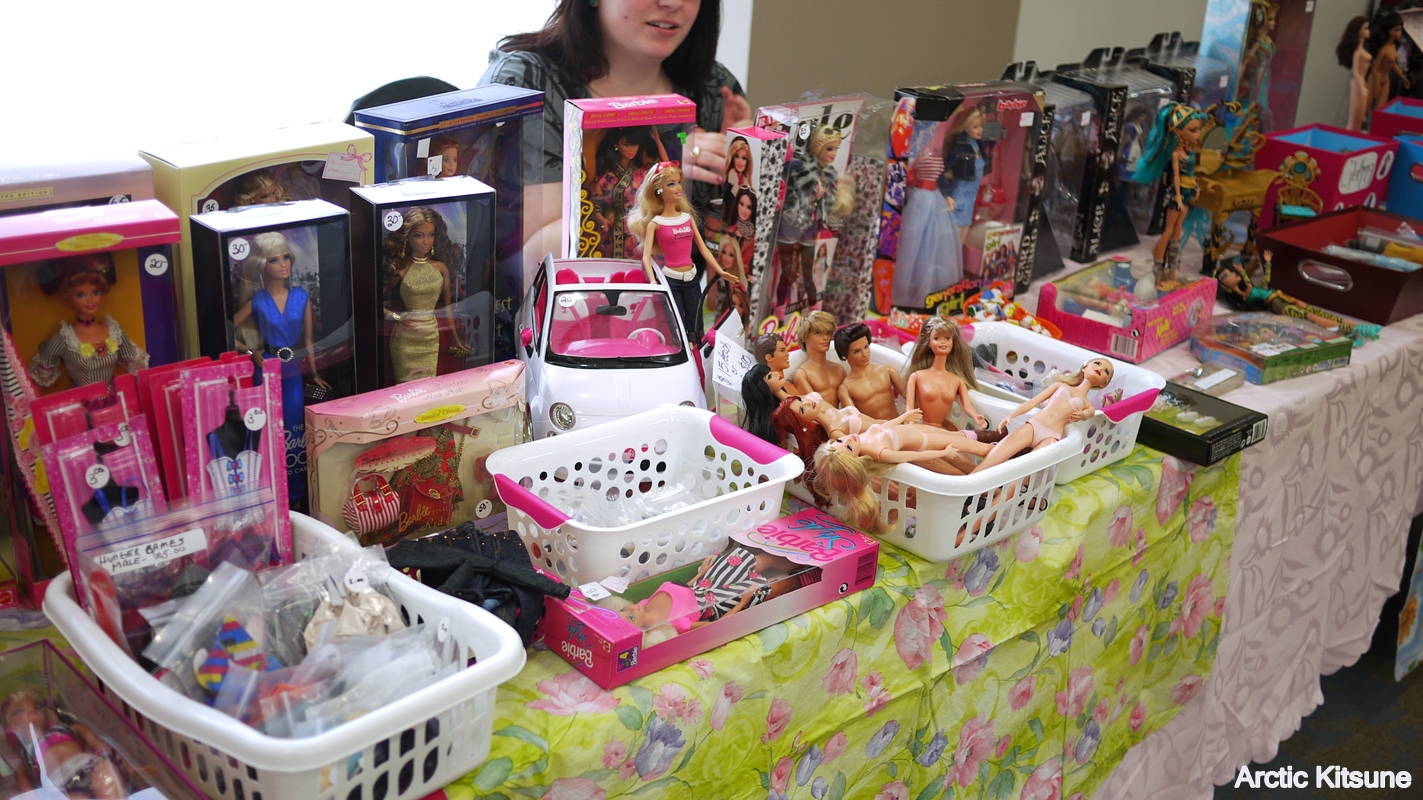 …And my table rounds now done! Each table had each to offer something unique. I obtained a handful of goodies for each of my various scaled girls. Now back to 'Dolls of Ottawa's' table with Dollfie Dreams and various other doll types.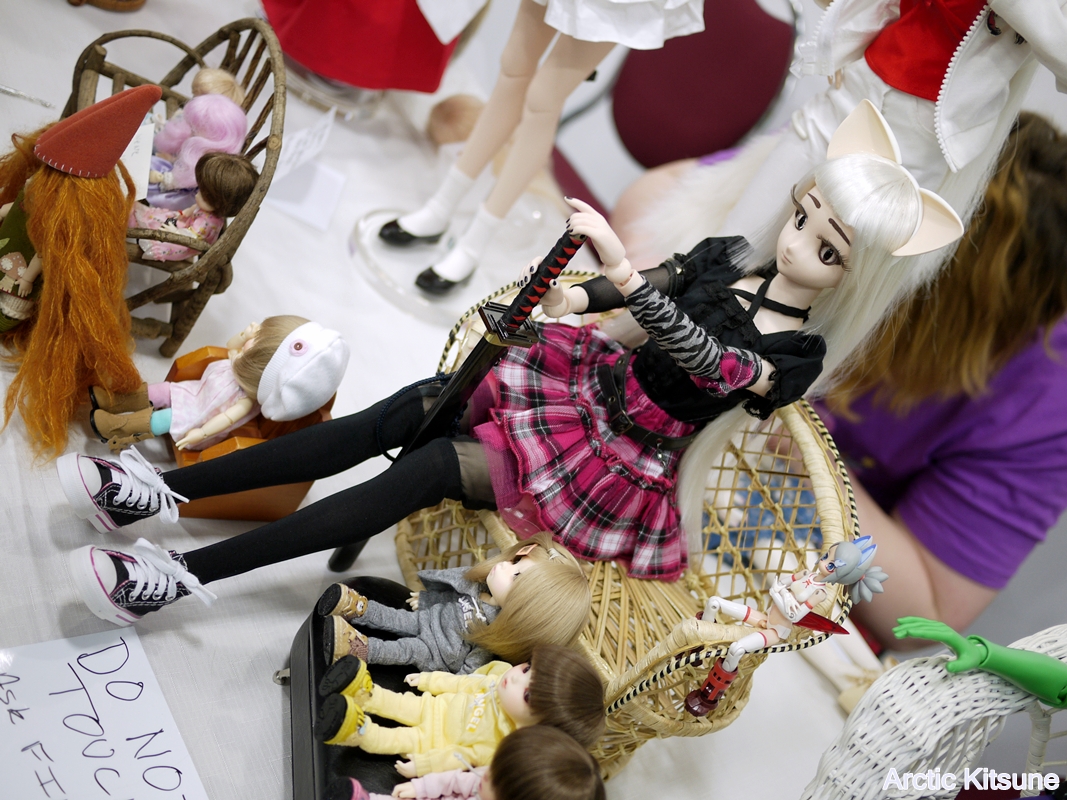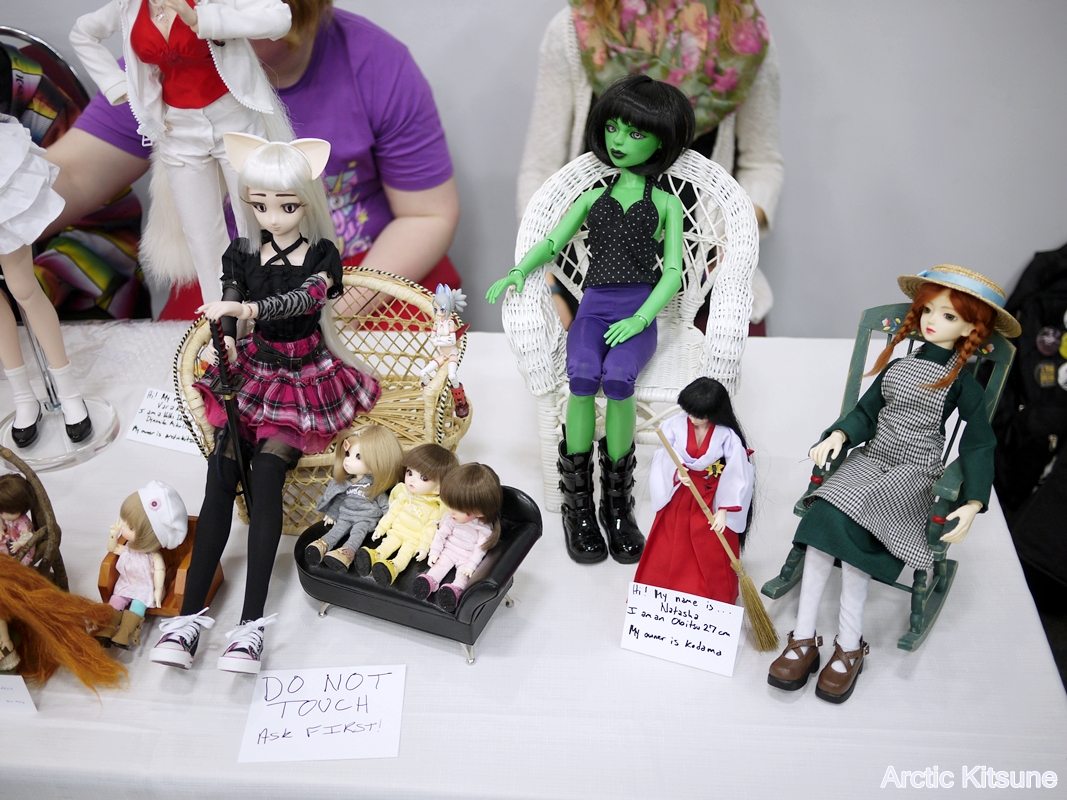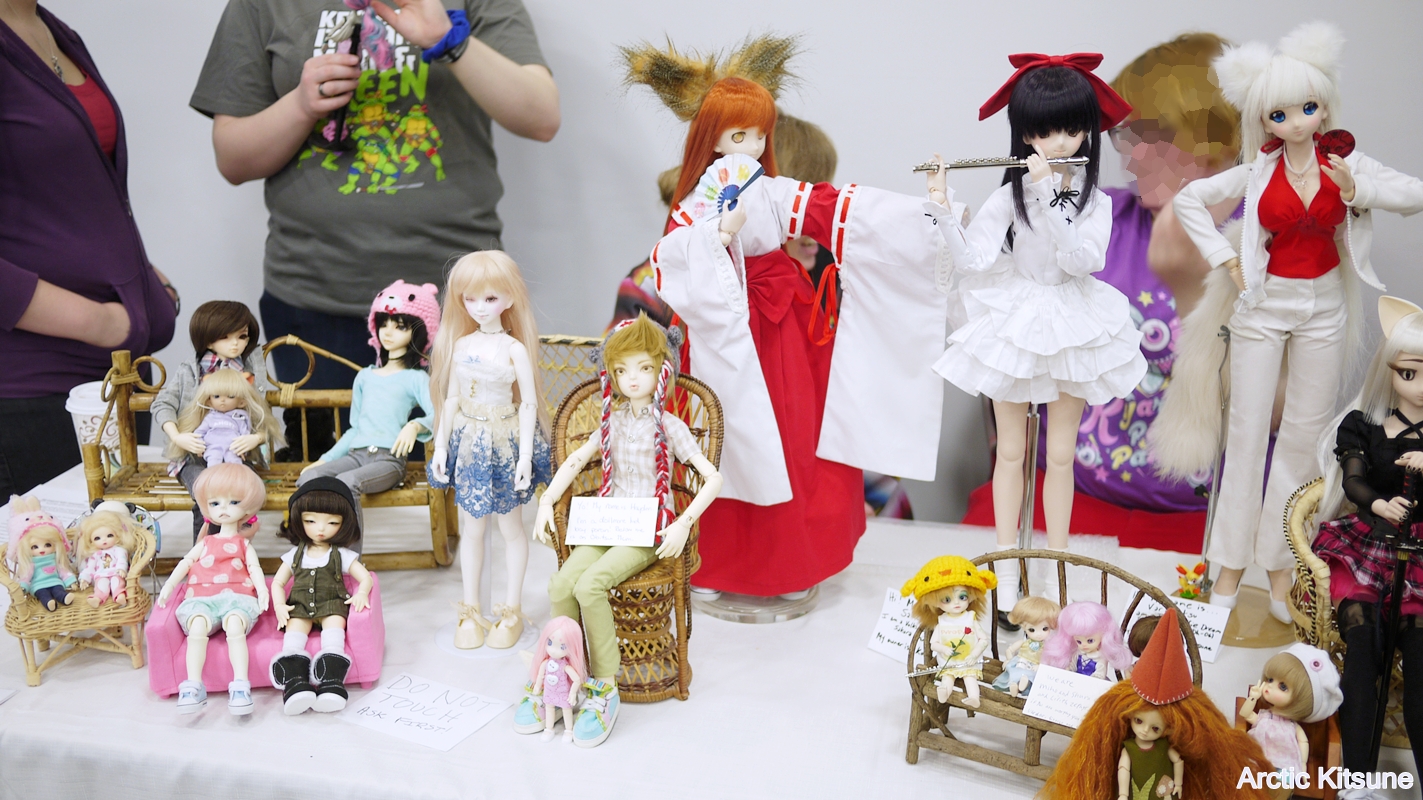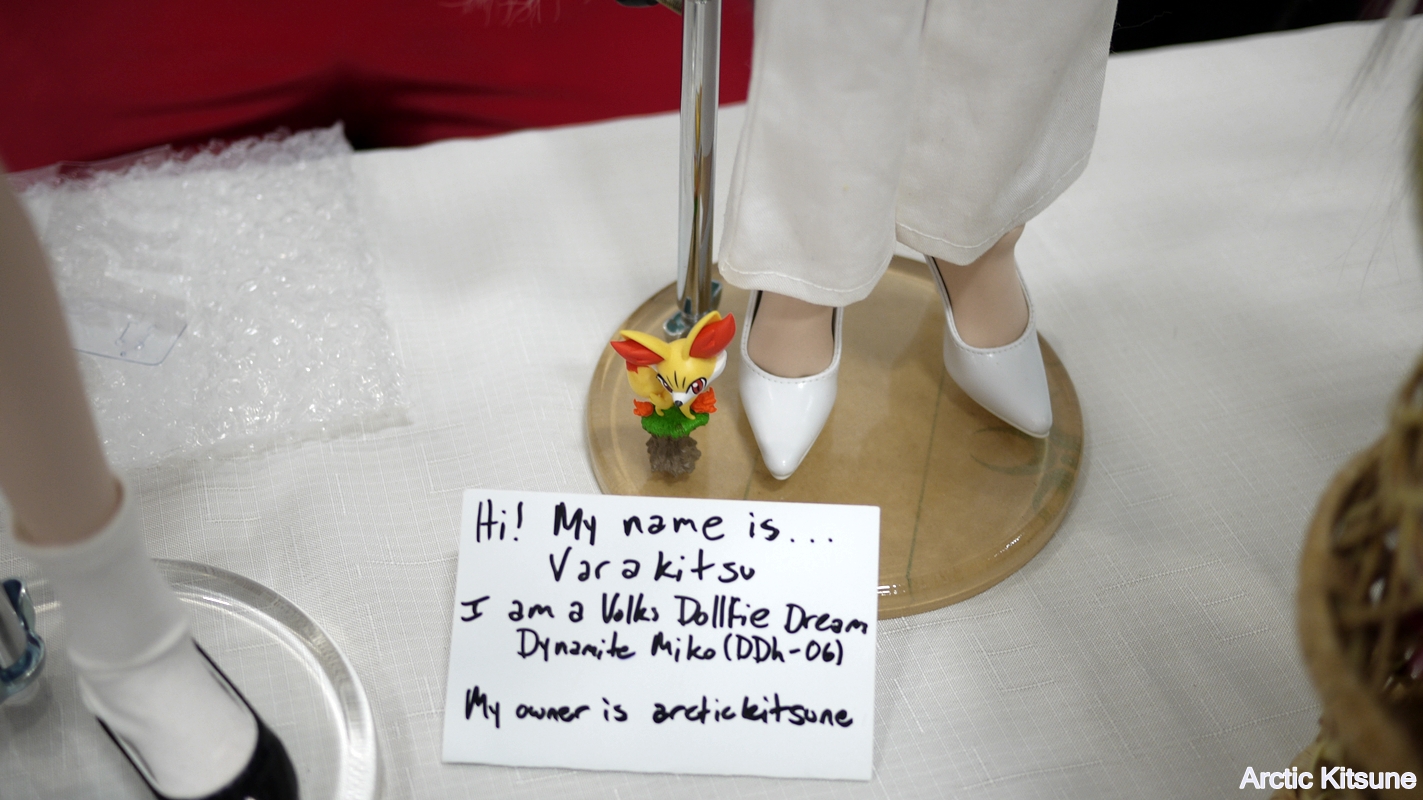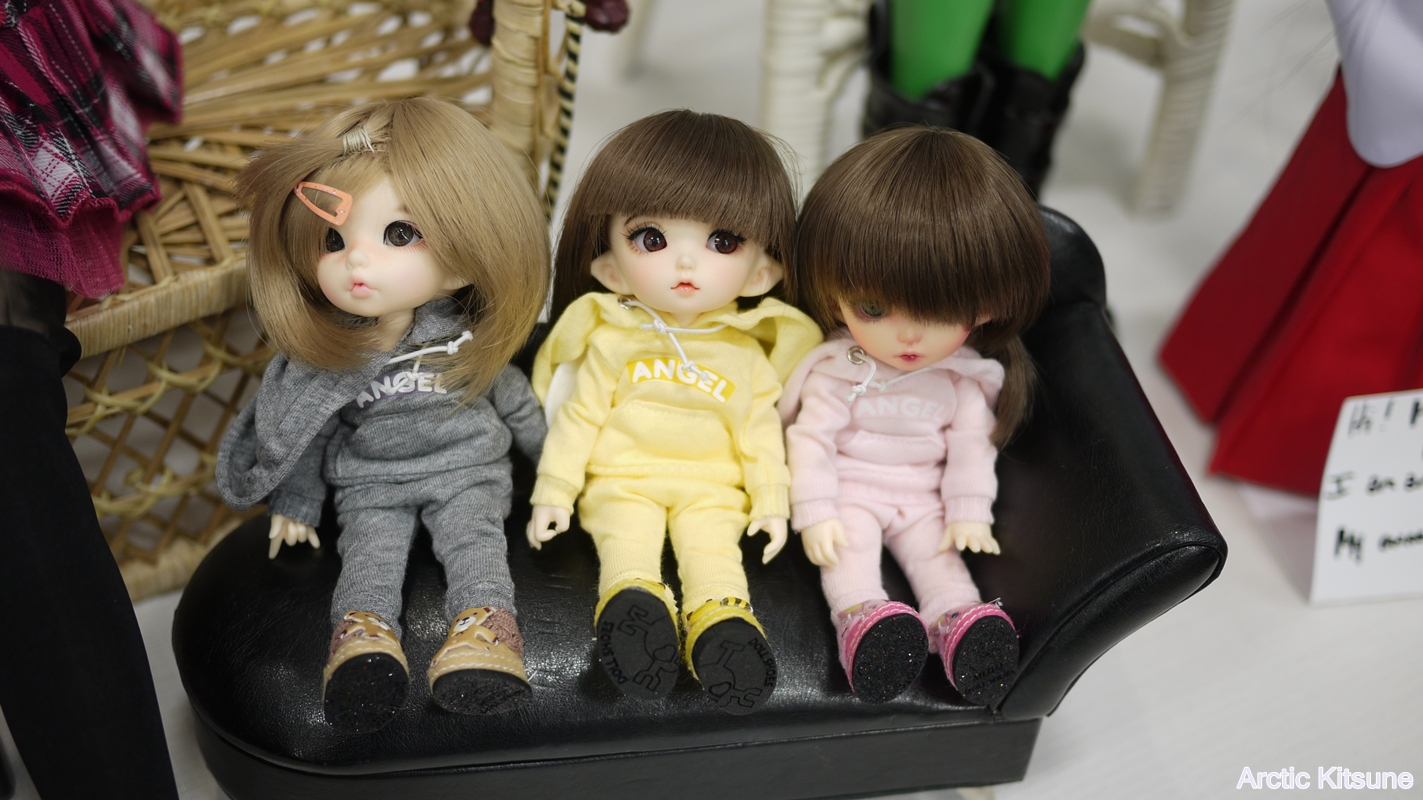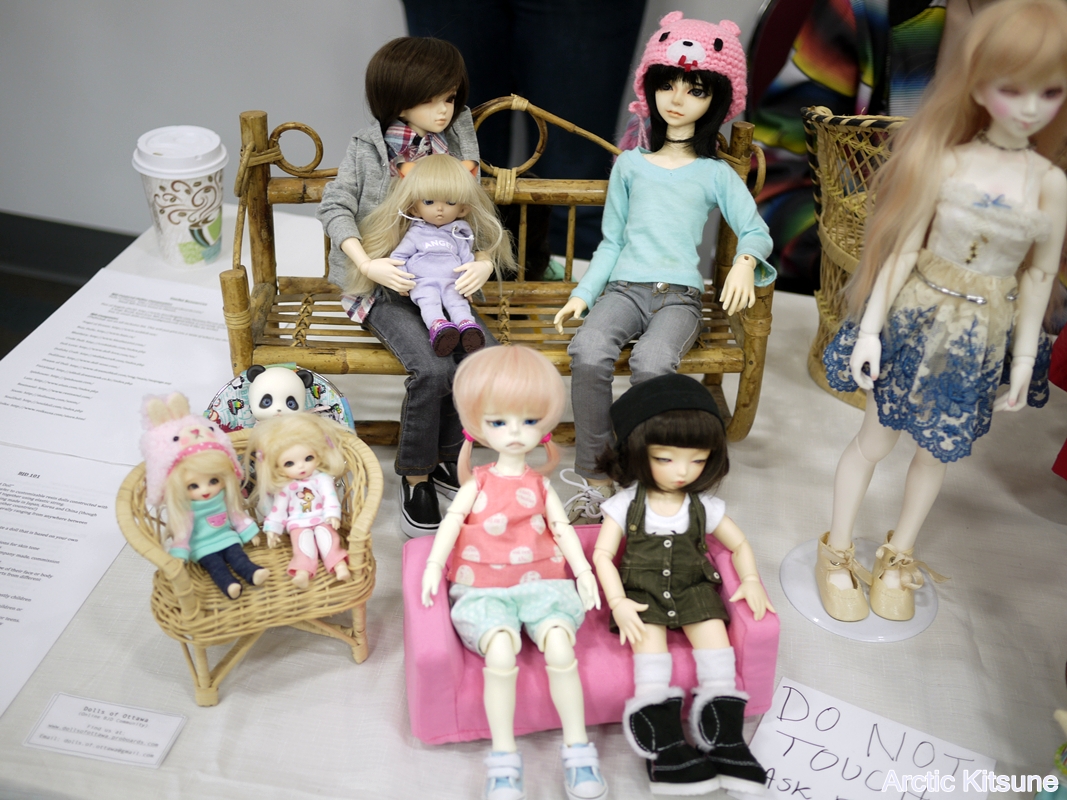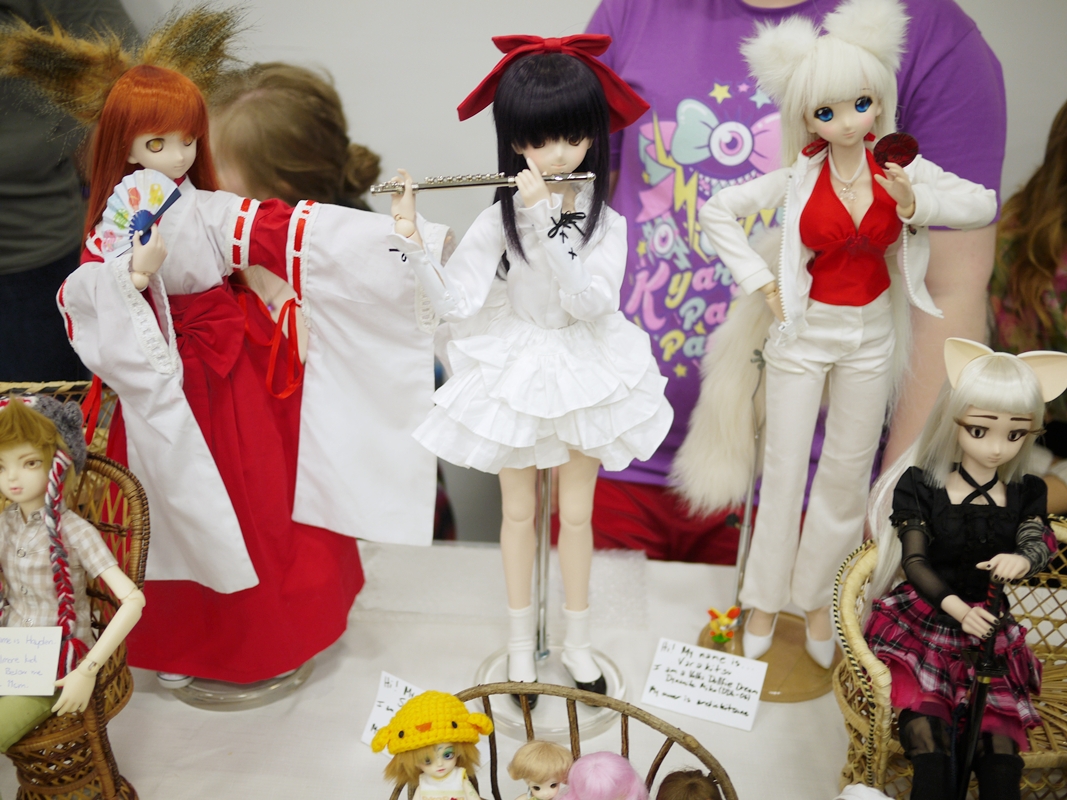 I found myself constantly eying my phone's Twitter mobile feed; 3DS for spot-pass and ACNL; And images I took on my camera. I won't deny I was a bit bored. I did enjoy the doll show, the happenings, the time I put into the games, and checking on the planes and snow for anything new. It was still however quite enjoyable.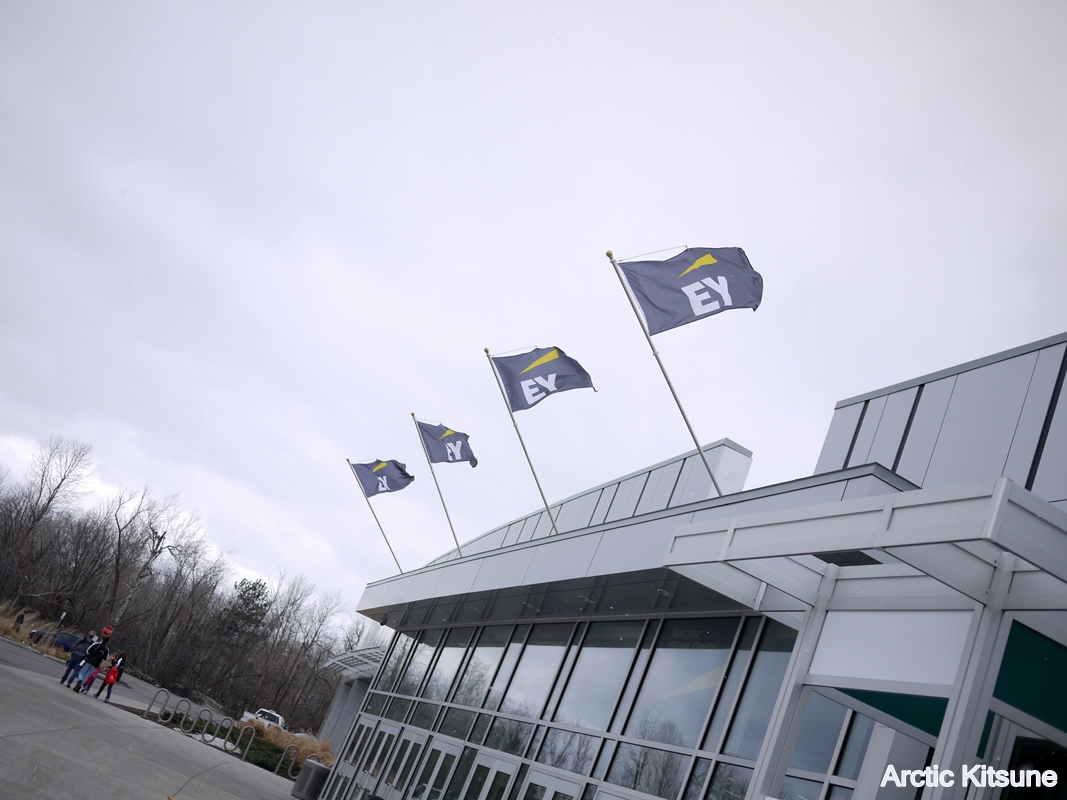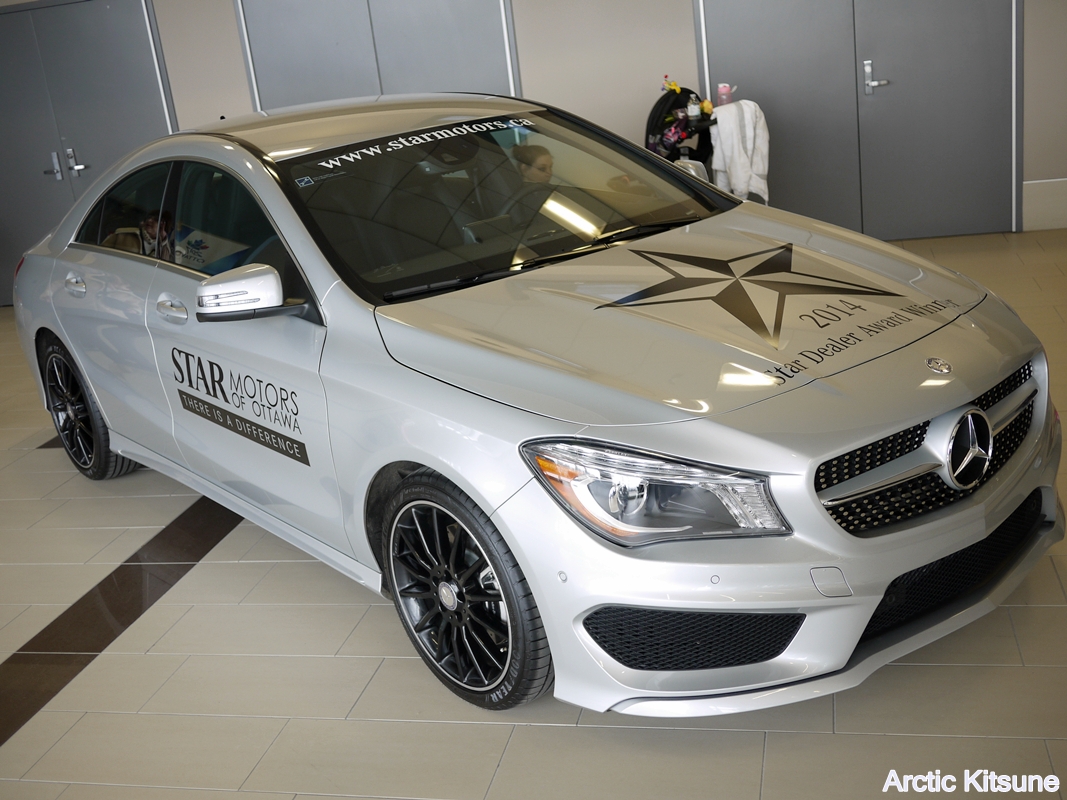 I came back to find Kita being outfitted with a new school girl outfit. She and the outfit both look lovely with both complimenting each other. I'm however staying away from anything school girl related and anything 'Japanese'. I may obtain at least one Kimono or yukata from Cool Cat or Nightfallwalker whenever either decide to catch my interest.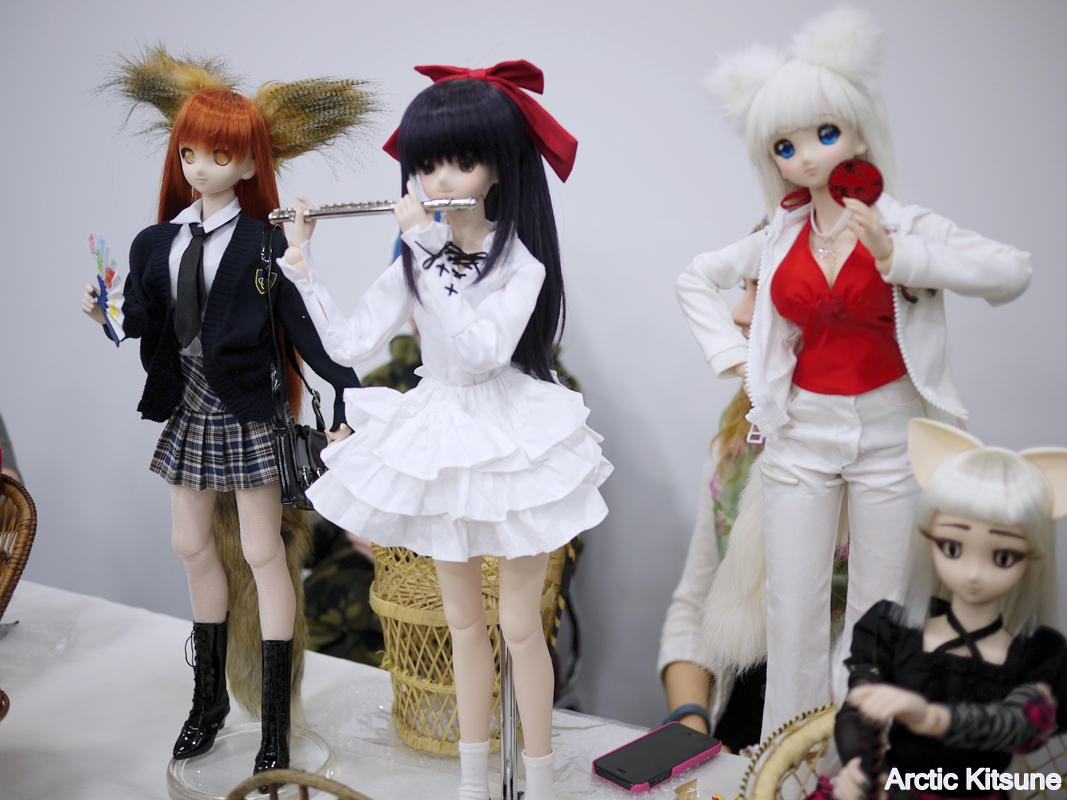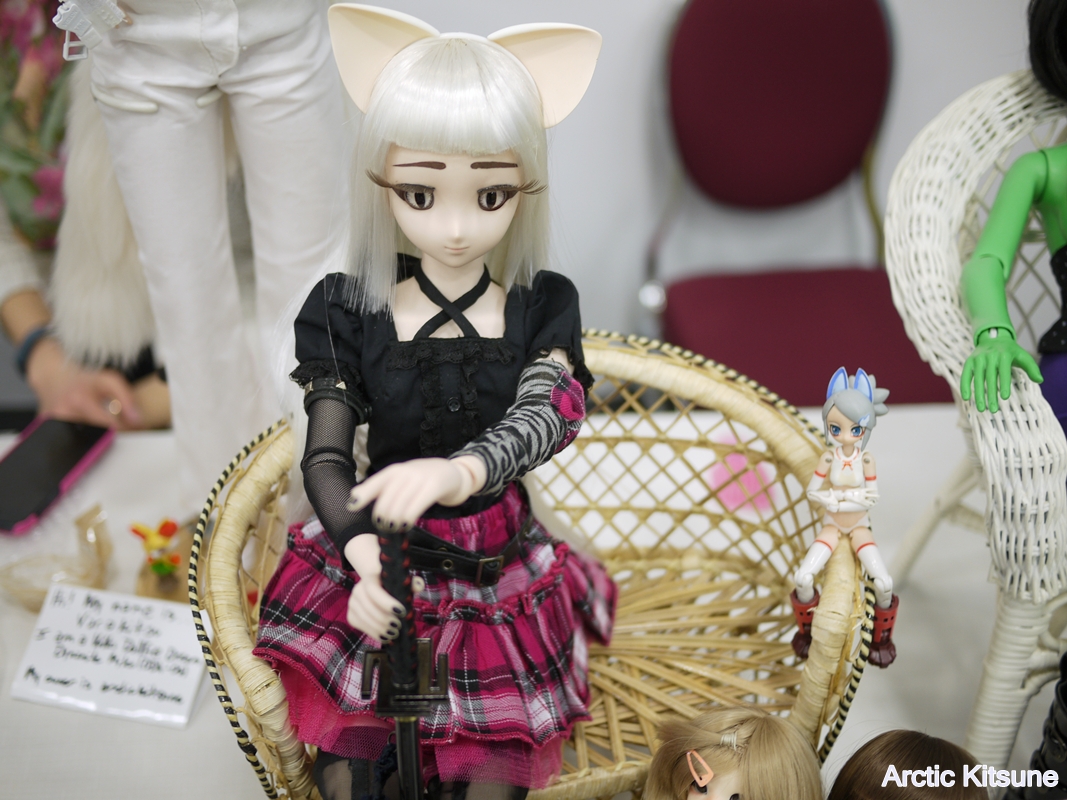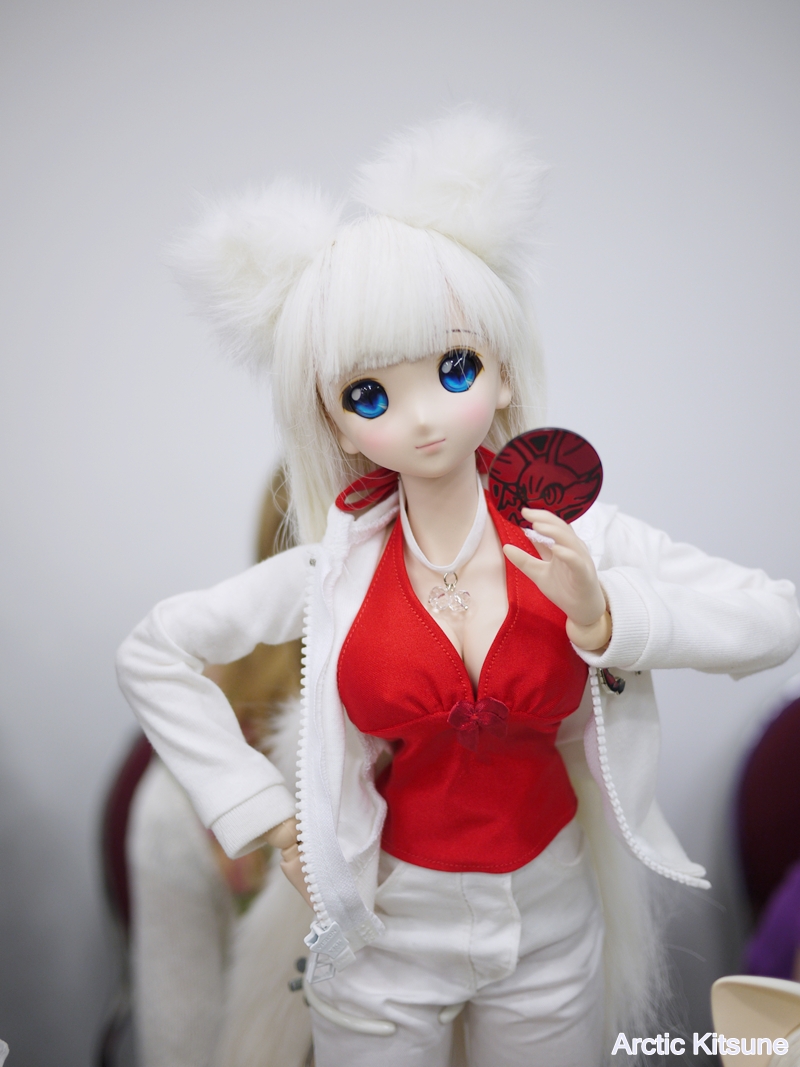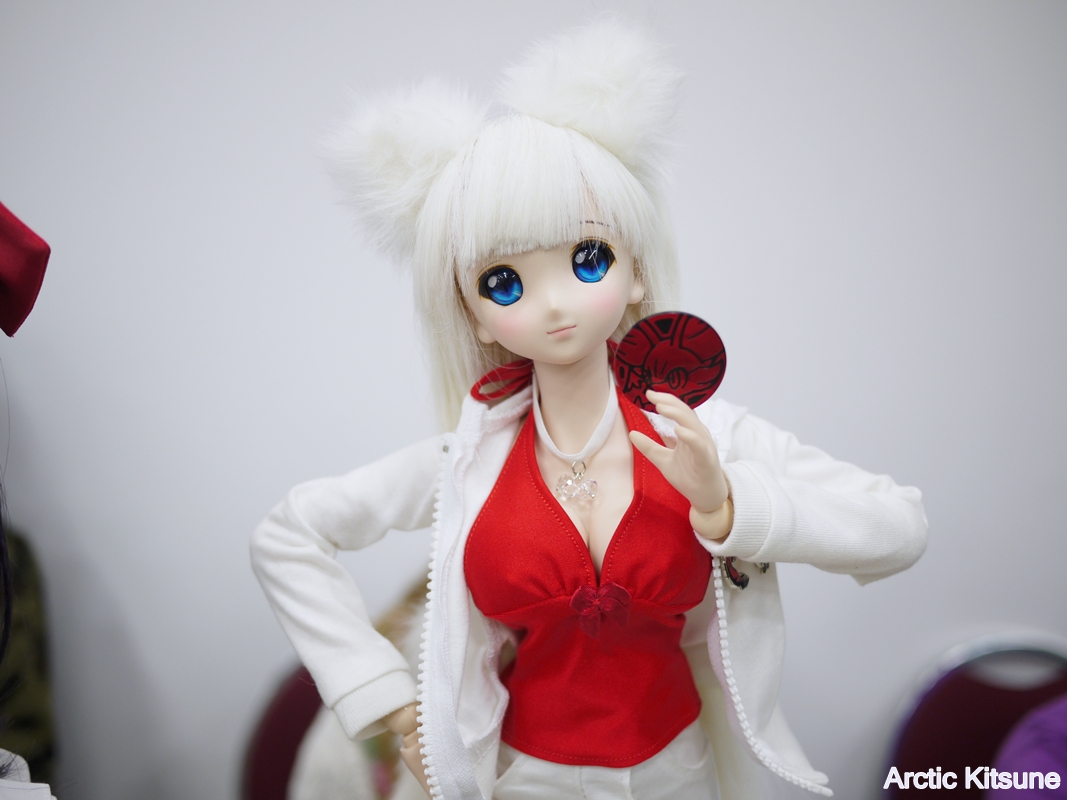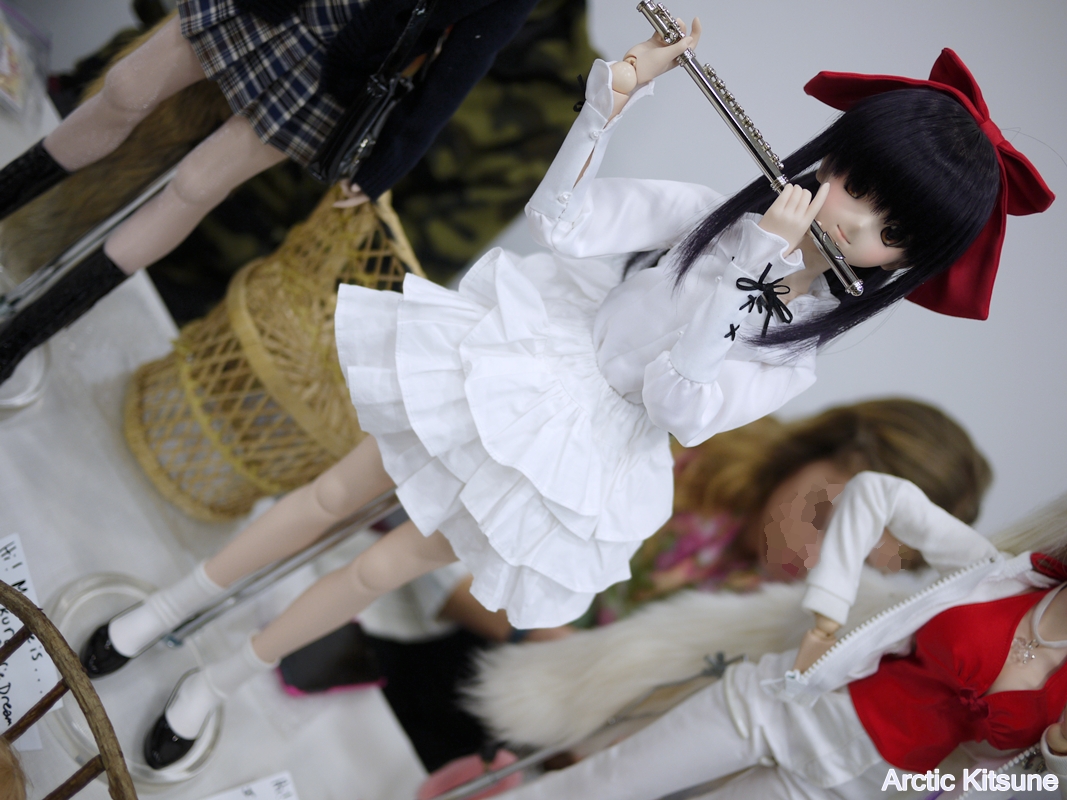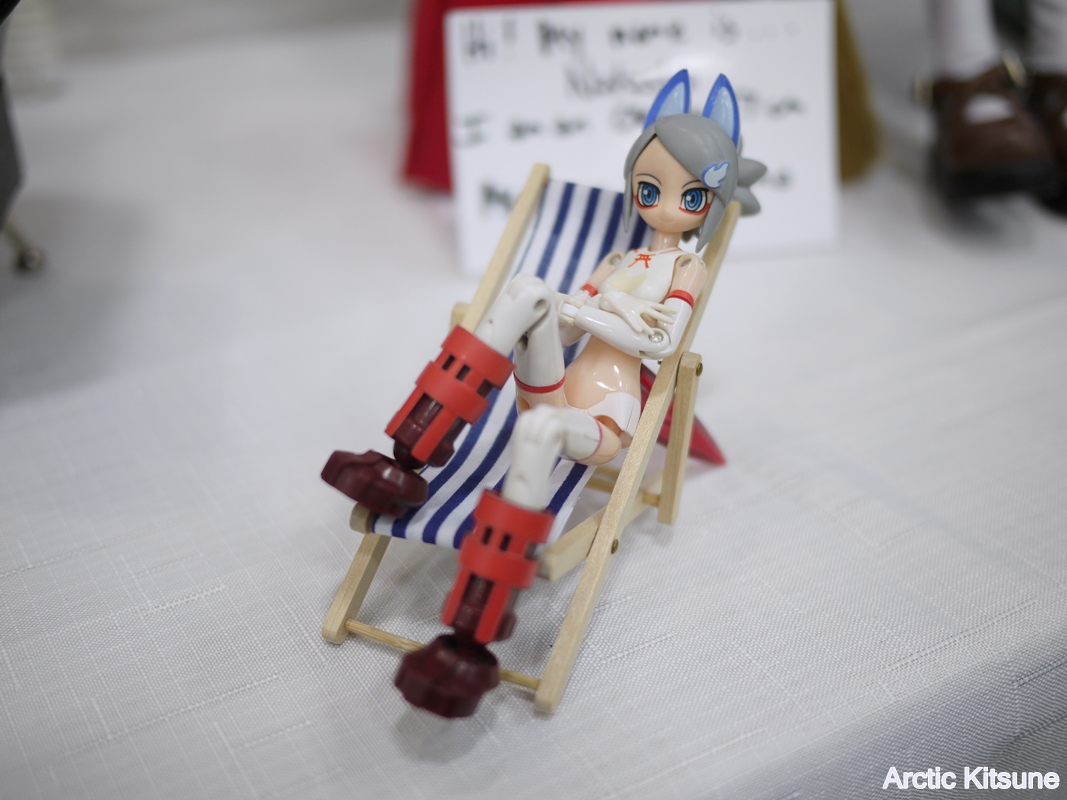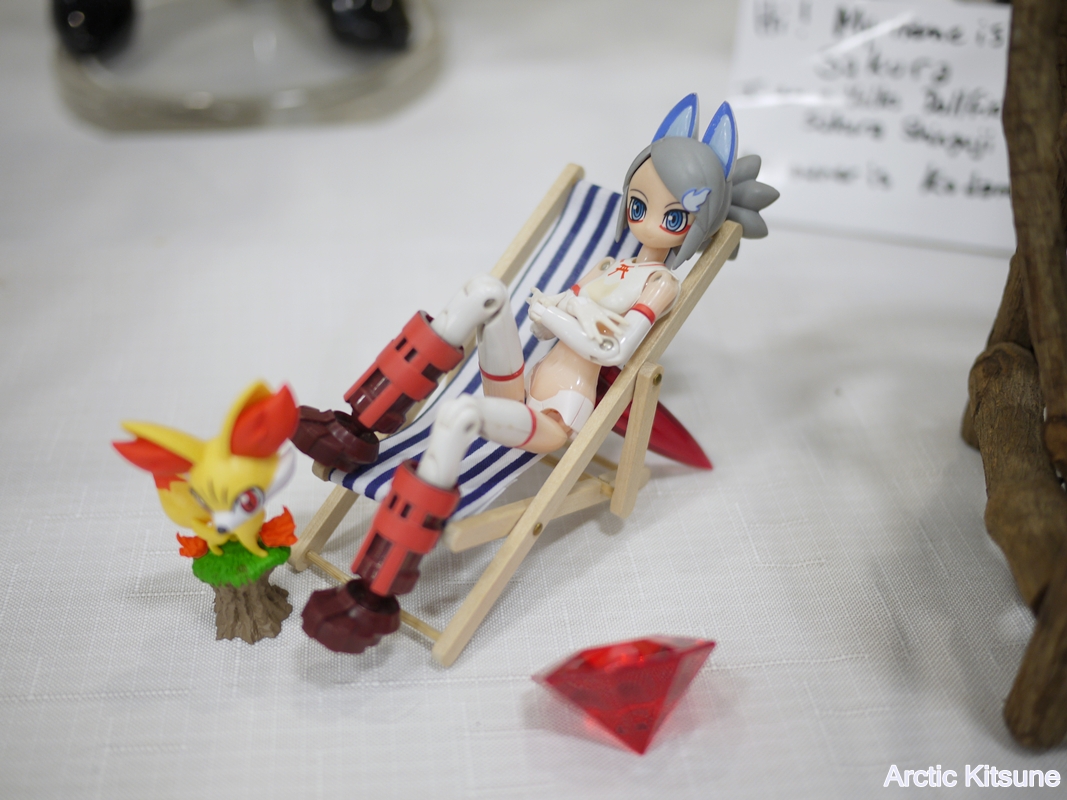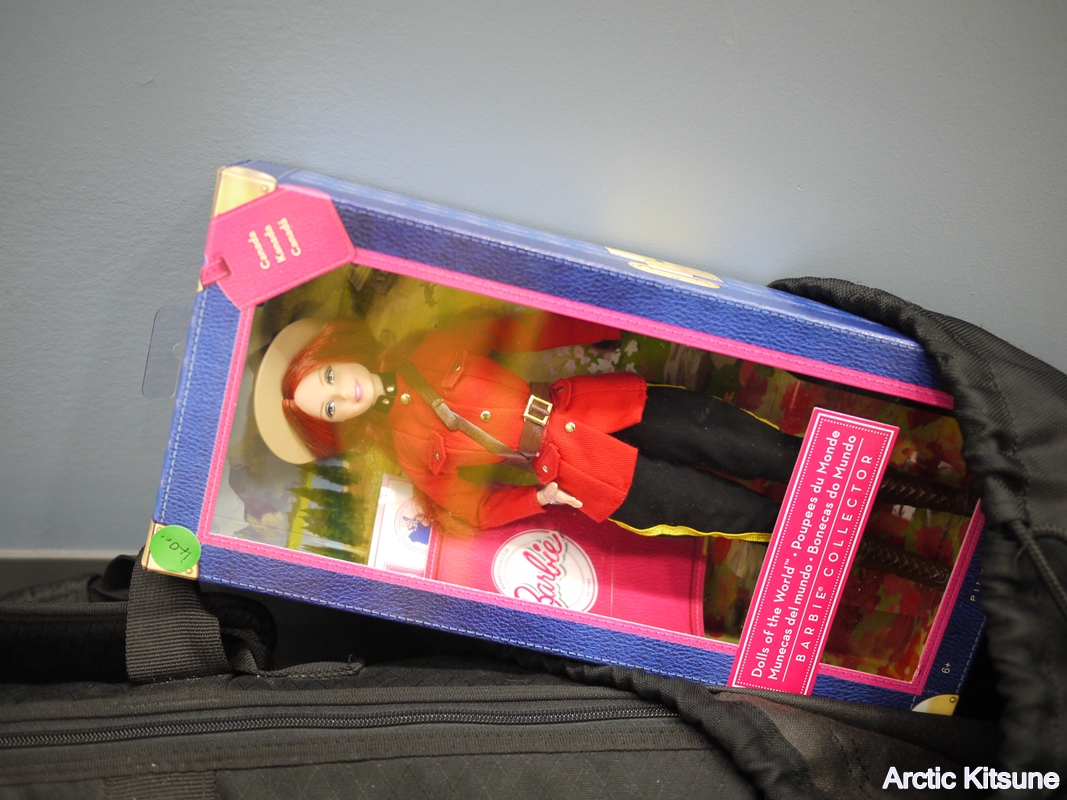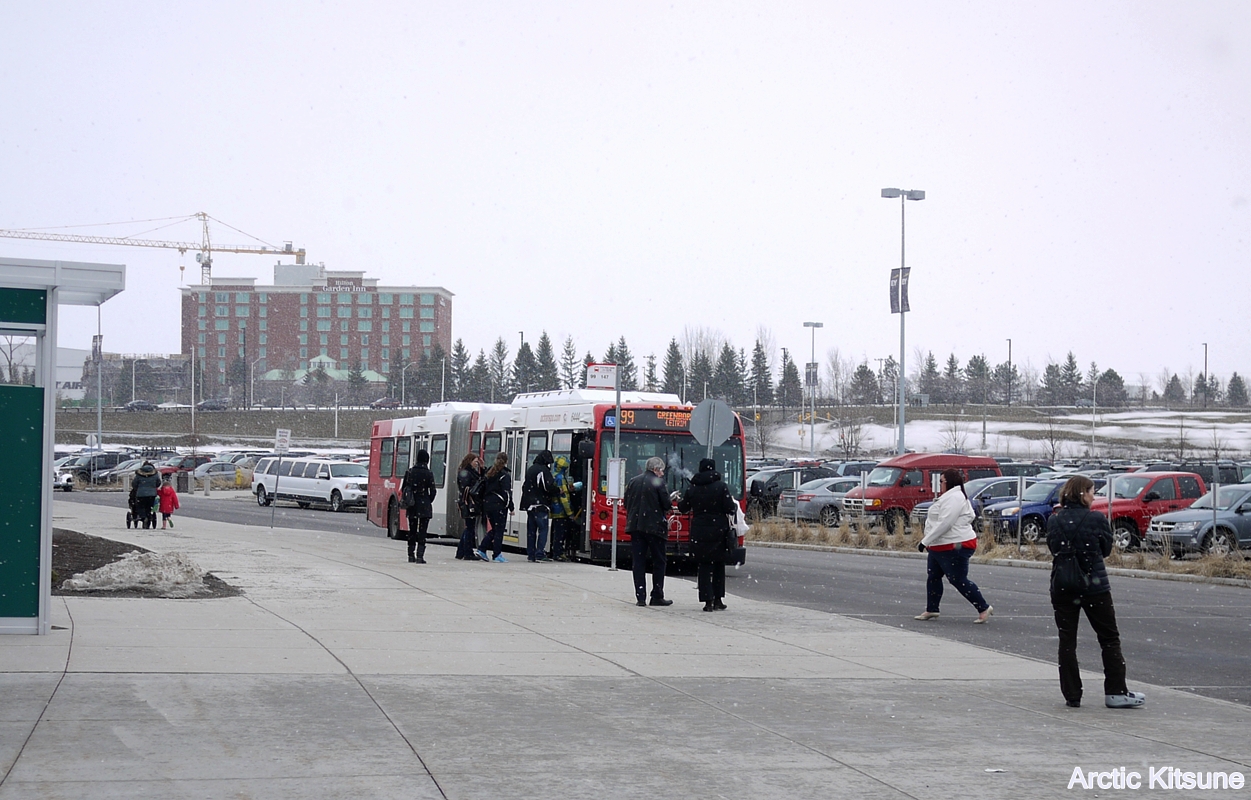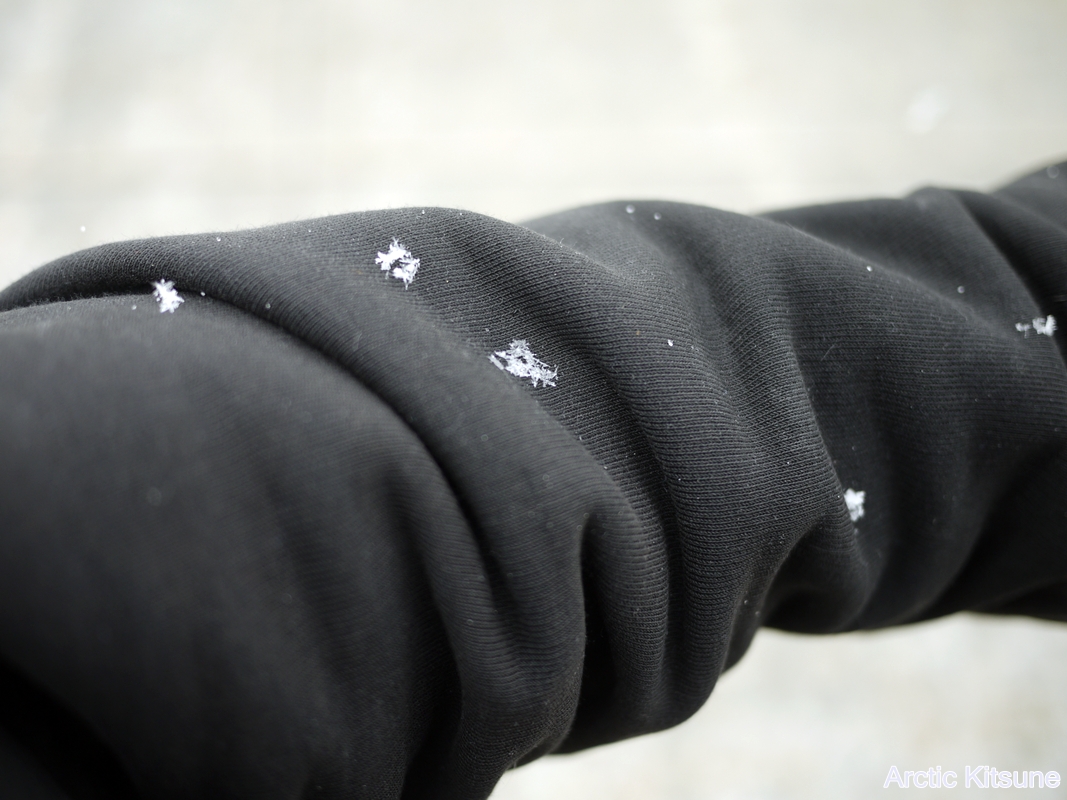 And before someone points out that dolls can't control weather in any way may want to note the following:
1) It's a play-on 'roleplay' of Varakitsu being an Arctic Fox.
2) It is said that if you wish something to be at an object it shall grant it for you. Varakitsu being that object. Think of Japanese mythology of every object and item having a god & personality of some sort. Think religious praying statues, just on a more playful and more free note. All for fun!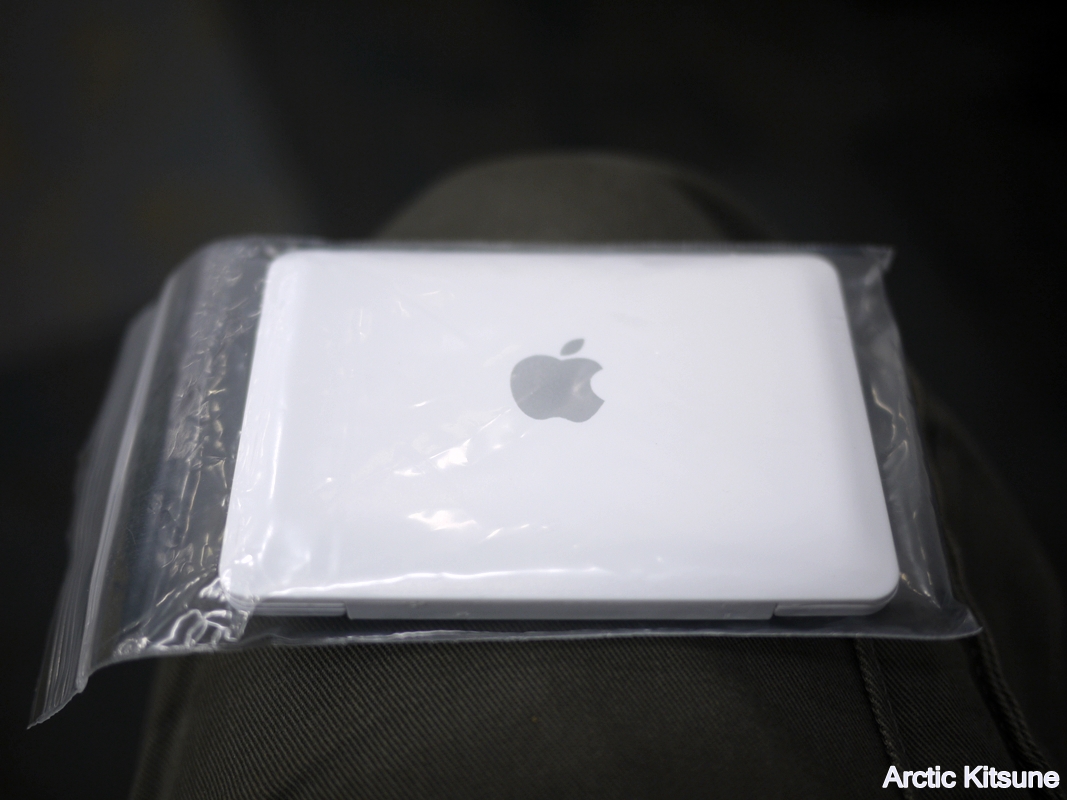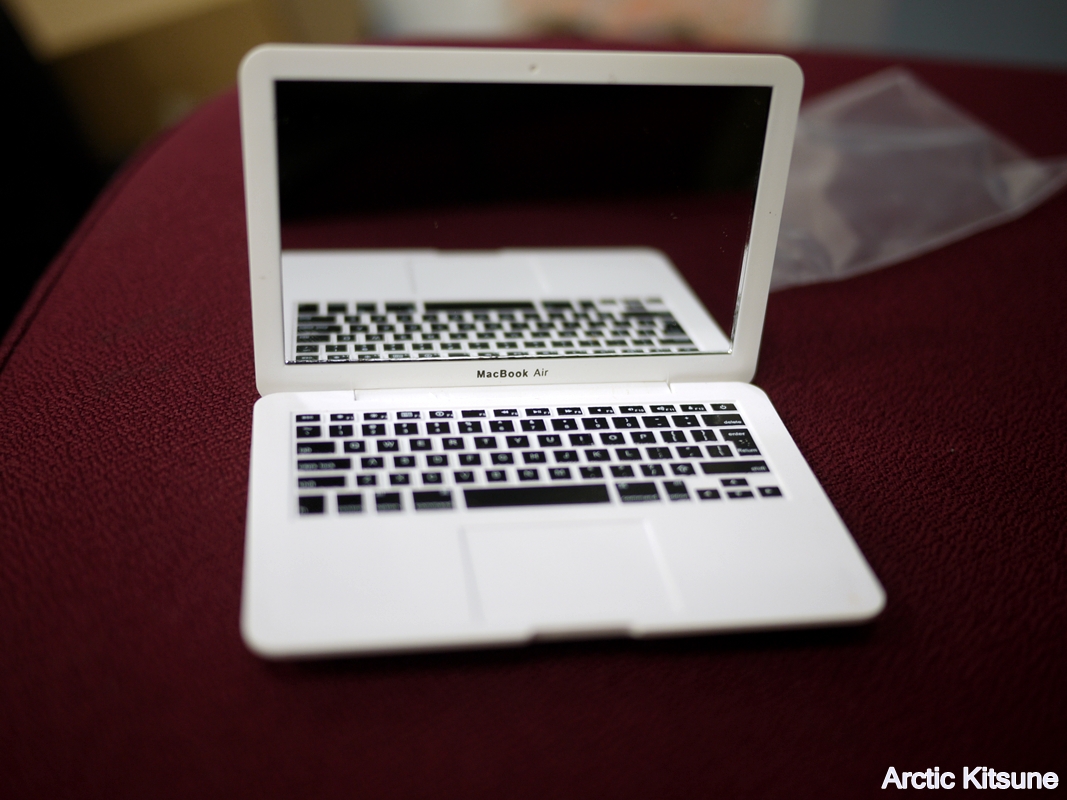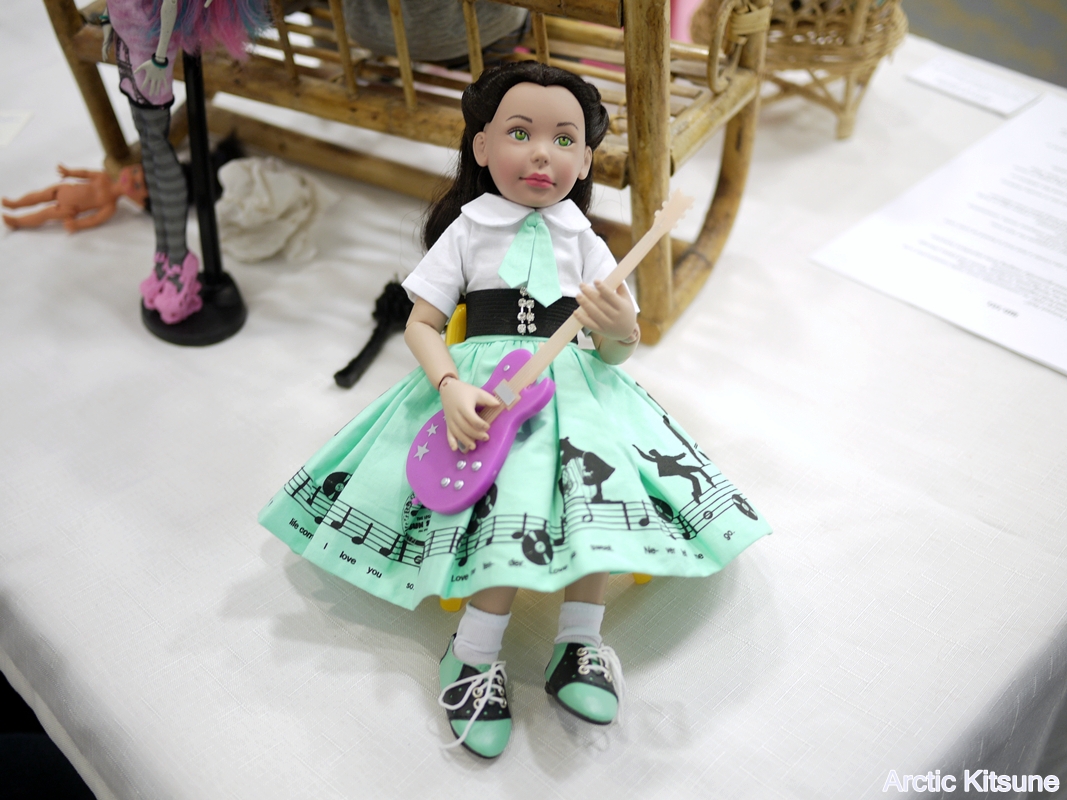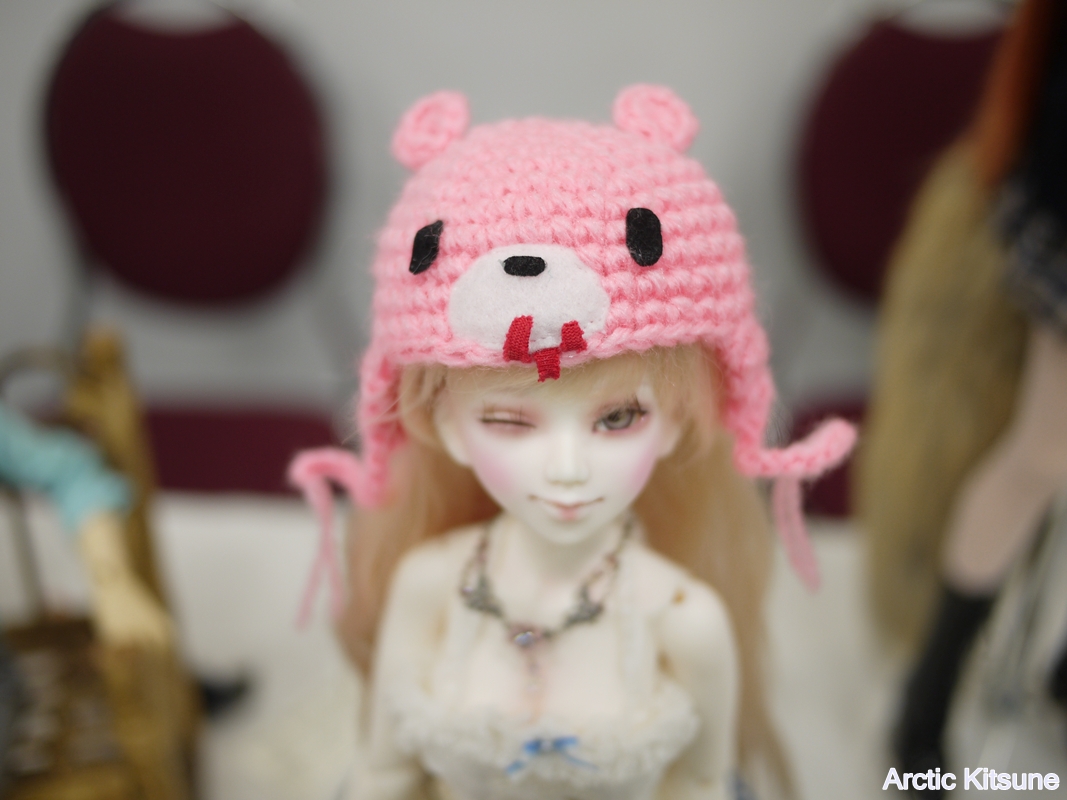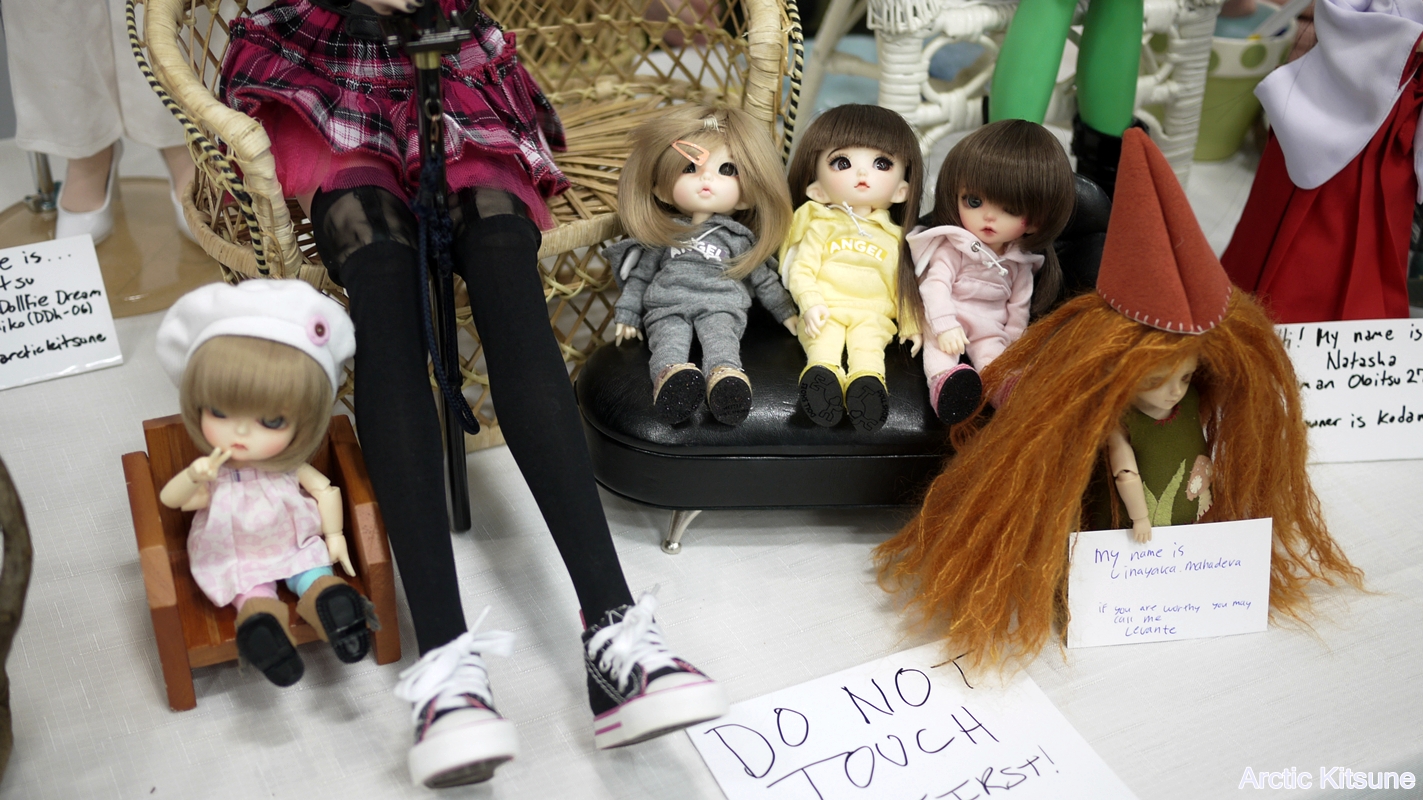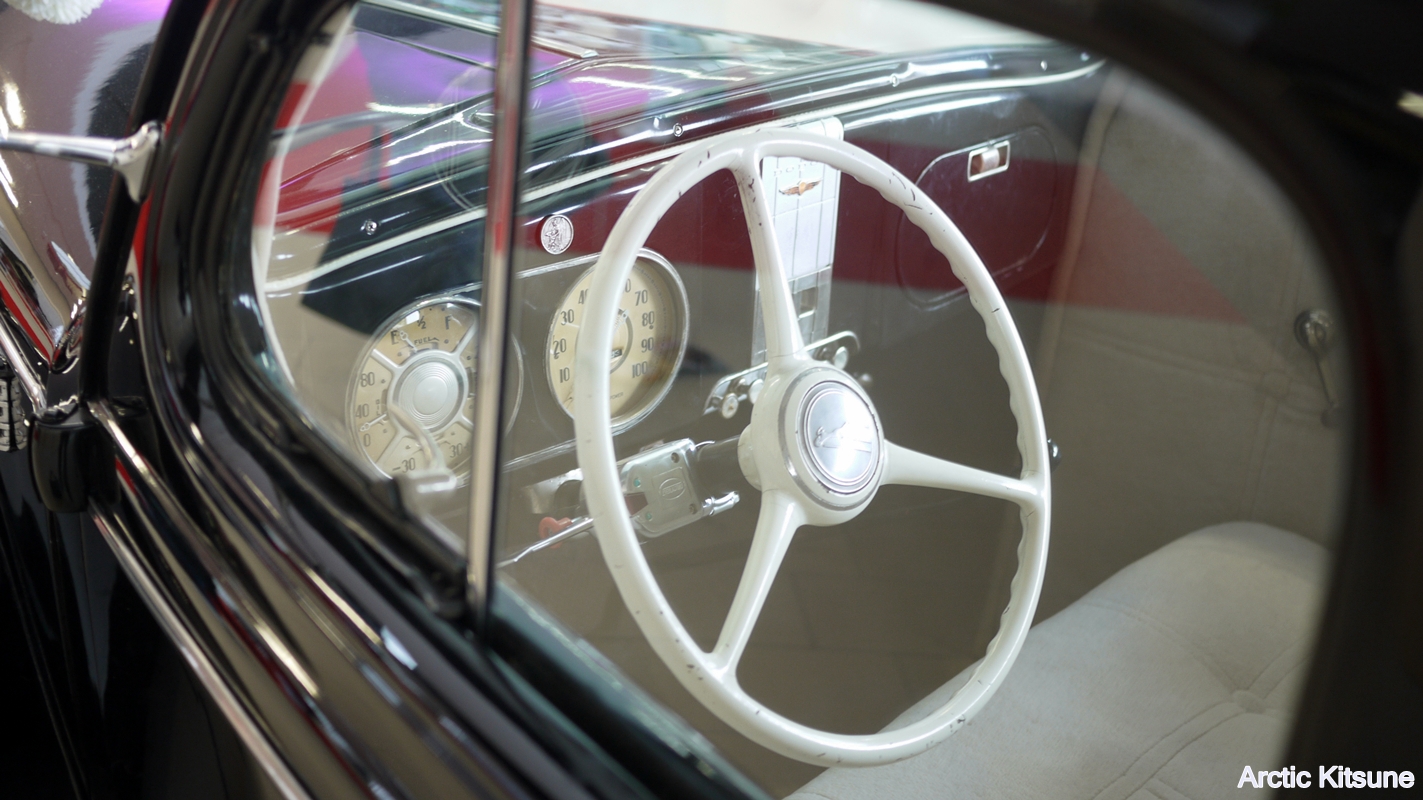 I've become saddened once I noticed Varakitsu's tail constantly shifting into odd attachments. Her tail was gradually giving way to the wire with the glue becoming undone. I panicked briefly before realizing how to mend the problem back at home. Some camera tricky to be had until then. I was quite amused by how those in the Dolls of Ottawa group kept petting her tail. Even I did at one point. I needed Varakitsu's softness to cheer me up during the slow point in one hour.
Upon leaving the wind picked up greatly that it nearly blew off my hat. It was absolutely horrid that I had to hold onto my hat while making sure my carry bag didn't fly off somewhere. Even with that wind I went out of my way to take images of Varakitsu on some nearby rocks before heading towards the bus. I had to.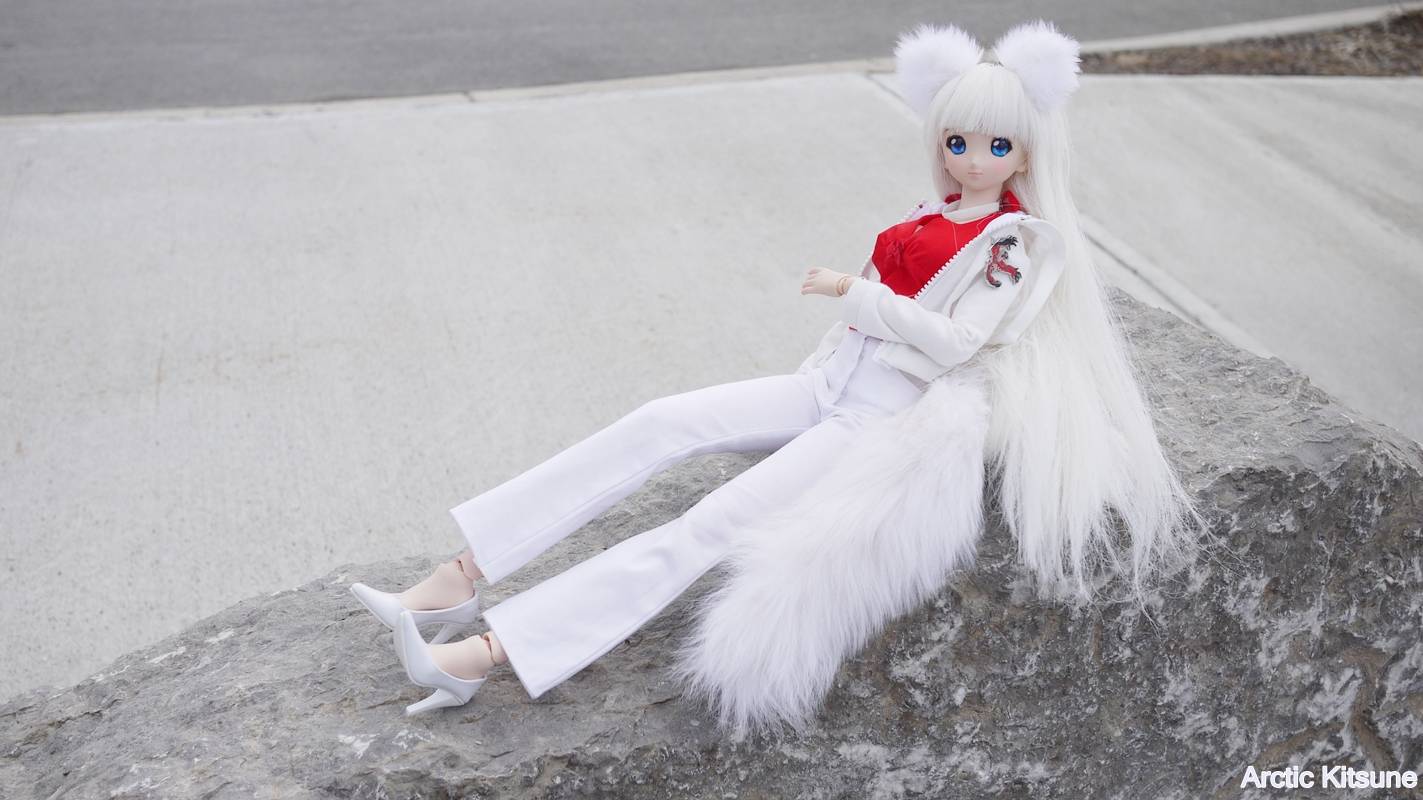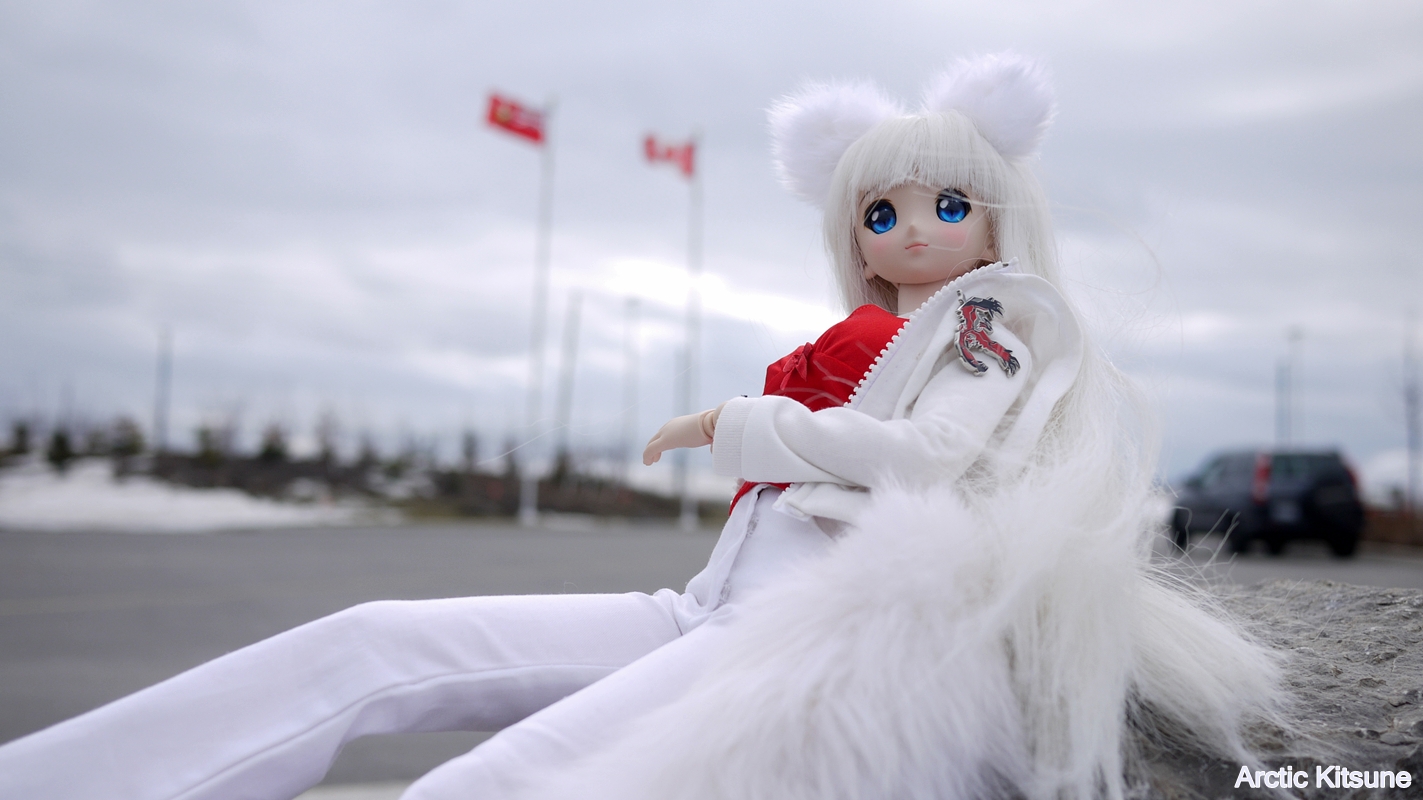 I'm now annoyed that I had to skip on plane watching. I got caught up in the moment to take the bus while even seeing them taking off and landing on the appropriately viewable runway. One came in on a wobbly approach thanks to the wind. The wind and chilliness didn't help with me hopping onto the bus.
The only problem I had was the OC Transpo female driver in her 40's or 50's being a 'no-nonsense' type driver who scolded me for using "out-dated" bus tickets. This was on the way back when I was trying to pay my fare to get home. I'm glad she gave me a transfer, though now a bit annoyed over that ticket scolding. Let me use them up so I don't have them any more, THEN I'll purchase the proper coloured bus tickets. I had the proper tickets, I however used them up before and in the morning to the EY Center. It's just so silly to vent about…..
It was all fun, all enjoyable. I'm now looking forward to all the spring and summer festivities to have fun with. A lot more fun to be had with more props. I can hopefully try and get back to my Busou Shinki pattern as well.
—
Thanks for reading! I hope you enjoyed the images. Until next time!