Greetings! This May spring event was quite a blast, and very rewarding on my end in this lovely event. Nice lovely ship ladies in my possession, and loads of moments with trolling RNG to ruin the day. It's been a nice fun blast in KanColle's Spring 2015 event.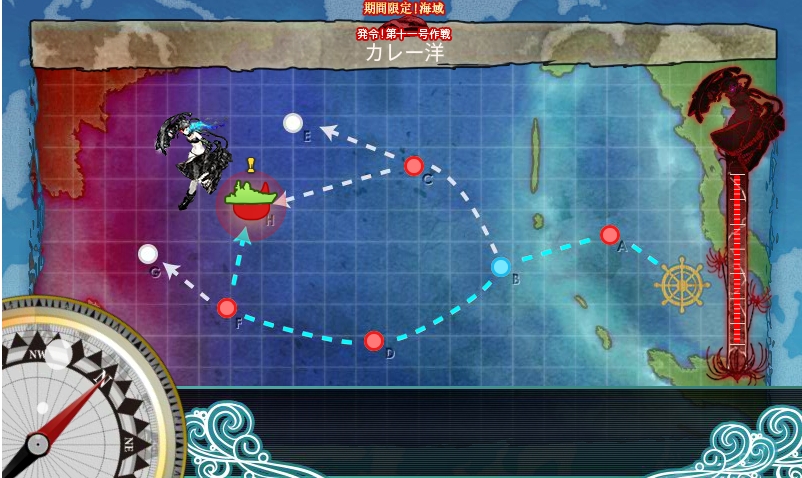 The event was very fun, rewarding, and fairly neat. The RNG did have moments where it cheated, and some moments where it pampered a fellow 'Try-Hard' admiral to irritate me while also punishing fellow comrade Admirals struggling with E-2. E-1 was awesome on Medium as a nice revenge on the winter 2014 event. E-2 and E-3 had a nice level of difficulty to it that I didn't mind the struggles. E-4 was a bit of a pain with both the I Node & the boss node crippling my fleet, even denying me clears. E-5 was a bit tricky, yet got through with some nice tips from Ken_works. E-6 was more of a rough cheating pain the ass with those nasty stinging planes on the M Node with me being 1% away from victory, which it clearly denied me.
I'm happy with the ship ladies I did acquire, and I leave the event feeling a great sense of achievement. Myself, Naito (fellow Dutch comrade), and Nas' (fellow Busou Shinki & American Admiral) all left feeling great pride with what we managed to accomplish in this event.
I'm however irritated with how cheaty E-6's M Node was with those planes by criticalling my ship ladies, NO MATTER WHAT! No yellow or orange, if rarely, with it going straight to red. It's all thanks to the M Node of E-6 I was unable to complete E-6 in time with how cheaty it was for me. E-4 ate 10k of my resources, which is now fine, with me feeling more hatred to both E-6 and a 'Try-Hard' Admiral being spoiled/pampered by the game's RNG. Yes, I know you can read this Tech', and I'm being open about it so we can work a way to find a middle ground. If you know why I'm irritated you can find ways to work around it. I of course congratulate you on your Maru, U-511, and Akitsushima. Congrats to Naito & Nas for being a stubborn E-2 RNG. We all fought well and hard so some booze is in order!
Now onto the main log!
[Admiral Log – Page 1 [February] – Page 2 [March] – Page 3 [April] -]
—
– E-1 – Medium:
I sortied into E-2 on medium in a form of revenge (or vengeance; whatever fits) with how Winter 2015 treated me. I went in guns-a-blazing to eventually make short work of that map. I gained some lovely ladies there. The Abyssals disliked my Yuudachi (Kai Ni) so much that they had her on high-priority. Naka also had her fun trolling the Abyssals every so often, even assisting me in fishing up Zuihou from the boss node.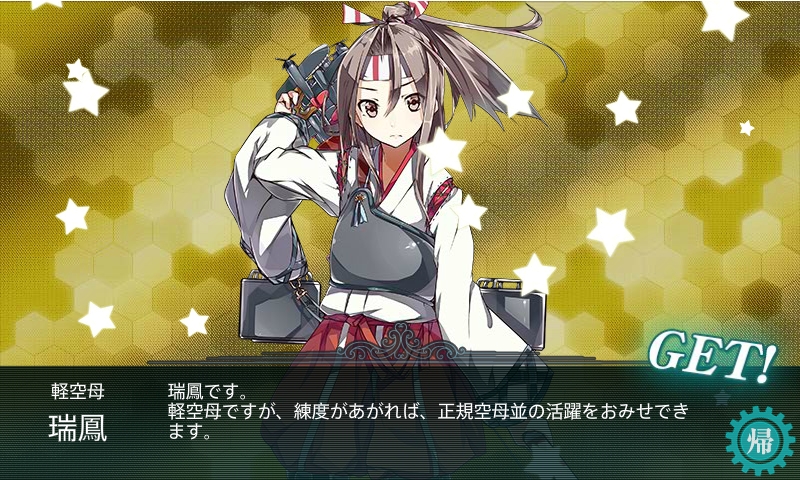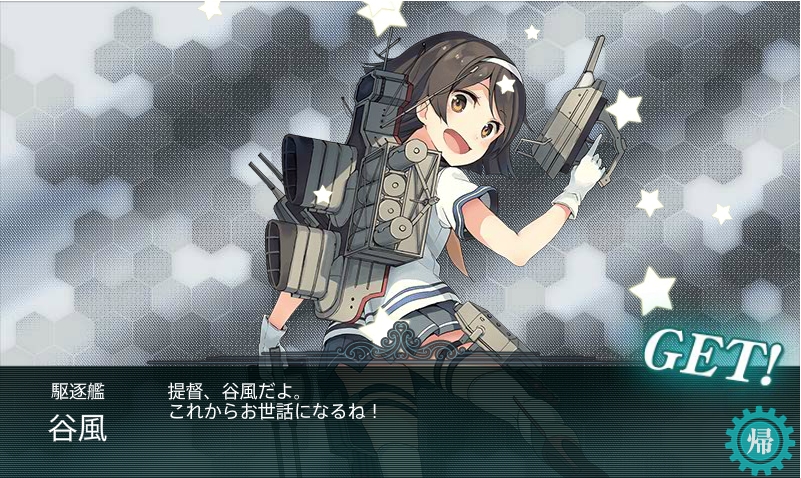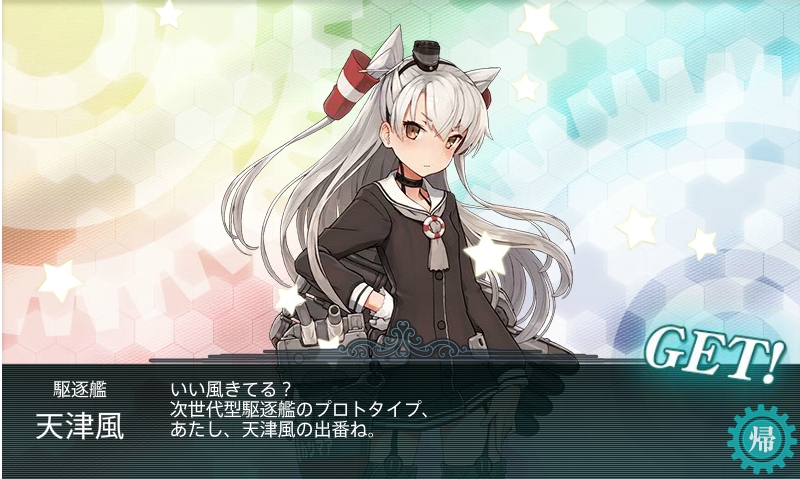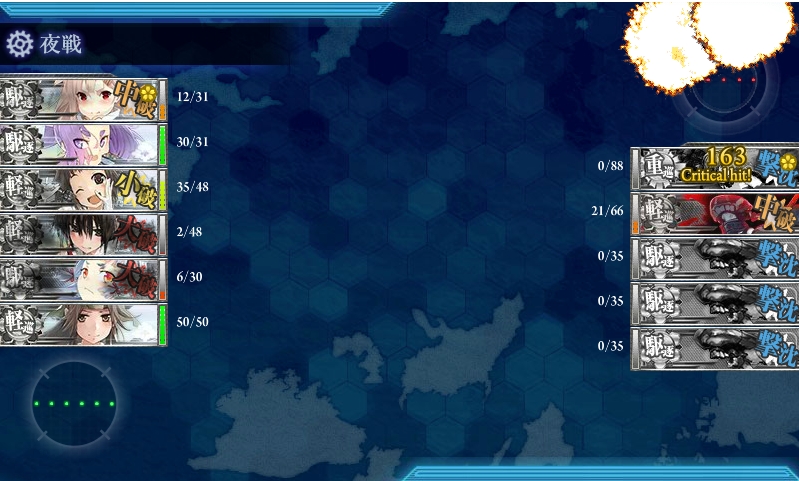 I was robbed of a victory on my 4th sortie that reached the boss node with the RNG claiming my girls couldn't hit targets. It claimed misses & single-digit damages. That frustrated me because that was obvious bullshit when I know my girls are more than a match for this kind of map.
The 5th sortie (not actual, one that reached boss) was a scary one with how Yuudachi & Hatsuharu both missed or targetted the wrong Abyssals. Jintsu ended up clearing and saving what would have been another robbed victory. Jintsu being the star of this E-1 map, saving the night and earned special MVP status thanks to her quick thinking.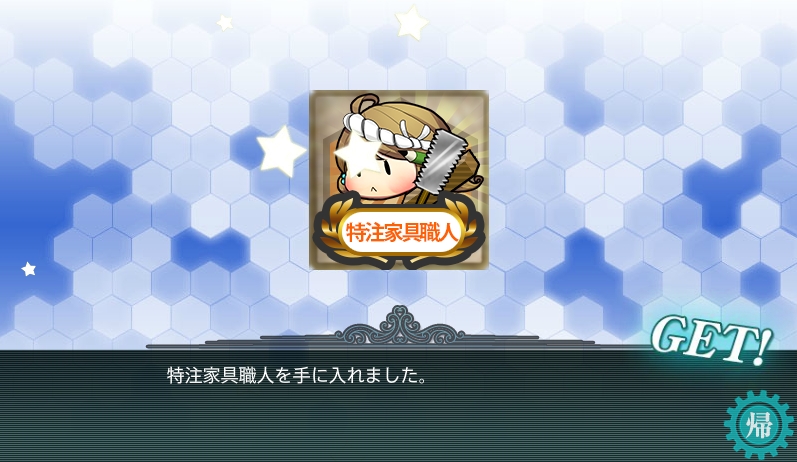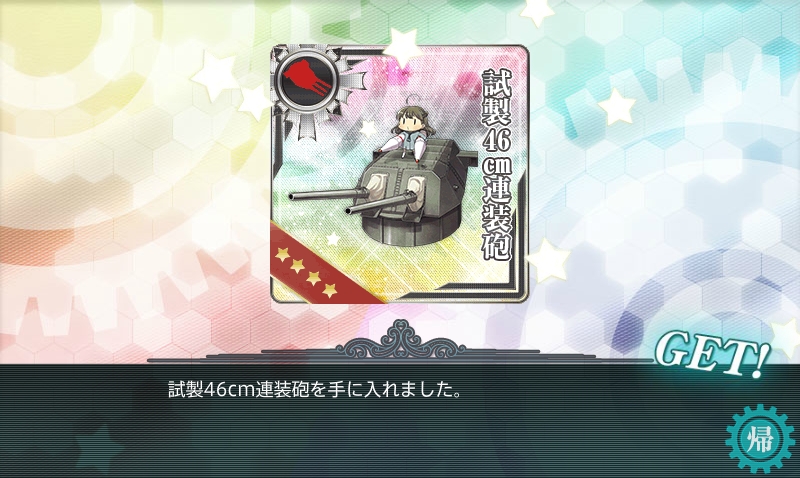 —-
– E-2 – Easy:
This map was an interesting one with how it welcomed me into combining my fleet. I never did so before so it was quite an 'eye-opener' on that front. I stuck to using carriers with both 'E' & 'G' node both putting up some interesting fights. It was tricky at first with me gradually learning how to deal with them. Once I did, it was only a matter of time until that map cracked under my fleet's firepower & pressure.
Because I had to wait up on my expedition fleet #2 this map was being messed around with on the next day. Gave my ladies 2x Type 3 shells & 3x Type 91 AP shells to try and beat the map. It seemed to have some effect with them doing poorly without. I also upgraded my carrier girls with 2x Type 62 Fighter-Bombers, 1x Saiun, 1x Suisei Model 12A, & 1x Ryuusei Kai planes.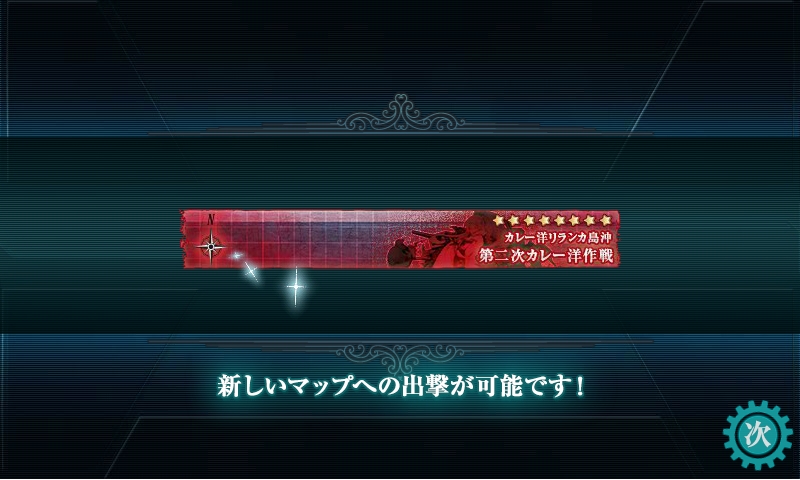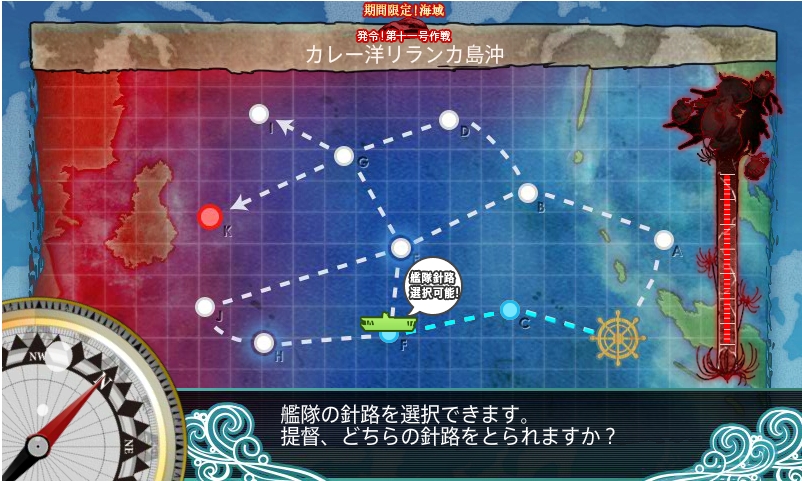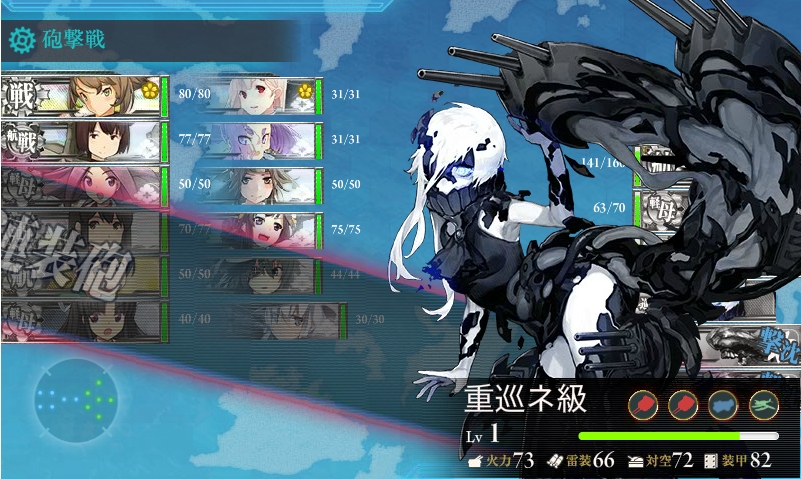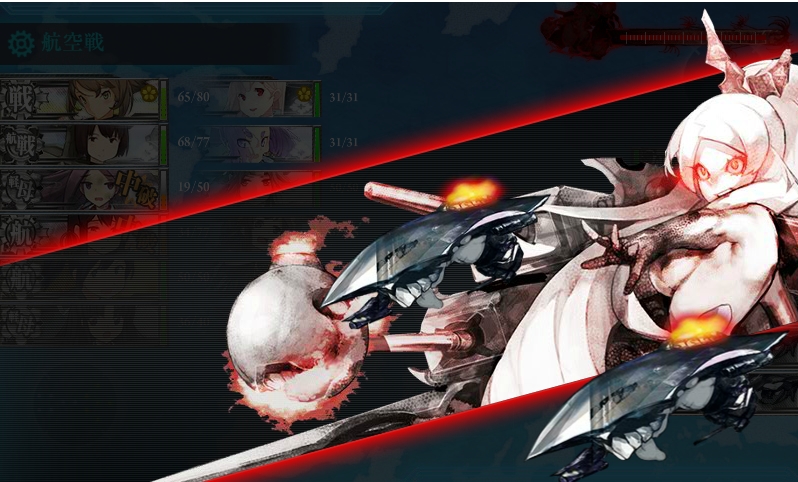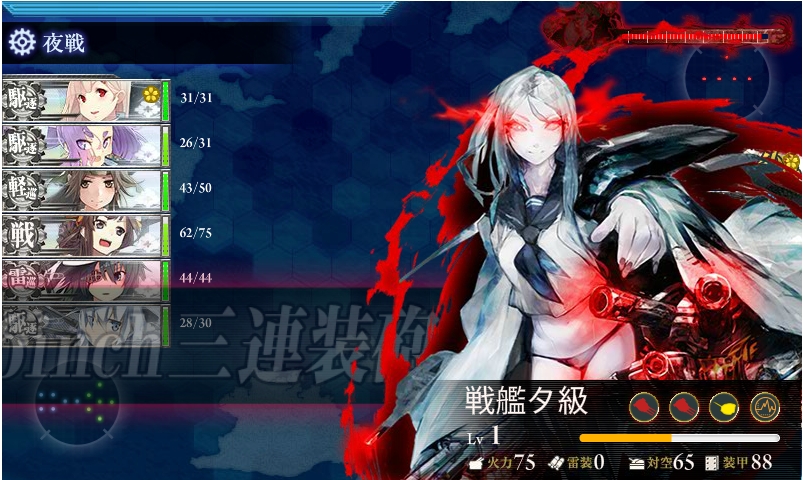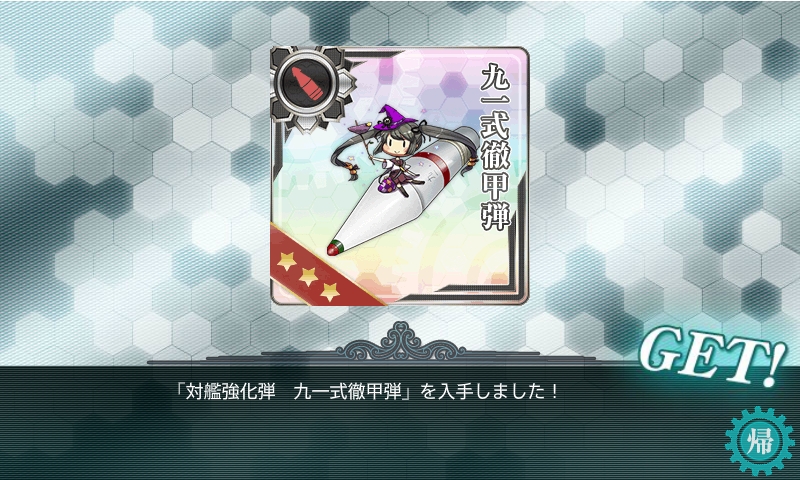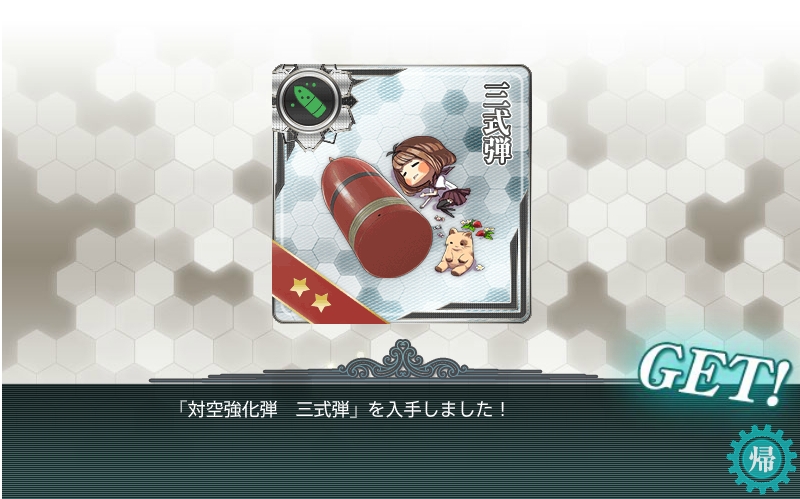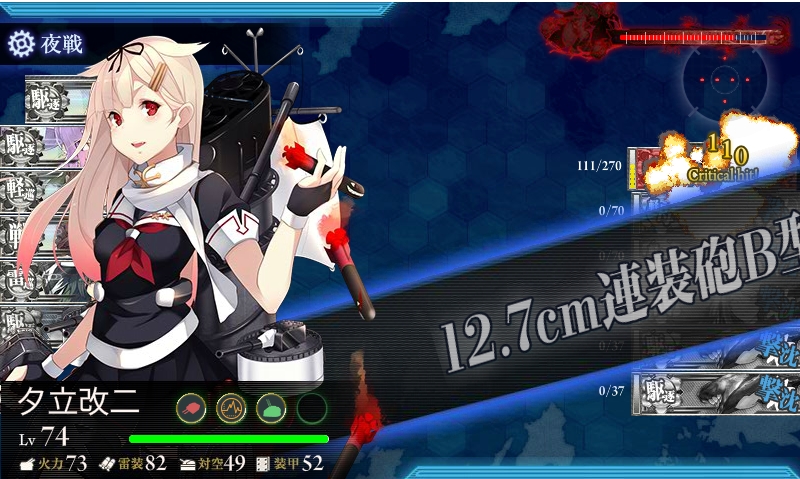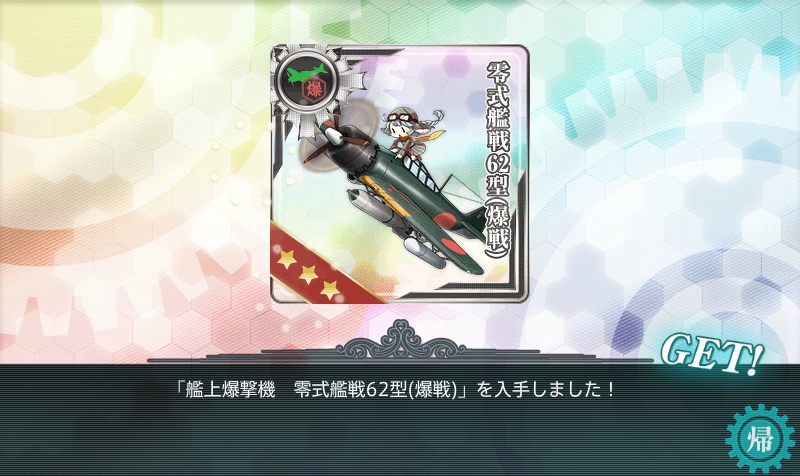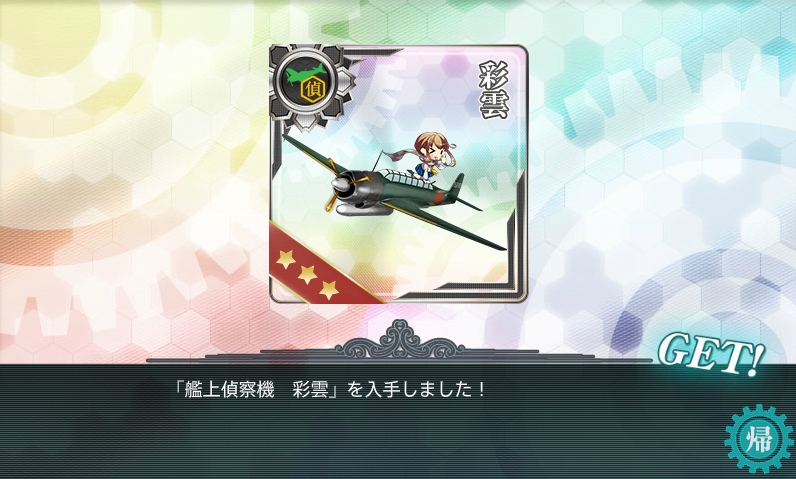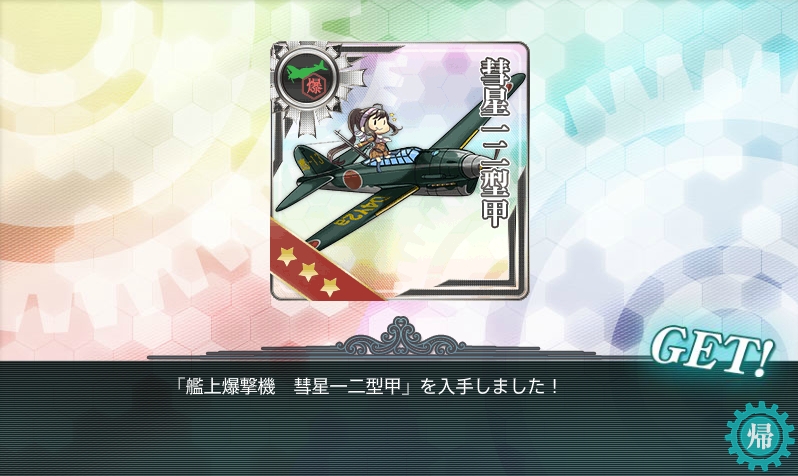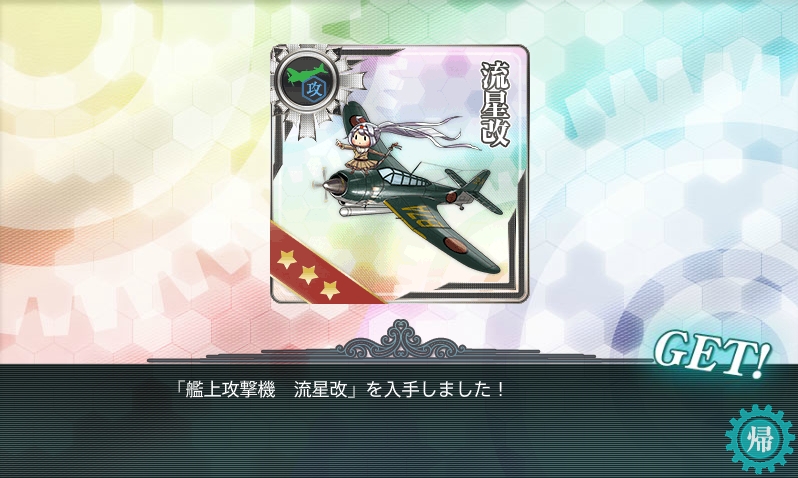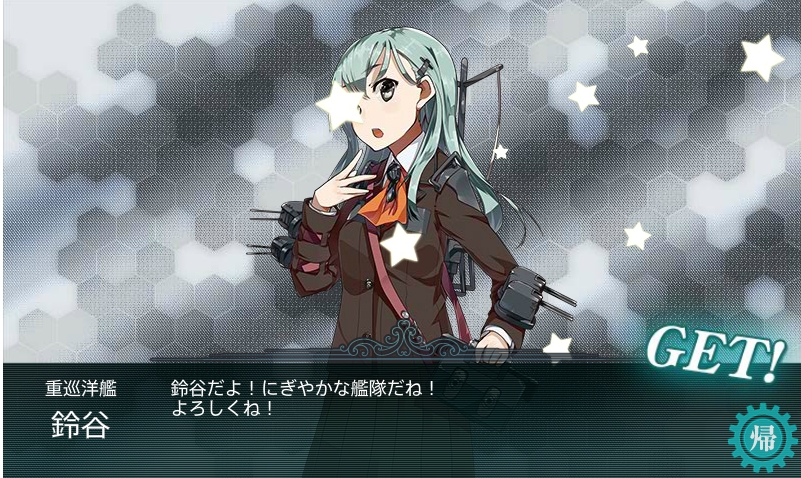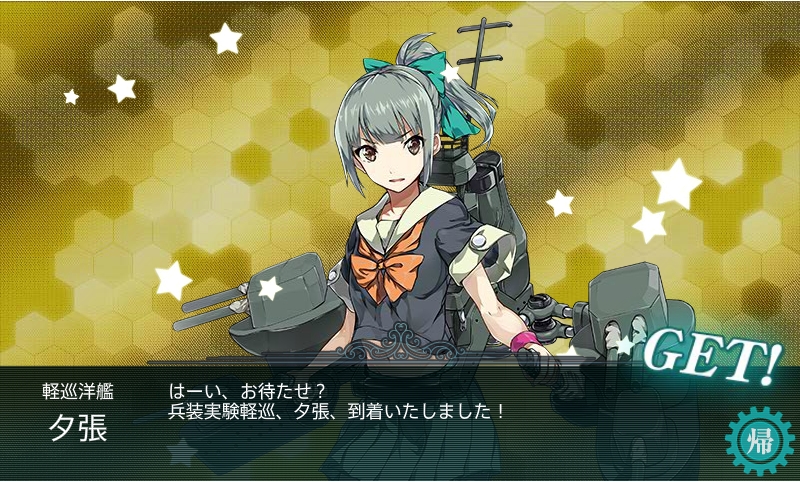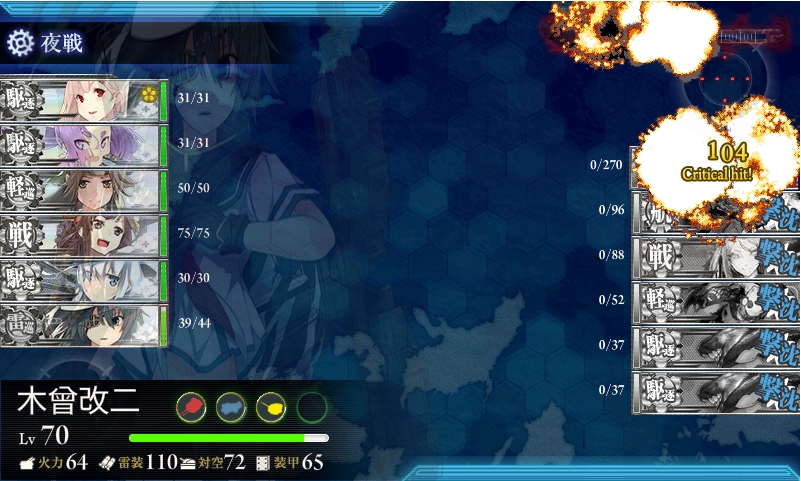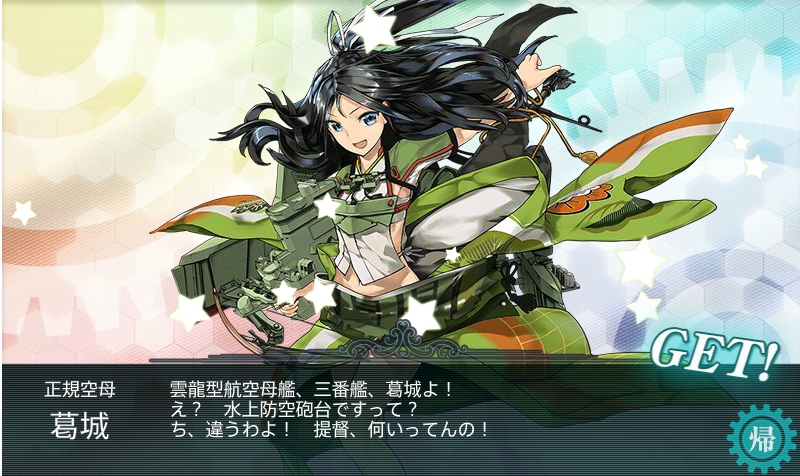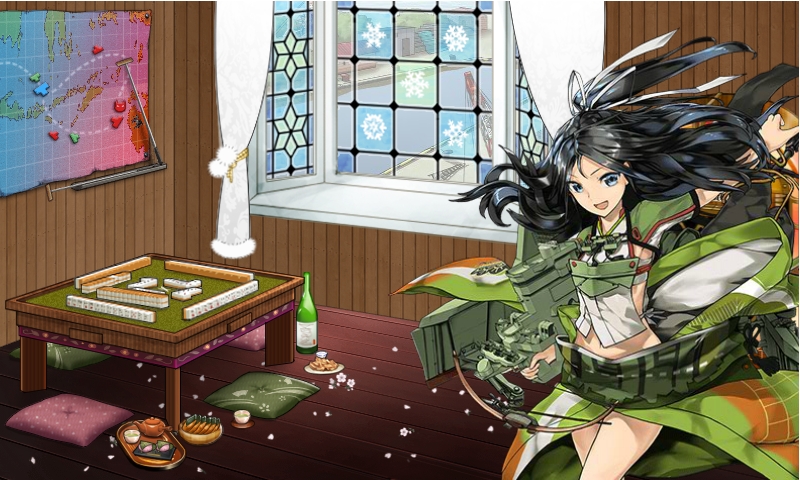 Both Yuudachi & Kiso gain MVP status on this map. Yuudachi for all the boss clears, and Kiso for the final round of thunder for boss KO.
(Side-note: I should have done E-2 on medium for Unryuu. Would have helped, just something I can now worry about later. Did about 40-50 sorties with no luck on J-Node under easy difficulty.)
—
– E-3 – Easy:
Took a few 'test' sorties to read out the waters of E-3. With those sorties I concluded that I should treat this map as I would 1-5 & 2-2 with the nodes present. Was fun dealing with the Abyssals on the map with how tricky it became when not armed appropriately. C Node was rough with the submarines, D Node for the 'Demon Cruiser', E Node for some transport fun, & J Node for the boss itself. It was a fairly easy map, if tricky with the type of Abyssals you came across. The 'Demon Cruiser' being the highlight of this map, as with this map assisting you in clearing those daily quests with ease.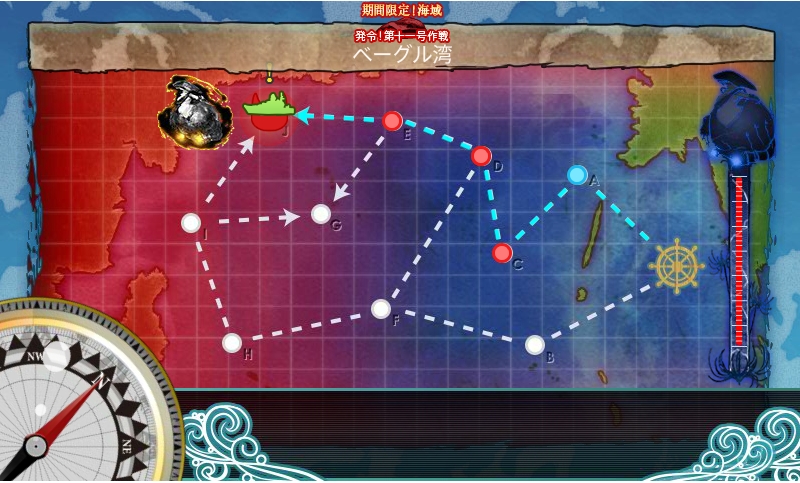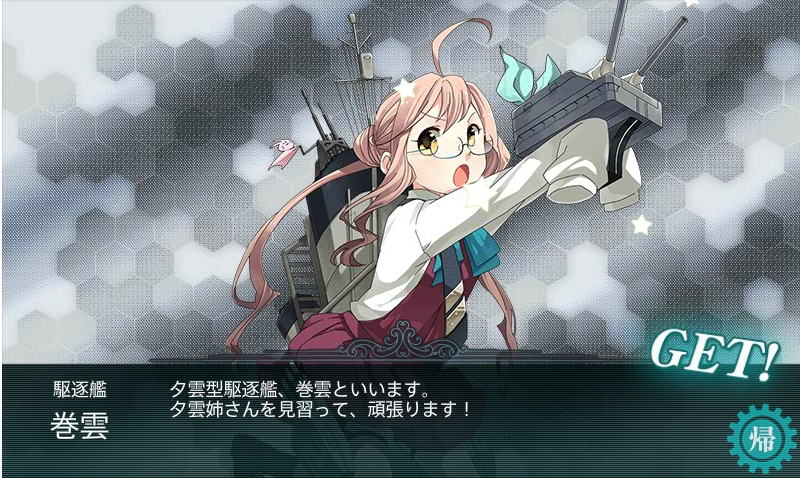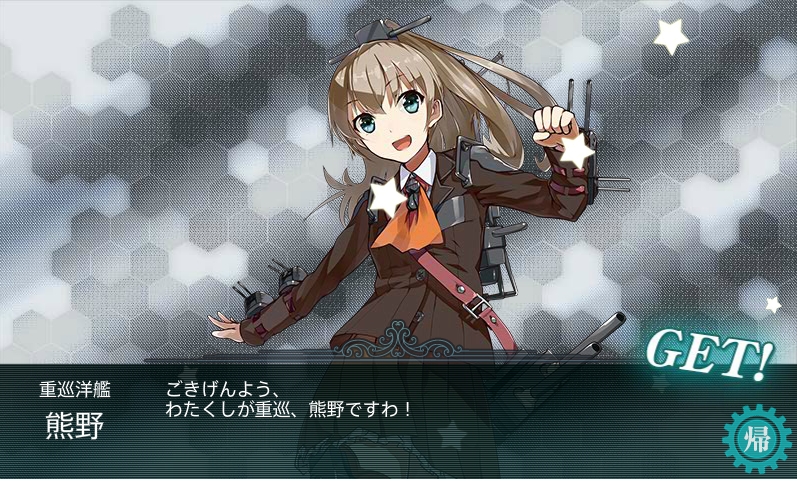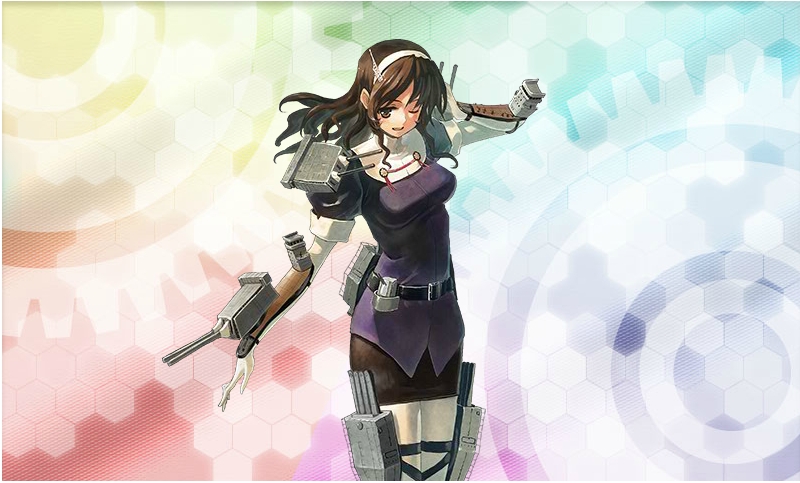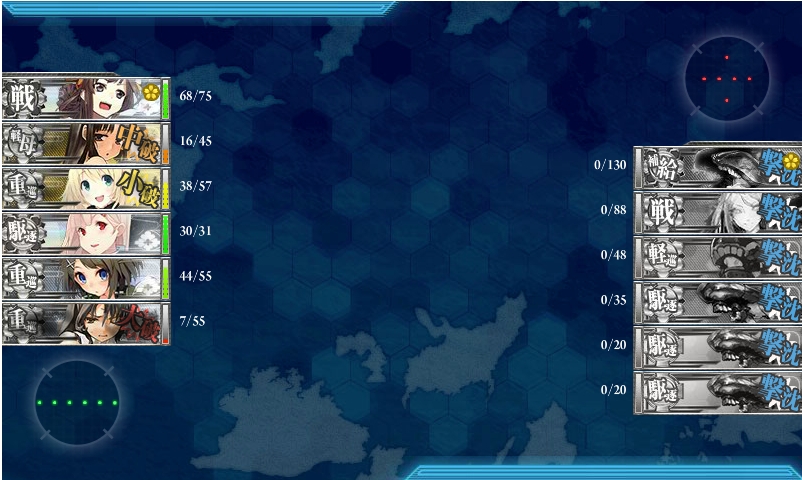 Something to note on the 4th false clear that the Abyssals wanted none of Yuudachi's 'Poi-shit!' by constantly aiming for her. They would constantly focus on Yuudachi. This being from E-1 till now, and even after.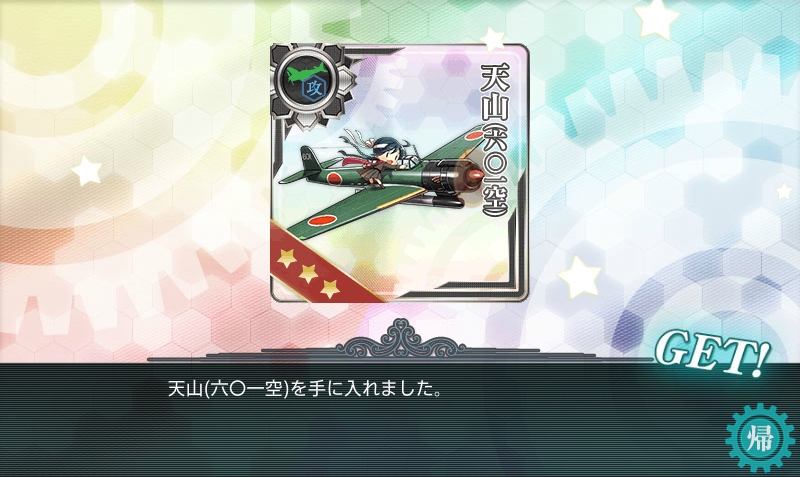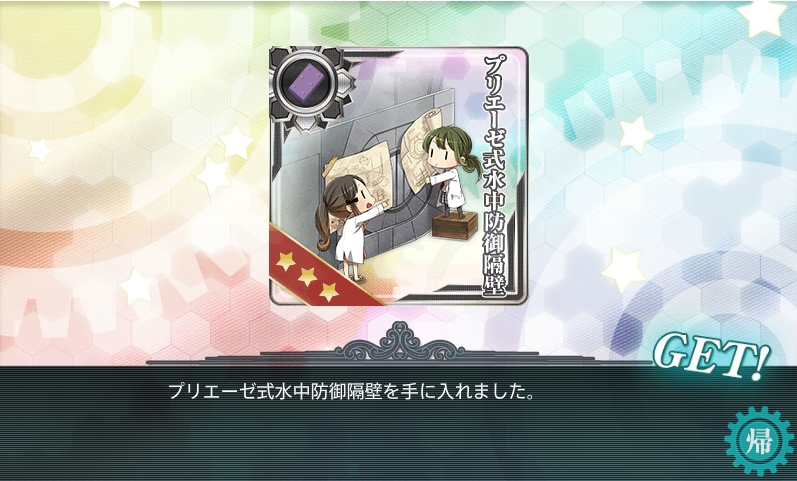 —-
A Brief Intermission to lightly level and have fun with Katsuragi in World 2-2. I had to because I accidentally sortied my second fleet on an expedition, thus allowing me to get to know Katsuragi better. Kumano also joined the fun by leveling to 4. Just wanting to get to know Katsuragi more by leveling her roughly to lvl 5 while being amused by her "Baka!" line, her bathing line, and her perverted hanger line.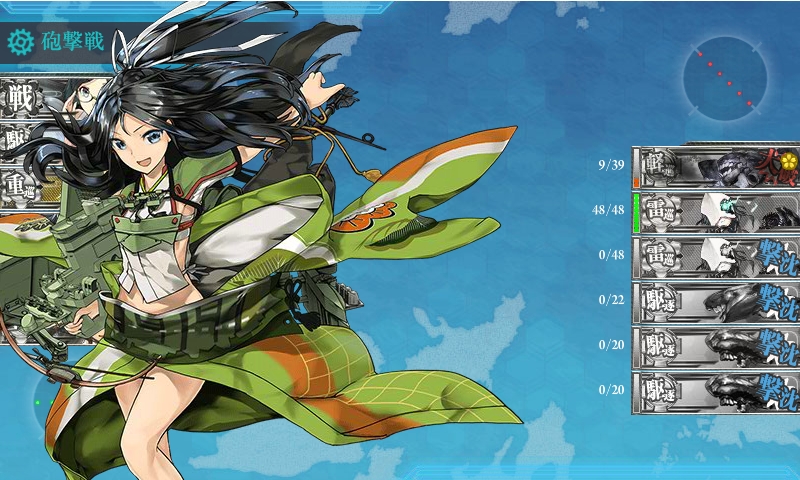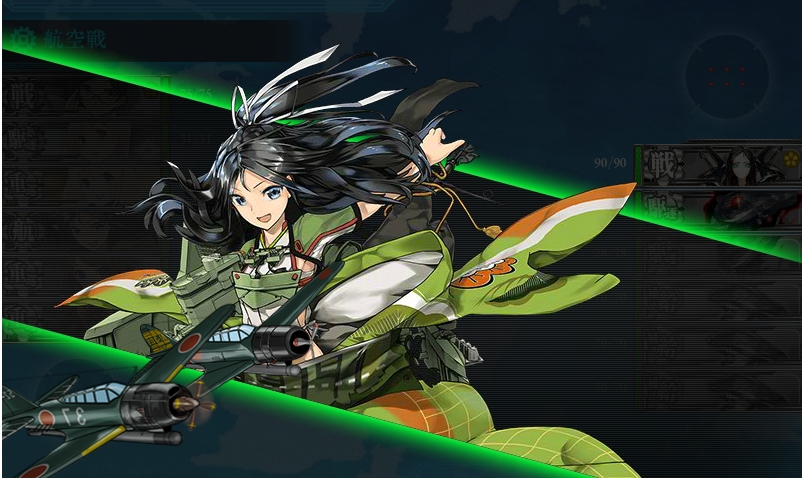 —-
– E-5 – Easy:
The actual hunt for Littorio now begins! Was aiming for both Katsuragi and Littorio, nothing more. The rest after Littorio being a bonus, and a bonus they stayed. This map was interesting with how there were only three nodes to ocus on: F, E, & M. It was easy in that manner, yet tricky because of the E Node hitting your ladies hard to force a retreat. Needed to be careful and cautious on this map. I of course struggled, not at first though, with me not being able to deal appropriate damage.
This map is actually easy, just difficult in that Japanese manner with how RNG nudges your victories into defeat. This map ate up a good 10k of my resources, 70 of my buckets in a fit of rage I had, and tried to pity me through Haruna & Hiei drops for a fourth fleet. I am thankful for Haruna & Hiei, just feel like I was being mocked by the game's RNG.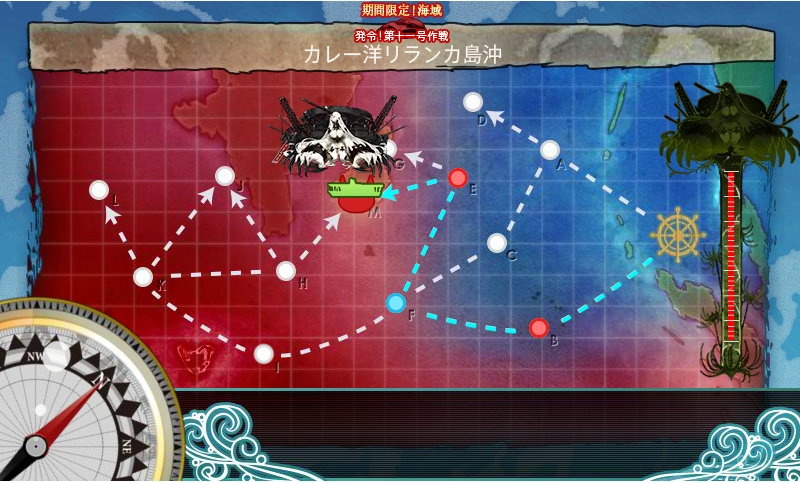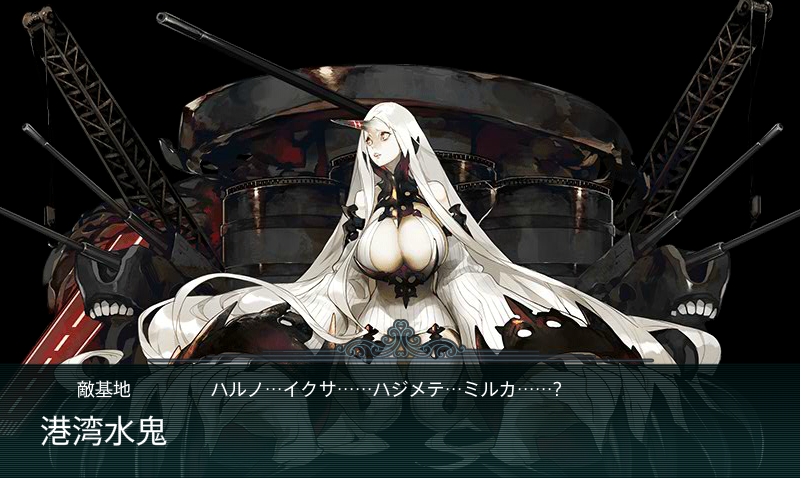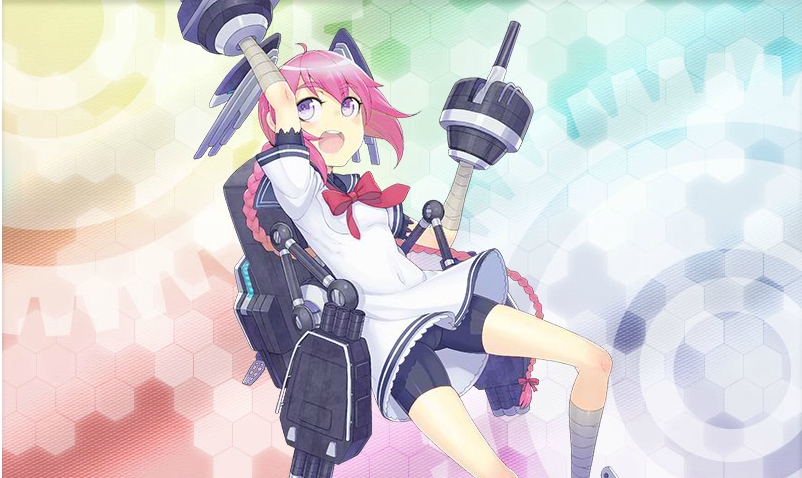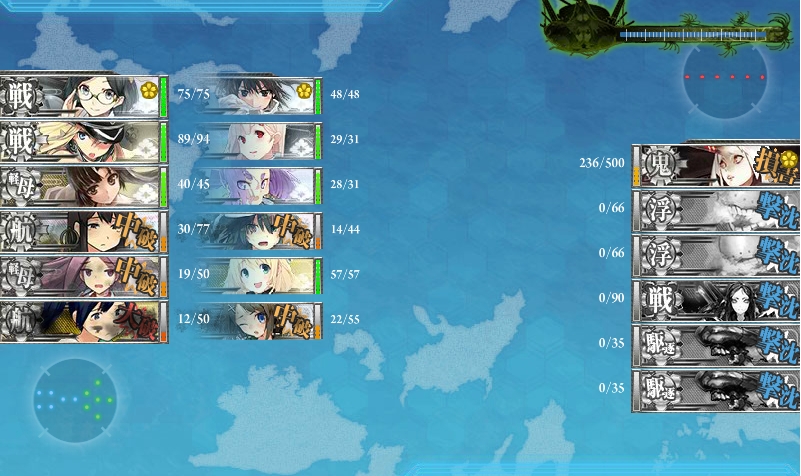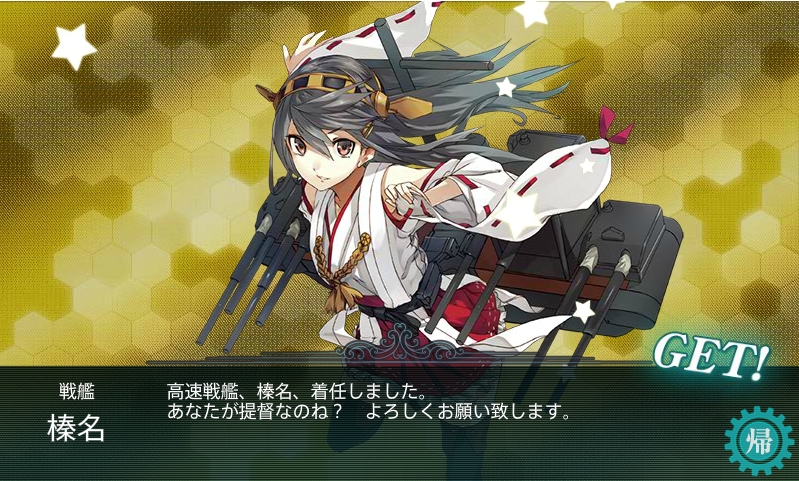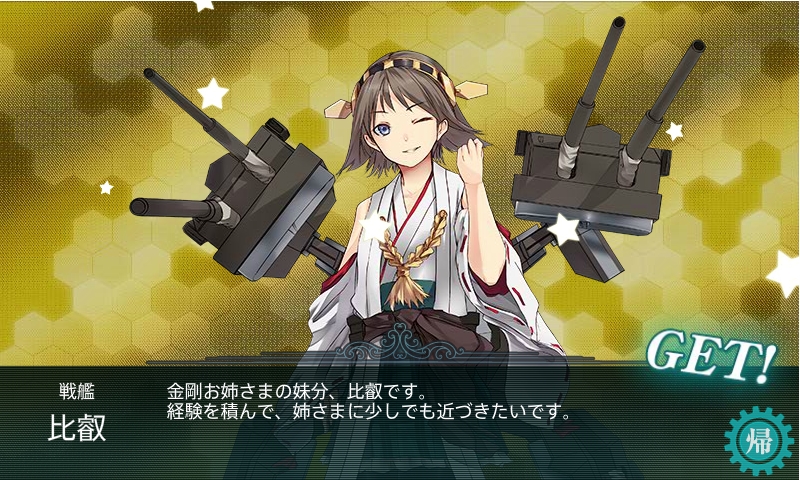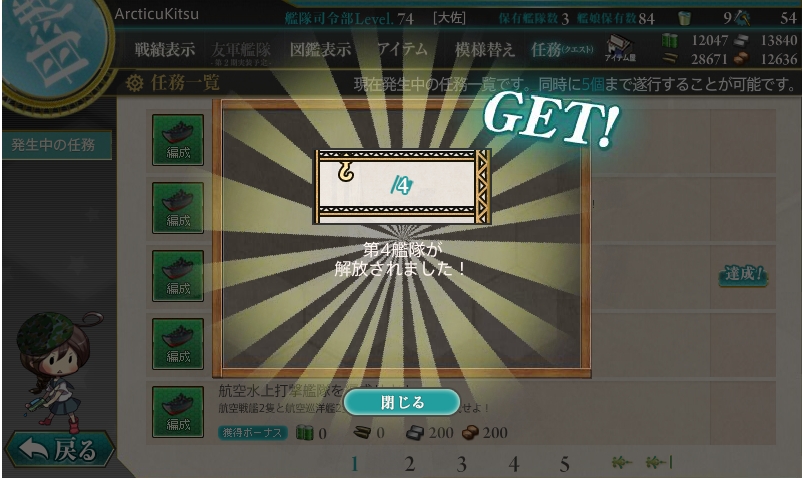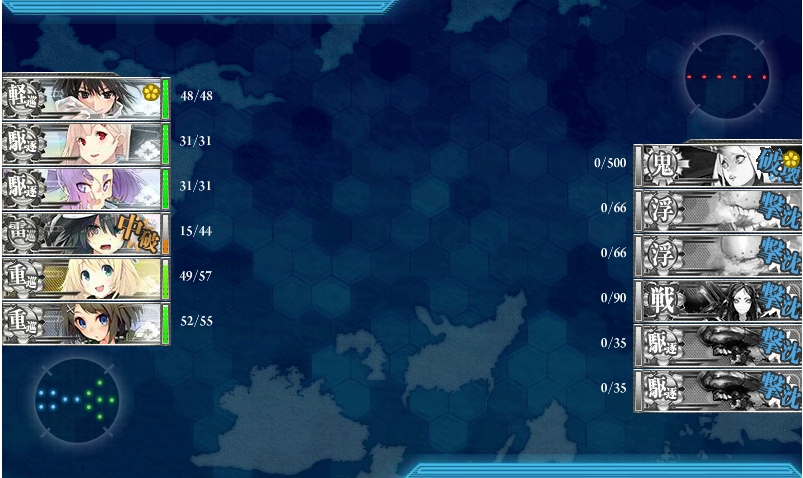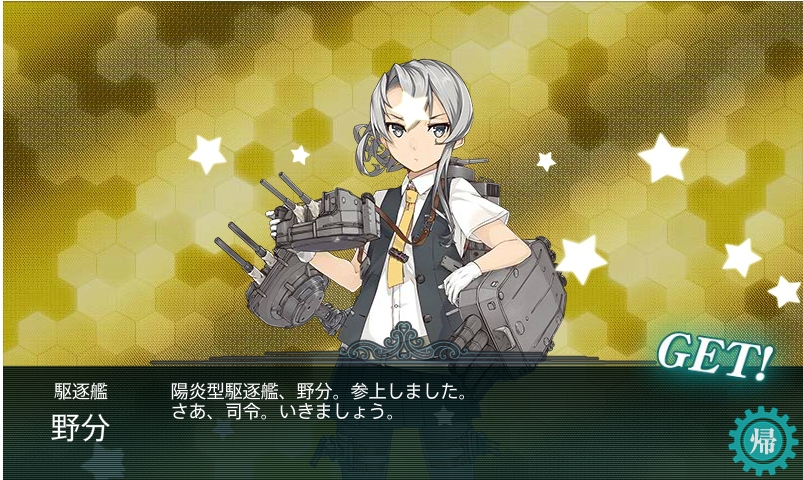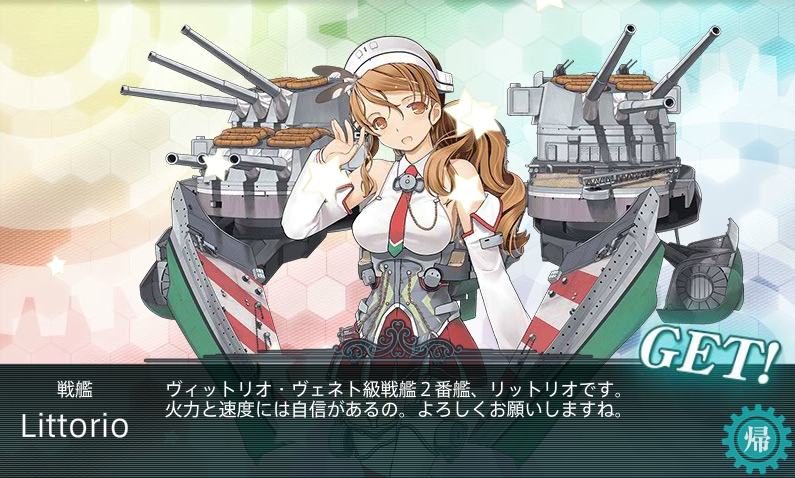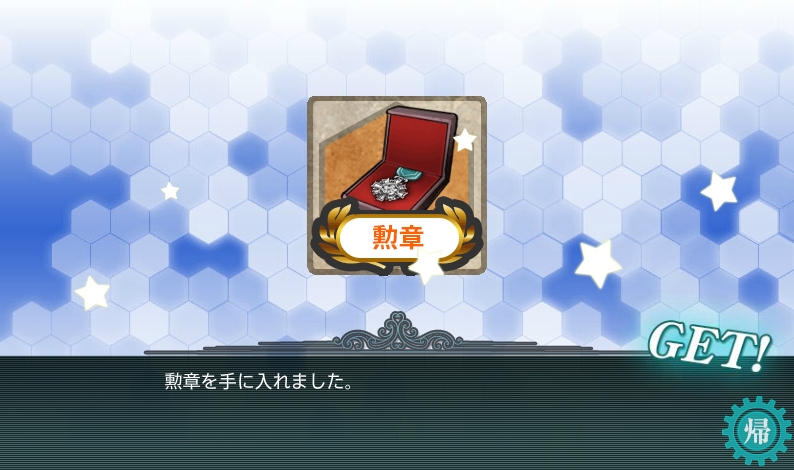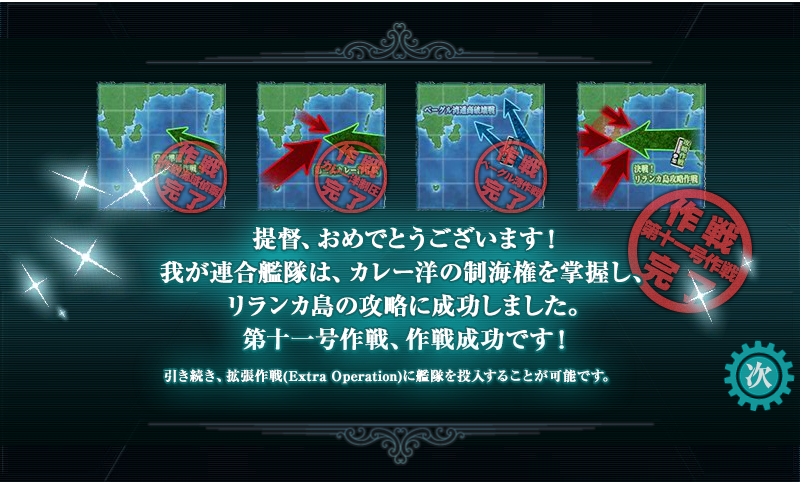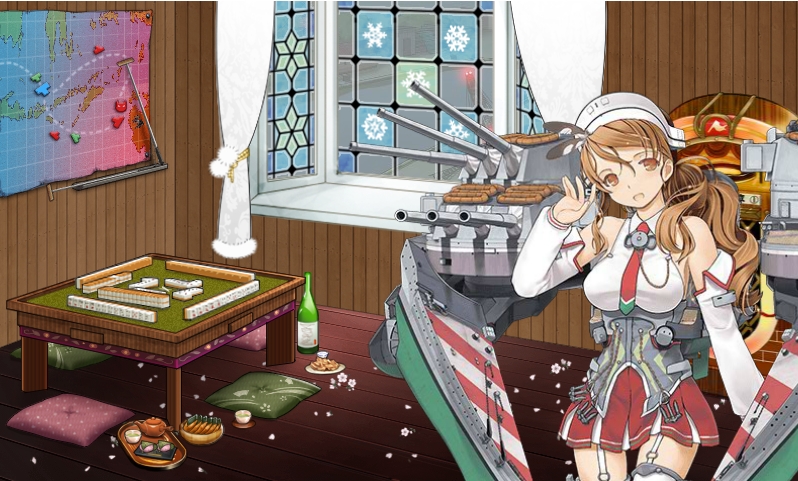 —-
– E-5 – Easy:
The fight still continues, even if I did get painfully distracted by Unryuu hunting & with a very nasty fever/flu. I still kept pushing whenever I could focus.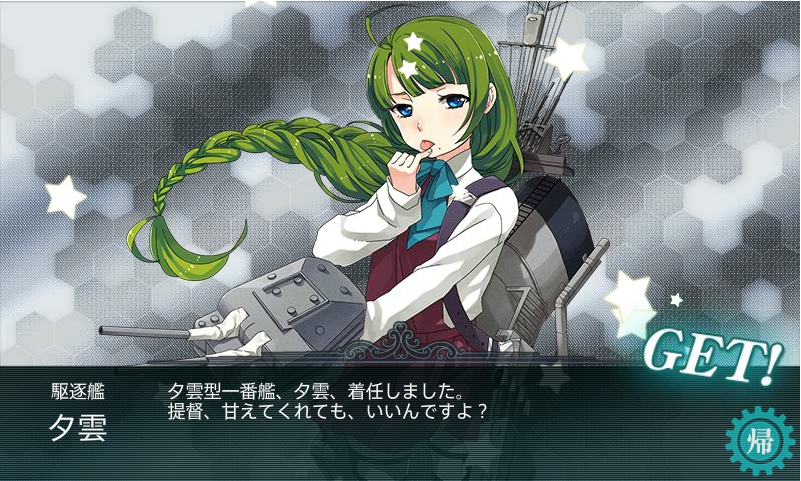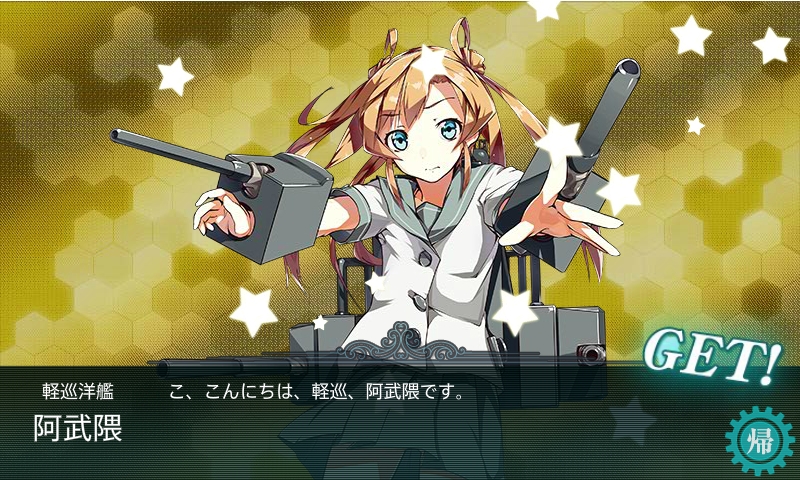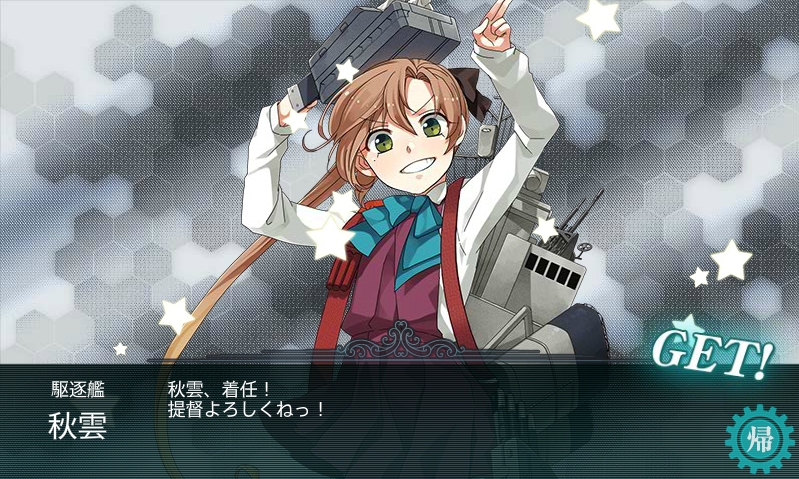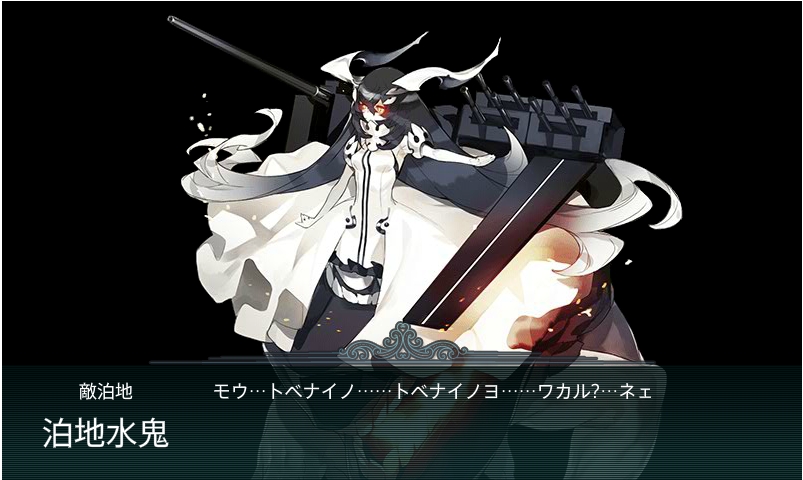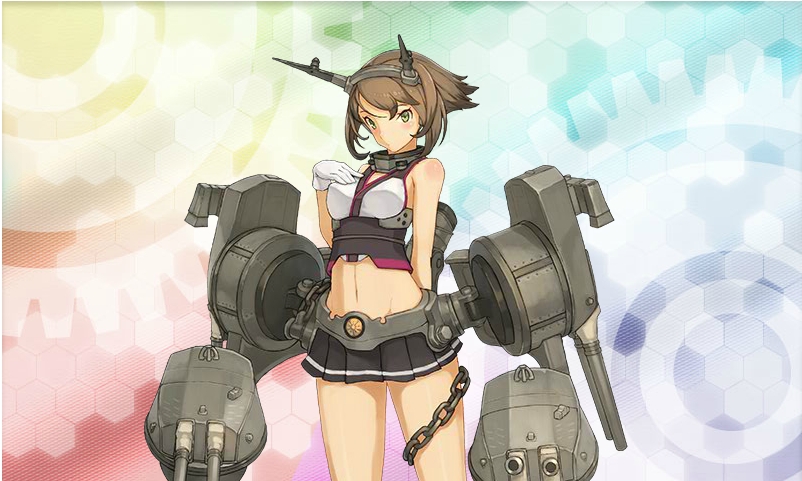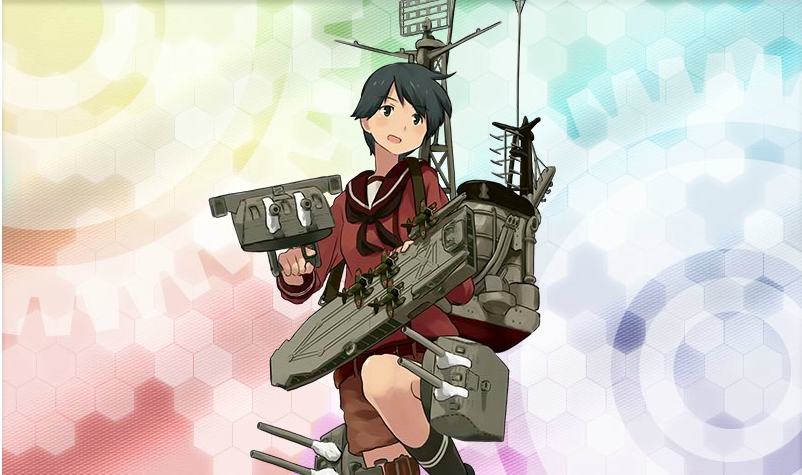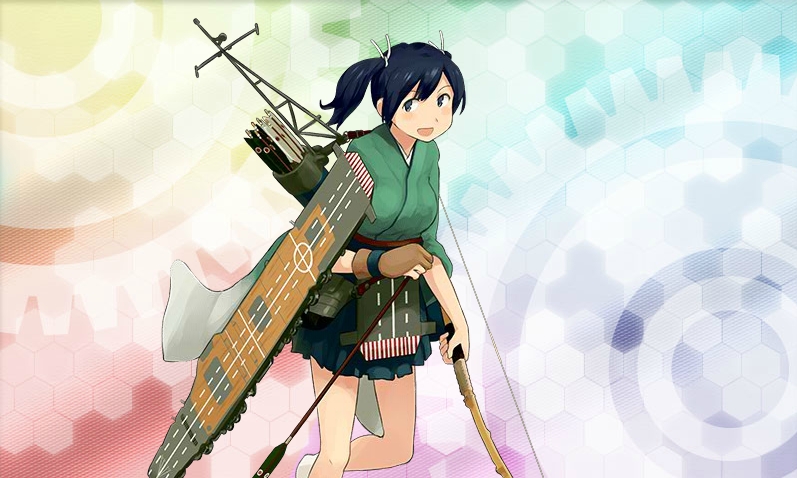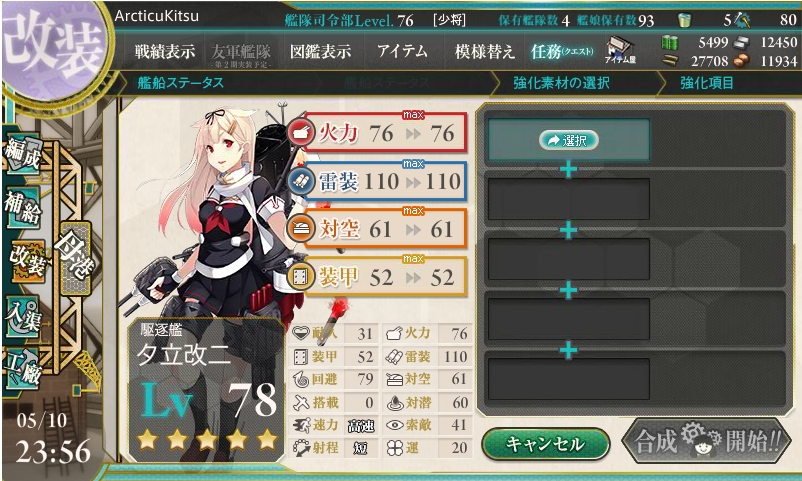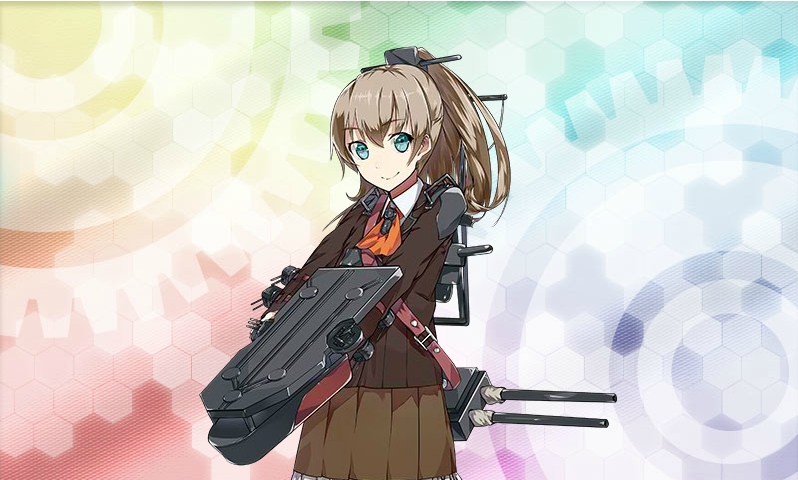 Thanks to one morale boosting sortie I decided to humour my ladies into beating E-5. They have Hibike! Euphonium anime to thank with how the music band in that Anime showed how lazy they were then had their butts kicked into action by having to prove they actually cared. Because of that, and similar actions being shown to me that my ladies actually do want to clear the map I decided to humour them seriously and press on. Kumano & Suzuya being the results of that with their morale boosting boss assault bringing the boss's HP down to 73 HP.
The sorties however being hindered by me still being ill with the fever/flu causing me to be unfocused on the task at hand. Whatever I did accomplish I'm happy that I did. Same with my ladies. Thanks to that you now can see the results below.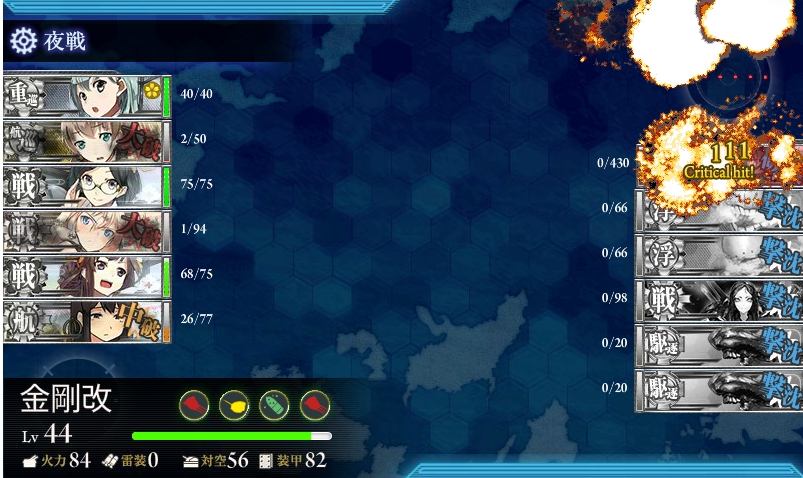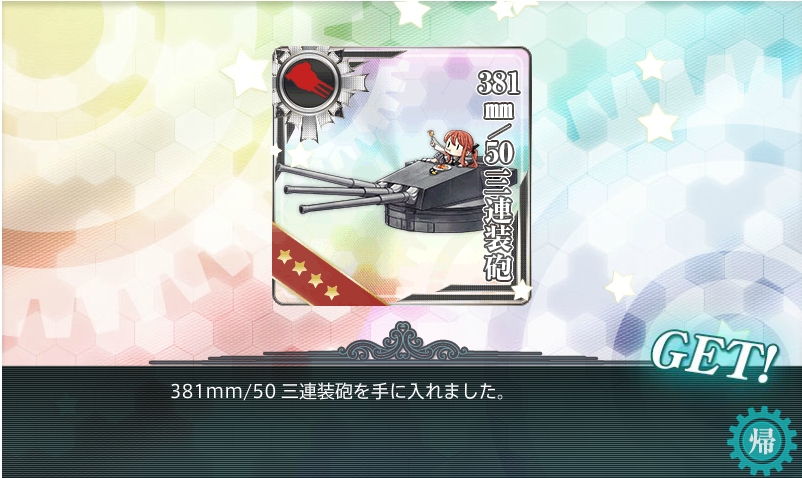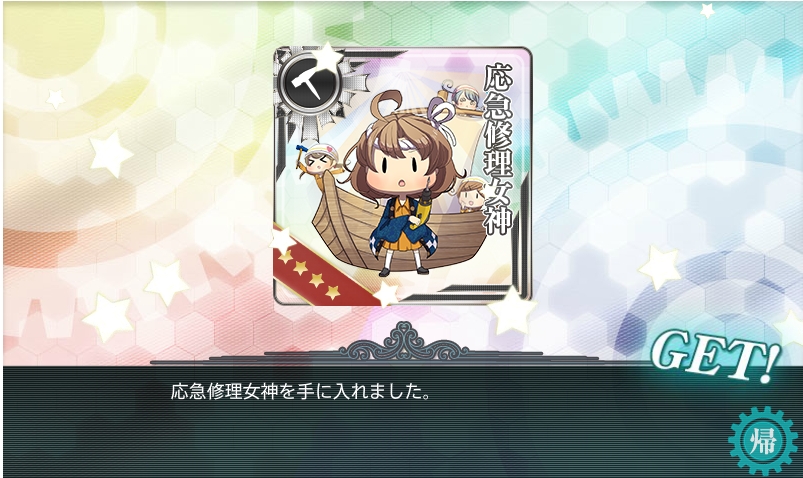 E-5 was brutal. Not as brutal as E-4 with how 10k of my resources and 70 buckets were used. All my girls worked hard in unity to decimate E-5 as a whole. No lone MVPs here. They all deserve MVPs.
—-
– E-6 – Easy:
Finally made it to the final overly-brutal battlefield of E-6. A battlefield with a node that cheats to win, being the M Node with planes. I couldn't sortie as much as I wanted to thanks to the combination of E-4's leeching of my resources and buckets, plus the time I spent searching for Unryuu (which I'll defend), and with how cheaty the idiotic M node was to me by instantly criticalling my ships in one hit. E-5 seems like child's play when compared to E-6's need to cheat with the 'Aircraft Carrier Princess' for all my misfortune. Not her exactly, her planes. She's harmless. The planes themselves with overly unfair RNG on them, or so I found each and every time. The RNG on G & I nodes played more fairly with it being more about Abyssal skill to knock the ship into yellow & orange. M Node was outright pathetic.
O Node itself was actually easy and overly winable. I was denied each time by the cheating M node. Granted, I could not get S-Rank each time on O, yet that's more where the fun lies when both Kiso & Yuudachi failed to activate their cut-ins which costed a clear victory. Gained A-Rank on that one.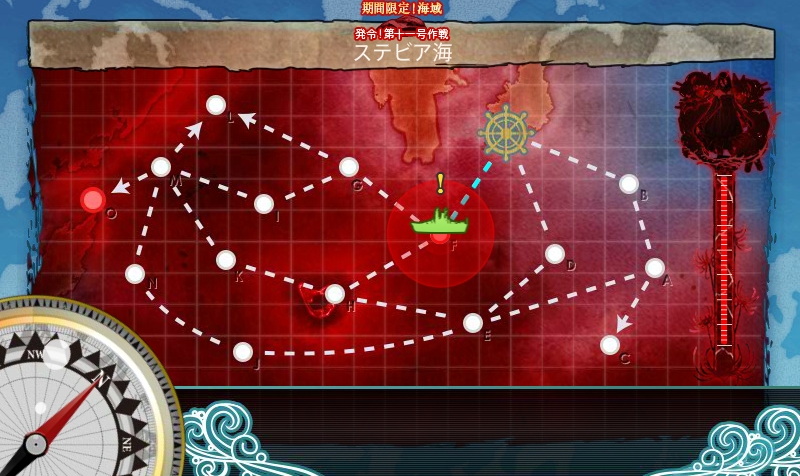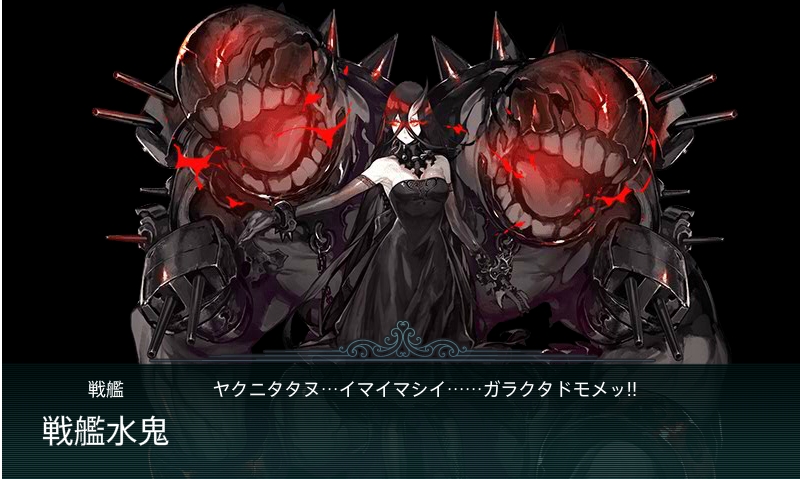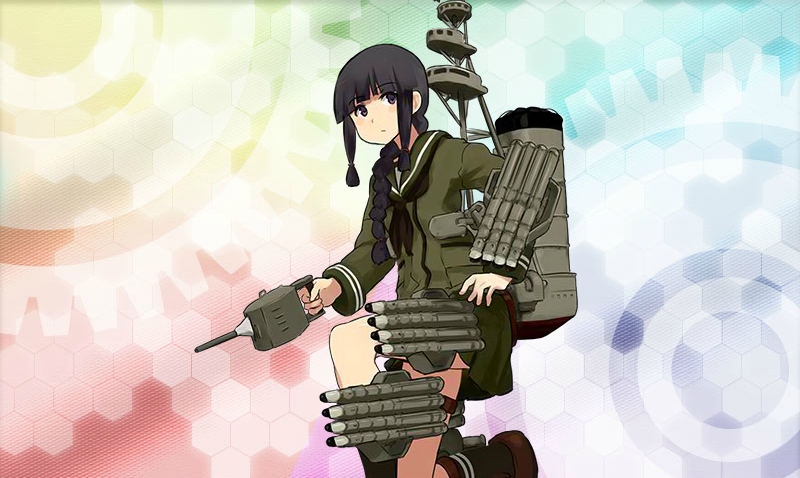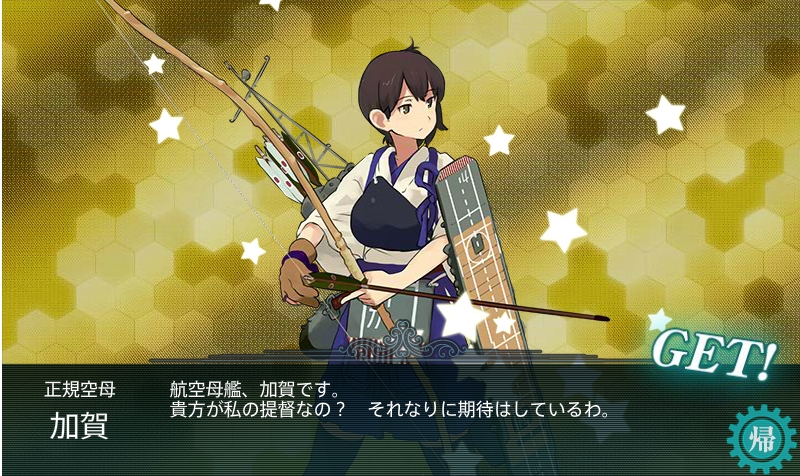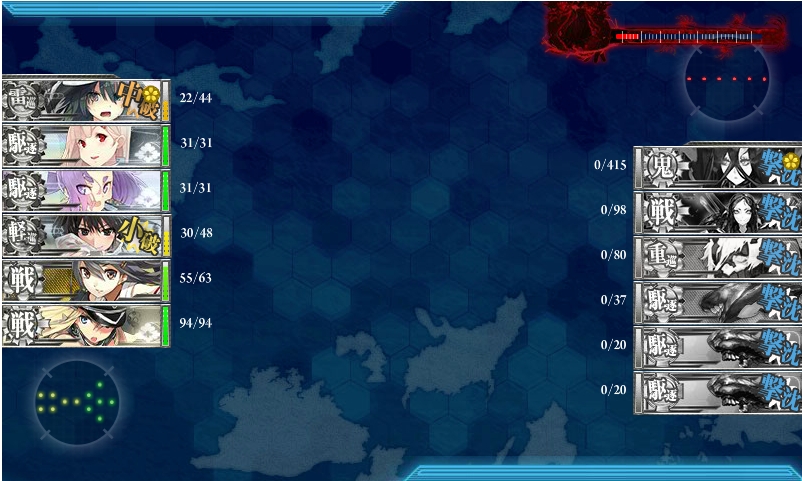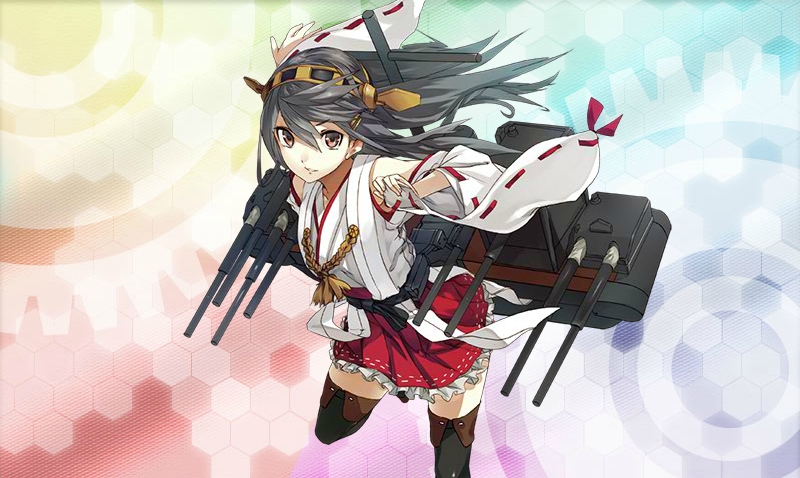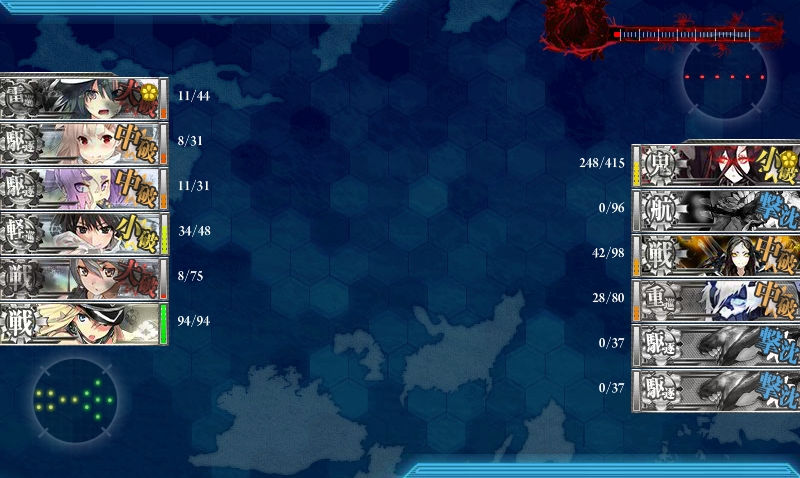 I was 1 hour & 1% away from clearing it all. M Node cheated so much with those planes that I wasn't allowed to have Yuu-chan, Akitsushima, and a clear. I was constantly given the equivalent of a vulgar middle-finger. This isn't me being 'butt hurt', more like E-6 had to cheat to prevent me from winning. I'm of course going to be bitter when a map requires its fleet to insta-critical your fleet into red (at least one) to deny you victory. I now know I had a nicely trained fleet to beat E-6, just that M Node's planes resorted to cheaty criticals. Maybe those more 'casually' (not arrogantly) experienced Admirals know the actual reason. I'm sticking with my version because that was just insanely powerful on the Abyssal's side. I was even lucky to be able to sortie the three extra times, one with an imaginary Z flag raise, another with a Canadian flag, and another being more covert as to not jinx it by not mention int on Tumblr. It was brutal. Even with me getting crafty by squeezing more resources out of quests I was STILL denied, timing out with a C Rank with 1 more S-Rank needed.
I'm keeping with the reasoning that M Node resorted to cheating by hitting my ship girls into red just to deny me victory. I'm however pleased, and shall praise my lovely ladies for being skilled to have made it this far. To have fought boldly while keeping the pressure on the Abyssals to the bitter end. I know they can beat E-6 now with their current strength. I however do know that both Kiso & Yuudachi were my heavy hitters in winning E-6 easily. EASILY. If the day phase on O-Node went as planned they would cut-in for an EASY S-Rank win. Great respect to both Yuudachi & Kiso here.
Yup. I was purposely denied clearing E-6, gaining U-511, and Akitsushima by M Node alone. It however was a fun blast. Thanks for the event & rewards!
[It's also thanks to this event that Bismarck went from level 30 to 50; Haruna to 25; Littorio to 40; Jun'you from 30 to 50; Katsuragi to 26; And etc, etc. This even leveled each girl nicely. I also need to give Littorio a blueprint so she can Kai up. She reached her mark, and I can't remodel her because of her need for blueprints.]
—–
– Wet Season Update:
Feels like a day after brutal school exams. A nice calm and relaxing moment to recoup and rebuilt from the damages after a severe storm type of event. I'm happy to have logged in on Monday, May 18, 2015 (Tuesday, May 19, 2015 in Japan) to see a nice wet spring themed fun. Simple, yet nice.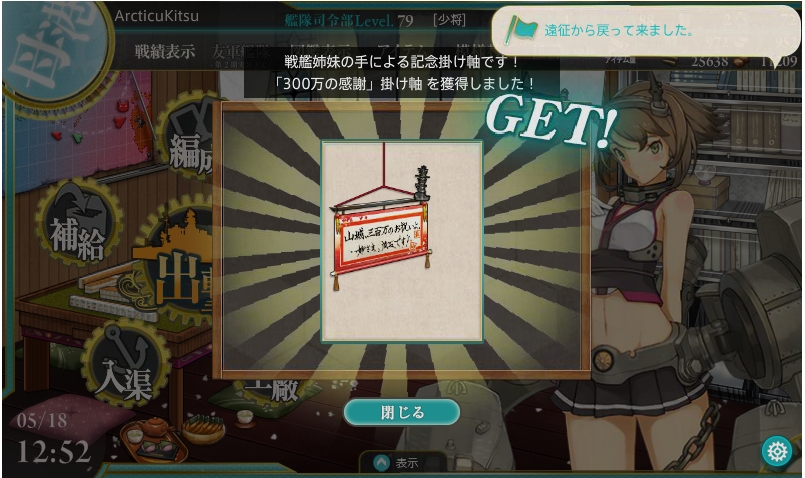 I splurged after all that fighting by opening up all the coin boxes to purchase some new furniture goodies. Do enjoy the uniform, the battleship posters, wet-season tables, and a bright wall.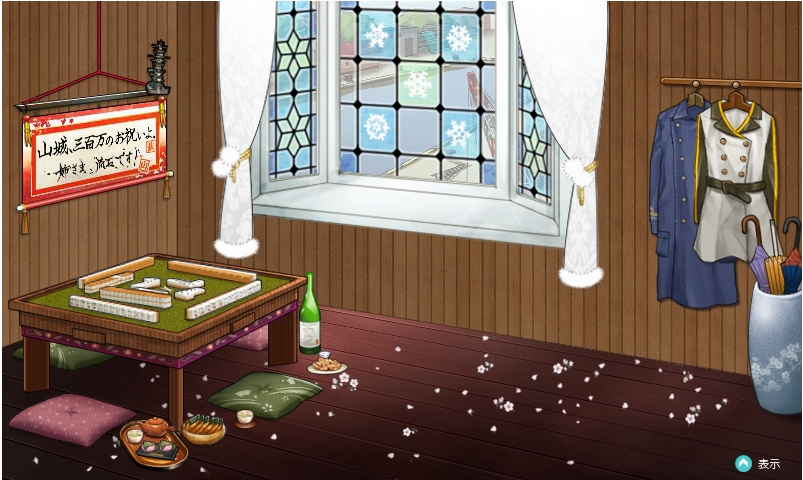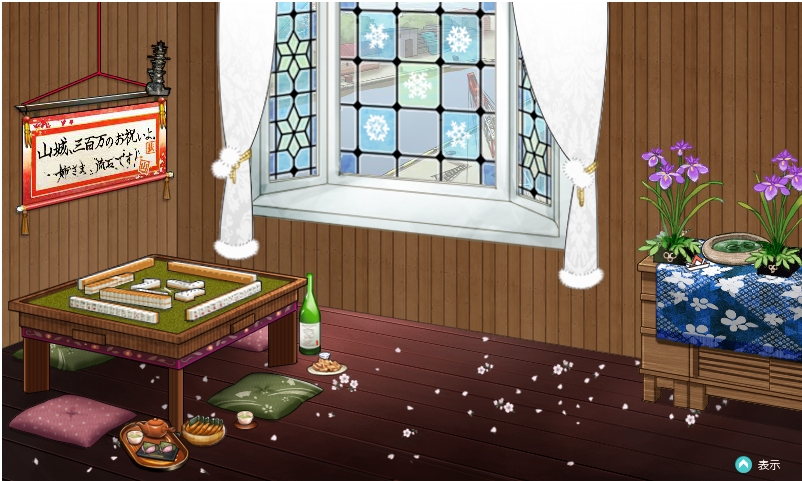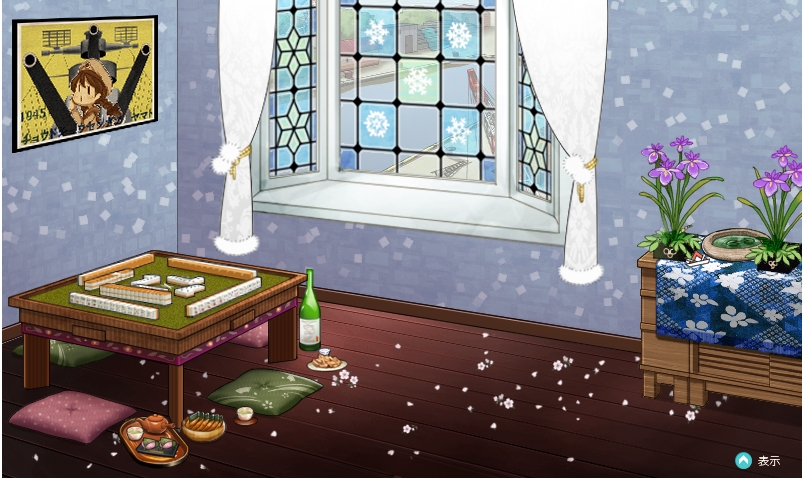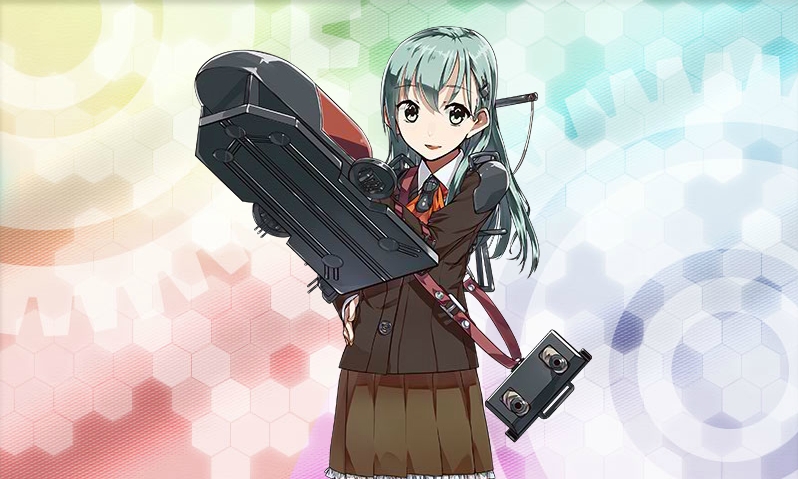 —-
I have to say that it's been a very fun event with awesome moments to be had. Just a bit disappointed things hiccuped at the end thanks to a nasty fever. I'm very happy with who I gained and fished up in this event. Even the nice equipment. Zuihou, Amatsukaze, Suzuya, Yuubari, Katsuragi, Kumano, Haruna, Littorio, and Kaga being the high-ranking rewards on my end. I'm happy.
– My Spring Event 2015 Rewards:
Zuihou
Tanikaze
Amatsukaze
Suzuya
Yuubari
Katsuragi
Makigumo
Kumano
Haruna
Hiei
Nowaki
Littorio
Yuugumo
Abukuma
Kaga
Bonus – Not Acquired: U-511 – Akitsushima – Unryuu – Roma.
[They all escaped me. I wasn't allowed to have U-511 with the S-Ranks I earned. I was just an inch away from absolute victory also for Akitsushima. I simply was not allowed to have either, which is an absolute shame. I didn't really care or Roma. I don't mind not having Unryuu either, yet would have been nice. Hoping for another chance for both U-511 & Akitsushima.]
– My Plans:
Fleet Cap Increase: I need to look into upping my fleet cap. I can't do it on a whim and I need help upping it, but only by trusted comrades. This shall be a major pain.
World Bonus Maps – Medals/Blueprints: I need to hunt these extra maps for medals and blue-prints. Littorio needs one, as do other ladies. Both Littorio & Bismarck are firmly requesting me to give them blueprints to remodel them. They're at, or above, the level needed.
Maya, Murakumo, & Update Kai: Wanting to continue leveling Maya, Murakumo and others to their Kai Ni update remodels. Been steadily trying to do so to only get interrupted by this event. Wanting to do so with Miyuki and Katsuragi also. They've been on the expedition runs.
Low-Level Training: Now that the event is past I need to now look into leveling Kaga and the other girls who are low level to be more worthwhile and experienced in combat.
Resource Recovery: The event drained my resources heavily that I was crippled. Needing to recover fuel, steel, bauxite, and buckets. Ammo is oddly intact with me wanting to burn through it to level my destroyers in 1-5.
That is if my ISP doesn't finally cut off my internet. I was even lucky that I even participated in this event. I'm struggling because I'm still trying to recover from the nasty hit from earlier in the year when I lost my 'best friend', or 'family'. Also because prices in Ontario going up making it harder to pay for things with Ontarians allowing it to happen. Everything is brutal that I might not be able to KanColle after this log, and it's pissing me the hell off. If I get to KanColle some more, then awesome. I can tackle the stuff on the list above. If not, I'll continue to curse Ontario (mostly Ottawa) for how toxic the human environment is from kindergarten till this present time. The scenery is awesome, not so much on the social side of things.
We'll see what happens and I'll keep more KanColle news posted whenever possible. I want to work towards gaining blueprints for both Littorio & Bismarck.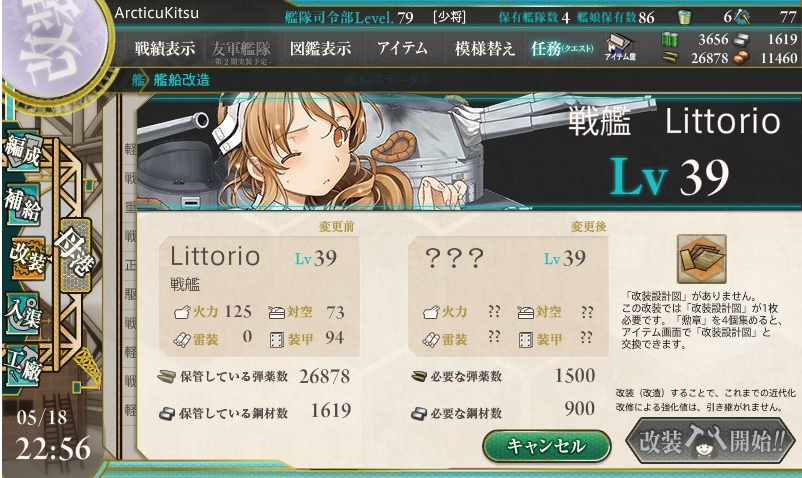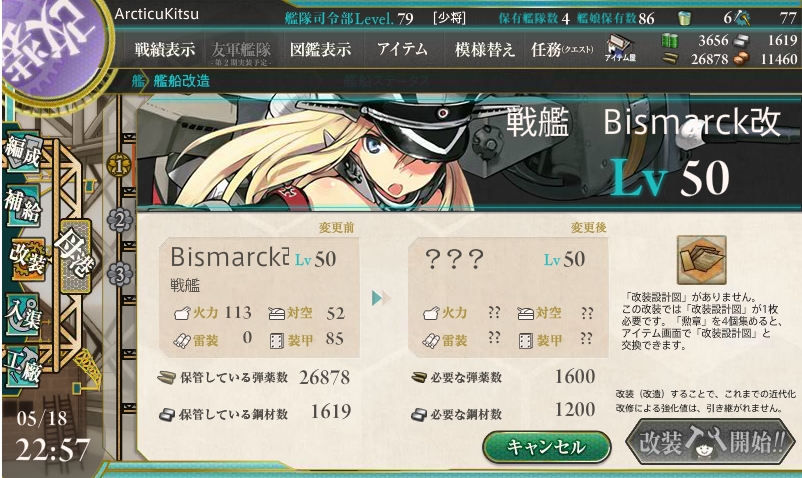 Now to start the June log on May 19 onward because of how KanColle deals with its update. Hope you had a nice rewarding event!
– Good Hunting! I hope This Even Was Rewarding To You!