FEUER!~ Bismarck is finally being reviewed after sitting at my Canadian drydock for a good two months. Finally able to review her, and thus we shall see the glorious German battleship in her KanColle form!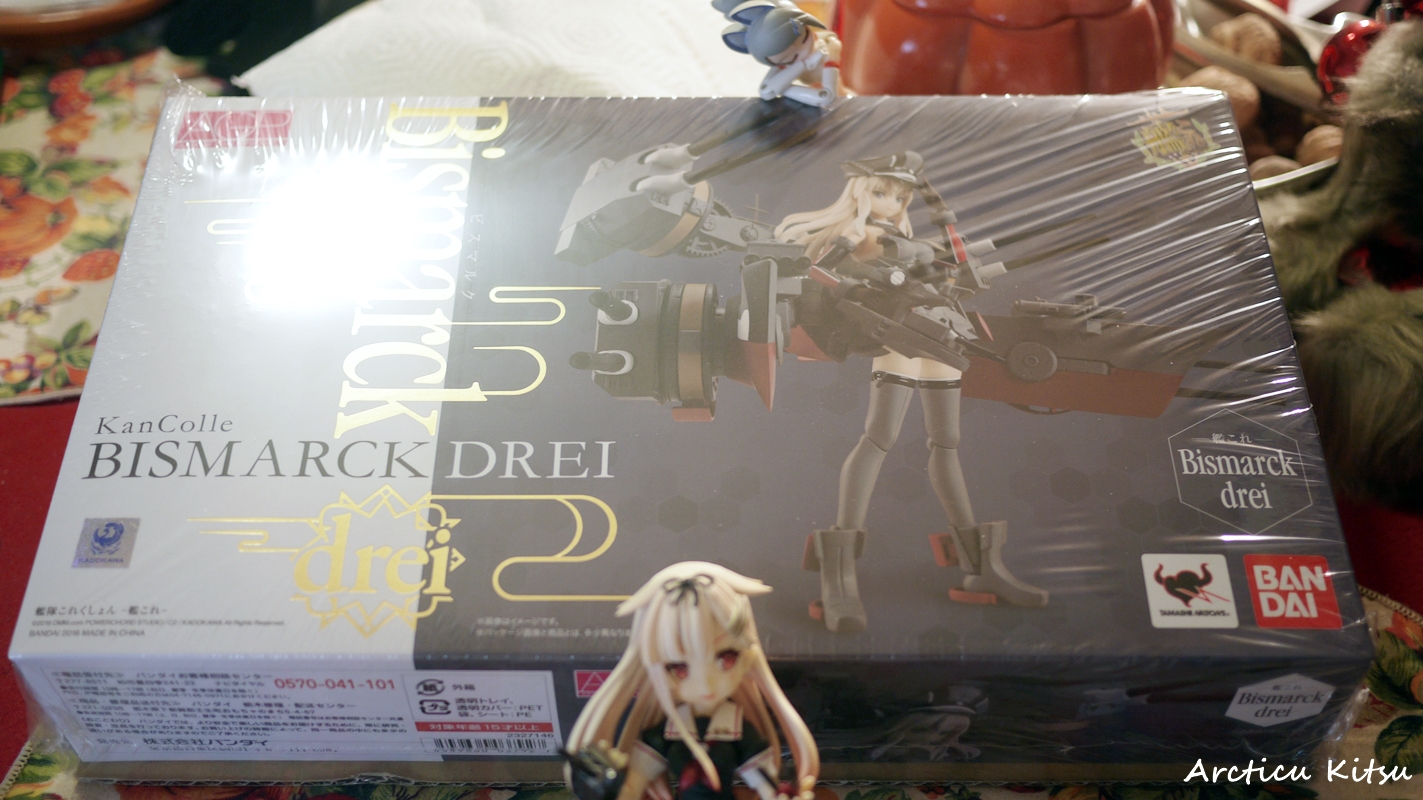 [All images taken with a Lumix GF1 – Pancake lens.]
Finally! Finally able to review the glorious German battleship: Bismarck Drei! My glorious waifu finally being unboxed ever since she arrived [August 30th, 2016] for me to admire. She costed a pricey $166 CAD (with shipping), yet the boarder security fees most likely made it jump to $202 CAD. I feel like I was double-dipped by Canadian customs for uniting with my waifu Bismarck back in August 30th. Was quite…harsh.
The delay from August 30th till now was mostly done to KanColle web, work, stress, more stress, getting a light illness, and no proper time to sneak it in. I needed a good two days off straight to get to her, something I've had once, yet was too sick with muscle chest pain to deal with Bismarck appropriately. Two months! Sorry Bismarck, my precious waifu….I took way too long to get to you. Now that I have, let's see the glory that is Bismarck!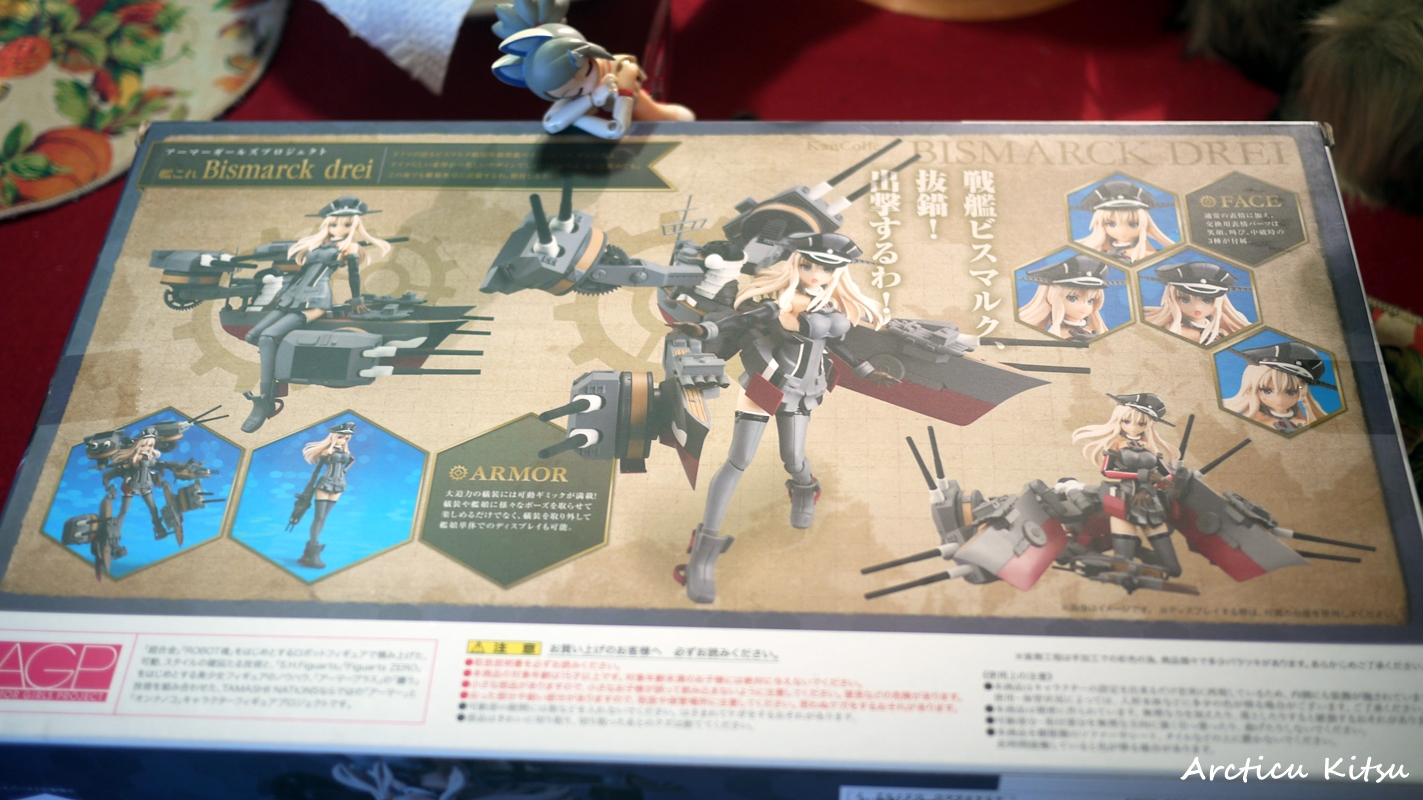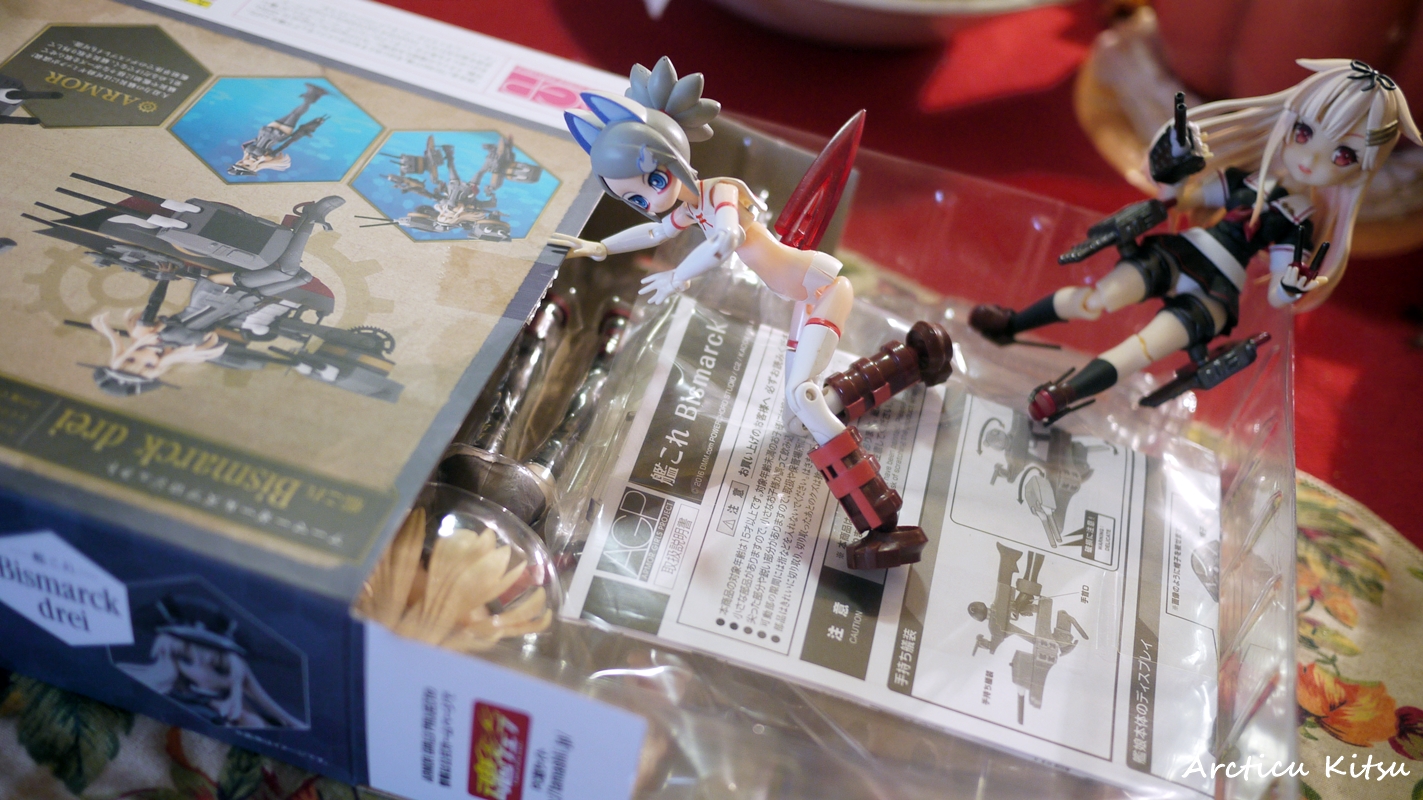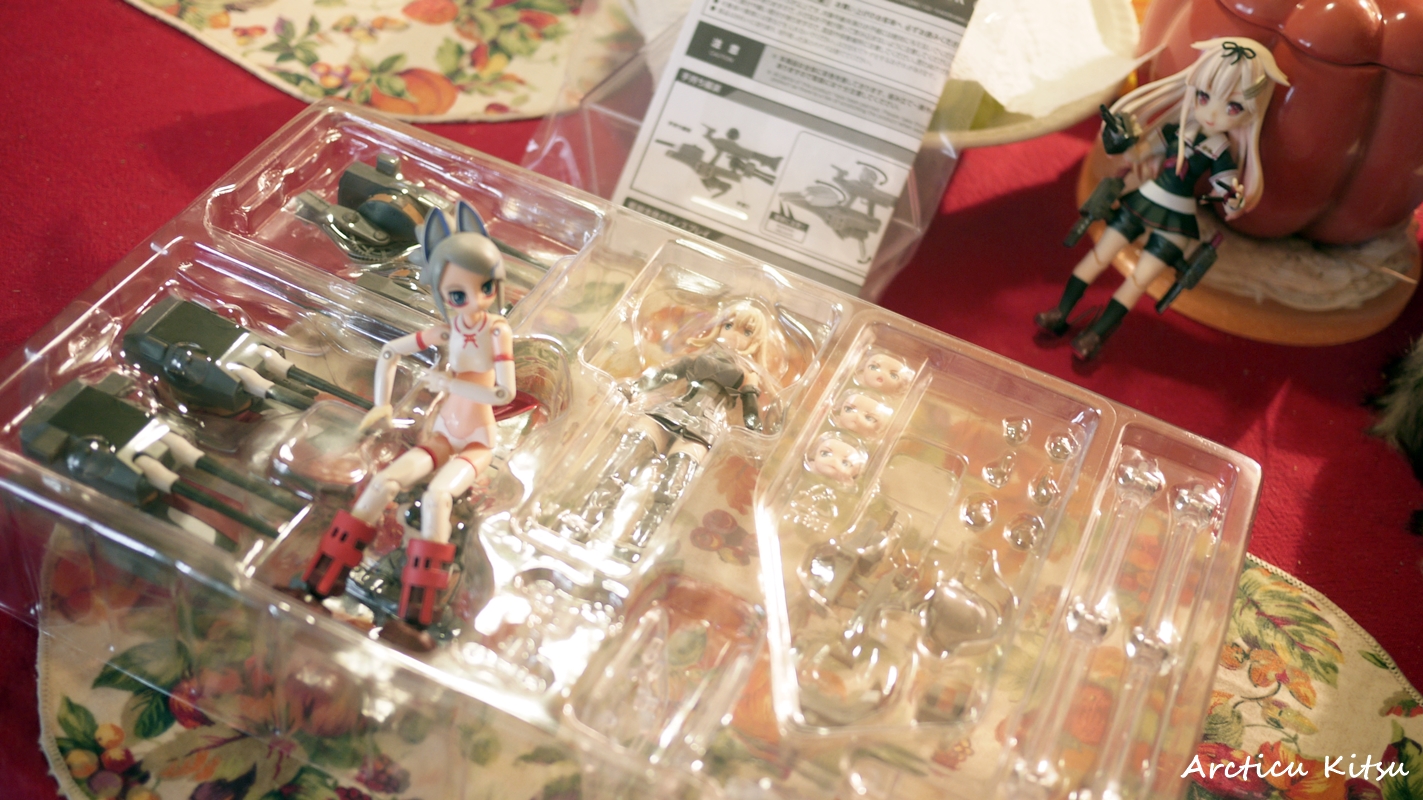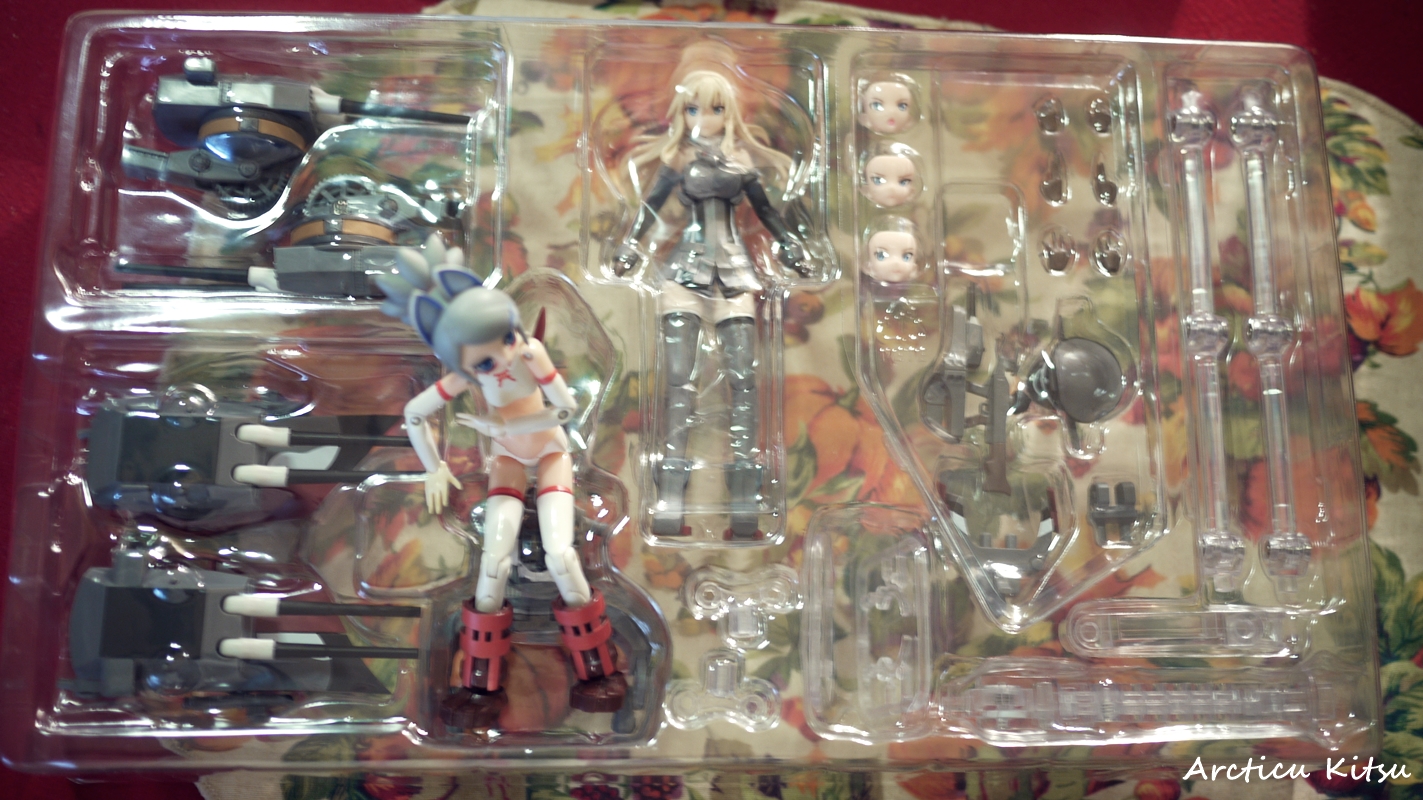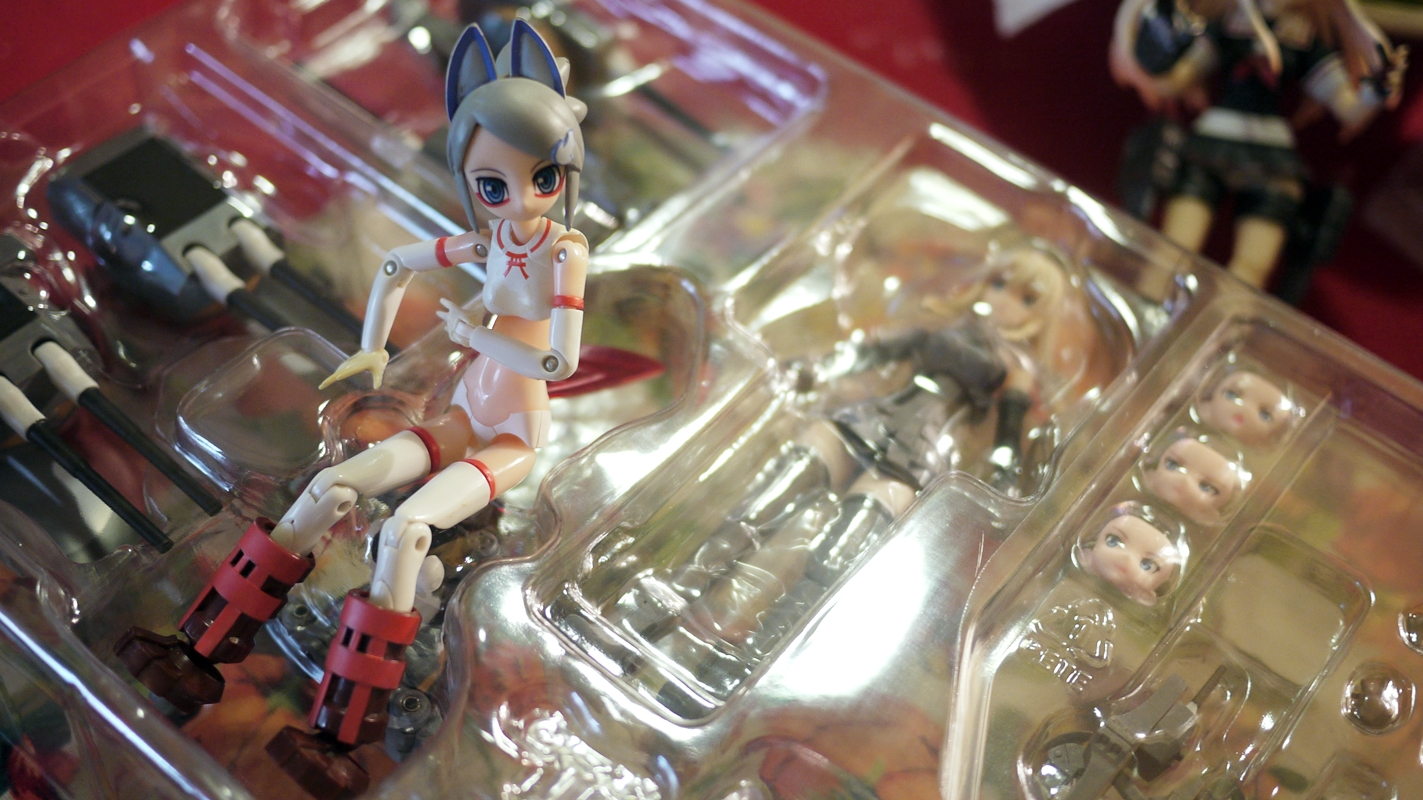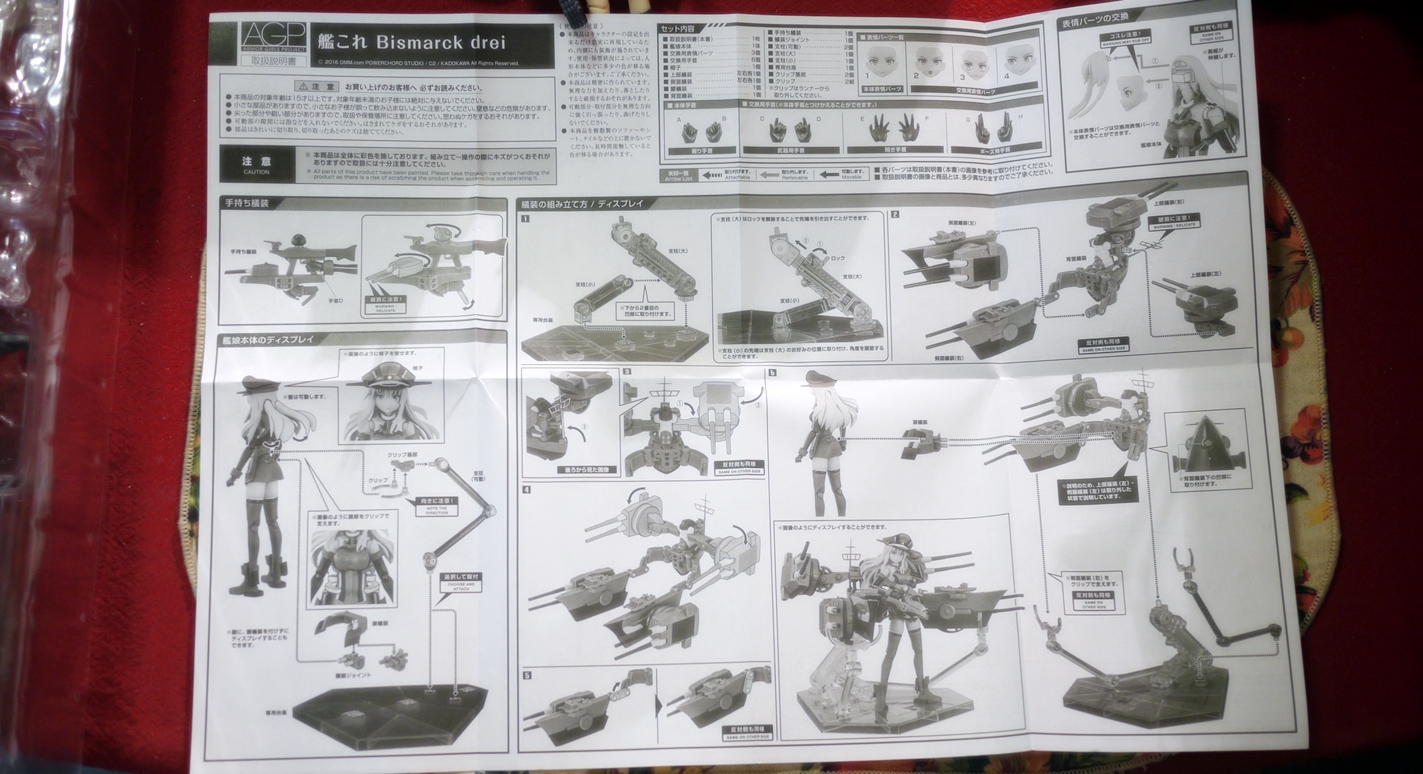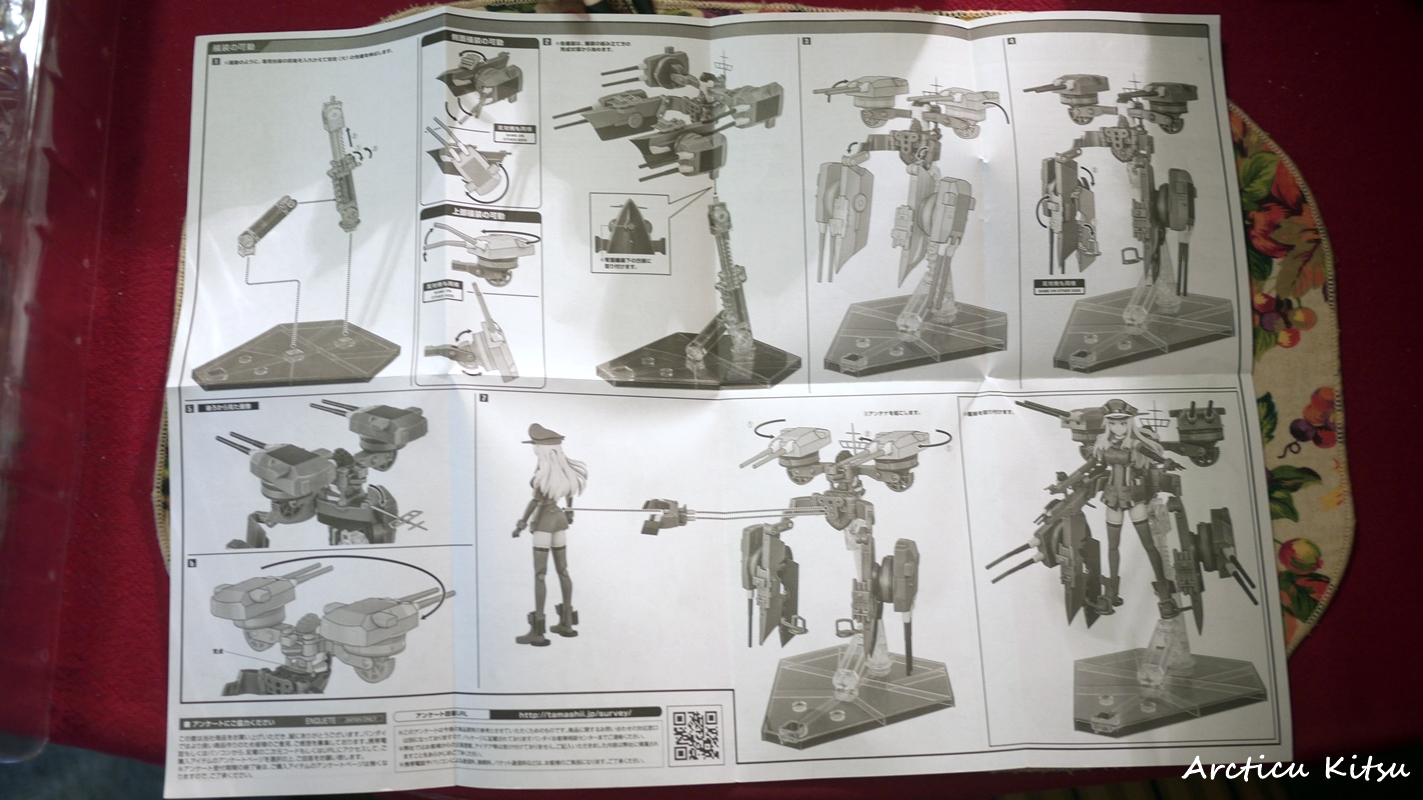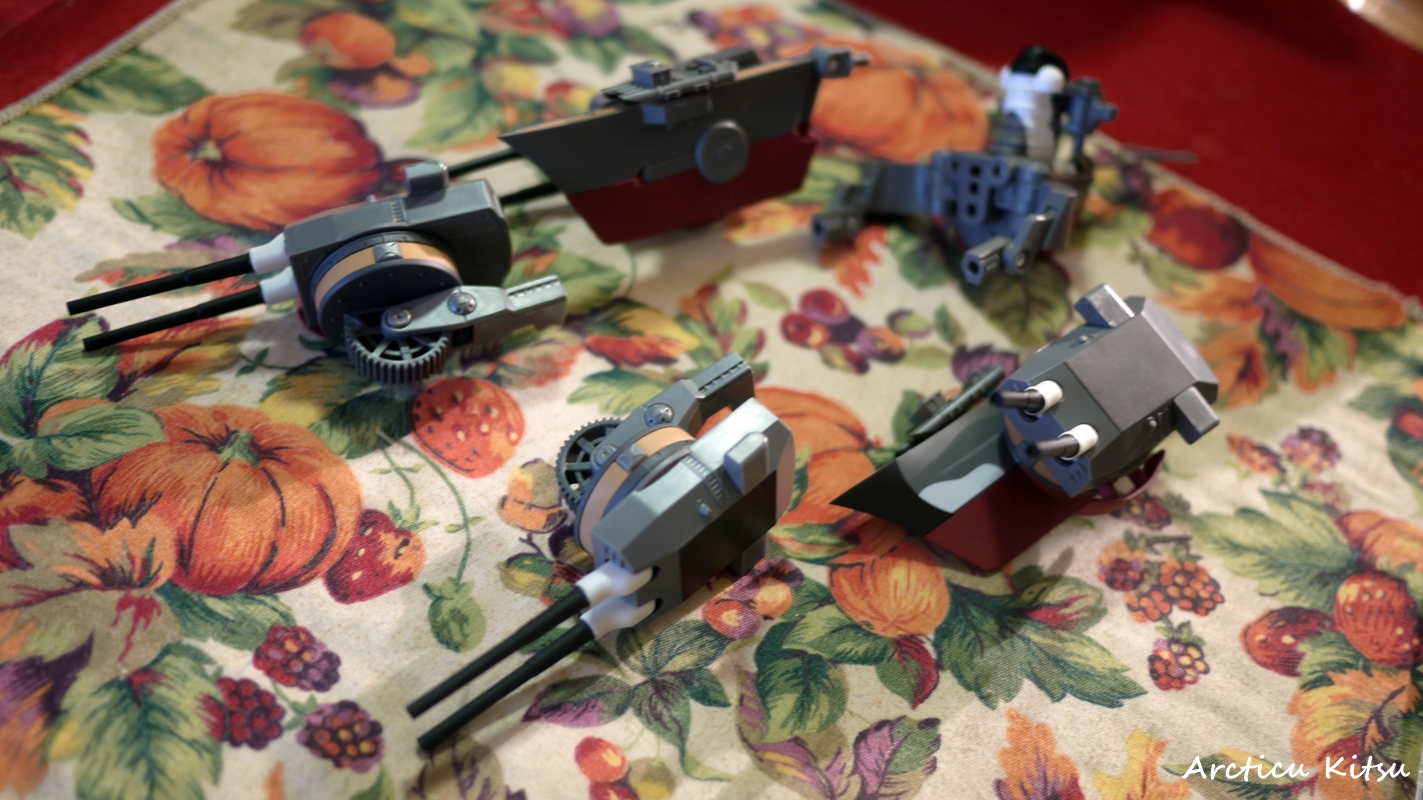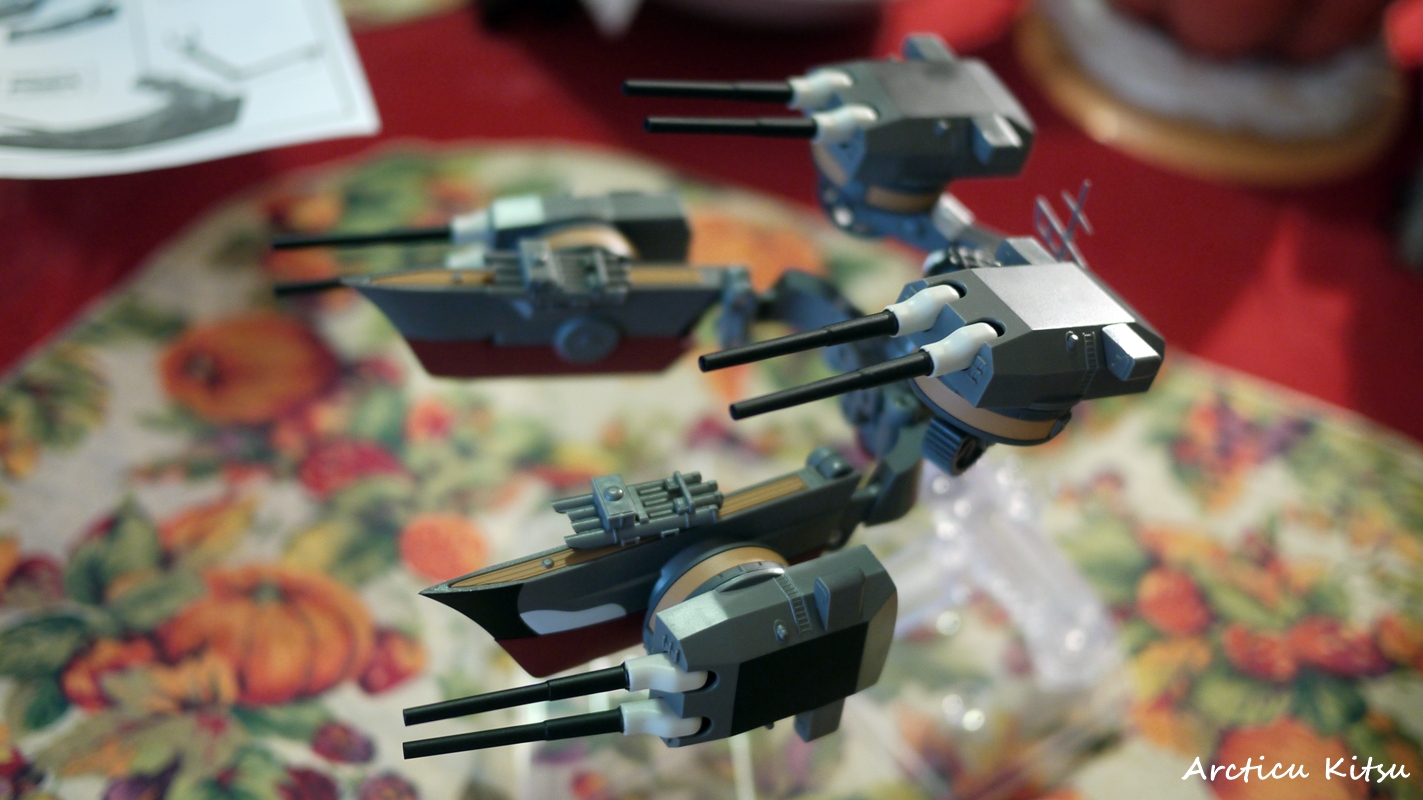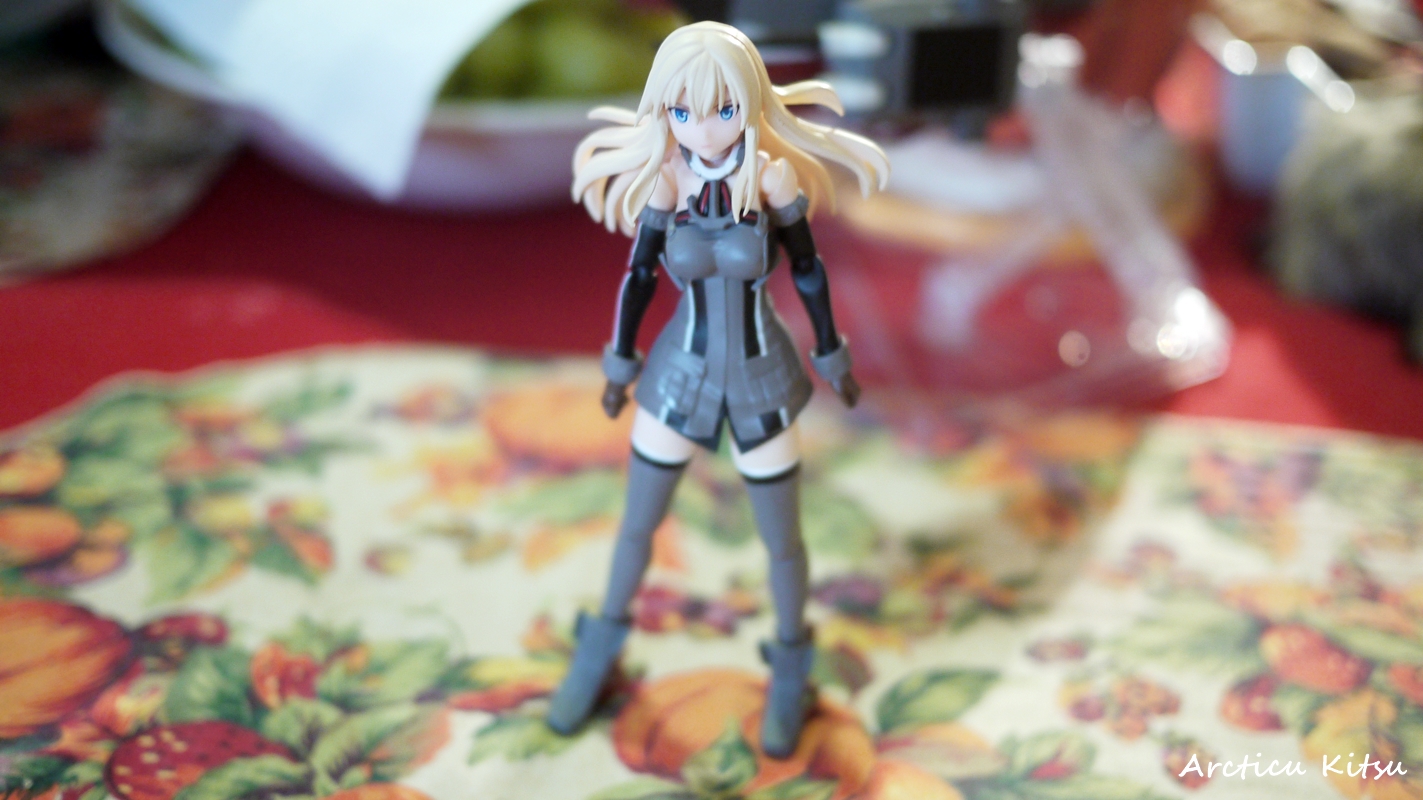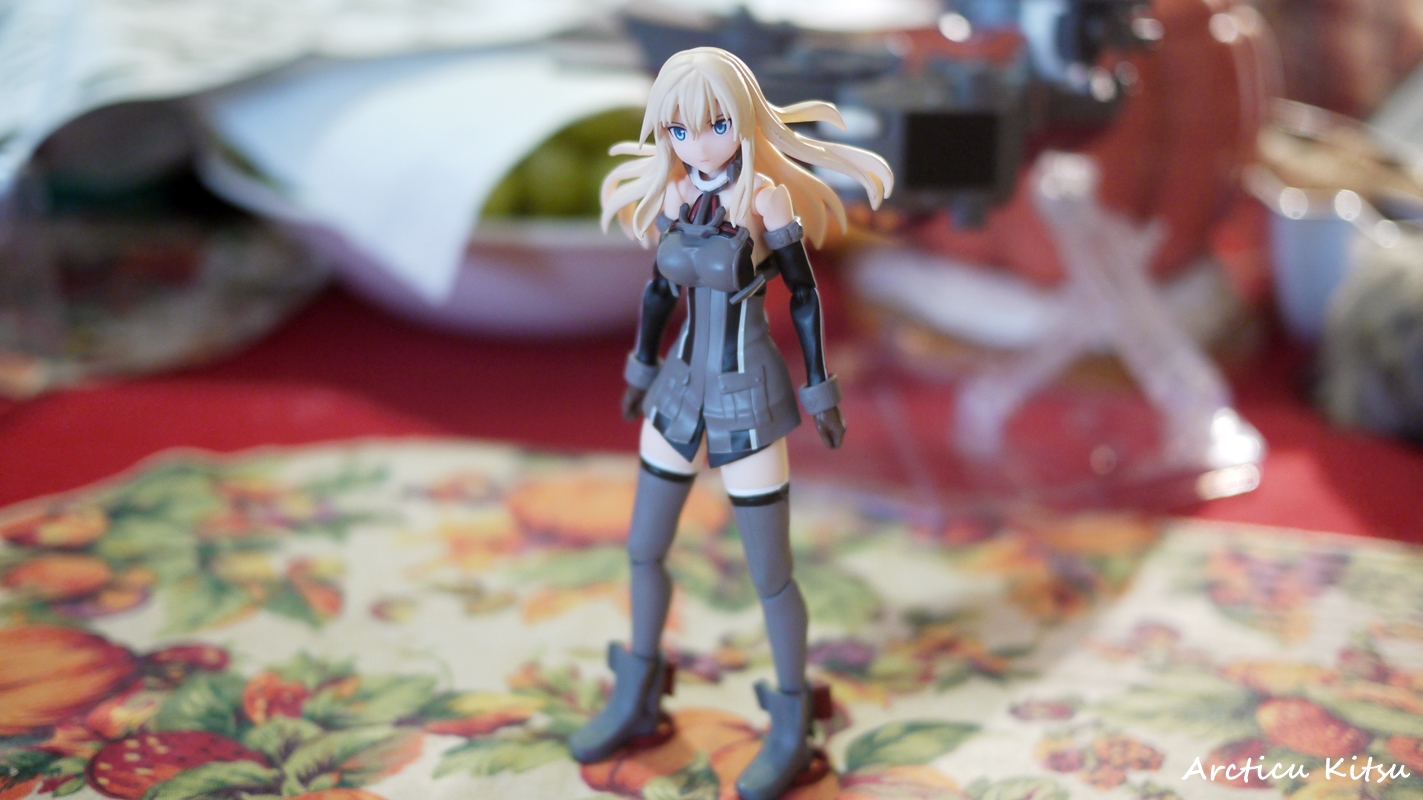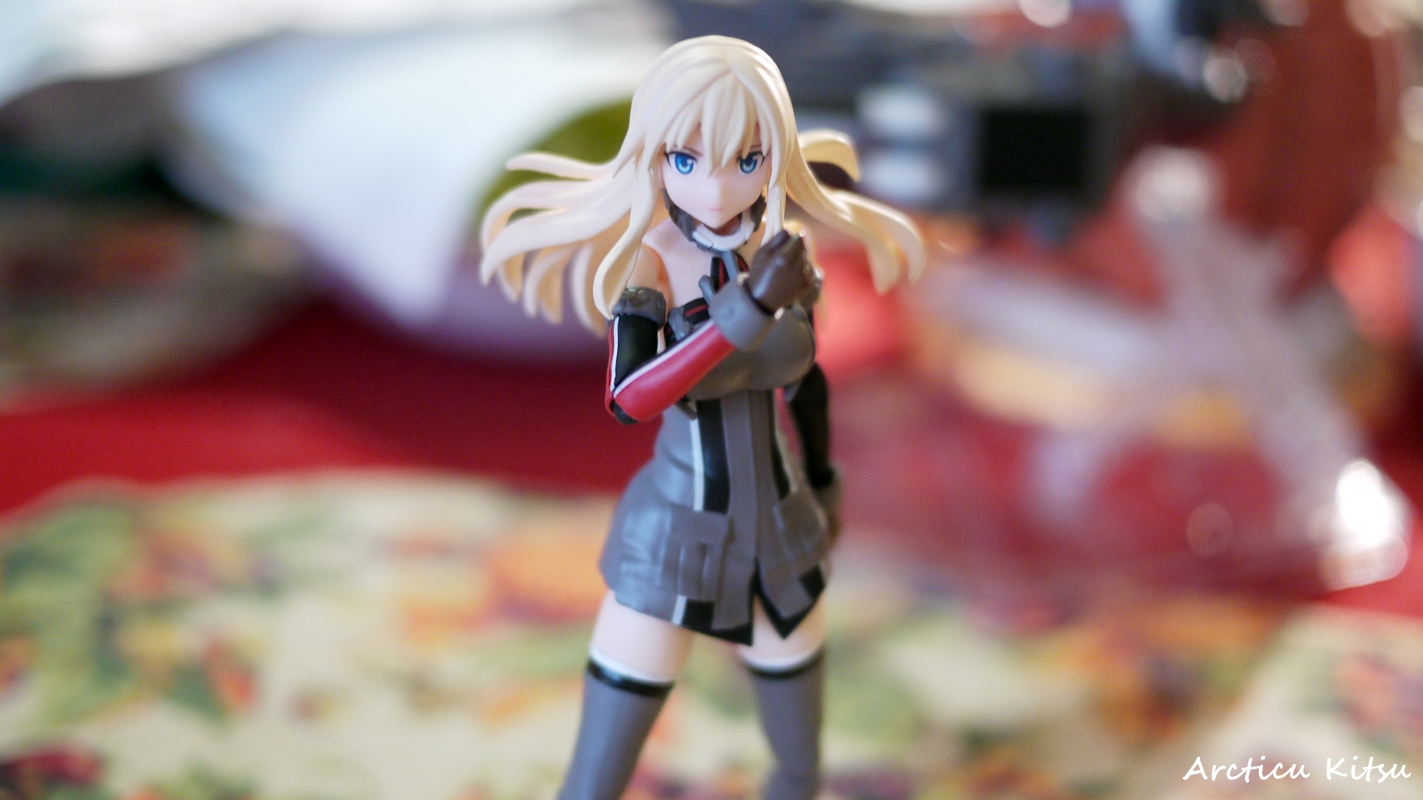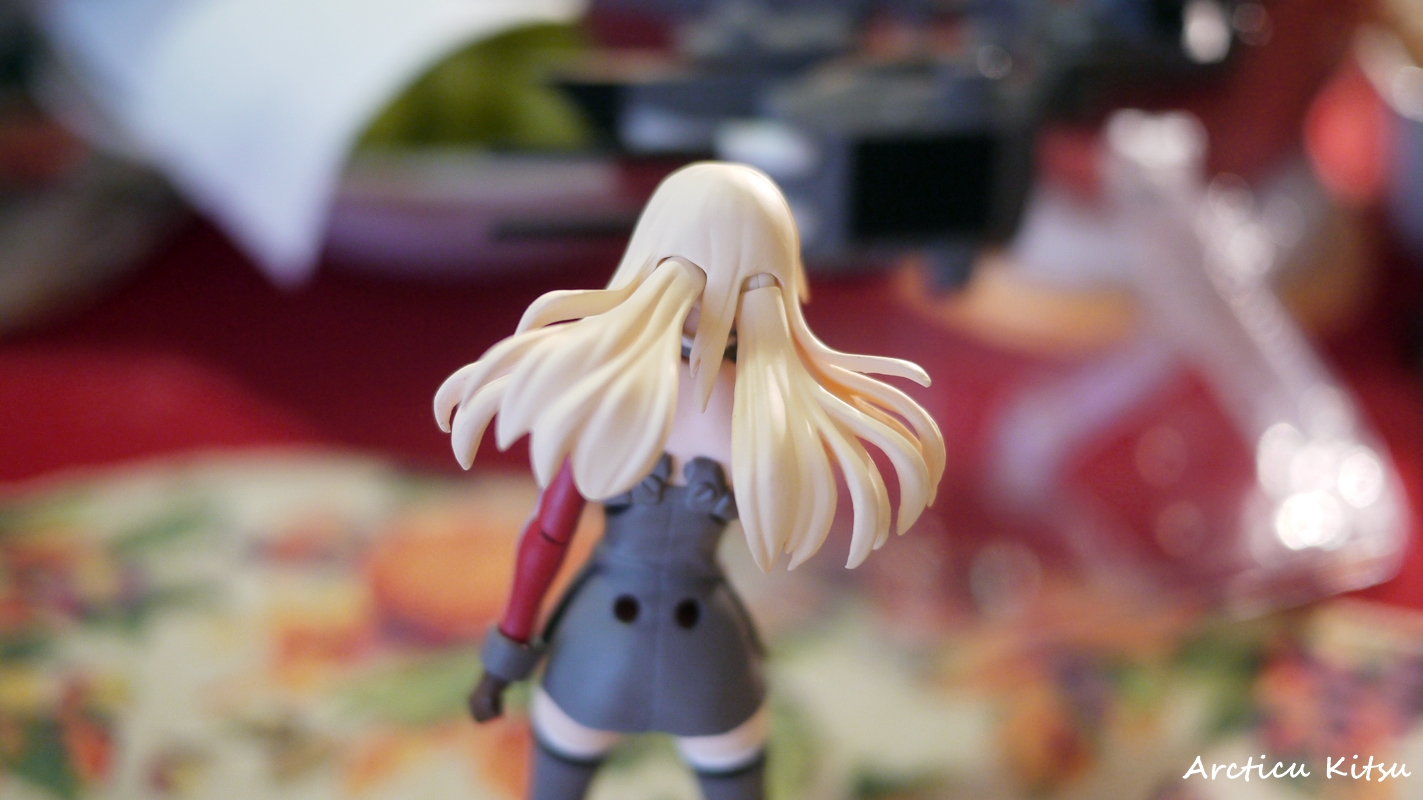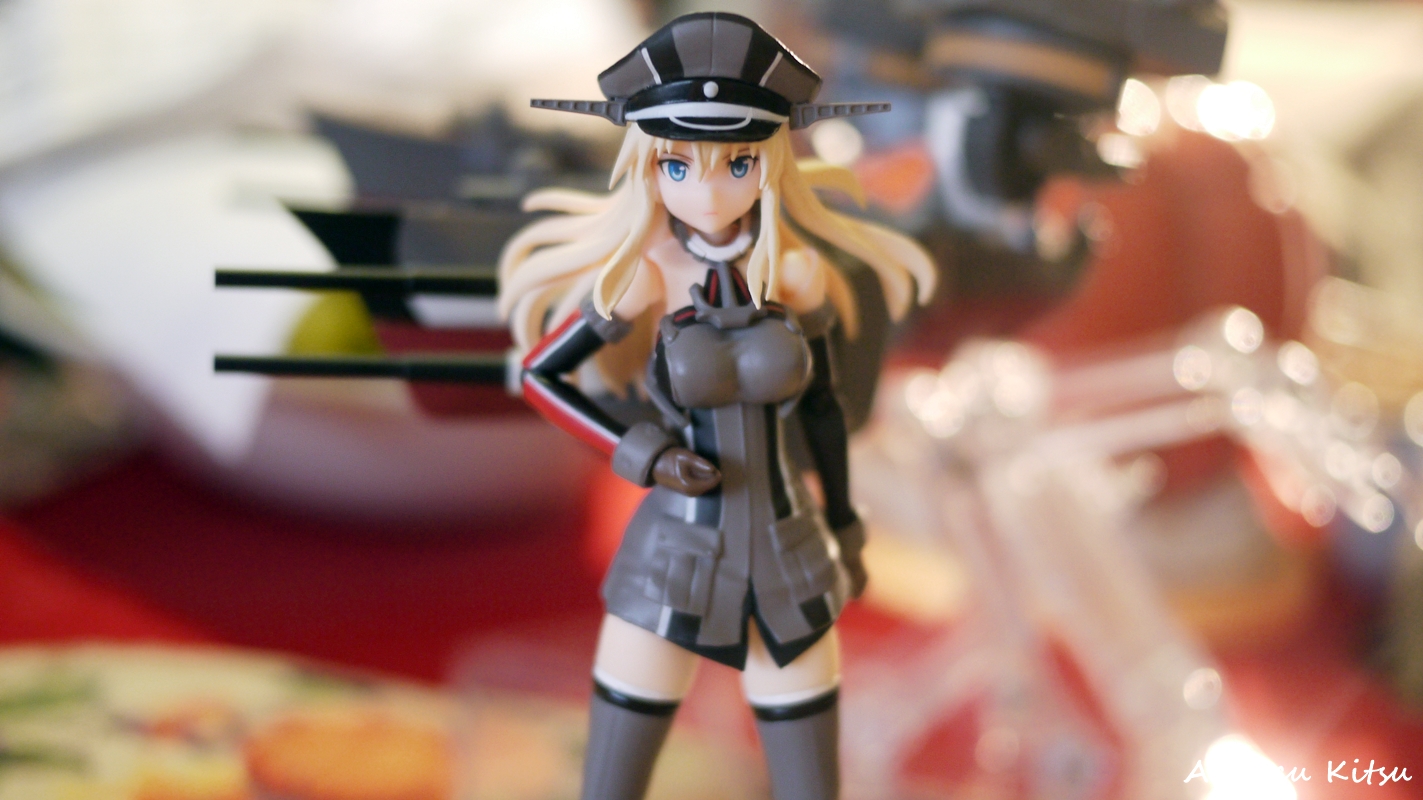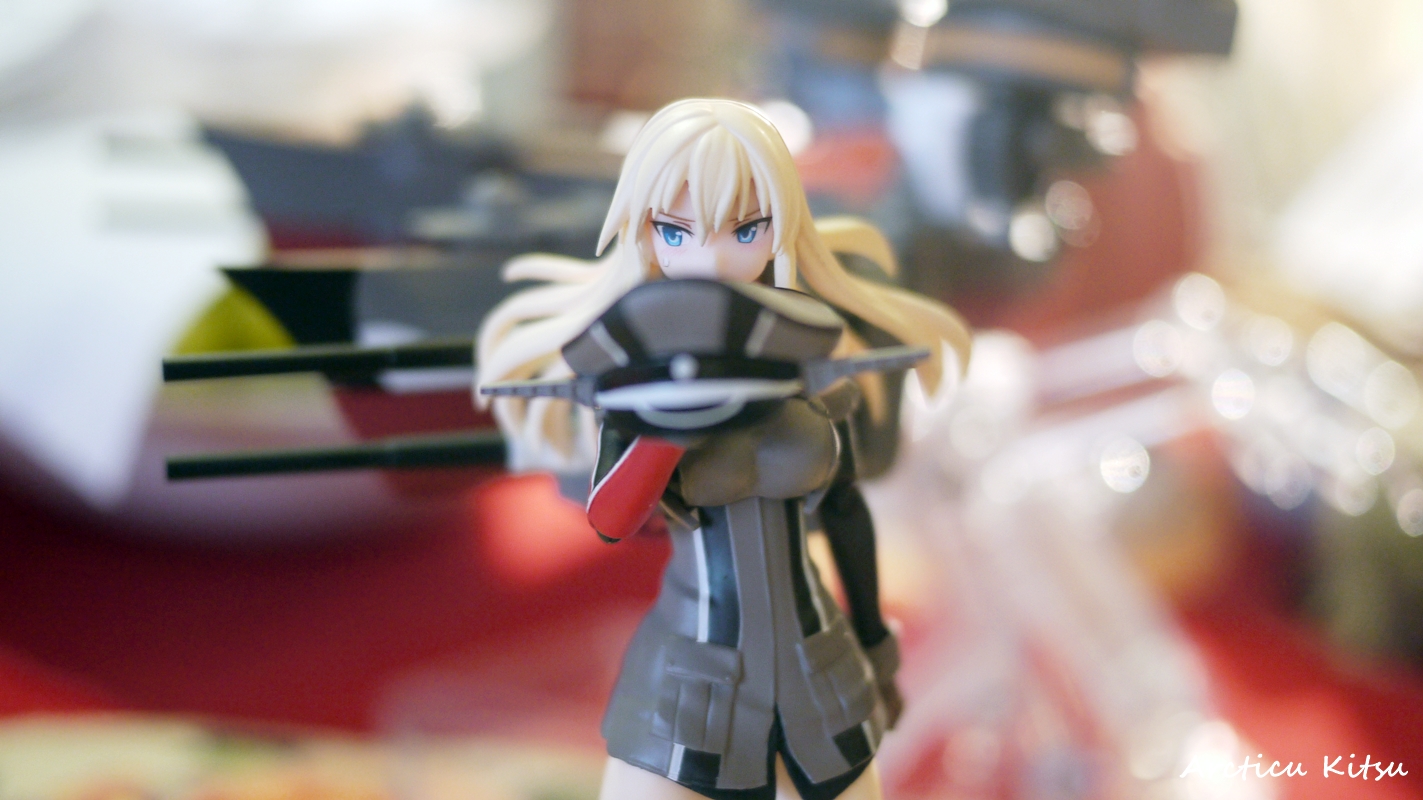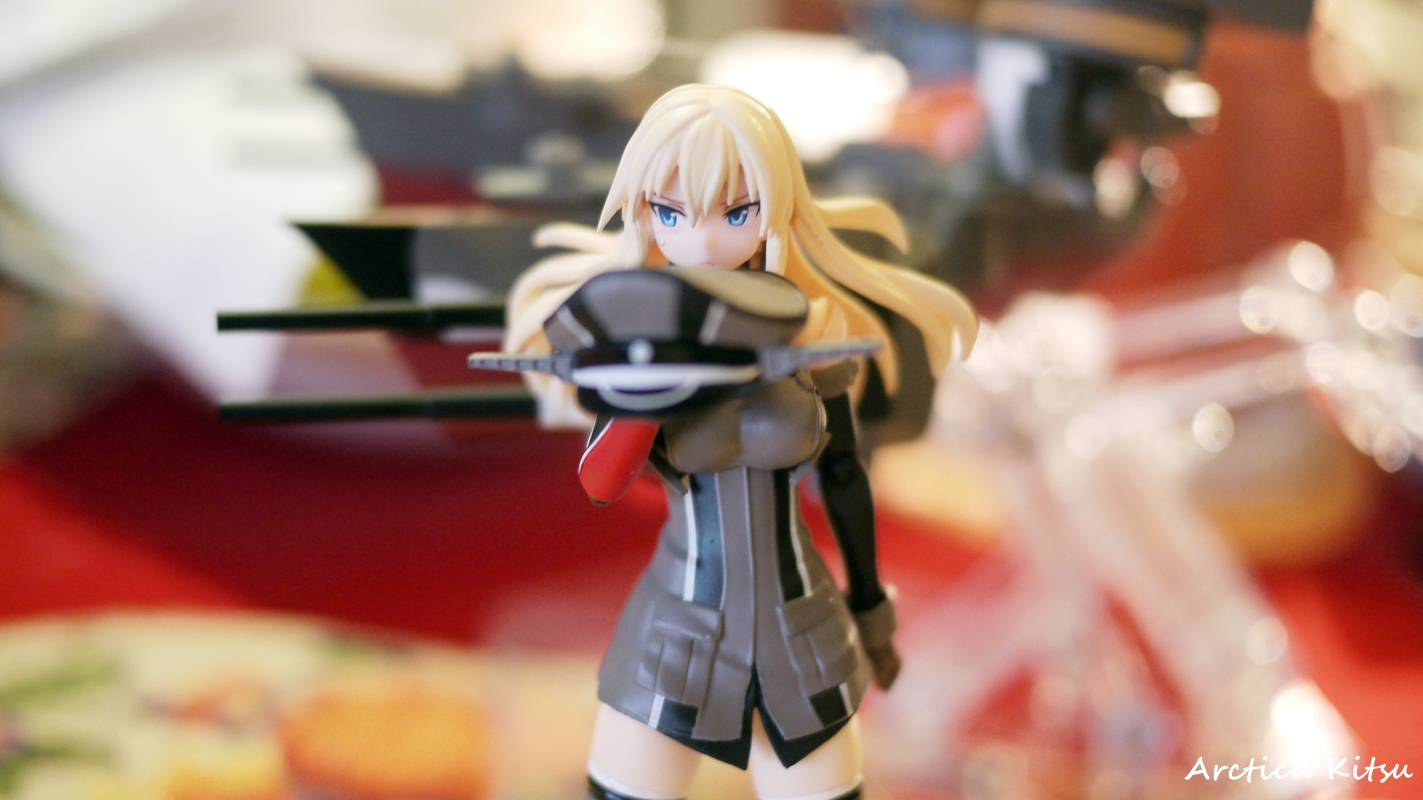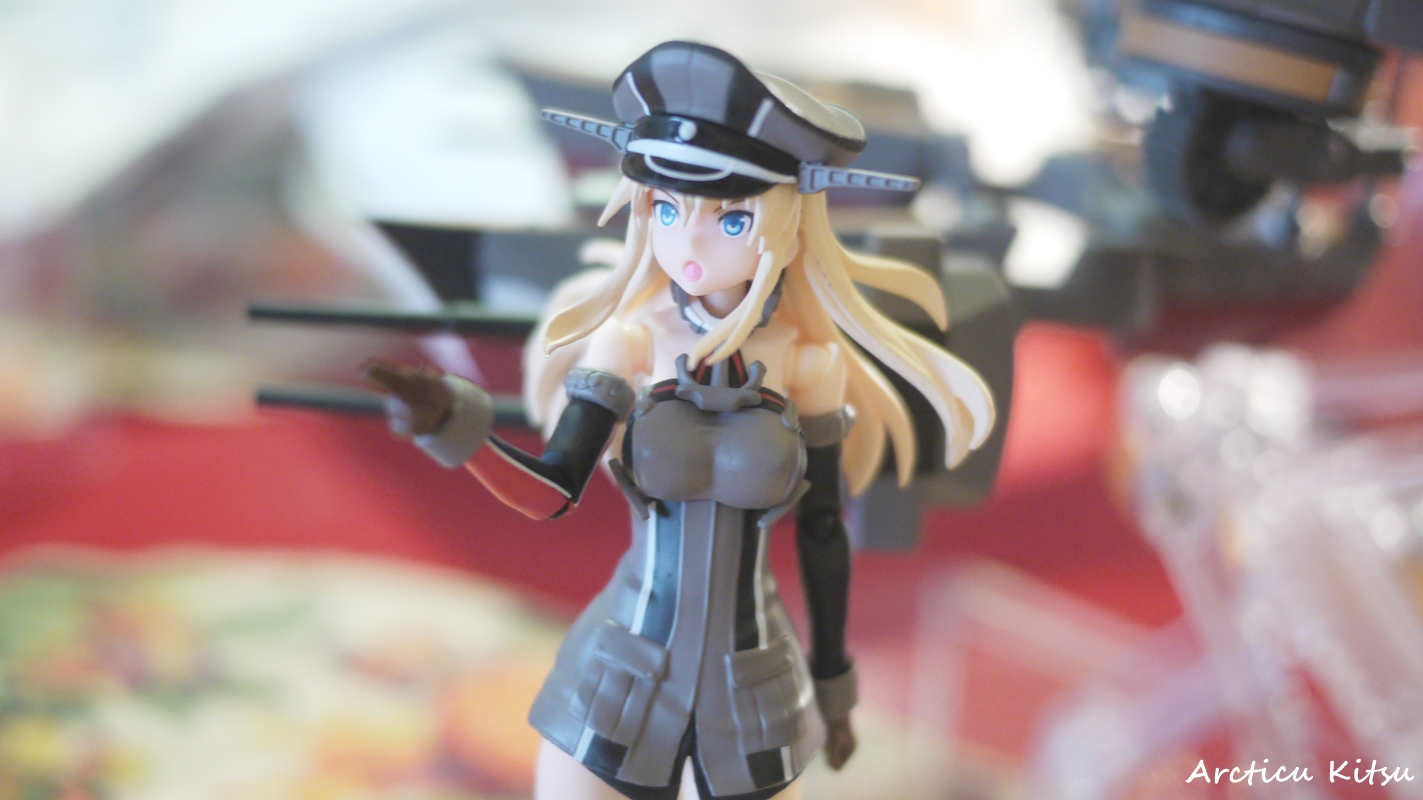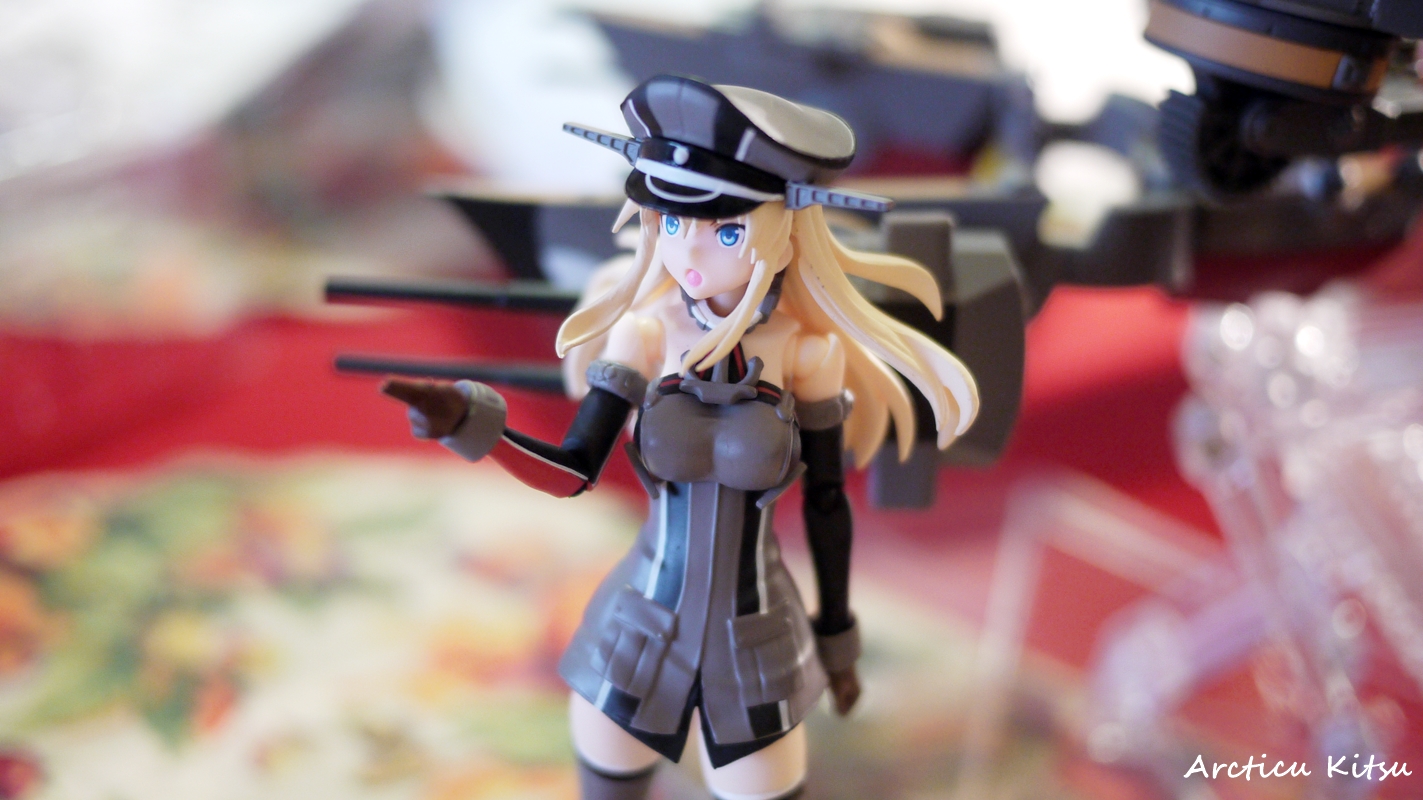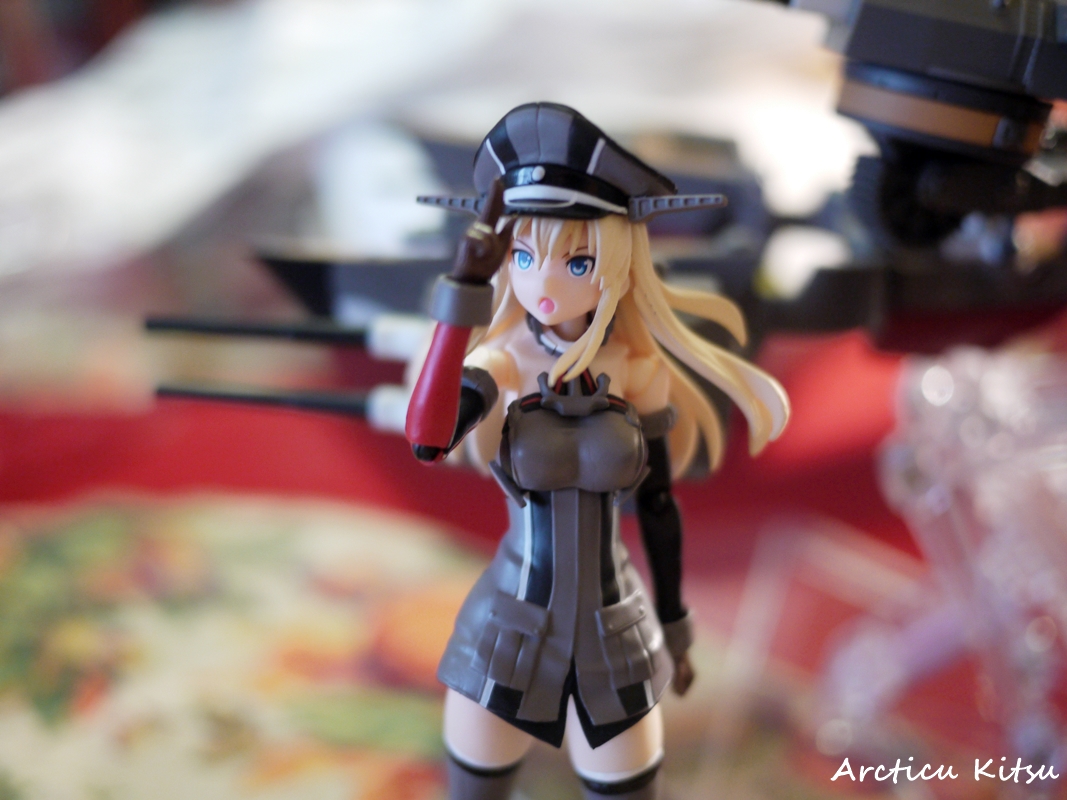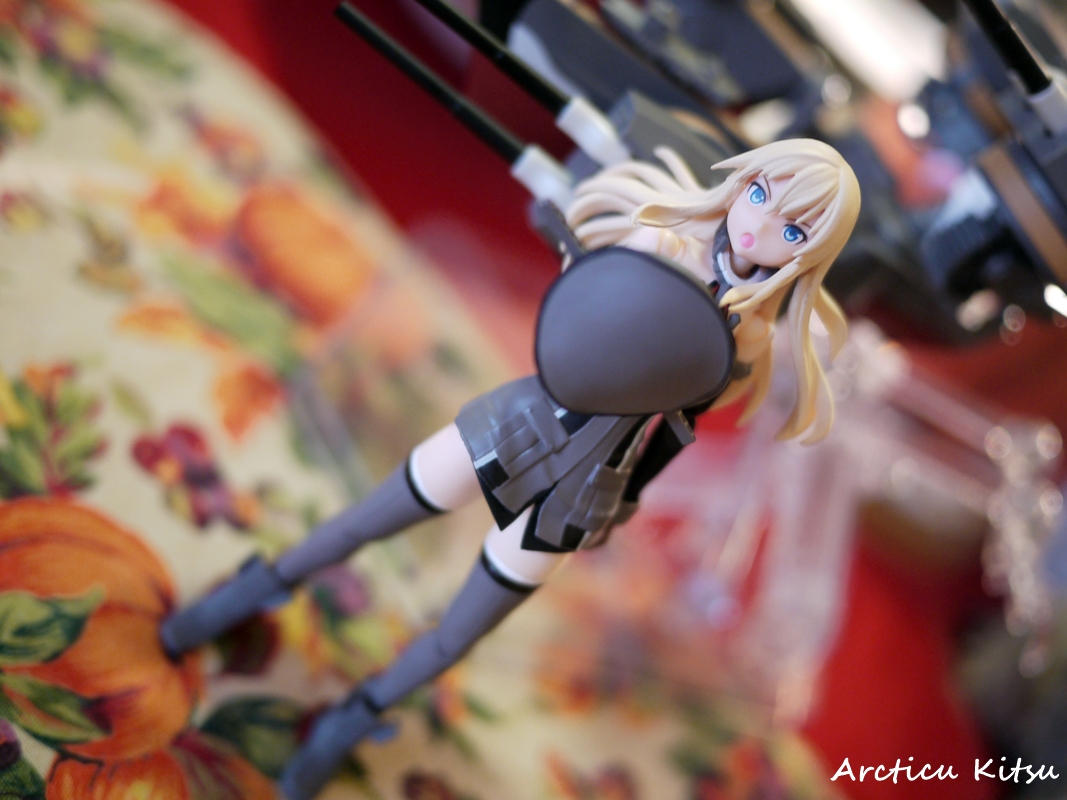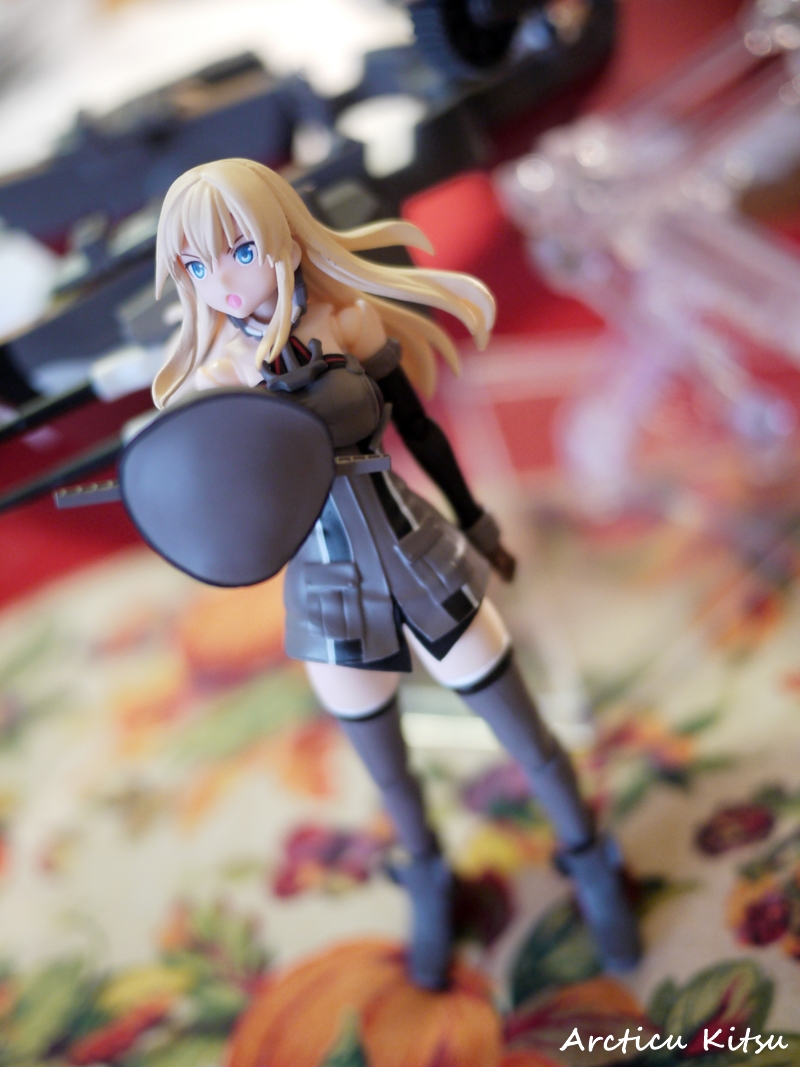 In the below image she was a great pain to deal with when it came to her hands and her gun. The hand swapping is a nightmare with how small the peg is, even with how her sleeves/hand-cuffing gets in the way. Everything gets in your way at every turn that you cheer when the hand gets positioned, and same when you figure out how to get her clasping hands to grab onto the gun handle. Her hand (from the joint) wants to come off at the wrist position for how small & stubborn the peg is. It's sturdy, yet quite a pain.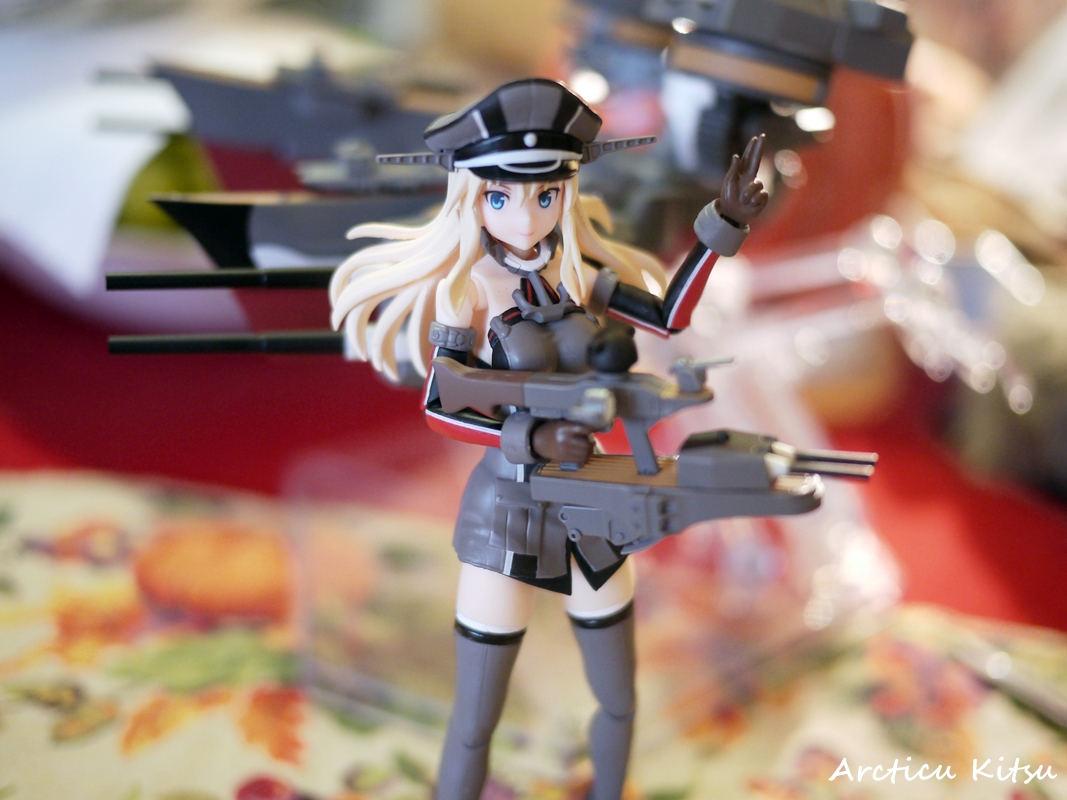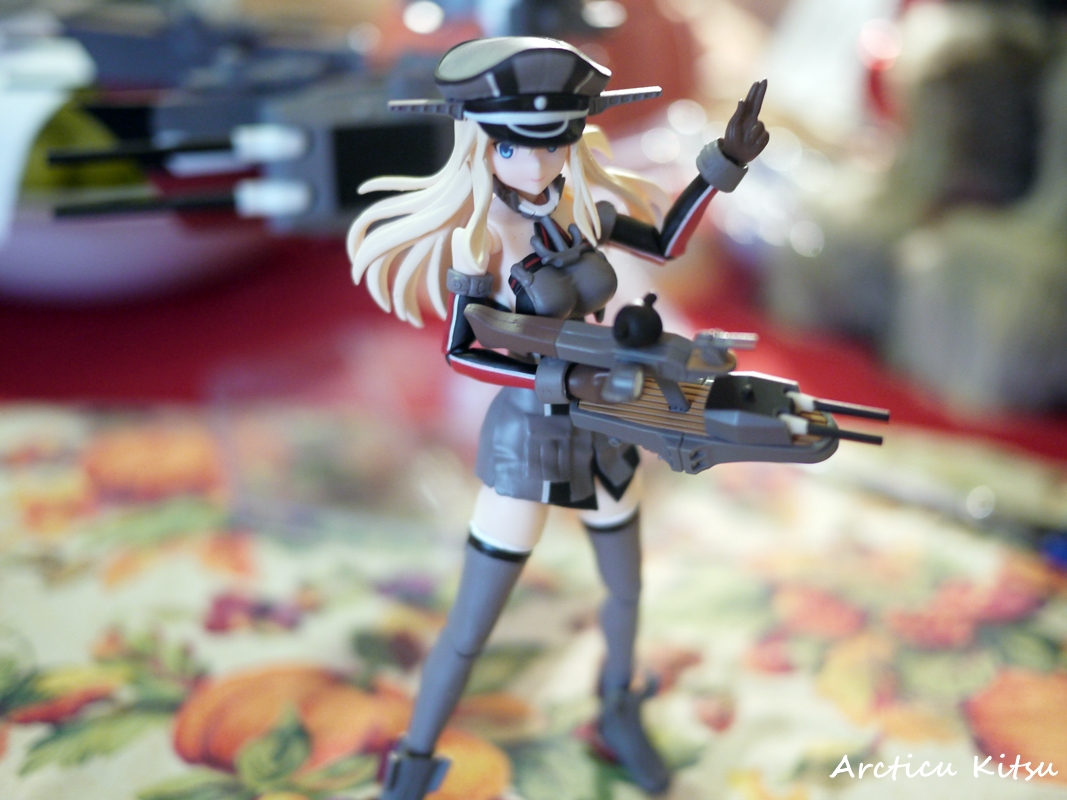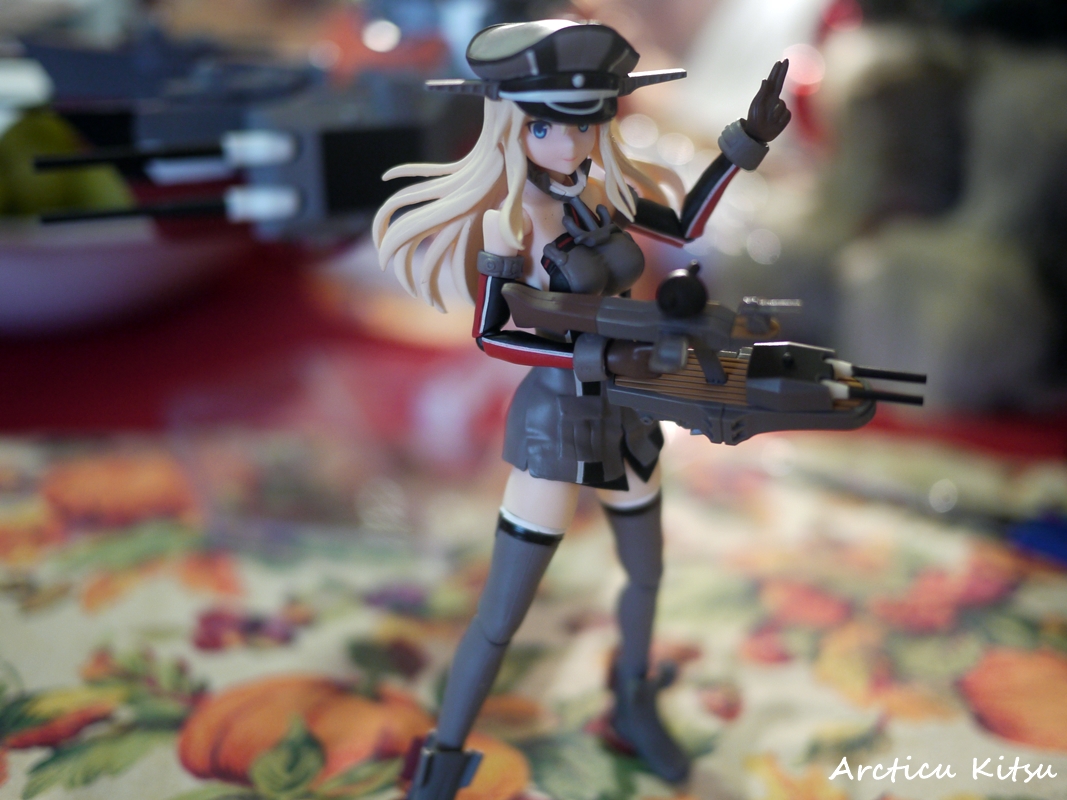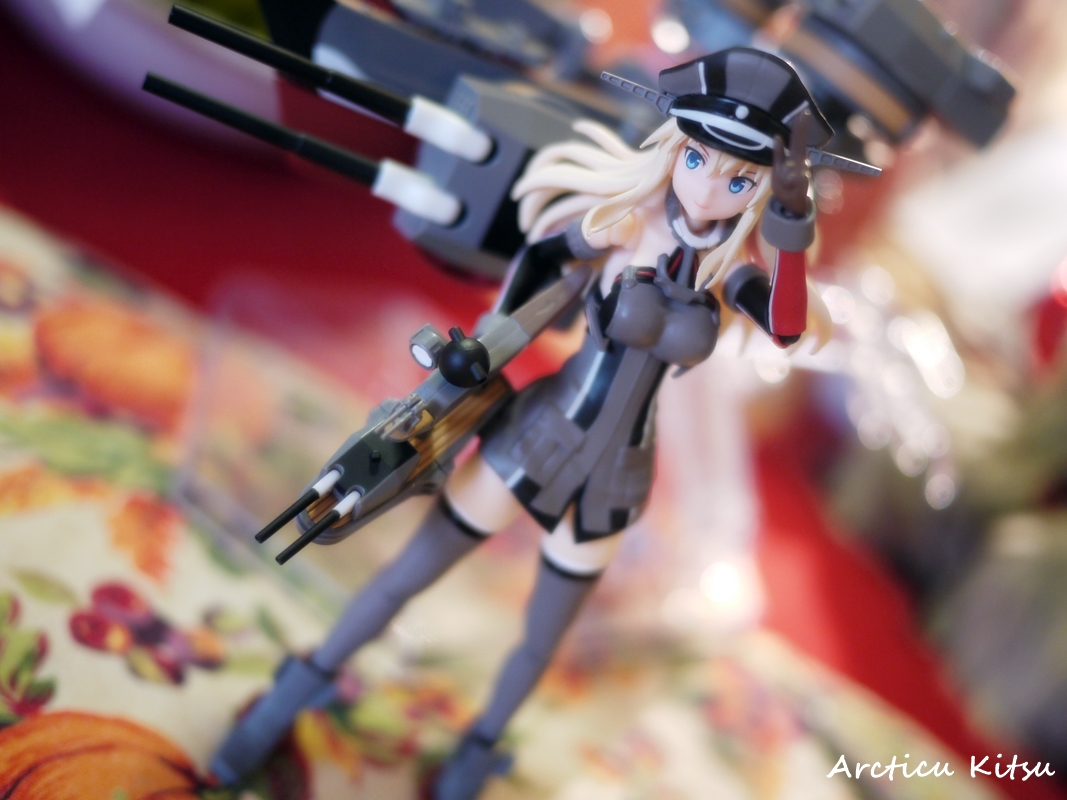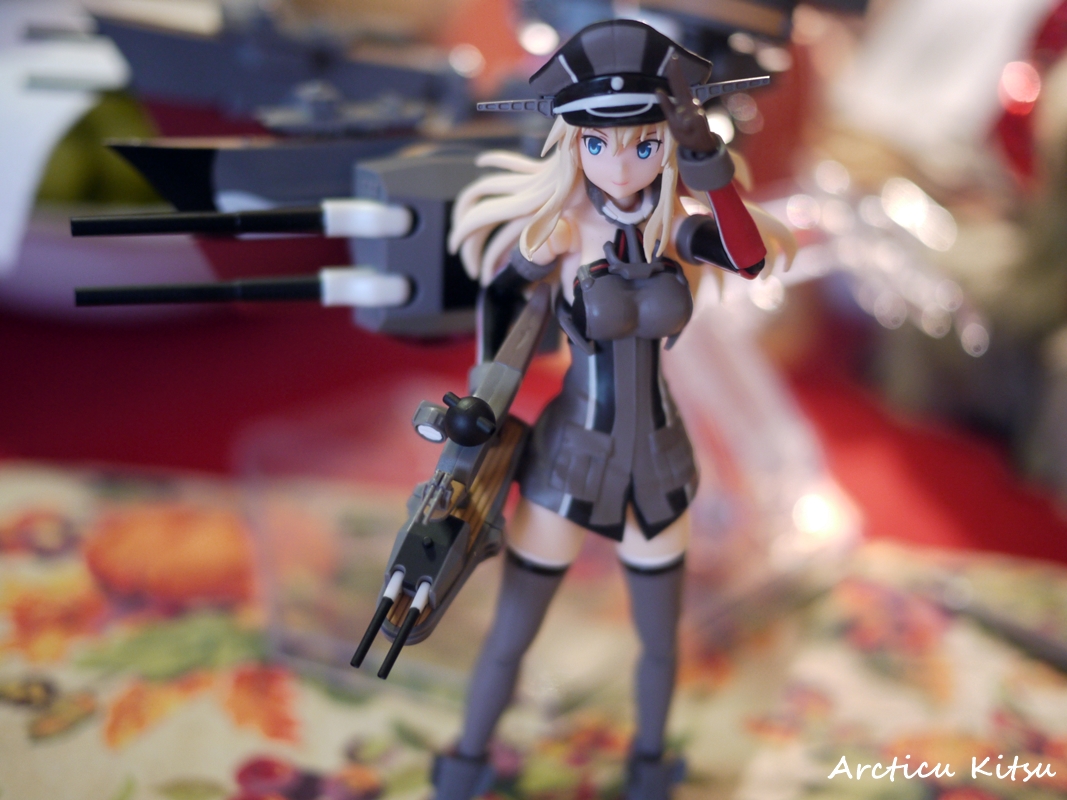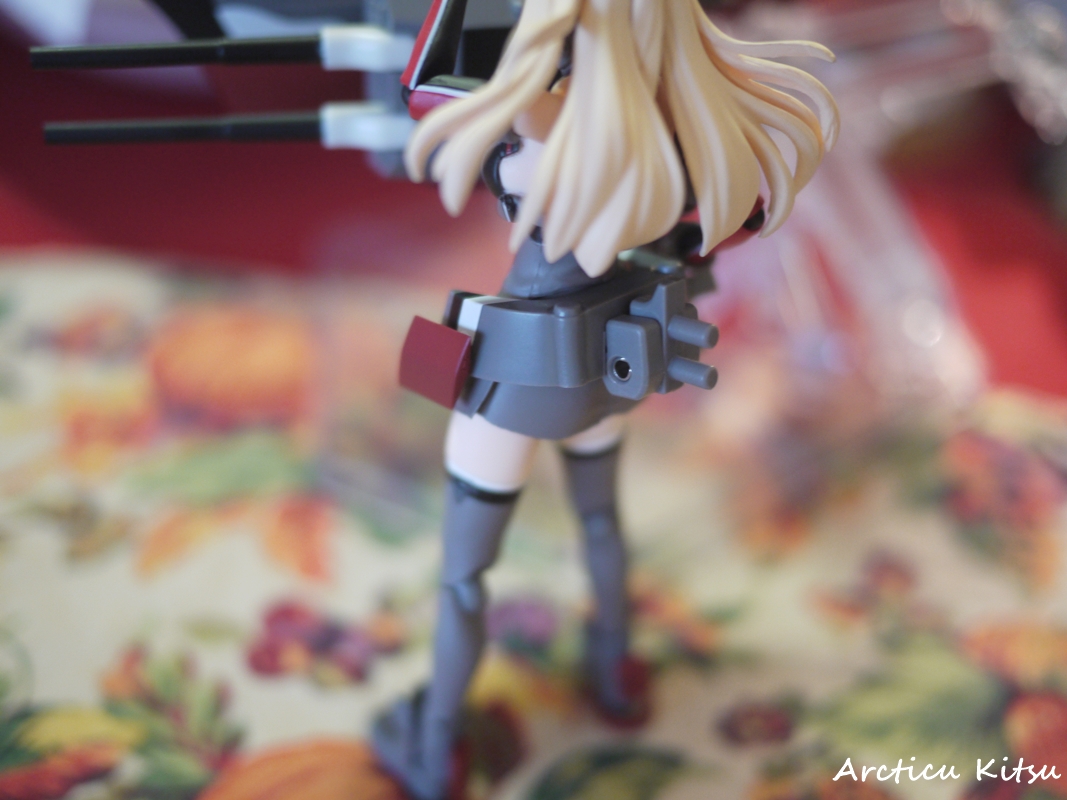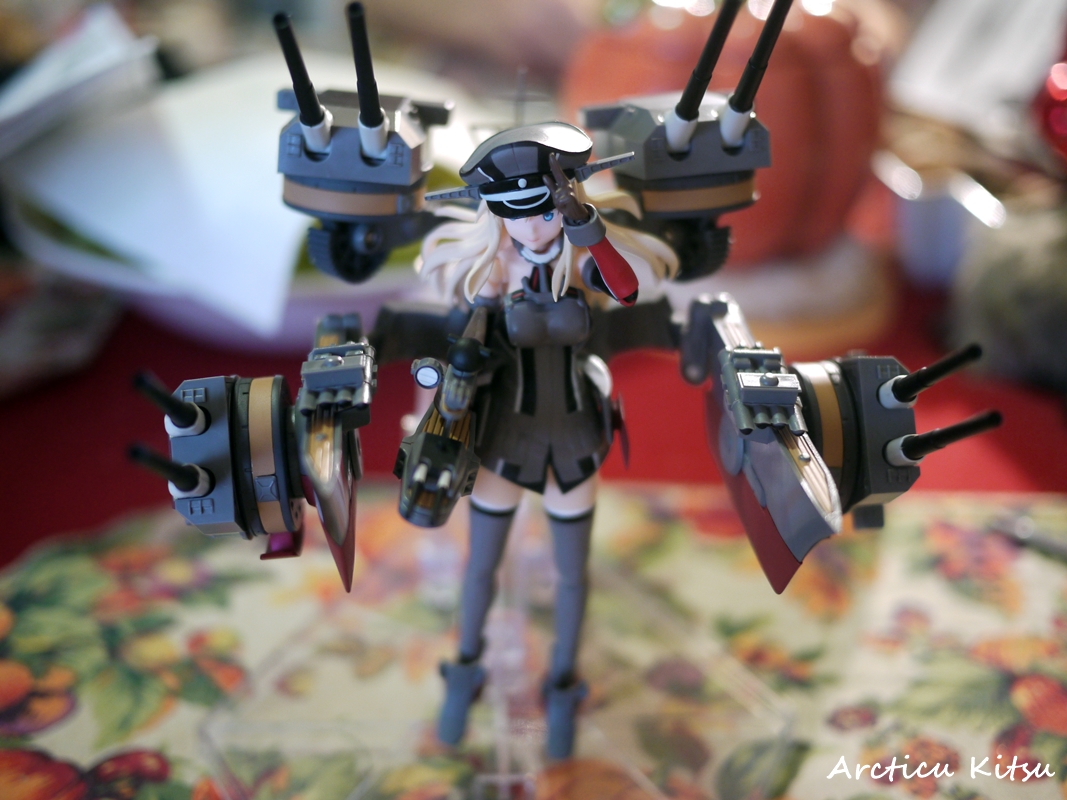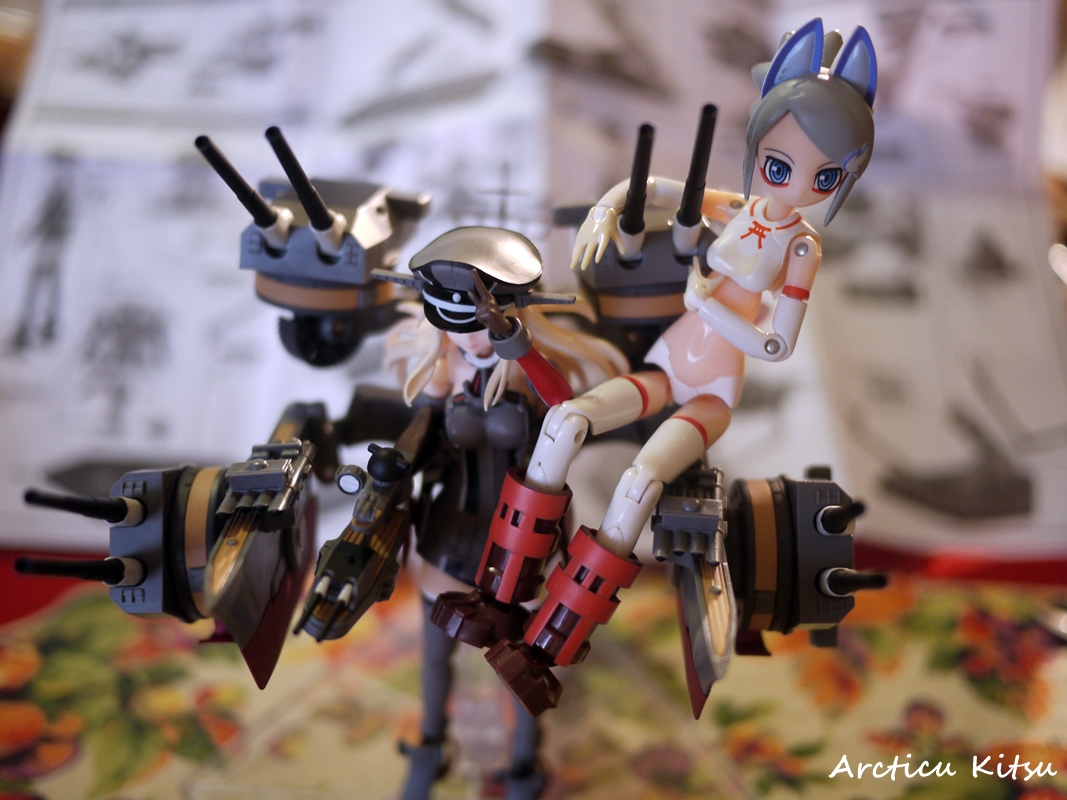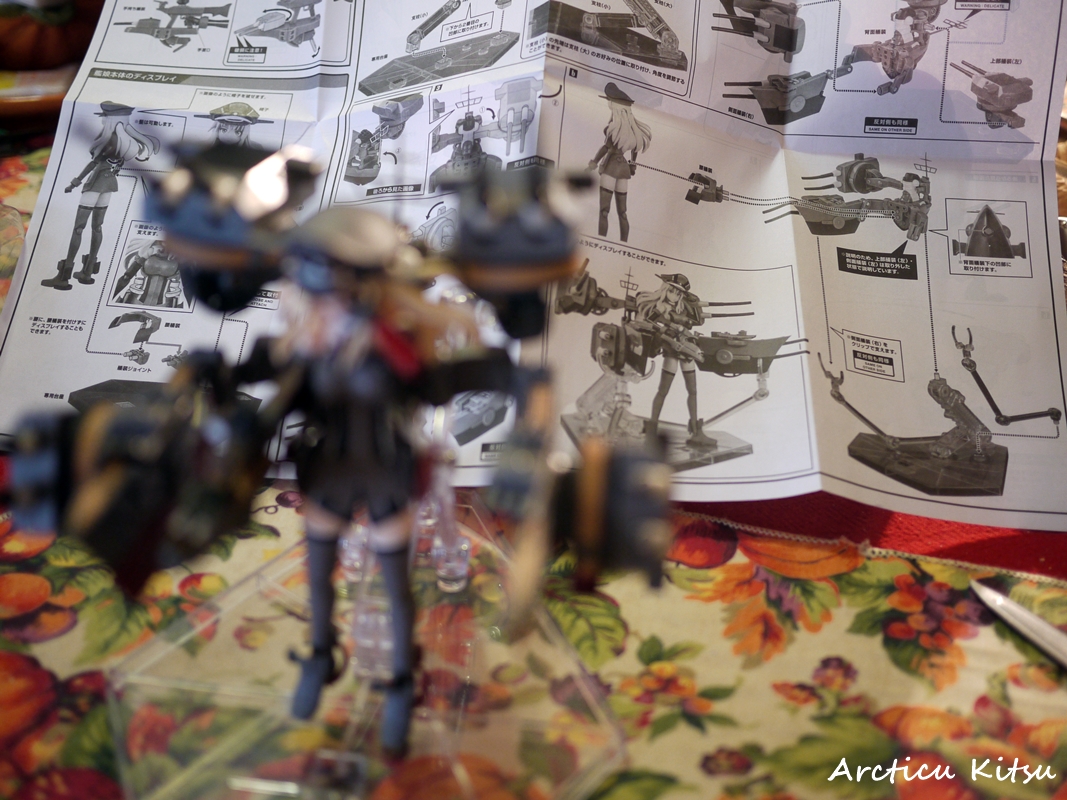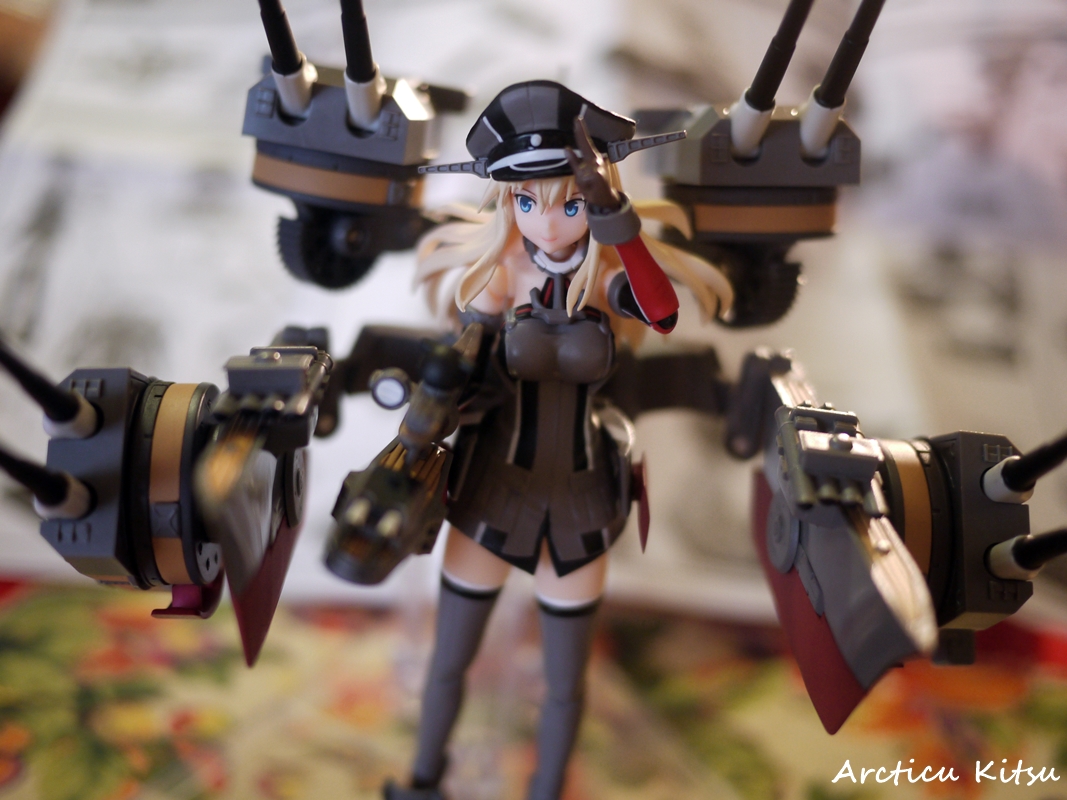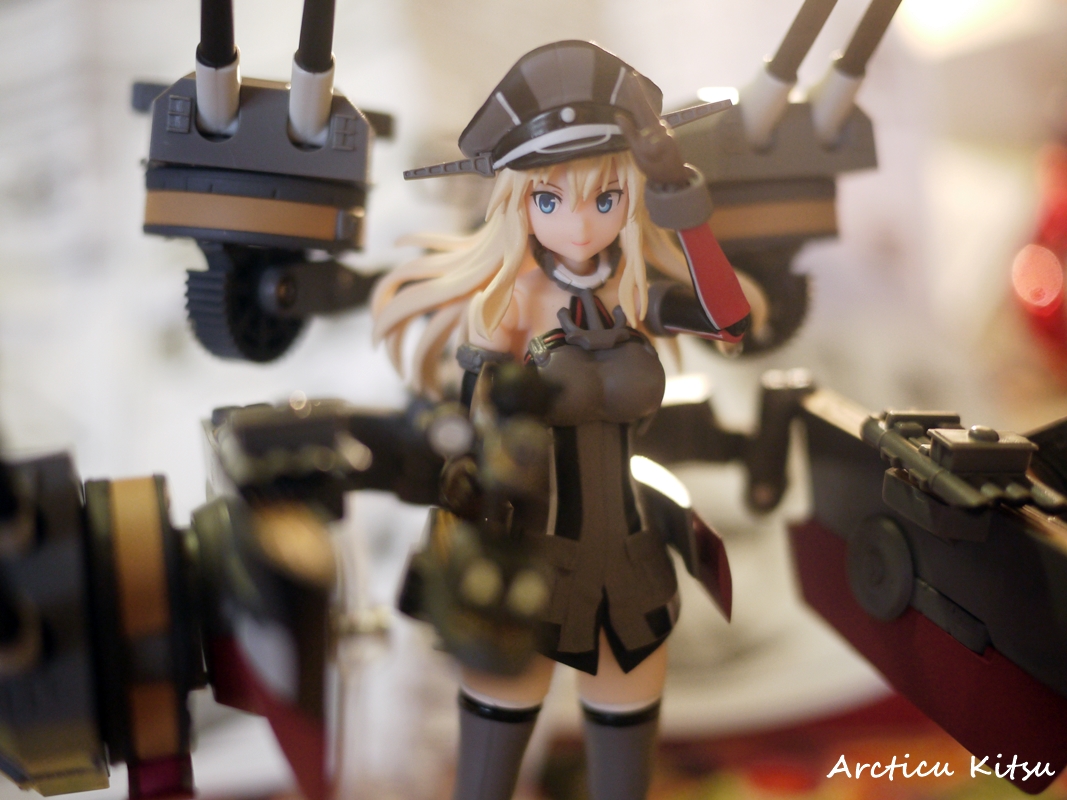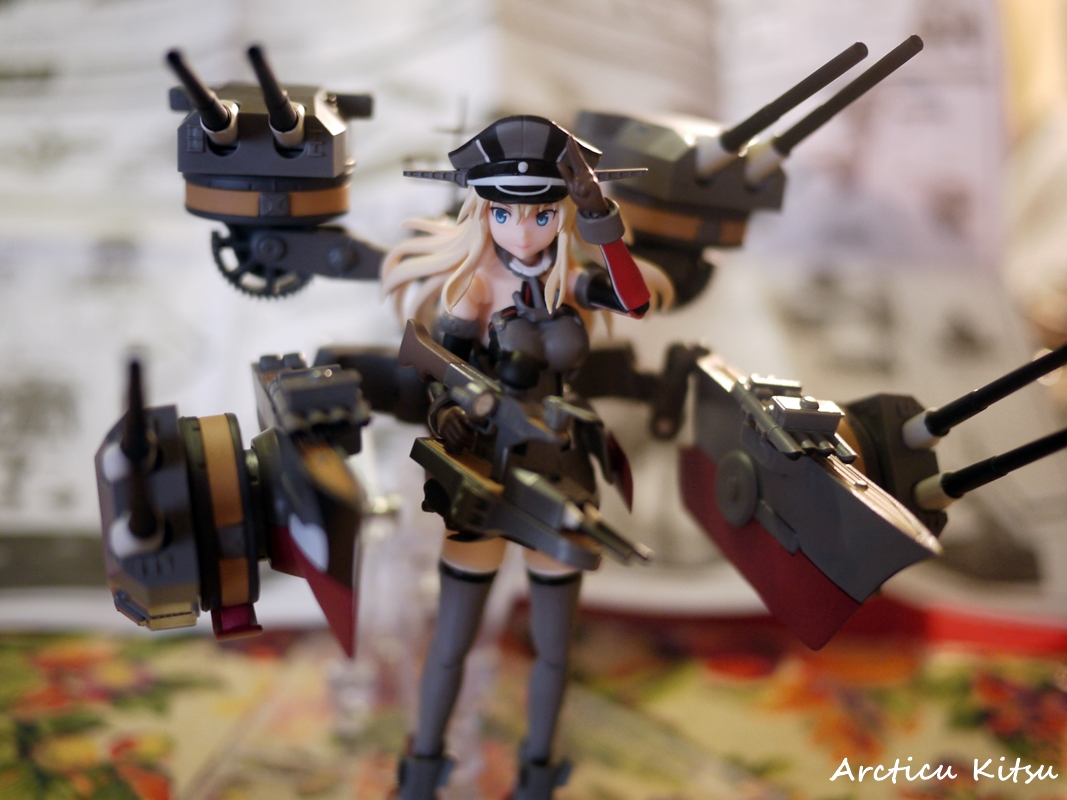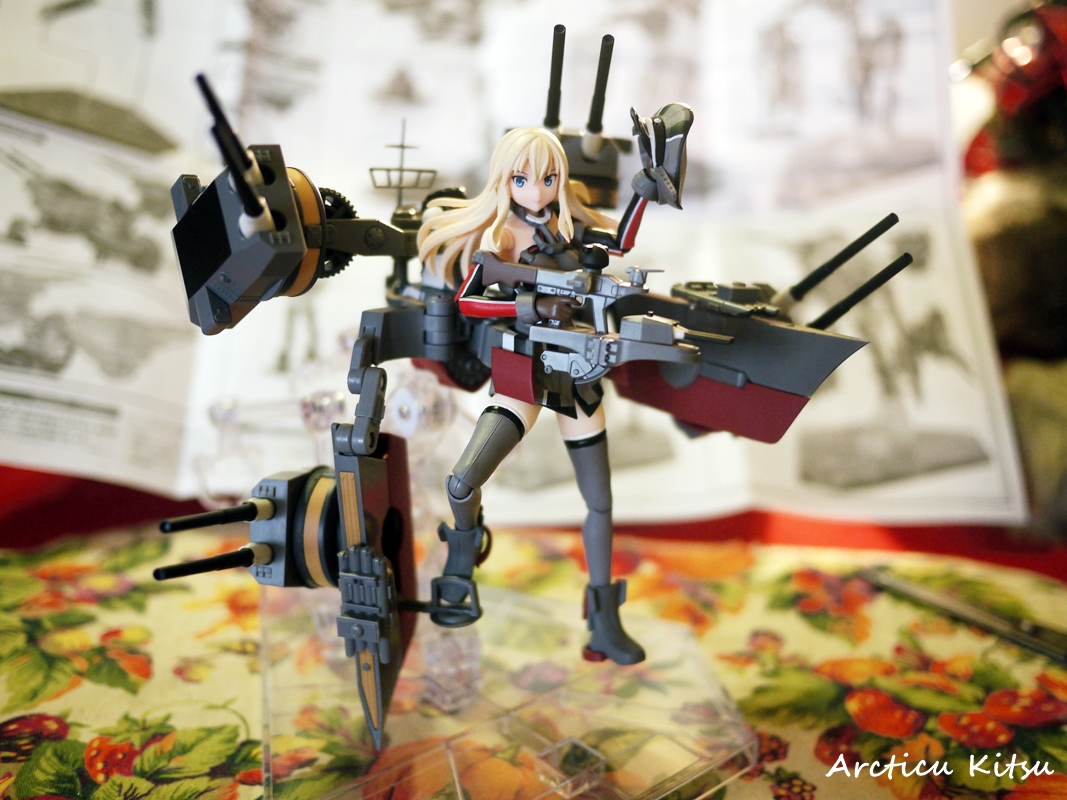 It's how she can 'mount' her turret like a mech that also has me wondering if this was thought of long ago, or if a revisited idea thanks to HMS Warspite sitting in her unit like a throne. [Warspite Kanmusu image]. It's something that doesn't really show in the web game, nor does the whole concept of Graf Zeppelin using a deck of cards to summon her planes in the manner similar to Jun'you summoning planes via shikigami summoning with her flight deck being a scroll. There's so much you don't see in the web game that's missed which makes it into the wiki, yet not in the game.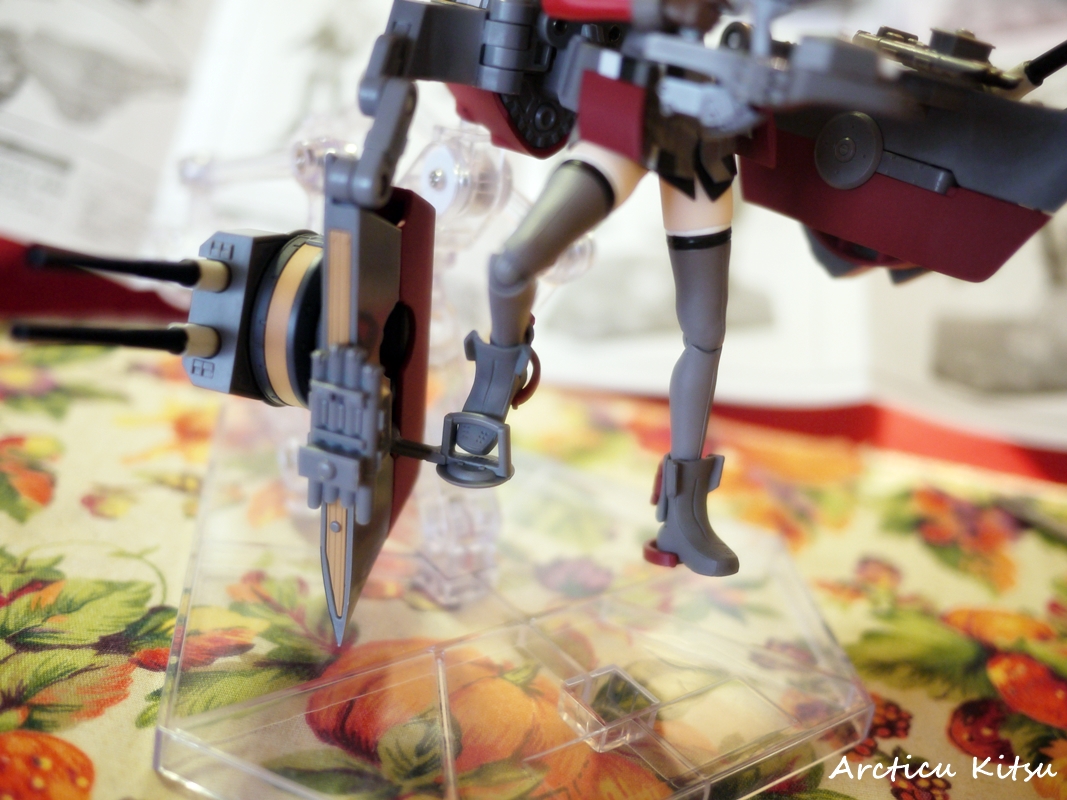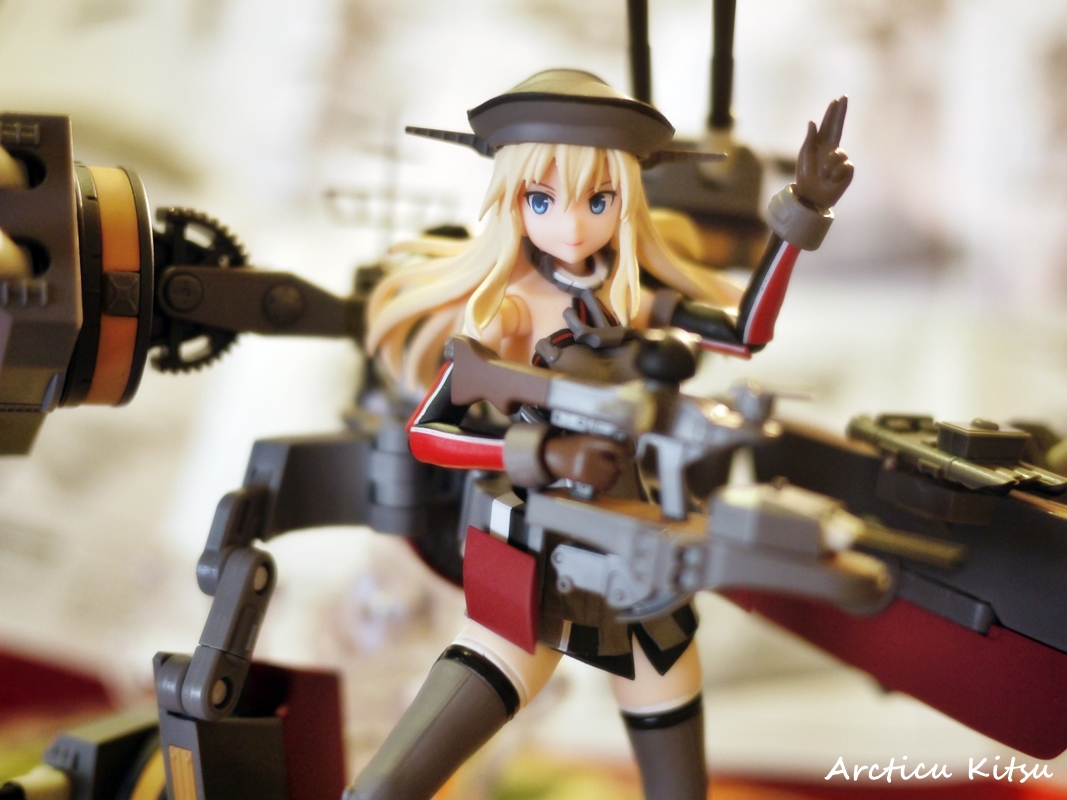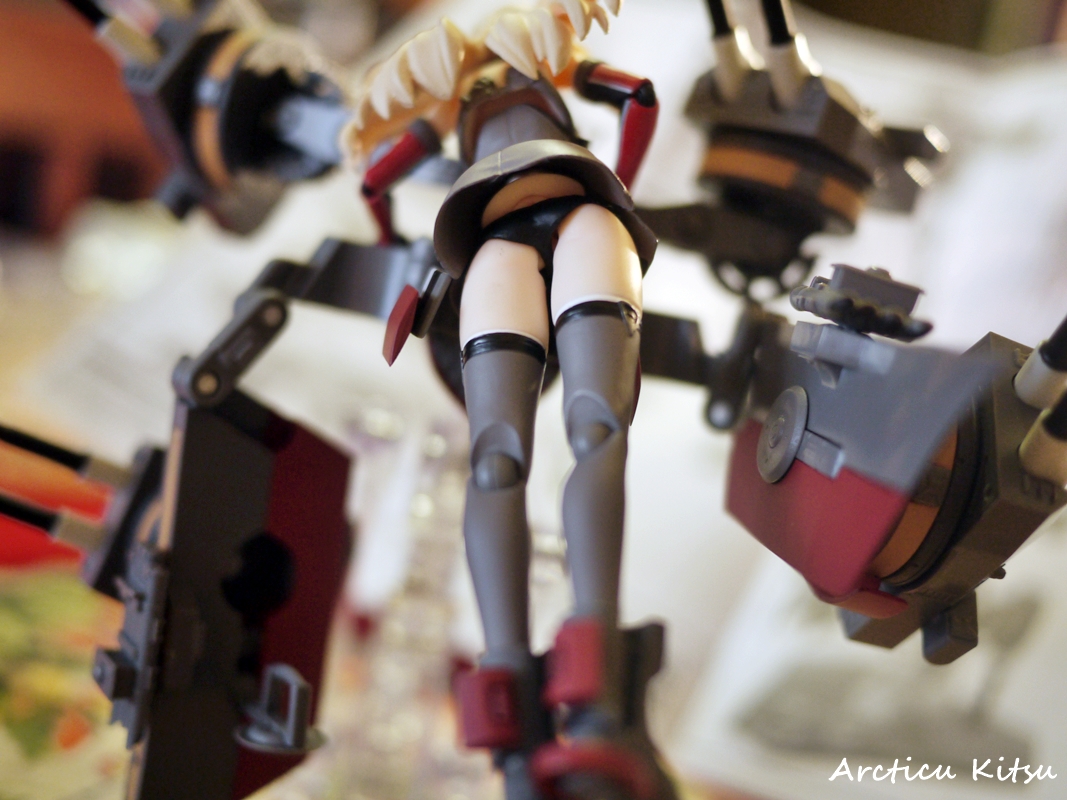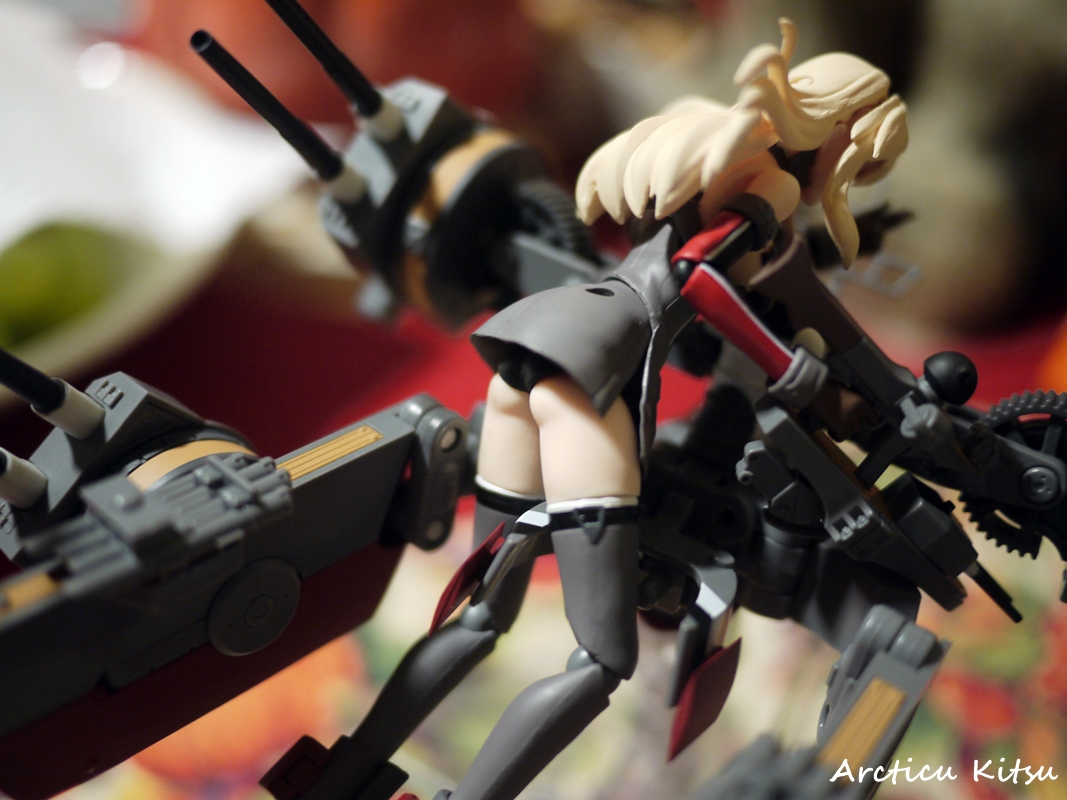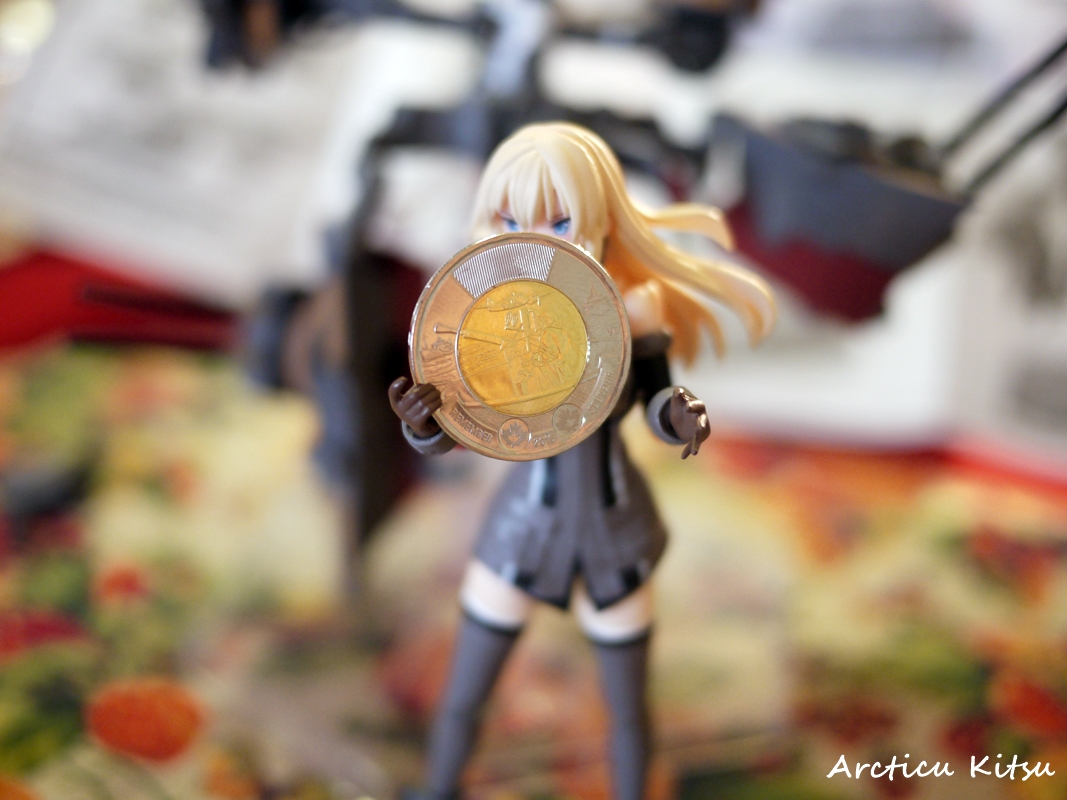 If there was a Canadian Kanmusu in KanColle then I'd hop onto rescuing her in any part of the map fiercely (as I did with some Kanmusu), yet with how Canadians are viewed as minor I have to continue being depressed that I won't see one for a very long time. I'll have to wait what may be an eternity either HMCS Haida, HMCS Ontario, HMCS Uganda (later known as Uganda), or even the three 'Princes' named 'HMCS Prince Henry, HMCS Prince David, & HMCS Prince Robert'. I'm constantly being reminded of how much of a slim chance they have of appearing in KanColle that I'm just deflated like a balloon feeling defeated. Just observing more USN vessels appearing, yet proud that HMS Warspite joined in on the fun for both elegance & variety sake.  I'm at the point where I'll just admire what 'Myuto' puts out. If I had to pick a USN vessel it would be USS Saratoga for being a 'funky' take on night time air battles as a CV(N) type, with USS Enterprise.
My alternate choice is to play Victory at Belles, yet with the amount of drama I kicked up I'll be feeling guilty of connecting with anything Canadian there. HMCS Saguenay is in there, and I do feel happy, yet again feel defeated. Deflated. My pride is gone.
But back to the Bismarck review after that quick "side-note" moment. Wanted to note the coin, the Canadian side, and such. I feel like I've been too loud, too stupid, and too obnoxious that everything feels ruined that I'm just re-analizing everything of where to progress KanColle RCN side of things. Muting myself (and from others) in the process to go through the middle line.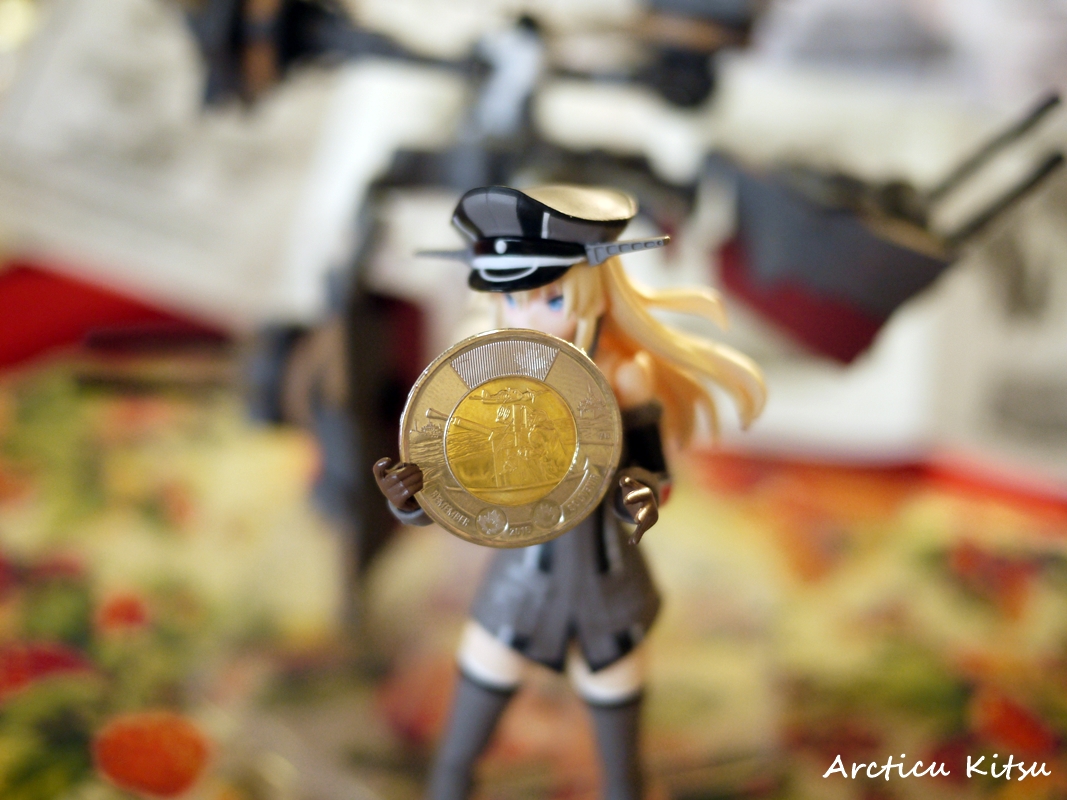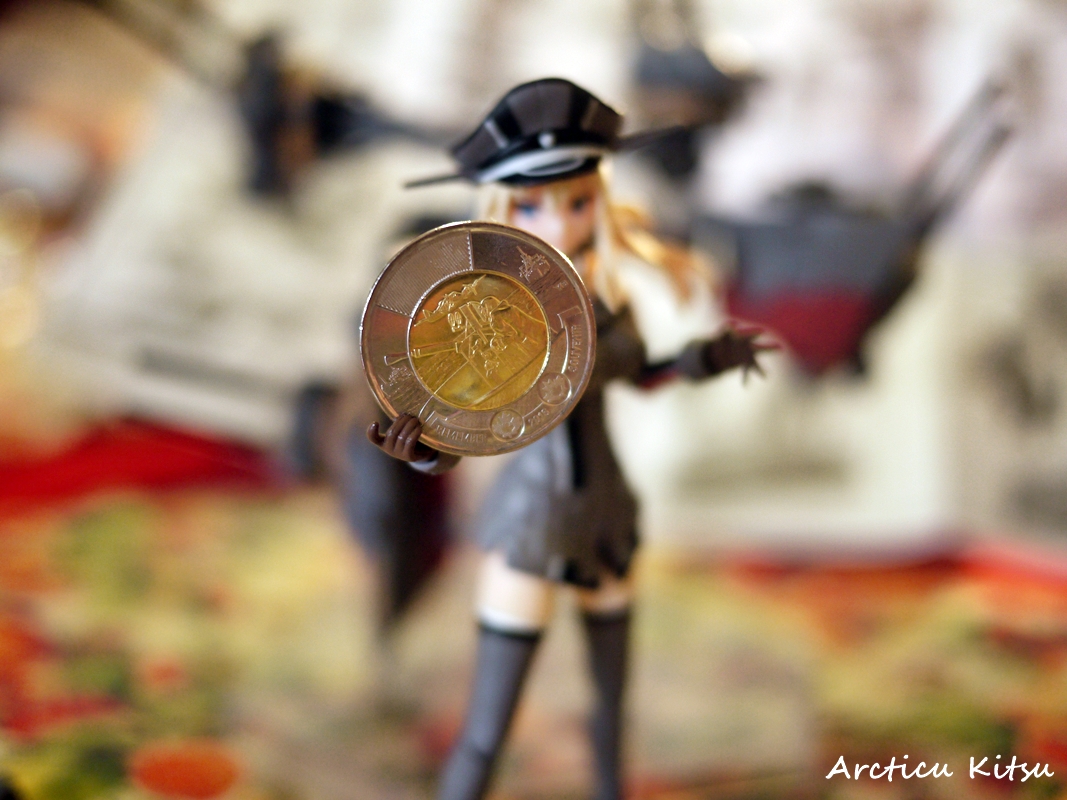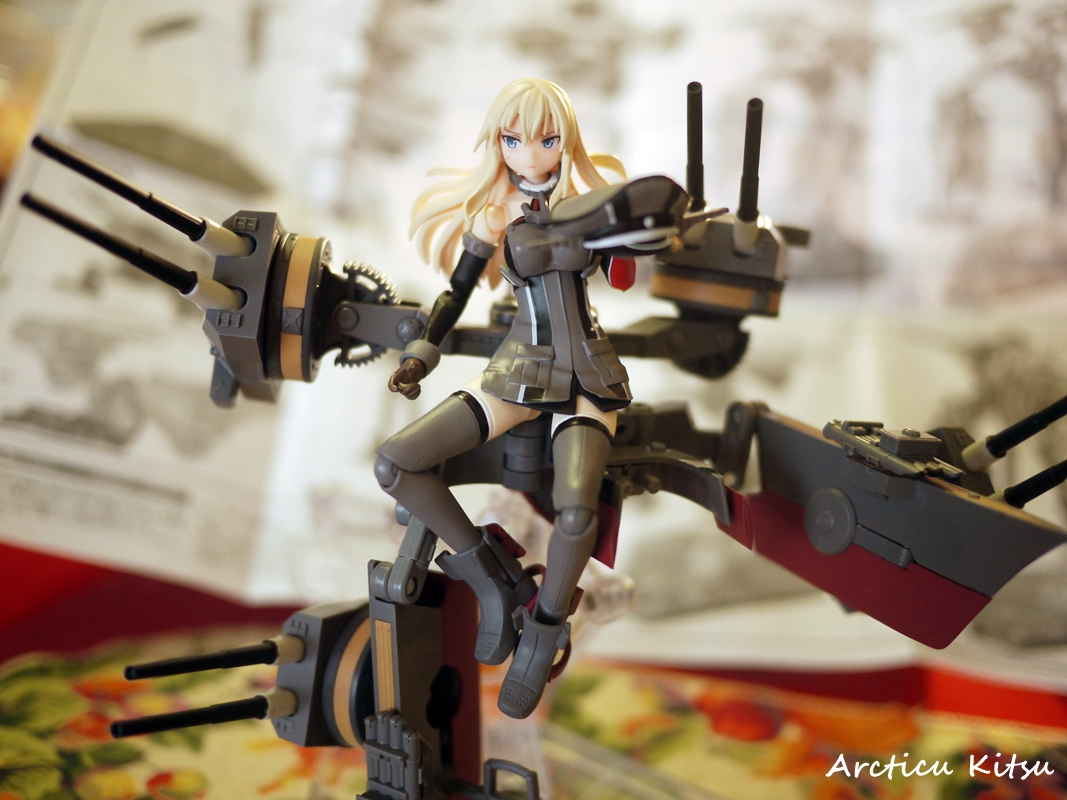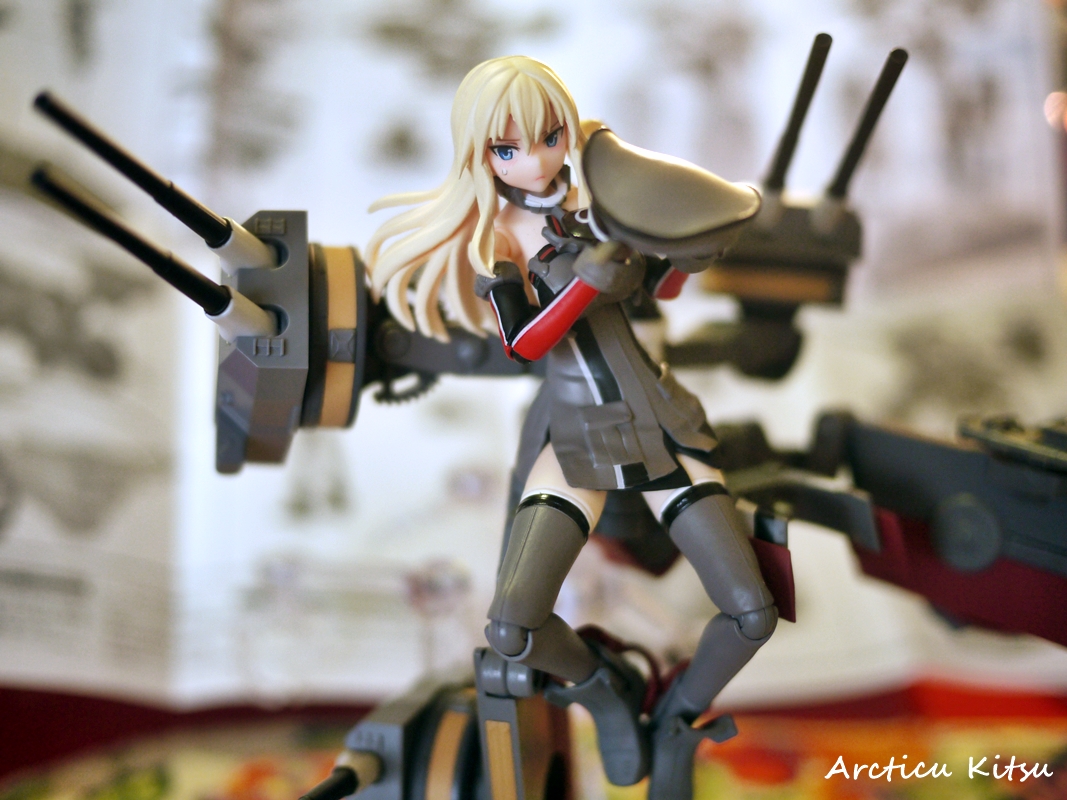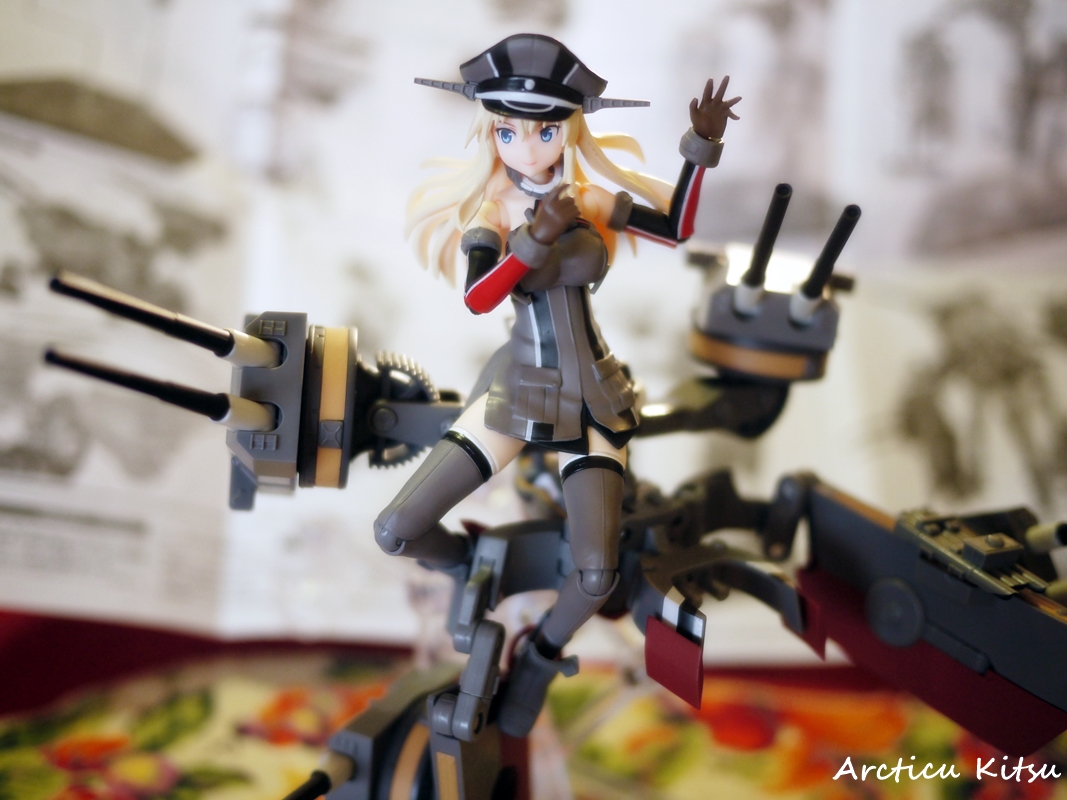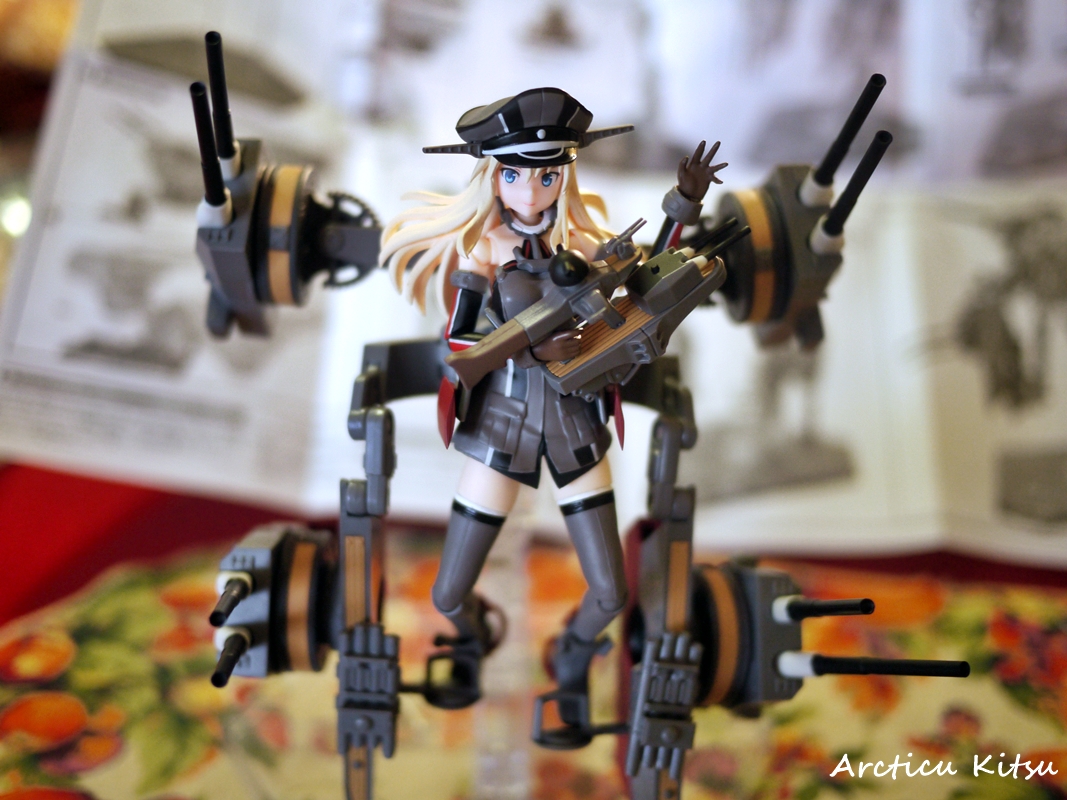 Side:note: I went back to look at other people's AGP Bismarck blogs to note that Bismarck's turret is insanely detailed that I failed to notice that the 'keel' part of the bow (the red part) pops open further to allow Bismarck to stand on top of it. Explains why it looks funky in the above image, and more proper in the below image. Makes more sense, and further supports my impression of the Vic Viper comparison with Libriete.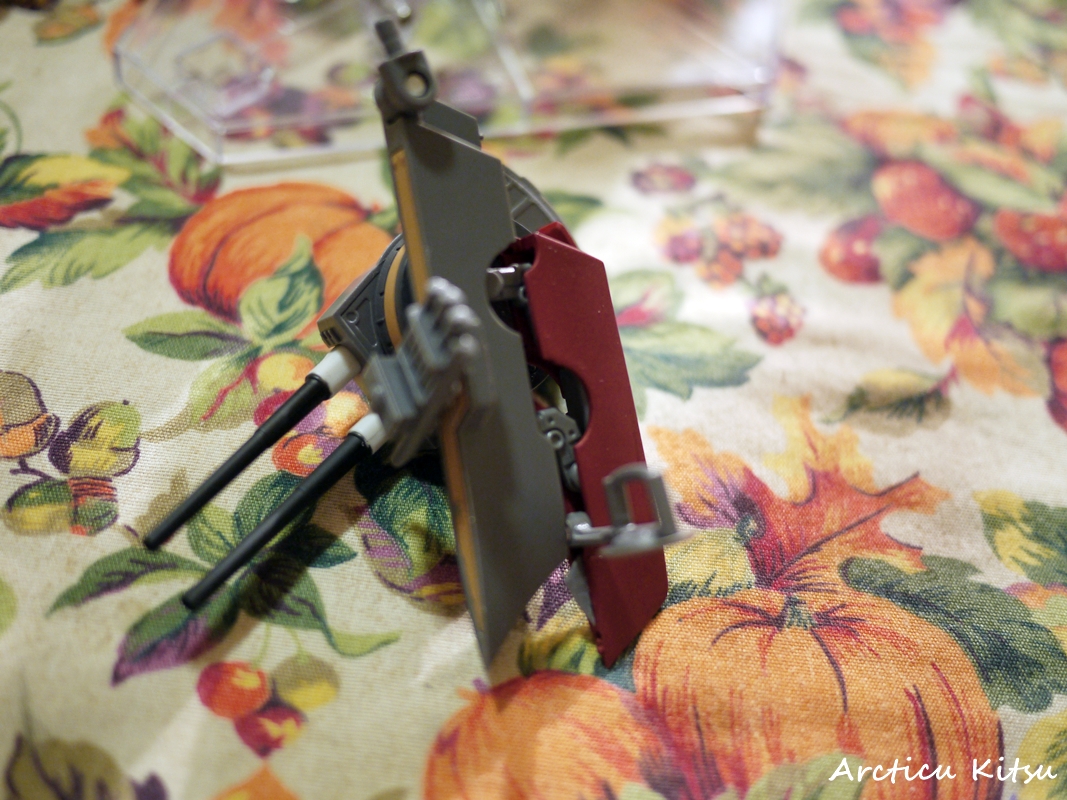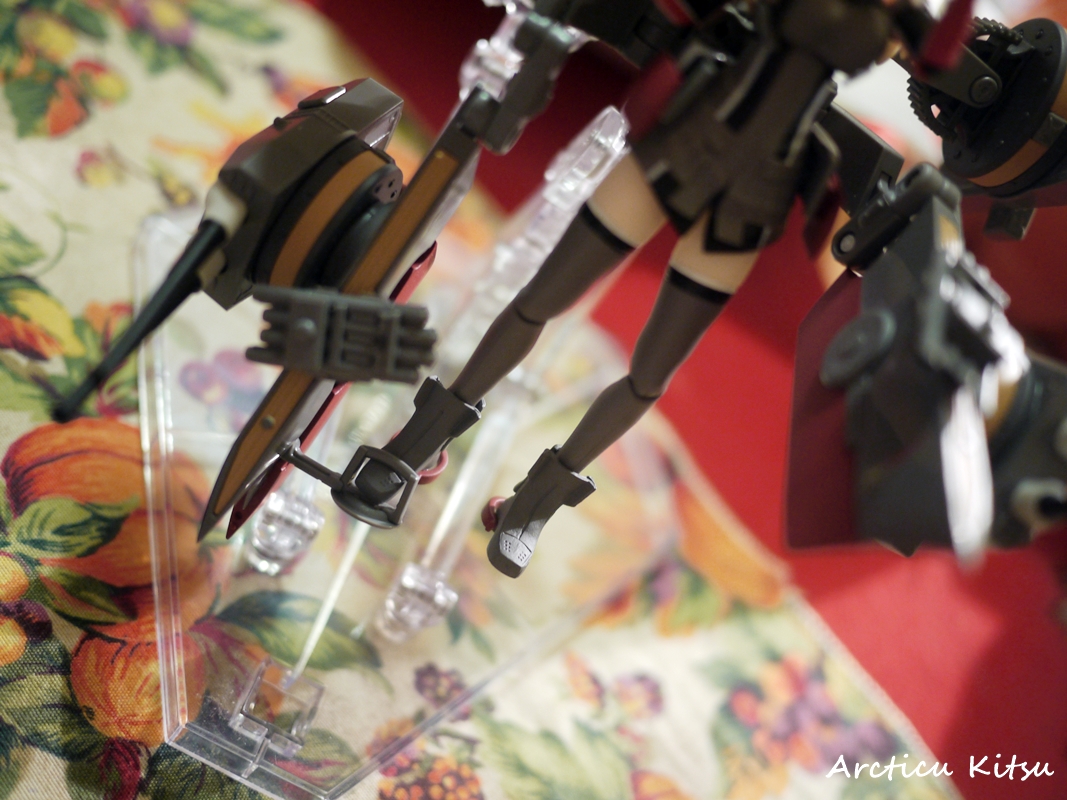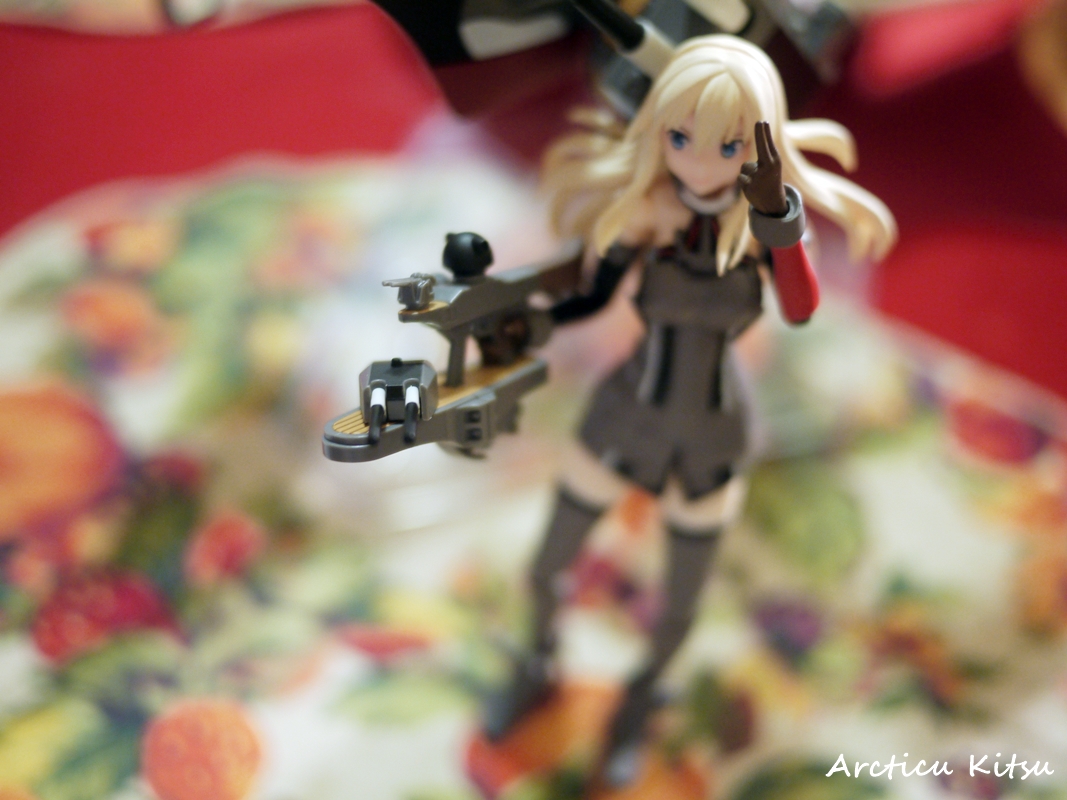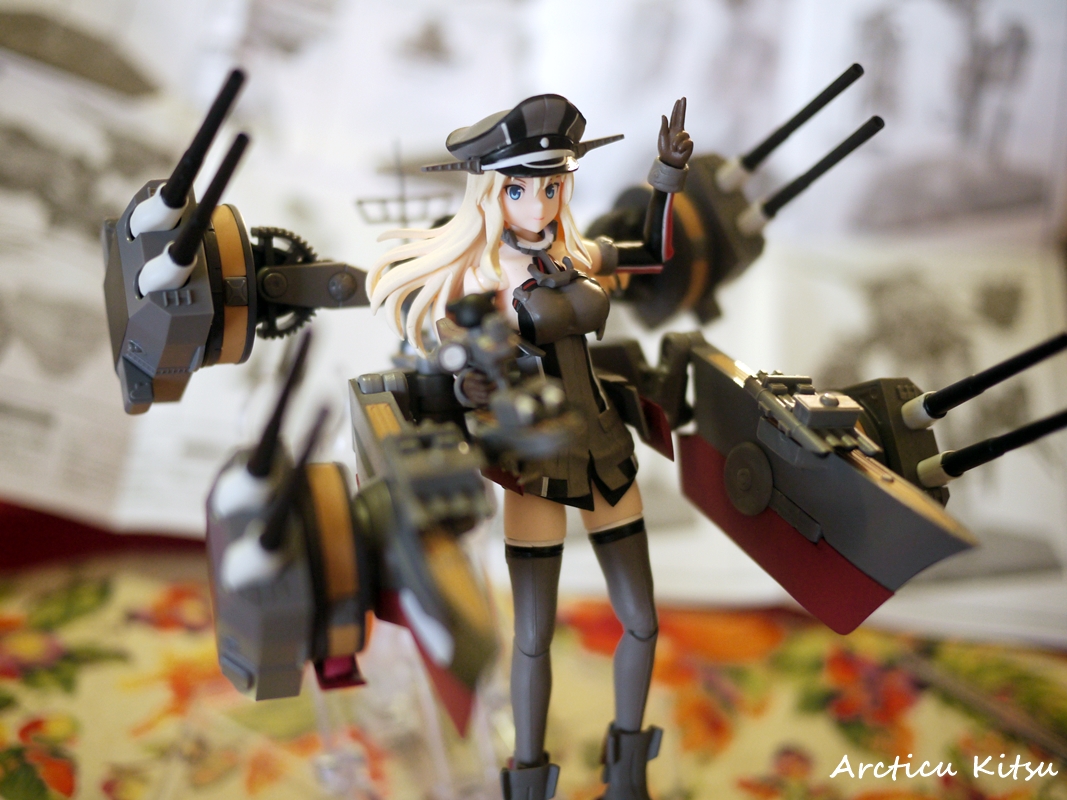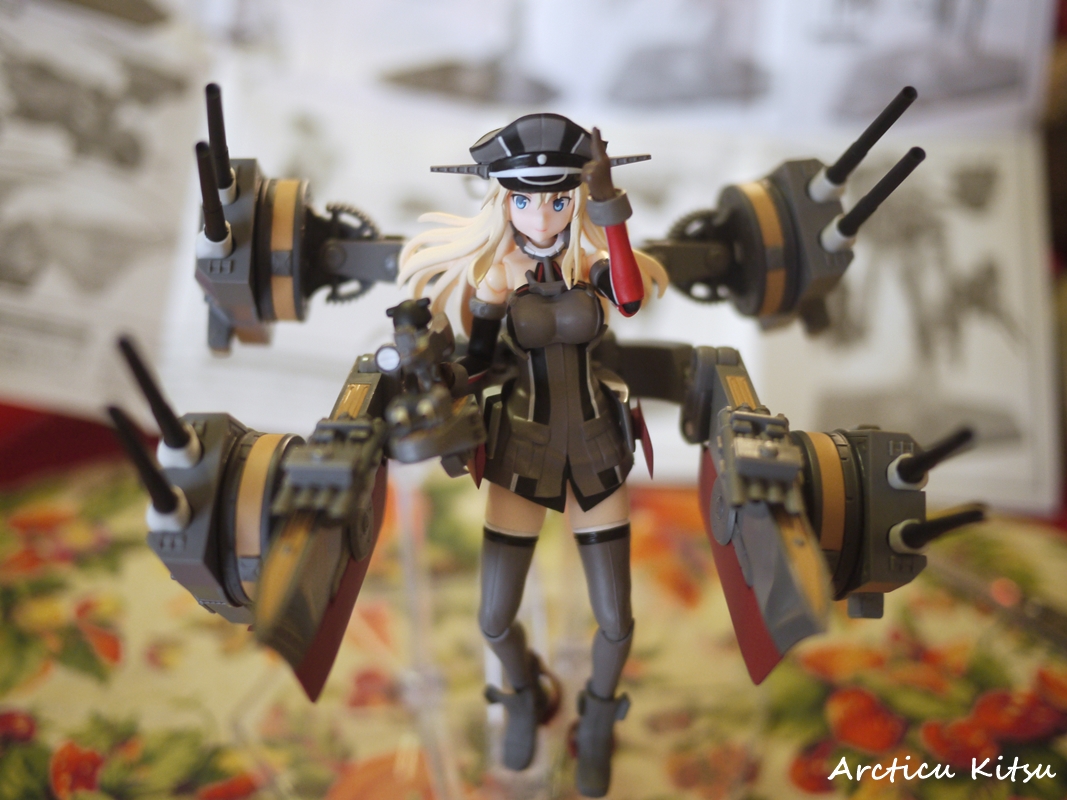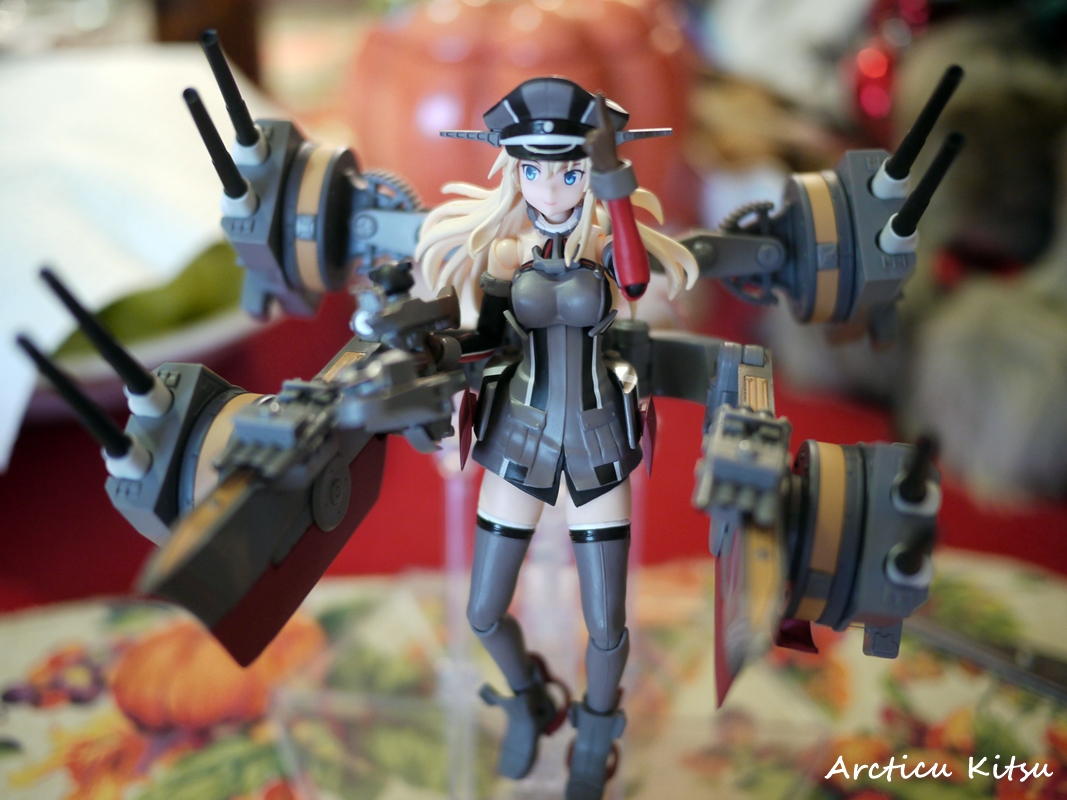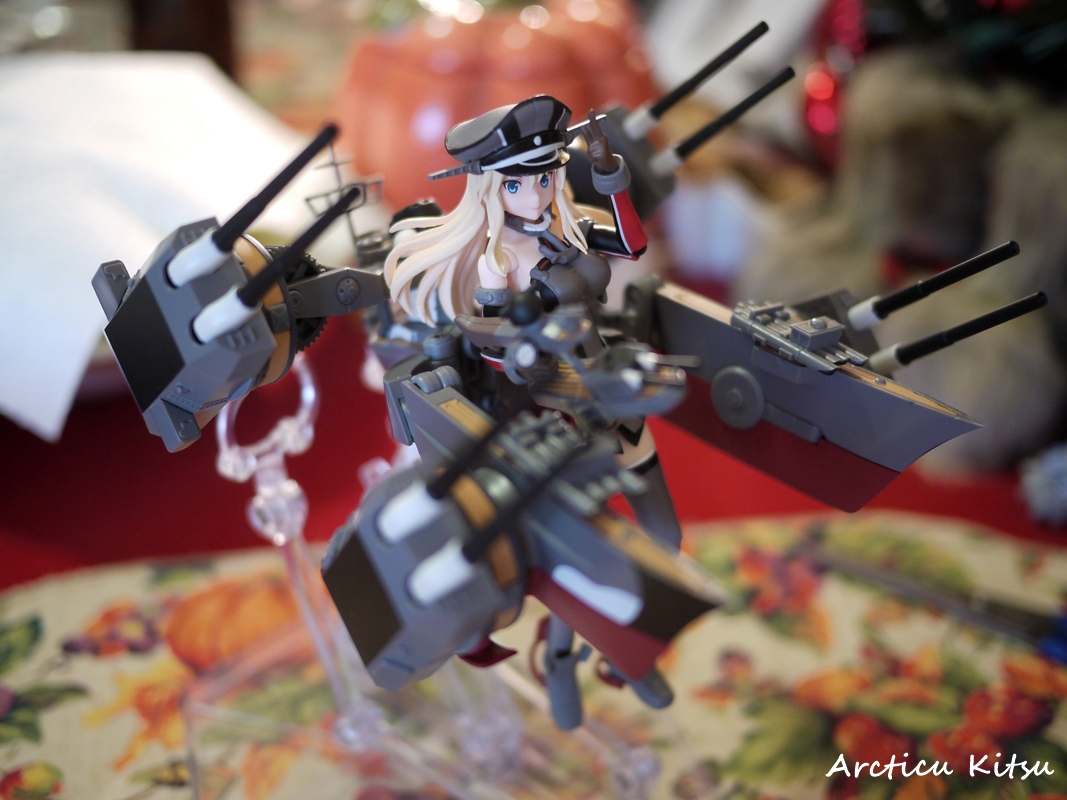 -====-
-====-
Final Thoughts:
Before I jumped into KanColle I fell in love with both Yuudachi's Kai NI as well as this German battleship with her art style. It's all thanks to the Pixiv art that I love Bismarck the way I do ( as well as the documentaries) that she comes off as highly special to me. She even nudged a little new fetish for me of anime blonde hair, but only if they're serious with common sense. You know, blonde hair and blue eyes for Germany's preferred 'Master Race' of humans for Germany in WW2.
Her Drei form is what I love the most, and I only will get the Drei form, as I did here in her AGP version, and I wasn't disappointed. Well, partially, but I'll get to that in a moment. I just love the attention to detail to her sleekness, her sleek figure, and even her elegant formalness to her. I guess I use that word a lot, yet it's true when I say both elegant and formal because she was Germany's pride during WW2, and it comes, translating well in figure form also.  The way they gave her the various face plates, the embarrassed face plate, serious, and such what makes her awesome. The articulated hair on the back is a double-edge sword with how rough it appears, yet it does allow for fancier front facing poses. You can pose her nicely, swap her hands, and even have her stand without issue.
Her main ship component adds onto the detailing (makes sense for the price) that it's where the main fun is at also. You have the smoke stack which allows you to rotate the turrets, move them around, pose them, swivel the turrets, and even stand on them. There's just so much you can do for posing, even aiming them in certain positions that there's so much to do for figure photoshoots.  Even amused by something small as Bismarck having lovely little ass cheeks to make light amusing note of. It's amusing that it adds a nice amusing detail to her figure. I had to go back to make sure it was a thing by visiting a [Japanese blogger's] site to skim the image set. I was going to mark this down as a negative, yet it turned into a positive once I found it after looking harder. I felt robbed, yet it's all fine and cleared now.
The base is something that caught me by surprise thanks to how thick it is to support Bismarck's weight, even in figure form. The arms are all thick and sturdy, even large (don't think perverted) that they can hold Bismarck's turret unit, as well as Bismarck herself. The pegs snap into position as to not lose friction, causing the figure to fall (*cough*figma*cough*). The base means business, and it's there to keep Bismarck levitated above ground in whatever pose you desire. You can even adjust the angle with a secondary arm meant to hold the main one, as well as two to support the two main turrets. If you wanted to, you could even add in Bismarck's name plate onto the plastic base. There's room for that there in an indented rectangle form.
As for the disappointments would lean towards her hands and what I've seen on another blog posting. I've had lots of trouble with Bismarck's hands when connecting it to her wrist joint. They have a habit of not clicking into place that they (from my assumption) would be easy to snap. They're sturdy, yet with constant use they'll weaken that it would be far worse. The hands simply pops off that they're easy to lose in a any environment, especially outdoors. When you try positioning her for a certain pose the constant popping is noticable, and frustrating, that it adds to the posing set-up time.  Then there's the case of her ship unit being touchy as hell that you can't really pose her unit with ease, also in fear of snapping the joints so you're highly cautious.  Took a little while before I figured everything out to be cautious, yet rewarding once it was done with.
Over-all: I love this figure, and am quite pleased for it costing what would be considered a fortune. I would rate this Bismarck a good 80 to 90%. Maybe a 90%/100 for how bias I am towards her, especially with her being my waifu. Everything is greatly detailed, can pose her in a good enough range, yet she does have noticeable flaws. Even so, her positives far outway the negativities that she's worth the $202 CAD, even when being double dipped by 'VAT', or whatever you want to call it. She's my waifu, and I love her figure form.
-====-
Pros:

Great attention to detail with how she appears all beautiful. She does look elegant, beautiful, and the pride of the German fleet.
Bismarck can be with her unit & out of it to be posed in any fashion. She can be freely posed (if not sitting) to admire the scenery, be in a fight scene, or anything. She's just too beautiful she can be easily photographed.
Bismarck comes with multiple faceplates & hand gestures that it adds to her gesture range & possibility. You can have her react to the scenery around you with ease, which should be standard.
Bismarck's back hair as two articulated pieces allowing for further hair posing. Simple, yet interesting.
The hat isn't pegged, yet curved that it allows you to put it on her & other figure's heads easily. You can have her pose the hat in any which way you want.
The ship part with the turret is greatly detailed that you can swivel the turrets, rotate them, aim the barrels, as well as even adjusting if they move forward, backwards, or whichever formation in ship form, Bismarck attached to her weaponry, and such. Great detail of freedom. The two torpedo pods on her main turrets (the side front) swivels around to allow for launching & rest type positions.
The antenna on her smoke stack can be put up, as well as placed down, for posing & photoshooting fun.
Turret leg mount base which allows Bismarck to stand on her unit as if in a mecha. She can ride her unit around, probably in the manner HMS Warspite sits in her unit like a throne. This is probably one & the same concept, yet not really shown.
Three parts on her turret rifle rotates that it adds to her posing variations. A little turret, a black sensor, and an arm rest all articulates.
The 'back adapter' to attach Bismarck to her ship unit is well crafted, well made, as well as perfectly sturdy to keep her on her oversized unit. It's nothing cheap, yet simple enough, yet 'complex' appearing it makes this a big point to note.
Bismarck's 'dress' is flexible which allows her 'skirt' portion to move & flex with her movement with ease.
Bismarck has cute little ass cheeks that took a bit to find when not looking carefully enough. It's small, it's cute, and they're adorable that they're even on a figure. Ass cheeks with black panties. [Bismarck's lovely stern]
Once you figure out how to deal with the touchy part of her units you can pose Bismarck in nice fashion. Took awhile, yet finally managed to get Bismarck to mount her own unit, something that adds onto her worth & value, even comparable to [HMS Warspite sitting in her throne unit].
I'm amused that the instruction manual is straight forward, yet more amusing that it has basic English on it telling you "same on other side", among others. Meant for both Japanese & English speaking hobbiests. Most likely standard, yet amusing each time.
Comes with two extra base stands to hold up Bismarck's heavy turret attachments, yet I never used it (yet). They can also be used to hold Bismarck up.
Heavy sturdy base. It's amazing how stick, sturdy, and adaptable the base & stand is. The main arm support has clicking resistance to hold the pegs in place, the arm, as well as be moved around while being firmly planted into the base. Even has a leaning attachment to keep the arm held upwards while also being 'thick' enough to hold Bismarck up with all her accessories. There's no screwing around here for quality vs price. You get what you pay for.

Cons:

The hand pegs are frustrating as hell. It may be the way I'm doing it, yet it's a struggle to get the hands into the peg, to click (if at all), and to keep them on there. They frustrate the hell out of me. I'm used to the Busou Shinki & figma way.
The way Bismarck sits is troublesome. She can 'sit', yet not as a Shinki would. More like leaning back lazily, or something along those lines. May take effort to make it seem more believable. Clever posing is needed.
Posing Range: As good as it is, it suffers from hand posing range with how frequent the hands pop off, as well as how she can't 'sit'. She has certain limitations which complicates her posing range to be more stiff in places.
Her units are touchy as hell, something I feel the same about the Busou Shinki Vic Viper line. It makes you feel stupid when you can't get it right, yet it's shown to be possible. You also don't want to break the unit so you're careful as to not snap things. $202 CAD, after all.
Bismarck's hat has a habit of flinging off on the slightest of nudges, yet isn't too much of a hassle. You shouldn't be able to lose her hat in both indoor & outdoor. Just be careful around water & rocky (boulder type) scenery. Don't lose those parts!
Bismarck's back hairpiece ruins the flow for me that it's just more of a Figma thing to do, yet not try for an alternate way to articulate her hair.
Her wrist sleeve (hand-cuff?) gets in the way of trying to attach & detach her various hand poses. It has a habit of jumping away when you least expect it, or just preventing the hand from getting on.
That's Bismarck finally done, if greatly belated from August 30th posting. I now have Jinrai Frame Arm Girl & Figma Caster Fox to get to, time willing. Hope it's not another two months down the line.  But I'm insanely glad I have this AGP figure, even seeing being her proud self, and some hidden goodies in her unit which isn't showed in the game.
Thanks for reading, and see you again when I either review the two figures, or share a game related posting.