With the allegedly hated 'prologue' and a more enjoyable 'Day 1' having passed, now we're onto day 2 of our adventure. We're heading off into the mountains, hopefully towards Whistler, or so we attempted. Ever since the afternoon of Friday everything has been moody, cloudy, and just funky. My friend was peeved with the weather having to revert to 'Rain-couver', fearing out plans would be ruined in some way.
(Note: Any videos and Lumix GF1 camera shall be linked in final blog posting. Extra content shall be contained there, especially any missed images, etc.)
---
Trip Index:
[Prelude/Prologue] – [Day 1]
---
I'm well aware I was fairly monotone (and exhausted) when expressing myself in Vancouver. Constantly tired, constantly exploring, being overwhelmed by the scenery. At times I've genuinely shown my genuine surprise and amazement, other times I failed to from high exhaustion. I'm genuinely appreciative of these trips and expressions.
On top of my exhaustion, I'm actually amazed by how I managed to capture a moodier side to Vancouver in images. At least some things have turned out right. The moodiness bracing the Vancouver and British Columbia's scenery. The container vessels parked in the water while the haze of the clouds gives a moodier perspective, that is still admirable. You couldn't see much going higher into the mountains, at least you could see "something".
An experience is still an experience. It's not about the destination, it's about the journey itself getting to that destination.
I can genuinely and fully see why my friend was peeved by the clouds and the light rain, I can see it with my own eyes. Even in these images. He desired for me to see the FULL sunny Vancouver, something we've managed to do later in the day, and the days following. It was a blast.
And with that, to make the most of it, out comes an overly curious Fubuki (Busou Shinki, type Ninja-fox-tengu) fitting the moody tone of the Vancouver area. Had to take SOME figure photography, might as well start on Day 3 with some moody weather.
I've constantly had to fight with my Samsung camera-phone to focus on Fubuki. I constantly kept cursing, venting…. Fighting. I kept struggling both here and in other places creating some overly awkward situations. I'm sure I could have been able to obtain slightly better images using my Lumix GF1. When you're in a rush………
Two weeks…. Places to be, things to do. Friends laughing at you while radiating that aura of "we're on a time-limit". You have to do what you can while you can.
A semi-shortish-long drive later………….
On a quick side-note:
Every time I've seen gravel pathways, wooden fencing, or something relating to wooden structures I would immediately think of a game called 'Rising World'. Such a game is a mix of Minecraft & Skyrim allowing you to build anything as you would in Minecraft (modded), with "Skyrim graphics" allowing you to do whatever you desired. I could potentially recreate this pathway in that game, if I so desired.
On a secondary side-note:
This pathway also loosely reminded me of the movie 'Jurassic Park' thanks to the foliage. The plant-life is something that amazed me so much with how diverse everything is.
People are going to hate me for this comment, I'll still make note of how this is wasted on fake social justice minded folks in Vancouver downtown, and those in Ottawa. People who believe Trudeau is some "God" or "Saint" is one of the reason why I had to take this trip to B.C; To explore the scenery, the nature, and the various other goodies British Columbia had to offer. While people socially degrade I made more glorious memories to look back upon, ones I can openly share here, and eventually onto Youtube (the last blog posting containing video & extra bits).
British Columbia is insanely beautiful, I love it.
---
>A few drone flying moments later, pictures first & video second<
(Batches of drone images can be found in the second half of this blog posting, further down at the bottom.)
---
After a bit of debating we reluctantly agreed to venture to a WW2 pill box nearby. Not the best idea for the third person in our group, though had to be done for the sake of my trip. If I had more time to spare I could have always came back, it however had a slight sense of urgency to it. It's one of those "do what you can while you can" moments. I can be hated for it, and I can hate myself for it, however had to get done for this and other situations.
(For example: I 'SHOULD' have gone to the steam clock in downtown Vancouver while waiting for a friend. It has to now wait for my secondary trip to Vancouver.)
My friend jokes I should find a job as a graffiti cleaner. I would, in a heartbeat. Screw this trashy graffiti. Draw more skillful art.
Being around this Ferry port had me all mentally preoccupied trying to recall any trips in Ontario, or southern Ontario with similar parks to these; Similar Ferry ports to these. If not, it may have been a dream relating to this in a similar manner. It was one of those loose 'Deja vu' moments while not really being one, if that makes sense.
I genuinely can't help but feel I've been around this sort of park-Ferry area in Ontario. It messed with my head while there, and even now when looking at it for blogging purposes. The vibe, the weird, yet neat aura. The background scenery is what makes this an awesome place.
It gradually clicked we were going to the Britannia Mines, another semi-surprise as we tried making sense of what to do, how to do it, and what to enjoy. We decided to visit the place, to tour around, and to just take in the scenery.
One thing that genuinely peeved me off was how everybody smelled pine, and all other sorts of smells, leaving me without experiencing a very pine smell. This show was very senses oriented, including smell, leaving me hanging on anything senses related. I was still recovering from my cold I had (took a Neocitran drink prior to my flight, as noted in Prologue) leaving me without some of my senses. Partially deaf from flying and traveling through the mountains, lack of smell, and some of my taste was gone, as it always does when under the weather.
I now need to find somewhere with a very pine smell.
Clarification to the above caption:
I do say "I'm not allowed", should be read in a more not really given the opportunity to do so. I've been to the Ottawa's Science & Technology Museum on the east side of Ottawa with its uniquely cool light house, among other cool stuff. I've been there as a kid, I mean more on a teen-adult manner requiring you to go out of your way to admire anything of this level. British Columbia's collection is noted of being of higher caliber and variety. More numerous.
I know whereto find trains, they're a bit out of the way in Ottawa. I simply generalize for how painful it is to view fireworks, view trains, and all other sorts when they're more in your face in Vancouver. Granted, these museums are way out of the way. I'm trying to generalize in a more of how you walk naturally stumbling across these things in a daily manner.
Context may still be lost. I tried explaining. Its my cover-all phrase for anything when it comes to enjoying things in life. I'm just not allowed to enjoy things in Ottawa in the way I have in Vancouver, and British Columbia. We'll see who understands what I'm saying.
I scared the living daylights out of my friend as he was coming up. He wasn't expecting me, nor me saying "hi!" in the manner I had making him stumble slightly in fear. Had a great laugh then, have a great laugh about it now.
Was neat backtracking a little bit seeing various model kit displays, Thomas the Tank Engine, and various other stuff. Even old train grocer shops. We came too late to obtain any tourist oriented ice cream.
---
Insert driving up to Whistler in hopes of getting there. Instead, went into a side-road to fly my drone to capture some shots, scare some birds, and my friend destroying his truck's transmission further by backing up in a place he shouldn't have. I also nearly soil my pants from either drinking the Sapporo beer or eating the Ramen/Udon soup. Maybe a combination, to which I horribly had to seek a restroom. An accident up ahead (leading into Whistler) prevented us from traveling further for a few hours.
A motorist crashed with a bike, needing to be air-lifted out. Both lanes were blocked preventing anything from happening. My gut was also complaining, forcing us back. If my gut was normal then who knows, maybe I would have seen Whistler? IF the beer and the soup didn't interfere maybe we would have had a better, and different outcome. Hindsight in this case isn't 20/20. Who knows how and where things would have gone.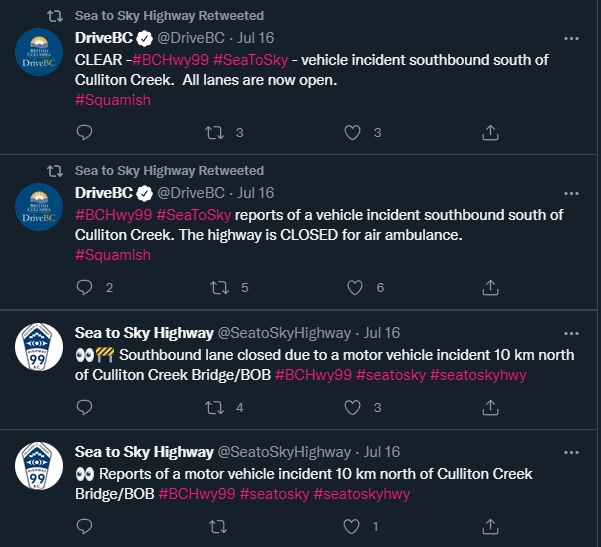 ---
---
DJI Drone SE – Drone Shots!
My main focus for that day was to simply avoid that eagle, and to just capture enough images to be satisfied. I had to go back to take a video with my friends bugging me about it. I simply forgot, especially when dealing with a $700 drone, and an Eagle eying up the drone. Then the various "what if's" of losing your drone in an area you can't obtain it.
If you're worried as to why the drone may be "too low", do keep in mind about the threat of the Eagle, and the various Harbour Air seaplanes roaming around. I can only go so high. Drone CAN go higher, for safety sake it had to stay lower.
I'm well aware someone could ptoentially steal my images. They however won't have the satisfaction of having taken the images themselves. Everything is better taken with your own hands. They may end up selling these images, they however shall be haunted by the inner demons till they die, and into the afterlife. I just love sharing what I enjoy. Share what you love, love what you share.
Hours later, and MUCH further down the road by hours. Near the crash site, noted earlier. Near 'Tantalus Lookout', and the area my friend further aggravated an already damaged truck transmission. Me in my gut pain, and scaring the birds with my drone descending back down. Even having to be wary of nearby power lines. Even piloting partially buzzed by Sapporo. Best conditions!
After struggling to venture back from Squamish to Vancouver with a broken transmission we made it back to the look-out. For the sunset, the lights. Pondering if venturing to Whistler would have been worth it. The real answer won't be known.
---
Great times! A few typical traveling hiccups here and there, it's the standard fair of troubles. Again, about Whistler, it couldn't be helped. Accidents happen, and my gut problems simply flowed in a direction forcing us to divert back instead of needlessly waiting for hours for everything to clear. Everything probably happened for a reason, though who can really say. I'm happy with the outcome. Hindsight isn't 20/20 here, or at least isn't for me. I'm sure I could have planned around the accident, I was preoccupied with other stuff. It's a shame, we however made it up the next weekend.
I'm happy I saw and experienced what I had, from the inner coastline following the Squamish river. I'm genuinely surprised, yet thankful for having experienced the Britannia Mines, even if I was unable to smell the Pine. I'm still bummed out about the not smelling the pine smell. I now need to obtain a proper pine air freshener, or something.
I'm also genuinely surprised by the train museum. It had awesome relics my friend's partner found. Best discovery. We even got lucky, in ways. Can't say, but luck is awesome. Everything works in mysterious ways, at times. Umai Sushi and Grill apparently had the best sushi around, in that area, and possibly when compared to various Vancouver restaurants we tried. Some had better food than others, and others had better (juicer) meat than others. That day, Umai Sushi had the best chef in town for Squamish. I'm happy.
Even if the weather was "trash", I'm glad I could make the most out of it. Seeing various landscapes, experiencing various things, and feeling things in ways I can't document in a blog. I can only share pictures and videos, everything else is sadly undocumentable. I could attempt struggling with a VRChat world, that still wouldn't do it justice. Even witnessing others flying their drone, how they flew it, where, and the excuses they made to fly the drone; The various discussions about where to fly the drone personally, and how to fly it around. The times I would have to press the issue and guide where to fly. Sometimes I even would be pressed to fly. Memorable moments. And about my drone, I'm glad I obtained it. There are moments I wouldn't have captured otherwise thanks to it. I came fairly prepared, yet still was left confused, shocked, surprised by many things. Senses overload.
The memories from Vancouver are awesome, if now struggling to be made sense of as time progresses. Everything gets jumbled around. I'm trying to document what I can, while I can, to share my fun to others. My friend genuinely surprised me, something I'm still grateful for, even if we argued at times, or overheard weird comments. I'm just a tourist overwhelmed by everything in a place I haven't been to before.
Great times. Day 3 is going to be a rush! See you there! 🙂