Hello again, This time I shall be quick reviewing Figma Saber this time around. I know many of you already have her within your collection(s) while others may have not obtained her. I have been attempting to obtain her even before I have bought Figma Haruhi but haven't had much luck until late last month. I finally managed to find her on Hobbysearch and get her from there, nicely wrapped in paper, though a semi-slow process in arriving here.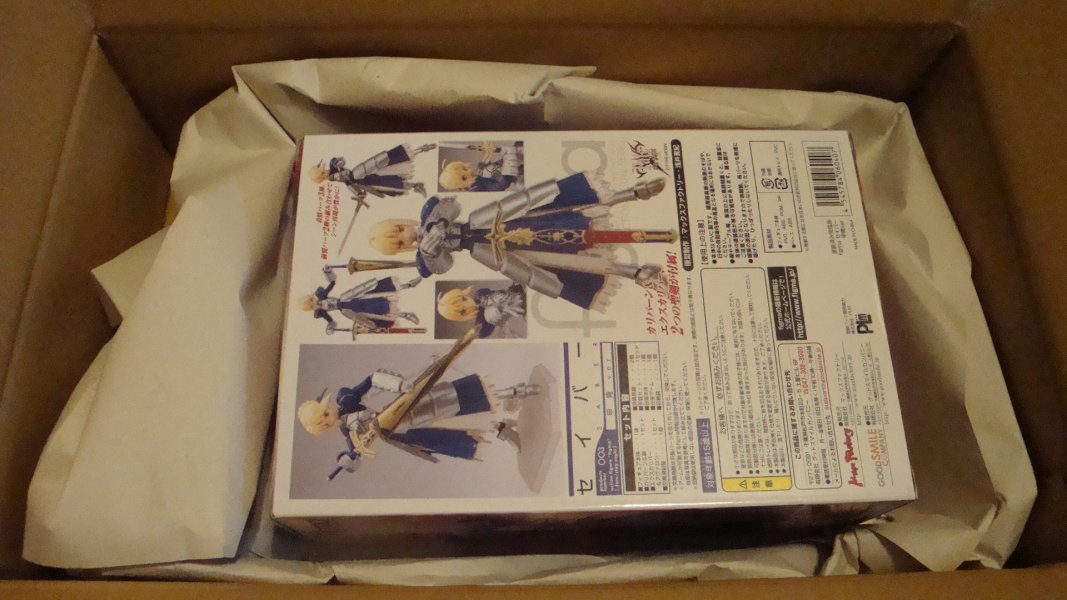 (Link – MySite)
For those who don't know who Saber is might want to pick up my favourite Anime called "Fate/Stay Night" which got me into Anime (Gundam introduced me while Fate welcomed me with open arms). In short, Saber is one of the 7 servants within that show who fights within a secretive Holy Grail war as she is partnered with a passive main character, Emiya Shirou.
I finally have the original Saber, woot! No more drooling over images in other people's blogs, heh. *coughs*…..right, the review. Being one of the first Figma's to arrive on the market shes till manages to hold her own in quality when next to Saber Lily, Shana, and Signum. Just looking at her from the box just makes me want to stare at her all day long, instead of uh………looking at Gametrailers videos all day, heh.
Just before we proceed, here are three links to Figma Saber Lily – Link 1, Link 2, and Link 3 (Just to see the difference).
Note the UFO's on the box….*Stone henge thought*.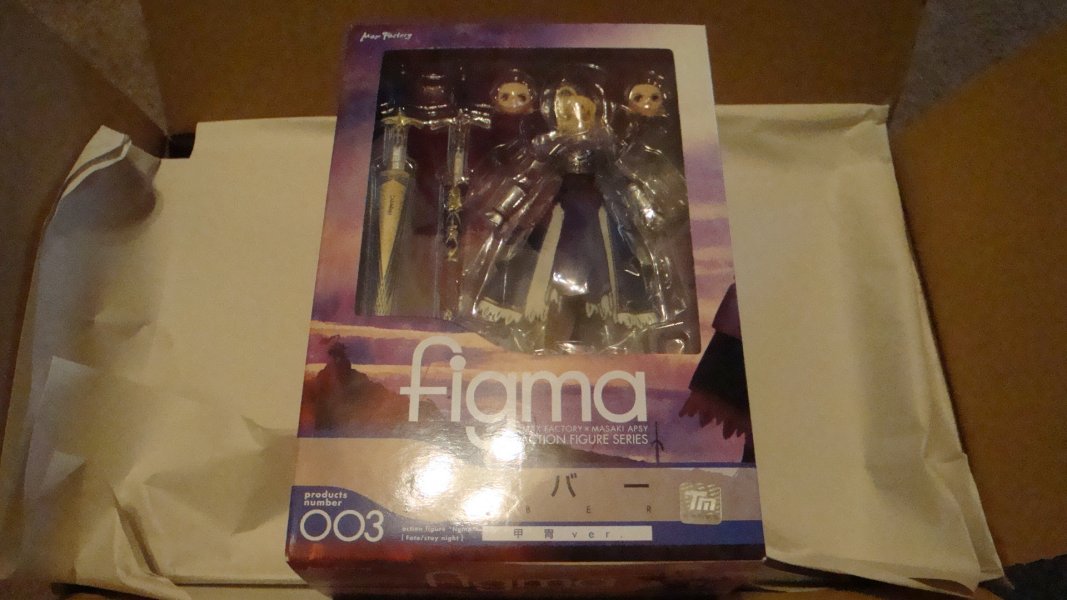 (Link – MySite)
Box art? It never gets old. I love how each and every Figma box is detailed in its own manner. Probably similar to how the Figma's themselves are carefully detailed. Lucky Star boxes are a fine example of detail.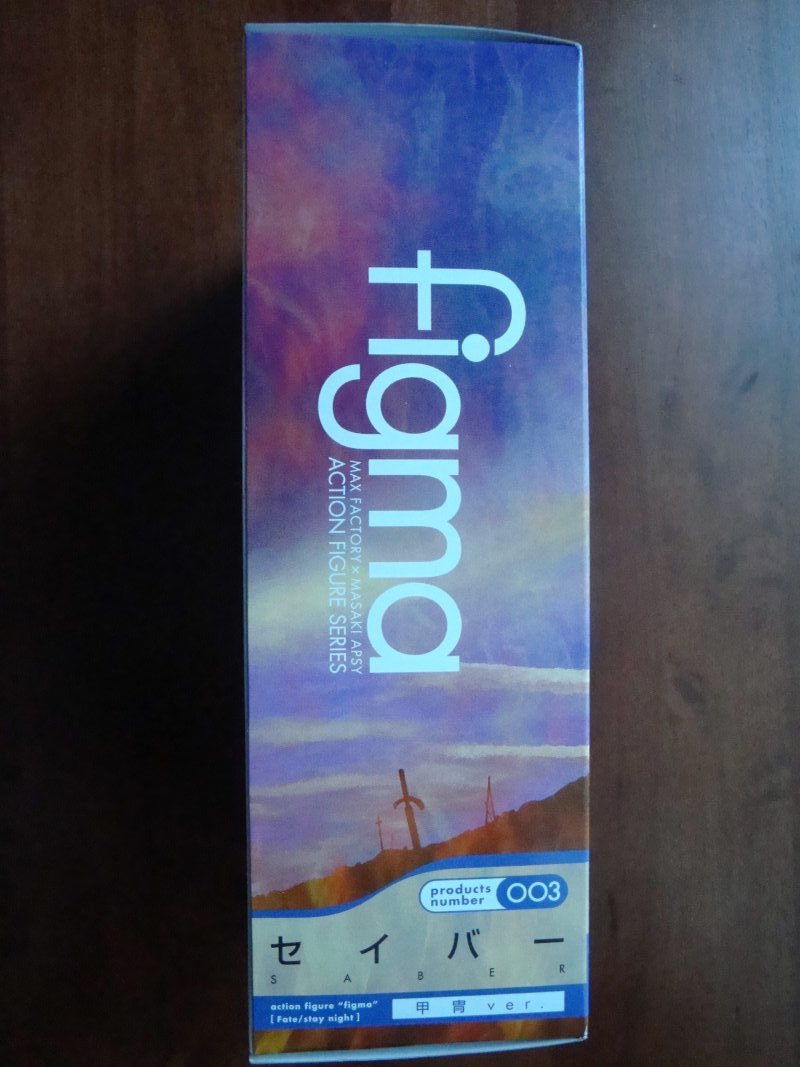 (Link – MySite)
After about three days of staying within the box she is finally released from her cardboard and plastic dungeon :).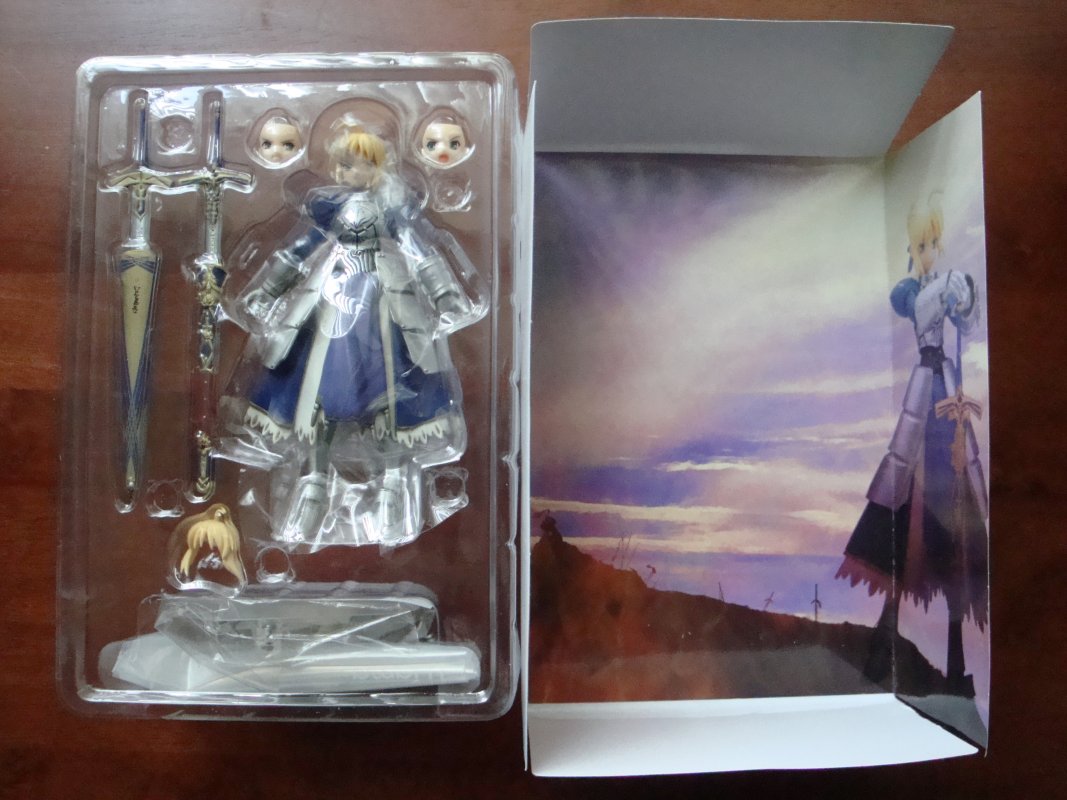 (Link – MySite)
Now laying the contents onto the mini-table, we have Saber heavily protected with various plastics, Excalibur and Excaliburn, an extra hair peace with a "sway in the wind", two extra face plates, instructions onto how to insert the face plates, a travel bag, and a bag containing her extra hand pieces along with her simple stand.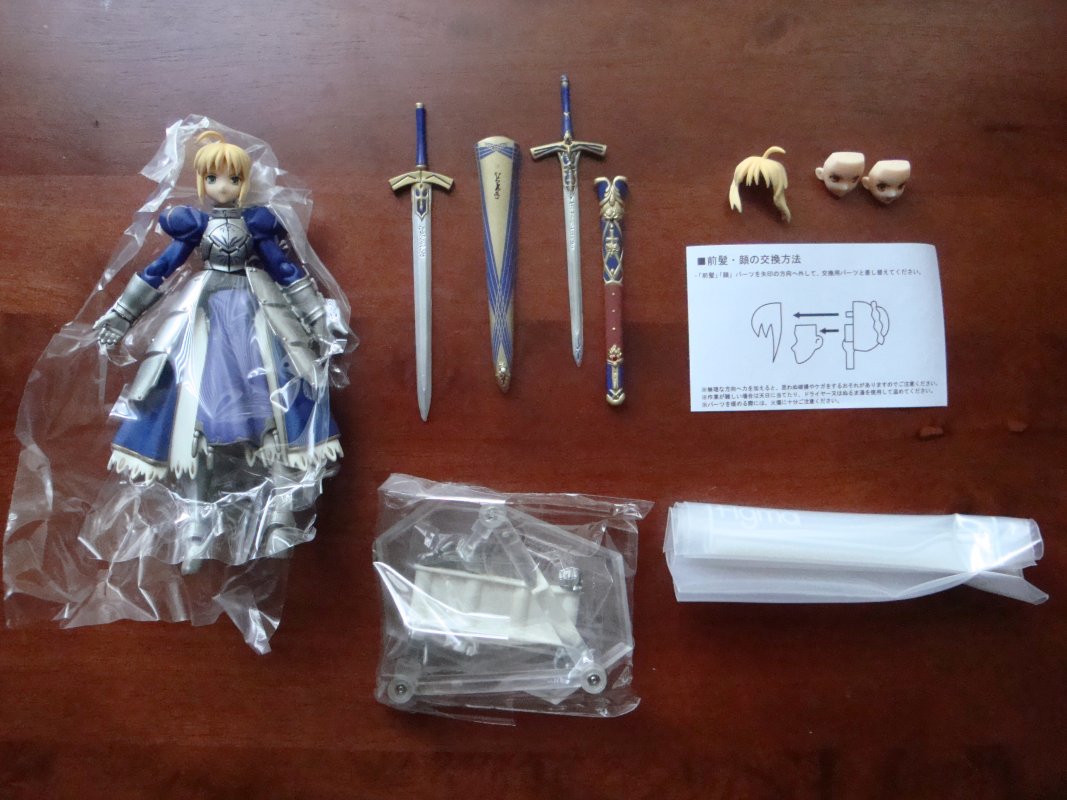 (Link – MySite)
Heh, tons more plastic to recycle! This is slightly bordering on being paranoid with the amount of plastic these figures come with. But I guess there is a price to pay if you want quality instead of quantity. I don't mind the plastic spam as it ensures that the figure stays in tip top shape when received.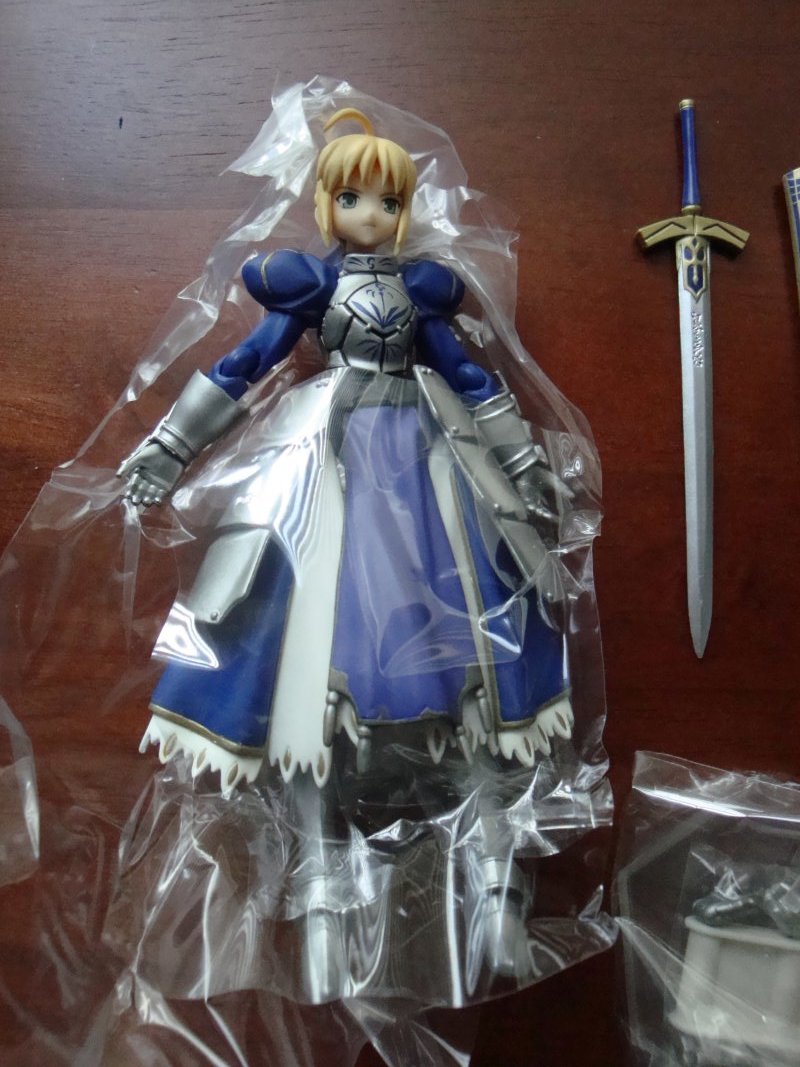 (Link – MySite)
And now a closer look at her various accessories up close.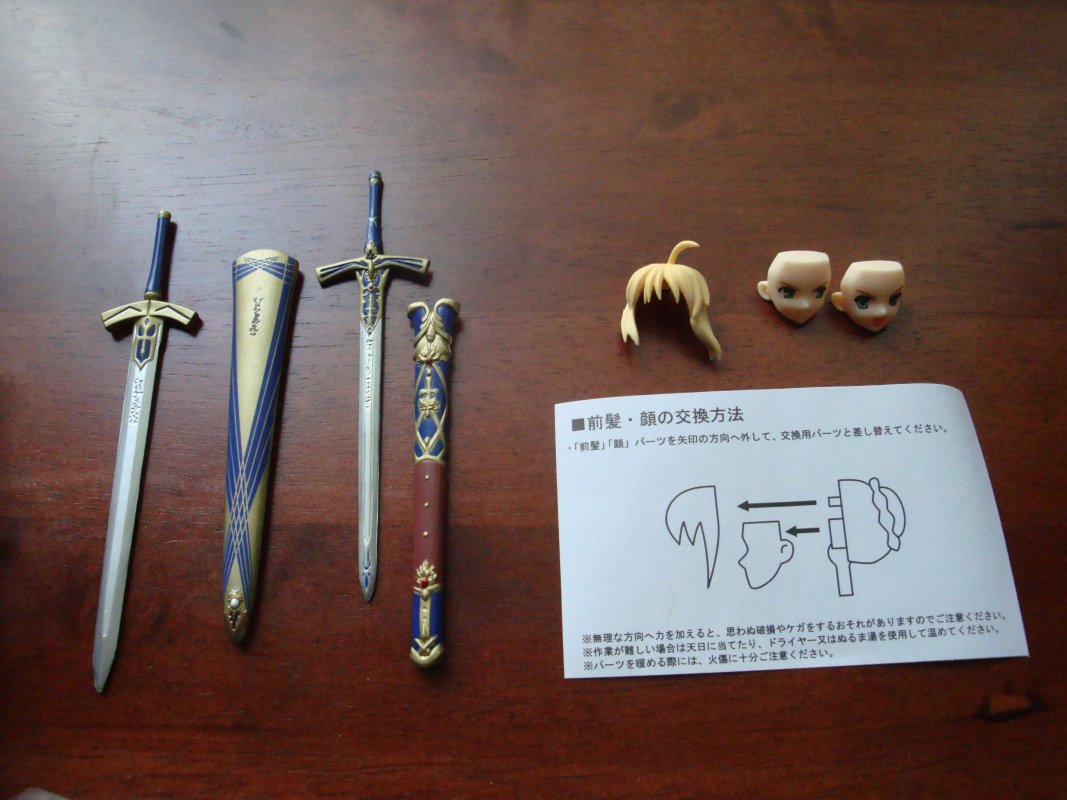 (Link – MySite)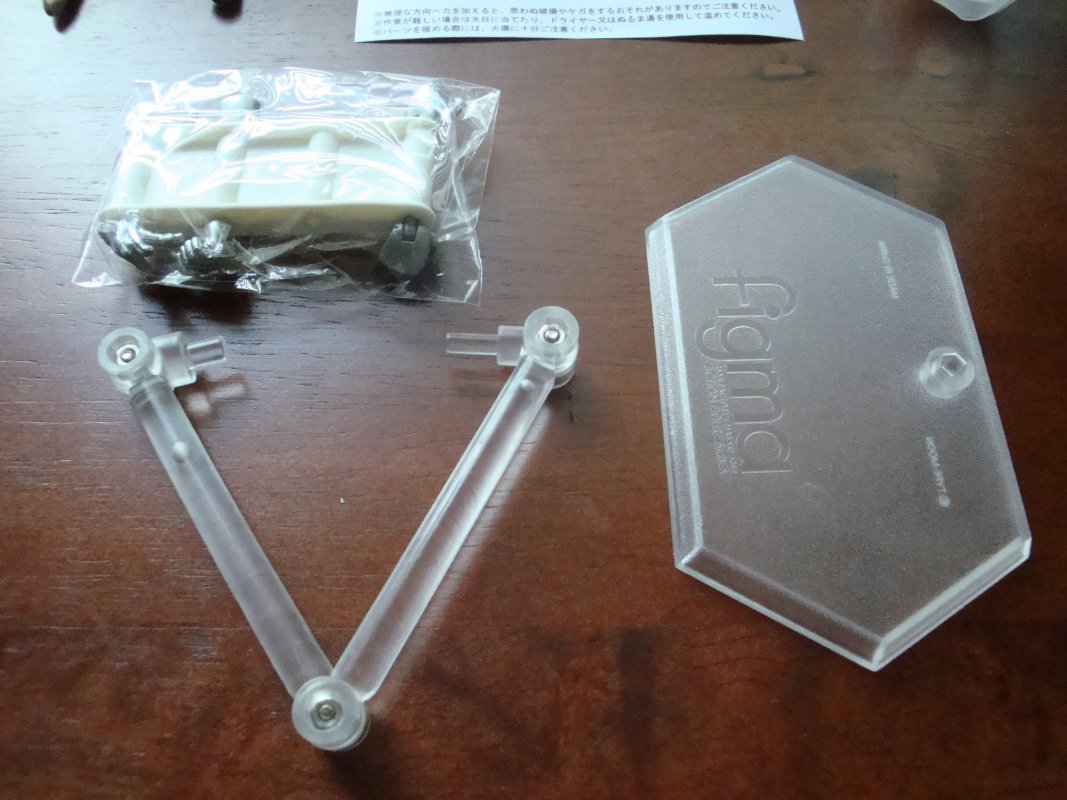 (Link – MySite)
Returning to Saber, we find more plastic hidden behind her hair and up her large  skirt. How much plastic do you throw out from all your Figma purchases? Everytime I get them I always have to throw tons of plastics into the recycling bag.
Wish they added spare joint pieces just in case if the figma's elbows start breaking – My Figma Miku can't pose and I want to pose her properly.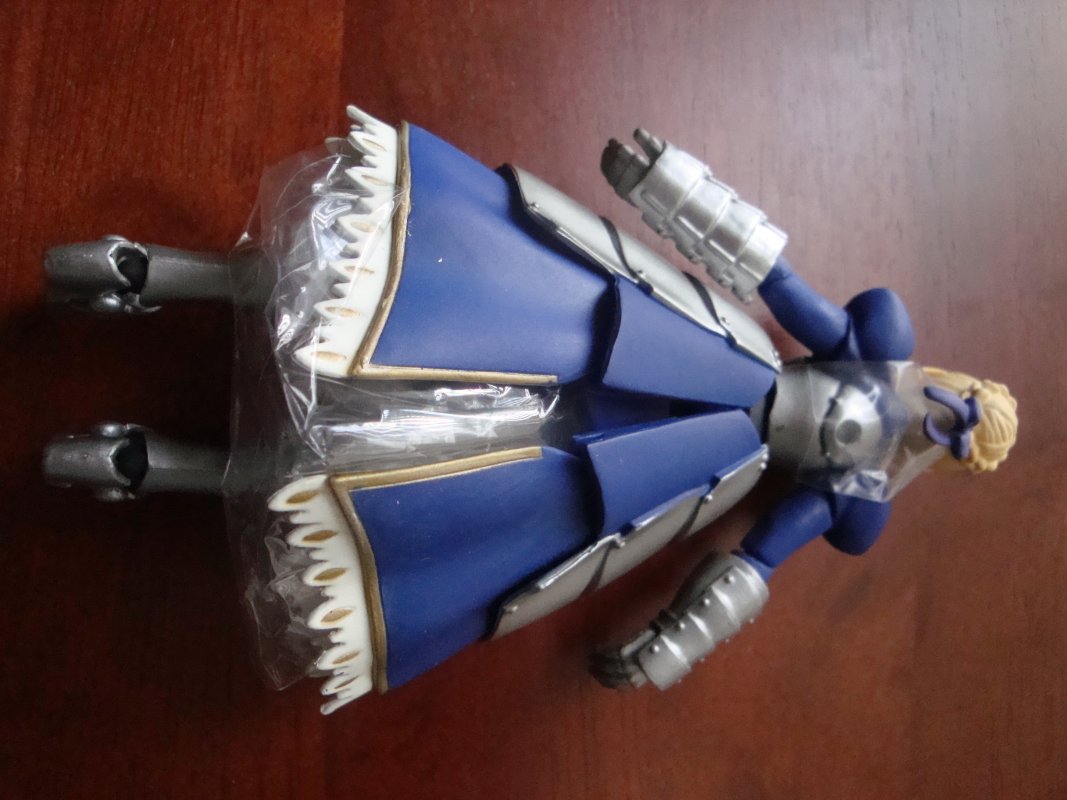 (Link – MySite)
Note the front skirt pieces on either side. The front of her skirt could move further out or further in allowing for slight changes in how the skirt appears. The skirt itself also moves outwards to allow Saber's legs to be posed in a jumping pose manner, or have her skirt expanded outwards as she falls back towards ground.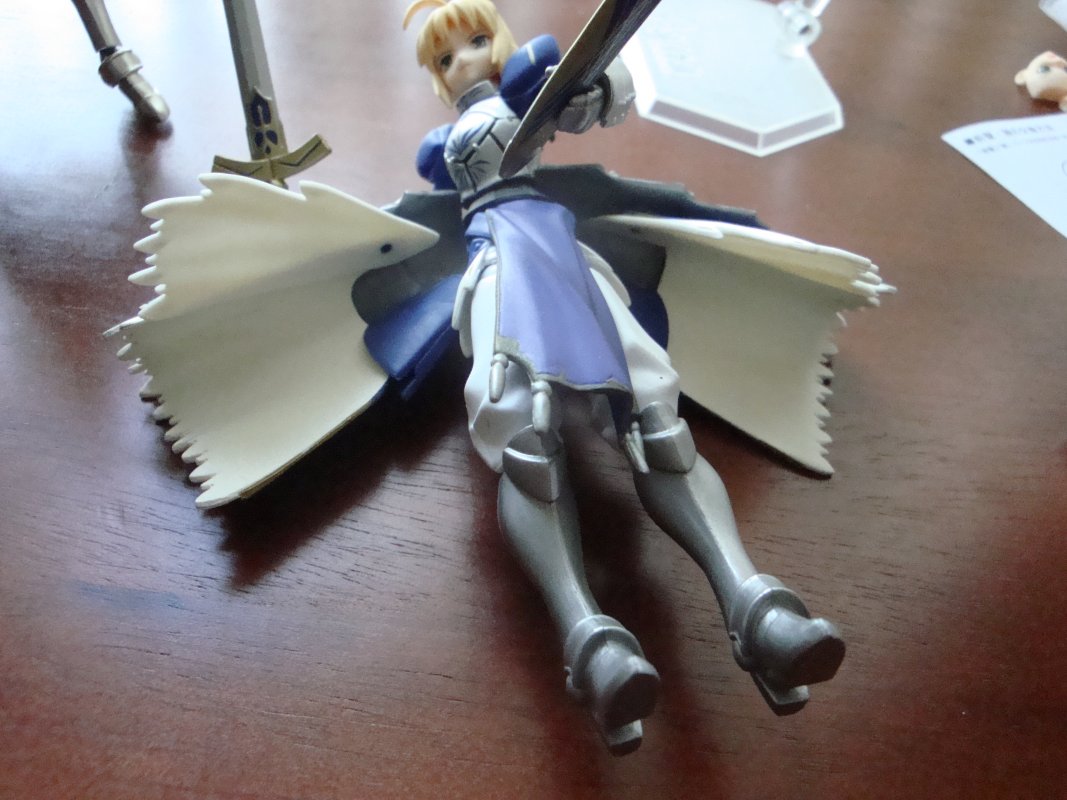 (Link – MySite)
Heh, I love how this Figma is well detailed and crafted. Doing a simple pose and she already looks cute, heh. Now to hand Saber her Excalibur sword :).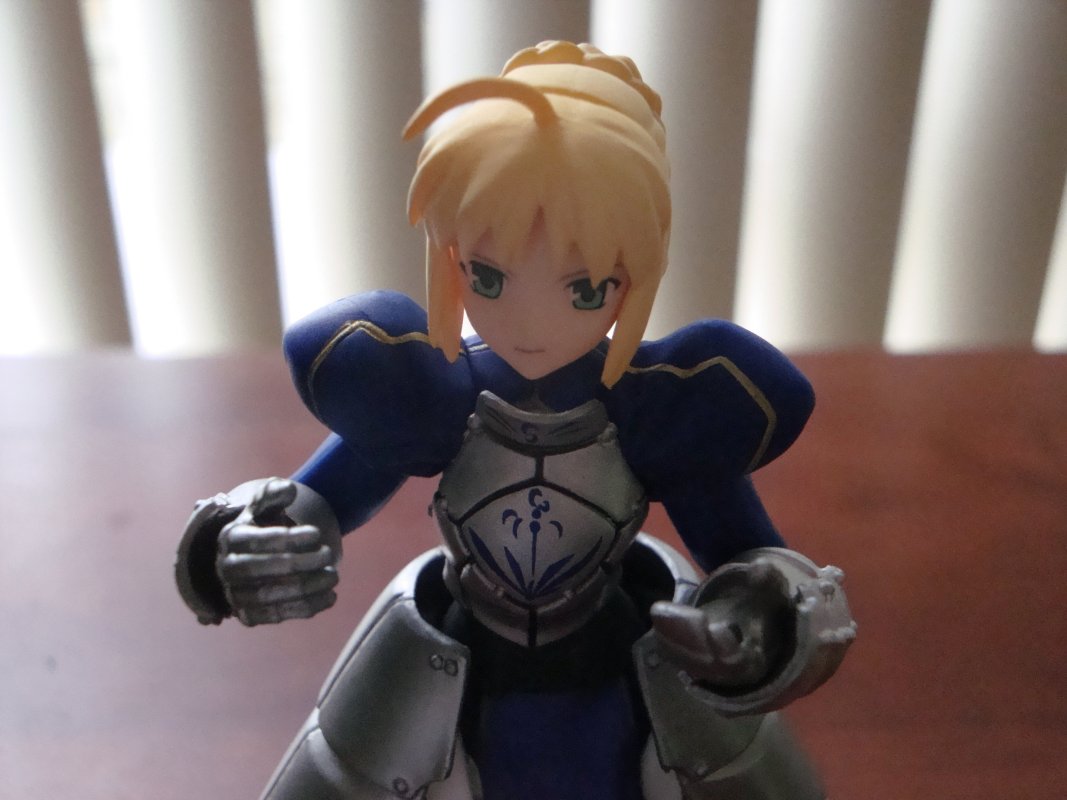 (Link – MySite)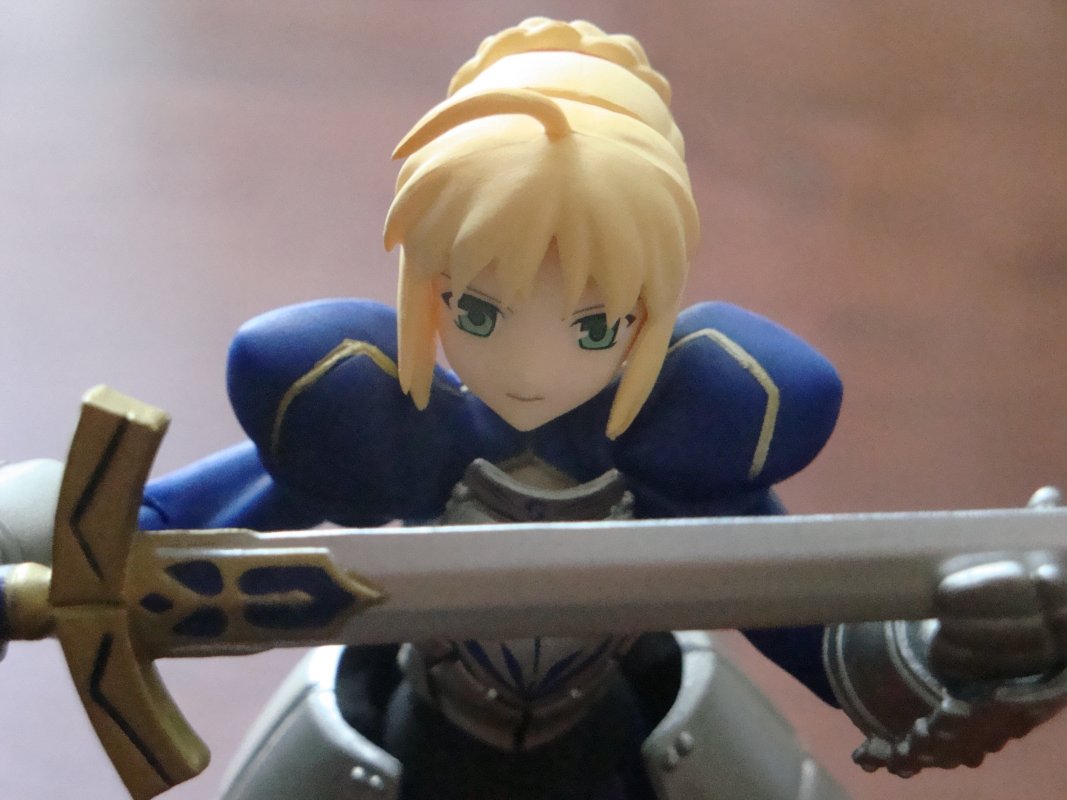 As I was looking over towards my MSN messenger for a moment I noticed Saber Lily angrily had ambushed Saber, starting a new Holy Grail War. As epic (though not shown) as that battle was the images themselves were damaged :(. These are the only images that survived the oddly fought, yet epic, battle.
—
The ambush….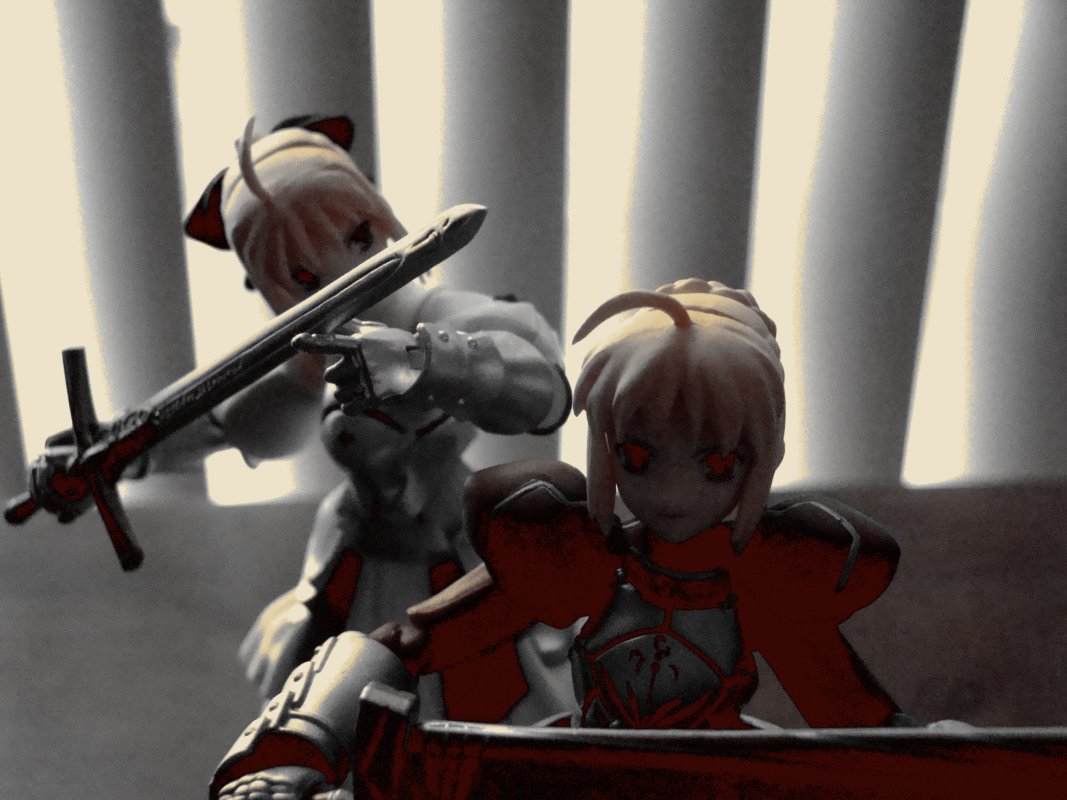 ….Halfway into the battle Lily spun around as she deflected Saber's assault……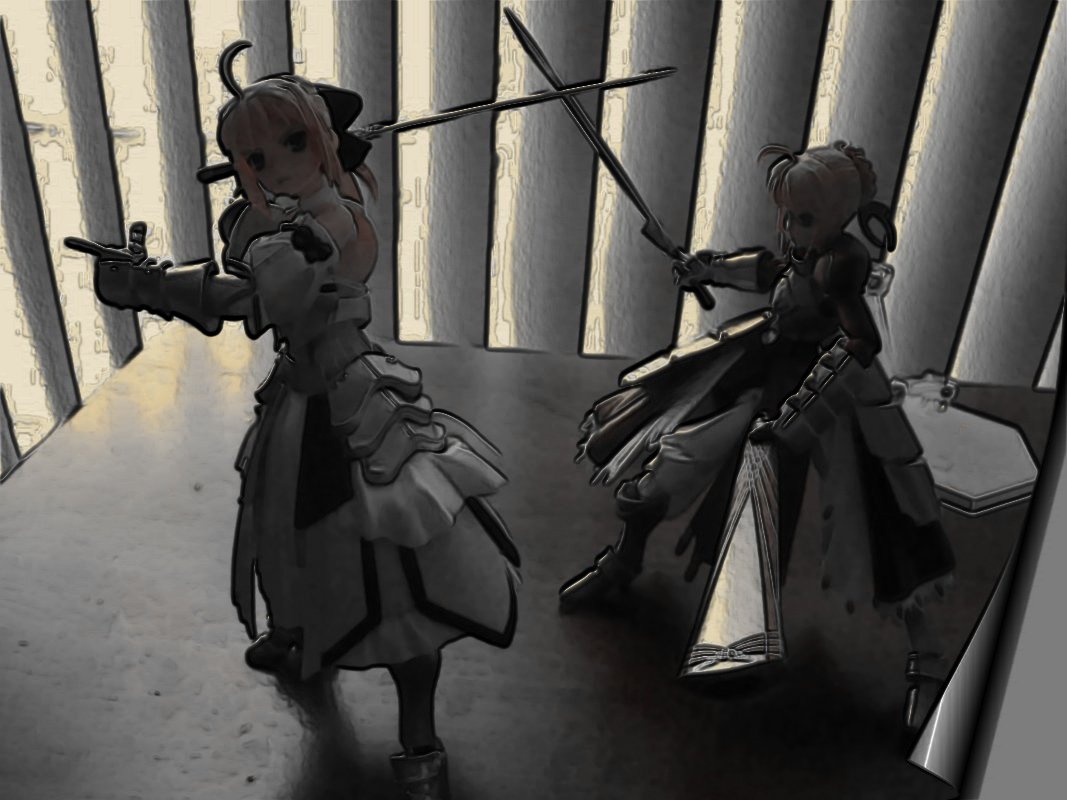 (Link – MySite , Original Image, Flickr, edited Flickr )
An odd Time paradox causing both swords to bend evenly.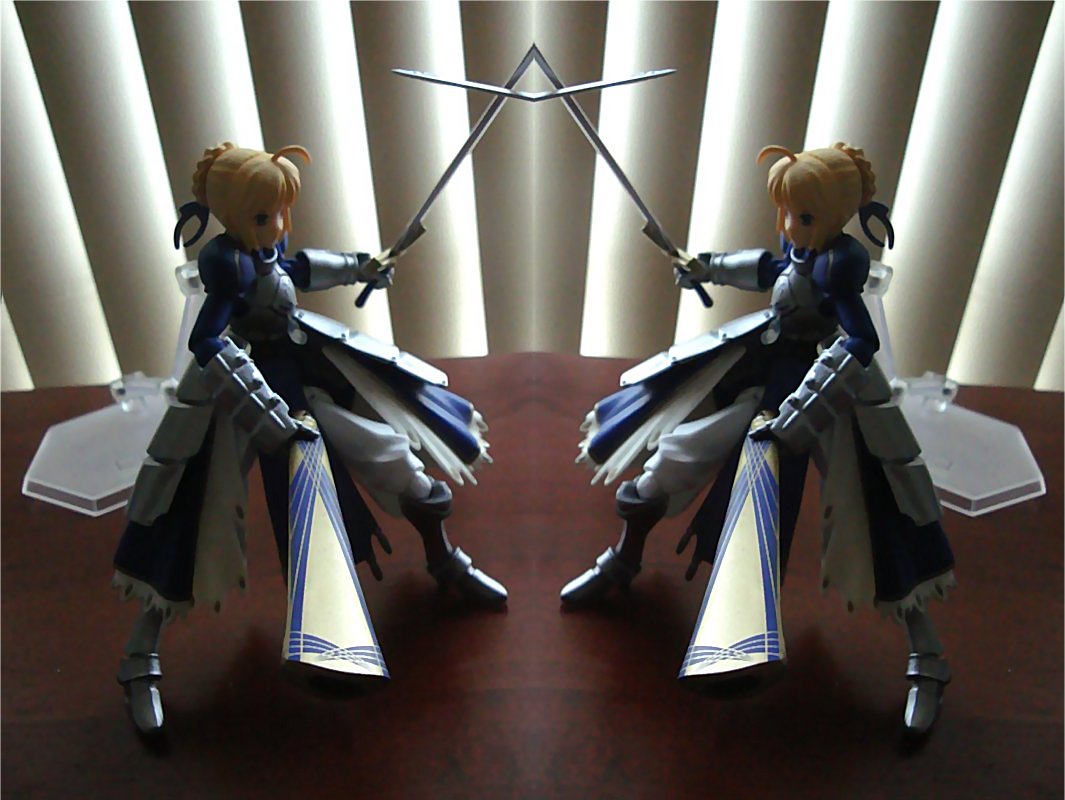 —
Pros:
– Well detailed figure – faithful to the Visual Novel/Anime design Saber.
– Poses easily and looks beautiful in every pose.
– Her Skirt is flexible and can "move out of the way" to allow the owner to pose her in any combat poses. The front of the skirt contains two movable pieces that allow for slight skirt movements (useful for stop motion animation or sequenced photos) which can hide or move out of the way of the upper leg.
– Product was carefully wrapped within carefully placed plastic pieces ensuring top quality – Top quality was ensured.
Cons:
– Being of the earlier Figma's her stand isn't something I prefer, as the point used to pose them in more complex positions simply falls out of the hole allowing the Figma to freely crash with the nearby vicinity.  I prefer the safer Saber Lily's and the di:stage's  "stand arm" that came with them to assist with posing as it snaps around the finger.
– Little blue smudge marks on her Excalibur Sheath – Can be ignorable.
I place her amongst my favourite figmas. If you have not yet acquired Figma Saber then you can do so -> here: Hobby Search. She might disappear on you if you don't.
——————————————-
Off-topic – Blog Changes:

For those following my blog may have noticed the sidebar changed. I was trying to fix the disappearance of the log in section when the whole sidebar reset on itself when I clicked on the Widget section in the dashboard. I then spent the time I was watching the Formula 1 Suzuka Race on organizing the sidebar changes by adding Flickr, A shoutbox, a log in plug in and even placing RSS feeds. Hope you guys make use of the shoutbox and Flickr sidebar :D.
Preview of Future articles:
I know I said this before with the European parts but this is what I actually got planned. If you are interested then you might want to stick around to see these articles.
– Outdoor di:stage review – (On the go as Figmas are being brought around with people).
– Blast into the Past editions (In progress) – (Basically toys and figures from the past that bring nostalgic memories – I.e Power Rangers).
– Figma collection and Favourites – (An update on my Figma collection showing – As a whole and my favourite ones).
Which ones are you interested in first?
– Thanks for reading and hope you enjoy(ed) this article.