Hey, went off to pick up my Figma Ein that I had on hold and discovered a bonus Figma product on my visit to the store.  Which one? AnimeStop on Clyde – Merivale area. The ex:ride 004 wheel walker was a nice find and catch to go along side a stealthy Ein.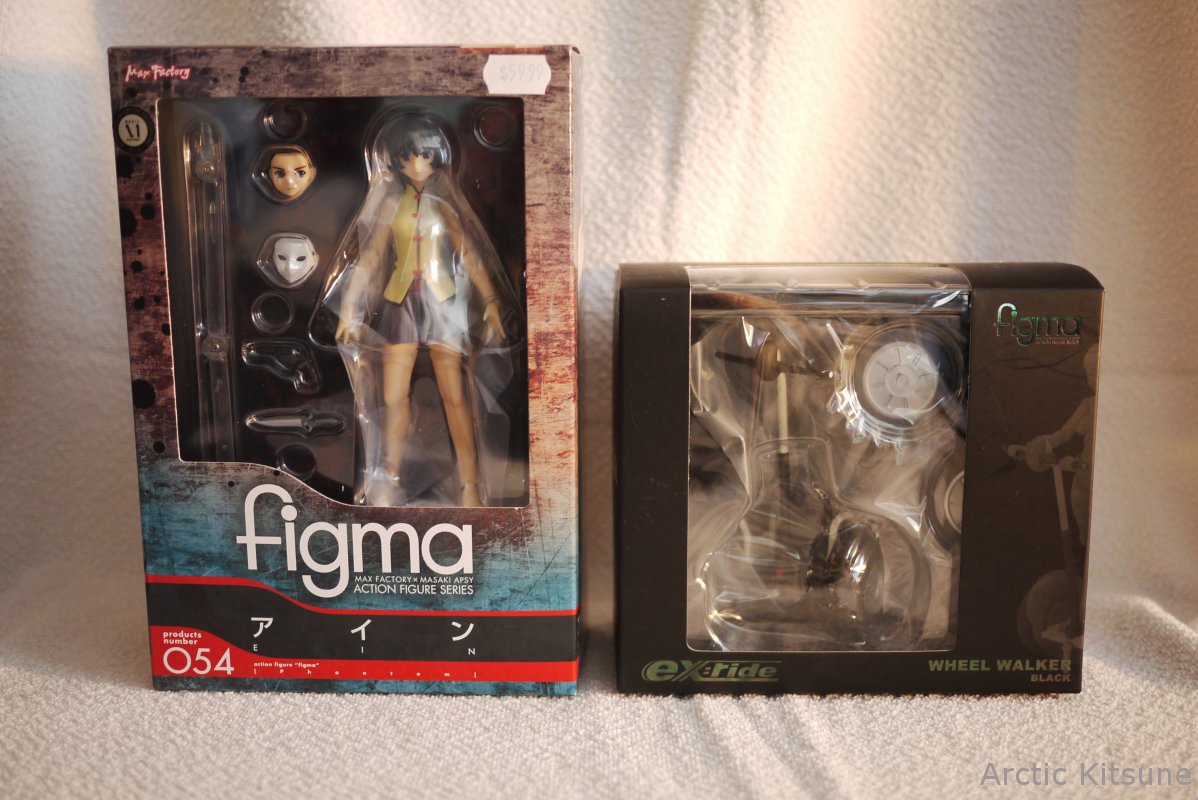 (Link – MySite)
For those viewing this article from another city or nation may want to view the following links of the store. Apparently you can e-mail them your desired Anime merchandise and they'll ship it directly to your home, or so I overhead when browsing the store's aisles. Thought I'd mention them again as I've gotten 80-90% of my Anime material from them.
-> My archived thread – Anime stores of interest:
http://forums.swgbex.com/viewtopic.php?f=7&t=361
->And their homepage:
http://www.thecomicbookshoppe.com/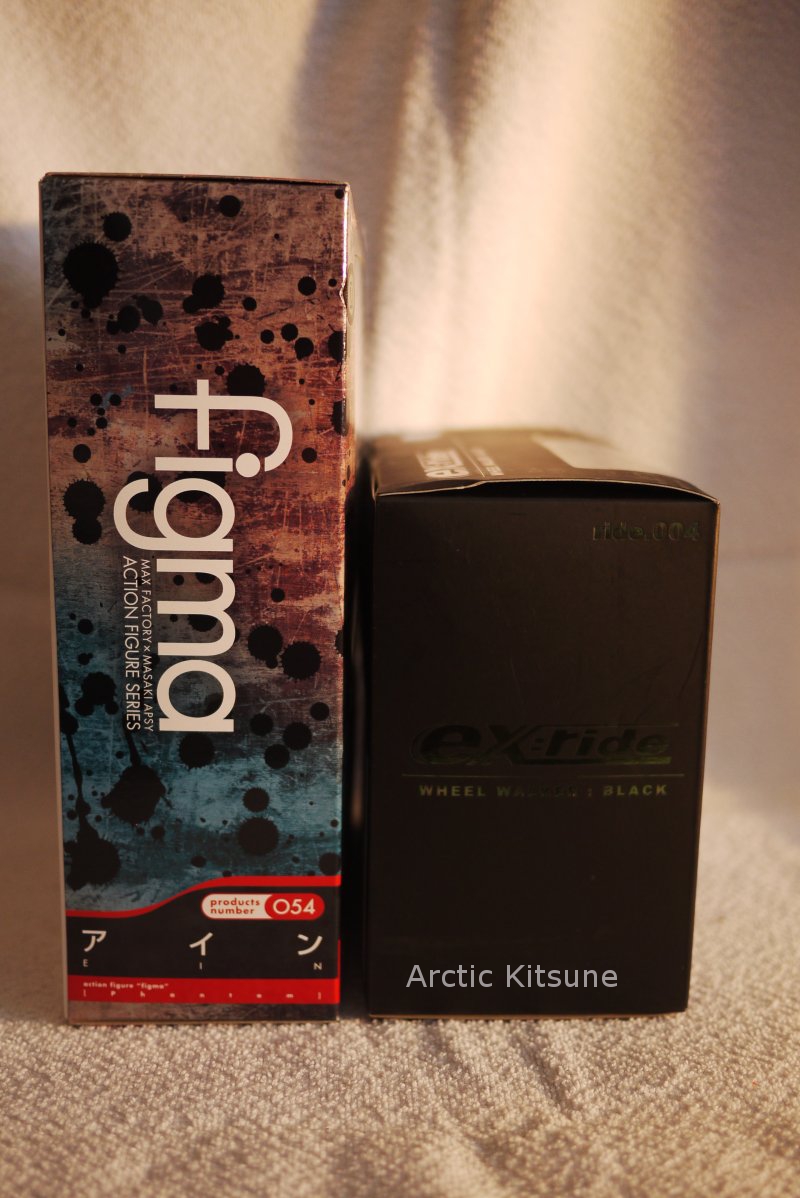 (Link – MySite)
The weather has been a pain in the rear recently as I wanted to head off to the Tulip Festival to blog about it. The combination of cold and the rain kept me indoors as I was worried the Tulips may have been damaged from the frost. Poor Tulips. I could of also reviewed this outdoors but had a little issue causing me to review this at home. Hope you don't mind the indoor quality that I'm reviewing this  in.
Sorry, but can I get you guys to listen to this tune first before proceeding to the Figma Ein review? Its to set the mood for this article lol.You don't have to but just trying to get you in-tune with the review :P.
Phantom: Requiem for the Phantom | OST – 01 – Requiem for the Phantom p1

—–
Figma Ein
The front of the box with a interesting enough of a display window, her  and her accessories in view.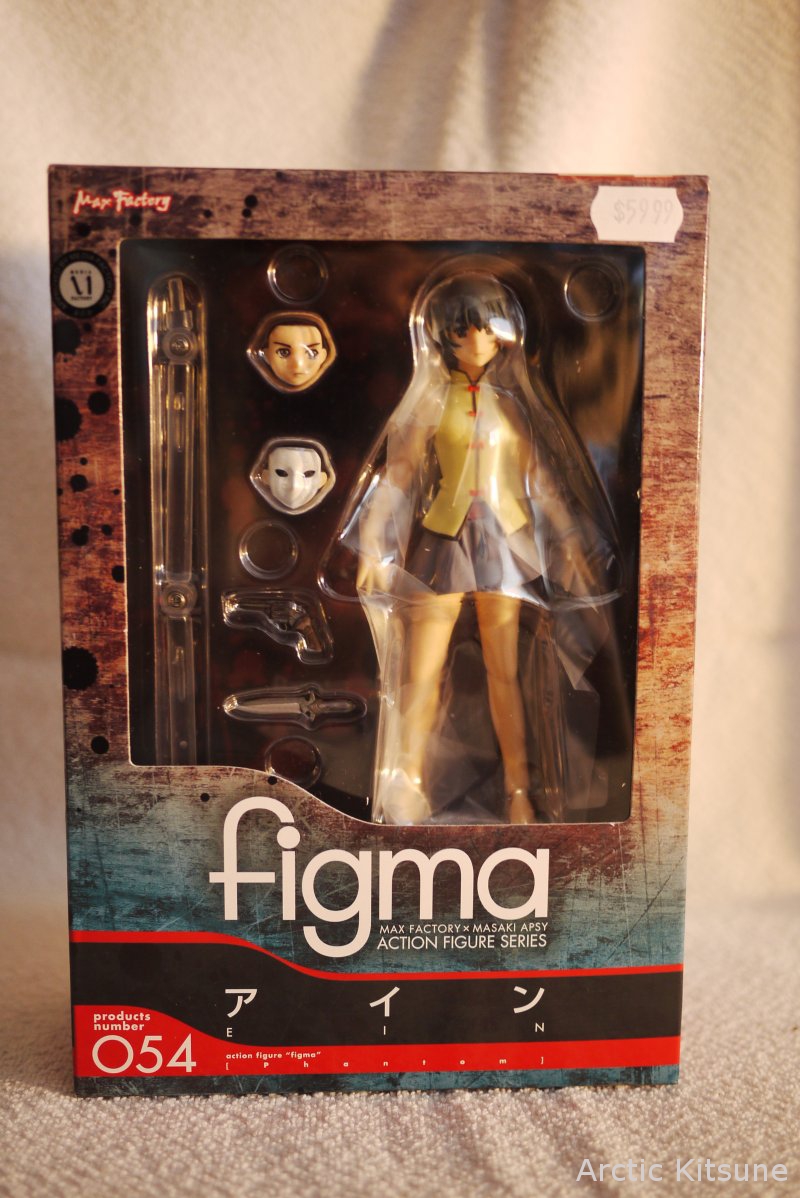 (Link – MySite)
The side featuring Ein with her gun.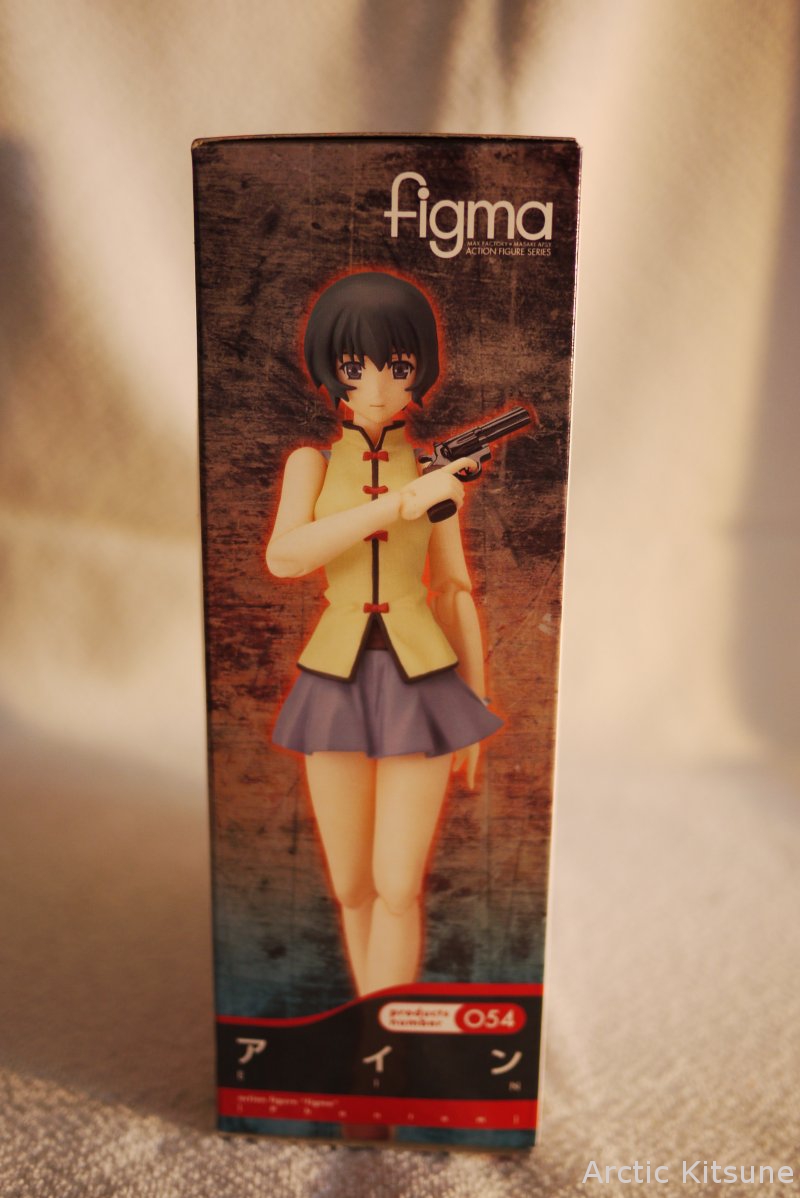 (Link – MySite)
And the rear view showing off examples of how to pose Ein.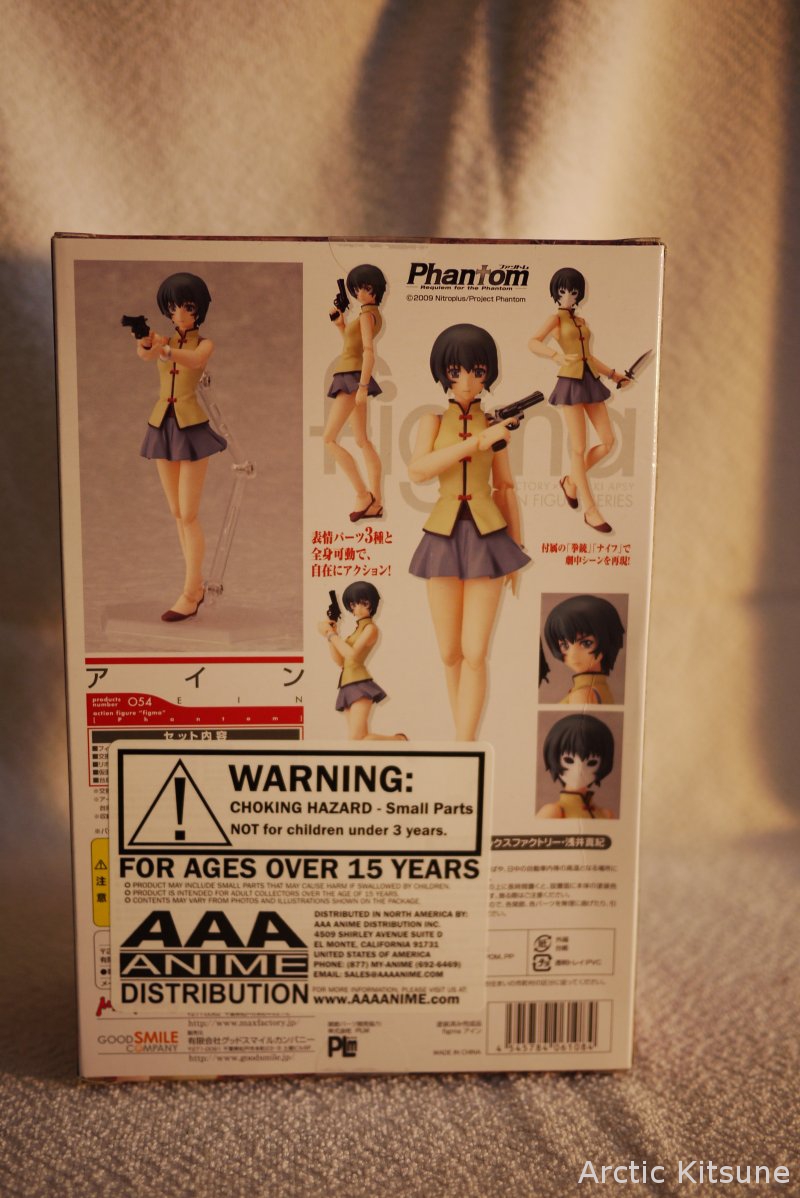 (Link – MySite)
The top and bottom of the box is basically the same.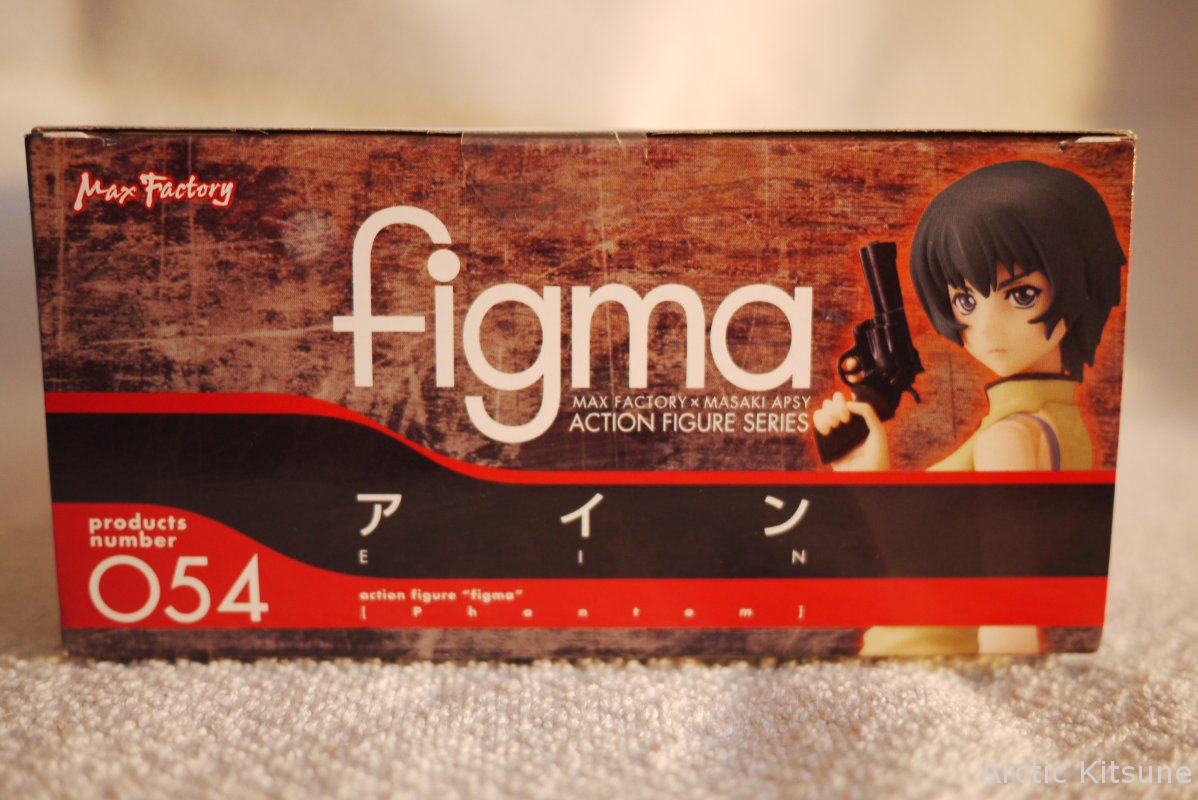 (Link – MySite)
Ein is from the Anime called Phantom: Requiem of the Phantom.  There is also an older game which the Anime is based off but that is much harder to obtain. This Figma version is from the Anime version. I would like to say how she behaves and who she really is but that would be followed by spoilers so I won't. Instead, all I will say is that she is a highly skilled Assassin. I'd recommend that you should watch the Anime if you haven't yet.
Trailer of Phantom: Requiem for the Phantom.

And then the game – Phantom of Inferno – which the Anime was based off of.

Ein's Monolog from her soundtrack.

And then another track from Ein's soundtrack

The background that can also be used for the Di:stage which I also reviewed, here.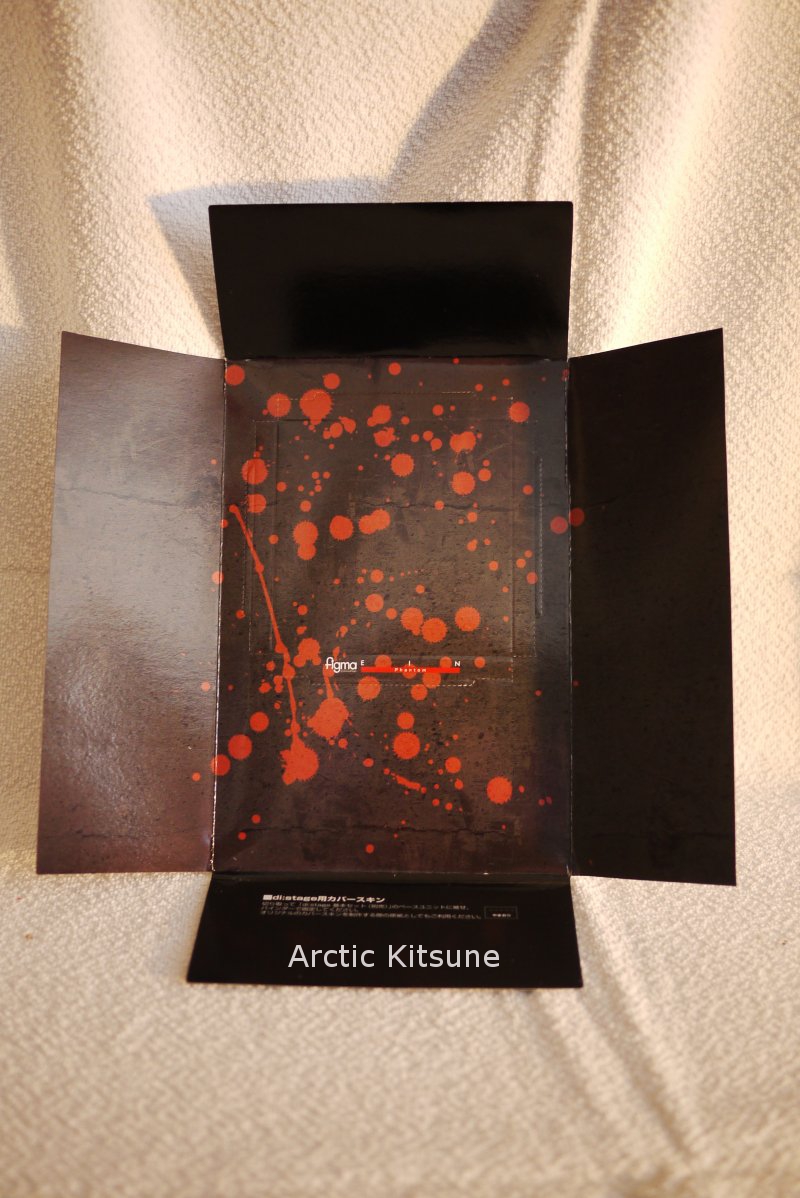 (Link – MySite)
Ein out of her box, though still in her plastic case.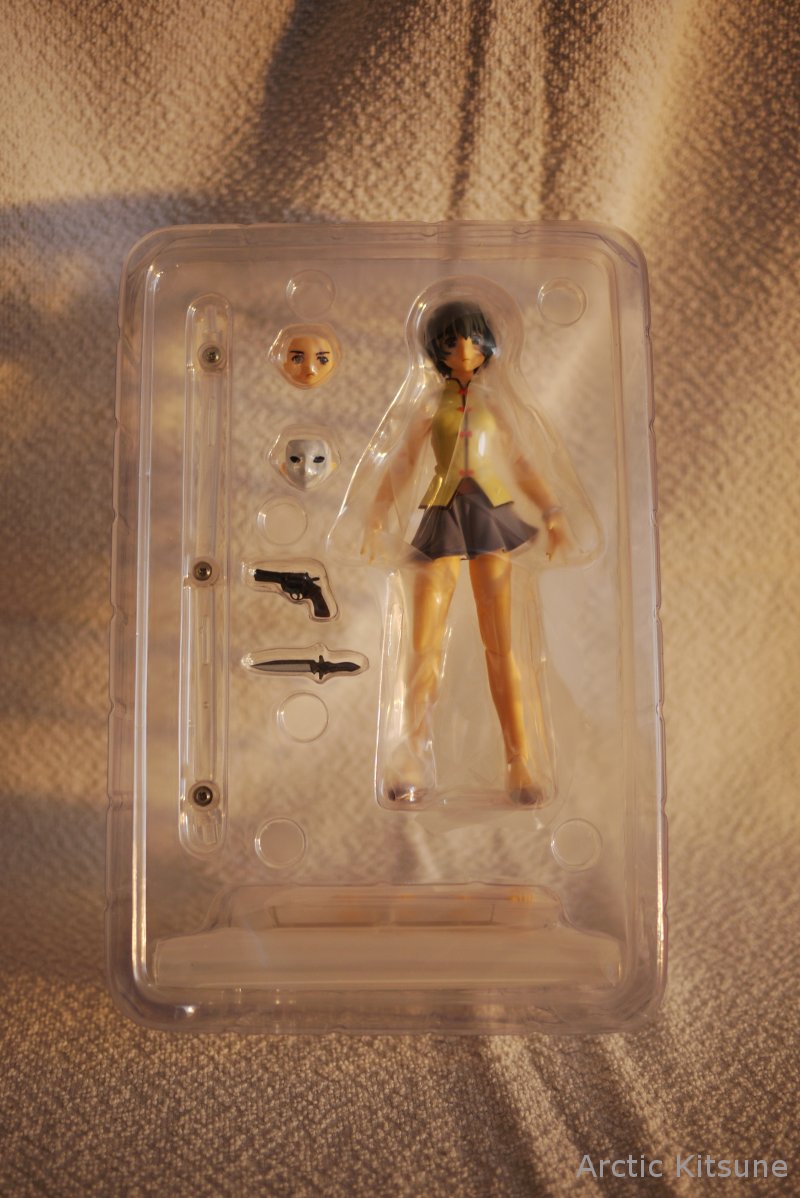 (Link – MySite)
And then all her parts:
– Figma stage base with a three pegged stand which hasn't changed one bit.
– A Figma bag.
– Ein
– Ein's pistol and Knife
– A mask faceplate and an angry battle ready face.
– 8 spare peg hands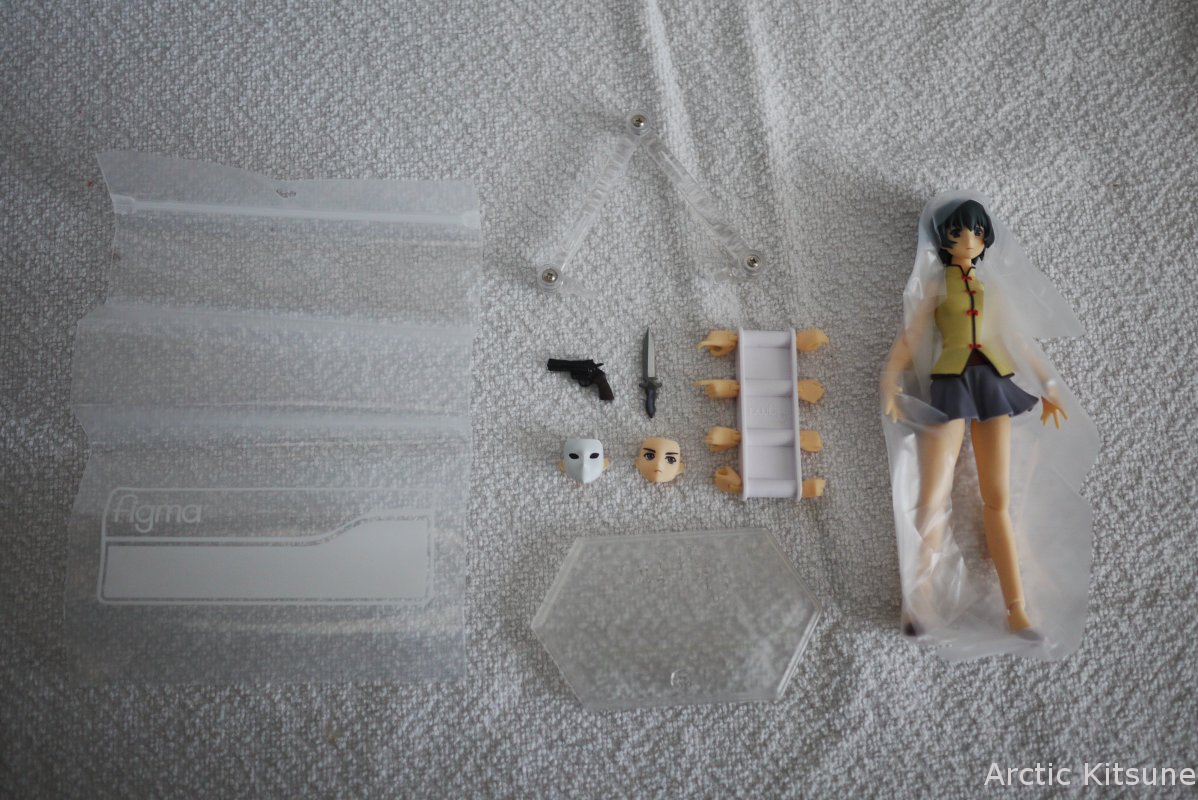 (Link – MySite)
I think she should of also been shipped with a broken mask faceplate and a sniper rifle kit.
Below: We have Ein packaged with some protective plastic so she doesn't scratch. The norm for Figma packing.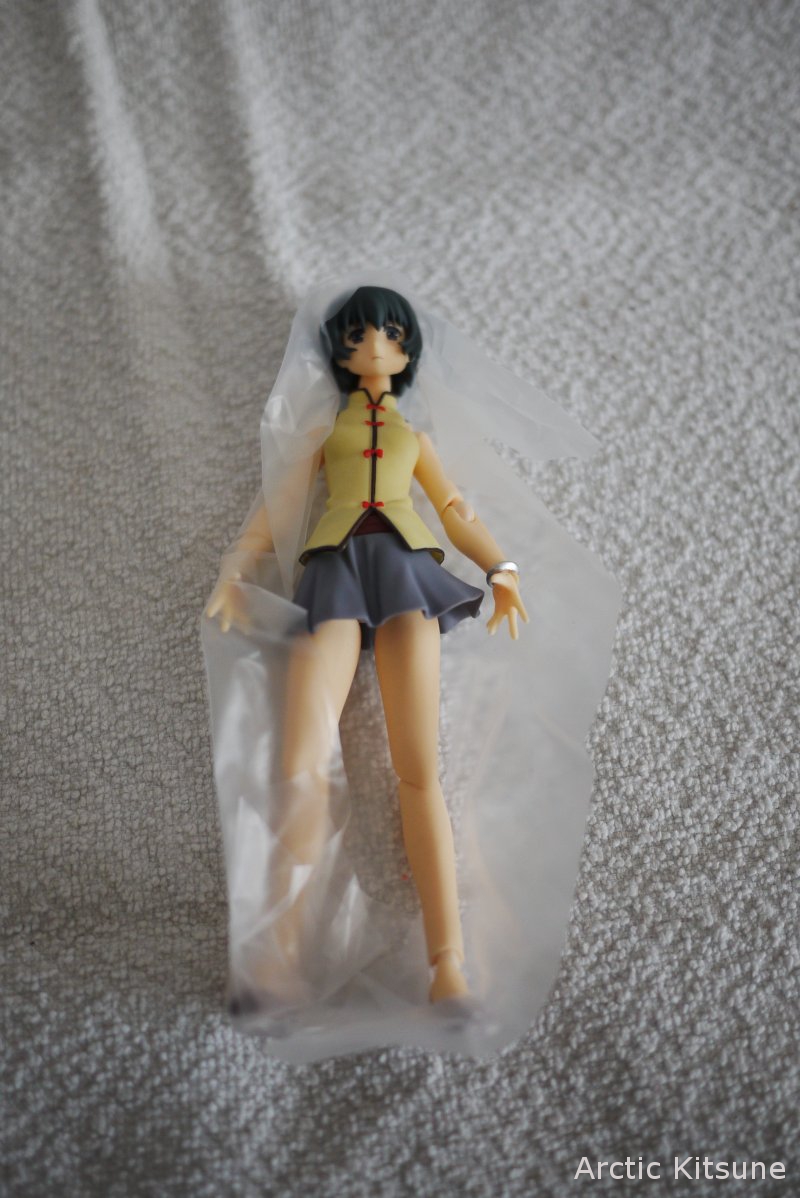 (Link – MySite)
Ein in her first pose out of the box and plastic case.  Poses quite well but her shoulders don't allow much flexibility when trying to hold a gun or a sword with both arms. All the joints were nice and stiff, no loose or defective areas to report.  Her sandals are painted in.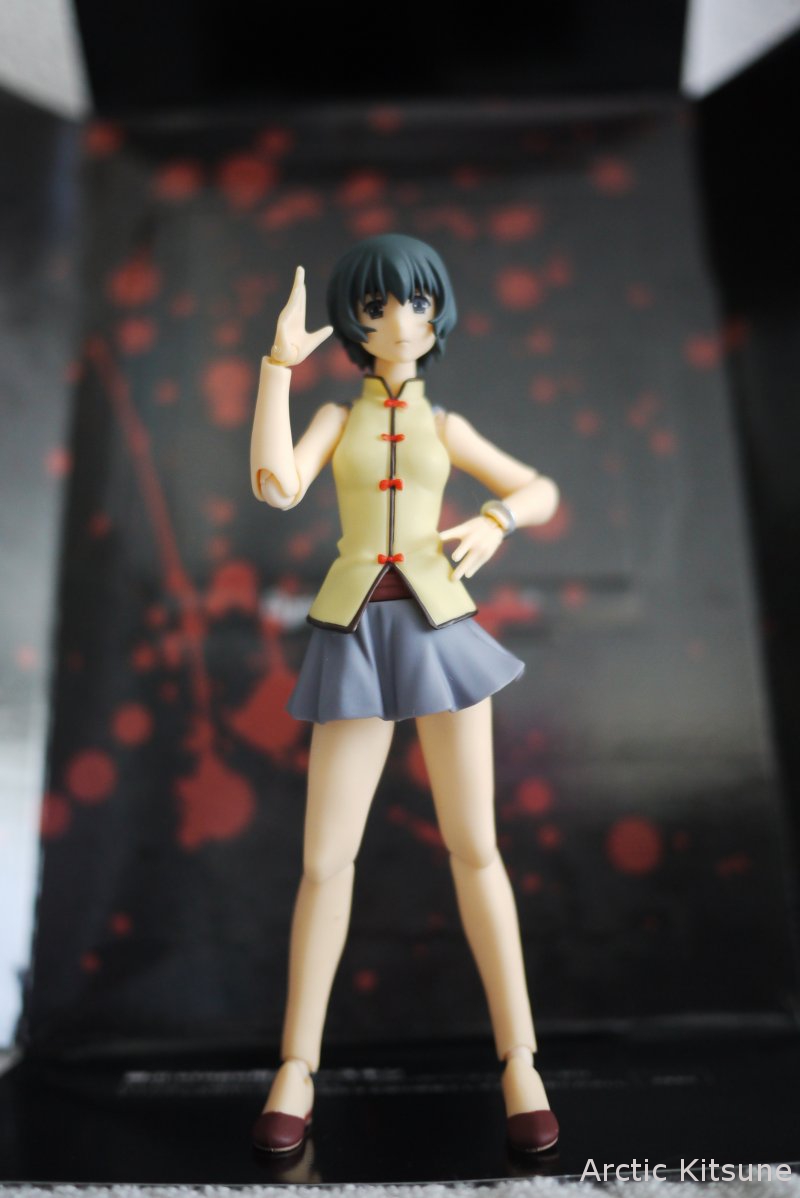 (Link – MySite)
Her hands are pegs which might cause paranoid Figma owners who photoshoot their Figmas to be alert at all times. Figma Meiya – Review here – has short pegs as well which might get loose and lost for the careless Figma owners. I've nearly lost one of Meiya's hand when trying to make her sit on the tree root with the scorpions.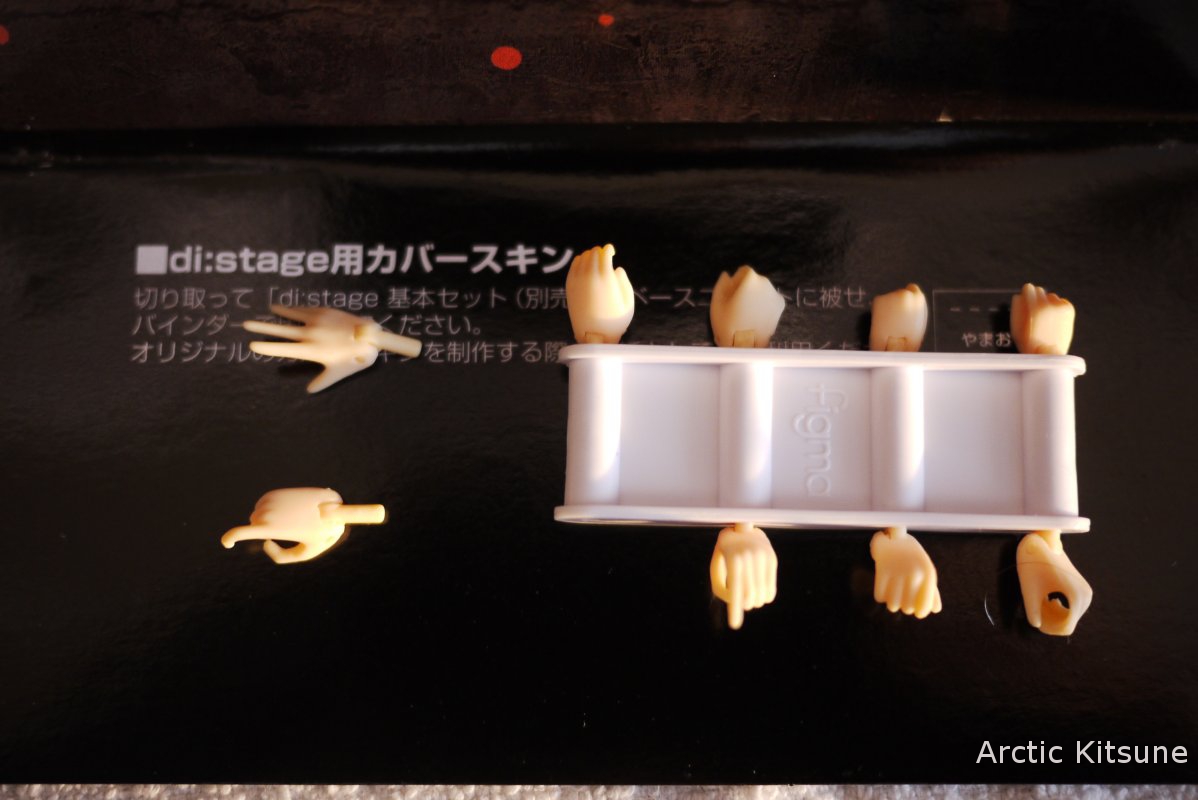 (Link – MySite)
And then a few shots featuring her semi-limited posing capabilities.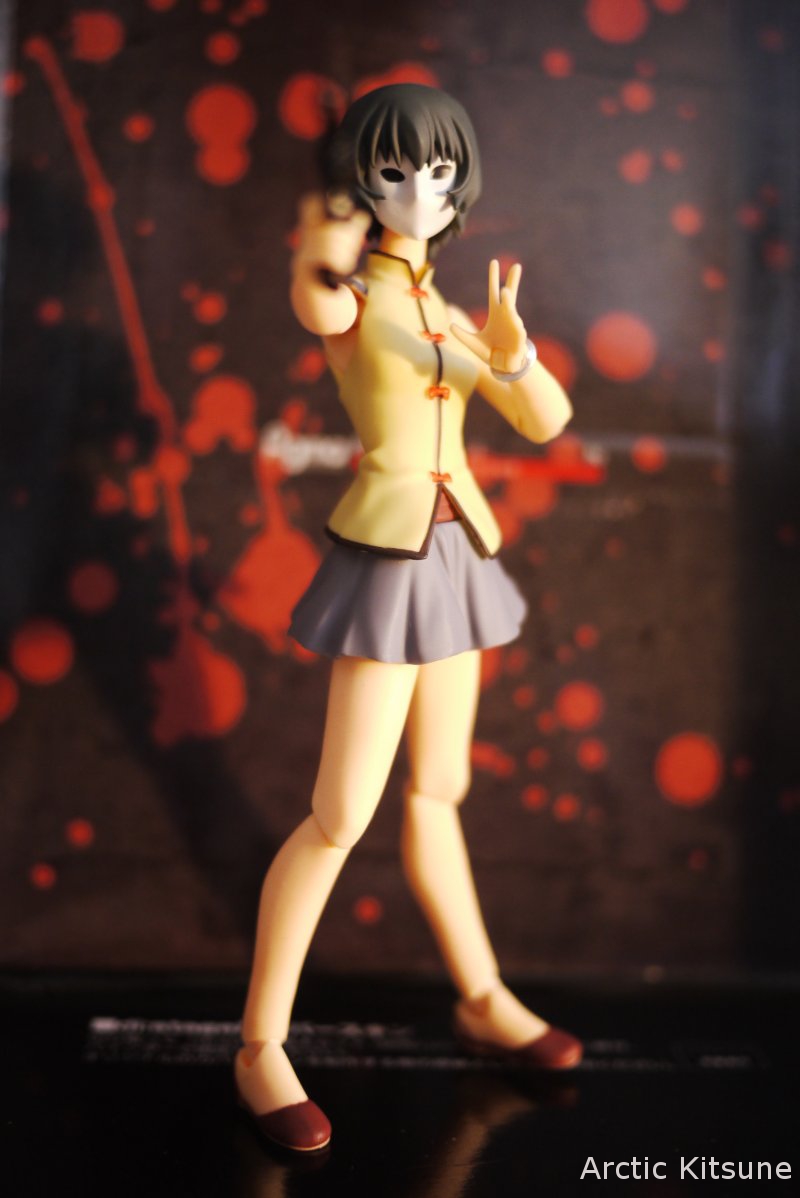 (Link – MySite)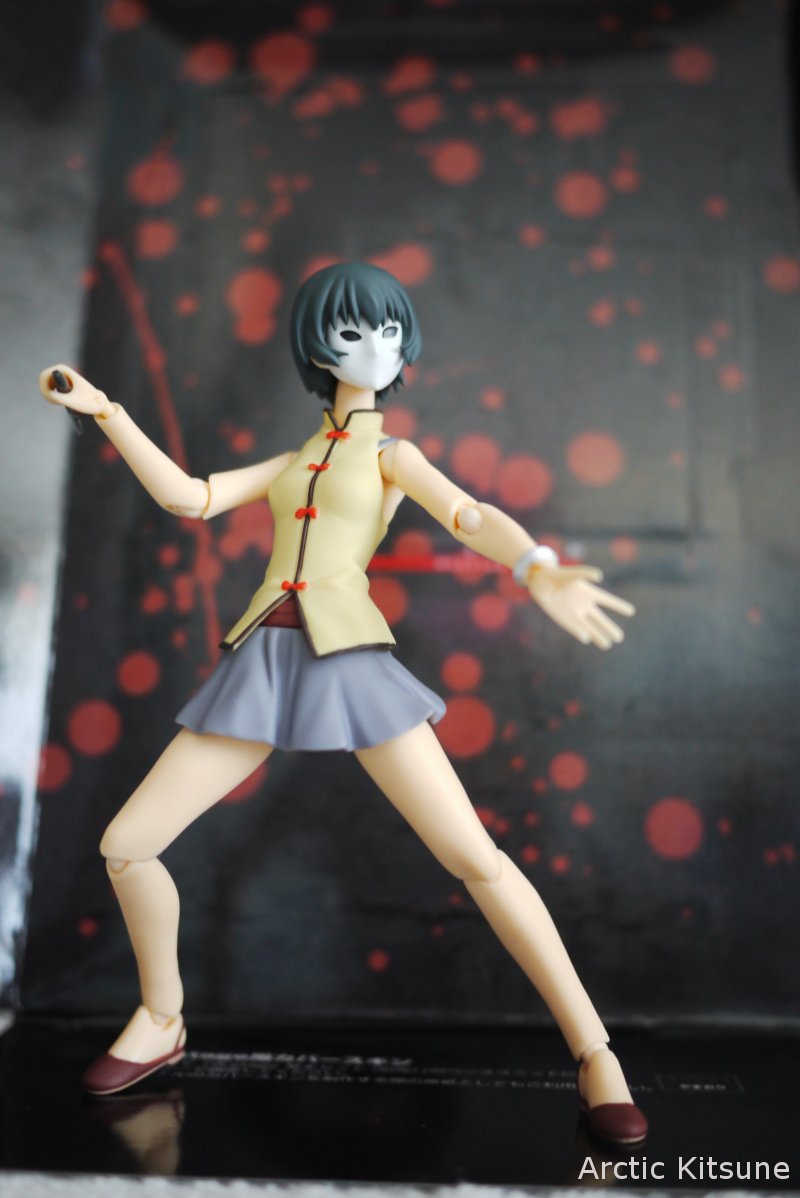 (Link – MySite)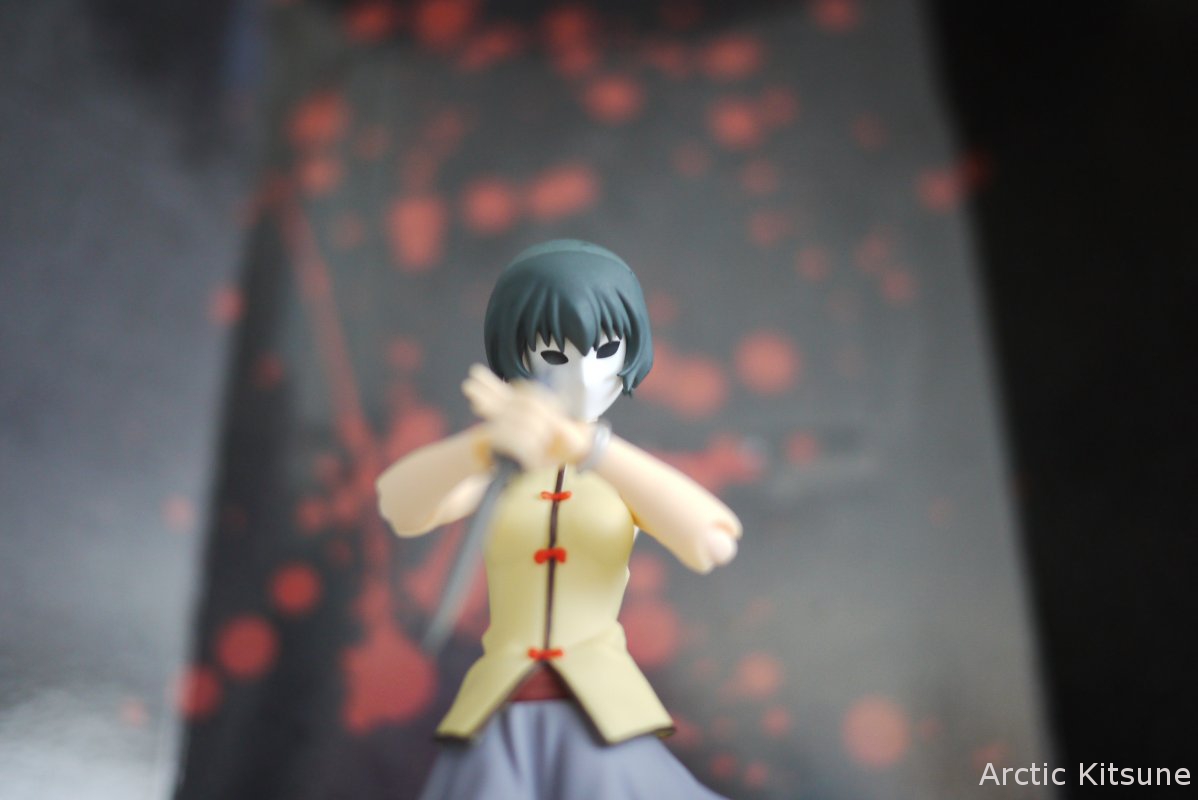 (Link – MySite)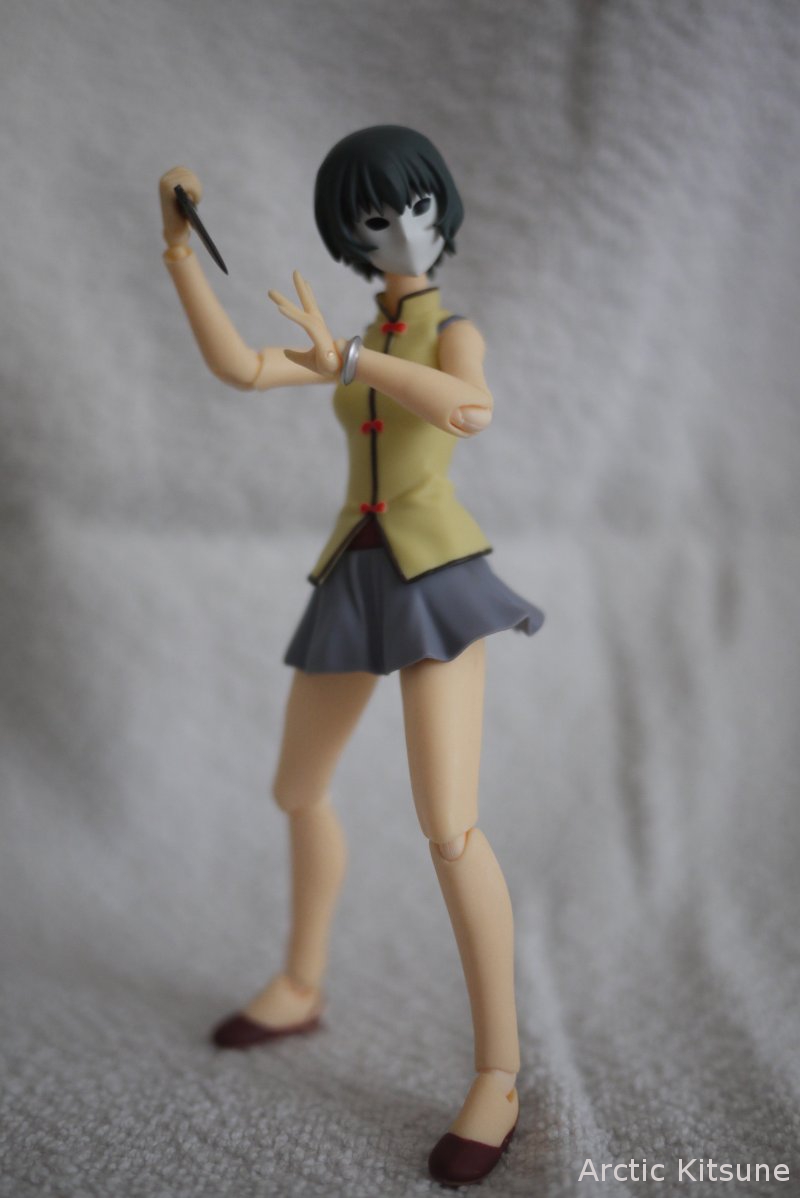 (Link – MySite)
Pros:
– Ein appears to be true to her Anime and game counterpart.
– Simple in design and doesn't contain many parts that may end up getting lost.
– Nice fine details on her skirt and Chinese shirt (I could be wrong).
– Joints were nice and stiff with no notable factory caused flaws with the figure.
– Comes with her Assassin's mask, a gun and her knife.
– The pegs for her other hands allows for quick change.
– Background can be used for Di:stage.
Cons:
– The shoulder's jointss doesn't allow for specific close to body posing with gun or knife (i.e left hand holding right arm with gun).
– Too few accessories. Should of also been packaged with her trademarked broken mask and sniper rifle.
—–
ex:ride 004 – Wheel Walker: Black
And as you've seen at the beginning, I also obtained this wheel walker. The wheel walker goes for $22.99 CAD. Thats not quite bad for the price and something I can actually afford then $60 Figmas haha. Also, for those living in Ottawa that have a steadily growing Figma collection may want to encourage AnimeStop (on Clyde/Merivale) to stock up on these Figma accessories. The more people that want to buy these the more they'll stock for you guys and gals, speak up! No need to hide in your closet, this store is for you!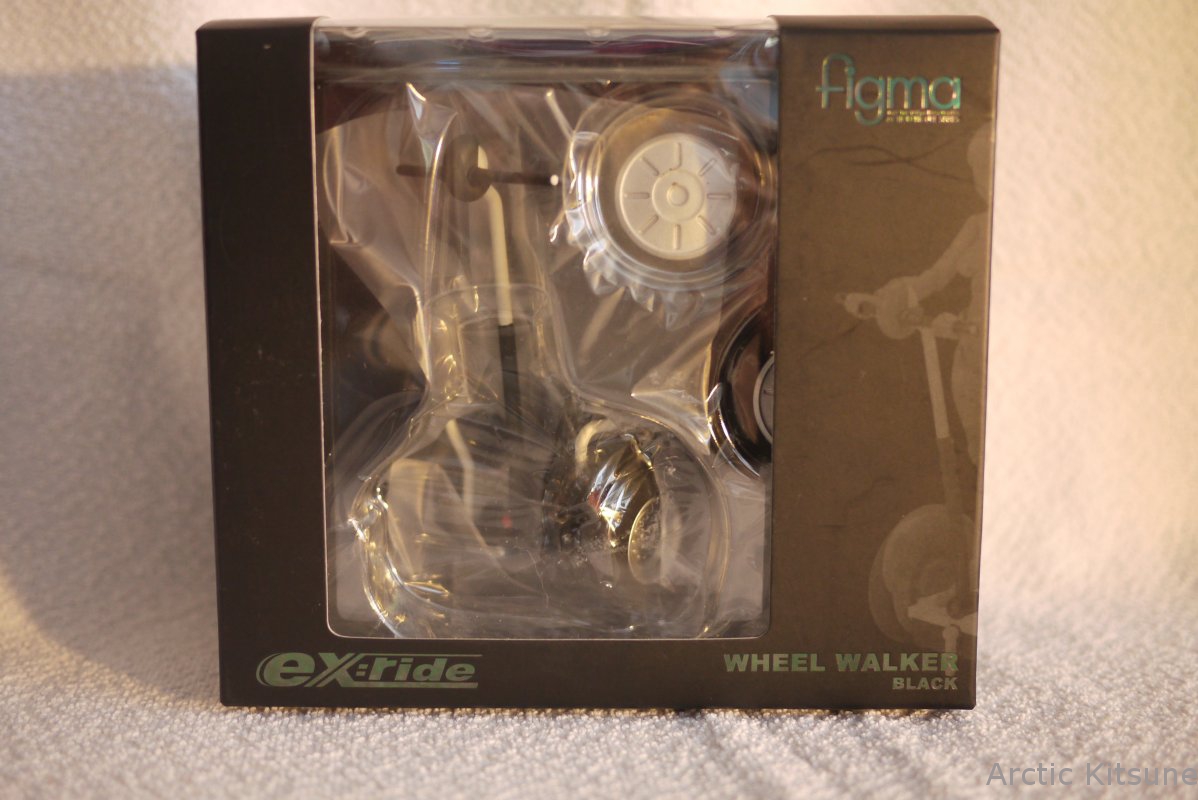 (Link – MySite)
I saw the black one and instinctively grabbed it as it was new. Some nice gal at the counter mentioned that she could ship in a white one. In a delayed response I'd like a white ex:ride now. Maybe I'll go E-mail them at a future date. For you guys/gals, just go pester AnimeStop for more ex: or di: part and they'll stock more for you! They once had a sign up saying "Ask and we'll deliver".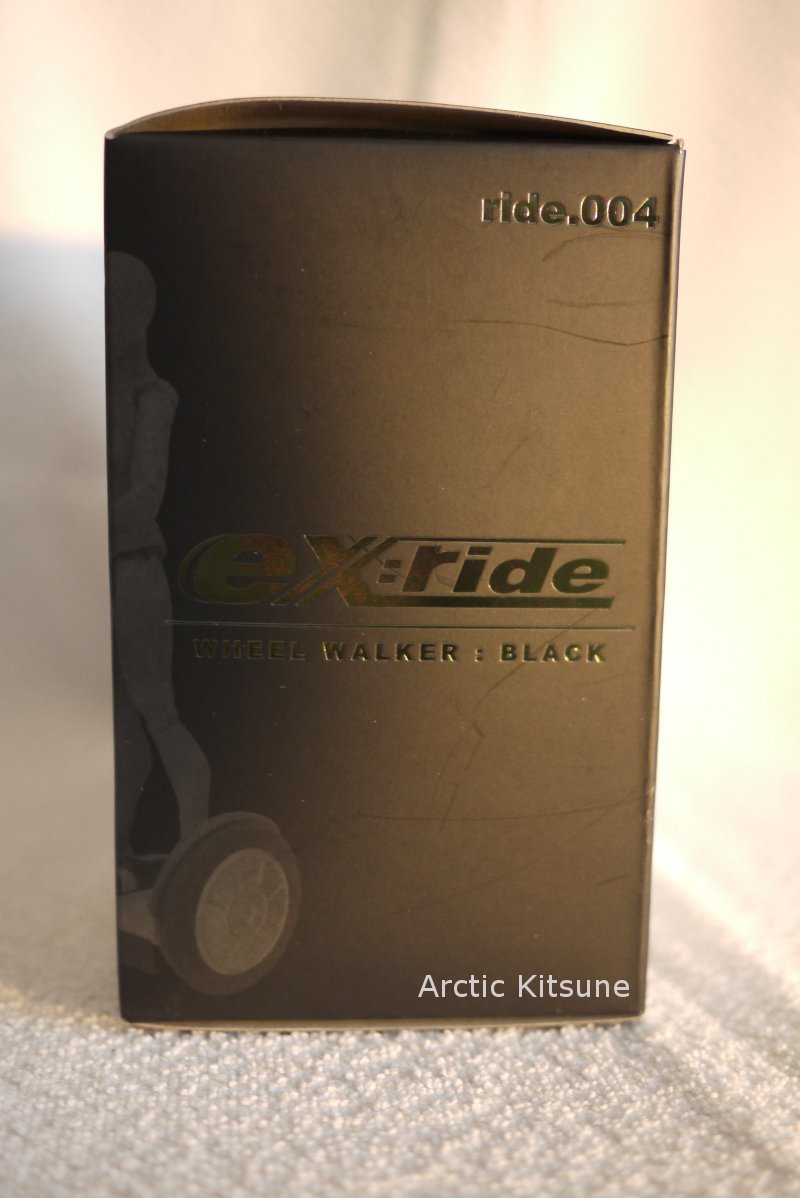 (Link – MySite)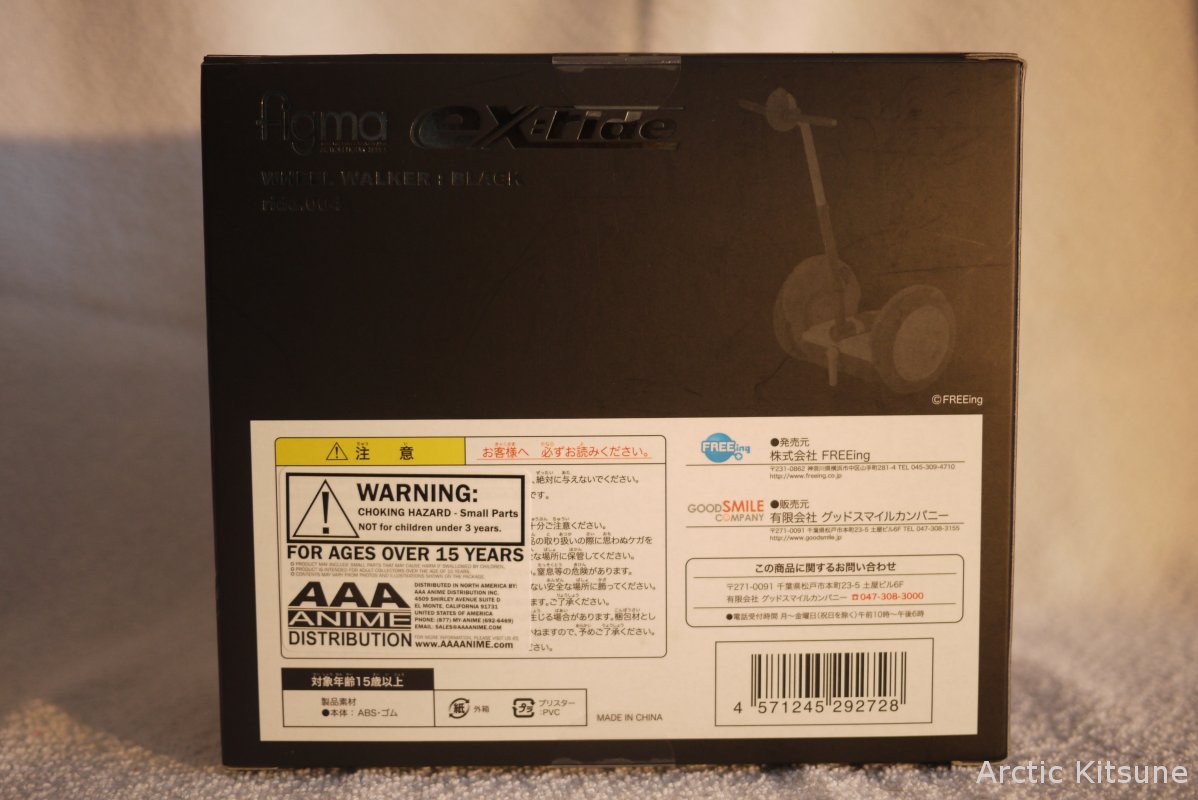 (Link – MySite)
And the things the ex:ride comes with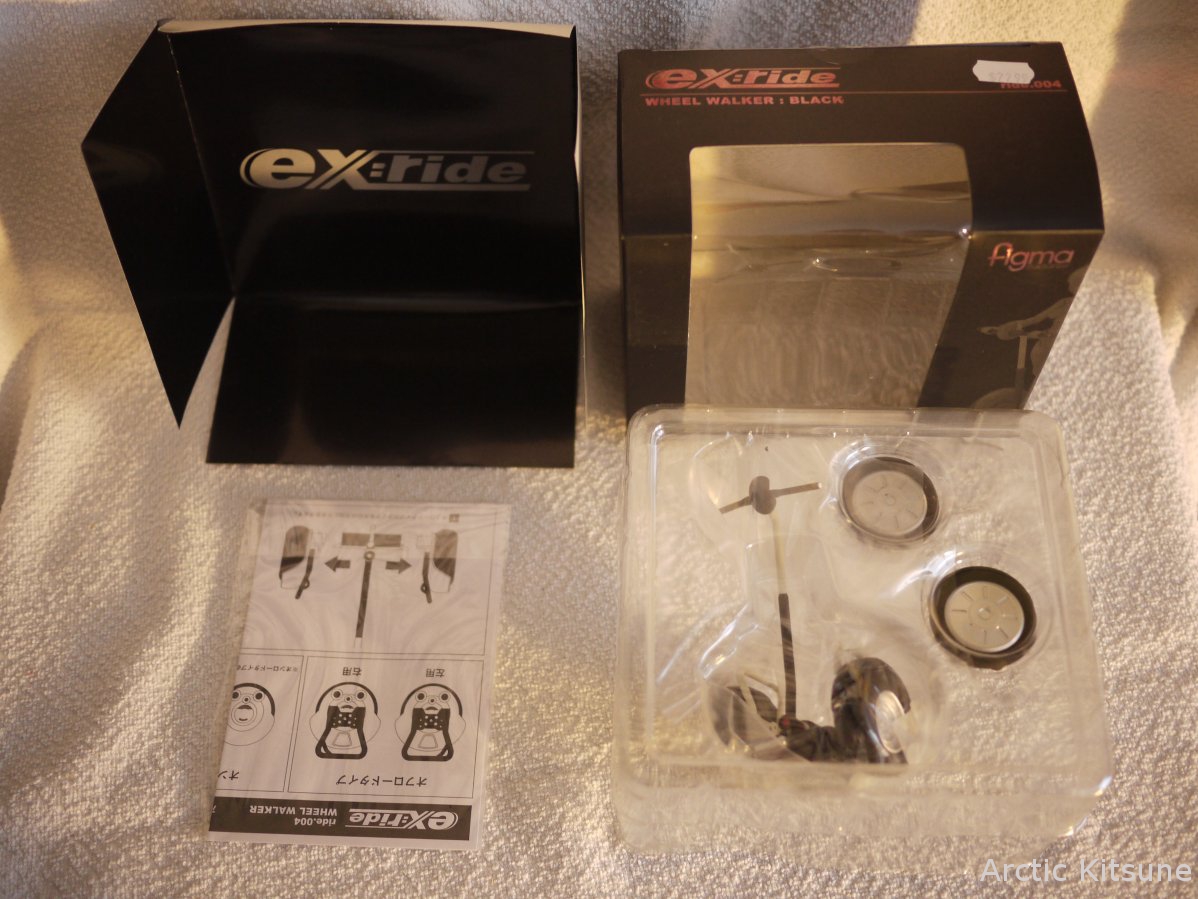 (Link – MySite)
Yes, you can swap the wheels. I was wondering why I was seeing wheels on the front display heh. They also move as they should.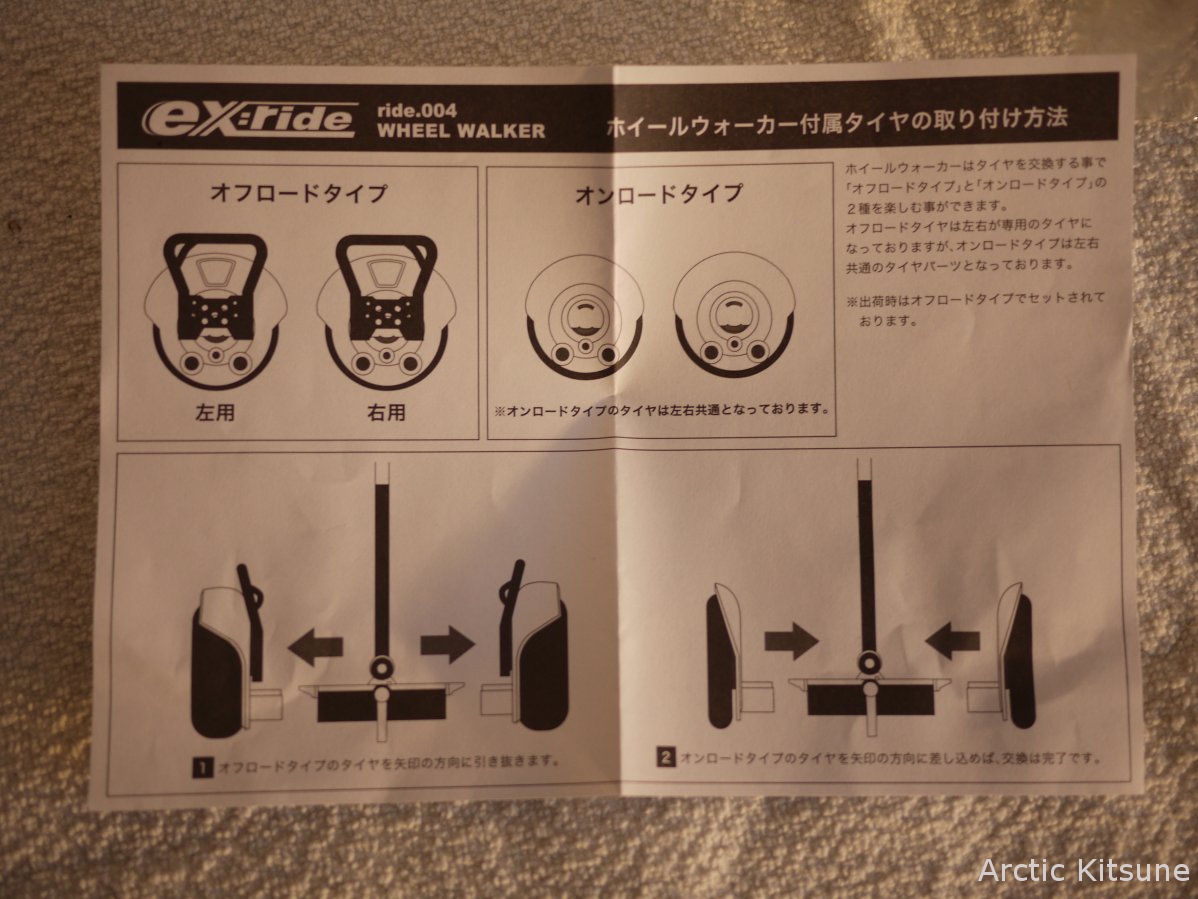 (Link – MySite)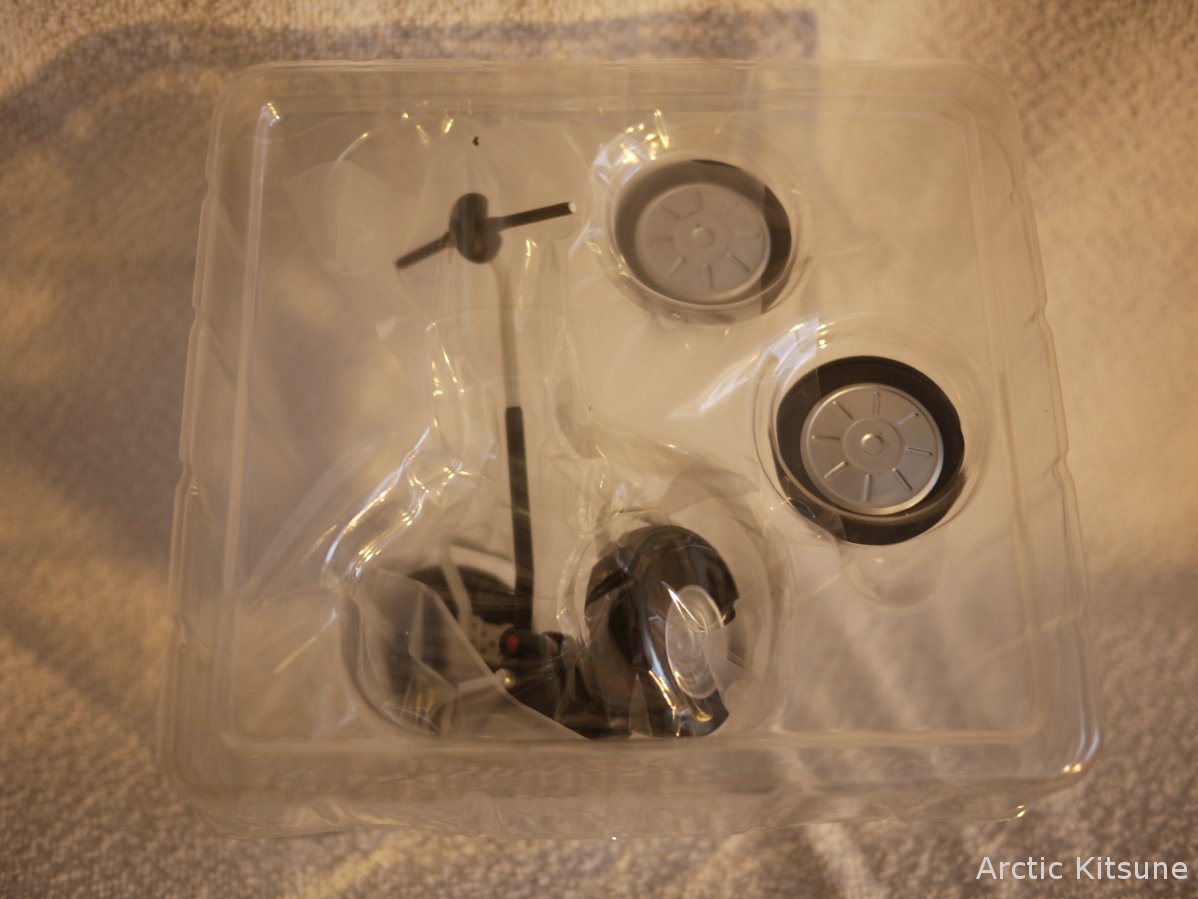 (Link – MySite)
Got to love the protective plastic packaging.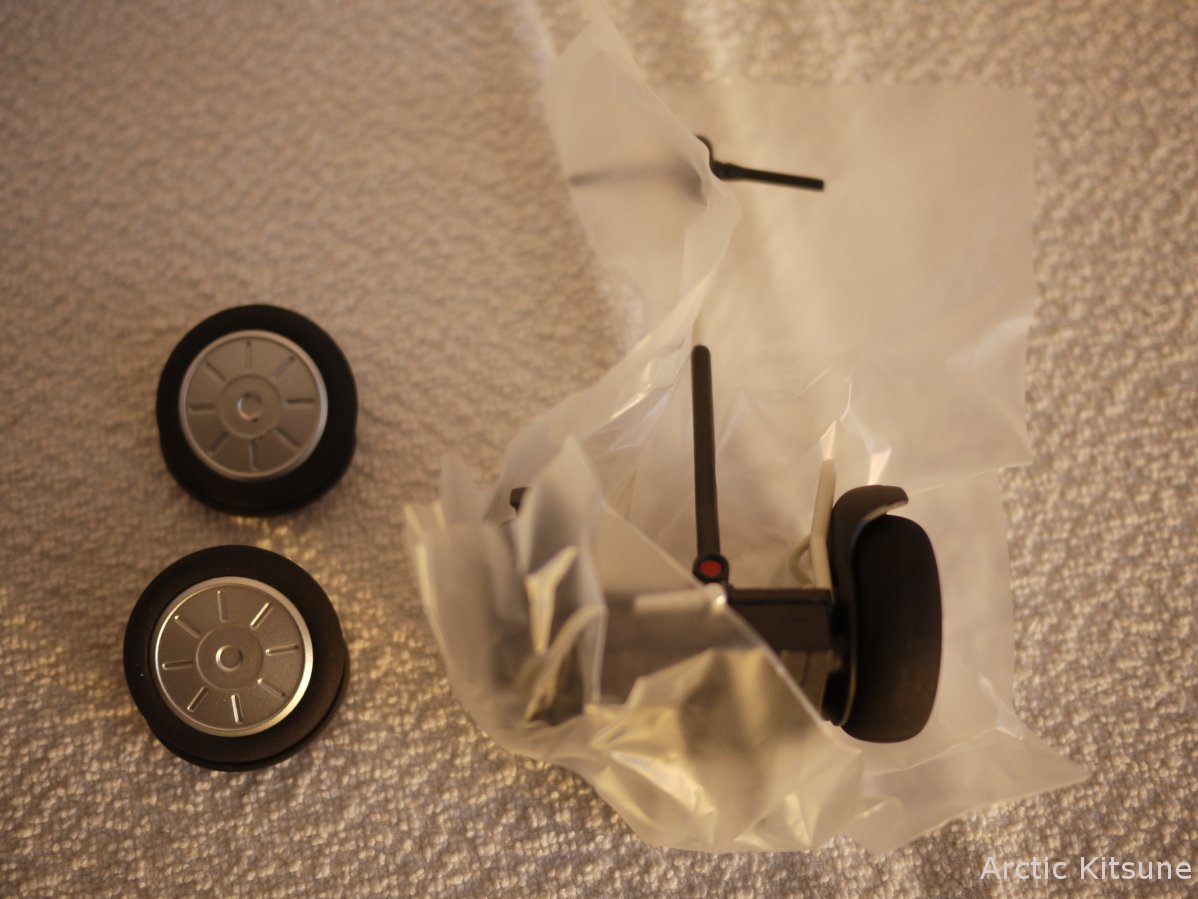 (Link – MySite)
The wheel walker has a front peg which allows it to tip forward just all so slightly without causing the whole thing to flip forward completely.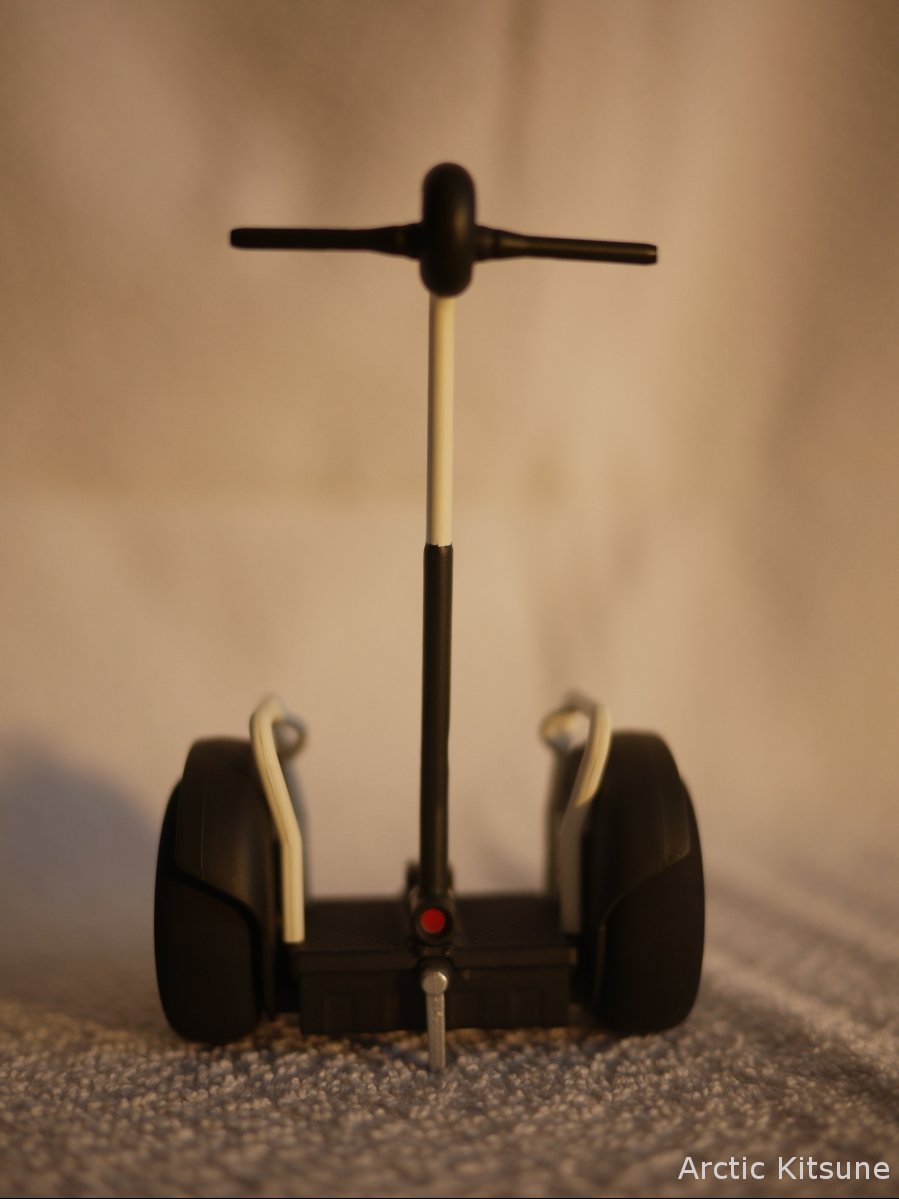 (Link – MySite)
And an image from Slovakia, Bratislava (near the Old Town) showing the actual thing.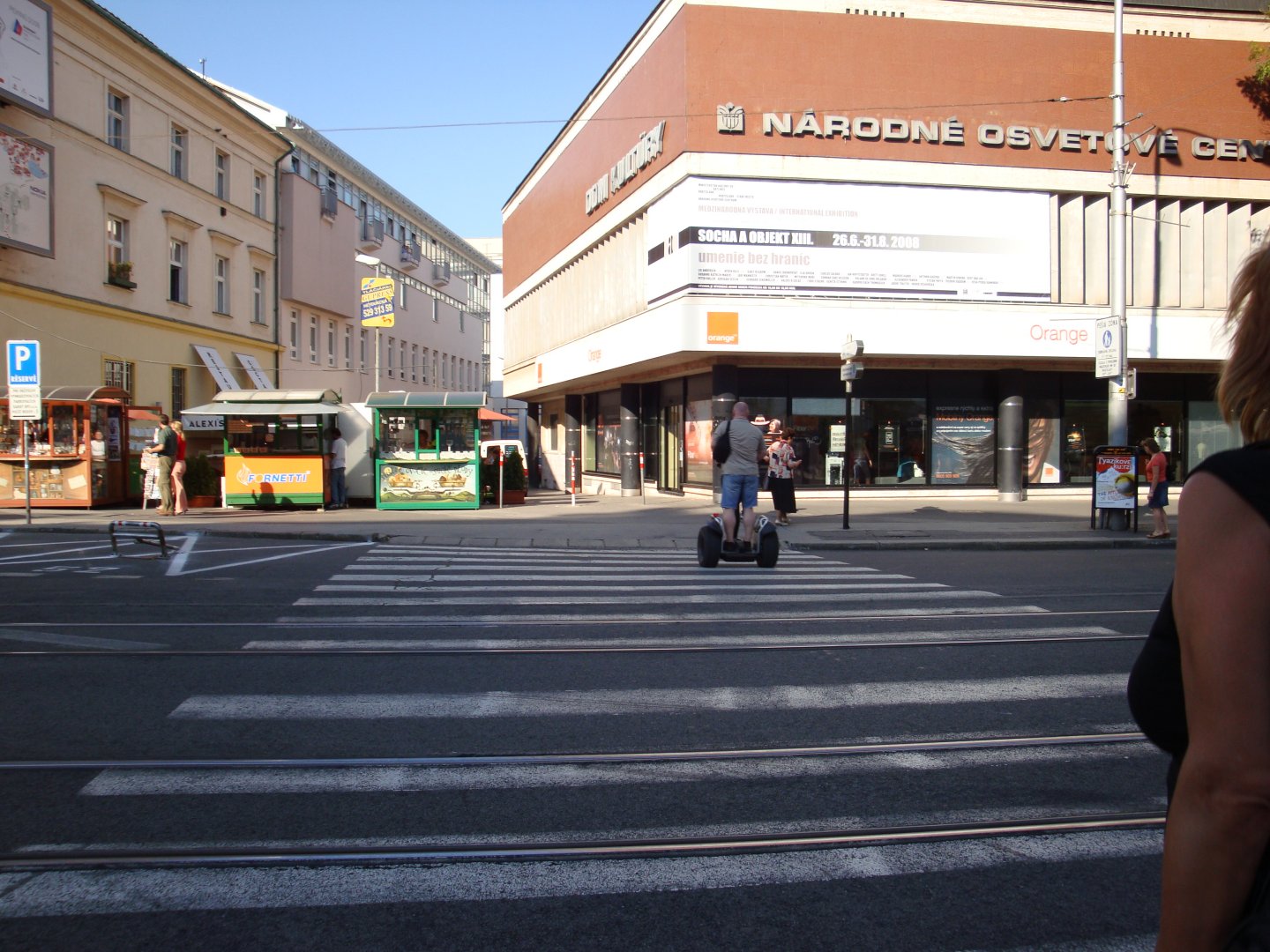 (Link – MySite)
The walker also has a rear fork like object which stabilizes it on the rear end. Or, you could also add another Figma character to stand on it while holding onto the main Figma's waist, or similar.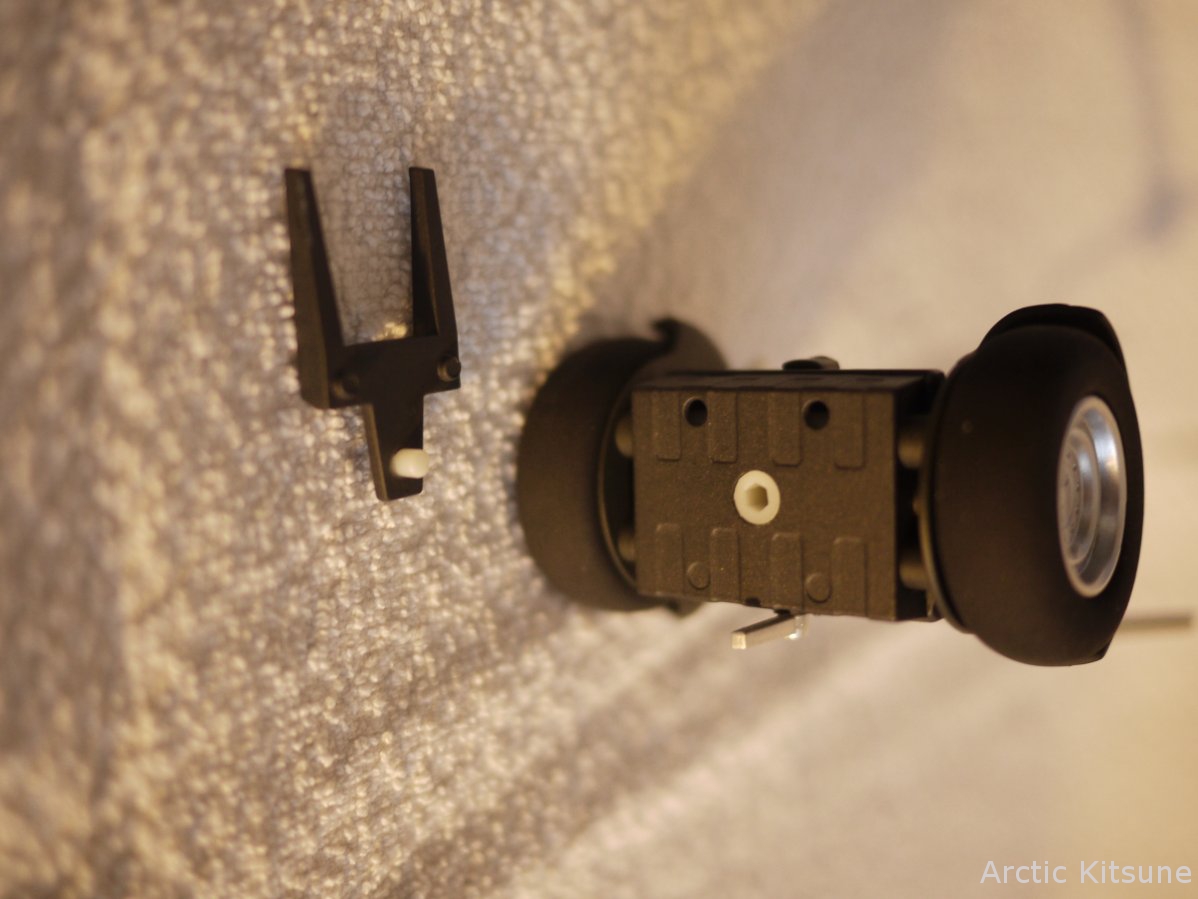 (Link – MySite)
And all the parts it comes with, all detached.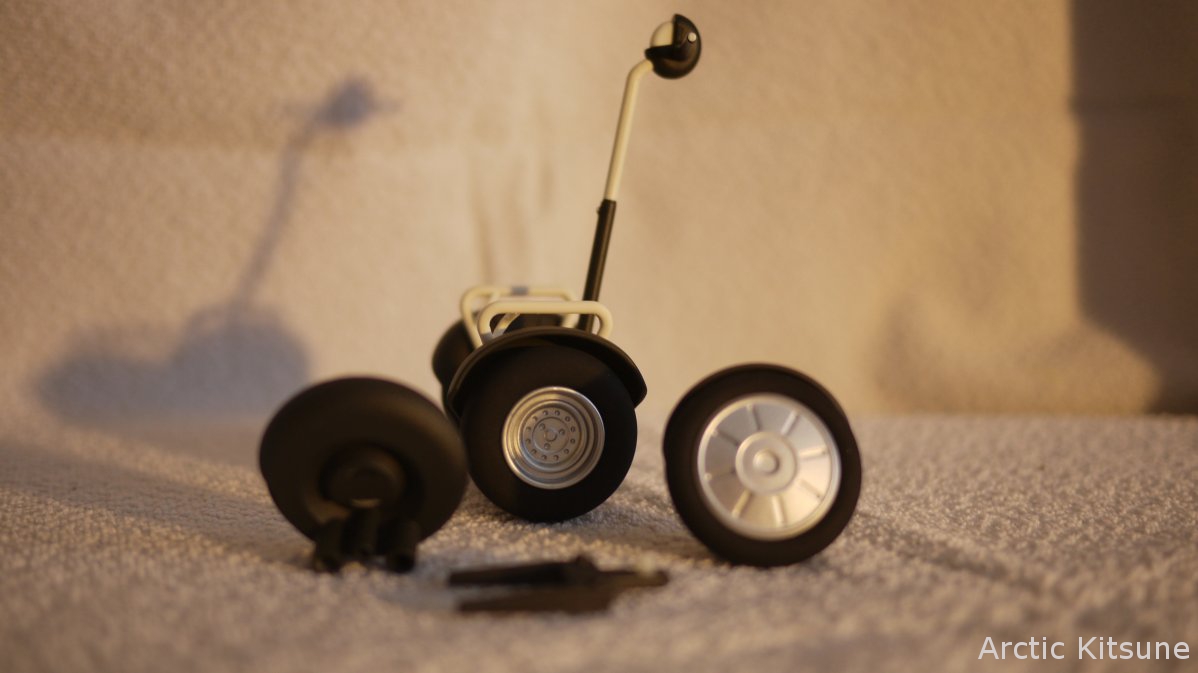 (Link – MySite)
Pros:
– Its cheap! $22.99 CAD
– Comes with spare wheels incase you don't like the ones it came with. Now that is choice! (No sarcasm). Also comes in different colors (Red, Black, White and etc).
– Figmas can easily pose on this thing. I haven't seen any refusing to go on.
– Simplistic and to the point, have fun on your local bike path!
Cons:
– Uh……..*ponders for a good 5 minutes*……Nothing? Oh, Maybe the rim designs. I'll find out when I figure photo-shoot some more.
—–
Bonus Images:
Just some extra images for you to view. Just pretend this is at some some bike path or school or something. Use your imagination heh. I would of also changed Tsukasa's hands but I lost her and Konata's parts bag, DOH! Off I go on a scavenger hunt!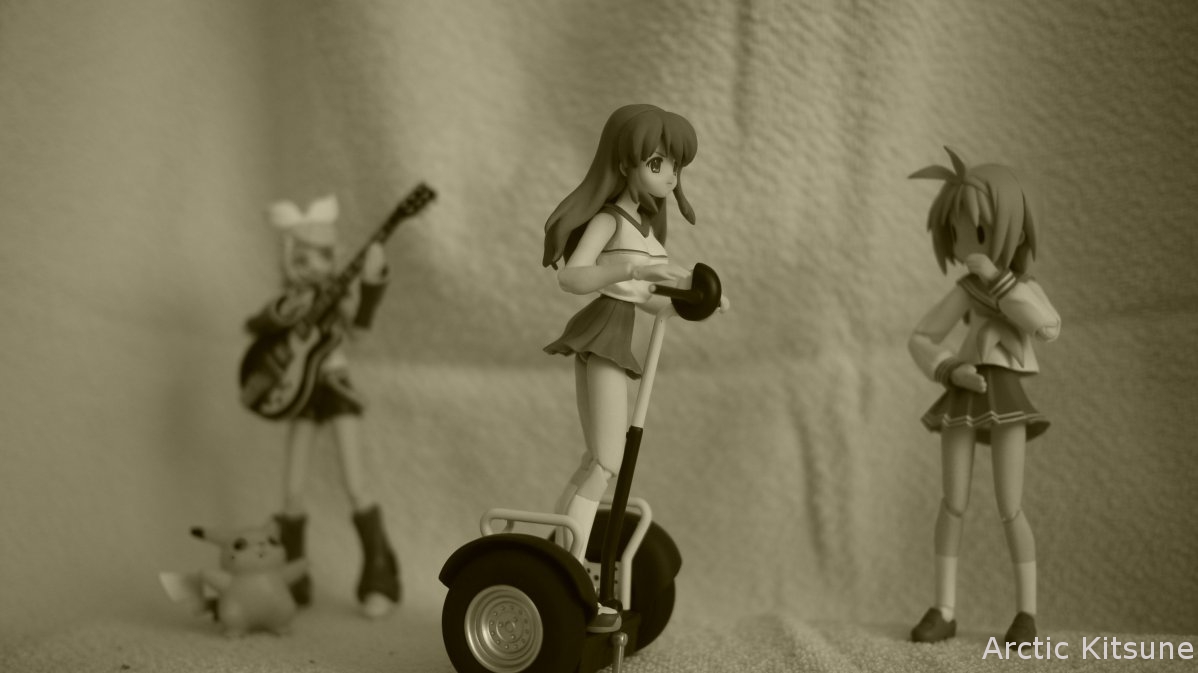 (Link – MySite)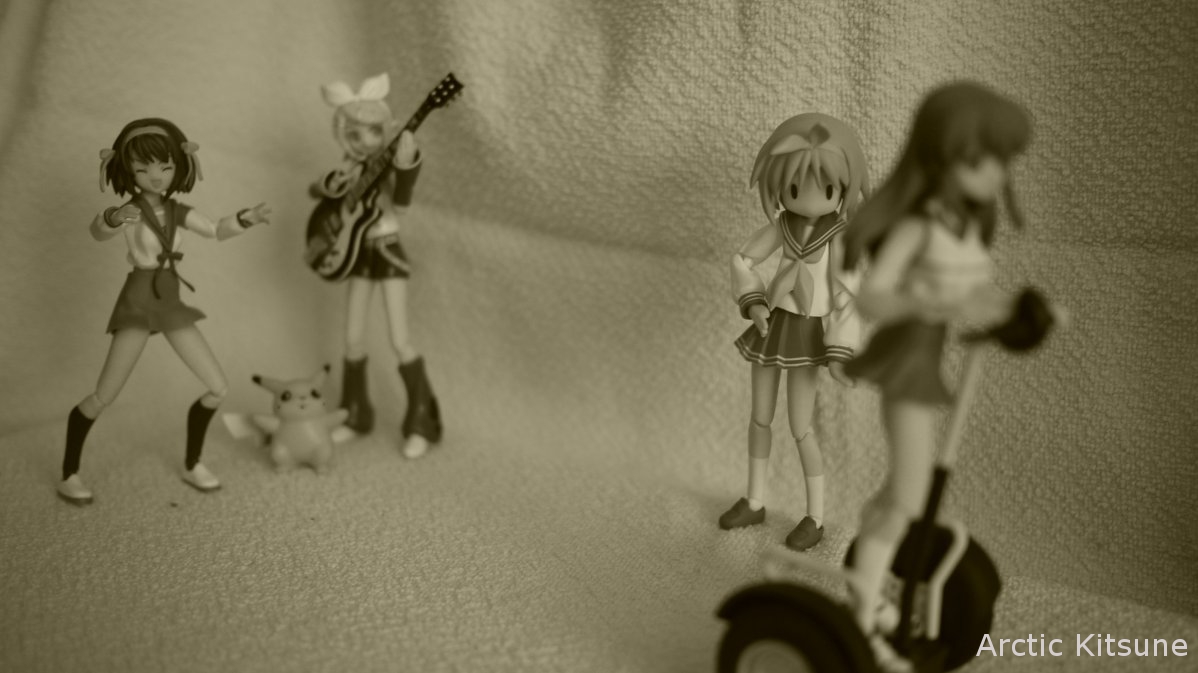 (Link – MySite)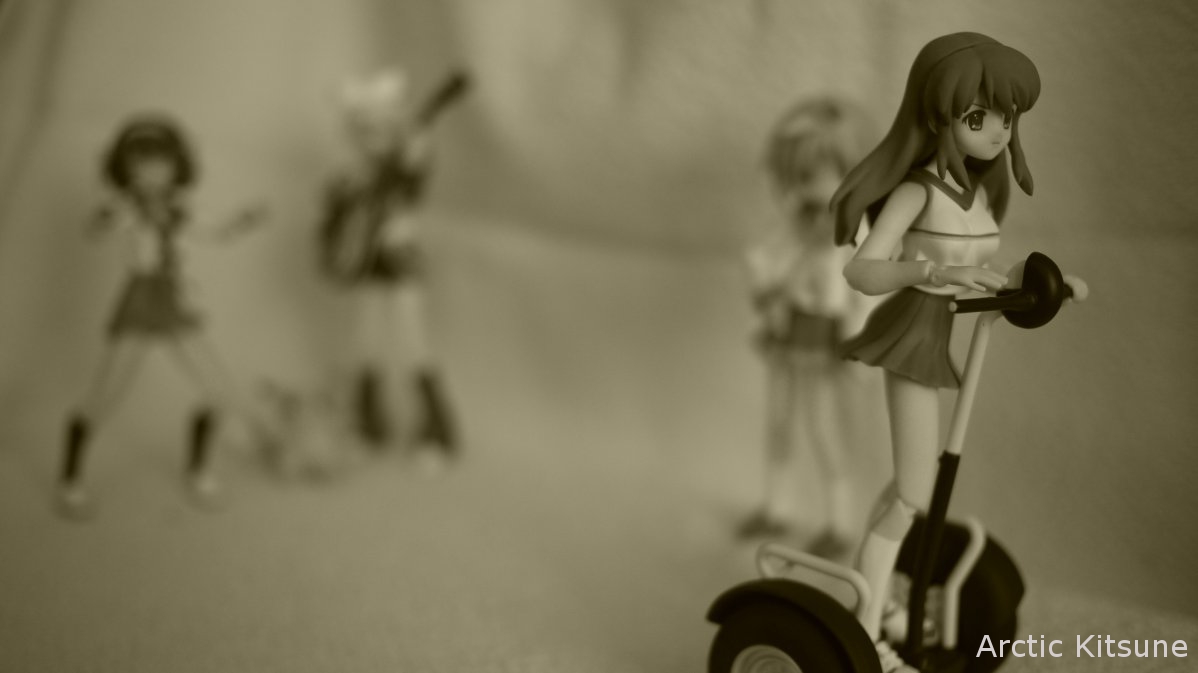 (Link – MySite)
Hours later……..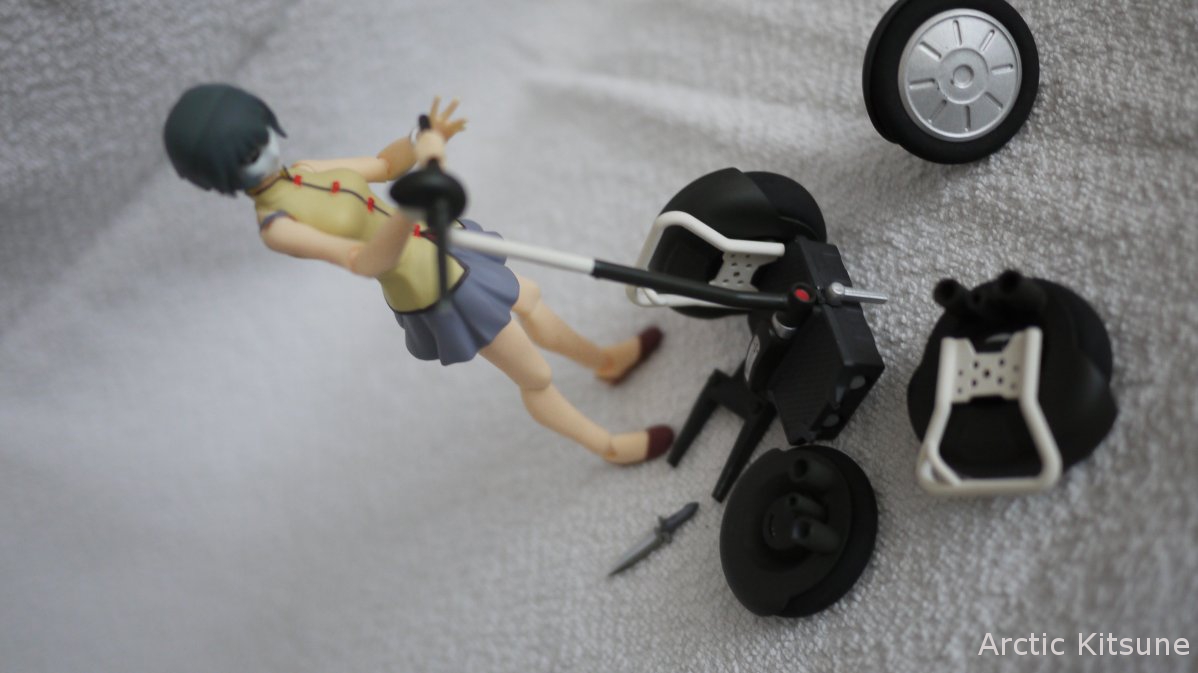 (Link – MySite)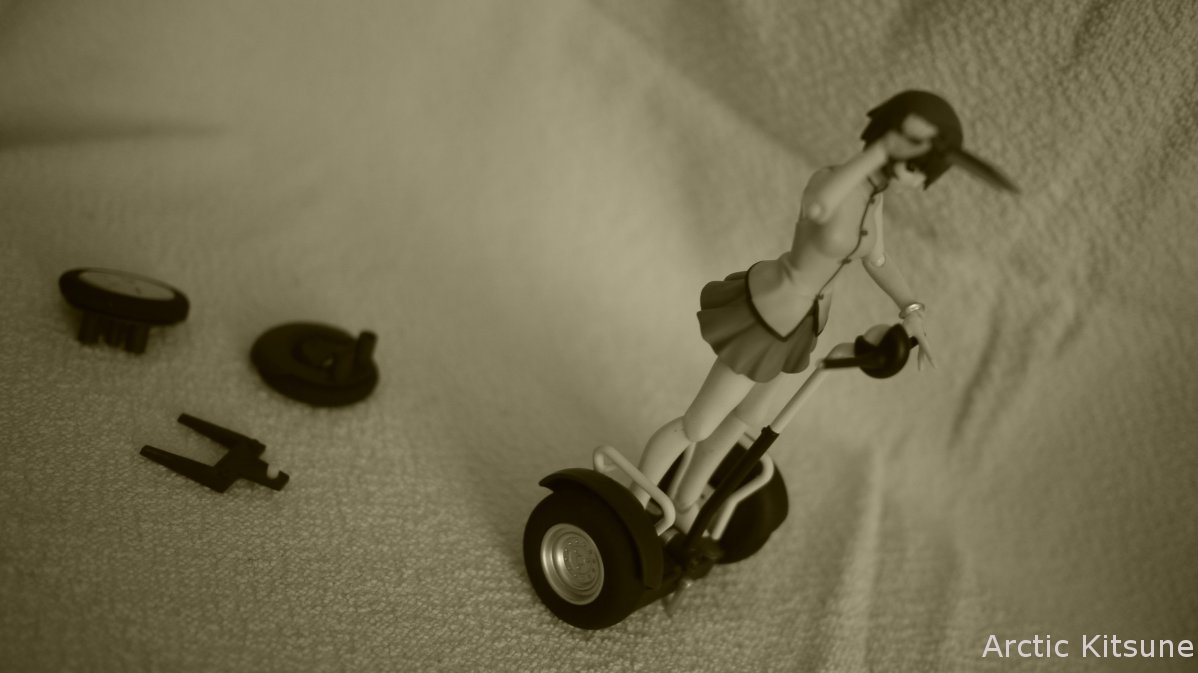 (Link – MySite)
Too be continued?
—–
Hope you enjoyed this double review article and hope to finally get around to that Tulip Festival. Well, once it  stops raining and being cold at the same damn time! I want to pose my Figma's around there also with some new posing thoughts I have in mind for Rin, Miku, and Saber Lily.
—–
(Edit: – Tuesday, May 11, 2010)
If you have a review of ex:rides then feel free to leave a comment. The only other articles I've come across are these:
ex:ride Vintage Scooters on Figure.fm:
– http://www.figure.fm/post/en/6774/Freeing+Figma+Ex+ride+vintage+scooters.html