Heyo! Went back to GAnime in the Gatineau side of Ottawa for another Anime convention. I even brought Varakitsu, Renge, Kohiru, Caster and Marika with me. Had nice fun.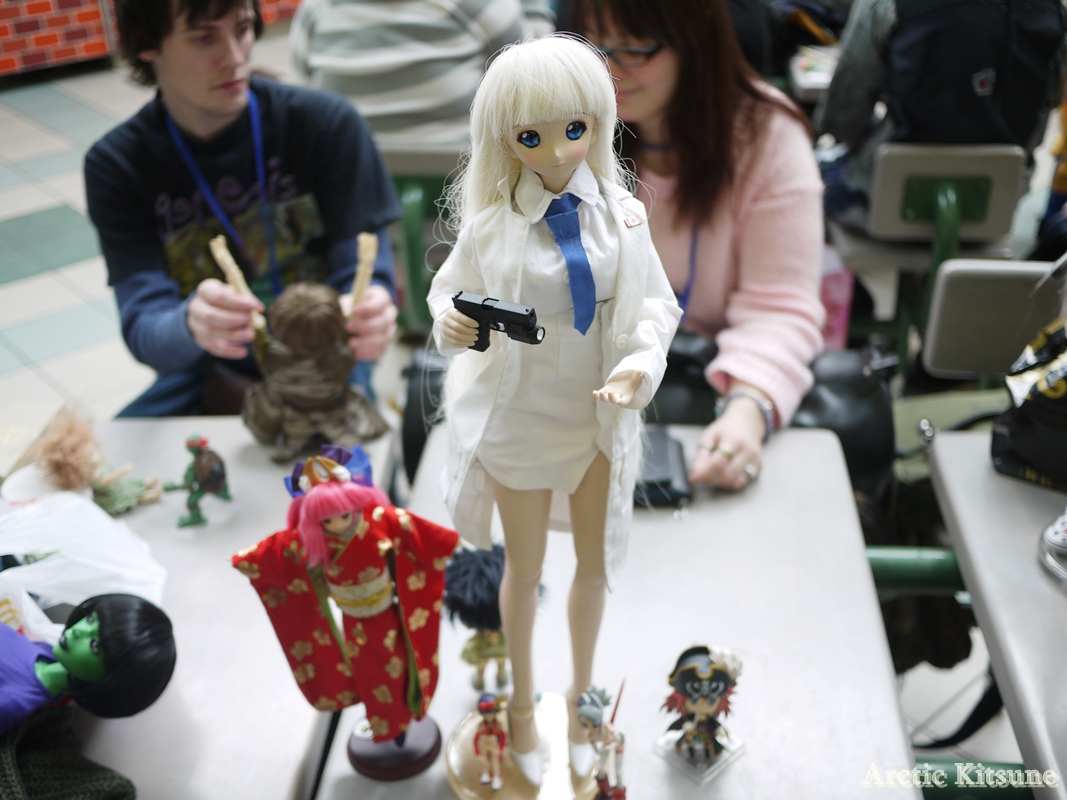 (All images taken with a Lumix GF-1 – Pancake lens.)
I actually had some nice Anime convention fun this year. Sadly, I was too painfully sleepy (horrible stomach pains overnight worrying about GAnime) throughout the con while even ignoring the upper convention part partially. Could probably tell with my clumsiness at the Doll Meet-up area. I did scout it out on the top floor about three to four times, even the dealer's room, so I wouldn't miss any cosplay goodies. I'm actually pleased with the images I caught of them. I mostly stuck around the back of the convention with the "Dolls Of Ottawa" meet-up area because of my lovely girls.
OC Transpo gave me that touch of irritation with the #8 bus this year. Not raging mad, just a light touch of irritation for constantly changing things. It didn't go neatly down into the tunnel part of the convention, more towards the Museum of Civilization. Luckily it wasn't that far.
—–
– Related Articles & Links:
– GAnime Homepage:
http://ganime.ca/en/
– G-Anime 2013:
https://arcticukitsu.com/Blog/?p=3552
– G-Anime 2012:
https://arcticukitsu.com/Blog/?p=2963
– Naru2u 2011:
https://arcticukitsu.com/Blog/?p=2689
– G-Anime 2011:
https://arcticukitsu.com/Blog/?p=1785
– Naru2u:
https://arcticukitsu.com/Blog/?p=1594
– Otakuthon 2010:
https://arcticukitsu.com/Blog/?p=1309
—–
I placed my stuff at the doll meet-up table while I went to go pay for my con-badge to wander above. I scouted the area and took images of people's awesome cosplays. They never disappoint; Always awesome in quality & variety.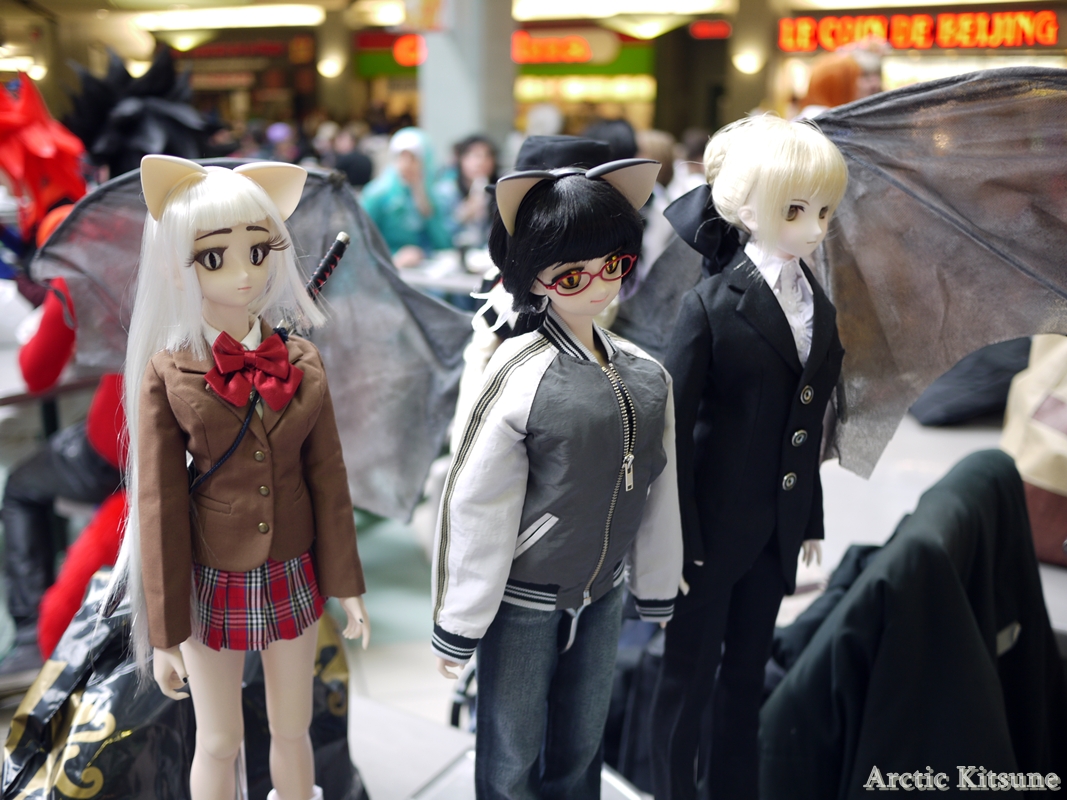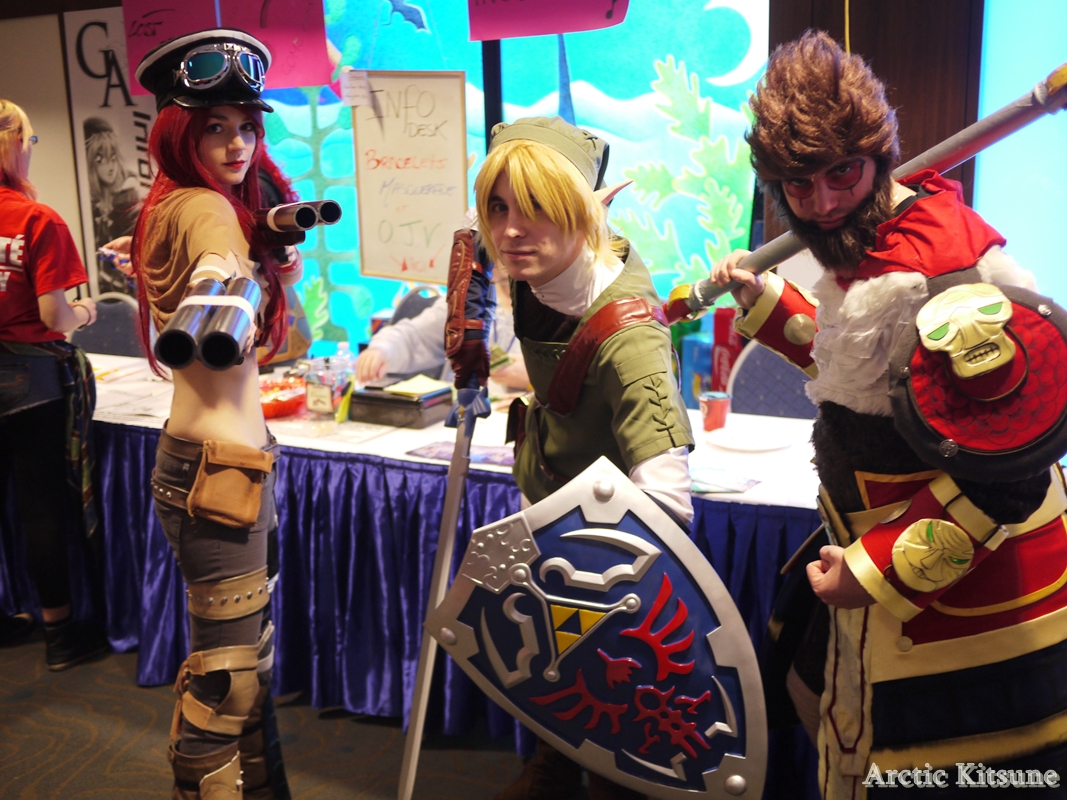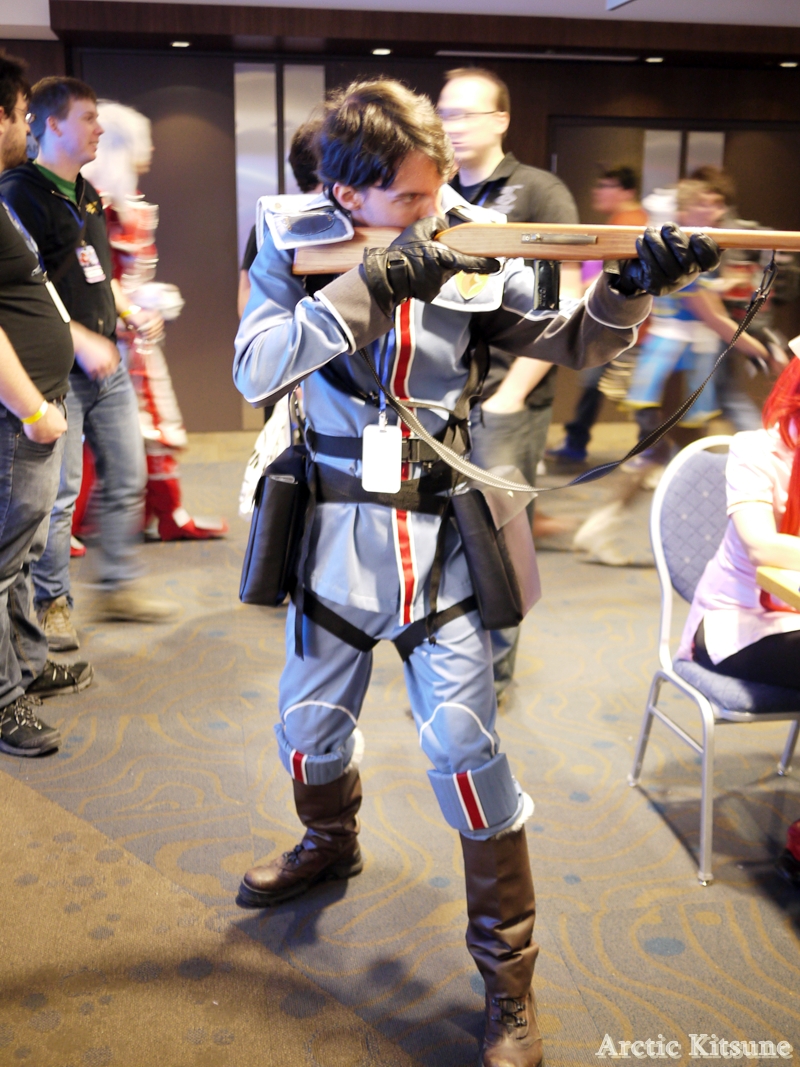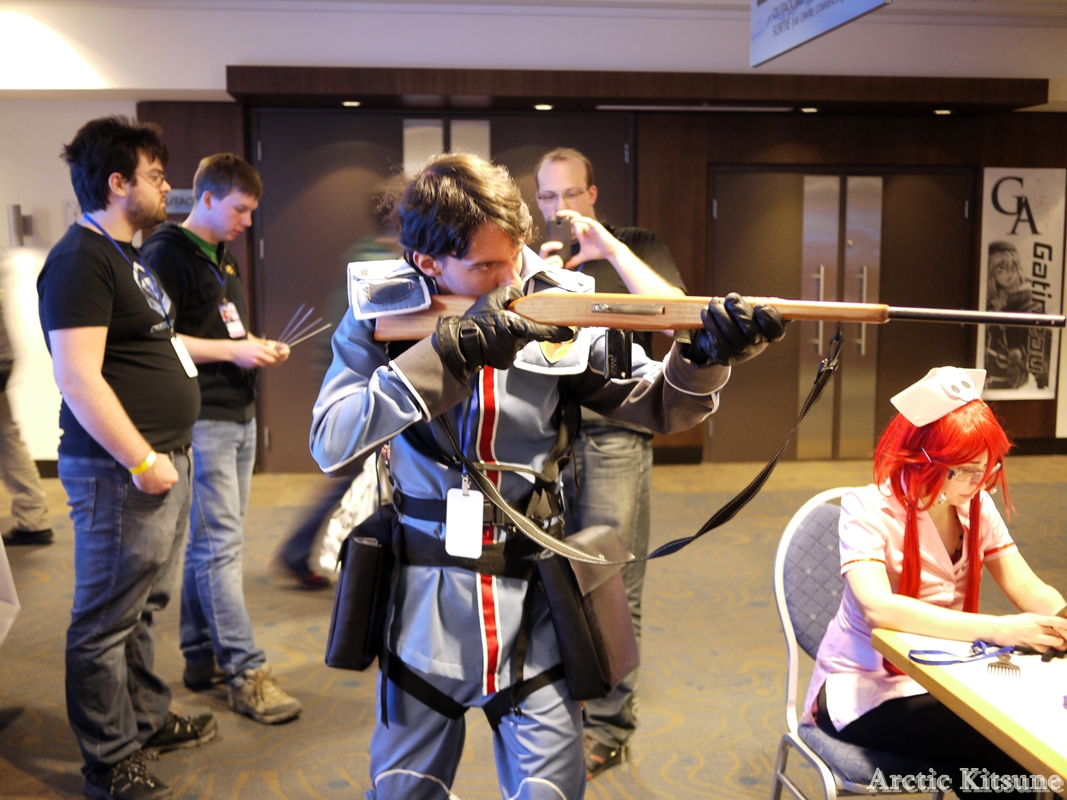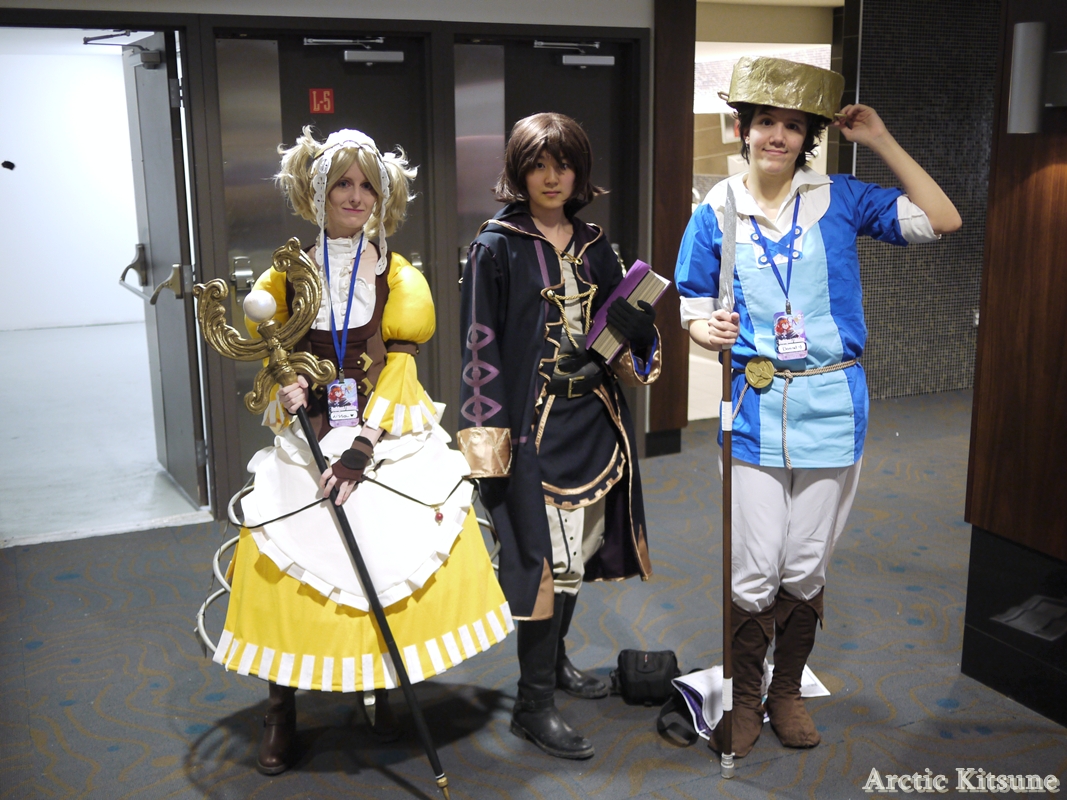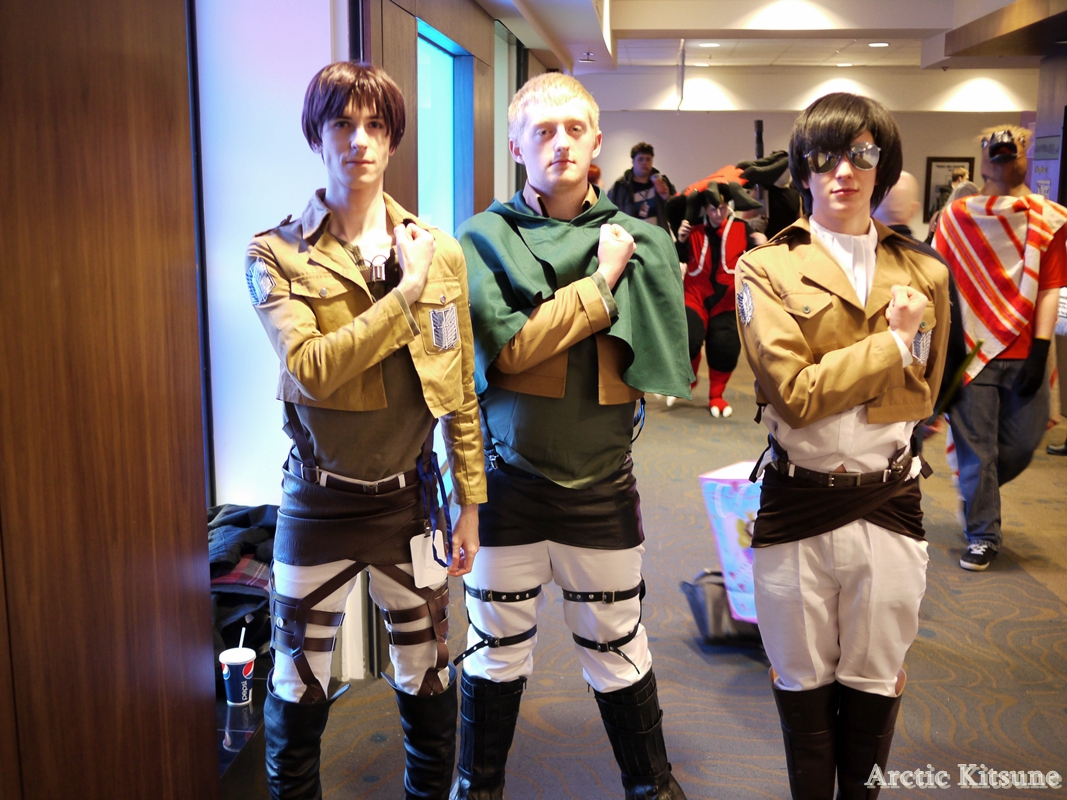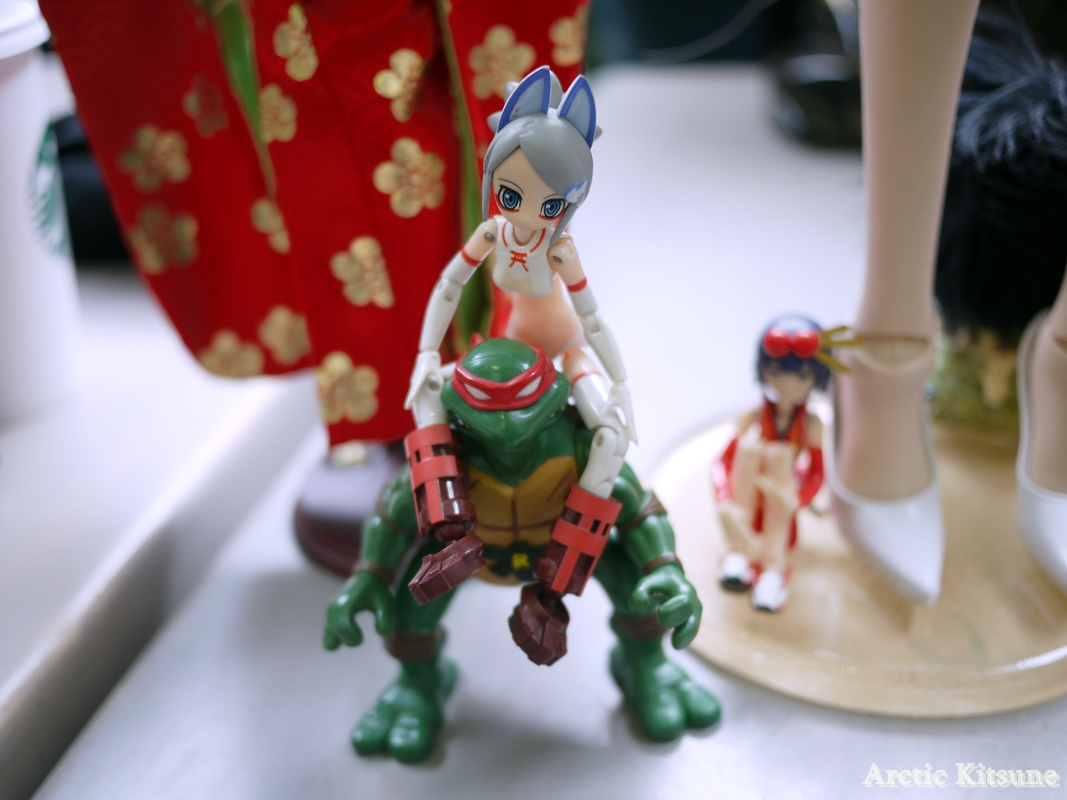 Thanks for allowing Vara to borrow a hand pistol. I actually like that gun with the flashlight attached. I want to find it in a toy section somewhere….She also received her actual gun later in the meet thanks to Carmen and a set of office ties that I couldn't figure out how to tie onto her. Never tied an office tie before. She also stayed fox ears and tailless for this convention because she was cosplaying as Koko Hekmatyar. I'm hoping nobody thought of her as a doctor, even though I heard it once or twice. Her sword gripping hand also didn't allow her to hold the gun properly so a few awkward poses here and there. Same with Kodama's girls. Vara is more of a swords-woman anyways.
Please! Let there be at least one or a handful of people who saw Vara as Koko Hekmatyar, or seen the show "Jormungand".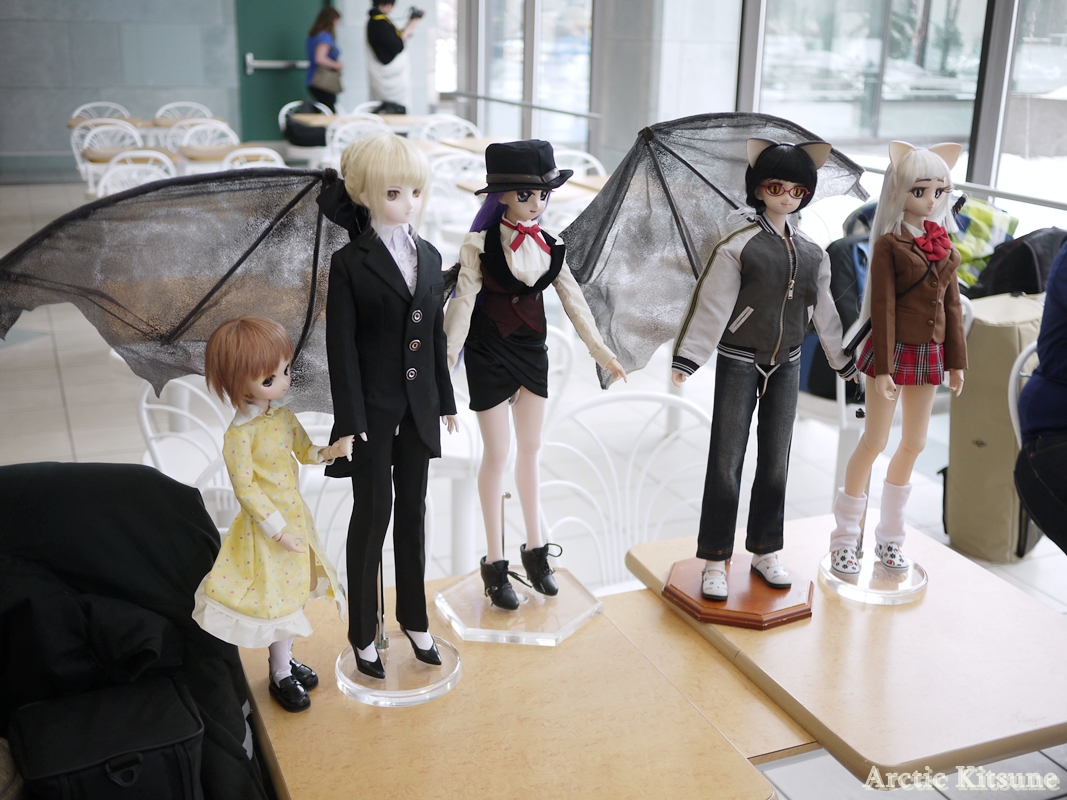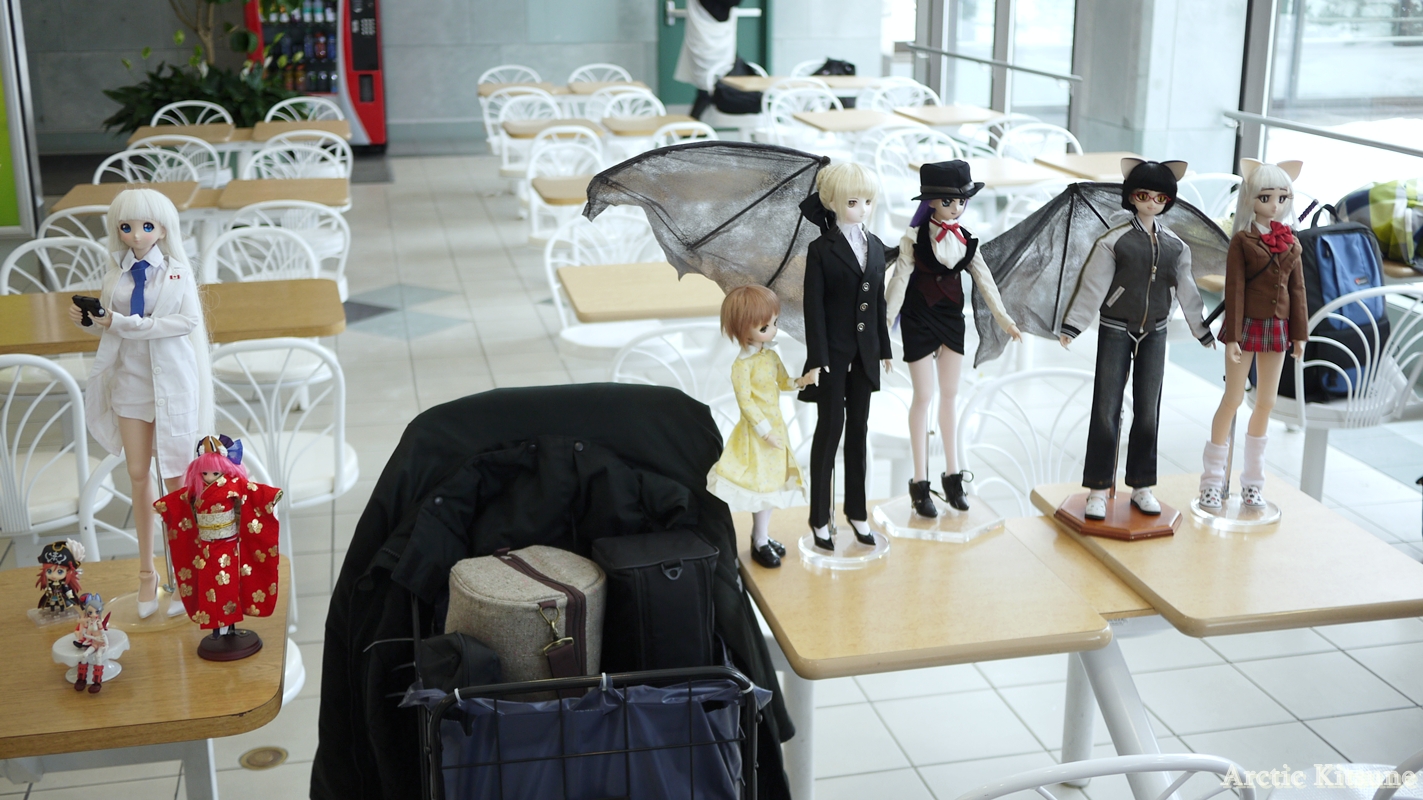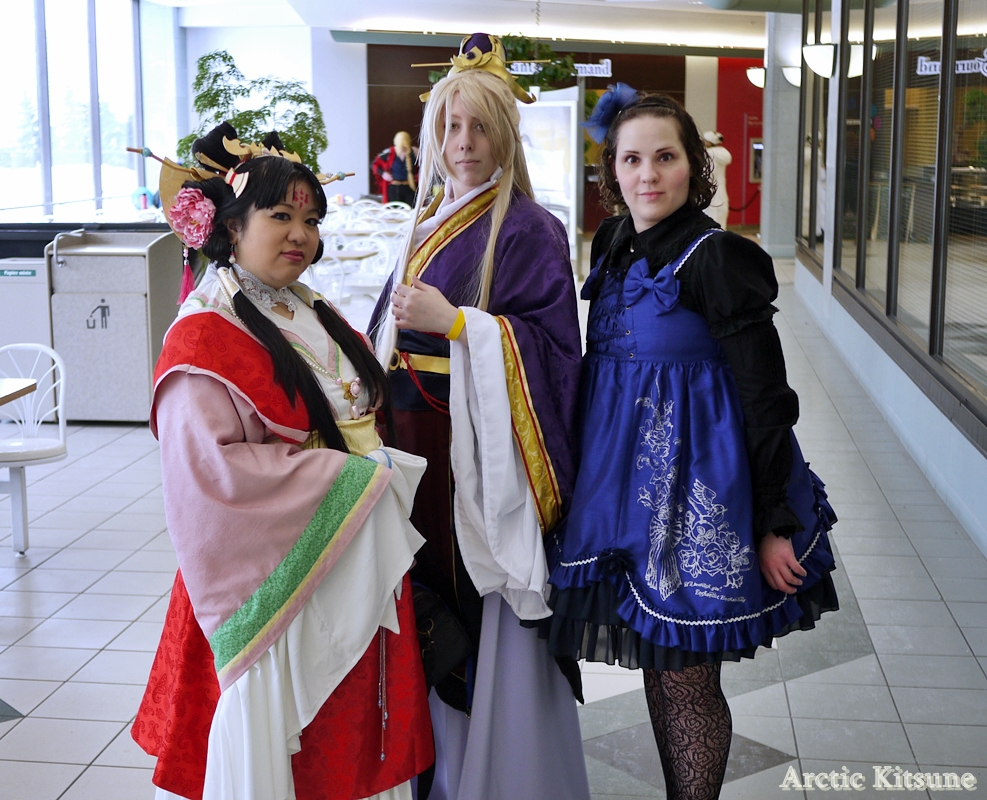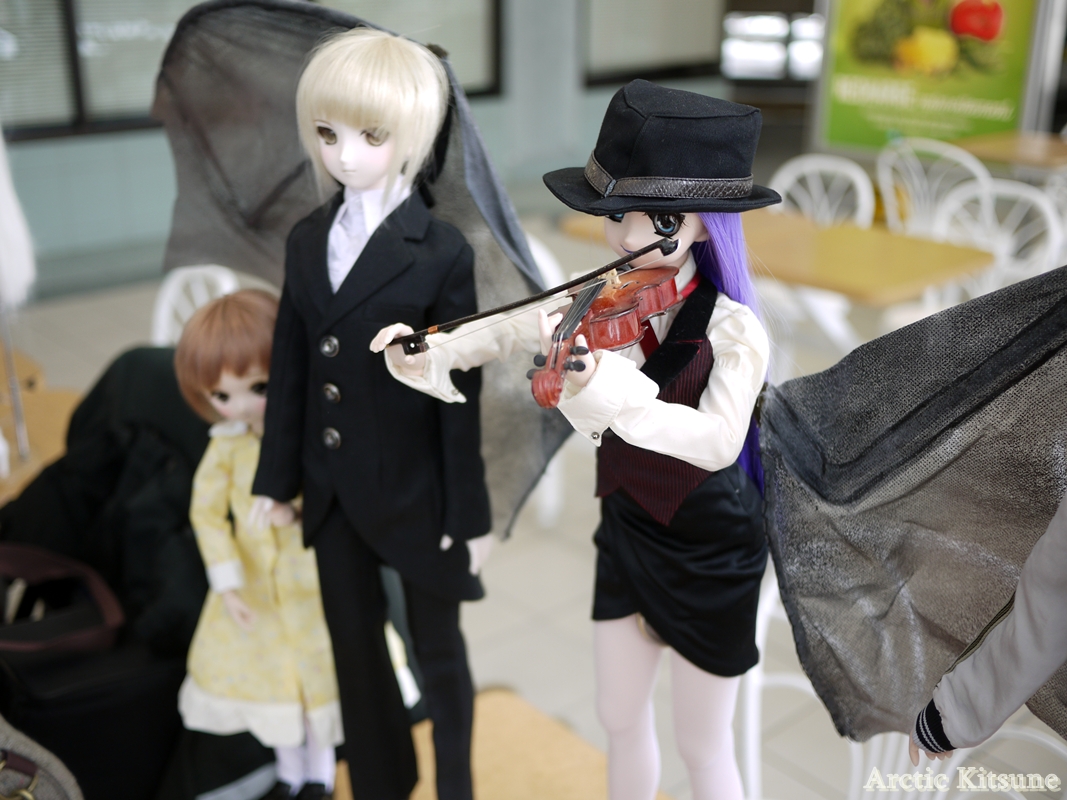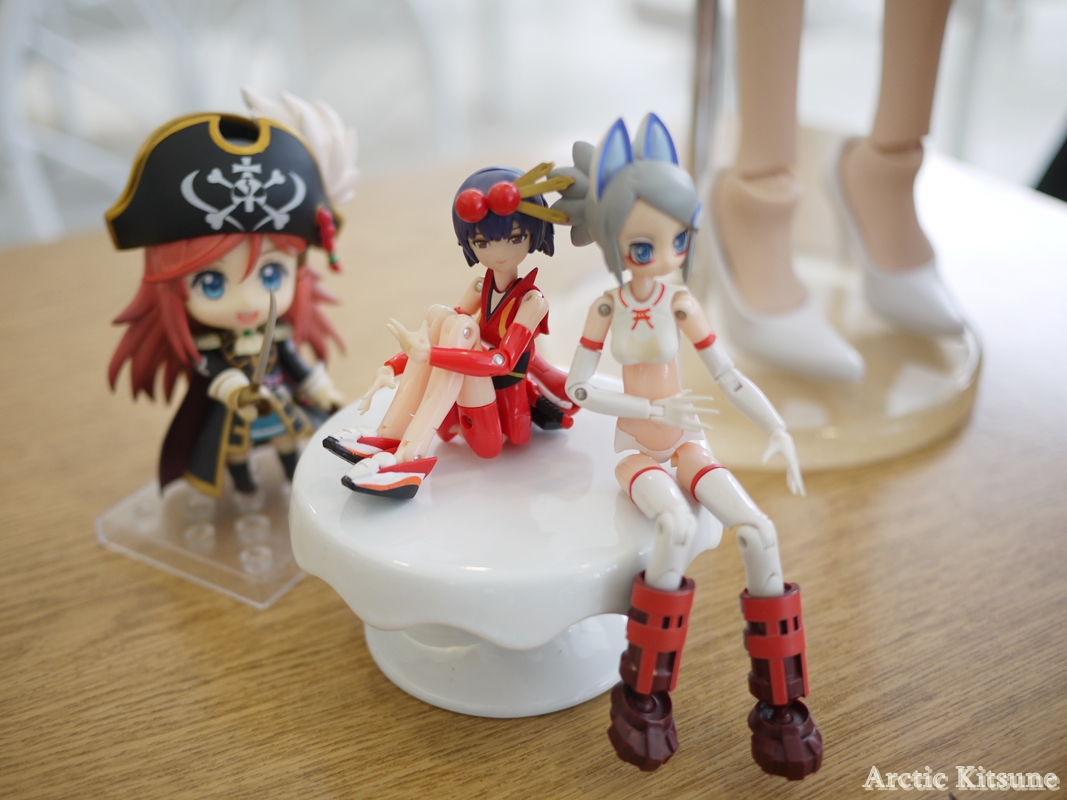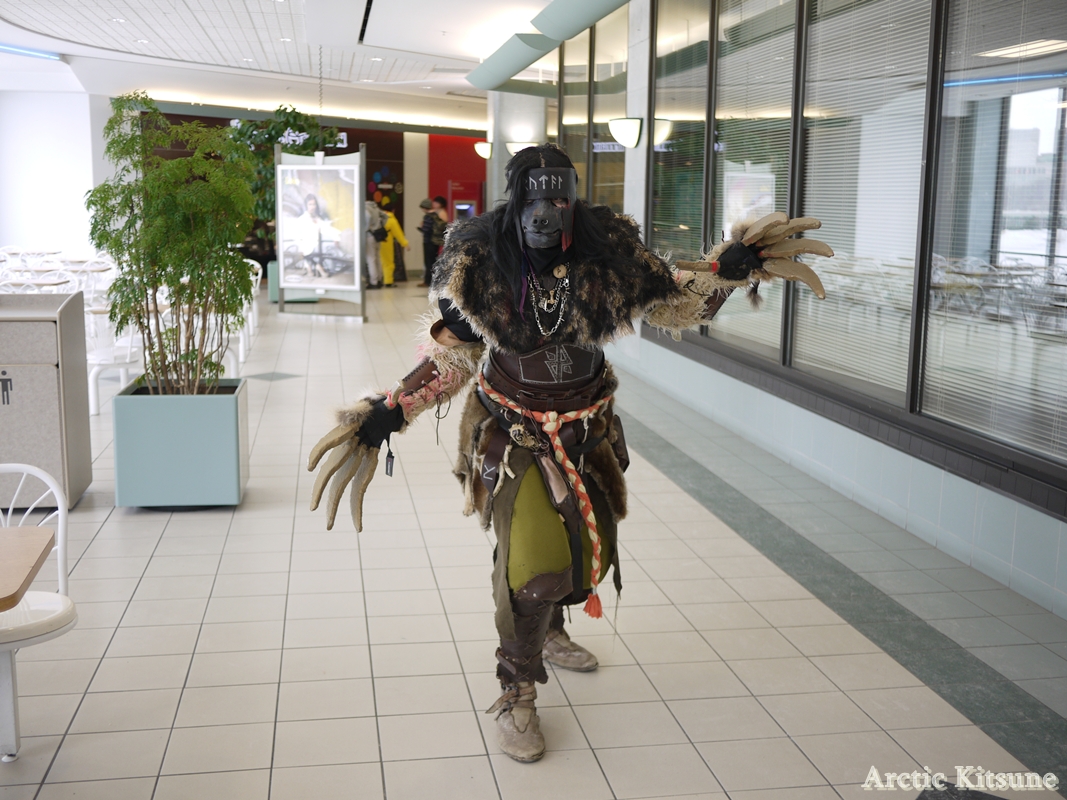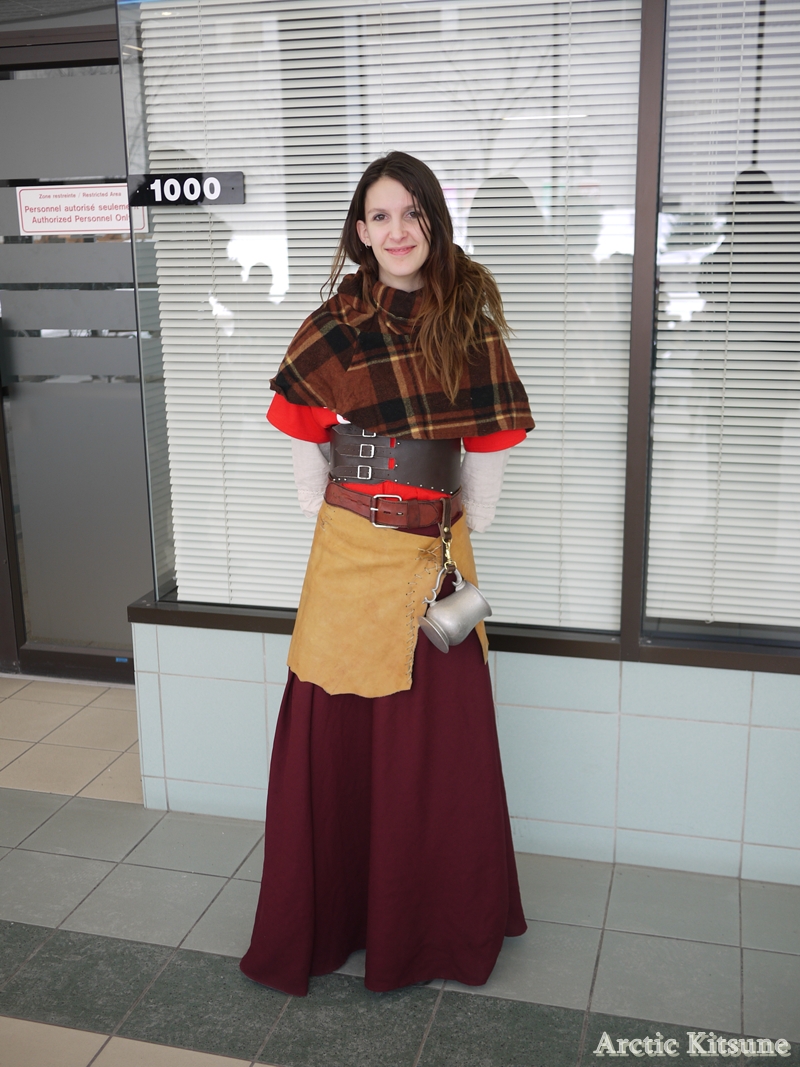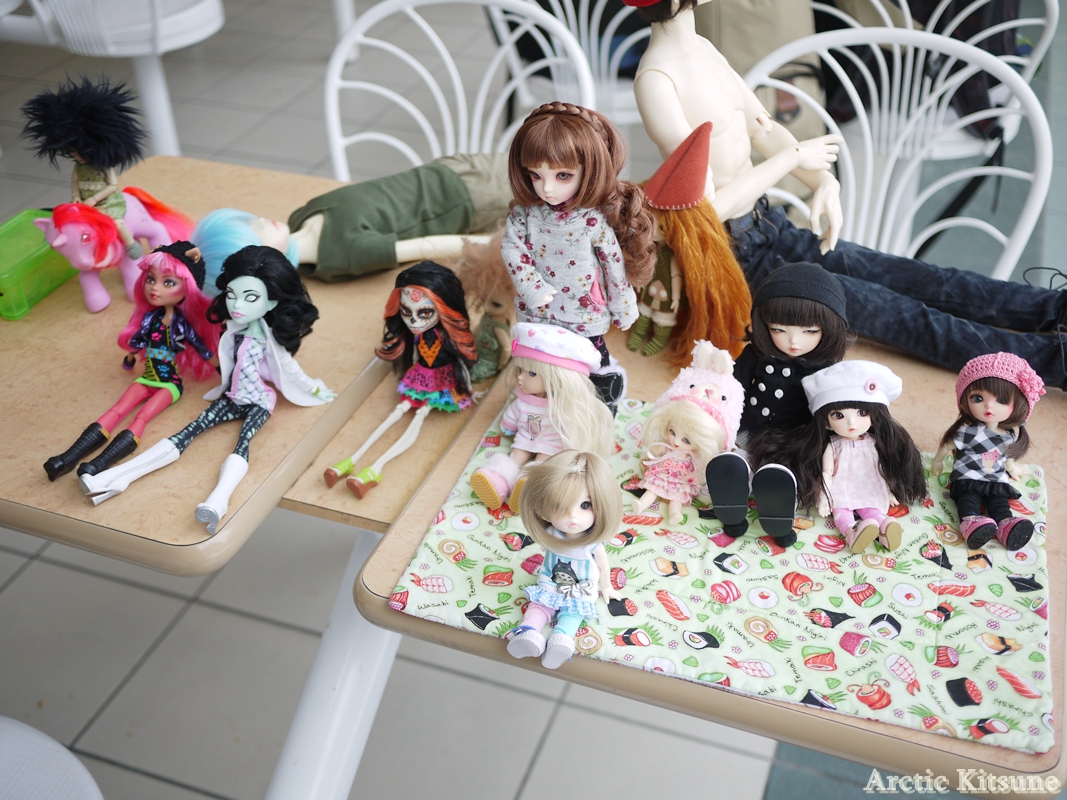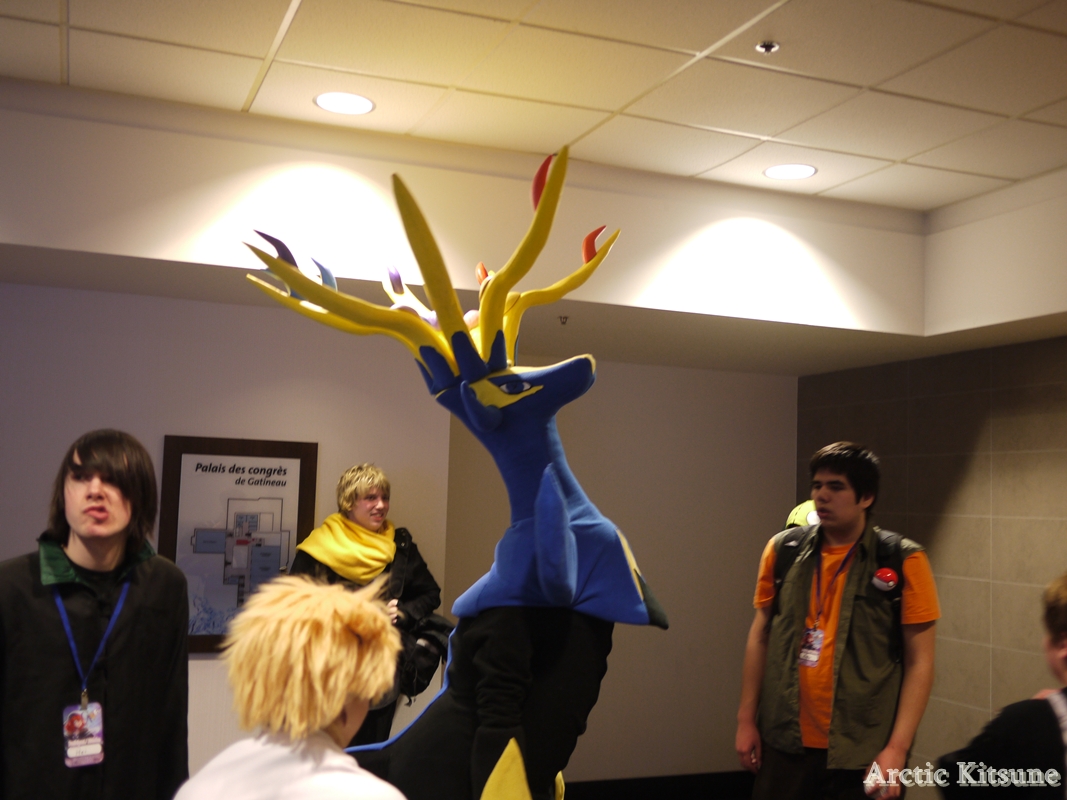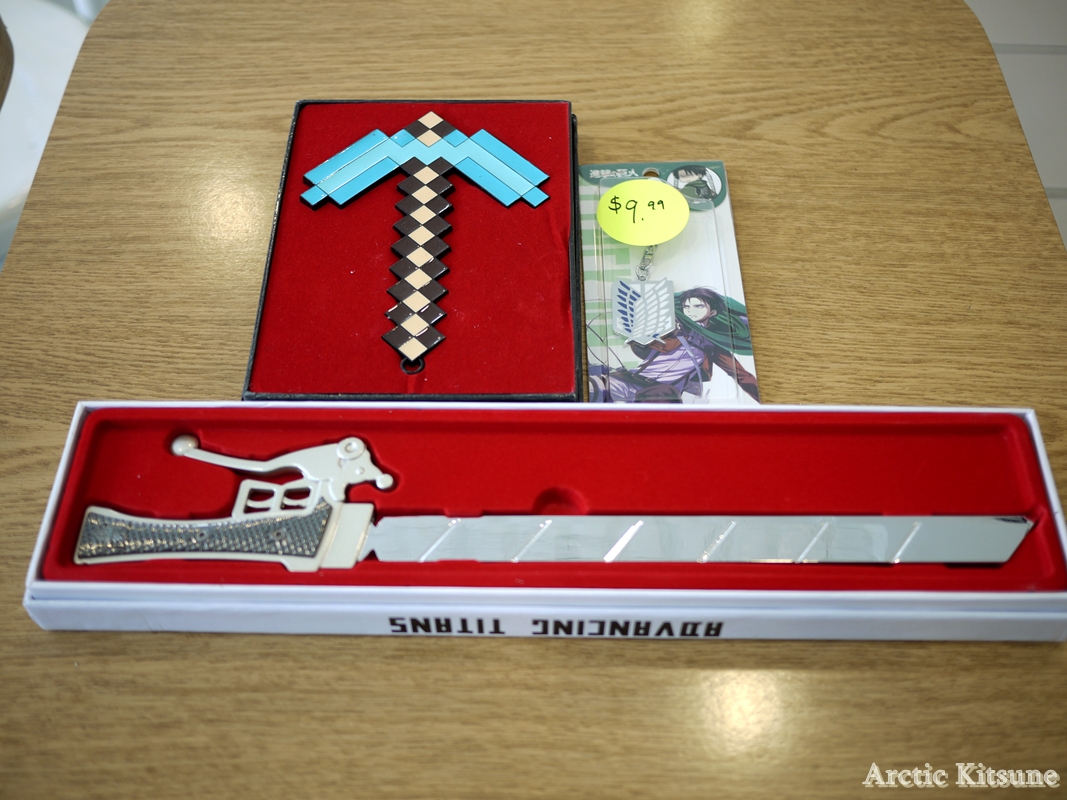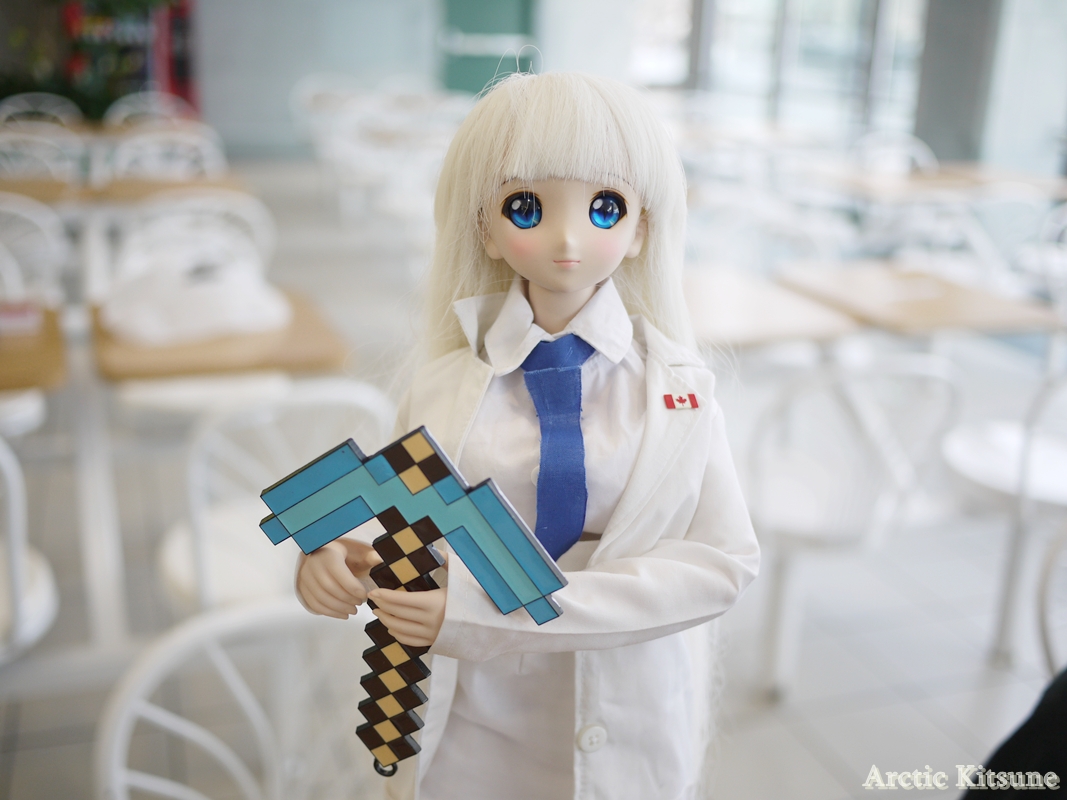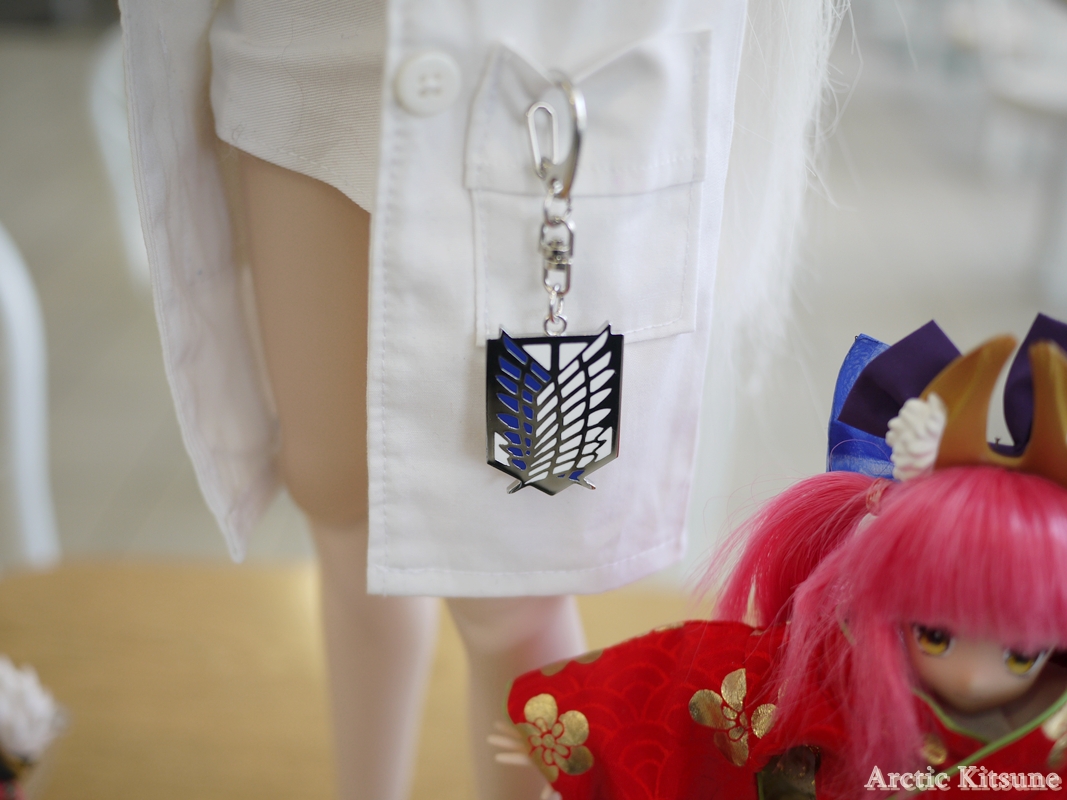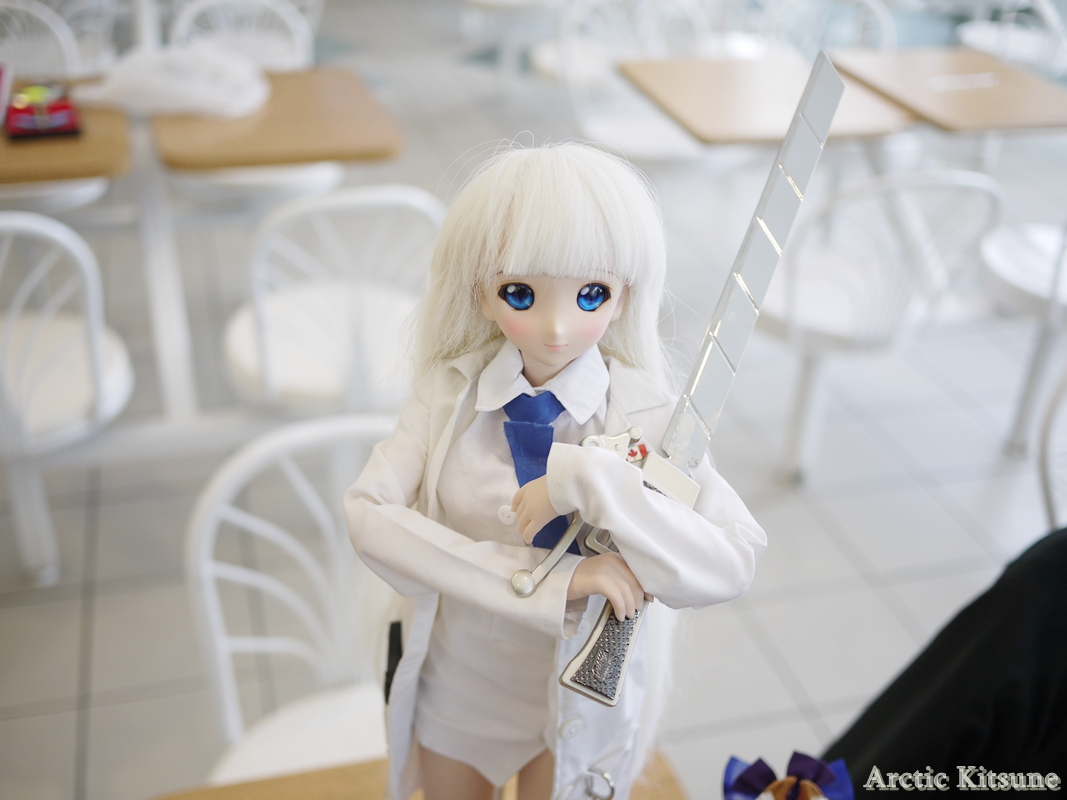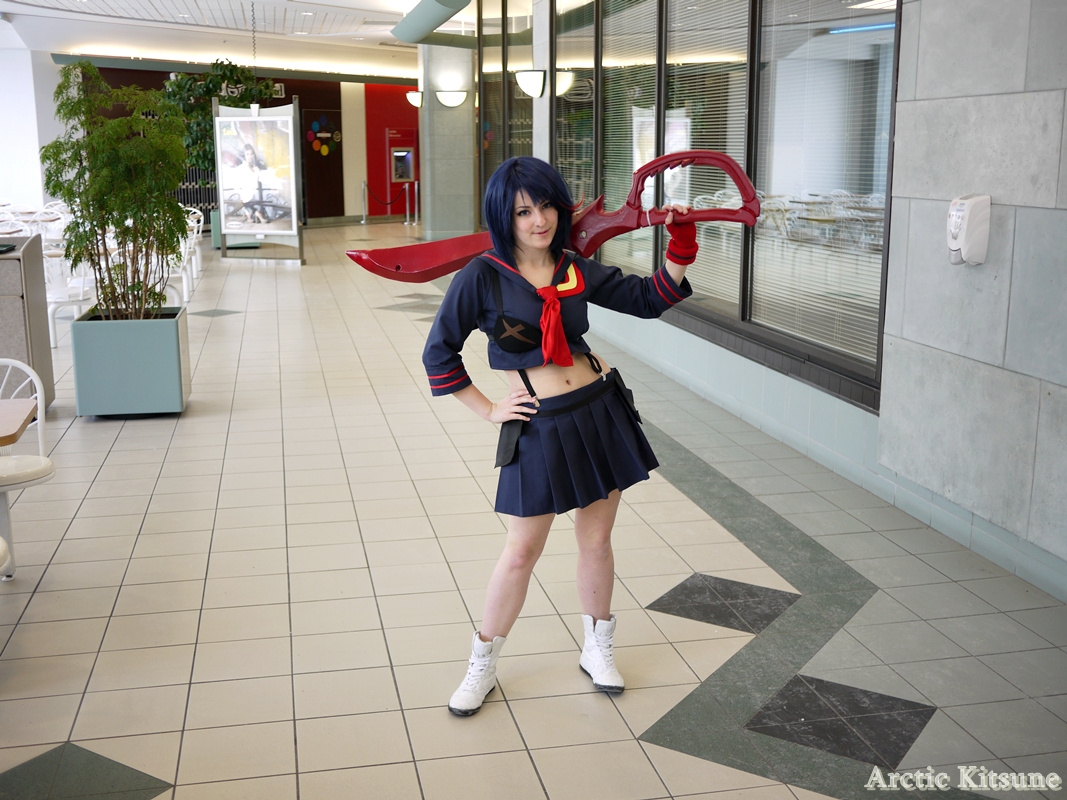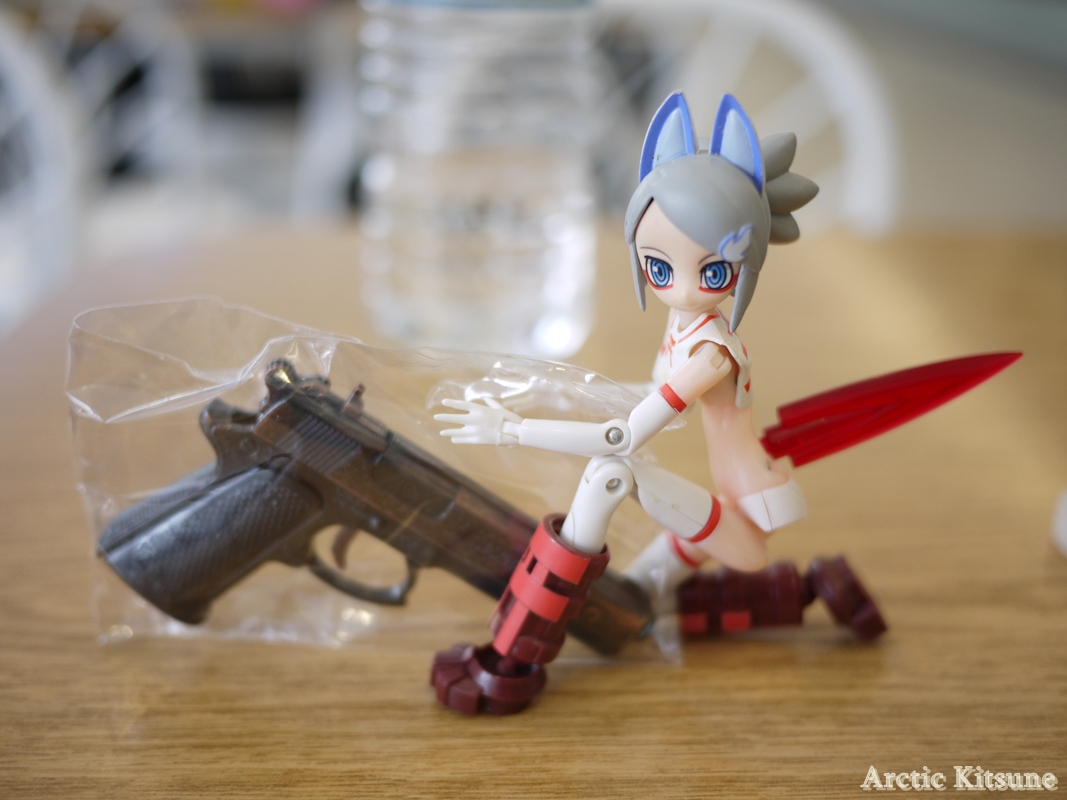 Again, it's too bad the Dollfie sword holding hands won't grab onto the guns appropriately. Both me and Kodama both had troubles with our gals holding onto guns. Maybe I have to get the second version so she can hold onto it nicely.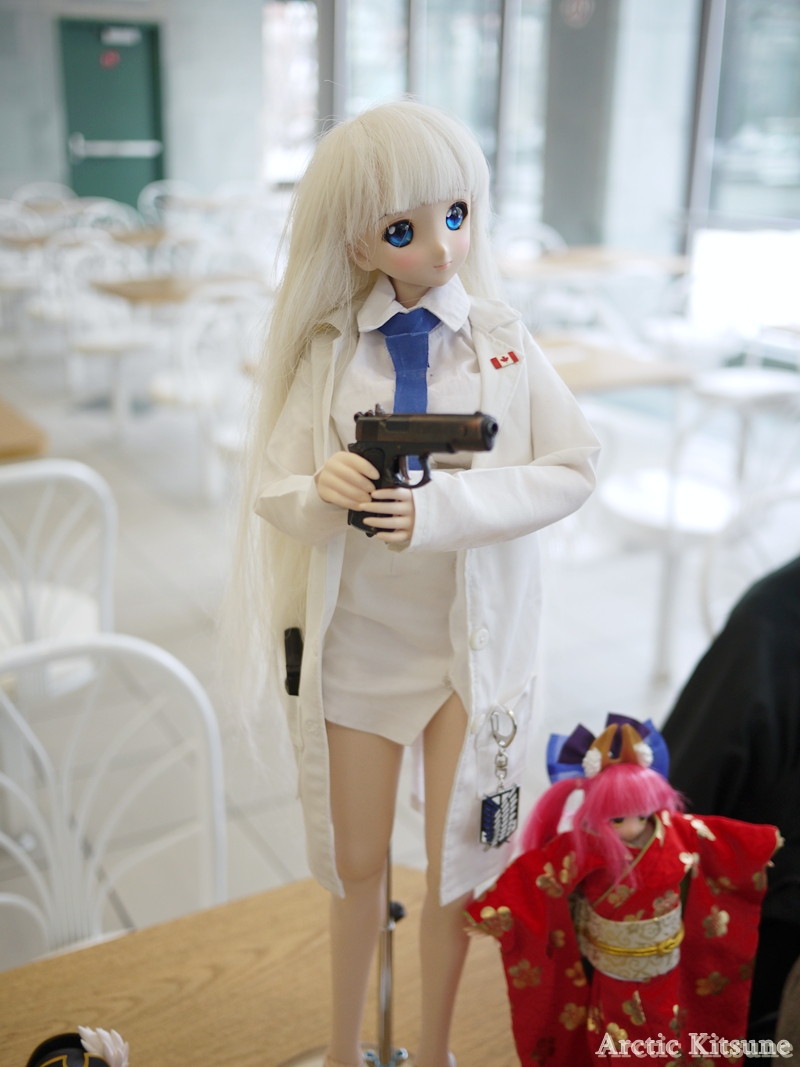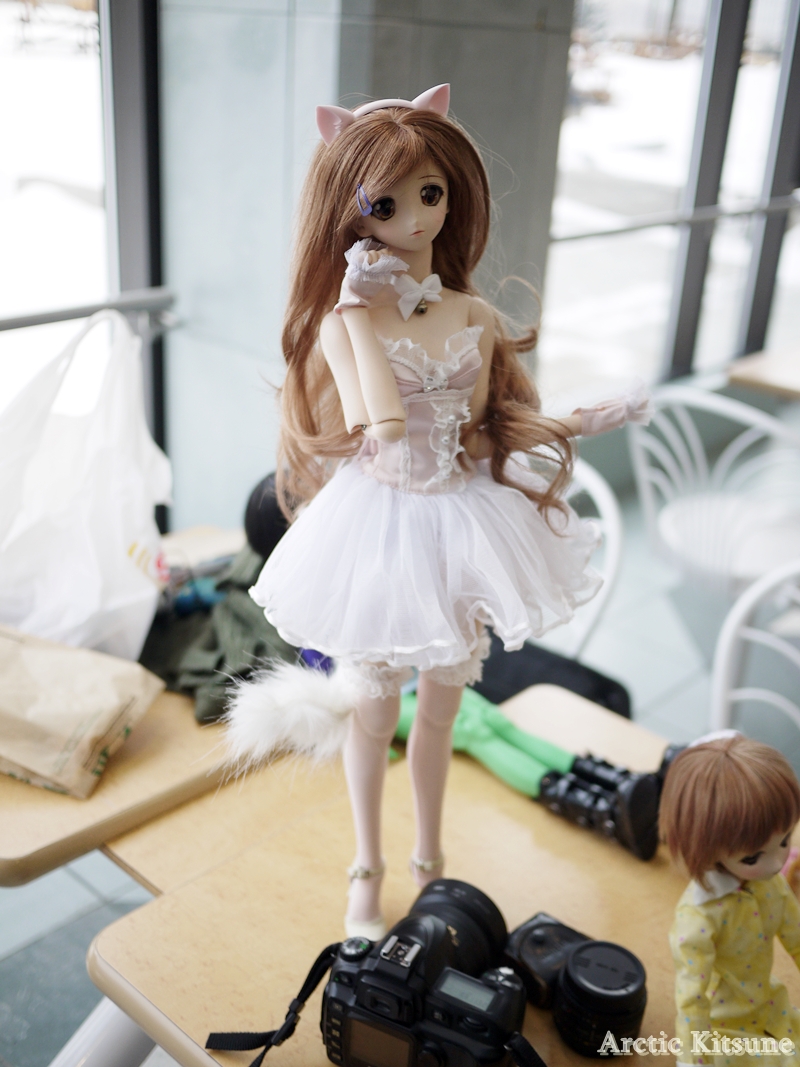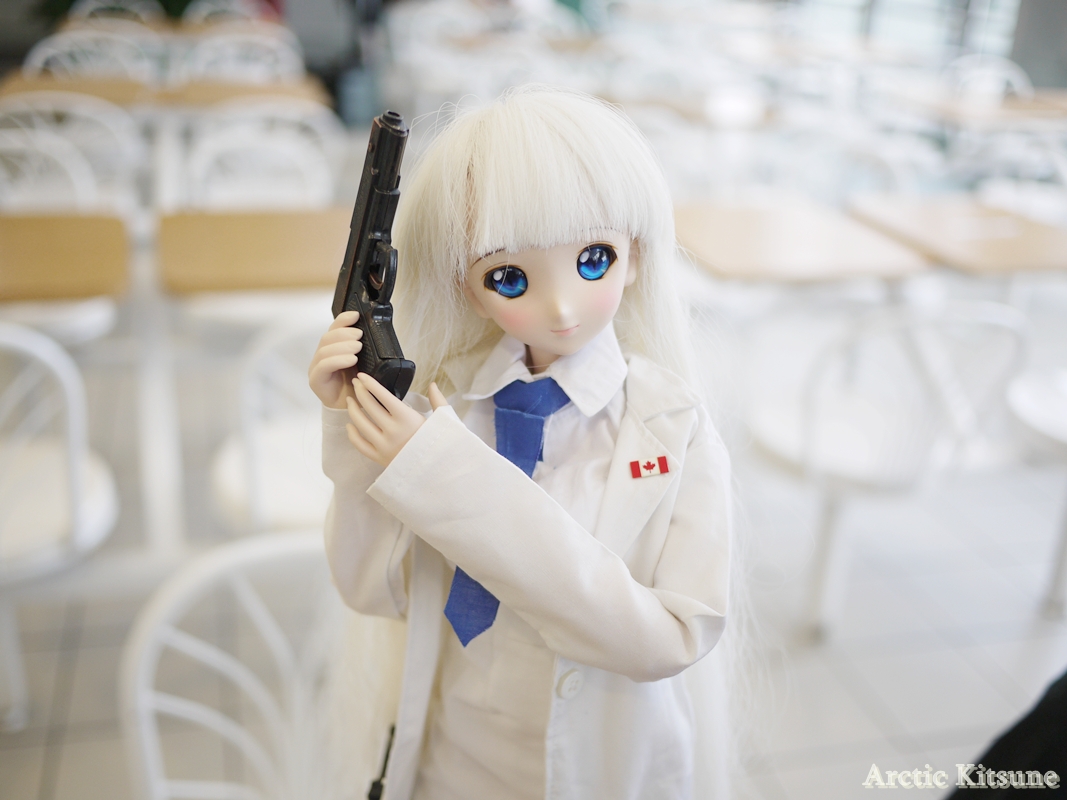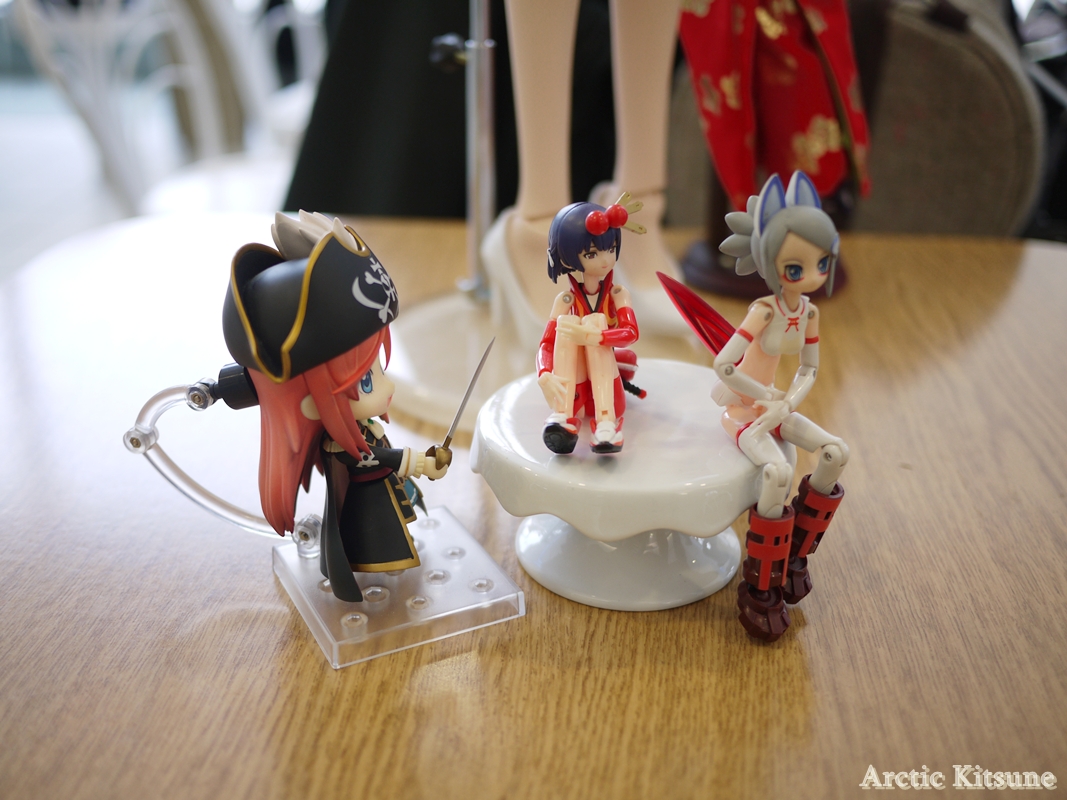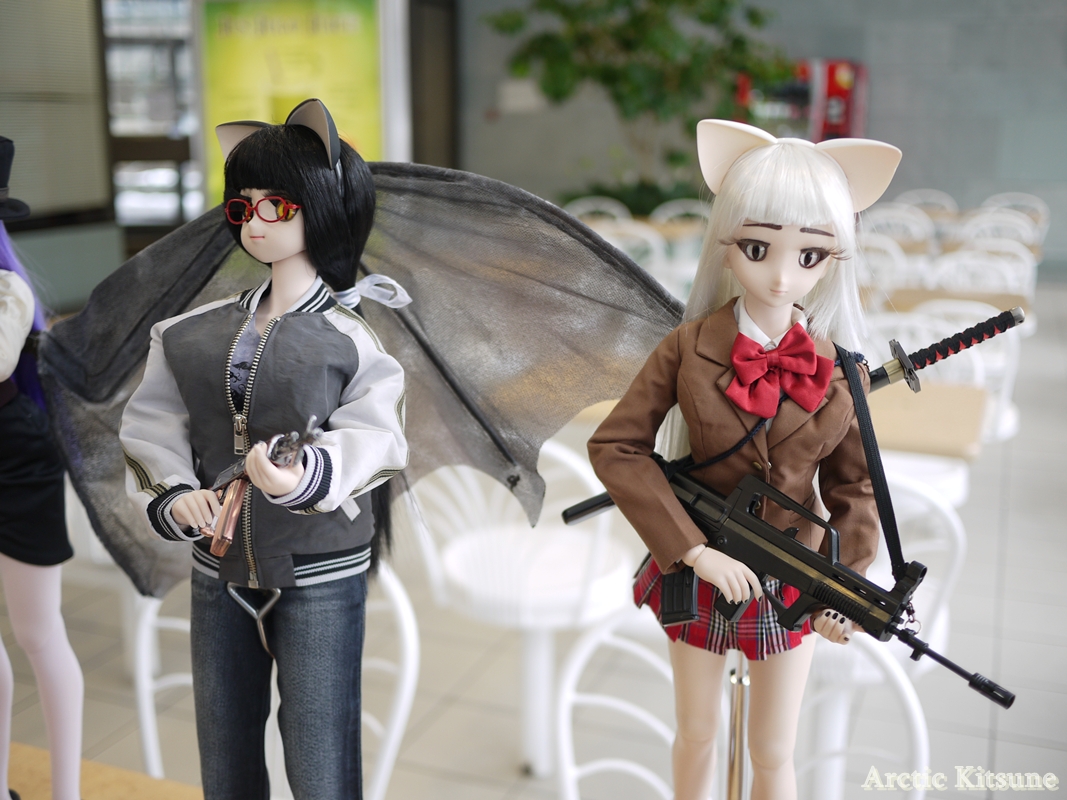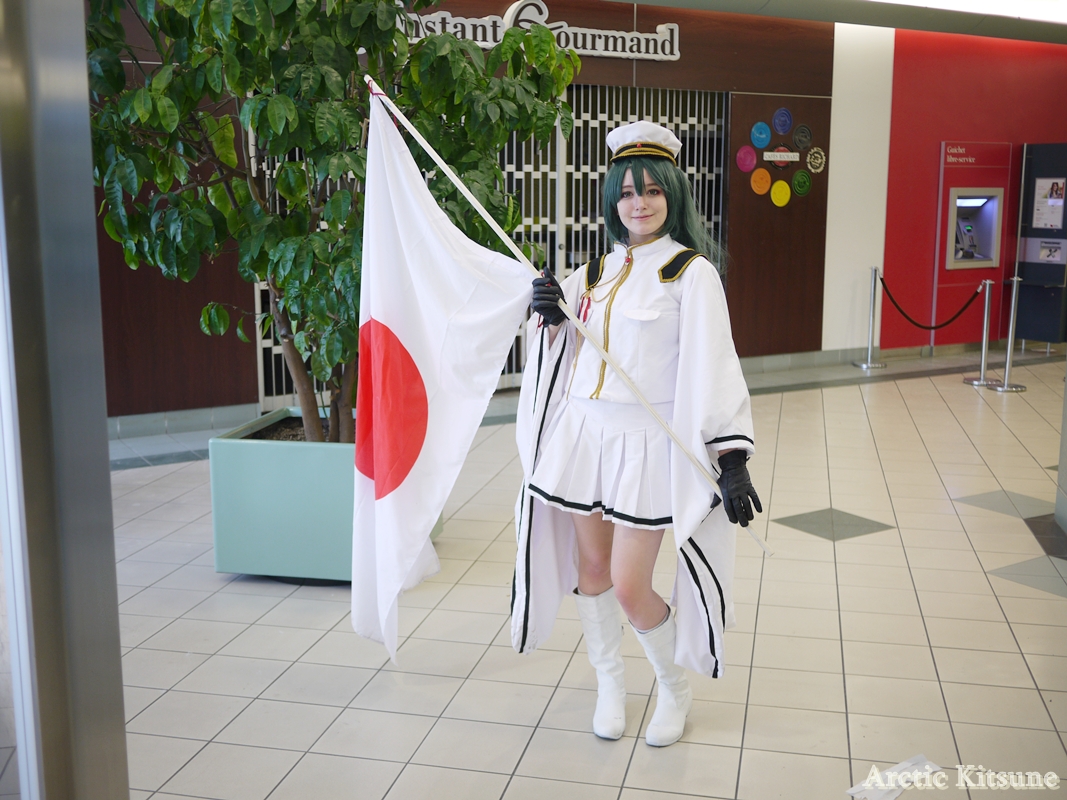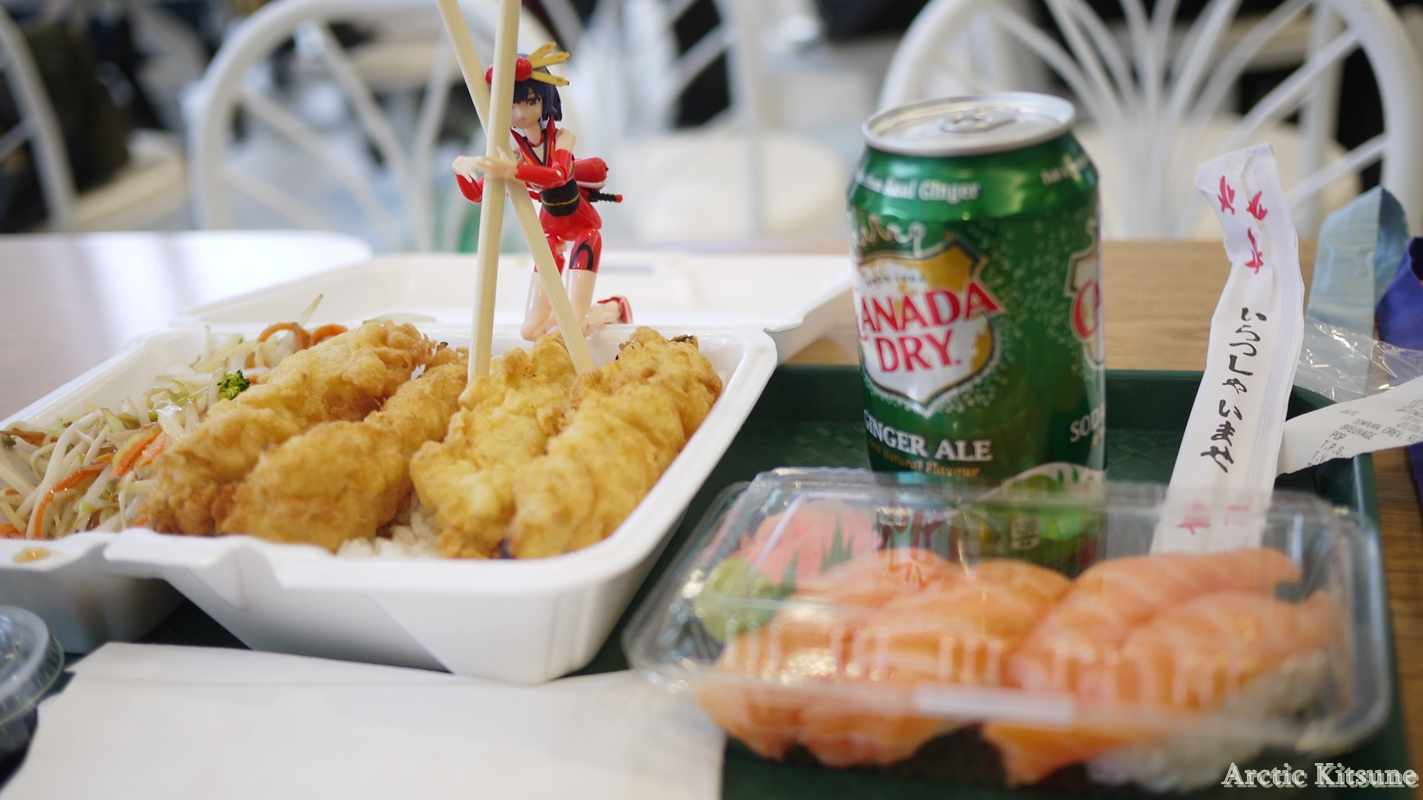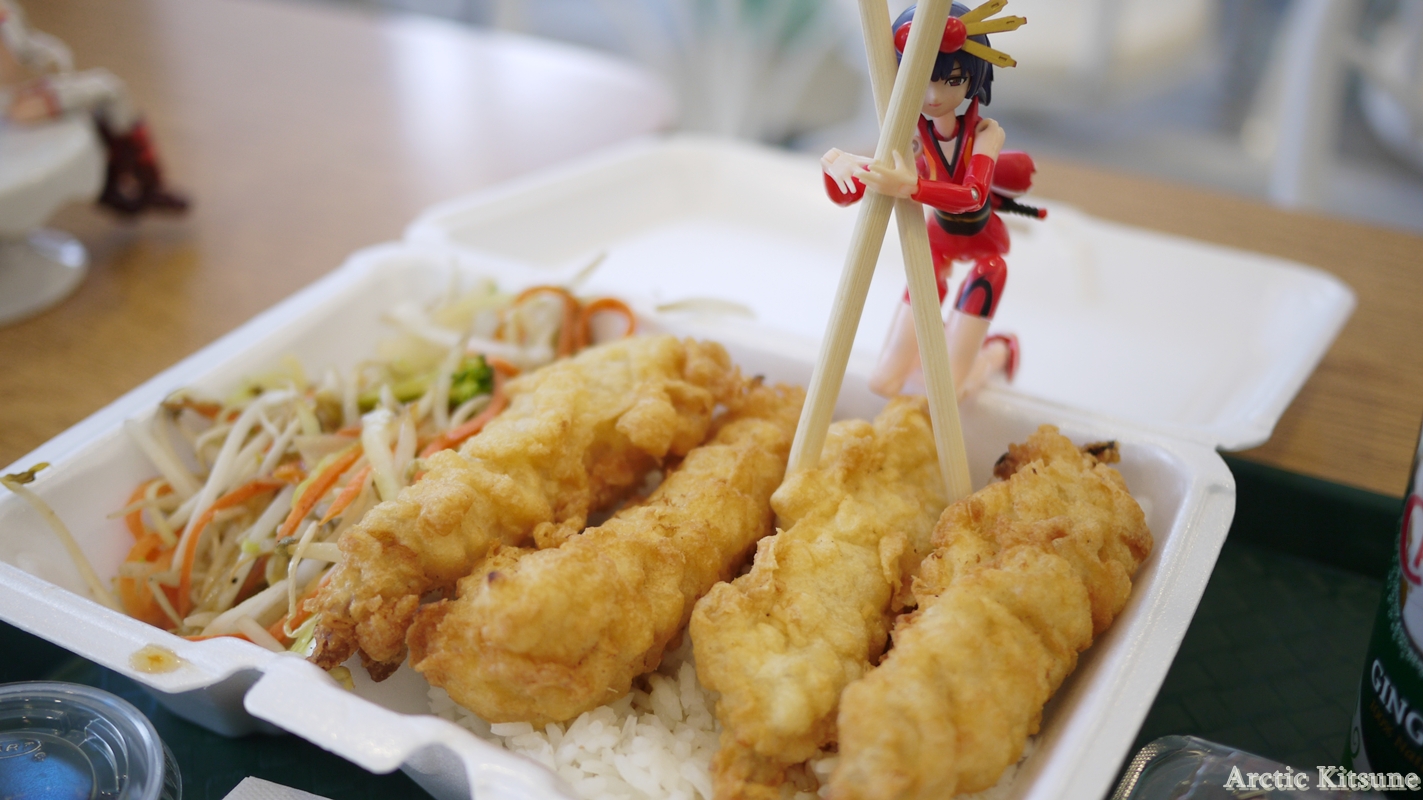 Did another round to see if any neat cosplayers were hanging around. They were around, just sitting in wait of a special event which would have made it painfully hard to take shots of them. I instead had the SnK blade swapped out for Vara. I took more images of Vara attempting to hold onto the blade. She did manage to with the lighting not being the best. She fell once, though luckily saved by a cautious Kodama. Thanks!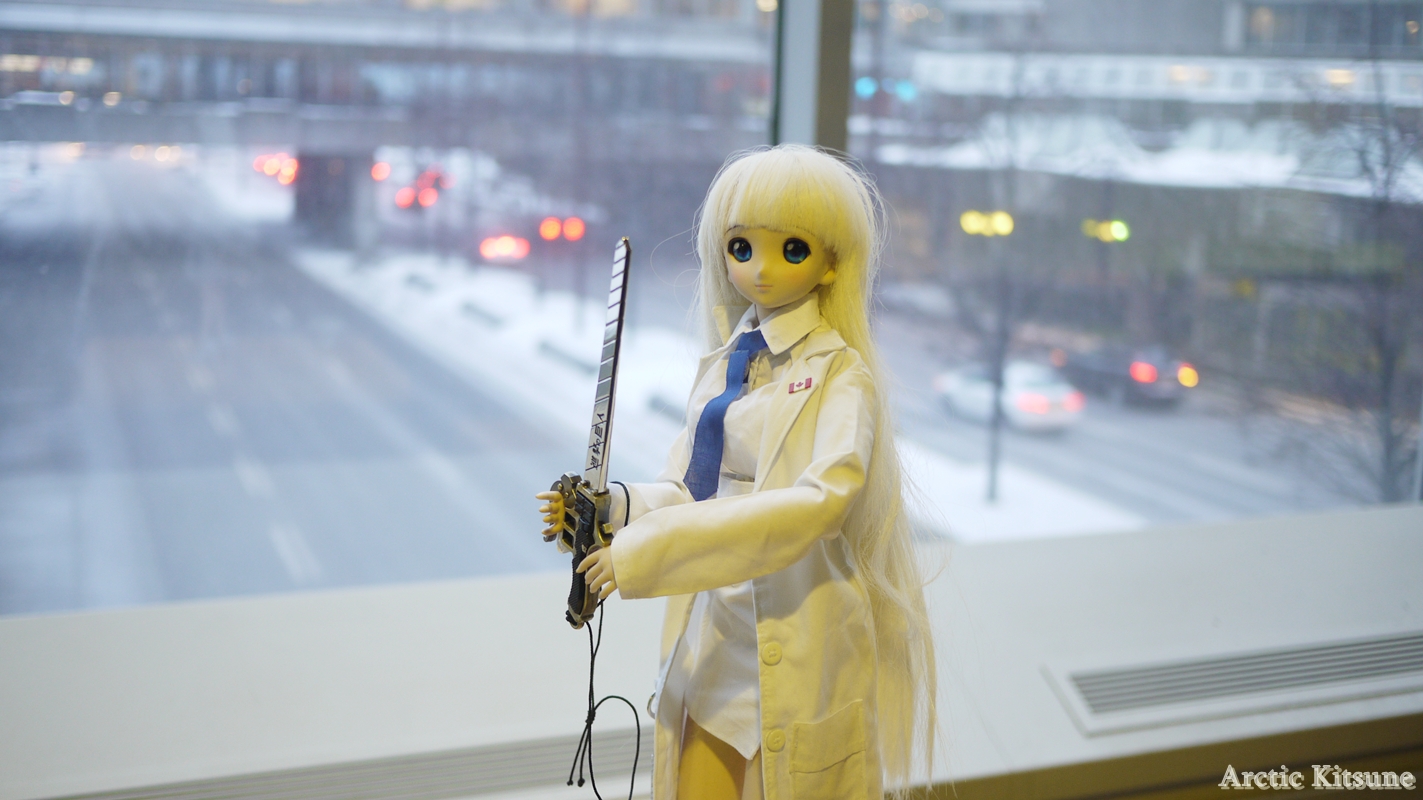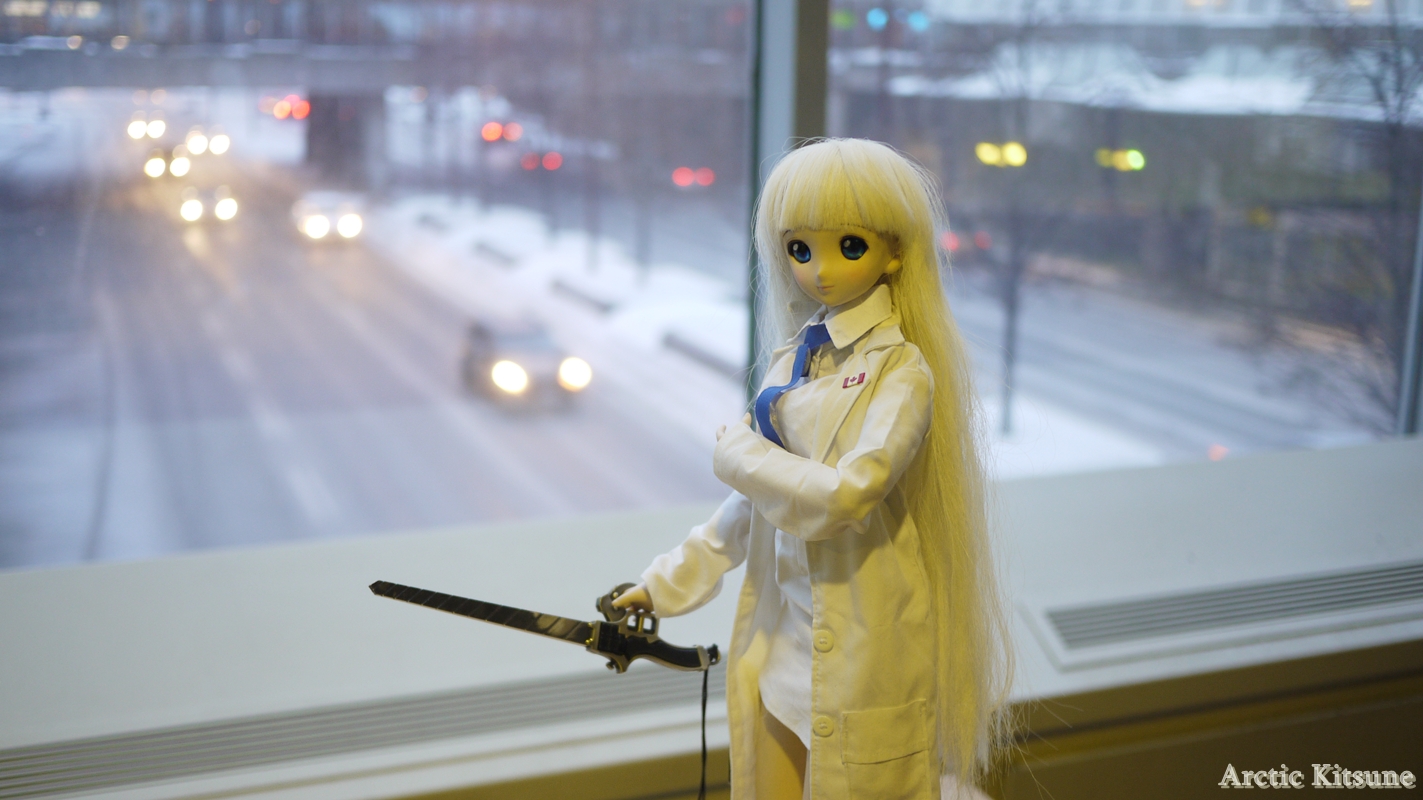 —-
I'm actually quite pleased with this year's Ganime convention. Other than the part where I got told off not to sit on the table while waiting for a fellow comrade while carrying my room around, the sleepiness, a few mix-ups, clumsiness, and the accidental purchase, it was all awesome. Any regrets I had during the con were quickly replaced with enjoyment from the convention and the meet-up. I acquired images of all the cosplayers that caught my attention. I even noticed people looking both at the dolls and Varakitsu in curiosity and excitement, occasionally receiving compliments from fellow Anime fans and cosplayers. It made me happy to simply be there. This is why I love GAnime.
Now to see about that comission. Hope I don't get owned on that. Varakitsu shall return into her foxy self with her fox ears and tail. Kon!