Heyo! It's been two years with Varakitsu in her DD form. Some experiences were awesome, others not so much, due to the whole learning photography in her scale. Now to look back on her second year with me, and what I think of her from one article to the next; From one month to the next.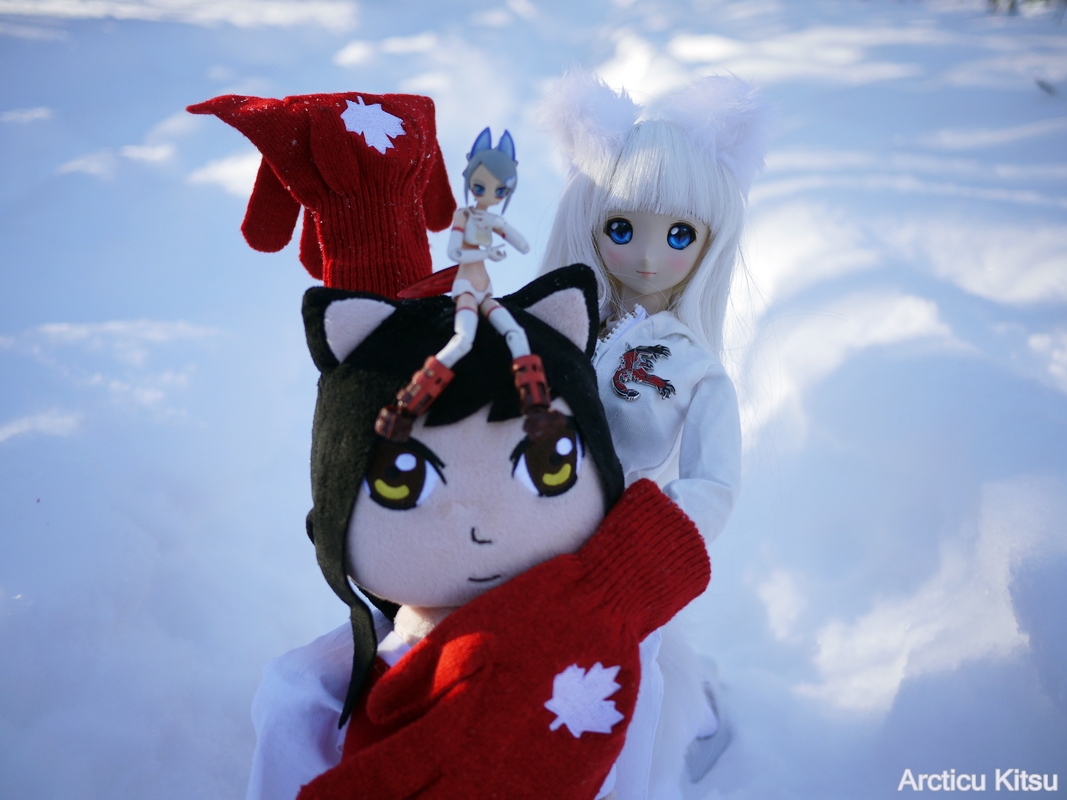 (All images taken with a Lumix GF1 – Pancake lens.)
For those that do not now – Varakitsu is themed up on the Japanese 'Kitsune' folklore of nine-tailed foxes. She is white because of her 'Arctic Fox' themed attachment, personification, and because of the snow's obvious white natural colour. She also shows red colour to show her Canadian attachment with me trying to make her more Canadian over Japanese due to her also being 'purely' a Canadian Arctic Fox due to her location and with her being my blog mascot.
—-
– A Year With Foxy Varakitsu!:
https://arcticukitsu.com/Blog/?p=4196
– About Varakitsu:
https://arcticukitsu.com/Blog/?page_id=4156
—-
Another great moment to be happy to have Varakitsu in my presence, yet annoyed at how 'inexperienced' I am in taking images still. I found that my patience with dolls is very limited. Dangerously so that I find myself constantly venting, fuming, and being picky because I constantly have to find myself correcting everything. Wanting the most out of her. Doesn't help I occasionally see a more 'classy' appearing ideal Varakitsu done by a Japanese that also sets me off which I also blame my personality for. I'm just an idiot like that. I'm constantly going to vent until I can also acquire the 'ideal' parts for her. I apologize for all my venting, but look….You're just as picky as I am so I can freely say this due to us both being overly picky.
I'm still happy I have Varakitsu, I just hate being so 'inexperienced' in the photography and Dollfie Dream side of things. I haven't even been 'allowed' to commission up her main outfit due to other issues. I simply lost my fun and can't seem to find it anymore in figure, nendo, Busou Shinki, and Varakitsu photography.
Sorry for being negative, I simply forgot how to have fun because I can't seem to also progress further with everybody else also being just as picky as myself. There's just no fun. On the positive side of things, I'm happy just to have her around. I want to 'spoil her'; I want to give her things; upgrade her; get her the main outfit; I also love her little foxy ears and tail. She's awesome.
---
– March 2014
---
– (March 11th, 2014) – Varakitsu's Foxy Ears:
https://arcticukitsu.com/Blog/?p=4207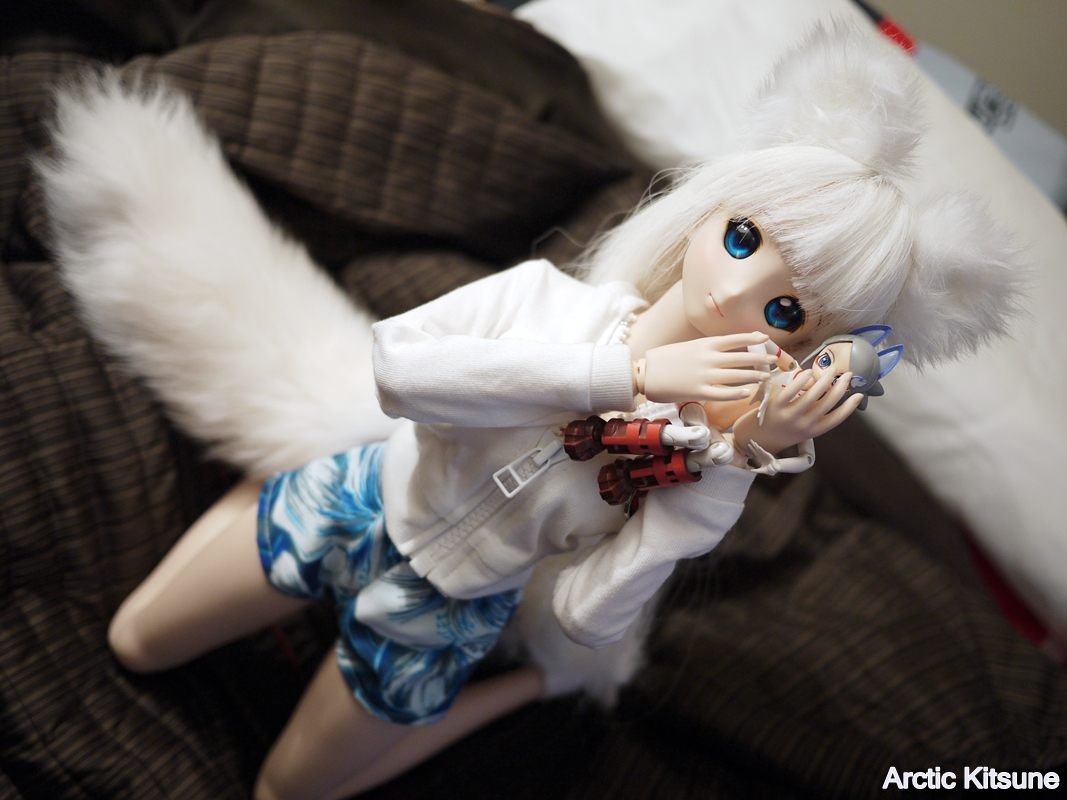 I'm overly happy I obtained this fox ear set. I'm still partially upset about the whole 'false-advertising' bit, and with Canada Post not placing proper signs to allow me to pick up the package. When I did, Varakitsu appeared awesome. I still love her iwth the fox ears, even with that tail of hers. Both the fox ears and tail suits her nicely while also giving her that "nekomimi" appearance.
My only issue is that the ears tend to miss-match with the wig, with the wig also being my greatest source of frustration.
—
– (March 19th, 2014) – Varakitsu Captures Fennekin!
https://arcticukitsu.com/Blog/?p=4222
I'm happy that last March was when Pokemon was still strong. All those new Pokemon cards to have fun with, Fennekin tamed by Varakitsu, and Renge having her fun also. Even made use of the old Pokedex and Masterball I have in my posession. Even that Burger King Pokeball.
Everything is awesome, except for the wig. It doesn't cover her 'human' ears. Once again fuming about that. Can't see her shiny blue eyes either.
—
– (March 23rd, 2014) – Varakitsu's Foxy Pokemon Cards:
https://arcticukitsu.com/Blog/?p=4226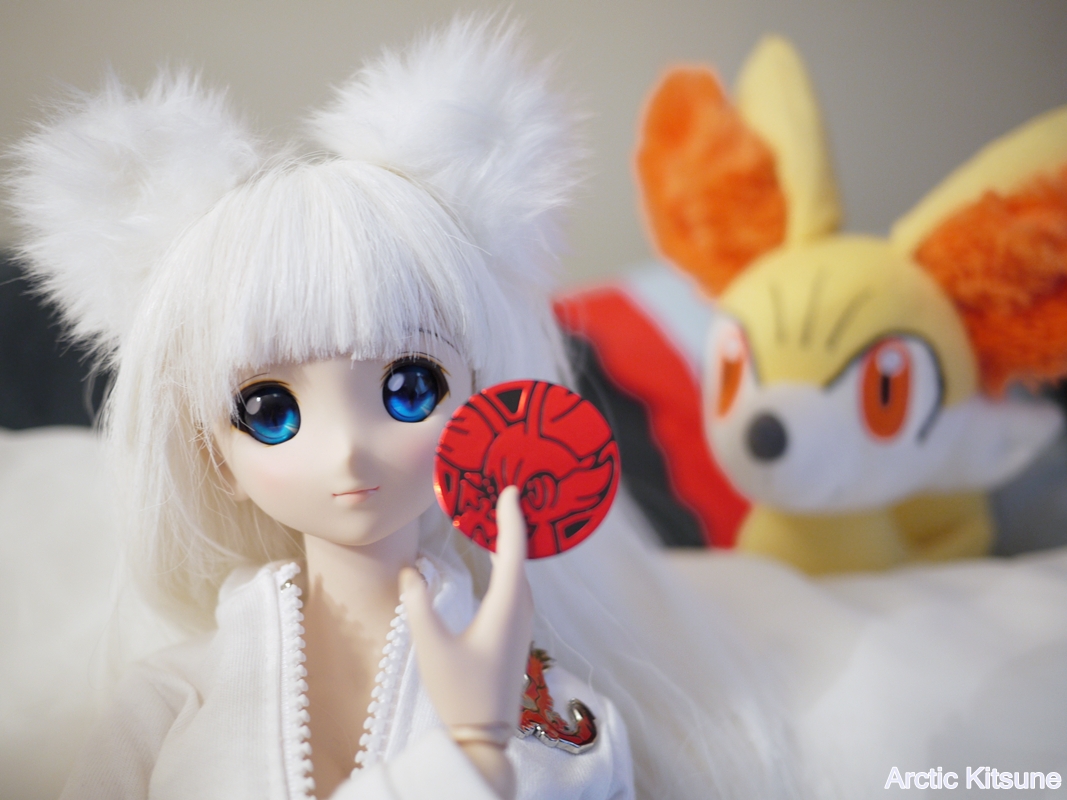 I just loved how I captured Fennekin for myself and Varakitsu to happily use. While I was playing the game she was happily, and proudly, having fun with her own Fennekin. I'm also pleased that she also looks awesome in one shot, or a few, with this being a happier photo-session I'm proud of. Also happy to show off Pixelmon & love for Pokemon in this article. That pride being displayed less-and-less.
My main issue, once again, being the ear being exposed, and the eyes. They're awesome, just me being picky and anal about details again. Even so, love her in this
—
– (March 28th, 2014) – A'K's Foxy & Gaming Birthday:
https://arcticukitsu.com/Blog/?p=4231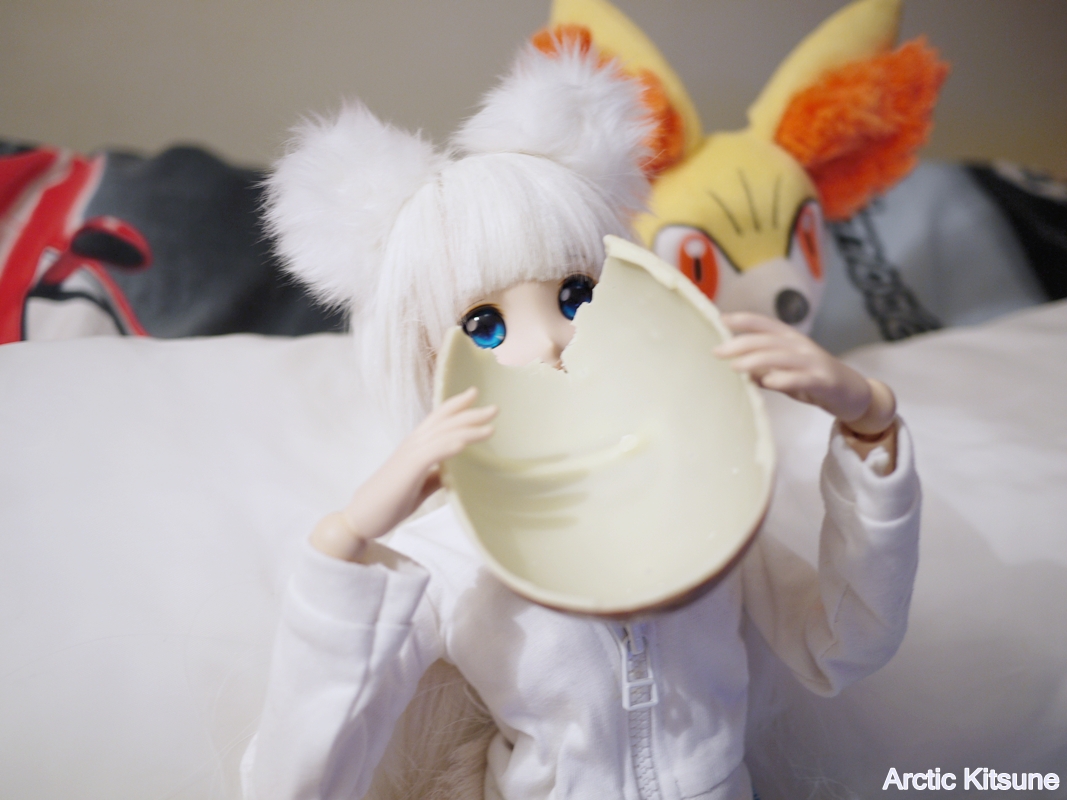 Looking back at this I can tell I rushed this to hell-and-back. I didn't take the time to set-up the hair of hers to cover up the human ears of hers. I however did have fun celebrating my birthday with her by taking images of the largest Kinderegg gifted to me, and her, to then have fun with. I enjoyed the egg, I enjoyed the cake, and I had some fun. Vara, you're awesome. Too bad I'm an idiot who can't tend to finer details.
---
– April –
---
– (April 3rd, 2014) – [NSFW] Varakitsu' Sexy Teaseful Clothing:
https://arcticukitsu.com/Blog/?p=4247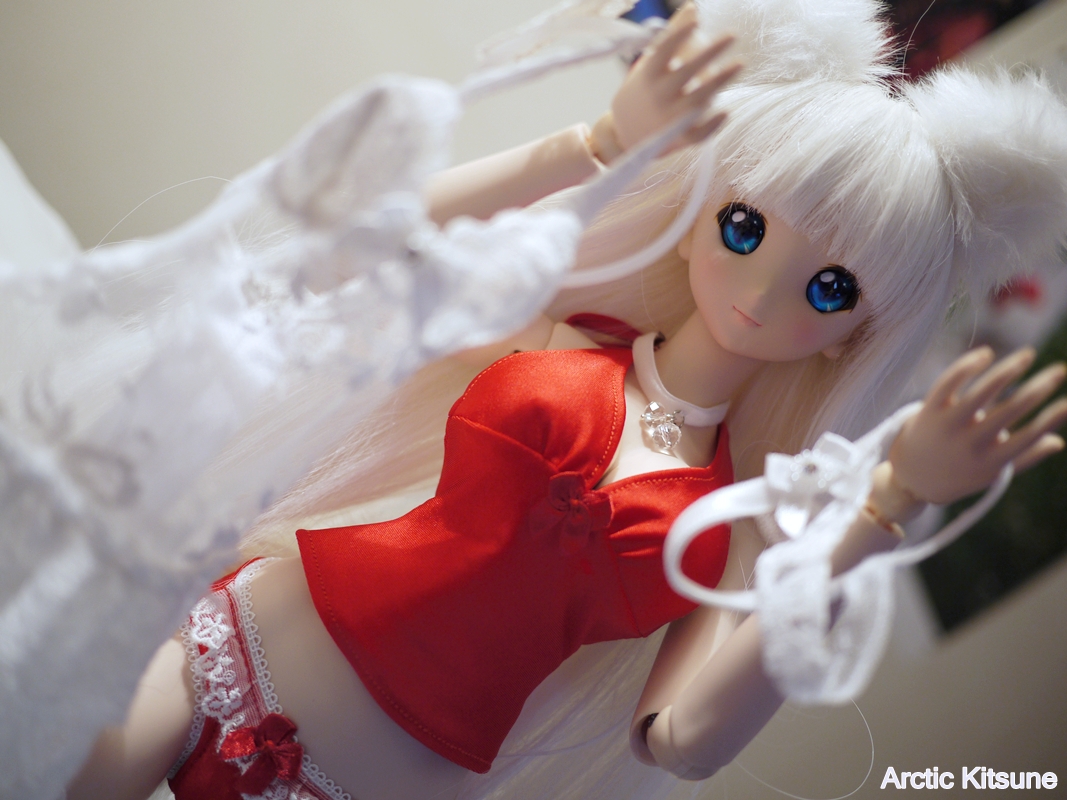 I love this photoshoot! Not the majority of the images, just the one above, and 'this' one. Needed to be done in a more photogenic place. I however do love how I'm showing off Vara's sexy curves, lovely foxy beauty, and such. Nice lingerie for her to mess about with, even the red clothing. At times I'm able to bring out her beauty, other times I'm just an idiot with poorly lit images. Haste also makes waste.
Varakitsu's beauty is my goal in sharing, and I got very close to that in this one. I enjoyed the aura of the red & whiteness, even the sexiness in the ecchi-wear, when taking images. Similar to seeing light bouncing off white paper, that's how I saw the red & white clothing here. It's just painfully hard for me to capture on camera.
—
– (April 5th, 2014) – Ottawa Doll Show 2014:
https://arcticukitsu.com/Blog/?p=4253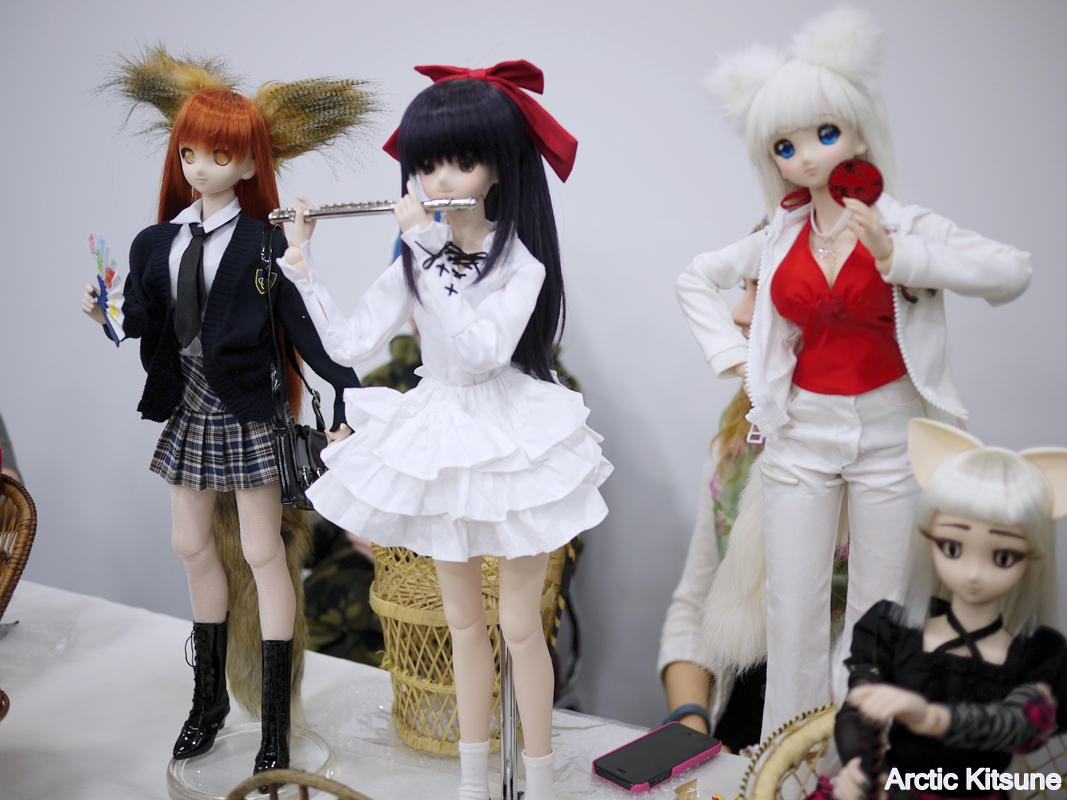 I'm always happy to partake in events, even displaying Varakitsu's foxiness. I've also grown agitated being at these doll shows due to their timing and how little attention they gather from the populace, with obvious reasons. I see Japan, the locals simply see the word "doll" and fuck-off. Pardon the bluntness, but that's how it is, or that's how I see it at the very least. I don't mind going. I'll happily attend these, and display Varakitsu with other Dolls. Seeing others also tends to allow me to compare 'mine' vs 'theirs' to see where I could improve at.
I enjoy partaking, I enjoy displaying Varakitsu, and I do have fun. There's also that typical populace ignorance (disinterest) that can't really be helped. I can't even go all 'creative' in images so it feels like I'm also in a box. After the event I can, yet I tend to screw that up also with haste. I'm also too self-conscious that I always think too poorly of myself out in public, more so when I gain those awkward stares.
—
– (April 15th, 2014) – Varakitsu's Spring Snow Prank:
https://arcticukitsu.com/Blog/?p=4263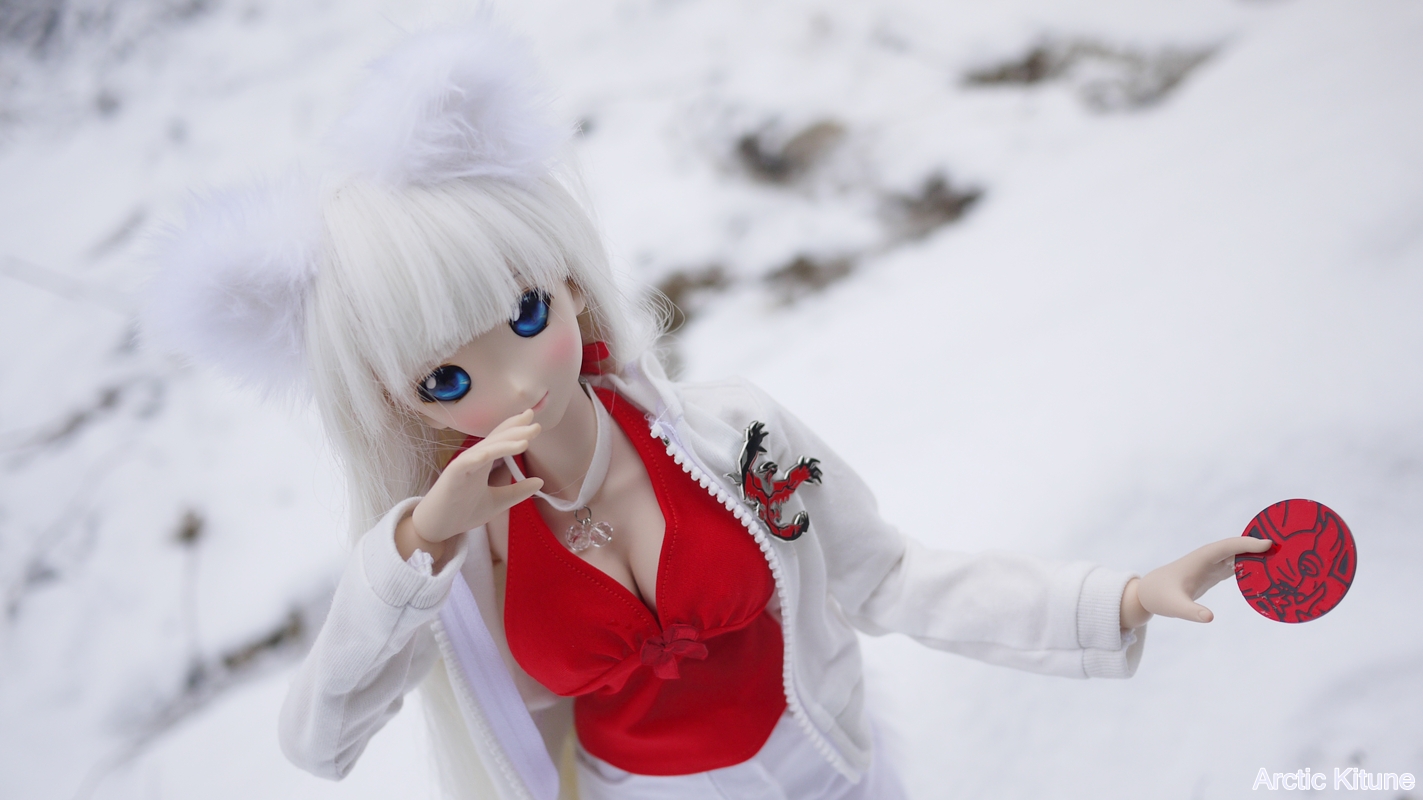 I absolutely love this photoshoot. It was the last final dusting that I jokingly had fun with Varakitsu with. I'm quite pleased I went out and took pictures of her among the last snow of 2014 because I got her more mischievous side out. Her "Joker" (Batman) side in a more sane manner. It does indeed bother me her ears show, how some images are poorly snapped, and such. I simply remember the fun! The fun that I've now forgotten and is hard to get back to. This photoshoot reminds me of the fun I need to keep having, keep doing, and keep striving for.
I love Vara's hand posture, her Fennekin coin, and that teasefulness. Even how I wrapped her up in a towel to warm herself up after the fun. Wish I hid those ears though, that would have made things perfect. I have also used this photoshoot as a template for other outdoor photoshoots in hopes of replicating the "fun" results.
---
– May –
---
– (May 1st, 2014) – Varakitsu's Foxy Tail Fix:
https://arcticukitsu.com/Blog/?p=4271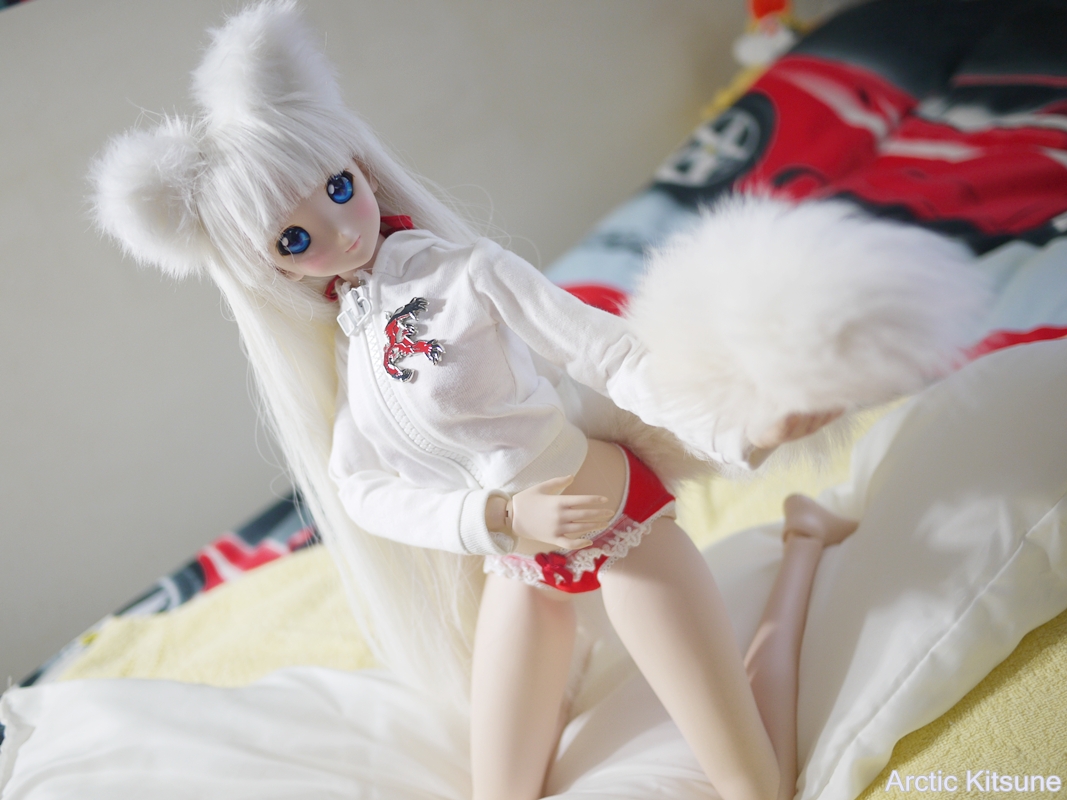 During my photoshoots I noticed Vara's tail gradually coming loose more and more. I need to thank "Batrastard" for being my foxy tail proxy that allowed Varakitsu to have a lovely proud white tail of her own. I also happily had the tail mended after noticing it coming loose inch-by-inch after each photoshoot for every posing. When it was done it looked like a glorious over-sized key-chain tail that I could once-again put on Vara. She was happy and proud to have it back, especially with that red panties she wears.
"Canadian Pantsu" 😛
—
– (May 20th, 2014) – Foxy Ottawa Belated Blooming:
https://arcticukitsu.com/Blog/?p=4303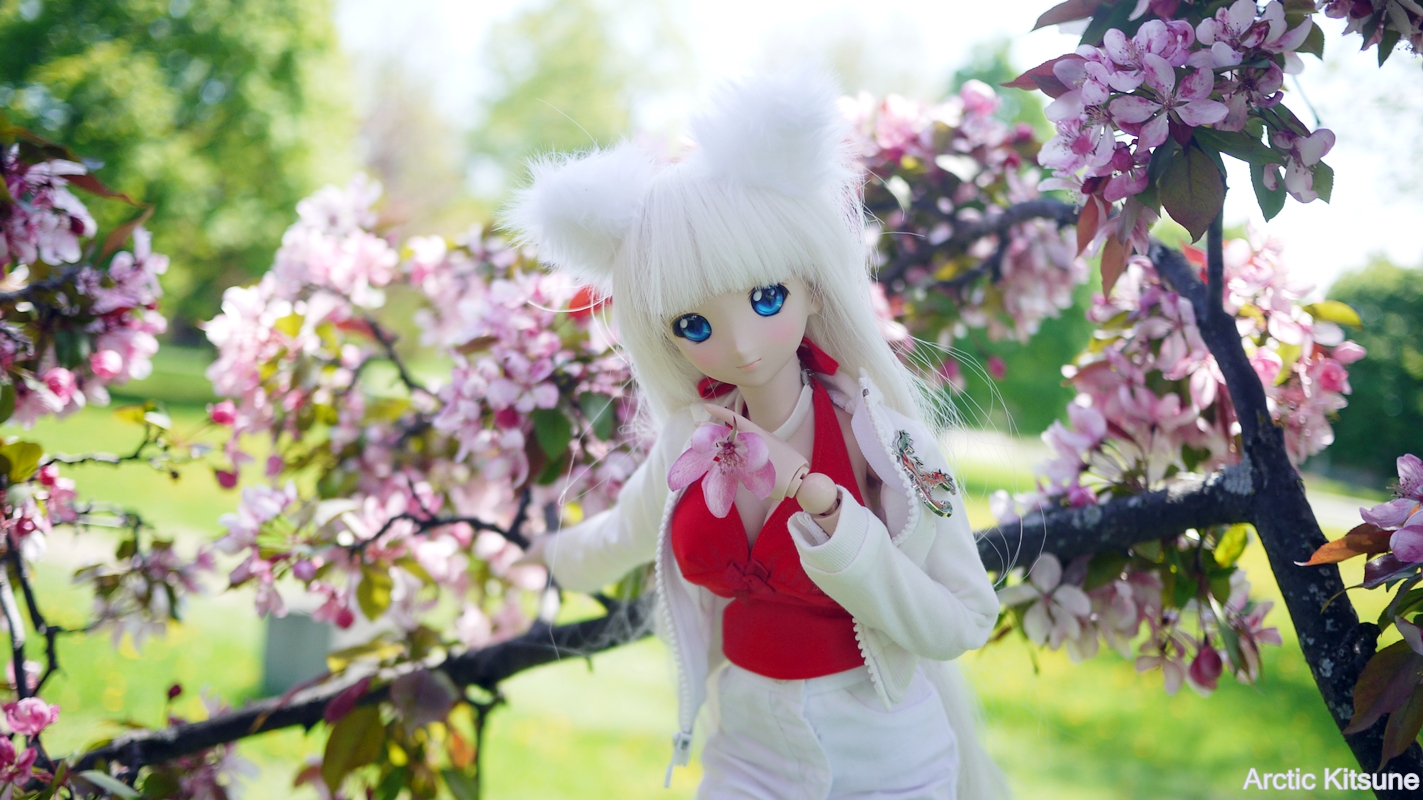 I'm actually both happy and disappointed with this photo-shoot at the same time. Happy I went on my own with Vara to take pictures, happy she has more outdoor images. I'm however annoyed that I always tend to screw up with the wig, the lighting, or something. Something always to irritate me or to hate.
I mostly wanted to capture Vara with the Crab apple trees, with was successful. Problem? Me simply being an idiot who can't enjoy the images he takes, nor able to tend to the little details that are then noticed once the images are snapped.
Love-hate for this one. Goal was accomplished, yet needs to be done once again.
—
---
– June –
---
– (June 10th, 2014) – A Fox-Filled Intermission:
https://arcticukitsu.com/Blog/?p=4333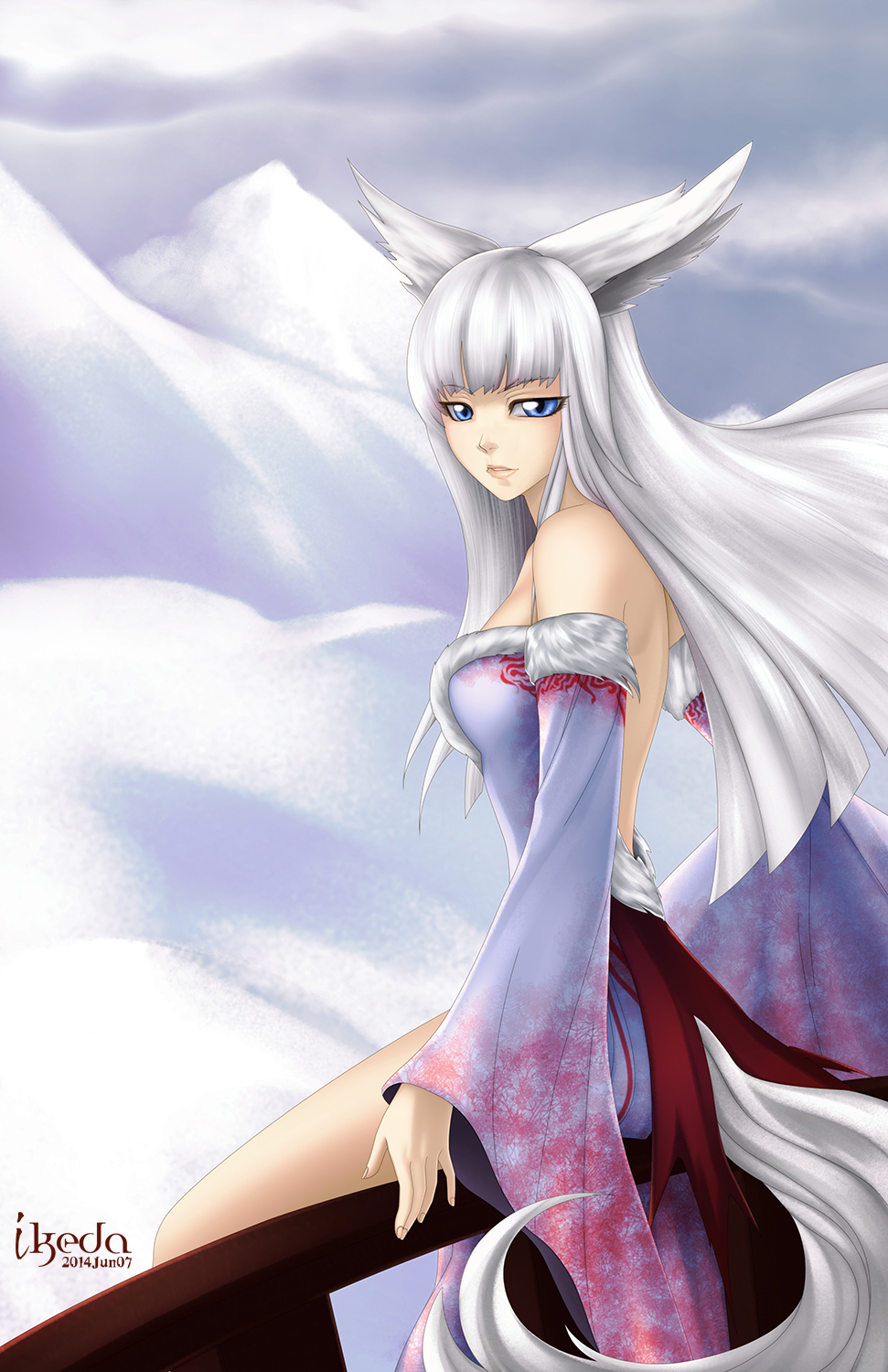 This blog posting was random in me trying to experiment with Varakitsu's beauty. Instead, the highlight of that article was to once again 'test the water' for a reaction of a 2D Varakitsu for when she still had those giant ears. I'm actually quite pleased with this design, even thankful to Ikeda for being patient in drawing this up.
I think I want to try another commission with Varakitsu again, maybe even Renge. I'd even want to try putting Varakitsu into a new indie game called "Rising World" that may be viewed as Minecraft, yet not. I'd love to see Varakitsu join me properly in a game this time. I'm hoping someone shall help me make my desire/wish come true for the Rising World NPC portion with fox ears, fox tail, and eyes.
Thanks, Ikeda!
(If you want to share this image then source back to this, to Ikeda's page, or to my "about page" please! That's all I ask. Source! Or I'll view you negatively.)
—
– (June 19th, 2014) – Varakitsu's Summer Attire:
https://arcticukitsu.com/Blog/?p=4342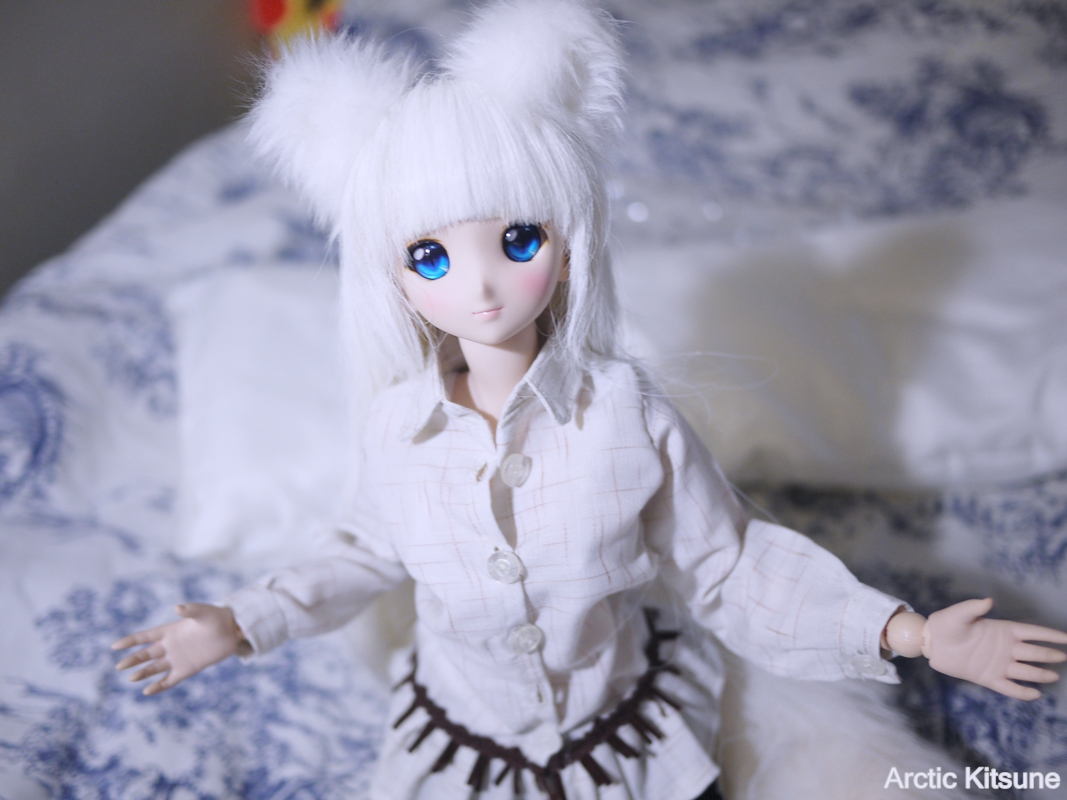 Quite pleased with the loot acquired from this. The lovely autumn attire being a one-piece, and two swim-wears. One was for a fun little tease, another being more 'casual', yet teaseful. Did use the black one, yet couldn't justify having fun with the white one due to the doll's body not complementing it, especially due to her hair.
FIFA was also a big thing so even added some FIFA quick-shots. Somewhat pleased, yet planned something bigger. Didn't go through with it due to distractions.
—
– (June 21st, 2014) – Commissioner's Park Doll Meet Fun – 2014:
https://arcticukitsu.com/Blog/?p=4344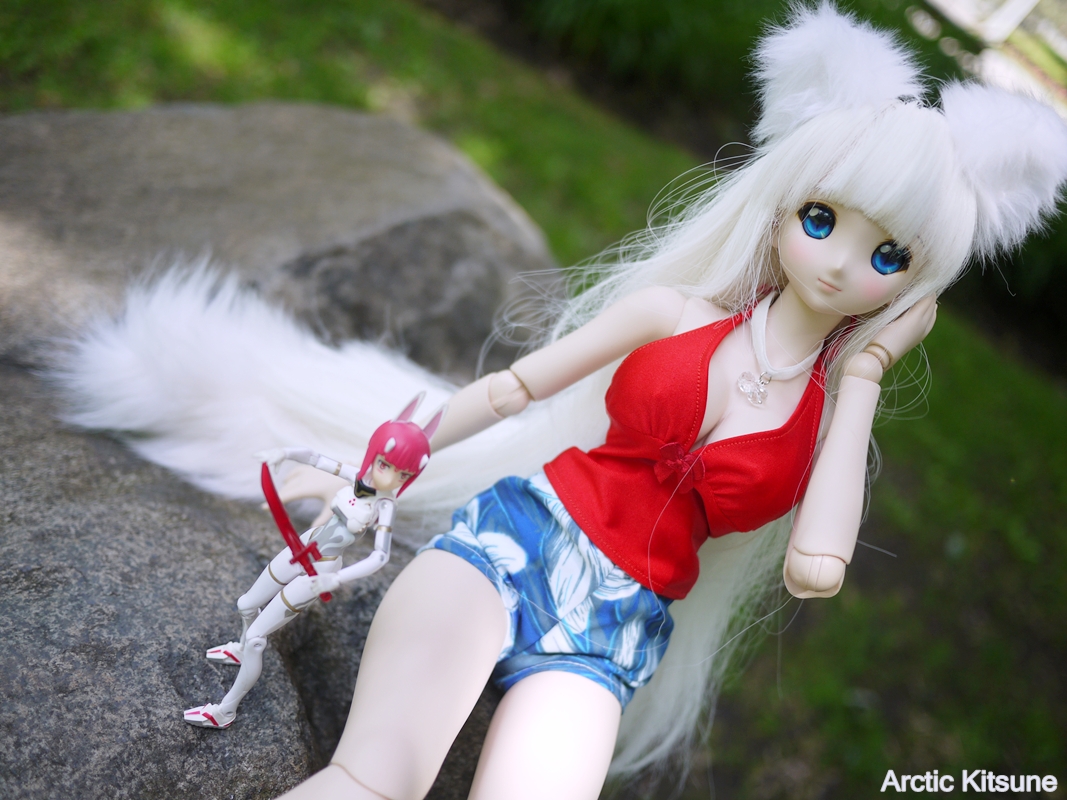 Well, I'm actually pretty satisfied with this summer meet-up and the images acquired. Not so much with what came after when I posted my images on my blog and figure.fm. Before that, I had fun posing Varakitsu outdoors focusing mostly on her because of her not having that many outdoor images. Happily taking images because there were 'too few' so I simply focused on her, the Busou Shinkis, while waiting for the other dolls to take advantage of the scenery. Happily having her pose in her summer attire, even partially in her swimwear. I tried to make the most, yet still came up somewhat short in what I desired.
About the part I hate? I was waiting, and waiting…happily taking images of any doll that did pop out of their protective casing trying to take images. I even prioritized them over Vara, even a few times, that I wanted it to be a 50% Vara & 50% doll. Sorry, but I'm still bitter over the comment my "Dolls Of Ottawa" group mentioned that I should focus on their dolls more because it's a meet-up. I would if you took advantage of the scenery more. I don't want to blame you either because you were nice to me, even helped me out. It's an awesome group, just don't blame me and make me hate my own images some more when I already do…..
I hate this photoshoot because I was told to show more of other people's dolls, which I did, yet didn't, due to me trying to summarize on figure.fm and Flickr. Negative emotions attached to these images like one of those chip-bag clippers that needs popping off. I'm still happy I'm gradually acquiring more images for a growing collection, even for a book I'm planning to make when the time is right.
---
– July –
---
– (July 1st, 2014) – Happy Canada Day – 147th Birthday:
https://arcticukitsu.com/Blog/?p=4350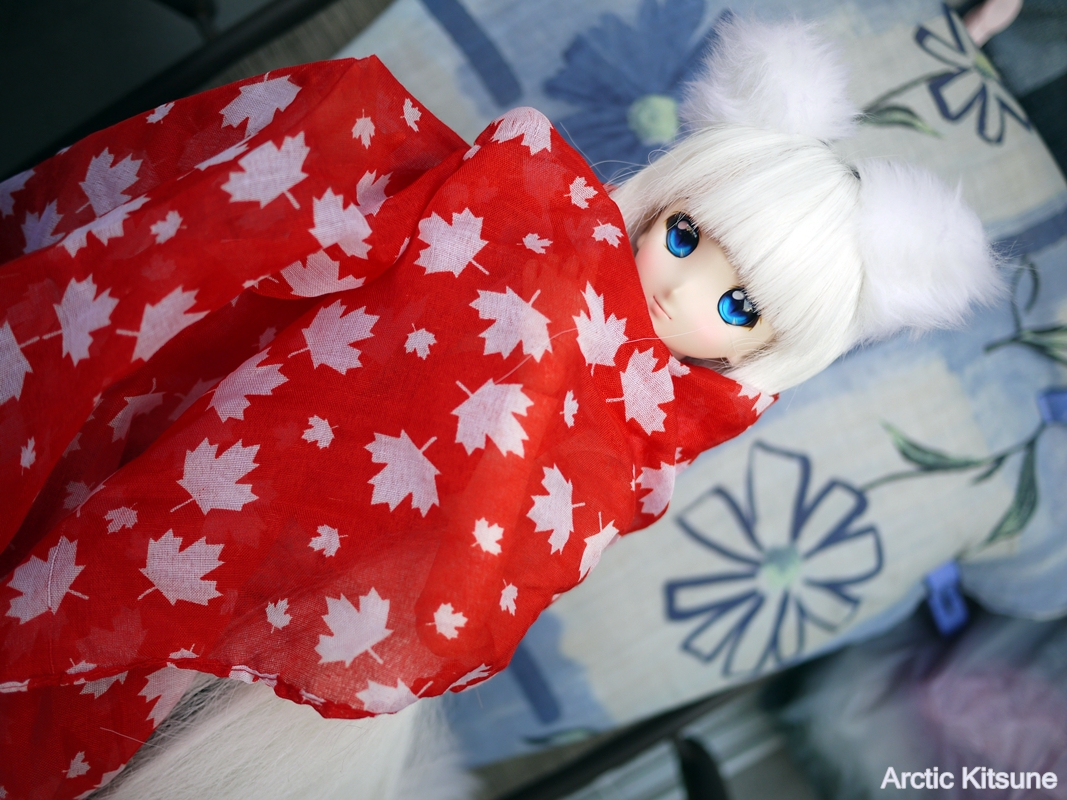 What an awesome day to celebrate. Didn't help it was insanely muggy. I tried to get Vara to be as patriotic as possible, even carrying that over into Minecraft before that map died out due to some dramatic server scuffle and Mojang's stupidity. I'm overly pleased that I can be proud of Vara proudly wrapping herself up with that Canadian cloth, same with the flag and those sparklers. Too bad her ears were showing forcing me to pick the one above.
—
– (July 19th, 2014) – Japanese Summer Festival + Doll Meet 2014:
https://arcticukitsu.com/Blog/?p=4367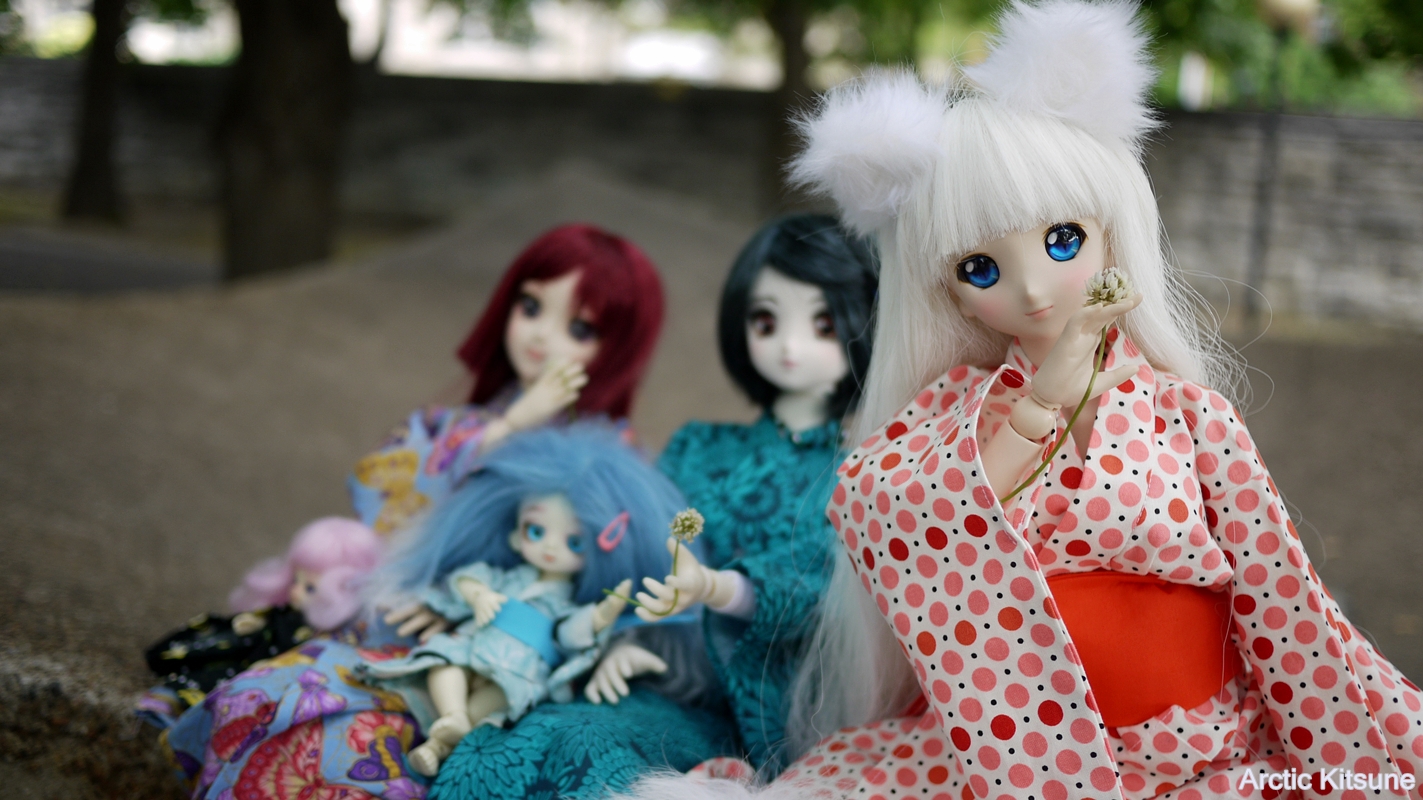 I have to say that this was one of the more entertaining meet-ups. More natural, more fluid, and less negative. I'm happy to have had my fun at the Japanese festival, even for the meet-up. Everything was more enjoyable. Viewing the dancings, having fun posing the dolls, even wandering downtown onto Spark's Street, garden swing, into bookshops to then pose up Vara in a nearby park. This was more enjoyable.
I don't think there's an actual down-side, for once, to nag about. Maybe Vara's eyes, and her Kimono. Other than that, all fine and dandy. I'm proud of this meet-up <3
---
– August –
---
– (August 29th, 2014) – Varakitsu's Simplified Dress Beauty:
https://arcticukitsu.com/Blog/?p=4392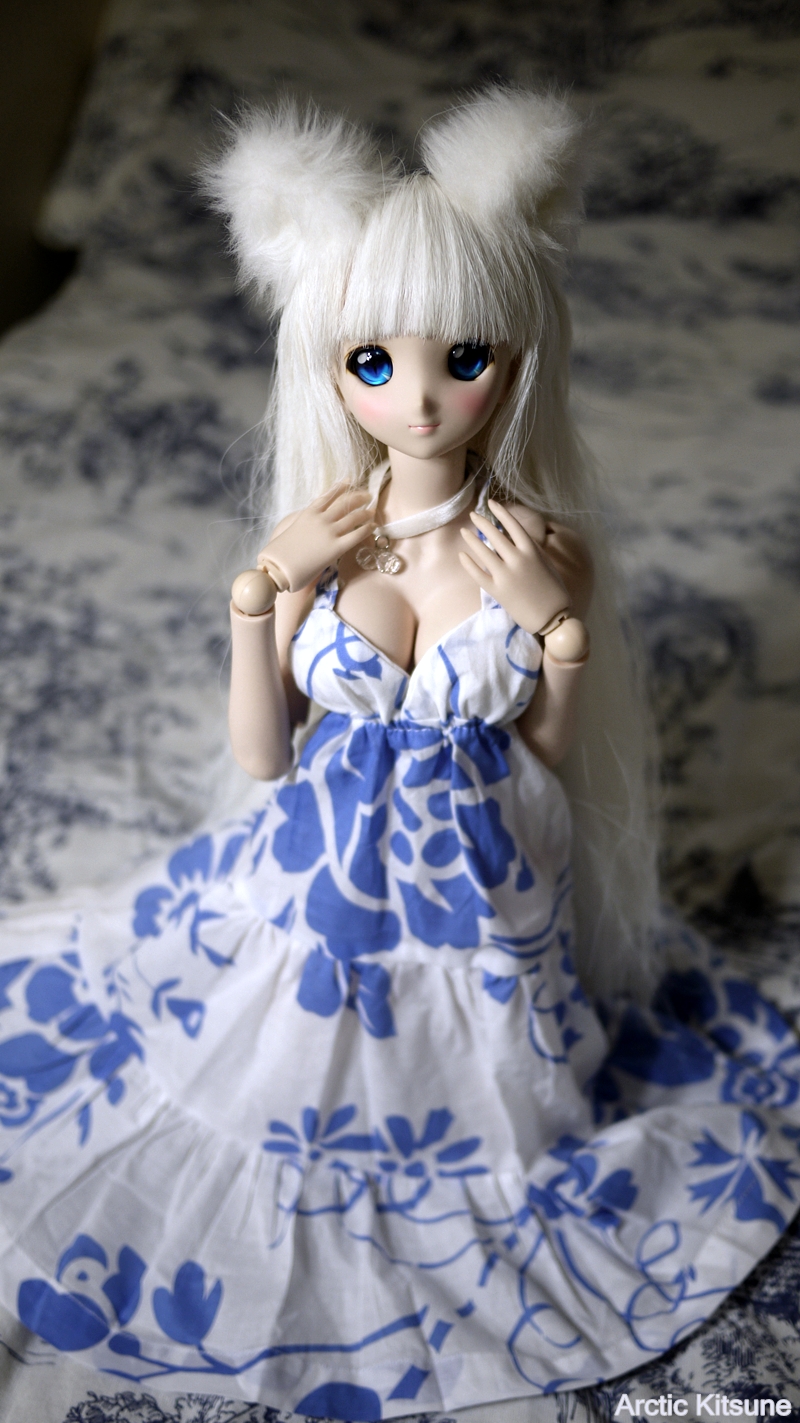 I'll admit I didn't do the dress any justice with the indoor 'quick-shoot' type posting. I did however show off that it had a nice European style to it that I'm familiar with. Vara looks awesome in it, in a dress that has a nice Slovak 'Modra' style to it with the patterns you would find on their ceramics. You can even see it on my bed covering with Dutch styled patterns. I'm even amused how it also brings out Vara's bust in an interesting manner.
I also had to give this dress to Vara when I saw it on 'Nightfallwalker's' store page. I had to obtain it for Vara for that nice European touch that I'm familiar with from both the Dutch & Slovak side of things. Great dress; Poor indoor quality. The more entertaining part being the 'kero' keychain I received as a freebie to have fun with.
—
– (August 19th, 2014) – Varakitsu's Kon Kero Kon:
https://arcticukitsu.com/Blog/?p=4397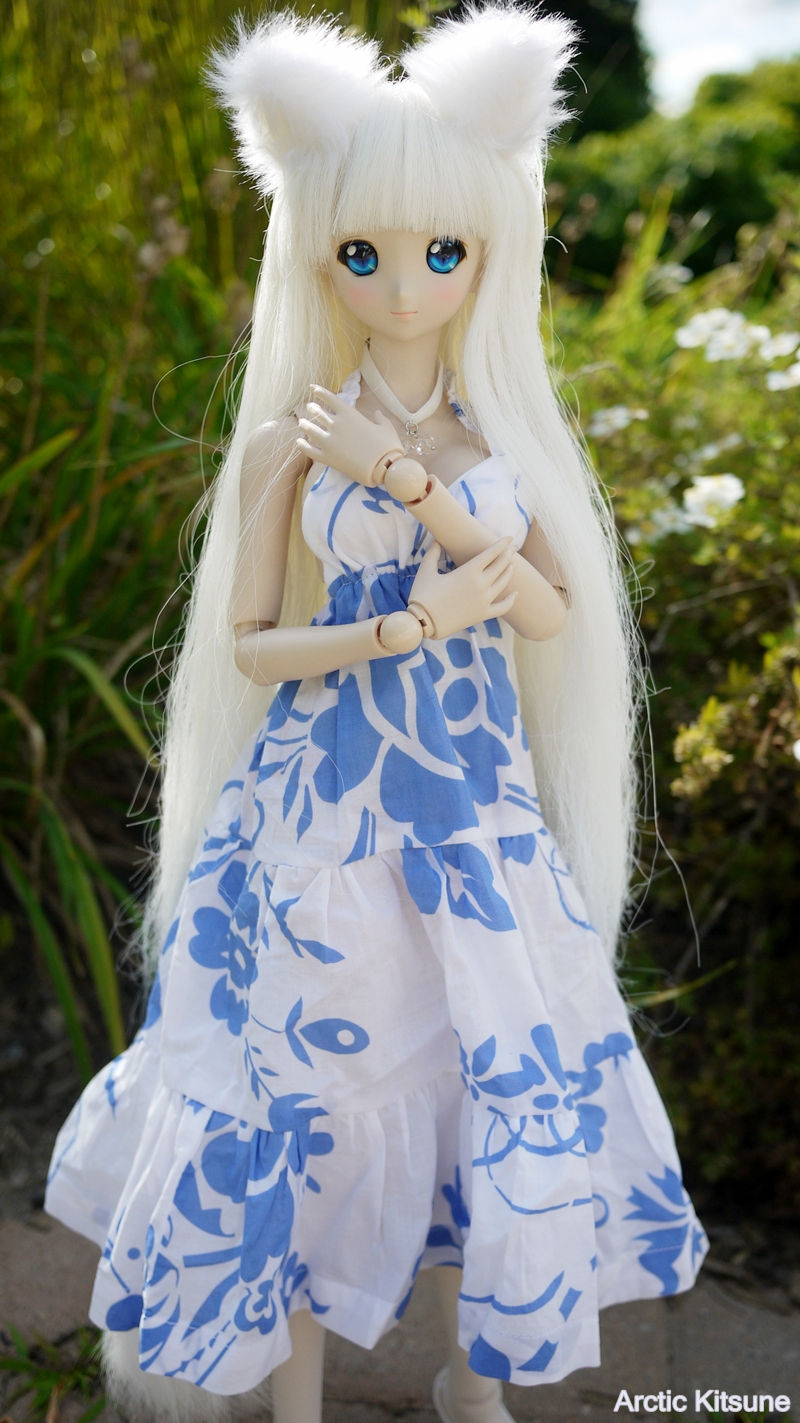 I actually love this photoshoot. May be rough in places, yet very pleased with the results gained. Vara actually looks overly elegant (at least in my eyes) with little-to-no complaints. I also wanted to show why I loved the dress, and why it looks awesome on her. It actually does. I love Vara, I love the dress, and I love the images taken.
Even a frog came out to have fun to remind me I forgot to take images of the keychain, thus the title. My Busou Shinkis even having their fun. Kohiru admiring the scenery.
---
– October –
---
– (October 27th, 2014) – A Foxy 2014 Autumn:
https://arcticukitsu.com/Blog/?p=4421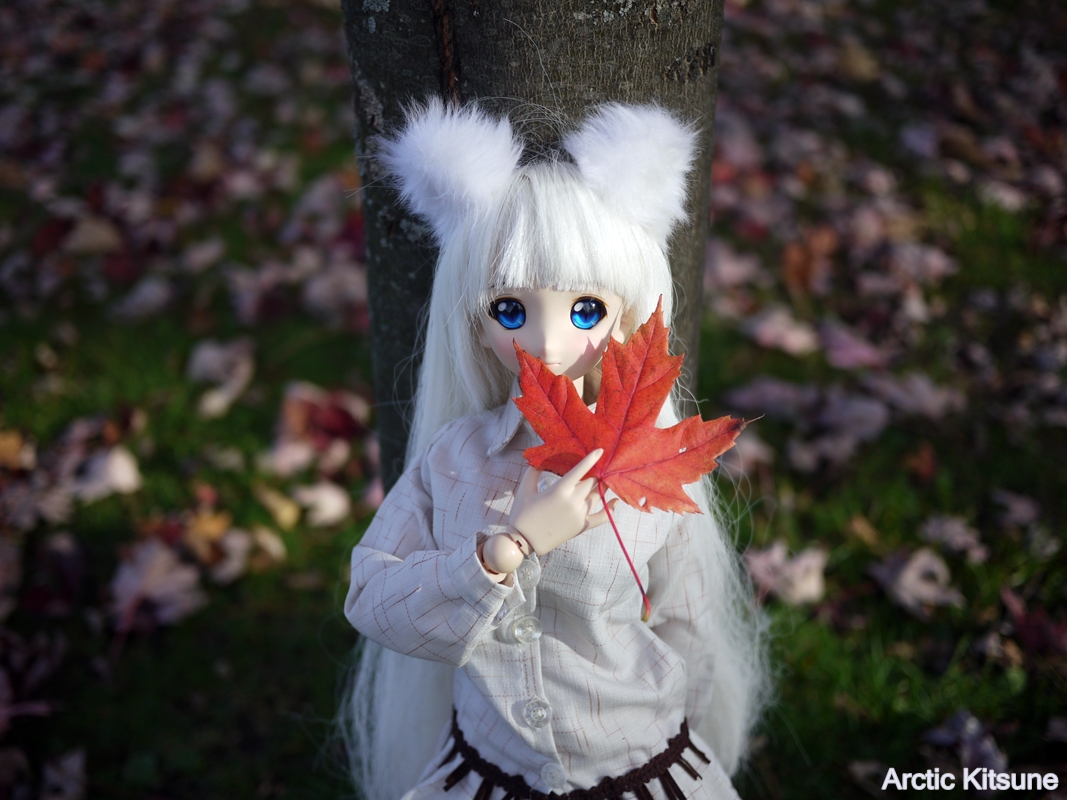 Proudly Canadian on a nice warm Canadian autumn day. It was cloudy, threatening to rain so everything was cut short. I did however do what I wanted to (not all) with me happily posing Vara up with some fallen autumn leaves and such. Making use of the Halloween Witch hat to make note of the Halloween festivities.
The red leaf also symbolizing the shooting in Ottawa while also noting the beauty of Canada. It's all tiny gestures to both Halloween and being proudly Canadian. I actually am satisfied with the photoshoot, if once again forgetting to take more images in certain poses. Also noticing improperly covered human ears. Renge also having her lovely fun to-and-from the place while sub-consciously making of her birthday also.
—
– (October 31st, 2014) – Happy Spooky Foxy Halloween!:
https://arcticukitsu.com/Blog/?p=4425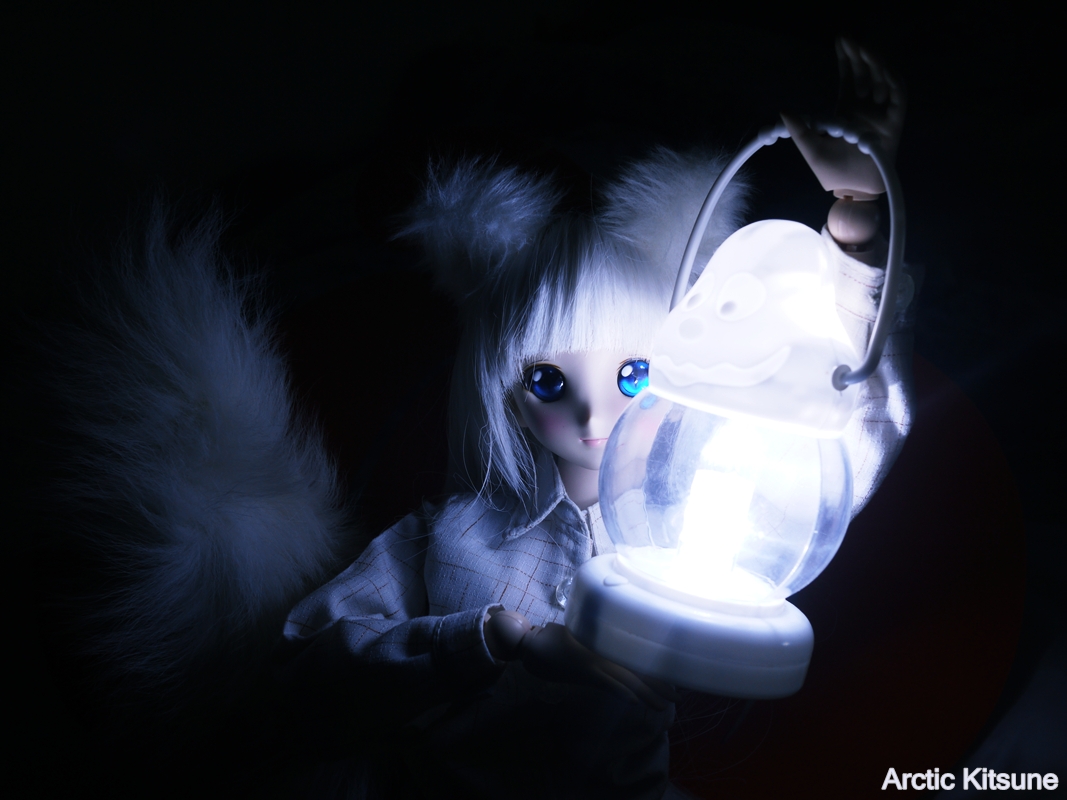 I'm happy to have briefly found my fun in this photoshoot. Happily observing Vara having fun with her favourite spooky lamp for another year. Happily having her blue eyes shine in the darkness and light. The few times I'm actually happy with the way her hair, eyes, and her set-up appear. That small moment in time when I'm happy with how Varakitsu appears when not being picky about her head & eye type.
<3
---
– November –
---
– (November 18th, 2014) – Snowy Vara Snowfall:
https://arcticukitsu.com/Blog/?p=4439
Ottawa sure loves its snow. Even those that curse at it sure do love it, they're just being tsunderes heh. The weather was constantly pushing for it to snow with very noticeable snowfalls being noted up to this point. I happily went out in this snow to take advantage of it, yet soon came to notice that it was harder than I thought to take images of her in it. I soon spotted her wig being darker white than her fluffy ears. That's trouble right there which brings down the quality of the images.
I am satisfied I went out and took images, just annoyed at the different tone of white and how my camera wouldn't allow me to take more pictures. At least I do have some fun images to make note of. I'm happy there.
---
– December –
---
– (December 5th, 2014) – Foxy Sinterklaas 2014:
https://arcticukitsu.com/Blog/?p=4442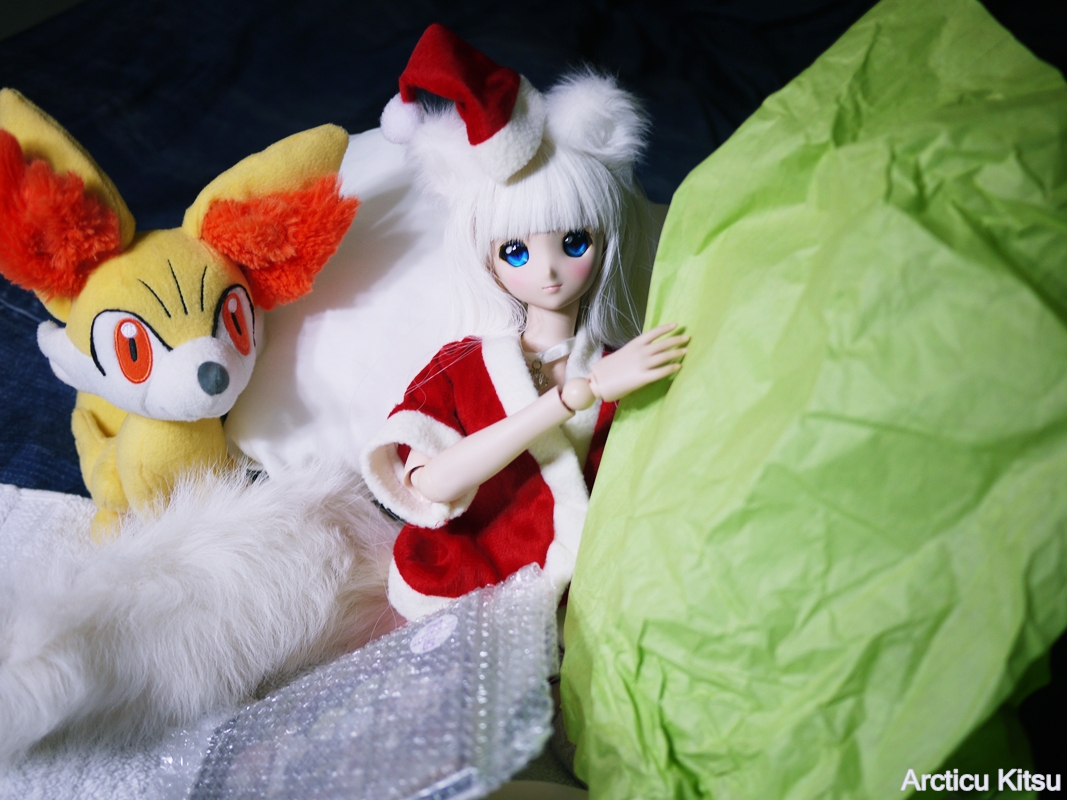 I had a blast with Trinity Seven anime, same with the soundtrack. Having Varakitsu also making note of Sinterklaas was one of the best ideas because I'm also being amused by her antics. Best to have something over nothing when it comes to amusement and fun, Vara showing that fun still being faintly on the horizon.
Amused with how teaseful that normal santa suit is for Vara. It was modified from a bottle warmer to her being able to wear it while teasing a view of her "Canadian pantsu".
—
– (December 24th, 2014) – A Merry Foxy Christmas (2014):
https://arcticukitsu.com/Blog/?p=4497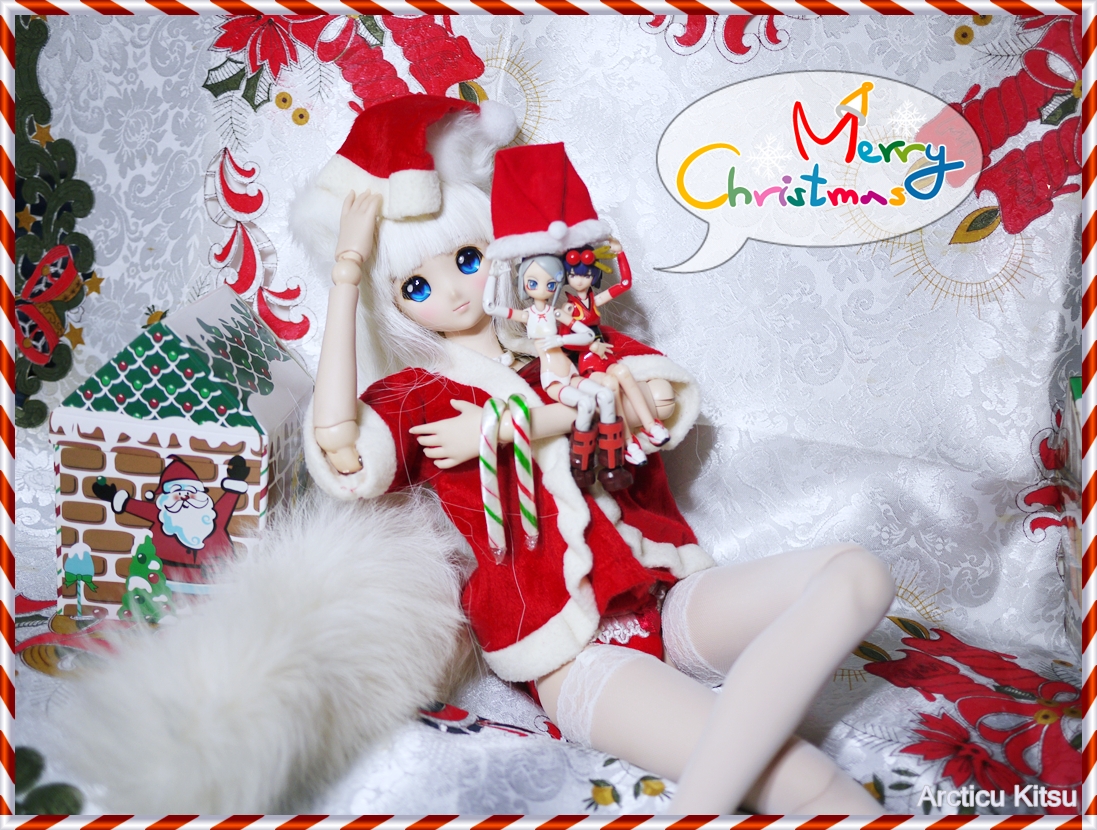 When playing with the images in photoscape the images were quite bright that I was having snow-blindness type eye effects. Looking at them now seems darker, yet not bothered by that much. I'm happy to have make use of a table cloth gifted to the family for Vara and the Shinkis to use. Them happily having fun with Christmas. Nice simple fun that I'm actually amused by these sets of images due to how much I actually prepped up for it.
Love my Varakitsu, even Renge & Kohiru <3
—
– (December 31st, 2014) – Happy (Foxy 2014) New Year!:
https://arcticukitsu.com/Blog/?p=4516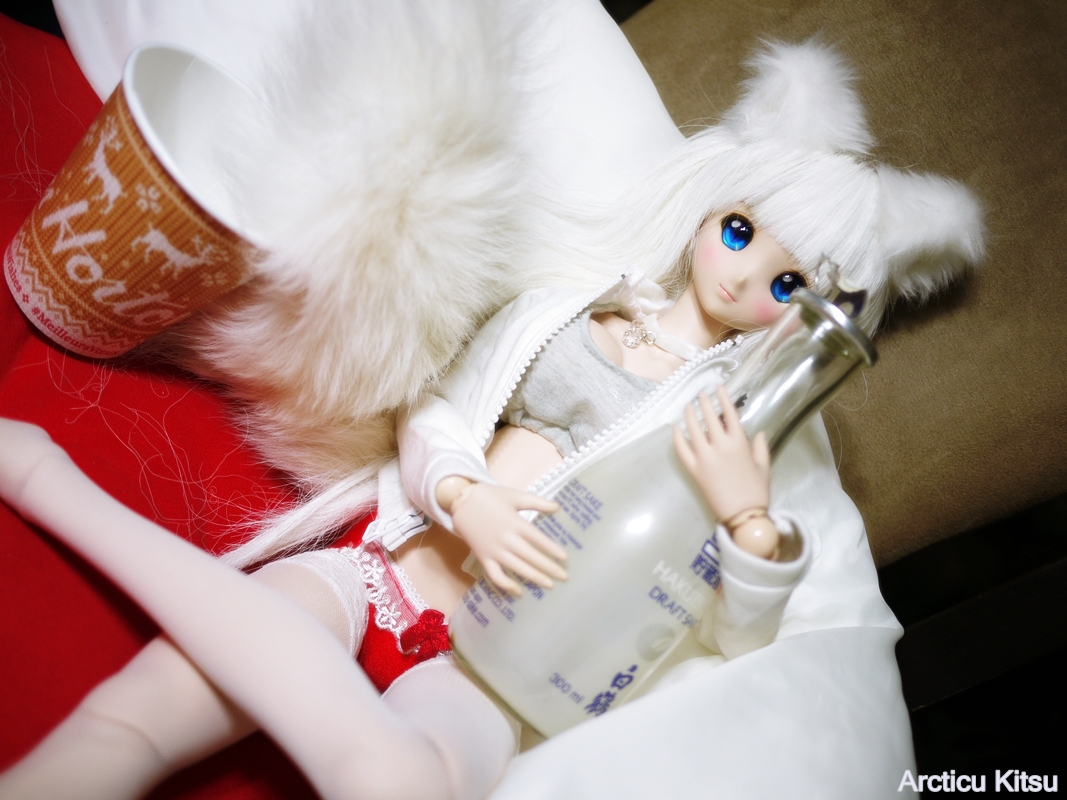 Varakitsu actually looks awesome in that above image. I'm surprised I would still find it awesome. That's rare. The rest of the images were also for fun, if 'quick-shoot' types with the Tim Hortons festive cup. Even that Sake bottle from long ago. Also challenged myself to keep my Varakitsu images outdoors because my photography skill excels there with more fun being outdoors instead of indoors.
---
– February –
---
– (February 5th, 2014) – Varakitsu's Foxy Fluffy Snow Fun:
https://arcticukitsu.com/Blog/?p=4543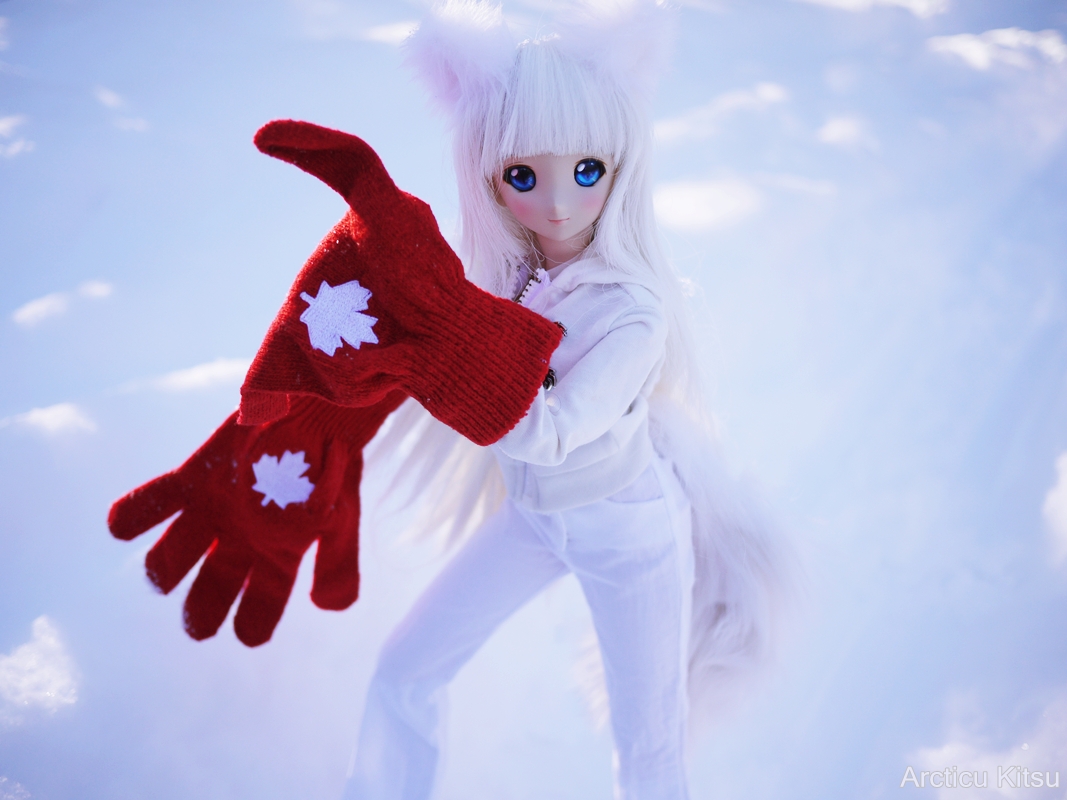 I love this outdoor photoshoot. Was itching to take her out, so I did, and I had fun doing so. Happily took images of her in the usual place, even having her blend into the scenery while bringing out her red gloves and blue eyes. I don't mind if I have trouble with her blending in the snowy scenery, that's intentional….if painful in contrast.
I also belatedly made note of Naito's git earlier in December. Thanks Naito! You're awesome, so is Ahri. I actually am pleased with how Ahri also appears in these sets. Too bad she couldn't stand up, nor with Vara in more complex posings. Need to invest in a very covert type stand.
This is one of my favourite photoshoot, also seems to be other people's also. Haven't seen any reshared on doll-themed Tumblr's and all, only on my Flickr, here via G+, and similar. This photo-shoot is restoring my proudness in Varakitsu and photography, if gradually at a time. Allowed me to naturally hear the Chinook helicopter flying overhead with its uniquely awesome sounding propellers.
—
– (February 22nd, 2014) – Fluffy Snow; Foxy Curiousity:
https://arcticukitsu.com/Blog/?p=4554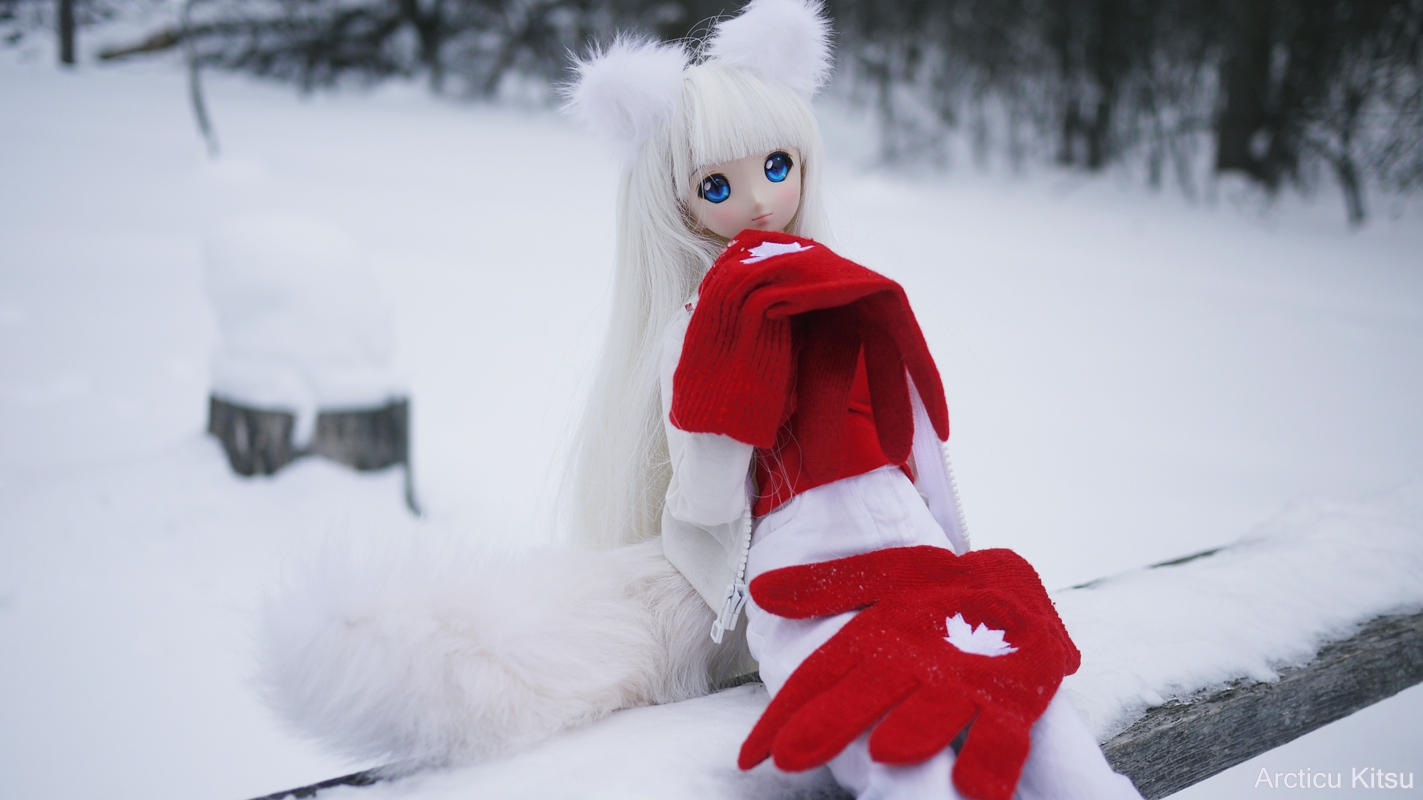 Another awesome outdoor photoshoot to admire. Loving the snowy scenery, the images taken, and etc. The snow that was gathered was actually quite brutal to go through that I occasionally went knee & thigh deep into the snow, even seeing spots. To get these images I nearly stressed myself out so much that I nearly gave myself a heart attack. That snow isn't a laughing matter due to how much, how soft, and the distance traveled using those pathways. I'd assume it would have been better to ski than to walk. Even risking a heart-attack, I happily took these images, love the one with Vara sitting on the bridge, the cake on a log, and the contrast.
I'd assume the only issue with my images being how dark and cloudy it was. When messing in photoscape I was snow-blinded that I couldn't tell what the actual contrast & brightness was. I even tried experimenting with her posing, some coming out nicely, others not so much. It's too hard to get awesome looking ones, especially with how picky I am with her appearance at head-height.
———–
– March 06th – Happy 2nd Anniversary, Varakitsu!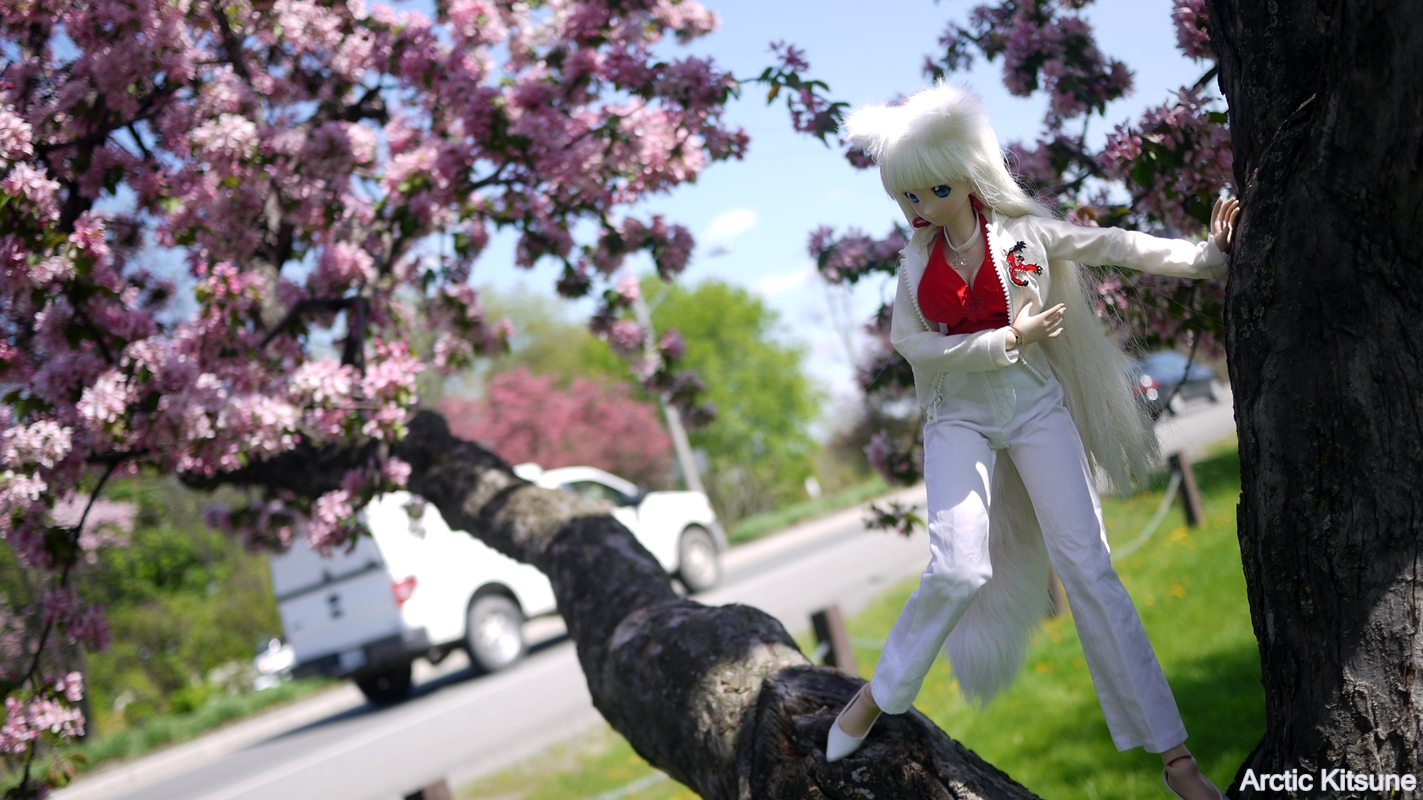 I'm happy to have Varakitsu in her Dollfie Dream form, even if the whole doll thing tends to frustrate me. I'm happy to have taken nice images, went to nice meet-ups, and Doll Shows. Even having people being curious about her, wondering who she is, how much she costs, and all that. It's all awesome. I love Varakitsu with her 'newer' fox ears, her fluffy tail, and her general appearance. I basically have her settled down in something I appreciate while struggling to take images of her due to minor issues popping out in my images.
My goals are also still the same of giving her an '08' type head. Even the shiny blue eyes with no black fading at the top, so I shall with her appearing to have 'matured' or 'grown up' in some manner. I even want to finally have her wield her own sword-type weapon while also having her wear her main outfit. Still lots to be done, yet my progress has been 'stinted' due to real-life issues, gaming distractions, and similar. All what I said before, all that repeated here. I can't do anything and that adds to my frustration, my agitation, and how I view Vara's appearance on top of other agitations. Mood also soured because I noticed many 'important' members of the community I go to vanishing. It's been a "Year of Death" that I'm simply waiting for things to continue back on track, or at least birth new types of results and fun. Even on Varakitsu's side. I lost my best-friend, and saw many important people die in the Anime and movie industry.
My next round of goals are also digital. Or going back to digital – From pictures, comics, 3DCG, Skyrim, Dragon's Dogma, PSO2, and then as a statue in Minecraft. I want to have Varakitsu appear in "Rising World" while using those NPC Traders which should be done properly with her having her fox tail, fox ears, and similar. If modding seriousness is that of Skyrim then there should be nothing to fear. I'd even be amused to find Busou Shinkis in Rising World as a nice mod. I'd even want to nudge and encourage skilled Japanese gamers to even try a KanColle mod. But first, I want my Varakitsu to join me on my adventures because the NPC Traders can be fiddled with in a basic manner – traditional RPG merchants, text, movement, basic combat, and bartering.
Well, I'm proud of Varakitu. Even proud of having other characters created that I shall make another blog page for them. Look out for that under the blog header when you come to check back on this blog. I hope this wasn't too moody, whiny, or anything. Too picky, too frustrated, with me finally (possibly) back on the main track of doing what I want once again. Hope Vara's 3rd Anniversary shall have what I planned for her, both physically and digitally.
——
Thanks for reading, viewing, and hope you enjoy Varakitsu's foxy presence! To another foxy year!