Heyo! If you don't mind, allow me to take a look back into how 2013 treated me and my blog, along with posting my favorite images of the year. Lots of rambling, look-backs, and some venting to be had. Let's go wrap up 2013 so we can start freshly for 2014! It's a bit lengthy so hope you're prepared for a read.
(All images taken with a Lumix GF-1 – Pancake lens.)
I had loads of fun in 2013 planning, summoning, rambling, and spoiling a new foxy partner named Varakitsu. She was my original character and blog mascot for a couple years back while struggling to take form in 2D art. I couldn't draw so I struggled to give her physical form intead, eventually making her into a DD. The closest I managed to get her was on PSO2 and then a few months after onto a Dollfie body.
I view 2013 as the year of Varakitsu – The foxy Queen/Princess of ice and snow. I'm OVERLY proud of Varakitsu. However disappointed that '13 was my unlucky year. I simply want to jump into 2014 to start things freshly & happily.
—–
– Related Articles:
– Arctic Kitsune's Favorite Images P4 – Images From 2012:
https://arcticukitsu.com/Blog/?p=3563
– Arctic Kitsune's Favorite Images P3 – Images From 2011:
https://arcticukitsu.com/Blog/?p=2835
– Arctic Kitsune's Favorite Images P2 – Images From 2010:
https://arcticukitsu.com/Blog/?p=1688
– Arctic Kitsune's Favorite Images P1 – Images From 2009:
https://arcticukitsu.com/Blog/?p=695
—–
(Warning: May contain loads of venting and angry text. It's the cause of 2013. Hopefully you can be patient with it.)
– Azone – 1/12 Nyan Nyan Sweater & 1/6 Santa Suit:
https://arcticukitsu.com/Blog/?p=3548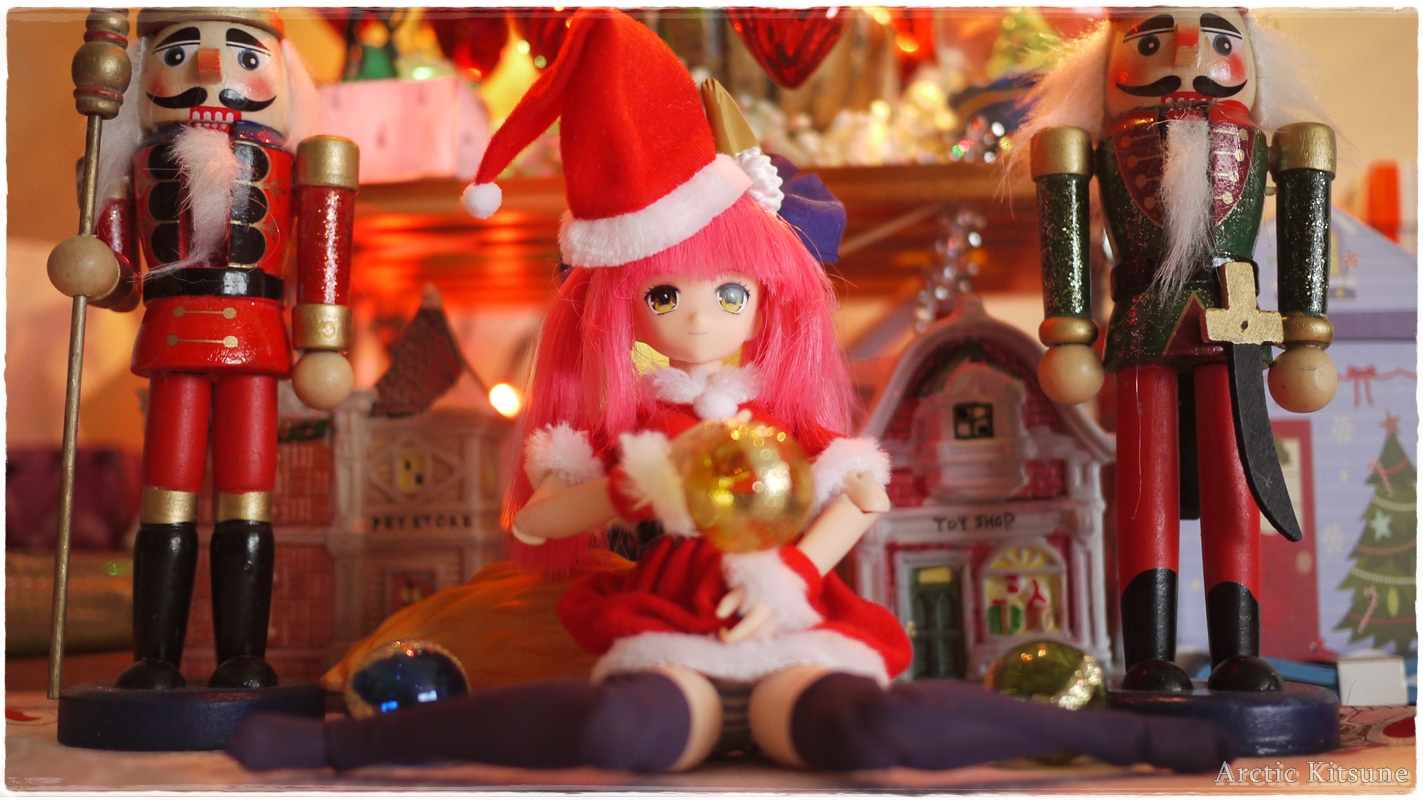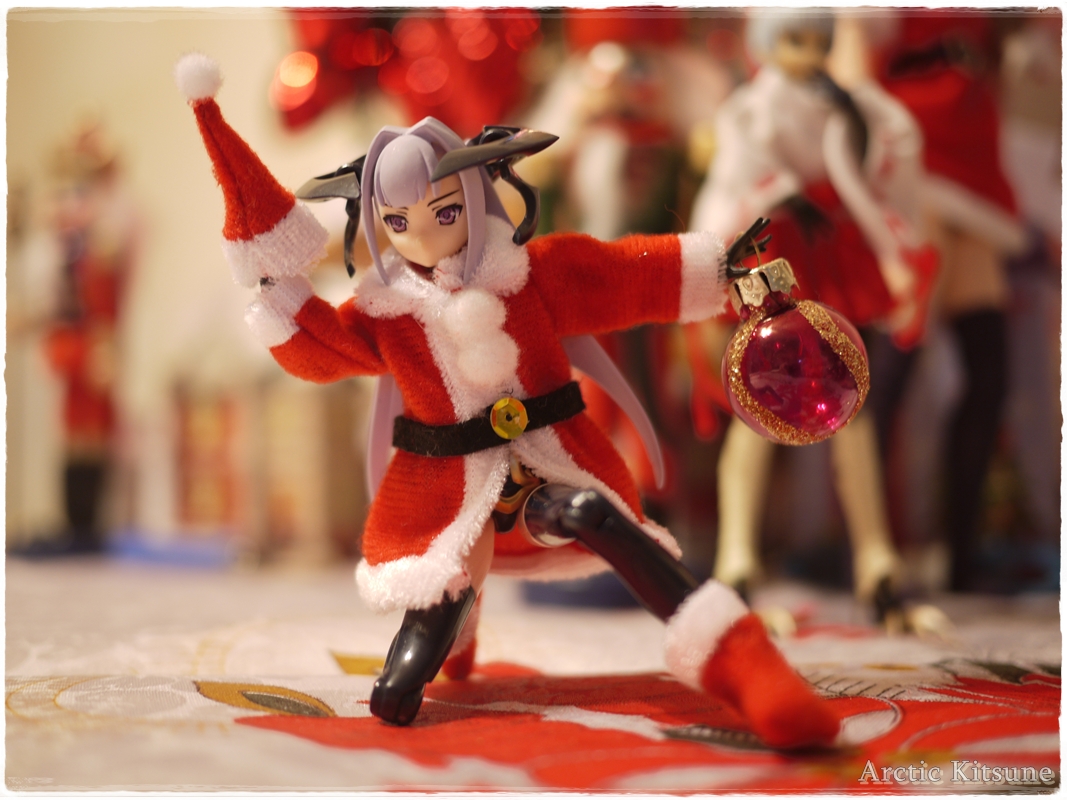 I have to say that this is one of the few times that Tama-chan even appeared to be photogenic in my hands. Her Santa suit, that pose, and the lovely outfit she wore made her look so beautifully foxy. Also obtaining the sweater for Renge to keep her warm and that Santa suit for Shinkis was a lovely nice touch.
With Tama-chan still being new to the family I had to make her feel welcomed. I actually enjoy her presence, just dislike how she was manufactured. It feels lazy. I'm overly pleased she looks awesome in the Santa suit and all so photogenic. I also purchased Renge a sweater to keep her warm due to all the comments I received asking if she was freezing. I managed to make her appear warmer, just forgot to do so when fall and winter hit Ottawa near the end of the year.
Even if the package with the Santa Suit was late for Christmas I am however pleased that she received it in time for some belatedly-acceptable festivities.
—
– G-Anime Con Kon – 2013:
https://arcticukitsu.com/Blog/?p=3552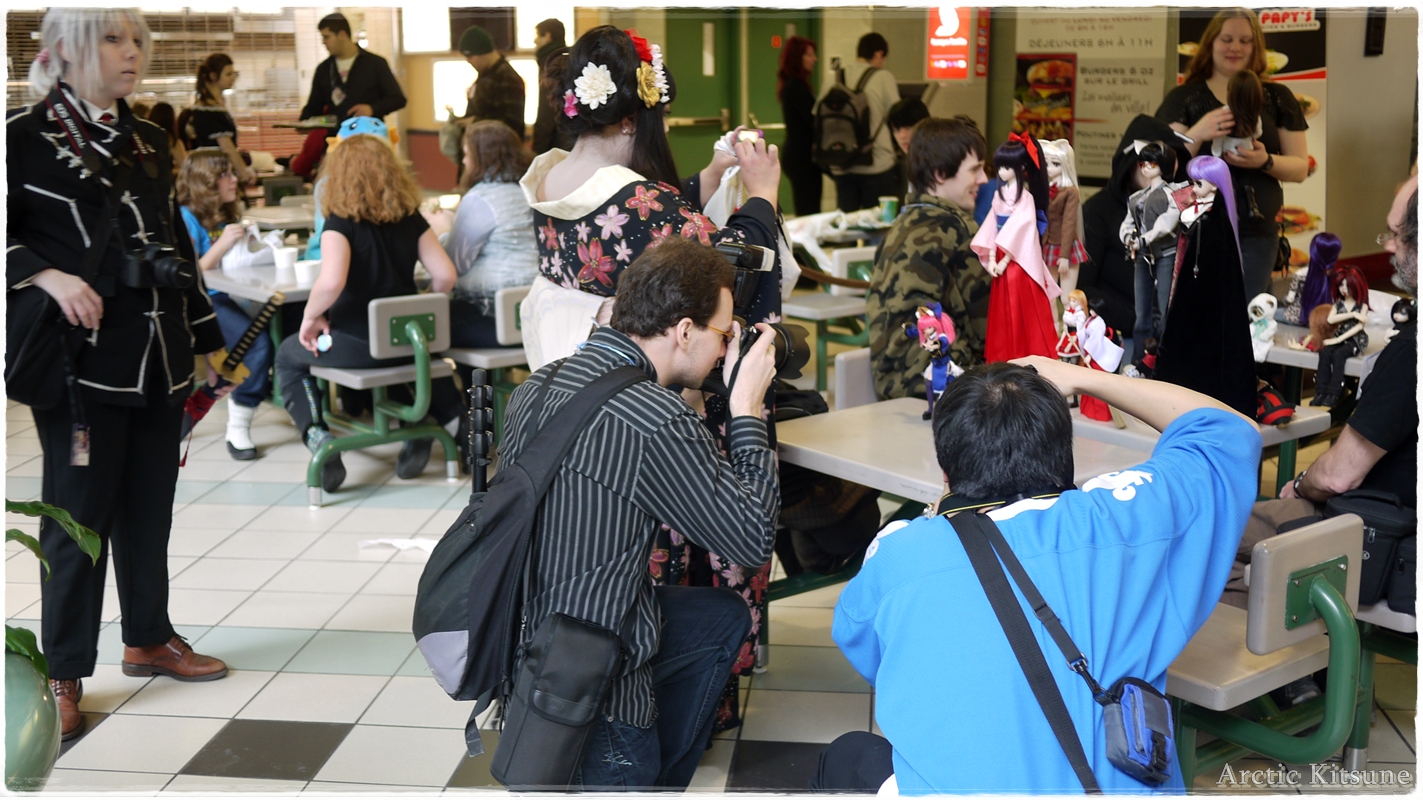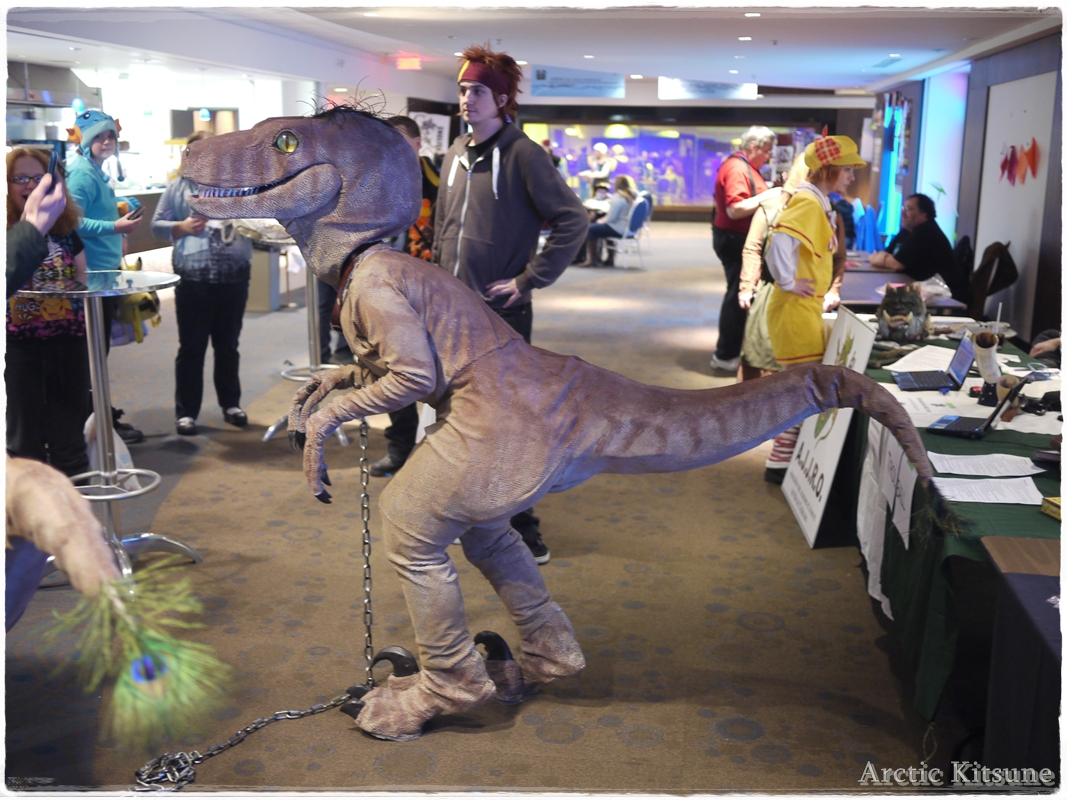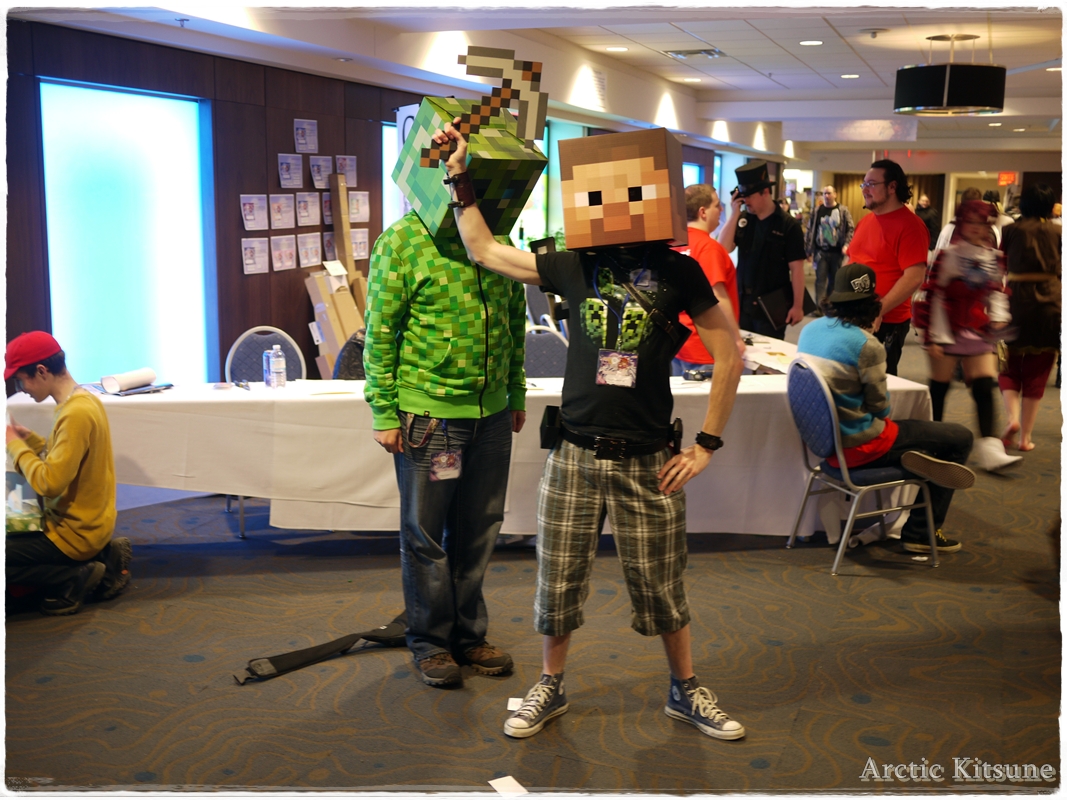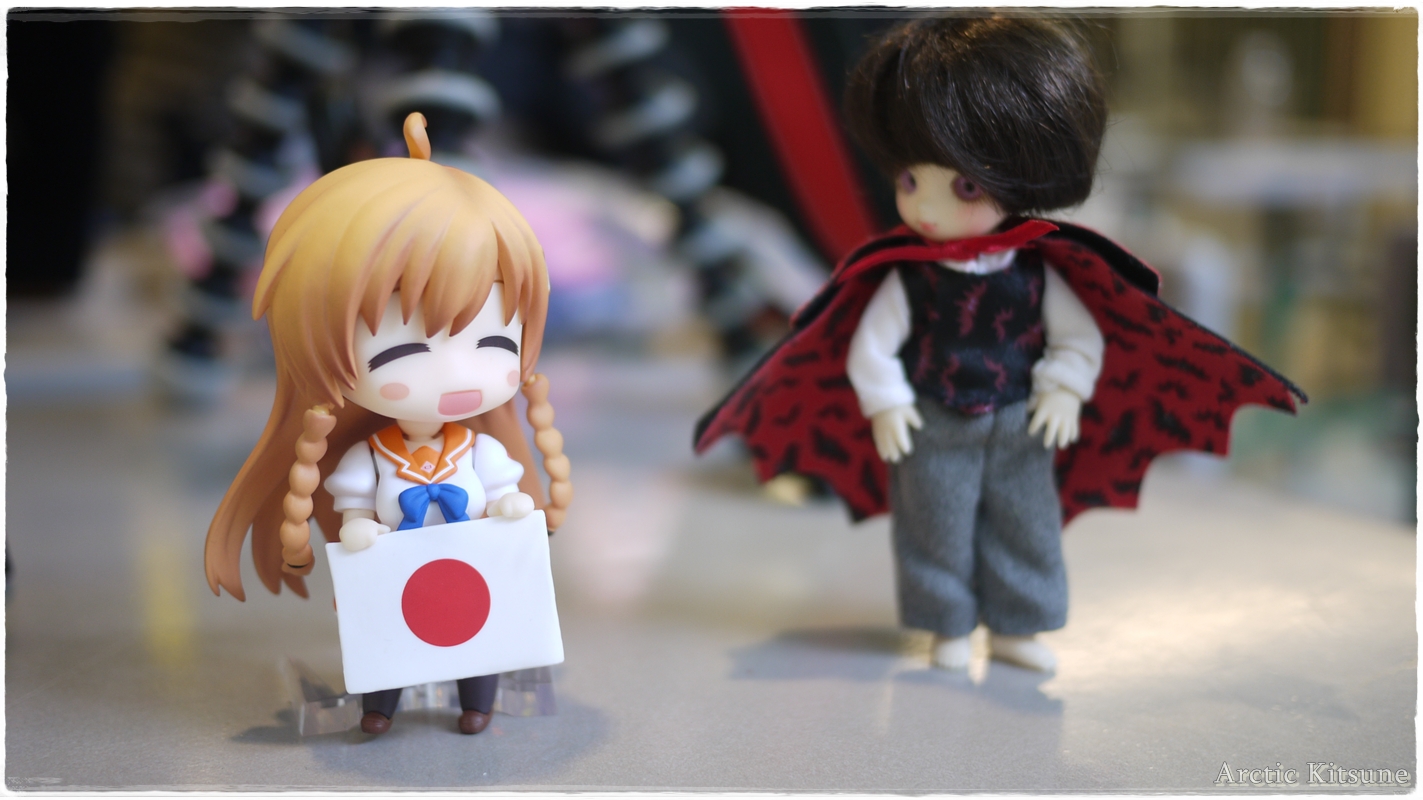 I love G-Anime! I can't miss it. There is no reason that one should miss out on GAnime because of the cosplay, the hidden attractions, the food, and the event in general. It's an event to share one's interest with others and to just share what you enjoy. I enjoy bringing my Renge to conventions and meet-ups, now with Tama-chan being taken images of at the con.
I may have misheard when told by a fellow figure.fm comrade that people might think I'm crazy/weird when taking images of Renge with my food. When in the right happy mood I just.don't.CARE! It's what I call "ART!" Japanese art in Canada.
I'm also happy that Tama-chan was photogenic and friendly enough to be taken images of at the con. Hasn't even been a few months and she was already attracting attention. This convention also being the start of the Dollfie Dream idea of me planning on how to summon Varakitsu. I was happily discussing and looking into how to finally summon Varakitsu as my blog mascot at last! Renge was being the proxy-mascot for the time being while still being my main happy foxy. I love that dark moody atmosphere I remember due to the lighting inside when staring at DD parts on my phone with a fellow figure.fm'er.
—
– Nendoroid – Mirai Suenaga:
https://arcticukitsu.com/Blog/?p=3558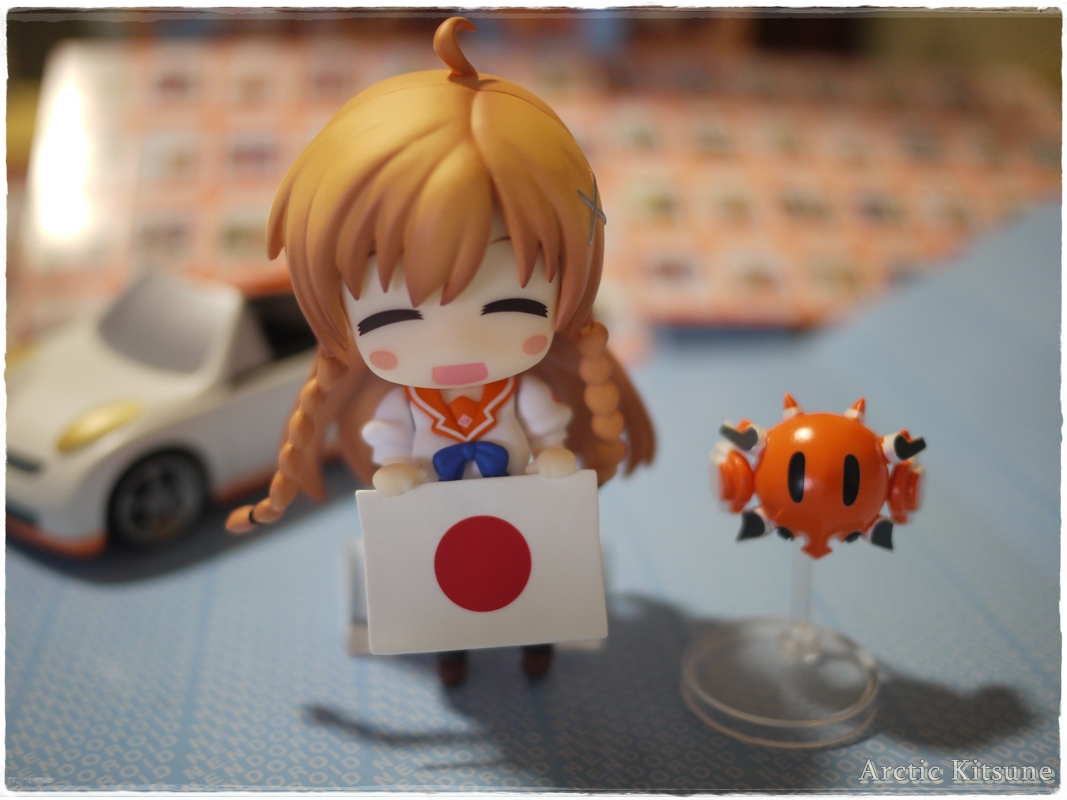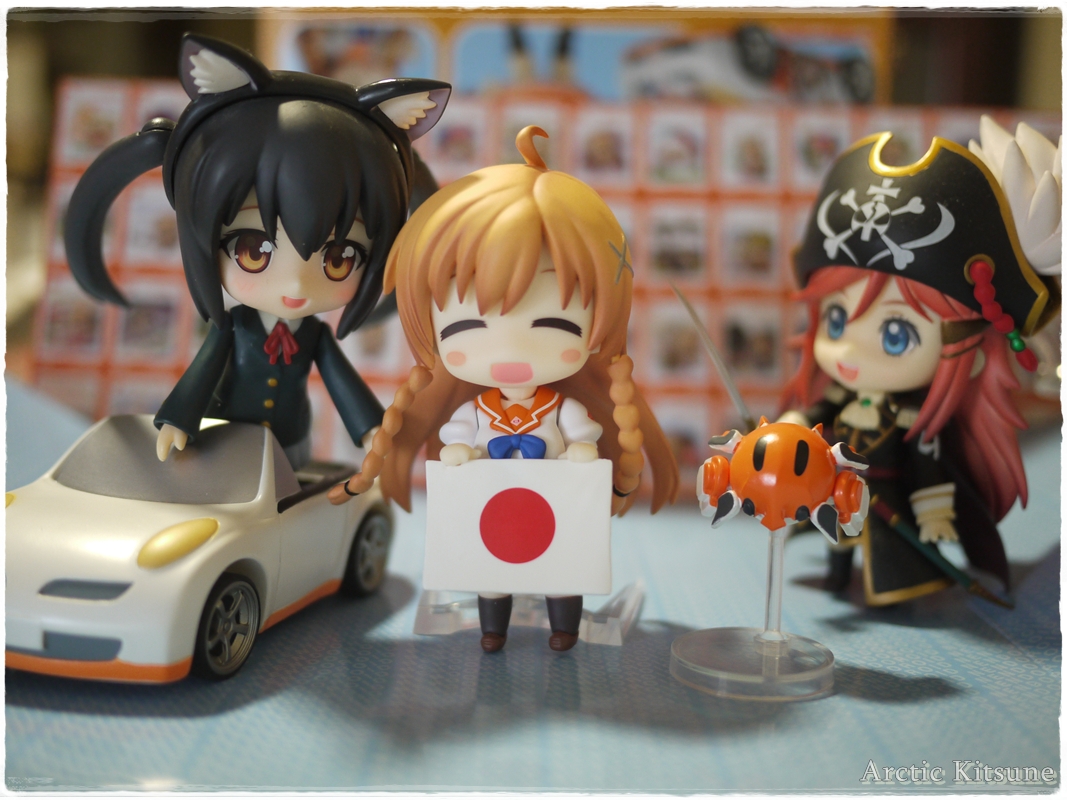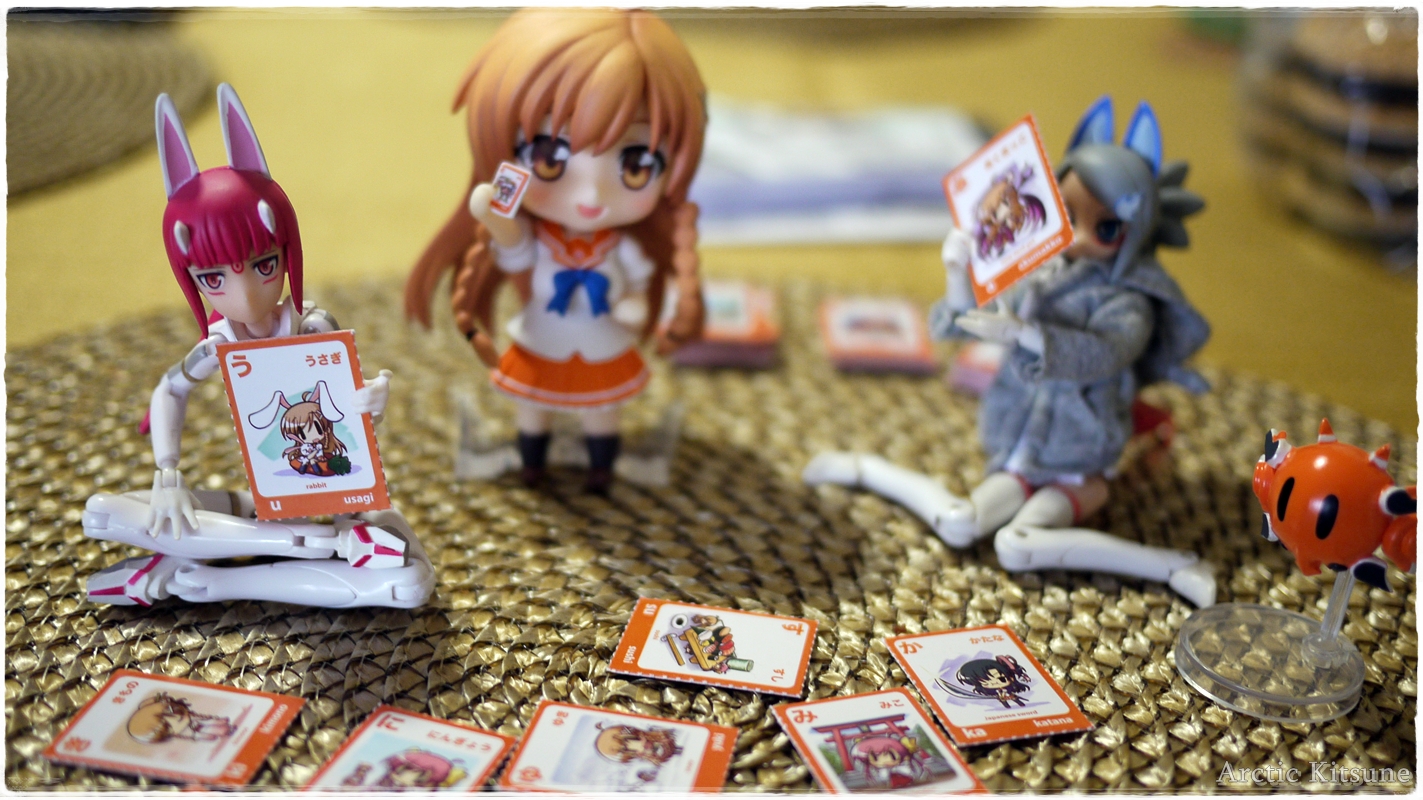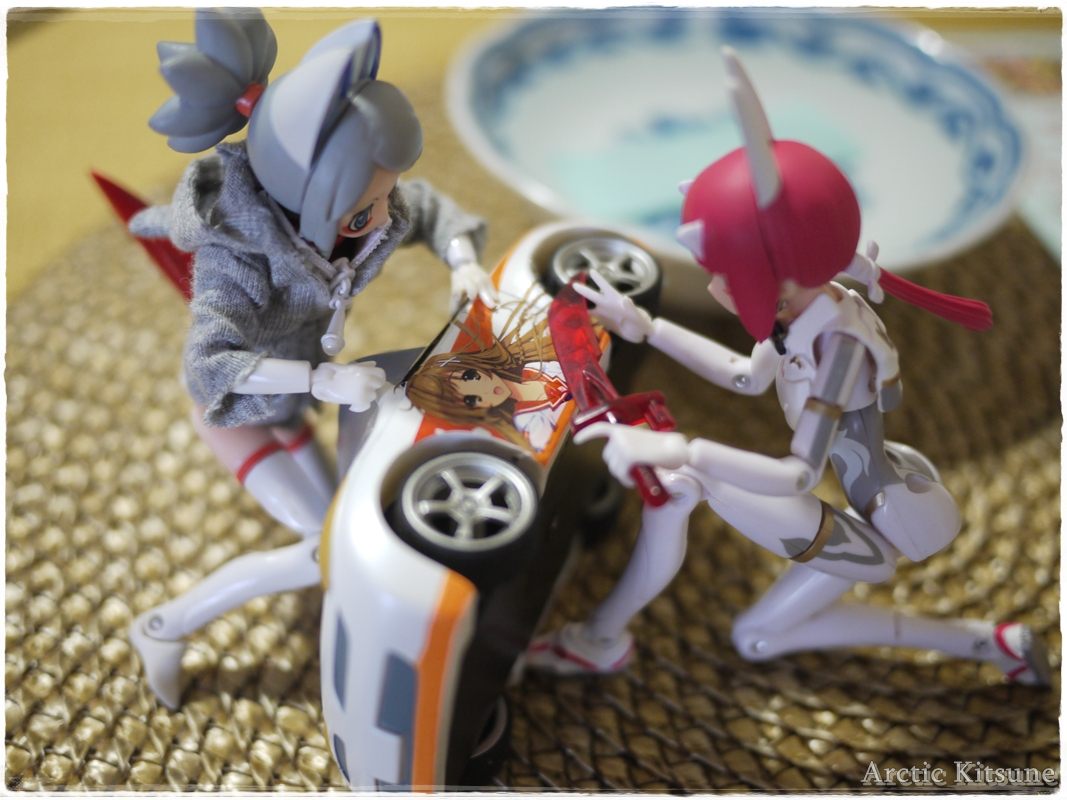 I had to show my support for Danny Choo for obvious reasons. He got me into blogging about Figmas, Busou Shinkis and into sharing images onto figure.fm. I'm sure I could have found my way into the hobby in a side-path or similar. This is my way of showing my respects to him and as a special thanks by purchasing Mirai. I didn't go out of my way to purchase his goods blindly, just what I considered appropriate.
Mirai Nendo is a nice way to spread the love for Japan & anime while also having fun taking images. I even had fun watching Renge and Mizuki putting on the water decals onto Mirai's chibi car. Quite helpful that I brought her to G-Anime.
—
– Renge's Winter Storm – '13:
https://arcticukitsu.com/Blog/?p=3594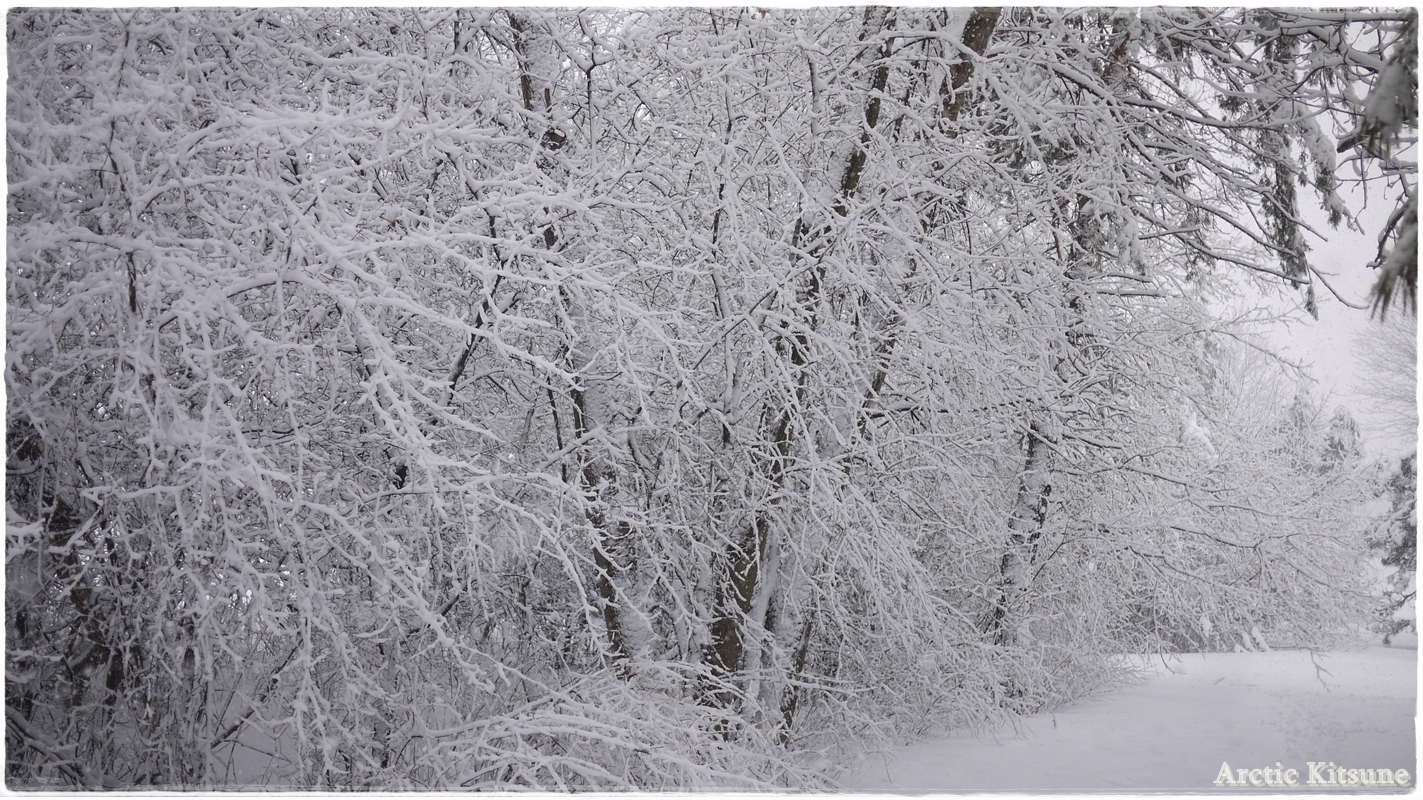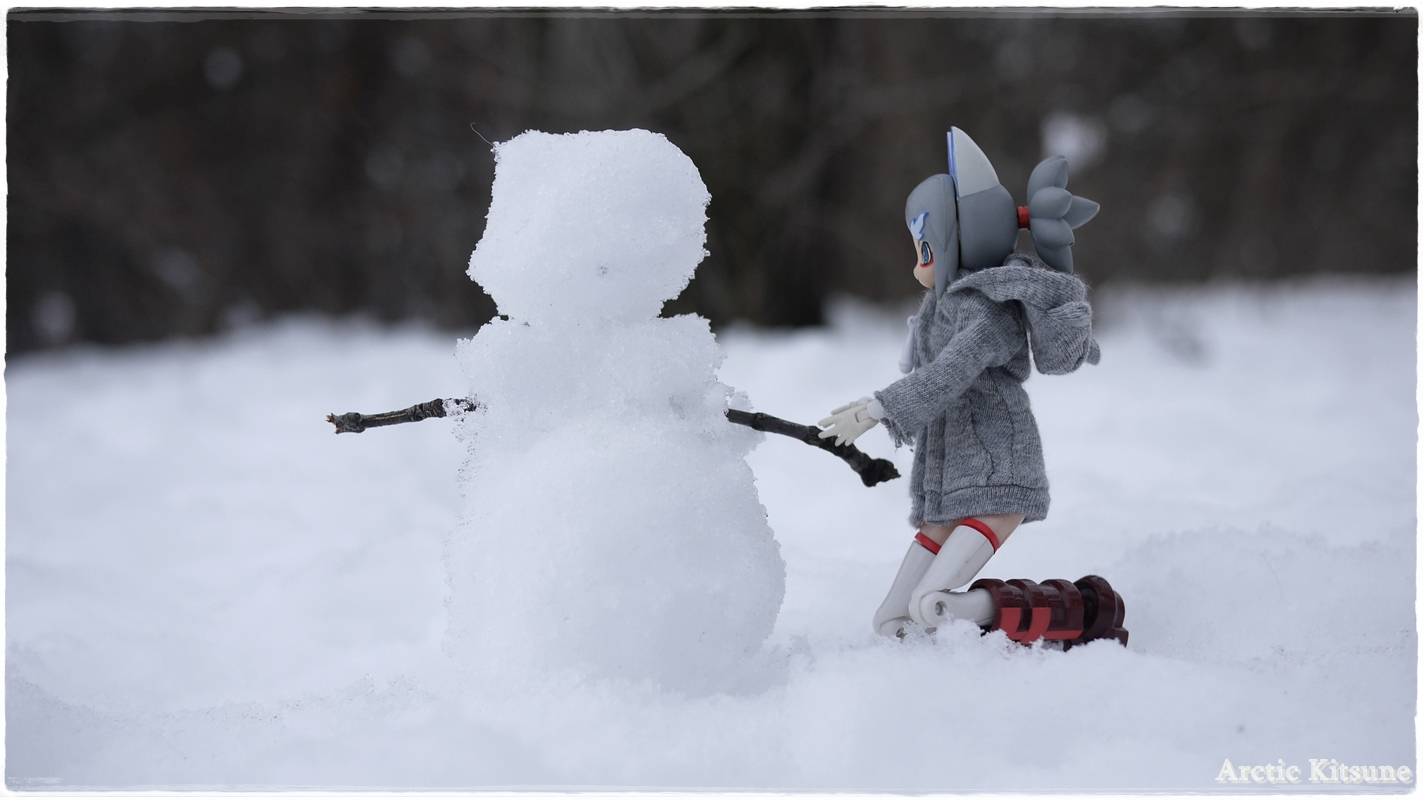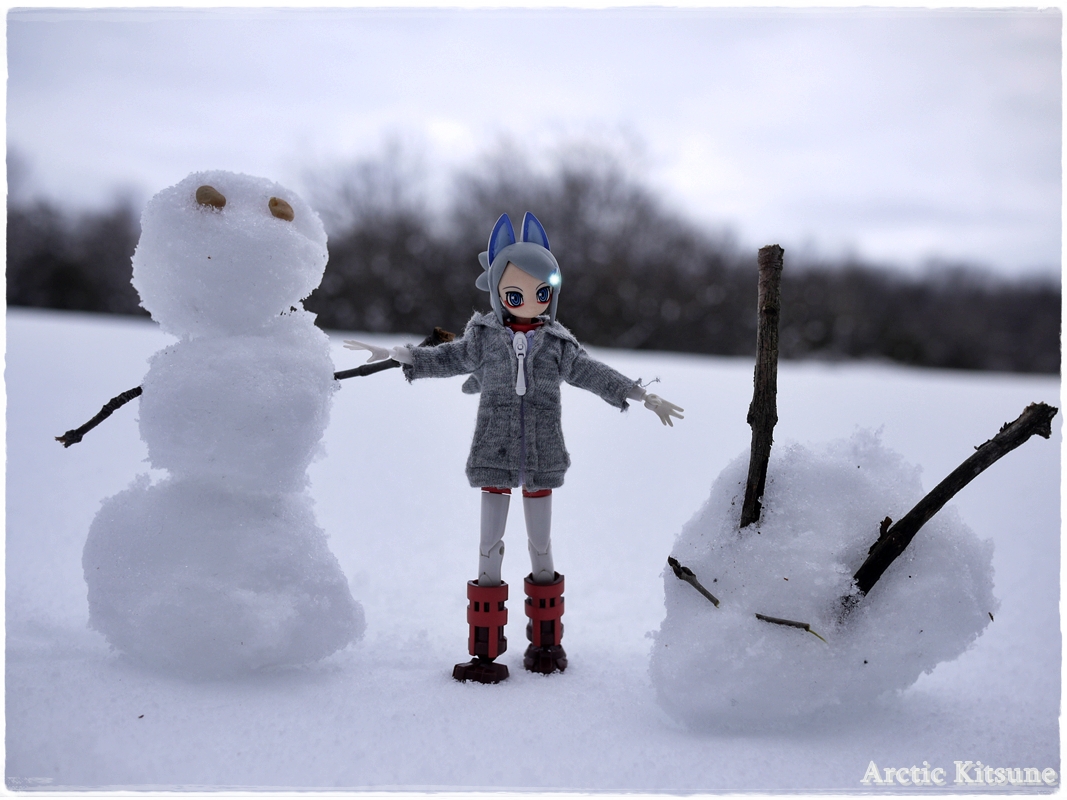 I actually blamed this snowfall jokingly onto my blog mascot Varakitsu because of me pushing the purchase button. It ended up snowing loads right after I hit that purchase button, even with Ottawa poking fun at the whole OC Transpo being pushed by passenger image being spammed on various sites. It was a fun storm due to all the stories being told, the images being taken, and the fun that is now being jokingly told around the world by those that witnessed such a snowfall.
I had to go back and take images twice, which I didn't mind, because of how I ended up rushing the shots. I wanted to take quality images which ended up making me rush back home.
—
– Figma 149 – Eila Illmatar Juutilainen:
https://arcticukitsu.com/Blog/?p=3599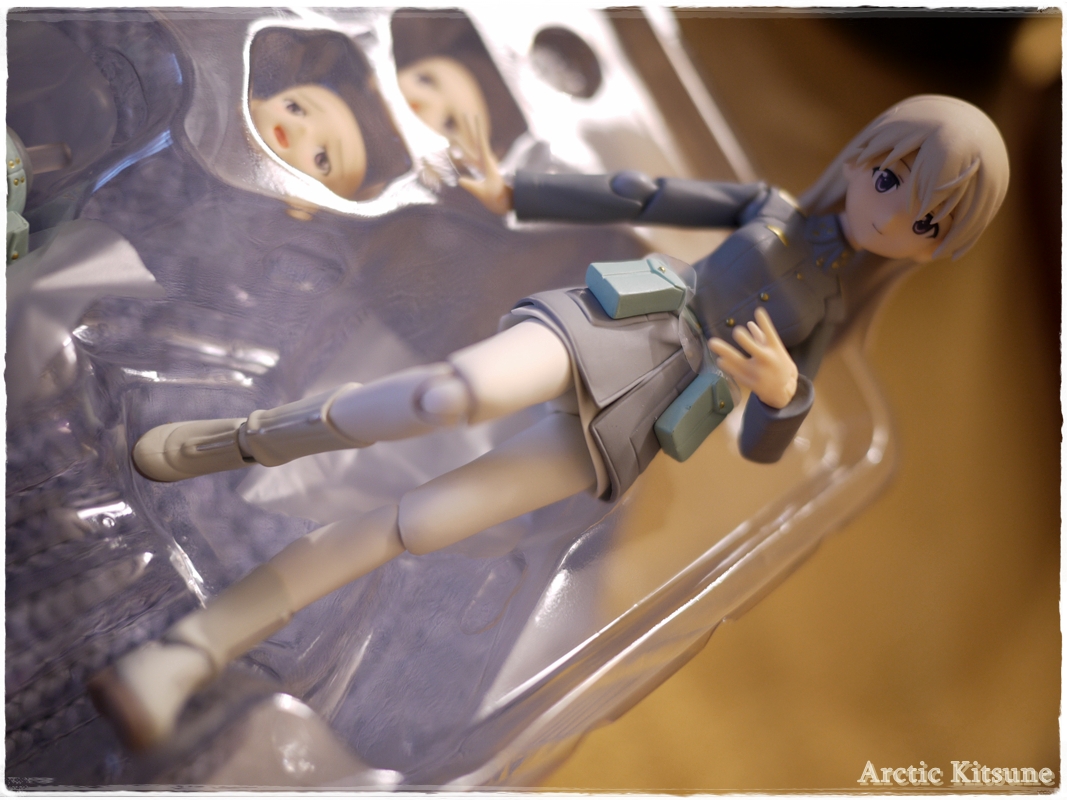 I actually had trouble obtaining Eila. I was linked to her after I mentioned her birthday  on figure.fm because of a Japanese Embassy paying their respects to Eila on their Twitter and site. It was a very kind and thoughtful gesture that I think should be repeated by other embassies and companies. I'm however still regretting taking a printscreen of a Twitter with all squares, without the Japanese language pack on Firefox because Chrome is stupid like that.
I am however pleased I have Eila now in my ranks. She is an awesome Figma, though limited in areas, being still quite neat. I enjoyed her character in the Strike Witches Anime. I wanted to and have yet to take images of her outdoors. Just troublesome with my current photography skills. I have to go back and try to go back to take images of her outdoors.
—
– DD Miko – (Re-)Birth of Varakitsu:
https://arcticukitsu.com/Blog/?p=3605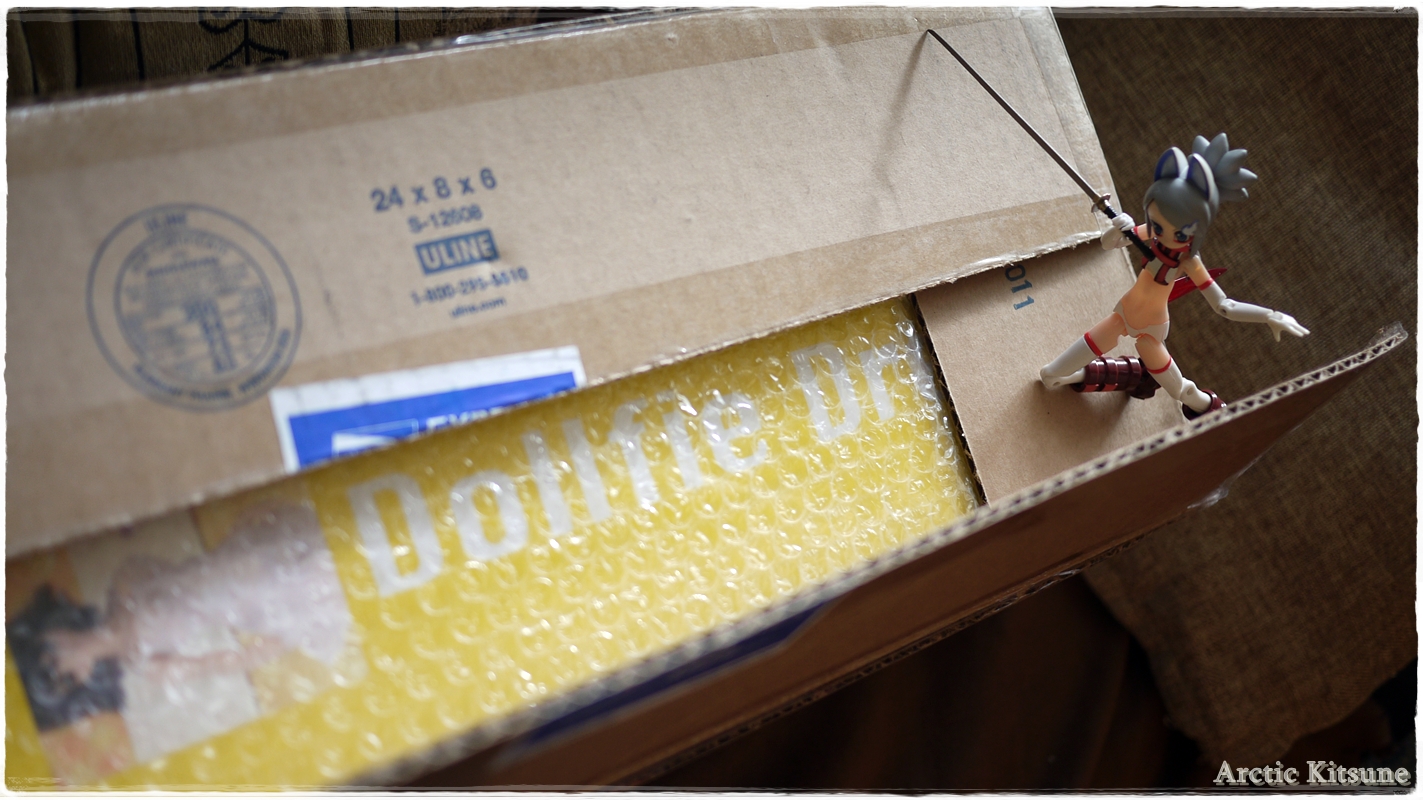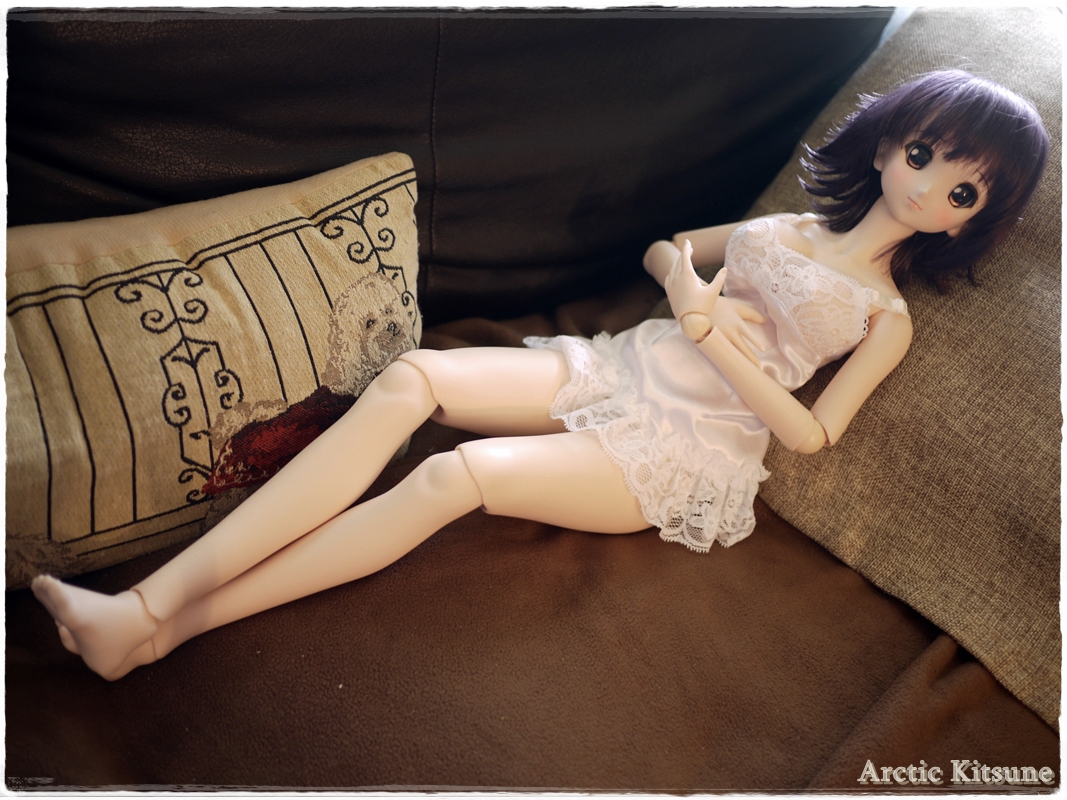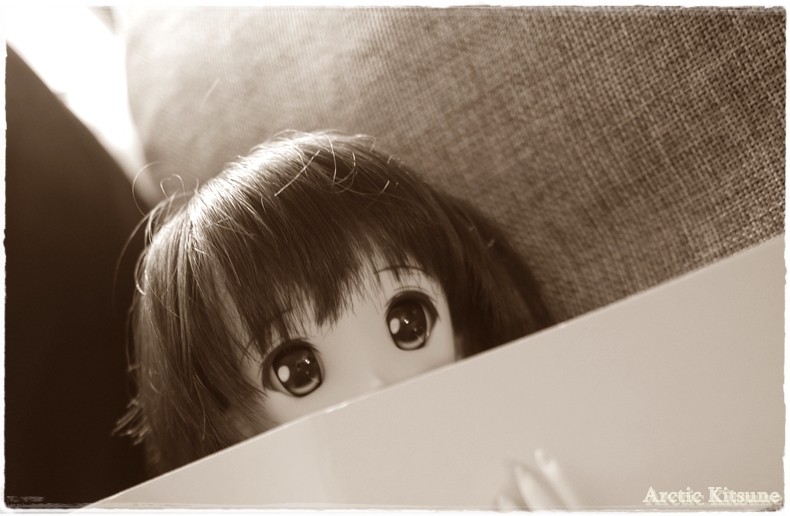 She's here! She arrived! I summoned her perfectly! Seeing as how my desire to summon Varakitsu into physical form grew, I did so by obtaining DD Miko to turn into Varakitsu – A snow/ice Queen/Princess; Her winter highness of an arctic fox. I wanted my own foxy I could hug, cuddle, and have fun with. I went the DDdy route because it seemed like the best option with the best bust, best face sculpt, and the "best choice" and because I couldn't draw for the life of me. But holy #@$@@# hell did she cost me an arm and a leg! That $90 customs didn't help any!
I didn't want to jump onto a Dollfie bandwagon blindly so I nudged those that genuinely (and not for show) hate me to simply unfollow me for obtaining a Dollfie if they dislike me having one. I was tempted with a Dollfie Saber (the original) way-back-when only to miss and pass it. I just couldn't, even with the "realistic" dream I had of her in a park with parts laying everywhere. I now created a foxy realm with Varakitsu!
The madness begins!
—
– Ottawa Doll Meet – 2013:
https://arcticukitsu.com/Blog/?p=3612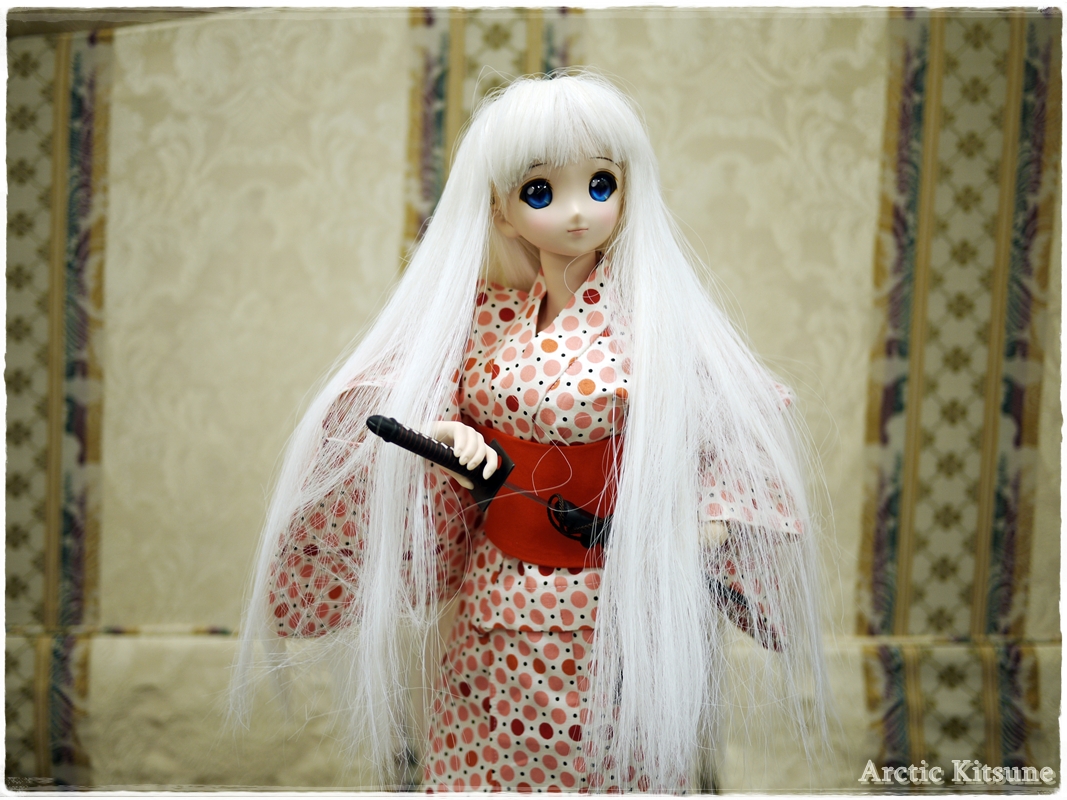 I want to quickly and fully thank Kodama and Salica for helping me turn Varakitsu into a beautiful foxy! I won't forget that! You both helped me a lot, even if seen as something small, which allowed me to take images of her happily. Many thanks for the wig, the kimono, and the placing of her eyes! I however feel like an absolute idiot for venting when I undid her picky wig and for being a Dollfie newbie. I was sleepy so I was quick to anger, which is my excuse. It's true though. I just didn't know, and still probably don't know how to treat a Dollfie right.
As much as I like DD Miko, I actually need Varakitsu to take form from that point and the current point. Even though I say she's done (at the last 2013 article), she still isn't. She needs proper ears, her sword, and her main outfit.
I enjoyed the meet-up, loved the experience from beginning to end, and had fun taking images. It was timed perfectly with the summoning of Varakitsu. Traveling to and from meet-up however being troublesome though. I just feel like I'm the weakest link due to how slow I was with the outfits. I'm also going to say I didn't (and don't) like the images I took of her with the eyebrows showing. They are decent. They just irritate me because of my newbieness.
I'm also loving Salica's Lucy. I was taken off guard as if I did something wrong when I was told not to touch Lucy only to later witness someone touch Vara who then fell. I now know why you don't touch. Next time I'm going to yell "Don't touch!" because they're our precious little girls. One little mishap can spawn great misfortune.
—
– Renge's Spring-Dance:
https://arcticukitsu.com/Blog/?p=3645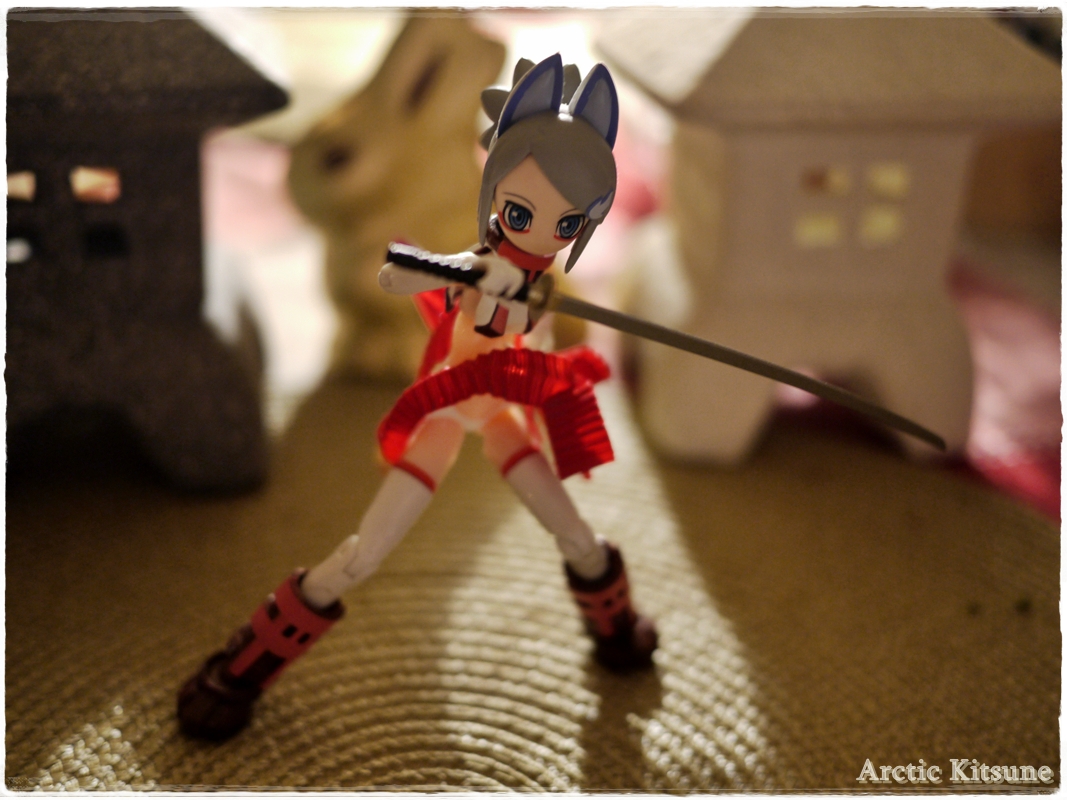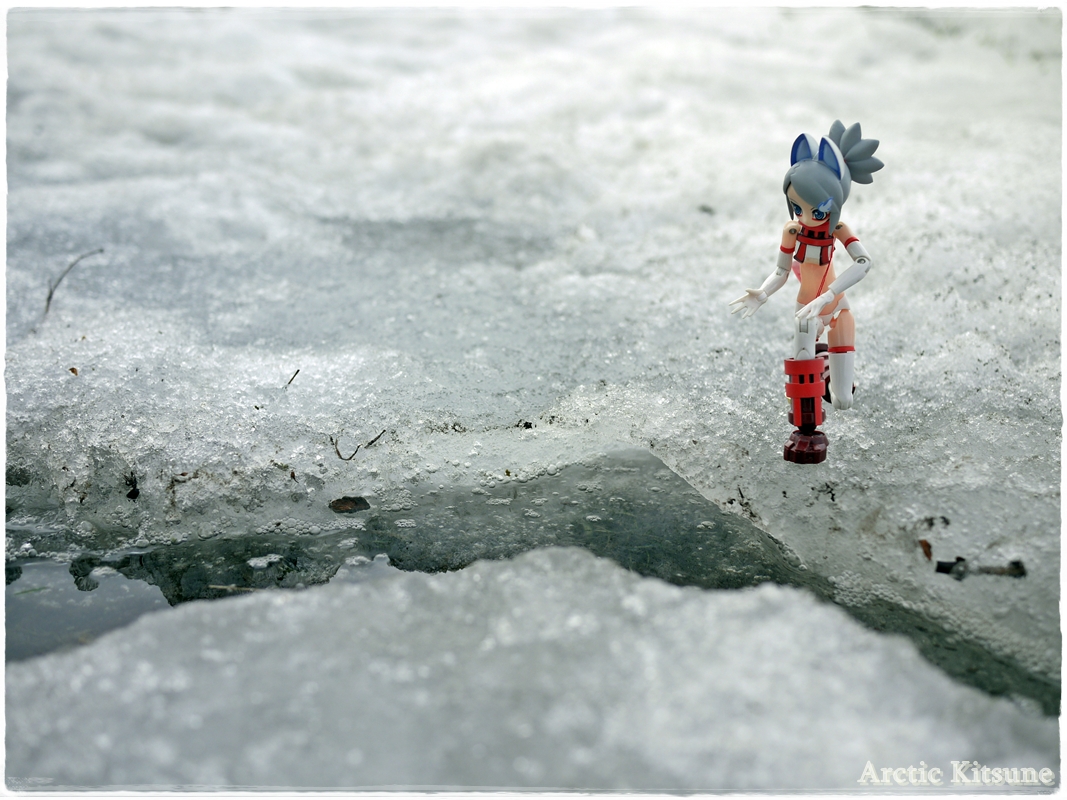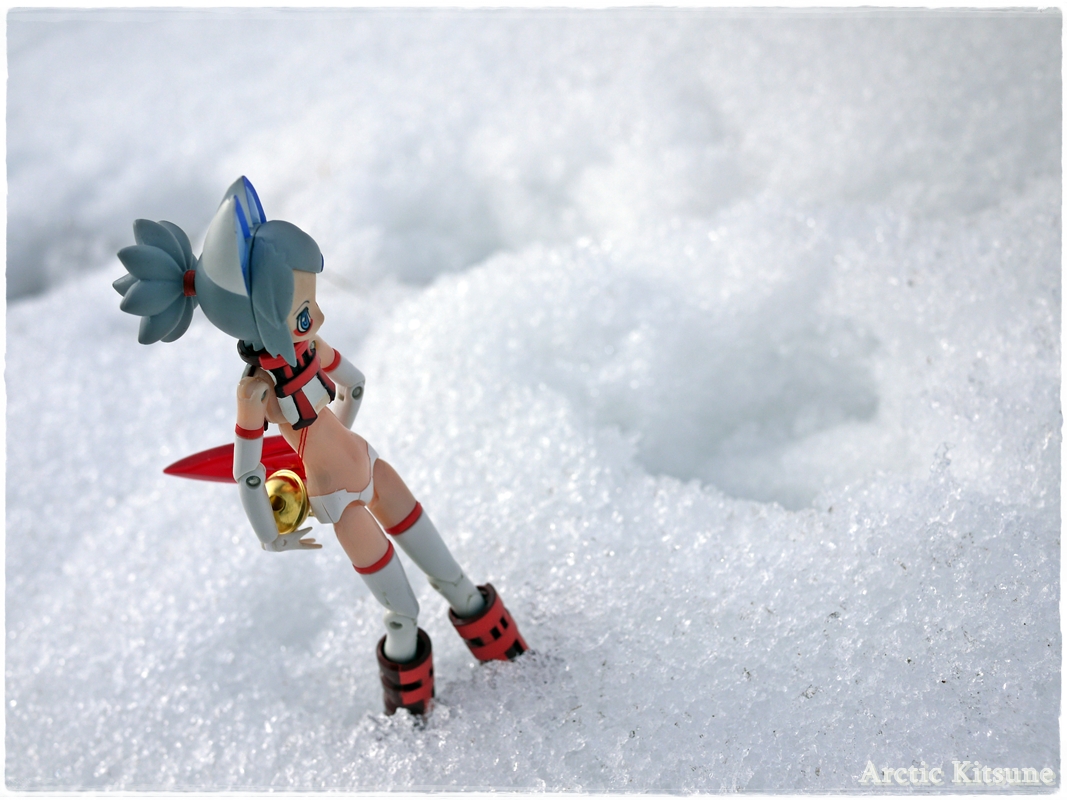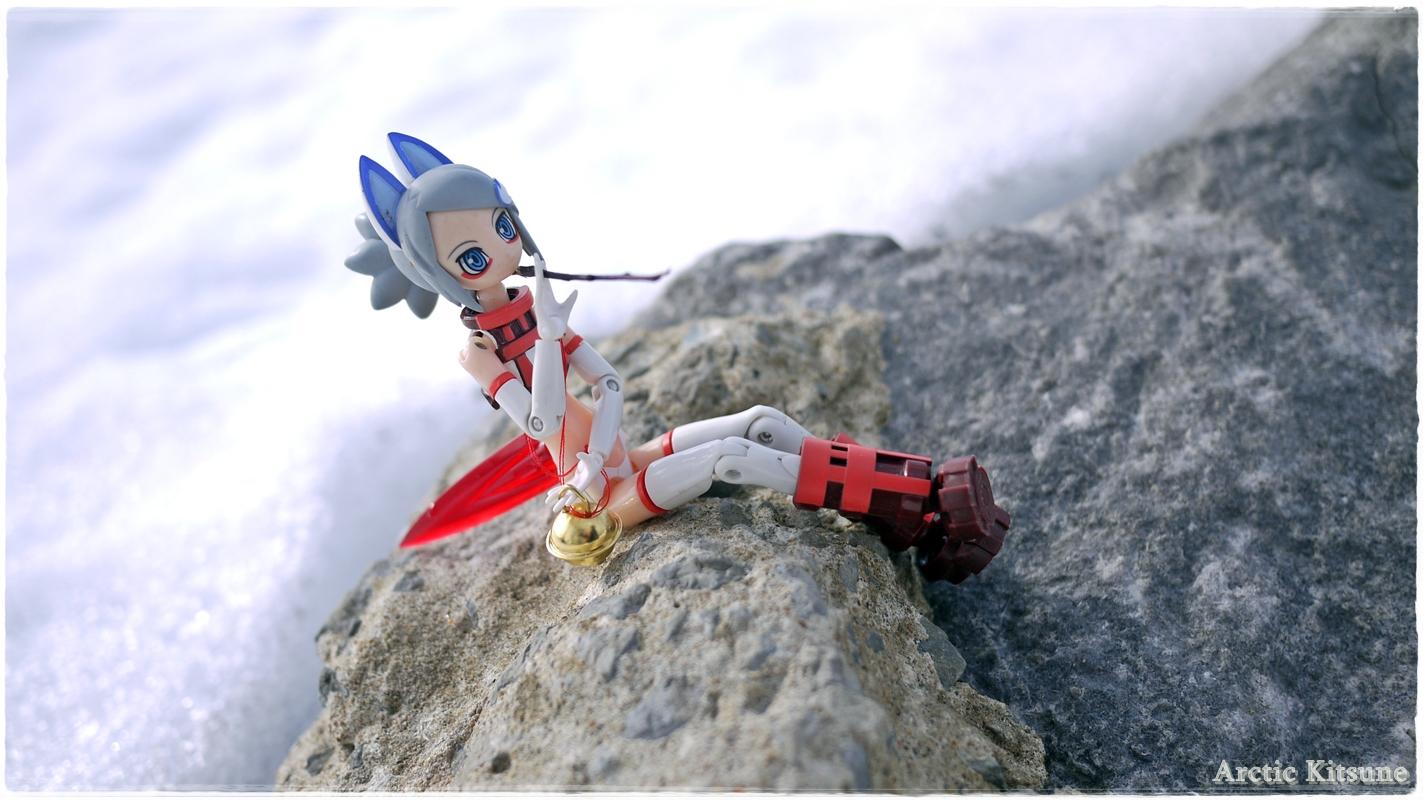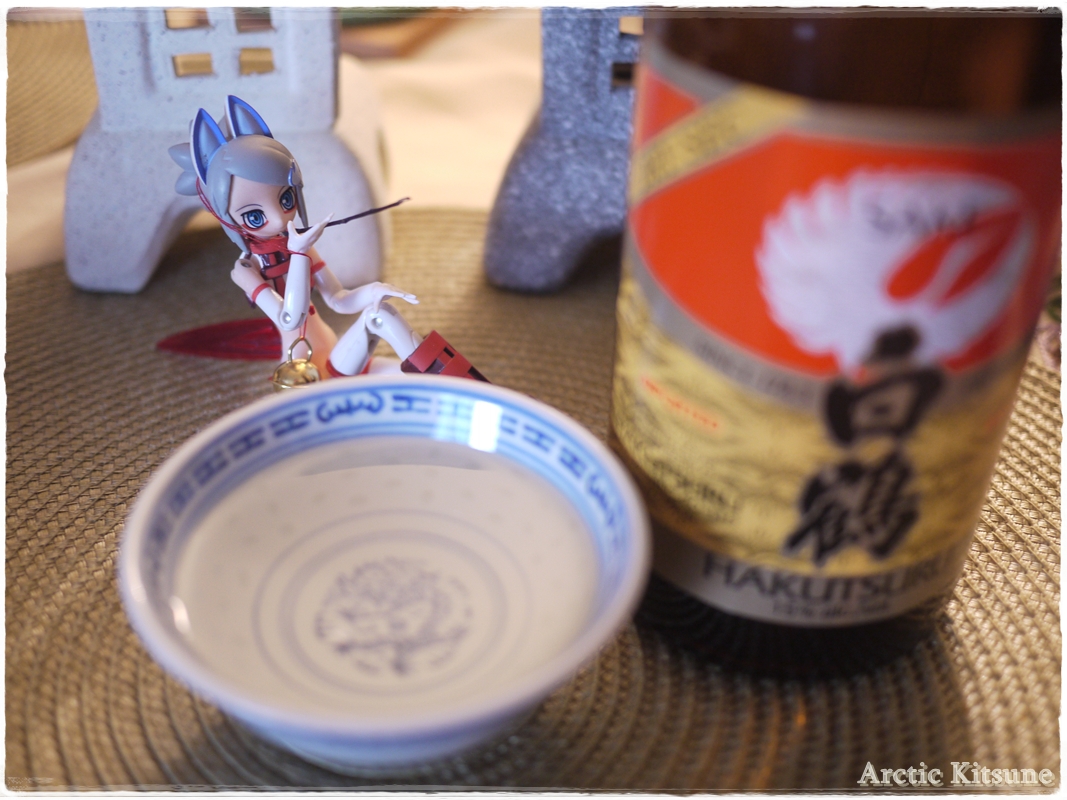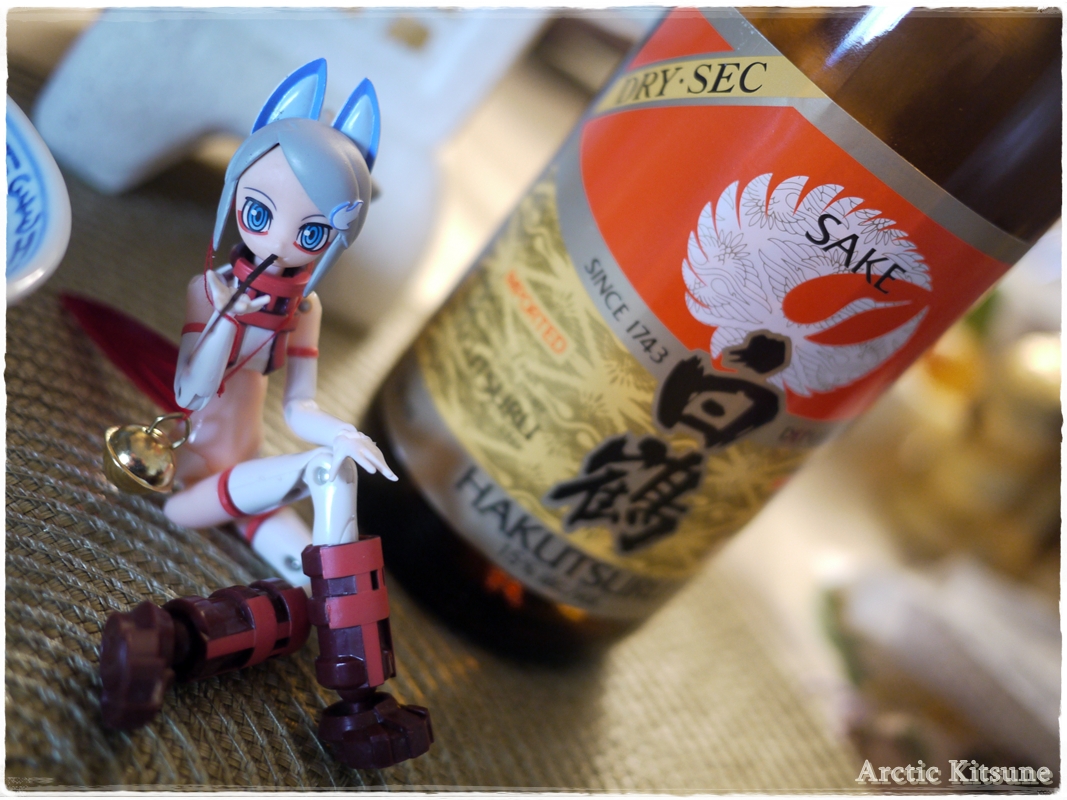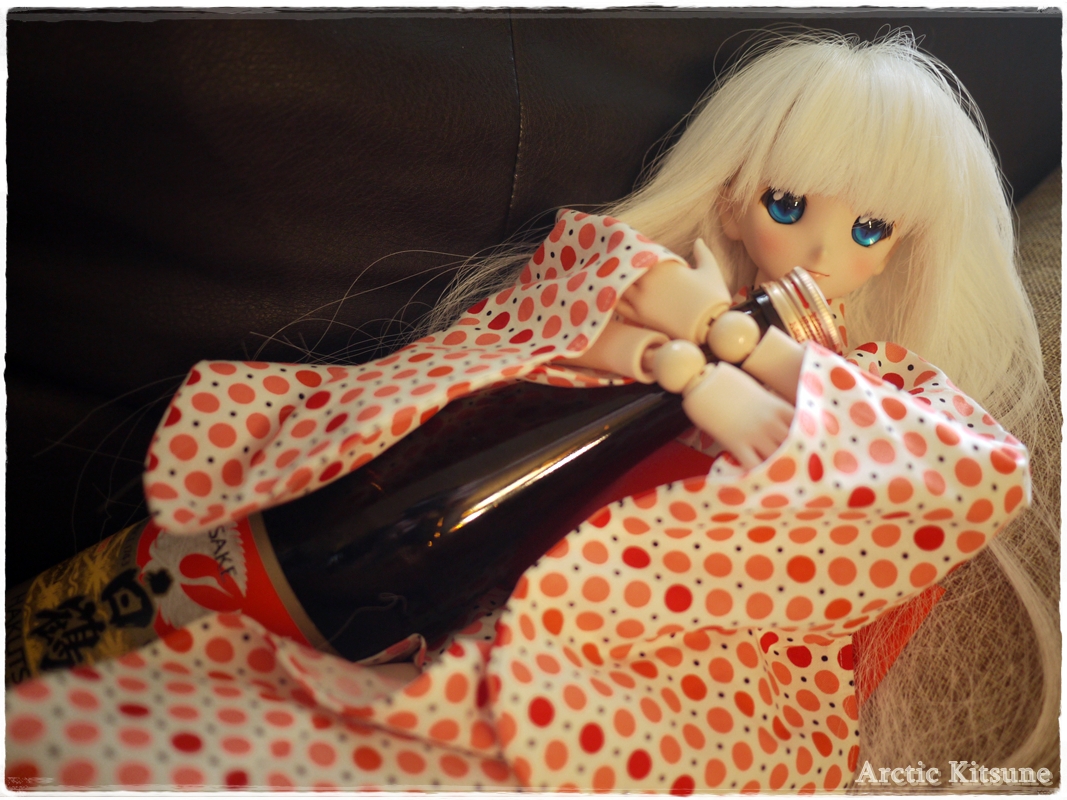 I love spring when you can see little streams of snow wiggling through the landscape. It's fun seeing those little rivers that Renge or any Shinki could follow. Tracking Canada Geese and Squirrels is also fun. I had loads of fun taking images of the three-four part article. I actually quite enjoy that article the most because of how bright and fun each image looks. Renge wanting to dance happily for my birthday which was surprising.
Even Varakitsu who was still trying to feel at home in her new home. She grabbed onto my Sake bottle for my birthday while someone else was being a cheap-ass by giving me Soju. Had a nasty headache from Soju; A more enjoyable drink from Sake, as shown with Renge and Varakitsu.
Thanks to the soju & Sake mix-up someone on busoushinkiworld decided to try and troll me on both the forum and Cbox chat. I'll just say I'm not amused hoping that karma hit you nicely in return. It was uncalled for.
*Note: Varakitsu only drinks Sake on a full moon after watching some supernatural Anime with me.
—
– The Tea Party – Ottawa Doll Meet '13
https://arcticukitsu.com/Blog/?p=3661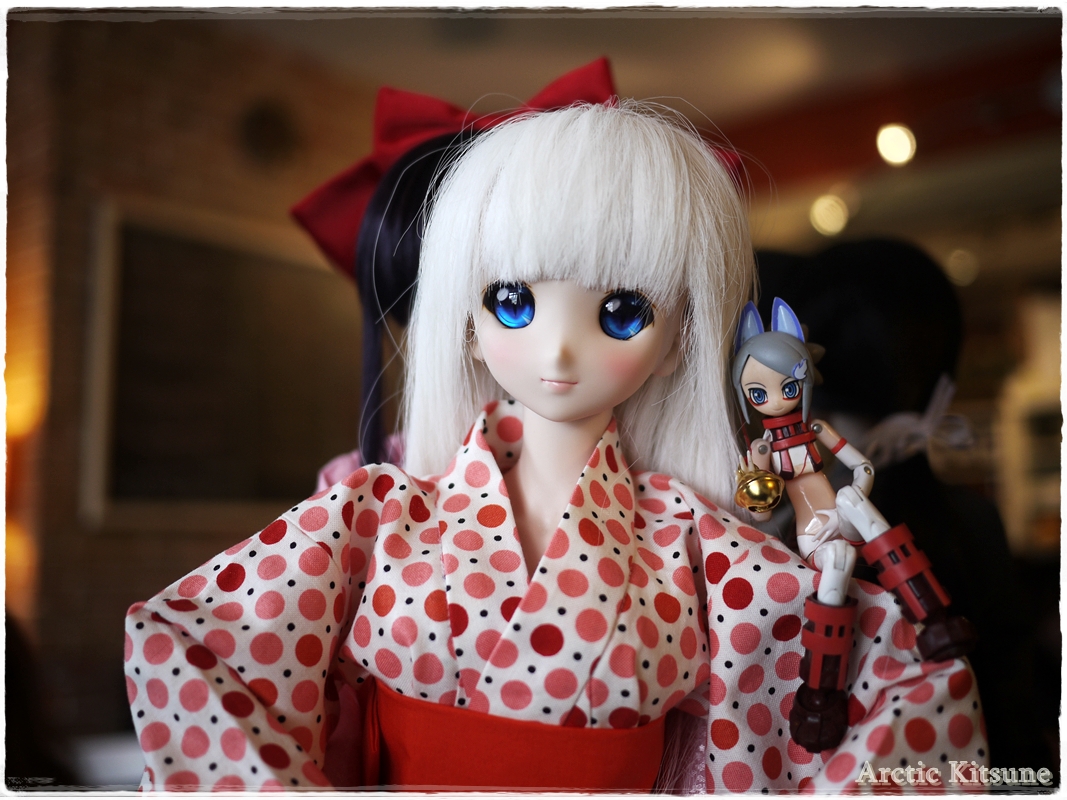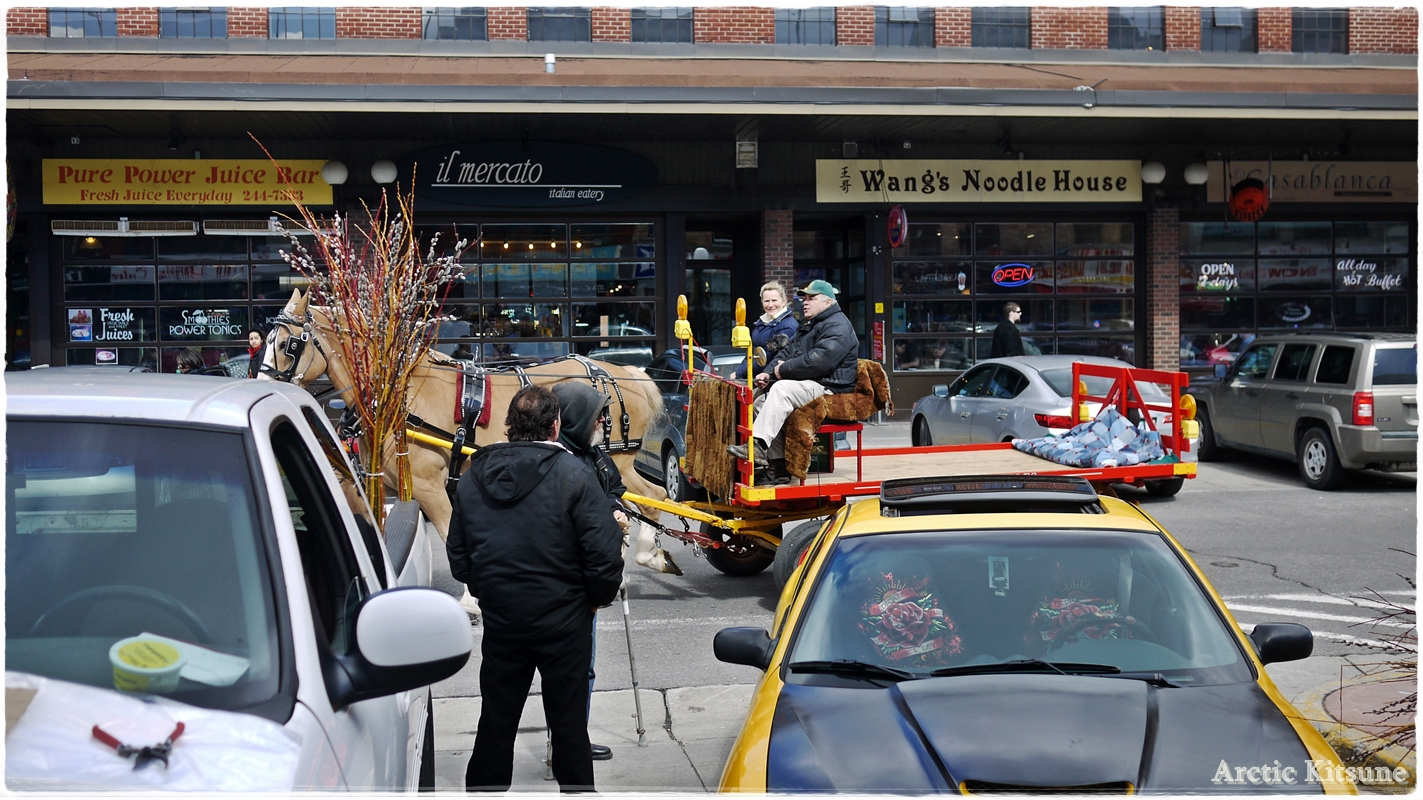 This one was unexpected and quite fun. I'd say every single Ottawa Doll owner joined this one. I haven't seen them before and since this one in that kind of numbers. I was mostly silent through this not because I didn't want to talk to people, I just didn't know WHO and HOW to talk to them. I don't know them.  I enjoyed the meet-up and had fun seeing Kodama put the fox ears he made onto Varakitsu. I had to make a few adjustments after the meet-up, but still awesome. Thanks!
It was a unique experience that I would like to redo there, or elsewhere. It was fun. I even had a Busou Shinki test book printed out the day before that I brought and shared to one or two folks. Couldn't catch anybody else's attention. I tried saying I printed it out then with other folks following Salica saying that I joined the book-printing bandwagon many months later that irritated me. Salica printed a photobook or two off then I get told "Oh? So you printed it off because of Salica?" – NO! I DID NOT!
Being asked if Salica inspired me makes it seem as if my whim decision about printing the Busou Shinki test book doesn't even matter back in April :(.
I see Salica as the Queen of Dollfies and Kodama as the King of Dollfies in Ottawa.  That's how much respect I give them. How I see myself? An adventurer and a fox tamer who travels with fox familiars around the city, hopefully around Canada and elsewhere in 2014. I also think Tieren tops me with all those fancy dresses and accessories which makes me come in 4th?
Salica, Kodama, Tieren, then me…Dollfie wise.
—
– Varakitsu's Knitted Long Top:
https://arcticukitsu.com/Blog/?p=3686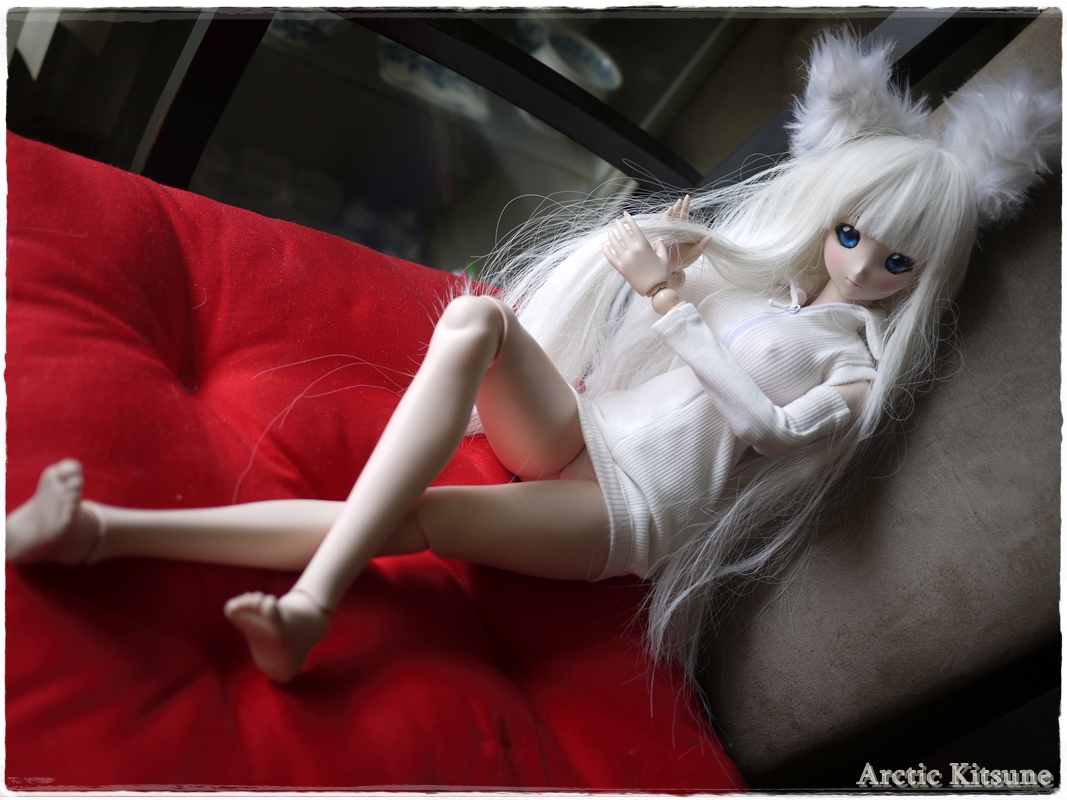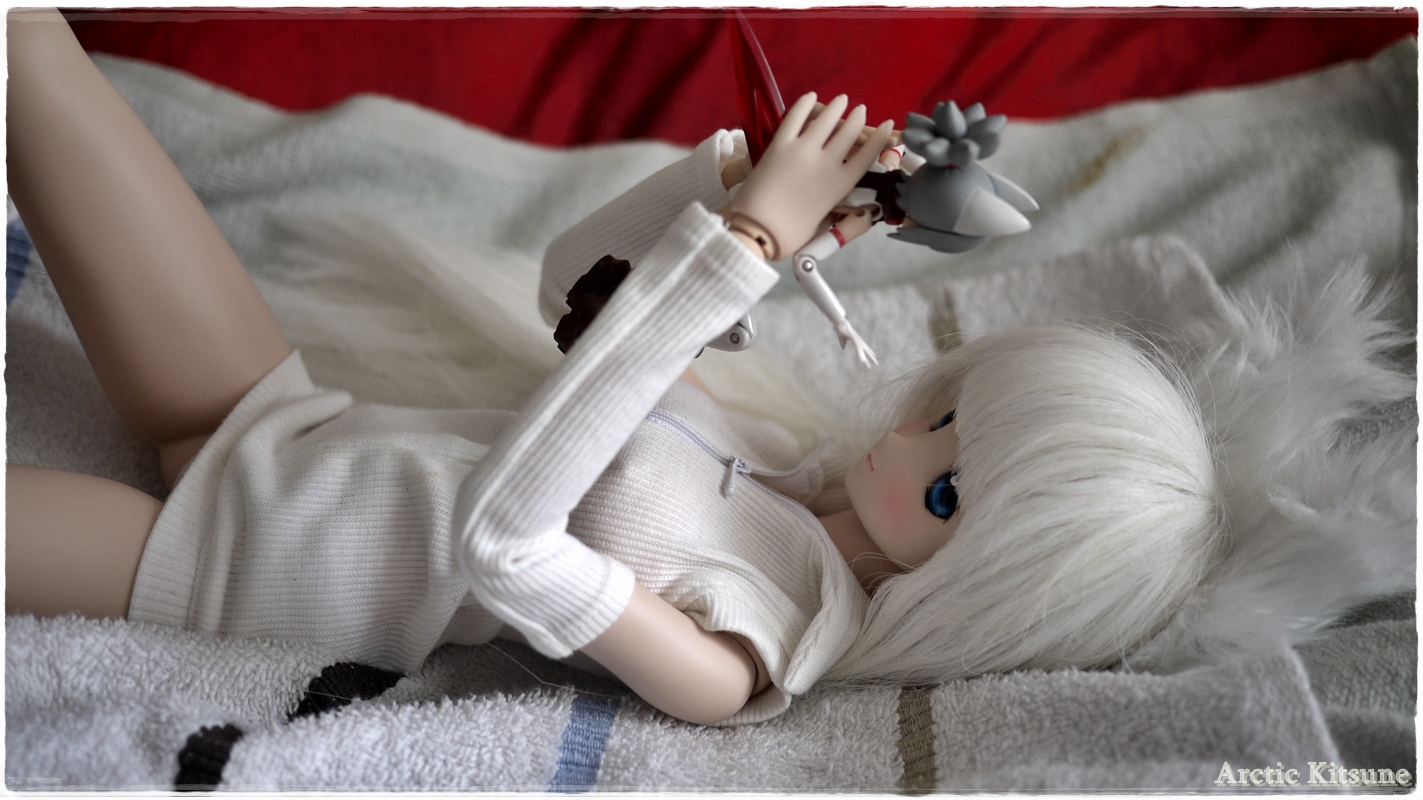 I had to get Vara something new to wear so I scrolled through Cool-Cat and obtained a lovely knitted Long-top for her. Wanted something either white or red to fit her, or fit her fully to even cover her pantsu. I love the images from article, finding that this photoshoot was actually one of the best ones I took this year of Vara. Basically of her putting on her new long-top along with having Renge pester Vara and vice versa. It's a bit regrettable that I didn't take images of Vara being visually pleasing in that ecchi manner on my bed and on the chair. I enjoyed the sight I saw, as perverted as that even sounds. I won't deny it because it was a beautiful sight that I might sadly even forget after 2015 or so. That beautiful covered bottom.
I'm actually quite pleased with this that I even tried replicating this article. I couldn't. The whole hair placement and that cute mature look of hers.
figure.fm'ers however annoyed me a little by constantly poking  at her peaking nipples so I went out of my way to order from Coolcat again to get her a bra. I'm not going to sand down her nipples! I'd rather color her nipples and hide it than sand it down into something smooth, making things dull as a result. It's not that I'm perverted….just makes her feel more "human" and "alive".
—
– Ottawa Doll Show & Plane Spotting:
https://arcticukitsu.com/Blog/?p=3697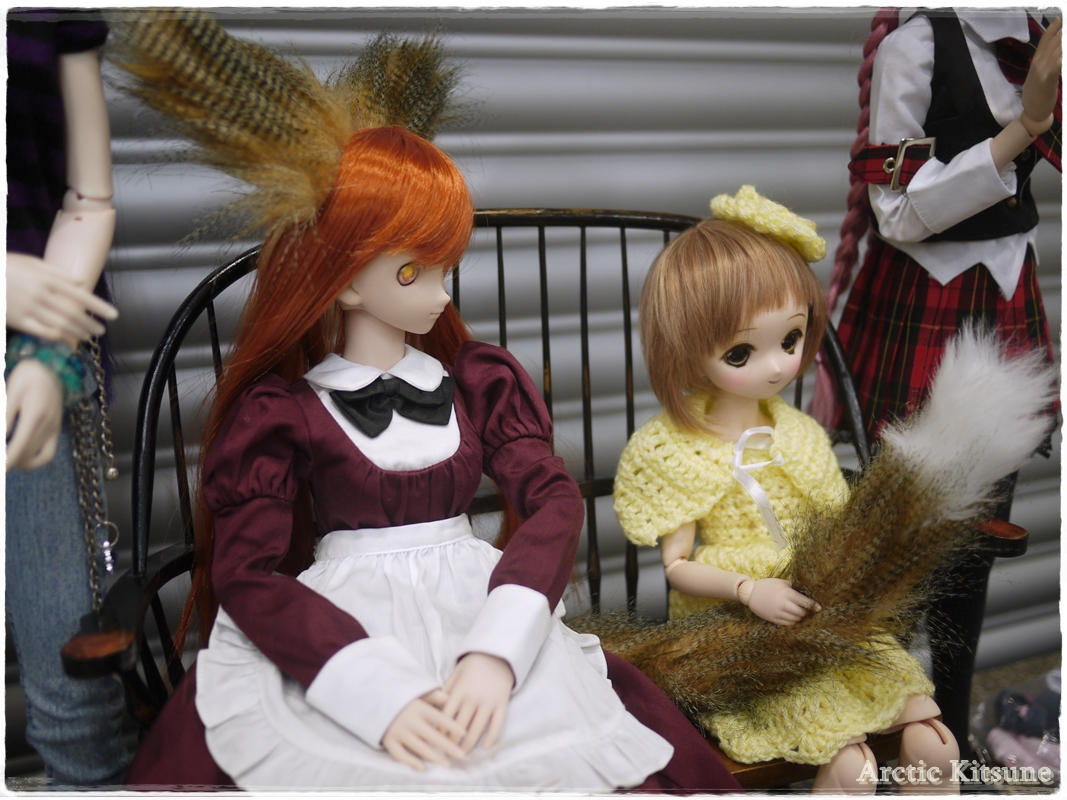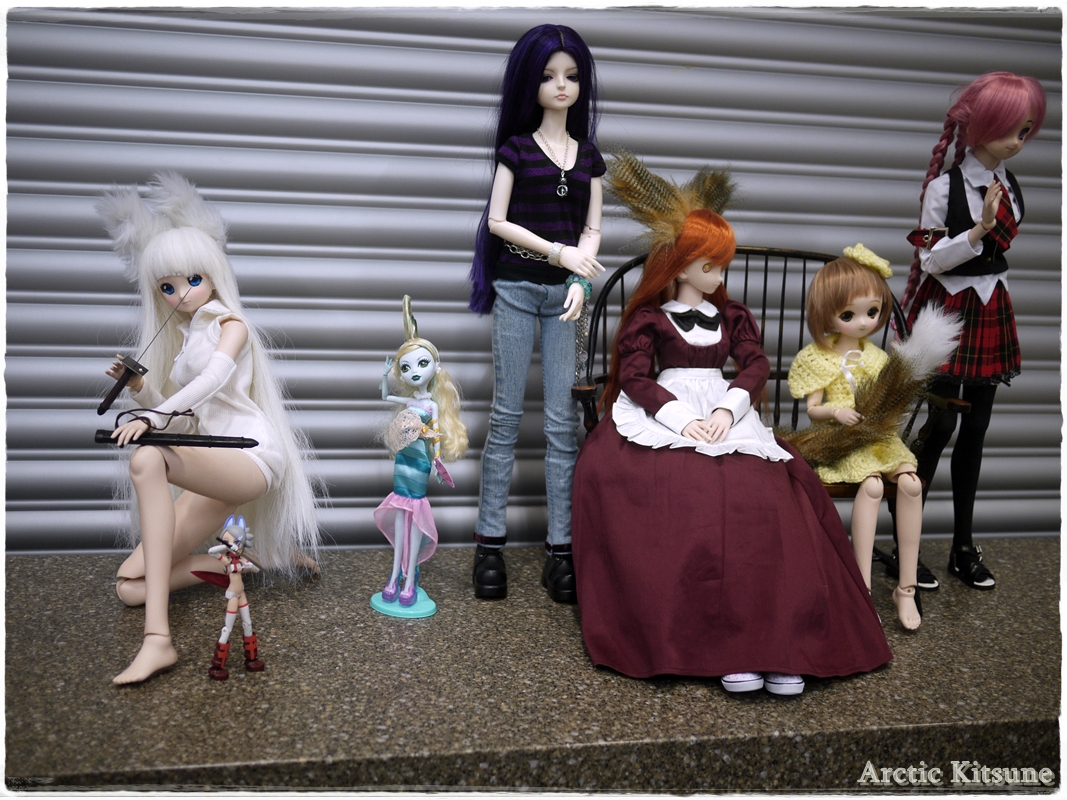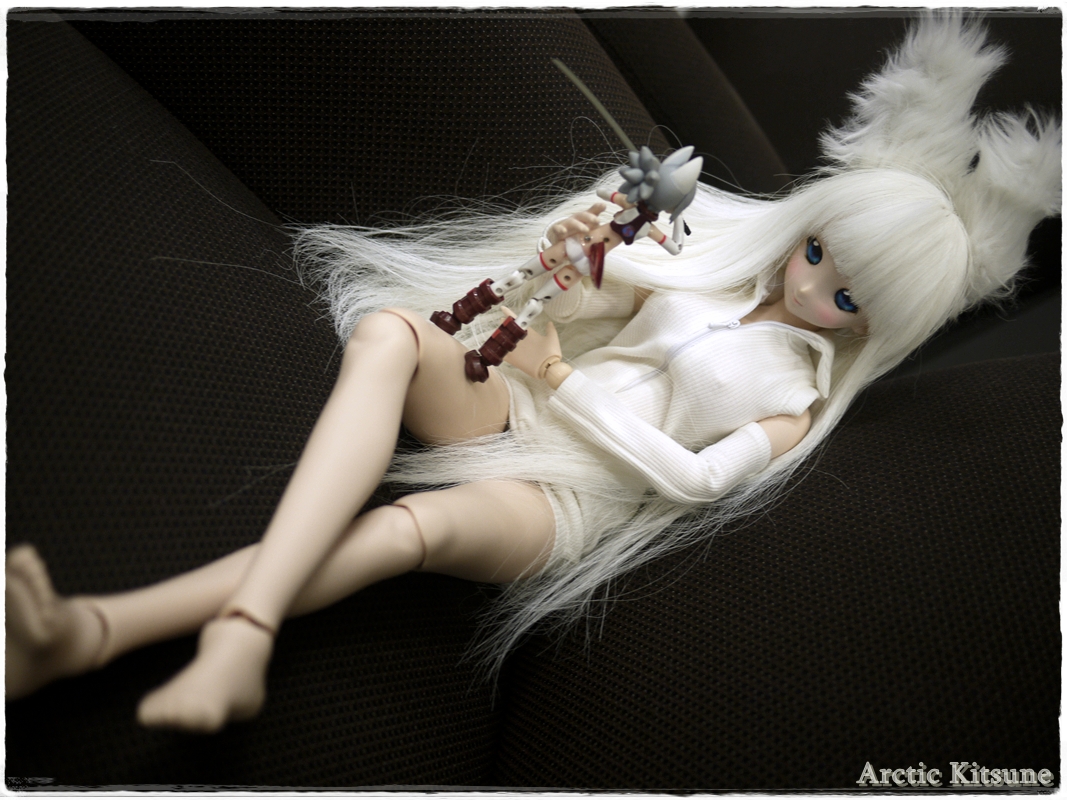 This meet-up near the airport was highly enjoyable. We displayed our dolls across from the Doll Show room; Adjacent display from across the hallway. Vara wasn't all that photogenic, or at the least ready for the meet-up. Her accessories were missed, processing at the post-office that day. I retrieved the package a few days after with the Dollmore shoes obtained. Wasn't much, just something that may have helped with appearances.
The Doll Show was actually quite impressive from a non-anime point of view. Lovely dolls from North America, Europe, Asia, and the southern regions. I was actually quite impressed with how detailed and how old they were. They were vintage dolls. Some elder-lady even had a life-like appearing baby that was freaky to notice at first.
I have to also say Kodama's Kita looked awesome and elegant at that point.  That lovely fox ears, tail, shiny eyes, and clothing. I was overly frustrated I missed the package along with Vara not really ready for the shot. The frustration building up that others were able to outfit their Doll(fies) on a whim while I struggled loads with Vara.
I actually enjoyed that I could even go plane-spotting after the meet-up on one of the hottest days in Ottawa. The heat wasn't nice, though the plane spotting was. It was worth it.If I didn't lag behind I could have even been rewarded nicely with a 767 Air Canada landing happily into Ottawa.
—
– Varakitsu's New Shoes:
https://arcticukitsu.com/Blog/?p=3703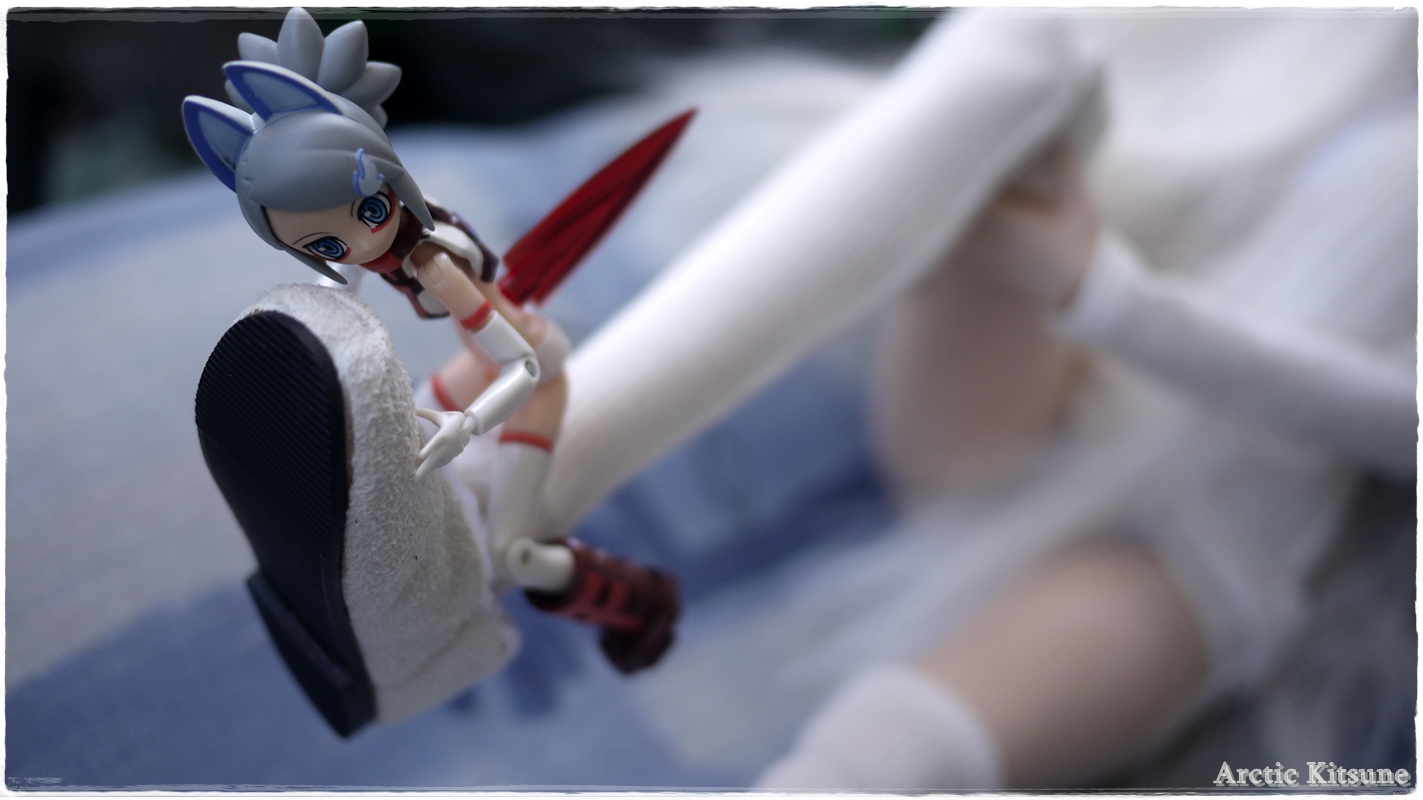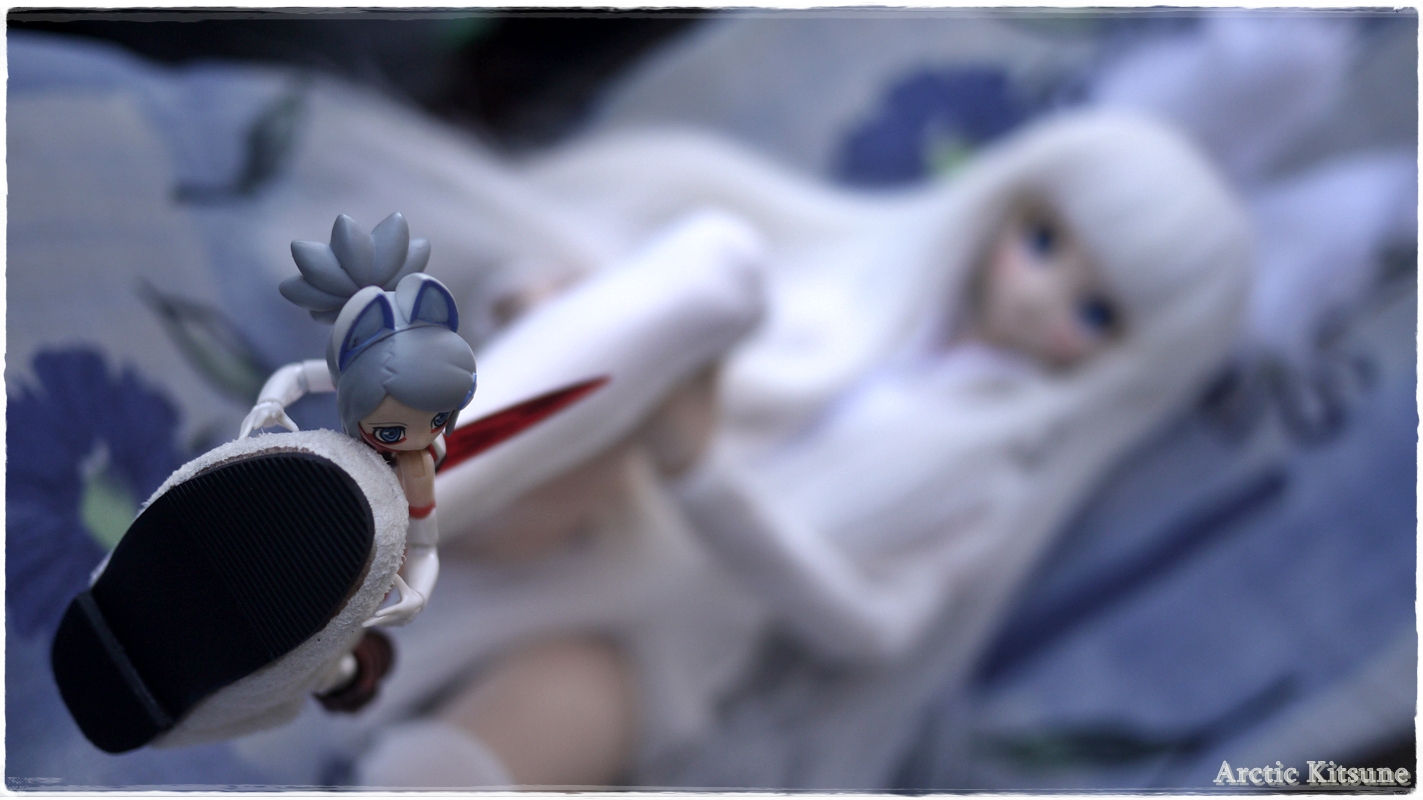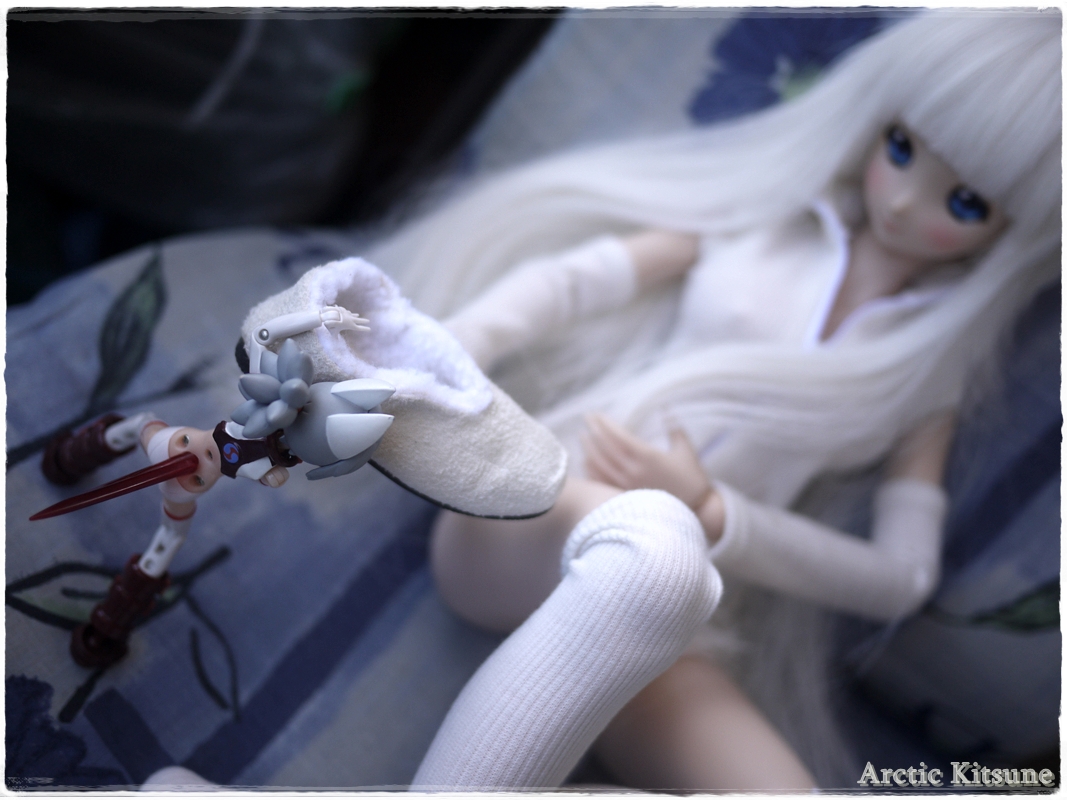 The package I needed for the previous Doll Show was finally picked up on Monday. Something that may, or may not have helped with appearances at the Doll show. The leg socks as well that was at first troublesome to put onto Vara's legs. Not much I can do now except to note those leg socks and shoes could have helped.
I was on a hunt for a white decorative moccasins so I ordered from Doll-More. Ottawa's tourist shop didn't have any, while also being redirected to a normal shoe store. Nobody seems to know of any 1/3 scale moccasins for her so I went with white slippers that looked similar to what I wanted. White moccasins that the First Nation's people wore and sell on streets in normal size.
Renge had fun assisting Vara who was sitting outside enjoying the scenery. I love the image quality that probably made up for the frustration the few days before. I loved how her hair made her look more Japanese Hime (princess) like, or at least more….beautiful. I even tried replicating the appearance with no luck.
—
– Shara's Flowery Wander:
https://arcticukitsu.com/Blog/?p=3730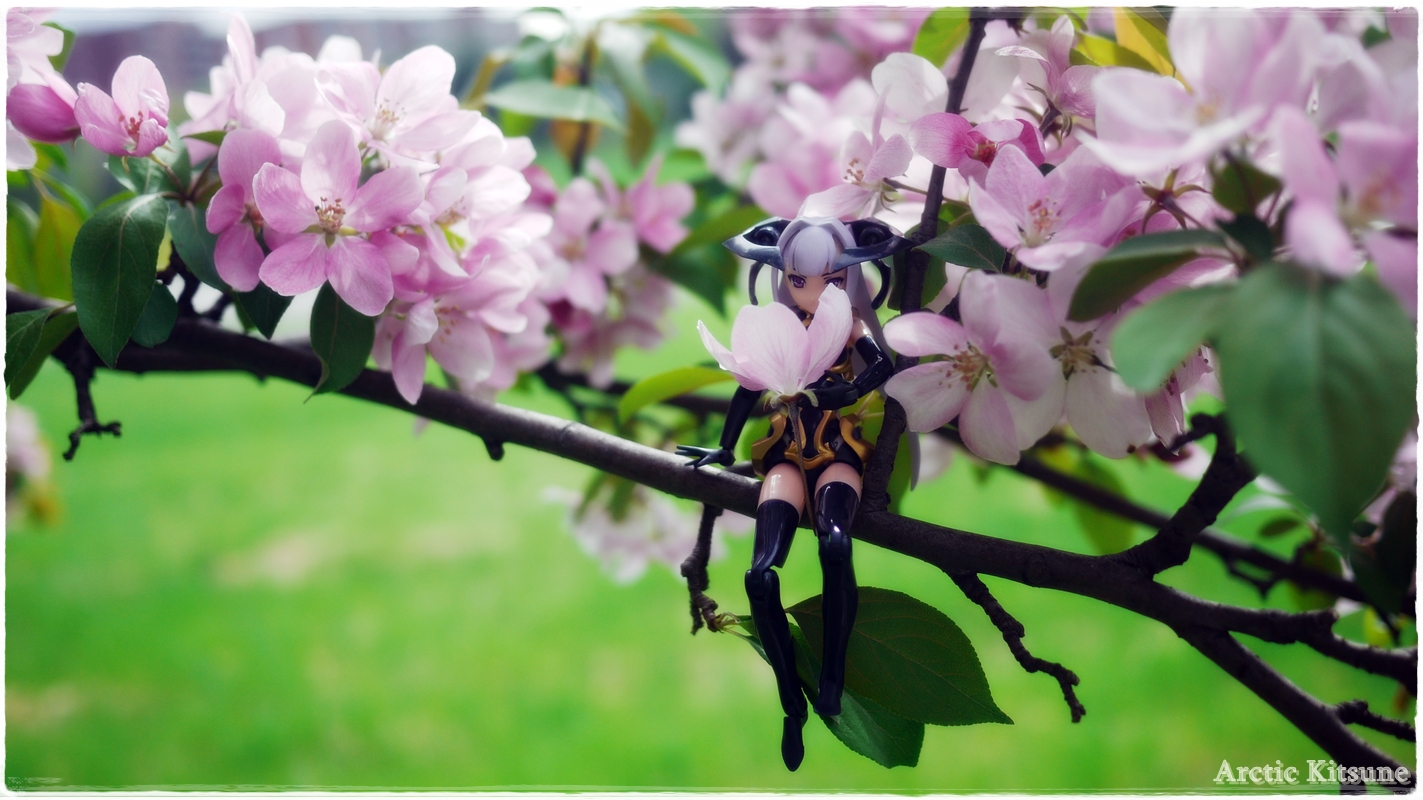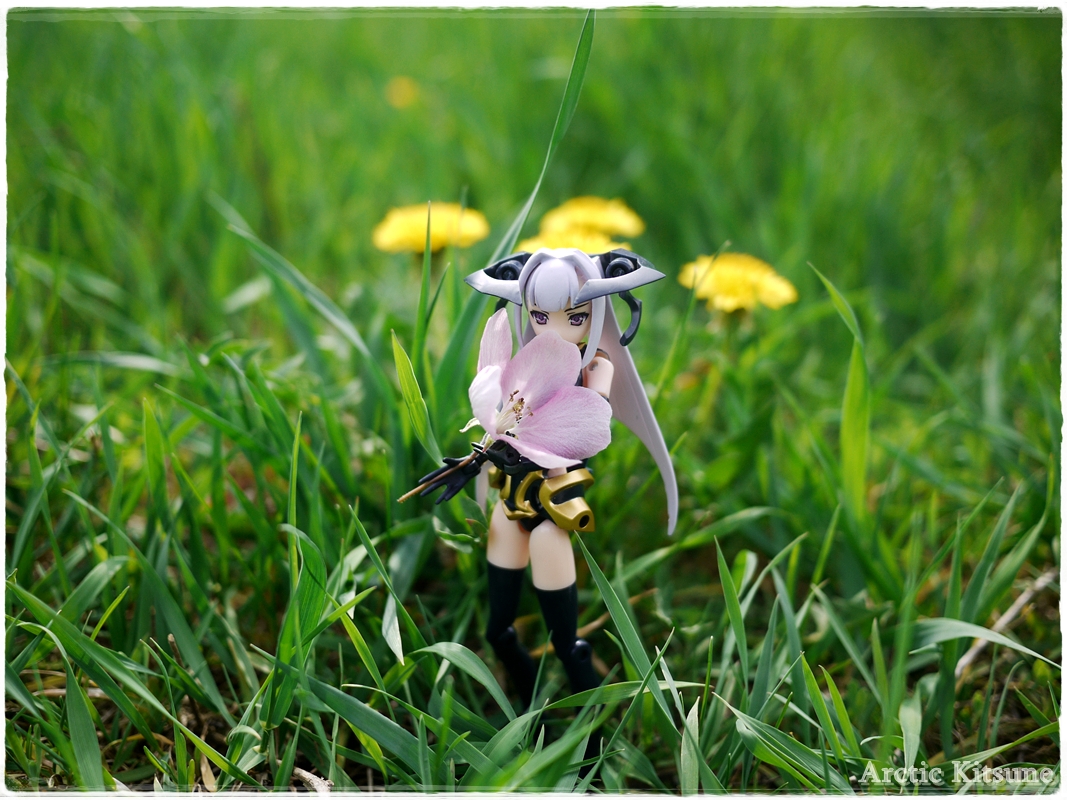 I want to share it all! It's just too beautiful. When I shared the images on Tumblr I had an instant reblog of Shara with the Crab Apple branches by OhNoRaptors from MFC and others. It was an instant favorite with people.
I enjoyed taking the images of Shara among the trees. One or two people thought I was being stupid or weird (as per usual) but I didn't give a shit. This is my form of art so I'll happily take images of Shara on those belatedly blooming branches on what was supposed to be a warm thunderstormy day while you stare at me like some idiot yourselves :P. I had fun watching buses go by, people go to and from the station, and the clouds zip by in their darkened state.
No regrets! No frustrations, and glad Naito pushed me to go out to take images on a very quick whim. Radar showed a line of storms above where the trees were. It lied, or was delayed. Was very worth it! I want to do it again.
—
[NSFW] Foxy Pantsu Varakitsu:
https://arcticukitsu.com/Blog/?p=3734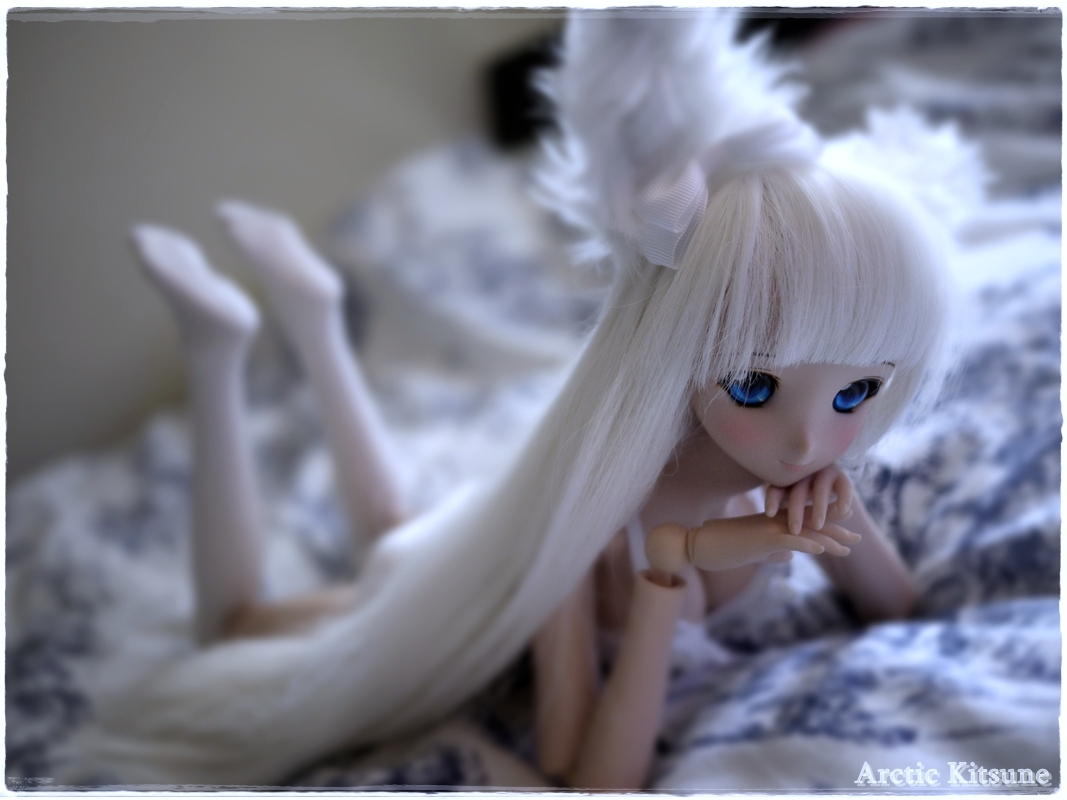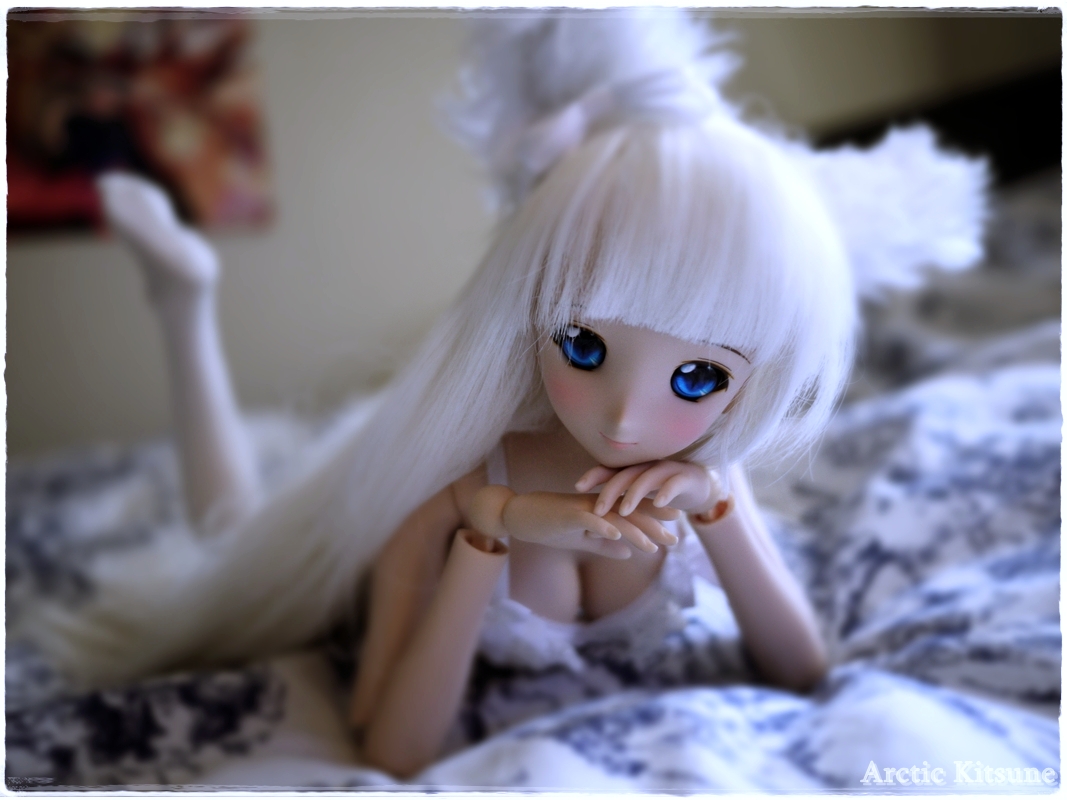 Even without her tail I actually love this article and photoshoot. She ended up receiving her long awaited bra, whitepants, and other accessories. Sadly, her short pants didn't fit which annoyed me. It was white and meant for smaller sized "normal" DDs. They're hard to come across. I didn't want those school-types, more like casual street types.
I also had fun posing her in an ecchi manner as foxes are known for doing. Either drinking to a full moon, pranking, or behaving in an ecchi seductive manner. I had fun, happy that I decided to post those images. Maybe not the best quality, or without her tail but still beautiful in some form. That last shot also inspired by one Japanese person's petting photo.
I would actually like to replicate this outdoors in a quiet scenic spot now that she has her tail. I'm sure I can pull it off better, or at least in a similar enjoyable quality.
(Annoyed that I was given a verbal comment that I didn't know female fashion [panties, bra, and pants] personally, while also seeing the word "slut" somewhere on the web which also set me off. Second was most likely unrelated though it still bothers me.)
—
– Varakitsu's Moon Randomness:
https://arcticukitsu.com/Blog/?p=3743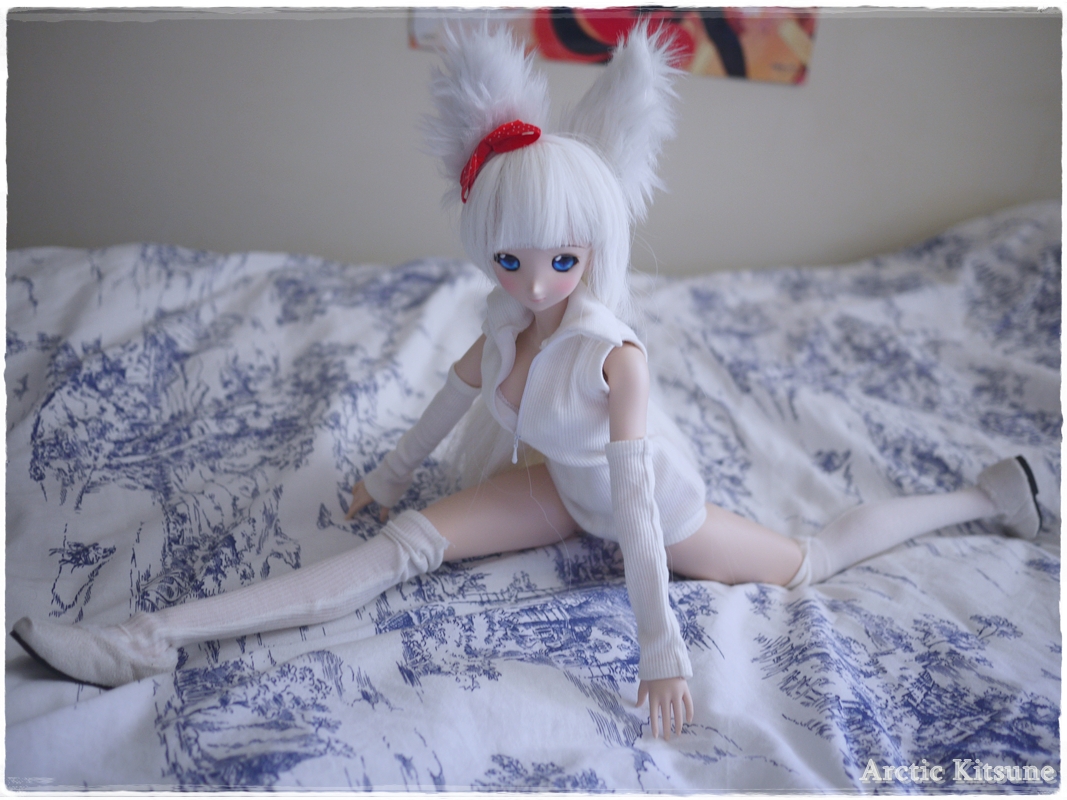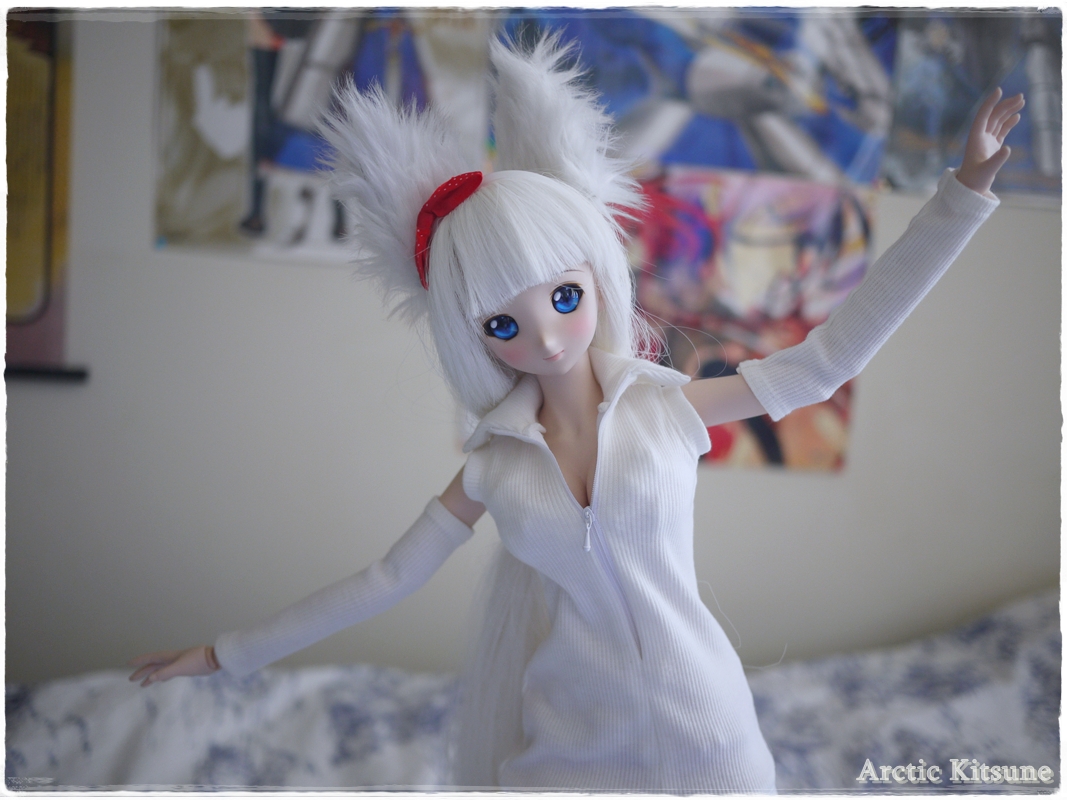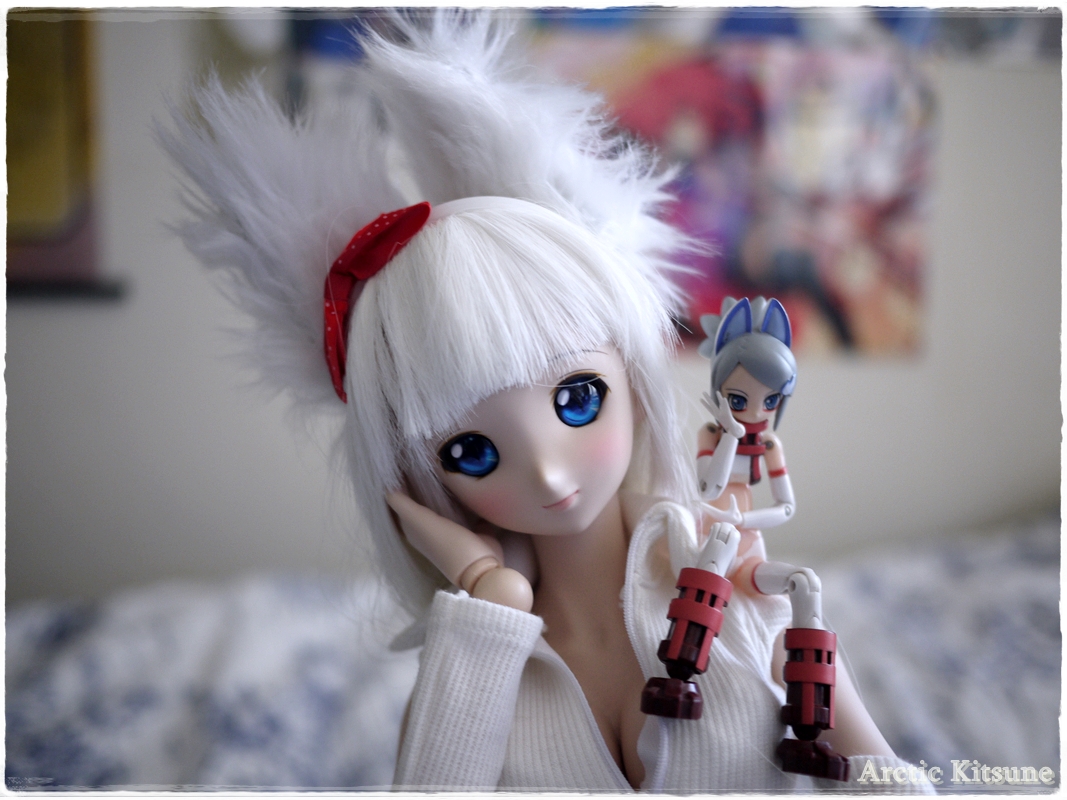 Just as the title says – It was all a random photoshoot taken during a full moon outdoors. I tried to get Vara to dance which didn't work out. I then proceeded to get her into other poses which did work out. It's probably not the best quality when compared to all those high-quality photo-shopped images, but I still found them quite fun to take images of. This, and all the above images I shared was all fun and worth the QQ'ing that I'm doing.
I have lovely shots that shall find their way into a future photo-book with Vara in it. The Steins;Gate reference, that split Vara insisted on, and those cute shots.
—
– Animal Crossing: New Leaf: 3DXL Bundle:
https://arcticukitsu.com/Blog/?p=3755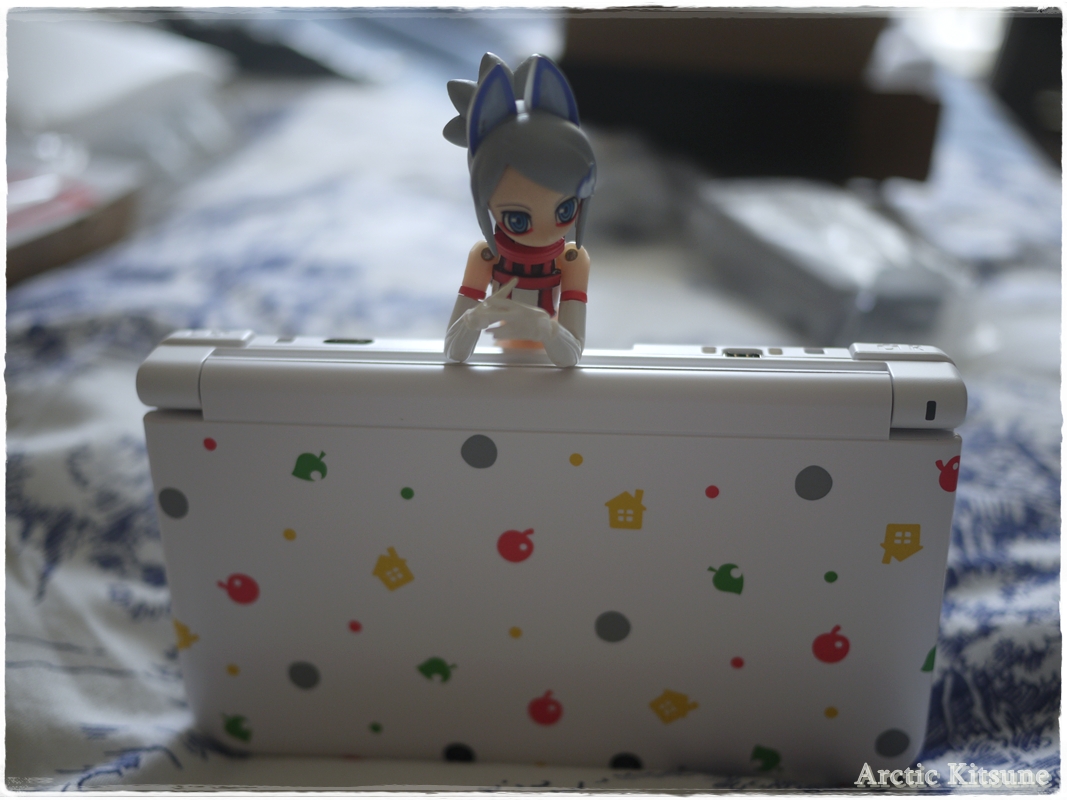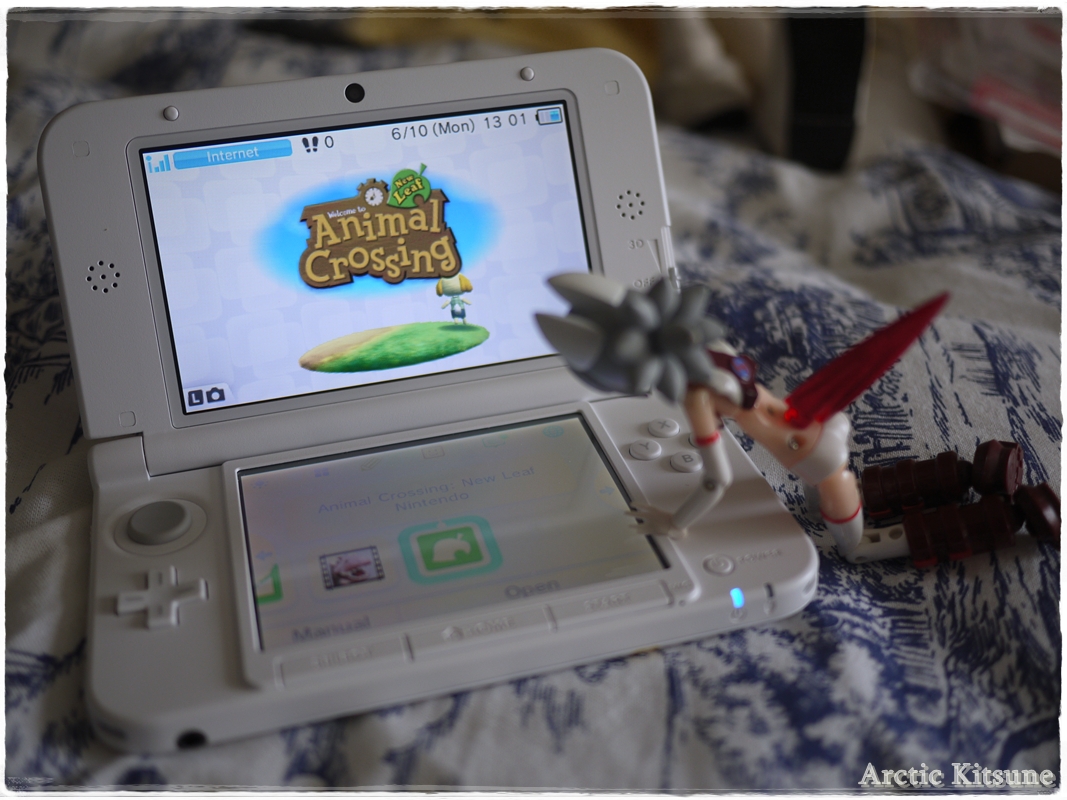 I was actually insanely hyped for ACNL. I wanted to make Shinki & Vara related goodies within it. The game is actually quite fun, just gets more tedious as the days go by. It feels like a Facebook game that simply enjoys punishing you as it does rewarding you. I had my fair share of fun, even still recommending it for people. It's just….I feel insanely guilty for not playing it. That guilt….This game is the only game that makes me feel guilty for those times that I don't play! Well, maybe Star Wars Galaxies, WoW, and FFXIV as well because you had to pay.
I love how you can go in to add various patterns and accessories how you want. You can partake in events, loot stuff, fish, have fun, and unwind. You can play with people, time-travel or play normally. It's a game meant to be played in small chunks while making you feel guilty when you don't. Every time I wanted to make a Busou Shinki pattern something would also come and interrupt me. I was close to upping a Renge pattern as well.
I love the game, but I hate it at the same it. It's worth the purchase…..just guilty and tedious when you don't play. I have people that don't play it anymore because they also feel guilty and horrible for not doing so.
—
– Happy Canada Day! Happy 146th Birthday in Ottawa!
https://arcticukitsu.com/Blog/?p=3773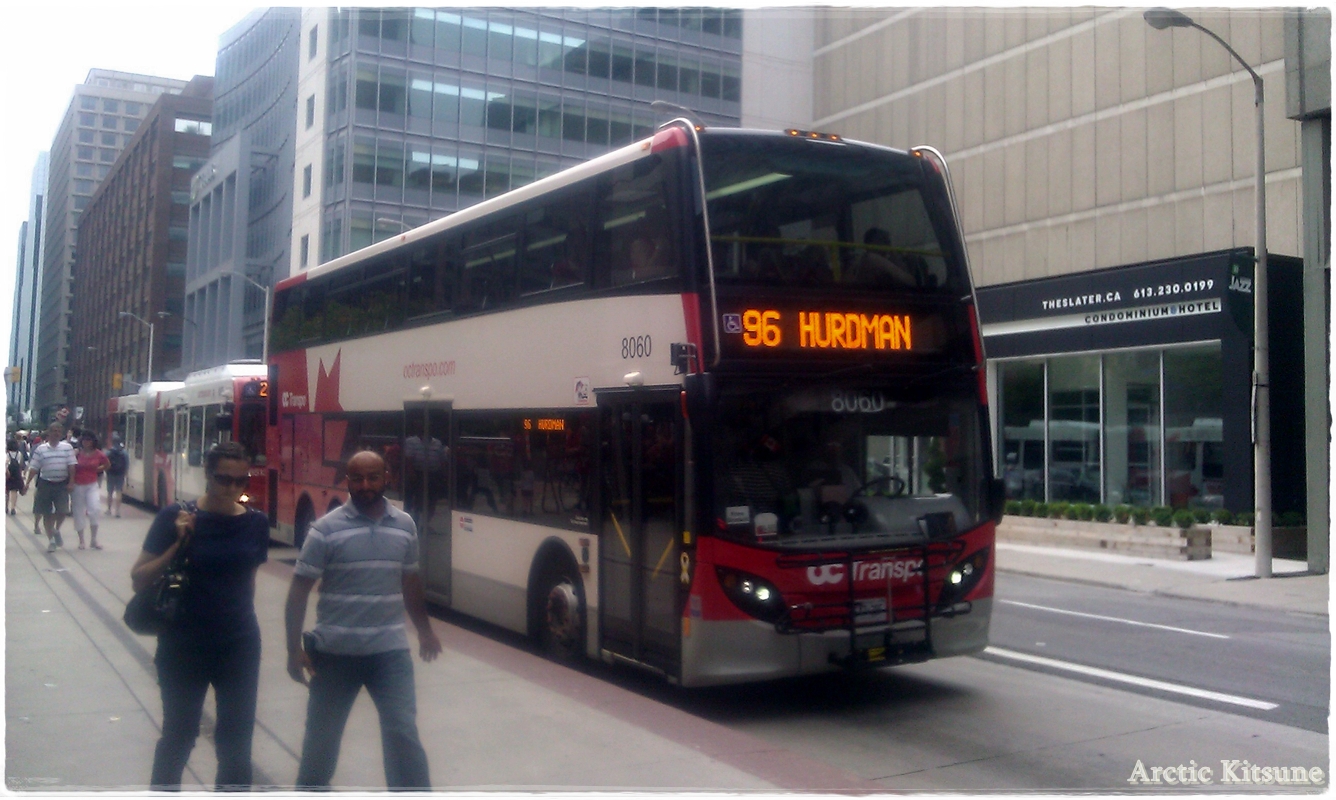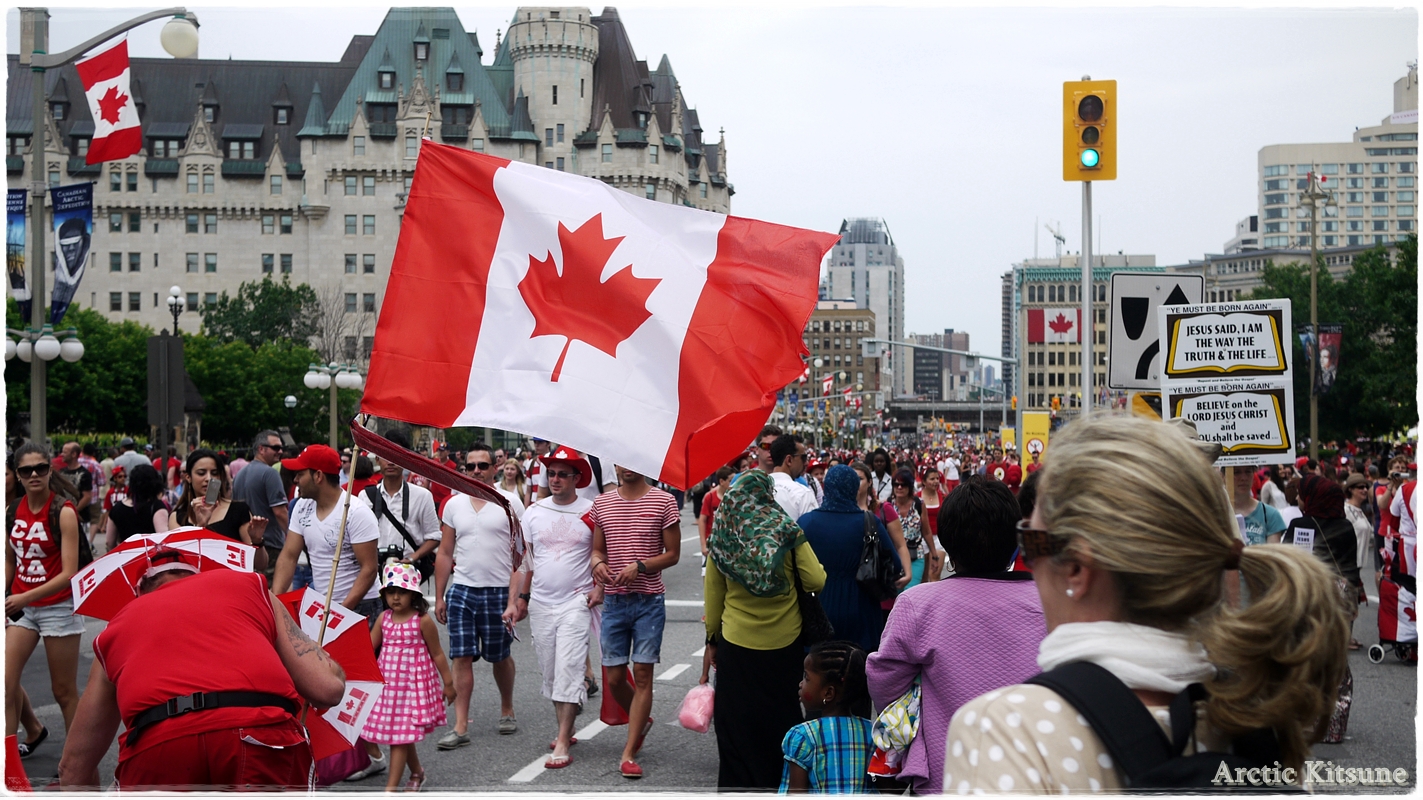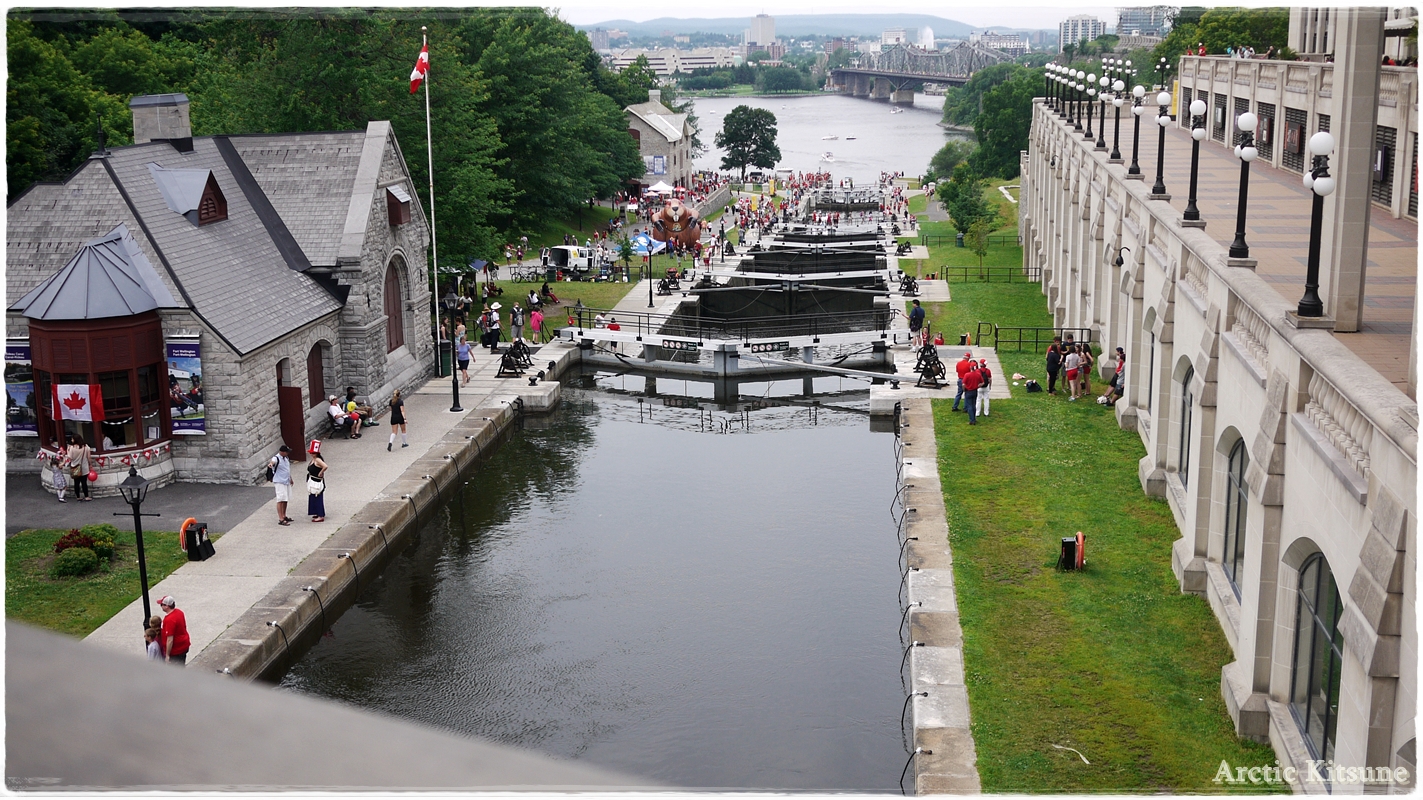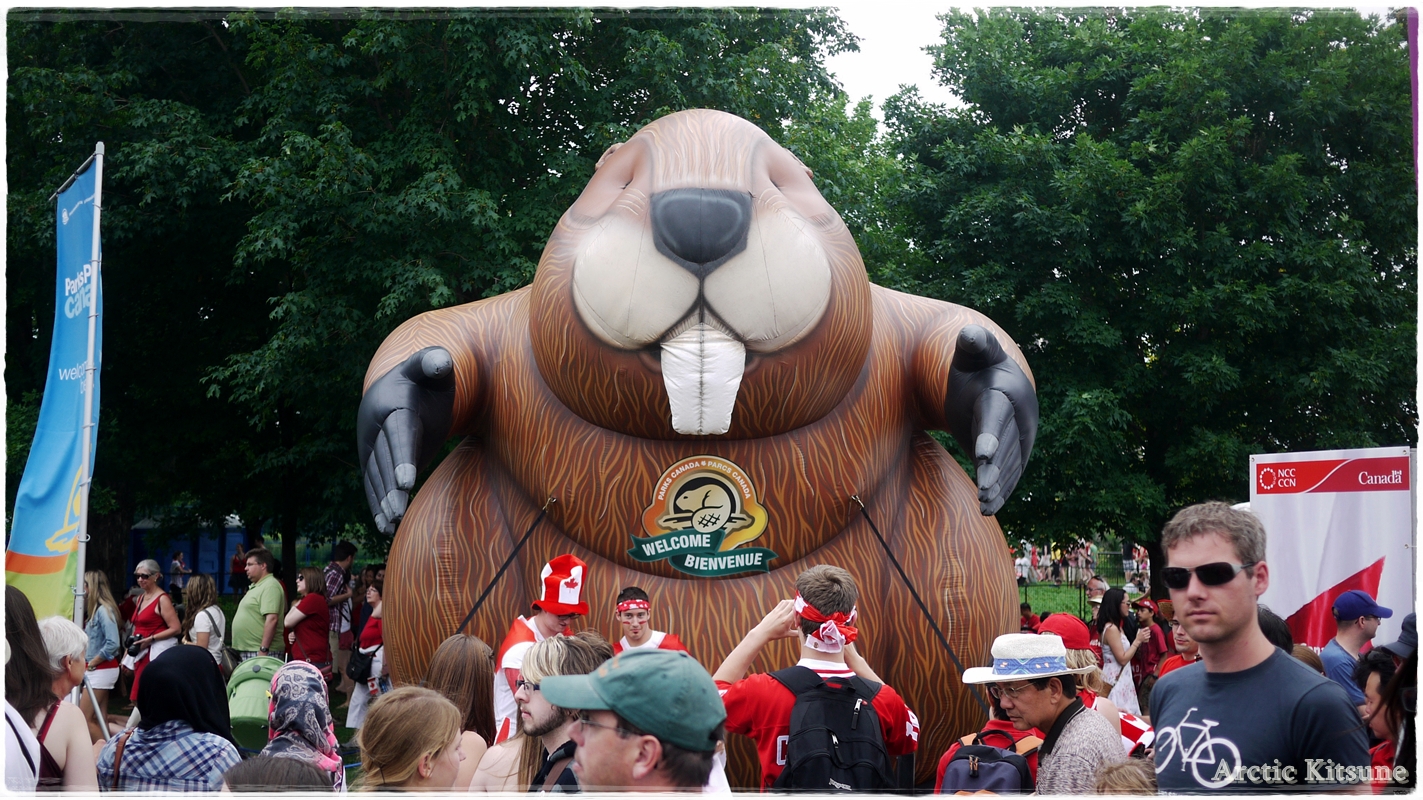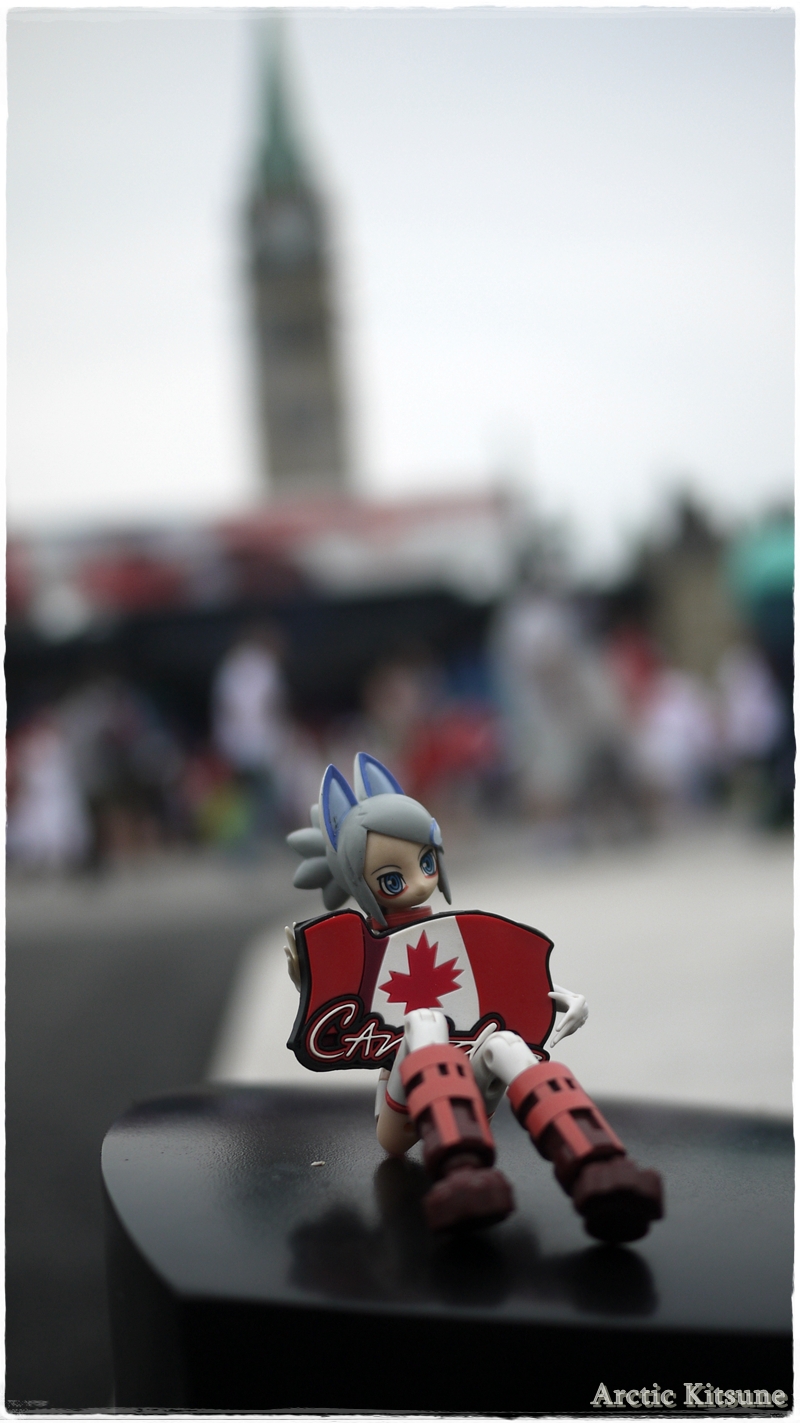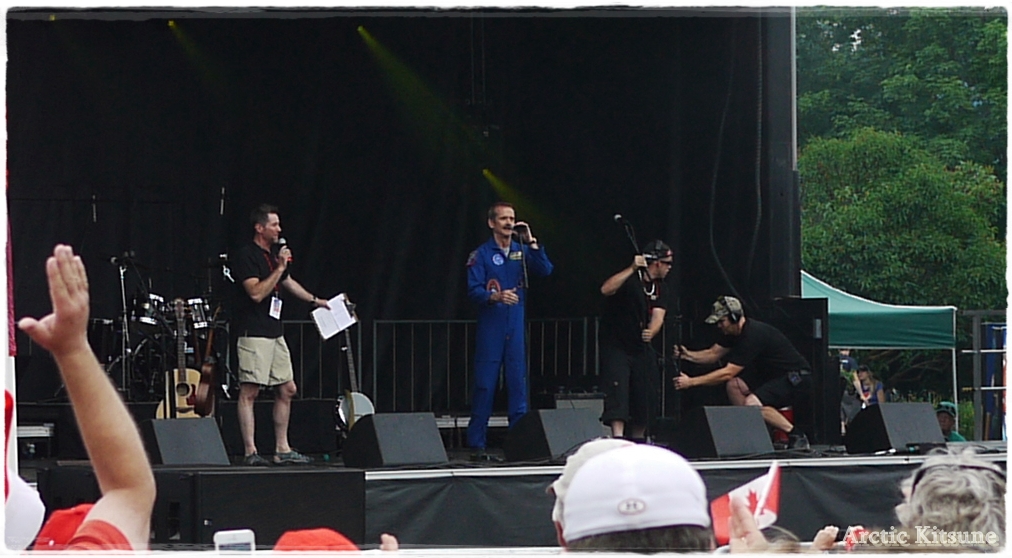 What an awesome Canada Day this was. Didn't stick around for the fireworks, but who cares! I saw Chris Hadfield in Ottawa! That's all I could care about. I even took an image or two with Renge while even hearing Chris Hadfield singing by chance in areas. I even managed to ride in style to the downtown area in a Double Decker. I claim this to be one of the best Canada Day festivities for me!
I chose not to bring Varakitsu because I went solo and others didn't want to go. I didn't want to carry Vara downtown due to how big she is for transport. Shinkis are the way to go.
I even had a Canadian shirt on in ACNL.
—
– Ottawa Doll Meet – Andrew Haydon Park:
https://arcticukitsu.com/Blog/?p=3826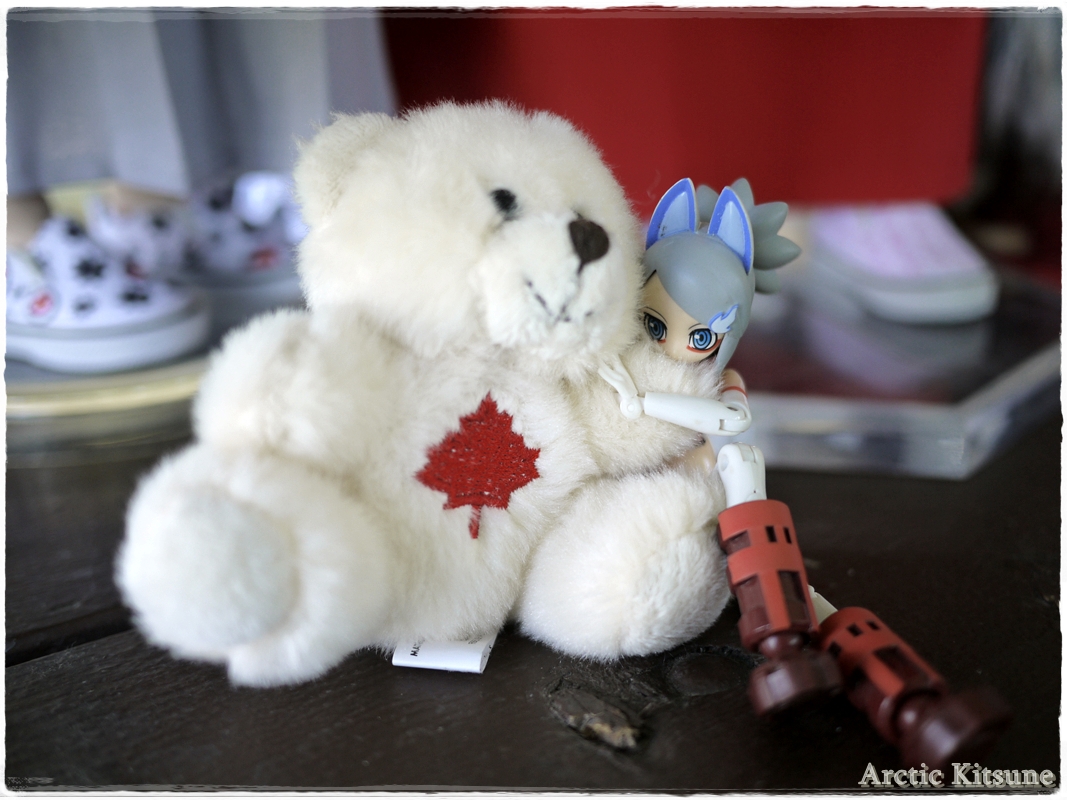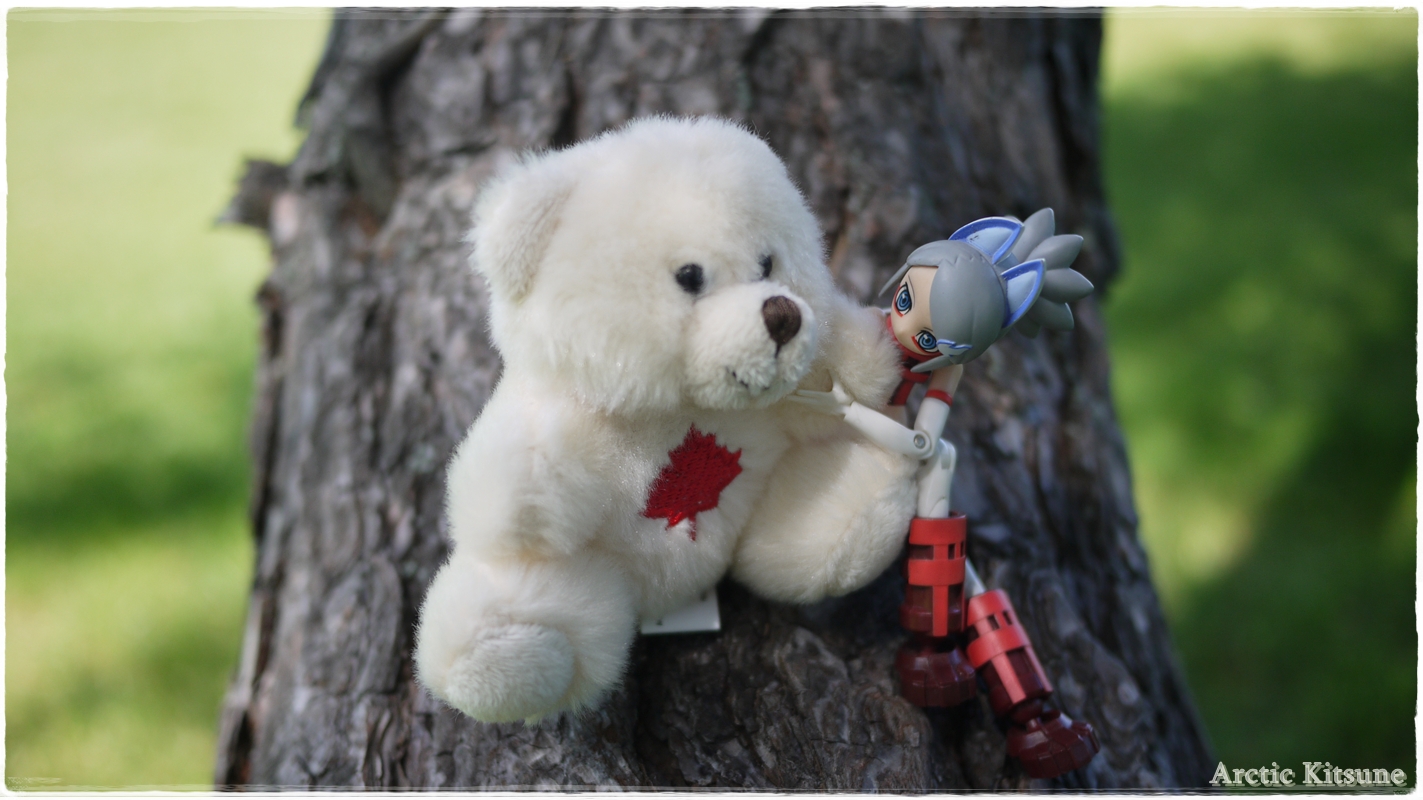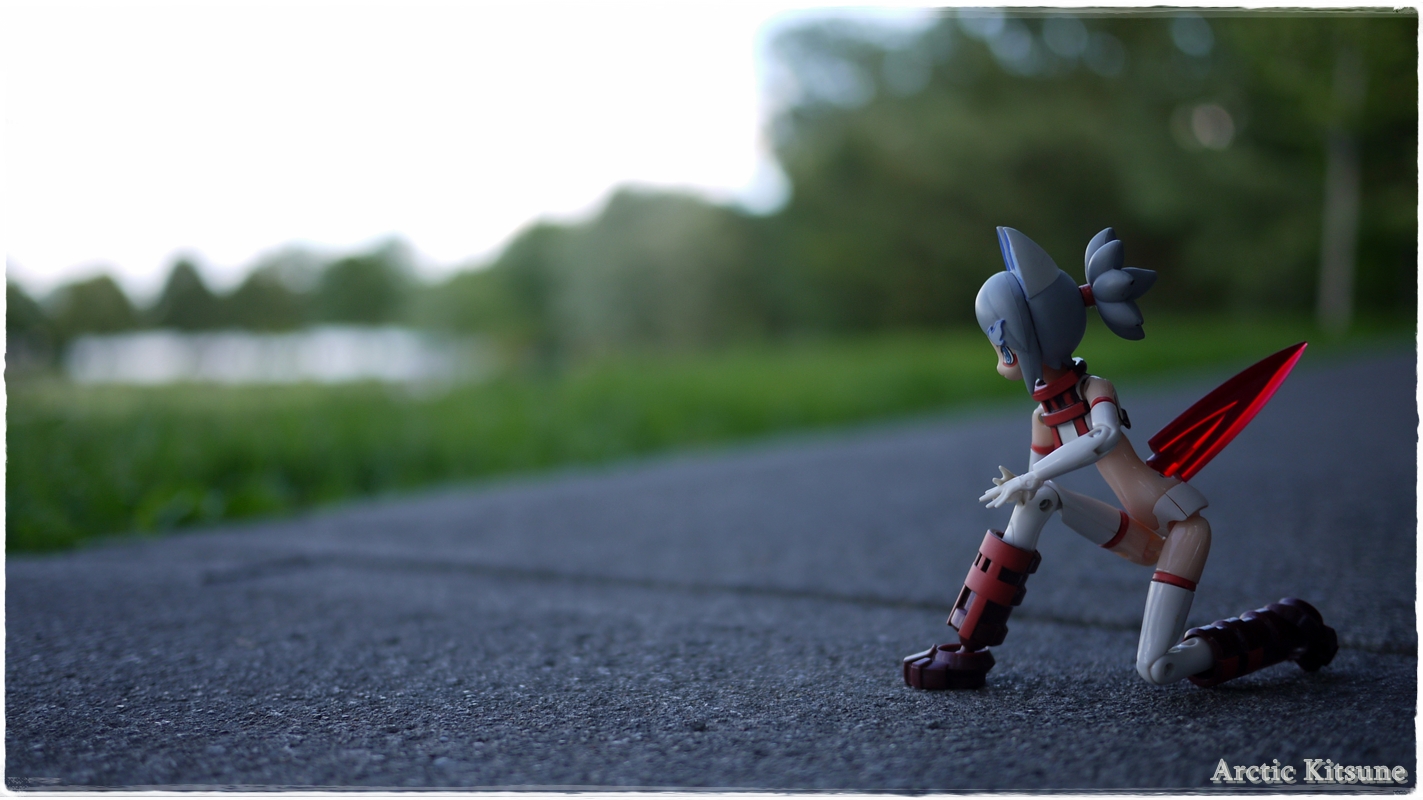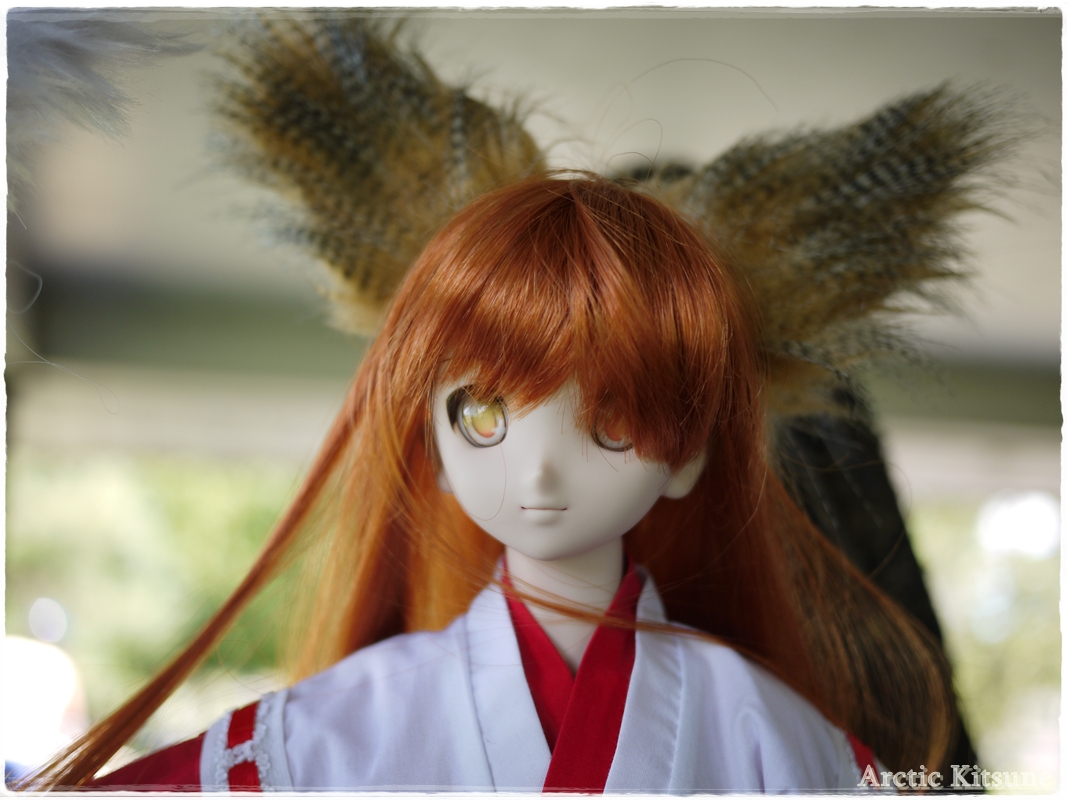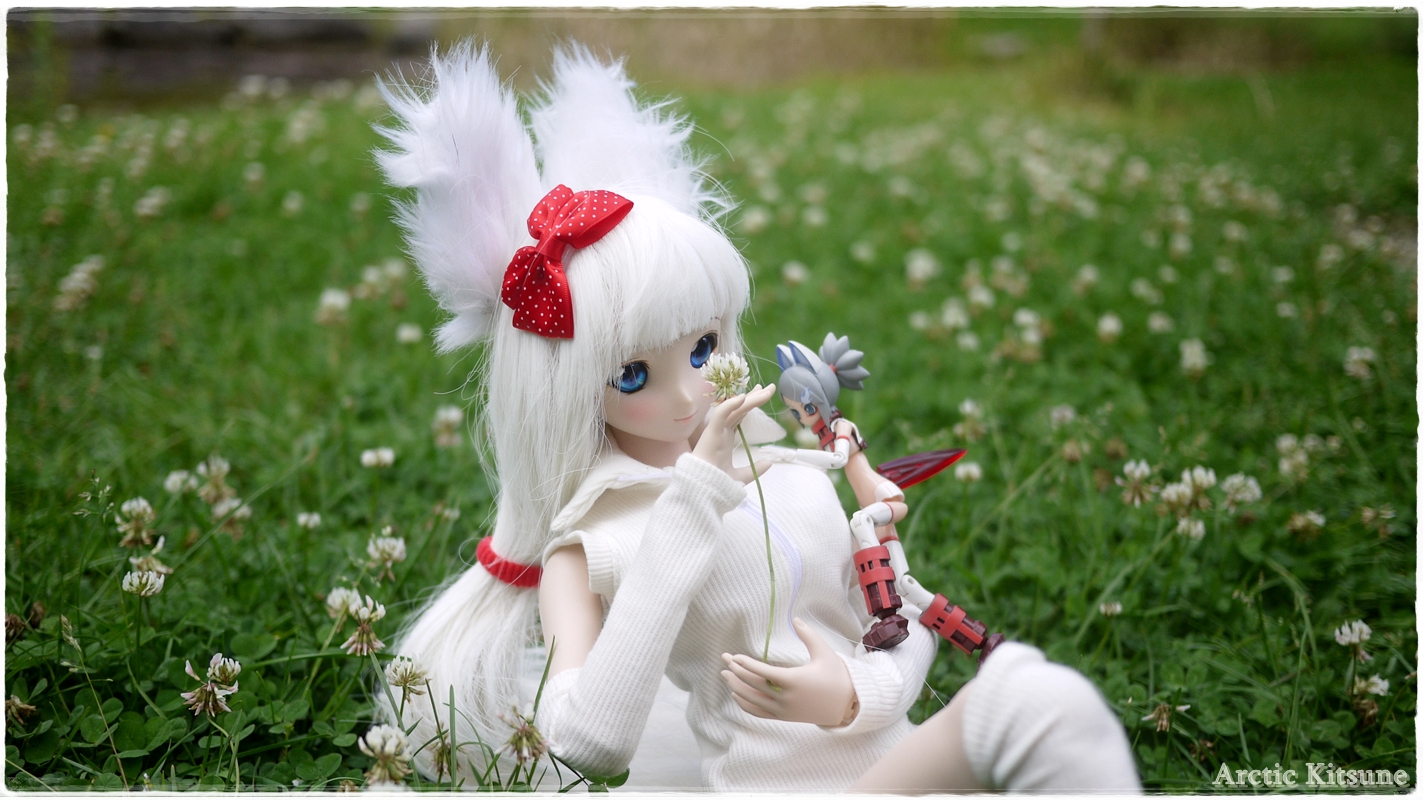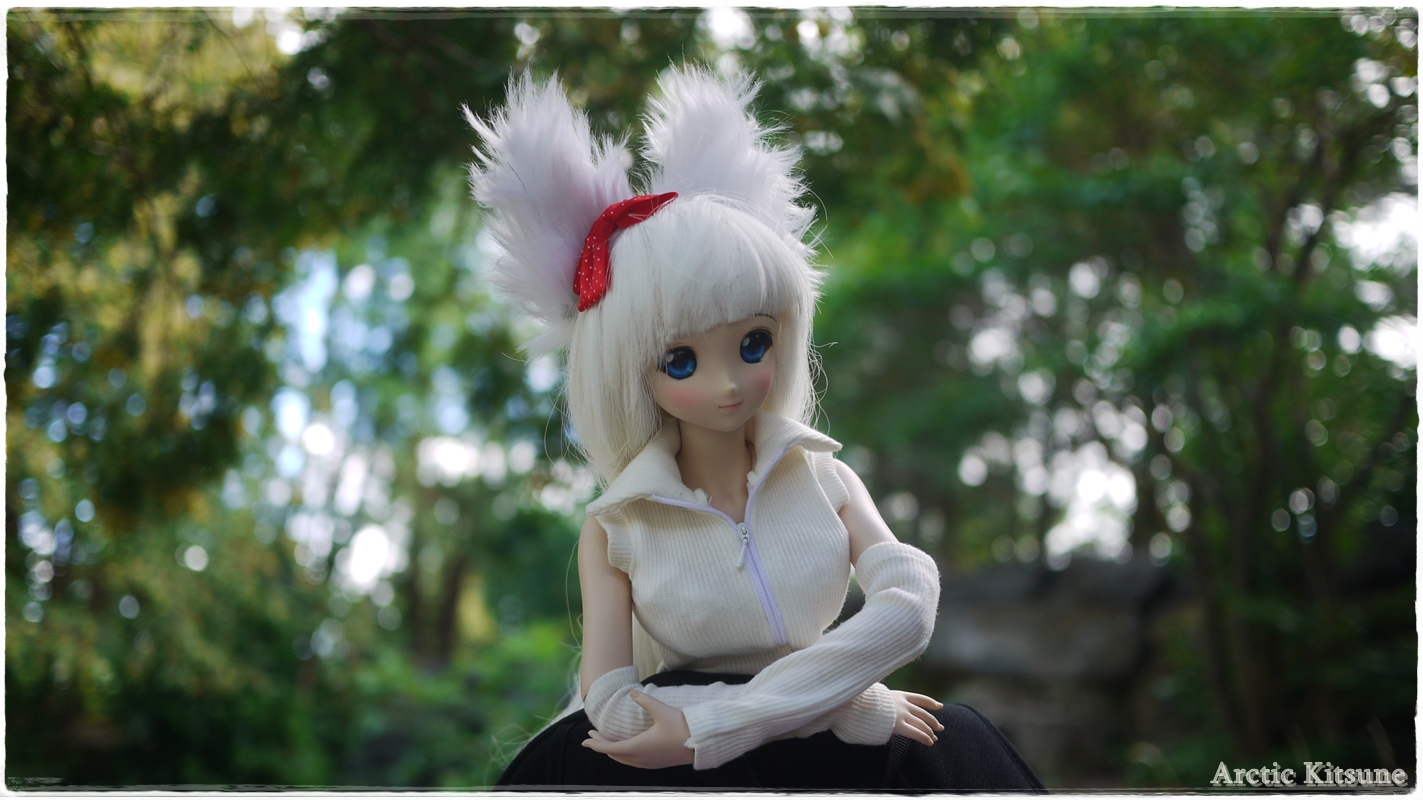 I want to say that I'm overly pleased with half the shots I took in this meet-up. I'm glad we went to Andrew Haydon Park and not Britannia because of all the people for a festival. I'm sad to hear and see that a windmill at the park was taken down so we instead went to one of the buildings with benches. Was a windy day as well so we did our best to keep our Doll(fies) safe. I even had to have Renge hold Vara's ears up at one point. Was fine when behind trees.
It was a fun meet-up. The negative however being that awkward clown, that windmill being taken down, that wind, and some of my images. Some girl tried to act all "tough" by asking why we were taking images of dolls to a friend of hers in that negative bored tone. The rest was fine and fun. I'd happily do a meet-up at Andrew Haydon park.
It was also one of Vara's first time of actually appearing outdoor among the nature. It was a first for her, and a first for me of having to take images of her outdoors. I want to do more so I can actually take proper images.
—
– Varakitsu's Travel Goodies:
https://arcticukitsu.com/Blog/?p=3846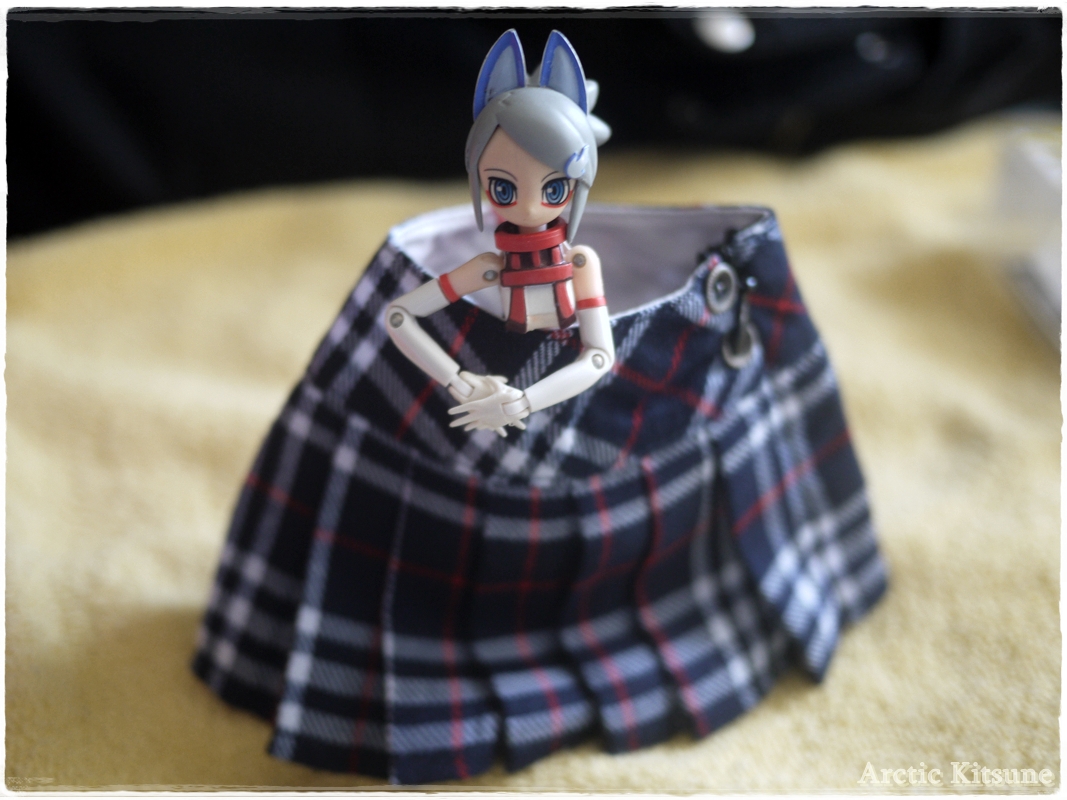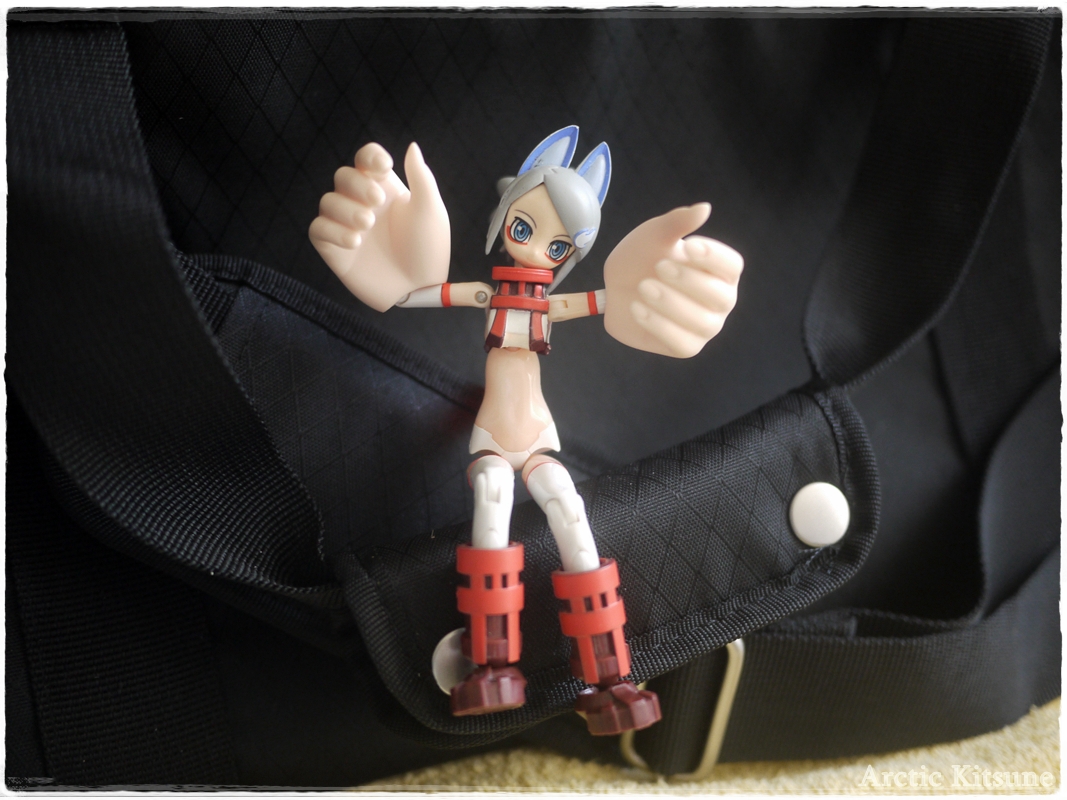 With me carrying Vara around like a barbarian I had to get her a proper carry case. I was constantly being nudged to get her one at meet-ups as well because of the ways I had to carry her around by taking her chest or legs off. The bag allows me to carry her around elegantly while the skirt finally put my mind at ease on any pantsu peaks. That skirt actually being something temporary when I find something more appropriate.
The hands bothered me a little because of them being on the bulky side. I got used to it now, just picky when trying to keep things within a set size. I however did try poking some fun with DK hands with Renge. Also with Vara celebrating full moons I just had to get the moon and Renge in shot. I still don't have a place for Vara so Renge had to do it for Vara.
—
– Ottawa Doll Meet – Ottawa's Experimental Farm Garden:
https://arcticukitsu.com/Blog/?p=3861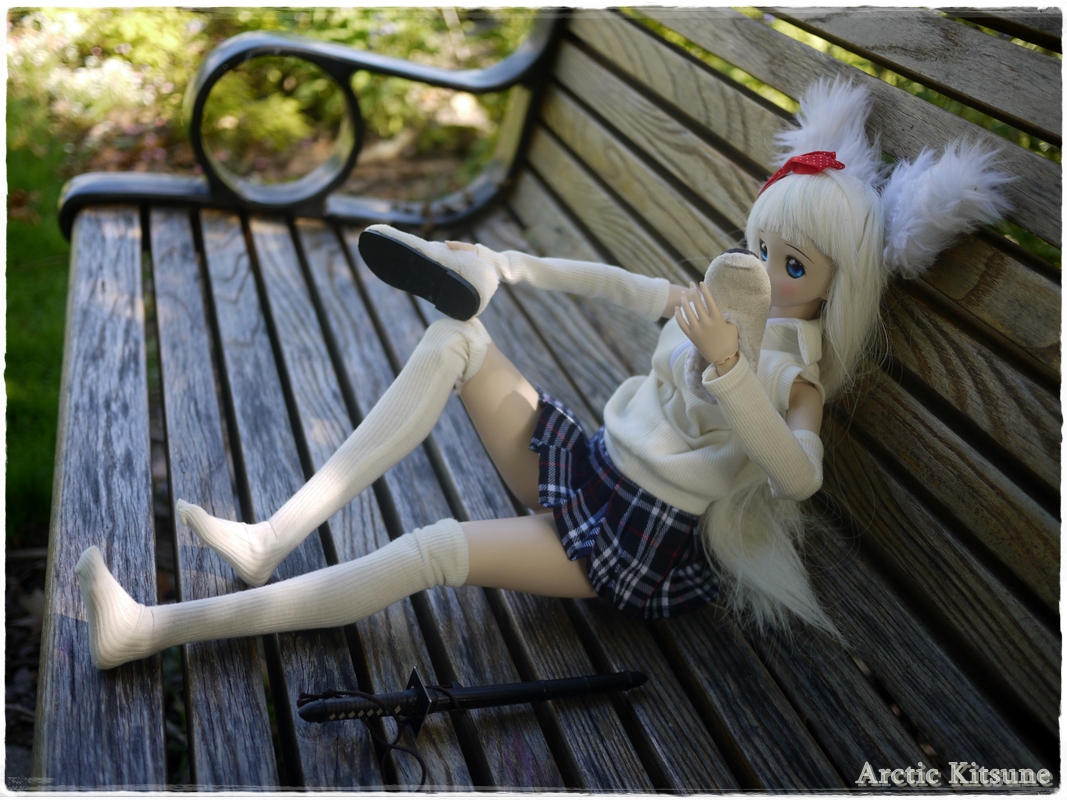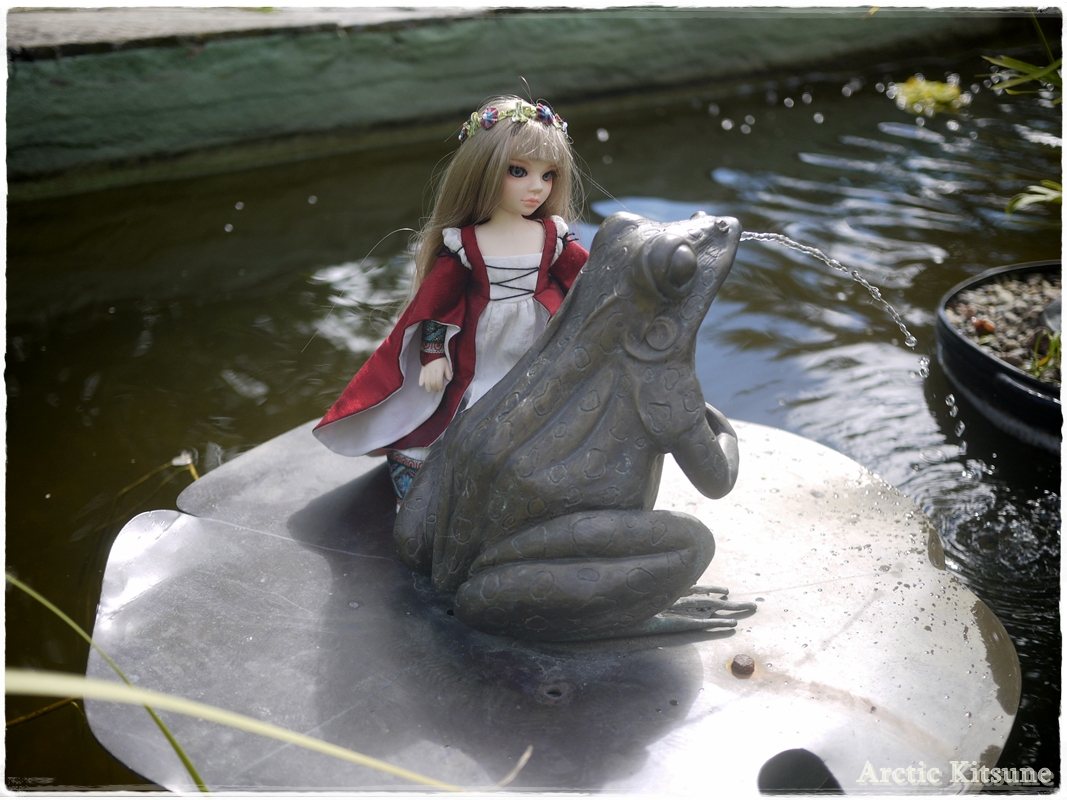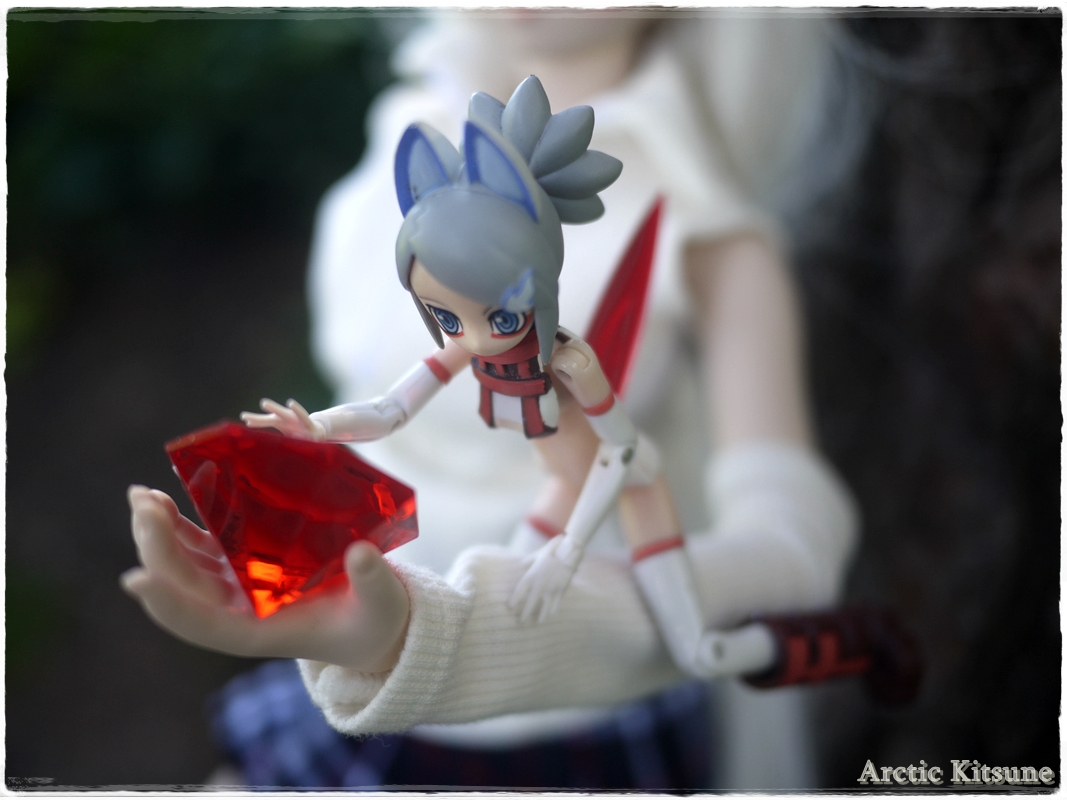 The next Doll meet-up was then at the Experimental Farm's garden area. This was a second perfect opportunity to take images of Vara outdoors thanks to a Beju Doll special meet-up to take photos-stories of them. I'm horrible at photo-stories so I simply went with taking images. I've been itching for both the Andrew Haydon Park chance and this one. I like my images, I just however find them ruined with Vara's wig placement. Because I'm picky I wanted her wig to cover her eyebrows, which it wasn't in the first and this one. I find that Vara looks best when in this wig is to cover her eyebrows.
It's surprising when people compliment your doll by saying how cute she is. Morale booster! She however took a fall which gave me some nice side images that wouldn't have been taken originally. This is what I love about photo-shootings and meet-ups – Those randomly caused situations to take images of. I however feel  bad that Beju Dolls probably didn't reach their objective from this meet-up, especially from me who can't do photo-stories properly. I did have fun though.
—
– Varakitsu's Foxy Tail:
https://arcticukitsu.com/Blog/?p=3877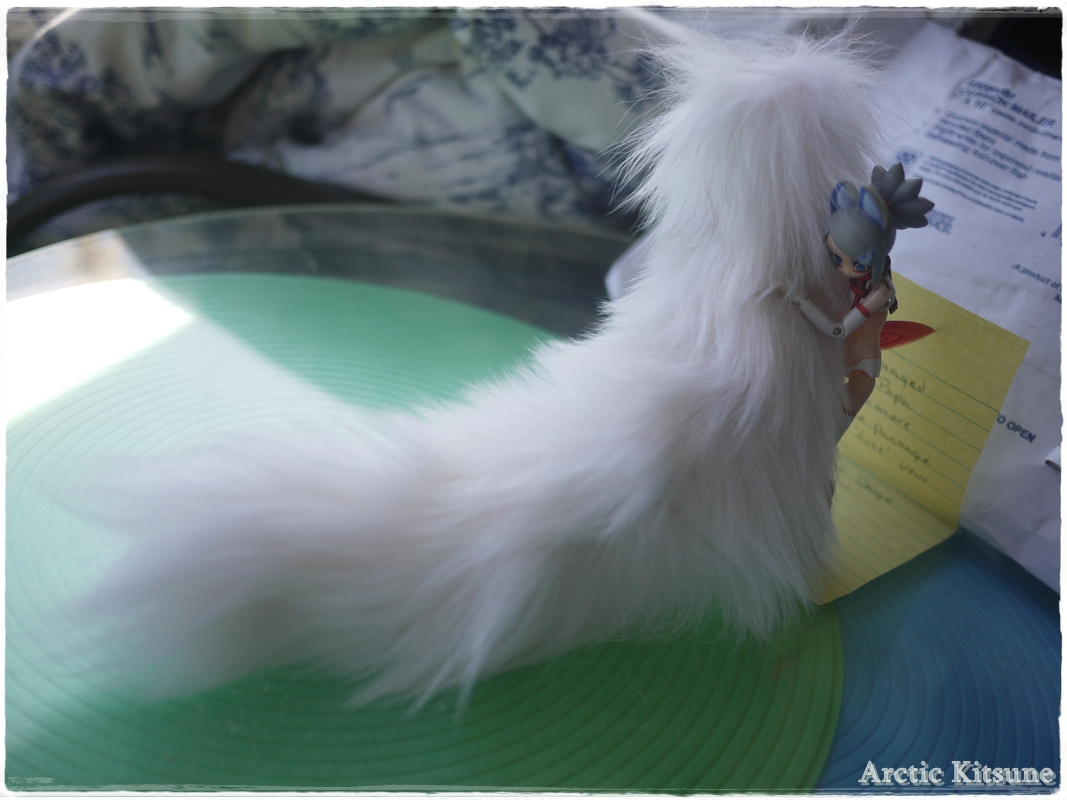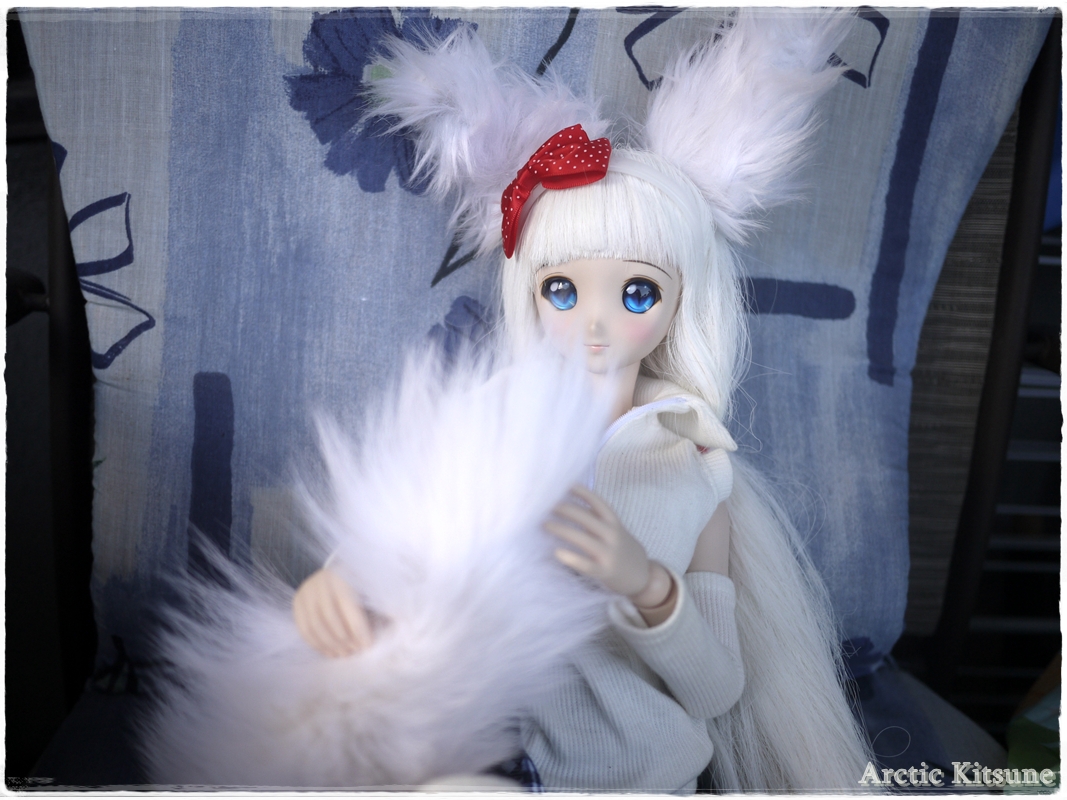 At long last, it arrived! It arrived! It arrived! After many months it finally arrived! After all those rantings I did on Tumblr it arrived! I do apologies for any rantings and venting posts I made on Tumblr and the people I unknowingly may have pissed off. I simply wanted that tail to be seen in the images I took at two past meet-ups, and maybe even a few private shots. Varakitsu is an Arctic Fox so I must show that with the tail.
This wouldn't have been possible without Rat Bastard's help from Twitter & Figure.fm. He helped me grab it from Russia to USA to bounce it to me because of the whole Russia to Canada being denied. He even articulated the tail along the way. Many thanks!
I'm not sure what went wrong, or why it was held up for that long. Maybe it did get caught up in a machine, got stuck to a side of a box, or just simply stuck in customs in a confused manner. I'm however pleased that now that I do have the tail that Vara can happily pose with her fluffy tail. It's amazingly soft, even giving me those happy feelings. It makes you happy :P.
(I'm such an idiot! I did what I said I shouldn't by showing her eyebrows! BAH!)
—
– Ottawa Doll Show – Fall 2013:
https://arcticukitsu.com/Blog/?p=3893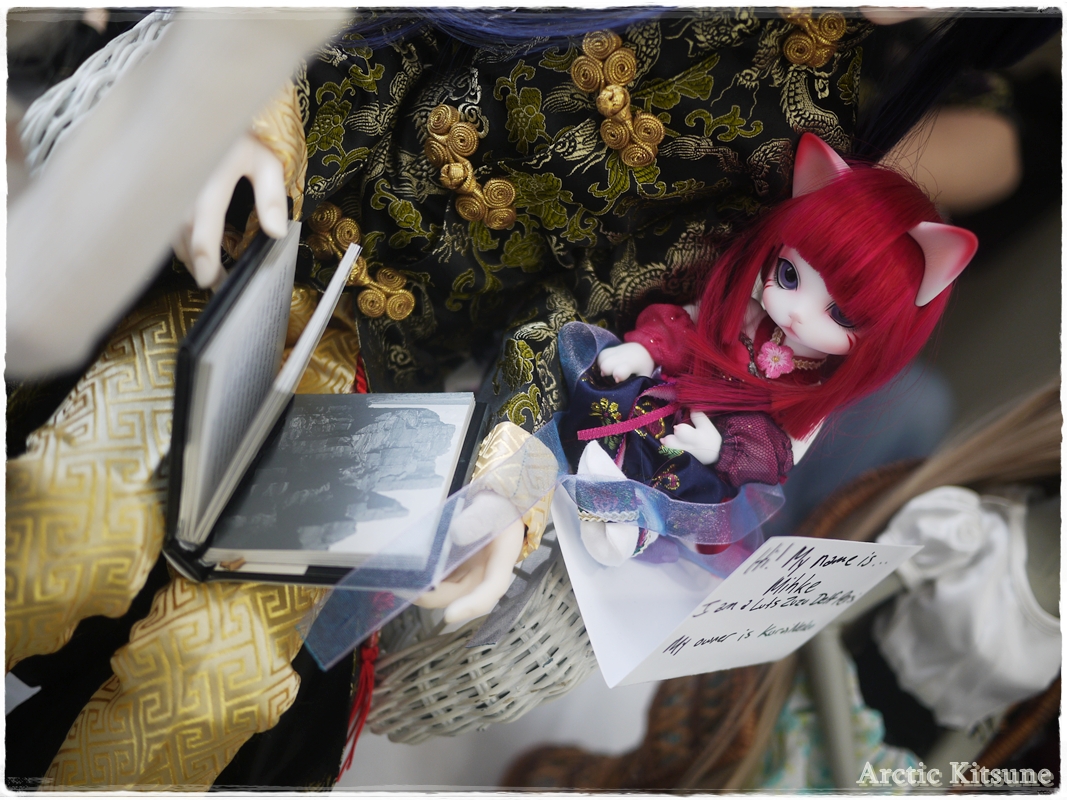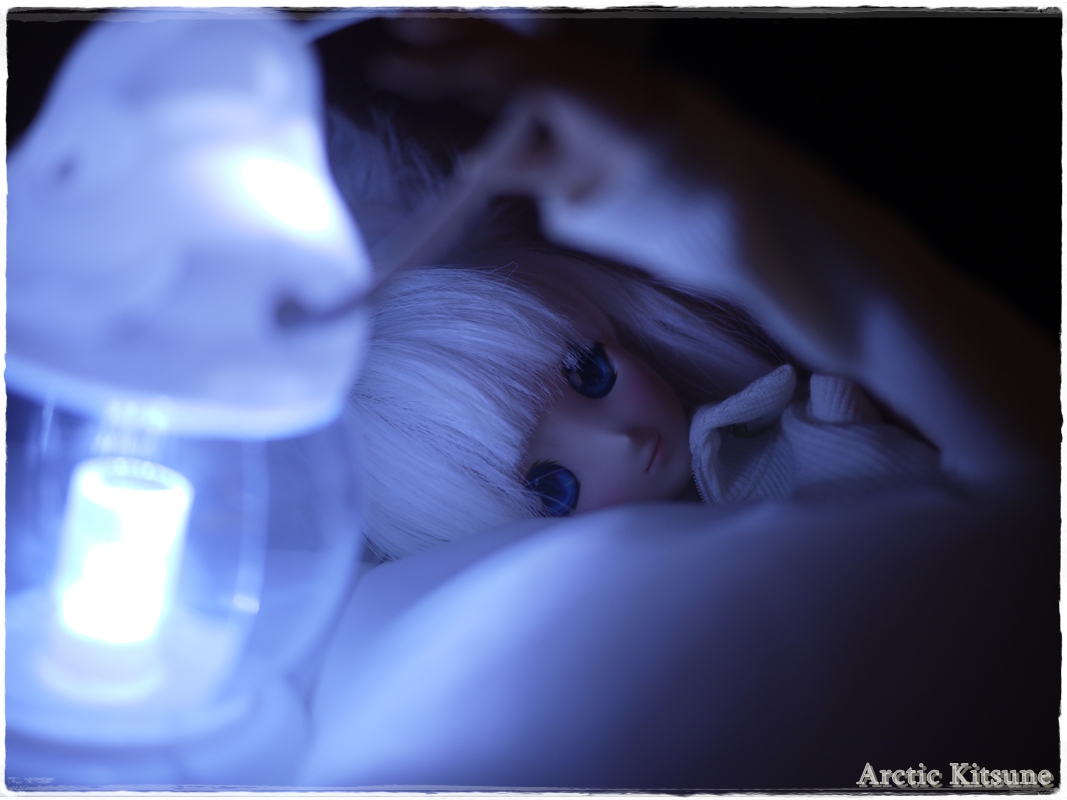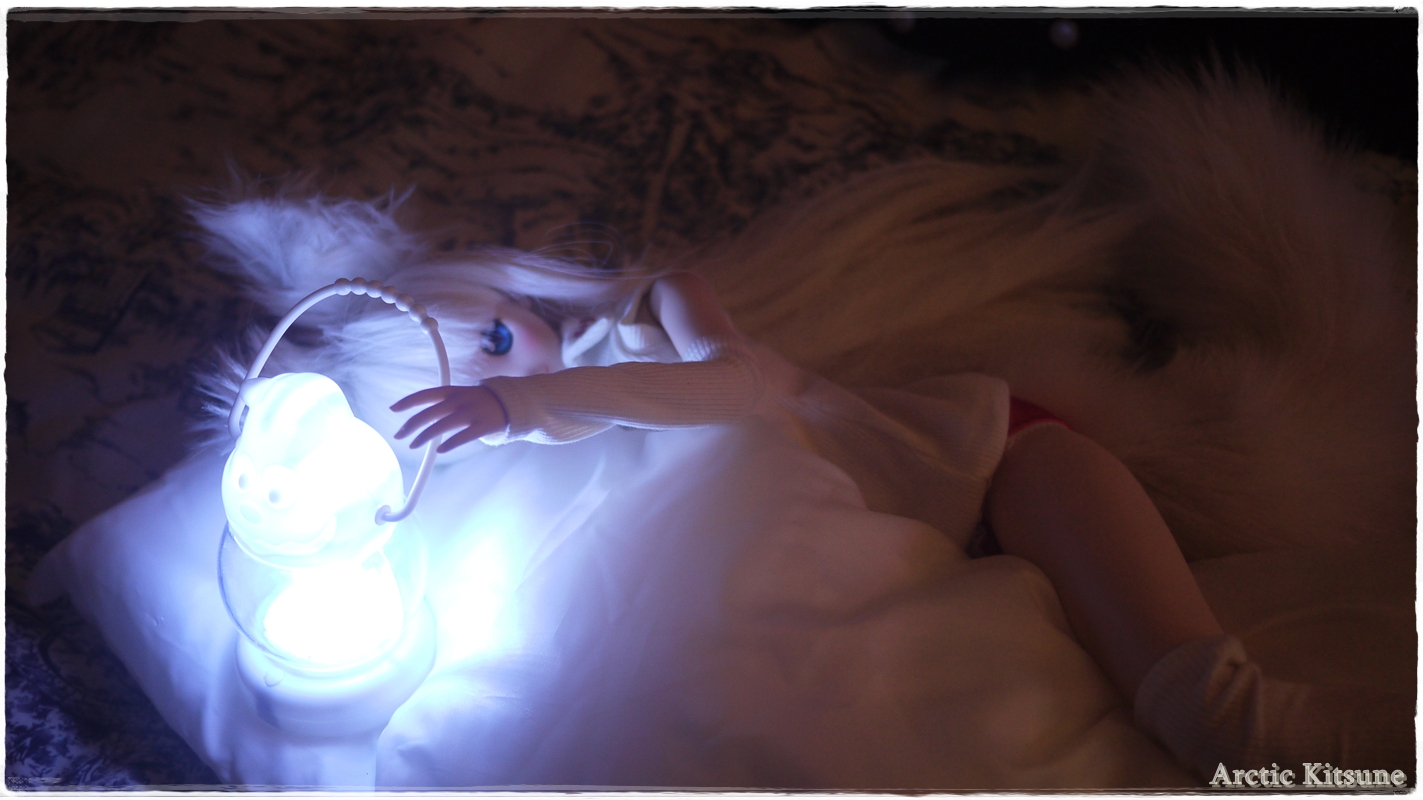 I've been waiting and preparing for this Doll Show since mid-summer. I was trying to get Vara prepared for the Doll Show with a Jormungand cosplay which instead was made ready for G-Anime. I was trying to force-loot outfits and accessories for her that things became a bit…troublesome. Her tail got stuck in customs only to arrive a few days before the show itself.
I had Vara go ahead of me so I saw her kneeling when I arrived. I was mostly pleased with how she was posed that I left her as such. Only thing however bothering me was the wig again. Just can't seem to get it properly set on her head. This is probably unfair, but I prefer my darkened light-play images of Vara peaking from the dark for Halloween. I love those shots.
Again, like last time, I was impressed by the variety of dolls at the show. I was more impressed with Tieren's girl in red and the Santa display nearby. I believe more came this time, even higher quality and fancy ones. All those that I couldn't get on my camera properly. It was fun, I had fun, with me actually only being annoyed at the bloody planes coming in from the wrong side. I have no real complaints except for the planes and that LCBO-pestering dude who scared off a grumpy lady. I'm also annoyed by when I was trying to speak when someone asked if dolls were for sale (which they weren't) only for me to freeze up after saying "I don't know" then getting interrupted by a full-blown conversation when trying to speak.
Many thanks for those on "Dolls of Ottawa" for giving me a white travel pillow for Vara. She loves it, as do I. It's like an artificial tail heh.
This time I'm ready for the next Doll show! Bring it on!
—
– Happy Belated Canadian Thanksgiving:
https://arcticukitsu.com/Blog/?p=3914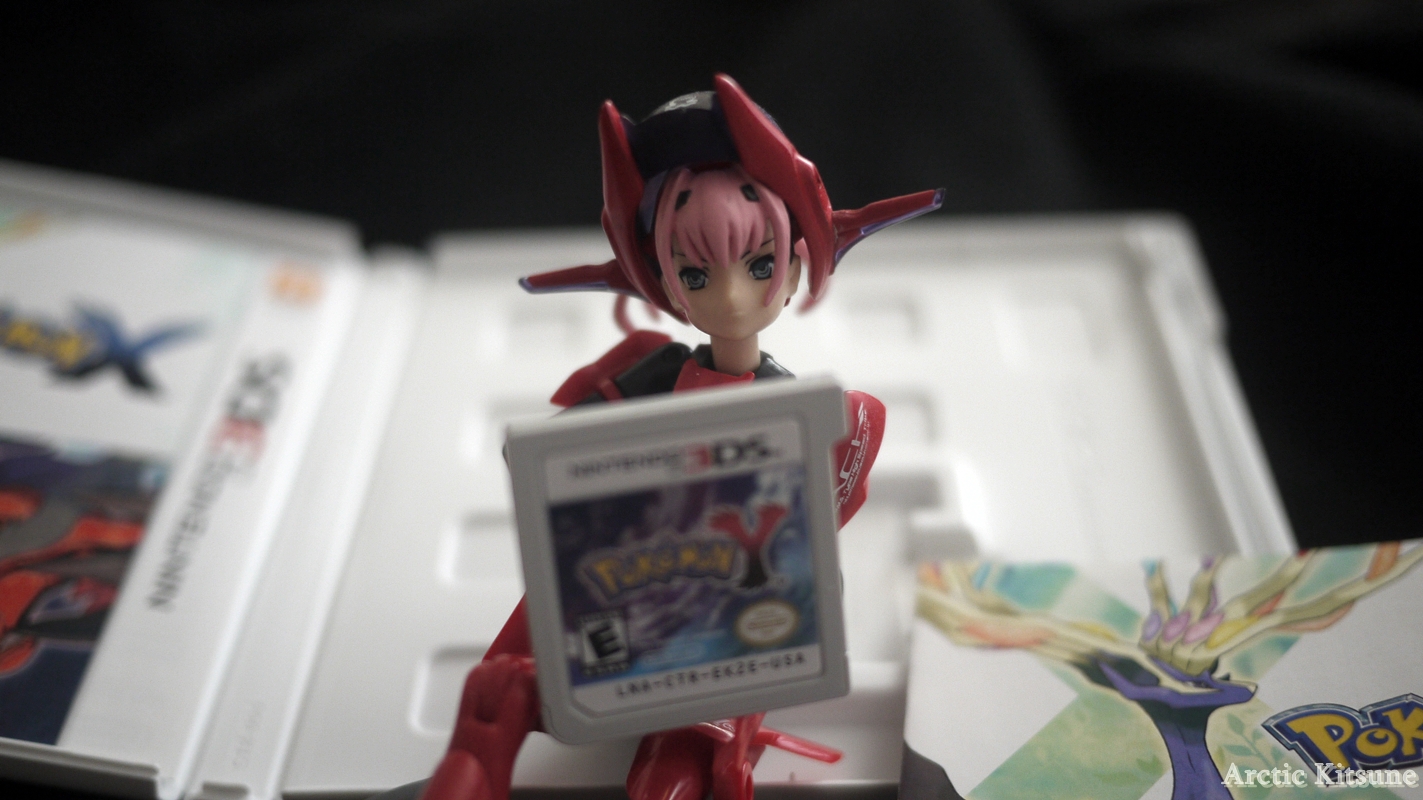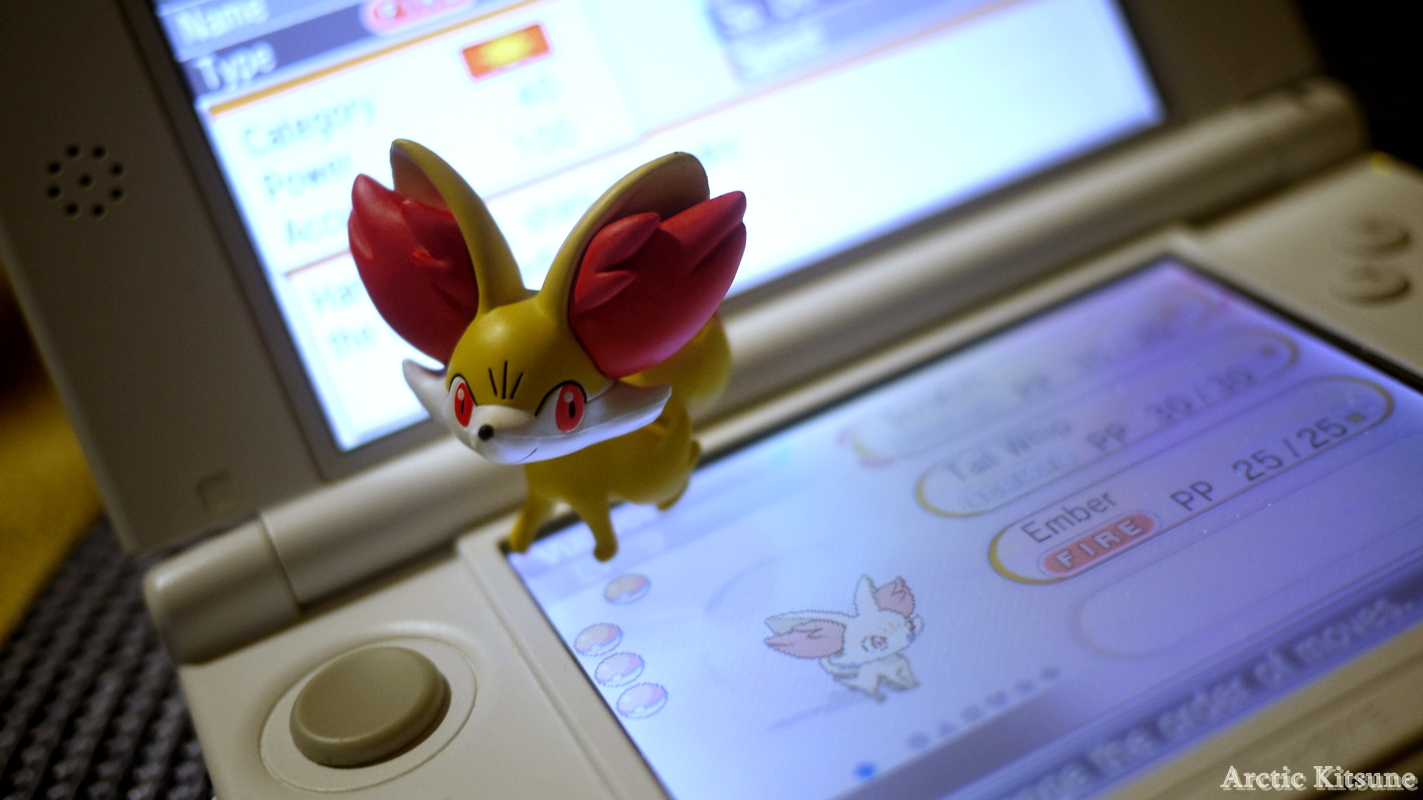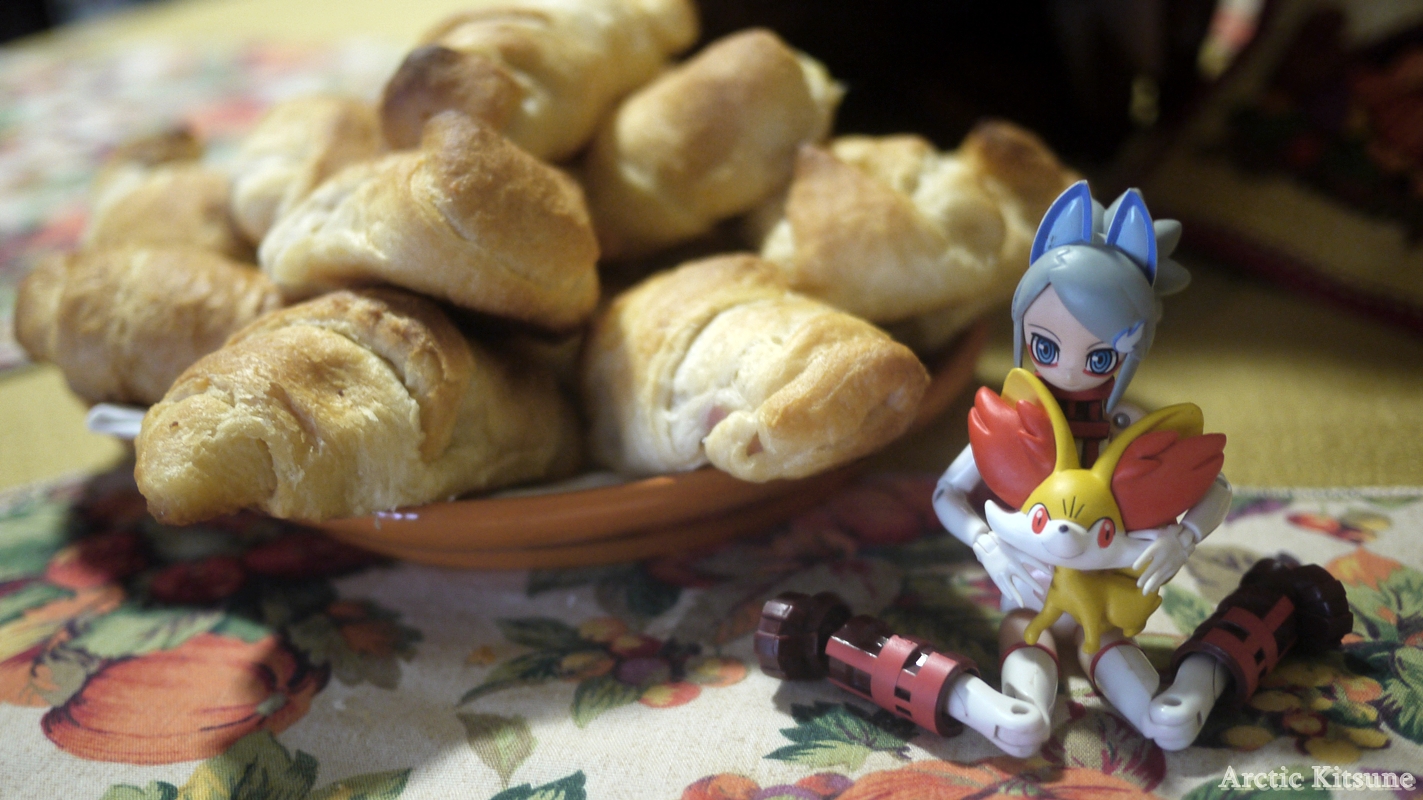 I must always celebrate Canadian Thanksgiving because the Americans are obnoxious with theirs heh. One day they're thankful then the next they're trying to kill each other while I'm here playing Pokemon Y, watching Renge train her Fennekin, and being highly obsessed with Varakitsu.
I had so much fun with Pokemon Y that I gave myself neck pains with how much I was playing it. Had to give it a break so I fell behind other people who were simply RUUUSHING through their gameplay. Constant boasting and spoilers that I had to avoid them. Not really complaining, just saying that I took my time playing Pokemon Y while others rushed to theirs as if the world was ending.
*And an ugly image of me posted up with Varakitsu.
—
– Pre-Halloween Autumn Fun – 2013:
https://arcticukitsu.com/Blog/?p=3930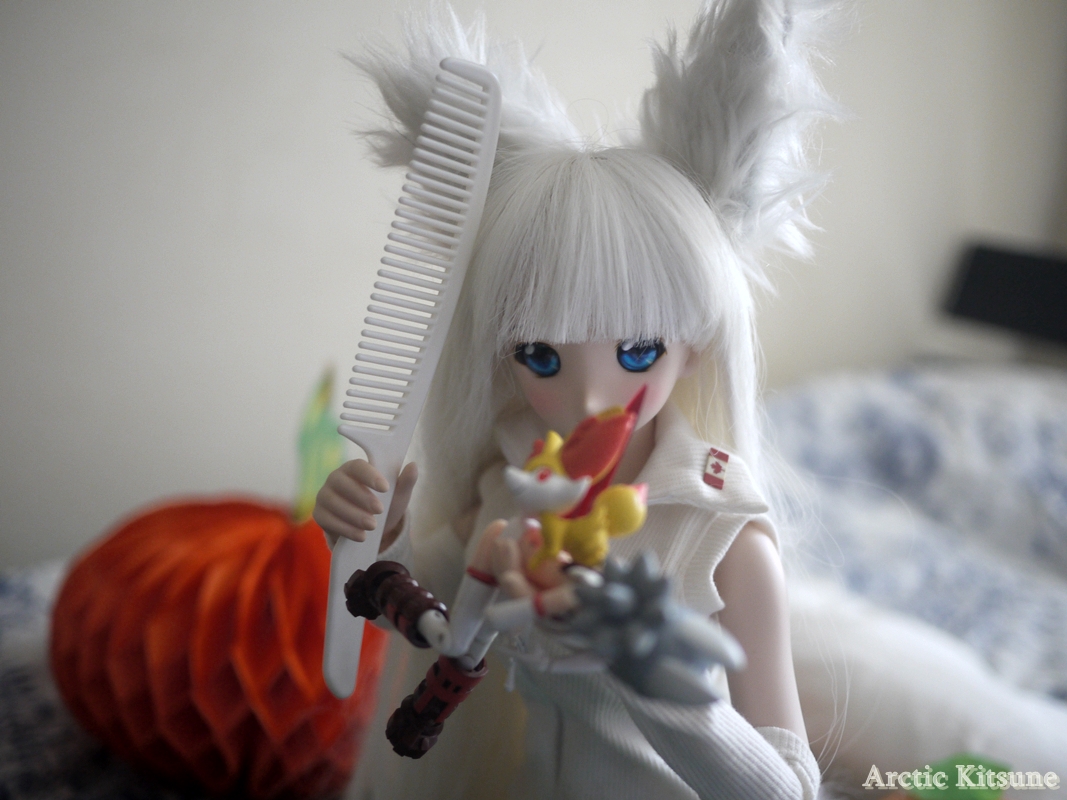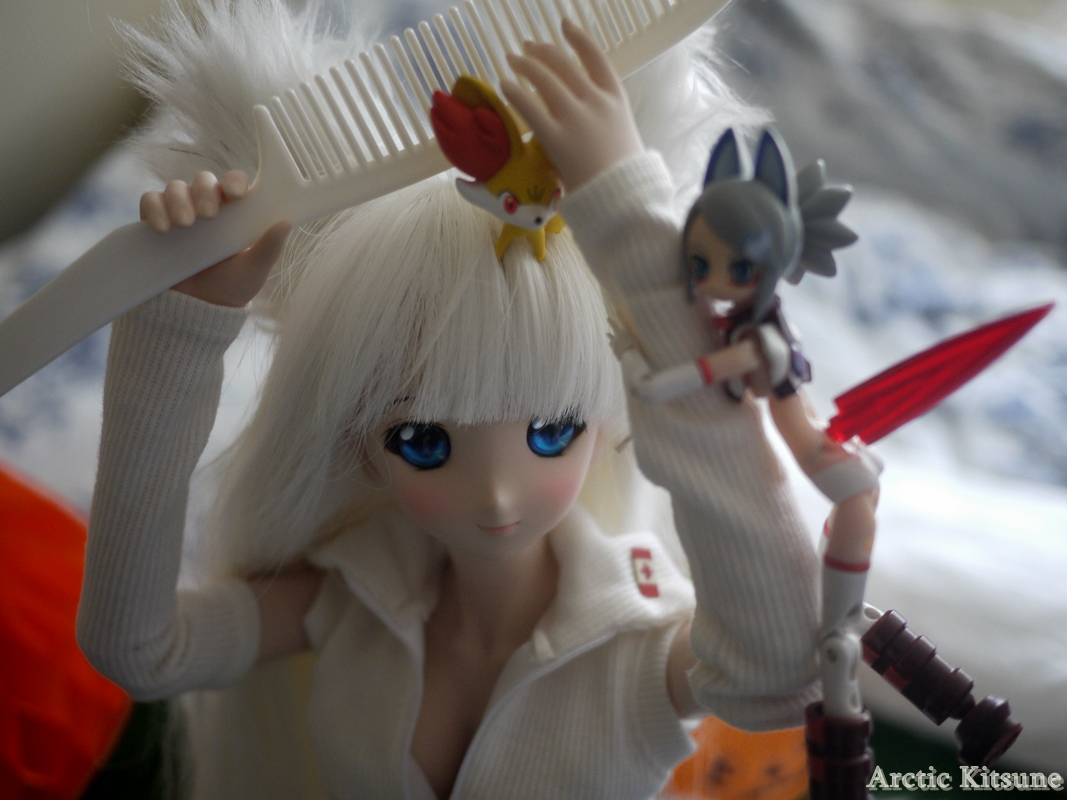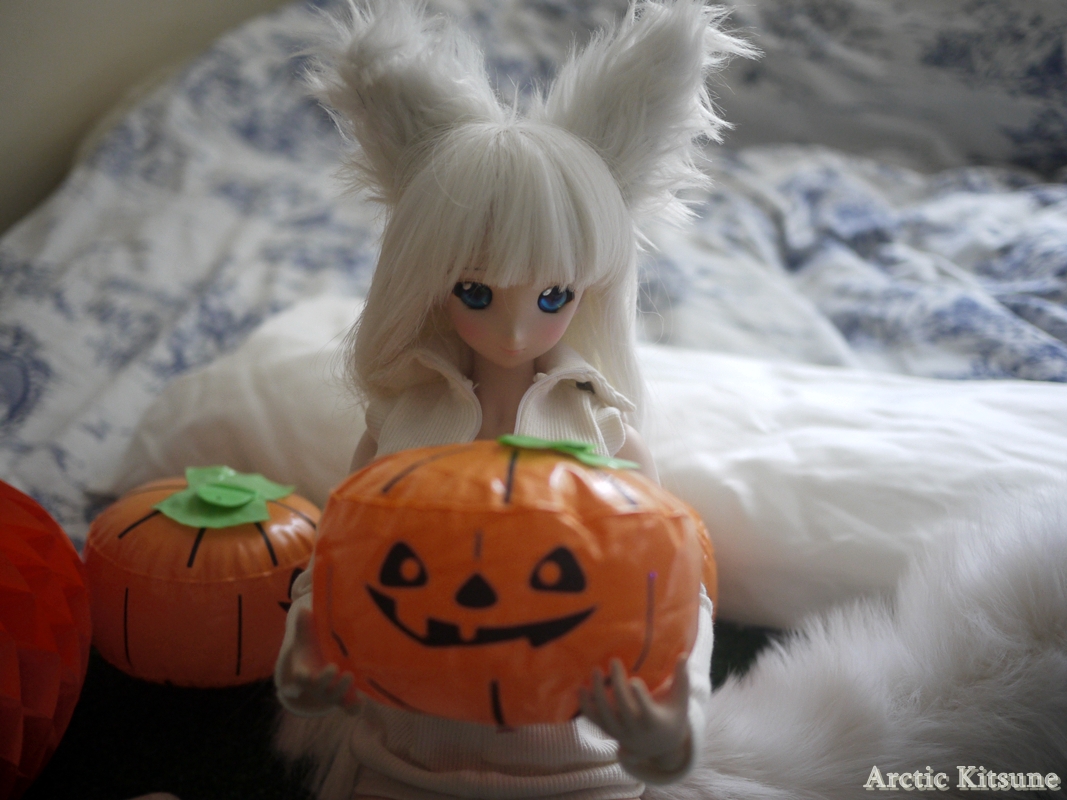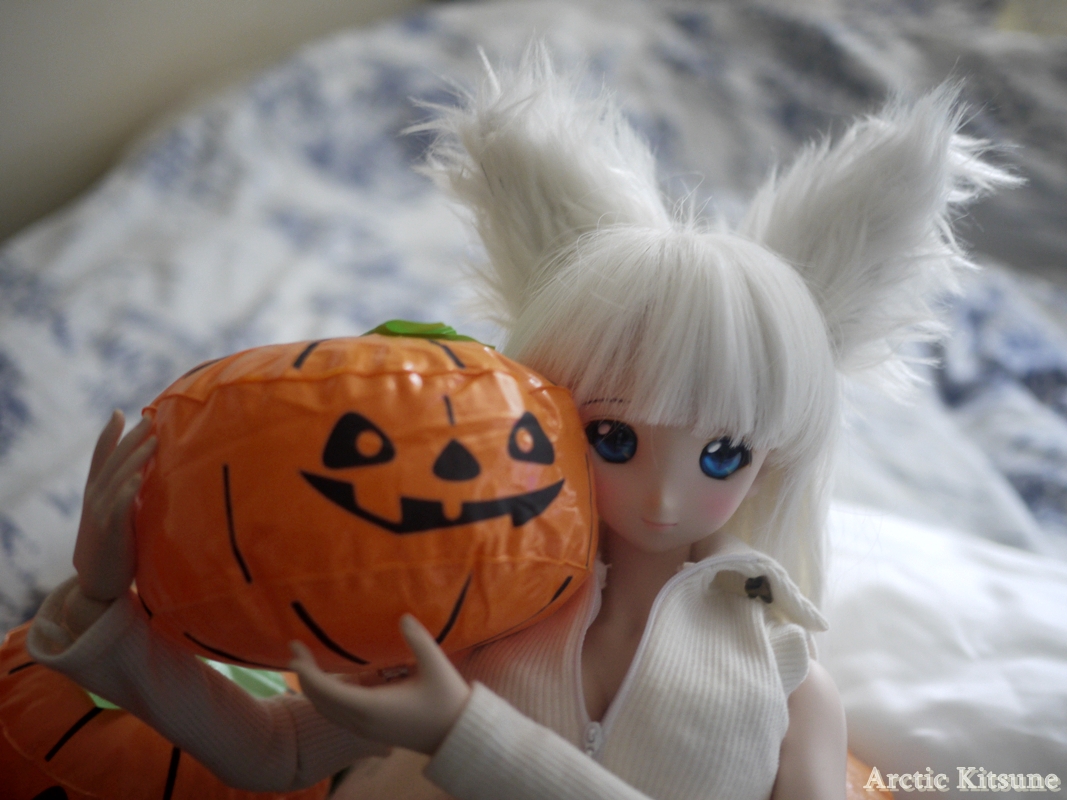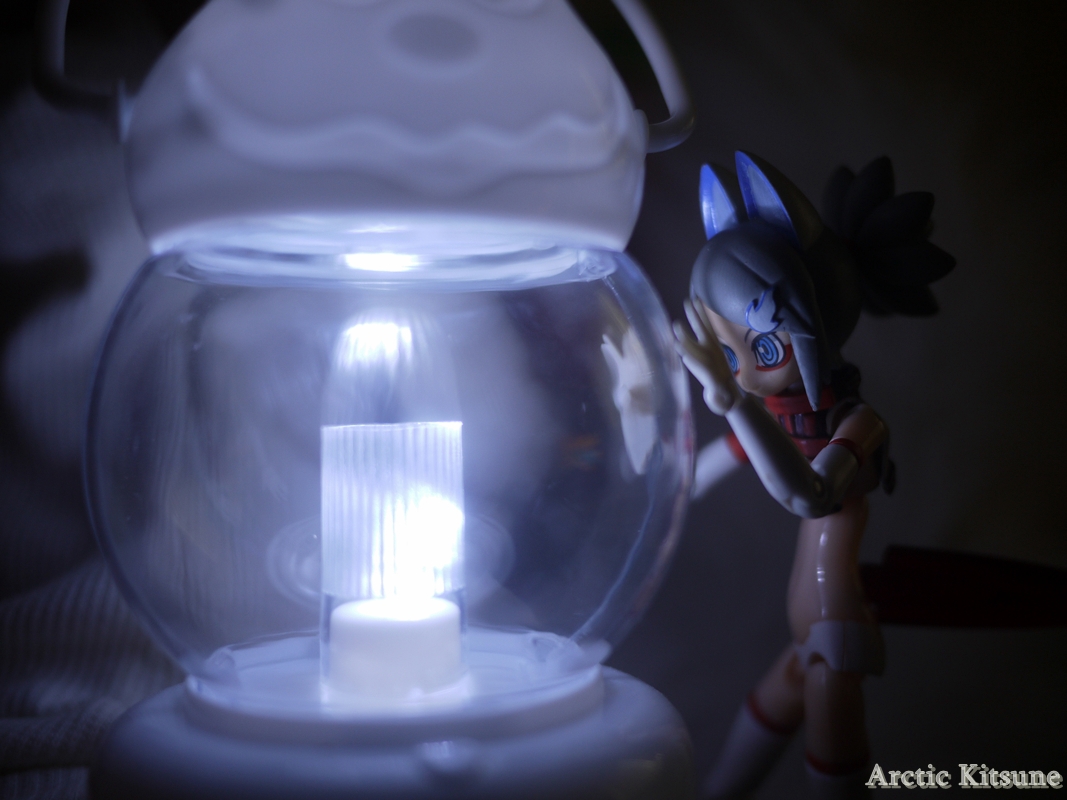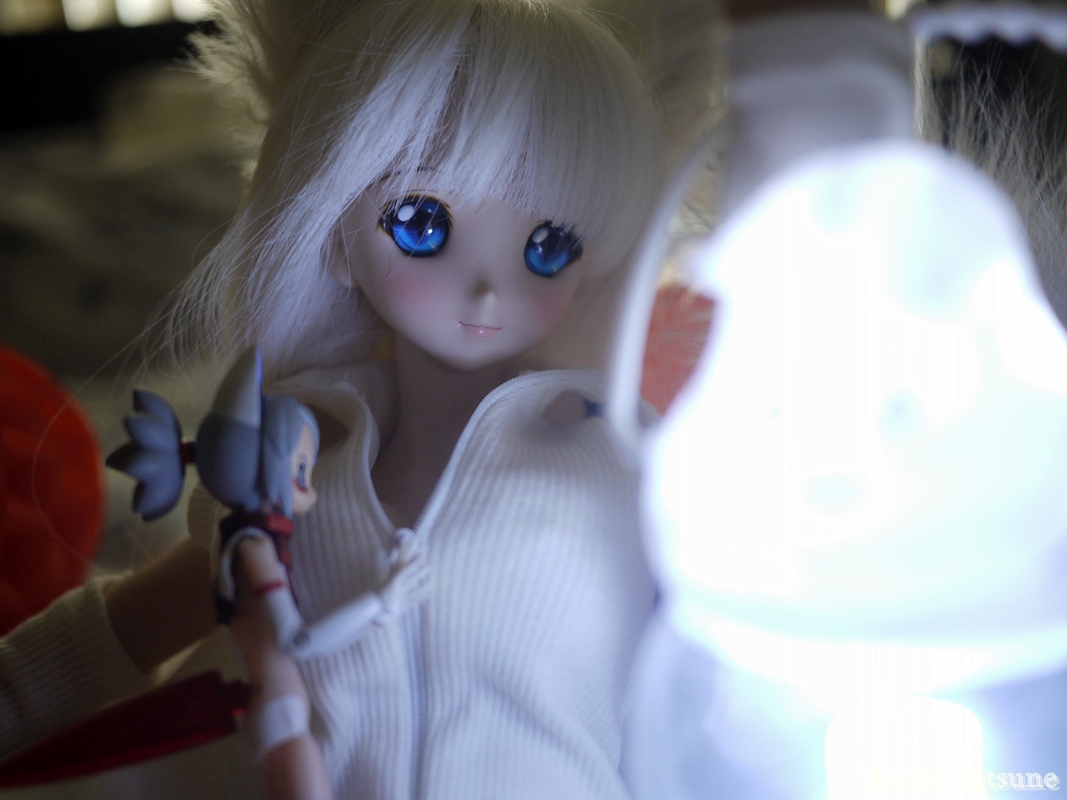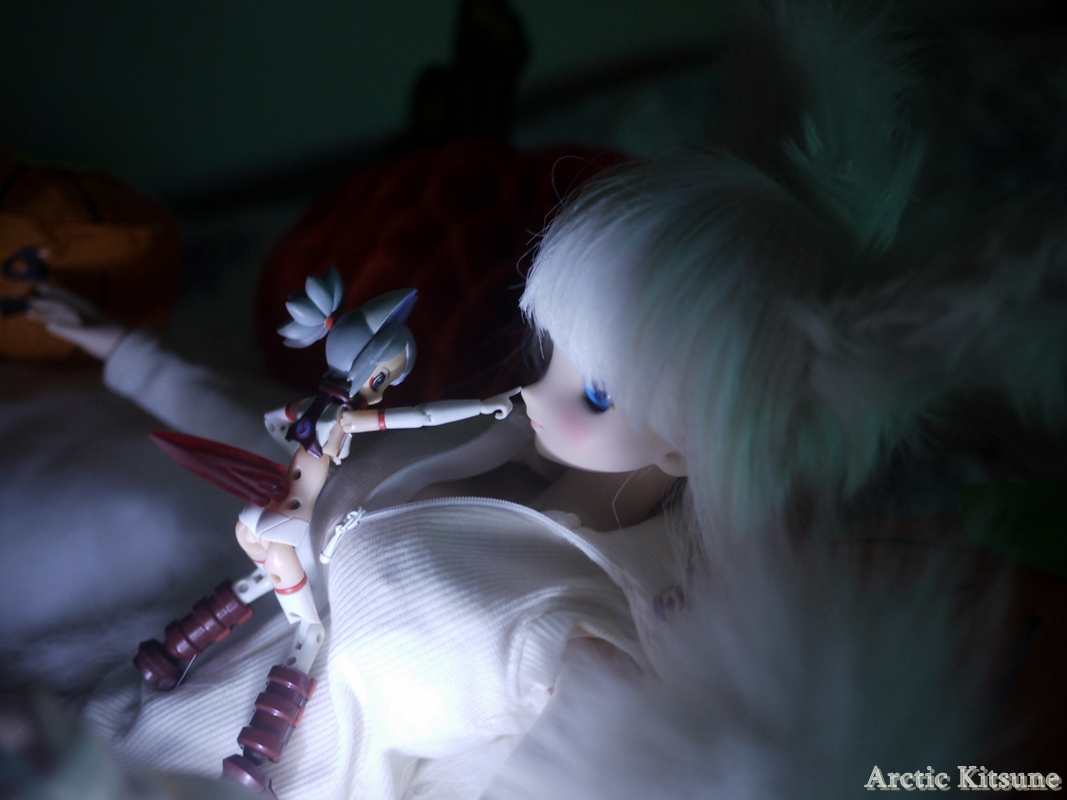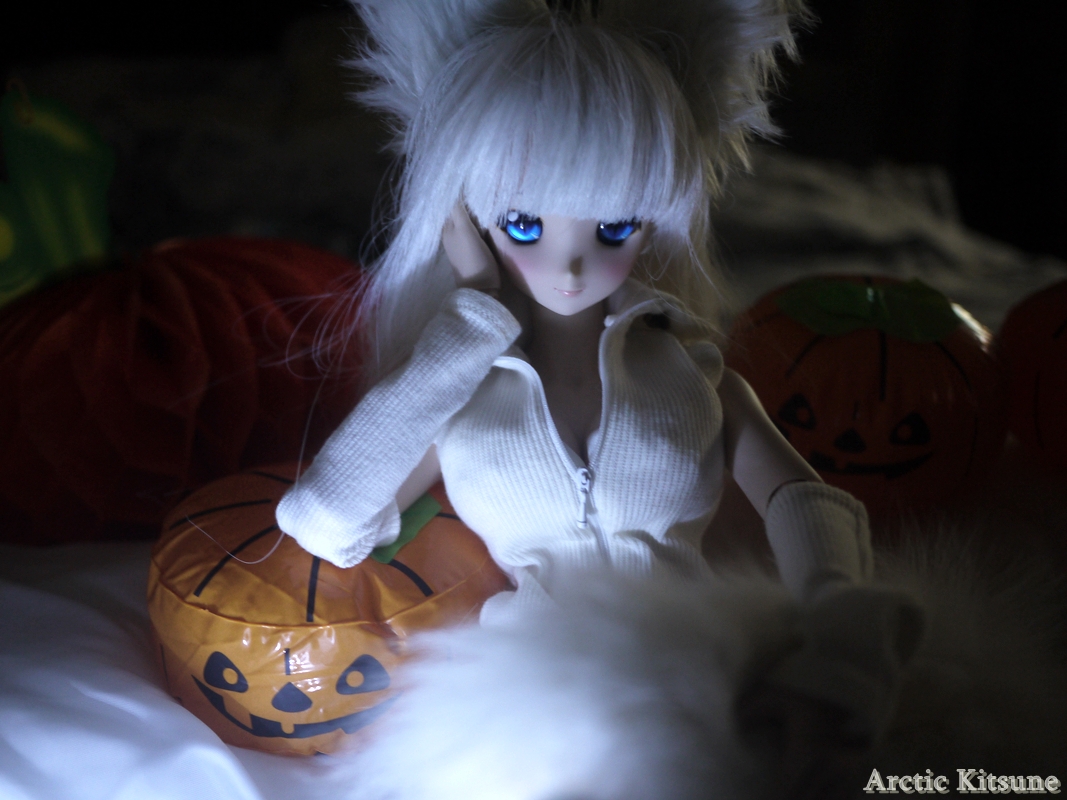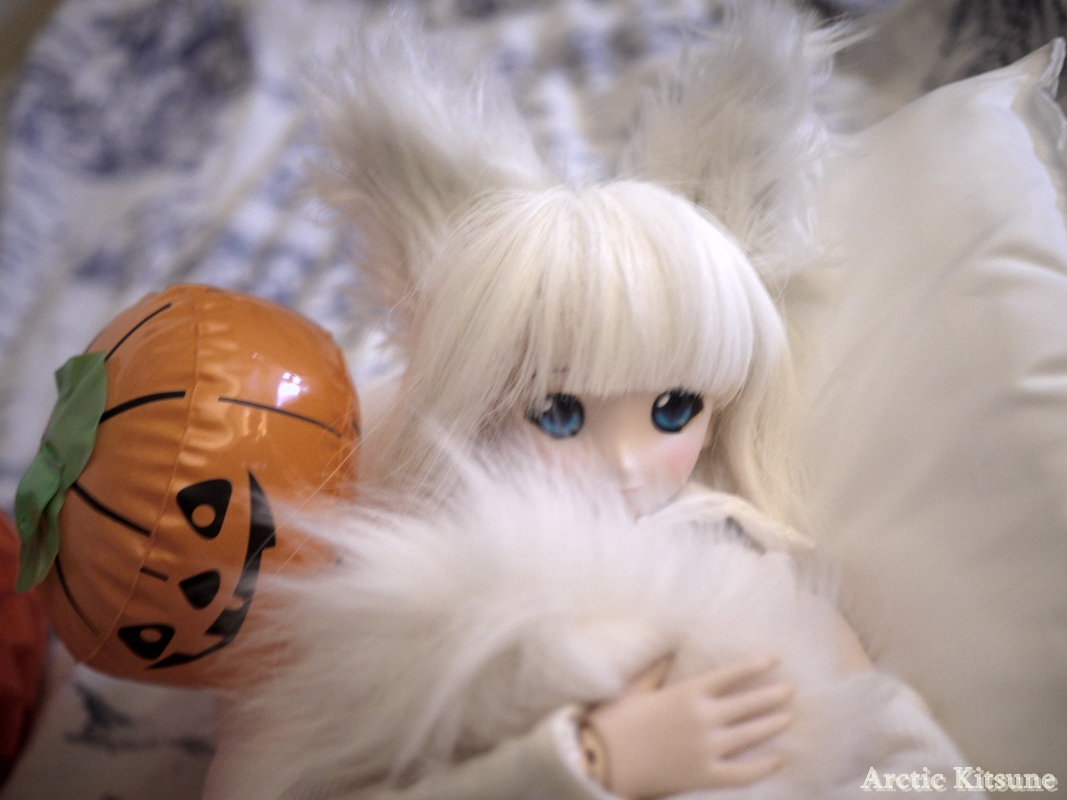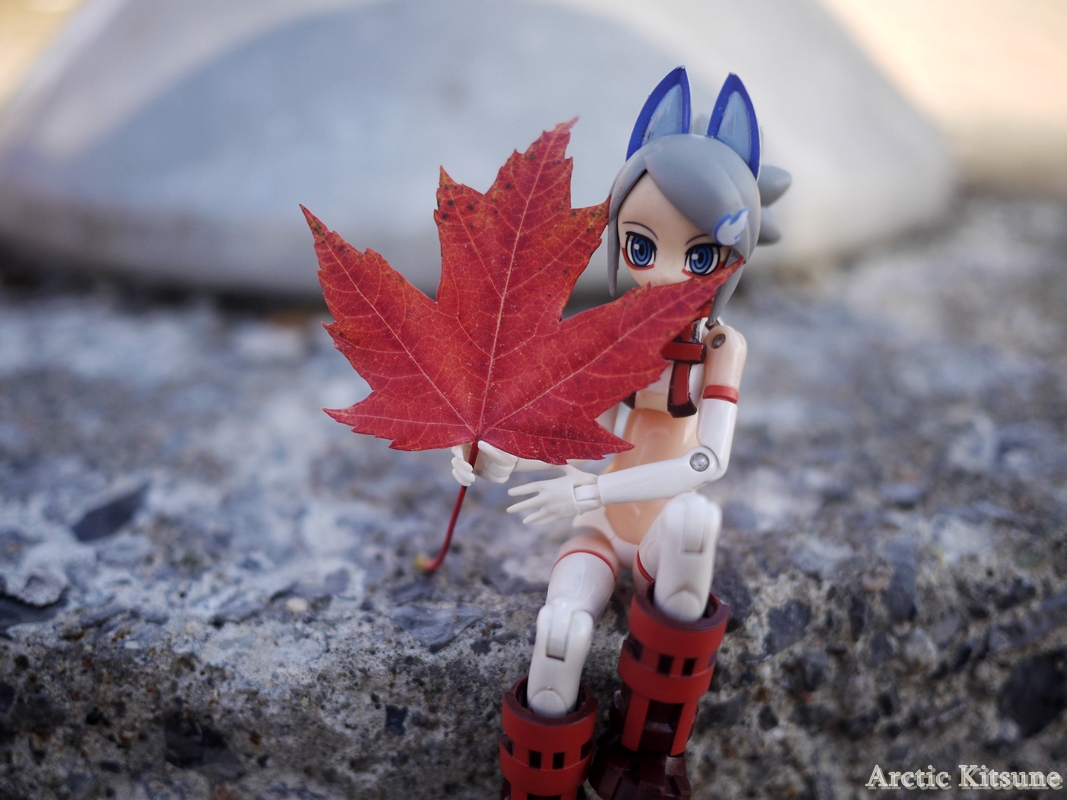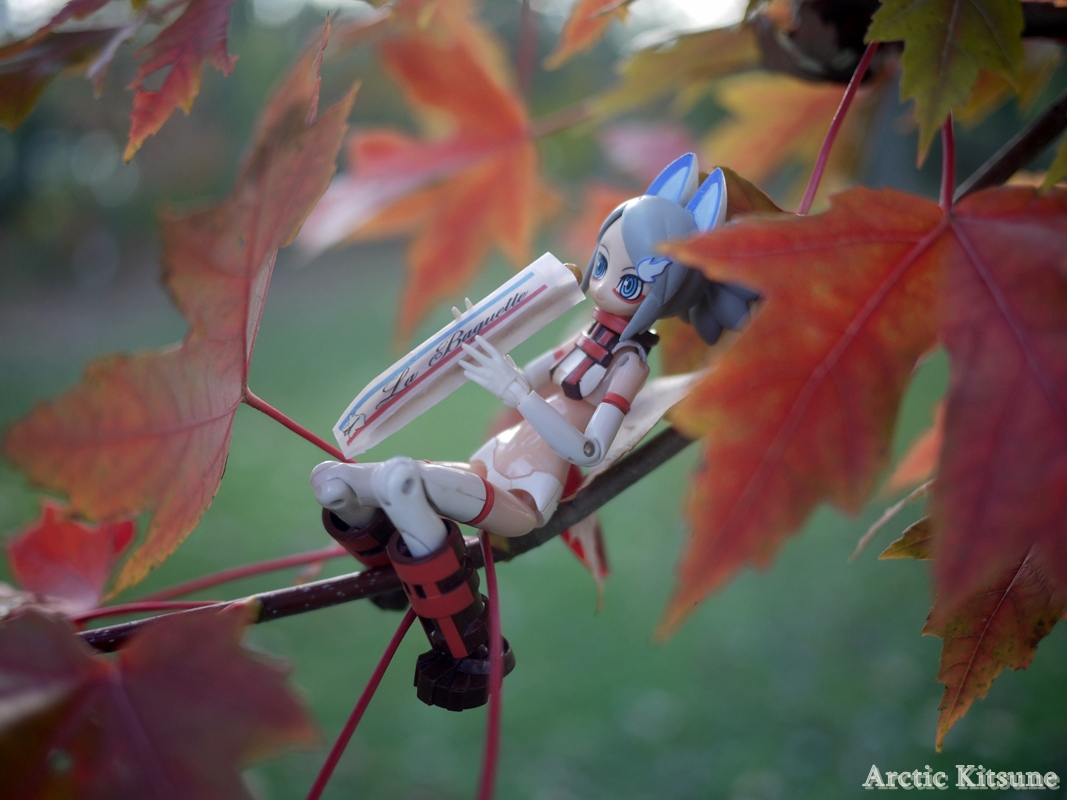 (Love to share more from this article but can't.)
I had so much fun taking these images. I believe this to be my third favorite article of the "perfect" Vara that I seek, now with a foxy tail. It was apparently so much fun that Danny Choo or one of his minions made it their favorite on figure.fm heh. I wanted to take images with Halloween decorations while only being limited to a few decorations. Everything was limited on the festivities but I guess it was made fun with how Renge was pestering Vara then returned with some night play that I continued from the fall's Ottawa Doll show.
I also want to say that I want to favorite the majority of the images I shared as my fav'. I can't do that, that would be cheating on this article heh. Now if only I could get this type of quality and accessory behavior outdoors……
Speaking of outdoors…..I couldn't bring Vara outside, or I couldn't bring up the courage to do so. I took out Renge and the long-awaiting Ach out instead in place of Vara.
—
– Happy Foxy Halloween – 2013:
https://arcticukitsu.com/Blog/?p=3938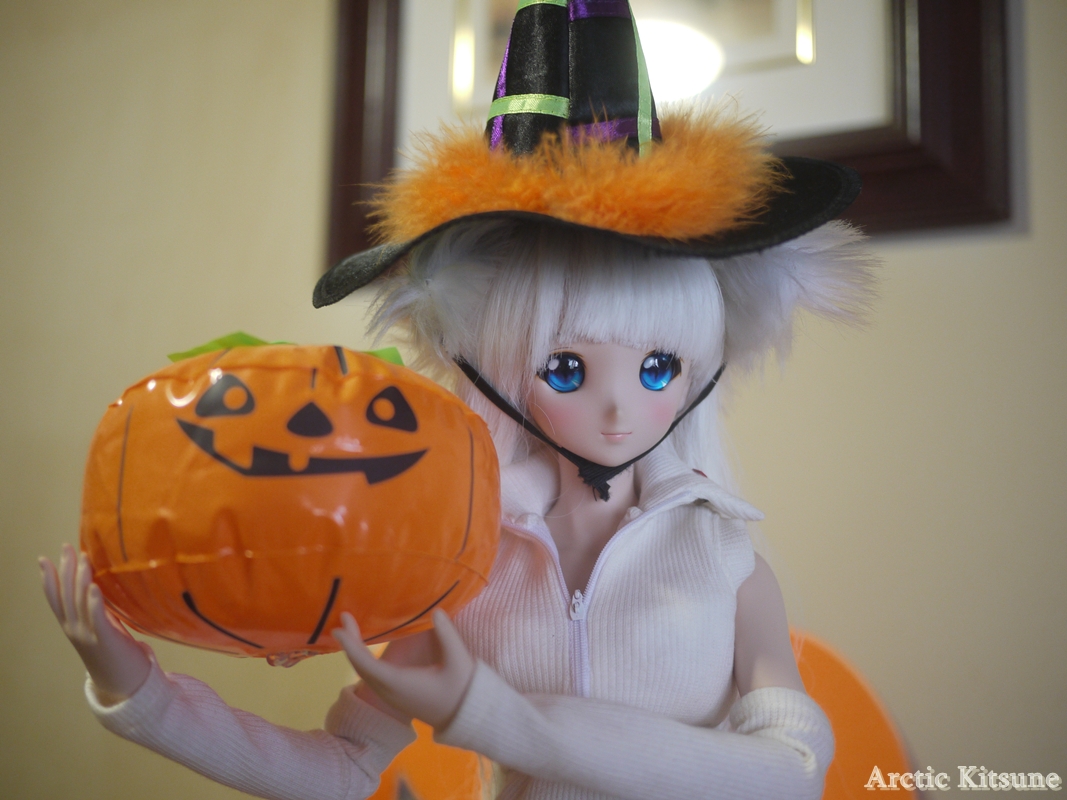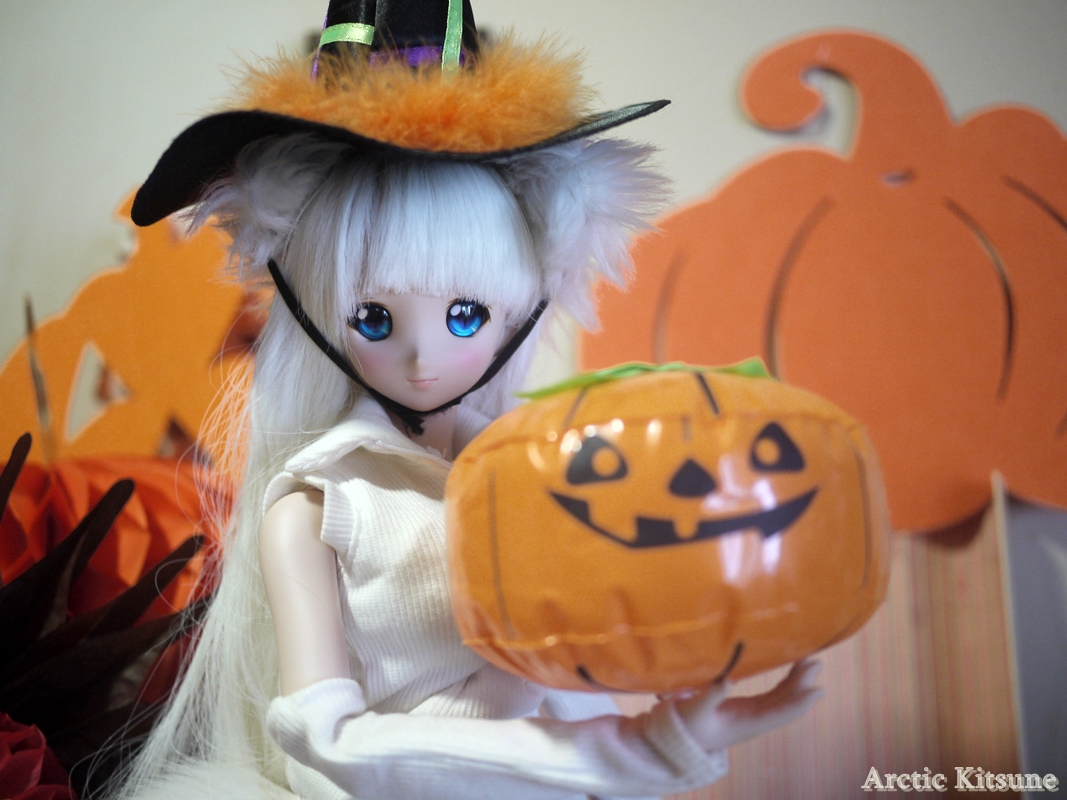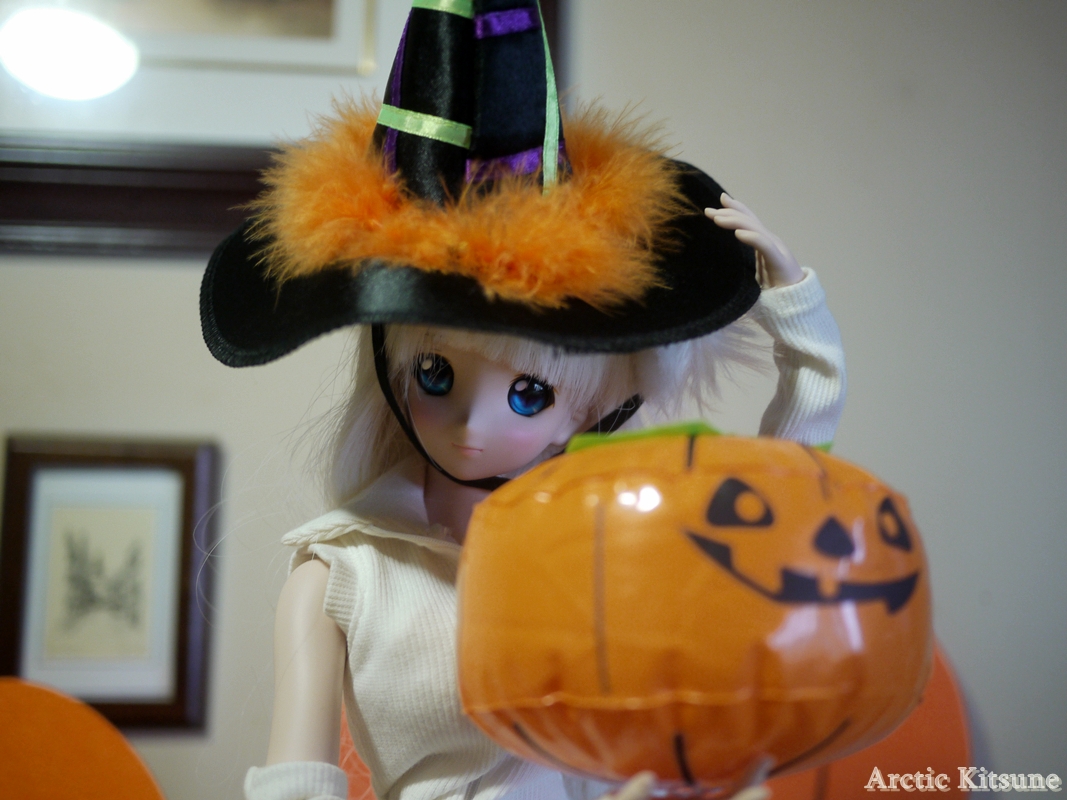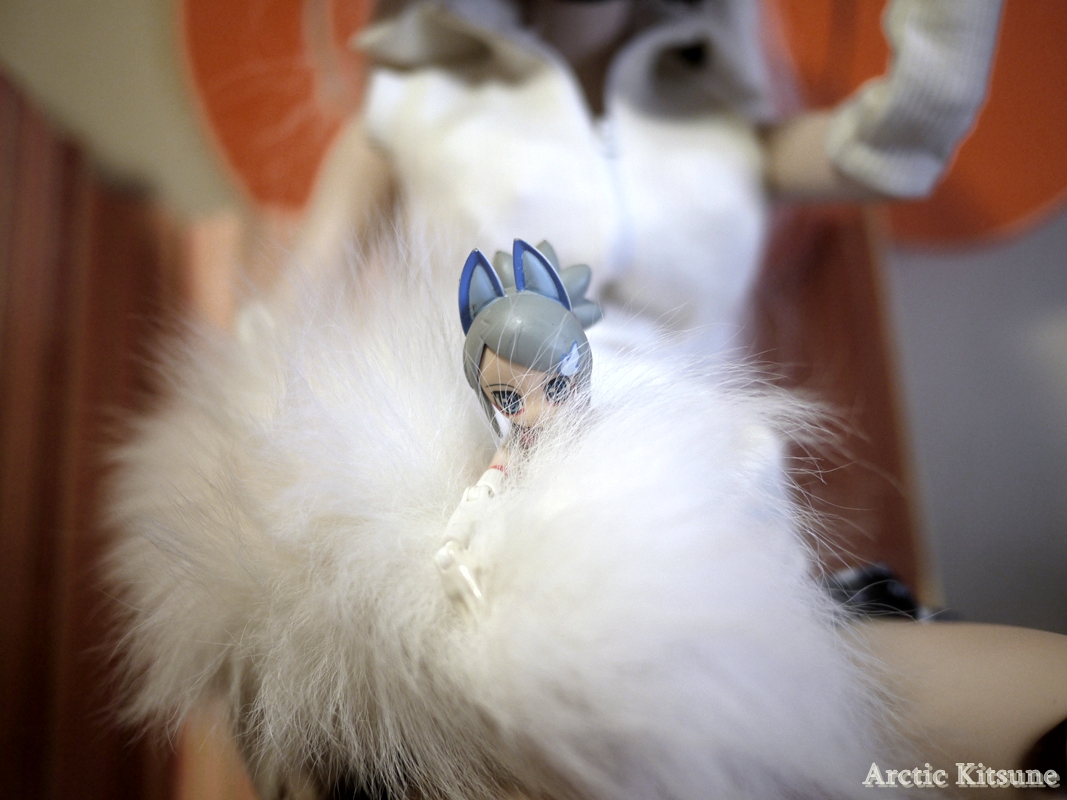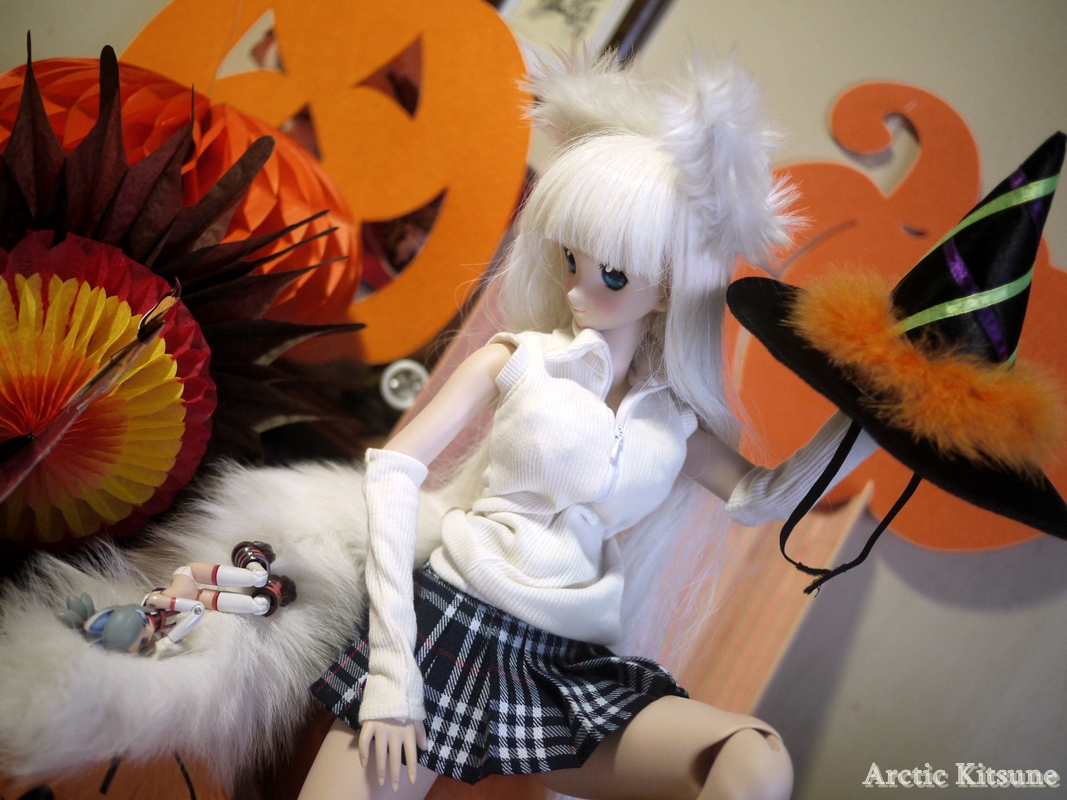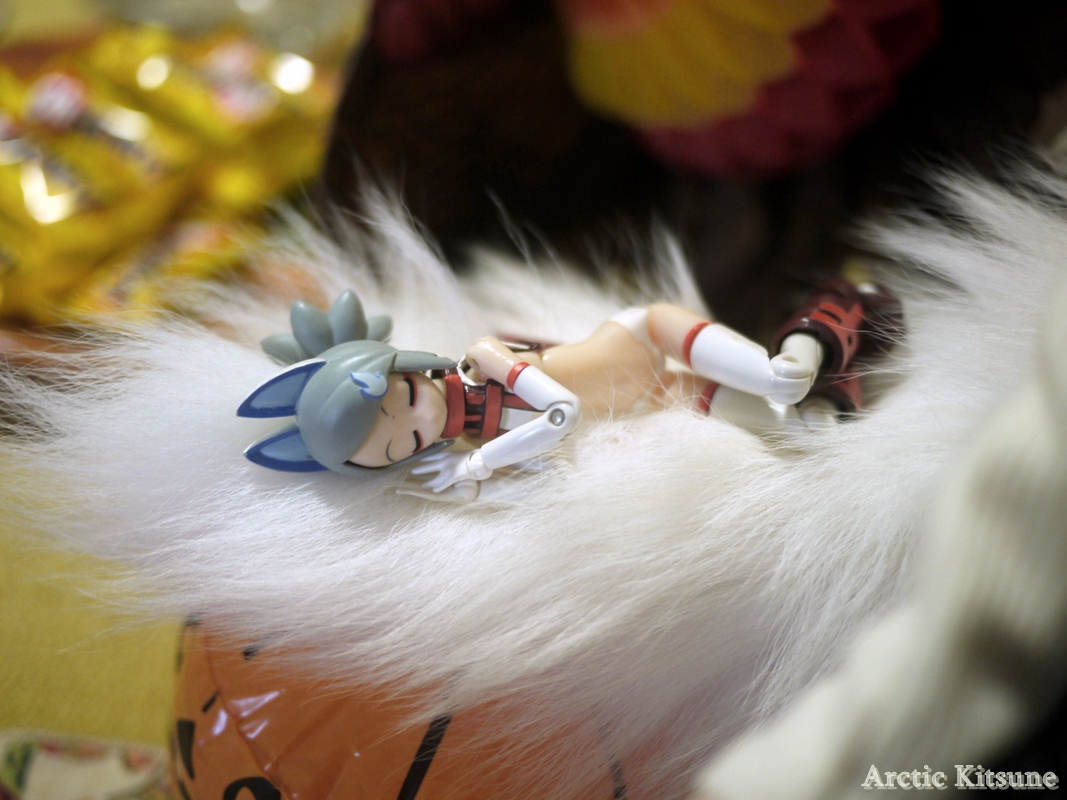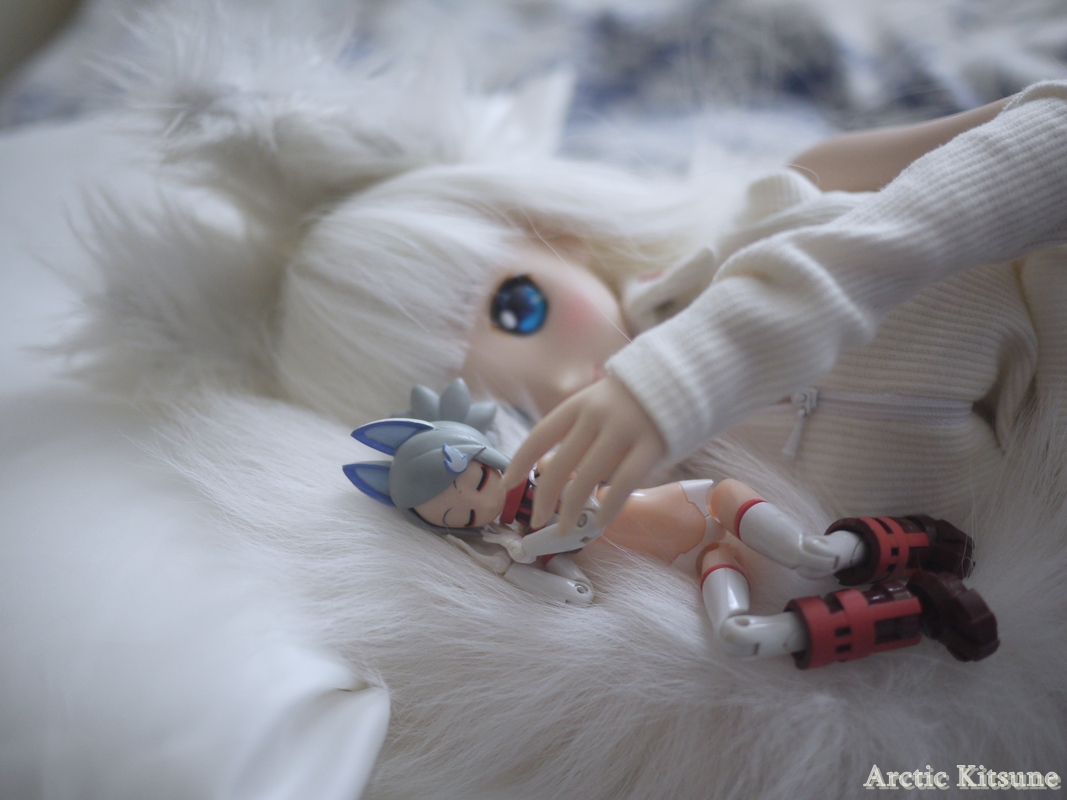 Not wanting to empty handed for 2013, and with Vara for Halloween, I tried to take images of her for the Halloween festivities. Was stuck taking images of her indoors, but it's all fine as I feel happy with the results.
The only thing I could obtain for Vara was a witch hat. Hopefully for next year I'll obtain something fuller for her whole body. I don't want to go with the typical stuff though on sites, something more "unique".
—
– A Busou Outburst:
I didn't want to put this in the yearly wrap-up because it doesn't really fit in there. It's more of an issue that bites at me still and one that tends to tear communities apart. It seemed more appropriate to separate Halloween and Winter than below.
I wanted to say that what happened at the end of October still has my blood boiling. It might have been my fault to begin with or it might not have been at all… or someone had their panties in a knot that they simply let loose from a hard day's work or from a failed debate somewhere. I can't say for sure. I will however say it was uncalled for with how hostile and direct it was, no matter how much I agree with what was said about my bad side. Even if half of those reasons were dated. A simple joke wrapped up in a Halloween manner that I won't even apologies for due to how unnecessary it was and how much of a "lover's quarrel" type yelling it was. If those that were there say I was at fault then so be it.
I can't really get off any high-horse because I'm not on one – figurative or real. I'm more pissed off at you than you are at me because I have nothing to prove, no debate quotas to fill, nor any images to uphold. I wasn't insulting nobody intentionally, just giving those "friends" a Halloween costume in the group chat to wear for Halloween. A harmless Deviantart image that had me yelled at.
What I find more insulting  is – "I'm just being realistic so anything you say is invalid" & "You have nothing to offer so I won't help you."
I'm not looking to conclude this, make peace, or continue a flame war. I'm just marking this down in 2013 history because it still bites at me. This whole thing which is now trivial so I'm just going to forget about it, and you probably did as well. Though, then again…what I'm seeing on Tumblr shows otherwise. And typing this down just sounds so fucking stupid and childish that it truly does seem like a lover's quarrel. I just want to delete this but can't because it is a part of 2013.
If anybody is going to ask me what happened in detail I just won't answer to clarify. I'll just say it was just a stupid "lover's quarrel" type thing over a stupid image. That's all. Just someone misunderstood me and got their panties in a knot by shouting at me, and then Jlist a month after. Not trying to imply I'm innocent either. Just noting.
—
– A Surprise Snowfall For a Foxy:
https://arcticukitsu.com/Blog/?p=3971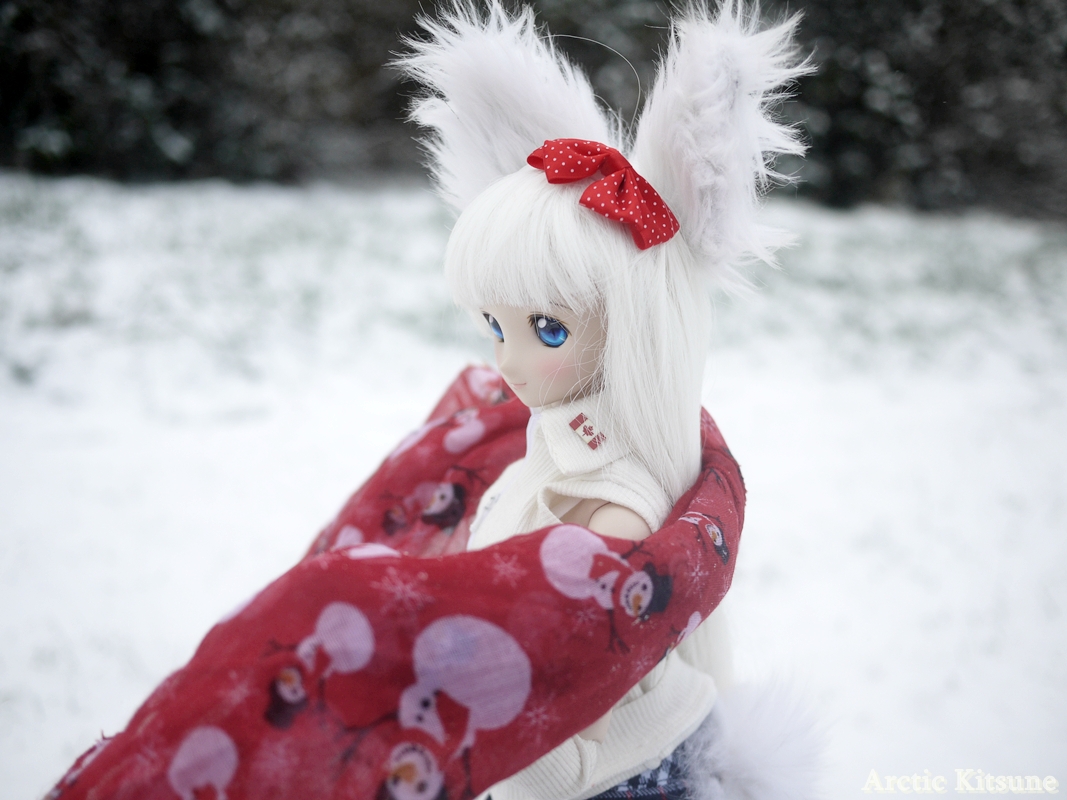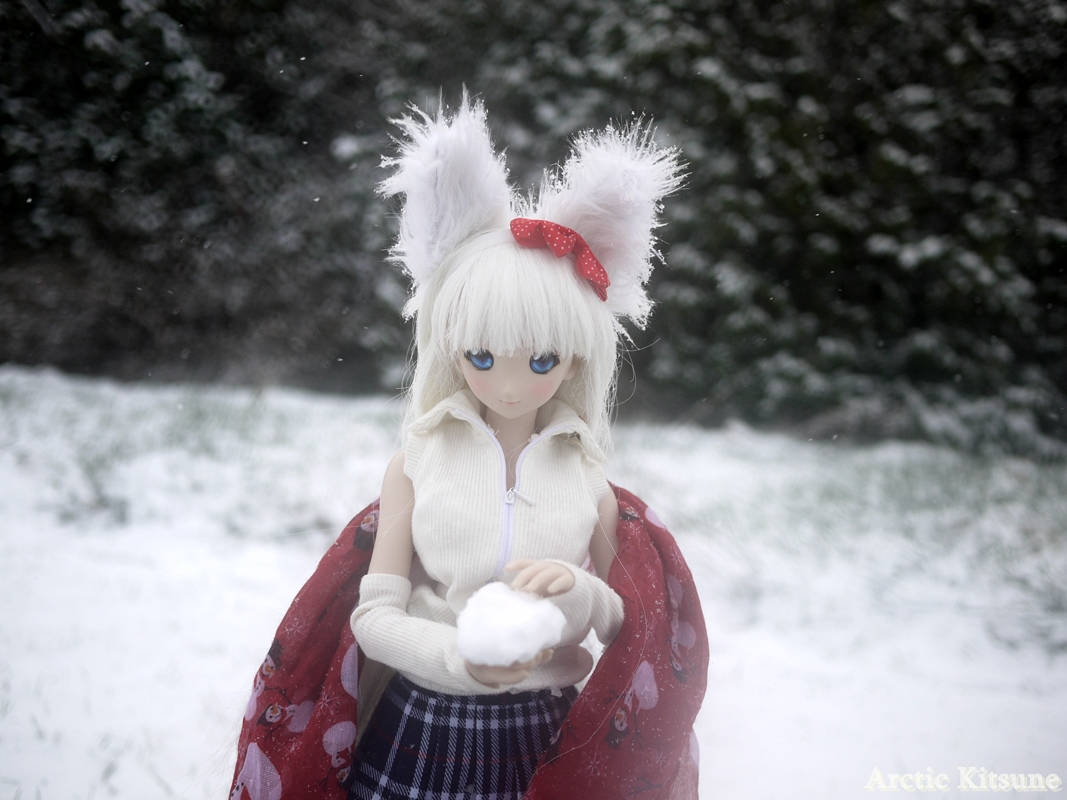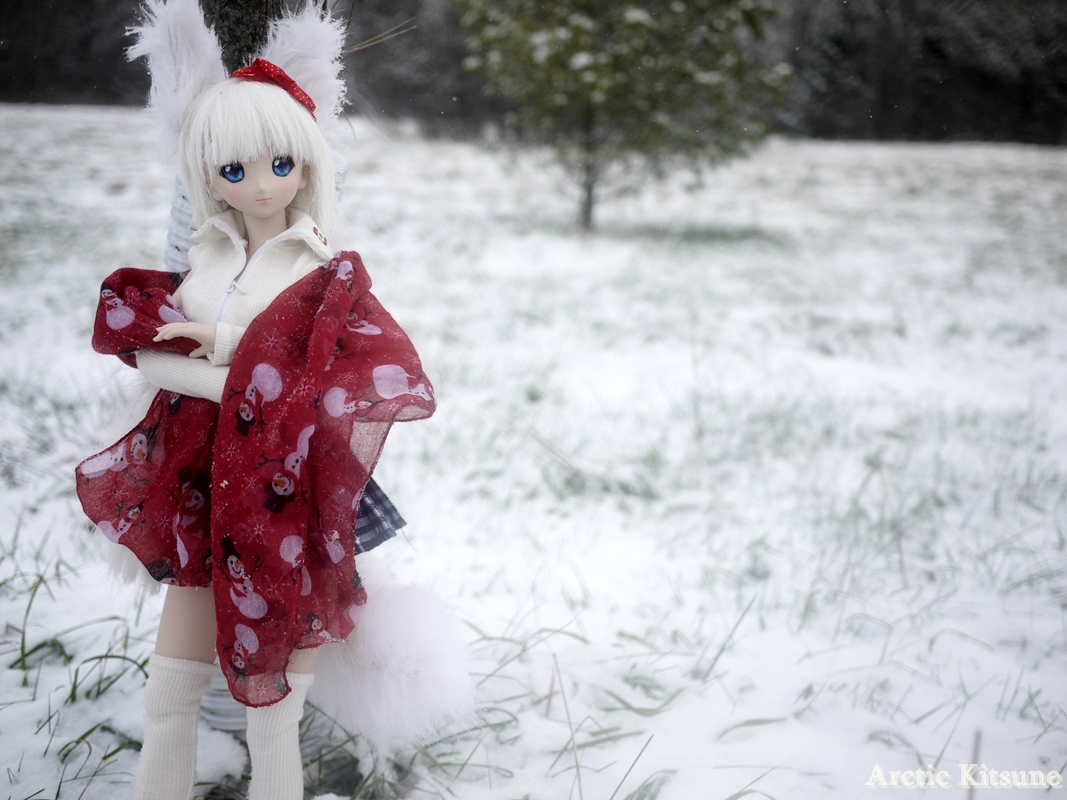 I'm not sure now what snapped or clicked in me to take her out, but I'm glad that it did. I'm happy that I took Vara outdoors to take images of the snowfall and to be pleased with the results. Everything but the brightness suits her nicely, making her seem at home. I've had loads of comments saying that she actually does appear at home which is awesome to hear and morale boosting.
I'm glad the desire of me wanting to take Vara out to take images of the snow was strong enough that I actually did. I'm glad I faced my fears that was shielded during Doll meet-ups. Thanks to it I now have a header to be proud of and images to be happy with. I however cut the whole thing short because of a Dr. Who 50th Anniversary special which had me come in 2 minutes to spare. I also ended up having issues with her wig which was the half the cause of delays and in-photoshoot trouble.
—
– Vara's Snow Stormy Surprise:
https://arcticukitsu.com/Blog/?p=3983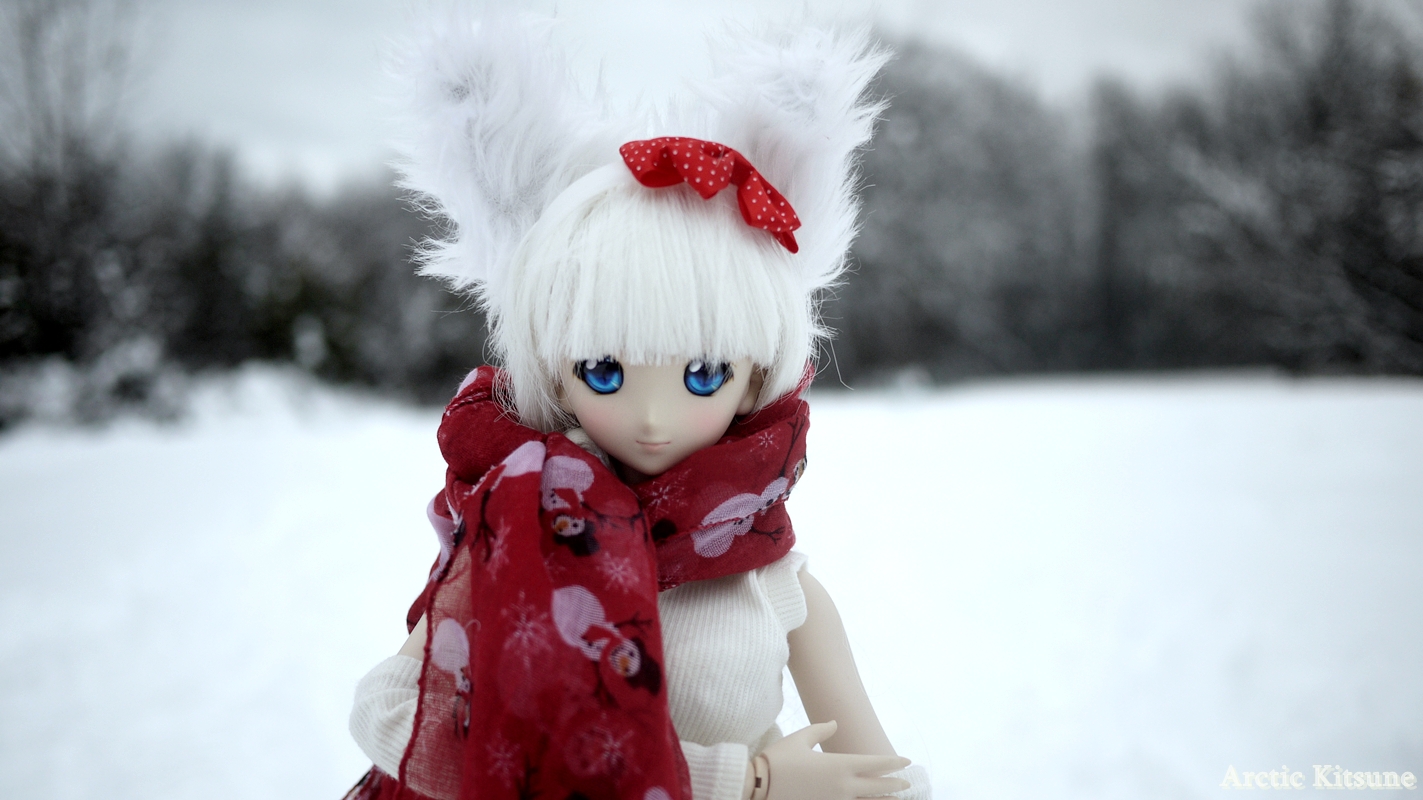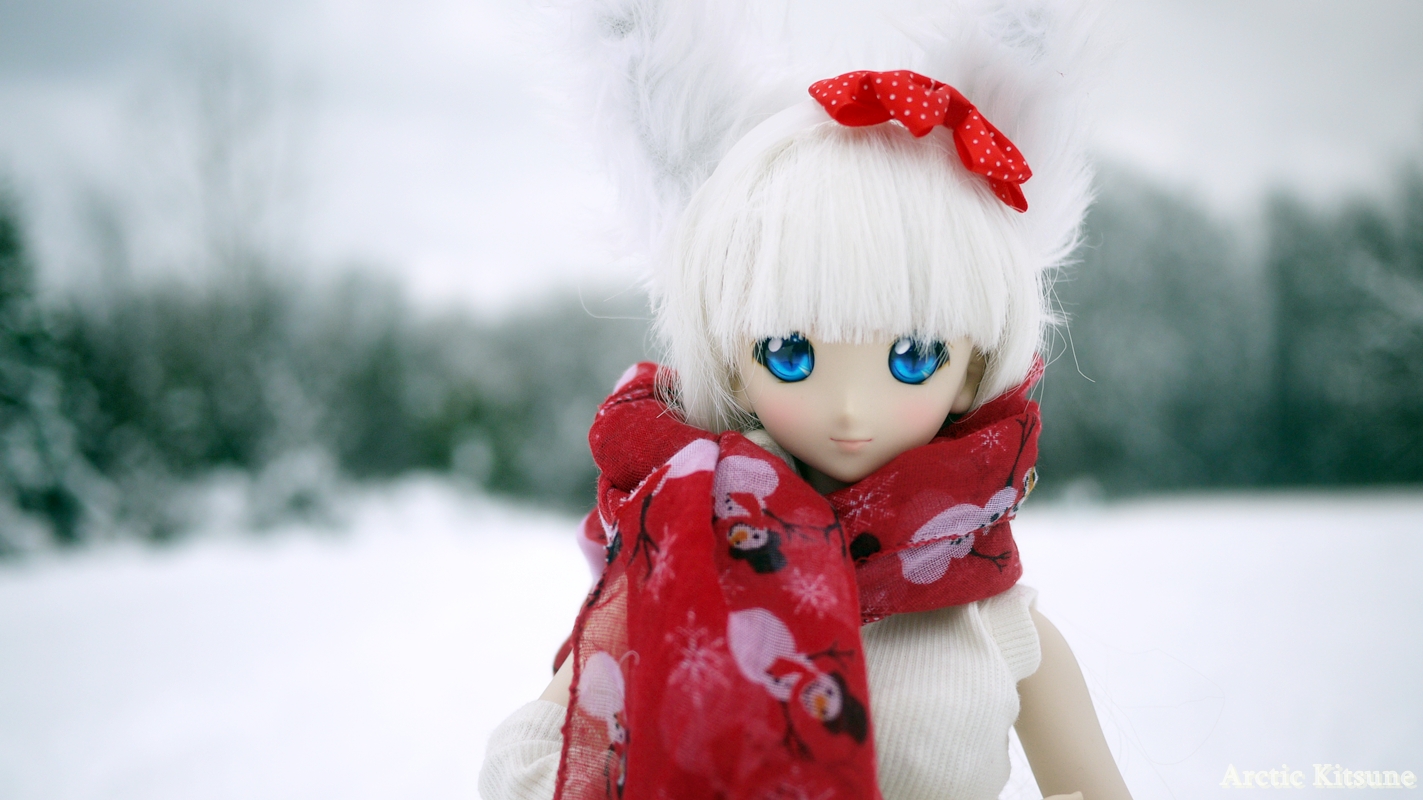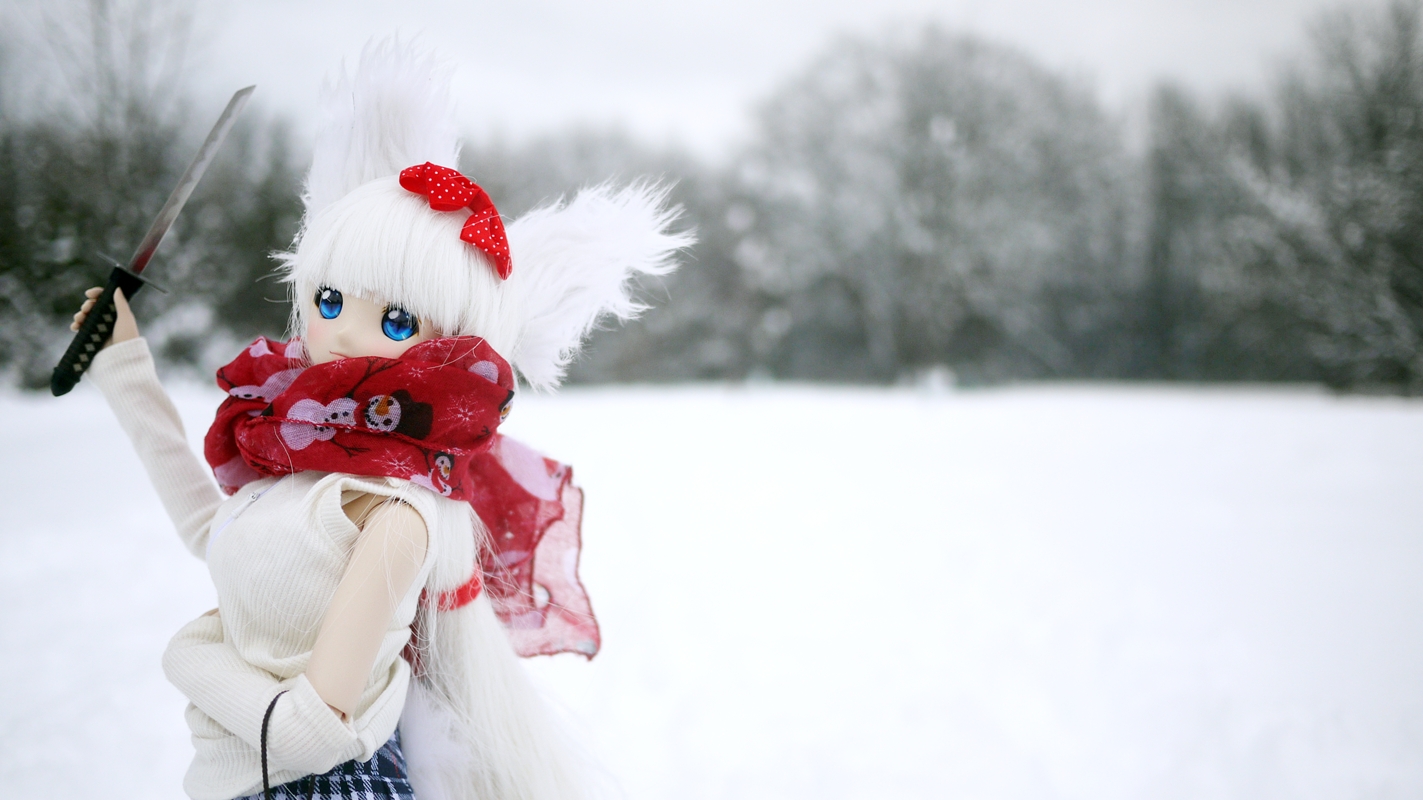 Thanks to the last photoshoot I wanted to take another. Because I was delayed and then rushed I wanted an extension on that photo-shoot that spawned this one. With each photo-shoot things keep getting better and better. Vara keeps looking more and more foxy; More and more at home. I had to hold off on the shoot a few days because of a deep freeze, a few distractions, and then a snowfall on a Kitsune Wednesday. I'm happy it snow-stormed allowing Vara to be an Arctic Fox in a winter wonderland on a Kitsune Wednesday.
The only little trouble I had was keeping her standing and in what pose I should get her in. I basically posed her in whatever thought came first. I also had trouble touching up the image with snow being a touchy thing to enhance or filter.
I did it! Wig is on her properly covering her eyebrows as necessary! 🙂
—
– [NSFW] Varakitsu's Additional White Tops:
https://arcticukitsu.com/Blog/?p=3989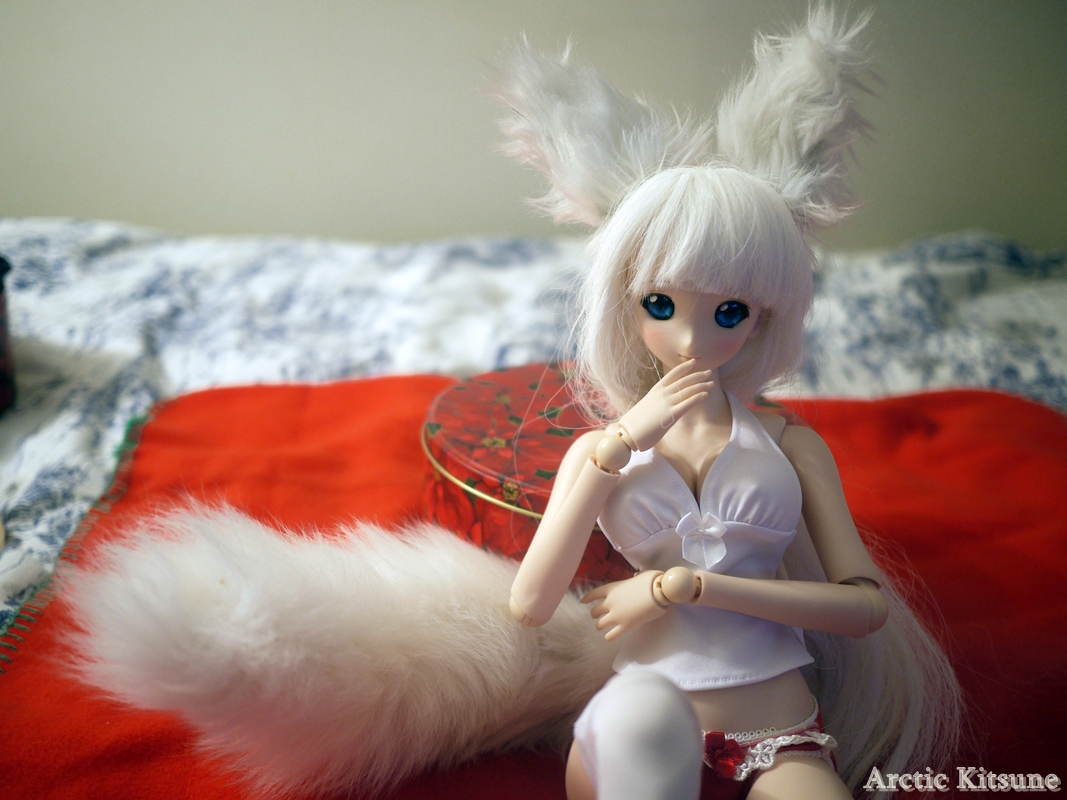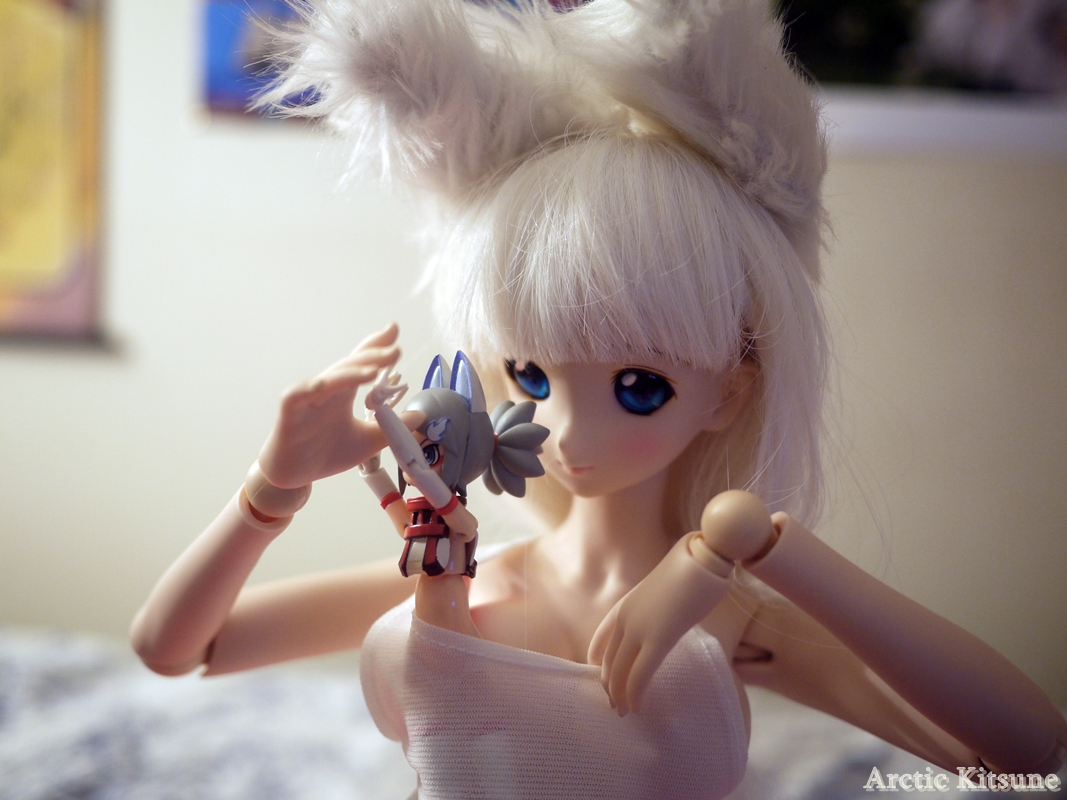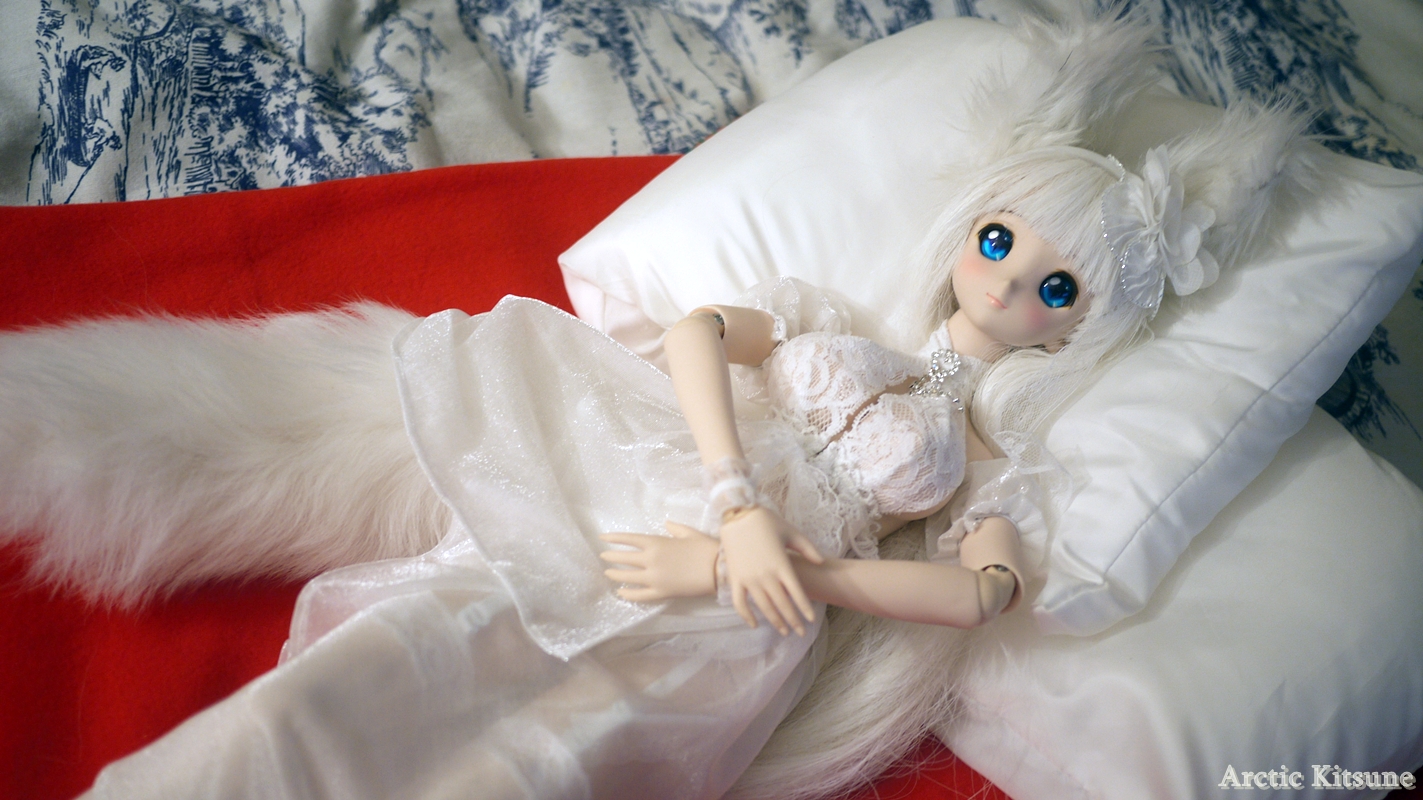 As Vara's December 5th & 25th gift I decided to gift her some sexy additional outfits. I mainly got the outfits for that sexy night gown to tease people with and to allow her to tease other people heh. I couldn't leave her trapped in her knitted long top and skirt much longer as it was staining yellow so I had to go out of my way and spoil her rotten with the gown, leg socks, and more tops. She now looks like a sexy snow princess of a foxy which I'm pleased with.
I'm now waiting for the warmer season to take images of her outdoors during sunset or somewhere more scenic outdoors to make use of said sexy gown. It's just too beautiful. All white, but beautiful. Once I see a chance I'll take it when I see a warm environment. I feel the above "review" didn't do it justice so the desire for more heh.
I most especially love the first image that I need to replicate outdoors. I love that foxy plotty expression she has on her. That's also the appearance I want her in. I love Coolcat's selection with Vara now being an unofficial sponsor/advertiser of such. She wears Coolcat's items proudly heh.
—
– Varakitsu's Koko Hekmatyar Cosplay:
https://arcticukitsu.com/Blog/?p=4003
Secondly, as Varakitsu's GAnime gift, I gifted her Koko's Hekmatyar cosplay. It's not accurate, but it does get quite close. I'm not looking for 100% accuracy, just something that those at Ganime can pass off as Koko Hekmatyar when looking. She came with the shirt, skirt (custom made), doctor's lab coat, and pants; Bonus item being a hand-bag.
I was worried it wouldn't fit because of how small it was. Everything appeared so tiny that I panicked, for good reason with $$$ spent on it. As Vara tried on each piece one-by-one everything managed to fit happily. A tight fit at times, but a nice fit in the end. Thanks Nightfall! My second Coolcat heh.
—
– Sinterklaas Festivities – 2013:
https://arcticukitsu.com/Blog/?p=4011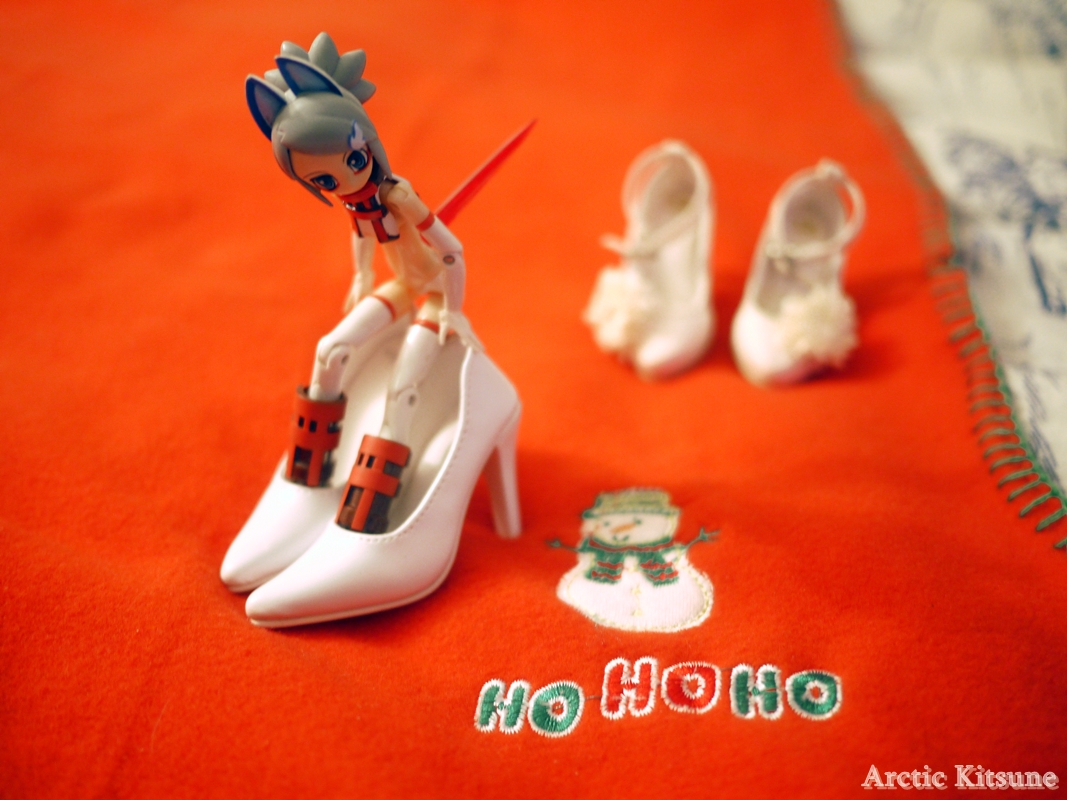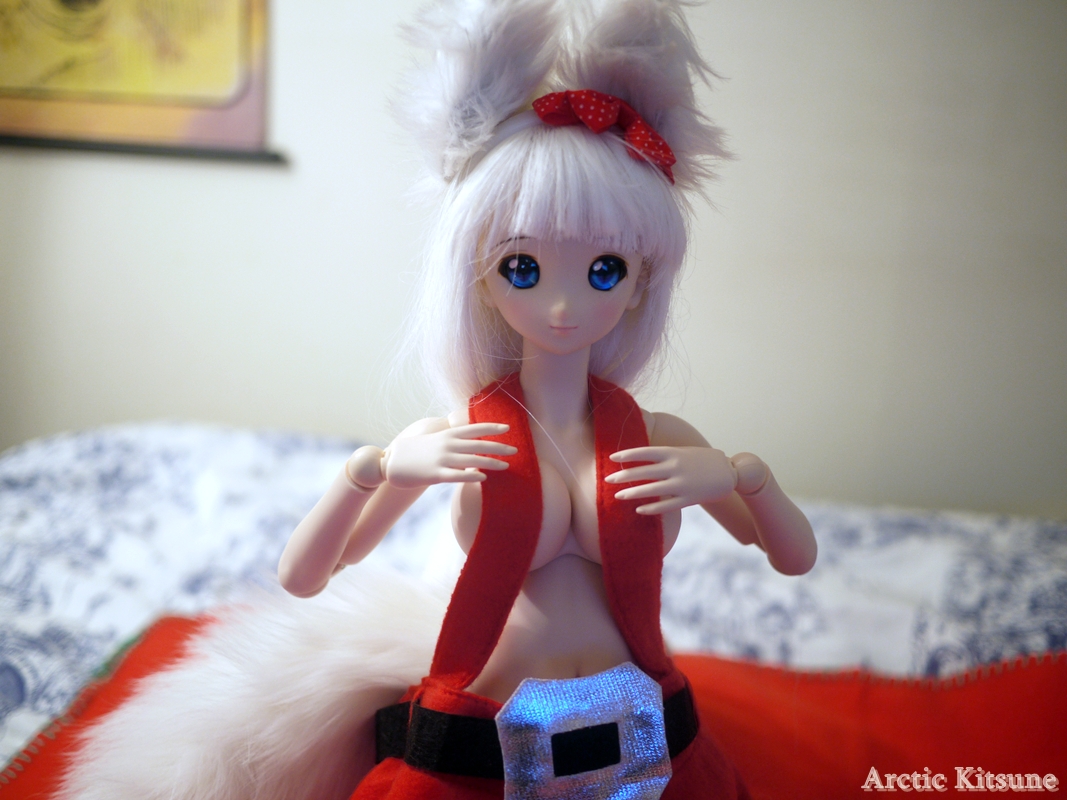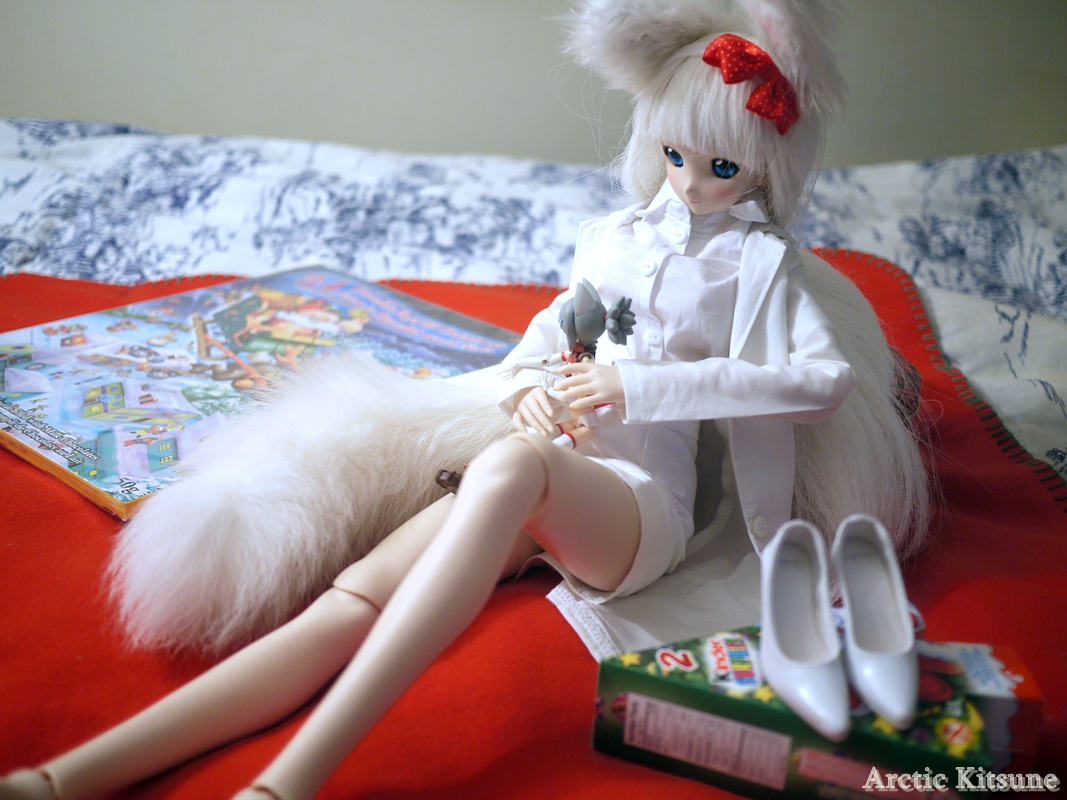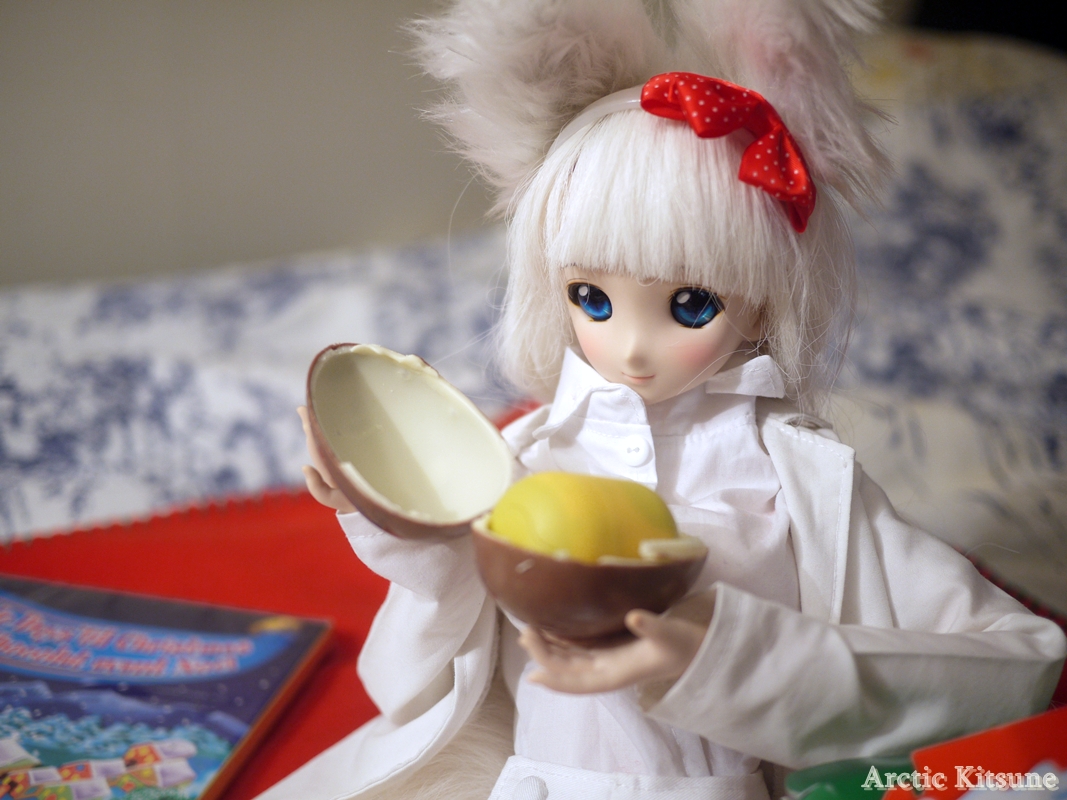 This article is indeed worth to be 2013's Sinterklaas article! I love the majority of the images, even the teasing shots I posted. It's fun, it's festive, and it has Vara looking like an office lady heh. A foxy that means business over a foxy nurse. Just need to find Vara a blue tie and to receive that gun, then she's ready for Ganime 2014 heh.
I even obtained Vara's white heels which allows her to cosplay Koko Hekmatyar that much more. A tiny addition, but something helpful. I was worried it might be small again but it managed to fit. I'm glad it did for how much I spent on it!
I found it troubling how Americans know nothing of the greatness that is Kindereggs. It's so dangerous that kids can't have fun with it in America. It apparently explodes in your face or can be used as a C4 bomb, or something……I'm just…….confused. A chocolate shell with a capsule that contains a toy inside that can apparently……. kills……. American kids? Huh?
—
– Vara's European Gift:
https://arcticukitsu.com/Blog/?p=4021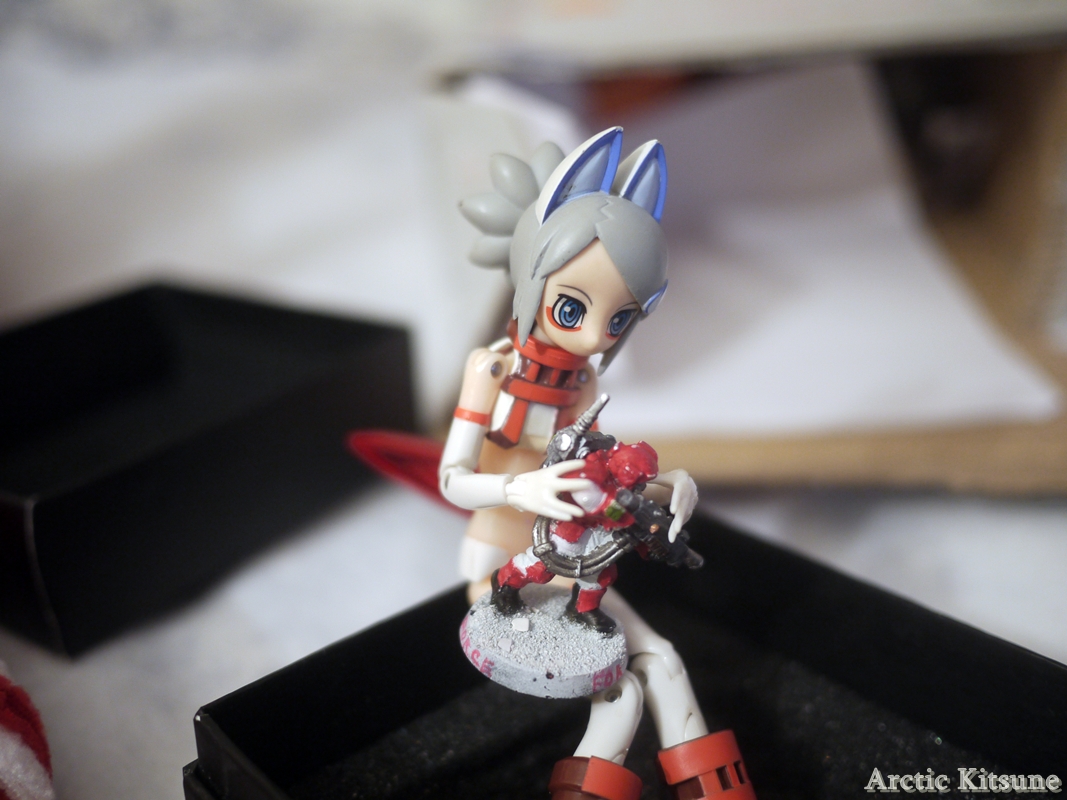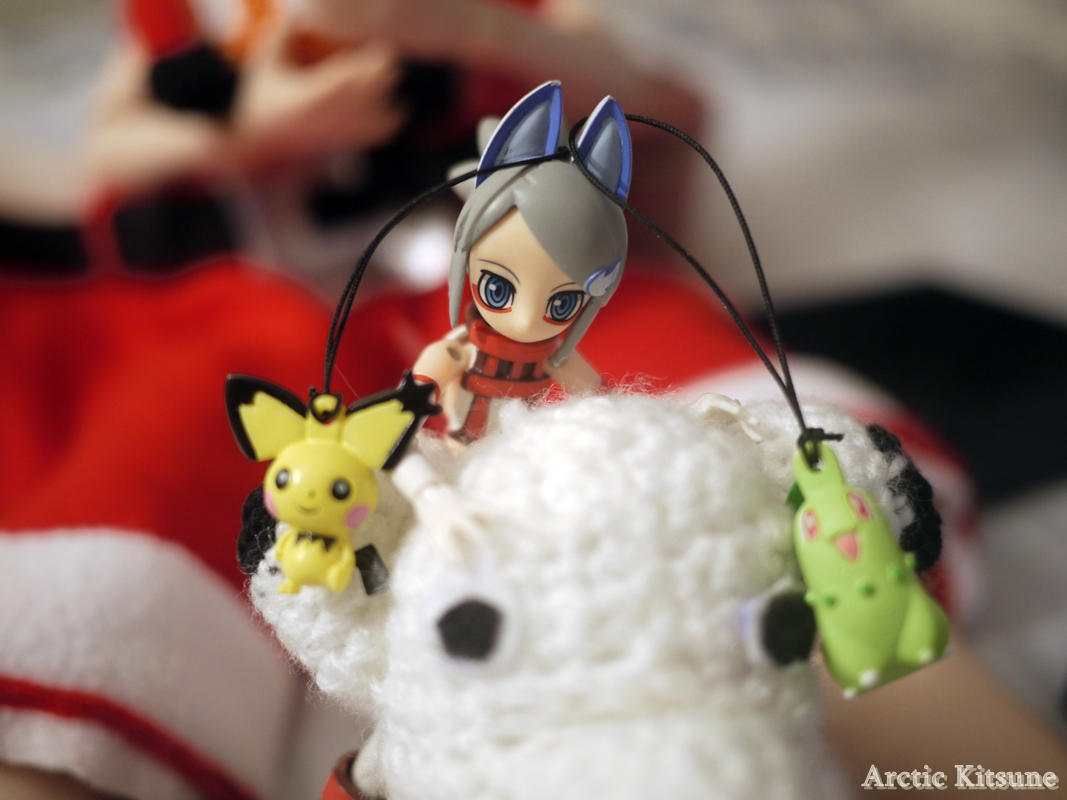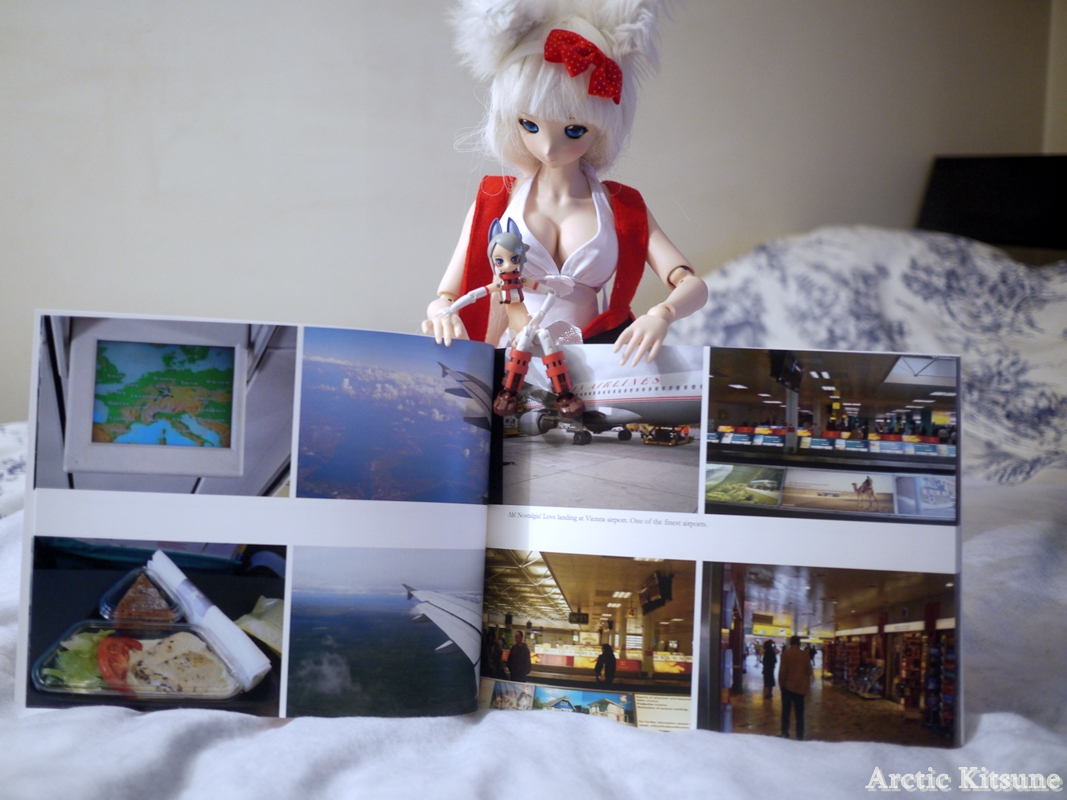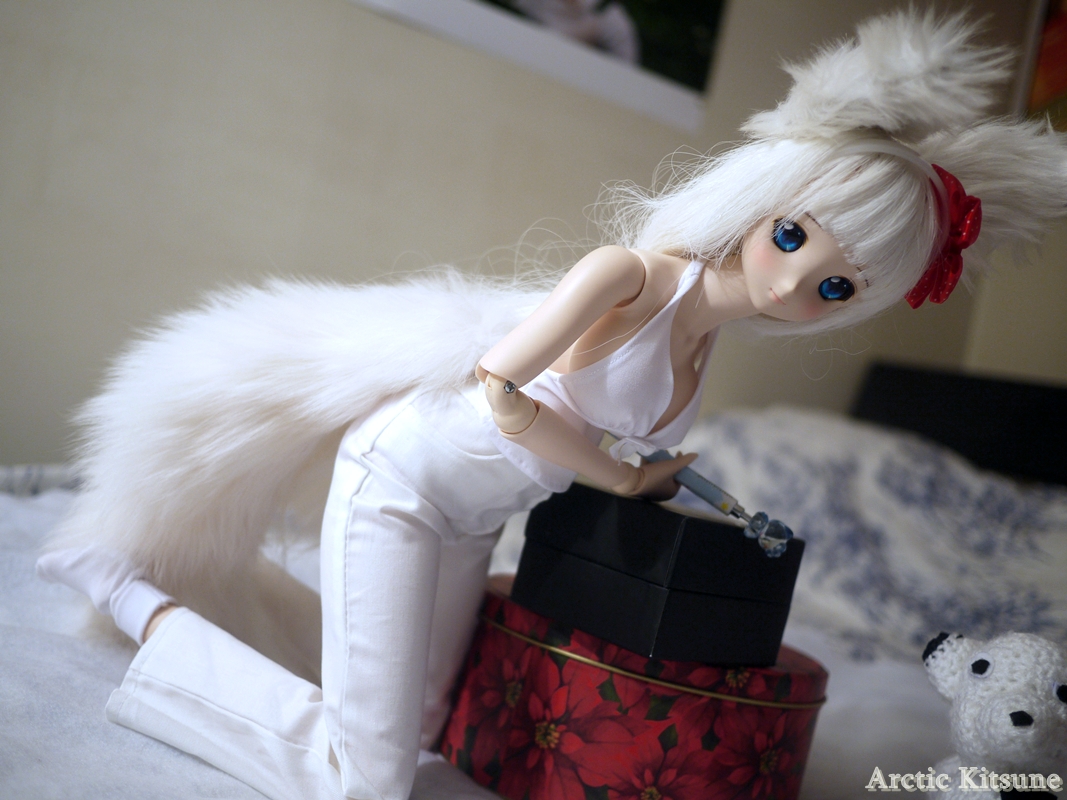 Thanks to a fellow comrade from the figure.fm side I was gifted something foxy. I was gifted a pair of foxies, some Pokemon goodies, A "Vara Defense Force" unit from Warhammer, and a Hello Kitty pen. Such kindness! I'm surprised and happy that myself and Vara were both gifted. I now feel bad for not sending something back.
As for the second European bit I received and bounced this gift to a close someone (not Vara, but she did view it) so they could remember their European trip. I'm actually pleased with the book size, the way I placed the images, and how Shutterfly dealt with it. Was awesome. I'm now bought that I'll go ahead and print off Busou Shinki & Varakitsu photo-books, maybe even for people if interested. (Please scroll up to the Tea Party meet-up section above if you're going to say I was inspired by someone. I will say I was "re-energized".)
This article wasn't really a photogenic one but I did try to keep it enjoyable so I played around a bit. Even tried to have Vara act a bit foxy for the fun of it.
—
– Santa Varakitsu's Snowventure:
https://arcticukitsu.com/Blog/?p=4027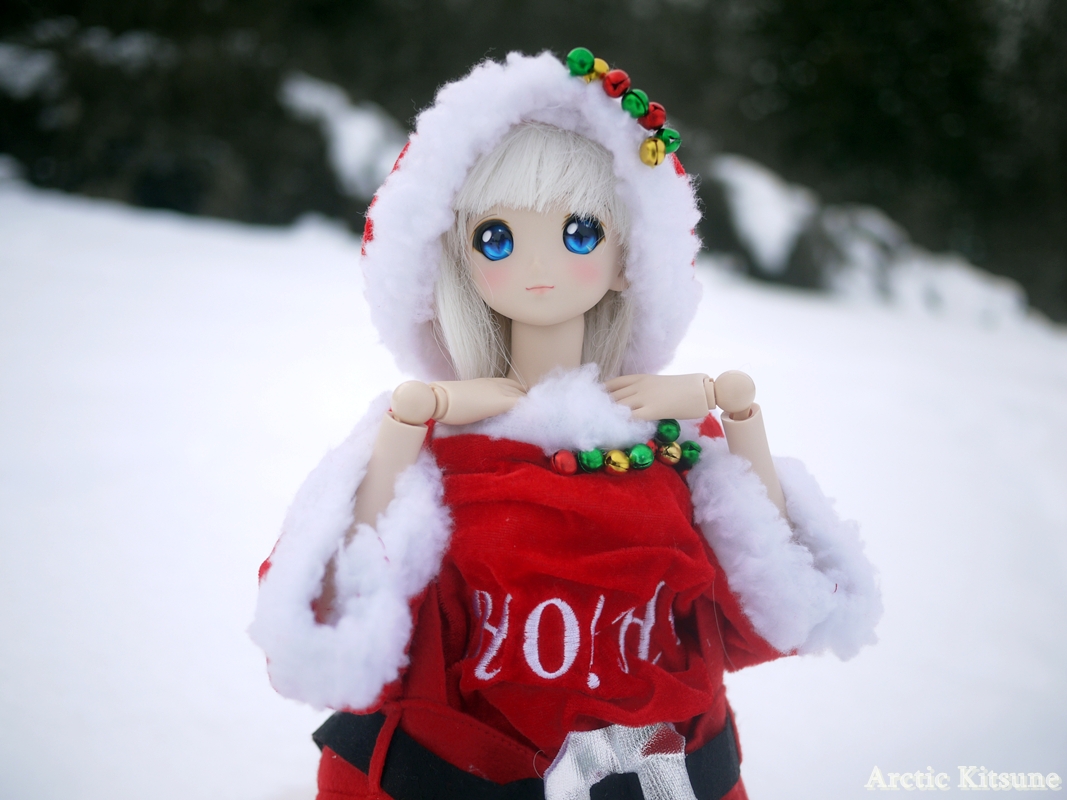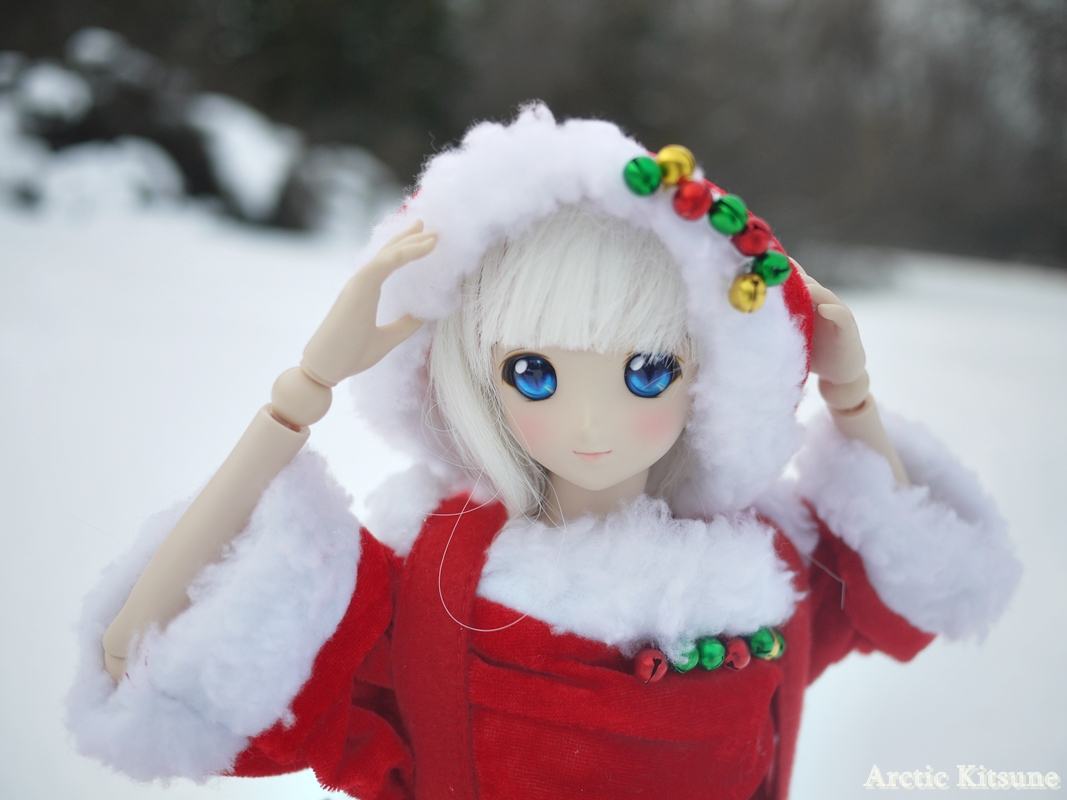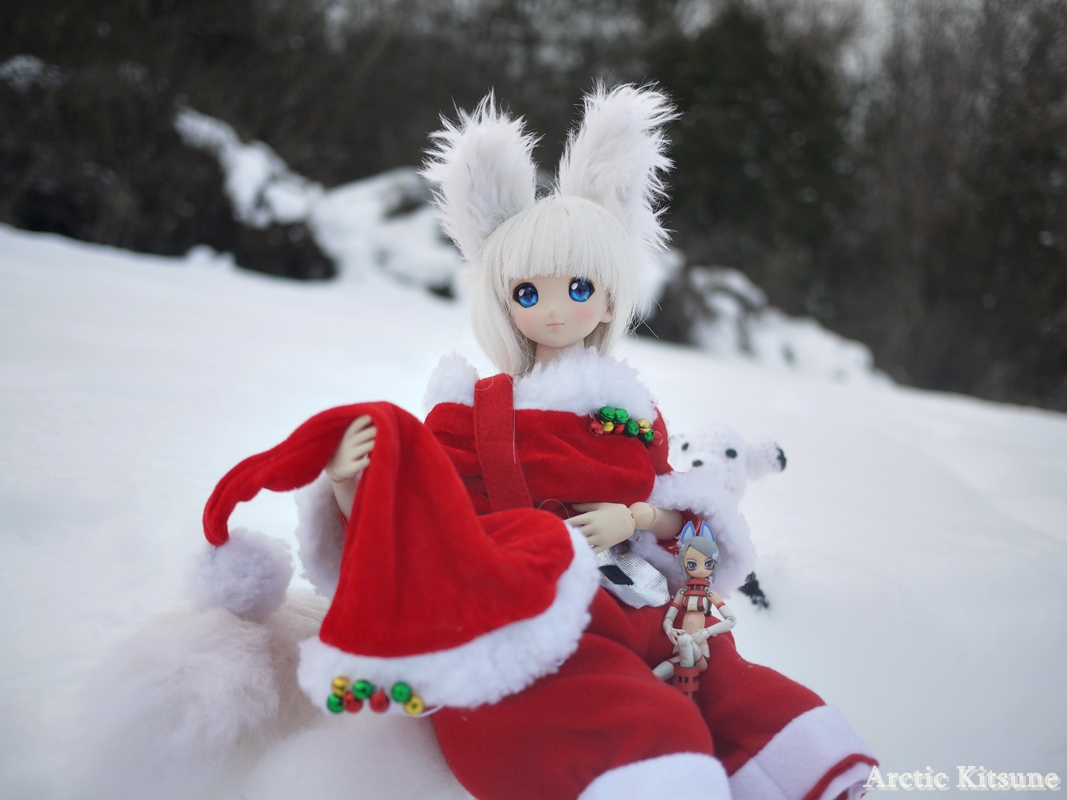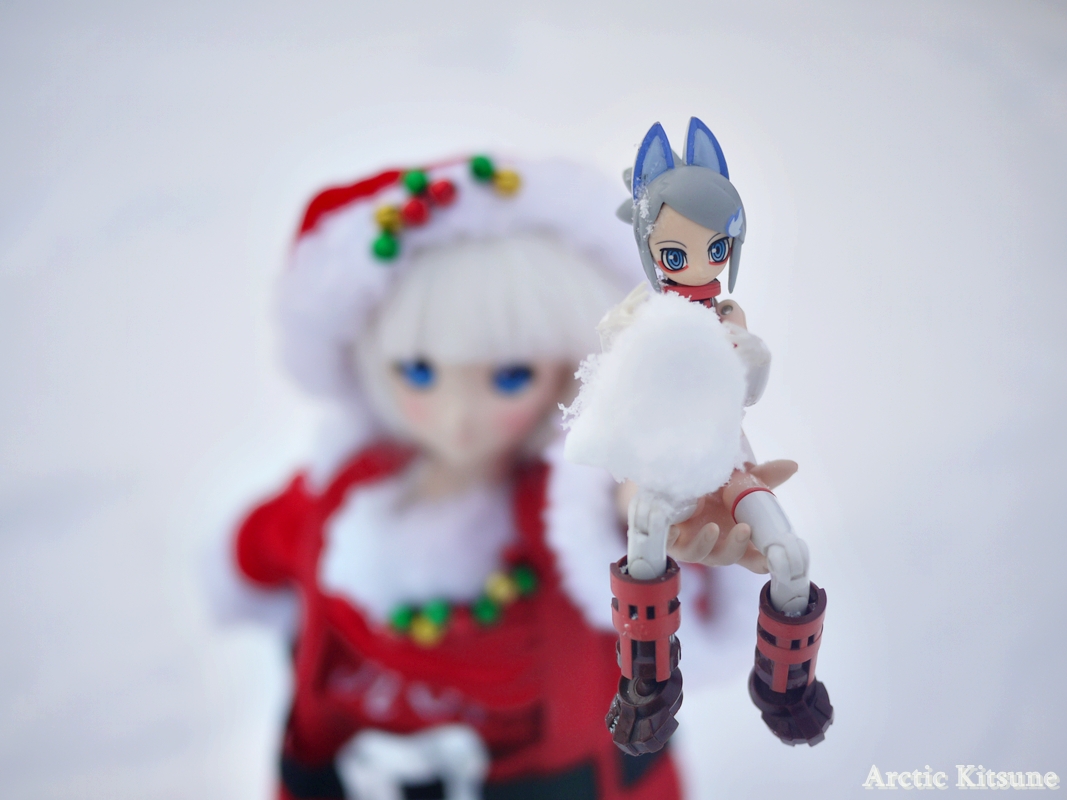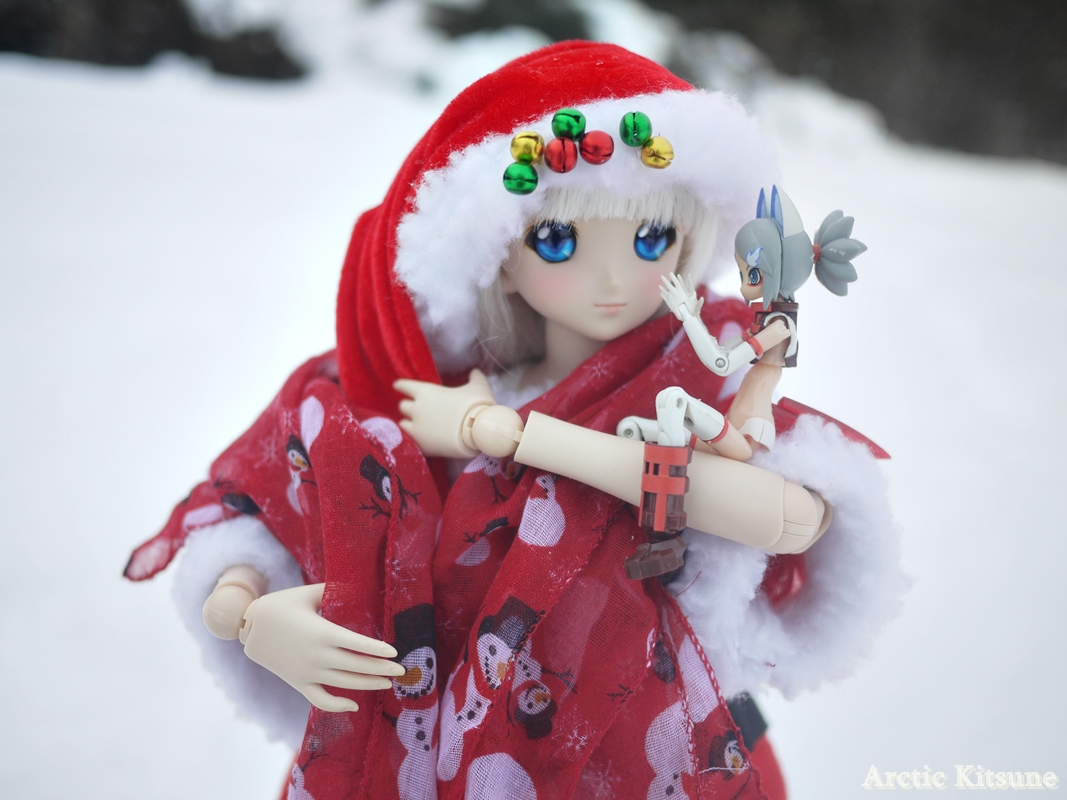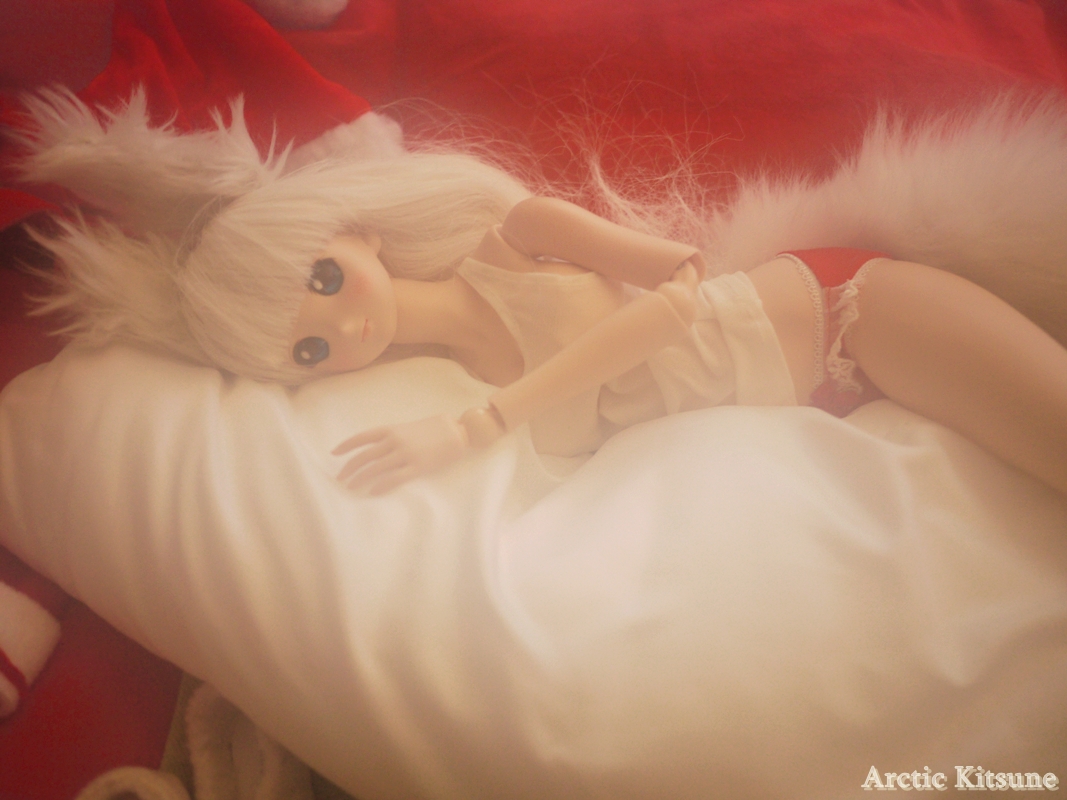 I just love taking images of Varakitsu outdoors now. Everytime there is a massive enough snowfall I just want to go out and take pictures of her out there. I even tried to get snowflakes falling in frame but it's camera shy or I'm tardy. I love how she looks with her eyes shining in the light. Even in the previous photoshoots you could see her fox eyes nicely. Outdoors is the way to go while indoors not so much. Either that, or I'm an outdoors type photographer heh.
The one thing that never gets old is how the lens tends to fog up when brought back from the cold. It adds that nice warm dreamy look to the photos, or I hope it does.
—
– Merry Foxy Christmas – 2013!:
https://arcticukitsu.com/Blog/?p=4036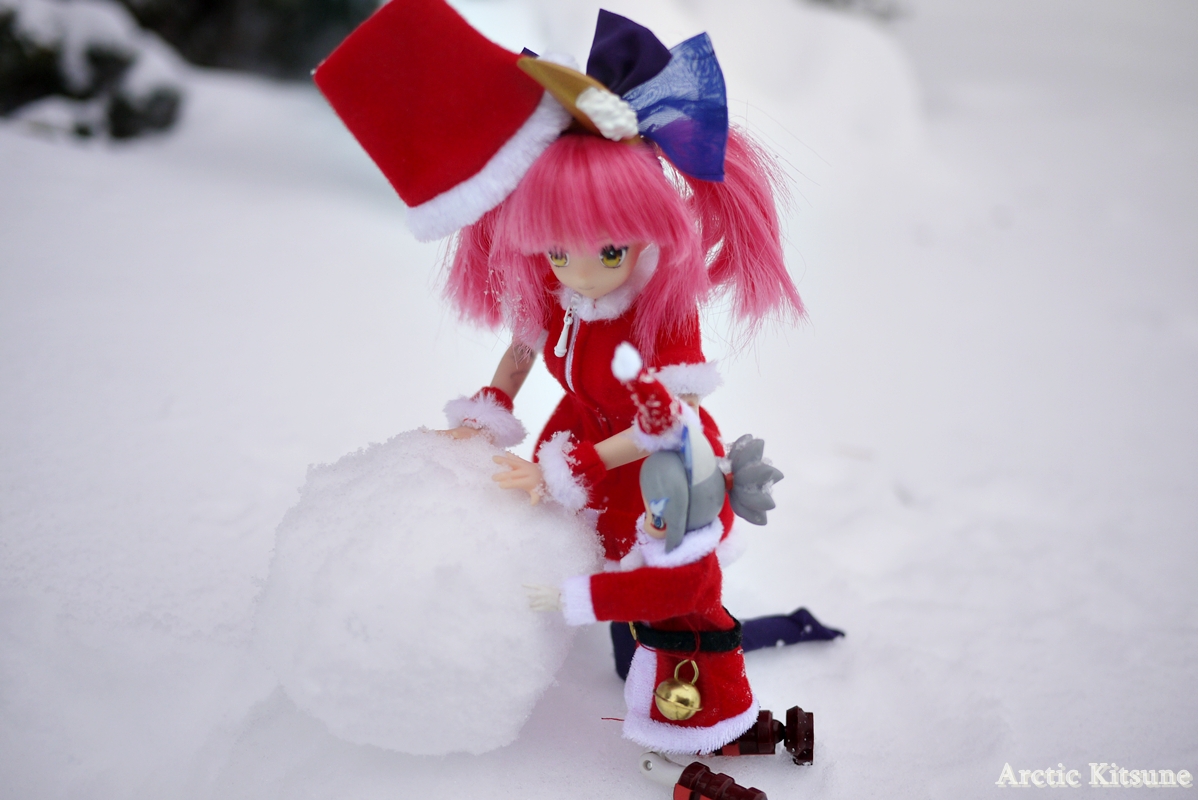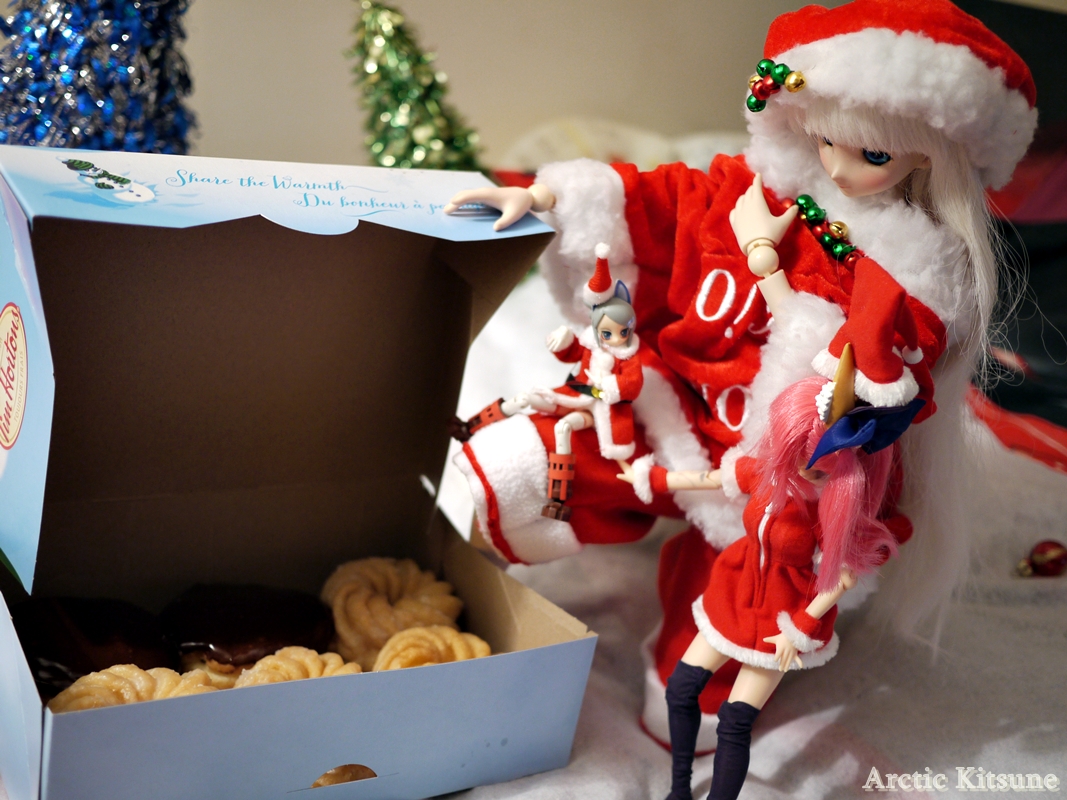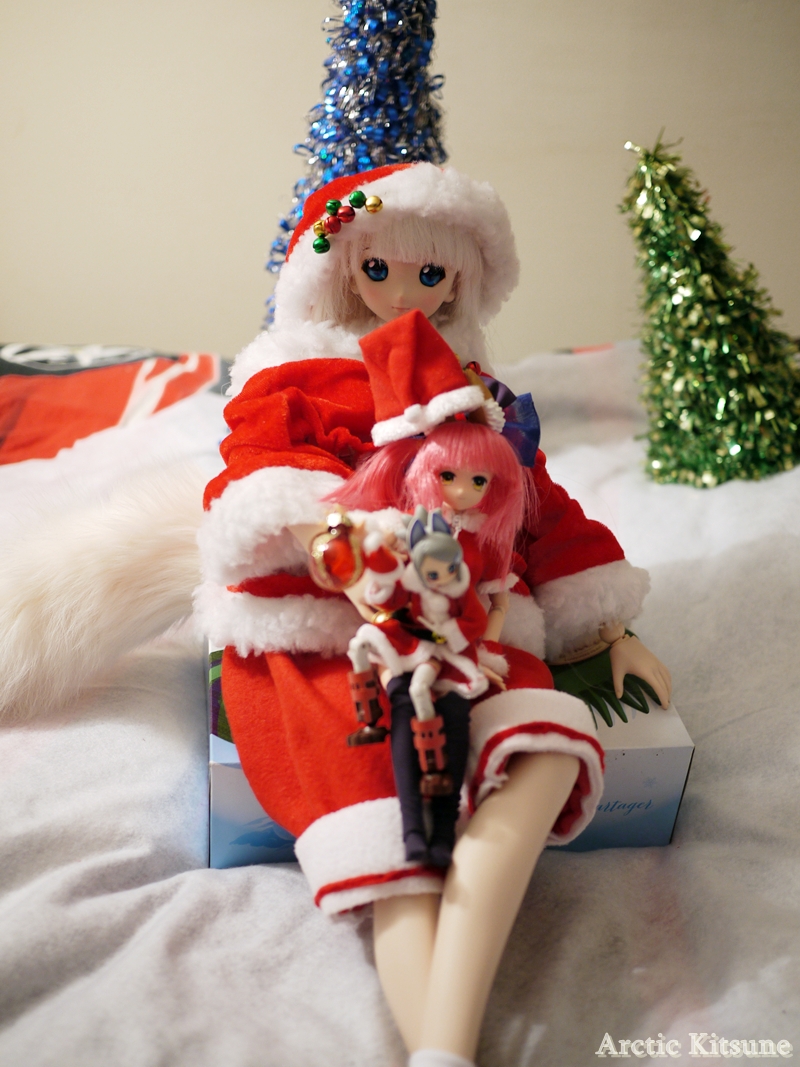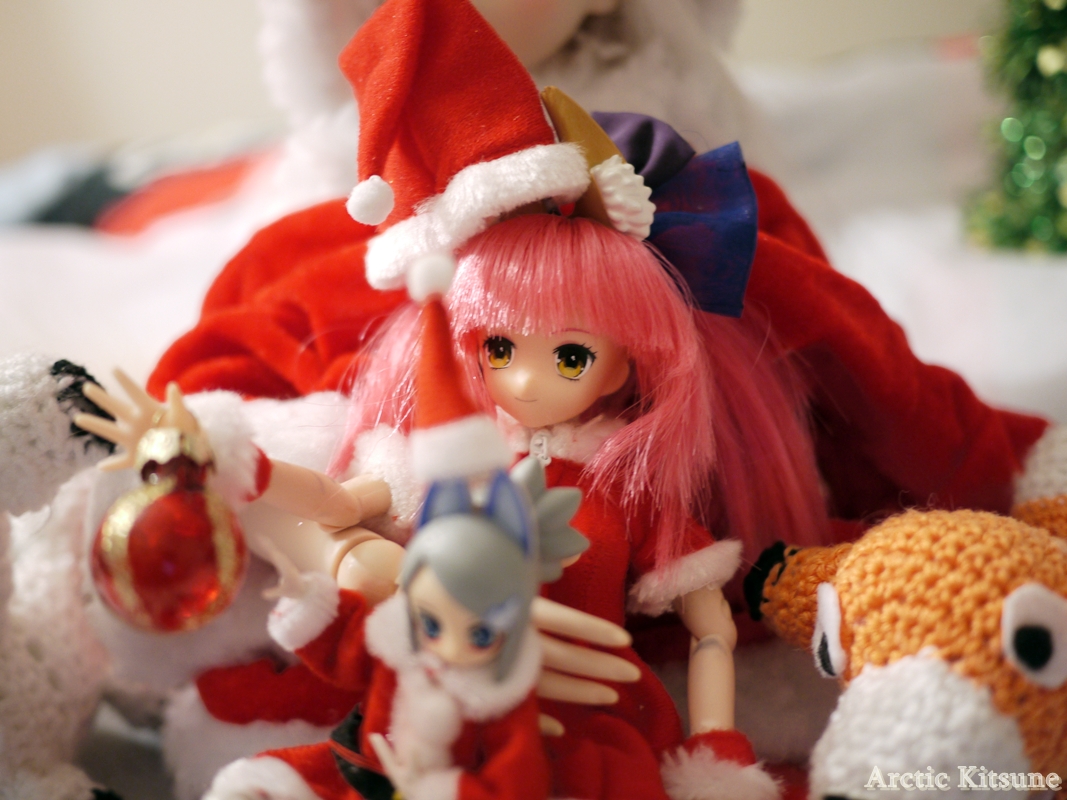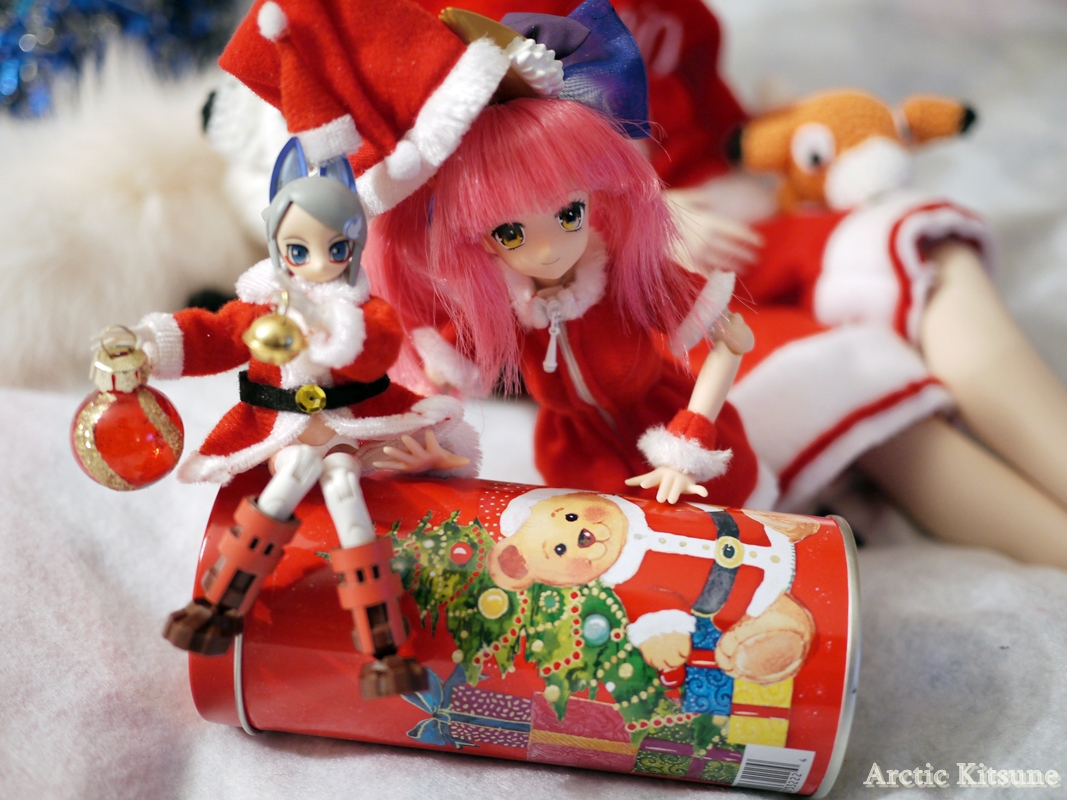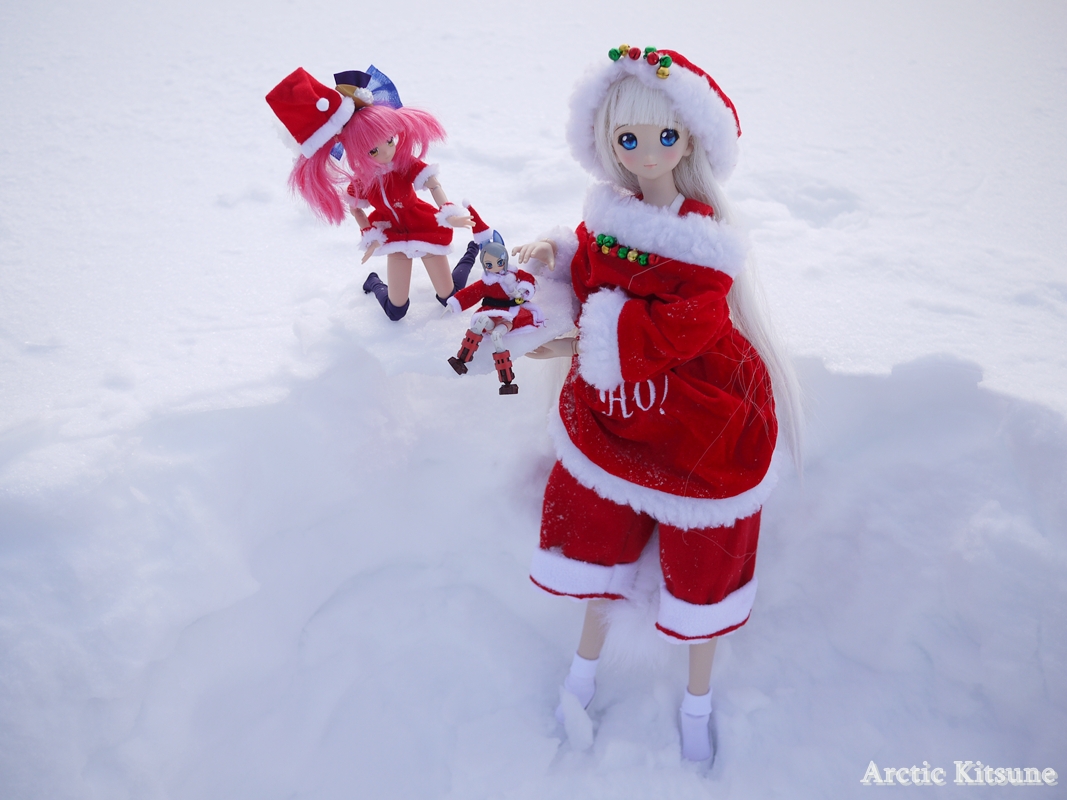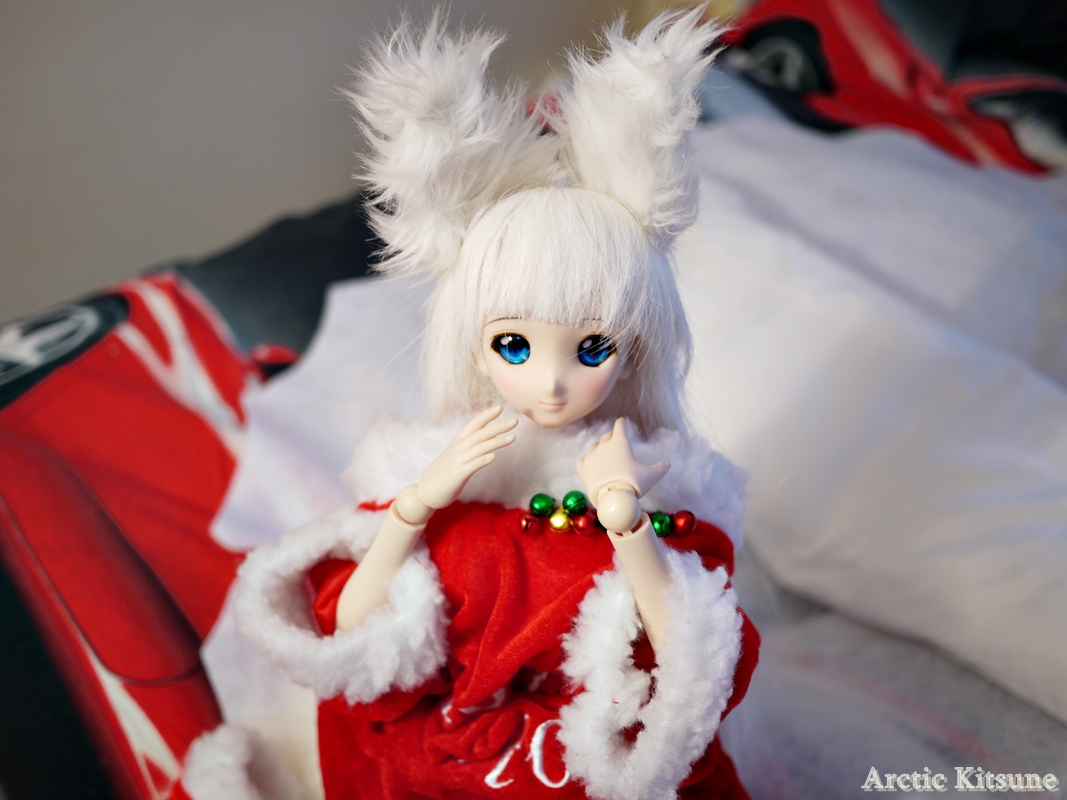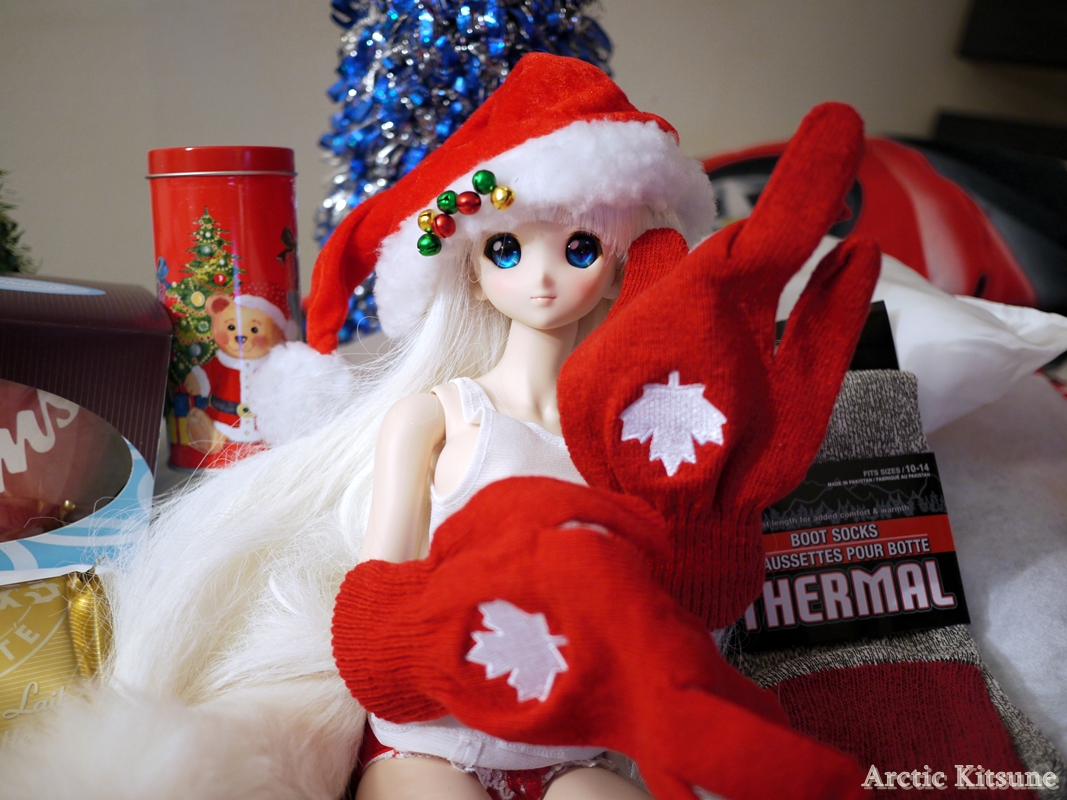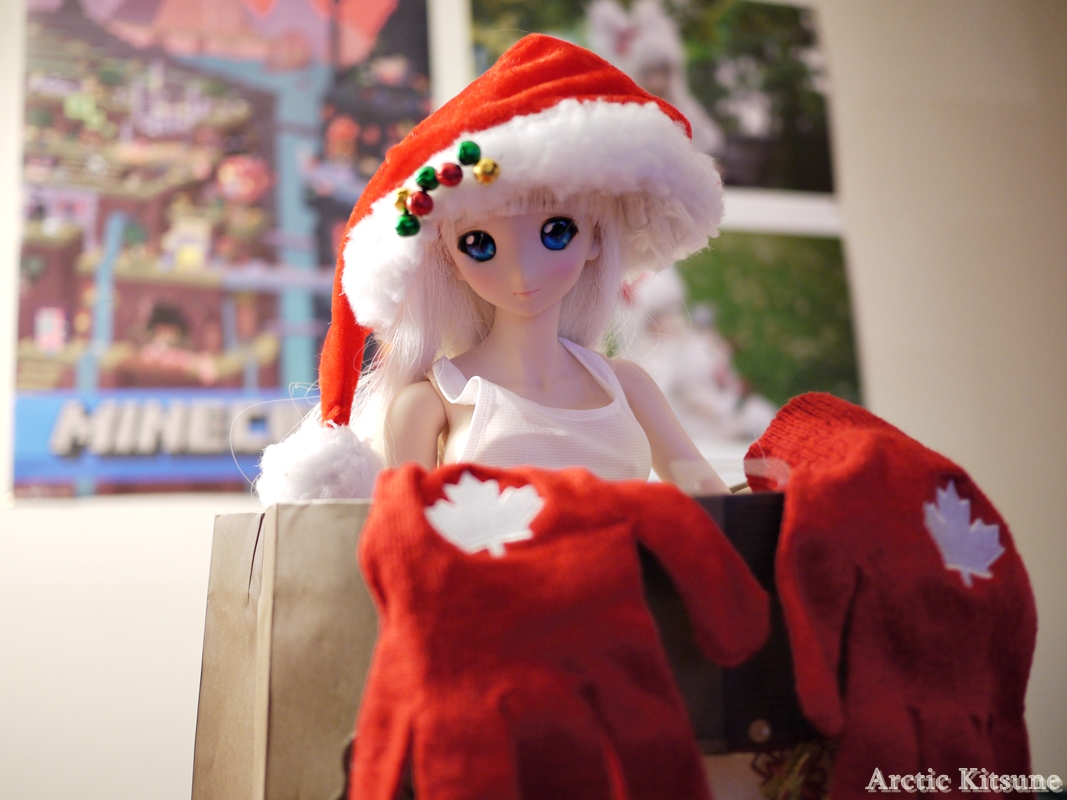 Merry Foxy Christmas! An article both to have fun with my lovely foxies and to wish everybody a Merry Christmas. I found it surprisingly nice how one person on Tumblr wished me a Merry Christmas in a PM, and a few more on figure.fm. Others however either appear to be extremely shy, being festive with their families, or just overwhelmed with all the Merry Christmas postings.
I had fun taking images in three parts for this article – ice storm/freezing rain, outdoor images, and indoor Christmas festivities of gifts. It's been fun and I'm glad Vara finally appears the way I want her to look from November onward once that tail came in. It's been fun with me wanting to keep pushing the fun on Varakitsu, even in a ecchi manner.
—
Happy New Year 2014! Still a bit more to read until I wrap it up. Hang in just a bit longer! Last article may contain gaming images, if anything.
—
– Missed Opportunities:
– Missed a Ferrari Festival because I ended up being too engrossed in Animal Crossing: New Leaf. This one I can admit was my fault.
– Missed the Vintage Wings over Gatineau-Ottawa because of transport issues. No public buses that I know of head to where it was held.
– Missed a trip to Vancouver because of various difficulties.
– Missed an Ottawa Doll meet up due to private matters. Things ended up being so stupid that I was prevented from going.
– Missed Naru2u over a simple feeling of annoyance. Naru2u always finds ways to irritate me and I just didn't feel the need to go. I missed a nice meet-up but enjoyed images of what was shared. Next time, if possible.
—–
– My Goals:
-> A simple goal of traveling outside of Ottawa. Even to the west, or even Japan.
-> To summon DD Yukikaze or DD Ahri.
-> To have 2014 fill with quality Busou Shinki images
-> To give Vara her new fox ears and main outfit. Maybe even a second tail.
-> To print out a photobook of Busou Shinkis and Varakitsu.
-> To be at peace with those in my Anime community I'm in as a whole.
-> To have my Minecraft server built up and living for a prolonged manner.
-> To go flying in a safe way in some form.
(These should be easy enough to accomplish.)
—–
– Final Thoughts To Wrap Up 2013:
It was a year of constant frustration of private and open matters. I was even greatly annoyed I couldn't have Varakitsu keep up with fellow figure.fmer's little one's in the clothing department. I even fumbled her wig on occasions. I was, and still am, heavily possessed by Varakitsu with me actually now being fully proud of her foxy beauty from November onward. I keep finding myself Googling, searching, and scanning sites for anything that could improve Vara just that bit more. I even poke and prod certain trusty people to see if I can get any specific items, some of which I was able to. Others, I won't bug again as I don't want to be a pest.
I am highly amused in how 2013 was basically a year that birthed and grew Varakitsu into a lovely foxy beauty. I always need to be outdoors or near something photogenic to bring out the best of her now. All those beautiful and bright places with her November appearance onward. I'm now also even considering getting DD Yukikaze (Dog Days) and DD Ahri (League of Legends) as Dollfies thanks to both a desire and a dream which should be fun. Now, if I actually follow through with that idea then that shall be better delt with because I now know where to go to obtain things. If I don't, then that's fine as well. More funds for traveling, Varakitsu, and for other things.
It pleases and amuses me greatly that Varakitsu is now treated like family. All those jokes about Vara to stop making it snow, stop stop chilling the area, giving her offering, and calling her by name as if she was real. She's even being respected and joked around amusingly and respectfully with even in-jokes being made. I love how someone even wanted to cosplay her, even showing an image of her on a Tumblr Doll sharing account. Even being featured on figure.fm when Renge harassed Vara before Halloween. It makes me happy to see her being treated like a living entity with people actually enjoying her presence heh. I'm curious to see how 2014 will treat her.
I know I'm not Haku with DD Sora and all, I do at least try to keep some form of sharable quality to my Dollfie Varakitsu images. I love his quality images, his beautiful and elegant girls, those gorgeous accessories, and his style of blogging. I'm a bit envious or even jealous (in that positive manner) that I tried to copy his style but it just doesn't seem to fit me. I'm still new to Dollfies and the way you photograph them. I hope I can drag some form of high-quality teases from him onto my own in 2014. He is an awesome Dollfie owner and blogger as Persocom is, or was for Busou Shinkis so I recommend checking him out.
I also want to give a nice shout-out to Naito and Ken_Works for both being awesome this year. Naito, you're like a best friend who lives on another planet. We seriously need to meet up! Ken, you're still awesome for the same reasons I mentioned in the previous articles. I feel sorry for you both for having to deal with my silliness though. Ah, fun times! Fun chats! Fun image shares. Rat Bastard, many thanks for Vara's tail! Good luck on making those Dollfie goodies! Looking forward to seeing what you'll sell, if you even do decide do to such. I have to send stuff back to those that I mentioned for being awesome 🙂
It also makes me feel relieved that Dolls of Ottawa welcomes me. They tried to get me onto their forum when I first summoned Varakitsu, and same for Dollfie Dream forum to have fun in. Thanks for putting up with me and helping me out! I got onto both forums spamming both happily. Hopefully not annoying people :P. Thanks for helping me and hope you don't mind the spamming of images. I'm just happy with the quality from November onward with Vara being my beloved foxy girl; Kon!
2013 wasn't really the year for events, though it did have some that took over others. I purposely skipped some while accidentally missing others due to situations. I shall try to take advantage of each and every one for 2014 as best as I can at that very moment. I don't want it to be another 2013 with that horrid vibe and memories. With Vara now also being taken care of I shall even go back to Busou Shinkis, rotating it properly this time. Though, I can't say that for sure because of the wind that tends to blow differently each day, week, and month event wise. Whatever happens basically happens with me taking images on a whim.
I'll apologies and say that I'm sorry if I set anybody off or if anything was misread.  And if you managed to read this far then thanks for reading! You deserve a prize. If not, no worries…though that would disappoint me. If I had to rate 2013 I'd give it a 5 or 6/10.
—-
See you in 2014! Let's see what actually happens! Hopefully something fun *rubs hands in excitement*
Happy New Year! Kon!